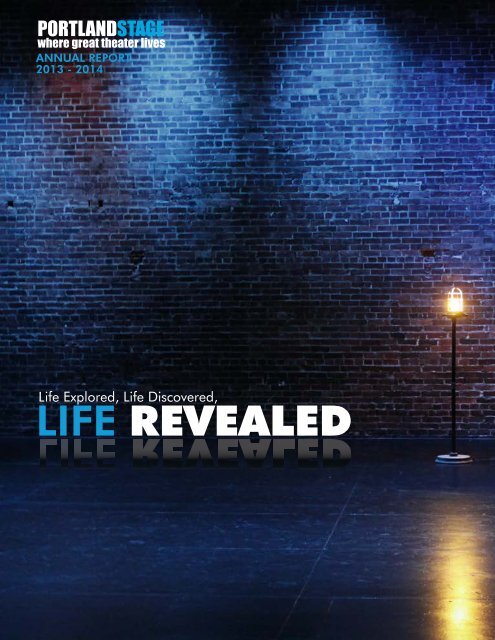 You also want an ePaper? Increase the reach of your titles
YUMPU automatically turns print PDFs into web optimized ePapers that Google loves.
PORTLANDSTAGE

where great theater lives

ANNUAL REPORT

2013 - 2014

Life Explored, Life Discovered,

LIFE REVEALED

REVEALED

LIFE
---
Board of Trustees

Allison Paine

Ben Bertram

Pamela Cleghorn

Karen Day

Joe Delafield

Eva Frank

Valerie Gallin

John Heye

Stephen Jenks

David Jourdan

David Kling

Greg Lanou

Ken Lehman

Barbara Leonard

Judy Miskell

Moriah Moser

Malcolm Poole

Hilary Rapkin

Gordon Russell

Stephen D. Sears

James S. Stevens

Sue Yandell

Advisory Trustees

Bill Ade

Jonathan Aldrich

Thomas Allen

Dan Amory

Peter Bennett

Nancy Berrang

Norm Brackett

Donna Brassard

Jane Briggs

Laura Charest

Patrick Coughlan

Debra L. Coyman

Carol De Tine

Joe Drummond

Gordon Erikson

Austin Farrar

David Fitz

James Fitzgerald, Jr.

Al Fuchs

Rand Gesing

Barbara M.Goodbody

Mike Hachey

Barry Holmes

Peter Kaye

James Kilbreth

Lois Lamdin

Lola S.Lea

Candice Thornton Lee

Michel LePage

Libby Margolis-Pineo

Margaretmary McCann

Kathy Meeker

Marta Morse

Merle Nelson

Ann Noyes

Lincoln Paine

Susan Picinich

William Poole

Anne Pringle

James Puiia

Peggy Pusch

Steve Putnam

Frank Read

Chuck Redman

Wilma Redman

Maxine Sclar

Sandra Scully

Rick Shinay

Sue Strommer

Randall Weill

Bob Wetzel

Rob Whitten

Frank Williamson

Tom Wright

Gail & Melvyn Zarr

Dear Friends of Portland Stage,

Portland Stage is known throughout the region as a

leading arts organization. For the past 40 years, we

have consistently presented illuminating theater, moved

forward with a comprehensive dedication to education,

and enriched the community through uncompromising

artistic excellence.

This is an organization that touches people's lives

in many ways – from encouraging literacy in children through the Play Me

a Story program, to expanding audience's cultural perspectives through

thoughtful Mainstage productions, to creating future theater professionals

through post-graduate internships.

I am proud to lead the Board of Trustees as we further our impact, continue

to achieve artistic excellence, and enrich our community.

Sincerely,

Allison P Paine

President, Board of Trustees
---
Portland Stage is a team of professional theater artists,

teachers and technicians who for 40 years have been hand

crafting quality theater in Maine. Beyond the productions that are

at our core, Portland Stage supports a vast array of

programs designed to educate, develop artists, and promote

dialogue. We've strategically grown both the work on our stage

and our programs in the classroom and community. For the past

ten years, we've run a balanced budget as staff members find

creative solutions to keep our costs in line.

As theater practitioners, we know first-hand that theater is about

collaboration. Collaboration extends well beyond those of us who

work night and day behind the scenes and in front of the spotlight.

We understand that we could not produce great productions and

programs without the help of generous supporters.

Our donors recognize the value of great theater and

education programs. The costs of five out of the seven shows this

season will not be covered by ticket sales alone. Our

education programs, while highly acclaimed, do not pay for

themselves. Donors play an important part in sustaining the

theater by providing the financial support that allows us to

continue programming.

From individuals who support our Annual Fund, to major

donors who ensure that essential projects and programs thrive;

from our corporate supporters who provide us with direct financial

support in the areas where we need it the most, to our in-kind

and trade supporters who provide us with donated goods and

services that help keep our costs down; from foundations that

have rewarded our proposals with funding, to the ushers and

other volunteers who augment our skeleton staff; we recognize

that donors are a key to our success.

I would like to personally thank all of you who continue to

contribute to the success of Portland Stage. With your support we

have been able to flourish and grow.

Thank you for your generosity.

Anita Stewart

Executive & Artistic Director

Our Mission

As the leading professional theater in Northern New England,

Portland Stage is:

• Committed to creating great art

• Passionate about using theater to educate

• Dedicated to enriching our community
---
Tina Fabrique & Nyahale Allie in Ma Rainey's Black Bottom by August Wilson. Photo by Aaron Flacke.

"Some acting gigs are just a job, working at Portland Stage has been an experience."

- Nyahalé Allie, Dussie Mae, Ma Rainey's Black Bottom

"One of the most enjoyable experiences I've ever had!"

-Ray Anthony Thomas, Slow Drag, Ma Rainey's Black Bottom

Our Story - Life Revealed

In 1973, a group of actors came together with a shared goal of creating a theater: to create

a theater that produces compelling plays through artistic collaboration. Along the road

together, this artistic journey led to the creation of a non-profit professional theater. Like the

plays we produce, the story of Portland Stage started with its creation and matured through

major challenges by remaining true to its collective vision: to present illuminating plays that

challenge, inspire, and reflect. To become a vital partner in the fabric of our community by

building relationships through hard work, transparency, collaboration and education.

All of us at Portland Stage bring the same passion that motivates, inspires and compels us

to grow and move beyond expectations to you, our donors, who have and continue to travel

this road with us. Through all of the twists and turns, you have trusted our vision and have

supported our journey.

On behalf of Anita Stewart, our Board of Trustees, and our professional staff and artists,

Portland Stage has created this Annual Report to show our appreciation and commitment to

all of you. This Annual Report is the story of us together - Portland Stage and its supporters.
---
Ticket sales &

subscriptions

account for

44%

of our total

income.

David Mason & Abigail Killen in LOVE/SICK by John Cariani. Photo by Aaron Flacke.

"I have developed and premiered three plays at Portland Stage - plays that are now being

performed all over the country and around the world. The success I have had is directly related to

the quality of the organization and the staff and artists who have supported me. I couldn't do what

I do without PSC."

- John Cariani, Playwright, Almost, Maine, Last Gas, LOVE/SICK

Portland Stage would like to thank our Board of Trustees for their leadership and

expert guidance. From fiduciary responsibility, to community building, to artistic

advice, to financial support; our Board contributes to our organization in many ways.

(Missing from photo: Pamela Cleghorn, David Kling & Ken Lehman.)
---
Your Giving - Because of You

Anita Stewart and the professional staff imagine Portland

Stage as a tree with complex roots, a solid trunk, entangled

branches, and ever changing leaves.

The professional theater's professional staff and Affiliate

Artists are the roots; the anchor that keeps everything in place,

and supports the trunk. The trunk in this metaphor is our

Mainstage; it is integral to our organization and is what keeps

everything together. It is also the gateway for the roots to send

nutrients to the limbs.

10%

increase

in contributed

income during

FY 2013.

The limbs of our trunk reach out to the community, enriching lives of all ages. On

these limbs are our Educational and Artistic Development & Community Dialogue

programs: the leaves that catch the sun's light, providing nourishment for growth.

And what is the sunlight in this metaphor? You, our donors! Because of you,

Portland Stage has endured. You have journeyed with us

92%

as we have grown and matured. Through it all, you have

positive been the source that nourished our growth. Because of you,

survey results

we are resilient, strong, vital, connected and productive.

for last season. The Portland Stage tree is found at the end of this report.

Thank you for all you do to keep our tree – Portland Stage – thriving!

"Our successes are attributable to your generosity. Because of your support, our contributed

income reached its goal for FY2013!"

-Gale Kurtz, Development Director, Portland Stage
---
247

Mainstage

& Studio

performances

last season.

56

local artists

were

employed

last season.

"One of the most thrilling parts of working at Portland Stage is the opportunity to make

incredible theater with a vastly talented group of people."

-Shane Van Vliet, Stage Manager

The Experience - Revealing Life

At Portland Stage, we are storytellers, illuminating the world around us. From stories

of people living next door, to the stories of our ancestors or those of people from

distant cultures, we hold up a mirror reflecting back the world. The core of this work

is our Mainstage. Seven plays bringing seven different approaches to storytelling,

each developed and fully realized by theater artists and artisans in our rehearsal hall

and shops.
---
"Portland Stage has an extaordinary and far-reaching reputation that consistently produces

some of the best theater in this country. I am immensely proud of this organization and to be

one of its Affiliate Artists."

- Dustin Tucker, Affiliate Artist

The plays we produce are living art - art that breathes and changes nightly, as skilled

actors connect to each audience, creating a one of a kind experience. In putting

these productions together, we combine the best of local and from away theater

professionals, allowing them time and space to imagine and create work that is

unique and produced with our Portland Stage audience in mind.
---
Our Impact - Reflect, Challenge, Transform

Education - Life Explored

Our interactive education programs help young people explore all the

elements of theater from the inside out – writing, production, performance

and more. With a focus on literacy, cultural awareness, and creative

thinking, we provide them with the tools to discover the valuable lessons

that exist at the intersection of theater and life.

Artistic Development & Community Dialogue - Life Discovered

Our discussion series, competitions and festivals are an invitation for

artists and audiences to ask questions and engage with the theater. On

and off the stage, these opportunities offer insight and tools to explore

the power and artistry of theater.

8 out of 9

Portland Public

Elementary

Schools

participated in

Play Me a Story

last season.

"Play Me A Story is a hit with staff and students alike! We see the stories come to life in front

of the whole school, then work with the actors, who teach skills that translate over into reading

fluency and comprehension."

-Dr. Beverly Coursey, Principal, Ocean Avenue School

"In my professional opinion, the Play Me a Story program is quite different and unique in it's

philosophy, pedagogy, and design. Specifically, it stands out as something that is oriented towards

literacy, and yet also illuminates the value of critical thinking, teamwork, and imagination. I have

spoken about the project at international conferences, and am happy to confirm that it has been

very well received by audiences. Therefore, your decision to support this project would result in the

creation of something that is groundbreaking and extremely valuable to learners not only locally,

but nationally and throughout the world."

- Dr. Alexander Lapidus, University of Southern Maine
---
Over 4,000

young people

attended

Student

Matinees

in 2012/13.

Miriam Habib & Donetta Lavina Grays in Little Festival of the Unexpected.

"Unanimously, the students were enthralled with the performance, as were the teachers."

- Diana Krauss, Mt. Ararat High School Teacher
---
e__

Our Responsibility - Transparency, Stability & Growth

REVENUE

INCOME

CONTRIBUTED (33% of total income)

Grants and Foundations $ 140,938

Individuals $ 399,106

Corporations, Events, Bequest, Endowment $ 226,811

TOTAL CONTRIBUTED $ 766,855

EARNED (67% of total income)

Education $ 74,065

Subscriptions $ 444,736

Single tickets/group sales $ 497,370

Misc. (rentals, advertising, in-kind) $ 545,046

TOTAL EARNED $1,561,217

TOTAL INCOME $2,328,072

EXPENSES

PROGRAM ACTIVITY (79% of total expenses)

Actors / Guest Artists $ 343,972

Facilities / Occupancy $ 144,858

Royalties $ 64,991

Marketing $ 211,058

Performance costs $ 151,282

Production costs $ 219,180

Education $ 266,620

Additional (Benefits / In-Kind / Deprec.) $ 388,193

TOTAL PROGRAM ACTIVITY $1,790,154

ADMINISTRATION (21% of total expenses)

Staff $ 322,021

Administrative Costs / Benefits $ 92,976

Additional/Development/Events/Facilities $ 14,049

TOTAL ADMINISTRATION $ 429,046

TOTAL EXPENSES $2,219,200

SUBTOTAL NET GAIN (LOSS) $ 108,872

ACCURAL AUDIT ADJUSTMENTS ($ 66,000)

TOTAL NET GAIN (LOSS) $ 42,872
---
Statement of Financial Position FY13*

ASSETS 30-Jun-13 30-Jun-12

Cash $ 373,531 $ 409,669

Accounts/Pledges Receivable $ 9,737 $ 30,720

Prepaid Expenses $ 17,324 $ 16,884

Bequest Portion $ 36,000 $ 35,000

Property & Equipment $2,236,850 $2,197,892

Less Accumulated Deprec. ($ 896,673) ($ 799,926)

$1,340,177 $1,397,966

Other Assets (Bequest/Investments) $ 824,403 $ 808,530

TOTAL ASSETS $2,601,172 $2,698,768

LIABILITIES

Notes Payable $ 778,246 $ 824,251

Capital Lease $ 7,566 $ 11,182

Accounts Payable/Accrued Expenses $ 13,016 $ 87,865

Deferred Revenue $ 340,529 $ 360,221

Other Liabilities (Notes,Leases, deposits) $ 11,233 $ 7,583

TOTAL LIABILITIES $1,150,590 $1,291,102

NET ASSETS $1,450,581 $1,407,666

TOTAL LIABILITIES AND NET ASSETS $2,601,172 $2,698,768

"As the leading professional theater in northern New England,

the financial viability of the organization is key to creating great art,

to using the theater to educate, and to enriching our community.

Through the stewardship of the Board, FY13 was a successful year,

and our intent is to improve our financial stability in the future."

-John Heye, Chair Finance Commitee, Portland Stage

Senior Vice President for Finance & Chief Financial Officer

Maine Medical Center

"Our financial position reflects the dedication to providing

professional theater, continuing to expand our successful education

programming, while keeping administrative costs to a minimum."

-Erik Carson, General Manager, Portland Stage

79 cents of

EVERY DOLLAR

donated

goes to

productions &

programs.

*Cash position FY13
---
Donors

EXECUTIVE PRODUCER ($25,000 +)

Mr. Harry Konkel

Mr. & Mrs. James & Susan Konkel

Ms. Susie Konkel

The Shubert Foundation

PRODUCER ($10,000 - $24,999)

Brooks Family Charitable Foundation

Jebediah Foundation

Libra Foundation

LL Bean

Maine Arts Commission

Max Rosenfeld Foundation

National Endowment for the Arts

Sam L. Cohen Foundation

Mr. & Mrs. John E. & Anna Marie Thron

EXECUTIVE DIRECTOR ($5,000 - $9,999)

Deering Fund of the

Maine Community Foundation

Fisher Charitable Foundation

Maine Theater Fund

of the Maine Community Foundation

Migis Hotel Group

Mr. & Mrs. Edward and Janice Gerry

Mr. & Mrs. Stephen & Carolyn Jenks

Mr. & Mrs. John & Cornelia Kittredge

Mr. & Mrs. David & Nancy Kling

Dr. Joan Leitzer & Mr. Kenneth Spirer

Ms. Marta Morse

Mr. & Mrs. Dan & Elinor Redmond

Texas Instruments Foundation

Unum

BACKER ($1,000 - $1,499)

Dr. & Mrs. Newell & Tenney Augur

Drs. Carl & Patricia Bredenberg

Ms. Risa Bridges-Hall & Mr. Larry Hall

Ms. Jane Briggs

Drs. James & Susan Carter

Mrs. Patricia A. Clark

Mr. & Mrs. Ken & Kristin Conant

Dr. & Mrs. Joseph R.D. & Joanne Dekay

Mr. & Mrs. Joseph & Audrey Delafield

Mr. & Mrs. Denny & Midge Denham

Mr. & Mrs. Ronald & Donna Forest

Mr. & Mrs. Halsey & Eva Frank

Mr. & Mrs. Jay & Lenore Friedland

Ms. Valerie Gallin

Mr. & Mrs. Leon & Lisa Gorman

Mr. & Mrs. Andrew & Carole Harris

Mr. & Mrs. Ronald & Sally Bancroft

Mr. & Mrs. Denny & Camy Barrantes

Mr. Peter Bennett

Mr. & Mrs. John Bradford

Mrs. Susan Burdsall

Mr. & Mrs. Gerald E. & Susanne Colson

Ms. Madeleine Corson

Ms. Karen Day

Ms. Beth De Tine

Drs. Charles & Carole DeSieyes

Mr. Daniel DiMillo

Dramatists Guild Fund

Mr. Gary Duford & Mr. Thomas Hinkle

Mr. & Mrs. John & Lynne Erkkinen

Ms. Debra Feeks

Dr. & Mrs. David & Helen Fitz

Mr. & Mrs. James & Betsy Fitzgerald, Jr.

Ms. Georgia Froelich

Mr. & Mrs. Stephen & Wendy Gaal

Rev. & Mrs. David & Dorothy Glendinning

Mr. Douglas Green

Mr. & Mrs. Philip & Sheila Jordan

Mr. & Mrs. David & Lynn Jourdan

Mrs. Daisy Kaplan

Mr. Daniel King

Mr. & Mrs. Hal & Brigitte Kingsbury

Mr. & Mrs. Lincoln & Gloria Ladd

Ms Margaretmary & Dorothy McCann

"I think it is important for children and adults to be exposed to what theater offers. I love

watching children have fun learning on Saturday mornings."

-Susie Konkel, Portland Stage Donor

"We know from family experience the vital role the theater plays in the richness of community

and the education of young people - thus our support of Portland Stage since moving

to Maine."

-Edward & Janice Gerry, Portland Stage Donors

Morton-Kelly Charitable Trust

Moser Family Foundation

Ms. Moriah Moser & Dr. Daniel Morgenstern

Mr. Gordon Russell

Wex Inc

Wright-Ryan Homes

MANAGING DIRECTOR ($2,500 - $4,999)

Acadia Insurance

Margaret E. Burnham Charitable Corporation

Diversified Communications

Camp Waukeela, Inc.

Mr. & Mrs. Austin & Eileen Farrar

Helen and George Ladd Charitable Corporation

Dr. & Mrs. George & Cheryl Higgins

Robert & Dorothy Goldberg

Charitable Foundation

Mrs. Judy Miskell

Mr. Darrell Pardy & Ms. Carol Hughes

Mr. & Mrs. Harry & Anne Pringle

United Insurance

Drs. Verne & Tracey Weisberg

PRODUCTION MANAGER ($1,500 - $2,499)

Acker, Merrall, and Condit Company

Mrs. Cynthia Frye-Macomber

Mr. & Mrs. John & Kathy Heye

Mr. & Mrs. Robert & Margery Healing

Dr. & Mrs. Barry & Brenda Holmes

Mr. & Mrs. Peter & Nancy Kaye

Mr. & Mrs. John & Mary Jo Keffer

Ms. Sara Kingdon & Mr. Dmitri Opolinsky

The Peter & Kathleen Leslie Fund

M & M Consulting, LLC

Mr. William A. McCue

Mr. Blaine Moores

Mr. & Mrs. Edward & Ann Noyes

Mr. & Mrs. Lincoln & Allison Paine

Mr. & Mrs. Malcolm & Patti Poole

Ms. Merilee Raines & Mr. Daniel Snow

Ms. Hilary Rapkin & Mr. William Stiles

Dr. & Mrs. Stephen and Cathy Sears

Ms. Anita Stewart & Mr. Ron Botting

Vanguard Charitable Endowment Program

Ms. Jane G. Weiman

Mr. & Mrs. Robert & Gretchen Wetzel

Mr. Bryon Winn & Ms. Mauria Brough

Ms. Sue Yandell

SUPPORTER ($500 - $999)

Mr. & Mrs. William Ade

Mr. & Mrs. Jonathan & Nancy Aldrich

The Hon. & Mrs. Thomas & Diana Allen

Dr. & Mrs. Donald & Marilyn McDowell

Mr. & Mrs. William & Dana Poole

Dr. & Mrs. Frank & Nancy Read

Ms. Usha Reddi

Ms. Susan Myer Riley

Mrs. Cornelia Robinson

Mr. Peter L. Sheldon

Ms. Ann Slocum

Mr. & Mrs. Joseph & Susan Spagnola

Mr. & Mrs. James Stevens

Mr. and Mrs. Eric & Wendy Suehrstedt

Ms. Jennifer Tipton

Ms. Rachel Whetzel

Mr. & Mrs. Melvyn & Gail Zarr

DONOR ($250 - $499)

Dr. & Mrs. L. Reed & Mary Fran Altemus

Mr. & Mrs. Theodore & Elizabeth Baker

Mr. & Mrs. Andrew & Lindsey Cadot

Mr. & Mrs. Charles & Mary Callanan

Charles Stewart Mott Foundation

Mr. and Mrs. Ed & Kathy DiPhilippo

Mr. & Mrs. Charles & Mary Lee Dodge

Mr. & Mrs. Roger & Betty Gilmore

The Honorable Caroline Glassman

Gorham Savings Bank

Ms. Mary Jane Hanneld
---
Mr. & Mrs. Peter & Judith Haynes

Ms. Laura Henderson & Mr. William Rudy

Mr. & Mrs. Dick & Anne Jackson

Mr. & Mrs. James & Elizabeth Kilbreth

Mr. & Mrs. Dennis & Sandra King

Ms. Maria Kreilkamp

Dr. Lois Lamdin

Mr. Greg Lanou & Ms. Tracy Skillin-Lanou

Ms. Barbara A. Leonard

& Mr. Daniel Marra

Mr. & Mrs. Robert & Katharine Lynn

Mr. & Mrs. Richard & Emily MacKenzie

Dr. & Mrs. Frederick & Deborah Molander

Dr. & Mrs. Jeffrey & Rowan Morse

Mr. & Mrs. Richard & Sandra Neiman

Mr. & Mrs. Leonard & Merle Nelson

Mr. Larry Nicks

Mr. & Mrs. James & Judith Parkhill

Mr. & Mrs. John & Geraldean Paterson

Mr. & Mrs. Hugh & Norma Phelps

Phillips-Green Foundation, Inc.

Mr. & Mrs. Lloyd & Nancy Porter

Mr. John Ryan & Ms. Jenny Scheu

Mr. & Mrs. George & Anna Shaw

Mr. & Mrs. Richard & Celeste Shinay

Ms. Kathleen Silvia

Sol Food Group LLC

Ms. Alice H. Thompson

Ms. Nancy E. Crowell

Ms. Priscilla Davis

Mr. & Mrs. Robert & Jolanda De Levie

Mrs. & Mr. Bonnie & Jonathan Dietz

Mr. Bruce Donath

Ms. Mary Lou Dyer

East Brown Cow Management

Ms. Susi Eggenberger

Ms. Elizabeth Ehrenfeld

Mr. & Mrs. James and Diana Fallon

Mr. James Farr

Mr. David N. Fisher

Dr. David Flavin

Mr. & Mrs. Allen & Sally Foehl

Mr. & Mrs. Nicholas & Barbara Fowler

Mr. & Mrs. Charles & Ann Garland

Mr. & Mrs. George & Martha Gilmore

Dr. & Mrs. Bernard & Phyllis Givertz

Dr. Jane Glass

Mr. & Mrs. Matthew & Lynn Goldfarb

Mr. & Mrs. Peter & Janice Hanson

Ms. Karen Harrell

Mrs. Marjorie Hassan

Mr. Bryan Hayes

Ms. Karin Halvorson Hillhouse

Mr. Barry Hilton

Ms. Marsha Hilton-Kingdon

Ms. Jamie Hogan

Mr. & Mrs. William & Martha Meacham

Ms. Sarah S. Meacham

Mr. & Mrs. Stephen & Barbara Melchiskey

Mr. & Mrs. Joseph & Gloria Melnick

Mr. James F. Millinger

Mrs. Gene Moll

Ms. Anne Morham

Mr. Ronald P. Morrison

Dr. Donald Murray

Mr. & Mrs. Tom & Renee Newman

Mr. & Mrs. Robert & Susan Nielsen

Mr. & Mrs. John & Karen O'Brien

Ms. Elizabeth Owens

Mr. & Mrs. John & Denise Palmer

Mr. & Mrs. John & Ann Parker

Mr. & Mrs. Michael and Barbara Payson

Mr. James Perrin

Mr. Arthur S. Perry

Ms. Patricia B. Rice

Mr. & Mrs. Gordon & Susan M. Richardson

Mr. & Mrs. Patti & Dick Roderick

Mr. & Mrs. Donald and Constance Rose

Mr. & Mrs. Larry & Robin Rubinstein

Mr. Stephen Ryan

Mr. & Mrs. Glenn & Sonnhilde Saunders

Mr. & Mrs. Michael & Pam Schwotzer

Mrs. & Mr. Joan and Nick Semenuk

Mr. Paul & Constance Shiebler

"Portland Stage constantly strives to represent the head and the heart of humanity at large.

In so doing, it stands out as an outstanding institution of art."

-Usha Reddi, Portland Stage Donor

"The ability to offer people in Maine high quality productions and at the same time promote

the arts and cultural scene for young people and for an entire community is part of the

important work that Portland Stage provides everyday."

-Joe Baldacci, Portland Stage Donor

Mr. & Mrs Edward & JoAnne Van Loenen

Mr. & Mrs. David & Susan Wheatland

INVESTOR ($100 - $249)

Ms. Christenia Alden-Kinne

Dr. & Mrs. Richard & Bonnie Anderson

Mr. & Dr. Charles & Sarah Arnold

Ms. Martha Arterberry

Ms. Ann M. Babbitt

Mr. & Mrs. Peter & Ellyn Ballou

Ms. Dawn Baumer

Mr. & Mrs. Paul & Irene Bellfy

Mr. & Mrs. Thomas & Marjorie Berman

Mr. & Mrs. John F. & Jane V. Berry

Mr. & Ms. Donald and Diane Bessey

Mr & Ms. Constance & Peter Bingham

Mr. & Mrs. Jim & Sarah Bowie

Dr. Rebecca Brakeley

Mr. & Mrs. Norman & Emily Breitner

Dr. & Mrs. Russell and Barbara Briggs

Mrs. & Mr. Jae & James Brown

Ms. Susan Bruce

Mr. Anthony S. Bucci, Jr.

Mr. & Mrs. Forrest & Frances Caswell

Ms. Rae Clark-McGrath

Mr. & Mrs. Andrew & Judith Coburn

Mr. & Mrs. Irvin & Jacqueline Cohen, Jr.

Ms. Susan E. Hunter

Mr. & Mrs. Herbert & Kathleen Janick

Mr. Charles & Jean Johnson

Ms. Deborah Keefe

Mr. David Keith & Mr. Stephen Simpson

Mr. & Mrs. John & Betsy Kelly

Mrs. Margery Kerr

Mr. & Mrs. David & Linda Kirstein

Mr. Paul M. Knight

Ms. Marilyn A. Lalumiere

Mr. & Mrs. Neil & Catherine Lamb

Ms. Valarie Lamont

Dr. & Mrs. Stephen & Polly Larned

Ms. Denise LaRue

Mr. & Mrs. Richard & Nancy Lemieux

Mr. & Mrs. Michel & Margaret LePage

Ms. M. Calien Lewis

Mr. & Mrs. William & Donna Locke

Mr. & Mrs. Don & Sue Ludgin

Mr. & Mrs. Chris & Carson Lutes

Ms. Mary G. Lynch

Mr. & Mrs. John & Jean Marr

Mr. James Marra

Mr. & Mrs. Rosemary & Gene Marra

Dr. & Mrs. Robert & Doris McAfee

Mr. & Mrs. Frank & Susan McGinty

Mr. & Mrs. James & Susan McMahon

Mr. Peter McPheeters

Dr. & Mrs. John & Janice Siegle

Ms. Sarah Smith

Mrs. Dorothy Spaulding

Ms. Cathy Stankard

Mr. John Steppacher

Dr. and Ms. Dennis and Charlene Stepro

Mr. & Mrs. Frank & Carrie Strasburger

Dr. & Mrs. David & Kathleen Stuchiner

Dr. Kristin G. Sweeney

Mr. & Mrs. Hall & Deborah Thompson

Dr. Philip Thompson

Dr. & Mrs. Carlyle & Patricia Voss

Mr. & Mrs. James E. & Mary Lee Ward

Mrs. Charles Watts

Ms. Kira Wigoda

Mr. & Mrs. Frank & Leonora Williamson

Mr. & Mrs. David & Elise Wilson

Mr. & Mrs. Robert & Carol Witham

Mr. J.R. and Janet Wolf

Mr. & Mrs. Bill and Patty Zimmerman
---
Volunteers

Ushers, Greeters, Stitchers, Office Administrators & More

Greg Adams

Maddie Akeley

Deb Alford

Bonnie Amadei

Sue Andelman

Steven Andelman

Joan Anderson

Ro Anderson

Joan Anderson

Sherry Andre

Ro Anderson

Debbie Andrews

Priscilla Armstrong

Elizabeth Atwood

Steve Barmore

Wendy Barmore

Steve Bates

Kathy Beach

Lynne Beasley

Synawata Belanger

Dotty Bennett

Janet Bentz

Sue Bergoffen

Gene Bergoffen

Susan Chapman

Sara Cheney

Lou Christen

Patrick Christian

Kathy Clark

Pamela Cleghorn

Virginia Collins

Amber Collins

Sue Comyns

Michael Connolly

Bill Cook

Florence Cooley

Ruth Corbett

Johanna Corman

Anne-Marie Craven

Paul Craven

Lynne Cullen

Jim Czimbal

Judi Czimbal

Brain Daly

Laurel Daly

Pauli Daniels

Laurie Davis

Anne Demers

Bob Geilow

Gaetane Gonyea

Shirley Grange

Benson Gray

Paula Greenlee

Mary Griffin

Andrea Handel

Tom Handel

James Hastrich

Laurie Hasty

Barb Hauke

Steve Hauke

Ann Havener

Ceci Haynsworth

Charlotte Herrick

Ted Herrick

Robb Hetzler

Luisa Hetzler

Sharon Hickey

Myrna Higgins

Rebecca Hitchcock

Ann Hitzrot

Richard Horton

James Hostrich

Linda LaRoche

Barbara Larrivee

Ana Lazar

Livia Leigh

Carole Logan

Tom Logan

Frank Lorello

Jeremy Lota

Karen Luse

Rick Lynch

Susan Maccalous

John Maclaine

Emily Mahaffey

Linda Malaquist

Rick Malaquist

Paul Manoff

Ray Marcotte

Crystal Marshall

Rosemary Mason

Jane Ann McCabe

Marie McCann

Shaden M. McCann

Deborah McCoy

Martin McDonough

"My reason for volunteering at Portland Stage is totally selfish. I've always been a bit stage

struck and getting to hang out with theater folk is a kick!"

-Martha Welty, Development Volunteer

Keith Powell Beyland

Vanessa Winfield Beyland

Pat Bittermann

Barbara Black

Eric Blanchard

Judith Blanchard

Linda Blanton

Steve Bourey

Lisa Bowe

Deborah Boyajian

Janice Boyko

Jim Boyko

Jim Braley

Meg Braley

Sharon Brobst

Rich Brobst

Meg Broderick

Shannon Broderick

Sandy Brooks

Bruce Brown

Diana Lee Brown

Danton Brown

Dottie Bruce

Sue Bryer

Connie Burns

Dianne Catalano

Jennifer Caven

Jan Chapman

Noel DeYoung

Kim DiMillo

Josie DiPhillipo

Kathy DiPhillipo

Esphabad Dodd

Elizabeth Dodson

Paul Dodson

Priscilla Donahue

Norm Drucker

Ann Dugovic

George Dugovic

Alleen Eastwood

Carol Eisenberg

Sheila Emple

Richard Estabrook

Claire Feeney

Jody Fein

Linda Fenton

Mary Jane Ferrier

Susan Fine

Leslie Flemming

Robert Fowler

Adam Frederick

Sally Gaffney

Linda Gaumond

Buzz Gautreau

Daryl Geer

Madeline Gielow

David Howe

Sally Howe

Heather Elizabeth Irish

Bob Irwin

Irish Irwin

Bob Islet

Sue Isler

Andy Jennings

Laurie Jensen

Sheila Jepson

Nora Johnson

Sally Johnston

Anita Jones

Spencer Jones

Susan Jones

Murial Kenderdine

Richard Kimball

Tirrell Kimball

Margaret Kimball

Karen Kirk

Mary Ann Kotros

Rachel Krawczyk

Sheera LaBelle

Bernie LaBreck

Denis Lachman

Bethany LaCroix

Ginny LaCroix

Jeanne LaJoie

Sharon McHold

Maureen McHugh

Donna Melancon

Jean Meyer

Sarah Mills

Judith Mitchell

Bruce Moore

Brad Morrison

Betsy Morrison

Ann Morse

Joan Mueller

Louise Munsen

Pat Murray

Roberta Muse

Josephine Mussomeli

Reta Nappi

Julie Neuls

Sandy Nickerson

April Noonan

Dennis Noonan

Marcia Noyes

Elizabeth Oatley

Brian O'Connor

Linda O'Donnell

Jackie Olivieri

Terry O'Sullivan

Mary Palmer

Ruby Parker
---
Trade & Media Partners

Joyce Parker

Sandra Paul

Richard Peltier

Janice Peltier

Larry Perkins

Delene Perley

Jim Perley

Lenora Perry

Gay Peterson

Elaine Piccini

Jon Pomerleau Jr

Jim Price

Paula Proctor

Tracy Quadro

Susan Quimby

Joe Quinn

Vestay Rand

Sam Rapaport

Val Razsa

Marie Reidman

Jeffrey Roberts

Janet Roberts

Gail Robertshaw

Chris Robinson

Ralph Thivierge

Maria Thompson

Kathy Tosney

Barbara

Edie Tucker

Linda Twomey

Cheslye Ventimiglia

Pam Waite

Laura Waite

Liz Walsh

Cathy Walz

Norm Walz

Jean Wandel

George Watson

Linda Webb

Bruce Webb

Lesli Weiner

Deena R. Weinstein

Martha Welty

Lisa Wendler

Wolfgang Wendler

Bart Weyand

Tricia Weyand

Denver Rey Whisman

Cheslye Ventimiglia

Art House

Back Bay Tower

Bay Club Fitness

Bonobo Pizza

Broadsound Technologies

Capstone Handyman

Coffee By Design

DaPonte String Quartet

Empire Dine & Dance (defunct)

FastSigns

Good Cause Thrift Shop

Gorham Times

Gritty McDuff's

Harmon's & Barton's

Kamasouptra

LFK

MacPage

Maine. magazine

Maine Home+Design

Maine Lawyers Review

Mainebiz

Maine State Music Theatre

MPBN

Ogunquit Playhouse

The Olive Garden

Otto Pizza

Pepperclub

"I leave movies with emotion and then I am on to the next thing. I leave Portland Stage with

excitement and questions that linger for days."

-Joe Rosenfield, Edison Press & Young Professionals Commitee Member

Jack Rogers

Mary Rokosz

Stephanie Cooper Scherr

Sally Serunian

Tom Settlemire

Claire Shea

Marilyn Sherry

Jerry Sherry

Roy Shigley

Martha Simpson

David Simpson

Linda Skinner

Kiya Smith

Whitney Smith

Jerry Sherry

Geri Stiles

Kathleen Stokes

Marjorie Stone

Stephen Strand

Mary Ann Strand

Mary Stuart

Jonathan Swan

Lyn Swan

Tina Takacs

Audrey Tanner

Sondra Taylor

Audrey Tanner

Donna Thivierge

Ellen Elizabeth White

Rob Wood

Cheryl Worcester

Ginny Wright

Joseph Wrobleski

Liz Wyrick

Neil Wyrick

Ilse Yanis

Lynn Young

Brent Zachau

Mark Zema

Roberta Zuckerman

Barry Zuckerman

Portland Stage Young

Professionals Commitee

Todd Brian Backus

Ron Botting

Sarah Cameron

Bethany & Justin LaCroix

Emma Lishness

Elizabth Riley

Joe Rosenfield

Ella Wrenn

Samara Yandell

Bethany LaCroix

POM's Thai Taste

PORTLAND Magazine

Portland Ovations

The Portland Phoenix

Portland Press Herald / Maine Sunday

Telegram

Portland Radio Group

Portland Symphony Orchestra

Pratt –Abbott Cleaners

Reflections

Ricetta's Brick Oven Pizza

Smith Atwood Video Services

Starbird Music & Piano Gallery

Xpress Copy
---
Staff

Executive & Artistic Director

Anita Stewart

ARTISTIC / PRODUCTION

Assistant Production Manager

Megan Doane

Company Manager

Ella Wrenn

Costume Shop Supervisor

Susan Thomas

Education & Literary Manager

Daniel Burson

Lighting & Sound Supervisor

Emily Kenny

Production Manager

Andrew Harris

Prop Master & Asst. Carpenter

Toni Kendrick

Stage Managers

Myles C. Hatch

Shane Van Vliet

Technical Director

Ted Gallant

ADMINISTRATION

Assistant House Manager

Laurie Gingrich

Audience Services Manager

Donald Smith

Box Office Staff

Kalee Coombs

Jessica Eller

Renee Myhaver

Business Manager

Bonnie Ryan

Development Director

Gale Kurtz

Development Assistant

Margaret Weare

General Manager

Erik Carson

Graphic Designer

Karen Lybrand

House Manager

Gerrie Powell

Marketing Director

Carole Harris

Marketing Assistant

Todd Brian Backus

Theater for Kids Manager

Samara Yandell

Interns

Costumes/Wardrobe

Laura Donovan

Directing/Dramaturgy

Nicholas Orvis

JJ Peeler

Georgia Zildjian

Education / Theater for Kids

Jessica Bland

Shannon Wade

Electrics/Sound

Sarah McKenney

Sets/Carpentry

Meg Anderson

Stage Management

Rebekah Bryer

Jennifer Sims

THANK
---
YOU!

To our donors who

CULTIVATE us,

SUSTAIN us,

NURTURE us,

and NOURISH our growth.

Through your generous

support, Portland Stage

enriches our

community through:

CREATING provocative

and illuminating theater

TEACHING children

through groundbreaking

education programs

CHALLENGING future

theater professionals

through internships

and

INSPIRING artists and

adults through thoughtful

Artistic Development &

Community Dialogue

programs.

FROM ALL OF US AT

PORTLAND STAGE

THANK YOU

for supporting our

PASSION to REVEAL LIFE

through our

PROMISE of an

EXPERIENCE.

Life Revealed.

Photo credits: Todd Brian Backus,

Carole Harris, Diane Hudson

& Samara Yandell.
---
PORTLANDSTAGE

where great theater lives

25A Forest Ave, Portland ME 04101

www.portlandstage.org | 207.774.1043