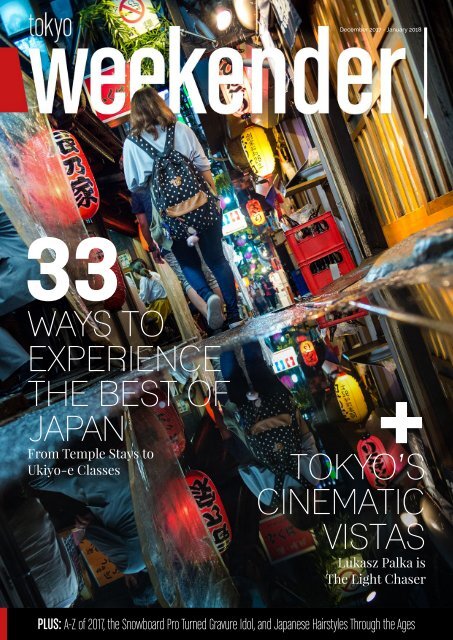 Tokyo Weekender - December 2017 - January 2018
You also want an ePaper? Increase the reach of your titles
YUMPU automatically turns print PDFs into web optimized ePapers that Google loves.
December 2017 - January 2018

WAYS TO

EXPERIENCE

THE BEST OF

JAPAN

From Temple Stays to

Ukiyo-e Classes

TOKYO'S

CINEMATIC

VISTAS

Lukasz Palka is

The Light Chaser

PLUS: A-Z of 2017, the Snowboard Pro Turned Gravure Idol, and Japanese Hairstyles Through the Ages
---
24

16 30

36

radar

THIS MONTH'S HEAD TURNERS

8 AREA GUIDE: IKEBUKURO

This vast entertainment district has more

to offer than you think.

10 STYLE: FESTIVE FASHION

All you want for Christmas and a happy

New Year.

12 TRENDS: JAPANESE CRAFTSMAN-

SHIP MEETS NORDIC DESIGN

Hygge up your home life.

in-depth

COFFEE-BREAK READS

16 THE A-Z OF 2017

We reflect on the biggest and strangest

stories of the past year.

20 JAPANESE HAIRSTYLES THROUGH

THE AGES

How nihongami has evolved and been

shaped by cultural changes from past

to present.

22 FROM SNOWBOARD PRO TO

GRAVURE IDOL

What made Melo Imai turn her back on the

sport she grew up with and seek out

a career as a tarento instead?

24 LIGHT CHASER

Lukasz Palka has spent a decade capturing

Tokyo's cinematic vistas.

29 33 WAYS TO EXPERIENCE THE BEST

OF JAPAN

This issue's special 18-page section provides

plenty of inspiration and ideas for ways

to discover the heart of the country, from

temple stays to Ukiyo-e classes.

guide

CULTURE ROUNDUP

50 ART & BOOKS

Marimekko's daring prints and bold designs;

contemporary artists' unique takes on

Doraemon; and a trio of books to get you

through the long winter.

52 AGENDA

A Christmas market at Yokohama Red Brick

Warehouse; an igloo dinner on Andaz Tokyo's

rooftop terrace; and one of the prettiest

winter illuminations.

54 SOCIETY

Tokyo's longest-running social column.

58 SIX WAYS TO DEVOUR TOKYO

A few dishes every traveler should have on

their menu when visiting the city.

DEC 2017 - JAN 2018
---
DEC 2017 - JAN 2018

Publisher

President

Executive Producer

Editor in Chief

Senior Editors

Creative Director

Designer

Features Writer

Contributors

Sales Director

Sales Executives

Marketing Director

Media Consultant

Media Producers

ENGAWA Co., Ltd.

Takanobu Ushiyama

Naoya Takahashi

Annemarie Luck

Alec Jordan

Lisa Wallin

Liam Ramshaw

Rose Vittayaset

Matthew Hernon

Vivian Morelli

Bill Hersey

Bunny Bissoux

Stephan Jarvis

Takaaki Murai

Hirofumi Ohuchi

Kahori Terakawa

Azusa Yoshida

Jessica Yumi Idomoto

Mary Rudow

Claudia Sun

Yuda Chou

Cover Photo by Lukasz Palka

EST. Corky Alexander, 1970

SSU Bld. 1F 4-12-8 Sendagaya, Shibuya-ku

Tokyo, Japan 151-0051

(03) 6432-9948 / (03) 6438-9432 (fax)

info@engawa.global

To subscribe to Tokyo Weekender, please visit

www.tokyoweekender.com/subscribe

For ad sales inquiries, please call

(03) 6432-9948 or email:

info@engawa.global

広 告 に 関 するお 問 い 合 わせ 先

電 話 :(03) 6432-9948

メール:info@engawa.global

Opinions expressed by Weekender contributors

are not necessarily those of the publisher

Published by ENGAWA Co., Ltd.

4 | DEC 2017 - JAN 2018 | TOKYO WEEKENDER
---
@bapawn: Hey Annemarie, last month's issue really

had me wanting to travel, but I have to admit I've got

an even worse case of wanderlust now.

@mizrama: Me too. Getting out of Tokyo and

experiencing what lies beyond is one of the best ways to

get to know the real Japan [page 30]. Although, saying

that, I took a class in traditional Japanese painting [page

45] in Omotesando the other day and it was fascinating.

@bapawn: Yes, even though I'm fantasizing about

heading on an extended temple retreat out to Eiheiji

[page 38] and following it up with a visit to some

secluded onsen ryokan [page 36], it's nice to know

there's so much waiting around within Tokyo city

limits, whether it's visiting sake breweries [page 42] or

extracting my own pearls [page 43].

@mizrama: This is the thing about Tokyo, isn't it –

whether you're looking for traditional experiences or

you're "chasing the light" like our cover photographer

Lukasz Palka [page 24], there is always inspiration in

unexpected places.

@bapawn: Even in Ikebukuro [page 8].

@mizrama:

@bapawn: But seriously, though, the city is full of spots

that inspire or put you in a reflective mood. I could

while away at least a couple of hours running through

all the things that happened in Japan this year [page 16].

@mizrama: It was another fairly strange year, hey? I

can't decide what was more alarming: an LDP politician

calling her secretary "baldy" or Haruki Murakami

missing on a Nobel nod yet again.

@bapawn: And who knows what 2018 will bring … Any

predictions for the Year of the Dog?

@mizrama: Breaking News: Tsukiji Market Will Not

Move After All.

@bapawn: And Man Buns Go Extreme with Sumo Style

Cuts. [Inspiration on page 20.]

VISIT OUR WEBSITE

WWW.TOKYOWEEKENDER.COM

JOIN US ON FACEBOOK

FACEBOOK.COM/TOKYO.WEEKENDER

FOLLOW US ON TWITTER

@TOKYO_WEEKENDER

FIND US ON INSTAGRAM

TOKYOWEEKENDER

TOKYO WEEKENDER | DEC 2017 - JAN 2018 | 5
---
PLAY STRONG!

Strong, healthy bodies

grow strong healthy minds.

Classes that give kids

the best start.

Ages newborn to 5 years.

PLAY & LEARN MUSIC ART

Enroll during our

NEW YEAR

CAMPAIGN

to receive

FREE

MEMBERSHIP!

SCHOOL SKILLS

PRE-SCHOOL STEPS

www.gymboree.jp/en

*Please ask about sibling and

international school discounts.

6 | DEC 2017 - JAN 2018 | TOKYO WEEKENDER
---
WHAT'S ON OUR RADAR...

We're uncovering the real Ikebukuro, feeling playful with festive fashion,

and putting the hygge into our home life.

TOKYO WEEKENDER | DEC 2017 - JAN 2018 | 7
---
AREA GUIDE

UNCOVER

THE REAL

IKEBUKURO

Words and photographs by Stephan Jarvis

Often overlooked and derided as "the gateway

to Saitama," this vast entertainment district

has more to offer than you think – you just

need to know where to look

THE MAIN ATTRACTIONS

For the average visitor, the biggest

draws of Ikebukuro are its

vast array of Bic Camera stores,

game centers, department stores

such as Seibu and Tobu, HUB

pubs (there are five scattered

across both sides of the station),

Sunshine-dori (which over

the years has seen an invasion

of more familiar high-street

brands) and, of course, the

Sunshine City entertainment

complex. However, there's more

to Ikebukuro than just these

main attractions.

A PATCH OF GREEN

One of the newer and more

welcome additions is the lush,

green-grassed Minami Ikebukuro

Park, which reopened

in 2016 after extensive renovations.

A common complaint for

many living in Tokyo is the lack

of green spaces (at least, ones

that you're allowed to sit on).

It might not win any awards for

size, but along with free seating

benches and the onsite Racines

bistro, serving a range of

freshly cooked cuisine including

barbecues when the weather is

8 | DEC 2017 - JAN 2018 | TOKYO WEEKENDER
---
MALAYCHAN IS

ONE OF THE FEW

PLACES IN TOKYO

THAT'S HALAL

CERTIFIED

Cross under the tracks to the west side and

the vibe changes somewhat. A little more

downtrodden than the east, this area caters

more to those that want to do some drinking

with their eating. The pedestrianized side

streets and clusters of izakayas, hostess bars

and so on can make it feel a little like a sibling

of the Kabukicho area of Shinjuku.

The plaza on the north-west side exit of

the station, home to the Tokyo Metropolitan

Art Space, is a popular place for people to

meet up or just hang out. It can look a little

bit on the rough side due to the presence of

homeless shelters gathered on the far side,

but there's generally a friendly atmosphere

around the place, and there are often popup

stalls and cultural events taking place during

weekends and holidays so it's worth checking

ahead to see what might be going on.

Just over the road is West Gate Park,

which, despite once being viewed as an

area to avoid, features the famed Malaysian

restaurant Malaychan on its perimeter.

One of the few places in Tokyo that's halal

certified, this eatery's fish soup curry is well

worth a try.

good, this is a great spot to relax and take a

breather.

Didn't bring a book to read? Just around

the corner from the park is the perfect site

to go and pick one up. Even with today's

one-click ease of online shopping, a good

bookstore catering to English reading clientele

is always a welcome feature for a city, and

Junkudo has a particularly impressive selection.

Up on the ninth floor (which also acts as

a gallery for featured artists) you can find a

range of classic and modern literature, books

for kids, specialist material, and magazines.

RAMEN, BURGERS & HALAL CURRY

Of course, good food is also an appealing

feature of many spots across Tokyo, and Ikebukuro

is no exception. There are numerous

highly rated ramen restaurants scattered

around such as the top-notch Basso Drillman,

though expect to queue for those with a more

established reputation. If ramen isn't for you,

then stop by Darcy's Beer & Burger and grab

a supersized cola to accompany the impressively

sized signature burger.

TOKYO WEEKENDER | DEC 2017 - JAN 2018 | 9
---
STYLE

JIMMY CHOO PUMPS

'Tis the season to be sparkly, and these Jimmy Choo

heels are the ultimate holiday party companion.

Covered in double-sided gold and silver sequins, they'll

take you from Christmas to New Year – and everywhere

in between. If you feel hesitant about splurging on such

a festive pair of shoes that aren't too office appropriate,

rest assured: they can be dressed down with a pair of

dark skinny jeans and a simple white shirt.

jimmychoo.com

FASHION

VALENTINO BRACELET

If you're looking for a simple, reasonably priced

accessory that still makes a statement, this Valentino

bracelet is just what you need. Adorned with the Italian

label's signature pale-gold studs, this slim number is

cut from high-shine silver leather, adding just a bit of

punk rock to your look. Wear it on a daily basis stacked

next to your watch, or save it for special occasions

paired with a little black dress.

valentino.com

All you want for Christmas and

a happy New Year

Compiled by Vivian Morelli

10 | DEC 2017 - JAN 2018 | TOKYO WEEKENDER
---
SAINT LAURENT SWEATER

This number is a chic version of the classic Christmas sweater – it's plush,

colorful, and you'll want to wear it pretty much daily. Crafted in Italy from

a soft mohair blend fabric, it's shaggy and cozy, yet sophisticated enough

to wear to an event. It is also part of the collection designed by Anthony

Vaccarello, who recently took over as creative director of Saint Laurent,

and we can definitely feel the Italian influence in this piece.

ysl.com

JAEGER-LECOULTRE WATCH

If you're ready to invest in a timepiece that will take you through

the next several decades, look no further than Jaeger-LeCoultre, the

Swiss watchmaker known for intricacy and expertise. We love their

sleek and simple styles, and this Master Calendar model, with its

romantic moon phase and 18-karat rose gold case, encompasses

everything that makes JLC such a cult brand.

jaeger-lecoultre.com

BALMAIN DRESS

No matter where in the world you

spend the holidays, you'll need

that one go-to dress you can wear

to every function you're invited to,

including and not limited to endof-the-year

office parties, family

get-togethers, and nights out with

friends. We think this dress has it

all: it's got long sleeves (because

who wants to wear sleeveless

dresses in the winter?), and it

combines velvet, crystals and gold

eyelets (ideal for a celebration).

Keep it simple with elegant black

heels and no accessories.

balmain.com

GUCCI BOOTS

It's no secret that Gucci is experiencing a huge comeback

lately – their collections over the past few years are just

so beautiful, and good luck trying to get your hands on

their most coveted items before they sell out. These boots

are a perfect example of the Gucci aesthetic, combining

80s punk undertones with more traditional brogue

perforations, and tiger-head buckles. Keep them in the

spotlight and pair them with jeans or black trousers and

a simple shirt. Or go all out and wear head-to-toe, tigeremblazoned

Gucci. gucci.com

TOKYO WEEKENDER | DEC 2017 - JAN 2018 | 11
---
TRENDS

JAPANESE

CRAFTSMANSHIP

MEETS NORDIC

DESIGN

HYGGE UP YOUR HOME LIFE TO HELP FIND YOUR

IGOKOCHI AT KURASHI NO KATACHI

HYGGE MEETS IGOKOCHI

Beyond the furniture itself, Kurashi no

Katachi connects the Danish concept of hygge

and the Japanese igokochi ("comfortable

life"). These life philosophies may be similar,

on the surface, but rather they complement

each other, and have been used to create the

ultimate comfort zone in our homes. By moving

away from mindless consumerism and

focusing on a few beautifully made products,

you can "edit" your home life into a happier,

more comfortable one. By using high quality

tools, a craftsman can create better art. In the

same way, expensive tableware can enhance

the appearance of your food, in turn making

it taste better – the same concept applies to

furniture. Surround yourself in understated

luxury to create a home environment you can

truly feel at home in.

In a meeting of minds, design and culture,

Kurashi no Katachi ("The Form of

Living") opened in August 2017 to give

homage to understated luxury. The showroom,

inside LIVING DESIGN CENTER

OZONE, combines two previous exhibits

– Nippon Form and Nordic Form – and

introduces the best facets of Japanese and

Nordic design, woven together seamlessly.

HARMONY IN DESIGN

Both Japan and the Nordic countries have

long traditions of treasuring furniture and

other interior items, taking care of them so

that they can be passed on to the next generation.

Mixing the two may seem difficult, but

the simplicity of design from both regions

works surprisingly well – so well, in fact, that

you may not know which item is originally

from where. Here you'll find wooden furniture

by Børge Mogensen and Hans J. Wegner

perfectly paired with Japanese traditional

lacquerware items, or decorated with washi

paper umbrella accessories and lanterns.

12 | DEC 2017 - JAN 2018 | TOKYO WEEKENDER
---
[ PROMOTION ]

WHAT'S ON

AT OZONE

TRADITION FOR ETERNITY

Everyone lives such different lifestyles – there

is no right or wrong in interior design, as

people are free to choose what works for

them. By combining both Nordic and Japanese

designs, as well as mixing and matching

vintage and modern pieces, Kurashi no

Katachi strives to meet the needs of people

with a range of backgrounds and tastes.

Even so, they can confidently give one piece

of advice: choose items that will last generations.

By this, they don't simply mean a piece

of furniture that is well made: instead, choose

something that is high quality and has a simple

design. Minimalist, understated elegance

is always in style. This is where Nordic and

Japanese designs excel – and Kurashi no Katachi

boasts an exceptional selection of both

in interior accessories and furniture.

Two events to help you find

the best way to create a cozy

home this winter

GIFT – GIVE

A GIFT TO

A SPECIAL

PERSON OR

INDULGE

YOURSELF

As another

year comes to an end, it's a time to look

back at the hardships we faced and

the joy we received. Show gratitude to

friends and family for their support by

finding them the perfect gift. Or reward

yourself for all you've accomplished

by indulging with a little bit of luxury

in your daily life. Kurashi no Katachi

has curated an exclusive selection

of presents for these purposes. Here

you'll find practical, beautifully made

items, such as a high-quality wool

blanket, and delicate "letter" lanterns

made from washi paper that can

be custom-designed (find the artist

within and send a loved one a personal,

hand-painted beacon of light for their

home). Nov 30-Jan 5, Kurashi no Katachi,

5F OZONE

CLASSIC

FURNITURE

COLLECTION

2018

Discover the

very best of

the golden age

of Scandinavian design in this vintage

collection of 1950s and 1960s furniture.

Kurashi no Katachi has curated

an exclusive selection of furniture

for the year to come. Over 160 items

will be on display, including dining

tables and nesting tables, cabinets and

bookshelves, interior accessories such

as candle holders, and more. There will

also be an exclusive selection of Royal

Copenhagen plates and cups available

for purchase. Jan 25-Mar 13, Kurashi no

Katachi, 5F OZONE

STANDARD OF THE FUTURE

Staff at Kurashi no Katachi choose each individual item in the showroom with the utmost care,

following a policy of predicting "the standard of the future." This means they strive to create a

personal connection between the individual and their chosen furniture that goes beyond just

liking the design. To do this, they gather vintage favorites and pair them with new, innovative

designs to show how well they match and to help fuel customers' imaginations for their own

homes. Furniture should always have the possibility of being mended, allowing pieces to be

lovingly used for a long time.

LIVING DESIGN CENTER OZONE

Address: 3F-7F Shinjuku Park Tower,

3-7-1 Nishishinjuku, Shinjuku-ku

Web: www.ozone.co.jp/eng

TOKYO WEEKENDER | DEC 2017 - JAN 2018 | 13
---
Looking for a great place to eat, shop, sleep or play in Tokyo? Welcome to Weekender's

roundup of recommended restaurants, hotels, stores, salons and more. Here, we share

this month's editor's picks, but for the full lineup – as well as reader discounts and

special offers – simply head to www.tokyoweekender.com/the-concierge

Elana Jade Club 360

In need of some pampering? Elana Jade offers a range of deluxe

beauty treatments that will have you looking beautiful from

head to toe. All products used in our organic skincare lines are

delivered by internationally trained and experienced therapists.

Special offer: Enjoy a Polish Manicure for ¥4,000, valid until

January 31, 2018.

Club 360 is Tokyo's premier fitness and rehabilitation

center, offering personal training as well as treatment for

sports injuries, musculoskeletal and spinal conditions,

and rehabilitation programs in a spacious and private

setting. Club 360 also offers sports massage. Special offer: Book

in on any Monday and receive the "Massage Monday" special

discount.

HEALTH, BEAUTY & FITNESS | EDITORS CHOICE

www.elanajade.com

03-6453-9319

www.club360.jp

03-6434-9667

B1 Cma3 Building, 3-1-35 Motoazabu, Minato-ku

HEALTH, BEAUTY & FITNESS | EDITORS CHOICE

4F NS Azabu Juban Building, 3-6-2 Azabu Juban, Minato-ku

ABOUT TOWN | EDITORS CHOICE

Fujimoto

Dental Clinic

At this Ginza-based clinic, which was

founded in 1981, you'll not only receive

world-class specialist restorative

and periodontal dental care, but you'll

also be in the expert hands of Dr Kohei Fujimoto.

He is fluent in English, a graduate of the

University of Washington's Graduate Periodontics

Program, and certified as a Diplomate of the

American Board of Periodontology. Appointments

can be made via phone.

www.fujimoto-dental.com

03-5551-0051

4F Kami-Pulp Kaikan, 3-9-11 Ginza, Chuo-ku

14 | DEC 2017 - JAN 2018 | TOKYO WEEKENDER
---
PAST, PRESENT, FUTURE

We bid farewell to 2017, look at how Japanese hairstyles have evolved through the ages, and

give an admiring nod to the futuristic cinematic vistas of our favorite city.

TOKYO WEEKENDER | DEC 2017 - JAN 2018 | 15
---
AS WE BID FAREWELL TO

ANOTHER YEAR AND WELCOME

A FRESH START, WE REFLECT

ON THE BIGGEST AND

STRANGEST STORIES

OF THE PAST YEAR

Words by Matthew Hernon

ANTI-CONSPIRACY LAW

SPARKS FEARS OVER

CIVIL LIBERTIES

After being delayed three times

due to widespread public opposition, the

controversial anti-conspiracy law that gives

authorities the right to prosecute those who

plan crimes even if they don't carry them out,

came into effect in July. According to the government,

the bill was necessary for Japan to

become a party to the UN Convention against

Transnational Organized Crime and in order

to protect its citizens leading up to the 2020

Olympics. Critics, however, have called it

an abuse of power and an unconstitutional

attack on freedom of expression, while also

taking issue with the inclusion of lesser

crimes such as copying music and mushroom

picking in conservation areas.

BLACK WIDOW SENTENCED

TO DEATH BY HANGING

Chisako Kakehi, who used cyanide

to murder her husband and two

former lovers, and attempted to kill another

man, will now face the executioner herself.

Dubbed the "Black Widow" (a term derived

from the female spider that sometimes eats

its mate after copulation), she reportedly

inherited around one billion yen from the

death of her partners. Judge Ayako Nakagawa

described the 70-year-old's actions as "cunning

and malicious," stating that she had "no

choice but to impose the ultimate penalty of

death." At one stage Kakehi admitted to killing

her husband, but lawyers said the testimony

couldn't be trusted as she had dementia.

CHEATING ACCUSATION GOES

VIRAL FOLLOWING AC-

TRESS'S YOUTUBE RANT

A public spat between celebrity

couple Kazuyo Matsui and Eiichiro Funakoshi

caused quite a stir this summer with

the former accusing her actor husband of

adultery. She even uploaded a six-minute

video in English to reach out to a larger

audience. The 60-year-old actress claimed

Funakoshi was having an affair with her

best friend in Hawaii while also saying he

couldn't have sex without Viagra, had fake

hair, and was after her money. Funakoshi's

agency, HoriPro, announced they'd taken

legal action against Matsui for defamation

and business obstruction.

DEMOCRATIC PARTY

IMPLODES: LDP SAILS TO

VICTORY

A few days after Prime Minister

Abe called a snap election, leader of the

opposition Seiji Maehara disbanded the

Democratic Party, encouraging candidates

to run under the Party of Hope led by Yuriko

Koike. However, the Tokyo governor rejected

liberal and left-leaning members of the DP,

so Yukio Edano, the face of Japan during the

2011 nuclear crisis, formed the Constitutional

Democratic Party. With the competition

fragmented, the LDP and coalition partner,

Komeito, strolled to victory at the general

election, garnering a two-thirds majority.

The CDP became the largest opposition force

in the Diet, winning 54 seats, while the Party

of Hope won just 49. Koike later resigned as

leader.

EMPEROR AKIHITO GIVEN

PERMISSION TO ABDICATE

CHRYSANTHEMUM THRONE

In June, the Japanese government

passed a one-off bill giving the emperor permission

to stand down from a position he's

held for almost three decades. He will become

the first monarch to renounce the throne

since Emperor Kokaku back in 1817. The

Heisei Era is expected to end on March 31,

2019, with Crown Prince Naruhito succeeding

to the throne the following day. In other royal

news, Princess Mako, eldest granddaughter

of the emperor, announced her engagement

to former classmate Kei Komuro. As he is a

commoner, she will be forced to quit the

royal family.

FUJII FEVER SWEEPS THE

NATION

The Japanese public fell back in

love with shogi this year when

14-year-old school boy Sota Fujii went on a

29-game winning streak, breaking a record

that stood for three decades. Interest in the

teen intensified with each victory, and by

the end of the historic 29th game there were

reportedly 7.4 million viewers watching

on Ameba TV's shogi channel. Fujii, who

learned the basic rules of the game from his

grandmother, turned professional at 14 years

and two months. His first official win came

against legendary figure Hifumi Kato, the

game's oldest pro, who this year retired after

a career spanning six decades.

GRUELLING WORK

SCHEDULE CAUSES

REPORTER'S DEATH

NHK this year revealed that one

of its former employees died from karoshi

(death from overwork). Journalist Miwa

Sado, 31, passed away from congestive heart

failure in 2013, though the public broadcaster

decided to wait four years to make the

death public because her parents originally

wanted it kept quiet before changing their

minds this summer. Sado did 159 hours and

37 minutes of overtime in one month covering

a regional and national election. She was

found collapsed on her bed holding a mobile

phone. Japan is planning to cap overtime

at 100 hours a month, though many believe

that is still too excessive.

TOKYO WEEKENDER | DEC 2017 - JAN 2018 | 17
---
HAWKS DOWN DENA TO WIN

JAPAN SERIES

A ding-dong battle between

Fukuoka SoftBank Hawks and

Yokohama DeNA Baystars ended in dramatic

fashion as Keizo Kawashima hit a sayonara

single in the 11th inning of the sixth game to

clinch the Series 4-2 for the Pacific League

champions. Having lost the first three matches,

DeNA fought back bravely and looked set

to make it 3-3 overall until the bottom of the

ninth when Hawks tied the game. Pitcher

Dennis Sarfate was named MVP. The Hiroshima

Carp clinched their second successive

Central League championship, but lost to

DeNa in the Climax Series.

ISHIGURO RECEIVES NOBEL

PRIZE IN LITERATURE AS MU-

RAKAMI MISSES OUT AGAIN

After awarding the Nobel Prize in

Literature to Belarusian journalist Svetlana

Alexievich in 2015, and Bob Dylan in 2016,

the Swedish Academy decided to go down the

more traditional route this year, giving the

accolade to Remains of the Day and Never Let

Me Go author Kazuo Ishiguro for novels that

"uncovered the abyss beneath our illusory

sense of connection with the world" and were

driven by a "great emotional force." The British

writer's accomplishment was celebrated

in Nagasaki where he was born, but not by

everyone in Japan. For Harukists – ardent

fans of Haruki Murakami – the long wait

goes on.

-ALERT WARNING SYSTEM

CAUSES CONFUSION IN

NORTHERN JAPAN

In the space of a month, North Korea

launched two missiles over Japan,

triggering the J-Alert system. In numerous

prefectures in the north of the country, warnings

blared out from loudspeakers, messages

were sent to mobile phones, and regular TV

programs were interrupted. Citizens were

told to take cover in a sturdy building or

escape underground; however, in many areas

there are no such places nearby, so residents

were confused as to what to do. Some complained

that the warning area was too vast,

causing panic in cities that clearly wouldn't

be affected.

KIRYU BREAKS NEW

GROUND WITH SUB-10

SECOND RUN

It's been a good year for Japanese

sprinters. At the Athletics World Championships

in London, 18-year-old Sani Brown

raced into the record books, overtaking Usain

Bolt as the youngest ever finalist in the men's

200 meters. In the 4x100 meters relay, Shuhei

Tada, Shota Iizuka, Yoshihide Kiryu and Kenji

Fujimitsu came in third behind winners Great

Britain and the United States, giving Japan its

first medal of the championships. A month

later, Kiryu became the first Japanese runner

to break the 10-second barrier in the 100

meters, clocking 9.98 seconds at an intercollegiate

meet in Fukui.

LDP LAWMAKER PHYSICAL-

LY AND VERBALLY ABUSES

"BALDY" SECRETARY

Harvard graduate Mayuko Toyota

was forced to resign from the Liberal Democratic

Party after weekly magazine Shukan

Shincho released an audio file of her in a car

yelling insults at her secretary. Referring to

him as hage ("baldy"), she screams about

him damaging her reputation while the man

apologizes and pleads with her not to hit him

while he's driving. According to the magazine,

in a separate incident she had threatened

to crush his head with a lead pipe. Under

pressure from LDP leaders, Toyota agreed to

leave the party and was then hospitalized due

to her unstable condition.

MORITOMO AND KAKE

SCANDALS DAMAGE

ABE'S REPUTATION

In February it was reported

that Moritomo Gakuen, an ultra-nationalist

Osaka-based school operator, had been given

permission to construct a new elementary

school on a government-owned tract of land.

The price was just ¥134 million, over ¥800 million

less than the appraisal value, and Japan's

first lady Akie Abe was listed as the honorary

principal. As a result, accusations of favoritism

were levelled at the government. Three

months later, the prime minister was again on

the defensive as he was accused of helping his

friend Kotaro Kake win approval for a private

veterinary school. Despite there being no actual

evidence of cronyism, Abe's approval rating

sank to an unprecedented low of 26 percent.

NINJA BURGLAR, 74, NABBED

AFTER EIGHT-YEAR CRIME

SPREE

Always dressed in black with a

neck warmer pulled up to his nose and a hood

down to his eyes, the Ninja Burglar had the agility

to run on top of roofs and squeeze through

tight spaces. For eight years he managed to

avoid capture, stealing cash and goods worth

around ¥30 million, but his luck finally ran

out this spring when the neck warmer he was

wearing slipped, revealing to security cameras

the face of senior citizen Mitsuaki Tanigawa. "If

I were younger, I wouldn't have been caught,"

he was quoted as saying. "I'll quit now as I'm 74

and old enough."

OKINOSHIMA GRANTED

WORLD HERITAGE STATUS

A sacred religious island in Japan

that bans women and requires

men to strip naked before entering was this

year declared a UNESCO World Heritage Site.

Okinoshima, along with three nearby reefs and

four related locations, joined the country's 20

other natural sites already recognized by the

United Nations cultural agency. Thousands of

artifacts, brought over as gifts from abroad,

can be found on the remote island, including

gold rings and swords. Visitors must undergo a

cleansing ritual upon arrival, are not permitted

to take anything away with them and must

never speak of the trip.

POP PRINCESS SET TO CALL IT

QUITS

Considered music royalty in Japan,

Namie Amuro has amassed 14 number

one singles and sold over 35 million records

in a career spanning a quarter of a century. To

the surprise and disappointment of her many

fans she announced on her 40th birthday this

autumn that she would be retiring in 2018. Her

last ever album, Finally, a compilation of 52

songs spanning her entire career, was released

in November and sold over one million copies

in its first week. She is the only Japanese artist

to reach the million selling mark in her teens,

20s, 30s and 40s.

QUALITY CONTROL LAPSES

HARM "JAPAN BRAND" IMAGE

Once the envy of the world, Japanese

manufacturing companies

have long been known for their meticulous

attention to detail and concepts such as kaizen

(continuous improvement). This year, however,

many major corporations in the country have

made headlines for all the wrong reasons. In

January, three Takata Corporation executives

were sued because of the company's defective

airbags. A few months later, Takata filed for

chapter 11 in the US and bankruptcy protection

in Japan. In the automobile industry, meanwhile,

it was uncovered that Subaru and Nissan

had conducted inspections by uncertified staff,

while Kobe Steel Ltd. revealed that it falsified

data related to the strength and durability of

some aluminum and copper products used in

aircrafts and cars.

18 | DEC 2017 - JAN 2018 | TOKYO WEEKENDER
---
RACIST TWEET OVERSHAD-

OWS SATO'S INDY 500

TRIUMPH

Ex-Formula One driver Takuma

Sato this year became the first ever Asian

driver to win the Indianapolis 500, the event

popularly known as "the greatest spectacle in

racing." Unfortunately, his victory was slightly

marred by a tweet sent by The Denver Post

journalist Terry Frei who wrote, "Nothing specifically

personal, but I am very uncomfortable

with a Japanese driver winning the Indianapolis

500 during Memorial Day weekend."

After a backlash, the columnist apologized,

stating that his father had been a veteran of

World War II. But the damage had been done

and he was fired by the newspaper.

SEX CRIME LAWS

FINALLY AMENDED

AFTER 110 YEARS

In what is the first major overhaul

in more than a century, Japan's penal code

stipulating tighter sentences against sexual

crimes went into effect this summer. Revisions

include raising the minimum sentence

for rapists from three to five years as well

as the removal of a provision that requires

victims of sexual crimes to press charges in

order to prosecute. It also broadened the

definition of rape to include oral and anal

sex. In May, journalist Shiori Ito called a press

conference, telling reporters that she had

been raped by a high-profile TV reporter, but

he was never prosecuted because of what she

claims was a flawed investigation.

TORRENTIAL RAIN BATTERS

KYUSHU, KILLING 36

In early July, several cities were

badly damaged as the heaviest

rainfall on record hammered the southwestern

island of Kyushu. The downpour was caused by

a phenomenon known as senjo kosuitai (linear

rainbands) in which bands of giant cumulonimbus

clouds remain stationary in the air for

several hours. It triggered widespread flooding,

and landslides were reported in several areas.

Over 400,000 people were forced to evacuate

their homes as parts of Fukuoka Prefecture

were hit with 774mm of rain in just nine hours.

Thirty-six people died as a result of the disaster.

UNKO KANJI DORIRU

AUTHOR MAKES A

FORTUNE FROM POO

A series of six kanji study books

featuring 3,018 sentences that all include the

word "poo" has proved a massive hit this

year, selling more than two million copies

in its first three months. Released in March,

Unko Kanji Doriru (Poo Kanji Drills) attempts

to give children a more enjoyable learning

experience by associating kanji characters

with a word they all seem to love. "Adults

would raise their eyebrows, but for children,

the word 'poo' is magical and makes things

fun," author Yusaku Furuya told Kyodo News.

Japanese kids are expected to be able to read

and write 1,006 kanji characters by the time

they finish primary school.

VANILLA AIR APOLOGIZES

TO DISABLED MAN FORCED

TO CRAWL UP STEPS

Informed that he wasn't allowed

to board a flight back to his hometown of

Osaka from the southern island of Amami

because there was no wheelchair access,

disabled-rights activist Hideto Kijima decided

to get on the plane anyway by crawling up a

portable boarding staircase. The budget airline,

which is owned by All Nippon Airways,

apologized to the passenger and announced

that it had ordered an electric wheelchair

lift for its planes from Amami following the

incident. On his Facebook page, Kijima received

both support and criticism, with some

accusing him of unfairly targeting the airline

or making unreasonable demands.

WORLD CUP QUALIFICA-

TION SECURED FOR

SAMURAI BLUE

Japan qualified for its sixth

consecutive World Cup after beating Australia

2-0. Under pressure going into the game,

coach Vahid Halilhodzic's decision to play a

relatively youthful side, dropping high-profile

players such as Shinji Kagawa, Shinji Okazaki

and Keisuke Honda, paid off. In club football,

Rafael Silva was the hero as Urawa Reds became

the first J-League side in 10 years to win

the Asian Champions League. The Brazilian

striker scored in both legs of the final as the

Saitama-based club defeated Saudi Arabia's

Al-Hilal 2-1 on aggregate, earning them a

place at the Club World Cup alongside Real

Madrid in December.

XIANG XIANG CHOSEN AS

THE NAME OF JAPAN'S

NEWEST PANDA

Following a record 322,581

suggestions from the public, Tokyo governor

Yuriko Koike announced that Ueno Zoo's

latest main attraction would be called Xiang

Xiang, 100 days after the panda was born to

mother Shin Shin and father Ri Ri. The name,

which means either "fragrance" or "popular"

in Chinese, received 5,161 submissions. Her

parents arrived in Tokyo in 2011 and gave

birth to a male cub a year later. It was the

zoo's first panda delivery in 24 years, but sadly

he died of pneumonia after just six days.

Xiang Xiang is expected to make her public

debut in December.

YOKOZUNA HARUMAFUJI

INJURES FELLOW WRES-

TLER IN KARAOKE BRAWL

Grand sumo champion Harumafuji

is set to be referred to prosecutors after

assaulting lower-ranked wrestler Takanoiwa

following a drink-fueled altercation in Tottori.

The renowned Mongolian Yokozuna admitted

to striking his fellow countryman with his

fists and a remote control, but denied using

a bottle in the attack. It's the latest in a long

line of scandals that have engulfed the sport

in recent years, and occurred at a time when

sumo was regaining popularity. In January,

Kisenosato delighted Japanese fans by becoming

the first homegrown wrestler to attain the

rank of Yokozuna in 19 years.

ZAMA SERIAL KILLER SUS-

PECT ALLEGEDLY HID BODY

PARTS IN COOLERS

Takahiro Shiraishi admitted to the

police that he murdered nine people, all aged

between 15 and 26, before dismembering their

bodies at his small apartment in Zama, Kanagawa

Prefecture. The unemployed 27-year-old

allegedly contacted females via Twitter, telling

them he would assist with their suicides, and

then killed them shortly after they met. He has

also confessed to rendering them unconscious

and hanging them with a rope. The killing

spree reportedly lasted two months. Shiraishi

told officers that he took three days to

dismember his first victim before slaying her

boyfriend who had tracked him down.

TOKYO WEEKENDER | DEC 2017 - JAN 2018 | 19
---
JAPANESE

HAIRSTYLES

THROUGH THE AGES

We take a look at how nihongami has evolved and been shaped by

cultural changes throughout the history of Japan

Nihongami literally translates to "Japanese hair"

and covers the various hairstyles from the Kofun

period (250-538) to the early Showa period (1926-

1989). Early Japan was strongly shaped by Chinese

culture, but by the Heian period (794-1185) noble

courts rejected these influences. Heian aristocrats were notably

particular about their fashion, and their beauty standards

were exceptionally high. Women grew out their hair and wore

it straight in the style depicted in the famous illustration from

The Tale of Genji. Washing the hair was an arduous task, especially

since noblewomen could barely

move in their 12 layers of kimono – attendants

had to do most of the work.

After the Heian period, hairstyles slowly

became more elaborate – we'll skip to the

Edo period (1603-1868), which was a golden

era for nihongami. During this time, the

vast number of hairstyles recorded through

ukiyo-e prints and other materials was unprecedented.

This era saw the rise of merchants

and merchants' wives who drove

popular fashion, as they had the means and

the time to spend on such frivolities. Samurai

and their families had status and controlled

the government, but were limited

financially.

The shimada was one of the many styles that became

popular (of which there are multiple types) but it generally

featured wide parts to the sides by the ears and was pulled

up into a bun at the top or back. Each type of hairstyle was a

visible indicator of a woman's status or role in society – a widow

would carry a different coif from a young unwed girl. Hair

accessories and combs would be inserted into the hair, making

Words by Lisa Wallin. Illustrations by Bunny Bissoux

EACH TYPE OF

HAIRSTYLE

WAS A VISIBLE

INDICATOR OF A

WOMAN'S STATUS

OR ROLE IN

SOCIETY

them very heavy – especially if extra hairpieces to add volume

were inserted. These hairstyles were meant to last for several

days – even up to a week – and were held in place by wax.

Similar styles can be seen on modern geisha and maiko,

though they have an even broader range of designs. One of

the most elaborate styles – known as hyogo – spreads the hair

bun at the back into a butterfly shape. Courtesans wearing this

style during the Edo period would also shave the hair at their

temples and forehead to form a widow's peak.

With the Meiji Restoration (1868), a rush towards Western

trends and styles drew forth, especially visible

in the Taisho, and Showa periods that

followed. Men drove the change in fashion

and hair at this point – leaving behind status

symbols like the chonmage (topknot)

hair of samurai and favoring shorter cuts

and mustaches. Women were more restricted,

but slowly started changing too –

first with their hair, and then by postwar

Showa eventually shedding the kimono as

daily wear.

Though the traditional nihongami style

technically ended with the Showa period

– it's a style almost synonymous with the

wearing of kimono – young Japanese people

have continued to find creative ways to

express themselves through their hair. The 1980s bubble era

cuts and waves, as well as the 1990s spiked host hair (that lasted

well into the 2000s!) are still clear indicators of those time

periods. Currently, trends are leaning towards more unisex

and androgynous looks, with more daring color palettes for

both men and women. What will the next chapter of modren

nihongami look like? Only time will tell.

20 | DEC 2017 - JAN 2018 | TOKYO WEEKENDER
---
TOKYO WEEKENDER | DEC 2017 - JAN 2018 | 21
---
WHAT MADE MELO IMAI TURN HER BACK ON THE

SPORT SHE GREW UP WITH AND SEEK OUT A

CAREER AS A TARENTO INSTEAD?

Words by Matthew Hernon
---
The PyeongChang Winter Olympics

is just two months away and team

Japan will be hoping for much

better results than they managed at

the Turin Games in 2006. Back then

there was only one shining light as Shizuka

Arakawa became the first individual from

this country to win a gold medal in figure

skating. It was a memorable achievement

that was celebrated up and down the land.

The years of vigorous training, early mornings

and strict dieting had all been worth it

as the elegant skater realized her lifelong

dream.

As for the rest of the Japanese competitors,

there was little to get excited about. Expectations

were high going into the Games,

yet just one athlete managed to make the

podium. Among those tipped to challenge for

a medal was 17-year-old snowboarder Melo

Imai in the halfpipe competition. She had

made remarkable progress since becoming

a professional aged just 12 and was in good

form going into the event, but in the end

finished last in the qualifying round after injuring

her torso and abdomen. The contrast

between the youngster and the successful

Arakawa could not have been any starker.

While the latter cried tears of joy, Imai was a

blubbering wreck.

Despite still being in her teens, it was effectively

the end of what had looked like an

extremely promising career. She competed

again and won at the Takasaki Cup in 2008,

but her heart wasn't really in it. The physical

pain she was able to recover from, but the

mental anguish went much deeper. The

youngster grew to resent snowboarding and

everything it represented. The fun element

had gone. It was simply about winning and

the pressure had become insufferable.

"For many athletes the Olympics is the

pinnacle of their career, but for me it was a

nightmare," Imai tells Weekender. "I don't

just mean because I got injured and failed to

progress. The whole experience was terrible.

Leading up to the Games I had this constant

fear of failure, like a choking feeling. It was

the same throughout my career."

The feeling that she constantly needed

to please her father was one of the main

reasons for the stress, especially in the early

days. "I knew if I lost he would be angry,"

recalls Imai. "When I won he would compliment

me, and that was my motivation.

I wasn't doing it for myself at all. He was

delighted that I qualified for the Olympics;

however, in the months leading up to the

Games I stopped contacting him. I thought

that would give me a new lease on life, but

I was then winning tournaments and not

feeling anything. I started to question what

it really meant to be number one. Even if I'd

finished first in Turin, I don't think I would

have been satisfied. I wish I hadn't gone."

Imai began snowboarding at the age of

seven along with her nine-year-old brother

Dome Narita. They had been encouraged

to take up the sport by their father Takasha

Narita, who founded a snowboarding

club in Japan after being impressed by a

kids' school he took them to in Canada. His

children quickly became the star pupils, and

Narita pushed them hard so they would be

able to reach their potential.

It soon had the desired effect. At the

age of 14, Imai became the world junior

halfpipe champion, and in the build-up to

LEADING UP TO THE GAMES I HAD THIS

CONSTANT FEAR OF FAILURE, LIKE A CHOKING

FEELING. IT WAS THE SAME THROUGHOUT

MY CAREER

the 2016 Olympics she defeated a number

of top contenders including eventual silver

medalist Lindsey Jacobellis. From the outside

she looked like a carefree teen living

the dream, but the reality was somewhat

different. Training sessions were tough with

an emphasis on discipline and hard work

rather than enjoyment, and away from the

snow there was little respite.

"We would often go to Nagano to

practice, and work on our technique with a

trampoline at our home in Osaka," recalls

Imai. "Training would usually start at 5am

and sometimes I wouldn't be finished until

11 at night. Dad said we should be constantly

focusing on snowboarding, so I didn't

have to attend school. As a result, I didn't

get much of an education."

She also wasn't allowed a social life. "My

hair was short, and I always wore training

pants," says the former Olympian. "I didn't

have the opportunity to be like other girls,

wearing make-up, going to karaoke, shopping

with friends and so on. I envied people

my age having the freedom to do the kind of

things that are considered normal for most

teenagers. It just wasn't an option for me as

I felt I couldn't disobey my father."

Eventually it all became too much. She

broke off ties with the man who had got

her into snowboarding in the first place,

and changed her name from Narita to her

mother's maiden name of Imai. Her brother

had stopped working with his father months

earlier. Dome, who is now a minor celebrity

in Japan, was also seen as a genuine

contender for a medal in Turin, but like his

sister failed to qualify for the final. He continued

competing for another year before

turning his back on the sport following an

injury. For a long period he couldn't even

look at a snowboard, and he completely

withdrew from society.

Imai had an even tougher time. After

initially shutting herself away, she tried to

rebuild her life, but with no qualifications

or skills except for snowboarding and wake

boarding, it proved difficult. She struggled

to make ends meet working at a convenience

store and family restaurant.

But in recent years things have been

looking up. She has worked as a gravure

idol (a model who appears in magazines,

photobooks or DVDs targeted at men) and

has featured in some more adult material,

which she says has helped to clear her debt.

A single mother of two, her children are

the most important part of her life, and she

doesn't want her own financial difficulties

to impact on their lives. Working as a model

has also helped to give the 27-year-old more

confidence in herself.

"I used to be really shy and felt that I

always needed to cover my body," she says.

"That is something that has changed in

recent years. I've had work done, but it isn't

the only reason. Since I started working as

a gravure idol in 2013, I began to believe in

myself much more. To do that kind of job

you can't be a shrinking violet. It has helped

me a lot."

Often portrayed as a tragic figure by the

press, Imai comes across as quite a positive

character when you meet her in person.

There have been a number of low points

down the years, but she doesn't regret the

decisions she's made and insists that she's

now in a happy place.

"There's been a lot written about my life

in magazines and newspapers, but I believe

people shouldn't judge me based on what

they've read," Imai says. "Speak to me and

you will see that not everything is negative

in my life. I'm enjoying my work as a gravure

idol and am back snowboarding again.

I'm also coaching the sport to various kinds

of people, including my son and daughter.

I want to make it fun without putting them

under any pressure at all: The exact opposite

to how I was taught."

TOKYO WEEKENDER | DEC 2017 - JAN 2018 | 23
---
LIGHT

CHASER

Inspired by the cinematic vistas that Tokyo

has to offer, photographer Lukasz Palka

has spent nearly a decade capturing the

city's bright spots and hidden corners

Words by Tracy Jones

Photographs by Lukasz Palka

24 | DEC 2017 - JAN 2018 | TOKYO WEEKENDER
---
EVEN THOUGH IT'S A

CITY OF 13 MILLION

PEOPLE ... THERE ARE

THESE UNKNOWN

PLACES

endless ... As a photographer, there are so

many stories to tell, so many things to shoot."

His Noctopolis series is a collection of

night images that capture a city unwinding

from its daily grind. In one photo, there's a

narrow enclave exposing the back kitchen of

a Chinese restaurant. The scene is a cavernous

patchwork of hangers, a sink, two white

statues of smiling children, and tarp hanging

from the ceiling corners. Colors and detail

compose chaos. Everything looks like it could

be covered in grease with peach hairs of dust

and grit, giving it texture. Lukasz says that he

was thinking of the street scenes from Blade

Runner when he shot it. (At the time of writing,

the film Blade Runner 2049 had just been

released in Japan. Lukasz had already seen it.

He says he "still prefers the original. But this

one was a great continuation and expansion

of the world. I enjoyed it a lot.") The film's

apparent influence on Lukasz's work gives

Photographer and

Eyexplore co-founder

Lukasz Palka came to

Tokyo as a Sophia University

exchange student. He

was born in Poland, but his parents

immigrated to Chicago when he

was five. After graduating college,

to postpone "getting a real job," he

figured he'd teach English in Japan.

It didn't seem far-fetched since some

of his friends were already doing

it. Nine years ago, his plan was to

stay here for a year. While teaching

during the day and photographing

Tokyo at night, he fell in love with

the city. Taking pictures was always

a casual hobby. It was something

that he picked up from his father, but

the longer he stayed here, the more

serious he got about his craft. "What

I like most is Tokyo itself," he says.

Famous for its otherworldly

culture, the city's nightscape is like

an incarnation of the film Tron.

The limelights of Tokyo's popular

spots beam an omnipresent tone,

coloring the reflecting streets. It's

the dark fringes of those areas that

Lukasz drifts through, unearthing

their beauty as though mining

treasure. "Tokyo does have its touristy

spots, but if you go 15 minutes

in any direction, away from those

hot spots, suddenly you're on your

own. You might find something

to photograph that no one's ever

photographed before. Even though

it's a city of 13 million people ...

there are these unknown places,"

he says. Focusing on landscape

and street photography, "Tokyo is

extremely diverse when you go to

different areas ... it's so big and

TOKYO WEEKENDER | DEC 2017 - JAN 2018 | 25
---
FROM ABOVE, THE STREETS ARE

GRIDDED CRACKS OF LIGHT. THE

LIGHT IS LIFE. DARKNESS IS DEATH,

CLOAKING THE SKY

perspective to his other series, L'appel du

vide, French for "the call of the void."

It's a sequence of rooftop photos, and

named after a phenomenon that urges the

mind to naturally think about self-sabotage

or suicide. When Lukasz wandered

up to rooftops, he'd point his camera down

toward the city and feel the call. "At first

I was just exploring the alleys," he says,

which eventually led him to look up. From

above, the streets are gridded cracks of

light. The light is life. Darkness is death,

cloaking the sky. Perhaps from a foreigner's

perspective, the roofs are actually a

refuge from the illuminated eye of a homogenous

world. He says the atmosphere

up there is "serene."

Other classic Tokyo-inspired flicks

like Akira, Ghost in the Shell, and The 5th

Element also inform his work. They give

him a "feedback loop of inspiration." To

study how images communicate story,

watching film helps him develop content

and context. "In photos, because it's a still,

the emphasis is so much on composition.

The really impressive photos have really

wild composition. There are so many layers

to [them]. In movies, that's sometimes

26 | DEC 2017 - JAN 2018 | TOKYO WEEKENDER
---
the case, but often it's not. The composition needs to be

there to convey the story ... [allowing for] the feelings and

the emotions to come through," he said. His craft's growth

extends from asking himself, "How can I get a composition

that works to tell a story, rather than it just being a great

amazing impressive composition?"

Two years ago, at Gaba, one of Japan's biggest language

teaching companies, Lukasz was still an English instructor.

For almost seven years, he had been working his way up to

management. He had finally come full circle, acquiring that

"real job" that he set out to avoid a decade earlier. He got

health care, a pension, salary, and he was working full time

as a manager. With job security he was safe. Then he quit.

Together with his friend Axel Deroubaix, who is based

in Osaka, Lukasz co-founded Eyexplore. "Think of it as a

personal trainer at a gym teaching you how to work out.

We're like personal trainers for photography," he says. He

takes his clients on what his company calls "photo adventures."

It's a class combined with a tour. Out in the field,

Lukasz critiques his students' images and teaches them

different photographic concepts. "It isn't formal, but we do

teach by going out and doing." These days Lukasz actually

works seven days a week, but "I love teaching," he says. "I

just don't like teaching English."

TOKYO WEEKENDER | DEC 2017 - JAN 2018 | 27
---
visually to say. Having photographed this city for almost

10 years, he's gotten to know Tokyo in a way that few

foreigners do.

With thousands of admirers following his Tumblr

page, people often "heart" his images, but in a blog post

entitled, "Becoming A Hermit In The Woods," he writes

about not wanting to fall victim to "the seduction of the

'Like'." "The path to creativity is fraught with fear, uncertainty,

and self-doubt as it is," he writes. "Why add to

that by subjecting one's work to the fickle attitudes of the

social masses?"

Freelancing for various travel media platforms, he

only takes gigs that challenge his craft. He hasn't shown

at a gallery. Although he's never even printed out his pictures,

he wants to publish a book – that is if he can get out

of his own way. "I've never finished a project. It's hard.

That's where I'm at. How do I actually finish a project ...

and say, 'Ok, this is done.'"

When asked about smartphones turning everyone

into a photographer, he says, "I think that no matter how

good you get at photography, if you go out with someone

else who knows what they're doing ... who has a different

perspective on things, you're going to learn something."

For beginners, and even professional photographers,

"when you're in a foreign town ... it is nice to have someone

who knows the area extremely well and can take

you to interesting spots and show you compositions that

you might not have thought of if you were just passing

through a place ... The thing that I think Eyexplore

brings to the table is that we know how to convey [photo]

concepts cleanly and effectively so that people can learn.

We're trying to be like [former Chicago Bulls coach] Phil

Jackson, not Michael Jordan."

Photography pioneers Alex Webb, Saul Leiter, and

William Eggelston were famous for communicating

through images. Lukasz, like his idols, has something

28 | DEC 2017 - JAN 2018 | TOKYO WEEKENDER
---
33 WAYS TO EXPERIENCE THE BEST OF JAPAN

Whether you're looking to explore a remote part of the country, or you want to learn a

traditional art like woodblock printing, we've got plenty of ideas for your must-do list.

Contributors

Lisa Wallin, Alec Jordan, Annemarie Luck, Naomi Schanen

TOKYO TOKYO WEEKENDER WEEKENDER | DEC | 2017 DEC - 2017 JAN - 2018 JAN 2018 | 29 | 29
---
experiences ACTIVITIES

Launched in 2015, Omotenashi Selection is a collection

of quality Japan-made products conveying the country's

craftsmanship and hospitality (summed up by the word

"omotenashi"). This year the project launched its Experiences

category, giving visitors to Japan the chance to discover

the best the country has to offer in terms of restaurants,

accommodation and activities. To kick off this issue's special

"Experience Japan" section, we bring you 24 venues and

activities handpicked by the Omotenashi Selection team.

For more information about the project, visit omotenashinippon.jp/selection/en

CREATE GOLD LEAF CRAFTS

WHERE: KANAZAWA, ISHIKAWA

PREFECTURE

Kanazawa is famous for producing nearly all

of Japan's gold leaf, and has been doing so

since back in the mid-1500s. Gold Leaf Sakuda

was founded in 1919, and has built a reputation

for creating high quality gold leaf products

using traditional methods, even receiving

a nod from the Michelin Blue Guide. At

Sakuda's trial workshops, you can experience

making your own gold leaf designs. Choose

from a selection of patterns or create your

own from scratch. There are different items

to choose from such as chopsticks, mini boxes,

wooden pendants, and mini cherry boxes.

The workshop lasts about one hour and the

cost ranges from ¥600 to ¥3,400 depending on

the item you choose. goldleaf-sakuda.jp/en

SHOW OFF YOUR METALWORKING SKILLS AT A

KNIFE-MAKING WORKSHOP

WHERE: SANJO, NIIGATA PREFECTURE

It's rare to find a facility where you can experience knife-making using traditional manufacturing

methods. At Sanjo Blacksmith Training Hall's workshops, however, you can try out Japanese

nail-making, letter opener-making, and knife sharpening with traditional Sanjo techniques.

Using a coke forge, steel chopsticks and hammers, you'll get to experience real metalworking

alongside skilled craftsmen. You'll also leave with a new appreciation of the skill that goes into

traditional Japanese monozukuri (manufacturing). kajidojo.com

30 | DEC 2017 - JAN 2018 | TOKYO WEEKENDER
---
experiences ACTIVITIES

TREAT YOUR IMPORTANT

GUESTS TO OMOTENASHI

TRAIN TO BECOME A SAMURAI WARRIOR

WHERE: TOKYO

Yumonoya's Japan Culture Experience Tours in Asakusa

offer a variety of activities, including kimono rental and

samurai training. The latter is based on the Takafuji dance

company and Kenbu Tachibana itto-ryu style, and teaches

you not only swordsmanship but also the manners and

mindset of a true samurai warrior. You'll even get a samurai

training certificate to prove you've made the grade. As

for the kimono rental service, visitors can choose from a

selection of beautiful kimono sets made from traditional

Japanese fabrics. tokyo-samurai.com

WHERE: TOKYO

Take the pressure off special occasions with Four Heart's Care

Escort service. Whether it's at a wedding or while traveling,

Care Escort will look after important guests and ensure that

they receive the best treatment. Staff conduct meetings with

family members in advance to create a strong relationship

with their customers and understand what they are looking

for. Staff are trained to serve in different roles – such as care

workers or bridal planners – so as to match customers' needs.

To provide the best service for their clients, Care Escort regularly

provides training in customer care and social etiquette.

care-escort.com

RENT A RICKSHAW FOR A

SPECIAL OCCASION

WHERE: TOKYO AND

BEYOND

Asakusa in Tokyo is known for

being a hotspot for rickshaw

rides, but with Kurumaya you

can also request specific destinations

around Tokyo (and all over

Japan) for special occasions. For

example, perhaps you'd like to

treat your other half to a nostalgic

trip around a memory-filled

area on your anniversary. All

staff at Kurumaya work as both

rickshaw drivers and craftsmen,

and the rickshaws can easily be

assembled and disassembled, so

drivers can meet you anywhere

you want. asakusa4028.com/

anywhere

FIND YOUR ZEN AT A

TRADITIONAL TEA CEREMONY

WHERE: TOKYO

Step into a tranquil Japanese tea haven

at Chazen & Co. in Ginza. Offering a tea

ceremony experience right in the heart of

Tokyo, the authentic space was created by

an expert tearoom designer and features

a nijiriguchi (small door), tatami floor,

and other traditional details. Experience

the art of the Japanese tea ceremony

and feel true omotenashi spirit at this

foreigner-friendly program. Reservations

required. Top tip: Ask for the Omotenashi

Selection Plan, and you'll receive letter

packs that allow you to enjoy the tea ceremony

experience at home. chazen-us.com

TRY YOUR HAND AT CREATING

PLASTIC FOOD ART

WHERE: OSAKA

Fascinated by Japan's food samples whenever you pass by a

restaurant? Here's your chance to experience the art of food

sample-making for yourself. From parfaits and tarts to sushi

and bento boxes, Design Pocket offers visitors a variety of

fake food lessons. If you're feeling up to the challenge, take on

the technical process of making macaroons, which involves

coloring the resin and heating the whole thing in an oven

to finish it off. Of course there are plenty of food samples

available for purchase too. The workshop takes about 40 to

60 minutes and lessons start at ¥2,160; service is provided in

English, Chinese and Korean. www.designpocket.net (Japanese),

tinyurl.com/TWdesignpocket (English)

TOKYO WEEKENDER | DEC 2017 - JAN 2018 | 31
---
experiences FOOD

EAT SOPHISTICATED BUDDHIST

CUISINE AT AN INNER-CITY RETREAT

WHERE: TOKYO

Shojin cuisine is a vegetarian meal that originated in Japanese

Buddhist temples. At DAIGO, not far from Toranomon Hills,

you'll get to try an elaborate, kaiseki (traditional multicourse

meal) version of the food while being immersed in an elegant

atmosphere of Japanese gardens, traditional furnishings

including hori-kotatsu (low tables over a sunken floor) and

tatami, and teahouse-style architecture. The menu changes 20

times a year, allowing you to encounter a variety of different

dishes and enjoy seasonal delicacies. atago-daigo.jp

PREPARE AND EAT SEASONAL DISHES WITH A

TOP JAPANESE CHEF

WHERE: TOKYO

Hifumian is a Japanese cooking and culture school in Kagurazaka that offers lessons for

foreign attendees in local home-style cooking. The menu is centered around traditional

festivals, and is planned by matching seasonal ingredients with these special occasions.

Those taking part in the class can help with the cooking preparations, and then watch Chef

Takamitsu Aihara cook the meals while he explains the history, meaning and traditions

behind Japanese festivals. Being a key figure in the world of Japanese culinary arts, Aihara

makes sure that the class has a friendly atmosphere and places an emphasis on the joy of

cooking. Omotenashi is expressed in the form of the beautiful arrangement of the food, the

use of Japanese dishware, and seasonal decorations. en-salon.hifumi-an.com

DESIGN YOUR OWN SUSHI ROLL AT

A DESIGNER RESTAURANT

WHERE: KYOTO

Try out a variety of beautifully arranged Kyoto delicacies

at AWOMB, a restaurant with a wabi-sabi vibe

that's housed in a remodeled 80-year-old kyo-machiya

(traditional wooden townhouse). Colorful ingredients

including kyoyasai (Kyoto's traditional vegetables with

unique shapes and hues), yuba (tofu skin), and seafood

decorate the plates, while the dishes are garnished

with seasonings such as kuroshichimi (blended black

spices) and sansho (Japanese pepper). You can even

mix all your favorite ingredients in a temaki hand-roll

sushi or teori-sushi, and make the meal your own.

The presentation of the ingredients reflects the grid

patterns of the streets of Kyoto. awomb.com

DINE AMIDST A BAMBOO FOREST IN THE CENTER OF TOKYO

WHERE: TOKYO

French chef Stephen Pantel's concept for The Classica Omotesando's cuisine is the harmony

between Japan and the West, light and shadow, and luxury and intimacy. Born

from Pantel's imagination, the course menu changes four times a year in accordance

with the seasons, and guests can watch as food is prepared by talented chefs in the

open kitchen. A mini bamboo forest surrounds the venue, making the elegant space

feel like a nature-filled escape. Need to plan a wedding or special event? The venue

also offers a pretty onsite chapel and banquet hall for the perfect urban celebration.

classicaomotesando.jp

32 | DEC 2017 - JAN 2018 | TOKYO WEEKENDER
---
experiences TRAVEL

TRAVEL LIKE A VIP ON A

TAILORMADE TOUR

WHERE: TOKYO AND BEYOND

The new, exclusive Royal Road Premium coach is

the king of transportation. Travel in style in the

chic, luxurious bus, with an itinerary created by

tour company JTB, for a one-of-a-kind way to see

Japan. The 10 individual leather seats can recline

up to 140 degrees so you are ensured a relaxing

and comfortable journey. Lots of personal space,

a clean restroom, and a wide selection of drinks.

What more could you want from a road trip?

tinyurl.com/TWroyalroad

EXPLORE THE SANIN AND SANYO

REGIONS ON A LUXURY SLEEPER TRAIN

WHERE: WESTERN JAPAN COASTLINE

Launched in 2017, JR West's luxury sleeper excursion train,

TWILIGHT EXPRESS MIZUKAZE , is a 10-car train that runs along

the gorgeous coastline of western Japan. It carries up to around 30

passengers, and offers three kinds of rooms ("The Suite" which spans

one full car, the "Royal Twin" which offers views from both sides of

the car, and the "Royal Single" for solo travelers), an exquisite lounge,

a spacious dining area, and observation rooms that all contribute to

an unforgettable journey. Choose from five courses – the Sanin tours

show you the beautiful surroundings of the Sea of Japan coastline,

while the Sanyo tours run along the Seto Island Sea – and visit

sightseeing spots along the route. The crew members, most of whom

trained at the Imperial Hotel in Tokyo, offer top-class hospitality and

professionalism, making your journey through the breathtaking views

of southern Honshu a memorable one. twilightexpress-mizukaze.jp/en

experiences STAY

GET AWAY TO THE PICTURE-PERFECT

SCENERY OF IWATE

WHERE: OSHUKU, IWATE PREFECTURE

Surround yourself with Iwate's breathtaking beauty at

Choueikan ryokan. Whether it's from the first-rate guest

rooms or from the comfort of the natural hot spring bath,

the inn highlights scenes of Tohoku's gorgeous seasonal

beauty. Soak amongst trees in the baths and spoil yourself

with the menu, which changes 17 times a year, according

to Japan's 24 micro seasons. tinyurl.com/TWchoueikan

DIP INTO JAPAN'S FAMED RIVERSIDE

HOT SPRING AT A MOUNTAIN INN

WHERE: TOYOSAKA, OKAYAMA PREFECTURE

Ryokan Hakkei is like a home away from home, except with top quality cuisine

(suitable for vegans), hidden hot springs, and the famous suna-ya outdoor onsen on

your doorstep. The mixed bathing area is near Yubara Dam, and is called suna-ya

(sand bath) because as the hot water gushes out it pushes sand onto the riverbed.

It's open 24 hours a day and is free of charge, and Hakkei provides special bathing

wear for women so there's no need to feel shy. If you're up for a bit of sightseeing,

you can reach Izumo Taisha Shrine, Adachi Museum of Art, the Tottori Sand Dunes,

Himeji Castle, and Naoshima within two hours by car. hakkei-yubara.jp

TOKYO WEEKENDER | DEC 2017 - JAN 2018 | 33
---
experiences STAY

SOAK IN A RARE HOT SPRING; EAT

UNIQUE BEEF CUISINE

REFRESH YOUR CITY SOUL IN NAGANO'S HIGHLANDS

WHERE: OKUTSU, OKAYAMA PREFECTURE

Okutsuso ryokan boasts a rare kind of hot spring known

as the kagi-yu (locked bath) of Tadamasa Mori, the lord of

Tsuyama domain in the Edo period, who guarded the bath

to ensure he had exclusive use of it. Why is it so special? The

water wells up directly from the rocks at the bottom of the

bath and so is not exposed to air – this means it does not get

oxidized and thus is considered uber pure. Out of 35,000 hot

spring hotels in Japan, this kind of "natural" onsen is only

found in a few dozen. As for the beef cuisine, Okayama has

developed its own signature style. Enjoy a nine-course meal,

featuring a variety of beef dishes including sozuri nabe (hot

pot made with slices of beef pared from the bone) as well as

the seasonal blowfish specialty. okutsuso.com/en

WHERE: TATESHINA, NAGANO PREFECTURE

Escape the city with a trip to Nagano's highlands at Tateshina Kaorukaze.

Spend the day rejuvenating yourself with activities such as golfing or trekking.

In the summer, cool off in the purifying, refreshing breeze of the hills,

and in winter, warm yourself up in the fireplace lounge as you listen to the

fire crackle. The restaurant's creative cuisine features the freshest mountain

vegetables and the best seasonal local ingredients, such as wild plants

and premium beef. Finish off the day with a relaxing dip in the indoor

and open-air baths, fed directly from the Mimuro hot springs of Tateshina.

kaorukaze.net

FEEL LIKE JAPANESE

ROYALTY AT THIS

HISTORIC RYOKAN

WHERE: SHIZUOKA

For a truly traditional and luxurious

Japanese experience, stay at Ochiairo

Murakami ryokan, a registered

Tangible Cultural Property. The

Showa style ryokan takes you back

in time, allowing you to appreciate

historic Japanese architecture and

the artisans' attention to detail such

as in the intricate patterns of the

shoji sliding doors. With both

Japanese- and Western-style

rooms, hot spring baths and superb

Japanese meals, this ryokan has

all the ingredients to make this an

omotenashi-filled experience.

ochiairomurakami.com/en-gb

SPA YOUR STRESS AWAY

WHERE: NAHA, OKINAWA

One of the best experiences at Loisir Spa

Tower Naha Churaspa has to be the Ryukyu

Ayurveda treatment, which incorporates

Okinawan ingredients with Indian remedies,

conditioning both the mind and the body.

Afterwards, take a dip in the Miegusuku hot

spring, sourced from geothermally heated

fossil seawater that, unlike volcanic hot

springs, contains salt which helps warm

the body. The indoor swimming pool is also

70 percent hot spring water, and your Spa

Deluxe Twin room has a private bath for perfect

moments spent peering out at the views

of the Okinawan sea and sky. solarehotels.

com/en/hotel/okinawa/spatower

EXPERIENCE LIFE IN AN

EDO-PERIOD CASTLE TOWN

WHERE: SASAYAMA, HYOGO PREFECTURE

Sasayama is an old castle town that was established in Hyogo

Prefecture in the early 1600s. To allow visitors to experience

lifestyles and customs from the Edo and Showa periods, five

traditional homes have been carefully restored and grouped

together under the name Sasayama Castle Town Hotel Nipponia.

Each unit offers modern comforts but maintains its

original charm, allowing you to feel like you're really living

in a secluded, Edo period castle town. While enjoying the

atmospheric old town, you'll also get to enjoy state-of-the-art

facilities and exquisite French cuisine made with local ingredients.

sasayamastay.jp

34 | DEC 2017 - JAN 2018 | TOKYO WEEKENDER
---
experiences STAY

STAY AT A SEASIDE RYOKAN NEAR THE

KUMANO KODO PILGRIMAGE

REJUVENATE AT A

WELLNESS RETREAT IN

WHERE: KATSUURA, WAKAYAMA PREFECTURE

How about a quick getaway to a UNESCO site? Katsuura Gyoen

is a luxury ryokan in the fishing port town of Katsuura

(which lays claim to the highest volume of tuna fish hauls

in Japan, so you can imagine the delicious seafood dishes).

Overlooking Nachi Bay, the hotel's "Ten" suites are spacious

and feature open-air baths. Some of the rooms even offer

views of Nachi-no-Otaki, Japan's tallest waterfall. Best of

all, the area is home to the ancient, UNESCO-registered Kumano

Kodo pilgrimage route (www.tb-kumano.jp/en/kumano-kodo).

Stretching over the mountainous Kii Peninsula

(which is listed on Lonely Planet's "Best in Travel 2018"

list), the route lets you take in the extraordinary landscape

and the three Grand Shrines of Kumano, and also feel the

spirituality and history that are now an integral part of the

Kumano countryside. www.katuuragyoen.co.jp

AN ONSEN TOWN

WHERE: IKAHO, GUNMA

PREFECTURE

Situated on the slopes of Mount

Haruna, Ikaho Onsen is a hot

spring town that's long been

favored by Japanese writers and

artists as a place of inspiration and relaxation. Kaichoro ryokan builds on this

reputation by creating an elegant wellness retreat where you'll not only experience

soul-rejuvenating moments in the exquisite Japanese-style suites (with private

gardens and open-air baths) but also relish the mouthwatering meals. The Japanese

course menus change every month, and the sommelier offers drink pairing

suggestions with both Japanese sake and Western drinks. Surrounded by extraordinary

landscapes, you can choose to spend time in nature or being pampered in

the high-class spa. kaichoro.jp/english

WAKE UP TO OCEAN AND MT. FUJI

VIEWS JUST 90 MINUTES FROM TOKYO

WHERE: HAYAMA, KANAGAWA PREFECTURE

Neighbor to the more crowded Kamakura, Hayama is a

top choice for those seeking a quieter and, shall we say,

more mature seaside escape that's not too far from Tokyo.

SCAPES THE SUITE is located right on the beach, offering

uninterrupted ocean and Mt. Fuji views from the guestrooms.

The hotel prides itself on offering "not a journey,

but an escape," part of which entails them instinctively

being able to predict your needs before you've even

expressed them (this is classic omotenashi). They also pay

attention to the basics such as picking local vegetables

with rich flavors in the Miura Peninsula each morning to

serve delicious, fresh meals. scapes.jp/english/hotel.html

ADMIRE TRADITIONAL AND MODERN DECOR AT

A FAMILY-FRIENDLY RYOKAN

WHERE: MINAKAMI, GUNMA PREFECTURE

Looking for a child-friendly ryokan for a quick weekend family trip? Just 90

minutes from Tokyo, Bettei Senjuan is the place for you: the philosophy here is

that experiencing ryokan from a young age is important, because it means that the

culture can be passed on to future generations. The hotel blends traditional and

contemporary architecture – the geometric patterns on the walls and ceiling are

made using the Japanese paper marbling technique of Edo Suminagashi. As for the

cuisine, multi-course dinners are served, featuring freshly sourced local ingredients.

senjyuan.jp/e

TOKYO WEEKENDER | DEC 2017 - JAN 2018 | 35
---
experiences STAY

ESCAPE TO

JAPAN'S MOST

SECLUDED

ONSEN

Looking for the ultimate private getaway?

Here are four of the most hidden-away

natural hot spring resorts to try

ORDER A TRADITIONAL SAKE SET,

WHICH FLOATS IN THE BATH AS YOU

ENJOY YOUR DIP

NANOYADO HOTEL IYA ONSEN

Where: Miyoshi, Tokushima

Prefecture

For a truly hidden gem, look no further

than Nanoyado Hotel Iya Onsen,

located deep in the mountains

surrounding the Iya Valley. Here,

the natural landscape retains its

original wild state with few exceptions

of human interference. Find

yourself immersed in deep forests,

surrounded only by birds singing

and the wind blowing through the

trees. The view over the valley is

unrivalled – even more so because

you can enjoy it on your way down

to (and up from) the hotel's outdoor

bath, which you get to by cable car.

The 170-meter-long ride takes five

minutes, giving ample time to take

in the sweeping views of Iya Valley

and beyond.

Arriving at the baths (there

are two – one for men and one for

women), guests have an exclusive

view over the Iya River

from the bath area, which sits

on the ridge of the river. The

view is stunning both day and

night – we recommend going

for two dips in one day to fully

enjoy the beauty of the region.

The 20 rooms available are a

mix of Western and Japanese

style, some with open-air baths

and panoramic views of the

valley. Dining options include

kaiseki (multi-course) meals or

omiki-nabe, a local hot pot dish

with a soup base made from

miso and local sake. Guests who

would like to stop by just for

lunch and a bath are welcome,

but reservations are required

in advance.

367-28 Matsuo Matsumoto

Ikeda, Miyoshi, Tokushima Prefecture,

www.iyaonsen.co.jp/en

RANKEISOU INN

Where: Nagano Sanjo, Niigata Prefecture

Situated an hour from the nearest train station, this historic ryokan sits

at the edge of Shinano River, far away from any other houses or inns.

Feast on a lavish bounty from the nearby mountains and follow up

with a soak in one of the two open-air baths that can be reserved privately.

Guests are also welcome to order a traditional sake set, which

floats in the bath as you enjoy your dip. In the lobby, you can drink

straight from the ryokan's pure, natural hot spring.

Echigo-Nagano Onsen, 1450 Nagano Sanjo, Niigata Prefecture,

www.rankei.com/english.htm

36 | DEC 2017 - JAN 2018 | TOKYO WEEKENDER
---
experiences STAY

HOSHI ONSEN CHOJUKAN

Where: Minakami, Gunma Prefecture

This ryokan has a 140-year history and is registered as a National Tangible Cultural Property.

Located inside Joshinetsu-Kogen National Park, it's protected by the shade of trees in summer,

making it the perfect place to escape the summer heat. The Hoshi no Yu bathhouse, constructed

in a typical Meiji period style, has mixed bathing facilities for the brave. Choyu no Onsen is for

women only and sits adjacent to a nearby stream, offering a beautiful vista of the flowing water

and forest surrounding it. Dropping in for lunch and a bath is permitted, but make sure

to reserve in advance.

650 Nagai, Minakami, Tone, Gunma Prefecture, hoshi-onsen.com/english

TAKARAGAWA ONSEN OSENKAKU

Where: Minakami, Gunma Prefecture

Historians have found evidence that this hot

spring area was used by people in the Jomon

period (14,000-300 BCE) of ancient Japan, but

the ryokan itself dates back to the Taisho era

(1912-1926). Ideal for couples who want to

spend some quality time together, this rare

resort doesn't just have one mixed-bathing

open-air bath – it has three! Mixed bathing

areas require guests to be nude, but women

are provided with a special towel to wrap

themselves in before they take a dip. All baths

look out onto the river, offering breathtaking

views in every season. Staff at the hotel are

warm and most speak at least two languages.

1899 Fujiwara, Minakami, Tone, Gunma Prefecture,

www.takaragawa.com/english.html

TOKYO WEEKENDER | DEC 2017 - JAN 2018 | 37
---
experiences STAY

in Japan, measuring two kilometers long and

containing some 200,000 tombstones. Many

tours leave from Eko-in and can be arranged

through your lodgings.

SLEEP LIKE

A MONK

Staying overnight at a temple

is an ideal way to experience

Japanese Buddhism. Here's

what you should know about

shukubo and a few places

where you can do it

Although Japan is known for its luxury

hotels and sumptuous ryokan,

there's another, more humble

way to experience the country's

hospitality, while also deepening

your appreciation of its rich and fascinating

culture. The practice known as shukubo, or

temple lodging, goes back hundreds of years,

and was originally intended for monks visiting

from other temples and religious pilgrims,

but now hundreds of temples and shrines

around Japan offer lodging to tourists and

travelers, both foreign and domestic. A few

things to keep in mind: you shouldn't go into a

shukubo experience expecting to be pampered.

You'll be comfortable, but not basking

in luxury. Many temple lodging rooms don't

have private bathrooms, so shared facilities

are to be expected. At some locations, there

are larger, more well-appointed rooms with

private baths; you'll need to enquire about

these. Depending on the location, WiFi may

not always be offered, but then again, you

probably came to a temple to get a bit of

peace, so unplugging for a while isn't the

worst thing in the world!

On the plus side, most shukubo options

offer the chance to eat (usually) vegetarian

meals known as shojin ryori – temple food

that is hearty and healthy, and whose ingredients

are carefully chosen for balance in flavor

and even in color. Guests also have the chance

to take part in evening or morning meditations

or ceremonies.

KOYASAN, WAKAYAMA PREFECTURE

Perhaps the most popular place to experience

temple lodging in Japan is at Koyasan,

in Wakayama Prefecture. Part of a UNESCO

World Heritage site that includes two other

areas in the Kii Mountain Range, Koyasan is

the home of the Koyasan school, the oldest

and largest sect of Shingon Buddhism. Given

its importance, the area itself has grown to

include more than 100 subtemples. More than

50 temples in the Koyasan area offer lodging,

and many of them can be found on the Koyasan

Shukubo Association's English website

(eng.shukubo.net/temple-lodging.html)

One of the most highly recommended

locations in Koyasan is Eko-in. A stay at the

temple includes instruction in meditation, a

vegetarian meal, and an opportunity to take

part in morning services, which includes

chanting and a fire ceremony (starting

at ¥11,500, www.ekoin.jp). Other popular

locations include Fudo-in (¥14,580, www.

fudouin.or.jp) and Shojoshin-in (¥10,800,

shojoshinin.jp). Regardless of where you stay,

you should definitely plan on an evening tour

of the cemetery at Okunoin: it's the largest

KYOTO

Kyoto, with its abundance of temples, is another

location with a wide range of shukubo

options. One of them is the Shunkoin Temple

Guest House, which is a part of a larger Zen

temple known as Miyushinji that offers morning

meditation classes (starting at ¥4,500, 075-

462-5488). The Omuro Kaikan Hall at Kyoto's

Ninnaji offers a bit of a hybrid experience,

with non-vegetarian meals and beer available

for meals, as well as a chance to witness

the morning ceremony and tour the temple's

beautiful grounds (starting at ¥11,000,

includes two meals, www.ninnaji.or.jp/

syukubou/stay.html). Rokuo-in is a very small

temple in the Arashiyama area, with lodgings

for women only (¥4,500, including breakfast,

075-861-1645), and Myoshin-ji Daishin-in is

very popular with foreign travelers (¥4,700,

including breakfast, 075-461-5714).

KANAZAWA, ISHIKAWA PREFECTURE

One hidden gem that could be part of a trip to

Kanazawa is the Shingon temple of Natadera, in

Ishikawa Prefecture. This temple features expansive

grounds, and the temple lodging is located on

a small mountain with views out over the Japan

Sea and nearby Mount Hakusan (¥13,000-¥15,000

per person, includes two meals, 0761-65-2111).

EIHEIJI, FUKUI PREFECTURE

Finally, if you're really interested in experiencing

the monastic lifestyle for a little while, we recommend

Eiheiji in Fukui Prefecture. This temple

complex was founded by Dogen, a pioneering figure

in Zen Buddhism who started the Soto school

in the 13th century. For this location, you'll need

to make a reservation in writing, a month ahead

of time. It's certainly not a place for a casual stay,

but for people with a real interest in Buddhism,

it's an opportunity that's well worth trying

(bit.ly/TWEiheiji, 0776-63-3640).

38 | DEC 2017 - JAN 2018 | TOKYO WEEKENDER
---
Where to find

TOKYO WEEKENDER MAGAZINE

WANT TO MAKE SURE YOU PICK UP A COPY EVERY MONTH? HERE'S WHERE TO GET YOUR HANDS ON THE MAG

VENUES AROUND TOKYO

Find the full list of physical stockists at

tinyurl.com/TW-mag-distribution

DOWNLOAD

Amazon: bit.ly/tw-amazon

Magzter: bit.ly/tw-magzter

SUBSCRIBE

Tokyo Weekender website: bit.ly/tw-subscribe-direct

Fujisan: tinyurl.com/TW-subscription

MORE INFORMATION AT WWW.TOKYOWEEKENDER.COM

TOKYO WEEKENDER | DEC 2017 - JAN 2018 | 39
---
experiences STAY

[ PROMOTION ]

GIVE YOUR DOG A

BREAK IN BEAUTIFUL

KARUIZAWA

Hate leaving your pooch at

home when you go away for

weekends? Regina-Resort

Kyukaruizawa offers a

solution with its brand-new

stylish hotel that's perfectly

prepped for pups

Few hotels in Japan manage to capture

the zeitgeist here like Regina-Resort

Kyukaruizawa, which opened in

November in the enduringly popular

tourist area of Karuizawa, Nagano

Prefecture. The resort is striking – it owes

much to the works of the modern Japanese

architectural movement, which shuns brutalism

and utilitarian practicality in favor of

connecting construction, nature, and traditional

Japanese aesthetics. And it is all designed

with dogs in mind.

"We want guests to be able to relax and

enjoy the history and nature that Karuizawa

has to offer with their dogs," resort manager

Shinya Sasuga tells Weekender.

Designed with the help of Azusa Sekkei –

a construction company working on the Tokyo

2020 National Olympic Stadium – the hotel's

building is primarily constructed of grey

concrete, but it is difficult to tell. Every wall

is decorated with Japanese cedar, including

paneling and lattices, giving the interior the

feel of a Zen temple.

But dogs take center stage. Yapping is

always in earshot; wall decorations serve as

hooks for leashes; the floors are all easy to

clean (just in case that reception area seems

the perfect spot for your pooch to leave his

calling card); and all rooms include a crate,

complete with a mattress, for sleeping. First

floor rooms have gardens that use woodchip,

which can easily be replaced. Second-floor

guests only have terraces but can use the freefor-all

woodchip dog run, which straddles the

front of the hotel and includes sun loungers for

the warmer months.

The meals are of a quality comparable to

an upper-end Tokyo restaurant. Our evening

washoku menu included exquisite wagyu, barbecued

at the table, sashimi that melted in the

mouth, and a wide variety of hors d'oeuvres

and vegetables. Wine from an extensive list

chosen by hotel sommelier Atsushi Yuasa is

available. The traditional Japanese breakfast

was just as good – hearty and nutritious without

being overfacing.

Dogs are also welcome in the dining room.

Each table has a trolley for pets to sit in (no

climbing on the high-quality furniture allowed

– though many defied the rules). There is also

an extensive menu of food for pets. Ours had

the horse meat cubes in the evening and salmon

with vegetables for breakfast. As dog owners

will know, sometimes hotels that allow pets

do so on the assumption guests will be staying

one night only. If guests stay longer it can be a

challenge for the kitchen as ingredients for a

second dinner can be difficult to source, and so

the second-day meals are often disappointing.

"If people stay for a second or third day,

we will change up our menus, so there's no

need to worry about that," said Sasuga. "And

if guests want to head down the road, we have

an agreement with a nearby restaurant where

they can also go for a meal."

There is plenty else to do in the area.

Kumoba Pond, set in lush surroundings with

Mount Asama looming in the distance, is a

short walk away, or head to Kyu Karuizawa Ginza,

a shopping street with local stores that caters

to tourists. Further afield, the old town around

Karuizawa Station's North Exit has plenty of

history, including churches and the hotel that

John Lennon liked to stay in. The South side's

malls are perfect for those wishing to buy brand

goods – and out of the way for those wanting to

avoid commercialization. The nightlife is also

good, with plenty of restaurants and bars.

We, however, decided to spend the evening

at the hotel and make the most of the rare

chance to take in a piece of contemporary

architecture without crowds. The wine and

jazz made the experience more rewarding, and

having our dog doze beside us as we talked into

the night made it all the more special.

For more info about Regina-Resort Kyukaruizawa

visit www.regina-resorts.com/kyukaruizawa

40 | DEC 2017 - JAN 2018 | TOKYO WEEKENDER
---
Brand New Suites (27F)

Oakwood Residence Roppongi T-Cube

Opening Soon!

Four-bedroom Grand Suite (209 sqm)

Two-bedroom Prestige and Sky Suites (127-170sqm)

Discover Oakwood living in Tokyo Midtown, Roppongi,

Tokyo Station, Aoyama, Ariake, Akasaka, Shirokane,

Azabujyuban, Minami Azabu, and Azabudai.

Opening in Shinagawa, Nishi Shinjuku, and

Shin Osaka in spring and summer of 2018!

*short term stays available at Tokyo Station, Ariake, and Shin Osaka.

TOKYO WEEKENDER | DEC 2017 - JAN 2018 | 41
---
experiences FOOD & DRINK

TOUR TOKYO'S

SAKE BREWERIES

FOR FREE

Check out a traditional shuzo

and enjoy free tastings to find

your new favorite sake

It's an open secret that Tokyo has sake

breweries – nine of them, in fact. Tucked

away on the outer edges of the city where

the water is clearer and the air is fresher,

breweries that have been around since

the Edo period still ply their craft. Here are

our top three breweries with free tours and

tastings in Tokyo...

OZAWA

Founded in 1702, Ozawa Shuzo in Ome is the

oldest brewery in Tokyo. Surrounded by lush

green mountains and with the Tama River

flowing past, it's in a picturesque location

that's perfect for a whole day out. The brewery

complex consists of a sake shop, two tofu restaurants,

and a barbecue area. Nearby there

are two museums – one about Gyokudo Kawai,

a master of Nihonga (Japanese-style painting),

and one featuring kanzashi (traditional

Japanese hair accessories). Nature trails in the

area will take you past shrines and temples

to Mitake Gorge. For hardcore hikers, one of

Tokyo's tallest mountains, Mount Mitake, is

just a stone's throw away.

Sake brand: Sawanoi

Tour details: Free tours are available in

Japanese, with English information provided.

The tour ends with a sake tasting session.

Reservations are required.

More info: www.sawanoi-sake.com/en

ISHIKAWA

This Brewery first opened in

1863, but moved to its current

location in Fussa in 1881. The

brewery area features beautiful

traditional architecture that

remains in excellent condition,

including the hongura (production

building), where Tamajiman,

the main sake brand, is

still produced. If sake leaves

you thirsting for more, Ishikawa

also brews its own beer, Tama no Megumi.

To try some, stop by Fussa no Birugiya, an

Italian restaurant located in the brewery complex

and featuring local fare and beer. You'll

also find a soba restaurant here, as well as a

museum detailing the history of sake-making

from the Edo period onwards.

Sake brand: Tamajiman

Tour details: Free tours are available in English

and French on weekdays. Reservations

are required in advance. Free sake tasting

experience included.

More info: www.tamajiman.com/english

TAMURA

The Tamura family used to be village heads

of Fussa city, and established Tamura

Brewery in 1822. The business is still owned

and managed by the family, with its 16th

generation CEO currently at the helm. Some

buildings in the brewery complex are Cultural

Properties, including the well that was dug

out almost 200 years ago – the water inside

is still used for sake production. Their sake

brand Kasen means "spring of joy," referring

to this vital source. Also in the complex, a

pair of almost 800-year-old zelkova trees

– auspicious symbols of harmony – offer

shade and protection to the property. Tamura

Shuzojo has always been small, and it

intentionally limits its production. Most of its

customers are based in Tokyo.

Sake brand: Kasen

Tour details: Free tours and tastings are

available from Tuesday to Saturday, but only

in Japanese. Reservations of 10 people or

more are required. Bring an interpreter if

possible to make the most out of the experience.

Free tasting experience included.

More info: www.seishu-kasen.com

For an extended list of sake breweries in Tokyo,

visit www.tokyoweekender.com

42 | DEC 2017 - JAN 2018 | TOKYO WEEKENDER
---
experiences CRAFT

"DIVE" FOR

PEARLS WITHOUT

LEAVING THE CITY

Leave the real pearl hunting to the ama divers, and head

to this Tokyo shop to experience extracting your very own

gem from a selection of oysters

Just over 100 years ago, Koichi Mikimoto,

nicknamed the Pearl King, took

a huge step into perfecting the art of

pearl farming, creating an industry

that could produce near-perfect cylindrical

pearls to adorn the necks and ears

of celebrities worldwide. His legacy created

an opening for Japan to become the worldwide

leader in cultured Akoya pearl production,

a position it has enjoyed ever since.

Thanks to Mikimoto's ingenuity and perseverance,

beautiful Akoya pearls are now

more obtainable than they have ever been.

However, usually we are dependent on pearl

farmers doing the dirty

work to provide us with

these exquisite and lustrous

seeds. Now, we can find

them ourselves in the heart

of Tokyo.

This is the knowledge

we were armed with when

we headed to Pico-Labo in

Taito-ku, where visitors can

extract pearls from oysters

themselves. We knew what

we were going to do, but

nothing had prepared us for

the nervous titillation we

experienced while trying to

choose the "right" one. We

hesitantly made our choices

and were ready to begin.

Each oyster, and thus each pearl, is

unique. It's one of the beautiful things about

a product created by nature – pearls come in

many different colors, sizes and shapes. Like

a Kinder egg – or a box of chocolates – you

never know what you're going to get. Perfectly

round ones are almost impossible to find –

only about 5% of pearls produced will be the

almost entirely flawless, cylindrical ones that

we're used to seeing in stores.

Even so, we were confident our pearl

– round or not – would be beautiful and

perfect, because we had chosen it ourselves.

Cautiously, we slid the tip of our knife into

the shell's "hinge," twisting it gently. We

pried the oyster open to reveal … a gooey

mess. Armed with a tiny silver-colored shovel

we carefully groped around in the hope

of finding a lustrous treasure. Suddenly,

resistance! Had we struck gold? With some

trepidation, we gently applied pressure

around the oyster's insides, when something

suddenly caught the light. A pearl! Our pearl!

We scooped out our globe and wiped the

slimy residue off to reveal a pearl with a rose

pink shade. Akoya pearls come in varying

shades ranging from rose pink to blue with

silver and pink undertones, with the latter

being the most rare.

The whole experience starts at ¥1,300,

which is a bargain since you could hit the

jackpot with a giant, high-quality pearl. If

you're not quite sure what to do with your

pearl once you have extracted it, Pico Labo

offers a selection of accessory options: put

your pearl inside a pendant, drill a hole in it

and attach it to a chain necklace, or attach it

to a brooch. You can also try extracting two

and make earrings out of them, but they will

most likely not match in color, shape or size.

If you would like to go on a pearl hunting

adventure of your own, or you simply want

to buy pearl accessories and would like an

extensive selection to choose from, Pico Labo

has you covered. The staff speaks some English,

and you can reserve an appointment via

email or by phone.

PICO LABO

Address: 5-4-1 Ueno, Taito-ku

Tel: 03-3832-0017 | Email: info@pico-labo.

com | Opening hours: 9:30am-5:30pm

Mon-Fri, closed Sat, Sun & hols | Pearl

extraction hours: 11am-4pm Mon-Fri,

reservations required

TOKYO WEEKENDER | DEC 2017 - JAN 2018 | 43
---
experiences ART

CARVE YOUR

WAY INTO

UKIYO-E

Where to learn the traditional

art of woodblock printing

Ukiyo-e is a style of woodblock print art

popularized in the Edo period (1603-

1868) and was often used as a form

of advertising, spreading information

and setting trends for common

people. However, due to the influence of the Meiji

Restoration of 1868 and following the deaths of

artists like Hokusai, ukiyo-e began its decline.

Woodblock printing continued with more modern

styles, which in turn gave rise to contemporary

artists like Hidehiko Goto, Rebecca Salter and Shoji

Miyamoto who continue to reinvent the medium.

The process of traditional ukiyo-e printing

was not simple – it required collaboration of

multiple artisans for all stages. Artisans made

and prepared the base woodblocks, while artists

designed and painted the images to be printed.

Carvers were needed to create the actual "stamp"

for printing, and finally, printers to bring the

artwork to life. These days, those interested in

continuing the legacy of woodblock are hindered

by the fact that there are few, if any, craftsmen

creating many of the materials needed.

Currently, there are only six ukiyo-e level

woodblock-carving masters left in the world (all

in Japan), and one of those is master woodblock

carver Motoharu Asaka, who has been practicing

his craft for 40 years. It is at his studio, Takumi

Hanga, where complete beginners to the art

– regardless of nationality – can get firsthand

experience in this skillful practice. Asaka-sensei

WHERE TO MAKE YOUR

OWN WOODBLOCK

PRINTS

TAKUMI HANGA FUREAI KAN

Take a one-time class or create

your own long-term course at

Master Motoharu Asaka's studio

in Shinjuku. Regular classes in

English are provided with the assistance

of interpreter and artist

Louise Rouse. ¥6,000 per session,

takumihanga.com

MOKUHANKAN

Centrally located in Asakusa,

woodblock carver David Bull holds

"print parties" where visitors can

try out printing pieces themselves,

and see professionals carving

and printing in action. ¥2,000 per

session, mokuhankan.com

MACHIDA CITY MUSEUM

OF GRAPHIC ARTS

One of few museums in the world

dedicated to prints, MCMGA offers

occasional classes on copperplate

etching and screen-printing,

and woodblock printing. See the

museum schedule for more details:

hanga-museum.jp/english

opened up his studio to students not looking to

become masters – something that is uncommon.

"Once I turned 60, I realized there are so few

woodblock artisans. This should be shared with

everyone – not just Japanese people. Very few

successors join and even fewer become masters.

I want everyone to experience this art."

Visitors to Takumi Hanga don't need to have

aspirations to become the next Hokusai as Asaka-sensei

offers one-time printing sessions using

his own blocks. More adventurous students

create their own designs and learn how to print

them in a double-session class, while those who

want to dedicate themselves to the medium can

arrange a full course where they can go more

in-depth and learn the whole process.

One long-term student is Jane Fulton Suri,

who comes to the studio whenever she visits Tokyo.

She has been working on several projects

for almost two years. Even so, she says she still

has a lot to learn. "I know what I'm doing, I'm

just doing it wrong. You can be on your sixth

color [of the same print] and mess it up, and

then it's just completely blown apart. Thankfully,

Asaka-sensei is accommodating of today's

ambition and impatience – mine included."

Despite the difficulties, frustration and discipline

the medium involves, Fulton Suri loves

it. "It's quite meditative as you learn how the

materials behave. Also, the history and culture

behind it gives me a context for Japanese art. I

guess it feels like a privilege to be doing this."

44 | DEC 2017 - JAN 2018 | TOKYO WEEKENDER
---
experiences ART

TRY

TRADITIONAL

NIHONGA

Create your very own Japanese-style painting

When asked how she defines

the difference between

Western-style painting and

Nihonga, artist and teacher

Maria Tanikawa says for

her it's largely down to the materials used.

Although the style and techniques of Japanese

painting have evolved over the years, the

materials have remained all natural, which

means you'll find yourself quizzing Tanikawa

on things like fish glue (nikawa) – an adhesive

that's made by boiling fish collagen in water.

The glue is used to mix natural pigments,

which are made from minerals, clay, oyster

shells and metallic leaf (notice how pleasant

they smell in comparison to oil or acrylic

paints). Your canvas is delicate washi paper,

and you'll be outlining your drawing using

sumi ink (the same kind used for calligraphy).

We loved the process of adding water to an

inkstone and rubbing a sumi stick against

it to create the pitch-black liquid, and then

mixing the pigments with our fingers.

While fascinating to use, these materials

take some getting used to, especially if you're

used to working with thick oils. But Tanikawa

is excellent at breaking down each step – and

giving a gentle nudge when you feel too nervous

to spread a full base coat of paint over

your perfectly outlined seahorse. (Wait, what,

I should paint over my sumi ink drawing?

Yes, don't worry, you'll still be able to see the

outline after we dry the base coat.)

Tanikawa spent several years studying

and working in New York

before returning to Tokyo

to start offering Nihonga

lessons here. Her classes

are held at a bright, white

studio in Omotesando, and

she says the majority of her

students are foreign (not

many places offer Nihonga

lessons in English). As for

what you want to paint,

that's up to you. We chose

to paint a blue seahorse in

a cloud of grey smoke with

flecks of gold for a touch

of sparkle, while others

attending the class went

for pretty landscapes and

flowers. (It's a good idea to

bring a printout of an image you like as you'll

need to trace it onto the washi paper.) You

can choose to sign up for five classes (¥20,000,

valid for three months), take a private lesson

(¥10,000), or book a session through Airbnb

Experiences (¥8,000).

For more info, visit www.mariatanikawa.com or

tinyurl.com/TWnihonga-airbnb

COMBINE PAINT AND

PARTY AT ARTBAR

Prefer a more modern art

experience? Try a creative

class that's also a social event

Get your creative juices flowing at Artbar's

fun classes where you can sip on a

glass of wine and tuck into snacks while

expressing your inner Picasso. Suitable

for both beginners and experienced

artists, Artbar's lessons are usually

held at the weekend, with each session

having a theme such as "Cranes with

Red Fuji" or "Kandinsky Composition."

Some are aimed at kids too, such as the

"Mommy & Me – Polar Bear" class on

December 23. All materials are provided,

and the cute studio in Daikanyama

provides the perfect atmosphere for

both creativity and mingling. The art

instructors are all talented, welcoming,

and speak either Japanese or English,

or both. Two-hour classes are around

¥5,000 (price sometimes changes for

special events). More info: artbar.co.jp.

Photos courtesy of Airbnb

TOKYO WEEKENDER | DEC 2017 - JAN 2018 | 45
---
experiences FOOD

[ PROMOTION ]

INDULGE

IN JAPAN'S

COMFORT

FOODS

Winter warmers at Tokyo's

Tabisuru Shintora Market

this chilly season

As the nights get longer and the days get shorter, it can

be hard to chase those winter blues away. Thankfully

the four brightly lit stalls and the café at Tabisuru

Shintora Market – an ongoing event just outside

Toranomon Hills that promotes regions from across

Japan – have prepared for this season with nourishing comfort

foods that warm the body from the inside out. Find a new favorite

Japanese dish to soothe your soul when the weather, your

life, or the world in general isn't giving you a break.

STALL 1: PORK OFFAL NABE FROM

KOMONO, MIE PREFECTURE

Give yourself an immunity booster at lunch with Komono pork offal nabe,

which is packed with protein and vitamins. The rich soup base is laden

with negi onion, carrots and ginger, which all work to help keep you warm.

The Komono pork cutlet set comes with a crispy pork cutlet, a potato croquette,

and a side of miso soup. For dinner, the pork offal nabe serves two

to three people, making it the perfect dish to share with friends. Pair with

some of Komono's finest sake and liqueurs.

STALL 2: HEAVENLY HOT POTS FROM

HIOKI, KAGOSHIMA PREFECTURE

Hioki city is happy to cater to nabe fans, with a

selection of hot pots to delight even the fussiest

eater. There are so many different flavors they'll

have you coming back every day! The heavenly

hot pots served are pork barley miso nabe,

chicken meatball and soymilk nabe, beef sukiyaki

(similar to nabe but cooked in a skillet), and

seafood chige (kimchi nabe). Night-time offerings

include izakaya-style fare such as pork offal fry,

tofu with a sprinkling of meat and negi onion.

For true local fare, try gane, a tempura-style dish

made of julienned root vegetables. Match your

food with with one of Kagoshima's famed shochu,

or some amazake (a sweet alcohol made from

fermented rice).
---
experiences FOOD

STALL 3: SHABU SHABU FROM

SUZUKA, MIE PREFECTURE

VISIT SHINTORA CAFÉ FOR

A FUSION OF JAPANESE,

SPANISH AND ITALIAN

FLAVORS

Tapas fans will love the variety of

dishes available at the café, which

are a delectable fusion of flavors.

Here you'll find palate pleasers like

konnyaku (a jelly made from a type

of potato) and beef shank in bamboo

charcoal ajillo, creamy Manchurian

rice stems and Komokin pork gratin

with spicy yuzu taste, seaweed and

parmigiano cheese fried galette, and

more. Save some room for dessert

though, as the zunda (paste made

from edamame beans) ice cream

and strawberry matcha crepes are

sure to blow your mind. Drop by

for lunch and ask for the lunchtime

mini tapas – only ¥200 per dish!

TABISURU SHINTORA

MARKET'S WINTER EDITION

KICKS OFF IN THE NEW YEAR

Starting in January, Tabisuru Shintora

Market will take on a new look

with new cities, under the theme of

The Dawn of Spring and Enlightenment.

2018 will be the 150th anniversary

of the Meiji Restoration, a

time of new beginnings and change.

This edition of Tabisuru Shintora

Market will be a celebration of

people, lifestyle, crafts and arts,

with history as a focal point.

As Mie Prefecture is the third top producer of green tea in Japan, it's only

right that Suzuka's specialty shabu shabu is made using Tsubaki Saen green

tea. The dish serves two to three people and features locally raised sakura

pork and crispy green lettuce. For light nibbles to go with your drink, try

the penne pasta arrabiata, or squid tempura – both dyed black using Suzuka

ink! Pair with Zaku, an award-winning sake that won a gold medal in this

year's national sake competition.

STALL 4: TAI OCHAZUKE AND

MORE FROM NIIGATA VILLAGES

For something filling but not too heavy,

the lunchtime onigiri set comes with fried

chicken, potato salad, and miso soup. To

go with after dinner drinks of local wine,

shochu or yogurt liqueur, try the warming

tai ochazuke (green tea poured over sea

bream and rice), or the nourishing seafood

gratin. Follow up with an ice cream sundae

infused with amazake (traditional sweet

alcohol made from fermented rice), or a set

of dango (sweet rice dumplings) that comes

with edamame ice cream and hot green tea.

TABISURU SHINTORA MARKET

Address: 2-16 Nishi-Shinbashi, Minato-ku

Web: www.tabisuru-market.jp

TOKYO WEEKENDER | DEC 2017 - JAN 2018 | 47
---
Looking for your next job in Japan?

Weekender has teamed up with

Sunny Side Up Career and

Coto Work to bring you

the latest professional

opportunities

SERVER/WEB ENGINEER

A successful Japanese tech company with global reach is looking

to hire new staff. Join a fun and casual office environment with

supportive staff, and make a global impact! Especially looking for

creative team players capable of introducing innovative new ideas

and approaches to programming. Flexitime, casual atmosphere,

competitive salary.

Requirements:

- More than 5 years' working experience in a related field

- Server side apps development experience

- Web apps development

- Understanding of Linux preferred

- Knowledge of Java or PHP preferred

- Must be willing to work for the company long-term

- Languages: business level English and N3 level or above Japanese

(preferable but not required)

Location: Central Tokyo

Salary: Competitive (based on experience)

GAME ENGINEER (SERVER SIDE)

As a Game Engineer, you will be involved in the development and

operations of a smartphone game application for both iOS and

Android. Responsibilities include program design and development

for front-end and server side; design and development of games

using real-time communication; project realization; manpower and

resource estimation and determination; proposing of improvement

plan; team consulting; operational performance improvement.

Requirements:

- Must have a strong passion for games

- Experience in developing and operating web services

- Experience in Java/PHP/ Perl

- Experience in DB/ MySQL/ Oracle/ PostgreSQL

- Experience in game development is not necessary

Location: Central Tokyo

Salary: Competitive (based on experience)

GLOBAL TEAM PR PRODUCER

SUNNY SIDE UP Inc. is looking for launch members of its new

Global Team which has been established due to the increase of

requests for general communication strategies by foreign-affiliated

companies and foreign government agencies.

Requirements:

- Plan and operate PR strategies

- Produce PR events

- PR consulting with clients

- Produce PR-related events such as press conferences and media

relations

- Progress management of project budgets, and team management

- Minimum five years of experience in marketing communications

- Languages: business-level Japanese and English

Location: Triumph Tokyo office

Salary: Competitive (based on experience)

BRAND COMMUNICATION ASSISTANT

Sloggi Japan is looking for a brand communication expert to lead and

develop regional marketing programs. The role includes managing

the advertising and promotion budget, assisting with studying and

analyzing consumer trends, and activities such as digital marketing,

brand communication, retail marketing, brand merchandising, and

store design.

Requirements:

- 3+ years' work experience

- 3+ years' brand or communication experience in apparel, retail, or

related industries is preferred

- Experience with products targeting age group 20s to 30s is

preferable

- Analysis and proposal creation experience

- University degree

- Language: Japanese and basic English

Location: Tokyo

Salary: Competitive (based on experience)

To apply for these jobs and view more opportunities, visit

www.tokyoweekender.com/careers
---
Satomi Kondo, Sometimes people don't act logically, ©Satomi Kondo ©Fujiko-Pro

TAKE A NEW LOOK AT A CLASSIC

Featured in our art roundup: more than two dozen contemporary Japanese

artists put their own spin on the beloved futuristic cartoon cat Doraemon.

TOKYO WEEKENDER | DEC 2017 - JAN 2018 | 49
---
'New York-1' (1978) | © KEIICHI TAHARA

ART & BOOKS

KEIICHI TAHARA: PHOTOSYNTHESIS WITH MIN TANAKA

Keiichi Tahara traveled to France when he was 20. Struck by the unique intensity of the light there, Tahara was inspired to remain

in the country, where his career as a photographer would flourish. He met the avant-garde dancer Min Tanaka in Paris, and the two

collaborated on a project that was inspired by the idea of photographing Tanaka in environments rural and modern, throughout the

seasons, and in several different countries, but always drawing attention to the unique qualities of each location's light. The photographs

went unseen for decades, but in 2016, Tanaka and Tahara (who passed away earlier this year), decided to revisit the project and

started shooting photos in the series again. Hara Museum of Contemporary Art Until December 24 www.haramuseum.or.jp

THE ART WORLD

OUR PICK OF THE CITY'S BEST EXHIBITIONS

Compiled by Alec Jordan

Maija Louekari, Siirtolapuutarha (2009)

MARIMEKKO SPIRIT ― PAAVO

HALONEN / MAIJA LOUEKARI /

AINO-MAIJA METSOLA

Marimekko is a brand known for its

daring prints and bold designs, and from

the very start, it championed the work

of young print designers, giving them an

opportunity to thrive and develop their

talents. This exhibit features three of

Marimekko's representative designers,

and highlights several of each designer's

prints – including prints specifically made

for the exhibit – as well as materials that

dive into the spirit of the brand and its

65-year history. The exhibit also tries

to tease out some of the reasons why

Finnish design has such an appeal for

Japanese audiences.

ginza graphic gallery Until January 13

www.dnp.co.jp/gallery/ggg_e/

Maija Louekari, Veljekset (2016)

50 | DEC 2017 - JAN 2018 | TOKYO WEEKENDER
---
Ai Shinohara, To the Bright – Nobita's Great Adventure in the World of the

Monsters ©Ai Shinohara ©Fujiko-Pro

THE DORAEMON EXHIBITION TOKYO 2017

First brought to life in 1969, Doraemon has gone on to become one of the most

popular manga series in the world and has spawned a media empire that is still

going strong to this day. Generations of Japanese kids were raised on the adventures

of the time traveling cat from the 22nd century, and some of those kids

grew up to be artists. This exhibit features a variety of contemporary Japanese

creative minds, from art celebrities such as Takashi Murakami, Mika Ninagawa,

and Yoshitomo Nara to lesser known artists, all bringing their own unique take

to the blue feline and his friends. Mori Arts Center Gallery Until January 8

thedoraemontentokyo2017.jp/english.html

B

BOOKS

Looking to curl up with a good book

over the winter holidays? With this trio,

you'll find food for thought, brilliant

prose, and more than a few laughs

BUNK, BY KEVIN

YOUNG

A recent Washington Post

article pointed out that, in

the first 300 days of Donald

Trump's presidency, he has

made more than 1,600 false

or misleading claims. It's clear

that a well researched book

like this is one for our times. Written by the poetry

editor for the New Yorker, Bunk's subtitle is The

Rise of Hoaxes, Humbug, Plagiarists, Phonies, Post-

Fact, and Fake News. Although it examines these

phenomena from an American perspective, there's

plenty here to be gleaned by readers worldwide.

Tiger Lilies and a Swallowtail, 1959, The National Museum of Modern Art,

Tokyo

KUMAGAI MORIKAZU: THE JOY OF LIFE

"I hope to live forever," said Morikazu Kumagai at age 95, in a testament to his

love for life and his devotion to his art. Over more than seven decades, the artist

experimented with form and style, moving from realistic approaches and almost

scientific explorations of figures in low light to the deceptively simple works that

he would be known for later in life. While Kumagai is not widely known outside of

Japan, his art deserves greater attention, and this is the first retrospective of his

work to come to Tokyo in quite a few years. The National Museum of Modern

Art, Tokyo Until March 21 kumagai2017.exhn.jp/

WE ARE NEVER

MEETING IN REAL

LIFE, BY SAMANTHA

IRBY

Samantha Irby thinks that

this book's cover kitten is like

the feline version of her: "wet

and gross and kind of sweaty

looking, and also hissing."

That should give you a sense of her sharp wit,

mordant self-deprecation, and highly autobiographical

style. This best-selling collection of 20

essays proves that the author can find humor in

just about everything: her Crohn's disease, awkward

sexual encounters, depression, and her long

stint at a veterinary clinic.

AN ARTIST OF

THE FLOATING

WORLD, BY KAZUO

ISHIGURO

The Japan-born, UK-raised

novelist surprised the literary

world by winning the

Nobel Prize for Literature

this year. He's perhaps best

known for The Remains

of the Day, but his second novel shouldn't be

overlooked. Published in 1989, it's the account of

an artist who got involved in far-right politics in

the days before World War II, only to find himself

ostracized after war's end. The slim volume is a

meditation on abrupt cultural and social change,

and the fallibility of the self image we all create.

TOKYO WEEKENDER | DEC 2017 - JAN 2018 | 51
---
1

2

3

Photo by SETO Hidemi, New National Theatre

4

6

7

8

5

AGENDA: THE WEEKENDER ROUNDUP OF WHAT'S HAPPENING IN DEC-JAN

1

JAN 1-31

2

DEC 21-24

3

DEC 16-24

4

DEC 31

TOKYO DOME CITY WINTER

ILLUMINATIONS

Known for its creative takes on

winter illuminations, Tokyo Dome

City is back this year with another

tempting theme – sweets.

Where: Tokyo Dome

How much: ¥1,600

More info: tokyoweekender.com

CHRISTMAS KAMAKURA

IGLOO DINNER

Tuck into a luxurious five-course

meal inside this cozy Kamakura igloo

at Andaz Tokyo's Rooftop Terrace.

Where: Andaz Tokyo

How much: ¥80,000 per person

More info: tokyoweekender.com

CINDERELLA

The National Ballet of Japan

performs this well-loved story for

the Christmas season.

Where: New National Theater, Tokyo

How much: ¥3,240-¥12,960

More info: tokyoweekender.com

2018 COUNTDOWN

LOUNGE EVENT

Experience an unforgettable New

Year's Eve with top DJs, free-flowing

champagne, cocktails, and canapés

at The Peak Lounge & Bar.

Where: Park Hyatt Tokyo

How much: ¥18,000-¥20,000

More info: tokyoweekender.com

5

DEC 27

6

JAN 15-16

7

JAN 12-21

8

DEC 14

"WE LOVE 80S DISCO"

NIGHT

For this annual party, Grand Hyatt

Tokyo's Grand Ballroom is converted

into an 80s-themed club with freeflowing

drinks and plenty of snacks.

Where: Grand Hyatt Tokyo

How much: ¥13,000

More info: tokyoweekender.com

SETAGAYA BOROICHI

Hunt for treasures at this 400-yearold

street fleamarket featuring over

700 stalls selling everything from

pottery to vinyl.

Where: Boroichi Dori

How much: Free

More info: tokyoweekender.com

FURUSATO MATSURI TOKYO

This festival brings 300 companies

together to promote regional

specialties and traditions from

across Japan.

Where: Tokyo Dome

How much: ¥1,200-¥1,700

More info: tokyoweekender.com

GISHI-SAI

Watch this annual festival's parade,

held in honor of the 47 Ronin and

the master whose death they

avenged.

Where: Sengaku-ji Temple

How much: Free

More info: tokyoweekender.com

52 | DEC 2017 - JAN 2018 | TOKYO WEEKENDER
---
11

9

10

12

9

DEC 1-25

CHRISTMAS MARKET AT

RED BRICK WAREHOUSE

All the essentials are in place for a

perfect festive date or family outing:

shopping, ice skating, hot wine and

delicious German food.

Where: Red Brick Warehouse

How much: Free

More info: tokyoweekender.com

10 JAN 26-28

JAPAN BREWERS CUP

Both a contest between craft

brewers and a festival, this event

boasts 35 Japanese brewers and 300

varieties of beer.

Where: Osanbashi Hall, Yokohama

How much: ¥500

More info: tokyoweekender.com

11 DEC 15

THAT'S WHAT SHE SAID!

COMEDY NIGHT

Have a good laugh at Japan's first

and only all-women's English comedy

night, which also raises money for

charity.

Where: Good Heavens Bar

How much: ¥3,000

More info: tokyoweekender.com

12 JAN 12-14

TOKYO AUTO SALON

The largest-ever showcase of custom

cars in Japan featuring plenty of glitz

and glamor.

Where: Makuhari Messe

How much: Advance ¥2,000, door

¥2,500

More info: tokyoweekender.com

TOKYO WEEKENDER | DEC 2017 - JAN 2018 | 53
---
Society

TOKYO'S LONGEST RUNNING SOCIAL COLUMN WITH BILL HERSEY

I

find it hard to believe, but this super city of ours has been

even busier than usual the last few months. It's been impossible

to get to all the happenings I'd like to, and with the

holidays coming up soon, it's going to continue to stay that

way right up to Shogatsu, the traditional Japanese New Year

celebration. I'm starting this column over the three-day holiday from

November 3 to 5, and driving around this morning, I was really surprised

at the number of big – and for the most part beautiful – Christmas

trees and traditional decorations that are up already or going

up all over Tokyo. By the time you read this, I'm sure old Edo will be

beautifully decorated for the holiday season.

Tokyo is changing

in other ways too. We're

looking to the Olympics

in 2020, and what I'm

sure will be a very busy

schedule, and in preparation

for that there's

renovation and construction

everywhere.

If you've lived here long

and know Japan, you can

see that our city, which

is already known as one

of the world's cleanest

and safest in the world,

is getting better every

day. Just checking out

all the great events over

the last few months has

been amazing.

THE VON

WERTHERNS'

GERMAN UNITY

DAY GARDEN PARTY

Germany's popular diplomats Ambassador Hans Carl Freiherr von

Werthern and his wife Elisabeth are always busy, and things were no

different for them this fall. They celebrated their day of German unity

on the 3rd, and they had Oktoberfest celebrations at restaurants,

bars, and National Azabu. The weather was perfect on the evening of

the 3rd, and the embassy residence and spacious garden were packed

with many friends and business leaders from both the Japanese and

German communities. Special guests included Wolfgang Tiefensee,

the State Minister of Economy, Science and the Digital Society. The

food (German, of course) and the ambiance were very special.

Elisabeth, our hostess for the evening, is British, and always looks

chic in original fashion. For the unification celebration, she asked the

Imagine One World Kimono Project group to help create her outfit,

and they came up with something so lovely. I especially liked the

Steiff German teddy bear on the back of her obi.

Another outstanding German event I attended was a special performance

of Brahms's "German Requiem," which marked the 500th

anniversary of the Reformation. This truly wonderful evening was

held at Ikebukuro's super venue, the Tokyo Metropolitan Theater.

The R500 organizing committee, a small group from the worlds of

music, religion and business, got it all – and I do mean all – together

for more than 250 orchestra and chorus members. Under the baton of

esteemed Maestro Robert Ryker they brought together an event that

epitomized the beauty of musical harmony. A big and much deserved

congratulations, and thank you to the organizing committee: Mari Baba,

Roger Brookin, William Grimm, Masao Himer, and Robert Ryker. Kudos

as well to guest artists Misaki Morino (soprano), Johann Schram-Reed

(bass baritone), Satoko Kawagoe (pipe organ), and the over two hundred

musicians and vocalists from the Tokyo College of Music Chorus and

Tokyo College of Music Symphony Orchestra. They couldn't have been

better.

Mrs. International Global 2017 beauty contestants Far too many patrons

to mention here,

but I do want to thank

the Embassy of the Federal

Republic of Germany

and the Embassy of

the Republic of Austria

for their support as well

as the support of many

others who helped make

it all happen.

ANTONIO INOKI

WRESTLING EVENT

On the sports scene, pro

wrestler, politician, and

long-time friend Antonio

Inoki hosted a special

evening. I couldn't go,

but it looked intriguing.

The publicity brochure

featured a picture of him

wearing his traditional bright red scarf. My Japanese friends read

the unusual party name and translated it as Inoki's "before his funeral

party." I haven't had time to look into what this actually meant,

but I'm happy to hear he's fine. The program featured well known

international wrestlers from all over the world and I heard it was

very exciting. Seat prices were ¥5,000 to ¥50,000, and I'm sure all the

pro wrestling fans who attended thoroughly enjoyed it.

POGOSYAN'S ARMENIAN 26TH

INDEPENDENCE DAY AT OKURA

Armenian Ambassador Grant Pogosyan, his wife Natalia, their son Tigran,

and the embassy staff hosted a party at the Okura Hotel on the

occasion of the 26th anniversary of Armenia's independence. Guests

included several friends I haven't seen for some time, but there were

also plenty of new faces.

The ambassador's speech was very informative and he talked

about the many projects that Armenia and Japan have undertaken

during their 26-year relationship. He was especially enthusiastic

about attending the Aurora Prize 2017. This year the million dollar

prize went to Dr. Tom Catena, a Catholic missionary who is the sole

doctor in the Nuba Mountains in Sudan. According to all reports, the

54 | DEC 2017 - JAN 2018 | TOKYO WEEKENDER
---
ARMENIAN 26TH

INDEPENDENCE DAY

CELEBRATION

1. Armenian attaché and Mrs. Yeruand Markosyan

2. Hiroko Matoba, Farida Rahman

3. Edward Papazian, his wife Hiroko and their

friend Zkanna Tase 4. Armenian Amb. Grant

Pogosyan, his wife Natalia and Pres. of the

Japan-Armenia Business and Cultural Group

Yasumine Satake 5. Turkmenistan attaché Serdar

Annagylyjov, Tigran Pogosyan 6. Avex Music's

Christopher and Stephanie 1

2

3

4

5

6

8

9

7

9 11

10

12

TURKISH AMBASSADOR BIDS

SAYONARA

7. Vatican Amb. Archbishop Chennoth, popular

politician Kazuyuki and Mrs. Yamada

8. Panamanian Amb. Ritter N. Diaz, Tuna King

– Kiyomura Corp. Pres. Kiyoshi Kimura 9. The

hosting couple: Turkish Amb. Ahmet Bulent Meric

and his wife Kumiko 10. German Amb. Hans von

Werthern, his wife Elisabeth, Head of the Crown

Prince Household's Nobutake Odano, his wife

Tamayo 11. Romanian Amb. Tatiana Iosiper, Sara

Hitchens (United Kingdom) 12. Fashion designer

Kansai Yamamoto, Rana Ismayilzade (Azerbaijan)

TOKYO WEEKENDER | | DEC 2017 - JAN 2018 | 55
---
BRAZIL CELEBRATES 195

YEARS OF INDEPENDENCE

1. Uruguayan Amb. Eduardo Gabriel

Bouzout Vignoli, Nobutake Odano

2. Deputy Prime Minister Taro Aso, Brazil

Amb. André Aranha Corrêa do Lago

3. Yuko Narasawa, Maria Ignez Barbosa,

the hostess Beatrice Corrêa do Lago

4. Brazil Amb. Corrêa do Lago, French

Amb. Laurent Pic 5. Staff members Paolo

Antonio Viana and Ivan Carlo Padre Seixas

1

2

7

3

4 5

6

8

11

9 10

14 15

12

13

AT THE GERMAN EMBASSY

DAY OF UNITY RECEPTION

6. German Institute for Japanese Studies

administrative director Joachim and

Barbara Rohr 7. Kenyan Amb. Solomon

Maina, his wife Rose 8. The host, German

Amb. Hans Carl Freiherr von Werthern

and El Salvador Amb. Martha Zelayandia

Cisneros 9. German embassy staffers

Claudia Muller, Ulrike Erdmann 10. Kimono

designers Nobumichi Tejima and Yoshimasa

Takakura with Amb. and Mrs. Werthern 11.

Mary Katayama and Elisabeth Werthern

BRAHMS REQUIEM

AFTER PARTY

12. Nikkei's Stefan Wagstyle, his wife Anna,

Cecile Click 13. Indiana University President

Michael A. McRobbie, HIH Princess

Takamado, noted conductor Robert Ryker

14. Thierry Porte and Franciscan Chapel's

William Grimm 15. German Amb. von

Werthern, his wife Elisabeth, Robert Ryker,

Michael A. McRobbie

56 | DEC 2017 - JAN 2018 | TOKYO WEEKENDER
---
doctor sometimes sees as many as 500 patients a day and performs

1,000 operations a year.

The awards ceremony took place in Armenia, and actor/philanthropist

George Clooney made the presentation. I have some great

memories of George. I first met him in Hollywood at a Batman premiere

and got to know him better when I went to Osaka with him

to promote a Warner Brothers film. One day we were driving to a

promotional event, and he started to sing "Tomorrow" from the musical

Annie. He was surprised I knew the song and insisted I sing a

duet with him. That was fun, and I feel so lucky that through friends

like Bill Ireton, who ran Warner Brothers here for 27 years, I have

enjoyed so many unusual showbiz experiences.

THE MERICS RETURN TO TURKEY

After three and a half years in Japan, Turkish Ambassador Ahmet

Bulent Meric and his Japanese wife Kumiko have returned to Turkey

for a new assignment. Proof of their popularity was a butt-bumping

crowd when they hosted a sayonara at their Kenzo Tange-designed

embassy and garden near Harajuku.

It was several hours of short and sweet speeches, pleasant music,

a superb Turkish buffet, and the Merics' wonderful hospitality. Bulent

and Kumiko were really good friends and I, as well as everyone who

has had the privilege of getting to know them, will miss them dearly.

So long my friends, and thank you so much for many kindnesses. Take

care, and all the best back home.

Hopefully I'll see them one of these days in Turkey, a country I

have been to several times and always enjoy visiting.

AMBASSADOR AND SENHORA CORRÊA DO

LAGOS' GALA

Back in September, Brazilian Ambassador André Aranha Corrêa do

Lago and his dynamic wife Beatrice hosted an elegant evening at

their beautiful embassy in Kita Aoyama. The occasion was to celebrate

the 195th anniversary of their country's independence.

Deputy Prime Minister Taro Aso was a special guest, and after

the ambassador's welcome speech, he made a short and very informative

speech on Brazil and Japan's long, strong, and mutually beneficial

relationship, and the many human ties and exchanges between

the two countries.

Brazil has the largest Nikkei (Japanese emigrants and their descendants

who have created communities throughout the world)

community in the world (around 1.9 million people), and in 2018 will

celebrate the 110th anniversary of Japanese immigration in Brazil.

In addition, this year, they'll celebrate the 50th anniversary of the

first visit of the Imperial Majesties to Brazil. The photo exhibition

honoring the visit, which had been inaugurated at the embassy that

day, was immensely interesting and informative.

FASHION HAPPENINGS

Thanks to Steve Haynes, I had the opportunity to be a judge for the

Mrs. International Global 2017 competition in Shinjuku. A group of

nine Japanese women took part – the youngest contestant was in

her mid-30s and the oldest in her mid-50s. As you can see by the

photo on the previous page, they all looked fabulous. The show's

main sponsor was a cosmetics company from Osaka called 727. Former

beauty queen Diana, along with Steve and friends, organized

the event.

I also had a front row seat to some of the shows at Amazon

Fashion Week, held at the many boutiques on Omotesando Street. I

bumped into the very cool Miss Supranational Emily Shimizu, whom

I first met when I was a judge at the Miss Supranational Japan Show.

She's a busy lady and was leaving in a few days to attend a contest in

Albania.

Modeling agencies here don't seem to be too affected by the new

rules and regulations in Europe and the US, and often bring in very

young girls from Europe. Over in Europe and some cities in America,

the bigger companies have all kinds of new regulations, like no more

size-zero models. I've also heard that regulations such as not bringing

in models under 16 are being enforced and have already caused

problems on the runways. It'll be interesting to see what happens

with this in Japan.

TO DO

As this month's column comes to a close, it's mid-November and Tokyo

is getting more beautiful for the holidays every day. Be sure and

take your family and friends to check out Ark Hills' lighting and the

Grand Hyatt's lobby. Midtown Mall is really very special as well, and

Tokyo Tower is so cool this time of the year.

I've had a 50-year relationship with the Hilton hotel here, and

over the years I've worked with their dynamic PR and food and beverage

departments on fashion shows, cultural events, movie promotions,

and orphans' holiday parties. They sort of spoiled me. And

they like to spoil their guests too.

If you take your kids to their big – and I do mean big – Cinderella

promotion in the lobby, you'll see what I mean. The décor, the food

and the ambiance are really fantastic.

By the way, I will be at what I think is my 20th Christmas party

for less fortunate kids at the Hilton's St. George's Room from 3pm to

6pm on Tuesday, December 5. The kids are six to 15 years old and

are all very sweet.

If you're interested in joining a group of community minded

people to help out, call me on 090-3200-6767 or Gonohe-san at the

Hilton on 03-3344-5111, and we'll assign a child for you to take care

of during the party. I guarantee you'll have a good time. Thanks on

this.

Steven Haynes and Iona at the Mrs. International

Global 2017 beauty competition

Filipino photographer Pawee and Yoh Miyazoe,

President of 727 Cosmetics

Bill, Miss Supranational Emily Shimizu,

Raymond Johnson

TOKYO WEEKENDER | DEC 2017 - JAN 2018 | 57
---
[ PROMOTION ]

WAYS TO

DEVOUR

TOKYO

Everybody knows that Tokyo is one

of the food capitals of the world. Here

are a few things any traveler should

have on their menu

BEEF UP

Wagyu is Japanese beef that's

known for its rich marbling

and its decadently succulent

flavor. Of course, this kind of

quality doesn't come without a

hefty price tag, but this is one

luxury that you'll definitely

want to spring for. Some of

the best places to splurge:

either of Ukai-Tei's locations

(there's one in Ginza and one

in Omotesando), Yoroniku

in Aoyama, and Kobe Beef

Kaiseki 511 in Akasaka.

SAVOR SOME SUSHI

If you spent any time in Tokyo and didn't feast on

sushi, your friends and family might just put you on

plane and send you back for a return visit. It might

be tough to get a seat at world famous Sukiyabashi

Jiro, but there are plenty of other options: look for

fancy fare at Kyubey or Tsugu Sushimasa, head

down to Tsukiji's sushi spots for some of the freshest

fish around, or go for a playful take on conveyor

belt sushi at Sushi Go Round.

GET DOWN WITH ODEN

A classic winter food, oden comes in a wide variety

of shapes and sizes, all served up in a hot broth.

Everything from miniature sausages to boiled

daikon or tomatoes fits into the category of oden,

but perhaps the best-known variety are the many

items that are made from fish cake or konnyaku.

You can find restaurants that specialize in oden (try

Somen under the Nakameguro railway tracks), but

there's really nothing wrong with getting it from the

combini. Not sure what a particular item's called?

Just point at the pictures and you'll be fine.

LEAVE ROOM

FOR DESSERT

If you're looking for sweets that

are going to be as fun to look

at as they are to eat, you're in

the right place. You can find

unicorn cupcakes and other

creations at Monarch of London

in Shibuya, while Dominique

Ansel in Omotesando or Ginza

has more brilliant confections

on hand than Willy Wonka. For

sheer technicolor explosions, try

Gram Factory's shaved ice shop

in Shimokitazawa, or the Kyary

Pamyu Pamyu themed Kawaii

Monster Café in Harajuku.

HELP YOURSELF

TO A BOWLFUL

Ramen is one of the

country's most recognizable

soul foods, and pretty much

every prefecture puts its own

spin on the noodle. Here

are the basics: shio ramen

means a salt based broth

with a pretty light flavor,

shoyu is a soy sauce based

soup, and tonkotsu features

a broth made from pork

bones. More exotic versions

of the dish can feature soup

flavored with everything

from tomato to green curry.

FEAST ON FAST INTERNET,

WHEREVER YOU ARE

No matter where your sense of

adventure – or your appetite – takes

you in Japan, you don't want to miss

out on uploading your pictures and

posts, finding your way around, and

staying in touch with your friends

while you're on the go. When you

rent a Pocket WiFi from Global

Mobile, you can be online all the

time, with blazing fast LTE. Service

is available for as little as ¥200

a day. For more details, visit

www.gmobile.biz/softbank/inbound.

58 | DEC 2017 - JAN 2018 | TOKYO WEEKENDER
---
TOKYO WEEKENDER | DEC 2017 - JAN 2018 | 59
---
To all investors and customers of The Parkhouse series:

The Mitsubishi Jisho Residence overseas

sales team is on hand for all your needs

For the most up-to-date information about Mitsubishi Jisho

Residence's new real estate projects, please visit our

English website at www.mecsumai.com/international/en

For inquiries, please email mjrtph@mec-r.com

Live in a Home for Life. The Parkhouse