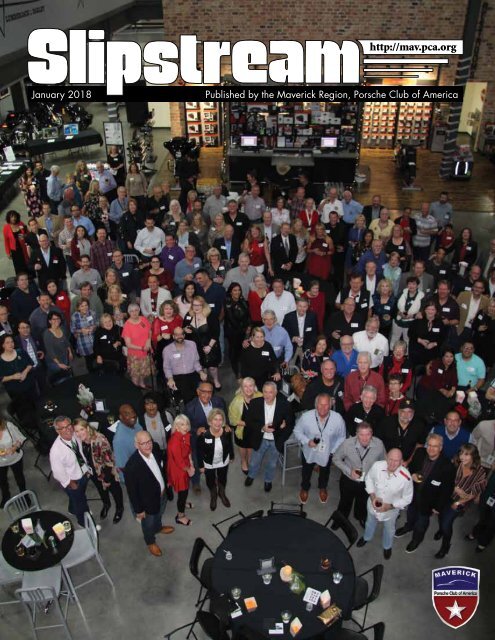 Slipstream - January 2018
The monthly newsletter of the Maverick Region of the Porsche Club of America
The monthly newsletter of the Maverick Region of the Porsche Club of America
SHOW MORE
SHOW LESS
Create successful ePaper yourself
Turn your PDF publications into a flip-book with our unique Google optimized e-Paper software.
http://mav.pca.org

January 2018

Published by the Maverick Region, Porsche Club of America

Upcoming Events

• Father's Day Picnic

• Sunday Drive

• Rally School

Past Events

• Wild Wildflowers

• May at Mayo's

• Results

June 2007 - Published by the Maverick Region

Porsche Club of America
---
©2017 Porsche Cars North America, Inc. Porsche recommends seat belt usage and observance of all traffic laws at all times.

Where high-performance

becomes my-performance.

Create a one-of-a-kind Porsche at Park Place Porsche Dallas. As a Porsche Exclusive Flagship Dealer, we offer a

custom design studio to make your Porsche dreams a reality. With personal advisors who take you through the

incredible range of personalization options and help bring your high-performance vision to life. When you're done,

your Porsche will be delivered straight from the factory, tailored to your specifications. It's yet another way we bring

you the highest level of personal service—making Park Place feel like Your Place.

Park Place Porsche

6113 Lemmon Avenue

Dallas, TX 75209

214.525.5400

park-place.porschedealer.com
---
http://mav.pca.org

Volume 56, Issue 1, January 2018

Find event updates at http://mav.pca.org, follow on Instagram at http://instagram.com/MaverickPCA

and join our Facebook Group at http://www.facebook.com/groups/mavpca/

Features

PCA Palooza 2017......................................................... 6

Kruder's Cars & Conversation........................................ 12

Porsche of the Month..................................................... 15

Porsche Trivia................................................................ 15

Maverick Region 55th Anniversary Founders Day Recap.. 16

Founders Day Evening Event Recap................................ 18

Maverick Autocross Program for 2018........................... 25

Gallegos' Tour of the Porsche Museum............................ 29

Upcoming Events

All Member Party: Hackberry Creek Country Club..... 14, 20

Maverick Lunch Series...................................................14

Board Meetings............................................................. 21

Tech Session: Understanding Lubricants for your Porsche..21

Mavs & Mochas............................................................21

Departments

Sprockets (President's Column)......................................... 2

Maverick of the Month..................................................... 2

List of Officers and Board Chairs...................................... 4

Zone 5 Presidents............................................................4

New Mavericks and Anniversaries.................................... 9

Unclassifieds................................................................. 34

Advertiser Index............................................................ 34

Around the Bend (Editor's Column)................................. 36

We have a small number of our

55th Anniversary decals, magnets,

and posters left over from the

Founders Day events. They will be

available on a first-come basis at

our January 13 Mavs & Mochas.

Illustration by Kurt Scaggs

See more details and check for event updates via

the QR code here or our online calendar at

http://mav.pca.org/go/calendar

Board Meeting..................................................... (Wed) 3

Plano area lunch (each Monday)................ 8, 15, 22, 29

Lewisville area lunch................................................(Tue) 9

Mavs & Mochas: Southlake Town Square............... (Sat) 13

NO SOCIAL THIS MONTH..............................(Thu) 18

Richardson and Southlake area lunches.................(Thu) 25

Tech Session: Lubrication....................................... (Sat) 27

All Member Party: Hackberry Country Club........... (Sat) 27

Plano area lunch (each Monday)................ 5, 12, 19, 26

Board Meeting..................................................... (Wed) 7

Mavs & Mochas: Frogg Coffee Bar, Allen............... (Sat) 10

Lewisville area lunch............................................. (Tue) 13

MONTHLY SOCIAL TBD..................................(Thu) 15

Richardson and Southlake area lunches.................(Thu) 22

DE: MotorSport Ranch..............................(Sat-Sun) 24-25

Autocross #1: Lone Star Park................................(Sun) 26

Ginger Heuerman (shown here wuth

her pet goat) provided her handmade

Maverick Region quilt as a raffle item

to benefit the Patriot Paws charity.

Beckie Gomer was the lucky winner

announced at our December 2

Founders Day evening event.

Photo courtesy of Ginger Heuerman

Event Dates

January

February

On the Cover

Almost 200 Maverick Region members enjoyed the

evening event celebrating our 55th Anniversary

Founders Day held at Texas Harley-Davidson.

Photo by Bob Molyneux

Slipstream (USPS 666-650) is published monthly by the Maverick Region, Porsche Club of America, 155 Jellico

Southlake, TX 76092. Subscription price is $24.00 per year. Periodical postage is paid at Fort Worth, TX.

POSTMASTER: Send address changes to Hiram Saunders, Slipstream, 155 Jellico, Southlake, TX 76092.

Opinions expressed herein are not necessarily endorsed by the Club's membership or officers. Contributions will be

printed on a space available basis. Chartered regions of PCA may reproduce items from this issue provided the author/

artist and Slipstream are credited. Slipstream is printed by Ussery Printing Company in Irving, Texas.

1
---
Sprockets: Happy New Year 2018

By David Robertson, Region President

appy New Year to all of my fellow Maverick

H

Region PCA members! I hope everyone

had a great holiday season. I have been

travelling in the Northeast a bit over the last

month and I am reminded that we have quite a good

season for driving our Porsches here in DFW, since

there is always at least a chance that we could have topdown

weather in January. I can tell you from personal

experience after living in Boston for many years that we

are very lucky to have a 12 month driving season and

you should take advantage of that!

We are not wasting any time in getting the event calendar

up and running. The first Mavs & Mochas of the

year will be held on Saturday, January 13 at Southlake

Town Square. Each of these gatherings features a different

Porsche model, and this month we are celebrating

the 996. If you haven't been to a Mavs & Mochas,

you are in for a treat. There is always a wide variety of

Porsches to see, ranging across many models and years,

and it is a wonderful and casual event that allows you to

get out on a Saturday morning and start your weekend

off right!

On Saturday, January 27 there will be two events,

starting with a Tech Session in the morning. A Tech

Session is an educational event, typically hosted by a

local business, where we gather to learn something

new about our Porsches. On the 27th we will be at Park

Place Porsche to learn about the lubrication requirements

on our cars and SUVs. I always learn something

at these meetings that I haven't seen on YouTube!

On the afternoon of the

On January 27th

we will have

the annual All

Member Party.

This event has

grown to one

of the biggest

events of the

year and is not

to be missed.

27th we will have the annual

All Member Party. This event

has grown to one of the biggest

events of the year and is

not to be missed. This party

includes a car show with some

very special Porsches, and it

is a great way for all of our

members to learn something

new about the club. There are

more details to be found on

page 14 in this issue so I will

not mention more, except to

say that there is no football on TV that weekend!

Make a New Year's resolution to get to know some of

your fellow Maverick members this year and participate

in some of our events. There is something for everyone,

and you probably already realize that your resolution

of going to the fitness center on Saturday mornings is

never going to happen!

SAUL FRAIRE, Chef-Proprietor

1235 William D. Tate Ave

Grapevine, TX 76051

817-329-6995

Also, as a reminder, our board meeting minutes are

now online at http://mavpca.org/news/minutes/.

MAV OF THE MONTH: Debi Gibson

Debi began contributing her time and creative

energy to the Mavs & Mochas events a while back with

some tweaks and ideas that really helped turn it into

the great meet up that you see today.

Since then, she has started getting more involved

with our Social events and co-organized the Founders

Day celebration last month that was one of our best

ever. From the small details like the clever table

decorations to the monumental task of arranging a

venue and setting

up catering for

200 people, Debi

made it look easy.

She always has a

smile and makes

everyone feel

welcomed at our

events. Debi will

be taking over

the Social Chair

position in

February and I

can't wait to see

what she comes

up with!

2 January
---
3
---
2018 Maverick Region Board - Officers and Chairs

President

David Robertson

617-797-0516

president@mavpca.org

Autocross Chair

Mark Schnoerr

ax@mavpca.org

Vice President

Jim Falgout

vp@mavpca.org

Charity Chair

Chris Hamilton

hope@mavpca.org

Secretary

Carey Spreen

817-422-3480

secretary@mavpca.org

Club Race Co-Chair

Pat Heptig

214-649-7907

cr@mavpca.org

Treasurer

Deborah Fike

972-672-4282.

treasurer@mavpca.org

Club Race Co-Chair

Joel Nannis

cr@mavpca.org

Concours Chair

Mike Mahoney

801-230-1482

concours@mavpca.org

DE Chair

ChrisTabor

817-371-4888

de@mavpca.org

DE Chief Driving Instr.

John Sandusky

817-777-0421

cdi@mavpca.org

DE Equipment Mgr.

Hunter Allen

deequip@mavpca.org

DE Hospitality

Rose Gohlke

de@mavpca.org

DE Sponsorship

Daren Kirbo

254-396-2973

desponsorship@mavpca.org

Email List Moderator

Brian Scudder

mrpca-owner@

yahoogroups.com

Email List Moderator

Matt Platts

mrpca-owner@

yahoogroups.com

Goodie Store

Chris Flaugh

214-288-5300

goodiestore@mavpca.org

Histographer, Tenured

Charlie Davis

historian@mavpca.org

Marketing, Social

Media Chair

Bill Orr

bill@billorr.com

Membership Chair,

Past President

John Hamilton

817-907-7823

membership@mavpca.org

Monthly Social Chair

Position Open

hh@mavpca.org

Online Calendar

Karl Poulsen

calendar@mavpca.org

PCA Tours Co-Chair

Mark Pitarresi

817-715-7156

tours@mavpca.org

PCA Tours Co-Chair

Tom Gomer

tours@mavpca.org

Rally Co-Chair

Don Sebert

214-613-6900

rally@mavpca.org

Rally Co-Chair

George Luxbacher

rally@mavpca.org

Registrar, Club Race/DE

Wendy Shoffit

crreg@mavpca.org

deregistrar@mavpca.org

Safety Co-Chair

Wayne Elliott

safety@mavpca.org

Safety Co-Chair

Bob Kramer

safety@mavpca.org

Slipstream Advertising,

Coffee Meets

Bill Kruder

214-497-0711

ads@mavpca.org

Slipstream Editor

Jim Hirsch

972-740-7377

editor@mavpca.org

Slipstream Content Ed.

Carey Spreen

817-422-3480

editor@mavpca.org

Slipstream Event

Ad Design

Kurt Scaggs

eventads@mavpca.org

Tech Sessions Chair

Michael Baynton

214-641-2848

techcorner@mavpca.org

Slipstream Mailing

Andy Mears

214-394-5857

mailing@mavpca.org

Time Trial Chair,

(AX/TT Rules)

Travis Howard

214-616-6152

tt@mavpca.org

Slipstream Printing

Fran Ussery

972--438-8344 (W)

817-481-8342 (H)

printing@mavpca.org

TT Registrar, AX/TT

Schools, Swap Meets

Robyn Howard

214-991-0873

drivingschools@mavpca.org

Social Chair

Tracy Robertson

817-944-5490

social@mavpca.org

Trivia Chair

Jerry DeFeo

972-240-5800

trivia@mavpca.org

Volunteers Chair

Jim Gallegos

214-697-0792

volunteers@mavpca.org

Web Site Chair

James Shoffit

972-786-6246

webmaster@mavpca.org

ARK-LA-TEX

Ken Chandler

bad968@bellsouth.net,

COASTAL BEND

Bryan Kerrick

bksailspadre@

sbcglobal.net

2017 PCA Zone 5 Presidents and Zone Representative

LONE STAR

Steve Bukoski

president@lsrpca.com

MARDI GRAS

Scott Spradley

swsprad@bellsouth.net

OZARK

Jim Woolly

jim.carol_NOSPAM@

sbcglobal.net

WHISKEY BAY

Mike Hamza

mikehamza944@

gmail.com

CIMARRON

Joy Jones

presidentcmr@gmail.

com

HILL COUNTRY

Tracey Gross

president@hcrpca.org

LONGHORN

Charles Bush

president@longhornpca.org

MAVERICK

David Robertson

president@mavpca.org

WAR BONNET

Randal Goodman

drtoys42@aol.com

WHITE RIVER

Leonard Zechiedrich

whiteriverregionpca@

gmail.com

ZONE 5 REP

Jon Jones

zone5rep@pca.org

www.zone5.pca.org

4 January
---
VISIT OUR NEW 8600 SQ FT LOCATION!

MONTHLY SPECIAL

$195

MOTUL OIL

$187

MOBIL 1 OIL

CERTIFIED MASTER TECHNICIANS

GENERAL MAINTENANCE

PERFORMANCE UPGRADES

SUSPENSION MODIFICATIONS

ALIGNMENTS ( TRACK AND STREET )

TRACK PREPARATION

TECH SHEET INSPECTIONS

CUSTOM FABRICATION

CUSTOM BUILT SPEC 996S AND SPB

2520 Tarpley Rd. Suite 700

Carrollton, Texas 75006

(972) 418-1996

innovativeautosports.com

innovativeautosportstx@gmail.com

5
---
PCA Palooza 2017: aka Porsche Palooza in Eureka Springs

By Larry Hampton, Jay Lynch, Mark Palmer, Landon Stogner, and Greg Ward

ditor's Note: the PCA

E

Palooza is a long-standing

event (now in its 13th

year) hosted by the White

River, Cimarron, and Ozark Regions

in the bucolic town of Eureka Springs.

We had quite a number of Maverick

Region members who participated in the

event this year and what follows are the

perspectives shared by our five authors.

In addition, all of the included photos

are courtesy of the authors. I know these

shared experiences will entice you to consider

attending the 2018 edition!

Angel's Diner - a must stop on the way to Palooza

6 January

Mark Palmer

PCA Palooza in Eureka

Springs, Arkansas

(also known as "Little

Switzerland"), happens

every November, when

the small artsy town comes alive

with the sound of flat sixes and turbos

in every color, model, and year.

This year was my first Palooza and

I enjoyed it immensely. The laidback

atmosphere, friendly people,

and fantastic roads are perfect for

Porsches.

Over the past year, every person

I asked about Palooza always

told me that it was a "must-attend"

event, and I am here to tell you to

mark your calendars for November

8-11, 2018 and to head to northwest

Arkansas and Palooza. We had

over 300 Porsches and close to 600

people from 33 states, with great

tours, car shows, silent auctions, socials,

food, sponsors (including our

own Dallas Motorsports as the title

sponsor), and awesome weather.

The roads showcase your Porsche's

handling, and can be experienced

either by signing up for the tours or

by heading out in your own groups

using your own routes.

Many attendees caravan to Eureka

Springs from the Metroplex in

small groups, as I did, with Landon,

Jay, Greg, and Michele, taking

roads like the Pig Trail or Talimena

Scenic Byway to enjoy coming and/

or going.

PCA Palooza has become one

of the largest Porsche events in the

country, so if you want to enjoy a

few days next year in the Ozarks,

with three pedals or two, air-cooled

or otherwise, and great people,

leave the worries and stresses of the

world behind and come join us in

Eureka Springs for Palooza!

Disclaimer: I received no compensation

for this wholehearted

endorsement!

Jay, Mark, Landon, and Greg, a

Maverick driving team

Landon Stogner

Taking a trip and

getting away from the

normal routine is always

fun, but what's

even more fun is a

great adventure with your Porsche

and friends. Well, that is just what I

did back in November. I had heard

from many that taking the trip to

Eureka Springs, AR for the PCA

Palooza Event would

be a blast, and boy, was

it.

Planning started

back in June when we

locked in our hotel

reservations. Seeing

how the event is so

popular, the host hotel

was already booked,

so we settled for the

"overflow" Best Western

down the street. Pete, Mark,

Jay, and I discussed making this trip

back in April when we all attended

the Hill Country Treffen Event in

Austin, TX, so we had the starting

phase of a caravan group that

would make the six-plus hour drive

from Plano to Eureka Springs. As

time got closer we added another

fine Porsche to our group when

Greg and Michele agreed to join

us. We started our journey on a

Wednesday mid-morning by meeting

at a place us Mavs like to frequent

when we get together with

our cars: Starbucks.

After we all fueled up on caffeine

and tuned our walkie-talkies

to the same channel, we were off.

Now the weather wasn't our friend

that day as we made most of the

trip in the rain. We all agreed we'd

rather have the rain on the drive to

Arkansas than the rest of the time

on the trip. Just before arriving at

Angel's Diner in McAllister, OK,

the rain stopped. We enjoyed lunch

in the 50s-style diner that had two

vintage Cadillacs parked out front

as part of the restaurant's display.

This was the first of many meals we
---
all shared together over our fiveday

trip. After stuffing ourselves

with good food, we finished the remainder

of the trip arriving to our

hotel just after dusk.

Day One of Palooza started off

with breakfast, then hopping in the

car for the short drive to the convention

center for our tour's driver

meeting. After receiving our maps

and meeting our drive leaders, we

were off. This day's choice was Buffalo

River Tour with a stop at Ozark

Café in Jasper, AR for lunch. We

continued on the great roads of

hills and valleys making it back to

Eureka Springs with enough time

for us to stop off at the local car

wash before heading back to the

convention center for the nightly

dinner.

Day Two started off much like

before; breakfast and driver meeting.

This day's route was the Southwest

Missouri Tour. On our drive

we stopped off at the Dogwood

Canyon Nature Park in Missouri,

which was a beautiful park. We

enjoyed walking along some of the

trails, looking at the natural waterfall,

and checking out the two-story

tree house.

We continued on our tour, stopping

in at the College of the Ozarks

to have lunch and ice cream. Again

after stuffing ourselves, we were

back in the cars (anyone see a trend

here?) on to the brief stop at one

of the many area dams for a photo

opp. We ended back at the hotel

way ahead of schedule, so we decided

on our own route for another

drive. This led us to Beaver Lake,

Castle Rogue's Manor

with a stop

at the nearby

Beaver Dam for

pictures of our

cars next to the

water as the sun

set.

Day Three

was a short

morning tour

to Castle Rogue's Manor. The tour

was short, as Saturday was the big

Palooza Car Show and police-escorted

parade through the downtown

streets of Eureka Springs.

The car show feature close to 300

Porsches, ranging from the 356 to

the 918 Spyder. I think the only car

not represented was the Carrera

GT.

After the fun parade through the

town, with the locals waving gourds

as we drove by, it was back to the

convention center for the dinner,

door prizes, silent auction, bingo,

and more. The banquet dinner was

also where the People's Choice winners

were announced for each car

class.

Our caravan crew agreed to

make this "trip to home" drive just

as adventurous as the others. I was

voted drive leader, so with Google

Maps by my side, we headed south

to Brashears, AR so we could connect

up to the famous Pig Trail

Scenic Byway. This stretch of road is

more than words can describe. We

drove the whole trail of hills, valleys,

and curves before making our

way across the Arkansas River on

our way to Mena, AR. From Mena

we headed west toward Oklahoma

via the Talimena Scenic Byway.

The five-day trip was another

great testament to "Driving Friendships."

My name is already on the

hotel list for Palooza 2018.

Jay Lynch

Imagine you have

planned an extended

road trip. You have organized

the drive with

Porsches of the Maverick driving team

four friends who own a select group

of Porsches. It's November and

the leaves are turning all shades

of splendor. The night before the

trip to Eureka Springs and the

2017 PCA Palooza, sleep is hard to

come by. We had washed the cars,

cleaned the interiors, blackened

the tires and, oh yeah, checked the

windshield wipers, because when

the morning comes, it's raining.

A quick cup of Starbuck's

0-Dark-Thirty coffee and we are

on the road. Nothing sweeter than

Stuttgart's finest, radar detector assisted,

cruising from Texas through

Oklahoma. A bite for lunch at Angel's

nostalgic Diner, and -- poof

-- we are entering Arkansas. Night

finds us winding through the twisties,

cautiously watching for deer,

and arriving in the cutest little resort

community about 6:30 pm, just

in time to sign in at the hotel, announce

our arrival at the event center,

and meet with other Porsche

owners from across the country,

including many friends from the

Maverick Region. Over 300 cars

were signed in and welcomed by an

incredible team of Palooza volunteers

who were absolutely fabulous,

friendly, and extremely organized.

Each day the groups of drivers

met in designated areas where

local team leaders reviewed the

daily routes and destinations: Buffalo

River, Boston Mountains, Dam

Castle. Some of the most beautiful

and scenic countryside infused

with twisties, mountain roads, and

river views. We visited a castle and

museum with Elizabethan displays,

the Treehouse Masters community

of lakes with hiking trails and wa-

7
---
terfalls, and the Bass Pro Log Cabin

Restaurant and Event Center at

the entrance to the College of the

Ozarks.

Saturday afternoon we all traveled

through the streets of Eureka

Springs, tossing candy to the crowd

that had turned out to view the

"Parade of Porsche Power." Every

evening there was entertainment: a

wine gathering for the ladies (but I

think a few gentlemen showed up),

the Bingo Party filled with prizes

and laughter, and the Awards Ceremony

with introduction of Sponsors

and distribution of door prizes,

overseen by our hosts Melody and

Leonard Zechiedrich.

When we were not driving, we

were eating: the Thursday night

Mixer, the Friday night Cookout

and Welcome Party, the Saturday

night Banquet, and the Sunday

morning breakfast, before saying

farewell to old and new friends.

No wonder this event is so well supported.

Fabulous folks, gorgeous

driving routes, and a town abundant

with shops that thrive on and

appreciate the tourist trade. We

were hooked and made hotel reservations

for next year's event. OMG,

by Sunday we found ourselves on

the waiting list but anticipating our

return to Eureka Springs.

Greg Ward

Porsche Palooza

2017 was my first

Porsche event out of

the DFW area. Friends

in four cars made the

trip together with radios for navigation,

communication, and wise

cracks. Each day of the trip had

eating, driving, photography, and

socializing elements. We gathered

at the convention center for staggered

drivers' meetings for the various

tours of the day and made new

acquaintances.

Day one was 166 miles on the

scenic Buffalo River Tour with a

lunch stop in historic Jasper, Arkansas

at the Ozark

Cafe. The

drive leader

sat with us during

lunch and

we suggested a

more spirited

pace for the afternoon

and he

delivered.

Day two was

117 miles on

the SW Missouri

Tour,

including the

beautiful Dogwood Canyon Nature

Park, which should be a repeat destination

for further exploration.

Our lunch stop was at the Keeter

Center at the College of the Ozarks

in Lookout, MO. We also did a

photo stop at the Table Rock Dam.

Day three included a Veterans

Day Parade through Eureka

Springs; our big group of cars

was called the Porsche Parade of

Power. Many people gathered for

the event supporting our veterans.

It was at the Show and Shine event

that we finally saw all 300+ cars that

were attending the event. What a

collection of cars -- everything from

the historic 356 to a 918 and from

as far away as Montana, Canada,

and Florida.

The roads in northern Arkansas

were really nice, some recently

paved; there were lots of curves,

many banked. The curves were

close enough together that the

cars gracefully zipped through

the mountainsides. The mountain

landscapes and fall colors were

beautiful and the air was crisp.

Many thanks to the organizers for

a great event! We already have our

rooms reserved for next year.

Larry Hampton

On November 9,

Frank and Bobbie

Briggs led a pack of

Porsches for the tenth

time to PCA Palooza

A portion of the more than 300 Porsches that

attended the 2017 PCA Palooza event

2017. Other cars in this group were

driven by Larry and Cathy Hampton,

Doug and Cheryl Koeppen,

Carey Spreen and Sue Crimm, and

Marg Edwards. Of course there was

the mandatory stop for lunch at Angel's

Café, a 50s diner, in McAlester,

OK, and the very spirited drive up

the "Pig Trail" in Arkansas.

After registration that afternoon,

we met up with Mavericks Clark

Randall and Vanessa Fernandes for

a great Italian dinner at Ermilio's.

Friday and Saturday morning were

spent shopping, having drinks at

the Crescent Hotel, and touring,

including the Crystal Bridges Museum/Frank

Lloyd Wright house,

and quiet time at the Thorncrown

Chapel. Saturday afternoon included

the Parade of Porsches through

downtown Eureka Springs, followed

by the Peoples' Choice Car

Show. Many other Mavericks participated,

and some were recognized

at the Awards Banquet and closing

ceremony Saturday night.

Maverick winners of "Peoples'

Choice" trophies included:

John Savickas 918

Larry Hampton 997 Turbo

Scott Boyd 993 Turbo

This year's attendance was 332

cars from 16 states and Puerto Rico,

from 29 PCA Regions, making

Palooza the second largest PCA

event in the United States.

8 January
---
Welcome Our New Mavericks!

By John Hamilton, Region Membership Chair

William Beachem

Irving

2014 911 Carrera S Cabriolet

Bruce & Sandi Goldberg

Lewisville

2014 Cayenne

Kevin Ly

Dallas

2006 Cayman S

If you have any changes that

you would like to make to the

MRPCA membership guide,

contact John Hamilton at

membership@mavpca.org

R. B. Wedel

Southlake

2018 911 GT3

Rich Carrington

Dallas

2015 911 Carrera

Edward Gonzalez

North Richland Hills

2017 Macan

Patrick Navarrete

Sachse

2010 Cayman S

Chris Wolfgang

Carrollton

2010 Cayman S

Deepak Chandra

Westlake

1989 944 S2

Josh Coen

Dallas

2017 Cayman S

David Herron

Richardson

2017 911 Carrera

John Kelly

Flower Mound

2015 911 Turbo

Michael Preston

Flower Mound

2005 911 Carrera

Mark Richards

Lake Dallas

2010 Cayman S

Transfers In

Julie Kaesberg

Dallas

Transfer From: SDO

2015 and 2010 Cayman

Mike Coffey

Carrollton

2017 911 Targa 4

Connor Landrum

Burleson

1997 911 Carrera 4S

William Schneider

Plano 2018 911

Targa 4 GTS

James Crawley

Dallas

1994 911 Carrera 2

Brian Levey

North Richland Hills

2018 911 Carrera S

Scott Slaughter

Dallas

2008 911 Turbo Cabriolet

Chris Danford

Arlington

2018 911 Carrera

Curtis Logan

McKinney

2014 Cayman S

Robert Waple

Mansfield

1974 914 1.8

Maverick Membership Stats

Members: 1,760 Affiliate Members: 891 Total Membership: 2,651

Anniversaries: January

25 Years

Steven Wallach (Samra)

H Dickman

Christina Dickman

20 Years

Dallas

Trophy Club

Coppell

10 Years

Richard Hansen (Nancy)

C Harrington

Jean Hausegger

Andy Kay (Adrienne)

James Martin (Linda)

Lewisville

Colorado Springs

Arlington

Kennedale

Colleyville

15 Years

Steven Frost (Linda)

Monda Hanna

Craig Hamilton (Ellen)

Lydia Owen-Wyatt

Rosemarie Russo

Dallas

Plano

Aledo

Dallas

Cape Coral

5 Years

Jay Bell

William Jackson (Elizabeth)

Fred Madden (Ashley)

Robert Manley (Barbara)

Philip Moore

Richard Rogers (Ellen)

Chris Roundtree (Tatiana)

Chris Sorrells (Gabe)

Jay Sutherland (Patsy)

Dallas

Allen

Cleburne

Haslet

Fort Worth

Dallas

Frisco

Dallas

Carrollton

9
---
Like a Personal Trainer for your Porsche!

• Expert maintenance and repair services • Track day preparation

• Performance and appearance upgrades from GMG, Manthey, FVD and more

• Superior customer service and free loaner cars • PCA discounts

• Show quality detailing services • Comprehensive service from air-cooled to 991

We Buy, Sell and Consign Quality Pre-owned Porsches

PCA Special - Brake Flush $149 00

Plus Sales Tax

10 January

With this coupon. Brake Flush with MOTUL Brake Fluid. Offer includes complimentary car wash and vacuum.

3236 Skylane Drive, Dallas, Texas 75006 • 214-269-1570 • www.racperformance.com
---
MarvelousHomeMakeovers.com | 972.951.1932 | Botond@MarvelousHomeMakeovers.com

11
---
Kruder's Cars & Conversations

By Bill Kruder

his young Mav was truly

T

a chance meeting. Earlier

this spring we had

our Mavs & Mochas

at Zims, then paraded over to the

Heights Church in Richardson for

their annual car show. As we pulled

in, we apparently drove right by

Derrick and his brother Kedereck.

We finally parked and took a walk

through the show, noticing this very

nice Boxster with these two young

men. We started up a conversation

and invited Derrick, the owner, to

come out with us. Well, come out

with us he has! He joined us for his

first Mavs & Mochas in Los Colinas

and has been with us ever since, not

only attending, but actively volunteering!

I have gotten to know this

young man over many coffees and

cigars, and he doesn't even smoke!

So here is the next individual in

my series of "conversations" I would

like to share with you . . .

Derrick Tate, member since 2017,

Owner 1999 (986) Boxster

and 2007 (987) Cayman

Bill Kruder: So are you originally

from here?

Derrick Tate: No, I was born

in Fort Hood, which is down near

Killeen, Texas. We moved right after

I was born so I tell everyone I'm

originally from Decatur, Illinois as

that's where my memories are.

Dallas, in about 2004, for a job.

Since graduating college I've lived

in Rockwall.

BK: Where did you go to college?

DT: I graduated in 2016 from

UNT.

BK: And what was your degree in?

DT: It's an Applied Arts and Science

degree with a concentration

in Criminal Justice. Right now I'm

just wrapping up my MBA in Criminal

Justice; I plan on starting Law

School in fall 2018.

BK: And I understand you have put

yourself through college?

DT: Yes, I have. I've been fortunate

enough to get some scholarship

money and the rest comes

from my business.

BK: Let's see . . . you are all of 24

and go to school and have a business?

DT: I know! I wonder at times

(laughing), but yes, I have a mobile

auto repair business.

BK: How did that come about?

DT: Well I always was a tinkering

kid. It started when I was about

12-13 and I would watch my dad

work on his motorbikes. When I

was about 14 I acquired one of his

old ones and I fixed it up so I could

ride up and down the alley. Then

from there I started working on the

family cars, then friends' cars, and

it just kept growing.

BK: But I hear it's a mobile service?

DT: Yes, it's DJ Automotive. I

did a little research and found that

people often found themselves

stranded by some of the simpler

things I could fix on the spot rather

than tow.

BK: Ok so tell me about your first

car?

DT: That was a 2002 BMW 325i.

I have this thing for German cars I

guess. I remember when my brother

and I would play video games I

would always pick the German cars.

BK: So how did you get into the

Porsche world?

DT: Well, like I said, I have always

liked German cars, and always

admired Porsches. So one day my

girlfriend's mom asked if I would

take her car to get it washed. Well of

course I would, it's a Boxster. That's

all it took and I knew I wanted one

so about three years ago I bought

my first.

BK: And what was it?

DT: It's the one I met you guys

in, a 1999 Glacier White Boxster.

BK: And how did you end up in

DFW?

DT: Well, we were a military family

so we moved some, that's what

took us to Illinois.

BK: So your dad was in the military

-- what branch?

DT: Oh no, my mom was. She

was in the Army and was a heavy

equipment operator. It wasn't

'til she got out that we moved to

Derrick's 2007 Cayman (Photo by Michael Durovick)

12 January
---
BK: So what would be your ultimate

Porsche?

DT: That's easy! That would be

a base model 993. It's the last aircooled

made, and it's often considered

to be the best one ever made,

well, best air-cooled.

The author and the "Apprentice" (Photo by Landon Stogner)

BK: And I know there is another?

DT: There is, I've always wanted

a Cayman. So Erica, my girlfriend,

and I talked and she said go for it.

I managed to save for the past year

and figured I would sell the Boxster

to help pay for it. Well in August I

found the black 2007.

BK: But you still have the Boxster?

DT: I do (laughing); Erica said I

should just keep it.

BK: Wow, so some might call you

an "enthusiast!" Bill Orr has defined

our Porsche owners as: one,

you're an owner; two, you're Derrick;

and three, you're a collector.

Any more than that, you're crazy!

So there you have it once again.

Had we not gone to the Heights,

had we not taken the time to stop

and chat, we would have missed out

on our club's future. Derrick not

only attends every Mavs & Mochas

but has become one of the most active

volunteers at many events, even

attending our monthly board meetings.

Matter of fact, many attending

the Founders Day Celebration at

Texas Harley-Davidson would have

been greeted by him at the reception

desk. Derrick is the true meaning

of "Driving Friendships!"

13
---
All Member Party 2018: Hackberry Creek Country Club

his is your invitation

to join other

T

Maverick Region

members and attend

the All Member Party

at Hackberry Creek Country

Club, at 1901 W. Royal Lane

in Irving, on Saturday, January

27 from 2:00 to 4:30pm. It is a

come-and-go affair, so stay for

as much or as little time as you

wish. The club provides light

snacks and a cash bar for you

to enjoy while you "meet and

mingle" with other members.

Having just celebrated our

55th Anniversary as a PCA

Region in December with our

Founders Day activities (see

pages 16-20 for more details),

the All Member Party provides

each of you with a look ahead

to events planned for 2018.

Of course, the parking lot

at Hackberry Creek literally

turns into a Porsche car show

with many of the models produced

over the years in attendance.

In fact, it's a challenge

to get the members inside the

venue to listen to the program!

The program consists of an

opportunity for you to hear

more about the wide variety of

activities planned for the coming

year. Whether you like to

drive, polish, or socialize with

your Porsche, our Maverick

Region has numerous activities

that will pique your interest

and get you involved.

Please plan to join us and

find out for yourself how the

Maverick Region has been

"Driving Friendships" since

1962.

14 January
---
Porsche of the Month

Selected by Bill Orr

Blue 2014 Porsche Boxster S, "Harvest Sunset in Prosper"

For instruction on how to submit your Porsche photos in the

POTM contest go to: http://mav.pca.org/photos/POTM/

Photo by Mike McGrath

November Trivia Questions and Results

By Jerry DeFeo

Sponsored by Zims Autotechnik

You can test your knowledge (or Google search ability)

of all things Porsche by participating in the monthly

trivia contest posted online at http://mav.pca.org/

trivia. Answers are due by the last day of each month.

The winner of the trivia contest receives a $25 gift

certificate from our sponsor, Zims Autotechnik. In the

case of ties, a random drawing determines the winner.

The winner for our November Trivia is Tom Martin

who answered all five question correctly. Tom, please

contact Kirk at Zim's to claim your $25 gift certificate.

The questions for the November Trivia are shown to

the right with the correct answers below.

Answers: 1) c 2) d 3) d 4) b 5) b

1. To say that Sebring is hard on race cars is an

understatement! The pretty red Coke-sponsored Porsche 962

driven by Akin, Gartner, and Stuck came in first at the 12

Hours of Sebring with ONLY THREE wheels after losing a

wheel and damaging the hub. How many times did the pit

crew have to replace the tire and wheel to win the race?

a. 1 b. 2 c. 3 d. 4

Source: Porsche Panorama, Sept 2017, p 59

2. In what year did this three-wheeled wonder win take place?

a. 1983 b. 1984 c. 1985 d. 1986

Source: Porsche Panorama, Sept 2017, p 59

3. Everyone that knows anything about Porsches knows the

911 was first called a 901 before Peugeot threw a hissy-fit,

forcing Porsche to change the model number to 911. How

many 901s were produced before the change in 1964?

a. 36 b. 54 c. 68 d. 82

Source: Porsche Panorama, Nov 2016, p 63

4. After the number change, how many 911s were then

produced in the remainder of 1964?

a. 100 b. 150 c. 200 d. 250

Source: Porsche Panorama, Nov 2016, p 63

5. Most Porsche folks are well aware of the infamous IMS

bearing problems, about which there have been many

complaints and lawsuits. However, Porsche lawyers declare

boldly that over _____ % of Porsches with the M96/M97

engines containing the original bearing will live out their

entire natural lives without incident.

a. 95% b. 90% c.85% d. 80%

Source: Porsche Panorama, Sept 2017, p 116

15
---
Maverick Region 55th Anniversary Founders Day

By Olga Taylor, Manu Bhatia, and Beckie Gomer

A

s a new Maverick, I approached the 55th

Anniversary Mavs & Mochas event with a

bit of nervousness. Would my '80 SC play

well with the other models? After years

of power steering, would I be able to successfully

back her into a parking space? I was feeling all of

that and more.

Alas, my fear was replaced with joy when I saw

the huge smiles of Mav volunteers and vast expanse

of my favorite marque. The traffic jam was

stunning -- I just loved every bit of it.

There was no lack of diversity! I saw wonderfully

preserved 356s parked beside various 911

models, new and old. Yes, I saw at least one 914,

many beautiful Boxsters and Caymans; in fact I

might have seen at least one Panamera and a few

Cayennes. (I missed seeing everything -- sorry if

your baby is not mentioned here). My conclusion:

this club is very welcoming -- I think I saw

a BMW in the mix. So, after confidently backing

into a parking spot, things got better as I walked

amongst these marvelous vehicles.

While Porsches are known for style, smell,

and sound, PCA members are an eclectic group

who love to drive, display, and discuss Porsches.

Top-down if possible, hood-up if warranted, and

always confidently parked -- this is how we do it!

So, what was it like? Imagine throngs of strangers

sharing war stories interrupted by spontaneous

bursts of laughter. That's what it was like at

the 55th Anniversary Mavs & Mochas at Highland

Park Village on December 2, 2017. Many thanks

to all the volunteers who created this wonderful

experience. Your execution was flawless!

Final thoughts: never miss a Mavs & Mochas

event. Whatever your mindset or preconceived

notions, show up. You will be overwhelmed by the

outpouring of friendship. And like me, you and

your Porsche might receive the President's Award

at the People's Choice Car Show: total surprise.

- Olga Taylor

he first Saturday in December, over 200

T

Porsche enthusiasts gathered together with

their families in the Highland Park Village

to celebrate their love of a truly unique

sports car brand. With the parking lot filled nearly to

capacity with cars ranging from beautifully restored

vintage automobiles dating back to the 1960s to pristine

nearly-million-dollar hypercars, there was a little

bit of something for everybody's tastes. Base model

Boxsters parked next to range-topping GT3s, sporty

sedans parked next to family-friendly SUVs. Nearly every

car in the Porsche model lineup was represented in

one way or another.

Mike Mahoney, the Maverick Region Concours

Chair, made this Founders Day Mavs & Mochas an

extra special event by hosting a People's Choice Top

Ten car show. Every person who attended this morning

event got to cast a vote for each of the ten Porsches

they saw that most caught their eye. Over 100 Maverick

members chose to participate in the Top Ten show

and each donated $10 for our Huffaker Hughes Hope

House charity.

The results were announced at our evening event:

1st overall: Michael Hensarling, 1956 356 Speedster

2nd overall: Jack Griffin, 1955 356 Continental

3rd overall: Bill Kruder, 1964 356 C

President's Choice: Olga Taylor, 1980 911 SC Targa

Rounding out the top 10, in year model order:

Roberto Anderson, 1963 356 C

Pam Adams, 1967 911

Raj Gill, 1996 911 (993) Turbo

Scott Boyd, 1997 911 (993) Turbo

Ajai Cadambi, 2005 Carrera GT

John Harvey, 2016 Cayman GT4

Chris Sorrells, 2018 911 GT3

Michael Hensarling's 1956 Porsche 356 Speedster

People's Choice Top Ten Car Show Winner

Photo by Michael Durovick

16 January
---
Three Morning Events to Start a Day of Celebrations

Mavs & Mochas and Toy Drive photos by Bob Molyneux

What sets the

Maverick Region

apart from other

car clubs is the

sheer diversity of

its member base

and their choice

of rides. Every

single car had its

own unique flair,

and every single

owner had a story

to share about

how they came

across their

particular car.

Owners proudly

stood by their

cars, eagerly waiting

for somebody

to spark a conversation

just so they

could share their

story.

Bill Kruder and Debi Gibson

brought a Christmas tree atop their

1964 Porsche 356C to both

Mavs & Mochas and the Toy Drive

Photo by Michael Durovick

They say that every Porsche has a personality, and

the stories from Saturday morning were as unique as

the owners themselves. I met owners who had been

passed down their cars as a part of their family inheritance,

owners who had posters of their dream cars on

their bedroom wall as kids, and owners who collected

rare and exotic cars just because of how passionate

they are about their interests. There were members

who took their cars out to the racetrack regularly to

let them truly breathe, while others kept them in spotless

condition as their garage queen. It didn't seem to

matter which car they were driving was or how much it

cost, every owner still stood proudly by their car. This

was a gathering where socio-economic boundaries did

not exist. Enthusiasts left their differences at home and

came together for a unifying passion: their love for cars.

I've been involved in the car scene for several years

now, and I really have to say that nothing comes close

to a PCA event. The sheer number of cars and the

dedication of the volunteers who work countless hours

to make these events possible does not go unnoticed.

Ultimately however, it comes down to the passion of

the owners, who wake up bright and early on a Saturday

morning to share in their love for cars. Fifty-five

years in, and the Maverick Region has only the sky as

the limit. I can't wait to see what comes next!

- Manu Bhatia

O

n Saturday, December 2, the Plano

Christmas Cops Program had a very special

delivery of toys, clothes, baby items,

gift cards, and even batteries for the over

300 families they support each holiday season.

Our Maverick Region had 82 cars gather at the

Walmart parking lot off Dallas Parkway in Plano.

Bill Kruder and Debi Gibson, along with a Christmas

tree atop their 356, led us on a 10-mile drive

to the Plano Police Department on 14th Street.

To begin the drive, we had the help of the Plano

PD to navigate traffic and get the entire group

started together. Several stop lights along the

route meant our group of 82 Porsches broke up

into smaller groups, but that never reduced the

amount of holiday cheer we all had to give. Some

members dressed the part in holiday sweaters

and Santa hats, although the spring-like weather

could have supported holiday shorts instead.

Even Rudolph's nose and antlers joined in on the

fun. Okay, that nose was placed by my husband

Tom, who loves to celebrate the holidays! But I'm

sure Rudolph and Santa would have approved of

the effort.

Reaching our destination, we were greeted by

members of the Plano PD, who directed each and

every one to drive through the drop off location

where we were able to deposit our unwrapped

presents. Over 250 donations and $1800 in gift

cards were made to the Plano Christmas Cops

families that day, including TeddyG, who stuck

his head out of his ride's sunroof for part of the

drive. Thanks Jimmy and Phyllis Gallegos for

transporting TeddyG to his final destination.

Seeing the generosity from the members set

the tone for the beginning of a joyous Holiday

season for many families who otherwise might

not have presents to give to their children and

family members. The Maverick Region members

are truly very generous and thoughtful.

- Beckie Gomer

17
---
Founders Day 2017: The 55th Edition was the Biggest Yet!

By Carey Spreen, Region Secretary

nyone who attended the Founders Day

A

banquet in 2012, Maverick Region's 50th

anniversary celebration, will remember that

it was a big affair, with about 150 people

in attendance in the Grand Ballroom at Texas Motor

Speedway.

Five years on, Founders Day 2017 broke that record

handily, with almost 200 Mavericks enjoying their Saturday

evening as guests of Texas Harley-Davidson in

Bedford. The banquet was the final of three events, all

held on December 2, celebrating Maverick Region's

55th anniversary. You read about the other two events

on the previous two page in Slipstream, so this story will

focus on the banquet.

Traditionally, Founders Day has been a dressy affair,

held in a restaurant or banquet room, where Maverick

Region board members recognized the year's achievements

and milestones, and gave out an award or ten,

while region members had drinks and dinner while

mingling with friends new and old, some of whom they

may not have seen since the previous Founders Day. A

Silent Auction was usually part of the event, with the

proceeds going to charity.

This year, our Founders Day Committee, consisting

of Social Co-Chairs Tracy Robertson and Debi Gibson,

along with Mavs & Mochas Chair Bill Kruder, decided

to try something new: a more casual affair at a distinctly

non-traditional location. Good call on both counts!

Texas Harley-Davidson was a unique venue, with lots

of space for ogling vehicles of both two-wheeled and

four-wheeled varieties. As the largest H-D dealer and

showroom in Texas, the facility covers over 72,000

square feet, with a large portion of that being the main

showroom. Most of the bikes on display were relocated

to make room for tables, but a few bikes remained on

display, and a few times during the evening, one of the

sales people fired one up, turning heads and pausing

conversations.

By now you may be wondering why a club that fancies

little German cars and SUVs would hold an event

at a motorcycle dealer. As it turns out, there are two

connections. First, under the name "Revolution Engine",

in 2002 development partner Porsche Engineering

designed and built a new V2 engine for the "V-Rod"

model of the American motorcycle manufacturer Harley-Davidson,

their first water-cooled engine. Second,

Adam Smith, who owns this and several other Harley

dealerships, also owns a Carrera GT (yes, the one with

the screaming V-10) and is a Maverick himself. Many

thanks to Adam for graciously hosting our event!

An open bar (yes, free drinks!) was a very popular

feature of the evening, as was the meal, catered by Pecan

Lodge, serving pulled pork and smoked chicken.

And let's not forget the all-natural popsicles for dessert,

provided by Steel City Pops.

The Silent Auction was of course a part of the evening,

with 113 unique products and services just waiting

to be bid upon. Another feature of recent Founders

Days is the Photo of the Year contest, which consisted

of 12 outstanding Porsche-related photographs taken

by Mavericks throughout the past year.

People's Choice Top Ten Car Show. When was the

last time you saw four 356s and a Carrera GT in the

same place? Those five very unique Porsche models

were joined by 200 other Mavericks and their Porsches.

The results were listed on page 18.

Photo of the Month contest. The following members,

each of which were featured in one of the past 12

issues of Slipstream, had their photo on

display during the banquet. Founders

Day attendees voted for their favorite,

which turned out to be David Temming's

photo of a Black Porsche 911

Cabriolet featured in the April 2017

issue. You can view all twelve photos at

http://bit.ly/MavPotM.

Almost 200 Maveriock members enjoyed our evening 55th

18 January
---
November 2016; Photo by Shane Smith

December 2016; Photo by Debi Gibson

January 2017; Photo by Paul Farley

February 2017; Photo by David Temming

March 2017; Photo by Zach Walker

April 2017; Photo by David Temming

May 2017; Photo by Bob Molyneux

June 2017; Photo by Peter Wen

July 2017; Photo by Michael Durovick

August 2017; Photo by William Beck

September 2017; Photo by Jim Hirsch

October 2017; Photo by Steve Krysil

Beckie Gomer won the raffle for the Maverick Region

logo quilt created by Ginger Heureman.

And the big news of the evening was that the traditional

(since 1976) Richard F. Selcer Memorial Award,

which has been given to the Maverick (or pair of Mavericks)

that went above and beyond for the club that

year, has been retired. Replacing it is the James Shoffit

Maverick of the Year award, in recognition of James'

many contributions over the years, not only to Maverick

Region, and PCA Zone 5, but to the Porsche Club

of America itself.

The inaugural recipient of this award is Bill Orr,

marketing guru extraordinaire, and all-around busy

guy for the club. Bill's accomplishments even for just

this year are too many to mention in this article, but

rest assured, he earned it.

James Shoffit with Bill Orr, the recipient of the inaugural

James Shoffit Maverick of the Year award

Photo by Jasmine Shoffit

Fun awards. Some obscure (and some not so obscure)

recognition for some of our newer members

added to the festivities:

Matt Wilson: "Westside Story"

(coordinates our Fort Worth area Mavs & Mochas)

Greg Ward: "Father Knows Best"

(brings his daughter, Lisa, to many Mav events)

Carolle Liu: "Cone Killer"

(new to autocrossing this year, Carolle hit NO cones!)

Landon Stogner: "Father Knows Best"

(brings his two sons to many Maverick events)

Bob Molyneux: "The Buck Stops Here"

(unfortunate deer meeting at the PCA Palooza)

Bill Orr: "The Man Who Knows Too Much"

(knows, or will find out, the answer to all things Porsche)

Derrick Tate: "The Apprentice"

(helps at most events since joining the club in April)

Andrew Barber: "Candid Camera"

(lending his camera and keen eye for composition at many

Maverick events)

To sum up: the best-attended and possibly the most

unusual Founders Day celebration is in the history

book. We hope you can join us next year to be a part of

2018 history!

Anniversary Founders Day event (Photo by Bob Molyneux)

19
---
Upcoming Maverick Region Events

20 January
---
21

Upcoming Maverick Region Events
---
Engine Restoration

• Restore, Rebuild to OEM Original

or Modified Spec

• Partial or Complete Car

Preservation Restoration

• We Manufacture NLA Parts to

OEM Original Condition

• Specializing in 911 930 928

R A N D A L L K A R A

RKT 817-624-1322

T E C H N I Q U E S

901 TERMINAL ROAD • SUITE 400 • FORT WORTH, TEXAS 76106

35 Years Doing What We Love.

Visit us on Facebook - Randall Kara Techniques

22 January
---
We Buy, Sell & Tradethe

World's Finest Timepieces

Precise, sleek, distinctive and exceptional. de Boulle is a family-owned business

established in 1983. Along with de Boulle Motorsports, both are a living and moving

illustration of the passion for excellence for jewelry, watches and racing. de Boulle

is an uthorized Dealer for major brands including: Patek Philippe, Rolex, Bell & Ross,

Blancpain, Corum, Girard Perregaux, Greubel Forsey and Tudor. de Boulle also

provides the options of pre-owned timepieces, which includes vintage watches of

notable brands. Visit deBoulle.com to view our extensive collection.

6821 Preston Rd., Dallas, TX 75205214.522.2400

River Oaks District Houston, TX 77027 713.621.2400

deBoulle.com

2017SlipStreamAd.indd 1

23

8/9/2017 1:06:26 PM
---
©2017 Porsche Cars North America, Inc. Porsche recommends seat belt usage and observance of all traffic laws at all times.

The heirs to over 60 years of a racing legacy.

Divided equally.

The form varies. But the racing bloodlines, the undying dedication to pure sports car performance, the marriage of power and

efficiency embodied in the Porsche principles, do not. And that truth is revealed in that moment you turn the key. Discover it for

yourself with a test drive. Porsche. There is no substitute.

Experience every form of Porsche performance.

Porsche Plano

5924 W. Plano Parkway

Plano, Texas 75093

Tel. (214)576-1911

www.plano.porschedealer.com

©2017 Porsche Cars North America, Inc. Porsche recommends seat belt usage and observance of all traffic laws at all times.

24 January
---
Maverick Autocross Program for 2018

By Mark Schnoerr, Region Autocross Chair

Photos by LightSpeed Images

he Maverick PCA Autocross

program is a

T

low-risk way to learn

and refine car control

skills in any Porsche. It is an excellent

way to learn car control skills

that will come in handy every time

you drive your Porsche to Mavs &

Mochas, on our Tours, at Drivers'

Education events, and even when

driving your other car. You will

quickly learn about proper seating

position, looking ahead, threshold

braking, and precise car control

while you try to execute a perfect

lap on a pylon-marked course in

the safety of a large parking lot,

one car at a time, where your runs

will be timed to the thousandth of

a second. Unless you do something

very unusual, the only risk to your

car is contact with a rubber cone

that can be easily cleaned off.

Our region puts on events in

partnership with the Equipe Rapide

Sports Car Club (autocross.com) at

sites like Lone Star Park in Grand

Prairie and Mineral Wells Airpark,

about 40 miles west of Fort Worth.

This brings us a highly experienced

team that puts on a first-class event,

into which we get to include our 10

PCA classes.

Maverick autocrossers can always

find some shade when taking

a break between run groups

Autocrossing is the most fun you can have in your Porsche in 60 seconds or less!

There is an autocross school on

Saturday, March 17 that will fill up

quickly, so be sure to watch for this

event to open. There are guided

novice course walks at every event,

ride along instructors are available,

and you are encouraged to ride in

the right seat with others to help accelerate

your driving skills learning

curve.

Most Porsches can navigate the

whole autocross course after just

one shift to second gear. The next

60 to 80 seconds are such a rush

that some drivers barely take time

to breathe. You do this six to eight

times after just walking the unique

course found at each event. The

rest of the day you will meet lots of

interesting people, take a shift running

part of the event, whether it

is registration, tech inspection, or

corner station duty, and enjoy an

exciting assortment of interesting

cars at speed.

Registration is available on line

or on site. Arrive about 8 am and

bring a lunch or snacks with you,

since there is not always an "official"

lunch break. After tech inspection,

walk the course on your own,

or do so with the formal novice

walk-through for some additional

insights. Cars start running about

10 am, and awards are presented

about 4 pm. Look for the 2018

schedule elsewhere in every issue

of Slipstream, on our website, and at

autocross.com.

2017 Season Points

Class Driver Best 6 Trophy

P1 Corolle Liu 27

P1 Daniel Layden 10

P1 William Mayo 10

P1 Carey Spreen 10

P1 Amir El-Baghdady 9

P1 Quyen Tong 8

P2 Robert Gutjahr 10

P2 Joseph Tahahashi 10

P2 Joshua Gutjahr 9

P3 Mike Syler 55 Y

P3 James Shoffit 20

P3 Fred Stokes 18

P3 Wendy Shoffit 18

P3 Steve Farnham 10

P3 Steve Krysil 10

P3 Sherry Farnham 9

P4 Ed Mayo 60 Y

P4 Julia Underwood 53 Y

P4 Carey Spreen 29

P4 Marissa More 15

P4 Sigrid Schnoerr 10

P4 Sue Crimm 9

P6 Scott Wolthuis 10

P6 Mark Schnoerr 10

P7 Doug Edney 50 Y

P7 Brian Ogle 9

P10 Scott Cepak 10

25
---
The Art of Paint Protection

After Installation

A virtually invisible urethane film

professionally applied to high-impact areas

of your vehicle to protect your paint job from

stone chips, sand, road debris and bug acids.

During Installation

Owner Installed

Highest Quality Guaranteed

2530 Tarpley Road, Suite 100

Carrollton, TX 75006

26 January
---
your baby deserves

it's own room.

Introducing Garages of Texas, a community of first-class, affordable, completely customizable garage suites. Here, you don't rent a

space. You buy it. Giving you complete financial control and power to make it your own with unlimited customization options. So, stop fighting

for space in your family garage. Upgrade to a garage suite and move your show cars, motorhome or boat to the showroom they deserve.

Contact our sales team at 888.988.8049 or sales@GaragesOfTexas.com for more information.

ALLEN • CARROLLTON • DALLAS • FRISCO • PLANO • ROANOKE COMING SOON: AUSTIN • HOUSTON • SAN ANTONIO

GaragesOfTexas.com • Facebook.com/GaragesOfTexas

27
---
Porsche Specialist - Experienced Enthusiasts

Dealer-Like Service at Independent Prices

fifthgear.biz

Excellent Service Maintenance & Repair Sales

•Wide Range of Porsches'

Serviced

•Fast Turnaround Times

•Same Day Service In Some

Cases

•Serving DFW Area For Over

13 Years

•Family Owned & Operated

•100+ Years of Porsche Tech Experience

•11,000 sq. ft. Shop Equipped

with the Lastest Diagnostic and

State-of-the-Art Tools

•Comfortable Waiting Area w/Free WiFi

& Coffee Bar

•Same Services and Capabilities as the

Dealers

•Consignment Sales performed

on a case-by-case basis

1975 Archer Ave • Lewisville • TX 75077 • 972•317•4005

28 January
---
Gallegos' Tour of the Porsche Museum

By Jim Gallegos, Region Volunteers Chair

Photos courtesy of the Author

I

t was a beautiful day in August, 2017 when

Phyllis and I hailed a Mercedes-Benz taxi

from Hotel Marin in Stuttgart, Germany

and headed to the Porsche Museum. We

had just spent ten

wonderful days in

Norway (Bergen,

Flaum, Lom, and

Oslo) visiting our

Norwegian family

(OK, I'm only

related through

my beautiful Norwegian

wife, and

contrary to popular

belief I am not

from southern

Norway!). When

we planned the

Norway trip, we

thought it would

be great to end

our adventure

Dramatic sculpture welcomes visitors

in Stuttgart at

the Porsche Museum.

The excitement of visiting the museum was like seeing

Santa for the first time! Luckily, Phyllis was all in for

a day-long tour of the Porsche museum. Yes, we spent

the whole day there!

We bought our first Porsche,

a 1999 911 (996), black with the

large aero kit (affectionately

known as the "big taco"!) in 2014

which ended up on the cover of

the May 2015 Slipstream. I emailed

George Luxbacher, who had taken

the picture of the 911 aero kit

and verified it was our car. What

a thrill to end up on the cover of

Slipstream. Coincidentally, it was at

one of the first DFW Porsche Cars

and Coffee events, organized by

the one and only Tony Lisotta. We

then purchased a 2005 Porsche

911 997.1 from Park Place Porsche

with a whopping 22K miles!

Our museum tour started with

meeting our personal guide early

that morning. I wanted to hear

every detail possible about Ferdinand

Porsche and his wonderful

Uta showing Phyllis a famous rally Porsche

Jimmyg and Phyllis (right) with museum guide Uta

legacy. Our guide Uta knew every detail about every

Porsche in the museum. As she described the details,

small crowds gathered to hear her extensive knowledge

as we stopped at almost every car on display. I took over

one hundred pictures!

After our three hour tour was over, we ate lunch

and had a glass of wine at the museum deli. I headed

back into the museum for more

pictures. We ended the day with a

short visit to the Porsche dealership

across the street. They had

the best of the best Porsches on

the showroom floor and were very

welcoming.

Yes, it was a trip of a lifetime

that we hope to repeat in a few

years. After all, you can never see

enough of the Porsche product.

We shared our pictures on Facebook

and got rave reviews - be

sure to take a look at those. If you

get the chance, this is a visit not to

be missed!

Visitor information

Address:

Porscheplatz 1

70435 Stuttgart-Zuffenhausen

Contact:

0049 (0)711 - 911 20 911

info.museum@porsche.de

29
---
877 C

200 C

200 C

200 C

200 C

200 C

123 C

307 C

307 C

307 C

307 C

307 C

151 C

354 C

354 C

354 C

354 C

354 C

299 C

108 C

108 C

108 C

108 C

108 C

200 C

Ussery Printing

Printer of SliPStream

Since 1982

3402 Century CirCle irving, texas 75062

972-438-8344 Fax 972-721-1847

www.usseryprinting.com

30 January
---
OUR PASSION DRIVES OUR CRAFTSMANSHIP

At APEX, your unique, personalized service program is crafted to meet your

speciic desires. Our passion is delivering a concierge level of service that

goes above expectations to create an unparalleled client experience.

To Ensure that you and your Porsche enjoy an unmatched standard of care,

contact us today for a private consultation.

855.998.APEX (2739) | www.ApexAutoCo.com | info@ApexAutoCo.com

CONCOURS LEVEL RESULTS

Using cutting-edge processes and

state-of-the-art equipment, our

detail techniques consistently

deliver an unsurpassed level

of care for your Porsche.

Expert Paint Correction | Professional

Detailing | Paint Protection Films (Clear Bra)

Ceramic Coatings | Window Films | Vinyl

Vehicle Wraps & Accents

Ceramic Pro Certiied Installer

The World's #1 Ceramic Coating

Member; IDA & Elite

Detialers Alliance

CARS & CANNOLI

Monthly on the 3rd Sat.,

Mar.-Nov., 9AM - 11:30AM

4756 Frank Luke Dr.

Addison, TX 75001

EXPERT ADVICE, OPTIMUM

ENHANCEMENTS

We have the knowledge and experience

required to truly enhance your

Porsche's aesthetics and

performance with

customized and proven upgrades.

Automotive Customization | Performance

Parts Sold & Installed | Intake/Exhaust |

Wheels/Tires | Suspension/Brakes | Custom

Methanol Injection Kits | ECU & TCU Tuning |

Racing Fuels and Methanol Sales | CEL/Code

Clearing & Diagnostics | Light Bodywork,

On-The-Go Hand Car Cleaning,

Reenishing & Respraying | Powder Coating

Automotive Customization &

Services | Integrated Radar/Laser Systems

Automotive Gifts

We indulge the needs of the connoisseur who values unsurpassed expertise

and craftsmanship for their Porsche. APEX; an automotive lifestyle brand.

When all HAIL breaks loose...

Roofing Solutions

By Darren Houk

German Car

Service & Maintenance

by Appointment

Specializing in:

Impact Resistant Roofing Options Including:

Metal, Tile, and even COMPOSITION shingles.

SAVE up to 28% on insurance premiums

www.RoofingSolutionsHOUK.com

817.692.8496

817-366-1678

DasZauberwerk@ix.netcom.com

Showroom by Appointment

5500 Meandering Road Fort Worth 76114

31
---
Since 1971

Providing personalized service

on all Porsche automobiles.

• Complete servicing and repairs

on all air or water cooled models

• In-house machine shop

• M96/M97 reconditioning

• Performance and track mods

2530 Tarpley Road • Suite 700

Carrollton, Texas 75006

(972) 417-0997

Top motorsports brands...

...at the lowest prices in the nation!

competitionmotorsport.com

844 . 438 . 7244

32 January
---
Parts or Service, We Deliver Excellence.

Over 300,000 parts in stock.

Expert service and repair.

Parts and Service for: Porsche, Mercedes-Benz, BMW, Mini, and Smart Car.

817-267-4451

Visit us online at:

1-800-356-2964

www.allzim.com

zimips@allzim.com

1804 Reliance Pkwy. Bedford, TX 76021 M-F 8am to 5:30pm

Zims Autotechnik is not affiliated with Porsche AG or PCNA Registered Trademark of Dr. Ing h.c.F. Porsche A.G.

33
---
Maverick Region Unclassifieds

For Sale: 1978 Porsche 928. Red exterior with

Red interior. First-Year Euro Market Car. Vin #

9288101283. With spoiler-free rear end, five speed

manual transmission, sunroof-delete, this is certainly

a special car. Original 4.5L engine, Lexan front

windshield, Lexan rear window, larger 1986 front

disc brakes, Eibach coil springs which lower the car

1", Koni shocks, Short Shifter, Weltmeister 28mm

front swaybar, Martin Schnider Headers, 245/45-16

Hoosier tires on BBS rims. Corner Balanced by Auto

Edge and ready for the track. Asking $5999. Contact

John Ballard at Johnballard@frontiernet.net or 469-

494-6704. (01)

For Sale: 2000 Porsche 911 Carrera Cabriolet.

Zenith Blue Metallic with Metropol Blue convertible

top, Lapis Blue removable hardtop, Graphite Grey

leather interior. March 2000 production date; originally

sold at Park Place Porsche Dallas on April 26, 2000.

Dealer serviced at Park Place and Porsche Austin

from new through 60k miles. 6 speed manual. New

clutch and LN IMS bearing at 67,795 miles. Brake

fluid flush at 73,602 miles by Mayo Performance.

Water pump replaced at 76,493 miles by Innovative

Autosports. Most recent oil change at 78,147 miles.

Option codes: C02 U.S. Std Emissions, 424 CD

Compartment, 436 3-Spoke Leather Steering Wheel,

437 8-way electrical seat left, 438 8-way electrical

seat right, 476 Porsche Stability Management, 490

HI-FI Sound Pkg, 537 seat memory left, 551 Porsche

Windstop, 692 Remote CD Changer, 696 AM/FM

Radio w/CD Player. Original MSRP: $80,770.Very

well maintained, documented, great running car,

ready to drive anywhere. Everything works as it

should. Clean CarFax report with no accident history

or other issues. Cosmetically in average condition,

with various stone chips and small scratches to its

original paint from being driven and enjoyed as it

should. Original factory radio/CD changer replaced

by previous owner with Alpine unit w/iPod connector.

Tires are very good, less than 1 year old, approx 7k

miles. Car cover included. Asking $21,000. Contact

Chris Flaugh at chrisflaugh@hotmail.com or 214-

288-5300. (01)

For Sale: 1981 Porsche 911 SC. Red with tan interior.

In great condition with 69K miles. Well maintained

mechanically. Needs a couple cosmetic repairs on the

interior. Has new tires, replaced the leather steering

wheel cover, interior carpet, fuel pump, converted/

updated AC, the engine has been rebuilt and is

properly regulated. If you're looking for a fun classic

car this is the one for you. Very dependable and always

garaged. Asking $44,900. Contact Jennifer Graham at

jennyg.1331@gmail.com or 817-528-7108. (12)

For Sale: 2014 Porsche Boxster S. Agate Grey

exterior with two-tone Agate Grey/Pebble White

interior. Showroom condition with 4,300 miles.

PASM, DCT, sport exhaust, power seats, full frontal

clear bra, 20" wheels and many other extras. Asking

$53,000. Contact Jack Cicerello at jcicerello@

sbcglobal.net or 972-235-5543. (12)

For Sale: 1985 Porsche 944. Guards Red with Black

interior. 133,000 miles. Excellent condition. Vehicle

just had major restoration of engine, suspension,

power steering, brakes, and interior 3,000 miles ago.

Fresh repaint and fresh re-seal of engine with new

belts, adjusters, water pump, thermostat, gaskets,

valve job, and more. Too many new parts to list in

this ad, please see the online ad at http://mav.pca.org/

Classifieds/classifieds.asp for complete infomration.

Asking $10,900. Contact Jeff Queen at jeff_queen@

ahm.acura.com or 770-335-2854. (12)

Wanted: 2009 or 2010 Grey or Silver Carerra S

Coupe. Manual transmission, reasonably low miles in

pampered condition. All records appreciated. Contact

John Polivka at John.Polivka@yahoo.com. (12)

For Sale: 1978 Porsche 911 SC Race Car and

Trailer. White with Black interior. Currently setup

for World Racing League endurance racing (3

podiums in 4 races) but could be converted to PCA or

other racing series easily. Recent top end rebuild with

no races on the motor since. Lots of spares and very

well maintained. Trailer is a kwik-load rollback trailer

with 8K winch, spare tire mounted and LED light

upgrades. $35,000 for the package. Will sell car alone

but prefer to sell as a package. Contact: Paul Hoch at

paulbhoch@gmail.com or 940-594-5714. (11)

For Sale: 1984 Porsche 944. Guards Red with Black

interior. 5-speed. Clean 2-owner car. Bought from the

original owner earlier this year. Not a show car, but

an awesome driver. 95% stock, never raced. Clean

Carfax. Upgraded to LED headlights. Rare Saratoga

glass top (plus original painted sunroof.) Odometer

had 62k when purchased, however it was nonfunctional.

Estimated miles around 75-80k. Complete

tune up done with timing and balance belts. Asking

$13,000 and will consider trades for Porsche 914 or

air-cooled VW. Contact Steve at dumas_69@yahoo.

com or 214-538-4789. (11)

For Sale: 1989 Porsche 911 Cabriolet. Guards Red

with Tan Interior. Owned since 2004 as 3rd owner with

all maintenance history/records included. Not a drip

of oil on garage floor, or whiff of exhaust smoke. New

camel leather seats in 2013, stereo in 2015 (still have

the original working Blaupunkt if you're a purist).

State of the art radar system. Power windows, mirrors,

doors, cab top, heat and a/c all work perfectly. Always

garaged & babied, 85k Miles, Excellent Condition.

$59,995. Contact Rick at RickSelah@gmail.com or

214-587-6766. (11)

Advertiser Index

Advertising rates available upon

request. For more information contact

Bill Kruder at ads@mavpca.org

Apex Automotive........................... 31

Attic Butlers.................................... 30

Autobahn Motorcar Group........... B.C.

Autoscope..................................... 35

Bennett Motor Werks...................... 13

Competition Motorsport.................. 32

Concorso Detailing......................... 28

deBoulle Diamond & Jewelry........... 23

DFW Garage Design...................... 35

Ebby Halliday – Michael Picolo....... 32

Falgout & Associates, P. C............... 22

Fifth Gear Motorsports.................... 28

Financial Enlightenment.................. 36

Garages of Texas........................... 27

Growler Motor Labs....................... 26

Innovative Autosports....................... 5

Invisibra........................................ 26

Louden Motorcar Services........... I.B.C.

Marvelous Home Makeovers........... 11

Mayo Performance......................... 22

Mullenix Motorsport....................... 32

Mustard Racing.............................. 31

Nine-Eleven Automotive.................. 30

OCD'tailers.................................... 33

Park Place Porsche...................... I.F.C.

The Phoenix Insurance.................... 14

Porsche Plano................................ 24

RAC Performance........................... 10

RKT Techniques.............................. 22

Roofing Solutions by Darren Houk... 31

Send My Parcels............................ 35

Silver Fox........................................ 2

Stuart's Paint and Body..................... 3

Ussery Printing............................... 30

Zims Autotechnik............................ 33

These advertisers support

our Maverick Region.

Tell them you saw their ad

in Slipstream!

Unclassifieds are available free to Maverick Region members and are $5 for all others (contact editor@mavpca for payment details). Please limit size to no more than 6 lines (subject to editing).

Ads will run for 3 consecutive issues unless you contact the editor. E-mail your ad to classifieds@mavpca.org by the 10th of the month to have your ad run in the following month's Slipstream.

Be sure to include year, make, model, color, mileage, and asking price, as well as a contact name, phone number and/or email address. Parts are advertised only on our website. Due to space

constraints, photos are not included. No dealers please!

34 January
---
autoscope.co

3 Dallas Locations:

Porsche Specialists with over

35 years experience in DFW

Park Cities

6134 Denton Dr

Dallas, Tx 75235

214-350-3050

Plano

601 Coit Rd

Plano, Tx 75075

972-867-7467

White Rock

9796 Ferguson Rd

Dallas, Tx 75228

214-320-8280

35
---
Around the Bend...

By Jim Hirsch, Managing Editor

nd yet another new year is upon us -

A

welcome to 2018! As has been my habit for

the past few January issues of Slipstream, I'm

including some suggestions for your new

year resolutions that might be a bit easier for you to

keep than the list you've already created (and possibly

broken if you're like me).

I'll let Stirling Moss set some context for what

follows: "Motion is tranquility."

* Bring joy and excitement to yourself and those

around you by driving your Porsche each day, week,

month, or as often as you can.

* Participate in at least one more Maverick and/or

PCA event than you did in 2017.

* Take photograph(s) and write an article about

your first, favorite, or most recent Porsche experience

for Slipstream.

* Our club is built on volunteers and is the epitome

of the PCA motto: "It's not just the cars, it's the

people". In fact, take a moment in this new year

and look again at page 4 and familiarize yourself

with the many members who are volunteering

in ongoing roles to ensure the Maverick Region

offers events and activities that meet the interests of all

of our members.

* If you've enjoyed participating in our Region

events in the past, please consider if you're now ready

to give back to the club by volunteering in one of many

events that can always use an extra hand (or two). Send

an email to volunteers@mavpca.org with your interest.

* While you are online, why not sharpen your Porsche

trivia skills by challenging yourself to either know, or

find, the answer to the many interesting questions

Jerry DeFeo provides each month. The Trivia quizzes

can be found under the News tab on the club website.

* Take an open-ended, or even fully planned, road

trip. For ideas, look no further than the five Maverick

members who shared their recent experiences

attending the PCA Palooza in Eureka Springs this

November on pages 6-8 in this issue. As you can see,

there are plenty of interesting roads to drive and sites

to see in the route to and from Palooza, in

addition to participating in that neighboring

Region event.

I hope that 2018 will be a great driving year

for you and your Porsche. Carpe Viam!

Treat your portfolio like you would your Porsche

You wouldn't leave your Porsche in the care of anyone but a certified service technician.

Shouldn't your financial portfolio receive similar qualified attention?

Anyone can call themselves a financial planner. Only a select group can

display the CFP ® certification. Call Clark Randall at 214-890-4098 today

for a complimentary financial evaluation.

10,000 North Central Expressway

Suite 400

Dallas, Texas 75231

214-890-4098

Clark.Randall@FinancialEnlightenment.com

www.FinancialEnlightenment.com

Clark Randall, CFP ®

Registered Representative, Securities offered through Cambridge Investment Research, Inc., a Broker/Dealer, member FINRA/SIPC.

Investment Advisor Representative, Cambridge Investment Research Advisors, Inc., a Registered Investment Advisor. Financial Enlightenment and Cambridge are not affiliated. V.CIR.1217

36 January
---
Hiram Saunders, Slipstream

155 Jellico

Southlake, TX 76092

Periodical Postage

Paid at Fort Worth, TX