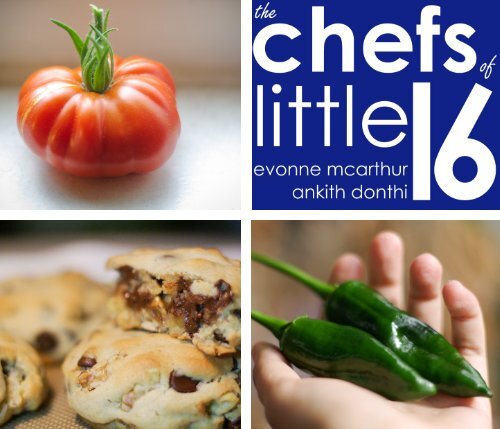 Create successful ePaper yourself
Turn your PDF publications into a flip-book with our unique Google optimized e-Paper software.
2
---
For Ankith…

The best co-chef one could ever ask for
---
Notes to the reader:

Be aware that this is no ordinary cookbook. In the Little 16 abode, no recipe is ever finalized

or formalized. No measurements are ever written down and spices are often in bags with no

labels. If the spice smells like it will add positively to the flavor profile of the dish, then add a

dash or two! Because of this, this cookbook has a lot of unknowns and fill-in-the-blank

ingredients and measurements. Suggested spices for recipes are denoted in the ingredients

box by a icon. Feel free to adjust these however you see fit and depending on what

you find in your pantry. One of the things I both hate and love about Ankith's cooking is that

if he makes something that I absolutely love, I will never have that exact dish ever again.

However, I quickly learned that this is part of the magic about cooking. Flavors should evolve

with the seasons and with your taste buds. Keep experimenting, keep trying new iterations,

and savor each moment in the present!

This book could not be possible without Ankith's cooking and creative spirit. It would also not

be readable without Nikki's editing and scientific precision. It would also be missing a critical

recipe without my parents willingness to pass down (and willingness to experiment with) the

timeless Cammarata meatball recipe. Thank you all!!

4
---
eakfast biscuits

classic american beyond burgers

meatball bake & sub

garden-fresh tomato & basil caprese toast

save evonne enchiladas

mushroom bourguignon

nashville hot "chicken" biscuit

hot cocoa mix

peach & strawberry cobbler pie

gooey, nutty, chocolate chip cookies

chai-spiced pumpkin pie

molten lava chocolate cake

favorite restaurants of nashville

4

8

10

14

16

18

22

24

26

28

30

32

34
---
eakfast

biscuits

Ankith tends to think he is a better cook than I (which may be true…), but sometimes I have to remind him that I can

knock his socks off with food as well. I decided that I had to show him up with one of his favorite foods of all time: biscuits.

I proved to him that I could make soft, buttery, flaky biscuits better than any he had ever had before in only one hour.

Now this is our go-to biscuit recipe and my proof to him that I can hold my own in our kitchen. These biscuits can be

made for any occasion and for breakfast, lunch, or dinner. They are especially good served steaming on a weekend

morning simply with eggs and fresh vegetables. This recipe makes eight biscuits.

Instructions

1. Mix flour, baking powder, sugar, and salt in a large mixing bowl. Cut butter into small pieces and add to flour

mixture.

2. Mix lemon juice into milk to create buttermilk. Let sit for at least 10 minutes.

3. Cut butter into flour mixture. There are many ways to do this. The easiest is to use a food processor and pulse

6-8 times. You can also use a pastry cutter, forks, knives, or your hands. The goal is to get the mixture to have

rough crumbs with no large butter clumps. Try not to over heat the butter, especially with your hands.

4. Return dough to mixing bowl and add enough buttermilk mixture until it forms a rough ball. Add any additional

seasonings, spices, or cheese you desire at this point.

5. Turn dough out onto a well-floured surface. Roll out into a rectangle about ½ inch thick. Fold the dough onto

itself. Rotate 90 degrees and repeat at least three times. This will laminate the dough slightly. The final fold will

also allow for an easy split point for filling the biscuits later.

6. Cover the dough with a kitchen towel and rest for 20-30 minutes.

7. Preheat oven to 425F. Cut the biscuits with a floured glass. Don't twist the glass when cutting. Place biscuits on

a greased pan and brush with egg wash.

8. Bake until golden brown, approximately 10-15 minutes.

9. Rub butter atop biscuits and fill with anything you desire. Favorites include a fried egg with tajin seasoning and

garden-fresh charred poblano peppers with hot sauce. PB&J biscuits are a great dessert to your egg biscuit!

Ingredients

2 cups all-purpose flour

1.5 tbsp baking powder

1 tbsp sugar

1 tsp salt

5 tbsp unsalted butter

1 cup whole milk

1 tbsp lemon juice

Egg & poblano pepper

Biscuits: rosemary,

thyme, garlic powder, cheese

Filling: hot sauce, tajin

seasoning, salt, pepper

6
---
8
---
classic american

beyond burgers

Although Ankith never craves anything "classic" and always prefers the unique, sometimes I just miss a big, juicy American cheeseburger.

Luckily, he will indulge me, but he always steps it up to the next level. This burger features extra sharp cheddar cheese, soft bib lettuce, gardenfresh

tomatoes, ketchup, tart dill pickles, caramelized onions, and crisped prosciutto for the non-vegetarian. The patty itself is a vegetarian

Beyond Burger. Previously, our closest Beyond Burger retailer was in Louisville, KY or home in Raleigh; therefore, we either had to make a six hour

trip or convince family to bring us a stock. However, since they came to Nashville, you can (way too) often find us cooking up these incredibly

realistic burgers in an oiled cast iron pan. They are crisp on the outside but stay juicy on the inside. Serve with your favorite fried potato side like

fries or tots.

Instructions

1. Thaw Beyond Burgers well ahead of time. Stuff or season the meat if you desire. For a twist,

stuff the patties with goat cheese.

2. Put a cast iron pan on high heat. Add oil or butter if you're feeling extra indulgent.

3. Sear the burgers on each side allowing them to develop a crust without drying out the inside.

4. When the burger is almost done, add cheddar cheese slices to the top of the patty and cover

to allow cheese to melt.

5. Toast the buns (but don't let Evonne do it because she will burn them). Brioche or pretzel

rolls make great soft buns.

6. Caramelize sliced onion circles in the leftover grease.

7. If you desire prosciutto, let thinly sliced prosciutto crisp in the hot cast iron pan or in the

microwave for a few seconds.

8. Add all your toppings. In addition to the crisped prosciutto and caramelized onions, my

"classic American" favorites are garden-fresh tomato slices, bib lettuce, Claussen dill pickle

slices, and a healthy amount of ketchup.

9. Finish the assembly and serve hot with your favorite sides!

Ingredients

Beyond Burger patties

Oil or butter

Bun of your choice

Tomato slices

Bib lettuce

Extra sharp cheddar cheese

Sweet yellow or red onions

Claussen dill pickle slices

Thin-sliced prosciutto

Ketchup

Side dishes

10
---
meatball

bake & sub

Meatballs are sacred in my household. They are rich, delicious, and always remind me of the holidays and family. Here

we create a meatball bake using my family's legendary recipe. The meat can be real meat, but Beyond Burgers can also

make a delicious substitute. Tomato sauce, mozzarella cheese, and the fatty meat simmer together in a cast iron pan.

Together they start in the oven and finish in the broiler. Scoop out a spoonful of the saucy-cheesy-meaty goodness and

serve on a bun to create a meatball sub or atop pasta with pecorino romano for a hearty Italian meal. This recipe makes

36 meatballs so scale down appropriately to fill a single cast-iron pan for a meatball bake.

Instructions

1. Combine all ingredients thoroughly. I usually start with mixing the cheese, breadcrumbs, parsley, onion, and black

pepper. Then work this into the ground beef and add the eggs last, and if needed, moisten with some water.

2. Roll the meatballs (about the size of an ice cream scoop) and place on a cookie sheet. You can put a drop of oil on

the palm of your hand as you roll them firmly and compactly; otherwise, they might crumble and fall apart

(though this step is controversial). I usually cover the cookie sheet with foil first and put the meatballs close to

each other since they don't expand.

3. Broil on high for 3-4 minutes and then turn over and broil for 2-3 minutes more or until they look crispy and a bit

cracked on the top. You can also bake them at 400F, turning once for about the same amount of time. Use your

own judgement based on appearance.

4. At this point the meatballs are not totally cooked since the expectation is that they will simmer for a number of

hours in a sauce. If you want to eat them without sauce, just broil or bake till they are cooked though.

5. Note: if using Beyond Burger mixture, use the same proportions, except reduce the eggs by 2. So, for ½ pound of

Beyond Burger, use about ½ egg, since the mixture is already very moist. You still need some egg to hold the

"meat"balls together while they cook. Broil, with the rack closer to the heat source, for five minutes on both

sides.

6. Use meatballs however you desire. To create a bake, add meatballs to cast-iron pan and top with your favorite

tomato sauce. Arrange fresh mozzarella atop and bake until the sauce is bubbling. Finish in the broiler until the

cheese is bubbling and browned. Scoop bake onto a hoagie bun for a meatball sub.

Ingredients

2 lbs ground sirloin or chuck

(85/15) or Beyond Burgers

2 cups pecorino romano

1 cup breadcrumbs

1 tbsp minced flat leaf parsley

2 tbsp minced onion

1 tsp ground black pepper

4 eggs

Tomato sauce

Fresh mozzarella

Hoagie roll for a sub

12
---
14
---
garden-fresh tomato & basil

caprese toast

When you lovingly tend to your tomato plants for months and months before they finally bear fruit,

what do you make with the very first tiny tomato? The answer of course is to pair it with basil from

your garden to make caprese. It highlights the incredible sweetness and density of flavor from all your

hard-earned work. Use any type of crusty bread and your choice of Italian cheese. Mozzarella is a

classic favorite but ricotta with a little salt and fresh black pepper provides a creamy alternative.

Instructions

1. Carefully cut tomato into ¼ inch slices. Pick a few good basil leaves.

2. Lightly toast bread.

3. Whip ricotta with salt and fresh cracked black pepper.

4. Spread ricotta (or add slices of your choice of cheese) onto toasted bread.

5. Layer tomato slices and basil leaves on top.

6. To make a balsamic reduction, stir together balsamic vinegar and honey

over high heat. Bring the mixture to a boil and then reduce heat to low.

Simmer until the mixture has thickened and reduced to a third of its

original volume. Set aside to cool.

7. Drizzle EVOO and balsamic reduction atop toast. Add salt and pepper to

taste.

Ingredients

Fresh tomato

Fresh basil leaves

Crusty sliced bread

Ricotta (or other cheese)

Salt, pepper

½ cup balsamic vinegar

⅛ cup honey

EVOO

16
---
save evonne

enchiladas

Ankith cooks dinner most nights in the Little 16 abode; therefore, on nights when he isn't around, I tend to forget to eat. Some

days I just won't remember, and other days I will just graze around on unhealthy snacks. To remedy this situation, Ankith often premakes

delicious meals so I don't starve. One of my favorites are warm enchiladas. They are perfect to make ahead of time in

oven-safe sealable pyrex containers. Fill them with anything you have on hand—fresh, frozen, or a combination! They can either

be pre-baked and then frozen or they can be simply refrigerated until it's time to bake. Each time they re-bake or are re-heated

they taste even better. They are hearty, warm, filling, and great for portioning and keeping full throughout a lonely week.

Instructions

1. Create filling by combining onions, oil, spice mixes, bay leaves, and garlic in a saucepan over

medium heat. Let the onions caramelize and take on the flavors of the spices. Add spinach and

let simmer.

2. Meanwhile, score potatoes and microwave them until they are still firm but tender to a fork. Peel

the potatoes in a bowl of cold water. Cube or slice the potatoes into one inch portions. Once the

spinach, spice, onion mix is caramelized and flavored, add in the potatoes.

3. Mash the potatoes into the spice mix making sure to cover each potato piece with flavor. Ensure

the potatoes are bite sized. Let simmer and add salt, pepper, a squeeze of lemon juice, and tajin

seasoning to taste.

4. Add a few tablespoons of the enchilada filling to a tortilla and roll. Add each roll to a pyrex pan

with the open seam facing down. Squeeze as many enchiladas in as possible to keep them cozy.

5. Cover with sauce and queso fresco. Freeze or refrigerate now, or skip to step 6 and bake now.

6. Whenever ready to serve, bake at 375F for 15-20 minutes or until hot. If desired, broil for a few

minutes to caramelize and crust the cheese on top.

7. Enjoy!

Ingredients

Onions

Oil

Garlic

Fresh or frozen spinach

Potatoes

Corn or Flower tortillas

Queso Fresco

El Pato can sauce

bay leaves, paprika, chili

powder, garlic power, tajin

seasoning, salt, pepper, lemon

juice

18
---
mushroom

bourguignon

I don't really remember the first time I had beef bourguignon but I do remember craving it on a cold day last year. Of

course, Ankith took that on as a challenge to make a delicious vegetarian version. Mushrooms are a great substitute for

beef and their texture and flavor go really well with the soft egg noodles and pearl onions. We've since made this recipe

a staple in the Little 16 abode and I never miss the beef. Add red wine for a classic French flavor or add dark Belgian

beer for a Flemish flair (reminiscent of a dish called Carbonnade Flamande). Serve this dish steaming on a cold day, mix

into a bed of egg noodles, and add a little bit of freshly grated pecorino and cracked black pepper on top.

Instructions

1. Heat olive oil and a tablespoon of butter in a cast iron pan on high heat and add ¼ -inch sliced

mushrooms. Sear the mushrooms for a few minutes until they darken. Remove them from

the pan.

2. Reduce the heat and add more olive oil, carrots, onions, thyme, salt, black pepper, and other

spices. Cook until the onions are browned. Add minced garlic and cook for another minute.

3. Add wine to the pan making sure to scrape any bits off the bottom of the pan. Turn heat up

and reduce the mixture to half. Add tomato paste, broth, and previously cooked mushrooms.

4. Reduce the temperature and simmer for 20 minutes. Add the pearl onions and simmer for

five more minutes.

5. Dissolve flour into water to create a slurry.

6. Add remaining tablespoon of butter and flour slurry until combined. Simmer for another 10

minutes and boil down to desired consistency. Season to taste.

7. Serve over a bed of hot egg noodles.

8. Garnish with a sprinkle of grated pecorino and a refreshing dollop of yogurt, sour cream, or

ricotta cheese on the side.

Ingredients

Olive oil

2 tbsp butter

2 pounds portobello mushrooms

1 carrot, diced

1 yellow onion, minced

1 cup red wine

2 cups broth

2 tablespoons tomato paste

1 ½ tbsp flour

1 cup pearl onions

Egg noodles

Optional: pecorino, sour cream,

yogurt, or ricotta

thyme springs, bay leaves,

garlic cloves, salt, fresh pepper

20
---
22
---
nashville hot

"chicken" biscuit

One of the quintessential Nashville foods that we had to adapt and bring home to NC is hot chicken. The best hot

chicken is tender and moist on the inside with a crispy fried exterior slathered in a very spicy hot sauce. Traditionally, the

hot chicken is served atop slices of white bread with pickles. The bread soaks up some of the sauce and the pickles

provide some acid to cut through the richness of the chicken. Here we substitute chicken with Halloumi cheese, a grilling

cheese from Cyprus. It doesn't melt so it retains its moist flavorful texture and is a perfect substitute when breaded and

fried. Here we elevate it by serving it on a flaky biscuit with slices of tart dill pickles.

Instructions

1. Slice halloumi cheese into desired size. Make them slightly smaller than the biscuit diameter and pat

dry.

2. For the dredge combine flour, sea salt, and black pepper.

3. For the dip combine one cup of whole milk with two large eggs and a tablespoon or two of hot

sauce. Beat together well.

4. Heat oil in a deep pan to 325F.

5. Dredge cheese in flour mixture, then dip into milk mixture. Repeat. Finish one more time in the flour

dredge mixture. (That means the cheese gets dunked into the flour mix three times and milk mix

two times total.)

6. Working in batches, add battered cheese to oil and cook on both sides until golden and crispy.

7. Remove cheese and let it drain on a rack with a baking sheet underneath.

8. To make spicy coating combine butter, cayenne pepper, a sprinkle of brown sugar, paprika, garlic

powder, chili flakes, salt, pepper, and a spoonful or two of pickle juice. Microwave until butter is

melted and stir to combine.

9. Baste the spice mixture over the hot fried "chicken".

10. Serve atop a biscuit (see recipe for breakfast biscuits) with dill pickle slices.

Ingredients

Halloumi cheese

All-purpose flour

1 cup whole milk

2 eggs

Hot sauce of choice

Oil

Butter

Dill pickle slices and pickle juice

Biscuits

cayenne pepper, brown

sugar, paprika, garlic powder,

chili flakes, salt, pepper

24
---
hot cocoa

mix

Sometimes there's nothing better on a cold day than a steaming cup of rich hot cocoa. Store the

mix in an air-tight jar and keep it in your cabinet all winter long. The recipe is incredibly easy and you

can flavor the cocoa mix with cinnamon, espresso powder, pumpkin spice, peppermint, or anything

your imagination desires. Serve hot in your favorite festive mug with plenty of mini-marshmallows or a

dollop of whipped cream.

Instructions

1. Sift confectioners sugar, cocoa powder, powdered milk together.

2. Add a pinch of salt and any dry flavorings you desire. Favorites

include cinnamon, espresso powder, pumpkin spice, a handful of

chocolate chips, or peppermint pieces.

3. Stir or shake dry ingredients together and store in an airtight jar with

a spoon ready for use.

4. When you desire a cup, boil water. Add a few heaping tablespoons of

the mix to the water. Stir to remove clumps.

5. Top with mini-marshmallows or whipped cream. Enjoy!

6. The mix will store for up to six months. You can also store the mix in

individual containers for gifts or on-the-go treats.

Ingredients

2 cups confectioners

sugar

1 cup unsweetened cocoa

powder

1-2 cups powdered milk

(depending on how

milky you want it)

Pinch of salt

Any flavorings you desire

Chocolate chips

Boiling water

Mini-marshmallows

26
---
peach & strawberry

cobbler pie

Every summer two of my favorite fruits come into season: peaches and strawberries. We always have a stock of fresh

strawberries in the fridge and there is a peach truck that roams around Nashville and sells brown paper bags of fresh juicy

Georgia peaches. This year we grabbed a bag at the peach festival farmer's market in 12 South. I debated whether to

make pie or cobbler with all the fresh fruit—but why should you have to choose!? The key is to cut the fruits into large evenly

sized pieces so that they don't become overly mushy. The pie is great warm with vanilla ice cream or even better served

cold in the following days.

Instructions

1. Slice each peach into approximately five pieces. Remove tops from strawberries and

half them.

2. Toss together peaches, strawberries, brown sugar, honey, flour, vanilla extract, and

bourbon. Mix well to make sure there are no lumps of flour and every fruit piece is

coated.

3. Make crumble by mixing flour, brown sugar, cinnamon, and oats.

4. Add room temperature butter to the mix and work the butter into a crumble with your

fingers until pea-sized lumps form.

5. Pat the crumble onto the top of the pie.

6. Chill pie until crust is firm. Pre-heat oven to 350F.

7. Bake for 40-60 minutes until the crust and crumble are golden brown and the fruits are

bubbling.

8. Let cool before cutting.

9. Enjoy with vanilla ice cream or refrigerate for cold midnight slices.

Ingredients

Pie crust from home or store

5 cups sliced peaches

2 cups fresh strawberries

⅓ cup brown sugar

½ cup flour

2 tbsp honey

1 tsp vanilla

1 tbsp bourbon

Crumble:

1 tsp cinnamon

1 cup brown sugar

¾ cup oats

¾ cup flour

½ cup butter

28
---
gooey, nutty, chocolate chip

cookies

In Little 16 we are on a never-ending journey to make the best chocolate chip cookie. This is our current iteration

modelled after Levain Bakery's cookie in NYC. It has a slight crisp on the outside but is seriously gooey—literally dripping

with chocolate—on the inside. Ankith and I both believe that the mark of a truly good chocolate chip cookie is that it will

taste even better on the second day. When made with love and care, these cookies are even better than the ones they

were modelled after. This recipe makes eight massive meal-sized chocolate chip walnut cookies. A huge glass of milk is

required.

Instructions

1. Preheat oven to 410F.

2. Cream together butter, brown sugar, and sugar for three minutes with hand

beaters. The mix should be creamy.

3. Add eggs one at a time. Mix well.

4. Stir in dry ingredients: flour, cornstarch, baking soda, and salt. Just mix to

combine but don't overmix.

5. Stir in chocolate chips and walnuts.

6. Create large balls of dough and place on greased cookie sheet or silpat.

Because they are so big only four will fit on a single sheet!

7. Bake for around 10 minutes until they just turn golden brown on top.

8. Avoid temptation and let rest for at least 10 minutes so they set.

9. Serve with a huge glass of milk. Hide extra cookies for the following days.

Ingredients

1 cup cold unsalted butter, cut

into small cubes

1 cup brown sugar

½ cup sugar

2 eggs

1½ cups all-purpose flour

1 tsp cornstarch

¾ tsp baking soda

¾ tsp salt

2 cups chocolate chips

2 cups walnuts, roughly

chopped

Milk

30
---
chai-spiced

pumpkin pie

Two of the best things about fall are cold pumpkin pie and steaming spiced tea. Here we combine those two entities

together into one rich and festive fall chai-spiced pumpkin pie. The filling in this pie is less diluted down by excess cream

which makes it more dense in both its texture and its fall flavors. Masala black chai is steeped into the cream that's used

which allows its flavor to be infused into this dessert at every angle. Bake the pie in either a graham cracker crust (Ankith's

preference) or pastry dough crust (my preference), and serve with a dollop of whipped cream. Enjoy when the nights

begin to get long with a cup of cider!

Instructions

1. Fit pie crust into greased 8-inch pie plate. Par-bake according to the

crust's type (graham vs pastry).

2. Change oven temperature to 325F.

3. Steep black chai bags into boiling whipping cream for 5-10 minutes.

4. Combine pumpkin puree, eggs, maple syrup, brown sugar, vanilla,

cinnamon, ginger, nutmeg, cardamom, cloves, salt, and pepper. Add chaisteeped

cream. Mix thoroughly being sure to break up any clumps of egg.

5. Pour mixture into baked pie crust and bake for 50-60 minutes or until the

center no longer jiggles.

6. Place in fridge to set and cool completely.

7. Serve with whipped cream sweetened with maple syrup.

Ingredients

Pie crust from home or store

1 can pumpkin puree

1/2 cup whipping cream

2-3 black chai bags

3 eggs

1/4 cup maple syrup

1/4 cup brown sugar

2 tsp vanilla extract

1/2 tsp salt

cinnamon, fresh-ground

dried ginger, nutmeg,

cardamom, cloves, black pepper

32
---
molten lava

chocolate cake

Last but not least, this cookbook would certainly not be complete without one of our most frequent go-to dessert recipes.

This recipe is one that we haven't messed with too much because it's just about perfect. We've gotten it down to a

science—even the ramekin we use is perfect since it provides just the right amount of cake-to-lava ratio. Our latest

edition of this recipe involves baking cookie dough into the center of the cake so the lava is both extremely chocolatey

but also has lots of cookie dough. Serve hot with a glass of milk, your favorite flavor of ice cream, two spoons, and your

best friend!

Instructions

1. Preheat oven to 375F. Lightly grease ramekin and set aside.

2. Melt butter in microwave and stir in chocolate chips until smooth. Set aside to cool. Do

not over heat.

3. Meanwhile, whisk eggs and sugar until frothy. Stir in vanilla extract.

4. Combine eggs into melted chocolate and stir until smooth. Make sure there are no

lumps of egg.

5. Add salt and flour. Stir only until combined and don't over mix.

6. Add batter into greased ramekin. If desired, shape raw cookie dough into a flattened

disc. Place into batter and ensure that the cookie dough is covered on all sides by

chocolate batter.

7. Bake for 8-12 minutes or until only the center jiggles.

8. Allow lava cakes to cool in ramekin for at least five minutes before inverting onto a

plate.

9. Enjoy!

Ingredients

½ cup chocolate chips

2 tbsp butter

2 eggs

2 tbsp sugar

¼ tsp vanilla extract

Pinch of salt

2 tsp all-purpose flour

Optional: 2 cookies-worth

of cookie dough

Cold mug of milk

34
---
favorite restaurants of

nashville

For the days when we just finished cleaning the kitchen and can't seem to decide where to grab food…

Indian

Breakfast

Burgers

Pizza

BBQ

Chauhan Ale &

Masala House

Mysore Palace

Sitar

Taj

Thai

Thai Phooket

Thai Esane

King Market

The Smiling Elephant

Deg Thai Food Truck

Vietnamese

Far East

Sky Blue Café

Ruby Ann's

Biscuit Love

Mexican

El Jaliciense

Baja Burrito

Mas Tacos Por Favor

Taco Mamacita

bartaco

Dessert

Jeni's Ice Cream

Five Daughters

Bakery

Hopdoddy

Farm Burger

The Pharmacy

Burger Republic

Burger Up

Hot Dogs

The Dog of Nashville

I Dream of Weenie

Coffee & Tea

Ugly Mugs

Fido

Portland Brew

Three Brothers

Dose

J & J's Market

DeSano Pizza Bakery

Five Points Pizza

Sandwiches

Mitchell Delicatessen

Tower Market & Deli

The Grilled Cheeserie

Capriotti's

Sandwich Shop

Hot "Chicken"

Pepperfire

Drifters

Edley's

Martin's

Peg Leg Porker

Ethiopian

Gojo

Beer

Jackalope Brewing

Company

The Filling Station

Yazoo Brewing

Company

Vinyl Tap

36