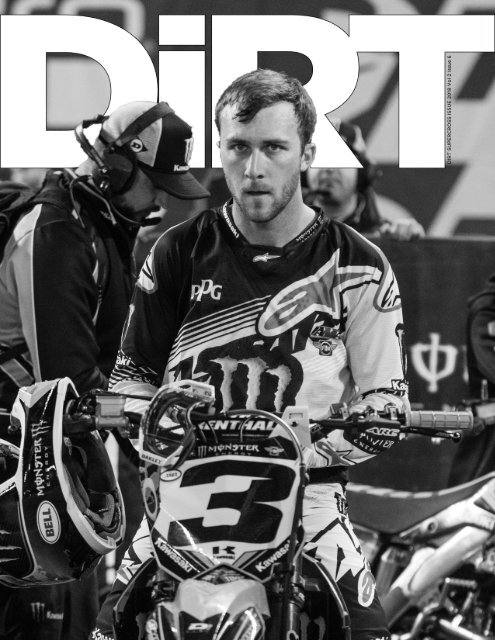 Day in the Dirt and Supercross Special Vol2 Number 6
Welcome to Issue #6 of DIRT Magazine First of all, I would like to thank you all for the support and making DIRT a reality. We have now reached 1.5 million readers in 6 months. I'm also working on an app, so you guys can download Dirt and read it anywhere you want. Visit our website at www.dirt.mx for news and updates. In this issue, Monster Energy Supercross Special. Reading this will help you understand the new race format. Day in the Dirt 20. Our friend Jack Jaxson was at Glen Helen in San Bernardino CA.and sent us back some sick shots from the event.. Want to advertise with us? give us a call at 514.880.0560 or send us an email at dirtmxmag@gmail.com. In this issue (Supercross Section) all photos by Jesse L. (Day in the Dirt) all photos by Jack Jaxson Thanks to our supporter: Mike Broeker, James Chiasson Black Flys, VR Medic, DaSilva family, Fleshgear, FXR, Tork Moto, Newbury Fences, All-Star7, 75 MX Graphics, Wheels N Waves, family and friends! Jesse Photographer, editor, graphics, Marketing etc... Want to advertise with us? give us a call at 514.880.0560 or send us an email at dirtmxmag@gmail.com. In this issue (Supercross Section) all photos by Jesse L Except Millsaps, Barcia, Decotis and Roczen. (Day in the Dirt) all photos by Jack Jaxson
Welcome to Issue #6 of DIRT Magazine

First of all, I would like to thank you all for the support and making DIRT a reality. We have now reached 1.5 million readers in 6 months.

I'm also working on an app, so you guys can download Dirt and read it anywhere you want.

Visit our website at www.dirt.mx for news and updates.

In this issue, Monster Energy Supercross Special. Reading this will help you understand the new race format.

Day in the Dirt 20. Our friend Jack Jaxson was at Glen Helen in San Bernardino CA.and sent us back some sick shots from the event..


Want to advertise with us? give us a call at 514.880.0560
or send us an email at dirtmxmag@gmail.com.


In this issue (Supercross Section) all photos by Jesse L.
(Day in the Dirt) all photos by Jack Jaxson

Thanks to our supporter: Mike Broeker, James Chiasson
Black Flys, VR Medic, DaSilva family, Fleshgear, FXR, Tork Moto, Newbury Fences, All-Star7, 75 MX Graphics, Wheels N Waves, family and friends!


Jesse Photographer, editor, graphics, Marketing etc...

Want to advertise with us? give us a call at 514.880.0560
or send us an email at dirtmxmag@gmail.com.


In this issue (Supercross Section) all photos by Jesse L Except Millsaps, Barcia, Decotis and Roczen.
(Day in the Dirt) all photos by Jack Jaxson
SHOW MORE
SHOW LESS
Create successful ePaper yourself
Turn your PDF publications into a flip-book with our unique Google optimized e-Paper software.
Welcome to Issue #6 of DIRT Magazine

First of all, I would like to thank you all for the support and

making DIRT a reality. We have now reached 1.5 million

readers in 6 months.

I'm also working on an app, so you guys can download Dirt

and read it anywhere you want.

Visit our website at www.dirt.mx for news and updates.

In this issue, Monster Energy Supercross Special. Reading

this will help you understand the new race format.

Day in the Dirt 20. Our friend Jack Jaxson was at Glen Helen

in San Bernardino CA.and sent us back some sick shots

from the event..

Want to advertise with us? give us a call at 514.880.0560

or send us an email at dirtmxmag@gmail.com.

In this issue (Supercross Section) all photos by Jesse Leduc

(Day in the Dirt) all photos by Jack Jaxson

Thanks to our supporter: Mike Broeker, James Chiasson

Black Flys, VR Medic, DaSilva family, Fleshgear, FXR, Tork

Moto, Newbury Fences, All-Star7, 75 MX Graphics, Wheels N

Waves, family and friends!

Jesse Photographer, editor, graphics, Marketing etc...
---
25$ at the door per person or 5 tickets for 100$ in advance!

**Fundraiser** The purpose of this event is to raise money to help me go out west to race the first four

rounds of the 2018 Jetwerx Rockstart Energy Triple Crown Series! We will be watching the Oakland

Supercross! Multiple TV's as well as a bar on the spot! We will also have auctions going on throughout

the night as well as multiple door prizes! This year's event will be held earlier! More information to come,

stay tuned! You don't want to miss it!

25$ À la Porte, ou 5 billets pour 100$ en avance!

**Levée de fonds** Le but de cet événement est de ramasser de l'argent pour que je puisse participer

aux 4 premières rondes du Jetwerx Rockstar Energy Triple Crown Series 2018 dans l'Ouest! Nous allons

regarder le Supercross d'Oakland! Plusieurs télévisions sur place ainsi qu'un bar! Nous allons aussi avoir

un encan durant la soirée ainsi que plusieurs prix de présences! Cette année, la levée de fond prendra

place plus tôt que les années précédentes! Plus d'informations à venir, restez à l'affut! Vous ne voulez

pas manquer ça!

Evolution Ice

2068 Rte Transcanadienne, Dorval, Quebec H9P 2N4
---
THE NEXT BIG

THING IS ALMOST

HERE!

PARTS - APPAREL - MECHANIC - KNOWLEDGE - SOCIAL

1.888.514. tork

facebook.com/torkmoto.ca

torkmoto.ca spring 2018

torkmoto.com summer 2018

torkmoto.eu winter 2019
---
Davi Millsap will be replaced by Justin

Barcia for the first 6 rounds
---
Ex Supercross champion, now Supercross analyst.

Jeff Emig, ended up 2nd in the Vet Classic Grand Prix

behind Mike Sleeter.
---
This is Shaun Palmer! One of the most versatile

athletes to ever live on this planet. Shaun was

an influential freestyle snowboarder and won

multiple golds at the X games in Boardercross

as well as Ski Cross. He was also a World Cup

downhill mountain biker and made his pro Supercross

debut in 2003. If that wasn't enough,

Palmer was also the lead

singer of a punk band called Fungus.

and the founder of Palmer Snowboard.
---
Mike Sleeter
---
From Denver Colorado Scotty " Scubb" Miller