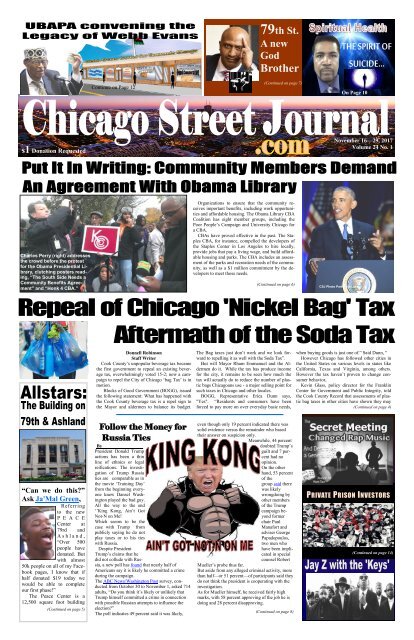 Put It In Writing - Chicago Street Journal for November 16, 2017
Chicago Street Journal (CSJ) is city-wide publication and we invite you to submit your articles and stories to us at ChicagoStJournal@gmail.com To place an advertisement call us 773-998-1925.
Chicago Street Journal (CSJ) is city-wide publication and we invite you to submit your articles and stories to us at ChicagoStJournal@gmail.com To place an advertisement call us 773-998-1925.
SHOW MORE
SHOW LESS
Create successful ePaper yourself
Turn your PDF publications into a flip-book with our unique Google optimized e-Paper software.
Chicago Street Journal November 16, 2017 1

79th St.

A new

God

Brother

Continue on Page 12

(Continued on page 7)

On Page 10

$1 Donation Requested

November 16—29, 2017

Volume 24 No. 1

Charles Perry (right) addresses

the crowd before the protest

for the Obama Presidential Library,

clutching posters reading,

"The South Side Needs a

Community Benefits Agreement"

and "Honk 4 CBA."

Organizations to ensure that the community receives

important benefits, including work opportunities

and affordable housing. The Obama Library CBA

Coalition has eight member groups, including the

Poor People's Campaign and University Chicago for

a CBA.

CBAs have proved effective in the past. The Staples

CBA, for instance, compelled the developers of

the Staples Center in Los Angeles to hire locally,

provide jobs that pay a living wage, and build affordable

housing and parks. The CBA includes an assessment

of the parks and recreation needs of the community,

as well as a $1 million commitment by the developers

to meet those needs.

(Continued on page 6)

CSJ Photo Parthenia Luke

Donnell Robinson

Staff Writer

Cook County's unpopular beverage tax became

the first government to repeal an existing beverage

tax, overwhelmingly voted 15-2; now a campaign

to repel the City of Chicago 'bag Tax' is in

motion.

Blocks of Good Government (BOGG), issued

the following statement: What has happened with

the Cook County beverage tax is a repel sign to

the Mayor and aldermen to balance its budget.

The Bag taxes just don't work and we look forward

to repelling it as well with the Soda Tax".

But will Mayor Rham Emmanuel and the Aldermen

do it. While the tax has produce income

for the city, it remains to be seen how much the

tax will actually do to reduce the number of plastic

bags Chicagoans use - a major selling point for

such taxes in Chicago and other locales.

BOGG, Representative Erica Dunn says,

"Yes". "Residents and consumers have been

forced to pay more on over everyday basic needs,

when buying goods is just one of." Said Dunn, "

However Chicago has followed other cities in

the United States on various levels in states like

California, Texas and Virginia, among others.

However the tax haven't proven to change consumer

behavior,

Kevin Glass, policy director for the Franklin

Center for Government and Public Integrity, told

the Cook County Record that assessments of plastic

bag taxes in other cities have shown they may

(Continued on page 4)

"Can we do this?"

Ask Ja'Mal Green,

Referring

to the new

P E A C E

Center at

79rd and

A s h l a n d ,

"Over 500

people have

donated. But

with almost

50k people on all of my Facebook

pages, I know that if

half donated $19 today we

would be able to complete

our first phase!"

The Peace Center is a

12,500 square foot building

(Continued on page 5)

Follow the Money for

Russia Ties

By _________________

President Donald Trump

actions has been a thin

line of ethnics or legal

reifications. The investigation

of Trump Russia

ties are comparable as in

the movie 'Training Day'

from the beginning everyone

knew Dansel Washington

played the bad guy.

All the way to the end

''King Kong, Ain't Got

Not-N on Me!

Which seems to be the

case with Trump from

publicly saying he do not

play taxes or to his ties

with Russia.

Despite President

Trump's claims that he

did not collude with Russia,

a new poll has found that nearly half of

Americans say it is likely he committed a crime

during the campaign.

The ABC News/Washington Post survey, conducted

from October 30 to November 1, asked 714

adults, "Do you think it's likely or unlikely that

Trump himself committed a crime in connection

with possible Russian attempts to influence the

election?"

The poll indicates 49 percent said it was likely,

even though only 19 percent indicated there was

solid evidence versus the remainder who based

their answer on suspicion only.

Meanwhile, 44 percent

doubted Trump's

guilt and 7 percent

had no

opinion.

On the other

hand, 53 percent

of the

group said there

was likely

wrongdoing by

other members

of the Trump

campaign beyond

former

chair Paul

Manafort and

adviser George

Papadopoulos,

two men who

have been implicated

in special

counsel Robert

Mueller's probe thus far.

But aside from any alleged criminal activity, more

than half—or 51 percent—of participants said they

do not think the president is cooperating with the

investigation.

As for Mueller himself, he received fairly high

marks, with 58 percent approving of the job he is

doing and 28 percent disapproving.

(Continued on page 8)

PRIVATE PRISON INVESTORS

(Continued on page 14)
---
2 November 16, 2017

Chicago Street Journal

In the process of finding a new

ride? Consider Chicago Luxury Motors.

We offer a wide variety of cars,

trucks, suvs, and more. Our staff is

second to none, and well versed in

providing you with an enjoyable

sales experience.

Give us a call, or come visit our

sales lot in Chicago, Illinois. Not

finding what you are looking for?

Give us a call and we'll start searching!

There is a reason our customers

keep coming back, so why not

see for yourself? Chicago Luxury

Motors, you need to experience this

Chicago

Luxury

Motors

3750 W. 79th St.

Chicago, IL 60652

(773) 498-4045

http://www.chicagoluxurymotor.com/
---
Chicago Street Journal November 16, 2017 3

Survey: Nearly half of

Trump voters support a

white history month

Nearly half of President Trump's supporters think

there should be a White History Month, according to a

recent survey by Public Policy Polling, or PPP.

The group reports that 46 percent of pro-Trump

voters were in favor of such a celebration while 36

percent were opposed.

And in terms of Black History Month, 45 percent of

this group indicated a favorable view while 35 percent

expressed an unfavorable opinion.

The issue was less split among Hillary Clinton voters,

with 81 percent supporting Black History Month

and 9 percent not supporting it.

The PPP survey also asked participants about legendary

abolitionist Frederick Douglass whom Trump

seemed to imply was alive during some recent remarks.

The Washington Post notes that in early February,

the president said, "Frederick Douglass is an example

of somebody who's done an amazing job and is getting

recognized more and more, I notice."

Douglass died in 1895—a fact which PPP says less

than half—or 47 percent—of Trump voters knew while

78 percent of Clinton supporters did.

PPP President Dean Debnam said in response, "A

lot of Trump voters don't think we should have

Black History Month. But given that a majority

them don't know Frederick Douglass is dead, they

might need it."."

The woman who called a

couple "n-----s" in a viral video

from last year's Margarita Fest has been sentenced

to 90 days in Cook County Jail.

Jessica Sanders, 27, was convicted last month of

misdemeanor battery in the July 30, 2016. Cook County

Judge James Linn found Sanders not guilty of felony

hate crime and aggravated battery in a public place.

Linn sentenced Sanders, of southwest suburban

Alsip, to 90 days in jail. She was credited for serving

three days while awaiting trial.

According to prosecutors, Sanders accosted a suburban

couple, repeatedly calling them "n------," during an

argument over a bean bag game at Margarita Fest, an

event hosted at the South Shore Cultural Center, 7059

S. Shore Drive, on July 30, 2016.

The couple — Ernest Crim and his wife, who are

African-American suburban high school teachers —

hoped to play a round of bags but could only find one

bean bag, prosecutors said.

Sanders, who was playing nearby, threw a bean bag

and never collected it. So Crim's wife went to retrieve

it. That's when Sanders, who is white, began calling the

woman a "n-----" repeatedly. Crim took out his phone to

record Sanders, but she knocked it to the ground, according

to prosecutors.

Crim was still able to record Sanders telling him he

was "acting like a n-----."

Senate Overrides Rauner's

Veto of Cursive Writing Bill

November 8, 2017. Teachers in Illinois will have

one more thing to add to their lesson plans in future

years, as the Illinois Senate has overridden

Governor Bruce Rauner 's veto of a bill mandating

that students learn how to write in cursive. The

measure, which Rauner vetoed in September,

passed overwhelmingly in the Senate on Wednesday

by a 42-12 margin.

Are you a Bronzeville

Resident?

Participants needed

for a study examining

African-American

residents perspectives

on changes in the

Bronzeville neighborhood

of Chicago. Participants

will be entered

into a drawing

for a chance to win a

$50 Visa gift card.

For more information, Angelyn Anderson at 708-

3 0 3 - 8 7 7 1 o r

share@neighborhoodperspectives.com.

www.NeighborhoodPerspectives.com.

visit

Distracted Walking'

Could Come With

$500 Fine in Chicago

A proposed "distracted walking" ordinance that could

become law in Chicago would see pedestrians fined up

to $500 for negligently strolling with their eyes fixed on

a cellphone screen. Dick Johnson reports.

A proposed "distracted walking" ordinance that could

become law in Chicago would see pedestrians fined up

to $500 for negligently strolling with their eyes fixed on

a cellphone screen.

NBC 5 asked city strollers what they thought of the

proposal. Some barely noticed a TV news crew let alone

the traffic trying to turn.

"Well people do walk into traffic when they're not

paying attention," one pedestrian told NBC 5.

"Pedestrians are getting hurt more often—well if you

cross when the light is red you should be good," another

said.

(Continued on page 6)

P

aula Robinson the Bronzeville leader shaking

things in Morgan Park as well, said this first issue

of Chicago Street Journal is a tease to the public.

Well Paula what is happening with the Griffen building

on 34th and King Drvie?

F

or 2019 Mayor election

word is the westside will be

driving a Ford down Madison

Street to City Hall or the southside

will be Dunkin the loop from the South

Side, and even having Summer in the

winter election with City Treasurer

Kurt Summers. However, there is a

petition being circulated that states William

Calloway For Mayor! The 28

year-old film student at the Illinois Institute

of Art-Chicago, who has been organizing

heard about the Laquan McDonald

video, and was determined to uncover

the account executed by CPD.

Calloway lives in the South Shore

neighborhood. If not for the efforts of

Calloway and journalist Brandon Smith,

video of Chicago Police Officer Jason

Van Dyke firing 16 fatal shots at Laquan

might still be in the hands of investigators

and attorneys, not the public.

However, word is 5th ward former aldermanic

candidate Jedidiah Brown is

looking for the run for mayor as well. LaQuonda

Townsend said 'Do it Mayor Brown!'

F or those who remember the late Beauty Turner of

the Ghetto Tours, well a relative of her has been seen

leading a tour bus down 47th Street and it wasn't community

activist Jeff Baker who also had interest in

picking up the torch of the legendary "Hey Love" and "I

am a writer and a fighter". Turner spirit with Black

Beauty Tours.

N

aimah Latif (one of the first

editors of CSJ) was so excited to be a part of

the delegation that went to South Korea for a

global peace conference, the 3rd Annual Commemoration

of the World Alliance of Religions Peace

(WARP) Summit, She

reported live for The

Female Solution radio

show and The Media Connection TV

Show! (Photo by John L. Alexander)

S omeone whisper in

the ear to farmers Fred

Carter, Noemi Davis, and

even Michele Banks that weed is on the State of Illinois

agenda to be legalized for social use. The word is brothers

on the streets selling it need to hook up with Black Oaks

farmer Fred Carter before its to late and there really

will be pushed out of the

business.

H

arold Lucas to Gov. Bruce Rauner,

"I'm whispering so that the media

doesn't hear me."

F rom the north side to

the Southside is Chicago

Black Business Network

founder, Sonja Purdue, is

not in Englewood, but was

in the loop at the Harold

Washington Library music

department networking a

gospel concert and planning.

Publisher and Editor: Ron Carter

Associate Publisher—Digital operations/Account

service: Sonja Predue,

Associate Publisher, Spiritual Section, Al Blumenber,

Writers: Donnell Robinson, Frank Ottman. Sonja

Perdue

Columnist; Rev. Harold Bailey, Al Blumenberg,

Circulation: Roosevelt Martin

Chicago Street Journal

816 West 63rd St. Chicago, IL 60636.

E-mail: Chicagostjournal@aol.com

773.595.5229

http://www.ChicagoStreetJournal.org

Follow us on Facebook and Twitter at

ChicagoStreetJournal

Columbia University South Street Journal archive:

http://southside.ccnmtl.columbia.edu/

Archived by Columbia University's Urban Research

Workshop (URW) , back issues from 1993 to 2006 of

Chicago Street Journal's predecessor, the South Street

Journal, were donated to provide material for URW

students to collaboratively research themes such as

gentrification, racism, political affairs, and youth

development.

CSJ is free, except special request drop offs and street

sales where a $1 donation is requested.

Copyright 2017. All rights reserved. CSJ assumes no

responsibility to return unsolicited editorial or graphic

material. All rights in letters and unsolicited editorial

or graphic material will be treated as unconditionally

assigned for publication and copyright purposes.

Material may be printed without written permission,

upon credit given to CSJ.
---
4 November 16, 2017

Chicago Street Journal

In Honor of Lu Palmer

(Continued from page 1)

not have the environmental impact

public officials' hope for.

"I have no doubt that they're put

forward with good intentions, but,

you know, the numbers

show that they're

largely ineffective on

the environmental

aspect of their justification,"

Glass said,

citing a Washington

Post review of the

Washington, D.C.'s 5

-cent tax heralded as

a way to clean up the

Anacostia River. The

review found that

more of the money

put in the Anacostia

River Clean Up and

Protection Fund was used for

school field trips and worker salaries

than for cleanup projects on the

river.

Glass said. Another

unexpected downside

could be the reusable

bags encouraged as

substitutes, which

public health experts

have said could pose a

risk because of the

germs they carry.

A study in the journal

Food Protection

Trends found that food

-borne illnesses could

skyrocket with the

increased adoption of

reusable bags.

We Are A 501c3 Non

Profit

Mentoring

Organization

Blocks Of Good Government,

Representative

Erica Dunn

Helen Thomas a civic

activist based in

Englewood

Dedicated to Transforming

the Lives of Children!

Workshop Series Locations:

Matteson:

4747 Lincoln Mall Drive

Bolingbrook:

260 S. Schmidt Road

One-on-One

The study found that 99 percent

of reusable bags tested contained

bacteria; the figure was 0 percent in

new bags, or single-use plastic

bags. These bacteria were frequently

dangerous, with E. Coli

being shockingly common in reusable

bags. The average Chicago

resident uses 500 plastic bags a

year, totaling 1.3 billion for the

whole city, according to environmental

experts.

Consumers can avoid paying the

7-cent bag tax on plastic and paper

bags at the grocery store by bringing

their own reusable bags, but

reports are reusable bags tend to be

unsanitary, which causes major

problems when they're being used

to tote fresh produce and other groceries.

Dunn stated the city is

either taxing or prohibiting

bags and

none of it's going to

see the upside they're

really searching for."

Helen Thomas a civic

activist based in

Englewood say, the

City's war on plastic

bags is just under the

guise of environmentalism

as

the Soda Tax

was marketed to

the public."

"Chicago's elected officials

are taking your money under

false pretenses,

failing to solve

the problem they

claim they're

a d d r e s s i n g ,

and possibly

making you

sick in the

process. She

added this is

m e r e l y a

stealth tax hike that

disproportionately hits

families that go grocery

shopping more

frequently.

The tax required large retailers to

replace thin plastic bags with

thicker ones that are designed to be

reused. But consumers weren't

reusing the bags, which are more

expensive to make. At the same

time, retailers receive 2 cents every

time the tax is levied and the rest

goes to the city.

Some, like the Better Government

Association, have publicly

criticized the few cents the city of

Chicago settled on because it's

unlikely to actually deter shoppers

from using plastic bags, making the

tax just another revenue stream for

the city. The city expects to bring in

$12.9 million from the tax next

year.

Glass said he thinks the mayor's

intentions are genuine, but he said

the few cents per bag will add up

for low-income shoppers, who may

be disproportionately affected by

the charge. He said he believes

neither a ban nor a tax has enough

of an upside to be worthwhile.

"It's a surprisingly complicated

issue, but the downsides, I think,

across the board, really outweigh

the upsides," Glass said. "This is an

evolution of what Chicago has been

trying to do.

Additionally,

although Chic

a g o ' s

Seven—Cent

tax is a small

fee, it was

designed to be

more salient

than the ban.

While customers

may

not notice that

their grocery

store has

switched to

p r o v i d i n g

thicker plastic

bags as a result

of the ban, research suggests

that customers are likely to notice

when an item that they previously

received for free now comes at a

price, thus bringing their b a g

use to the top of their

minds.

Sources: http://

wat chdog.org,

c o o k c o u n t yr e -

cord.com

Kevin Glass, policy director

for the Franklin Center for

Government and Public

Integrity,

& Group,

Mentoring

877-54-CHARM (2-

4276)

Girls Ages 9-18

Includes Group Activities & Community Service

Projects. Matching Available for One on

One Mentorship

Register On Line Today! www.mycharm.org

Thursday, November 16 a,

Gubernatorial Candidates

Forum t 5 PM - 8 PM, Chicago

State University Douglas

Hall Breakey Theater, ·

Hosted by Invited by

TheNew BlackLeadership

Thursday, November 16,

2017, IFI FALL FATHER-

HOOD CELEBRATION

& RICKY BYRDSONG

A W A R D S

LUNCHEON

U n i o n

League Club

of Chicago,

65 W. Jacks

o n

Blvd, 1:30am

Registration & Reception,

2:00pm Lunch, 12:20pm

Presentations & Awards.

Nov 17 at 6:30 PM to Nov

19 No Blue Memories: The

Life of Gwendolyn Brooks

Hosted by Poetry Foundation

& Poetry Magazineat 6

PM. Pritzker Auditorium at

Harold Washington Library

400 S State St, Chicago,

T i c k e t I n f o r m a t i o n

www.poetryfoundation.org

November 18 – November

19, – Chicago Public, ·

Hosted by Harlem Fine

Arts Show10 AM to Nov 19

at 6 PM, Malcolm X College

1900 W. Jackson Blvd., Chicago,

Tickets by Eventbrite

Friday, November 24 Buy

Black Friday Chicago: Super

Ujamaa Market ·

Hosted by The Black Mall

Holy Angels Catholic School

750 E 40th St, Chicago , 9

AM - 8 PM

Saturday, November 25 ,

the House of Tradition, as

we give honor to the Father

of the white cloth, Obatala,

who seeks to unite our community

through prayer, music,

dance, laughter and

love. Betty Shabazz International

Charter School, 7823

S Ellis Ave, Chicago For

participants that wish to present

offerings to Obatala's

shrine we ask that you bring

two coconuts and two candles

and/or a monetary donation.

Food and good vibes

will be provided. Hosted by

Alaje Thomas

Saturday, November 25

BYOB Motown Soulful

Holiday Light Trolley (Kick

Off Event) Old Town Pizza

Pub, 1339 N Wells Pick-up

and Drop-off location, Chicago

Lincoln Park Zoo-

Lights, Christkindlmarket,

The Magnificent Mile, State

Street & Macy's Holiday

Windows, Free wine and

beer on the tour but only if

you are 21 and older but feel

free to BYOB if you like. Join

along and Sing your favorite

karaoke motown songs.

Come Along And Ride On A

BYOB Soulful Motown Holiday

lights Trolley ride. Holiday

attractions, lot of laughing

and singing to your favorite

Motown songs, lighting

displays and Chicago

holiday landmarks. Ticket

I n f o r m a t i o n

www.eventbrite.com
---
Chicago Street Journal November 16, 2017 5

(Continued from page 1)

The artist redering of the Peace Center on 79th and Ashand with a host of supporters

celebrating the movement to open the center next year.

on 79th & Ashland; it features a 700 seat theater,

classrooms, a music & dance studio, and a

garden on the rooftop.

As the center will aim to life the positive

spirits of youth and reduce gun violence by

giving youth a safe haven.

While most youth programs stress the importance

of higher education, Majostee Allstars

aims to explore all options with an emphasis in

entrepreneurship and financial literacy.

The organization initial goal is to raise

$105,000 to finish paying for the building. And

another $1,000,000 for rehab, legal, and furnishing

cost. "I know this will help curve violence."

Say Ja'mal Green heading the project.

Green from the south side of Chicago was

trusted into the spotlight in the late fall of 2015.

After learning of the Laquan McDonald shooting

and the subsequent cover up from Mayor

Rham Emanuel administration.

Green became the voice of reason for the

young people in the community. Always vocal

about fighting for justice, he has been instrumental

in organizing various demonstrations,

including the historical Black Friday shutdown,

as well as the Mayor's house stakeouts that

have been effective in creating policy change in

Chicago police department.

Prior to that the organization he heads, Sky

-Rocketing found much success with their message

of anti-bullying and anti-violence, and

was able to spread that message to over 150,

000 students in over 15 states across the US.

The organization has been responsible for

peace concerts, marches, and events within the

community which has earned many awards for

the company. Some organizations honoring

their efforts are the Chicago Police Department,

Prosperity House Chicago, and numerous

other entities.

"We intend to continue to grow our efforts

and work in the community," pointed out

Ja'Mal indicating the building on Ashland is a

major direction. "But we need your help funding

our new home."

"We are extremely excited about this new

venture, but we desperately need of the public

to reach our goals." Said Ja'Mal.

"Can we actually come together as a community

to make this happen?"

Another sector the building activities is the

Majostee Allstars which began in 2011 as Sky-

Rocketing teens corp., dedicated to raising the

higher consciousness of youth through

arts and entertainment.

In the summer of 2015, Sky-rocketing

partnered with the City of Chicago to

present "Put The Guns Down" a massive

effort to reduce gun violence in

the city of Chicago, led by several

representatives from the organization.

They have also partnered with Residents

for a Greater Englewood (RAGE)

to present peace days to spread the

message of unity and self love to our

n e i g h b o r h o o d s .

Majostee Allstars will be targeting

ages 12-24, focusing on economic development,

entrepreneurship, and education

as a means to facilitate growth

and stimulus in urban communities.

Empower youth to become role models

by giving them tools to achieve their

goals and influence others to do the

same.

The Center is to give a window of

opportunities to teens in impoverished

areas to succeed and Enhance the family

structure by providing parents with

assistance needed to provide for their

household in the form of training, job

opportunities, and education works

h o p s .

Majostee Allstars after school program

will be exciting and beneficial for

every youth participant. Youth will

have access to computers and Internet

for homework and business needs. They

will be required to participate in both

two-hour workshops throughout the

week where they will be taught by a

guest celebrity or professional. They

will also have access to job leads and

applications to fill out on site at one of

the computer stations. All students will

have a mentor and a counselor that they

meet with once a week to talk about

things going on in their lives and their

aspirations and goals.

This facility will also host an open mic

every Saturday, rent out the facility for

smaller functions on Sundays, and host

workshops for parents during school

hours. We will be working with

neighborhood schools to serve them

since we are close.

You can help Majostee Allstaars

reach their goals, by going to the web

page at .MajosteeAllstars.com
---
6 November 16, 2017

Chicago Street Journal

President Obama

Library - CBA

RefuseFascism.org is organizing

thousands to begin nonviolent political

protests on November 4 that inspire

and draw forward a movement

of protests that continues and grows

over the coming days, weeks and

even months if necessary – growing

from thousands to millions. Refuse-

Fascism.org is a national movement

made up of people from diverse perspectives

united around the recognition

that the Trump/Pence regime

poses a catastrophic danger to humanity

and the planet. Refuse Fascism

is organizing protests in cities

and towns across the country on

started November 4 a movement of

continuing protests until the demand:

"This Nightmare Must End: the

Trump/Pence Regime Must Go!" is

met. This moment, when even the

conservative Republican Chairman

of the Senate Committee on Foreign

Relations says that the Trump has put

the country on the "path to World

War 3," calls for unprecedented mass

action.

Organizers have invoked the protests

that rocked Seoul, South Korea last

year that resulted in the impeachment

(Continued from page 1)

There are recent examples of

CBAs in Chicago as well—as dusk

began to fall and the protest approached,

Charles Perry of the

Westside Health Authority and Jobs

to Move America told the story of a

successful CBA he had just helped

negotiate in the Pullman neighborhood.

The China Railway Rolling

Stock Corporation had received a

commission to build rail cars for the

CTA, and Perry helped to negotiate

a CBA that kept the 175 new jobs

created in the community, and allowed

them to be open to people

with criminal records.

"If the City of Chicago would do

it for the CTA, why won't they do it

for the president's library?" Perry

asked the crowd.

They has been over 10 community

meetings with over 1000 South

Siders, addressing the Obama Library

development and they've met

with officials from the City of Chicago,

University of Chicago, and

Obama Foundation.

"As taxpayers and residents on

the West and Southside communities

we have a right to make sure we

are not displaced. It is not unreasonable

for Black people on the South

Side of Chicago to have a CBA to

demand that construction and permanent

jobs are guaranteed, that we

are not pushed out of our community,

and that we create

spaces for our young

people," said Parrish

Brown, Membership

Chair of the Black Youth

Project 100's Chicago

chapter. "We want the

CBA to be passed

through a city ordinance to ensure

that our community is kept safe. We

can not just trust the word of the

Obama Foundation."

"This is literally a million-dollar

question," said Juanita Irizarry,

Executive Director of Friends of the

Parks. "Not least, will the millions

of dollars worth of public park land

being given to a private foundation

result in promised replacement

parkland, better roads and public

transportation, and other basics?

Chicago won't take this lying

down."

Obama Presidential Library is

unlikely to reach fruition before the

end of the decade, Chicagoans are

vying for the prestige and economic

vitality that the tourism site could

bring. Woodlawn and South Shore

communities are to be the benefactors

of it.

In an interview with the Chicago

Tribune, Susan Donius, director of

the National Archives' Office of

Presidential Libraries, said of the

economic potential of an Obama

library, "In many areas, you have a

library reaching 200,000 to 300,000

of the South Korean President in

March.

"Our determination to persist and not

back down will compel the whole

world to take note. Every force and

faction in the power structure would

be forced to respond to our demand.

visitors a year. That means people

are coming into the city and spending

travel and tourism dollars."

Close friends of the Obamas, like

university trustee John W. Rogers

Jr., chairman and CEO of Ariel

Investments and a Kenwood resident

worked to get the library over

competitors.

Obama, who unveiled the conceptual

design of his presidential

center earlier this year, has said he

wants to build something more

ambitious than a museum or archive.

He envisions the complex

becoming a hub for filmmakers,

musicians, writers, activists and

politicians to help train the next

generation of leaders.

Pastor Dr. Byron T. Brazier talks

about Woodlawn and the continued

community planning efforts which

are critical to the development of

this great neighborhood. Pastor

Brazier urges Woodlawn's participation

is needed and necessary.

Written in part by

Kaeli Subberwal, The Gate

The cracks and divisions among the

powers already evident today will

sharpen and widen. As we draw more

and more people forward to stand up,

all of this, could lead to a situation

where this illegitimate regime is

removed from power."

(Continued from page 3)

But you're not according to aldermen

Burke and Beale, co-sponsors

of the new ordinance aimed at pedestrian

safety. Fines ranging from

$90 to $500 are proposed for cell

phone texting or talking in a crosswalk.

"No person shall cross a street or

highway while using a mobile electronic

device in a manner that

averts their visual attention to that

device or that device's activity," the

proposed ordinance says.

During the first six months of

2017, 27 pedestrians were killed on

the streets of Chicago, the Chicago

Sun-Times reports. A year prior,

there were 28 deaths reported, according

to the newspaper. One man

NBC 5 spoke with on a busy Chicago

street who looked up from her

cellphone offered a "good excuse."

"I'm a tourist from Germany, I

just came in today," he said.

Told the ordinance wasn't a law

just yet, he conceded that it

"probably" should be.

Carjacking in

Chicago So Far

This Year - The number

of carjackings in Chicago has increased

in the past few days by

dramatic amounts. With 12 carjackings

reported in the area in less than

48 hours, Chicago police have been

on alert for suspects, making at

least four arrests in the last two

days. In total, there have been more

than 700 carjackings in Chicago so

far this year, authorities said.

Though, they add, arrests are up 50

percent.

Push to Legalize

Recreational Pot

in Ill. - Illinois voters

could soon be able to voice their

say on whether the state should

legalize recreational marijuana.

Cook County Commissioner John

Fritchey announced an effort to put

the marijuana legalization question

on the March ballot.

"Legalizing, regulating and taxing

recreational marijuana in Illinois is

long overdue," Fritchey said in a

statement. "Polls have shown that

Cook County voters, who makes up

40 percent of the Illinois population,

are very supportive of the

idea.

Southern Illinois University's

Simon Poll found that 66 percent of

voters believe marijuana should be

legal if it's taxed and regulated like

alcohol. Seventy-four percent of

state voters have said they support

the decriminalization of marijuana.

Last year, Governor Bruce Rauner

signed a bill that decriminalized

up to 10 grams of marijuana, but

earlier this year said he's not supportive

of legalizing pot.

Recreational legalization is

being supported by some gubernatorial

candidates including Daniel

Biss, Chris Kennedy and JB Pritzker.

Community Progress Makers

Fund (Apply for up to

$500,000.00) The Community

Progress Makers Fund is a $20

million, two-year initiative by the

Citi Foundation to support highimpact

community organizations

that are driving economic opportunities

in their

communities.

Interested

organizations

are invited to

apply for unrestricted grant

funding up to $500,000 through

the December 18, 2017 deadline.

This opportunity is available

to organizations working in

Chicago, Los Angeles, Miami,

New York City, San Francisco

Bay Area and Washington, D.C.

submit all questions to Citi-

FoundationCPM@citi.com

OPEN NOW

Today:8:00 am -

8:00 pm

334 E 95th St,

Chicago, IL 60619

(773) 995-

9859

Phil V. Smith, Owner/

Master Stylist

www.perfecttouchsalon.us
---
Chicago Street Journal November 16, 2017 7

Ro: The God Brother

(Continued from page 1)

Donnell Robinson

Staff Writer

Now comes Roland Davis known

by many as RO is a motivational

powerhouse…a man of passion,

capable of achieving anything. He

has captured his audiences with his

down to earth, insightful, hilarious

and high energy style. An upside

down Godfather sign, the God

Brother.

"I am at a point in my life where

I'm totally confident about who I am

and what I'm looking for. I'm ready

to sell my swagger to the world!"

Said Ro.

From many business ventures of

Ro, the latest is the BOP Business

Center Chatham Suites, a facility

located 642 – 644 E. 79 th St., designed

for business owners who

desire to work in an office environment

and gain access to valuable

business resources, job training and

workshops.

Ro said that the Center is a spinoff

of The New LIFE Movement

which targets mobilizing the Hip

Hop generation. The Center is also

is the base of a more programmatic

thrust with PROJECT 5000. In

which RO says is "...a powerful

vision to not only take back the land

but to redirect the spending habits of

millions of African Americans in

this country."

Noted the grand opening of the

BOP Business Center was dedicated

to the late Dr. Webb Evans, founder

and past President of the United

American Progress Association.

At the entrance of the business

Center, on the wall is a portrait of

Dr. Evans (by artist Ron Carter CSJ)

greeting all who works and visit the

Center. Dr. Evans was fondly

known as "Mr. Buy Black", led the

charge in establishing the African

American dollar as indispensable.

Many of the business tenants are

on the same mission lead by Dr.

Evans such as the Black Mall lead

by Cassiopeia Uhuru, and Bean

Soup lead by Torue Muhammad,

and a host of others who together

created many campaign drives that

promote African American business.

For over 17 years, RO understanding

of human psychology and

experiences in the corporate world

has lead him to formulate certain

key strategies that when applied can

completely transform ones mindset.

A major task with the Project 5000

Chicago's initiative is to create

5,000 new homeowners, investors

and business owners that will revitalize

the community by bringing

new jobs and wealth to the city and

surrounding areas.

"I am clear of the task at hand and

that I chose to do this work. I just

needed to know that somebody cares

and that I'm not in this alone. I have

put every dime and every resource I

have on the table. It's all or nothing.

I've burned all my bridges of retreat

even the one back home."

Ro point to the warrior in him

has resurfaced. Saying he is determined

to produce a win for the community.

Ro humble roots are Chicago,

where he attended the Mendel

Catholic High School. His strong

academic record landed him an academic

scholarship at Southern Illinois

University. While still a student,

RO started his first entrepreneurial

venture- a night club and

restaurant and entertainment.

He continued with this business

for almost six years, after which he

began searching for new opportunity.

After his education RO was a

Commissioned Officer in the Armed

Forces

He then, moved into the field of

real estate, and was able to carve his

out own space as an extremely successful

mortgage broker and investor.

In about a year's time, RO was

able to gross over a million dollars

and launch his own branch of the

company for which he had just

joined as an independent contractor.

He ruled the industry for the next 12

years, made a name for himself as a

Guru in the real estate game and had

annual earnings of over 5 million

Dollars in gross retail sales! But

when the market crashed in 2007, he

quickly realized that it is time to

move on. He turned sales on to a

Gold Senior Vice President with

5LINX.

Using Chicago as the city for their

business model, RO has realized that

his vast experience and life story has

made him an inspiration for people

as the God-Brother. Making him

leader, advising people on how to

prosper financially, mentally and

emotionally.

It is time to take charge and make

it happen." expressed Ro. Watch out

world, no more excuses!" Success

better make a hole cuz ya boy is

Bacccckkkkkkkkkk!

"I can feel the desire for independence

growing in my heart

heightened by my newly formed

eyes ears and mind. I realize that I'm

being born again but this time as my

original self not as a European.

With Project 5000 Chicago Ro

said, "I decided to revisit real estate

after being out the game for almost

9 years last year! Since that time we

have acquired over 20 pieces of real

estate in less than 12 months. I say

this to say that what I know is working

for me so what makes you think

that it wouldn't work for you?

"Our goal is to buy/sell/keep 500

properties in 2017. I am looking to

coach a group of future developers

to participate in this process".

With theme FlipDatHood is more

than information for real estate in

the community. Ro explains it is a

streamlined system of how people

can buy/sell/own real-estate as a

community.

Looking at the overall development

of the City of Chicago, Ro

says if you're a developer there's

nothing left to develop other than

the hood. "My Crash Course teaches

everything that you need to know in

4 hours".

He continued to say, "We will

lock arms with you and mentor you

through the process for 50% of

whatever we earn together. No gimmicks

and no bait and switch".

"All my desires all my hopes all

my dreams tempered by what I defined

as worth it by Americas standards.

From birth I was taught the

king's language educated in his

schools and learned his mathematics.

I was even baptized by his truth

and drank the blood".

"There's a world that many of us

know nothing of that can only come

when we embrace and are taught our

history before slavery and define life

and god on our terms. Food for

thought you do the dishes!"

When addressing his personal life

in handling all that he does, he

laughs, "I'm a lil lonely though I'd

like to meet the right person and

start a family."

It's crazy but I really would. I'm

ambitious, aggressive, open minded

and kind overall. I believe in the

preserver of human Spirit!"

Ro is currently involved in developing

a series of books, lectures and

training modules and website that

contains most of his materials.

To learn more about Project 5000

Chicago visit website.

F o r m o r e d e t a i l s v i s i t

www.FlipDatHood.com..
---
10 November 16, 2017

Chicago Street Journal

IF YOU KNOW YOU HAD ONLY

ONE LIFE TO LIVE, WOULD YOU

LIVE IT TO DIE?

Or

DIE TO LIVE?

T

his questioned has plagued society for

far too long. As we look around the

world, we witness death and destruction

running rampant. Today, our youth seems

to be effected by the woes of life, and the trials

and tribulations it sometimes bringing's. It has

become a popular belief that to escape life's

problems, death is an option. This notion is so

far from the truth; it has become a blinding

banner to reality.

Different faiths have developed an ideology

rooted in the belief that if you commit suicide

you are going to hell. This place of fire and

torment is often ignored by the individuals who

embrace the notion of taking their own life. I

believe this is because when a person gets to the

point of wanting to end their own life, they

believe they have no hope. I wanted to introduce

a new idealism and language to interject

life in the place of death. And I want to expand

the readers mind in the concept of death and

hell.

Taking own the biblical concept of hell and

suicide, one must ask the one key question?

That question is how many suicides does the

bible mention? In my years of research, I began

to recall my studies in this area. Most people

always refer to Judas. From this was the concept

developed that the man who betrayed Jesus

and considered evil went to hell. His death

marked by the concept that his guilt had driven

him to go home to the devil, which is hell. But

under careful guise we witness another death

that is most opposite of that concept.

Remember Samson in Judges 16:23-31 who

prayed to God to give him strength to kill not

only himself but his enemies. Now the question

becomes is he in hell also? Especially seeing as

Jesus was not born yet, to give repentance to

sins.

Then there was Ahithophel (2Samuel 17:23)

and Zimiri (1Kings16:15-20). Both deaths

range in lost to despair and even guilt. We witness

the death of Saul (1Samuel 31:2-5) and

even in his guilt

was told he would

be with the

prophet Samuel

the day before. I

mention these

things to point out

the balance of

living life is

knowing that

when despair,

guilt, or even

wrong decisions a

choice is still

available.

We have a duty

to minister life to

By Dr. Al Blumenberg

Asst. Publisher/

Spiritual Editor CSJ

people who want to end what they believe is

their only choice. Suicide is not about the punishment

after it's apparent sad consequence, its

more about how did a person get to that point.

We use God's word as a weapon at times on the

weak and lost, yet when we feel down we want

mercy.

Romans 8:32 makes clear that life nor death

can separate us from the love of God in Christ

Jesus. This is not to water down judgement! But

its rather mentioned to say the love of God

should be ministered first! We always want to

pronounce doom and gloom, when we should

be speaking life and love and seeking to discover

the root behind why someone would want

to die before their time.

Our children are taking their life at some

alarming rates. This should get our attention

even the more so! That suicide sometimes

comes wrapped up in gang violence, and criminal

activity. Let us not forget that some people

already believe there in hell. By this a question

is birthed and asked. "If you had one life to live,

would you live it until you die? Or die to live?

Death is measured in the separation of life

and from all activity. In this division, the activities

of life can be changed from death to life.

Meaning sometimes we need to get out of our

grave clothes and dead places and live not in

the activities, but the moment. And if we can

pass the moment unto another person in the

spirit of love, then and only then can we as

individuals and separately have purpose in life.

That purpose then gives us destiny.

#THINKABOUTIT

Katie you say that the bible is

a blatant

contradiction?, So I guess that

means you have read the bible in its entirety and

understand all of it fully to be able to make that

By Barbara R. Thomas

T

he least discussed subject in our

church's board meetings is the subject

of sexual immorality. This subject has been

overlooked for so long in the Church. The

crisis of sexual sins has developed to a degree

that it can no longer be placed in the dungeon

of situation that it refuses to address. The

reality of sexual immortality exists in great

proportion simply because it is often not dealt

with by leadership in the church. The fear of

losing a good member or financial support

causes the church leadership to shun the responsibility

of teaching, training, and offering

help to those involved in these different sexual

acts.

The Bible speaks often about sexual

sins and its consequences. In I Corinthians

6:18, the Word of God declares to us to flee

sexual immorality. In the study of this passage

of scripture, I noted the word used here

for sexual immorality is the word porneia

which is the root word for

pornography. The problems

associated with porn

have increased at an

alarming rate. The effects

that this addiction is having

on the lives of the

men and women involved

in this practice has come

to a large percentage especially

among those in

the church.

According to a

survey that was conducted

by the Barna Group, 77%

of Christian men between

the ages of 18 and 30

view porn at least once

monthly and 36% look at

it daily. In women it was found in XXX

church that 9.4 million women watch porn

monthly. This high percentage opens up immoral

sexual doors that broaden our understanding

to a problem in the church that can no

longer be hidden. Our inability to openly

discuss these problems in the church in an

open and mature manner has left many with

the secret shame of dealing with an addiction

that they can't ask help for.

So many in the church are hiding

this addiction for fear of being exposed and

ostracized because of what they are doing in

secret. The secret shame and the realization

that those in the church will shun them often

times causes them not to seek out any counseling

or help for what they are dealing with.

statement such as that, so have you actually

done that?

Have you read all of it and fully understand?

I'm willing to bet that you haven't so you're

wrong in your bible contradiction conclusion.

Katie I challenge you to find any of the contradictions

that you say the bible has and I will

show you that it is not, I will show you the error

Those that are married live with the fear that

their spouses or children will find out that

they're not the perfect, upright Christian that

they have been portraying. The fear of exposure

often keeps them hidden and increasing in

this addicted behavior.

Dealing with porn often leads to

becoming involved with masturbation. These

two sexual addictions usually work together.

There are so many factors that take place

which leads a person into porn and masturbation.

For instance, it can come about because

a person is not being sexually satisfied. Also,

it can happen because a single person feels

lonely and frustrated. It can occur from a

person feeling neglected and unloved. Likewise,

it can take place because a couple is

dealing with some sexual dysfunction in their

marriage. As Christians, we don't like to approach

the subject of masturbation because we

don't want to allow anyone to judge our act of

self-pleasuring ourselves.

As a person that counsels many

persons in these areas of sexual immorality I

find that most have experienced sexual abuse

of some kind in their life. However, I'm not

saying this is the case for everyone but I have

had several that have been molested in which

struggle in these two areas. The disgust that

most encounter when attempting to reveal to

someone they think they can confide in causes

many to continue to suffer in silence because

they are not given any spiritual guidance to

receive deliverance for these areas of their

lives. Until we can deal with these problems,

we will always have persons bound by secrets

that they are crying out for relief from but

incapable of getting in the church.

of your ways thus revealing to you that you are

in fact the contradiction because God and his

word is not a contradiction, people are.

I truly hope you accept my challenge because I

want others here to experience this also. So it's

on you now, go ahead and give me your bible

contradictions, I'll be waiting, take care.

No Matter What

The Test May Be

God Will Take

Care of You

Join

Bishop Lucius

Hall, Pastor

First Church

Of Love and Faith

Schedule of Services:

Sunday Morning Worship -

11:00 a.m. Sunday Evening

Live Taping and Broadcast on

WGCI -AM 1390 - 5:00 p.m.

Tuesday Worship Service -

7:30 p.m.

Saturday Channel 25

(Comcast) 7:00 p.m.

"God can do anything, but

Fall".

Leon Daniels,

Pastor

821 West 69th Street

Bible Study Tuesday 7 pm

Wed 6 pm

Fri. Service 7 pm

Sunday School 9:30

am

Sunday Service 11

am

773-487-9062

unityatcogic@gmail.com

Liberation

Christian

Center

7400 S Michigan Ave

Chicago, IL 60619

773-783-1885

Bishop J.

Edward

Dukes

Pastor
---
Open Letter to President

Trump and Congress:

War's Hell!

W

ithout question, the repulsive intention of

WAR is HELL! With war declared by these

Not So United States, the first to defend the front lines

are generally African American and Hispanic youth! The

U.S. Army infantry is generally reserved for those who

lack the completion of an educational or acceptable skill.

However, prime duties are 'generally reserved for

recruits who have acquired and exceled in training. I

reiterate, the first into battle are generally those who are

affiliates of the U.S. Army Infantry, who are habitually

blacks and hispanices, followed by some whites! Enough

Said?

With the President daily tweeting subliminal messages

that often include a subordinate suggestion of war

I shudder to

reason that

the Com-

mander-in-

Chief is void

of history! I

prayerfully

recommend

that there be

no contemplation

to send

United States

youth to war

established on

unfamiliar

hypotheses

which are

undergirded

with hatred

for another

country on

hazardous

impulses!

Educated

citizens of this country who were afforded an educational

opportunity can discern the authentic motive for

war and not that which has been spewed upon us. Â

Educators and historians have well authenticated that

war was profitable for some and not others.

Noticeable political entanglements on numerous

political fronts are unfolded daily before a world who

humorously smirks at us. The unsettling mocking of this

country signifies that there is malignance in our U.S.

Government which has become an embarrassment to the

Nation!

I've become perturbed as U.S. adolescence were

intellectually taught that those entrusted with leadership

were elevated to such positions to serve as role-models,

however some governmental personalities have fallen

from the Grace of God - to serve only themselves and

Chicago Street Journal November 16, 2017 11

not their Health-Care Constituents.

And, as youth succumb to minor drug misdemeanor

they are questionably sentenced to what

seems as an eternal life in the waiting rooms to

hell – which is jail! The dire political query

becomes; what are the consequences for those

guilty of governmental acts of fraudulence?

As the world observes they have noted envy in

the eyes of the President Donald Trump, who

ferociously seeks to discredit and unravel constructive

procedures that typifies eminent accomplishments

by those who've taken political

philosophies to heights as none before! These

asinine displays of hatred have brought about

blatant acts of stupidity in effort to replace acts

of intelligence with an over-aggression of ignorance!

Releasing of Mr. Trumps sublime tweets across

the Internet identifies hate, fear and division. Â

Authenticated Christians, undeniably know this

spirit of fear, confusion and uncertainties only

come to: Rob, Steal, Kill and Destroy Righteousness!

These undertakings symbolize an evil spirit direct

from the Pit-of-Hell.

Mr. Donald Trump and Members of Congress: It has

been spelled-out and is unequivocally clear that biasness

and racism from the White House has now extended into

many congressional districts simply because of fear -

fear of this president and of losing an election! Fear is

not of God and Politics over humans is unacceptable!

With ambiguous dialogue between President Donald

Trump, United States and Kim Jong Un, North Korea, it

appears that Mr. Trump is without qualms in creating

war rather than coherent dialog!

It is to be noted that not a child of the president or

congressional members will serve in battle! Meanwhile

those who sacrifice

their precious children

will them lose to

war ... The Presidents

Provoked War!

President and Congress

of these Not So

United States shall

have to answer to a

higher power for the

insanities that are

presently seeking to

form under the cloak

of political darkness.

I ˜respectfully serve

spiritual notice to the

entire Congressionalbody

that youth nor

elders are yours their

humanities belong to

God!

Honorable Servants

of the People who sit

in leadership, I begof-you

to bow your knees to whomever your immortal is

and query if decisions to include innocent youth into a

game-of-war is righteous! I plead that the God of Creation

will open understandings and that all concerned will

not mishandle citizens for selfish anxieties.

Politicians who Shepard Gods flock Shall answer for

contrived acts against the Nonviolent and Peaceable God

of the Heavens and Earth.

Rev. Dr. Harold E. Bailey

President, Probation Challenge PCC Network.

WWW.ProbationChallenge.org -

The Truth Network.

Doc and Ms. Arnetha

RTW Veteran Center,

a mainstay on 55th and

Dr. Martin Luther King

Drive across from

Washington Park for

over seven years has

officially vacated the

building as of October

this year.

The center struggled

to stay open and deliver

its programs throughout

its existence. Founded

on the need to service

homeless veterans and

others who showed up

at their door in February

of 2011 the couple started down this

rabbit hole with a commitment that

if anyone came to their door hungry

they would not leave hungry.

Working sometimes 18 hours per

day to serve, they opened their

home to the homeless with the facility

being a three unit building their

residence was located on the second

floor. They began serving people on

the first floor of the building. When

the winter came they open up their

home as a Pads program and let

those homeless and hungry sleep on

a pad on the first floor.

The couple also provided a good

portion of the funding from their

savings and income.

Still In love and still on mission,

By Sonja Cassandra Perdue

Doc and Ms. Arnetha are still committed

as ever to serve veterans, the

community, and each other.

As of November 2017, RTW

Veteran Center's office will be relocated

into the Chicago Medical

Training Center 7415 South East

End, Suite 113. They are working

in collaboration to enhance their

ability to help bring job training and

job placement to veterans and others

with other educational organizations

that are housed within the

building.

You can keep up with the center

t h ro u g h th e i r website a t

www.rtwvetcenter.org and or follow

them on face book at

RTWveterancenter.

This is Infiniti Hyde and a senior at Hansberry College

Prep. The 17 year old she started Modeling at the age of 13. She is

so in love with Modeling it is totally her passion. Infiniti says being

able to meet new people different forms of personality all shapes

and sizes is a blessing. However, her favorite part would be walking

down the runway stopping everyone with all eyes on her makes her

feel amazing.

Chicago Street Journal

Advertising

Sales Rep

This is an outstanding

opportunity,

selling advertising (print,

online):

• Initiate sales and marketing

calls to prospective

or current clients • Our

ideal candidate must be a

self-motivated overachiever

with a strong

desire to succeed. • Prior

sales experience.

well organized selfstarter

• Compensation, Base

Salary Negotiable.

Call 773 595 5229

Derrick A. Riley, CEO
---
12 November 16, 2017

Chicago Street Journal

Black Wall Street Districts of

Chicago

By Everloyce McCullough

79th West

Street District

In 1961 the late Dr. Webb Evans organized

the United American Progress Association;

the purpose was to get more Blacks to prepare

and go into business and get more people to

spend their money with Black owned businesses.

The esteemed Rev. Dr. Webb Evans

known as "Mr. Buy Black," founded the

United American Progress Association

(UAPA) in 1961 and served as president for

51 years. He died February 23, 2015 at the

age of 101. He was a socially active senior

and strived to improve the lives of Black people.

His focus was on economic justice for

the Black community.

To continue his legacy of promoting and

supporting Black business in Chicago, with

the name change to United Black American

Progress Association (UBAPA) and the Temple

Of Mercy Association has development a

committee and a structure in the name of Dr.

Webb Evans Community

Development Corp. to purchase

the group of store

fronts where their office is

located; 79th St. between

Hermitage and Paulina.

UBAPA president Minister

Rahim Chesed Aton

announces the establishment

of the nonprofit Dr. Webb

Evans Center for Economic

Change (DWECEC), to

continue the legacy of Dr.

Web Evans and his commemorative

iconic advocacy

of Black Economic Empowerment.

It will serve as a

catalyst through which religious

and community organizations,

businesses, and

community residents can

collaborate, network and

partner to engage in a dynamic

exchange of rich

ideas to promote a coordinated

development of community

proprietorship.

Dr. Evans appointed and installed Minister

Anton as the new president in November

2012. Pastor St. John Chisum was elected

Chair. Both leaders with its board of directors

are working hard to keep Dr. Evans' legacy

alive. The Minister said "Dr. Webb Evans

always believed that the race that creates jobs

will always have more jobs than those who

only look for jobs. For 52 years he advocated

the circulation of Black dollars with Blackowned

business to create more jobs for Black

people." The Minister is fund raising to purchase

the commercial property and to refurbish

all existing structures on this property.

"It will serve as vital entity honoring the

life work of Dr. Webb Evans, who never wavered

from his push to inspire Blacks to invest

their money in their own community and build

more businesses to create more jobs for

Blacks."

He continue to say, "It is reasonable for us

to expect success for our people and a bright

future for our children. This vision requires a

total transformation from the current economic

relations that exist in our community.

"We must establish and develop a very different

economic development program because

Black people are too individualistic.

We as leaders must act on this reality because

this is our day now. Our young people

are on the front line and we need to help them

prepare for taking on the challenges of the 21

century and for embracing the career opportunities

of the future."

1. 75th St

2. Stony Island

3. Chicago Ave.

4. Madison

5. 43rd St.

6. 47th St.

7. 51st St.

8. 63rd St.

9. 69th St.

10. 79th St. West

11. 79th St. East

12. South Suburbs

13. Peoria

14. Project 60633

Celebrating at their annual fund raiser, left to right; Garnet Hall, Key note speaker at the program

Spencer Leak,Sr., Bernice Lynch, Pastor St. John Chisum, Min. Rahim Aton, Pamela Dominguez,

Evelyn Johnson, Doris Holder.

He further stated "Economic development

means ownership and control of the economy,

property, profits, and development. A real

commitment to fixing our community requires

a comprehensive approach. There are many

possibilities that would create Black-owned

businesses as opposed to importing corporations.

Economic development has not happened

by luring corporations and jobs to the

Black community.

UBAPA can be contacted at 773.846.3091

for more information about how to make economic

development in the community a reality.

- brominrahim365@aol.com or

Cleva Cathey – 705.331.6059 – clevac6432@a77.net.
---
12 November 16, 2017

Chicago Street Journal

Obama Presidential Center's construction team

(Continued from page 9)

erlands? Zembla meets with

one of Trump's controversial

cronies and speaks with

a former CIA agent, fraud

investigators, attorneys, and

an American senator, among

others."

The documentary's You-

Tube description barely does

justice to the film's investigative

reporting. While

American journalists are

following Trump's tweets

and tantrums, they followed

the money into a world

where the lines between

outright profiteering and

organized crime are blurred.

What they found on a factbased

money trail reveals much

about who the real Trump is and

how he operates.

Trump received a portion of the

$14 million paid by Agalarov and

other investors to bring the pageant

to Moscow. Agalarov said he and

Trump signed an agreement to build

a Trump Tower in the heart of Moscow

— at least Trump's fifth attempt

at such a venture.

And Trump seemed energized by

his interactions with Russia's

financial elite at the

pageant and a glitzy afterparty

in a Moscow nightclub.

"Almost all of the oligarchs

were in the room,"

Trump bragged to Real

Estate Weekly upon returning

home.

The exposed financial

trail raises questions about

whether Trump fired FBI

director James Comey because the

FBI investigation of his campaign's

collusion with Russia was encroaching

into Trump's world of dark

money and dubious business partners.

The Russians are alleged to be in

possession of sensitive information

about Trump. And that exposes

Trump to blackmail. Fake news,

tweets Trump: 'I have nothing

to do with Russia—no deals,

no loans, no nothing!' Trump

says he has no ties with the

Russians. But the filmmakers

describe the first installment

of the series.

They go on to show that

while Trump denies his ties

with Russia, many Russians

have deep financial ties to

him.

Jesse Jackson Jr.

How would Trump protect his

name and interest from Russian

exposure. Shell Corporations and

the old scheme of 'Pump and Dump.'

Before this is over it maybe 'Trump

and Dump.' Methinks.

A shell corporation is a corporation

without active business operations

or significant assets. These

types of corporations are not all

necessarily illegal, but they are

sometimes used illegitimately, such

as to disguise business ownership

from law enforcement or the public.

This is why a Special Prosecutor

with the power to subpoena is necessary.

Only he or she can get to the

Poll: 49 percent

say Trump likely

committed a

crime

related to

Russian election

meddling

Nov 2nd 2017 6:16PM

bottom of this.

I think we are initially looking at

five charges if the can be proved.

The first is inchoate, Obstruction of

Justice, unrelated to the Russian

Probe, maybe even a charge of

threatening the FBI, Money Laundering

is a real possibility, given his

tax firms alleged relationship with

the Russians, of course many lawyers

in that firm are now personally

vulnerable to a criminal scheme if

exposed, ( Election

interference, ) the original

crime of collusion,

General Michael Flynn

appears to be the center

of this scheme. Lastly,

there is no truth in Donald

Trump, so lying or

misleading federal investigators,

from Congress

to the FBI, will

likely collapse the

Trump Empire.

President Barack Obama offered

one of his sharpest denunciations of

Donald Trump declaring the Republican

nominee entirely unfit to serve

as president and lambasting Republicans

for sticking by their nominee.

"This isn't a situation where you

have an episodic gaffe. This is daily

and weekly, where they are distancing

themselves from statements he's

making. There has

to be a point at

which you say,

'This is not somebody

I can support

for president of the

United States, even

if he purports to be

a member of my

party.' The fact

that that has not yet

happened makes

some of these denunciations

ring hollow."

Though he said he did not doubt

Republicans' sincerity or outrage,

Obama added: "There has to come a

point at which you say somebody

who makes those kinds of statements

doesn't have the judgment,

the temperament, the understanding

to occupy the most powerful position

in the world because a lot of

people depend on the White House

getting stuff right."

Contiribing to this story Steven

Rosenfeld who covers national political

issues for AlterNet,

Today, we announced the team of

diverse, local firms that will be partnering

to help build the Obama Presidential

Center.

With this decision, our top priority

was making sure we were creating

opportunities for local businesses and

building pathways toward meaningful

jobs for minorities and other underrepresented

populations in the Chicago

area.

The Construction Manager for the

Center will be Lakeside Alliance --

comprised of Turner Construction,

and the Presidential Partners consortium

of Powers & Sons Construction,

UJAMAA Construction, Brown &

Momen, and Safeway Construction.

Powers & Sons, UJAMAA, Brown &

Momen, and Safeway are some of the

most established and well-respected

African-American owned construction

firms in Chicago.

But because you're right here in

the Chicago area -- our neighbors

and partners in this ongoing project

-- we wanted to make sure you

had the opportunity to hear from a

few of these folks directly.

Read on to meet some of our new

partners, and hear what they have to

say.

Meet Jimmy Akintonde, President

and Founder of UJAMAA

Construction:

"We've been around for 16 years

in the South Side. We've been a

growing business all the way

t h r o u g h . "

"We are right at the very front of the

decision-making side of the process,

of how the decisions are going to be

made. That's not always normal.

That's not something we're used to

seeing, especially when you have

grown up a medium-sized business.

These are the opportunities you need

to take your business to the next

level."

Meet Pamyla Brown, Director

of Community and Citizenship of

Turner Construction:

"To have this kind of project happen

in such a great city, it magnifies

the pride that people in this city already

have."

"Having this particular project

come to this community will show

the rest of the city: We do exist. This

is who we are. This is who we have

always been. We just wanted a

chance... This project will bring some

much needed positive attention to this

p a r t o f t h e c i t y . "

"This is our opportunity to see what

hope really looks like. This is hope

personified."

Meet John W. Bonds, Jr., CEO

of Safeway Construction Company:

Lakeside Alliance team. John W.

Bonds, Jr. third from left.

"I was born in Chicago, in Englewood...

I've been in business for 31

years, but it's good to see opportunity

in the community of this magnitude."

"[What inspires me about the South

Side] is the change... What's being

built is going to impact the community,

and property values, and those

k i n d o f t h i n g s ."

Meet Ernest Brown, President

of Brown & Momen:

"I live about five blocks from

the project site. Within ¾ of a

m i l e . "

"Very rarely do you have an

owner that has the kind of goals

and focus that the Foundation has

for this project, so it makes it easy

for us to do our job."

"I'm exceptionally excited. We've

worked on large projects before...but

this is a whole different

approach... Being part of 44's

legacy, and building on his legacy

is unbelievable."

1 ROOM OF CARPET

$24.99

3 ROOMS OF CARPET &

HALL OR STAIRS

$74.99

2 CAR GARAGE FLOOR

$69.99
---
Table C: Demographic Share of Contract Dollars.

NAICS TOTAL

Black Hispanic Asian White Female DBE Non - DBE

1.13% 11.49% 4.34% 3.85% 20.82% 79.18%

Chicago Street Journal November 16, 2017 13

Chicago Plan for 2050

Economic Indicators update

The vital of the national Minority- and

Women-Owned Business Enterprise program

(M/WBE) is designed to promote government

contracting and subcontracting opportunities

for businesses certified as minority- and

women-owned with a real and substantial presence.

However the rate of Black businesses in

the state of Illinois is still low in comparisons

of it population in parity of the state and other

ethnic groups.

The Illinois State Toll Highway authority

Disparity Study reflects earnings from such

businesses, and their access to capital markets

are highly relevant to the determination

whether the market functions properly for all

firms regardless of the race or gender of their

ownership.

Vincent Gilbert Regional vice President of

the Illinois Black Chamber of Commerce indicated

it has been demonstrated the many kinds

of discriminatory barriers to minority subcontracting

with a strong link between racial disparities

in government's disbursements of public

funds for construction contracts and the

channeling of those funds due to private discrimination.

The Illinois Tollway created the Department

of Diversity and Strategic Development with

the mission to increase access to economic opportunities

for disadvantaged, minority- and

women-owned enterprise firms, as well as small

and veteran-owned businesses and historically

underemployed individuals. The Move Illinois

Program and all aspects of its operations, including

contracting, consulting

and the supply of goods and services

is to remains focused on

promoting, assisting and ensuring

diverse participation said Gilbert.

The first discriminatory barriers

are to the formation of qualified

minority subcontracting enterprises

due to private discrimination,

precluding from the outset

competition for public construction

contracts by minority enterprises.

Despite the contentions of plaintiffs

that possibly dozens of factors

might influence the ability of any

individual to succeed in business,

Vincent Gilbert Regional

vice President

of the Illinois Black

Chamber of Commerce

the courts have rejected such impossible tests

and held that business formation studies are not

flawed because they cannot control for subjective

descriptions such as "quality of education,"

"culture" and "religion."

For example, in unanimously upholding the

USDOT DBE Program, the courts agree that

disparities between the earnings of minorityowned

firms and similarly situated nonminority-owned

firms and the disparities in

commercial loan denial rates between Black

business owners compared to similarly situated

non-minority business owners are strong evidence

of the continuing effects of discrimination.

The Eighth Circuit Court of Appeals took a "

hard look" at the evidence Congress considered,

and concluded that the legislature had spent

decades compiling evidence of race discrimination

in government highway contracting, of

barriers to the formation of minority-owned

construction businesses, and of barriers to entry.

In rebuttal, [the plaintiffs] presented evidence

that the data were susceptible to multiple interpretations,

but they failed to present affirmative

evidence that no remedial action was necessary

because minority-owned small businesses enjoy

non-discriminatory access to and participation

in highway contracts. Thus, they failed to meet

their ultimate burden to prove that the DBE

program is unconstitutional on this ground.

The study was undertaken as part of a continuing

effort by the Tollway to ensure equal

opportunities in all aspects of its Move Illinois

capital program, including contracting and consulting.

Technical Assistance Program

• Chicago Minority Supplier Development

Council

•GMA Construction Group

•HACIA Scholarship And Education

Foundation

•Illinois Hispanic Chamber Of Commerce

•Illinois Black Chamber

Of Commerce

•Inner ‐ City Underwriting Agency

•Prairie State College

Diversity Program Statistics 2017 first quarter

DBE payments were $25.6 million

• 33.5 percent of all payments to construction

and professional services firms

• 41.4 percent women

• 26 percent Hispanic

• 18.6 percent African American

• 13.7 percent Asian

$254.1 million paid To DBE firms in

2016

Accounts for 25 percent Of all payments

• 39.7 percent Hispanic ($100.9 million)

• 27.6 percent women (($70.2 million)

• 17.3 percent African American

($43.9 million)

• 14.5 percent Asian ($36.9 million)

DBE payments to African American

firms continue to rise

• The government must establish its

"compelling interest" in remedying race discrimination

by current "strong evidence" of the

persistence of discrimination. Such evidence

may consist of the entity's "passive participation"

in a system of racial exclusion says Gilbert.

CMAP is developing the

region's next comprehensive

plan, ON TO 2050,

scheduled for adoption in

October 2018. withGO TO

2040, this is a highly transparent

and collaborative

effort involving partners

and stakeholders from

across the seven counties

and 284 communities of

northeastern Illinois. This

page includes information

and links to learn more

about ON TO 2050's development

process through

materials that are complete,

underway, or scheduled.

We recently updated the Innovation

section of the CMAP

Regional Economic Indicators

microsite with 2016 data suggesting

that the Chicago region

has experienced slower growth

in innovation and entrepreneurship compared

to other metropolitan areas, despite

receiving 3,826 U.S. utility patents, securing

$1.1 billion in venture capital, and employing

nearly 550,000 science, technology,

engineering, and math (STEM) workers

over the last year. In related coverage,

Crain's Chicago Business reported that

Lake and Will counties continue to gain

jobs in manufacturing, one of the economic

employment clusters that CMAP monitors.

Des Plaines Comprehensive Plan public

meeting

What should Des Plaines look like in 2030?

The City of Des Plaines is working with

CMAP to update its Comprehensive Plan,

the document that will guide development

and land use decisions in the city for years

to come. Share your thoughts at a public

meeting on Wednesday, October 18, from

6:00 to 8:00 p.m., at the Frisbie Senior Center

(52 Northwest Hwy., Des

Plaines).project is supported by CMAP's

Local Technical Assistance program.n October

2016, CMAP released the Emerging

Priorities for ON TO 2050 report to

identify key regional objectives based

on initial analysis and public engagement

that began with a public launch

earlier that year.

C o n t a c t E n r i q u e C a s t i l l o

(ecastillo@cmap.illinois.gov or 312-386-

8689) with questions.

AGRICULTURE

MEN'S CLOTHING

532 E 43rd St,

Chicago, IL 60653

73) 538-5500
---
14 November 16, 2017

Chicago Street Journal

According to an anonymous online

confessional, in 1991 a group of music-business

bigwigs gathered outside

L.A. "The meeting was held at

a private residence on the outskirts

of Los Angeles. I remember about

25 to 30 people being there, most of

them familiar faces. Speaking to

those I knew, we joked about the

theme of the meeting as many of us

did not care for rap music and failed

to see the purpose of being invited

to a private gathering to discuss its

future. Among the attendees was a

small group of unfamiliar faces who

stayed to themselves and made no

attempt to socialize beyond their

circle. Based on their behavior and

formal appearances, they didn't

seem to be in our industry. Our

casual chatter was interrupted when

we were asked to sign a confidentiality

agreement preventing us from

publicly discussing the information

presented during the meeting. Needless

to say, this intrigued and in

some cases disturbed many of us.

The agreement was only a page

long but very clear on the matter

and consequences which stated that

violating the terms would result in

job termination …

The subject quickly changed as

[a]speaker went on to tell us that the

respective companies we represented

had invested in a very profitable

industry which could become

even more rewarding with our active

involvement. He explained that

the companies we work for had

by Alex Friedmann

invested millions into the building

of privately owned prisons and that

our positions of influence in the

music industry would actually impact

the profitability of these investments.

I remember many of us in

the group immediately looking at

each other in confusion. At the time,

I didn't know what a private prison

was but I wasn't the only one. Sure

enough, someone asked what these

prisons were and what any of this

had to do with us. We were told that

these prisons were built by privately

owned companies who received

funding from the government based

on the number of inmates. The more

inmates, the more money the government

would pay these prisons. It

was also made clear to us that since

these prisons are privately owned,

as they become publicly traded,

we'd be able to buy shares … He

told us that since our employers had

become silent investors in this

prison business, it was now in their

interest to make sure that these prisons

remained filled. Our job would

be to help make this happen by

marketing music which promotes

criminal behavior, rap being the

music of choice."

Without the financial support of

major investors like Vanguard and

Wells Fargo, CCA and GEO alone

would not be strong enough to successfully

lobby for policies that

increase the federal government's

demand for private prisons. With

these powerful allies, however, they

have been able to sway public policy

in favor of more severe "tough

on crime" laws and the increasing

criminalization of immigrants.

The nation's two largest forprofit

prison companies, Tennesseebased

Corrections Corporation of

America (CCA) and Florida-based

GEO Group (GEO), are publicly

traded on the New York Stock Exchange.

Other private prison firms,

including Management & Training

Corporation (MTC), Community

Education Centers (CEC), LaSalle

Southwest Corrections and Emerald

Correctional Management, are privately-held

and thus do not have

public stock.

As of July 2015, CCA had issued

approximately 117 million shares of

stock with a market cap of $4.05

billion, while GEO had issued

around 75 million shares with a

market cap of $2.76 billion. The

vast majority of stock in these two

companies, not everyday people or

individual investors, but rather other

corporations – banks, mutual fund

management companies and private

equity firms – as well as public

employee retirement systems.

In fact, around 92.4% of CCA's

stock was owned by 300 institutional

investors while 91.1% of

GEO Group stock was owned by

272 institutional investors at the end

of July 2015. In some cases, the

same institutional investors held

stock in both companies.

There are 29 U.S.-based major

financial investors that own over

one million shares of CCA and

GEO combined. The following

companies each own over 1 million

shares of CCA and GEO, and collectively

own over two-thirds of

CCA and GEO:

Adage Capital Partners Group LLC

American Century Companies Inc.

Ameriprise Financial Inc.

Bank Of New York Mellon Corp.

Blackrock Fund Advisors

Cramer Rosenthal McGlynn LLC

Diamond Hill Capital Management

Eagle Asset Management Inc.

Epoch Investment Partners, Inc.

FMR LLC

Geode Capital Management, LLC

Hamlin Capital Management, LLC

Hotchkis & Wiley Capital Management

LLC

ING Investment Management, LLC &

Co.

Invesco LTD.

Jennison Associates, LLC

Lazard Asset Management LLC

London Co. Of Virginia

Managed Account Advisors LLC

Neuberger Berman Group LLC

New South Capital Management INC

Northern Trust Corp

Nuveen Asset Management LLC

Principal Financial Group Inc

Prudential Financial Inc

River Road Asset Management, LLC

State Street Corp

Vanguard Group INC

Wells Fargo & Company

Who Owns Private Prison

Stock?

In the mist of another case of

corrupt former Chicago police Sgt.

Ronald Watts and his crew, Mayor

Rahm Emanuel joined Chicago

Police Department (CPD) Superintendent

Eddie Johnson in commemorating

the graduation of 209

officers in a ceremony at Navy Pier

as part of ongoing hiring plan to add

nearly 1,000 officers by the end of

2018.

Mayor Rahm Emanuel said. "We

are investing in these graduates so

they will have the tools they need to

truly 'Be The Change,' including

the roll out of body-worn cameras to

every patrol officer in the city by

the end of this year."

The graduating class includes 199

new police officers and celebrates

the promotion of ten command staff.

In addition, CPD announced the 3rd

and 16th districts are the latest to

receive body-worn cameras in the

continued rollout of body-worn

cameras to every patrol officer a by

the end of this year.

Today's 199 graduating police

recruits are 23% women, approximately

49% from minority backgrounds,

with 31% Hispanic and

18% African-American, and includes

66% Chicago Public School

graduates, 20% US military veterans,

and 14% second generation

Chicago Police officers, 3% third

generation Chicago Police officers

and two officers representing fourth

generation CPD. Police recruits

spent five months at the Police

Academy and will now begin their

one-year probationary period, which

includes three months training with

a Field Training officer and district

patrol functions.

In addition to the new police

recruits graduating, CPD is celebrating

new promotions. This includes

the appointment of Deputy Chief

Dwayne Betts to lead new Office of

Community Policing, announced

earlier this month, as part of the

Department's adoption of the Community

Policing Advisory Panel

recommendations and focus on

instilling community policing as a

philosophy at every level in an effort

to rebuild public integrity and

make Chicago safer. CPD is also

recognizing the promotion of four

new District Commanders, in the

15th (Austin), 12th (Near West), 9th

(Deering) and 3rd (Grand Crossing)

districts, as well as five new Captains.

In total, half of the promotions

among the new command staff are

African-Americans.

Since the beginning of 2017, 903

new recruits, 52 Lieutenants, 142

Sergeants, 270 Detectives and 119

Field Training Officers have entered

the Academy.

As part of the hiring effort, in

October, the City announced it had

invited 14,020 individuals to take

the December Police Entry Exam.

This is the second exam of the year

and underscores CPD's commitment

to achieving its hiring goals

while also laying the groundwork

for a more diverse department.

The Better Government Association

analysis shows just how dearly:

$106 million in 2014 and 2015

alone, covering misconduct-related

settlements, judgments, legal fees

and other costs. All told, Chicago's

municipal government – under

Mayor Rahm Emanuel and his

predecessor, former Mayor Richard

M. Daley – spent nearly $642 million

on alleged police misconduct

over more than a decade, from 2004

through 2015, according to interviews

and city records.
---
O

Chicago Street Journal November 16, 2017 15

"I Got the Key": as Jay Z video

implies. Shawn Corey Carter, better

known as Jay-Z, is a 13 time

Grammy winner and is regarded as

one of the most successful men in

music, as a rapper, record producer,

club owner and all-around mogul,

estimated net worth of $520 million.

Hailed as the King of America by

Rolling Stones magazine.

In his video, Jay Z come from

behind the guards and joined the

rest of the brothers who was also

wearing a suit..! Basically saying I

got the keys. He did all of the illuminati

puppetry to rise as a leader

with influential powerful to get his

people together not just racial brothers

but slaves of 2016 brothers. "But

y'all saying he is a powerful puppet;

But if he is why is he doing videos

like that for. No illuminati hand

signals No devil horns No cussing

No triangle No money No

Rockafella No dancers Just black

men who was locked up by white

guards who look like they have a 9

to 5 job with a

little authority Into

black men with

trillion dollar suits

on and Jay-Z

come from behind

them walked pass

them like those his

guards then stood

in front of them

like "do we have a

problem here?"

And they were

speechless... Like

saying we are

freeing the slaves.

gives knowl-

He gives

knowledge and

wisdom and in

a language that

can be just as

understanding

without the N

word.

edge and

wisdom and in a language that can

be just as understanding without the

N word. Still your third eye will be

opened. This clip is very powerful

as things taking place here in America.

The African American men

most powerful and influential in the

world; Barack Obama, Minister

Louis Farrakhan, Jesse Jackson and

now Jay Z. Therefore they have the

biggest responsibility to unify. The

image of those men together is inspiring

and brothers like the one

giving true perspective about this

video are the key to getting black

men and the world in place. There is

a Key where we can not only do

away with drug companies, but we

can stop the killing of our legends

both women and men. If the Jay Zs,

Obamas, Farrakhans and Jacksons

of America can unify, we can inspire

oppressed black and people

around the world to come together

and put a stop to this global genocide

that is taking place. The system

is working as it should, and it needs

to be broken.

The artist also co-owns the 40/40

Club, an upscale sports bar that

started in New York City and has

since expanded to Atlantic City and

Chicago. He is a part-owner of the

New Jersey Nets NBA team paying

a reported $4.5 million for his share.

And, Jay-Z, along with his company

SC Enterprises, has recently

launched a new lifestyle site called

Life and Times, making his foray

into content. In terms of earnings he

still reigns over all other hip hop

stars and made a cool $37 million in

2011 in tours and other earnings. He

also has a 10 year long $150 million

deal with Live Nation

records.

Wow, it's 2017 and

we still have slaves on

the plantation refusing

to leave and better

themselves. Here is

Jay-Z and other black

men who have figured

out away to pass on a

valuable lesson that

can change your family

history forever and

all I see is FOOLISH

AND IGNORANT

comments about Jay-Z

and others. Do your research on

how black slaves used to communicate

to each other during slavery.

They sang and pass on valuable

messages to the others through singing.

Jay-Z said, TILL YOU OWN

YOUR OWN,

At the end of the day a lot of Rap

is a distraction. If we weren't as

distracted on certain things as people

we would be more successful.

Focus on god family and being

successful anything else is uncivilized

everything starts at home how

you can fix another king or queens

castle if u can't fix your own.

"Many people love the fact that

Jay-Beyonce are bringing conciseness

into the game. Maybe other

rappers will catch on and stop hating

on each other. If rapping inspired

Gangs, maybe conscious will

bring us together. I'm very proud of

him and his wife!!!"

There are over 2.2 million Black men and women who are not able to vote

because of a felony conviction; yet they have paid their debt to society.

Jalil Johnson pointed out, "The

bit about Jay can be looked at two

ways. 1. Jay has done some good

things in the community. As far as

the Keys video. I already knew he

was drawing these scenes from

Malcolm X, look at the spike lee

movie of Malcolm X. They did

exactly the same on this video. This

video and song could be looked at

symbolically as the same. The narrator

maybe hitting on the point of

black unity as such in the 60's-70's.

BUT there is also a flip side, he also

could be uniting us all to go down a

dark place too."

Beyonce I don't agree with. Too

many lines in Beyonce music indicating

Satan too much. I mean the

goat head jewelry and apparel. And

also do not forget a musician is

giving you music through the eyes

of the artist and their thoughts. Just

as the artist paints the picture.

-Black people are letting ignorance

and jealously destroy our

culture. We are not taking the time

to analyze and understand that white

America, the government created

systems for us to remain controlled

which we

allow this to

happen without

understanding

our

rights in the

amendment

and the constitution.

If

we take the time to learn this and

analyze our place in society, then

our culture could rise to an advantage

unlike anything known to man.

Scirby Scott, "I agree 100%. A

major shift in control of the music

(ownership and distribution) is a

major key to "freedom." When we

are in control then we can put a

more conscious persuasion on the

screen and over the air waves.

Every hip hop group that pushed

awareness and Black strength/pride

had a quick and swift demise

(especially X Klan) "To the East

Blackwards..."

Jay Z made sure that he gives

people reasons to remember him

other than his rapping. During his

break from active rapping he used

time to raise awareness to find better

ways for combating shortage of

water. For the same he met with

United Nations Secretary General

Kofi Annan at the organization's

headquarters in New York City.

Further, he also promised to use his

upcoming world tour to raise awareness

of and combat global water

shortage. The effort took place in

partnership with the UN, as well as

MTV, which produced a documentary

entitled Diary of Jay-Z: Water

for Life, first airing in November

2006. He also pledged $1 million

along with Sean "Diddy" Combs, to

the American Red Cross' relief effort

after Hurricane Katrina. .

Chicago's Home

of Chicken &

Waffles

3947 S. King

Drive,

Chicago

773 - 536 - 3300

Chicago's Home of

Chicken and Waffles

II

543 Madison St.,

Oak Park,

708 - 524 - 3300

Specializing In

Intimate Gourmet Dinners—

Business Luncheons Birthday

Parties—School Events—

Weddings—Banquets—

Meetings—And More
---
16 November 16, 2017

Chicago Street Journal

OVER 1000 CHANNELS TO WACH. ACCESS YOUR

STREAMING CONTENT THROUGH ANDY MOBLE DEVICE,

COMPUTER, SMART TV OR VSTREAM MEDIA CENTER

YOU WILL GET ACCESS FOR 5 DEVICES TO BE LOGGED IN AT THE

SAME TIME. NO MORE FIGHTING OVER WHO WATCHES WHAT

TAKE YOUR ENTERTAINMENT EVEYHERE WITHOUT THE HIGH

COST OF CABLE AND SATELLITE.

EARN $15.00 ON EACH PERSON YOU PERSONALLY

REFER WHO SUBSCRIBES AS WELL. YOUR REFERRAL

BONUS IS PAID OUT WEEKLY EVERY FRIDAY. REFER 8 AND

GET YOUR SUBSCRIPTION FREE!