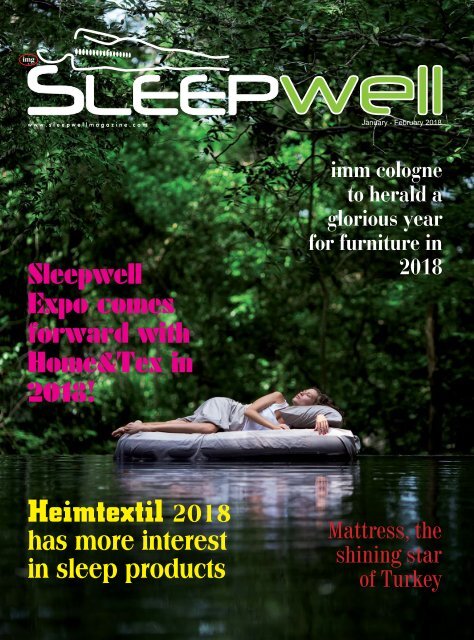 SleepWell_ocak2018-int
Sleepwell January / February 2018
Sleepwell January / February 2018
SHOW MORE
SHOW LESS
You also want an ePaper? Increase the reach of your titles
YUMPU automatically turns print PDFs into web optimized ePapers that Google loves.
January - February 2018

Sleepwell

Expo comes

forward with

Home&Tex in

2018!

imm cologne

to herald a

glorious year

for furniture in

2018

Heimtextil 2018

has more interest

in sleep products

Mattress, the

shining star

of Turkey
---
Neden At Saçı

At saçı doğal bir elyaftır, bu nedenle bir tür protein

elyafıdır. Atların yeleleri, tüyleri ve kuyruklarından elde

edilir.

Why Horse hair

Horse hair is a natural fiber, that is why it is a kind of

protein fiber. It is obtained from the manes and tails of

horses.
---
empire

Yatak / Matress

bebra

Baza / Base

Temel Lif Özellikleri

At saçının parlak bir görünümü vardır.

Uzun ömürlü ve dayanıklı bir malzemedir.

Lif yapısı en uzun, büyük ve boşluklu olan

elyaflardan biridir.

Esnekliği yüksek olan bu elyaf, özgün lif yapısı

nedeniyle nem transferi için eşsiz bir etkiye

sahiptir.

Doğal olarak antibakteriyeldir.

İleri derecede hava ve nem dolaşımı sağlar,

terlemeyi önler.

Basic Fiber Properties

Horse hair has a bright appearance.

It is a strong material with a long life time.

It is one of the fibers with the longest fiber

structure with a porous structure.

This fiber with high flexibility has a unique effect

for humidity transfer due to its special fiber

structure.

It is naturally antibacterial.

It provides advanced levels of air and humidity

circulation, prevents perspiration.

At Saçı El İşçiliği Hava Kapsülü Kuş Tüyü Taşıma Kulpu

7Yedi Zonlu

Torba Yay

Silikon

Elyaf

Dokuma

Kumaş

homevs.com.tr
---
8

CONTENTS

INDEX ADS

12

Next-Generation

Innersprings at Leggett

& Platt

Heimtextil 2018 has

22

more interest in sleep

products

Decoyat................................................Back cover

SleepWell Expo 2018................Inside back cover

HKM ...........................................Inside front cover

HKM.........................................................................1

Homevs............................................................... 2-3

BRN...................................................................... 4-5

Leggett&Platt.........................................................7

ErsanMadeni...................................................10-11

ViscoLove.............................................................15

Polya Yatak...........................................................17

Edaş.......................................................................19

Cardimo.......................................................... 20-21

Türkmenbaşı.........................................................29

Osmanlı Ajans......................................................31

Mobitool................................................................13

Şöhret Yatak.........................................................35

Maison&objet.......................................................37

Nobel.....................................................................39

İnterzum................................................................41

Windy.............................................................. 42-43

Cardinya.........................................................48-49

Sanatde..........................................................58-59

Sabah Yatak....................................................70-71

Evteks.....................................................................75

Kilim.......................................................................81

Ergo Foam..........................................................105

İnnova Bedding.................................................109

50

76

96

ISPA launches 'Consumer

Analytics Program'

Mattress, the shining

star of Turkey

Turkey's mattress

exports on rise

Golden rules of quality sleep

CIFF, the flagship

furniture trade fair of

exceptional quality for

exhibitors and visitors

60

86

Overview of the global

mattress market

112
---
KEEP

CALM

AND

STAY

ORIGINAL

+90 532 338 1028 | +385 40 650 500 | BeddingComponents-Intl.com

© 2017 Leggett & Platt, Incorporated.
---
10

From The Editor

Heimtextil to

vanish crisis!

Heimtextil has been a phenomenon in the trade fair business

and home and contract textiles worldwide. We have been participating

in this legendary show with a stand for more than

20 years. Before we used to attend without a stand. There

is no other publication from Turkey to be so much Heimtextil-addict.

Editor

Mehmet SÖZTUTAN

mehmet.soztutan@img.com.tr

There are about 250 Turkish exhibitors this year representing

one of the biggest national pavilions. The wide range

of products showcased at Heimtextil is subdivided into the

home textiles and the household textiles product segments,

as well as a services segment. Turkey has competitive products

at all segments.

ISTANBUL MAGAZINE GROUP

This is our new brand name. Having almost 40 years of experience

in trade magazine business we have patented "Istanbul

Magazine" and flashed it in our magazines and booth fascia

boards as of January 2018. We have started with Heimtextil,

Frankfurt.

So, you may find as at the main passageway, the foyer of Hall

4.1 with our new fascia name. We will place 6 different titles

on our magazine counter to offer for free.

LET'S ALL BE THERE TO MAKE A GOOD START TO THE NEW

YEAR! I WISH ALL THE BEST FOR EVERYBODY IN 2018...
---
Publisher

ISTMAG

Magazin Gazetecilik Yayıncılık

İç ve Dış Ticaret Ltd. Şti.

Adına sahibi

H.Ferruh IŞIK

General Manager

Responsible

Editor-in-Chief

Mehmet SÖZTUTAN

(mehmet.soztutan@img.com.tr)

Cüneyt AKTURK

(cuneyt.akturk@ihlasfuar.com)

Heimtextil

krizi bitirecek!

Bu kelime dünya çapında ev ve kontrat tekstili konusunda

ticaret fuarları içinde tam bir fenomen oldu. Biz

bu efsane fuar içinde yirmi yıldan fazla zamandan beri

stant ile yerimizi alıyoruz. Daha önceleri stant olmadan

katılırdık. Türkiye'den bu kadar Heimtextil tiryakisi

başka bir yayın da yoktur.

Bu yıl fuarda 250 civarında katılımcı ile Türkiye en

büyük milli katılımlardan birisi. Fuarda kullanılan ev

tekstili ürün kategorilerinde ve hizmet segmentinde Türkiye

çok ili alternatifler sunuyor ve rekabet edebilirliği

yüksek seçenekler sunuyor.

İSTANBUL MAGAZİN GRUBU

Bu kelime bizim yeni markamızın adı. Ticari yayınlarda

yaklaşık 40 yıllık deneyimi olan grubumuz "İstanbul

Magazin" markasının patenini tescil ettirerek dergilerimizde

ve stantlarımızda kullanmaya başladık. İlk adım

yeni yıl ile birlikte Heimtextil-Frankfurt'ta atıldı.

Bizi bu marka adıyla bu efsane fuarın 4.1 Hol ana geçiş

yolu olan fuayesinde bulabilirsiniz. Standımızda 6 farklı

dergimizi ücretsiz dağıtacağız.

GELİN YENİ YILA İYİ BİR BAŞLANGIÇ YAPMAK ÜZERE

HEPİMİZ ORADA OLALIM! 2018'DE HERKESE HER ŞE-

YİN EN İYİSİNİ DİLERİM.

Chief of Editorial Board

Editorial Consultants

HEAD OFFICE

Güneşli Evren Mah. Bahar Cad.

Polat İş Merkezi B Blok No:3

34197 ISTANBUL/TURKEY

Tel:+90. 212 604 51 00

Fax: +90. 212 604 51 35

Ömer Faruk Görün

(omer.gorun@img.com.tr)

Chris France, Leggett & Platt

Prof. Dr. Ismail KAYA

Assoc. Prof. Mehmet Ali OZBUDUN

Ibrahim KUPELI

Recep SAHIN

Advertising Sales Marketing

Omer Faruk GORUN (omer.gorun@img.com.tr)

Advertising Coordinator

+90 224 211 44 50-51

Correspondents

Communications Manager

Artdirector

Artwork Consultant

Design&Graphics

Chief Accountant

Subscription

Computing

Social Media

Gizem YILDIZ

(gizem.yildiz@img.com.tr)

Ebru PEKEL

(ebru.pekel@voli.com.tr)

İsmail GURBUZ

(ismail.gurbuz@img.com.tr)

Tolga ÇAKMAKLI

(tolga.cakmakli@img.com.tr)

Mustafa AKTAŞ

(mustafa.aktas@img.com.tr)

Zekeriya AYDOGAN

(zekeriya.aydogan@img.com.tr)

Emre YENER

(emre.yener@img.com.tr)

Emre YENER

(emre.yener@img.com.tr)

LIAISON OFFICE: BURSA

Buttim Plaza A. Blok Kat:4 No:1038

Tel: +90. 224 211 44 50-51

Fax: +90. 224 211 44 81

PRINTED BY

IHLAS GAZETECILIK A.Ş.

Merkez Mahallesi 29 Ekim Caddesi İhlas Plaza No:11 A/41

Yenibosna-Bahçelievler/ISTANBUL

Tel: 0212 454 30 00
---
14

PERISCOPE

To learn more about Leggett &

Platt – International Bedding

Components, our products, and

our initiatives, visit www.BeddingComponents-Intl.com.

Next-

Generation

Innersprings

at Leggett

& Platt

by Chris France

Division Marketing Manager,

Leggett & Platt

Technology changes rapidly –

products and technologies that

were not part of our life a decade

ago are indispensable now, adding

value and convenience. Similarly,

spring systems designed specifically

for bedding applications

continue to advance rapidly and

benefit the consumer.

Comfort-oriented operations are

at the forefront, and for this reason,

engineering and design are

crucial. With this in mind, Leggett

& Platt continues to strive to be

the leader in delivering mattress

spring innovation and technology.

At last October's Sleepwell Expo

in Istanbul, we introduced our

"Next-Generation Innersprings"

project to Turkey and the

surrounding geographic region.

Next-Generation Innersprings

maximize performance and optimize

content; simply put, they

function better, deliver more, and

represent value. For example,

we've developed and introduced

open-coil systems with more surface

area than the existing, more

traditional systems. That means

more points of support delivering

increased comfort, whilst remaining

lighter and easier to handle.

We've also re-engineered spring

geometries and designs, allowing

us to deliver products that offer

different rates of compression.

These qualities change the way

support is delivered and enhance

that overall feeling of comfort.

And, as an impact-aware manufacturer,

all next-generation

technologies are designed with

raw material optimization and environmental

impact in mind. Additionally,

they all achieve Oeko-Tex

Standard 100 certification.

It's well known that Leggett &

Platt is a global company with

many manufacturing facilities throughout

the world. Through this

network and our many valuable

partners, we monitor and measure

developments in the world

market and use these to predict

trends, innovate, and add value. In

addition to our focus on technology,

product quality is a cornerstone

of Leggett & Platt products.

Consumers have access to more

information, faster than ever

before, so poor-quality, unreliable

products have trouble surviving

in the market. Also key amongst

the most important of criteria is

value, and brands and producers

that cannot offer both value and

quality in the market will perish

or run the risk of looking irrelevant.

Delivering simple, but very

real principles such as "comfort,

support, performance, durability,

and value" accurately describe

Next Generation products and

the drivers of innovation in this

category at Leggett.
---
15

Gelecek nesil

yaylar Leggett &

Platt'ta

Teknoloji hızla değişiyor – on

yıl önce hayatımızın bir parçası

olmayan ürün ve teknolojiler şimdi

hayatımıza değer ve güven katarak

adeta kaçınılmaz oldu. Aynı şekilde

yatak uygulamaları için tasarlanan

yay sistemleri de hızla gelişmeye ve

tüketiciye fayda sunmaya devam

ediyor.

Rahat odaklı uygulamalar ön planda

olduğu için mühendislik ve tasarım

çok önemli. Bunu akılda tutarak Leggett

& Platt yatak yayları inovasyon

ve teknolojisini sunma noktasında

lider olmak için canla başla çalışmaya

devam ediyor.

Geçen Ekim ayında İstanbul'da

yapılan Sleepwell Expo'da "Yeni

Nesil Yay" projemizi Türkiye'ye

yakın coğrafyaya tanıttık. Gelecek

nesil yaylar performansı maksimize

ederken muhtevasını da ideal

bir noktaya getiriyor; kısaca daha

fonksiyonel, daha verimli ve daha

değerli hale geliyor. Örneğin şu anki

uygulamadan daha fazla yüzeyi olan

ve daha geleneksel olan açık-bobin

sistemlerini geliştirdik. Bu da demek

oluyor ki daha fazla noktadan destek

sağlamak suretiyle daha fazla konfor

sunarken daha hafif ve taşıması

daha kolay bir sistem. Ayrıca farklı

basınç oranları sunan ürünlerin

geliştirilmesi için yay geometrilerini

ve tasarımlarını yeniden düzenledik.

Bütün bu kalite faktörleri sunulan

desteği değiştiriyor ve toplam konfor

hissini arttırmaya sebep oluyor. Ve

etkenlerin bilincinde bir imalatçı

olarak bütün gelecek nesil teknolojiler

en uygun hammadde ve çevresel

etkenlere göre tasarlanıyor. Üstelik

bütün bunlar Oeko-Tex Standart 100

belgesini alabiliyorlar.

İyi bilinir ki Leggett & Platt, dünya

çapında birçok imalat tesisi olan

küresel bir şirkettir. Bu network

ve birçok kıymetli partnerlerimiz

vasıtasıyla dünya pazarlarındaki gelişmeleri

izliyor ve değerlendiriyoruz

ve bu yeni trendleri kullanıp değer

katarak biz de yenilikler gerçekleştiriyoruz.

Teknolojiye odaklanmamıza

ek olarak ürün kalitesi de Leggett

& Platt'in köşe taşlarından birisidir.

Tüketiciler şimdi hiçbir zaman olmadığı

kadar daha fazla bilgiye daha

hızlı erişebiliyorlar. Dolayısıyla kalitesiz,

güvenilmez ürünlerin pazarda

kalma şansı yoktur. Önemli kriterler

arasında değer de bulunuyor ve

değer ve kalitenin her ikisini bir arada

sunamayan marka ve üreticiler

tükenecekler ya da ilgisiz görünme

riskine gireceklerdir. "Konfor, destek,

performans, dayanıklılık ve değer"

gibi basit ama gerçek prensipleri

sunabilmek tam olarak Gelecek Nesil

ürünleri tanımlayan özelliklerdir ve

Leggett'te bu kategoride inovasyonun

etmenleridir.

Leggett & Platt – International Bedding

Components firmamız, ürünlerimiz

ve teşebbüslerimiz hakkında

daha fazla bilgi için www.Bedding-

Components-Intl.com sitesini ziyaret

ediniz.

PERISCOPE
---
16

imm cologne to herald

a glorious year for

furniture in 2018

IMM Köln fuarı mobilya sektörü için 2018'in

muhteşem bir yıl olacağına işaret ediyor
---
18

Growing

internationalisation

opens up great

opportunities for

the entire industry

Fuarın giderek

büyüyen uluslararası

kimliği sektör

için yeni fırsatları

da beraberinde

getiriyor.

The first interiors show of the

year 2018 presents the trends that

will be shaping the furniture and

interiors sector – and the products

that are good for business in

Cologne, 15-21 January 2018. At

the imm cologne, you will find a

unique variety of interior design

ideas for every room, every style

and every requirement – from

the basics all the way to designer

items and luxury furnishings.

In addition to the large number of

returning exhibitors from previous

years, a marked increase

in interest from exhibitors from

eastern and south-eastern Europe

has been observed, especially

from Poland, Greece and Turkey.

Furniture companies from southern

Europe also value the market

in Germany - a double-digit

increase in exhibitors from Italy,

Spain and Portugal has likewise

been reported. And more and

more exhibitors from the United

States are happy to make the long

journey to the Rhine. The number

of registrations from within

Germany is stable, according to

Petersen. "A few areas can still be

reserved", adds Uwe Deitersen,

Director of imm cologne, commenting

on the very limited space now

available. "I think German furniture

manufacturers currently have a

Mobilya ve iç dekorasyon sektörlerini

şekillendiren trendlerin sahneye

çıktığı 2018'in ilk dekorasyon

fuarı 15 – 21 Ocak 2018 tarihleri

arasında Köln'de açılıyor. Ziyaretçiler

her mekan, her stil ve her ihtiyaç

için, temel tasarım kalemlerinden

lüks elemanlara kadar yeni ve eşsiz

fikir ve ürünlerle tanışabilecekler.

Fuarda ürünleriyle müşterilerinin

karşısına çıkacak katılımcı firmaların

önemli bir bölümü bu yıl tekrar

katılıyor. Bunlar yanında doğu ve

güney doğu Avrupa'dan, özellikle

Türkiye, Polonya ve Yunanistan'dan

katılımcılar dikkat çekiyor. İtalya,

İspanya ve Portekiz'den gelen katılımcı

firmaların sayısında iki haneli

artışlar gözleniyor. Amerika'dan

katılımcılar da, Rhine'a gelmek için

uzun bir yolculuğu göze alacaklar.

İmm Köln fuarı direktörü Uwe

Deitersen'e göre Almanya'dan gelen

katılımcıların sayısında istiktarlı

bir durum gözleniyor. "Sanırım Alman

mobilya imalatçıları kendilerini

uluslararası müşterilere tanıtmak

için bu satış fırsatını kaçırmak

istemeyecekler" diyor.
---
20

tremendous opportunity to introduce

themselves to international buyers

and take advantage of new sales

prospects.

In total, the Cologne-based organizers

expect over 1,200 exhibitors,

over 70% of whom will be travelling

from every corner of the globe.

Exhibitors at imm cologne can hope

to attract new markets, because the

audience is also increasingly international.

In Cologne, buyers from

Germany, Europe and overseas are

presented with an unparalleled variety

of international companies from

all interiors product categories and

price brackets.

Maximum product variety

through clear segmentation

For imm cologne's trade visitors, this

development means an even greater

choice and variety of products and

suppliers from the international

interiors sector. In Koelnmesse's 11

halls, they cannot only find out about

the latest interior design trends and

global product innovations, but also

effect purchases easily. There is no

other trade fair platform in the world

where business can be conducted

more effectively or efficiently in the

interior design sector. The logical

range segmentation at imm cologne

also provides optimum orientation

at the trade fair: from Pure, Prime

and Comfort to the price-sensitive

segments Smart and Global Lifestyles

to the Sleep segment, all aspects

of home-living are represented in

Cologne. The accompanying events

and programmes of talks also offer

attractive added value.

Attractive trade fair and

positive market environment

"This success story of consistently

positive development is, of course,

attributable to the positive market

environment", acknowledges Arne Petersen,

summing up the excellent registration

figures. "But the measures

that we have steadily driven forward

over the last few years are now also

increasingly taking effect - with the

result that imm cologne is not only an

attractive business platform, but that

the event is also giving rise to new

ideas and trends in the long term. Put

simply, imm cologne is a pleasure!"

Fuar düzenleyicileri bu yılki

organizasyona yüzde 70'i dünyanın

her köşesinden gelecek

1.200 katılımcı bekliyorlar. Fuara

katılımı ve ziyaretçilerin etkinliğini

arttırmak amacıyla, bir

yandan maksimum ürün çeşitliliği

üretmeye çalışırlarken, bir yandan

da, bu zengin ürün çeşitlerini

net ayrımlarla segmente etmeye

gayret ediyor. Fuardaki segmentasyon

optimizasyon için Pure,

Prime ve Konfor segmentleriyle

fiyata duyarlı kesimler yanında

uyku ürünleri segmentinde Smart

ve Global yaşam tarzılarıyla da ev

yaşamının bütün yönlerinin temsil

edilmesine zemin hazırlıyor.

Mobilya sektöründe gerek kendi

özgün tasarımlarıyla gerekse

ürün çeşitliliği ve kalitesiyle dünya

çapında söz sahibi olan Türk

mobilya sektöründen 24 firma da

bu dev etkinlikte yerini alacak.

İstanbul İhracatçı Birlikleri'nin

öncülüğünde fuarda yer alan firmalar:

Aktan Sandalye, Artstone

Panel Sistemleri, Baila Dizayn,

Ermasa mobilya, Çilek Mobilya,

Ar-Ma, Bayyurt, DMD Pınar

Parke, Ersan Madeni, Genç Stil

Mobilya, Gökmenler, ICI Uluslararası

Halı Yat. San., İpek Mobilya,

İİB, Boydak Dış Ticaret, Musvenus

Mobilya, Ödmezir Dayanıklı Tüketim

Malları, Senexpo, Sonorous,

Tilia-Savaş Plastik, Ural Medikal,

VRL Mobilya, Yataş, İnci Mobilya.
---
24

Heimtextil 2018 has

more interest in sleep

products

Heimtextil

2018 uyku

ürünlerine

daha fazla

yer verdi

Halls 8 to 11

including the

Galleria has been

allocated to bed

linen, bedding,

mattresses,

bathroom textiles,

and table and

kitchen linen.
---
25

8'den 11. hole kadar bütün salonlar

ve Galeria uyku ürünlerine, yataklara,

banyo tekstillerine, masa ve mutfak

örtülerine tahsis edildi.

The upcoming Heimtextil (9-12 January

2018) in Frankfurt am Main

will sparkle with a wide range of

finished products. In Halls 8 to 11,

bed dealers, wholesalers and online

retailers, boutique operators as

well as buyers and housekeepers

from the hotel industry will find a

wide selection of ready-made products.

'Almost 1,500 international

manufacturers will present their

new collections from the bed, bath

and table segments on nine hall

levels. This means that Heimtextil

now offers the world's largest

selection of bed linen and bedding,

mattresses, bathroom textiles

and table and kitchen linen', says

Meike Kern, Director Heimtextil/

Messe Frankfurt.

Hall 8.0, which is completely booked

out, has become the central

contact point for the bedding

industry. Numerous market-leading

companies such as Irisette,

Billerbeck and Frankenstolz (all

Germany) will be present. Mascioni

(Italy) and Dún or Fior (Iceland)

are new to the fair. Numerous international

suppliers of bathroom

textiles and accessories will also

9 – 12 Ocak 2018 tarihleri arasında

Frankfurt'ta düzenlenecek Heimtextil

fuarı bu yıl uyku ürünleri

için 9 salon ayırdı. Yatak satıcıları,

toptancıları, çevrimiçi perakendeciler,

butik operatörler, hotel endüstrisinden

satına lmacılar ve işletmeciler

fuarda ihtiyaç duyacakları

ürünlerden geniş bir seçim imkanına

sahip olacaklar. Dünyanın çeşitli

bölgelerinden gelen yaklaşık 1.500

üretici firma yatak, banyo, masa

segmentlerinde yeni koleksiyonlarını

tanıtacaklar. Organizatör firma

Messe Frankfurt' direktörü Meike

Kern, bu yılki fuarın yataklar, uyku

ürünleri, yataklar, banyo tekstilleri

ve mutfak tekstilleri alanında

dünyanın en geniş organizasyonu

olacağını ifade ediyor.

Fuarın 8.0 salonu fuarın temasına

uygun ürünleri üreten önde gelen

firmalar tarafından tamamen

rezerve edildi. Fuarda ürünlerini

teşhir etmek için Almanya, İspanya,

Japonya ve Belçika'nın başlıca

firmaları fuardaki yerlerini aldılar.

Türkiye'den de birçok firmanın yer

aldığı 8.0 uyku ürünleri konusunda

makineden yatağa geniş bir ürün

yelpazesi sunuyor.
---
26

be presenting their wares. In Rössle

& Wanner (Germany), Heimtextil

also welcomes a renowned

supplier of premium mattresses

and a market leader in the field

of manually and motor-driven

adjustable slatted frames. Rössle

& Wanner will exhibit its Röwa

brand products in Galleria 1.

Growth is also evident in the table

segment. In hall 9.0, Towa (Japan)

and Aramis (Spain) are among the

highlights with non-textile table

coverings as well as Textil Vidal

Rius (Spain) and Mistral Home

(Belgium) with table linen.

The Asian premium area for

household textiles can be found

in hall 10.2. Yunus Textile Mills

(Pakistan) and Synergy Lifestyles

(India) are also returning. Synergy

Lifestyles is known for its "Bandit

Queen" home collection that

company owner Sunita Namjoshi

developed together with designer

Valérie Barkowski. New at Heimtextil

is Vini Exports (India), which

will also present its new bedding

and table linen collection in hall

10.2.

Home collections by international

fashion labels such as Joop Living

or Marc O' Polo and Esprit (licensee

Van Es Home, Netherlands)

can be seen in hall 11.0. In addition,

premium providers will also be

presenting their new products in

a lifestyle-oriented environment.

The companies will present their

contemporary and modern as well

as classic and elegant approaches

in hall 11.1. Among those represented

with collections of the

highest quality are Schlossberg

(Switzerland), Collection Stiegler

and Curt Bauer (both Germany),

Kas International (Australia),

Martinelli Ginetto (Italy), Sorema

(Portugal) and Welspun (Great

Britain).
---
27
---
28

Turkmenbasi invests for press

and vacuuming machinery

Türkmenbaşı pres ve vakumlama makinesi

yatırımı yapıyor

Turkmenbasi solves

logistics problems

in exports caused

by high volumes

of mattresses

with new pressing

and vacuuming

machinery

Entered in the mattress industry

as a spring manufacturer in 1995,

Turkmenbasi Yatak has started to

produce orthopedic mattresses in

2000. Metin Dagli of Turkmenbasi

Yatak has told about the problems

in the sector.

Will you invest more in

2018?

We have some logistics problems

in our exporting activities. The

product, mattress is in high volume

category, so it costs more to

transport it. Trucks can carry only

limited number of mattresses. To

1995 yılında yatak yayı imalatıyla

sektöre adım atan Türkmenbaşı

Yatak, 2000'li yıllarla beraber ortopedik

yatak üretimi gerçekleştirmeye

başladı. Bir yatak fabrikasında

olması gereken tüm makineleri

portföylerinde bulundurduklarını

açıklayan Türkmenbaşı Yatak Firma

Yetkilisi Metin Dağlı, sektörde

yaşanan temel sıkıntılara da dikkat

çekti.

2018 için yeni yatırımlarınız

olacak mı?

İhracatta yaşadığımız bazı sıkıntılar

var. Ürünün hacmiyle alakalı
---
29

Türkmenbaşı

Yatak yatağın

hacmi sebebiyle

ihracatta yaşanan

sıkıntıları yeni pres

ve vakumlama

makinesiyle

çözecek.

Metin Dagli

overcome this hurdle, we invest to

have pressing and vacuuming machinery

to reduce their volumes to

transport them with lower costs.

When pressed, about 200 mattresses

can be put in a normal container,

instead of only 60 of them.

Would you inform us about

machine inventory?

We produce machinery for making

springs, spirals, and lining, besides

are mattress closing, stitching,

quilting and overlock machinery.

That means we have all machinery

needed by a typical mattress

manufacturer in its factory.

What are your forecasts for

the future developments in

the mattress industry?

Those producers who emphasize

on the quality of both product and

nakliyede sıkıntı yaşıyoruz. Yatağı

adet olarak hiçbir şekilde tırın

içerisine sığdıramıyorsunuz. Bunun

için de bir makine yatırımı yapıyoruz.

Bu pres ve vakumlama makinesiyle

yaşadığımız sıkıntıları aşacağımızı

düşünüyoruz. Normalde

bir konteynıra 60 yatak sığıyorsa

biz 200 yatak sığdıracağız. Böylece

maliyeti düşürecek ve satışımızı

hızlandıracağız.

Makine portföyünüz

hakkında bilgi verir misiniz?

Yay üretim, helezon ve dizgi makinelerimiz

mevcut. Yatak kapama ve

dikiş, kapitone ve overlok makinelerimiz

de var. Yani bir yatak fabrikasında

bulunması gereken tüm

makinelere sahibiz.
---
30

the materials used in the process,

including packaging and who like

their works will all be successful.

The basis of success both in domestic

and international markets

are laid in these factors.

What kinds of problems are

there in the sector?

I witnessed that some of the grey

companies are selling non-hygienic

mattresses at very low prices.

Buyers and customers have to pay

more attention to these sellers

and should be careful not to be

cheated.

Do you have anything to add?

Consumers should look for details

of the product that they consider

to buy. They must behave more

consciously.

Önümüzdeki dönemde

yatak sektöründe yaşanacak

gelişmelerle alakalı

öngörüleriniz neler?

İşini sağlıklı, temiz yapan, iyi

malzeme kullanan ve reklam,

ambalajlama gibi hususlara önem

veren üreticiler her zaman başarılı

olacaktır. Hem iç pazarda hem de

ihracatta başarının temel kaynağı

bu unsurlardır.

Sektörde yaşadığınız

sıkıntılar nelerdir?

Merdivenaltı bazı üreticilerin çok

cüzi rakamlara hijyen ve sağlığa

aykırı ürünler sattığına şahit

oldum. Bu konuda tüketicilerin

daha hassas davranıp, araştırması

ve sorgulaması gerektiğini vurgulamak

istiyorum.

Eklemek istedikleriniz?

Son tüketici alacağı tüm ürünlerin

içeriğine iyi baksın. Müşteriler

bilinçlensin, araştırsın ve araştırmadan

satın almasınlar.
---
32

"Let's be smart" – the intelligent

home @ imm cologne show

IMM Köln 2018 "Akıllı olalım"

mottosuyla evlerde zekice çözümleri

ağırlayacak

imm cologne will

showcase products,

projects and real-time

scenarios related

to energy, security,

lifestyle, convenience

and entertainment,

15-21 January 2018

What does a functioning smart

home look like today? What does

it offer in terms of security, convenience,

cost savings and added

value? What fields of application

does it have? How easy are the

applications to use, what are the

prerequisites and above all: how

visible is the technology? And:

how much does it cost? Answers

Akıllı evler günümüzde nasıl işliyor?

Akıllı evlerdeki uygulamalar,

güvenlik, kolaylık, maliyetlerde

tasarruf ve katma değer açılarından

neler getiriyor? Hangi konularda

ne gibi uygulamalar var?

Bu uygulamalardan yararlanmak

ne kadar kolay? Ne gibi ön şartlar

gerekiyor? Kullanılan teknolojiler

ne derecede gözler önünde? Kaça
---
34

to these questions can be found at

the Smart Home at imm cologne

2018: in the form of a real house

that is open for visitors to enter

and explore. The forum for connected

living at the international

interiors show imm cologne not

only examines the current state of

the art in applied technologies for

the home. It also looks ahead to

future issues such as smart home

solutions for accessible living.

Koelnmesse is emphasizing the

importance of this emerging

field that has been heralded as a

growth market by presenting the

third Smart Home installation at

imm cologne 2018. "It will increasingly

be a matter of course for

different devices to be connected

to, and communicate with, each

other. The technological infrastructure

is becoming more and more

personally tailored to residents'

needs," says Gerald Böse, President

and Chief Executive Officer of

Koelnmesse.

Ürünlerin,

projelerin, ve

enerji, güvenlik,

yaşam tarzı,

kolaylık ve eğlence

boyutlarındaki

ürünlerin,

projelerin,

sistemlerin ve

çözümlerin

sergilendiği fuarın

bu yılki temel

sloganı, "Haydi

akıllı olalım!"

mal oluyor? Bu ve benzeri sorular,

imm 2018 fuarında cevaplarını

buluyor. Ziyaretçiler bütün bu soruların

cevaplarını fuardaki gerçek

bir evde bulabilecekler, yaşayabilecekler

ve keşfedebilecekler. Bu

ünlü uluslararası dekorasyon fuarı

birbirine bağlı şeyler üzerinden geliştirilen

uygulamalı teknolojilerin

insan hayatındaki yerine dair son

durumunu sergilemekle kalmıyor

aynı zamanda konutlardaki akıllı

çözümlerin geleceğine dair öngörüleri

de izlemeye imkan veriyor.

Fuar organizatörü Kölnmesse, akıllı

evleri geleceğin devrimi olarak

görüyor. Bu gelişen alanın önemini

vurgulamak için fuar idaresi imm

Köln 2018 de üçüncü akıllı ev tesislerini

sergiliyor. "Gelecekte evlerdeki

sistemler ve cihazlar birbirleriyle

daha sıkı iletişim içinde olacaklar.

Teknolojik altyapıdaki gelişmeler

sayesinde akıllı evlerdeki çözümler

giderek daha fazla kişiselleştirilebilir

ve mukimlerin ihtiyaçlarına

göre düzenlenebilir hale gelecek."

Bu sözler, Kölnmesse Başkanı ve
---
İyi bir uyku sağlıklı bir yaşam...

PROMER MÜHENDİSLİK ORMAN ÜRÜNLERİ SAN. ve TİC. LTD. ŞTİ.

Sanayi Mah. Öz Burçak Sok. No:172 İzmit-KOCAELİ

Tel : 0262 349 24 31 / 0262 349 24 32 Fax : 0262 349 24 43

www.mobitoolbedding.com

e-mail : info@mobitoolbedding.com
---
36

There can be no connected

home living unless the

industry is connected

Taking "Let's be smart" as its

slogan, imm cologne will showcase

products, projects and real-time

scenarios related to energy,

security, lifestyle, convenience and

entertainment. "The spectrum covered

by the smart home is constantly

expanding and becoming

more and more complex. We will

present the smart home's current

possibilities in a fully functional

architect's house alongside an architect's

smart office and a self-contained

flat with a supportive

environment provided by assisted

living technologies, which allow

the older generation to remain in

their own homes until a very old

age. But we're also looking ahead

to the future," says Thomas Postert,

Director at Koelnmesse.

Almost anything seems possible

today, but genuinely outstanding

examples of the technology in

action are still a rare thing – even

among professionals. To change

this, the industry needs concepts

that demonstrate how different

providers can communicate

and collaborate with each other.

"We've seen that the smart home

can only work if all those involved

in it work closely together.

Communication isn't just crucial

between the smart products themselves

– the whole industry needs

to network and agree on common

standards and customer needs.

We provide the perfect forum

for this at imm cologne 2018." In

addition to the numerous example

applications that visitors can touch

and try out in the Smart Home

installation, many consultants

from the companies represented

in the showcase will be on hand

to answer questions from professionals

and private individuals.

The programme for the dedicated

talks forum compiled by imm

cologne is designed to stimulate a

forward-looking and solutions-o-

CEO'su Gerald Böse'ye ait. Ürünlerin,

projelerin, ve enerji, güvenlik,

yaşam tarzı, kolaylık ve eğlence boyutlarındaki

ürünlerin, projelerin,

sistemlerin ve çözümlerin sergilendiği

fuarın bu yılki temel sloganı,

"Haydi akıllı olalım!"

Pazar araştırmaları akıllı ev uygulamalarının

kitlesel pazar boyutlarında

yayılma aşamasının eşiğinde

bulunulduğunu ortaya koyuyor.

Üründen ürüne değişebilmekle

beraber, bazılarında dinamik,

bazılarında büyük dalgalar halinde

olarak, pazarda yüzde on ila yüzde

elle aralığında değişen oranlarda

büyüme yaşanacağı öngörülüyor.

Akıllı ev uygulamalarında sıklıkla

görülen uygulamalar arasında, ısıtma,

havalandırma, iklimlendirme,

soğutma, iletişim ve güvenlik teknolojileri

başı çekiyor. Tüketiciler

cephesinde ise, güvenlik ve enerji

tasarrufu kavramları en fazla ilgi

çeken konular arasında yer alıyor.

Uzaktan telefon veya tabletlerle

kontrol edilebilen, kullanıcı dostu,

kullanıcının alışkanlıklarını öğrenen

ve buna göre kendini ayarlayan

cihazlar pazardaki hakimiyetlerini

arttıracaklar gibi görünüyor.
---
38

riented debate, but also a critical

discussion about the smart home's

opportunities and its stumbling

blocks.

New location in pure

architects: the smart

home installation is where

architects and clients meet

"Technologically oriented people

who welcome the convenience and

the idea of connecting media and

home technology will quickly be

enthralled by the concepts that we

will present in the private Smart

Home installation," says imm cologne

Creative Director Dick Spierenburg.

The 2018 edition of the

fair will mark the third time that

the Smart Home – Let's be smart

– will be constructed at imm cologne.

It will be equipped with the

latest developments from major

companies and start-ups. New

this time is its location in the Pure

Architects segment (Hall 4.2),

which is celebrating its premiere

in 2018. The lifestyle-oriented

showcase at the interiors show is

14 ve 25 Ocak 2018 tarihlerinde gerçekleştirilecek imm Köln 2018 fuarında

ziyaretçiler bu yıl üçüncü defa oluşturulacak akıllı evi bizzat ziyaret

edip gerçek yaşamı deneyimleyebilirlerken, isterlerse sanal ortamda arttırılmış

gerçeklik uygulamalarıyla letsbesmart.de platformunda üç boyutlu

olarak gezinti yapabilecekler.
---
#MO 18

TASARIM GROUP / RAŞIT TIBET / TEL : +902164495575 / RASITTIBET@TASARIMGROUP.COM.TR
---
40

closely modelled on the realities of

home living today. Many partners

and companies are collaborating

on the installation, which ties in

perfectly with the architecture-related

ranges such as lighting and

bathrooms that will be on show in

the Pure Architects hall. Partners

who have already confirmed

their participation include Rehau,

Häfele, Grohe, Biffar, Miele, Atomé

and Nolte.

On the threshold of the mass

market

Market researchers see the smart

home as being on the threshold

of penetrating the mass market.

The market volume forecasts vary

widely depending on the fields of

application analysed. But there

is agreement that dynamic and,

in some cases surging, growth of

between 10 and 50 per cent is to

be expected, depending on the

product area. The smart home

generally refers to the intelligent

networking of electrical appliances

in the home including building

services – heating, ventilation, air

conditioning, cooling and sanitary

installations – as well as communications

and security technology.

Consumers are currently most interested

in security and energy-saving

concepts. The smart home

can be controlled in the residence

itself via built-in interfaces or on

the go via a smartphone or tablet

for convenience. Self-learning

devices – devices that adapt to

their owners' usage habits – will

increasingly dominate the market.

imm cologne provides an

orientation for the analogue

and the digital

"With the 'Let's be smart' seal of

quality, we want to help users

orient themselves in the growing

range of smart home products,"

says Thomas Postert. He adds

that imm cologne will be open to

the public at the weekend, when

consumers are welcome to view

the exhibits for themselves. To accompany

the walk-in Smart Home

installation at the interiors show,

interested companies and individuals

can find further information

on the letsbesmart.de platform.

During imm cologne itself (14–25

January 2018), there will be a tour

of the latest three-dimensional

Smart Home installation. The guided

tour will be directly linked to

relevant products and brands. The

interiors show also cooperates

closely with the Connected Living

innovation centre, which provides

its more than 60 members with a

cross-industry network of partners.

With the Smart Home installation,

imm cologne is underlining

its claim to represent the whole

spectrum of interior design. Koelnmesse

sees products for living

in the digital world as an integral

part of this. This not only includes

applications such as automated

security and climate control and

enhanced comfort in the home:

"Just as people are embedded

in the social and political world

through digital communication,

home living itself is increasingly

connected to the outside world,"

predicts Dick Spierenburg. "The

extent to which this happens

will be a personal decision." The

Creative Director of imm cologne

moves full circle as he outlines
---
刀 漀 氀 氀 倀 愀 挀 欀 攀 搀 䴀 愀 琀 琀 爀 攀 猀 猀 攀 猀

䈀 漀 砀 攀 搀 䴀 愀 琀 琀 爀 攀 猀 攀 猀

䘀 氀 愀 琀 倀 愀 挀 欀 攀 搀 䴀 愀 琀 爀 攀 猀 猀 攀 猀

倀 漀 挀 欀 攀 琀 匀 瀀 爀 椀 渀 最 䴀 愀 琀 琀 爀 攀 猀 猀 攀 猀

䰀 愀 琀 攀 砀 䴀 愀 琀 琀 爀 攀 猀 猀 攀 猀

嘀 椀 猀 挀 漀 䴀 愀 琀 琀 爀 攀 猀 猀 攀 猀

䰀 漀 漀 猀 攀 䴀 愀 琀 琀 爀 攀 猀 猀 攀 猀

䴀 漀 爀 攀 吀 栀 愀 渀 愀 䴀 愀 琀 琀 爀 攀 猀 猀 䌀 漀 洀 瀀 愀 渀 礀

眀 眀 眀 ⸀ 渀 漀 戀 攀 氀 椀 猀 琀 愀 渀 戀 甀 氀 ⸀ 挀 漀 洀 ⴀ 椀 渀 昀 漀 䀀 渀 漀 戀 攀 氀 椀 猀 琀 愀 渀 戀 甀 氀 ⸀ 挀 漀 洀

䄀 欀 挀 愀 戀 甀 爀 最 愀 稀 䴀 栀 ⸀ アパート 㤀 㔀 匀 欀 ⸀ 一 漀 㨀 㜀 倀 欀 ⸀ 㨀 ⸀アパート 㐀 㔀 ㈀㈀ 䔀 猀 攀 渀 礀 甀 爀 琀 ⴀ 䤀 猀 琀 愀 渀 戀 甀 氀

吀 攀 氀 ⸀ 㨀 ⬀ 㤀 ㈀㈀ 㠀 㠀 㘀 㔀 㔀 㤀 㜀 ⴀ 䘀 愀 砀 㨀 ⬀ 㤀 ㈀㈀ 㠀 㠀 㘀 㔀 㔀 㤀 㠀
---
42

the trade fair's future direction:

"And for that reason, imm cologne

will always show both sides

of the coin: the analogue and the

digital worlds of home living."Koelnmesse

– Global Competence in

Furniture, Interiors and Design:

Koelnmesse is the world's top trade

fair organiser for the areas of

furnishing, living and lifestyle. At

the trade fair hub of Cologne, the

leading international fair imm cologne

as well as the trade fair formats

of LivingKitchen, ORGATEC,

spoga+gafa, interzum and Kind +

Jugend rank among the internationally

renowned and established

industry meeting places. These

fairs comprehensively represent

the upholstered and case furniture

segment, the kitchen industry, the

office furniture sector and outdoor

living as well as the innovations of

the furniture supply industry. Over

the last few years, Koelnmesse has

specifically added international fairs

in the most important fast-expanding

markets to its portfolio.

These include the LivingKitchen

China/CIKB in Shanghai, interzum

guangzhou in Guangzhou and Pueri

Expo in Sao Paulo. With ambista,

the network of the interior decorating

industry, Koelnmesse offers

direct access to relevant products,

contacts, competence and events.

Discover interior ideas

through imm cologne

Cologne is the perfect place to

start the new season: imm cologne

provides crucial momentum for

a successful 2018 with its unique

combination of the latest trends,

highly sought-after design and

international business opportunities.

Cologne is the only city where you

can experience the global interior

design market live in one place:

Innovative furniture, visionary

interior design concepts and the

finest solutions for bathrooms,

floorings and lighting await you.

More than 1,200 exhibitors from

around 50 countries will be in Cologne

to present their new collections,

market-ready products and

concepts. The big names will be

represented at the event as well as

exciting newcomers and premium

designers.

You can also discover the state of

the art in e-commerce at imm cologne

with the new "smart" format

TOUCH by IMM — an additional

new format that focuses on the

digital relationship between information

and purchase. Successful

speakers will present exclusive

best practice cases from the online

furniture trade at the 5th imm

cologne Congress.

Trendsetting designers and

experts appearing in the event

program will offer insights into

the design of future living spaces

and the latest developments in

forms, materials and colors.
---
46

Mattress will be at IMOB with

its new products

Windy Yatak yeni ürünleriyle

IMOB'da olacak

Active in domestic market but

produces more for export markets,

Windy Yatak sells its products

at 82 points. We have visited

Bayram Baskurt, marketing

manager of Windy Yatak company

to talk about their new factory

and machinery investments. Having

superior machinery in their

facility, the company prepares for

the IMOB fair.

May we hear about you and

your company in brief?

I have been working for Windy

Yatak for 11 years. Our company is

35 years old and has a wide range

of customer portfolio and a good

İç pazarda da aktif olan fakat

ihracat esaslı çalışan Windy Yatak,

ürünlerini yurtdışında 82 noktaya

ulaştırıyor. 25 bin metrekarelik

yeni fabrika ve makine yatırımını

konuşmak üzere ziyaret ettiğimiz

Windy Yatak Pazarlama Müdürü

Bayram Başkurt ile keyifli bir röportaj

gerçekleştirdik. Gelişmiş bir

makine parkuruna sahip olduklarını

belirten Başkurt, IMOB'da

ziyaretçileri yeni ürünleriyle buluşturacaklarını

da ekledi.

Sizi ve firmayı kısaca

tanıyabilir miyiz?

11 yıldır Windy Yatak firmasındayım.

Yaklaşık 35 yıllık köklü bir
---
47

Windy Yatak (Mattress)

invests in a new quilt

machinery first in Turkey

that can produce 2800

different patterns.

Windy Yatak Türkiye'de

bir ilk olarak 2800

desen üretebilen yeni

bir kapitone makinesi

yatırımı yaptı.

Bayram Baskurt

Marketing Manager of Windy Yatak

share in domestic market. However,

70 percent of our production

goes to export markets, about

82 countries including European

countries and Arab Emirates. Our

share is rising continuously and

we appreciate the rising interests

of our buyers. Their visit to our

stands in the fairs gives us energy

and motivation for our firm.

We have greater targets. We produce

in our factory of 25 thousands

sqm. which was recently built.

Mattress is our major product

category, though we make couches

as well. Even, we are the first company

that sold the first couches to

American market.

What about your machinery

and technology used in the

production? Do you produce

complete mattresses or you

make semi-processed items?

We have the most up to date machineries

in our factory. Recently

we have bought huge quilting

machinery, which is first in Turkey,

and we are now testing it. It

is completely manufactured in

Turkey and is able to make 2800

different patterns. We have three

quilting machinery besides these,

are made in Turkey and the sprinfirmayız,

iç piyasadaki satış oranlarımız

çok iyi, geniş bir müşteri portföyümüz

var. Fakat ihracat ağırlıklı

çalışan bir firmayız, üretimimizin

%70'i yurtdışına gidiyor. Avrupa

ülkeleri ve Arap Emirlikleri ile

birlikte 82 ülkeye ihracatımız var.

Tabi oranlarımız sürekli artıyor,

müşterilerimizle yakın ilişkiler kurup

fırsatları iyi değerlendiriyoruz.

Katıldığımız fuarlarda müşterilerimizin

ziyareti bize enerji veriyor.

Hedeflerimiz büyük, net 25 bin

metrekarede üretim yapıyoruz.

Fabrikamız yeni kuruldu, oldukça

kurumsal çalışan bir firmayız.

Yatak bizim ana ürünümüz fakat

kanepede de önemli ölçüde üretimimiz

mevcut. Hatta Amerika'ya ilk

kanepe satan firma biziz. Sektörde

hep emin adımlarla ilerledik.

Üretimde hangi

makine ve teknolojileri

kullanıyorsunuz?

Yatağı tamamen siz mi

üretiyorsunuz? Yarı mamül

üretiminiz var mı?

Son derece gelişmiş bir makine

parkurumuz var. Devasa bir kapitone

makinesi aldık, Türkiye'de bir

ilktir, denemesini biz yapıyoruz.

Tamamıyla Türkiye'de üretilen çok

verimli bir makine, 2800 desen

yapabiliyor. Onun dışında 3 tane

daha kapitone makinemiz var ve

yayı da kendimiz üretiyoruz. Yay

için kullanılan makine çok önemli-
---
48

gs that we needed. Spring processing

machinery is important because

buyers in Europe are keener on

the springs used in the mattresses

than others. It the springs are

cut after heated up, carcinogenic

toxins emerge. We normally do not

sell spring except for our friend

companies. Our workshop for iron

profiles has 2500 sqm space where

all of stages of production process

are carried out in it. We have a real

factory having 25 thousand sqm.

covered area.

Would you mention

about the fairs you have

participated?

Modef fair held in Inegol is important

for us. Since the space is too

narrow we do not participate for

two years, with an intention of leaving

more space to smaller firms.

We participate each and every fair

held in Istanbul. Recently we were

in Mumbai, India, to participate

in an event organized by IMOS.

We also participate in fairs held in

Russia, Germany and Egypt.

How is your organization

in abroad? Do you have

distributors?

Yes, we have distributors and

resellers in America, France and

far away countries as well. We

have no distributors in domestic

market, we sell direct to retailers.

dir özellikle Avrupa yay konusunda

çok seçici davranıyor. Makine ısıtıp

kesiyorsa toksit oluşur ve kanserojene

sebep olur. Yani ihracat yapılacaksa

mutlaka kesme makinesi

bulunması gerekiyor. Bizim 2 adet

kesme makinemiz mevcut. Ayriyeten

yay satışımız yok ama dışardan

yay talep eden dostlarımız olursa

verebiliyoruz. Makinenin balya

kısmında profillerimizi keseriz,

demir profil atölyemiz 2500

metrekaredir. Bu fabrikalarda çok

olan bir şey değildir, genelde profili

dışarda yaptırıp fabrikada montajını

yaparlar. Biz de öyle değil,

bütün üretim süreci bünyemizde

gerçekleşiyor. 25 bin metrekarede

real bir fabrikayız. Bir yıldır yeni

fabrikamızda yeni teknolojilerimizi

sunuyoruz. Mobilyada istenilen en

orantılı ve en kaliteli makineler

şuan bünyemizde faaliyettedir.

Katıldığınız fuarlardan

bahseder misiniz?

İnegöl'de gerçekleşen MODEF fuarına

önem veriyoruz. Fakat fuarın

yeri çok küçük, o sebeple orta ve

küçük ölçekli firmalara da paye

bırakmak için iki senedir katılmıyoruz.

İstanbul fuarlarında mutlaka

oluyoruz. Onun haricinde geçtiğimiz

aylarda İMOS tarafından

Hindistan Mumbai'de ilki düzenlenen

fuara katıldık. Rusya, Almanya
---
49

What are the problems

generally emerge in the

industry? Do you feel any

problem in export markets?

In reality, export operations have

been eased even more in recent

years. There are several incentives

for companies. Global transportation

have become more efficient,

and logistics companies became

more professional. Earlier it has

taken days to go through customs,

now, overnight operations are

standard. These also have cut

logistics costs even more.

What are your targets for

2018?

We have to keep pace with developments

in the world and meet

demands. We have to seek and

find better ways for more business

and develop innovative products.

Recently, we introduced a new

sofa set that we called bird feather.

People will feel more comfort in

then and they will buy it at reasonable

prices. There are special

spring systems in our mattresses.

We will launch several new offerings

in 2018 IMOB fair.

Any additional comments?

We wish to all and to our nation a

good year in 2018.

ve Mısır'da da fuarlara katılım

sağlıyoruz. Birçok ülke pazarıyla

bağlantımız var.

Yurtdışındaki yapılanmanız

nasıl? Bayilik mi

veriyorsunuz?

Evet, bayilerimiz ve distribütörlerimiz

var. Amerika ve Fransa'da

distribütörlerimiz uzak bölgelerde

de bayilerimiz var.

İç piyasada distribütörümüz yok,

birebir bayilik veriyoruz. Distribütörler

zaman zaman müşteriyi

fabrikaya karşı üzebiliyorlar, biz

buna izin vermiyoruz.

Sektörde yaşadığınız genel

sıkıntılar neler? İhracatta

sıkıntı yaşıyor musunuz?

Aslında son yıllarda ihracat biraz

daha kolaylaştı. Verilen teşviklerde

var bundan birçok firma yararlanabiliyor.

Gelişen dünyada ulaşımda

da birçok kolaylıklar oldu. Nakliye

firmaları daha kurumsallaştı.

Günümüzde ihracat noktasında çok

sıkıntı yaşanacağını sanmıyorum.

Eskiden gümrüğü yapıyordunuz ve

cumartesi pazarı yatırıyordunuz

çünkü direkt geçiş hakkı yoktu.

Şuanda gece bile olsa tır çıkıp

gidiyor. Bu durum maliyetlere de

yansıyor ve sektör adına çok önemli

bir gelişmedir.

2018 hedeflerinizden

bahseder misiniz?

Gelişen dünyaya ayak uydurmak ve

talepleri karşılamak lazım. Biz de

talep ve hizmet satan bir firmayız,

bu sebeple yenilik şart. Hiçbir firmada

bulunmayan yeni bir oturma

grubu çıkardık. Kuştüyü ismini

verdiğimiz bu oturma grubunda

insanlar çok rahat edecek ve kaliteyi

daha uygun fiyata alacaklar.

Yatakta da özel yay sistemlerimiz

var. Özel bir dizaynla harika bir iş

ortaya çıktı. 2018 IMOB fuarında

tanıtacağız.

Eklemek istedikleriniz?

Ülkemize ve milletimize hayırlı bir

yıl olmasını diliyorum.
---
52

ISPA launches 'Consumer

Analytics Program'

ISPA, 'Tüketici Analitik Program'ı tanıttı

(Alexandria, VA) – The International

Sleep Products Association

(ISPA), the trade association for

the sleep products industry, announces

an exciting new data tool

called the ISPA Consumer Analytics

Program (ICAP).

"ISPA provides market intelligence

that the bedding sector can use

to increase its share of consumer

spending," noted ISPA President

Ryan Trainer. "Spatial analytics—

understanding details about who

and where your customers are

within your trade area—can provide

critical insights for individual

retailers. ICAP will analyze important

attributes about the population

within a retailer's territory and

deliver actionable and easy-to-use

analysis."

ISPA worked with Michael Knight,

president of Customer Analytics,

to develop ICAP. Knight has over

25 years of experience as a trusted

third party in aggregating proprietary

information and delivering

confidential analysis and support

to individual clients. He has

applied economic, demographic

ALEXANDRIA, VA – Uluslararası

Uyku Ürünleri Derneği - International

Sleep Products Association

(ISPA), ISPA Consumer Analytics

Program (ICAP) adı verilen yeni

bir ilginç data aleti geliştirdiğini

duyurdu.

ISPA Başkanı Ryan Trainer, "ISPA

tüketici harcamalarındaki pazar

paylarını arttırmaları için yatak

sektörüne pazar araştırma hizmeti

sunuyor" dedi ve ekledi, "Bölgenizde

tüketicilere kimin nerede

olduğunu duyuran ve kritik detay

ve öne çıkan gelişmeler ile onların

dikkatini çekiyoruz. ICAP sayesinde

bir perakende satıcının önemli

bilgilerini ve kolay kullanımlı analizleri

çevrede bulunan tüketicilere

duyuruyoruz."
---
53

and forecasting analytics across

industries ranging from health

care to retail.

"The difference between information

and analytics is the same

difference as between motion and

direction," says Knight. "ICAP uses

tools that visualize key aspects

of a particular business, and lays

out a path for retailers to follow."

Knight uses analytics based on an

impressive array of data sources

that have extraordinary value for

accurately assessing and predicting

consumer behavior.

Retailers may subscribe to different

service options. They can

access interactive dashboards that

provide vital insights into their

customers' buying behavior.

ICAP can help retailers get

answers to questions like: Am I

spending my advertising budget

efficiently? Do I have the right

product mix and are my RSAs properly

trained to adjust to changes

in my customers' income level, age

or marital status? Where should I

open my next store?

"If growing your business and

staying relevant to your customer

base is important to you, consider

making ICAP part of your competitive

toolkit," says Knight.

ISPA will host an information

session during the Las Vegas Market

on Monday, January 29, 2018

at 2:00 pm, where retailers and

others can learn more about ICAP.

The session will be in Building B

on the 16th floor. Mike Knight will

also be available to meet oneon-one

with individual retailers

during Market.

Your customers—in detail

A key value of ICAP is analyzing

the data that each subscribing

retailer provides. All data shared

by a retailer is fully confidential

and well-protected. Knight's

company will connect with your

IT people to collect, "de-identify"

(a step that protects the security

of your information), process and

analyze your retail data. ICAP

then generates key metrics that

describe your customers' buying

behavior; the prices, brands and

methods of payment they use; the

geographic trade area your store

actually serves; and more.

Those insights are possible at the

program's most basic level. Analyzing

complete point-of-sale data

can provide a more robust level

of analysis. As an example, Knight

offers this: In the spring months

of April through June, you might

find that your average customer

is a 35-year-old woman, married

with two kids between the ages

of 10 and 12, a household income

of $70,000, two cars, and living

in a three-bedroom home built

in 1985. In contrast, the profiles

of your average customer during

other seasons of the year might

be very different. Does your store

adjust for these seasonal changes

to best serve these different

customers?

Knight says that ICAP's spatial

techniques "can assign a latitude

and longitude to each of your store

locations and every customer at

those stores. Analyzing that information

can help retailers optimize

the sales and profitability of each

store location; evaluate how each

store is performing within its sales

territory, compared with total sales

of all mattress retailers in the

same area; and develop a range of

other location-based solutions."

He adds that ICAP can break down

data in countless ways. It can

compare your store's results with

national, regional and local aggregates,

providing an opportunity to

see how your store's performance

measures up against different

scales. Knight offers this example:

You might learn your store's motion

foundation attachment rate is

lower than the national average.

ISPA President Ryan Trainer

ISPA bu uygulamayı geliştirmek

için Customer Analytics başkanı Michael

Knight ile anlaştı ve ICAP sistemini

geliştirdi. Knight 25 yıldan

fazla bir süreden beri bilgi teknolojilerinde

ve kişi ve kurumlara ait

güvende olması gereken bilgilerin

güvenli kullanımları konusunda

önemli bir uzman. Sağlıktan perakendeciliğe

kadar birçok sanayide

ekonomik, demografik ve tahmin

analitikleri konularında çalıştı.

Knight, "Bilgi ve analitikler arasındaki

fark, hareket ve yön arasındaki

fark gibidir" diyor ve ekliyor,

"ICAP herhangi bir işyerinin en

önemli yönlerini canlandırıyor ve

perakendecilere takip edecekleri

yolu çiziyor."

Perakendeciler muhtelif hizmet

opsiyonlarına abone olabiliyorlar.

Müşterilerinin alım davranışları

konusunda hayati bilgiler sunan

interaktif gösterge tablosuna girebiliyorlar.

ICAP perakendecilerin şu tip

soruları konusunda da yardımcı

olabiliyor: Reklam bütçemi etkin

bir şekilde kullanıyor muyum?

Doğru ürün karışımı yaptım mı ve

analistlerim müşterilerimdeki gelir

düzeylerindeki, yaş grubu ve medeni

hallerindeki değişimlere göre

ayarlayabilecek şekilde iyi eğitimli

mi? Bundan sonra ilk mağazamı

nerede açmalıyım?
---
54

Your mind and

your body are

in peace and

comfortable

with HOMEVS

Homevs ile başınız da

rahat uykunuz da
---
55
---
56

Homevs knows

what you really

need and makes a

point

Homevs ihtiyacınızı

tam tespit edip

en uygun ürünü

sunuyor

People seek different aspects of

mattresses while deciding on their

choices, such as practicality, durability,

aesthetics or orthopedics.

Homevs aims to provide maximum

satisfaction of users by determining

their changing needs. Koray

Donmez, general manager, commented

on raw material demand of

the industry for Sleep Well.

Would you mention about

products you offer to the

market?

Mattress can be defined as a tool

designed to provide comfort and

well being to the basic needs of rest

and social-cultural activities which

occupy a large part of people's daily

life. Addressing to the domestic

and global projects, our firm is

able to produce a wide range of

mattresses to the needs of homes,

hotels, hostels, hospitals backed by

high quality products and production

technologies sold through

a large network of sellers. For us,

it is highly important to get data

about prospective demand, usage

of products, and profiles of buyers

and companies while determining

their needs realistically.

What kinds of raw materials

do you need for production?

Which ones are most

demanded?

Bireylerin yatak tercihlerindeki

öncelikler; kullanım rahatlığı,

dayanıklılık, estetik ve ortopedik

özelliklere göre değişebiliyor. Homevs

değişen ihtiyaçları en doğru

şekilde tespit ederek son kullanıcıda

maximum memnuniyet oluşturmayı

hedefliyor. Homevs Genel

Müdürü Koray Dönmez sektörün

hammadde taleplerini Sleep Well

için yorumladı.

Sektöre sunduğunuz

ürünlerden ve bahseder

misiniz?

Yatak, insanların günlük yaşamanın

büyük bölümünde yer alan,

dinlenme ve sosyal-kültürel temel

gereksinimi refah ve güvenli bir

şekilde karşılamak amacıyla oluşturulmuş

kullanım eşyası olarak

tanımlanabilir. Yurtiçi/yurtdışı

projelerine yönelen firmamız,

yatak sektöründe ürün kalitesi,

üretim teknolojisi ve yaygın bayii

ağı ile yatak ihtiyacının olduğu ev,

otel, yurt, hastane, gibi toplumsal

ihtiyaçlara göre geniş yelpazede

üretim yapabilmektedir. Yapılan

talep tahminleri doğrultusunda

işletmemizin verileri kullanılarak,

kullanım alanları ve kullanıcı birey

yapısı sektördeki ihtiyacın doğru

tespiti ve katma değer açısından

önem taşımaktadır.
---
57

"Şirketimizde insan sağlığı en ön planda

gelir. Dolayısıyla, kanserojen olmayan hammaddeler

kullanılıp, gerekli testlerden geçirildikten

sonra üretime alınmaktadır."

It can be said that individuals

consider on a combination of basic

factors such as a waiting expectancy,

ease of use, strength, aesthetics

and health. In order to provide

these elements in an ideal bed, it

is necessary to design the bed so

that it can be adequately responded

to its usage requirements and

completely fulfilled the expected

comfort, before converting the bed

to the final product to be produced.

Our beds have natural features

such as horsehair, camel wool,

cashmere, coco, latex, cotton,

linen, viscose and wool. Besides,

our CNC cutting hyper soft sponge

beds and visco sponge products

are available. Human health is

Üretimde hangi

hammaddeleri

kullanıyorsunuz? Talepleri

göz önüne aldığınızda en

çok hangi hammadde tercih

ediliyor?

Bireylerin bir yataktan beklentisi,

kullanım rahatlığı, dayanım, estetik

ve sağlık gibi temel etmenlerin

birleşimi olarak söylenebilir. İdeal

bir yatakta aranan bu unsurları

sağlamak için, üretilmesi düşünülen

yatağın son ürüne dönüştürme

öncesinde, kullanım gereksinimlerine

yeterli ölçüde karşılık verebilecek

ve beklenen rahatlığı eksiksiz

yerine getirebilecek nitelikte çok iyi

bir şekilde tasarlanmış olması gerekmektedir.

Yataklarımız natürel

özelliklere sahip olup; at saçı, deve

yünü, kaşmir, coco, lateks, pamuk,

keten, viskon ve yün gibi öğelerden

oluşan hammaddelerin kullanmasıyla

üretilmektedir. Bunun yanı

sıra CNL kesim hyper soft sünger

yataklarımız ve visko sünger ürünlerimizde

mevcuttur. İnsan sağlığı

ön planda tutularak, kanserojen

olmayan hammaddeler, gerekli test

belgeleri ve testlerden geçirilerek

üretime alınmaktadır. Son dönem

natürel içerikli yatak ve tekstil

ürünlerine olan talep artmakla

beraber, satışlarımızda at saçı

yataklarımız ve pamuk ürünlerimiz

liste başı diyebiliriz.

Üretim süreciniz nasıl

işliyor? Üretim tesisleriniz

hakkında bilgi verir misiniz?

Sektörel getiriler, insan ihtiyaçları

ve yılın trendi göz önünde bulundurularak

AR-GE departmanımız

tarafından tasarlanan yeni ürünler

teknolojik makine parkına sahip

yüksek kapasiteli tesisimizde

hijyenik ve en uygun proseslerde

üretilmektedir. Hammadde, mamul

stok kontrolü, düzgün planlama,

üretim ve zamanında hasarsız sev-
---
58

kept on the front in our company,

so, non-carcinogenic raw materials

are used in the production

when they pass the necessary

tests and documents. In line with

recent increase in the demand

for natural textured bedding and

textile products, we can say that

our sales of horsehair beds and

cotton products are ranked at the

top of the list.

How does your production

process work? Would you

give information about your

production facilities?

Considering the human needs

and the trend of the year, new

products have been designed by

our R&D department and they are

produced through hygienic and

optimum processes in our high-capacity

facility equipped with technological

machinery park. Raw

material, product stock control,

proper planning, production and

timely and damage free shipments

contributes to the customer satisfaction.

If we take the first

quarter, what are Homevs'

expectations for the sector in

2017?

Considering the political and geographical

conjuncture in the country

and in the region, we think that the

year 2017 will be more efficient

and stable. We expect that the

contribution of our sector to the

national economy will be better for

the year in terms of employment,

stability and productivity.

kiyat bayii ve müşteri memnuniyeti

oluşturmaktadır.

İlk çeyreği baz alırsak

Homevs'in 2017 yılında

sektör adına beklentileri

nelerdir?

Ülkenin içinde bulunduğu siyasi

ve coğrafi konjonktür göz önünde

bulundurulduğunda 2017 yılının

verimli ve istikrarlı geçeceğini

düşünmekteyiz. Sektörümüzün ekonomiye

olan katkısı, istihdam, istikrar

ve verimlilik adına yılın güzel

geçeceği beklentisi içerisindeyiz.

Homevs yatak tasarımında

ve geliştirdiği teknolojilerde

nelerden ilham alır?
---
59

What inspires Homevs while

designing mattresses and the

use of technology?

Designers of our company are

influenced by various events

according to the work done in the

life cycle, according to the mood of

the people or the environment they

are in, so that ideas can come out to

inspire some design opportunities.

If you think and analyze deeply

small ideas can lead to great

works. So, as Homevs, we come

up with different design resources

that allow us to perceive and think

together with the relaxed body, or

to handle the existing integrity in

the environment differently.

Firmamız tasarımcıları hayat döngüsünde

yapılan işe göre, insanların

ruh haline göre veya bulunduğu

çevreye göre çeşitli olaylardan

etkilenerek, birtakım tasarım kaynakları

oluşmasına sebep fikirler

ortaya çıkabilmektedir. Tasarlanacak

yatağa göre ve kullanımına

göre daha derin düşünmeyi ya

da basit şeylerden ilham almayı

sağlayan ufak fikirler, büyük işlerin

imzasını taşımaya sebep olabilmektedir.

Bu yüzden HOMEVS olarak

sakinleşmiş ve dinlenmiş vücutla

birlikte algılama ve düşünme, ya da

çevredeki doğadaki var olan bütünlüğü

farklı ele alabilmeyi sağlayan

değişik tasarım kaynakları ortaya

çıkmaktayız.
---
62

Mattress, the shining

star of Turkey

Türkiye'de yatak

sektörü
---
63

World average of mattress breakdown

is 40% for spring mattresses,

45 foam and the balance are

for water, air, and futon type of

stuffed mattresses. In Turkey, 95%

spring and 5% foam mattresses

are manufactured. Daily production

is around 5 million pieces and

the sector had no exclusive events

with its own name until recently.

By the time Sleep Well and Sleep

Tech magazines were launched,

the media-driven sector urged for

a show. That's how Sleepwell Expo

was born. Upon all these three

factors some big furniture shows

dedicated "mattress" halls in

their events. That's how the sector

found its identification in Turkey.

Dünya ortalamasında yatak üretiminin

% 40'ı yaylı, % 45'i sünger,

kalanını da su, hava ve futon tip

doldurma yataklar oluşturuyor.

Türkiye'de ise % 95 yaylı, % 5 sünger

yatak üretiliyor. Yılda yaklaşık

5 milyon yatağın üretildiği büyük

pazarda yakın tarihe kadar yatağa

özel etkinlik bulunmuyordu. Sleep

Well ve Sleep Tech dergilerinin yayın

hayatına girmesinin ardından

Sleepwell Expo fuarı yapıldı ve bazı

büyük mobilya fuarları bünyelerinde

"yatak" holü açtılar. Türkiye'de

sektör böylece kendi kimliğine

kavuştu.

Türkiye son 10 yılda gerek yapısal

reformlar, gerek büyük yatırımlar,

gerekse ihracat odaklı büyüme ile

dünyanın ilgisini çekti. , Türkiye'nin

mobilya ihracatı günden güne

büyümeye devam etti. Öyle ki 2023

yılında mobilya üretimi konusunda

dünyanın ilk 5 ülkesinden biri

olacağı inancı tüm sektörü diri

tutmaya yarıyor. Bununla ilgili

Mobilya Sanayicileri ve İşadamları

Dernekleri Federasyonu (MOSFED)

Yönetim Kurulu Başkanı Ahmet Güleç,

2023 yılında dünyanın 5 mobilya

ülkesinden biri olmayı hedeflediklerini,

25 milyar dolar üretim ve

10 milyar dolar ihracata ulaşmayı

planladıklarını anlatırken inanıcını

gözlerinden okumak mümkün.

Geçtiğimiz günlerde bir basın

toplantısı ile düşüncelerini paylaşan

Güleç'in verdiği rakamlar hiç

de küçümsenecek rakamlar değil.

Ahmet Güleç, Türk mobilyasının kalitesinin

ve Temmuz 2016 itibarıyla

yüzde 72,4 olan kapasite kullanım

oranının artırılması gerektiğini

belirterek, Türkiye'de 61 ilde 36 bin

mobilya üreticisi bulunduğunu, geçen

yıl 5 milyar 749 milyon dolarlık

üretim gerçekleştiğini, sektörün

500 bin kişiyi istihdam ettiğini ve

10 milyar dolarlık büyüklüğe sahip

olduğunu vurguladı.
---
64

Turkey has attracted the attention

of the world especially because

of the export-oriented growth,

structural reforms and major investments

in last decade. This has

led growth in furniture exports,

too, so much so that the sector set

its major target 2023 as being one

of top-five industries in the world.

This idea keeps the sector very

assertive. Ahmet Güleç, Chairman

of the Board of Federation

of Furniture Industrialists and

Businessmen (MOSFED), says that

they had targeted to be one of the

first 5 furniture countries in 2023

with a manufacturing volume

of 25 billion dollars and export

volume of 10 billion dollars. The

figures Mr. Güleç pronounced at

a recent press conference are not

something could be underestimated.

Pointing out that the quality

and current usage rate of Turkish

furniture of 72.4 as of 2016 should

be increased, Ahmet Güleç said

that there were 36 thousand furniture

manufacturers in 61 provinces

of the country and that they

had been realizing 5.749 billion

dollars worth of furniture manufacturing

with an employment

power of 500 thousand heads.

Güleç said the total of the sector

Mobilyanın, dış ticaret fazlası veren

ve istihdam dostu bir sektör olduğunu

vurgulayan Güleç, "19 sektörü

de etkiliyor. Sektörde 2015 yılında

2 milyar 315 milyon dolarlık

ihracat gerçekleştirildi. İhracatta

Türkiye 12'nci sırada yer aldı." dedi.

İhracat pazarlarının Irak, Suudi

Arabistan, Libya, Almanya, Azerbaycan,

Fransa, Türkmenistan,

İngiltere, Birleşik Arap Emirlikleri

ve ABD olarak sıralandığını

bildiren Güleç, hedef pazarların

ABD, Almanya, Fransa ve İngiltere

olduğunu, 204 noktaya ihracat

gerçekleştirdiklerini ve ihracatçı

firma sayısının 10 bin seviyesinde

bulunduğunu kaydetti.

Güleç, "Suudi Arabistan'a ihracatımız

yüzde 2,7, İngiltere'ye yüzde

0,2 ve ABD'ye yüzde 0,3 yükseldi.

Siyasi kriz yaşadığımız Rusya ise ilk

10'daki yerini kaybederken, onun

yerini ABD aldı. Bu çok önemli bir

gelişme. Birkaç yıldır tohumlarını

ektiğimiz adımlar filizlenmeye
---
65

had a growth of 10 billion dollars.

Highlighting the fact that furniture

is an employment-friendly sector

generating foreign trade surplus,

Güleç said, "Furniture industry has

an influence on 19 sectors. Turkish

furniture industry realized 2

billion 315 million dollars worth

of exports in 2015. This figure

represents 12th rank in Turkey's

total export items." He mentioned

main export markets as Iraq,

Saudi Arabia, Libya, Germany,

Azerbaijan, France, Turkmenistan,

England, UAE and USA adding

that the main target markets were

USA, Germany, France and the UK.

"We realize exports to 204 points

by around 10 thousand export

companies," Güleç noted. "Our

exports to Saudi Arabia increased

by 2.7%, to England by 0.2% and

to the USA by 0.3%. The volume

with Russia decreased down to

the line below top-ten and the USA

replaced Russia with which a political

crisis had been experienced.

This is an important development.

The seeds planted for some years

have started to give the fruits. We

are expecting folded increases in

başladı. Gelecek yıllarda ABD

ihracatımızın katlanarak artmasını

bekliyoruz." diye konuştu.

Biraz da mobilya üretiminin dünya

ölçeğindeki üretim rakamlarına

bakmak gerekiyor ki Güleç'in verdiği

rakamları daha iyi okuyabilelim :

Mobilya, dünyada belli başlı ekonomik

sektörlerden biridir ve sektör

hem ana unsurları hem de yardımcı

ve yan unsurları ile birlikte yıllık

ortalama 437 milyar dolarlık bir

değer üretmektedir.

Dünya mobilya üretimi son on yılda

değerini iki katına çıkartmış̧, 2004

yılında yaklaşık 220 milyar ABD

doları değerinde iken 2013 yılında

437 milyar dolara kadar ulaşmıştır.

Dünya mobilya üretiminin 150 milyar

dolarlık bölümü üretici ülkelerde

tüketiciye sunulurken, 70 milyar

doları aşan bölümü uluslararası

ticarete konu olmuştur. 2050 yılında

mobilya pazarının 1 trilyon ABD

dolarını geçeceği tahmin edilmektedir.

Dünya mobilya ihracatı 2011

yılında 149,1 milyar $ düzeyinde
---
66

our exports to the USA in future

years."

In order to read the figures supplied

by Güleç we need to look at

the World figures in production:

Furniture is one of the major

industries in the world yielding

a total annual value of average

437 billion dollars as the main

industry and sub and auxiliary

industries.

Furniture and Mattress

Industries in Turkey and in

the World

China, Germany, Italy, Poland and

USA are the largest exporters

of furniture in world markets.

According to analysts the furniture

manufacturing market in Turkey

will witness tremendous growth

and post a staggering CAGR of

more than 9% during the forecast

period. The major distinguishing

factor in the furniture manufacturing

industry is the cost of the product,

which is directly dependent

on labor costs. This works in favor

of the Turkish manufacturers due

the abundance of cheap labor in

iken, 2014 yılında 177,5 milyar $'a

yükselmiştir.

Dünyanın en büyük mobilya ihracatçıları

Çin, Almanya, İtalya, Polonya

ve ABD'dir. Türkiye'nin hedefi

ilk 5'e girmek ve bunu yapabilecek

her türlü argümana sahip bir ülke.

AR-GE yatırımları katlanarak artıyor,

hatta devlet önemli oranlarda

katkı sağlıyor. Dizayn alanındaki

rekabet henüz İtalya seviyesine

ulaştırmasa bile Türkiye dizaynları

ile dünyanın her yanına beğenilen

ürünler satabiliyor. Sektörde güçlü

oyuncular var, yetmiyor sermeye

grupları Türkiye'de önemli mobilya

ve yatak firmalarına ortak oluyor,

yatırım yapıyor. Zaten 2023 yılında

eğer ihracatımız 25 milyar dolar

olacak, mobilya üretimi konusunda

dünyanın ilk 5 ülkesinden biri

olacaksak daha fazlasını yapıyor

olmalıyız. Tanıtım katlanarak

devam etmeli, gidilmedik fuar, ayak

basılmadık ülke şehir kalmamalı.

THY zaten dünyanın en fazla noktasına

uçan havayolu unvanını alalı

yıllar oldu, onlarda durmuyor yeni
---
67

the country compared to the other

European countries that are faced

with issues like strong labor rights,

shorter working hours, high

wages, and social security costs.

Such benefits allow Turkey to produce

high-quality furniture that

conforms to European standards

at low prices.

In this enlarging market, Turkey

aims to be one of the top countries

at the race and it has all elements

and opportunities to reach its

targets. Investments both in

production and in research and

development activities as well as

the supports and incentives of

state are on the increase for years.

Though there are more to be done

to become a major country in

terms of setting trends in designs,

like Italy, several designers in

Turkey has managed to sell their

designs and products in almost all

parts of the world.

A good number of powerful producers

are active in furniture industry.

In addition to them, major

investors are seeking partners and

opportunities to invest in Turkey

yeni destinasyon noktaları belirliyorlar.

Mobilya yan sanayii ürettiği

kaliteli mobilya kompenantları ve

teknolojisi ile zaten endüstrinin

yanında. Kumaş deseniz en güzel

kumaşlar, döşemelikler, yatak

kumaşları Türkiye menşeili. Hani

denir ya, yağ var, un var, şeker var,

yapılacak tek şey özveri ile çalışmak

ve helvayı yapmak.

Mobilya sektörü ile ilgili yazdıklarımızın

hemen hepsini yatak endüstrisi

özeline de indirgemek mümkün.

2015 yılında dünya genelinde

yaklaşık 2 milyar dolarlık bir hacme

sahip olan yatak endüstrisinde

liderlik mobilyanın tüm segmentlerinde

olduğu gibi Çin'in elinde.

442 milyon dolar ihracat yapan

Çin'i 237 milyon dolar ile Polonya,

89 milyon dolar ile Portekiz takip

ediyor.

İhracat rakamlarını miktar bazında

incelediğimizde Çin'in yaklaşık

105.000 ton ile liderliği yine kimseye

bırakmadığını görüyoruz. Polonya

yine ikinci sırada yer alırken

Portekiz üçüncülük konumunda.
---
68

and to establish partnership with

Turkish furniture and mattress

companies. They invest serious

funds in this industry.

Turkey has an ambitious target for

the year 2023 aiming to export 25

billion dollars worth of furniture

to international markets. In order

to be one of the top five countries

in the world we have to do more

than that especially in the promotional

fields. We have to invest

and spent more for marketing and

promotion of Turkish furniture

products. We must participate

more fairs, visit every event in the

world related with this industry,

and seek more opportunities in

every square meters of the globe.

THY, the national flag carrier, is

the most successful example in

our efforts in world markets. For

many years, the THY has been

known as the top airline having

the most destinations in air flights.

Even they are still expanding to

reach more parts of the world.

Another point that needs to take

into account is the network that is

needed for any powerful industry

who wants to be an international

player. Furniture industry

has a powerful supplier network

who produces quality elements

for furniture manufacturing and

higher technologies needed for

better products. The best and the

most attractive fabrics, upholstery,

linens are made in Turkey. Every

needs of the manufacturers are

met by several stakeholders in the

furniture industry. One only need

to act as an intelligent entrepreneur

in this sector by aiming high

in international markets.

All of our views expressed for the

furniture industry can be repeated

almost as the same for especially

the mattress industry. All are true

for this segment as well. In 2015,

mattress industry in the world

has sold about 2 billion dollars

worth of mattresses. Chinese are

leaders in this market with their

annual exports about 442 million

dollars. Poland comes next with

237 million dollars of exports who

was followed by Portugal with 89

Türkiye ise 15.000 tonun üzerinde

bir rakam ile dördüncü sırayı

alarak yatak imalatı yan sanayii

sektöründe global bazda rekabet

edebilecek konuma geldiğini açıkça

ortaya koyuyor.
---
69

million dollars of exports.

Chinese companies in total is also

the leader in the market in terms

of the total weigh of exports with

105 thousand tons. Poland and

Portugal follow them. Turkey

ranks at fourth position with its

15 thousand tons of mattress

exports. This shows that Turkish

manufacturers have become mature

enough to compete in the world

markets with major producers.

Mattress Industry in the

World

40 percent of the mattresses manufactured

in the world are spring

type of mattresses. 45 percent

are made foam based. The USA,

China and Brazil are top producers

and consumers of mattresses in

the world. Top three importers

of mattresses in the world are

Germany, France and the USA. Top

three exports of mattresses ranked

as Poland, China and Belgium.

By now Turkey is not mentioned

among top ten countries importing

and exporting mattresses.

Mattress industry in Turkey

95 percent of mattresses in Turkey

is produced as spring type, only 5

percent of mattresses are made of

foams. Investment of mattress manufacturers

totaled about 40 to 50

million dollar. There are 25 firms

in the mattress industry each are

employing 50 to 500 workers in

their facilities. With smaller sized

businesses the number of companies

active in mattress manufacturing

in Turkey rises up to 400.

Since entry costs are rather low in

the industry there are more producing

companies more than the

need. Some of them are makeshift

companies who have low quality

products.

Major producers are concentrated

in Kayseri, Istanbul and Izmir.

Kayseri meets almost half of total

manufacturing in the country with

its annual production of 2 million

mattresses. Annual exports of

these companies run about 46

million dollars. Most of the mattresses

produced in Turkey is sold

in European and Middle Eastern

countries. Turkey is located in

an advantageous position both

geographically and in terms of labor,

energy, raw material supplies

for mattress manufacturing. The

mattress industry sells about 4

million mattresses annually in the

country, 3 million of them are distributed

through classic channels,

while 1 millions are sold in exclusive

and moderns sales channels.

The growth pace of the mattress

industry is forecast to be higher

then before, when the investments
---
70

in hotel and hospitality industries

with their needs of about 900

thousand items of mattresses.

There are powerful brands belonging

to these major companies.

Thee brands of Boydak group are

seen as the leader in total sales,

with its Istikbal, Bellona and Mondi

brands, who also sell furniture

and mattresses to world markets.

Among other brands in the

business are BRN, Yatas, Yatsan,

Idas, Monessa, Laressa, Isbir, Edas,

Nobel, Kilim, Homevs, Indivani,

Visco Love, Kayzer, Pierre Cardin,

Kaybed, Ipek Furniture etc. They

are active both in domestic and

international markets.

The industry is still growing with

the new entrants in the market.

New brands are emerging. Companies

are growing by additional

machinery and investments. Machine

manufacturers, component

suppliers, from both Turkey and

from foreign countries from four

corners of the world are trying

to sell their products to mattress

manufacturers in Turkey. They are

all participating in the fairs and

trade events held in the world, and

spending in promotional activities.

Sectoral media and publications

are also growing and proliferating.

Because, mattress industry is

still growing and promises more

opportunity in the future.

Any company who invests for

branding, emphasize on R&D,

targeting major markets in Europe,

USA and in Japan may get its

share in this ever growing market.

Since the 2000's, manufacturing

of mattresses has been moving

away labor based manufacturing

to technology based production.

Buyers are demanding A class

mattresses and lower costs. If the

producers in Turkey aim for high

quality premium products, and

invests more in their businesses,

they may easily compete with

their European rivals and become

successful more in the future. If

then, their competition may come

to Turkey as brands who wants to

buy their goods from Turkey.
---
74

A major attack from Indivani

for 2020

İndivani'den 2020 yılına dev çıkarma

Prototype

development for a

new product that

will be launched

in 2020 having

the first in the

world patented by

Indivani.

Founded in 2006 the firm entered

in the market with Indivani brand

in 2010. The company has made

its name felt in the market with its

packaging solution for spring type

mattresses in 2011, a development

which contributed to export

growth of the company. Presently,

the firm exports 70 percent of

its products to 56 countries. We

visited Indivani to make an interview

with Fatih Yavuz, corporate

communication manager in Bursa

store. He talked about their new

products that they plan to launch

2006 yılında kurulan ve 2010 yılında

İndivani markasını oluşturarak

sektöre giriş yapan firma, 2011

yılında yaylı yatağı kutuya koyarak

marka bilinirliğini artırdı ve bu

gelişmeyle birlikte ihracat hızı da

arttı. Mevcutta dünyanın 56 ülkesine

ihracat yapan İndivani, tam

entegre üretim tesisinde üretilen

ürünlerin %70'i ihraç ediliyor. Bursa

mağazasında ziyaret ettiğimiz

İndivani Kurumsal İletişim Müdürü

Fatih Yavuz portatifi neredeyse

tamamlanan ve 2020 yılında

piyasaya sürmeyi planladıkları
---
75

Fatih Yavuz,

Sales and Marketing Manager

in 2020 to be produced in the new

factory of 50 thousand sqm that

will be completed in the same

year.

He said that the brand awareness

of the company is growing steadily

and they emphasize on the visco

products that are made with pocket

springs that takes the body

form. He continued, "10 percent

of our annual production is sold

to hotel industry. We emphasize

on export sales as well. We use,

bonnel springs, Hercules springs

and felts in the manufacturing. Recently

pocket springs are preferred

more. 90 percent of our export

products are made of pocket

2020 yılında piyasaya sürülecek dünyada

ilk ve patenti sadece İndivani'de olacak

yeni ürünün portatif çalışmaları devam

ediyor.

yeni üründen bahsetti. 2020 yılının

temel hedefinin 50.000m2'lik bir

fabrikaya geçmek olduğunu belirten

Yavuz, yurtiçinde yavaş yavaş

mağazalaştıklarını açıkladı.

Marka bilinirliklerinin her geçen

gün arttığını belirten Yavuz, vücut

şeklini alan paket yay ve visco ürün

üretimini tercih ettiklerini kaydetti.

Yavuz, yurtiçinde yavaş yavaş

mağazalaşmakla birlikte konsept

mağazalar da açtıklarını ekledi.

"Yıllık üretimimizin %10'u otel

sektörüne gidiyor"

Otel sektörüne yıllık üretimlerinin

%10'unu sunduklarını dile getiren

Yavuz sözlerini sürdürdü:

"Otel projelerinden ziyade ihracata

ağırlık verdik. Bonel yay, Herkül
---
76

spring. Visco products are mostly

sold in domestic market. We have

distributors in the markets abroad,

and we own a store in Qatar.

"We have been participating in the

fairs Furniture Istanbul, IMOB and

the one to be held in Inegol. Our

aim is to grow 25 percent in 2018

and we plan to have a factory of 50

thousand sqm by the year 2020.

We will launch a special product

that is patented by Indivani,

unique in the world, 70 percent of

its prototype have been made."

The company plans to apply for

Turquality program for further

progress in production development

and export activities.

yay ve keçe kullanıyoruz, yani vücut

şeklini almayan hiçbir hammadde

kullanmıyoruz. Son zamanlarda

en çok paket yaylar tercih ediliyor.

İhracatımızın %90'ının da paket

yay olduğunu söyleyebilirim. Visco

çok fazla yurtdışına gitmiyor."

Yurtdışında bayilik sistemiyle çalıştıklarını

ifade eden Yavuz, Katar'da

kendi mağazaları olduğunu belirtti.

2020 yılı hedefleri…

Yavuz, Furniture İstanbul, IMOB ve

İnegöl fuarlarına katıldıklarının

bilgisini verdi. 2018 yılında %25

büyümeyi hedeflediklerini açıklayan

Yavuz, 2020 yılında da hedefin

50.000m2'lik bir fabrika açmak

olduğunu söyledi.

2020 yılında sektöre sunacakları

bir ürün de olduğunu ekleyen Yavuz,

sözlerini sürdürdü:

"Dünyada tek ve patenti sadece

İndivani'de olacak ürünün çalışmaları

sürüyor. %70 portatifi yapıldı,

piyasaya 2020 yılında sunulacak."

İlerisi için devlet destekli Turquality

ve Ur-Ge gibi programlara bakış

açılarını sorduğumuz Yavuz'dan

konuya olumlu baktıklarının sinyallerini

aldık.
---
78

Turkey's

mattress

exports on

rise

Türkiye

yatak sanayi

yükselişte

Products

manufactured

with the latest

technologies,

value added

and innovative

products, Sleep

Well and Sleep

Tech magazines

and Sleepwell Expo

fair are the main

driving forces of the

industry

The Turkish mattress industry

has been developing at all aspects.

The production has been

improving dramatically. The

latest technologies and innovations

such as latex, memory

foam, organic and value added

mattresses with various features

gained momentum in recent

years. There are a wide variety of

featured mattresses of all kinds

manufactured in Turkey. Turkish

industrialists use every possible

contemporary raw material from

goose feather and horsehair to

bamboo and corn fibers, and

develop every kind of smart and

functional quilts, pillows and

mattresses.

In fact, the last decade witnessed

radical changes and fast development

in almost all industries. The

Türk yatak sanayi gerek imalat yönünden

gerekse de ihracatta hızla

gelişiyor. Üretim radikal bir şekilde

yükselirken sektörde son yılların

birçok innovatif ürünleri olan

lateks, hafızalı sünger (memory

foam), organik ve katma değerli

malzemeler en son teknolojilerin

kullanımıyla yatağa çevriliyor.

Türkiye'de geniş bir yatak çeşidi

portföyü bulunmakta olup Türk

sanayicisi en çağdaş ürünleri üretebilmek

için en çağdaş ve yenilikçi

ham maddeyi kullanıyor. Bunlar

arasında kaz tüyünden at kılına,

bambudan mısır elyafına kadar

geniş bir ürün gamı bulunuyor.

Aslında ülkede geçen on yılda

birçok sanayi hızla kılıf değiştirdi.

Yatak sanayi de bunlardan

birisiydi. Birçok yabancı yatak

makineci üreticisi temsilcilikler
---
79

En son

teknolojilerle

üretilen akıllı,

katma değerli

ve innovatif

ürünler ile Sleep

Well ve Sleep

Tech dergileri ve

Sleepwell Expo

fuarı sektörün en

büyük itici güçleri

mattress industry is no exception.

Many foreign mattress machinery

manufacturers granted dealerships

to Turkish companies and

the Turkish mattress manufacturers

have been developed well.

The industry grew by variety,

quantity and quality. Kayseri takes

the lead in this development.

Istanbul is also a strong base for

the industry. Bursa could be mentioned

as the third country.

Until a few years Turkey's leading

mattress markets were Iraq,

Libya, Saudi Arabia and Germany

followed by Azerbaijan and

Turkmenistan. These six markets

accounted for almost 65% of

the total exports of the country

in recent years. Selling to 116

countries excluding free zone sales.

These figures have increased

verirken ülkede de çok güzel yatak

üretim hattı imalatı gerçekleşti ve

hatta bu makineler büyük adetlerde

ve çok miktarda ülkeye ihraç

edildi. Hem kalite hem de sayıca

büyük başarılar elde edildi. Bu

gelişmede Kayseri en önde gelen il

oldu. İstanbul da büyük gelişmeler

kaydetti. Üçüncü konumda Bursa

sayılabilir.

Üç-beş yıl öncesine kadar Türkiye'nin

ana yatak pazarları Irak,

Suudi Arabistan ve Almanya olup

bunları Azerbaycan ve Türkmenistan

takip ediyordu. Gün geçtikçe

başka pazarlar da Türkiye'yi tercih

edince durum daha yaygın bir

coğrafyada Türk yatak sanayinin

istatistiklerini ön plana çıkardı.

Türkiye'nin yatak ihracatının

%65'i bu altı ülkeye yapılırken
---
80

more

by now.

Turkish mattress

exports are

expected to continue its

growth steadily every year in

the next decade.

Sleep Well and Sleep Tech magazines

have played an important

role in promoting the industry all

around the world. The Sleepwell

Expo Istanbul is another factor

pushing the boosting the mattress

and other sleep products

exports of Turkey. The previous

editions of the show attracted a

great deal of interest from almost

all countries. The next fair taking

place in the same venue, Istanbul

Expo Center, 23-26 September

2018, and will contribute to the

exports of Turkey's sleep products

in the future.

Turkey is an

emerging and

stabile market with

its fast growing population,

advantageous location

and developing economy.

The mattress industry, mattress

machinery and equipment are

among the fastest growing sectors

in Turkey. The developments

experienced in the sector and

the innovations, the collaboration

among industrialists are the

important factors motivating the

improvement of the mattress and

bedding industry in the country.

All these positive developments

urged a fair in the industry and

that's how SLEEPWELL EXPO"

show was born. It is held at the

opposite side of Istanbul's most

famous international airport,

Ataturk International Airport

from where you can get to the

exhibition grounds in a few

toplam ihraç edilen ülke sayısı

serbest bölgeler hariç, 116 idi.

Bugün bu rakam daha da artmış

bulunuyor. Önümüzdeki yıllarda

Türk yatak ihracatının istikrarlı

bir biçimde artmaya devam edeceği

bekleniyor.

Sleep Well ve Sleep Tech dergileri

sektörün bütün dünyada tanıtımını

yaparak sektörün gelişiminde

büyük rol oynadı. Başka bir faktör

de Sleepwell Fuarı olup dünyanın

her yerinden ses getirdi ve geçmiş

yıllarda çok başarılı fuarlar

organize edildi. Bu yıl da yine aynı

mekanda, İstanbul Fuar Merkezi'nde

yapılacak olan fuarın tarihi

23-26 Eylül 2018.

Türkiye gelişen ve istikrarlı bir pazar

olup hızla büyüyen bir nüfusu

var ve konum itibariyle de oldukça

avantajlı bir ülke. Yatak sanayi,

yatak makineleri ve ekipmanları

da ülkedeki hızlı büyüyen sana-
---
81

minutes. It is almost very clear

that the fair will be one of the

strongest fairs in the bedding

industry worldwide in the very

near future.

There are some big mattress

producing companies in Turkey

and they are producing almost

all kinds of mattresses including

innerspring mattresses,

visco mattresses, latex mattresses,

adjustable mattresses, sleeping

systems, roll mattresses,

visco pillows, medical pillows,

cribs and kids' beds, mattress-protecting

alezes, movable

beds, customized beds, round

yilerin başında geliyor. Sektörde

gözlenen gelişmeler ve inovasyonlar

ile sanayiciler arasındaki yakın

işbirliği Türk yatak sanayinin

gelişmesini motive eden faktörler

arasında olarak biliniyor. Bütün

bu pozitif gelişmeler SLEEPWELL

EXPO fuarının da doğmasına sebep

oldu. İstanbul uluslararası havalimanının

karşısında bulunan fuar

alanında yapılan bu etkinliğin

gelecekte dünyanın en önde gelen

yatak fuarlarından biri olacağına

kesin gözüyle bakılıyor.

Türkiye'de bazı çok büyük yatak

üreticisi firma var ve bunlar yaylı

yataktan visko, lateks, ayarlana-
---
82

mattresses, organic mattresses

and intelligent mattresses, etc.

Turkish mattress industry has

some world brands in mattress

ticking, felt, wire, spring, box

spring, furniture, foam, chemicals

and other supply material manufacturers

for the mattress production.

Some mattress manufacturers

import raw materials and

some use domestic brands while

some others use both. The overall

situation of the industry is improving

at all aspects, supplying raw

materials, mattress production

and exports.

The leading brands are sparing

no efforts to develop new products

and to innovate very unique

features such as anti-bacterial,

flame retardant, cooling in summer

and heating in winter, intelligent,

antiperspirant, etc. on the

one hand, varieties of hardness,

different choices at one mattress,

adjustable, multifunctional, etc.

on the other. These innovative

products and revolutionary mattresses

boost the exports.

bilen yatak, kulo yatak, visko yastık, tıbbi ve ortopedik yastıklar, bebek

ve çocuk yatakları, koruyucu alez, hareket edebilen yataklar, müşteri

tercihine uygun yataklar, yuvarlak ve organik yatak, akıllı yatak ve uyku

sistemlerine kadar hemen her cins yatak üretebiliyorlar.

Yatak bezinde de ülkede dünyanın en önde gelen firmaları bulunuyor.

Aynı şekilde keçe, baza, kimya gibi diğer bileşenlerde de Türkiye iyi konumda.

Birçok üretici yerli hammadde kullanırken ithal ürün kullanan

yatak imalatçıları da mevcut.
---
Kilim UYQ yatakları konforuyla, her uyku çok derin.
---
84

Flex Art offers more than sleep

with its natural living series

Flex Art doğal yaşam serisiyle

uykudan fazlasını vadediyor

A company headquartered in

Inegol, Flex Art is known for its

natural based products developed

for higher customer satisfaction.

We talked to Hakan Durdusal of

Flex Art about their young and

energetic team and activities in

domestic market.

May we know about you and

your company?

We have been in the furniture

industry and we have been producing

mattresses for four years. We

sell our products through our distributors

both in the country and

in abroad. We have a young staff

İnegöl merkezli kurulan Flex Art,

müşteri memnuniyetini esas alan

doğal yaşam serisiyle öne çıkıyor.

Genç ve enerjik bir kadroyla çalıştıklarını

ifade eden Flex Art Firma

Yetkilisi Hakan Durdusal son iki

yıldır iç piyasaya odaklandıklarını

belirtti.

Sizi ve firmayı kısaca

tanıyabilir miyiz?

Takribi olarak 12 yıldan beri bu

sektörün içerisinde olan ve yaklaşık

4 yıldan beri yatak üretimine başlayan,

yurtiçi ve yurtdışında birçok

noktada bayilik sistemiyle bulunan
---
85

Flex Art expands

its range of natural

living products

more

Flex Art

tamamen doğal

hammaddelerle

oluşturduğu doğal

yaşam serisini

genişletecek.
---
86

and feel ourselves full of energy.

Inegol, Bursa, is the locomotive of

the furniture industry in Turkey.

We supply to many of the larger

companies with our products. We

produce, mattresses, bases, and

sofas, but we want to be known as

a mattress producer.

Would you mention about

your production process

and the specifications

of the products that you

have offered to the market

recently?

Each year we develop new models

up from the roots. Production is

a serious process. So, we continuously

keep watching developments

in the industry and try to

participate in the fairs.

There are carcinogenic materials

in many of the products. So,

we try to emphasize on the use

of natural materials, foams and

fabrics and offered a special series

named "natural living". There are

six mattresses in the series; there

will be more in the future. Even

the glues used are made of organic

materials. Pure wool, pure cotton,

horsehair and coconut fibers are

used in these products. Even the

fabrics are chosen among the

safer types. For people mattress

is important because they spend

8 hours of their lives daily on it.

Working with natural materials

may cost us more, yes, but we are

fighting with hazardous materials

and chemicals. Some of our products

are sold 2 to 3 times of other

standard products. But, conscious

buyers are becoming more aware

of the importance of health effects

of the mattresses.

What is the breakdown of

your sales in domestic and

export markets?

It is about fifty-fifty. In recent

years, exports were effected

negatively, due to the fluctuation

of foreign currency and strategic

moves among rival countries. We

bir firmayız. Genç bir kadromuz var

ve kendimizi enerjik hissediyoruz.

Bursa İnegöl mobilya sektörünün

lokomotifi konumunda ve bizde

daha çok yayılmaya çalışıyoruz.

Birçok büyük firmanın ürün tedarikçiliğini

yapıyoruz. Yatak, baza

ve karyola üretimimiz var ama

bizim ön plana çıkmak istediğimiz

ve önem verdiğimiz ürün yataklarımız.

Üretim sürecinden ve

son yıllarda sektöre

sunduğunuz ürünlerin temel

özelliklerinden bahseder

misiniz?

Her yıl köklü model çalışmalarımız

oluyor. Üretim çok ciddi bir süreçtir.

Sürekli sektördeki yenilikleri

takip ediyor ve fuarlara katılım

sağlıyoruz.

Çağımızda birçok üründe kanserojen

madde var. Biz kullandığımız

sünger ve kumaşlarda bunun dışına

çıkıp doğal yaşam serisini sektöre

sunduk. Seride 6 yatağımız var,

muhtemelen bu önümüzdeki yıllarda

artacak. İçerisindeki sünger

yapışkanı dahi organik tercih ediyoruz.

Saf yün, saf pamuk, at yelesi

ve Hindistan cevizinin kabuğundan

üretilmiş özel bir hammaddeyle serimizi

oluşturduk. Kumaş seçiminde

de minimum oranda kanserojen

içermesine dikkat ediyoruz ve

bu serimizi ön plana çıkarmak

istiyoruz. Yatak günümüzün 8

saatini geçirdiğimiz çok ciddi bir

ürün. Bunun için üretimi toplumun

faydasına nitelendirmekte fayda

var. Temiz ve kimyasaldan uzak bir

uyku için mücadele ediyoruz. Bu

aslında bizim işimizi biraz zorlaştıran

bir husus çünkü seri üretimle
---
have good business partners abroad.

We sell to about ten countries,

mostly in the Far East.

How do you promote your

company in the new markets

that you want to enter?

We engage direct contacts with

our prospective buyers in the fairs

and on line. Fairs are more productive

because you can find a large

group of people ready to seek and

buy new products.

What are the problems in

your industry?

Since there are an experienced

labor force and several suppliers

for the industry it is relatively easy

to produce furniture, armchairs

and related products in Inegol.

However, suppliers of materials

and qualified labor for mattress

industry are limited to find. Prices

of raw materials are changing fast

so, it becomes hard to quote the

right price for our offers.

Any additional comments?

In all cases, it is a major principle

for me that having the customer

felt in comfort is more important

than to sell them any of our products.

Every one can sell and earn

money in any way, but to satisfy

a customer is better. We offer a

grace period of one month for our

customers.

yapılan ürünlerin maliyeti de ona

göre düşük oluyor. Bunlar çok seride

çıkmayacak ürünler. Fiyatları da

muadillerine göre 2-3 misli oluyor.

Bizim farkımız da bu aşamada

müşteriyi bilinçlendirmek. Uygun

ekonomik bir yatak satmaktan

ziyade güzel, kişiye uygun yatağın

tercih edilmesi için uğraşıyoruz.

Ürün satışınızda ihracat

oranınız nedir?

İhracat, iç piyasa yarı yarıya

diyebiliriz. Son iki yıldır ekonomik

ve siyasi politikalardan ihracatımız

biraz etkilendi. Ülkeler arası

stratejik pozisyonlar ve doların

gidişatı, ekonomik dalgalanmalar

vs. Ama bahsettiğim gibi ortak

olarak çalıştığımız firmalar var.

Genelde Uzakdoğu ülkeleri olmak

üzere yaklaşık 10 ülkeye ihracatımız

mevcut. Sürekli çalıştığımız

daimi müşterilerimiz var fakat son

iki yıldır iç piyasaya odaklandık.

Yeni pazar arayışlarında

tanıtımınızı nasıl

yapıyorsunuz?

Fuarlar ve birebir müşteri ziyaretleriyle

tanıtım yapıyoruz. Birçok

kişiyi tek bir noktada buluşturduğu

için fuarlar daha verimli oluyor.

87

Yaşadığınız sektörel

sıkıntılar neler?

İnegöl'de koltuk, mobilya gibi

ürünleri üretmek daha kolay

çünkü hammadde tedarikçilerinin

olması ve çalışacak personelin daha

tecrübeli olması gibi avantajları

var. Yatak noktasında İnegöl'de

hammadde tedariki ve kalifiye

eleman konusunda sıkıntılarımız

oluyor. Genel sektör sıkıntılarında

ise hammaddelerde fiyat değişiklikleri

son iki yıldır bizi zorluyor. Kimi

zaman müşteriye fiyat verememe

durumunda kaldığımız anlar oldu.

Mesela müşteri toplu ürün istiyor

bir fiyat verildiğinde hammadde

fiyatlarında değişiklik olursa bu

durum üreticiyi etkiliyor.

Eklemek istedikleriniz?

Her ne olursa olsun ben mesleğim

adına şunu vazife edindim, ürün

satmak değil kişiyi daha çok rahat

ettirmek önemli. Ürünü herkes satar,

para her şekilde kazanılır ama

yatak noktasında kullanıcıyı rahat

ettirmek çok önemli. Mesela biz

firma olarak müşteriye bir ay memnuniyet

garantisi veriyoruz. Kişinin

vücut yapısına ve uyku alışkanlıklarına

göre yatak öneriyoruz.
---
88

Golden rules of quality sleep

İyi uykunun altın kuralları

Vital information

about sleep for

everybody

Prof. Okan Bolukbası, M.D., from

Neurology Department of Okan

University Hospital furnished us

with important details about sleep

in an interview for Sleep Well

magazine.

What is sleep?

It is very difficult to describe sleep

in scientific terms. Until the 1950s,

many people supposed sleeping

was an inactive part of our daily

life. But, now we know that our

brain is very active during sleep.

Moreover, we are confident that

sleep affects our physical and

mental health.

What are causes of

insomnia?

Drugs and sprays that help breathing,

caffeinated beverages, diet

pills, diseases, bad conditions in

the bedroom...

Okan Üniversitesi Hastanesi Nöroloji

Uzmanı Prof. Dr. Okan Bölükbaşı

Uyku ile ilgili önemli bilgiler

verdi. Bütün canlıların ihtiyaç

duyduğu uyku hakkında bilimsel

gerçekleri Okan Üniversitesi Hastanesi

Nöroloji Uzmanı Prof. Dr. Okan

Bölükbaşı'na sorduk.

Evvela uyku nedir?

Uykuyu bilimsel açıdan tanımlamak

çok zor. 1950'lere kadar

birçok insan uykunun günlük

hayatımızın eylemsiz bir parçası

olduğunu zannederdi. Ama şimdi

uyku sırasında beynimizin çok

etkin olduğunu biliyoruz. Dahası

uykunun beden ve ruh sağlığımızı

etkilediğinden eminiz.

Neler uykusuzluk yapar?

Nefes açıcı ilaçlar-spreyler, kafeinli

içecekler, diyet hapları, hastalıklar,

yatak odasındaki kötü koşullar…
---
89

Uyku hakkında

herkes için

hayati derecede

önemli bilgiler.

Does smoking affect

negatively?

It does very much. Smoking addicts

usually have a very light sleep

(catnap). REM sleep (the period of

sleep characterized by active eye

movements) is especially short.

They sleep for 3 to 4 hours after

they fall asleep as blood nicotine

level decreases below the critical

level. Alcohol also influences

quality of sleep negatively. Most

people with sleeplessness try to

solve the problem with alcohol.

But, this is just like jumping out of

the frying pan into the fire. Person

becomes alcoholic without even

recognizing this fact! However,

alcohol triggers only a light sleep

(nap). It shortens other periods of

sleep that have repair function.

What is the optimal duration

of sleep?

Infants usually require 16 hours

of sleep. In most adults, 7-8 hours

of sleep is sufficient. Young adults

need nine hours of sleep on average.

Women need more sleep in the

first 3 months of the pregnancy.

The unmet need of sleep causes a

kind of "sleep debt". The body will

request pay-back of the debt soon

or later. Inadequate sleep affects

the reasoning or reaction times negatively.

As people get older, sleep

time shortens and sleep becomes

lighter. Insomnia is a common

problem for people older than 65.

Prof. Okan Bolukbası, M.D.

Sigara olumsuz etkiler mi?

Hem de çok. Sigara tiryakileri

genellikle tavşan uykusu uyurlar.

REM uyku (göz hareketlerinin aktif

olduğu uyku) miktarları azdır. Uyuduktan

3-4 saat sonra kanda nikotin

miktarının kritik düzeyin altına

düşmesi nedeniyle uyanırlar. Alkol

de uykuyu bozar. Uykusuzluk çeken

insanların çoğu sorununu alkolle

çözmeyi dener. Ama bu yağmurdan

kaçarken doluya tutulmaktır. Çok

farkına bile varmadan alkolik olur!

Oysa ki alkol sadece hafif uyku

dönemini tetikler. Uykunun tamir

işlevi olan diğer bölümlerinin miktarını

azaltır.

İdeal uyku süresi nedir?

Yenidoğanlar genellikle 16 saat

uykuya ihtiyaç duyar. Çoğu erişkinde

7-8 saat uyku yeterli olur. Genç

erişkinler ortalama dokuz saat

uykuya ihtiyaç duyarlar. Gebeliğin

ilk 3 ayında, kadınların uyku

gereksinimi artar. Normal süresinden

çalınmış bir uyku miktarı, bir

tür 'uyku borcu' oluşturur. Vücut,

eninde sonunda bu borcun geri

ödenmesini ister. Uykunun yetersiz

olması muhakeme yetisi ya da tepki

süresini olumsuz etkiler. İnsanlar

yaşlandıkça uyku süresi azalır ve

uyku hafifler. 65 yaşın üstünde uykusuzluk

sık görülen bir sorundur.

Ne zaman bir sorundan

bahsedilir?

Eğer gün boyu uykulu bir şekilde

dolaşıyorsanız ya da 5 dakikalık

bir uzanmada bile hemen uykuya

dalabiliyorsanız ciddi bir uyku

sorununuz var demektir.
---
90

When is it recognized as a

problem?

If you feel sleepy all day long or if

you are able to fall asleep immediately

even at a 5-minute break,

you have a serious sleep problem.

What problems cause insomnia?

Sleep-related health problems are

related with almost all disciplines

of the medicine. For example, paralysis

or asthma episodes occur

more commonly during sleep

in the evening or early morning

rather than the daytime. Possible

cause is the changes in the heart

rate or hormone levels. Insomnia

triggers the development of seizures

in some types of epilepsy.

Why do we get sleepy during

flu?

There is a close relationship

between the nerve cells regulating

the sleep and the immune system.

Our body produces certain

chemicals, called 'cytokines',

while fighting against infectious

diseases. These cytokines are also

potent sleep stimulants.

Uykusuzluk hangi sorunlara

yol açar?

Uykuyla ilişkili sağlık sorunları

hemen hemen tıbbın tüm alanlarını

ilgilendiriyor. Örneğin felç ya da

astım krizleri gündüz yerine gece

ya da sabaha karşı uykuda daha

sıktır. Muhtemel sebep uykuyla ilişkili

olarak değişen kalp hızı ya da

hormonal düzey değişiklikleridir.

Uykusuzluk bazı epilepsi türlerinde

nöbet gelişimini tetikler.

Grip sırasında neden uykulu

oluruz?

Uykuyu düzenleyen sinir hücreleriyle

bağışıklık sistemi arasında yakın

ilişki var. Vücudumuz, bulaşıcı hastalıklarla

mücadele ederken 'stokin'

adı verilen bazı kimyasallar üretir.

İşte bu stokinler aynı zamanda

güçlü uyku uyarıcılarıdır.

Ruhsal hastalıklarla

uykusuzluk arasında ilişki

var mı?

Ruhsal hastalıkların çoğunda uyku

sorunları gelişir. Örneğin depresyon

hastaları sabahın çok erken

saatlerinde kalkar ve tekrar uykuya

dalma isteklerine karşın genelde

bunu başaramazlar. Alınan uyku

miktarı, ruhsal hastalık belirtilerini

şiddetini doğrudan etkiler. Manik

depresif kişilerde uyku yoksunluğu

manik dönemleri (saldırganlık ve

aşırı aktivite) tetikleyebilir.

Uyku apnesi nedir?

Horlama sırasında solunum durmasıdır.

Geceleri oksijensiz kalmak,

sabahları baş ağrısına, gün boyu

yorgun hissetmeye yol açabilir.

Cinsel isteksizlik, bilişsel işlevlerin

zayıflaması, kan basıncı artışı, kalp

ritim düzensizlikleri gelişebilir.

Uyku apnesi, felç ya da kalp krizi

riskini belirgin biçimde arttırır.

Uykuda solunum durmasına bağlı

ölüm nedenleri arasındadır. Tedavi

edilmemiş uyku apnesi hastalarında

trafik kazası yapma riski 3 kat

artar.

Huzursuz bacak sendromu

nedir?

Özellikle uyku sırasında bacaklara

giren kramplar, uyuşmalar, çimdiklenmeler

ve karıncalanma hisleridir.

Hasta devamlı bacaklarını oynatma

ihtiyacı duyar. Herhangi bir

yaşta görülebilir. Kansızlık(demir
---
91

Is there any relationship

between mental disorders

and insomnia?

Sleep problems develop in the

majority of mental illnesses. For

example, depressive patients get

up very early in the morning and

often fail falling asleep despite

a strong wish. The duration of

actual sleep poses direct effect on

severity of symptoms in mental

diseases. In patients with manic-depressive

disorder, sleep deprivation

can trigger manic periods

(aggression and hyperactivity).

What is the sleep apnea?

It implies interruption of breathing

during sleep. Poor oxygenation

over the night can lead

to headache in the morning and

tiredness throughout the day. Absence

of sexual drive, weakening

of cognitive functions, increased

blood pressure and irregular heart

rhythm are possible consequences.

Sleep apnea significantly increases

the risk of stroke or heart

attack. It is among the causes of

death due to respiratory arrest

during sleep. If the sleep apnea is

left untreated, the risk of a traffic

accident increases three folds.

What is restless leg syndrome?

The term refers leg cramps,

numbness, pinching and tingling

sensations especially in legs

during sleep. The patient constantly

needs to move legs. It can be

develop at any age. Anemia (iron

deficiency anemia), pregnancy and

eksikliği anemisi), gebelik ve şeker

hastalığı bu duruma zemin hazırlar.

Bir börokimyasal uyarıcı olan

dopamin benzerlerinin verilmesiyle

hasta rahatlar.

MIŞIL MIŞIL UYUMAK

İSTİYORSANIZ

➤➤

Gün içinde şekerleme yapıyorsanız

30 dakikayı geçmesin.

Fazlası gece uykusunu olumsuz

etkiler.

➤➤

➤➤

➤➤

➤➤

➤➤

Yatmadan önce kafein, nikotin

gibi uyarıcılardan uzak

durun. Uykudan 2-3 saat önce

yüksek proteinli bir atıştırmalık,

1 meyve yiyebilirsiniz. Bu

yiyecekler uyku düzenleyici

hormonların yakımını arttırır.

Ancak uyku ritmini bozduğu

için tahıl ve şekerden uzak durun.

Yağlı, kızarmış, baharatlı,

sirkeli, karbonatlı yiyecek ve

içeceklerden de kaçının.

Egzersiz iyi bir uyku kalitesi

sağlar. 10 dakikalık kısa bir

bisiklet ya da yürüyüş bile gece

uykusu kalitesini belirgin bir

ölçüde arttırır. Ancak yatağa

gidiş döneminde yoğun egzersiz

yapmayın.

Gün boyu doğal ışığa maruz

kalın. Gece yatak odanız çok

aydınlık olmasın.

Uyku öncesinde yararlı bir

gevşetici alışkanlık edinin. Ilık

duş, kitap okuma, hafif germe

egzersizleri, meditasyon gibi…

Uyku öncesi aşırı duygusal konuşmalar

ya da ortamlardan

kaçının.
---
92

diabetes mellitus pave the way for

this condition. The patient relaxes

in response to dopamine derivatives

- a neurochemical stimulant.

IF YOU WANT TO FALL

SOUND ASLEEP

➤➤

If you are taking a nap during

the day, do not exceed 30 minutes.

Longer naps will affect

the night sleep negatively.

➤➤

➤➤

➤➤

Stay away from stimulants

such as caffeine and nicotine

before going to sleep. You can

eat a high protein snack or a

fruit 2-3 hours before sleep.

These foods boost synthesis

of sleep-regulating hormones.

But stay away from cereals

and sugar as they deteriorate

the rhythm of sleep. Avoid fatty,

fried, spicy and carbonated

food and beverages as well as

ones that contain vinegar.

Exercise ensures a good quality

of sleep. Even a 10-minute

biking or jogging will significantly

increase the quality of

night sleep. However, do not

exercise strenuously during

bedtime.

Stay exposed to natural light

all day long. Your bedroom

should not be so bright at

night.

➤➤

➤➤

Çarşaf ve nevresiminiz uygun,

yastık ve yatağınız rahat olsun.

Yatak odanız sıcak hatta ılık

değil serin olmalı. Vücudu uykuya

hazırlayan işaretlerden

biri de çevre ısısının düşmesidir.

Yatak odanızda televizyon,

cep telefonu gibi ışık ve ses

kaynakları bulunmamalı. Gerekirse

koyu perdeler, pervane,

hava nemlendirici düzenekler,

kulak tıkaçları bulundurabilirsiniz.

➤➤

➤➤

Elektrikli herhangi bir alet size

1 metreden daha fazla yaklaşmasın.

Gürültülü alarmlar

kullanmayın. Vücutta beklenti

anksiyetesi yaratırlar.

Yatağınızı sadece uyumak

için kullanın. Yatağa mümkün

olduğunca erken gidin. Saat

23.00 en idealidir. Çünkü 23.00

ile 01.00 arası adrenal sistemimizin

yenilenme zamanıdır. Bu

sırada uykuda olsanız iyi olur.

Safra kesesi de bu dönemde

zehirleri vücuttan atar. Uyanıksanız

zehirler karaciğere

geri döner.
---
93

➤➤

➤➤

➤➤

➤➤

Get a useful relaxing habit

before sleep, such as warm

shower, reading book, light

stretching exercises, meditation...

Avoid extremely emotional

speech or environments before

sleep.

Your bed linen and bedcover

set are appropriate, and your

pillow and bed should be

comfortable. Your bedroom

should be cool, not hot or

even warm. One of the signs

that prepare the body for sleep

is the decreased ambient

temperature.

Your bedroom should be free

of light and sound sources,

such as televisions and mobile

phones. If necessary, you may

use dark curtains, fan, air

humidifiers, and earplugs.

➤➤

➤➤

➤➤

23.00 is the most ideal time.

Because our adrenal system

starts regenerating between

23.00 and 01.00. You had better

be asleep at this interval.

The gallbladder also detoxifies

the body in this period. If you

wake up, the poisons return to

the liver.

Do not change your bedtime.

Get up in the morning at the

time you need to get up.

Wear bed socks. Feet are the

most chilled area of the body.

Wearing bed-socks reduces

sleep interruptions in the

evening. Forget about your daily

business in the last 2 hours

before you go to bed.

You can listen to relaxing

music. Spiritual practices and

readings that comfort you will

be useful before sleep

➤➤

➤➤

➤➤

➤➤

➤➤

➤➤

Yatağa gidiş saatinizi değiştirmeyin.

Sabah kalkmanız

gereken saatte kalkın.

Yatak çorabı giyin. Ayaklar

vücudun en çok üşüyen bölgesidir.

Yatak çorabı giymek, gece

uyanmalarını azaltır. Yatmadan

önceki son 2 saat içinde

dünyevi işlerinizi tamamen

unutun.

Gevşeme CD'leri dinleyebilirsiniz.

Sizi rahatlatan ruhani

uygulamalar ve okumalar,

uyku öncesinde yararlı olur.

Mümkün olduğu kadar az ilaç

kullanın. İlaçların çoğu uyku

düzenini etkiler.

İdeal kilonuza inin.

Size dokunan, gaz yapan gıdalardan

kaçının.

➤➤

➤➤

Do not let any electric appliance

to be closer than 1 meter.

Do not use noisy alarms. They

create anticipation anxiety in

the body.

Use your bed only to sleep.

Go to bed as early as possible.

➤➤

➤➤

➤➤

Take as few drugs as possible.

Most drugs affect sleep

patterns.

Get down to your ideal weight.

Avoid foods that disturb you

or cause gas distension.
---
94

Sleepwell Expo comes forward

with Home&Tex in 2018!

Sleepwell Expo, Home&Tex ile birlikte ve

daha erken tarihlerde!

Sleepwell Expo, the

first and the only trade

fair in the mattress

and technologies

industry and Home&Tex,

the second largest

home textile and

home decoration fair

after Evteks, will be

concurrently held on

earlier dates in 2018.

The new dates: 26-29

September.

Yatak ve teknolojileri

sektörünün ilk ve

tek ihtisas fuarı

Sleepwell Expo, ev

tekstili sektörünün

Evteks'ten sonra ikinci

büyük fuarı olan

Home&Tex ile bitişik

mekanda, eşzamanlı

yapılacak. Her iki fuar

da tarihlerini erkene

çekti ve 26-29 Eylül

tarihlerinde yapılacak.

Held in October every year since

2014, SLEEPWELL EXPO, the first

and the only fair in the mattress

and mattress manufacturing

industry, has decided to pull its

date to the end of September to

coincide with Home&Tex, the most

important meeting point of home

textile and home decoration. The

Home&Tex show is held at CNR

Expo Center and Sleepwell Expo

is held at 9th and 10th Halls of

Istanbul Expo Center located next

to CNR Halls. Although the two venues

are at walking distance there

will be shuttles to facilitate and

Her yıl Ekim ayında yapılmakta

olan Türkiye'nin ilk ve tek yatak

ve yatak teknolojileri fuarı SLE-

EPWELL EXPO, 2018 yılında tarihlerini

bir ay önceye çekerek ev tekstili

ve dekorasyonu sektörünün buluşma

noktası olan Home&Tex fuarı ile

aynı günlere, 26-29 Eylül 2018 tarihlerine

aldı. Home&Tex fuarı CNR

Expo Center'de yapılıyor, Sleepwell

Expo ise aynı kompleks içinde 9

ve 10. Hollerde yapılıyor. Yürüme

mesafesinde olan iki fuar arasındaki

ulaşımı daha da kolaylaştırmak için

mekik araç uygulaması yapılacak.

Ev tekstili ve dekorasyon denildi-
---
95

Ali Sami Aydin,

Chairman of the Board of TETSIAD

Mehmet Soztutan,

General Manager of Voli Fair Services

Omer Faruk Gorun,

Project Manager of SLEEPWELL EXPO

fasten the transportation between

the two events.

As the first event coming to mind

when home textile and home decoration

business are the subject

Home&Tex, is organized by Istanbul

Fair Services Company who is

also the organizer of Evteks, one

of the most leading home textile

fairs of the world, and supported

by Turkey Home Textile Industrialists'

Association (TETSIAD).

Talking about the excellent concurrent

case, Ali Sami Aydin, Chairman

of the Board of TETSIAD,

said this synergy would reflect

positive affects to both fairs and

it would generate added value for

visitors of the events. He further

added, "The month September is

a time when foreign travels are

at maximum level. If we offer two

reasons for foreign buyers this will

motivate them to come to Turkey

and this will be beneficial for visitors,

for both events and for the

country. As we all know related

fairs in Germany are held one after

another to combine the visitor's

schedules. Ours will be better to

make concurrently because the

venues are not in different cities

but in the same complex."

ğinde akıllara gelen tek fuar olan

Home&Tex, ev tekstili sektörünün

gücünü, prestijini ve tecrübesini

yansıtan dev bir organizasyon olup

dünyanın en büyük fuarlarından

olan Evteks'in organizatörü İstanbul

Fuarcılık A.Ş tarafından, Türkiye

Ev Tekstili Sanayicileri ve İş Adamları

Derneği (TETSİAD) işbirliğiyle

yapılıyor.

İki önemli fuarın eşzamanlı olması

konusunu değerlendiren TETSİAD

Yönetim Kurulu Başkanı Ali Sami

Aydın bu sinerjinin her iki fuara

da pozitif yansımaları olacağını

ve ziyaretçilere de katma değer

oluşturacağını belirtti. Başkan

Aydın, "Eylül ayı özellikle yurt dışı

seyahatlerin çok yoğun olduğu bir

dönem. Yabancı alıcıların Türkiye'ye

gelmesi için iki önemli sebebin bir

arada sunulması onları Türkiye'ye

gelmek konusunda daha fazla

motive edecek iş seyahati konusunda

ülkenin cazibesini arttıracaktır"

dedi ve ekledi, "Hepimizin bildiği

gibi Almanya'da birbiriyle ilgili ev

tekstili, yer döşemeleri ve mobilya

gibi sektör fuarları başka şehirlerde

olduğu için birinin bittiğinin ertesi

gün diğeri başlıyor. Böylece ülkeye

gelen ziyaretçilerin bütün fuarları

arka arkaya ziyaret etmelerini

sağlıyorlar. Bizim dönem çok daha
---
96

Talking about the new dates and

synergy with Home&Tex, Mehmet

Soztutan, General Manager of Voli

Fair Services, the organizer of

Sleepwell Expo, said that this new

adjustment would contribute to

the performance of both shows

and to the tourism and trade of

the country. He added, "Home&Tex

has made five successful editions

until now. The synergy of this

important event will contribute

to our show a lot. I believe, our

potential will also add more value

to Home&Tex."

Speaking about the new arrangement,

Omer Faruk Gorun, Project

Manager of SLEEPWELL EXPO

said that this coincidence would

add a great amount of value to

our show. He added, "Especially

the suppliers of machinery,

fabrics, alezes, raw materials and

accessories that are used in home

textile manufacturing will generate

a good and lucrative traffic

between two shows. Besides, the

conferences, seminars, symposia

and panels that will be organized

at both sides will enrich the week

and offer more benefits to the

industry."

The mattress industry in Turkey

has reached the sales figures of

over 4 million in the local market

in 2014. 95 percent of the market

has been consisted of spring mattresses

and remaining 5 percent of

foam mattresses. The size of the

market is very close to TL 1 billion

and the growth rate is 7%. 20

thousand mattresses are produced

daily in Kayseri which is followed

by Istanbul and Izmir. There are

more than 400 manufacturers in

Kayseri. The production capacity

of these firms approaches to 2.7

million. Kayseri holds the half

of the total production with 2.5

million mattresses. The share of

the sector in the foreign market is

over 100 million dollars. Kayseri

performs more than half of the

total export value. The mattresses,

yoğun dönem olduğu için ve bitişik

mekanlarda yapılabildiği için

arka arkaya değil de aynı günlere

denk getirilmesi bu konudaki en

ideal yapılanma oldu." Konu ile

ilgili konuşan SLEEPWELL EXPO

organizatörü Voli Fuarcılık Genel

Müdürü Mehmet Söztutan da bu

tarih ayarlamasının hem iki fuara

hem de ülkenin turizm ve ticaretine

önemli katkılar yapacağına

inandığını ifade etti. Söztutan,

"Home&Tex fuarı bugüne kadar

5 başarılı organizasyon yaptı. Bu

önemli etkinliğin sinerjisi fuarımıza

çok şeyler katacak. Bizim fuarın

ziyaretçileri için Home&Tex önemli

bir fırsat olduğu gibi bu zaman

eşleştirmesi Home&Tex fuarına da

önemli katkıda bulunacaktır," dedi.

SLEEPWELL Proje Müdürü Ömer

Faruk Görün de birçok katılımcının

böyle bir zaman örtüşmesinin kendilerine

çok katkıda bulunacağını

ifade ettiklerini söyledi ve ekledi,

"Özellikle ev tekstili üretiminde kullanılan

makineler ile kumaş, alez,

hammadde ve aksesuar konularında

birbirlerine tedarik sağlayan ev

tekstili ve yatak üretim sanayileri

için iki fuarın da katma değerlerini

artacak ve her iki fuarımız da daha

fazla güçlenecektir. Fuar esnasında

yapacağımız konferans, seminer

ve panel gibi etkinlikler ile her iki

tarafın da ilgili sektörlerdeki trend

ve tema belirlemeleri, sektöre yön

vermeleri sağlanacaktır."
---
which are produced in Kayseri,

are exported mainly to France,

Germany and The Netherlands

and other European countries

and the different countries of the

Middle East.

Representatives of the industry

express that the trends that are

seeking healthier, more comfortable

sleep environments, play an

important role in growth. According

to the industry representatives

the 3 million of the 4 million

mattresses sold, have been sold

to the individual consumers, 1

million to the institutions such as

hotels, dorms and hospitals. There

are around one thousand hotels

which are under construction with

800 thousand-bed capacity in the

country and the private sector

hospital investments are accepted

as an indicator that the growth in

the industry will be continuous.

According to the info released by

the Ministry of Health, 90 thousand

of the bed capacity of the

total 130 thousand at the hospitals

will be changed and improved

to advanced technology in a

four-year period. All of these made

SLEEPWELL EXPO more important

and it seems that the future

editions of the show will gain

more ground.

The truest venue for the sector!

The firms, which deal with mattress

main and supplier industry,

machinery and equipment, visit

the fair by coming from both

Turkey and surrounding countries

in order to boost their production

efficiency and competition.

Opportunities to negotiate with

top level managers!

Mostly as top-level managers and

company owners, the professional

visitors come to Sleepwell Expo

Fair to contract business agreements.

Majority of the fair visitors

consists of top-level officials, general

managers, assistant general

managers, purchasing and finance

managers of producer firms that

want to get information about the

new technologies, products and

services.
---
98

Overview of the global

mattress market

Global yatak pazarına genel bir bakış

Realizing considerable development

at every manner, the global

mattress industry posted significant

growth in the last few years

and is expected to accelerate this

growth in coming years, owing

to growing urbanization as the

families have been driving the demand

of houses, and there is rising

demand of mattresses across all

regions. Moreover, growing online

sales of mattresses, preference of

customized or more luxury mattresses

are the major trends that

are going to drive the mattress

market in the years ahead.

Due to significant product innovation

in around the globe, there is a

wide array of products available in

the market. From low-end general

purpose mattresses to luxury and

specialized mattresses, consumers

have the options to select products

that suit their needs.

The global market for mattress is

projected to reach US$ 30 billion

by 2020 growing at a CAGR

of 6.5%. It is projected that the

industry will reach over USD39.4

billion by 2022. Asia-Pacific represents

the largest as well as the

fastest growing market worldwide

with a CAGR of 8.1%.

Her bakımdan dikkate değer gelişmeler

gösteren dünya yatak pazarı

endüstrisi son yıllarda önemli derecede

büyüme gösterdi. Şehirleşme

oranının yükselmesiyle birlikte artan

konut talebi dünyanın her köşesinde

yatak talebini de körüklüyor.

Bu etkenler dikkate alındığında

büyümenin önümüzdeki yıllarda da

devam etmesi bekleniyor. Ayrıca,

yatakların çevrim içi satılabilir

olmaları, müşterilerin daha lüks

veya müşteriye göre özelleştirilmiş

yataklar talep etmeleri de pazarın

gelecek yıllardaki dinamizmine

işaret ediyor.
---
99

There are many motivating and

driving factors to the growth of

the industry such as growing

awareness over the health benefits

of good sleep quality against the

backdrop of increasing number

of evidence based research

studies linking poor sleep quality

with increased health disorders,

recovery in residential construction

on the back of improving

home value and prices; highly

effective and educative consumer

awareness campaigns aimed at

influencing bedding-shopping

behavior and the resulting shorter

mattress replacement cycles; and

R&D of new materials. There are

other important factors as development

of hybrid mattresses

with responsive coils, mattresses

with climate control systems for

ideal sleep temperature and other

similar mattresses equipped with

added value features. The hospitality

sector has always acted as a

revenue generator for the mattress

industry. In the coming years,

İnovasyon arayışları sonucu ortaya

çıkan ve pazarda değişik düzeydeki

taleplere yönelen, genel amaçlı sıradan

ürünlerden üst düzey lüks ve

özellikli yataklara kadar geniş bir

ürün yelpazesinin mevcudiyeti de

pazarın dinamizmini teşvik ediyor.

Dünya yatak piyasasının 2020 yılına

kadar yıllık ortalama büyüme

hızıyla 30 milyar dolara ulaşacağı,

2022 de ise 39,4 milyar doları

bulması bekleniyor. Yıllık ortalama

büyüme hızı 8,1 olan Asya Pasifik

pazarı en büyük ve en hızlı büyüyen

Pazar segmenti olarak ortaya

çıkıyor.

Dünya çapında yatakta sağlık ve

kaliteli uyku konularının tüketicilerce

daha fazla önemsenir hale

gelmesi, daha iyi yataklar ve uyku

süreçleri arayışları için girişilen

araştırma ve geliştirme çabaları,

yatak üreticilerinin giriştikleri güçlü

kampanyalar pazarın gücü ve

büyümesi üzerinde etkisi olan diğer

faktörler olarak biliniyor.

Yatak üretiminde kullanılan

malzemelerin çeşitlendirilmesi

ve yeni malzemeler geliştirilmesi,

yeni yay sistemlerinin kullanılması,

yataklarda iklimlendirme uygulamalarındaki

gelişmeler, dünyada

turizm sektörünün büyümesi ve

yatak talebinde bulunması, halkın

yaşam standartlarının yükselmesi,

harcanabilir gelirlerinin artması,

şehirleşme ve evlerin yenilenme

arayışları, ve benzeri hususlar da

dünya yatak pazarındaki olguları

açıklamada kullanılan diğer faktörler

oluyor.

vAraştırma şirketi TMR'nin değerlendirmelerine

göre, yatak maliyetlerinin

tırmandığı dünya yatak

pazarında mahalli firmalar global

oyuncularla rekabet etmek zorunda

kalıyor.

Global yatak pazarının gelecek

yıllarda bir miktar konsolidasyona

gideceği öngörülüyor. Simmons,

Serta ve Sealy firmaları toplamda

dünya yatak pazarının yarısına

sahip en büyük üç firma olarak pa-
---
100

the boom of the hospitality and

tourism sectors will converge to

generate demand for high-quality

mattresses that can facilitate the

need for the same. Rising living

standards, increase in disposable

income, urbanization and surge in

housing and refurbishing activity,

rising home ownership rats and

larger homes with more bedrooms

among the growing base of

affluent middle class population,

wider product choices and the

resulting need to improve sleeping

conditions are also the reasons of

driving forces of the growth in the

bedding industry.

Global mattress market: local

players give competition to

global players amid elevating

cost of mattresses, notes

TMR

The global mattress market is

envisaged to be moderately consolidated

in the upcoming years, as

per a recent publication by Transparency

Market Research (TMR).

Simmons Bedding Company LLC,

Serta Inc., and Sealy Corporation

are the top three names in the

global mattress market that collectively

held more than 50% of the

market in 2015. These companies

in commanding position could

also be steering development trends

in the overall mattress market.

As per estimates presented by

TMR, the global mattress market

will rise at a CAGR of 6.5% for the

forecast period between 2016

and 2024 to reach a valuation of

US$43.43 bn by the end of 2024.

The market was evaluated to be

worth US$24.70 bn in 2015.

The innerspring mattress product

type held the leading share

in 2015, and going forward the

segment is expected to progress

at a CAGR of 6.1% between 2016

and 2024. Asia Pacific is expected

to hold promise for the global

mattress industry with the region

accounting for more than 38.0%

zara hakimiyetlerini sürdürüyorlar.

2015 yılı rakamlarına göre, yaylı

yataklar pazarda en büyük paya

sahip. Yıllık ortalama büyüme

hızının 2016 ve 2020 arasında

yüzde 6.1 olacağı öngörülüyor.

Asya Pasifik pazarı yüzde 38 lik

payıyla hakimiyetini sürdürecek

gibi görünüyor.

Yaylı yataklar pazarın itici

gücü

Yatak sektörünü ve büyümesini etkileyen

ve yukarıda sıralanan başlıca

etkenlerin yaylı yatak pazarı için

de geçerli olduğu biliniyor. Ancak,

bazı dikkate değer hususlar da bu

segmenti güçlendiriyor. Müşterilerin

özelleştirilmiş yataklara talebi,

çok fonksiyonlu yataklara duyulan

ihtiyaç, çevre dostu yataklara

yöneliş, mobil penetrasyonlardaki

artış ve paketlenmiş yatakların

internetten satılabilir olmaları bu

hususlardan bazıları.

Yatak sanayiinde en büyük ihracatçılar

olarak Çin, Polonya, Almanya,

Belçika, Italya, Danimarka ve

İngiltere başı çekiyor.
---
101

share in 2015, says the report

of TMR (Transparency Market

Research).

Driving force is innerspring

mattresses

The demand for mattress market

will be driven by growing

innerspring mattress segment,

increasing number of bedrooms,

influence of hospitality and real

estate, growing online sales,

growth in construction sector and

rising frequency of home renovation

activities and rise of luxury

mattresses.

The global demand for mattresses

has surged with increased focus

on interior design and associated

home furnishing in different

countries across the world. The

rise in population in emerging

countries is also one of the key

drivers of the mattress market.

Some noteworthy trends of

this industry are preference for

customized mattresses, need for

multifunctional beds, growing

demand for eco-friendly mattresses,

increasing mobile penetration

and introduction of online bed-ina-box.

However, the expansion of

the market is hindered by rising

costs of mattresses to lessen appeal

among cost sensitive masses,

review and rating competition and

volatile prices of raw materials.

The largest exporters are China,

Poland, Germany, Belgium, Italy

and Denmark. Main mattress importing

countries are Germany, the

USA, France, Japan, the Netherlands

and the UK.

In the last few years, there has

been considerable consciousness

about mattress and consumers to
---
102

pay something extra on luxury mattresses

to get comfort sleeping. With

the increasing spending power and

health awareness, consumers are

willing to pay more and get better

sleep. Millions of people spend more

on quality mattresses to ensure

quality sleep. Innovations such as

temperature sensitive memory

foams and phase change materials

to provide personalized sleep comfort

to benefit market growth are

the main motivating factors at this

regard of preferring luxury beds.

The market research analysis identifies

the growth of the healthcare and

hospitality industries as one of the

primary growth factors for the mattress

market. The growing prevalence

of chronic diseases, rise in aging

population, and the increase in

healthcare spending are driving the

growth of the healthcare industry,

especially in countries in APAC and

Europe. This, in turn, will result

in the increased demand for mattresses

from hospitals and nursing

homes and will induce vendors to

offer premium mattresses and beds

that are connected to electronic devices

and can be adjusted to suit the

comfort of the user. Additionally, the

rising number of hotels and related

establishments will also generate

the demand for mattresses, consequently

helping market growth.

Characterized by the presence of

both major vendors and private

mattress manufacturers across the

world, this market is highly competitive.

Vendors mainly compete on

the basis of factors such as product

quality, expansion of the existing

product line, consumer credit programs,

and level of inventory. The

market shares of vendors mainly

depends on the continuous improvement

and expansion of product

lines which demands the need to

increase their R&D investments and

develop innovative products.
---
104

Dome Home changes the form

of comfort

Dome Home konforun formunu değiştiriyor

Dome Home will

be exhibiting its

circular mattress,

which changes the

form of comfort, in

IMOB fair

Founded to emphasize on design,

Dome Home develops new

concepts for bedrooms. The first

attempt is the circular mattress.

Exporting 90 percent of its production,

the company sells to Arab

countries the most. We visited

Kenan Duman, founding partner of

Dome Home in Inegol. He informed

us about his company and

their new products that is to be

displayed in Imob fair.

Would you introduce

yourself and your company?

I have been in this section of the

industry for 10 years, as sales and

marketing managers of several

Tasarım odaklı bir firma olarak

kurulan Dome Home, yuvarlak

yatakla üretimiyle birlikte yatak

odası konsepti tasarlıyor. %90 ihracat

ağırlıklı çalışan firma, ağırlıklı

olarak Arap ülkelerine ihracat gerçekleştiriyor.

İnegöl'deki fabrikasında

ziyaret ettiğimiz Dome Home

Kurucu Ortağı Kenan Duman ile

firmayı ve faaliyetlerini konuştuk.

Duman, IMOB'da ziyaretçileri yeni

yuvarlak yatak modeliyle buluşturacaklarını

açıkladı.

Sizi ve firmayı tanıyabilir

miyiz?

Bu sektöre başlayalı 10 yıl oldu.

Çalıştığım firmalarda ilk önce

pazarlamacı ve daha sonra pazar-
---
105

Yuvarlak yatakla

konforun formunu

değiştiren

Dome Home,

yeni yuvarlak

yatak ürünlerini

IMOB fuarında

sergileyecek.

companies. I have had dreams

to produce new concepts and

products all the time. We done it

first with Dome Home, circular

mattress. Then businesses grew

and now we began to develop concepts

for bedrooms. We are three

partners and sell 90 percent of our

products to export markets.

Would you give us

information about your

export activities? How many

countries do you sell your

products?

Circular mattresses are sold hot in

the Middle East markets. Bedroom

concepts are focused on Europeans,

because homes are smaller

in Europe than in Middle East.

We have corner sellers in target

markets. We also sell to hotels,

because we have a wide range of

products. Our products are pricey

and their transport is not easy.

Kenan Duman

lama müdürü olarak devam ettim.

Hayalimdeki iş konsept ürünler

üretmekti. Dome Home ile birlikte

yuvarlak yataktan başladık, daha

sonrasında büyüme zamanı geldi

ve iş akışına göre yatak odası konseptine

başladık. Yani sadece yatak

üretimi değil direkt yatak odası

konsepti oluşturuyoruz. Üç ortaklı

bir firmayız. %90 ihracat ağırlıklı

çalışıyoruz.

İhracat faaliyetleriniz

hakkında bilgi verir misiniz?

Kaç ülkede bulunuyorsunuz?

Yuvarlak yatakta ağırlıklı olarak

Ortadoğu'yla çalışıyoruz. Yatak

odası konseptinde ise Avrupa'da

yoğunluğumuz var. Avrupa'da evler

küçük o sebeple Ortadoğu'da daha

başarılıyız. Direkt bayilik sistemimiz

yok corner bayilerimiz var.

Ürün grubumuz geniş olduğu için

otellere de ürün sunuyoruz. Keyif

ürünleri üretiyoruz. Çünkü sunduğumuz

ürün pahalı ve sevkiyatı zor.

2017'yi genel anlamda nasıl

değerlendiriyorsunuz?

2017 bizim için büyüme yılı oldu.

Hindistan fuarından yeni geldik.

Yurtiçinden çok yurtdışında bilinen

bir firmayız. 2018 yılı için beklentilerimiz

daha büyük. İstanbul fuarlarına

katılıyoruz. Yüksek ihtimal

Interzum Guangzhou fuarına da

katılacağız.

Sektörde yaşadığınız

sıkıntılar neler?

Örf ve adetler kaynaklı sıkıntılar
---
106

What is your assessment

about the year 2017?

It was a year of growth for us. We

just have come back from the fair

in India. Our awareness in domestic

market is rather high. We

expect more from the year 2018.

We participate in the fairs held in

Istanbul. Most probably, we will be

exhibiting in Interzum Guangzhou

fair in China.

What kind of problems do

you encounter in the market?

Some of the problems are related

to the habits and cultural differences

of the people. Some have

prejudices towards sleep products

and mattresses, though we

offer them the same comfort. We

emphasize on visual effects of our

products. Our products are bigger

and more glorious than others.

Do you have additional new

products to offer?

We have been developing a new

circular mattress and its complimentary

items upon the preferences

of buyers in the Middle East.

It must be offered as a complete

concept, because it is not easy to

find suitable items for bedroom to

complete the decoration.

Any other comments?

We wish and expect that the economy

should maintain its stability.

Prices hikes for raw materials

cause serious problem. So, our

prices go up accordingly. We wish

a profitable year for all our companies

and friends.

yaşayabiliyoruz. Bu da toplumumuzun

ön yargılı olmasından kaynaklanıyor,

yoksa aynı konforu sunuyoruz.

Sadece ürünümüzde görselliği

ön planda tutuyoruz, ürünümüz

standarda göre daha gösterişli ve

çapı daha büyük.

Yeni bir ürün çalışması var

mı?

Yeni bir yuvarlak yatak daha

yapmaya başladık. Ar-Ge çalışmaları

sürüyor. Bir de Ortadoğu'nun

tercihleri doğrultusunda yatak

odası şeklinde tasarımlarımız

sürüyor. Çünkü yuvarlak yatağa

uygun ürünler bulmak zor oluyor.

Arap ülkelerinde mekanlar geniş ve

gösterişi seviyorlar. Dolayısıyla en

çok o coğrafyayla çalışıyoruz.

Eklemek istedikleriniz?

Ekonominin düzelmesini temenni

ediyoruz. Hammadde zamlarının

üreticilere büyük etkisi oluyor. Biz

de buna oranla ürünlerimizi zamlı

satıyoruz ama komşu firmaların

işleri bozuluyor. 2018 yılında sektör

olarak hep beraber ihya olalım

istiyoruz.
---
108

Rahat Home Design combines

aesthetics with comfort

Rahat Home Design estetiği konforla

buluşturuyor

Answering to

the needs of

consumers

Rahat Home

Design produces

orthopedic

products and offers

new collection

having chick and

naive products

Headquartered in Izmir, the company

exports 20 percent of its production.

Having 9 different mattress

models the company sells its

products via over 400 distributors

in Turkey. Export manager of Rahat

Home, Senol Yelen informed us

about their targets for 2018, about

expanding the product portfolio

and customer profile.

As Rahat Home Design you

produce by considering the

needs of consumers. How can

you learn about the needs of

your consumers?

Our marketing staff visits our

buyers and distributors throughout

the year and consults them

about their customers. These

Rahat Home Design İzmir merkezli

olarak kurulmuş ve iç piyasadaki

faaliyetlerinin yanında üretiminin

%20'sini ihraç eden bir firma. 9

farklı yatak üretimi olan firmanın iç

pazarda 400'ü aşkın bayisi bulunuyor.

Röportaj gerçekleştirdiğimiz

Rahat Home Design İhracat Müdürü

Şenol Yelen, 2018 yılı hedeflerinin

büyümek, ürün gamını ve müşteri

portföyünü genişletmek olduğunu

belirtti.

Rahat Home Design olarak

'tüketicinin ihtiyaçları' odaklı

üretim gerçekleştiriyorsunuz.

Tüketici ihtiyaçlarını

belirleme noktasında

nelerden besleniyorsunuz?

Pazarlama ekibimiz yıl boyunca

bayi ziyaretlerinde istişare ederek
---
109

Tüketici ihtiyaçlarını

önemseyerek

tamamı ortopedik

ürün üretimi yapan

Rahat Home Design,

yeni koleksiyonunda

da şık ve sade

ürünleriyle göz

dolduracak.

info was then is related to R&D

department. At the end of these

consultations, our new collections

and new products are determined

and produced.

What are the main models of

mattresses in your product

line?

We have been producing nine

different mattresses, which are all

orthopedic. 100 percent cotton,

100 percent wool, visco foam,

plush, pocket springs and mini

pocked springs are used in the

manufacturing of our products.

Do you make your inputs

such as springs, foams and

felts in your organization?

No. We buy them from several

nihai tüketici taleplerini tespit edip

bunu Ar-Ge departmanımız ile paylaşır

ve böylelikle tüketici ihtiyaçları

belirlenir ve yeni sezon koleksiyonu

üretilir.

Ürün gamınızdaki yatak

modellerinden bahseder

misiniz?

Rahat Yatak olarak 9 farklı yatak

üretmekteyiz, ürünlerimizin tamamı

ortopediktir. Ürün çeşitlerimiz

içerisinde %100 pamuk, %100 yün,

visco sünger, peluş, paket yay ve

mini paket yay kulmaktayız.

Yay, sünger, keçe gibi yatak

materyallerinin üretimini

kendi bünyenizde mi

gerçekleştiriyorsunuz?

Hayır, piyasada tanınmış hammaddecilerden

tedarik ediyoruz.

İç piyasada tüketiciye hangi

kanallardan ulaşıyorsunuz?

Güçlü pazarlama ekibimiz ile

400'den fazla bayimizi ziyaret ederek

ve bu bayilerimiz ile gerçekleştirdiğimiz

lokal reklamlar, tabela

ve insert çalışmaları ile tüketiciye

ulaşıyoruz.

İhracat oranınız nedir? Hangi

ülke pazarlarında varsınız?

Yatak üretimimizin %20'sini ihraç

ediyoruz.

Avrupa'da Almanya, Fransa, Hollanda,

Belçika, Norveç'e, Asya'da

Rusya, Sudi Arabistan, İsrail, Oman,

Birleşik Arap Emirleri'ne, Afrika'da

ise Sudan'a ihracatımız mevcut.
---
110

suppliers who are known well in

the market.

Which channels do you use to

reach domestic customers?

Our powerful sales staff visits our

more than 400 distributors in the

country and we try to reach out

our consumers through local ads,

open-air media and inserts in periodicals

and other publications.

What is the share of exports?

Which countries are your

target markets?

We export 20 percent of our mattress

production.

Our products are sold to Germany,

France, Holland, Belgium, Norway

in Europe; Russia, Saudi Arabia,

Israel, Oman, UAE in Asia; and

Sudan in Africa.

Is there any new product

that you will launch in 2018?

What are your targets for

this year?

As it is in the past, R&D department

now develops the new

collection for 2018. We want to

grow more, to expand our product

varieties and to get more new

customers.

What is your opinion about

the trends in the mattresses

sector in the years ahead?

Chick, naïve and ergonomic designs

will be trendy in the years

ahead.

What is the opinion of the

people in the sector about

fairs? Do you participate in

any fair?

Fairs make our industry and our

country more powerful. As Rahat

Yatak we have been participating

in IMOB in İstanbul and Modeko

in Izmir.

Any additional comments?

We wish that the year in 2018

would be a year of success and

bounties for our country, our state

and our industry.

2018 yılında sektöre

sunacağınız yeni bir ürün

var mı? Yıl için belirlediğiniz

hedefler neler?

Ar-Ge departmanımız şu an 2018

yılı kreasyonunu her sene olduğu

gibi belirliyor ve üretiyor.

2018 yılı için büyümek, ürün gamımızı

ve müşteri portföyümüzü

genişletmek istiyoruz.

Önümüzdeki dönem yatak

sektöründe trendlerin

nasıl şekilleneceğini

öngörüyorsunuz?

Şık, sade ve ergonomik tasarımlar

önümüzdeki senelerin trendi

olacaktır.

Sektörel fuarlara bakış açınız

nedir? Katıldığınız fuarlar

var mı?

Fuarlar sektörümüzü ve ülkemizi

güçlendiriyor. Rahat Yatak olarak

İstanbul'da İMOB ve İzmir'de MO-

DEKO fuarlarına katılıyoruz.

Eklemek istedikleriniz?

Ülkemiz, devletimiz ve sektörümüz

için 2018 yılının başarılı ve bereketli

geçmesini diliyoruz.
---
112

Yatas Group in Turquality

Program with two brands

Yataş Grup İki Markası ile Turquality

Programı'nda!

Yatas Group has been included

in the 2017 Turquality Support

Program with Enza Home and

Yatas Bedding brands, each of

which has been pioneering in

their fields. Listed in the 78 companies

selected for the Turquality

Support Program, Yataş Group is

preparing to show itself more in

the international market with the

support and incentives in advertising

spendings, rental costs and

decoration investments.

Yatas Group General Manager

Nevzat Yildiz said: "It made

us very proud to be one of the

companies included in the scope

Yataş Grup, her biri kendi alanında

öncü Enza Home, Yataş Bedding

markaları ile 2017 Turquality

Destek Programı'na dahil oldu.

Turquality Destek Programı'na

seçilen 78 firmanın içinde yer alan

Yataş Grup, reklam yatırımları, kira

ve dekorasyon yatırımları kapsamında

alacağı desteklerle uluslararası

pazarda kendisini daha çok

göstermeye hazırlanıyor.

Yataş Grup, 24 saat ışıkları sönmeyen

global bir şirket olma yolunda!

Yataş Grup olarak Turquality desteği

ile uluslararası arenada daha

da güçleneceklerinin altını çizen
---
113

of Turquality incentive program

that aims to establish a brand new

vision to the image of Turkey in

abroad. Within this project, we

have stepped closer to our goal of

becoming a global company that

operates 7/24 all year long. We

have launched all infrastructure

projects to become a world-class

brand in the next five years. We

work in a self-sacrificing way to

become a reliable brand known

by the local people, with our

franchises and our own stores,

strategic advertising and promotional

investments, in all countries

where we are entering or new in

the Middle East and Europe. We

want that domestic market is to

be just one of the markets we have

succeeded. We aim to be a leader

in at least 4 countries until 2023

in our product categories. Our

goal is to be a real global brand, by

getting the additional strength of

the Turquality Support Program

on our back."

Target is to have 100 stores

in abroad

The company planned to earn

20% of income from foreign

markets in five years, and 50% in

ten years. It also targeted to have

100 stores by 2019 in abroad, and

200 stores by the year 2021. Yatas

Group sales grew 54% in 2016

and the company aims to grow

60% in 2017 with TL 800 million

sales. Target for 2021 is set to be

TL2 billion.

Nevzat Yıldız

Yatas Group General Manager

Yataş Grup Genel Müdürü Nevzat

Yıldız şöyle konuştu; "Turquality

kapsamına alınarak, Türkiye'nin

yurtdışındaki imajına yepyeni bir

vizyon katacak şirketlerden biri

olmak, bizi çok gururlandırdı. Bu

proje kapsamında 24 saat ışıkları

sönmeyen global bir şirket olma

hedefimize bir adım daha yaklaştık.

Önümüzdeki 5 yıllık planda,

dünya çapında bir marka olma

yolunda tüm altyapı çalışmalarını

başlattık. Ortadoğu ve Avrupa

başta olmak üzere yeni gireceğimiz

ya da hâlihazırda bulunduğumuz

tüm ülkelerde, franchise ve kendi

mağazalarımız ile, stratejik reklam

ve tanıtım yatırımlarımızla, yerel

halk tarafından bilinen güvenilir

bir marka olma yolunda özverili bir

şekilde çalışıyoruz. Türkiye pazarının;

başarılı olduğumuz pazarlardan

sadece birisi olmasını istiyoruz.

2023 yılında kadar en az 4 ülkede

lider olmayı amaçlıyoruz. Hedefimiz,

Turquality Destek Programı'nın

gücünü de arkamıza alarak,

sözde değil özde dünya markası

olmak."

Hedef 2019 yılında

yurtdışında 100 mağaza

Turquality Marka Destek Programı

kapsamına alınan Yataş Grup,

yurtdışında da büyümesini sürdürüyor.

5 yıl içerisinde yurtdışı

cirosunun yurtiçi cirosuna oranla

yüzde 20'sini, 10 yıl içerisinde de

yüzde 50'sini yurtdışı faaliyetleriyle

sağlamayı hedefleyen şirket, 2019

yılında yurtdışında 100, 2021'e

kadar ise 200 mağazaya ulaşmayı

hedefliyor.

Ayrıca 2016 yılı toplam cirosunu

grup olarak %54 büyüme ile

tamamlayan Yataş, 2017 yılında da

%60 büyüme ile 800 Milyon ciroya

ulaşmayı amaçlıyor. Yataş'ın 2021

yılı toplam ciro hedefi ise 2 Milyar

TL.
---
114

CIFF, the flagship furniture

trade fair of exceptional quality

for exhibitors and visitors

Dünya mobilya sektöründe kalitenin

bayraktarı CIFF 41inci yılında kalite

arayan katılımcı ve ziyaretçileri

ağırlamaya hazırlanıyor

Founded in 1998, CIFF, the

bi-annual furniture and furnishings

event, has been held for 40

editions and is well received by

the industry as a tangible business

platform where you can check out

the potential offered by the world's

largest furniture market.

In previous CIFF Guangzhou concluded

in March 2017, 3,992 exhi-

Çin Uluslararası Mobilya Fuarı,

CIFF ilk defa 1988 yılında kapılarını

ziyaretçilere açmıştı. Aradan geçen

40 yıllık süre içinde fuar gelen

talepleri karşılamak için yirmi yıl

kadar sonra, yılda iki kere düzenlenmeye

başlamıştı. Bu yıl 41inci

buluşmalar için hazırlanan fuar,

dünyanın en büyük mobilya paza-
---
115

Organized in

Guangzhou city

of China, China

International

Furniture Fair

(CIFF) realizes

an excellent

performance in the

fields of furniture,

home textiles

and interior

decoration.

Çin'in Guangzhou

(Kanton) şehrinde

yapılacak olan

China International

Furniture Fair

(CIFF), mobilya,

ev tekstili ve iç

dekor konusunda

muhteşem bir

performans

sergiliyor.

Sektörün efsane

fuarı bu yıl

18-21 Mart

tarihlerinde 41.

kez düzenlenecek.

bitors attracted 191,950 visitors

from all over the world, 13.7%

more than the 2016 edition; The

September edition in Shanghai,

marking the 20th anniversary,

hosted 2,000 exhibitors from

all over the world and received

91,623 professional visitors, hitting

a record high.

Quite apart from the numbers, the

truly pleasant aspect was the new

collaboration initiatives that demonstrated

the desire to provide

much more than a simple exhibition.

Today, more than ever, CIFF

sees itself as a constantly developing

reality, committed to looking

for new business opportunities for

its exhibitors.

rının sunduğu potansiyeli yakından

görmeleri ve değerlendirmeleri için

üretici firmaları ve müşterilerini

şimdiden heyecanlandırıyor.

CIFF'in geçen yılın Mart ayında

Guangzhou'da düzenlenen 40'ncı

etkinliğine bütün dünyadan 192

bine yakın ziyaretçi dört bine yakın

sayıda da firma katılmıştı. Bu

rakamlar, 2016 yılındaki performansa

kıyasla % 13'lük bir artışa

da işaret ediyordu. Fuarın Eylül

2017 de Şanghay'da düzenlenen ve

20inci defa kapılarını açan ikinci

bölümüne rakor düzeyde 2000 firma

ve yaklaşık 92 bin profesyonel

ziyaretçi katılmıştı.
---
116

CIFF 2017 witnesses the great

success of "Pinnacle Awards

Asia-Pacific", thanks to the collaboration

between CIFF and American

Society of Furniture Designers

(ASFD); 30 exquisitely-designed

works stood out from over one

thousand pieces, successfully obtaining

the "golden key" to exploit

new opportunities to gain world

recognition.

Apart from the successful cooperation

with ASFD, great events like

The CIFF & Tmall Deco Fashion,

Office Life Theme Pavilion, Global

Garden Lifestyle Festival, China

Decoration Design Conference,

Trade Matching, also perfectly

interpreted the trends in the sector

and brought great benefits to

visitors and exhibitors.

The focus now moves on to the

41th edition of CIFF, from 18 to 21

and from 28 to 31, March 2018.

Themed with Better Life, Better

Work, CIFF Guangzhou 2018

covers 750,000 sqm with 4000 quality

exhibitors on stage to present

a fantastic feast for over 190,000

visitors from all over the world.

Rakamlar bir yana, fuarın asıl hoş

yanı, fuar idaresinin sıradan bir

fuar deneyiminin ötesine geçmek

için gösterdiği isteklilik ve bu

yolda giriştiği işbirliği geliştirme

çabalarında kendini gösterdi. CIFF,

her zamankinden daha güçlü bir

şekilde, katılımcıları için yeni iş fırsatları

bulup geliştirme konusunda

sürekli arayış içinde olmasıyla da

öne çıkıyor.

CIFF'in 2017 versiyonunda ziyaretçiler

fuar idaresi ile Amerikan

Mobilya Tasarımcıları Derneğinin

işbirliği ile geliştirdikleri "Asya

Pasifik Zirve Ödülleri"nin büyük başarısına

şahit oldular. Binden fazla

aday parça arasında seçilen 30

özel tasarımlı ürün, "altın anahtar"

ödülünü almayı başararak, dünya

çapında ünlerine ün katmışlardı.

Bu ödül dışında ayrıca, CIFF ve

Tmall Deko Modası, Büro yaşamı

temalı pavyon, global bahçe yaşam

tarzı festivali, Çİn dekorasyon ve

tasarım konferansı, ticari eşleşmeler

gibi uygulama ve faaliyetlerle

birlikte fuara katılan firma ve

ziyaretçiler mobilya sektöründeki

trendleri yakından yorumlamak
---
117

Bringing the incredible quantity

of commodity sectors (furniture

for modern and classic home,

furnishing accessories, furnishing

fabric, furniture for outdoors and

leisure, office furniture, hotel

furniture, metal furniture, furniture

for public spaces, materials

and machinery for the furniture

industry), CIFF provides a full

view of the furniture sector and of

the industry as a whole.

According to the latest data from

the Ministry of Industry & Information

Technology of China, the

main business income of the furniture

industry reached RMB 674.23

billion in January-October 2016,

up 8% year on year; the total profit

reached RMB 40.27 billion, up

10.9% year on year. The furniture

export delivery value reached

RMB 143.67 billion, up 4.4% year

on year. Along with the slow recovery

of the international market

and the continuous breakthrough

of China's furniture manufacturers

in products, China's furniture

export sees new growth.

As a leading role in China's furniture

exhibition industry, CIFF is

a favourite and essential trading

platform for the global furniture

industry, a flagship trade fair of

exceptional quality for exhibitors

and visitors.

ve hem kendileri hem de ziyaretçiler

için büyük yararlar sağlamak

imkanını bulmuşlardı.

Dünya mobilya endüstrisi şu

sıralar 18 ila 21 ve 28 ila 31 Mart

2018'deki Çin Uluslararası Mobilya

Fuarının 41nci yılı aktivitelerine

odaklanmış durumda. Guangzhou

daki fuar bu yıl 750 bin ayak

karelik bir alanda 4000 firmayı ve

190.000'den fazla ziyaretçiyi ağırlamaya

hazırlanıyor. Bu yıl fuarda,

firmalar ürünlerini "daha iyi bir

hayat ve daha iyi bir iş" temaları

altında sergileyecekler.

Fuarda ürünleriyle yer alacak

firmalar ve yoğunlaştıkları alanlar

arasında öne çıkan seğmenler arasında,

çağdaş ve klasik eve mobilyaları,

mobilya aksesuarları, açıkhava

mobilyaları, tatil mobilyaları, ofis

mobilyaları, otel mobilyaları, metal

mobilyalar, ortak alanlar için mobilyalar,

mobilya endüstrisi makina

ve malzemeleri yer alıyor. Bu geniş

kapsamıyla, CIFF mobilya endüstrisini

topluca ve bir bütün halinde

gözlemleme imkanı da sunuyor.

Çin'deki mobilya fuarlarını lideri,

mobilya sektörünün amiral gemisi

rolüyle Çin Uluslararası Mobilya

Fuarı dünya mobilya endüstrisi

için temel ve tercih edilen güçlü bir

ticari bir platform olarak istisnai

kaliteler arayışındaki firmalar ve

ziyaretçilerini bekliyor.
---
118

Furniture industry convened in

Furniture Istanbul

Mobilya sektörü Furniture İstanbul'da

buluştu

Furniture Istanbul was held between 7th and 12th November in CNR Expo, Yesilkoy.

75 percent of the furniture companies in Turkey were represented in the fair. About

60 thousand visitors from both domestic and foreign markets visited the fair. In the

framework of buyer delegation organizations, 4.35 thousand buyers from 84 countries

including Italy, Germany, Austria, Switzerland, Saudi Arabia, Iraq, Kuwait, Qatar and

UAE attended the show.

Türkiye mobilya sektörünün yüzde 75'ini temsil eden firmaları aynı çatı altında

buluşturan Furniture İstanbul 7-12 Kasım tarihleri arasında CNR EXPO Yeşilköy'de

düzenlendi. Fuarı, yerli ve yabancı 59 bin 64 kişi ziyaret etti. Furniture İstanbul'a,

alım delegasyonları organizasyonları ile İtalya, Almanya, Avusturya ve İsviçre'nin yanı

sıra, sektörün hedef pazarları olan Suudi Arabistan, Irak, Kuveyt, Katar, Birleşik Arap

Emirlikleri'nin de aralarında bulunduğu 84 ülkeden 4 bin 348 alıcı katılım gösterdi.
---
119

Modern, classic and modular

furniture for offices, living rooms,

kids, children, mattresses and outdoor

items are all exhibited during

the event.

Have been organized by Mosder,

the furniture industrialists association,

for 13 years, the fair hosted

leading 300 hundred brands and

names in furniture field in Turkey,

including Bellona, Bambi, Yataş,

İstikbal, Alfemo, Enza Home,

Bretz, Merinos, Fatih Kıral, İpek,

Kilim, Yatsan, Teleset, İşbir, Mondi,

Tepe Home, İdaş, Buka, Novussi,

Rengarenk, Almila, Kupa Genç

Odası, Saloni, Loda, HKM Comfort,

Leta Sandalye, Arno Home, Ladin,

Cardin Concept ve ABC Mobilya.

Nuri Oztaskin, chairman of Mosder,

said, "We have had a successful

event from all point of views.

Furniture Istanbul has assumed

an important mission on the way

to exhibit the size and power of

the furniture industry in Turkey

and convened most of the leading

companies under one roof. The

fair attracted about 60 thousand

visitors, 4.35 thousands of them

are foreign. 300 brands have

introduced their new products

for the first time in the fair. Major

designers coming from abroad

Nuri Öztaşkın

MOSDER Yönetim Kurulu Başkanı

Modern, klasik ve modüler mobilyalardan

ofis mobilyalarına,

oturma gruplarından bebek, çocuk,

genç mobilyalarına, yataklardan

aksesuarlara ve bahçe mobilyalarına

kadar her türlü ihtiyaca yanıt

verecek ürünlerin sergilendiği Furniture

İstanbul, sektörü bir araya

getirdi.

Türkiye mobilya sektörünün yüzde

75'ini temsil eden firmaları aynı

çatı altında buluşturan fuarı, 4 bin

348'i yabancı olmak üzere yerli

ve yabancı 59 bin 64 kişi ziyaret

etti. 13 yıldır MOSDER tarafından

gerçekleştirilen ve bu yıl Furniture

İstanbul adıyla düzenlenen fuarda,

Bellona, Bambi, Yataş, İstikbal,

Alfemo, Enza Home, Bretz, Merinos,

Fatih Kıral, İpek, Kilim, Yatsan, Teleset,

İşbir, Mondi, Tepe Home, İdaş,

Buka, Novussi, Rengarenk, Almila,

Kupa Genç Odası, Saloni, Loda,

HKM Comfort, Leta Sandalye, Arno

Home, Ladin, Cardin Concept ve

ABC Mobilya'nın da aralarında bulunduğu

300 marka yer aldı. Fuarla

ilgili değerlendirmelerde bulunan

MOSDER Başkanı Nuri Öztaşkın,

şöyle konuştu: "Her açıdan oldukça

başarılı bir fuara imza attığımızı

düşünüyorum. Furniture İstanbul,

Türk mobilyasının tasarım ve fonksiyonellik

yönünden üstünlüğünü

sergileme konusunda önemli bir rol

üstlenerek Türk Mobilya devlerini

aynı çatı altında toplamayı başardı.

Yurt dışından ve yurt içinden yoğun

ilgi gören fuarımızı 6 gün boyunca

4 bin 348'i yabancı olmak üzere

59 bin 64 kişi ziyaret etti. Mobilya

sektörünün kalkınmasında stratejik

bir öneme sahip olan Furni-
---
120

were also hosted in Design Stories

seminars during the event."

Buying teams and visitors from

84 countries were also in the fair,

among them were, Italy, Germany,

Austria, Switzerland, Saudi Arabia,

Iraq, Kuwait, Qatar, UAE. There

were those coming from several

cities of domestic market, including

Manisa, Eskisehir, Kayseri,

Ankara Konya, Usak and Trabzon.

In Furniture Istanbul 2018-2019

trends in furniture and decoration

industries are launched. Design

was a major topic and a good

number of innovative products

were introduced, among them

were smart mattresses that can

be controlled by smart phones,

educational youth rooms, massaging

bases, etc. 14 design experts

from Italy, Spain, France, Finland

and Holland were in the fair and

presented their works and informed

about the details of designs

of future.

ture İstanbul, Türk markalarının

dünyaya duyurulmasında da bir

köprü görevi görmüş oldu. 300

markanın yeni ürünlerini ilk kez

sergilediği fuarımız aynı zamanda

Design Stories seminerleriyle yurt

dışından çok önemli tasarımcıları

da ağırladı."

84 ülkeden ziyaretçi ve alım

heyeti

Fuara, mobilya sektörünün lider

ülkeleri olan İtalya, Almanya,

Avusturya ve İsviçre'nin yanı sıra,

sektörün hedef pazarları olan Suudi

Arabistan, Irak, Kuveyt, Katar,

Birleşik Arap Emirlikleri'nin de

aralarında bulunduğu 84 ülkeden

ziyaretçi ve alım heyeti katılım

gösterdi. Yabancı alıcıların yanı

sıra Manisa, Eskişehir, Kayseri,

Ankara, Konya, Uşak ve Trabzon

başta olmak üzere Türkiye'nin dört

bir yanından alım heyetleri de fuar

boyunca ağırlandı.

Dünyaca ünlü tasarımcılar

Design Stories etkinliğinde

buluştu

Furniture İstanbul'da 2018-19

mobilya ve dekorasyon trendleri

belirlendi. Tasarımın ön plana çıktığı

fuarda, kumanda ve cep telefonu

ile yönetilebilen akıllı yataklardan,
---
öğretici ve eğitici genç odasına,

masaj yapan ve akıllı sehpası

bulunan bazalara kadar pek çok

inovatif ürün sergilendi. Tasarım

ve inovasyon odaklı bir yaklaşımla

diğer fuarlardan ayrılan Furniture

İstanbul'da, İtalya, İspanya, Fransa

Finlandiya, Hollanda'dan gelen

14 tasarımcı Design Stories adlı

seminer etkinliğinde genç tasarımcı

adayları ile bir araya geldi.

Tasarımcılar tarafından gerçekleştirilen,

geleceğin dizaynları ve

dünyaca ünlü markalarla çalışmanın

sırları ile ilgili sunumlar yoğun

ilgiyle takip edildi.

121
---
122

World's first simply adjustable

bed requiring no power

Dünyanın ilk basit ve ayarlanabilir

yatağı elektriğe dahi ihtiyaç duymuyor

Switlik Comfort

Technology

launches fully

adjustable Comfort

Plus Sleep System

TRENTON, N.J. (PRWEB) – Firmness

doesn't have to be constant.

SWITLIK Comfort Technology launches

Comfort Plus Sleep System,

adjustable firmness and support to

fit your changing needs.

At some point, your current

mattress will succumb to the wear

and tear of supporting your body.

When this happens, you don't have

the proper support, leaving you

with aches, pain and restlessness.

Additionally, your sleep surface

requirements change over time.

For instance, you may need a

Switlik Comfort teknoloji firması

uyku ihtiyacına göre ayarlanabilir

comfort plus uyku sistemlerini

piyasa sürüyor. Firma yöneticisi

yataklarının özelliğini anlatırken,

kişilerin yataktan beklentilerinin

zaman içinde ve bireyden bireye

değişmesi gerçeğinden yola çıktıklarını

söylüyor.

"Yataklar kullanıldıkça form ve

sertlik derecelerinde değişiklikler

oluyor. Yaşlandıkça, kilo alıp

verdikçe, kırık çıkıklarda, eklem

ağrılarında insanların yatakta
---
123

different mattress as you age or if

you have lost or gained weight, are

pregnant, had an injury or surgery

or a medical condition such as

arthritis.

When a mattress is too firm, it

pushes on your pressure points

and throws your whole body out

of alignment. On the flip side, if

the mattress is too soft, you won't

be properly supported.

"At SWITLIK Comfort Technology,

we understand one size does not

fit all and comfort is a personal

preference. Your idea of a great

mattress might feel soft to you and

rock hard to me. When a person

who lives to be 85 years old and

sleeps 20-25 years of their life in

bed, why are they forced to buy a

mattress in such an arbitrary, impersonal

way?" commented CEO

Stanley Switlik II.

Now, get all of the benefits of an

adjustable bed, made simple with

the Comfort Plus Sleep System.

When air is removed from the

Comfort Chamber, creating negative

pressure, it transforms the

inherent firmness of the foam into

a different, comfortable gelatin-like

feel, all the while maintaining

an evenness of support across the

entire sleep surface. When the

right personal comfort is achieved

and the valve is closed, the shape

and depression is saved until you

want to adjust it again. Every day

is different; your mattress should

adjust to your needs.

The Comfort Plus Sleep System,

truly individualized comfort with

dual chambers to adjust to your

needs as well as your partner's needs.

No pumps, no hoses, no wires

and no noise. Nothing to break or

wear out!

farklı sertlik/yumuşaklık aramaları

gayet doğal. Sert yatağın da

yumuşak yatağın da kendine göre

avantajları var. O yüzden biz, tek

tip bir yatağın herkes için uygun

olmadığı gerçeğini kabul ederek,

insanların yataklarını kendi istek

ve ihtiyaçlarına göre ayarlamalarına

imkan veren bir çözüm ürettik."

Yeni yatak, katmanlar arasında

kontrol edilebilir ve ayarlanabilir

özel bir hava yastığına sahip.

Hava odasındaki basınç bir miktar

düşürüldüğünde, yatağın taşıma

fonksiyonu sünger katmanlara

aktarılıyor ve böylece yatağın

değişik bölgelerine farklı sertlikler

üretilebiliyor. Böylece eşlerin sertlik

tercihlerine de cevap verilmiş

oluyor. İstenen ayarlar yapıldıktan

sonra valfler kapatılıyor.

Böylece, aynı yatakla her gün yatağa

farklı özellikler kazandırmak,

konforu maksimize edecek özel

çözümler üretmek mümkün oluyor.

Yeni yatak oldukça sade bir yapıya

sahip. Ne pompa, ne hortum, ne

kablo, ne de gürültü olmaksızın

maksimum konfor üretiliyor.
---
124

World Bank to revise up

Turkey's GNP growth forecast

Dünya Bankası Türkiye'nin büyüme

tahmini revize edilecek

WASHINGTON –Gross National

Product growth rate of Turkey

will be revised from 3.5 percent

to around 5-5.1 percent as the

country is estimated to maintain

its strong growth performance in

the third quarter, the World Bank's

Country Director for Turkey pointed

out.

"When the third quarter data

released, we will revise it and we

are quite likely to revise up to

roughly the same amount with the

IMF, about 5-5.1 percent, given the

very strong growth performance

that we had already seen in the

second quarter which we expect

to continue in the third quarter,"

Johannes Zutt said.

Zutt said Turkey had recovered

successfully after last year's

defeated coup attempt with the

help of enacted fiscal stimuli by

the Government. "Obviously after

that coup, growth declined in the

third quarter but the government,

which had been managing the

economy quite well, had space for

a fiscal stimulus and it used that

space," Zutt said.

Zutt added that a rise in Europe's

economic growth rate also reinforced

this fiscal stimulus. "That is

what gave us a much more robust

recovery then I think many people

have anticipated and certainly we

at the World Bank anticipated,"

Zutt said.

He noted that they expect the

Turkish economy to grow around

3.5 to 4 percent in 2018 as they

believe the economy could sustain

growth at a slightly lower rate

than present.

He also said the Turkish government

needed to undertake structural

reforms necessary to carry

the economy to a higher path of

sustainable growth.

"There are a number of things

that the government needs to

Dünya Bankası Türkiye Direktörü

Johanssen Zutt, Türkiye'nin bu yılki

büyüme tahminini yüksek ihtimalle

yüzde 5 veya 5,1'e revize edeceklerini

belirterek, "Çünkü ikinci

çeyrekte izlediğimiz güçlü performansın

üçüncü çeyrekte de devam

etmesini bekliyoruz." dedi.

Zutt, Washington'da düzenlenen

Uluslararası Para Fonu (IMF)- Dünya

Bankası Yıllık Toplantıları'nın

ardından sorularını yanıtladı. Türk

ekonomisinin geçen yıl yaşanan

şokları çok hızlı atlattığına işaret

eden Zutt, Dünya Bankası'nın, Türkiye'ye

yönelik büyüme beklentilerini,

üçüncü çeyreğe ilişkin GSYH

rakamlarının açıklanmasından

sonra güncelleyeceğini bildirdi.

Zutt, yeni büyüme tahminlerinin,

IMF'nin geçen hafta açıkladığı rakamlara

yakın olmasını beklediğini

ifade ederek, "Türkiye'nin bu yılki

büyüme tahminini yüksek ihtimalle
---
125

do to make labor markets more

efficient, to deepen the capital

markets, to improve public expenditure

management, to get more

of the education system and to ensure

Turkish workers are able to

participate in a modern economy

at very high levels," Zutt said.

He underlined that improving productivity

of Turkish firms was the

biggest challenge for the country

in the medium term.

"What we should be seeing is

more high technology embedded

in Turkish exports going to Europe,"

Zutt said.

Commenting on Turkey's inflation

rate, Zutt said that the tight

monetary policy enacted by

the country's central bank was

appropriate as a response to the

inflation rate.

"We now have seen a jump to

slightly over 10 percent but we

anticipate that it will fall, actually,

back to 7-8 percent going

forward," Zutt said.

According to the Turkish Statistical

Institute, Turkey's consumer

prices went up by 11.20 percent

year-on-year in September.

Zutt said that Turkey's reliance on

capital inflows in order to finance

current account deficit was the

country's greatest vulnerability

adding that its savings were not

enough for its investments.

Zutt added that Many Turkish

companies rolled over their debts

worth of $170 billion annually.

Corporations in Turkey had been

successful in rolling over their

debt easily thanks to their fairly

strong balance sheets and strong

relationships with their bankers

both in Turkey and abroad, Zutt

said.

IMF'nin beklentisine benzer şekilde

yüzde 5 veya 5,1'e revize edeceğiz.

Çünkü ikinci çeyrekte izlediğimiz

güçlü performansın üçüncü çeyrekte

devam etmesini bekliyoruz." dedi.

Türkiye'nin birçok kuruluşu şaşırtan

güçlü büyüme performansında,

hükümetin uyguladığı genişleyici

mali politikaların önemli rol oynadığını

vurgulayan Zutt, şunları

kaydetti:

"Başarısız darbe girişimi sonrasında

büyüme belirgin şekilde

düştü ancak ekonomiyi iyi yöneten

hükümet, mevcut mali imkanlarını

kullandı. Uygulanan mali genişleme

ekonominin toparlanmasına

yardımcı oldu. Ayrıca, Avrupa'da

büyümenin hızlanmasıyla oluşan

olumlu dış ortam, mali genişlemeyi

kuvvetlendirdi. Bunlar, bize Dünya

Bankası'nın ve daha birçok insanın

beklediğinden daha güçlü bir

toparlanmayı getirdi diye düşünüyorum."

Dünya Bankası'nın, Türk ekonomisinin

gelecek yıl yüzde 3,5

civarında büyümesini beklediğini

aktaran Zutt, "Biz ekonominin şu

ankinden biraz daha düşük bir

oranda büyümeyi sürdürebileceğini

öngörüyoruz. Bu nedenle büyümenin

yüzde 3,5-4 trendine dönmesini

bekliyoruz." dedi. Zutt, hükümetin

gelecek 3 yıl için belirlediği yüzde

5,5 büyüme hedefini tutturmasının

da mümkün olduğunu kaydetti.

Türk ekonomisinin daha yüksek

bir sürdürülebilir büyüme patikasına

ancak yapısal reformlarla

ulaşabileceğini vurgulayan Zutt, iş

gücü piyasasının daha verimli hale

getirilmesi, sermaye piyasalarının

genişletilmesi, kamu harcamalarının

yönetiminin iyileştirilmesi

ve eğitim kalitesinin yükseltilmesi

gibi alanlarda reform ihtiyacının

sürdüğünü anlattı.

Zutt, "Bence Türkiye için orta vadeli

en büyük zorluk, Türk şirketlerinin

verimliliğini artırmak. Türkiye'deki

şirketlerin verimliliği yıllardır

yatay seyrediyor. Türkiye'den

Avrupa'ya ihraç edilen ürünlerde

kullanılan teknoloji yatay bir seyir

izlemekten ziyade düşmeye başladı.

Türkiye'nin Avrupa'ya sattığı

ürünlerde kullanılan teknolojinin

artması gerekiyor." diye konuştu.

Johanssen Zutt, Türkiye'de tasarruflar

ve yatırımlar arasında büyük

fark olmasının gelecek için bir

başka risk oluşturduğuna dikkati

çekerek, ekonomi yönetiminin bu

gerçeklerin farkında olduğunu

ve gereken çabayı gösterdiğini

kaydetti.

"Enflasyonun yakın gelecekte tekrar

yüzde 7-8 seviyelerine ineceğini

öngörüyoruz" Dünya Bankası

Türkiye Direktörü Zutt, eylül ayı

itibarıyla yüzde 11'e yükselen

enflasyonu değerlendirirken, gıda

ve petrol fiyatlarındaki artış ile

Türk lirasındaki değer kaybı olmak

üzere 3 faktörün enflasyonu yukarı

ittiğini söyledi.

Zutt, Türkiye Cumhuriyet Merkez

Bankası'nın (TCMB) yükselen enflasyona

uygun şekilde karşılık verdiğini

ifade ederek, "TCMB, aslında

enflasyona sıkı para politikasıyla

doğru karşılığı veriyor. Şu sıralar

yüzde 10'un biraz üzerine doğru

bir sıçrama görmüş olsak da biz

enflasyonun yakın gelecekte tekrar

yüzde 7-8 seviyelerine ineceğini

öngörüyoruz." diye konuştu.

"Türkiye'nin en büyük kırılganlığı,

yabancı sermaye akışlarına bağımlı

olması"

Johanssen Zutt, Türkiye'de tasarrufların

yapılan yatırımlara kıyasla

çok düşük kaldığını belirterek,

"Türkiye'nin en büyük kırılganlığı,

cari açığını finanse etmek için

yabancı sermaye akışlarına bağımlı

olması." dedi.

Türk lirasında sert düşüşe yol

açabilecek bir güven kaybı yaşanması

durumda borçlu şirketlerin

finansman bulmakta zorlanabileceğine

işaret ederek, şu anda böyle

bir riskin söz konusu olmamasına

karşın yakından izlenmesinin faydalı

olacağını söyledi.
---
126

Turkish President Recep Tayyip

Erdoğan: Turkey urges for trade

in local currencies within D-8

Erdoğan: "Milli para birimi ile D-8'de

devrim yapabiliriz

The Summit envisages possible cooperation

in the fields of transportation,

trade, investment, energy,

industry, small and medium-sized

enterprises, agriculture, food security,

tourism, science, education

and establishment of data banks.

ISTANBUL-Turkey urges for trade

within the Developing-Eight (D8)

group of countries in local currencies,

President Recep Tayyip

Erdoğan pointed out at the D-8

Summit in Istanbul.

"If we can utitilize from our national

currencies in trade between

our countries, we will make a

revolution in the history of the

D-8. We dont have to dissolve our

economies under the pressure

of exchange rates," Erdoğan said,

stressing the significance of boosting

economic steps within the

organization.

The D-8 was founded in 1997

as a primarily economic alliance

between eight mostly Muslim-majority

countries. Along

with Turkey, the other members

are Bangladesh, Egypt, Indonesia,

Iran, Malaysia, Nigeria and

Pakistan.

Turkey has hosted the summit this

year, after taking over term leadership

of the D-8 from Pakistan.

The event, marking 20 years of the

eight-country alliance was held

under the theme "Expanding Opportunities

through Cooperation."

Among the participants are the

Nigerian President Muhammadu

Buhari, Azerbaijani President

Ilham Aliyev, Pakistani Prime

Minister Shahid Khaqan Abbasi,

Iranian First Vice President Eshaq

Jahangiri and Indonesian Vice

President Jusuf Kalla.

Erdoğan also urged member states

to bring together their central

banks to establish

a clearing house.

"We all have

to embrace

the D-8 and

make efforts

to increase

its efficiency,

productivity

and

strength,"

he

said.

"We

have the potential for wide-ranging

cooperation in many fields,

from good agricultural practices

to clean energy, transportation

to environment and education,"

he said, while adding that new

members could be added to the

organization. "In a world where

everything changes, it is never

acceptable for the D-8 to remain

unchanged," Erdoğan said. At

present, the organization has a

combined GDP of $3.7 trillion and

ISTANBUL-Cumhurbaşkanı Recep

Tayyip Erdoğan, D-8 Ekonomik

İşbirliği Örgütü 9. Zirvesi'nde "Ülkelerimiz

arasındaki ticarette milli

para birimlerini kullanırsak D-8

tarihinde bir devrime imza atarız."

dedi.

Cumhurbaşkanı Recep Tayyip Erdoğan,

Kültür ve Kongre Merkezi'nde

düzenlenen D-8 Ekonomik İşbirliği

Örgütü 9. Zirvesi'nde konuştu:

"Ülkelerimiz arasındaki ticarette
---
127

includes more than one billion

people - around 15 percent of the

world's population. Two of its

members - Turkey and Indonesia

- are among the group of the

world's 20 biggest economies.

The Islamic Development Bank

announced that it signed a memorandum

of understanding with

the D-8 organization to enhance

development efforts as well as

joint expertise, knowledge and

resources for the socio-economic

development of the eight developing

countries.

The "Islamic Development Bank

Group will work with the Developing-8

Organization for Economic

Cooperation to initiate sustained

economic growth in the member

states of the D-8," the bank said in

a written statement.

Signed during the D-8 Summit

in Istanbul, the agreement foresees

possible cooperation in the

identification and implementation

of joint programs and projects in

the fields of transportation, trade,

investment, energy, industry, small

and medium-sized enterprises,

agriculture, food security, tourism,

science, education and establishment

of data banks.

It also underlines the need for

the exchange of knowledge and

information on commercial issues.

The Islamic Development Bank

will also consider the allocation of

scholarships for students from D-8

states.

artık milli para birimlerini kullanmanın

önünü açarsak D-8 tarihinde

bir devrime imza atarız. Yerli

milli paralarla ticaretimizi yaptığımız

da ülkelerimiz kazanacak."

"İş Birliğiyle Fırsatları Çoğaltmak"

temasıyla düzenlenen "D-8 Ekonomik

İşbirliği Örgütü 9. Zirvesi",

Türkiye'nin ev sahipliğinde

başladı. Zirvenin açılışında konuşan

Cumhurbaşkanı Recep Tayyip

Erdoğan'ın konuşmasından satır

başları: Geride bıraktığımız 20 yıl

zarfında o zamanki endişelerimizin

ne kadar haklı olduğumuzu gösteriyor.

Her 10 yılda bir tekrarlanan

ekonomik krizlerle buraya geldik.

Mevcut küresel sistem çıkarları garanti

altına alınmış bir avuç mutlu

azınlık dışında kimseyi tatmin

etmiyor.

Birileri kasıtlı bir şekilde islam'la

teröristi özleştirmeye çalışıyor.

D-8'in ilklerine olan ihtiyaç azalmak

yerine daha da artıyor. D-8

ülkeleri olarak 3 kıtaya hakim

durumdayız. Genç ve dinamik bir

nüfusumuz var. D-8 ülkeleri olarak

tam potansiyelimizi tam anlamıyla

harekete geçirmek konusunda

sıkıntılar yaşıyoruz.

D-8 Ülkelerine Çağrı:

Ticarette Milli Para

Kullanalım

Savunma sanayi başta olmak üzere

birçok alanda ortak üretim projelerine

girebiliriz. Her şeyin değiştiği

bir dünyada D-8'in yerinde sayması

kabul edilemez. Teşkilatımızı yeni

katılımlarla tahkim etmeliyiz. Eğer

burada nitelikli çoğunluk getirirsek

karar alma süreci hızlanacaktır.

Eğer proje destek fonunu hayata

geçirirsek daha verimli bir örgüt

oluruz

Ülkelerimiz arasındaki ticarette

artık milli para birimlerini kullanmanın

önünü açarsak D-8 tarihinde

bir devrime imza atarız. Kur

baskısı altında ekonomiyi eritmeye

gerek yok, dolar ve euro baskısında

ekonomiyi eritmeye gerek yok. Milli

ve yerli parayla ticaret yaparsak

ülkelerimiz kazanır. Bir takas odası

kurulması için merkez bankalarımızı

bir araya getirelim.
---
128

Turkey attracts $200B in

investments over past 15 years

by targeting 2 percent of global

market

Türkiye'ye 15 yılda 200 milyar dolar

yabancı yatırım geldi

Turkey's outward oriented policies,

investor-friendly climate, deregulations,

and incentives have paved

the way for the country's capacity

to attract foreign direct investments

(FDI) since 2002, and it now aimed

to increase its share above two percent

of the global FDI market.

Arda Ermut, Chairman of the Investment

Support and Promotion

Agency of Turkey (ISPAT) and World

Association of Investment Promotion

Agencies (WAIPA), provided

specific figures regarding the inflow

of foreign direct investment (FDI)

in Turkey over the past 15 years

and revealed that the country has

received around $200 billion in

investments during this period.

Ermut said Turkey has started to

attract investments from alternative

regions such as East Asia and the

Middle East.

He added that even though Turkey

continues to attract investments in

every sector, a significant portion of

the funds still comes from Europe

usually in the fields of finance, machinery,

science, and technology. On

the other hand, investments from

the Middle East and Far East Asia

are directed to the fields of petrochemical,

energy and real estate.

"Our aim is to diversify the sources

of our investments. Because when

Europe was hit by the 2008 global

financial crisis, investments in Turkey

also took a serious hit as most

of the direct investments are from

Europe," Ermut said.

"So, the more we can diversify, the

lower will be the impact of any global

or regional crisis."

Ermut cited ease of access to regional

markets, quality of senior executives

and the large, young workforce

as advantages for investments in

Turkey.

Ermut said more than 57 percent of

the $12.3 billion investments Turkey

received in 2016 were secured after

the treacherous coup attempt of July

15, stressing that investors' confidence

in Turkey was not affected

negatively.

In the first half of 2017, major

foreign direct investors to Turkey

came from Spain with $4.1 billion,

Başbakanlık Türkiye Yatırım

Destek ve Tanıtım Ajansı (TYDTA)

ve Dünya Yatırım Tanıtım Ajansı

Birliği (WAIPA) Başkanı Arda

Ermut, "Ülke olarak 2002'den bu

yana, yani 15 yılda 200 milyar

dolar yatırım aldık. Bu çok ciddi

bir miktar. Ancak biz bunu hiçbir

zaman yeterli bulmadık. Dolayısıyla

amacımız yatırımları, özellikle

de katma değeri yüksek yatırımları

ülkemize çekmektir." dedi.

Ermut, yaptığı açıklamada, Türkiye'nin

Doğu Asya ve Orta Doğu

gibi alternatif bölgelerden yatırım

almaya başladığını söyledi.

Her sektörden yatırım çekmeye

devam ettiklerini belirten Ermut,

yatırımların önemli bir kısmının

hala Avrupa'dan geldiğini aktardı.
---
129

followed by the Netherlands with

$821 million, Qatar with $541 million,

Azerbaijan with $308 million,

and Belgium with $213 million.

German Bosch initiated a new $184

million investment to Turkey in

July this year, followed by another

multimillion dollar investment from

Siemens in August.

Pointing out that the investors'

interest in Turkey has continued to

grow, Ermut said Turkey has received

$200 billion over the past 15

years in investments, which is a very

serious amount.

"But we have never found it enough.

Therefore, our aim is to attract even

more investments, especially high

value-added investments."

"2016 was a difficult year, especially

the first six months. Although 2017

has also been a tough year in the

regional and global sense, we hope

to close it in much better position

than last year," he said.

The ISPAT chair added that Turkey

on average has attracted $13 billion

in investments annually since 2002.

He said they were now aiming to

exceed the $22 billion thresholds

achieved back in 2007.

Ermut continued by explaining

that Turkey is looking to increase

its share in the global movement of

foreign direct investments to more

than 2 percent.

"Turkey is indispensable for Europe

with regard to investments because

of its high productivity rates, high

production capacity, quality and

production time. Turkey's strategic

position is also important because it

is within a four-hour flight distance

from countries with more than 1.6

billion people and $24 trillion of

gross domestic product," he said.

"Easy access to regional markets,

high-quality manpower, senior

management quality and young

populations are also the reasons

bringing more FDI in Turkey. When

it all comes together, we have

all the main elements ready for

investments. Therefore, we can say

confidently that Turkey is a country

that cannot be ignored by foreign

investors," Ermut concluded

Avrupa'dan gelen yatırımların

genellikle finansal, makine, bilim

ve teknoloji alanında olduğunu dile

getiren Ermut, şöyle devam etti:

"Orta Doğu ve Uzak Doğu Asya'dan

gelen yatırımlar ise petrokimya,

enerji ve gayrimenkul alanlarındadır.

Amacımız yatırımlardaki

farklılaşmayı derinleştirmektir.

Çünkü 2008'deki küresel krizden

en çok Avrupa etkilendi. Doğrudan

yatırımların çoğunu Avrupa'dan

aldığımız için de yatırımlarımız

etkilenmişti. Bu yüzden ne kadar

farklılaştırma yapabilirsek herhangi

bir küresel ya da bölgesel krizden

etkilenme oranımız o kadar düşük

olur."

Ermut, Türkiye'nin 2016'da aldığı

12,3 milyar dolarlık yatırımın yüzde

57'sinin 15 Temmuz hain darbe

girişiminden sonra gerçekleştiğini,

yatırımcıların Türkiye'ye güveninin

sarsılmadığını anlattı.

Türkiye'ye yatırımcı ilgisinin devam

ettiğine dikkati çeken Ermut,

sözlerini şöyle sürdürdü:

"Ülke olarak 2002'den bu yana,

yani 15 yılda 200 milyar dolar yatırım

aldık. Bu, çok ciddi bir miktar.

Ancak biz bunu hiçbir zaman yeterli

bulmadık. Dolayısıyla amacımız

yatırımları, özellikle de katma

değeri yüksek yatırımları ülkemize

çekmektir. Bu yılı geçen seneye göre

daha iyi kapatmayı ümit ediyoruz.

Özellikle ilk 6 ayı olmak üzere 2016

zor bir yıldı. 2017 de her ne kadar

bölgesel ve global anlamda zor bir

yıl olsa da bu yılı geçen seneye göre

çok daha iyi kapatmayı umuyoruz."

Türkiye'nin 2002'den bu yana yıllık

ortalama 13 milyar dolar yatırım

çektiğini ifade eden Ermut, amaçlarının

2007 yılında ulaştıkları

22 milyar dolar yatırımı aşmak

olduğunu vurguladı.

Ermut, Türkiye'nin dünyada doğrudan

aldığı yatırımların payını

yüzde 2'nin üzerine çıkarmak

istediklerine işaret ederek, şunları

kaydetti:

"Türkiye yatırımda Avrupa için vazgeçilmez.

Çünkü verimlilik oranlarımız

çok yüksek. Aynı üretim

saatinde sağladığımız üretim kapasitesi

ve kalitesi de yine çok fazla.

Daha önemlisi stratejik konumumuz.

4 saatlik uçuş mesafesiyle 1,6

milyar insana ve 24 trilyon dolar

gayri safi milli hasılaya ulaşabiliyoruz.

Bölgesel pazarlara ulaşabilme

kolaylığı, kaliteli insan gücü, üst

düzey yönetici kalitesi ve genç nüfusumuz

bunun sebeplerindendir.

Bunların hepsi bir araya geldiğinde

zaten yatırımın ana unsurlarını

oluşturmuş oluyoruz. Dolayısıyla

Türkiye'nin yatırımcıların nazarından

çıkmayacak bir ülke olduğunu

söyleyebiliriz."