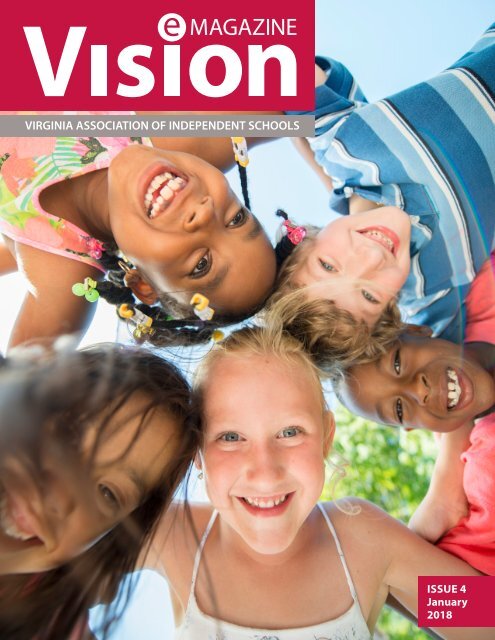 Vision EMag January 2018 Issue 4
You also want an ePaper? Increase the reach of your titles
YUMPU automatically turns print PDFs into web optimized ePapers that Google loves.
e MAGAZINE

VIRGINIA ASSOCIATION OF INDEPENDENT SCHOOLS

ISSUE 4

January

2018
---
e MAGAZINE

CONTENTS

2

3

5

7

9

11

From the Desk of the Executive Director

Browne Academy Faculty and Staff

Explore Diversity

Inclusion at the Hebrew Academy

of Tidewater

A Team Bound in Covenant

Who belongs? Who decides?

A Pledge to Support, Involve, Address,

and Value

Editorial Advisory Board

Jennifer Harter, Assistant Director of Marketing

and Communications, St. Catherine's School

Cathy Campbell, Director of Content Strategy

and English Faculty, Highland School

Interested in writing an article for an upcoming

Vision? Contact: Kim Failon, Director of Communications,

VAIS, at kimfailon@vais.org

CONNECT. COLLABORATE. LEAD.

ISSUE 4

January

2018
---
To pass the time back in the Spring,

while I waited for the ground to

thaw so that my garden beds could be

turned, I decided to work on a puzzle

in my sunroom. I chose one with 1000

pieces and 26 uplifting and encouraging

phrases about life. The work was mostly

solo, except for the company of my

dog, Dudley, who lay faithfully by my

side while I worked. Sometimes I'd play

background music, but mostly I worked

the puzzle in quiet solitude, allowing

my mind to wander and reflect on the

phrases as they came together.

As it turns out, it wasn't only the

phrases about life that I pondered, but

also how working the puzzle can reinforce

lessons on leadership. Lessons like…

1. A thousand pieces can seem

overwhelming when the box is first

unsealed. The first step I take is to turn

each piece over and then get them

organized into colors so that I know

what I'm working with. There's probably

a technical puzzle term for what I call

"knobs" and "divots," but whatever it is, I

pay attention to those, too.

In leadership, a problem to be solved can

have many intricate parts, some of which

may easily fit together, while others must

be turned and adjusted. Appreciate the

components of the problem and realize

that if they are identified as part of

the whole, they likely hold value in the

search for a solution.

From the Desk of the

Executive Director

Betsy Hunroe, Executive Director, VAIS

2. After I organize the pieces, I like to

separate out the edges and assemble

the border to frame what will go

inside. When the border is finished, it's

time to work on smaller portions of

the inside, perhaps by color or design.

In leadership, it's a good idea to understand

the framework of what you hope to

accomplish, and then methodically fill in the

pieces until the full vision is realized.

3. Sometimes I need to walk away from

the puzzle for a bit to clear my mind,

or sit in a different chair, or stand on a

different side of the table for a better

vantage point. I noticed that the

lighting in the sunroom at different

times of day also had an effect on

the colors of the pieces. I found it

amazing that one of the first pieces

I would see when I observed from a

different angle, or in different lighting,

was the very one I was looking for.

In leadership, it's important to gather

and embrace new perspectives. It's

important to shine the brightest light

on a situation. New viewpoints and

full illumination can often make all the

difference toward finding a solution.

These ideas don't apply just to leadership

but also, remarkably, to the focus

of this edition of Vision: Inclusion.

What priority do we, as educators, place

on teaching our students to appreciate

and value the myriad perspectives

represented in our communities?

We are not limited by the walls of our

school buildings and perimeters of our

playgrounds and fields in our ability to

directly affect individuals. Do we realize

and honor the potential impact that we

have on our greater society when those

individuals carry the message outward,

and work to make that happen?

Do we create open space for dialogue

and reinforce our students' skills of

listening, observation, and empathy with

which they can understand others?

I invite you to puzzle with me

on how we can effect change. We

begin with ourselves and our own

centeredness. And then we open our

hearts and minds to those of others.

Ultimately, piecing together our ideas,

we make all the difference.

And every moment counts when

we do so.

2
---
Browne Academy Faculty

and Staff Explore Diversity

Bethany Weinstein, Communications Manager

Browne Academy, Alexandria

Diversity is one of Browne Academy's four core values, so it is an innate part of

the school's tapestry. Head of School Peggy Otey knows the importance of this

natural diversity but also understands that it is a dynamic characteristic that should

receive ongoing attention. Mrs. Otey said that, "as educators, we have the awesome

responsibility to make sure we value and understand cultural differences within our

community. Our world is connected – if we are raising children to be open minded

and culturally proficient, we need to be as well." Therefore, during teacher work

week, Browne Academy faculty and staff participated in diversity training as part of

the school's professional development program.

Generous donations from the emotional appeal at last year's Browne Academy

Auction paid for the training. Rodney Glasgow, president of The Glasglow Group

and an in-demand speaker and facilitator on the subjects of diversity, equity, and

social justice, led the day-long session.

To prepare for Mr. Glasgow's training, Mrs. Otey assigned her staff summer

homework. She asked everyone to read Blindspot: Hidden Biases of Good People. The

book challenged readers to recognize their own hidden prejudices (many of which

are subconscious products of a person's experiences). It also offered suggestions on

how to counteract these biases.

After reading the book, Dara Manning, who teaches fifth grade math and English,

commented, "What struck me more than anything is that stereotypes about your own

people affect your view of and behavior toward yourself." Mrs. Otey's take away from

the book was that "there is always a need to deepen the understanding (of hidden

biases). Each staff member's challenge was personal – a look at yourself and how your

beliefs and experiences craft the way you respond to other people in your life."

Mr. Glasgow's training aligned with the messages of the book, focusing on

recognizing biases, both hidden and apparent, and learning to mitigate incidents

of bias that might occur. Engaging his audience, Mr. Glasgow led multiple handson

exercises throughout the day.

Going into the training, participants had certain expectations. Fourth grade

teacher Allison Coveney felt challenged in the sense that she was new to the

Browne community and did not have the history with the school that many of her

colleagues had. However, she said that it was "interesting to be an observer (during

the training), because it helped me get a feel for what I would experience."

Actually, Ms. Coveney's experience went beyond simply observing. She

reflected, "I grew up in the Bronx and went to a historically black college. I needed

to come back to the middle in a way that I have not done before. Having been

raised with African-American lawyers and doctors, I do not think of them as a threat

or negative. I have had to come out of my own bubble and share more of myself. I

realized that I have had my guard up but feel Browne is a place where I can be more

open about myself. Having the platform to share was helpful."

Information literacy specialist Maggie Marshall "thought the training was going

to be lecture based. It was refreshing to have activities to aid in the process of our

understanding of diversity. I was not expecting to feel as uncomfortable as I did,

but to learn and grow sometimes you need to feel uncomfortable."

One activity asked participants to write down their personal "bump," which is a

moment, event, or person that changes someone's normality. (After experiencing

the bump, a person might see the world differently. Mr. Glasgow explained that

the moment can be positive or negative. For instance, a student might realize she

3
---
loves math or has a good voice, thereby

altering what classes or enrichment

activities she pursues going forward.)

Participants then moved about

the room, pairing off to share their

experiences.

In another exercise, Mr. Glasgow

hung signs, each naming an identifier,

such as religion, family structure,

gender, and age. He asked attendees

various questions (What is the most

important thing to you? What do

you not worry about? What is most

concerning to you?) and had them

answer by standing by the sign that

was the most relevant to them for that

question. Lower school music teacher

Brittany Brandt found this activity

extraordinarily informative. She said,

"There were some generalizations, but

mostly you couldn't have predicted

the results. Everyone is the product of

their experiences and it proved how

much we can't limit or predict what

someone is thinking or feeling based on

our own experiences. Thinking in this

way can have a tremendous effect with

our students. We may miss something

about a student because we don't find

it important. Opening up the boxes that

we may have unintentionally placed

students in opens up not only our own

windows but ones for our students."

Mrs. Otey agreed that the sign

exercise was enlightening, particularly

when attendees had to stand under the

sign with which they, personally, most

related. "It really made me think about

how I identify myself," she said.

Mrs. Marshall also found the

identifier activity useful. "I found it

interesting to see what sign everyone

ended up standing under during

the activity. It helped me gain a

better perspective of my colleagues'

backgrounds and why they feel the way

they do about certain themes."

Reading Blindspot and participating

in the diversity training not only allowed

self-reflection, but also impacted Browne

Academy's teachers in their classrooms.

For instance, Ms. Coveney said, "It is now

at the forefront of my brain to appreciate

and accept all children for who they are. I

am more cognizant in my teaching about

treating children differently, and I ask

myself whether I am more comfortable

with girls or children of color because of

who I am."

The diversity training prompted

changes in how Mrs. Marshall manages

the library. In the process of ordering

new books, she now takes students'

opinions and diversity into account.

"If the students do not see themselves

or their culture represented, they will

have a harder time feeling at home in

their environment. I want to make the

Browne Academy library a place where

the students see themselves in the

literature they read and research they

conduct. The diversity training inspired

me to take a look at our library and

see if it's meeting our students needs,

socially, academically, and culturally."

Following Mr. Glasgow's session, Mrs.

Brandt also re-evaluated her classroom

mentality. "One of my goals this year

is to keep questioning and exploring

with my students. I hope to get to

know them more than on a superficial

level and to continue questioning

my own perception, perspective, and

experiences. I've been intentional in

discovering the hidden curriculum I'm

teaching. What are the biases found in

history or in text books? How do I adjust

that for my students to make my class a

more meaningful experience?"

Third grade teacher Robyn Laha

commented, "Hard conversations need

to be had. I grew up in a not-verydiverse

environment. Over my years at

Browne, I've been exposed to people of

different upbringings, backgrounds and

ethnicities. The longer I have been here,

the more open and less intimidated I

am about talking about differences in

culture and backgrounds. Everyone is

unique in their own wonderful way."

Echoing Ms. Laha, Mrs. Marshall

summarized, "Every little thing – each

diverse thing – makes everyone who

they are."

Mrs. Otey was pleased at how

engaged the faculty and staff were

with the professional development.

"So many took to heart the importance

of the work we are doing. Personally,

I definitely am thinking about things

differently, consciously considering

what I am saying or doing and whether

there is a hidden bias. The Blindspot

book and diversity training had a

profound impact on me."

Those eager to dig deeper into

diversity on campus will not be

disappointed. Mrs. Otey promises that

reading Blindspot and participating in

Mr. Glasgow's training were "just the

beginning."

4
---
Inclusion at the Hebrew Academy of Tidewater

Carin Simon, Admissions Director, Hebrew Academy of Tidewater, Virginia Beach

There is a Jewish Proverb,

"Who is wise? The one who learns from every person."

Many consider a private school education to be an

experience of homogeneous education, but within every

group of students there is always a range of student abilities.

At the Hebrew Academy of Tidewater (HAT), our goal is to

create a caring community so that students feel comfortable

asking for help and accepting that help from teachers and

fellow students. Many of our "mission appropriate" students

may thrive at our school, but have a specific learning disability

or attention issue that makes learning more difficult for them

in specific subjects. In these cases, we look at the student's

needs and design inclusion strategies in order to set the

student up for success. We emphasize that all students have

a variety of strengths and a variety of weaknesses, and we all

learn from each other.

Having small class sizes of fewer than 20 students per class

at HAT, teachers are able to offer differentiated instruction.

Students can be seen working one on one with a teacher as

other students work independently on their classwork. Our

project based learning approach allows students to work in

groups to explore, create and discuss ideas for an assigned

project. Students of all ages work together and learn from

each other. As a result, students feel motivated and excited

about their work.

At HAT, we understand that young children need to

fidget. Their little bodies are not made to sit still for hours at

a time. How do we compete with ensuring that our students

are learning all that is expected of them? HAT classrooms

are equipped with enhancements, such as, bouncy chairs,
---
left: HAT students hard at work at stand up desks.

far left: Maureen Sullivan, Student Support

Specialist at HAT, works with a group of children

Carin Simon

stationary bikes to use while seated, a

standing desk, and a cord that attaches

to a desk for resting one's feet. Students

are seen throughout the school

utilizing these tools. When students are

comfortable in their classroom, they are

able to focus better on their classwork.

Teaching students self help skills is

key in any classroom with a variety of

skill levels. Teachers provide visual aids

on the board to help students follow

directions, and opportunities for partner

work allow students to collaborate

and alleviate the pressure of "getting

everything right". Students are taught

study skills such as how to break up

work into chunks and study a little bit

each night when a test will be given at

the end of the week.

Invariably, inclusion can mean more

than basic learning accommodations.

HAT has a wonderful Student Support

Specialist on staff. When a teacher has a

concern about a child's performance, he/

she will speak with our Students Support

Team to determine accommodations that

can be made for successful learning. Our

Student Support Specialist meets each

day with a list of students to help provide

extra support. Sometimes they need

extra tutoring, help with organization

or ongoing classroom assistance. She

ensures that each student's educational

needs are met in the classroom.

Behavior problems in children often

stem from school anxiety. Students

have all sorts of worries which can

impact both behavior and academic

performance. Last year, HAT introduced

a mindfulness program with the

students. They started the school day

with a short yoga class to calm their

minds. These classes were followed

by a lesson on social and emotional

skills using the Second Step Program.

Teaching children how to communicate

their worries along with giving them

strategies when worries arise has proven

essential to student success.

When a student receives an

evaluation with recommended therapies

and accommodations, the Hebrew

Academy makes it their responsibility

to do everything that they can

within their capabilities to make the

accommodations for the students.

Teachers are trained in accommodations

to meet the needs of the student, and

parents are encouraged to seek out the

recommended support therapies. It is an

important school and parent partnership.

Currently, we have students who receive

outside therapies for dyslexia, speech,

and occupational therapy.

At the Hebrew Academy, we believe

it is our responsibility to provide the

best education to our student body.

Every student is unique and has his/her

own individual learning style. We strive

to provide learning accommodations

and opportunities for inclusion in the

classroom whenever possible to meet

the needs of each of our students.

6
---
A Team Bound in Covenant

Cynthia Grier Lotze, Co-President, Virginia Diversity Network,

and Upper School English Teacher, St. Catherine's School, Richmond

Many of us in the independent school community began this year inspired by

thoughts borrowed by Trinity School Head John Allman from Rabbi Jonathan

Sacks in Sacks' book, The Home We Build Together. Allman and Sacks are interested

in our commitment to community less as articulated by the definition of contract

and more as encompassed by the word covenant. Both see a covenant as a moral

commitment, sustained not by letter of law or by self-interest, but by loyalty,

fidelity, faithfulness. Contract is about entitlement, Allman summarizes, covenant

is about fulfillment. Drawn to inclusion and equity work by that same spirit of

a promise fulfilled, the Virginia Diversity Network (VDN) is a group of dedicated

teachers and administrators, all with full-time positions in Virginia independent

schools, who have joined with VDN to support a more covenant-based approach

to inclusion in independent school education. We are deeply convinced of the

importance of schools that include, support, and ultimately retain students,

faculty, and staff of underrepresented groups. But doing so requires more than

awareness and concern – inclusion demands explicit goals, priorities set in direct

pursuit of these goals, and a true openness to the difficulty of institutional change.

Inclusion work's initiatives can be challenging both to understand and to

execute: how does one pursue equity as opposed to equality? True inclusion over

simple tolerance? What is the best way to investigate the bias in an institution

and reverse trodden paths so that students, faculty, and staff of underrepresented

groups are both welcome, actually admitted or hired, and then supported? These

endeavors are and are not, as some institutions like to have it, everyone's work. To

limit inclusion to everyone's work dilutes the importance of the targeted, concrete

skills needed to create an inclusive school; it bespeaks a merely general concern

on the part of a school to demonstrate to its underrepresented students, faculty

and staff that their roles are both special and crucial. And in most independent

schools, underrepresented people are, by definition, special. In making inclusion

work general, however, we deny that underrepresented people, and a school's

support of them, are crucial to the balanced life of a school. Truly acknowledging

the importance of varied socioeconomic backgrounds, of people of color, people

with disabilities, and the LGBTQ+ community in a school involves the hard work

of covenant over contract, because, as any harried head of school will tell you,

many independent schools' efforts to hire and retain faculty of color don't seem

to be working, and students of diverse ethnicities, backgrounds, abilities, and

sexual orientations feel they don't hear their stories told in the classroom, and

they don't see their identities reflected in the identities of their teachers. At VDN

schools can drop off our map when one person committed to inclusion leaves the

school or when the position of diversity director, if the school has one, is either

so limited by internal politics or so overloaded by duties, that person burns out

and is unsuccessful. Schools, as a result, can tell themselves diversity directors

7
---
don't work, that it's everyone's work,

that it's an extra, or that the work

simply causes trouble. The schools in

our network look to VDN not only for

professional development workshops

and programs, but for a space for honest

dialogue about the reality of identity

work and inclusion in our schools

and a belief that a central location for

these efforts in a school matters to

true forward movement in creating

an inclusive community. An inclusion

team has the charge of asserting these

concrete needs, directing the power

and resources to see out those needs'

concrete execution.

To move past hand wringing

demands commitment over mere

concern, demands a team of people

devoted to bettering their school

who are given the power to suggest

and implement changes at every

level – from board selection to hiring,

from admissions to curriculum. Any

independent school worth its weight

in accreditation paperwork has a line

about diversity in its mission statement.

Whether it's an assertion about a diverse

student body or a claim of support for

diverse perspectives in the classroom,

we must ask: how are we in Virginia's

independent schools tangibly achieving

these core elements of our schools'

missions? Wouldn't a true dedication to

diversity first be articulated as inclusion

not diversity, which is just the look of

a school, not its feel? Then, second,

use every best practice in inclusion

scholarship, as we demand of all other

disciplines, to bring our schools in line

with the values articulated in those

carefully worded mission statements? A

clear, concrete articulation of a school's

commitment to inclusion comes in

maintaining a team of people whose

exclusive job it is to support a life of

equity and justice on campus. And that

team's covenant with the school? It puts

into action clear plans in that spirit of

the law that makes adherence to the

letter of the law meaningful. Virginia

independent schools must do these

things if we indeed value diversity:

Hire underrepresented faculty, but go

above and beyond to understand and

provide support for the extra demands

put on a teacher who might be the

only person of color, the only gender

nonconforming person, or the only

out lesbian serving students of similar

identity. Admit underrepresented

students, but disturb the complacency

of our curricula and show those children

they matter at the most foundational

levels of our schools' educational

philosophies. Hire faculty of color, queer

faculty, and faculty with disabilities, so

every student can envision a future as

an intelligent, dynamic adult whose

expertise and identity are valued in the

workplace. And, hire a team devoted to

ensuring that all this comes to fruition,

a team bound in covenant, people

called to making a home for others and

devoted to the soul of our schools.

Inclusion demands

explicit goals, priorities

set in direct pursuit of

these goals, and a true

openness to the difficulty

of institutional change.

8
---
??????

??????

?????

??????

??????

?????

??????

??????

?????

??????

??????

?????

Who belongs?

Who decides?

Mary Riser, Retired Head of School

James River Day School, Lynchburg

In middle school, popularity is a harsh mistress, and the definition of

cool is inscrutable to most adults. (Is it wealth, athleticism, fashion

sense, charisma, precocious behavior, wit, early physical development

of adult characteristics, or something else entirely that confers social

power in puberty? Kids know it when they see it as surely as chickens

in the barnyard know the pecking order.) Because young adolescents

spend so much time worrying about their social status, teachers who

can make their classrooms more inclusive are more likely to be effective

teachers. Students who feel safe and valued have more mental energy

left for attending to the lesson.

9
---
??????

??????

????

??????

??????

????

??????

??????

????

??????

??????

????

Mary Riser

Teachers can't truly make popularity

something students leave at the door.

What teachers can do, however, is to

work to ensure that each student in the

class has an equal voice and an equal

seat at the table. The teacher in the

classroom is the one who has the power

to decide who belongs, during that class.

How is it possible for a teacher to level

the social playing field in the classroom?

1. Control the seating so that the more

socially powerful children don't always

get to sit with their friends. Make sure

that the less socially powerful children

are not pushed aside.

2. Control the conversation so that the

more socially powerful children don't

dominate the discussion, don't always

get called on first, aren't allowed to

hang back and socialize with their

friends during instruction, and aren't

allowed to show off, distracting

instruction.

3. Ensure that the less socially powerful

children have chances to make

meaningful contributions without

feeling singled out or propped up by

the teacher.

4. Build strong relationships with each

student individually. Know the talents

and passions of every student and

acknowledge them equally.

5. Immediately stop any mean teasing.

Sometimes it's quite difficult to tell if

teasing is mean, but err on the side

of stopping anything that feels like it

might be unkind or exclusive.

Oh my, what a tall order! Teachers

need to have deep awareness of subtle

social cues. They need to know their

own prejudices for or against certain

types of students. They need to make

a sincere effort to connect with all

their students. They need to develop a

spider sense for mean teasing that can

be as subtle as an eye roll or a turned

shoulder. How can teachers develop

these skills?

As a teacher and then teacher supervisor

in Virginia independent schools for

30 years, I was always on the lookout for

presentations, programs or books that

could help teachers develop these extremely

important skills. I have found one

program that I know can deliver the skills

that teachers need: LivingSideBySide®,

created and refined over the past 40

years by an organization called Legacy

International (http://www.legacyintl.org/

livingsidebyside/). The program has had

great success in Kyrgyzstan in areas of

ethnic tension, and I am volunteering for

Legacy International to help bring the

training to teachers in the United States.

Current research supports the need

for social/emotional learning as a necessary

part of student academic success.

(www.aspeninstitute.org/publications/

evidence-base-learn/) I am excited to

introduce American schools to a program

that will result in improved social/emotional

skills for teachers and students.

LivingSideBySide® first trains teachers

to develop skills in the areas of personal

awareness, dialogue, collaboration, inclusivity,

respect for diversity, leadership, and

community building. After teachers are

trained in these skills, they then facilitate

this training for their students, with guidance

from a mentor. The training builds

capacity in the teachers and THEN the students.

Teachers who receive the training

bring their new skills into the classrooms

for the benefit of their students and entire

school community.

10 ision
---
A Pledge to Support, Involve,

Address, and Value

Molly Pugh, English Department Chair, Co-Director of Equity and Inclusion

Episcopal High School, Alexandria

Like so many schools across Virginia,

Episcopal High School (EHS) strives to

enroll students of diverse backgrounds,

ethnicities, localities, and beliefs. But

when students accept our invitation

to attend the school, we enter into a

contract with them – a contract that

defines inclusion at EHS. We believe that

the invitation to join EHS is an empty

one without our pledge to support,

involve, address and value students for

what they are, where they come from

and what they bring to our community.

We will all say the wrong thing at

some point. The impact of our words

or actions will sometimes diverge from

our intent. There will be times when

we don't welcome someone to dance

even though we brought them to

the party. At EHS, the Office of Equity

and Inclusion (OEI) recognizes these

inevitabilities, and seeks to educate

and inspire, invite and include. We

work to equip adults and students

alike with the ability and motivation

to follow up when something doesn't

go right, to ask questions from a place

of caring, to learn from mistakes, to

practice conversations before going for

the real thing, and to make empathy

one of Episcopal High School's valued

traditions.

Empowered particularly by

administrative support and faculty

enthusiasm, the OEI engages across all

areas and constituencies at Episcopal

High School. We provide programming

for faculty and staff, from workshops

in the summer, to casual brown bag

lunches hosted by our office, to a

yearly SEED course. Last year we

created workshops around the difficult

conversations generated by the election

and coached faculty to facilitate these

workshops. This year, we continue that

work by demonstrating opportunities

to make topics of diversity, equity and

inclusion essential in every classroom,

and we shared teaching resources for

all academic subjects on the events

in Charlottesville and around the

state and country. We support our

faculty's attendance of workshops

and conferences around the country,

including The NAIS People of Color

Conference (POCC), and we scaffold

their engagement with the community

upon their return.

For our students, we provide

opportunities both formal and informal

to engage with current events, to

consider deep questions, to practice

difficult conversations, and to learn

more about themselves and others.

At the beginning of the academic

year, our student leaders (about 120

students ranging from club treasurers to

senior monitors) attended a week-long

leadership training summit on campus.

Three of the six days of programming

were dedicated to topics of equity

and inclusion. We also encourage

student attendance at conferences and

workshops off campus, including the

the NAIS Student Diversity Leadership

Conference (SDLC), Diversity in the DMV

and other events sponsored by the

Virginia Diversity Network. We sponsor

cultural awareness and education clubs

that welcome all students and attempt to

engage the whole community. Getting

regularly scheduled programming, safe

spaces and catered meals for our six

(soon to be seven) affinity groups has

also been an important initiative. Now

we have over 100 students regularly

attending these monthly gatherings and

enjoying time with students and faculty

members who identify as a member of

the affinity group.

Another important event sponsored

by the OEI brings alumni, along with

some board members and parents,

together with our faculty, staff and

students. The Martin Luther King, Jr. Day

Symposium is a day of programming

that seeks to highlight and reflect

upon King's values and varied, nuanced

interests. Sessions have included or

will include a panel of black alumni

reflecting on their experiences at EHS,

a teacher-led workshop on Muhammad

Ali, an experiential tour of slavery's

places and practices in Alexandria led

by a City Councilmember, an alumna's

presentation of her research into the

communities surrounding EHS in the

19th century, a workshop on the biology

of implicit bias and its implications, and

a school-wide service event. We want

this celebratory, inclusive day, along

with the empathy and thoughtfulness

it inspires and represents, to become

one of Episcopal High School's valued

traditions.

It is a privilege to do such work.

11
---
Special Thanks

to the 2017-18 VAIS Strategic Partner

www.creative-va.com

6802 Paragon Place, Suite 525, Richmond, VA 23230

VAIS.ORG / ph: (804) 282-3592

VAIS.ORG VAIS.org VAIStweets