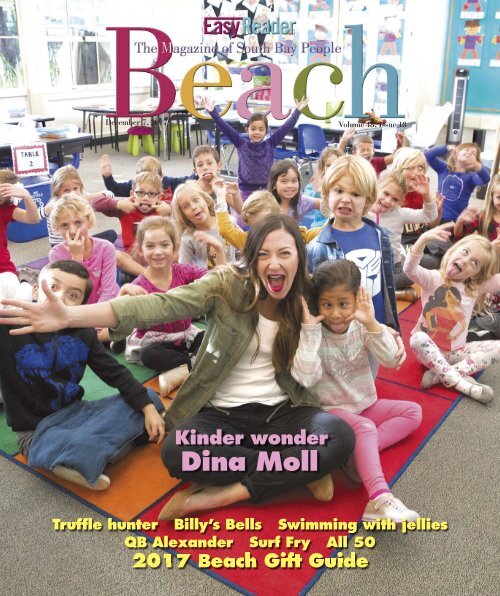 Create successful ePaper yourself
Turn your PDF publications into a flip-book with our unique Google optimized e-Paper software.
December 7, 2017

Volume 48, Issue 18

Kinder wonder

Dina Moll

Truffle hunter Billy's Bells Swimming with jellies

QB Alexander Surf Fry All 50

2017 Beach Gift Guide
---
2 Easy Reader / Beach magazine • December 7, 2017
---
26th Annual

Saturday

December 9th

Vera Jimenez

Grand Marshal

KTLA5 Meteorologist

"California Christmas"

2017

2:00 pm Pier Holiday Concert

4:30 pm SUP/Paddle Craft

5:30 pm Boats

Main Channel of King Harbor

Redondo Beach

Best Parade Viewing Locations

- Free Bleacher Seating in King Harbor Marina

- Sea wall by the Sportfishing Pier

- Portofino Hotel and Marina sea wall

- Seaside Lagoon sea wall

- Come early for best viewing

Enjoy dinner at one of the many harbor and marina view restaurants including

BaleenKitchen, Joe's Crab Shack, The Portofino Hotel Lobby Bar, R10 Social House,

Ruby's, Samba or Sea Level at Shade Hotel. Stroll the harbor, boardwalk, and pier

shops and view the Holiday Harbor Lights along harbor residence balconies. Family

fun arcade, boat rides, cocktails, live music, seafood & more!

Gift cards make great holiday stocking stuffers or business gifts!

Book your holiday parties or order catering now!

/visitkingharbor.com

For more information and details about the event, visit khyc.org

Ad generously donated by King Harbor Association

visitkingharbor.com
---
Considering A Major Remodeling Project?

REMODEL THE DESIGN/BUILD WAY - EVERYONE YOU NEED UNDER ONE ROOF!

Enjoy The Remodeling Process From Concept to Completion

Get inspired at our state-of-the-art Design Center in El Segundo.

It's the perfect place to see an array of ideas for your home.

Visit Our

For information on upcoming seminars and events:
---
December 7, 2017

Volume 48, Issue 18

BEACH PEOPLE

12 Sounds from the sea by Kevin Cody

Billy Meistrell converts outdated scuba tanks into memorial bells.

16 Grounded in Kindergarten by Mark McDermott

Grand View Teacher of the Year DIna Moll views kindergarten

as education's foundation.

24 Bay bomber by Scott Tapley

Former Junior Lifeguard and Rolling Hills High swimmer Amy Gubser

fights cold and jellies while swimming across Monterey Bay. Next up –

the Santa Monica Bay.

28 Handoff from dad by Randy Angel

Quarterback Jack Alexander's stellar season at Redondo might not have

happened if his dad hadn't stepped up to save local youth football when

his son was seven years old.

32 50 states without a plan by Tony Cordi

The first lesson of traveling is to be open to a change of plans, a Hermosa

Beach family learns after visiting all 50 states.

34 Truffle hunter by Richard Foss

Chef Michael Mazzotta and his dog Capo train to hunt for one of the

culinary art's most valued ingredients.

36 Fry the surfer by Ryan McDonald

Alex Fry leads perennial surf powerhouse Mira Costa into the new era.

And it's not all in the water.

8 Calendar

10 Manhattan Beach Tree Lighting

BEACH LIFE

ON THE COVER

Grand View Teach of the Year

Dina Moll.

Photo by

Brad Jacobson

(CivicCouch.com)

14 Mama Liz Thanksgiving Dinner

20 Holiday Gift Guide

STAFF

PUBLISHER Kevin Cody, ASSOCIATE PUBLISHER Richard Budman, EDITORS Mark McDermott, Randy Angel, David

Mendez, and Ryan McDonald, ARTS & ENTERTAINMENT Bondo Wyszpolski, DINING EDITOR Richard Foss,

STAFF PHOTOGRAPHERS Ray Vidal and Brad Jacobson, CALENDAR Judy Rae, DISPLAY SALES Tamar Gillotti and

Amy Berg, CLASSIFIEDS Teri Marin, DIRECTOR OF DIGITAL MEDIA Hermosawave.net, GRAPHIC DESIGNER Tim Teebken,

DESIGN CONSULTANT Bob Staake, BobStaake.com, FRONT DESK Judy Rae

EASY READER (ISSN 0194-6412) is published weekly by EASY READER, 2200 Pacific Cst. Hwy., #101, P.O. Box 427, Hermosa

Beach, CA 90254-0427. Yearly domestic mail subscription $150.00; foreign, $200.00 payable in advance. POSTMASTER: Send

address changes to EASY READER, P.O. Box 427, Hermosa Beach, CA 90254. The entire contents of the EASY READER newspaper

is Copyright 2017 by EASY READER, Inc. www.easyreadernews.com. The Easy Reader/Redondo Beach Hometown News

is a legally adjudicated newspaper and the official newspaper for the cities of Hermosa Beach and Redondo Beach. Easy Reader

/ Redondo Beach Hometown News is also distributed to homes and on newsstands in Manhattan Beach, El Segundo, Torrance,

and Palos Verdes.

CONTACT

n Mailing Address P.O. Box 427, Hermosa Beach, CA 90254 Phone (310) 372-4611 Fax (424) 212-6780

n Website www.easyreadernews.com Email news@easyreadernews.com

n Classified Advertising see the Classified Ad Section. Phone 310.372.4611 x102. Email displayads@easyreadernews.com

n Fictitious Name Statements (DBA's) can be filed at the office during regular business hours. Phone 310.372.4611 x101.

6 Easy Reader / Beach magazine • December 7, 2017
---
December 7, 2017 • Easy Reader / Beach magazine 7
---
S O U T H B AY

CAL ENDAR

Saturday, December 9

Build me a sandman

The South Bay may not have

snow but there's sand…How

about building a sand snowman?

Arrive early to claim a

prime site. Registration starts

at 8:45 a.m. north of the Hermosa

Pier at shoreline and

building commences at 9 a.m.

Prizes awarded. Judging begins

at 11:15 a.m. For more information,

contact Community

Resources Department at (310)

318-0280 or hermosabch.org.

Christmas car show

The Christmas edition of

Cruise at the Beach. Stroll

among some of the finest examples

of Southern California

car culture. Judging begins at 9

a.m. with the trophy presentation

at 2 p.m. In keeping with

the spirit of the season, please

bring an unwrapped toy to

benefit Cheer for Children

Christmas Toy Drive. Ruby's

Diner, 245 North Harbor

Drive, Redondo Beach. If you

wish to display a car or require

more information, contact

Larry Neville at (310) 962-

7438. Registration is $20.

Dickens' holiday

Enter Fezziwig's warehouse

replete with Victorian decorations

and several Dickens'

characters. Fagin and the Artful

Dodger from Oliver Twist

will teach how to pick pockets.

Come dressed in Victorian

style! 10 a.m. - 4 p.m. The International

Printing Museum,

315 W. Torrance Blvd., Carson.

$25 per guest, $80 groups of 4.

(310) 515-7166 or visit printmuseum.org.

Yoga on the Pier

Free yoga on the Redondo

Beach Pier. Everyone is welcome

to take part in this all

level yoga class. Meet at the

Octagon, where the Pier meets

the International Boardwalk.

10 - 11 a.m. 100 Fisherman's

Wharf, Redondo Beach. redondopier.com.

Holiday concert

Free holiday concert and

Santa on the Redondo Pier presented

by Redondo Pier Association.

Take a selfie with

surfing Santa. Free holiday

parking. Free holiday activity

book for the first 150 kids.

Bring a new unwrapped toy

valued at $5 or more for a

chance to win pier prizes. 2 - 4

p.m. 100 Fishermans Wharf,

Redondo Beach (west end of

The Pier behind Tony's). Redondopier.com.

Christmas Faire

Annual Christmas Faire at

Alpine Village. Santa photos,

strolling Christmas carolers,

festive music, wine tasting,

live entertainment, food samples,

holiday gift vendors, and

Alpine Express Train rides. 3 -

8 p.m. Alpine Village, 833 W.

Torrance Blvd., Torrance. For

questions call (310) 327-4384.

Boat Parade

Brightly decorated boats and

paddle-craft parade through

the marina trying to capture

one of the event trophies. 4:30

- 10 p.m. King Harbor Yacht

Club, 280 Yacht Club Way, Redondo

Beach. For more information

contact Denise (Dede)

Harkins (310) 892-7475 or

Tracey McMartin (310) 962-

0227. kingharbor.com/holidayboat-parade.

Concert for Sandy

The Manhattan Beach Rotary

Club and Mira Costa High

School Interact Club present

classical guitarist Felix Kellaway

with the MBMS Madrigal

Singers and Joel Ruben.

Sandy Casey, a special education

teacher at Manhattan

Beach Middle School, was

among the victims of the

Route 91 Harvest Festival

tragedy. Proceeds provide a

scholarship to a student with a

demonstrated interest in teaching

children with special

needs. 7 p.m. Mira Costa High

School Theater, 1401 Artesia

Blvd., Manhattan Beach. Tickets

$20 at benefit.mbrotary.org.

Candy Cane Lane

The 1200 block of East Acacia

Avenue in El Segundo has

magically transformed into

Candy Cane Lane every holiday

season since 1919. The

homes are festooned with

lights and decorations and

Santa's sleigh stops for a visit

on certain nights through December

23. The street will be

closed to thru-traffic through

Christmas night, and most

houses still have lights up

through New Year's. From

sunset until about 10 p.m.

Sunday, December 10

Polar Express

The community is invited

for a special reading of The

Polar Express and photos with

Santa. Face painters, balloon

animals, crafts, hot chocolate,

cookies and tours of the museum.

Noon - 4 p.m. $15 per

family and includes everything.

Tickets are available online

at lomita-rr.org or at the

door the day of the event. The

Lomita Railroad Museum,

2137 W. 250th Street, Lomita.

For additional information and

ticket purchase, visit lomitarr.org/calendar.

Let it snow

Green Hills Let it Snow Holiday

Festival & Memorial Tree

Lighting. Free. Santa photos,

snow sledding, sleigh rides,

arts & crafts, and holiday

music. 2:30 - 5:30 p.m. Green

Hills, 27501 S. Western Ave.,

Rancho Palos Verdes. For questions

call (310) 521-4460.

Holiday parade

The El Segundo Chamber of

Commerce and Chevron presents

the annual Holiday Parade

beginning at 1 p.m. and is

expected to end about 3 p.m.

The route begins on Main

Street at Imperial Avenue and

proceeds south to El Segundo

Boulevard. Grandstands will

be located at Main Street and

Holly Avenue. Floats will be

theme decorated and Saint

Nick will make his appearance

at the end of the procession.

e l s e g u n d o c h a m b e r. c o m /

events-and-news.

Holiday fireworks

Manhattan Beach's signature

holiday event gets underway

at 4 p.m. with a concert

by the Hyperion Outfall Serenaders

followed by award-winning

Mira Costa Jazz Ensemble

at 5 p.m. and local favorite,

Joe's Band, at 6 p.m. Lou Giovannetti

will be Master of Ceremonies.

Skechers' Snow Park

will be open from 4 - 6:30 p.m.

with five 50 sled runs, two

snow play areas and snowmen

available for family photos. A

donation of canned goods,

cash or a new, unwrapped toy

is requested for admission to

the Snow Park. The Bounce

Park will have two huge slides

and the Fire Dog bounce for

smaller children. Fireworks

start at 7 p.m. and will be synchronized

to holiday music

with an extended grand finale

sponsored by Belkin. This is a

hugely popular event so be

sure to arrive early to nab

prime seating. Bring your own

beach chairs and blankets. For

additional information, visit

mbfireworks.com.

Christmas Pageant

Since 1953 Neighborhood

On Dec. 9, bring family and friends, shovels, scarves and

mittens because in Hermosa Beach where you can't make

snowmen, you have to make SANDMEN. Registration

starts at 8:45 a.m. north of the Hermosa Pier at shoreline

and building commences at 9 a.m. Lara, Tyler and Tristan

Shea won Most Traditional award at the 2016 Hermosa

Beach Sand Snowman Contest. Photo by Beverly Baird

Church presents its Christmas

Pageant as a free gift to the

community. Two shows: 5:30

& 7:30 p.m. Arrive early (5:15

or 7:15 p.m.) to enjoy the prepageant

music by the church

bell choir in the Sanctuary. Appropriate

for all ages. 415

Paseo Del Mar, Palos Verdes

Estates. (310) 378-9353 or

neighborhoodchurchpve.org.

Tuesday, December 12

Parent+child = fun

A morning of fun and learning

with your babies and toddlers.

Talk to experts on early

childhood literacy, development,

and health while kids

learn through play and art. For

ages 0-3 years and their caregivers.

10:30 - 11:45 a.m. Hermosa

Beach Library, 550 Pier

Ave. Registration required:

(310) 379-8475 or kwantuch

@library.lacounty.gov.

Support Group

Alzheimer's Caregiver Support

Group is an open gathering

of people who come

together to share their feelings,

thoughts and experiences in a

safe environment. Attendees

learn ways to better cope with

and manage the challenges of

dementia. (323) 930-6256 to

RSVP. 3 - 5 p.m. Miller Children's

& Women's Hospital

Long Beach Conference Room

A1/A2, 2801 Atlantic Ave.,

Long Beach. For more Senior

Plus events, visit Memorial-

Care.org/SeniorPlusEvents.

Thursday, Dec.14

The votes are in

Pages' Publisher Reps from

Penguin, Random House, and

Simon & Schuster will talk

about their favorite books for

the holidays. Reception begins

at 6:30 p.m., presentations at 7

p.m. Books and prizes will be

raffled off. Refreshments.

rsvp@pagesabookstore.com or

(310) 318-0900. 904 Manhattan

Ave., Manhattan Beach.

Friday, December 15

Cozy stories, crafts

Snuggle up for a family storytime

celebrating warm feelings

and winter. Then create a

seasonal card to share good

wishes. Parents: food will be

served. 3:30 - 4:30 p.m. Hermosa

Beach Library, 550 Pier

Ave. Contact Kay Wantuch for

questions at (310) 374-0746 or

email: kwantuch@library.lacounty.gov.

Saturday, Dec.16

The Nutcracker

The magic returns! 37th Anniversary

Nutcracker directed

by Uta Graf-Apostol. One

weekend only Sat. Dec. 16 at 7

p.m. and Sun. Dec. 17 at 1

p.m. & 5 p.m. $35 for adults,

$25 for children. Norris Theatre,

27570 Norris Center Dr.,

Rolling Hills Estates. (310) 544-

0403 x221 or palosverdesperformingarts.com.

B

8 Easy Reader / Beach magazine • December 7, 2017
---
December 7, 2017 • Easy Reader / Beach magazine 9
---
each holidays

MANHATTAN BEACH PIER LIGHTING

PHOTOS BY MARK MCDERMOTT

1. Santa Claus shares a

moment with a friend in his

sleigh, which was parked at

Metlox Plaza.

2. Cindy Grutzik and Lenora

Marouani hang out outside the

latter's shop, The Souk, with her

kids Sura and Pash.

3. Sonia Davis brought her 2-

year-old elf Mackenzie to see the

pier lighting.

4. Monika Crook and her kids

Nathan and Aviele.

5. The Manhattan Beach Middle

School Madrigal Singers.

6. The Yoga Loft crew and its

merry elves.

7. The Hyperion Outfall

Serenaders performed along

Manhattan Beach Boulevard.

8. Aspiring bakers apply the

finishing touches to cookies at

Becker's Bakery.

9. Anna Iantuono sings lead

with the Dietz Brothers Band.

10. The Harmony Carolers

sang up and down Manhattan

Beach Boulevard.

1

2

3 4

5

6

7

8

9 10

10 Easy Reader / Beach magazine • December 7, 2017
---
each people

Billy's

bells

Billy Meistrell with a retired scuba tank he made into a bell. Photo by Kevin Cody

A member of a pioneering diving family recycles retired scuba tanks

by Kevin Cody

As the early '50s era Dive N' Surf shop remodel

was being completed in 2014, Billy

Meistrell hit upon the idea of converting

one of his dad Bill's and uncle Bob's discarded

scuba tanks into a memorial bell. The twins' dive

shop was among the first in the nation and remains

the nation's oldest.

Billy sawed off the bottom of the old gray tank

and inside, for a clapper, suspended a chrome

ball from a trailer hitch. Then he replaced the

regulator valve at the top of the tank with a sailboat

shackle and hung the bell in front of the one

remaining cinder block wall from the original

store.

The sound from the nearly quarter-inch thick,

steel tank has the low, long traveling ring of an

offshore weather buoy.

"During tours of the store, I tell people to ring

the bell twice to say hi to Bill and Bob 'up top',"

Meistrell said.

12 Easy Reader / Beach magazine • December 7, 2017

Shortly after the store reopened, resident Al

Walsh brought in a scuba tank with a mermaid

on it that had belonged to his wife's dad Dudley

Wheeler. He asked Meistrell to make it into a

bell, like he had with his dad's and uncle's. Requests

for dozens of other memorial dive tank

bells followed.

"Instead of scraping the tanks, now they will

last for generations," Meistrell said.

"Divers' families and friends want the tanks

left dinged up so everyone knows the person

being remembered was a real diver. But now

non-divers are asking for ornamental bells. One

lady asked for a bell to hang from a tree in her

yard, where she had buried her dog. She gave me

the dog's leash for a pull rope," Meistrell said.

"'This is much nicer than a tombstone,' she told

me when she picked it up."

"Bells are rich in symbolism and each one has

a unique ring. I made a pink bell for a breast cancer

fundraiser and a purple bell for a pancreatic

cancer fundraiser. Hawaiian artist Brad 'Tiki

Shark' Parker applied his tiki artwork to one of

the dive tanks and sold it through a Hawaiian

gallery for $1,500," he said.

New scuba tanks costs $200 to $400 and their

diving lifespan is limited by law. To prevent the

costly, solidly made and aesthetically appealing

tanks from going to a landfill, Meistrell is constantly

inventing new uses for them.

Some of the uses include wine chillers, table

legs, planters, serving dishes and phone charger

stations. For the holidays he painted three bells

red, white and green and hung them side by side

in front of the Dive N' Surf store. When the wind

blows they ring like church bells.

Scuba tank bells are available at Dive N' Surf,

504 N. Broadway. Meistrell can be reached at bgbstrell@aol.com.

B
---
each people

COMMUNITY GATHERS FOR

Mama Liz Thanksgiving dinner

O

ver 50 cooked turkeys and even more pies

were delivered to the Hermosa Beach Kiwanis

and Rotary halls Thanksgiving morning.

The donated fixings were just enough to serve the

more than 400 guests who attended the 34th Annual

Absolutely Free Mama Liz Thanksgiving Dinner. The

dinner is organized each year by Berkshire Hathaway

Realtor Donna Dawick and the Easy Reader staff.

Readers donate cooked turkeys. Sandpipers donates

the pies. Real Estate West Realtor Jonathan Coleman,

of the band Abrakadabra, organizes local musicians

who perform throughout the day. Dennis "Balloon

Man" Forel and Vince "Bubbles" Ray entertains the

kids. Hermosa Celebrations' Sandy and Michael decorate

the Kiwanis Hall with brightly colored, helium

balloons. This year's chefs were Enrique and Ava

Ramirez and rolls were donated by Panera Bread.

Hermosa Kiwanis made their hall available for the

diners and the neighboring Hermosa Rotary Club donated

use of its kitchen for carving the turkeys.

1

2

3 4

PHOTOS BY KEVIN CODY

1. Donna Dawick and

Ethan Hamilton.

2. Ellen Jenkins of the

Redondo Chamber

delivers a turkey to the

carving crew — Marc

Hamilton, Neil Boyer

and Jessi Aispuro.

3. The morning crew's

Ben Morse with sons

Henry and Jack.

4. Jerry "The Piano

Man" Rothschild has

been performing for

the Mama Liz Dinner

for over 20 years.

5. Chefs Ava and

Enrique Ramirez.

6. Phoebe Benya, Teri

Contreras, Donna

Dawick and Alicia.

7. Jessica and

Jennifer Pusateri.

8. The Harrow family

Michael, Corey, Talia

and Avigal.

9. Humble Harry sings

"A Boy named Sue"

with Johnnie Pal on

slide guitar.

10. Music director

Jonathan Coleman.

11. Server Jessie Kay.

5

6

7

8

9

10 11

14 Easy Reader / Beach magazine • December 7, 2017
---
310.539.6685 310.884.1870

310.326.9528

866.BEYOND.5

310.997.1900

www.cflu.org

310.530.5443

310.534.9560

CUT * COLOR * STYLE

310.539.2191

310.326.3354

310.539.2993

310.530.4888 310.534.0220

310.530.3079

310.326.4477

New Smiles Dentistry

Stephen P. Tassone, DDS

310.791.2041

310.517.0324

310.530.0566

310.517.9366

310.326.8530

424.347.7188

310.530.3268

TORRANCE

TOWNE BEAUTY

CENTER

310.325.2960 310.891.2237

310.539.1808

310.539.3526

310.530.8411

WineShoppe

310.539.1055

Northwest Corner of

Crenshaw Blvd. & Pacific Coast Hwy. in Torrance

~ For Information, Call 310.534.0411

A LA CAZE DEVELOPMENT COMPANY PROJECT

December 7, 2017 • Easy Reader / Beach magazine 15
---
each people

Where

education

begins

by Mark McDermott

Grand View Elementary Teacher of the Year Dina Moll in her kindergarten classroom. Photos by Brad Jacobson (CivicCouch.com)

Early on a Thursday afternoon in November,

a chorus of "ehs" were echoing in Room 12

at Grand View Elementary School.

Twenty-five kindergartners sat in a semi-circle

around teacher Dina Moll, who was making a

game out of a lesson regarding the pronunciation

and drawing of the letter "e." This was the 59th

day of the school year; the students were on their

second time through the alphabet.

"E is one of those letters that is tricky," Ms.

Moll told the class, as she demonstrated how to

draw a small "e" starting with the line in the middle.

"Draw the diving board, then jump up, and

around!"

An overhead projector illuminated a series of

slides featuring a barnyard full of animals, including

a cheerful elephant and some chickens with

eggs. As if it were a game show, Ms. Moll called

up different kids to identify the right letter to use.

The large projector screen was a touch screen, so

the kids could drag each appropriate "e" to a

bucket in the bottom corner to win.

"I have an 'e' before a 'y' in my name," said one

girl.

"That is why you are an 'e' professional," said

Ms. Moll.

Every child in the classroom was paying full attention,

which for a group of two dozen five-yearolds

only two months into their educational lives

counted as no minor miracle. When an elf appeared

on the screen, Ms. Moll reminded the

class of the elf who'd appeared in their classroom

not so long ago.

"This is what I was for Halloween," she said.

"An elf!"

Welcome to the magical kingdom that is Ms.

Moll's classroom, where learning is joyful and

the ringleader of 25 buzzing little beings is the

most energetic of all. A class never goes by in

which Ms. Moll has not made direct eye contact

and interacted with each and every child in the

room. Ms. Moll compares her role in the classroom

to that of an actor, because she can't take a

single moment off — she has an audience glued

to her every movement. But it's hardly a passive

audience. The students are ready to model their

teacher's every behavior, and she never forgets

it. Her mood is always buoyant.

"Whatever is going on in your personal life

doesn't matter when you walk through that

door," Ms. Moll said. "I feel like I am on stage performing...At

this age, they are sponges. They pick

up on everything I say and everything I do. If I'm

excited about a project, they are going to be excited.

If I am not into a project, they are not going

to care about it."

"You are on every second of every day. There

is no down time. You don't get to pass out a test

and say, 'I'll be here at my desk.'"

Ms. Moll was named Grand View's Teacher of

the Year last June in part because her colleagues

recognized the depth of her dedication, something

reflected not only in her ebullient, attentive

classroom presence but in the hours of painstaking

preparation that make her lessons fun, riveting,

and effective for kindergartners.

Grand View Principal Nancy Doyle said that

Ms. Moll is usually the first person at the school,

arriving at 7 a.m. each morning. The work she

puts into planning, Doyle said, makes her teaching

appear almost effortless. But a lot of effort

goes into the structure of each day.

"First of all, it's the smile that is on her face, so

welcoming to each child as they walk in that

door, and you just know in your heart they are

going to have a happy and productive day," Doyle

said. "Once inside the room, she is carefully organized.

She fastidiously plans her lessons….Each

16 Easy Reader / Beach magazine • December 7, 2017
---
is designed to engage, designed to keep the kids active. Little sound bites

happen throughout the day; five-year-olds' attention spans wax and wane."

Kindergarten instruction is foundational. Ms. Moll's classroom is brightly

adorned, but with specific purpose. "There are so many beautiful reasons

to be happy," says a sign above her desk. Between her desk and the chalkboard

a polka dotted tarp hangs with the words to "The Silly Squirrel" song

pasted on via green construction paper squares.

The song is part of a poetry series used to emphasize tracking when reading,

sight word practice, grammar, punctuation, and how to change your

voice to match the contours of the lyrics. Ms. Moll uses songs to help teach

many lessons. There's a clean-up song, a sit down song, and a goodbye

song.

"Most songs are used to help with transitions, or times when children

are moving from one activity to another," she said. "It keeps them focused

and on task."

Nearby, a "sharing schedule" was written on a marker board with each

student's name assigned with others for each day of the week. The students'

desks are shared, two-foot high tables encircling a rainbow-colored

carpet, where the kids sit when Ms. Moll gathers them for group instruction

intermittently throughout each day. Behind her desk, laying peacefully

in a cage, was a kindly-eyed golden labrador named Quinta. Ms. Moll volunteers

for a non-profit that trains service dogs, and though Quinta will

only be in the classroom for a month, the kids are happy to be part of the

dog's socialization.

"When you are creating a foundation, the first thing is you have to get

kids to want to come to school," said Doyle. "She fills her classroom with

a sense of community, and the students' days with a myriad set of activities.

So the day is super varied. They experience everything they need to

experience in their little developing minds. The way she does it seems so

seamless, but I know she is working super hard."

"That service dog, too, really shows she is an example to the kids, of selflessness,

of being responsible, and that really sets a tone," Doyle said.

"Everything is intentional, but it looks effortless. Whether it's life lessons

about being respectful, or learning an academic lesson on the meaning of

four plus four, they are doing it effortlessly but extremely intentional under

her direction."

The "e" lesson wasn't on the day's schedule, but the kids had finished

an art project 20 minutes earlier than planned. Ms. Moll, attuned to the

mercurial nature of her students, always has alternative plans built into

the school day. In fact, part of the reason she loves students at this age is

their inherent spontaneity. No two days are alike.

"They are so funny, to me," she said. "I just can't predict what they will

say, and what they will do."

The art projects each student put together were made out of eight different

pieces of colored construction paper cut to form the sun and the sky

above two green trees and the ocean, with the inscription, "I am thankful

for the blue water" at the bottom.

"Ms. Moll, I want to take this home today," said one curly-haired little

blonde girl.

Dina Moll teaches a group lesson to her students at Grand View.

December 7, 2017 • Easy Reader / Beach magazine 17
---
Students from Dina Moll's first class at Grand View Elementary, as a pre-k

teacher in 2004, returned just before graduating high school last spring.

Photo courtesy Grand View Elementary

"You are taking this home today," Ms. Moll said, leaning down near the

girl, smiling. The little girl did three celebratory leaps with another girl. "I

am so excited!" she exclaimed.

Ms. Moll is in her 14th year teaching at Grand View. She graduated from

Loyola Marymount in 2003. She was a psychology major before focusing

her aspirations on teaching.

"I knew I wanted some type of job that helped others," she said. "I spent

a lot of time thinking about how impactful certain teachers were in my

life. I knew I needed work that made me feel I was doing some good for

the world. Teaching was that for me, the fit."

She briefly taught at an inner-city elementary school in L.A. A teacher

friend told her about Grand View, describing it as "the Disneyland of

schools." She was hired first as a pre-kindergarten teacher and then as a

kindergarten teacher. It was a grade level she had never aspired to teach.

"I didn't really choose it," she recalled. "I thought I preferred older kids.

But after that first year at Grand View, I just fell in love with the innocence

of the children of this age group. Looking out into a classroom and seeing

how totally new they are to education, and how their bodies and faces

transform into awe and wonder — it's probably the greatest feeling as an

adult that you can have. They are so excited by the little things. Sometimes

you are the first person to explain to them why we have rain, how rain

falls from a cloud — you don't necessarily think about that as something

cool, but then you sit and talk about it with the kids and see them begin

to understand. It's like a physical shift, how it lights them up. There are

things I am the first person to tell them, about how the world works and

how to be a good person in that world — it's fun and exciting for me, so

much energy, so much to talk about, so much to learn."

Ms. Moll's students practiced their "e" skills on worksheets, trying out

big E's and small e's and identifying cartoon animals whose names begin

in "e." She inspected each student's work, applying a rubber stamp seal of

approval that shows an apple with a bite out of it and the word "Terrific!"

She gave a high five to one little boy wearing a T-shirt that said, "Class of

2030." The kids ended their day singing the goodbye song to each other,

and to their teacher, who sang along.

"I love what I do, and I feel that it matters," Ms. Moll said after her students

gleefully departed at the song's end. "I am teaching kids how to be

responsible, kind human beings. Obviously parenting plays the biggest part

in that, but I feel that this is the foundation of how they are going to feel

about school for the rest of their schooling."

The reality of this sentiment was brought specially to life last year. A

group from the first class Ms. Moll taught at Grand View, back in 2004,

returned to celebrate their high school graduation with their very first

teacher. A dozen of her former students came, celebrating their graduation

into the larger world back where their education began.

"It is Disneyland," Ms. Moll said of Grand View. "I come to work every

day thinking, 'I can't believe I get to work here." B

18 Easy Reader / Beach magazine • December 7, 2017
---
December 7, 2017 • Easy Reader / Beach magazine 19
---
NIKON D3400

The hottest wi-fi connected

Digital SLR

Paul's Photo always has the

lowest price

Paul's Photo

23845 Hawthorne Blvd.

Torrance

(310) 375-7014

paulsphoto.com

Urban Feet & Skate

The UGG Australia story began in 1978 when a surfer by

the name of Brian Smith needed a way to keep his feet

warm between waves and the UGG classic was born.

Crafted from Merino grade A sheepskin, the classic surf

boot is lightweight and perfect for walking on sand. The

idea caught on and today UGG boots have become a phenomenon.

We carry a full line of UGG Australian products for men,

women, and kids.

Urban Feet

329 W. 6th Street, San Pedro

(310) 832-9364

The Gift of Luxury

Give the gift of Terranea, with indulgent experiences

for friends and family members including resort

stays, spa treatments, golf, outdoor adventures,

dining, and more.

Terranea Resort

100 Terranea Way, Rancho Palos Verdes

(866) 990-7289

Terranea.com

The gift of fond memories

Hit Your Target This Holiday!

Spa Gift Certificates

This holiday give the gift of a

fabulous facial or a totally

relaxing massage.

Order gift certificates online at

threeriversdayspa.com or visit us at

our Redondo Beach location.

Three Rivers Day Spa

215 Avenue I, # 106, Redondo Beach

(310) 316-3565

threeriversdayspa.com

Freighthouse Design and Consign

Tis The Season For Lashes

Give the unique experience of a private archery

lesson with a gift certificate to our new indoor

range! Everything's included!

South Bay Archery Lessons

1300 Kingsdale Ave., Redondo Beach

(310) 404-3665

Southbayarcherylessons.com

This holiday season give a gift that will

kindle fond memories for that someone

special. Vintage and Antique – Jewelry,

Art, Silver, China, Pottery, Toys,

Furniture, Clothes, Accessories and

more.

Stars Antique Market

526 Pier Ave., Hermosa Beach

Starsantiquemarket.com

Lash extensions from Deka Lash will make you feel

confident and beautiful with no need to apply mascara.

First Full Set $79.99.

New Customers Only.

Deka Lash

409 N. Pacific Coast Hwy., Redondo Beach

(424) 254-1176

dekalash.com

Seas N Greetings!

Who needs snowflakes when we have seashells!

A Great Assortment of Unique

Coastal Gifts & Décor.

Come in! Shop local!

20% off two items thru 12/14/17 with this ad

Beach N Creations

1911 S Catalina Ave., Redondo Beach

(310) 316-8600

beachncreations.com

20 Easy Reader / Beach magazine • December 7, 2017
---
Everyone Loves Authentic Italian

for the Holidays at Deluca Trattoria

Step Inside for Quality, Luxury & Safety

Turn heads in the all-new 2018 C-HR. Stand out in any of

Manhattan Beach Toyota's new vehicle models.

Manhattan Beach Toyota

1500 N. Sepulveda Blvd., Manhattan Beach

(310) 546-4848

Manhattanbeachtoyota.com

Musical Gifts for Everyone

The perfect gift all year round!

Comprehensive

Medical Spa

Enhance your natural

beauty with high quality

lash extensions

and/or natural

cosmetic tattoos.

Gift certificates

available online.

Free gift with first visit. Plus 20% off a future visit.

DermFx offers popular services

such as: Botox, Juvederm, Laser

Hair Removal, CoolSculpting,

Radiesse, Ultherapy,

Microneedling, Acne treatments,

Tattoo Removal and much more!

Buy a $100 Gift Certificate for

only $75 to use towards any

services or products.

(Limit 4 per person)

Hours: 7 days a week!

Walk-ins welcome.

Swoon Lashes

210 Avenue I, Suite F

Redondo Beach

(310) 438-0575

swoonlashes.com

Gift certificates available for family, friends,

and businesses.

Deluca Trattoria

225 Richmond St., El Segundo

(310) 640-7600

delucapasta.com

Alpine Village

833 West Torrance Blvd., Torrance

(310) 327-4384

Alpinevillagecenter.com

Let's Take a Stroll!

Give a gift that lasts a lifetime.

Music Rhapsody has instruments

and lessons for all ages. Perfect

gifts for teachers too! Learn

more at MusicRhapsody.com.

Music Rhapsody

1603 Aviation Blvd. #1, Redondo Beach

(310) 376-8646

MusicRhapsody.com

Frohe Weihnachten

Germany is known for delicious

marzipan, lebkuchen and chocolate

confections!

Get a FREE German Chocolate

Advent calendar for every $25 spent at

Alpine Market's Christmas Faire

Dec. 9th & 10th!

DermFx Medical Spa

432 S. Pacific Coast Hwy.

Redondo Beach

dermfx.com

(310) 316-2100

Corbet Reversible

Fleece Pullover

$145

Made with super soft

quilted layers of our

custom two-toned fabric

for the softest sandwich

of a sweater you'll ever

wear.

Marine Layer

300 Manhattan Beach Blvd.

Manhattan Beach

(310) 376-2960

marinelayer.com

A Treasure of Memories

"A Thread in the Tapestry" A History of

Sepulveda Blvd in Manhattan Beach

by Historian Jan Dennis

This volume is a portrayal, through

photographs and text, of the dramatic

transformation of a dusty trail to a highly

congested corridor.

This book and more from Jan Dennis's series are available

at Pages Bookstore or call Jan (310) 372-8520.

Give the gift of laughter this holiday

season with a Comedy and Magic

Club gift certificate!

The Comedy and Magic Club

1018 Hermosa Avenue

Hermosa Beach, CA

310-372-1193

December 7, 2017 • Easy Reader / Beach magazine 21
---
December 16-24

Phoenix, Envy, and Lucky

Scooters!

Mention Easy Reader and get

15% off through the month of December.

South Bay Skates

3594 Redondo Beach Blvd., Torrance

(310) 327-9986

Blumé for the Holidays!

Adventure Flights

For every $100 high caliber skin

treatment gift card purchased now

through Dec. 31, receive a

$25 gift card for yourself!

Bouletté Blumé Skin

210 Avenue I, Redondo Beach

(310) 780-8140

BouletteBlume.com

Give the Gift of Amusement and Joy

with The Nutcracker, America's most

spectacular Ballet! Complete with

full Symphony Orchestra.

Long Beach Ballet

Long Beach Terrace Theater

(877) 852-3177 for tickets

LongBeachNutcracker.com

Our Gift To You

FREE 2-hour parking

Give a GIFT of living art!

We have succulents and cactus plants in beautiful /

unique containers for every occasion.

Sweet Blooms Atelier

421 Pier Ave., Hermosa Beach

(310) 318-8871

SweetBloomsAtelier.com

Beautiful, Custom-Printed

Fine Art Photography

Award winning shopping and dining.

Multiple BOB 2016 Winners.

DowntownManhattanBeach.com

"Exhilaration and serenity meshed into one.

Hands down the best thing on the West Coast."

-Jessica G, Trip Advisor

Pacific Blue Air offers epic open air adventure flights.

Pacific Blue Air

Hawthorne Airport

12101 Crenshaw Blvd., Hawthorne

(310) 570-9390

www.pacificblueairla.com

For the perfect holiday meal

Hermosa Pie produces wholesome treats!

Be blown away this Christmas! Come

meet Chef David & order your treats

EARLY!

Hermosa Pie & Cake Co.

133 Hermosa Ave., Hermosa Beach (310) 374-2323

Holiday Specials

Pacific Coast Gallery offers beautiful photographs, from 12

inches up to 20 feet. Their large format, high-resolution

photos can be printed at wall-filling sizes and remain tack

sharp. All are custom printed to fit your space, and they're

stunning in person. Mention code BEACH to receive 10%

off all December.

Pacific Coast Gallery

$50 & up lash extension

$5 off (with minimum $35 service,

discount can't combine)

Best Nails & Spa

2700 Marine Ave., Suite 101, Redondo Beach

(310) 970-0476

205 Pier Avenue

Hermosa Beach

(310) 853-3564

PacificCoast.gallery

22 Easy Reader / Beach magazine • GIFT GUIDE 2017
---
Happy

Holidays

from

Handyman Schatan

MATT • (310) 540-4444

Specializing in Preparing Your Home

for Holiday Guests

• Reasonable & Reliable

• All Types of Jobs Welcome

• No Repair too Small

"People need someone they can rely on – my customer's know

that I answer my phone and do the job as promised.

December 7, 2017 • Easy Reader / Beach magazine 23
---
With encouragement from a Junior Lifeguard instructor and a fellow Junior Lifeguard she married,

Amy Appelhans Gubser has completed over a dozen marathon swims in just two years

Seeptember 22, 2017 8:19 PM, Santa Cruz, CA: It's a quiet night.

The beaches are empty and the ocean is calm. The sky is clear and

the air feels cold on bare skin, reminding us it's the first day of fall.

Amy Appelhans Gubser, 49, stands beside a rock jetty, near the

Santa Cruz boardwalk, wearing a swimsuit, cap and goggles. She takes a

deep breath and wades into the chilly Monterey Bay and starts swimming.

The Monterey Bay, between Santa Cruz and Pacific Grove, is 25 miles

wide, nearly five miles wider than the English and Catalina channels. The

Bay plunges to a depth of 2,600 feet and the water temperature hovers

around 55 degrees. Afternoons are windy so swims are attempted at night.

There are more than 1,000 species of jellies in Monterey Bay. Of these, the

biggest threat to swimmers is the Pacific Sea Nettle. Their 24 tentacles grow

to 15 feet in length and they reproduce quickly into massive armies, over a

mile wide.

There had been just 11 previous attempts and only three recognized, successful

attempts to swim across the Monterey Bay. The first successful attempt

was in 1980, by Los Angeles County Lifeguard Cindy Cleveland, of

Palos Verdes. Cleveland finished the swim in 15 hours, 20 minutes. The second

successful Monterey Bay swim wasn't until 2014, when Patti Bauernfeind,

of Dublin, completed the swim on her fourth attempt in exactly 13

hours. She was followed that same year by Kim Rutherford of Capitola,

who finished in 22 hours 6 minutes. Only one man has swum across the

Monterey Bay and he did it in a wetsuit.

Monterey Bay Swimming Association rules, like those governing Catalina

and English Channel swims, prohibit wetsuits. Swimmers must depart from

land and finish on land under their own power, wearing only a swimsuit,

a single swim cap and goggles.

A promising Junior Lifeguard

Amy Appelhans moved with her family to Playa Del Rey from Illinois in

1978, when she was 10. Her mother, a swimmer in her youth in Wheaton

Illinois, encouraged her daughter to swim at the Westchester YMCA. But

Amy preferred bicycling to Toes Beach, where longtime Toes lifeguard Mike

Maurry introduced her to surfing and convinced her to join Junior Lifeguards.

That year, she tried out as a swimmer for the local JG team that

was going to the Nationals Championships. After the swim, the 10 year-old

asked if she had made the team. You won the race, her JG instructor told

her.

In 1981, her family moved to Palos Verdes, where she swam for Peninsula

Aquatics, the San Pedro/Peninsula YMCA and Rolling Hills High School.

"Our high school team had only five swimmers and one diver. But we all

advanced to the finals and our team placed second in CIF," Gubser said.

Ten years after qualifying for the Junior Lifeguard Nationals team, she

qualified to become a Los Angeles County Lifeguard. Her first Lifeguard

boss was legendary ocean swimmer Cindy Cleveland. In 1976, Cleveland

swam the Catalina Channel, from the island to the mainland. The following

year, she swam from the mainland to Catalina and back to the mainland.

Two years later, one month prior to her precedent setting Monterey Bay

Swim, Cleveland circumnavigated Catalina Island, swimming non stop for

34 hours, 24 minutes, a distance of 46.4 miles.

"Cindy would workout for hours on her days off. I was in awe of her discipline,

both mental and physical. She was always encouraging me to swim

events like the International Surf Festival Pier to Pier Swim and the La Jolla

10 Mile Swim," Gubser said.

One day, while lifeguarding at Hermosa Beach, Gubser rescued a young

24 Easy Reader / Beach magazine • December 7, 2017
---
Former South Bay beach lifeguard

Amy Gubser swims across Monterrey

Bay. Her husband Greg, also a

former South Bay beach lifeguard,

drives her escort boat. Photo by

John Chapman

boy with assistance from a fellow

lifeguard named Greg Gubser,

whom she remembered from her

first year in Junior Lifeguards.

While lifeguarding a few days later,

she saw a paddler coming ashore

in her swim area. "I ran down to

scold him and was surprised to see

it was Greg. He had been fishing

and caught a huge halibut. He invited

me to dinner. That was our

first date and two years later we

were married."

In 1993, one year after the couple

married, Greg joined the U.S

Coast Guard and they moved to

the San Francisco area, where he

was stationed. Eventually, they settled

in Pacifica, a small beach town

just south of San Francico. The

area had no Junior Lifeguard program,

so Amy and Greg started

Surf Camp Pacifica. Amy also

worked in a Pediatric Intensive

Care Unit as a neonatal nurse.

Work and raising children Justin

and Holly left little time for swimming.

But in 2014, with her kids

Kitchen & Bath Remodel

We Custom Build All Cabinets ● Granite Countertops ● Tile

Let us bring your DREAM home to reality!

Call us today for a FREE estimate!

800.383.7794 www.solocustoms.com

Lic. #865132

December 7, 2017 • Easy Reader / Beach magazine 25
---
having finished high school, Gubser

accepted a friend's challenge to

swim in the San Francisco Bay. It

was in February and it had been

nearly two decades since she had

swum competitively.

"I tried every excuse to get out of

it," she recalled. "And when I

jumped in I lost my breath. I cried

and had a panic attack. Finally, I

relaxed. Every cell in my body suddenly

felt alive. I loved it."

She began swimming year-round

in the San Francisco Bay in preparation

for marathon swims.

In April 2015, she swam the 10-

mile-wide Strait of Gibraltar, from

Spain to Morocco. Four months

later, in July, she swam the 21.3

mile length of icy Lake Tahoe. And

a month after that, she and five fellow

members of the Nadadores

Locos completed a 59.4 mile, relay

swim from the Golden Gate Bridge

to the shark infested Farallon Islands

and back.

Then in 2016, Gubser swam the

Catalina Channel. She finished in

just under 15 hours, well off her

regular pace. After reaching shore

she was rushed to the hospital. She

had spent the last six miles struggling

to breath because of an anaphylactic

reaction to an algae

Pacific Sea Nettle jellies blanketed Monterey Bay during Amy Gubser's swim across the bay on the first day of fall.

26 Easy Reader / Beach magazine • December 7, 2017
---
Monterey Bay swimmers Amy Gubser, Kim Rutherford and Patty Bauernfeind,

signal with their hands the order in which they swam across the bay.

Rutherford is also holding up one finger for Cindy Cleveland of Palos

Verdes, who was the first person to swim across the bay.

bloom in the water.

"I only finished because I didn't

want to have to do it again. A finish

is a finish," she said afterwards.

The adverse reaction aside, Gubser

felt she hadn't trained hard

enough for the channel swim. So in

preparation for the even longer and

colder Monterey Bay swim she embarked

on what she calls "no recovery

training." Each morning in the

dark, she began a three hour workout

in the San Francisco Bay, where

water temperatures range from 48

to 60 degrees. Then she worked her

12 hour nursing shift.

"If you can't find the time you

make it," she said. In the six months

prior to her Monterey Bay swim,

she made time to swim across four

Arizona lakes in four days, and

Gubser cont. on page 39

Saturday &

Sunday 3-8pm

FESTIVE MUSIC &

ENTERTAINMENT!

CHILDREN'S CRAFT TABLE

FACE PAINTING

MINI-EXPRESS

TRAIN RIDES!

4th Annual

December

9th &10th

PICTURES WITH SANTA

GERMAN HOT

MULLED WINE

SERVED OUTSIDE!

GIFT VENDORS &

CHRISTMAS MARKET!

Free Consultation

Call Today

1.310.373.5000

www.celibre.com

December 7, 2017 • Easy Reader / Beach magazine 27
---
each sports

Jack Alexander Sr.

rescued local

youth football,

paving the path for

his son to lead the

Redondo High

Sea Hawks

Redondo quarterback Jack Alexander completed

his two-year varsity career averaging 162.2

passing yards per game while recording 3,731

yards and 38 touchdowns. Photo by Ray Vidal

by Randy Angel

When an email was sent to

families informing them

that the 2008 fall flag

football season had been cancelled,

eight-year-old Jack Alexander was

devastated. He put his uniform on

and, clutching his football, stayed

in bed the rest of the day sobbing.

Alexander loved playing sports,

beginning with T-ball at the age of

four, in the old North Redondo Little

League. It was then that he became

good friends with John

Jackson III whose father, a former

standout wide receiver at USC

known as JJ, was the coach.

In 2007, Jackson suggested to

Jack Sr. that their sons play flag

football in the Redondo Pacific

Coast Conference. Their team

went undefeated and then played

in the newly-formed South Bay

Youth Sports league in the spring,

which they also won.

So, the following year, when

South Bay Sports cancelled its fall

season two days before opening

day, Jack Sr. decided to take matters

into his own hands.

He called dads and coaches vowing

to save the season. The day before

the season was scheduled to

start, he went to Mira Costa High

School at 7 a.m. to ask permission

to use the football field. He was

told he would need permission

from both the the Manhattan

Beach Unified School District and

Manhattan Beach Athletic Foundation

(MBX).

Alexander wrote a check to the

foundation for approximately

$15,000, bought insurance for all

233 kids and, with the help of

foundation President Gary Wayland,

got the MBUSD to sign off.

28 Easy Reader / Beach magazine • December 7, 2017
---
At 6:10 that evening, he put the word out that the Beach Cities Youth Flag

Football League season was on.

"I had to do something not just to help my son, JJ3, and the other kids

in our neighborhood on our team, but for all of the kids in the beach cities,"

said Jack Sr. who became first president of the new league. "It was a wild

ride and helped change the culture of youth sports in our community, so I

am very proud of stepping up to start the BCS."

BCS players, Jack Alexander among them, also helped change the trajectory

of Redondo Union High football. Alexander recently finished his

senior season at Redondo, after leading the Sea Hawks to the CIF-Southern

Section Division 4 playoffs.

The 6-foot-3, 190-pound signal caller was a dual threat for Redondo, possessing

a strong arm and quick feet.

In 11 games, he averaged 196.2 yards passing per game, throwing for

2,138 yards and 18 touchdowns, with only six interceptions. He also ran

the ball 110 times for 724 yards (6.5 average) and nine touchdowns.

Alexander finished his prep career wearing the same No. 7 he wore since

he began playing football at the age of seven.

Alexander did not play quarterback until his first year of tackle football,

when he joined the Redondo Pop Warner team as an 8th grader.

Though originally slated to play wide receiver, he made an impression

on coach Tom Coate who told Jack's father after the team's first practice

he would need his own football because he was the new quarterback.

"It was during that season that I really fell in love with the game," Alexander

said. "I knew I wanted a career in football and someday become a

coach. The passion and intensity in tackle football is extreme. You only

play 10 games a season. There is no other sport like it."

Coate, the current head coach at Chadwick in Palos Verdes, saw something

special in Alexander.

"He was tall, athletic, and had a fierce competitive spirit," Coate recalled.

"Once I saw Jack throw a football, I thought he was the ideal fit for a great

quarterback. He had an incredibly high football I.Q., was very coachable,

and was a leader. I knew then that he was not only going to be our quarterback,

I knew Jack was going to be a great quarterback for all his future

teams.

"What makes Jack special is that he is a humble and hungry warrior.

Jack always gives his best effort, is competitive and makes others around

him better – a leader in every sense. One of my greatest memories is coaching

this wonderful young man."

In only his second year playing tackle football, Alexander was named

MVP of Redondo's freshman team after throwing for 2,500 yards and 24

touchdowns with only one interception.

But Alexander wanted more. As a member of a devout Catholic family,

he had attended St. James Elementary School in Torrance and decided to

transfer to St. John Bosco as a sophomore.

"I wanted an opportunity to play with the best," Alexander said. "Bosco

had recently won a national championship (2013). I carpooled with some

guys in the area. It was a year of learning and game experience against

high-quality opponents."

But the carpool to the Bellflower campus was falling through and the

long, grueling days of getting up early and arriving home late took its toll.

Alexander decided to return to Redondo.

"I have no regrets about the decision," Alexander said. "It was nothing

but football and academics. I wanted to fully enjoy the high school experience

and I really missed my friends. The Redondo community is great

and the school's football program is strong with a lot of history."

Alexander began his junior season as the Sea Hawks starting quarterback

and led the team to a share of the Bay League title. The team reached the

second round of the CIF-SS Division 4 playoffs, losing a heartbreaker to

top-seeded Sierra Canyon 41-34 in triple overtime.

Yet it was the season opener that Alexander considers the most memorable

moment of his career.

"It was my first varsity start and we beat a very good Rancho Verde team

28-22 in double overtime," Alexander said. "It was among the top five

games I've played. I was anxious and nervous. It was breathtaking to take

the field as the starting quarterback for the first time. It's those kind of

emotions that make football such a special game."

Alexander led a late drive to tie the score then connected with Julian

Woodard on a 25-yard screen pass to win the game. It was one of only two

games Rancho Verde lost that season

We Carry a Full Line of Ugg Products

for Men, Women & Kids

$5 OFF

Any purchase of $45 or more

329 W. 6th St. • San Pedro

Must present at time of purchase. Excluding sale items.

Excluding UGG • Expires 12/31/17

$10OFF

Any purchase of $75 or more

329 W. 6th St. • San Pedro

Must present at time of purchase. Excluding sale items.

Excluding UGG • Expires 12/31/17

$15OFF

Any purchase of $125 or more

329 W. 6th St. • San Pedro

Must present at time of purchase. Excluding sale items.

Excluding UGG • Expires 12/31/17

329 W. 6th St., San Pedro, CA • 310-832-9364

December 7, 2017 • Easy Reader / Beach magazine 29
---
Jack Alexander celebrates Senior Night in Sea Hawk Bowl with parents

Jack and Vicki. Photo courtesy of the Alexander family

Barney's Beanery

Here at Barney's we've got our full newspaper-sized menu available as well as 40 beers

on draft. Daily and weekend specials and a great Happy Hour Mon - Fri, 4pm to 7pm.

ALL DAY Happy Hour on Monday! We offer free wifi and always have the TV's tuned

to numerous sporting events, in case you want to settle in for a long lunch or dinner.

Either way, we are here for you so come on in and enjoy!

100 Fisherman's Wharf, Suite H, on the Redondo Beach Pier.

(424) 275-4820 www.barneysbeanery.com

NOW

OPEN

30 Easy Reader / Beach magazine • December 7, 2017

Another highlight of his career

came in this year's regular-season

finale when he played with a severe

ankle sprain.

"I'm all about winning and there

was no better feeling than beating

Mira Costa on their turf this year,"

Alexander exclaimed. "Coming

from behind and connecting with

Pierre Dawson for the winning

score was so exciting and I'm proud

to have beaten Costa in my junior

and senior years."

The Alexander-Pierre connection

went deeper than on the field. Dawson,

a Canadian who wanted to

play American football, has lived

with the Alexander family since August.

Alexander has worked hard to

reach the level he is at, having

worked with former USC head

coaches Lane Kiffin and Steve Sarkisian,

former NFL quarterback Billy

Joe Hobert and a number of high

school and college coaches, including

Matthew Hatchette (LB Poly),

Ryan Campbell (Westlake), Chad

Johnson (St John Bosco), Seth Oseransky

(College of the Canyons) and

Eric Wilson (RUHS alumni who

played for the University of Washington).

Along with Coate, and of course

his father, Alexander considers John

Aponte (current RUHS offensive coordinator)

and private instructor

Danny Hernandez (Team Dime/Premium

Sports) as the major influences

in his career.

"I appreciate Coach Aponte for

letting me showcase all my skills,"

Alexander said. "I really enjoyed

working with him."

Aponte resigned as Banning's

head coach after the 2016 season to

join Matt Ballard's staff at Redondo.

"Jack is an amazing kid. I've

watched him go through ups and

downs and I've loved the way he

fights through it," Hernandez said.

"This last year he lost two of his

best offensive weapons (running

back Jermar Jefferson and receiver

Julian Woodard), who decided to

transfer to Narbonne. He didn't cry

about it. He just got to work and understood

he was going to have to

shoulder the load. Jack is a playmaker

but I think I admire his mental

toughness the most. I know he's

undecided but the (college) team

that lands him will be happy because

they are getting a good one."

Alexander sets very high goals for

himself and considers his ability to

extend plays to be the strength of

his game.

"I'm extremely competitive and

emotional, even when I'm just playing

video games like Madden,"

Alexander said. "I'm very proud of

some of my performances but numbers

never mean much to me – I

just want to win."

Alexander's high football IQ has

Alexander cont. on page 39
---
AMERICAN EXPRESS ®

®

MasterCard®

AMERICAN EXPRESS ®

SM

®

AMERICAN EXPRESS ®

MasterCard®

AMERICAN EXPRESS ®

®

SM

MasterCard®

®

MasterCard®

SM

SM

G e t R e a d y F o r S p r i n g !

Say Goodbye to Stubborn Fat....

• Skin Cancer & Mole Removal

• Mohs Micrographic Surgery

and Reconstruction

• Cysts, Acne, Warts & Rashes

• Leg Vein Sclerotherapy

• Acne & Accutane Treatments

• Pre-Cancer Treatments

• Propecia Available

Two Coolscuplting Devices to Treat Two Areas at Once!

• Age Spots

• Glycolic & Chemical Peels

• Sculptra, Radiesse, Perlane ® ,

Juvéderm & Restylane ®

• BOTOX ® & Dysport

• Pediatric Dermatology

• Ultraviolet B & PUVA

• Latisse for longer, darker lashes

Get Ready For The New Year

Discounts Offered Now!!

Call Our Office For Details!

• Laser Surgery

• GentleLASe-Hair Removal

• IPL-Rosacea/Sun Damage

• Smoothbeam-Acne/

Wrinkle Reduction

• Vbeam-Redness/Broken Capillaries

• Fraxel – Melasma/Wrinkle Reduction

• XTRAC laser for treatment of

Psoriasis and Vitiligo

Fariba Seraj,

NP/PA-C

Providing Full

Dermatological

Medical Treatment,

in addition, Provides

all Laser and

Cosmetic Services.

Intense Pulsed Light

Treats Sun Damage, Brown Spots,

Age Spots, Broken Capillaries, Sun

Induced Freckles, Rosacea

NO DOWNTIME!

Special Introductory Price

$200* (Complimentary Consulation)

*New Clients only. Must bring ad for discount.

Shelby Reed

Also providing services: Steven E. Gammer, M.D. and Geover Fernandez, M.D.

www.beachcitiesderm.com

BEACH CITIES DERMATOLOGY MEDICAL CENTER

CERTIFIED, AMERICAN BOARD OF DERMATOLOGY

Also Providing

Licensed Aesthetician

Services

• Glycolic and Salicylic

Chemical Resurfacing Peels

• Microdermabrasion

Erika La Ponza • Progressive Acne Treatments

Hamaguchi

Jennifer

FREE INITIAL CONSULTATION! PLUS...

State-of-the-Art Skin Care With a Personal Touch

Rolling Hills Estates – 827 Deep Valley Drive, Suite 101

Redondo Beach – 520 N Prospect Avenue, Suite 302

Culver City – 3831 Hughes Avenue, Suite 504 B

ALL PPOS ACCEPTED l EVENING & SAT. APPTS. AVAILABLE

310-798-1515

William J. Wickwire, M.D.

Get Two FULL

HOUR Microdermabrasion

Treatments

for $160.

A Savings of

$100.00

Neal Ammar, M.D.

December 7, 2017 • Easy Reader / Beach magazine 31
---
each travel

Isabella Cordi embarks on a swim in Bingham Lake in Minnesota on the final day of her tour of all 50 states. Photo by Tony Cordi

by Tony Cordi

A Hermosa Beach family sets off on a tour of all 50 states,

leaving behind the careful planning that governs life at home

Ican't recall how it all started. It may have been just a passing suggestion

from our then eight-year old daughter Isabella. It sounded daunting, but

for whatever reason, we relented and embarked on a journey that would

take us to all 50 states. Had we thought through just what this would entail,

we probably would have backed out. But, we broke from our habit of overplanning,

creating enough of a shift in our behavior to make room to thoroughly

engage in all of the magical moments we would encounter along

the way.

Over an 18 month period, beginning in December 2014, we made it to

all of the states we hadn't been to before. It took seven separate trips and

by the time we finished, we had logged over 13,000 miles by car and close

to 30,000 in the air. We would see over 30 major colleges and universities,

25 state capitals, and several National Forests, Parks and Monuments. Our

only rule for the visit to count was we needed to spend the night or have a

full meal. We spent a total of two months away from our Hermosa Beach

home.

It began with leaving Hermosa Beach for a road trip to several southwestern

states. We knew where we wanted to be and when we wanted to be

there. We even mapped out our food and researched restaurants in advance.

But as we would soon learn, over planning inhibited us from embracing

the adventures as they unfolded.

Our first epiphany on the benefits of unscripted travel hit us in Saguaro

National Park. The Arizona valley is surrounded by thousands of tall

saguaro cacti standing sentry to the majesty of the desert. We were struck

by the stillness, something we don't experience often at the beach. It would

be a recurring experience in the Southwest in places like White Sands Na-

32 Easy Reader / Beach magazine • December 7, 2017
---
tional Monument and the Arches

and Canyonlands National Parks.

To interrupt Isabella's increasing

dependency on her iPad during the

trips, we began to make random

stops. These respites paid off. In

White Sands National Monument

she rolled down the glistening hills

while laughing hysterically. The

same thing happened on the slopes

of Vail and sledding down Y

Mountain in Provo.

We committed to eating local

food and witnessing the culture as

much as possible. We couldn't get

enough of Southwestern cuisine,

especially in New Mexico. Santa Fe

had fantastic food and offered opportunities

to visit enchanting

places like the pueblos of Nambe

and Taos and to shop at the Native

American vendors at the Palace of

the Governors. The uniqueness of

El Paso, Denver and Las Vegas

would add to the mix.

In the spring of 2015, we set out

to visit family and friends in the

Gulf States before venturing off to

several adjacent states. Experiencing

unfamiliar places with people

we enjoy who happen to know the

area greatly enhanced our travel.

Ruby Falls, outside Chattanooga,

is a 145-foot high, underground

waterfall, every bit worth the effort

of getting to it. Likewise, we will

never forget digging for diamonds

at Crater of Diamonds State Park

outside Murfreesboro, Arkansas. It

is the world's only diamond-producing

site where the public can

do this. We spent hours, mostly in

mud, not even caring if we made a

discovery.

We were also able to enjoy excellent

Southern-style cuisine in Alabama

and Florida in addition to old

school ribs in Memphis. Of course,

we had to try gumbo, jambalaya

and beignets in New Orleans.

We thought it would be fun to go

to the District of Columbia and

Philadelphia over Memorial Day

weekend and it turned out to be a

great decision. We didn't need an

iPad for Isabella at all on this trip.

Because of timing issues, we had to

consolidate the D.C. trip and opted

to take a bus tour, which worked

out perfectly. We covered many

monuments and had the opportunity

to walk around most of them.

It was fun for our daughter to see

the White House and I had a

chance to meet up with a former

college classmate.

We had great food in Reading

Terminal Market in Philadelphia,

but missed out on seeing Liberty

Bell Center because the line was

300 people deep. We grabbed

Philly cheesesteaks to go instead

before meeting up with friends for

dinner in Cape May, New Jersey.

Our shortest stay in a state was in

Delaware with a stop for cheesecake

and we would only spend a

couple of hours in Harper's Ferry

in West Virginia. Baltimore offered

fantastic soft-shell crabs, cannoli in

Little Italy, and a chance to burn it

off paddle-boating in the Inner

Harbor.

Later in the summer after Isabella

turned nine, we visited the

Pacific Northwest and brought our

travel to another level. We had an

exceptional trip to Idaho,

Wyoming, Montana, Washington

and Alaska. Everything about these

states made it easier and more enjoyable

to be spontaneous. We had

a blast, swimming in a sinkhole off

the Snake River by Shoshone Falls,

watching the Jackson Hole Rodeo

in Wyoming, and swimming in the

West Thumb of Yellowstone Lake.

It helped that we had warm

weather and got to see bison roaming

up close, eruptions from Old

Faithful Geyser, and the beauty of

Big Sky while hiking.

Stops in Coeur D'Alene, Spokane

and Seattle all added to the adventure.

We got our Idaho potato fix

in, and a fantastic ferry ride at

night to view Seattle.

I could write volumes about our

time in Alaska with friends. We

went dog-sledding with Iditarod

competitors, rafting in a Glacier

river, toured Denali National Park,

ate incredible salmon, and stayed

on military bases. The signature

moment occurred on the way back

from a dinner cruise to Fox Island

in the Kenai Fjords. We stopped in

Emerald Cove and were blown

away by the sight of countless

moon jellyfish, sea lions trying to

scramble up a tiny island to escape

four approaching orcas, eagles on

the side of a bluff not far from

common murres, cormorants,

puffins, and a random mountain

goat. Definitely not something we

see every day.

Over Labor Day, we flew round

trip to Boston to witness the

pageantry of the change of seasons

and see all of New England. An

Tony, Isabella, and Janeth in South Dakota, celebrating the completion of

their 50-state tour. Photo courtesy of the Cordi Family

hour drive can change everything

there. We went to Pemaquid Point

Light to scramble on the cliffs and

tour the lighthouse before eating

lobster rolls in Boothbay Harbor.

Having Italian food was a must in

Boston before spending the night

in Cape Cod. Swimming at the

beaches of Nantucket Island and

just walking around the island left

an indelible impression.

Isabella had a chance to scope

out Harvard and Brown on this trip

and to see my childhood home in

upstate New York. We swam in

Lake George and enjoyed the company

of one set of friends in

Burlington and another set in Montreal.

It wouldn't be until spring break

2016 before we made our next

trip – to Michigan, three of the

Great Lakes, the Rock and Roll

Museum, and Notre Dame. This

trip marked another turning point.

Isabella became far more proactive

in planning our activities.

She had us visit the incredible

Henry Ford Museum in Dearborn,

an indoor water park in Sandusky,

the musical "Matilda" in Chicago,

the Wizard of Oz Museum in

Wamego, Kansas, and later the Little

House on the Prairie site in Independence.

She even managed to

get a horse ride in when we were

in Lincoln, Nebraska. We were encouraged

to visit Woolaroc, where

the free-roaming wildlife and the

extensive museum captivated all of

us.

Food was a big part of this trip,

as well. We had brats with friends

in Milwaukee, baked goods in the

Czech Village outside Cedar

Rapids, and steaks in Omaha. We

even enjoyed a dinner in Tulsa and

great Thai food in Dallas.

On our last night, we pampered

ourselves at the Westin Galleria,

which gave Isabella an opportunity

to swim in the morning and ice

skate later in the mall.

This left us with three states to

visit. We flew into Minneapolis just

before Isabella's 10th birthday and

enjoyed the city before checking

out the expansive Mall of America.

Not surprisingly, Isabella loved

Nickelodeon Universe and we

would make it back a couple more

times. We ventured off to Fargo

and then spent the night in Bismarck.

The next day we achieved

our goal of hitting our 50th and

final state when we made it to Ludlow,

South Dakota, without any

signs of civilization in sight.

South Dakota proved to be another

big surprise, with Mt. Rushmore,

Jewel Cave National

Monument, Crazy Horse Monument

and later Badlands and Sioux

Falls. We would punctuate the last

night of our last trip on this journey

with a spontaneous stop at

Bingham Lake in Minnesota for a

swim.

Our quest had come to an end.

When asked what her favorite

places are, Isabella offers New

York City and the big island of

Hawaii. She has vivid memories

from both areas. Our travels have

been an incredible blessing thanks

to making the shift from a heavilyscripted

approach to a mindset of

just embracing the opportunities as

they come. B

December 7, 2017 • Easy Reader / Beach magazine 33
---
Chef Michael Mazzotta and his

Lagotto Romagnolo, Capo, on the

hunt for truffles.

Photos by Brad Jacobson

(CivicCouch.com)

34 Easy Reader / Beach magazine • December 7, 2017
---
y Richard Foss

NoSe

A Basq Kitchen chef Michael Mazzotta and his dog Capo train for one of the

culinary arts' most prestigious competitions

Chef Michael Mazzotta and Capo relax at A Basque Kitchen.

If you hang around Redondo Beach you may have seen a mustachioed

man on a bicycle being towed down The Eslpanade by a small dog

with curly brown and white fur. At one end of that leash is Redondo's

next media sensation, but it is not yet clear which end.

Meet Michael Mazzotta, chef at A Basq Kitchen, and Capo, a bouncy,

friendly dog of an unusual Italian breed called Lagotto Romagnolo. The

two will soon be competing at an Oregon event where they hunt one of

the prizes of the culinary world, a musky, pungent fungus prized by gourmets.

Truffles are related to mushrooms and grow on underground tree roots.

They are one of the few plants that humans have been unable to domesticate.

Top quality specimens sell for over $5,000 a pound.

As Mazzotta explained, "Truffles have the allure of being something humans

can't create or control. It's a foraged product that grows in unpredictable

places, so that humans can only find them with the assistance of

partner animals. They used to use pigs, but recently switched to Lagotto

Romagnolo dogs, originally bred as retrievers trained to hunt birds on the

lakes in Italy. At one time the lakes dried up, and the breed almost went

extinct until they found a new use for them. Truffles saved this breed."

The use of these dogs to hunt fungi instead of avians only goes back a

few decades. The fact that humans bond with dogs better than pigs is a

major advantage, said Mazzotta.

"Pigs have an acute sense of smell and are good hunters, but they'll

happily eat the truffles, so if you find it and he eats it you're back at

square one. Dogs are better for the job, and it's not just that he doesn't

eat what we're looking for. Capo wants to please, and we have a strong

bond. The way he reacts to the scents blows my mind. The look in his

eyes – he's experiencing something no human can ever understand. There

are levels and levels of scents that he has access to. With his mind and

his nose, and his desire to excel at this, it's incomparable to what a pig

could do."

Though he had dogs as a child Mazzotta had never trained one before.

But after buying Capo as a three month old puppy he started burying

truffles and challenging the dog to find them.

"Training him was easy. They're such smart animals that he understood

immediately that this was the game, to use his amazing sense of smell

and instinct to dig to unearth these gems. I just bonded with him, and it's

just us reading each other. Without words we communicate back and

forth like that."

on the prize

Experienced dogs learn to ignore immature truffles and only dig up

those that are ripe. This is one of the skills that will be graded at the North

American Truffle Dog Championship, which will be held in Eugene, Oregon

in late January. Oregon forests are home to both a native truffle and

colonies of transplanted European truffles that now grow wild. This year's

competition is the third annual test of dogs and their partner humans. It

will be the first competition for Mazzotta and Capo, and they'll be up

against both two and four legged pros. The challenges come in two stages,

only the first of which is open to the public.

"The first round is indoors, and there's a set circuit where the truffles

have been hidden. After that you're out in the woods, foraging for the

natural truffles. We're going up early so we can do some foraging before

the competition, really putting him to the test in a real world situation.

It's really exciting to be able to do that without flying to Europe."

There are plans to document the trip with a video, and Mazzotta has

started a GoFundMe page, offering dinners using the truffles Capo finds

as an incentive. Those dinners will be held shortly after their triumphant

return, because the prized fungi deteriorate soon after being unearthed.

"The shelf life of a first-rate truffle is very short. Use it within a week

of it being found if you want to experience what it really has to offer. You

only get them fresh during a short period, which differs depending on

the variety and where you are. There are summer truffles and winter truffles

in Italy, and in Oregon they're best from December through March.

The rest of the year you have to use truffle oils, which is the only way of

preserving the flavor."

When asked whether there is any substitute for this temperamental and

elusive plant, Mazzotta was emphatic. "There's no way to recreate the flavor

using any combination of other ingredients. It is such a unique product…

For some reason when you add a truffle to a dish it elevates the

other ingredients. You can't pinpoint exactly what that is, it's magic."

Man and dog will be put to the test on January 25, and will come back

with stories, a video, and some funky, musky, luggage containing some

of the most prized plants on Earth. Until then, Capo will get his exercise

practicing his scenting skills and riding down the Esplanade towing

Michael's bicycle.

To find the contribution page go GoFundMe.com/capo-the-puppy B

December 7, 2017 • Easy Reader / Beach magazine 35
---
each sports

Wave of passion

Alex Fry putting it on rail during an NSSA contest in October. Photo by Steve Gaffney (SteveGaffney.com)

Mira Costa's Alex Fry relies on internal drive as a rising South Bay surf star

by Ryan McDonald

or a good portion of last year, Alex Fry ate breakfast in the car.

The Mira Costa High School junior did not have a problem with his snooze button.

In fact, he had already been up for some time. He was in the water, squeezing

in a surf before school. Fry is a top competitor on the school's championship

surf team, but unlike many of his fellow surfers, he was playing another sport,

tennis, on top of it. Participants on the surf team usually hit the beach in the

morning and start the day late, filling out the remainder of their schedule in

periods two through six. Fry's place on the tennis team meant that he did not

have an extra period to spare, and so he crammed in time and meals where he

could.

This year he has put tennis aside, making it Fry's first year in which surfing

will be his sole athletic focus. But he retains the spirit of an athlete willing to

do whatever it takes to succeed.

Along with his contributions to Costa's perennial powerhouse team, Fry has

racked up impressive performances in National Scholastic Surfing Association

events, including a third-place finish in his division at last year's West Coast

FChampionships.

36 Easy Reader / Beach magazine • December 7, 2017
---
Though not a fan of aerials, Alex Fry proves he can break loose his fins, if he wants to. Photo by Steve Gaffney (SteveGaffney.com)

His path to success reveals how much surfing has come to resemble other,

more established sports. Fry has little in common with the loose-limbed

slackers that formed part of the sport's identity. Those who know him say

that he stands out for the intensity of his focus.

Leo Schleyer is Fry's teammate on the Costa team, and also his neighbor.

He typically catches a ride with Fry when the two are on their way to a

meet.

"He's a super competitive person, probably the most competitive person

I know. Sometimes before contests, we'll be driving there, and you can tell

he's thinking about it. He's sitting there, just super focused," Schleyer said.

Schleyer said that Fry's passion tends to make those around him better.

Tracy Geller, head coach of the Costa surf team, described him as "a born

leader." The team has begun working out with a fitness trainer, and splits

into groups for smaller sessions. But the groups were uneven: the one immediately

after school was crowded to the point of chaos, while the later

one was sparsely attended. Fry, Geller recalled, took it upon himself to talk

to teammates about their schedules and help balance attendance at the

workouts.

Despite the changes surfing is undergoing, it remains unavoidably different

from other sports. (Whether it even is a sport has been the subject of

dozens of magazine stories, from "Surfer" to "The Atlantic.") Even when a

wave is reduced to a decimal-pointed average, good surfing still requires

liveliness and unpredictability. And at a time when more and more of the

kids Fry faces in contests are approaching competitive surfing with a kind

of parent-assisted monasticism, Fry lives a pretty typical life. He usually

forgoes afternoon surfs to focus on homework. He still gets in the water

every day, but does so in the frequently closed-out waves of the South Bay.

When I asked if he thought growing up here was an asset or a liability as

a surfer, I half-expected him to reply with some bromide about learning to

get to your feet quickly. What he offered instead revealed an understanding

of surfing, as well as the world outside it.

"It's an asset. Compared to kids that live in the inner city, where I live is

a dream. But compared to the kids I compete against almost every weekend,

the waves I surf are nowhere near what they have. And most of them are

homeschooled," Fry said.

His voice carried no hint of bitterness or excuse, just recognition of the

facts.

Climbing the ladder

Fry's dad Kurt introduced him to surfing when he was about six, but

there was no thought of world-tour domination in those early tours through

December 7, 2017 • Easy Reader / Beach magazine 37
---
Fry with his mom Nicole and dad Kurt. Photo by Ryan McDonald

the whitewater.

"I never thought I would be doing what I am now. It was just kind of like

a hobby, for whenever I wasn't playing other sports. It was just fun," Fry

said.

Fry is a natural athlete with springy legs, erect carriage, and a surprisingly

strong grip. He embodies what Geller has identified as a key transformation

in the sport: the increasing acceptance of surfing as a competitive endeavor,

and the ensuing willingness of sport-inclined parents to commit their children

to it. (Along with tennis, Fry played club soccer, and baseball when

he was younger.) Competitive surfing is now being suffused with a talent

pool that a generation ago might have thought of it as just, well, fun.

Fry entered his first surf contest, with the local South Bay Boardriders,

in fifth grade. The joy his initial successes brought revealed to him how

much he enjoyed competition, and winning. He gradually expanded his

sights, entering contests in the Western Surfing Association, and now describes

himself as committed to the NSSA.

Attending these contests gave Fry his first taste of the challenges a South

Bay surfer faces. The closest contest location is Huntington Beach. Others

can require driving more than two hours, and he is thankful that his parents

were willing to help him get there.

"We've always been supportive of him and his surfing. It's fun to go watch

him, even though he has a driver's license now. You just hope he makes it

out of first heat. It's a bit of a bummer to go one-and-a-half hours for a 15-

minute heat," dad Kurt said.

These early experiences also revealed another obstacle: many of his competitors

are reared on pointbreaks or cobblestone reefs, which tend to provide

longer rides and more open wave faces than South Bay beach breaks,

and allow for more opportunities to practice maneuvers.

It can be hard to discern any such disadvantage from watching Fry surf.

He is attuned to the tiniest shifts in the ocean. Once to his feet, he moves

with the taut precision of a running back, goal in sight, but constantly adjusting

to things trying to knock him down. His carves and hacks land with

such force that they seem to come from some place beyond his still-growing

frame.

The only maneuvers Fry does not do are airs, even though many young

surfers increasingly define themselves with their aerial repertoire.

"I'm not sure if it's a decision I made, or something that just kind of happened.

I definitely think that my rail work sets me apart from a lot of kids

who are doing airs. I don't even know how to do airs, but I can still get

pretty far in contests sticking to my guns," Fry said.

Geller has encouraged Fry to explore airs, less as something required to

win heats than as a way to inject excitement into his approach.

"Kids like Alex, they know exactly how to do the turn and the time to hit

the lip to get the score. But it's just a little bit controlled or safe. I've been

encouraging him to just send it. Don't throw away the wave at the end, just

send it. If you're going to fall, fall trying something new," Geller said.

With another season of competition, Fry said improving his wave selection

will be key to going further in contests. But this will hardly be the only

thing on his mind. Along with his team and his family, there is a full schedule

of classes to occupy him. Fittingly for someone who embraces challenge,

Fry's favorite subject is history, one he has struggled with at times, but

nonetheless finds fascinating.

"We've always wanted Alex to be well-rounded. We want him to focus

on school, and get good grades. Surfing is an important part of life, but it's

not the only part," said Fry's mom Nicole. B

38 Easy Reader / Beach magazine • December 7, 2017
---
Gubser cont. from page 27

swim across the Santa Barbara

Channel, from Santa Barbara to

Anacapa Island.

When fall approached, the 49-

year-old said, she felt like she was

in the best shape of her life.

September 22, 2017 8:24 PM,

Santa Cruz: A sliver of moon slips

behind the mountains, revealing a

thick blanket of stars. Gubser's

team waits offshore in two small

boats and a kayak. Her husband

Greg, retired from the Coast Guard

and now the Deputy Harbormaster

for San Mateo Harbor, was driving

one of the two escort boats.

The team sees the waterproof

light on the back of her goggles as

she enters the water. To monitor her

pace, they listens to the rhythm of

her hands. Slap, slap, slap. 70

strokes per minute. The bright lights

of the Santa Cruz Boardwalk fade

slowly into the background. Gubser

stops every 30 minutes for liquid

carbohydrates and the occasional

sports gel. At every stop, she shares

a smile and a joke or a silly song. It's

not long before she reports her first

jellyfish sting. The water temperature

is 54. The night air is two degrees

colder and she is swimming

against the current. The crew is

bundled in heavy coats and hats,

but Gubser appears unaffected by

the elements. When dawn arrives,

the crew sees what Gubser has

been swimming through most of

the night. Pacific Sea Nettles are just

below the surface, in every direction.

As she nears the Monterey

Peninsula the wind picks up, the

current threatens to push her off

course, and every stroke is paid for

with another sting. Finally, she

reaches the protected cove outside

Monterey Harbor and works her

way through clumps of kelp until

her feet can touch the bottom. Seventeen

hours, 49 minutes after leaving

Santa Cruz she becomes only

the fourth person to have swum

solo across the Monterey Bay. Family,

friends and beachgoers all cheer

as she walks ashore, unassisted.

"I felt amazing, physically and

emotionally. It was a big swim," she

said.

On June 7, her 50th birthday,

Gubser plans to return to the South

Bay to swim across the Santa Monica

Bay. To date, only two people

have completed the 26 mile swim.

On March 16, 2013 marathon

swimmers Jen Shumaker and Forrest

Nelson departed together from

Point Dume in Malibu and finished

together at Lunada Bay in Palos

Verdes in 13 hours, 10 minutes, 35

seconds.

For more information about Amy

Gubser's Monterey Bay swim, visit

SwimMontereyBay.org. B

Alexander cont. from page 30

transferred to the field from the

classroom where he holds a 4.2

GPA.

"I like math and English and

enjoy writing," Alexander said.

"But my favorite class is government

taught by (RUHS girls volleyball

coach) Tommy Chaffins. He

makes the class so enjoyable."

Alexander wants to play football

as long as he can and is looking for

a university that has a strong combination

of athletic and academic

programs.

"I want to play in college and get

a free education with a scholarship,"

Alexander said. "I'll see

where the game takes me. I am so

passionate about football and I

hope to coach one day, passing my

knowledge on to young players as

others have done for me."

Alexander is considering the

University of San Diego and Azusa

Pacific and has been contacted by

Benedictine University (Chicago),

Arizona State, and Washington

State, as well as USC offensive coordinator

Tee Martin.

He plans to major in business

with a focus on business management

and would like to follow in

his father's footsteps by running

his own business.

When not on the gridiron,

Alexander enjoys playing video

games and pickup basketball

games.

"I also enjoy hanging out at the

beach with friends whom I consider

part of my family," Alexander

said. "I want to spend as much

time with them before we all go

away to college. But I keep things

in check and keep my name on the

positive side." B

Natural Beauty Enhancements

• Lash Extensions

• Lash Lifts

• Permanent Makeup

Eyebrow ∙ Lash Enhancement ∙ Lip Blush Tattoos

310-438-0575

High Caliber Aesthetics

• Bulletproof Brow Design

• Full Face & Body Waxing

• Custom Skin & Body Treatments

• Chemical Peels & Microdermabrasions

310-780-8140

Book online: SwoonLashes.com

M e n t i o n A d Fo r A Fr e e G i f t !

Book online: BouletteBlume.com

R I V I E R A V I L L A G E • 2 1 0 A v e . I , S t e F

MATTUCCI

Plumbing

Since 1990 • License # 770059, C-36 C-34 C-42

D E P E N D A B L E • P R O F E S S I O N A L • A F F O R D A B L E

w w w . m a t t u c c i p l u m b i n g . c o m

FALL SPECIALS

$ 9 8 0

Residential Water Heater

40 gal. installed! ($1080 - 50 gal. also available)

Includes hot & cold water supply lines

Expires December 31, 2017

FULL SERVICE PLUMBING

SEWER VIDEO INSPECTION

ROOTER SERVICE

COPPER REPIPES

$ 7 5

Rooter Service - Main Line

Must have clean-out access. Some restrictions may apply.

Expires December 31, 2017

F R E E

E S T I M A T E S

M e n t i o n t h i s a d w h e n

s e t t i n g u p a p p o i n t m e n t .

3 1 0 . 5 4 3 . 2 0 0 1

Thank You

For Your

Vote!

ON CALL

24 HOURS

7 DAYS

December 7, 2017 • Easy Reader / Beach magazine 39

2013
---
Michael Burstein is a probate and estate planning

attorney. A graduate of the University of California,

Hastings College of the Law in 1987, he is admitted

to the California, Kansas and Oklahoma Bars and

is a member of the Order of Distinguished Attorneys

of the Beverly Hills Bar Association.

As an estate and probate lawyer, Michael has prepared

approximately 3,000 living trusts and more

than 4,000 wills.

An Estate Planning,

Estate Administration,

and Probate Attorney

l Living Trusts

l Wills

l Powers of Attorney

l Advance Health

Care Directives

l Insurance Trusts

l Asset Protection

l Veterans Benefits

l Pet Trusts

l Probate

l Conservatorships

l And Much More!

Call us to schedule an appointment or for our

FREE Guide:

Selecting the Best Estate Planning Strategies

111 North Sepulveda Boulevard, Suite 250

Manhattan Beach, California 90266

310-545-7878

40 Easy Reader / Beach magazine • December 7, 2017
---
Office: 310.546.3441

Cell: 310.643.6363

Email: Donruane@verizon.net

Buying or Selling

"Since 1992"

Don Ruane

Serving the South Bay Beach Cities and beyond

DRE#01036347

• Serving the South

Bay for over 35 years

• Full Service Contractor

• Complete Installation

• New Construction

• Remodeling

• Second Floors

• Additions

• Cabinets

4203 Spencer St., Torrance, CA 90503

(310)214-5049 • www.pevelers.com

Appointment Recommended

Showroom Hours: Monday Thru Friday 10-5

Closed Saturday and Sunday

License #381992

Visit Our

Kitchen &

Bath

Showroom

d

f

The largest selection of

Antique, Collectible & Decor

Items in the South Bay

Consignments • Estates Purchased • Dealer Space Available

New Merchandise

Arriving Daily

LOCATED AT

526 Pier Avenue

Hermosa Beach

2 Blocks West of PCH

310-318-2800

Hours: Mon – Sat 11-6

Sun – 11-5

This holiday season don't just give a gift…

buy something from the past that will kindle

a fond memory for that someone special.

Voted #1 Antique Store

Follow Us on

@starsantiquemarket

s t a r s a n t i q u e m a r k e t . c o m

7,000 sq. ft. showroom

Holiday Sale

November 24th thru December 17th

Store-Wide Savings of 10% - 50% Off

e

f

d

Classifieds

HANDYMAN

Handyman

Services…

Fix It Right

the

First Time

What we do…

Plumbing, Electrical,

Drywall, Painting

& more.

Valente Marin

310-748-8249

Reserve

your space in the

next

Pub Date: Jan 27

Deadline:

Jan12

Call direct

s

Beach

Magazine

(424)

Unlic.

269-2830

STONE

MORRIS

Cleaning & Restoration

• Marble polishing

• Travertine & Limestone

honing & polishing

• Tile & Grout

cleaning & sealing

Free Advice

& Estimates

Call George

310-545-8750

www.CleanRestoreProtect.com

Lic. #1005861

Call Direct

424

269-2830

424.269.2830

PLUMBING

WINDOW

CLEANING

TOTAL SATISFACTION

GUARANTEED!!

KIRBY'S

WINDOW CLEANING

THE SCREEN DOCTOR

SINCE 1978

PRESSURE WASHING

SERVICES

• RELIABLE & PROFESSIONAL

TECHNICIANS

• EXCELLENT REFERENCES

FREE

WEATHER TOUCH UPS

FREE ESTIMATES

310-374-7895

CALL TODAY

KirbysWindowCleaning.com

December 7, 2017 • Easy Reader / Beach magazine 41