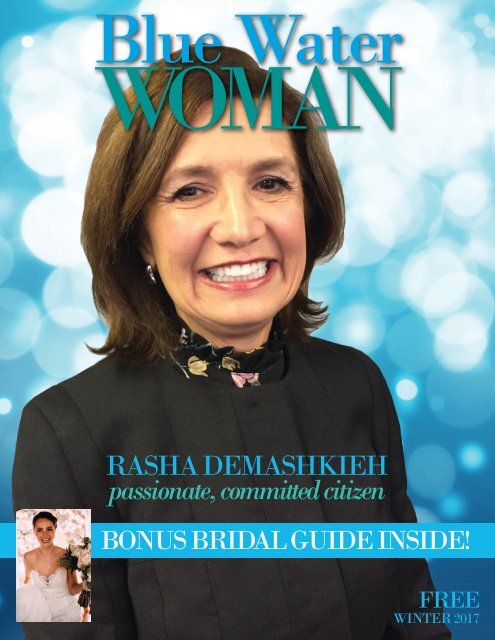 blue water woman--winter 2017--YUMPU
Create successful ePaper yourself
Turn your PDF publications into a flip-book with our unique Google optimized e-Paper software.
RASHA DEMASHKIEH

passionate, committed citizen

BONuS BRIDAL GuIDE INSIDE!

FREE

WINTER 2017
---
CONTENT

RASHA DEMASHKIEH 4

CAROL MILLER 6

Bridal issue

NICOLE (Gray) Rodgers 10

GILLIAN (Cann) Poretta 12

advertise

in Blue Water Woman!

it works!

just ask our advertisers!

The ad deadline for the next issue

of Blue Water Woman is January 15, 2018.

Prices start at just $125 for a business card sized ad!

Our most popular ad size is a quarter page at just $250;

sign a one-year contract and it becomes just $225 a quarter!

What a deal!

For more information, contact Patti Samar

at 810-300-2176 or email her at pjsamar@aol.com

volume 7, number 4 winter 2017

Blue Water Woman is published quarterly by The Write Company,

511 La Salle Blvd., Port Huron, MI 48060. Circulation 5,000.

from the editor

As I'm sitting down to write this, Thanksgiving is right around the bend and this year there is

plenty I am thankful for, such as all of the people and places in the photos above:

• The opportunity to visit our nation's capital and participate in the Women's March in January;

• The opportunity to see Hillary Clinton speak in Ann Arbor with two great friends;

• The opportunity to vacation on a sailboat with a group of incredible women;

• Girl time in the D with two of my favorite gal-pals;

• Hiking up Sugarloaf with my husband in our hometown community in Marquette County;

• Marching through downtown Port Huron in honor of International Women's Day;

• Hangin' with one of my besties at the Blue Water Woman of the Year Awards;

• The honor of taking my dad, a lifelong Wings fan, to the last game at Joe Louis Arena;

• The awesomeness of hanging on the beach with friends and a fire, watching freighters;

• A hug from my favorite brother; and

• Hangin' with my parents in Arizona last month.

I'm also thankful for the women in this community. I am grateful and honored you allow me to

share your stories here every quarter. In this issue you will find two amazing community activitists

who are making an impact on people, places and pets in the Blue Water Area. They are roll--upyour-sleeves-and-get-it-done

women...just like all of you. We are lucky to have them both.

Also included: Our second annual bridal guide! Plan now to attend our Bridal Expo on January 4

at the beautiful, newly renovated Port Huron Museum! More details are available on page 14.

In the meanwhile: Count your blessings this holiday season. I wish you all a peaceful and joyous new year.

A

Editor & Publisher:

Patti Samar, owner, The Write Company

Advertising, questions, comments or story ideas:

Patti Samar at 810-300-2176 or pjsamar@aol.com

Mission:

Blue Water Woman is the premiere publication

for women living, working and playing in the Blue Water Area of Michigan.

Its stories and features are written and designed

to be inspriational, motivational and encouraging.

www.BlueWaterWoman.com

© Blue Water Woman is the property

of Patti Samar of The Write Company

The Write Company is a writing, graphic design

and marketing consultation firm.

View our online portfolio at: www.TheWriteCompany.net

Patti Samar

Editor & Publisher

Blue Water Woman

2 winter 2017 BlueWaterWoman.com
---
who will be named...

Blue Water Woman

Easy

nomination

process!

of the Year?

Nominations now being accepted

for Blue Water Woman of the Year!

The Blue Water Woman of the Year Awards will honor women who reside in the

Blue Water Area of Michigan who demonstrate excellence and achievement

in one or more of the following areas:

?

• Volunteerism

• Mentoring other women

• Professional achievement

• Overall Honor: Blue Water Woman of the Year

Award Process:

Nominators MUST complete the nomination form and rules available at

www.BlueWaterWoman.com

A distinguished panel of judges from the Upper Peninsula selects award recipients.

Honoring the Award Recipients:

Those selected for awards will be notified at the end of January/early February 2018.

All will be featured in a story in the Spring (February/March) 2018 issue of the magazine.

All will be honored at a public reception (open to men and women) in February 16, 2018.

Nominator Requirements:

Nominators must be committed to selling a minimum of 20 adult tickets to the awards reception.

Receiving an award is no fun without a cheering section!

Award recipients MUST be available to attend awards ceremony; "must be present to win."

Deadline for Submissions:

Submissions must be received by email or snail mail no later than Friday, January 5, 2018.

Submissions must be emailed in one zipped file to: pjsamar@aol.com.

Sponsored by:

Blue Water Woman reserves the right to refuse nominations for consideration without cause. All decisions are final and subject

to approval by Blue Water Woman. Why? Because we said so. ;)
---
American woman

by Patti Samar

Rasha Demashkieh of Fort Gratiot is an immigrant.

She is a naturalized citizen of the United States.

She is a proud Arab-American woman.

A native of Syria, Demashkieh, a local pharmacist, and her family

recently "adopted" a Syrian refugee family that had relocated to

metropolitan Detroit, one of more than 25 similar families being

assisted by ACCESS (Arab Community Center for Economic and

Social Services), a nonprofit based in Dearborn that provides a wide

variety of services to the Arab immigrant

population in southeastern Michigan and

across the nation.

Demashkieh, a former board member for

the Port Huron School district and volunteer

with numerous organizations in the Blue

Water Area, serves as the president of the

ACCESS board of directors. As an Arab

American woman who immigrated to the U.S.

as an adult, she understands that assimilation

to a foreign country can be difficult. But

when Demashkieh immigrated, she and her

husband, a physician, both spoke English and

were educated.

"This family…the parents are in their late

30s and they have four kids and they live

in a small home in Detroit," she said. "The

situation they came from in Syria is horrifying.

Millions of people have been displaced. The

father paid smugglers to smuggle them out of

Syria and into Jordan, where they were settled

in a refugee camp, the Zaatari Refugee Camp,

which is in the middle of the desert.

"To help them get out of there, he signed

up with many settling agencies through

the United Nations. They were interviewed

seven times before they were admitted to this

country. It was not an easy process. It took

them three years.

"They are so grateful and so kind."

Demashkieh said that ACCESS is helping the

refugee families with a variety of assimilation issues,

including learning the language, accessing education,

housing and other social services.

"I was very apprehensive about meeting them," said

Demashkieh. "I had never met a real refugee before.

What I found was a very gentle family. They actually

made me feel better. They are so grateful to be here."

Demashkieh noted that the children are learning

the language more quickly than their parents, but the

father, who was a painter in Syria, has found work in

metro Detroit as a painter.

"I'm just amazed at their resilience," Demashkieh

said of the family's transition into American life.

"Everything is so different for them, but I believe they

will be okay."

As an immigrant herself, Demashkieh can identify

with some of the issues the family faces in the United

Rasha demashkieh

Fort Gratiot

"We need to

stand up and

say we are

Arab Americans

and we are

productive

citizens of this

country. And

I also want

you to know

me as an Arab

American."

States in 2017. When she came to the U.S. with her husband in the

mid-1970s, their status as immigrants from the Middle East was not

an issue.

"Before September 11, it was never a topic of conversation where I

came from," she said.

After September 11, all of that changed.

"You always feel like you have to justify yourself to others," she

said of her heritage. "I have friends who gave their children American

names and they did not want to be identified

as from the Middle East."

Demashkieh doesn't believe anyone should

have to wish away their identity.

"We need to stand up and say we are Arab

Americans and we are productive citizens of

this country," she said. "And I also want you

to know me as an Arab American."

When Demashkieh left Syria for the U.S.

in 1975 so her husband could complete his

medical training, she fully intended to return

and raise a family there. But, after a few

twists and turns in the road of life, she found

herself a naturalized United States citizen

with no intention of returning to Syria to

live and no one was more surprised than was

she.

"It was heart-wrenching when I realized

I wasn't going to live in Syria again," said

Demashkieh, who moved to St. Clair County

in 1980. "Even when we got our green cards,

we didn't think we'd stay.

"But we lived under a dictatorship in

Syria – your phone calls are monitored and

it is very different than what we experience

here -- and it got to the point where we had

children and we realized life would be better

for our children if we stayed here," she said.

And so Demashkieh and her family

became embedded in the Blue Water Area.

She became engaged with the community

by volunteering for a wide variety of organizations

ranging from the PTA at her children's school to

various health-related charitable organizations. She

served on the Port Huron Schools board of education

for 13 years. She is also a member of the Michigan

Civil Rights Commission and currently serves as cochair.

"I wanted to give back to my community and

my country, as well," she said of her dedication to

volunteerism on a local, state and national level in her

adopted home.

"Syria is the original melting pot due to its

geography," she said. "It is at the crossroads of the

continents.

"That is the beauty of this country...we are diverse.

We should capitalize on that. That's what makes us

strong."

4 winter 2017 BlueWaterWoman.com
---
winter 2017 BlueWaterWoman.com 5
---
IT TAKES A village

by Patti Samar

Carol Miller believes in the saying "it takes a village."

Miller, 56, of Port Huron Township, is the head of what began

as an online, Facebook-based group called AC "Pawsitive" Change

Group. AC stands for animal control and refers to the St. Clair

County Animal Control shelter, which is operated by the county

sheriff's department.

What started with just an online presence is now an active,

volunteer-based group of local citizens

who are working closely with the county

government to institute positive change at

the animal shelter.

The St. Clair County animal shelter has one

of the highest rates of animal euthanasia in

the state of Michigan. Additionally, in the

past, the shelter has not always been painted

in a positive light in online forums when

discussed by animal rescues and individuals

who were in contact with the shelter

regarding lost and found animals.

Miller was among those who knew of less

than stellar experiences that people had

when trying to adopt an animal.

"I told someone about it and people told

me, 'Do something,' so I did," she said.

Initially, she started the Facebook group to

grow a group of citizens interested in seeing

positive things happen at the shelter. The

group grew quickly.

"I didn't realize how many animal lovers

there are in the county," she said. Miller

has worked hard to maintain the Facebook

page as place where positive comments and

solutions are welcome, but bitterness and

chronic complaining are not.

Miller, a registered nurse who now works

as the operations manager of a hospice

organization in metro Detroit, knew that

the most effective way to create positive change

was to work within the constraints of government,

presenting herself and her group as a group of

citizens interested in helping create solutions.

She also began attending meetings of the county

board of commissioners and she talked with them

and with other county officials to help them become

aware that there are some very good "best practice"

scenarios at other shelters across the state that could

serve as examples that the St. Clair County shelter

could use as the basis for positive change.

"We began meeting with Tom Buckley, the

undersheriff, and Stephanie Ignash, the office

manager at AC, once a month to see what they

needed," Miller said. "Our goal has always been,

carol miller

Port Huron Township

"Our goal has

always been,

let's be part

of the

solution

instead

of the

problem."

'let's be part of the solution instead of the problem.'"

The group recently celebrated a significant milestone when it

partnered with the county animal shelter and participated in a

nationwide "Empty the Shelter" event sponsored by the Bissell

Pet Foundation. Bissell generously pays for the adoption fees of all

animals adopted at participating shelters on that day.

It was the first time the county animal shelter had participated

in a community adoption event.

"It turned out really well," said Miller,

who helped organize the volunteers

from her group. "We had 56 people who

volunteered. Tom (Buckley) and Stephanie

(Ignash) believed in us and that meant

everything."

Volunteers from the Pawsitive Change

group are now also regularly volunteering

their time at the county animal shelter.

Volunteers walk dogs and socialize cats.

Overall, Miller is really pleased with the

progress the group has made with helping

to call attention to some of the issues of

concern at the shelter and by offering to

help the county government find solutions.

"We know they don't want to euthanize

animals," she said, and noted that there

are a number of ways that her group can

help reduce the number of animals in

the shelter for extended periods of time.

"We're hoping to do microchipping and

adoption fairs," she said. "All of that

would help open up more eyes and educate

people. We're hoping to do a lot more

education in the community."

Others are stepping up to help, as well.

"We now have (veterinarian) Dr. Robyn

Limberg-Child on board, who offered to

step up to the plate and be part of the

solution. We are trying to improve the photos of

the animals at the shelter.

"This whole thing has been a journey," she

said. "I used to cry looking at the pictures of the

animals at the shelter, but now I think 'we need to

find you a good home where you can be loved.' It

takes a village and right now we've got a big village.

Hopefully we can continue to do good things for

the county and for the animals.

"I worked as an oncology nurse for more than 30

years," she said, "and I realize life is very precious.

You literally need to stop and enjoy everything in

life. I just hope my parents are looking down at

me and seeing what we're doing and that they are

proud."

6 winter 2017 BlueWaterWoman.com
---
Protect your world

Auto • Home • Life • Retirement

Insurance subject to terms, qualifications and availability. Allstate Property and Casualty Insurance Co., Allstate

Indemnity Co., Allstate Vehicle and Property Insurance Co., Allstate Fire and Casualty Insurance Co. Life insurance

offered through Allstate Life Ins. Co. & Allstate Assurance Co. Northbrook, IL; Lincoln Benefit Life Co., Lincoln, NE;

and American Heritage Life Insurance Co., Jacksonville, FL . Securities offered by Personal Financial Representatives

through Allstate Financial Services, LLC (LSA Securities in LA and PA). Registered Broker-Dealer. Member FINRA,

SIPC. Main Office: 2920 South 84th Street, Lincoln, NE 68506. (877) 525-5727. © 2010 Allstate Insurance Co.

173533

5:30 p.m. to 8 p.m.

Thursday, January 18, 2018

$35/per person

Sommelier Andy Bakko of Wolverine Market

Craft Beer • Hors D'oeuvres • Silent Auction

Blue Water Convention Center

800 Harker Street, Port Huron

For tickets & more information:

www.SanbornGratiot.org

810-388-1200
---
sponsor a student to attend the

Blue Water Woman

of the Year Awards

Student Sponsorships are now being accepted!

Your sponsorship of just $30 will allow a young woman

from the Blue Water Area to attend this inspiring event!

The Blue Water Woman of the Year Awards honor women who reside

in the Blue Water Area of Michigan who demonstrate

excellence and achievement in their personal and professional lives.

Every year, Blue Water Woman magazine sponsors a number of local high

school students so they can attend this award ceremony in an effort

to inspire them to do great things in their lives.

Help us bring more high school students to the event

by sponsoring a student attendee.

Recognition:

All Sponsor a Student sponsors will be recognized at the Blue Water Woman of the Year awards

held at McMorran Place on February 16, 2018.

Sponsorship Process:

Sponsorships can be purchased online by visiting BlueWaterWoman.com.

Thank you for caring

for the up and coming

young women in our community.

Sponsored by:

www.BlueWaterWoman.com
---
ots of little girls dream of dancing

in a big white wedding dress and riding

off with Prince Charming someday.

The months of planning that walk down the aisle can

feel like an eternity to a bride, but a gal's

wedding day just flies by, according to a

number of Blue Water Area brides.

These local women have been kind enough to offer their

advice and insight to future brides. To learn more about the

dos and don'ts of planning your wedding, turn the page and

read on!

BLuE WATER WOMAN

EDITOR/PuBLISHER

PATTI SAMAR & DALE HEMMILA

juLy, 2012

McMorran Place, Port Huron

Photo: Tony Pitts

See Page 14 for more information about the

Blue Water Woman / Port Huron Museum Bridal Expo

on Thursday, january 4 from 5 to 8 p.m.!

WINTER 2017 BLuEWATERWOMAN.COM 7
---
Big Day

by Patti Samar

nicole (gray) rodgers, 26,

formerly of port huron,

married derrick rodgers, 27,

on june 24, 2017 in warren

Nicole & derrick rodgers

Warren, Michigan

Photo: Dion Ghani, Ghani Vision Photography

10 winter 2017 BlueWaterWoman.com

Who planned your wedding?

I had a wedding planner/coordinator and my mom and my

mother-in-law helped. A good friend got married last year and

she walked me through a lot of things. It was a group effort

because I'm in nursing school.

What is she glad she

spent more on:

I spent more money on my wedding

dress. I loved my dress. That was

what I splurged on and I am glad I

did. I went more traditional. I had

the big ballroom dress and the biggest

oversized one I could find. I'm also

glad we had a reception with dancing.

I'm not a dancer, but everyone had

fun dancing.

Where would you have

cut costs?

I spent too much on invitations.

Instead of RSVPing to me with the

paper invitation, people would call or

text and say, 'Yes, we are coming.' I

would have them RSVP online.

"Your

wedding

day is

going to be

a lifelong

memory

and you

want it to

be a happy

memory of

the things

that were

important

to you

and your

husband."

words of wisdom:

Really do your background check

on who you are spending your money

with. Attend bridal shows for ideas.

Make sure you budget. The more time

you have to plan the more time you

have to save and make sure you stick

to your budget. Make sure you are not

overspending or digging into other

savings or using credit cards to pay for

your wedding.

Make sure you are doing what

you want to do and not what others would like you to do. Your

wedding day is going to be a lifelong memory and you want it to

be a happy memory of the things that were important to you

and your husband.
---
He's the light of your life.

Get married in the shadow of Michigan's oldest lighthouse.

Let Michigan's oldest lighthouse and the clear blue water of Lake Huron

be your something old and something blue on your special day!

We can accommodate your group of 20 to 300+ guests for any wedding,

meeting, fundraiser or social gathering.

For details, dates and pricing options

for the lighthouse or the newly renovated historic Carnegie Center,

please contact the Port Huron Museum at 810-982-0891, ext. 118

or email reservations@phmuseum.org • www.phmuseum.org

Zacharov Photography -

www.zacharovphotography.com

Fort Gratiot Lighthouse

2802 Omar St. • Port Huron MI 48060

Located on Lake Huron just north of the Blue Water Bridges!

A joint venture between St. Clair County Parks & Recreation Commission

and the Port Huron Museum

Now Booking: Receptions in the elegant & newly restored historic Carnegie Center in downtown Port Huron!

winter 2017 BlueWaterWoman.com 11
---
W

orry not

by Patti Samar

gillian (CANN) Poretta

formerly of port huron

married charlie poretta

on September 16, 2017 in port huron

Who planned your wedding?

I did it all myself. I had a "day-of" coordinator. The day-of

coordinator is definitely a more affordable option than hiring a

wedding planner. I created a schedule for everybody and for her.

She helped us coordinate the walk down the aisle and she made

sure all of the vendors were there and set up. She took care of the

little things so I didn't have to. At the end of the night, she made

sure everything was cleaned up and taken care of. It was perfect.

The day-of coordinator took all of the stress away. She hid all of

the issues from me and made sure we were on time the whole day.

It was great.

What kept you organized:

I created a bunch of spread sheets. We had a budget meeting

with our parents. I'm really careful with money and I wanted to

make sure we were getting a good deal. Overall, we were pretty

frugal.

What is she glad she spent money on:

The photo booth. That was worth it. Also, our reception was

at the Blue Water Convention Center and I wanted to create an

intimate feel on the dance floor, so I designed a suspended bistro

lighting system and had it hung from the ceiling. I think it was

really worth it. I'm also glad we had real flowers. They added a

really nice touch.

dress shopping:

It was the fourth dress I tried on. It was on the half off rack. I

put it on and that was it.

gillian poretta

Warren, Michigan

Photo: Megan Block-Brewer and Kathryn Bessette

of Mulberry & Sage Photography

words of wisdom:

Communicate with everybody involved. The spread sheets were

helpful in keeping track of everything. Just be organized. It was

extremely stressful, but that's what planning a huge party for

300 people is. If you don't sweat the small stuff, then things will

go wrong. If I was to do anything differently, I'd try and stress

less. I'm high stress anyway. You just have to focus on a solution

to any issue that comes along. It was all worth it, though because

the day-of was absolutely perfect. I'm just so happy with the

way it all turned out. It was perfect. It all felt just right. It just

came together.

12 winter 2017 BlueWaterWoman.com
---
Every day is the perfect day

to send flowers.

Full Service Florist:

Special Occasions • Funerals • Just Because • Holiday Décor

Wedding Floral Design • Bouquets • Boutonnieres • Corsages

NEW LOCATION! Corner of Hancock & 14th Avenue

1719 Hancock Street • Port Huron • (810) 989 - 7673

Let us cook

so you can enjoy the party

O

ur images

tell the story

of your wedding day,

the start of your life

together,

the beginning

of your story.

Catering services that satisfy all palates

Not just Italian...we offer a wide variety of menu choices!

Weddings • Showers • Parties • Wine Tastings

~ Reserve the restaurant & serve up to 75. ~

~ Off-site at venue of your choice & serve up to 200! ~

~ We can create a completely custom menu for any group, big or small ~

Contact us today to reserve your date!

(810) 216-6565

www.GreatLakesItalian.com

www.MIFreshCatering.com

3822 Pine Grove Ave • Fort Gratiot

winter 2017 BlueWaterWoman.com 13
---
14 winter 2017 BlueWaterWoman.com
---
It's your day...

we will make it special!

• Wedding Receptions

• Business Functions

• Special Occassion Events

4521 Ravenswood Rd

Kimball, MI 48074

(810) 364-6800

Email: kofc9526@att.net

Your love, as art.

• Bridal gowns

• Mother's gowns

• Pageant/Formals

• Homecoming/Prom

829 Superior Street • Port Huron, Michigan

(810) 294-5095 • joysbridalboutique@gmail.com

~ Private appointments available ~

photographsbyemily.com

810. 624. 7253

winter 2017 BlueWaterWoman.com 15
---
Tee off your new life together.

Weddings • Receptions • Showers • Rehersal Dinners

Reception accommodations for 3 to 350

6560 East Peck Road Lexington, Michigan 48450

888.355.4004 • www.LakeviewHills.com

Let's get this

party started!

• Professional Disc Jockeys

• Ceremony Music

• Reception Music

• Reception Lighting

Uplighting/Monogram/Club Style

• Photo Booth/Fun Props/Memory Book

• Complete Entertainment Services!

Check out our Facebook page

for photos/ideas!

(810) 334-DJDJ

info@TheUltimateSounds.com

Bridal Services

Book your 2018 wedding appointments today!

Special Occasion Hair

Makeup Application

Manicures/Shellac

Pedicures

Airbrush Tanning

Eyelash Extensions

Massages

Facials

Waxing

223 Huron Avenue • Port Huron, Michigan 48060

810.966.0223 • www.spa223.com • spa223@att.net

16 winter 2017 BlueWaterWoman.com
---
Agents protecting

all your life's moments

Kim Judge

kjudge@fbinsmi.com

Tammy Hutchinson

thutchi@fbinsmi.com

(810) 385-8800 | 7147 Lakeshore Road, Lakeport

FarmBureauInsurance.com

Providing complimentary lodging

for families of hospitalized patients

Two locations conveniently located within steps

of both McLaren Port Huron & Lake Huron Medical Center.

To make reservations, call:

810-824-3679

www.HunterHospitalityHouse.com

Destination Wedding

& Honeymoon Specialists

Bridal/Honeymoon Registry

201 N. Riverside • St. Clair MI 48079

810.329.7163 • www.StClairTravel.net

The Write Company

provides creative solutions

to business marketing challenges via:

• Publication Copywriting & Design

Print & eNewsletters/Magazines

• Advertising design & strategy

• Logos/Brand Identities

• Digital Marketing: Social Media/Web

• Editing of grant proposals

• Creation of fundraising collateral

Patti Samar, Owner/Editor/Publisher Blue Water Woman

pjsamar@aol.com 810.300.2176 www.TheWriteCompany.net

WINTER 2017 BLuEWATERWOMAN.COM 17