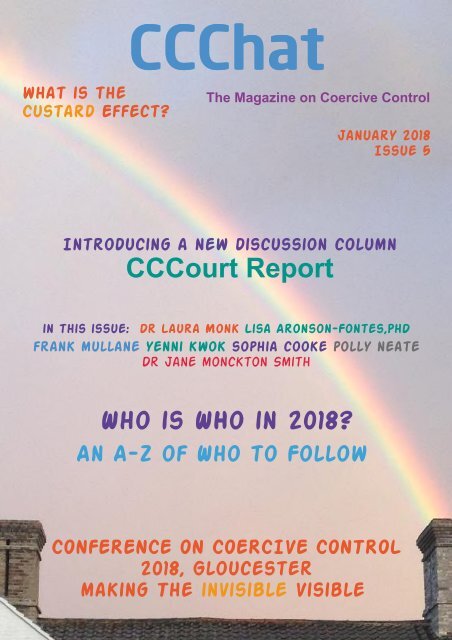 You also want an ePaper? Increase the reach of your titles
YUMPU automatically turns print PDFs into web optimized ePapers that Google loves.
CCChat

what is the

Custard Effect?

The Magazine on Coercive Control

January 2018

Issue 5

Introducing a new discussion column

CCCourt Report

in this issue: Dr Laura Monk Lisa Aronson-Fontes,PhD

frank mullane yenni kwok sophia cooke polly neate

Dr Jane monckton Smith

Who is WHo in 2018?

An A-Z of Who to Follow

CONFERENCE ON COERCIVE CONTROL

2018, Gloucester

making The invisible Visible
---
Contents

Editor's Notes

4 A new Year with lots to do

Lisa Aronson-Fontes, phD

6 Recovery after a controlling

relationship

CCChat news

12 If you enjoy ccchat and would like

to be part of Its growth,

Dr Jane Monckton Smith

16 ccchat talks to jane in the

run up to an exciting launch.

CCCourt Report

18 a new discussion group with a

difference

who's who

20 an a-z of who to

follow in 2018

losing the plot and custard?

30 continuing the theme of making the

invisible visible

2018 is the Year For Making The Invisible Visible
---
Contents

Dr laura monk

20 we talk to laura on what she is

working on and her thoughts on

coercive control.

polly neate

38 a few questions with the chief

executive of shelter

abuse talk/online book club

40 we catch up with author and host

jennifer gilmore on the latest.

frank mullane

46 we talk to the ceo of aafda in the

run up to the next conference

yenni kwok

51 the hong king based journalist

on women's rights in asia

sophia cooke

54 catching up with what happened

after sophia released her blog

DART reference tool

46 for further info:

www.janems.blog or App store.

2018 is the Year For Making The Invisible Visible
---
Editor's Notes

ABOUT THE EDITOR:

Min Grob started Conference

on Coercive Control in June

2015 following a relationship

that was coercive and

controlling.

Since then, there have been

three national conferences,

various speaking

engagements and a monthly

online publication- CCChat

Magazine.

2018 will see the start of

CCChat Live Discussion

Groups as well as details of

the next Conference on

Coercive Control which will

be a dual venue event to be

held in Bristol and

Gloucester.

Min is particularly

interested in how

perpetrator tactics can be

identified and has spoken on

the challenging subject of

differentiating between

strident discourse and

deliberate baiting.

With the use of examples

from social media, various

covert tactics aimed at

provoking a response can be

identified with the aim of

creating greater awareness

of how abuse manifests when

it is invisible in plain sight.

Min also talks on coercive

control both her personal

experiences and more

generally.

Let's grow the

conversation!

Editor contact details:

contact@coercivecontrol.co.

uk

Photo by Alex Kilbee of

https://www.museportraits.co

.uk/

First things first

happy new year!!

A New Year

and Lots To Do

This year, much like the start of any year, sees me on a

detox. new year, new body. it's not all about appearances

though, it is about performing at optimum level, reducing

stress and functioning better even as the big Five- o has

been and gone and the body no longer defies gravity, there's

no excuse to ignore self care, after all, how can i possibly

age disgracefully if it all goes to pot too soon?

This is the year of getting closer to the truth by taking a

step back. it has become apparent that when emotions run

high and feelings are strong, it can be difficult to see the

wood for the trees so, creating some distance and looking at

something with fresh eyes, should help in gaining better

understanding and greater insight.

last year, as many of you following me on social media will

have discovered, was about raising awareness of coercive

control by bringing various red flags to the attention of the

public. red flags there were a-plenty. this year we will be

looking deeper into identifying the various ways in which

perpetrators manage to turn the tables by creating a lot of

noise to distract from what it is they are actually doing. Am

sure the sparks will be flying from the dissenters' corner.

it is the year of Making The invisible Visible and i, for one, am

really excited so sit tight, fasten your seatbelts because

2018 is going to be phenomenal!

wishing you all the best for 2018!!

Min

Making The Invisible Visible 2018
---
Lisa Aronson-Fontes,

PhD, has a doctorate

in counseling

psychology and has

worked in the areas of

child abuse, violence

against women,

challenging family

issues, and crosscultural

research for

over 25 years.

Recovery After a Controlling

Relationship

From fear and despair towards "happy" after a

coercive control relationship

Lisa Aronson-Fontes, PhD

I

t

takes a long time to recover from an

abusive and controlling relationship. Being

monitored, isolated, stalked and abused

leave their mark.

Below are suggestions for people who have

left a relationship of Coercive Control.

People who are still in such a relationship should seek help

from a domestic violence advocate, even if there is no

physical violence. But beyond the break-up—before they can

feel completely well again—victims/survivors need to focus

on recovering.

A professor,

researcher, and

popular conference

speaker, she teaches at

the University of

Massachusetts

Amherst.

Dr. Fontes is the

author of Invisible

Chains:

Overcoming

Coercive Control in

Your Intimate

Relationship as well

as the professional

resources Child

Abuse and Culture

and Interviewing

across Cultures

More info:

www.lisafontes.com.

I've organized these suggested activities under the

acronym RECOVERY:

Reclaiming activities that had been blocked by the abuser.

For instance, Sharon's partner did not want her to go on walks

alone. After separating, she felt a wave of liberation every

time she laced up her walking shoes.

Embodying. Being kind to one's body by becoming physically

active and eating well helps a person feel better all around. In

a controlling relationship, many people become alienated

from their physical selves. For instance, Pat had no choice

about when to engage in sex nor about what food to prepare

for the family. Walking, yoga, dancing, lifting weights,

stretching, bopping to the radio—all these can help survivors

feel their vitality again.

Connecting with family, friends, and supportive

professionals. Abusers deliberately separate their victims

from others. Reconnecting with their social circle helps

survivors regain support and a sense of themselves. Abby's

husband made it diicult for her to visit her parents and

complained every time she was on the phone with friends.

Over time, she grew more and more dependent on him for all

her social contact and her self-esteem plummeted. After their

separation, Abby discovered that her loved ones were eager

to spend time with her again. Psychotherapists also provide

important support for survivors and help them face the

challenges ahead. To be efective with survivors, therapists

must understand the concept of coercive control—which is

still a new idea to many.

2018 is the Year For Making The Invisible Visible
---
Organizing time and physical space can

help a person feel less overwhelmed. After

Katrina moved out with her children, all the

possessions she had been able to grab were

in plastic bags and she despaired of ever

feeling "normal" again. Arranging her

belongings into labeled boxes in her shelter

room helped her feel more settled. She

noticed that her children responded

positively to a more orderly living space,

too. A daily routine also helps organize

one's emotional life.

Verbalizing. Sharing the true story of the

relationship—in ways that feel right—can

be empowering. Some survivors start by

keeping a diary where they can be honest

with themselves. Then they speak with

selected friends and family who they know

will be supportive. Telling one's true story

helps survivors cope with their feelings and

may also have positive practical efects. For

instance, when Carla explained her home

situation, her boss became much irmer

about denying her ex access to the

workplace and not giving him any

information over the phone regarding

Carla's whereabouts.

Expressing oneself creatively. Dancing.

Drawing. Gardening. Singing. Many victims

shut down creatively during the Coercive

Control relationship, busily attending to

their partner's every demand. Releasing

one's creative side can be a step on the

path to recovery. When her abusive

relationship ended, Chris began drawing

cartoons and then repainted her apartment

with vibrant colors. She loved choosing the

paint herself and—room by room—as she

wielded the roller she felt as if she was

covering over bad memories and reclaiming

the space as "hers" in a new way.

Remembering. Some survivors compile a

list of the controlling incidents that they

experienced. The list helps them appreciate

what they've been through and realize their

own strength. They can take pride in the

courage they showed, and look forward to

a full life as a free person. Greg kept a list

on his computer. He added to it as he

remembered abusive incidents.

2018 is the Year For Making The Invisible Visible
---
After a few months he printed and read the

list and began to appreciate how

completely he had been subject to his

partner's control. Reviewing the list

fortiied his gratitude for being free and his

determination not to allow himself to fall

back into the relationship again.

You. Survivors need to learn to put

themselves at the center of their lives.

After structuring their time around the

abusers' demands, it can be diicult for

survivors even to remember their own

opinions and wishes. Abusers convince their

victims that their opinions are stupid and

wrong, leading victims to change the way

they view themselves and the world. Stark

(2007) has referred to this elimination of a

victim's perspective in a coercive control

relationship as "perspecticide."

It is usually best for survivors to separate

themselves as much as possible from the

controlling person and his contacts, so they

cannot be controlled or monitored through

someone else. (Of course, this will take a

diferent kind of planning if they share

young children).

Survivors can look forward to a fulilling life

after ending a Coercive Control

relationship. Recovery does not happen

overnight but with time--it does happen.

"Survivors often hear the abuser's critical voice in their

heads. It is important to learn to replace that voice

with a kind one."

Survivors often hear the abuser's critical

voice in their heads. It is important to learn

to replace that voice with a kind one.

When Maria inally persuaded her boyfriend

to move out, at irst she felt lost without

him. She felt as if she wasn't herself and

couldn't remember how she had once lived

without her boyfriend's constant demands

and preence.

Over time, she rediscovered her own

opinions and began to re-engage in hobbies

that she had once loved. She began to

enjoy spending time by herself and with

friends and family, without having to check

constantly for her boyfriend's approval.

It is natural for survivors to feel fear and

regret from time to time. Looking ahead

will give them hope.

For more information about

Coercive Control:

Fontes, L. A. (2015). Invisible Chains:

Overcoming Coercive Control in Your

Intimate Relationship

Stark, E. (2007). Coercive Control:

How Men Entrap Women in Personal

Life.

2018 is the Year For Making The Invisible Visible
---
CCChat talks to:

Lisa Aronson-Fontes,PhD

L

isa

Aronson-Fontes, PhD is a Senior Lecturer at the University of

Massachusetts Amherst, author of numerous publications including:

Invisible Chains: Overcoming Coercive Control in Your Intimate

Relationship, Interviewing Clients Across Cultures, and Child Abuse &

Culture: Working with Diverse Families and a keynote speaker.

"We still need massive education for popular audiences and professionals. A

lot of women are calling their abusive partners "narcissists" rather than

abusers, and then try to work around the abusive behavior."

Lisa Aronson- Fontes, PhD

Q: In your time, looking at and educating on coercive control , what would

you say has been the most profound change you have seen in the underlying

of it?

The passage of laws criminalizing Coercive and Controlling Behaviors in the UK is a

thrill. While the implementation is imperfect, it does serve as a model for the rest of

the world and we can only hope our own countries will follow the lead of the UK.

Undoubtedly, the exact wording of these laws and the training of police, judges,

advocates, psychotherapists and others will improve over time. Perhaps as a result

of the laws in the UK and all the publicity surrounding them in popular media, finally

the concept of coercive control is becoming better known in other countries, too.

In the U.S., women's magazines and newspapers have begun to use the term

"coercive control," mostly in regard to a few high profile cases such as Dirty John

Q: What do you think still needs to be done and how might that be achieved?

We still need massive education for popular audiences and professionals. A lot of

women are calling their abusive partners "narcissists" rather than abusers, and then

try to work around the abusive behavior. I think the concept of "coercive control'

would be extremely liberating to them. It would help them understand their partner's

actions as part of a deliberate pattern of control. And, of course, many victims still

blame themselves for the state of their relationships.The gaslighting and

perspecticide have caused them to think they are the problem and they continue to

try to fix their relationships by doing everything in their power to avoid angering their

abusive partners; this is exhausting and does not work.

2018 is the Year For Making The Invisible Visible
---
Because they do not understand coercive

control, many police officers, lawyers,

judges, advocates and therapists roll their

eyes and blame abused women rather than

offering them concrete help and protection.

Professional training programs should

include material on coercive control as a

required part of their coursework. And we

need to educate children and teens about

healthy relationships that involve the joining

of two free people.

Teaching them about breakups is important,

too. "Yes, some day you will probably be in a

relationship where your heart will feel like it is

breaking and you will survive."

Some shelters and domestic violence

agencies have begun buying it by the case--

it is quite inexpensive and readable

compared to other books. I want to do

whatever I can to get the word out about CC,

and I so appreciate the work of CCChat

Magazine in this regard!

Q: Is there a message you'd like to share

for 2018?

With the power of the #MeToo movement,

maybe this will be the year when significant

changes occur in terms of women's status in

the working world and the home. I hope we

will make progress in terms of sexual

violence.

So my message is: "Stay strong, speak up,

and reach out to someone who is isolated by

their partner."

"My message is: "Stay strong, speak up, and reach out to

someone who is isolated by their partner." "

Lisa Aronson-Fontes, PhD

Perhaps this could help stave off the oftenfatal

violence that some abusers inflict when

they fear the end of a relationship will be

unbearable.

Q: Is there going to be a follow up book to

Invisible Chains?

Invisible Chains was just published in

Japanese. I am translating it into Spanish

and looking for a Spanish language

publisher.

I am working on articles on coercive control

in Urdu and Farsi. I would love to see

information about coercive control reach the

four corners of the earth because although

there are variations across cultures, I have

yet to see a culture where a certain number

of women (and some men) were not being

abusively controlled by their partners.

I am open to doing another book on coercive

control--I have some ideas. But first, I'd like

to see Invisible Chains get into the hands of

more readers.

Further information:

www.lisafontes.com

More information on:

Dirty John

http://www.latimes.com/local/california/

la-me-ln-coercivecontrol-20171011-story.html

"The Vegan Fugitive"

https://www.vanityfair.com/style/2017/

03/sarma-melngailis-vegan-fugitivedefense

Please copy and paste the above links

into your browser.

2018 is the Year For Making The Invisible Visible
---
CCChat Magazine is now on Patreon

If you have enjoyed reading the magazine and would like to be

a part of developing and improving it, please consider

becoming a patron and help create a bigger platform for

MAKING THE INVISIBLE VISIBLE

Please cut and paste the following into your browser to take

you directly to the page.

https://www.patreon.com/user?u=5609243

2018 is the Year For Making The Invisible Visible
---
New for 2018

CCChat

Goes Live!

T

he

first set of Coercive Control Discussion Groups will be

based in East Anglia - namely, Norwich, Ipswich,

Cambridge and Bury St Edmunds with a national roll out

expected later in the year.

Making The Invisible Visible

This discussion group will meet periodically ( frequency dependant on

participants wishes and availability) and is open to frontline professions and

any one working with people who may be affected by coercive control.

The group will look at the recognition of coercive control, how it is being

viewed and is an ideal opportunity for practioners to share experiences in

order to gain greater understanding.

The group is suitable for:

Police Officers

Lawyers

Court Staff

Social Workers

Cafcass

Teachers

Safeguarding

Paramedics

Emergency Room Staff

Probation Officers

Victim Support

It is not a DV forum, it is a group for interested individuals to learn and share.

Anyone wishing to apply to the group will need to apply by email to

contact@coercivecontrol.co.uk

Further details coming soon.

2018 is the Year For Making The Invisible Visible
---
CCChat Talks To:

Dr Jane Monckton Smith

D

r

Jane Mockton-Smith is a Forensic Criminologist and Senior Lecturer at the

University of Gloucestershire specialising in homicide, coercive control and stalking

and Director of the Centre for Learning and Innovation in Public Protection at the

University, Chairs Domestic Homicide Reviews,, trains professionals in homicide

threat and risk, and works with a number of . She has published a number of books

focused on homicide, and is developer of the DART Reference Tool.

The system is old and clunky, and cannot cope with sexual offending,

domestic violence or cyber crime in the way it needs to in the 21st Century

Dr Jane Monckton Smith

Q: In your time working in domestic violence and homicide, what would you say has been the

most profound change?

I think there have been many changes, the most important of which, to me, were the introduction of

Domestic Homicide Reviews and the criminalisation of coercive and controlling behaviours. These

changes have not had an overnight positive impact and we couldn't really expect that, given the

more fundamental changes needed within the criminal justice system, necessary to let these

innovations change things. However, what I am seeing with these changes is a growing realisation

that what we thought we knew about domestic abuse and Homicide is not quite so simple or true.

Q: What do you think still needs to be done and how might that be achieved?

We have still got so much to do. If I just focus on the criminal justice system for a minute. It needs

updating and a serious overhaul. First, victims have no real voice in the system as there are only two

parties in a trial - the State and the defendant. The Victim has no representation in the way the

defendant does. The State is held to a different set of standards and cannot be the victim's warrior.

Second, the courts are designed not for victims, but for the professionals using them. Judges get far

more protection and privacy in those buildings than victims do. And third (keeping it short!) the

system is not coping with prosecuting offences which involve human relations or patterns of

behaviour. The system is old and clunky, and cannot cope with sexual offending, domestic violence

or cyber crime in the way it needs to in the 21st Century. Tradition needs to make way for

sophistication and innovation.

Q: Is there a message you'd like to share for 2018?

2018 started with high profile support for ending interpersonal abuses, and abuse of power. We

simultaneously see what appears to be a rise in anonymous online abuse and increasing intolerance

for the voices of women in public life, and minority and ethnic groups. But for the first time voices

against the abuse of power are louder. This could be the start of something big!

2018 is the Year For Making The Invisible Visible
---
For 2018

WELCOME TO THE NEW

SECTION OF CCCHAT

CCCourtReport

2018 is the Year For Making The Invisible Visible
---
This is a new addition to CCChat Magazine. For a while,

I have been reading Judgments and Sentencing

Reports and have been surprised at some of the

comments made which did not appear to recognise

coercive control.

This section will look at cases that have been through

the CJS and look at instances where abuse was not

identified and possible reasons why, including common

misconceptions, as well as how unconscious and, in

some cases, implicit bias may have played a part in the

decision making. This section is by no means an attack

on the judiciary but aims to highlight areas where a

possible lack of understanding around the nature of

course of conduct offences such as harassment,

stalking and coercive control, and the ways in which

the behaviour of both perpetrator and victims can be

misinterpreted.

Next month's CCChat will give details of the upcoming

online discussion on this Judgment.

The first case we will look at is a Court of Appeal case

Meachan v R

Neutral Citation N0: [2009]EWCA Crim 1701

http://www.bailii.org/ew/cases/EWCA/Crim/2009/

1701.html

The appellant is appealing his conviction on the grounds of

having new evidence. On 2nd Aug 2002, X met appellant with

both eventually taking a taxi to X's house .where X had no

recollection of the events that followed. The next morning X

woke up to a lot of pain and considerable blood loss. A

subsequent examination revealed extensive bruising of the

peri-anal area and acute splitting of the anal canal extending

into the rectum. The injury was so severe, it was deemed

necessary to fit X with a colostomy bag. The appellant

maintained that they had both drunk half a cup of GHB , a

date rape drug, which he had obtained. The appellant said X

was a willing participant. The Appeal looked at further

evidence on pain perception.

It is a distressing case. I had originally wanted to look at the

Andrew Luster trial and the reaction of his mother. This is the

great grandson of Max Factor who originally received a

sentence of 124 years for drugging and raping three women

as it was not a UK case, decided against.

It is still worth reading the appeal for the position taken by

the mother who refuses to accept her son's guilt.

https://cases.justia.com/california/court-of-appeal-2ndappellate-district/B228748.PDF?ts=1396114239

If there is a case of interest which can be looked at, in

order to widen understanding of the dynamics of abuse,

please get in touch on:

contact@coercivecontrol.co.uk

Please note that only judgements published and available

in the public domain will be featured .

2018 is the Year For Making The Invisible Visible
---
Who To Follow in 2018

A-Z of Who's Who in

the Domestic Abuse

Sector

B Sam Billingham

Sam founded SODA in 2009. Her own

experiences of domestic abuse, led her to

create a secret community where men and

women who experienced and survived domestic

abuse could support and guide one another as

they escaped their abusive relationships and

embraced their new lives.

Today, SODA operates a variety of projects and

services to raise awareness of domestic abuse

and offer vital services for the partners of

perpetrators.

Award Winner Inspirational Woman UK 2017

A is for Alison Boydell

Alison Boydell works as an Independent Sexual

Violence Advocate (ISVA) for a Rape Crisis

centre. She is involved in End Online Misogyny,

which highlights online violence against women

and also co-founded JURIES (Jurors

Understanding Rape is Essential Standard) with

the late Jill Saward.

JURIES campaigns for juries in sexual offences

trials to be briefed about the realities of rape to

counter widely held rape myths and

stereotypes.

2018 is the Year For Making The Invisible Visible
---
Who To Follow in 2018

A-Z of Who's Who in the

Domestic Abuse Sector

E is Maggie Evans, PhD

A Research Fellow in domestic violence and abuse

at the University of Bristol, specialising in

qualitative narrative studies ( the EOS study).

http://www.bris.ac.uk/social-communitymedicine/people/maggie-a-evans/overview.html

C is Christine Ashton

Christine is an IDVA, ISVA YPVA, author,trainer

and consultant for the Freedom Programme

and other domestic violence and abuse

services and provides bespoke domestic abuse

training throughout the UK and Ireland.

D is Deborah Simpson

Deborah Simpson is the Chair of the Medway

Domestic Abuse Forum .

More on Deborah soon.

F is for Frank Mullane

Frank Mullane is the CEO of AAFDA, Home

Oice appointed reader of Domestic Homicide

Reviews and member of national panel quality

assuring these reviews.

https://aafda.org.uk

2018 is the Year For Making The Invisible Visible
---
Who To Follow in 2018

I is for IWMM

IWMM ( I Want My Mummy) is a not for profit

organisation whose goal is to ensure that

survivors of abuse transition through each stage

with clarity and support, filling a gap between

services already provided for by established

agencies.

Founded by Zoe Dronfield

G is Graham Goulden

www.iwmm.net

Graham Goulden is a former police officer and is

a Director at Cultivating Minds UK.

Find him at @Graham_vru

More on Graham soon.

H is Chris Hemmings

Chris is a freelance journalist and author of 'Be

A Man' which is available on Amazon both as a

paperback and as an ebook.

He is on Twitter as @Hemmch

More on Chris soon.

2018 is the Year For Making The Invisible Visible
---
Who To Follow in 2018

L is Lisa Aronson-Fontes, PhD

Lisa is the author of:

Invisible Chains: Overcoming Coercive

Control in Your Intimate Relationship.

More about Lisa in this issue of CCChat

or look at her website:

J is Dr Jane Monckton Smith

www.lisafontes.com

A Forensic Criminologist and Senior Lecturer in

Criminology at the University of Gloucestershire

specialising in homicide, coercive control and

stalking as well as Director of the Centre for

Learning and Innovation in Public Protection at

the University, Jane chairs Domestic Homicide

Reviews, trains professionals in homicide threat

and risk, and works with a number of stalking,

domestic abuse and homicide charities. She has

published a number of books focused on

homicide, and is developer of the DART project,

available as an APP.

K is Simon Kerss

Simon is a lecturer in Criminology at

Anglia Ruskin University in Cambridge.

He was previously the DSAV

partnership manager for

Cambridgeshire County Council.

More on Simon soon

2018 is the Year For Making The Invisible Visible
---
Who To Follow in 2018

O is Only Dads/ Only Mums

Only Mums is Rebecca Giraud and Only

Dads is Bob Greig. Together they are The

Family Law Panel - a national network of

experts dedicated to supporting families

by empowering them to make the best

choices in the legal process.

M is Clare Murphy, PhD

www.thefamilylawpanel.org

www.onlymums.org

www.onlydads.org

Clare Murphy, PhD set up

www.speakaloud.net. in 2009 to support

victims of coercive control and

psychological abuse. Clare is also a

specialist counsellor and trains and

educates on psychological abuse and

coercive control. Clare resides in Brisbane,

Queensland, Australia.

N is for Nazir Afzal, OBE

Nazir Afzal is the former Chief

Prosecutor, newly appointed national

advisor for violence against women,

gender based violence, domestic abuse

and sexual violence for Wales and Chief

Executive of the Association of Police

and Crime Commissioners.

2018 is the Year For Making The Invisible Visible
---
Who To Follow in 2018

R is for Rachel Williams

A survivor of 18 yrs of abuse, Rachel

was shot by her estranged husband and

weeks later, her 16yr old son took his

life. Rachel is an Ambassador for Welsh

WA, Threshold_Das & Pioneer for

Safelives.

P is for Polly Neate

More on Rachel soon.

Polly Neate is chief executive of Shelter.

She started out as a journalist in the

late1980s before moving on to Action For

Children as their director of public affairs

and communications.

In 2013, Polly left the children's charity to

become chief executive of Women's Aid

and in 2017, she became the chief

executive at Shelter

Felicity Gerry QC

Felicity Gerry QC is an international QC with

chambers in London, Leeds and Australia. and

has been recognised in the Legal 500 as "well

respected for national and international

appellate issues" and "Fearless and

independent minded" and in Chambers and

Partners as "a vastly experienced advocate

noted for her experience in serious sexual

cases, homicides and frauds".

She was Legal Personality of the Year for 2016

2018 is the Year For Making The Invisible Visible
---
Who To Follow in 2018

U is for A Call To Men UK

A Call to Men UK is committed to ending

male violence against women and girls.

http://acalltomenuk.org.uk/

S is Professor Evan Stark

Professor Evan Stark is a forensic social worker,

author of Coercive Control (Oxford, 2007) and a

lecturer who has taught at Yale and Rutgers

University and held appointments at the

University of Essex, Bristol University and the

University of Edinburgh. Professor Stark's

award-winning book was the original source of

the coercive control model when the Home

Office widened the definition of domestic

violence and he played a major role in the

consultation that led to the drafting of the new

offence.

T is for Tracey McMahon

Tracey McMahon is the founder of the SHE Project

-an enterprise dedicated to providing holistic

support and practical advice for men and women

who are, or have been, engaged in the criminal

justice system.Tracey is also an active voice in

ofender habilitation, as she likes to call it, having

served a suspended sentence & a short-lived period

of homelessness,

Tracey has researched and highlighted how

habilitation is lacking in society.She is a contributor

to Criminal Law & Justice Weekly, World Medical

Times and is the author of "View From an Ofender"

series at UK Criminal Law Blog.

2018 is the Year For Making The Invisible Visible
---
Who To Follow in 2018

X is for TenderUK

To EDUCATE young people about violence

and abuse perpetrated in relationships

To EXPOSE attitudes that condone and

conceal domestic and sexual violence

V is Dame Vera Baird

To ENABLE young people to seek support

and access services if they, or someone

they know, is experiencing abuse

http://tender.org.uk

Dame Vera Baird DBE QC is a British

politician, barrister, and academic.

She is currently the Northumbria Police and

Crime Commissioner while serving as a

Visiting Professor of Legal Practice at

Newcastle.

W is Katy Jon Went

Katy is a bibliophile, logophile, xenoglossophile,

cibophile, oenophile, porphyrophile, asexual

erotophile obviously also a philhellene philophile!

Katy also raises awareness of domestic abuse in

LGBTQ relationships.

www.katyjon.com

Editor's note: Katy, I hope non of those are rude. I

didn't have the energy to look them all up.

2018 is the Year For Making The Invisible Visible
---
Y is Yenni Kwok

Yenni is a Hong Kong-based journalist

whose works have been published in

various media outlets such as Time

Magazine, the New York Times, the

Guardian and CNN.

She is personally interested in writing

about women's rights and

empowerment.

Z is Zoe Dronield

Zoe Dronield was the victim of a

horriic attack by her ex-partner. It later

came to light that she was his 14th

victim, but she had no idea of his violent

past when she met him. Zoe now

campaigns for greater protection for all

from domestic abuse and stalking,

including the setting up of a national

stalker register. Zoe is the founder of

IWMM.

2018 is the Year For Making The Invisible Visible
---
THOSE WHO PLOT

SO OTHERS LOSE THE PLOT

"He engineered my reactions. It was only at

the end that I realised how much ."

Making the invisible visible consists of looking at

how an abuser works, how they think and how

they devise their tactics to scheme with

maleficence.

The obvious example is, of course, the downright

lie or the indirect omission. Then there are

spreading rumours, gaslighting, denial, crazy

making, deflecting, stonewalling and a whole host

of subtle yet corrosive ways of undermining that

involve learning a large array of new vocabulary.

Many of the tactics rely on the victim reacting in a

negative way to *prove* to onlookers that there is

something to hide or something wrong, to put a

victim on the defensive and then put them on the

spot.

Telling an embarrassing story.

This may be a true story or it may be a downright

lie. The intention is to make the audience believe

it is real and to create maximum embarrasment.

Any objection will be dismissed as the victim

overreacting, lacking a sense of humour etc.

This tactic is also used to silence ( If you don't be

quiet, I'll embarass you further) or to provoke an

angry response ( See? I told you she was mad,

has an anger problem,is irrational etc)

Example 1: " We were at a dinner party and he

told everyone this story about how we were

thrown out of a club because I gave him a blow

job. It wasn't true but he carried on with his fake

story so that everyone laughed. I was completely

humiliated."

Example 2: " I was having a bath and he came

into the bathroom to argue about money. I didn't

agree with what he said so he opened the

bathroom window and shouted out, ' No, you don't

ned sex every day.' The neighbour was in the

garden and would have heard every word. I didn't

say another word after that."

Engineering a row before going out.

Example 1: " We were invited out to a evening

recital. A lot of his friends were going to be there

and, for some reason, he had never introduced

me to them, even though we had been married 3

years. He started criticising me in the morning

and, by the afternoon, we had reached the fullblown

rowing stage. I decided I wasn't going to go

but an hour before we were supposed to leave, he

pleaded with me to accompany him and,

reluctantly, I went. When we got there he acted as

though nothing had happened and put on this

show of being attentive and loving and kept trying

to kiss me in front of everyone. I became really

angry. I was pissed off that he had spent a whole

day decimating me and could just forget about it

whereas I was still shaking and swollen from all

the crying."

Controllers who seek to isolate want others to

believe that their partner is mentally ill, irrational,

erratic etc, and will often create a situation where

the victim comes off badly. If a victim comes

across as hostile or sullen or unreasonable, the

sympathy will shift to the abuser. This is often

employed by abusers to get sympathy from family

members.

2018 is the Year For Making The Invisible Visible
---
Example 3: "A friend of his had died and a few of

his ex conquests were going to be at the funeral.

On the drive there, he talked non stop about these

flings, what they did together and he wondered

what they were doing now, telling me how much

fun he used to have when he was with them. The

implication was that he did not have fun with me. I

became insecure and needy and it turned into a

row.

He stopped the car and asked me to get out,

telling me that his friend had just died and I was

behaving like a jealous bitch, when HE was

feeling distraught. I felt guilty so put his behaviour

down to grief. At the funeral he took on this

completely different persona, he was loud and

boisterous and kept disappearing off to hug

women or he would call someone over, referring

to them as 'my love' but not me. It took a while to

realise he was deliberately making me jealous as

he wanted his female friends to think I felt

threatened by them."

Example 4: I had just given birth and he was

working at an exhibition. I was exhausted and in

pain with mastitis but he insisted I bring the baby

to the exhibition. When I got there, he took the

baby out of my arms and walked off. After an hour

he came back, kissed me on the forehead and

said "thank you for letting me introduce my baby

to everyone." If I hadn't been so exhausted, his

behaviour would have started an argument.

They find certain trigger words.

They will repeat certain words when demeaning

so the words start to have a negative association.

They then drop the word in public just to get a

reaction.

They will deliberately attribute a wrong

memory. Often it will be an intimate memory.

Example 5: 'You always used to ask me to get you

a poached egg sandwich after sex.'

That was someone else.

'No, it was you, when you lived in that basement

flat in Maida Vale.'

No, still not me.

They tell other people

This is often seen with online mobbing gangs and

with cliques in schools or in the workplace. The

abusive person bullies by encouraging other

people to join in the teasing. It does not take long

for the teasing to get out of hand and turn into a

vicious roasting.

2018 is the Year For Making The Invisible Visible
---
They deliberately keep doing things they know

cause upset.

This may be something irritating like deliberately

leaving dirty clothes in front of the laundry basket,

or it might be something more.

Example: "I work from home so clients come to

the house and they can use the downstairs

cloakroom. Whenever a client was due to arrive,

he would disappear for a bowel movement and

then *forget* to flush. It was a grotesque act of

marking his territoty."

Example: " We always had more powercuts when

he was home. When that happened, the alarm

would not go off and I would end up taking the

children to school late and turn up to work even

later."

Back handed compliments:

They talk constantly about their friends but

you have never met them.

They will disappear off to meet friends you have

never met yet they know all your friends. often

they will take great pains to make out that their

friendship with your friends is deeper and more

meaningful than the one you have with them.

They may tell you that your friends have been bad

mouthing you. That way, you distance yourself

from your friends so he has isolated you.

Just to keep you on your toes, there will be back

handed compliments. If you react to them, you will

be overreacting, making a mountain out of a

molehill or have no sense of humour. Even if you

don't react, it will plant a seed of doubt.

Example 1: " She has the most perfect bum but I

prefer yours"

Example 2: " Your friend looks exactly like [ add

name of super stunning person]. I could never see

why anyone would think Supermodel X is

goodlooking."

They will accidentally on purpose forget

They forget on purpose

They will accidentally on purpose forget to walk

the dog, change the nappy, pick up the dry

cleaning, take the souffle out of the oven. Little

acts of deliberate sabotage which can be pased of

as accidents but are really intended to undermine

and infuriate. They will also often resort to

gaslighting to claim you never asked them to do

the thing you asked of them.

Example: " He did not want me to go out in the

evening, but I had to go out for work. It was very

dark and foggy and normally the gate is always

kept open. On this occasion, he had closed and

locked the gates so that when I reversed out into

the lane, I would drive straight into the gates. I

ended up not going out, just like he wanted.

Example 3: " I like your face, it looks lived in. I

don't mean that as an insult but as a

compliment."

MORE NEXT MONTH

2018 is the Year For Making The Invisible Visible
---
Envisaging a vicious

Custardy battle?

Time to think of

The Custard Efect.

What is the custard efect?

Many readers will remember the Brainiac

experiment where Jon Tickle ran across a

swimming pool full of custard.

How was this explained? In simple terms, custard

is a non newtonian luid (doesn't behave like

water) and when a force is applied, there is

resistance so, if you place your hand on the

custard, your hand will sink, if you slap the

custard (now theres a sentence I never thought

I'd write!), your hand will push back.

Resistance is met with resistance

Without getting all sciencey, how does this

relate to family court proceedings?

When emotions are running high especially

when people feel hurt, angry, betrayed,let

down, things can quickly escalate until they get

out of hand. Often, the breakdown of the

relationship is a time when couples no longer

think of the other person, their feelings and how

the manner in which they speak, react can create

a negative response.

The following is an actual situation but one that

is being replayed over and over. There is no

history of domestic abuse, just a marriage that

became stale over time and a spiral into a rapidly

worsening situation.

Him: " I fell in love with someone else and

wanted us both to move on with our lives. I was

worried that she might start being difficult so I

made sure communication was brief and to the

point. I was right, she did become awkward. She

made excuses over contact, she started creating

barriers between the children and my new

partner. I could see she was trying to alienate the

children."

Her: " He suddenly announced he had fallen in

love with someone else and wanted a divorce. I

knew we hadn't been getting on but I thought it

was just a phase - we had been together since we

were 16. He had always been my best friend and I

couldn't understand why he suddebly became so

rude and distant. It really upset me.

It was obvious he had no more feelings for me and

he wanted to move on. I started to worry that he

was looking to replace me as the children's

mother. I knew from mutual friends they were in

love and a good fit and I was terrified I would end

up being erased from my children's life.

Instead of talking to me, he resorted to emailing

me curt and really quite rude emails. He no longer

asked, he started demanding and the more he

demanded, the more I resisted. It was going from

bad to worse and I didn't know how to stop it. He

really hated me."

"The more he demanded, the more I

resisted. "

There we have it.....

The Custard Effect.

2018 is the Year For Making The Invisible Visible
---
CCChat talks to:

Dr Laura Monk

Humanistic, Existential, Relational

Counselling & Psychotherapy

"Individuals' coercive control of women relects cultural practices

(societal, organisational, family, etc.) that do not apply to men. "

Dr Laura Monk

Q: In your time working in domestic abuse

and maternal alienation , what would you

say has been the most profound change?

Without a doubt, the introduction of the

new coercive control law in 2015 is the

most profound change related to domestic

abuse, which feminists since the 1980s have

understood as a pattern of coercive control,

and which Anne Morris, who coined

maternal alienation, recognised as such.

With the new legislation we now have a

way of addressing maternal alienation and

CPS guidelines already recognise that the

family courts can be a platform for coercive

control.

Q: What are you currently working on?

I am currently working on a paper that

identiies the use of children in coercive

control by perpetrators to harm children's

mothers, especially through the intentional

separation of mothers and their children.

This is a form of domestic abuse that is

speciically aimed at women as mothers,

which capitalises on mother-blaming

practices and structures.

Q: What do you think still needs to be

done and how might that be achieved?

The application of gender neutrality to

coercive control is unhelpful and awareness

of the problems caused by gender neutral

deinitions and language needs to be

raised.

In his seminal book on coercive control,

Professor Evan Stark explains how the

problem is gendered because abusive men

exploit women's vulnerability as women, as

mothers, and as the second sex in an

unequal society. Individuals' coercive

control of women relects cultural practices

(societal, organisational, family, etc.) that

do not apply to men.

Speaking at conferences, Evan nearly

always explains that stats on physical

assaults in relationships are roughly equal -

physical incidents between men and

women are perpetrated at about the same

rate - but that domestic abuse isn't about

isolated physical incidents. It's about a

pattern of coercive control and the

domination of one partner over another in

order to control, abuse, harm, intimidate

and terrorise, which is almost exclusively

perpetrated by men and related to the

wider global problem of men's violence

against women (and children).

2018 is the Year For Making The Invisible Visible
---
Q: Is there a message you'd like to share

for 2018?

The continued awareness-raising eforts of

all those involved in helping the public to

understand coercive control has been

phenomenal.

More and more people understand what

coercive control means in ways that were

just not understood before. Let's continue

in 2018 to raise awareness and work to

reach those individuals who are trapped in

a web of coercive control with no idea how

to escape their emotional and psychological

prisons.

There is much to be done.

For more information:

Dr Laura Monk MBACP ( accred)

Humanistic, Existential, Relational

Counselling & Psychotherapy

Twitter: @drlauramonk

Website: www.drlauramonk.com

2018 is the Year For Making The Invisible Visible
---
CCChat talks to:

Polly Neate

P

olly

Neate became Chief Executive of Shelter in 2017.

She started out as a journalist in the late 1980s before

becoming Director of Public Affairs and Communications

at Action for Children. In 2013, she left the children's

charity to become chief executive of Women's Aid.

Q: With your experience of working in the domestic abuse sector and now,

housing, what would you say is the most urgent issue that needs to be

addressed ?

The lack of housing that people on low incomes can afford to rent, the ever-widening gap

between benefits and rents, and the destitution that results - which people are then

stigmatised for.

Q: How do you think that might be achieved?

Short term, unfreeze Housing Benefit immediately. Long term, build more homes that

people with low incomes can afford, including a renaissance in public housing.

Q: How is Shelter planning to raise awareness of poor housing or

homelessness in 2018?

That would be telling! But rest assured we will be determined to do it.

Q: I know you're a keen cyclist. How else do you unwind after a hectic day?

To be honest, I'm quite a relaxed person. Nothing keeps me awake other than my arthritis.

But cycling helps with both. I like chatting to family and friends too.

Q: Hot chocolate or green smoothie?

Diet Coke.

Q: Is there a message you'd like to share for 2018?

Let's not be afraid of social justice. Short-term, lives are at risk and that demands action.

Longer-term, we would all benefit.

2018 is the Year For Making The Invisible Visible
---
Abuse Chat /Book Club

Jennifer Gilmore ills us in

J

ennifer

Gilmore is an author, mum and the host of

Abuse Chat a weekly Twitter chat which focuses on

domestic abuse and also hosts an online book club with

a diference - all the books are on domestic abuse.

I came across 'In Sheep's Clothing' when I was reading an article online, my cousin had

shared it and it interested me. I instantly had to buy the book, not only because of the

content but also because there was a fox on the cover. If you don't know my love for foxes

already and what they mean then find out via 'The Fox Stories' blog series which is free to

read.

I knew I was meant to read this book because of the subject on 'Understanding and

Dealing with Manipulative People'. It is written by George K. Simon Ph.D. and was

released in 2010, it has been updated since then.

A bit about the book: Dr. George Simon knows how people push your buttons. Your

children–especially teens–are expert at it, as is your mate. A co-worker may quietly

undermine your efforts while professing to be helpful, or your boss may prey on your

weaknesses.

Manipulative people have two goals: to win and to look good doing it. Often those they

abuse are only vaguely aware of what is happening to them.

In this eye-opening book, you'll also discover…

- 4 reasons why victims have a hard time leaving abusive relationships

- Power tactics manipulators use to push their own agendas and justify their behavior

- Ways to redefine the rules of engagement between you and an abuser

- How to spot potential weaknesses in your character that can set you up for manipulation.

- 12 tools for personal empowerment to help you maintain greater strength in all

relationships

2018 is the Year For Making The Invisible Visible
---
I started reading In Sheep's Clothing on

Kindle. I found I had to be in the right

mindset to read this book because of my

previous experiences of domestic abuse. I am

happy to say it did help me but it was also

challenging and upsetting as it made me

recognise the behaviour just as the book

promised. I had accepted I was a victim and

had been abused years ago now but it still

opened me up to the realisation of certain

behaviour traits of my abuser, I hadn't seen

just how much work they put in to

manipulating to get what they want.

It was interesting because many people have

often and still ask 'how did you end up in this

situation?', 'but you're not thick', 'how could

this happen to you?' and 'you're an

intelligent woman- didn't you see it

coming?'.

This book shows just how much padding

work it takes to be that abusive manipulative

person. I knew when the relationship had

ended that I had to unknit the world he had

created for me. It has taken years to build my

confidence and self esteem back up, taught

myself how to ignore his covert threats and

manipulation.

In Sheep's Clothing happens to come into my

life at the right time and has been essential to

me recognising that I am again not the only

one subjected to this behaviour but also that

I have the power to not be subjected to it and

believe in myself, my thoughts and my own

decisions. I recommend the read to anyone

who is still struggling with their abuser even

after an abusive relationship has ended,

something we shouldn't have to be subjected

to.

It will help you focus and not be miss

directed to think that you are what they label

you because it is completely wrong and all

about the power they want to hold over you.

If you check out the reviews its amazing how

its helped so many put the situation into

perspective and not only help with a current

situation but recognising those people in

general.

'In Sheep's Clothing'

is available on Amazon in paperback or

Kindle.

2018 is the Year For Making The Invisible Visible
---
Happy New Year from #AbuseTalk!!!

Over at @AbuseChat we had a festive break for

2 weeks. This is the only time we will be taking

of in the year. Back up and running so do come

over and get involved, every Wednesday 8-9pm

GMT on Twitter.

The irst night back it only felt right to talk

about the New Year, our own goals, our

experiences of New Year (perhaps in an abusive

relationship and if we could change one thing in

the domestic abuse sector in 2018 what you

would change. It was an interested and mixed

discussion on the 10th January, it was also

enlightening as well.

Take a look at a few of the tweets on the image

which gives you a taste of what we get up to.

Anyone can get involved with the discussions, all

you have to do is sign into Twitter on the

dedicated time and tweet with the #AbuseTalk.

The account @AbuseChat will retweet and be

involved in the conversation. If you have any

articles, blog posts, thoughts, feelings on

domestic abuse then this is a space were you can

express it.

Don't know what a Twitter Chat is?

"A Twitter chat is a public Twitter

conversation around one unique

hashtag. This hashtag allows you to

follow the discussion and participate

in it. Twitter chats are usually

recurring and on speciic topics to

regularly connect people with these

interests."

https://www.socialmediaexaminer.co

m/twitter-chat-

2018 is the Year For Making The Invisible Visible
---
In Sheep's Clothing

'Understanding and Dealing with

Manipulative People'.

by George K. Simon Ph.D.

2018 is the Year For Making The Invisible Visible
---
Frank Mullane is the CEO of Advocacy After Fatal Domestic Abuse

(AAFDA)

He helped ensure Domestic Homicide Reviews (DHRs) became law and

continues to work closely with the Home Oice to enhance the

methodology. Frank is a Home Oice appointed reader (provides

assessments of DHRs to the panel) as well as a Home Oice accredited

Chair for DHRs and trains others to undertake them.

He co-authored a book "Domestic Abuse, Homicide and Gender: strategies

for policy and practice"and has contributed to other books.

He is an Honorary Fellow of the University of Gloucestershire (outstanding

work on domestic violence and homicide).

Frank's sister Julia and nephew William Pemberton were murdered in

2003.

2018 is the Year For Making The Invisible Visible
---
CCChat talks to:

Frank Mullane

CEO, AAFDA

"What needs to happen is that the status of victims and the

families left behind after homicide needs to be raised"

Frank Mullane

Q: In your time working with families

bereaved through homicide, what would

you say has been the most profound

change?

The introduction of victim impact

statements was useful. We have also seen

the appointment of a chief coroner,

statutory domestic homicide reviews, the

Crown Prosecution Service engaging with

victim's families, and the appointment of a

victims' commissioner nationally and for

London. Of these, the most profound has

been domestic homicide reviews although

they have a long way to go before looking

like the reviews I want them to be. But the

most profound feeling is that there hasn't

been enough change! In cases of domestic

homicide, victim's families sufer a similar

lack of status and power to the victims

themselves, and institutions often consider

their perspective and agenda to be superior

or more well-informed than the victim's. So

despite signiicant improvements in the last

few years to the way victims' families are

treated after homicide, and the sensitive

and caring attitude of many professionals

who treat them with the respect and

inclusiveness they deserve, their needs are

still not intrinsically a part of many criminal

justice and other state processes.

And the outcome for many victims and

families is a status gap between them and

those employed to carry out these

processes. As Professor Armour said

"violent death is considered a public issue

where the need for justice takes

precedence over the needs of homicide

families." (Armour 2002)

Q: What do you think still needs to be

done and how might that be achieved?

Not all agencies commissioning services

understand what families' needs are after

domestic homicide. Families consistently

say that they need to know facts of the

case and to witness and/or be a part of

change. They need proper advocacy for this

but this is rarely recognised. This does not

have to be a lawyer. Lay advocates who are

expert and specialist can do this. This is

what we do in AAFDA and we have walked

in similar shoes to the people we are

helping. What needs to happen is that the

status of victims and the families left

behind after homicide needs to be raised.

They need to be treated as important and

key stakeholders and to be treated as such.

But the reality is that they are often not

treated this way. Without specialist and

expert advocacy the families will not get

appropriate status. For example, in

domestic homicide reviews, families are

2018 is the Year For Making The Invisible Visible
---
Q: Is there a message you'd like to

share for 2018?

Let's create a victims' justice system

to replace the criminal justice system.

Let's agree principles and attributes

that must inform every part of the

victim justice system process and

then change those parts of the

process which do not embody these

principles and attributes. In short,

let's seriously raise the status of

victims.

For more information:

Advocacy After Fatal Domestic

Abuse

www.aafda.org.uk

Twitter: @FMullaneAAFDA

2018 is the Year For Making The Invisible Visible
---
AAFDA Annual

Conference 2018

Illuminate the past to make the future safer.

Raising the status both of victims of domestic abuse

and their families

Date: 22 March 2018

Location: DoubleTree by Hilton

Swindon, Lydiard Fields, Great Western

Way, Swindon, Wilts SN5 8UZ,

Times: Registration / Coffee 8.45 to

9.30. Conference starts 9.30 and ends at

4.30

Cost: £175. Early bird price of £145 if

booking by 20 January 2018.

Refreshments and lunch included.

Free parking

The hotel will offer a conference

room rate at £79 for single

occupancy.

The code to obtain this rate is GAAFDA.

DoubleTree by Hilton Swindon, Lydiard

Fields, Great Western Way, Swindon,

Wilts SN5 8UZ, Phone: 01793 410928

To take advantage of the Early Bird

rate paste the link into browser:

https://aafda_conference_2018.eventbrit

e.co.uk

Keynote speaker:

Professor Neil Websdale

Speakers:

Dr. Jane Monckton Smith

Professor Gene Feder

Catherine Hinwood

Christian Papaleontiou

Frank Mullane

Other speakers including

from the Ministry of Justice

to be confirmed

2018 is the Year For Making The Invisible Visible
---
KEYNOTE SPEAKER

Professor Neil Websdale

A world authority on reviews after

domestic homicide and a key driver of

the death review movement around the

world including in England.

Neil is the Director of the Family

Violence Institute at Northern Arizona

University and Director of the National

Domestic Violence Fatality Review

Initiative (NDVFRI).

He has published work on domestic

violence, the history of crime, policing,

social change, and public policy. A

number of families bereaved by

domestic homicide.

Christian Papaleontiou

Head of Public Protection Unit, Home

Oice and Chair of Domestic

Homicide Review Quality Assurance

Panel

Frank Mullane

CEO of AAFDA, Home Oice

appointed reader of Domestic

Homicide Reviews and member of

national panel quality assuring these

reviews.

AAFDA Annual Conference 22nd March 2018

List of Speakers & Bios

Dr. Jane Monckton Smith

Forensic Criminologist. "Impeccable"

was how Evan Stark called her

scholarship.

Professor Gene Feder

Professor of primary health care,

NIHR School for Primary Care

Research, University of Bristol.

Architect of IRIS and practising GP,

discussing domestic abuse and the

role of Health.

Catherine Hinwood

Deputy Director, Victim and Witness

Policy, Family and Criminal Justice

Other speakers including from the

Ministry of Justice to be conirmed

To take advantage of the Early Bird

rate, please copy and paste thie

linkhttps://aafda_conference_2018.even

tbrite.co.uk We look forward to

seeing you there! Bio and Foto 3 MB

DownloadOpen in Pages

Hotel discount

The hotel will ofer a conference

room rate at £79 for single

occupancy. The code to obtain this

rate is GAAFDA. DoubleTree by Hilton

Swindon, Lydiard Fields, Great

Western Way, Swindon, Wilts SN5

8UZ,

Phone: 01793 410928

2018 is the Year For Making The Invisible Visible
---
CCChat talks to:

Yenni Kwok

Y

enni

Kwok is a Hong Kong-based journalist whose works have been

published in various media outlets such as Time Magazine, the New York

Times, the Guardian and CNN. She was born and raised in Indonesia, and is

personally interested in writing about women's rights and

empowerment.She is the author of The Silence Breakers, the Women

Warriors of Asia.

"I learn a lot about feminism, domestic violence, abuse and

coercive control from my interaction on social media. "

Yenni Kwok

Q: In your time working as a journalist, what would you say has been the most

profound change you've seen?

The social media has been the most profound change. It is a double-edged sword, that it

can be used to bully and silence women, but it can also amplify women's voices, including

survivors of gender-based violence and their advocates. Before #MeToo, there were other

online movements that provoked discussions on violence against women, such as

#WhyIStayed and #MaybeHeDoesntHitYou. I learn a lot about feminism, domestic

violence, abuse and coercive control from my interaction on social media.

Q: What do you think still needs to be done and how might that be achieved?

Whenever there is a push toward gender equality and to make a world more just to victims

of gender-based violence and abuse, like #MeToo, we will see a pushback, and we've seen it

in the new year. Instead of men attacking #MeToo, it's women - privileged white women

especially, such as Catherine Deneuve and Margaret Atwood, who threatened the few little

steps forward.

Q: What would you like to see happen in 2018?

Countries around the world will take a more serious step to tackle gender inequality as well

as violence and abuse against women and children.

Q: Is there a message you'd like to share for 2018?

Believe victims and survivors, end victim-blaming. Having courage to speak up about

abuse unfortunately makes these women vulnerable to certain stigmas - they are seen as

being scheming, manipulative, untrustworthy - and this creates secondary trauma, which

according to many survivors, feels worse than the primary abuse and violence they

suffered.

2018 is the Year For Making The Invisible Visible
---
The Silence Breakers, the

Women Warriors of Asia

Yenni Kwok

A

s

2017 comes to a close, #MeToo has become the most defining movement of

the year. Following the shocking revelation of sexual harassment accusations

against powerful male predators that began in Hollywood in October, more

and more survivors have come forward, exposing gender abuse in various

industries – the media, academia, culinary world – and countries such as the

UK and France.

"When #MeToo irst went viral in mid-October, Japanese

women were among the irst that embraced it."

In December, TIME Magazine chose the Silence Breakers – the majority of whom were

women – who spoke out against sexual harassment and assault, as Person of the Year. In

Asia, we can witness the impact of the #MeToo as well. In late November, star hurdler

Vera Lui became the first public figure in Hong Kong who came forward with a #MeToo

story. She wrote a Facebook post on her birthday to tell how she was sexually assaulted by

her school's sports coach when she was just 13 or 14. "Speaking the truth is cathartic, and is

a transition on my part from being a victim to a survivor," Lui wrote. "This is my birthday

present to myself." Her courage inspired others.

Days later, in early December, Louisa Mak, a former Miss Hong Kong, also revealed that

she was sexually abused when she was 17 or 18 during a delegation visit to mainland China.

Also in December, Chinese-Taiwanese actress Sable Yu and six unnamed women accused

Harvey Weinstein's former Asia associate, Bey Logan, of sexual harassment. Yu, who was

the lead actress in Logan's unfinished movie, told online media HK01 how the Hong Kongbased

movie executive subjected her to one humiliating misogynist treatment after

another.

Across the border, journalist Sophia Huang Xueqin ran a survey that revealed the sexual

harassment problem in the Chinese media industry. In May, Japanese journalist Shiori Ito

took a courageous step to publicly accuse a senior journalist and close friend of Prime

Minister Shinzo Abe of raping her. While the prosecutor refused to pursue the case, Ito's

determination helped raise awareness. When #MeToo first went viral in mid-October,

Japanese women were among the first that embraced it – in the first two months, there

were around 60,000 tweets on the topic in Japan, the eighth largest reaction in the world.

On December 17, popular Japanese blogger Ha-chun wrote a Facebook post and a

BuzzFeed Japan article on her sexual harassment experience, kick-starting a slew of tweets

by other survivors. In just two days, on December 17 and 18, there were an additional

10,000 #MeToo tweets, placing Japan at No. 3 worldwide.

2018 is the Year For Making The Invisible Visible
---
While recent #MeToo headlines worldwide

have been dominated by white female

celebrities, it's important to remember that

women of color have long played a crucial

role in campaigns against gender-based

violence.

The #MeToo campaign was started by black

activist Tarana Burke a decade ago, and

more than 15 years ago, Anita Hill testiied

in front of all-male Senate committee that

she was sexually harassed by Supreme

Court Justice nominee Clarence Thomas.

Xu's story was a classic example of how

survivors of sexual assault and harassment

in mainland China encounter various

systemic barriers to seeking justice, from

police indiference, crackdown on activism

to victim-blaming.

The Facebook page, "The Power of One:

Every Story Counts", which ran during the

16 Days of Activism to End Gender-Based

Violence, from 25 November to 10

December, shows similar systemic barriers

also exist in Hong Kong.

In Indonesia, victims and survivors have not

gone to social media to expose their

perpetrators because they can be

prosecuted under the country's broad and

draconian Internet law. In addition, its antipornography

law could land victims of

revenge porn, not perpetrators, in jail.

"it's important to remember that women of color have long played

a crucial role in campaigns against gender-based violence. "

Asian women have been in the forefront of

exposing sexual misconduct in the tech

industry, from Ellen Pao who sued Kleiner

Perkins for sexual discrimination and

harassment in 2012; tech entrepreneurs

Niniane Wang, Susan Ho and Leiti Hsu who

went public in June with sexual harassment

allegations against venture capitalist Justin

Caldbeck; to Malaysian tech executive

Cheryl Yeoh who revealed in July she had

been sexually assaulted by venture

capitalist Dave McClure.

As more women speak up and assert their

rights, we can expect more backlash. In Hong

Kong, Lui's and Mak's stories are greeted

with mockery from the male-dominated

media pundits. Chinese netizen Xu Yalu's

#MeToo post on messaging platform WeChat

was viewed more than 1 million times, got

over 17,000 likes and nearly 9,000

comments before censors deleted it.

In the world where survivors and victims are

stigmatized and branded as being

"untrustworthy", "manipulative",

"revengeful" and more, it takes a lot of

courage for them to come forward.

Some say they do it as part of a healing

process, some say they want to help

protect other women. "The idioms for

revenge are 'report a crime' and 'report to

ive families'," writes Maxine Hong

Kingston in her novel "The Woman

Warrior".

Telling stories is an act of heroism, and in

the new year, let's make a resolution to

support these heroic warriors.

#BelieveWomen, reform the broken

system, and change our everyday sexist,

victim-blaming mindset.

2018 is the Year For Making The Invisible Visible
---
Sophia Cooke

"Overall, I think things are on the up,

which I used to believe would never be possible."

PhD student

Sophia Cooke

featured in the

November edition

of CCChat

magazine. she had

recently come out

of a very abusive

relationship and

her ex partner had

subsequently sold

his account of their

relationship to the

papers.

The account I

heard from Sophia

was markedly

different,

alarmingly so. She

released a blog

and a voice

recording of her

experience of the

relationship.

Here Sophia writes

about the

aftermath to

releasing the blog .

R

eleasing

my blog was one of the scariest

things I have ever done. I had no idea how it

would be received and, having had the

experience of the trial and being in the

papers, I was not particularly hopeful.

However, having been silenced and unfairly judged, I had to speak,

regardless of the consequences. I wanted people to understand how

abuse worked and what I had been through. Fortunately the reaction

was better than I could have ever imagined and I cannot express my

gratitude enough for the support I received.

I have had a huge number of emails from other women who have

suffered similar experiences, saying how much reading my blog

helped them to understand what they had gone through, and emails

from friends of abuse sufferers, telling me reading it helped them to

provide better support.

This gave me a lot more confidence and helped me to feel that at least

something good had come out of it all. However, the feeling of being so

let down and badly treated - by the justice system, the media, my

institution and by individuals who didn't understand abuse or the effect

their judgement of me had - has continued to haunt me.

I have felt throughout that I wanted to try and improve support for

those who suffer domestic abuse and to work for change in the

system. In fact, some days that was all that got me through - I needed

to feel there was a point to everything I had gone through.

This led me to apply to become the Graduate Women's Officer at my

new college at Cambridge, which I moved to in October. Unfortunately

some aspects of the way in which my former college handled the

situation made it much harder for me to cope with it, partly because

they had no system in place to deal with something like this. I therefore

decided to work on establishing a policy at my new college to support

students who suffer domestic abuse.

I set up a group of staff, students and external experts to look at this

and so far it is going very well. I have also been asked to speak at

several domestic abuse conferences around the country as well as

training events for police and support staff which I am very excited

about. Overall, I think things are on the up, which I used to believe

would never be possible.

2018 is the Year For Making The Invisible Visible
---
"I still feel a lot of anger and hurt over all that happened to me, and all I am

seeing happen to so many other women who reach out to me, but channelling

that anger into helping and educating others does help"

I feel certain that releasing the blog was the right

thing to do and speaking out has helped me to

come to terms with it all, as well as helping

others.

I am improving with regards to my mental health

and beginning to get on with my work again.I used

to be unable to be in crowded or noisy places and

would often be reduced to hiding in various

corners of my house with crippling anxiety.

I still feel a lot of anger and hurt over all that

happened to me, and all I am seeing happen to so

many other women who reach out to me, but

channelling that anger into helping and educating

others does help.

However last week I managed to go on a trip to

New York and navigate all the crowds without a

problem! I am still suffering flashbacks and

nightmares but I am hoping these also settle with

time.

I know there are still, and will always be, people

who don't believe me, which is hard, but I am

learning to be less affected by them and to focus

on moving forward.

To read Sophia Cooke's blog, please copy and

paste the following link into your browser.

https://victimscanbestrong.com

2018 is the Year For Making The Invisible Visible