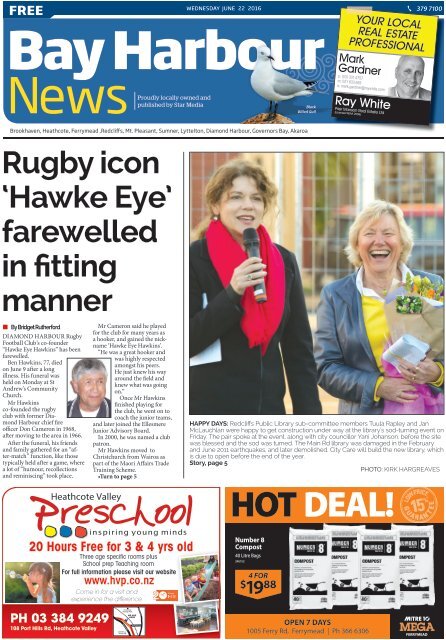 Bay Harbour: June 22, 2016
You also want an ePaper? Increase the reach of your titles
YUMPU automatically turns print PDFs into web optimized ePapers that Google loves.
FREE

Wednesday JUne 22 2016 379 7100

Bay Harbour

News

Proudly locally owned and

published by Star Media

Black

Billed Gull

YOUR LOCAL

REAL ESTATE

PROFESSIONAL

Mark

Gardner

p: (03) 331 6757

m: 021 633 669

e: mark.gardner@raywhite.com

Prier Manson Real Estate Ltd

(Licensed REAA 2008)

Brookhaven, Heathcote, Ferrymead ,Redcliffs, Mt. Pleasant, Sumner, Lyttelton, Diamond Harbour, Governors Bay, Akaroa

Rugby icon

'Hawke Eye'

farewelled

in fitting

manner

• By Bridget Rutherford

DIAMOND HARBOUR Rugby

Football Club's co-founder

"Hawke Eye Hawkins" has been

farewelled.

Ben Hawkins, 77, died

on June 9 after a long

illness. His funeral was

held on Monday at St

Andrew's Community

Church.

Mr Hawkins

co-founded the rugby

club with former Diamond

Harbour chief fire

officer Don Cameron in 1968,

after moving to the area in 1966.

After the funeral, his friends

and family gathered for an "after-match"

function, like those

typically held after a game, where

a lot of "humour, recollections

and reminiscing" took place.

Mr Cameron said he played

for the club for many years as

a hooker, and gained the nickname

'Hawke Eye Hawkins'.

"He was a great hooker and

was highly respected

amongst his peers.

He just knew his way

around the field and

knew what was going

on."

Once Mr Hawkins

finished playing for

the club, he went on to

coach the junior teams,

and later joined the Ellesmere

Junior Advisory Board.

In 2000, he was named a club

patron.

Mr Hawkins moved to

Christchurch from Wairoa as

part of the Maori Affairs Trade

Training Scheme.

•Turn to page 5

HAPPY DAYS: Redcliffs Public Library sub-committee members Tuula Rapley and Jan

McLauchlan were happy to get construction under way at the library's sod-turning event on

Friday. The pair spoke at the event, along with city councillor Yani Johanson, before the site

was blessed and the sod was turned. The Main Rd library was damaged in the February

and June 2011 earthquakes, and later demolished. City Care will build the new library, which

is due to open before the end of the year.

Story, page 5

PHOTO: KIRK HARGREAVES ​

Heathcote Valley

HOT DEAL!

inspiring young minds

20 Hours Free for 3 & 4 yrs old

Three age specific rooms plus

School prep Teaching room

For full information please visit our website

www.hvp.co.nz

Come in for a visit and

experience the difference

Number 8

Compost

40 Litre Bags

246152

4 FOR

$

19 88

Ph 03 384 9249

108 Port hills Rd, heathcote Valley

Lyttelton

Tunnel

Ferrymead

Heritage Park

Port Hills Rd

Tunnel Rd

We are

here

Bridle Path Rd

Martindales Rd

OPEN 7 DAYS

1005 Ferry Rd, Ferrymead | Ph 366 6306
---
PAGE 2 BAY HARBOUR

Wednesday June 22 2016

Inside

FROM

THE

EDITOR'S

DESK News.........................3,4,5 & 6

I'M STILL a big fan of libraries.

Though most people now have

those fancy Kindle reading

machines, I'm sticking with

paper pages.

THerefore, I am very much

looking forward to the day when

I will be able to walk down the

road and enjoy Redcliffs Public

Library once again. The first

sod was turned last week and

hopefully in five months it will

be ready to go. See the article on

page 5.

Green MP Eugenie Sage

has written a great column

this week. She talks about the

two significant heritage sites

Ripapa Island and Godley Head

tracks and batteries and the

consequences of the Department

of Conservation being underfunded.

Have a good week.

– Shelley Robinson

Winter wonderland fundraiser for Heathcote Valley

School pool

NEWS8

EQC Update.................... 9

Schools....................................11

Your Local Views.......12

Our People..........................14

Sport..................................16

Community Events......19

Food................................... 21

Real Estate...........................23

Motoring..........................25

GET IN TOUCH

General Enquiries Ph 379-7100

Classified Advertising Ph 379-1100

starmedia.kiwi

Bridget Rutherford. Ph: 371 0778

bridget.rutherford@starmedia.kiwi

NEWS SPORTS ADVERTISING ADVERTISING

Fraser Walker-Pearce. Ph: 364 7424

fraser.walker@starmedia.kiwi

Javier Balcazar. Ph: 982 9308

javier.balcazar@starmedia.kiwi

Rob Davison. Ph: 021 225 8584

rob.davison@starmedia.kiwi

Are you ready to play your part

in Canterbury's water management?

We're looking for people who want to make a difference. We're

looking for people who have expertise and want to help find solutions.

If this sounds like you then applications to join the Regional Water Management

Committee are now open. The committee is refreshing its community membership

for the first time since 2013 to ensure new perspectives are reflected.

What is the Regional Water Management Committee?

The committee is a key advisory group made up of representatives from councils,

Rūnanga and the community.

It provides strategic water management advice to councils and industry groups

to deliver the multiple targets of the Canterbury Water Management Strategy.

The committee's work helps ensure we have safe drinking water supplies,

sustainable farming practices, clean rivers and streams, as well as protecting

environmental, cultural, and recreational values.

For more information or an application form please visit

www.ecan.govt.nz/canterburywater or phone Environment

Canterbury Customer Services on 0800 324 636.

Applications are due by 4:00pm, 5 July 2016.

Iron out

your

driving

habits

with

JM Driver Training!

Refresher Lesson (1 hour)

only $75

AA Certified

New Learners

Refresher Training

Call Jeff today!

(027) 537-1966 or email:

jeff@jmdriving.co.nz

Dyers Road Landscape

& Garden Supplies

• Barks • Peastraw • Composts - we supply the best available

• Aggregates - Chip, Round and Basecourse

• Pavers & Schist products • Pungas

• Decorative Stones & Landscaping Rocks

• Trailer Hire first hour free with purchase

• Bag & Bulk - pick up or delivered

David, Carol & Mike

Seriously

it's 30

degrees in

July you'll

LOVE it!

We will deliver!

Free Trip To

RARO!

Sell With Me

Fly For FREE...*

Matt Clayton 0212 233 998

matt.clayton@raywhite.com

Ferrymead office 03 384 4179

Prier Manson Real Estate LICENSED

(REAA 2008)

Ask me about

SELLING YOUR

HOME today!!

*Terms & conditions apply

SOIL

AND

HARDFILL

DUMPING

Phone: 03 384 6540

183 Dyers Rd, Bromley • OPEN 7 DAYS

Weekdays 7.30am-5pm. Weekends 8.30am-3pm

www.dyersroadandlandscapes.co.nz
---
Wednesday June 22 2016

BAY HARBOUR

PAGE 3

News

New life for old school

• By Bridget Rutherford

ONE OF Le Bons Bay's

community hubs will rise

again as an education and

cultural centre for school

camps and activities.

Le Bons Bay Environmental

Education Trust and Te

Rūnanga o Koukourarata have

applied for resource consent

to turn the former school site

into an education and cultural

centre.

Le Bons Bay School voluntarily

closed at the end of 2012

because it had just four pupils.

The Le Bons Bay Rd site is

owned by Te Rūnanga o Koukourarata,

after the Ministry

of Education decided to sell it

following the school's closure.

As part of the plan, the trust

and runanga hope to use the

site and its buildings for camp

accommodation, community

activities, and education on the

area.

They hope to renovate the

existing buildings, so they

could accommodate up to 40

people for overnight stays to

service school visits and other

groups.

They would also be used

for environmental education

programmes, as well as art and

yoga classes.

Alongside that, it wants to

gain consent to use the eastern

portion of the site for camping

for up to 20 people during their

stay in the summer months.

The site could also then be

available to be used for community

events, market days,

and a community hall.

The site currently has two

single-storey buildings, an

indoor swimming pool and a

playground.

Akaroa-Wairewa Community

Board chairwoman

Pam Richardson said it was an

exciting project.

She said the buildings were

in relatively good condition,

and only needed to be renovated

to bring them back up to

standard.

"It will be amazing."

HUB: The former Le Bons

Bay School buildings will be

renovated and used to host

school camps, education

and cultural classes, and act

as a community hub.

In Brief

LAKE WARNING

A health warning is still in place

at Lake Forsyth as Environment

Canterbury continues to monitor

its condition. ECan surface water

science manager Tim Davie said

the nodularia concentrations had

declined, but were still above the level

at which health warnings needed to be

in place. To remove these warnings, it

takes two consecutive weekly readings

at below the warning level, which had

not happened. The lake's quality came

under fire in April when the algal

bloom flared up after a run of dry

weather.

ECAN CANDIDATES

Banks Peninsula water zone

committee chairman Steve Lowndes

will stand for the regional council in

October's elections. He was selected

to stand for Environment Canterbury

by Labour-aligned group, The

People's Choice. Redcliffs resident

Dr Cynthia Roberts has also been

named as a candidate. Under the

new ECan structure, seven elected

representatives would join up to six

appointed commissioners.

NO FIREWORKS FOR SUMNER

Sumner will not host the annual Guy

Fawkes' fireworks display, which will

remain at the New Brighton Pier.

Sumner was mooted as a temporary

location for the display, while the pier

undergoes earthquake repairs. The

city council said the display would not

disrupt the pier's repair programme.

OPEN NIGHT

Thursday 23 June

2016

5.00pm - 7.00pm

739 Ferry Road, Christchurch.

Phone: 384 3073.

www.stannes.co.nz

TREE TROUBLE?

Call the

TREE PEOPLE

0800 4 SEASONS

384 9630

QUalIFIeD

aRBORIStS

LANDSCAPING & PLANTING

WWW.FOURSEASONSTREECARE.CO.NZ

Building or renovating?

• Kitchens

• Wardrobes

• Vanities

• Custom Made

022 087 9918 | info@dynamicjoinery.co.nz

www.dynamicjoinery.co.nz
---
PAGE 4 BAY HARBOUR

Wednesday June 22 2016

ews

Shortlist for

library name

NAME OPTIONS for Sumner's

new library, community centre and

museum have been shortlisted to

five.

The names include, Matuku

Takotako: Sumner Centre, Sumner

Community Centre, Library and

Museum, Tuawera: Sumner Centre,

The Cornerstone and Surfers Peak.

The city council received 175

name suggestions in a competition

which closed on June 12. A panel

then sorted through the entries and

selected the five finalists.

City councillor Paul Lonsdale

said there were clear favourites and

common themes which ranged

from environmental, historical,

cultural and bilingual to functional

names.

"The shortlisted Te Reo names

reflect Sumner's historical Māori

links with some really nice

meanings behind them, while

others draw inspiration from the

coastal landscape."

The winning name will be

announced in July, and the results

will go to the Hagley-Ferrymead

Community Board for the final

decision.

The community now has until

July 3 to go online and vote for their

favourite name at www.yourvoice.

ccc.govt.nz/sumnercentre

Storage facility for The Loons

A 20FT shipping container

has been transformed into

a storage facility for The

Loons Theatre Company

thanks to Lyttelton Port of

Christchurch.

The shipping container was

donated by LPC as part of its

commitment to the Harbour

Basin community in which it

operates.

The Loons celebrated the

opening of its new theatre

and teaching venue called the

Lyttelton Arts Factory with a

two-night cabaret show at the

weekend.

The theatre company is

sharing a school hall with

Lyttelton Primary School on

Oxford St.

Factory manager Darryl

Cribb said the biggest challenge

of the LAF's new base

was the lack of storage on site.

"The shipping container

created the perfect opportunity

for us to maximise the

dead space behind the school

hall by constructing a unique

storage facility that could

house our essential production

items from sets to stage

props and the scissor lift," Mr

Cribb said.

"We wouldn't have been

able to purchase the extra

storage space and modify the

container to fit the site without

the support of Lyttelton

Port company. This donation

makes on site storage viable

for us and I don't know what

we would have done with out

it."

The container was modified

by Christchurch-based

manufacturing firm Galbraith

Engineering to create two

rectangular storage units. The

units were delivered on site

last Tuesday by NZ Express

Transport free of charge.

"It took two trucks and

three staff to shoehorn the

containers into the space, and

one of the containers

had a 10mm

clearance. Even just

having this modicum

of space means we

can function as a

professional theatre

venue," Mr Cribb

said.

The Loons is

now preparing

for its first official

theatre production

– a 10-night run of

British play Road in

July.

CHUFFED: Lyttelton Arts

Factory manager Darryl

Cribb (left) and NZ Express

Transport operations

manager Angus Petri, help

install the new storage

container, while Elite Signs

puts up Lyttelton Arts

Factory's new signage.

Varicose Vein Treatment

Non-surgical Vein Laser Treatments available

Free Assessment

Tired of aching and unsightly veins?

No surgery, no scars, no stitches. No time off work

- continue normal daily activities. An affiliated provider to

Southern Cross Health Society (medical necessity

criteria apply) - check your policy for cover.

Enjoy skirts, short and cropped pants again.

Payment plans available (Conditions apply)

www.transformclinic.co.nz | 52A Mandeville St | Riccarton | 08002lookgood | 343 2880

be into win

one of ten $500

millen gift voucher when

you purchase millen water

heater or induction

cooktop within this June.

232 Main South Rd - Christchurch

0800 MILLEN

Millen induction

cooktop

+ free pot

was $ 200 now $ 129

Open 7 Days

Mon - Fri 9.00 - 5.30, Sat 9.30 - 4.00, Sun 10.00 - 3.00

0800 MILLEN | www.millen.co.nz | 03 348 8678

in/OutDOOr lpg

10 litre gas Water Heater

at an amazing price

with 3 years warranty.

2016 winter sale on now

FLOORING

OAK NATURAL - Prefinished scratch resistant lacquer

25 years warranty • Compatible with floor heating • 1 plank • Large groove • Lacquered • Marquant (vivid) • Matt

NEW SHOWROOM OPEN! 3/954 FERRy ROad | CHRiStCHuRCH | tEl 03 943 2001 | WWW.gREENFlOORiNg.CO.Nz

JUNE-JULY

ONLY SPECIAL

Was $162 m 2

NOW $104 m 2

INCLUDES UNDERLAY

TRadING hOuRs:

Tuesday to Thursday 8:30am to 5:30pm,

Friday 8:30am to 5:00pm, Saturday 9:30am

to 1:00pm, Sunday & Monday closed.
---
Wednesday June 22 2016

News

BAY HARBOUR

PAGE 5

Work begins on library

• By Tania Green

CONSTRUCTION OF the new

Redcliffs Public Library is now

under way.

The Redcliffs community

went along to the Main Rd site

for the sod-turning ceremony

on Friday.

Redcliffs Public Library

patron and former city councillor

David Cox turned the first

sod, with the help of children

Andrew and Nao McLauchlan

after the land was blessed.

City councillor Yani Johanson

spoke at the event, along

with library sub-committee

members Jan McLauchlan and

Tuula Rapley, and president

Rosemary Sladen.

The old library was badly

damaged in the February and

June 2011 earthquakes, and

later demolished.

Ms McLauchlan said it was a

relief to get to this point.

"We've been fighting for five

years to get to this stage and it

means quite a lot. And it means

a huge amount for the whole

community because they lost

their library and for five years

people have been saying when

do we get a new library? And

now they can see something is

happening, and it's very exciting."

City Care will build the onestorey

library, which will have a

reception, children's library and

community break out space.

City councillor Paul Lonsdale

said Redcliffs Tennis Club had

housed the library for the past

five years.

"So it just shows the community

can pull together and

actually deliver an outcome

that still delivers a service in

a way that actually is community-minded."

Construction is expected to

take about five months.

CELEBRATION:

Redcliffs Public

Library president

Rosemary Sladen,

patron David

Cox and Nao

McLauchlan at the

sod-turning event on

Friday.

IT'S OFFICIAL: Redcliffs Public Library patron and former

city councillor David Cox, and Andrew and Nao McLauchlan

turn the sods to get the construction of the new library

under way.

PHOTOS: KIRK HARGREAVES ​

Fitting farewell

for 'Hawke Eye'

•From page 1

He worked as a mechanic in

Christchurch and Culverden,

North Canterbury, before moving

to Diamond Harbour to work at

Mr Cameron's garage in Church

Bay in 1966.

He then went on to become a

diesel engineer for Lyttelton Port

of Christchurch.

During his time in Diamond

Harbour, Mr Hawkins joined the

volunteer fire brigade, serving for

22 years.

Mr Cameron said he was a

"humble man", and a "top bloke".

"He knew what he wanted and

what to be. He was Maori and had

great mana, and with that comes

respect."

Quake damage

valuations

Banks Peninsula property owners

with unrepaired earthquake

damage are being asked to report

it, so it can be taken into account

when they are revalued this year.

The city council has contracted

Quotable Value to revalue more

than 160,000 properties. It is urging

people to register the damage

so the new rating valuation is "fair

and accurate". The new values

will apply to rates from July next

year. People can report damage on

QV's website.

naTiVe planT

nursery

Trees for CanTerbury

speCialisTs in

• Groundcovers

• Ferns

• Grasses

• Small to big

sized shrubs

• Shelterbelts

• ALL grades

• Expert advice

• Planting now

Ask us about Super

Gold Card discounts

Helping our community grow

42 Charlesworth Street

Ph/Fax (03) 982-1028

OPEN 7 DAYS

www.treesforcanterbury.org.nz

Ferrymead Drycleaners

Beside Casual & Country

(03) 384 5015 | 1027 Ferry road
---
PAGE 6 BAY HARBOUR

Wednesday June 22 2016

News

Agency up

for award

A FERRYMEAD creative

design agency has been named

a finalist for a national business

award.

Mint Design is the only finalist

with its headquarters in the

South Island in the 2016 AUT

Business School Excellence in

Business Support Awards.

The company has been recognised

in the sales and marketing

category.

It is a 2015 Deloitte Fast 500

company.

It has built websites for businesses

in Spain, the United

Kingdom and Australia.

"It's also one of the very few

Google certified and trusted

agencies in Australasia, authorised

to create Google Street

View tours.

Mint Design director Alice

Moore said it was an honour to

have been a finalist.

"We're just a local web-design

and digital marketing agency in

Christchurch going up against

some major players from Auckland

and Wellington. To have

made it this far through the

awards process is an achievement

in itself."

Winners of the 10 category

awards and the supreme award

will be named on October 5.

Move forces resignation

• By Tom Doudney

HAGLEY-Ferrymead

Community Board deputy

chairwoman Islay McLeod has

resigned because she is moving

back to Dunedin.

Ms McLeod was critical of

the performance of her board

which she said suffered from

a lack of local government

experience.

Her departure will not trigger a

by-election this close to elections

in October and Ms McLeod said

she had checked to make sure

this was the case before resigning.

"A lot of people in good faith

voted for me and I would be

letting them down if I cost the

ratepayers anything or if there

was anything significant coming

up," she said.

"There are not a lot of major

issues coming up. The Annual

Plan is all sorted, the Replacement

District Plan is pretty well

sorted."

Asked if her second term

on the board had been a good

experience, Ms McLeod said "not

particularly."

"My first term was good

because there were good steady

hands with very experienced and

practised people like Bob Todd,

who was the chair, and David

Cox," she said.

"In this latest term, out of the

seven of us, four had no local

government experience at all."

She said at times the board had

not been proactive enough when

it came to taking a stand on local

issues, such as the date for building

a Linwood-Woolston pool

continually being delayed.

"Just putting in a submission

like everybody else isn't the way,"

she said.

"I think the board could have

and should have had a more

powerful and vocal say on what is

happening in our ward."

Board chairwoman Sara Templeton

said she didn't think that a

lack of experience was evident on

the board.

"I think this board has actually

been incredibly passionate and

vocal about a range of different

issues and has taken it to council

on many occasions and pushed

for things."

Ms McLeod will also step

down from the Christchurch

West Melton Zone Committee.

She moved to Christchurch 12

years ago to be close to her mother

who had health problems. Her

mother passed away at the end of

last year.

MOVING ON: Islay McLeod has resigned from the Hagley-

Ferrymead Community Board. PHOTO: GEOFF SLOAN

From left to right: Hope, Grant & Kellie

OPEN SAT & SUN

Full Service Pharmacy

including...

• Passports Photos

• Revlon Cosmetics and Revlon Club

• Gifts and Gift Wrapping

• Ear Piercing

• Extensive Natural Health range

• Scarves, Hats and Sunglasses

• Focus on Natural Organic Skincare including Trilogy,

Antipodes and Sukin

Dispensary Service

• Medico Packs

• Quit Smoking Quitcards

• Emergency

Contraceptive Pill

• Delivery Service

Owned and operated by

your phamacist, Grant Bell

NEW

INSTORE CAFÉ

OPENING

SOON

1005 Ferry Road, Ferrymead.

Email: grant@ferrymeadpharmacy.co.nz

Phone: 943 9635 Fax: 943 9636

Monday to Friday 8.30am to 6.00pm

Saturday 9.00am to 4.00pm

Sunday 10.00am to 4.00pm
---
Wednesday June 22 2016

BAY HARBOUR

PAGE 7

We're on the home straight

SCIRT's programme of repairs to pipes, roads, bridges and retaining walls will

be completed by December this year.

After SCIRT, The Christchurch City Council and NZ Transport Agency will

continue their programmes of ongoing repairs.

Your support is helping us to get the job done, thank you from the SCIRT team.

We're now 89% of the way through our programme of repairs.

THE SCIRT PROGRAMME

IS 89% COMPLETE

86 % 97 %

of underground pipes are fixed

82 % 84 %

of retaining walls are repaired

of bridge repair work is done

of road repairs are complete

• Shane Soulsby, Site Engineer with SCIRT's McConnell

Dowell team.

SCIRT progress in your neighbourhood

Residents of Lyttelton will know that millions of dollars are being spent

in the Banks Peninsula repairing, rebuilding and strengthening retaining

walls this year. There is also a substantial programme of repairs of the

wastewater, storm water, fresh water and road networks in the area.

• Watermain repairs are currently underway in Governors Bay and will be

completed by August this year.

• Rebuilding the Beachville Road Seawall in Redcliffs and roading is due

to finish in September.

• Extensive repairs works in Mt Pleasant to underground pipes, retaining

walls and roads will continue until the end of the year.

• Lyttelton is still busy with ongoing retaining wall repairs which are due

to be completed in September, underground pipe and roading repairs

will continue through in the area to the end of the year.

Need more info?

Email:

info@scirt.co.nz

Phone:

941 8999

Find out about work in your area:

www.scirt.co.nz

Email us on info@scirt.co.nz to get our:

Weekly Traffic Update

Monthly e-Newsletter

Follow us on Twitter:

@SCIRT_info #chchtraffic

Programme funded by
---
PAGE 8 BAY HARBOUR

Wednesday June 22 2016

A BRANCH OF

Heathcote Valley School hall was transformed into a winter wonderland to raise money for the school

pool. Parents Cheryl Bryant and Georgie Brook organised a ball to raise money for the remainder of the

school pool rebuild. It is the second year they have organised a parents ball, and they hope to continue

doing so to pay for the pool's maintenance. The final tally raised had not been done yet, but was

estimated to be about $6000.

PHOTOS: MATT RANKIN/AQC PHOTOGRAPHY

SUITED UP: Jo and Rich Matla (left) and Tasha

and Mark Rippin.

WOMEN

IN WHITE:

Aly Rooney,

Michelle

Wild,

Rebecca

Jarman,

Georgie

Brook,

Cheryl

Bryant and

Jo Matla all

wore their

wedding

dresses for

the Winter

Wonderland

Ball.

Michael Toomey

mft@younghunter.co.nz

Proudly providing

legal advice to

the community

for 25 years

Michelle Rossiter

mjr@younghunter.co.nz

P. 384-5350

www.younghunter.co.nz

DRESSED UP: Tina McTear, Jude Campion,

Gabrielle Sato and Jenny Saunders at the ball.

GLAMOROUS: Rebecca and Nick Jarman, Fiona and Pete Salkeld

and Sharon and John Bennett.
---
Wednesday June 22 2016

BAY HARBOUR

PAGE 9

EQC UPDATE KEEPING YOU INFORMED | JUNE 2016

EQC begins settling ILV land damage claims

Head of Canterbury Land Settlement for EQC,

Keith Land

The Earthquake Commission has begun

settling claims for Increased Liquefaction

Vulnerability (ILV) land damage.

Keith Land, Head of Canterbury Land

Settlement, says that the settlements will go to

4,400 customers whose properties have

qualified as having an increased vulnerability to

liquefaction following the 2010-2011

Canterbury earthquakes.

"Each qualified property is being assessed and

will be cash settled on a case-by-case basis as

we have done to date with other forms of land

damage resulting from these earthquakes.

Similar to Increased Flooding Vulnerability (IFV)

land damage, settlement of ILV land damage is

a world-first. This type of land damage has not

been covered by insurance anywhere else, so

Fulbright-EQC Award recipient to study

seismic performance of high-rise walls

The Fulbright-EQC Graduate Award's newest recipient, Alex Shegay,

is looking into the reasons behind unexpected failures of reinforced

concrete walls and ways in which performance can be improved.

Mr Shegay, 24, has been granted the 2016 Fulbright-EQC Graduate

Award in Natural Disaster Research and soon will be heading to the

University of Washington on his exchange.

In the US, he will research the seismic performance of high-rise structural

walls and use experimental data to create validated computer models.

The research will go towards his PhD in Structural/Earthquake

Engineering at the University of Auckland.

"Structural engineers have significant social responsibility to protect

civilians even in the most devastating circumstances. The 2010/2011

Canterbury Earthquakes were an example of one such catastrophic event,

producing ground accelerations never before recorded in an urban

environment.

"Many concrete buildings in Christchurch that relied on reinforced

concrete walls for seismic resistance were severely damaged to the

point that it was fortunate to find them still standing. It's crucial to learn

from the Canterbury earthquakes and improve building design and

construction practice."

considerable work was required to get the

engineering and valuation methodologies

right," said Mr Land.

"We want to make sure that the final settlements

are based on a robust and appropriate

settlement process so that customers can have

confidence their claims for ILV land damage

have been paid consistently and fairly."

EQC expects at least two thirds of ILV

customers will receive settlements based on

the reduction in their property's market value

caused by ILV, also known as Diminution of

Value (DOV).

"This is because generally, there are no

available ground improvement methods to

address ILV damage on a property where

a house has remained in place since the

earthquakes," says Mr Land.

The remaining third of ILV customers are being

assessed for a settlement based on the cost to

repair the ILV land damage. This will generally

be in situations where the house has already

been, or will be, rebuilt or removed due to the

earthquake damage."

Customers receiving a 'cost to repair'

settlement will be individually case-managed,

as the situation for each of them varies. Before

it can be confirmed that these customers will

receive a repair cost settlement, more

information is needed to understand their

property's current situation.

Mr Land says that settlements for DOV

customers began this month and EQC also

started contacting repair cost customers.

EQC has resolved nearly 90% of properties

with land claims resulting from 2010-2011

Canterbury earthquakes, and expects to

resolve the remainder of the land programme

by the end of 2016.

EQC will also hold six ILV meetings from July to

November for customers whose settlements are

based on DOV. The purpose of the meetings is

for customers to ask questions and hear from

EQC and its valuers about what's been involved

in ILV settlement decisions.

Venue:

Beulah Church, 140 Springfield Rd,

St Albans

Date

Monday 4 July

Wednesday 27 July

Monday 22 August

2016 Fulbright-EQC Graduate, Alex Shegay

Wednesday 28 September

Wednesday 26 October

Wednesday 30 November

Time

7pm

7pm

7pm

7pm

7pm

7pm

For more information on these meetings and

ILV land damage, including Q+As and

engineering and valuation methodologies,

please visit www.eqc.govt.nz/ILV.

The Fulbright-EQC Graduate Award in Natural Disaster Research

facilitates research that reduces and prevents natural disaster damage.

It is part of $16 million granted by EQC each year to high quality research

that builds knowledge about New Zealand's natural disasters.

Progress report

on EQC remedial

programme

The Earthquake Commission has received 8,337

remedial enquiries of which 2,211 have been resolved

as of 27 May 2016. This leaves 6,126 enquiries

remaining.

The amount recorded as being spent on remedial work to

May 2016 was $7,068,833. However it has not been possible

to separate out all remedial costs from other work streams.

The total cost of the remedial repairs will never be finally

known until we have resolved all the outstanding claims.

There are still a number of unknowns and it's also too early

to say exactly what the final figure will be for the remedial

programme. However, EQC expects the final cost could be

in the region of $60 million to $70 million, which is covered

by our existing liability estimates. To put this estimate in

context it would account for less than 3% of the approximate

$2.5 billion cost of the Canterbury Home Repair Programme

to date.

The level of remedial work for the Canterbury Home

Repair Programme is well within industry norms for the

national construction sector.

EQC has prioritised first time repairs, although it has carried

out urgent remedial work for vulnerable customers or where

the work is needed to make a house safe, secure and/or

sanitary.

Now that EQC is down to the last of the first time repairs,

focus has increased on resolving remedials.

EQC is confident it has the processes and teams in place to

address the issues. EQC has been expanding the remedial

team since September 2015 and more staff are being added

as first time repairs near completion.

EQC does not have a projected date to stop receiving

remedial requests but will continue working with customers

until their claims are resolved.

One of the reasons for starting the Canterbury Home Repair

Programme was to ensure customers would have the

assurance that any issues with their earthquake repairs

would be addressed.

Currently around 100 remedial requests are being received

a week.

Customers can follow the progress of their

claim through a series of EQC letters with a tick

diagram. Each new tick means the customer

is closer to receiving their settlement.

Processing

starts for

Feb 2016

quakes

EQC aims to complete assessments

more quickly for the February 2016

Canterbury earthquake claims using

customer-provided information for

desk-based assessments.

Onsite assessment visits to customers'

properties will be the exception for cases

where there is extensive damage, claims

are complex or individual circumstances

require it. EQC claim managers have

been calling customers to get

information and documents – such as

specific damage measurements and

photos – before deciding whether a

phone or on-site assessment works best.

Claims processing is well underway

with over 685 claims paid so far out of

the total 13,134 received. Priority is

given to vulnerable customers, followed

by claims in the order in which they

were lodged.

"Customers who have had their claims

settled so far have told us that the new

approach is working better for them.

Before starting to settle claims, EQC

proactively talked with customers about

different ways of doing things, using

their feedback to design our approach

for this event," says EQC Manager of

the February 2016 Event, Jayne Lapin.

"Most of the damage suffered is

cosmetic, so EQC won't manage a repair

programme this time but, customers

who need assistance to organise repairs,

can contact our Community Contact

Team in Christchurch. The team has

strong links with support agencies who

can help. Call EQC on 0800 DAMAGE

(0800 326 243) to book an appointment

with the Community Contact Team, if

support is needed.

"For customers whose 2010/2011

Canterbury earthquake claims are still

open, EQC aims to resolve their February

2016 claim together with their

2010/2011 claims. We want to make

sure all outstanding issues for their

properties are on track for resolution by

the end of 2016," Ms Lapin says.

At this stage, EQC expects to resolve

the majority of February 2016

earthquake claims by the end of

December 2016.

Inquiries – view the latest fact

sheet under Recent Events on

www.eqc.govt.nz, call 0800 326 243

or email info@eqc.govt.nz

CONTACT EQC AT 0800 DAMAGE (0800 326 243) OR VISIT WWW.EQC.GOVT.NZ
---
PAGE 10 BAY HARBOUR

Wednesday June 22 2016
---
Wednesday June 22 2016

Donate to refugees

BAY HARBOUR

SCHOOLS

PAGE 11

SUMNER SCHOOL pupils got a

taste of what it's like for overseas

refugees at the weekend, raising

nearly $3000 in the process.

About 60 pupils and parents

took part in a fundraising walk

on Saturday, as part of the World

Vision 40-hour for refugee children

backpack challenge.

The group walked from St

Martins New World to Sumner

School, collecting money along

the way.

New Zealand actress Kimberley

Crossman, Shortland Street actor

Jayden Daniels, World Vision

New Zealand chief executive

Chris Clarke and ​World Vision

representatives Harley Hamilton

and Simon Day joined in on the

walk from Redcliffs New World.

Mr Clarke spoke to the pupils

HAPPY: Organiser Jenny

Cunningham and her son

Calum Barrie taking part in the

fundraiser walk..

about the size of refugee camps

and what they're like. He said the

money would go towards building

a school for Syrian refugee

children in Jordan.

Following the walk, a refugee

dinner was held at the school hall.

About 20 pupils and parents had

a sleep-over in the hall that night.

The pupils stopped at The Tannery,

Woolston village, the shops

in Ferrymead and Redcliffs New

World to get donations, raising

about $600.

An online donations page has

gathered $2700 so far, and will

remain open for donations until

July.

You can donate at https://www.

worldvision.org.nz/fundraising/

team/sumner-parents-pupils/40-

hour-famine

HAVING A LAUGH: Celebrity

guest Kimberley Crossman

had fun with the Sumner

School pupils who took part.

HOME STRAIGHT: Sumner

School pupils and parents

making their way along the

final stretch of the journey.

ENERGETIC: Ella Alpress

(purple), Isabel Ward (blue) and

Jessie Alpress (red) run out in

front of parents Ann Skelton

and Rhian Roberts.

HELPING HAND: Jack Christie

had a lot of fun along the way.

HEALTH HELP: Ferrymead Rotary has helped Bromley

School pupils to become healthy heroes. The club gave

pupils juggling balls so they could complete the first three

weeks of the Rotary Healthy Heroes challenge. Each day

for nine weeks, the pupils had to do at least 30 minutes of

exercise, eat five or more vegetables a day and get 8-10

hours sleep each night. Pupils say the most challenging

aspect was getting the right amount of sleep. Barbara Crooks,

of Ferrymead Rotary, said it was a delight to see the children

involved in the programme.

School flying high

HEATHCOTE Valley School

pupils have cause to celebrate

following a huge response

to Air New Zealand's first

annual Airpoints for schools

programme.

From April to May, the

school was eligible to receive

public donations of up to 10,000

Airpoints' dollars to redeem on

flights that contribute to their

chosen environmental, educational

or cultural projects.

Heathcote Valley gained

nearly 2000 Airports, and

plans on using them to travel

to Hokitika to monitor and

compare new spawning habitats

of whitebait.

It is part of new initiative

called Whaka Inaka: Causing

Whitebait, which is a

collaboration between EOS

Ecology, the Department of

Conservation and Canterbury

University.

public meeting

Saturday 25th June 2016

SAVing tHe gODWitS by Keith Woodley

Keith is the Manager of Pukorokoro Miranda

Shorebird Centre, in the Firth of Thames.

Godwit birds directly connect habitats

found on the Avon-Heathcote Estuary and

other sites around New Zealand with sites

in China and the Korean Peninsula, and with

the Alaskan tundra. Keith will cover the

above topic and others in his address.

The team at Miranda have been pivotal

in the achievement announced in March

2016 of a Memorandum of Agreement with

China to establish safe havens for godwits

and other migratory birds.

ONCE ONLY — NOT TO BE MISSED

Entry gold coin donation towards Godwits

artwork to be placed on Bridge Street

South New Brighton Community Centre

Beatty Street (turn right off Estuary Road) | Ample parking

1.30pm - 3pm

Venue open from 1pm for refreshments

Do you have a leaky home?

The Financial Assistance Package, which

helps people with a contribution to repair

leaky homes, is closing to new claims on

23 July 2016.

To give time for an assessment to be

undertaken, applications should be with

MBIE by 27 June 2016.

Go to building.govt.nz/FAP for

more information or to apply for

financial assistance.

FAP001CS
---
PAGE 12 BAY HARBOUR

Wednesday June 22 2016

Your Local Views

CONCERN: The wharf at Ripapa Island was

damaged by the earthquakes.

Underfunding

of heritage sites

Green MP

Eugenie Sage

says we can't

afford to lose

any more of

our heritage

CONGRATULATIONS TO

the recent winners of the 2016

Canterbury Heritage Awards,

which recognise outstanding

work in conserving and

retaining distinctive buildings

and creating future heritage.

It was good to see the

voluntary commitment of

heritage advocates such as

Ross Gray and Lynn Lochead

recognised with the Heritage

Tourism Award going to Shop 7

in the central city.

Shop 7 has told the stories of

the more than 250 significant

heritage buildings we have lost

in the central city and beyond

as a result of the earthquakes

and the CERA's zeal to authorise

demolition.

More than five years after the

earthquakes it's disappointing

that two significant heritage

sites, Ripapa Island and Godley

Head tracks and batteries remain

closed by the Department

of Conservation. Ripapa Island

in Whakaraupo/Lyttelton Harbour

was originally the site of a

significant Ngāi Tahu pa, it has

been a quarantine station, and

was used to imprison members

of the Parihaka settlement in

Taranaki who resisted the surveying

and selling of their land.

During World War 1, Fort

Jervois was built on Ripapa as

part of a nationwide coastal

defence network to protect

Lyttelton Harbour. Ripapa has

many stories to tell but with the

wharf severely damaged by the

earthquakes there is no access to

the island.

The lack of any progress in

repairing the heritage structures

at Ripapa and re-opening the island

to the public is yet another

example of the severe underfunding

of DOC by the current

government. Since coming to

power in 2009 the National Government

has spent $379 million

less in real terms over the last

eight years.

That has major impacts not

just for built heritage but also

our natural heritage, including a

raft of threatened species. Since

2009, 142 species have been

classified as closer to extinction,

including the kea, flesh-footed

shearwater and the wandering

albatross.

Part of DOC's work is to retain

New Zealand's historic heritage.

Clearly in Canterbury, where

we have lost so much heritage.

DOC's underfunding means we

may lose even more.

Community work important

• By Mary Jamieson, secretary of

the Lions Club of Lyttelton

HELLO AGAIN. It is a bright

sunny day as I write this but it is

not exactly warm.

As I am enjoying being cosy in

my cottage I do spare a thought

for those sleeping in cars and

caravans. Hopefully, the city

council will find a solution for

this problem.

The Lions Club of Lyttelton

ran a publicity campaign on Saturday

morning at the Lyttelton

Markets. We met a lot of lovely

people and told them about

the work we do in the community

and have a prospective new

member!

On Wednesdays I help out at

the Kidsfirst Kindergarten in

A reader responds to Green

MP Eugenie Sage's May 6

column calling for Lyttelton

Port of Christchurch to

turn its no. 4 wharf into a

community space

Carolyn Nicol, Diamond Harbour

– I was pleased to see Eugenie

Sage's article about how the

Lyttelton Port of Christchurch

has had a huge advantage from

the Christchurch earthquakes

in being able to get large areas of

land reclaimed without following

the usual due process that allows

for public input.

My understanding is that they

were also able to get the ferry terminal

shift forced through under

the special powers given to Gerry

Brownlee, even though the people

reviewing the Lyttelton Port

Recovery Plan recommended

the shifting of the ferry was not

required to be handled under the

port recovery process.

As a Diamond Harbour

resident, when this shift does

happen, it will be a sad loss of the

ability to make quick one-hour

trips to Lyttelton to get supplies.

And for longer visits to Lyttelton,

the loss on a further 20-30min

travelling time will make the

trip less appealing. It appears the

small business owners of Lyttelton

have not been able to have

Winchester St. From 12.30pm

to 2.30pm there is a drop-in

playgroup for mums with babies

and toddlers.

This is a great opportunity for

mums new to Lyttelton to meet

other mums and their babies. It

is also a good way to meet Cathy,

Lisa and Kym who run Kidsfirst

their say in this process either.

I too want the port company

to run a profitable business,

but I also want it to have some

sympathy for the community it is

part of.

Bay Harbour News asked

its readers what changes

they would like made to the

St Andrews Hill and Bridle

Path Rds intersection:

Maxwell Joines, Mt Pleasant –

I travel down through this intersection

from Major Hornbrook

Rd every day, sometimes twice as

I am retired. But I'm doing some

casual and voluntary work so my

times are variable throughout the

day and night.

I do not find it very difficult but

would like to see a speed bump

installed and a sign "slow down"

on Ferrymead Tce about at the

bend which I think about 50m

before the intersection. I

believe this would make it

safer as the traffic coming from

Heathcote Valley approaches

at great speeds causing vehicles

crossing from St Andrews Hill

Rd to brake on the lane going

up Ferrymead Tce, opening up a

potential dangerous situation for

a collision.

Worth consideration as a much

cheaper option?

and find out about the help they

can give you.

Also Zumba Gold has started

in Lyttelton at the lovely refurbished

Recreation Centre

in Winchester St. It runs on a

Friday from 11.30am to 12.30pm

and I can tell you it is a lot of fun

and another way to get to know

people in the Lyttelton and bay

area.

The street party for the Festival

of Lights is on Friday. Please pop

a gold coin in the buckets being

held on the night by Lions, Rotary

and the Community Youth

Centre people. Your donation

will go towards the purchase of a

community van in Lyttelton for

use by all the community.

Plenty of activities to keep us

warm.

Bay Harbour News asked its

readers what they thought

of Kidsfirst Kindergarten

rebuilding in Mt Pleasant

after some residents complained

it would block their

estuary view, and would

make McCormacks Bay Rd

busier.

Annette Rotherham, of Mt

Pleasant – In regards to the

rebuild of Mt Pleasant kindergarten.

A huge number of families

support this rebuild which is essentially

the same place it was for

over 25 years pre-2011.

This kindergarten has nurtured

our tamariki and provided an

amazing start in life. My children

have their fondest childhood

memories and firm friendships

from their time at this remarkable

kindergarten.

The dedication of the staff to

endure a temporary location for

the past five and a half years is

testimony to their commitment

to see this kindergarten rebuilt in

its original location.

The residents who have concerns

about their views need to

remember that they only have the

view due to demolition.

If this argument was used for

the city's rebuild we would get

nowhere.

SOMETHING FUN FOR EVERYONE

UNDER NEW OWNERSHIP

9 HOLE

GOLF cOURSE

DRIVING

RANGE

STILL ROcK

OUTDOOR MINI PUTT

BOOKINGS ESSENTIAL | 50 FERRYMEAD PARK DR, FERRYMEAD

PH 376-5350 | WWW.FERRYMEADGOLF.cO.Nz
---
Wednesday June 22 2016

BAY HARBOUR

PAGE 13

Grenadier Ferrymead

Four Seasons realty

Sumner

126 Panorama Road

Well positioned on a large private 1148sqm north facing site with glorious views over the sea through to the

Kaikoura Ranges and around to the city and Alps. Enjoy all day sun from sunrise to sunset. This stunning

architectural home was designed in the 1960s by the City Architect, George Fenton and skilfully extended in

the 1980s by Sumner architect Bruce Banbury.

Auction: 7 July 2016 from 1pm.

View at: www.harcourts.co.nz ID#FM4895

Alison Carter

Ph 0274 318 960

4 2 2 2 Mt Pleasant

2 1 1 1

9B Toledo Place

If you think living up the hills on popular Mt Pleasant, with it stunning views, is out of reach, then think again. This

fantastic 2 bedroom townhouse, with spacious living represents great entry level buying on the hill. An ideal first

home or a great investment, this little beauty has tons of appeal.

Auction: 30 June 2016 from 1pm.

View at: www.harcourts.co.nz ID#FM4916

Deb Beesley

Ph 027 280 8837

Sumner 26 Whitfield Street

Sumner 11 Tuawera Terrace

Heathcote 3 Deavoll Place

Westmorland 8 Savannah Lane

3 1 1

1

3 2 1 2 4 2 2 3

4 3 2

2

Auction: 7 July 2016 from 1pm .

View at: www.harcourts.co.nz ID#FM4926

Alison Carter

Ph 0274 318 960

View at: www.harcourts.co.nz ID#FM4914

Joy Butel

Ph 021 353 280

Auction: 30 June 2016 from 1pm .

View at: www.harcourts.co.nz ID#FM4894

Alison Carter

Ph 0274 318 960

Auction: 30 June 2016 from 1pm.

View at: www.harcourts.co.nz ID#FM4912

Alison Carter

Ph 0274 318 960

Redcliffs 1 Rifleman Lane

Redcliffs 9 Inverness Lane

Avonhead 152 Hawthornden Road

Sumner 34 Heberden Avenue

3 2 1 2 4 2 2 3

4 2 2 2

3 2 1 2

Auction: 30 June 2016 from 1pm.

Auction: 30 June 2016 from 1pm.

Auction: 30 June 2016 from 1pm.

Auction: 30 June 2016 from 1pm.

View at: www.harcourts.co.nz ID#FM4890

View at: www.harcourts.co.nz ID#FM4893

View at: www.harcourts.co.nz ID#FM4917

View at: www.harcourts.co.nz ID#FM4815

Alison Carter

Ph 0274 318 960

Alison Carter

Ph 0274 318 960

Deb Beesley

Ph 027 280 8837

Alison Carter

Ph 0274 318 960

Greg Powell

Branch Manager

027 274 6157

Alison

Carter

0274 318 960

Michelle

Ward

027 203 7858

Deb

Beesley

027 280 8837

Joy

Butel

021 353 280

Chris

Moores

027 588 4440

Allie

McDonald

027 279 7174

Kirsty

McLeod

027 226 5893

Liz

Lewis

0274 530 952

Ferrymead

Maree

Hood

027 497 8891

David

Searle

021 565 950

Mari

Crampton

027 230 1098

Catherine

Dougall

027 588 6844

Dave

Elston

0274 593 165

Chris

Smart

021 871 100

Craig

Todd

027 642 1075

Lisa

Ny

0276 225 060

Megan

Jarratt

027 841 2335

1020 Ferry Rd Ferrymead • Ph 384 7950 • harcourtsgrenadier.co.nz

Grenadier Real Estate Ltd MREINZ is a Licensed Agent Under the

Real Estate Agents Act 2008
---
PAGE 14 BAY HARBOUR

Wednesday June 22 2016

Our People

Keeping the community entertained

Heathcote Valley resident Harley Williams

entertains people at his lounge nights at The

Tannery. Bridget Rutherford spoke to him about

his musical background, creating music videos

and television commercials for work, and

where the lounge night idea came from

Can you tell me a wee bit

about yourself?

Well I live in Heathcote, and

for a crust I am part-owner

of a business called Ruffell

Productions. We create television

commercials, music videos and

promotion videos. We have our

office here at The Tannery, not

far from where I have lounge

nights. We've owned that now

for a good four years. I've been

working as a video editor for

about 12 years now. I'm what you

call a part-time musician. I used

to be in a band The Tiny Lies,

mostly when I lived in Lyttelton.

Can you tell me about The

Tiny Lies?

We made a couple of albums

and toured the nation a while

back and I've been playing in

bands throughout my life. The

Tiny Lies finished about mid-

2014 or15. We were an old folk

duo, myself and Charlotte Ivey

who is an exceptional singer. We

were two friends who randomly

met online and saw what we

could come up with. Lyttelton

Records was the label we

recorded with.

So now you're doing lounge

nights at Blue Smoke at The

Tannery, how did that begin?

I'd always remembered back

when I was a student living

near the Provincial Hotel on

Cashel St. It's not there anymore,

but they used to hold a lounge

night. Students came out of the

woodwork and it was a really

fun night out. About four years

ago I contacted an old friend

and asked if he would become

a lounge night DJ with me. The

only guidelines were to dress

up like a swinger from the 50s

and 60s and play old retro visual

clips. We made martinis on stage

and dressed the stage up with pot

plants and things we could find

that might have come from that

era and played live percussion.

Myself and Tim Ferguson both

know enough to keep a beat. We

wanted to make it a bit more

interesting. It's been really fun

for me.

And how long have you been

doing them for?

I've been doing them regularly

at Blue Smoke for about three

months, but on and off for a

couple of years. We would do a

lot more but my DJ partner just

recently had a baby so have had

to put it on hold for a little bit.

My kids are a bit older now and I

live about 2km from Blue Smoke

so it's a bit easier for me.

And you mentioned you used

to go along to lounge nights

when you were a student. What

were you doing back then?

At one point I was in a punk

rock band and then I think was

studying a jazz course at Hagley

and graphic design.

What sort of work does

Ruffells Production carry out?

Is it more national, or local?

Well we go through waves of it

really. We're doing a lot of work

for a company in Wellington

and we've done some work for

Deloitte in Auckland. Then we

also get local one man band

businesses coming in from say

Cashmere. It's a real range of

different things and different

budgets.

And Ruffells did the MyTax

TECHNICAL: Harley Williams is part-owner of Ruffells

Production, which makes television commercials, music videos

and promotion videos.

advertisements, with the wellknown

slogan 'Money on your

Mind?' Did you guys come up

with that?

Yes, my business partner and

managing director Tim McInnes

conceived the slogan "Money

on your mind?" as part of the

creative development of the

commercials.

What is your favourite work?

Well I can answer this easily. It's

music videos for me. It makes

sense. Music is my passion,

when I get to interpret a song

visually as well as orally it's

really rewarding to come up

with something that's interesting

to watch. It's hand's down my

favourite.

How do you come up with

music videos?

It's always slightly different.

Sometimes we get an artist come

in and they say do what you

want, which can be awesome,

but then it can make it difficult

because it doesn't narrow the

TALENT:

Harley

Williams has

gone from

playing in

folk duo, The

Tiny Lies, to

entertaining

people

in lounge

nights at The

Tannery.

brief but it can give you great

freedom. Some go I want it to

look like this, and we go sweet.

The best would be if someone

came in with a little bit of an idea

of what they want, but they say

you guys can embellish it.

And you used to live in

Lyttelton?

I did live in Lyttelton. I moved

out about three months before

the September earthquake

in 2010. I still really like

Lyttelton and don't want to live

too far away from there. My

social life links are over there as

well because I have family and

friends there. I think Lyttelton is

a great community, I just wish it

had a lot more sun.

Lyttelton has such a good

reputation on the music

scene, with the likes of Marlon

Williams. What do you think it

is about Lyttelton that inspires

musicians?

I have thought about this and

I can't come up with any reason.

It's just one of those things and

it probably happens once every

20-30 years. They were all living

in the same place at the same

time and into the same thing and

collaborated easily. It just totally

randomly happens.

Can you tell me a bit about

your kids?

They are six and nine. At

the moment my son River, is

really into soccer, as I was, and

my daughter Ella is really into

singing. They got all the good

looks from their mum really

(laughs).

And when you're not working

or entertaining, what do you

like doing?

I still play indoor soccer and

try and get as much exercise

as possible. But I mostly listen

to music. If I could get paid to

listen to music that would be

my dream job! I wish I went to

a chess club or was part of some

medieval club – but I'm not.

•Mr Williams' next lounge

night, Lounge Night Ball,

will be held at Blue Smoke,

Garlands Rd, on Saturday

at 8pm. Buy tickets at www.

undertheradar.co.nz
---
Wednesday June 22 2016

BAY HARBOUR

PAGE 15

Congratulations to our very first

LOTTO 1ST DIVISION WINNER

SOLD at TakeNote Ferrymead

Postal and banking

services now

offered in Ferrymead

Residents from Woolston through to

Sumner now have the benefit of local NZ

Post and Kiwibank services seven days a

week, thanks to Take

Note in Ferrymead.

The popular book and stationery store

has taken on the franchise for the postal

and banking services, with the new

franchise operation, Take Note Ferrymead

PostShop and Kiwibank, open for business

as of May 19.

"Being open seven days a week means

we'll be available when people need us,"

says PostShop manager Carrie.

"By opening at the weekend we're

catering to working people who can't

get to the bank or Post Office during the

week."

Carrie brings 11 years' experience

managing PostShops to her new

Ferrymead role, while her two assistants,

Kim and Sharmaine, are also experienced

PostShop staff.

Take Note owners Barry and Kerry

moved their business from neighbouring

premises into the former Video Ezy site

several months ago in preparation for

setting up the NZ Post and Kiwibank

franchise, as they were keen to provide

an even wider range of services for their

customers.

PostShop facilities include bill paying

for telco companies, power companies

and The Press, vehicle registration and

diesel miles. Kiwibank customers can

set up bank accounts, automatic bill

payments and deposit and withdraw cash,

while those wanting to enquire about

obtaining a Kiwibank mortgage can have

an appointment arranged with a mobile

mortgage manager at a time to suit.

Since establishing Take Note Ferrymead

(formerly Paper Plus Ferrymead) 14 years

ago,

Barry and Kerry have built up a strong

and loyal customer base from across the

Bay Harbour News readership area by

offering friendly service and an extensive

selection of books, magazines, stationery,

toys, gifts, greeting cards and wrapping

paper.

The wide range of book titles includes

travel books, recipe books, novels

and children's books. Home and once

stationery supplies include everything

from printing paper and ink cartridges

to notepads and exercise books, filing

systems and paper clips.

Customers can browse through an

attractive range of gift items, including

locally manufactured items, or

alternatively there are gift cards and

Prezzy Cards in a range of values.

Ferrymead is one of the city's fastestgrowing

retail and business areas, and

Take Note Ferrymead PostShop and

Kiwibank is ideally located among a mix of

other business outlets including hardware,

supermarket, cafes and professional

services. There is extensive off-street

parking available at the front and rear of

the store and a bus stop close by on Ferry

Road.

Opening hours are Monday to Friday,

KIWIBANK IS NOW IN FERRYMEAD

NZ POST SERVICES

Domestic parcels

Postage included bags and tickets for

sending parcels within New Zealand.

International parcels

Bags, boxes, stickers, custom declarations

and notes for sending parcels overseas.

Prezzy card & gifts

Prezzy® cards, commemorative coins

and stamps for you to purchase online.

Packaging

Boxes, bags and bubble wrap to be used for

sending overseas and within New Zealand.

Postage stamps

Postage stamps in definitive and (KiwiStamp)

non-denominated to send NZ & internationally.

Envelopes

Envelopes for sending your letters, documents

and parcels within NZ or internationally.

Directories & guides

NZ Post directories & guides for postcodes

& information on international services.
---
PAGE 16 BAY HARBOUR

Wednesday June 22 2016

HAPPY BIRTHDAY: Charter president Terri Woolmore-

Goodwin and current president Margaret Simpson cut a

cake to celebrate Altrusa International of Christchurch's 50

years of service to the community.

PHOTO: ALISTER SLADEN

Charity celebrates

50 years

ALTRUSA International, of

Christchurch, celebrated

its 50th birthday on

Saturday.

The milestone celebrations

were held at Eliza's Manor

Boutique Hotel on June 11.

Altrusa is an acronym for

amity, loyalty, talent, reciprocity,

unity, service, and achievement.

The club gives grants to community

group and projects, an

annual scholarship to the Ara

Institute of Canterbury, and

supports other community

initiatives.

It holds a range of fundraisers

throughout the year from a

fabric sale to an annual Christmas

market.

It is an international, nonprofit

organisation making

communities better through

leadership, partnership, and

service.

For more information, get in

touch with Altrusa president

Margaret Simpson on 338

6001.

Cool weather – big waves

• By Aaron Lock, surf coach,

Sumner

The weather has definitely

changed a lot in the last four

weeks, with rain, wind and snow,

along with some frosty clear days

as well. The cooler weather has

also brought some epic waves.

The biggest swell since Cyclone

Pam rolled through mid-May and

produced over a week of great

surf. All the local beaches were

firing at various times throughout

the week. Since then, there has

been some great south swells up

the coast and a few fun days on

the city beaches, too. The water

is chilling down to about 11 deg

C, but it hasn't stopped people

getting out there with some days

in the water as busy as summer.

The Whale Watch Kaikoura

Coldwater Surf Classic scored

perfect conditions over Queen's

Birthday weekend. Three days

straight of clear frosty weather

and perfect 1.2m to 1.8m surf at

the meatworks break.

Local surfers

performed well

against a field of

New Zealand's

best. The competition

attracted more

than 120 entries

from throughout

the country.

Rodney Somogyvari (Sumner)

impressed the judges with his

smooth but radical turns to place

fourth in the classic open.

Harrison Whiteside (Redcliffs)

blitzed the field in the junior final

to win, and then placed second

the Kaikoura junior final. Alan

Temoananui (Redcliffs) was

in good form, his style suiting

the powerful waves to win the

seniors, second in the long-board

and third in the masters.

Lucy Temoananui (Redcliffs)

was third in the senior women's

and fourth in the open women's.

Neill Robb was fourth in the

masters.

The Kaikoura event was the

NEW LOCATION ADVERT.pdf 1 1/05/2014 11:51:35 a.m.

HANG TIME:

Rodney Somogyvari

competing at the

Whale Watch

Kaikoura Coldwater

Surf Classic.

PHOTO: http://www.

surferswall.com/

Aaron's surf report

final competition of the South

Island surfing circuit for the year.

Local board-riders' club, the

Point Surf team finished third

overall. Harrison Whiteside won

the junior circuit. Ben Rees was

second in the seniors. Neill Robb

was second in the grand masters.

Lucy Temoananui was third on

the open women's circuit. Mike

Willman was third on the longboarding

circuit.

So, as we head into the worst of

winter, frosty wetsuits, ice cream

headaches and numb toes, at least

the good waves should keep on

pumping through to make it all

worth while.

VISIT OUR NEW LOCATION LOCATION

430 ST ASAPH STREET!

RECOVER YOUR LOVED FURNITURE

No job too big or small

Hours of Business: 7am-4.30pm Mon-Thurs

Fri 8am to midday

or by appointment with Keith 027 566 3909

Still able to offer

you the finest top

quality new furniture

Visit us online

www.qualityfurniture.co.nz

P. 371 7500

QUALITY FURNITURE SPECIALISTS

RE - UPHOLSTERY SPECIALISTS KEITH HARTSHORNE 0275 663 909

Visit our new website: www.min.nz

From bare land to luxury abodes

min sarginson

is the ideal coastal realtor

COASTAL REAL ESTATE SPECIALISTS

We'll help you live the dream.

Min Sarginson Real Estate Ltd. specialises in homes, sections and

rental properties in the spectacular Lyttelton Harbour bays, and

coastal suburbs of Christchurch, New Zealand.

We'll make it so easy for you. All our sales consultants live in the

area – we can give you valuable insights into life in our thriving

coastal communities.

This is an exciting time; of promise, optimism, and opportunities

never anticipated pre-quakes. Beachfront, or hillside with

grandstand views, find the property of your dreams:

Lyttelton | Diamond Harbour | Governors Bay | Cass Bay

Charteris Bay | Church Bay | Purau Bay | Port Levy | Northshore

Southshore | New Brighton | Heathcote | Sumner | Redcliffs

Scarborough | Mount Pleasant | Clifton

Call Min Sarginson Real Estate Ltd. for free, no-obligation advice. Lyttelton: 03 329 4161, lyttelton@min.nz or Church Bay: 03 328 7273, churchbay@min.nz
---
Wednesday June 22 2016

BAY HARBOUR

PAGE 17

GREAT VALUE

UNDER

$

5

UNDER

$

10

UNDER

$

15

UNDER

$

20

$

$

$

5 96 10 49 15 00

$

3 88 $

7 43 $

11 98

$

12 95

$

15 29

$

15 98

$

1 39

Plastic Buckets

9.6 litre. Assorted colours.

Door Weather Strip

Made in New Zealand.

White and brown.

328176

212122/23

$

3 48

$

7 36

CRC

EXCLUSIVE

5-56 Aerosol

Number 8

Multi-purpose service spray.

Extension Cord

Penetrates, lubricates and

Suitable for domestic use 2m.

prevents corrosion. 400ml.

242927

461302

EXCLUSIVE

Jobmate

Yates

Tape Measure

Blitzem Pellets

Kill slugs and snails

in the garden. 500g.

3 year warranty.

138014

932822

Selleys

EXCLUSIVE

Liquid Nails

Number 8

Interior/exterior. Heavy duty.

4 Way Powerboard

Multi-surface. 375ml.

242935

230692

$

4 18

$

8 97

pack

EXCLUSIVE

Number 8

Buy Right

Tarpaulin

5 Piece Brush Pack

Light duty. 1.8 x 2.4m

12, 25, 38, 50 and 63mm.

242180

174064

Durable composite construction.

Rubber gripped casing. 8m x 25mm.

pair

Showa

Gloves

Premium latex palm offers superior grip in

wet and dry conditions. Small or medium.

144431

Gorilla Nailpower

DIY Expanding Foam

Fills gaps and cracks. Insulates.

Waterproof. 400ml.

370535

pack of 6

Rentokil

Rid Rat Rat Bait

Ready to use baits.

201356

$

12 98

Bahco

Prizecut Handsaw

475mm, 8 point.

253732

$

12 98

set

Browns

Fire Shovel &

Hearth Brush

40cm length shovel.

natural fibre brush.

324032

any 2

30 Seconds

Ready To Use

Cleaners

1 litre.

122148

kit

EXCLUSIVE

Accent

5 Piece Roller Kit

Interior. 2x roller sleeves, roller

handle, tray and paint stirrer. 230mm.

174932

pack of 2

EXCLUSIVE

Tie 2 Go

Ratchet Tie Downs

200kg load capacity. 25mm x 4m.

107343

$

16 39

Selleys

All Clear Sealant

260g.

217910

$

16 87

EXCLUSIVE

Number 8

Glyphosate

Weedkiller

Controls a wide range

of grass and broadleaf

weeds. Leaves no soil

residue. 1 litre concentrate

makes 100 litres.

226909

$

4 99 $ 9 98

PAL

eeZee Patch Filla

Repairs cracks in

plaster, dry wall,

concrete and stone.

pre-mixed. 100ml

192617

bag

Tui

Organic Compost

A quality blend of organic

matter and composted bark

fines. Improves soil structure

and drainage. 40 litre

141806

$

12 99

pack of 2

TCP

LED Lightbulbs

470lm. 7 watt.

283735

$

16 88

set

Sistema

Klip It 6 Piece

Container Set

Microwave, dishwasher

and freezer safe. Easy

stacking. 2 x 200ml, 2 x

400ml, 1 x 1 litre and 1 x 2

litre. Made in New Zealand.

310972

Ferrymead

1005 Ferry Road, Phone: 366 6306

Opening Hours: Monday–Friday: 7:00am–7pm

Saturday, Sunday and Public Holidays: 8:00am–6:00pm

Offers available at Mitre 10 Mega Ferrymead while stocks last.

mitre10mega.co.nz

If you find a lower price on an identical stocked product locally

we will beat it by 15%.

If you find the same product cheaper from another Mitre 10 store or Mitre 10 website we'll match that price. Excludes trade

and special quotes, stock liquidations and commercial quantities. The in-store price may be lower than that advertised.
---
PAGE 18 BAY HARBOUR

Wednesday June 22 2016

Inspiring young minds

Heathcote Valley Preschool is a modern,

purpose built Childcare Centre located in

Heathcote Valley, Christchurch with an

emphasis on high quality care and education

for all young children comprising of three

individual areas. We cater for families with

children aged 3 months to six years.

What makes us unique:

✓ State of the Art, purpose built facilities.

Stimulating, spacious and fully air-conditioned

modern learning environment

✓ Teaching room designed to aid in transitioning

to school

✓ Dedicated, professionally qualified teachers

✓ Low child to teacher ratio

✓ Quality, comprehensive, educational learning

programmes

✓ Web-based learning stories through EDUCA

✓ We offer 20 hours ECE for all 3 and 4 year old

children

✓ On-site chef providing nutritious meals and

snacks

✓ On-site hairdresser

✓ Extra curricular activities offered include PMP,

brain gym, dance classes, sporty shorties,

instruments, learning other languages

Nursery

Our Nursery provides a peaceful and nurturing environment

for your 0-18 month old child. Our high teacher to child ratio

ensures your baby receives full attention and individual care

consistently each day. An inspiring environment offers a range of

safe equipment and activities that allows babies to explore, excite,

discover, stimulate and experiment through their sensory play.

Toddlers

Our Toddler room is set up for children aged between 18 months

and 2-year-old children and children aged between 2-3 years of age

with a focus on independence and self help skills. The environment

highlights space for child to explore, challenge, discover and foster

their physical and social skills. Our 18 month to 2-year-old children

use our primary care-giving system as the Nursery children.

Preschool

Our Preschool learning programmes are designed to support

children aged 3 to 5 years old as they discover who they are so that

they can learn to express their own opinions and nurturing ideas.

Our environment offers stimulating, challenging and accessible

resources in a specially created environment entices the child to

explore, discover, manipulate and learn.

The Teaching Room

The Teaching room is a prepared environment providing an

education foundation for successful future development. The room

is a well resourced, specifically designed environment set within

the centre designed for children over 3 years. Within this prepared

environment we are able to recognise the unique and diverse

learning approaches of each child.

Ferrymead

Heritage Park

We are

here

Bridle Path Rd

Port Hills Rd

Tunnel Rd

Martindales Rd

Lyttelton

Tunnel

108 Port Hills Road, Heathcote Valley | Open 7.30am-6.00pm

Come in for a visit and experience the difference.

Phone us today 03 384 9249

To find out more,

please visit

our website:

hvp.co.nz
---
Wednesday June 22 2016

BAY HARBOUR

PAGE 19

Email bridget.rutherford@starmedia.kiwi

by 5pm each Wednesday

Lyttelton Festival of Lights –

Street Party

Friday, 6.30pm

One of the favourite events

at the annual Lyttelton Festival

of Lights is taking place on

Friday – the street party. The

street parade will kick off at

6pm, with the Lyttelton Port of

Christchurch fireworks display at

7.30pm. There will be food stalls,

music, circus, buskers, activities

and light-art installations. Lindon

Puffin, Candice Milner, Mundi,

Los Farsantes and The Kitchen

Collective will perform on the

main stage. Li'l Chuck, Sport Suzie,

the Twisty Twinz and more

will be performing at Albion

Square.

London St, Lyttelton

The Lyttelton Festival of

Lights will continue until Monday.

To see a full programme

of events, pick up one from all

Christchurch City Libraries, or

visit http://www.lyttelton.net.nz/

festivals/festival-of-lights

Drayton Reserve working bee

Saturday, 2pm

A working bee will be held this

weekend to help maintain Drayton

Reserve, Mt Pleasant. The

maintenance hopes to bring more

native birds to the reserve.

Meet at Drayton Drive entrance,

Mt Pleasant.

For more information, call

Dave Bryce on 021363498

Matariki in Sumner

There will be a series of events

and activities held in Sumner to

celebrate Matariki.

Sunday, 5.30am-7am

Cultural Astronomy Tour

Make sure to wrap up warm

and head along to watch Matariki

rising just before dawn, with

Mary Bell. Meet at the row of

pines on Summit Rd at the top of

Richmond Hill.

$5 per person, and under 18s

are free. Sunday, 2pm-4pm

Seed Bomb Making Creative

Workshop

Old school hall, Wiggins St

$10 per person and you will

need to book a place.

To book places, email events@

sumnerresidents.co.nz or for

more information, visit www.

sumnerhub.nz

Rotary Lego Contest

10 July, 9.30am-noon

This is one for the diary. There

will be two events taking place,

with teams of three pupils.

ENTERTAINING: Back from the Adelaide Fringe Festival and sold out shows during the

New Zealand Jazz Festival, international comedian Derek Flores will perform A Night with

The Unicorn at the Lyttelton Arts Factory tomorrow at 7pm. He uses inspiration from the

audience to tell new and unique tales never to be repeated. Musician Kris Finnerty will also

perform. The performance is part of the Lyttelton Festival of Lights.

Years 1 and 2, and years 7

and 8 at 9.30am; years 3 and

4 at 10.15am; and years 5 and

6 at 11am. The pupils will

make the best Lego model in

15 minutes. There will also be

an individual contest, which

looks at the best model made at

home from an original design,

or copied from a design. Made

up models need to arrive

between 9.30am and 10.30am.

Sumner Community Centre,

20-28 Wiggins St. Free. For

more information, email Kathryn

Tovgaard at ktandkt@xtra.

co.nz or phone 384 9485. Organised

again by Ferrymead

Rotary

Maori Carving Course

Starting soon

Lyttelton's Whakaraupoō

Carving Centre is running

the Tane tu Tane Ora course,

which is designed to help men

find a new passion and sense of

belonging and identity through

carving. It is free and will start

as soon as the course is filled.

It would run three days a

week: Monday, Tuesday and

Wednesday, from 10am-3pm

until the end of the year. A free

lunch is provided.

It is open to anyone over

16 years of age who would

benefit.

WhakaraupoōCarving Centre,

Lyttelton. There will be a

limited number of spaces, but

those interested can call 741

1410 or Caine Tauwhare on

027 3522288

Mt Pleasant Farmers Market

The market has temporarily

moved to the western end of

the McCormacks Bay Reserve.

You will find it at the intersection

of McCormacks Bay and

Main Rds. Every Saturday,

from 9.30am-12.30pm.

Lyttelton Market

Every Saturday, 10am-1pm,

London St

AutuMn & wIntER

ARE A GREAt tIME

to sEll youR HoME!

It may be true that there are fewer buyers and sellers in

the winter marketplace but the ones that are there are

serious and have a sense

of urgency to purchase.

If you're considering selling and would like some honest,

professional advice, give me a call today – it costs

nothing to talk!

Chris Moores

Harcourts Grenadier Ferrymead

1020 Ferry Road

P: 03 384 7950 | M: 027 588 4440

E: chris.moores@harcourts.co.nz

Are You Feeling

Cold & Uncomfortable?

GRENADIER

licensed sales Consultant REAA 2008

WE SPECIALISE IN THE CARE AND

PRESERVATION OF TREES

• Pruning

• Expert Tree Felling

• Fully Insured

• Free Quotes

• Powerline Clearing

• Branch Chipping

• Competitive Rates

• Orion Approved Contractor

FULLY

QUALIFIED

ARBORISTS

Be warm and comfortable on a Dreamwool Bed,

with 100% natural fillings.

Free from hot foams, polyester and glue, enjoy the year round

superior comfort of our Latex or Pocketspring mattresses.

For the very best investment you can make in a mattress...

for under $2000!!

Member of NZ Arboriculture Association

For quotes and enquiries phone 03 349 7143 | For urgent enquiries phone 027 272-6710

Email: office@arbor-tek.co.nz

www.arbor–tek.co.nz

22 Kennaway Rd • www.dreamwool.com • Ph 343-5105
---
PAGE 20 BAY HARBOUR

Wednesday June 22 2016

SuperValue.co.nz/Recipes

Fresh NZ Pork Leg Roast

(Excludes Free Range)

Photo by S. Reeves

Country Fresh Washed Potatoes 2kg

$

7 99

kg

$

3 49

bag

Fresh NZ Beef Topside Roast/Steak

Jazz Snacker

Apples

1.5kg

$

14 99

kg

$

3 99

bag

Cadbury

Chocolate Block

190-200g

Kellogg's Coco Pop/Nutri-Grain/Special K/

Sultana Bran

500-730g

Yoplait Yoghurt 6 Pack

(Excludes Vigueur)

$

2 99

each

DB/Export Gold/Tui

24 x 330ml Bottles

$

5 00

each

Saints

750ml

$

3 99

pack

Surf Laundry Powder 500g

Please drink

responsibly

$

32 99

pack

SuperValueNZ

SuperValue.co.nz

$

8 99

each

$

2 00

each

SuperValue Lyttelton: 17 London Street, Lyttelton. Phone 328 7368. Open 7am-9pm, 7 days.

SuperValue Sumner: 3 Village Mall, Sumner. Phone 326 5688. Open 7am-9pm, 7 days.

Specials available from Wednesday, 22nd June until Sunday, 26th June 2016 or while stocks last. We reserve the right to limit quantities. All limits specified apply per customer per day.

Trade not supplied. Prepared meals are serving suggestions only. Props not included. Certain products may not be available in all stores. Proprietary brands not for resale.

Customer Support Freephone 0800 40 40 40.

svbhn2206
---
Wednesday June 22 2016

BAY HARBOUR

PAGE 21

Food

Motivated by great taste

• By Gabrielle Stuart

SIMO ABBARI lost each of

his three businesses in the

earthquakes – a cooking school

and two restaurants.

"I lost the first one, and I

thought, oh well. Then I lost

Cashel St, and I thought, ok, I can

still go on. Then I lost the third.

One, two, three, from hero to

zero," he said.

He said he thought about leaving

the city at that point.

"You wake up in the morning

with no income, with nine

people working for you, chasing

after insurance companies. But I

thought, we built it once, we can

build it again.

"I didn't pack my suitcase, because

I thought look at what they

have given you, shame on you if

you leave at the time when they

need you."

He was already familiar with

starting from nothing.

He was brought up in Morocco,

and worked his way up through

kitchens across the world, from

restaurants in Africa to Yugoslavia,

doing everything from

working in cargo ship kitchens to

creating airline menus.

By the time he moved to New

Zealand in 1994, he had more

than a decade of experience as

a chef and in management but,

once again, he found he had to

start from the bottom.

"As an immigrant it doesn't

matter about your experience,

you start from zero. It was hard

as a foreigner, because you have

to work twice as hard to prove

yourself."

He entered a culinary competition

the year after he arrived, and

finished second to last.

"But I realised the food was not

HERITAGE: The

years Mr Abbari

spent cooking

in kitchens of

all shapes and

sizes across the

world has shaped

his menus at

the Heritage

Christchurch.

PHOTO: GEOFF

SLOAN

EXPERIENCE:

Although

Simo Abbari

lost his three

businesses

in the

earthquakes,

he said his

experiences as

an immigrant

learning to

adapt and

start from the

bottom helped

him get back

on his feet.

PHOTO:

GEOFF SLOAN

the problem, it was the presentation.

The other 12 candidates had

all cooked the same food, and

presented it the same way. Back

home the taste was everything,

it didn't matter if it was plated in

gold."

The next year he entered again,

and came first. "You start learning

to adapt," he said.

He said the willingness of New

Zealanders to try different foods

was something he loved.

"It's what makes New Zealand

cuisine special, it belongs to everyone.

In New Zealand, you go

to the supermarket and there are

special items and all kinds of food

on the shelves."

In 2002, he opened his first

Moroccan restaurant.

"It was my way of saying thank

you to the community. But I

realised I had just stabbed myself

in the head by having a business.

Work for 16 hours a day became

24 hours a day."

But, in spite of the long hours,

he said the restaurant was a huge

success, and was named Outstanding

South Island Restaurant

of the Year in 2004.

Losing it was a big blow, but he

worked his way back, opening

Mosaic by Simo's in Addington,

launching his Simo's line of bottled

zest and marinades, teaching

classes, and last year starting in

his role as Continental executive

chef.

The role means he is responsible

for all the Continental menus,

from Maddison's Restaurant at

the Heritage Christchurch Hotel,

to the tram and gondola restaurants,

to the ALFF – Allergy Free

Foods.

That meant he spent more time

managing and problem solving

than he did as a chef, although he

still regularly cooked at the Maddison's

Dine with Simo evenings

and taught classes.

He met his wife at the classes,

who he said was also incredibly

passionate about food.

"I had never seen anyone with

more cook books than me, until I

met my wife," he said.

"I'm not allowed in the kitchen

at home, because she doesn't

like me to criticise. But I am so

fortunate, because my wife is an

amazing cook. My table is always

full of the best kind of food."

He wanted to see more emphasis

on service in Christchurch

restaurants, and hoped the trend

toward natural and local food

would grow.

"We need to think differently,

and eat real food, not food which

is frozen and full of chemicals.

We used to have many local

butchers, but now they are nearly

all gone."

He said serving great food and

inspiring people to create their

own was what motivated him.

"I feel this is a responsibility, I

don't see it as a job. We wake up

every morning and say how can

we share and make people feel

special, even in this broken city."

The newly refurbished

Woolston Club...

A classic, contemporary

club experience

Cafe open from 11am

Happy Hour 4.30pm - 5.30pm

TAB & Gaming, Function Facilities,

HOUSIE Tuesday, Thursday, Saturday

SHUTTLE Tuesday - Saturday

Open 7 Days

Restaurant open

from 5.30pm!

Roast of the Day

$16.00 Members

$18.00 Non

Retro Roast Lunch

12pm Wednesdays

$10 Members/$12 Non

NEW SEASON

MENU

OUT NOW!

LIVE MUSIC

6PM FRIDAY STEPHEN JAMES

7PM SATURDAY

FLAT CITY BROTHERHOOD

EVERY DAY 11.30AM TO 2.30PM

LUNCH AT WINNIES

PASTA OF THE DAY $14

SALAD OF THE DAY $14

MINNIE WINNIE $12

MEDIUM TRADITIONAL PIZZA $15

SMALL GOURMET PIZZA $14

2 WATERMAN PL. PH (03) 376 4900 | WWW.WINNIEBAGOES.CO.NZ
---
PAGE 22 BAY HARBOUR

Wednesday June 22 2016

Do you need your

RETAINING WALL

replaced?

Alevin Building Solutions provide a total solution

including design, supply and installation.

Alevin Building Solutions provide a total solution

including design, supply and installation.

Call

Call

0800

0800

4 Alevin

4 Alevin

(425 384)

(425 384)

for a no charge estimate (before Winter arrives)

for a no charge estimate.

Alevin Building Solutions

specialists in:

Retaining walls

Small bridges

House piling

House demolition

Your one-stop shop company

for all your building solutions

Alevin Building Solutions are a Canterbury

owned one-stop shop company who

specialise is retaining walls, small residential

bridges, house and commercial piling,

ground remediation as well as demolition

and engineering solutions.

If you have received a pay-out or are just

wanting to make improvement's, but not sure

where to start, for one stop advice call our

0800 number, or Steve on 021 240 2940 for a

no obligation visit and estimate.

Part of Alevin Building Solutions success

is not being tied to one specific solution,

contractor or product supplier as we engage

multiple companies in order to offer the best

and most cost effective way forward.

You can call Steve at Alevin Building Solutions

anytime, it costs nothing and we pride

ourselves on taking the pain and uncertainty

away.

Importantly most of the time can provide a

solution and repair within one to two months.
---
2

[Edition datE]

Wednesday June 22 2016

BAY HARBOUR

PAGE 23

Executive "As is - Where is"

9 Inverness Lane, Redcliffs

Auction – Thursday, 30 June, 1.00pm (98 Moorhouse Ave) unless sold prior

4 bedrooms | 2 bathrooms | 2 living rooms | 2 dining rooms | 3-car garage | 2 off-street parks | Listing Number: FM4893

If you're seeking an extra large executive

home with great access into a triple-car

garage, then look no further. This private

hillside home faces west so escapes the

easterly winds and enjoys stunning views that

cannot be built out over the pool, estuary, city

and Southern Alps.

You'll be impressed by the spacious living

rooms. One is tiled and open plan with a large

white kitchen, breakfast nook and formal

dining area, while the other steps down to a

TV and media room with over-height glass

windows and doors.

Enjoy sunsets, shelter from the easterly

winds and great indoor-outdoor flow onto

the sundrenched decks, pool and BBQ area,

the perfect place for wining, dining and yearround

entertaining.

The master bedroom has a WIR, en suite,

deck access and sea views. The two upstairs

bedrooms enjoy panoramic views and share a

shower room and bathroom. A smaller fourth

bedroom or office is on the ground floor along

with a huge laundry, extra toilet and walk-in

storage.

Investors and tradesman will be pleased

with the exceptional parking and excellent

level access into three-car internal garaging

with an additional double parking bay. The

property is centrally placed within walking

distance to the park, and Ferrymead and

Redcliffs shopping centres are nearby.

Partially insured but deemed a repair and

selling on an as-is basis.

Our owners have lived here very

comfortably since the earthquakes and over

the last 20 years, but their newly built home is

nearly complete are they highly motivated to

achieve a sale!

Open Home Dates: Wednesday

and Sunday 1-1.40pm. See you at

the Open Days, or for more

information contact Alison Carter of

Harcourts Grenadier Ferrymead (Licensed

Agent REAA 2008) on 384 7950 or mob

0274 318 960.

autumn planting • moon calendar • the lone pine • plant doctor

We're for every gardener

FlAnders PoPPy

Its significant story

100% Issue 413 | April 16 – April 29, 2015

What it means

to be

KIWI

We're for every gardener

12 ISSUES

delivered to your door

100%

• Regional planting

• Plant Doctor

• Design ideas

• Seasonal edibles

and flowers

• Small-space

gardening

and so much

more...

InsPIred by

AustrAlIA

Ideas from Melbourne

International Flower

& Garden Show

$5.90 incl. GST

ISSN 1174-8656

mAke It eAsy

Low-maintenance

gardening

Projects to

remember

Making wreaths

and poppies

$

FROm ONly

49. 00

SUBSCRIPTIONS FREEPHONE 0800 77 77 10

subs@gardener.kiwi
---
PAGE 24 BAY HARBOUR

Wednesday June 22 2016

SHOW

2016

HORNCASTLE ARENA

1ST-3RD JULY

10AM - 5PM

Adults $8 - Under 12's free

One step closer to your dream lifestyle

starhomeshow.kiwi
---
Wednesday June 22 2016

Motoring

BAY HARBOUR

PAGE 25

Fortuner boosts Toyota's SUV range

• By Ross Kiddie

THERE'S NO shortage of sport

utility vehicles in the Toyota

stable.

However, what Toyota New

Zealand do very well is plug gaps

and it has vehicles to suit every

budget and purpose.

Recently, Toyota launched a

newcomer to its line-up – the

Fortuner. It is a large, seven-seat,

sport utility vehicle which sits

alongside the Highlander and the

Land Cruiser series for buyers

who just can't step up to Prado or

who don't want the petrol-fuelled

Highlander.

The Fortuner is a diesel-powered

model only, it is the newgeneration

engine which sits in

Prado and Hilux, and there are

many other similarities to Hilux

as well, the Fortuner sits on the

chassis and underpinnings which

has made Hilux so successful as a

light commercial ute.

That concept isn't new in SUV

manufacture – Ford's Everest

utilises the Ranger platform, and

Holden's Colorado7 is an extension

of the Colorado ute.

However, there is one significant

difference between the

Fortuner's suspension and that

of the Hilux, while both have a

live rear axle, the Fortuner has

coil springs as opposed to a leaf

TOYOTA FORTUNER: Capable off-road.

spring set-up which is common

practice with this type of SUV.

Elsewhere, the Fortuner doesn't

rely heavily on the appeal of

Hilux. Yes, the doors and bonnet

are the same, but the Fortuner

has styling cues less aggressive

and more akin to what you would

find in a family station wagon. I

really like the shape of Fortuner,

it is classy and curvy, disguising

well its relationship to Hilux.

The Fortuner lands here in

three grades. The entry-level GX

model lands at $70,990 and is

a manual gearbox model, automatic

transmission on GX adds

$2000. The test car was the GXL

automatic at $75,990, while a

Limited sits at $78,990.

Each is equipped well for its

• Price – Toyota Fortuner,

$75,990

• Dimensions – Length,

4795mm; width, 1855mm;

height, 1835mm

• Configuration: Fourcylinder,

four-wheel-drive,

2755cc, 130kW, 450Nm,

six-speed automatic.

• Performance – 0-100km/h,

12.8sec

• Fuel usage – 8.6l/100km

price, the test car boasted satellite

navigation, paddle-shift gear

selectors, powered tailgate, nice

wood and leather steering wheel,

cruise control, and reversing

camera.

As mentioned, the Fortuner

gets Toyota's new-generation

2.8-litre, four-cylinder diesel

engine. It is a stunner in terms

of refinement and mechanical

ability, it pumps out a beefy

130kW and 450Nm while

capable of returning a 8.6l/100km

(33mpg) combined cycle fuel

usage average.

During my time with the test

car the trip computer was constantly

sitting around 10l/100km

(28mpg) with 8l/100km

(35mpg) listing instantaneously

at 100km/h (engine speed

1800rpm).

The engine responds willingly

to throttle pressure and works

smoothly under pressure. That's

something I've commented on

every time I've experienced the

new engine, it has refinement

uncharacteristic for a big four-pot

diesel.

Power is harnessed gently

through a six-speed automatic;

the gearbox is also reasonably

new for Toyota, well it's certainly

new for Hilux, and Fortuner gets

the benefit of the low and close

ratios, immediate acceleration is

forceful, while the ratios broaden

to provide the lethargy for open

road cruising. Bearing in mind

that Fortuner is aimed at families

who will want to drive long

distances on the open road, fuel

economy is an important ingredient

of that.

Yet, the Fortuner is also the

capable off-road charger. Its fourwheel-drive

system is engineered

for rough conditions, it can

most certainly be described as a

serious off-roader. It has ground

clearance of a healthy 279mm,

and the driveline has a low ratio

transfer case so that slow speed

momentum can be initiated for

when obstacles are presented.

I took the test car on a piece

of dirt that encompassed several

mounds and descents, I can report

it has suspension which absorbs

the rough stuff, providing the

occupants with a well-cushioned

ride in those conditions.

As well as the Fortuner is

engineered for life off-road, it is

still the easy-to-drive city slicker.

Sure, at 4.8m there is a lot of

vehicle to get into a metered

car park, but it has adequate

manoeuvrability considering its

size, and good visibility.

As an organisation, Toyota

isn't shy about introducing vehicles

for an intended audience.

The Fortuner fits into the vast

model line-up perfectly, and will

be joined in other models soon

which will expand the SUV market

even further.

The Fortuner is there for those

who understand the ability of

Hilux yet need something just a

little more family-friendly.

CARS - TRUCKS

VANS - 4WDS

New + Used Lamps for Cars, Trucks,

Vans, 4WD, Motorhomes,

Trailers & LED's.

We can repair your existing lights including:

Headlamp Adjusters, Lens Refurbishment and Plastic Welding.

0800 225 483

For all your automotive Lamp Requirements

F: 03 371 1101

E: carlights@carlights.co.nz

325 Brougham Street, Christchurch
---
PAGE 26 BAY HARBOUR

Wednesday June 22 2016

ON DEMAND At WWW.STYLE.KIWI

from

magazine

to screen

Stories given new life

ExcLuSIvE

InTErvIEWS

Andrea Allen meets

the locals

coming to town

A look at what's on

StyleTV_StarAd_June_FP_001_2016

Watch every thursday at

7.30pm

repeats friday at

11am & 4.30pm

Freeview HD 40 | Live on ctv.co.nz
---
Wednesday June 22 2016

BAY HARBOUR

PAGE 27

Adult Information

LIVE ADULT CHAT

Explicit Naughty

Kiwi Babes 1 on 1

0900 77 747

Asian Babes 1 on 1

0900 88 100

XXX Listen

0900 69 100

Chat $3.99 - Listen $1.99/min+gst

Free VOIP & downloads

www.kiwibabes.co.nz

PHONE NOW!!

Caravans, Motorhomes

& Traliers

Community Events

ALCOHOLICS

ANONYMOUS, If you

want to have a drink thats

your business. If you want

to stop, we can help. Phone

0800 229-6757

Computers

Firewood

FIREWOOD Bagged

delivered. Trade Me

Advert 563340295.

Tel 03 3129100.

Gardening

& Supplies

GARDENER - Need

your home or commercial

garden tidied up or

renovated or require long

term assistance. Phone

Ruth 326-6663 or 021

272-0303

ALL

YOUR

COMPUTER

WORRIES SOLVED!

*$30.00 off your first

service with this coupon!*

No problem too big or

small from home PC's to

business networks. PC

slow? An end to Viruses,

Spyware, and Clogged

Systems. Safe secure

hassle-free computing.

Lost files recovered.

Microsoft Certified,

MCSE, MCP+l. 30 years

QUEENSLAND

experience. Call Andrew

Buxton this week on 326-

6740 or 027 435-7596

for $30.00 off* Custom

Computers Christchurch

Classifieds Contact us today Phone our local team 03 379 1100

Gardening

& Supplies

A GARDEN OR

LANDSCAPING TIDY

UP? Shrub, hedge &

tree pruning, Lawns,

Gardening, consistently

reliable general property

upkeep, Dip. Hort. 10

yrs experience, One off

tidy ups or on-going

service. Nick's Property

Maintenance. Keeping

your garden beautiful.

Free Quote. Ph. 942-4440

Finance

Gardening

& Supplies

Landscape

and Garden

Services

If you need help

getting your garden

back in order after

repairs, need any

type of landscape

construction work or

garden restoration.

Ph 021 272 0303

Holiday

Accommodation

SUN-

SHINE COAST AUSTRA-

LIA Resort, Ocean Views,

Balconies, Self Contained,

1 or 2 B/R Ensuite,

Heated Pool, Spa, Sauna,

Free Internet, Shops,

Restaurants, Tennis, Surf

Club & Patrolled Beach,

Public Transport at door.

Ask for our SEASONAL

SPECIALS. Phone 61 7

544-35011 Email: reception@mandolin.com.au

www.mandolin.com.au

Storage

Professional

Movers

Making Local

& International

Moving Easy

0800 4 world

(03) 341 2060

www.worldmoving.co.nz

To Let

HOMESITTERS

reqd for rural sits. Pref.

retired/not wkng. Ph

Lisa 359-2323 www.

townandcountryhomesit.

co.nz

HOUSESITTER

Awesome housesitter

available to look after your

home / pets. Fab refs. Call

Val 021 0247 2650

REDCLIFFS Very tidy 3

bdrm house, 2 heatpumps.

Avail now. $400 p/w. Call

Lisi 021 245 7570

Trades & Services

IF IT'S PLUMBING YOU NEED

10%

WE CAN

Discount

HELP!

With This Ad

0800 217 5862

Landlord Special Service

cAll free

Gas Fitting & Hot Water System

Bathroom & Kitchen Renovations

0800

www.a1plumbing.co.nz

217 5862

We fIX IT All

Hot Water Problems,

Showers, Taps, Toilets,

New Installations

www.a1plumbing.co.nz

Trades & Services

• Cut to size plastic • Sheet sales

• Brochure displays

Easyfix Double Glazing System

No more running windows

DIY and save OR get a quote to install

Showroom at 42 Wordsworth Street, Sydenham

www.awardplastics.co.nz

Phone 03 374 5500 or 0800 426 292

Trades & Services

Trades & Services

LANDSCAPING/

STONE WORK

All forms of landscaping,

fences, decking & paving.

Phone Mike

Stoneage Landscapes

021 1499 733

Trades & Services

Driveways

We Repair

Cracks

and Apply

Factiostone

on top of

your Interior

and Exterior

Substrates

saving Time,

Money, Stress

& Mess.

Spec-Tec /

Factio

Free QuoTe

0212209603

Trades & Services

Now working

in your area

• Tree Pruning

& Removal

• Stump Grinding

• Hedge Trimming

Fully Insured

Qualified Arborist

For a free quote,

ph 0800 248 733

www.jimstrees.co.nz

LAND

REINFORCEMENT

SPECIALISTS

RETAINING WALLS – repaired/new timber/

block/concrete/reviews/assessments/

valuations for insurance purposes/in ground

retaining walls for slope stabilisation

LAND REMEDIATION – under runners/

slip remediation/drainage/hill sites/river or

stream banks a speciality/house re-levelled/

new foundations

Call Duncan Laing on 021 320 400

or David Campbell on 021 466 144

DESIGNED, CONSENTED, BUILT AND SIGNED OFF

Laing Technical Ltd

Consultants/Project Managers/Contractors

www.laingtechnical.co.nz

9 Ernlea Terrace, Cashmere Ph: 980 5947

35 YEARS IN THE BUSINESS IN CHRISTCHURCH

Trades & Services

BRICKLAYER

George Lockyer. Over

30 years bricklaying

experience. UK trained.

Licensed Building

Practitioner number

BP105608. Insurance

work. EQC repairs.

Heritage brickwork a

speciality. No job too

small. Governors Bay.

Home 329-9344, Cell

027 684-4046, email

georgelockyer@xtra.co.nz

CARPET

&

VInYL LAYIng

Repairs, uplifting,relaying,

restretching,email

jflattery@xtra.co.nz,

ph 0800 003 181

or 027 2407416

CARPETLAYER

Laying and Repairs, 40

yrs experience, ph Peter

326-7711 or 027 240-6532

COnCRETE

Decorative Concrete

Placing, Canterbury

owned & operated

for over 10 years,

competitive rates, full

excavation, coloured,

exposed, stamped, call

Paul 027 322 6119

COnCRETE CUTTIng

AnD gRInDIng

Cutting of walls and

floors; Small break and

remove jobs; Grinding

concrete level; Cracks

filled; Concrete polishing

and sealing. Call

Danny at Stoneshine

on 021 063 8833

ELECTRICAL

& HEATPUMPS

Full service including

pressure & performance

test $60 + GST. Affordable

electrical services, wiring

alterations & repairs. Ph

326 4992 or 0274 329755.

FURnITURE REMOVALS

Large Trucks $95 +

GST per hour 7 day NZ

wide, packing & moving,

Professional Company,

Professional Service.

Canterbury Relocations

Ltd. ph 0800 359 9313

LAnDSCAPE

COnSTRUCTIOn

Lawns, paving, water

features, irrigation,

planting, decks,

driveways, kerbing, ponds,

retainer walls, fencing.

Free quotes, Phone Tony

021-034-8555

PAInTER

Experienced tradesman,

quality work, free quotes,

ph Simon 027 389-1351 or

03 328-7280

PLASTERIng

INTERIOR, no job too

big or too small, specialise

in repair work & new

houses, free quotes given,

over 20 yrs plasterering

experience, ph 027 221-

4066 or 384-2574

ROOFIng

Qualified & Licenced

Practitioner. Re-Roof &

Repairs, all types. Member

New Zealand Roofing

Association. Over 35 years

experience. Phone John

027 432-3822 or 351-9147

email johnmill@ihug.

co.nz

STOnEMASOn

BRICK BLOCKLAYER,

Earthquake Repairs, Grind

Out & Repoint, River/

Oamaru stone, Schist,

Volcanic Rock, Paving,

all Alterations new & old,

Quality Workmanship,

visit www.featureworks.

co.nz or ph 027 601-3145

Trades & Services

VHS VIDEO TAPES

& all camera tapes

converted to DVD, video

taping, weddings, twenty

firsts, special occasions,

www.grahamsvideo.co.nz

ph 03 338-1655

WInDOW CLEAnIng

"Your Windows are the

eyes of your Home", for

a free no obligation quote,

call Greg Brown, Crystal

Clear Window Cleaning

ph 384-2661 or 027 616-

0331 Local Resident

Wanted To Buy

A+ Household effects,

fridges, freezers, washing

machines, ovens. Good

cash paid. Ph Paul 022

0891 671

A Records and Hi-Fi

gear wanted, excellent

prices paid for good

records especially kiwi

and overseas bands 60's

- 90's PennyLane 430

Colombo St Sydenham

7 days www.pennylane.

co.nz ph 3663278 or 021

2226144

Situations Vacant

CA$H

Strippers

& Podium

Dancers

Wanted!

18+ TO APPLY

NEISHA

021 193 0118

Public Notices

SALE AND SUPPLY OF

ALCOHOL ACT 2012

SECTION 101

MASTERS THEATRE

PROPERTIES LIMITED, (THE

LICENSEE, C/O Steven Jukes,

11 Duncan Street, Christchurch

8081), has made application

to the District Licensing

Committee at Christchurch for

the issue of ON-LICENCE NEW

in respect of the premises

situated at 26 Marriner Street

Sumner know as HOLLYWOOD

CINEMAS SUMNER.

The general nature of

the business conducted

under the licence is:

ON-LICENCE THEATRE/CINEMA

The days on which and the

hours during which alcohol is

intended to be sold under the

licence are:

MONDAY TO SUNDAY

9.00AM TO 11.00PM.

The application may be

inspected during ordinary

office hours at the office of the

Christchurch District Licensing

Committee, 77 Hereford Street,

Christchurch.

Any person who is entitled

to object and who wishes

to object to the issue of the

licence may, not later than

15 working days after the

date of the first publication

of this notice, file a notice in

writing of the objection with

the Secretary of the District

Licensing Committee, PO Box

73049, Christchurch 8154.

No objection to the issue of

a licence may be made in

relation to a matter other than

a matter specified in section

105(1) of the Sale and Supply

of Alcohol Act 2012.

This is the first publication of

this notice.

Public Notices

Rexellent Rentals

Cars, Vans, Brisbane , Coolangatta

FREE CALL

0800 601 508

www.rexellent.com.au

ADVERTISE YOUR

BUSINESS HERE

Public Notices

Phone for further details

Public Notices

Rexellent Rentals

Cars, Vans, Brisbane , Coolangatta

FREE CALL

0800 601 508

www.rexellent.com.au

OPEN NIGHT

Thursday 23 June

2016

5.00pm - 7.00pm

739 Ferry Road, Christchurch.

Phone: 384 3073.

www.stannes.co.nz

(03) 379 1100
---
PAGE 28 BAY HARBOUR

Wednesday June 22 2016

Lyttelton

Midwinter

price freeze

COME IN FROM THE COLD AT SUPER LIQUOR

CITY OF

LONDON GIN

1 LITRE

$

33 99

CHIVAS

JACK DANIEL'S

FAMOUS

INCLUDES JACK DANIEL'S

REGALS 12YO

HONEY & JACK DANIEL'S FIRE

JIM BEAM

GROUSE

$

33 99 $

34 99 $

43 99

700 ML

$

47 99 700 ML

$

37 99

JÄGERMEISTER

700 ML

1.125 LITRE

$

42 99

DE VALCOURT

1 LITRE

1 LITRE

$

36 99

MOUNT GAY

1 LITRE

JAMESON

1 LITRE

SPEIGHT'S

CIDER

12 X 330ML BOTTLES

$

22 99

$

47 99 STEINLAGER

JACK DANIEL'S

& COLA

6 X 330ML BOTTLES

5% ALC/VOL

CORUBA & COLA

12 X 250ML CANS

7% ALC/VOL

$

24 99

12 X 330ML BOTTLES

$

24 99

HEINEKEN

BECK'S $

19 99

HEINEKEN

15 X 330ML BOTTLES 12 X 330ML BOTTLES

$

26 99

LIGHT

12 X 330ML BOTTLES

$

21 99

$

19 99 TUI, EXPORT GOLD

WOODSTOCK & COLA

12 X 330ML BOTTLES, 5% ALC/VOL

12 X 250ML CANS, 7% ALC/VOL

OR CODY'S & COLA

12 X 250ML CANS, 7% ALC/VOL

$

20 99

EACH

EXPORT 33

12 X 330ML BOTTLES

$

21 99

OR DB DRAUGHT

24 X 330ML BOTTLES

$

33 99

EACH

WWW.SUPERLIQUOR.CO.NZ 0800 SUPERL (0800 787 375)

SPEIGHT'S, SUMMIT,

WAIKATO OR LION RED

15 X 330ML BOTTLES

$

23 99

EACH

and many more instore specials...

Visit: www.superliquor.co.nz or call 0800 SUPERL (0800 787 375) for your local store. Over 120 stores

nationwide, 100% locally owned and operated. Offers end close of trade 3rd of July 2016, while stocks

last. Available at participating stores only. Limits may apply at participating outlets. Trade not supplied.

Terms and conditions may apply. Available 20th June – 3rd July 2016 inclusive.

Please see www.superliquor.co.nz for details.

42 Norwich Quay Lyttelton | Ph. 328 7744 | www.superliquor.co.nz