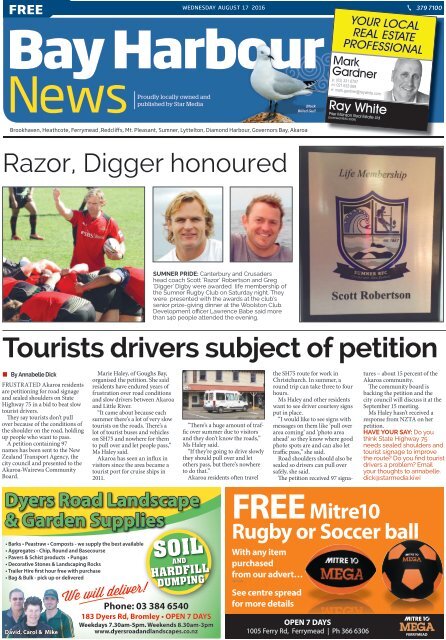 Bay Harbour: August 17, 2016
Create successful ePaper yourself
Turn your PDF publications into a flip-book with our unique Google optimized e-Paper software.
FREE

Wednesday august 17 2016 379 7100

Bay Harbour

News

Proudly locally owned and

published by Star Media

Brookhaven, Heathcote, Ferrymead ,Redcliffs, Mt. Pleasant, Sumner, Lyttelton, Diamond Harbour, Governors Bay, Akaroa

Black

Billed Gull

YOUR LOCAL

REAL ESTATE

PROFESSIONAL

Mark

Gardner

p: (03) 331 6757

m: 021 633 669

e: mark.gardner@raywhite.com

Prier Manson Real Estate Ltd

(Licensed REAA 2008)

Razor, Digger honoured

SUMNER PRIDE: Canterbury and Crusaders

head coach Scott 'Razor' Robertson and Greg

'Digger' Digby were awarded life membership of

the Sumner Rugby Club on Saturday night. They

were presented with the awards at the club's

senior prize-giving dinner at the Woolston Club.

Development officer Lawrence Babe said more

than 140 people attended the evening.

Tourists drivers subject of petition

• By Annabelle Dick

FRUSTRATED Akaroa residents

are petitioning for road signage

and sealed shoulders on State

Highway 75 in a bid to beat slow

tourist drivers.

They say tourists don't pull

over because of the conditions of

the shoulder on the road, holding

up people who want to pass.

A petition containing 97

names has been sent to the New

Zealand Transport Agency, the

city council and presented to the

Akaroa-Wairewa Community

Board.

Marie Haley, of Goughs Bay,

organised the petition. She said

residents have endured years of

frustration over road conditions

and slow drivers between Akaroa

and Little River.

"It came about because each

summer there's a lot of very slow

tourists on the roads. There's a

lot of tourist buses and vehicles

on SH75 and nowhere for them

to pull over and let people pass,"

Ms Haley said.

Akaroa has seen an influx in

visitors since the area became a

tourist port for cruise ships in

2011.

Dyers Road Landscape

& Garden Supplies

• Barks • Peastraw • Composts - we supply the best available

• Aggregates - Chip, Round and Basecourse

• Pavers & Schist products • Pungas

• Decorative Stones & Landscaping Rocks

• Trailer Hire first hour free with purchase

• Bag & Bulk - pick up or delivered

David, Carol & Mike

We will deliver!

SOIL

AND

HARDFILL

Phone: 03 384 6540

183 Dyers Rd, Bromley • OPEN 7 DAYS

Weekdays 7.30am-5pm. Weekends 8.30am-3pm

www.dyersroadandlandscapes.co.nz

"There's a huge amount of traffic

over summer due to visitors

and they don't know the roads,"

Ms Haley said.

"If they're going to drive slowly

they should pull over and let

others pass, but there's nowhere

to do that."

Akaroa residents often travel

DUMPING

See centre spread

for more details

OPEN 7 DAYS

1005 Ferry Rd, Ferrymead | Ph 366 6306

the SH75 route for work in

Christchurch. In summer, a

round trip can take three to four

hours.

Ms Haley and other residents

want to see driver courtesy signs

put in place.

"I would like to see signs with

messages on them like 'pull over

area coming' and 'photo area

ahead' so they know where good

photo spots are and can also let

traffic pass," she said.

Road shoulders should also be

sealed so drivers can pull over

safely, she said.

The petition received 97 signatures

– about 15 percent of the

Akaroa community.

The community board is

backing the petition and the

city council will discuss it at the

September 15 meeting.

Ms Haley hasn't received a

response from NZTA on her

petition.

HAVE YOUR SAY: Do you

think State Highway 75

needs sealed shoulders and

tourist signage to improve

the route? Do you find tourist

drivers a problem? Email

your thoughts to annabelle.

dick@starmedia.kiwi

FREE Mitre10

Rugby or Soccer ball

With any item

purchased

from our advert…

119775 / 119774
---
PAGE 2 BAY HARBOUR

Wednesday August 17 2016

Inside

FROM

THE

EDITOR'S

DESK News................. 3, 5, 6 & 12

IT IS that time in the three-year

cycle where we exercise our

democratic vote to decide who

will be our representatives on the

city council – well almost.

THis time around we won't

need to vote for the role of city

councillor because Cr Andrew

Turner was the only person

running for Banks Peninsula,

meaning he gets in uncontested.

Be interesting to see if the

boundary changes in the ward

played a part in this, or if it is

because the ward is happy with Cr

Turner's performance.

Sumner artist Anneke Stewart

is "Our People" this week.

Interestingly, she failed university

entrance for art so she took a

year off, snowboarded by day and

painted by night then got into the

Elam School of Fine Arts – a great

example of pursuing your dream

no matter the obstacles you face.

– Shelley Robinson

Stars on the rugby field punch above their weight

SPORT 16

Your Local Views.........4

Our People...................10,11

Schools....................................8

Local Sport.....................16

Bridal Show.......................21

Community Events.....23

Health & Beauty.........24

Real Estate........................ 25

GET IN TOUCH

General Enquiries Ph 379-7100

Classified Advertising Ph 379-1100

starmedia.kiwi

Annabelle Dick. 03 364 7497

annabelle.dick@starmedia.kiwi

NEWS SPORTS ADVERTISING ADVERTISING

Fraser Walker-Pearce. Ph: 364 7424

fraser.walker@starmedia.kiwi

Javier Balcazar. Ph: 982 9308

javier.balcazar@starmedia.kiwi

Rob Davison. Ph: 021 225 8584

rob.davison@starmedia.kiwi

Fewer high air pollution

days in most places so

far this winter!

As more wood burner users are starting to burn

smoke-free we are seeing the number of high air

pollution days reduce in most places.

If you have a wood burner please make sure you

know how you can be warmer for cheaper AND

burn smoke-free. Visit warmercheaper.co.nz

2016 total high pollution days so far *

0 1

Geraldine

1

Ashburton

2

Kaiapoi

5 6

Rangiora

24

Waimate

Washdyke

Christchurch

7

Timaru

2015 total high pollution days

9 3

Geraldine

4

Ashburton

1

Kaiapoi

8 3

Rangiora

26

Waimate

Washdyke

Christchurch

13

Timaru

2014 total high pollution days

8 4

Geraldine

3

Ashburton

9

Kaiapoi

19 3

Rangiora

41

Waimate

Washdyke

Christchurch

14

Timaru

*2016 data measured to 15 August 2016

Imagic EVC29004
---
Wednesday August 17 2016

News

No contest for candidate

in Banks Peninsula Ward

• By Annabelle Dick

Andrew Turner Sara Templeton Paul Lonsdale

Elections 16

ANDREW TURNER won't have

to campaign for re-election in

the local body elections in

October – no one is standing

against him in the Banks

Peninsula Ward.

The sitting city councillor will

be elected unopposed.

There will also be other walkovers.

In the Lyttelton subdivision,

Jed O'Donoghue and Christine

Wilson (Independent) will be

elected unopposed for the two

vacancies.

In the Mt Herbert subdivision,

Felix Dawson (Independent) and

John McLister also fill the vacancies

unopposed.

Tori Peden is the only candidate

for the Wairewa subdivision

of the board.

But there will be a contest

in the Akaroa community

subdivision, with Janis

Haley, Keith Molloy and Pam

Richardson vying for the two

positions.

Meanwhile, the Heathcote

Ward sees sitting city councillor

Paul Lonsdale (Independent),

Sara Templeton (Strong Communities

for a Stronger Christchurch)

and Malcolm George Davis

(Independent) vying for a seat at

the council table.

Running for the newly-formed

Linwood-Central-Heathcote

Community Board are: Darrell

Latham (Independent), Tim

Lindley (For Communities You'll

Love To Live In), Rosemary

Neave (The People's Choice –

Independent) and Una O'Grady

(The People's Choice) will all

vie for the two positions in the

Heathcote Ward.

Voting is by postal ballot with

forms being sent out on September

16, the polls close at noon on

October 8.

For a full list of who is running

for other wards and community

boards visit www.electionz.com/

LGENominations/ELT60CC16_

candidates.htm

A DELUGE system is expected

to be installed in Lyttelton

Tunnel early next year to

improve safety in the event of

a fire.

The system will help control

and prevent the spread of fire

and reduce heat damage to the

tunnel.

It will also protect the lives of

anyone in the tunnel and tunnel

control staff.

Currently, the Lyttelton Tunnel

does not have an automated

fire control system and New

Zealand Transport Agency

think a deluge system will mitigate

the risk.

"A deluge system has been

identified as an appropriate way

to improve our ability to control

a fire, improve safety and

protect the tunnel," said NZTA

state highway manager Colin

Knaggs.

One of the main fire risks is

fuel-carrying tankers that now

travel through the tunnel, as

the previous dangerous goods

route, Evans Pass, was closed

after the 2011 earthquake.

Hazard materials often see

the tunnel closed for short

periods of time, but that will

become less frequent.

"It is intended that once

Evans Pass is reopened then

BAY HARBOUR

PAGE 3

Deluge system to

improve tunnel safety

dangerous goods will revert to

using this route," Mr Knaggs

said.

Three rows of nozzles will be

installed along the length of the

tunnel roof and tunnel-use restrictions

will be in place while

the work is carried out.

The agency will work with the

community to find ways to limit

tunnel closing times.

"We want to close night-times

to minimise the disruption

for everyone. Residents will be

advised of closures and one-way

nights well in advance of these

happening," Mr Knaggs said.

Emergency services will be

guaranteed full access during

the closures and opening will

coincide with shift changes at

the port.

The work is estimated to take

18 months to complete.

TREE TROUBLE?

Call the

TREE PEOPLE

0800 4 SEASONS

384 9630

QUalIFIeD

aRBORIStS

LANDSCAPING & PLANTING

WWW.FOURSEASONSTREECARE.CO.NZ

TAKE CHARGE OF YOUR

ELECTRICAL SAFETY

• Power tool and

cable repairs

• Appliance repairs

• Electrical test &

tagging specialist

• Site Safe accredited

• Public liability cover

• Over 40 years experience

WINTER

SPECIAL

PER $

40 HOUR

PROMPT,

OLD-FASHIONED

SERVICE

EASTSIDE TEST TAG & TOOL REPAIR

CONTACT: JOHN BAILEY 021 0284 7921

F45 TRAINING FERRYMEAD IS NOW OPEN!!

F45 Training Ferrymead and Christchurch branches invite you to come and experience the breakthrough fitness

phenomenon taking the world by storm. F45 is its very own style of training. It combines elements of High

Intensity Interval Training (HIIT), functional training, weight and resistance training and cardio to give you the

best full body workout, push you to new limits and deliver results fast!

Our innovative team training systems have been proven all around the world to help you reach your fitness

goals. Short, Sharp 45-minute workouts which change daily and are never repeated have been designed for all

fitness levels. Our trainers will make sure you are being challenged and motivated everytime you come for a

workout. F45 will get you stronger and healthier while having fun. Don't wait, come judge by yourself!

Visit our website (below) for details on our programmes and class timetable.

FERRYMEAD: Unit 4/ 1 Waterman Place, Ferrymead

Email: ferrymead@f45training.co.nz

Phone 022 188 0850

www.f45training.co.nz/ferrymead

CHRISTCHURCH: 579 Colombo Street

Email: christchurch@f45training.co.nz

Phone 03 390 1195 and 022 657 9433

www.f45training.co.nz/christchurch

Sign up for a FREE 2 week

trial pass to experience the

workout that will change

the way you train forever!

LIMITED OFFER!
---
PAGE 4 BAY HARBOUR

Wednesday August 17 2016

Your Local Views

Last week, Bay Harbour would be Ann and Brent Stanaway,

what a great tragedy it was

News asked its readers

what they thought of a plan when their very inspiring design

to set up a Lyttelton Design was rejected by the powers that

Review Panel to help be, and then to add insult to

decide what could be built injury, they allowed the local primary

to be built on the opposite

there, and what buildings

could look like.

corner.

Paul St John, of Cass Bay – Don't get me wrong I actually

What a great idea to have a panel like the school, but I think the

to select different designs for the Stanaway house would have

future of Lyttelton.

complemented this whole corner

My first pick for the panel of Lyttelton.

National List

MP Nuk Korako

talks about a

parliamentary

intiative to

support local

charities

On Saturday, September 3, I

will have the pleasure of hosting

the parliamentary rugby and

netball teams for two charity

matches here in Christchurch.

For those of you who aren't

familiar with our parliamentary

sports teams, each team is made

up of MPs from both sides of the

political spectrum as well as parliamentary

staff. We play five to

six games around New Zealand

every year.

While these games are a great

opportunity for MPs and staff

to demonstrate their athletic

prowess, they also serve a much

greater purpose of raising both

money and awareness for local

charities within our Kiwi communities.

Next month's games will be

in support of two very special

causes – Hohepa Canterbury,

which creates opportunities for

people with intellectual disabilities

and autism to live full lives,

and 0800 Hungry, a food bank

that delivers emergency food

parcels to people in need.

I was fortunate enough to help

out both these charities during

Volunteer Week in June and was

inspired by work they are doing

I just hope the so-called powers

that be reconsider the dumb

decision to reject such a wonderful

(in your words quirky)

design. You only have to look at

the Stanaway's empty section to

realise what could have been.

Jeremy Agar, of Lyttelton –

Lyttelton, Canterbury's original

town, has lost virtually all its

heritage buildings and everyone

wants to save what we can.

MPs in sport competition

for our Port Hills communities. I

am pleased we have the opportunity

to support their work with

this exciting event.

Our parliamentary netball

team will play at 1pm at Christ's

College indoor court followed

by the rugby team who will kickoff

at 3pm at Christ's College

Upper.

Tickets will be available to

pre-purchase for the post-match

function, which will include

a charity auction, raffles and

mixing with sporting legends

and parliamentary greats. All

proceeds from this will be evenly

split between Hohepa Canterbury

and 0800 Hungry.

If you would like further

information or are a business

who would like to donate to this

event, please phone my office on

384 0008.

Hope to see you all there.

But that's not the issue with the

corner of Sumner Rd and Oxford

St, where the building has gone

and can't be replaced exactly as it

was. Nor should we try.

The Lyttelton centre is notable

for its very lack of a consistent

style, it having been developed

with no thought of contemporary

sensibilities.

By chance, however, London

St has ended up with a harmony

of size and height, and all the

• By Mary Jamieson, secretary of

the Lions Club of Lyttelton

HELLO THERE. I think

animals are smarter than us.

In the Northern hemisphere

when the weather

turns cold they

hibernate until the

spring and the weather

gets warmer. We rug

up and dash in and out

of warm buildings and

cars and try to stop our

teeth from chattering.

Lyttelton Lions have run a barbecue

at Bunnings, Marshland,

and a garage sale at Lyttelton.

These are ways we raise funds to

help people and organisations in

our community.

We had dinner with Ferrymead

Lions this week and we

heard 2 nd vice district governor

buildings rise vertically from the

footpath.

The Stanaway proposal that

you pictured respects these

design principles. Perhaps it's

better to have a bold expression

of how we are now than a faux

version of some arbitrary previous

era.

Certainly the house would be

preferable to the large pragmatic

structure that's appeared on the

top corner.

Help through fundraising

NEW LOCATION ADVERT.pdf 1 1/05/2014 11:51:35 a.m.

VISIT OUR NEW LOCATION LOCATION

Sam Lilley outline the plans for

a this new year of Lions.

I have just been reading the

latest edition of the Lion magazine.

The Amberley District

Lions have been very busy

collecting unwanted

school furniture from

around Christchurch.

They had desks,

chairs, computers,

clothing and in March

this year a 40-foot

container left Lyttelton

bound for the Lions Club of

Apia, Samoa. This was a major

project for the club and involved

a huge amount of work and we

are all very impressed.

If you would like more information

about Lions please phone

president Bob on 384 6124 or 027

436 1901. My phone numbers are

328 8523 and 027 303 1444.

430 ST ASAPH STREET!

RECOVER YOUR LOVED FURNITURE

No job too big or small

Hours of Business: 7am-4.30pm Mon-Thurs

Fri 8am to midday

or by appointment with Keith 027 566 3909

Still able to offer

you the finest top

quality new furniture

Visit us online

www.qualityfurniture.co.nz

P. 371 7500

QUALITY FURNITURE SPECIALISTS

RE - UPHOLSTERY SPECIALISTS KEITH HARTSHORNE 0275 663 909

Kids Birthday Parties

Choose from one of our Great Party Packages to suit!

1

2

3

4

Paintball, mini golf (indoor or outdoor), 50 balls and

club hire for the driving range $39 per child.

Paintball, mini golf (indoor or outdoor) $32 per child.

Indoor and outdoor mini golf, 50 balls and club hire

for the driving range $20 per child.

Indoor or outdoor mini golf, 50 balls and club hire

for the driving range $14 per child.

To book ph 376 5350, 50 Ferrymead Park Drive, Ferrymead

Book any Birthday Party with Caddyshack

and you will receive:

• Mini golf game for each child ($9 per child).

• Use of party room for one hour for $50, or two hours for $90.

• Caddyshack Party Meal and drink.

• Caddyshack lollies.

• Themed party gear including invitations and balloons.

• Caddyshack party host to ensure fun and relaxation.

• The birthday child also receives a gift.

• All party goers receive a free child mini putt voucher for

their next visit.

Ph 384 1566, 21 King Edward Terrace, Woolston
---
Wednesday August 17 2016

BAY HARBOUR

PAGE 5

News

Sting on wasp nests

• By Annabelle Dick

THE DISCOVERY of dozens

of wasp nests on Little River

properties is fuelling the

search and implementation of

a pest control programme in

Banks Peninsula.

The Little River Wairewa

Community Trust is

searching for funding for a

programme due to a surge in

wasp numbers.

Entomologist Dr Alison

Evans approached the trust

who have taken it to the

Akaroa-Wairewa Community

Board because the problem

has become particularly bad

within the past few years.

"The giant willow aphid is

recent migrant to New Zealand

and it produces a lot of

honey dew. That's fuelling the

wasp population and extending

the season that the wasps

can last for," Dr Evans said.

The whole country has a

wasp infestation but Little

River has been hit hard because

of the number of willow

trees in the area.

"We're talking big numbers.

People with lifestyle blocks

have had 20-30 nests on their

section," she said.

Dr Evans said there's been a

huge increase in the number

of wasps and a coincidental

WARNING: A Department of Conservation sign warns

people of the wasp hazard. PHOTO: ALISON EVANS

decline in the insect diversity

and abundance.

"There's less insects around

for the birds to eat and other

animals such a geckos. It's the

wasps having an effect on the

biodiversity," she said.

The community trust is

seeking funding to subsidise

wasp control on Banks Peninsula

in hot spots.

The programme will target

places where there's important

biodiversity and areas

where wasps are a nuisance.

If successful, wasp control will

roll out in autumn as the wasps

won't take the bait until then.

Go ahead for design panel

• By Annabelle Dick

A LYTTELTON Design Review

Panel will be trialled to help oversee

what can be built in the area and

what's visually acceptable.

The city council will decide to approve

the establishment of a panel for

an 18-month trial period.

Lyttelton-Mt Herbert

Community Board chairwoman

Paula Smith said

she's glad the city council

voted for the trial.

"I'm very pleased. It

provides a mechanism for

Lyttelton people to have

some meaningful input

into decisions about their own town,"

she said.

The panel will be made up of four

Lyttelton residents with expertise in

the design area to review new build

resource consent applications.

The panel would then write a

report on the plan which would be

reviewed by the city council's Urban

Design Panel.

"We're about to put out a notice

seeking expressions of interest from

qualified design professionals to be a

part of the review panel," Ms Smith

said.

It comes after residents Brent (left)

and Ann Stanaway tried to build a

new home on the corner of Sumner

Rd and Oxford St in 2012, but their

design was rejected by the city council

due to it being unsuitable

for the heritage precinct.

The Stanaway's were living

in the former fire station

building, and wanted to

rebuild on the site after it was

demolished due to earthquake

damage.

Mr Stanaway is hesitant

about introducing a panel to

Lyttelton.

"My only concern is that it appears

to be introducing another level of

bureaucracy to a process of building.

While I recognise the need for local

input on architecture, it just creates

more bureaucracy and costs," Mr

Stanaway said.

The Lyttelton-Mt Herbert Community

Board has been pushing

for the panel to be set up since the

February22, 2011, earthquake.

CORRECTION

Last week the Bay Harbour News published a photo of the past presidents and

founders of the former Mt Herbert Ladies' Probus Club, now combined with

the Probus Club of Mt Herbert. It went with an article on a proposed Probus

group in Lyttelton. This photo was incorrectly used, as it had nothing to do

with the article. The Bay Harbour News apologises to the Probus Club of Mt

Herbert for this regrettable error.

AutuMn & wIntER

ARE A GREAt tIME

to sEll youR HoME!

It may be true that there are fewer buyers and sellers in

the winter marketplace but the ones that are there are

serious and have a sense

of urgency to purchase.

If you're considering selling and would like some honest,

professional advice, give me a call today – it costs

nothing to talk!

Chris Moores

Harcourts Grenadier Ferrymead

1020 Ferry Road

P: 03 384 7950 | M: 027 588 4440

E: chris.moores@harcourts.co.nz

GRENADIER

Building or renovating?

• Kitchens

• Wardrobes

• Vanities

• Custom Made

022 087 9918 | info@dynamicjoinery.co.nz

www.dynamicjoinery.co.nz

licensed sales Consultant REAA 2008

Great Service. Awesome Food.

$

15

for

STEAK

NiGHT

Wednesday Night

FREE

MiNi-PuT

kids with accompanying

paying adults. Great option

for dinner while the kids are

entertained!

Friday Night

FRiDAY HAPPY HOuR 5 - 7 PM

UNDER NEW OWNERSHIP

Open for lunch and dinner

Wednesday to Sunday

50 FERRYMEAD PARK DR,

FERRYMEAD

www.ferrymeadevents.co.nz

Phone 03 384-0522
---
TM

PAGE 6 BAY HARBOUR

Wednesday August 17 2016

Iron out

your

driving

habits

with

JM Driver Training!

1-hour lessons from $65

Can teach manual transmission in your car!

AA Certified

New Learners

Refresher Training

Call Jeff today!

(027) 537-1966 or email:

jeff@jmdriving.co.nz

A BRANCH OF

Michael Toomey

mft@younghunter.co.nz

Proudly providing

legal advice to

the community

for 25 years

Michelle Rossiter

mjr@younghunter.co.nz

P. 384-5350

www.younghunter.co.nz

News

Putting waste to good use

• By Annabelle Dick

PROJECT LYTTELTON is

looking to install a waste park

in a bid to curb the amount of

rubbish coming from the area.

Project Lyttelton waste

matters champion Sarah

Pritchett said the group is

looking at ways to expand

on waste minimisation

activities.

"We already have a community

garden that's been

going for a while. As part of

that we have worm farms and

a rubbish reduction scheme at

the Lyttelton Farmers Market

because the bins overflow," she

said.

The group installed a

recycling bin, landfill bin and

organics bin at the weekly

market.

The organic waste then goes

to the community garden to

divert it from landfill and now

the group wants to take it a

step further.

The waste park scheme is a

community-based recycling

programme where plastics are

recycled to create new useful

objects.

"Most of our plastic gets sent

to China but instead we want

to collect it ourselves and recycle

it at a local level and turn

them into things like plastic

bricks that you can turn into

plastic furniture," Ms Pritchett

said.

The group needs machinery

Fate of Yew Cottage still uncertain

THE FATE of Akaroa's Yew

Cottage is still uncertain as a

report recommending the sale

was withdrawn due to a lack of

public consultation.

A staff report on city

council-owned cottage

recommended the heritage

building be sold and the

KEEPING IT GREEN: The proposed space for Project Lyttelton's waste park.

Inset: Sarah Pritchett

including shredders, an oven

and moulds to get the project

up and running.

The group also want to use

it as an education resource

to teach children and adults

about how valuable a resource

it is and how to turn it into

something new using 3D

printing.

"Plastic is a really good

resource but we see it as rubbish

because we don't have the

Akaroa-Wairewa Community

Board met yesterday to make a

decision.

But property consultants

failed to realise that the cottage

is a strategic asset and public

consultation was needed as

part of the report.

There hasn't been any

capacity to recycle a lot of it in

New Zealand. It's an amazing

resource and we can do amazing

things with it."

Project Lyttelton is also

working with Christchurch

3D printing company Fab Lab

to work out which recycled

plastics are suitable for printing.

The community group

wants to supply the company

with the raw materials they

discussion with residents, in

spite of residents speaking out

against the sale, so the report

was pulled.

The board was given four

options to consider including

selling it on the open market,

council undertaking repairs

and establishing a public work

need to do 3D printing so

they don't have to use virgin

plastic.

"We'd be helping them by

supplying plastic and cutting

down the waste we chuck out,"

Ms Pritchett said.

The group needs about

$18,000 to get the park up

and running and have applied

to the Lyttelton Mt Herbert

Community Board to contribute

towards the project.

for the property, leasing the

property to a third party or

gifting the property to a third

party.

Akaroa is home to around

280 colonial buildings.

The matter will be put aside

at least until after the local

body elections are complete.

THINKING OF RENOVATING?

ENJOY IT WITH US!

From concept to completion, enjoy the experience of a full service

renovation company.

Whatever the scope of your extension or renovation, with your

dreams and our experience we can realise your home's potential.

WE MAKE IT EASY WITH OUR THREE SIMPLE STEPS...

With 5 offices in Christchurch,

let's start the conversation call

0800 764 846

or visit smith-sons.co.nz
---
Wednesday August 17 2016

BAY HARBOUR

PAGE 7

2017 Travel Preview.

Free Travel Evenings.

Join our travel specialists for drinks

and refreshments and find out all

you need to know about travel

for 2017 with these FREE exciting

inspirational travel shows with

House of Travel Ferrymead.

FREE

Film Shows

Gold coin

donation to

Hospice

Don't miss out! Register today as space is limited.

Contiki & Top Deck 2017

Pre-Release Evening

Thursday 25 August

Come along and hear from the experts at House of

Travel Ferrymead. Find out all you need to know

for 2017 travel for the 18-35's. PLUS handy travel

tips, early booking discounts, reduced deposits,

early payment deals AND On the night bonus

offers and travel advice from the team that have

experienced it first- hand.

Travelling Solo in 2017?

Wednesday 31 August

Travelling by yourself doesn't mean you have to travel

alone. Prior planning with us means enhancing the

overall experience for you and ensuring you have

structure and support to make the most of your travels.

Featuring escorted holidays and small group journeys

offering great deals for single travellers, guided

holidays, independent travel, cruising and more.

River & Ocean Cruising

in 2017

Tuesday 06 September

With so many river & cruise options on offer which

one is right for you? River cruising encompasses not

just stunning landscapes in Europe from the romantic

Rhine to the magnificent Danube but also the likes of

Russia, Vietnam and Cambodia. We also discover the

crystal clear waters of the Mediterranean sea and the

fabulous Baltics covering some of the best cruises you

can take on your European getaway.

Thinking Of Europe 2017?

Tuesday 30 August

Essential for anyone looking at travelling to the UK & Europe in 2017. Each year we

discover more outstanding deals to entice and reward travellers who book in advance.

These deals offer significant savings and are well worth considering when planning for

your upcoming getaway. Whether you are travelling for the first time or returning to

rediscover new areas, this evening will give you an overview of many different ways

to discover this region. From small group and tailor made tours to guided holidays,

cruising and independent travelling as well as exciting stopover destinations we will

advise on what you need to know when planning your 2017 holiday.

Adventure Travel in 2017

Wednesday 07 September

If you like ideas such as sailing and cycling in Croatia; taking a self-guided walk

through the vineyards and olive groves of Provence or Amalfi Coast; walking the

Camino de Santiago; experiencing the majesty of Antarctica; viewing wildlife

from a lodge in the Amazon; cruising around the Galapagos and waking up to the

sunset over Machu Picchu then this show is for you. A great overview and sample

of bucket lists from Africa, Mexico & Central America and everything in between;

campervans holidays and more.

RSVP TODAY ON TELEPHONE: 3764 022 OR EMAIL FERRYMEAD@HOT.CO.NZ

The best holidays are created together.

House of Travel Ferrymead

1005 FERRY ROAD, FERRYMEAD VILLAGE | 376 4022 | FERRYMEAD@HOT.CO.NZ
---
PAGE 8 BAY HARBOUR

Wednesday August 17 2016

SCHOOL

Sumner Primary School house leaders organised

a mini Olympics for the pupils to celebrate the

opening of the games. Pupils selected their country,

created flags, sang national songs and dressed in

the appropriate colours. Countries paraded for the

opening ceremony and students and teachers took

part in a variety of games and events designed by

the house leaders. No medals were awarded as

the games focused on participation rather than

competition.

YOUNG OLYMPIANS: Pupils dressed up in red and

blue to represent Samoa.

PRIDE: Cara waves the United Kingdom's

flag as part of the Sumner Primary

School's mini Olympics.

ACTIVE: Pupils take part in their own Olympic games

organised by school leaders.

•Have some great school photos and

want to see them featured in Bay

Harbour News? Send your photos and

information to annabelle.dick@starmedia.

kiwi

TIED UP: Pupils Hannah and Willow compete in the

three-legged race.

Nehad, Anita, Ashleigh, Kellie and Grant

OPEN SAT & SUN

Full Service Pharmacy

including...

• Passports Photos

• Revlon Cosmetics and Revlon Club

• Gifts and Gift Wrapping

• Ear Piercing

• Extensive Natural Health range

• Scarves, Hats and Sunglasses

• Focus on Natural Organic Skincare including Trilogy,

Antipodes and Sukin

Dispensary Service

• Medico Packs

• Quit Smoking Quitcards

• Emergency

Contraceptive Pill

• Delivery Service

Owned and operated by

your phamacist, Grant Bell

CAFÉ

NOW OPEN

1005 Ferry Rd, Ferrymead. Ph:943 9635

OPEN 7 DAYS: Mon to Fri 8.30am - 6pm

Sat 9am - 4pm and Sun 10am - 4pm
---
Wednesday August 17 2016

BAY HARBOUR

PAGE 9

Sahara

• solution dyed nylon

• extra heavy duty + stairs

• Cut pile

• 1 colour

BULK LOTS, SLIGHTLY IMPERFECT STOCK, OVER RUNS, ALL MUST GO!

2 house lots, first grade.

NOW

$79.90

3.65m Wide Rolls

POLYPrOP

Benmore

• Heavy duty

• Cut Pile

• 4 great colours

• 4 meter wide rolls

• Foam Back

$79.90

PeR metRe

4m Wide Rolls

20 HOUSE LOTS

WOOL

Calabar

• Pure wool

• extra heavy duty plus

stairs grade

• loop pile

$75.00

PeR metRe

3.65m Wide Rolls

2 HOUSE LOTS

WOOL

Tiburon

• Pure wool

• extra heavy duty plus

stairs grade

• loop pile

• slightly imperfect.

$75.00

PeR metRe

3.65m Wide Rolls

10 HOUSE LOTS

POLYESTEr

Sanctuary

• 50 oz luxury polyester

• extra Heavy duty

• Cut pile

• Great colour

$99.00

PeR metRe

3.65m Wide Rolls

south island's largest stockist of vinyl

2m wide SELLING From $30 per metre

312 Wilsons road North, Waltham Phone 366 0070

www.carpetkingdom.co.nz | Mon - Fri 8am - 5pm | Sat 10am -1pm

Q Card Finance Now available

FrEE no obligation measure & quote (conditions apply.)
---
PAGE 10 BAY HARBOUR

Wednesday August 17 2016

Our People

Snowboarding and modelling

Anneke Stewart is an artist who has settled in

Sumner after years of travelling and adventureseeking.

Reporter Annabelle Dick spoke to her

about what it was like growing up on a deer farm,

modelling for one of New Zealand's biggest

designers and how she impressed some of Europe's

most well-known graffiti artists

You are an artist by trade, can

you tell me about your art and

your career?

I exhibit at least once or twice

a year, I'm always producing

artwork. I produce in about

10 different mediums quite

prolifically. The style is very much

cohesive throughout my work.

I'm into reclaimed objects

and keeping the integrity of a

material. My approach to what

I do is consciously create and

honour where we come from and

where our materials come from.

I believe we're here to look after

this beautiful planet. I'm a Reiki

master which is like an energy

healer so I'm very sensitive to

energy and energy patterns.

I love what I do. Art is not

something I do, it's who I am and

there's no separation between the

two. It's like breathing I have to

do it in order to feel normal.

What are you working on at

the moment?

I'm currently working on

more products and print media

on paper so I can make my

work more accessible. I've

just completed the largest

commission of my career so

far for the Deloitte building in

the city centre. It's a lenticular

lightbox which is an animated

3D-type medium so the images

change when you walk past.

I'm trying to keep my fine art

and commercial art separate. On

a weekly basis I do art classes

where I teach a handful of

students – hopefully, by next year

I can have more classes. I want

to start adult classes next month

too. I'm also doing a piece for the

BMX park over in New Brighton

in spring.

Tell me about you family.

My father was a deer farmer

and my mother has always

worked in fashion. When I was in

school she sold Pieter's Modelling

Agency which is now Portfolio

CREATIVE: Anneke Stewart with one of her creations.

Model Agency. Then a few years She's very down to earth, a hard

later she started New Zealand worker and she's quite shy. She

Fashion Week.

loves to cook and hates shopping.

I've always grown up with a That sounds like you would've

highly driven and motivated had an interesting upbringing,

mum doing amazing events. what was life like growing up?

I had an amazing life growing

up on a farm. We spent summers

in the Sounds at our family bach

and in the winter I was always up

at Mt Olympus.

Spending time on the snow was

a big part of my life. I learnt to

ski there at three-years-old and

snowboard at 16.

I actually did my minor

at art school in snowboard

photography just so I could get

up the mountain every week

and justify it. I've been really

involved in the early days of the

snowboard industry in New

Zealand. It makes me who I am

and it makes me tick.

Were you ever keen to get into

fashion after growing up with a

mother who's highly prominent

in the industry?

Fashion isn't something I've

felt a huge desire to get into, I

chose to pursue art which isn't

highly lucrative but I'm working

on it. I used to model when I was

15 through to about 20 – but it

wasn't serious at all.

I was just learning to

snowboard when I got the biggest

bruise on my hip. Soon after

that happened I had to fly up to

Auckland for my first advertising

campaign for a New Zealand

designer and it was with Helen

Cherry.

Want to be elected?

• Local Council

• Community Board

• Ecan

• CDHB

You need to talk to Star Media

about your campaign today.

Let us help you.

Call Javier Balcazar

P. 03 982 9308 | M. 021 225 8221

E. javier.balcazar@starmedia.kiwi

Organic Training College

Learn from the experts

Start a career in organics.

Reduce your footprint

and produce a regular

supply of your own fruit

and vegetables.

Programme Information

college@bhu.org.nz

www.bhu.org.nz | 03 3253684

Courses

• Organic Distance Programme

Part time 1 year, enrol anytime

• Year 1 Introduction to Organics

44 weeks, starts August 2016

(Lincoln Campus)

• Year 2 Applied Organics

46 weeks, starts August 2016

(Lincoln Campus)

All fees under $500

Visit our new website: www.min.nz

From bare land to luxury abodes

min sarginson

is the ideal coastal realtor

COASTAL REAL ESTATE SPECIALISTS

We'll help you live the dream.

Min Sarginson Real Estate Ltd. specialises in homes, sections and

rental properties in the spectacular Lyttelton Harbour bays, and

coastal suburbs of Christchurch, New Zealand.

We'll make it so easy for you. All our sales consultants live in the

area – we can give you valuable insights into life in our thriving

coastal communities.

This is an exciting time; of promise, optimism, and opportunities

never anticipated pre-quakes. Beachfront, or hillside with

grandstand views, find the property of your dreams:

Lyttelton | Diamond Harbour | Governors Bay | Cass Bay

Charteris Bay | Church Bay | Purau Bay | Port Levy | Northshore

Southshore | New Brighton | Heathcote | Sumner | Redcliffs

Scarborough | Mount Pleasant | Clifton

Call Min Sarginson Real Estate Ltd. for free, no-obligation advice. Lyttelton: 03 329 4161, lyttelton@min.nz or Church Bay: 03 328 7273, churchbay@min.nz
---
Wednesday August 17 2016

BAY HARBOUR

PAGE 11

give way to creating art

It was a big deal and I turned

up all bruised expecting them to

say: 'Who is this chick from the

boonies? What's she doing?'

Christine Webster shot the

campaign and I idolised her as

a photographer and here was

me this little rookie snowboard

model chick. I was mortified. That

exemplifies my non-attachment

to the fashion industry.

I did draw on my photography

skills though and I was the official

photographer for New Zealand

Fashion Week when I moved back

to the country.

What was school like?

I went to Hororata Primary

then Selwyn House before

going to boarding school at St

Margaret's College.

After high school I went to

Christchurch Polytechnic where I

did a degree in craft design.

I actually failed university

entrance for art so I couldn't get

into art school on my marks.

So I took the year off and

snowboarded every day and

painted at night and filled up

work books so I could get myself

in. I then did my post graduate

at Elam School of Fine Arts

majoring in sculpture.

What did you do after

studying?

I had been institutionalised my

ENTHUSIASTIC: Anneke Stewart on the slopes with her

four-year-old daughter Phoenix.

whole life so I decided to move

overseas where I spent 10 years.

What was it like living

overseas?

I tried to get art-related jobs

but they wouldn't recognise my

degree there. While I was there I

got very good at graffiti.

My partner of the time was

an aerosol artist so I went out to

do public walls with him quite

often. I was part of a paint jam in

Brighton with about 150 graffiti

artists from all around Europe

and I was one of three girls. They

were watching me paint and

asked me how long I've been

doing it . . . it was probably about

my fifth ever piece and they were

really impressed.

After living in the UK I moved

to Morzine, France and I got a job

as a photographer. The first gig

was at the Arctic Circle up the top

of Sweden to an event called The

Battle which is legendary in the

snowboarding world. I ended up

meeting a pro rider from Sweden

and we ended up dating for four

years.

SUNSET: Mandala light box created from an original photo

taken near Shag Rock after the February 22, 2011, earthquake.

Why did you make the move

back to New Zealand?

After the Sweden saga I

came home. I became unwell

and developed really bad

endometriosis.

I was close to being booked in

to get surgery but I wanted time

to get my body strong so I moved

to Wanaka. Being a Reiki master

I was aware that what was going

on could be fixed holistically. I

worked with a natural healer and

nutritionist for a year and I got

rid of it completely without any

surgery.

You got engaged earlier this

year, how did you meet you

partner?

When I moved to Wanaka I

met my partner Anthony who's a

builder. We lived in Wanaka for a

couple of years before moving to

Leeston, then to the high country

and now we're in Sumner. We

have two kids together – Phoenix

who's four and Knox who is twoand-a-half.

After the endometriosis I was

told I wouldn't be able to conceive

children easily so my children are

miracles. He's from the Taranaki

so he's a North Island boy but

I managed to move him down

here because I'm a hardcore

Cantabrian.

SCIRT programme on the home straight

SCIRT's five year programme of repairs to pipes, roads, bridges and retaining walls is

almost complete and will finish in December.

Most of our repairs involve fixing the city's underground pipe networks with only small

amount of our work focused on roads.

Our roading work largely involves fixing where we have dug down to repair and replace

the earthquake damaged pipes beneath. The result may look a little patchy but we repair

roads to a reliable and serviceable standard.

The City Council and NZ Transport Agency will continue completing ongoing repairs to the

city's earthquake-damaged roads after SCIRT.

Progress in your neighbourhood

• The Beachville Road Seawall in Redcliffs is now complete with the roading due to finish

next month.

• Watermain repairs are progressing well in Governors Bay and will be completed this

month.

• Lyttelton is still busy with ongoing retaining wall repairs which are due to be completed in

September, underground pipe and roading repairs will continue through in the area to the

end of the year.

• Your support is helping us to get the job done, thank you from the SCIRT team.

Want

more

info?

Email:

info@scirt.co.nz

Phone:

941 8999

Find out about work

in your area:

www.scirt.co.nz

Email us on:

info@scirt.co.nz to get our:

Weekly Traffic Update

Monthly e-Newsletter

Follow us on Twitter:

@SCIRT_info

#chchtraffic

• David Oliver, Project Manager with SCIRT's Fulton Hogan team

in Lyttelton.

Programme funded by
---
PAGE 12 BAY HARBOUR

Wednesday August 17 2016

News

OFFERING THE GOODS: The Tannery complex specialises in food and fashion but owner Alasdair Cassels hopes to introduce an art gallery on-site soon.

Continued expansion at The Tannery

LIMELIGHT: Alice's Deluxe

Theatre opened at The

Tannery two months ago.

• By Annabelle Dick

THE TANNERY is undergoing

a transformation introducing

a number of new retailers and

services to the complex.

While only $2 million has been

spent on additions, the precinct is

now home to a cinema and more

fashion outlets.

Tannery owner

Alasdair Cassels (right)

said there's developments

either side of the atrium.

"Alice's Deluxe Theatre

just opened two months

ago and there's more

shops down the other

end," Mr Cassels said.

A high-tech

200 sq m conference

room will open next week

specialising as a multi-function

event room.

Raw Nova will introduce a

menswear shop, Auckland-based

brand Nature Baby will move onto

the premises and Teepee will open a

new branch specialising in soap.

The new stores will take The

Tannery's business count to 63

with still more work to go at the

complex.

"The south side is still being

developed and we're talking to

a couple of different parties. I'd

like to see an art gallery there but

that may or may not happen," Mr

Cassels said.

In spite of its Woolston location

he said being in the suburbs hasn't

affected his business negatively.

"The south is actually quite a

large part of Christchurch with a

different culture than the rest of the

city," he said.

The $20 million

boutique-style atrium is

known for fashion, gift

and homeware, design

and hospitality.

Mr Cassels believes

there are many places in

Christchurch that offer

low-quality products but

The Tannery is definitely

not one of them.

"We're set up to buy

cheap imported goods that fall to

bits, but people like owning quality

products that last forever and that's

where The Tannery is coming

from," Mr Cassels said.

"We stand for quality, handmade,

locally sourced products

and I think that's our strength.

Compared to other centres around

the city we focus on those values

and I think that's to our advantage."

Mr Cassels has no plans on

stopping the expansion and would

like to see The Tannery boast more

design and fashion stores in the

near future.

OFFERS VALID 10-29 AUGUST 2016

$

999

SAVE $1000

PARAMOUNT

3 seater chaise

Printed cushions not included.

Riccarton Megastore, 179 Blenheim Rd. Phone 341 3196 • OPEN 7 DAYS • www.bigsave.co.nz
---
Wednesday August 17 2016

BAY HARBOUR

PAGE 13

Four Grenadier Seasons Ferrymead

Realty

Sumner

131 Panorama Road

Majestically positioned upon Clifton Hill and enjoying unobstructed ocean and alpine views, our feature

property really is a modern masterpiece! Crisp, clean lines and bold splashes of colour create a real statement

in this John Chaplin-designed home, thoughtfully-configured to make the most of the natural surroundings

and the compelling outlook.

Auction: 1 September 2016 from 1pm

View at: www.harcourts.co.nz ID#FM4958

Joy Butel

Ph 021 353 280

3 2 1 2 Woolston

4 2 1 2

9 St Florian Place

This approx. 5 yr old 4 bedroom home with a Master Build guarantee sits amongst an area of similar quality homes

- yet to be discovered by most!! You will be impressed with the location to local amenities of Woolston Village,

The Tannery & Ferrymead. Ferrymead has a fabulous selection of excellent restaurants, major banks, Mitre 10,

Countdown and much much more OR take a short drive to The Tannery to enjoy what that has to offer.

Auction: 25 August 2016 from 1pm

View at: www.harcourts.co.nz ID#FM4951

Liz Lewis

Ph 0274 530 952

Woolston 75 Rutherford Street

Redcliffs 242F Main Road

Sumner 105 Panorama Road

Woolston 825 Ferry Road

3 1 1 4

3 1 1 2 4 3 2 2 2 1 1 1

Auction: 1 September 2016 from 1pm

View at: www.harcourts.co.nz ID#FM4959

Auction: 1 September 2016 from 1pm

View at: www.harcourts.co.nz ID#FM4964

Price: $1,300,000

View at: www.harcourts.co.nz ID#FM4953

Auction: 25 August 2016 from 1pm

View at: www.harcourts.co.nz ID#FM4954

Alison Carter Ph 0274 318 960

Megan Jarratt Ph 027 841 2335

Chris Moores

Ph 027 588 4440

Michelle Ward

Ph 027 203 7858

David Searle

Ph 021 565 950

Woolston 107a Randolph Street

Sumner 59 Taylors Mistake Road

Islington 15A Gregory Avenue

Sumner 91 Wakefield Avenue

3 2 1 2

5 2 2 3 1 1 1 4 1 2 2

Auction: 18 August 2016 from 1pm

View at: www.harcourts.co.nz ID#FM4928

Auction: 18 August 2016 from 1pm

View at: www.harcourts.co.nz ID#FM4945

Price: $379,000

View at: www.harcourts.co.nz ID#FM4957

Price: $529,000

View at: www.harcourts.co.nzID#FM4941

David Searle

Ph 021 565 950

Michelle Ward

Ph 027 203 7858

David Searle

Ph 021 565 950

Alison Carter

Ph 0274 318 960

Greg Powell

Branch Manager

027 274 6157

Alison

Carter

0274 318 960

Michelle

Ward

027 203 7858

Deb

Beesley

027 280 8837

Joy

Butel

021 353 280

Chris

Moores

027 588 4440

David

Searle

021 565 950

Kirsty

McLeod

027 226 5893

Liz

Lewis

0274 530 952

Ferrymead

Maree

Hood

027 497 8891

Mari

Crampton

027 230 1098

Catherine

Dougall

027 588 6844

Dave

Elston

0274 593 165

Chris

Smart

021 871 100

Craig

Todd

027 642 1075

Lisa

Ny

0276 225 060

Megan

Jarratt

027 841 2335

This could

be you!

1020 Ferry Rd Ferrymead • Ph 384 7950 • harcourtsgrenadier.co.nz

Grenadier Real Estate Ltd MREINZ is a Licensed Agent Under the

Real Estate Agents Act 2008
---
Page 14

Fuller Toolbox

410mm.

123647

BaY HaRBOUR

Number 8 72L Steel Tray

Wheelbarrow

246550

$

19 98

WEEK ONE

DATE / GAME WHERE RESULTS

THURSDAY 18 AUGUST

North Harbour V Counties Manukau

FRIDAY 19 AUGUST

Northland V Manawatu

SATURDAY 20 AUGUST

Bay of Plenty V Taranaki

Hawke's Bay V Wellington

Canterbury V Auckland

SUNDAY 21 AUGUST

Southland V Otago

Tasman V Waikato

FERRYMEAD

Albany

Whangarei

Tauranga

Napier

Christchurch

Invercargill

Blenheim

WEDNESDAY AUGUST 17 2016

WEEK TWO

DATE / GAME

THURSDAY 25 AUGUST

Otago V Wellington

FRIDAY 26 AUGUST

Manawatu V Southland

Auckland V Northland

SATURDAY 27 AUGUST

Waikato V North Harbour

Taranaki V Hawke's Bay

SUNDAY 28 AUGUST

Canterbury V Tasman

Counties Manukau V Bay of Plenty

2

Valspar Exterior Low Sheen

White Paint

6L.

286939

$

48 65

$

99

WEEK FOUR

DATE / GAME WHERE RESULTS

WEDNESDAY 7 SEPTEMBER

Hawke's Bay V Auckland

THURSDAY 8 SEPTEMBER

Taranaki V Southland

FRIDAY 9 SEPTEMBER

Bay of Plenty V Northland

Counties Manukau V Wellington

SATURDAY 10 SEPTEMBER

North Harbour V Manawatu

Otago V Tasman

SUNDAY 11 SEPTEMBER

Canterbury V Hawke's Bay

Auckland V Waikato

WEEK SEVEN

Napier

New Plymouth

Rotorua

Pukekohe

Albany

Dunedin

Christchurch

Auckland

DATE / GAME WHERE RESULTS

WEDNESDAY 28 SEPTEMBER

Waikato V Canterbury

THURSDAY 29 SEPTEMBER

Tasman V Counties Manukau

FRIDAY 30 SEPTEMBER

Wellington V Southland

SATURDAY 1 OCTOBER

North Harbour V Bay of Plenty

Manawatu V Hawke's Bay

Auckland V Otago

SUNDAY 2 OCTOBER

Taranaki V Canterbury

Northland V Waikato

Hamilton

Blenheim

Wellington

Albany

Palmerston North

Auckland

New Plymouth

Whangarei

WEEK FIVE

DATE / GAME

WEDNESDAY 14 SEPTEMBER

Counties Manukau V Taranaki

THURSDAY 15 SEPTEMBER

Southland V Hawke's Bay

FRIDAY 16 SEPTEMBER

Tasman V Northland

Wellington V Bay of Plenty

SATURDAY 17 SEPTEMBER

Otago V North Harbour

Manawatu V Canterbury

SUNDAY 18 SEPTEMBER

Auckland V Counties Manukau

Waikato V Taranaki

WEEK EIGHT

DATE / GAME

WEDNESDAY 5 OCTOBER

Manawatu V Wellington

THURSDAY 6 OCTOBER

Auckland V Tasman

FRIDAY 7 OCTOBER

Canterbury V North Harbour

SATURDAY 8 OCTOBER

Southland V Northland

Otago V Counties Manukau

Waikato V Hawke's Bay

SUNDAY 9 OCTOBER

Wellington V Taranaki

Bay of Plenty V Manawatu

Purchase any of these

advertised items and receive

FREE Mitre10

Rugby or

Soccer ball

119775 / 119774

ONLY AT MITRE10 MEGA FERRYMEAD

FERRyMEAd 1005 Ferry Road • Phone: 366 6306 • Opening Hours: Monday–Friday: 7:00am–7pm. Saturday, Sunday
---
WEDNESDAY AUGUST 17 2016

BaY HaRBOUR

Page 15

016

GAME

SCHEDULE

WEEK THREE

Bosch Drill Driver with

18v Lithium Ion Battery

291853

WHERE

RESULTS

DATE / GAME WHERE RESULTS

Dunedin

Palmerston North

Auckland

Hamilton

New Plymouth

Christchurch

Pukekohe

WEDNESDAY 31 AUGUST

Otago V Northland

THURSDAY 1 SEPTEMBER

Hawke's Bay V Counties Manukau

FRIDAY 2 SEPTEMBER

Southland V Auckland

SATURDAY 3 SEPTEMBER

Tasman V Taranaki

Wellington V North Harbour

Northland V Canterbury

SUNDAY 4 SEPTEMBER

Bay of Plenty V Otago

Waikato V Manawatu

WEEK SIX

Dunedin

Napier

Invercargill

Nelson

Wellington

Whangarei

Tauranga

Hamilton

$

169

Nilfisk

1740psi

Compact

Water Blaster

233565

WHERE

RESULTS

DATE / GAME WHERE RESULTS

Pukekohe

WEDNESDAY 21 SEPTEMBER

Southland V Bay of Plenty

Invercargill

Invercargill

THURSDAY 22 SEPTEMBER

Northland V Wellington

Whangarei

Nelson

Wellington

Dunedin

Palmerston North

FRIDAY 23 SEPTEMBER

Counties Manukau V Waikato

SATURDAY 24 SEPTEMBER

Canterbury V Otago

Taranaki V Manawatu

Hawke's Bay V Tasman

Pukekohe

Christchurch

New Plymouth

Napier

$

179

Auckland

Hamilton

SUNDAY 25 SEPTEMBER

North Harbour V Southland

Bay of Plenty V Auckland

WEEK NINE

Albany

Rotorua

Bahco

Socket Set

¼ & ½ inch 106 piece.

267254

WHERE

RESULTS

DATE / GAME WHERE RESULTS

Palmerston North

WEDNESDAY 12 OCTOBER

North Harbour V Tasman

Albany

Auckland

THURSDAY 13 OCTOBER

Taranaki V Auckland

New Plymouth

Christchurch

FRIDAY 14 OCTOBER

Manawatu V Otago

Palmerston North

Invercargill

Dunedin

Hamilton

Wellington

Rotorua

SATURDAY 15 OCTOBER

Counties Manukau V Canterbury

Hawke's Bay V Bay of Plenty

Wellington V Waikato

SUNDAY 16 OCTOBER

Tasman V Southland

Northland V North Harbour

Pukekohe

Napier

Wellington

Nelson

Whangarei

$

229

Amor All

Detailing Car Kit

Includes

- Protectant Wipes

- Tyre Foam

- Wash & Wax

- Glass Cleaner

- Large Sponge

242948

$

24 99

and Public Holidays: 8:00am–6:00pm. Offers available at Mitre 10 Mega Ferrymead only, until Wednesday 24th August 2016, while stocks last.
---
PAGE 16 BAY HARBOUR

Wednesday August 17 2016

FALCONS SWOOP: Two junior Ferrymead Bays sides went head

to head on Saturday at Redcliffs Park on a day that registered

just 10 deg C as its high. In the 10th grade competition, the

Ferrymead Falcons took on the Tigers in a game that ended 3-0

to the Falcons. Falcons players Oscar Goodwin, Angus Mangin

and Reuben Cawood got their names on the score sheet. The

Tigers' player of the day was Josh Carson and the Falcons' was

Oscar Goodwin.

DOUBLE CELEBRATIONS: Sumner and Canterbury outside back

Marshall Suckling (left) pictured with former Canterbury first

five-eighths Tom Taylor after last season's ITM Cup win over

Auckland. Suckling will be celebrating doubly, today is his 27th

birthday and he was named in the 41-man Canterbury ITM Cup

squad last week. Suckling was one of three Sumner players to

be selected for the Canterbury squad. Winger Nathan Earle, and

outside back Poasa Waqanibau also made the cut.

CHAMPIONS: Our Lady Star of the Seas rugby teams have dominated the south-east zone

competition. ​

Rugby stars punch above weight

• By Annabelle Dick

OUR LADY Star of the Sea's

year 5/6 and year 7/8 boys

rugby teams won the south-east

zone rugby tournament which

incorporated a number of

schools.

The year 5/6 team went

through the tournament undefeated

beating Sumner School in

the final 15-5.

The year 7/8 team lost one

game to Sumner in the pool

rounds but bet them in the final

15-10.

SPORTS

The school only has 10 boys

in each year group which meant

they all played without having

any reserves on hand and many

of the boys don't usually play

rugby.

This is the first time the

school of 66 students has won

both boys rugby competitions

at the same tournament in the

same year.

Our Lady Star of the Sea principal

John Kane is stoked with

the accolade.

"We always do well against

the bigger schools and continue

to punch well above our weight.

Sport plays a massive part in

our school curriculum and our

school community," he said.

Both teams will now represent

the south-east zone at the

Canterbury championships on

August 24.

relocation

sale

ShowErS froM $360

232 Main South Rd - Christchurch

0800 MILLEN

Up to

70%

off

All natural

cowhide

headboard

• 100% natural quality

• unique euro style

• showroom and factory specials

• comfort and satisfaction guarantee

• customised beds & furniture

VaNItIES froM $170

toILEtS froM $189

MIxErS froM $58

G AR LANDS R D

OP AWA R D

THE TANNERY

WiDe selectiOn

Of bathrOOm anD

kitchen prODucts

heavily redUced

C UM NOR T CE

PO R T HILLS R D

FRENCH

BAKERY

CHA PM ANS R D

TU NNE L R D

Open 7 Days

Mon - Fri 9.00 - 5.30, Sat 9.30 - 4.00, Sun 10.00 - 3.00

0800 MILLEN | www.millen.co.nz | 03 348 8678

22 Kennaway Rd • www.dreamwool.com • Ph 343-5105
---
Wednesday August 17 2016

BAY HARBOUR

PAGE 17

EQC UPDATE KEEPING YOU INFORMED | AUGUST 2016

The changing shape of EQC

The Earthquake Commission's work in

Canterbury is entering a new phase as

it settles the final earthquake claims for

the 2010 and 2011 earthquakes, says

EQC Chief Executive, Ian Simpson.

"Over the past few months we've been

looking closely at what remains to be

done and we will be carefully matching

the workforce to the work that still needs

completing.

As part of this, EQC has developed a

proposal on how EQC will be organised in

2017 to implement its work in Canterbury,

while continuing its national work."

EQC began consultation with its staff

this week on a proposed smaller structure

for 2017.

"As we make changes over the next few

months, one thing isn't changing: we will

retain a presence in Canterbury until we

have met our obligations to our customers.

The proposal is for an organisation with

383 positions from January 2017," Mr

Simpson said.

The proposals for the new structure impact

the 868 EQC people on fixed term

employment agreements to December

2016 or on contracts for service.

Mr Simpson says the reduction in staff

numbers had been signalled to staff earlier

this year, with more detail given

at EQC staff update sessions in July.

He was grateful for the professionalism

of EQC staff; continuing to achieve key

milestones for Canterbury customers

during a time of change and personal

challenge.

By the end of the year, EQC's target

is to have:

• completed all of the approximately

67,900 managed home repairs.

• settled all of the approximately 99,000

residential building claims scheduled for

first-time cash settlements.

• settled all of the more than 187,000

contents claims.

• settled green zone land claims for about

73,000 properties.

• resolved 75% of the remedial requests

we had on our books as at 30 June 2016

• cash settled 90% of the 3,118 drainage

claims we had received by 30 June

2016.

• cash settled the 13,985 damage claims

received following the series of quakes

in Canterbury between February and

June 2016.

Mr Simpson says that what remains to be

done in 2017,is to continue resolving

remedial requests on properties where

EQC has managed a repair, and continue

resolving drainage enquiries.

"The level of work left is of a much smaller

scale than the Canterbury Home Repair

Programme was designed for. We need

a smaller, fit-for-purpose approach to finish

the work," Mr Simpson said.

"By 2017 we will have a new approach for

handling the remaining work, including

remedial requests. We're working on the

details of this now, including talking to

Fletcher EQR. We hope we will have a

clearer picture around September,"

Mr Simpson said.

As at 31 July 2016:

• there were 238 substantive repairs left,

which we aim to have resolved by the

end of the year.

• there were 335 secondary repairs (such

as garages and chimneys) to do.

There is also a range of administrative and

financial tasks to be completed.

"I know it has not been an easy journey for

some EQC Canterbury customers. We

didn't get everything right. I'm the first to

admit that. But EQC has worked hard to

learn from its mistakes and improve how

we work not just for Canterbury, but for all

New Zealand," Mr Simpson said.

Outside of Canterbury, EQC needs to be

ready to respond to any future event and

continues negotiating and managing

natural disaster reinsurance for the country.

EQC will also continue settling the 5,000

to 8,000 natural disaster claims it receives

on average every year, funding research to

a tune of about $16 million annually, and

educating the public about natural hazards

and how to mitigate these.

Remedial requests

EQC has streamlined its process for handling new

remedial requests from customers received from

1 August, 2016.

EQC Chief Executive, Ian Simpson, says the new process

aims for faster resolution with customers having the

opportunity to provide information upfront and state their

preference for a cash settlement or a managed repair

where remedial work is required.

The changes have been introduced after positive

customer feedback on the process used to manage claims

from the February 2016 earthquake, where customers had

the opportunity to submit more information upfront to

enable quicker turnaround.

Many customers going through the February 2016 claims

management process are positive or very positive about

their experience. EQC is now using this approach for new

remedial requests, and customers will be asked to send in

information such as photographs and builders' quotes.

Although cash settlement will provide a quicker

resolution, it may not suit everyone, Mr Simpson says.

"So if a customer prefers that a contractor do the work,

then EQC will arrange for that to happen. But EQC's

Community Contact Team and independent customer

advocate groups will be available to support any cashsettled

customers who aren't confident in sourcing their

own contractors," he says.

Of the 5,720 open remedial requests, EQC has identified

approximately 1,500 properties that cannot be resolved

through a managed repair before 2017. The new process,

while largely designed for new remedial requests, will be

available to these customers and EQC will be making

contact with them from late August to ask if they prefer a

cash settlement or managed repair during 2017.

Customers wanting to discuss remedial requests can

contact EQC by phone 0800 DAMAGE (326 243) or email

info@eqc.govt.nz

Drainage

As at June 30 2016, EQC had 3,118 drainage damage

enquiries to be resolved. To ensure timely settlement of

these claims, EQC has introduced a panel of licenced

drain layers to identify earthquake damage.

On settlement, customers get a detailed assessment of

the earthquake damage, a documented repair strategy,

and the costing for the repair. EQC expects to resolve

90% of the drainage claims, lodged by 30 June, in 2016.

EQC is concentrating on resolving as many drainage

claims as possible that were received by June, this year.

The claims received after that date will be resolved

next year.

CONTACT EQC AT 0800 DAMAGE (0800 326 243) OR VISIT WWW.EQC.GOVT.NZ
---
PAGE 18 BAY HARBOUR

Wednesday August 17 2016

News

One man and his 1000 dreams

• By Roy Sinclair

NEIL ANDREWS leads the

way down precarious steps to a

seemingly underground room.

He flicks on a light switch.

I am wowed by a high viaduct

spanning a realistic gorge. My

eyes are led to tall forests, tree

ferns galore and a painted backdrop

depicting a stormy sky.

"This is what I do," he says.

"It is not what I do in my spare

time.

"I mow the lawns in my spare

time."

The room was purpose-built

for the 9mm (scale 9mm to the

foot) layout representative of a

one-time railway in Northland.

In his garage he is working on

a second, portable, layout. This is

a narrow-gauge railway based on

French townscapes.

Model railways is an interest

he could not be without.

"When I met my partner,

Helen, I told her it is me and my

trains. They are inseparable.

"She accepted that which was

great."

He describes railway modelling

"as a thousand dreams

held together by a hundred

unfinished jobs. In other words,

a degree of chaos."

"Part of the fascination is

HAND-MADE: Model builder, Neil Andrews and his miniature creation of early last century

Northland. ​

delving into history to discover

how it all would have looked like

early last century," Mr Andrews

said.

He always liked to do things

with his hands. He enjoyed art

at school – and building things.

Even when he had clockwork

railways he was always cutting

up cardboard boxes to make

buildings.

He recalls scoring designs on

pieces of wood to make boats.

Railways became another part

of it.

Getting into more serious railway

modelling during the late

1950s, there was not much stuff

available and if it was he didn't

have the money.

If he wanted it he made it.

"My mother used to take me to

the railway station. I remember

being in my pushchair watching

the Lyttelton trains come and

go.

"Then at primary school I was

quite capable of making an Ecclass

electric locomotive with the

distinctive air compressor tanks

across the front. Everyone could

recognise it."

Later, any new gadget at his

Canterbury University laboratory

would be first examined to

how it would be useful on the

model railway.

"Then we would work out how

it was intended to be used."

His workplace became known

as "the model train laboratory."

That's what people who visited

talked about.

He travelled to model railroad

conventions in the United States,

becoming a member of the

R.G.S. East Hon3 club.

He visited huge model railway

shows in Cologne and Miniature

Wonderland in Hamburg.

"In Germany a model railway

is like a dishwasher. Everyone

has to have one. And most offerings

are German-made. They are

excellent.

"On one European trip Helen

and I were forced off the road by

Tour de France officials.

"We had to divert into a backwater

countryside.
---
Wednesday August 17 2016

BAY HARBOUR

PAGE 19

in miniature

BUILDING: A train layout under construction and a G-scale

layout at last year's Christchurch Model Train Show.

"There we found towns of

beautiful buildings with terracotta

roofs. We had discovered

the romance of the French countryside.

"Anything French is different.

If you see a French car you know

it is French because it looks nothing

like anything else. It is the

same with railways.

"Their narrow gauge railways

were basically portable. They

could be picked up and laid

beside a road.

"That really intrigued me. Narrow

gauge secondary lines were

introduced to boost the network

of French railways.''

The unplanned detour instigated

his French narrow gauge layout.

"One develops a modeller's

mind.

"A modeller will typically think

how it would look in miniature?"

He talks about Hamburg's

mind-boggling Miniature Wonderland.

"It's absolutely intriguing. It's

a huge collection that is pushing

the boundaries of technology and

inspiring manufacturers to pick

up on it with new products."

"The model aircraft must

represent the peak of model

building.''

"The model trains have been

running for so long the track is

wearing out."

The closest we have in

Christchurch is the annual big

model train Show, this year being

held over the weekend of October

1 and 2.

The venue is Pioneer Stadium

in Lyttelton St, Spreydon. It is the

show's 25th anniversary so promises

to be special.

Mr Andrews was an instigator

of the event, starting a model

train show at Hagley Community

College and then expanding to

the Horticultural Society hall.

Then, the Christchurch Model

Railway Exhibition Society was

formed and took over. Its growth

took it to Pioneer Stadium where

it has been ever since. At its peak

the show attracted 10,000 people

over the two days.

"It's about its optimum size.

"Considering our modest

Christchurch population we do a

pretty good job," he said.

This year's show will help those

wanting to get into the hobby.

"We will have beginners' train

sets and heaps of demonstrations.

Find out the best models to buy

and learn how to make things.

"Technology will be to the

fore. This is enhancing the hobby

and drawing younger people in.

They can operate a railway from

a PC or mobile phone, utilising

wi-fi and DCC (digital control

systems)."

He says model railway people

are an enthusiastic bunch. They

will do their utmost to share

what they know.

Andrews will be on the demonstrations

desk. It is likely he will

let slip how to disguise a lot of

money spent on the hobby within

the weekly household bills.

EARTHQUAKE SOLUTIONS SEMINAR

KSL AUDIT PRESENTS

In association with Aurum Property Systems Ltd

& Simplexity Construction Ltd

VENUE:

DATE:

TIME:

PROTOCOL

2 Colombo Street, Cashmere

Wednesday, 24th August

7pm

Do you know if you have

serious damage?

Are you struggling with

your insurer?

Have you been

cash settled?

Do you live in a damaged

hillside property?

Do you own a TC3

damaged property?

Have you had a repair

undertaken that you are

not satisfied with?

RSVP:

Please email office@ksl.co.nz

or contact Emma - 365 4460

KSL Audit will outline the process that has

secured for their clients an average increase

of $560,000 per claim, more than

originally offered. KSL Audit has settled

more than 150 claims, 60% are either

Hillside property and TC3 foundations.

Aurum will outline how they can help you

as the interface between you, your insurer

and the builder. Aurum has successfully

managed the rebuild of over 100 houses

through their process since 2011 ranging

from $300,000 to $2.3 million

Simplexity Construction will demonstrate

how they can assist homeowners from

scoping the damage, preparing the

reinstatement methodology through to

constructing your repair or rebuild.

PROVIDING THE CLAIMS REVIEW YOU DESERVE
---
PAGE 20 BAY HARBOUR

Wednesday August 17 2016

T :0800 4 TANNERY

3 GARLANDs RD , W O OLs T ON

ChRIs T C h URCh

WWW. T h ETANNERY. CO. N z

Jo Jandals

Erin Simpson Cuhion Covers

- various designs made by Joe

Jandals. $59.80 each

www.joejandals.co.nz

The Bride Space

Bridal Trousseau Je T'aime Garter.

$89

www.thebridespace.co.nz

Aromaunga

Flowes Ltd

Hand tied bouquet. From

$40

www.amflowers.co.nz

Where the Fox Lives

Diamond Vest by ITZME.

Was $829 Now $579

Teepee

Reindeer Hide. $566

03 3896585

YOUR WINTER WONDERLAND

Morgan and Page

Noa Noa label dress. $289

www.morganand page.com

Deval

100% wool all about the cut

and made in Christchurch.

Black navy and grey $799

www.deval.co.nz

Raw Nova

One Teaspoon Bandits Shorts $139

Shilla Paramount Blazer $169

www.rawnova.co.nz

HAPA

Fine bone china Gold Lights planter with

leather cord, made in NZ. $48

www.hapa.co.nz

Katerina

Impress lace dress

by Pasduchas

$349

www.katerina.co.nz

Chalkydigits

Stained Glass Woollen Skirt,

raspberry

(also comes in black)

RRP $179

www.chalkydigits.co.nz
---
Wednesday August 17 2016

BAY HARBOUR

PAGE 21

Bridal Show

Chance to win a wedding gown

FUTURE BRIDES will have the

opportunity to win their dream

wedding gown at this month's

With This Ring Bridal Show.

The show will take place at the

Air Force Museum of

New Zealand, Wigram, on

August 28.

Guests will have the chance

to go in the draw to win a

To Cherish Bridal Boutique

wedding gown of their choice up

to the value of $3895.

To Cherish owner Alison van

Lent said the winner could pick

any gown in the store, as its most

expensive one was $3895.

She said it would make

planning a wedding a lot easier

for one bride-to-be.

"It's one of the more expensive

items on their agenda, and

sometimes one of the more

stressful."

The winner would get to

go into the store, have a free

consultation and order any gown

of their choice, she said.

To Cherish will have a stall at

the show, and its gowns feature

in the catwalk shows.

Its new store on Barrington

St will open the day before the

show, Mrs van Lent said.

This year's show will have

85 exhibitors ranging from

wedding and bridesmaid gowns,

DREAM GOWN: Future brides will have a chance to win a free wedding gown from To Cherish Bridal Boutique at this month's With

This Ring Bridal Show.

PHOTOS: EMMA BOOTH​

photography, honeymoons,

flowers, stationary, caterers,

venue hire and many more.

On top of that, there will be

more than $22,000 worth of

prizes to be won.

A wedding and honeymoon

at Norfolk Island will be up for

grabs, as well as a honeymoon at

The Edgewater Resort and Spa in

Rarotonga.

Venue hire, up to the value

of $4050, for Wigram Base

will be up for grabs, along

with many more prizes and

giveaways.

Two fashion catwalks will be

held – one at 11am and the other

at 2pm – showcasing wedding

gowns and mother of the bride

outfits.

•The With This Ring Bridal

Show will be held at the

Air Force Museum of New

Zealand, Wigram, on

August 28, from 9.30am-

4pm. Tickets are $15 and

can be purchased at the

door on the day.

Pre-sale tickets are

available online at

dashtickets.co.nz

DESIGNER

FASHION

AT OUTLET

PRICES

SMART

BRANDS

SMARTER

PRICES

HORNBY 409 Main South Road | Open 10am–5pm, 7 days
---
PAGE 22 BAY HARBOUR

Wednesday August 17 2016

Chicken Pomodoro

Fresh NZ Beef Rump Steak

SuperValue.co.nz/Recipes

Country Fresh Washed Potatoes 2kg

$

14 99

kg

$

3 49

bag

Fresh Tegel NZ Chicken Tenderloins

Hass Avocados

$

12 99

kg

$

1 29

each

Tegel Frozen

Chicken

No 14

Wattie's Hearty/

Very Special Soup

520-535g

Nescafé Coffee

Refills 100-110g

$

7 99

each

Steinlager Classic

12 x 330ml Bottles

$

2 49

each

Saints

750ml

$

4 50

each

Pascall Family Bag 140-230g

Please drink

responsibly

$

19 99

pack

SuperValueNZ

SuperValue.co.nz

$

8 99

each

$

1 99

each

SuperValue Lyttelton: 17 London Street, Lyttelton. Phone 328 7368. Open 7am-9pm, 7 days.

SuperValue Sumner: 3 Village Mall, Sumner. Phone 326 5688. Open 7am-9pm, 7 days.

Specials available from Wednesday, 17th August until Sunday, 21st August 2016 or while stocks last. We reserve the right to limit quantities. All limits specified apply per customer per day.

Trade not supplied. Prepared meals are serving suggestions only. Props not included. Certain products may not be available in all stores. Proprietary brands not for resale.

Customer Support Freephone 0800 40 40 40.

svbhn1708
---
Wednesday August 17 2016

BAY HARBOUR

PAGE 23

Email annabelle.dick@starmedia.kiwi

by 5pm each Wednesday

lunch will be provided. It will be

open to anyone over the age of 16

who would benefit. There will be

a limited number of spaces, but

those interested can call 741 1410

or Caine Tauwhare on 027 352

2288.

Whakaraupo Carving Centre,

Lyttelton

Images End

August 5-September 4

Mark Soltero's Images End

exhibition brings together a

collection of work from what

Soltero refers to as the Back

Catalogue. These works form

a reflection on the nature of

images in a networked world.

The materials and processes –

black, white and grey, applied

as if printed through stencils

on hessian or paper – reflect

the evolution of his ideas about

painting. Soltero's ideas stem

from an intellectual imagination,

but are driven by an emotional

need to create. He is compelled to

paint.

50 Works Gallery, 50 London

Street, Lyttelton

Knit 'n' Yarn

Today, 10am-11am

Head along to Lyttelton Library

for Knit 'n' Yarn. Bring your

knitting, crochet or other portable

craft project and enjoy time with

other crafters.

Temporary Lyttelton Library

at Trinity Hall, free, beginners

welcome

Health and Wellness Expo

Saturday, August 13, 10am-2pm

Come along for some

inspiration and information on

how you can de-stress your body,

enjoy some pampering and treat

your health with natural options.

There will be reiki, massage, hot

stones, essential oils, psychics and

readers, healthy and indulgent

treats, spiritual art, jewellery

and much more. Entry is a koha

donation to Lyttelton Community

House. If you would like a

space to exhibit or require more

information, phone Dawn Cowan

on 021 560 586

Lyttelton Arts Factory, 34

Oxford St, Lyttelton

Baby Times

Friday, August 19, 10.30-11am

During each session there

is a variety of stories, songs,

rhymes, finger-plays and other

book-related activities. The

programmes are especially

suitable for under two-year-olds.

Temporary Lyttelton Library at

Trinity Hall, free

Lyttelton Arts Factory Quiz

Saturday, August 20, 7.30-

9.30pm

Led by LAF Quizmaster Joe

Bennett, the LAF performers

will keep you entertained even

if you aren't winning. Book in

advance as there's only 25 spots

available. The proceeds raised

will go towards Lyttelton Primary

School's year 8 camp. The aim

is to enable all students the

opportunity to take part in the

camp later in the year. Team entry

(4-6 people) $90.

Lyttelton Arts Factory, 34

Oxford St, Lyttelton

A Game of Lies

Sunday, August 21, 7.30-9.30pm

Come and join a live game

show-style night of hilarity as

two teams engage in a battle of

truth, lies and poker faces. Will

you be able to weed out the liar

from the truth teller? The show

is proof that sometimes the truth

is stranger than fiction. Try and

guess truth or fiction. Tickets cost

$20.

Lyttelton Arts Factory, 34

Oxford St, Lyttelton

Story-times/Wā Kōrero

Tuesday, August 23, 11-11.30am

A programme for pre-schoolaged

children which includes

stories, music, movement and

rhymes. Kōrero pukapuka, pūoru,

korikori.

Temporary Lyttelton Library at

Trinity Hall, free

Maori Carving Course

Starting soon

Lyttelton's Whakaraupo

Carving Centre is running the

Tane tu Tane Ora course, which is

designed to help men find a new

passion and sense of belonging

and identity through carving. It is

free and will start as soon as the

course is filled. It will run three

days a week – Monday, Tuesday

and Wednesday, from 10am-3pm

– until the end of the year. A free

Mt Pleasant Farmers Market

The market has temporarily

moved to the western end of

McCormacks Bay Reserve.

Intersection of McCormacks Bay

and Main Rds. Every Saturday,

9.30am-12.30pm

Lyttelton Farmers Market

Every Saturday, 10am-1pm,

London St

DUNES DAY: Sumner

Coastcare Project is

hosting a dune planting

at the Sumner Dunes to

beautify the area. Get

along on Saturday, August

27 from 10am-noon.

ECO ART: Work by local artists is

being showcased and sold in an

effort to raise money for the Quail

Island Restoration Trust. Oxford

Street Art, Lyttelton, Opening hours

3 Garlands Road, Woolston

DeluxeCinemas.co.nz

Phone FREE Bookings ICE CREAM | Free Parking WITH | EVERy Cafe/Licensed TICKET Bar

03 389 5360

Online Before Bookings 5pm, Monday | Cinema to Friday. Club Terms | Hot & Conditions Nuts/ Cheeses Apply.

An Absolute Crowd Pleaser

M Violence, Coarse Language,

DAILY 12:10pm, 4.15pm SING WED: 10.30am, STREET 2.15pm, 8.15pm Some Scenes May Disturb

Young Children

WED

ABsOLuTELy THu: 10.30am, 2.10pm, 6.00pm, 8.00pm

12:10pm, 4.15pm, 8:20pm

Pauline Collins, Jonathan Pryce

DOUG

FRI: 10.30am, 2.10pm, 4.00pm, 6.00pm, 8.00pm

THU 10:00am

M Course Language and sexual references.

FABuLOus sAT: 10.30am, 12.15pm, 4.10pm, 6.00pm, 8.00pm

WED 12:10pm, 4.15pm, 8:20pm

NZ Biggest Film Ever

M Violence, Coarse Language,

Some Scenes May Disturb

THU 10:00am

HUNT FOR THE WILDERPEOPLE Young Children

WED: 12.20pm, 6.50pm

Jacky Cambel, Seth Rogan

DAILY 12:10pm, 4.15pm THu, FRI: 12.15pm, 6.50pm

POI E

M Violence, Coarse Language,

Some Scenes May Disturb

ME sAT: 10.20am, BEFORE 6.50pm YOU suN: Young 10.20am, Children 4.40pm

WED THE sTORy 12:10pm, OF 4.15pm, OuR sONG 8:20pm MON: 12.15pm, 6.00pm TuE: 12.15pm, An Absolute Crowd 6.50pm Pleaser

M Violence, Coarse Language,

Some Scenes May Disturb

THU 10:00am THE PAPAL BASILICAS Young Children

WED: 2.40pm, 8.40pm

Pixar Family Film

M Violence, Coarse Language, Some

COMING

JAsON FINDING THu DORY FRI: 2.35pm, JULY 20TH 8.40pm sAT: 2.35pm, 8.40pm

BOuRNE

Pixar Family Film

JULY 20TH

Scenes, May Disturb, Young Children

M Violence, Coarse Language,

FINDING suN: DORY 2.20pm, 8.20pm MON: 3.30pm, 7.50pm

Some Scenes, May Disturb,

Pixar Family Film

SOON

M Violence, Coarse Language, Some

FINDING WED: DORY 10.40am, JULY 5.00pm 20TH Scenes, May Disturb, Young Children

THu FRI: 10.20am, 5.00pm sAT: 5.00pm

suN: 6.30pm MON: 1.35pm

RAMS

A MONTH OF

suNDAys

HuNT FOR

THE WILDERPEOPLE

COMING

sOON

WED: 12.30pm

THu FRI sAT: 12.25pm

suN: 12.10pm TuE WED: 12.25pm

WED: 4.05pm THu: 4.00pm

sAT: 2.10pm SUN: 1.50pm, 7.30pm

MON WED: 4.00pm

Met Opera: Elektra E

Bad Moms R16

Embrace M

Purple Rain M

BRANAGH THEATRE

LIVE: Romeo and Juliet

Aug 22nd

Aug 25th

Aug 25th

Aug 28th

Aug 31st

Absolutely Fabulous M Offensive language and nudity. Jason Bourne M Violence. Rams

M Offensive language and nudity. A Month of Sundays PG Coase language. Hunt for the

Wilderpeople PG violence, coarse language, some scenes may disturb young children.

The

Woolston Club...

A classic, contemporary

club experience

Cafe open from 11am

TAB & Gaming, Function Facilities,

HOUSIE Tuesday, Thursday, Saturday

SHUTTLE Tuesday - Saturday

Open 7 Days

Restaurant open

from 5.30pm!

RETRO ROAST LUNCH

12PM-1.30PM

WEDNESDAYS

$10 Members / $12 Non

SUNDAY ROAST 12PM-2PM SUNDAY

FATHER'S DAY LUNCH

Sunday 4th September, 12pm-2pm

Dining Dads go in the draw to WIN

a $250 'Man Pack'

What's On...

7PM FRIDAY DES NEWTON

7PM SATURDAY

FLAT CITY BROTHERHOOD

DAD'S

DESERVE

GREAT

PIZZA

THE ORIGINAL GOURMET PIZZA BAR

BOOK FOR

FATHER'S DAY

SUNDAY

4 SEPTEMBER

CALL 376 4900

FERRYMEAD ~ 2 WATERMAN PLACE

WINNIEBAGOES.CO.NZ
---
PAGE 24 BAY HARBOUR

Wednesday August 17 2016

HEALTH & BEAUTY

Caring, gentle dentists

put patients at ease

A beautiful smile makes all the difference when you first

meet someone, whether it is in a business setting or at a

social gathering. That is why choosing the right dentist is an

important decision.

The caring team of experienced dentists team at Smile

Concepts provide painless treatment. Plus, the personal

touch they offer by taking time to go over all your treatment

options and associated costs means those who fear a dental

surgery will be immediately put at ease.

Smile Concepts is proud of its patient service. Their

knowledgeable staff members use safe and proven

procedures, the latest technology, materials and philosophies

to enhance your teeth and smile. They also actively engage

with their customers and take regular feedback. For example,

in recent months, customers complained about earthquakerelated

shaking at the surgery. Taking these complaints

seriously, they have now moved to

their newly renovated premises with

new repelling of the foundations at 104

Colombo Street, Sydenham, where ample

parking is available and the bus stop is

close by.

Smile Concepts welcomes customers from across

Canterbury, and with the variety of services offered as well as

a compassionate, patient-centered approach, it is well worth

driving the extra mile.

They provide dental care services for children and

adolescents with special needs, and sedation dentistry so

patients can undergo treatment without anxiety. General

dentistry services include regular checkups, fillings, crowns,

dentures, root treatment and extractions. With their

emphasis on preventative dentistry, they recommend regular

checkups to eliminate any major problems occurring.

No longer should smiles have gaps where teeth used to

be. Implants, veneers and bridges can be crafted and fitted

so they look natural, are long-lasting and a perfect match.

They also have a dental hygienist, who will help to keep gums

healthy and advise on healthy oral habits.

Some food, drink and medicines can stain our teeth over

time and teeth whitening has become one of the most soughtafter

cosmetic dental procedures today. Smile Concepts offers

the Zoom whitening system, which is currently one of the

most powerful, effective and safest methods available on the

market.

Perhaps the one day in our lives when our smile means

the most is our wedding day. This innovative dental practice

offers wedding packages individually tailored to your needs

to make sure your wedding photographs do you justice. As a

special gift to brides and grooms, Smile Concepts will create a

wedding package at a special price.

Their generosity doesn't stop with their customers. Smile

Concepts is proud to work with the local community,

supporting initiatives such as Child Safety Awareness

Programmes, the Special Children's Christmas Party and is a

regular donor to the University of Canterbury Foundation.

To find out about their full range of services, visit their

website at www.smileconcepts.co.nz or call them on (03)

332 6399.

"Where Every Smile Matters"

Experienced team provides caring and

gentle dentistry for the whole family

Dental Hygienist Available

Sedation dentistry

Wedding packages

Winz quotes

ZOOM whitening

treatment

ACC accredited

Dental Health Counselling

Free treatment for

adolescents (13-18 years)

Free treatment of

children (0-13) with a

school dentist referral

PH 332 6399

We've moved!

Now based at

104 Colombo Street,

Beckenham

www.smileconcepts.co.nz

Tracy Tuesday-Saturday, 9am-5pm

Sally Wednesday-Thursday, 9am-7pm

Jolene Saturday, 9am-4pm

Phone 03-328-8859 or book online

www.facebook.com/honeycomblyttelton

34a London Street, Lyttelton

Winter Special

$20 DISCOUNT

August, excluding Saturday

when you mention this advert.

Pro Fiber

Prescriptive reconditioning

treatment. $30 in salon, plus

take home products.

Ask your stylist

which one

is best for you.
---
Wednesday August 17 2016

REAL ESTATE

A location that is all about lifestyle

242F Main Road, Redcliffs - As is where is

Auction 01 September 2016 Unless Sold Prior

3 bedrooms | 1 bathroom | 2 toilets | 1 living room | 1 dining room | 2 car-garage | 2 off-street parks | Listing#: FM4964

BAY HARBOUR

PAGE 25

Moncks Bay has always been considered

Blue Chip real estate holding a special

appeal to families due to the exceptional

lifestyle on offer; enjoying easy access to

beaches and boating facilities plus the local

shops and cafes in Redcliffs village.

A tremendous opportunity awaits

developers, tradesmen and land bankers

as the property is deemed repairable by

the insurers and owners and has current

insurance although is being sold on an as is

where is basis.

Discreetly set down a private lane, this

fabulous location enjoys a special microclimate

and you would become part of a

friendly and welcoming community.

The home features 3 double bedrooms,

flowing bright and airy living spaces with

superb indoor/outdoor, family bathroom

and internal access double garaging. For

your summer entertaining the French

doors lead from the lounge out to the sun

soaked patio area and manicured gardens.

Spend your summer months on the

beach across the road on the small beach

where you can swim, launch your kayak

or jet-ski or take a gentle evening stroll to

Sumner and enjoy the bars and restaurants.

Whatever your choice it is all within your

reach here.

It was a tough decision to make but

the owners are now committed to saying

goodbye to this property on auction day,

if not sold prior, so call today and register

your interest. Auction Date: Thursday

1 September 1:00 p.m. (98 Moorhouse

Avenue) unless sold prior.

For more information or to arrange a

private viewing contact Chris Moores of

Harcourts Grenadier Ferrymead (Licensed

Agent REAA 2008) on 384 7950 or

0275 884 440.

Your land. Your people. Your stories.

It's time to

grow

Every Wednesday at 7.30pm

on CTV Freeview Channel 40

live and on demand at ctv.co.nz

The magazine for gardeners who

like to get their hands dirty

Brought to you by

bigger from August 22
---
PAGE 26 BAY HARBOUR

Wednesday August 17 2016

YOUR LOCAL TRADES & PROfESSiOnAL

SERviCE bUSinESSES

Appears every

month in

Support theSe locAl buSineSSeS

Your

one stop

shop for

all Your

tree

needs

We offer:

• Tree felling • Branch Chipping

• Stump grinding • Rigging

& Dismantling in confined situations

• Pruning • Shaping

• Tree Assessments • Hedge Trimming

• And anything in between

For a free quote call us on

0800 24 8733

www.jimstrees.co.nz

Beauty@3a

Beauty@3a has returned to its original

site in Redcliffs. This boutique style salon,

run by Susie Spearing ITEC London is

where all your beauty needs can be met.

Susie is from London and arrived in NZ

18 years ago. She has lived and worked in

Redcliffs for the past 14 years and with her

children attending Redcliffs School, Susie

loves being part of the community.

Her day is varied, as she offers a wide

range of beauty treatments and massage.

Prices are very reasonable. Waxing starts

at $12 for Lip through to $40 for Full Leg

Wax. Hand & Foot Care from $25. Eyes

include Brow Shape $12, Lash/Brow Tint

& Tidy $30. Relaxing Massages begin at

$35 for Indian Head Massage to Full Body

Massage at $55. Also available are 1 hour

Facial Treatments using beautiful NAT

products $75 and Dermal Micro-Needling,

a non-surgical facial rejuvenation from

$125.

Susie offers the perfect gift for any

woman with a selection of Gift Vouchers

for use at the salon.

For your next beauty treatment

phone Susie at Beauty@3a,

Ph 384 6960 Cell 021 211 7988.

3a Challenger Lane, Redcliffs,

Christchurch, email: beautyat3a@xtra.co.nz

Beauty@3a

where it's all about you

✴ All your beauty needs

✴ Relaxing massage

✴ Realistically priced

✴ Using natural skin care

products from Australia

✴ Boutique style salon now

returned to Redcliffs

Susie Spearing

ITEC London

Ph 384 6960 Cell 021 211 7988

3a Challenger Lane, Redcliffs, Chch

email: beautyat3a@xtra.co.nz

Professional and honest

team with a great network of

sub-contractors available

We specialise in insurance

repairs, painting, plastering,

house renovations, new builds,

retaining walls, driveways, light

commercial, digger/truck hire

Call today

03 329 9997

office@daylejonesbuilders.co.nz

We Build Great

Retaining

Walls

IN CHRISTCHURCH

All types, all sizes

Gabion, Pole, Concrete,

Wood, Block

SOLVEIG

CONSTRUCTION

Call 027 431 5289

Monday-Friday 8 to 5

Occupational Therapy

for Seniors

Stay safe and

confident at home

Independence with

daily activities

Live a full life, the

way you want it

For an in-home assessment of your

needs call Catherine or Louise

(Registered Occupational Therapists)

Port Hill Therapists

027 221 9071 or 021 0231 3482

3379602

email: info@porthilltherapists.co.nz

www.porthilltherapists.co.nz

Level 1, 20 Bealey Ave, Merivale

Ph: 03 943 1950 M: 021 937 949

E: craig@craigroberts.co.nz

I will be available on the Peninsula one day a

week and can travel to see you or meet in Little

River, please phone for an appointment

• Tile/grout

cleaning

• Sealing

grout/tiles

• Shower renovation

• Acid washing tiles

• Replacing cracked tiles

Brett Ph 03 358 5105

or 027 746 7632

www.groutpro.co.nz

We are an experienced landscaping and garden maintenance team that offer a wide range of services from

simple garden maintenance to large scale section clearing, excavation work and commercial landscaping.

We pride ourselves on offering the highest quality of garden and landscaping services and we always come

prepared with the proper tools and supplies. We are based in Sumner and have specialist knowledge of

coastal and hillside gardens, but work all over Christchurch both on residential and commercial properties.

Our general landscape gardening services includes:

• garden maintenance • weeding

• ongoing maintenance programs • hedging

• tree work and stump removal. • plant care

Our more specialist landscaping services include:

• Landscape construction • Hard landscaping

• Excavation work

• Retaining walls

• Driveways

• Paths

• Section clearing

With our own digger, Avant mini loader, truck and van we're fully equipped to take on almost any job big or

small. We're always happy to discuss new work so please feel free to get in touch so we can provide more

information on how we can help you with your landscape and garden requirements.

Ruth, phone 021 272-0303 or Ewan, phone 027 201-5150

Landscape

and Garden

Services

If you need help getting your

garden back in order after

repairs, need any type of

landscape construction work

or garden restoration.

Phone 021 272 0303
---
Wednesday August 17 2016

BAY HARBOUR

PAGE 27

Classifieds Contact us today Phone our local team 03 379 1100

Adult Information

LIVE ADULT CHAT

Explicit Naughty

Kiwi Babes 1 on 1

0900 77 747

Asian Babes 1 on 1

0900 88 100

XXX Listen

0900 69 100

Chat $3.99 - Listen $1.99/min+gst

Free SLOTS & downloads

www.kiwibabes.co.nz

PHONE NOW!!

Computers

ALL

YOUR

COMPUTER

WORRIES SOLVED!

*$30.00 off your first

service with this coupon!*

No problem too big or

small from home PC's to

business networks. PC

slow? An end to Viruses,

Spyware, and Clogged

Systems. Safe secure

hassle-free computing.

Lost files recovered.

Microsoft Certified,

MCSE, MCP+l. 30 years

experience. Call Andrew

Buxton this week on 326-

6740 or 027 435-7596

for $30.00 off* Custom

Computers Christchurch

Gardening

& Supplies

Landscape

and Garden

Services

If you need help

getting your garden

back in order after

repairs, need any

type of landscape

construction work or

garden restoration.

Ph 021 272 0303

Gardening

& Supplies

A GARDEN OR

LANDSCAPING TIDY

UP? Rose & Fruit Tree

Pruning, Shrub, hedge

& tree pruning, Lawns,

Gardening, consistently

reliable general property

upkeep, Dip. Hort. 10

yrs experience, One off

tidy ups or on-going

service. Nick's Property

Maintenance. Keeping

your garden beautiful.

Free Quote. Ph. 942-4440

GARDENER - Need

your home or commercial

garden tidied up or

renovated or require long

term assistance. Phone

Ruth 326-6663 or 021

272-0303

Holiday

Accommodation

QUEENSLAND SUN-

SHINE COAST AUSTRA-

LIA Resort, Ocean Views,

Balconies, Self Contained,

1 or 2 B/R Ensuite,

Heated Pool, Spa, Sauna,

Free Internet, Shops,

Restaurants, Tennis, Surf

Club & Patrolled Beach,

Public Transport at door.

Ask for our SEASONAL

SPECIALS. Phone 61 7

544-35011 Email: reception@mandolin.com.au

www.mandolin.com.au

ALL YOUR BUILDING NEEDS

• Renovations

• Alternations

• Bathrooms

Trades & Services

• New builds

• Maintenance

• LBP Registered

027 664 3176

splbuilders@outlook.co.nz

LANDSCAPING/

STONE WORK

All forms of landscaping,

fences, decking & paving.

Phone Mike

Stoneage Landscapes

021 1499 733

Driveways

We Repair

Cracks

and Apply

Factiostone

on top of

your Interior

and Exterior

Substrates

saving Time,

Money, Stress

& Mess.

Spec-Tec /

Factio

Free QuoTe

0212209603

ROOF

PAINTING

Rope & harness

a speciality,

no scaffolding

required,

30 years of

breathtaking

experience.

FREE QUOTES

Exterior staining,

exterior painting,

moss and mould

treatment and

waterblasting

Phone Kevin

027 561 4629

Trades & Services

CARPETLAYER

Laying and Repairs, 40

yrs experience, ph Peter

326-7711 or 027 240-6532

CONCRETE

Decorative Concrete

Placing, Canterbury

owned & operated

for over 10 years,

competitive rates, full

excavation, coloured,

exposed, stamped,

call Paul 027 322 6119

DRAINLAYER

Reg, all types, 20 yrs hill

work exp,ph 028 408-0121

ELECTRICIAN

JMP Electrical.

Experienced & registered..

Expert in all home

electrical repairs &

maintence.Call James 027

4401715

FURNITURE

REMOVALS

Large Trucks $95 +

GST per hour 7 day NZ

wide, packing & moving,

Professional Company,

Professional Service.

Canterbury Relocations

Ltd. ph 0800 359 9313

LANDSCAPE

CONSTRUCTION

Lawns, paving, water

features, irrigation,

planting, decks,

driveways, kerbing, ponds,

retainer walls, fencing.

Free quotes, Phone Tony

021-034-8555

PAINTER

Experienced tradesman,

quality work, free quotes,

ph Simon 027 389-1351 or

03 328-7280

PAINTING

PLASTERING

Free quotes. Immediate

Trades & Services

start. Discount for

pensioners. Work

BRICKLAYER

guaranteed. Ph Kerin

George Lockyer. Over

022 191 7877 or 379-

30 years bricklaying

1281. Website www.

experience. UK trained.

swedekiwipainting.co.nz

Licensed Building

PLASTERING

Practitioner number

INTERIOR, no job too

BP105608. Insurance

big or too small, specialise

work. EQC repairs.

in repair work & new

Heritage brickwork a

houses, free quotes given,

speciality. No job too

over 20 yrs plasterering

small. Governors Bay.

experience, ph 027 221-

Home 329-9344, Cell

4066 or 384-2574

027 684-4046, email

ROOFING

georgelockyer@xtra.co.nz

Qualified & Licenced

Practitioner. Re-Roof &

CARPET & VINYL

Repairs, all types. Member

LAYING

New Zealand Roofing

Repairs, uplifting relaying, Association. Over 35 years

restretching,email experience. Phone John

jflattery@xtra.co.nz, 027 432-3822 or 351-9147

ph 0800 003 181 email johnmill@ihug.

or 027 2407416

co.nz

Trades & Services

STONEMASON

BRICK BLOCKLAYER,

Earthquake Repairs, Grind

Out & Repoint, River/

Oamaru stone, Schist,

Volcanic Rock, Paving,

all Alterations new & old,

Quality Workmanship,

visit www.featureworks.

co.nz or ph 027 601-3145

VHS VIDEO TAPES

all camera tapes converted

to DVD, video taping,

weddings, twenty firsts,

special occasions,

www.grahamsvideo.

co.nz ph 03 338-1655

WINDOW CLEANING

"Your Windows are the

eyes of your Home", for

a free no obligation quote,

call Greg Brown, Crystal

Clear Window Cleaning

ph 384-2661 or 027 616-

0331 Local Resident

Wanted To Buy

WANTED

POSSUM SKINS

& POSSUM FUR

(Hand Plucked)

Buying Now

Top Prices Paid

Contact Russell

Dunsandel

0274 779754

Possum Pam NZ Ltd

Agent for Nichols NZ

Ltd & Wadsworth

Wanted To Buy

A+ Household effects,

fridges, freezers, washing

machines, ovens. Good

cash paid. Ph Paul 022

0891 671

Situations Vacant

CA$H

Strippers

& Podium

Dancers

Wanted!

18+ TO APPLY

NEISHA

021 193 0118

VOLUNTEERS

REQUIRED

Do you like to travel?

Would you enjoy

working with special

needs people. If so this

is an opportunity for

you to work in this busy

tour company which

has an opening for a

caring compassionate

person with a clean

driving licence, a positive

attitude, and a passion

for fun and travel.

For more

information

phone Denise

981 7910

Public Notices

ECHO SPACE

An afterschool care

programme themed around

sound engineering, beat

making, music production

& sound systems. Relaxed

& informal but creative &

engaging - years 6-9.

Fuse 25 Wakefield Ave

only $20

More info call Aaron

021-842213

Entertainment

Art Workshop

Years 6-9

Every Tues, 3-5.30pm

Fuse, 25 Wakefield Ave

An opportunity for

young people to express

themselves creatively in a

save and fun environment.

Drawing painting,

sculpting and crafts.

Phone Aaron

021 842 213

Sports Centre

A sports workshop

every Thursday of

term time at Fuse,

25 Wakefield Ave

from 3.30-5.30pm.

Learn some crazy new skills

and play a game at the end

of the night. A different

sport every week.

Ph Gareth on 021842214

for more details.

MUMS & DADS

Would you like your children to

exercise more and earn some money?

DELIVERY

PEOPLE

WANTED

Bay Harbour News

is looking for people

to deliver the paper

on a Wednesday. The

work involves door to

door delivery of The

Bay Harbour News

Please Call

Leanne Lucus 364-7451

or Mark Coulthard 364 7453

email: deliveries@starmedia.kiwi

Situations Vacant

Entertainment

Entertainment

Organic Training College

Learn from the experts

Start a career in organics.

Reduce your footprint

and produce a regular

supply of your own fruit

and vegetables.

Programme Information

college@bhu.org.nz

www.bhu.org.nz | 03 3253684

Public Notice

Courses

• Organic Distance Programme

Part time 1 year, enrol anytime

• Year 1 Introduction to Organics

44 weeks, starts August 2016

(Lincoln Campus)

• Year 2 Applied Organics

46 weeks, starts August 2016

(Lincoln Campus)

All fees under $500
---
PAGE 28 BAY HARBOUR

Wednesday August 17 2016

Lyttelton

Super Sonic Deals!

Wed, Thu, Fri, Sat only

JOHNNIE

WALKER RED

$

35 99*

1 LITRE

THE CLYDE BY

ROCKBURN

CENTRAL OTAGO

PINOT NOIR

$

15 99*

*OFFER VALID WEDNESDAY 17TH AUGUST TO SATURDAY

20TH AUGUST 2016. LIMITS MAY APPLY. WHILE STOCKS LAST.

AVAILABLE AT PARTICIPATING STORES ONLY.

GRANT'S

1 LITRE

2 for

$

72 00

BLACKHEART

$

21 99

SCRUMPY

JÄGERMEISTER

DEWAR'S

GREENALL'S

BAILEYS

JIM BEAM

ST REMY

7% ALC/VOL

1 LITRE

1 LITRE

1 LITRE

1 LITRE

1 LITRE

OR CODY'S

12 X 250ML CANS,

$ 7% ALC/VOL

34 99 $

34 99 $

37 99 $

37 99 $

39 99

$

20 99

EACH

1.25 LITRE

$

9 99 700ML

$

33 99

1 LITRE

$

34 99

SPEIGHT'S, SUMMIT, LION RED, $

WAIKATO 22 99

EACH

15 X 330ML BOTTLES

WOODSTOCK

12 X 330ML BOTTLES,

5% ALC/VOL

12 X 250ML CANS,

NEW!

CORUBA & COLA

12 X 250ML CANS

7% ALC/VOL

$

24 99

JAMESON

JOHNNIE WALKER

CASKMATES

MAKER'S MARK

BLACK LABEL

ROGUE SOCIETY

700ML

700ML

700ML

750ML

$

44 99 $

44 99 $

47 99 $

69 99

MAC'S

HEINEKEN

HEINEKEN LIGHT

6 X 330ML BOTTLES

12 X 330ML BOTTLES

12 X 330ML BOTTLES

$

12 99 $

24 99

SMIRNOFF

RED

1 LITRE

$

33 99

UNDER $20!

DB DRAUGHT, EXPORT GOLD, TUI

24 X 330ML BOTTLES

$

33 99

EACH

BUDWEISER

12 X 355ML BOTTLES

$

19 99

STELLA & STELLA LEGERE

12 X 330ML BOTTLES

$

24 99

EACH

STEINLAGER

15 X 330ML BOTTLES

$

26 99

STEINLAGER

24 X 330ML BOTTLES

$

39 99

WWW.SUPERLIQUOR.CO.NZ 0800 SUPERL (0800 787 375)

SUP0080 C9 W1

42 Norwich Quay Lyttelton | Ph. 328 7744

Visit: www.superliquor.co.nz or call 0800 SUPERL (0800 787 375) for your local store. Over 122 stores nationwide, 100% locally owned and operated.

Offers end close of trade 28th of August 2016, while stocks last. Available at participating stores only. Limits may apply at participating outlets. Trade not

supplied. Terms and conditions may apply. Available 15th – 28th of August 2016 inclusive. Please see www.superliquor.co.nz for details.

SUP0095 C11 W2