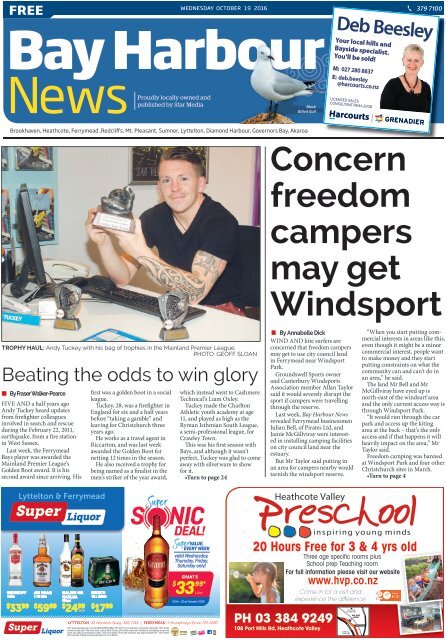 Bay Harbour: October 19, 2016
Create successful ePaper yourself
Turn your PDF publications into a flip-book with our unique Google optimized e-Paper software.
SUP0113 SS Poster Grants Whisky A1 ƒ.indd 1

15/09/16 11:43 AM

FREE

Wednesday OCTOBeR 19 2016 379 7100

Bay Harbour

News

Proudly locally owned and

published by Star Media

Black

Billed Gull

Deb Beesley

Your local hills and

Bayside specialist.

You'll be sold!

M: 027 280 8837

E: deb.beesley

@harcourts.co.nz

LICENSED SALES

CONSULTANT REAA 2008

GRENADIER

Brookhaven, Heathcote, Ferrymead ,Redcliffs, Mt. Pleasant, Sumner, Lyttelton, Diamond Harbour, Governors Bay, Akaroa

Concern

freedom

campers

may get

Windsport

TROPHY HAUL: Andy Tuckey with his bag of trophies in the Mainland Premier League.

PHOTO: GEOFF SLOAN

Beating the odds to win glory

• By Fraser Walker-Pearce

FIVE AND a half years ago

Andy Tuckey heard updates

from firefighter colleagues

involved in search and rescue

during the February 22, 2011,

earthquake, from a fire station

in West Sussex.

Last week, the Ferrymead

Bays player was awarded the

Mainland Premier League's

Golden Boot award. It is his

second award since arriving. His

first was a golden boot in a social

league.

Tuckey, 28, was a firefighter in

England for six and a half years

before "taking a gamble" and

leaving for Christchurch three

years ago.

He works as a travel agent in

Riccarton, and was last week

awarded the Golden Boot for

netting 12 times in the season.

He also received a trophy for

being named as a finalist in the

men's striker of the year award,

which instead went to Cashmere

Technical's Liam Oxley.

Tuckey made the Charlton

Athletic youth academy at age

11, and played as high as the

Ryman Isthmian South League,

a semi-professional league, for

Crawley Town.

This was his first season with

Bays, and although it wasn't

perfect, Tuckey was glad to come

away with silverware to show

for it.

•Turn to page 24

• By Annabelle Dick

WIND AND kite surfers are

concerned that freedom campers

may get to use city council land

in Ferrymead near Windsport

Park.

Groundswell Sports owner

and Canterbury Windsports

Association member Allan Taylor

said it would severely disrupt the

sport if campers were travelling

through the reserve.

Last week, Bay Harbour News

revealed Ferrymead businessmen

Julian Bell, of Pirates Ltd, and

Jamie McGillviray were interested

in installing camping facilities

on city council land near the

estuary.

But Mr Taylor said putting in

an area for campers nearby would

tarnish the windsport reserve.

"When you start putting commercial

interests in areas like this,

even though it might be a minor

commercial interest, people want

to make money and they start

putting constraints on what the

community can and can't do in

an area," he said.

The land Mr Bell and Mr

McGillviray have eyed up is

north-east of the windsurf area

and the only current access way is

through Windsport Park.

"It would run through the car

park and access up the kiting

area at the back – that's the only

access and if that happens it will

heavily impact on the area," Mr

Taylor said.

Freedom camping was banned

at Windsport Park and four other

Christchurch sites in March.

•Turn to page 4

Lyttelton & Ferrymead

S

uper

NIC

DEAL!

uperVALUE,

EVERY WEEK

valid Wednesday,

Thursday, Friday,

Saturday only!

GRANT'S

$33 99*

SMIRnOff

1Litre

JIM BeAM

1.75 Litre

MALIBU OR

KAHLUA

BeCK'S

12 x 330ml

1 Litre

$ 33 99 $ 59 99

700ml

$

24 99 $ 17 99

*19th - 22nd October 2016

*Offer valid Wednesday 19th to Saturday 22nd October 2016. Limits may apply. While stocks last. Available at participating stores only. Trade not supplied.

LYTTELTON 42 Norwich Quay. 328 7744 | FERRYMEAD 9 Humphreys Drive. 376 4097

superliquor.co.nz

Visit: www.superliquor.co.nz or call 0800 SUPERL (0800 787 375) for your local store. 123 stores nationwide, 100% locally

owned and operated. Offer ends close of trade 22nd October 2016,while stocks last. Available at participating stores only.

Limits may apply at participating outlets. Trade not supplied. Terms and conditions may apply. Available 5th – 8th October

2016 inclusive. Please see www.superliquor.co.nz for details.

Heathcote Valley

Come in for a visit and

experience the difference

Ph 03 384 9249

108 Port hills Rd, heathcote Valley

inspiring young minds

20 Hours Free for 3 & 4 yrs old

Three age specific rooms plus

School prep Teaching room

For full information please visit our website

www.hvp.co.nz

Lyttelton

Tunnel

Ferrymead

Heritage Park

Port Hills Rd

Tunnel Rd

We are

here

Bridle Path Rd

Martindales Rd
---
PAGE 2 BAY HARBOUR

Wednesday October 19 2016

FROM

THE

EDITOR'S

DESK

Inside

News..................................... 3-11

A GREAT profile today (pages

12-13) on Fiona Pears, the

Lyttelton musician who puts on

her first show in Christchurch

for two years this weekend.

Reporter Annabelle Dick

caught up with Pears this week

and talks about her time in the

music industry, how she married

her manager and leaving school

as a 15-year-old punk rocker.

She plays at Blue Smoke at The

Tannery.

Sports reporter Fraser Walker-

Pearce speaks to Andy Tuckey,

a footballer with a Golden Boot

(see page 1).

The Brit has been in

Christchurch for three years

and is now making a name for

himself for Ferrymead Bays and

in the Mainland Premier League

where he was the season's top

goal scorer.

– Barry Clarke

From punk rock to classical concert violinist

OUR PEOPLE 12

Our People...............12,13

Schools...................................14

Local Views.......... 19&21

Fashion.....................................23

Sport...........................24,25

Community Events......27

GET IN TOUCH

General Enquiries Ph 379-7100

Classified Advertising Ph 379-1100

The Christchurch Star Company Ltd. PO box 1467 - Christchurch

starmedia.kiwi

Annabelle Dick. 03 364 7497

annabelle.dick@starmedia.kiwi

NEWS SPORTS ADVERTISING ADVERTISING

Fraser Walker-Pearce. Ph: 364 7424

fraser.walker@starmedia.kiwi

Javier Balcazar. Ph: 982 9308

javier.balcazar@starmedia.kiwi

Rob Davison. Ph: 021 225 8584

rob.davison@starmedia.kiwi

Need a local landscape

design & construction

team?

Call Tom on 328 9965

or 027 420 2466.

Now offering a garden

maintenance service.

www.gunndesign.co.nz

Spirited

Cemetery

Tours

14–24 Oct, Various

free

times and locations.

Visit ccc.govt.nz/

heritageweek for

details.

Take a tour of an

historic graveyard

with local historian

Richard Greenaway.

Orton Bradley park

Spring Fair

23 Oct, 10am–4pm

marine drive,

charteris bay

children

Free

Voices

Against War:

free

Courage, Conviction and

Conscientious Objection

in WWI Canterbury

14 Oct–10 Nov, Library

hours, University of

Canterbury Central Library

Find out what motivated

the courageous

individuals who spoke

out for peace during WWI.

this is a sample of events. for event details visit ccc.govt.nz/heritageweek
---
Wednesday October 19 2016

News

BAY HARBOUR

In Brief

PAGE 3

PEST: Rats and possums are among the predators which kill about 25 million native birds in New Zealand each year.

Making properties pest-free

• By Annabelle Dick

THE SUMMIT Road Society

is urging residents to catch

possums, rats and stoats on

their properties as they launch

an initiative to eradicate pests.

The Predator-Free Port Hills

programme aims to maintain

the local flora and fauna by

removing pests from around the

boundary of the Port Hills.

Summit Road Society vicepresident

Jeremy Agar said they

want to encourage people to set

up traps in their back yard to

help the effort.

"Where residents live on the

Port Hills, between Taylors Mistake

and Halswell and around

Lyttelton Harbour, it's a perfect

opportunity to have traps for

predators in their back garden

because they tend to be heavy

on the edges of bush," he said.

The group is holding a public

seminar to teach residents about

the local pest problem and how

they can help mitigate it.

They will discuss the predatorfree

concept, community pest

control methods in Redcliffs

and Sumner and how to host

and maintain traps.

The group is following

the Government and other

community organisations

around the country which are

aiming to make New Zealand

free of pests.

"We're really encouraged

by the Government's call to

become predator-free by 2050

and we think the way to do that

is to act where we are and that's

the Port Hills," he said.

In New Zealand, predators

kill about 25 million native

birds each year and have pushed

species to the brink of extinction.

The Government launched an

initiative to make the country

predator-free by 2050 earlier

this year.

The Government also said

in this year's budget that it will

spend an additional $28 million

over four years and $7 million

every year thereafter on pest

control.

This is on top of the more

than $70 million already spent

each year on predator control in

New Zealand.

A public meeting will be held

at the Cashmere Presbyterian

Church on October 27 at 7pm.

RETAINING WALLS DONE

Stronger Christchurch

Infrastructure Rebuild Team

has completed repairs to two

earthquake-damaged retaining

walls in Lyttelton. Retaining

walls on Voelas Rd and the cnr of

Voelas Rd and Webb Lane have

been finished after nine months

of work. SCIRT has repaired

and rebuilt 166 publicly-owned

retaining walls in Christchurch

and Banks Peninsula as part of

the five-year infrastructure repair

programme.

CYCLEWAY INPUT

The Heathcote Expressway and

Rapanui-Shag Rock Cycleway

projects will soon be open for

consultation with the community.

The city council has begun

consulting on several of the 13

new cycleways which will be built

over the next seven years at an

estimated cost of $156 million. The

Heathcote Cycleway goes from

Heathcote through Woolston,

Opawa, Waltham and Sydenham

into the central city along large

sections of the rail corridor. The

Rapanui-Shag Rock Cycleway

will start at the Ferrymead Bridge

and lead to the central city via

Linwood. The Coastal Pathway,

which will run from Sumner

to Ferrymead Bridge, is funded

separately to the Major Cycle

Routes programme.

Opening a new

local business?

If you are considering or

have just opened a new local

business in the area and you

want good quality, fairly

priced, friendly, local

accountancy and tax

advice then contact

Chris on:

03 384 8179

022 354 8218

chris@ferrymeadaccounting.co.nz

Now located at 11F Settlers Crescent, Ferrymead

TREE TROUBLE?

Call the

TREE PEOPLE

0800 4 SEASONS

384 9630

QUalIFIeD

aRBORIStS

LANDSCAPING & PLANTING

WWW.FOURSEASONSTREECARE.CO.NZ

Bay Harbour Toastmasters

Communicate with

Confidence

Free Open evening

Come along and find out how you can

• Improve your potential

• Grow your confidence

• Become a better

communicator and leader

• Make new friends

Wednesday 26 October- 6.30pm- 8pm

Lyttelton Community Boardroom,

25 Canterbury St

More Info - Phone Jann Meehan

329 4936 or 021 2631040

plaza leather purses

solstice cushion

canvas travel bag

new season

styles

shift table lamp

fresh &

delicious

ten27

coffee

eatery

bar

homestore

open morning, noon & night

serving breakfast, lunch,

dinner & dessert

20141031 - Dyson ad (Chch Star) 64x90.indd 1 31/10/14 1

wishbone chair

stitch cotton basket

oku side table

curtains + blinds + cushions + wallpaper + fabric + furniture + bedlinen + homewares + gifts

1027 Ferry Road + Ph. 384 4880 + www.casualandcountry.co.nz

1027 ferry road

ph. 03 595 2428

www.ten27.co.nz

preserved lemon & mascapone

risotto with seared scallops & basil
---
PAGE 4 BAY HARBOUR

Wednesday October 19 2016

News

Unexpected algae find

• By Annabelle Dick

A JAPANESE algae which

invaded Lyttelton Harbour in the

mid-80s has not had the negative

effect it could have.

That is one of the outcomes

of research into the harbour's

reefs, carried out by Dr Tommaso

Alestra and Dr Mads Thomsen of

Canterbury University's marine

ecology research group.

Dr Thomsen researched the

seaweed Undaria pinnatifida and

looked at how it effected other

marine organisms as it is considered

an invasive algae.

"We found that Undaria is not

so terrible to the other algae and

they co-exist quite nicely, so it's

interesting to see

such an abundance of

Undaria that doesn't

seem to have a great

impact on other algae,"

Dr Alestra (left)

said.

Last year, Environment Canterbury

asked the marine ecologists

to write a report on intertidal

reefs, which is the area above

water at low tide and under water

at high tide.

The pair went around the harbour's

rocky reefs looking at what

was there, what species were there

like algae and animals and how

abundant they were.

ECO SYSTEM: Research on Lyttelton Harbour's reefs has

unearthed some interesting results. ​

"Extensive research on these

reefs have never been done before,"

Dr Alestra said.

Dr Alestra also looked at how

Undaria interacted with mussels.

"Undaria seems to be there

and very abundant, but it doesn't

seem to do much, which is quite a

surprising result and contrasts to

other research out there," he said.

They'll be sharing their surprising

discoveries in a public meeting

next week.

The ecologists will discuss the

biodiversity on the reefs, with

special emphasis on marine

organisms they say are often

overlooked but are essential to the

LYTTELTON

PORT UPDATE

Come and talk to us about our new developments

Saturday 29 October, 10.30am–1pm

'Port Talk', Corner London & Oxford Streets, Lyttelton

ecosystem.

It will also be an opportunity

for residents to hear about the

marine life on their doorsteps and

to ask informal questions.

"It'll be good to see how our

research is welcomed by the community.

I think people will take

a lot out of it and maybe they'll

get a better understanding and

appreciation of what's out there

because we were really surprised

with the diversity of the harbour

– we didn't expect to find so

much," Dr Alestra said.

The meeting will be held at the

Governors Bay Fire Station on

October 25 from 7 to 8.30pm.

WATER SPORTS: Wind and kite surfers could lose out

if camping facilities are installed on council land near

Windsport Park.

PHOTO: GEOFF SLOAN ​

Windsport Park concern

•From page 1

Since the ban of freedom

camping, the Windsport Club's

ground conditions and membership

has improved.

Mr Taylor said the Canterbury

Windsport Association

has been trying to recruit

younger members and not having

freedom campers on site has

boosted numbers.

"It's a nicer reserve now. The

kiters can just go and kite and

the people can come down

and observe. We've noticed an

increase of people wanting to

get into windsports because

VWB/YULA Series

pLYWOOD VANITY

30% Off

they can actually go there now,

sit down with their lunch and

watch," he said.

Mr Bell wants to install

kitchen and toilet facilities for

campers after freedom camping

was banned at the park.

It was pitched to the

hearings panel at the proposed

Freedom Camping Bylaw last

month.

•HAVE YOUR SAY: Should

freedom campers be able

to use the Windsport Park?

email annabelle.dick@

starmedia.kiwi

NEW LOCATION

13b Parkhouse Rd, CHRISTCHURCH

Te Ana Marina

Lyttelton Port of Christchurch (LPC)

is building a new marina at the

sheltered site of the inner

harbour pile moorings in Lyttelton

Harbour – Canterbury's only

walk-on floating marina.

Come and learn more about options

for mooring your boat at the new

Te Ana Marina. You can pick up

a Registration of Interest (ROI) to

licence a berth.

Visit www.teanamarina.co.nz

to learn more and register your

interest in a berth.

Proposed Channel Deepening

We need to increase the width,

depth and length of the Lyttelton

Harbour/Whakaraupō shipping

channel so larger ships can get in

and out of the port.

Our resource consent is being

processed by Environment

Canterbury. We have requested

public notification to allow any

person to lodge a submission.

The environmental monitoring

programme will be the most

extensive ever undertaken on a

dredge project in New Zealand.

Come and see what's planned.

For more information:

feedback@lpc.co.nz (03) 328 8198

T018

$

379

NOW $ 249

OLD STOCK VANITIES

Up TO 50% Off

T039

$

399

NOW $ 189

T010

$

499

NOW $ 249

T003

$

429

NOW $ 289

BEST

SELLER

T008

$

429

NOW $ 289

Open 7 Days

Mon - Fri 9.00 - 5.30, Sat 9.30 - 4.00, Sun 10.00 - 3.00

0800 MILLEN | www.millen.co.nz | 03 348 8678

T021

$

699

NOW $ 499

JOIN US AT CHRISTCHURCH HOME SHOW - STAND 158

OCTOBeR 14th - 16th

NEW
---
Wednesday October 19 2016

News

BAY HARBOUR

PAGE 5

In Brief

• By Annabelle Dick

HEATHCOTE VALLEY School

principal Greg Lewis has left

after almost 10 years in the

job.

Mr Lewis finished at the

school at the end of term three

to move to Russley School as the

new principal.

He's sad to be leaving, but he

feels after 10 years in the role

now is the appropriate time

to let someone else step in as

principal.

"I'm really proud of where the

school is at now and in terms of

moving forward. There's a lot of

fantastic things going on there

and I think it's an ideal time to

let somebody else to come in

and grow that," he said.

On Mr Lewis' last day the

school and community shared

a hangi lunch followed by a

poroporoaki (farewell assembly)

where students, staff and the

community shared their memories

and thanks.

Pupils spoke about how they

enjoyed their visits by him,

especially on their birthdays,

how he played a lot of sport with

them and took an interest in

their learning.

Staff spoke of how he has

supported and challenged

them and helped them grow

their skills and leadership,

while residents spoke of his

commitment to the wider

Heathcote Valley area.

He shared fond memories

Principal leaves after 10 years MEETINGS

CLOAKED: Greg Lewis was adorned in a kākahu to honour

his commitment to Heathcote Valley School. (Left): A hangi

was prepared for Mr Lewis' last day. ​

from the past decade as well

and talked about how the valley

came back from the February

22, 2011, earthquake.

"The kids come together,

they look after each other and

they're very giving and that's

so uplifting each day. I've dealt

with some great staff in my

10 years and I'm really proud

of how the community has

bounced back post-earthquake,"

he said.

He was gifted a taonga

(treasure) from the community

and as he walked out of the

hall for the last time he

received a haka from the whole

school.

A new principal will be appointed

to start in term three

next year.

Community boards will meet

for the first time following the

local body election on October 8.

The Linwood-Central-Heathcote

Community Board will also have

their first meeting on October

26 at 9.30am in Linwood. The

newly-formed Banks Peninsula

Community Board will have their

first public meeting on October 31

at 1pm in Lyttelton.

FACILITY OPENED

Lyttelton Port of Christchurch's

MidlandPort at Rolleston was

formally opened last Friday.

It began operating on June 1 and

was opened by Minister of Justice

and MP for Selwyn Amy Adams

last week. MidlandPort acts as

a hub for receiving, storing and

consolidating containers from

Lyttelton Port and as a distribution

point where containers are

transferred between trucks and

trains.

FOOTPATH REPAIRS

Footpath and carriageway repairs

will close Stedley Pl, Heathcote

Valley, next week. Downer will

close the street to traffic but access

will be maintained for residents

although there will be no on-street

parking around the work site. The

work began on Monday and is

expected to take about two

weeks.

NUK KORAKO

NATIONAL LIST MP BASED

IN THE PORT HILLS

Maronan Road, Tinwald, Ashburton

I run weekly mobile office constituency

clinics around the Port Hills. For dates and

locations please visit my website.

You can also contact my office if there is

anything I can help you with.

OFFICE: 6/950 Ferry Road, Ferrymead

EMAIL: nuk.korakomp@parliament.govt.nz

WEBSITE: www.korako.co.nz

PHONE: 03 384 0008

facebook.com/nukkorako.PortHills

Working hard for our community

Authorised by Nuk Korako, 6/950

Ferry Road, Ferrymead, Christchurch

www.national.org.nz

OCTOBER OPEN DAYS:

Open: 11am - 4pm

Sunday 23rd (K88 and Dubs A64 in Steam)

& Monday 24th (K88 and Railcar RM50)

The Plains Railway is celebrating its 45th Anniversary. Train Rides, Stalls,

Vintage Machinery on Display, Commemorative Church Service at 2pm

(Sunday only), Model Engineer Rides Operating, Ashburton Fire Museum

and Lynn Woodworking Museum open for viewing. Eftpos available.

**EFTPOS ON-SITE**

Visit www.plainsrailway.co.nz or

our Facebook Page for details

Phone:

03 308 9600

BNZ is proud to be part of

the Ferrymead community.

Got any banking questions? Pop in for a chat.

We are open Monday to Friday, 9.00am - 4.30pm

Unit 9, 2 Waterman Place, Ferrymead, Christchurch

0800 275 269 bnz.co.nz

MASSIVE

PONGA & FERNS

SALE!

DIRECT TO THE

PUBLIC!

Dicksonia Squarrosa,

Cyathea Smithii

• PONGA LOGS • MULCH • SAUSAGE SIZZLE • COFFEE CART

LABOUR

WEEKEND

Oct 21, 22, 23, 24

8am - 6pm

AWATEA RD

WIGRAM, ChCh

Fantastic selection

from only $20!

Bulk delivery by arrangement

PONGA WHOLESALE LTD | For more information contact Paul 027 420 4565 or Dawn 021 420 227
---
PAGE 6 BAY HARBOUR

Wednesday October 19 2016

News

Big turnout for community

• By Annabelle Dick

IT'S A day Mt Pleasant

residents have waited years for

– the establishment of a new

community centre.

Residents breathed a sigh of

relief when the new $4.6 million

centre was unveiled last

Friday after operating out of a

temporary facility for the past

five years.

The Mt Peasant Memorial

Community Centre had to be rebuilt

after sustaining significant

damage during the February 22,

2011, earthquake which struck

about 2km from Mt Pleasant.

The celebrations began early on

Friday morning with a blessing

by National MP Nuk Korako.

Mr Korako performed a

karakia whakawaatea for the

community centre to make it

ready for use, clearing the way for

the opening later that evening.

He was supported by students

from Linwood College's Kapa

Haka roopu who performed

three waiata.

A crowd of residents went

to the early morning service

including MP Ruth Dyson and

newly-elected city councillor Sara

Templeton.

The two-storey, 600 sq m

building was designed by Grand

LIQUID LAUNDROMATs

289 coLoMBo St, SYDENHAM

next to the sushi shop

7 DAYs: 5am-11pm

WASH & DRY ALL YOUR

LAUNDRY IN ABOUT 1 HOUR

$4.00 WASH

$4.00 DRY

Wash 2 Mink Blankets, Duvets

or Woolrests for only $10

DRY UP TO 4 LOADS IN

oNLY 20 MINUtES! $4

SAvE tIME & ELEctrIcItY

MORNING BLESSING: Linwood College's kapa haka roopu

initiated the opening of the Mt Pleasant Memorial Community

Centre.

Designs NZ host Chris Moller

and has a capacity of 250.

The centre features an atrium,

a studio, a room for meetings

or arts and crafts, a catering

kitchen, and an office.

On Friday night, the centre

held the official private opening.

Architect Chris Moller and

the Leighs team in charge of the

project were on site, as well as past

and present members of the Mt

Pleasant Memorial Community

Centre and Residents Association.

The city council contributed

$1.66 million to the communityled

repair, but the association still

needs to raise about $350,000 to

pay off a loan borrowed for the

construction.

• Fast Dryers

• Sports Gear

• Duvets

• Mink Blankets

• Bedding

• Washers

• Domestic Laundry

other Locations:

345 Stanmore Road, Richmond

47 Carmen Road, Hornby

OPENING NIGHT: Residents check out the new

facility. (Below) – The Mt Pleasant Singers in full

voice with Louis Armstrong's When You're Smiling.

BOOK YOUR

XMAS PARTY

SET MENUS STARTING FROM

$25 PER HEAD

THE ORIGINAL GOURMET PIZZA BAR

www.liquidlaundromats.co.nz

EMAIL US FOR OUR SET MENU: FERRYMEAD@WINNIEBAGOES.CO.NZ | PH. 376 4900

why f45?

• Cost effective Personal

training in a team

environment

• No more boredom!

16 unique workouts; 1200 exercises

that changes daily

• Action packed 45 minute transforming

sessions

• Make new friends and have fun

• Feel the rush of personal achievement

Visit our website

For More DetAiLs

teAM trAiNiNG LiFe CHANGiNG

activate your Free

2 week pass today!

MALe + FeMALe wiNNer

of F45 8 week challenge

F45 8-week challenges deliver results

1st

place

unit 4/ 1 waterman Place, Ferrymead

email: ferrymead@f45training.co.nz Phone 022 188 0850

www.f45training.co.nz/ferrymead f45ferrymead f45_training_ferrymead
---
Wednesday October 19 2016

BAY HARBOUR

PAGE 7

centre opening

CELEBRATION: Nuk Korako and

Linwood College's kapa haka roopu.

STATE OF

THE ART:

Mt Pleasant

Memorial

Community

Centre and

Residents

Association

vice

president

Phillip Ridge

(left) and

president

Derek

McCullough

outside the

new centre.

PHOTO:

MARTIN

HUNTER

JUBILANT:

Mt Pleasant

Memorial

Community

Centre

co-ordinator

Linda Rutland

and former

community

centre

caretaker John

Peterson took

part in the

celebrations.

Dance classes to

help well-being

• By Annabelle Dick

A MT Pleasant resident has

launched a dance class to help

improve well-being and artistic

experimentation.

Dance teacher Sheree Bright

is offering the movement and

improvisation class, Open Waves

Dance, for people of all ages and

abilities at the new Mt Pleasant

Memorial Community Centre.

"The idea is that it is open to

all levels so whether it's your

first dance class or you consider

yourself a non-dancer. There's so

much science behind the benefits

of working creatively through

movement and the rewards are

endless," she said.

Ms Bright started dancing as a

20-year-old. She has a Bachelor

of Arts in theatre studies and

special education and a Master of

Fine Arts in dance.

She has created programmes

in several universities across the

United States, taught at tertiary

level and has run Bachelor of

Fine Arts programmes.

She said there are many benefits

that come with dancing and

movement like improved physical

health, emotional health and

mental health.

"Cognitive learning is stimulated

by movement. Research

shows that the right hemisphere

of the brain (sensing and feeling

side) functions through activities

such as music, art and creativity.

The left hemisphere organises

sequential and logical skills such

as language and speech. When

people are engaged in creative

movement, they are involved in

activities that will increase their

memory and ability to communicate,"

she said.

While the idea of dancing in

a public setting may be a scary

thought for some, Ms Bright

says the classes are intended to

be as open and relaxed as possible.

The classes will allow people

to explore movement exercises

and play with the concepts but

participants won't be forced into

anything they don't want to do.

"One of the important things

is creating the right atmosphere

so people are completely nonjudgemental

of one another.

It's about encouraging artistic

perception in a supportive way,"

she said.

Ms Bright will guide exercises

with music from Bach to the

Beatles, jazz, blues and hip hop.

The classes start on Friday.

SCIRT programme on

the home straight

SCIRT's five year programme of repairs to pipes, roads, bridges and retaining

walls is almost complete and we're aiming to finish construction in December.

The City Council and NZ Transport Agency will continue completing ongoing

repairs to the city's earthquake-damaged infrastructure after SCIRT.

Progress in your neighbourhood

Want

more

info?

Email:

info@scirt.co.nz

Phone:

941 8999

• The Beachville Road Seawall in Redcliffs is now complete and the road sealed.

• Lyttelton is still busy with ongoing retaining wall repairs, underground pipe and roading

repairs that will continue through to the end of the year.

• Work on Evans Pass retaining wall has started with rock stabilisation, and will be

finished by December.

• The large project in Mt Pleasant and Heathcote repairing wastewater, storm water

and roading is due to be completed by the end of November.

Your support is helping us to get the job done.

Thank you from the SCIRT team.

Find out about work

in your area:

www.scirt.co.nz

Email us on:

info@scirt.co.nz to get our:

Weekly Traffic Update

Monthly e-Newsletter

Follow us on Twitter:

@SCIRT_info

#chchtraffic

• David Oliver, Project Manager with SCIRT's Fulton Hogan team

in Lyttelton.

Programme funded by
---
PAGE 8 BAY HARBOUR

Wednesday October 19 2016

News

Sculpture unveiled

• By Annabelle Dick

VAN ASCH Deaf Education

Centre's high school students

have unveiled a new Maori

sculpture for the school's whare

after taking part in a carving

class.

The contemporary plywood

piece adorns the schools's

Tuawera building and it was

revealed last Wednesday

in a powhiri ceremony and

celebration.

The carving was created over

the past four months by male

students under the Whakaraupo

Carving Centre's guidance.

Student Jhonathan Dioniso

said he was honoured to help

in creating the piece at the Lyttelton

workshop.

"The Maori sculpture that

we've made here we did on a

course and it was something

really new for us that we learnt

and we really enjoyed it," he said.

Sculptor Caine Tauwhare

taught the students Maori culture

through arts, different carving

techniques and the meaning

behind the etchings.

"It's the first time we've had

deaf students at the centre so it's

been a real learning curve for

me. It's been a real neat exercise

and I think they've done really

well with what they've created,"

Mr Tauwhare said.

Van Asch Deaf Education

Centre principal Bernie

Mulcahy-Bouwman said

students have done a great job

and it brightens up the school.

UNVEILED: The tekoteko sits

on top of the Tuawera whare

at van Asch Deaf Education

Centre.

"It livens up Tuawera and

the colours are very much the

colours of our school. The blue

of the sky and the green of the

hills around us here at Sumner

so it's very meaningful for us,"

she said.

Auckland sister school Kelston

Deaf Education Centre and the

deaf community also attended

the celebration event.

Ceremony honours

Lyttelton firefighters

• By Hanna Reynolds

ELEVEN HONOURS were

presented at the annual Lyttelton

Volunteer Fire Brigade service

awards.

Chief Fire Officer Mark

Buckley said it was always good

to honour the service of the firefighters

and recognise the effort

and achievement of those who

had reached milestones.

Four three-year certificates

and two five-year medals were

awarded and three two-year

bars to be added to the gold

star medal for those who have

exceeded 25 years of service.

Mr Buckley was awarded a

two-year gold bar for 29 years in

service.

"It's gone quickly. Hell, it feels

like yesterday that I joined," he

said.

There have been highs and

lows but Mr Buckley said he

wouldn't continue if it wasn't

enjoyable.

While the outcome of some

calls can take a personal toll,

there was a great camaraderie

in the brigade and "the good

outweigh the bad by far."

During the earthquake the

work was full on and "it was

astonishing to see the community

support for the brigade,"

with morning and afternoon tea

delivered to the firefighters by

the locals.

"Lyttelton has a very good

community ethic," Mr Buckley

said.

Retired firefighter Tristan

Williams was awarded life

membership for 19 years in

service.

Mr Buckley said the honours

evening, which was attended by

MPs Ruth Dyson and Nuk Korako,

was a good chance for newer

members to meet firefighters

who have gone before.

The honours presentation was

held at Heathcote School hall

but Mr Buckley hoped that the

new fire station would be ready

in time to hold the awards next

year.

Honours list:

Five-year medal –Hamish

McArthur, Paul McCulla.

Two-year bar – Andrew

Yaxley 13 years, Derrek

Sanders 17 years, Tim

Stephen 17 years, Craig

Smith 21 years.

Two year gold bar – Mark

Buckley, 29 years.

Three-year certificates

– Brenda Hurl, Jack

Montgomery, Peter

Lauryssens, Andrew Legge.

learn

Book now for Term Four at your

local Recreation & Sport Centre

To book:

Phone (03) 377 7690

Email swimsmart@ccc.govt.nz

Visit the Swimsmart Office at Jellie Park, Graham Condon or Pioneer

www.ccc.govt.nz/swimsmart

Learn a

skill for

life

CHRISTCHURCH'S PERFECT

InDOOR EnTERTAInMEnT

FLIP OUT

TRAMPOLInE AREnA

CHRISTCHURCH

MAIn AREnA

TRICKInG AREA

FOAM PIT

WALL TRAMPOLInE

TUMBLE TRACK

YOUR SAFETY IS OUR nUMBER OnE PRIORITY

PHONE 384 8244 FOR MORE INFORMATION

230 MACES ROAD, BROMLEY

WWW.FLIPOUT.CO.nZ

Recreation &

Sport Centres
---
Wednesday October 19 2016

BAY HARBOUR

PAGE 9

Spring Is In The Air

Market Comment with Craig Prier

We have some great events coming up this month including our landlord information

evening on November 3rd, a national focus on open homes, and a warm welcome to

our newest licensed agent Vanessa Karabassis!

Spring traditionally sees a lift in the number of properties coming to the market. Good

weather, growth in the gardens and the beginning of daylight savings, all seem to shift

homeowners into listing mode. It's also a great time for buyers. With a wider choice of

properties on the market, buyers can take more time before making a decision.

However, as always, good properties attract the most interest and are often snapped up first. It's a good idea

to have a look around the market to see what might be available, but when you think you have found the right

home that ticks all the boxes and meets your needs, don't hold back for too long. Chances are that if you think

it's a good home then someone else will too!

My advice is to make sure you get yourself into a position to buy as soon as you are able. Organise your

finances, speak with your lawyer, organise insurance if possible and, if need be, get your own property on the

market if you need to sell first.

Matt Clayton

021 2233 998

Vanessa Karabassis

021 955 855

Mark Gardner

021 633 669

Ray White Ferrymead would

like to welcome to our family…

Vanessa Karabassis!

Vanessa offers a refreshing down to earth approach to selling

your home. Growing up in Mount Pleasant, she now lives

in the suburb she loves. Vanessa continues to spend her

spare time strolling Sumner Beach and enjoying the great

restaurants and cafes the area has to offer. Her lifestyle

makes it natural for her to communicate to buyers the

experience of living in the Mount Pleasant community and it's

surrounding suburbs.

In our tech savvy world, Vanessa

can offer something different! With

graphic design qualifications your

marketing will be top notch. You

will have absolute confidence in

her ability to drive buyers to your

home and drive competition to

reach a top price. Just check out

her social media pages to see how

creative and fresh her approach is!

vkrealestate.co.nz

facebook.com/vkarabassis

Instagram:vanessa_karabassis

National Landlord Information

Evening – Thursday 3rd

November from 5.30pm

Join us for an evening of free information,

advice and resources to help you navigate

through the many recent changes to our

tenancy landscape.

Speakers will include:

Ray Hastie – Host

Ray White Property Manager of the Year 2015

Antonia McAtamney

Loan Market Registered Financial Advisor

Loan value ratios and diversity of lending

Albert Nasrella

Drug Testing NZ

Effects of methamphetamine and testing

Kyle Johnston

Smoke alarm installation and fire risk

Scott Cochrane/ Karlie McCullugh

Canterbury Insulation

Legislation, products and costs

You can RSVP by visiting

www.landlordevent.co.nz

Renee Moore

027 227 2033

Patricia Van der bent

027 296 1408

Bev Prout

027 495 9586

Jan Edlin

027 433 8025

Eddie Spry

Sales Recruit

Kane Cooper

027 222 0087

Daisy Foldesi

021 328 059

Marie Malone

0274 898 349

Ross Cooper

027 432 4438

Anna Loader

027 272 7128

Bronny Clifford

021 272 7718

Eleanor Corston

027 435 2415

21 Humphreys Drive, Ferrymead and 47b London Street, Lyttelton

Phone (03) 3844 179

rwferrymead.co.nz /RayWhiteFerrymead

Prier Manson Real Estate Ltd Licensed (REAA 2008)
---
PAGE 10 BAY HARBOUR

Wednesday October 19 2016
---
Wednesday October 19 2016

BAY HARBOUR

PAGE 11

News

UNVEILING: ANZ chief executive David Hisco and customer

Maria Sumner open ANZ Ferrymead together.

New ANZ opened

• By Annabelle Dick

ANZ HAS opened its newest

branch in Ferrymead.

The Ferrymead branch was

officially opened by ANZ chief

executive David Hisco and

ANZ Southern general manager

Rodney King on October 14.

"The new state-of-the-art

branch is in the heart of the

Ferrymead retail hub, where a lot

of our customers are coming for

their daily shopping," Mr King

said.

"The Ferrymead area has gone

through a huge transformation

and a variety of businesses have

relocated there. It's a central link

to the hill suburbs which is much

needed after the earthquake took

Previously

United Travel

away a lot of the infrastructure in

this location."

The branch has free customer

Wi-Fi, a 24-hour lobby and an

ATM that accepts cash deposits

and cheques any time day or

night.

Customers will see familiar

faces from the former Woolston

branch, including Carol Haereroa,

a service consultant who

worked at Woolston for 20 years,

personal banker Michelle Sutter

who has been with the team for

15 years, along with four new

specialist business bankers.

Mr Hisco also presented Maria

Sumner, a long-time customer,

with a bouquet of flowers to

celebrate her being the first customer

to use the branch.

Heathcote Valley; Sumner

gardens feature in awards

TWO Bay Harbour gardens

have been awarded honours

for their home gardens in the

Canterbury Horticultural

Society's Spring Garden

Awards.

Dr Vicki Fowler and Mr

Bernie Smulders, of Heathcote

Valley, received a gold award

in the medium residential

category while Nancy Meherne,

of Sumner, was given a merit in

the same category.

The Canterbury

Horticultural Society will hold

the Summer Garden Awards

early next year.

Premier Garden Award

Peter Van Dee Zee, 9

Clipper Pl, Redwood.

Public and Commercial

Gardens

Businesses and

Institutions category:

Gold: Rossendale

Vineyard, Kennedys Bush.

Gold: Avon City Motel,

402 Main North Rd,

Redwood.

Merit: The Woolston Club,

43 Hargood St, Woolston.

Community Space

category:

Gold: Sockburn School,

34 Springs Rd, Hornby.

Bronze: Community

Gardens, 137 Colombo St,

Beckenham.

Merit: Brackenridge

Community Choices, 180

Smith St, Linwood.

Merit: Smith St

Community Garden, 180

Smith St, Linwood.

Retirement Homes and

Respite Care category:

Gold: Merivale Retirement

Village, 60 Browns Rd,

Merivale.

Silver: Ryman Healthcare,

5 Corbett Cres, Aidanfield.

Silver: Diana Isaac

Retirement Village, 1 Lady

Isaac Way, Mairehau.

Bronze: Ngaio Marsh

Retirement Village, 95

Grants Rd, Papanui.

Bronze: The Oaks

Retirement Village, 88 Main

North Rd, Sockburn.

Home Gardens

Medium Residential

category – properties 501

sq m to 900 sq m:

Gold: Peter Van Dee Zee,

9 Clipper Pl, Redwood.

Gold: Dr Vicki Fowler

and Mr Bernie Smulders,

17 Mauger Dr, Heathcote

Valley.

Gold: Paulette Smail, 9

Bennett St, St Albans.

Gold: Carol and Ray

Skinner, 26 Applefield

Court, Northwood.

Gold: Brian and Janet

Lovelock, 32 Applefield

Court, Northwood.

Bronze: Mary Revis, 11

Greta Place, Hoon Hay.

Merit: Nancy Meherne, 47

Head St, Sumner.

New Home and Garden

category – house and

garden less than threeyears-old:

Bronze - Eden Kendall,

1/15 England St,

Phillipstown.

Pocket Garden category

– for any domestic project

less than 100 sq m:

Merit: Roger Meikle, 387A

Selwyn St, Addington.

Small Residential

category – properties up

to 500 sq m including flats

and townhouses:

Gold: Ian Foster, 190

Gayhurst Rd, Dallington.

Silver: Anne Offwood,

18 Water Mill Boulevard,

Northwood.

Silver: Croydon Thomas,

3 Larnach St, Waimairi

Beach.

Explore Europe

in 2017 with Trafalgar

Great Italian Cities

10 days, 2 countries

$

2895 *

from

per person, share twin

Italy's greatest cities are

in the spotlight on this

epic journey of discovery

CORSICA

SARDINIA

Bologna

3

FLORENCE

Pisa

Tuscany

ROME 3

Mediterranean

Sea

3 VENICE

Assisi

ITALY

Pompe i Optional Experience

Optional Experience on Day 3

SLOVENIA

CROATIA

Adriatic

Sea

UP TO

$800 *

FLIGHT

CREDIT

per person towards

Singapore Airlines or

Emirates return flights

Highlights of Spain & Portugal

13 days, 2 countries

$

2925 *

from

per person, share twin

Visit the Cave Houses

of Guadix, the Alhambra

Palace & Seville Cathedral

PORTUGAL

SALAMANCA

1

Fátima

2

LISBON

SEVILLE

3

1

ALGARVE Jerez

Cadiz

MADRID

2 1

Toledo

Córdoba

Guadix

1

GRANADA

SPAIN

Cuenca

VALENCIA 1

Mediterranean

Sea

see us instore youtravel.co.nz

03 384 2700

*Terms & conditions apply, please ask us for details.

YOU Travel Ferrymead

960 Ferry Road

melissa@youferrymead.co.nz
---
PAGE 12 BAY HARBOUR

Wednesday October 19 2016

Our People

Fiona Pears

From punk rock teenager to

It's been two years

since Lyttelton violinist

and composer Fiona

Pears has put on a show

in Christchurch. This

weekend she'll break the

hiatus with a show at Blue

Smoke at The Tannery.

Annabelle Dick talked to

her about her time in the

music industry, marrying

her manager and leaving

school as a 15-year-old,

punk rock delinquent

You're a musician by trade, how

did you get into music?

I was brought up in a family

that was very musical and my

mother was a piano teacher.

Music was my escape as a young

child. If I didn't feel good, music

made me feel good no matter

what. When I was taken to my

first violin concert at four-yearsold

and that was it – basically

I screamed the house down "I

want a violin, I want a violin,"

and I got one in my Santa stocking.

I used to play it around the

house all the time no matter

what.

Do you play any other instruments?

I did the piano as a second

instrument and I found it easier

than the violin in a way. When

I got to 12, I had to make a

decision between which one I'd

focus more on and I chose the

violin. I did all my grades on

the piano and I got the chance

to play small concertos with the

Christchurch Symphony Orchestra

so I was lucky.

Is your family very musical?

My sister is the piano gun of

the family. She was the national

concerto winner so she's incredible

in her own right. My brother

played guitar but he was more

interested in Holdens. He ended

up running a canvas business but

he loves music. Dad never played

an instrument but he sang every

morning to wake us up and

mum also had lots of old records

that I used to play all the time.

So what kind of music did

you listen to growing up?

I loved listening to and playing

music from romantic composers.

A lot of the things I do are done

from emotion and it's because

romantic music appealed to me

when I was younger. It's lush and

it's glorious. By the time I was 11,

I was listening to The Ruts punk

band and the Sex Pistols and so

on. One of my all-time classics

was Rock 'N' Roll's Greatest Hits

and I bought all the Solid Gold

albums. I even have them on my

PUTTING

IN WORK:

Fiona Pears is

preparing for

her nationwide

tour next year

and a new

album.

phone now and I'm not embarrassed

about it.

Where did you grow up?

I grew up in Greenpark until

about seven, then we shifted

into Christchurch and I went

to St Martins School. I started

to rebel when I was a teenager

– maybe it was my personality.

I went to Linwood College for

two years and then I went to

several other high schools very

briefly. Linwood was fantastic

for me but I don't think I wanted

to be disciplined. I would bunk

off class, but it's not like I was

smoking behind the toilets, I

was really practicing the violin.

I wanted to run riot and I did

run riot so I left school at 15. I

did study outside of school and

my parents did everything they

could.

So what did you do after high

school?

I studied with a violin teacher

at Canterbury University and he

was very strict and disciplined

with technique and I learnt

so much. My teachers and my

mother have been my grounding

for my whole life. Even though

I stopped regular lessons while I

was a teen, I always went back to

everything I was taught because

it worked. I always held on to the

tit-bits and gold that I've been

given from different people over

the years. When I left school, I

made some money from busking

outside Ballantynes with my

punk hair-do, my Dr Martens

and my ripped leather mini skirt.

Quality hairdressing at honest prices

meet the team...

Daryl Brazil

Favourite food:

Roast dinner

Hairdressing exp:

25 years

Favourite treatment:

Restyles, I love to push

boundaries and create

shapes

Five words to sum you

up: family man, modest,

truthful & spiritual

Lauren Hendry

Favourite food: Pizza

Hairdressing exp:

8 years

Favourite treatment:

Any type of colour work,

I love trying out new

things

Five words to sum

you up: happy, caring,

honest, helpful, & loyal

Emma Chang

Favourite food:

Everything

Hairdressing exp:

7 years

Favourite treatment:

I love them all, make

my day with something

unusual

Five words to sum you

up: honest, kind, crazy,

funny & easy going

latest trend...

A new twist on

an old treatment.

Who would have

thought that

getting your roots

done could be so

exciting.

Come in today to

get the latest trend

(root melt) from

Sumner's newest

hairdressers

$150

inclusive of

cut & blowdry

We pride ourselves on being friendly,

professional stylists with a passion for hairdressing, who

listen to our clients to meet their individual needs.

Contact us to book your appointment today

34 Nayland St, Sumner. Ph: 03 326 5807. fireflyhairdressing
---
Wednesday October 19 2016

BAY HARBOUR

PAGE 13

classical concert violinist

I used to drive mum and dad

crazy with my hair because I

kept dying it black and they'd

keep taking me to the hairdresser

to get it stripped time and time

again. I even shaved the sides

to create a mohawk – it was

horrendous. When I was a teen

I was falling out of love with

practicing music. I did the big

competitions but my heart wasn't

in it and I wasn't practising as

much as I should've been. By 18,

I was feeling lost. I left home,

I left the city and moved to

Wellington. I got a part time job

and had lessons with the New

Zealand Symphony Orchestra

concert master and that was

good for a while. I've never been

good at being away from family

so I came back to Christchurch

and joined the CSO again.

I then got into jazz and gypsy

music and ended up joining

a group called the Blue Swing

Quartet. That was 23 years ago

and that was the first time I

toured around the country.

So you went on and made

your career from there?

Well, I went through a dark

stage between 20 and 24. Due

to influences from the industry,

I hit rock bottom really quickly.

I got into a habit of drinking

all the time and I was working

AMY ADAMS

MP FOR SELWYN

Constituency Clinics

held regularly in Akaroa

and Diamond Harbour

If you would like to sign up for my newsletter

please visit www.amyadams.co.nz

CONTACT

P: 03 344 0418 | F: 03 344 0420

E: selwynoffice@parliament.govt.nz

Working hard for our communities

Authorised by Amy Adams, 829 Main South Road,

Templeton, Christchurch

www.national.org.nz

in bars six nights a week. I was

doing what a lot of teenagers

do not aware that it was going

to form an addiction and

become my crutch to be able

to perform. I ended up in

alcoholics anonymous and it

saved my life. When I got into

recovery I had to relearn how to

live and how to play the violin in

public. It was a really wonderful

and an incredibly frightening

experience. It took me a year to

get the confidence to perform

and even though I got twice

as nervous, something else

happened and I started writing

music and that was a whole new

experience.

Wow what a journey, how did

you manage to reach success

after going through such a dark

period?

My parents saved my life time

and time again and I say that for

real. They stepped in when it was

dark and went beyond what a

lot of people would. Of course,

all parents do whatever they can

for their kids, but they've been

amazing. I wouldn't be where

I was now without them. My

parents helped me buy a house

at 25 and I became a DIYer. I had

an amazing time doing that then

I started teaching, began touring

and started recording my own

6 ISSUES

delivered to your door

FROm ONly

SUBSCRIPTIONS FREEPHONE

0800 77 77 10

rugbynews.co.nz

AT EASE: Fiona with her two

loves – her violin and pet dog.

music. I went travelling overseas

for a few years and I wrote a

lot of music and made my first

CD. That's actually how I met

my husband but that's a whole

different story in itself.

Do tell, how did you meet

your husband?

I was asked to lead the band

for the Hayley Westenra world

tour and Ian Tilley was her

musical director. So we met in

$

44. 50

ANNUAL

PLANT

SALE

New Zealand as he had flown

over from London and we did

what you're not supposed to do

and hooked up on tour. That was

13 years ago so I owe Hayley and

her family a big thank you. We

lived in London and travelled all

over the world for about seven

years after that.

Is it difficult being married to

someone who you're involved

with professionally?

It works because we don't tell

each other what to do, we try

help each other. Even though

we work together, we work very

separately because he's a record

producer and goes back to the

UK quite often. He's got his own

career as well as supporting

me and playing piano in the

band. I trust him implicitly and

I actually prefer working with

him. I like having him on stage

with me and we both love music

so much that if we ever have an

argument, we always have music

to come back to. And, of course,

I think he's hot too.

Do you and Ian have a

family?

No, we don't, but we have fur

babies (God I hate that word).

We have three of them and I

want to add to the zoo but not

yet because we're doing a lot of

touring next year. We haven't

22-30

OCT

PUNK MEETS CLASSICAL:

Fiona was not your typical

teenager.

had children mainly due to

our careers. I would adopt in

a second but it's not as easy as

saying it. I feel we have a lot to

give children. I have 22 students

and I adore them all. I'm lucky

I get to spend wonderful hours

with children every week but

don't get the hassles that come

with parenthood.

What's coming up for you in

the near future?

Next year I'm going to be

doing a new album and I'm not

allowed to say what it is but

it's going to be very exciting.

It's something in the pipeline

that hasn't been done before

involving a lot of Christchurch

and New Zealand musicians. I

also have a New Zealand tour

next year as well.

SAVE UP TO 60% on thousands of selected plants

Includes Natives, Hedging, Grasses, Specimen Trees, Perennials, Forestry & Fruit Trees

Open every day from 9am to 5pm, with plenty of helpful staff! Deals instore only.

Visit www.southernwoods.co.nz/sale for more details.

STARTS

9AM

SATURDAY 22

1133 Main South Road Christchurch 0800 800 352

Visit our new website: www.min.nz

A professional realtor with

local expertise

and a personal touch

COASTAL REAL ESTATE SPECIALISTS

We'll help you live the dream.

Min Sarginson Real Estate Ltd. specialises in homes, sections and

rental properties in the spectacular Lyttelton Harbour bays, and

coastal suburbs of Christchurch, New Zealand.

We'll make it so easy for you. All our sales consultants live in the

area – we can give you valuable insights into life in our thriving

coastal communities.

This is an exciting time; of promise, optimism, and opportunities

never anticipated pre-quakes. Beachfront, or hillside with

grandstand views, find the property of your dreams:

Lyttelton | Diamond Harbour | Governors Bay | Cass Bay

Charteris Bay | Church Bay | Purau Bay | Port Levy | Northshore

Southshore | New Brighton | Heathcote | Sumner | Redcliffs

Scarborough | Mount Pleasant | Clifton

Call Min Sarginson Real Estate Ltd. for free, no-obligation advice. Lyttelton: 03 329 4161, lyttelton@min.nz or Church Bay: 03 328 7273, churchbay@min.nz
---
PAGE 14 BAY HARBOUR

Wednesday October 19 2016

SCHOOLS

Bin gone

missing on

collection

day?

Report within

24 hours to avoid

replacement costs.

CODING CLASS: Older students taught the primary school children how

to code on the computer. ​

BUILDING BLOCKS: These pupils made

mini karts out of Lego

Encouraging inquiring minds

?

For further information,

phone 941 8999 or visit

loveyourrubbish.co.nz

• By Schira Withers, Our Lady

Star of the Sea deputy principal

THE BAY'S cluster schools

came together for a two-day

festival of technology this

week.

One hundred and twenty

year 5 to 8 children from

Sumner School, Redcliffs

School, Mt Pleasant School,

Heathcote Valley School and

Our Lady Star of the Sea

School, participated in one of

12 workshops facilitated by

teachers and two specialist

organisations – The Mindlab

and Fablab – which have a

passion for technology and a

desire to share knowledge to

the greater community.

The children were exposed

to a range of technological

concepts, including coding,

robotics, e-textiles, stop motion

movie-making and much

more.

The aim of the event was to

not only encourage inquiring

minds to explore the future of

learning, but also to facilitate

collaboration amongst a cluster

of schools.

Two workshops were also

held by year 9 students from

St Andrew's College and St

Margaret's College, who volunteered

their time as a way of

'giving back'.

They created lessons using

computer coding with Scratch

and Makey Makey kits plus

Bee-Bots and taught two sessions

per day to year 3 and 4

children.

The event was launched

with an introductory speech

focusing on the importance of

approaching this opportunity

with a sense of curiosity,

creativity and persistence.

These are just a few of the 24

character strengths which are

essential to being creators of

the future.

The bay's cluster schools

have been part of a Ministry

of Education trial over the

last year which has embraced

the importance of character

strengths to enhance the well

being of youth to ensure their

education is holistic.

Download our

latest catalogue

38 Brisbane Street | Ph 377 7994

DIRECT

access to best brands

From

$67.85

www.amaresafety.co.nz

Ferrymead

It Was Only Ever You

by Kate Kerrigan

Heartbreak and misunderstandings are woven through this uplifting story of a woman who

can never quite believe that her gorgeous husband really loves her. Set, like Maeve Binchy's

early bestsellers, in late 1950s Ireland and New York, this is the story of three women and

the charismatic man with whom their lives are interwoven. Patrick Murphy has charm to

burn and a singing voice to die for. Many people will recognise his talent.

Many women will love him. Rose, the sweetheart he leaves behind

in Ireland, can never forget him and will move heaven and earth to

find him again, long after he has married another woman. Ava,

the heiress with no self-confidence except on the dance floor,

falls under his spell. And tough Sheila Klein, orphaned by the

Holocaust and hungry for success as a music manager, she will

be ruthless in her determination to unlock his extraordinary star

quality. But in the end, Patrick Murphy's heart belongs to only one

of them. Which one will it be?

Working Class Boy

by Jimmy Barnes

The time I have spent writing this book has caused me a lot of pain. Sometimes because

of what I have remembered about my childhood and sometimes because of what I

couldn't remember. It is funny how your mind blocks things out when those things can

hurt you. There are a lot of things I wish I didn't remember... A household name, an

Australian rock icon, the elder statesman of OzPubRock - there isn't an accolade or cliche

that doesn't apply to Jimmy Barnes. But long before Cold Chisel and Barnesy, long before

the tall tales of success and excess, there was the true story of James Dixon Swan - a

working class boy whose family made the journey from Scotland to Australia in search

of a better life. Working Class Boy is a powerful reflection on a traumatic and violent

childhood, which fuelled the excess and recklessness that would define, but almost

destroy, the rock'n'roll legend. This is the story of how James Swan became Jimmy

Barnes. It is a memoir burning with the frustration and frenetic energy of teenage sex,

drugs, violence and ambition for more than what you have. Raw, gritty, compassionate,

surprising and darkly funny - Jimmy Barnes's childhood memoir is at once the story of

migrant dreams fulfilled and dashed. Arriving in Australia in the Summer of 1962, things

went from bad to worse for the Swan family - Dot, Jim and their six kids. The scramble

to manage in the tough northern suburbs of Adelaide in the 60s would take its toll on the

Swans as dwindling money, too much alcohol, and fraying tempers gave way to violence

and despair. This is the story a family's collapse, but also a young boy's dream to escape

the misery of the suburbs with a once-in-a-lifetime chance to join a rock'n'roll band and

get out of town for good.

WIN THIS BOOK

ENTER TO

WIN

THIS BOOK

book

release

We have one copy of It Was Only Ever You by Kate Kerrigan to give away, courtesy of Take Note Ferrymead.

To be in the draw, email giveaways@starmedia.kiwi with It Was Only Ever You in the subject line or write to

Take Note Book Giveaway (It Was Only Ever You ), Star Media, PO Box 1467, Christchurch 8140. To be eligible

for the draw, all entries must include your name, address and contact number. Entries close Tuesday, 1st

November, 2016. Winner of 'Red Herring' is Fiona McGill of Lyttelton.
---
Wednesday October 19 2016

BAY HARBOUR

PAGE 15

in for Spring

2017

Calendars

& diaries

speCial

speCial

priCe

$

44 99 priCe

$

44 99

1005 Ferry rd

Ph 384 2063

while stocks last (see instore for terms and conditions)

Barry & kerry
---
Page 16

BaY HaRBOUR

WEDNESDAY OCTOBER 19 2016

House of Travel Ferrymead

has moved!

Our brand new store opened its doors on Monday 26 September

at its new location 987 Ferry Road, Ferrymead.

Thank you to all those who supported us while we were in our

temporary home - we can't wait to welcome both new and

existing customers into our brand-new concept store.

Please pop in and say hello!

Book any

International

Air New Zealand flights

between opening date

26 September to 30 November

2016 and be in to

WIN

500 AIRPOINTS

DOLLARS*

*For full T&C's refer in

store

The best holidays are created together.

987 FERRY ROAD, FERRYMEAD VILLAGE | 376 4022 | FERRYMEAD@HOT.CO.NZ
---
WEDNESDAY OCTOBER 19 2016

BaY HaRBOUR

Page 17

The essential guide to

guided holidays

Inspirational travel evening

with House of Travel Ferrymead.

Wednesday

02

November

2016

Join us at our new store for drinks and refreshments for this one off special show.

Guided holidays are an excellent stress-free way of linking together all the experiences you wish to have on your

overseas travels, and choosing the right one is important to ensure you are visiting the key areas you wish to visit at

a pace and timeframe and in a group size that is right for you.

Get the facts and essentials at this show that highlights all the tips you need to know to create an unforgettable

holiday that includes fabulous hotels; breakfast daily & often many dinners; VIP access and queue jumps to selected

sights; luxury air conditioned coach transport; porterage, tips & local charges plus a range of optional experiences.

House of Travel Ferrymead/987 Ferry Road, Ferrymead

CALL 03 3764 022 OR EMAIL FERRYMEAD@HOT.CO.NZ TO REGISTER – SPACE IS LIMITED
---
2

[Edition datE]

PAGE 18 BAY HARBOUR

Wednesday October 19 2016

itLocal

Keep

Bay Harbour

News

Sparkling new premises

for drycleaning business

The long-established Ferrymead business, Ferrymead Drycleaners, has now moved into

brand-new premises in Ferry Road, directly behind Casual & Country.

Following the February

2011 earthquakes that

completely destroyed

the former retail shop

and drycleaning plant,

Ferrymead Drycleaners

operated out of a portacom

for four and a half years.

While this was

conveniently located

and served the purpose

well, the staff are now

thrilled to have permanent

premises in the smart

new Country & Casual

complex at 1027 Ferry

Rd and are enjoying

welcoming customers

there.

Long-standing staff member Sandra

says the relationship the staff at

Ferrymead Drycleaners have built

Long-standing staff

member Sandra

up with their regular

customers over the years

and the service offered

are the key aspects of the

business.

"We pride ourselves on

looking after our loyal

customers and we enjoy

having a chat to them. It's

like a family-orientated

business," Sandra says.

"Our new shop is in

the perfect spot. We have

been through some hard

times and we've now

come out at the right

end."

She notes that the

location on Kite Lane offering easy

drive-through access from both Ferry

Road and Humphreys Drive is ideal,

with the added bonus of parking right

outside the door.

Ferrymead

Drycleaners offers the

full range of drycleaning

services, and specialises

in cleaning drapes and

furnishings, as well as

wedding dresses, ball

gowns, and leather and

suede items, all with a

quick turnaround.

They also take in

repairs and alterations

to furnishings and

clothing.

The fast-growing area of Ferrymead

is buzzing with business activity and

Ferrymead Drycleaners is just one

of a wide range of retail and service

businesses either opening or relocating

there, making it a one-stop location for

residents from Woolston to Sumner.

Ferrymead Drycleaners,

1027 Ferry Road, is open

Monday to Friday 8am-

5.30pm. Phone 384 5015.

DOES

YOUR CHILD

NEED SOME HELP?

ENROL THEM TODAY!

Welcome Home

Special

FERRYMEAD

• Mathematics

• Reading

• Spelling

• English

• Sciences

• NCEA Subjects Y11-13

• Preparation for school

entrance test

FREE

AssEssmEnt

FASHION RECYCLE SHOP

The best in recycled designer clothes,

shoes & accessories plus new samples

& end of lines.

Always accepting new stock.

OPEN 7 DAYS

To celebrate our new permanent home you can have

one pair of trousers

drycleaned absolutely free!

You must present the coupon. One pair of trousers per coupon.

One week turnaround. Offer expires 28 October 2016.

Unit 1/27 Waterman Place, Ferrymead

(just off Ferry Rd) | Phone 384 1188

www.kipmcgrath.co.nz

Shop 2, Sumner Village Mall

Christchurch | 03 326 7246

Come & see us

in our new premises in

Kite lane, 1027 Ferry Rd

Behind Casual & Country

Iron out

your

driving

habits

with

JM Driver Training!

1-hour lessons from $65

Can teach manual transmission in your car!

MAKE IT LEATHER

THIS CHRISTMAS

Get your order in soon

for Christmas

Give your loved one something unique this Christmas…

a handcrafted, hand stitched leather bag or belt…

something they'll treasure for a lifetime.

Large range of styles, colours and sizes to choose from!

Designed by Graham Lydiard

Womans from $99

Mens from $100

47c Garlands Rd, Woolston

Ph. 389 3431

www.thefootwearfactory.co.nz/

AA Certified

New Learners

Refresher Training

Call Jeff today!

(027) 537-1966 or email:

jeff@jmdriving.co.nz

Open Monday - Friday 6am-5pm

& Saturday 7am-3pm

8 Norwich Quay, Lyttelton

Phone: 03 328 9004

Peter O'Brien

153 Port Hills Road

Heathcote Valley

Phone 027 221 4066

Hand Crafted leather Goods

www.villageleathercraft.com

Advertising enquiries Javier Balcazar | Ph: 021 225 8221 | javier.balcazar@starmedia.kiwi
---
Wednesday October 19 2016

BAY HARBOUR

PAGE 19

Your Local Views

Pathway soon to open

Christchurch

Coastal Pathway

Group funding

manager and

newly-elected

Linwood-Central-

Heathcote

Community

Board member Tim Lindley

talks about the latest in the

coastal pathway project

The newest section of the

Christchurch Coastal Pathway,

from the causeway round

Beachville Rd to Redcliffs Village

is nearly ready for use.

The Coastal Pathway Group,

Redcliffs residents and Downer

are planning an event on November

6 from 10am to 1pm to

celebrate its opening. With more

space alongside the pathway, the

new section offers more places to

stop and enjoy the environment

and to socialise.

There is a lot more work still

to do. At the Redcliffs Park end,

the ground around the pathway

is being shaped now so that next

autumn it can be made ready for

planting. There are also plans to

install seats and tables to encourage

people to stop and enjoy

watching the birdlife so prolific in

this area.

Further round, the pathway

runs alongside the Beachville sea

wall. A capping placed on the

seawall doubles as seating. On

the landward side, a large grassed

area has been planted and will

be great for picnics and games.

A small cycle skills area for very

junior riders is planned for the

Redcliffs Village end of this space.

The landscaping is new and

still fragile, so the pathway group

asks if contractors and trades

people working in the area could

please avoid parking on the newly

grassed areas, potentially causing

damage.

As it turns out, people aren't

the only pathway users. The local

seagulls have found the surface

by the seawall ideal for breaking

shells, while near Mt Pleasant the

cormorants love to roost in the

lone macrocarpa tree and decorate

the asphalt underneath.

The next stage of the pathway

will be from Deans Head (by

Rapanui), to Sumner Village. The

loss of the footpath by the cliff

means there is an urgent need to

get a permanent pathway in place

on the seaward side.

A reader responds to

articles on coastal hazard

information put on

properties LIMs.

Val McClimont – Thousands

of residents living in our coastline

communities have every right to

feel betrayed by our council's decision

to persevere with the LIM

notations on their properties after

the peer report of the Tonkin and

Taylor report of July 2015 was

found to be flawed.

Notations on LIMs should

be based on verifiable hazards

such as motorway plans or road

widening.

The 2013 Tonkin and Taylor

report, commissioned by the

city council on sea level rises,

found eight areas of unknowns

or uncertainties (Section 2.4). In

the interval between November

2013 and July 2015 what had

changed? Nothing, except that

Section 2.4 was missing from the

2015 report.

The high levels of uncertainties

and unknowns are still present.

That being the case we have a

situation where council has made

decisions based on high levels of

uncertainties and unknowns and

therefore its decisions are flawed.

Increases in sea level rises are

predicted against a background

of increases in global temperatures.

But the IPCC's (Intergovernmental

Panel on Climate

Change) predictions on global

temperature increases have never

been realised. They have consistently

over-stated reality.

Dr John Christy, a climatologist

of the Alabama University,

produces the above graph to

demonstrate the gap between

reality and IPCC predictions.

Our council is making decisions

on the failed predictions of

the IPCC and therefore there can

be no legal requirement to add

that information to the notations

of property LIMs.

A reader responds to an

article from last week on

putting basic toilet and

kitchen facilities on land

near Windsport Park after

freedom camping was

banned on site.

Ali McLauchlan – After

reading your article about "Freedom

campers facility possibility

at Windsport Park" I have decided

to send this email.

A lot of us who live up on the

hill wrote into the council expressing

our concern on several

matters. I read your story with

interest about the Ferrymead

businessmen who wants to turn

council land into a facility area

for freedom campers.

I wonder if they have spoken

to another local businessman

who owns the camping ground

about 2km away from the

area who lost about $50,000 of

income when the council let the

freedom campers stay.

Also, if they are thinking

about putting in some basic

facilities then council requirements

will be the same as what

people have to do if they own

a camping ground to which I

wonder who is going to pay for

all these ideas? (Abridged)

•More local views, p21

The

Woolston Club...

A classic, contemporary

club experience

Cafe open from 11am

TAB & Gaming, Function Facilities,

HOUSIE Tuesday, Thursday, Saturday

SHUTTLE Tuesday - Saturday

Open 7 Days

Restaurant open

from 5.30pm!

RETRO ROAST LUNCH

12PM-1.30PM

WEDNESDAYS

$10 Members / $12 Non

-COMING EVENT-

MRS BROWNZ BOYS

3 course Meal & Show. $65 a ticket

SATURDAY 5th NOV

FRIDAY 7.35pm: OTAGO v BOP

SATURDAY

2.35pm: WELL v N.HARBOUR

7.35pm: NZ v AUSTRALIA

12

Pay nothing until

November 2017

MONTHS

OR

deferred *

interest free *

Other deferred

options available

- see instore

12 MONTHS

YOU CHOOSE THE DEAL

$

1699

SAVE $800

FAIRFAX

3 seater + 2 seater

Cushions, rug and accessories not included

OFFER VALID 19-24 OCTOBER 2016. *Lending criteria, fees, terms and conditions apply. Minimum spend $500.

Riccarton Megastore, 179 Blenheim Rd. Phone 341 3196 • OPEN 7 DAYS • www.bigsave.co.nz
---
PAGE 20 BAY HARBOUR

Wednesday October 19 2016

FEATURE

LISTING

SIMPLY THE BEST - NEST OR INVEST!

14 St Adela Place

The vendors have outgrown this impressive home and they need to move soon. Only two years old and built

to high specifications, this family-perfect home features three double bedrooms, with built-in wardrobes,

quality curtains and carpet. Immaculate throughout, neutral tones, allow you to place your own stamp here.

An entertainer's haven, host perfect parties with a fantastic indoor/outdoor flow to a sun-drenched patio,

while the kids are safe with the fully fenced outdoor space. Inside, the open plan kitchen, dining and living is

the heart of the home, with quality appliances to make life a breeze.

Family fantastic, immaculate investment

Woolston

Auction

12pm, Fri 28 Oct 2016 (unless sold prior)

3 Deans Ave, Chch

View Thurs/Sun 11.30-12pm

www.bayleys.co.nz/553297

Bonnie Brown

M 021 343 407

bonnie.brown@bayleys.co.nz

WHALAN AND PARTNERS LTD, BAYLEYS,

LICENSED UNDER THE REA ACT 2008

MARILYN STILL

027 229 8769

marilyn.still@bayleys.co.nz

MARILYN STILL &

BONNIE BROWN

NOW WITH BAYLEYS FERRYMEAD

BAYLEYSCANTERBURY.CO.NZ I 03 595 2844 I 987 FERRY ROAD

BONNIE BROWN

021 343 407

bonnie.brown@bayleys.co.nz

CURRENT

LISTING

CURRENT

LISTING

CURRENT

LISTING

111b Taylors Mistake Rd, Scarborough

Rosemarie de Jong - 027 240 8005

3 Peregrine Close, Mount Pleasant

Adam Heazlewood - 027 327 7298

405 Upper Major Hornbrook, Mount Pleasant

Rosemarie de Jong - 027 240 8005

CURRENT

LISTING

CURRENT

LISTING

CURRENT

LISTING

119 & 121 Main Road, Redcliffs

Sara Ashcroft - 021 359 864

08 Marriner Street, Sumner

Rosemarie de Jong - 027 240 8005

220 Major Hornbrook Road, Mount Pleasant

Wendy Miles - 021 533 251

CURRENT

LISTING

CURRENT

LISTING

CURRENT

LISTING

92 Mt Pleasant Road, Mount Pleasant

Sally Hargreaves - 027 240 8005

2 Teviotdale Way, Richmond Hill

Rosemarie de Jong - 027 240 8005

345 Mt Pleasant Road, Mount Pleasant

Steve and Belinda Ellis - 0800 30 30 33

Whalan and Partners Ltd, Bayleys, Licensed under the REA Act 2008
---
Wednesday October 19 2016

BAY HARBOUR

PAGE 21

Your Local Views

It's okay to not be okay

National

List MP Nuk

Korako writes

about talking

openly about

mental health

and suicide

prevention

Last month I attended part of

the Waitaha Suicide Prevention

Symposium organised by He Waka

Tapu.

Everyone there shared a common

goal – a desire to see New

Zealanders talk more openly about

mental health and suicide prevention.

It's a conversation we must

have.

One in five of us are affected

by mental illness every year, and

564 New Zealanders committed

suicide in 2014/2015 according to

provisional figures released by the

chief coroner.

I know government has a role to

play in supporting mental health

and preventing suicide. Since

coming to office, National has put

a number of initiatives in place to

do this.

These include the Rising to the

Challenge Mental Health and Addiction

Plan, the prime minister's

Youth Mental Health Project, and

the Suicide Prevention Action Plan.

We've increased mental health

and addiction services funding

from $1.1 billion in 2008/09 to over

$1.4 billion for 2015/16, but we've

also listened to people's calls to do

more. That's why this year's Government

budget included an extra

$12 million in funding over four

years to make it easier for people to

access mental health help earlier.

Yet getting to the heart of this issue

requires more than just money.

It also requires attitudinal change.

While we've seen a shift in society's

willingness to speak openly

about mental health and suicide,

stigma remains.

We all need to challenge this in

every corner of our community

– at home, at work, and on the

marae.

People must be able to ask for

help without fear of being judged,

alienated, or embarrassed. No one

should fear that reaching out will

negatively impact their standing in

their workplace or community.

It's time to give up the 'harden

up' attitude towards mental health

and acknowledge it's okay to not

be okay. It's okay to ask for help.

And if someone asks you for help,

remember that simply listening

without judgement is one of the

most important things you can do.

•If you or someone you

know needs help, please

visit mentalhealth.org.nz

for a list of places that offer

support and advice. If it is an

emergency and you feel like

you or someone else is at risk,

phone 111.

Bronze sled dog statue

dedicated in Lyttelton

• By Lions Club of Lyttelton

secretary Mary Jamieson

HELLO EVERYONE – I hope

you are enjoying the warm

days. I am so glad we missed all

the rain that the North Island

received.

On Saturday I saw the bronze

sled dog statue being dedicated

outside the library in Lyttelton.

Named Hector by a local

schoolgirl, he stands looking

out to Quail Island. This is so

appropriate as the sled dogs

were trained on the island by

Captain Robert Scott before

heading for the Antarctic.

I see Christchurch was

overjoyed to hear that Bruce

Springsteen is performing here.

We in Lyttelton are overjoyed

that our local lad Marlon Williams

is opening for him here.

So proud.

On September 29 the aged

care van was presented to Age

Concern Canterbury. Funds

for the van came from several

sources and Lyttelton Lions

were one of the many clubs

which donated money towards

the purchase. Congratulations

to New Brighton Lions who

managed this project.

GREAT SUCCESS: Lions clubs from around the

city collaborated to raise $50,000 for Age Concern

Canterbury's new mini van.

My club

held a

barbecue at

Bunnings in

September

and we had a

great day. We

sold heaps

of sausages and raised a good

amount of money. This goes

into our project account and

we can use it for donations to

needy people, support for youth

projects and help in the community.

I won't be writing a column

next month as I am going to

Australia for a month. I am

catching up with friends as we

drive around the Snowy Mountains

area in New South Wales,

seeing my family in Canberra

and Adelaide and having time

out in Townsville, Queensland.

My big hope is that I do not see

a road cone or a detour sign the

whole time I am away. I live in

hope.

Don't forget our president

is always happy to talk to you

about Lions. Bob's number is

384 6124/027 436 1901.

For all your

emergency

plumbing

and

gasfitting

needs

PLEASE give

us a call.

Back Row: Mark, Aaron, Jacob, Mark, Sam

Front Row: Liz, Matt, Sandra, Ant & Paul

SERVICING ALL AREAS OF CHRISTCHURCH

Phone today! 3790-711

or email us: info@whiteheadplumbing.co.nz

Thinking of Selling?

SPRING into action!

After the dormant winter months the property market has sprung

into life with very active buyers urgently looking for their new

home. If considering selling before Christmas call Chris today

for an up to date property appraisal and latest market news.

For a confidential no-obligation chat about

the value of your home call Chris today.

Chris Moores

Harcourts Grenadier Ferrymead

1020 Ferry Road

P: 03 384 7950 | M: 027 588 4440

E: chris.moores@harcourts.co.nz

GRENADIER

Licensed Sales Consultant REAA 2008

sellOut

Montego Firm or Medium Mattress & Base

• Classic 8 inch Pocket Spring technology which minimizes partners

disturbance as each individual coil reacts separately.

• Comfort Foam Edge support.

• Naturally Healthier Latex. Pure New Zealand luxurious wool

• 10 Year Warranty - Made in Christchurch.

Open 7 Days Mon - Fri 9 - 5.30pm Sat - Sun 10 - 4pm

QUEEN

$1899

KING

$2199

up tO

18 mOnths

interest

free!

SUPER KING

$2399

242 Ferry Rd Along From Old Ami Stadium | Phone 377 8887 | www.bedworld.co.nz

SAVE

uP to

$2000
---
PAGE 22 BAY HARBOUR

Wednesday October 19 2016

Enjoy your long weekend

Fresh NZ Pork

Shoulder Roast

(Excludes Free Range)

Schweppes

Sparkling Soft

Drink 1.5L

(Excludes Classic Dry)

$

7 99

kg

99 c each

Loose Hothouse Tomatoes

Signature Range Mild/Colby/Edam Cheese 1kg

$

4 99

kg

$

7 99

each

Fresh Tegel NZ Chicken Drumsticks

Hass Avocados

Whittaker's

Chocolate

Block 250g

$

5 99

kg

Steinlager Classic

15 x 330ml Bottles

99 c each

Selaks Premium Selection/

White Cliff

750ml

$

4 29

each

Eta Munchos/Monster Munch/Cruncheese/

Cheese Balls/Spuds 100-150g

Please drink

responsibly

$

24 99

pack

SuperValueNZ

SuperValue.co.nz

$

8 99

each

$

1 49

each

SuperValue Lyttelton: 17 London Street, Lyttelton. Phone 328 7368. Open 7am-9pm, 7 days.

SuperValue Sumner: 3 Village Mall, Sumner. Phone 326 5688. Open 7am-9pm, 7 days.

Specials available from Wednesday, 19th October until Sunday, 23rd October 2016 or while stocks last. We reserve the right to limit quantities. All limits specified apply per customer per

day. Trade not supplied. Prepared meals are serving suggestions only. Props not included. Certain products may not be available in all stores. Proprietary brands not for resale.

Customer Support Freephone 0800 40 40 40.

svbhn1910
---
Wednesday October 19 2016

Fashion

BAY HARBOUR

PAGE 23

Get the latest summer look

Annabelle

Dick checks

out spring

and summer

trends

THEY WORKED at school, but

will they work in the office?

Culottes have made a heroic

comeback over the past year and

they're not going away anytime

soon. From Kendall Jenner to

Victoria Beckham, everybody

seems to be rocking the schoolyard

trend.

While switching your skinny

jeans to culottes may seem like a

bit of a stretch, these wide-legged

cropped pants are pretty easy to

pull off when worn right.

Once you own a pair, you'll

find they're practically interchangeable

with your favourite

black denims.

If your culottes are plain, steer

towards something more playful

up top to really balance out your

look. And if your culottes are the

star of the show, keep your top

half neutral.

Pair plain culottes with a crisp

blouse and a pair of mules for a

work-ready look.

If you're looking to integrate

cropped pants into your everyday

wardrobe, culottes will go

perfectly with a playful top like

seen on the beautiful Olivia

Culpo.

But it's not sweater weather any

longer so it's time to pull out the

old faithfuls lurking in the back

of your wardrobe for another

season, or head to the shops for a

wardrobe rejuvenation.

Here are some other looks you

should get into, just in time for

the warmer weather.

Blue and white stripes: Picture

it. It's 30deg C and you're lounging

sea-side in the French Riviera.

Your blue and white striped

maxi dress flows freely in the

breeze as you look ready to board

your own private yacht. Blue and

white stripes is one way to look

relaxed and effortlessly chic at

the same time. This season is all

about the stripes.

Pleated skirt: A spin on an old

classic. Add a hint of sophistication

by trading in your pencil

skirts for a nice pleated number.

Pair with a set of sneakers to

dress it down and you'll look oh

so cool.

Summer will also see the return

of mirror sunglasses, statement

earrings, wide-leg pants,

PLEATS PLEASE: Pair your flats

with a calf-length pleated skirt

for a fresh summer look.

PHOTO: GREG BOWKER

denim mini skirts, shirt dresses,

jumpsuits and it looks like offthe-shoulder

dresses and shirts

are here to stay another season.

SUMMER FAVOURITE: Olivia

Culpo looks hot in her denim

culottes and black mules.

PHOTO: WHOWHATWEAR.

COM.AU

BUSINESS WEAR: Culottes

will fit in effortlessly with

your office wardrobe when

paired with a classic shirt

and mules.

PHOTO: STYLEHUNTER-

COLLECTIVE.COM.AU

OPEN

LABOUR WEEKEND

10am – 5pm

FREE

CANDY

STAND

SATURDAY

10AM–2PM

HORNBY 409 Main South Road | OVER 50 STORES

dress-smart.co.nz
---
PAGE 24 BAY HARBOUR

Wednesday October 19 2016

SPORTS

DESK BY DAY: Andy Tuckey at work at STA Travel in Westfield Riccarton. Inset: Tuckey with his

Bays' teammates earlier in the season.

PHOTO: GEOFF SLOAN

Tuckey's Golden Boot season

•From page 1

"Twelve [goals] isn't a lot but I

was injured for a bit. I had a grade

two tear of my hamstring in about

round 10 and it had me out for

about five games and a few off the

bench as well," he said.

At the time of his injury, Tuckey

had scored seven times and was

worried others would catch up to

him while he was out injured.

But upon his return, he scored

a further five times to make the

award his.

With the departure of former

Bays' striker Michael White at the

start of the season, head coach

Danny Halligan moved Tuckey

in to replace the striker from his

position in the midfield, and it

paid off.

His most memorable goal of

the season came against Nelson

Suburbs and their Tasman United

goalkeeper Coey Turipa.

"Probably chipping Coey

[Turipa], who was the Canterbury

goalkeeper last year. It was a

great game as well – it ended

4-4 and I put it right in the

top corner. It wasn't a bad one

and I let him know it as well," he

said.

In Brief

TOUCH SEASON BEGINS

The touch rugby season is

now underway at several

clubs around the Bay Harbour

area. Banks Peninsula played

their first round of games

last Thursday in an eight

team round robin style

tournament, while Diamond

Harbour played their first

games on Friday. Sumner's

touch programme starts next

Thursday and runs until

December 8.

SUMNER CRICKET MAKE

POOR START

After a tight loss to Merivale-

Papanui last week, Sumner

were looking to bounce back

in a two day match against

neighbour's Heathcote Valley

at home in St Leonards Square

on Saturday. The home side

lost the toss and were sent in

to bat. Heathcote's bowling

attack took wickets at regular

intervals to have Sumner all

out for 63. New signing Jordan

Leech was Sumner's highest

scorer with 28. Heathcote's

innings saw quick runs being

scored and after the full 50

overs were bowled, Heathcote

had amassed 222/9. Brendon

Wellington was the pick of the

Sumner bowlers, with figures

of 4/70. Sumner finished the

day on 31/1 and will resume

batting on Saturday.

PRIMARY SURF CHAMPS

Point Surf Team Sumner will

host this year's Canterbury

Primary Schools' Surf

Competition on Scarborough

Beach. Schools from around

the city and as far away as

Waikuku Beach and Pegasus

are getting involved in this

year's competition, which is

being held on October 30.

Point Surf Team Sumner's

Steve Tyro said there hasn't

been a competition for

primary school-aged kids

in Canterbury for a while.

"We haven't had any kids

competitions in Sumner

this year, but we had a midwinter

competition for high

school-aged kids called the

Mid-Winter Freeze Grom

Competition," he said. .

NEW LIFE MEMBERS

Two Sumner Surf Lifesaving

Club members were honoured

for their contributions to the

club recently. Blair Quane and

Brent Wilson were given life

membership to the club on

the weekend and have helped

the club see local and national

success. Quane and Wilson

have contributed their skills in

lifeguarding, inflatable rescue

boating, local and national

team management to the club.

they have also held positions

on the club committee.

Your land. Your people. Your stories.

LINCOLN'S FINEST SUBDIVISION

and Live in Lincoln

present ...

Every Wednesday at 7.30pm

on CTV Freeview Channel 40

live and on demand at ctv.co.nz

Brought to you by

ON THE DOMAIN

MARCH 4 2017 LINCOLN

Mi-Sex Dragon

Sharon O'Neill Debbie Harwood

Margaret Urlich Annie Crummer

Jordan Luck Band Jason Kerrison

www.selwynsounds.co.nz

nine bands.

one day.
---
Wednesday October 19 2016

Morning surf is best

Aaron's surf report

BAY HARBOUR

SPORTS

PAGE 25

• Aaron Lock, surf coach, Sumner

IT'S BEEN a tough two weeks

of dreary easterly weather and

average looking surf. Prior to

that we had a great start to spring

with plenty of south swell and

lots of fun northerly swell days

too. The sand banks are in pretty

good shape

around the

local beaches

so whenever

there has been

a bit of swell,

the waves have

been forming

nicely. It looks

like we've flipped back into a

westerly weather pattern again

now which is more typical for

this time of year. We're now past

the spring equinox so we should

expect plenty of wind over the

next month or so and lots of

afternoon on-shores, so early

surfs will be the key.

The water temp is starting to

warm up but it's still a little cool

at 11.5 deg C. It normally warms

about one degree per week at this

time of year so by Labour weekend

we might be able to ditch the

CATCHING A BREAK: Angus Mossman was in Gisborne last

week competing in the National Scholastic Championship.

PHOTO: SURFERSWALL.COM

booties. The cold water hasn't

been stopping people enjoying

the waves this winter. It's been

one of the busiest winters in the

waves ever, even on the coldest

days, it's been packed at Taylors.

The Canterbury Scholastic

Surf team was in Gisborne last

week for the National Scholastic

Championship. Local surfers

Thomas Harcourt, Angus Mossman,

Finn Brokenshire and Estella

Hungerford were all in the

team and trained hard all winter.

Ava Henderson was also in

Gisborne recently competing in

the Primary School Nationals

where she placed third in the

year 8 and under girls' division.

Sumner will be hosting the

Canterbury Primary School

Champs on October 30. This will

be the inaugural event and is being

organising by the rejuvenated

local club, Point Surf Team. It

should be a fun and exciting

event and it will be great to see

all of Canterbury's top young

groms ripping it up on our local

beach. Entry forms available in

surf shops and at facebook.com/

PointSurfTeam

MASTERS VICTORIOUS: The Pensioners and the Oil Paintings

returned from the South Island Masters Games with gold

medals on the weekend. The two Ferrymead Bays over-45

teams travelled to Timaru to compete in the tournament.

The men's team, the Pensioners, finished top of their group

after pool play and defeated the Waimak Legends 2-0 in

the final. Meanwhile, the Oil Paintings won their round robin

competition, beating teams from Timaru and Waimak, to take

home first place overall and the gold medal.

Tennis club open day

SUMNER SQUASH and

Tennis Club is hosting an

open day on Saturday, October

29, to let the public know it

is ready to go in the coming

season.

The club's vice-president

Glenn Seymour said a barbecue

will be put on for the public

and the courts opened up

to anyone who wants a game.

"We're having a barbecue

and we're getting a guy from

Anderson and Hill [sports

store] down, so we're . . . having

members of the public in

to have a hit and a look around

the club," he said.

The open day will be held at

the club on Heberden Ave.

LABOUR WEEKEND

SALE

Nohr Bedroom Collection

The simple white drawer fronts make this range suitable for both kids and adults bedrooms

and each drawer features smooth runners for ease of use. All units of the same height can

be put side by side to create a seamless long chest.

now

20 % off

20-40 % OFF

EVERYTHING

MUST END MONDAY!

2 Drawer Bedside was $149

now only $119

Queen Bed was $629

now only $499

6 Drawer Tallboy was $479

now only $379

4 PIECE

BEDROOM PACKAGE

(Includes Queen Bed, 2 Bedsides

& 6 Drawer Tallboy)

for only $1099

now

40 % off

now

40 % off

Botany Corner Lounge Suite (Grade A)

A huge suite at a great price! If entertaining is your forte, the Botany suite

has your name on it with enough space for your family and your friends.

was $4219

now only $2499

Montego 6 Piece

Lounge/Dining Setting

Includes 3+1+1 Seater + two Stools + Dining Table

was $4169

now only $2499

18 MONTHS

NO PAYMENTS & NO INTEREST!

*Minimum purchase $499. Finance offer expires 25th October 2016.

*18 months no payments and no interest ("Payment Holiday") is available on Flexi Payment Plans for in-store purchases only until 25th October 2016. Minimum spend $499. Annual

Account Fee of $50 applies. New Cardholder fees - $55 Establishment ($3 PPSR – Q Card only). Existing Cardholder fee - $35 Advance. Standard Interest Rate, currently 25.25% p.a.

applies to any outstanding balance at end of Payment Holiday. Lending criteria, fees, terms and conditions apply. Rate and fees correct as at date of publication, subject to change.

Cnr Blenheim & Curletts Rds, Christchurch. Ph: 03 343 3204

Offers and product prices

advertised here expire

24/10/16. Sale excludes

Manchester and accessories.

View our collections online: targetfurniture.co.nz
---
PAGE 26 BAY HARBOUR

Wednesday October 19 2016

REAL ESTATE

Height of Style

2 Challenger Lane, Redcliffs

Auction Date: 1pm Thurs 3 November - unless sold prior

4 bedrooms | 3 bathrooms | 3 toilets | 3 living rooms

2 dining rooms | 4 car-garage | Listing Number: FM5000

Experience an irresistible lifestyle of prestige,

privacy and convenience from this 454m2

luxury residence designed by Ray Hawthorne

and located on the lower slopes above Redcliffs

Township which is within walking distance.

Poised on the hillside to capture spectacular

sunrises and sea views over the estuary, Shag

Rock and the ocean, this pristine home has

extremely generous proportions and radiates

style, comfort and elegant sophistication

throughout.

Master built in 2001 and completely repaired

and upgraded by renowned local builders

with the latest trends in fittings and finishes.

From the moment you enter, you will appreciate

the extreme lengths of fine detail that

the owners have gone to in bringing this

magnificent home up-to an upmarket standard

worthy of its location. From the beautifully

chosen feature wallpapers to the built

in cabinetry and fresh new décor there are

too many bells and whistles to mention so

you must come and see for yourself.

Friends and family will gather around the stunning

white kitchen with timber breakfast bar

to share casual conversation. Both living and

dining areas have floor to ceiling windows and

doors that open out to a hardwood sundeck

with gas fireplace and toughened glass screen

for year round shelter. With focus being on

seamless indoor outdoor flow, entertainment

will be a delight with the backdrop of the

ocean, the Port Hills and night lights.

Upstairs you will find a superior master suite

complete with own lounge or office space, large

walk-in-robe and a luxurious tiled ensuite

with twin vanity, and walk-in-shower with 3

shower heads. A home of 2 halves with 2 street

entrances and 2 separate garages. As there are

2 bedrooms, a lounge and a kitchen with

dining area on the lower level this is ideal for

teenagers or extended family to come and go,

or as a work from home office or even a B&B.

Accentuating the homes sophistication is a

temperature controlled indoor heated pool

with swim jets and a sauna.

With recreation on your doorstep, shops and

amenities at hand, this should be an easy real

estate decision in this blue chip location. Come

and see why.

Live the dream, live the lifestyle, live life now!

Open Homes: Wednesdays 5pm-6pm

and Sundays 10.30am-11.30am. See

you at the Open Days, or for more

information contact Alison Carter of

Harcourts Grenadier Ferrymead

(Licensed Agent REAA 2008) on

384 7950 or Alison mob 0274 318 960

growing with you

SprIng Is here –

It'S Sow Time

how to get the best results from

seeds and seedlings

100% NatIve In

The capItal

Unravelling the secrets of

Otari-wilton Bush

The New Zealand

landscape awards

The people behind

the projects

$7.90 incl. GST

Save our roSeS

How a rose register is protecting our heritage

September 2016 | 100%

It's time

to grow!

New look and more

content than ever!

MeeT LeSTer Brice

A Garden coach

auckland Botanic GardenS

Why we love our public grounds

now bigger than ever

The magazine for

gardeners who like to get

their hands dirty

SubScribe from

$43. 50*

*6 issues/6 months

ISSN 2423-0219

SUBSCRIPTIONS FREEPHONE

0800 77 77 10

www.gaRdeNER.kiwI
---
Wednesday October 19 2016

BAY HARBOUR

PAGE 27

Knit 'n' Yarn

Today, 10am-11am

Head along to Lyttelton Library

to Knit 'n' Yarn. Bring your knitting,

crochet or other portable

craft project and enjoy time with

other crafters.

Temporary Lyttelton Library

at Trinity Hall, free, beginners

welcome

Create 'n' Connect Art and

Craft group

Thursday, October 20, 9.30am

to noon

Go and enjoy creativity in company.

Take your project along, or

others can help provide inspiration

for something new to do.

Phone Beth for more info on

022 678 1252

St Andrews Church, 148 Main

Rd, Redcliffs

Baby Times

Friday, October 21, 10.30am-

11am

During each session there is a

variety of stories, songs, rhymes,

fingerplays and other book related

activities. The programmes

are especially suitable for under

two-year-olds.

Temporary Lyttelton Library at

Trinity Hall, free

Mainly Music movement and

music class

Friday, October 21, 9.45am-

11.15am

A fun and educational music

and movement session followed

by morning tea and social/

playtime. A great chance to

get to have fun with your preschooler(s)

and get to know other

local families. $3 per family.

Phone Hazel on 384 1965 or

021 077 1264.

St Andrews Church, 148 Main

Rd, Redcliffs

Orton Bradley Park Spring

Fair

Sunday, October 23, 10am-4pm

Go check out the annual spring

fair at Orton Bradley Park for

some Sunday fun. There will

be music, gourmet food stalls,

activities for the kids, art stalls,

plant stalls, farm animals and

more.

Entry fee: Adults $5 and children

free. Free parking available.

Orton Bradley Park, Charteris

Bay 8971

Lyttelton Harbour marine

biodiversity public meeting

Tuesday, October 25, 7pm-

8.30pm

Two marine ecologists from

Canterbury University will

present their research about

intertidal reefs in Lyttelton Harbour.The

speakers will also talk

about some of the experiments

they've done in the harbour. The

public meeting will be a great

opportunity to hear about the

rich marine life on the harbours

doorstep, to ask informal questions

about rocky reef ecology to

Email annabelle.dick@starmedia.kiwi

by 5pm each Wednesday

marine researchers, and to reflect

on the challenges facing marine

life on the harbour's rocky shores

in a context of increasing local

and global human pressures.

Governors Bay Fire Station, 1

Ernest Adams Dr, Governors Bay

Storytimes / Wā Kōrero

Tuesday, October 25, 11am-

11.30am

Programme for preschoolers

include stories, music, movement

and rhymes. Kōrero pukapuka,

pūoru, korikori.

Temporary Lyttelton Library at

Trinity Hall, free

Drayton Reserve working bee

Saturday, October 29, 2pm-4pm

The working group has been

clearing weeds and will now

plant some of the original native

trees which used to grow in the

local area. There is a lot to do and

everyone is welcome to be a part

of the initiative to rejuvenate the

native forest. If the weather is

bad, the alternative dates will be

October 22 and November 5.

For further information,

phone Dave Bryce on 021 363

498.

Meet at the Avery Pl entrance

if you would like to help planting

native seedlings in the nearby area

of the reserve.

Ferrymead Heritage Park Labour Weekend Extravaganza

October 23 and October 24, 10am-4.30pm. Go and take part in

what will be amazing day out for everyone with over 30 craft

and food vendors. Admission price includes unlimited rides

on the train, tram, double decker bus and trolley bus. There

will also be a free bouncy castle, face painting and balloon

twisting. Also head along to the Kids Zone where there will

be pony rides, merry-go-round and laughing clowns. $40

for a family pass, $15 general admission with under 5s free.

Ferrymead Heritage Park, 50 Ferrymead Park Drive. ​

Banks Peninsula Walking

Festival

Saturday, November 5 – Saturday,

November 26

The Banks Peninsula Walking

Festival is back again. It celebrates

the stunning scenery and

intimate communities of Banks

Peninsula. Go to www.bpwalks/

banks-peninsula-walking-festival

to view what's coming up and

walks can either be booked via

eventfinda (search on Banks Peninsula

Walking Festival) or for

people without computer access

phone Sarah on 021 0825 3606.

Lyttelton Harbour Information

Centre, 20 Oxford St, Lyttelton

Markets

Mt Pleasant Farmers Market:

Every Saturday, 9.30am-12.30pm,

3 McCormacks Bay Rd

Lyttelton Farmers Market:

Every Saturday, 10am-1pm, London

St.

3 Garlands Road, Woolston

DeluxeCinemas.co.nz

Phone FREE Bookings ICE CREAM | Free Parking WITH | EVERY Cafe/Licensed TICKET Bar

03 389 5360

Online Before Bookings 5pm, Monday | Cinema to Friday. Club Terms | Hot & Conditions Nuts/ Cheeses Apply.

An Absolute Crowd Pleaser

M Violence, Coarse Language,

DAILY THE GIRL 12:10pm, ON THE 4.15pm TRAIN:

Some Scenes May Disturb

SING STREET

Young Children

WED: 10:25am,

WED 12:10pm, 4.15pm,

3:15pm,

8:20pm

5.45pm THU, FRI, SAT: 1:10pm, 6:00pm, 8:20pm

SUN: 1:25pm, Pauline Collins, Jonathan Pryce

THU 10:00am

4:00pm, 8.20pm DOUG

MON: 1:00pm, 5:45pm, 8:15pm

M Course Language and sexual references.

TUE: 1:10pm, 6:00pm, 8:20pm

WED 12:10pm, 4.15pm, 8:20pm

NZ Biggest Film Ever

M Violence, Coarse Language,

Some Scenes May Disturb

THU 10:00am

HUNT FOR THE WILDERPEOPLE Young Children

INFERNO:

Jacky Cambel, Seth Rogan

THU: 3:30pm,

DAILY 12:10pm, 8:30pm 4.15pm FRI: 3:30pm, 8:10pm SAT: 3:30pm, M Violence, 8:30pm Coarse Language,

Some Scenes May Disturb

SUN: 11:00am, 6:15pm MON: ME 3:20pm, BEFORE 8:30pm TUE: YOU 3:30pm,

Young Children

8:30pm

WED 12:10pm, 4.15pm, 8:20pm

An Absolute Crowd Pleaser

M Violence, Coarse Language,

Some Scenes May Disturb

BRIDGET THU 10:00am JONES'S BABY: THE PAPAL BASILICAS Young Children

WED: 12:45pm THU: 10:45am, 6:10pm FRI: 10:45am, 5:45pm Pixar Family Film

M Violence, Coarse Language, Some

FINDING DORY JULY 20TH Scenes, May Disturb, Young Children

COMING

SAT: 1:55pm, 6:10pm SUN: 1:50pm, 8:30pm MON: 10:35am, 6:10pm

Pixar Family Film

M Violence, Coarse Language,

TUE: 10:45am, FINDING 6:10pm DORY JULY 20TH Some Scenes, May Disturb,

Pixar Family Film

SOON

M Violence, Coarse Language, Some

FINDING DORY JULY 20TH Scenes, May Disturb, Young Children

GOLDEN YEARS:

THU: 12:00pm FRI: 1:00pm SAT: 12:00pm SUN: 10:00am MON, TUE: 12:00pm

SULLY:

WED: 2:10pm, 8:25pm THU: 1:55pm SAT: 4:15pm SUN: 11:55am

MON, TUE: 1:55pm

FIRST MONDAY IN MAY:

WED: 10:00am THU, SAT, MON, TUE: 10:15 am

MISS PEREGRINE'S HOME FOR PECULIAR CHILDREN:

WED: 11:45am, 4:05pm THU: 3:45pm FRI: 3:00pm SAT: 10:45am

MON, TUE: 3:45pm

SMASH PALACE: SUN: 4:10pm

The Girl On The Train R16 Violence, offensive language, sex scenes and content that may disturb.

Inferno M Violence and offensive language Bridget Jones's Baby M Offensive language and

sexual references. Golden Years M Sexual references Sully M Offensive language. First Monday

In May M Offensive language. Miss Peregrine's Home For Peculiar Children M Violence and

scary scenes. Smash Palace R16.

Masters

HOLLYW OD 3

www.hollywoodcinema.co.nz

Thursday 20 October - Wednesday 26 October

INFERNO (M)

Violence & offensive language

THU/FRI 8.15 SAT/TUE/WED 6.00, 8.15

SUN 5.00, 7.30 MON 5.30

28 Marriner St,

Sumner

Phone:

03 326 6102

BRIDGET JONES' BABY (M)

Offensive language & sexual references

THU 1.30 FRI 1.30, 6.00 SAT/SUN 2.30 MON 1.00, 3.15

TUE/WED 1.30

GOLDEN YEARS (M)

Sexual references

THU/FRI/TUE/WED 1.30, 6.00 SAT 2.15, 4.10

SUN 1.30, 3.20 MON 1.30, 3.30

THE GIRL ON THE TRAIN (R16)

Violence, offensive language, sex scenes & content that may disturb

THU/FRI/TUE/WED 8.00 SAT 6.00, 8.15

SUN 5.10, 7.30 MON 5.30

CAFÉ SOCIETY (M)

Violence, drug references & sexual references

THU 1.00, 3.15, 6.00 FRI/TUE/WED 1.30, 6.15, 8.15

SAT/SUN 2.15, 4.15, 6.15, 8.15 MON 2.00, 4.00, 6.00

STATE OF THE ART HIGH DEFINITION, LICENSED BAR

Still Pedalling!

Trevor Crowe's been involved with cars for a

while. You can benefit from his experience at...

Subaru Specialists

Full Workshop services

WOF's | Service Checks | Wheel

Alignment | Brakes | Clutches | Tyres etc

Great range of Subarus & other

makes from $5,000 - $35,000

View at www.crowesport.co.nz

518 Moorhouse Ave (East end)

Phone 379 7615 or

email: service@crowesport.co.nz

WIN

STARTS NEXT WEEK!

Shop scan

see next week's paper to

learn the two ways to enter

and

$1000

be in to win one of three

shopping sprees!

it could be you!
---
PAGE 28 BAY HARBOUR

Wednesday October 19 2016

ONE UNIQUE DESTINATION, OVER 50 BOUTIQIUE STORES

LOCAL, NATIONAL & INTERNATIONAL BRANDS

3 GARLANDS ROAD, WOOLSTON / OPEN SEVEN DAYS A WEEK / WWW.THETANNERY.CO.NZ

Woolston Market

Take a break from shopping

and enjoy a slice of our famous

artisan cakes.

Deval

Deval biker jacket pink suede $1699

AG ankle legging jean $479

Zadig and Voltaire bag $469

Annie Bing bra $139

Joie boots $499

www.deval.co.nz

HAPA

Wewood Wooden watches

$195 - $240 - Wide range of styles available

www.hapa.co.nz

Mrs Bottomleys

Flowers

Formerly Aromaunga

Flowers Ltd

Hand tied bouquets from $40

www.mrsbottomleysflowers.nz

Morgan & Page

Noa Noa

$159

www.morganandpage.com

Raw Nova

Stevie May

Cocoon Maxi dress

$347.00

www.rawnova.co.nz

Where the Fox Lives

XPLAIN Symmetrical Love Top

XPLAIN Patch Leggings

03 381 2734

Katerina

Captivate dress by

"Blessed are the Meek"

$429

www.katerina.co.nz

Bolt of Cloth

Frank cushion cover

RRP $52

www.boltofcloth.com

Joe Jandals HQ

Storm Trooper framed artworks! four

different colours of awesomeness!

Size 780x 675mm $220.00 each

www.joejandals.co.nz

Teepee

Orla Kiely towels

$30 - $60

03 389 6585

Chalkydigits

Opening night dress

RRP$189

www.chalkydigits.co.nz
---
2

[Edition datE]

Wednesday October 19 2016

BAY HARBOUR

PAGE 29

Exercise

sharpens young

adult brain

Regular physical activity improves

brain function even in young adults

considered in their prime and at the height

of cognitive ability, according to a new

University of Otago study.

A

body of research already exists

showing aerobic exercise improves

brain function in older adults,

but there is a limited amount of

literature on how it affects young adults.

The Otago researchers, led by Department

of Psychology senior lecturer Dr Liana

Machado, set out to test the oft-held belief

that the brains of young adults in their prime

might not benefit as much as older people

from regular sustained exercise.

They took 52 tertiary students, aged

between 18 to 30, and put them through a

series of cognitive tests on a computer while

measuring oxygen availability in the frontal

lobe of their brains, as well as their selfreported

exercise frequency.

Dr Machado says their "surprising"

findings, just published online in the journal

Psychophysiology, show that both blood

supply to the brain and cognitive functioning

appear to benefit from regular exercise in

young adults.

"This provides compelling evidence that

regular exercise, at least five days per week,

is a way to sharpen our cognitive ability as

young adults – challenging the assumption

that living a sedentary lifestyle leads to

problems only later in life," she says.

The research also provides potential

insight into understanding why people who

regularly engage in aerobic exercise tend to

function better on a cognitive level.

"I think the idea that young people do not

have to worry about exercising since they

are in their prime developmentally is rapidly

being overturned by mounting evidence that

even the brains of young adults can benefit

from regular exercise," she says.

"The exercise could involve brisk walking

or more vigorous activity, and could be made

up of a few 10-minute bouts of exercise,

rather than one single block of exercise,"

she says.

The researchers also found that body mass

index was not a key factor in how well the

brain functioned, indicating that regular

engagement in physical activity may be more

important than body weight.

Dr Machado says she had noticed over

the years that university students appeared

progressively less fit.

"I wondered whether we might find

significant relationships between exercise

levels, oxygen availability in the brain and

cognition in the young adults, but no studies

had considered this in healthy young adults."

These findings come at a time of increased

scientific focus on links between exercise

and cognitive health in older adults.

Is Organic Skincare more

important than Organic food?

THE

EST. 2012

Wednesday, October 26th, 6:00pm

Find out about the skin and its barrier function.

Find out about the chemicals in skincare products and how the

body metabolises them.

Learn why your skincare should be 'edible'.

$30 per person ~ Collect a voucher on the night and receive a handout

with take home information.

The Tannery

19/3 Garlands Road, Woolston, Christchurch|Ph. 389 0857

info@the-apothecary.co.nz|www.the-apothecary.co.nz/education

HEALTH PROFESSIONALS | HERBAL MEDICINE | NUTRITION | EDUCATION | PREVENTION

Celebrate the success of local

businesses and people!

Thursdays at 7.30pm

CTV Freeview Channel 40,

live and on demand at ctv.co.nz
---
PAGE 30 BAY HARBOUR

Wednesday October 19 2016

Just

advertisement

in The Star

reaches more

people than

any other

media in

Christchurch!

Reach more customers with The Star!

For a free marketing consultation,

contact the team:

shane@starmedia.kiwi | 03 379 7100

www.starmedia.kiwi
---
Wednesday October 19 2016

BAY HARBOUR

PAGE 31

Adult Information

LIVE ADULT CHAT

Explicit Naughty

Kiwi Babes 1 on 1

0900 77 747

Asian Babes 1 on 1

0900 88 100

XXX Listen

0900 69 100

Chat $3.99 - Listen $1.99/min+gst

Free SLOTS & downloads

www.kiwibabes.co.nz

PHONE NOW!!

Computers

ALL

YOUR

COMPUTER

WORRIES SOLVED!

*$30.00 off your first

service with this coupon!*

No problem too big or

small from home PC's to

business networks. PC

slow? An end to Viruses,

Spyware, and Clogged

Systems. Safe secure

hassle-free computing.

Lost files recovered.

Microsoft Certified,

MCSE, MCP+l. 30 years

experience. Call Andrew

Buxton this week on 326-

6740 or 027 435-7596

for $30.00 off* Custom

Computers Christchurch

Gardening

& Supplies

Landscape

and Garden

Services

If you need help

getting your garden

back in order after

repairs, need any

type of landscape

construction work or

garden restoration.

Ph 021 272 0303

A GARDEN OR

LANDSCAPING TIDY

UP? Rose & Fruit Tree

Pruning, Shrub, hedge

& tree pruning, Lawns,

Gardening, consistently

reliable general property

upkeep, Dip. Hort. 10

yrs experience, One off

tidy ups or on-going

service. Nick's Property

Maintenance. Keeping

your garden beautiful.

Free Quote. Ph. 942-4440

GARDENER - Need

your home or commercial

garden tidied up or

renovated or require long

term assistance. Phone

Ruth 326-6663 or 021

272-0303

accountant

Classifieds Contact us today Phone our local team 03 379 1100

Holiday

Accommodation

QUEENSLAND SUN-

SHINE COAST AUSTRA-

LIA Resort, Ocean Views,

Balconies, Self Contained,

1 or 2 B/R Ensuite,

Heated Pool, Spa, Sauna,

Free Internet, Shops,

Restaurants, Tennis, Surf

Club & Patrolled Beach,

Public Transport at door.

Ask for our SEASONAL

SPECIALS. Phone 61 7

544-35011 Email: reception@mandolin.com.au

www.mandolin.com.au

Tours

Rexellent

Rentals

Cars, Vans, Brisbane, Coolangatta

FREE CALL

0800 601 508

e: rexellent@bigpond.com

Trades & Services

LANDSCAPING/

STONE WORK

All forms of landscaping,

fences, decking & paving.

Phone Mike

Stoneage Landscapes

021 1499 733

Trades & Services

Driveway specialist

hill specialist, stamped

concrete specialist and exposed

aggregate specialist

Servicing Canterbury since 1987

MeMber of the New ZealaNd MaSter

CoNCrete plaCerS aSSoCiatioN

M 022 175 7731

aH 03 384 8616

www.concreteworkscanterbury.co.nz

RE-ROOFING

QUALITY ROOFING AT THE

BEST PRICE AROUND

Protect your home with a new Colorsteel roof.

Call for a friendly, FREE assessment and quote.

Ph: 347 9045 or 021 165 1682

Email: Robinsonroofing99@gmail.com

Trades & Services

BUILDER

Licensed & Experienced

From new decks

to full remodels

& new builds.

Free quotes

Ph Deane

022 123 1175

COAL & FIREWOOD

Clean Dry Firewood

Marcrocarpa, Bluegum,

Oregon & Old Man Pine

Free delivery for 6cm

truckload or 3cm

by arrangement

COAL & FIREWOOD

suppLIEs yARD

stAtE HIgHWAy 75, KAItunA

Lynda or Ron Aldersely

Phone 329 6233

Mon- Sat 8am - 12 noon

Trades & Services

• Roofing

• Spouting and Downpipe

• Safety rails

• Licensed Building

Practitioner

Trades & Services

Now working

in your area

• Tree Pruning

& Removal

• Stump Grinding

• Hedge Trimming

Fully Insured

Qualified Arborist

For a free quote,

ph 0800 248 733

www.jimstrees.co.nz

Trades & Services

ROOF

PAINTING

Rope & harness

a speciality,

no scaffolding

required,

30 years of

breathtaking

experience.

FREE QUOTES

Exterior staining,

exterior painting,

moss and mould

treatment and

waterblasting

Phone Kevin

027 561 4629

Trades & Services

Your local professional

FOR ALL YOUR

PLUMBING

NEEDS

• Bathroom repairs

• Renovations

• Leaks

• Tap Repairs

• Gas and Drainage

Carol and Chris

Phone 376 5322 or email

chcheast@laserplumbing.co.nz

Trades & Services

LAND

REINFORCEMENT

SPECIALISTS

RETAINING WALLS – repaired/new timber/

block/concrete/reviews/assessments/

valuations for insurance purposes/in ground

retaining walls for slope stabilisation

LAND REMEDIATION – under runners/

slip remediation/drainage/hill sites/river or

stream banks a speciality/house re-levelled/

new foundations

Call Duncan Laing on 021 320 400

or David Campbell on 021 466 144

DESIGNED, CONSENTED, BUILT AND SIGNED OFF

Laing Technical Ltd

Consultants/Project Managers/Contractors

www.laingtechnical.co.nz

9 Ernlea Terrace, Cashmere Ph: 980 5947

35 YEARS IN THE BUSINESS IN CHRISTCHURCH

Trades & Services

BRICKLAYER

George Lockyer. Over

30 years bricklaying

experience. UK trained.

Licensed Building

Practitioner number

BP105608. Insurance

work. EQC repairs.

Heritage brickwork a

speciality. No job too

small. Governors Bay.

Home 329-9344, Cell

027 684-4046, email

georgelockyer@xtra.co.nz

CARPETLAYER

Laying and Repairs, 40 yrs

experience, ph Peter 326-

7711 or 027 240-6532

CARPET & VInYL

LAYIng

Repairs, uplifting,

relaying, restretching,

E mail jflattery@xtra.

co.nz,

ph 0800 003 181

or 027 2407416

COnCRETE

Trades & Services

FURnITURE

REMOVALS

Large Trucks $95 +

GST per hour 7 day NZ

wide, packing & moving,

Professional Company,

Professional Service.

Canterbury Relocations

Ltd. ph 0800 359 9313

LAnDSCAPE

COnSTRUCTIOn

Lawns, paving, water

features, irrigation,

planting, decks,

driveways, kerbing, ponds,

retainer walls, fencing.

Free quotes, Phone Tony

021-034-8555

PAInTIng

PLASTERIng

Free quotes. Int/ext &

roof painting Family run

business, work guaranteed.

Ph Kerin or Paul 022 191

7877 or 379-1281. Website

www.swedekiwipainting.

co.nz

Decorative Concrete

Placing, Canterbury PAInTIng SERVICES

owned & operated Mature, reliable,

for over 10 years, conscientious &

competitive rates, full experienced, reasonable

excavation, coloured, rates, no job too small!,

exposed, stamped, call call Ron 027 434-1400 or

Paul 027 322 6119 03 384-2885

DRAInLAYER

PAInTER/PLASTERER

Reg, all types, 20 yrs hill

Experienced tradesman,

work exp, ph 028 408-

quality work, free quotes,

0121

ph Simon 027 389-1351 or

ELECTRICIAn

03 328-7280

JMP Electrical.

PLASTERIng

Experienced & registered..

INTERIOR, no job too

Expert in all home

big or too small, specialise

electrical repairs &

in repair work & new

maintence.Call James 027

houses, free quotes given,

4401715

over 20 yrs plasterering

experience, ph 027 221-

4066 or 384-2574

ROOFIng

Qualified & Licenced

Practitioner. Re-Roof &

Repairs, all types. Member

New Zealand Roofing

Association. Over 35 years

experience. Phone John

027 432-3822 or 351-9147

email johnmill@ihug.

co.nz

TREES BIg OR SMALL

tree removal, trimming,

stump grinding, shelterbelt

clean up, section clearing,

rubbish removals,

excavation work, ph Trees

Big or Small, for a free

quote, 021 061 4783

VHS VIDEO TAPES

& all camera tapes

converted to DVD, video

taping, weddings, twenty

firsts, special occasions,

www.grahamsvideo.co.nz

ph 03 338-1655

Trades & Services

WInDOW CLEAnIng

"Your Windows are the

eyes of your Home", for

a free no obligation quote,

call Greg Brown, Crystal

Clear Window Cleaning

ph 384-2661 or 027 616-

0331 Local Resident

Wanted To Buy

A+ Household effects,

fridges, freezers, washing

machines, ovens. Good

cash paid. Ph Paul 022

0891 671

Situations Vacant

CA$H

Strippers

& Podium

Dancers

Wanted!

18+ TO APPLY

NEISHA

021 193 0118

Public Notices

Situations Vacant

RegisteRed

NuRse

Full time or

Job Share

Aged Care

Experience

preferred

• Casual Experienced

caregivers

• Casual cleaner/

laundry person

Edith Cavell Hospital

and Rest Home

Contact

manager.edithcavell@

hll.org.nz

03 326 6608

Public Notices

Bay Harbour Toastmasters

Communicate with

Confidence

Free Open evening

Come along and find out how you can

• Improve your potential

• Grow your confidence

• Become a better

communicator and leader

• Make new friends

Wednesday 26 October- 6.30pm- 8pm

Lyttelton Community Boardroom,

25 Canterbury St

More Info - Phone Jann Meehan

329 4936 or 021 2631040

business video

PRoduCTion

A video will bring your business

alive & into your customers mind.

Promote your

services or business

with a professionally

created video with us

• Corporate and

Business video a speciality

• Competitive rates

• 25 years experience

• Start to finished product

• Professional quality guaranteed

PHone KeRRY 021 635 083
---
PAGE 32 BAY HARBOUR

Wednesday October 19 2016

Moon Chair

Stackable

288986

Firebox BBQ

Pizza Oven

292702

Jack and Jill

Pacific Hardwood

Setting

248065

$

79

Ravenna

Big Chair

Aluminium

Wicker

With Cushion

288871

Contempo

Crane Chair

With Cushion

248423

$

499

Pacific

2 Seater Bench

288910

$

128

Rattan

3 Piece Cafe Setting

288869

$

97

$

299

$

799

$

349

Pacific

Lounge Set

!88197

Sienna

4 Piece Lounge

!88931

Marbella

Triple

Lounge Set

!88199

Contempo

7 Piece Round Set with Tubchair

!88192

Icarus

3 Piece Setting

!88920

$

1399 $

2299

$

3699

$

2199 $

1999

Umbrella Cantilever

square 3m black

248040

Cantilever Olefin

umbrella 3m Black

202113

Cantilever Olefin

umbrella 3.5m Taupe

248038

Gazebo 6m x 2m

Hex w/curtains

202115

Gazebo 4m x 3m

w/curtains Grey Eden V2

248035

$

749

$

399 $

999

$

199

$

799

Enforcer

Electronic

Insect Killer 30w

269027

Gasmate

Column Heater

Electric 2000w.

248398

$

299

BBQ Mat

122 x 73cm

279635

Bamboo Torch

1.2m high

129683

30 Seconds

BBQ Cleaner

1L Spray Bottle

082534

$

4 98 $

9 95

Weber

Family Q

Gas BBQ

239459

$

949

Go Anywhere

Charcoal BBQ

219676

Ranger

Portable Gas

BBQ

202319

$

89 99 $

29 98 $

17 47

Sizzler

Portable Stainless

Steel BBQ

118721

Grillmab BBQ

Hot plate liner

202230

$

159

$

349

$

299

Ferrymead

1005 Ferry Road, Phone: 366 6306

Opening Hours: Monday–Friday: 7:00am–7pm

Saturday, Sunday and Public Holidays: 8:00am–6:00pm

Offers available at Mitre10 Mega Ferrymead only, until the 16th of October, while stocks last.

mitre10mega.co.nz

If you find a lower price on an identical stocked

product locally we will beat it by 15%.

find us

mitre10.co.nz

If you find the same product cheaper from another Mitre 10 store or Mitre 10 website we'll match that price. Excludes trade

and special quotes, stock liquidations and commercial quantities. The in-store price may be lower than that advertised.