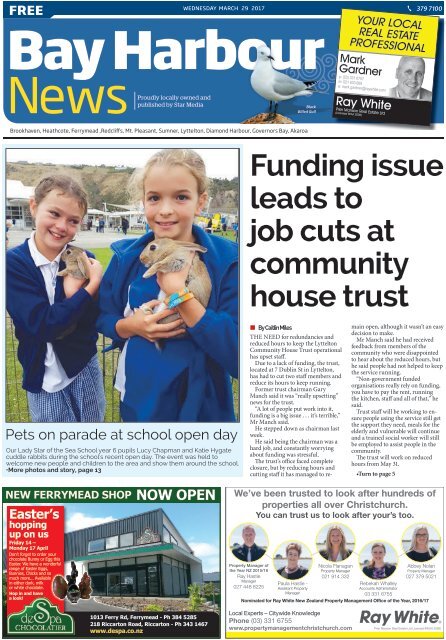 Bay Harbour: March 29, 2017
Create successful ePaper yourself
Turn your PDF publications into a flip-book with our unique Google optimized e-Paper software.
FREE

Wednesday MaRCH 29 2017 379 7100

Bay Harbour

News

Proudly locally owned and

published by Star Media

Black

Billed Gull

YOUR LOCAL

REAL ESTATE

PROFESSIONAL

Mark

Gardner

p: (03) 331 6757

m: 021 633 669

e: mark.gardner@raywhite.com

Prier Manson Real Estate Ltd

(Licensed REAA 2008)

Brookhaven, Heathcote, Ferrymead ,Redcliffs, Mt. Pleasant, Sumner, Lyttelton, Diamond Harbour, Governors Bay, Akaroa

Funding issue

leads to

job cuts at

community

house trust

Pets on parade at school open day

Our Lady Star of the Sea School year 6 pupils Lucy Chapman and Katie Hygate

cuddle rabbits during the school's recent open day. The event was held to

welcome new people and children to the area and show them around the school.

•More photos and story, page 13

• By Caitlin Miles

THE NEED for redundancies and

reduced hours to keep the Lyttelton

Community House Trust operational

has upset staff.

Due to a lack of funding, the trust,

located at 7 Dublin St in Lyttelton,

has had to cut two staff members and

reduce its hours to keep running.

Former trust chairman Gary

Manch said it was "really upsetting"

news for the trust.

"A lot of people put work into it,

funding is a big issue . . . it's terrible,"

Mr Manch said.

He stepped down as chairman last

week.

He said being the chairman was a

hard job, and constantly worrying

about funding was stressful.

The trust's office faced complete

closure, but by reducing hours and

cutting staff it has managed to remain

open, although it wasn't an easy

decision to make.

Mr Manch said he had received

feedback from members of the

community who were disappointed

to hear about the reduced hours, but

he said people had not helped to keep

the service running.

"Non-government funded

organisations really rely on funding,

you have to pay the rent, running

the kitchen, staff and all of that," he

said.

Trust staff will be working to ensure

people using the service still get

the support they need, meals for the

elderly and vulnerable will continue

and a trained social worker will still

be employed to assist people in the

community.

The trust will work on reduced

hours from May 31.

•Turn to page 5

NEW FERRYMEAD SHOP NOW OPEN

Easter's

hopping

up on us

Friday 14 –

Monday 17 April

Don't forget to order your

chocolate Bunny or Egg this

Easter. We have a wonderful

range of Easter Eggs,

Bunnies, Chicks and so

much more... Available

in either dark, milk

or white chocolate.

Hop in and have

a look!

We've been trusted to look after hundreds of

properties all over Christchurch.

You can trust us to look after your's too.

Property Manager of

the Year NZ 2015/16

Ray Hastie

Manager

027 448 8225

Nicola Flanagan

Property Manager

021 914 332

Abbey Nolan

Property Manager

027 379 5021

Paula Hastie -

Rebekah Whalley

Assistant Property

Accounts Administrator

Manager

03 331 6755

Nominated for Ray White New Zealand Property Management Office of the Year, 2016/17

1013 Ferry Rd, Ferrymead - Ph 384 5285

218 Riccarton Road, Riccarton - Ph 343 1467

www.despa.co.nz

Local Experts – Citywide Knowledge

Phone (03) 331 6755

www.propertymanagementchristchurch.com

Prier Manson Real Estate Ltd Licensed (REAA 2008)
---
PAGE 2 BAY HARBOUR Latest Christchurch news at www. .kiwi

Wednesday March 29 2017

FROM

THE

REPORTER'S

DESK

SOME SAD news on the front

page this week. A well-known

community service has cut staff

and been forced to reduce its

hours due to a lack of funding.

It's crucial these organisations

get funding to be able to

continue offering support and

services within the community.

On a positive note, the community

has embraced hunting

out red volcanic rock to resurface

retaining walls in Lyttelton.

On page 5, the city council

had an overwhelming response

from the community, collecting

more rocks than initially

needed.

If you still have some of the

red rock on your property, let

the city council know.

The Ferrymead Bays under-17

team suffered a loss via penalty

shoot out at one of the country's

top youth football tournaments.

Get all the details on page 10.

– Caitlin Miles

Inside

15

Sumner begin their Hawkins Cup campaign

10

on Saturday against Christchurch SPORT

News.......................................3-5

Local Views.................6,8

Sport..........................................10

Schools............................ 13

Community Events......15

Health & Beauty.........16

Real Estate............................17

GET IN TOUCH

General Enquiries Ph 379-7100

Classified Advertising Ph 379-1100

The Christchurch Star Company Ltd. PO box 1467 - Christchurch

starmedia.kiwi

NEWS

Caitlin Miles

Ph: 364 7442

caitlin.miles@starmedia.kiwi

ADVERTISING

Javier Balcazar

Ph: 982 9308

javier.balcazar@starmedia.kiwi

ADVERTISING

Rob Davison

Ph: 021 225 8584

rob.davison@starmedia.kiwi

LYTTELTON

hearing aid & audiology clinic

Hearing tests | Hearing aids | Wax removal

Hearing aid adjustments | Custom noise protection

ACC funding & subsidies available

@ Lyttelton Health Centre - Oxford Street

Call 03 385 6036 today for an appointment

LOVE YOUR HEARING LYTTELTON | www.staudiology.co.nz

4 PIECE

BEDROOM

SUITE

'PORTLAND'

Includes Queen bed frame,

2x bedside cabinets, 5 drawer tallboy

Excludes mattress and linen

$

1899

NZ made furniture

Range of colours to choose from

Headboard options

Other sizes and pieces available

Pieces can be sold individually

NZ

MADE

BEDS LOCALLY

OWNED

7 OPEN

DAYS

Open 7 Days Mon - Fri 9 - 5.30pm Sat - Sun 10 - 4pm

242 Ferry Rd Along From Old Ami Stadium | Phone 377 8887 | www.bedworld.co.nz
---
Wednesday March 29 2017

Latest Christchurch news at www.

.kiwi

BAY HARBOUR

PAGE 3

News

Cave could be closed

• By Caitlin Miles

MONCKS CAVE in Redcliffs

could be permanently fenced off

from the public.

The city council is proposing

safety fencing around the cave

and landscaping enhancements

in the reserve around the cave

but the possibility of permanent

closure has some residents

concerned.

The cave, in Moncks Cave

Reserve on the corner of Main

Rd and Cave Tce in Redcliffs

has been closed from the public

since the February 22, 2011,

earthquake due to risk of collapse

or rock fall.

Redcliffs Residents' Association

secretary Pat McIntosh said

the cave is significant for the

area and she wanted more information

on its stability before

a decision was made to fence it

off.

Moncks Cave is of cultural

significance on account of the

collection of taonga (treasure)

Maori discovered there in 1889.

City council staff have

planned a meeting with interested

parties tonight at 5.30pm

to discuss what the city council

is proposing to do to the cave

and surrounding area.

OVERGROWN: The city

council is considering

landscaping options at

Moncks Cave Reserve as

well as shutting the cave off

from the public.

Dr McIntosh said she hopes

the landscaping will be done

in the reserve but she wanted

more information on why the

cave should be fenced off before

the city council makes a decision.​

"If it needs to be fenced off

for safety then that's fine, but if

not then make it avaliable to the

public," Dr McIntosh said.

City council staff have

planned a meeting with interested

parties tonight at 5.30pm

to discuss what could happen to

the cave.

In Brief

TOY LIBRARY GETS GRANT

THe Little River Toy Library has

been given a grant towards lining

and putting insulation throughout

the building. The Banks Peninsula

Community approved a grant of

$1500 to the Royal New Zealand

Plunket Society Canterbury Area

to help cover the costs of work on

the building in Okuti Valley.

SWIMMING FUNDS

Duvauchelle School has been

granted funding to continue

providing swimming lessons

for the children. The Banks

Peninsula Community Board

approved $1500 worth of funding

to the school's board of trustees

towards swimming and water

safety lessons for pupils and to

contribute to its upkeep. The

community also uses the pool.

REPAIR REQUEST

The Banks Peninsula Community

Board has requested city council

staff look into repairing the

memorial at Britomart Reserve at

Greens Point in Takapuneke. The

monument was created in 1898 to

commemorate Queen Victoria's

60th jubilee and in recognition

of the importance of the site. The

community board has requested

city council staff supply costs for

the repairs and renovation of the

memorial.

yellow plywood

Vanity Range

20% Off

Freestanding Baths

15-20% Off

NEW LOCATION

13b Parkhouse Rd, CHRISTCHURCH

new range of Tapware

and accessories instore

End of Line and Display Vanities up to 50% OFF

Open 7 Days

Mon - Fri 9.00 - 5.30, Sat 9.30 - 4.00, Sun 10.00 - 3.00

0800 MILLEN | www.millen.co.nz | 03 348 8678

It's tax time!

31 March 'tax year end' is upon us. It's time to focus

on your tax and accountancy needs for 2017.

If you are an owner-managed business, sole trader, have investments

or rental properties and want good quality, fairly priced, friendly local

accountancy and tax advice then contact Ferrymead Accounting.

We specialise in:

- Owner Managed Businesses

- Individual's Tax affairs

- Investment & Rental Properties

- Business Start-Ups

- Accountancy and Tax Compliance

- Business & Management Advice

Your local independent MYOB Approved Partner

and Xero Certified Advisor in Ferrymead

11F Settlers Cres. Ferrymead P. 03 384 8179 M. 022 354 8218 E. info@ferrymeadaccounting.co.nz www.ferrymeadaccounting.co.nz
---
PAGE 4 BAY HARBOUR Latest Christchurch news at www. .kiwi

Wednesday March 29 2017

News

Pool numbers down due to

community access scheme

THE NUMBER of people using

Norman Kirk Memorial Pool

has been significantly lower than

expected this summer season.

The city council expected 8885

people to use the pool, instead the

number recorded was 7517 – 1368

less than expected.

City council staff said the

introduction of a trial where

locals can apply for a season key

pass has made the recording of

exact numbers difficult.

However, the local community

has benefited from a longer

opening season, which is the

main goal of the new system.

Key holders were able to access

the pool seven days a week

between 7am and 8pm.

It came after residents asked for

greater flexibility for community

access, as they felt the opening

hours of noon to 7pm weren't

long enough.

Volunteers were given lifeguard

training so they are able to

patrol the pool for special public

events and school swimming

programmes outside of the

opening hours.

While the numbers at Norman

Kirk Memorial Pool were lower

TAKING A DIP: Deputy Mayor Andrew Turner (left) with Richard

Homer and his daughters, Bronwyn, 8, and Caitlin, 11. ​

than expected, throughout the

city the number of visitors to

city council-operated pools was

up more than 13,000 from the

2015/2016 season.

City council operations leader

Rob Gibbs says the higher

numbers are great to see.

"This summer, we held more

organised pool parties, and the

decision to make opening hours

consistent across all outdoor

pools has made for a more

enjoyable experience," he said.

The outdoor pools at the

Waltham Swimming Pool, Te

Hapua Halswell Aquatic Centre

and Jellie Park Recreation and

Sports Centre will also close on

Sunday.

Paddling pools in local parks

close on Sunday, April 2.

FREEDOM CAMPING is still

causing issues in Lyttelton, with

15 infringement notices issued

this month alone.

All of the notices were issued

at Naval Point for camping in a

prohibited area.

They were issued to campers

for breaking the restrictions put

in place by the city council and

consisted of a $200 fine.

The city council cracked

down on freedom camping

across the city last summer

following public outcry over

the amount of rubbish left by

campers and the unsanitary

conditions.

Several areas across Banks

Peninsula and the city banned

freedom camping, while other

areas restricted freedom camping

to fully self-contained units

NO MORE:

The city

council

has been

cracking

down on

freedom

camping,

issuing

fines to

those

breaking

the rules. ​

Freedom campers fined

which are only able to stay two

nights over 30 days.

Lyttelton Community Association

chairman Ken Maynard

said it had been "noticed" but

the real problem was with the

lack of available sites for campers

"There are insufficient sites

for campers to go," Mr Maynard

said.

He said if there were more

sites allocated to freedom

camping it might not be such a

problem.

City council staff have also

been enforcing the freedom

camping bylaw across the city

and peninsula, issuing 107 $200

fines during daily inspections

of prohibited areas.

No fines were issued during

the previous summer season.

Join the

conversation

Have your say on how the

Council plans to fund the city's

projects. Come and talk to us at

your local Have Your Say event,

or go online and make

a submission.

5 April, 7pm–8.30pm

St Andrew's Community Church

85 Marine Drive

Diamond Harbour

#cccplan

To find out more visit ccc.govt.nz/AnnualPlan

Christchurch City

Draft Annual Plan

2017

2018

Consultation

20 March–28 April 2017

Christchurch Ōtautahi

Proud installers of

Call now for a free quote - 0800 324 678

www.dcis.co.nz

AutuMn & wIntER

ARE A GREAt tIME

to sEll youR HoME!

It may be true that there are fewer buyers and sellers in

the winter marketplace but the ones that are there are

serious and have a sense

of urgency to purchase.

If you're considering selling and would like some honest,

professional advice, give me a call today – it costs

nothing to talk!

Chris Moores

Harcourts Grenadier Ferrymead

1020 Ferry Road

P: 03 384 7950 | M: 027 588 4440

E: chris.moores@harcourts.co.nz

licensed sales Consultant REAA 2008

Mitsubishi Electric FH50 Hypercore 6kW

includes FREE installation*

$3,299*

*includes cost of back to back install only, conditions apply

GRENADIER
---
Wednesday March 29 2017

Latest Christchurch news at www.

.kiwi

BAY HARBOUR

PAGE 5

Red rock donations surpass

city council expectations

LYTTELTON residents have

been on the hunt for red rock to

help resurface heritage retaining

walls.

Earlier this year, the Great

Lyttelton Red Rock Hunt was

launched, in which people were

asked to look through their

gardens and sections for any

spare pieces of rock so work on

the wall could be finished.

Contractors were working

to reface the retaining wall on

the corner of Coleride Tce and

Dublin St, but noticed they were

quickly running out of the red

volcanic rock.

City council project manager

Richard Humm said the

response from the community

had been fantastic, with donations

coming from a range of

people and institutions, including

Lyttelton's Anglican church

and Lyttelton School.

The contractors need 389 sq

m of red rock to restore the wall.

They're after pieces that are

about the size of a loaf of bread

or bigger.

Enough rock has now been

gathered to not only finish

work on the Coleridge Tce and

Dublin St retaining wall, but

I SEE RED: The city council has collected a large amount of

red rock donated to reface Lyttelton's retaining walls. ​

to also reface some of the other

retaining walls in Lyttelton.

The walls are a distinctive

part of Lyttelton's streetscape

and many of them were built in

the mid-19th century by the inmates

at Lyttelton Gaol. During

the earthquakes, many of the

walls collapsed or were so badly

damaged that they needed to be

deconstructed.

Refacing all the damaged

walls is an expensive task and

not all of them can be done.

However, key walls around the

township are being refaced using

salvaged rocks.

"We've still to collect some

of the rock that people have offered

us so it is difficult to quantify

exactly how much we've

recovered but it is a significant

amount,'' Mr Humm said.

With the amount of rock the

community has collected, the

high priority walls can be completed

and contractors will be

able to use red rock on the next

priority walls.

"This is great news for the

heritage listed walls and for the

community of Lyttelton," he

said.

Mr Humm said he still wants

to hear from anyone who has

surplus red rock to donate, as

there was no shortage of walls

it could be used on. People with

spare rock should email richard.

humm@ccc.govt.nz

Lack of

funds leads

to job cuts

•From page 1

The trust was established in

2008 and was instrumental to

the community following the

February 22, 2011, earthquake,

offering support and help for

those in need.

Lyttelton Youth Centre

stopped operating its premises

last week, it has combined with

Lyttelton Community House

Trust.

The centre has also faced

funding shortfalls and could not

afford to run at its premises any

more.

It was set up to help young

people in the area by giving them

a place to hang out and offer support

if they needed it.

The funding shortfall has

meant the centre has to close and

combine the services with the

trust.

Mr Manch said it would be

good to increase the hours in

the future but there needs to be

enough funding to be able to do

that.

"There is no point getting

enough money to have the hours

go back up for only three months

and then have them cut again,"

Mr Manch said.

EASTER

SPECIALS

Unlimited blow waves for one month

with stylists Matt and Amber $99

T section foils, cut and blow wave $99

Regrowth colour, cut and blow wave $99

Stockist of

En Provence Products

99 Main Road, Redcliffs Ph 384-1664

Open Tuesday - Saturday | Late night Wednesday

Models needed for training in

a variety of services
---
PAGE 6 BAY HARBOUR Latest Christchurch news at www. .kiwi

Wednesday March 29 2017

A BRANCH OF

Your Local Views

Police expected to do more with less

Michael Toomey

mft@younghunter.co.nz

Proudly providing

legal advice to

the community

for 25 years

Michelle Rossiter

mjr@younghunter.co.nz

P. 384-5350

www.younghunter.co.nz

Labour

Party MP

Ruth Dyson

writes about

the police

presence

in Lyttelton

and

encouraging residents

to get involved in the

community patrol

A lot of people in our

communities grew up in an

era where you could leave your

house open when you went out

and when you came home, it

was safe and secure.

The local cop knew everyone

in the neighbourhood and

knew how to respond to problems

– and how to avoid them

arising in the first place.

People looked out for their

neighbours. There was less

inequality and more inclusion

and respect in our communities.

There has been a lot of talk

recently – and of course, it

takes off now on social media

– about the lack of presence

of police and the increase in

crime.

It might be what official statistics

describe as "lower level

crime" but if you have had stuff

stolen from your car or your

car itself stolen, if your home

has been burgled or if your

fence has been tagged – these

intrusions into your life can be

pretty disturbing.

We know that the police

are now being expected to do

far more with less. The Lyttelton

station which covers all

the Bay Harbour News area,

had, in 2010, 12 staff. This

number included a detective,

an investigator and a watch

house keeper. The rest were

uniformed staff.

They now have just five plus

the sergeant. They also had

staff based at the Sumner police

station which hasn't been used

by the police for several years

now. So the police presence is

just not there as it used to be.

Two things that were obvious

from the recent community

police meeting in Lyttelton.

One was that people really

appreciated the work the police

do – and the fact they engaged

RESPECT:

A meeting

between

police and the

community was

held recently to

cover concerns

and provide

information as

to how police

operate in the

area.

at the meeting. The main

thing that people wanted was

to see the police around their

area – and to know they are

there when we need them.

And from the police was the

news that there is a "spare"

community patrol car available

for Lyttelton area. It just needs

volunteers trained and keen to

do the work.

Lyttelton is always up for a

challenge and I am sure it will

be for this one.

• To find out more or to

join the City to Sumner

Community Patrol email

christiealoc@xtra.co.nz

•More local views, p8
---
Wednesday March 29 2017

Latest Christchurch news at www.

.kiwi

BAY HARBOUR

PAGE 7

Tandem

Wheel Barrow

Assembly Required

921016

$

35

HOT

PRICe

30 Seconds Cleaners

Shower, Mould,

Window, Rust/Lime,

Surface Cleaners

238307/122148/

287862/287864/300090

BUy ANy

2 FOR

$12

OR $6.95 eACH

LED Light

Bulbs

3 Pack

A60, E27/

B22, 9W

300785/86

eNd CAP

SPeCIAl

$

9

Washing Basket

Assorted Colours, oval.

939799

$

4 99 $ 12 98

Number 8

A-Frame

Clothes Airer

245465

Damprid

Disposable

Moisture

Absorber

300g

Prevents mould

and mildew.

Eliminates

odours. Reduces

allergens.

325506

Elto

TIMER 24 hour

15 Minute interval

settings.

103325 Tui

Fire Lighters, 32 pack

Traditional kerosene based

firelighters. Safe and efficient.

280532

$

6 45 $ 4 47 $ 2 14

Number 8

Fan Heater

Upright, 2kw

3 speed levels.

Overheat protection.

Adjustable

thermostat. 242358

$

19 97

Number 8

Convector

Heater,

2kw

297088

$

34 99

Goldair

Panel

Heater,

425w

297123

$

69 98

Goldair

Retro Oil Column

Heater, 1.5kw

3 heat settings.

Adjustable thermostat.

Tip over safety switch.

Black, Red or Cream

297116/17/18

$

129

Nouveau

Glass

Panel

Heater

Flat

1.5kw

279328

Nouveau

Dehumidifier

10L

297086

Woodsman

Woodfire

Brunner MKII

Heats 3-4 bedroom

home (up to 190m2).

229210

Woodsman

Woodfire Tarras

MKIII

Heats homes up to

240m². Large

cooktop surface

229208

Woodsman

Woodfire

Mystique

Ultra low emission,

16.2Kw. Approved

for any house in

Christchurch 296057

$

127 $

179 $

1999 $

2599 $

4999

Assorted

Rattan

Log Baskets

Various sizes

available.

FROM

$

44 96

Ferrymead

1005 Ferry Road, Phone: 366 6306

Opening Hours: Monday–Friday: 7:00am–7pm

Saturday, Sunday and Public Holidays: 8:00am–6:00pm

Offers available at Mitre10 Mega Ferrymead only, until the 5th of April, while stocks last.

mitre10mega.co.nz

If you find a lower price on an identical stocked

product locally we will beat it by 15%.

BONUS

$400

wITH SeleCTed

wOOd FIReS

Not available in conjunction with any other offer.

find us mitre10.co.nz

If you find the same product cheaper from another Mitre 10 store or Mitre 10 website we'll match that price. Excludes trade

and special quotes, stock liquidations and commercial quantities. The in-store price may be lower than that advertised.
---
PAGE 8 BAY HARBOUR Latest Christchurch news at www. .kiwi

Wednesday March 29 2017

Your Local Views

Pirate's Corner

Look out for

navigation markers

• By Gary Manch, navigational

safety officer, Lyttelton

TODAY WE are going to discuss

some of the various navigation

markers and posts on the water

or onshore which all skippers

should know about.

For those of you who have

completed a skipper's day course

or similar (I suggest that you do

a course if you haven't already

contact your local Coastguard)

then you may want to carry on to

the next page, but you may also

want a reminder.

Water ski access lanes are

marked by orange and black

posts with information signs

attached. Sometimes there may

be orange and black buoys in the

water as well these will indicate

the area of the access lane.

The purpose of the access lanes

is to allow a boat which is towing

a water-skier or biscuit to exceed

the five-knot speed limit within

200m of shore. In the access

lane area you go anticlockwise

so you leave the shore from the

starboard (right) side and reenter

from the port side (left).

The access lanes are not for

other water-users to hoon around

in. Jet-skiers, for example, trying

to use the lane for recreation

could cause problems for boaties

trying to get in and out of the

access lane with their waterskiers

or biscuits.

Any vessel that is towing

must have an observer who is

at least 10-years-old watching.

The observer can watch what is

happening behind the boat and

alert the skipper to any dangers.

This rule includes those of you

out there on jet skis that are

towing; no exceptions!

What about those black and

white posts or buoys marking

a reserved or restricted area?

This is where you have a look

at the Navigation Safety Bylaw:

https://ecan.govt.nz/do-itonline/harbourmasters-office/

recreational-boating/. The charts

in the bylaw will clearly show

what activity may take place

there.

The yellow buoys in the water

with five knots written on them

– they indicate a five-knot speed

limit. It seems very simple, but as

the harbourmaster's navigation

safety officer I see many people

exceeding this limit. Speed limits

are put in place to keep you and

other water users safe; they must

be followed!

As usual, if you have any

questions feel free to email me at

gary.manch@ecan.govt.nz.

The importance of listening

to the community voice

Darrell Latham

is a Linwood-

Central-

Heathcote

Community

Board

member. He

writes about dredging in

Lyttelton Harbour and the

importance of including the

community's involvement

The number one priority of

community board members is to

represent and act as advocates for

the interests of its community at

a city council level.

Why then did the city council

recently shut down the Banks

Peninsula Community Board

over a concern raised by the

community board?

The city council owned

Lyttelton Port Company is in the

process of applying for dredging

consent to allow larger ships

into the harbour. Both the city

council and the Banks Peninsula

Community Board were invited

to make submissions on the

proposal. Neither ended up

doing so.

The Banks Peninsula

Community Board wanted

to make a submission about

sediment transfer and possible

environmental impacts on

Lyttelton harbour. Why did

the city council block their

submission?

Is there a conflict of interest

here in that the city council

owns the port? The city council

were in boots and all to make

a submission about concerns

relating to offshore petroleum

drilling. Not so, when it affects

their own Port Company.

The city council argues that

community boards could not

submit on notified resource

management act matters where

the city council was the decisionmaker

on the application. They

also said that it would not affect

its direct interest.

As a colleague rightly

reminded me: "Adverse

environmental effects occur close

to the site and are therefore local,

therefore relevant to community

boards."

Is the city council saying that

the harbour and coastline line

are not of interest to them? Ask

the ratepayers!

I support the Lyttelton Port

Company in its development

proposal. The economic benefits

to the city and the wider

Canterbury region will be

positive.

Nonetheless, the democratic

process is an ideal principle to

uphold and transparency is vital.

The city council failed in its duty

to listen to the Banks Peninsula

Community Board and stymied

the submission process.

The community board deserve

acknowledgement and credit for

advocating on behalf of their

local community.

The city council, however,

deserve to be scolded as they

were more interested in trying to

do things right for themselves,

rather than doing the right thing

for the community.

The city council has

responded to Darrell

Latham's views on dredging

in the Lyttelton Harbour

• City council staff provided

advice to the Banks Peninsula

Community Board following

their resolution to ask the city

council to prepare a submission

on the resource consent

application, including a request

to engage appropriate experts

to consider the environmental

impacts of the dredging

proposal. That advice outlined

the city council's policy around

lodging a submission and noted

that city council staff are careful

PLAN: A

plan to allow

dredging in

the harbour to

allow access

for larger

ships has

been met with

opposition.

not to duplicate the work being

done by another local authority,

in this case Environment

Canterbury. Following that

advice the Banks Peninsula

Community Board decided to

revoke their earlier resolution.

• The distinguishing features

here are that there is no

opportunity for the general

public to make submissions

on the block offers and the city

council has a particular interest

given the proximity to Banks

Peninsula and the marine

reserve.

• The city council is not

the decision maker here. It is

Environment Canterbury.

• There is no doubt that

environmental impacts on the

harbour and coastline are of

interest to local residents and

many others across the whole

district. ECan has statutory

responsibility for these matters

and it is their role to consider

the adequacy of the information

provided and make a decision on

the resource consent application.

• The city council supports

community boards making

submissions and exercising

their delegations in respect of

local projects, that is, projects

that only have a local impact

within the community board

boundaries. The proposal for the

expansion of the port is clearly

a project of significance to the

city and the region as a whole.

As such if a submission was to be

made it would be a city council

submission. In this particular

case the staff recommendation

was that no submission was

required and staff were confident

that Environment Canterbury

were aware of all of the issues.

Visit our new website: www.min.nz

From bare land to luxury abodes

min sarginson

is the ideal coastal realtor

COASTAL REAL ESTATE SPECIALISTS

We'll help you live the dream.

Min Sarginson Real Estate Ltd. specialises in homes, sections and

rental properties in the spectacular Lyttelton Harbour bays, and

coastal suburbs of Christchurch, New Zealand.

We'll make it so easy for you. All our sales consultants live in the

area – we can give you valuable insights into life in our thriving

coastal communities.

This is an exciting time; of promise, optimism, and opportunities

never anticipated pre-quakes. Beachfront, or hillside with

grandstand views, find the property of your dreams:

Lyttelton | Diamond Harbour | Governors Bay | Cass Bay

Charteris Bay | Church Bay | Purau Bay | Port Levy | Northshore

Southshore | New Brighton | Heathcote | Sumner | Redcliffs

Scarborough | Mount Pleasant | Clifton

Call Min Sarginson Real Estate Ltd. for free, no-obligation advice. Lyttelton: 03 329 4161, lyttelton@min.nz or Church Bay: 03 328 7273, churchbay@min.nz
---
Wednesday March 29 2017

Latest Christchurch news at www.

.kiwi

BAY HARBOUR

FINAL DAYS

PAGE 9

FREE

FREE

Buy 1

MEtRE

GEt 1

MEtRE

ON SELECTED PRODUCTS *

BUY 1

GET 1 FREE

Wool Sisal

• pure wool

• extra heavy duty plus

stairs grade

• Loop pile

• Slightly imperfect

$99.90

BUY 1

GET 1 FREE

Commercial

Vinyl

Planks

• 4 Colours

$39.90

3.65m WiDe rOLLS

per Square metre

BUY 1

GET 1 FREE

Castleton

• 1 Great Colour

• polyprop

• Heavy Duty

BUY 1

GET 1 FREE

Commercial

Grade Carpet

tiles

• 1 Great colour

$59.90

$49.00

3.65m WiDe rOLLS

per Square metre

BUY 1

GET 1 FREE

Garage/Boat

Carpet

• uV Stabilised

• One Colour: Black

BUY 1

GET 1 FREE

Vinyl

• 2m wide

• Selected patterns

• 1000s metres to clear

2m $50 lM

3m $75 lM

4m $100 lM

FROM

$49.90

FREE

uNDerLaY

4 METRE wIDE

FOAM BACk

CARPET

$79.90Pm

CARPET

SHORT ENDS

PRICED TO

CLEAR

Call for our mobile showroom to

visit your home

312 Wilsons Road North, Waltham | Phone 366 0070

Mon to Fri 8am - 5pm and Sat 10am -1pm

www.carpetkingdom.co.nz *Conditions apply.

Q Card Finance

Now Available

FREE no obligation measure & quote (conditions apply)
---
PAGE 10 BAY HARBOUR Latest Christchurch news at www. .kiwi

Wednesday March 29 2017

Sumner's season gets under way

SPORTS

FLYING HIGH: Dylan Nel will look to push on from an impressive

2016 campaign which saw him score 10 tries for Sumner and

make the Canterbury NPC squad. PHOTOS: ROZELLE MAY

• By Gordon Findlater

SUMNER HAS prepared well

ahead of their opening game of

the metro rugby competition

on Saturday.

After a handful of pre-season

hit-outs, Sumner will get their

first taste of competitive action

when they face Christchurch at

Linfield Park.

The team will play under the

guidance of a new coach this

season.

Martin Field-Dodgson, 39,

comes to Sumner with 10 years

of professional coaching experience

in Italy.

He's held various roles at Benetton

Treviso, which play in the

Pro 12 competition, including

academy manager and assistant

coach.

His first job in his new role

has been getting the side in

shape ahead of the demanding

season. He says while the team

may not be where they would

like to be tactically, their fitness

levels are peaking.

"That was the principle priority

for pre-season. The boys

themselves identified that as

being an area we could make

some big gains on and we've

had some really intense, short

but sharp training sessions

since coming together," said

Field-Dodgson.

In the pre-season, Sumner

produced three tries in the

final 20 minutes to save a draw

against Belfast. At the weekend,

they went down 28-38 to University.

Sumner finished last year's

12-team Hawkins Cup roundrobin

in ninth spot. They then

finished as the second best

qualifier in the bottom six competition

before being eliminated

by University in the knock-out.

They have retained the bulk

of their squad from last year,

including South African-born

flanker, Dylan Nel, who was the

team's top try scorer last season.

"We've got a nice core of guys

that have had a taste of the

next level. We run a leadership

group and a lot of the boys who

we're part of the Canterbury

team are in it," said Field-

Dodgson.

The opening round of the

Hawkins Cup will see all 12

teams play at the same venue,

using three grounds at Linfield

Park.

Sumner will be part of the

day's first game when their

match against Christchurch

kicks off at 1pm.

RETURN: Fijian winger Poasa

Waqanibau is back for another

season. He also made the

Canterbury squad on the back of a

strong campaign for Sumner.

Bays gain experience in

national competition

THE FERRYMEAD Bays

under-17 boys' team came within

a whisker of a top 12 play-off

spot in Auckland recently.

They competed in the Auckland

City Football Club under-17

tournament, which brings

together the best of the youth

talent from around the country,

playing in a competitive tournament

format.

On day one, Bays suffered a

3-0 loss to Cashmere Technical

and a 6-0 loss to Three Kings

United before defeating Glenfield

Rovers 2-0.

Day two saw the team start

with a 0-0 draw against Tauranga

City United and a 3-0 loss

to Central United FC.

In the quarter finals, Bays

came up against Waitakere City

FC. After a 0-0 stalemate at

full-time the two sides went to

penalties.

The dramatic spot kick decider

saw Waitakere advance 10-9 on

penalties.

The end result meant Bays

didn't qualify for the top 12

of 24 on day three, but gained

great experience and an idea of

the level of talent around the

country.

EXPERIENCE: Ferrymead Bays' Omar Cameron and Joe Hoole compete for the ball against

Cashmere Technical .

Masters

HOLLYWOOD 3

www.hollywoodcinema.co.nz

28 Marriner St,

Sumner

Phone:

03 326 6102

The magazine for

gardeners who

like To geT Their

hands dirTy

www.gardener.kiwi

100%

Thursday 30 March - Wednesday 5 April

BEAUTY AND THE BEAST (PG) violence

Thu/FRI: 11.30am, 2.00pm, 6.00pm, 8.20pm

SaT: 1.00pm, 3.25pm, 5.50pm, 8.20pm

SuN/MoN: 1.15pm, 3.45pm, 6.10pm

TuE/WED: 2.00pm, 6.00pm, 8.20pm

A STREETCAT NAMED BOB (PG) Coarse language and drug references

Thu/FRI: 11.30am, 2.00pm, 6.00pm SaT: 3.30pm, 5.45pm

SuN/MoN: 4.00pm TuE: 2.00pm, 6.00pm WED: 2.00pm

TRESSpASS AgAiNST US (R13) Violence, offensive language and content that may disturb

Thu/FRI/SaT: 8.10pm SuN/MoN: 6.20pm TuE: 8.10pm WED: 4.00pm

LiON (PG)

SaT/SuN/MoN: 1.10pm

HiDDEN FigURES (PG) Coarse language

Thu/MoN/TuE/WED: 6.00pm SaT: 5.20pm SuN: 6.30pm

LOViNg (PG) Coarse language

Thu: 1.30pm, 8.20pm FRI: 2.05pm SaT: 8.15pm SuN: 4.15pm

MoN: 3.30pm TuE/WED: 8.20pm

NABUCCO

FRI/MoN: 11.00am SuN/TuES/WED: 1.00pm

SMURFS: THE LOST ViLLAgE (G)

SaT: 1.20pm, 3.10pm

STATE OF THE ART HIGH DEFINITION, LICENSED BAR
---
Wednesday March 29 2017

Latest Christchurch news at www.

.kiwi

BAY HARBOUR

PAGE 11

NEW LISTING

SENSATIONAL VIEWS AND AMAZING SPACES

104 Panorama Road

The moment you enter this home you will feel the freedom. Daily living is a pleasure from sunup till sundown. Diverse

living spaces give an opportunity to relish quiet times or entertain. The home is dynamic in dimension and outstanding

in view. Enjoy the peaceful library, an up-to-the-minute kitchen, brilliant dining and spacious living. Floor to ceiling sliding

doors open to the large deck, sensational all day. A perfect family home with four generous bedrooms, two bathrooms.

Downstairs has a rumpus room or teen retreat plus a further large deck area leading to the well landscaped lawn,

delightful vegetable gardens and fruit trees. This north facing home offers privacy and shelter from the easterly, much

loved and in a brilliant neighbourhood. This could be your new forever home.

This north facing home offers privacy and shelter from the easterly, much loved and in a brilliant neighbourhood.

This could be your new forever home.

Sumner

Auction

From 12pm, Fri 21 Apr 2017 (unless sold prior)

3 Deans Ave, Chch

View Thurs/Sun 1-1.45pm

www.bayleys.co.nz/554380

Marilyn Still

M 027 229 8769

B 03 595 2844

marilyn.still@bayleys.co.nz

WHALAN AND PARTNERS LTD, BAYLEYS,

LICENSED UNDER THE REA ACT 2008.

NEW LISTING

'AS IS WHERE IS' - ORIGINAL SECLUDED SEASIDE OASIS

9 The Spur

An original 1900s five bedroom bungalow with earthquake damage, positioned on a mouth-watering 637m² site on the

very lower slopes of Clifton Hill. The Spur, famously is Hurst Seager´s seaside subdivision, the historic artist corner of

Sumner. This private hideaway is unique in every way and the position is spectacular; embraces stunning sea views

over Sumner Bay. A prime leafy pocket just steps from the beach and village, a highly sought after opportunity to

prosper from this tranquil little corner of the world. This property is being sold on an uninsured 'as is where is' basis

without the benefit of any EQC or insurance claims and without any vendor warranties and therefore Bayleys make no

presentation as to the structural soundness and safety of the building. This is a multiple hazard area, any person

entering 9 The Spur acknowledges that if they choose to enter the property they do at their own risk. An appealing lower

slope location on the Spur of Clifton Hill. Walk on access from Nayland Street and Clifton Terrace.

Sumner

Deadline Sale

4pm, Wed 19 Apr 2017 (unless sold prior)

View Thurs/Sat 11-11.30am

www.bayleys.co.nz/554331

Bonnie Brown

M 021 343 407

B 03 595 2844

bonnie.brown@bayleys.co.nz

WHALAN AND PARTNERS LTD, BAYLEYS,

LICENSED UNDER THE REA ACT 2008.

www.bayleys.co.nz

All companies within this composite are Members of Bayleys Realty Group
---
PAGE 12 BAY HARBOUR Latest Christchurch news at www. .kiwi

Wednesday March 29 2017

MORE SPACE

FOR MORE

ADVENTURE.

Planning a road trip? Going hiking? Or just got a whole

lot of shopping to do?

The new MINI Countryman is perfect for any occasion.

Featuring improved driving comfort, a remarkably

roomy interior and ALL4 all-wheel drive the new

MINI Countryman is the ultimate all-rounder, ready

to tackle whatever road your story takes you on.

Grab your sense of adventure and get behind the wheel

from $44,900 * .

Book a test drive now at Christchurch MINI Garage.

CHRISTCHURCH MINI GARAGE.

30 Manchester Street. Christchurch, 8011. 03 363 7240.

Open 7 days - Mon-Fri 8am-6pm, Sat 9am-5pm, Sun 10am-4pm.

MINI.CO.NZ

THE NEW MINI COUNTRYMAN.

ADD STORIES.

MIN0231

*

Recommended Retail Price based on a standard MINI Countryman Cooper, includes

GST, excludes on-road costs. Model shown with optional extras. See mini.co.nz or

your local MINI Garage for more information.

cnr Montreal & St Asaph Streets, Christchurch

www.christchurchmitsubishi.co.nz

Sales, Service & Parts: 03 379 0588

SCOOP PURCHASE

2016 Pajero Sport VRX 4WD 2.4L Diesel

5 Seat Original RRP $58,990 +ORC

7 Seat Original RRP $66,990 +ORC

$49,990 $53,990

Christchurch Mitsubishi have a LIMITED NUMBER of Short-term lease returned Pajero Sports VRX, most having travelled under 15,000kms. Includes balance manufacturers warranty.
---
Wednesday March 29 2017

Latest Christchurch news at www.

.kiwi

BAY HARBOUR

PAGE 13

SCHOOLS

FRIENDLY: Year 2 pupil Nathan Soper got to meet some farm animals during the open day.

Meanwhile, Lucy Chapman, Katie Hygate, both year 6, and former pupil Alice Wehi (far right)

enjoyed getting to pet the rabbits. Year 2 pupils Sofia Marshall (below), Phoebe Chapman and

Charlie-Rose Powell had fun riding a donkey.

Our Lady Star of the Sea open day

OUR LADY Star of the Sea

School hosted an open day

recently, with many different

activities and fun attractions for

the community.

Principal John Kane said it

was a great turn out, with past,

present and potential future

pupils going along to look at the

classrooms, meet the principal

and interact with other children.

A petting zoo, bouncy castle,

pony rides and many other

activities were on throughout

the day to keep the children

entertained.

DONATIONS: Principal Stuart Cameron, pupil Ruby Allpress

and Sumner club rugby development officer, Lawrence Babe,

show off some of the gear the club has donated.

Sumner club gives rugby

gear to Samoan children

AN IDEA from Sumner School

prompted the local rugby club

to send sports gear to Samoa to

help encourage children to play

sport.

The Sumner Rugby Football

Club heard about the school's

planned visit to Samoa and

wanted to get involved by

sending over some sports

gear.

Last week, rugby development

officer for the club, Lawrence

Babe, visited the school to hand

over the kits, which included

rugby gear, boots, jackets and

shorts.

A spokesperson for the club

said it wanted to donate the gear

to give children in Samoa the

opportunity to play rugby and

achieve their goals.

Twelve-year-old pupil Ruby

Allpress said she thought being

a pupil in Samoa would be very

different to New Zealand.

The pupils head to Samoa on

May 5.​
---
PAGE 14 BAY HARBOUR Latest Christchurch news at www. .kiwi

Wednesday March 29 2017

Easter Colouring Competition

See instore for details

Fresh NZ

Lamb Leg

Roast

Chilean Red/Green Seedless Grapes 500g

$

11 99

kg

$

3 99

pack

Keri Fruit Drink/

Juice 2.4-3L

Home Farm Brushed

Potatoes 3kg

$

3 99

each

$

3 99

bag

Fresh Tegel NZ Chicken Drumsticks

Nestlé Chocolate

Block 118-200g

Meadow Fresh Yoghurt 1kg

(Excludes Greek)

$

5 99

kg

Steinlager Classic/Tiger

12 x 330ml Bottles

2 for

$

5 00

Stoneleigh

750ml

(Excludes Rapaura/Latitude/Wild Valley)

$

4 49

each

Nescafé Coffee

Sachets 10 Pack

Please drink

responsibly

$

19 99

pack

SuperValueNZ

SuperValue.co.nz

$

12 99

each

$

4 99

pack

SuperValue Lyttelton: 17 London Street, Lyttelton. Phone 328 7368. Open 7am-9pm, 7 days.

SuperValue Sumner: 3 Village Mall, Sumner. Phone 326 5688. Open 7am-9pm, 7 days.

Specials available from Wednesday, 29th March until Sunday, 2nd April 2017 or while stocks last. We reserve the right to limit quantities. All limits specified apply per customer per day.

Trade not supplied. Prepared meals are serving suggestions only. Props not included. Certain products may not be available in all stores. Proprietary brands not for resale.

Customer Support Freephone 0800 40 40 40.

svbhn2903
---
Wednesday March 29 2017

Latest Christchurch news at www.

.kiwi

BAY HARBOUR

PAGE 15

Email caitlin.miles@starmedia.kiwi

by 5pm each Wednesday

Create 'n' Connect Art and

Craft Group

Thursday, 9.30am-noon

If you're crafty or want to start

getting crafty go along to this

group. Take your own project

or go with ideas for a new one.

Others in the group are there to

offer help or advice. Meet new

like-minded creative people and

learn new skills. Pass on your

tips and pick some up from other

people at the group. This event

aims to help with your projects

and meet new people. Phone

Beth on 022 678 1252 for more

information.

St Andrews Anglican Church,

148 Main Rd, Redcliffs. Free entry

Babytimes

Friday, 10.30am-11am

This event allows for parents

and caregivers to interact with

each other while letting the

babies learn. At these sessions

babies learn through language,

rhymes, songs, stories and play.

The babies learn together and

build connections with each

other.

Lyttelton Library, 18

Canterbury St. Free entry

Redcliffs Residents' meeting

Monday, 7pm

All residents of Redcliffs, and

business and property owners

are warmly invited to the open

meeting hosted by the Redcliffs

Residents' Association to discuss

local issues and matters they

think are important in the

community. There will also be

speakers at the event, which will

include city council staff and

spokespeople from Redcliffs

School, Redcliffs Library,

Bridge2Rocks Timebank, Moa

Kids, Ihutai Estuary Trust, the

tennis club and the Coastal

Pathway Group.

Redcliffs Function Centre, 9

James St. Free entry

Storytimes

Tuesday, 11am-11.30am

Encourage reading in your

pre-schoolers. Storytimes has

interactive programmes which

include stories, songs, rhymes

and play. Have children meet

each other and build friendships

at this event wile learning more.

Pick up some library books to

read to them at home.

Lyttelton Library, 18

Canterbury St. Free entry

Garage Sale

Saturday, April 8, 9am-noon

This garage sale will have

many different items and goods

for sale. There will be a stall

CHALLENGE: Say goodbye to the summer weather and be active at the same time. The

annual Sea2Sky challenge is a demanding course which involves the beautiful sites around the

peninsula. This triathlon involves either a swim at Scarborough Beach or a 2km run followed

by a cycle up to the Summit Rd before heading to Godley Head to complete the run over

Scarborough hill and finishing at the clock tower in Sumner. Compete on your own or in a team.

There is a junior race along with a Have a Go race for children aged between five and nine. This

event is on Sunday and starts at 9.30am. For more information go to

http://www.sea2skychallenge.com

from White Elephant Trust

among the many others offering

things from second hand goods

to books, hand craft jewellery

and other items. Find a special

something for yourself or

someone else at this sale.

There will also be fresh baked

cakes, jams, morning tea and

sausage sizzle. Along with

entertainment for the children

including a free bouncy castle

and more.

St John's Anglican Church,

Ferry Rd. Free entry

Markets:

Lyttelton Farmers Market:

Every Saturday, 10am-1pm,

London St

Mt Pleasant Art and Craft

Market: First market of the

season on March 11. 9.30am-

2.30pm. Atrium of the Mt

Pleasant Centre, 3 McCormacks

Bay Rd.

Mt Pleasant Farmers Market:

Every Saturday, 9.30am-2.30pm,

3 McCormacks Bay Rd/

Wakefield Ave

Akaroa Farmers Market:

Saturday, 9.30am-1pm, Madeira

car park

3 Garlands Road, Woolston

DeluxeCinemas.co.nz

Christchurch's Premium Cinema Experience

Phone Bookings | Free Parking | Cafe/Licensed Bar

Online Bookings | Cinema Club | Hot Nuts/ Cheeses

03 389 5360

BeAutY AND tHe BeASt Disney Classic

thu: 3:30pm, 8:15pm, 8:30pm Fri, sat: 3:30pm, 6:00pm sun: 1:10pm, 5:50pm

Mon: 1:20pm, 6:00pm tue: 1:10pm, 6:00pm

lION Dev Patel, Nicole Kidman

Wed: 1:10pm, 8:10pm thu: 11:00am, 4:20pm Fri: 11:00am, 8:40pm sat: 2:15pm, 8:40pm

sun: 11:55am, 2:10pm Mon: 11:00am, 3:25pm tue: 3:40pm, 8:30pm

tHe INNOCeNtS Based On A True Story

Wed: 11:00am, 6:00pm thu: 1:20pm, 6:00pm Fri: 1:20pm, 6:35pm sat: 1:20pm, 6:25pm

sun: 11:00am, 3:40pm Mon: 11:00am, 3:50pm tue: 11:00am, 6:30pm

trAINSpOttING 2 Reunite with the old gang

Wed: 8:25pm Fri, sat: 8:30pm sun: 8:20pm Mon: 8:30pm tue: 8:40pm

MOONlIGHt Best Picture

Wed: 3:30pm thu: 12:20pm Fri: 2:30pm sat: 11:00am sun: 4:30pm Mon: 1:10pm tue: 2:15pm

ONe tHOuSAND rOpeS NZ Feature Film

Wed: 12:20pm, 6:30pm thu: 2:25pm, 6:35pm Fri: 12:35pm, 4:40pm sat: 10:00am, 4:30pm

sun: 10:00am, 6:35pm Mon: 8:15pm tue: 12:20pm, 4:25pm

lOvING Based On A True Story

Wed: 10:00am, 4:10pm thu: 10:00am Fri: 10:15am sat: 11:55am sun: 8:30pm tue: 10:00am

tHe MuSIC Of StrANGerS YoYo Ma

Wed: 2:15pm

COMING SOON

April 6th The Salesman

April 13th Their Finest

April 13th Denial

April 27th Handsome Devil

beauty and the beast PG Parental guidance recommended lion PG

the innoCents M Sexual violence, suicide & content that may disturb

tRainsPottinG 2 R16 Violence, offensive language, drug use, sex scenes

& content that may disturb MoonliGht M Violence, offensive language, drug

use and sex scenes one thousand RoPes M Violence & content that may

disturb loVinG PG the MusiC oF stRanGeRs E

CAFE

open from 11am

TAB & Gaming

Function Facilities

HOUSIE

Tues, Thurs, Sat

SHUTTLE

Tues - Sat

SpeCIAl eveNtS/retrO

teD tAlKS May 3rd, 7th ,10th

tHe prINCeSS BrIDe April 21st 12:30pm

MYSterY SCreeNING May 6th 8:30pm R18

neW: seRVinG FRee MoRninG tea enjoy

a FRee tea, CoFFee & a FReshly baked

bisCuit With eVeRy MoRninG shoW

LIVE MUSIC WITH

BOBBY

BROWN

7PM THIS FRIDAY

in Whitfords Bar

WHAT'S ON

LIVE MUSIC WITH

BOTTLE

JACKS

7PM THIS SATURDAY

in Sports Bar

Still Pedalling!

Trevor Crowe's been involved with cars for a

while. You can benefit from his experience at...

Subaru Specialists

Full Workshop services

WOF's | Service Checks | Wheel

Alignment | Brakes | Clutches | Tyres etc

Great range of Subarus & other

makes from $5,000 - $35,000

View at www.crowesport.co.nz

518 Moorhouse Ave (East end)

Phone 379 7615 or

email: service@crowesport.co.nz

Fisherman's WharF

Spectacular Harbour Views

Fisherman's Wharf Restaurant offer's

a warm & friendly atmosphere

over looking the working port of

Lyttelton.

We have a range of wonderful meal

options to suit all. Seafood, Steaks,

Burgers, Thai dishes, Vegetarian,

pasta & kids meals.

We serve only the freshest locally

caught fish & our produce is also

fresh & from the local markets. From

our boats to your plate.

39 Norwich Quay, 8082 Lyttelton.

Ph 328 7530

www.lytteltonwharf.co.nz

Open Wed to Sun 11.30am to late
---
PAGE 16 BAY HARBOUR Latest Christchurch news at www. .kiwi

Wednesday March 29 2017

Fendalton Dental Surgery,

looking after your dental needs

Fendalton Dental Surgery, on the Idris

& Glandovey Roads corner has been

looking after the dental needs of their local

community as well as the wider Christchurch

area since 2011. It is operated by Dr Keith

Chiang and his highly experienced team who

can perform a variety of complex procedures

ranging from General & Cosmetic Family

Dentistry including Dentures upto more

complex work like Wisdom teeth surgery,

Implants and Crowns.

Dentists Keith Chiang and Zohnia

McNeill and Dental Hygienist Amy Lee

offer a complete range of dental and oral

care services, all in a very calm and relaxed

environment. "We listen carefully to what

our patients tell us so we can address each of

their dental problems and help them achieve

good oral health," says Keith.

A major component of Keith's work is

under IV sedation, which is available for

people that are very nervous about visiting

the dentist. He has performed more than

2000 Intravenous sedation procedures and

the clinic is equipped with the latest advanced

equipment for sedation monitoring. He has

a special interest in Oral Surgery, Implants

and Intra venous sedation.

For people with damaged or missing teeth,

Zohnia will discuss with them the options

of having crowns, permanent implants or

dentures fitted, all of which have the added

advantage of helping clients regain their

functional bite as well as improve their

smile and overall confidence. She

has a special interest in Cosmetic

dentistry, Root Canals and Geriatric

dentistry. Her calm approach and

special individual attention to detail

has helped deal with most common

dental issues in her patients.

Hygienist Amy specialises in

the overall maintenance of healthy

teeth and gums. She educates her

clients on how to look after their

oral health, which if not taken care

of can have detrimental effects

on their overall health. The gum

Dr Keith Chiang,

Dentist

disease, Gingivitis is one of the main reasons

why people lose their teeth, the dentists

point out, while research also indicates that

gum disease in pregnant women can mean

a higher chance of premature birth and low

birth weight.

Dry mouth or reduced salivary flow,

which is caused by certain medications that

people take can also lead to gum problems

and tooth decay. By visiting the hygienist

regularly, gum problems can be prevented,

and consequently tooth decay as well as

more serious health issues can be avoided.

Fendalton Dental Surgery will soon add to

its suite of advanced dental equipment with

Dr Zohnia McNeil,

Dentist

Amy Lee,

Dental Hygienist

a state-ofthe-art

3D CT scanner, which will be used

to scan jaws, enabling the dentists to give a

better diagnosis of clients' dental problems.

Keith, Zohnia and Amy invite new

patients to visit their clinic and experience

Expert Care and of being one of their valued

patients, and without having to pay high

fees.

Easily accessible, highly visible and

with plenty of on-site parking, Fendalton

Dental Surgery, on the corner of

Glandovey and Idris road, is open Monday

to Friday 8.30am-5pm. Phone 351 1188

for an appointment, or simply call in.

watch local | support local | shop local

Join our

hosts Geoff &

renee on sKy

ChaNNeL 83

Thursday

7.30pm

repeaTs friday

1.30am

& 7.30am

style

noun

elegance and sophistication.

synonyms: flair, grace, poise,

polish, suaveness, urbanity,

chic, finesse, taste, class,

comfort, luxury, affluence,

wealth, opulence, lavishness.

ACCESS TV FOR NZ

SKY CHANNEL 083

WWW.STAR.KIWI

for enquiries, contact Geoff moreton: 021 1066 177

Magazine & TV | sTyle.kiwi
---
Wednesday March 29 2017

Latest Christchurch news at www.

REAL ESTATE

Lifestyle…life pleasure

17 Harbour View Terrace, Cass Bay - RV $1,290,000.00

Deadline sale - all offers close 5pm and will be presented 11th April 2017

5 bedrooms | 3 bathrooms | 2 living rooms | 2 car-garage | 2 off-street parks | boat mooring | Listing # SMT10098

A truly unique opportunity, this

beautifully designed contemporary home

offers a position like nothing you've seen

before. Boasting access to the beach front

with its very own mooring. Fall in love and

be mesmerized as you enter this amazing

abode. Set in an absolute one-of-a-kind

position on a landscaped 1106m² with

amazing outdoor entertaining areas. This

exceptional double glazed home offers

functional family living with sumptuous

style and the space to suit! This lovely

property plays host to five bedrooms, three

double sized, one single plus a studio area.

The main bedroom a real treat for parents

with its own gas fire, walk-in wardrobe,

ensuite and a wonderful flow to the decking

overlooking the water.

The European kitchen area is incredible

and offers amazing picturesque views

over the bay to Quail Island and Diamond

Harbour. The spacious living areas flow

to the private outdoor entertaining space,

while the kitchen with its bi-fold window

offers a unique space to enjoy your morning

cuppa plus many other bells and whistles,

which is sure to delight the 'chef ' of the

home. Under-tile heating in master ensuite

bathroom, two heat pumps, two gas fires,

plus log burner will ensure you and your

family stay warm in the winter months.

Outside the north, west and south-facing

aspects of this lovely home means the

patio/entertainment areas enjoy sunshine

throughout the day. On cooler nights

there's a beautiful outdoor gas fire to gather

around. The landscaped gardens offer a

private outdoor space that's perfect for

unwinding. To complete the appeal, the

front entrance is gated, plus a double garage

and two off-street car parks.

Beyond appeal, this property is located

3.9km from Lyttelton Port and eateries,

14km to Christchurch Central offering a

short drive and the upmost assurance to the

strength of your investment.

With exceptional attention to detail

throughout, this wonderful family home is

a very rare opportunity, offering discerning

buyers the chance to purchase a wonderful

property with a lifestyle to dream of. We

recommend early viewing as this impressive

home is sure to capture people's hearts

Marketed by Debra Hakaraia of Smart

Real Estate. Please call for viewing times

0275 620 420 or 03 384 8600 or email

debra.hakaraia@smartrealestate.co.nz or

visit our website smartrealestate.co.nz

.kiwi

BAY HARBOUR

PAGE 17

Visit www.star.kiwi

anytime, anywhere!

Breaking news,

delivered to

your pocket.

Fire rages, homes at risk

•news •CTV •sport •districts •schools •lifestyle •opinion •what's on

www.star.kiwi
---
PAGE 18 BAY HARBOUR Latest Christchurch news at www. .kiwi

Wednesday March 29 2017

YOUR LOCAL TRADES & PROfESSiOnAL

SERviCE bUSinESSES

Appears every

month in

Support theSe locAl buSineSSeS

Landscape

and Garden

Services

If you need help getting your

garden back in order after

repairs, need any type of

landscape construction work

or garden restoration.

Phone 021 272 0303

We are an experienced landscaping and garden maintenance team that offer a wide range of services from

simple garden maintenance to large scale section clearing, excavation work and commercial landscaping.

We pride ourselves on offering the highest quality of garden and landscaping services and we always come

prepared with the proper tools and supplies. We are based in Sumner and have specialist knowledge of

coastal and hillside gardens, but work all over Christchurch both on residential and commercial properties.

Our general landscape gardening services includes:

• garden maintenance • weeding

• ongoing maintenance programs • hedging

• tree work and stump removal. • plant care

Our more specialist landscaping services include:

• Landscape construction • Hard landscaping

• Excavation work

• Retaining walls

• Driveways

• Paths

• Section clearing

With our own digger, Avant mini loader, truck and van we're fully equipped to take on almost any job big or

small. We're always happy to discuss new work so please feel free to get in touch so we can provide more

information on how we can help you with your landscape and garden requirements.

Ruth, phone 021 272-0303 or Ewan, phone 027 201-5150

We Build Great

Retaining

Walls

All types, all sizes

Gabion, Pole, Concrete,

Wood, Block

SOLVEIG

CONSTRUCTION

Call 027 431 5289

Monday-Friday 8 to 5

ADVERTISE HERE!

Get your business

profile and

services noticed

by potential

customers in

your area!

To advertise in this monthly

feature contact Kerry Roach

or Sally Johnson 3791 100

Published every Wednesday

Nails by Sean Alexandra

Beautiful hands, feet and nails start now!

Qualified and professionally trained Nail

Technician. Expert nail care advice, quality

products and services and trending nail art

options including full service manicures and

pedicures, hard gel and acrylic nail enhancements

and custom nail art.

Sean Alexandra - Governors Bay

Ph 021 024 97351 email seanalexandra1@gmail.com

www.seanalexandra.wixsite.com/nails

Level 1, 20 Bealey Ave, Merivale

Ph: 03 943 1950 M: 021 937 949

E: craig@craigroberts.co.nz

I will be available on the Peninsula one day

a week and can travel to see you or meet in

Little River, please phone for an appointment

Lyttelton Physiotherapy

A friendly team of 4 experienced physiotherapists

• Back and neck problems

• Sports physiotherapy

• Post operative rehabilitation

• Work related injuries

• Gym Based programs, small gym on-site

• Injury prevention

• Elderly care

• Acupuncture and dry needling

• Massage and myofascial release

Physiotherapists

Heather Bushaway, Andrew Abakhan,

Leila Shahtahmasebi, Richard Hopkins

ACC ENDORSED PROVIDER | NO DR's REFERRAL NECESSARY

LYTTELTON HEALTH CENTRE

18 Oxford St, Lyttelton

Hours: Monday–Friday 8am – 7pm

Phone: 03 3288111 Fax: 03 3288901

Email: lytteltonphysio@gmail.com

Counselling for:

• Anxiety • Depression • Grief

• Low self-esteem • Relationships

• Neck/Head Massage:

Stiff/sore neck

• 20 years experience

• 30% off 1st appointment

• Price: $80 per hour

Call Gina Luke

Pascha Therapist/

Massage Therapist

021 570 757

6 Elgin Street, Sydenham

PROTECTA COATINGS

Garage Carpeting | Fence & Deck Staining

Garage Floor Painting | Easy-Clean Showers

Now is a great time before winter to get your garage

floor carpeted (see ad this page) or painted and turn

it into a multi-purpose room.

It's also a great time to get your decks & fences

stained before the wet season arrives.

We also restore and protect showers to make them

"Easy-clean" using the world famous Diamond Fusion

Products with a lifetime guarantee!

Protecta Coatings is your local

specialist coatings applicator

that can make your garage,

decks, fences or showers

look 100% better!

Part of the Protecta Coatings Group

www.protectacoatings.co.nz or Ph 021 488025 for a Free Quote

You'll be amazed at what a multi-purpose

room your garage becomes when you add

carpet and it only costs around $35m 2 .

Part of the Protecta Coatings Group

We only use New Zealand made,

100% UV resistant specialised carpet.

We also paint garage and workshop floors.

www.protectafloorings.co.nz

Call now 021 488 025
---
`

Wednesday March 29 2017

Latest Christchurch news at www.

.kiwi

BAY HARBOUR

PAGE 19

Classifieds Contact us today Phone our local team 03 379 1100

Computers

ALL

YOUR

COMPUTER

WORRIES SOLVED!

*$30.00 off your first

service with this coupon!*

No problem too big or

small from home PC's to

business networks. PC

slow? An end to Viruses,

Spyware, and Clogged

Systems. Safe secure

hassle-free computing.

Lost files recovered.

Microsoft Certified,

MCSE, MCP+l. 30 years

experience. Call Andrew

Buxton this week on 326-

6740 or 027 435-7596

for $30.00 off* Custom

Computers Christchurch

Gardening

& Supplies

Landscape

and Garden

Services

If you need help

getting your garden

back in order after

repairs, need any

type of landscape

construction work or

garden restoration.

Ph 021 272 0303

Gardening

& Supplies

A GARDEN OR

LANDSCAPING TIDY

UP? Shrub, hedge &

tree pruning, Lawns,

Gardening, consistently

reliable general property

upkeep, Dip. Hort. 10

yrs experience, One off

tidy ups or on-going

service. Nick's Property

Maintenance. Keeping

your garden beautiful.

Free Quote. Ph. 942-4440

GARDENER - Need

your home or commercial

garden tidied up or

renovated or require long

term assistance. Phone

Ruth 326-6663 or 021

272-0303

Holiday

Accommodation

QUEENSLAND SUN-

SHINE COAST AUSTRA-

LIA Resort, Ocean Views,

Balconies, Self Contained,

1 or 2 B/R Ensuite,

Heated Pool, Spa, Sauna,

Free Internet, Shops,

Restaurants, Tennis, Surf

Club & Patrolled Beach,

Public Transport at door.

Ask for our SEASONAL

SPECIALS. Phone 61 7

544-35011 Email: reception@mandolin.com.au

www.mandolin.com.au

Holiday

Accommodation

SUMNER Holiday

Accom 027 600 6076

www.kotaresumner.nz

SUMNER Holiday

Accom 027 600 6076

www.kotaresumner.nz

Trades & Services

RE-ROOFING

QUALITY ROOFING AT THE

BEST PRICE AROUND

Protect your home with a new Colorsteel roof.

Call for a friendly, FREE assessment and quote.

• Roofing

• Spouting and Downpipe

• Safety rails

• Licensed Building

Practitioner

Ph: 347 9045 or 021 165 1682

Email: Robinsonroofing99@gmail.com

LANDSCAPING/

STONE WORK

All forms of landscaping,

fences, decking & paving.

Phone Mike

Stoneage Landscapes

021 1499 733

ROOF

PAINTING

Rope & harness

a speciality,

no scaffolding

required,

30 years of

breathtaking

experience.

FREE QUOTES

Exterior staining,

exterior painting,

moss and mould

treatment and

waterblasting

Phone Kevin

027 561 4629

BRICKLAYER

George Lockyer. Over

30 years bricklaying

experience. UK trained.

Licensed Building

Practitioner number

BP105608. Insurance

work. EQC repairs.

Heritage brickwork a

speciality. No job too

small. Governors Bay.

Home 329-9344, Cell

027 684-4046, email

georgelockyer@xtra.co.nz

CARPET

&

VInYL LAYIng

Repairs,uplifting,

relaying,restretching,

emailjflattery@xtra.

co.nz, ph 0800 003 181

or 027 2407416

CARPETLAYER

Laying and Repairs, 40

yrs experience, ph Peter

326-7711 or 027 240-6532

COnCRETE

Decorative Concrete

Placing, Canterbury

owned & operated

for over 10 years,

competitive rates, full

excavation, coloured,

exposed, stamped,

call Paul 027 322 6119

DRAInLAYER

Reg,all types, 20 yrs hill

work exp, ph 028 408-0121

ELECTRICIAn

JMP Electrical.

Experienced &

registered..Expert in

all home electrical

repairs & maintence.

Call James 027 4401715

FURnITURE

REMOVALS

Large Trucks $95 +

GST per hour 7 day NZ

wide, packing & moving,

Professional Company,

Professional Service.

Canterbury Relocations

Ltd. ph 0800 359 9313

gAS

PLUMBING,DRAINAGE

& HEATING. 24/7

service. Ph Mike Cairns

Gas & Plumbing 021

132 8929 or 03 326 7949

PAInTER PLASTERER

Experienced tradesman,

quality work, free quotes,

ph Simon 027 389-1351 or

03 328-7280

Plumbing co.nz Drainage

Plumbing Drainage

Plumbing & Drainage

PLUMBING & DRAINAGE

Local business for all

plumbing Local business and drainage for all

plumbing Local business work. and drainage for all

plumbing work. and drainage

Freework.

Quotes

Free Quotes

Free Quotes

New SkyVac

New SkyVac

Trades & Services

PAInTIng

PLASTERIng

Free quotes. Int/ext &

roof painting Family run

business, work guaranteed.

Pensioner discounts. Ph

Kerin or Paul 022 191

7877 or 379-1281. Website

www.swedekiwipainting.

Gutter Cleaning Machine

Revolutionary Gutter New Cleaning Gutter SkyVac cleaning Machine system.

Revolutionary Gutter Gutter Cleaning cleaning Machine system.

No job too big or too small!

Revolutionary Gutter cleaning system.

No job too big or too small!

MORGAN THOMAS PLUMBING & DRAINAGE LTD

MORGAN No job

Call THOMAS too

Morgan PLUMBING big0223758506

or& too DRAINAGE small! LTD

MORGAN Visit our Call THOMAS website Morgan PLUMBING -0223758506

www.mtpd.co.nz

& DRAINAGE LTD

Visit Email our Callwebsite -Morgan morgan@mtpd.co.nz

-0223758506

www.mtpd.co.nz

Visit Email our -website morgan@mtpd.co.nz

- www.mtpd.co.nz

Trades & Services

DINING

Open Now

Fully Licensed Restaurant and Bar.

1 Wakefield Avenue Sumner, Christchurch

Bookings are welcome | Ph: 326 7917

Trades & Services

PAInTIng SERVICES

Mature, reliable,

conscientious &

experienced, reasonable

rates, no job too small!,

call Ron 027 434-1400

PAInTER

Top quality work, interior/

exterior, pensioners

discount, free quotes, 30

years experience, I stand

by Canterbury, ph Wayne

your friendly painter

03 385-4348 or 027 274-

3541

PAInT

See our unique range of

1/2 Ltr packs from only

$1, 360 Ferry Rd, 7 Days

PH 381 2012

PLASTERIng

INTERIOR, no job too

big or too small, specialise

in repair work & new

houses, free quotes given,

over 20 yrs plasterering

experience, ph 027 221-

4066 or 384-2574

ROOFIng

Qualified & Licenced

Practitioner. Re-Roof &

Repairs, all types. Member

New Zealand Roofing

Association. Over 35 years

experience. Phone John

027 432-3822 or 351-9147

email johnmill@ihug.

co.nz

STOnEMASOn

BRICK&BLOCKLAYER,

Earthquake Repairs, Grind

Out & Repoint, River/

Oamaru stone, Schist,

Volcanic Rock, Paving,

all Alterations new & old,

Quality Workmanship,

visit www.featureworks.

co.nz or ph 027 601-3145

TILER

25 yrs exp.All aspects of

tiling professionally done.

Ph Greg 027 434 9160

TREES BIg OR SMALL

tree removal, trimming,

stump grinding, shelterbelt

clean up, section clearing,

rubbish removals,

excavation work, ph Trees

Big or Small, for a free

quote, 021 061 4783

VHS VIDEO TAPES

& all camera tapes

converted to DVD, video

taping special occasions,

www.grahamsvideo.co.nz

ph 03 338-1655

WInDOW CLEAnIng

"Your Windows are the

eyes of your Home", for

a free no obligation quote,

call Greg Brown, Crystal

Clear Window Cleaning

ph 384-2661 or 027 616-

0331 Local Resident

Wanted To Buy

A+ Household effects,

fridges, freezers, washing

machines, ovens. Good

cash paid. Ph Paul 022

0891 671

Public Notices

PLAYERS WANTED!

Ferrymead Bays Football

are looking for Masters

players to join our 45 yrs

+ team. Please call Gary

Marshall 0274 470 695

TALE WITH A TWIST EDINBURGH ON SHOW

Roles reversed in Sherwood

Forest classic production

Work up sweat on the

Scottish streets

P3 P42 P62

Thursday, January 26 , 2017

• By Andrew King

CANNABIS, methamphetamine,

firearms and cash were found on

the rural property yesterday of a

family member of a high-profile

deceased businessman.

Police raided the property

about 20km south of Christchurch

yesterday morning and

took the middle aged man into

custody for questioning.

He was interviewed for

several hours by detectives at

the Christchurch central police phetamine, and firearms charges. has gang connections.

station and is expected to face He is scheduled to appear in Police were yesterday releasing

charges relating to possession of the Christchurch District Court few details of the raid near Lincoln

but The Star has learned the

cannabis for supply, cultivating on January 31.

cannabis, possession of metham-

The Star has learned the man firearms found included pistols.

SPORT, P49 WICKETKEEPING ROLE FOR LATHAM?

Tips to get you back

in the growing mode

ADVERTISE YOUR

BUSINESS HERE

READY TO ROCK?

Check out the Gig Guide in

the entertainment section

GARDENING - P35

Armed police were used in the

raid.

Detective Sergeant Chris Power

confirmed firearms, 30 mature

cannabis plants, 110 seedlings

and a small amount of methamphetamine

was taken from the

property.

"The cannabis was being

grown in a shipping container,"

he said.

Police also seized about

$20,000 in cash believed to be

linked with drugs.

The deceased businessman

whom the arrested man is

closely related to was well known

throughout New Zealand.

He died with a fortune worth

more than $100 million.

He was also a benefactor for

many charities and organisations,

both nationally and in

Canterbury.

Family member of well known

businessman nabbed in raid

DRUG STING:

Police found

drugs, firearms

and cash at

an E lesmere

property on

Wednesday.

PHOTO:

ANDREW KING

•For a timetable

and tickets,

visit http://www.

world buskers

festival.com/

The latest 2017 ABC (Audit

Bureau of Circulation) report

shows that The Star is the

highest circulating newspaper

in Canterbury PLUS the highest

circulating FREE newspaper in

New Zealand.

Our circulation is continuing

to grow as we deliver to more

homes in Christchurch every

week!

Zara

makes

a splash

The buskers are back

bringing fun, laughter

and even some

vegetables. Canadian

busker Mike Wood

performed at the Arts

Centre's North Quad

yesterday where he

caught a cabbage on

his head, catapulted

by Liz Williams.

Inset: Fellow Canadian

Mighty Mike wowed

the audience as he

juggled with fire. The

World Buskers Festival

has been running for a

week, returning to the

streets and the Arts

Centre for the firs time

since the February

2011 earthquake. It will

wrap up on Sunday.

PHOTOS:

In spite of a few drizzly patches so far this summer, let's hope we can all continue to have fun

in the sun just like Zara Harrison, 4, of Halswell, as she tip-toes through the water feature at

the Margaret Mahy Family Playground. The rest of January is looking like a bit of a mixed-bag

weather-wise, but there will still be a few cracking hot days, according to the MetService.

PHOTO: GEOFF SLOAN

GEOFF SLOAN

starnews.co.nz Rise Up Christchurch

Phone for further details

SHIFTING POPULATION BEAUTIFUL BANANAS RED-HOT REPUTATION

P7 P13 P15

Thursday, January 5, 2017

Public Notice

Rise in

number of

motorists

running

red lights

(03) 379 1100

Audit Bureau of Circulation

reports a massive...

91,537

COPIES EVERY WEEK

Build your Sales, Customers and Profits with The Star!

You can be assured that when you place advertising in The Star that it gets read

in the home where key buying decisions are made! To grow customers in your

business, phone or email us today.

• By Gabrielle Stuart

Be in to win a

$100 prize pack

GARDENING - P19

CHRISTCHURCH'S growing

red light-running problem is

leaving dozens of injuries in its

wake.

In the past year, there were 65

crashes which left people

injured after drivers ran

red lights, up from 42 the

year before.

At the city's top 10

worst intersections this

month, almost 5400

drivers ran red lights in a

single day.

That was up 31 per cent from

last year, and 64 per cent more

than in 2014.

They do not include people

turning right across an intersection

on a red light.

The worst for red light-runners

was the intersection of Blenheim

Rd and Mandeville St, where 652

were detected on a single day on

Thursday, December 1.

Police figures have also grown.

In the last year, 1491 people

were ticketed for running red

lights in Christchurch, up from

Email shane@starmedia.kiwi or phone 364 7429.

1316 the year before and 1266 in

2014.

Canterbury road policing

manager Inspector Al Stewart

(left) said he was disappointed to

see the rise.

"It puts people at risk. They

may get away with it 99

out of 100 times, but it is

that one time which could

leave someone injured or

killed," he said.

He said police had a

focus last year on bad

driving at intersections,

which included red

light-running, and that would

continue until the numbers

improved.

People often had different

excuses when ticketed for running

red lights, but there was no

acceptable reason, he said.

"A lot of people are simply

focused on other things and

don't see it, but that is just as

unacceptable as running a light

deliberately, because when driving

you should be focused on the

task at hand," he said.

•Turn to page 4

TRUMP-FUELLED DUST-UPS GIFT FOR ILLUSTRATING

City politicians go toe-to-toe Drawing the latest

runway looks

P3 P23

PHOTO: GEOFF SLOAN

Thursday, February 2, 2017

FUEL TAX IDEA

You've got to be

joking – motorists

• By Bridget Rutherford

MOTORISTS HAVE slammed

an idea to introduce a regional

fuel tax in Canterbury to fix

earthquake-damaged roads.

Last week, The Star revealed

city councillors Aaron Keown

and Phil Clearwater were pushing

for a fuel tax.

But The Star has received said she would be "very disappointed"

if a fuel tax was intro-

numerous readers' responses –

with all but one saying they did duced.

not want a regional fuel tax (see "We're paying more for fuel

pages 16-18).

here in Christchurch. I fee like

They said petrol was already there's so many other ways to

expensive including the fuel contribute to the roads.

excise, and the city council

"A lot of people can't afford to

should find money within its run cars as it is."

budge to repair the roads.

Auckland Mayor Phil Goff

It comes as Energy Minister asked for a 10c per litre fuel tax

Judith Collins signals an inquiry for Auckland to plug the $4

into rising petrol margins. million funding gap it has for a

Petrol was currently about 30c list of transport projects over the

more in the South Island and next decade.

Wellington compared to places Mayor Lianne Dalziel said she

such as Levin and Masterton. would be interested to see what

Cr Keown said he expected happened there before making

opposition to the idea – but in any decisions on asking the Governmen

to look at Canterbury.

paying extra on fuel tax to fix

the roads, it would save money Canterbury University transport

expert Simon Kingham said

in the future.

"Rather than pay a little bit the idea was feasible because it

more on fuel, they'd rather was user-based.

damage their cars and take more He said if the city council was

time travelling.

to find money in the budget for

"They are assuming the council

can just juggle the numbers or take it from another project.

repairs, it would have to up rates,

around and fix the roads."

Motorist Helen Logan (left)

• Turn to page 4

Aaron Keown Phil Clearwater

March 19 2017

14km 6km

ENTER NOW $25

Online PakNSave • New World

• The Athletes Foot • YMCA Children 10 years old and under fr e
---
ink

uvets or

PAGE 20 BAY HARBOUR Latest Christchurch news at www. .kiwi

Wednesday March 29 2017

LIQUID

seLf servIce

LAUNDrOMATs

Service Laundromat

Conveniently located in Hornby

sYDeNHAM

289 colombo st

OPeN 7 DAYs

5am-11pm

HOrNBY

47 carmen rd

OPeN 7 DAYs

6am-7.30pm

• From $4 a wash

rIcHMOND

345 stanmore rd

OPeN 7 DAYs

5am-11pm

BUrWOOD Opening in a few weeks!

HOON HAY Opening early May

WOOLsTON Opening June

from $4.00 WAsH

from $4.00 DrY for 20mins

Wash & dry all your

clothes in 1 hour.

Save time & electricity!

• From $4 a dry

for 20 mins

• 16 dryers

• 12 washing machin

Dry up to three loads

of clothes in only 20

minutes.

Wash 2 Mink Blankets,

Duvets or Woolrests

for only $10.

Save time and

energy!

• Fast Dryers

• Sports Gear

• Duvets

• Mink Blankets

• Bedding

• Washers

• Domestic

Laundry

in only

loads our

3 Locations in christchurch – more opening soon!

47 carmen rd, Hornby | 345 stanmore rd, richmond | 289 colombo st, sydenham

www.liquidlaundromats.co.nz

for only $10

e