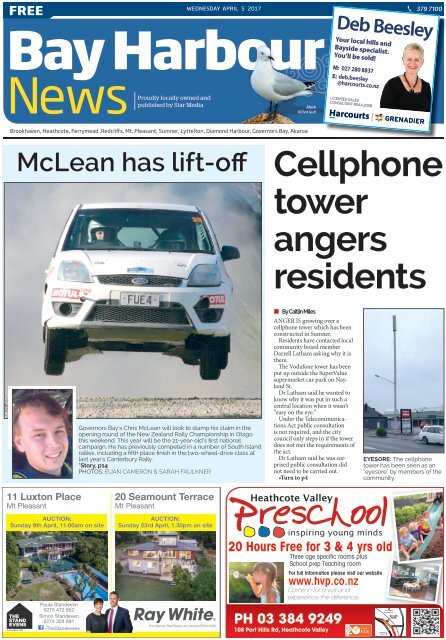 Bay Harbour: April 05, 2017
You also want an ePaper? Increase the reach of your titles
YUMPU automatically turns print PDFs into web optimized ePapers that Google loves.
FREE

Wednesday aPRIL 5 2017 379 7100

Bay Harbour

News

Proudly locally owned and

published by Star Media

Brookhaven, Heathcote, Ferrymead ,Redcliffs, Mt. Pleasant, Sumner, Lyttelton, Diamond Harbour, Governors Bay, Akaroa

Black

Billed Gull

Deb Beesley

Your local hills and

Bayside specialist.

You'll be sold!

M: 027 280 8837

E: deb.beesley

@harcourts.co.nz

LICENSED SALES

CONSULTANT REAA 2008

GRENADIER

McLean has lift-off

Cellphone

tower

angers

residents

Governors Bay's Chris McLean will look to stamp his claim in the

opening round of the New Zealand Rally Championship in Otago

this weekend. This year will be the 21-year-old's first national

campaign. He has previously competed in a number of South Island

rallies, including a fifth place finish in the two-wheel-drive class at

last year's Canterbury Rally.

*Story, p14

PHOTOS: EUAN CAMERON & SARAH FAULKNER ​

• By Caitlin Miles

ANGER IS growing over a

cellphone tower which has been

constructed in Sumner.

Residents have contacted local

community board member

Darrell Latham asking why it is

there.

The Vodafone tower has been

put up outside the SuperValue

supermarket car park on Nayland

St.

Dr Latham said he wanted to

know why it was put in such a

central location when it wasn't

"easy on the eye."

Under the Telecommunications

Act public consultation

is not required, and the city

council only steps in if the tower

does not met the requirements of

the act.

Dr Latham said he was surprised

public consultation did

not need to be carried out.

•Turn to p4

EYESORE: The cellphone

tower has been seen as an

"eyesore" by members of the

community.

11 Luxton Place

Mt Pleasant

AUCTION:

Sunday 9th April, 11.00am on site

Paula Standeven

0275 472 852

Simon Standeven

0274 304 691

/TheStandevens

20 Seamount Terrace

Mt Pleasant

AUCTION:

Sunday 23rd April, 1.30pm on site

Prier Manson Real Estate Ltd Licensed (REAA 2008)

20 Hours Free for 3 & 4 yrs old

Three age specific rooms plus

School prep Teaching room

For full information please visit our website

www.hvp.co.nz

Come in for a visit and

experience the difference

Ph 03 384 9249

108 Port hills Rd, heathcote Valley

Lyttelton

Tunnel

Ferrymead

Heritage Park

Port Hills Rd

Tunnel Rd

We are

here

Bridle Path Rd

Martindales Rd
---
PAGE 2 BAY HARBOUR Latest Christchurch news at www. .kiwi

Wednesday April 5 2017

FROM

THE

EDITOR'S

DESK

Inside

News......................................3-6

ONE OF the most abused rules

of the road code is back on the

radar – how fast you can pass a

stationary school bus.

If you don't know, it's 20km/h.

Motorists are being warned to

slow right down when passing a

school bus picking up or dropping

off children (see page 3).

Why – because kids will be kids

and they do unpredictable things.

If you're going 50, 80 or 100km/h

you've got no chance of stopping.

So if it means hitting the anchors

in a 100km/h zone when

coming up to a stationary school

bus – do it.

Someone who won't be slowing

down this weekend is Governors

Bay's Chris McLean. He is competing

in the opening round of

the NZ Rally Championship (see

page 14).

Keep the foot down, Chris.

– Barry Clarke

Pupils learn to take care of nature

SCHOOLS 7

Schools.............................. 7

Local Views..................... 8,11

Sport............................14,16

Community Events......19

Real Estate..................... 21

GET IN TOUCH

General Enquiries Ph 379-7100

Classified Advertising Ph 379-1100

The Christchurch Star Company Ltd. PO box 1467 - Christchurch

starmedia.kiwi

NEWS

Caitlin Miles

Ph: 364 7442

caitlin.miles@starmedia.kiwi

ADVERTISING

Javier Balcazar

Ph: 982 9308

javier.balcazar@starmedia.kiwi

ADVERTISING

Rob Davison

Ph: 021 225 8584

rob.davison@starmedia.kiwi

The Village Inn

41B Nayland Street,

Sumner

326 – 6973

Tuesday — Sunday

THIRSTY

T HURSDAY

Happy Hour 4-7pm

Gourmet Burgers

from 5pm

FRIDAY

2 Pizzas for $25

5.30-8.30pm

NUK KORAKO

NATIONAL LIST MP BASED

IN THE PORT HILLS

I hold weekly mobile office constituency

clinics around the Port Hills. For dates

and locations please visit my website.

You can also contact my office if there is

anything I can help you with.

A

E

W

P

6/950 Ferry Road, Ferrymead

nuk.korakomp@parliament.govt.nz

www.korako.co.nz

03 384 0008

facebook.com/nukkorako.PortHills

Working hard for our community

Funded by the Parliamentary Service and

authorised by Nuk Korako, 6/950 Ferry

Road, Ferrymead, Christchurch

25 %

off

30967 CHS

Resene Premium Paints,

Wood Stains, Primers,

Sealers, Wallpaper,

Decorating Accessories

and Cleaning Products

Come in and see us today at your local Resene ColorShop!

Addington, Ferrymead, Hornby, Lichfield Street,

Northwood, Rangiora, Shirley, Tower Junction

0800 RESENE (737 363) www.resene.co.nz

Discounts off the normal retail price of Resene premium paints, wood stains, primers, sealers,

wallpaper, decorating accessories and cleaning products until 18 April 2017. Available only at

Resene owned ColorShops and participating resellers. Paint offer also available at participating

Mitre 10 MEGA and selected Mitre 10 stores. Valid only with cash/credit card/EFTPOS purchases.

Not available in conjunction with account sales, promotional vouchers/coupons or other offers.

Excludes trade, ECS, WallPrint, wall decals, Crown products and PaintWise levy.

Visit our new website: www.min.nz

A professional realtor with

local expertise

and a personal touch

COASTAL REAL ESTATE SPECIALISTS

We'll help you live the dream.

Min Sarginson Real Estate Ltd. specialises in homes, sections and

rental properties in the spectacular Lyttelton Harbour bays, and

coastal suburbs of Christchurch, New Zealand.

We'll make it so easy for you. All our sales consultants live in the

area – we can give you valuable insights into life in our thriving

coastal communities.

This is an exciting time; of promise, optimism, and opportunities

never anticipated pre-quakes. Beachfront, or hillside with

grandstand views, find the property of your dreams:

Lyttelton | Diamond Harbour | Governors Bay | Cass Bay

Charteris Bay | Church Bay | Purau Bay | Port Levy | Northshore

Southshore | New Brighton | Heathcote | Sumner | Redcliffs

Scarborough | Mount Pleasant | Clifton

Call Min Sarginson Real Estate Ltd. for free, no-obligation advice. Lyttelton: 03 329 4161, lyttelton@min.nz or Church Bay: 03 328 7273, churchbay@min.nz
---
Wednesday April 5 2017

Latest Christchurch news at www.

.kiwi

BAY HARBOUR

PAGE 3

News

Many

first-timers

in triathlon

Youngsters got an

early taste of what it

takes to be a triathlete

at the Sea2Sky

Challenge in Sumner

on Sunday. Over 400

athletes took part in

the event.

•More on page 16

Plea to slow down near school buses

• By Tom Doudney

MOTORISTS ignoring the

20km/h speed limit when

passing school buses are

frustrating police, bus drivers

and the wider public.

Legally, vehicles must slow

down to 20km/h on both sides of

the road when passing buses.

Clint Ross, who has been driving

a school bus for 15 years, said

most people ignored the law.

"A handful abide, the rest don't

give a damn," he said.

"Kids can just pop out just like

that. They just run behind the

bus and straight across the road

or walk out the door and in front

of the bus and straight across

the road without even thinking.

I've seen near misses quite a few

times."

Mr Ross' bus is full most days.

He had a message for drivers:

"Just think, if your children were

on this bus and they got off and

someone wasn't abiding by the

speed limit and hit your child,

how would you feel?"

Mr Ross said one of the most

frustrating things was that most

police cars passing the bus often

didn't slow down either.

"That really brasses me off," he

said.

"They should know better."

Senior Sergeant Pete Stills

said motorists ignoring the

20km/h speed limit when passing

school buses was an ongoing

problem.

"It's a traffic law that a lot of

motorists aren't familiar with –

and should be," he said.

While road safety was of critical

importance for everyone, it

was especially important that

extra care was taken to protect

more vulnerable members of

society, including children using

school buses.

Senior Sergeant Stills said

he would be "extremely disappointed"

if any of his officers

were indeed not abiding by the

20km/h limit.

In Brief

CASS BAY ACCESS

A focus has been put on

making Cass Bay more

accessible for the disabled and

those with mobility issues.

At a recent Cass Bay Reserve

Management Committee

meeting, members decided to

make this a priority. It is seen

as an ongoing project by the

committee, which will look at

how to make access to the toilet,

playground and beach easier for

the disabled.

SMOKE FILLS HOUSE

Smoke alarms and a

quick-thinking neighbour

prevented a Lyttelton house

from being burnt down last

week. Firefighters were called

to the Exeter St property to

find it filled with smoke. The

occupant had left the property

while cooking, and when the

the neighbour heard the smoke

alarm going off, phoned the fire

brigade. Lyttelton fire chief Mark

Buckley said the householder

came home while they were

cleaning up. He said he was a bit

shocked but very thankful the

neighbours had reacted when

they did, essentially saving

the house. Mr Buckley said it

was a reminder to make sure

everything is off before leaving

the house.

NEW HUNTER JUNIOR

WITH COLOURED STRIPED GUSSET

Childrens sizes 7-13 & 1-2

Great price from $99.95

And great colour range

Adult styles also available

47c Garlands Road, Woolston

Phone 389 3431

www.thefootwearfactory.co.nz

COSY, AUTUMN FEELS

homestore + ten27 eatery

curtains + blinds + cushions + wallpaper + fabric + furniture + bedlinen + homewares + gifts

1027 Ferry Road + www.casualandcountry.co.nz + 03. 384 4880 + Email. store@casualandcountry.co.nz

ten27BAR

COFFEE EATERY

03. 595 2428 www.ten27.co.nz 1027 Ferry Road
---
PAGE 4 BAY HARBOUR Latest Christchurch news at www. .kiwi

Wednesday April 5 2017

News

Cellphone

tower

angers

residents

•From page 1

He said even though it is not

required it should be up to companies

to let the community know

where they plan to build cellphone

towers and if residents have concerns

about where it is proposed

companies should listen.

"They have the need to act as

responsible community citizens,"

he said.

The Sumner Residents' Association

spokesperson Kimberly

Mossman didn't want to comment

as they didn't know enough

about it.

Dr Latham said he noticed the

tower last week, which was when

residents' started asking him

about it.

He said people weren't unhappy

about a cellphone tower being

built, it was the look and location

that was upsetting to residents.

City council staff said there is

no lease on the tower and it will

be there indefinitely.

•HAVE YOUR SAY: What do

you think of the cellphone

tower? Send your opinion to

caitlin.miles@starmedia.kiwi

Ellesmere plan not pursued

• By Tom Doudney

RETURNING TE Waihora/

Lake Ellesmere to its pre-1940s

condition was not pursued in

restoration plans because of the

"considerable" social disruption

it would involve.

The fact that the Central

Plains Water scheme, expected

to lead to intensification of

agriculture in the catchment

and a higher nitrogen load,

had already

been granted

resource consent

and "this

could not be

overturned"

was also a

factor.

Tim Davie

The Selwyn

Te Waihora

section of

Environment Canterbury's

Land and Water Regional Plan,

which became operational last

year, seeks to limit the amount

of nitrogen reaching the lake to

4800 tonnes per year.

Before the 1940s, it is estimated

the lake had about 800

tonnes of nitrogen reaching

it per year. Since then, the

nitrogen load has increased, accompanied

by a deterioration in

water quality.

NUTRIENT MATTERS: Returning Te Waihora/Lake Ellesmere

to its pre-1940s condition was not seen as feasible.

An ECan staff report to

yesterday's Selwyn Waihora

Zone Committee outlined the

background to lake restoration

measures as an update to new

committee members.

The report said that achieving

a nitrogen load of 800 tonnes

per year would require retirement

of intensive agriculture

from the lake's catchment area,

along with other lake and catchment

interventions.

In agreeing on 4800 tonnes

per year as the target, the zone

committee had taken into

account "the importance of agriculture

to the Selwyn district

economy and employment with

the need to maintain farm financial

viability" and that Central

Plains Water irrigation "was

consented and this could not be

overturned" under provisions in

the Resource Management Act.

Without the nutrient limits

set in the plan, the amount

of nitrogen reaching the lake

would be an estimated 5600

tonnes per year.

The zone implementation

programme for Selwyn Te

Waihora states that none

of the other lake mitigation

options being employed were

a substitute for nutrient load

limits and active management to

reduce nitrogen and phosphorus

entering the lake.

"The lower the nutrient load

limits set, the more effective

the lake mitigation actions are

likely to be and the better the

outcomes for the lake.

Conversely, the higher the

nutrient load, the greater is

the reliance on successful lake

mitigations and the lesser are

the lake outcomes that are

possible."

ECan chief scientist Tim

Davie said the nutrient

concentration in the lake would

be reduced by a large amount.

He also said water quality and

lake health were not the same

thing.

"Fishers now are likely to tell

you it is very healthy, as healthy

as it has been for a very long

time. However, water quality is

still an issue," said Dr Davie.

Born in 1969, Kirsty lives in Auckland

with her husband and two children.

She has been a full-time artist since

1977. She says "Although it can be

such a rewarding, frustrating, joyous,

terrifying occupation I can't imagine

not having it in my life."

About her latest exhibition, "It was

a natural step for me to introduce

our striking native birds to my work.

They quietly snuck in without me even

thinking about it too much. We often

hear the heavy swoop of wood pigeon

as they move from branch to branch

and I am woken to the melodic call of

the Tui most mornings at home and

often surprised by their lively dives

through the garden. Fantails pick

bugs from our path as we walk the

dog through the bush near home. And

yet we live in a city. We are fortunate

Kirsty Nixon

ON THE WING

to still have these creatures share our

space and enhance our landscape.

Up close, their feathers shine with a

metallic luminous quality and when

painting the whites of their eyes they

each develop personalities.

Interestingly the birds in this show

have mainly been on the wing and

it seems to reflect a current state of

mind with a sense of escapism and

freedom.

Colour excites me and the time

seemed right to challenge myself with

a fresh exciting palette along with my

new subject matter. Embracing colour

in my new pieces has been a joy and

wonderfully liberating."

Kirsty's latest exhibition named 'On

The Wing' takes place at Little River

Gallery from April 8th until May 3rd.

Kirsty Nixon

ON THE WING

8 APRIL - 3 MAY 2017

Main Rd, Little River | 03 325 1944

art@littlerivergallery.com

Organic Training College

LEARN FROM

THE EXPERTS

Start a career in

organics. Reduce

your footprint and

produce a regular

supply of your own

fruit and vegetables.

Dyers Road Landscape

& Garden Supplies

• Barks • Peastraw • Composts - we supply the best available

• Aggregates - Chip, Round and Basecourse

• Pavers & Schist products • Pungas

• Decorative Stones & Landscaping Rocks

• Trailer Hire first hour free with purchase

• Bag & Bulk - pick up or delivered

David, Carol & Mike

COURSES (All fees under $500)

Year 1

Introduction to Organics

44 weeks

Starts August 2017

(Lincoln campus)

Programme information

college@bhu.org.nz | 03 325 3684 | www.bhu.org.nz

We will deliver!

Year 2

Applied Organics

46 weeks

Starts August 2017

(Lincoln campus)

SOIL

AND

HARDFILL

DUMPING

Phone: 03 384 6540

183 Dyers Rd, Bromley • OPEN 7 DAYS

Weekdays 7.30am-5pm. Weekends 8.30am-3pm

www.dyersroadandlandscapes.co.nz
---
Wednesday April 5 2017

Latest Christchurch news at www.

.kiwi

BAY HARBOUR

PAGE 5

Rockfall risk to close cave

In Brief

• By Caitlin Miles

MONCKS CAVE in Redcliffs

will be fenced off due to rockfall

risk.

At a meeting last week city

council staff presented a geotech

hazard report and landscaping

plan to members of the

community about the cave and

surrounding reserve.

The cave and land in Moncks

Cave Reserve on the corner of

Main Rd and Cave Tce in Redcliffs

has been closed off from

the public since the February 22,

2011, earthquake, due to risk of

collapse or rockfall. Over that

time the reserve has become

overgrown with its future uncertain.

At the meeting between city

council staff and members

of the Redcliffs community,

Redcliffs Residents' Association

secretary Pat McIntosh said city

council staff presented a plan

to tidy up the reserve and fence

off the cave due to the risk of

rockfall.

Dr McIntosh said she was glad

the city council hosted the evening

to discuss the future of the

cave and reserve with members

of the community.

"It was a useful session and

good for them to bring that

information to the public," Dr

McIntosh said.

Previously

United Travel

OVERGROWN: The city

council will landscape

the area at Moncks Cave

Reserve as well as shutting

the cave off from the public.

PHOTOS: GEOFF SLOAN

Moncks Cave is of cultural

significance on account of the

collection of taonga (treasure)

Maori discovered there in 1889.

The city council plans to

tidy up the area by removing

the current fencing to open

the reserve and footpath back

to the public once the area

has been cleared of weeds and

landscaped.

City council plans to fence off

the entry to the cave to protect

the public. Dr McIntosh said it

was clear it needed to be fenced

off for safety reasons and others

at the meeting were happy with

the outcome.

Dr McIntosh said what the

city council planned "will be a

big improvement" on the current

look of the area.

Explore Africa

safari style

STODDART COTTAGE

The historic Stoddart Cottage

will reopen on April 19 after it

was closed due to damage in

the February 2011 earthquake.

The heritage building in Diamond

Harbour has undergone

extensive repairs and strengthening.

The building is significant

to the heritage and culture

of the area. The opening will

take place at 2.30pm off lower

Waipapa Ave.

BIRDLINGS FLAT CENTRE

Construction of the Birdlings

Flat Community Centre has

been completed and it will

open later this month. The Little

River Wairewa Community

Trust is managing the project.

A trust is being set up to run

and manage the building. City

council staff are working with a

small subcommittee to plan an

official opening for the centre.

WHEEL STOLEN

A spare wheel was stolen off

the back of a sport utility

vehicle in Governors Bay at

the weekend. The theft was

reported to police who are

making inquires. Sergeant

Dave Knowles said the theft is

rare for the area, but is a timely

reminder to make sure vehicles

are locked and the items on

them are secured.

The Cape, Kruger & Victoria Falls

10

$4367

Days / 9 Nights

from

per person, share twin

Sophisticated Cape Town,

a thrilling safari, and the

mighty Victoria Falls.

Best of East Africa

13

$7974

Days / 12 Nights

from

per person, share twin

Stunning safaris in the

Masai Mara, Serengeti and

Ngorongoro Crater and more!

*TERMS & CONDITIONS APPLY. These are tailor-made journeys with local English speaking guides. Prices are based on the lowest season, on a

minimum of 2 passengers travelling, and are subject to change due to currency fluctuations. Surcharges apply over peak periods. Flights from

New Zealand are not included. Flights from Cape Town > Kruger > Victoria Falls are an additional cost on the Cape, Kruger & Victoria Falls tour.

ferrymead

(03) 384 2700 960 Ferry Road melissa@ferrymead.co.nz
---
Brookhaven, Heathcote, Ferrymead ,Redcliffs, Mt. Pleasant, Sumner, Lyttelton, Diamond Harbour, Governors Bay, Akaroa

Friday 14 –

Monday 17 April

Don't forget to order your

chocolate Bunny or Egg this

Easter. We have a wonderful

range of Easter Eggs,

Bunnies, Chicks and so

much more... Available

in either dark, milk

or white chocolate.

Hop in and have

a look!

Proudly locally owned and

published by Star Media

Our Lady Star of the Sea School year 6 pupils Lucy Chapman and Katie Hygate

cuddle rabbits during the school's recent open day. The event was held to

welcome new people and children to the area and show them around the school.

•More photos and story, page 13

1013 Ferry Rd, Ferrymead - Ph 384 5285

218 Riccarton Road, Riccarton - Ph 343 1467

www.despa.co.nz

Black

Billed Gull

(Licensed RE A 2 08)

• By Caitlin Miles

THE NEED for redundancies and

reduced hours to keep the Lyttelton

Community House Trust operational

has upset staff.

Due to a lack of funding, the trust,

located at 7 Dublin St in Lyttelton,

has had to cut two staff members and

reduce its hours to keep running.

Former trust chairman Gary

Manch said it was "really upsetting"

news for the trust.

"A lot of people put work into it,

funding is a big issue . . . it's terrible,"

Mr Manch said.

He stepped down as chairman last

week.

He said being the chairman was a

hard job, and constantly worrying

about funding was stressful.

The trust's office faced complete

closure, but by reducing hours and

cutting staff it has managed to remain

open, although it wasn't an easy

decision to make.

Mr Manch said he had received

feedback from members of the

community who were disappointed

to hear about the reduced hours, but

he said people had not helped to keep

the service running.

"Non-government funded

organisations really rely on funding,

you have to pay the rent, running

the kitchen, staff and all of that," he

said.

Trust staff will be working to ensure

people using the service still get

the support they need, meals for the

elderly and vulnerable will continue

and a trained social worker will still

be employed to assist people in the

community.

The trust will work on reduced

hours from May 31.

•Turn to page 5

Property Manager of

Nicola Flanagan

Abbey Nolan

the Year NZ 2015/16

Property Manager

Property Manager

Ray Hastie

021 914 332

027 379 5021

Manager

Paula Hastie -

Rebekah Whalley

027 448 8225 Assistant Property

Accounts Administrator

Manager

03 331 6755

Nominated for Ray White New Zealand Property Management Office of the Year, 2016/17

Local Experts – Citywide Knowledge

www.propertymanagementchristchurch.com

Prier Manson Real Estate Ltd Licensed (REAA 2008)

PAGE 6 BAY HARBOUR Latest Christchurch news at www. .kiwi

Wednesday April 5 2017

News

FREE Wednesday MaRCH 29 2017 379 7100

Bay Harbour

News

Pets on parade at school open day

NEW FERRYMEAD SHOP NOW OPEN

Easter's

hopping

Article prompts

support

up on us

We've been trusted to look after hundreds of

properties all over Christchurch.

You can trust us to look after your's too.

Phone (03) 331 6755

YOUR LOCAL

REAL ESTATE

PROFESSIONAL

Mark

Gardner

p: (03) 331 6757

m: 021 633 669

e: mark.gardner@raywhite.com

Prier Manson Real Estate Ltd

Funding issue

leads to

job cuts at

community

house trust

LYTTELTON PEOPLE are

offering help to struggling

community centres following last

week's front page article in Bay

Harbour News.

One community centre has

been closed and another has had

to reduce hours and cut staff just

to stay running.

Lyttelton Youth Centre had to

stop operating its premises and

combine with Lyttelton Community

House Trust, which has

reduced hours and has cut staff

due to funding shortfalls.​

The article has encouraged

members of the community to

look at fundraising options for

the non-profit organisations.

Residents have been encouraged

to get in touch with the

Lyttelton Community House

Trust chairwoman Thea Mickell

to discuss fundraising ideas and

options to help support the trust.

Recycling wastewater an option

RECYCLING Akaroa's

wastewater to keep the area

green is a possibility.

On Monday, the city council

opened up consultation on the

future of disposing the community's

wastewater, presenting five

different options to choose from.

The options include reusing

the treated

wastewater to

irrigate trees

or pasture at

Takamātua Valley,

Robinsons

Bay or Pompeys

John Mackie

Pillar, provide

non-drinking

water for garden watering and

toilet flushing in Akaroa or

discharging it into the midharbour,

which was the original

application.

The city council has consent to

build a new treatment plant, but

its application to Environment

Canterbury for a new consent

to continue discharging treated

wastewater into the harbour was

turned down at a hearing last year.

The city council was asked to

give more consideration to landbased

disposal methods that

would not require discharging

wastewater into the harbour.

Options are being looked at

as the consent for the current

WASTE: The city council has presented the community with options for wastewater disposal,

one option includes discharging into Akaroa Harbour.

PHOTO: STEVE WILLIAMS

wastewater treatment plant expires

in 2020 and funding for the

new scheme was included in the

2016-2017 annual plan.

Head of Three Waters and

Waste John Mackie said the

current treatment plant, which

discharges treated wastewater

into Akaroa Harbour, was near

the end of its useful life.

Mr Mackie said each of the

four new options involved

reclaiming and reusing, or recycling,

the treated wastewater.

"The water will be treated to

a very high standard, removing

almost all bacteria and viruses,

and could be suitable for a range

of uses, including irrigation and

garden watering.''

The options being presented

to the community were chosen

in pre-consultation meetings

with a working party representing

members of the Akaroa,

Robinsons Bay and Takamātua

communities, appointees

from Ōnuku Rūnanga and Te

Rūnanga O Koukourārata and

elected members of the Banks

Peninsula Community Board

and city council. The group was

supported by a team of technical

experts and city council staff.

Consultation on the options

closes at the end of the month.

SELL YOUR HOME

THIS SUMMER!

Sit back and let me do all the hard work

Demand is high in the Seaside Suburbs so if you are thinking of selling

call Chris today for a free appraisal. You may

be very surprised at your home's value...

Call today for professional,

local advice on real estate

Chris Moores

Harcourts Grenadier Ferrymead

1020 Ferry Road

P: 03 384 7950 | M: 027 588 4440

E: chris.moores@harcourts.co.nz

Licensed Sales Consultant REAA 2008

GRENADIER

NEW LOCATION

13b Parkhouse Rd, CHRISTCHURCH

all

Tapware

up to

50% off

selected Freestanding Baths 15-20% off

Limited stock

OFFICIAL MALL OF THE

M2650ULpG

26L per min Califont

external with anti frost

$999

JsD12-6DH

6L per min Califont

Internal, Battery power

$199

end of Line Vanity Clearance up to 50% OFF

Open 7 Days

Mon - Fri 9.00 - 5.30, Sat 9.30 - 4.00, Sun 10.00 - 3.00

0800 MILLEN | www.millen.co.nz | 03 348 8678
---
Wednesday April 5 2017

Latest Christchurch news at www.

.kiwi

BAY HARBOUR

PAGE 7

SCHOOLS

EXPERIENCE: Macklan Robertson, Nico Heather, Molly

Walker, Katie Hygate and Georgie Powell hang out in a

Hagglunds vehicle.

Pupils learn to take care

of nature and people

PLAYING WITH huskies was

just some of the fun pupils

from Our Lady Star of the

Sea had while studying global

warming.

The year 5 and 6 pupils have

been studying the effects of

carbon emissions and global

warming on Antarctica.

During their lessons, they

got a special treat – going to

the International Antarctic

Centre.

They met some huskies and

got to ride in a Hagglunds

vehicle while they were there.

Meanwhile, year 7 and 8

pupils have also been busy.

They visited some early

childhood centres in Sumner

to read to the children.

The senior pupils adopt a

new entrant each year as part

of the school's our buddy

programme.

They introduce the new

entrants to the school and the

older pupils.

FURRY FRIENDS: Vincent Miller and Georgie Powell had

fun meeting the huskies as part of the trip.

Ferry Good Cleaning

Ferry Good Service

Ferry Nice People

You are ferry welcome to

call on us at our new home.

Phone: 03 384 5015

Kite lane, 1027 Ferry Rd

Behind Casual & Country

Busy C's Preschool pupils celebrate new home with karakia

BUSY C'S Preschool

celebrated its new home last

week with an official opening.

The Lyttelton preschool

moved to the old St Joseph

School on Winchester St last

month, but a celebration was

held on Monday with a karakia

to formally welcome the

guests and bless the site.

Preschool owner Caro Davidson

said they were pleased

to be on the site and host a

small celebration.

Parent Manaia Cunningham,

of Rapaki and Koukourarata/Port

Levy, shared a karakia

acknowledging the past

and future of the preschool at

the new site.

Ms Davidson said it was

great to be able to acknowledge

the work of those who helped

move the preschool and recognise

their hard work.

The old school building and

concreted outdoor area were

changed to make new learning

spaces to better suit the needs

of the preschool. The preschool

was based at the former Lyttelton

West School on Voelas Rd. ​

Masters

HOLLYWOOD 3

www.hollywoodcinema.co.nz

28 Marriner St,

Sumner

Phone:

03 326 6102

Thursday 6 April - Wednesday 12 April

BATMAN LEGO MOVIE (PG) Violence

Thu/FRI/Tue/wed: 6.00pm, 8.15pm SaT: 2.00pm, 4.00pm, 8.15pm

SuN: 2.00pm, 4.00pm, 6.00pm MON: 3.00pm, 5.00pm, 7.00pm

A STREETCAT NAMED BOB (PG) Coarse language and drug references

Thu: 1.30pm SaT: 6.00pm MON: 1.00pm Tue/wed: 1.45pm

HIDDEN FIGURES (PG) Coarse language

Thu/Tue/wed: 1.30pm, 8.15pm FRI: 8.15pm SaT: 7.45pm SuN: 5.45pm

MON: 3.50pm, 6.20pm

LION (PG)

Thu/Tue/wed: 6.00pm FRI/MON: 1.30pm

DANCE ACADEMY (PG)

FRI: 6.00pm SaT: 3.45pm, 5.45pm SuN: 3.45pm

SMURFS: THE LOST VILLAGE (G)

SaT/SuN: 2.00pm

BEAUTY AND THE BEAST (PG) Violence

Thu/FRI/Tue/wed: 6.20pm, 8.20pm SaT: 3.15pm, 5.45pm, 8.10pm

SuN: 3.15pm, 5.45pm MON: 4.00pm, 6.30pm

HEDDA GABLER (eXeMPT)

Thu/FRI: 1.30pm MON/Tue/wed: 1.00pm

BOSS BABY (G)

SaT/SuN: 1.30pm

HEAT PUMP

SALE NOW ON!

Amazin' autumn Specials!!

• We will offer you the best quality brands and

option of heat pump for your home/business

• Providing Heat Pump solutions for over 14 years to Cantabrians

• We personally guarantee all our products & installs for 5 years

(providing annual maintenance has been completed)

Phone us today for your free consultation & quote

41A SHAKESPEARE RD, WALTHAM

PHONE 03 366 0525

www.enviromaster.co.nz

"A local team for local people"

STATE OF THE ART HIGH DEFINITION, LICENSED BAR
---
PAGE 8 BAY HARBOUR Latest Christchurch news at www. .kiwi

Wednesday April 5 2017

Your Local Views

Dictionaries in schools

Ferrymead Rotary

Club member Barbara

Crooks writes about

how important hardcopy

dictionaries in schools are,

and the value they have

compared to their online

counterpart

IT'S A developing debate –

dictionaries in traditional

book form against the ethereal

internet. It's a poser that crops

up each year for Ferrymead

Rotary members and several

schools.

For some years now

Ferrymead Rotary has supplied

colourful illustrated dictionaries

for year 4 children in some local

schools.

This year 160 dictionaries, in

total, were given to Bromley,

Te Waka Unua and St Anne's

schools. Each child is given a

dictionary to use at school and

eventually to take home.

In most schools they are used

as a class set until the end of the

year when the children are able

to keep them.

The schools say that if the

dictionaries were given to the

children at the beginning of the

year, there would be none in the

classroom by the end of the year.

And children who came to the

school during the year would not

have a dictionary to work with.

In spite of the growing lure of

technology and computerised

access to information, teachers

say the book dictionaries are still

valued and used alongside the

internet.

For some children, the dictionary

will be the first book

WELL

READ: The

Ferrymead

Rotary Club

donated 160

dictionaries

to Te Waka

Unua,

Bromley,

and St

Anne's

Schools'

year four

pupils which

the pupils

can keep at

the end of

the year.

they have ever owned.

Ferrymead Rotary hopes these

dictionaries will help launch the

children on a lifelong, reading

journey.

Ferrymead Rotary is assisted

in providing the dictionaries by

the Lorna and Bill Boyd Trust.

The trust offers all Rotary

clubs in New Zealand subsidised

dictionaries to give to low-decile

schools.

If you want to go along and see

what we get up to at Ferrymead

Rotary you would be very welcome.

Phone Kai Tovgaard on 384

9485.

Push to keep cruise ships

returning to Lyttelton

National

List MP Nuk

Korako writes

about why

cruise ships

should be

brought back

to Lyttelton

Tourism is a key industry in

the Port Hills electorate. And

perhaps more than any suburb,

it is vitally important to Lyttelton.

Visitors from Canterbury,

New Zealand and the world enjoy

coming to Lyttelton to enjoy

the history, architecture and

natural beauty of the town.

Lyttelton has often played a

key role in the tourism industry

for Canterbury as a whole as

well. As the entry point for

cruise ship passengers, the Lyttelton

Port boosted visitor numbers

and tourist revenue in both

Lyttelton and Christchurch.

Of course, all that changed

with the earthquakes. And while

so much in our city has been

rebuilt, and the Lyttelton Port

Recovery Plan is progressing

well, not enough attention has

been paid to rebuilding the

infrastructure necessary to bring

cruise ships back to Lyttelton.

I have appreciated the assurances

from Lyttelton Port Company

CEO Peter Davie that LPC

is committed to seeing a cruise

terminal return to the port. But

understandably, the Port Company's

main focus is on the areas

that give it the best return. A

cruise ship terminal has great

benefits for Lyttelton and for

Canterbury, but the commercial

benefit may not match that of

the port's core freight business.

That is why the question of

rebuilding the cruise terminal

is not just one for the Port

Company, but also for the cruise

ship companies and city council.

I will also be speaking with the

relevant Ministers about the

appropriate level of central Government

involvement in making

this happen.

I know from my own experience

in the tourism industry that

if we don't move quickly to bring

the cruise ships back to Lyttelton,

there's every chance the

cruise companies will move on

and it will be harder than ever

to bring this vital component

of our tourism industry back to

town. We need to make sure that

doesn't happen, and I am committed

to doing what I can to

ensure buy-in from central and

local government.

•More local views, p11

SMALL CHANGE

MAKES A BIG DIFFERENCE

Twice a year we clear the Community Fund collection boxes at

Christchurch Airport and share the money across the community.

Kiwi dollars, international currency, small change from your cup

of coffee, plus a top-up donation from us, all add up for local

charities and community projects.

Drug-ARM Therapeutic Art group is a weekly meeting of people

wanting to make or maintain changes in their drug and/or alcohol

use. Two DrugARM staff members (pictured) support clients to use

art as a way of abstaining from alcohol and drugs. Christchurch

Airport proudly supports Drug-ARM through the Community Fund.

Charities and community groups

can apply for funds at

christchurchairport.co.nz/communityfund
---
Wednesday April 5 2017

Latest Christchurch news at www.

.kiwi

number 8

Light Duty

Tarpaulin

1.2 x 1.8m

242179

BAY HARBOUR PAGE 9

SnAP

DeAL

GET IT

BEFORE

IT'S GONE!

99 c

30 Seconds Cleaners

Shower, Mould,

Window, Rust/Lime,

Surface Cleaners

238307/122148/

287862/287864/300090

Buy Any

2 FOr

$12 $

9

Or $6.95 eACH

LED Light

Bulbs

3 Pack

A60, E27/

B22, 9W

300785/86

enD CAP

SPeCIAL

go Clean

Garden Broom

450mm wide.

914038

$

12

Kiwicare

Weed weapon

ready to use, 1L

Very fast acting,

kills to the roots of a

broad range of weeds.

Ready to use.

184754

Buy One

get One

Free

$

14 94

eACH

Kiwicare

No Rats & Mice

One Feed, 160g

2nd generation

rodenticide. Kills in 1

feed. Moisture resistant.

232953

$

14 86

Kiwicare

Lawnpro

All In One

Refill, 2.8kg

274732

$

29 99

Muscle

Shelving Unit

5 shelves. Ready to

assemble. 350kg per

shelf capacity.

1800x900x450

174168

$

99

Black + Decker

Electric Blower/

Vacuum, 2400w

High performance

suction power.

267748

Jobmate

Petrol Chainsaw, 50cc

Oregon bar and chain.

Anti-vibration handle. 2 year

warranty.

232641

$

119 $

249

Morrison

Lawnmower,

Vinaro 300ST V4

B&S 450E series

engine. 460mm (18")

steel chassis.

Plastic catcher.

249926

WAS $449

$

399

Powerbuilt

Petrol

Waterblaster

Portable. Ideal for

vehicles, decks, boats,

driveways and fences.

2200 psi.

192774

$

449

goldair

goldair

nouveau

Panel

Oil Free

Heater,

Column Heater

425w

Convection

297123

technology. 3 heat

settings. Adjustable

thermostat.

$

69 98

279420

$

99

Dehumidifier,

10L

297086

Dimplex

Tango Electric

Fire, 2kw

2 heat settings.

Flame effect can be

used independent

of heat source.

191594

Dimplex

Micathermic

Heater, 2.4kw

279480

$

179 $

207 $

252

Hitachi

Heat Pump

3.2kw heating,

6 year warranty.

287505

$

999

Woodsman

Woodfire

Brunner MKII

Heats 3-4 bedroom

home (up to 190m 2 ).

229210

Woodsman

Woodfire Tarras

MKIII

Heats homes up to

240m². Large

cooktop surface.

229208

$

1999 $

2599

Woodsman

Woodfire

Mystique

Ultra low emission,

16.2Kw. Approved

for any house in

Christchurch.

296057

$

4799

Ferrymead

1005 Ferry Road, Phone: 366 6306

Opening Hours: Monday–Friday: 7:00am–7pm

Saturday, Sunday and Public Holidays: 8:00am–6:00pm

Offers available at Mitre10 Mega Ferrymead only, until the 12th of April, while stocks last.

mitre10mega.co.nz

If you find a lower price on an identical stocked

product locally we will beat it by 15%.

find us mitre10.co.nz

If you find the same product cheaper from another Mitre 10 store or Mitre 10 website we'll match that price. Excludes trade

and special quotes, stock liquidations and commercial quantities. The in-store price may be lower than that advertised.
---
PAGE 10 BAY HARBOUR Latest Christchurch news at www. .kiwi

Wednesday April 5 2017

GREAT

AUTUMN

READS

IN-STORE!

special

price

$

29 99

special

price

$

39 99 special

special

special

price

$

34 99 price

special

price

$

39 99 special

special

price

$

29 99 price

$

9 99

$

39 99 special

price

$

39 99

special

price

$

49 99 price

$

34 99

1005 Ferry rd

Ph 384 2063

while stocks last (see instore for terms and conditions)

Barry & kerry
---
Wednesday April 5 2017

Your Local Views

Latest Christchurch news at www.

.kiwi

BAY HARBOUR

PAGE 11

New identification rules

• By Gary Manch, navigational

safety officer, Lyttelton

Pirate's Corner

I ALWAYS find it a struggle

when we change over from long

summer days to the start of

autumn.

When we put our clocks back

it is the final nail in the coffin for

summer, and we start the trek

into winter.

As Easter approaches – the

last long weekend before winter

sets in – I am pleased to report

that we have had a great summer

in terms of boating behaviour

with very few serious incidents

reported to me.

Let's not slack off now. Don't

spoil the great record to date –

be careful, follow the Navigation

Safety Rules and local bylaws,

and simply be courteous to other

boaties out there.

With the end of the season

approaching, one thing I would

like you to plan in over the

winter is to get your boat upto-date

to comply with the new

identification rules put in place

under the Canterbury Regional

Council Navigation Safety Bylaw

2016 part 20.

To put this in the simplest

terms, any power boat or jet ski

that is towed on a trailer, must

have the registration number of

the trailer displayed on the vessel

(letters/numbers to be at least

90mm in height), visible above

the water line on both sides

of the vessel. The registration

number must be visible to the

naked eye from a distance of at

least 50m.

Any good signwriter will be

able to supply lettering and, if

you require it, put them on your

vessel for you.

There are some exceptions to

this – if you have a current MNZ

or foreign authority number,

belong to a sporting body approved

by the Harbourmaster, or

have the vessel's VHF call sign

displayed then you will already

comply. Or if you are visiting

Canterbury from another region

and meet their identification

requirements, you are all good.

Read part 20 of the Navigation

Safety bylaw 2016. This will advise

you of all the identification requirements

depending on the type

and length of vessel you own.

I strongly suggest you check

out the whole bylaw at https://

ecan.govt.nz/do-it-online/harbourmasters-office/recreationalboating/.

I am always happy to

answer any questions you may

have on this or any other boating

matter. Best way to find me

is by email to gary.manch@ecan.

govt.nz.

So why so much emphasis on

getting ID on your boat? Simple

answer: while 99 per cent of you

out there are great boaties and

comply with the rules, the onr

per cent who don't need to be

identified so we can take appropriate

action to ensure everyone's

safety. Having an identification

system allows enforcement officers

to follow up complaints and

take appropriate action against

the person offending, be it by way

of education or other stronger

measures such as fines.

Anecdotally, where identification

is in place, good behaviour

increases. It's a no-brainer really.

Readers respond to a story

in last week's Bay Harbour

News about freedom

camping still being a

problem in Lyttelton

Gill Hubert – "There are

insufficient sites for campers to

go," Mr Maynard said. Are you

kidding me? Go to the many

campgrounds in and around

Canterbury. Bludgers.

Jackie Richardson – So

put up a block of facilities. Toilets,

coin showers, and kitchen.

More tourists more money.

Sally Cammock – At least

it's in or near the bin.

Pamela Neil – Make it illegal

or stop whinging.

The first stage of the

Rapanui-Shag Rock

Cycleway, which will

run from Ferrymead to

the central city, has to

be re-done because the

concrete laid was not up

to standard

Kel Mitchelle – You had

one job.

Maria Quinney – Shocking,

get it right.

Karene Smith – Please

build these as pedestrian and

shared cycleways. Some already

built are absolutely impractical.

Sawyers Arms Rd/Main

North Rd has high kerbs and

encroaches into parking and the

left turning lane. Stupid. Also

trucks on Sawyers Arms Rd will

be more prevalent carrying volumes

of materials to sites for the

Northern Motorway construction.

Cyclists here no way.

Steve Burge – The whole

city is a joke with these so called

town planners. Look at St Asaph

St, better off being one lane, at

least it would flow better.

Fashionable Functional Footwear at Feet First Podiatry

Winter

stock now

arriving

Catch us on Face TV channel 083 on Sky - Thursday at 7.30pm

37 Main South Road, Upper Riccarton | Ph 348-7910 | www.feetfirst.co.nz

SOMETHING FuN FOR EvERYONE

9 HOLE

GOLF cOuRSE

DRIvING

RANGE

STILL ROcK

OuTDOOR MINI PuTT

Ph 384 1566

21 King Edward Terrace,

Woolston

BOOKINGS ESSENTIAL | 50 FERRYMEAD PARK DR, FERRYMEAD

PH 376-5350 | WWW.FERRYMEADGOLF.cO.Nz
---
Page 12

BaY HaRBOUR

WEDNESDAY aPRIL 5 2017

House of Travel

Ferrymead.

Come in & see us for all your 2017 travel plans.

At House of Travel, we strive to create the best holiday for you at the best value –

that's our service guarantee. We understand everyone has different travel needs

and that's why we love it when you bring your ideas to us because together, with

our experience and local knowledge, we can create the perfect holiday at the

perfect time for you.

The best holiday for you.

What this means:

• We'll combine your ideas with our experience and expertise to deliver you the best

holiday possible.

• We've got your back 24/7 from the moment you contact us until you're home again.

• We value your feedback on your last HOT holiday, so we can make your next trip even better.

At the best value.

What this means:

• We're committed to providing the holiday you want at the very best value possible.

• We promise to utilise all our buying power to search out a great price for your holiday.

• We know value means different things to different people, so we take the time to understand

what's important to you.

GREAT DEALS ON SALE NOW! GUIDED HOLIDAYS, RIVER CRUISING, CRUISING

AND MORE. TALK TO ONE OF OUR EXPERIENCED TEAM MEMBERS TODAY AND

PLAN THAT HOLIDAY YOU'VE ALWAYS DREAMED OF.
---
WEDNESDAY APRIL 5 2017

BaY HaRBOUR

Page 13

Mel Hubber

Owner Operator

No. of countries visited: 57

Travel for me has been a way of life over

a twenty year career. I consider my

travel style to be 'active relaxation' and love

beaches, mountains and different cultures in

particular Europe. I love local cuisine, markets

and historical sites. I have a wealth of knowledge

to help put the pieces of a complex travel jigsaw

together.

CONTACT MEL I email: mellowen@hot.co.nz I phone: 376 4018

Kim Beswick

Owner Operator

No. of countries visited: 114

I have travelled to 114 countries on all

continents. I love sharing my expertise

on cruising, having worked onboard cruise

ships for 8 years. Travel is a way of life for me,

& I love helping my clients to plan their own

amazing holidays and adventure.

CONTACT KIM I email: kbeswick@hot.co.nz I phone: 376 4019

Anna O'Dell

Travel Specialist

ROOKIE OF THE YEAR 2016

No. of countries visited: 36

Having travelled extensively I thoroughly

enjoy immersing myself in the rich culture

of any destination I get the opportunity to visit.

Travel is my passion & I love helping clients

create an unforgettable experience that is

uniquely their own!

Alisha Russell

Travel Specialist

No. of countries visited: 36

I have travelled to over 35 different

countries and my "to-do" list is forever

growing! Europe with its history and

culture is a definite favourite of mine. For me,

travel is inspiring and transformative - it allows

you to learn more about the world around

you, and in the process, more about yourself.

CONTACT ANNA I email: annao@hot.co.nz I phone: 376 4036

CONTACT ALISHA I email: alishar@hot.co.nz I phone: 376 4023

Harriet Babe

Travel Specialist

No. of countries visited: 25

I love travel- to enjoy different cuisine,

culture, history, scenery, people and their

language. You feel a sense of richness of a

culture, especially accessing places that are

so remote and untouched. Sports games are

a highlight of most of my holidays as well as

exploring national parks!

CONTACT HARRIET I email: harriets@hot.co.nz I phone: 376 4027

Melanie Bartram

Travel Specialist

No. of countries visited: 53

With an extensive travel background and

a never ending bucket list, to me travel is

addictive. Travel is an awe inspiring journey

of discovery which fuels the soul and makes you

richer. Having lived in four different countries,

five years on cruise ships and twenty years

industry experience, let me inspire you on your

next travel adventure.

CONTACT MELANIE I email: melanieb@hot.co.nz I phone: 376 4021

Melissa Bannister

Travel Specialist

No. of countries visited: 14

I am the newest member to the House of

Travel Ferrymead team, but I join them

with years of invaluable experience within

the industry. My most recent role was as a sales

representative for a large international coach

tour company. I love being able to help others

plan the holiday of their dreams and come back

with stories & memories that will last a lifetime.

Shannon O'Brien

Concierge/Sales Support

I love to travel and have been to some

great countries so far however there are

many more I am longing to explore! While

I am relatively new to the industry I am your

first point of contact when you come into our

office and I hope to make you feel welcome! I

support the sales team with the construction

of your holiday, something I find truly

rewarding and enjoyable.

CONTACT MELISSA I email: melissab@hot.co.nz I phone: 376 4022 CONTACT SHANNON I email: shannono@hot.co.nz I phone: 376 4038

Bring your ideas in to House of Travel and we'll help you get there.

The best holidays are created together.

987 FERRY ROAD, FERRYMEAD VILLAGE I 376 4022 I FERRYMEAD@HOT.CO.NZ
---
PAGE 14 BAY HARBOUR Latest Christchurch news at www. .kiwi

Wednesday April 5 2017

Beekeeper's bid to

sting rivals in rally championship

GOVERNORS BAY'S Chris

McLean is about to take on the

NZ Rally Championship in

the Ford Fiesta he has spent all

summer preparing.

McLean, 21, and navigator

Sarah Brennan, 25, of Christchurch,

will take on New Zealand's

best rally drivers starting with

the Rally of Otago this weekend,

followed by five further events

during the year.

The young rally driver grew up

in Governors Bay and spent much

of his youth with a pair of skis

under him. In summer, he's on

the harbour and, in winter, he's

on the snow.

McLean was introduced to rallying

when he worked at Magnum

Motorsport, where he learnt about

the workings of car preparation

and caught the rally bug.

Now a beekeeper, McLean is a

rookie in the NZRC this year and

will compete for the two-wheeldrive

and junior NZRC titles.

McLean has so far competed in

a handful of South Island events,

but has already been noticed as

someone with strong potential in

the sport.

He was selected to receive training

with Hayden Paddon. He received

tutoring from Paddon and

John Kennard, along with fitness

and media trainers. McLean and

Brennan have also both received

some financial help from the Paddon

Foundation.

While McLean is new to the

championship, navigator Brennan

has had several years in the NZRC

and has won the 2WD title twice

navigating for Christchurch's

Hamish Anderson.

"Sarah brings really valuable

experience," said McLean. "She

knows what she's doing calling

pace notes, but also how all the

procedures work. Having been to

these events before means Sarah

will be a huge help in my NZRC

rookie year."

The 2005 Ford Fiesta McLean

now owns has a big history. The

car launched the career of 2015

NZRC champion Ben Hunt, who

drove the car in 2009 as part of a

scholarship.

"The car is older but proven,

READY:

McLean and

Brennan begin

their NZRC

campaign

this weekend

in the

Otago Rally.

PHOTOS:

EUAN

CAMERON

AND SARAH

FAULKNER

and we have put in a lot of new

parts to ensure it should run reliably

all season," said McLean.

The team plan to compete in at

least five of the six rounds in this

year's championship. The team is

assisted by a lot of Christchurch

people, including James Marshall,

who helps with the mechanical

work and provides some specialist

parts. Jeff Judd and the team at

Magnum have also provided help

and encouragement, while Tony

Gosling of Stadium Finance has

provided some support.

"We hope to make the podium

in 2WD, but we will be up against

a lot of good drivers in good cars,

many of whom have a lot more

experience than us," said McLean.

"If we can get on the podium

regularly then that will be a win

for us."

•More sport, page 16

SPORT

OPEN SAT & SUN

Nehad, Anita, Ashleigh, Kellie and Grant

Full Service Pharmacy

including...

• Passports Photos

• Revlon Cosmetics and Revlon Club

• Gifts and Gift Wrapping

• Ear Piercing

• Extensive Natural Health range

• Scarves, Hats and Sunglasses

• Focus on Natural Organic Skincare including Trilogy,

Antipodes and Sukin

Dispensary Service

• Medico Packs

• Quit Smoking Quitcards

• Emergency

Contraceptive Pill

• Delivery Service

Owned and operated by

your phamacist, Grant Bell

CAFÉ

NOW OPEN

1005 Ferry Rd, Ferrymead. Ph:943 9635

OPEN 7 DAYS: Mon to Fri 8.30am - 6pm

Sat 9am - 4pm and Sun 10am - 4pm
---
Wednesday April 5 2017

Latest Christchurch news at www.

.kiwi

BAY HARBOUR

PAGE 15

Four Grenadier Seasons Ferrymead

realty

Redcliffs

3 2 2

2 Sumner

3 2 2 2

12 Augusta Street

Located on a generous section in Redcliffs, this home has been extended with a stylish and contemporary

addition, which serves to create an environment packed full of interesting architectural features and has been

designed with the Kiwi lifestyle in mind, with great flow through indoor and outdoor spaces. An open plan

living, dining and kitchen area combines two living spaces with the designer kitchen and dining area for a

spacious central hub. High ceilings and interesting windows at both floor and ceiling levels.

Auction: 13 April 2017 Unless Sold Prior

View at: www.harcourts.co.nz ID#FM5126

Michelle Ward Ph 027 203 7858

27 Cascade Place

Are you looking for a change in scenery and your own personal view? Situated at the end of a quiet private

lane with a rural outlook over the park and the horse paddocks where you can leave the everyday behind. Set

within a sheltered micro climate, our owner has put her heart and soul in establishing the glorious colourful

garden that could feature in any house and garden magazine. Immaculately presented and elevated 3 bedroom

Oamaru Stone home all on one level with the double garage and storage in the basement below.

Auction: 13 April 2017 Unless Sold Prior

View at: www.harcourts.co.nz ID#FM5134

Alison Carter Ph 0274 318 960

AS IS

AS IS

Redcliffs 228 Main Road

New Brighton 33 Shackleton Street

Redcliffs 230 Main Street

Merivale 28B Albany Street

3 2 1

2

3 1 1 2

3 1 2 1 2 1 1

1

Auction: 13 April 2017 Unless Sold Prior

View at: www.harcourts.co.nz ID#FM5129

Alison Carter

Ph 0274 318 960

Auction: 13 April 2017 Unless Sold Prior

View at: www.harcourts.co.nz ID#FM5118

David Searle

Ph 021 565 950

Auction: 13 April 2017 Unless Sold Prior

View at: www.harcourts.co.nz ID#FM5128

Alison Carter

Ph 0274 318 960

Auction: 20 April 2017 Unless Sold Prior

View at: www.harcourts.co.nz ID#FM5131

Deb Beesley

Ph 027 280 8837

Ferrymead 14 Ti Rakau Drive

St Albans 98 Forfar Street

Halswell 57 Packard Crescent

Shirley 129 Briggs Road

3 2 1 2 4 2 1 1 3 1 1 1

3 1 2 1

Auction: 20 April 2017 Unless Sold Prior

View at: www.harcourts.co.nz ID#FM5135

Joy Butel

Ph 021 353 280

Auction: 13 April 2017 Unless Sold Prior

View at: www.harcourts.co.nz ID#FM5132

Alison Carter

Ph 0274 318 960

Auction: 20 April 2017 Unless Sold Prior

View at: www.harcourts.co.nz ID#FM5133

David Searle

Ph 021 565 950

Auction: 20 April 2017 Unless Sold Prior

View at: www.harcourts.co.nz ID#FM5139

Michelle Ward

Ph 027 203 7858

Greg Powell

Branch Manager

027 274 6157

Alison

Carter

0274 318 960

Michelle

Ward

027 203 7858

Deb

Beesley

027 280 8837

Joy

Butel

021 353 280

Chris

Moores

027 588 4440

David

Searle

021 565 950

Kirsty

McLeod

027 226 5893

Liz

Lewis

027 453 0952

This could

be you!

Ferrymead

Carol

Williams

027 282 4950

Dave

Elston

0274 593 165

Simon

Mutch

021 843 870

Craig

Todd

027 642 1075

Lisa

Ny

027 622 5060

Megan

Jarratt

027 841 2335

Shaun

Davey

027 953 8860

Alistair

Hazeldine

027 572 1555

Lynton

Hubber

027 433 4141

This could

be you!

1020 Ferry Rd Ferrymead • Ph 384 7950 • harcourtsgrenadier.co.nz

Grenadier Real Estate Ltd MREINZ is a Licensed Agent Under the

Real Estate Agents Act 2008
---
PAGE 16 BAY HARBOUR Latest Christchurch news at www. .kiwi

Wednesday April 5 2017

SPORTS

Sumner look for

improvement

against Sydenham

• By Gordon Findlater

SUMNER WILL look to showcase

what they displayed in the first

15 minutes of last week's opening

round game when they play

Sydenham on Saturday.

After suffering a 14-20 loss to

Christchurch at the weekend,

Sumner will go for their first win

against Sydenham at Hospital

Corner.

Coach Martin Dodgson called

the side's opening round defeat in

the Hawkins Cup an "honourable

loss" but is hopeful his side has

learnt from their scoreless second

half. They surrendered a 14-10

half-time advantage.

"I was ecstatic with our defence.

We had our chances to win it, but

overall I was really happy with the

guys attitudes," said Dodgson.

"It's really clear [what] we need

to work on this week to get better,

and I believe we will be on

Saturday."

Sumner was dominant in the

first half against Christchurch,

scoring two converted tries in the

opening 15 minutes. They were

also one misguided pass away

from a third just before the break.

Sydenham opened their

campaign by defeating Linwood

43-22.

SOUTHSHORE'S ARI Graham

continued her strong season by

winning the female category at

Sumner's Sea2Sky Challenge on

Sunday.

The 18-year-old is seen as one

of the next big hopes in the sport

and recently won the national

junior series.

First to finish in the men's

event was Mike Phillips, who

also won last year's inaugural

race.

The Christchurch athlete has

recently stepped up into the

Ironman distances and looks to

build on endurance racing over

the year.

Phillips, 26, recently tasted

success at the inaugural Breca

Wanaka, winning the long

course event with teammate

Nick Berry.

In the last event of the

Sovereign Tri Series, 450

Sea2Sky participants

descended on the Esplanade

to tackle a variety of triathlon

events.

There were more than

100 first-timers with some

competitors signing up only

days before the event.

The men's field also included

Christchurch long distance

athlete, Dylan McNeice, who

STAR: Ari

Graham (left) and

Mike Phillips won

the women's and

men's section

of the Sea2Sky

Challenge

triathlon in

Sumner on

Sunday.

PHOTO:

CMGSPORTS

ACTION IMAGES

Southshore's Graham wins triathlon

has returned to triathlon after

surgery on his hip.

In the duathlon, Flavio Vianna

(men's) and Amy Manning

(women's) took respective first

places.

Event director John Newsom

was pleased with the success

of the event and hopes one

day Christchurch will be

considered as a venue for future

international events.

Balanced

Pressure

Ventilation

Ventilation Equipment

Suppliers to trade and retail

HEX390

Balanced Pressure Ventilation with Heat Recovery

Fresh air

from outside

Exhaust air

to outside

EXHIBITORS

BOOK NOW

Showcase your

products or

services to more

than 20,000

customers

Warm stale air

from house

for healthy indoor air

Substantial energy savings over traditional domestic

ventilation systems

0800 SMOOTH (0800 766 684)

www.smooth-air.co.nz

sales@smooth-air.co.nz

Heat is transferred to the

incoming filtered fresh air

264 Annex Road, Riccarton

Christchurch 8024, NZ

Ph +64 3 343 6184

Warm fresh air

to house

Mon - Fri 7.30am - 5pm

Home &

Leisure

SHOW

30 TH JuNE – 2 Nd JuLy 2017

HorncaStle arena

BOOKINGS

VANESSA FLEMING | P 03 379 7100 | M 021 914 565

vanessa.fleming@starmedia.kiwi

starhomeshow.kiwi

A Star Media Event
---
Wednesday April 5 2017

Latest Christchurch news at www.

.kiwi

BAY HARBOUR

PAGE 17

SENSATIONAL VIEWS AND AMAZING SPACES

104 Panorama Road

The moment you enter this home you will feel the freedom. Daily living is a pleasure from sunup till sundown. Diverse

living spaces give an opportunity to relish quiet times or entertain. The home is dynamic in dimension and outstanding

in view. Enjoy the peaceful library, an up-to-the-minute kitchen, brilliant dining and spacious living. Floor to ceiling sliding

doors open to the large deck, sensational all day. A perfect family home with four generous bedrooms, two bathrooms.

Downstairs has a rumpus room or teen retreat plus a further large deck area leading to the well landscaped lawn,

delightful vegetable gardens and fruit trees. This north facing home offers privacy and shelter from the easterly, much

loved and in a brilliant neighbourhood. This could be your new forever home.

This north facing home offers privacy and shelter from the easterly, much loved and in a brilliant neighbourhood.

This could be your new forever home.

Sumner

Auction

From 12pm, Fri 21 Apr 2017 (unless sold prior)

3 Deans Ave, Chch

View Thurs/Sun 1-1.45pm

www.bayleys.co.nz/554380

Marilyn Still

M 027 229 8769

B 03 595 2844

marilyn.still@bayleys.co.nz

WHALAN AND PARTNERS LTD, BAYLEYS,

LICENSED UNDER THE REA ACT 2008.

All companies within this composite are Members of Bayleys Realty Group

www.bayleys.co.nz
---
PAGE 18 BAY HARBOUR Latest Christchurch news at www. .kiwi

Wednesday April 5 2017

Miller Bell Music & The Pop Up Concert Series Presents

BoniTA MUnTZ

AkA MAdAMe TrAgédie

Featuring

MA BELL & GUESTS

Saturday 15th April, 7.30pm

JiMMy TAylor

& Penny CAin

Ma Bell brings her famous travelling pop up cabaret road show back to The

Gaiety Hall in Akaroa for a night of Classic Blues, Alt Country, Burlesque,

Jazz and a whole lot of razzmatazz. Featuring le Crème de la Crème of

Cantabrian musicians, entertainers & performance artists, all coming

together for what promises to be a night to remember.

Meet the infamous Madame Tragédie, a time travelling story teller and

blues siren with a hat full of lotions, potions and the wildest of notions, on

a musical odyssey in search of a paradise lost. Travel companions include

an Ancient Crone, a Domestic Goddess with a Broken Rock God, a Diva

of Deception, Old Codgers & Grand Masters and a Burlesque dancer,

accompanied by a host of musical luminaries to light the path forward. No

stone left unturned - From birth to death with all the juicy bits in between.

Review: "When the

magnificent Isabella Miller

Bell strutted onto stage

with whip and wine in hand

it was clearly show time

and what a show Ma Bell

and her wonderful band of

troubadours delivered".

(Shelley Topp

N. Canterbury News 2016)

RESERVE A TABLE, BRING A PICNIC AND JOIN US FOR AN EVENING

OF CELEBRATION AT THE CABARET OF LIFE.

NOT RECOMMENDED FOR THE FAINTHEARTED.

Mike kiMe

BoB HeinZ

THE GAIETY HALL AKAROA

TICKETS $35: Akaroa i-SITE Visitor Information Centre

www.millerbellmusic.com or www.eventfinder.co.nz (fees apply)

BOOKINGS RECOMMENDED Doors open 7pm, limited door sales.

info (03) 384 4177 / 021 178 1107

eliZABeTH BrAgginS

Sponsors

grAHAM WArdroP
---
Wednesday April 5 2017

Latest Christchurch news at www.

.kiwi

BAY HARBOUR

PAGE 19

Email caitlin.miles@starmedia.kiwi

by 5pm each Wednesday

THe Nerd Degree Pizza Cats

Wednesday, 7.30pm

Join the Nerds as they delve

into two of their favourite

things. First, Andrew Todd

serves up an episode all about

pizza, any way you slice it, it's

going to be fascinating. Then

Brendon Bennetts will lie in

a patch of sunlight until the

panellists either pat his tummy,

or answers his questions

about the history and cultural

significance of cats. Enjoy the

show as the nerds struggle to

get the right answer or just

make it up for fun. Presale

tickets can be purchased from

https://www.cosmicticketing.

co.nz/event/show/5114 or at

the door on the night.

Orange Studios Ferrymead.

Tickets from $10

LAF Easter Cabaret

Thursday, April 13, 8pm

Welcome to a night of Easter

madness from the team at the

Lyttelton Arts Factory - the

new home of the old Loons

Theatre Company. Start Easter

the right way, with a laugh and

some interesting performances

from the theatre company.

There will be a mix of old and

new performances with some

favourites thrown in the mix.

It is a night of music, comedy

and circus acts to be enjoyed

by all. Go to http://www.laf.

co.nz/ for more information.

Lyttelton Arts Factory.

Create 'n' Connect Art and

Craft Group

Thursday, 9.30am-noon

If you're crafty or want to

start getting crafty go along

to this group. Take your own

project or go with ideas for a

new one. Others in the group

are there to offer help or

advice. Meet new like minded

creative people and learn

new skills. Pass on your tips

and pick some up from other

people at the group. This event

aims to help with your projects

and meet new people. Phone

Beth on 022 678 1252 for more

information.

St Andrews Anglican Church,

148 Main Rd, Redcliffs. Free

entry

Babytimes

Friday, 10.30am-11am

This event allows for parents

and caregivers to interact with

each other while letting the

babies learn. At these sessions

babies learn through language,

rhymes, songs, stories and

play. The babies learn together

and build connections with

each other.

Lyttelton Library, 18 Canterbury

St. Free entry

Storytimes

Tuesday, 11am-11.30am

Encourage reading in your

pre-schoolers. Storytimes has

interactive programmes which

include stories, songs, rhymes

and play. Have children meet

each other and build friendships

at this event wile learning

more. Pick up some library

books to read to them at home.

Lyttelton Library, 18 Canterbury

St. Free entry

Strangers In a Strange

Band

Saturday, April 15, 7.30pm

Listen to this band show

off their musical skills and

celebrate the sound of brass

from around the world. Take

the family and dance the

night away enjoying their

performance and skill and

learning more about brass

band music.

Orange Studios, Ferry Rd.

Markets:

The weekly markets have

many different attractions and

delicious treats on offer. From

fresh produce to freshly baked

breads, cheeses and free range

eggs. Find some healthy food

options and sip on a coffee

while taking a wander around

any of the markets happening

in the area at the weekend.

Lyttelton Farmers Market:

Every Saturday, 10am-1pm,

London St

Mt Pleasant Art and Craft

market: First market of the

season on March 11. 9.30am-

2.30pm. Atrium of the Mt

Pleasant Centre, 3 McCormacks

Bay Rd.

Mt Pleasant Farmers Market:

Every Saturday, 9.30am-

12.30pm, 3 McCormacks Bay

Rd Wakefield Ave

Akaroa Farmers Market:

Saturday, 9.30am-1pm, Madeira

car park

TEMPTING: Wander around the Lyttelton Farmers

Market and find some delicious treats.

GAME TIME: Mt Pleasant Bridge Club

is inviting anyone interested to play

bridge. Wether you're new to bridge or

an old hand, go along for a social time,

meet new people, pick up some tricks

and learn new skills. The club hosts

bridge twice a week – Wednesday

at 7.15pm and Friday at 1pm. If you

would like to join but need a partner

phone Keith Guthrie or Hilary Plunket

on 366 760. The sessions are held at

the Mt Pleasant Yacht Club rooms in

Ferrymead. All welcome ​

3 Garlands Road, Woolston

DeluxeCinemas.co.nz

Christchurch's Premium Cinema Experience

Phone Bookings | Free Parking | Cafe/Licensed Bar

Online Bookings | Cinema Club | Hot Nuts/ Cheeses

03 389 5360

BEAUTY AND THE BEAST Disney Classic

WED: 1:10 PM,6:00 PM THU, FRI: 10:45am, 3:30pm, 6:00pm SAT: 1:00pm, 3:30pm, 6:00pm

SUN: 12:25pm, 3:00pm, 5:30pm MON: 3:30pm, 5:45pm TUE: 10:45am, 3:25pm, 6:00pm

THE SALESMAN Best Foreign fIlm

Thu: 12:50pm, 8:30pm Fri, Sat: 1:25pm, 8:20pm Sun: 12:45pm, 7:15pm Mon: 12:50pm,

8:15pm Tue: 1:20pm, 8:20pm

THE INNOCENTS Based On A True Story

Wed: 11:00am, 6:10pm Thu: 1:15pm Fri: 1:15pm, 6:10pm Sat: 10:45am, 6:10pm Sun:

10:15am, 3:10pm Mon: 11:00am Tue: 1:15pm, 6:10pm

LION Dev Patel, Nicole Kidman

Wed: 1:40pm, 3:40pm Thu: 10:30am, 3:20pm Fri, Sat: 11:00am, 3:50pm Sun: 10:25am

Mon: 10:30am, 3:15pm Tue: 11:00am, 3:50pm

TRAINSPOTTING 2 Reunite with the old gang

Wed, Thu, Fri, Sat: 8:30pm Sun: 8:00pm Mon: 8:25pm Tue: 8:30pm Wed: 8:30pm

THE MUSIC OF SILENCE Yo-Yo Ma and the Silk Road

Sun: 5:20pm Mon: 1:25pm

MOONLIGHT Best Picture

Wed: 4:00pm

ONE THOUSAND ROPES NZ Feature Film

Wed: 8:20pm

COMING SOON

April 13th THEIR FINEST

April 13th DENIAL

April 27th HANDSOME DEVIL

May 11th VICEROY'S HOUSE

SPECIAL EVENTS/RETRO

TED TALKS May 3rd, 7th ,10th

THE PRINCESS BRIDE April 21st 12:30pm

MYSTERY SCREENING May 6th 8:30pm R18

BEAUTY AND THE BEAST PG Parental guidance recommended LION PG

THE INNOCENTS M Sexual violence, suicide & content that may disturb NEW: SERVING FREE MORNING TEA ENJOY

TRAINSPOTTING 2 R16 Violence, offensive language, drug use, sex scenes

& content that may disturb MOONLIGHT M Violence, offensive language, drug A FREE TEA, COFFEE & A FRESHLY BAKED

use and sex scenes ONE THOUSAND ROPES M Violence & content that may BISCUIT WITH EVERY MORNING SHOW

disturb THE SALESMAN TBC THE MUSIC OF STRANGERS E

Normal retail $8.50

Tuesday 4 April - Wednesday 12 April 2017

9am-5pm
---
PAGE 20 BAY HARBOUR Latest Christchurch news at www. .kiwi

Wednesday April 5 2017

cnr Montreal & St Asaph Streets, Christchurch.

Sales, Service & Parts: 03 379 0588

LIMITED OFFER

ONLY

$

12,990

2015

AVAILABLE ON

1/3 1/3 1/3

NO INTEREST FINANCE OFFER

For a little car, the Mirage XLS is carrying a whole lot of features. There's a sharp body kit, stunning

colour choices, 5 star safety, 15" alloys, Active Stability Control, Bluetooth TM , just for starters. And when

you consider the fun you and your family will get out of it, it's pretty hard to go past and that's before you

consider the price. So don't miss out on this unique opportunity to own a quality pre-owned Mirage for

only $12,990.

Normal lending and credit criteria apply. $4,330 + $250 fees (which includes PPSR and documentation fees) are payable on delivery, $4,330 in 12 months and $4,300 in 24 Months from delivery date.

Total cost including Fees and ORC's $13,240. Offer available while stocks last.

4 . 9L

/100KM

MORE SPACE

FOR MORE

ADVENTURE.

Planning a road trip? Going hiking? Or just got a whole

lot of shopping to do?

The new MINI Countryman is perfect for any occasion. Featuring

improved driving comfort, a remarkably roomy interior and ALL4

all-wheel drive the new MINI Countryman is the ultimate all-rounder,

ready to tackle whatever road your story takes you on.

Grab your sense of adventure and get behind the wheel from $44,900 * .

Book a test drive now at Christchurch MINI Garage.

CHRISTCHURCH MINI GARAGE.

30 Manchester Street. Christchurch, 8011. 03 363 7240.

MINI.CO.NZ

THE NEW MINI COUNTRYMAN.

ADD STORIES.

*

Recommended Retail Price based on a standard MINI Countryman Cooper, includes

GST, excludes on-road costs. Model shown with optional extras. See mini.co.nz or

your local MINI Garage for more information.
---
Wednesday April 5 2017

Latest Christchurch news at www.

REAL ESTATE

Builders executive home in Brookhaven

14 Ti Rakau Drive, Ferrymead

Auction: Thursday, 20 April 2017 Unless Sold Prior

3 bedrooms | 2 bathrooms | 2 toilets | 1 living room | 1 dining room | 2 car-garage | Listing # FM5135

Few opportunities arise like this, where a

property so well presented and ready to live

in and enjoy are there for the taking.

Situated in the quiet neighbourhood

of Brookhaven, this 3 bedroom home is

perfect for families, professionals, or those

wishing to slow down and relax. With a

design that allows flow as well as privacy,

the choices are up to you in how you wish

to live.

The Kitchen and living are the hub of

the home...interconnected with plenty of

space and openness, ideal for entertaining

or simply catching up at the end of the day.

With loads of space and light, as well as

doors that open out to the patio, the living

area lends itself to large groups or quiet

moments. The master bedroom boasts

late afternoon and evening sunshine, and

with its own ensuite and double wardrobes

has all the bells and whistles. The other

two double bedrooms have great storage

and also offer a connection to the garden

outside. Other internal features include a

large double internal garage with auto door

opener, a spacious laundry with amazing

storage, and a main bathroom with both

bath and shower.

Outside, the first thing you notice is

the privacy, provided by established trees

and clever layout. The garden has been

thoughtfully planted, and being easy care

including a large lush lawn, the focus is on

enjoyment not toil.

Local life includes a wonderful park and

playground 50 metres away, and with only

a couple of minutes drive to Ferrymead

including supermarket, hardware store,

restaurants, amenities and The Tannery in

Woolston, there is little need to go further

afield. A short drive to Redcliffs, Sumner,

Lyttelton and even the Central City means

that you are located in the best place to take

full advantage of the best of Christchurch

including multiple schools depending on

your needs.

.kiwi

Open Homes Wednesday, Thursday,

Saturday and Sunday 2:30 p.m. - 3:30 p.m.

until auction day. See you at the Open

Homes or to arrange a private viewing of

this property call Joy Butel of Harcourts

Grenadier Ferrymead (Licensed Agent

REAA 2008) on 384 7950 or mob: 021 353

280

BAY HARBOUR

PAGE 21

Ferrymead

War Cry

by Wilbur Smith

The next gripping Courtney family adventure from perennial

bestseller and fan favourite Wilbur Smith.

In a triumphant return to his much-loved Courtney series, Wilbur

Smith introduces us to the bravest new member of the famed

family, Saffron Courtney.

Saffron grows up on a sprawling Kenyan estate, under the watchful

eye of her father, prominent businessman and distinguished war

veteran Leon Courtney. Her childhood is idyllic, until a family tragedy forces

her to grow up much faster than necessary. As she grows into a spirited teenager,

her thirst for knowledge and adventures leads her to England, where she finds

herself inevitably drawn into the heart of the gathering storm in the lead-up to World

War II.

Gerhard von Meerbach is the privileged and idealistic younger brother of Konrad

von Meerbach, heir to an industrial fortune, and vocal supporter of the Nazi Party.

Gerhard struggles to stay true to his principles in an increasingly cruel world. His

friendship with a Jewish man places him in danger, and forces him to take a

stand against the forces of evil that have overtaken his country and his family. But,

unknown to him, he is caught in a trap that could cost him everything he holds dear.

As the Second World War looms over them all, Saffron and Gerhard's worlds collide

– but will there be more to unite them than tear them apart?

A love story in the time of heroes, War Cry is the latest breathtaking episode in

Wilbur Smith's epic account of one beloved family.

Breaking Ranks

by James McNeish

Three distinct stories about three distinct men, but with one thing in common - they

all paid the price for standing up for what they believed.

From a great writer, three great stories about conscience and consequence. This

is the story of three men - a doctor, a soldier and a judge. They are men of rare

achievement. The doctor has the gift of saving others but not himself. The soldier

disobeys orders and abandons his command post in a bid to die with his men. The

judge cares more to uphold a principle than save himself from ruin. All three defy

convention in a way that exacts a price. The first two, Dr John Saxby and Brigadier

Reginald Miles, destroy themselves. The death of the judge, Peter Mahon, is

hastened by his stand for truth and justice on behalf of the victims of New Zealand's

worst air disaster. "New Zealand seems to have the knack of neutralising those who

try to foist moral greatness on their countrymen," James McNeish writes. In Breaking

Ranks, the author celebrates three brave men whose guiding spirit - subversion?

anarchy? - challenges our assumptions of what it is to be a good New Zealander.

WIN THIS BOOK

ENTER TO

WIN

THIS BOOK

book

release

We have one copy of War Cry by Wilbur Smith to give away, courtesy of Take Note Ferrymead. To be in the

draw, email giveaways@starmedia.kiwi with War Cry in the subject line or write to Take Note Book Giveaway

(War Cry), Star Media, PO Box 1467, Christchurch 8140. To be eligible for the draw, all entries must include your

name, address and contact number. Entries close Tuesday 4 April, 2017. Winner of 'The Chilbury Ladies' Choir'

Simon and Susan from Mt Pleasant.

Breaking news,

delivered to

your pocket.

Visit www.star.kiwi

anytime, anywhere!

Fire rages, homes at risk

•news •CTV •sport •districts •schools •lifestyle •opinion •what's on

www.star.kiwi
---
PAGE 22 BAY HARBOUR Latest Christchurch news at www. .kiwi

Wednesday April 5 2017

Computers

ALL

YOUR

COMPUTER

WORRIES SOLVED!

*$30.00 off your first

service with this coupon!*

No problem too big or

small from home PC's to

business networks. PC QUEENSLAND

slow? An end to Viruses,

Spyware, and Clogged

Systems. Safe secure

hassle-free computing.

Lost files recovered.

Microsoft Certified,

MCSE, MCP+l. 30 years

experience. Call Andrew

Buxton this week on 326-

6740 or 027 435-7596

for $30.00 off* Custom

Computers Christchurch

Gardening

& Supplies

Landscape

and Garden

Services

If you need help

getting your garden

back in order after

repairs, need any

type of landscape

construction work or

garden restoration.

Ph 021 272 0303

Gardening

& Supplies

A GARDEN OR

LANDSCAPING TIDY

UP? Shrub, hedge &

tree pruning, Lawns,

Gardening, consistently

reliable general property

upkeep, Dip. Hort. 10

yrs experience, One off

tidy ups or on-going

service. Nick's Property

Maintenance. Keeping

your garden beautiful.

Free Quote. Ph. 942-4440

GARDENER - Need

your home or commercial

garden tidied up or

renovated or require long

term assistance. Phone

Ruth 326-6663 or 021

272-0303

Celebrant

WEDDINGS, Civil

Union Ceremonies,

Renewal of Vows, Naming

Ceremonies, Funerals

and Unveilings - Jenni

Gibson Ph/Fax 324-8332,

021 723-089. www.

celebrantservices.net.nz

accountant

Classifieds Contact us today Phone our local team 03 379 1100

Holiday

Accommodation

SUN-

SHINE COAST AUSTRA-

LIA Resort, Ocean Views,

Balconies, Self Contained,

1 or 2 B/R Ensuite,

Heated Pool, Spa, Sauna,

Free Internet, Shops,

Restaurants, Tennis, Surf

Club & Patrolled Beach,

Public Transport at door.

Ask for our SEASONAL

SPECIALS. Phone 61 7

544-35011 Email: reception@mandolin.com.au

www.mandolin.com.au

Holiday

Accommodation

SUMNER Holiday

Accom 027 600 6076

www.kotaresumner.nz

Trades & Services

Trades & Services

Your local professional

FOR ALL YOUR

PLUMBING

NEEDS

• Bathroom repairs

• Renovations

• Leaks

• Tap Repairs

• Gas and Drainage

Carol and Chris

Cracked tiles?

Dirty grout?

Old or mouldy

silicon?

Brett Ph 03 358 5105

or 027 746 7632

www.groutpro.co.nz

Phone 376 5322 or email

chcheast@laserplumbing.co.nz

COAL & FIREWOOD

Clean Dry Firewood

Marcrocarpa, Bluegum,

Oregon & Old Man Pine

Free delivery for 6cm

truckload or 3cm

by arrangement

COAL & FIREWOOD

suppLIEs yARD

stAtE HIgHWAy 75, KAItunA

Lynda or Ron Aldersely

Phone 329 6233

Mon- Sat 8am - 12 noon

Trades & Services

DINING

TakeawaySpecial

$15 Curry & Rice & Naan

Dine In Special

$22 Curry & Rice & Naan & glass of house

wine, house beer or soft drink

Specials Tues & Wed only

Fully Licensed Restaurant and Bar.

1 Wakefield Avenue Sumner, Christchurch

Bookings are welcome | Ph: 326 7917

Trades & Services

LANDSCAPING/

STONE WORK

All forms of landscaping,

fences, decking & paving.

Phone Mike

Stoneage Landscapes

021 1499 733

Trades & Services

BRICKLAYER

George Lockyer. Over

30 years bricklaying

experience. UK trained.

Licensed Building

Practitioner number

BP105608. Insurance

work. EQC repairs.

Heritage brickwork a

speciality. No job too

small. Governors Bay.

Home 329-9344, Cell

027 684-4046, email

georgelockyer@xtra.co.nz

CARPET & VINYL

LAYING

Repairs, uplifting,relaying,

restretching,email

jflattery@xtra.co.nz,

ph 0800 003 181

or 027 2407416

CARPETLAYER

Laying and Repairs, 40 yrs

experience, ph Peter 326-

7711 or 027 240-6532

CONCRETE

Decopave Ltd,

Canterbury owned &

operated for over 10

years, competitive rates,

full excavation, coloured,

exposed, stamped, call

Paul 027 322 6119

DRAINLAYER

Reg,all types, 20 yrs hill

work exp, ph 028 408-

0121

ELECTRICIAN

JMP Electrical.

Experienced & registered..

Expert in all home

electrical repairs &

maintence.Call James 027

4401715

FURNITURE

REMOVALS

Large Trucks $95 +

GST per hour 7 day NZ

wide, packing & moving,

Professional Company,

Professional Service.

Canterbury Relocations

Ltd. ph 0800 359 9313

GAS

PLUMBING,DRAINAGE

& HEATING. 24/7

service. Ph Mike Cairns

Gas & Plumbing 021

132 8929 or 03 326 7949

Trades & Services

RE-ROOFING

QUALITY ROOFING AT THE

BEST PRICE AROUND

Protect your home with a new Colorsteel roof.

Call for a friendly, FREE assessment and quote.

• Roofing

• Spouting and Downpipe

• Safety rails

• Licensed Building

Practitioner

Ph: 347 9045 or 021 165 1682

Email: Robinsonroofing99@gmail.com

Plumbing Drainage

Plumbing Drainage

Plumbing & Drainage

PLUMBING & DRAINAGE

Local business for all

plumbing Local business and drainage for all

plumbing Local business work. and drainage for all

plumbing work. and drainage

Freework.

Quotes

Free Quotes

Free Quotes

New SkyVac

New SkyVac

Gutter Cleaning Machine

Revolutionary Gutter New Cleaning Gutter SkyVac cleaning Machine system.

Revolutionary Gutter Gutter Cleaning cleaning Machine system.

No job too big or too small!

Revolutionary Gutter cleaning system.

No job too big or too small!

MORGAN THOMAS PLUMBING & DRAINAGE LTD

MORGAN No job

Call THOMAS too

Morgan PLUMBING big0223758506

or& too DRAINAGE small! LTD

MORGAN Visit our Call THOMAS website Morgan PLUMBING -0223758506

www.mtpd.co.nz

& DRAINAGE LTD

Visit Email our Callwebsite -Morgan morgan@mtpd.co.nz

-0223758506

www.mtpd.co.nz

Visit Email our -website morgan@mtpd.co.nz

- www.mtpd.co.nz

Email - morgan@mtpd.co.nz

Trades & Services

PAINTING PLASTERING

Free quotes. Int/ext &

roof painting Family

run business, work

guaranteed. Pensioner

discounts. Ph Kerin or

Paul 022 191 7877 or

379-1281. Website www.

swedekiwipainting.co.nz

PAINTER/PLASTERER

Experienced tradesman,

quality work, free quotes,

ph Simon 027 389-1351 or

03 328-7280

ADD

SOME

COLOUR

TO YOUR ADVERT!

Entertainment

CHOOOO CHOOOO !!!!

Trades & Services Situations Wanted -

Jobs Wanted

PAINTER

MATURE Experienced

Top quality work, interior/ Nanny available,

exterior, pensioners experienced with babies,

discount, free quotes, 30 police checked, references

years experience, I stand available and curently

by Canterbury, ph Wayne have First Aid Certificate,

your friendly painter looking for position in

03 385-4348 or 027 274-

3541

PAINT

See our unique range of

1/2 Ltr packs from only

$1, 360 Ferry Rd, 7 Days

PH 381 2012

PLASTERING

Redcliffs/Sumner/Mount

Pleasant areas, available

from 7.30/8am onwards,

days & hours to suit,

please contact Deborah at

027 258 4752

Public Notices

INTERIOR, no job too

SALE AND SUPPLY OF

big or too small, specialise

ALCOHOL ACT 2012

in repair work & new

SECTION 127 & 101

houses, free quotes given,

FERRYMEAD EVENTS LIMITED,

over 20 yrs plasterering (THE LICENSEE, 3 Pipiri Street,

experience, ph 027 221- Pegasus 7612), has made

4066 or 384-2574

application to the District

ROOFING

Licensing Committee at

Christchurch for the renewal

Qualified & Licenced

of ON-LICENCE RENEWAL in

Practitioner. Re-Roof &

respect of the premises situated

Repairs, all types. Member at 50 Ferrymead Park Drive

New Zealand Roofing known as FERRYMEAD EVENTS

Association. Over 35 years CENTRE.

experience. Phone John

The general nature of the

027 432-3822 or 351-9147

business conducted under

email johnmill@ihug.

the licence is: ON-LICENCE

co.nz

RESTAURANT CLASS 2.

TREES BIG OR SMALL

The days on which and the

tree removal, trimming,

hours during which alcohol

stump grinding, shelterbelt is sold under the licence are:

clean up, section clearing, MONDAY TO SUNDAY 8.00AM

rubbish removals, TO 11.00PM.

excavation work, ph Trees

The application may be

Big or Small, for a free

inspected during ordinary

quote, 021 061 4783 office hours at the office of the

VHS VIDEO TAPES Christchurch District Licensing

Committee, 53 Hereford Street,

& all camera tapes

Christchurch.

converted to DVD, video

taping special occasions,

www.grahamsvideo.co.nz

Any person who is entitled to

object and who wishes to object

ph 03 338-1655

to the granting of the application

may, not later than 15 working

WINDOW CLEANING days after the date of the first

"Your Windows are the publication of notice of the

eyes of your Home", for

a free no obligation quote,

call Greg Brown, Crystal

application, in the newspaper

(being The Star), file a notice

in writing of the objection with

Clear Window Cleaning the Secretary of the District

Licensing Committee, PO Box

ph 384-2661 or 027 616- 73049, Christchurch 8154.

0331 Local Resident

Wanted To Buy

A+ Household effects,

fridges, freezers, washing

machines, ovens. Good

cash paid. Ph Paul 022

0891 671

No objection to the renewal of a

licence may be made in relation

to a matter other than a matter

specified in section 131 of the

Sale and Supply of Alcohol Act

2012.

This is the first publication of

this notice.

The weekend of 8th& 9th April is Steam Scene's

Annual Steam Extravaganza at McLean's Island

Road. The day is full of working demonstrations

where approx. 25 traction engines and steam

vehicles will be involved in working displays

of sawmilling, sheep shearing, road making,

threshing, water pumping, blacksmithing and

stone crushing.

There will be a number of traction engines visiting Christchurch for the first time

as well as the 2 Showman's engines from the UK. They will return to the UK after

this Event. A steam train will be taking people on free rides. The Steam Museum

will be running its many stationary steam engines. The steam is generated from a

large wood fired boiler and for family fun they can watch the huge model railway

run. Food and drink stalls will be on hand for refreshments. Plenty of off road

parking.

Gates open 9 am with final demonstrations at 3 pm on both days. There is no

working Eftpos on site and no dogs permitted. People can get up close to the

machines and experience what it was like to operate such vehicles in the old days

as well as the sounds and smell generated by them.

A miniature train is running with rides costing $2.

The major working displays are in covered areas and will be staggered throughout

the day making it easy to see how big shiny driving rods and flywheels are linked

together to turn steam into power.
---
Wednesday April 5 2017

Latest Christchurch news at www.

.kiwi

BAY HARBOUR

PAGE 23
---
PAGE 24 BAY HARBOUR Latest Christchurch news at www. .kiwi

Wednesday April 5 2017

Easter Colouring Competition

See instore for details

Fresh NZ Pork Leg Roast

(Excludes Free Range)

Royal Gala Apples 2kg

$

6 99

kg

$

2 99

bag

Bluebird Burger Rings/Twisties/Cheezels/

Rashuns 110-120g

Loose Red Kumara

4 for

$

5 00

$

3 99

kg

Fresh Tegel NZ Skinless Chicken Thigh

Cutlets

Nature's Fresh

Bread 700g

Flora Spread 500g

(Excludes Pro-Activ)

$

8 99

kg

Speight's/Summit

24 x 330ml Bottles

$

2 99

each

First Pick by

Kim Crawford

750ml

(Excludes Sparkling)

$

2 99

each

Coke/Sprite/

Fanta/Lift/L&P

1.5L

Please drink

responsibly

$

32 99

pack

$

7 99

each

$

2 49

each

svbhn0504

SuperValueNZ

SuperValue Lyttelton: 17 London Street, Lyttelton. Phone 328 7368. Open 7am-9pm, 7 days.

SuperValue Sumner: 3 Village Mall, Sumner. Phone 326 5688. Open 7am-9pm, 7 days.

SuperValue.co.nz

Specials available from Wednesday, 5th April until Sunday, 9th April 2017 or while stocks last. We reserve the right to limit quantities. All limits specified apply per customer per day.

Trade not supplied. Prepared meals are serving suggestions only. Props not included. Certain products may not be available in all stores. Proprietary brands not for resale.

Customer Support Freephone 0800 40 40 40.