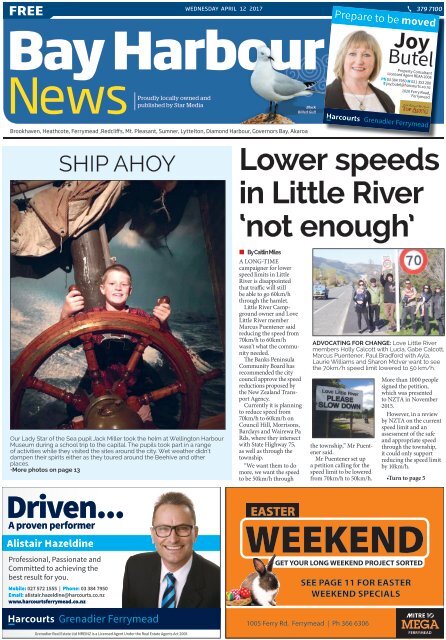 Bay Harbour: April 12, 2017
You also want an ePaper? Increase the reach of your titles
YUMPU automatically turns print PDFs into web optimized ePapers that Google loves.
FREE

Wednesday aPRIL 12 2017 379 7100

Prepare to be moved

Bay Harbour

News

Proudly locally owned and

published by Star Media

Black

Billed Gull

Joy

Butel

Property Consultant

Licensed Agent reAA 2008

Ph 03 384 7950 M 021 353 280

E joy.butel@harcourts.co.nz

1020 Ferry road,

Ferrymead

Four Seasons Realty

Grenadier Ferrymead

Brookhaven, Heathcote, Ferrymead ,Redcliffs, Mt. Pleasant, Sumner, Lyttelton, Diamond Harbour, Governors Bay, Akaroa

SHIP AHOY

Lower speeds

in Little River

'not enough'

Our Lady Star of the Sea pupil Jack Miller took the helm at Wellington Harbour

Museum during a school trip to the capital. The pupils took part in a range

of activities while they visited the sites around the city. Wet weather didn't

dampen their spirits either as they toured around the Beehive and other

places.

•More photos on page 13

• By Caitlin Miles

A LONG-TIME

campaigner for lower

speed limits in Little

River is disappointed

that traffic will still

be able to go 60km/h

through the hamlet.

Little River Campground

owner and Love

Little River member

Marcus Puentener said

reducing the speed from

70km/h to 60km/h

wasn't what the community

needed.

The Banks Peninsula

Community Board has

recommended the city

council approve the speed

reductions proposed by

the New Zealand Transport

Agency.

Currently it is planning

to reduce speed from

70km/h to 60km/h on

Council Hill, Morrisons,

Barclays and Wairewa Pa

Rds, where they intersect

with State Highway 75,

as well as through the

township.

"We want them to do

more, we want the speed

to be 50km/h through

ADVOCATING FOR CHANGE: Love Little River

members Holly Calcott with Lucia, Gabe Calcott,

Marcus Puentener, Paul Bradford with Ayla,

Laurie Williams and Sharon McIver want to see

the 70km/h speed limit lowered to 50 km/h.

the township," Mr Puentener

said.

Mr Puentener set up

a petition calling for the

speed limit to be lowered

from 70km/h to 50km/h.

More than 1000 people

signed the petition,

which was presented

to NZTA in November

2015.

However, in a review

by NZTA on the current

speed limit and an

assessment of the safe

and appropriate speed

through the township,

it could only support

reducing the speed limit

by 10km/h.

•Turn to page 5

Driven...

A proven performer

Alistair Hazeldine

Professional, Passionate and

Committed to achieving the

best result for you.

Mobile: 027 572 1555 | Phone: 03 384 7950

Email: alistair.hazeldine@harcourts.co.nz

www.harcourtsferrymead.co.nz

Four Grenadier Seasons Ferrymead

Realty

Grenadier Real Estate Ltd MREINZ is a Licensed Agent Under the Real Estate Agents Act 2008

eaSter

WEEKEND

get YoUr long Weekend proJect Sorted

See page 11 for eaSter

Weekend SpecialS

1005 Ferry Rd, Ferrymead | Ph 366 6306
---
PAGE 2 BAY HARBOUR Latest Christchurch news at www. .kiwi

Wednesday April 12 2017

FROM

THE

EDITOR'S

DESK

DAWN KOTTIER will be

remembered by many as a tireless

worker on Banks Peninsula,

particularly Rapaki.

On page 4 we have a tribute to

Dawn who passed away recently.

She was a member of the Banks

Peninsula District Council for

nearly 20 years, and received a

Queen's Service Medal in 2004 for

her dedication and work with the

community.

A complaint against police over

the level of service in Lyttelton

doesn't look like being upheld.

Bay Harbour News has learned

the Independent Police Conduct

Authority isn't likely to uphold a

complaint from Lyttelton resident

and former detective Peter Newsome

(see page 3).

The complaint was part of ongoing

issues a number of people in

the community had with police

over coverage in the port and bays

areas. – Barry Clarke

Inside

Podium finish for Governors Bay rally driver

14

(second from right) SPORT

News.......................................3-8

Your Local Views.......10

Local Schools...................13

Sport............................14,16

Community Events......19

Health & Beauty......... 21

Real Estate...........................22

GET IN TOUCH

General Enquiries Ph 379-7100

Classified Advertising Ph 379-1100

The Christchurch Star Company Ltd. PO box 1467 - Christchurch

starmedia.kiwi

NEWS

Caitlin Miles

Ph: 364 7442

caitlin.miles@starmedia.kiwi

ADVERTISING

Javier Balcazar

Ph: 982 9308

javier.balcazar@starmedia.kiwi

ADVERTISING

Rob Davison

Ph: 021 225 8584

rob.davison@starmedia.kiwi

Maronan Road, Tinwald, Ashburton

OPEN 15Th & 16Th APRil

Open: 11am - 4pm

Journey back in time behind the famous K88 Steam Locomotive and Railcar

RM50- rides depart every 1/2 hour. View an early 1900's era, German

Roland Sawmill in action. The Museum Village, Ashburton Fire Museum,

Lynn Woodwork Museum and the Ashburton Woodturners are open to

browse through, and in the Car park area the Ashburton Steam & Model

Club operate rides. Bring a picnic lunch and enjoy the Tinwald Domain,

complete with playground, tennis court and tranquil pond area.

**EFTPOS ON-SITE**

Visit www.plainsrailway.co.nz or

our Facebook Page for details

Phone:

03 308 9600

LYTTELTON

hearing aid & audiology clinic

Hearing tests | Hearing aids | Wax removal

Hearing aid adjustments | Custom noise protection

ACC funding & subsidies available

@ Lyttelton Health Centre - Oxford Street

Call 03 385 6036 today for an appointment

LOVE YOUR HEARING LYTTELTON | www.staudiology.co.nz
---
Wednesday April 12 2017

Latest Christchurch news at www.

.kiwi

BAY HARBOUR

PAGE 3

News

Police complaint finalised

• By Caitlin Miles

A COMPLAINT against

Lyttelton police does not look

like it will be upheld.

Lyttelton resident and former

detective Peter Newsome laid a

complaint with the Minister of

Police Paula Bennett about the

level of service from police in

the area.

He said he made the complaint

after police "fobbed off"

two requests for help.

The complaint was handed

over to the Independent Police

Conduct Authority and while

the official decision has not yet

been released, Canterbury area

prevention manager, Acting

Inspector Paul Reeves, said it

looked "likely that it will be

closed as conciliated" after

meeting with Mr Newsome and

the community.

Judge Sir David Carruthers

had been looking at the

complaint from Mr Newsome

and said he regarded the work

carried out by the police to be

"outstanding police work."

"​There were personal meetings

with Mr Newsome and

then a community meeting

which involved a dozen

residents. This was obviously a

huge success," Sir David said.

However, Mr Newsome disagreed

with those findings.

"It wasn't a huge success . . . it

hasn't reassured me," he said.

While he said it was good to

see the police "front up" to the

community, he didn't think it

was well-attended, or that it

reassured the residents.

Mr Newsome wants to see

the Lyttelton station staffed

24/7, but Canterbury metro

COMPLAINT: Former

detective Peter Newsome

may not have his complaint

against Lyttelton police

upheld.

PHOTO: MARTIN HUNTER ​

commander Superintendent

Lane Todd said the police don't

have the resources to do that.

"They explained themselves,

but they need more police in

low crime areas like Lyttelton,"

Mr Newsome said.

Acting Inspector Reeves said

they realised from the meeting

that they needed to be better at

communicating with residents

and keeping in touch with

people.

If Mr Newsome's complaint

is not upheld, he said he wasn't

sure what he will do next but

he wasn't finished with the

issue.

"I need to have a think about

what I'll do next, but I'm not

done yet," he said.

In Brief

PORT HELPS YACHT CLUB

The Naval Point Yacht Club is

the latest organisation to receive

support from the Lyttelton Port

of Christchurch. Every year

LPC provides funding to local

groups to show support within

the community. This year it

has provided the club with two

containers for storing its rescue and

coaching equipment. LPC is also

sponsoring the annual New Zealand

Marine Sciences Society conference,

which is a forum for the latest

marine research.

EMERGENCY PLAN

The Akaroa Civil Defence Group

is working with the city council to

consider the best structure for an

emergency response in the area.

The group is in discussions with the

Banks Peninsula Community Board

and city council staff to consider

options. A plan is not expected until

later this year.

FIRE BAN LIFTED

The fire ban in rural areas across

Banks Peninsula has now been

lifted. Due to the recent wet

weather, the city council lifted the

ban on lighting fires in rural areas

across the peninsula and the city

at 7am on Saturday. Residents are

able to light fires without permits

provided they take necessary safety

precautions and ensure there is no

risk of the fire spreading.

If you are looking to sell your property

now

is the perfect time

The Team at Smart Real Estate

Utilize Smart Marketing Options and

Offer a professional service

Phone Debra Hakaraia

027 562 0420 or 03 384 8600

Licensed Agent

REAA 2008 MREINZ

Debra Hakaraia

It's tax time!

Now we're past 31 March year end it's time to

focus on your tax and accountancy needs for 2017

If you are an owner-managed business, sole trader, have investments

or rental properties and want good quality, fairly priced, friendly local

accountancy and tax advice then contact Ferrymead Accounting.

We specialise in:

- Owner Managed Businesses

- Individual's Tax affairs

- Investment & Rental Properties

- Business Start-Ups

- Accountancy and Tax Compliance

- Business & Management Advice

Your local independent MYOB Approved Partner

and Xero Certified Advisor in Ferrymead

11F Settlers Cres. Ferrymead P. 03 384 8179 M. 022 354 8218 E. info@ferrymeadaccounting.co.nz www.ferrymeadaccounting.co.nz
---
PAGE 4 BAY HARBOUR

Latest Christchurch news at www. .kiwi

Wednesday April 12 2017

News

Tributes pour in

for Dawn Kottier

Pathway possible

outside Redcliffs cave

A PROMINENT member of the

Rapaki community has died.

Dawn Kottier passed away on

April 3 at the age of 83.

She spent much of her life

working within the community,

as a long-standing member of the

Banks Peninsula District Council

for nearly 20 years and serving on

the Lyttelton-Mt Herbert Community

Board from 2006 to 2010.

Dawn received a Queen's

Service Medal in 2004 for her

dedication and work with the

community.

She was committed to supporting

young and old in the

community, closely involved with

redesigning playgrounds in the

Bay Harbour area, championing

community safety, reducing

crime and supporting community

arts.

Port Hills list MP Nuk Korako

said he was honoured to speak at

Dawn's funeral as she was a "great

mentor" to him.

"I remember when I first got

into Parliament and she would

send me messages saying 'sit up

straight,' or 'straighten your tie',"

Dawn Kottier

He said he saw her as a "surrogate

grandmother."

"It was a wonderful farewell,"

Mr Korako said.

Former members of the Banks

Peninsula District Council

attended, along with Banks

Peninsula Community Board

members.

At a city council meeting last

week Mayor Lianne Dalziel

asked for city councillors and

staff to stand for a minute of

silence.

BRING IT BACK: Redcliffs residents want the original footpath

back along Main Rd seen here in 2009. Inset: Sara Templeton

• By Caitlin Miles

A PATH on the south side of

Main Rd outside Moa Bone

Cave is now a possibility.

Redcliffs residents and

parents were concerned about

pedestrian safety at Moa Bone

Cave. They wanted a pathway

reinstated on the south side of

Main Rd so people and school

children wouldn't have to cross

at the busy Main and McCormacks

Bay Rds intersection.

The city council has previously

said the rockfall risk on

the south side was too high for a

path to go there.

However the city council

backtracked when the previous

Hagley Ferrymead Community

Board asked for the report to be

carried out once the rockfall remediation

work was completed.

The city council agreed to do

the report and as a result, they

are looking at the possibility of

reinstating a footpath on the

south side.

"The geotechnical engineers

have declared the risk mitigated

to an acceptable extent. The

roading team is currently working

on whether a footpath is

possible within the corridor,"

the report said.

Heathcote ward city councillor

Sara Templeton said this was

"great news" since it has been

something locals have wanted.

"This is great news for the

community, especially with

Redcliffs School returning soon,

and I'm looking forward to seeing

how it can be implemented,"

Ms Templeton said.

There is currently no pathway

on the Moa Bone Cave side of

PHOTO: GEOFF SLOAN ​

Main Rd, which means pedestrians

have to cross a busy road

to access the pathway on the

north side.

A pedestrian crossing from

Moa Bone Cave to the north

side of Main Rd has also been

proposed if a footpath can't be

reinstated. The pathway has

been out of action since the

February 22, 2011, earthquake

rendered it unusable.

The city council roading team

will make a decision once the

options have been investigated.

AutuMn & wIntER

ARE A GREAt tIME

to sEll youR HoME!

It may be true that there are fewer buyers and sellers in

the winter marketplace but the ones that are there are

serious and have a sense

of urgency to purchase.

If you're considering selling and would like some honest,

professional advice, give me a call today – it costs

nothing to talk!

Chris Moores

Harcourts Grenadier Ferrymead

1020 Ferry Road

P: 03 384 7950 | M: 027 588 4440

E: chris.moores@harcourts.co.nz

licensed sales Consultant REAA 2008

GRENADIER

NEW LOCATION

13b Parkhouse Rd, CHRISTCHURCH

DISCOUNTS ON ALREADY

DISCOUNTED TYRES!

eND OF LINe • LIMITeD STOCK

175 / 65 / 14 - $65

195 / 60 / 15 - $70

215 / 45 / 17 - $80

215 / 60 / 16 - $80

PRICE INCLUDES FITTING & GST

Complete

Tyre and

Auto

Canterbury owned and operated

464 Ferry Rd, 03 389 5370

ctawoolston@yahoo.co.nz

8am-7pm Tues-Wed

8am - 5pm Mon Thurs Fri | 9am-3pm Sat

New & Used Tyres • Puncture Repairs

Batteries • WOF • Balancing

Mechanical Repairs • Lube & Servicing

Wheel Alignment

all

Tapware

up to

50% off

selected Freestanding Baths 15-20% off

Limited stock

Mitsubishi Electric FH50 Hypercore 6kW

includes FREE installation*

$3,299*

*includes cost of back to back install only, conditions apply

M2650ULpG

26L per min Califont

external with anti frost

$999

JsD12-6DH

6L per min Califont

Internal, Battery power

$199

end of Line Vanity Clearance up to 50% OFF

Open 7 Days

easTeR TRaDInG HOURs: FRI CLOSED | saT 9.30am - 4.00pm | SUN-MON CLOSED

0800 MILLEN | www.millen.co.nz | 03 348 8678

Proud installers of

Call now for a free quote - 0800 324 678

www.dcis.co.nz
---
Wednesday April 12 2017

Latest Christchurch news at www.

.kiwi

BAY HARBOUR

PAGE 5

News

650 intersection submissions

• By Caitlin Miles

THE CITY council has received

more than 650 responses to

potential plans to change the

controversial St Andrews Hill

intersection.

Consultation on the

intersection at St Andrews

Hill, Bridle Path and Main

Rds closed in February and

city council staff are currently

working through the large

number of submissions received

on the three options put out for

consultation.

Following the reconstruction

of the Ferrymead Bridge, the

city council released plans for

the intersection, which drew

outcry from residents, who said

it was poorly laid out.

The intersection went ahead

regardless in 2015. Earlier

this year the city council

proposed making changes to

the intersection. Leaflets were

dropped in nearby residents

letterboxes.

The first option is to leave the

intersection as it is.

The second option is to

install new traffic signals on St

Andrews Hill Rd alongside new

pre-signals on Bridle Path Rd.

The third option is to

introduce a no right turn for

CHANGES: More than 650 people submitted views on the three proposed options for the St

Andrews Hill and Bridle Path Rds intersection. ​

Bridle Path traffic on to Main

Rd.

Residents said the second

option was preferred. Heathcote

Valley residents said the third

option would be detrimental to

the community.

Drop in consultations on the

issue were well attended, with

more than 50 people at one of

the sessions.

Since consultation closed

city council staff were working

through the large amount of

feedback received from the

options.

A city council spokeswoman

said the submissions wouldn't

be released to the public until

June due to the large number

received staff needed to

analyse, collate and speak to

submitters before they could be

released.

Lower speed

'not enough'

•From page 1

The city council carried out

public consultation on reducing

the speed at the end of last year.

From the submissions 365 people

agreed with reducing speeds

on the proposed roads, 97 people

were against or provided no comment

on the proposed changes.

Mr Puentener said while the

proposal had gained support it

was "frustrating" that 50km/h

was not proposed and it didn't

answer want the community

wanted.

"They haven't really listened,

they've said 60km/h and we're

saying why not lower?" Mr Puentener

said.

The community has been

campaigning for lower speed

limits for "at least 20 years" Mr ​

Puentener said, due to concerns

for pedestrian safety and other

road users.

Mr Puentener said it is a start

but he will continue to lobby for a

lower speed.

If the city council approves the

speed reductions the work will

cost $1700 and will come into

effect from June 1.

•HAVE YOUR SAY: Do you

think the speed reduction is

enough? Should it be lower?

Send your views to caitlin.

miles@star.kiwi

The besT place To look aT

new flooring is... your place

For the best range of carpet, vinyl, timber & tile;

call The Flooring Centre's Mobile Showroom and

let us come to you.

Lisa Daly

Call Lisa NOW on the Mobile

Showroom Hotline Ph: 3415 749

to arrange a Free Consultation

and Free Measure & Quote

www.theflooringcentre.co.nz
---
PAGE 6 BAY HARBOUR Latest Christchurch news at www. .kiwi

Wednesday April 12 2017

News

Museum

architects

selected

ARCHITECTS Warren and

Mahoney will design the new

Lyttelton Museum.

Lyttelton Historical Museum

Society chairman Peter Rough

said they "stood out" over other

companies which wanted the

project.

Lead architect Graeme Finlay

has a special connection to Lyttelton

and is looking forward to

working on the project.

"We're excited to be involved

because we see this as being really

important for Lyttelton and

the harbour area," Mr Finlay

said.

The museum was badly damaged

in the February 22, 2011,

earthquake and needed to be

demolished. The society looked

at various sites around Lyttelton

and decided the former Lyttelton

Service Centre site would be the

best fit.

The Banks Peninsula Community

Board has supported

the society's request for the city

council to gift the land at 33 and

35 London St to the society.

The city council will make the

decision to approve the gift of

land on Thursday before beginning

public consultation and

making a final decision.

Cottage repairs complete

THE HISTORIC Stoddart

Cottage is set to open next week,

after needing extensive repairs.

The heritage listed building is

the oldest in Diamond Harbour.

It was damaged in the February

22, 2011, earthquake and was

closed while it was evaluated.

The cottage, situated just

above the Diamond Harbour

Domain received stabilisation

work so it could be reopened to

the public while funding was

gathered for more extensive

repairs.

It was closed in April last year

to begin repair works, and it

will be officially opened next

Wednesday.

Stoddart Cottage

Trust chairwoman

Paula

Smith (left) said

it was a fantastic

to have it finished

and was looking forward to have

it open to the community.

"It's great to have it opening,

it's sort of weird when it's closed

– there's something sad about

it," Ms Smith said.

The cottage was built by Mark

Stoddart, an early settler in the

area in 1861. He lived there with

his family until 1877.

One of his daughters, Margaret

Stoddart became a wellknown

New Zealand painter, in

1913 she painted Old Cottage,

Diamond Harbour in honour of

the house she grew up in.

It's not the first time work

has been down on the historic

building. Between the 1980s and

1990s locals decided to repair

the house after it had fallen into

disrepair. Ms Smith said it was

a "real labour of love" for the

community.

She said if locals hadn't done

the repair work then it would

have been in a much worse state

after the earthquake.

The city council budgeted

$444,000 for the project but

heritage programme manager

Richie Moyle said it was expected

to finish "well under budget".

Repairs to cracks in the walls,

ceilings and floors were carried

out along with repairs to

cracks and loose slates in the

veranda roof. Additional water

tightening was done to the

corrugated iron roof, repairing

weatherboards and repainting

the exterior of the cottage was

also carried out.

The three chimneys had to

be deconstructed and reconstructed

around structural steel

as well.

RESTORED:

The cottage

has been

carefully

restored with

the opening

planned

for next

Wednesday.

HISTORIC:

This photo

was taken

about 10

years after

the cottage

was built.

PHOTO:

Diamond

Harbour

Historical

Association

Collection ​

Now the repair works have

been finished Ms Smith said she

hopes it will encourage people to

come from the city to enjoy the

harbour.

"It's nice to just sit on the veranda

or relax in the cottage, we

hope more people come to see

it," she said.

Part of the cottage is a gallery

of work and the remainder of

the cottage is used as a space for

the community.
---
Wednesday April 12 2017

Latest Christchurch news at www.

.kiwi

BAY HARBOUR

PAGE 7
---
PAGE 8 BAY HARBOUR Latest Christchurch news at www. .kiwi

Wednesday April 12 2017

News

Telling Lyttelton's stories

If Lyttelton could talk

it would have some

stories to tell. Reporter

Caitlin Miles found out

about a few of them

when she interviewed

Kris Herbert, who

has created a project

focused on telling the

stories of people who

grew up in the area

STORIES OF a mysterious "goat

man" and life in 1960s Lyttelton

have captured the attention

of local children – thanks to

a project focused on telling

the stories of past and present

residents.

Resident Kris Herbert decided

to set up the Lyttelton Stories

project to record the history of

the community through radio

documentaries.

She came up with the idea

for travellers to listen to so they

learn more about the town as

they make their way around the

area. She hopes to put the stories

on a mobile phone application so

they can be accessed easily.

"There are so many travellers

around the world wanting to

make these connections with

places," Ms Herbert said.

She has enlisted the help of

pupils from Lyttelton Primary

School to speak to the people to

help teach the children interview

skills and connect them more

with the community.

"The first part of the project

is going to be looking at

Lyttelton through the eyes of the

children," she said.

Ms Herbert moved from the

United States to Lyttelton 20

years ago and has lived here ever

since.

She is using her own 20-year

background in journalism to

make the documentaries. Not

that she has done it before.

"I've been a print journalist for

RECORDING HISTORY: Kris Herbert is telling the stories of Lyttelton's past.

20 years, I do freelance now," she

said.

The first phase of the project is

finding people who grew up and

lived in Lyttelton from the 40s

onwards.

"We're looking for stories

from people that grew up and

live here, talking about their

memories and things they

remember about the place," she

said.

The first phase of the project

involves interviewing people

who grew up in the area from

the 1950s onwards.

She said a story that has

captured the children's attention

is that of a mysterious goat man.

"We don't know much about

him, but apparently he would

wonder the streets and scare

children,"

She said she plans to get the

pupils to do more investigating

into the story and find out if it is

an urban legend.

"The boys especially are really

obsessed with the story," she

said.

Pupils have been rotating

through the project, with a core

group of four involved.

She said even though the

pupils "can get a bit distracted"

during the interviews, the

interviewees have been very

patient and understanding.

"People that have done it are

really enjoying it," she said.

The topics cover a wide

range. Ms Herbert said she is

looking for all types of stories,

including games people would

play growing up, stories of the

old shops and any interesting

adventures people had around

the town.

When term two starts back

up Ms Herbert plans to get the

pupils to interview more locals

as she's "still looking for stories"

before she starts working on

the next part of the project.

Transcribing and editing the

documentaries together.

"If some people don't want to

share their story but they want

to help in someway, they might

want to help us transcribe the

interviews. We want to keep it

really local," she said.

She said it is a communityfocused

project and hopes other

areas around New Zealand do

something similar.

However, the project isn't

free. She has received funding

from the Lyttelton Port of

Christchurch to help, and has

also applied to the city council to

see if she can get money to help

cover costs.

"I'll know more about moving

ahead with the project once I

know if that funding has come

through," she said.

Ms Herbert said she's too deep

and committed to the project

now to see it fail. She hopes to

launch the first tour in June.

•If you're interested in

having your story told or

helping with the project,

email kris@creativeagent.

co.nz or check out

the Lyttelton Stories

Facebook page at https://

www.facebook.com/

lytteltonstories/

Visit our new website: www.min.nz

From bare land to luxury abodes

min sarginson

is the ideal coastal realtor

COASTAL REAL ESTATE SPECIALISTS

We'll help you live the dream.

Min Sarginson Real Estate Ltd. specialises in homes, sections and

rental properties in the spectacular Lyttelton Harbour bays, and

coastal suburbs of Christchurch, New Zealand.

We'll make it so easy for you. All our sales consultants live in the

area – we can give you valuable insights into life in our thriving

coastal communities.

This is an exciting time; of promise, optimism, and opportunities

never anticipated pre-quakes. Beachfront, or hillside with

grandstand views, find the property of your dreams:

Lyttelton | Diamond Harbour | Governors Bay | Cass Bay

Charteris Bay | Church Bay | Purau Bay | Port Levy | Northshore

Southshore | New Brighton | Heathcote | Sumner | Redcliffs

Scarborough | Mount Pleasant | Clifton

Call Min Sarginson Real Estate Ltd. for free, no-obligation advice. Lyttelton: 03 329 4161, lyttelton@min.nz or Church Bay: 03 328 7273, churchbay@min.nz
---
Wednesday April 12 2017

Latest Christchurch news at www.

.kiwi

BAY HARBOUR

FINAL DAYS

PAGE 9

FREE

FREE

Buy 1

MEtRE

GEt 1

MEtRE

ON SELECTED PRODUCTS *

BUY 1

GET 1 FREE

Wool Sisal

• pure wool

• extra heavy duty plus

stairs grade

• Loop pile

• Slightly imperfect

$99.90

BUY 1

GET 1 FREE

Commercial

Vinyl

Planks

• 4 Colours

$39.90

3.65m WiDe rOLLS

per Square metre

BUY 1

GET 1 FREE

Castleton

• 1 Great Colour

• polyprop

• Heavy Duty

BUY 1

GET 1 FREE

Commercial

Grade Carpet

tiles

• 1 Great colour

$59.90

$49.00

3.65m WiDe rOLLS

per Square metre

BUY 1

GET 1 FREE

Garage/Boat

Carpet

• uV Stabilised

• One Colour: Black

BUY 1

GET 1 FREE

Vinyl

• 2m wide

• Selected patterns

• 1000s metres to clear

2m $50 lM

3m $75 lM

4m $100 lM

FROM

$49.90

FREE

uNDerLaY

on selected products

4 METRE wIDE

FOAM BACk

CARPET

$79.90Pm

CARPET

SHORT ENDS

PRICED TO

CLEAR

Call for our mobile showroom to

visit your home

312 Wilsons Road North, Waltham | Phone 366 0070

Mon to Fri 8am - 5pm and Sat 10am -1pm

www.carpetkingdom.co.nz *Conditions apply.

Q Card Finance

Now Available

FREE no obligation measure & quote (conditions apply)
---
PAGE 10 BAY HARBOUR Latest Christchurch news at www. .kiwi

Wednesday April 12 2017

Your Local Views

Youth need support

Shoreline

Youth Trust

manager

Gareth Davies

writes about

mentoring

youth in

Sumner and

why giving

support is important as they

move from the community

to high school

I'm just coming up on my first

year as manager for Fuse Youth

Centre in Sumner.

I came through Fuse as a

young person myself 13 years ago

so I've experienced the benefits

of mentoring and youth work

first hand.

While I've worked in many different

areas over the years, youth

work is something I've been

involved with long term, simply

because of it's impact on me

personally. After being mentored

through Fuse and working as a

youth worker there several years

ago, it's great being back in an

altogether different role.

There are four social environments

that shape youth development.

Family, school, peers and

community. The great thing

about a supportive community

and a place like Fuse is that it

helps connect the other areas

organically, through a sense of

ownership, development and

healthy relationship building.

A unique issue for Sumner

students is making the transition

from village to high school where

they are thrust out of a community

environment into various

schools across Christchurch. At

the start of year 9, this has the

potential to be quite a shock at

a time of already considerable

change.

Our focus at the moment is

bridging that gap by offering

leadership development opportunities

to year 8 and 9 and

growing our high school session

on Friday night.

This is an event-based programme,

so there is something

engaging going on every week.

The building of positive relationships

between Fuse members

and youth workers is pivotal to

successfully developing the confidence

and social skills of young

people.

Fuse has been serving the

community for over 15 years and

has earned the trust of Sumner

and Redcliffs residents which we

are very proud of and intend to

maintain.

Through this and our shared

faith we continue to help young

people to realise their full potential.

Right to know food source

Green MP

Eugenie Sage

writes about

knowing

where your

food comes

from through

identification

One of the reasons I enjoy

shopping at the farmers' markets

at Lyttelton, Mt Pleasant and

Opawa is knowing I can buy

tasty fresh seasonal fruit and

vegetables and other produce

that is grown or made locally.

There are leafy greens, apples

and eggs from Canterbury,

cheese from Lincoln, muesli

from Mt Pleasant and chocolate

from Governor's Bay.

I want to be able to support

local producers and local jobs as

much as possible.

This Wednesday Parliament

will be debating the first reading

of Green MP, Steffan Browning's

Consumers' Right to Know

(Country of Origin of Food) Bill.

Browning's Bill would make it

mandatory for food producers

to label their fresh or singleingredient

food products with

their country of origin.

The requirement would apply

to fresh fruit, meat, fish and

vegetables, and other single

ingredient foods such as grains,

nuts, bulk flour and oil.

New Zealand law already

requires identification of where

footwear and clothing comes

from, but not food.

Many other countries, including

most of New Zealand's trading

partners, have mandatory

country of origin labelling for at

least some foods. Australia has

had a strong mandatory labelling

system for many years. New

Zealand is behind the times.

A recent poll showed that

more than 70 per cent of New

Zealanders support country of

origin labelling. Some people

want to support local producers

and the local economy when

they do their weekly shopping.

Some are concerned about the

adequacy of food safety and environmental

standards in some

countries we import food from.

Others are concerned about

the impacts of transporting food

long distances, the use of postharvest

fumigation and other

treatments on imported produce

or potential pesticide residues.

As more and more food is

imported into New Zealand,

accurate and consistent country

of origin labelling is even more

important for consumers.

The current labelling system is

voluntary, which means there's

no monitoring or enforcement.

New Zealanders have a right

to know where their food comes

from and to make an informed

choice when they buy. If other

parties support the Bill it will be

referred to a select committee for

public submissions.

PLACED: Sumner resident Topsy Rule makes sure the new

time capsule is safely secured.

Time capsule goes

back in the ground

MEMORIES OF Sumner's

past were uncovered when the

old community centre was

demolished. Now they've been

combined with new items and

buried once again for future

generations.

The original time capsule

was found buried beneath the

foundations of the 104-year-old

Sumner Community Centre

and Museum. It was demolished

after suffering severe damage in

the February 2011 earthquake.

When it was opened, old coins

along with a copy of a newspaper

from 1907 were found. The

items were removed from the

old time capsule and combined

with new items, including letters

from Sumner School pupils,

keys to the old Sumner Town

Hall, some community board

papers and an array of Sumner

memorabilia.

Sumner-Redcliffs Historical

Society secretary Topsy Rule

and Heathcote Ward city councillor

Sara Templeton placed the

time capsule behind the fireplace

in the Matuku Taktako:

Sumner Centre currently under

construction.

Ms Rule said it was a "really

important" event for the

community.

City council head of libraries

and information Carolyn Robertson

said it was a nice thing

for future generations to find.

"It is nice to think that future

generations will one day uncover

the time capsule and be

able to piece together the story

behind the construction of the

building,'' Ms Robertson said.

Armitage Williams Construction

is about two-thirds of the

way through building the centre

which sits on the corner of Nayland

and Wakefield Sts.

Due to the importance of the

historic centre, Athfield Architects

included aspects of the old

building in the designs for the

new build.

"There are lots of lovely nods

to the past incorporated into

the building so it is an exciting

mix of the old and the new, '' Ms

Robertson said.

The centre is expected to be

completed by August.

The city council has put $10

million into the construction

of the new centre. The Sumner-

Redcliffs Historical Society has

committed $50,000 towards

the cost of the space for the

museum.

At Whitehead Plumbing & Gas Ltd

we have a great team of loyal staff

offering a diverse range of skills.

Serving Canterbury for over 35

years, we do everything from

domestic maintenance to new

homes and commercial buildings.

Make us your first call today.

Plumbing.

Gasfitting.

Drainlaying.

03 379 0711

whiteheadplumbing.co.nz

The Automotive Lamp Specialists

New and Used Lamps for Cars, Trucks,

Vans, 4WD and Motorhomes

PH 0800 225 483 | 325 Brougham Street, CHRISTCHURCH
---
Wednesday April 12 2017

Latest Christchurch news at www.

.kiwi

BAY HARBOUR

PAGE 11

Number 8

Plastic Leaf Rake

20 tooth rake with wooden handle.

Red, black, blue or yellow.

243568

$

1 99

eAcH

SNAP

DeAL

GET IT BEFORE IT'S GONE!

Bucket

with plastic

handle, 9.6L

Assorted colours.

Made in

New Zealand.

328176

Gutterwitch

Gutter Scoop

Makes a tough

cleaning job

quick and easy.

122110

Kiwicare

No Mice

Prefilled bait

station. Lockable

bait station,

kills in one feed.

Reusable.

297927

Tui

Garden Waste Bag

Reusable recycled wool

bag. Great for grass

clippings and general

garden rubbish.

221640

Firm Grip

Leather Garden Golves, 6 pack

For general garden use. One size fits all.

203181

$

1 39

eAcH

$

4 99 $

9 97 $

9 98

$

14 98

Number 8

Digging Spade

269042

Go clean

Garden Broom,

450mm

914038

Jobmate

Wheelbarrow, 72L

Formed front pourer, ready to assemble.

2 year warranty.

246553

Black+Decker

Electric Blower/

Vacuum, 2400w

High performance

suction power for

rapid removal of even

the most stubborn

wet garden debris.

267748

Number 8

Garden Shed,

1530 x

1080mm

Grey

294940

$

10 $

12

Jobmate

eXcLuSIve

Clear Safety Glasses, 3pk

244578 Fuller

Toolbox,

410mm

123647

Stanley FATMAX

Circular Saw

1900mm blade,

1600w, SFM

268594

eXcLuSIve

Black+Decker

Cordless 4 Piece Lithium Kit

Includes cordless drill driver, circular saw,

reciprocating saw, 2x 1.5Ah Li-ion batteries,

charger and carry bag.

$

119 $ 169

$

9 98 $

19 98 $

139 $

259

268660

$

89 98 $

99

Drymix

Concrete Easy to Mix, 25kg

Perfect for poles, posts and pathways,

just add water.

431134

$

10 46

eAcH

Macrocarpa

Sleeper,

200x100, 2.4m

Ideal for creating

landscaping features

around your home.

635960

100x25 Radiata

Decking Timber

H3.2 treated.

635416

Radiata Fence

Paling, 1.8m

150x12mm,

H3.2 treated.

635018

Trellis,

Venetian,

38mm,

1800 x

1200mm

H3.2 treated

Radiata. Stapled

at each join.

635869

$

36 98 $

84 47

eAcH

$

1 89

P/MeTre

$

2 24

eAcH

eAcH

75x50 Radiata

Fence Rail, 4.8m

H3.2 treated.

635030

$

13 57

eAcH

Karcher

Electric

Waterblaster,

K2 Basic

2 year warranty.

Suitable for cars,

boats, bikes, and

outdoor furniture.

269411

$

137

Werner

6 Step Dual

Purpose

Ladder

1.8-3.2m.

Meets New

Zealand

industrial

120kg

standards.

244619

Ferrymead

1005 Ferry Road, Phone: 366 6306

Opening Hours: Monday–Friday: 7:00am–7pm

Saturday, Sunday and Public Holidays: 8:00am–6:00pm

Offers available at Mitre10 Mega Ferrymead only, until the 19th of April, while stocks last.

mitre10mega.co.nz

If you find a lower price on an identical stocked

product locally we will beat it by 15%.

find us mitre10.co.nz

If you find the same product cheaper from another Mitre 10 store or Mitre 10 website we'll match that price. Excludes trade

and special quotes, stock liquidations and commercial quantities. The in-store price may be lower than that advertised.
---
PAGE 12 BAY HARBOUR Latest Christchurch news at www. .kiwi

Wednesday April 12 2017

tock up on Easter

entertaining essentials

Keep the party going this long weekend! Whether you're getting together with

family or socialising with friends, these Super Liquor specials will go down a treat.

HOT DEALS

STEINLAGER

CLASSIC

18 x 330ml Bottles

HOT DEAL!

Choose from Coruba, Smirnoff Red, Gordon's,

Dewar's, De Valcourt 1 Litre or Jack Daniel's

700ml range, Jose Cuervo, Jägermeister 700ml.

Choose any three. Deal includes Coruba Original or Gold,

Jack Daniel's Fire, Jack Daniel's Honey.

$

27 99 WOODSTOCK & COLA

3for

$

99!

Or from

$

34.99 each

LINDAUER

750ml

$

10 99 $

24 99 $

19 99

VODKA CRUISER

12 x 250ml Cans, 7%

$

19 99

BAILEYS

1 Litre

HOT DEAL!

WITHER

$

37 99 HILLS

750ml

$

13 99

MAC'S GOLD

12 x 330ml Bottles

each

12 x 330ml Bottles, 5%

CODY'S & COLA

12 x 250ml Cans, 7%

130+ STORES NATIONWIDE, 100% LOCALLY OWNED & OPERATED

Amberley | Ashburton | Barrington | Belfast | Blenheim Road | Brighton | Brougham | Burnside | Colombo Street

Eastgate | Edgeware | Elmwood | Ferrymead | Halswell | Hanmer Springs | Hillmorton | Hornby | Ilam | Kaiapoi

Leeston | Lincoln | Lyttelton | Pages Road | Papanui | Parklands | Rangiora | Seaside | Shirley | Woodend | Woolston

superliquor.co.nz | 0800 SUPERL (0800 787 375)

Offers end close of trade 23rd April 2017, while stocks last. Available at participating stores only. Varietals may vary by store. Limits may apply.

Trade not supplied. Terms and conditions may apply. Available 10th - 23rd April 2017 inclusive. Please see www.superliquor.co.nz for details.

SUP03343_CHCH
---
Wednesday April 12 2017

SCHOOLS

Latest Christchurch news at www.

.kiwi

BAY HARBOUR

PAGE 13

Exploring the capital city

Pupils from Our Lady Star of the Sea School have

been exploring Wellington. They enjoyed many of

Wellington's popular sites and attractions, including

visiting Te Papa, Capital E studios and Parliament.

OUT OF THIS WORLD: Jack Miller jumped at the chance to be

in costume at Capital E studios. ​

FUN: Darcy Dougherty and Bruno Davies read the news on a visit to Capital E studios.

Meanwhile, Joel Fulford learnt about space at the Carter Observatory

Art auction attracts hundreds

• By Caitlin Miles

AN ART auction hosted to raise

money for Lyttelton Primary

School attracted hundreds of

people.

The Peninsula Art Auction was

held at the weekend and is the

major fundraising event for the

school. It is held every two years.

One of the organisers, Lucie

Ozanne, said it was well-attended

by local people.

"We were really impressed

by the number of people. Very

pleased with how it went," Ms

Ozanne said.

The live auction gala on

Sunday night had 240 people

attend. Ms Ozanne said she was

unsure how much had been

raised as a final count had not

been done.

Principal Brendan Wright said

the team involved with making it

happen did a "tremendous job."

"It was impressive seeing the

school transform into an art

gallery overnight," Mr Wright

said.

More than 60 artists from the

peninsula and further afield decided

to gift pieces of art for the

auction, along with 12 businesses

which also offered support.

It was the seventh time the

event has been run, but the

first time it has been held at the

school since it was rebuilt.

Mr Wright said people not

only enjoyed the art show, but

also getting to look around the

ON

DISPLAY:

The school

was turned

into an art

gallery

at the

weekend,

showing

pieces from

more than

60 artists.

school.

"There were many positive

comments from the public about

the art on display, but also about

Lyttelton Primary School and the

facilities the children enjoy on a

daily basis," he said.

Lyttelton Port of Christchurch

supplied funding to help the art

auction go ahead.

TECH: Jamie Larking and Kayden Leftly have been learning to

build robots.

Building robots in Lyttelton

ROBOTICS HAVE found their

way to Lyttelton Primary School.

The school purchased four kits

of Lego Mindstorms robotics,

with pupils leading the way on

the new initiative.

Principal Brendan Wright said

it was "an exciting initiative."

Pupils have been working in

NEW LOCATION ADVERT.pdf 1 1/05/2014 11:51:35 a.m.

teams to learn programming

and perform basic functions to

build robots.

Mr Wright said they were

looking forward to seeing

the pupils develop their skills

and hopefully enter robotic

competitions and events in the

future.

GET A

TRADE

AND MAKE KNOWLEDGE

WORK FOR YOU.

Fees-free options available on

certificates in furniture & joinery.

Apply now, start May.

ara.ac.nz

KNOWLEDGE AT WORK

VISIT OUR NEW LOCATION LOCATION

430 ST ASAPH STREET!

Hours of Business: 7am-4.30pm Mon-Thurs

Fri 8am to midday

or by appointment with Keith 027 566 3909

RECOVER YOUR LOVED FURNITURE

No job too big or small

Still able to offer

you the finest top

quality new furniture

Visit us online

www.qualityfurniture.co.nz

P. 371 7500

QUALITY FURNITURE SPECIALISTS

RE - UPHOLSTERY SPECIALISTS KEITH HARTSHORNE 0275 663 909
---
PAGE 14 BAY HARBOUR Latest Christchurch news at www. .kiwi

Wednesday April 12 2017

SPORTS

CHAMPION:

Dougal

Shepherd

(right) won four

titles at the

Redcliffs club

championships,

including the

senior men's

doubles with

Shea McIntyre.

Shepherd stars in Redcliffs

tennis championships

DOUGAL SHEPHERD was

the star of the Redcliffs tennis

championships, winning both

the senior men's singles and the

open boys junior singles titles.

He was just as impressive

in the doubles. Shepherd

teamed up with Shea McIntyre

to win the senior men's title,

and with Cosmo Bennett

to win the open junior boys

championship.

Redcliffs held the event

over three rain-interrupted

weekends, culminating in a

A BRANCH OF

prizegiving this month.

The club has held the

championships since the early

1900s. In 1935, children were

invited to join the club for the

first time in the hope that they

would continue to play and

become senior players at the

club.

Now, young people are

progressing through to junior

competitions and competing

against and with senior players,

fulfilling the dream of early

club members.

Still Pedalling!

DEBUT: Chris McLean finished second in the 2WD class in his NZRC debut at the Otago Rally.

PHOTO: EUAN CAMERON

Success in rally championship debut

• By Gordon Findlater

GOVERNORS BAY'S Chris

McLean made a successful

debut in the New Zealand Rally

Championship with a podium

finish in Otago.

McLean, 21, drove his Ford

Fiesta to a second place finish in

the two-wheel-drive class at the

rally, the opening round of the

NZRC.

Competing over two days he

finished the first day second in

class and the third in class on

the second day. The result puts

him in third place in the 2WD

championship standings.

"We were really happy with

the result," said McLean. "We

went out there with the

mindset of wanting to finish the

rally."

It was the first time McLean

had competed in the Otago

Rally. He says that his debut in

the NZRC not only came with

a good haul of championship

points but was also a great learning

curve.

One of McLean's more memorable

moments from the weekend

came on the second day's

iconic Kuri Bush stage.

"We got lost in our pace notes

while we were in it and I had to

drive blind for a wee bit," said

McLean. "We had a massive

moment going over a crest and

ended up putting three-quarters

of the car off the road and into

some shrubbery. We got it back

onto the road minus a bit of the

rear bumper."

The next round of the championship

is the International Rally

of Whangarei from April 28 to

30. However, McLean won't take

part in the event, choosing to

compete in five of the six championship

rounds.

He will next compete in round

three at the Canterbury Rally on

June 4.

•More sport, page 16

Masters

HOLLYWOOD 3

www.hollywoodcinema.co.nz

28 Marriner St,

Sumner

Phone:

03 326 6102

Michael Toomey

mft@younghunter.co.nz

Proudly providing

legal advice to

the community

for 25 years

Michelle Rossiter

mjr@younghunter.co.nz

P. 384-5350

www.younghunter.co.nz

Trevor Crowe's been involved with cars for a

while. You can benefit from his experience at...

Subaru Specialists

Full Workshop services

WOF's | Service Checks | Wheel

Alignment | Brakes | Clutches | Tyres etc

Great range of Subarus & other

makes from $5,000 - $35,000

View at www.crowesport.co.nz

518 Moorhouse Ave (East end)

Phone 379 7615 or

email: service@crowesport.co.nz

The magazine for

gardeners who

like To geT Their

hands dirTy

www.gardener.kiwi

100%

WE OFFER IT ALL!

SALES, SERVICE & REPAIRS

Thursday 13 April - Wednesday 19 April

BATMAN LEGO MOVIE (PG) Violence

Thu: 1.00pm, 6.00pm FRI: 11.30am, 3.30pm, 5.30pm

SAT: 4.00pm, 6.00pm Sun/MOn: 3.20pm, 5.15pm

TuES/WED: (10.00am) 3.45pm, 6.00pm

HIDDEN FIGURES (PG) Coarse language

Thu/SAT/TuES/WED: 8.00pm FRI: 7.30pm Sun/MOn: 7.10pm

BOSS BABY (G)

FRI/Sun: 1.30pm SAT: 2.00pm MOn: 11.30am, 1.30pm

TuES/WED: 10.00am, 11.50am, 1.45pm

DANCE ACADEMY (PG)

Thu: 1.00pm, 6.00pm FRI: 3.30pm SAT: 4.00pm Sun/MOn: 5.15pm

TuE/WED: 3.15pm, 6.00pm

PERSONAL SHOPPER (M) violence, offensive language and content that may offend

Thu: 8.00pm FRI: 5.30pm, 7.30pm SAT: 6.10pm, 8.15pm

Sun/MOn: 3.15pm, 7.15pm TuES/WED: 8.00pm

SMURFS: THE LOST VILLAGE (G)

FRI: 12.00pm, 1.45pm SAT: 2.00pm Sun: 1.30pm

MOn: 11.45am, 1.30pm TuES/WED: 10.00am, 11.45am, 1.30pm

BEAUTY AND THE BEAST (PG) Violence

Thu: 6.00pm FRI: 11.45am, 2.30pm SAT/Sun: 2.30pm

MOn/TuES/WED: 12.00pm, 2.30pm

THEIR FINEST (PG) Sex scenes and offensive language

Thu: 1.00pm, 8.20pm FRI: 5.15pm, 7.30pm SAT: 5.45pm, 8.10pm

Sun/MOn: 5.10pm, 7.20pm TuES/WED: 6.00pm, 8.15pm

STATE OF THE ART HIGH DEFINITION, LICENSED BAR

WE SERVICE ALL BRANDS

NEW AUTUMN/WINTER FLYER NOW AVAILABLE

ARTYNS

outdoor Power

& equipment centre ltd

Prepare for That Autumn Clean Up

With a New Leaf Blower or Chainsaw

HUSqVARNA 440E CHAINSAW

Lightweight, efficient

all-round saw that's easy

to handle at home or on

the land

WITH

FREE SAFETY

KIT

Valued at $330

HUSqVARNA 125B BLOWER

Low on weight, high on power and easy

to use - ideal for quick clean up around

the home.

(Other Models also available)

$

879 $

339

12B Normans Road, Strowan | Ph 355-9323

www.martyns.co.nz
---
Wednesday April 12 2017

Latest Christchurch news at www.

.kiwi

BAY HARBOUR

PAGE 15

P R O D U C T D I R E C T O R Y

& I N S P I R AT I O N G U I D E

LOOK BOOK 16/17 NZ$5.99

FERRYMEAD

Unit 1/950 Ferry Rd, Ferrymead, Christchurch | 03 376 4974 | ferrymead@flooringxtra.co.nz

www.flooringxtra.co.nz
---
PAGE 16 BAY HARBOUR Latest Christchurch news at www. .kiwi

Wednesday April 12 2017

SPORTS

Senior rugby

side looking

for first win

SUMNER'S DIVISION 1 side

face a tough task on Saturday,

as they continue their bid to

get their first win of the rugby

season.

An away trip to play last year's

grand-final winner, Lincoln

University, awaits Sumner, who

have opened their campaign

with two defeats.

On Saturday, they went

down 15-39 to Sydenham at St

Thomas of Canterbury College.

The game was originally set to

be played at Hospital Corner.

However, it was relocated due to

flooding.

Sumner's standout performer

was once again No 8 Dylan

Nel who provided plenty of goforward

with the ball.

Lincoln University have

started their campaign with

two wins against New Brighton

and Marist Albion.

Sumner runs into the medals

CHAMPION: Jess Fahey raced

down the home straight to win

the under-19 girls 1500m race. ​

FOUR SUMNER Running

Club athletes won medals at

this month's South Island

secondary school athletics

championships.

Jess Fahey's performance in

the under-19 girls 1500m was

the highlight at the two-day

event in Dunedin. She won

gold by the slimmest of margins,

crossing the line less than

a second in front of Harriet

Bush. Fahey's time of 4min

41.01sec was also four seconds

faster than her previous personal

best.

Beth Hunter also had an

outstanding weekend claiming

bronze in both the under-14

girls high jump and 400m –

both events were on at the same

time, making the accomplishment

even more impressive.

She broke her personal best

time in the 400m final, running

61.79sec. She also set a new

personal best in the high jump,

which now stands at 1.46m.

Victoria Wells had a successful

weekend claiming silver in

both the under-16 girls 80m

hurdles and under-19 4x100m

relay. She also teamed up with

fellow Sumner runner Abby

Theobald to win a bronze

TALENT: Beth Hunter won

bronze in both the under-14

girls 400m and high jump.

medal in the under-16 4x400m

relay.

Tim Ward finished his

season off with two excellent

sprints which saw him narrowly

miss out on a medal. He

ran close to his personal best in

the under-15 boys 100m final

to finish seventh. In the 200m

event, he set a new personal

best of 24.48sec and finished

fifth in the final.

TRIO: Victoria Wells won

three medals, including a

silver in the under-16 girls

80m hurdles.

FASTER: Tim Ward ran a

personal best in the under-15

boys 200m and narrowly

missed out on a medal.

Weather system likely to produce swells

Learn to Surf founder

and principal instructor

Aaron Lock writes about

the weather's impact on

surfing in Sumner and the

recent competitions

With all this grey wet weather

lately, it's hard to believe our

best days of summer were only a

month ago.

The water temperature peaked

early March at 20 deg C but it

quickly begun its gradual slide

and is now sitting at about 15 deg

C. Our tropical cyclone season

has come late this year.

The silver lining to the wet

weather has been some fantastic

waves on the local beaches. The

last system ex-Cyclone Debbie

brought big clean conditions to

Sumner and consistent offshore

Aaron's Surf Report

winds meant for some great

waves last week.

This week the swell is building

again with three ex-tropical lows

spinning around the country

and Cyclone Cook is forecast to

bring swells of 3m to 4m over

Easter. Keep an eye out for the

offshore change and be careful of

the strong currents at the peak of

the swell especially at the Breakwater

end of Scarborough Bay.

The contest season has been

hectic with multiple events all

over the country. Local surfers

have been achieving some great

results.

The Ray White Duke Festival

of Surfing attracted more than

250 entrants contesting 18 divisions.

Unfortunately, the waves and

weather were pretty average but

it was still a fantastic celebration

of surfing.

Local surfers still performed

well. Luke O'Neill won the men's

logger event and was second

in the men's longboard. Nina

Young won the women's longboard.

Lucy Temoananui won the

women's logger and the women's

SUP event. Grant Cochrane

won the men's over 40s. Donna

Henderson won the women's

over 40s while daughter Ava

won both under-14 and under-12

girls.

Local boardriders club Point

Surf Team held their first PST

Club Trophy event for many

years. The club is under going

a revival at the moment mainly

driven by a new enthusiastic

bunch of grommets. The open

men's event has been won in the

past by such names as Manu

Schafer, Ryan Mateer and Aaron

Stanley.

This year it was won by Luca

Brunotti. Angus Mossman

won the cadets, Jack Tyro

the under-12 boys and Ruby

Armstrong and Holly Campbell

shared the top under-12 girls

title.

Harrison Whiteside achieved

the best result of his surfing

career in February winning the

prestigious under-20 event at the

Billabong Grom Series presented

by Oceanbridge in Whangamata.

This event is the first part of the

NZ Grom series attracting top

junior surfers.

New Zealand's Ricardo Christie,

of Mahia, had his best result

recently on the world qualifying

series winning the three-star

Martinique Surf Pro in France.

This will push him up the ratings

to hopefully be one step closer

re-qualifying for the top tier

world championship tour.

Easter weekend will see all

the South Island's top surfers

heading for Dunedin for the

South Island Champs and with a

big north swell forecast the surf

could be pumping down there.

Good luck to all. Go PST.

CAFE

open from 11am

TAB & Gaming

Function Facilities

HOUSIE

Tues, Thurs, Sat

What's on over Easter

GOOD FRIDAY

7PM Whitfords Bar

VAGUE AS BROS

7.35PM Kellaway Bar

CRUSADERS V SUNWOLVES

EASTER SATURDAY

7PM Whitfords Bar

KATRINA KEENAN

EASTER SUNDAY 3PM

KIDS EASTER EGG HUNT

SHUTTLE

Tues - Sat
---
Wednesday April 12 2017

Latest Christchurch news at www.

.kiwi

BAY HARBOUR

PAGE 17

Absolute Waterfront

Moncks Bay 149 Main Road

Phoenix Cottage – Circa 1900 – A stunning

bespoke waterfront property in tightly held Moncks

Bay where the ever changing tides and views can

be your focus and absolute pleasure. A unique NZ

experience with the bonus of a deep water frontage

and your own slipway.

The owner has lovingly and sympathetically

reincarnated this property over the last 7 years,

resulting in an edgy blend of character and

contemporary design and fit-out.

Culinary creatives will relish the custom designed

kitchen featuring European fittings and appliances,

seamless soft touch lacquered cabinetry, stainless

benches and oak flooring.

Three double bedrooms, master with ensuite, are

complemented with sumptuous underfloor heated

natural stone bathrooms. The retention of shiplap

timber ceilings in the master bedroom accentuates

the bygone era and nods to the nautical flavour of

the property.

The striking Boyd Chamberlin designed garage

and walkthrough area features electric gates, flush

mounted electric garage door, textured timber

cladding and extra off street parking. Privacy and

space abound in the manicured garden, featuring

generous decking, paved dining areas, pergola,

ambient lighting and a calming water feature.

Amenities close by include Redcliffs Shopping

Village and primary school, walking and biking

tracks, The coastal Pathway, Christchurch Yacht

Club, The Tannery and various local cafes and

restaurants.

Be it day or night, this home seduces; soak it up

in the spa, your front seat sea view. Meditate as

the sun descends or witness the world awakening

from your doorstep. Seldom is a property like this

available. New council restrictions forbid it. This

might be one of your last chances to secure a prime

waterfront position and property.

Act now or live with regret.

Auction

23 April 2017, 10.30am – Onsite (unless sold prior)

149 Main Road, Moncks Bay

Area: 387m2

View: Sunday 9th April 12:30-1pm

rwmerivale.co.nz/MVL20542

Alex Fort

027 421 6016 (03) 929 0272

alex.fort@raywhite.com

Shaun Creek

022 0344 769 (03) 929 0272

shaun.creek@raywhite.com

For further information:

https://www.four-walls.com/tour/

42722/ documentdownload

For a video link of this property, please

view: https://www.youtube.com/

watch?v=cEb9cNdYdJQ

rwmerivale.co.nz

Licensed (REAA 2008)
---
PAGE 18 BAY HARBOUR Latest Christchurch news at www. .kiwi

Wednesday April 12 2017

cnr Montreal & St Asaph Streets, Christchurch.

Sales, Service & Parts: 03 379 0588

LIMITED OFFER

ONLY

$

12,990

2015

AVAILABLE ON

1/3 1/3 1/3

NO INTEREST FINANCE OFFER

For a little car, the Mirage XLS is carrying a whole lot of features. There's a sharp body kit, stunning

colour choices, 5 star safety, 15" alloys, Active Stability Control, Bluetooth TM , just for starters. And when

you consider the fun you and your family will get out of it, it's pretty hard to go past and that's before you

consider the price. So don't miss out on this unique opportunity to own a quality pre-owned Mirage for

only $12,990.

Normal lending and credit criteria apply. $4,330 + $250 fees (which includes PPSR and documentation fees) are payable on delivery, $4,330 in 12 months and $4,300 in 24 Months from delivery date.

Total cost including Fees and ORC's $13,240. Offer available while stocks last.

4 . 9L

/100KM

GET THE

ULTIMATE

The Ultimate

Driving Machine

THRILL.

THE NEW BMW 3 SERIES RANGE

STARTING FROM $59,900. *

The BMW 3 Series range perfectly harmonises the joy of driving with irresistible design.

A combination of luxurious appointments, unrivalled agility and corner hugging handling

all come together to turn your everyday ride into a dynamic drive.

Now added to the range, the BMW 318i from $59,900. *

Experience a feeling unmatched, book a test drive at Christchurch BMW today.

Christchurch BMW

30 Manchester Street, Christchurch. 03 363 7240 ChristchurchBMW.co.nz

*Recommended Retail Price based on BMW 318i includes GST, excludes on-road costs.
---
Wednesday April 12 2017

Latest Christchurch news at www.

.kiwi

BAY HARBOUR

PAGE 19

Create 'n' Connect Art and

Craft Group

Thursday, 9.30am-noon

If you're crafty or want to start

getting crafty go along to this

group. Take your own project

or go with ideas for a new one.

Others in the group are there to

offer help or advice. Meet new

like-minded creative people and

learn new skills. Pass on your

tips and pick some up from other

people at the group. This event

aims to help with your projects

and meet new people. Phone

Beth on 022 678 1252 for more

information.

St Andrews Anglican Church,

148 Main Rd, Redcliffs. Free entry

LAF Easter Cabaret

Thursday, 8pm

Welcome to a night of Easter

madness from the team at the

Lyttelton Arts Factory – the

new home of the old Loons

Theatre Company. Start Easter

the right way, with a laugh and

some interesting performances

from the theatre company.

There will be a mix of old and

new performances with some

favourites thrown in the mix. It

is a night of music, comedy and

circus acts to be enjoyed by all.

Go to http://www.laf.co.nz/ for

more information.

Lyttelton Arts Factory

Email caitlin.miles@starmedia.kiwi

by 5pm each Wednesday

Babytimes

Friday, 10.30-11am

This event allows for parents

and caregivers to interact with

each other while letting the

babies learn. At these sessions

babies learn through language,

rhymes, songs, stories and play.

The babies learn together and

build connections with each

other.

Lyttelton Library, 18

Canterbury St. Free entry

Strangers In a Strange Band

Saturday, 7.30pm

Listen to this band show off

their musical skills and celebrate

the sound of brass from around

the world. Take the family and

dance the night away. Enjoy

their performance and skill and

learning more about brass band

music.

Orange Studios, Ferry Rd

Easter Celebrations

Sunday, 10.30am

As part of Easter, the Sumner

Redcliffs Anglican Church is

hosting celebrations with a family

service followed by an Easter egg

hunt for the children. Join others

in the community and have a fun

afternoon watching your children

hunt for Easter eggs.

Sumner School hall. Free entry

Trotting Meet

Monday, noon onwards

The Banks Peninsula

Trotting Club's grass track

racing at Motukarara on

Easter Monday, April 17.

First race at noon. Go along

to enjoy some racing and see

what it is all about.

Motukarara

Storytimes

Tuesday, 11-11.30am

Encourage reading

in your preschoolers.

Storytimes has interactive

programmes which include

stories, songs, rhymes

and play. Have children

meet each other and build

friendships at this event

while learning more. Pick

up some library books to

read to them at home.

Lyttelton Library, 18

Canterbury St. Free entry

Markets:

The weekly markets have

many different attractions

and delicious treats on offer.

Lyttelton Farmers'

Market: Saturday, 10am-

1pm, London St

Mt Pleasant Art and

Craft Market: Saturday,

9.30am-2.30pm. Atrium of

the Mt Pleasant Centre, 3

McCormacks Bay Rd.

Mt Pleasant Farmers'

Market: Saturday, 9.30am-

12.30pm, 3 McCormacks

Bay Rd Wakefield Ave

Akaroa Farmers' Market:

Saturday, 9.30am-1pm,

Madeira Car Park.

3 Garlands Road, Woolston

DeluxeCinemas.co.nz

Christchurch's Premium Cinema Experience

Phone Bookings | Free Parking | Cafe/Licensed Bar

Online Bookings | Cinema Club | Hot Nuts/ Cheeses

03 389 5360

tHeIr FINeSt Bill Nighy

WED: 10:30 am THU: 11:00 am, 1:15 pm, 6:00pm, 8:10pm FRI: 11:00am, 1:00pm, 5:45pm, 8:00pm

SAT: 11:00am, 1:00pm, 5:45pm SUN: 11:00am, 1:00pm, 5:45pm, 8:00pm

MON: 11:00am, 1:00pm, 5:45pm, 8:00pm TUE: 11:00am, 1:15pm, 6:00pm, 8:15pm

DeNIAl Based on a true story

THU: 1:25pm, 6:00pm FRI: 1:15pm, 6:00pm SAT: 1:15pm, 6:00pm SUN: 1:15pm, 6:00pm

MON: 1:15pm, 6:00pm TUE: 1:25pm, 6:15pm

BeAUtY AND tHe BeASt Disney Classic

WED: 12:50pm, 3:25pm, 6:00pm THU: 3:30pm FRI: 10:30am, 3:15pm SAT: 10:30am, 3:15pm

SUN: 10:30am, 3:15pm MON: 10:30am, 3:15pm TUE: 10:45am

tHe SAleSMAN Best Foreign film

WED: 1:10pm, 8:20pm THU: 3:40pm, 8:20pm FRI, SAT, SUN, MON: 3:25pm, 8:15pm

TUE: 3:40pm, 8:30pm

t2: trAINSpOttING Reunite with the old gang

WED: 8:30pm SAT: 8:00pm

tHe prINCeSS BrIDe

APRIL 21ST FRI: 12:30pm

RHYTHM: If you're looking

to engage your baby or

preschooler in music, go

along to this event run every

Friday from 9.30-11.45am at St

Andrews Church. The sessions

allow for children, parents

and caregivers to meet one

another and interact with

others around the Sumner,

Redcliffs and Mt Pleasant

areas. Mainly Music is a fun

and educational music and

movement session followed

by morning tea and a social

and play time. It is held at 148

Main Rd in Redcliffs every

Friday morning. The first

session is free, then $4 per

session after that. Call Hazel on

384 1965 or 021 077 1264 for

more information. ​

COMING SOON

April 27th Handsome Devil

May 11th Viceroy's House

May 18th Pecking Order

MAY 18th The Sense Of An Ending

tHe INNOCeNtS FINAL DAY

WED: 11:00am, 6:10pm

lION FINAL DAY

WED: 3:35pm

SpeCIAl eveNtS/retrO

teD tAlKS May 3rd, 7th ,10th

tHe prINCeSS BrIDe April 21st 12:30pm

MYSterY SCreeNING

May 6th 8:30pm R18

THEIR FINEST M Sex scenes and offensive language DENIAL M Adult themes BEAUTY AND THE BEAST PG

THE SALESMAN M T2: TRAINSPOTTING R16 THE INNOCENTS M Sexual violence, suicide & content that

may disturb. LION PG

NEW: SERVING FREE MORNING TEA ENjOY A FREE TEA, COFFEE & A FRESHLY BAkED BISCUIT WITH

EVERY MORNING SHOW

Easter 2017

Friday 14 April CLOSED

Saturday 15 April

Sunday 16 April

Monday 17 April

Open 10am–5pm

CLOSED

Open 10am–5pm

FREE

CANDY

STAND

SATURDAY

11AM–3PM

HORNBY 409 Main South Road | OVER 50 STORES

dress-smart.co.nz
---
PAGE 20 BAY HARBOUR Latest Christchurch news at www. .kiwi

Wednesday April 12 2017

Fresh NZ Beef Rump Steak

Chilean Red/Green Seedless Grapes

$

13 99

kg

$

4 99

kg

Bluebird Original/Thick/Thinly Cut Chips

140/150g

Coke/Sprite/Fanta/

Lift/L&P 2.25L

Big

2.25L

Size

3 for

$

5 00

2 for

$

5 00

Fresh NZ Pork

Shoulder Roast

(Excludes Free Range)

Hass Avocados

Talley's Ice Cream 2L

$

6 99

kg

DB/Export Gold/Tui

24 x 330ml Bottles

Please drink

responsibly

$

1 69

each

Lindauer/

Jacob's Creek Sparkling

750ml

(Excludes Special Reserve/Reserve)

$

4 99

each

Schweppes

Sparkling Soft

Drink 1.5L

(Excludes Classic Dry)

$

29 99

pack

SuperValueNZ

SuperValue.co.nz

$

8 99

each

$

1 00

each

SuperValue Lyttelton: 17 London Street, Lyttelton. Phone 328 7368.

SuperValue Sumner: 3 Village Mall, Sumner. Phone 326 5688.

See your local SuperValue or SuperValue.co.nz/Supermarkets for Easter holiday hours.

Specials available from Wednesday, 12th April until Sunday, 16th April 2017 or while stocks last. We reserve the right to limit quantities. All limits specified apply per customer per day.

Trade not supplied. Prepared meals are serving suggestions only. Props not included. Certain products may not be available in all stores. Proprietary brands not for resale.

Customer Support Freephone 0800 40 40 40.

svbhn1204
---
Wednesday April 12 2017

HEALTH & BEAUTY

Latest Christchurch news at www.

.kiwi

BAY HARBOUR

PAGE 21

Joint pain: Do I have arthritis or

could it be mainly my muscles?

The team at Physical Sense in Sydenham sees clients with

a range of symptoms but many of their middle-aged and

senior clients visit complaining of pain in one of their joints.

PhysiotheraPist ietje van

stolk suggests that a major part of the

pain could be due to muscle pain rather

than simply arthritis. "even if an x-ray

shows arthritis, the reason for the pain

may be the muscles around the joint,"

she explains. The images show how

a muscle knot (the crosses) in a back

muscle can give hip pain (aches and pain

are the red areas in the drawings), a knot

in a muscle on the back of the shoulder

blade can give a deep pain in the front

of the shoulder and a muscle knot all the

way near the groin can give an ache in

the knee (especially at night in bed).

ietje recalls one case where an 89

year old client with severe arthritis who

walked with a stick, told her, "i will

end up in a wheelchair, i cannot put

any weight through my right leg due to

pain in my hip and buttock". "Within

4 treatments, she was walking with

her stick but without the severe pain,"

says ietje. "The arthritis was one of the

factors that made her muscles spasm but

the other was that older people move

less and the flexed position the hip is

in when we sit is particularly bad for

the hip." ietje is happy with the fact that

although the client was 89 and could

have been "given up on" or told to live

with the pain, she made a difference to

her health and wellbeing.

The same lack of movement can

be the reason for your knee pain or

your shoulder pain and the same few

treatments could make a huge difference

for you.

at Physical sense, hands-on

techniques (massage and triggerpoint

deactivation techniques) are used

to release the muscles. The client

also gets a home exercise program

designed to mobilize and stretch the

joint, strengthen the important core

muscles and increase general strength

and balance. They teach a movement

sequence that stretches the joint in all

directions whilst the client is able to lie

safely on their bed, perfect for older or

SHOULDER

PAIN

KNEE PAIN

less mobile clients.

in many cases having the muscles

released and being taught how to

maintain it, is enough to stay on top of

the problem. if severe arthritis is the

underlying cause, some maintenance

therapy may be necessary, but that is

often more affordable and, for older

patients, better tolerated than surgery. in

very few treatments the client will know

HIP PAIN

(the crosses are the areas of the muscle spasms, the red areas is where the pain is felt)

if it is going to work for them or not,

without financial commitment.

Physical Sense Gym & Physio

is located at 300 Colombo Street,

Sydenham. The Blue Line Bus stops in

front of the door and there is ample

parking. To enquire about specialised

exercise classes or physiotherapy

treatment, phone 377-2577 or visit

www.triggerpoints.co.nz.

watch local | support local | shop local

Join our hosts

Geoff & renee on

sKy ChaNNeL 83

Thursday 7.30pm

repeaTs friday

1.30am & 7.30am

WE SHARE YOUR VISION

SKY 083 + On Demand

WWW.STAR.KIWI

for enquiries, contact Geoff moreton: 021 1066 177

230 Barrington st

332 4004

Your Local

Friendly

Dental

Team

Easy parking

& great service
---
PAGE 22 BAY HARBOUR Latest Christchurch news at www. .kiwi

Wednesday April 12 2017

REAL ESTATE

Position, potential and world class views

27 & 29 Purau Avenue, Diamond Harbour

Price: $899,000

4 bedrooms | 2 bathrooms | 2 living areas | 1 car-garage | Listing # 4271

We have here two Diamond Harbour

properties side by side being sold as a

package or individually but both must

be sold. 29 Purau Ave is a lovely strong

substantial family home with 4 bedrooms

(main with en-suite and walk-in-robe),

study, 2 living areas and 2 bathrooms.

Set over 2 levels the kitchen is as new and

exquisite, extensive decking on 2 levels,

nice established garden and a large garage

incorporating semi self-contained sleepout.

Set on an 837m2 site close to the ferry,

cafés and on the school bus route, this

property enjoys stunning views to Purau

Bay, Mt Evans, the heads and beyond.

Right next door 27 Purau Ave enjoys the

same views and has a turn-of-the-century

cottage in average but original condition on

a 736m2 site. Some buyers will see this as

a demo job, others will want to restore, an

opportunity here to buy both and develop

number 27. Motivated vendors would like

to move on.

For a private viewing, contact Tim

Dunningham of Min Sarginson Real

Estate (Licensed Agent REAA 2008),

phone 027 651 5474 or 329 4161

Visit www.star.kiwi

anytime, anywhere!

Breaking news,

delivered to

your pocket.

Fire rages, homes at risk

•news •CTV •sport •districts •schools •lifestyle •opinion •what's on

www.star.kiwi
---
Wednesday April 12 2017

Latest Christchurch news at www.

.kiwi

BAY HARBOUR

PAGE 23

Classifieds Contact us today Phone our local team 03 379 1100

Church Notices

PORT HILLS

UNITING PARISH

Easter Sunday Service at

10am on April 16th

4 Augusta Street, Redcliffs

All welcome

Morning tea to follow

Public Notices

NOTIFICATION OF LIFTING OF

PROHIBITED FIRE SEASON

(Imposed Pursuant to section 22(2) of

the Forest and Rural Fires Act 1977)

CHRISTCHURCH CITY RURAL FIRE

AREA INCLUDING BANKS

PENINSULA

Notice is hereby given that the prohibited fire season

currently imposed by the Christchurch City Council

over the rural fire area for which the Council is the

Fire Authority is lifted from 7am on Saturday, 8 April

2017, to be replaced by an OPEN FIRE SEASON.

Fires may now be lit in the open air in rural areas

without permit. Restrictions may be reimposed at a

later date if weather conditions create a potentially

dangerous fire situation.

All residents are requested to take care when lighting

open fires. Before lighting fires in the open air,

careful consideration must be given to weather

conditions, adequacy of fire breaks, availability of

water, and the patrolling of fires until completely out.

Fires are not to be left burning after dark.

NOTE: Resource Consent conditions imposed by

Environment Canterbury may still apply.

Property owners within the Department of

Conservation Fire Safety Margin require a

permit all year round.

Relevant authorities should be contacted prior

to any burning.

Darrin Woods

PRINCIPAL RURAL FIRE OFFICER

www.ccc.govt.nz

NOTICE OF LIFTING OF FIRE

BAN IN THE OPEN AIR WITHIN

THE CITY OF CHRISTCHURCH

Christchurch City Council is lifting its ban on fires in the

open air in urban areas.

The ban, which has been in place since Saturday, 14

January 2017, will be lifted from 7am on Saturday, 8 April

2017 until further notice.

The existing prohibition on fires in the open air is

imposed pursuant to Section 13 of the Christchurch City

Council Urban Fire Safety Bylaw 2014 and is in force

for properties not zoned residential in Christchurch

City and within the Urban Fire Districts of Christchurch,

Brooklands, New Brighton, Sumner, Lyttelton, Governors

Bay, Diamond Harbour, Little River and Akaroa.

Fires may now be lit in the open air in the urban areas

without permit. Restrictions may be re-imposed at a

later date if weather conditions create a potentially

dangerous fire situation.

Before lighting fires in the open air, careful consideration

must be given to weather conditions, the risk of spread,

adequacy of fire breaks, availability of water, and the

supervision of fires until completely out. Fires must only

be lit in daylight hours and must not be left burning

after dark.

Note: Environment Canterbury places resource consent

conditions on fires in residential areas. Landowners in

these areas should contact Environment Canterbury for

further information.

Tracey Weston

UNIT MANAGER REGULATORY COMPLIANCE

www.ccc.govt.nz

Public Notices

SALE AND SUPPLY OF

ALCOHOL ACT 2012

SECTION 101

JYOTI FOOD LIMITED, (THE

LICENSEE, Jyoti Food Limited,

Own Masala, 1 Wakefield

Avenue, Christchurch 8081),

has made application to the

District Licensing Committee

at Christchurch for the issue of

ON-LICENCE NEW in respect

of the premises situated at 1

Wakefield Avenue known as

OWN MASALA.

The general nature of the

business conducted under

the licence is: ON-LICENCE

RESTAURANT CLASS 3

The days on which and the

hours during which alcohol

is intended to be sold under

the licence are: MONDAY TO

SUNDAY 11.00AM TO 10.00PM

The application may be

inspected during ordinary

office hours at the office of the

Christchurch District Licensing

Committee, 53 Hereford Street,

Christchurch.

Any person who is entitled

to object and who wishes to

object to the issue of the licence

may, not later than 15 working

days after the date of the first

publication of this notice, file a

notice in writing of the objection

with the Secretary of the District

Licensing Committee, PO Box

73049, Christchurch 8154.

No objection to the issue of a

licence may be made in relation

to a matter other than a matter

specified in section 105(1) of

the Sale and Supply of Alcohol

Act 2012.

This is the first publication of

this notice.

SALE AND SUPPLY OF

ALCOHOL ACT 2012

SECTION 127 & 101

FERRYMEAD EVENTS LIMITED,

(THE LICENSEE, 3 Pipiri Street,

Pegasus 7612), has made

application to the District

Licensing Committee at

Christchurch for the renewal

of ON-LICENCE RENEWAL in

respect of the premises situated

at 50 Ferrymead Park Drive

known as FERRYMEAD EVENTS

CENTRE.

The general nature of the

business conducted under

the licence is: ON-LICENCE

RESTAURANT CLASS 2.

The days on which and the

hours during which alcohol

is sold under the licence are:

MONDAY TO SUNDAY 8.00AM

TO 11.00PM.

The application may be

inspected during ordinary

office hours at the office of the

Christchurch District Licensing

Committee, 53 Hereford Street,

Christchurch.

Any person who is entitled to

object and who wishes to object

to the granting of the application

may, not later than 15 working

days after the date of the first

publication of notice of the

application, in the newspaper

(being The Star), file a notice

in writing of the objection with

the Secretary of the District

Licensing Committee, PO Box

73049, Christchurch 8154.

No objection to the renewal of a

licence may be made in relation

to a matter other than a matter

specified in section 131 of the

Sale and Supply of Alcohol Act

2012.

This is the second publication of

this notice. This notice was first

published on 6 April 2017.

Situations Vacant

VAN DRIVER

CHRISTCHURCH

We have a contract position available for

a delivery person/s with access to a van to

make deliveries to individual residential

addresses in the Christchurch area.

Applicants interested in the position,

please email your details to

petermoskaluk@hotmail.com

Ferrymead

Education Programme

Educator

We are looking for someone to join our

Education team as an on call casual staff member.

This would be during term time.

Hours would usually be between 9am-2pm.

The job would involve delivering our education

programme to visiting school groups. This does

involve some role play activities. Ideally we

are looking for someone with an interest in

Canterbury history and an outgoing personality.

A reasonable level of fitness is also required.

Full training will be given for this position.

This job would suit a trained teacher or someone

with experience working with children.

All new staff in the education team must

undergo a police check.

Please send CV and application to

Cindy Hey, Education Manager

education@ferrymead.org.nz

By 4pm on Friday 21 April

Situations Vacant

Permanent Part-Time

Caretaker Position

Diamond Harbour School has

a position available for a parttime

caretaker; 12-15 hours a

week. The applicant needs to

like working in an environment

with both adults and children.

A positive can-do attitude is

required along with knowledge

and skills necessary to care

and maintain Diamond

Harbour School grounds and

buildings. Training to support

the position will be made

available as required.

All applicants will meet the

requirements of the Vulnerable

Children's Act as outlined

in the application pack.

Application packs are available

from the school website

www.diamondharbour.school.

nz Applications should include

a cover letter, completed

application form and brief

CV. Please send electronic

applications to

office@diamondharbour.

school.nz. Applications close

4pm Monday 24th April 2017.

Community Events

ALCOHOLICS

ANONYMOUS, If you

want to have a drink that's

your business. If you want

to stop, we can help. Phone

0800 229-6757

Funeral Directors

Direct Cremation

Provider

Service without

the funeral

0800 000 121

www.cremorials.co.nz

Landscape

and Garden

Services

If you need help

getting your garden

back in order after

repairs, need any

type of landscape

construction work or

garden restoration.

Ph 021 272 0303

GARDENER - Need

your home or commercial

garden tidied up or

renovated or require long

term assistance. Phone

Ruth 326-6663 or 021

272-0303

Wanted To Buy

A+ Household effects,

fridges, freezers, washing

machines, ovens. Good

cash paid. Ph Paul 022

0891 671

Holiday

Accommodation

QUEENSLAND SUN-

SHINE COAST AUSTRA-

LIA Resort, Ocean Views,

Balconies, Self Contained,

1 or 2 B/R Ensuite,

Heated Pool, Spa, Sauna,

Free Internet, Shops,

Restaurants, Tennis, Surf

Club & Patrolled Beach,

Public Transport at door.

Ask for our SEASONAL

SPECIALS. Phone 61 7

544-35011 Email: reception@mandolin.com.au

www.mandolin.com.au

SUMNER Holiday

Accom 027 600 6076

www.kotaresumner.nz

Trades & Services

BRICKLAYER

George Lockyer. Over

30 years bricklaying

experience. UK trained.

Licensed Building

Practitioner number

BP105608. Insurance

work. EQC repairs.

Heritage brickwork a

speciality. No job too

small. Governors Bay.

Home 329-9344, Cell

027 684-4046, email

georgelockyer@xtra.co.nz

CARPET & VInYL

Laying. Repairs, uplifting,

Computers relaying, restretching.

ALL

YOUR

Email jflattery@xtra.

COMPUTER

co.nz, ph 0800 003 181 or

WORRIES SOLVED!

027 2407416

*$30.00 off your first

service with this coupon!*

CARPETLAYER

Laying and Repairs, 40 yrs

No problem too big or experience, ph Peter 326-

small from home PC's to 7711 or 027 240-6532

business networks. PC COnCRETE

slow? An end to Viruses, Decopave Ltd,

Spyware, and Clogged Canterbury owned &

Systems. Safe secure operated for over 10

hassle-free computing. years, competitive rates,

Lost files recovered. full excavation, coloured,

Microsoft Certified, exposed, stamped, call

MCSE, MCP+l. 30 years Paul 027 322 6119

experience. Call Andrew

Buxton this week on 326-

DRAInLYER

6740 or 027 435-7596

Reg,all types, 20 yrs hill

for $30.00 off* Custom

work exp, ph 028 408-

Computers Christchurch

0121

ELECTRICIAn

JMP Electrical.

Gardening Experienced & registered.

& Supplies Expert in all home

electrical repairs &

maintence.Call James 027

4401715

FURnITURE REMOVALS

Large Trucks $95 +

GST per hour 7 day NZ

wide, packing & moving,

Professional Company,

Professional Service.

Canterbury Relocations

Ltd. ph 0800 359 9313

PAInTER/PLASTERER

Experienced tradesman,

quality work, free quotes,

ph Simon 027 389-1351 or

03 328-7280

PAInTInG

& PLASTERING Free

quotes. Int/ext & roof

painting Family run

business, work guaranteed.

Pensioner discounts. Ph

Kerin or Paul 022 191

7877 or 379-1281. Website

www.swedekiwipainting.

co.nz

PAInTInG SERVICES

Mature, reliable,

conscientious &

experienced, reasonable

rates, no job too small!,

call Ron 027 434-1400

Trades & Services

RE-ROOFING

QUALITY ROOFING AT THE

BEST PRICE AROUND

Protect your home with a new Colorsteel roof.

Call for a friendly, FREE assessment and quote.

• Roofing

• Spouting and Downpipe

• Safety rails

• Licensed Building

Practitioner

Ph: 347 9045 or 021 165 1682

Email: Robinsonroofing99@gmail.com

DINING

TakeawaySpecial

$15 Curry & Rice & Naan

Dine In Special

$22 Curry & Rice & Naan & glass of house

wine, house beer or soft drink

Specials Tues & Wed only

Fully Licensed Restaurant and Bar.

1 Wakefield Avenue Sumner, Christchurch

Bookings are welcome | Ph: 326 7917

Plumbing & Drainage

Plumbing & Drainage

PLUMBING & DRAINAGE

Local business for all

plumbing MTPD and drainage

Call Local Morgan business work. - 0223758506 for all

plumbing and drainage

Morgan Thomas Plumbing & Drainage Ltd

Local business for all plumbing and

drainage work.

Freework.

Free Quotes

Quotes

Free Quotes

New SkyVac

Gutter Cleaning Machine

New SkyVac

Revolutionary Gutter cleaning system.

No job too big or too small!

Gutter Cleaning Machine

Revolutionary Gutter cleaning system.

MORGAN THOMAS PLUMBING & DRAINAGE LTD

No job

Calltoo Morgan

big0223758506

or too small!

MORGAN Visit our THOMAS website PLUMBING - www.mtpd.co.nz

& DRAINAGE LTD

Email Call-Morgan morgan@mtpd.co.nz

0223758506

Visit our website - www.mtpd.co.nz

PAInT Email - morgan@mtpd.co.nz

TILER

See our unique range of 25 yrs exp.All aspects of

1/2 Ltr packs from only tiling professionally done.

$1, 360 Ferry Rd, 7 Days Ph Greg 027 434 9160

PH 381 2012

PLASTERERInG

INTERIOR, no job too

big or too small, specialise

in repair work & new

houses, free quotes given,

over 20 yrs plasterering

experience, ph 027 221-

4066 or 384-2574

ROOFInG

Qualified & Licenced

Practitioner. Re-Roof &

Repairs, all types. Member

New Zealand Roofing

Association. Over 35 years

experience. Phone John

027 432-3822 or 351-9147

email

co.nz

johnmill@ihug.

TILER

For all your tiling

needs, new, existing &

replacement of tiles, free

quotes, ph Jared 021 023

58414

TREES

BIG OR SMALL, tree

removal, trimming, stump

grinding, shelterbelt clean

up, section clearing,

rubbish removals,

excavation work, ph Trees

Big or Small, for a free

quote, 021 061 4783

VHS VIDEO TAPES

& all camera tapes

converted to DVD, video

taping special occasions,

www.grahamsvideo.co.nz

ph 03 338-1655

WInDOW CLEAnInG

"Your Windows are the

eyes of your Home", for

a free no obligation quote,

call Greg Brown, Crystal

Clear Window Cleaning

ph 384-2661 or 027 616-

0331 Local Resident
---
PAGE 24 BAY HARBOUR Latest Christchurch news at www. .kiwi

Wednesday April 12 2017

SUPERSALE

Easter

easter

SALE

SALE

Huge Easter Weekend Discounts Storewide!

ALL SIZES

SAVE

HALF PRICE

*

BUY NEW ZEALAND MADE QUALITY

CONFORM

Queensize Bed

Give your body the support

specialists recommend.

60 % *

60OFF

TVs

50 % *

50OFF

SMALL APPLIANCES

30 % *

30OFF

VACUUM CLEANERS

55" UHD SMART LED TV

4K UHD TV from LG produces

an incredible level of picture

quality with 4 times the number

of pixels of Full HD.

CLASSIC BANQUET

FRYPAN

Extra deep - ideal for a family

roast!

ULTRAFLEX ANIMAL ALLERGY

PRO VACUUM

Designed to offer powerful

suction, outstanding

filtration and ease of use.

Ideal for asthma or allergy

sufferers and pet owners.

SAVE

$ 1900

WAS $3099.99 NOW

$

1199 99

$ 1600

SAVE

CRAZY

40 %

*

40OFF

7kg WASHING

MACHINE

Quicksmart -

Get your clothes

washed and dried

quicker than any

other washer.

WAS $1399.99 NOW

$

839 99

SELECTED BEDS

SAVE

$ 560

WA7060M2

RF402BRPX6

WAS $3199.99 NOW

$

1599 99

selected

WHITEWARE

DEALS

SAVE

403L STAINLESS STEEL

FRIDGE FREEZER

ActiveSmart refrigerators

helps food stay fresh for longer.

WAS $2299.99 NOW

$ 920 $

1379 99

30 % *

30OFF

30PLUS 20% to

30-

20-

10-

55UH652V

$ 130

WAS $199.99 NOW

$

69 99

FP5920R

HALF

PRICE

WAS $899.99 NOW

$

449 99

8699415

30 %

30OFF

TVs

*

20 % *

20OFF

MERIVALE

RIMU FURNITURE

30 % *

30OFF

RECLINER CHAIRS

40 %

20-

30-

40OFF

ALL SOUNDBARS

*

18

months INTEREST FREE

on everything $499 & over*

SCG0519HBN_R

smithscity.co.nz

SHOP YOUR WAY Delivered to your door or pick up in-store 0800 SMITHS (0800 764 847)

COLOMBO ST MegaStore | Bush Inn MegaStore, RICCARTON | NORTHWOOD MegaStore | 38 Kermode St, ASHBURTON | 130-134 Beach Road, KAIKOURA

*Discount is off our full retail price. Exclusions, fees, terms and conditions apply. See in-store or visit smithscity.co.nz