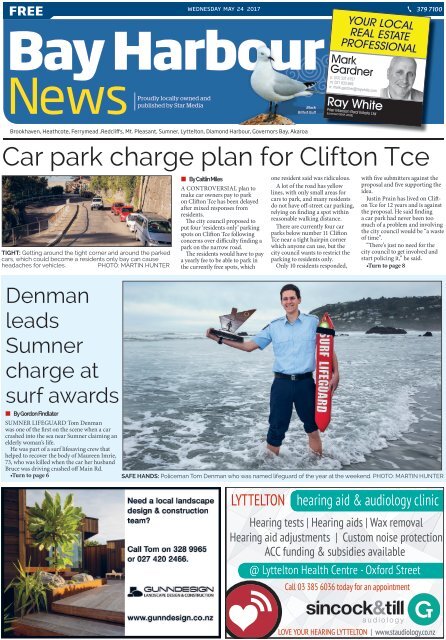 Bay Harbour: May 24, 2017
You also want an ePaper? Increase the reach of your titles
YUMPU automatically turns print PDFs into web optimized ePapers that Google loves.
FREE

Wednesday may 24 2017 379 7100

Bay Harbour

News

Proudly locally owned and

published by Star Media

Black

Billed Gull

YOUR LOCAL

REAL ESTATE

PROFESSIONAL

Mark

Gardner

p: (03) 331 6757

m: 021 633 669

e: mark.gardner@raywhite.com

Prier Manson Real Estate Ltd

(Licensed REAA 2008)

Brookhaven, Heathcote, Ferrymead ,Redcliffs, Mt. Pleasant, Sumner, Lyttelton, Diamond Harbour, Governors Bay, Akaroa

Car park charge plan for Clifton Tce

TIGHT: Getting around the tight corner and around the parked

cars, which could become a residents only bay can cause

headaches for vehicles.

PHOTO: MARTIN HUNTER

• By Caitlin Miles

A CONTROVERSIAL plan to

make car owners pay to park

on Clifton Tce has been delayed

after mixed responses from

residents.

The city council proposed to

put four 'residents only' parking

spots on Clifton Tce following

concerns over difficulty finding a

park on the narrow road.

The residents would have to pay

a yearly fee to be able to park in

the currently free spots, which

one resident said was ridiculous.

A lot of the road has yellow

lines, with only small areas for

cars to park, and many residents

do not have off-street car parking,

relying on finding a spot within

reasonable walking distance.

There are currently four car

parks below number 11 Clifton

Tce near a tight hairpin corner

which anyone can use, but the

city council wants to restrict the

parking to residents only.

Only 10 residents responded,

with five submitters against the

proposal and five supporting the

idea.

Justin Prain has lived on Clifton

Tce for 12 years and is against

the proposal. He said finding

a car park had never been too

much of a problem and involving

the city council would be "a waste

of time".

"There's just no need for the

city council to get involved and

start policing it," he said.

•Turn to page 8

Denman

leads

Sumner

charge at

surf awards

• By Gordon Findlater

SUMNER LIFEGUARD Tom Denman

was one of the first on the scene when a car

crashed into the sea near Sumner claiming an

elderly woman's life.

He was part of a surf lifesaving crew that

helped to recover the body of Maureen Imrie,

73, who was killed when the car her husband

Bruce was driving crashed off Main Rd.

•Turn to page 6

SAFE HANDS: Policeman Tom Denman who was named lifeguard of the year at the weekend. PHOTO: MARTIN HUNTER

LYTTELTON

hearing aid & audiology clinic

Hearing tests | Hearing aids | Wax removal

Hearing aid adjustments | Custom noise protection

ACC funding & subsidies available

@ Lyttelton Health Centre - Oxford Street

Call 03 385 6036 today for an appointment

LOVE YOUR HEARING LYTTELTON | www.staudiology.co.nz
---
PAGE 2 BAY HARBOUR Latest Christchurch news at www. .kiwi

Wednesday May 24 2017

FROM

THE

EDITOR'S

DESK

WELL DONE Tom Denman

(page 1) who was named

Canterbury lifeguard of the year at

the weekend.

Tom was one of six awards the

Sumner club scooped on the night,

so a deserved night celebrating – I

hope!

In March, Denman was part of

a surf lifesaving crew that helped

to recover the body of Maureen

Imrie, the elderly woman who died

when the car her husband was

driving left Main Rd and crashed

into the sea.

The 26-year-old also serves the

community in other ways; he is in

the police.

Also on page 1, a Mexican standoff

over parking on tight Clifton

Tce. The city council is considering

charging residents for an off-street

park.

They surveyed residents for

views – five are against the idea;

five are for it.

Toss a coin? – Barry Clarke

Inside

Learning experience in Samoa for

14

Sumner pupils SCHOOLS

News.......................................3-8

Your Local Views.......10

Schools...................................14

Linwood College........15

Sport..........................................16

Community Events...19

Real Estate...........................21

GET IN TOUCH

General Enquiries Ph 379-7100

Classified Advertising Ph 379-1100

The Christchurch Star Company Ltd. PO box 1467 - Christchurch

starmedia.kiwi

NEWS

Caitlin Miles

Ph: 364 7442

caitlin.miles@starmedia.kiwi

ADVERTISING

Javier Balcazar

Ph: 982 9308

javier.balcazar@starmedia.kiwi

ADVERTISING

Rob Davison

Ph: 021 225 8584

rob.davison@starmedia.kiwi

Does the 31 October

wood burner deadline

affect you?

The deadline to get a building consent to

replace wood burners older than 15 years with

a low emission wood burner is 31 October 2017.

After that, your only option might be the

ultra-low emission model.

Older style

wood burner

Low

emission

Ultra-low

emission

Masters

HOLLYWOOD 3

www.hollywoodcinema.co.nz

28 Marriner St,

Sumner

Phone:

03 326 6102

Thursday 25 May - Wednesday 31 May

PIRATES OF THE CARIBBEAN:

DEAD MEN TELL NO TALES (TBA)

Thu/FRI: 1.00pm, 5.30pm, 8.00pm SAT/Tue/wed: 2.45pm,

5.30pm, 8.00pm Sun/Mon: 3.20pm, 6.00pm

PECkINg ORDER (PG) Coarse language

Thu/FRI: 11.00am, 3.45pm, 6.00pm SAT: 1.00pm, 6.00pm

Sun/Mon: 1.30pm, 5.15pm Tue/wed: 11.00am, 1.00pm, 6.00pm

THE SENSE OF AN ENDINg (M) Sex scenes and offensive language

Thu/FRI/Tue/wed: 11.00am, 3.45pm SAT/Sun/Mon: 3.15pm

NORMAN (TBA)

Thu/FRI/Tue/wed: 1.10pm, 8.00pm SAT: 8.00pm

Sun/Mon: 7.00pm

A DOg'S PuRPOSE (PG)

SAT/Sun: 1.15pm

vICEROy'S HOuSE (M) Content may disturb

Thu/FRI/Tue/wed: 11.00am, 1.15pm, 6.00pm

SAT: 3.15pm, 6.00pm Sun: 3.15pm Mon: 1.30pm, 3.45pm

THE SHACk (M) Content may disturb

Thu/FRI/Tue/wed: 3.30pm, 8.10pm SAT: 8.10pm

Sun/Mon: 6.00pm

My PET DINOSAuR (M) Content may disturb

SAT/Sun: 1.15pm

STATE OF THE ART HIGH DEFINITION, LICENSED BAR

are you considering selling

before winter arrives?

ECN/031/SC_180x130

Do you have

any burning

questions

about this?

Which wood burner is cheaper?

The low emission model

Which one costs less to run?

The ultra-low emission model

What are my choices after 31 October?

In many cases only the ultra-low emission model

Which one is better for our health and for

the environment?

The ultra-low emission model

Find out if you need to replace your wood burner

and be in to WIN at www.warmercheaper.co.nz

The weather may be cooling but the property market in the seaside

suburbs certainly isn't!

Find out what your home could be worth to eager buyers actively

trying to find their next home with a free property appraisal. I look

forward to guiding you through your options for selling and advising

on latest marketing ideas available.

for this professional advice and

more call chris Moores today.

chris Moores

Harcourts Grenadier Ferrymead

1020 Ferry Road

P: 03 384 7950 | M: 027 588 4440

E: chris.moores@harcourts.co.nz

GRENADIER

Licensed Sales Consultant REAA 2008
---
Latest Christchurch news at www.

.kiwi

BAY HARBOUR

PAGE 3

Wednesday May 24 2017

News

Bid to get jetty under way

• By Caitlin Miles

CAMPAIGNERS FOR a floating

jetty at Naval Point are making

a bid for $220,000 to get the

project under way.

The Naval Point boat safety

group has asked the city council

to include the amount in the

draft Annual Plan.

With $100,000 the group has

already in the bank from private

investors, it will enable them

to create a fixed

access jetty, a 12m

gangway and

a 20m floating

jetty located on

the south side of

the current boat

James

Ensor

ramp at Naval

Point.

That is the first

stage of a major

jetty development the group says

is vitally needed in Lyttelton.

For 24 years the group has

been campaigning for a safer

place for boats to be launched

and retrieved from, that could be

used in rough weather if need be.

Naval Point boat safety member

James Ensor said the Naval

Point Club and other ramps in

the harbour "are totally unsuitable"

in southerly and southwesterly​conditions

and the floating

jetty is designed to be used

during almost all conditions.

In 1993 proposals were developed

for improved facilities

at Naval Point, which led to the

commencement of construction

PROPOSED: By constructing a floating jetty on the south side of

the Naval Point boat ramp a group hopes to make it safer and

easier to get boats out of the water during rough conditions.

of the Magazine Bay Marina in

2000.

However, during construction,

a southerly storm destroyed the

offshore floating structures and

the development ceased.

Further upgrades the group

want include removing a section

of the current rock breakwater,

a new 150m floating device to

be used as a new breakwater

device, removing existing piles

and a possible floating berth for

coastguard use.

Group members believe the

floating jetty will also complement

the development the city

council are doing at Naval Point,

looking to improve and upgrade

Magazine Bay, Lyttelton Recreation

Reserve and the public boat

ramp. Consultation on the development

closes next Tuesday.

The group hopes to have the

jetty operating this year if the

funding comes through.

In Brief

BRIGADE NEEDS HELP

THe Akaroa Volunteer Fire

Brigade is on the move and has

put out a call for help packing the

station. The brigade needs boxes

and newspaper to help clear out

the station while renovations are

made to the building. The work is

expected to take eight weeks and

is the first major upgrade since

1982. The brigade plans to move

out on Monday and will operate

from Portacoms until the work is

finished. If you have any empty

boxes or newspapers drop them

off on the front deCk of the fire

station at 49 Beach Rd, firefighters

will pick up the boxes at 5pm each

day.

FIRE SUBMISSIONS WANTED

The Australian firefighter

appointed to lead a review into

the operational response to the

Port Hills fire wants to hear from

those affected by the fire. Alan

Goodwin, from the Australasian

Fire and Emergency Service

Authorities Council, is seeking

submissions from the public as

part of his review. People affected

by the fire can make submissions

via the city council website up

until June 12. The New Zealand

Fire Service and National Rural

Fire Authority have initiated the

review. It is expected the findings

will be released in October.

REDCLIFFS

DENTAL CENTRE

Dr Kim Hughes B.D.S (Otago)

& Pip Anderson B.D.S (Otago)

Dental SuRgeonS

Ferry Good Cleaning

Ferry Good Service

Ferry Nice People

You are ferry welcome to

call on us at our new home.

Phone: 03 384 5015

Kite lane, 1027 Ferry Rd

Behind Casual & Country

Healthy teeth...

Beautiful smiles

Providing a complete range of gentle

high quality dental care in a calm,

relaxing, friendly and professional

environment.

178 Main Rd, Redcliffs | ph: 384 5038 | www.redcliffsdental.co.nz
---
PAGE 4 BAY HARBOUR Latest Christchurch news at www. .kiwi

Wednesday May 24 2017

And the winners are...

Once a year the team at Ray White Ferrymead get together with their partners to celebrate the

end of financial year awards. This year's event was held locally at Ten27 in Ferry Road. The

awards are always a special occasion and signify, not only the success of a well established

team, but also acknowledges the lasting relationship that our business has with the residents

of the Bay Harbour area. At the awards we talked about the ongoing loyalty of our team,

not only to each other, but to the community at large. For nearly 20 years we have had a

continuous involvement in the area with sponsorships, community events and local initiatives;

and in 20 years time we will still be doing the same!

Mark Gardner

021 633 669

Matt Clayton

021 2233 998

The awards winners are...

Congratulations to:

Number 1

sales individual,

Matt Clayton

Number 2 sales

individual,

Mark Gardner

Number 1 Team,

Daisy Foldesi

and Marie

Malone

Annual Collection for

Ronald McDonald House

This year we had a record number of

Ray White offices participating in the

collection for Ronald McDonald House,

98 in total this year! Of course Ray

White Ferrymead always likes to lend

a hand, and this year was no different.

Positioned at The Tannery we had some

very generous donations from people in

the community, and it's always nice to

have the opportunity to help particularly

children in our communities. So a big

thanks to everyone who donated, and the

staff that volunteered their time to collect.

Daisy Foldesi

021 328 059

Eddie Spry

021 1565 884

Marie Malone

0274 898 349

Bronny Clifford

021 272 7718

Patricia Van der bent

027 296 1408

Number 1

Property Manager,

Abbey Nolan

Administrator of

the Year, Rebekah

Stewart

Eleanor Corston

027 435 2415

Number 1 Loan

Market Referrer,

Mark Gardner

Prier Manson

Cup Winner,

Jan Edlin

Featured Properties This Month:

Anna Loader

027 272 7128

Dan Newburgh

022 657 1497

Bev Prout

027 495 9586

Jan Edlin

027 433 8025

112 Beachville Road, Redcliffs - Auction 1 June,

1pm Onsite, Contact Jan, Patricia or Mark

242G Main Road, Redcliffs - Auction 10 June,

Onsite, As Is Where Is, Contact Matt Clayton

Simon Standeven

0274 304 691

Paula Standeven

027 547 2852

Angela Harden

Listings Administrator

Elise Chappell

Marketing

Administrator

16 Norwich Quay, Lyttelton - $695,000

Contact Daisy Foldesi

24 Stoke Street, Sumner - Auction 26 May, 4pm,

In-Rooms RW Ferrymead, Contact Bev Prout

Nancy Vincent Parr

Operations Manager

21 Humphreys Drive, Ferrymead and 47b London Street, Lyttelton

Phone (03) 3844 179

rwferrymead.co.nz /RayWhiteFerrymead

Prier Manson Real Estate Ltd Licensed (REAA 2008)
---
Wednesday May 24 2017

Latest Christchurch news at www.

.kiwi

BAY HARBOUR

PAGE 5

News

Playground upgrade delayed

• By Caitlin Miles

UPGRADES TO Scarborough

Park playground won't be done

this year as planned.

The city council budgeted

$150,000 for the improvements,

which were scheduled for this

year.

The city council has pushed

funding for

the playground

out until

2019/2020. City

council head of

parks Andrew

Rutledge said

this was due

Darrell

Latham

to the Annual

Plan process

and budget

restraints.

Upgrades have been a

long time coming – it was

created in the 1960s. The city

council identified the need to

improve the equipment last

year.

The city council asked for

input into what the community

would like to see in the park in

terms of upgrades at the end of

last year so a plan could be made

for public consultation, but now

that plan will not be presented

to the community until 2019

because of the funding change.

However, the Linwood-

Central-Heathcote Community

Board requested the funding be

reinstated for this year because

of the poor state of the playground.

Community board member

Darrell Latham said they

requested the funding be

reinstated because the improvements

are important to the

community.

"Our (community) board

has asked for the funding to

be brought back because we

feel like this is a priority," Dr

Latham said.

Mr Rutledge said depending

on the confirmation of the

budget in the Annual Plan

process upgrades may be done

to the whole of the park, including

footpaths, park furniture,

landscaping, drainage and

upgrading equipment.

The city council rates the

Scarborough Reserve as one of

the top-10 playgrounds across

the city.

•HAVE YOUR SAY: Do you

think the Scarborough Park

playground needs upgrades

now? Do you think the

community board should

wait until a full park upgrade

can be done? Send your

opinion to caitlin.miles@

starmedia.kiwi

In Brief

LAND SWAP CONSULTATION

Public consultation on the land swap

between Redcliffs Park and Redcliffs

School will start on Monday. The

consultation will be carried out

to allow people to have their say

on changing the reserve status of

Redcliffs Park to the old school site,

so the school can be built on the

park. The Crown already owns 1ha

of the 1.9ha park and the city council

owns the remainder. The Ministry

would have to pay market value for

the city council-owned land if the

sale goes ahead. Submission period

will be open until June 26.

ROAD CLOSURES

The installation of ultra-fast

broadband in a section of Lyttelton

means several roads will be closed

for the next month while the work is

carried out. College Rd, Stevensons

Steep, Crossland, Foster, Randolph

and Reserve Tces will be closed until

June 20 for contractors to carry out

the work.

GOVERNORS BAY RESERVE

Submissions on the city council's

plans to redevelop the Governors

Bay Community Centre and Pool

Reserve closes on Monday. A tree

hut, bike track and skate park could

be key features in the redevelopment.

It involves improving the current

bike pump track, building a half

pipe and a tree hut, along with more

play equipment. Go to https://ccc.

govt.nz/the-council/have-your-say/

consultations/show/25

At Whitehead Plumbing & Gas Ltd

we have a great team of loyal staff

offering a diverse range of skills.

Serving Canterbury for over 35

years, we do everything from

domestic maintenance to new

homes and commercial buildings.

Make us your first call today.

Plumbing.

Gasfitting.

Drainlaying.

03 379 0711

whiteheadplumbing.co.nz

The Village Inn

41B Nayland Street,

Sumner

326 – 6973

Tuesday — Sunday

Tuesday Meal Deal

Buy one main, get a second one half price

Wednesday

Quiz night every second Wednesday

Thirsty Thursday

Happy hour 4-7pm + Gourmet Burgers

TGI Friday

2 Pizzas for $25 from 5:30

Saturday

Seafood specials from5:30pm

Sunday Sessions

Music 3-6pm traditional roast all day

More than just numbers

We talk about the YOU in much of our on-line marketing. It's not

just a marketing strategy. It really is about YOU. First and foremost

you need us to listen. We do. We've got awesome ears! We want

to hear about your vision, for your business, and we want to help

you get where you want to be. It's about YOU, and it's about our

relationship with YOU - always. Drop in, our ears are waiting.

We specialise in:

- Business & Management Advice

- Owner Managed Businesses

- Individual's Tax affairs

- Investment & Rental Properties

- Business Start-Ups

- Accountancy and Tax Compliance

Your local independent MYOB Approved Partner

and Xero Certified Advisor in Ferrymead

11F Settlers Cres. Ferrymead P. 03 384 8179 M. 022 354 8218 E. info@ferrymeadaccounting.co.nz www.ferrymeadaccounting.co.nz
---
PAGE 6 BAY HARBOUR Latest Christchurch news at www. .kiwi

Wednesday May 24 2017

News

• By Caitlin Miles

ONE OF the people who

campaigned to have more police

presence in Lyttelton has himself

become a victim of

crime.

Paul Dietsche's

Winchester St flat was

broken into on Thursday

– ironically when

there was a larger than

normal police presence

in port due to the visit

of Police Minister and

Deputy Prime Minister

Paula Bennett.

It was was ironic his flat was

burgled when Ms Bennett was

there, he said.

Vortex

Flush

PATROL:

During a visit

to Lyttelton,

Police

Minister Paula

Bennett

stopped in

to visit Dave

Knowles

(second on

left) and other

Lyttelton

officers.

Campaigner's home

hit by burglars

Mr Dietsche and fellow Lyttelton

resident Candice Milner

spearheaded a campaign to try

and get more police coverage in

Lyttelton and the bay areas.

It led to a public meeting

where the police explained

the level of crime in Lyttelton

was much lower than

what residents thought it

was.

Several items were

taken from Mr Dietche's

flatmate's room in the

Paul Dietche

burglary.

It is believed the break-in

happened between 2-3.30pm.

Sergeant Dave Knowles said the

break-in was being investigated by

the burglary squad.

NEW LOCATION

13b Parkhouse Rd, CHRISTCHURCH

NEW JSD12-6DH

6L Per Min Califont

Internal, Battery Operated

RRP $399 Now $199

Sumner scoop awards

TOP CLUB: Sumner Surf Life Saving Club celebrate winning

the club of the year at Saturday's Canterbury Awards of

Excellence.

•From page 1

"I was physically on the water.

It was a horrible experience but

it was nice to be able to help get

the family some closure," Denman

said yesterday.

Now the 26-year-old has been

recognised for his deeds on the

water, winning the lifeguard of

the year award at the Canterbury

Surf Life Saving awards of

excellence on Saturday night

But it is not only on the

water that Denman serves

the community. He has just

completed his first year as a

police officer.

Denman's award was one of

six for the Sumner club. Other

individual winners were Jonelle

Quane (coach of the year), Seb

Johnson (sportsperson of the

year), Derek Shanks (surf official

of the year), Kate Suter (volunteer

of the year).

Taylors Mistake also picked up

two awards. Craig Jamieson (Te

Onepoto – junior surf coaching)

and William Jamieson (rookie

lifeguard of the year).

Denman been a lifeguard at

Sumner since 2006. Until joining

the police last year he had

worked as a full-time lifeguard

on opposite sides of the globe,

spending four summers working

in Poole, England.

"It was great spending summers

on the beach but I reached

a point where I felt it was time to

settle in one spot. Working with

the police has some similarities

to patrolling the beach in terms

of getting outside and creating

a positive influence," said Denman.

Lifeguard of the year recognises

the outstanding contribution

to the delivery and development

of drowning prevention services

for surf lifesaving.

Later in the year Denman will

travel to Auckland with fellow

club member Kate Suter, who

was named volunteer of the year

at the weekend.

The volunteer of the year was

awarded to Suter. Denman and

Suter will go on to be finalists

in the national Surf Life Saving

New Zealand Awards of Excellence,

being held in Auckland in

September.

The celebration of surf lifesaving

took place at the Sixty6

venue at Christchurch Casino

and included Taylors Mistake,

Sumner, South Brighton, New

Brighton, North Beach, Waimairi,

Spencer Park and Waikuku

surf lifesaving clubs.

Every year, regional awards of

excellence ceremonies are held

around the country to officially

recognise members for their

hard work and dedication to surf

lifesaving in New Zealand.

T025

RRP $599

Now $429

T005

RRP $399

Now $289

Large range of Tapware and baths at discounted prices

OPEN 7 DayS Mon-Fri 9am - 5.30pm | Sat 9.30am - 4pm | Sun 10am-3pm

0800 MILLEN | www.millen.co.nz | 03 348 8678

Visit our new website: www.min.nz

From bare land to luxury abodes

min sarginson

is the ideal coastal realtor

COASTAL REAL ESTATE SPECIALISTS

We'll help you live the dream.

Min Sarginson Real Estate Ltd. specialises in homes, sections and

rental properties in the spectacular Lyttelton Harbour bays, and

coastal suburbs of Christchurch, New Zealand.

We'll make it so easy for you. All our sales consultants live in the

area – we can give you valuable insights into life in our thriving

coastal communities.

This is an exciting time; of promise, optimism, and opportunities

never anticipated pre-quakes. Beachfront, or hillside with

grandstand views, find the property of your dreams:

Lyttelton | Diamond Harbour | Governors Bay | Cass Bay

Charteris Bay | Church Bay | Purau Bay | Port Levy | Northshore

Southshore | New Brighton | Heathcote | Sumner | Redcliffs

Scarborough | Mount Pleasant | Clifton

Call Min Sarginson Real Estate Ltd. for free, no-obligation advice. Lyttelton: 03 329 4161, lyttelton@min.nz or Church Bay: 03 328 7273, churchbay@min.nz
---
Wednesday May 24 2017

Latest Christchurch news at www.

.kiwi

BAY HARBOUR

PAGE 7

Golf club celebrates

opening of new rooms

LIFE MEMBER Richard

Barnett had the honour of

opening the Charteris Bay

Golf's new clubhouse.

The clubhouse was badly

damaged in the 2010 and

2011 earthquakes and

needed to be rebuilt.

Mr Barnett joined the

club in 1947 and has been

an active member ever

since. There were 100 other

members that joined Mr

Barnett at the opening,

hosted by the club's captain

Rob Phillips and president

Allister Cotter.

The original clubhouse

was built in 1913. Members

of the club and wider community

worked together to

get the money needed to

rebuild.

Warren Sheddan was

an important part of the

project, offering to design

the building and manage

the project at no cost to the

club.

Golf club member Warren

Griffiths said the new

clubhouse is a great redevelopment

for the club.

"This is a fantastic asset

UNVEILED: Life member Richard Barnett cut the

ribbon, with support from ladies club captain, Chris

Brodie and John Laycock.

NEW: The clubrooms have been rebuilt close to the

original building that had to be demolished.

to the club and the Charteris

Bay and Diamond

Harbour community," Mr

Griffiths said.

Call your GP team 24/7 for health advice.

If it's after-hours a nurse is available to give free health advice.

•The golf club can also

be hired, phone Mr

Griffiths on 021 890 470

to find out more

NEW

SEASON

Jazz Apples Loose

Product of New Zealand

$

3 49 kg

ea

?

Pams Butter

500g

Fresh NZ Beef

Corned Silverside

$

4 99

$

9 99

kg

Heartland Premium

Crisps 150g

ANY 2 FOR

$

4 99

Pams ice cream

2 Litre

$

4 99 Coca-Cola,

NescafE CaFE

Sprite, Fanta, Lift

Menu 10 Pack

or L&P 1.5

$

6 49 $

2 79 Litre

pk

ea

Oyster Bay 750ml

(excludes Pinot Noir

& Sparkling)

$

15 99

Heineken $

24 99 ea

12 Pack 330ml Bottles pk

ea

www.foursquare.co.nz

facebook.com/FourSquareNZ

12

9

6

3

Specials available South Island only from Monday 22nd May until Sunday 28th May

2017 or while stocks last. Wine and beer available at stores with an off licence.

Wine and beer purchases restricted to persons aged 18 years old and over.
---
PAGE 8 BAY HARBOUR Latest Christchurch news at www. .kiwi

Wednesday May 24 2017

News

Tunnel gets

safety upgrade

WORK ON fire safety

improvements and reducing

possible lengthy closures to

Lyttelton Tunnel is set to begin.

The system is designed to control

and contain a fire until fire services

reach the scene.

McConnell Dowell has been

awarded the contract for the $28.7

million project, which is the largest

undertaken at the tunnel since it

opened in 1964.

Transport minister Simon

Bridges said since the Canterbury

earthquakes the tunnel has provided

the most direct freight access

to the town and port.

"A tunnel closure because of a fire

could have a serious economic impact

on Christchurch, Canterbury

and the South Island. This deluge

system once installed will reduce

this risk and improve fire safety for

tunnel users," Mr Bridges said.

The project involves the construction

of two reservoirs, two

pump stations, and the installation

of 9km of pipe work and 2,400 fire

sprinkler nozzles throughout the

tunnel.

Most work will be conducted in

the ducts above the tunnel with

minimal disruption to traffic.

Some night-time tunnel closures

and single-lane operations will be

required.

The project is expected to be

complete by December 2018.

Wilson departs community house

• By Caitlin Miles

THE MANAGER of Lyttelton

Community House and two other

staff have been made redundant due

to funding cuts.

Christine Wilson was the

manager of the centre and had

worked there for a decade, but due

to a lack of funding the centre had

to reduce its hours and let staff go to

be able to keep running – on limited

services.

Ms Wilson is also the chairwoman

of the Banks Peninsula Community

Board and she said while it was

sad to leave she had no bad feelings

about her departure.

"I commend our board, they had

to make a tough decision but it's all

good," Ms Wilson said.

The trust was established in

2008 and was instrumental to the

community following the February

22, 2011, earthquake, offering

support and help for those in

need.

She said while it's sad she will no

longer be involved directly with

the community house she is glad

services will be able to continue.

"It's sad, it's been a long time

but that's life. I'm thrilled it will be

continuing," Ms Wilson said.

Special farewells were held

to thank Ms Wilson for her

commitment and involvement with

the organisation.

Port Hills MP Ruth Dyson

gave a presentation at one of

those, she spoke about her

commitment and ability to help

those in need.

"She could detect a need in the

community and give that support,"

Ms Dyson said.

Ms Wilson said she will now

be able to spend more of her time

focused on her community board

responsibilities.

GRATITUDE: During an afternoon

tea to thank Ms Wilson for her

work with the community house

she was presented with a cake.

Car park charge plan for Clifton Tce

•From page 1

In Mr Prain's submission, he

said if 'residents only' restrictions

were put on the four car

parks it would make parking

harder on the hill not better and

paying a fee would only make

more problems.

However in Michael Vance's

submission he said the proposal

had his "enthusiastic support"

as it would greatly ease parking

problems in the area.

A decision was meant to be

made by the Linwood-Central-

Heathcote Community Board

last week, but city councillor ​

Sara Templeton said a decision

has been held off until the community

board can visit the site.

A BRANCH OF

Still Pedalling!

Banks Peninsula

Hazardous Waste

Collection Weekend

Trevor Crowe's been involved with cars for a

while. You can benefit from his experience at...

Barry's Bay

Transfer Station

3–5 June • 12noon–4pm

Take your dangerous and

hazardous household items

to Barry's Bay Transfer Station

from 3-5 June to drop 'em for

free, responsibly.

Michael Toomey

mft@younghunter.co.nz

Proudly providing

legal advice to

the community

for 25 years

Subaru Specialists

Full Workshop services

WOF's | Service Checks | Wheel

Alignment | Brakes | Clutches | Tyres etc

Great range of Subarus & other

makes from $5,000 - $35,000

View at www.crowesport.co.nz

RED

RED

GREEN YELLOW DROP

GREEN YELLOW

For a full list of accepted items,

please visit loveyourrubbish.co.nz

or phone 941 8999

Michelle Rossiter

mjr@younghunter.co.nz

C'mon Christchurch

let's get our

rubbish sorted!

P. 384-5350

www.younghunter.co.nz

518 Moorhouse Ave (East end)

Phone 379 7615 or

email: service@crowesport.co.nz
---
Wednesday May 24 2017

FiNAL

DAYS

FINISHING SooN

Latest Christchurch news at www.

CARPET HOUSE LOT DEALS

Prices are based on an average 3 bedroom home, using 20 broadloom metres of carpet, three finishing bars and fully installed.

.kiwi

BAY HARBOUR

PAGE 9

POLYPROP

NYLON WOOL

Benmore

• Heavy Duty

• Cut Pile

• 4 Metre Wide Rolls

• Foam Back

• 4 Great Colours

• $79.90 per m

Boucle

• Extra Heavy Duty

+ Stairs

• 80/20 Wool Plus

• 48oz

• 1 Colour

• $99.90 per m

Detroit

• Extra Heavy Duty

• 26oz Solution dyed

nylon

• 12 Colours

• $75.00 per m

$2600

FoaM Back

InstaLLatIon IncLuded

$3500

Luxury underLay &

InstaLLatIon IncLuded

$3000

Luxury underLay &

InstaLLatIon IncLuded

WOOL POLYPROP

NYLON

Castleton

• Heavy Duty

• Polyprop

• 1 Great Colour

• $39.90 per m

Tiburon

• Extra Heavy Duty Plus

Stairs Grade

• Pure Wool

• Loop Pile

• Slightly Imperfect

• $75.00 per m

Windsor Twist

• Extra Heavy Duty

• 36 oz Solution Dyed

Nylon

• Cut Pile

• 8 Amazing Colours

• $109.90 per m

$2300

Luxury underLay &

InstaLLatIon IncLuded

$3000

Luxury underLay &

InstaLLatIon IncLuded

$3700

Luxury underLay &

InstaLLatIon IncLuded

NYLON

Horizon

• Extra Heavy Duty

• 36oz Solution Dyed

Nylon

• 1 Colour - Dusk

• $99.90 per m

$3500

Luxury underLay &

InstaLLatIon IncLuded

POLYESTER

Sanctuary

• Extra Heavy Duty

• 50 oz Luxury Polyester

• Cut Pile

• Great Colour

• $99.90 per m

$3500

Luxury underLay &

InstaLLatIon IncLuded

south island's

largest stockist

of vinyl

2m wide

SELLING From

$30 per metre

Call for

our mobile

showroom to

visit your home

312 Wilsons Road North, Waltham Phone 366 0070

www.carpetkingdom.co.nz | Mon - Fri 8am - 5pm | Sat 10am -1pm

Q Card Finance Now Available

FREE no obligation measure & quote (conditions apply.)
---
PAGE 10 BAY HARBOUR Latest Christchurch news at www. .kiwi

Wednesday May 24 2017

Your Local Views

Needs of school support staff

Pirate's Corner

This week

Green MP

Eugenie

Sage writes

about her

recent trip

back to

school and

what she

learned about support staff

and their needs

Recently I went back to school

for a day.

I've visited schools before but

not spent a whole day sitting in

on classes and talking to students

and staff. The day was part of

teacher union Te Riru Roa/

NZEI's "Walking in the shoes of

a school support staff member"

initiative.

The union has invited MPs to

shadow teacher assistants, librarians,

administration officers

and other school support staff to

learn more about their role.

After a day at Waltham Primary

School I was in awe of the

commitment, dedication and

skills of teachers and support

staff. With 230 pupils, Waltham

Readers respond to last

week's article in Bay

Harbour News about

where a skate park should

go in Sumner and the

wider area

Rosemary Smart – I believe

very strongly that a skate park

should not be located in a residential

area. The noise is quite

significant. An area like Barnett

Park might be a possibility or

the front of the old Redcliffs

School area.

Rob Dickinson – Sumner

nimby crew will do their best

to get it removed. To think we

could have had a proper skate

park.

Pauline Barker – And so

it should be, pathetic not many

neighbours where it was. Old

people forget they were young

has 10 full-time teaching staff

and seven teaching assistants.

The relatively high ratio recognises

the value of support staff in

a busy classroom environment.

They free-up teachers to focus on

teaching and help maintain student

and classroom well-being.

Support staff have a vital role

in ensuring that children reach

their potential. At Waltham,

teacher assistant Jan worked with

different groups of three or four

children to practice their reading

and writing, ensure they grasped

phonetics, and test their spelling.

This helps ensure no child gets

left behind.

In another class, Neil focused

on children with behavioural issues,

enabling them to participate

in a mainstream environment

without disrupting other students'

learning.

I watched Kelly take a group of

seven students through exercises

to calculate the perimeter of

different sized rectangles. The

absolute joy and sense of achievement

one boy expressed when

he got the correct answer was

infectious.

In Budget 2016, the National

Government froze school operations

grants.

This has made it more difficult

for schools to make ends meet in

terms of running costs. It's meant

many schools lack the funds to

pay enough teacher aide hours

for their students' learning and

support needs.

It also means that support staff

endure lower wages and insecure

employment. They only get paid

for contact hours at the school,

not for preparation time or during

school holidays, in spite of

being unable to find short-term

casual work during school holidays.

Budget 2017 needs to provide

more funding for school operations

grants.

This would enable support staff

to get fairer pay, more secure

work hours and increased allowances

for the specialist tasks they

do and skills they bring to our

schools. We need to invest in our

children and their education so

they thrive.

CLOSED: The Sumner skate ramp on Wakefield Ave was

closed earlier this year when city council ran noise tests and

found it did not comply with noise standards.

once, it's called having fun.

Sharen Paine – My view is

that we don't need a skate park

in Sumner. We have existing

parks as well as beaches and

hills – a wonderful natural

environment. We don't need

a place for overgrown kids

[many of those who used the

temporary one drove there in

their own cars] to congregate,

intimidate others and leave

rubbish everywhere. That's how

the temporary one was used. I

walked past it frequently and

experienced the rubbish and

intimidation first hand. There

is a skate park at Washington

Way in town for those people.

For actual children, why not

include such a facility in one of

the already existing parks in the

area.

Learn the rules before

you go on the water

• By Gary Manch, navigational

safety officer, Lyttelton

IN 2016, Research New Zealand

conducted a national boating

survey and the results showed

that Canterbury has 16 per cent

of New Zealand's recreational

boaties, making us the second

highest in New Zealand behind

Auckland (with 24 per cent).

In real numbers, around

148,800 of you are participating

in some form of recreational

boating in Canterbury.

This comes as no surprise

given the fact that our beautiful

region not only has a long

coastline, but also many rivers

and lakes that are enjoyed by

everybody from paddle boarders,

rowers, and kayakers through to

jet and power boat users.

The reason I am bringing this

information to your attention is,

out of the 148,800 recreational

boat users out there, I'd be interested

to know how many of you

have completed a boating safety

or maintenance course … and I

would be surprised if it's even as

high as 10 per cent. I am more

than happy to be proved wrong.

So here is the challenge for

winter – check out the websites

below and get yourself onto one

of the courses offered.

The basic boating safety course

is the 'day skipper', and this can

be completed either online in

your own time or by attending a

two-day course.

For those of you who have a

VHF radio in the boat, it is advisable

to do the Maritime Radio

Operator's Course and then you

will be sweet to go.

There are other courses such

as Boatmaster, Boating Maintenance

and many more. All are

worthwhile.

It's not uncommon when I am

out and about for boaties to tell

me they do not know the rules.

If you were stopped for speeding

in your car and you told the

police that you did not know the

speed limit, the chances of police

letting you off without a ticket is

pretty remote. It is up to you to

know what the speed limit is on

the road, and the same applies on

the water.

It is your responsibility to

know the rules and comply with

them.

One difference between driving

on the road and being a

recreational boatie is that as a

car driver you have had to pass

a driving test to ensure you have

learnt the road rules.

You do not require a licence

to operate a boat (unless it is for

commercial gain) but you do

need to remember it is a privilege

to use a boat without any restriction

except age*.

The onus is on you to not abuse

this privilege and to know the

rules. So, my advice to you is get

yourself on a boating course if

you have not done so already.

•www.boatingeducation.org.

nz/courses.

•http://waynemiddleton.

co.nz/

*You must be 15 years or older

to operate a power boat capable

of more than 10 knots, including

a jet ski, unless there is a

supervisor aged 15 or over who

is capable of taking immediate

control.

CAFE

open from 11am

TAB & Gaming

Function Facilities

HOUSIE

Tues, Thurs, Sat

SATURDAY'S JACKPOT

Be in to WIN up to $80

SHUTTLE

Tues - Sat

WHAT'S ON

ENTERTAINMENT

CRUSADERS v CHIEFS

7.35PM FRIDAY in Whitfords Bar

BOBBY BROWN

7.30PM SATURDAY in Whitfords Bar

PINK RIBBON QUIZ NIGHT

7PM WEDS 24th June, Kellaway Bar
---
Wednesday May 24 2017

Latest Christchurch news at www.

.kiwi

BAY HARBOUR

PAGE 11

Simpson

4KG

Rotary

Dryer

Front and rear

venting options.

Wall mount

kit included.

SnAP

dEAl

441560

wHIlE

STOCK

laSTS

$

369EAcH

nEW PrOduct

Maze

Compost Caddy

7L Compost caddy with

20 x compostable liners

300876

$

18 98

EAcH

Sunbeam

1.7L Quantum

Stainless Steel Kettle

2200W brushed stainless

steel with 360 degree base.

300813

$

78 69

EAcH

Sunbeam

Silver 2 Slice Toaster

LCD countdown

display and

QuickCheck

feature.

1050W.

297433

$

97

Whirlpool

25L Crisp n Grill

Microwave Oven

5 functions.

Pre-programmed

settings. 280mm

turntable.

700watt.

295445/6

$

598

classique

600mm Canopy

Rangehood

Powerful 550 cubic metre

per hour extraction.

248777

classique

6.5KG Top Load

Washing Machine

8 wash programs.

No central agitator.

287298

kelvinator

380L Fridge Freezer

Stainless steel.

Bottom mount freezer.

Glass shelves, humidity

control crispers.

1050W.

246309

classique

600mm Freestanding

Oven

Boost function for quick

reheat. 900Hx600Wx600D.

248785

$

249

$

599

$

999 $

1499

DESIGN YOUR

KITCHEN

Come meet our friendly

kitchen team for expert advice

& appointments.

Vicky - 03 962 0709 EdEl - 03 962 0709

Ferrymead

1005 Ferry Road, Phone: 366 6306

Opening Hours: Monday–Friday: 7:00am–7pm

Saturday, Sunday and Public Holidays: 8:00am–6:00pm

Offers available at Mitre10 Mega Ferrymead only, until the 31st of May, while stocks last.

mitre10mega.co.nz

if you find a lower price on an identical stocked

product locally we will beat it by 15%.

find us mitre10.co.nz

If you find the same product cheaper from another Mitre 10 store or Mitre 10 website we'll match that price. Excludes trade

and special quotes, stock liquidations and commercial quantities. The in-store price may be lower than that advertised.
---
PAGE 12 BAY HARBOUR Latest Christchurch news at www. .kiwi

Wednesday May 24 2017

NEW LISTING

A GRACIOUS SUMNER RESIDENCE

3 Hardwicke Street

A superb example of arts and crafts architecture, with the character and honesty of this beautiful home intact.

Sympathetically renovated from beginning to end, a fine example of craftsmanship from a bygone era with the

conveniences of modern living. A grand staircase leads upstairs to the bedrooms, the main includes built-in wardrobe

and cute ensuite. A gorgeous sunroom opens from two of the bedrooms, a relaxing space to enjoy the energy and

atmosphere of living by the sea. The large kitchen and spacious dining has adjoining living, perfect for busy family life

and entertaining. The elegant panelled lounge is gorgeous complete with gas fire. French doors open to outdoor living

to enjoy the evening sun. A surprise addition is a self-contained studio tucked away in the back garden, perfect for

those who work at home or extended family to enjoy. All beautifully presented and like brand new, an excellent location,

close to the Esplanade and within walking distance of everything that is this part of this seaside community.

Sumner

Deadline Sale

4pm, Fri 16 June 2017 (unless sold prior)

View Thurs/Sun 12.15-1pm

www.bayleys.co.nz/554648

Marilyn Still

M 027 229 8769

B 03 595 2844

marilyn.still@bayleys.co.nz

WHALAN AND PARTNERS LTD, BAYLEYS,

LICENSED UNDER THE REA ACT 2008.

All companies within this composite are Members of Bayleys Realty Group

www.bayleys.co.nz
---
Wednesday May 24 2017

Latest Christchurch news at www.

.kiwi

BAY HARBOUR

PAGE 13

BAYSIDE STYLE

83 Beachville Road

Every day will feel like you are on holiday at this iconic home. This beautifully crafted residence built in 2015 combines

both an exterior seaside villa look with a modern contemporary interior. Perfectly positioned on a corner site with

approximately 40 metres of frontage with multiple amenities within walking distance. This statement design showcases

an expansive north facing deck area. A fresh and inviting theme is present. Open plan kitchen, dining and living area

plus a generous size separate lounge all taking in those stunning water views. Functional floor plan with four double

bedrooms and an office. The master bedroom provides an impressive outlook with sliding door access to the deck and

garden and has its own luxurious ensuite and walk-in-wardrobe. Conveniently positioned laundry room. Two heat pumps,

full insulation, Argon filled double-glazing and under tile heating. Don't just look out to a stunning view but be part of it!

Redcliffs

Deadline Sale

2pm, Thurs 25 May 2017 (unless sold prior)

3 Deans Ave, Chch

View By Appointment

www.bayleys.co.nz/554573

Adam Heazlewood

M 027 327 7298

B 03 375 4700

adam.heazlewood@bayleys.co.nz

WHALAN AND PARTNERS LTD, BAYLEYS

LICENSED UNDER THE REA ACT 2008.

SENSATIONAL SEA VIEWS

78 Clifton Terrace

Sweeping from Scarborough to Sumner across Cave Rock, the Sumner Bar through to Kaikoura. This magnificent

entertainer´s home has the feel good factor, the wonderful warmth of wooden construction, stained glass windows and

cedar cladding will appeal to your natural senses. Designed in 1992 by Great Barrier Island Architect Leanne Harwood

to be at one with nature, this lovely hill property is surrounded by native bush and trees and enjoy's sensational lower

slope sea views of Sumner. A wonderful family home, which has matured into a private haven. Designed to maximise

full sun, with expansive decks offering protection and privacy for brilliant outdoor living. Fully refurbished throughout

including kitchen, bathrooms, carpet and paint, open plan living, warm and cosy with a log fire. Location perfect, drive

on access with double garaging, an easy walk to village and beach via Aranoni or the Zig Zag track. You will never tire of

this home it has been built with love and attention to detail to enjoy for many years to come.

Sumner

Auction

11am, Sat 10 June 2017 (unless sold prior)

On Site

View Thurs/Sun 11-11.45am

www.bayleys.co.nz/554574

Marilyn Still

M 027 229 8769

B 03 595 2844

marilyn.still@bayleys.co.nz

WHALAN AND PARTNERS LTD, BAYLEYS,

LICENSED UNDER THE REA ACT 2008.

www.bayleys.co.nz

All companies within this composite are Members of Bayleys Realty Group
---
PAGE 14 BAY HARBOUR Latest Christchurch news at www. .kiwi

Wednesday May 24 2017

SCHOOLS

ARRIVED: A group of 20 pupils went to Samoa to learn more

about the country and to give pupils there items they had

collected.

Learning experience in

Samoa for Sumner pupils

PUPILS FROM Sumner School

had some incredible experiences

when they visited Samoa.

On May 13, a group of 20

pupils travelled to Samoa for an

overseas learning experience. The

main purpose of the trip was to

learn more about Samoan language,

traditions, customs and to

experience what going to school

is like in a different environment

to New Zealand.

The group visited the islands of

Upolu and Savai'i. Pupils Pearl

O'Brien and Coco Barham said

there were a lot of highlights during

the trip.

Pearl and Coco said some

included swimming with turtles

and snorkelling in the coral reefs,

but the best part was St Mary's

School in Apia.

The pair said they had an

incredible welcome from the staff

and students and also got to meet

their pen pals, who they had been

writing to in the months leading

up to the visit.

Over the past couple of months,

the pupils were tasked with filling

a container with different items

for the children in Samoa.

The Sumner Rugby Football

Club also got on board, they

donated rugby gear, including

boots, uniforms and balls for

the Sumner School to take with

them.

Redcliffs School also helped

to fill the container, putting

furniture and stationery into the

container.

The pupils hope to return to

Samoa for another learning trip.

EXPERIENCE: The pupils visited various schools during their

time in Samoa.

SUCCESS: Our Lady Star of the Sea School

year 5-6 football team were the best on the

day winning all 10 games they played.

Sports teams from Our Lady Star of the Sea

School had a lot of success at a recent Catholic

schools competition.

The school's year 5-8 football and netball teams

showed off their talent when they competed in

the annual Canterbury Catholic Schools winter

tournament.

The year 5 and six football team won all 10 of

the games they played, while the year 7 and 8

won nine out of 10 and the year 5-8 netball teams

played eight and won four.

POET AND author James

Norcliffe paid a visit to the

pupils at Diamond Harbour

School.

Over two days, year 7 and 8

pupils had a writers' workshop

with the local author, who shared

with them some skills and creative

workshops.

One of the pupils, Molly, said

it was a great workshop to be

involved in.

"I think it was a really great opportunity

for kids to show their

writing abilities and express their

creativity and also to find out

what kind of things you can do

with writing," Molly said.

She said it was an enjoyable

COMPETITIVE: Year 7-8 football team won

nine of the 10 games.

PLAY: The year 5-8 netball teams played eight

games and won four.

two days and the pupils who took

part had to use their creative

thinking to write pieces, like ​

writing five lines about a cat

without using any Es.

SAFE: Our Lady Star of the

Sea School new entrants

Niamh Savage, Noah

Shepherdson, Navaeh

Anderson, George Lamb,

Jack Jones, and Indie Giles

used art to bring awareness

to the start of NZ Bullying

Free Week, which runs from

May 22 to May 26.

Author visits school

CREATIVE:

James

Norcliffe

with the

group of

young

aspiring

authors

who he

spent

two days

working

with.

•The work can be found on

the school's website at www.

diamondharbour.school.nz ​

on the Kotuku and Korimako

class blogs.

House of Travel

Ferrymead

Come in & see us for all your

2017 and 2018 travel plans.

Early birds on sale now! Guided Holidays, River

Cruising, Cruising and more.

Talk to one of our experienced team members today

and plan that holiday you've always dreamed of.

NEW

CONCEPT

STORE

OPEN

NOW

The best holidays are created together.

987 FERRY ROAD, FERRYMEAD VILLAGE I 03 3764 022 I FERRYMEAD@HOT.CO.NZ
---
Wednesday May 24 2017

Latest Christchurch news at www.

.kiwi

BAY HARBOUR

PAGE 15

Linwood

College

PERSONALISED

PATHWAYS

TO SUCCESS

2018 Student Leaders: 1st Row: Vai Mariner, Crystal Mehlhopt, Jenna Hollis, Leeah Mullany, Sarah Moana Wooff-Smyth

2nd Row: Eden Pettigrew, Adonai Schwenke, Anaru Gray, Cole Barrie

3rd Row: Havana Aaifou, Thomas McHutchison, Sapana Kharal, William Paulden, Sean Robertson-Wright, Makayla Austin

Enrolling now for 2018

Message from the Principal

Kia ora koutou. Talofa.

Kia Orana. Malo e lelei.

Bula. Fakaalofa atu.

Namaste and Kumusta.

Greetings to our

Community.

There is considerably

increased community

interest in Linwood

College. People are hearing about our

school's re-development and they want to

know more. I am often asked at various

community events, "Why Linwood?" More

and more people are keen to know what

Linwood College can offer their children.

There are three clear answers to this

question.

Firstly, our school nurtures personal

excellence by providing varied opportunities

to meet individual needs. At Linwood

College learning success and personal wellbeing

are inseparable. All Linwood learners

can expect to be challenged, enriched and

supported to reach personal excellence.

Learning is personalised for a 'love to learn'

culture so that each learning stage builds

upon one another to form an integrated,

personalised pathway.

Secondly, Linwood provides a safe, caring

physical and emotional environment with

positive systems and processes to support

students and communicate with families.

Well-being is at the heart of our school.

Finally, Linwood College embraces diversity

and inclusiveness. We see this as reflective

of both New Zealand society today and of

New Zealand's global future. Linwood

learners have a global understanding.

These three answers about our school can

be summarised in one phrase: Pathways to

Excellence: learning and social well-being.

In this season of school open nights I am

holding regular appointments for families

keen to learn more about Linwood College

and meet me personally. Please phone the

school office, phone 9820100, to book in a

time.

Nga mihi nui to our community as the

positive activity of the year continues. I

am always keen to meet people so if any

member of the community wishes to talk to

me about anything, please contact the office

to arrange a time for this to occur. My door

is open.

Richard Edmundson - Tumuaki-Principal

Congratulations - Rise in NCEA Results

In early May our school received a letter

from the Minister of Education, the

Honourable Hekia Parata, congratulating

the Board of Trustees and wider school

on the significant improvements in our

2016 NECA results. Students, staff and

the Board are all pleased to receive this

positive acknowledgement.

Stepping into the Future - the shape of

things to come

Masterplanning is underway for our total

school rebuild on our site with the physical

work beginning in 2018. The time frame is

three years, so that the College can function

sensibly over the rebuild period.

Responding to the clear community voice on

Linwood College's future direction, we will

have purpose-built general and specialist

facilities for classroom learning, sports and

Duke of Edinburgh Expedition

Seventeen students from Linwood College

deployed on a 3-day, 62 kilometre journey

with the Joshua Foundation to complete their

Bronze Duke of Edinburgh Hillary Award

(DOEHA) Expedition.

The expedition took place in challenging

conditions through Motukarara, Little River,

then through the Kaituna Valley to the

Packhorse Hut and down to Gebbies Pass

- with the last part of the expedition over

the Banks Peninsula to Godley Heads and

terminating at Taylors' Mistake Beach.

cultural pursuits.

Our classrooms will have the flexibility of

size to suit the student and the nature of the

learning occurring. Our facilities will centre

on learner-autonomy for personalised

success and future-focussed employability

and leadership skills.

A Linwood learner is nationally and globally

prepared.

Under the guidance of Chris Allan from the

Joshua Foundation, the students developed

their leadership knowledge and forged strong

personal relationships with each other with

great results.

Chris Allan and the Joshua Foundation has

worked with Linwood College over the past

nine years serving our school community

with hundreds of students successfully

completing the various awards.

Families roll up for Dessert

This month the Linwood College Hospitality

Department held a dessert restaurant over

two nights. Year 13 hospitality students

worked hard during Term 1, trialling mini

desserts for the degustation event with

Year 12 hospitality students trained in table

service.

The evenings would not have been as

successful as they were, without the hard

work and planning by former Linwood

College student Navneet Narayan. These

evenings are deservedly attracting more

and more attention.

Power Up East!

Pasifika students from any school are all

invited to participate in this programme

involving tutoring, mentoring and

engagement for our Pasifika Community.

This is based at Linwood College every

Tuesday from 5pm to 6.50pm.

Come along with your families to the Linwood

College School Hall. Groups separate into

ECE, primary and secondary sectors and

parents will have their own session too!

Spread the word. Let's Power Up for Pasifika

success!

David Siumu was the youngest contestant in his section during the recent SPACPAC Speech Competition.

Titi Tomasi (right) came third in the Senior Samoan speech category.

Fuel Up Fundraiser

Our local Z garage on Linwood Avenue are

running the 'Good in the Hood' project.

Please support the local Alternative

Education provider KAP (Kimihia Adventure

Programme) by fueling up there and popping

the token in to support KAP.

Linwood College • Phone: 982-0100 • Email: office@linwoodcollege.school.nz • www.linwoodcollege.school.nz
---
PAGE 16 BAY HARBOUR Latest Christchurch news at www. .kiwi

Wednesday May 24 2017

Three teams

at top of table

• By Gordon Findlater

A NIL-ALL draw with defending

Mainland Premier League

champions Cashmere Technical

has kept Ferrymead Bays at the

top of the table.

Ferrymead Bays lead a threehorse

race midway through the

Mainland Premier League season.

Bays are on 23 points after 10

games with Cashmere on 22.

Coastal Spirit are also in the

mix and are now just one point

behind Cashmere following their

1-0 win over Nomads United.

Playing at Ferrymead Park, the

home side played with the strong

breeze behind them in them in the

first half. However, couldn't use

it to their advantage as the sides

went to the break at 0-0.

In the second half goalkeeper

Adam Heighfield was the star

of the show for Bays. Late in the

game he made a full stretch save

to deny Cashmere defender Tom

Schwarz's hit from long range.

He also produced another gem

to deny Stu Kelly from inside the

18-yard-box in the final stages.

Their next test comes against FC

Twenty 11 at Avonhead Park on

Saturday.

• By Gordon Findlater

SUMNER'S HOPES of a

top-six finish in the first round

of the Hawkins Cup are still

alive following a gritty 11-10

win over Shirley at St Leonards

Square.

Coming into Saturday's

match nothing was required if

Sumner's top-six hopes were

to stay alive. They looked like

a hungry team early, jumping

out to an 8-0 lead within the

opening 5min courtesy of a Nik

Cumming penalty and No. 8

Dylan Nel brushing off Shirley's

defence to score his fifth try this

season.

With the wind wreaking

havoc on the thought of any

intricate back play, the game

quickly became a battle of the

forwards and the score wouldn't

SPORTS

Big swells for surfers

• By Andrew King

SUMNER'S Caspar McCormick

won the longboard section of

the Canterbury scholastic surf

championships in cold, testing

conditions on Sunday.

Held during a southerly flow that

swept across New Brighton's beach,

McCormick's fancy footwork saw

him win the category while Little

River's Daisy Cooper placed second.

Cooper was also the top ranked

under-14 surfer in the girls' mixed

age section where she placed fourth.

Sumner surfers had a good showing

at the competition with Estella

Hungerford winning the girl's

mixed age section, Jordan Sparrow

placing second in the under-18

BATTLING:

Sumner's Angus

Mossman

placed third in

the under-18

section of the

Canterbury

scholastic surf

champs in New

Brighton last

weekend.

PHOTO: MARK

BISHOP

Tense battle for Sumner in blustery conditions

change before half-time.

"We realised pretty quickly

that it was going to be an armwrestle,"

said Sumner coach

Martin Dodgson.

Shirley came out firing in the

second half and cut Sumner's

advantage to one before a second

penalty from Cumming made

it 11-7.

It was nail-biting stuff for

Sumner fans in the dying stages

of the game. A Shirley penalty

made it 11-10 to Sumner before

Cumming's restart went out on

the full giving Shirley a scrum

on half-way.

Sumner were then marched

back 10m and gave Shirley a

40m kick to take the lead. It was

unsuccessful.

However, Cumming once

again put the ball out on the full,

boys' section, Angus Mossman

third and Thomas Harcourt

fourth.

Sparrow was unlucky to not take

the top spot after leading up until

the final 5min before Christchurch

Boys' High School student Sam

Sands wrestled it from him.

Finn Brokenshire, also from

Sumner, placed third in the

under-16 boys and Tim Gould,

of Redcliffs, placed fourth in the

under-14 boys.

The event is a trial for the

Canterbury scholastic surf team

with a training squad expected

to be named on June 11 with an

eye on the national scholastic surf

championships in Gisborne in

October.

this time from the 22m dropout.

However, Sumner's defence

held firm and earned a penalty

to kill off the game.

"It was easily our best defensive

effort of the season. We

made seven low tackles against

Burnside two weeks ago, 29

against High School Old Boys

the week after and against

Shirley we made 53," said Dodgson.

With just three round-robin

games remain in the Hawkins

Cup before the 12-team competition

in cut into a top and bottom

six. Sumner will fancy their

chances of making the top six.

Their final three games are

against Linwood, Belfast and

Marist Albion, who all sit below

them in the competition standings.

WINNER: Sumner's Caspar McCormick won the

longboard section of the Canterbury scholastic surf

champs held in New Brighton last weekend.

SOLID SET: Sumner's Jordan Sparrow had to settle for

second in the under-18 section. PHOTO: MARK BISHOP

ARM-WRESTLE: Sumner's 11-10 win over Shirley was played out

as a battle of the forwards in wintry conditions.

PHOTO: ROZELLE MAY ​

Visit www.star.kiwi

anytime, anywhere!

Breaking news,

delivered to your pocket.

•news •CTV •sport •districts •schools •lifestyle •opinion •what's on

Fire rages, homes at risk

www.star.kiwi
---
Wednesday May 24 2017

Latest Christchurch news at www.

.kiwi

BAY HARBOUR

PAGE 17

PENINSULA

HIGHLIGHTS

Relax and discover the natural beauty of popular

Banks Peninsula with its breathtaking views and unique

character. Only a short drive from Christchurch City,

there's always plenty to see and do!

Stay somewhere unique!

SiloStay with it's unique, cutting-edge design is the perfect launch pad to the

Peninsula bays and gourmet Akaroa. Full of nature walks, cycle trails, and scenic

drives - experiencing Little River and sleeping in a Silo is an exceptional treat!

SH 75, Little River.

www.silostay.kiwi.nz

Ngā Taenga mai Arrivals exhibition

Refreshing the past

Akaroa Museum is gradually opening new, refreshed exhibitions.

Visit us to view Ngā Taenga mai Arrivals, the first of our long-term galleries.

Open daily 10.30am-4.00pm, admission free.

www.akaroamuseum.co.nz

World renowned and famous fish & chips!

The popular tourist destination, Akaroa Fish and Chip Shop is world renowned

and famous. Visit them for mouthwatering fish, plus delicious chips, hotdogs,

hamburgers, sausages and drinks. Excellent value takeaway meals or eat in. They

offer both indoor and outdoor dining with fantastic waterfront views of Akaroa

Harbour. They also operate Hanmer Fish 'n' Chips, 4B Conical Hill Road, Hanmer.

59 Beach Road, Akaroa.

www.akaroa.com/akaroa-fish-chips

La Rochelle Motel - 2 night winter special

Modern accommodation in Akaroa. The perfect place to stay and enjoy the village's

quaint charms. La Rochelle Motel is close to Akaroa's walking trails, galleries and some

of Akaroa's top restaurants. Mention this advert for a winter special price of $199

for 2 people for a 2 night stay in a King or Queen Studio room (valued up to $298).

*Conditions apply. Must stay before 31st August 2017.

www.larochellemotel.co.nz

Beautiful, private accommodation & venue

Set on 6 hectares in the heart of Akaroa, with amazing views and great

facilities make Mt Vernon Lodge your only choice for your stay in Akaroa.

Mt Vernon Lodge, specialists in all your wedding, conference and

accommodation requirements.

www.mtvernon.co.nz

Akaroa's newest fish & chip shop

Situated at 7 Church Street, Murphy's on the Corner is the Fish & Chip shop all the

locals are suggesting. They are a family owned and operated business, offering freshly

caught fish from Akaroa Harbour, premium chips, the best seafood chowder made

daily and fresh Akaroa Salmon. They are rated as having the best fish burgers in NZ.

www.facebook.com/Murphy's Seafoods
---
PAGE 18 BAY HARBOUR Latest Christchurch news at www. .kiwi

Wednesday May 24 2017

Our fresh promise

If it's not fresh, we'll replace & refund.

Fresh NZ Lamb Leg Roast

Seedless Easy Peel Mandarins

$

11 99

kg

$

3 99

kg

Signature Range Mild/Colby/Edam Cheese 1kg

Whittaker's Chocolate Block 250g

$

8 99

each

$

4 29

each

Fresh NZ Plain/Crumbed Beef Schnitzel

Chilean Red Seedless Grapes 500g

Talley's Ice Cream 2L

$

14 99

kg

Speight's Gold Medal Ale/Summit

12 x 330ml Bottles

$

3 99

pack

Saints

750ml

Please drink

responsibly

$

4 99

each

Coke/Sprite/

Fanta/Lift/L&P

1.5L

$

17 99

pack

$

8 99

each

$

2 49

each

svbhn2405

SuperValueNZ

SuperValue Lyttelton: 17 London Street, Lyttelton. Phone 328 7368. Open 7am-9pm, 7 days.

SuperValue Sumner: 3 Village Mall, Sumner. Phone 326 5688. Open 7am-9pm, 7 days.

SuperValue.co.nz

Specials available from Wednesday, 24th May until Sunday, 28th May 2017 or while stocks last. We reserve the right to limit quantities. All limits specified apply per customer per day.

Trade not supplied. Prepared meals are serving suggestions only. Props not included. Certain products may not be available in all stores. Proprietary brands not for resale.

Customer Support Freephone 0800 40 40 40.
---
Wednesday May 24 2017

Latest Christchurch news at www.

.kiwi

BAY HARBOUR

PAGE 19

Email caitlin.miles@starmedia.kiwi

by 5pm each Wednesday

Use it or Lose it

Wednesday 9am-9.50am

This class is for the over-50s

and is a gentle exercise class

suitable for those wanting to

improve their strength, balance

and mobility. Have fun

in a friendly atmosphere, meet

new people and get active and

fit at the same time. First class

is half price.

Redcliffs Bowling Club, James

St, Redcliffs. $5

Create 'n' Connect Art and

Craft Group

Thursday, 9.30am-noon

If you're crafty or want to

start getting crafty go along

to this group. Take your own

project or go with ideas for a

new one. Others in the group

are there to offer help or

advice. Meet new like minded

creative people and learn

new skills. Pass on your tips

and pick some up from other

people at the group. This event

aims to help with your projects

and meet new people. Phone

Beth on 022 678 1252.

St Andrews Anglican

Church, 148 Main Rd, Redcliffs.

Free entry

Babytimes

Friday, 10.30am-11am

This event allows for parents

and caregivers to interact with

each other while letting the

babies learn. At these sessions,

babies learn through language,

rhymes, songs, stories and

play. The babies learn together

and build connections with

each other.

Lyttelton Library, 18 Canterbury

St. Free entry

Bardo of the Nectar Lovers

Today until June 4 – various

times

The latest exhibition from

50 Works Gallery features new

pieces by Maryrose Crook. She

used oil on canvas to create

her surrealist pieces. Take a

wander around the gallery

and check out all of the pieces

on display from a range of

different artists. The gallery

is open Thursday and Friday,

2pm-4pm and Saturdays,

11am-4pm. It is open other

times by appointment.

50 London St.

Rhythm and bubs

Friday from 9.30am-11.45am

If you're looking to engage

your baby or pre-schooler in

music go along to this event

run every Friday morning for

a series of 30min sessions. This

event runs during term school

times. The sessions allow for

children, parents and caregivers

to meet one another and

ADVENTURE: The Peninsula Tramping Club host a variety of walks and events every month. It is free

to attend the club's tramps around Banks Peninsula and the wider area, there are walks for varying

levels of abilities. Along with conservation work, they also host monthly meetings and social events.

Meet on Sunday morning at 8am at the Oxford Tce Baptist Church before travelling to the tramping

spot for the day. Go to http://www.peninsulatrampingclub.org.nz/ for more information. ​

interact with others around

the Sumner, Redcliffs and Mt

Pleasant area. Mainly Music is

a fun and educational music

and movement session followed

by morning tea and a

social and play time. The first

session is free, $4 per session

after that. Phone Hazel on 384

1965 or 021 077 1264.

St Andrews Church, 148

Main Rd, Redcliffs

Storytimes

Tuesday, 11am-11.30am

Encourage reading in your

pre-schoolers. Storytimes have

interactive programmes which

include stories, songs, rhymes

and play. Have children

meet each other and build

friendships at this event while

learning more. Pick-up some

library books to read to them

at home.

Lyttelton Library, 18 Canterbury

St. Free entry

Markets:

The weekly markets have

many different attractions and

delicious treats on offer. From

fresh produce to freshly baked

bread, cheeses and free range

eggs. Find some healthy food

options and sip on a coffee.

Lyttelton Farmers Market:

Every Saturday, 10am-1pm,

London St

Mt Pleasant Farmers Market:

Every Saturday, 9.30am-

12.30pm, 3 McCormacks Bay

Rd Wakefield Ave

Akaroa Farmers Market:

Saturday, 9.30am-1pm, Madeira

Car Park.

3 Garlands Road, Woolston

DeluxeCinemas.co.nz

Christchurch's Premium Cinema Experience

Phone Bookings | Free Parking | Cafe/Licensed Bar

03 389 5360 Online Bookings | Cinema Club | Hot Nuts/ Cheeses

Met Opera 2016-17 SeaSON: ruSalka WEd: 10:15am

the hIppOpOtaMuS Stephen Fry

ThUR, fRI: 1:10pm, 5:50pm SAT: 2:20pm, 6:30pm SUN: 1:10pm, 6:30pm

MON: 12:10pm, 6:20pm TUE: 12:15pm, 4:10pm

vICerOY'S hOuSe The End Of An Empire. The Birth Of Two Nations.

WEd: 10:00am, 2:00pm, 4:05pm, 8:00pm ThUR: 11:50am, 3:50pm, 7:50pm

fRI: 12:15pm, 4:10pm SAT: 10:00am, 11:50am, 3:50pm, 7:50pm

SUN: 10:30am, 2:30pm, 5:15pm MON: 10:00am, 11:50am, 3:50pm, 8:10pm

TUE: 12:25pm, 4:20pm, 6:00pm

peCkING OrDer ChCh Poultry, Bantam and Pigeon Club

WEd: 12:05pm ThUR, SAT: 10:00am, 2:00pm, 6:00pm fRI: 10:30am, 2:20pm, 6:20pm

SUN: 12:40pm, 4:40pm, 8:20pm MON: 10:00am, 2:00pm TUE: 10:30am, 2:30pm, 8:30pm

the SeNSe Of aN eNDING Charlotte Rampling

WEd: 3:00pm, 8:15pm ThUR, fRI: 11:00am, 7:40pm

SAT: 12:15pm, 8:20pm SUN: 11:00am, 7:20pm MON, TUE: 2:00pm, 8:10pm

theIr fINeSt Bill Nighy (FINAL WEEK)

ThUR, fRI: 3:10pm SAT: 4:10pm SUN: 3:00pm MON: 4:05pm TUE: 10:00am

MySTERy ScREENINg R18 ($10 TICKETS) fRI: 8:30pm

COMING SOON

SpeCIal eveNtS/retrO

JuNe 1st McLAREN

DelaNeY DavIDSON June 9th 8:30pm

JuNe 15th Churchill

GreMlINS June 14th 12:30pm

JuNe 22nd The Time Of Their Lives GreaSe Sing along June 18th 2:15pm

JuNe 29th Monsieur Chocolat

MET OPERA 2016-2017 SEASON: RUSALKA PG ThE hIPPOPOTAMUS R16 Offensive Language,

Sex Scenes & Sexual References vIcEROy'S hOUSE M Content May Disturb PEcKINg ORdER PG

Coarse Language ThE SENSE Of AN ENdINg M Sex Scenes & Offensive Language ThEIR fINEST M

Sex Scenes & Offensive Language

NEW: SERvINg fREE MORNINg TEA ENjOy A fREE TEA, cOffEE & A fREShLy BAKEd BIScUIT WITh

EvERy MORNINg ShOW

The authority on

NZ rugby since 1970

–

From local grassroots

rugby through to the

Rugby World Cup

–

On sale every

two months

SPECIAL OFFER FOR

OUR READERS

FOR JUST $49.50 RECEIVE

5 ISSUES OF RUGBY NEWS

PLUS LIONS TOUR

SPECIAL EDITION *

(Special Edition RRP $15)

To Redeem: email scott@rugbynews.co.nz with 'Lions 17' in the subject line

148-PAGe RGBY dND

SPeCIAL edITIoN

eVeRY GAme, eVeRY VeNUe

Learn all about our past, present and future heroes.

Plan your tour in front of the TV and on the road.

Phil Gifford on the game's greats

Justin marshall calls it how he sees it

INSIde: Rugby's most trusted voices

ON SALE NOW at all good

bookstores and supermarkets

Ron Palenski remembers the classics

Lynn mcConnell on the challenge ahead

Terms & conditions: Valid for one-year subscriptions and NZ addresses only. Recipients will receive Lions special edition plus 5 Rugby News editions. Valid for orders placed through scott@rugbynews.co.nz from 1 May 2017 to 31 May 2017 only.
---
PAGE 20 BAY HARBOUR Latest Christchurch news at www. .kiwi

Wednesday May 24 2017

cnr Montreal & St Asaph Streets, Christchurch.

Sales, Service & Parts: 03 379 0588

QUALITY PRE-OWNED VEHICLES

AVAILABLE TODAY

LIMITED EDITION

4WD TRITON GLX-R

$32,990

2009 Mitsubishi Triton GLS,

3.2L Turbo Diesel, 5spd manual, 4WD,

Cruise Control, Canopy, Deck liner,

102,000kms. $25,990

2013 Mitsubishi Triton GLS,

2.5L Turbo Diesel, 5spd manual, 4WD,

Leather, Cruise Control, Canopy, Deck

liner, 56,000kms. $31,990

If you're quick, you can bring the Limited Edition Triton 4WD GLX-R onto your property. It's

perfectly suited to life on the land, for a surprisingly sharp price.

Come and see us at Christchurch Mitsubishi, cnr Montreal & St Asaph Streets or visit ChristchurchMitsubishi.co.nz

to arrange a test drive.

* Price listed is for a 4WD Triton GLX-R manual and excludes GST and on road costs which includes Registration, WoF, 1,000km road user charges and a full tank of fuel.

Available while stocks last. Visit www.mmnz.co.nz for full Diamond Advantage Warranty conditions.

2014 Mitsubishi Triton GLS,

2.5L Turbo Diesel, 5spd manual, 4WD,

Leather, Cruise Control, Canopy, Deck

liner, 77,000kms. $33,990

BEYOND THE PEAK

OF PERFORMANCE.

The Ultimate

Driving Machine

THE NEW LIFESTYLE EDITION BMW X3 xDRIVE28i.

It's the perfect combination of luxury, style and raw power that earns the new Lifestyle Edition BMW X3 xDrive28i its place in the BMW X Range.

Get the ultimate driving experience from $97,500. Plus for a limited time, enjoy $10,500 worth of additional premium features for no extra cost.*

With limited availability, now's the time to book a test drive at Christchurch BMW.

20" M Light Alloy Wheels Panoramic Glass Sunroof Head-Up Display

$10,500

WORTH OF ADDITIONAL FEATURES

FOR A LIMITED TIME ONLY *

• COMFORT ACCESS SYSTEM

• PANORAMIC GLASS SUNROOF

• BLIND SPOT WARNING

• LANE DEPARTURE WARNING

• HEAD-UP DISPLAY

• SPEED LIMIT INFO

• APPROACH CONTROL WARNING

Christchurch BMW

30 Manchester Street, Christchurch. 03 363 7240 ChristchurchBMW.co.nz

*Price excludes on-road costs. Includes 5 year warrant/roadside assist and 3 years' service inclusive. Offer based on BMW X3 xDrive28i Lifestyle Edition. Lifestyle edition includes $10,500 worth of

additional feature specification. Limited stock available. Not to be combined with any other offers. For full car specification see www.bmw.co.nz
---
Wednesday May 24 2017

Latest Christchurch news at www.

REAL ESTATE

Sun, City & Southern Alps

272 Major Hornbrook Road, Mt Pleasant

Price: $890,000

4 bedrooms | 2 bathroom | 2 living rooms | 2 car-garage | 2 off-street parks | Listing # FM5156

.kiwi

BAY HARBOUR

PAGE 21

Panoramic views of the City and the

mountains beyond are yours with this

ultimate family home where you can relax

in comfort and sunshine during the day

while the City sparkles below at night.

Designed to offer views from every room

this modern, fully insulated and double

glazed, 4 double bedroom home offer

space and appeal not easily seen from the

street. Step inside and you will appreciate

the flowing living areas; including a large

family room featuring tastefully upgraded

kitchen and defined dining area and

separate formal lounge with floor to ceiling

windows to maximise the effect of the

stunning views on offer.

With families in mind, the home boasts 4

double bedrooms and 2 stylish bathrooms

plus huge storage that is rare in modern

homes today. The easy-care gardens lead

onto an expansive deck for year-round

entertaining an includes an ideal space for a

spa to relax in, while stargazing or enjoying

the city lights in the evenings.

This is a property that has all the essentials

for a family home, all it needs now is you!

For more information or to arrange

a private viewing contact Chris Moores

of Harcourts Grenadier Ferrymead

(Licensed Agent REAA 2008) on 384

7950 or 0275 884 440

Home &

Leisure

SHOW

JUNE 30 –JULY 2

HORNCASTLE ARENA

IN ASSOCIATION WITH

EXHIBITORS

BOOK NOW

Showcase your products or services

to more than 20,000 customers

Bookings

Vanessa Fleming

P 03 379 7100 | M 021 914 565

vanessa.fleming@starmedia.kiwi

WWW.STARHOMESHOW.KIWI
---
PAGE 22 BAY HARBOUR Latest Christchurch news at www. .kiwi

Wednesday May 24 2017

YOUR LOCAL TRADES & PROfESSiOnAL

SERviCE bUSinESSES

Appears every

month in

Support theSe locAl buSineSSeS

Lyttelton Physiotherapy

A friendly team of 4 experienced physiotherapists

• Back and neck problems

• Sports physiotherapy

• Post operative rehabilitation

• Work related injuries

• Gym Based programs, small gym on-site

• Injury prevention

• Elderly care

• Acupuncture and dry needling

• Massage and myofascial release

Physiotherapists

Heather Bushaway, Andrew Abakhan,

Leila Shahtahmasebi, Richard Hopkins

ACC ENDORSED PROVIDER | NO DR's REFERRAL NECESSARY

LYTTELTON HEALTH CENTRE

18 Oxford St, Lyttelton

Hours: Monday–Friday 8am – 7pm

Phone: 03 3288111 Fax: 03 3288901

Email: lytteltonphysio@gmail.com

DO YOU NEED A

CHARTERED ACCOUNTANT?

It's a common question.

Most clients are referred to chartered accountants by their existing

clients and professional / personal networks. Advertising may have

some effect - but generally it's minor. The reason for this is that

the role of a chartered accountant is a very trusted one and like

all service roles is based on interpersonal relationships. Let's face

it,you will be sharing your personal financial information with your

accountant, so you need to be able to trust them.

What is a Chartered Accountant? In reality anyone can

call themselves an accountant - you do not need to have any

qualifications or experience to work as an "accountant". In contrast to

call yourself a Chartered Accountant you need to have a tertiary level

accountancy qualification, the correct types of work experience, pass

post graduate exams set by Chartered Accountants Australia / New

Zealand, meet on going professional development requirements and

meet ethical and technical standards. All client contact is bound by

confidentiality.

What does a Chartered Accountant do? Most people think

that accountants only prepare financial statements and tax returns.

That is referred to as Compliance in accountancy speak and does

form a part of the needs of most clients. The other part of the role

is usually termed as BAS or Business Advisory Services. BAS can

encompass a huge range of skills from Business Planning and Cash

flow Forecasting to Succession planning and Development of your

Businesses Core Values. BAS adds value to clients i.e. it can help make

their business and personal lives more successful, Compliance can be

seen as a requirement imposed by tax law so is often viewed in less

favourable terms.

Who Needs a Chartered Accountant? The majority of

salary and wage earners do not require an accountant as their tax

is deducted at source via the PAYE system. If you have other forms

of income that are not taxed at source such as business, rental or

investment income then you should consider using a Chartered

Accountant to assist you meeting your legal requirements and to help

you build success.

At Craig Roberts & Associates we have in excess of a decade

of experience with business success across Christchurch and

throughout New Zealand. We are a small firm who can give you the

time and commitment you need. We enjoy helping you and your

business grow and succeed.

Please contact Craig Roberts if you would like to

discuss how we can help you on 03 943 1950 or email

craig@craigroberts.co.nz

Level 1, 20 Bealey Ave, Merivale

Ph: 03 943 1950 M: 021 937 949

E: craig@craigroberts.co.nz

I will be available on the Peninsula one day

a week and can travel to see you or meet in

Little River, please phone for an appointment

ADVERTISE HERE!

Get your business

profile and

services noticed

by potential

customers in

your area!

To advertise in this monthly

feature contact Kerry Roach

or Sally Johnson 3791 100

Published every Wednesday

We Build Great

Retaining

Walls

All types, all sizes

Gabion, Pole, Concrete,

Wood, Block

SOLVEIG

CONSTRUCTION

Call 027 431 5289

Monday-Friday 8 to 5

ROOF

PAINTING

Rope & harness a speciality, no

scaffolding required, 30 years

of breathtaking experience.

FREE QUOTES

Exterior staining, exterior

painting, moss and

mould treatment and

waterblasting.

Phone Kevin 027 561 4629

You'll be amazed at what a multi-purpose

room your garage becomes when you add

carpet and it only costs around $35m 2 .

Part of the Protecta Coatings Group

We only use New Zealand made,

100% UV resistant specialised carpet.

We also paint garage and workshop floors.

www.protectafloorings.co.nz

Call now 021 488 025

Nails by Sean Alexandra

Beautiful hands, feet and nails start now!

Qualified and professionally trained Nail

Technician. Expert nail care advice, quality

products and services and trending nail art

options including full service manicures and

pedicures, hard gel and acrylic nail enhancements

and custom nail art.

Sean Alexandra - Governors Bay

Ph 021 024 97351 email seanalexandra1@gmail.com

www.seanalexandra.wixsite.com/nails

We are an experienced landscaping and garden maintenance team that offer a wide range of services from

simple garden maintenance to large scale section clearing, excavation work and commercial landscaping.

We pride ourselves on offering the highest quality of garden and landscaping services and we always come

prepared with the proper tools and supplies. We are based in Sumner and have specialist knowledge of

coastal and hillside gardens, but work all over Christchurch both on residential and commercial properties.

Our general landscape gardening services includes:

• garden maintenance • weeding

• ongoing maintenance programs • hedging

• tree work and stump removal. • plant care

Our more specialist landscaping services include:

• Landscape construction • Hard landscaping

• Excavation work

• Retaining walls

• Driveways

• Paths

• Section clearing

With our own digger, Avant mini loader, truck and van we're fully equipped to take on almost any job big or

small. We're always happy to discuss new work so please feel free to get in touch so we can provide more

information on how we can help you with your landscape and garden requirements.

Ruth, phone 021 272-0303 or Ewan, phone 027 201-5150

Landscape

and Garden

Services

If you need help getting your

garden back in order after

repairs, need any type of

landscape construction work

or garden restoration.

Phone 021 272 0303
---
Wednesday May 24 2017

Latest Christchurch news at www.

.kiwi

BAY HARBOUR

PAGE 23

Classifieds Contact us today Phone our local team 03 379 1100

Community Events

Trades & Services

Trades & Services

Public Notices

Situations Vacant

ALCOHOLICS

ANONYMOUS, If you

want to have a drink thats

your business. If you want

to stop, we can help. Phone

0800 229-6757

Computers

ALL

YOUR

COMPUTER

WORRIES SOLVED!

*$30.00 off your first

service with this coupon!*

No problem too big or

small from home PC's to

business networks. PC

slow? An end to Viruses,

Spyware, and Clogged

Systems. Safe secure

hassle-free computing.

Lost files recovered.

Microsoft Certified,

MCSE, MCP+l. 30 years

experience. Call Andrew

Buxton this week on 326-

6740 or 027 435-7596

for $30.00 off* Custom

Computers Christchurch

For Sale

BAILEY Tank Karaka 900

litres capacity, height 1.4 x

1m, excellent condition,

Charteris Bay pickup $300

ph 021 402 987

Funeral Directors

Direct Natural

Funeral Provider

0800 000 121

www.cremorials.co.nz

Holiday

Accommodation

QUEENSLAND SUN-

SHINE COAST AUSTRA-

LIA Resort, Ocean Views,

Balconies, Self Contained,

1 or 2 B/R Ensuite,

Heated Pool, Spa, Sauna,

Free Internet, Shops,

Restaurants, Tennis, Surf

Club & Patrolled Beach,

Public Transport at door.

Ask for our SEASONAL

SPECIALS. Phone 61 7

544-35011 Email: reception@mandolin.com.au

www.mandolin.com.au

SUMNER Holiday

Accom 027 600 6076

www.kotaresumner.nz

Personals

MALE 31 seeks female

for friendship, relationship,

txt 022 312 3327

To Let

COTTAGE Governors

Bay 2 bdrm furnished. Bay

views. Heat pump. Wood

burner. Carport. $385 p/w.

Contact Sally 027 211

0102

Tuition

YOGA for Seniors on

Mondays 11am at Yoga &

Qigong School of Sumner,

42 Nayland St. Promotion

$25 for 5 times , call Maja

027 4210 424

RE-ROOFING

QUALITY ROOFING AT THE

BEST PRICE AROUND

Protect your home with a new Colorsteel roof.

Call for a friendly, FREE assessment and quote.

• Roofing

• Spouting and Downpipe

• Safety rails

• Licensed Building

Practitioner

Ph: 347 9045 or 021 165 1682

Email: Robinsonroofing99@gmail.com

Plumbing & Drainage

Plumbing & Drainage

PLUMBING & DRAINAGE

Local business for all

plumbing MTPD and drainage

Call Local Morgan business work. - 0223758506 for all

plumbing and drainage

Morgan Thomas Plumbing & Drainage Ltd

Local business for all plumbing and

drainage work.

Freework.

Free Quotes

Quotes

Free Quotes

New SkyVac

Gutter Cleaning Machine

New SkyVac

Revolutionary Gutter cleaning system.

No job too big or too small!

Gutter Cleaning Machine

Revolutionary Gutter cleaning system.

MORGAN THOMAS PLUMBING & DRAINAGE LTD

No job

Calltoo Morgan

big0223758506

or too small!

MORGAN Visit our THOMAS website PLUMBING - www.mtpd.co.nz

& DRAINAGE LTD

Email Call-Morgan morgan@mtpd.co.nz

0223758506

Visit our website - www.mtpd.co.nz

Email - morgan@mtpd.co.nz

Trades & Services

ROOF

Trades & Services

PAINTING SERVICES

Mature, reliable,

conscientious &

experienced, reasonable

PAINTING rates, no job too small!,

Rope & harness

call Ron 027 434-1400

PAINTER/PLASTERER

a speciality, Experienced tradesman,

quality work, free quotes,

no scaffolding

ph Simon 027 389-1351 or

required, 03 328-7280

30 years of PAINTER

breathtaking

Available, RAPID

RESPONSE, quality

experience.

work guaranteed,

FREE QUOTES interior/exterior,

roofs, spraypainting,

Exterior staining, waterblasting, ph Graeme

exterior painting, for a free quote,

moss and mould 027 318 2614

PLASTERING

treatment and

INTERIOR, no job too

waterblasting big or too small, specialise

in repair work & new

Phone Kevin

houses, free quotes given,

027 561 4629 over 20 yrs plasterering

experience, ph 027 221-

4066 or 384-2574

Trades & Services

ROOFING

CARPET & VINyL Qualified & Licenced

LAyING

Practitioner. Re-Roof &

Repairs, uplifting,relaying, Repairs, all types. Member

restretching,jflattery@ New Zealand Roofing

xtra.co.nz,

Association. Over 35 years

ph 0800 003 181 experience. Phone John

or 027 2407416

027 432-3822 or 351-9147

email johnmill@ihug.

CONCRETE

co.nz

Decopave Ltd,

TREES BIG OR SMALL

Canterbury owned &

tree removal, trimming,

operated for over 10

stump grinding, shelterbelt

years, competitive rates,

clean up, section clearing,

full excavation, coloured,

rubbish removals,

exposed, stamped, call

excavation work, ph Trees

Paul 027 322 6119

Big or Small, for a free

ELECTRICIAN

quote, 021 061 4783

JMP Electrical.

VHS VIDEO TAPES

Experienced & registered.. & all camera tapes

Expert in all home converted to DVD, video

electrical repairs & taping special occasions,

maintence.Call James 027 www.grahamsvideo.co.nz

4401715

ph 03 338-1655

WINDOW CLEANING

"Your Windows are the

eyes of your Home", for

a free no obligation quote,

call Greg Brown, Crystal

Clear Window Cleaning

ph 384-2661 or 027 616-

0331 Local Resident

Situations Vacant

HOUSECLEANER.

Wanted for 2 hours per

fortnight. Ph 384 5453

Public Notices

SALE AND SUPPLY OF

ALCOHOL ACT 2012

SECTION 127, 101 & 120

ORANGE STUDIO LIMITED,

(THE LICENSEE, PO Box 19907,

Woolston, Christchurch 8241),

has made application to the

District Licensing Committee

at Christchurch for the renewal

and variation of ON-LICENCE

RENEWAL in respect of the

premises situated at 1/1063

Ferry Road known as ORANGE

STUDIOS.

The general nature of the

business conducted under the

licence is: ON-LICENCE OTHER

NOT OTHERWISE SPECIFIED.

The days on which and the

hours during which alcohol

is sold under the licence are:

CURRENT HOURS: MONDAY TO

SUNDAY 5.00PM TO 11.00PM

HOURS SOUGHT: MONDAY TO

SUNDAY 10.00AM TO 2.00AM

THE FOLLOWING DAY.

The application may be

inspected during ordinary

office hours at the office of the

Christchurch District Licensing

Committee, Civic Offices, 77

Hereford Street, Christchurch.

Any person who is entitled to

object and who wishes to object

to the grant of the application

may, not later than 15 working

days after the date of the first

publication of this notice, file a

notice in writing of the objection

with the Secretary of the District

Licensing Committee, PO Box

73049, Christchurch 8154.

No objection to the renewal of a

licence may be made in relation

to a matter other than a matter

specified in section 131 of the

Sale and Supply of Alcohol Act

2012.

This is the first publication of

this notice.

Do you know

where your

nearest

CIVIL DEFENCE

sector post is?

Ring your local

council to find out.

A Star Media Event

Reporter,

Sub Editor

Star Media is seeking journalists.

We are looking for a reporter who will

have the ability to file great stories for our

print publications, including The Star and

Community titles, and our website

www.star.kiwi.

The successful applicant will need to be

competitive, have a thorough knowledge

of Christchurch and Canterbury, have

great deadline sense and have a passion

for community news and the people that

make it.

Video skills would be an advantage.

Star Media is also seeking casual sub

editors. The successful applicants will

need to have had experience with

InDesign and able to copy sub, lay out

pages and write headlines.

Public Notice

VAN DRIVER

CHRISTCHURCH

We have a contract position available for

a delivery person/s with access to a van to

make deliveries to individual residential

addresses in the Christchurch area.

Applicants interested in the position,

please email your details to

petermoskaluk@hotmail.com

Send your CV to

Editor in Chief

Barry Clarke

barry@starmedia.kiwi

Bridalshow

save the date

Sun 27th Aug

10am to 3pm

air Force Museum

45 Harvard Ave

Wigram, Chch

Tickets: $20.00
---
PAGE 24 BAY HARBOUR Latest Christchurch news at www. .kiwi

Wednesday May 24 2017

yourlong

say hello to

weekend!

2for

$

89!

Or $47.99

each

Queen's Birthday weekend is just around the corner and

there's footy to watch! Grab your mates and celebrate with

these smashing specials from Super Liquor.

$

49 99 $ 49 99

DEUTZ

750ml

MUMM

750ml

APPLETON ESTATE

1 Litre

JAMESON

1 Litre

CHIVAS REGAL 12YO

700ml

$

21 99 $

24 99

game on!

Stock up on the coldest

beers in town just in time

for kick off

LION ICE

15 x 330ml

Bottles

$19

HOT DEAL!

99 $

29 99 STEINLAGER

CORONA

12 x 355ml Bottles

18 x 330ml Bottles

130+ STORES NATIONWIDE, 100% LOCALLY OWNED & OPERATED

Amberley | Ashburton | Barrington | Belfast | Blenheim Road | Brighton | Brougham | Burnside | Colombo Street

Eastgate | East Street | Edgeware | Elmwood | Ferrymead | Halswell | Hanmer Springs | Hillmorton | Hornby | Ilam | Kaiapoi

Leeston | Lincoln | Lyttelton | Pages Road | Papanui | Parklands | Rangiora | Seaside | Shirley | Woodend | Woolston

superliquor.co.nz | 0800 SUPERL (0800 787 375)

Offers end close of trade 5th June 2017, while stocks last. Available at participating stores only. Varietals may vary by store. Limits may apply.

Trade not supplied. Terms and conditions may apply. Available 22nd May - 5th June 2017 inclusive. Please see www.superliquor.co.nz for details.

SUP0379_C5_CHCH