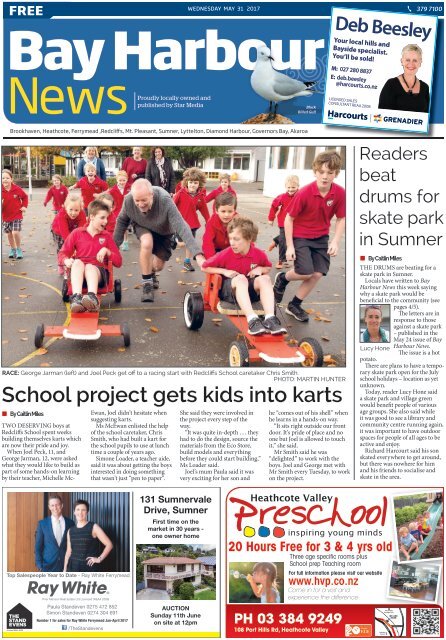 Bay Harbour: May 31, 2017
You also want an ePaper? Increase the reach of your titles
YUMPU automatically turns print PDFs into web optimized ePapers that Google loves.
FREE

Wednesday may 31 2017 379 7100

Bay Harbour

News

Proudly locally owned and

published by Star Media

Black

Billed Gull

Deb Beesley

Your local hills and

Bayside specialist.

You'll be sold!

M: 027 280 8837

E: deb.beesley

@harcourts.co.nz

LICENSED SALES

CONSULTANT REAA 2008

GRENADIER

Brookhaven, Heathcote, Ferrymead ,Redcliffs, Mt. Pleasant, Sumner, Lyttelton, Diamond Harbour, Governors Bay, Akaroa

RACE: George Jarman (left) and Joel Peck get off to a racing start with Redcliffs School caretaker Chris Smith.

PHOTO: MARTIN HUNTER

School project gets kids into karts

• By Caitlin Miles

TWO DESERVING boys at

Redcliffs School spent weeks

building themselves karts which

are now their pride and joy.

When Joel Peck, 11, and

George Jarman, 12, were asked

what they would like to build as

part of some hands-on learning

by their teacher, Michelle Mc-

Ewan, Joel didn't hesitate when

suggesting karts.

Ms McEwan enlisted the help

of the school caretaker, Chris

Smith, who had built a kart for

the school pupils to use at lunch

time a couple of years ago.

Simone Loader, a teacher aide,

said it was about getting the boys

interested in doing something

that wasn't just "pen to paper".

She said they were involved in

the project every step of the

way.

"It was quite in-depth . . . they

had to do the design, source the

materials from the Eco Store,

build models and everything

before they could start building,"

Ms Loader said.

Joel's mum Paula said it was

very exciting for her son and

he "comes out of his shell" when

he learns in a hands-on way.

"It sits right outside our front

door. It's pride of place and no

one but Joel is allowed to touch

it," she said.

Mr Smith said he was

"delighted" to work with the

boys. Joel and George met with

Mr Smith every Tuesday, to work

on the project.

Readers

beat

drums for

skate park

in Sumner

• By Caitlin Miles

THE DRUMS are beating for a

skate park in Sumner.

Locals have written to Bay

Harbour News this week saying

why a skate park would be

beneficial to the community (see

pages 4/5).

The letters are in

response to those

against a skate park

– published in the

May 24 issue of Bay

Lucy Hone

Harbour News.

The issue is a hot

potato.

There are plans to have a temporary

skate park open for the July

school holidays – location as yet

unknown.

Today, reader Lucy Hone said

a skate park and village green

would benefit people of various

age groups. She also said while

it was good to see a library and

community centre running again,

it was important to have outdoor

spaces for people of all ages to be

active and enjoy.

Richard Harcourt said his son

skated everywhere to get around,

but there was nowhere for him

and his friends to socialise and

skate in the area.

Top Salespeople Year to Date - Ray White Ferrymead

Prier Manson Real Estate Ltd Licensed (REAA 2008)

Paula Standeven 0275 472 852

Simon Standeven 0274 304 691

Number 1 for sales for Ray White Ferrymead Jan-April 2017

/TheStandevens

131 Sumnervale

Drive, Sumner

First time on the

market in 30 years -

one owner home

AUCTION

Sunday 11th June

on site at 12pm

20 Hours Free for 3 & 4 yrs old

Three age specific rooms plus

School prep Teaching room

For full information please visit our website

www.hvp.co.nz

Come in for a visit and

experience the difference

Ph 03 384 9249

108 Port hills Rd, heathcote Valley

Lyttelton

Tunnel

Ferrymead

Heritage Park

Port Hills Rd

Tunnel Rd

We are

here

Bridle Path Rd

Martindales Rd
---
PAGE 2 BAY HARBOUR Latest Christchurch news at www. .kiwi

Wednesday May 31 2017

FROM

THE

EDITOR'S

DESK

AKAROA PENSIONER Sue

Stewart has taken the law into her

own hands after she tripped on

uneven pavings in Akaroa (see

page 3).

The plucky 67-year-old has spray

painted the offending area and is

determined to force the city council

into carrying out repairs.

Sue suffered facial injuries in the

fall – which is a warning to others,

particularly the elderly.

Bay Harbour News will follow

her campaign.

The drums are beating loudly for

a skate park in Sumner.

In our last issue, we published

readers' letters against a skate

park in the area. This week locals

in favour of a skate park have

responded in kind (see pages 4/5).

It's a hot potato.

In sport, congratulations to

Sumner bowler, the timeless Gary

Lawson, (page 16) for his latest accolade.

– Barry Clarke

Inside

Travel team flies high at conference ACHIEVERS 15

News.......................................3-8

Local Views..... 4, 5 & 13

Schools............................10-11

Keep it Local.................12

Sport...................................16,19

Community Events... 21

Real Estate...........................22

GET IN TOUCH

General Enquiries Ph 379-7100

Classified Advertising Ph 379-1100

The Christchurch Star Company Ltd. PO box 1467 - Christchurch

starmedia.kiwi

NEWS

Caitlin Miles

Ph: 364 7442

caitlin.miles@starmedia.kiwi

ADVERTISING

Javier Balcazar

Ph: 982 9308

javier.balcazar@starmedia.kiwi

ADVERTISING

Rob Davison

Ph: 021 225 8584

rob.davison@starmedia.kiwi

Banks Peninsula

Hazardous Waste

Collection Weekend

Barry's Bay

Transfer Station

3–5 June • 12noon–4pm

Take your dangerous and

hazardous household items

to Barry's Bay Transfer Station

from 3-5 June to drop 'em for

free, responsibly.

RED

RED

GREEN YELLOW DROP

GREEN YELLOW

For a full list of accepted items,

please visit loveyourrubbish.co.nz

or phone 941 8999

C'mon Christchurch

let's get our

rubbish sorted!
---
Wednesday May 31 2017

Latest Christchurch news at www.

.kiwi

BAY HARBOUR

PAGE 3

News

Pensioner strikes back

FRUSTRATED: Sue Stewart tripped on an uneven tile and fell

and grazed her face.

PHOTO: VICTORIA ANDREWS

• By Caitlin Miles

AFTER AKAROA pensioner

Sue Stewart tripped over uneven

tiles and fell grazing her face

on the footpath, she took it

upon herself to spray paint the

hazardous concrete and loose

tiles.

Ms Stewart, 67, fell when she

was walking along the Akaroa

waterfront and decided to point

out the uneven surfaces to other

people.

She spray-painted the footpath

in broad daylight and hoped

the police would see her and try

and stop her from carrying out

"graffiti". However, no police

were present.

She marked the area to help

prevent other people from falling

and injuring themselves.

"Locals have been complaining

about the state of the tiles

around the waterfront for ages,"

Ms Stewart said.

The city council recently carried

out public consultation on

safety improvements at footpath

intersections.

The focus of the consultation

was on installing tactile pavings

– textured, yellow surfaces that

aid pedestrians who are visually

impaired. It also included kerb

improvements and some road

painting to make it clear where

the footpath ended and the road

began.

Ms Stewart said it was

frustrating that improving the

uneven concrete didn't make it

into the consultation.

"It's really bloody annoying.

This is my village, I was born

here. It breaks my heart to see

my town falling into the sea,"

she said.

City council staff went to

look at the uneven surfaces and

investigate what could be done

about the problem.

Ms Stewart said while she

hadn't broken anything but

when she fell it had knocked her

confidence.

HAVE YOUR SAY: What do

you think of the state of the

pavement and tiles around

Akaroa town centre? Send

your views to caitlin.miles@

starmedia.kiwi

In Brief

LAND SWAP FEEDBACK

The city council has started

consultation on the proposed

land swap, which involves

moving Redcliffs School to

Redcliffs Park. The plan is to

exchange ownership of Redcliffs

Park for the school site. The

swap has been proposed by the

Ministry of Education, which

wants to exchange the school

site it owns in Main Rd for the

city council-owned Redcliffs

Park on Beachville Rd. Under

the proposal, there would be a

new park on the current school

site and the school would be

built on the current Redcliffs

Park. Submissions to city

council close on June 26. •Ruth

Dyson's column, page 13

CENTRE RECEIVES GRANT

The Heathcote Valley

Community Association

has received ​$5786 for the

Heathcote Valley Community

Centre. The Linwood-Central-

Heathcote Community Board

has approved the funding from

its discretionary response fund

to go towards the set up costs of

the centre. The old centre and

library had to be demolished

due to earthquake damage. The

association has been setting up

the building and making it into

a community space.

NUK KORAKO

NATIONAL LIST MP BASED

IN THE PORT HILLS

I hold weekly mobile office constituency

clinics around the Port Hills. For dates

and locations please visit my website.

You can also contact my office if there is

anything I can help you with.

A

E

W

P

6/950 Ferry Road, Ferrymead

nuk.korakomp@parliament.govt.nz

www.korako.co.nz

03 384 0008

facebook.com/nukkorako.PortHills

Working hard for our community

Funded by the Parliamentary Service and

authorised by Nuk Korako, 6/950 Ferry

Road, Ferrymead, Christchurch

60 MINUTES

100 MOMENTS

4 FIGHTS

3 MAKE UPS

24 CUPS OF TEA

The untold

story of every

relationship

LAF Theatre

presents

Let's

Not

Argue

8-24 June

Book your tickets at

www.laf.co.nz

COSY CASUAL & COUNTRY COMFORTS

homestore + ten27 eatery

curtains + blinds + cushions + wallpaper + fabric + furniture + bedlinen + homewares + gifts

1027 Ferry Road + www.casualandcountry.co.nz + 03. 384 4880

ten27

COFFEE

EATERY

B A R

ten27

COFFEE

EATERY

1027 Ferry Road www.ten27.co.nz

B A R

Ph: 03 595 2428
---
PAGE 4 BAY HARBOUR Latest Christchurch news at www. .kiwi

Wednesday May 31 2017

Your Local Views

Readers respond to a

recent article about the

temporary skate ramp

returning to Sumner by July

Simon Dickson, Sumner –

In regards to the article on a new

temporary site for a skate park in

Sumner.

I would like to acknowledge

what a positive move for our

community this is. I realise

there has been a lot of debate

around this matter and that it

is an ongoing work in progress,

and this step is a step in the right

direction.

The site seems very appropriate

as it is close to our community

centre, safe for our kids is regards

to traffic, and does not

seem to be a disruptive site for

residents or businesses. I have

two young boys who have both

benefited from the social engagement

with older kids and the

ability to take on a challenging

sport.

The skate park, when open, is a

highlight of Sumner for our family

and we believe there should

be a permanent fixture for our

family and generations to come.

Richard Harcourt, Sumner

– It was very disappointing to

have the temporary ramp closed

down, not that long after Levis

generous offer was withdrawn as

a result of some resident pushback.

CLOSED: Readers want a new skate park in Sumner.

While I understand the

concerns, they can be dealt

with, and there is a bigger

picture, which as parents and

grandparents we all need to

take some responsibility and

action on, to help all ages and

interests.

The pros, by far, exceed the

cons. In my own case I have a

nearly 18-year-old son who loves

to skate and surf. He has a great

bunch of mates, locals and guys

from school in town, and they

go everywhere else to skate, but

they can't in Sumner because we

have no facility.

Seems weird that they have to

travel to all these other suburbs

but can't do it in their own

suburb.

All his mates I know well and

love seeing them in our community

having fun and mixing with

the younger kids who really look

up to these guys.

A lot of them are involved

with both Sumner and Taylors

Mistake surf life saving and they

contribute to the community

very bravely, they play rugby

for Sumner and cricket too and

represent our suburb proudly.

Keeping them involved in

the community and socialising

in our community fosters this

spirit.​

Let's encourage our kids to

come home absolutely knackered,

tired and hungry, and

happy after a skate or surf rather

than fry their brains online with

social media, they get enough of

that as it is without being pushed

that way.

With their physical needs taken

care of they settle into homework

better as well. Our village

needs a healthy active outdoor

skate area, our businesses need

it, our kids and youth need it,

our community needs it.

Lucy Hone, Sumner – As

someone who understands

the dynamics of community

resilience (I'm an academic researcher

focusing on the field of

resilience), I'm really hoping we

can find a site for a skate ramp

and village green in Sumner.

The benefits to the community

of the old green/skate area were

hugely visible to me – I'd often

see children of different age

groups mixing there, getting to

know each other, sharing their

tips and tricks, and really appreciated

that we had a place to

come together as a community.

Both are now sorely missed

by young and old in Sumner.

While it will be good to have

the new library up and running,

outdoor spaces to keep youth

active are equally important for

maintaining social interactions,

giving people places to meet and

be active, and through these

actions binding us together as a

community.

Sarah Agnew – The Sumner

skate ramp should be positioned

in the heart of the community.

Research has shown that

when something like this is

visible and in a central location

people naturally want to look

after it and reduces bad behaviour.

It would also have good connectivity

to local shops, community

centre, adds a vibrant

feel to the village and supports

children of all ages with something

healthy and positive to do

outside.

Therefore I think it should go

on the vacant land where the

Marine Tavern used to be or

close too.

Masters

HOLLYWOOD 3

www.hollywoodcinema.co.nz

28 Marriner St,

Sumner

Phone:

03 326 6102

Thursday 1 June - Wednesday 7 June

BAYWATCH (R13) Violence, off language and sex themes

Thu/SAT/SuN/TuE/WED: 6.00pm, 8.15pm

FRI: 5.30pm MON: 3.45pm, 6.00pm

I, CLAUDE MONET (Exempt)

Thu/FRI: 1.00pm SAT/SuN: 3.00pm TuE/WED: 2.00pm

DIARY OF A WIMPY KID: THE LONG HAUL (PG)

SAT/SuN: 1.15pm MON: 11.45am, 1.45pm

McLAREN (G)

Thu/FRI/SAT/SuN/TuE/WED: 2.45pm, 8.35pm

MON: 5.00pm, 6.45pm

PECKING ORDER (PG) Coarse language

Thu/FRI: 1.00pm, 2.45pm SAT/SuN: 1.00pm, 4.25pm

MON: 11.30am, 1.20pm, 3.10pm TuE/WED: 1.00pm

THE sHACK (M) Content may disturb

Thu/FRI/SAT/SuN/TuE/WED: 6.10pm

PIRATEs OF THE CARIBBEAN:

DEAD MEN TELL NO TALEs (M) Supernatural themes and violence

Thu/FRI/TuE/WED: 8.10pm SAT/SuN: 5.15pm, 7.45pm

MON: 3.30pm, 6.00pm

NORMAN (M) Offensive language

Thu: 6.00pm FRI/TuE/WED: 1.30pm 6.00pm

SAT/SuN: 3.00pm

MY PET DINOsAUR (PG) Coarse language

SAT/SuN: 1.00pm MON: 11.30am, 1.30pm

STATE OF THE ART HIGH DEFINITION, LICENSED BAR

Sumner

Re TReAT

Sumner Re Treat is offering an excellent rate for long stays

over 2 weeks for general accommodation or earthquake

accommodation for $977.50 per week (gst inclusive).

• Fully furnished and fitted out

apartments

• We offer 1 full service

per week.

• Car parking for 1 vehicle in our

secure basement parking area.

• Wi-fi & use of spa pool included

for free.

1 Wakefield Avenue, Sumner

Phone 03 326 5443 or 027 273 5555

www.sumnerretreat.co.nz

NEW LOCATION

13b Parkhouse Rd, CHRISTCHURCH

T005 - Back to wall NOW $289

VWB7514W NOW $349

More sizes available

XSB1290 1200x900 Shower NOW $779

NVS7514F NOW $499

More sizes available

Open 7 Days Mon-Fri 9am - 5.30pm | Sat 9.30am - 4pm | Sun 10am-3pm

0800 MILLEN | www.millen.co.nz | 03 348 8678
---
Wednesday May 31 2017

Latest Christchurch news at www.

.kiwi

BAY HARBOUR

PAGE 5

Damian Doyle, of Sumner

– It will be great to see the skate

ramp reopen, it is badly missed

by many people, of all ages. If

it's placed close to the village

centre it can once again create

a needed meeting space in the

community.

Free amenities like a skate

area and green space bring life

and diversity to Sumner, attract

customers for local business, support

activeness and well-being in

our youth and bring people from

many backgrounds together.

Can't wait to see it back.

Cameron Haylock – Reading

the article in the Bay Harbour

News the other day got me very

excited that the community and

surrounding communities are

finally interested in the thoughts

of those that care about the

younger people in the Sumner

community.

I am the youth pastor at the local

Sumner Anglican Church and

have a lot to do with the young

people that skate and surf in this

community.

The life they bring this place

is amazing and with that skate

ramp being shut down the town

centre is dead. They need the

ramp and village green to be in

a place you can visually see from

the middle of the village.

This creates a safe and visible

place for families to be there,

young people and older people.

It also holds the young people

accountable for their actions because

everyone can see them.

It gives them responsibility and

ownership over a space that is

finally theirs in a community that

seems to have priorities and motives

that don't include the next

generation growing up.

People need to understand that

our role as the older generation

(I'm only 25 so still young), is to

be "planting trees that we know

we will never sit in the shade of."

Understanding this isn't for the

older people but it's to acknowledge

the young people, give them

hope, give them ownership and

empower them with the hope that

they will then go on to do that

with the next generation and then

the next generation, setting up

opportunities for the young people

to be a part of growing their

community instead of pushing

them to the side.

McCormacks Bay resident

Alanya Limmer writes over

the debate to site Redcliffs

School at Redcliffs Park

A year and a half ago we were

told the Main Rd site was not

suitable for a school and, as a

result, there would be no local

school.

The community – in its widest

sense – invested immense time,

resource and energy in trying to

get the school re-opened on its

Main Rd site. The dedication to

this end cannot be questioned.

The Government spent 12

months considering whether

the school should return to the

Main Rd site.

The process during that

12 months was fulsome, allconsuming

and with experts of

all disciplines advising parties

on both sides of the debate. But

even in the face of that extraordinary

effort and community

cohesion the Government said

"no" to the Main Rd site.

However, the community was

thrown a lifeline. An alternative

site that would still give it the local

school it fought so very hard

for – albeit in a different location.

Although not everything

the community wanted, the

November 2016 announcement

was a far cry from the devastating

blow delivered one year

earlier.

I read an article only last week

DEBATE: Redcliffs Primary School after the earthquakes,

Should it reopen or move to Redcliffs Park?

PHOTO: MARTIN HUNTER

reporting that residents are

calling on the Minister to revisit

the decision to rebuild Redcliffs

School somewhere else. Haven't

we (exhaustively) "been there

and done that?''

The question being asked now

is whether the land swap should

occur and if so, on what conditions.

We have moved on. We

have had to.

Is re-litigating the past going

to achieve anything constructive

and positive?

Or will people miss the

opportunity for meaningful engagement

on how the land swap

could be made to work in the

best possible way for them?

Is it realistic to suggest the

Government might change its

mind now in response to a faction

(and fraction) of the community,

when a concerted and

whole-of-community campaign

failed?

Or do we just risk undoing

the good that has been done –

retaining a local school at all?

Do we risk making the land

swap process so hard the city

council says: "No, Minister"

and the Minister in-turn says:

"Sorry Redcliffs, no school?"

After six years of uncertainty

and inertia we are moving forward

… or are we going back to

the proverbial square one?

•Ruth Dyson's column page

13

Escape the cold!

Fiji from $655pp

FIRST 30

ADULTS GET

$100

OFF PER PERSON*

03 384 2700 You Travel Ferrymead youtravel.co.nz

960 Ferry Road

melissa@youferrymead.co.nz

*special conditions apply – subject to

availability please see in store for more details
---
PAGE 6 BAY HARBOUR Latest Christchurch news at www. .kiwi

Wednesday May 31 2017

SOMETHING

INSTORE FOR

EVERYONE

GREAT WINTER REAdS

JAKE BAILEY – What cancer taught me

'None of us get out of life alive, so be

gallant, be great, be gracious, and be

grateful for the opportunities you have.'

Jake Bailey's inspirational end-of-year

speech as head boy at Christchurch

Boys' High School was delivered from a

wheelchair just one week after he was

diagnosed with the most aggressive of

cancers.

As he lay in hospital fighting to stay

alive, his speech grabbed headlines

around the world. Jake's cancer, and

that speech, became the start of a

bigger journey that continues today.

In this remarkably honest account

of his illness, treatment and recovery,

Jake shares all that the experience

has taught him. His book is an uplifting

call to action for people of all ages.

KERRY'S

PICK

NEW RANGE OF MILITARY BOOKS

SOCK IT TO ME!

FUN FUNKY SOCKS

tyger

tyger

checkmate

jellyfish

caution tape

Starry night

par 4

moustache

JUST $24.99 A PAIR

footnotes

OR two pairs for $40.00

Over 75 different styles to choose from and available in both

women's knee high and crew & men's crew styles

1005 Ferry rd

Ph 384 2063

while stocks last (see instore for terms and conditions)

Barry & kerry
---
Wednesday May 31 2017

Latest Christchurch news at www.

.kiwi

BAY HARBOUR

PAGE 7

News

Cassels bottled beer launched

WOOLSTON RESIDENTS

are the first in the country to

try a newly-bottled brew.

Shoppers at Woolston

New World on Ferry Rd are

able to buy Cassels and Sons

Brewery's milk stout and

extra pale ale in the bottle.

Last Friday's tasting marked

a day of celebration for the

company as it was the first

time it had bottled beer and

sold it at a supermarket.

Woolston Business

Association chairman and

Woolston New World owner

Greg Boock said he was

approached by the brewery's

director Zak Cassels to see if

they would like to be the first

supermarket in the country

to launch and sell the bottled

beer.

"I think it's pretty awesome

that two local companies

can collaborate and launch a

product locally like this," he

said.

Mr Cassels said the milk

stout was a favourite and won

a trophy at the New Zealand

2011 Brewers Guild Award.

He said the extra pale ale

was a relatively new beer

having only been brewed for

about a year.

Mr Cassels said the

company plans to offer

the beers nationwide from

September.

He also said they are

planning to add two more

bottled beers to the range

later in the year.

CHEERS: The Tannery's Zak Cassels (left) with co-brewer Joe

Shanks and Woolston New World owner Greg Boock sample

Cassels and Sons Brewery's new milk stout and extra pale ale.

PHOTO: GILBERT WEALLEANS

Error on feedback form delays speed limit changes

• By Caitlin Miles

THE PLAN to lower speed

limits in Little River was

delayed due to an error on the

consultation form.

The Banks Peninsula Community

Board did not present

its recommendations to the city

council because one of the questions

was not included in the

online consultation document.

The question was whether

or not the community would

support a 10-minute parking restriction

outside the Little River

Service Centre.

The community board opted

to delay its decision until online

submitters were given a chance

to answer the question. However,

the city council received no

responses.

The community board has not

changed its recommendations to

the city council. It still recommends

the speed reductions and

a 10-minute parking restriction

outside the service centre.

It is planning to reduce

speed from 70km/h to 60km/h

on Council Hill, Morrisons,

Barclays and Wairewa Pa Rds,

where they intersect with State

Highway 75, as well as through

the township.

The city council will make

the final decision on the speed

changes.

$30,000 will

cover cost of

changing sheds

• By Caitlin Miles

THE CONSTRUCTION of

changing sheds in Sumner will go

ahead – in spite of losing more than

half its funding.

The Linwood-Central-Heathcote

Community Board has requested to

remove $70,000 from the changing

sheds budget to go towards a dropin

centre for the homeless.

The would leave $30,000 for the

changing sheds.

The idea for the changing sheds

was a result of residents frustrated

that beach-goers were congesting

the toilets at Marriner St to get

changed before and after going to

the beach.

Community Board member

Darrell Latham said while nothing

had been confirmed as public input

could not be carried out until the

project budget was confirmed, the

design and build would be simple

and it would possibly built adjacent

to the toilets.

Dr Latham said $30,000 would

be adequate for the project, as they

were originally only looking to

spend between $15,000-$30,000.

City council community governance

manager Shupayi Mpunga said

splitting the money between the two

projects would be considered by the

city council in the draft Annual Plan.​

Make your GP team your first call 24/7

Even after-hours a nurse is available to give free health advice

Phone your usual General Practice number 24/7

12

9

3

6

12

9

3

6
---
PAGE 8 BAY HARBOUR Latest Christchurch news at www. .kiwi

Wednesday May 31 2017

News

Over-60

singers

still rocking

• By Caitlin Miles

A GROUP of elderly rockers are

warming up their vocal chords to

sing songs from Pink Floyd, Queen,

David Bowie and a mix of other

artists.

The Sumner Rockers of Ages

consists of people mainly over the

age of 60. The group has been operating

since the February 22, 2011,

earthquake.

The group was set up to stop the

elderly from feeling socially excluded

and to also encourage people

to show their musical side.

They also sing in a variety of languages.

Member Julia Cunningham

said singing in a different language

was "good for old people's brains."

Ms Cunningham has been involved

in the group for three years,

she said it's a really interesting little

group of people.

The Muse Community Music

Trust runs Rockers of Ages. The

trust is a not-for-profit communityfocused

group that encourages

anyone to get involved in music.

It has four to six concerts

throughout the year and it is always

interested in finding new members.

The members have been practicing

every Wednesday for their performance

on June 10 at the Sumner

Bridge Club at 7.30pm.

Hotel become business hub

• By Caitlin Miles

THE BRITISH Hotel is turning

into a micro-business hub, with

two more businesses setting up

shop in the last two weeks.

The 70-year-old hotel in

Lyttelton was damaged in the

February 22, 2011, earthquake,

and is undergoing repair

works. As more of the building

becomes safe, businesses have

started popping up throughout

the building.

Clothing shop Finder Gatherer

recently set up inside the

old hotel and owner Jenny

Braithwaite said she was happy

to be able to set up her business

again after her last one was

badly affected by the February

22, 2011, earthquake.

Ms Braithwaite owned the

Tin Palace, also based in Lyttelton,

which she set up three

months before it was destroyed

in the earthquake. She decided

against trying to start again

straight away but a trip to New

York, United States, reinstalled

her love for fashion and she decided

to set up Finder Gatherer.

Ms Braithwaite said it was a

case of perfect timing and finding

her passion again which led

to her decision to set up in the

WORK: Following the February 22, 2011, earthquake, repairs

needed to be done to make the British Hotel building safe.

Now it is becoming a hub for businesses.

British Hotel. She works from

the space which once housed

the pool table, which was sold

to help fund the ongoing repairs

to the hotel.

"It felt like the right space and

I love Lyttelton and I want to

see business come back here,"

Ms Braithwaite said.

Ms Braithwaite said she

thought turning the hotel into

a business hub was a good idea

and it really showed what Lyttelton

was about.

The hotel has a mix of businesses

taking up residency in

the space.

Food truck Sherpa Kai, which

HOME: Jenny Braithwaite

has found a place for her

business Finder Gatherer

inside the British Hotel. It

operates every Saturday,

10am-noon.

is popular at the Lyttelton

Market, has also recently found

a spot at the hotel, it operates

from the courtyard six days a

week.

These businesses join the Hell

Fire Club, a bar that has set up

in the hotel's basement, and the

Green Dinner Table, a plantbased

subscription food box.

This has brought the total

number of businesses operating

out of the hotel up to four and

as the repairs are continued

more businesses hope to find

their place in the hotel.

Nehad, Anita, Ashleigh, Kellie and Grant

Full Service Pharmacy

including...

• Passports Photos

• Revlon Cosmetics and Revlon Club

• Gifts and Gift Wrapping

• Ear Piercing

• Extensive Natural Health range

• Scarves, Hats and Sunglasses

• Focus on Natural Organic Skincare including Trilogy,

Antipodes and Sukin

OPEN SAT & SUN

Dispensary Service

• Medico Packs

• Quit Smoking Quitcards

• Emergency

Contraceptive Pill

• Delivery Service

Owned and operated by

your phamacist, Grant Bell

CAFÉ

NOW OPEN

1005 Ferry Rd, Ferrymead. Ph:943 9635

OPEN 7 DAYS: Mon to Fri 8.30am - 6pm

Sat 9am - 4pm and Sun 10am - 4pm
---
Wednesday May 31 2017

Latest Christchurch news at www.

.kiwi

BAY HARBOUR

PAGE 9

Goldair

425w Panel

Heater

Low wattage, 24hr timer.

600x600mm

279423

SnAP

deAl

$

78 99

KEEP WARM THIS LONG WEEKEND

Tui

7 Pack Firestarters

All-in-one Firestarter.

Eco-friendly.

280519

browns

Fire Shovel & Brush Set

Available in black metal pan with

black fibre fill, Hearth brush is

made from wood.

324032

neW PrOduCT

Tui

Bagged Kindling

Dry Pre-Cut Kindling. New

Zealand sourced wood.

number 8

Coal Bucket

H:320mm,

W:370mm,

D:290mm.

243076

297168

$

8 90

PACK

$

12 98

SeT

$

15 99

bAG

$

29 95

eACH

exCluSIve

number 8

2KW Upright

Fan Heater

Adjustable

thermostat and tip

over safety switch.

number 8

Oil Column

Heater 1.5KW

Adjustable

thermostat. 7 fin.

279322

Goldair

Radiant Heater

2.4KW

167304

nouveau

Flame Effect Heater 2KW

Includes white

frame and remote

control.

279327

297084

$

19 97

$

49 37

eACH

$

137

eACH

neW PrOduCT WHIle STOCKS lAST WHIle STOCKS lAST

nouveau

Dehumidifier 10L

Pre-set 50% humidity

setting.

297086

Hitachi

Heat Pump 4.0KW

287515

Hitachi

Heat Pump 6.1KW

215840

$

498

FREE STD FLUE FLUE &

& SHIELD KIT

SHIELD KIT

with all Metrofires, Woodsman Masport Wood Fires

with all Metrofires, Woodsman & Masport Wood Fires

$

179

WAS $1745

$

1399

WAS $2380

$

1499

Woodsman

Wood Fire

15.6KW Output

Heats homes up

to 140m 2 .

243264

Woodsman

MK II Wood

Fire Burner

19.6kW output.

Heats homes up

to 190m 2 .

229210

Woodsman

Tarras MK III

Wood Fire

23.4kW output.

Heats homes up

to 240m 2 .

229208

FREE STD

FLUE KIT

FREE STD

FREE STD

$

1599

FLUE KIT $

1999

FLUE KIT $

2599 Terms

Offer Offer valid between Thursday 18 18 May May 2017 2017

to

to

Thursday

Thursday 8

June

June 2017

2017

and conditions apply

Ferrymead

1005 Ferry Road, Phone: 366 6306

Opening Hours: Monday–Friday: 7:00am–7pm

Saturday, Sunday and Public Holidays: 8:00am–6:00pm

Offers available at Mitre10 Mega Ferrymead only, until the 7th of June, while stocks last.

mitre10mega.co.nz

If you find a lower price on an identical stocked

product locally we will beat it by 15%.

find us mitre10.co.nz

If you find the same product cheaper from another Mitre 10 store or Mitre 10 website we'll match that price. Excludes trade

and special quotes, stock liquidations and commercial quantities. The in-store price may be lower than that advertised.
---
PAGE 10 BAY HARBOUR Latest Christchurch news at www. .kiwi

Wednesday May 31 2017

S Av O U R t h E

At m O S P h E R E

For an iconic shopping experience & the best

selection of street food the city has to offer

f OOd COURt

Dose Sushi

The Burger Joint

Dimitri's Greek Kebabs

American Delight

Berry Healthy

Base Woodfired Pizza

Fritzweiners

Maree's Lebanese Kebabs

Pure Pulp

Tiki Taco

A Mouse Called Bean

Wild Bites

Noodle Monk

Gaslight Taverna

Freyburgs Fish and Chips

Cosy Cafe

Paradise Dumplings

J Bings

Herba Gourmet

Coq au Van

O P E n n O w

ShOP tO win

Win lunch for 4 people at Black Estate Vineyard,

flying there and back with Christchurch

Helicopters, piloted by Richie McCaw

Enter in store or online www.containermall.kiwi

LYTTELTON PRIMARY School is

encouraging pupils to use their interests

and passions to make their own projects.

The junior pupils spend Friday afternoons

working on their individual projects.

This includes visualising, explaining

and thinking about what materials they

will need and how they plan to share their

project with the community.

There are a wide range of projects the

pupils work on from building models and

birdhouses to decorating doll houses and

making stop motion films.

Parents and families are encouraged to

attend and help out and learn along with

the pupils.

After the pupils finish their projects,

they spend time focusing on what they

have learned which prepares them for

senior classes.

SCHOOLS

ARTY:

Lucinda,

Seraphine

and Chloe

painted a

dolls house.

Pupils learn their way

CREATIVE: Tyler and Harlin focused

on their project.

REtA il

Cosmic

Hunters and Collectors

Hapa

TradeAid

Stencil

NZ Post / Kiwibank

Simply New Zealand

The General Store

Metromart

Meccano

Untouched World

Champions of the World

Barkers

SECURE YOUR SPACE tO d AY

Limited retail spaces

available 0800 00 11 78

Open frOm 10am daily

cashel street (Bridge Of rememBrance end)

KNOWLEDGE AT WORK
---
Wednesday May 31 2017

Latest Christchurch news at www.

.kiwi

BAY HARBOUR

PAGE 11

PRODUCTIVE:

Baie Vance

showed off

some of the

ingredients going

into the chutney.

Olie Vosper and

Josh Wear had

fun making pine

cone creatures

as part of the

harvest festival

celebrations.

Festival brings out creativity

DIAMOND HARBOUR School

celebrated the end of autumn

with a harvest festival.

Although the weather wasn't

perfect, the school was determined

to host the event after last

year's festival was cancelled due

to bad weather.

Events and activities were

held in and outside in case the

weather turned bad.

The pupils planted native trees

on the school grounds which

were donated by Trees for Canterbury.

The pupils also took part in

various craft activities, including

decorating plant pots for chive

seeds that they could take home.

They also made art using

sticks, stones and leaves, with a

are you considering selling

before winter arrives?

The weather may be cooling but the property market in the seaside

suburbs certainly isn't!

Find out what your home could be worth to eager buyers actively

trying to find their next home with a free property appraisal. I look

forward to guiding you through your options for selling and advising

on latest marketing ideas available.

2

BRING IN THIS

FOR

VOUCHER MENTION THIS AD 1FOR

MINI GOLF

Buy 1 round of Mini Golf at

either Ferrymead Golf

(Monster & Zombies Indoor

or Volcano Park outdoor)

or Caddyshack indoor and get

another round FREE

Only available May, June, July, August 2017

for this professional advice and

more call chris Moores today.

chris Moores

Harcourts Grenadier Ferrymead

1020 Ferry Road

P: 03 384 7950 | M: 027 588 4440

E: chris.moores@harcourts.co.nz

mix of pupils creating different

pieces which are currently on

display outside one of the classrooms.

Pupils from Kereru made

pinecone creatures. In

preparation for winter, another

class made bird feeders. Pupils

also harvested vegetables from

the school garden for their Thai

noodle and vegetable lunch

recipe.

While some of the pupils were

making lunch, others were busy

creating upside down feijoa muffins

and feijoa chutney.

The pupils' spicy feijoa chutney

is now on sale for $4 a jar at the

school.

They also made scarecrows for

the vegetable garden.

GRENADIER

Licensed Sales Consultant REAA 2008

SEASONAL: The pupils' artwork is on display in one of the

classrooms and the scarecrows are watching over the

vegetable garden

WinTEr Fun For EvEryonE

Ph 384 1566, 21 King Edward Terrace, Woolston

www.caddyshack.co.nz

Organic Training College

LEARN FROM

THE EXPERTS

Start a career in

organics. Reduce

your footprint and

produce a regular

supply of your own

fruit and vegetables.

COURSES (All fees under $500)

Year 1

Introduction to Organics

44 weeks

Starts August 2017

(Lincoln campus)

Programme information

college@bhu.org.nz | 03 325 3684 | www.bhu.org.nz

Volcano Park

SCHOOLS

Technical

challenge

for Lyttelton

pupils

A GROUP of year 7 and 8 pupils

from Lyttelton Primary School

put their brains to the test at

an inter-school technology and

science challenge.

The team of four, named The

Ferrets, went to Belfast Primary

School to compete in a range

of challenges that involved using

innovative ways to fix the

problems.

The Ferrets, comprising Georgia,

Kayden, Lachlan and Arni

chose the bridge challenge.

They had to build a bridge

of certain specifications which

could allow a car to travel across

the top and trigger traffic lights.

Each time a challenge was

completed they were awarded

points.

It was very stressful for four

mothers, one grandmother, one

sister and one teacher watching

the pupils as they were not

allowed to make suggestions.

If they did the team would lose

points.

The pupils worked as a team

and communicated their ideas

well during the challenge.

Year 2

Applied Organics

46 weeks

Starts August 2017

(Lincoln campus)

Ph 376 5350, 50 Ferrymead Park Drive, Ferrymead

www.ferrymeadgolf.co.nz
---
PAGE 12 BAY HARBOUR Latest Christchurch news at www. .kiwi

Wednesday May 31 2017

itLocal

Bay Harbour

News

Keep

Free fashion consulting at Time

and Time Again Sumner Boutique

Have you ever wondered if a piece of

clothing compliments another piece of

clothing your eyeing off a store rack? Have

you purchased clothing only to have it sit

in the back of your closet wondering why

you bought it in the first place? Have you

ever thought about recycling your clothes

for extra cash?

Time and Time Again Sumner can

help. Located in the Sumner Village Mall,

Time and Time Again Sumner has been in

business for more than 25 years with the

2-year anniversary of current owner

Ali, that was just celebrated. Ali was

a frequent customer and loved the

atmosphere and motif of the store

so much so that when she found

out the previous owner was retiring,

she decided to bring her decades of

fashion experience to the shop and

add her flair and expertise.

"Time and Time Again Sumner

is a pillar of the community where

people come from far and near to

browse, shop and talk about fashion.

I love the vibe and have met so

many wonderful people. Each day is

different and fun." Ali says.

Stop by today at 2/41 Nayland in

Sumner and browse through their extensive

clothing and accessory collection. When

you walk into the quaint, homey shop you

are excited to browse the racks and see what

gems you can find amongst the extensive

inventory.

Shoes, belts, jewellery, coats, scarves,

and so much more will provide you with

interest and anticipation to see what you

can find.

Ali is excited about their current

inventory of high fashion pieces at truly

affordable prices. She is very

pleased that the shop has just

become the outlet store for

the fashion brand Sabatini.

They are a name brand NZ

fashion house.

Make sure to browse their

special rack for designer

labels where you will be

surprised at the affordable

prices you might have

previously thought were out of reach.

A unique service the shop now

offers is FREE fashion consulting

appointments because of new team

member Leigh. With Leigh's years

of fashion styling experience, she

can put together an outfit for any

occasion.

"Leigh is a master stylist and

we joke that customers have been

'leighed' when they walk out with

her fashion suggestions."

Leigh can assemble and customise

an entire outfit with flair and style

that is specifically tailored to each

person's individual style, preference

and appearance.

Check out their new website at

timeandtimeagainsumner.co.nz. Also,

call Ali or Leigh to book your fashion

style consult at 03 326 7246.

Don't forget to go through your wardrobe

and bring all your recyclable clothing to Ali

for consideration. What's old to you, is new

to someone else and might as well make you

some money along the way. By recycling

your clothing this helps the environment

which has bursting landfills of clothes.

Stop by Time and Time Again Sumner.

It will become your favourite clothing

destination.

Ferry Good Cleaning

Ferry Good Service

Ferry Nice People

You are ferry welcome to

call on us at our new home.

Phone: 03 384 5015

Kite lane, 1027 Ferry Rd

Behind Casual & Country

Lyttelton

Framing

Four good reasons to use us

to frame your artwork:

1. Know how - UK qualified

conservation framer

2. Experience - We have been

established now for eighteen years

3. Guarantee - All work guaranteed

4. Price - Very competitive prices

Contact Malcolm Ph 328-7350

32 London St, Lyttelton

Mon-Fri 9am-5pm, Sat 9am-1pm

FERRYMEAD

• Mathematics

• Reading

• Spelling

• English

DOES

YOUR CHILD

NEED SOME HELP?

ENROL THEM TODAY!

• Sciences

• NCEA Subjects Y11-13

• Preparation for school

entrance test

FREE

AssEssmEnt

Unit 1/27 Waterman Place, Ferrymead

(just off Ferry Rd) | Phone 384 1188

www.kipmcgrath.co.nz

RECYCLED CLOTHING

BOUTIQUE

The best in recycled designer

clothes, shoes & accessories.

Thou Shall Not Pay Retail.

Accepting winter stock now.

OPEN 7 DAYS

Shop 2, Sumner Village Mall

Christchurch | 03 326 7246

www.facebook.com/SumnerTimeAndTimeAgain

SPACE

AVAILABLE

If you're reading this ad chances are thousands

of other local Bay Harbour readers be will also

HIKING BOOTS

& SHOES

Are you interested in advertising on our

'Keep it Local' page and for less than $100

per month and also includes an advertorial

For men, women

and children

From

$79.95

to $250

Contact Rob Davison 021 225 8584

or Javier Balcazar 021 225 8221

47c Garlands Road, Woolston

Phone 389 3431

www.thefootwearfactory.co.nz

Open Monday - Friday 6am-5pm

& Saturday 7am-3pm

8 Norwich Quay, Lyttelton

Phone: 03 328 9004

Advertising enquiries Javier Balcazar | Ph: 021 225 8221 | javier.balcazar@starmedia.kiwi
---
Wednesday May 31 2017

Your Local Views

Latest Christchurch news at www.

.kiwi

BAY HARBOUR

PAGE 13

Redcliffs School land

swap moves forward

Labour MP

Ruth Dyson

writes

about the

strong

sense of

community

tied in with

Redcliffs School's

move to Redcliffs Park

CALL US TODAY FOR A NO OBLIGATION QUOTE

CHRISTCHURCH

55 Hands Road

Ph: (03) 338 9063

www.stratco.co.nz

CLOSED: Consultation has started over Redcliffs

School's relocation to Redcliffs Park.

The signs say it all –

"Our School Our Heart

Our Community".

The overwhelming

response from Redcliffs

when the Minister of Education

proposed to close

the school reflected the

fundamental social need

for the community to have

its school.

The Ministry of Education

ruled out the original

site and alternatives were

explored. The board and

community faced the prospect

of an ongoing lengthy

legal battle to have the

school back on its original

site (think of the Cathedral),

or move forward in

a positive way to bring the

school home.

This week that process

moves another step forward.

The city council has

just started consultation

on the proposed land swap.

The proposal is to exchange

ownership of Redcliffs

Park for the school

site. There would be a new

park on the current school

site and the school built on

the current Redcliffs Park.

Submissions to city council

close on June 26.

Frustratingly, a lot of

information that is important

for people to know is

not part of this process.

Things like geotechnical,

rockfall, contamination;

coastal hazards, traffic

management, and location

plan are part of a parallel

process being run by the

Ministry of Education. The

BE A GOOD

NEIGHBOUR

Your fence, your style!

QUALITY • STYLE • PRIVACY

ministry has given a clear

commitment to make all

this information available

to people to help everyone

get the full picture but it is

still a separate process.

The plan is to have the

new school open for term

3, 2019. That will be eight

years since Redcliffs had

its school based locally. So

some students will never

have been to primary

school in their own area.

So have your say to the

city council on this land

swap proposal.

If you have any questions

about this, please ask and I

will be happy to help.

•Redcliffs School

campaign wins award,

page 15

Wilcox Vivaldi Gold

Potatoes 1.5kg Prepack

Fresh NZ

Product of New Zealand pk Chicken Drums kg

Tip Top Bakery

Whittaker's

Supersoft Bread

Chocolate 250g

700g

$

4 49 $

2 79

ea

ea

Continental Cup

A Soup 40-80g

ANY 2 FOR

Persil Washing

Powder 1kg

Stoneleigh

(excludes Latitude,

Wild Valley &

$

Rapaura Series)

1199

Speight's Gold

Medal Ale or

ea

Summit Lager $

18 99

12 Pack 330ml Bottles

$

3 99

$

3 79 $

7 49 ea

pk

?

Mainland

Cheese 1kg

(excludes Tasty)

www.foursquare.co.nz

$

10 99

ea

$

6 99

facebook.com/FourSquareNZ

Specials available South Island only from Monday 29th May until Sunday 4th June

2017 or while stocks last. Wine and beer available at stores with an off licence.

Wine and beer purchases restricted to persons aged 18 years old and over.
---
PAGE 14 BAY HARBOUR Latest Christchurch news at www. .kiwi

Wednesday May 31 2017

Have you been declined

treatment by the DHB ?

The Canterbury Charity Hospital

may be able to treat you at no cost.

Our current services are:

• Colonoscopy (acute and screening)

• Gynaecology and women's health

• Cataracts

• Upper and lower limb orthopaedics

• Vascular (severe varicose veins)

• General surgery (abdominal, rectal)

• Oral surgery and dentistry (* conditions apply)

• Counselling (by self referral)

To be treated by the Charity Hospital you must:

• Have been turned down in writing for treatment by the CDHB

• Not have medical insurance

• Not be able to afford the treatment privately (means tested)

• Have a referral from your doctor

* All dentistry and oral surgery patients need a dentist's referral.

Dentistry is available for WINZ clients only, whilst oral surgery may be

available if you fit the above criteria.

Why are the Charity Hospital's services at no cost to the patient?

More than 280 unpaid volunteer surgeons, nurses, dentists and support staff

generously donate their time for free. The Charity Hospital does not receive any

Government funding.

Volunteers are always welcome.

If you are a surgeon, nurse or technician, volunteer forms are on our website at

www.charityhospital.org.nz or email reception@charityhospital.org.nz

To donate to the charity please visit our website at www.charityhospital.org.nz.

Your next step...

get a referral from your doctor or dentist - please don't contact the hospital directly.

For more information:

www.charityhospital.org.nz
---
Wednesday May 31 2017

Latest Christchurch news at www.

.kiwi

BAY HARBOUR

PAGE 15

SUCCESS:

Redcliffs

Primary

School

Board of

Trustees

member

Chelsea

Halliwell

accepted

the award.

PHOTO:

PRINZ

Public relations award for

Redcliffs School campaign

A CAMPAIGN to keep Redcliffs

Primary School in the area

has been recognised with a top

award.

The campaign to reverse

the Ministry of Education's

decision to close the school postearthquake

took out the supreme

award in the 2017 Public Relations

Institute of New Zealand

Awards, held in Christchurch last

week.

Board of trustees member

Chelsea Halliwell accepted the

award on behalf of the school.

The campaign also won the

not-for-profit/pro-bono award

category.

Board chairman Mark Robberds

led the communications

during the school's campaign.

"This award recognises the immense

volume of voluntary work

that members and helpers of the

board have undertaken over the

last few years,"

"Closing a school under a

cliff at risk of rockfall may have

seemed a clear-cut decision. But

the concern was not about safety,

and so our challenge was to use

our flawless case to refute the

ministry's complex geo-technical

concerns," Mr Robberds said.

He said the campaign showed

how the community came

together and the power of campaigning.

"The campaign truly demonstrated

the way ethical public

relations can be used to engage

communities and decision-makers.

It also reflected the board's

strategy of using a platform of

fact and communicating it solidly

and positively, giving voice to an

informed, logical and determined

community," he said.

While the campaign's effective

lobbying was successful in

retaining a school in Redcliffs,

the final ministerial decision was

to move the school to Redcliffs

Park.

TANYA CROSS from YOU

Travel, Ferrymead, was named

top retail consultant at the

annual First Travel Group

conference.

It isn't the first time Ms Cross

has won the award. YOU Travel

ACHIEVERS

Sales team at YOU Travel

Ferrymead flying high

Ferrymead director Melissa Landrebe

said it was a great result

for the company and the whole

team.

The awards were held at the

Sky City Auckland Convention

Centre at the weekend.

TEAM:

Rosie Still,

Melissa

Landrebe,

Tanya

Cross and

Brittany

Frost

all won

awards for

their work

at YOU

Travel,

Ferrymead.

Ms Cross also received a sales

award along with Ms Landrebe,

Melanie Peacock and Rosie Still.

The whole team won the top

shop award for their collective

work. The awards gala was part

of the conference.

Saturday 8 – Saturday 22 July 2017
---
PAGE 16 BAY HARBOUR Latest Christchurch news at www. .kiwi

Wednesday May 31 2017

SPORTS

• By Gordon Findlater

SUMNER'S Gary Lawson

was one of the major

winners at the Bowls

Canterbury annual awards

evening on Saturday night.

Held at the Hornby

Working Men's Club, Lawson

picked up the sportsman

of the year award and

was part of the Canterbury

senior men's inter-centre

team which won the team

of the year award.

There have been many

highlights for Lawson over

the past 12 months, including

winning the men's

pairs at the Bowls New

Zealand national championships

in New Plymouth

in January. The victory

was Lawson's 11th national

title, making him the most

successful Kiwi bowler of

all time.

"To win my 11th New

Zealand title was something

I've been trying to do

for a while," he said.

Lawson then went

on to win the national

inter-centre title with the

Canterbury men's team,

which he described as the

icing on the cake.

"The spirit the boys had

CHAMPION: As well as

taking out the Canterbury

men's singles title in

January, Gary Lawson was

a major winner at the Bowls

Canterbury annual awards.

Lawson's form on the

green wins him awards

was the winner there. The

seven other guys that I

played with made it a thrill

to be part of the Canterbury

team," said Lawson.

Canterbury men's team

coach Darryl Hawker

praised Lawson.

"He was a great team

member and mentor to

not only the senior men's

teams this year, but also

to the development men's

and women's teams," said

Hawker.

Lawson was part of the

Sumner team which won

the national sevens title.

•More sport, page 19

QUEEN'S

BIRTHDAY

WEEKEND

SATURDAY 3, SUNDAY 4

& MONDAY 5 JUNE 2017

OPEN 10AM–5PM

FREE CANDY

STAND

SATURDAY 3 JUNE

11AM-3PM

HORNBY 409 Main South Road | OVER 50 STORES

dress-smart.co.nz
---
Wednesday May 31 2017

Latest Christchurch news at www.

.kiwi

BAY HARBOUR

PAGE 17

A GRACIOUS SUMNER RESIDENCE

3 Hardwicke Street

A superb example of Arts and Crafts architecture, with the character and honesty of this beautiful home intact.

Sympathetically renovated from beginning to end, a fine example of craftsmanship from a bygone era with the

conveniences of modern living. A grand staircase leads upstairs to the bedrooms, the main includes built-in wardrobe

and cute ensuite. A gorgeous sunroom opens from two of the bedrooms, a relaxing space to enjoy the energy and

atmosphere of living by the sea. The large kitchen and spacious dining has adjoining living, perfect for busy family life

and entertaining. The elegant panelled lounge is gorgeous complete with gas fire. French doors open to outdoor living to

enjoy the evening sun. A surprise addition is a self-contained studio tucked away in the back garden, perfect for those

who work at home or extended family to enjoy. All beautifully presented and like brand new, an excellent location, close

to the Esplanade and within walking distance of everything that is this part of this seaside community.

Sumner

Deadline Sale

4pm, Fri 16 June 2017 (unless sold prior)

View Thurs/Sun 12.15-1pm

www.bayleys.co.nz/554648

Marilyn Still

M 027 229 8769

B 03 595 2844

marilyn.still@bayleys.co.nz

WHALAN AND PARTNERS LTD, BAYLEYS,

LICENSED UNDER THE REA ACT 2008.

SENSATIONAL SEA VIEWS

78 Clifton Terrace

Sweeping from Scarborough to Sumner across Cave Rock, the Sumner Bar through to Kaikoura. This magnificent

entertainer´s home has the feel good factor, the wonderful warmth of wooden construction, stained glass windows and

cedar cladding will appeal to your natural senses. Designed in 1992 by Great Barrier Island Architect Leanne Harwood

to be at one with nature, this lovely hill property is surrounded by native bush and trees and enjoy's sensational lower

slope sea views of Sumner. A wonderful family home, which has matured into a private haven. Designed to maximise

full sun, with expansive decks offering protection and privacy for brilliant outdoor living. Fully refurbished throughout

including kitchen, bathrooms, carpet and paint, open plan living, warm and cosy with a log fire. Location perfect, drive

on access with double garaging, an easy walk to village and beach via Aranoni or the Zig Zag track. You will never tire of

this home it has been built with love and attention to detail to enjoy for many years to come.

Sumner

Auction

11am, Sat 10 June 2017 (unless sold prior)

On Site

View Thurs/Sun 11-11.45am

www.bayleys.co.nz/554574

Marilyn Still

M 027 229 8769

B 03 595 2844

marilyn.still@bayleys.co.nz

WHALAN AND PARTNERS LTD, BAYLEYS,

LICENSED UNDER THE REA ACT 2008.

www.bayleys.co.nz

All companies within this composite are Members of Bayleys Realty Group
---
PAGE 18 BAY HARBOUR Latest Christchurch news at www. .kiwi

Wednesday May 31 2017

29 th May to 4 th June 2017

$

15 99

kg

Fresh NZ Beef Rump Steak

$

3 49

bag

best price

$

1 00

ea

Royal Gala NZ

Apples 2kg

L&P 1.5L

$

10 99

kg

great deal

$

2 99

ea

$

4 79

ea

Fresh Skinless

Chicken Breast

Fillets

Whole NZ

Crown Pumpkin

Alpine Butter

500g

great value

$

1 75

ea

$

2 69

ea

2 for

$

5 50

Doritos Corn Chips

150-170g

Coke/Sprite/Fanta/

Lift/L&P 2.25L

Nature's Fresh Bread

700g

$

23 99

pk

$

9 99

ea

best value

$

2 49

ea

Steinlager Classic

15 x 330ml Bottles

Shingle Peak

750ml

(Excludes Reserve/Pinot Noir)

Sunsilk Shampoo/

Conditioner 200ml

svbhn3105

Safe travels this

long weekend

All stores open this Queen's Birthday Weekend *

*SuperValue Edgecumbe closed until further notice.

Owned & operated

by locals

SuperValue Lyttelton: 17 London Street, Lyttelton. Phone 328 7368. Open 7am–9pm, 7 days.

SuperValue Sumner: 3 Village Mall, Sumner. Phone 326 5688. Open 7am–9pm, 7 days.

While stocks last at SuperValue Lyttelton and Sumner only.

We reserve the right to limit quantities. Trade not supplied. For inspiration visit SuperValue.co.nz |

Please drink

responsibly
---
Wednesday May 31 2017

Latest Christchurch news at www.

.kiwi

BAY HARBOUR

PAGE 19

Tickets on

sale NOW!

SPORTS

KEY MAN:

South Africanborn

No 8

Dylan Nel put

in another man

of the match

performance

for Sumner.

Sumner's fate in

hands of others

• By Gordon Findlater

SUMNER'S 35-13 bonus

point win over Linwood

on Saturday made it three

on the trot, keeping their

slim top six hopes alive in

the Hawkins Cup.

The seasiders looked like

a team desperate to make

the top six. They started

the match at full pace and

looked to have the game

won by half-time, running

in four first-half tries to

lead 28-3 at the break.

Sumner's dynamic No 8

Dylan Nel was his normal

dominant self running

in two tries, while Tu'uta

Simalie and Poasa Waqinabau

also scored in the

first half.

"It was a classic case of

knowing the outcome we

needed to get. We talked

all week about needing to

get five points and we got

the tries we needed before

half-time," said Sumner

coach Martin Dodgson.

The second-half had

a different look with

Linwood scoring within

six minutes of the restart

while Sumner looked content

with their first-half

efforts.

"We were guilty of

TRY TIME: Half-back Hayden O'Donnell scored

Sumner's only try of the second half during their

35-13 win over Linwood. PHOTOS: ROZELLE MAY ​

buttoning off about 10

per cent. If we carried on

playing the way we did in

the first half then we could

have put 60 points on

them," said Dodgson.

The Hawkins Cup has

just two more rounds

before the 12 teams are

split into a top and bottom

six. Currently in seventh,

Sumner's fate isn't in their

own hands. They are eight

points behind Burnside

and nine behind University.

They will need to win

their final two games convincingly

and hope that

Burnside or University

slip up.

On Saturday, Sumner

host Belfast. The team is

coached by Damian Steele

who has a connection with

Dodgson.

He has previously played

under Dodgson during

the Sumner coach's time

as a head coach at the

Brothers club in Brisbane,

Australia.

"He's a sharp operator

and it's no surprise to me

that Belfast are an improved

team this season,"

said Dodgson.

EXHIBITORS

BOOK NOW

Showcase your products or services

to more than 20,000 customers

WWW.STARHOMESHOW.KIWI

Home &

Leisure

SHOW

JUNE 30 –JULY 2

HORNCASTLE ARENA

IN ASSOCIATION WITH

Bookings

Vanessa Fleming

P 03 379 7100 | M 021 914 565

vanessa.fleming@starmedia.kiwi

Visit our new website: www.min.nz

A professional realtor with

local expertise

and a personal touch

COASTAL REAL ESTATE SPECIALISTS

We'll help you live the dream.

Min Sarginson Real Estate Ltd. specialises in homes, sections and

rental properties in the spectacular Lyttelton Harbour bays, and

coastal suburbs of Christchurch, New Zealand.

We'll make it so easy for you. All our sales consultants live in the

area – we can give you valuable insights into life in our thriving

coastal communities.

This is an exciting time; of promise, optimism, and opportunities

never anticipated pre-quakes. Beachfront, or hillside with

grandstand views, find the property of your dreams:

Lyttelton | Diamond Harbour | Governors Bay | Cass Bay

Charteris Bay | Church Bay | Purau Bay | Port Levy | Northshore

Southshore | New Brighton | Heathcote | Sumner | Redcliffs

Scarborough | Mount Pleasant | Clifton

Call Min Sarginson Real Estate Ltd. for free, no-obligation advice. Lyttelton: 03 329 4161, lyttelton@min.nz or Church Bay: 03 328 7273, churchbay@min.nz
---
PAGE 20 BAY HARBOUR Latest Christchurch news at www. .kiwi

Wednesday May 31 2017

cnr Montreal & St Asaph Streets, Christchurch

www.christchurchmitsubishi.co.nz

Sales, Service & Parts: 03 379 0588

$53,990

SCOOP PURCHASE

2016 Pajero Sport VRX 4WD 2.4L Diesel

SAVE $13,000

7 Seat Original RRP $66,990 +ORC

$53,990

Christchurch Mitsubishi have a LIMITED NUMBER of Short-term lease returned Pajero Sports VRX, most having travelled under 15,000kms. Includes balance manufacturers warranty.

100% UNIQUE. 0% INTEREST.

For a limited time you can get behind the wheel of these unmistakable MINI models with 0% interest and just 3 payments. *

MINI HATCH

MINI CLUBMAN

Iconic design, with three or five doors and plenty of customisable details to make your MINI an individual.

Highly crafted design with distinct split rear doors, offering ample space and room to move.

Book a test drive at Christchurch MINI Garage today.

INTEREST NOW

(Deposit)

0% ($250 Establishment Fee)

1

/ 1 2018

3 / 1 2019

3 (Month 12) / 3

(Month 24)

CHRISTCHURCH MINI GARAGE.

30 Manchester Street. Christchurch. 03 363 7240.

MINI.CO.NZ

*Offer includes an establishment fee of $250 and recommended on-road vehicle costs. Offer excludes MINI John Cooper Works Clubman. BMW Financial Services New Zealand Ltd terms, conditions and standard

lending criteria apply. Offer expires June 30th 2017.
---
Wednesday May 31 2017

Latest Christchurch news at www.

.kiwi

BAY HARBOUR

PAGE 21

Email caitlin.miles@starmedia.kiwi

by 5pm each Wednesday

Use it or Lose it

Wednesday, 9-9.50am

This class is for the over-50s

and is a gentle exercise class

suitable for those wanting to improve

their strength, balance and

mobility. Have fun in a friendly

atmosphere, meet new people

and get active and fit at the same

time. First class is half price.

Redcliffs Bowling Club, James

St, Redcliffs. $5

Running Club

Thursday, 6-7pm

Get active and have fun running

with like-minded people at

this event. There will be various

professional coaches to help

improve your running style and

encourage you. It will also give

you a chance to learn to run on

different terrains.

Mt Vernon Valley track car

park. Free entry

Create 'n' Connect Art and

Craft Group

Thursday, 9.30am-noon

If you're crafty or want to start

getting crafty go along to this

group. Take your own project or

go with ideas for a new one. This

event aims to help with your projects

and meet new people. For

more information, phone Beth

on 022 678 1252.

St Andrews Anglican Church,

148 Main Rd, Redcliffs. Free entry

Bardo of the Nectar Lovers

Today until June 4, various

times

The latest exhibition from

50 Works Gallery features new

pieces by Maryrose Crook. She

used oil on canvas to create her

surrealist pieces. Take a wander

around the gallery and check out

all of the pieces on display from

a range of different artists. The

gallery is open Thursday and

Friday, 2pm-4pm, and Saturdays,

11am-4pm. It is open other times

by appointment.

50 London St

Babytimes

Friday, 10.30-11am

This event allows for parents

and caregivers to interact with

each other while letting the

babies learn. At these sessions,

babies learn through language,

rhymes, songs, stories and play.

They learn together and build

connections with each other.

Lyttelton Library, 18 Canterbury

St. Free entry

Rhythm and Bubs

Friday, 9.30-11.45am

HELP: The restoration of the Port Hills following the February fire is extensive and the city

council is calling on volunteers to help. The next planting day will be on Saturday, June 10, at

12.15pm, and involves planting around different areas affected by the fire, including Mt Ada,

Marleys Hill and Kennedys Bush. Meet at The Princess Margaret Hospital to get a bus which

will take you to the sites. Some can be hard to access so you will need suitable shoes and a

reasonable level of fitness. The bus ride will be free and it costs nothing to register. However,

you must register before the day to reserve a seat. Take gardening gloves and a sharp spade

if you have them, although some will be provided. ​

If you're looking to engage

your baby or pre-schooler in

music, go along to this event

every Friday morning for a series

of 30min sessions. This event

runs during the school term and

allows children, parents and

caregivers to meet one another

and interact with others around

the Sumner, Redcliffs and Mt

Pleasant area. Mainly Music is a

fun and educational music and

movement session followed by

morning tea and a social and

play time. The first session is

free, then $4 per session after

that. For more information,

phone Hazel on 384 1965 or 021

077 1264.

St Andrews Church, 148 Main

Rd, Redcliffs

Storytimes

Tuesday, 11-11.30am

Storytimes has interactive

programmes which include

stories, songs, rhymes and play.

Have children meet each other

and build friendships at this

event while they learn to read.

Pick-up some library books to

take home.

Lyttelton Library, 18

Canterbury St. Free entry

Markets:

The weekly markets have

many different attractions and

delicious treats on offer. Find

some healthy food options and

sip on a coffee.

Lyttelton Farmers' Market:

Every Saturday, 10am-1pm,

London St

Mt Pleasant Farmers' Market:

Every Saturday, 9.30am-

12.30pm, 3 McCormacks Bay Rd

Wakefield Ave

Akaroa Farmers' Market:

Saturday, 9.30am-1pm, Madeira

Car Park.

3 Garlands Road, Woolston

DeluxeCinemas.co.nz

Christchurch's Premium Cinema Experience

Phone Bookings | Free Parking | Cafe/Licensed Bar

03 389 5360 Online Bookings | Cinema Club | Hot Nuts/ Cheeses

MClareN Pioneer, Leader, Father, Champion

Wed: 12:15pm thU: 10:00am, 2:10pm frI: 10:30am, 2:00pm, 6:20pm

Sat: 10:30am, 2:00pm, 5:50pm SUn: 10:45am, 2:15pm, 6:30pm

mOn: 10:15am, 12:20pm, 4:25pm tUe: 10:30am, 2:00pm, 6:10pm

peCkING OrDer ChCh Poultry, Bantam and Pigeon Club

Wed: 10:15am, 2:15pm, 8:15pm thUr: 2:10pm, 6:20pm frI: 10:00am, 2:35pm, 6:10pm

Sat: 10:00am, 4:00pm, 6:35pm SUn: 2:35pm, 4:15pm, 6:10pm

mOn: 12:10pm, 4:10pm, 6:25pm tUe: 10:00am, 2:45pm, 6:40pm

the hIppOpOtaMuS Stephen Fry

Wed: 12:05pm, 6:10pm thUr: 10:15am frI: 4:25pm Sat: 12:30pm SUn: 12:45pm

mOn: 8:15pm tUe: 8:30pm

vICerOy'S hOuSe The End Of An Empire. The Birth Of Two Nations.

Wed: 10:00am, 1:50pm, 4:05pm thUr: 12:00pm, 4:15pm, 6:15pm

frI: 11:50am, 4:00pm, 8:00pm Sat: 11:50am, 2:20pm, 7:50pm SUn: 12:10pm, 4:25pm,

8:00pm, mOn: 10:15am, 2:20pm, 6:00pm tUe: 11:50am, 4:00pm, 8:10pm

theIr FINeSt Bill Nighy (FINAL WEEK)

thUr: 4:00pm frI: 8:20pm Sat: 8:25pm SUn: 8:30pm mOn: 8:05pm tUe: 12:30pm

the SeNSe OF aN eNDING Charlotte Rampling

Wed: 4:00pm, 8:00pm thUr: 12:05pm frI: 12:30pm Sat: 4:25pm SUn: 10:00am

mOn: 2:00pm tUe: 4:35pm

COMING SOON

JuNe 15th Churchill

JuNe 22nd The Time Of Their Lives

JuNe 29th Monsieur Chocolat

July pOlINa

SpeCIal eveNtS/retrO

DelaNey DavIDSON June 9th 8:30pm

GreMlINS June 14th 12:30pm

GreaSe Sing along June 18th 2:15pm

mclaren G the hIPPOPOtamUS R16 Offensive Language, Sex Scenes & Sexual References

vIcerOy'S hOUSe M Content May Disturb PeckIng Order PG Coarse Language the SenSe Of

an endIng M Sex Scenes & Offensive Language theIr fIneSt M Sex Scenes & Offensive Language

neW: ServIng free mOrnIng tea enjOy a free tea, cOffee & a freShly Baked BIScUIt WIth

every mOrnIng ShOW

CAFE

open from 11am

TAB & Gaming

Function Facilities

HOUSIE

Tues, Thurs, Sat

SATURDAY'S JACKPOT

Be in to WIN up to $80

SHUTTLE

Tues - Sat

WHAT'S ON

The magazine for

gardeners who

like To geT Their

hands dirTy

www.gardener.kiwi

100%

ENTERTAINMENT THIS WEEKEND

MURDER

at HOTEL

BALLE BALLE

Dinner Theatre Show

SATURDAY

in Sports Bar

Tickets $65 at reception

CRUSADERS v HIGHLANDERS

2.35PM SATURDAY in Whitfords Bar

ROBBIE DREW entertains

7.30PM SATURDAY in Whitfords Bar

LIONS v BARBARIANS

7.35PM SATURDAY in Kellaway Bar

LIVE

TRADITIONAL

SWING JAZZ

4PM-7PM SUNDAY

in Sports Bar

Gold coin entry

Ferrymead

A Dark So Deadly

by Stuart MacBride

Gripping standalone thriller from the Sunday Times

No. 1 bestselling author of the Logan McRae series.

Welcome to the Misfit Mob…

It's where Police Scotland dumps the officers it can't get

rid of, but wants to: the outcasts, the troublemakers, the

compromised. Officers like DC Callum MacGregor, lumbered with

all the boring go-nowhere cases. So when an ancient mummy turns up at the

Oldcastle tip, it's his job to find out which museum it's been stolen from.

But then Callum uncovers links between his ancient corpse and three missing

young men, and life starts to get a lot more interesting. O Division's Major

Investigation Teams already have more cases than they can cope with, so,

against everyone's better judgement, the Misfit Mob are just going to have to

manage this one on their own.

No one expects them to succeed, but right now they're the only thing standing

between the killer's victims and a slow, lingering death. The question is, can they

prove everyone wrong before he strikes again?

The Fallen

by Eric Van Lustbader

Brand new from the bestselling author of Robert Ludlum's Jason Bourne series.

The End of Days has arrived and the legions of Hell are upon us...

In a hidden cave in the mountains of Lebanon, a man makes a fateful discovery.

He has been chosen to bring what has been forbidden for thousands of years out

of the darkness and into the light: the Testament of Lucifer.

In Istanbul, Braverman 'Bravo' Shaw, member of a secret Franciscan splinter sect,

has been warned by his ageless confessor, Fra Leoni, of a battle most ancient:

the war between Good and Evil, waged to a standstill since time immemorial.

Now an unfathomable danger has arisen: Lucifer's advance guard, the Fallen. All

of humankind is at risk of being enslaved by the forces of evil. Bravo, Fra Leoni,

and Bravo's blind sister, Emma, are the first and last line of defense against the

unleashed chaos.

All roads lead to the Book of Deathly Things: the testament of Lucifer. But if Bravo

and Emma become privy to its dreadful secrets, they may well forfeit far more than

just their lives.

WIN THIS BOOK

ENTER TO

WIN

THIS BOOK

book

release

We have one copy of A Dark so Deadly by Stuart McBride to give away, courtesy of Take Note Ferrymead.

To be in the draw, email giveaways@starmedia.kiwi with A Dark so Deadly in the subject line or write to Take

Note Book Giveaway A Dark so Deadly, Star Media, PO Box 1467, Christchurch 8140. To be eligible for the draw,

all entries must include your name, address and contact number. Entries close Tuesday 13th June, 2017. Winner

of The Lucky One is Frances Martyn of Ferrymead.
---
PAGE 22 BAY HARBOUR Latest Christchurch news at www. .kiwi

Wednesday May 31 2017

REAL ESTATE

Top notch contemporary harbour home

52 Koromiko Crescent, Diamond Harbour

Negotiation over $699,000

4 bedrooms | 2 bathrooms | 4 car-garage | Listing # FM5156

This quality home will impress for

all it offers from internal space to the

wide harbour views. There are 4 double

bedrooms, main with en-suite and door

to patio, an excellent study area, open plan

kitchen, dining and living plus a separate

living area, again opening to decks to enjoy

whatever the weather.

Internal access to a 4 car garage and well

established garden setting complete the

picture. Add to that the friendly, go ahead,

local community of contemporary housing

plus an excellent local school within a

kilometre, a local medical centre a couple

of kilometres away and the big city within a

scenic 30 minute commute. A quality home

offering a quality lifestyle.

For a private viewing, please contact

Min of Min Sarginson Real Estate

(Licensed Agent REAA 2008), phone 027

432 0327 or 329 4161

Computers

ALL

YOUR

COMPUTER

WORRIES SOLVED!

*$30.00 off your first

service with this coupon!*

No problem too big or

small from home PC's to

business networks. PC

slow? An end to Viruses,

Spyware, and Clogged

Systems. Safe secure

hassle-free computing.

Lost files recovered.

Microsoft Certified,

MCSE, MCP+l. 30 years

experience. Call Andrew

Buxton this week on 326-

6740 or 027 435-7596

for $30.00 off* Custom

Computers Christchurch

Gardening

& Supplies

Landscape

and Garden

Services

If you need help

getting your garden

back in order after

repairs, need any

type of landscape

construction work or

garden restoration.

Ph 021 272 0303

Classifieds Contact us today Phone our local team 03 379 1100

Gardening

& Supplies

GARDENER - Need

your home or commercial

garden tidied up or

renovated or require long

term assistance. Phone

Ruth 326-6663 or 021

272-0303

Holiday

Accommodation

QUEENSLAND SUN-

SHINE COAST AUSTRA-

LIA Resort, Ocean Views,

Balconies, Self Contained,

1 or 2 B/R Ensuite,

Heated Pool, Spa, Sauna,

Free Internet, Shops,

Restaurants, Tennis, Surf

Club & Patrolled Beach,

Public Transport at door.

Ask for our SEASONAL

SPECIALS. Phone 61 7

544-35011 Email: reception@mandolin.com.au

www.mandolin.com.au

Holiday

Accommodation

SUMNER Holiday

Accom 027 600 6076

www.kotaresumner.nz

SUMNER Holiday

Accom 027 600 6076

www.kotaresumner.nz

Reporter,

Sub Editor

We are looking for a reporter who will

have the ability to file great stories for our

print publications, including The Star and

Community titles, and our website

www.star.kiwi.

The successful applicant will need to be

competitive, have a thorough knowledge

of Christchurch and Canterbury, have

great deadline sense and have a passion

for community news and the people that

make it.

Video skills would be an advantage.

Star Media is also seeking casual sub

editors. The successful applicants will

need to have had experience with

InDesign and able to copy sub, lay out

pages and write headlines.

Situations Vacant

Star Media is seeking journalists.

Send your CV to

Editor in Chief

Barry Clarke

barry@starmedia.kiwi

Pets and Supplies

• Quiet rural setting

• Modern purpose built facility

• AsureQuality approved

• Caring qualified staff

• Inspections welcome

69 Avoca Valley Road, Heathcote.

Ph. (03) 3844028 Email. info@avocacats.co.nz

www.avocacats.co.nz

Trades & Services

Plumbing Drainage

Plumbing & Drainage

PLUMBING & DRAINAGE

Local business for all

plumbing MTPD and drainage

Call Local Morgan business work. - 0223758506 for all

plumbing and drainage

Morgan Thomas Plumbing & Drainage Ltd

Local business for all plumbing and

drainage work.

Freework.

Free Quotes

Quotes

Free Quotes

New SkyVac

Gutter Cleaning Machine

New SkyVac

Revolutionary Gutter cleaning system.

No job too big or too small!

Gutter Cleaning Machine

Revolutionary Gutter cleaning system.

MORGAN THOMAS PLUMBING & DRAINAGE LTD

No job too big or too small!

Call Morgan 0223758506

MORGAN Visit our THOMAS website PLUMBING - www.mtpd.co.nz

& DRAINAGE LTD

Email Call-Morgan morgan@mtpd.co.nz

0223758506
---
Wednesday May 31 2017

Latest Christchurch news at www.

.kiwi

BAY HARBOUR

PAGE 23

Classifieds Contact us today Phone our local team 03 379 1100

Trades & Services

Trades & Services

Public Notice

Your local professional

FOR ALL YOUR

PLUMBING

NEEDS

• Bathroom repairs

• Renovations

• Leaks

• Tap Repairs

• Gas and Drainage

Carol and Chris

Phone 376 5322 or email

chcheast@laserplumbing.co.nz

ROOF

accountant

Trades & Services

ADD SOME

COLOUR

TO YOUR ADVERT!

RE-ROOFING

QUALITY ROOFING AT THE

BEST PRICE AROUND

Protect your home with a new Colorsteel roof.

Call for a friendly, FREE assessment and quote.

Ph: 347 9045 or 021 165 1682

Email: Robinsonroofing99@gmail.com

Trades & Services

TREES BIG OR SMALL

tree removal, trimming,

stump grinding, shelterbelt

clean up, section clearing,

PAINTER/PLASTERER

Experienced tradesman,

rubbish removals,

PAINTING quality work, free quotes,

excavation work, ph Trees

ph Simon 027 389-1351 or

Rope & harness

Big or Small, for a free

03 328-7280

quote, 021 061 4783

a speciality, PAINTER

VHS VIDEO TAPES

no scaffolding Available, RAPID

& all camera tapes

RESPONSE, quality

required,

converted to DVD, video

work guaranteed,

30 years of

taping special occasions,

interior/exterior,

www.grahamsvideo.co.nz

breathtaking roofs, spraypainting,

ph 03 338-1655

experience. waterblasting, ph Graeme

WINDOW CLEANING

for a free quote,

FREE QUOTES

"Your Windows are the

027 318 2614

eyes of your Home", for

Exterior staining, PLASTERING

a free no obligation quote,

exterior painting,

INTERIOR, no job too

call Greg Brown, Crystal

big or too small, specialise

moss and mould

Clear Window Cleaning

in repair work & new

treatment and

ph 384-2661 or 027 616-

houses, free quotes given,

0331 Local Resident

waterblasting over 20 yrs plasterering

experience, ph 027 221-

Phone Kevin 4066 or 384-2574

Public Notices

027 561 4629

ROOFING

Qualified & Licenced

Practitioner. Re-Roof &

Trades & Services

Repairs, all types. Member

CARPET & VINYL New Zealand Roofing

LAYING

Association. Over 35 years

Repairs, uplifting, experience. Phone John

relaying, restretching, 027 432-3822 or 351-9147

E mail jflattery@xtra. email johnmill@ihug.

co.nz,

co.nz

ph 0800 003 181 STONEMASON, BRICK

or 027 2407416

& BLOCKLAYER

CONCRETE

Earthquake Repairs, Grind

Do you know

Decopave Ltd, Out & Repoint, River/

Canterbury owned & Oamaru stone, Schist, where your

operated for over 10 Volcanic Rock, Paving,

years, competitive rates, all Alterations new & old, nearest

full excavation, coloured, Quality Workmanship,

exposed, stamped, call visit www.featureworks. CIVIL DEFENCE

Paul 027 322 6119 co.nz or ph 027 601-3145

ELECTRICIAN

sector post is?

JMP Electrical.

Experienced & registered..

Expert in all home

Ring your local

electrical repairs &

maintence.Call James 027

council to find out.

4401715

COAL & FIREWOOD

Clean Dry Firewood

Marcrocarpa, Bluegum,

Oregon & Old Man Pine

Free delivery for 6cm

truckload or 3cm

by arrangement

• Roofing

• Spouting and Downpipe

• Safety rails

• Licensed Building

Practitioner

Tuition

YOGA for Seniors on

Mondays 11am at Yoga &

Qigong School of Sumner,

42 Nayland St. Promotion

$25 for 5 times , call Maja

027 4210 424

Public Notices

SALE AND SUPPLY OF

ALCOHOL ACT 2012

SECTION 127, 101 & 120

ORANGE STUDIO LIMITED,

(THE LICENSEE, PO Box 19907,

Woolston, Christchurch 8241),

has made application to the

District Licensing Committee

at Christchurch for the renewal

and variation of ON-LICENCE

RENEWAL in respect of the

premises situated at 1/1063

Ferry Road known as ORANGE

STUDIOS.

The general nature of the

business conducted under the

licence is: ON-LICENCE OTHER

NOT OTHERWISE SPECIFIED.

The days on which and the

hours during which alcohol

is sold under the licence are:

CURRENT HOURS: MONDAY TO

SUNDAY 5.00PM TO 11.00PM

HOURS SOUGHT: MONDAY TO

SUNDAY 10.00AM TO 2.00AM

THE FOLLOWING DAY.

The application may be

inspected during ordinary

office hours at the office of the

Christchurch District Licensing

Committee, Civic Offices, 77

Hereford Street, Christchurch.

Any person who is entitled to

object and who wishes to object

to the grant of the application

may, not later than 15 working

days after the date of the first

publication of this notice, file a

notice in writing of the objection

with the Secretary of the District

Licensing Committee, PO Box

73049, Christchurch 8154.

No objection to the renewal of a

licence may be made in relation

to a matter other than a matter

specified in section 131 of the

Sale and Supply of Alcohol Act

2012.

This is the second publication of

this notice. This notice was first

published on 18 May 2017.

RESOURCE MANAGEMENT ACT 1991

Applicant:

Address for service:

Lyttelton Port Company Limited

C/- Jared Pettersson, Lyttelton Port Company Limited,

Private bag 501, Lyttelton 8841; or email: Jared.Pettersson@lpc.co.nz

Environment Canterbury has received an application from Lyttelton Port Company (LPC) for resource

consents in respect of its proposed Te Awaparahi Bay Reclamation Project (Project).

The Project involves the proposed construction of a reclamation and a piled wharf totalling approximately 24

hectares in size. The Project is to be undertaken in Te Awaparahi Bay, Lyttelton Harbour/Whakaraupō.

LPC proposes to undertake the Project in two stages:

• Stage 1 will involve the construction of approximately 5 hectares of reclamation via end tipping; and

• Stage 2 will involve the construction of approximately 16 hectares of reclamation, by:

– creating a perimeter bund around the remaining area to be reclaimed; and

– the bulk filling of the area behind the bund.

A piled wharf will be constructed in stages along the southern edge of the proposed reclamation footprint.

Part of Cashin Quay breakwater will also be removed, during either Stage 1 or Stage 2 of the

reclamation construction.

The applicant has applied for the following resource consents in relation to the proposed Project:

1. CRC175507 – Coastal permit to reclaim seabed and construct a wharf, and associated disturbance of the

seabed, and deposition onto or into the seabed in the Coastal Marine Area.

2. CRC176030 – Coastal permit to discharge contaminants (seabed material and water) into water in the

Coastal Marine Area associated with construction of the reclamation and wharf described in CRC175507.

3. CRC175508 – Coastal permit to discharge any water or any contaminants into water or into or onto land,

and associated deposition in the Coastal Marine Area.

4. CRC175509 – Coastal permit to discharge stormwater (water and contaminants) into water, or onto or

into land, and associated deposition in the Coastal Marine Area.

5. CRC175510 – Discharge permit and a coastal permit to discharge dust into air from the site.

A diagram outlining the location of the Project, the site boundary and details of its approximate staging is

included as Figure 1.

Lyttleton

The application includes an assessment of effects.

An unlimited duration of consent is sought for consent CRC175507. A consent duration of 35 years is

sought for all other consents.

SUBMISSIONS

The application may be viewed at Environment Canterbury's offices at 200 Tuam Street, Christchurch and

at the Christchurch City Council's Lyttelton Service Centre, 18 Canterbury Street, Lyttelton. The application

may also be viewed on Environment Canterbury's website at: https://www.ecan.govt.nz/do-it-online/

resource-consents/notifications-and-submissions/current-consent-projects/.

An online submission form is available on Environment Canterbury's website: https://www.ecan.govt.nz/

do-it-online/resource-consents/notifications-and-submissions/notified-consents. A submission form

(form CON520) can be found at: https://www.ecan.govt.nz/do-it-online/resource-consents/consentapplication-forms/.

Submissions must be sent to Environment Canterbury, PO Box 345 Christchurch

8140, or ecinfo@ecan.govt.nz.

Your submission must include your name, address and phone number; the applicant's name and the

consent application number(s). Your submission must state the reason for your submission, whether you

support or oppose the consent application, and if you wish to be heard in support of your submission.

Your submission must be signed, and a copy sent to the Applicant. Any submission made online will

automatically forward to the Applicant.

Questions

If you have any questions about the consent applications and filling in a submission form, please meet

with Environment Canterbury staff at the Lyttelton Community Boardroom, 25 Canterbury Street, Lyttelton

between 3pm – 5pm on Monday 19 June 2017. Alternatively please phone Environment Canterbury on

03 353 9007 or 0800 ECINFO (0800 324 636), or email: ecinfo@ecan.govt.nz.

Submissions must be received by Environment Canterbury not later than 5pm on Monday 26 June 2017

Bill Bayfield

Chief Executive

Environment Canterbury

Cashin Quay

Stage One

Reclamation

Wharf

Stage Two

Reclamation

60m of Cashin Quay

Breakwater to be removed

Figure 1: Location of the Te Awaparahi Bay Reclamation Project

The Site

COAL & FIREWOOD

suppLIEs yARD

stAtE HIgHWAy 75, KAItunA

Lynda or Ron Aldersely

Phone 329 6233

Mon- Sat 8am - 12 noon
---
PAGE 24 BAY HARBOUR Latest Christchurch news at www. .kiwi

Wednesday May 31 2017

Queen's Birthday

STOREWIDE

SUPER

SALE

HURRY IN FOR A HUGE WEEKEND OF QUEEN SIZED SAVINGS!

20-

%*

30OFF

REFRIGERATION

& COOKING

FREE-STANDING

RANGE

WAS $2329.99 NOW

$

1629 99

SAVE

%*

50OFF

SELECTED

BEDS

8 COOKING

MODES

$ 700

SAVE

OR61S8CEWSW4

BUY NEW ZEALAND

MADE QUALITY

SUPPORT

Queensize Bed

FROST

FREE

HRB227W

$ 252

SAVE

SAVE

$ 3700

ALPACA

233L

FRIDGE

FREEZER

WAS $839.99 NOW

$

587 99

WAS $7399.99 NOW

$

3699 99

20-

%*

40OFF

SELECTED

TVs

(excludes clearance)

STREAMING

MADE EASY WITH

A CLEAR FULL

HIGH DEFINITION

PICTURE

$ 220

WAS $779.99 NOW

$

559 99

DE5060M1

SAVE

$ 440

5KG VENTED DRYER

WITH AUTO SENSING

30-

%*

40OFF

SELECTED

LA-Z-BOY SUITES

AND RECLINERS

AUTO

SENSING -

NO MORE

GUESS WORK!

43" SMART TV 43LH570T

2x HDMI + 1x USB inputs with with 50Hz

refresh rate & USB media player

WAS $1099.99 NOW

$

659 99

20 % *

20OFF

DRYERS

(excludes Beko)

20-

30 %*

30OFF

SELECTED

BEDROOM

& DINING

FURNITURE

20-

40OFF

40 %*

VACUUMS

%*

40OFF

APPLIANCES

(excludes Electric Blankets)

15-

%*

20OFF

ALL

LAPTOPS

18

Get everything you need for

your home under one contract

on everything over $499 storewide*

*Flexible interest free terms to suit you under a single contract for everything you purchase.

months INTEREST FREE

smithscity.co.nz

SHOP YOUR WAY Delivered to your door or pick up in-store 0800 SMITHS (0800 764 847)

COLOMBO ST MegaStore | Bush Inn MegaStore, RICCARTON | NORTHWOOD MegaStore | 38 Kermode St, ASHBURTON | 130-134 Beach Road, KAIKOURA

*Discount is off our full retail price. Exclusions, fees, terms and conditions apply. See in-store or visit smithscity.co.nz

SCG0598BHN