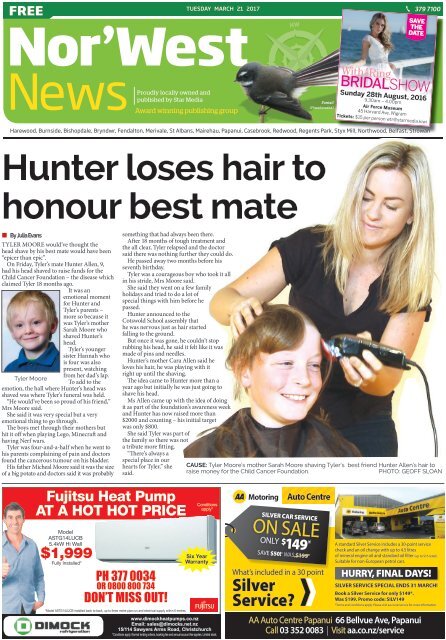 Nor'West News: March 21, 2017
You also want an ePaper? Increase the reach of your titles
YUMPU automatically turns print PDFs into web optimized ePapers that Google loves.
FREE

TUESDAY MARCH 21 2017 379 7100

Proudly locally owned and

published by Star Media

Award winning publishing group

Fantail

(Piwakawaka)

Sunday 28th August, 2016

9.30am – 4.00pm

Air Force Museum

45 Harvard Ave, Wigram

Tickets: $15 per person wtr@starmedia.kiwi

Harewood, Burnside, Bishopdale, Bryndwr, Fendalton, Merivale, St Albans, Mairehau, Papanui, Casebrook, Redwood, Regents Park, Styx Mill, Northwood, Belfast, Strowan

Hunter loses hair to

honour best mate

• By Julia Evans

TYLER MOORE would've thought the

head shave by his best mate would have been

"epicer than epic".

On Friday, Tyler's mate Hunter Allen, 9,

had his head shaved to raise funds for the

Child Cancer Foundation – the disease which

claimed Tyler 18 months ago.

It was an

emotional moment

for Hunter and

Tyler's parents –

more so because it

was Tyler's mother

Sarah Moore who

shaved Hunter's

head.

Tyler's younger

sister Hannah who

is four was also

present, watching

Tyler Moore

from her dad's lap.

To add to the

emotion, the hall where Hunter's head was

shaved was where Tyler's funeral was held.

"He would've been so proud of his friend,"

Mrs Moore said.

She said it was very special but a very

emotional thing to go through.

The boys met through their mothers but

hit it off when playing Lego, Minecraft and

having Nerf wars.

Tyler was four-and-a-half when he went to

his parents complaining of pain and doctors

found the cancerous tumour on his bladder.

His father Micheal Moore said it was the size

of a big potato and doctors said it was probably

something that had always been there.

After 18 months of tough treatment and

the all clear, Tyler relapsed and the doctor

said there was nothing further they could do.

He passed away two months before his

seventh birthday.

Tyler was a courageous boy who took it all

in his stride, Mrs Moore said.

She said they went on a few family

holidays and tried to do a lot of

special things with him before he

passed.

Hunter announced to the

Cotswold School assembly that

he was nervous just as hair started

falling to the ground.

But once it was gone, he couldn't stop

rubbing his head, he said it felt like it was

made of pins and needles.

Hunter's mother Cara Allen said he

loves his hair, he was playing with it

right up until the shaving.

The idea came to Hunter more than a

year ago but initially he was just going to

shave his head.

Ms Allen came up with the idea of doing

it as part of the foundation's awareness week

and Hunter has now raised more than

$2000 and counting – his initial target

was only $800.

She said Tyler was part of

the family so there was not

a tribute more fitting.

"There's always a

special place in our

hearts for Tyler," she

said.

CAUSE: Tyler Moore's mother Sarah Moore shaving Tyler's best friend Hunter Allen's hair to

raise money for the Child Cancer Foundation.

PHOTO: GEOFF SLOAN

Fujitsu Heat Pump

at a HOt HOt Price

Model

ASTG14LUCB

5.4kW Hi Wall

$1,999

Heat Fully Installed* Pump for Just

PH 377 0034

OR 0800 800 734

Fully Installed*

DON'T MISS OUT!

PH 377 0034 OR 0800 800 734

*Model ASTG14LUCB installed back to back, up to three metre pipe run and electrical supply within 6 metres.

Six Year

Warranty

Motoring

Conditions

apply*

Hot Hot Deal

on 8KW Heat PumP

Fujitsu ASTG24L 8 KW

$2,999

Six Year

Warranty

www.dimockheatpumps.co.nz

Email: sales@dimocks.net.nz

15/114 Sawyers Arms Road, Christchurch

*Conditions apply. Normal lending criteria, booking fee and annual account fee applies. Limited stock.

10 5 only

What's included in BE a QUICK 30 point

Silver

Service?

Installed back to back, up to 3 metre pIpe

run and electrIcal supply wIthIn 6 metres.

Auto Centre

ON SALE

SILVER CAR SERVICE

ONLY $ 149 *

SAVE $50! * WAS $199 *

www.dimockheatpumps.co.nz

Email: sales@dimocks.net.nz

6/105 Coleridge St, Sydenham, Christchurch

A standard Silver Service includes a 30-point service

check and an oil change with up to 4.5 litres

of mineral engine oil and standard oil filter (up to $16 retail).

Suitable for non-European petrol cars.

HURRY, FINAL DAYS!

SILVer SerVICe SPeCIAL endS 31 MArCh!

Book a Silver Service for only $149*.

Was $199. Promo code: SILV149

*Terms and conditions apply. Please visit aa.co.nz/service for more information.

AA Auto Centre Papanui 66 Bellvue Ave, Papanui

Call 03 352 0083 | Visit aa.co.nz/service
---
2

Latest Christchurch news at www. .kiwi

Tuesday March 21 2017

Inside

FROM

THE

EDITOR'S

DESK

NOR'WEST NEWS

News........................................3-7

IT IS a hard thing indeed to

watch someone lose their battle to

cancer.

But imagine being an eightyear-old

and watching your best

mate only a year younger than

yourself succumb to the horrid

disease.

That is the story about Hunter

Allen and his mate Tyler Moore.

Like so many kids, they met

through their mothers and shared

a love of games such as Lego,

Minecraft. But then cancer came

along and claimed Tyler.

Last week, Hunter had his head

shaved this week in honour of his

friend. It was made even more

special, that the person holding

the clippers was Tyler's mum, Sarah

Moore, and it was done in the

hall where the funeral was held.

I've no shame in admitting it

brought a tear to the eye. Hunter,

you are a champ.

Hei kona, Shelley Robinson

Rangi Ruru beats touch rivals SPORT 11

Your Local Views..........4

Our People........................8,9

Schools............................10

Sport ...................................11,12

Hello Neighbour........ 13

Community Events......15

Focus on Health.........19

GET IN TOUCH

General Enquiries Ph 379-7100

Classified Advertising Ph 379-1100

The Christchurch Star Company Ltd. PO box 1467 - Christchurch

starmedia.kiwi

NEWS

Julia Evans

Ph: 364 7476

julia.evans@starmedia.kiwi

ADVERTISING

Viv Montgomerie

Ph: 364 7494

viv.montgomerie@starmedia.kiwi

ADVERTISING

Monique Maynard

Ph: 364 7474

monique.maynard@starmedia.kiwi

Christchurch City

Draft Annual Plan

2017

2018

Consultation

20 March–28 April 2017

Christchurch Ōtautahi

END OF LEASE

SALE

hurry

last

few

days!

All Clothing - Ski & Summer 50% OFF

Skis / Ski Boots / Ski Helmets / Ski Poles ALL 50% OFF

Sleeping Bags 30% OFF

Camping Chairs & Furniture 50% OFF

Tramping Boots from $199

Join the

conversation

Have your say on how the

Council plans to fund the city's

projects. Come and talk to us

at your local Have Your Say

event, or go online and make

a submission.

To find out more visit

ccc.govt.nz/AnnualPlan

www.highcountry.net.nz

Organic Training College

LEARN FROM

THE EXPERTS

Start a career in

organics. Reduce

your footprint and

produce a regular

supply of your own

fruit and vegetables.

COURSES (All fees under $500)

Year 1

Introduction to Organics

44 weeks

Starts August 2017

(Lincoln campus)

Open 7 days

7d Mandeville st, Opp placeMakers

ph 03 366 4166

Year 2

Applied Organics

46 weeks

Starts August 2017

(Lincoln campus)

Programme information

college@bhu.org.nz | 03 325 3684 | www.bhu.org.nz

#cccplan
---
NOR'WEST NEWS Latest Christchurch news at www. .kiwi

Tuesday March 21 2017 3

News

St Andrew's celebrates 100 years

St Andrew's College marked the beginning

of its centenary celebration on Friday with

its oldest collegian Naylor Hillary (left)

and his great-grandson, Henry, cutting

the cake with help from rector Christine

Leighton. At least 700 old collegians and a

number of current students attended the

Founder's Day assembly, which opened the

celebrations

In Brief

AWARD FOR BUS DRIVER

St Albans bus driver Arvinder

Singh was runner-up for Go Bus

driver of the year at the biannual

Go Bus roadeo. Mr Singh excelled

in four different disciplines

– theory, vehicle inspection,

customer service and driving skills

– at the event, which took place

at the Air Force Museum of New

Zealand in Wigram.

COMMUNITY CENTRE

The St Albans community will not

have to wait much longer for the

rebuild of its community centre

to begin. The Papanui-Innes

Community Board finalised

details about the project's design

at a meeting with the St Albans

Community Centre rebuild

working party. The project is now

waiting for resource consent and

should begin construction in

August. A time capsule will be

buried when the new centre opens.

OLD BOYS: Collegians gathered for the Founder's

Day assembly on Friday.

HISTORY: Former

students caught up

outside the heritage

building Strowan House.

FLAG: St Andrew's students raised the flag

during the celebration.

YOUTH ORCHESTRA

Ten current and former Burnside

High School students have made

the cut for this year's National

Youth Orchestra. Current students

Sarang Roberts, Marijke Cooper

and Liam Johnson, as well as

former students Estelita Rae,

Grace Stainthorpe, Caroline

Norman, Lavinnia Rae, Anneleise

Westerman, Dale Vail and Robert

Petch have been named in the

orchestra.

WE OFFER IT ALL!

SALES, SERVICE & REPAIRS

WE SERVICE ALL BRANDS

ARTYNS

outdoor Power

& equipment centre ltd

Ride Ons Lawn Mowers Line Trimmers

Hedge Trimmers Blowers

Chainsaws

SALE

Electric Flymo Equipment

Accessories: Gloves, EarMuffs, Eye Protection

Gardena Garden Range

12B Normans Road, Strowan | Ph 355-9323

www.martyns.co.nz

Introducing Ray White

Citywide Property Management

We've been entrusted to look after over $99 million of property throughout Christchurch.

You can trust us to look after yours too. Call today.

Property Manager of

the Year NZ 2015/16

Ray Hastie

Manager

027 448 8225

Paula Hastie -

Assistant Property

Manager

Local Experts – Citywide Knowledge

Nicola Flanagan

Property Manager

021 914 332

Phone (03) 331 6755

www.propertymanagementchristchurch.com

Rebekah Whalley

Accounts Administrator

03 331 6755

Abbey Nolan

Property Manager

027 379 5021

Prier Manson Real Estate Ltd Licensed (REAA 2008)
---
4 Tuesday March 21 2017

Latest Christchurch news at www. .kiwi

Your Local Views

NOR'WEST NEWS

Community battles graffiti

City councillor

Sara

Templeton

talks about the

city's graffiti

problem,

particularly in

St Albans, and

how the community has

responded to it

It wasn't long after the

earthquakes in 2011 that our

city had a sudden rise in graffiti.

Damaged and vacant buildings

were ripe for tagging and our

public spaces became targets for

vandals.

This was true in Heathcote

Valley where I live, as it was

across the city. So a group of

us called the city council and

joined the graffiti volunteers

programme Off the Wall. Supplied

with hi-vis, brushes and

paint, we kept on top of the

local problem, reporting it for

removal by contractors when we

couldn't do the work ourselves.

The problem soon tapered off as

taggers realised that their marks

weren't going to stay around for

long, and it's stayed pretty good

since then.

Graffiti is a problem – it damages

property and makes local

residents feel less safe in their

community. Quick removal is the

key, so reporting it for removal

as soon as it's seen is important.

Conversely, the graffiti that is left

attracts more graffiti, and we see

this time and time again.

City council can remove graffiti

on road boundary fences,

lamp posts and other similar

public places, but the green

roadside cabinets are looked after

by their owners – Chorus, Orion

or others and the city council

can't remove graffiti on private

buildings. City council will pass

on the details if you call, but

contacting the company directly

will have a quicker result.

City council does an annual

graffiti survey and the results

are striking. In 2013, there were

11,592 tags spotted and, in 2016,

GRAFFITI: St Albans is the

worst suburb across the

city for graffiti alongside the

central city.

only 1591 tags were seen across

the city during the same period.

Interestingly, reported graffiti

has gone up over the same time,

coinciding with the introduction

of the Snap Send Solve app

and accepting complaints about

graffiti on private property. These

complaints are registered on our

books, but the removal request is

forwarded to the owner.

We have more than 1000

fantastic volunteers helping keep

their communities graffiti-free,

but you don't have to join to help

out. Call 941 8999 to report it, or

use the Snap Send Solve app on

your phone.

My favourite saying is apt here

– "I used to think that somebody

should do something about that;

then I realised that I was somebody."

Aren't we all?

Readers respond to Ali

Jones' Soapbox in last

week's Nor'West News

about roadworks in St

Albans

Vanessa Pollock – Been

frustrating but I know it's called

for. Also, I'm sure traffic has got

very heavy around the Cranford

St, Innes Rd, St Albans area with

Winters Rd cut off now.

Jenna-Louise Crothers

– It's only frustrating when the

workers are standing around

not doing anything. The stop-go

dude was on his cell phone the

other night. Traffic both ways.

Give the job to someone who

wants to work.

Readers respond to city

councillor Aaron Keown's

Soapbox on funding for an

upgrade of the Gardiners,

Breens and Harewood Rds

intersection not being included

in the city council's

draft Annual Plan.

Miles Dalton – It sounds

like the process is working well.

Instead of spending money on

one person's vanity project, the

money is spent on the basis of

actual facts. Aaron Keown needs

to understand that being elected

does not put him in charge, it

makes him part of a group of

decision makers.

Anthony Nixon – Turning

bays will not improve safety

for the primary and intermediate

school children who cross

Harewood Rd every morning at

rush hour. There is a lot going

on in that area, including lots of

heavy traffic that moves very fast

up and down Harewood Rd past

that intersection (they are often

breaking the speed limit).

Quality Meals, Salads

& Sweet Treats

Made daily with the freshest of ingredients

Real Food

FoR

Real People

FREE dEliVERy

to your home

or workplace.

Visit our website

www.healthkicks.nz

Shop 4, 104 Staverley St | Phone: 03 342 9541

Show your passion with the Soul Jewellery

EQUESTRIAN COLLECTION

Our individual equestrian-themed range of hand-crafted

sterling silver pendants, bracelets, bangles, earrings and

more. Chosen especially to reflect your passion.

Shop 38b, on the car park side of

Merivale Mall, Christchurch.

Telephone 03 356 1002

www.souljewellery.co.nz
---
NOR'WEST NEWS Latest Christchurch news at www. .kiwi

Tuesday March 21 2017 5

News

Playground plans to go ahead

• By Julia Evans

PLAYGROUND upgrades at

a suburban park are set to go

ahead in spite of a community

group lobbying against them.

The Fendalton-Waimairi-

Harewood Community Board

approved the $150,000 upgrades

to the Abberley Park playground

that will see it take up twice the

amount of space it is now.

But Friends of Abberley Park,

a volunteer

group that does

maintenance

around the

park, were

against the concept.

They lost

Aaron Keown

their bid to see

the footprint of

the playground

move in order to take up less of

the park's green space.

The board decided to stick

with the original upgrade

plans approved last year by the

Shirley/Papanui Community

Board.

City council staff, councillor

Aaron Keown and the group

met at the park after a deputation

was made to the board in

order to see if they could find a

compromise.

KIP0018KiwiBubsPres 2017-03-10T16:50:42+13:00

A week after this meeting city

council parks project manager

PARK: The Abberley Park playground which will soon be

upgraded to take up almost twice the amount of green space

shown here. ​

Steven Gray went back to the

group with a proposed change

to the upgrade.

The playground had been

moved 12m to the west to save

some of the park's versatile

greenspace that was to be taken

up by the new equipment.

The plans were presented

to members of Friends of

Abberley Park who said they

were satisfied with the new

proposal.

"It entirely won over the last

friends who had remained dubious,"

the group said.

However, at their last meeting

the board moved to maintain

the status quo by supporting

the initial plan approved by the

Shirley/Papanui board.

City councillor Jamie Gough

voted against the motion and

fellow city councillor Aaron

Keown said he thought the matter

was coming back for further

discussion.

The secondary consultation

worried members of the old

Shirley/Papanui board who

did not want to see the project

delayed any further.

City councillor and former

board member Pauline Cotter

said it had a very robust and

thorough consultation process

last year.

"The existing equipment is beyond

its use-by date and safety

quota so we really need to get on

with it," she said.

Friends of Abberley Park

said it is disappointed with the

outcome.

It said it hopes to grow in

strength so it can be heard when

issues around paddling pool

retention are eventually raised.

$30k funding remains for centre

Last week Nor'West News

reported $30,000 was being

taken from the repair of the

Shirley Community Centre

rebuild and to go towards

repairing the Redwood Plunket

rooms. The information came

Refuge islands to

improve safety

PEDESTRIAN safety has been

prioritised for Grampian St in

Casebrook.

The installation of two refuge

islands between Jocelyn St and

Veitches Rd was approved by the

Fendalton-Waimairi-Harewood

Community Board at its last

meeting.

The upgrades come off the

back of several complaints from

residents regarding cars speeding

down the wide and straight

street.

Narrowing road markings

will create a natural desire for

drivers to slow down, alongside

the proposed pedestrian islands

and no-stopping restrictions, city

council staff said.

More than 100 leaflets were

hand delivered to residents

and businesses in Jocelyn and

Grampian Sts between Veitches

from a city council press

release.

However, the funds are not

related to the permanent facility

but are coming from a budget

set aside for the relocation of a

temporary facility.

and Calridges Rds .

Staff received feedback

on the proposal from three

organisations including the

AA, Canterbury District

Health Board and Christchurch

Disability group, which all

supported the upgrade.

Five residents also provided

feedback, including one petition

containing seven signatories, all

of who opposed the proposal but

acknowledged speeding vehicles

are a problem.

One resident said refuge

islands were not suitable to cross

with their guide dog and they

would need a signalised crossing

to be installed.

The project will be carried

out under the city council's

Safety Improvements

Programme and is estimated to

cost $66,530.

hey BABY

Share the joys and challenges

of parenting with Kiwibubs.

Kiwibubs is free for mums, dads and

caregivers with little ones. Meeting

every two months, it's a great way to

catch up, hear amazing guest speakers,

get exclusive retail offers and connect

with other parents.

Join now at our customer service

desk or visit northlands.co.nz

northlands.co.nz
---
6 Tuesday March 21 2017

Latest Christchurch news at www. .kiwi

NOR'WEST NEWS

Delicious buffet on offer in

popular family restaurant

The buffet at the Sequoia Restaurant in The Redwood is an all-time favourite with

Christchurch people and visitors to the city, who come to enjoy the huge selection

of food and the warm, friendly environment.

The buffet at the Sequoia Restaurant in

The Redwood is an all-time favourite with

Christchurch people and visitors to the city,

who come to enjoy the huge selection of

food and the warm, friendly environment.

There is something for everyone here. This

is a great place for families to eat and have

fun together. Children don't have to wait for

the food to arrive and they can eat just what

they like.

Chef Ryu, who is from the Philippines, has

years of experience cooking in restaurants.

He was a Head Chef in his hometown

of Manila for 20 years. After arriving in

Christchurch more than six years ago, Ryu

worked at La Porchetta, and then as a sous

chef at The Old Vicarage in Halswell, before

gaining the role of Head Chef at Sequoia.

Since starting there in early 2016 he has

made huge improvements to the quality and

deliciousness of the food. He takes great

pride in the fact that the dishes are made in

the kitchen from wholesome ingredients.

No MSG is used.

About half the dishes are gluten free plus

there are dairy-free options. "Come for a

treat or come for a healthy meal. The choice

is yours," Ryu says.

Ryu has also added many choices to the

buffet selection, including the national

Filipino dish, Adobo, made with pork. The

style of cuisine on offer ranges from European

to Asian, Mediterranean to American, and he

gets much of his inspiration from reading

recipes and watching reality TV shows such

as Master Chef.

The customer favourites such as the roast

meats on the carvery, sweet and sour pork

and butter chicken are still there, along with

the beef stroganoff, vegetarian lasagne,

seafood, salmon, chicken pesto pasta and

fresh salads.

The dessert section is amazing!

This has lately been enlarged, with new

desserts added. Cheesecake, banoffee

pie, mini pavlovas, sticky date pudding,

chocolate brownie with chocolate ganache

and raspberry compote are just some of

Chef Ryu checks on the buffet.

the desserts you will find on the buffet – all

decadent and gorgeous!

The spacious Sequoia Restaurant is open

for buffet breakfast and lunch on Saturday

and Sunday, and for dinner every day.

Live music on Friday, Saturday and Sunday

evenings.

Call in for a delicious and fun experience.

For bookings phone (03) 352 9165.

Come and try our new dessert section!

The buffet at Sequoia offers a wide range of freshly prepared choices to suit all tastes.

340 Main North Rd, Christchurch

Ph: 03-352 9165
---
NOR'WEST NEWS Latest Christchurch news at www. .kiwi

Tuesday March 21 2017 7

ews

A step closer for new Mairehau church

WORK

ashion

ON building a new

church for Mairehau's St Francis

of Assisi Parish is moving closer

as a successful fundraising

campaign gathers momentum.

The new development is

estimated to cost $9 million, of

which $2 million is earmarked

to come from the parish's own

fundraising programme.

Father Rick Loughnan,

administrator for the Catholic

Gardening

Diocese while it awaits the

appointment of a new bishop,

said that the local fundraising

campaign is approaching 50 per

cent of its target.

"We had a parish community

fundraising dinner this month

with more than 150 people

• By Julia Evans

otoring

Bishopdale to feature in city documentary

BISHOPDALE will be the

subject matter of this year's

Christchurch Documentary

Project.

asty Bites

Christchurch City Libraries in

conjunction with the Canterbury

University School of Fine Arts is

collating a photographic record

of the city.

DESIGN: Sketches of what the new Mairehau church will look like. ​

attending, including MPs Nicky reach our target," he said.

Wagner and Poto Williams. With the local fundraising

While this certainly added to moving towards achieving its

the pace of our fundraising target, work could be expected

campaign, we still need support to start on the new church next

to raise a lot more money to year.

Photos of the community will

be taken until August and the

final project will be available in

November as an exhibition in

Bishopdale and online.

The point of the project is to

capture the city post-natural

disaster for future generations to

see.

Project manager Sam

Ludemann said Bishopdale was

chosen to capture the significant

change it is going through at the

moment.

He said it is also to coincide

with the new library and community

facility that is set to open

in June or July.

"There's going to be something

of real value at the end of the

year – an exhibition but also a

body of work that represents the

"Parish fundraising is only a

part of the equation. Insurance

funds and the proceeds from

the realisation of assets across

the diocese will also assist," he

said.

people in the community."

The six interns from the

university who will be taking

photos for the documentary

are Lucas Perelini, Thomas

Herman, Robert Earl, Liam

Lyons, Elise Williams and

Janneth Gil.

Last year's project, Edge of the

East is currently on display at

the New Brighton Library until

The new St Francis of Assisi

Parish is an amalgamation of

the former Holy Family Parish

of Burwood, Our Lady of Fatima

Parish of Mairehau and St Paul's

Parish from Dallington.

April 1 and the 2015 Halswell

project is available online.

Christchurch City Libraries

is currently reaching out to

the local community for any

potential subjects.

Anyone in Bishopdale who

wants to be a part of the project

should phone 941 7923 or email

library@ccc.govt.nz to express

interest.

oney

HELPING US,

HELPS THE

COMMUNITY

Drop off or buy

2 family stores in your community

30 Main North Rd,

Ph 352 4581

520 Cranford St,

Ph 352 0515

One stop shop for

all your dental needs

Warm, friendly & affordable dental care for the whole family...

We provide a full range of modern dental services

and ensure the highest level of care.

ACC Treatment Provider | WINZ Quotes |Student Discounts

Free Dental for Adolescents | Same Day Emergency Treatment

(03) 355 3888

DENTISTS

DAVID

ROWLEY

JENNY

KIM

Merivale Dental Group

welcomes hygienist

Megan Smith to the team

Level 1, 184 Papanui Rd

(opposite Merivale Mall)

www.merivaledental.co.nz

If you are looking to sell your property

now

is the perfect time

The Team at Smart Real Estate

Utilize Smart Marketing Options and

Offer a professional service

Phone Debra Hakaraia

027 562 0420 or 03 384 8600

Licensed Agent

REAA 2008 MREINZ

Debra Hakaraia
---
8

Tuesday March 21 2017

Our People

Latest Christchurch news at www.

.kiwi

NOR'WEST NEWS

Paul Lonsdale

Merivale's former city councillor

Paul Lonsdale was

called in to turn Merivale

Mall around in the late

90s. The former city

councillor is known

for his hands-on

management style but

his first job was playing

guitar in an 80s punk

band. Sarla Donovan

talked to him about his

love of business and the

arts

You were a guitarist and

songwriter in the Solatudes,

circa 1980. That must have been

exciting?

Yes, the original band was

called the Negatives and that

morphed into the Solatudes. Me

and another guy from school got

together and we had an outside

bass player, a young guy that

had run away from home in

Auckland and was living here.

There ended up being about five

of us in the end, we were like

a family. I liked working with

people that made me laugh.

We did gigs all over town and

made some very good money. It

was back in the days when the

Gladstone would be packed with

200 to 300 people and they were

all paying $5 to $10 each. We'd

get 85 per cent of the door take.

Then you'd get the Hillsborough,

they used to get 900 people out

there sometimes.

Are you still involved in

making music?

Yes, but not as much as I'd like

to. The last six years my work

life's been horrendous and there's

been no personal time at all,

especially in the last three years.

It's a bit better now, but I'm

struggling to slow down. I enjoy

walking, playing and listening

to music, drawing. I should have

been an artist. That was my

passion at school, but I was a bit

naughty in my last year and so

my parents wouldn't let me go to

art school.

Some regrets then?

I don't regret anything in

my life really. I talk to a lot of

young people and I always say

to them, get your education.

Do everything you can while

you can. You don't want to find

BRIGHT

FUTURE:

Paul

Lonsdale is

hoping to

restore New

Brighton's

fortunes.

PHOTO:

GEOFF

SLOAN

yourself in a position where you

look back and go, gee, I wasted

quite a bit of time doing that and

I shouldn't have, I didn't really

want to do that.

What's your role here in New

Brighton?

I've been brought in to assist

with the regeneration of New

Brighton and help lead local

businesses to a better state than

they're currently in.

So what's your vision?

New Brighton has some really

good bones. It obviously suffered

when Saturday shopping was

opened up to the rest of the

city. New Brighton used to be

the only place I think in the

country that you could shop

on a Saturday and, of course,

when Saturday shopping came

in, New Brighton, and the

central city to a degree, didn't do

anything about trying to change

or consolidate their model. So

when the malls came to power,

the traffic in New Brighton got

less and less. Some shops would

open up and some wouldn't

and it's that inconsistency that

started to lead to its demise.

There was a lack of investment

by the landowners and business

owners and, of course, we see the

outcome today.

When do you date that

decline from?

I think Saturday shopping

came in around 1984, so we're

looking at 30-plus years of

decline. We saw the same

thing in the central city, but

post-earthquake they got a

regeneration plan and I think

there's a couple of billion dollars

worth of anchor projects given

to it to help lever the rebuild and

reinvestment. New Brighton

needs a smaller version of

that.

97.7

STACE & FLYNNY

Weekdays 3-7pm

thehits.co.nz
---
Land Land size size Land Land size Land size

sizeBedroom

Bedroom

Bathroom Bathroom

Bathroom

Lounge Lounge Lounge Lounge Lounge

Dining Dining Dining Dining Dining

Toilet Toilet Toilet Toilet

Shower Toilet Shower Shower Shower Shower

Study Study Study Study Study Garage

Garage Garage Garage Garage Garage

Carport Carport Carport Carport Carport

Car pad Car pad Car Car pad Car pad pad

Boat Boat pad pad Boat Boat pad Boat pad pad

Pool Pool Pool Pool Pool

Tennis Tennis court Tennis court Tennis Tennis court court court

11 1 212 1 21 2332 23 3 434 3 4 4 545 4 5 656 5 6 5 776 67 6 878 7 8 7 899 8 98 9 910 9 10 10 101110 11 11 11 12 1211 12 121313 1213 13 14 1413 14 13 14 14 14

Land size

Bedroom

Carport

Bathroom

Car pad

Lounge

Boat pad

Dining

Pool

Toilet

Shower

Tennis court

1 2 3 4 5 6 7 8 9 10 11 12 13 14

Study

NOR'WEST NEWS Latest Christchurch news at www. .kiwi

Tuesday March 21 2017 9

helping to rebuild the city's east

You were the manager of Merivale

Mall from 1999 to 2004 and

instrumental in setting up the Re:Start

mall. What skills have you picked up

that you might see yourself using in

this role?

My management style at Merivale was

quite different, I got heavily involved

with the businesses. I created a lot of

activity, promotions and over a fourand-a-half-year

period I doubled the

centre's turnover and I increased the

foot traffic by 32 per cent. They thought

I'd be the right person to manage the

centre because I was a retailer myself.

Just getting down on the ground,

working with the retailers. They'd

developed a very negative view of the

world and that was self-fulfilling so their

turnovers weren't increasing, so it was

about working with them to change

their thinking, change the message that

they were putting across the counter

and working just as hard as they were

to try and boost the business. Over the

four-and-a-half-years, we grew to be like

a big family.

Do you see yourself as quite a handson

person?

Absolutely, and same with Re:Start,

that was very grassroots. Hard work

to get that project off the ground, even

harder to make it successful. Most

people think it was successful straight

away, but it was very hard to get the

confidence back of people here in

Christchurch to come back into the city.

LAwyERS

We have over 40 years' experience

to assist you with…

• Buying and Selling Houses and

Commercial Property

• Wills, Trusts and Estate matters

• All issues facing you

and your business;

• Employment Law

matters;

• Traffic matters;

• Advice regarding

Retirement Villages

• General Legal Advice on all matters

Call John, Brendan or Andrew today

03 366 8996

Email. lawyers@mclegal.co.nz

Airport Business Park

92 Russley Road, Christchurch 8042

You must be very proud of that

achievement?

Very proud, but you don't do it alone,

there was a group of us that set out to do

the project. I came up with the idea but

the idea's only one thing – unless you've

got people to help you realise it, it's just

an idea.

So, do you have any special links to

New Brighton?

I lived here for a couple of years about

12 years ago. As a kid, we used to come

out here to the beach. My brothers and

I used to have a routine on hot days:

We'd go to Jellie Park in the morning,

swim there till about 11am, bus out to

Brighton, go for a swim then back to

Jellie Park. And, of course, as a family

we used to come out here on a Saturday.

I see you're a former Burnside High

School student. Are you Christchurch

born and bred?

Not quite. I was born in Gore and

moved to Invercargill with my family

when I was four, then moved here when

I was 11. We came up in 1974, when the

Commonwealth Games were on.

Were you at school with John Key?

Not in the same class but the same

year. Don't remember him at all. I did

play at school assemblies in the band

back then, though, and when we got the

cheque from John Key for Re:Start, I said

we were at the same school, same year.

He said he thought the name rang a

bell. He remembered me from the band

playing.

3

NO. 13 HARCOURTS NEW ZEALAND 2012-2013

Small world. So where do you call

home now and who does the cooking?

Just out of central Christchurch. I've

been there 10 years and live there with

my wife Denise. It's a second marriage

so she has a couple of kids (they've

left home) and I've a got a 17-year-old

daughter at Christchurch Girls' High.

We share the cooking, I usually do the

meat and my wife does the veges – divvy

up the responsibilities.

You've held quite a few communitybased

roles and currently serve on

boards and trusts around the city.

Where does this interest in community

come from?

A friend of mine once said: 'You just

like getting involved,' and he's probably

right.

Must have been a heck of a shock

when you weren't re-elected to the city

council?

Yes and no. I could have stood in

central and would have won that

without any problem at all. I chose to

stand in that (Heathcote) Ward. I have

my own personal reasons for why I did

that and I knew it would be a trickier job

getting re-elected, but I was willing to

take that risk. I'd done a lot of work out

there you see, and I don't shy away from

challenges. I'd make the same decision

again.

Do you see yourself standing for

council in the future?

Look, I never say never. You never

know in this life.

Love Singing -

Need Tuition?

Coaching available for

• Singing Tuition

• Theory of Music

Beginners – Experienced

Tuition fees from $35

Be inspired by a Qualified Tutor with

over 15 years Tutoring experience

Marion Hounsome

BA Hons/FVCM Hons

360 2843 or 022 694 6617

NEW WAVE: Paul Lonsdale in his punk

days.

The magazine for

gardeners who

like To geT Their

hands dirTy

www.gardener.kiwi

100%

Contact me today... I can make a real difference!

HARCOURTS CANTERBURY TOP 20 2004-2016

HARCOURTS NEW ZEALAND TOP 100 2009-2016

DEADLINE SALE

850m

4

2

1

2.5

850m

850m

4 4 44

24

2 22

12

1 11

12.5

2.5

Phone 03 352 6166 or 027 220 6565

deb.harvey@harcourtsgold.co.nz

471 Papanui Road, Christchurch

LICENSED AGENT REAA 2008

OVER

$230 MILLIO N IN

H A R C O U R T S

SALES

G O L D
---
10 Tuesday March 21 2017

Latest Christchurch news at www. .kiwi

SPORTS

BUSINESSES

SPORTS

BUSINESSES

GREEN FINGERS:

St Albans Catholic

School pupils

celebrate winning

the children's

choice gold for

their The Lorax

display.

'Opera-tunity' for Rangi SCHOOLS student

A SINGER from Rangi Ruru Girls'

School has been accepted as a

student ambassador with the New

Zealand Opera.

Year 12 student Holly Evans

has been chosen to take part in

the programme which starts this

month.

It provides opportunities for

students to engage with different

aspects of opera and performing

arts.

Holly will also attend New

Zealand Opera dress rehearsals

and 'ambassador-only' events

organised by the opera.

She has been in awe of their

performances for a number of

SCHOOLS

years and the experience of

seeing what goes on behind the

scenes will be very rewarding.

Rangi Ruru director of

music, Janet Kingsbury, said

this opportunity is a wonderful

recognition of the dedication and

talent Holly demonstrates.

She said Holly is a remarkable

singer with a passion for

professional theatre production.

SPORTS

SPORTS

NOR'WEST NEWS

SING: Holly Evans learning the

ropes from Dame Malvina Major. ​

Gold for garden

ST ALBANS Catholic School

brought home a gold medal

at last weekend's Oderings

Schools Garden Show.

The 12 schools that took

part created garden pieces to

the brief 'once upon a time',

which sparked a wide variety

of interpretations.

Some schools used Maori

legend, earthquake recovery

and even the decimation of

the Amazon rainforest.

The school's gold medal in

the children's choice category

was won for their garden

based on The Lorax by Dr

Seuss.

Sockburn School also won

gold in the people's choice

category for its display based

on the Three Little Pigs.

Fendalton Open Air School pupils Billy Atkinson and Amber

de Wit (above), as well as Athena Gan and her mother, Min

Zhong, helped out at a recent working bee. Pupils, parents

and teachers turned up to groom the school grounds and

enhance their surroundings before autumn hits.

DONATIONS

& VOLUNTEERS

NEEDED

Preloved Good Quality • Bric & Brac

Furniture • Household Goods

DROP OFF OR WE CAN PICK UP

1 Amyes Rd, Hornby Ph. 349 4163

Hours: Mon - Fri 9am-4.30pm

Sat 9.30am-1.30pm

335b Riccarton Rd, Church Cnr

Ph. 341 8539

NOW both stores Late Night Thurs to 6pm

'CEREC' & cosmetic dentistry

Wisdom tooth removal

Painless, high quality dentistry

Sedation dentistry

Experienced, conscientious team

Experienced hygienists

OPEN SATURDAYS

355 9380

144 Cranford Street

www.stalbansdentalcentre.co.nz

Get your back

BACK!

Join our Spinal Strengthening

Programme

• Eliminate back weakness and

improve posture

• Two level small group exercise

programme led by a physiotherapist

• Held at Bishopdale & Hereford St

with free parking

musclepeople.co.nz

Call us today! 360 3606

Three Muscle People Physiotherapy Clinics:

Wigram Skies, Bishopdale & Central City

MODIFIED INVASION

plUs sUper stock gold rUsh

*

*

plUs

sidecar challeNge - Fri Night

plUs

ramp race derby - sat Night

Friday 24th march & sat 25th

march From 7pm

Family pass: (2 adUlts & 4 childreN 14yrs & UNder) $40

adUlts $20 | seNiors $10 | childreN $5 | UNder 5yrs Free

FUN!

For the

whole

Family

doUbledays road kaiapoi | iNFoliNe 03 364 8833 | www.woodFordgleN.co.Nz
---
NOR'WEST NEWS Latest Christchurch news at www. .kiwi

Tuesday March 21 2017 11

SPORTS

Burnside High students

bowl over competition

• By Andrew King

AN INCREASE in the number

of Burnside High School

students playing lawn bowls saw

them take out top spots in the

Canterbury secondary schools

tournament.

The pairing of Chenielle Clark

and Bonnie Taylor won the

tournament, with Sam Wallace

and Adam Hodgson finishing

second and Billy Allan and

Fraser Deavoll third.

Held last week at the

Fendalton Bowling Club on

Makora St, Burnside High

entered five senior pairs' teams.

Coach Nicola Hawke has been

running the bowls programme

at Burnside for the past three

years and said normally between

three to 10 students sign up, but

this year 23 enrolled.

"Most students are attending

training sessions and

competition games each week,"

she said.

Clark and Taylor will compete

in the South Island secondary

schools tournament on March

29 at the Burnside Bowling

Green.

YOUNG BOWLERS: Bonnie Taylor (left) and Chenielle

Clark won the Canterbury secondary schools lawn bowls

tournament last week. The pair will compete in the South

Island secondary schools tournament on March 29 at the

Burnside Bowling Green.

WINNERS: Rangi Ruru edged rivals St Margaret's 6-5 in the

secondary schools super touch competition on Wednesday.

Rangi edges old rivals

in tight competition

IN A nail biting final, Rangi

Ruru Girls' School edged its

old rivals St Margaret's College

6-5 in the secondary schools

super touch competition on

Wednesday.

The last time the school raised

the trophy was in 2013.

Assistant director of sport

and team manager, Mandy

Anderson, said the win is a good

warm up for the South Island

secondary school championships

on Friday and Saturday.

The game against St Margaret's

didn't start well with the opposition

scoring twice in as many

minutes, she said

"Our girls didn't let up at all

and then with the score sitting

at five all, with two minutes to

go, we scored. After defending a

set of six touches, the game was

ours," she said.

"We can take real heart from

this, without question. The fact

that the girls know they can

come back and keep the pressure

on right to the end is an excellent

learning from this win."

Aside from winning in 2013,

the school has had a bit of a

dry spell after holding the title

between 2001-2006.

A large number of school

supporters, including the

Rangi Ruru sport mascot Sonic,

cheered the team's win and are

expected to do the same at the

South Island championships.

Hemming, repairs, alterations

or remodelling – I do it all

Specialists in alterations

to all bridal wear

I love clothes! And I love making them

wearable again for my customers.

Perhaps your jeans are ripped and holey?

Menswear alterations include:

suits, jeans, shirts and jackets.

- no problem. I can expertly repair them.

Have you changed size or bought the

wrong size online? - no problem. I excel in

designer solutions so "you'd never know!"

My workmanship is guaranteed.

Are you new to business or just looking

for a new accountant or bookkeeper?

Let us put your

accounting worries at ease

151 Edgeware Road Ph 377 -8942

Open Mon- Fri 9am-5.30pm

other times by appointment.

• Friendly and approachable

• Cost effective without compromising on good,

reliable service

• The intermediary between you and IRD

• Skilled, qualified accountants with over 20 years'

combined experience

• MYOB and Xero certified consultants

• Accountants, Bookkeepers and Tax Agents

Putting you at ease, where you are not just another number

Contact Bronwyn or Nicky

with no obligation

03 349 7742

info@easeaccounting.net.nz

www.ateaseaccounting.net.nz

103 Blankney Street, Hornby

Bronwyn Irwin

Nicky Isherwood
---
12 Tuesday March 21 2017

Latest Christchurch news at www. .kiwi

Trenchard wins place on

national track cycling team

• By Andrew King

BURNSIDE HIGH School cyclist

Matthew Trenchard has been

selected for New Zealand to

compete in China in August.

The 17-year-old was included

alongside former Burnside student

Josh Scott and former Christchurch

Girls' High School student Kate

Smith in the 13-strong team.

They will compete in the UCI

Junior World Track Championships

on August 23-27.

Trenchard said it was a dream

come true to be selected for the

team.

"My ultimate goal is to be a

cyclist full-time, and now that is

within touching distance," he said.

Eight years ago a neighbour

showed Trenchard an advertisement

in The Star to give competitive

cycling a go at Denton Park

and he has been there ever since.

Trenchard lives and breathes the

sport, spending up to 17 hours per

week on the bike as well as working

for his coach at his bike shop in

Tower Junction.

"I love the speed, the adrenaline,

the fact that crashes are millimetres

away from happening and the

excitement," he said.

He said without the support

of his teachers, coaches and his

parents he would not be where he

is today.

STOKED: Matthew Trenchard said it was a dream come true to be selected for the New

Zealand track cycling team to compete in China in August.

SPORTS

NOR'WEST NEWS

Burnside take

volleyball title

• By Andrew King

BURNSIDE HIGH School have

continued their charge towards

another national volleyball title

after winning the Canterbury

championships on Sunday.

The girls' team cruised past St

Andrew's College 3-0 in the division

1 final at the Pioneer Recreation and

Sport Centre.

Burnside will now turn their focus

towards the nationals at the end of

the month and the chance of claiming

a third consecutive title.

Coach Sam Ryborn, who last week

returned from coaching the New

Zealand girls' team at the under-18

Asian volleyball championship in

China, was happy with his team's

tournament ahead of next week's

national tournament.

Marlen Jahn was named most valuable

player with her powerful spiking

and serving too much for the opposing

teams.

The boys' division 1 was won by

Shirley Boys' High School, ending

Riccarton High School's four-year

run as champions.

Burnside and Shirley will now play

in the top 32 at the New Zealand

secondary schools' championships at

the end of the month in Palmerston

North.

THE RUSSLEY VILLAGE

HOLLY LEA VILLAGE

TWICE AS MANY CHOICES FOR EXCEPTIONAL RETIREMENT LIVING

Making your retirement move is even more accommodating, with a choice

of two sought-after locations in Christchurch. The Russley Village, is set

within 8 acres of award-winning gardens, creating the benchmark for

quality over the past 5 years. Enquire now about the Sefton Apartments,

this building will also contain the indoor swimming pool complex.

Holly Lea Village is nestled in the heart of Fendalton within beautifully

tailored grounds with an extensive range of facilities including restaurant,

café, garden lounge, cinema, library and hair salon. The village offers a

range of care and extra support services delivered to your apartment.

We currently have a beautiful selection of studio, one and two bedroom

apartments available.

russleyvillage.co.nz | 03 982 8280

73 Roydvale Avenue, Christchurch

For sales enquiries contact

Nola Lamb

"Now, twice the options for

residents with care, quality and

unparalleled locations"

Judy Bailey

hollylea.co.nz | 03 351 2679

123 Fendalton Road, Christchurch

For sales enquiries contact

Nola Lamb
---
NOR'WEST NEWS Latest Christchurch news at www. .kiwi

Tuesday March 21 2017 13

Neighbour

Hello

Building a strong reputation

in real estate

The name Monty Parti is becoming

increasingly well known in the

Christchurch real estate market – especially

in the northern suburbs of the city.

As the franchise holder of Mike Pero

Bryndwr in Wairakei Road, which works

across these areas including Bryndwr,

Bishopdale, Casebrook and Northcote,

Monty is building a reputation for honesty,

integrity and effective marketing in this

highly competitive sector.

Originally from India, Monty came to

Christchurch with his wife and two young

children 11 years ago. Starting with a small

dairy in town, Monty's life was changed

after the September 4, 2010 earthquake.

He had to close down his dairy. "Life was

not easy at that time," he says.

Monty's career in real estate began

six years ago with a nine-month stint at

property management company Irelands

Property Management, after which

he joined Ray White as a real estate

salesperson. Following three successful

years there, he was offered the opportunity

to take over the Mike Pero Bryndwr

franchise from Lindsay Welch.

As a successful business owner of several

enterprises in India, this was the chance for

Monty to do what he enjoyed most – run

his own business. He now employs a team

of four salespeople, who can count on him

for any support they need – support he

says he didn't really get when starting out

in real estate.

Passionate about selling property,

Monty says the most important quality

he offers his vendors is honesty. That and

open communication with vendors and

buyers. And the most important element

in getting a property sold quickly at a

price satisfactory to both parties, he says,

is marketing – knowing how and where to

spend money on marketing a property is

what brings the results.

Many of Monty's clients come to him

through referrals and he has a lot of repeat

business, but while his name is becoming

increasingly recognisable through the

diversity of marketing channels he uses,

his goal is to "be famous". He wants the

name Monty Parti to be one of the first

people think of when considering buying

or selling property.

Monty says his inspiration to stay

focused on his clients and his goals every

day is his family – his wife and three

children, the youngest of which was born

in New Zealand.

He also acknowledges the strong

foundation of values and the support he

received from his parents as he grew up.

"Thanks, mum and dad, for

everything."

You can find Monty and his team at 169e

Wairakei Road, Bryndwr, or phone him on

0800 7376 05 03 or 377 1125.

Monty Parti, franchise holder

of Mike Pero Bryndwr

Passionate about selling property,

Monty says the most important quality

he offers his vendors is honesty.

Reach your local

community with us

To promote your business

and for your free marketing

plan contact:

Book your hair and

beauty appointments

for Autumn!

Café Berlin

Delicatessen & Café

Monique

Maynard

P. 364 7474

monique.maynard@starmedia.kiwi

Open 6 days a week

Three late nights

Follow us on Facebook!

HAIR 358 2007 | 162 Kendal ave, Burnside

BEAUTY 3578557 | 168 Kendal ave, Burnside

Need something to reward

yourself or to entertain

your guests?

Come and visit us to sample

German and European delicacies.

9c Normans Rd, Strowan. Ph: 03 355 0932.

Open Tuesday to Saturday

THINKING OF SELLING?

With our experienced real estate

agents you can expect more for less

MONTY PARTI Brand & Territory Owner

0800 Pero (7376) 05

Mike Pero Real Estate Ltd Licensed REAA (2008)

The perfecT gifT for

every occasion

• Weddings & Anniversaries

• Christenings & New Borns

• Birthdays & 21st Gifts

• Mythical & Inspirational

• NZ Souvenirs

• Model Cars

• Greeting Cards

• Kama Perfume Oils

• Range Of Incense

Bishopdale giftware

Bishopdale Mall

ph: 359 2505

Alpha Educational Institute

(AEI) has now moved to

19 Sheffield Crescent, Burnside!

Alpha Homestays has also moved and works closely with

AEI. We are looking for good, new, welcoming homestay

families in this area for our International Students!

We are especially interested in homes that are near to the No 17;

No 120; No 125; No 29 or the Purple Line Bus routes.

You will be well paid for this service!

For more information contact:

Margaret Bray, Alpha Homestays Coordinator

Email: info@alphahomestays.kiwi

Phone: (03) 359 5705 | Mob: 027 348 0535

or Kathryn Thorne, Principal, AEI

Email: kathryn@aei.ac.nz | Phone: 03 359 1525
---
14 Tuesday March 21 2017

Latest Christchurch news at www. .kiwi

NOR'WEST NEWS

highlights

Recent Successes

Mr Holstein

Welcome to Burnside High School for 2017

My aims this year are to:

• Provide an environment where staff,

students and their parents/caregivers feel

connected, valued and respected so they

enjoy their experience with Burnside High

School

• Work alongside the staff and students, to

build on our strengths, and to enhance our

reputation as a highly-regarded, successful

and sought-after school.

I want everyone at Burnside to feel that

they are part of something bigger than

themselves; and for the school to be a place

that allows students and staff to thrive, be

challenged, and become high performers.

I want a culture where "excellence is not

an act, but a habit" … a culture of high

performance.

Burnside High School offers a wide range

of opportunities through quality learning

experiences both inside and outside the

classroom. We aim to engage, challenge and

support students to improve their all-round

achievement and personal and interpersonal

skills; all within a culture based on personal

excellence and care for others. It is this

culture that underpins our success.

Our school motto - Recte sic dirige

cursum - 'Along this path direct your

journey correctly' is linked to the historical

significance of our Te Herenga Ora, cabbage

trees that stand so proudly on our grounds.

They are a local landmark and have been

used for centuries as a guiding point on the

plains.

I hope students feel guided through

Burnside High School, that they will attain

the qualifications they are capable of and

that they need, and that they develop the

personal qualities and confidence to choose

the right pathways in life. Above all else -

enjoy their "cabbage tree years".

I look forward to another successful year on

so many fronts: in academic work, in cultural

activities, in the arts, in sport, in leadership,

and in service.

Phil Holstein,

Principal

Art Block Photo taken by Adriel Tee

Burnside High School Art Department

The Art Department has established itself as a

successful subject area in the school for many

years, gaining exceptional scholarship results

year upon year; making it one of the benchmark

Art departments in the country. This year Art

students gained a total of 24 scholarships and one

outstanding (top scholar in Sculpture). This is out

of the total of 62 scholarships school wide.

Left to Right: Juliana Hung, Hiroki Miya, Amelia Garvey, Hayato Miya.

Burnside High School Golf

For the third year in a row Team 1 from Burnside

High School are again the Canterbury Secondary

Schools' Team Champions. The tournament was

held at Russley Golf Club. The team have qualified

to take part in the National Championships in

Hastings on September 4th 2017. They will be

defending their national title from last year.

Let to Right: Kieron Elms, Danielle Endacott.

Pasifika Success

The sPACIFICally Pacific Supreme Awards were

held this year at Haeata Community Campus on

March 7th. Each school nominates their top two

Pasifika Academic Achievers. This year Burnside

High School's Danielle Endacott won the Amosa

Faafoi Memorial Cup for Top Pasifika Girl Academic

Achiever and Kieron Elms was runner up for Top

Pasifka Boy.

Uniform Shop Photo taken by Adriel Tee.

Burnside High School PTA Uniform Shop

The PTA Uniform Shop has expanded this year

and has a new look shop stocking new and second

hand items. The shop is located at the front of

the school in A1. Now is the time to purchase

winter uniforms, all items are available at the shop.

Opening Hours are Monday lunchtime 1:00pm -

2:00pm, Tuesdays after school 2.45pm - 4.00pm,

and one extra day Wednesday 5th April after

school 2.30pm - 4.00pm.

Back Row: Eva Rewiri,

Tahlia Stark, Jessie

Santich, Tsubasa Nisbet,

Ben Laing (Coach)

Front Row: Talitha

Bootsma, Marlene Jahn,

Rosalie Richards, Kaylee

Johnson.

Burnside High School Volleyball

The Burnside Senior Girls' A Volleyball team are once again Mainland South Island Champions for the

third consecutive year. The team competed against Marlborough Girls in the final. The team - both current

and past players - have a 70+ game winning streak.

Burnside High School | Greers Road, PO Box 29 677, Christchurch 8540

Telephone: 358 8383 | Website: learn.burnside.school.nz
---
NOR'WEST NEWS Latest Christchurch news at www. .kiwi

Tuesday March 21 2017 15

Reading to Dogs

Tuesday, 3.30-4.30pm

These sessions have

been designed to provide a

relaxed and non-threatening

atmosphere to encourage

children to practice their

reading skills and develop

a love of reading. This

programme uses dogs who

are pets of the city council's

animal management team

and have been trained and

tested for health, safety and

temperament. Sessions are 15

minutes. Phone 941 7923 to

book a spot.

Free entry, Shirley Library, 36

Marshland Rd, Shirley

General Painting Course

Wednesday, 9am-1pm

This course will cover

still-life, landscape, floral, portraiture

techniques and more.

You will learn about palette

arrangement, colour mixing,

brush application, layering and

glazing. It will suit all ages and

levels of ability. There will be

individual guidance to assist

you through your artwork.

Free entry, Avice Hill Art and

Craft Centre, 395 Memorial

Ave, Burnside

Scrabble Club

Wednesday, 3.30-4.30pm

Go along and join the Shirley

Library Scrabble club. There's

no obligation, just go along

whenever you can and join the

friendly group. All materials

supplied.

Free entry, Shirley Library, 36

Marshland Rd, Shirley

Orchestral Extravaganza

Wednesday, 7.30pm

Featuring orchestras from

Christ's College, St Margaret's

College and Rangi Ruru Girls'

School. Admission will be free

and no bookings are required.

Christ's College Assembly

Hall, Rolleston Ave

Meditation and Buddhism

Thursday, 7.30-9pm

Each class will consist of

a guided meditation and

a talk based on Buddhist

wisdom. The classes will suit

everyone and bookings are not

required. This week's talk is

called Freedom from Painful

Emotions. Imagine a life

completely free from anger or

jealously – it is entirely possible

through learning to control

your mind. Suggested donation

$10.

St Albans Community Centre,

1049 Colombo St, St Albans

Knit 'n' Yarn

Friday, 10.30-noon

Take your knitting needles

along and enjoy a chat with

others as you knit. This session

will be for anyone who loves to

knit or wants to learn.

Free entry, Papanui Library,

35 Langdons Rd, Papanui

Email julia.evans@starmedia.kiwi

by 5pm each Wednesday

Card Club

Friday, 1.30-3.30pm

This weekly card club will be

on every Friday, just go along

and join the fun.

Free entry, Shirley Library, 36

Marshland Rd, Shirley

Portrait Painting Workshop

Saturday, 9am-1pm

This course will focus on

drawing human faces in a

simple way to recreate the

likeness of a photo. It will

teach you how to use light,

shadows, tonal values and a

limited palette. There will be

individual assistants to help

with your artwork. Email

tahanartstudio@gmail.com or

phone 021 1292170 to enrol.

Free entry, Avice Hill Art and

Craft Centre, 395 Memorial

Ave, Burnside

Mairehau Community Day

Saturday, 11am-3pm

Go along to meet your

neighbours and other members

of the community and have a

fun day out with the children.

There will be a vertical bungy,

magic show, mini-jeeps, a

merry-go-round, bouncy castle,

kid's market and free sausage

sizzle.

Free entry, Mairehau Primary

School, 43 Mahars Rd

PAPANUI NEIGHBOURS DAY: Neighbours Day Aoteoroa is a

national event to celebrate local communities. The Papanui

Baptist Church and other organisations will join together to hold

a fair in the church grounds. There will be fun for children, food

and entertainment. It will take place on Sunday, 12.30-2.30pm.

Entry will be free.
---
16

Latest Christchurch news at www. .kiwi

Tuesday March 21 2017

NOR'WEST NEWS

raNGiora • Northwood • st martiNs • tower juNctioN • BishoPdaLe • raNGiora • Northwood

Northwood • st martiNs • tower juNctioN • BishoPdaLe • raNGiora • Northwood • st martiNs • tower juNctioN • BishoPdaLe •

M

MAD HOT DEALS

UP TO

ENDS 31 MARCH

a

MARCH

C Ti

oN

50 %

SHOPPING LIST

40 %

inks

off

PAINTS & BRUSHES

N

D e

NUeS...

*This promotion does not include medium products

SS

OFF RRP

FASHION STATIONERY

ADDRESS

BOOK

*Yellow priced sticker is the discounted price

BUY TWO,

SAVE

20%

EVERYDAY

Follow us on

Facebook:

Shop online:

NOTEBLOCK

WITH PEN

www.paper-tree.co.nz

ON ART, CRAFT, BOOKS AND

STATIONERY

STICKY NOTES FOLDER

65 %

off

ART CANVAS

ENDS 31 MARCH

*This promotion does not include DAS professional canvas

HAMLYN 200

COOKBOOKS

$3.99 each

3 for $10

ALL UNDER

$10.00

EVERY SIzE IMAGINABLE!

"BEST RANGE IN Nz!"

@papertreestores

www.paper-tree.co.nz

NOTECARD

COLLECTION

tower junction, off Clarence St, Riccarton | Bishopdale, 31 Bishopdale Court, Bishopdale | rangiora, 206 High Street, Rangiora

Northwood supa centre, Main North Road, Belfast | st martins shopping centre, Wilsons Road, St Martins

• st martiNs • tower juNctioN • BishoPdaLe • raNGiora • Northwood • st martiNs • tower juNctioN • BishoPdaLe • raNGiora
---
2

NOR'WEST [Edition NEWS datE]

Latest Christchurch news at www. .kiwi

Tuesday March 21 2017 17

FLAME FILES

CONTINUING EDUCATION

Farm life has

plenty to offer

young people

SCARRED: Scorched trees on the Port Hills, some are still hot and in danger of

reigniting.

Tree trunks still smouldering

• By Mark Thomas – Fire

Risk Management Officer

NEARLY A month after

the big Port Hills fire

started we are still getting

the odd call to smouldering

stumps or tree trunks.

The latest was on Monday

off Dyers Pass Rd

during a day of rain and

it shows how deep and

persistent large wildfires

can be.

There were a couple of

instances this week of what

could kindly be called as

muddled thinking.

In the first on Monday in

Knowles St a large burning

candle was placed on the

top of a free standing fireplace

– that was operating

due to the cold snap.

Of course the candle

melted all over and down

the fireplace and ignited.

No real damage but

smoke throughout.

The second involved a

tourist in a hotel room

who put the kettle on an

element on the stove top to

make tea.

Unfortunately it was an

electric, and far more importantly,

plastic kettle.

Smoke and mess again.

We also saw a toaster in

a cupboard in Redwood

cause a lot of heat and

some real concern from the

occupant.

'Appliance garages' have

been around for many

years now.

They consist of what is

generally a small roller

door covering toaster and

kettle with a power point

available inside.

They will generally work

fine in this way.

But they should never be

closed while this happens.

There have been a few

fires over the years where

the roller door has been

shut on to the knob of the

toaster, preventing it from

popping up.

The result can be devastating.

From city girl to sharemilker to equity

farmer, North Canterbury's Wendy Croft has

come a long way in a sector that allows young

people to work hard and prosper.

"I was working in a bank before I got into

farming. I had never milked a cow, but we got

into sharemilking to save money, and it was

easier for me to manage it than to get someone

else to do it."

Three years ago Wendy

enrolled in Ara Institute

of Canterbury's NZ

Diploma in Agribusiness

Management; a practical

qualification for working

farmers that is delivered

online with face to face

tutorials in Culverden.

The programme is

run with the Primary

ITO and was rated as

"excellent" by the New

Zealand Qualifications

Authority (NZQA) in a

recent report.

With two young

children and a business

to run, Wendy balanced her studies with her

family and work commitments.

""I think my husband and I worked together

every day for three years! It was hard, and it's

not for everyone. It's challenging but it's really

rewarding."

Does she miss her city lifestyle? "Yes,

sometimes I miss the city, but I love the lifestyle

here – I have good neighbours and good staff."

Advertisers,

we will grow your

customers

No.1 for Readership*

www.star.kiwi

Want more customers? We reach them!

Contact us today to advertise in Christchurch's best

read and largest circulating newspaper, The Star.

Ph: Steve 021 372 479 | E: steve@starmedia.kiwi

*Source: Nielsen CMI Q1 16 – Q4 16, Christchurch urban, all respondents 10+, Thursday readership
---
18 Tuesday March 21 2017

Latest Christchurch news at www. .kiwi

NOR'WEST NEWS

WE HAVE MOVED

Due to upcoming EQC repairs on the building at Athelstan Street we vacated our

premises at the end of our lease which expired on the 31st of January 2017.

With over 100 years of combined expertise in jewellery Edwin, Craig and Jim

offer their services where you can purchase your engagement, wedding rings

and remakes, have jewellery repaired, ring resized and restoration completed

as well as have your precious items of Jewellery valued.

Edwin Edmonds

Clarity Diamonds will continue to offer their extensive range of

engagement, wedding and anniversary rings and remake

service by appointment only.

To make an appointment contact Edwin on 03 982 2982 or

email: edwin@claritydiamonds.co.nz. Edwin wishes to thank

all those who have supported him while in Barrington and

he looks forward to hearing from you again to meet your

requirements and is happy to answer any questions you

may have.

Clarity Diamonds was established by Edwin Edmonds to offer

a personalised service to provide the best combination of

style, quality and value for money. Over the last 35 years

Edwin has specialised in engagement and wedding

rings and carries one of the largest selections in

Christchurch which customers can order in the

combinations that suit them best. Free quotes

and advice are available from Edwin's wealth of

knowledge over his many years of experience in

the jewellery industry. Remaking of your jewellery

is also a specialty at Clarity Diamonds where they

can recreate your treasured pieces.

Before

CrAIG ANDErSoN

Goldsmith

Craig now offers a by appointment only service

for Jewellery Manufacture, Restoration and Repair.

T 021 844 649 or E goldsmithnz@gmail.com

A member of the Goldsmiths Guild of New Zealand Craig

completed his apprenticeship in Wellington attaining his

Trade Certificate in Manufacturing Jewellery in 1978. Now

with more than 40 years experience at the work bench,

specialising in jewellery repair and restoration, Craig will

discuss the best available options with you in regards repairs

and restoration of those precious

items of jewellery.

Remade

Ring

After

For an appointment

contact

Craig either by

T 021 844 649 or

E goldsmithnz@

gmail.com

Professional

service from

professional

people

Edwin Edmonds

Clarity Diamonds

GIA Diamond Cert.

Craig Anderson

Goldsmith

Goldsmiths Guild

of NZ Member

NZ Trade Certificate

in Manufacturing

Jewellery

Jewellery Valuation Specialists

We have Moved, our new address is unit 2/301 Lincoln Road

(opp Domino's and next door to The Addington Coffee Coop).

Ph: (03) 332 4233 | Email: jim@jvcvaluers.co.nz

www.jvcvaluers.co.nz

Why use JVC? See why JVC Valuers, jewellery valuation specialists are leading the

industry in jewellery valuation services.

1. EXPERIENCE. As we value more precious jewellery than anyone else in NZ, our

valuation team have unrivalled expertise. We can value all types of jewellery,

diamonds and gemstones. We value antique watches, antique jewellery,

Asian 22 carat or 24 carat gold jewellery.

2. QUALITY. Our valuations meet Insurance Company standards. Your jewellery

will be clearly described, cleaned, photographed and valued.

3. PRICE. We offer fair and transparent pricing based on the work we do, not the

value of your jewellery. So there's no hidden fees.

4. SECURITY. Your jewellery stays on our premises, all our valuations are completed

in house.

5. CONVENIENT. JVC Valuers has three valuation centres conveniently located in

Auckland, Wellington & Christchurch

6. SERVICE. By appointment you can make a booking at our special Valuation Days,

to have your jewellery valued within the same day. Please Phone 332 4233.

7. Check us out. www.jvcvaluers.co.nz

Jim Young

JVC Valuers

Senior Valuer

GIA: Diamonds

Graduate

Bei Kong

JVC Valuers

FGA: Gemmogolist

GIA: Diamond

Grading

By appointment only

www.claritydiamonds.co.nz

www.titaniumweddingrings.co.nz

Ph: (03) 982 2982 or 0800 4 RINGS

Email: edwin@claritydiamonds.co.nz

CrAIG ANDErSoN

Goldsmith

Jewellery Manufacture, Restoration & Repair

By appointment only T: 021 844 649

E: goldsmithnz@gmail.com

2/301 Lincoln Road

www.jvcvaluers.co.nz

Ph: (03) 332 4233 E: jim@jvcvaluers.co.nz
---
2

NOR'WEST [Edition NEWS datE]

Latest Christchurch news at www. .kiwi

Tuesday March 21 2017 19

FOCUS ON HEALTH

Need more vitality?

The nutrient balance of the body is critical

for optimum aging. Research has shown

the body performs much better if all the

required nutrients are available in sufficient

quantities. The problem is it is very hard

to obtain enough if any of some of these

nutrients from a normal diet. Boron is one

of the many nutrients with amazing benefits

that is lacking in our diet. A 2014 double

blind placebo controlled human clinical

study of a patented form of the mineral

boron delivered significant reduction in

pain, stiffness and joint comfort with 80%

stopping or reducing medication and 87.5%

saying they had less or no stiffness in just 4

weeks. Boron also helps balance hormones

in both men and woman and can increase

fertility. It helps promote healthy muscle

mass, fights diabetes, strengthens the bones

and increases concentration and brain

function.

Pure Vitality are based on the West

Coast of the South Island. They aim to

manufacture life changing supplements

Help for

Arthritis and

circulation

problems

When an Otaki woman devised a means

of relieving her husband's arthritic pain,

stiff joints and swollen ankles, she did not

anticipate the demand that would ensue

for her Aircycle. The inflatable exerciser,

allowed her husband to exercise his finger,

ankle, knee and hip joints while sitting

down. So effective was it that an arthritis

educator requested they be made for others.

A hospital registered it with Medsafe to

use in podiatry and diabetes clinics.

Physiotherapists and rest homes

applauded the results. The gentle exercise

results in improved circulation in hands

and feet. People report swelling in ankles

and night cramps are gone. Leg muscles are

strengthened and, with improved balance,

many advise they are able to walk further.

Joint, lower back and sciatic pain is eased.

People use the Aircycle while watching

TV or having a cup of tea. It assists in

combatting OOS and DVT and ideal for

using while sitting in the office and in a car

or plane. It's so easy!

See Aircycle's ad on this page for contact

details.

that provide the highest quality natural

ingredients to support optimum health

and vitality.

VIGOR VITALITY FOR HIM and

VIGOR VITALITY FOR HER provide a

potent blend of well researched nutrients

that act like an anti-aging tonic for the

body's hormonal and other systems. These

nutrients help support healthy testosterone

levels, libido, desire and sexual function.

They do this by supporting the better

function of many body systems including

the immune, brain, adrenals, pancreas and

cardiovascular. Improved energy, stamina,

mood and the feeling of wellbeing as well

as general health improvement are often

noticed over a short period of time.

Find out more about the amazing

benefits of VIGOR VITALITY from the

Natural Health Advisers at Marshall's

Health & Natural Therapy, 110 Seaview

Road, New Brighton, Phone: 388-5757.

They are Always Happy to Help!

ARTHRITIS

Boost circulation and gently

exercise while you sit – it's so easy!

FOR

Pain & stiffness

Swollen ankles

Night cramps

Painful hands

Balance & mobility

Sore legs/numb feet

Travel & office sitting

Diabetes foot problems Only

Stroke rehab/Parkinson's

$39 90

Available from pharmacies,

Diabetes CHCH, More Mobility, Aspire CHCH

or by calling 0800 14 14 15

www.aircycle.co.nz

Natural Joint Support

Just Got BETTER!

As we grow older we want to maintain

our health as much as possible.

Unfortunately for many of us our joints start

to let us down becoming stiff, sore, swollen,

reducing mobility and quality of life. Most

of these joints problems are caused by a

lack of cartilage or damage to the cartilage

which is the soft spongy material in all

joints between the moving bones. The body

continually produces cartilage but various

factors like digestive and health issues, a

lack of enough of the right nutrients in the

diet slow the production of this. If cartilage

wears away quicker than it is replaced

the bone ends can start rubbing together

causing reduced joint movement, pain,

swelling and inflammation of the joint.

PURE Vitality are a small company on

the West Coast of the South Island. They are

committed to producing the most effective

natural life changing health supplements

available.

They therefor have put a tremendous

amount of research into their new JOINT

VITALITY product which contains an

exclusive selection of best scientifically

researched high potency natural ingredients

to provide a multipronged approach to

joint health. As well as a full therapeutic

dose of the more common Glucosamine

and Chondroitin, Joint Vitality contains a

concentrated Deer Antler Velvet Extract

from PURE Vitality's own Deer farm.

Deer antler velvet extract has astounded

scientists and health professionals with

its health restoring properties. Its natural

growth factors help stimulate the healing

of the body. Another unique ingredient in

JOINT VITALITY is Joint Fluid or megapotent

hyaluronic acid. This has been

shown in clinical trials to be more effective

than glucosamine and chondroitin.

Joint Vitality contains enhanced

absorption Turmeric extract as well as

the highest potency extract of Boswellia

available to reduce inflammation, swelling

and pain which speeds joint recovery and

formation of new cartilage.

The formula also provides antioxidants

from Grape Seed extract to support cellular

joint health as well as effective doses of

Vitamin D3, Zinc, Boron, Manganese,

Copper & Selenium that have all be shown

to be critical to optimum joint health.

This heavy duty comprehensive formula is

designed with the most researched highest

potency extracts available for maximum

fast lasting results. It is recommended

to take 3 capsules daily with food for the

first box or two to obtain the maximum

benefits. One box or 60 capsules is $49.90

with a Free joint cream while stocks last.

Further information is available from

the Natural Health Advisers at Marshall's

Health & Natural Therapy, 110 Seaview

Road, New Brighton, Phone: 388-5757.

We are Always Happy to Help!

NEED MORE VITALITY?

VIGOR VITALITY FOR HIM & VIGOR VITALITY FOR HER

VIGOR VITALITY FOR HIM&VIGOR VITALITY FOR HER are two exceptional products to

support a more vibrant life! FOR HIM contains 14 (FOR HER 11) well researched potent

natural ingredients of the highest quality combined to provide potent products to support

a more optimum health, lasting energy & stamina, blood flow, healthy hormone balance,

performance & recovery.

VIGOR VITALITY SUPPORTS:

• Increased Energy & Stamina

• Muscle Growth & Strength

• Healthy Hormone Balance & Desire

• Increased Libido & Blood Flow

• Healthy Testosterone Levels & Sexual Function

• Positive Mood & Vibrant Life

FOR HIM CONTAINS: Zinc, Boron, Vitamin B6,

Selenium, Vitamin D3, Deer Velvet Extract,

Agmatine Sulfate, Fenugreek, Tribulus Terrestris,

Horny Goat Weed, Ginkgo Biloba, Tongkat Ali

Extract, Cnidium Monnier Extract, Bioperine. FOR

HER CONTAINS: Deer Velvet Extract, Maca Root,

Tribulus Terrestris, Avena Sativa, Horny Goat Weed,

Tongkat Ali Extract, Damiana, Valerian, Passion

Flower, Bioperine.

PURe VITALITY manufactures life changing natural supplements &

premium skincare products on the West Coast of the South Island.

Bringing You the Best in Natural Health

- WE ARE ALWAYS HAPPY TO HELP! -

SUPER PRICE

1 Months Supply (60 capsules)

SAVe

$10.00

OnLY $ 59 .90

MAIL ORDER AVAILABLE

MARSHALLS HEALTH & NATURAL THERAPY

CONSULTING - PRESCRIBING - DISPENSING - MANUFACTURING - MEDICAL HERBALISTS

110 SEAVIEW RD, NEW BRIGHTON • PH 03 388 5757 • Email: enquiry@marshallshealthshop.co.nz

Natural Joint Support Just Got Better!

PURE VITALITY a small natural health manufacture on the

West Coast of the South Island have developed a unique

new Joint Care Formula. It contains a full therapeutic

dose of the proven ingredients Glucosamine, Chondroitin,

Vitamin D3, Zinc, Boron, Manganese, Copper & Selenium

as well as a potent blend of the latest research proven

ingredients. These include Turmeric Extract, high

potency Boswellia, Grape seed, concentrated Deer Velvet

from PURE VITALITY'S own Deer farm & mega-potent

Hyaluronic Acid or Joint Fluid. Joint Fluid acts like a

lubricant & shock absorber in the joints to protect them

against wear & tear. A human clinical study showed

hyaluronic acid was significantly more effective than

glucosamine & chondroitin. Another human clinical study

showed that the high potency Boswellia gave significant

improvements in pain, joint stiffness & physical function

scores in osteoarthritis patients in only 7 days.

MAIL ORDER AVAILABLE

If you are looking for a comprehensive heavy duty

formula designed to provide fast lasting results

JOINT VITALITY is the answer.

• Supports the repair of worn

or damaged joints

• Supports joint movement,

naturally reducing pain,

swelling & inflammation

• Helps maintain healthy joints

FREE 20g MUSCLE

& JOINT CREAM

with purchase while

stocks last

SUPER

SPECIAL

60 CAPSULES

ONLY $49.90

SAVE $10.00

(It is suggested to take 3 capsules

daily for the first box or two)

MARSHALLS HEALTH & NATURAL THERAPY

CONSULTING - PRESCRIBING - DISPENSING - MANUFACTURING - MEDICAL HERBALISTS

110 SEAVIEW RD, NEW BRIGHTON • PH 03 388 5757 • Email: enquiry@marshallshealthshop.co.nz

Bringing You the Best in Natural Health!
---
2

Tuesday [Edition datE]

20 March 21 2017

Latest Christchurch news at www. .kiwi

HOME & HEATING

NOR'WEST NEWS

The facts about

home ventilation

Balanced Pressure vs Positive Pressure

Under the New Zealand Building Code,

all buildings, including residential, need to

be suitably ventilated, either with opening

windows or forced ventilation. Clause G4.1

states: "The objective of this provision is

to safeguard people from illness or loss of

amenity due to lack of fresh air." There are

many benefits to forced, or mechanical,

ventilation over opening windows, including

warmth, security, reduction of outside noises

and reduction of condensation.

Traditional domestic ventilation systems

are 'positive pressure'. They bring air in from

outside via the roof space and force the stale air

out through gaps around windows and doors.

The incoming air from these

systems has to be heated or

cooled to keep the house warm

in winter or cool in summer.

The Smooth-Air HEX390 is

a 'balanced pressure' system. It

extracts air from the house and

at the same time brings in fresh

air. These two streams of air

pass through a heat exchanger,

which warms incoming air in

winter and cools in summer if

air conditioning is being used.

This means that up to 80% of

the energy which would be

wasted using a traditional positive pressure

system is recovered, resulting in significant

energy savings and therefore lower heating or

cooling costs.

Until recently, balanced pressure ventilation

systems have been considerably more

expensive than traditional positive pressure

systems. However, with Smooth-Air's unique

manufacturing capabilities, a HEX390

balanced pressure system can be installed for

a similar price as a traditional positive pressure

system.

Contact Smooth-Air on 0800 SMOOTH

(0800 766 684), or visit www.smooth-air.

co.nz or www.home-ventilation.co.nz

Warming winter with

EnviroMaster

Are you struggling with the heat of Summer

or wanting to get organised for Winter? With

the ever changing weather patterns, heat

pumps have the flexibility of being able to

heat and cool which is an advantage no other

appliance can offer. This represents great

value for your investment as you can use it all

year round. The team at Enviro Master Ltd

can help keep you cool this Summer either at

home or work. Enviro Master supplies, installs

and services all the leading brands including

Panasonic, Fujitsu, Mitsubishi and Daikin.

This means our team can show you which

system and brand will best suit your needs.

We currently have savings up to $600

off the recommended retail price on

selected models.

Would you like to maximise the number

of days you can use your swimming pool?

Heating your pool can do this and one of the

most cost effective ways is with a water heat

pump. Enviro Master Ltd can supply, install

and service you swimming pool heat pump

providing you with a comfortable, extended

swimming season.

Servicing your heat pump is extremely

important to ensure that it is working as

effectively and efficiently as possible resulting

in a healthy, hygienic heat pump, lower power

bills and greater comfort. But beware, not

all cleaning companies are equal. We are

constantly hearing of people being charged

huge amounts for servicing and all they are

getting is a heat pump clean. We at Enviro

Master, are qualified engineers and therefore

are able to fully test and diagnose any problems

you may or may not be aware of with your

heat pump. Also, as we are associated with all

major brands, we are able to repair these under

warranty if they are still within the warranty

period.

It is important to remember, when selecting

an installer, the manufacturer's warranty does

not cover the installation and consumers could

be responsible for any repair or damage caused

to the system due to poor installation. Enviro

Master's five-star installation guarantee ensures

correct installation, and a demonstration so

customers have an understanding on how it

will best meet their needs.

For a free in home consultation, call

Enviro Master on 366 0525 or visit our

showroom at 41A Shakespeare Rd,

Waltham, Christchurch.

Balanced

Pressure

Ventilation

Ventilation Equipment

Suppliers to trade and retail

HEX390

Balanced Pressure Ventilation with Heat Recovery

Fresh air

from outside

Exhaust air

to outside

Warm stale air

from house

for healthy indoor air

Substantial energy savings over traditional domestic

ventilation systems

0800 SMOOTH (0800 766 684)

www.smooth-air.co.nz

sales@smooth-air.co.nz

Heat is transferred to the

incoming filtered fresh air

264 Annex Road, Riccarton

Christchurch 8024, NZ

Ph +64 3 343 6184

Warm fresh air

to house

Mon - Fri 7.30am - 5pm

HEAT PUMP

SALE NOW ON!

Amazin' autumn Specials!!

• We will offer you the best quality brands and

option of heat pump for your home/business

• Providing Heat Pump solutions for over 14 years to Cantabrians

• We personally guarantee all our products & installs for 5 years

(providing annual maintenance has been completed)

Phone us today for your free consultation & quote

41A SHAKESPEARE RD, WALTHAM

PHONE 03 366 0525

www.enviromaster.co.nz

"A local team for local people"
---
NOR'WEST NEWS Latest Christchurch news at www. .kiwi

Tuesday March [Edition 21 datE] 2017 21 3

HOME & HEATING

Air Con Christchurch

Tucker Electrical

We at Tucker Electrical offer true solutions with full visibility

and quality products.

Air Con Christchurch Tucker Electrical

specialize in providing Heating, Ventilation

and Solar solutions with Automation to save

energy. As a sister company they provide the

complete package with all warranties and an

Air Con New Zealand $50,000 workmanship

warranty, being agents for Mitsubishi

Electrical, Fujitsu, Panasonic, Gree, Toshiba

plus multiple supply options for solar solutions.

Home Automation is fast becoming the

normal control of energy and the Econnecx

locally designed system is cost effective and

can be used to control all aspects of your

commercial or home premises from turning

lights on/off to the control of the heat pump

central heating systems, and of course the

biggest saver, hot water, all from your phone

via an app.

Mitsubishi Hypercore is an ideal heat pump/

air conditioner for the South Island as it works

at the nominal rating down to minus 15

degrees at full rated output (no other brand of

heat pump does that), add to the performance

in the cold the multi direction louvers and duct

vane air louvers and advanced air filtration

with the movement sensor, all these add up to

the best performer in the range of all brands

heat pumps and wifi control and you have an

unbeatable solution.

With Solar PV (Electrical Power Generation)

there are many pit falls and false quick sales

are being made due to misleading television

advertising and badly sold solutions. We at

Tucker Electrical offer true solutions with

full visibility and quality products providing

instant assessment of your actual generation

suitability by a full report.

Did you know you can, if installed correctly,

check each panel is working correctly? Did

you know you can assess/see the total amount

of generation of your system and the instant

position of generation? Many package deals do

not offer this and then you are only guessing

when trying to maximise the use and benefit

of your investment. On a financial return basis

we can show you how a 12% return on your

investment is quite simple.

Call in at the Christchurch Home Show

Site... and see us for any info or confirmations

for free Build Back Smarter Home Assessments

which are supported by the Christchurch City

Council (we are one of only three suppliers for

the programme). All our assessors are Beacon

Pathway Accredited and trained.

Call Stephen Tucker on 027 432 6222

anytime or the office on 343 3049 to book

an appointment or assessment and free

quote for Tucker Electrical or Air Con

Christchurch.

Winter Heat Pump Specials

New Zealand's best low temperature

performance heat pump, guaranteed!

While ordinary heat pumps produce less heat below 7°C,

only Mitsubishi Electric HyperCore ® Technology guarantees

its fully rated capacity right down to -15°C so you get

all the heat you paid for.

Save

$250

HIGH WALL HEAT PUMP

FH25 3.2kW Heat Pump

$2549.80

Installed BB.

Conditions apply.

®

Save

$400

FLOOR CONSOLE

KJ60 6.8kW Heat Pump

$4449.50

Installed BB.

Conditions apply.

Phone: 03 3433049

Quietly Superior

Heat Pumps

installed BB

®

SOLAR

PANELS

HEAT

PUMPS

LED LIGHT

FITTINGS

DC/Micro Inverter

270 Watt Panels

AUTOMATION

DESIGNED

SOLUTIONS

Tucker Electrical

smart electrical solutions

$47

from

Per fitting installed

as replacement fittings

NZ Designer

Ecconnex

FREE

www.tucker-electrical.co.nz

MITSUBISHI ELECTRIC DUCTED HOME HEATING

Complete with full integrated zone control remote wifi access control.

Lossnay & Mitsubishi Solar Systems.

Call us on 03 343 4441

Unit 8/33 Watts Road,

Sockburn, Christchurch

Phone (03) 343 4441 www.airconnz.co.nz
---
22 Tuesday March 21 2017

Latest Christchurch news at www. .kiwi

RSI, OOS or Gradual process

Injury can be treated!

What causes OOS? The Department

of Labour states: "One of the

favourable explanations for OOS is

that it is caused by muscles being

held tense or tight for too long.''

These conditions may be caused

by repetitive tasks, forceful exertions,

vibrations, mechanical compression, or

sustained or awkward positions.

The shorter and tenser the muscle, the

harder it pulls on the places it attaches to

(e.g. the bone). When this happens in the

forearm the pull at those attachments and

tendons causes irritation and inflammation

of those areas. This will be noticed as pain in

the elbow and wrist. When this happens in

the neck and shoulder area, it will be noticed

as local pain, stiffness and sometimes

headaches. The nerves run right through

the muscles. Tension on the muscles causes

pressure on the nerves. As the muscles

shorten, the nerves running through them

have a tendency to both shorten and slide

less well. This causes the nerves to radiate

pain throughout the arm.

Triggerpoints are areas in your muscles,

where a few muscle fibres have contracted

in a knot. These knots (the hard and painful

areas in your muscles felt during massage)

weaken and shorten your muscles and can

cause referred pain.

This drawing is an example of pain areas

(the red area), caused by triggerpoints (the

black X).

This is your muscle's reaction to continuous

irritation. In most cases, there are multiple

causes for this irritation. These could be:

repeated actions without breaks; constant

static posture resulting in constant muscle

contraction; lack of healthy blood flow; bad

posture resulting in continuous high loading

of some muscles, etc.

As you can see, your thumb pain can

originate in your neck. Pain in your little

finger or forearm

can originate in

your chest. This

is the reason that

your therapist

may treat an

area, other than

where you are

experiencing

pain.

In the following

drawing you can

see the painful

areas in the head

caused by the

triggerpoint in the neck. This is often the

result of poor posture.

Physical Sense has been treating

this condition for the last 25 years.

Their experience is:

• Most of the patients who have had their

pain for less than a year leave this clinic free

of pain (but they have to be very careful to

avoid relapses).

• When the OOS pain has been there

for more than a year, that percentage drops

to 60%.

• The other 40% will leave the clinic with

relief of pain and with knowledge about

numerous strategies to relieve and handle

the remaining pain.

NOR'WEST NEWS

Physical Sense has published the "OOS

Client Information Booklet". It is full of

handy tips on how to self treat and avoid

this condition.

FREEBOOK or you can reach Physical

Get it for free at www/oos.co.nz/

Sense on 377 2577 or visit them at

300 Colombo Street or online at

www.triggerpoints.co.nz.

Suffering from OOS/RSI/

Gradual Process Injury?

Go to www/oos.co.nz/FREEBOOK

and get your copy of our

OOS Booklet

FOR FREE!

Or call us on 377 2577 for an assessment

or book online at www.triggerpoints.co.nz

Ph: 377 2577 | 300 Colombo St, Sydenham

lovebite.com

style

noun

elegance and sophistication.

synonyms: flair, grace, poise,

polish, suaveness, urbanity,

chic, finesse, taste, class,

comfort, luxury, affluence,

wealth, opulence, lavishness.

Magazine & TV | sTyle.kiwi
---
NOR'WEST NEWS Latest Christchurch news at www. .kiwi

Tuesday March 21 2017 23

REAL ESTATE

Huge appeal in Applefield

49 Applefield Court, Northwood

Auction: Thursday 6th April 2017 from 12 noon (unless sold prior)

4 bedrooms | 3 bathrooms | 3 toilets | 2 living rooms | 1 office/study | 2 car-garage | Listing # PI46483

Behind the beautiful Linea-clad exterior

and feature portico is a light, bright

and contemporary family home with

immaculate flow and that magical feeling

you can't help but call home.

Built on a substantial 636m2 section,

this newly repainted executive home is

something special with 4 double bedrooms

(2 with ensuites, master with Juliet balcony),

a family bathroom, a separate laundry, plus

an office/study, which can double up as an

extra bedroom or storage.

The spacious open plan kitchen/living/

dining area is a fantastic place for the whole

family to gather with its contemporary

décor and warm, homely feel. The kitchen

really impresses with its immaculate

granite finish, modern appliances

including a separate oven and cooktop,

dishwasher, range hood, waste disposal

and breakfast bar. While the separate

lounge and downstairs guest bedroom with

ensuite strengthens the functionality of this

home, offering ample storage and a vacuum

system.

Outside, the sunny, private gardens boast

absolute privacy with beautiful plastered

walls and timber fencing featuring builtin

windows, and two gorgeous glass

and rock water features creating a truly

tranquil ambience. The entertainment

area has plenty of space to host the whole

family, and the manicured gardens and

shed tucked around the side offer a perfect

hobby area for the green thumbed among

us. Boasting quality fixtures and fittings

throughout, this immaculate home is sure

to wow with a double plus carpeted garage

with internal access and a pull-down attic

space completing the appeal.

The excellent location really helps to

solidify the strength of your investment,

with all the shops, cafes and amenities

of Northwood's shopping centre within

walking distance and Clearwater Golf Club

nearby. Membership to Styx Mill Country

Club is an added bonus with its resort style

facilities including: tennis courts, indoor

pool, gym, sauna and spa.

Presented with pride and marketed with

exceptional commitment, this spectacular

home is a fantastic opportunity for

families that are wanting the convenience

of elegant urban living. Early viewings are

recommended, so get in touch today to see

it for yourself.

Open homes Saturday and Sunday

1.00 – 1.45 p.m.

See you at the open homes or for

a private viewing appointment -

contact Deb Harvey of Harcourts

Gold Papanui (Licensed Agent

REAA 2008) on 352 6166 or mobile

027 220 6565

Visit www.star.kiwi

anytime, anywhere!

Breaking news,

delivered to

your pocket.

Fire rages, homes at risk

•news •CTV •sport •districts •schools •lifestyle •opinion •what's on

www.star.kiwi
---
24 Tuesday March 21 2017

Latest Christchurch news at www. .kiwi

NOR'WEST NEWS

Bridalshow

save the date

Sun 27th Aug

10am to 3pm

air Force Museum

45 Harvard Ave

Wigram, Chch

Tickets: $20.00

A Star Media Event
---
NOR'WEST NEWS Latest Christchurch news at www. .kiwi

Tuesday March 21 2017 25

Classifieds Contact us today Phone our local team 03 379 1100

Computers

Personals

Trades & Services

Trades & Services

Trades & Services

Trades & Services

ALL

YOUR

COMPUTER

WORRIES SOLVED!

*$30.00 off your first

service with this coupon!*

No problem too big or

small from home PC's to

business networks. PC

slow? An end to Viruses,

Spyware, and Clogged

Systems. Safe secure

hassle-free computing.

Lost files recovered.

Microsoft Certified,

MCSE, MCP+l. 30 years

experience. Call Andrew

Buxton this week on 326-

6740 or 027 435-7596

for $30.00 off* Custom

Computers Christchurch

Curtains

www.curtainfabric-outlet.com

Half Price Sale

from $5 per mtre

Call at Our Shop

CURTAIN FABRIC OUTLET

71 Hawdon St Sydenham

Ph 366-5026

Gardening

& Supplies

A GARDEN OR

LANDSCAPING TIDY

UP? Shrub, hedge &

tree pruning, Lawns,

Gardening, consistently

reliable general property

upkeep, Dip. Hort. 10

yrs experience, One off

tidy ups or on-going

service. Nick's Property

Maintenance. Keeping

your garden beautiful.

Free Quote. Ph. 942-4440

Holiday

Accommodation

QUEENSLAND SUN-

SHINE COAST AUSTRA-

LIA Resort, Ocean Views,

Balconies, Self Contained,

1 or 2 B/R Ensuite,

Heated Pool, Spa, Sauna,

Free Internet, Shops,

Restaurants, Tennis, Surf

Club & Patrolled Beach,

Public Transport at door.

Ask for our SEASONAL

SPECIALS. Phone 61 7

544-35011 Email: reception@mandolin.com.au

www.mandolin.com.au

ADD SOME

COLOUR

TO YOUR ADVERT!

GENTLEMAN

would like to find a social

sexual sincere, hottie

to generate warmth and

compatibility for winter

months ahead

0276594425

IS THERE A

lady in the city who would

like

to be spoiled and have

some quality male

company.

A single well presented

lady slimmish and tallish

who has a bubbly warm

friendly personality.

You would be mature

and have family off your

hands,

and is ready for the next

phase of your life.

I am a 5ft 11 ,95kg slim

to athletic witty fun and

generous

professional guy,

single living on own in

Avonhead.

Write to me: Andy P.O

Box 1919 Christchurch.

A photo would be

appreciated. All replies

answered.

MAN

on his own seeks female

on own

to compare notes why we

are in this position,

and maybe to do something

about it 3583634

MAN SEEKS vibrant and

energetic tall slender lady

40 to 60

as partner for dancing..

alanjamieson@xtra.co.nz

EQC CASH SETTLEMENT

We will re-scope your property to ensure

you have been paid in full to cover all

your repair costs.

None of the properties that we have

re-scoped so far has been paid the

correct amount to repair their damage.

EXAMPLES

Trades & Services

GARAGE CARPET

You'll be amazed at what a multi-purpose room

your garage becomes when you add carpet and it

only costs around $35m2.

Part of the Protecta Coatings Group

We only use New Zealand made,

100% UV resistant specialised carpet.

We also paint garage and workshop floors.

www.protectafloorings.co.nz

Call now 021 488 025

•Yaldhurst Road Initially $3,800 after our

re-scope payment received $46,320

•Wairakei Road Initially $7,575 after our

re-scope payment received $38,182

•Prossers Road Initially $19,827 after our

re-scope payment received $60,273

•Kaplan Avenue Initially $859 after our

re-scope payment received $34,931

•Liverton Crescent Initially $11,000 after our

re-scope payment received $29,842

•Dalkeith Street Initially $5,000 after our

re-scope payment received $8,945

• We have re-scoped 50 properties who have been under

paid for their repairs.

• Have your initial repairs failed?

• Did you receive your full entitlement?

• Do not pay your excess until all repairs are completed.

• General under payments are: Asbestos testing and

exterior lead paint, peeling wallpaper, cracking in exterior

plaster not repaired correctly.

For re-scoping and all earthquake repairs

including painting and redecorating.

Enquire now Phone 021-667-444

DEADLINE

31 st March!

We can help you with:

Payroll Compliance

Accounts Tax Returns

We come to you!

www.expressbookkeeping.co.nz

kitchen renovation

Kitchen looking tired?

Revitalize with new colour at a

fraction of replacement cost

• Alterations & Hardware available

• Laminated Kitchens no problem

• 'On Site' finishing available

• Over 20 years experience

• Free Quotes with no obligation

• All Joinery & Furniture repair & Spraycoatings

PABLO'S PAINTWORKS

27 Birmingham Drive, Middleton

03 338 6280 | 021 541 323

pablospaints@xtra.co.nz

www.pablospaintworks.co.nz

BLOCKED

DRAINS?

• VIDEO INSPECTION

• WATERBLASTING

• LIQUID WASTE

PH: 03 365 7960

24 hours // 7 days

info@h20jet.co.nz

www.h20jet.co.nz

& Property Maintenance

Paving

Patio - Pathways - Driveways

Lawns and Gardens

Planting - Raised Vege Gardens

Readylawn - Irrigation - Fencing

General Maintenance

Water Blasting - Gutter Cleaning

Rental Property Maintenance

Section Clearing - Weed Spraying

20 Years Experience

Locally owned and operated

Free Quotes - Competitive Pricing

Blair Gibson 027 699 5815

• Replacement/new roofing

• Colour Steel gutter & fascia

• Flue & log burner installs

• Skytube/light installs

• Earthquake repairs

Licence Building

Practitioner LBP

Member of the Roofing

Association

DCM ROOFING LTD

The Roofing Specialists

PHONE IAIN

027 445 5597

iain@dcmroofing.co.nz

Swimming Pool Specialist

The Pool Guys

Need your pool:

• Fully Renovated?

• Cracks Repaired?

• Plumbing Checked or Upgraded?

• Filtration?

• Painted, Plastered or Tiled?

Email: sbcontracting01@gmail.com

Call 027 562 7457 www.thepoolguys.co.nz

Trades & Services

PAINTING &

WALLPAPERING

• Satisfaction

guaranteed

• Over 30 years

experience

• Reliable &

honest

Please call

Ray Martin Ltd

021 770 551

or 359 5520

r.martin@globe.net.nz

Trades & Services

PAINTER

Michael Kelly Painters

Locally owned and

operated family

business.

25+ years Experience

• Painting • Wallpapering

• Interior • Exterior

Free Quotes

Trades & Services

ROOF

PAINTING

Rope & harness

a speciality,

no scaffolding

required,

30 years of

breathtaking

experience.

FREE QUOTES

Exterior staining,

exterior painting,

moss and mould

treatment and

waterblasting

Phone Kevin

027 561 4629

AAA HANDYMAN

licensed carpenter

LBP, all property and

building maintenance,

repairs, bathroom/shower

installations, with free

quotes 03 383 1927 or 027

245 5226 ciey@xtra.co.nz

BUILDER

For all building work

but specialist in bathroom

renovations, 30 yrs

experience, with service

and integrity. Free Quotes.

Ph Lachlan 383-1723 or

0274 367-067.

BUILDER

LICENSED, available for

all aspects of building.

Please call 027 241-7471

or 335-0265

LAWNMOWING

• Small lawns

from $10

• Fast Professional

Service

Phone Mark

022 307 7176

Phone

Michael 0212 649 492

michaelkellypainter@hotmail.co.nz

CARPENTER

HANDYMAN

Small Job Specialists,

Carpentry, Repairs,

Decking & Maintenance,

40 years experience, no

job too small, Ph Warren

03 322-1103 or 027 697-

8541

CARRIER

Local, experienced,

friendly, trade-me

purchases, single items

to truck loads, furniture

to whatever, removals &

trade deliveries a specialty.

Ph GEH 341-5069

****************

CARPET & VINYL

LAYINg

Repairs, uplifting,

relaying, restretching,

E mail jflattery@xtra.

co.nz,

ph 0800 003 181

or 027 2407416

CHIMNEY SWEEP

Txt 027 669 4681 lve

msge 359 6970 Nor West

area only $50

DRAINLAYER

Reg, all types, inclds soak

holes, 20yrs exp. ph 028

408-0121

ELECTRICIAN

REgISTERED

for all electrical

installations & repairs Ph

03 322 4209 or 021 026

73375

FURNITURE

REMOVALS

Large Trucks $95 +

GST per hour 7 day NZ

wide, packing & moving,

Professional Company,

Professional Service.

Canterbury Relocations

Ltd. ph 0800 359 9313

OVEN CLEANINg

Professional cleans

$50.00. Gift Vouchers

avail. Phone 0800 683-

6253 or 027 228-0025

PAINTER

Available, All aspects in

painting. Very competitive

in roofs and fences. Please

call 027 241-7471 or 335-

0265

PAINTINg

DECORATINg

Wingfields Contracting,

all interior & exterior

painting & all forms of

interior plastering & jib

fixing, ph Mark 021 171-

1586 or 355-5994

PAINTER

Top quality work, interior/

exterior, pensioners

discount, free quotes, 30

years experience, I stand

by Canterbury, ph Wayne

your friendly painter

03 385-4348 or 027 274-

3541

PLASTERER

Gib Stopping, Small

job specialty. 30 + years

experience. Ring 0800

387-369

PLUMBER

For prompt service for all

plumbing maintenance,

repairs and alterations.

Phone Michael 364 7080

or 027 438 3943

PLUMBER

ALF THORPE

PLUMBING Certifying

Plumber for all types of

plumbing, maintenance,

spouting, alterations etc.

Phone 352-7402 or 0274-

350-231

PLUMBER

A Top Plumbing job

completed at a fair price,

prompt service, all work

guaranteed, Ph Brian 960-

7673 or 021 112-3492

ROOFINg

Qualified & Licenced

Practitioner. Re-Roof &

Repairs, all types. Member

New Zealand Roofing

Association. Over 35 years

experience. Phone John

027 432-3822 or 351-9147

email johnmill@ihug.

co.nz

SHOE REPAIRS

Belfast engraving.Shoe

repairs,key cutting &

engraving.(10 yrs exp)683

Main North Rd

ph 027 3113423

SPOUTINg CLEANINg

Spouting Unblocked,

Cleaned Out and Flushed

Out. Also Full Handyman

Services Available. Call

Trevor 332 8949 or 021

043-2034

TILER/CARPENTER

35 years exp, no job

too small. Ph Ross 027

4311440.

TREE WORK

Hedge trimming, stump

grinding, rubbish removed,

small job specialty Ph

Andrew 03 322-8341 or

027 435-8759

TREES BIg OR SMALL

tree removal, trimming,

stump grinding, shelterbelt

clean up, section clearing,

rubbish removals,

excavation work, ph Trees

Big or Small, for a free

quote, 021 061 4783

T.V. SERVICE

CENTRE

Repairs, tvs, microwaves,

stereos, DVD. Aerial

installations and kitsets,

480 Moorhouse Ave, ph 03

379 1400

UPHOLSTERER

Dining Chairs, Lounge

suites, Caravan Squabs

etc. recovered. Free

Quotes. Phone Graeme

383-1448

VHS VIDEO TAPES

& all camera tapes

converted to DVD, video

taping special occasions,

www.grahamsvideo.co.nz

ph 03 338-1655

WATERBLASTINg

Quality Job, Quick Service

by skilled tradesman, Ph

Richard Severin at Jet-X

0800 538 969 Free quotes,

visit www.jetx.co.nz

Tuition

Piano

Raewyn Clegg

Registered Teacher of

Piano and Theory of

Music.

29 Lancewood Drive

Halswell

Ph 322-9377

Tuition

PILATES Beginner &

Intermediate classes,

Tuesday & Wednesday

nights. Fendalton Croquet

Club, Makora Street.

Phone Julie 351-2100
---
`

26 Tuesday March 21 2017

Latest Christchurch news at www. .kiwi

Classifieds

NOR'WEST NEWS

Vehicles Wanted

CARS Wanted. Fair

prices paid, quick and

easy process, money paid

directly into your bank

account, friendly local

service, ph Tim Koller 390

1717 valuemycar.co.nz

Wanted To Buy

AAA Buying goods

quality furniture,

Beds, Stoves, Washing

machines, Fridge Freezers.

Same day service. Selwyn

Dealers. Phone 980 5812

or 027 313 8156

A+ Household effects,

fridges, freezers, washing

machines, ovens. Good

cash paid. Ph Paul 022

0891 671

TOOLS Garden,

garage, woodworking,

mechanical, engineering,

sawbenches, lathes, cash

buyer, ph 355-2045

TALE WITH A TWIST EDINBURGH ON SHOW

Roles reversed in Sherwood

Forest classic production

Work up sweat on the

Scottish streets

P3 P42 P62

Thursday, January 26 , 2017

• By Andrew King

CANNABIS, methamphetamine,

firearms and cash were found on

the rural property yesterday of a

family member of a high-profile

deceased businessman.

Police raided the property

about 20km south of Christchurch

yesterday morning and

took the middle aged man into

custody for questioning.

He was interviewed for

several hours by detectives at

the Christchurch central police phetamine, and firearms charges. has gang connections.

station and is expected to face He is scheduled to appear in Police were yesterday releasing

charges relating to possession of the Christchurch District Court few details of the raid near Lincoln

but The Star has learned the

cannabis for supply, cultivating on January 31.

cannabis, possession of metham-

The Star has learned the man firearms found included pistols.

SPORT, P49 WICKETKEEPING ROLE FOR LATHAM?

Public Notices

Redwood Early

Childhood

Centre

AGM

Monday 27th March,

7pm

339 Main North Rd

All welcome

READY TO ROCK?

Check out the Gig Guide in

the entertainment section

Tips to get you back

in the growing mode

GARDENING - P35

Armed police were used in the

raid.

Detective Sergeant Chris Power

confirmed firearms, 30 mature

cannabis plants, 110 seedlings

and a small amount of methamphetamine

was taken from the

property.

"The cannabis was being

grown in a shipping container,"

he said.

Police also seized about

$20,000 in cash believed to be

linked with drugs.

The deceased businessman

whom the arrested man is

closely related to was well known

throughout New Zealand.

He died with a fortune worth

more than $100 million.

He was also a benefactor for

many charities and organisations,

both nationally and in

Canterbury.

Family member of well known

businessman nabbed in raid

DRUG STING:

Police found

drugs, firearms

and cash at

an E lesmere

property on

Wednesday.

PHOTO:

ANDREW KING

•For a timetable

and tickets,

visit http://www.

world buskers

festival.com/

The latest 2017 ABC (Audit

Bureau of Circulation) report

shows that The Star is the

highest circulating newspaper

in Canterbury PLUS the highest

circulating FREE newspaper in

New Zealand.

Our circulation is continuing

to grow as we deliver to more

homes in Christchurch every

week!

SHIFTING POPULATION BEAUTIFUL BANANAS RED-HOT REPUTATION

P7 P13 P15

Thursday, January 5, 2017

The buskers are back

bringing fun, laughter

and even some

vegetables. Canadian

busker Mike Wood

performed a the Arts

Centre's North Quad

yesterday where he

caught a cabbage on

his head, catapulted

by Liz Williams.

Inset: Fellow Canadian

Mighty Mike wowed

the audience as he

juggled with fire. The

World Buskers Festival

has been running for a

week, returning to the

streets and the Arts

Centre for the firs time

since the February

2011 earthquake. It will

wrap up on Sunday.

PHOTOS:

GEOFF SLOAN

starnews.co.nz Rise Up Christchurch

Public Notice

Zara

makes

a splash

In spite of a few drizzly patches so far this summer, let's hope we can all continue to have fun

in the sun just like Zara Harrison, 4, of Halswell, as she tip-toes through the water feature at

the Margaret Mahy Family Playground. The rest of January is looking like a bit of a mixed-bag

weather-wise, but there will still be a few cracking hot days, according to the MetService.

PHOTO: GEOFF SLOAN

Audit Bureau of Circulation

reports a massive...

91,537

COPIES EVERY WEEK

Build your Sales, Customers and Profits with The Star!

You can be assured that when you place advertising in The Star that it gets read

in the home where key buying decisions are made! To grow customers in your

business, phone or email us today.

• By Gabrielle Stuart

Be in to win a

$100 prize pack

GARDENING - P19

Rise in

number of

motorists

running

red lights

CHRISTCHURCH'S growing

red light-running problem is

leaving dozens of injuries in its

wake.

In the past year, there were 65

crashes which left people

injured after drivers ran

red lights, up from 42 the

year before.

At the city's top 10

worst intersections this

month, almost 5400

drivers ran red lights in a

single day.

That was up 31 per cent from

last year, and 64 per cent more

than in 2014.

They do not include people

turning right across an intersection

on a red light.

The worst for red light-runners

was the intersection of Blenheim

Rd and Mandeville St, where 652

were detected on a single day on

Thursday, December 1.

Police figures have also grown.

In the last year, 1491 people

were ticketed for running red

lights in Christchurch, up from

Email shane@starmedia.kiwi or phone 364 7429.

1316 the year before and 1266 in

2014.

Canterbury road policing

manager Inspector Al Stewart

(left) said he was disappointed to

see the rise.

"It puts people at risk. They

may get away with it 99

out of 100 times, but it is

that one time which could

leave someone injured or

killed," he said.

He said police had a

focus last year on bad

driving at intersections,

which included red

light-running, and that would

continue until the numbers

improved.

People often had different

excuses when ticketed for running

red lights, but there was no

acceptable reason, he said.

"A lot of people are simply

focused on other things and

don't see it, but that is just as

unacceptable as running a light

deliberately, because when driving

you should be focused on the

task at hand," he said.

•Turn to page 4

Public Notices

The magazine for

gardeners who

like To geT Their

hands dirTy

www.gardener.kiwi

100%

TRUMP-FUELLED DUST-UPS GIFT FOR ILLUSTRATING

P3 P23

City politicians go toe-to-toe Drawing the latest

runway looks

PHOTO: GEOFF SLOAN

Thursday, February 2, 2017

FUEL TAX IDEA

You've got to be

joking – motorists

• By Bridget Rutherford

MOTORISTS HAVE slammed

an idea to introduce a regional

fuel tax in Canterbury to fix

earthquake-damaged roads.

Last week, The Star revealed

city councillors Aaron Keown

and Phil Clearwater were pushing

for a fuel tax.

But The Star has received

numerous readers' responses –

with all but one saying they did

not want a regional fuel tax (see

pages 16-18).

They said petrol was already

expensive including the fuel

excise, and the city council

should find money within its

budge to repair the roads.

It comes as Energy Minister

Judith Collins signals an inquiry

into rising petrol margins.

Petrol was currently about 30c

more in the South Island and

Wellington compared to places

such as Levin and Masterton.

Cr Keown said he expected

opposition to the idea – but in

paying extra on fuel tax to fix

the roads, it would save money

in the future.

"Rather than pay a little bit

more on fuel, they'd rather

damage their cars and take more

time travelling.

"They are assuming the council

can just juggle the numbers

around and fix the roads."

Motorist Helen Logan (left)

said she would be "very disappointed"

if a fuel tax was introduced.

"We're paying more for fuel

here in Christchurch. I fee like

there's so many other ways to

contribute to the roads.

"A lot of people can't afford to

run cars as it is."

Auckland Mayor Phil Goff

asked for a 10c per litre fuel tax

for Auckland to plug the $4

million funding gap it has for a

list of transport projects over the

next decade.

Mayor Lianne Dalziel said she

would be interested to see what

happened there before making

any decisions on asking the Governmen

to look at Canterbury.

Canterbury University transport

expert Simon Kingham said

the idea was feasible because it

was user-based.

He said if the city council was

to find money in the budget for

repairs, it would have to up rates,

or take it from another project.

• Turn to page 4

Aaron Keown Phil Clearwater

March 19 2017

14km 6km

ENTER NOW $25

Online PakNSave • New World

• The Athletes Foot • YMCA Children 10 years old and under free

Cafe open from 11am

SHUTTLE

Tuesday - Saturday

www.newbrightonclub.co.nz

GREAT

DINING

- downstairs -

ClubBISTRO

Open Tuesday to Saturday

12pm-2pm and from 5pm

Midweek $10

SPECIAL ROAST

Available Tuesday,

Wednesday, & Thursday

TUESDAYS &

THURSDAYS

Members Lucky

Card Draw

TAB POD

GAMING ROOM

FUNCTION ROOMS

SHUTTLE RUNNING

Tues, Thurs, Fri & Sat

TAB & Gaming

Function Facilities

HOUSIE

Tuesday, Thursday,

Saturday

SUNDAY

26th March

ALL YOU

CAN EAT

BUFFET

$25

BOOK NOW!

PIERVIEW RESTAURANT

GREAT

DINING

- upstairs -

PIERVIEW

Restaurant

Quality a la carte

with a view!

Open from 5.30pm

FRIDAY, SATURDAY

& SUNDAY

SORRY, RESTAURANT

FULLY BOOKED

Saturday 25 &

Friday 31 March

FRIDAY SPECIAL:

SIRLOIN STEAK

or

CHICKEN BREAST

WITH JACKET POTATO

& SALAD BAR

$22!

SUNDAY SPECIAL:

3 courses

$25

NOW OPEN FOR

SUNDAY

BRUNCH

By the Seaside!

10.30am-2pm

202 Marine Parade

Ph 388-9416

Members, guests and affiliates welcome

WHAT'S ON

CRUSADERS v FORCE

WIN Crusaders Merchandise!

7.35PM THIS FRIDAY in Whitfords Bar

LIVE MUSIC WITH

LE NOUVEAU NOIR

7PM THIS SATURDAY in Whitfords Bar

Open 7 Days from 5.30pm

WEDNESDAYS

RETRO ROAST

LUNCH

12PM-1.30PM

$10 Members / $12 Non

H ORNBY

WORKINGMEN'S

CLUB

«WHAT'S ON«

FRIDAY 24 MARCH

7PM DIEGO

SATURDAY 25 MARCH

4.30PM IAN MAC

8PM SHA-LOW

«COMING UP«

SATURDAY 1 APRIL, 8PM

MADSEN PROMOTIONS

PRESENTS

BEE GEES, EAGLES, QUEEN

SUPERSTAR SHOW

feat. PAUL MADSEN & BAND

Tickets $20 at club office.

FRIDAY 21 APRIL, 8PM

THE TONER SISTERS

with special guests

TOM SHARPLIN & REMEDY

COUNTRY & RnR

Tickets $20 at club office.

Hornby WMC

17 Carmen Rd, Hornby

Phone 03 349 9026

www.hornbyworkingmensclub.co.nz

Members, guests & affiliates welcome
---
NOR'WEST NEWS Latest Christchurch news at www. .kiwi

Tuesday March 21 2017 27

'Famous for their roasts!'

RESTAURANT & CAFÉ

Kid's SPECIAL

Two courses

Seniors SPECIAL

Two courses

$10

We are family friendly. Great Kids menu plus designated play area.

Soup/Roast or

Roast/Dessert

Special available lunch only

Monday - Saturday 12pm - 2.30pm

$20

Start your

day with us

We are open from 6.30am

Cooked

breakfasts

$18

Check out our extensive

breakfast menu from

Continental to Cooked

The

RACECOURSE HOTEL

& Motorlodge

118 Racecourse Rd, Sockburn,

Christchurch. Ph 03 342 7150

www.racecoursehotel.co.nz

Lunch & Dinner

All you can eat, 7 days

Bookings Essential

PH 386 0088

fb.com/GardenHotelRestaurant www.gardenhotel.co.nz

NOW SERVING

available

from

9am

Breakfast

HAPPY

HOUR

5PM - 7PM

DAILY

Live Music:

Rhonda Campbell

6PM.FRI.31 MAR

PHONE 385 8880 FIND US ON FACEBOOK fb.com/GBCCHCH

THE GARDEN HOTEL COMPLEX | 110 MARSHLAND RD

www.gardenhotel.co.nz | phone 385 3132
---
28 Tuesday March 21 2017

Latest Christchurch news at www. .kiwi

NOR'WEST NEWS

$

12 99

Fresh NZ Beef

Rump Steak

kg $

4 99

kg

$

9 00

each

Mainland Mild/

Colby/Edam

Cheese 1kg

Australian Red/Green

Seedless Grapes

$

7 99

kg

Loose White Button

Mushrooms

$

4 00

each

Whittaker's Chocolate Block 250g/

Share Pack 180g

$

3 99

each

Just Juice/Citrus Tree Fruit Juice 2.4/2.8L

$

6 00

each

Kellogg's Nutri-Grain/Special K/Sultana Bran/Coco Pops

500-730g

$

31 99

pack

DB/Export Gold/Tui

24 x 330ml Bottles

Be in to

$

8 99

each

Lindauer 750ml

(Excludes Special Reserve)

year's supply * of PURINA ONE

cat or dog food.

$

20 00

each

Purina One Dog Food 3.63kg

A

WIN

Purchase any 2 x PURINA ONE products in a

single transaction to go in the draw to win a

year's supply of PURINA ONE cat or dog food.

Competition opens 06/03/17 and closes 02/04/17. Till receipt entry forms are given at checkouts with your purchase. Entry form box is located at the customer

service desk. Draw occurs 03/04/17 and winners will be notified by 07/04/2017. Promoter – WDL (Wholesale Distributors Limited). Visit FreshChoice.co.nz/purina-one

for full terms and conditions. *A year's supply of cat food is 18 x 1.59kg bags ($422 RRP). A year's supply of dog food is 25 x 3.63kg bags ($744 RRP).

One

winner

in every

store!

FreshChoice Merivale

189 Papanui Road, Christchurch

Open 7am – 9pm, 7 days.

FreshChoice.co.nz FreshChoiceNZ 355 4432

FreshChoice Merivale

Certain products may not be available in all stores. Savings are based on non-promotional price. Limits may apply.

Prices apply from Tuesday 21st March to Sunday 26th March 2017, or while stocks last.

Owned and

operated

by locals

FCNO2103