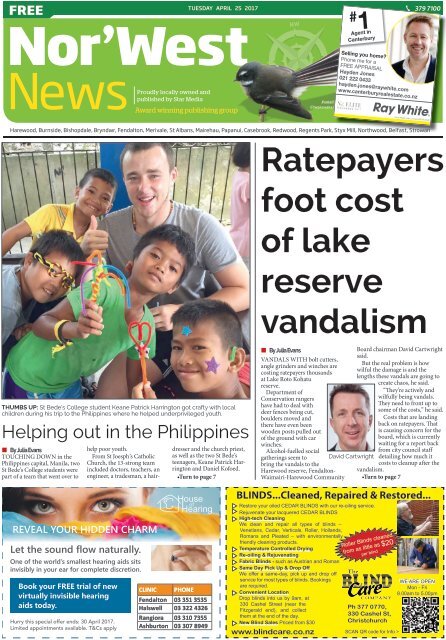 Nor'West News: April 25, 2017
Create successful ePaper yourself
Turn your PDF publications into a flip-book with our unique Google optimized e-Paper software.
Crest Realty Ltd Licensed (REAA 2008)

FREE

TUESDAY APRIL 25 2017 379 7100

#

1

Agent in

Canterbury

Proudly locally owned and

published by Star Media

Award winning publishing group

Fantail

(Piwakawaka)

Selling you home?

Phone me for a

FREE APPRAISAL

Hayden Jones

021 222 0433

hayden.jones@raywhite.com

www.canterburyrealestate.co.nz

Harewood, Burnside, Bishopdale, Bryndwr, Fendalton, Merivale, St Albans, Mairehau, Papanui, Casebrook, Redwood, Regents Park, Styx Mill, Northwood, Belfast, Strowan

Ratepayers

foot cost

of lake

reserve

vandalism

THUMBS UP: St Bede's College student Keane Patrick Harrington got crafty with local

children during his trip to the Philippines where he helped underprivileged youth.

Helping out in the Philippines

• By Julia Evans

TOUCHING DOWN in the

Philippines capital, Manila, two

St Bede's College students were

part of a team that went over to

help poor youth.

From St Joesph's Catholic

Church, the 13-strong team

included doctors, teachers, an

engineer, a tradesman, a hairdresser

and the church priest,

as well as the two St Bede's

teenagers, Keane Patrick Harrington

and Daniel Kofoed.

•Turn to page 7

• By Julia Evans

VANDALS WITH bolt cutters,

angle grinders and winches are

costing ratepayers thousands

at Lake Roto Kohatu

reserve.

Department of

Conservation rangers

have had to deal with

deer fences being cut,

boulders moved and

there have even been

wooden posts pulled out

of the ground with car

winches.

Alcohol-fuelled social

gatherings seem to

bring the vandals to the

Harewood reserve, Fendalton-

Waimairi-Harewood Community

David Cartwright

Board chairman David Cartwright

said.

But the real problem is how

wilful the damage is and the

lengths these vandals are going to

create chaos, he said.

"They're actively and

wilfully being vandals.

They need to front up to

some of the costs," he said.

Costs that are landing

back on ratepayers. That

is causing concern for the

board, which is currently

waiting for a report back

from city council staff

detailing how much it

costs to cleanup after the

vandalism.

•Turn to page 7

Hurry this special offer ends: 30 April 2017.

Limited appointments available. T&Cs apply

ouse

of

earing

CLINIC PHONE

Fendalton 03 351 3535

Halswell 03 322 4326

Rangiora 03 310 7355

Ashburton 03 307 8949

BLINDS...Cleaned, Repaired & Restored...

Restore your oiled CEDAR BLINDS with our re-oiling service.

Rejuvenate your lacquered CEDAR BLINDS

High-tech Cleaning

We clean and repair all types of blinds –

Venetians, Cedar, Verticals, Roller, Hollands,

Romans and Pleated – with environmentally

friendly cleaning products.

Temperature Controlled Drying

Re-oiling & Rejuvenating

Fabric Blinds - such as Austrian and Roman

Same Day Pick Up & Drop Off

We offer a same-day, pick up and drop off

service for most types of blinds. Bookings

are required.

Convenient Location

Drop blinds into us by 9am, at

330 Cashel Street (near the

Fitzgerald end), and collect

them at the end of the day.

New Blind Sales Priced from $30

Roller Blinds cleaned

from as little as $20

per blind

Ph 377 0770,

330 Cashel St,

Christchurch

www.blindcare.co.nz SCAN QR code for Info >

WE ARE OPEN

Mon - Fri

8.00am to 5.00pm
---
2

Latest Christchurch news at www. .kiwi

FROM

THE

REPORTER'S

DESK

Tuesday April 25 2017

Inside

THE VANDALS at Lake Roto

Kohatu sound like they need

something else to keep themselves

busy.

They're certainly going to

extreme lengths to cause nothing

but damage (see page 1). They

might like to seek a quieter hobby

which doesn't cost ratepayers.

Maybe they could check out

page 7 and head to Bookarama at

Burnside High School this week?

The Rotary Club of Bishopdale

Burnside has certainly put a lot of

time and effort sorting through

books donated by the community.

After the vandals have got a

good read to keep them busy, they

can head down and watch northwest

school rugby teams in the

UC Championship this weekend.

On page 9, St Bede's College is

hungry to redeem itself after last

year and Christchurch Boys' High

School is looking to defend its

title.

–Julia Evans

UC Championship starts this weekend

SPORT 9

NOR'WEST NEWS

News.......................................3, 7

Papanui's Past................4

Schools.....................................8

Sport.................................... 9

Our People..........................10

Food....................................11

Driven........................................12

Events ............................... 13

GET IN TOUCH

General Enquiries Ph 379-7100

Classified Advertising Ph 379-1100

The Christchurch Star Company Ltd. PO box 1467 - Christchurch

starmedia.kiwi

NEWS

Julia Evans

Ph: 021 914 742

julia.evans@starmedia.kiwi

ADVERTISING

Viv Montgomerie

Ph: 364 7494

viv.montgomerie@starmedia.kiwi

ADVERTISING

Monique Maynard

Ph: 364 7474

monique.maynard@starmedia.kiwi

CAS 'n' OVA PRODUCTIONS by arrangement with PLAYMARKET presents:

Directed by

Ray Williamson

Thursday 20th April,

Friday 21st April,

Saturday 22nd April

and Thursday 27th April,

Friday 28th April and

Saturday 29th April 2017

$25

The Performing Arts

Centre Heaton Normal

Intermediate School

125 Heaton Street,

Christchurch

BOOK ONLINE

www.casnova.co.nz
---
NOR'WEST NEWS Latest Christchurch news at www. .kiwi

Tuesday April 25 2017 3

News

Northlands settle crossing dispute

• By Julia Evans

A SIGNALISED pedestrian

crossing had until recently been

a source of conflict between the

city council and the owners of

Northlands Shopping Centre.

Investment

company Kiwi

Property said it

was concerned

with the lack of

communication

from the city

Mike

Davidson

council over the

placement of

the pedestrian

crossing, proposed for Main

North Rd between Halliwell Ave

and Proctor St.

Expansions to the mall would

have been unachievable if the

city council's plan got the goahead,

for which it had been

granted two resource consents.

But a compromise has now

been found after meetings

between city council staff and

Kiwi Property.

The Papanui-Innes

Community Board approved the

revised scheme at its meeting on

Friday.

City council staff and Kiwi

Property are now working

together on a design that moves

the traffic signals slightly

and allows for future mall

expansions and a new entrance.

"The mall is now in full

agreement. Additional meetings

answered their queries," city

council staff told the board.

The signals aim to address

pedestrian safety, which has

been compromised by the large

number of unsafe crosses taken

between bus stops on Main

North Rd.

The plan was initially put

to the former Shirley-Papanui

Community Board in 2015

where questions around slowing

traffic were also raised.

The signals would be timed

with the lights on Langdons Rd

and Halliwell Ave to keep the

impact to less than five seconds.

"Pedestrian safety trumps a

few seconds delay to motorists,"

city councillor Mike Davidson

said.

But he questioned the jump

in costing. In 2015, the crossing

SAFE: A new

pedestrian

crossing will

replace this

traffic island

outside

Northlands

Shopping

Centre.

PHOTO: GEOFF

SLOAN

was reported to cost $195,000.

However, that has since jumped

to more than $450,000.

"That initial cost only included

civil costs, it didn't include the

traffic signals," city council staff

said.

The plan will be taken to the

city council for further approval

in May but construction won't

begin until after the busiest

shopping time of the year –

Christmas.

In Brief

CYCLEWAY UPDATE

The end is in sight for work on

the Papanui Parallel cycleway

along St Albans and Rutland Sts.

Work has entered its final stage

on St Albans St which should be

reopened to two-way traffic by the

end of the month. Once St Albans

St is reopened, Rutland St will go

back to one-way traffic at the start

of May for up to four weeks.

SWIM CLUB SUCCESS

A successful summer for St

Albans Swim Club has come to a

close at the Shirley Intermediate

School pool. The club had 50

pupils for 10 weeks of lessons

with four swim teachers. Some

children opted for twice weekly

lessons and there were individual

lessons for children with learning

difficulties.

MASTER MUSICIANS

Former Burnside High School

student Han Sol Jeong has been

awarded a scholarship to Juilliard

School. Currently studying piano

at Yong Siew Toh Conservatory

of Music, Jeong will attend a

summer masterclass at the school

in New York city. Meanwhile,

another former Burnside student

Hamish Smith has been selected

as the only bassist in the World

Youth Jazz Orchestra. Smith will

embark on tour of 12 European

cities in July.

Fresh hot meals - lunch or dinner

Dine in or

Take Away

LEnd ME YOuR EaRs

You can't see it, but you

can hear the difference!

Hot roast meals

from $11

Fish n Chips

available

Lamb shank

meals from $13

Burger, roll or

sandwich value

packs $10

Easy Roast and Fish n Chips | 273 Greers Rd, Christchurch

Ph 359 1968 | Hours: Tuesday to Sunday 11am-9pm

Ultra discreet

hearing solution

Latest technology

Ready to wear in

one visit

Comfortable,

secure fit

EASY TO USE!

Merivale Hearing Clinic

24b Church Lane.

Call now: 356 2324

Greg Foote, Audiologist

FREE

Lend Me Your

Ears and Listen for

Yourself*

Book Today, Limited Offer

* Conditions apply.

Offer valid till April 30th 2017

Hearing Clinics available: Rangiora,

Ashburton and West Coast Consultations by Appointment only.

Freephone 0800 72 73 66.
---
4 Tuesday April 25 2017

Latest Christchurch news at www. .kiwi

FLAME FILES

Flooding could have

been a lot worse

• By Mark Thomas – Fire Risk

Management Officer

THE MOTHER of all storms was

predicted to hit the country during

Easter.

What actually occurred was a

bit of a fizzer.

Here in Christchurch there

were a few people who would

argue that what they experienced

was hardly a fizzer but thankfully

these incidents were relatively

rare.

Mainly on Good Friday our

troops responded to six flooding

events, one power line down and

a couple of instances

where rain water and electrical

systems were found to be

incompatible.

What the bad weather and the

crisp mornings since did result

in was the first use of the year of

heating devices.

This in turn caused a couple

of callouts, a log fire smoking

the house out in Quinns Rd, an

oil fired home heating system

refusing to close down and

a bathroom heater on fire in

Sumner.

Those with fireplaces should

have had the flu or chimney

swept by now.

If not please do it, might save

STORMY: The Heathcote

River at full capacity and

overflowing.

red faces or worse in the near

future. Those who are using heat

pumps perhaps for the first time

need to know 21 deg C is accepted

as the highest comfortable

setting.

Anything above that you'll

probably get an expensive

shock when the power bill arrives.

Hornby Hub got evacuated a

couple of times this week, the

first from a reported car fire in

the rooftop car park that turned

out to be steam and then an oven

overheating in the supermarket

on Easter Monday.

A real nuisance to management,

retailers and the public.

PAPANUI'S PAST

Land instrumental to social change

Papanui Heritage Group

chairman Murray Williams

looks back at the history

of a significant piece of

land

THE HISTORY of a block of

land bounded by Harewood

Rd, Sails St, Hoani St (formerly

Union St) and Chapel St

(formerly Myrniong St) has

much to tell us about the social

change in Papanui over a period

of 150 years.

This area, originally part of

Rural Section 203, had been purchased

by John T Matson who

came to Papanui in 1866.

He named the property

Myrniong as a reference to land

previously owned in Victoria by

the Matson family.

After Mr Matson's death in

1895, his executor tried but

failed to sell the property, which

was described as a "small but

comfortable" home of eight

rooms on a site which featured

"beautiful gardens, an orchard

and paddocks."

A year later the agent highlighted

the value of the land as

a potential building site, nearly

five acres of "high ground with

four frontages to choose from."

By 1914 this block of land,

now featuring "an almost new

house of 14 rooms," was sold to

the Methodist Church for £2750

– the new owner intended to

develop the house and grounds

as an orphanage.

Over the next two decades

more accommodation was

added but by the early 1930s

it became obvious that the orphanage

complex was no longer

fit for the purpose.

The church purchased a larger

site on the other side of Harewood

Rd where a modern building

was completed in 1934.

A major part of the vacated

block was acquired by the government

and developed as a

state housing settlement, some

of which was available for occupation

in the late 1930s.

A later Ministry of Works diagram

indicates the generous section

sizes, the footprint of each

house and the area allocated for

a reserve as well as private land.

By the mid-1980s much of the

NOR'WEST NEWS

PLANS: A

Ministry

of Works

diagram

showing the

mix of state

housing

and land

in private

ownership

in the mid

1950s. ​

original area had been acquired

by the Golden Health Group

and developed as a retirement

village, a process which was

completed only recently when

the last of the houses was purchased,

thus enabling the company

to own the whole block.

Land that had once been part

of the extensive property portfolio

of a local grandee in the 19th

century has played an important

part in fulfilling the changing

social needs of Papanui as its

use changed successively from a

church owned and administered

orphanage to a site for Government

housing to its current

corporate ownership providing

integrated rest home facilities.

References: Papers Past, Archives

New Zealand, The Story

of the South Island Methodist

Orphanage by M. Rugby Pratt.

Your Local

Friendly

Dental

Team

Hemming, repairs, alterations

or remodelling – I do it all

Specialists in alterations

to all bridal wear

I love clothes! And I love making them

wearable again for my customers.

Perhaps your jeans are ripped and holey?

Menswear alterations include:

suits, jeans, shirts and jackets.

- no problem. I can expertly repair them.

Have you changed size or bought the

wrong size online? - no problem. I excel in

designer solutions so "you'd never know!"

My workmanship is guaranteed.

Living a Healthy Life

with a chronic condition

Do you have an ongoing

Do health you have condition an ongoing that

health affects condition the way that you

affects sleep, feel, the exercise way you and

sleep, generally feel, enjoy exercise life? and

generally enjoy life?

The "Living a healthy life" selfmanagement

"Living a course healthy will life" help self you

The

management to take charge course of your will help life. you Learn

to skills take charge to cope of with your pain, life. Learn fatigue

skills and to frustrations, cope with share pain, with fatigue others

and in a frustrations, similar situation share and develop with

others problem-solving a similar skills. situation and

develop problem-solving skills.

The course will benefit

The anybody course living will benefit with a

anybody chronic living condition, with and a

chronic not just condition, those and with

not arthritis. just those with

arthritis.

Wednesdays

3 rd May – 7 th June

Wednesdays

(six weeks)

3 rd May - 7 th June

(six 9.30am weeks) – 12noon

Meeting Room

9.30am - 12noon

Fendalton Library

Meeting Room

Fendalton

4 Jeffreys

Library

Road

4 Jeffreys Fendalton Road

Fendalton Christcurch

Christchurch To register contact:

Dave Cox, Arthritis Educator

To register contact:

Dave Cox, Arthritis P 0800 Educator 663 463

P 0800 P 0274 663545 463644

E dave.cox

P 0274 545 644

@arthritis.org.nz

E dave.cox@arthritis.org.nz

230 Barrington st

332 4004

Easy parking

& great service

151 Edgeware Road Ph 377 -8942

Open Mon- Fri 9am-5.30pm

other times by appointment.

Supported by Canterbury DHB

Supported by Canterbury DHB

There is no charge for entry however donations are appreciated

There is no charge for entry however donations are appreciated

DRADRFT

www.arthritis.org.nz

www.arthritis.org.nz
---
NOR'WEST NEWS Latest Christchurch news at www. .kiwi

Tuesday April 25 2017 5

Now opeN

Serving

Delicious

Gourmet

Pizza &

Pasta

The ideal place for

social gatherings or

family get togethers.

8 Prestons Road,

Christchurch

(Next to The Redwood Bar)

Ph: 03-352 2559 to book

Take away available. Tonnes of carparking
---
6 Tuesday April 25 2017

Latest Christchurch news at www. .kiwi

NOR'WEST NEWS

Belfast 808 Main North Rd

DIESEL

6 x 330ml

$

12 .99

GORDON'S GIN

$

34 .99

1 Litre

SPEIGHTS

15 x 330ml

SMIRNOFF RED

$

34 .99

1 Litre

$

22 .99

JOHNNIE

WALKER BLACK

$

47 .99

700ml

STEINLAGER

PURE

12 x 330ml

DEWAR'S

$

35 .99

1 Litre

$

21 .99

BILLY MAVERICK

12 x 250ml

$

20 .99

WITHER HILLS

RANGE

KIWI, SADDLER

15 x 330ml

$

21 .99

each

NGAHERE GOLD

12 x 330ml

$

27 .99

ROGUE HOP

12 x 330ml

$

24 .99

HARRINGTON'S

BEER RANGE

$

14 .99

HEINEKEN

15 x 330ml

$

29 .99

DB RANGE

24 x 330ml

$

33 .99

WOBBLY BOOT,

EAST INDIES

12 x 330ml

$

26 .99

each

Available until 6 May 2017, while stocks last. Limits may apply. Trade not supplied.

Super Liquor Belfast, 808 Main North Road, Belfast. Phone 323 8926. Open 7 Days.

ANZAC DAY OPEN 1pm - 9pm
---
NOR'WEST NEWS Latest Christchurch news at www. .kiwi

Tuesday April 25 2017 7

News

PAPERBACKS: Rotary Club of Bishopdale Burnside president

Liz Shackelton and president elect Graeme Tapp sorting

through books for the upcoming Bookarama sale.

Find a good read

at Bookarama

VOLUNTEERS HAVE been

sifting through a mountain of

donated books for next week's

Bookarama.

Organiser Lindsay Crossen

said there are so many books, it

takes at least 30 volunteers to go

through them all.

The Rotary Club of Bishopdale

Burnside event will be held

next week from Thursday to

Sunday at Burnside High School

with all profits going straight

back to the community.

St Bede's duo help Filipino kids

•From page 1

Keane, 17, and Daniel, 15, said

the trip opened their eyes to how

privileged life in New Zealand

can be.

But the real highlight were the

children they spent time with,

including boys as young as eightyears-old

in prison.

"There was a group in a tiny,

hot cell that all had chickenpox.

That was particularly heart breaking,"

Daniel said.

After a week in Manila, they

ventured to the tiny fishing village

of Santa Cruz, Tacloban,

which was devastated by Typhoon

Haiyan in 2013.

The team helped build a water

treatment plant and shelter, and

visited schools where they helped

run a sports tournament.

•From page 1

However, Mr Cartwright fears

it will be an "incomprehensible"

sum.

"It's thousands and it could be

tens of thousands spent over a

year, almost weekly," he said.

Once the report comes back,

Mr Cartwright said the next step

would be looking at preventative

measures.

That could mean giving

Department of Conservation

YOUTH: Daniel Kofoed and some children he spent time

during his recent trip to the Philippines.

Lake reserve vandals cost ratepayers

rangers the power to trespass or

looking at access changes to the

park.

"There's no record of anyone

being trespassed out there by city

DAMAGE: Vandals have been

causing chaos at Lake Roto

Kohatu.

council enforcement," he said.

The board is also fed up with

the time and effort staff have to

spend clearing up the mess.

The city council could not

respond in time to questions

from Nor'West News regarding

the vandalism, as staff were on

leave.

There is no charge for entry however donations are appreciated

www.arthritis.org.nz

Helping us,

Helps tHe

community

Drop off or buy

3 family stores in your community

30 Main North Rd,

Ph 352 4581

520 Cranford St,

Ph 352 0515

50 Charles St, Kaiapoi

Ph 03 903 0017

A

E

P

W

NICKY WAGNER

MP FOR CHRISTCHURCH CENTRAL

"I'm Always Happy to Help"

103 Salisbury Street

Central Christchurch

PO Box 21359

Christchurch 8143

chch.office@parliament.govt.nz

(03) 365 8297

www.nickywagner.co.nz

Funded by the Parliamentary Service and authorised

by Nicky Wagner, 103 Salisbury Street, Christchurch

Welcome Back

FREE

EYEBROW

SHAPE

with an appointment with

our hairstylist Michelle

Valid until end of May, valued at $12

BOOK NOW!

359 4994

Cnr Wairakei & Greers Rd,

Bryndwr, Christchurch

Mon, Tues, Wed, Fri 9am – 5.30pm

open late Thurs 9am – 8pm

Saturday 9am – 2pm
---
8

Tuesday April 25 2017

Latest Christchurch news at www.

.kiwi

NOR'WEST NEWS

SCHOOLS

THESPIANS: Tigerlily Perry

and Kate Jenkins have

been selected to take part

in the national Sheilah

Winn Shakespeare Festival

competition in Wellington.

Meanwhile, Ollie Flett,

Jake McKay and Patrick

James (above) from St

Bede's College performed

The Taming of the

Shrew at the regional

competition. ​

Shakespeare awards

• By Julia Evans

YEAR 13 St Margaret's College

students Kate Jenkins and

Tigerlily Perry have won awards

at the Sheilah Winn Shakespeare

Festival at Papanui High School as

part of the Canterbury Ki Te Raki

competition.

For their interpretation of

Timon of Athens, Tigerlily was

awarded best actress, and both

girls took out best student director

and outstanding imagination and

commitment to the text awards.

The pair were selected to go

through to the national competition

in Wellington later in the

year.

All three of the school's studentdirected

pieces came away with

awards.

The Winter's Tale, directed

by Anna Rietveld, was awarded

strongest use of movement and

stage space.

And a scene from Romeo and

Juliet, performed and directed by

Georgia Lund, Meg Fulton and

Nina Hogg, gained most powerful

moment for Meg's karanga.

Students from St Bede's College

also performed their version of

The Taming of the Shrew at the

competition.

Ollie Flett from year 13 won the

award for most promising

actor.

ANZAC: Fendalton

Open Air School has

an annual tradition of

putting crosses out each

year to honour those

who went before them.

The children also sold

poppies last week and

wore them with great

pride.

Rangi Ruru's UN ambassador

• By Julia Evans

RANGI RURU Girls' School

student Georgina Reynolds will

participate in this year's United

Nations youth ambassador

programme.

Georgia is one of six

ambassadors from across

the city who have been given

the job of organising and

promoting events, such as the

Model United Nations, which

is a workshop for students to

experience what life would be

like as a diplomat.

Georgia, year 13, said she's

excited to encourage other

girls to take part in all the

amazing programmes the

UN youth programme has to

offer.

GLOBAL CITIZEN: Rangi

Ruru Girls' School year 13

student Georgia Reynolds

said she's excited to

participate in the UN

ambassador programme. ​

SUPER LIQUOR

BURNSIDE

Now open!

DIESEL & COLA

6 x 330ml Cans

$ 12

99

BAILEYS

1 Litre

$ 37

99

style

noun

elegance and sophistication.

synonyms: flair, grace, poise,

polish, suaveness, urbanity,

chic, finesse, taste, class,

comfort, luxury, affluence,

wealth, opulence, lavishness.

Early SEaSon SpEcial

april - May custom Made

Sport Mouthguards

Super Liquor Burnside

501 Wairakei Road

Burnside

Christchurch

03 359 0556

ST REMY

1 Litre

$ 39

99

HEINEKEN

15 x 330ml Bottles

$ 29

99

APPLETON ESTATE

700ml

$ 39

99

SPEIGHT'S

15 x 330ml Bottles

$ 22

99

CORUBA & COLA

12 x 250ml Cans, 7%

$ 24

99

Magazine & TV | sTyle.kiwi

The perfecT gifT for

every occasion

• Weddings & Anniversaries

• Christenings & New Borns

• Birthdays & 21st Gifts

• Mythical & Inspirational

• NZ Souvenirs

• Model Cars

• Greeting Cards

• Kama Perfume Oils

• Range Of Incense

6 Brynley St, Hornby | Ph 349 5050

Open Mon-Fri 9am-5pm, Sat 10am-12noon

Offers end close of trade 7th May 2017, while stocks last. Available at participating stores only. Limits may apply. Trade not supplied. Terms

and conditions may apply. Available 24th April - 7th May 2017 inclusive. Please see www.superliquor.co.nz for details.

Bishopdale giftware

Bishopdale Mall

ph: 359 2505
---
NOR'WEST NEWS Latest Christchurch news at www. .kiwi

Tuesday April 25 2017 9

North-west schools start championship bid

This weekend will see

the start of the UC

Championship with a

number of north-west

schools getting their

campaigns under way.

Andrew King takes a look at

the opening round

St Bede's College

After finishing outside the top

eight in the 2016 season, St Bede's

first XV are looking to redeem

themselves.

Coach Gerry Davidson said

while the team is young, there is

plenty of enthusiasm for the upcoming

season, which they will

open with a game against Lincoln

High.

"We struggled a bit last year,

but we have more depth this year

so that will give us a better shot,"

he said.

He said the team is pretty

much picked for the opener with

only a couple more spots left. He

said the majority of the team are

aged under 17.

"Last year there were six or

seven teams that could beat each

other on the day – it was very

even, which is good for the competition,"

Davidson said.

Christchurch Boys' High

School

CBHS first XV look

towards defending their UC

Championship title with an

opening game against Waimea

READY: CBHS will open their campaign against Waimea

Combined this weekend.

PHOTO: KATE JENSEN

Combined.

Fresh from a training camp in

Hamilton at the weekend, and

having beaten Southland Boys'

High School 30-17 last week, the

team is looking good.

CBHS rugby co-ordinator and

assistant coach Rob Smith said

key players in the CBHS setup

will be hooker Adam Reid, halfback

Louie Chapman, fullback

Ryan Barnes, winger Latham

Kelly-Foleni and second-five Alex

Harford.

Harford was last year's top

scorer for CBHS with one try, 47

conversions and seven penalties.

He returns to the side as captain.

Last year's team topped the

table in tries scored, with 94, and

in conversions, with 58.

Smith said the team will be

finalised this week before the

opening game.

Burnside High School

Burnside will look to emulate

their form from last season which

saw them finish eighth, ahead of

northern rivals St Bede's.

They will open their account

against St Thomas, which finished

11th last year.

The team will have a new

coach after Murray Henderson

departed at the end of last season.

A new coach will be appointed

during the season, a Burnside

rugby spokesman said.

Winning eight from 15 will be

a tough ask without barnstorming

centre Mikaele Ravalawa,

who was snapped up by the

Canberra Raiders last year.

Ravalawa scored 14 tries and

kicked three conversions in the

2016 season.

St Andrew's College

St Andrew's will start their

campaign with a bye before

SPORTS

HAKA: After

finishing

outside the

top eight

in 2016,

St Bede's

first XV are

looking to

redeem

themselves

this season.

heading to Timaru to play

Roncalli College.

Last season was a mixture for

St Andrew's, with seven wins and

seven losses, putting them 10th

on the table.

Head coach Rod MacIntosh

said while the final team is yet to

be selected, there is a good mix

of returning players with some

youth.

"We have the philosophy of

including as many players as possible

to future proof and create a

solid second XV," he said.

"We want to play hard attacking

rugby and enjoy every minute

of it."

Midfielder-turned-hooker

Shilo Klien has been named as

captain, with MacIntosh saying

he is one to watch.

Fullback Llew Johnson was unlucky

last season due to a broken

jaw, MacIntosh said. However, he

is ready to go this season.

Seventh Annual Art Exhibition

28th - 30th April 2017

450+ ARTWORKS FOR SALE

Friday 28th April Open Night 6.30 - 8.30pm

$15 – includes wine & cheese

Saturday 29th April 10.00am - 4.30pm

Sunday 30th April 10.00am - 4.30pm

Burnside Bowling Club, 330 Avonhead Road.

www.burnsidebowlingclub.com

80+ Canterbury Artists

CASH & CARRY

Adults - $2, Under 16 - Free

Sponsored by Art Metro

465 Papanui Road, Christchurch

Cafe Phone 354 2068.

Love Singing -

Need Tuition?

Coaching available for

• Singing Tuition

• Theory of Music

Beginners – Experienced

Tuition fees from $35

Be inspired by a Qualified Tutor with

over 15 years Tutoring experience

Marion Hounsome

BA Hons/FVCM Hons

360 2843 or 022 694 6617

Riccarton Players

Playbox Theatre

THE COW

JUMPED OVER

THE MOON

22-30 APRIL

A fun compilation of

stories, poems and songs

Written and directed by Rachael Chamberlain.

Hagley Open Stage Theatre. Shows at 11am, 2pm & 4pm

Saturdays & Sundays 22nd/23rd, 29th/30th April. Tickets $10.

BOOK: PH 338 4699 / RICCARTONPLAYERS.CO.NZ

One stop shop for

all your dental needs

Warm, friendly & affordable dental care for the whole family...

We provide a full range of modern dental services

and ensure the highest level of care.

ACC Treatment Provider | WINZ Quotes |Student Discounts

Free Dental for Adolescents | Same Day Emergency Treatment

(03) 355 3888

DENTISTS

DAVID

ROWLEY

JENNY

KIM

Merivale Dental Group

welcomes hygienist

Megan Smith to the team

Level 1, 184 Papanui Rd

(opposite Merivale Mall)

www.merivaledental.co.nz

Tuesday, 9th May 2017

Principal's address 10:00am
---
10 Tuesday April 25 2017

Latest Christchurch news at www. .kiwi

Our People

NOR'WEST NEWS

Richard Rendle

Retired – but no time for idle hands

Bishopdale MeNZ Shed

co-ordinator Richard

Rendle retired from

teaching when he was

50 but by no means has

he been idle since then.

He speaks to Julia Evans

about what keeps him

busy

Richard, I hear you've got a

background in teaching?

Yes, I was a teacher for almost

30 years. I taught at Christchurch

Boys' High School for seven

of those and at Kaiapoi High

School for 21 years. I'm a chemistry

teacher. I began in 1969

after finishing my degree – I love

chemistry and loved teaching it

to the kids. I quit teaching when

I was 50, when all the NCEA

stuff come in. I've been in early

retirement since I was 50 but

you don't get as much money,

you know. I've been involved in

writing school textbooks and

I asked the editor if there was

any chance on some freelance

editing and he said yes, I guess

so, so that's why I quit teaching.

But I ended up doing computerdrawn

artwork for textbooks.

What is it about the sciences

that you love so much?

I think it probably is just how

my brain works. I'm fascinated

by stuff – but on a very simple

level. The sort of stuff you teach

MUSIC: A man of many

talents, Richard Rendle also

plays guitar.

WORKING WITH WOOD: Richard Rendle and the rest of the Bishopdale MeNZ Shed are

working on kit-set penguin boxes that will be made up by children at the International Antarctic

Centre.

PHOTO: SIMON COOPER

to secondary school kids. I've

written articles about salt and

some of the elements recently.

Sounds to me that you haven't

really retired at all.

One of the things that I did

after the artwork, we started

producing exams for schools

to use as internal practice ones.

In about 1998 when the new

prescription came out for year

13 students, they were screaming

out for a practice exam and

someone said to me could we do

it. I got together a team of exschool

teachers and there were a

few women on maternity leave.

That's been going since 1998 and

we now do a year 12, 13 and the

chemistry scholarship exam.

Tell me about your family?

I've got a son who's a lead scientist

with the Ferrier Research

Institute at Victoria University.

A daughter who is in marketing

at the Nelson Marlborough

Institute of Technology and the

youngest who is a stay-at-home

mum but she's worked in environmental

science. My wife has

an accounting degree but they

didn't go that way.

There must be a love for science

in your blood.

I don't know. I didn't push

them. In fact I've probably done

more with kids since they've

grown up and left. I got really

interested in the science of toys

and went in with toys to teach

kids the science behind them.

What other hobbies do you

have to keep you busy?

I'm a gardener, I read and I'm

a guitarist, I had a rock band for

a while – we did about six gigs a

year. We did it for the enjoyment

and played covers of the great

rock songs from the 60s and 70s.

So when did you get into the

MeNZ Shed – how did it come

about?

I've always had a workshop

and I really enjoy working there.

I've been doing a lot of maintenance

stuff at church. It's been a

dream of mine to have some sort

of workshop for the community.

I was thinking about young people

with flats and houses without

space for a workshop. I was

down at Mitre 10 in Bishopdale

and there was a pamphlet for the

MeNZ Shed and I said yip, this is

exactly what I want.

Have you always had a strong

connection with the community

or was it just the shed that

about?

I was on the school committee

at Kendal School in the early

80s and I've been involved with

Canterbury Science teachers –

But the MeNZ Shed is different

because it's completely voluntary.

Guys come and go and it's a

fantastic thing for guys who have

retired. It's a win-win situation,

because we do a lot of community

work.

What kind of community

work?

We've built a lot of planter boxes

for the council social housing.

The council provides the timber

and we build them. We do repairs

and making stuff for pre-schools,

kindergartens and Plunkets. Individuals

come in and say can you

make this for us and we'll have

a look at it. Or just repairing bits

of furniture that are broken and

they give us a donation. One of

the things we don't want to do is

we don't want to take work away

from tradesmen.

Do you find it's a win for the

community but also win for

you guys coming together and

having a bit of fun?

Oh definitely, we've got a

few, who have worked 40 hours

a week for 40-plus years and

someone just gives them a box

of chocolates and shows them

the door. For the first two weeks

it's fantastic but now what do I

do? We've had people who have

come and said they've retired

and basically they're depressed

and say this is the best thing that

could have happened.

What are you working on at

the moment?

We make coffins, which started

through a lady who belongs to

the coffin club. Her original vision

was to make coffins for stillborn

babies. So to pay for that,

she makes the full-size ones,

which are sort of pre-ordered.

Recently, we were approached

by the Antarctic Centre asking

us to make kit-sets for penguin

boxes. The idea is that kids at the

centre will assemble them and

they'll eventually go out on the

peninsula with DOC rangers.

We're also making iPad stands

for people with low vision.

You've got plenty to keep you

busy then.

Well yes, but if I didn't, I'd

get bored. I'm a practical guy, I

don't sit and philosophise about

much.

now bigger than ever

The magazine for gardeners who

like to get their hands dirty

SubScribe from

$43. 50*

*6 issues/6 months

SUBSCRIPTIONS FREEPHONE

0800 77 77 10

www.gaRdeNER.kiwI

growing with you

SprIng Is here –

It'S Sow Time

how to get the best results from

seeds and seedlings

100% NatIve In

The capItal

Unravelling the secrets of

Otari-wilton Bush

The New Zealand

landscape awards

The people behind

the projects

$7.90 incl. GST

Save our roSeS

How a rose register is protecting our heritage

September 2016 | 100%

It's time

to grow!

New look and more

content than ever!

MeeT LeSTer Brice

A Garden coach

auckland Botanic GardenS

Why we love our public grounds

ISSN 2423-0219
---
NOR'WEST NEWS Latest Christchurch news at www. .kiwi

Tuesday April 25 2017 11

GREAT food

BROUGHT TO YOU BY...

Your fresh food people

TEX-MEX CHICKEN BASKET

WITH KIWIFRUIT SALSA

Ingredients

4 Flat bread wraps, round, multigrain

1 Tbsp Canola oil

1 Onion, diced

500g Chicken

420g Canned tomatoes, with

chilli

1 tsp Chilli, diced

1 can Red kidney beans, rinsed

and drained

1 cup Corn kernels

1 bunch Coriander, or parsley

4 cups Long grain rice, cooked

Salsa

3 Kiwifruit, peeled and diced

3 Tbsp Fresh mint, chopped

1 tsp Lemon juice

Directions

Preheat oven to 180 deg C.

Meanwhile, warm wraps in the

microwave for about 30 seconds,

until pliable.

Press into non-stick metal

moulds to make baskets. Bake

for about 10 minutes, until crisp.

Remove and cool on a wire rack.

Heat oil in a non-stick frying

pan. Add onion, chicken and

diced chilli.

Saute until onion is limp.

Add tomatoes, beans and corn.

Cover and simmer for about 10

minutes, until chicken is cooked.

Thicken, if preferred, with a little

cornflour and water paste. Season

with salt and pepper.

Place rice in the base of each

basket then top with the chicken

mixture. Garnish with coriander

or parsley. Serve with the combined

salsa ingredients.

ONION RELISH

Ingredients

5 Onions, finely sliced

4 cloves Garlic, crushed

1 piece Fresh ginger, a large

piece, grated

1 splash Olive oil

2 Tbsp Mustard

1 Tbsp Fresh thyme, chopped

¼ tsp Turmeric powder

1 Orange, freshly juiced and

zested

1 Tbsp Sugar

3 Tbsp Vinegar

330 ml Beer

Directions

Slowly cook (sweat) the white

onions, garlic and grated ginger

in a little olive oil, stirring constantly

until the onions soften

and caramelise. Add the mustard,

chopped thyme, turmeric

powder, the zest and juice of an

orange, sugar and vinegar and

stir to combine.

Add the beer and simmer

gently until the liquid has all

but evaporated and the mixture

becomes jammy. Remove relish

to sterilised jars, seal and store in

the fridge.

DELISH MARINATED

ORANGES

Ingredients

6 Navel oranges

1 cup Orange juice

3 Tbsp Apricot jam, or marmalade

3 Tbsp Orange liqueur

Garnish

1¼ cups Water

¼ cup Sugar

1 Tbsp Caster sugar

Directions

Simmer the orange juice and

the jam in a saucepan until the

mixture is reduced by half.

Stir in the liqueur and cool.

Thinly peel two oranges and

reserve the peel for the garnish.

Peel the remaining oranges,

removing as much pith as

possible. Place the oranges in a

bowl and pour the cooled sauce

over them. Chill.

To prepare the garnish, cut

the reserved peel into very thin

strips.

Bring one cup of the water

to the boil, add the peel and

simmer for eight minutes. Drain

and rinse in cold water.

Bring the remaining ¼ cup of

water to the boil.

Stir in the sugar, until

dissolved. Add the peel and

simmer for five minutes.

Remove with a slotted spoon

and drain on paper towels.

Toss in the caster sugar.

Reserve the syrup and add to the

oranges when cool.

Top each orange with a little

peel. Excellent served with créme

fraiche.

Royal Gala Apples ... 1 .99

KG

Californian

Navel Oranges ....... 2 .49

kg

Green Kiwifruit 4 .99

kg

Loose Onions .........89 c

KG

Van Rosa Potatoes

NEW SEASON

10kg Bag ......................... 8 .99

bag

lamb leg

Roast ............................ 9 .99

KG

Chicken breast

(skin on) ...................... 9 .99

kg

All our fresh meat is 100% NZ FARMED.

specials VAlid 24th april - 30th april 2017. ONLY AVAILABLE AT

RAEWARD FRESH HAREWOOD RD, TOWER JUNCTION,& MARSHLAND RD

harewood rd Mon–Fri 7.00am–6.30pm Sat–Sun 8.00am–6pm

Tower junction Mon–Fri 8.00am–6.30pm Sat–Sun 8.30am–6pm

MARSHLAND RD Mon–Sun 8.00am–6:00pm

WWW.

.CO.NZ
---
12 Tuesday April 25 2017

Latest Christchurch news at www. .kiwi

Driven

NOR'WEST NEWS

Sharp price for Subaru Impreza

• Price – Subaru Impreza, $29,990

• Dimensions – Length, 4460mm;

width, 1775mm; height, 1480mm

• Configuration – Four-cylinder,

four-wheel-drive, 1995cc, 115kW,

196Nm, continuously variable

automatic.

• Performance –

0-100km/h, 9.3sec

• Fuel usage – 6.6l/100km

Name our new retirement village

and be in to

WIN $500

A brand new Summerset Retirement Village

is coming soon to Casebrook, joining other

villages around the country including

Summerset in the Orchard (Hastings),

Summerset at the Course (Wellington)

and Summerset by the Ranges (Levin).

We're asking you to help come up with a

name for our new retirement community.

We're looking for a name that will give our

village a sense of place, reflecting the

Cavendish Road location – and of course the

name should contain the word 'Summerset'.

Inspire us with your name for our new

village and you might win $500 – plus you'll

always know that it was you who named the

place a community will soon call home.

How to enter:

• Competition entries to be emailed to

danielle.hallett@summerset.co.nz or

mailed to Danielle Hallett, Summerset

Group, PO Box 5187, Wellington 6140

or call 03 741 3340

• Competition entry must contain your

proposed village name, along with

your name, address and daytime

phone number.

• The winner will receive a $500 voucher

for a store of their choice.

• The judges' decision will be final and

no correspondence will be entered into.

• Entries close 5pm, 5 May 2017. Winners

will be advised by 19 May 2017.

• By Ross Kiddie

THIRTEEN YEARS ago I

guided an acquaintance into

a new car, it was a Subaru

Impreza and it was a car which

was priced at $25,000 with

four-wheel-drive and 2-litre

engine.

My friend still has that car

and it has now travelled faultfree

over 200,000km, scheduled

maintenance has been the only

service cost. I remember writing

at the time how much of a

bargain that car was, and if finances

at the time had allowed,

I may well have purchased an

Impreza as well.

Well, nothing has changed, I

still can't afford a new car and

now Subaru has another new

Impreza available at a budget

price. For just $5000 more than

the new price in 2004, the newgeneration

model represents

amazing value, and it is stacked

with value features, items

which you wouldn't ordinarily

expect in a budget car.

The new generation model

gets Eye-sight driver assist

technology, a camera-based

system which is linked to adaptive

cruise control, lane departure

warning, pre-collision assist

and pedestrian avoidance.

Other features for comfort and

convenience include automatic

stop-start as a fuel saving measure,

keyless entry and ignition,

Apple Car Play and Android

Auto capability, along with the

usual features modern cars

include as a matter of course.

The new Impreza still has

the traditional 2-litre, flat-four

(boxer) engine. It has been

developed to a point where

it is state-of-the-art in terms

of power outputs, emission

control and fuel efficiency. In

terms of figures, the quad-camshaft

unit is rated at 115kW

and 196Nm, while a 6.6-litre

per 100km/h (42mpg) combined

cycle fuel usage average

is claimed by Subaru.

Drive is channelled to all

four wheels through a continuously

variable automatic

transmission. Not only does

the four-wheel-drive system

alleviate the fear of grip loss

on loose surfaces, there is a lot

of natural grip supplied on the

seal, the Impreza has handling

ability which is unrealistic for

this class of car.

In the first instance, grip

is supplied by 205/50 x 17in

Turanza tyres, and even though

they aren't Bridgestone's sport

specification rubber, the tyres

have prodigious grip. If you

add in a flat and controlled

body balance and drive channelled

constantly through to all

wheels, the handling balance is

biased towards sporty.

That comes without the

springs and dampers being

overly firmed, ride quality is

still paramount to the Subaru

way of manufacture.

Power is directed freely

through the transmission. In

this form the Impreza doesn't

get the turbocharging system of

its WRX stablemates, but it is

an honest, punchy engine.

In my introduction I mentioned

the high level of specification.

Another useful feature

are the steering wheel-mounted

paddles which the driver

can use to initiate ratio changes

within the CVT system. There's

also a sequential system at the

main gearshift lever itself, but

as a driver you can be lured

into a sporty sensation if you

utilise the paddles.

However, first and foremost,

the Impreza caters for the family

unit. While sedans are fast

losing popularity, I'm still a bit

of a fan and I'm quite smitten

with Subaru product; together

I'd be sold on the Impreza in

this form.

On-board comfort is high

and space for three rear occupants

isn't compromised by

compact exterior dimensions.

Subaru's line-up isn't extensive,

but the company is far

more than a global niche market

player. All of the models

offered here are functional and

practical, each designed for a

different role. The Impreza is

there to tempt as an entry level

car into the brand.

Just like my friend, those who

do choose to buy Subaru will

be rewarded with reliability,

functionality and a high level

of safety, much of the latter attributed

to the stability and grip

four-wheel-drive offers.

You'd had better be quick,

though, from what I've heard

through industry sources the

Impreza in this form is only

available in limited numbers

and is selling fast.

www.summerset.co.nz

Love the life

SUM0463

SUBARU IMPREZA: Stacked with value features..
---
NOR'WEST NEWS Latest Christchurch news at www. .kiwi

Tuesday April 25 2017 13

Alphabet Treasure Hunt

Wednesday, all day

Drop in to the library to challenge

children's alphabetical

detective skills. Can you find the

letter Z?

Free entry, Redwood Library,

339 Main North Rd

Daft Disguises

Wednesday, all day

Children can get their picture

taken wearing one of the disguises,

or go along with your own.

Free entry, Shirley Library, 36

Marshland Rd

Invisible Ink Messages and

Secret Code Breakers

Wednesday, 10.30-11.30am

Children will learn how to

write messages that no one else

can see and find different codes

to send and receive secret messages.

They will make different

spy ciphers and keep their messages

hidden from prying eyes.

Part of the Christchurch City

Libraries holiday activities.

Free entry, Papanui Library, 35

Langdons Rd

Fun with Animals

Thursday, 11am-noon

Animates is hosting some

exciting activities to keep the

kids entertained. Children can

LAwyERS

We have over 40 years' experience

to assist you with…

• Buying and Selling Houses and

Commercial Property

• Wills, Trusts and Estate matters

• All issues facing you

and your business;

• Employment Law

matters;

• Traffic matters;

• Advice regarding

Retirement Villages

• General Legal Advice on all matters

Call John, Brendan or Andrew today

03 366 8996

Email. lawyers@mclegal.co.nz

Airport Business Park

92 Russley Road, Christchurch 8042

Email julia.evans@starmedia.kiwi

by 5pm each Wednesday

learn everything they need to

know about rabbits, guinea pigs,

rats and mice. The sessions are

a great way to help children

develop the skills they need to

be nurturing pet parents. Each

child will receive a certificate.

No booking required, but make

sure you get in early.

Free entry, Animates Papanui,

459 Papanui Rd

Go Well Group – Play Rummikub

Thursday, 1-3pm

Go along to Fendalton Library

and play Rummikub. The

game is an exciting, interactive

strategy game that will test your

wits.

Free entry, Fendalton Library, 4

Jeffreys Rd, Fendalton

Knit 'n' Yarn

Friday, 10.30-noon

Take your knitting needles

along and enjoy a chat with others

as you knit. This session is for

anyone who loves to knit or who

wants to learn.

Free entry, Papanui Library, 35

Langdons Rd, Papanui

Flash Fiction

Friday, 1.30-3.30pm

If you're interested in writing

and can wrote short stories under

200 words you can go to the

Discover this

unique Emporium

Plus a unique range

of gifts, homewares and

water features.

Crafted candles a speciality!

722 Marshlands Road

Top end Styx

Ph: 03 323 9781

www.hitchingpost.co.nz

New Zealand Secondary Schools Symphony Orchestra concert will be an excellent

opportunity to introduce those new to symphonic music to the power, energy and vibrancy of

the symphony orchestra in a short one-hour programme. It will introduce the NZSSSO 2017

programme of 105 students from 46 schools around New Zealand. Conducted by Natalia

Raspopova, the programme will include a selection of the works students have been preparing

over the six-day orchestral course. Friday from 5pm and Saturday from 7pm – entry is $5 at the

Charles Luney Auditorium at St Margaret's College, 12 Winchester St.

library to write some fast flash

fiction. Suitable for ages 13 to 18

but registration is required.

Fendalton Library, 4 Jeffreys

Rd, Fendalton

Guinea Pigs on Show

Saturday, 10am-2pm

Enter your pet guinea pig in

the public show to win categories

including fastest Easter and

fancy dress. Come early to see

the pedigree guinea pigs judged

in their show.

Gold coin entry, St Paul's Anglican

Church, 1 Harewood Rd,

Papanui

Providing Custom Framing of all Artworks

Gallery Space with large Range of Original work

Including CHCH Scenes, L/Edition Prints, Posters

Photography & Sporting Memorabilia

6 Main North Road | Ph 352 7594

(Next to SBS Bank)

www.artworkspictureframing.co.nz

VISIT OUR NEW LOCATION LOCATION

Drawing Classes

Monday, 10-11.30am

Things are getting creative in

April, a six week drawing skills

course has begun. The course

will finish with a group exhibition

at the centre. Over six weeks

participants will learn some

basic skills that will enable them

to gain confidence. The course

will introduce different mediums

such as pencil, charcoal, graphite,

coloured pencil, pen, felt and

ink. It is open to anyone who

wants to attend. Phone 382 0350

for more information.

St Albans Community Centre,

1049 Colombo St, St Albans

Scrabble Club

Wednesday, 11am-noon

No obligation, just go along

whenever you can and join the

friendly group. All materials are

supplied.

Free entry, Shirley Library, 36

Marshland Rd, Shirley

Monday - Friday 8.30am-5.00pm

NEW LOCATION ADVERT.pdf 1 1/05/2014 11:51:35 a.m.

Open Mon-Fri 9am-5pm

Closed weekends

Dr. Zohnia McNeill

is now working

Wednesdays and

Thursdays.

• General Dentistry • Emergency Appointments

• Cosmetic Fillings • Dental Implants • Crowns

• Partial/Full Dentures • Root Canals • Veneers

• New Patients Welcome

99a GLANDOVEY RD (Entrance via Idris Rd)

FENDALTON, CHRISTCHURCH 8052

PHONE: 03 351 1188 FAX: 03 351 1138

www.fendaltondental.co.nz

430 ST ASAPH STREET!

RECOVER YOUR LOVED FURNITURE

No job too big or small

Hours of Business: 7am-4.30pm Mon-Thurs

Fri 8am to midday

or by appointment with Keith 027 566 3909

Still able to offer

you the finest top

quality new furniture

Visit us online

www.qualityfurniture.co.nz

P. 371 7500

QUALITY FURNITURE SPECIALISTS

RE - UPHOLSTERY SPECIALISTS KEITH HARTSHORNE 0275 663 909
---
14 Tuesday April 25 2017

Latest Christchurch news at www. .kiwi

NOR'WEST NEWS

Bridalshow

save the date

Sun 27th Aug

10am to 3pm

air Force Museum

45 Harvard Ave

Wigram, Chch

Tickets: $20.00

A Star Media Event
---
NOR'WEST NEWS Latest Christchurch news at www. .kiwi

Tuesday April 25 2017 15

HEALTH & BEAUTY

Introducing

Sukin's Ultra

Hydrating

Body Oil

Soft, supple, incredibly hydrated skin – in winter?

It's totally achievable with our gorgeous Sukin

Ultra Hydrating Body Oil.

Lotions just don't measure up in the

chillier weather if skin is overly dry and

needing some extra TLC. Delivering

intensive daily hydration, our luxurious

Ultra Hydrating Body Oil contains

Sunflower, Jojoba, Rosehip, Marula Seed,

Avocado and Soybean Oils. It glides on

easily, is quickly absorbed and doesn't

leave an oily residue. This natural oil

blend promotes a radiant appearance

and can improve the texture of the skin.

Added Calendula Flower Extract assists

to soothe and revitalise dehydrated skin.

This multi-use body oil, formerly

called Wellbeing Body Oil, is ideal for

those who prefer oils to creams or who

need extra hydration and softens skin

from top to toe. It's great for massage or

as a bath oil, post-shaving or waxing and

as a hand or foot treatment to soothe the

skin. It can be added into your favourite

Body Lotion or Cream for an extra

hydrating boost, but we love adding a

few drops to the bath, perfect for some

winter pampering.

Like all Sukin products, the

range is free of sulphates, animal

derivatives, parabens, propylene

glycol, harsh detergents, mineral oils,

triethanolamine, synthetic fragrances

and parabens.

Parkside

Cutz

Quality Cutting Bar

No appoiNtmeNts Necessary

Ladies cuts from $26

Blow Waves $12

Mens Cuts $20

Beard Trim $10

Clipper Cut $15

Kids cuts

Preschool $16

School age $17

Men pensioner cuts $17

Parkside Cutz Cutting Bar

Parkside Plaza Bishopdale (opp Harewood Tavern)

Unit 6,333 Harewood Road, Bishopdale

Open Mon - Friday 9am-5pm

Late night Thursday to 6pm

Saturday 9am-1pm

'CEREC' & cosmetic dentistry

Wisdom tooth removal

Painless, high quality dentistry

Sedation dentistry

Experienced, conscientious team

Experienced hygienists

OPEN SATURDAYS

355 9380

144 Cranford Street

www.stalbansdentalcentre.co.nz

Be warm in

winter with

mohair and

alpaca rugs,

throws and

scarves

140 Colombo Street

Beckenham, Christchurch

Phone 03 943 1639

www.themohairstore.co.nz

St John

Community Shop

✓Unbelievable bargains

✓ Value and quality

Supporting Life

272 Lincoln Road

Corner Spencer Street

Addington

Phone 03 338 2560

style

noun

elegance and sophistication.

synonyms: flair, grace, poise,

polish, suaveness, urbanity,

chic, finesse, taste, class,

comfort, luxury, affluence,

wealth, opulence, lavishness.

Magazine & TV | sTyle.kiwi
---
16

Tuesday April 25 2017

REAL ESTATE

Welcome to the good life!

53 Brookwater Avenue, Marble Court, Northwood

Auction: This Thursday - 27th April 2017, 10am Gold Auction Rooms, 471 Papanui Rd, Chch

3 bedrooms | 2 bathrooms | 2 living rooms | 1 dining room | 1 office/study | 2 car-garage | Listing # PI46747

The good life starts here! If you've been

dreaming of an immaculate, contemporary

home in a beautiful, established location

then look no further. With this property

sited in a quiet Cul-de-Sac, there are

absolutely no compromises.

Boasting bespoke architecture, Hebel and

Linea cladding exterior, and a unique mono

pitch roof, this stunning 227.8m2 executive

property is striking from the outset. Inside,

there's a lovely separate entranceway, with

water feature vista, three double bedrooms

(including a master with ensuite, 2 walkin

robes and sliders into garden, plus a

guest room with semi ensuite and built-in

robe), a family bathroom with a fabulous

freestanding bath, separate shower and

double vanity, two toilets, an extra single

bedroom/office, and a lovely separate

lounge area with a cosy gas fire and built-in

surround-sound speakers with sliders out

onto the entertainment area.

The spacious open plan kitchen/living/

dining area enjoys dancing sunbeams

all day thanks to the property's northwest

facing aspect, a kitchen skylight and

huge windows and sliders. The modern

kitchen boasts a detailed fit-out, including

a separate wall oven, a separate induction/

ceramic cooktop, dishwasher, range hood,

soft-close drawers and breakfast bar.

The 'Pacific Wave' detailing on the glass

splashback and beautiful laminated finish

in the cabinetry bring the style, while the

walk-in scullery with sink, 'Electrolux' hot

Latest Christchurch news at www.

water/filter system, abundance of storage

and great bench space are a cook's delight.

A separate laundry with sink, drying rail,

cupboards and large benchtop bring the

function.

This incredible property also offers full

double glazing with tinted windows at

the front, high-quality lighting fixtures,

premium Rhino carpets, smart wiring,

abundant storage space, and underfloor

heating in the kitchen, dining and

bathrooms.

Outside, the entire length of the house is

adorned with a beautiful low maintenance

composite deck, which enjoys surroundsound

speakers and offers up a private

entertainment area nicely protected from

the easterly winds, plus a separate BBQ area

with lighting, power and a gas bayonet. The

beautifully manicured gardens are awardwinning,

framed by landscaped flower beds

and partial timber fencing and enjoys allday

sun, while a double automatic garage

encompassing a workshop room and a

separate storage room both with internal

access, completes the appeal.

Situated in a fantastic location, with

lovely leafy outlook, Northwood's shopping

centre, Clearwater Golf Club plus the Styx

Mill & Groynes Conservation Reserves

are within close proximity and help to

underpin the strength of your investment.

Immaculately presented and marketed

with genuine commitment and resolve, it

is with a heavy heart that this owner leaves

.kiwi

this spectacular property. But, as the next

chapter begins, so too can yours in this

fantastic urban oasis. If you're interested,

early viewings are highly recommended, so

give us a call and book yours today - you

won't be disappointed.

For a private viewing appointment

contact Deb Harvey of Harcourts Gold

Papanui (Licensed Agent REAA 2008) on

352 6166 or mobile 027 220 6565

NOR'WEST NEWS

Visit www.star.kiwi

anytime, anywhere!

Breaking news,

delivered to

your pocket.

Fire rages, homes at risk

•news •CTV •sport •districts •schools •lifestyle •opinion •what's on

www.star.kiwi
---
NOR'WEST NEWS Latest Christchurch news at www. .kiwi

Tuesday April 25 2017 17

1GUIDE

10 GAMES // 5 WEEKS // 3 TESTS

LIONS

148-PAGE RGBY dNDSPECIAL EDITION

British and Irish Lions Tour of New Zealand

EVERY GAME, EVERY VENUE

Plan your tour in front of the TV

and on the road

Phil Gifford on the game's greats

Justin Marshall calls it how he sees it

INSIDE: Rugby's most trusted voices

Ron Palenski remembers the classics

Lynn McConnell on the challenge ahead

ON SALE FROM MAY 1 at all good bookstores and supermarkets

Pre-order now: rugbynews.co.nz or 0800 77 77 10

18x4 Lions Guide Filler 2017
---
18 Tuesday April 25 2017

Latest Christchurch news at www. .kiwi

Community Events

Computers

ALL

YOUR

COMPUTER

WORRIES SOLVED!

*$30.00 off your first

service with this coupon!*

No problem too big or

small from home PC's to

business networks. PC

slow? An end to Viruses,

Spyware, and Clogged

Systems. Safe secure

hassle-free computing.

Lost files recovered.

Microsoft Certified,

MCSE, MCP+l. 30 years

experience. Call Andrew

Buxton this week on 326-

6740 or 027 435-7596

for $30.00 off* Custom

Computers Christchurch

Curtains

www.curtainfabric-outlet.com

Half Price Sale

from $5 per mtre

Call at Our Shop

CURTAIN FABRIC OUTLET

71 Hawdon St Sydenham

Ph 366-5026

Funeral Directors

Direct Cremation

Provider

Service without

the funeral

0800 000 121

www.cremorials.co.nz

Gardening

& Supplies

A GARDEN OR

LANDSCAPING TIDY

UP? Shrub, hedge &

tree pruning, Lawns,

Gardening, consistently

reliable general property

upkeep, Dip. Hort. 10

yrs experience, One off

tidy ups or on-going

service. Nick's Property

Maintenance. Keeping

your garden beautiful.

Free Quote. Ph. 942-4440

NOR'WEST NEWS

Classifieds Contact us today Phone our local team 03 379 1100

Holiday

Accommodation

AVONHEAD ROTARY

CLUB. Charity

Garage & Car Boot

Sale, Saturday May 6th,

Burnside Bowling Club.

To donate goods or book

a stall @ $20 contact

QUEENSLAND

Denis 0274 864 787 or

John 357 9110. Donated

goods can be dropped off

at the Bowling Club, 330

Avonhead Road, on Friday

5 May

DRAPES

CURTAINS

BLINDS

Made to order

Fabric and net

samples available

Free consultations

Free quotes

Phone Now!

Sues Soft

Furnishing

03 383-1928

SUN-

SHINE COAST AUSTRA-

LIA Resort, Ocean Views,

Balconies, Self Contained,

1 or 2 B/R Ensuite,

Heated Pool, Spa, Sauna,

Free Internet, Shops,

Restaurants, Tennis, Surf

Club & Patrolled Beach,

Public Transport at door.

Ask for our SEASONAL

SPECIALS. Phone 61 7

544-35011 Email: reception@mandolin.com.au

www.mandolin.com.au

Personals

IF YOU ARE female and

lonely or bored or seek

a distraction, drop me a

line. I am seeking a well

presented lady to share

quality time

Fun conversation and

laughter. I like to travel,

enjoy theatre, movies

,walks and trying new

eating places. Matt

P.O.Box 1919 ChCh

MAN in NW of city seeks

a slim tall feminine lady to

Dine Out with and enjoy

each ,others company.

0276594425

MATURE single man

seeks a single female

activity partner. ph

3583634

EQC CASH SETTLEMENT

We will re-scope your property to ensure

you have been paid in full to cover all

your repair costs.

None of the properties that we have

re-scoped so far has been paid the

correct amount to repair their damage.

EXAMPLES

Trades & Services

•Yaldhurst Road Initially $3,800 after our

re-scope payment received $46,320

•Wairakei Road Initially $7,575 after our

re-scope payment received $38,182

•Prossers Road Initially $19,827 after our

re-scope payment received $60,273

•Kaplan Avenue Initially $859 after our

re-scope payment received $34,931

•Liverton Crescent Initially $11,000 after our

re-scope payment received $29,842

•Dalkeith Street Initially $5,000 after our

re-scope payment received $8,945

• We have re-scoped 50 properties who have been under

paid for their repairs.

• Have your initial repairs failed?

• Did you receive your full entitlement?

• Do not pay your excess until all repairs are completed.

• General under payments are: Asbestos testing and

exterior lead paint, peeling wallpaper, cracking in exterior

plaster not repaired correctly.

For re-scoping and all earthquake repairs

including painting and redecorating.

Enquire now Phone 021-667-444

Trades & Services

MAINTENANCE

Doctor

Fixit

• Carpentry • Repairs &

Maintenance

• Doors & Windows

• Fencing

• Painting & Plastering

• Tiling

• Outdoor Maintenance

• Renovations

• Decks & Pergolas

Norm McRae

027 222 3060 | 03 312 0082

www.doctorfixit.nz

PAINTER

Michael Kelly Painters

Locally owned and

operated family

business.

25+ years Experience

• Painting • Wallpapering

• Interior • Exterior

Free Quotes

GARAGE CARPET

You'll be amazed at what a multi-purpose room

your garage becomes when you add carpet and it

only costs around $35m2.

Part of the Protecta Coatings Group

We only use New Zealand made,

100% UV resistant specialised carpet.

We also paint garage and workshop floors.

www.protectafloorings.co.nz

Call now 021 488 025

Phone

Michael 0212 649 492

michaelkellypainter@hotmail.co.nz

ELECTRICAL

AFFORDABLE

Registered all types

of repairs, installs,

lighting etc

HEATPUMP

Full Service

$60 + GST

Ph 326 4992 or

0274 329 755

& Property Maintenance

Paving

Patio - Pathways - Driveways

Lawns and Gardens

Planting - Raised Vege Gardens

Readylawn - Irrigation - Fencing

General Maintenance

Water Blasting - Gutter Cleaning

Rental Property Maintenance

Section Clearing - Weed Spraying

20 Years Experience

Locally owned and operated

Free Quotes - Competitive Pricing

Blair Gibson 027 699 5815

PAINTING &

WALLPAPERING

• Satisfaction

guaranteed

• Over 30 years

experience

• Reliable &

honest

Please call

Ray Martin Ltd

021 770 551

or 359 5520

r.martin@globe.net.nz

Trades & Services

• Replacement/new roofing

• Colour Steel gutter & fascia

• Flue & log burner installs

• Skytube/light installs

• Earthquake repairs

Licence Building

Practitioner LBP

Member of the Roofing

Association

DCM ROOFING LTD

The Roofing Specialists

PHONE IAIN

027 445 5597

iain@dcmroofing.co.nz

PLUMBER

Michael

Gale

Plumbing Ltd

PROMPT SERVICE

For all

Plumbing

•Roofing/

spouting

•Maintenance

•Installations

8790441AA

Small work

no problem

Ph 364 7080 (24 hour)

Mob 027 438 3943

Lawns, Gardens

& Home Cleaning

9185885AA

Free Quotes

Professional, personalised

service. Regular &

one-offs. Fixed price.

Ph: 377-5814

For all your property and

cleaning requirements

Trained, insured & security

screened owner/operators

Multi-award winning

systems & Franchises

Franchises Available

www.fviphomeservices.co.nz

GLAZING

Stephen Thom

Glazing 2012 Ltd.

(Under New Management)

• Mirrors

• New Glazing

• Pet Door

Specialists

• Frameless

Showers

• Splashbacks

WE CAN DO YOUR

WORK NOW

9155874AA

ALL BROKEN

WINDOWS

Phone Cushla

03 352 6225

or 027 352 6225

Trades & Services

ROOF

PAINTING

Rope & harness

a speciality,

no scaffolding

required,

30 years of

breathtaking

experience.

FREE QUOTES

Exterior staining,

exterior painting,

moss and mould

treatment and

waterblasting

Phone Kevin

027 561 4629

BRICKLAYER

George Lockyer. Over

30 years bricklaying

experience. UK trained.

Licensed Building

Practitioner number

BP105608. Insurance

work. EQC repairs.

Heritage brickwork a

speciality. No job too

small. Governors Bay.

Home 329-9344, Cell

027 684-4046, email

karengeorge@xtra.co.nz

BUY OR SELL,

I'M YOUR GAL!!!

Want to Sell Your Property?

List your House with me and I will tell you

How You Can Get Top $$$$ for your Property!

The Reasons to list your Property with me:

I have many years experience selling

Real Estate in NZ, USA & Europe!

I'm different, I think out of the box,

I use unique techniques!

FREE Property Appraisal!!

Licensed Agent REAA 2008

Real Estate

CALL ME NOW

Katalin Francsics

021 028 57927

katalin.francsics@harcourts.co.nz

Situations Vacant

Exotic Performers

Wanted

This occupation of exotic dancing and

performing requires high levels of creative

talent, personal commitment and interest.

Must be able to compose dance,

and work in an adult entertainment

environment on stage.

Apply online at

www.calendargirls.co.nz

BUILDER

LICENSED, available for

all aspects of building.

Please call 027 241-7471

or 335-0265

BUILDER

For all building work Trades & Services Trades & Services

but specialist in bathroom

PLASTERER

TREES BIg oR SMALL

renovations, 30 yrs

Gib Stopping, Small tree removal, trimming,

experience, with service

job specialty. 30 + stump grinding, shelterbelt

and integrity. Free Quotes.

years experience. clean up, section clearing,

Ph Lachlan 383-1723 or

Ring 0800 387-369 rubbish removals,

0274 367-067.

PLASTERIng

excavation work, ph Trees

CARRIER LoCAL Stopping / skimming. Big or Small, for a free

experienced, friendly, 30 yrs exp, all work quote, 021 061 4783

trade-me purchases, single large & small. Contact TREE WoRK

items to truck loads, Tony 027 222 2993 Hedge trimming, stump

furniture to whatever, or Earl 027 345 0561 grinding, rubbish removed,

removals & trade PLUMBER

small job specialty Ph

deliveries a specialty. Ph ALF THORPE Andrew 03 322-8341 or

GEH 341-5069

PLUMBING Certifying 027 435-8759

**************** Plumber for all types of T.V. SERVICE CEnTRE

CARPET

plumbing, maintenance, Repairs, tvs, microwaves,

VInYL LAYIng

spouting, alterations stereos, DVD. Aerial

Repairs, uplifting,relaying,

etc. Phone 352-7402 installations and kitsets,

restretching, E mail

or 0274-350-231 480 Moorhouse Ave, ph 03

jflattery@xtra.co.nz,

PLUMBER

379 1400

A Top Plumbing job UPHoLSTERER

ph 0800 003 181

completed at a fair price, Dining Chairs, Lounge

or 027 2407416

prompt service, all work suites, Caravan Squabs

DRAInLAYER

guaranteed, Ph Brian 960- etc. recovered. Free

Reg, all types, inclds soak

holes, 20yrs exp. ph 028

7673 or 021 112-3492

RooFIng

Quotes. Phone Graeme

383-1448

408-0121

Qualified & Licenced VHS VIDEo TAPES

Practitioner. Re-Roof & all camera tapes

ELECTRICIAn

& Repairs, all types. converted to DVD, video

REgISTERED

Member New Zealand taping special occasions,

for all electrical

Roofing Association. www.grahamsvideo.co.nz

installations & repairs Ph

Over 35 years experience. ph 03 338-1655

03 322 4209 or 021 026

Phone John 027 432- WInDoW CLEAnIng

73375

3822 or 351-9147 email Average 3 bdrm house

FURnITURE REMoVALS johnmill@ihug.co.nz inside or out $40. Both

Large Trucks $95 + SHoE REPAIRS $70. Phone Trevor 344-

GST per hour 7 day NZ Belfast engraving. 2170

wide, packing & moving, Shoe repairs,key cutting

Professional Company, & engraving.(10 yrs

Wanted To Buy

Professional Service. exp)683 Main North Rd AAA Buying goods

Canterbury Relocations ph 027 3113423 quality furniture,

Ltd. ph 0800 359 9313 SPoUTIng CLEAnIng Beds, Stoves, Washing

PAInTIng DECoRATIng

Spouting Unblocked, machines, Fridge Freezers.

Wingfields Contracting,

Cleaned Out and Same day service. Selwyn

all interior & exterior

Flushed Out. Also Full Dealers. Phone 980 5812

painting & all forms of

Handyman Services or 027 313 8156

interior plastering & jib

Available. Call Trevor A+ Household effects,

332 8949 or 021 043-2034 fridges, freezers, washing

fixing, ph Mark 021 171-

TILER CARPEnTER machines, ovens. Good

1586 or 355-5994

35 years exp, no cash paid. Ph Paul 022

PAInTER

job too small. Ph 0891 671

BATHRooMS Available, All aspects in Ross 027 4311440. TOOLS Garden,

painting. Very competitive TILER

garage, woodworking,

in roofs and fences. Please

call 027 241-7471 or 335-

0265

25 yrs exp.All aspects of

tiling professionally done.

Ph Greg 027 434 9160

mechanical, engineering,

sawbenches, lathes, cash

buyer, ph 355-2045

Trades &

Professionals

BEST

full renovation specialists,

LBP, repairs &

maintenance ph 03 387-

0770 or 027 245-5226
---
NOR'WEST NEWS Latest Christchurch news at www. .kiwi

Tuesday April 25 2017 19

'Famous for their roasts!'

School

Holidays

Sights set on LA

RISING Country Music artist, Molly

G appears at the Hornby WMC this

Friday.

The concert is a special fund raising

event to help Molly G finance travels

to Los Angeles in June, where she will

be competing in the World

Championships of Performing Arts.

Currently living in Cambridge,

Molly is originally from Ashburton.

She only started singing a few years

ago and despite being in her early

teens, already has a number of awards

to her credit including NZ Junior

Entertainer of the Year. She is a multiinstrumentalist

(5 string banjo, guitar,

mandolin, and double bass), has

organised and performed fund-raising

concerts for Starship Hospital, has

recently released her first single

'Where Were You?', and appeared at

numerous festivals and events across

the country.

A stellar lineup of artists are rocking

up to support Molly G at her show

next week - Allan Barron (MC);

Academy of Country Music graduate

Jayden Shingleton; Lanae & Bruce Hill

(Ashburton duo); with backing by the

well respected Sha-low band.

Also making a special appearance will be Joining Forces,

a Country/Pop fusion duo comprising Molly G and

Cameron Walsh (Sha-low).

Don't miss this opportunity to enjoy a stunning line-up of

great artists while assisting an upcoming Kiwi Counry

Music star.

Molly G and friends appear at the HWMC Westview

Lounge on Friday 28th April, 7pm start. Admission just

$15. Members, guests & affiliates most welcome.

RESTAURANT & CAFÉ

Cooked Breakfasts

Check out our extensive breakfast

menu from Continental to Cooked

We are open from 6.30am

Seniors SPECIAL

Two courses $20

Soup/Roast or

Roast/Dessert

JOIN

A CLUB BY

THE SEA!

ClubBISTRO

Open Tuesday to Saturday

12pm-2pm and from 5pm

Midweek $10

SPECIAL ROAST

Available Tuesday,

Wednesday, & Thursday

Special available lunch only

Monday - Saturday 12pm - 2.30pm

$18

TREAT THE

FAMILY!

Kid's 2 course

special

www.newbrightonclub.co.nz

LIVE MUSIC

THIS SATURDAY, 7PM DRIVE

TUESDAYS & THURSDAYS

Members Lucky Card Draw

FUNCTION ROOMS

SHUTTLE RUNNING

Tues, Thurs, Fri & Sat

TAB POD

GAMING ROOM

We are

family friendly.

Great Kids menu

plus designated

play area.

$10

The

RACECOURSE HOTEL

& Motorlodge

118 Racecourse Rd, Sockburn,

Christchurch. Ph 03 342 7150

www.racecoursehotel.co.nz

PIERVIEW

Restaurant

202 Marine Parade | Ph 388-9416

Members, guests and affiliates welcome

Quality

a la carte

with a view!

Open from 5.30pm

FRIDAY, SATURDAY & SUNDAY

OPEN FOR SUNDAY 3 COURSE

SUNDAY BRUNCH DINNER SPECIAL

$25

By the Seaside!

10.30am-2pm

SUNDAY BUFFET

Sunday 30th April

ALL YOU CAN EAT

$25 BOOK NOW!

Lunch & Dinner

All you can eat, 7 days

NOW SERVING

available

from

9am

Breakfast

HAPPY

HOUR

5PM - 7PM

DAILY

Bookings Essential PH 386 0088

fb.com/GardenHotelRestaurant www.gardenhotel.co.nz

$12

LUNCH

SPECIALS

Live Music:

COFFEE

HAPPY

H O U R

2PM-4PM

DAILY

$3.50

Offer available for a limited time

and includes tea, hot chocolate

MON: ROAST MEAL

TUE: FISH & CHIPS

WED: FISH BURGER

THU: ROAST MEAL

SAT: FISH & CHIPS

AVAILABLE FROM 11.30AM-2PM FOR A LIMITED TIME

Vintage Blue

6PM.FRI.28 APR

PHONE 385 8880 FIND US ON FACEBOOK fb.com/GBCCHCH

THE GARDEN HOTEL COMPLEX | 110 MARSHLAND RD

www.gardenhotel.co.nz | phone 385 3132

H ORNBY

WORKINGMEN'S

CLUB

«WHAT'S ON«

FRIDAY 28 APRIL, 7PM.

$15 ENTRY

MOLLY G

& FRIENDS

TRAVEL FUND RAISER

SATURDAY 29 APRIL

4.30PM

MARION'S OUTLAWS

8PM

IAN MAC

SUNDAY 30 APRIL, 1.30PM

$5 ENTRY

NEVILLE WILKINS

& THE VISCOUNTS

«COMING UP«

Mother's Day

Buffet

Sunday 14th May

LUNCH from 12pm &

DINNER from 5pm

Club

CAFE

OPEN 7 DAYS

LUNCH & DINNER

Gluten Free &

Vegetarian options

SUNDAY 14 MAY

$30

LIVE MUSIC: NEVILLE BARRIE

Every Mother goes in the draw to

WIN one of two Gift Baskets!

CHALMERS RESTAURANT

Bookings Essential

Chalmers

Restaurant

Early Bird Special

5.30pm – 6.30pm

FRI & SAT

Roast (4 Choices)

and Free Desserts

still only $20.50

Unbeatable value

including your

choice of fresh

Veges and Salads

Hornby WMC | ph 03 349 9026 | 17 Carmen Road | Hornby

www.hornbyworkingmensclub.co.nz | Members, guests & affiliates welcome
---
20 Tuesday April 25 2017

Latest Christchurch news at www. .kiwi

NOR'WEST NEWS

$

5 99

kg

ANZAC Day - All stores are open from 1pm.

Fresh NZ Pork Leg Roast

(Excludes Free Range)

Country Fresh

Washed Nadine

Potatoes 4kg

$

4 99

bag

$

39 79

pack

Steinlager Pure/Stella Artois

24 x 330ml Bottles

$

7 99

each

Selaks Premium Selection

750ml

Plus

Nature's

Fresh Bread

700g

2 for

$

5 00

$

2 00

ea $

8 99

ea

Hellers Shaved

Ham 100g

Signature Range Mild/

Colby/Edam Cheese 1kg

$

4 00

ea

$

1 99

kg

2 for

$

7 00

Sanitarium Weet-Bix 750g

NZ Queen Apples

Just Juice/Citrus Tree

Fruit Juice/Drink 2.4/2.8L

FreshChoice Merivale

189 Papanui Road, Christchurch.

Open 7am – 9pm, 7 days.

FreshChoice.co.nz FreshChoiceNZ 355 4432

FreshChoice Merivale

Certain products may not be available in all stores. Savings are based on non-promotional price. Limits may apply.

Prices apply from Tuesday 25th April to Sunday 30th April 2017, or while stocks last.

Owned and

operated

by locals

FCNO2504