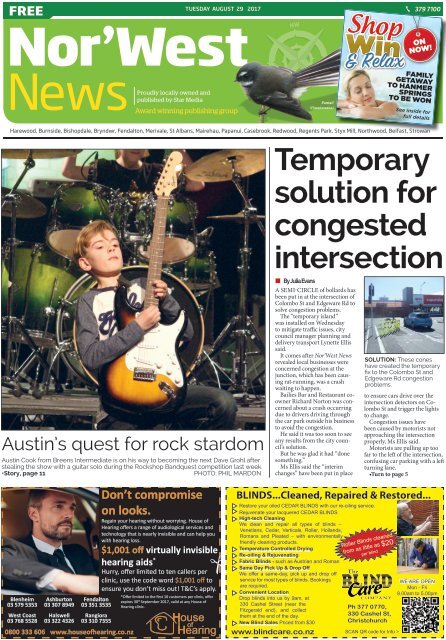 Nor'West News: August 29, 2017
You also want an ePaper? Increase the reach of your titles
YUMPU automatically turns print PDFs into web optimized ePapers that Google loves.
FREE

TUESDAY AUGUST 29 2017 379 7100

Proudly locally owned and

published by Star Media

Award winning publishing group

Fantail

(Piwakawaka)

Shop

Win

& Relax

ON

NOW!

FAMILY

GETAWAY

TO HANMER

SPRINGS

TO BE WON

See inside for

full details

Harewood, Burnside, Bishopdale, Bryndwr, Fendalton, Merivale, St Albans, Mairehau, Papanui, Casebrook, Redwood, Regents Park, Styx Mill, Northwood, Belfast, Strowan

Temporary

solution for

congested

intersection

Austin's quest for rock stardom

Austin Cook from Breens Intermediate is on his way to becoming the next Dave Grohl after

stealing the show with a guitar solo during the Rockshop Bandquest competition last week.

•Story, page 11

PHOTO: PHIL MARDON

• By Julia Evans

A SEMI-CIRCLE of bollards has

been put in at the intersection of

Colombo St and Edgeware Rd to

solve congestion problems.

THe "temporary island"

was installed on Wednesday

to mitigate traffic issues, city

council manager planning and

delivery transport Lynette Ellis

said.

It comes after Nor'West News

revealed local businesses were

concerned congestion at the

junction, which has been causing

rat-running, was a crash

waiting to happen.

Bailies Bar and Restaurant coowner

Richard Norton was concerned

about a crash occurring

due to drivers driving through

the car park outside his business

to avoid the congestion.

He said it was too soon to see

any results from the city council's

solution.

But he was glad it had "done

something."

Ms Ellis said the "interim

changes" have been put in place

SOLUTION: These cones

have created the temporary

fix to the Colombo St and

Edgeware Rd congestion

problems. ​

to ensure cars drive over the

intersection detectors on Colombo

St and trigger the lights

to change.

Congestion issues have

been caused by motorists not

approaching the intersection

properly, Ms Ellis said.

Motorists are pulling up too

far to the left of the intersection,

confusing car parking with a left

turning lane.

•Turn to page 5

Blenheim

03 579 5353

West Coast

03 768 5528

Ashburton

03 307 8949

Halswell

03 322 4326

Fendalton

03 351 3535

Rangiora

03 310 7355

0800 333 606 www.houseofhearing.co.nz

Don't compromise

on looks.

Regain your hearing without worrying. House of

Hearing offers a range of audiological services and

technology that is nearly invisible and can help you

with hearing loss.

$1,001 off virtually invisible

hearing aids *

Hurry, offer limited to ten callers per

clinic, use the code word $1,001 off to

ensure you don't miss out! T&C's apply.

*Offer limited to the first 10 customers per clinic, offer

expires 30 th September 2017, valid at any House of

Hearing clinic.

House

of

Hearing

BLINDS...Cleaned, Repaired & Restored...

Restore your oiled CEDAR BLINDS with our re-oiling service.

Rejuvenate your lacquered CEDAR BLINDS

High-tech Cleaning

We clean and repair all types of blinds –

Venetians, Cedar, Verticals, Roller, Hollands,

Romans and Pleated – with environmentally

friendly cleaning products.

Temperature Controlled Drying

Re-oiling & Rejuvenating

Fabric Blinds - such as Austrian and Roman

Same Day Pick Up & Drop Off

We offer a same-day, pick up and drop off

service for most types of blinds. Bookings

are required.

Convenient Location

Drop blinds into us by 9am, at

330 Cashel Street (near the

Fitzgerald end), and collect

them at the end of the day.

New Blind Sales Priced from $30

Roller Blinds cleaned

from as little as $20

per blind

Ph 377 0770,

330 Cashel St,

Christchurch

www.blindcare.co.nz SCAN QR code for Info >

WE ARE OPEN

Mon - Fri

8.00am to 5.00pm
---
2

Latest Christchurch news at www.star.kiwi

Tuesday August 29 2017

Inside

FROM

THE

EDITOR'S

DESK News......................................3, 6

COINCIDENCE, or a bit of a

shove from Nor'West News?

I'm referring to our lead story on

page 1 today over the Colombo St/

Edgeware Rd congestion.

Last week we highlighted the

problem and the confusion motorists

were having with the lanes;

confusion that meant the sensors

were not picking up when the

lights needed to change.

That was caused by vehicles

being driven to the wrong place at

the intersection.

Bar owner Richard Norton

became frustrated with the even

more frustrated drivers who have

been taking shortcuts through his

car park to avoid queuing at the

intersection.

But lo and behold there has been

a development.

Bollards have been installed

which now force vehicles to the

correct position at the intersection.

Problem over, we hope.

– Barry Clarke

Shirley schools get planting SCHOOLS 8

NOR'WEST NEWS

Local Views.................4-5

Schools..............................8, 11

Sport..................................12

Events.......................................16

Health................................18

Food...........................................19

GET IN TOUCH

General Inquiries Ph 379-7100

Classified Advertising Ph 379-1100

The Christchurch Star Company Ltd. PO box 1467 - Christchurch

starmedia.kiwi

NEWS

Julia Evans

Ph: 021 914 742

julia.evans@starmedia.kiwi

ADVERTISING

Monique Maynard

Ph: 364 7474

monique.maynard@starmedia.kiwi

NICKY WAGNER

MP FOR CHRISTCHURCH CENTRAL

Stand Out From The Crowd

A

E

P

W

103 Salisbury Street

Central Christchurch

PO Box 21359

Christchurch 8143

chch.office@parliament.govt.nz

(03) 365 8297

www.nickywagner.co.nz

Funded by the Parliamentary Service and authorised

by Nicky Wagner, 103 Salisbury Street, Christchurch

209a Hoon Hay Road, Hoon Hay | Listing Number: BE192858

3 1 2 2

Auction 31 Aug 2017 Unless Sold Prior

That's what makes this property stand out from the crowd! Curved walls and

joinery, interesting window shapes, high studs and polished wood floors

combine to give this comfortable family home the feel of a luxury cruise ship

from a bygone era.

The home enjoys an elevated position with garage, laundry and storage

beneath. The sundrenched main living, dining and kitchen areas overlook

the back garden and open directly onto a stone paved patio. Relax here,

Mediterranean style, beneath a large and prolific citrus tree. There are two

private garden areas front and back, allowing myriad uses for the whole family.

The living area has a modern wood burner and a heat pump, while the

well-designed, contemporary kitchen offers plenty of bench and storage space

and includes a central breakfast bar. A wide curving hallway leads through

the home to the other areas. There is a second living room that opens through

double bifolds to a large patio and the front garden. This spacious room could

easily be a sizeable 4th bedroom with it's own sitting area. In addition there

are three generous double bedrooms.

Open Homes Saturday and Sunday 2:30 p.m. - 3:00 p.m.

Your agent, Your home, Your future

'CEREC' & cosmetic dentistry

Wisdom tooth removal

Painless, high quality dentistry

Sedation dentistry

Experienced, conscientious team

Experienced hygienists

OPEN SATURDAYS

355 9380

144 Cranford Street

www.stalbansdentalcentre.co.nz

LAwyERS

We have over 40 years' experience

to assist you with…

• Buying and Selling Houses and

Commercial Property

• Wills, Trusts and Estate matters

• All issues facing you

and your business;

• Employment Law

matters;

• Traffic matters;

• Advice regarding

Retirement Villages

• General Legal Advice on all matters

Call John, Brendan or Andrew today

03 366 8996

Email. lawyers@mclegal.co.nz

Airport Business Park

92 Russley Road, Christchurch 8042

NEW TECHNOLOGY TO TREAT FUNGAL NAILS

A simple solution to a complex problem before after

LICENSED SALES CONSULTANT REAA 2008

P 027 777 0411

37 Main South Road, Upper Riccarton | Ph 348-7910 | www.feetfirst.co.nz
---
NOR'WEST NEWS Latest Christchurch news at www.star.kiwi

Tuesday August 29 2017 3

News

Going out with colour and style

Learn how

to decorate

your coffin

• By Julia Evans

DONNA Sutherland is on a

mission to help people celebrate

their lives.

The Bishopdale-based graphic

designer will soon be hosting

weekly classes for people to

decorate their own coffins from

a new container at the MeNZ

Shed site on Kendal Ave.

It may sound like a morbid

job, but Ms Sutherland said it's

about giving a "personal touch"

to an otherwise sad occasion.

She said it's actually quite a

soothing task.

Rotorua Coffin Club

chairwoman Katie Williams

will travel to Christchurch to

officially open the workshop

container in the coming

months.

"We've just finished painting

[the container], so we're not far

from finishing it all off," Ms

Sutherland said.

But the hope is that, like the

MeNZ Shed, the classes will

bring people together.

Ms Sutherland said it will be

a great space for anyone who

wants to come along and join in.

At the moment, she offers the

service privately and freely to

people who purchase caskets

from the Bishopdale MeNZ

Shed.

"I've just come from a funeral

where the daughter wanted

me to paint her mother's coffin

bright poppy red. It was her

mother's favourite colour," she

said.

She said it was "gorgeous" and

brought the room to life.

Ms Sutherland said she'd

recently been down to Oamaru

to help a woman decorate

the casket of her husband, a

Catalina pilot in World War 2,

who had passed away.

"The coffin was air force blue

and we decorated it with images

of the Catalina he'd flown and

medals he'd won," she said.

There is no limit to what you

can have on your coffin, she

said.

"It acts like a memory board."

CELEBRATE:

Donna

Sutherland

will be running

classes to

help people

decorate their

own coffins.

PHOTO:

MARTIN

HUNTER

Bishopdale MeNZ Shed

co-ordinator Richard Rendle

said he is looking forward

to seeing the groups in the

container.

"It'll be great to get people

in there decorating their own

coffins," Mr Rendle said.

The MeNZ Shed make and

sell coffins with all profits going

towards Ms Sutherland's other

project, angel boxes, which are

caskets for babies.

"It all comes together to help

keep funding the angel boxes,"

she said.

Calling all

candidates

– your

chance to

woo voters

NOR'WEST NEWS will be

publishing biographies of

candidates standing in the general

election on September 23.

If you are a candidate and

want to be included in the coverage,

you will need to email us

details.

We will need a 150-word statement

and a colour photograph

(head shot). It will need to be

emailed to julia.evans@starmedia.kiwi,

by noon, Wednesday,

September 6, to be included. They

will be published on Tuesday,

September 12.

WoW! Haven't Heard

tHat one for years!

"A tiny hearing aid that outperforms

normal hearing in challenging

listening environments" *

• Reduces listening effort throughout your day, less

stress & fatigue.

• Understand speech in difficult listening situations,

eg. Restaurants.

• German engineered hearing aid, easy to operate.

Call today to book an appointment for a

Free hearing check & hearing aid demo

Completely

disappears

*Clinically proven

Merivale Hearing Clinic

24b Church Lane.

Call now: 356 2324

Greg Foote, Audiologist MNZAS

Consultations by Appointment only
---
4 Tuesday August 29 2017

Latest Christchurch news at www.star.kiwi

Your Local Views

Supporting women to succeed

Founder

of the

Christchurch

Women's

Toastmasters

Club, which

meets

weekly at

St Paul's

Anglican Church in Papanui,

Sheila Hailstone writes

about the importance of

inspiring confidence in

women

When Annette King finally

bowed out of the Labour Party

after 33 years, she said it was not

good enough that women only

make up 31 per cent of the MPs

and that all political parties need

to commit to making Parliament

truly a House of Representatives.

It is not only in this area of

leadership women are underrepresented.

Women make up over 60 per

cent of university graduates with a

post graduate or honours degree.

However, they can only be found

in 20 per cent of senior management

positions and only 17 per

cent of private sector boards.

It's not that women of any age

lack the skills or obvious intelligence

to put themselves forward

for leadership positions but they

may need support and confidence

to take up the challenge.

Christchurch Women's Toastmasters,

which meets weekly in

Harewood Rd, has a phrase 'supporting

women to succeed'.

In this club, women can gain

both the speaking skills and

leadership skills to take on any

challenge.

The group has attracted women

from many walks of life and has a

truly international feel as women

of many different cultures find

their speaking voice.

The women in this club have

used their skills to train business

people in public speaking and

the funds gained have been used

to help pay the training fees for

those members on a tight budget.

Members have credited the club

with helping them gain work,

confidence, management positions

and there is even one elderly

member who believed it helped

them recover from a stroke.

For women, it is important to

not allow the noise of other's opinions

to drown out their own voice.

Women should follow their hearts,

and if they want to gain confidence

to do so they can and should

be supported by other women.

The Christchurch Women's

Toastmasters is a great place to

start.

Then maybe in my lifetime we

will see women take up 50 per

cent of the seats in Parliament

and 50 per cent of the places on

private sector and Governmental

boards.

Readers of Nor'West

News react to the

upgrades at Merivale Mall

and the departure of long

term tenant Paper Plus

Carolyn Moffat – I'm

appalled to see how this mall

treats its long term tenants.

The mall owners obviously

have no respect for their tenants,

and only want to fill up

the mall with chain stores, so

that it becomes like every other

mall around town. Might as

well shop elsewhere now at a

bigger mall, as this mall is fast

becoming irrelevant. Paper

Plus will be sorely missed,

just as the florist was, when it

closed down.

Catherine Small – Paper

Plus is the only reason I went

to Merivale Mall . . . it's The

Tannery for me now.

Sandra Wright-Taylor

– So sad about the way Paper

Plus has been treated. The

staff are knowledgeable,

helpful and provide a very

different range of products

than Whitcoulls. I found that

it stocked books that others

didn't. It was the drawcard

store at the mall. No need to

shop there now.

Jason Thomas – Without

a doubt, tenants excluded, the

NOR'WEST NEWS

'mall' is one of the worst in the

country.

Karene Smith – There

seems to be a trend with mall

upgrades shifting out clients

who have supported them for

many years. Who have paid

good rents and served the

public well. No loyalty. I am

hoping now that the inner-city

shall gain these shop owners

and will be supported by their

previous clientele in the new

environment. We have now the

opportunity to have a vibrant

inner-city shopping experience.

Parking buildings have

easy access.

Connon Bray – Poor

choices from the decisionmakers

at Merivale Mall and

AMP Capital. With retail

under pressure and Amazon

on your doorstep, you may

have wanted to think about the

impact of disrupting shopper

habits and loyalty.

your one stop shop!

We welcome you to come along and have a look

Providing Custom Framing of all Artworks

1 Amyes Rd, Hornby Ph. 349 4163

Hours: Mon - Fri 9am-4.30pm,

Sat 9.30am-1.30pm

335b Riccarton Rd, Church Cnr

Ph. 341 8539

Hours: Mon - Fri 9.30am-5pm

Sat 9.30am-2.30pm

Gallery Space with large Range of Original work

Including CHCH Scenes, L/Edition Prints, Posters

Photography & Sporting Memorabilia

6 Main North Road | Ph 352 7594

(Next to SBS Bank)

www.artworkspictureframing.co.nz

Open Mon-Fri 9am-5pm

Closed weekends
---
NOR'WEST NEWS Latest Christchurch news at www.star.kiwi

Tuesday August 29 2017 5

Chris Mugford – I hope the

new tenants enjoy the privilege of

paying for the new mall upgrades

especially as they watch the customer

car park empty out as the

customers look for good service

and uniqueness elsewhere.

Jane Macarthy – Why is

everyone surprised? It's all about

money people. The mall has

always being about itself and it's

not really. Mall . . . more like the

location.

Josh Hurrell – Would take a

pretty big revamp to ever make

that place relevant.

Tracey Tyler – Very sad to

see Paper Plus leaving. It's a great

store with lovely staff.

Keely Raines – Yet another

mall to make it unaffordable

for the hard working locally

owned family business and give

the space to another corporate,

disgusting.

Pamela Neil – About time. It

is very boring and quite expensive.

I used to live in a lovely house at

124 Aikmans Rd when I went to

Elmwood Normal School – now

part of the mall car park.

Anthony McBride – This is

why I don't shop at malls.

Liz Ball – The mall owners are

greedy as Paper Plus is such a nice

shop and I will be saddened to see

it go.

Anne Marie Smulders – I

like Paper Plus and always go

there when I visit my family in

Merivale. Such a shame it has to

go.

Musician earns $5000

award from foundation

A YOUNG pianist who lost his

father in the February 22, 2011,

earthquake is among those

who have been recognised for

outstanding musicianship.

Bradley Wood, along with

conductor Vincent Hardaker

received Dame Malvina Major

Foundation Christchurch Arts

Excellence Awards worth $5000.

Wood's father, Murray, was

one of 115 people killed in the

CTV building collapse in the

earthquake.

Murray Wood was CTV's

managing director, chairman

of the Music Centre and heavily

•From page 1

"Adjacent to the traffic lane,

the cycleway construction incorporated

four car parks outside

the businesses on the corner to

provide customer car parking in

close proximity," Ms Ellis said.

So the bollards were put in to

stop cars pulling up there.

If the bollards prove to address

congestion problems, the city

council will look to keep it there

permanently, Ms Ellis said.

"The city council will monitor

the intersection and will look to

make the island permanent if the

involved in the city's music scene.

After studying at Christ's College,

Bradley went on to achieve

first-class honours in classical

performance at the University of

Auckland.

He said he felt honoured to

receive an award from the foundation.

"The foundation's generosity

affords young musicians the opportunity

to venture out into the wider

musical world," Bradley said.

He will use the funds to study

towards a Master's in Piano Performance

at the Royal College of

Music in London.

Solution to intersection problem

current issues are resolved," she

said.

She said the bollards were the

only practical solution as it isn't

plausible to put wider detectors

across the intersection.

"It is not possible to put in

wider detection loops, as they

would be under the car parks

and this would cause the traffic

signals to extend the Colombo

St green phase when a car was

parked," she said.

Ms Ellis said in turn, that would

cause congestion on Edgeware Rd.

•Intersection audit, p6

In Brief

HOUSING PLAN

The Cranford Regeneration

Plan, which will allow 370

new houses to be built near

Papanui and St Albans,

has been approved. Gerry

Brownlee, acting as the

Minister supporting Greater

Christchurch Regeneration,

approved the plan which

rezones around 50ha of

former farmland around

Grassmere St and Croziers Rd

for residential development.

A memorandum of

understanding will now be

developed between the city

council and local land

owners.

PRE-SCHOOL TURNS 50

Cotswold Preschool and

Nursery is turning 50 and

will be hosting a celebration

day on September 16. But the

pre-school is also looking

for help from the Bishopdale

Community to find more

information about its early

history. Some people know

the pre-school as St Gregory's

Community Creche. If

anyone remembers attending

the centre, has any old

photos, stories or information

email cotswoldpreschool@

xtra.co.nz or phone 359

7675.

IS PAIN

Helping us,

Helps tHe

community

Drop off or buy

3 family stores in your community

4 Restell Street, Papanui

Ph 352 4581

520 Cranford St, Redwood

Ph 352 0515

50 Charles St, Kaiapoi

Ph 03 903 0017

STOPPINGYOU...

Caleb Ruthven

NZ Registered

Chiropractor

▪ Sleeping well?

▪ Sitting or driving comfortably?

▪ Working efficiently?

▪ Enjoying sport?

Back, shoulder, neck pain?

Make an appointment today!

ACC providers.

PAPANUI CHIROPRACTIC

165 Harewood Road | P: 021 104 1970

E: admin@papanuichiropractic.co.nz

www.papanuichiropractic.co.nz

FOR YOUR NEW HOME OR RENOVATION

Blinds

Curtains

Shutters

Awnings

Screens

up to

40%

off

(for a limited time only)

12

Months

Interest

Free

(Terms and conditions apply)

0800 836 587 www.venluree.co.nz Mobile Van Service
---
6 Tuesday August 29 2017

Latest Christchurch news at www.star.kiwi

News

NOR'WEST NEWS

Pedestrian

island for

Gardiners Rd

• By Julia Evans

PUPIL SAFETY is being

prioritised with proposed road

upgrades in Bishopdale.

The city council is looking to

install a new pedestrian island on

Gardiners Rd, near the intersection

with Fairford St.

City council staff said it is a

popular crossing location for

pupils and their families from

nearby Cotswold School.

"To support the students and

families from Cotswold School

and the surrounding area, a new

pedestrian refuge would make

this part of Gardiners Rd a safer

place to cross," staff said.

However, some on-street parking

around the corner of Gardiners

Rd and Fairford St, adjacent to

where the island will go, will have

to be removed.

And tactile pavers will also

be installed outside 52 and 53

Gardiners Rd to assist pedestrians

who are visually impaired.

A tree outside 53 Gardiners

Rd will also have to be

removed.

•You can have your say

on these plans on the city

council's website until

September 8.

Dangerous intersection audit

• By Julia Evans

TRAFFIC SIGNALS at

a contentious Harewood

intersection are one step closer

to getting the green light.

But first, the Harewood,

Gardiners and Breens Rd

junction will be scrutinised

during a city council safety

assessment.

As part of the city council's

Annual Plan process, funding

was included for a full corridor

assessment of Harewood Rd

from Johns Rd to Greers Rd.

That audit will be carried out

before Christmas, city council

manager planning and delivery

transport Lynette Ellis said.

"It needs to be completed in

conjunction with an assessment

of Greers Rd, and Sawyers Arms

Rd. It is due to start prior to

Christmas," Ms Ellis said.

And Mayor Lianne Dalziel

said there would be funding set

aside for an upgrade, including

lights, if the safety audit proved

they were necessary.

But city councillor Aaron Keown,

who has been calling

for the upgrade, remains sceptical.

"If the audit comes back and

says an upgrade is not necessary,

I would never trust safety audits

DANGEROUS: Residents

have been lobbying to get

the Harewood, Gardiners

and Breens Rd intersection

upgraded for "decades" to

avoid crashes like the one

earlier this month.​

again," Cr Keown said.

He said he will be interested to

see how the audit is conducted.

"I just hope it's not only a

traffic count, we also need to

look at driver behaviour in the

area and take into consideration

people rat-running and pulling

dangerous U-turns, Cr Keown

said.

It comes after a recent collision

at the intersection, which is the

second in a matter of months.

After the crash, Cr Keown said

he rushed out and spoke to the

police officer in attendance.

"The policeman told me he'd

been trying to get lights at this

REWARD: City councillor

Aaron Keown offered $100 to

anyone who could name an

intersection without lights that

was more dangerous.

intersection for years as well," he

said.

Cr Keown has been lobbying

for the upgrade for more than a

year and locals for even longer.

"They [residents] have been

asking for lights for decades,

since Pat Harrow was a city

councillor," he said.

It was the crux of the campaign

that saw him re-elected

to the city council last year and

he offered a reward of $100 for

anyone that could locate a more

dangerous intersection in the

city.

HealtHy Heat

& eat meals

delivered to your door

Convenient, Healthy,

Fresh Meals.

Simple to Store,

Heat and Eat.

Pick Up or

Delivered Weekly.

9 Raycroft St, Opawa

P. 03 420 0722

orders@eatl8r.co.nz

www.eatl8r.co.nz

Shop online

with the in

store special

prices!

Discount code:

Goat

themohairstore

140 Colombo Street, Beckenham

Phone 03 943 1639

www.themohairstore.co.nz

EntEr

with any

purchase of

nUrOFEn

for children

win

be to

Entries close Saturday 30th September

a mocka balance bike

in this pharmacy!

Barrington pharmacy

Next to CouplaNds, 256 BarriNgtoN st

support a healthy immune system

wITh ThomPsons

FREE

GIFT

sPECIAL PRICE

$18.99

Ph 332 3156

@WilsoNsBarriNgtoNpharmaCy

FREE

GIFT

sPECIAL PRICE

$26.99

10% discount

everyday

using

*excludes prescriptions & sale stock
---
NOR'WEST NEWS Latest Christchurch news at www.star.kiwi

Tuesday August 29 2017 7

raNGiora • Northwood • st martiNs • tower juNctioN • BishoPdaLe • raNGiora • Northwood

Northwood • st martiNs • tower juNctioN • BishoPdaLe • raNGiora • Northwood • st martiNs • tower juNctioN • BishoPdaLe •

AFFORDABLE

CLASSIC DAD

SAVE

37%

RRP $24.99

$

9 .99

RRP $39.99

$

24 .99

WORLD'S

GREATEST

MILITARY

AIRCRAFT /

SUBMARINES

SUPPORTER DAD

ALL BLACKS BACKPACK

ALL BLACKS WATCH

BLACK FACE,

LEATHER STRAP

20%

OFF

INCLUDES FREE

PENCIL CASE

WORTH $9.99

OUR PRICE

$

24 .99

MUSICAL DAD

AC/DC

LED ZEPPELIN

Follow us on

Facebook:

for every

DAD

FATHER'S DAY FOR LESS

EA

ILLUSTRATED HISTORY

OF WEAPONS

SAVE

60%

MILLION DOLLAR

CLASSICS

SAVE

29%

RRP $34.99

$

24 .99

EA

RRP $49.99

$

39 .99

EA

FUN DAD

ORGANISED DAD

$

7 .99

20%

OFF

EA

LAGER /

CHILLI

LOLLY

EDIBLE GUMMY

SHOT GLASSES

SAVE

50%

THE BEATLES

DEFINITIVE GUIDE

RRP $49.99

$

24 .99

CALENDARS

$

14 .99

RRP $24.99

$

12 .99

SAVE

48%

PUZZLER DAD

RETRO

COMIC

PUZZLES

GEEKY DAD

@papertreestores

RRP $44.99

$

14 .99

THE SIMPSONS FAMILY

HISTORY

RRP $49.99

$

22 .99

RRP $49.99

$

19 .99

SAVE

60%

@papertreestores

HALF

PRICE

SAVE

70%

STAR TREK

POP-UPS

tower junction, off Clarence St, Riccarton | Bishopdale, 31 Bishopdale Court, Bishopdale | rangiora, 206 High Street, Rangiora

Northwood supa centre, Main North Road, Belfast | st martins shopping centre, Wilsons Road, St Martins

EA

EA

HOT CHILLI

CHALLENGE

BACON / BEER

POPPING CANDY

EA

RRP $24.99

$

12 .49

EA

EA

FREE

NOTEBOOK

WHEN YOU

BUY ANY ONE

OF THESE

THUNDERBIRDS

BOOKS!

• st martiNs • tower juNctioN • BishoPdaLe • raNGiora • Northwood • st martiNs • tower juNctioN • BishoPdaLe • raNGiora
---
8 Tuesday August 29 2017

Latest Christchurch news at www.star.kiwi

SCHOOLS

NOR'WEST NEWS

CULTURE: The Rangi Ruru Girls' School and

Christ's College kapa haka groups performed.

(Right) The map dress titled 'road of the past'

was modelled by student Georgina Scott and

created by Holly McCarron and Molly Payne.

Rangi shows off culture

FROM A chamber music trio to

a full dance company and kapa

haka groups, Rangi Ruru showed

off its talented students during an

annual cultural showcase.

The event was themed 'wind

back the clock' with spectacular

performances to full houses last

week at The Piano centre.

Added interest was provided by

a parade of wearable art costumes

and the announcement of the

winner of the Gordon Harris

Visual Art award.

The matinee performance

was attended by more than 180

visitors from Paparoa Street

School, St Mark's School, and

the Merivale Retirement village,

which had front row seats.

Notable guests included

Robin and Anne Gibson, direct

descendants of Rangi Ruru

founders the Gibson Family, and

Elizabeth Reid, who boarded at

the school in 1944.

SHOWCASE: The matinee

show had almost 200 guests,

including residents from

Merivale Retirement Village.

GREEN THUMB: Mitch McMillan and Cyrus McLean plant a

shrub.

PHOTO: GILBERT WEALLEANS

Shirley schools get

stuck into gardening

• By Julia Evans

GETTING THEIR hands dirty

was not a concern for students

during a planting day at Shirley

Primary School.

Pupils from the school

were joined by their older

counterparts from Shirley Boys'

High who got stuck into making

and planting planter boxes.

The day was organised by

Corbin Newlands, who is

on the Shirley Boys' High

environmental council.

Corbin said the day was about

keeping the community spirit

that came after the earthquake

alive.

"We had such a good

day. Students from the

environmental council went

down and some of the kids

helped out with the planting,"

he said.

The planter box supplies were

provided by Shirley Bunnings

Warehouse and ASB served up a

sausage sizzle.

Facilities

We design your jewelery unique

to your style and personality.

We offer a resize and redesign service.

Merivale Mall | ChristChurCh

Phone 356 2377

For Hire

181 Condell avenue - boWls papanui inC

Corporates | seminars | anniversaries | Weddings | parties

Community groups | CommerCial Hires | partner sporting Codes

soCial Club groups & loCals For "boWls experienCes"

at bowls papanui inc we cater to a huge range

of interest groups in the hiring of our facilities.

• Large modern downstairs lounge with full kitchen

and bar which accommodates up to 200 people

with dedicated heart rimu dance floor.

• Meeting room for more intimate groups of up to

approximately 30 people.

• Upstairs lounge and bar which accommodates up

to 120 people.

• Full sound system, portable mics available, Sky TV,

Wifi, high definition projector with own speakers

and huge motorised remote controlled screen.

• Six burner barbeque and barista coffee machine.

• Five heatpumps provide plenty of heating/cooling.

• AED machine (Defibrillator) Revival unit installed.

• Full security surveillance including off street

parking.

contact tony Fielding For enquiries

027 433 8049 or tony-heather@hotmail.com
---
NOR'WEST NEWS Latest Christchurch news at www.star.kiwi

Tuesday August 29 2017 9

FREE

11mm

high

dENSity

luxuRy

FREEuNdERlAy

ON SELECTED PRODUCTS *

NylON

Newport

• Commercial Heavy

Duty

• Solution Dyed Nylon

• Loop Pile

• 5 Colours

FREE

UNDERLAY

$99 90

NylON

Okiwi Bay

• Extra Heavy Duty

• Solution Dyed Nylon

• Cut Pile

• 1 Great Colour

FREE

UNDERLAY

$157 00

NylON

horizon

• Extra Heavy Duty

• Solution Dyed Nylon

• Cut Pile

• 1 Great Colour

FREE

UNDERLAY

$119 90

WOOl

Boucle

• Extra Heavy Duty

• Wool Plus

• Cut Pile

• 1 Great Colour

FREE

UNDERLAY

$119 90

garage

Carpet

• 6m x 6m fully installed

• Conditions apply

FULLY

INSTALLED

$900 00

2nds Carpet

• 100's of metres

• Pure Wool

• Extra Heavy Duty

CLEARANCE

FROM

$60 00

2 Metre Wide

Vinyl

• Selected patterns

• Buy 1 get 1 free

BUY 1

GET 1 FREE

$49 90

Commercial

Vinyl Planks

• 4 Colours

BUY 1

GET 1 FREE

FROM

$39 90

Call for our mobile showroom to

visit your home

312 Wilsons Road North, Waltham | Phone 366 0070

Mon to Fri 8am - 5pm and Sat 10am -1pm

www.carpetkingdom.co.nz *Conditions apply.

Q Card Finance

Now Available

FREE no obligation measure & quote (conditions apply)
---
10 Tuesday August 29 2017

Latest Christchurch news at www.star.kiwi

NOR'WEST NEWS
---
NOR'WEST NEWS Latest Christchurch news at www.star.kiwi

Tuesday August 29 2017 11

SCHOOLS

ACOUSTICS: Beats of Breens and Jetta (below), both from

Breens Intermediate, on stage at the Bandquest competition

PHOTOS: PHIL MARDON

ROCK ON: Cobham Intermediate School band Neon Flux 2.0

Pupils take first step in

quest for rock stardom

• By Julia Evans

WIELDING GUITARS, drum

sticks and microphones, northwest

pupils rocked the house

during the Rockshop Bandquest

competition.

Bands from Heaton, Cobham

and Breens intermediate schools

and Waimairi School were

among those to take the stage on

Tuesday, Wednesday and Thursday

nights.

Radio Mayhem, of Heaton, won

awards, including rocking drummer,

best female vocalist, and

they were second overall with

their covers of Green Day and the

Foo Fighters.

Two pupils from Breens also

picked up individual awards –

Billie Nuku for musicianship

and Dylan Smart for best male

vocalist.

Bandquest is the pupils version

of the Smokefreerockquest.

Founder and director Glenn

Common said the competition is

a vehicle to develop young talent.

"Very often Bandquest is the

first experience on a fully set up

stage for these bands, with a light

show and professionally mixed

sound," he said.

"With six years of these young

bands feeding into Smokefreerockquest,

we can see how this

encouragement helps students

to progress musically, with all

the benefits that brings in high

school, both socially and academically."

POP: The

Unknown from

Heaton Normal

Intermediate.

NEw PhARMACy

oPEN Now

*Excludes Real Sleep

TAKE

50 %

off

MARKED

PRICES

fREE TANNING MITT

with any purchase

of Bondi Sands

While stocks last

Services

+ FREE delivery for

prescriptions in local

areas

+ $5 Medico pack

+ FREE blood pressure

checks

+ Reading Glasses

+ Passport photos

+ Ear Piercing

+ FREE UTI consultation

+ FREE VIAGRA

consultation

oNly

$2 50

whIlE SToCKS

lAST

Open

Monday – Friday:

8:30am – 5:30pm

Saturday: 9am – 12pm

Wairakei

RoAD

BARNETT'S PhARMACy

4/501 Wairakei Road, Burnside 03 360 3178 03 351 3099 wairakei@barnettspharmacy.co.nz BarnettsWairakei
---
12

WINNERS:

Paparoa

Street School

claimed

victory in the

junior rugby.

PHOTO:

GILBERT

WEALLEANS

• By Andrew King

Tuesday August 29 2017

A NUMBER of north-west

schools had success in the

Primary Sports Canterbury

winter tournament on Thursday.

More than 1700 pupils

making up 171 teams from 87

schools across Canterbury came

together to play netball, hockey,

football and rugby at South

Hagley and English parks.

Paparoa Street School won the

junior rugby section, beating

Ellesmere College in the final,

and came second in the junior B

netball tournament after being

beaten in the final by Halswell

School.

Cotswold School were first

equal with Elmwood Normal

School in the junior A netball

SPORTS

North-west schools show off

talent at primary tournament

and first equal with Lincoln

Primary School in the junior

football.

Waimairi School were third in

the junior football.

In the senior hockey, St Andrew's

College were first, while

in the junior hockey, Fendalton

Open Air School and St Albans

School were first equal.

Rounding off the success for

the north-west schools were

Christ the King School, which

were third in the senior netball.

All schools had to qualify

through their school zone to be

eligible for one of the biggest primary

school sports events of the

year, Primary and Canterbury

AIMS sports director Lyn Miles

said.

Latest Christchurch news at www.star.kiwi

Rangi Ruru to meet CGHS

in repeat of last year's final

• By Andrew King

IT'S DÉJÀ vu in the division

one Whelans Trophy with last

year's finalists Rangi Ruru Girls'

School taking on Christchurch

Girls' High for the title tonight.

It is the second year the

competition has been run and

Rangi Ruru will be looking to

win back-to-back titles at Cowles

Stadium at 5.45pm, while CGHS

will want to avenge last year's

loss.

A narrow 61-59 win against St

Andrew's College at Middleton

Grange booked Rangi Ruru a

spot in the final.

Rangi coach Darcy Rose said

she expects a "tough game"

tonight.

"Girls' high is a talented,

well-coached team that played

• By Andrew King

CHRISTCHURCH Boys' High's

newest rugby star Rico Syme

stole the show on Saturday,

pulling off three big plays in the

18-10 win over Timaru Boys'

High in the UC Championship

final.

Syme slotted into first-five

after playing the semi-final at

fullback and, within the first

half hour, repaid the coaches

very well against Middleton last

week," she said.

She said Rangi are up for the

challenge.

CGHS had a tight 64-62 win

against Middleton Grange at

Middleton.

CGHS coach Phil Burns is

in his final year of coaching

the side and said the level of

basketball being played is the

faith with two chip kicks to set

up tries in both corners. He said

"luck of the bounce" and great

support play meant the kicks

came off.

The 12-3 half-time lead was

extended with another Syme

penalty in the 42nd-minute,

before Timaru hit back with a

converted try of their own from

a lineout drive making the score

15-10 with 20min to play.

Syme lined up a penalty in the

NOR'WEST NEWS

IN THE PAINT:

CGHS captain

Sapphire Wairau

shoots from in

the key in the

semi-final win

over Middleton

Grange last

week. PHOTO:

JAMES

LISSAMAN

strongest he has seen in 20

years.

"We played them [Rangi]

recently and that game went to

overtime," he said. Rangi won

83-79.

Burns said his team is one of

the tallest in the competition

so he is "confident they can

compete at both ends".

Syme shines as CBHS win UC Champs

62nd-minute from about 45m on

the angle, and the confident left

boot did not fail.

Even though Timaru needed

two scoring plays to snatch

victory, Syme said he knew they

would have to defend hard as

they were capable of coming

back.

CBHS held on to win their

second consecutive title and

their 10th in 17 years of the

competition.

Mixed Two

Emma milburn & JacquElinE morrEn

Little River Gallery will be presenting works by two artists, Emma Milburn and Jacqueline

Morren in their new exhibition 'Mixed Two' from this Saturday September 2nd. They are

bringing together different geographical cultures, using different media and materials,

both with a strong environmental focus from the manmade and natural world. Their work

is fabricated by using old traditional techniques yet with a contemporary edge.

Emma Milburn's paintings depict elements that are influenced by the natural environment

of remote and isolated South Island wilderness areas and her interaction within this. As a

Wilderness Search Dog handler and Visual Tracker, Emma is acutely tuned in to analyse

detail along with the 'big picture'.

Colour, shape, shine, shadow, contours,movement and

texture influence Emma's abstract painting style.

"The juxtaposition between my experiences of wilderness,

and an urban environment of playing and writing music also

bring an awareness of the interaction between space, time

and repetition."

'Monowai' original painting

by Emma Milburn from

the exhibition 'Mixed Two'

at Little River Gallery from

September 2nd

For Jacqueline Morren this body of work is a new direction.

She sets herself a big challenge to sculpt without training or

access to technical tools. At times this has resulted in her

having to create her own implements, to aid the stretching &

curving of the silver out of one piece, without the use of soldering.

Jacqueline Morren's fine

silver and Pounamu jug

'Punctuated Equilibrium'

from the exhibition 'Mixed

Two' at Little River Gallery

from September 2nd

"Maker's marks are left intentionally; I have no inclination towards smooth perfection. I

love discovering the magical combination of metals & Jade until it feels right, usually after a

long process. This enables the wonderful greenstone to come to life, to its fullest potential."

The artwork is layered with era's bygone, present and anticipated future innovation.

The exhibition is running from 2nd until 27th September. For more information, please visit www.littlerivergallery.com

Discover Christchurch's

best priced pet

accommodation

• Grooming

cats and dogs

• Daycare -

all breeds

• Long stay/

short stay

Call now to book in your fur baby -

inspections welcome anytime!

aLameDa

kenneLs & cattery

271 Dyers Road | Ph 384 1297

www.alameda.nz

NEW LOCATION ADVERT.pdf 1 1/05/2014 11:51:35 a.m.

WE SERVICE

WHAT WE SELL

VISIT OUR NEW LOCATION LOCATION

430 ST ASAPH STREET!

"the best oil that

money can buy"

WAYNE HILL CARS

313 LINCOLN RD

ADDINGTON CHRISTCHURCH

Ph. (03) 338 3255 E. hillcars@es.co.nz

RECOVER YOUR LOVED FURNITURE

No job too big or small

Emma Milburn & Jacqueline Morren

Mixed Two

2 - 27 September 2017

Main Rd, Little River | 03 325 1944

art@littlerivergallery.com

Hours of Business: 7am-4.30pm Mon-Thurs

Fri 8am to midday

or by appointment with Keith 027 566 3909

Still able to offer

you the finest top

quality new furniture

Visit us online

www.qualityfurniture.co.nz

P. 371 7500

QUALITY FURNITURE SPECIALISTS

RE - UPHOLSTERY SPECIALISTS KEITH HARTSHORNE 0275 663 909
---
NOR'WEST NEWS Latest Christchurch news at www.star.kiwi

Tuesday August 29 2017 13
---
14

Tuesday August 29 2017

ON

NOW!

Promotion closes October 10th 2017.

Conditions apply.

Shop

Win

& Relax

Latest Christchurch news at www.star.kiwi

SUPPORT YOUR LOCAL

BUSINESSES

TO WIN 1 OF 5

FAMILY GETAWAYS

TO HANMER

SPRINGS

Enter every time you shop at any

of these participating businesses

More Chances to Win!

Proudly

Supported By

NOR'WEST NEWS

We design your jewelery unique to your style and personality.

We offer a resize and redesign service.

Merivale Mall | ChristChurCh

Phone 356 2377

TROUBLE HEARING?

Call today

for a free

hearing check

& hearing aid

demonstration

Merivale Hearing Clinic

For your appointment

Phone 356 2324

24b Church Lane

Gasmate

Cruiser

Portable

bbQ

5910590

$

189

Valid until September 5th

Only available at PlaceMakers Cranford Street and Kaiapoi

cranford st & kaiapoi

EDGEWARE VILLAGE

1066 Colombo St, Ph. 365 0802

BISHOPDALE VILLAGE MALL

135 Farrington Ave, Ph. 359 1020

OPEN 7 DAYS 7.00AM - 5:30PM

Boost Brain Performance

ENZO:PROFESSIONAL (ENZOGENOL) is a potent

antioxidant extract of the N.Z. pine bark and

has been clinically shown to improve memory,

concentration & brain performance.

SUPER

60's only $45.30, save $5.00

120's only $84.90, save $15.70

PRICE! Detailed Information Available

Bringing You the Best in Natural Health!

MARSHALLS HEALTH & NATURAL THERAPY

CONSULTING - PRESCRIBING - DISPENSING -

MANUFACTURING - MEDICAL HERBALISTS

110 SEAVIEW RD, NEW BRIGHTON • PH 03 388 5757

Email: enquiry@marshallshealthshop.co.nz

- WE ARE ALWAYS HAPPY TO HELP! -

JuST

INCREDIBLE

IT's

• Barrington Mall

• The Hub, Hornby

• New Brighton Mall

• South City Centre

HAIRCUTS FROM ONLY

NO BOOKINGS

$16

Northlands Mall | Phone 352 3877

Mon-Wed 9am-6pm, Thurs-Fri 9am-9pm,

Saturday 9am-6pm, Sunday 10am-6pm

www.sharingshed.co.nz

NO COLOUR

The Automotive Lamp Specialists

Welcome to our family friendly

christmas

shop!

openinG 1st sept

Amazing food and coffee

• All freshly made onsite

• Delicious baking

• Gluten free products

• Home made pies

• A fantastic all day menu

& much more

10 main north road

New and Used Lamps for Cars, Trucks,

Vans, 4WD and Motorhomes

325 Brougham Street, CHRISTCHURCH | PH 0800 225 483

768 Marshland Road (North End)

Open everyday until Christmas Day 10am - 4pm

OPEN MON - FRI 7AM - 3PM, SAT & SUN 8.30AM - 3PM

181 Woodham Rd, Avonside | Ph: 03 389 7111

18b Main North Rd

03 354 6000

429 Colombo St

03 379 3265

Designer

Fashion

3000

Items

Arriving

Daily!

see our

HUGE

selection!

• Designer Brands • Family Clothing

• Menswear • Footwear • Bric-a-brac

• Workman Outdoor Clothing

• Household Goods • Books

• See the Retro Section AND Formal Wear

$32

WOF

ALL CAR

SERVICING

Convenient

central city

repairs and

parking

Open Daily 7 Days

Sydenham: 39 Battersea St Papanui: 472 Cranford St

Hornby: 94 Shands Rd

New Brighton: 52 New Brighton Mall

(Old Farmers Building)

HOURS

Mon–Sat 9am–5pm

Sun/Public Holidays 10am–4pm

New Zealand's Largest Recycled Clothing Retailer

Cnr Fitzgerald Ave &

Hereford Street

Phone: 365-5220

www.a1auto4service.co.nz
---
2

NOR'WEST [Edition NEWS datE]

Latest Christchurch news at www.star.kiwi

Tuesday August 29 2017 15

RYMAN HEALTHCARE

The Diana Isaac Retirement Village bowling green sees a lot of friendly competition.

Independent living a lifestyle

choice with many benefits

The beautifully appointed

Diana Isaac Retirement Village in

Mairehau offers accommodation

ranging from independent living

in townhouses and apartments,

to assisted living in serviced

apartments, right through to

resthome, hospital and dementia

care.

For residents who choose the

independent living option, it

is a lifestyle choice that offers

a combination of benefits.

These are, the independence of

having their own apartment or

townhouse while at the same

time enjoying the wide range of

facilities and activities the village

offers whenever they wish to, the

company and friendship of the

other residents, a safe and secure

environment, and having staff

on hand to provide assistance if

needed.

The range of entertainment and

social activities include regular

live music, happy hour, outings to

restaurants and shopping centres,

and movies in the village theatre;

while the all-weather bowling

green, the heated pool and gym,

petanque area and croquet green

offer plenty of opportunities for

companionship and physical

activity.

For quieter times, there is the

well-stocked library, plus there is a

hair and beauty salon and a small

shop for essentials.

Like all Ryman Healthcare

villages, Diana Isaac offers

what are known as the Ryman

differences, which further set

them apart. These include their

resident friendly terms – the

Peace of Mind Guarantees. There

is also a generator on site as backup

in the event of a power cut, wifi

and emergency call alarms.

Diana Isaac Retirement Village

also enjoys close connections with

the community. It is affiliated

to around eight local clubs and

groups and offers its facilities for

club meetings and get-togethers.

Book clubs, Probus groups and

gardening groups are among those

that take advantage of the village

facilities, with some residents

belonging to the various groups

and taking part in the meetings.

Residents enjoying the exclusive Ryman Triple A exercise classes.

Hoko and Glenda Ria relaxing in their comfortable townhouse lounge.

"It's our home"

For new residents at Diana Isaac,

Glenda and Hokowhitu Ria, there

is one word that sums up how

they feel about their new place of

residence – brilliant.

The couple moved in to their

independent townhouse on June

19 this year, though it was a move

Hoko had been thinking about

since 2000. He had seen a number

of his friends' wives being left in

difficult circumstances after their

husbands had died, and he wanted

to ensure Glenda would have

security in that situation.

They lived in Cranford Street

for 21 years and Northwood for

a further 16 years, but for some

time Hoko hadn't been too sure

about making the next move.

However, when they started to

look at retirement villages they

soon decided it would be a Ryman

village for them, and it would be

Diana Isaac.

Hoko loves gardening, and

when he first visited Diana Isaac,

the gardens were all in bloom.

"It was amazing. It filled me with

love," he says.

But he still wasn't ready, though

Glenda was impatient to get there.

They discussed it with sales advisor

Adrienne Todd, who explained the

benefits they would have by living

at Diana Isaac, including the fixed

weekly fee*, which they liked.

Hoko said, "Keep talking, I'm

enjoying what I'm hearing."

He finally made the decision,

and both he and Glenda say as

soon as they moved in, they felt

welcome, and very secure, which

was important to them.

"We also liked it that everything

is provided," says Glenda. "You can

be as sociable as you want to be."

Glenda says she is usually a very

shy person, but doing things with

the other residents, "brings you

out of yourself ".

"The village manager and the

activities co-ordinator, they get

you involved. You do things you

might never have done before.

We are busier now than we were

before."

The two went on a village outing

for a meal at the Two Fat Possums

restaurant in West Melton, which

they thoroughly enjoyed. They

also enjoyed the Fine Dining

evening at the village, which is a

regular event with the food being

the chef 's choice.

"That was brilliant," says Hoko.

Both he and Glenda are thrilled

with all the members of the Diana

Isaac team, describing them as

"very caring people".

"This is not just a village as such,"

says Glenda. "It's our home, and

it's felt like home since day one.

I've never been so happy as I am

here. This is what we have worked

for all our life – it's time to sit back

and enjoy it."

Available now

Diana Isaac Retirement

Village currently has a lovely

two-bedroom townhouse and

an apartment available. Anyone

interested is welcome to contact

sales advisor Adrienne Todd on

385 3518 to arrange a viewing and

to stay for lunch to try out their

popular new Delicious menu.

*Terms and conditions apply

Two bedroom townhouse

available now

Enjoy your own modern home with resort-style

facilities right on your doorstep!

For more information phone

Adrienne Todd on 385 3518

1 Lady Isaac Way, Mairehau

7158
---
16

Tuesday August 29 2017

Latest Christchurch news at www.star.kiwi

NOR'WEST NEWS

Mental Health and Your

Teenager – What can Parents

do?

Wednesday, 7-8.30pm

Michael Hempseed from

The Collaborative Trust speaks

on mental health, a big worry

for many parents. In this interactive

talk you will gain a lot

more confidence to help a young

person with mental illness. You

will learn about warning signs,

causes of mental illness and

where to find help. Bookings

are essential through Dash

Tickets.

Gold coin donation, Papanui

Baptist Church, 144 Sawyers

Arms Rd.

The World of Superheroes,

Rough and Tumble

Wednesday, 7.30-9.30pm

With Laura Hall from Plunket.

Using relevant examples you will

explore how to support children

through play. The session will

find new ways to engage children

and help grow kids that can "go

find something to do". Spaces are

limited so book through Dash

Tickets.

Fendalton Plunket Rooms, 183

Fendalton Rd.

Email julia.evans@starmedia.kiwi

by 5pm each Wednesday

The Early Years Last Forever

Thursday 10-11.30am

This seminar aims to help

build knowledge and understanding

of the importance of

early brain development and the

lifelong impact this can have on

children. Participants will be

given information that is likely

to affirm much of what you are

already doing, encourage you to

do some things differently and

perhaps challenge some ways we

think about young children in

order to help every child get the

best start in life. Book through

Dash Tickets.

$5, St Albans Baptist Church,

64 McFaddens Rd.

Unravelling the Mystery of

the Adolescent Brain

Thursday, 7-8.30pm

Adolescence is an important

15-year period lasting from

about the ages of eight to 10

through to the mid-20s. In this

informative, entertaining presentation

the audience will gain

an understanding of the latest

information on brain changes

and hence the behaviours we

observe as a child transitions

through adolescence to an adult.

Book through Dash Tickets.

$5, St Albans Baptist Church,

64 McFaddens Rd.

Preparing for Parenthood

with Corinne Rooney

Thursday, 7-8.30pm

Having a baby and want some

extra tips and techniques for

Canterbury University is hosting a seminar, Material Memory: Visual Cultures of

Remembrance in Aotearoa New Zealand After World War 1, 1918–1928. Exploring visual

practices of remembrance in New Zealand after the end of the Great War, this symposium

examines the production and consumption of commemorative images and objects. As soon

as Armistice was declared in 1918, a range of images, motifs, objects and structures began to

emerge, symbolising the devastating upheaval and loss endured by New Zealanders during

the war. The keynote presentation will be given by historian Sandy Callister. A light afternoon

tea will be served during the interval and refreshments held at end of the symposium. Held

in Canterbury University's lecture theatre 105, law building.

your life with your new bundle?

This BabyCalm Antenatal

seminar will help parents to be

understand how their newborn

will behave and why, and is

full of helpful information and

practical tips that can lead to a

calmer, more contented baby.

$5, St Albans Baptist Church,

64 McFaddens Rd

Women's Toastmasters International

Gala

Friday, 12.30-2.30pm

Christchurch Women's

Toastmasters International

Gala is being held this Friday.

Go along and join them for

free food and drinks and join

in the meeting to see how they

empower women through

communication and leadership.

All welcome

St Paul's Church,1 Harewood

Rd.

Love Tennis

Saturday and Sunday

from 1pm

Tennis clubs across the city

are opening their doors in a

fun, free event for all ages.

There will be games, barbecue,

prizes, giveaways and equipment

supplied. Take yourself and

your family along and play. For

more information, including a

full list of participating venues

visit www.lovetennis.kiwi/

Canterbury.

Bishopdale Tennis Club, 35

Leacroft St.

Help us keep the

Santa Parade going...

The Christchurch City Council

funds 50% of this 'not for profit'

event and we thank them for

their contribution.

However, the Trust is appealing

for further assistance from the

public through our 'Give a little'

page.

All donations are gratefully

accepted.

Please help with a donation

www.givealittle.co.nz/org/santaparadechristchurch000
---
NOR'WEST NEWS Latest Christchurch news at www.star.kiwi

Tuesday August 29 2017 17

IT'S

FREE

everyone

welcome

We're having a party and you're invited! Tennis

clubs across Christchurch are opening their doors

for a fun, FREE event for all ages. Bring yourself or

bring your family Father's Day weekend.

www.lovetennis.kiwi #lovetenniscanterbury

Come play

Racquets supplied. BBQ. Prizes. Giveaways.

You could WIN A TRIP FOR TWO to the

ASB CLASSIC in Auckland this January.

*Times may vary by club. Please check website for details.

Avonhead Tennis Club

Beckenham Tennis Club

Bishopdale Tennis Club

Burwood Park Tennis Club

Cashmere Tennis Club

Edgeware Tennis Club

Elmwood Tennis Club

Hagley Park Tennis Club

Halswell Tennis Club

Mt Pleasant Tennis Club

Opawa Tennis Club

Redcliffs Tennis Club

Riccarton Domain Tennis Club

Shirley Tennis Club

South Brighton Tennis Club

Spreydon Tennis Club

Sumner Tennis Club

Te Kura Tennis Club

Waimairi Tennis Club

Saturday

2 Sept

Sunday

3 Sept

1-4pm*
---
2

[Edition

Tuesday

datE]

August 29 2017

18

Latest Christchurch news at www.star.kiwi

NOR'WEST NEWS

Creating a Better

Denture Experience

When was the last time you

had your dentures checked?

Call us today for your FREE

check today.

At Better Denture, the denture clinic

situated in Brynley Street, Hornby, the aim

is to take the hassle out of getting new teeth,

says experienced dental technician and

owner Chris Castle.

"We focus on making it easier for people

coming here to have dentures made or

maintained with our relaxed environment

and friendly approach."

Chris understands that people can be a bit

nervous about coming into a dental clinic,

but he makes sure everyone feels welcome

and comfortable at Better Denture by

breaking down those barriers and putting

them at ease.

The process of having new dentures made

and fitted usually takes four appointments,

and Chris explains the process step by step

so patients understand what's being done,

further complete after care is provided at no

additional cost.

"Every set of dentures is made to onsite

by hand, using higher grade materials as

standard, allowing us the ability to customise

every aspect of the process. We also aim to

cater toward the upkeep of existing dentures,

with same day repairs and relines on offer,

as well as being available on Saturdays,

allowing us to work around even the busiest

schedules," he says.

"Our aim at Better Denture is to create

the best possible denture experience for

you, the customer, whether it be through

the products we custom create, the service

we provide or the manner in which strive to

achieve both of those goals."

Anyone needing new dentures is invited

to contact Better Denture, phone 349 5050,

for a free consultation. The clinic is spacious

and welcoming, and patients are invited to

bring someone with them for support at any

appointment if they wish.

Located at 6 Brynley Street Hornby,

Better Denture is open Monday to Friday,

9am-5pm and Saturday, 10am-12pm.

Off-street parking and wheelchair access

available.

Give Chris

and the

friendly team

at Better

Denture a call

today for your

free denture

check.

True

Who thought

DENTURES

and false!

could look this

natural?

Discover this

unique Emporium

• Full dentures • Metal partial dentures

• First-time immediate dentures • Implant supported dentures

STUNNING: A beautiful new denture for

a young female patient

These stunning lovebite full upper and

lower dentures have been expertly crafted by

internationally-recognised dental technician

Richard Greenlees at his Christchurch studio.

The combination of Richard's skill, experience

(including 15 years in London's prestigious

Harley Street) knowledge and revolutionary

techniques allow him to create beautiful

bespoke false teeth that truly resemble those

in nature and reflect each patient's individuality

and unique character.

Metal art - gifts - hoMewares

water features - pottery

Mirrors - candles

wall hangings & More

722 Marshland Road, Top end Styx

Open 7 Days

Ph: 03 323 9781

www.hitchingpost.co.nz

FREE DENTURE CHECKS

6 Brynley St, Hornby | Ph 349 5050

Open Mon-Fri 9am-5pm, Sat 10am-12noon

AGING GRACEFULLY: Natural teeth for

a gentleman patient in his 80's

HOLLYWOOD: It's all white for this

female patient in her 60's

402 Montreal Street

Christchurch | P. 379 1222

By appointment only.

Consultation fee applies.

lovebite.com

Richard will personally guide you through the entire process to create

teeth with small nuances in the fabrication, colour and shape. Your beautiful new

lovebite dentures will boost your confidence and make you look and feel year's younger!

Bishopdale Clinic

13a Bishopdale Court, Ph 360 3606

City Clinic

12 Hereford Street, Ph 961 0236

Wigram Skies Clinic

67 Skyhawk Road, Ph 322 9400

Call us today Ph 360 3606

Back & neck pain

Sprains and strains

Functional training studio

Biomechanical assessments

Headaches and migraines clinic

Work injuries & gym rehab

Pre and post surgery rehab

musclepeople.co.nz
---
NOR'WEST NEWS Latest Christchurch news at www.star.kiwi

Tuesday August 29 2017 19

GREAT food

BROUGHT TO YOU BY...

Your fresh food people

CHICKEN THIGHS WITH

FRESH EGG NOODLES

Ingredients

BRUSSELS SPROUTS WITH

ROASTED GARLIC AND

PINENUTS

Ingredients

1 head Garlic

20 small Brussels sprouts

1 Tbsp Olive oil

1 Tbsp Walnut oil

½ cup Pine nuts

½ cup Currants

Directions

Preheat oven to 200 deg C.

Remove the outer layers of

papery skin from the head of

garlic. Slice just enough off the

head to expose the garlic cloves,

then season and wrap in tinfoil.

Bake for 30min, then cool and

squeeze the flesh out of the

skins.

Meanwhile, toss the sprouts in

walnut and olive oil. Season and

place in a roasting dish, cook for

15min, then add the pinenuts

and currants. Return to the

oven for a further 5min.

Pile the sprouts, pinenuts and

currants on to a serving dish,

drizzle with oil leftover in the

pan and top with garlic.

8 Boneless chicken thighs,

skinned

1 Tbsp Light soy sauce

1 Tbsp Dry sherry

2 tsp Cornflour

2 Tbsp Peanut oil

1 bunch Spring onion, trimmed

and sliced

1 stalk Lemongrass, white part

only, finely chopped

1 Red chilli, deseeded and finely

chopped

500g Egg noodles, use fresh

noodles

To finish

1 splash Fish sauce

1 Lime, or lemon, juiced

1 handful Fresh basil

Directions

Cut each chicken thigh into

four pieces and place in a bowl

with the soy sauce, sherry and

cornflour. Mix to combine and

set aside while you prepare the

remaining ingredients.

Heat one Tbsp of the peanut oil

in a large deep-sided frying pan

or wok over a medium-high heat.

Add half of the chicken pieces

and cook on both sides until

browned and almost cooked

through, about 5min. Transfer

to a plate, add remaining peanut

oil and cook remaining chicken

pieces. Return all chicken pieces

to the pan or wok.

Add the spring onions,

lemongrass, chilli and

noodles and continue to cook,

stirring continuously until the

chicken is cooked through, about

3min.

Stir in the fish sauce, lime or

lemon juice and basil leaves and

divide between four warmed

bowls.

Large Avocados ....... 1 .99

each

NZ Red or Green

Capsicums ......................... 1 .99

EACH

Loose Table Onions .....99 c

kg

Brussel Sprouts ........... 3 .99

kg

Chicken Thigh

Cutlets .............................. 7 .99

kg

Lamb Shoulder

Roast .................................. 9 .99

kg

Beef Rump Steak ......... 13 .99

kg

All our fresh meat is 100% NZ FARMED.

specials VAlid 28th august - 3rd september 2017. ONLY AVAILABLE AT

RAEWARD FRESH HAREWOOD RD, TOWER JUNCTION & MARSHLAND RD

harewood rd Mon–Fri 8.00am–6.30pm Sat–Sun 8.00am–6pm

Tower junction Mon–Fri 8.00am–6.30pm Sat–Sun 8.30am–6pm

MARSHLAND RD Mon–Sun 8.00am–6:00pm

WWW.

.CO.NZ
---
20 Tuesday August 29 2017

Latest Christchurch news at www.star.kiwi

NOR'WEST NEWS

Breaking news,

delivered to

your pocket.

Visit www.star.kiwi

anytime, anywhere!

Fire rages, homes at risk

•news •CTV •sport •districts •schools •lifestyle •opinion •what's on

www.star.kiwi
---
NOR'WEST NEWS Latest Christchurch news at www.star.kiwi

Tuesday August 29 2017 21

REAL ESTATE

Church Bay waterfront contemporary

67 Koromiko Crescent, Diamond Harbour

Price: $1,175,000

4 bedrooms | 2 bathrooms | 3 living rooms | 1 dining room | 2 car-garage | 3 off-street parks | Listing # 5150

A rare opportunity to acquire a prime

waterfront property with panoramic Sea

views which sweep across Quail Island,

the Port Hills and Lyttelton Harbour. This

contemporary 350m2 (approx.) family

home is positioned on a spectacular site.

An Executive home featuring incredible

outdoor family living, providing relaxed

indoor/outdoor flow ideal for ease of

entertaining. Privacy and shelter is

provided by the mature trees, established

formal garden and large lawn leading onto

the expansive kwila deck.

The property is set on an impressive

1810m2 parcel of land, in two titles.

Featuring a double height entrance and

living room ceilings, 4 double bedrooms,

2 living areas and a large family room/

playroom. This open plan executive home

features breathtaking sea views at every

turn.

With both the new master en-suite and

family bathroom luxuriously appointed

with Italian porcelain and marble mosaic,

exquisite in every detail. Facing North

West this is a naturally warm home, the

sun tracking from the early morning to

spectacular evening sunsets.

The floor to ceiling windows in the living

area harness all natural warmth which

during the cooler months is backed up by

under-floor heating, in addition to the gas

fire place in the lounge area, adding to the

warmth and ambience. This property is

visually stunning with world class views.

The current owners are reluctantly

departing after 16 years, their sincere wish

is that the property should continue to be

enjoyed as much as they have enjoyed it.

For a private viewing, contact Tim

Dunningham of Min Sarginson Real

Estate (Licensed Agent REAA 2008),

phone 027 651 5474 or 329 4161

growing with you

SprIng Is here –

It'S Sow Time

how to get the best results from

seeds and seedlings

100% NatIve In

The capItal

Unravelling the secrets of

Otari-wilton Bush

The New Zealand

landscape awards

The people behind

the projects

$7.90 incl. GST

Save our roSeS

How a rose register is protecting our heritage

September 2016 | 100%

It's time

to grow!

New look and more

content than ever!

MeeT LeSTer Brice

A Garden coach

auckland Botanic GardenS

Why we love our public grounds

now bigger than ever

The magazine for

gardeners who like to get

their hands dirty

SubScribe from

$43. 50*

*6 issues/6 months

ISSN 2423-0219

SUBSCRIPTIONS FREEPHONE

0800 77 77 10

www.gaRdeNER.kiwI
---
22

Latest Christchurch news at www.star.kiwi

Tuesday August 29 2017

NOR'WEST NEWS

Classifieds Contact us today Phone our local team 03 379 1100

Computers

ALL

YOUR

COMPUTER

WORRIES SOLVED!

*$30.00 off your first

service with this coupon!*

No problem too big or

small from home PC's to

business networks. PC

slow? An end to Viruses,

Spyware, and Clogged

Systems. Safe secure

hassle-free computing.

Lost files recovered.

Microsoft Certified,

MCSE, MCP+l. 30 years

experience. Call Andrew

Buxton this week on 326-

6740 or 027 435-7596

for $30.00 off* Custom

Computers Christchurch

Entertainment

Weka Pass Railway

Waipara, North Canterbury

We are RUNNING

SUNDAY 3rd September

Running 1st & 3rd

Sunday of every month

Phone 0800wekapass

Depart Glenmark Station

11.30am & 2.00pm

www.wekapassrailway.co.nz

Holiday

Accommodation

QUEENSLAND SUN-

SHINE COAST AUSTRA-

LIA Resort, Ocean Views,

Balconies, Self Contained,

1 or 2 B/R Ensuite,

Heated Pool, Spa, Sauna,

Free Internet, Shops,

Restaurants, Tennis, Surf

Club & Patrolled Beach,

Public Transport at door.

Ask for our SEASONAL

SPECIALS. Phone 61 7

544-35011 Email: reception@mandolin.com.au

www.mandolin.com.au

Personals

GENT seeks a warm

single lady 45plus for

company 0276594425

INTRODUCING a local

Tinder introduction for

females in the older age

range.

Get in fast, email

tossthecoin68@gmail.com

LONELY MAN seeks a

lonely affectionate lady

3583634

SEMI RETIRED

professional guy, living

on own in nice home and

location seeks

an attractive stylish

and slim lady to share

time, activities, and

conversation.

I am one of a kind, and im

looking for similar Write

to me. Matt P.O Box 1919

ChCh

A photo would be

appreciated.

Health & Beauty

FOOTCARE

OASIS

Senior Citizens Foot Care

25 Conway Street, Spreydon

Treating hard thick nails, calluses

and corns finishing with a foot massage

Price $30 Allow 45 mins

Home Visits available by appointment

Therapist – Amanda

(30 years experience)

Ph. 942-6036 for an appointment

HOURS ARE FLEXIBLE

Trades & Services

GLAZING

Stephen Thom Glazing 2012 Ltd.

• Mirrors • Pet Door Specialists

• Splashbacks

THE CAT DOOR MAN

ALL BROKEN WINDOWS

Phone Cushla or Darren Twist

03 352 6225 or 027 352 6225

CONCRETE

Concrete Removal

& Trucking

Driveways, paths, sheds, garages, site clearances.

We also deliver and spread landscaping supplies –

topsoil, bark chip, shingle etc.

3 Tonne Digger and operator available for hire.

For fast friendly service phone

Nick on 0274 324 124

keacontracting@yahoo.com

concrete & paving

• Driveways

• Earthquake repairs

• New Home Specialists

• Patios & Paths

tel: 0508 873 7483

email: sales@affordableconcrete.co.nz

www.affordableconcrete.co.nz

Trades & Services

DRIVEWAYS

Exposed Aggregate

Stamped Concrete Plain

Concrete Resurfacing

Things we offer...

Competitive/affordable pricing

Attention to detail

Professional service

free quotes/insurance scopes

Cell 0278 145 848

www.drivecrete.co.nz

EXTERIOR PLASTERING

Quality

Workmanship

at Competitive Pricing

Free Quotes

Aynsley Frewer

M: 027 201 1296

E: aynsleyfrewer@xtra.co.nz

PO Box 20534 Bishopdale

Trades & Services

MAINTENANCE

Doctor

Fixit

• Carpentry • Repairs &

Maintenance

• Doors & Windows

• Fencing

• Painting & Plastering

• Tiling

• Outdoor Maintenance

• Renovations

• Decks & Pergolas

Norm McRae

027 222 3060 | 03 312 0082

www.doctorfixit.nz

Trades & Services

ROOF RESTORATIONS

• Roof Restoration

• Painting/Decorating

• Moss Treatments

• Gutter Cleaning

• Leaks

Paul Jefferies - 021 235 9552

allaspectsroofpaint@gmail.com

Trades & Services

HOUSE

CLEARING

Are you

moving house

or trying to

downsize?

Call All Clear

Canterbury. We work

with you to recycle,

sell and dispose of

unwanted items.

Ph: 03 260 0934

or 021 078 4553

raewynlcooke@gmail.com

www.allclearcanterbury.co.nz

ROOF

PAINTING

Rope & harness

a speciality,

no scaffolding

required,

30 years of

breathtaking

experience.

FREE QUOTES

Exterior staining,

exterior painting,

moss and mould

treatment and

waterblasting

Phone Kevin

027 561 4629

Trades & Services

BEST BATHRooMS

full renovation specialists,

LBP, repairs &

maintenance ph 03 387-

0770 or 027 245-5226

BRIcKLAYER

George Lockyer. Over

35 years bricklaying

experience. UK trained.

Licensed Building

Practitioner number

BP105608. Insurance

work. EQC repairs.

Heritage brickwork and

stonework a speciality. No

job too small. Governors

Bay. Home 329-9344,

Cell 027 684 4046, email

georgelockyer@xtra.co.nz

BUILDER

For all building work

but specialist in bathroom

renovations, 30 yrs

experience, with service

and integrity. Free Quotes.

Ph Lachlan 383-1723 or

0274 367-067.

BUILDER LIcENSED

available for all aspects of

building. Please call 027

241-7471 or 335-0265

BUILDER

Qualified & licenced.

Now available for repairs,

additions, alterations, EQ

repair work. 35 yrs exp. Ph

Ian 021 350-509

****************

cARPET & VINYL

LAYING

Repairs, uplifting,

relaying, restretching,

E mail jflattery@xtra.

co.nz

ph 0800 003 181

or 027 2407416

ELEcTRIcIAN

REGISTERED

for all electrical

installations & repairs Ph

03 322 4209 or 021 026

73375

Trades & Services

HANDYMAN

No job too big or small.

Good rates. Call 020 410

67205

PAINTER

Available, All aspects in

painting. Very competitive

in roofs and fences. Please

call 027 241-7471 or 335-

0265

PAINTING DEcoRATING

Wingfields Contracting,

all interior & exterior

painting & all forms of

interior plastering & jib

fixing, ph Mark 021 171-

1586 or 355-5994

PAINTERS

Serendipity Decorators.

Wallpaperer/Painter avail

for your next project.Call

Kim

027 891 0911

PLUMBER

ALF THORPE

PLUMBING Certifying

Plumber for all types of

plumbing, maintenance,

spouting, alterations etc.

Phone 352-7402 or 0274-

350-231

RooFING REPAIRS

Fully Qualified, Over

40 Yrs experience

Ph John 027 432-3822

or 351-9147 email

johnmill@ihug.co.nz

SHoE REPAIRS

Belfast engraving.Shoe

repairs,key cutting &

engraving.(10 yrs exp)683

Main North Rd

ph 027 3113423

SPoUTING cLEANING

Spouting Unblocked,

Cleaned Out and Flushed

Out. Also Full Handyman

Services Available. Call

Trevor 332 8949 or 021

043-2034

SToNEMASoN

BRICK

&

BLOCKLAYER,

Earthquake Repairs, Grind

Out & Repoint, River/

Oamaru stone, Schist,

Volcanic Rock, Paving,

all Alterations new & old,

Quality Workmanship,

visit www.featureworks.

co.nz or ph 027 601-3145

TILER/cARPENTER

35 years exp, no job

too small. Ph Ross 027

4311440.

TREES BIG oR SMALL

tree removal, trimming,

stump grinding, shelterbelt

clean up, section clearing,

rubbish removals,

excavation work, ph Trees

Big or Small, for a free

quote, 021 061 4783

T.V. SERVIcE cENTRE

Repairs, tvs, microwaves,

stereos, DVD. Aerial

installations and kitsets,

480 Moorhouse Ave, ph 03

379 1400

UPHoLSTERER

Dining Chairs, Lounge

suites, Caravan Squabs

etc. recovered. Free

Quotes. Phone Graeme

383-1448

VHS VIDEo TAPES

& all camera tapes

converted to DVD, video

taping special occasions,

www.grahamsvideo.co.nz

ph 03 338-1655

ADD SOME

COLOUR

TO YOUR ADVERT!

Wanted To Buy

AAA Buying goods

quality furniture,

Beds, Stoves, Washing

machines, Fridge Freezers.

Same day service. Selwyn

Dealers. Phone 980 5812

or 027 313 8156

TOOLS Garden,

garage, woodworking,

mechanical, engineering,

sawbenches, lathes, cash

buyer, ph 355-2045

Public Notices
---
NOR'WEST NEWS Latest Christchurch news at www.star.kiwi

Tuesday August 29 2017 23

What's On

Entertainment

To advertise, contact

Jo Fuller 03 364 7425

jo.fuller@starmedia.kiwi

Different outlook

and fresh approach

THE Cashmere Club has appointed a

new Club Manager, Donna Hughes.

"After a very thorough recruitment

process I am pleased to advise that the

Board of the Cashmere Club has

approved the appointment of Donna

Hughes as our new General Manager,"

said Pete Winchester, Board Chairman.

"Donna comes to the Club with an

extensive background in hospitality,

with experience in senior management

positions in Customer Services and

most recently at the executive level in

Marketing and Loyalty management.

As far as I am aware this is the first

time we have ever had a woman take up

the role of General Manager of our

club. It will no doubt provide a different

outlook and fresh approach to what we

want to achieve in the future."

\

Donna said she has been warmly

welcomed by members and staff at

the Cashmere Club and that it is

great to see the diversity of the

services the club already offers its

members, their families and the

community.

The Cashmere Club | 50 Colombo Street | Phone 03 332 0092

www.cashmereclub.co.nz

RESTAURANT & CAFÉ

We are open from 6.30am

Seniors SPECIAL

2 courses Soup/Roast or Roast/Dessert

Special available lunch only. Monday - Saturday 12pm - 2.30pm

Family Friendly

Kid's 2 course special

A West Coast welcome in the heart of

Redwood, beautifully refurbished and

something for all the family.

TRY OUR WONDERFUL MENU & DAILY SPECIALS

Daniels Road | Phone 352 8355

coasterstavern.co.nz

$20

$10

TREAT DAD!

FATHERS DAY THIS SUNDAY

'Famous for their roasts!'

The

RACECOURSE HOTEL

& Motorlodge

118 Racecourse Rd, Sockburn,

Christchurch. Ph 03 342 7150

www.racecoursehotel.co.nz

Lunch & Dinner

All you can eat, 7 days

Bookings Essential

PH 386 0088

fb.com/GardenHotelRestaurant

www.gardenhotel.co.nz

SERVING

HAPPY HOUR

5PM - 7PM DAILY

OUR CABINET ITEMS

ARE HOMEMADE

CREATED FRESH ON SITE DAILY

$12

LUNCH

SPECIALS

COFFEE

HAPPY

H O U R

Live Music:

6PM.FRI.01 SEPT

2PM-4PM

DAILY

$3.50

Offer available for a limited time

and includes tea, hot chocolate

MON: ROAST MEAL

TUE: FISH & CHIPS

WED: FISH BURGER

THU: ROAST MEAL

SAT: FISH & CHIPS

AVAILABLE

FROM

11.30AM-2PM

FOR A

LIMITED TIME

Vintage Blue

PHONE 385 8880 FIND US ON FACEBOOK fb.com/GBCCHCH

THE GARDEN HOTEL COMPLEX | 110 MARSHLAND RD

www.gardenhotel.co.nz | phone 385 3132

www.newbrightonclub.co.nz

LIVE MUSIC = THIS SATURDAY 7PM

Dateless n Desperate PopRockBand

FUNCTIONS

WE HAVE THE VENUE. EXCELLENT CATERING.

PLENTY OF PARKING. ENQUIRE NOW!

TUESDAYS & THURSDAYS

Members Lucky Card Draw

FUNCTION ROOMS

SHUTTLE RUNNING

Tues, Thurs, Fri & Sat

TAB POD

GAMING ROOM

PIERVIEW

Restaurant

Quality

a la carte

with a view!

Open from 5.30pm

FRIDAY, SATURDAY & SUNDAY

OPEN FOR SUNDAY 3 COURSE

SUNDAY BRUNCH DINNER SPECIAL $25

By the Seaside!

10.30am-2pm

ClubBISTRO

Open Tuesday to Saturday

12pm-2pm and from 5pm

Midweek $10

SPECIAL ROAST

Available Tuesday,

Wednesday, & Thursday

SUNDAY NIGHT

BUFFET

Sunday 24th September

ALL YOU CAN EAT

$25 BOOK NOW!

202 Marine Parade ● Ph 388-9416

Members, guests and affiliates welcome

T H E H O R N B Y C L U B

The Heart of Hornby

LET US ENTERTAIN YOU!

PLAYING IN THE

WESTVIEW LOUNGE

THIS FRIDAY, 7PM

JO'S

KARAOKE

THIS SATURDAY

4.30PM:

ANDY

GILMOUR

8PM:

TH' ART

OF CHEESE

Tickets $20 1:30PM

THIS SUNDAY

UNBEATABLE FAMILY DINING

Chalmers

OPEN

Restaurant

FOR DINNER

Friday, Saturday, Sunday

OPEN FOR BUFFET LUNCH

Every Sunday 12pm - 2pm

Early Bird Special

FATHERS DAY

SUN 3.SEPT

BOOK NOW!

COMPETITION TERMS & CONDITIONS APPLY

FRIDAY & SATURDAY 5.30pm – 6.30pm

Roast

(4 Choices)

and

Free Desserts $22 50

Club CAFE

OPEN 7 DAYS

LUNCH & DINNER

Gluten Free &

Vegetarian options

LUNCH BUFFET

12PM-2PM

DINNER BUFFET

5PM-8PM

$30

Dine and

WIN

A DOUBLE PASS TO SEE

LIONEL RICHIE

THURSDAY 19 OCT

ENTER WHEN YOU DINE IN

THE CLUB CAFE &

CHALMERS RESTAURANT

CONDITIONS

APPLY

The Hornby Club | ph 03 349 9026

17 Carmen Rd | Hornby

www.hornbywmc.co.nz

Members, guests & affiliates welcome
---
www.frandsenlighting.dk

24 Tuesday August 29 2017

Latest Christchurch news at www.star.kiwi

NOR'WEST NEWS

Treetop

• Metal pendant with oak top (incl. ceiling canopy)

• Ø31 cm

• Fabric cord (235 cm)

• Materiale: metal / wood (oak)

• Available in matt black and matt white

• Recommended bulb (not incl.) : E27 max. 60W

• Designer: Henrik Pedersen

829 Colombo Street | Phone 379 0600

www.accentlighting.co.nz