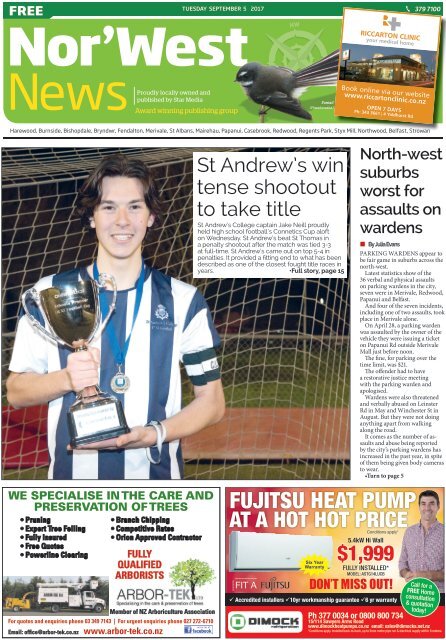 Nor'West News: September 05, 2017
You also want an ePaper? Increase the reach of your titles
YUMPU automatically turns print PDFs into web optimized ePapers that Google loves.
FREE

TUESDAY SEPTEMBER 5 2017 379 7100

Proudly locally owned and

published by Star Media

Award winning publishing group

Fantail

(Piwakawaka)

Book online via our website

www.riccartonclinic.co.nz

OPEN 7 DAYS

Ph: 343 3661 | 4 Yaldhurst Rd

Harewood, Burnside, Bishopdale, Bryndwr, Fendalton, Merivale, St Albans, Mairehau, Papanui, Casebrook, Redwood, Regents Park, Styx Mill, Northwood, Belfast, Strowan

St Andrew's win

tense shootout

to take title

St Andrew's College captain Jake Neill proudly

held high school football's Connetics Cup aloft

on Wednesday. St Andrew's beat St Thomas in

a penalty shootout after the match was tied 3-3

at full-time. St Andrew's came out on top 5-4 in

penalties. It provided a fitting end to what has been

described as one of the closest fought title races in

years. •Full story, page 15

North-west

suburbs

worst for

assaults on

wardens

• By Julia Evans

PARKING WARDENS appear to

be fair game in suburbs across the

north-west.

Latest statistics show of the

36 verbal and physical assaults

on parking wardens in the city,

seven were in Merivale, Redwood,

Papanui and Belfast.

And four of the seven incidents,

including one of two assaults, took

place in Merivale alone.

On April 28, a parking warden

was assaulted by the owner of the

vehicle they were issuing a ticket

on Papanui Rd outside Merivale

Mall just before noon.

The fine, for parking over the

time limit, was $21.

The offender had to have

a restorative justice meeting

with the parking warden and

apologised.

Wardens were also threatened

and verbally abused on Leinster

Rd in May and Winchester St in

August. But they were not doing

anything apart from walking

along the road.

It comes as the number of assaults

and abuse being reported

by the city's parking wardens has

increased in the past year, in spite

of them being given body cameras

to wear.

•Turn to page 5

WE SPECIALISE IN THE CARE AND

PRESERVATION OF TREES

• Pruning

• Expert Tree Felling

• Fully Insured

• Free Quotes

• Powerline Clearing

Member of NZ Arboriculture Association

For quotes and enquiries phone 03 349 7143 | For urgent enquiries phone 027 272-6710

Email: office@arbor-tek.co.nz

• Branch Chipping

• Competitive Rates

• Orion Approved Contractor

FULLY

QUALIFIED

ARBORISTS

www.arbor–tek.co.nz

Fujitsu Heat PumP

at a HOt HOt Price

Six Year

Warranty

Conditions apply*

5.4kW Hi Wall

$1,999

FULLY INSTALLED*

MoDEL: ASTG14LUCB

DON'T MISS OUT!

Accredited installers 10yr workmanship guarantee 6 yr warranty

Call for a

FREE Home

consultation

& quotation

today!

Ph 377 0034 or 0800 800 734

15/114 Sawyers Arms Road

www.dimockheatpumps.co.nz email: sales@dimocks.net.nz

*Conditions apply. Installed back-to-back, up to three metre pipe run & electrical supply within 6 metres.
---
2

Latest Christchurch news at www.star.kiwi

Tuesday September 5 2017

Inside

NOR'WEST NEWS

FROM

THE

EDITOR'S

DESK News..................................... 3-11

IT'S A tough job being a parking

warden in the north-west part of

the city as our statistics show on

page 1.

Being parking warden is a

thankless job – for obvious

reasons – and it takes a certain

kind of character to be one –

thick skin is an advantage.

But it is a job that has to be

done, otherwise no one would

care about restricted parking.

And the result of that would

be a lot of angry motorists who

wouldn't be able to get a park.

So if you're getting a ticket

take it on the chin instead of

trying to land one on someone

just doing their job.

Congratulations to St

Andrew's for winning the

Connetics first XI football

competition against St Thomas

(page 15).

8

– Barry Clarke Selwyn House takes chess title SCHOOLS

Local Views.................4-5

Community Events......13

Sport............................14,15

Food............................................17

Health & Beauty.........20

Real Estate...........................21

GET IN TOUCH

General Inquiries Ph 379-7100

Classified Advertising Ph 379-1100

The Christchurch Star Company Ltd. PO box 1467 - Christchurch

starmedia.kiwi

NEWS

Julia Evans

Ph: 021 914 742

julia.evans@starmedia.kiwi

ADVERTISING

Monique Maynard

Ph: 364 7474

monique.maynard@starmedia.kiwi

GIVE LAWN

BOWLS A TRY

If you are looking for a new activity this summer, maybe

lawn bowls is for you!

Modern refurbished club rooms and electronic surveillance

throughout makes our club comfortable and safe. Voted Club

of the Year for 2016 and Greenkeeper of the Year in 2017.

We have up to date bowls available for you to trial without

commitment and world class greens for members to enjoy

the game. Buddy system in place for new members.

The sport for all ages

Be prepared for the start of

our season October-April

FREE coaching

FREE Club Uniform

½ Price subs for 1st year bowlers

and full membership only $195

Special rates for students

Free extensive members library

Contact Barry Hollands 352 6156

or Bev Baxter 359 6057

Bowls Papanui Inc

The Friendly Club

181 Condell Ave, Papanui

www.bowlspapanui.co.nz

'CEREC' & cosmetic dentistry

Wisdom tooth removal

Painless, high quality dentistry

Sedation dentistry

Experienced, conscientious team

Experienced hygienists

OPEN SATURDAYS

355 9380

144 Cranford Street

www.stalbansdentalcentre.co.nz

Helping us,

Helps tHe

community

Drop off or buy

3 family stores in your community

4 Restell Street, Papanui

Ph 352 4581

520 Cranford St, Redwood

Ph 352 0515

50 Charles St, Kaiapoi

Ph 03 903 0017
---
NOR'WEST NEWS Latest Christchurch news at www.star.kiwi

Tuesday September 5 2017 3

News

World-class problem solvers

• By Julia Evans

TWO CASEBROOK pupils

have proved themselves among

the top young problem solving

minds in the world.

Casebrook Intermediate

School pupils Ben Donaldson

and Bronte Perriam came back

from the e-ICON World Contest

in Busan, South Korea last week.

And with them they brought a

pair of best creativity awards.

Deputy principal Nick Leith

escorted Ben and Bronte over

to the Korean Peninsula and

said the trip was an incredible

experience.

"Both students were

heavily involved in the

creation and development of

a mobile phone app package,

including marketing and a

business proposal for further

investment," he said.

And even though Kim Jong

Un was testing nuclear warheads

across the border, Mr Leith said

there was no evidence of a tense

political climate whatsoever.

"It's something South Korea

has been going through for 50

years, you couldn't even tell

anything was going on."

He said it was the heat that got

to them more than any threat

from North Korea.

WINNERS: After working 14-hour days, Ben Donaldson (left) and Bronte Perriam won best

creativity awards with support from deputy principal Nick Leith.

Instead Ben and Bronte

worked gruelling hours with

two students from Buwon Middle

School in Incheon.

Mr Leith said they added

the creative support to the

expertise of their Korean teammates.

"They definitely had to work

for the free trip, the work ethic

across the competition was really

high," he said.

Ben and Bronte were working

14-hour days on their app, in

34 deg C heat – although most

of the time they were too busy to

notice the heat.

"I think how hard they had to

work caught the kids off guard

the most," he said.

But with sweltering temperatures

and swollen limbs, Mr

Leith said they were glad to be

back on New Zealand soil.

Local

News

Now

In Brief

Fire rages, homes at risk

NEW REWI ALLEY BOOK

Thirty years after former

Christchurch Boys' High School

student Rewi Alley's death, a new

biography has been printed to

introduce his achievements to

younger generations. Written by his

niece, Philippa Reynolds, it details

the life of the writer, educator and

political activist who dedicated 60

years to humanitarian causes in

China. A copy of the biography was

presented to Chinese vice-president

Li Yuanchao at a ceremony in the

Great Hall of the People, Beijing.

CBHS will also hold a function in

December to celebrate the 120th

anniversary of Mr Alley's birth.

CYCLEWAY CONSTRUCTION

Construction of the Northern

Line cycleway connection between

Harewood Rd and Restell St,

Papanui, has begun. The work will

end in mid-January. A new cycle

and pedestrian crossing will also be

created at the Harewood Rd railway.

FOOTBALL TOUR HELP

Burnside High School student Nova

Daly-Davies, 17, has been selected

in the New Zealand secondary

schools under-18 football team to

tour Singapore. Nova received $500

from the Fendalton-Waimairi-

Harewood Community Board to go

towards her trip from September 29

to October 6.

We've been trusted to look after hundreds of

properties all over Christchurch.

You can trust us to look after your's too.

Property Manager of

the Year NZ 2015/16

Ray Hastie

Manager

027 448 8225

Nicola Flanagan

Property Manager

021 914 332

Paula Hastie -

Rebekah Whalley

Assistant Property

Accounts Administrator

Manager

03 331 6755

Nominated for Ray White New Zealand Property Management Office of the Year, 2016/17

Local Experts – Citywide Knowledge

Phone (03) 331 6755

www.propertymanagementchristchurch.com

Abbey Nolan

Property Manager

027 379 5021

Prier Manson Real Estate Ltd Licensed (REAA 2008)

FIRST HOME BUYER

KIWISAVER AS DEPOSIT

HOME START GRANT

REFINANCE

DEBT CONSOLIDATION

BUILDING LOAN

As your Mortgage Adviser, Kim works around your busy

lifestyle, and can come to you, when it suits you. Kim's

services are FREE. Call for a no obligation chat today!

www.mylend.co.nz email: kim@mylend.co.nz cell: 027-222-1044

d Kim

al, local and here to

Mortgage

terbury

ur lending needs.

you are FREE!

FOR YOUR NEW HOME OR RENOVATION

w.mylend.co.nz fb: facebook.com/mylendnz email: info@mylend.co.nz

Blinds

Curtains

Shutters

Awnings

Screens

up to

40%

off

(for a limited time only)

12

Months

Interest

Free

(Terms and conditions apply)

0800 836 587 www.venluree.co.nz Mobile Van Service
---
4 Tuesday September 5 2017

Latest Christchurch news at www.star.kiwi

NOR'WEST NEWS

Your Local Views

$100 wager 'claimed'

Businessman and Papanui-

Innes Community Board

member John Stringer

writes about a pair of busy

Harewood intersections

City councillor Aaron Keown's

Harewood, Gardiners and Breens

Rds intersection "issue" is simply

not a local priority.

I live a few blocks from the

intersection and have good-humouredly

"claimed'' Cr Keown's

$100 wager that his intersection

of Harewood, Gardiners and

Breens Rd is the busiest intersection

in Christchurch.

It clearly isn't and I live near

Aaron's intersection on Harewood

Rd.

But its good he's advocating

for the locals and a simple traffic

island would solve his problem

as it has on the much busier

Harewood and Russley Rds

intersection.

Just 1km from Cr Keown's

tame four-lane Harewood,

Gardiners and Breens Rd

intersection is the Harewood

and Russley Rd intersection,

which has 18 lanes entering and

egressing a two-lane road. And

Russley and Harewood Rd has no

lights.

It's much more busy and would

have 20 times more traffic than

Harewood, Gardiners and Breens

Rd.

My intersection has a shopping

strip, a school, a Playcentre and

a church within 100m and the

airport on the other side.

And the only way for pedestrians

or cyclists to cross my

intersection is by literally going

underground (through a tunnel).

That beats Aaron hands-down.

But I won't be claiming his

$100; instead I'll be sending him

a Monopoly $100 note or if he'd

like to donate $50 of his $100

wager to a Papanui charity of my

choosing I'll give $50 to a Harewood

charity of his choosing.

Readers of the Nor'West

News respond to the article

regarding congestion at the

intersection of Colombo St

and Edgeware Rd

Simon O'Connor – I came

across the article about the

Edgeware Rd and Colombo St

intersection and thought I'd add

something to the mix, if it's still

topical. I'm feeling it is very topical.

Because as a result our city

has become swamped by excessive

use of road safety signage,

lights and bollards. Visually it

is noise. The quantity and usage

of vertical poles and traffic lights

is absurd and this visual noise is

fundamentally wrong. The city

sadly lost a lot of its charm six

years ago, and we are no longer

a garden city. It seems there

are more metal poles and yellow

plastic trees than gardens. We

cannot constantly facilitate the

needs of people who are cannot

think for themselves or other

road users. It is the majority of

us that actually suffer. It's like

someone at the city council is

shareholder in these traffic safety

equipment suppliers. I drive

daily along Colombo St, turning

left on Edgware Rd, so here are

my qualified observations:

•It now takes longer as a journey,

I usually could turn left in 10

seconds, by giving way to others.

•I sit at the traffic lights for

around a minute waiting to turn

left, more greenhouse gas as I sit

in congestion.

•I sit at the traffic lights for imaginary

cyclists who have their

very own green light, but nobody

is there?

•Sometimes I have to wait for

imaginary cyclists on two repeat

instruction of the lights.

•I see about two cyclists tops

at 8.30am up Colombo St from

Bealey Ave.

•I know first-hand of a business

on the corner of Bealey Ave and

Colombo St who left her store

due to reduced customers, lack of

parking, and cycleway construction,

which took months.

Heather Wilkins – Be nice

if they could get the intersections

sorted. They may have

turning lanes but they need

their own turning lights and

the turning lanes should turn

at the same time like they do at

Blenheim Rd where you come off

the motorway, just like they do in

Australia.
---
NOR'WEST NEWS Latest Christchurch news at www.star.kiwi

Tuesday September 5 2017 5

News

ROADING: The city council installed yellow bollards at the

intersection at Colombo St and Edgeware Rd.

The light frequency needs to go

longer for the minor roads off the

main roads as sometimes you can

sit in the turning lane for four

turns of the lights and with that

the straight through sometimes

only gets one car through and it

changes again. Half a minute on

Buchanans Rd and sometimes

2min on Carmen Rd. Drivers

then may not go through a red

light.

Kelly Root – Wondered what

the green mess was for.

Christine Carr – I regularly

shop at Edgeware and cross the

intersections with my hearing

dog. We are both elderly and

slow. The problem I have is with

the maniac speedsters who

regularly try to beat the lights

LAwyERS

coming up Edgeware Rd from

Abberley Cres. With the building

of the new restaurant next to the

supermarket, foot and vehicle

traffic is bound to increase.

Hopefully the traffic lights will

help regulate the road hogs. Not

holding my breath though. A

speed camera could be useful.

Connie Kruse Christensen

– With this area being used

as a rat-run along Trafalgar

St, the traffic lights now allow

pedestrians to safely cross

Colombo St from Bailies' offstreet

car park to St Albans

Pharmacy, and to also safely cross

Edgeware Rd to Super Value and

the new cafe opening soon. It's

a great improvement for safety

walking between these good local

shops.

North-west parking warden assaults

•From page 1

But the city council said the

new technology has encouraged

staff to report incidents more,

because the footage provided

reliable evidence.

The 21 parking wardens were

given the body-mounted cameras

in April last year. They can

be activated if staff think their

safety is at risk.

"Our experience has shown

that the body worn cameras

have increased safety for our

staff by lessening the seriousness

of incidents and discouraging

undesirable behaviour," city

council transport operations

manager Aaron Haymes said.

• By Julia Evans

FOLLOWING IN the steps

of Bic Runga, The Naked and

Famous and The Datsuns,

Shirley Boys' High School's

Fuzhun and Run77 from

Christ's College competed in

the Smokefreeockquest national

final on Saturday.

While neither band managed

to crack the top three, Gideon

Valavala from Fuzhun came

home with the competition's

best vocalist award.

Along with the award, Gideon

He said previously a number

of incidents went under the

radar, but the cameras now

provided reliable evidence.

"This means it's more likely

that somebody will be held to

account for their actions, and

that encourages staff to report."

also received $500 for his

singing.

To earn their places in the

final, Run 77 came first in the

Canterbury regional heat of

the competition and Fuzhun

DETERRENT: City council

parking compliance officer

Luke Lee holds one of the

body mounted cameras

that are aimed at deterring

assaults and abuse.

PHOTO: CCC/NEWSLINE ​

Mr Haymes said the city

council was always working on

initiatives that reduced the risk

of staff being harmed.

"We want to make sure our

staff make it through their work

day safely and get to go home

at the end of each day to their

families."

Shirley, Christ's bands experience rockquest

ROCKSTAR: Shirley

Boys' High School's

Fuzhun performed at

the national final of the

Smokefreerockquest on

Saturday.

came second. This year marked

the 29th Smokefreerockquest

competition, which pits the

best high school bands from

around the country against each

other.

We have over 40 years' experience

to assist you with…

• Buying and Selling Houses and

Commercial Property

• Wills, Trusts and Estate matters

• All issues facing you

and your business;

• Employment Law

matters;

• Traffic matters;

• Advice regarding

Retirement Villages

• General Legal Advice on all matters

Call John, Brendan or Andrew today

03 366 8996

Email. lawyers@mclegal.co.nz

Airport Business Park

92 Russley Road, Christchurch 8042

Same Day Reline &

Repair Service Available

6 Brynley St, Hornby | Ph 349 5050

Open Mon-Fri 9am-5pm, Sat 10am-12noon

HEAT PUMP

SALE NOW ON!

Amazin' spring Specials!!

• We will offer you the best quality brands and

option of heat pump for your home/business

• Providing Heat Pump solutions for over 15 years to Cantabrians

• We personally guarantee all our products & installs for 5 years

(providing annual maintenance has been completed)

Phone us today for your free consultation & quote

41A SHAKESPEARE RD, WALTHAM

PHONE 03 366 0525

www.enviromaster.co.nz

"A local team for local people"
---
6 Tuesday September 5 2017

Latest Christchurch news at www.star.kiwi

NOR'WEST NEWS

NORTHLANDS ONLY

eND Of LeASe

thank you sale

40% off

eveRYTHiNg

STORewiDe

Excludes magazines, ink and toner product, gift cards, pre paid postal and stamps, Kiwibank products, Lotto, phone

cards, account payments, newspapers and any other agency services or products

only at PaPer Plus nortHlanDs - northlands Mall Ph. 352 5185
---
NOR'WEST NEWS Latest Christchurch news at www.star.kiwi

Tuesday September 5 2017 7

News

Church rebuild delayed again after fire

• By Julia Evans

THE REBUILD of the

Bishopdale church gutted by an

arson attack last year has been

delayed by at least a year.

Demolition of the St

Margaret's Presbyterian Church

on Farrington Ave started earlier

in the month and construction

won't begin until at least the

middle of next year.

Reverend Andrew Nicol said

the lengthy insurance process

meant the rebuild process hit a

brick wall.

"It's part of a long insurance

settlement process but it's settled

now . . . the ball is rolling," Rev

Nicol said.

He said the church was used

to long insurance processes after

the earthquakes and fire, even if

it was a little frustrating.

"It always takes longer than

you think," he said.

In January, Nor'West News

reported the rebuild was set to

begin in the middle of the year.

Now Rev Nicol said the

timeline wasn't clear but the

church was "optimistic" a

rebuild would begin by June

next year.

However, he said the

congregation has a more

positive outlook since it had its

decommissioning service at the

beginning of August.

REMAINS: The rebuild of St Margaret's Presbyterian Church in Bishopdale, which was

demolished after a fire last year, has been delayed by at least a year.

PHOTO: MARTIN HUNTER

"We've finished that process

of saying goodbye, we can move

onto the next chapter," Rev Nicol

said.

The church is currently

working with an architect,

which is "really exciting". The

plans will then be approved by

the congregation.

"It's now about being

affirmative and complementary

to the renewal of the whole

area," Rev Nicol said.

He said the church

congregation was upset after

the arson attack but the fire

had emphasised how important

the church is to the wider

community.

"There's a good heart in

Bishopdale and now we're just

looking to the future," he said.

The church suffered almost

$2 million in damage when

Cheyenne Destiny Jade Reed,

a 35-year-old technician, broke

into it and started a fire in May

last year.

Reed was jailed for six years

for the arson and other charges,

including burglary, unlawful

possession of a knife, breach of

bail, receiving a computer and

theft of a car.

The congregation will

continue to meet weekly

at Isleworth School and is

currently fundraising for the

rebuild by selling cheese rolls.

Local

News

Now

Fire rages, homes at risk

Skate park

on cards for

Papanui

• By Julia Evans

A NEW skate park is in the

pipeline for Papanui.

The Papanui-Innes Community

Board has asked city council

staff to begin investigations into

finding appropriate sites for a new

skate park in the area.

Staff are also investigating the

possibility of offering free wi-fi at

the park.

To use a skate park, Papanui

residents currently have to go

to either St Albans, Burnside,

Bishopdale or Belfast.

City council staff will report

back to the board on October

13 with appropriate sites and

costings for design, consultation

and construction.

The board will then look to

include this in its submission on

the city council's Long Term Plan

later in the year.

It comes as the board is also

looking at extensions to the

skate park half pipe at St Albans

Park.

•HAVE YOUR SAY: Does

Papanui need a skate park?

Where would you like to see

it built? Email your views to

julia.evans@starmedia.kiwi

We're aiming to settle

all contents claims

by 30 September.

If you have already returned your contents loss

schedule, we are currently working through this

to settle your claim as quickly as possible.

Our team is aiming to settle all contents claims by

30 September 2017. We have now contacted all

customers who have lodged a contents claim with

us, however if you have not heard from us about your

contents claim please contact us as soon as possible.

Contact details for the brand you're insured with:

0800 100 200

ami.co.nz or visit your

local AMI store

0800 80 24 24

state.co.nz

Call your broker

or visit nzi.co.nz

Call your broker or

visit lumley.co.nz

0800 200 242

asb.co.nz

0800 248 888

bnz.co.nz

0800 425 025

co-operativebank.co.nz

0800 309 378

westpac.co.nz

0800 800 800

lanterninsurance.co.nz

IAGSep17 Star
---
8 Tuesday September 5 2017

Latest Christchurch news at www.star.kiwi

NOR'WEST NEWS

SCHOOLS

SMOOTH: One of the St Andrew's College jazz groups playing in the Winter Music Festival. ​

Festival flaunts musical talent

• By Julia Evans

STUDENTS' MUSICAL talent

has been in the spotlight.

Audiences of more than 200

gathered in the Christchurch

Arts Centre's Great Hall to see St

Andrew's College's talent during

its Winter Musical Festival.

This year there were two evening

sessions – an intimate singer

songwriter session and jazz

night.

Songwriters showcased included

Logan McAllister, Bella

Ford and George White, who

have recently been selected as finalists

in the Play it Strange 2017

Lion Foundation Songwriting

Competition.

And the school's jazz groups

have also recently returned from

a hugely successful Southern Jam

where the jazz orchestra and soul

band brought home silver awards

and the big band won gold.

Also bringing home awards

from the Southern Jam were

students Anna Bennetto for best

vocals, Serge Beaton for best

trombone and Patrick Moran for

best big band drummer and most

outstanding musician.

WINNERS: The year 7 to 8 chess champions, Amelia Marshall,

Cara Birch, Emma Mason and Amanda Jiang from Selwyn

House. ​

Chess champions

• By Julia Evans

MORE THAN 100 students piled

into the Selwyn House hall for

the annual Girls' Canterbury

Inter-School Chess Competition

And after a fierce day's playing,

it was schools from the northwest

that dominated the winners'

list.

Waimairi Primary School

won the year 1 to 6 competition,

Selwyn House won year 7 to 8

and Christchurch Girls' High

School won the year 9 to 13.

BRAIN

POWER: Girls'

battled it out

at the Selwyn

House

School hall

during the

competition.

Awards

for choirs

• By Julia Evans

A PAIR of silver awards from

a national choir competition

have been won by north-west

schools.

The St Margaret's College Chamber

Choir and Resolutions from

Rangi Ruru Girls' School both received

silver at the Big Sign Finale.

The students performed at gala

evenings at the end of August in

the Aotea Centre, Auckland.

VOCALS: St Margaret's College Chamber Choir performing at

the Big Sing Finale. ​

GIRL POWER: Resolutions from Rangi Ruru took home a

silver award from the Big Sing Finale.

Recent

Transactions

Olivine Street

Mooray Ave

Langdons Road

Manuel Place

Guys Road

Hereford Street

Ariki Place Street

Waimari Road

Jennifer Street

Skipton Street

Armour Place

Kilburn Street

Another Top Property For Sale

Armour Place, Milns Estate

22 Armour Place

Property ID: 3457GT 4 2 2 2 2

A 12 year old home of approx. 209m 2 . First class presentation.

Two special living areas, both opening out to an impressive deck and

outdoor entertaining area. The modern kitchen with 2 pantries spills out to

separate dining. A gas fire, heat pump and double glazing provide warmth

and comfort. Four double bedrooms complemented by ensuite and guest's

bathroom. Look! Separate laundry room. The benefits of space, location and

serenity will really appeal to you here. Owners are relocating to a smaller

home and require a sale.

We are looking for two

families who want to buy in

the Northwest. Finance to

$700,000. Can you help us.

Selling? We would welcome

the opportunity to help you to

achieve a Top Result.

"We know

your area,

people

say we're

Top

in it!"

Contact

Gavin Topp - 027 431 7470

Harveys Topp Realtors

03 359 5595

Topp Realtors LTD

Licensed Agents REA Act 2008

Next to the old

Mitre 10
---
1 2 3 4 5 6 7 8 9 10 11 12 13 14

1 2 3 1 42 35 6 4 7 5 8 6 9 7 108 9 11 10 12 113 14 12 13 14

1 2 3 4 5 6 7 8 9 10 11 12 13 14

1 2 3 4 5 6 7 8 9 10 11 12 13 14

1 2 3 4 5 6 7 8 9 10 11 12 13 14

1 2 3 4 5 6 7 8 9 10 11 12 13 14

1 2 3 4 5 6 7 8 9 10 11 12 13 14

1 2 3 4 5 6 7 8 9 10 11 12 13 14

NOR'WEST NEWS Latest Christchurch news at www.star.kiwi

Tuesday September 5 2017 9

TAKING CARE: Losa Paseka, 3, plants a seed.

Children

compete

to grow

tallest

sunflower

• By Sophie Cornish

CHILDREN WILL learn valuable

gardening skills and knowledge

during the Daltons Sunflowers in

Kindergartens Project.

Seventeen Christchurch kindergartens

will compete to grow the tallest

sunflower or widest sunflower head.

Each kindergarten was sent a

Daltons starter pack with everything

the children need to grow their own

sunflowers, which have the potential

to grow up to 4m.

The tallest sunflower ever grown in

HOPEFUL: Kidsfirst MacFarlane Park kindergarten children

Mckenzie Edwards (above left), 3, Evie Beyers-Guy, 2, and Telisha

Brougham (below), 4, with their sunflower pots.

the project's history was 3.12m.

The children will learn how to sow

and care for seedlings as well as the

daily care of their plant.

Daltons general manager Colin

Parker is thrilled with the return of

the project this year.

"The competition aspect adds a

little extra fun to the project for the

children, but we are more focused

on creating opportunities to spark a

lifelong love of gardening."

The competition runs until December

6, and winners will be announced

on December 8.

TEACH: Papanui High School year 10 student Henri Liswoyo (left), 14, helps Ginny Bonisch with her iPad, while Tyler Hawthorn, 14, helps Ann McGrain.

Library service bridges generation gap with tech help

• By Julia Evans

WHO BETTER to solve tech

problems than a generation of

digital natives.

Papanui High School students

are giving up their lunch breaks

each Tuesday for the Papanui

Library's new programme –

GenConnect.

Librarian Lisa Sanger said the

library is delighted to announce

the new programme, which aims

to help residents with their tech

and bridge the generation gap.

"The idea behind GenConnect

is to increase interactions

between the younger 3 generations

NO. 13 HARCOURTS NEW ZEALAND 2012-2013

and older adults by providing

free technology help."

Students are there to offer

anyone help with digital

technology. "On the other hand,

adults can contribute by sharing

PHOTOS: MARTIN HUNTER

community history and helping

the students learn teaching

skills."

The students will be at the

library from 12.10-1.40pn every

Tuesday.

Contact me today... I can make a real difference!

HARCOURTS CANTERBURY TOP 20 2004-2017

HARCOURTS NEW ZEALAND TOP 100 2004-2017

Land size

Bedroom

Bathroom

Lounge

Dining

Toilet

Shower

Study

Land size

Bedroom

Bathroom

Lounge

Dining

Toilet

Shower

Study

Land size

Bedroom Land size

Land Bathroom size Bedroom

Bedroom Bathroom Lounge

Bathroom

Land size Lounge Dining Bedroom Lounge ToiletDining

Bathroom Shower Toilet DiningLounge

StudyShowerToilet

DiningStudy

Garage Shower Toilet

Study Carport Shower

Study

Car pad

Boat pad

Pool

Tennis court

Land size

Land size Bedroom

BedroomBathroom

Land size

BathroomLounge

Bedroom

Lounge Dining Bathroom

Dining Toilet Lounge Garage Shower Dining

Toilet

Study Toilet

Shower

Shower Carport

Study Car pad

Study Boat pad

Pool

Tennis court

Garage

Garage Carport

Garage

Carport

pad

Garage

Car Boat pad pad

Carport

Carport

Boat Poolpad

Car pad

Car pad

Tennis court Pool

Boat pad

Boat pad

Tennis court

Pool

Pool

Tennis court

Tennis court

Garage

Garage

Carport

Carport

Garage

Car pad

Carport

Boat pad

Car pad

Car pad

Pool

Boat pad

Boat pad

Tennis court

Pool

Pool

Tennis court

Tennis court

850m

4

2

1

2.5

850m

4

2

1

2.5

850m

850m 4 2 41

850m

850m

22.5

1 2.5

4 2 1

4

2.5

2

1

2.5

850m 4

850m

2

4

850m

1 2.5

2 1

4

2.5

2

1

2.5

Phone 03 352 6166 or 027 220 6565

deb.harvey@harcourtsgold.co.nz

471 Papanui Road, Christchurch

LICENSED AGENT REAA 2008

OVER

$250 MILLIO N IN

H A R C O U R T S

SALES

G O L D
---
10 Tuesday September 5 2017

Latest Christchurch news at www.star.kiwi

NOR'WEST NEWS

SHIRTS TO GO

Manufacturers Markdowns

These are all oddments and discounted ranges - Sizes SM to 6XL

$

9 $ 18 $ 28 $ 38

bIG SIzeS SHIRT SaLe

3XL 4XL 5XL 6XL

Plus 47cm, 48cm, 49cm, 50cm

Great selection of

these larger sizes

both in business

and casual shirts.

RRP prices $89

up to $129

vOnneLLa, vOnneLLa

& MORe vOnneLLa

Famous shirt proven for over 50 years. We have old patterns, shop soiled garments

(from closed down retail), and the new patterns of the future.

One and two pocket style, regular and button down collars.

new patterns

$

28 $ 38 $ 48 $ 58

$

98 $ 104 $ 112

Sizes SM to 3XL (4XL if you are quick)

RRP prices up to $119.90

My PRICe

$

87

The SHIRT Sale

Time to clear all the unwanted! Well they will be wanted now with the reductions we

have actioned. We simply cannot list the shirts as there is too much variety. Long

sleeve, short sleeve, polo and golf shirts. includes Logan, Blokes, Burbank, Charlie

K, daniel hechter, Milton, Vonnella, Country Look, London Fog, Gazman Cutler,

Gloweave, Lichfield and many others.

They are brands you know, at prices you want in sizes from SM to 6XL.

Fabrics are both summer and winter weight. RRP prices $69.99 to $145

Priced to CLEAR:

$

18 $ 28 $ 38 $ 48 $ 58

vOnneLLa oddments to clear $59

The TROuSeR Sale

Time to clear the odds and unwanted, with huge reductions.

Styles are current, all the detail and qualities you wanted.

The prices are within your budget. Wool blends that are washable,

including Cavalry Twill. Sizes 84w to 124w.

$

39 $ 59 $ 69

RRP prices were $89.99 to $205

Priced to CLEAR:

Important: when you are

buying from us, we ask you

to note the quality of the

product, the guarantee of the

brand, the skill of the staff.

We work because we enjoy

meeting people and being of

service to you. Thank you for

coming to us.

$

79 $ 89 $ 99 $ 109 $ 154

CORduROy

STReTCH TROuSeRS

Manufacturers Markdowns by Savane, Charcoal

and Expresso. All must go!

Sizes 87cm to 122cm RRP $119

dOeSkIn STReTCH

jeanS O

by blokes

Proven fabric, proven fit, 5 pocket jean style.

Olive or Bronze.

Sizes 84cm to 104cm RRP $109.90

My PRICe

$

64

My PRICe

$

58

We are Bishopdale owned and operated. Our staff come happily from other suburbs.

The knITWeaR Sale

We have recently been offered samples, end of lines, oddment to clear from

various makers. There are lighter weights, heavier knits, cashmere merino blends

(the ladies love them).

Rugged fisherknit, vee neck merino, wool blends, a mixed bag of knitwear all

priced to 'find new homes' where they will be well cared for.

$

48 $ 68

MOLeSkInS oddments to clear $59

Sizes SM to 6XL. RRP prices $125 to $145

Priced to CLEAR:

$

88 $ 108 $ 128 $ 138 $ 158

MOLeSkInS,

MOLeSkInS

& MORE!

Tussock Creek for all colour, all

qualities, all sizes. We are the major

stockist for these great work and

casual pants.

$

99

12oz 15oz

$

109

STReTCH

MOLeSkInS

in ALL 6 ShAdES

Sizes

32 to 44

RRP $119

$

98

note: our Matrimonial Refund policy applies to all merchandise we sell.

You can buy with confidence knowing you can get your money back.

Brands you want @ Prices you want

mens store

Bishopdale Village

free

Where parking is and easy

Hours: Monday to Friday 10am - 4pm | Saturday 10am - 3pm | Sunday Closed (Pensioners hours!)
---
NOR'WEST NEWS Latest Christchurch news at www.star.kiwi

Tuesday September 5 2017 11

News

PART OF The Groynes is set to

be inaccessible by car.

A single-lane road bridge near

the Groynes Dr entrance needs

to be widened to allow for twoway

traffic and pedestrian access

on both sides.

During the first three to four

weeks of construction the city

council reserve will remain

open.

But the road bridge being upgraded,

which leads towards the

dog park and some picnic areas,

will be closed to vehicles.

Car access will be limited to

the south picnic area and car

park.

As part of the planned upgrade,

a culvert under the bridge

is being replaced and widened

to allow better water movement,

improve water quality and allow

fish to move more freely.

Work is expected to start on

September 11.

It has been prompted by

construction of the new Western

Belfast Bypass on Johns Rd,

which will affect traffic pressures

in the area.

Regional parks operations

manager Kay Holder said The

Groynes is a popular recreation

reserve and the upgrade

is needed to ensure it remains

UPGRADE: The

single lane road

bridge is set to be

closed while part

of the Western

Bypass is worked

on. ​

Upgrade for Groynes bridge

easily accessible.

"We're confident any inconvenience

caused in the short

term will be worth it for the long

term gains," she said.

Pedestrian entry to the dog

park and northern side of the

river will be using a footbridge

to the west or the metal swing

bridge.

That bridge has just been

repaired and re-opened after being

closed to the public since the

2011 earthquakes.

There is also access via a

walking route from Darroch St

around the Otukaikino track.

Receptionist on the way

to becoming a nurse

DEB MORRISON has always

dreamed of being a nurse.

And thanks to a workplacebased

training programme,

the Belfast receptionist is on a

mission to upskill and follow her

dreams.

Ms Morrison has worked at the

Belfast North Mediqual Doctors

for 15 years.

"I've always wanted to do my

training as a nurse but I never

had the opportunity to do this

when I was growing up," she said.

"This is a journey I've always

wanted to take."

Ms Morrison has just completed

an apprenticeship in primary

care practice assistance, becoming

the first apprentice to graduate

from the new programme

developed by the industry training

organisation, Careerforce.

She said the apprenticeship

has given her a newfound selfassurance

in many aspects of her

role.

"Now I find myself feeling a

lot more confident so I will give

things a go, whereas before I

would just sit back and watch,"

she said.

Her new-found skills and

confidence has also provided a

welcome boost to her employer

and practice team of five doctors

and four nurses, as now Ms Mor-

DREAM: Deb Morrison has

always wanted to be a nurse

and is now following that

dream.

rison puts her hand up for more

responsibility in her role.

"Now my work colleagues ask

me to assist them and that makes

me feel good because I'm proving

myself, I'm trusted, and I've got

the skills to do it," she said.

"And it's helping them and the

doctors as well. I love the responsibility."

Ms Morrison said her workplace

and colleagues have been

very supportive of her training

journey.

"I am positive my new skills

have added a lot of value to my

workplace," she said.

A SPRING CLEAN FOR YOUR HEARING

Could your ears or hearing do with a spruce up?

Ear problems occur gradually, just like dust building up on a skirting

board. It's only when you deal with them that you realize just how

significant they have become. We can remove the cobwebs for you!

FREE NO OBLIGATION INITIAL HEARING CHECK

FREE CLEAN & CHECK FOR YOUR HEARING AIDS

FREE TEST DRIVE OF THE VERY LATEST DEVICES

FULLY INDEPENDENT UNBIASED ADVICE

EAR WAX REMOVAL BY MICROSUCTION

LOWEST COST HEARING AID BATTERIES

BOOK YOUR SPRING

CLEAN TODAY, CALL:

03 974 1658

Chris and Neil will make you feel very welcome at our Hornby Clinic.

They have over 15 years experience of helping people with hearing

difficulties to live the life to the full. With limitless patience, they

will be happy to help you rejoin the conversation, and HEAR AGAIN

Clinic: The Hub, Hornby, Christchurch (opposite )

Web: www.hearagain.co.nz Email: info@hearagain.co.nz
---
12 Tuesday September 5 2017

Latest Christchurch news at www.star.kiwi

NOR'WEST NEWS
---
NOR'WEST NEWS Latest Christchurch news at www.star.kiwi

Tuesday September 5 2017 13

St Albans Exercise

Tuesday, 9.15-10.15am

These classes are designed for

people living with long-term

health conditions. Classes generally

occur weekly but won't happen

on public holidays and also school

holiday periods. Phone 0800 663

463 to register.

Foundation of the Blind, 96

Bristol St.

Scrabble Group

Tuesday, 9.45am-Noon

Go along and play scrabble

with the friendly weekly group.

Exercise your brain and have fun.

Gold coin donation. Sundbye

House, 100 Farrington Ave.

GenConnect

Tuesday, 12.10-1.40pm

This class aims to connect

generations by sharing knowledge.

Nothing compares to the

knowledge of helpful teens that

have grown up with technology.

Papanui High School students

will be available to help you find

answers to all your questions.

Papanui Library, 35 Langdons

Rd

Reading to Dogs

Tuesday, 3.30-4.30pm

These sessions have been

designed to provide a relaxed and

Email julia.evans@starmedia.kiwi

by 5pm each Wednesday

non-threatening atmosphere to

encourage children to practise

their reading skills and develop

a love of reading. This

programme uses dogs who are

the pets of the city council animal

management team and have been

trained and tested for health,

safety and temperament. Sessions

are 15min. Phone 941 7923 to

book a spot.

Shirley Library, 36 Marshland Rd

Spinathon for Plunket

Wednesday, 6am-6pm

Canterbury Plunket is putting

on this Spinathon event to

fundraise. This is a fun event

day with the chance for people

to jump on a spin bike at their

local Anytime Fitness and raise

some funds for Plunket. There

is a new session every hour, and

each session runs for 50min.

Go along to Anytime Fitness –

Airport Spitfire Square branch

and spin to help Plunket continue

its amazing services to families all

around the city. Each session is

$15 or $40 for a team of four (one

session per team member). To

secure your ticket head into your

local Anytime Fitness and ask at

the counter. All proceeds go to

Canterbury Plunket.

Anytime Fitness, Spitfire Square,

544 Memorial Ave.

Scrabble Club

Wednesday, 1-3pm

Go along to scrabble club.

There's no obligation, just go along

whenever you can and join the

group. All materials supplied.

Ōrauwhata: Bishopdale Library

and Community Centre, 13

Bishopdale Court.

Christchurch Central

Electorate Debate

Wednesday, 7-9pm

A debate featuring the candidates

for the Christchurch Central

Electorate in September's General

Election including Nicky Wagner

for National, Peter Richardson

for Greens, Phil Robinson for

NZ First and Duncan Webb for

Labour. The event is moderated by

Chris Lynch. There is an opportunity

for questions to be submitted

in advance at admin@christchurchcathedral.co.nz.

The Transitional Cathedral,

Latimer Square.

Go Well Group – Play

Rummikub

Thursday, 1-3pm

Go along to Fendalton Library

and play Rummikub. The game

is an exciting, interactive strategy

game that will test your wits.

Fendalton Library, 4 Jeffreys Rd.

MEOW: Go along to the

Christchurch All Breeds Cat

Club cat show on Sunday.

There will be judges from

Australia and New Zealand

judging some of the best

long-haired, short-haired

and domestic cats from all

around the country. On show

will be siamese, burmese,

persians, maine coons and

many more. Meet the breeders

and have an opportunity

to see and maybe have a

cuddle with your favourite

breed. There will also be

a chance to vote for your

favourite cat. If you are thinking

of giving cat-showing

a go you could also have a

chat to one of the committee

members. Sunday, 10am to

4pm at Papanui High School.

Adults $5, children $2.

Ephemeral City: Construction

Saturday, 10am-5pm

Help construct a sky-high building

made entirely of cardboard

boxes, tape and people power. A fun

community event for all ages. Join

French artist Olivier Grossetete and

help construct a cardboard structure

in Market Square.

The Christchurch Arts Centre, 2

Worcester Blvd.

Revamp Vintage Spring

Market

Sunday, 10am-3pm

Over 50 stalls of Christchurch's

best vintage – from antiques,

china, silver, clocks, up-cycled

furniture, homeware, clothing and

collectables to coffee and cake. Go

along to find your treasure.

Christchurch Girls' High School,

10 Matai St.

THE RUSSLEY VILLAGE

HOLLY LEA VILLAGE

russleyvillage.co.nz

03 357 9392

73 Roydvale Ave,

Christchurch

For enquiries contact

Nola Lamb

STYLISH DESIGN,

CONTEMPORARY RETIREMENT LIVING

Making your retirement move is easy when its to one of these sought after locations.

Located on the site of the old Russley Hotel,

the Russley Village is set within eight acres

of award-winning gardens and grounds.

The Russley Village has recently opened its

purpose built resident community facility,

The Homestead. Inside The Homestead you

will find Abode Café & Brasserie, a boutique

cinema, library, arts & crafts space, hair salon

and wellness rooms.

Holly Lea Village is nestled in the heart of

Fendalton within beautifully tailored grounds

with an extensive range of facilities including

restaurant, garden lounge, cinema, library, hair

salon and the newly renovated dining room.

The village offers a range of care and extra

support services delivered to your apartment.

We currently have a beautiful selection of

studio and one bedroom apartments available.

hollylea.co.nz

03 351 2679

123 Fendalton Rd,

Christchurch

For enquiries contact

Juliane Brand
---
14

TOP BALLERS: Rangi Ruru beat Christchurch Girls' High

51-37 to claim the Whelan Trophy.

PHOTO: RANGI RURU GIRLS' SCHOOL

Rangi claim second

basketball title in row

• By Andrew King

Tuesday September 5 2017

RANGI RURU Girls' School

have won back-to-back Whelan

Trophy division one titles,

beating rivals Christchurch

Girls' High 51-37 last week.

Played at Cowles Stadium,

it was a repeat of last year's

Canterbury secondary school

basketball final and, once

again, Rangi Ruru came out on

top.

The final score was very

different to the 74-62 final last

year, when they wrested the

trophy off CGHS.

Rangi Ruru Alice Sproat was

named MVP with nine points

and 15 rebounds. She was

backed up by Junior Tall Fern

Esra McGoldrick's 20-points

and 17 rebounds.

Rangi Ruru director of sport

Jo Fogarty said there was a huge

crowd there supporting the girls.

"What an incredible

atmosphere. That can really

make all the difference to the

game and I have no doubt that

support played a part in Rangi's

decisive win this year," she said.

In the Whelan Trophy

division two final St Margaret's

beat Avonside Girls' High 65-56

to claim the title.

NEW LOCATION ADVERT.pdf 1 1/05/2014 11:51:35 a.m.

Latest Christchurch news at www.star.kiwi

CBHS narrowly miss top four spot

• By Andrew King

CHRISTCHURCH BOYS'

high have lost their second

consecutive bid to make the

top four after being beaten in

Invercargill 36-31 by Southland

Boys' High on Saturday.

A try to Southland fullback

Ben Pope late in the game

sealed the win, but the amount

of extra time played by former

international netball referee Jono

Bredin was a big talking point.

An extra 7min was played on

top of regulation time.

League world cup prize inspires students

• By Andrew King

THE RUGBY League World Cup

kicks off next month and last

week north-west students got a

look at what the Kiwis will be

gunning for – the Paul Barrière

Trophy.

The competition will feature

14 men's and six women's international

teams and be hosted

in Australia, New Zealand and

Papua New Guinea.

Fendalton Open-Air School,

Breens Intermediate and St

Albans School all had the trophy

pass through their doors, giving

them a chance to have a look at

international league's top prize.

Breens Intermediate principal

Nikki Clarke said they were excited

to welcome the trophy and

hear from representatives from

But CBHS coach Danny Porte

said he "doesn't want to get into

that".

"It was frustrating. We did

all we could and emptied the

tank, it was one of the better

performances we have had, he

said.

"But it was not quite enough in

the end."

"They can be proud of how

INSPIRED: Fendalton pupils

were able to have a look at

the Paul Barrière Trophy up

close last week.

Canterbury Rugby League about

the upcoming tournament.

"It was a great chance for the

students to see the trophy and be

SPORTS

NOR'WEST NEWS

they played."

Porte wished Southland all the

best in the upcoming top four

competition.

"I hope they do the South

Island proud to prove we have a

strong competition," he said.

In the South Island co-ed final

St Andrew's College beat Gore's

St Peter's College 81-7 to move

through to the top four.

inspired to chase their dreams in

sport," she said.

Fendalton's teacher in charge

of sport Karen Radovonich said

the pupils were excited to see the

treasured taonga.

"The visit has inspired the Fendalton

children. They are looking

forward to participating in their

own Rugby League World Cup

tournament in term 4, where students

will adopt a country, form

teams, play games and manage

and referee the competition," she

said.

First held in 1954, the 2017

Rugby League World Cup will be

the 15th time the historic tournament

has been played.

The first of 28 games will begin

on October 28, with the final

to be played on December 2 at

Brisbane Stadium.

VISIT OUR NEW LOCATION LOCATION

430 ST ASAPH STREET!

Hours of Business: 7am-4.30pm Mon-Thurs

Fri 8am to midday

or by appointment with Keith 027 566 3909

RECOVER YOUR LOVED FURNITURE

No job too big or small

Still able to offer

you the finest top

quality new furniture

Visit us online

www.qualityfurniture.co.nz

P. 371 7500

QUALITY FURNITURE SPECIALISTS

RE - UPHOLSTERY SPECIALISTS KEITH HARTSHORNE 0275 663 909

Burwood

HOME OF THE

$

40 SERVICE

Our Redwood store has now

merged with Burwood.

We are still offering repairs and servicing.

SHOP HOURS

Mon-Fri 8.30am-5.30pm. Sat 9.00am-4.00pm

Ph: 383 2114

269 Burwood Rd, Burwood

Layby available

Cactus Cars Ltd

Quality vehicles under $10,000

with zero deposit options

Putting people before dollars

• 12 month full

mechanical

warranty

• New WOF, rego

and serviced

• Full tank of gas

Cactus Cars Ltd

165 Williams Street, Kaiapoi

Ph: 03 327 2961

www.cactuscars.co.nz

Mon-Fri 8.30am - 5pm

Sat 9am - 1pm
---
NOR'WEST NEWS Latest Christchurch news at www.star.kiwi

Tuesday September 5 2017 15

St Andrew's win football title SPORTS

• By Andrew King

THE BAGPIPES rang out across

English Park as St Andrew's won

the Connetics first XI football

competition against St Thomas

on Wednesday night after a tense

penalty shootout.

The game was played with high

intensity between two teams

who were fighting each other at

the top of the table all season. It

provided a fitting end to what

has been described as one of the

closest fought title races in years.

The title was decided by a

penalty shootout after the match

was tied 3-3 at fulltime. St

Andrew's came out on top 5-4 on

penalties.

St Andrew's goalkeeper Olly

Drew stopped St Thomas' third

attempt and then St Andrew's

striker Declan Hickford drilled

one into the back of the net to

cue the celebrations. Spectators

flooded the field to celebrate with

CHAMPIONS: St Andrew's won the Connetics football competition 5-4 on penalties last week, while the St Andrew's girls (below)

were beaten 3-1 by Cashmere High in their final. (Below left) St Andrew's celebrate with the Connetics Cup.

their team.

St Andrew's coach Matthew

Jansen said he couldn't even

watch the shootout as St Thomas'

supporters got louder and louder.

"I just knew you couldn't do

anything more as a coach. I told

them to have faith in themselves

and know, win or lose, we had

played the best we could and to

be proud of that. It was nervewracking,"

he said.

Jansen thanked St Thomas for

creating a great rivalry

and pushing them the whole

season.

"I want to thank our supporters

and the boys. Well done for all

your hard work and trusting the

process and each other to achieve

something you haven't before,"

he said.

St Andrew's were 3-1 up at

halftime, but the never-give-up

attitude of St Thomas saw them

claw their way back into the

game with two goals.

One came from a penalty

that had to be retaken after the

touchline umpire ruled the St

Andrew's keeper had moved off

his goal line early. The victory

was quickly put to one side as

St Andrew's kicked off their

national campaign yesterday in

Napier after qualifying for the

tournament earlier in the season.

However, St Andrew's girls side

were defeated 3-1 by Cashmere

High in their final, while St

Bede's won the plate final with a

2-0 win over Lincoln High.

Both of those games were also

played at English Park.

Discover this

unique Emporium

Metal art - gifts - hoMewares

water features - pottery

Mirrors - candles

wall hangings & More

722 Marshland Road, Top end Styx

Open 7 Days

Ph: 03 323 9781

www.hitchingpost.co.nz

tHe tRuSteD nAme in fAbRicS

Discover Christchurch's

best priced pet

accommodation

"Specialists in real value

apparel and upholstery fabrics"

BLENHEIM RD

HARALDS

ANNEX RD

BIRMINGHAM DRIVE

47 Birmingham Drive, Middleton | Phone 338 7700 | Open Mon-Sat 10-4

47

• Grooming

cats and dogs

• Daycare -

all breeds

• Long stay/

short stay

Call now to book in your fur baby -

inspections welcome anytime!

aLameDa

kenneLs & cattery

271 Dyers Road | Ph 384 1297

www.alameda.nz

MATIPO ST

MONDO

BLACK

Introducing..

Alesha Brehaut

Now at Mondo Black

for all your

hair services

Tuesday: 9am - 5pm

Wednesday: 9am - 5pm

Thursday: 9am - 8pm

Friday: 9am - 5pm

Saturday: 9am - 5pm

Welcoming new & existing clients to

the Mondo Black experience

Book an appointment today, call 03 385 9903

Shop 1, 680 Barbadoes Street, Edgeware
---
16 Tuesday September 5 2017

Latest Christchurch news at www.star.kiwi

NOR'WEST NEWS

is your teen on

track

to Get NCEA?

there are more career focused

ways to gain ncea

gain ncea l2 or 3

security & armed forces

This could be their CV after completing our physically challenging

course, which prepares them for a role in uniform. This course

offers the opportunity to gain NCEA Levels 2 and/or 3.

FREE to 17-19 year olds. Fee applies if aged 20+

Enrol by Monday 4 th September

gain ncea l1

ultimate career decider

This could be their CV after completing our FREE Level 1

course, offering the Learner Driver's Licence, employment skills

and tasters in a variety of careers. This course also offers the

opportunity to gain NCEA Level 1. FREE for 16-19 year olds.

Enrol by 18 th September

gain ncea l2 or 3

certificate in computing

This could be their CV after completing our FREE 12 week

Certificate in Computing OR our FREE 20 week NZ Certificate

in Business (Admin & Technology) FREE to all ages 16+

Enrol by 18 th September

Txt TRAINME to: 027 557 8839

0800 872 466 | www.trainme.org.nz

*SOME CONDITIONS MAY APPLY

Visit us at:

50 Hazeldean Road,

Addington, Christchurch
---
NOR'WEST NEWS Latest Christchurch news at www.star.kiwi

Tuesday September 5 2017 17

GREAT food

BROUGHT TO YOU BY...

Your fresh food people

MUSHROOM, CHICKEN

AND LEEK PIE

Ingredients

3 sheets Flaky puff pastry

30g Butter

1 tsp Crushed garlic

250g White Button Mushrooms

350g Chicken, cooked, shredded

and finely sliced

1 Leek, finely sliced

¼ cup Flour

1 cup Chicken stock, hot

1 cup Milk

1 tsp Wholegrain mustard

1 Egg, beaten with 1 tbsp milk

Directions

Preheat the oven to 190deg C.

Use 1½ sheets of the pastry

to line a 25cm pie tin or similar,

trimming to fit neatly.

Chill lined tin and extra

pastry until required. In

a medium saucepan, heat

the butter and saute garlic,

mushrooms and leek for 4-5min

until the leeks are soft and

fragrant.

Add the chicken and sprinkle

over the flour.

Add the stock, stirring well,

until smooth.

Add the milk and season with

mustard, sea salt and cracked

pepper. Simmer for 5min until

thick and saucy. Allow to cool

for 10min.

Spoon mushroom mixture

into the lined tin and brush the

edge with egg wash.

Cut the remaining pastry

into 1cm strips and arrange

in lattice pattern over the pie,

crimping at the edges to seal.

Brush the pastry lattice with

egg wash and sprinkle with

cracked pepper.

Bake for 25-35min until

the pastry is puffed and deep

golden.

Serve with seasonal greens.

GINGER BEEF, BROCCOLI

AND NOODLES

Ingredients

300g Egg noodles

1 head Broccoli

1 Tbsp Vegetable oil

500g Beef

2 Garlic cloves

3 cm Fresh ginger

3 Spring onions

3 Tbsp Soy sauce

2 Tbsp Oyster sauce

2 Tbsp Toasted sesame

seeds

Directions

Cook noodles and broccoli

together in boiling water for

3min. Drain well. Cut beef into

strips. Heat oil in a wok or large

frying pan. Stir-fry beef for

3-4min in two batches to brown.

Remove to one side. Add garlic,

grated ginger and sliced spring

onions to the pan and stir-fry

for 30sec. Add noodles, broccoli,

soy sauce and oyster sauce, then

return beef to pan. Toss and stirfry

to combine. Serve in bowls,

scattered with sesame seeds.

Broccoli .........................99 c

Large Leeks ................... 1 .79

EACH

NZ Navel Oranges ...... 1 .99

kg

Ambrosia Apples .......... 3 .99

kg

White Button

Mushrooms 400g ............. 3 .99

bag

Lamb Shoulder Chops 11 .99

kg

Chicken Drumsticks ... 4 .99

kg

Premium Beef Mince ... 11 .99

kg

All our fresh meat is 100% NZ FARMED.

specials VAlid 4th september - 10th september 2017. ONLY AVAILABLE AT

RAEWARD FRESH HAREWOOD RD, TOWER JUNCTION & MARSHLAND RD

harewood rd Mon–Fri 8.00am–6.30pm Sat–Sun 8.00am–6pm

Tower junction Mon–Fri 8.00am–6.30pm Sat–Sun 8.30am–6pm

MARSHLAND RD Mon–Sun 8.00am–6:00pm

EACH

WWW.

.CO.NZ
---
18 Tuesday September 5 2017

Latest Christchurch news at www.star.kiwi

NOR'WEST NEWS

Breaking news,

delivered to

your pocket.

Visit www.star.kiwi

anytime, anywhere!

Fire rages, homes at risk

•news •CTV •sport •districts •schools •lifestyle •opinion •what's on

www.star.kiwi
---
NOR'WEST NEWS Latest Christchurch news at www.star.kiwi

Tuesday September 5 2017 19

ON

NOW!

Promotion closes October 10th 2017.

Conditions apply.

Shop

Win

& Relax

SUPPORT YOUR LOCAL

BUSINESSES

TO WIN 1 OF 5

FAMILY GETAWAYS

TO HANMER

SPRINGS

Enter every time you shop at any

of these participating businesses

More Chances to Win!

Proudly

Supported By

We design your jewelery unique to your style and personality.

We offer a resize and redesign service.

Merivale Mall | ChristChurCh

Phone 356 2377

JuST

INCREDIBLE

IT's

• Barrington Mall

• The Hub, Hornby

• New Brighton Mall

• South City Centre

Makita 10.8V

haMMer drill &

accessory kit

Includes 2 batteries

5052734

$

199

Valid until September 12th

Only available at PlaceMakers Cranford Street and Kaiapoi

cranford st & kaiapoi

EDGEWARE VILLAGE

1066 Colombo St, Ph. 365 0802

BISHOPDALE VILLAGE MALL

135 Farrington Ave, Ph. 359 1020

OPEN 7 DAYS 7.00AM - 5:30PM

Boost Brain Performance

ENZO:PROFESSIONAL (ENZOGENOL) is a potent

antioxidant extract of the N.Z. pine bark and

has been clinically shown to improve memory,

concentration & brain performance.

SUPER

60's only $45.30, save $5.00

120's only $84.90, save $15.70

PRICE! Detailed Information Available

Bringing You the Best in Natural Health!

TROUBLE HEARING?

Call today

for a free

hearing check

& hearing aid

demonstration

HAIRCUTS FROM ONLY

NO BOOKINGS

$16

NO COLOUR

MARSHALLS HEALTH & NATURAL THERAPY

CONSULTING - PRESCRIBING - DISPENSING -

MANUFACTURING - MEDICAL HERBALISTS

110 SEAVIEW RD, NEW BRIGHTON • PH 03 388 5757

Email: enquiry@marshallshealthshop.co.nz

- WE ARE ALWAYS HAPPY TO HELP! -

Merivale Hearing Clinic

For your appointment

Phone 356 2324

24b Church Lane

Northlands Mall | Phone 352 3877

Mon-Wed 9am-6pm, Thurs-Fri 9am-9pm,

Saturday 9am-6pm, Sunday 10am-6pm

www.sharingshed.co.nz

The Automotive Lamp Specialists

WElcOmE tO Our family friENdly

christmas

shOP!

OPEN NOW

Amazing food and coffee

• All freshly made onsite

• Delicious baking

• Gluten free products

• Home made pies

• A fantastic all day menu

& much more

10 main north road

New and Used Lamps for Cars, Trucks,

Vans, 4WD and Motorhomes

325 Brougham Street, CHRISTCHURCH | PH 0800 225 483

Pataka

768 Marshland Road (North End)

Open everyday until Christmas Day 10am - 4pm

OPEN MON - FRI 7AM - 3PM, SAT & SUN 8.30AM - 3PM

181 Woodham Rd, Avonside | Ph: 03 389 7111

18b Main North Rd

03 354 6000

429 Colombo St

03 379 3265

Designer

Fashion

3000

Items

Arriving

Daily!

see our

HUGE

selection!

• Designer Brands • Family Clothing

• Menswear • Footwear • Bric-a-brac

• Workman Outdoor Clothing

• Household Goods • Books

• See the Retro Section AND Formal Wear

$32

WOF

ALL CAR

SERVICING

Convenient

central city

repairs and

parking

Open Daily 7 Days

Sydenham: 39 Battersea St Papanui: 472 Cranford St

Hornby: 94 Shands Rd

New Brighton: 52 New Brighton Mall

(Old Farmers Building)

HOURS

Mon–Sat 9am–5pm

Sun/Public Holidays 10am–4pm

New Zealand's Largest Recycled Clothing Retailer

Cnr Fitzgerald Ave &

Hereford Street

Phone: 365-5220

www.a1auto4service.co.nz
---
20 Tuesday September 5 2017

Latest Christchurch news at www.star.kiwi

HEALTH & BEAUTY

NOR'WEST NEWS

Denture specialists

expert at problem

solving for patients

Ryan Carlton and his team of expert technicians at

Dentures Plus in Innes Road are highly skilled in the

design and manufacture of flexible partial dentures.

"We also use industry-leading injection

moulding equipment for all our dentures,

Ryan says, "and we provide dentures not

only for our own patients, but also for

dentists throughout New Zealand."

For anyone experiencing problems with

their teeth or gums Dentures Plus offers a

free consultation to assess their oral health

and possible treatment plans, Ryan says.

"People needing first-time dentures or

immediate dentures can come directly

to us and we will work with their regular

dentist or if necessary arrange with

another dentist for the extraction of their

teeth in preparation for getting dentures

fitted," he says.

"Our team are excellent at problem

solving for our patients and providing

them with a comfortable, functional,

natural-looking solution."

Ryan emphasises the importance of

keeping dentures clean and healthy to

avoid the damage that can occur from

wearing them. Dentures Plus offers a full

range of products for keeping dentures

in tip-top condition, including denture

cleaners, brushes and denture baths for

soaking the dentures.

He particularly recommends Caldent

denture cleaner, as it is non-abrasive and

effectively removes stains, calculus and

plaque. All the products can be purchased

at the clinic, or through the Dentures Plus

website, www.denturesplus.co.nz.

While Christmas is still a few months

away, for those people wanting to have

new dentures in time for the festive

season, now is the time to get the process

underway, Ryan says.

"By talking to us now, and getting

started, the new dentures will be settled

in and comfortable by Christmas, so you

can enjoy all the festivities without any

denture problems."

Dentures Plus is located at 396 Innes

Road. To make an appointment to

discuss your needs, phone 385 5517.

Our Acrylic Injection Moulding machine

that we use to make to dentures.

Beautiful Teeth

Natural Smile

Free Consultation, No Obligation

• Full Dentures • Dentures Repaired • Implant Assisted Dentures

• Injection Moulded Flexible Partials • Relines

• Mouthguards • Additions/Repairs

• Purchase cleaning and care products from our website.

Meet the

Owner

Ryan Carlton

All dentures personally

designed and created to ensure

a comfortable natural fit.

DENTURES PLUS (2014) LTD

Denture Clinic and Laboratory

396 Innes Road, St Albans. Phone 385 5517.

Email: denturesplus@paradise.net.nz

www.denturesplus.co.nz

Orbiter Bus stops Innes Road
---
NOR'WEST NEWS Latest Christchurch news at www.star.kiwi

Tuesday September 5 2017 21

REAL ESTATE

Prime position for exceptional living

8 Quarry Hill Terrace, Kennedys Bush

Auction 21 Sep 2017 Unless Sold Prior

4 bedrooms | 2 bathrooms | 2 living rooms | 1 dining room | 1 office/study | 2 car-garage | Listing #PI48433

This stunning contemporary home is set in

a prime location with panoramic views of city

and mountains. With the solidity of Hebel

construction, it offers generous proportions

ideal for family living or working from home.

In zone for Halswell School, it is just minutes

to amenities, and handy to walking trails in

Halswell Quarry Park and the Port Hills.

The north-facing living areas are positioned

for superb sun and sensational views.

Beautifully light, open-plan casual living and

dining flows to an elegant and well-appointed

kitchen with granite benchtops. The adjoining

lounge has a gas fire, and both rooms open to

a spacious terrace for effortless entertaining.

A palatial master bedroom includes WIR, en

suite and private terrace with spa, while three

more double bedrooms and an office share

a family bathroom. On the lower level, an

additional office or hobby room adds further

flexibility. A double internal-access garage

and a garden landscaped with established

easy-care plantings complete this very special

package.

Properties with locations this good don't

come along often - seize your opportunity to

secure an exceptional home.

Open Homes Saturday and Sunday

3:00p.m. - 3:30 p.m.

See you at the open days or for a private

viewing phone Cameron Bailey on 352 6166

or mobile 0275 557 079 of Harcourts Gold

Papanui (Licensed Agent REAA 2008)

now bigger than ever

growing with you

SprIng Is here –

It'S Sow Time

how to get the best results from

seeds and seedlings

100% NatIve In

The capItal

Unravelling the secrets of

Otari-wilton Bush

The New Zealand

landscape awards

The people behind

the projects

$7.90 incl. GST

Save our roSeS

How a rose register is protecting our heritage

September 2016 | 100%

It's time

to grow!

New look and more

content than ever!

MeeT LeSTer Brice

A Garden coach

auckland Botanic GardenS

Why we love our public grounds

The magazine for

gardeners who like to get

their hands dirty

SubScribe from

$43. 50*

*6 issues/6 months

ISSN 2423-0219

SUBSCRIPTIONS FREEPHONE

0800 77 77 10

www.gaRdeNER.kiwI
---
22

Latest Christchurch news at www.star.kiwi

Tuesday September 5 2017

NOR'WEST NEWS

Classifieds Contact us today Phone our local team 03 379 1100

Caravans, Motorhomes

& Traliers

CARAVAN Or Poptop

wanted ph 027 306 6544

TRAILER Briford or

similar wanted ph 027 306

6544

Computers

ALL

YOUR

COMPUTER

WORRIES SOLVED!

*$30.00 off your first

service with this coupon!*

No problem too big or

small from home PC's to

business networks. PC

slow? An end to Viruses,

Spyware, and Clogged

Systems. Safe secure

hassle-free computing.

Lost files recovered.

Microsoft Certified,

MCSE, MCP+l. 30 years

experience. Call Andrew

Buxton this week on 326-

6740 or 027 435-7596

for $30.00 off* Custom

Computers Christchurch

Holiday

Accommodation

QUEENSLAND SUN-

SHINE COAST AUSTRA-

LIA Resort, Ocean Views,

Balconies, Self Contained,

1 or 2 B/R Ensuite,

Heated Pool, Spa, Sauna,

Free Internet, Shops,

Restaurants, Tennis, Surf

Club & Patrolled Beach,

Public Transport at door.

Ask for our SEASONAL

SPECIALS. Phone 61 7

544-35011 Email: reception@mandolin.com.au

www.mandolin.com.au

To Let

NEED MORE

SPACE?

WARMER THAN A CARAVAN

NO BOND

Ideal as an extra

bedroom or office

Three convenient sizes

from $70 p/w:

Standard 3.6m x 2.4m

Large 4.2m x 2.4m

Extra-large 4.8m x 2.4m

Visit our display cabins at

470 Cranford Street or call

0211277227 for a free brochure

www.justcabins.co.nz

To Let

TO RENT

redwood, 2 bedroom 1

bath, sep toilet. Close to

schools shops busses.

HRV, very cosy. Available

NOW. 0273407751

ADD SOME

COLOUR

TO YOUR ADVERT!

Trades & Services

CONCRETE

Concrete Removal

& Trucking

Driveways, paths, sheds, garages, site clearances.

We also deliver and spread landscaping supplies –

topsoil, bark chip, shingle etc.

3 Tonne Digger and operator available for hire.

For fast friendly service phone

Nick on 0274 324 124

keacontracting@yahoo.com

concrete & paving

• Driveways

• Earthquake repairs

• New Home Specialists

• Patios & Paths

tel: 0508 873 7483

email: sales@affordableconcrete.co.nz

www.affordableconcrete.co.nz

ELECTRICIAN

• Water heater repairs

• Alterations • New Housing

• Heatpump Installations

• Maintenance & Installations

• Commercial & Industrial

Ph: (03) 359 4523

Mob: 0274 333 458

dke@xtra.co.nz

EXTERIOR PLASTERING

Quality

Workmanship

at Competitive Pricing

Free Quotes

Aynsley Frewer

M: 027 201 1296

E: aynsleyfrewer@xtra.co.nz

PO Box 20534 Bishopdale

Trades & Services

spouting

www.superiorspouting.co.nz

Ph. Jem 0277 515 250

0800 751 525

MAINTENANCE

Doctor

Fixit

• Carpentry • Repairs &

Maintenance

• Doors & Windows

• Fencing

• Painting & Plastering

• Tiling

• Outdoor Maintenance

• Renovations

• Decks & Pergolas

Norm McRae

027 222 3060 | 03 312 0082

www.doctorfixit.nz

PAINTER

Michael Kelly Painters

Locally owned and

operated family

business.

25+ years Experience

• Painting • Wallpapering

• Interior • Exterior

Free Quotes

Phone

Michael 0212 649 492

michaelkellypainter@hotmail.co.nz

ROOF RESTORATIONS

• Roof Restoration

• Painting/Decorating

• Moss Treatments

• Gutter Cleaning

• Leaks

Paul Jefferies - 021 235 9552

allaspectsroofpaint@gmail.com

Trades & Services

HOUSE

CLEARING

Are you

moving house

or trying to

downsize?

Call All Clear

Canterbury. We work

with you to recycle,

sell and dispose of

unwanted items.

Ph: 03 260 0934

or 021 078 4553

raewynlcooke@gmail.com

www.allclearcanterbury.co.nz

& Property Maintenance

Paving

Patio - Pathways - Driveways

Lawns and Gardens

Planting - Raised Vege Gardens

Readylawn - Irrigation - Fencing

General Maintenance

Water Blasting - Gutter Cleaning

Rental Property Maintenance

Section Clearing - Weed Spraying

20 Years Experience

Locally owned and operated

Free Quotes - Competitive Pricing

Blair Gibson 027 699 5815

DO iT OncE

Do it right

Driveways FREE

Paths & patios QUOTES

Concrete or asphalt

Earthquake repairs

All work guArAnteed

Brad 021 716 942

www.gardencitydriveways.co.nz

ROOF

PAINTING

Rope & harness

a speciality,

no scaffolding

required,

30 years of

breathtaking

experience.

FREE QUOTES

Exterior staining,

exterior painting,

moss and mould

treatment and

waterblasting

Phone Kevin

027 561 4629

Trades & Services

AAA HANDyMAN

licensed carpenter

LBP, all property and

building maintenance,

repairs, bathroom/shower

installations, with free

quotes 03 383 1927 or 027

245 5226 ciey@xtra.co.nz

BRICKLAyER

George Lockyer. Over

35 years bricklaying

experience. UK trained.

Licensed Building

Practitioner number

BP105608. Insurance

work. EQC repairs.

Heritage brickwork and

stonework a speciality. No

job too small. Governors

Bay. Home 329-9344,

Cell 027 684 4046, email

georgelockyer@xtra.co.nz

Trades & Services

BUILDER

For all building work

but specialist in bathroom

renovations, 30 yrs

experience, with service

and integrity. Free Quotes.

Ph Lachlan 383-1723 or

0274 367-067.

BUILDER

LICENSED

available for all aspects of

building. Please call 027

241-7471 or 335-0265

BUILDER

Qualified & licenced.

Now availble for repairs,

additions, alterations, EQ

repair work. 35 yrs exp. Ph

Ian 021 350-509

****************

CARPET & VINyL

LAyINg

Repairs, uplifting,

relaying, restretching,

E mail jflattery@xtra.

co.nz

ph 0800 003 181

or 027 2407416

ELECTRICIAN

REgISTERED

for all electrical

installations & repairs Ph

03 322 4209 or 021 026

73375

HANDyMAN

No job too big or small.

Good rates. Call 020 410

67205

PAINTER

Available, All aspects in

painting. Very competitive

in roofs and fences. Please

call 027 241-7471 or 335-

0265

PAINTER

Quality work, I stand by

Canterbury Ph Wayne

03 385-4348 or 027 274

3541

PLASTERER

Gib Stopping, Small

job specialty. 30 + years

experience. Ring 0800

387-369

PLUMBER

ALF THORPE

PLUMBING Certifying

Plumber for all types of

plumbing, maintenance,

spouting, alterations etc.

Phone 352-7402 or 0274-

350-231

ROOFINg REPAIRS

Fully Qualified, Over

40 Yrs experience

Ph John 027 432-3822

or 351-9147 email

johnmill@ihug.co.nz

SHOE REPAIRS

Belfast engraving.Shoe

repairs,key cutting &

engraving.(10 yrs exp)683

Main North Rd

ph 027 3113423

SPOUTINg CLEANINg

Spouting Unblocked,

Cleaned Out and Flushed

Out. Also Full Handyman

Services Available. Call

Trevor 332 8949 or 021

043-2034

TILER/CARPENTER

35 years exp, no job

too small. Ph Ross 027

4311440.

T.V. SERVICE CENTRE

Repairs, tvs, microwaves,

stereos, DVD. Aerial

installations and kitsets,

480 Moorhouse Ave, ph 03

379 1400

UPHOLSTERER

Dining Chairs, Lounge

suites, Caravan Squabs

etc. recovered. Free

Quotes. Phone Graeme

383-1448

VHS VIDEO TAPES

& all camera tapes

converted to DVD, video

taping special occasions,

www.grahamsvideo.co.nz

ph 03 338-1655

Trades & Services

WINDOW CLEANINg

Average 3 bdrm house

inside or out $40. Both

$70. Phone Trevor 344-

2170

Wanted To Buy

AAA Buying goods

quality furniture,

Beds, Stoves, Washing

machines, Fridge Freezers.

Same day service. Selwyn

Dealers. Phone 980 5812

or 027 313 8156

A+ Household effects,

fridges, freezers, washing

machines, ovens. Good

cash paid. Ph Paul 022

0891 671

TOOLS Garden,

garage, woodworking,

mechanical, engineering,

sawbenches, lathes, cash

buyer, ph 355-2045
---
NOR'WEST NEWS Latest Christchurch news at www.star.kiwi

Tuesday September 5 2017 23

What's On

Entertainment

To advertise, contact

Jo Fuller 03 364 7425

jo.fuller@starmedia.kiwi

FRIDAY 15TH & SATURDAY 16TH

SEPTEMBER 2017

RESTAURANT & CAFÉ

We are open from 6.30am

Seniors SPECIAL

2 courses Soup/Roast or Roast/Dessert

Special available lunch only. Monday - Saturday 12pm - 2.30pm

Family Friendly

Kid's 2 course special

$20

$10

'Famous for their roasts!'

The

RACECOURSE HOTEL

& Motorlodge

118 Racecourse Rd, Sockburn,

Christchurch. Ph 03 342 7150

www.racecoursehotel.co.nz

A West Coast welcome in the heart of

Redwood, beautifully refurbished and

something for all the family.

TRY OUR WONDERFUL MENU & DAILY SPECIALS

$40 PER TICKET

7:30 DOORS | 8PM SHOW

HORNBY WORKING MENS CLUB

17 CARMEN RD, HORNBY, CHRISTCHURCH 8042, NEW ZEALAND

TICKETS FROM BARB LLOYD - 021 1138 177 | (03) 3100 355

Daniels Road | Phone 352 8355

coasterstavern.co.nz

Lunch & Dinner

All you can eat, 7 days

Bookings Essential

PH 386 0088

fb.com/GardenHotelRestaurant

www.gardenhotel.co.nz

SERVING

HAPPY HOUR

5PM - 7PM DAILY

OUR CABINET ITEMS

ARE HOMEMADE

CREATED FRESH ON SITE DAILY

$12

LUNCH

SPECIALS

COFFEE

HAPPY

H O U R

Live Music:

6PM.FRI.08 SEPT

2PM-4PM

DAILY

$3.50

Offer available for a limited time

and includes tea, hot chocolate

MON: ROAST MEAL

TUE: FISH & CHIPS

WED: FISH BURGER

THU: ROAST MEAL

SAT: FISH & CHIPS

AVAILABLE

FROM

11.30AM-2PM

FOR A

LIMITED TIME

Eddie Simon

PHONE 385 8880 FIND US ON FACEBOOK fb.com/GBCCHCH

THE GARDEN HOTEL COMPLEX | 110 MARSHLAND RD

www.gardenhotel.co.nz | phone 385 3132

www.newbrightonclub.co.nz

BOOK NOW! SUNDAY NIGHT BUFFET

SUNDAY 24th SEPT, $25 PER PERSON

FUNCTIONS

WE HAVE THE VENUE. EXCELLENT CATERING.

PLENTY OF PARKING. ENQUIRE NOW!

TUESDAYS & THURSDAYS

Members Lucky Card Draw

FUNCTION ROOMS

SHUTTLE RUNNING

Tues, Thurs, Fri & Sat

TAB POD

GAMING ROOM

PIERVIEW

Restaurant

Quality

a la carte

with a view!

Open from 5.30pm

FRIDAY, SATURDAY & SUNDAY

OPEN FOR

SUNDAY BRUNCH

By the Seaside!

10.30am-2pm

ClubBISTRO

Open Tuesday to Saturday

12pm-2pm and from 5pm

Midweek $11

SPECIAL ROAST

Available Tuesday,

Wednesday, & Thursday

SUNDAY 3 COURSE

DINNER SPECIAL $25

SUNDAY NIGHT

BUFFET

Sunday 24th September

ALL YOU CAN EAT

$25 BOOK NOW!

202 Marine Parade ● Ph 388-9416

Members, guests and affiliates welcome

H ORNBY

WORKINGMEN'S

CLUB

LET US ENTERTAIN YOU!

PLAYING

IN THE

WESTVIEW

LOUNGE

THIS

SATURDAY

4.30PM:

BARROSS

8PM:

MEDIUM

RARE

UNBEATABLE FAMILY DINING

OPEN

Chalmers

Restaurant

GROUPS WELCOME

BOOKINGS ESSENTIAL

THE DUGANS

Tickets $20

SUN.10 SEP, 2PM

Early Bird Special

FRIDAY & SATURDAY 5.30pm – 6.30pm

Club CAFE

OPEN 7 DAYS

LUNCH & DINNER

Gluten Free &

Vegetarian options

BRENDAN & PAT

HAPPY

BIRTHDAY

PAT, 91!

with award

winning

entertainer

ANDY

GILMOUR

& home from

Nashville, NZ

Gold Guitar

winner

MIKAELA

DEWAR

FOR DINNER

Friday, Saturday, Sunday

OPEN FOR BUFFET LUNCH

Every Sunday 12pm - 2pm

Roast

(4 Choices)

and

Free Desserts $22 50

EVERY SUNDAY

IN CHALMERS

12PM-2PM

$25

Dine and

WIN

A DOUBLE PASS TO SEE

LIONEL RICHIE

THURSDAY 19 OCT

ENTER WHEN YOU DINE IN

THE CLUB CAFE &

CHALMERS RESTAURANT

CONDITIONS

APPLY

The Hornby Club | ph 03 349 9026

17 Carmen Rd | Hornby

www.hornbywmc.co.nz

Members, guests & affiliates welcome
---
24 Tuesday September 5 2017

Latest Christchurch news at www.star.kiwi

NOR'WEST NEWS

TOP

02

03

04

Jenni Rolton

ST ALBANS

Richard Dawson

ILAM 2

Chris Lewis

FENDALTON

Chris Campbell

ILAM

05

06

07

08

Mike Tapley

ILAM 2

Corina Grey

ILAM

Grant Milligan

FENDALTON

Allicia Beirne

ST ALBANS

09

10

11

12

Fiona Nankivell

ILAM 2

Paul Costigan

ST ALBANS

Don Yee

ILAM

Bridget Perry

MERIVALE

13

14

15

16

Janine Laney

ILAM 2

Nerina Higgins

MERIVALE

Cathy Carter

FENDALTON

Steven Marshall

FENDALTON

17

18

19

20

Steve Russell

ST ALBANS

Sally Pomeroy

ILAM 2

Peter Hampton

ST ALBANS

Erin Whale

ILAM 2

Win-Win

Congratulations to our Top 20 consultants for July 2017

It's an unquestionable truth – the success of our clients is directly tied to the

success of our people. That's why it's their triumphs we celebrate as much as

those of the individuals you see here.

We want to thank our clients for their trust in us. We wish to congratulate our high

achievers for their passion and dedication, their unique expertise and exemplary

service. We look forward to further success with you in the years to come.

Contact one of our top

performers today:

Fendalton 03 355 6116

Ilam 03 351 6556

Ilam 2 03 351 3002

Merivale 03 355 6677

St Albans 03 377 0377

holmwood.co.nz