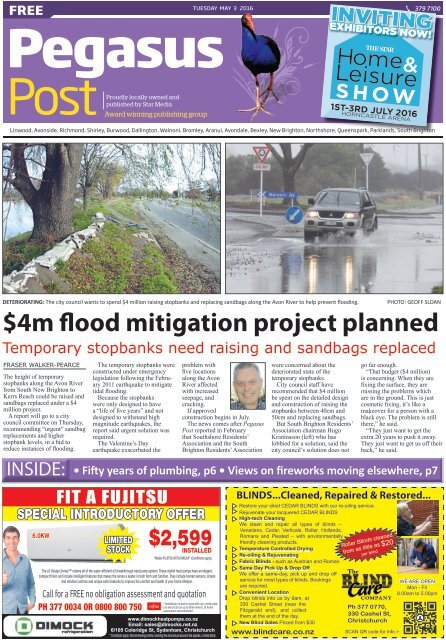 Pegasus Post: May 03, 2016
Do you know the secret to free website traffic?
Use this trick to increase the number of new potential customers.
FREE

TUESDAY MAY 3 2016

Pegasus

INVITING

379 7100

EXHIBITORS NOW!

Post

Proudly locally owned and

published by Star Media

Award winning publishing group

SHOW

1ST-3RD JULY 2016

HORNCASTLE ARENA

Linwood, Avonside, Richmond, Shirley, Burwood, Dallington, Wainoni, Bromley, Aranui, Avondale, Bexley, New Brighton, Northshore, Queenspark, Parklands, South Brighton

DETERIORATING: The city council wants to spend $4 million raising stopbanks and replacing sandbags along the Avon River to help prevent flooding.

PHOTO: GEOFF SLOAN

$4m flood mitigation project planned

Temporary stopbanks need raising and sandbags replaced

FRASER WALKER-PEARCE

The height of temporary

stopbanks along the Avon River

from South New Brighton to

Kerrs Reach could be raised and

sandbags replaced under a $4

million project.

A report will go to a city

council committee on Thursday,

recommending "urgent" sandbag

replacements and higher

stopbank levels, in a bid to

reduce instances of flooding.

The temporary stopbanks were

constructed under emergency

legislation following the February

2011 earthquake to mitigate

tidal flooding.

Because the stopbanks

were only designed to have

a "life of five years" and not

designed to withstand high

magnitude earthquakes, the

report said urgent solution was

required.

The Valentine's Day

earthquake exacerbated the

problem with

five locations

along the Avon

River affected

with increased

seepage, and

cracking.

If approved

construction begins in July.

The news comes after Pegasus

Post reported in February

that Southshore Residents'

Association and the South

Brighton Residents' Association

INSIDE: • Fifty years of plumbing, p6 • Views on fireworks moving elsewhere, p7

were concerned about the

deteriorated state of the

temporary stopbanks.

City council staff have

recommended that $4 million

be spent on the detailed design

and construction of raising the

stopbanks between 40cm and

50cm and replacing sandbags.

But South Brighton Residents'

Association chairman Hugo

Kristinsson (left) who has

lobbied for a solution, said the

city council's solution does not

go far enough.

"That budget ($4 million)

is concerning. When they are

fixing the surface, they are

missing the problems which

are in the ground. This is just

cosmetic fixing, it's like a

makeover for a person with a

black eye. The problem is still

there," he said.

"They just want to get the

extra 20 years to push it away.

They just want to get us off their

back," he said.

FIT A FUJITSU

SpECIaL InTrODuCTOry OffEr

6.0KW

Hot Hot $2,599

LIMITED

Deal

on 8KW STOCK Heat PumP

installed

Fujitsu ASTG24L 8 KW

* Conditions apply. Normal lending criteria, booking fee and annual account fee applies. Limited stock.

* Conditions apply. Normal lending criteria, booking fee and annual account fee applies. Limited stock.

BLINDS...Cleaned, Repaired & Restored...

Restore your oiled CEDAR BLINDS with our re-oiling service.

Rejuvenate your lacquered CEDAR BLINDS

High-tech Cleaning

We clean and repair all types of blinds –

Venetians, Cedar, Verticals, Roller, Hollands,

Romans and Pleated – with environmentally

friendly cleaning products.

Temperature Controlled Drying

Re-oiling & Rejuvenating

"Model FUJITSU ASTG18KUCA" (Conditions apply)

Fabric Blinds - such as Austrian and Roman

Same Day Pick Up & Drop Off

Heat

The e3 Design

Pump

Series retains

for

all of

Just

the super-efficient e3 breakthrough heat pump system. These stylish heat pumps have an elegant, 10 5 only

compact finish and include intelligent features that makes the series a leader in both form and function. They include human sensors, simple

We offer a same-day, pick up and drop off

and intuitive controls and unique extra features to improve the comfort and health of your home lifestyle. BE QUICK service for most types of blinds. Bookings

Six Year

are required.

$2,999 Warranty

Convenient Location

Call Fully for a Installed* FREE no obligation assessment and quotation

Drop blinds into us by 9am, at

* Installation is back to back with up 5 meter pipe

Installed back to back, up to 3 metre pIpe

330 Cashel Street (near the

PH 377 0034 OR 0800 800734

750

run electrical run up to three meters, in home

run and electrIcal assessment recommended supply wIthIn 6 metres. Fitzgerald end), and collect

them at the end of the day.

www.dimockheatpumps.co.nz

Email: sales@dimocks.net.nz

New Blind Sales Priced from $30

Email: sales@dimocks.net.nz

6/105 Coleridge

6/105 Coleridge

St, Sydenham,

St, Sydenham,

Christchurch

Christchurch

www.blindcare.co.nz

Roller Blinds cleaned

from as little as $20

per blind

Ph 377 0770,

330 Cashel St,

Christchurch

SCAN QR code for Info >

WE ARE OPEN

Mon - Fri

8.00am to 5.00pm
---
2

Tuesday May 3 2016

Community

Events Email

Christchurch Waste Free

Parenting Week Event

Thursday May 5, 7-9pm

Throughout Parenting Week

$10,000 worth of prizes will be

up for grabs. Every ticket holder

will get a goodie bag with lots

of offers and free items. The

week is about educating parents

about how the choices they

make will have an impact on the

environment. The evening will

have lots of entertainment and

education including spot prizes

and games. There are only 100

tickets available for each event.

Go to eventfinda.co.nz for more

information

North New Brighton Community

Centre, 88 Marine Parade.

$16 entry

Music Month - Candice

Milner

Friday May 6, 4-4.30pm

fraser.walker@starmedia.kiwi

by 5pm each Wednesday

Enjoy a performance by the

wonderful Candice Milner, a

17-year old folk singer and songwriter

from Lyttelton.

Shirley Public Library, 36

Marshland Rd

Linwood Village Market

Saturday May 7, 9am-1pm

Visit for some festive family

fun, featuring fresh produce,

books, antiques, bric-a-brac,

retro items, vintage clothes

and household goods, as well

as jams, crafts and more.

Refreshments are available. For

more information, call Dee on

021 023 33167.

Linwood Community Arts

Centre, 388 Worcester St. Free

entry

Golden Oldie Movies - May

Every Monday from 1pm

Every Monday visit the New

Brighton Museum for a movie,

a cup of tea, a biscuit and a chat.

The movies for this month are:

On the 2nd: Zorba the Greek.

On the 9th: Hue and Cry. On the

16th: East of Eden. On the 23rd:

Lili. On the 30th: The Great St

Trinians Train Robbery.

New Brighton Musuem, 8

Hardy St. $2 donation.

Short Ride for New Cyclists

Sunday May 8, 2pm

New to cycling? Join a free

short ride for new cyclists to

gain confidence. Number of

participants is limited to around

10 new cyclists. To secure a free

spot email GoCycleChristchurch@gmail.com

with name of

participant, date of ride and your

experience riding on roads.

Linwood Community Arts

Centre, 388 Worcester St. Free

entry

PEGASUS POST

Adopt the Avon - the Mother

of all Clean Ups

May 7, all day

The Avon-Otakaro Network

is co-ordinating the Adopt the

Avon effort on the Avon River

from Barbadoes St bridge to

Bridge St bridge. To adopt a section

of the river for the clean up

or register interest, visit www.

avon.org.nz/adopt.

Visit the website for more

information. Free entry

The Original Gypsy Fair will be back for their 25th year in Richmond. It will come back on Saturday May 7,

from 9am-5pm. They will return to their usual spot on the Richmond Village Green. As in the past they will

bring an interesting range of hand-crafted products sold exclusively at the original gypsy fair, many of which

are made right before you. There will be glass blowing, wood cutting, leather work, tattooing, face painting,

hair accessories, handmade jewellery, segway rides and much more. Come to the Richmond Village Green,

on Stanmore Rd. Free entry. ​

ContaCt us

General Manager: Steve McCaughan

Communities Editor: Shelley Robinson

Sales Manager: Joan Smith

Circulation: Mark Coulthard

P: 379-7100

NEWS

Fraser Walker-Pearce

Ph: 364 7424

fraser.walker@starmedia.kiwi

HELPING US,

HELPS THE

COMMUNITY

Drop off or buy

2 family stores in your community

30 Main North Rd,

Ph 352 4581

520 Cranford St,

Ph 352 0515

ADVERTISING

Gail Henry

Ph: 364 7450

gail.henry@starmedia.kiwi

NEW & RECYCLED

CLOTHING

SHOPS AT:

14 Yaldhurst Rd, Ph 03 341 5379

251 Ferry Rd, Ph 03 381 3089

94 Victoria St, Rangiora, Ph 03 310 7421

Open: Mon-Fri 10am-4.30pm, Sat 10am-2pm

SUPER STORE:

320 Manchester Street (Bealey Ave end)

Phone 03 365 2051.

Clothes, shoes, whiteware, furniture,

linen and homeware.

Open: Mon-Fri 9am-5pm, Sat 9am-3pm

Donations of furniture and homewares

welcome during shop hours.

Do you have a great idea for a Heritage Week event?

Be a part of

Heritage Week

and celebrate

with us

Beca Heritage Week is returning from

14–24 October this year. Community groups,

businesses and individuals are invited to hold

events during the festival.

Come along on 11 May to hear more about

Heritage Week, or you can view this information

online at ccc.govt.nz/heritageweek

When: Wednesday 11 May, 5.30–6.30pm

Where: Christchurch City Council Civic Building

53 Hereford Street, Christchurch

(Hereford Street entrance)

Any enquiries please email heritage@ccc.govt.nz

Tea, coffee and refreshments will be provided

ccc.govt.nz/heritageweek
---
PEGASUS POST Tuesday May 3 2016 3

neighbourhood NEWS

News tips? Email fraser.walker@starmedia.kiwi or phone 364 7424

Your opinion? Facebook us on https://www.facebook.com/pegasuspost

Land sale will break 'agreement'

Campaigner

has proof that

QEII land

cannot be sold

FRASER WALKER-PEARCE

Community campaigner Garry

House has his sights set on

proving the partial sale of

QEII will break a 53-year-old

agreement.

Mr House says he has a document

which will prove that the

city council cannot

sell land for Shirley

Boys' and Avonside

Girls' development.

It relates to

what he says is an

agreement between Garry House

the city council and

the former owners of the land –

the now defunct New Brighton

Trotting Club.

Mr House said more than 50

years ago the land was sold to the

city council at a cut price on the

condition that the land was only

ever used for recreation and sport.

"It is stated quite clearly that

the council would use it for sport

and recreation only. They would

maintain it under this environment

in perpetuity," he said.

But the city council says there

is "no evidence" of any such

agreement.

"We have done extensive

research into this and there is no

evidence or documentation to

support the claims . . ." said a

city council spokeswoman.

However, Mr House said he

will fight to ensure the city council

honours the agreeement.

Mr House is the chairman of

Standards New Zealand and

works as an engineering consultant.

He successfully lobbied to

stop the city council installing

pressure wastewater systems

septic tanks on residents' properties

in Parklands and North New

Brighton.

Mr House is also the secretary

of the New Brighton Returned

Services Association.

When he tabled the document

he found last year while in Wellington,

searching land records

at the Land Information New

Zealand at the hearing on the

QEII land sale last week.

He said it was met with

"shock" and silence.

City councillors ​Yani Johanson,

Glenn Livingstone and

David East are on the panel.

After listening to Mr House's

submission, Cr Johanson requested

that city council staff

investigate the matter further.

Cr Johanson said a decision on

the sale would be made after the

hearing panel made a visit to QE

II Park this week, and after all

relevant information had been

passed on by city council staff.

TINY HUTS COMPETITION

Five small-scale 'tiny huts' are

headed to New Brighton this

summer and the city council is

holding a competition on what

goes in them. The tiny huts are

based on English seaside beach

huts, each are 2 sq m. They are

to be placed in New Brighton's

town centre in summer to liven

up the community's public

places and showcase activities.

The five winning designs will

get $2000 in prize money.

The New Brighton Tiny Huts

Design Competition is open

until June 28, with entry forms

available online at www.ccc.

govt.nz/tinyhuts.

SCOOTER, CAR COLLIDE

A man in his 70s was taken

to hospital last week after a

collision between his scooter

and a car. The incident

happened at about 4.15pm on

Thursday in Mairehau. St John

took the man to hospital with

moderate injuries.

STRONGER WASTEWATER

SYSTEM FOR ARANUI

Another 200 Aranui homes

will be connected to a more

earthquake-resilient wastewater

system over the next four

months. This week Stronger

Christchurch Infrastructure

Rebuild Team will begin to

connect the homes to the new

vacuum system.

UR FRIENDLY LOCAL PHARMACY

Your first port of call

for health advice

in Burwood

We have lost a lot of good friends

ut we still have a close community"

• Prescriptions • Medico Packs

• Gifts • Health Advice

$2 off

• Dry Cleaning • Passport/ID photos

Wainoni

Burwood Pharmacy

Fuel Purchase

HEALTH ADVICE

MEDICINES

Hours: Mon-Fri 9am-5.30pm, Thurs 9am-6pm with min purchase $40

11 Parnwell Street. Ph 383 4814

PRESCRIPTIONS

FREE LOCAL DELIVERY

BURWOOD / AVONDALE

PASSPORT/ID

PHOTOS

DRY CLEANING

SERVICES

Robyn Thew

COSMETICS

QUIT SMOKING

A variety

GREAT RANGE

of options

OF GIFTS

are currently available

Wainoni

and PANDA'S PIZZA

175 Wainoni Road, Wainoni (opposite Pak 'n Save)

Phone 388 4373

Available NOW! ORGAZMIK COFFEE

your daily oral addiction

Only $28 9kg

LPG Bottle Fill

Only Valid at Mobil Wainoni, 1 Voucher per visit, valid until 30th June 2016

Townhouse • Apartment • Ensuite Room

To view or enquire, please contact

Ruth Hurley, General Manager • 03 326 4908

Cnr. Head & Dryden Streets, Sumner, Christchurch 8081 www.edithcavell.co.nz

HOME • HOSPITAL • STUDIOS • APARTMENTS • TOWNHOUSES

#

YOUR LOCAL GARAGE

• All vehicle repairs

• Oil changes and services

• Brakes • Loan car available

• Tyres, punctures & batteries

• W.O.F • Tune up

Dyers Road Landscape

& Garden Supplies

• Barks • Peastraw • Composts - we supply the best available

• Aggregates - Chip, Round and Basecourse

• Pavers & Schist products • Pungas

• Decorative Stones & Landscaping Rocks

• Trailer Hire first hour free with purchase

• Bag & Bulk - pick up or delivered

David, Carol & Mike

VERY FRIENDLY SERVICE AND ADVICE

NEW BRIGHTON AUTOMOTIVE

Phone: 03 388 3630

40 Hawke St (behind Z Petrol Station)

We will deliver!

SOIL

AND

HARDFILL

DUMPING

Phone: 03 384 6540

183 Dyers Rd, Bromley • OPEN 7 DAYS

Weekdays 7.30am-5pm. Weekends 8.30am-3pm

www.dyersroadandlandscapes.co.nz
---
4

Tuesday May 3 2016

your local Views

PEGASUS POST

Something on your mind? Email fraser.walker@starmedia.kiwi in 200 words or less.

Facebook us on https://www.facebook.com/riseupchristchurch/

Housing subsidy still needed

A Government heating and

insulation subsidy programme

comes to an end in June. Community

Energy Action Charitable

Trust chief executive Caroline

Shone writes this week's column

about the importance of the

programme and why it should

continue in some form.

Shelter is one of

the most basic of

human needs and

the Universal

Declaration

of Human

Rights says that

everyone has the

right to housing.

It can be debated that housing

that makes people sick, isn't housing

at all.

However, houses that are damp,

houses that are cold, with the

people living in them unable to

heat them to an adequate temperature

to keep them healthy, are

a reality for many households in

Christchurch.

The old, the young and the sick

suffer most in those houses.

We all know the result.

Every winter sees many residents

ending up in hospital with

preventable cold-related health issues.

Even healthy people get sick

more often in those cold, damp

houses.

SOAP

BOX

From experience we know that

installing insulation and heating

in people's homes especially those

with health conditions will reduce

hospitalisations, delivering cost

savings to the health system.

Installing insulation and heating

is a one-off cost but the benefits

last a long time, saving money on

health and saving lives every year.

The Government through the

Energy Efficiency and Conservation

Authority has spent $450

million nationwide on insulation

and heating subsidies over the last

couple of years.

And we know it has made a

difference.

The current subsidy programme

comes to an end in June this year.

It would be fantastic if subsidies

would be available in the future

for those who need insulation.

It's a great way for Christchurch

people to help those in their community

who need a bit of help to

create a warm, dry, healthy home.

Rise Up Christchurch's

Facebook page is dedicated

to local news. Star Media

regularly updates the page

with content created by

journalists at The Star and

its community papers, and

CTV News. Facebook.com/

Riseupchristchurch

We said:

Where should the annual

fireworks display be held for

the next two years while the

pier is fixed?

You said:

Elinor Graeme: Back into

Hagley Park as that is the centre

of the city. We have never gone

to New Brighton on November

5 as it is too difficult to get there

and back.

Sasheen Elizbeth-Jane

Brownlie: Back in Hagley

Park where there is less wind

and therefore less smoke. Yeah

great. Or up where the gondola

is, to see from both sides.

Bethany Nehoff-

Thompson: Back to Hagley

Park. Should have always been

in there.

Jill Reesby: What about Victoria/

Bowenvale/ Mount Vernon

Park areas? Can be viewed

from all over the city, even

from your private backyard. No

traffic issues there. Tune into a

live radio station for the music

to go with the show. And there

are areas around these parks for

gatherings for those that wish to

be there.

Margaret Gamblin: Back in

Hagley Park where it used to be.

It'd be easier for traffic.

Jess Gardner: Combine it

with the Rolleston fireworks

instead - make it better and

longer.

Todd Cameron: What about

Sugarloaf car park? Then the

whole city can see them. Just

ditch the teeny ones and go for

the big ones.

Katrina Prendergast: Nowhere,

save the money and put

it into more needed resources.

Less harm on the animals too.

Andrew Johnson: Hagley.

Traffic would be a nightmare in

Scarborough.

Anne Marie Smulders: Can't

it be done from boats, like in

many other places like The

Hague, Hong Kong?

CANTERBURY HORTICULTURE CENTRE - HAGLEY PARK Opposite the Hospital

THIS FRI, SAT & SUN

FRI 6 MAY 9AM - 7PM • SAT 7 MAY 9AM - 4PM

SUN 8 MAY 9AM - 4PM

MASSIVE RANGE OF SKIS, SNOWBOARDS, BOOTS, CLOTHING

AND ACCESSORIES INCLUDING HELMETS, GOGGLES AND GLOVES.
---
PEGASUS POST Tuesday May 3 2016 5

neighbourhood NEWS News tips? Email fraser.walker@starmedia.kiwi or phone 364 7424

Hunt on to find owner

of mystery parakeet

FRASER WALKER-PEARCE

When the Foley family moved into

their Burwood house last August,

they weren't expecting to be woken

by a screeching parakeet every

morning.

But that is exactly what happened.

Now the search is on to find the

owner of the parakeet who, inspite of

the early 6.30am wake up call each

morning, the neighbourhood has

grown quite fond of.

The Foleys moved just a few

kilometres from their earthquakedamaged

Lake Terrace Rd home,

and for the first month of their stay,

everything was normal.

But by mid-September, they were

being awoken consistently at about

6.30am every day by the screeching

parakeet.

Roger Foley said at first he had

no idea what was making the noise,

and went outside to investigate.

"I had no idea what was going on,

and went outside to see this beautiful

parakeet in the trees," he said.

The next day he talked to his

neighbours, who told him they were

surprised that the bird had returned

to the neighbourhood after a cold

winter.

FRIENDLY ALARM: This parakeet has a tendency to wake up its neighbours at

6.30am every day. But they love it.

They told him it was a regular

visitor in the past summer, but presumed

it had died in the winter.

"They said last winter it had

come too, and they just loved it,"

Mr Foley said.

He said the parakeet had a regular

schedule it stuck to.

"It'll appear in our trees at

6.30am and start screeching, mainly

in our big tree. Then it'll fly across

to the neighbours and disappear at

about 10.30am. It'll come back at

night briefly, and then go away until

morning," he said.

Now, instead of seeing the parakeet

as a loud nuisance, Mr Foley's

children enjoy being woken up by

the bird.

"Now they love the parakeet too. I

just worry someone is missing their

pet," he said.

Mr Foley said he had no idea how

old the bird was, or who it belonged

to, but thought the owners should

know it was safe and in good health.

NEW HEALTHCARE

CENTRE

A new health and social

hub will open in Eastgate

shopping centre in July.

The Loft, will be on

the first floor and home

community health and

well-being services. The

work is being carried out

by Hawkins Construction.

Any health, well-being or

social service provider that

is interested in joining The

Loft should email claire@

avivafamilies.org.nz

$500 FOR MUSICIAN

Talented jazz musician

Hamish Smith, 17, has

been given a $500 grant

from the Burwood-Pegasus

Community Board's youth

development fund to help

him travel to Germany.

Hamish was invited to play

with the JM Jazz World

Orchestra in July. When

he leaves school, Hamish

hopes to gain a scholarship

for tertiary education in the

United States.

CAR HITS CHILD

A five-year-old was taken

to Christchurch Hospital

with moderate injuries after

he was hit by a car last

week. St John responded

to the incident, which

happened on Linwood

Ave near Linwood Park, at

about 6pm on Thursday.

MP'S EXPENSES

Expenses have been

released for all Members

of Parliament from January

1 until March 31 this year.

Christchurch MP Poto

Williams' expenses were

$17,898, while National

list MP, based in the

eastern suburbs Joanne

Hayes' expenses were

$18,959.

SHIRLEY REPAIRS

Traffic going east towards

The Palms Shopping

Centre is being detoured

because of culvert repairs

on Shirley Rd. The detour

reroutes vehicles along

Emmett St, then Orontes St

and onto Quinns Rd before

going back onto Shirley

Rd. The detour is expected

to be removed later this

month.

RICHMOND

RECONSTRUCTION

Workers are carrying out

repairs at night between

Banks Ave and Randall

St reconstructing the

carriageway. The works

are expected to be finished

by the end of the week.

Traffic will be one-way

northbound at night with

detours for southbound

traffic.

Stop hair design

Welcomes Amanda

Book with

Amanda & get

1/2 head

of foils for $99

Easy PErsonal

Cash loans

$$ FroM $600 - $20,000 $

Apply on line now –

FAst ApprovAl

we can say yes when

the Banks say NO

NEW DAMAGE or failed repairs?

CASHED SETTLED by EQC or insurance

Phone today: 03 383 2428

259 Burwood Road

CAll Us now

FreepHone 0800 340 350

Apply on line todAy At

www.faircity.co.nz

Phone Stewart 027 488 6975 or George 027 334 4197 www.harwelservicesltd.com

SOMETHING FUN FOR EVERYONE

UNDER NEW OWNERSHIP

9 HOLE

GOLF cOURSE

DRIVING

RANGE

STILL ROcK

OUTDOOR MINI PUTT

BOOKINGS ESSENTIAL | 50 FERRYMEAD PARK DR, FERRYMEAD

PH 376-5350 | WWW.FERRYMEADGOLF.cO.Nz
---
6

Tuesday May 3 2016

our PEOPLE

> Do you know someone who should be our next Our People?

Nominate them now by emailing fraser.walker@starmedia.kiwi

PEGASUS POST

Phillip Mitchell

50 years plumbing: 'Filthy' but fun

Avonside's Phillip Mitchell has had his hand in

the city's pipes for half a century. He talks with

Matthew Salmons about his life as a plumber,

being a tutor and winning the Graeme Victor Smith

Outstanding Contribution to the Industry Award

Well Phillip, you're clearly the

plumbing master around here,

but why did you decide to get

into the trade in the first place?

My father went with me to a

vocational guidance counsellor

in the square. The guy that was

interviewing me said 'I know

a bloke by the name of Athol

Jamieson.' He knew him on a

fairly friendly basis so I went

and saw him. He had a fairly

large company and said 'there's a

job there if you want it.' I'd seen

plumbers, we'd not long had the

sewerage put on in the house and

a flush toilet put in, which you

guys would take for granted now.

I was fascinated. So I thought

'it's not a bad idea', and that's

what it was.

So when did you start your

apprenticeship?

In the days when I did my apprenticeship,

you signed up for

what they called a 12,000 hour

apprenticeship which equates to

six years. In that era, when you

got to your fifth year you could

sit your license and if you passed

your exam you didn't have to do

your sixth year, so there was a

lot of incentive there. In those

days it was about five pounds a

week which probably equates to,

I don't know, $200 these days.

A tradesman now could get

about $30 an hour, about $1200

a week, and an apprentice, well

they probably get more than

$200, so a lot of incentive there

to pass. I spent most of my apprenticeship

under a guy named

Bill Walsh, an Irish plumber,

and also with his brother John.

They were ship's plumbers, they

were fastidious. If something

happened it was either right or it

was wrong.

And after you finished your

apprenticeship did you stay

with the same company?

No, after I finished I left

plumbing for a wee while and I

did quantity surveying. It was a

very good experience and I was

fortunate that I had the trades

experience to do it. It was very

enjoyable.

Did you work on any big

projects?

I did, it was Wilkins and

Davies I was working for at the

time. The buildings at Canterbury

University were being built

then, and we worked on them.

That was straight out of my apprenticeship,

so when I left that I

went to learn about drain laying.

I've always enjoyed drain laying.

When you're doing it, you feel

like you've achieved more than

you would working in a bathroom.

I did that for the best part

of a year, then I put the sewerage

into John Walsh's house. That

was the practical part of my

exam. I started working for a

drain laying firm then, but they

went out of business, so at about

23 I started working for myself.

You knew nothing then, but that

was beside the point because

you thought you did and you had

to get experience the hard way.

So I was working for myself for

a while and I was doing some

tutoring at night. When you're

tutoring and still in the trades,

to the students, you're still a

plumber.

Working full time and tutoring

at nights, it must've taken a

toll on your social life?

I was young, I was only about

27 when I finished that and when

you're young you could burn the

candle at both ends a bit.

Where did you do your

tutoring?

In town, it was called

Christchurch Technical College

then - it has had about three

name changes since then. It was

only one night a week at that

stage. That was about 1969, then

me and another guy started commercial

drain laying. We had a

lot of fun, we did all of the drainage

at QE II which was a monstrous

job, but we just got stuck

in and got on with it. We were

young and wishful, 'of course we

can bloody well do it.'

Far out, was it only you two

doing the job?

No, we had 10 staff on. We

updated the Kaiapoi sewerage

plant as well. It was physical,

hard work but enjoyable. You

were outside all the time. Sometimes

you wore yourself out,

but that's just life. We formed a

partnership called Mitchell and

Rodgers. You used to be filthy

everyday, but that's part of your

life and you hope that you can

look back on your life and have

enjoyed it.

How did it feel to receive that

award?

I thought why me? I'd started

in 2005 with just me, with

another tutor joining in 2006 and

another in 2007. We now have

eight, virtually a new tutor every

year. We do work for the school's

organisation and Ara Institute of

Canterbury managed apprenticeships

in plumbing and gas fitting.

We've grown and grown, I have

to ask myself, is this real?

It's been an absolutely fantastic

journey building this thing, I

have had some really great support,

and I didn't do it alone by

any stretch of the imagination.

I'm putting back what I got out

of the industry.

And your family has been

supportive for all this time,

tutoring and working?

I could never have done it

without the support of my wife,

Beth, she's always worked in the

background.

Where did you meet your

wife?

Through one of my cousins,

she was a friend of hers, they

bought us together, many years

ago now but that's alright. We

went to the pictures, the usual

courting thing, it was different

then than it is today, 6 o'clock

closing, it was the 6 o'clock

swill. We went to dances and the

pictures, things like that, nothing

out of the ordinary.

Where did you grow up?

In Marshland Rd, bottom end,

so I'm not very far from home.

There wasn't many houses. We

were in one of the houses at the

bottom end. It was still basically

farmlands, was still in the country

then. Shirley Lodge it was

called then, I don't know what

AT WORK:

Phillip Mitchell

has been a

plumbing tutor

at the Ara

Institute of

Canterbury for

many years. At

73, he is still

going strong

working three

days a week. ​

it's called now, we were midway

between that and Shirley Rd, but

we still lived in the country.

And where did you go to

school?

Shirley Primary of course,

my great-grandparents on one

side took up land on the side of

Marshland Rd, so it was pretty

family orientated from there.

Every kid's good at school, I was

just an average kid at school.

I didn't excel at anything. My

mother would've thought I was

outstanding.

Has your passion for plumbing

been passed on to your

kids?

No, I've got two daughters and

one grandson who is 32. I used

to take him on work experience,

he enjoyed it, and he could've

done it blind, but he said there

was too much to learn. But for

the students, I've chosen my

path, I have to sell them the

industry. You go to work for fun,

if you don't enjoy your work, get

another job! I've got to be passionate

about the industry.

Not looking at retirement?

Well, I'm only working three

days a week, I treat it as a hobby

now, not a job. I'm going to be 74

in a fortnight, so I guess I'll have

to sooner or later, but I'm still

enjoying it.

Previously

United Travel

Sandra Toland

Managing Director

Tower Junction

Same People, Same Passion,

Different Name.

YOU Travel Ferrymead

Unit 5, 960 Ferry Road 03 384 2700

melissa@youferrymead.co.nz

Melissa Landrebe

Owner/Operator

Ferrymead

YOU Travel Tower Junction

3/4 Troup Drive, Addington 03 341 8965

sandra@youtowerjunction.co.nz
---
PEGASUS POST Tuesday May 3 2016 7

your local Views

The annual fireworks display will not be held at

the New Brighton Pier for at least the next two

years while it undergoes repairs. The Pegasus

Post asked what people thought of the decision

and if it was worth fighting to keep them in the

eastern suburbs.

Something on your mind? Email fraser.walker@starmedia.kiwi in 200 words

or less. Facebook us on https://www.facebook.com/riseupchristchurch/

Southshore Residents'

Association chairman Bill

Simpson: "It would be a

bit disappointing to see

it moved, but I suppose

the repairs are necessary.

I imagine it'd be good

to have it temporarily in

Scarborough but for the

long term it should come

back to New Brighton. If

New Brighton residents

are keen to keep it there,

we'd definitely be in full

support of them, but I

don't think we would

initiate that ourselves. I

would think a promise

that it would come

back would be better

than a replacement

event – there may be

neighbourhood events

on the beach but they

wouldn't be of the same

scale."

New Brighton Union

Parish co-ordinating

minister Mark Gibson:

"People have repair

fatigue in the east. I

just don't think people

will be able to handle

anymore disruption to

places they enjoy visiting

in the area. It's sort of

taking yet another thing

away from New Brighton.

There have been a lot of

losses, the community is

desperate to see things

built and installed and

all the rest of it. They

want to see new things

that aren't going to be

taken away. I think there

needs to be something

else happening, if not

in New Brighton then in

the east in the interim

during those repairs. But

the city council should

be committing itself

long term to return the

fireworks in New Brighton

once the repairs are

finished."

Email your views to fraser.

walker@starmedia.kiwi

COLDS

IMMUNISE YOURSELF

Have you immunised yourself & family against the

bacterial complications of colds this winter.

Strategic Urban

Rejuvenation Force

chairwoman Lesley

Fulton: "I think probably

the fear is that if it leaves

it may never come back.

Most of the work will be

done from underneath

and from the sea-level,

so it'd just be about

getting a few people onto

the pier to set up the

fireworks. Keeping them

on the pier if possible

should be the priority. If

there is an opportunity

for the community to

fight for them then they

should, it's something

special for us. If it is taken

away then I'd rather

have a promise than a

replacement event. If

they were prepared to

have something in its

place for those two years

that would be good but

I would want to see it

come back after the

repairs."

WARM STEAM

VAPORIZER

City councillor Glenn

Livingstone: "What the

closure means is two

things for me: The first is

amenity – we still want the

community and the city to

use and enjoy the pier. The

other is safety. As elected

members we have to make

good sensible decisions.

I'm not saying we can't do

it, but we are up against it.

We need to keep pushing.

I will be fighting to keep

the fireworks. It's a drawcard

for New Brighton and

I think we need to keep

it. If they have to move, if

they really have to . . . it

is hard to get these things

back. I would say we need

a promise to keep it there

after the repairs are done.

As soon as you open that

door for another venue, it

is hard to get them back."

Natural Steam

Relieves Cold &

Flu Symptoms

New Brighton Pier and

Foreshore Society deputy

chairman Tim Sintes:

"When it was first being

built, they held fireworks

while it was still under

construction. There must

be a solution. If the tide

is right, we could have it

on a barge in the estuary,

so everyone could see it.

We want it on the pier,

but we could have it

there. It's more than just

a fireworks display for

us – it's one of the last

things we have. You've

got to be careful there

(bringing in a replacement

event) too, because if you

bring a replacement to

New Brighton you have

to think about it affecting

the community it was

in before. I can't think

of any other community

event that could replace

the fireworks. I wouldn't

have a replacement event

and promises have a habit

of being broken around

here."

Burwood-Pegasus

Community Board

member Linda Stewart:

"It's worth fighting for

100 per cent. If we lose

it we'll find it very hard

to get it back. There is

always a solution, it's just

if the staff will work on

it. No one has come back

and said it can't be held

on the pier yet, so there

is every possibility it can

be done. I don't know if a

replacement event would

be that successful. What

else brings the whole city

to New Brighton? The

library is closing too, and

I keep waiting for council

staff to say 'here's the

solution', but they don't.

Probably I think the Santa

Parade would be a good

replacement, maybe

running it from the pier

to Rawhiti Domain. I'd

take both. I'd like to see

replacement events, and

then when the repairs are

done, the fireworks return

to the pier."

50% OFF ALL

Vitamin & Mineral Supplements

®

One course of Buccaline tablets can give

up to three months protection

* Suitable for children under two years

SPEcIAL PRIcE

$109.99

*Excludes

Sleep Drops

BARRINgTON PhARMAcY

Next tO COuplaNdS, 256 BarriNgtON St Ph 332 3156

10% dIScOUNT

EvERYdAY

USINg

*ExcLUdES PREScRIPTIONS & SALE STOck
---
8

Tuesday May 3 2016

PEGASUS POST

neighbourhood NEWS News tips? Email fraser.walker@starmedia.kiwi or phone 364 7424

New Brighton inspires

surfer turned author

FRASER WALKER-PEARCE

NEW POOL: City councillor Yani Johanson, Jack Cleminson, Regan and

Liam Glass, and Beau Cole check out the demolished site.

New pool work starts

Work has begun on rebuilding the

Avebury Park paddling pool in

Richmond.

The pool, on Evelyn Cousins

Ave, has been closed since it was

damaged beyond repair after the

February 2011 earthquake.

The demolition of the old pool

began last Tuesday and was completed

last Friday.

The new facility will be rebuilt

with new concrete surrounds,

new seating areas, a new access

ramp and a large shade sail. The

original plant room and existing

fencing will be reused.

It is expected the new paddling

pool will reopen towards the end

of the year, in time for the summer

months.

Hagley-Ferrymead Community

Board chairwoman Sara Templeton

said the pool had been missed

by the community and it would

FUN AHEAD:

Jack Cleminson

and his

mother Cathy

Allden.

be great to have it back up and

running.

"I know that many parents

have taken their children to the

pool over the years and that it has

been sorely missed, especially

with all of the hot days we've had

recently," she said.

NEW LOCATION ADVERT.pdf 1 1/05/2014 11:51:35 a.m.

If you were a surfer hanging

around New Brighton beach in

the 1970s you may recognise

some of the characters in a new

novel based on the area.

Leon Paulin, 62, has released

his new book Shooting

Albatrosses, which he says

does have characters that are

"loosely" based on real life

people that influenced his own

childhood.

The novel is about a young

surfer taking on the waves at

New Brighton, Scarborough

and Taylors Mistake, while

battling his own problems.

"It is kind of loosely based on

my experiences from the time.

The characters have kind of

little essences of real people in

them. It's a fictitious story with

my background knowledge of

the areas," he said.

Mr Paulin said it can be

strange when a reader asks if

the characters are based on real

people they know.

"People have since come up

to me and said is this character

based on such and such, or that

reminds me of this person – it's

quite strange. It's not intentional,"

he said.

He used his "extensive"

knowledge of the coastal

suburbs of Taylors Mistake,

Scarborough and New Brighton

while writing the post-earthquake

story.

"I was a bit of a surfer back in

the day – my mates and I would

mainly hang out around New

Brighton Beach.

"We used to live in North

New Brighton on Bowhill Rd,

and then Keyes Rd near New

Brighton, before moving to

Oamaru," he said.

Mr Paulin said the story was

unique, but still "in a way, typically

Kiwi".

"It's basically about a teenage

boy that's been deserted by

his father and has to look after

VETERAN SURFER: Leon

Paulin, 62, has written a

book loosely based on his

experiences growing up in New

Brighton.

his mother. While he tries to do

that, he also tries to prove himself

to his father. It's very kiwi

in a way," he said.

Shooting Albatrosses is Mr

Paulin's first published book,

which he is "quite excited"

about, although he has written

others which haven't been

published.

The book can be found online

at www.amazon.com, searching

for Shooting Albatrosses.

VISIT OUR NEW LOCATION LOCATION

430 ST ASAPH STREET!

Hours of Business: 7am-4.30pm Mon-Thurs

Fri 8am to midday

or by appointment with Keith 027 566 3909

RECOVER YOUR LOVED FURNITURE

No job too big or small

Still able to offer

you the finest top

quality new furniture

Visit us online

www.qualityfurniture.co.nz

P. 371 7500

QUALITY FURNITURE SPECIALISTS

RE - UPHOLSTERY SPECIALISTS KEITH HARTSHORNE 0275 663 909

Magazine & TV | sTyle.kiwi

style

noun

elegance and sophistication.

synonyms: flair, grace, poise,

polish, suaveness, urbanity,

chic, finesse, taste, class,

comfort, luxury, affluence,

wealth, opulence, lavishness.

Friendly staff

Affordable pricing

Sports Mouth

Guards

only $85

HornBy

349 5050

BArrinGton

332 4004

Easy parking

& great service
---
PEGASUS POST Tuesday May 3 2016 9

TO MUM

WITH LOVE

We have a great range of Mother's Day

Book, gift and card ideas for Sunday May 8

@

1005 FERRY RD

PH 384 2063

while stocks last (see instore for terms and conditions)

BARRY & KERRY
---
10

Tuesday May 3 2016

PEGASUS POST

Spoil mum this

Mother's Day!

Happy

Mother's Day!

$

7 99

kg

$

5 99

bag

Fresh NZ Lamb Shoulder Chops

Country Fresh Washed White

Potatoes 4kg

4

for

$

5 00

$

8 00

each

$

3 49

each

$

3 69

pack

Schweppes Sparkling Soft

Drink 1.5L

(Excludes Classic Dry)

Mainland Mild/Colby/Edam

Cheese 1kg

Tararua Butter 500g

Sanitarium Up & Go 3 Pack/

Weet-Bix 750g

WINE

DEAL

OF THE

WEEK

$

19 99

pack

$

8 99

each

$

2 90

each

$

4 00

pack

Steinlager Classic

12 x 330ml Bottles

Lindauer 750ml

(Excludes Special Reserve)

Cadbury Chocolate Block

155-200g

Cotton Softs Toilet Tissues

12 Pack/Double Length

White 6 Pack

Exclusive stockists of Wainui Farms'

Canterbury grown pure Angus beef

PARKLANDS

FCPP0305

Prices apply from Tuesday 3rd May to Sunday 8th May 2016,

or while stocks last.

Trade not supplied. We reserve the right to limit quantities. All limits specified apply per customer per day.

All prepared meals are serving suggestions only. Props not included. Certain products may not be available

in all stores. Proprietary brands not for resale.

FreshChoice.co.nz

FreshChoiceNZ

FreshChoice Parklands

60 Queenspark Drive, Christchurch.

Phone 383 1004.

Open 7am-11pm, 7 days.
---
PEGASUS POST Tuesday May 3 2016 11

neighbourhood NEWS

Amputee's story told

FRASER WALKER-PEARCE

When Trixie Wuts was born her parents

had a very difficult decision to make

whether or not to amputate both of her

legs to the knee.

On the advice of medical professionals,

Trixie's parents Anton and Margot

Wuts decided amputation was the best

solution.

Their experience has been documented

in a children's book that they wrote,

called Little Jellybean.

It is being distributed by the Amputee

Society of Canterbury and Westland to

help families facing a similar choice.

The society helped get a $5000 grant

for the publishing and distribution of the

book from the Artificial Limb Service.

Trixie was diagnosed with distal arthrogryposis

before she was born, meaning

she had crooked or hooked joints in

her feet.

She had many procedures done when

she was born, which attempted to correct

the deformities in both of her feet, but

they were largely unsuccessful.

The surgery however, was and Trixie

now "leads a full and active life" with

her new feet.

Amputee Society of Canterbury and

Westland president Mark Bruce said the

more families that can be reached with

the book, the better.

"It's about raising awareness for

parents in a situation where their child

is very unwell. The story is mainly

about the parents having to make an

incredibly tough decision to help their

children," he said.

Mr Bruce said the book will become

an invaluable source for those looking

for support.

"If you have a young one with an

amputation or have a young one about

to undergo an amputation then this is a

great resource.

"The future of the federation is in its

youth . . . If we can affect just one family

with the help of this book, then it's been

a worthwhile venture," he said.

The society are making copies of the

book available from their national and

regional co-ordinators, who can be contacted

on www.af.org.nz.

NEW HELP: Amputee Society of Canterbury

and Westland president Mark Bruce

is helping promote a new source of

information for parents. ​

Haeata

starts

recruiting

Haeata Community Campus has begun

recruiting for more than 40 positions.

The school is holding "chat sessions"

in Auckland, Wellington and Christchurch

as well as "live" Facebook chat

sessions.

Haeata will be a combination of

Wainoni, Avondale, Aranui Primary, and

Aranui High Schools, which will close at

the end of the year.

Haeata is scheduled to open in term 1

next year.

The adverts are scheduled to begin appearing

in early May, and open "chats"

will be held around the country from

today.

The first of these chats is being held

today in Auckland at the Quality Hotel

Parnell.

The next two will be held at the Aranui

High School staff room on Thursday

from 6-7.30pm, and Saturday, from

3-4.30pm.

The last session will be held in

Wellington next Tuesday from 6-8pm.

The venue for this session has not been

confirmed.

Week three of term 2 will see Haeata

leadership staff go live on Facebook and

Twitter to talk to those interested from

outside of those cities.

Burwood & Redwood

HOME OF THE

$

40 SERVICE

Ph: 383 2114

269 Burwood Rd, Burwood

Ph: 354 4022

290 Main North Rd, Redwood

SHOP HOURS

Mon-Fri 8.30am-5.30pm. Sat 9.00am-4.00pm

Layby available

See us on www.starlive.kiwi

395 Brougham St,

Christchurch

Ph (03) 365-3411

"Exclusive range of

pottery, furniture,

handcrafts,

stoneware

& gifts"

Open 7 days

Mon-Fri 10-4.30pm

Weekends 10-4pm
---
12

Tuesday May 3 2016

PEGASUS POST
---
PEGASUS POST Tuesday May 3 2016 13
---
14

Tuesday May 3 2016

PEGASUS POST

neighbourhood NEWS News tips? Email fraser.walker@starmedia.kiwi or phone 364 7424

Volunteers pitch in to clean up Shirley

More than 70

volunteers from

the World Mission

Society Church of God,

based in Shirley, took

part in a worldwide

environmental clean

up on April 24. They

helped to clean up

rubbish from North

Parade and from

nearby streams

BEFORE: The team cleaned the side streets of fallen leaves and put

them into plastic rubbish bags.

CLEAN UP:The volunteers removed rubbish and dumped

items from the stream and riverbank, as well as clean the

roads of rubbish, paper, cans, food and drink.

AFTER: North Parade in Shirley, just before

The Palms Shopping Centre, was cleared of all

rubbish.

99c!

Great food

Great value!

DAILY BREAD

White, Wheatmeal, Grain

NO LIMIT!

SQUARE MINCE &

VEGE PIES

GINGERNUTS

12 PACK

(Limit 4)

99 C 99 C 99 C

EA

EA

Promotional pricing available while stocks last from 02/05/16 to 08/05/16.

Images are serving suggestions only.

Open 7 days | 8 Convenient local locations

Hornby • Barrington • Ferry Rd • Papanui • Riccarton • Upper Riccarton • New Brighton • Rangiora

BAKERIES

www.couplands.co.nz
---
2

[Edition datE]

PEGASUS POST Tuesday May 3 2016 15

Haircuts for Haircuts

Celebrating 30 years of great service

Haircuts for Haircuts are

celebrating – this year, they

turn 30. That's 30 years of

reasonably-priced great

haircutting and 30 years of awesome,

friendly customer service.

It is rare for a small business to be so

successful for so long - Michelle has been

the driving force behind the two cutting

bars for the three decades. She believes

they have done so well because they go

above and beyond for their customers.

"We are already affordable, but we

offer discounts for pensioners, university

students and children on top of that,"

she explains. "We are here for the whole

family and we offer a welcoming, friendly

atmosphere to make the experience

enjoyable."

It's easy and convenient, too. Because

they are located in the Bush Inn Centre

and South City Mall, getting a haircut can

be combined with shopping and running

errands. They are open mall hours, 7 days

a week and there's no need to be tied to an

appointment. Just head on in, take your

place and sit and relax while you wait.

There are usually 4 to 5 stylists working at

any time, so you're never waiting for long.

But it's much more than that – all their staff

are fully-qualified, professional stylists and

they focus on nothing but hair cutting.

That means they have expertise and will

take the time to find out what you want and

give you the best advice. They can deliver

trend-of-the-moment cuts or whatever a

client requests. They pride themselves on

the positive experience they offer so that

clients leave them looking good and feeling

great. The salons are up to the minute, but

Michelle has given them a taste of the past,

too, installing traditional barber's chairs

in recognition of her 30 years' anniversary

so the customers get to combine the

traditional with the ultra-modern.

Michelle knows that it's customer loyalty

that has kept her in business for so long,

and repays customers with a loyalty scheme

where every 8th cut is free. She also offers

styling products so you can recreate your

salon look at home but her real aim is to

cater for the community by providing

fabulous haircuts for the whole family in

a friendly atmosphere and all at affordable

prices.

Call in to the Bush Inn salon on

the corner of Riccarton and Waimari

Road (telephone 3487008) or the South

City salon at 555 Colombo Street

(telephone 3660619).

super LOW prICes!

Go Vir-Defence

Boost the immune system!

Was $49.90 noW $39.90 60 vege capsules

Was $30.90 noW $24.90 30 vege capsules

Strengthens the immune system against cold and flu.

Beautiful Teeth

Meet the

Owner

Ryan Carlton

Natural Smile

Free Consultation, No Obligation

• Full Dentures • Dentures Repaired • Implant Assisted Dentures

• Injection Moulded Unbreakable Partials • Relines

• Mouthguards • Additions/Repairs • Anti-Snore Devices

All dentures personally

designed and created to ensure

a comfortable natural fit.

DENTURES PLUS (2014) LTD

Denture Clinic and Laboratory

396 Innes Road, St Albans. Phone 385 5517.

Email: denturesplus@paradise.net.nz

www.denturesplus.co.nz

3 Convenient Locations:

The Palms: 385 0364

The Hub Hornby: 349 5150

Bush Inn Centre: 348 7867

Orbiter Bus stops Innes Road

A UNIQUE POWERFUL

TREATMENT WILL GIVE

A unique PoweRFuL

tReAtment wiLL Give

you YOU PAin PAIN ReLieF RELIEF in IN

juSt A Few SeConDS

Acupuncture

without needles

Dr Lan Xiao

• Relieve all kinds of body pain

• • Relieve all asthma kinds and of body hay fever pain

• Relieve • Fantastic asthma weight and loss hayfever results

• Fantastic • Great results weight for loss insomnia, results dyslexia

• Great

depression

results

and

for

low

insomnia,

energy

• Stop cravings for cigarettes, alcohol,

depression

sweet foods

and

and

low

drugs

energy

instantly

• Stop cravings for cigarettes, alcohol,

sweet foods and drugs instantly

WATCh our Free Trial

Available

Free Trial Available *

videos online

*Conditions apply

*

insTAnT resulTs

JUST A FEW SECONDS

*Conditions apply

108 Sawyers Arms Rd, Papanui

108 Sawyers (inside Melrose Arms Building) Rd, Papanui

Phone: 03 (inside 323 4168 Melrose • Cell: Building) 027 231 8388

Phone: www.drlansreflexologynetwork.co.nz

03 323 4168 • Cell: 027 231 8388
---
16

2

Tuesday [Edition May datE] 3 2016

Let us know what's going on with your club

or team Email fraser.walker@starmedia.kiwi

or phone 364 7424

WORLD CHAMP: Ethan De Rose (second from right) recently won two junior world

development speed skating gold medals.

Ice skater celebrates

birthday with gold

FRASER WALKER-PEARCE

Shirley Boys' High School year 10

student Ethan De Rose celebrated his

14th birthday by becoming a youth

world champion.

Speed ice skater De Rose became the

500m and 1000m sprint world youth

champion, when he competed

in two competitions

in Melbourne.

He also won a bronze

medal when he competed

in the age grade above.

De Rose took to the

ice for the International

Skating Union's World

Development Short Track

Speed Skating Trophy,

and then the tri series

competition the following

weekend.

In the first competition, he blitzed the

preliminary heats for the 1000m, winning

by more than 10sec. He followed

that up by a 3sec win in the A final, earning

him his first gold medal.

The 500m sprint competition was a

lot closer though, and as there were no

preliminary heats, only a straight final,

De Rose said he was happy to come

away with a win by just a third of a

second.

"Yeah, really happy. I actually got my

personal best in the 500m sprint. I did

it in 47.8sec, which is only 0.8sec away

from a junior Olympic qualification

time," he said.

De Rose competed against international

skaters in both the short track speed

skating trophy and the tri series.

He celebrated his 14th birthday while

in Australia in the

lead-up to the tri series

competition.

your

LOCAL

Sports

"I've been to Australia

a lot of times, this

time I turned 14 . . . my

parents didn't really

mind, they were pretty

happy I was doing

well," he said.

De Rose trains "well

over" 10 hours a week

at the Alpine Ice Sports

Centre in Opawa.

During the tri series, De Rose skated

against 15 and 16-year-olds, and finished

a respectable third place, and ranked

seventh overall.

From here, he plans to become a world

champion.

"I'm trying to get my time down so I

can go to the junior world champs . . .

The next step after the junior worlds is

the senior worlds, with the top skaters in

the world – I aim to be there one day,"

he said.

Dallington Oscar on site at Banks Avenue School entertained children during school

holidays with a wearable arts competition. The children loved working together with

lots of different materials and textures to dress up their friends.

Learn new skills for a

new hobby at Papanui

Daylight saving has ended and the

evenings have become longer

why not take the opportunity

to take up a new hobby, learn

a new skill, meet some new people and

have fun at the same time then join one

of Papanui High School's exciting range of

Adult and Community Education Courses

for Term 2 beginning from 9 May. We have

a wide range of courses to choose from

and guarantee you will find something to

appeal regardless of age or interests.

A new course on offer for Term 2 is

Digital Scrapbooking which is an ideal

task to complete over the winter. If

you have a pile of photos and want

to do something creative with them,

then attending this course will teach

you the techniques that will enable

NIGHT CLASSES

PAPANUI HIGH

TERM 2 2016

Huge range of classes from

Art to Yoga

Come down and enjoy the fun!

To enrol, please

phone our office on: 352 0701

See our full range of courses on

www.papanui.school.nz

PEGASUS POST

you to preserve memories and moments

in a creative way. Students will need to

bring a laptop with their photos already

scanned and be familiar with using the

laptop and file storage and retrieval. This

course is being taught by Fiona Brooker

who is a professional genealogist and has

taught both family history and digital

scrapbooking throughout New Zealand.

For further information and enrolment

in these or any of our courses please visit

our website www.papanui.school.nz or

telephone our office on 3520701.

If you have a pile of photos and want

to do something creative with them,

then attending this course will teach

you the techniques that will enable you

to preserve memories and moments

in a creative way.

Term 2 begins

9 May 2016

Holiday

Fun
---
PEGASUS POST Tuesday

[Edition

May

datE]

3 2016 17 3

HELP YOUR CHILD GROW

- IN CONFIDENCE

Life skills programme for children.

Widely recognised trades training

The Southern Institute of

Technology Christchurch campus

in Hornby offers a great range of

education possibilities for those

looking for a trade's qualification.

If you are keen on getting involved

in Construction, we offer the National

Certificate in Building, Construction and

Allied Trades Skills, a 12 week, Level 2

programme. This programme provides a

pathway for students to enter into a range

of trade-related professions and its main

focus is teaching them the practical skills

they require for further study.

We also offer the Level 3 Certificate

in Construction, where students spend

three days on campus and two days out in

the community on work experience. All

students are involved in building a house

from scratch, ensuring sound practical

skills in conjunction with classroom

learning.

Our programmes are widely recognized

within related industries and SIT has a

proven record of students moving into

employment or apprenticeships.

Courses are NZQA approved and

students are eligible for student loans and

allowances.

Spaces for midyear 2016 are filling fast

and demand for affordable trades training

is high.

To find out more, discuss options or tour

the facilities, call 0800 TO STUDY (0800

867 883), go to www.sit.ac.nz or visit the

campus at 60 Waterloo Road Hornby.

Do your children lack selfconfidence,

or perhaps have

so much energy that they need

an outlet for it? Development

through drama is the ideal approach to

teach confidence and channel youthful

energy while building self-esteem.

The Helen O'Grady Drama Academy has

been in New Zealand for 32 years. This

highly regarded worldwide programme

helps students aged 5 to 17 fulfil their

potential by acting confidently and speaking

clearly. This unique, self-development

programme helps achieve invaluable life

skills. The confident, articulate child makes

friends easily, accepts challenges and new

directions. Confident children become

well-rounded adults.

Our fully qualified teachers are trained

in the Helen O'Grady Drama system,

they ensure each child is encouraged

and valued in a warm, positive learning

environment. Lessons stimulate and

motivate students without the exam or

peer group pressure. Weekly class activities

include speech training, creative movement

and improvisation. Our Youth Theatre

programme encourages the development

of leadership and organisational skills.

Three terms of the year cover the selfdevelopment

programme and in the fourth

term all students prepare a performance

for parents and friends. We also offer

Trinity College London examinations as

an option for those who wish to pursue an

international qualification.

Our safe structured learning environment

values student individuality and

encourages team

building. Most

importantly its

great fun too!

Enrol now

phone 0800 161

131 and see our

website www.

helenogrady.

co.nz

Piano

Raewyn Clegg

Registered Teacher of

Piano and Theory of

Music.

29 Lancewood Drive

Halswell

Ph 322-9377

Drama Classes for Children

Helping children

develop social

skills for a

competitive

world.

Fun Classes for 5-17 years

Weekly Classes 0800 161 131

www.helenogrady.co.nz

CHRISTCHURCH CAMPUS

60 Waterloo Rd, Hornby, Christchurch

Looking to gain a

qualification in 2016?

• National Certificate in Fitness (Group Fitness Instruction) - Starting 1 June

• National Certificate in Building, Construction, and Allied Trades Skills

FREE - 10 weeks, starting 13 June

• National Certificate in Project Management - Starting 23 June

• National Diploma in Project Management - Starting 29 July

• Certificate in Construction - Starting 3 August

Call us today,

or email

sit@sit.ac.nz

*Direct material costs apply

0800 TO STUDY

www.sit.ac.nz
---
2

18

[Edition datE]

Tuesday May 3 2016

money

ff from some teens

144 Northern Advocate

Money

some teens

hey are applying for

eeting." AS I GET MORE into road cycling,

AS

Heidi from Masterton

people ask me Ito GET

said if

join MORE

from slugs and

their group into

snails — the

oing that doesn't work, try

rides.

pirits

I have

(by that

resisted

we assume road as I cycling, do not

lacerate

feel people themselves

good

on ask the

eths, not vodka!) and Faith edges, should they attempt a

rom enough, Napier suggests yet. me The buying tonext join time crossing. their I splatter group

now we are not very keen on Well Rod, also from

hat

myself,

word) a bottle

bleeding

of rides. "Expo"

alone

I have

over

resisted

the country

as

hiteboard tarmac, cleaner I may (Expo revise are my position.

heI people do

But

not that make

I like

feel

the

good

solo-ing.

enough, to a website showing

It gives

yet.

hiteboard markers). JB from

me time

pper to The reflect, Huttnext says, meditate "Remove time Ieven. splatter My mind myself, wanders

bleeding around using acetone-based alone thinking over (obviously) the country about

ermanent marker from a

hiteboard

ail shares polish remover. and stock Use a soft markets and startups. I

loth, tarmac, not paper, toI avoid may revise my

cratching." also try and figure out why and snail I am preventative. finding

position.

So there's no disagreement.

the riding so addictive. I

Ruth

cast

from

my

Pahiatua

thoughts

has a

omething more controversial, response for LCL of Hauraki

as further to doBut withback eggs

I like

shells. to childhood. the

It's

solo-ing. Aha —there It gives

it me is, time got it. to Freedom reflect, sports. meditate Stuff that

necessarily even. Myfosters mindindependent wanders around thought.

Playing thinking the (obviously) snow miles from about home at

age four when a blizzard comes up. What

to

shares

do when

and

your

stock

pony,

markets

almost struck

andby

lightning, startups. rears I also into try the air and and figure then tramples

whyour I amlegs finding as you lie the where riding you so fell.

out

How addictive. to just, frankly, I cast my DEAL thoughts with things

when they get tough. It is a rush being

further back to childhood. Aha

totally reliant on yourself to achieve and

solve. — there Endurance it is, got cycling it. Freedom pushes lots of

these sports. buttons Stuff in that adulthood necessarily and I begin to

understand. fosters independent thought.

Playing Shouldn't inbeing the snow financially miles independent from

be one of our big goals? Not the kind

where

homeyou at age

sit on

four

a pile

when

of lucky

a

millions

blizzard and go comes around up. irritating What people to doand

advising when your them pony, to stick almost it to the man. struck More

the by idea lightning, that a good rears plan into is the make air life

happen for yourself, rather than waiting

and then tramples your legs as

for simple twists of fate, or other people,

to you do lie it for where you. you fell. How to

just, I now frankly, talk to a DEAL lot of older with teenagers things

and when 20-somethings, they get tough. a newer Itarget is a group rush

for being government totallyinitiatives reliant on saving. yourself

There are great moments, watching really

cool

to achieve

stuff by teenagers

and solve.

that

Endurance

are getting the

heck Sharebroker on with & Portfolio it. Seeing what some have

been

Manager.

setting

She runs

up

investment

for themselves has been a

stuff, a sharemarket based newsletter here.

real investment privilege. coaching service. successis.co.nz/

Visit her at

Sitting on a local trust has been amazing;

column the ishard not personalised work and independent

www.investmentstuff.co.nz this

financial advice.

determination of school leavers with solid

goals is inspiring. They understand the

effort-to-reward ratio. They get that life

is tricky, that is why they are applying

for use scholarships instead of sugar in from jammaking

It for has diabetics. not always Ruth has been easy. You

the trust in the first

place.

suggested Sugromax: "It's stable

can at high pretty temperatures, much get making what it you want, if

ideal for baking, preserving and

you just work hard enough. That lot will

general cooking."

be fine. LCL may They alsohave like to have grasped a the victory

look at diabetes.org.nz, which

rose

says,

of

"Inindependent New Zealand there

financial

are

reasoning. It

is a five different common non-nutritive lot that worries me.

sweeteners (the figures in them".

In brackets other areconversations the additive it appears there

are numbers): a lot of Aspartame youthful (951) individuals sold who assume

Cyclamate the world (952) andowes Saccharin them a debt of grat-

as Equal; Acesulfame-K (950);

itude

(954)

just

sold asfor Sucaryl

being

and

alive. Someone else

Sugromax (saccharin and

will cyclamate get it, mixed); carry and it, Sucralose fetch it and pay for it,

(955) which is Splenda." Health

if you just nag hard enough. The word is

warnings apply, so visit their an Oily Rag in NZ.

spoilt, site. And although finally, Mischief we are from not supposed to

Inglewood, has a suggestion for www.oilyrag.co.nz

use that word any more, it being impolite

to do anything other than compliment

children to death on Facebook.

The other impression is one of inevitability.

A kind of laissez faire, oh well,

never mind, karmic inevitability. Can

we blame YouTube? Easy credit? The

schools? Junk food? Trash magazines?

Or . . . ourselves? Handed everything left

and right, what happens next? Seems to

me more a grasping of nettle danger than

plucking the flower of financial safety.

What happened to installing the idea of

financial independence with kids? Where

did it vanish to? Has it become uncool?

Why is enacting these options so fraught?

As I stop at the cycle pub any time I

like, change direction, go home early

sometimes and ride faster or slower than

planned—I wonder.

Caroline Ritchie is a former AFA,

Sharebroker & Portfolio manager. She

runs investment stuff, a sharemarket

based investment coaching service. Visit

her at www.investmentstuff.co.nz this

column is not personalised financial

advice.

2

[Edition datE]

PAULGER COURTS

RETIREMENT VILLAGE

Cool stuff

from

from some teens

ndurance cycling pushes lots of the buttons helpful to achieve in adulthood.

een amazing; the hard work

nd independent determination

f school leavers with solid goals

s inspiring. They understand

he effort-to-reward ratio. They

et that life is tricky, that is why

cholarships from the trust in

he first place. It has not always

een easy. You can pretty much

et what you want, if you just

ork hard enough. That lot will

e fine. They have grasped the

ictory rose of independent

inancial reasoning. It is a

ifferent lot that worries me.

In other conversations it

ppears there are a lot of

with

CAROLINE

RITCHIE

outhful individuals who

ssume the world owes them a

ebt of gratitude just for being

FINANCE

alive. Someone else will get it,

carry it, fetch it and pay for it, if

you just nag hard enough. The

word is spoilt, although we are

not supposed to use that word

any more, it being impolite to do

anything other than

compliment children to death

on Facebook.

The other impression is one

of inevitability. A kind of laissez

faire, oh well, never mind,

karmic inevitability. Can we

blame YouTube? Easy credit?

The schools? Junk food? Trash

magazines? Or . . . ourselves?

Handed everything left and

right, what happens next?

Seems to me more a grasping of

nettle danger than plucking the

flower of financial safety.

cycling pushes lots of these

What happened to installing

the idea of financial

independence with kids? Where

did it vanish to? Has it become

uncool? Why is enacting these

options so fraught? As I stop at

the cycle pub any time I like,

change direction, go home early

sometimes and ride faster or

slower than planned — I

wonder.

Caroline Ritchie is a former AFA,

rase permanent marker ink

olleagues accidentally used a

ermanent marker during a

commonly thought that

spreading crushed egg shells

around plants will protect them

theory is that the critters would

Waikanae, says that's not the

case, and he has provided links

photographs. Not to be deterred

from this frugal lettuce-saving

remedy, we thought we would

ask the Oily Rag community to

let us know whether egg shells

have worked for them as a slug

who asked about a sweetener to

Be More

Effective

with Debbie

Mayo-Smith

Manage

your time

How can you effectively manage

your busy day? Time

management is not necessarily

working "harder," but rather,

"smarter." Here are five time

management mistakes we

should all avoid to increase our

daily success both on and off the

job.

1. Starting your day without a

plan of action. Time

management is doing the right

things initially.

2. Losing balance in your life.

Our lives comprise seven vital

areas that need balance. These

areas include health, family,

financial, intellectual, social,

professional, and spiritual.

3. Working with a messy desk or

work area. Studies have shown

that the person who works with

a messy desk spends, on

average, one-and-a-half hours

per day looking for things or

being distracted by things.

4. Getting insufficient sleep.

Studies show that nearly 75 per

cent of us complain on a regular

basis that we are tired.

5. Giving up a lunch break. Many

Endurance cycling

pushes lots of the

buttons helpful

to achieve in

adulthood.

do not take a lunch break.

Studies have shown that after

doing what we do for several

hours, we start to "dull out."

A lunch break, even a short

15-minute break, gives us a

chance to get our batteries

charged up again to more

effectively handle.

Bottom line: Prioritise! End

your day with a list of things to

do tomorrow. Ensure they are in

order of importance and

timeliness.

Debbie Mayo-Smith aka Ms

Effective, gives speeches,

seminars and trains on sales and

personal productivity. Sign up

for her monthly quick tip

newsletterapn.htm. To have

Debbie speak at your next event

or train your team call 64 27 575

5359 or visit debbiespeaks.co.nz

keeping your washing soft.

"Instead of buying fabric

softener, make your own by

using white vinegar and

essential oil. Mix together and

use about 1 tablespoon in the

compartment of your washing

machine. You can't smell the

vinegar but the clothes are

softer and have a nice smell to

■ If you have suggestions you

would like to share, then contact

us via oilyrag.co.nz or write to

Living off the Smell of an Oily

Rag, PO Box 984, Whangarei.

Frank and Muriel Newman are the

authors of Living Off the Smell of

Read their wealth of tips at

Paulger Courts is a family owned

and oriented village. Owners

Robyn and Peter MacDonald

truly appreciate the value and

importance of independence and on-going

community relationships to their residents,

whilst remaining a close-knit and supportive

community. Our residents maintain their

community attachments, hobbies and

independence, whilst knowing that support

is there if they need it.

The village's 34 semi-detached but private

and sunny units sit in landscaped grounds

alongside George Manning House, the

purpose-built eighty bed rest home and

hospital. On hand at GMH Robyn and her

team are available to answer any questions or

organise any assistance the residents need.

Paulger Courts units are designed to

be comfortable and easy to live in, whilst

relieving the residents of the burden of

home maintenance or reliance on family for

urgent assistance. With the supplied 'Never

Alone' alarm, the nightly security patrol and

willing staff, residents and their families can

feel reassured that help is at hand should it

PEGASUS POST

be required.

The emphasis at Paulger Courts is on

ensuring that it always remains a happy and

safe place for people live, whilst gaining

new friends in a stress-free and enjoyable

environment.

The village's 34 semi-detached

but private and sunny units sit in

landscaped grounds

Paulger Courts Retirement Village

(in association with George Manning House Rest Home and Hospital)

Two-bedroom

units available,

prices from

$260,000

Enquiries welcome.

Please ring

''

Robyn MacDonald

on 338-9164

weekdays

Spreydon, Christchurch

Family owned and oriented

Retirement Village for independent

living in a supportive environment.

''
---
PEGASUS POST Tuesday [Edition May datE] 3 2016 19 3

Device to Prevent Snoring

Why put up with broken sleep,

when help is at hand with

Snorex, an appliance that

prevents snoring, sleep

apnoea, and dry and raw throats.

Snorex is custom-fitted to your mouth for

comfort, and a follow up service is provided.

Denise Lim has been involved with Snores

for 19 years and has had a 98% success rate

with people using the appliance. Snoring can

be a health hazard, causing sleep apnoea,

where the person actually stops breathing for

short periods.

It can cause short-term memory loss,

tiredness and contribute to high blood

pressure.

The Snorex device does not feel restrictive,

is non-invasive and carries a money-back

guarantee.

Many people are referred by ear, nose

and throat specialists, however, anyone can

phone for an appointment.

For an information pack or to discuss

the Snorex further, phone Denise Lim

on 383 0994 or check out the website

www.snorex.co.nz

A Mother of All Gifts

Take the worry out of Mother's Day!

Wondering what to buy Mum

when a box of chocolates or

hand-cream won't do another

year round?

A clever Lower Hutt woman has given me

a new idea. When many of our mothers are

feeling the ache of ageing limbs, or suffer

with chronic pain or circulatory problems,

Jenny Watson's Aircycle is a perfect self-help

answer. It's totally transportable, folding to

fit your pocket, simple in concept, easy to use

and acclaimed by a growing number of users

in its efficacy, and it can be easily posted in an

envelope if Mum lives a distance away.

For painful hands, feet or legs this small

therapeutic device is used when sitting, most

effective when used in several short spells a

day - no need for long tough workouts. Jenny

says, "Many delighted people report that it

helps relieve arthritic pain and other problems

such as cramp and ankle swelling. We know

that regular use while sitting watching TV

can begin the progress of stronger legs, better

balance, comfortable walking and freedom

from discomfort. It's an easy way to manage

a range of health conditions – it offers

relief. Any of us can use the Aircycle almost

anywhere.

Jenny showed me some of the many

grateful letters she'd received. Often Aircycle

users have spent heavily on medications

and therapy before discovering this simple

effective, drug-free device. Jenny says, "News

is fast spreading by word of mouth, but we

still have a way to go."

Well, I say, time others knew about it. Well

done Jenny! Mum – you're going to like this!

Information and orders: www.aircycle.

co. nz , phone 04 5695013 or post $39.90

to Aircycle PO Box 45105, Waterloo,

Lower Hutt. Aircycles are also available

in pharmacies.

Mother's Day iDea

Boost circulation and gently

exercise while you sit – it's so easy!

FOR

Pain & stiffness

Swollen ankles

Night cramps

Painful hands

Balance & mobility

Sore legs/numb feet

Travel & office sitting

$39

Approx

Available from pharmacies, Diabetes Christchurch,

More Mobility, Aspire Canterbury.

Information and mail orders

www.aircycle.co.nz or call 04 569 5013

you can stop him

snoring with a

SNOREX

Why put up with a broken

night's sleep?

Ph 377-4318 or 027 682 1752

DENISE LIM

FOR A FREE INFO PACK

Website: www.snorex.co.nz

Third Age Tours

Small Group Tours

for the over 50's

Domestic and International

Great Prices!

england/Wales & Yorkshire Dales

28 April - 28 May 2016

1 September - 1 October 2016

enchanting Ireland & Scotland

2-27 June 2016

Treasures of Turkey

18 May - 1 June 2016

16 August - 19 September 2016

captivating croatia, Slovenia &

montenegro, Venice

16 June - 10 July 2016

Vietnam & cambodia

4-26 October 2016

Beautiful norfolk Island

23 October - 30 October 2016

South Island Tours

Glorious Autumn in Arrowtown

20-25th April 2016

catlins/Stewart Island

11-19 February 2016

PluS oTher

DeSTInATIonS!

For a Free InFormATIon PAck

contact Brenda

Third Age Tours

Ph 03 379 3799 or 03 312 7050

Freephone: 0800 927 725

sunshineone@xtra.co.nz

www.thirdagetours.co.nz

Support and Resources for Independent Living

walkers to

purchase

(FroM $230)

or hire

$20

per week

Can we help you or someone you support?

Disability Information Service – a 'one stop

information service' which offers unbiased

advice to assist people navigate their way to

organisations or services that can provide them

with support or advice.

Aspire Canterbury Shop – shop online or call in

to our shop at 314 Worcester Street and view our

range of easier living products We also hire out

wheelchairs, ramps and walkers.

Total Mobility Discounted Taxi Service – a scheme

which provides 50% discounts on taxi journeys to

eligible people in the Christchurch area who, due

to health conditions, are unable to access public

transport. Contact us for more information on

03 366 9093 or visit our website.

New Mobile Service – Fun interactive presentations

of our information, services and easier living

equipment. We come to you! To book our

presenter to speak to your group call Shannon

at numbers below or email mobileservices@

aspirecanterbury.org.nz

Mobility scooter demonstrations available.

Aspire Canterbury is a not-for-profit organisation

providing services to the community since 1981

Physical Address:

314 Worcester Street

Linwood Christchurch

Postal Address:

PO Box 32074

Christchurch 8147

2015 NZ Disability

Information Centre

of the Year

Ph: 03 366 6189

Freephone: 0800 347 242

Ph: (Total Mobility) 03 366 9093

Mobile Service: 022 140 8213

E: admin@aspirecanterbury.org.nz

W: www.aspirecanterbury.org.nz
---
20 4

Tuesday [Edition datE] May 3 2016

PEGASUS POST

Care, compassion and skill

define Nurse Maude

Nurse Maude has been caring for the people of Canterbury since 1896.

Much of this nursing care

and support has been in the

community so people can stay

in their own homes and retain

as much independence as possible.

Every year millions of kilometres are

clocked up as nurses and home support

workers cross the Canterbury region

providing personal, domestic, nursing and

specialist palliative care.

"All the nursing and homecare services

we provide, whether it be in the community

or in the Nurse Maude Hospital or Nurse

Maude Hospice are founded on the core

principles of partnership, respect and

nursing excellence," says Jim Magee, chief

executive of Nurse Maude.

"Our unique strength lies in the ability

of our people to blend that with the values

which motivated Sybilla Maude in 1896;

that the needs of the patients and clients are

met with quality nursing care and support

provided by skilled and compassionate staff."

"The broad spectrum of care provided by

Nurse Maude encompasses the two most

vulnerable groups in our society, the very

young and the elderly."

Nurse Maude has always been a

collaborative organisation, providing care

in partnership with general practitioners,

practice nurses, district health boards, ACC

and the Ministry of Health among others.

"It is through improved communication

and the sharing of information that these

relationships continue to strengthen for

the benefit of our patients and clients," says

Magee.

From the frontline staff who exhibit

that blend of expertise, efficiency and

compassion which makes Nurse Maude so

special through to those who support them

in administrative roles and Nurse Maude's

volunteers who give so generously of their

time and talent, the organisation that is

Nurse Maude attracts enormous respect in

the community.

While the technology, processes and

systems used to provide that care today

would no doubt astonish Sibylla Maude,

there is little doubt that 120 years on that

the organisation that bears her name and

continues her legacy of care would meet

with her wholehearted approval.
---
PEGASUS POST Tuesday [Edition May datE] 3 2016 21 5

Olive Leaf Extract Nature's

Extraordinary Immune Support

As far ago as 1927 Doctors used diseases, two types

olive leaf to reduce fevers and of leukaemia and

knock out malaria. Scientists have even some cancers.

discovered olive leaf contains In many chronic

powerful nutrients that directly interfere

and even destroy nearly every type of disease

causing micro-organisms including bacteria,

health conditions the

immune system is run

down and it is easy to

fungi, mould, parasites, viruses and even have complications

yeast infections. As well as this olive leaf has that are often life

immune enhancing benefits by activating threatening. Olive

immune cells that fight infection. For these

reasons it has become a popular tonic herb

that can be used to keep the immune system

strong as well as when need to dramatically

speed up recovery of conditions like colds

and flus, pneumonia, tuberculosis, herpes,

shingles, urinary infections, yeast infections,

and much more. It has also been found

beneficial for chronic fatigue syndrome,

low energy levels, exotic and deadly tropical

leaf may be a safe and

very effective option to

boost the immune system and allow the body

to have more energy to help heal itself.

Olive leaf has also been found to be

an effective cardiovascular tonic helping

normalise high blood pressure, improve

cholesterol quality, improve heartbeat

irregularities, and improve blood flow and

vascular disorders.

Olive leaf extract is so effective that too

high a dose initially may make you feel worse.

This is due to too many micro-organisms

dying quicker than the body can process

these dead organisms. This side effect can

be minimized if you follow our protocol on

dosage. Also drinking water and herbal teas

especially raspberry leaf can be quite effective.

Further information on the amazing benefits

of olive leaf and how it can be effectively

used is available from our Medical Herbalist

or our Natural Health Advisers at Marshall's

Health & Natural Therapy, 110 Seaview

Road, New Brighton, Phone: 388-5757.

We are Always Happy to Help!

Effective Natural Skincare that is

Ideal for Problem Skin

MooGoo produce a full range

of safe, natural skin and scalp

products that are especially

suited for those with problem

skin. In these products they only use top

quality edible ingredients that are known

to be highly effective and good for our skin.

These active ingredients are only used in

correct concentrations for effective results

and not just added to look good on the label.

Because the MooGoo range is so safe and yet

so effective is probably why it was rated the

number one most preferred brand of nonprescription

(non-steroid) creams for those

suffering from problem skin in Australia.

It is also recommended by many medical

practitioners in Australia.

As MooGoo products are safe and natural

they are ideal for long term use from babies

to adults. They are an effective alternative

or follow-up treatment to chemicallybased

ointments.

Although MooGoo products are commonly

used by people with skin complaints like

Eczema, Psoriasis and Dermatitis etc, the

range of products are becoming increasingly

popular for healthy skin care. The Skin Milk

Udder Cream is the lightest of creams that can

easily penetrate the skin with its beneficial

ingredients especially the milk protein which

has been shown to increase skin elasticity

and health. It is non-greasy and contains no

mineral oil or other nasties.

The comprehensive MooGoo range

includes the popular Milk Shampoo and

Conditioner, Milk Wash, Cleansing Bars,

Fresh Cream Deodorant, Body Spray, Edible

Lip Balms, Baby range and much more.

The MooGoo range and further detailed

information and advice is available from

the Natural Health Advisers at Marshall's

Health & Natural Therapy in New Brighton.

Phone 388-5757 We are Always Happy to Help!

EAT

TALK

SMILE

Live life

confidently with

advanced dental

and denture care.

8 CONVENIENT CHRISTCHURCH

LOCATIONS:

Merivale 03 375 4444

Beckenham 03 375 4443

Fendalton 03 375 4449

Linwood 03 375 4448

Kaiapoi 03 375 4442

QEII Dental 03 388 0881

Dentistry with a Smile 03 338 8210

Halswell Dental 03 322 9577

Canterbury's leading company specialising

in complete denture services.

www.duchenne.co.nz

Nature's extraordiNary immuNe support

Olive Leaf Extract contains natural compounds that can

directly interfere & even destroy nearly every type of disease

causing micro-organisms including bacteria, fungi, parasites,

viruses & even yeast infections. It also activates immune

cells that fight infection. As well as this it is an effective

cardiovascular tonic that helps improve blood flow, improve

cholesterol quality & reduce high blood pressure, while

improving overall health.

Olive Leaf Extract Supports:

- Strong immune function

- Fast recovery from colds & flu

- Reduces fevers

- Ideal for any viral infections like cold sores, shingles etc.

- Recovery from yeast & urinary infections

- Energy levels & chronic fatigue syndrome

- Reduction in high blood pressure

- Cardiovascular health & blood flow

MAIL ORDER

AVAILABLE

Marshall's Olive Leaf Extract

is standardised to provide a

concentrated amount of active

nutrients for reliable results!

Super Price

60 capsules only

$26.90

120 capsules only

$46.90

ONLY ONE CAPSULE

DAILY REQUIRED!

For Immune Maintenance

Bringing You the Best in Natural Health!

MARSHALLS HEALTH & NATURAL THERAPY

CONSULTING - PRESCRIBING - DISPENSING - MANUFACTURING - MEDICAL HERBALISTS

110 SEAVIEW RD, NEW BRIGHTON • PH 03 388 5757 • Email: enquiry@marshallshealth.co.nz

- WE ARE ALWAYS HAPPY TO HELP! -

Do You Suffer Eczema or Psoriasis?

Special

1x 120g tube

Only $27.30

2x 120g tube

Only $49.90

You'll be amazed at the

difference it can make!

MooGoo Eczema & Psoriasis Balm is our top selling

anti-inflammatory & anti-fungal cream. It is a great

alternative to steroid & chemical based creams.

Customers rave about how great it is!

Ideal For:

• Eczema & Psoriasis

• Seborrheic Dermatitis

• Fungal & Yeast skin conditions

• Supports wound healing

• Infants to Adults

MAIL ORDER AVAILABLE

Bringing You The Best in Natural Health

MARSHALLS HEALTH & NATURAL THERAPY

conSulTinG - PreScribinG - diSPenSinG - manufacTurinG - medical HerbaliSTS

110 SEAVIEW RD, NEW BRIGHTON • PH 03 388 5757 • Email: enquiry@marshallshealth.co.nz

- WE ARE ALWAYS HAPPY TO HELP! -
---
22 2

Tuesday [Edition May datE] 3 2016

tasty bites

Yo, delicious

yoghurt treats

Get rid of dampness

in your house

Now with the colder and wetter weather on its way, home owners

are focusing on ways to make their homes comfortable, warm and

healthy for their families throughout winter.

BANANA YOGHURT

1½-2 cups thick & creamy creme brulee

yoghurt (I used Hansells)

CREME BRULEE

A culinary blow torch should be used to ½ cup sugar

transform the sugar into the toffee topping.

Rising damp is an issue that

ious

Ensure the blue flame of the blow METHOD

treats

affects many of our older

torch is right on the sugar so it crackles Place the banana in 4 singleserve

properties which suffer

quickly. Make the yoghurt according to heatproof ramekins or small souffee

from poor, or no, insulation.

the instructions on the packet. A quick dishes. Add the yoghurt. Smooth the top. In Canterbury especially, postquake,

many people have relocated to

and yummy brulee. – Sprinkle evenly with the sugar.

Serves 4

Using a blow torch, heat the sugar homes that suffer from rising damp

until it turns to toffee.

which can be associated with health

INGREDIENTS

The brulees may be refrigerated for problems. 1 tsp each: Independent honey, lemon tests juice have

1 large banana, peeled and thinly up to an hour before the toffee starts to shown that up to 40 litres of water can

sliced

dissolve.

1 Tbsp extra virgin olive oil

rise from the ground and enter a house

every Steak: day, 2leading x thickto venison mildew, mould, steaks

condensation 1-2 Tbsp riceand branmusty oil smells.

Moulds freshly can ground produce black various pepper allergic to

reactions taste and the frail, elderly and

very young are especially vulnerable.

Canterbury Foam Concrete Ltd is a

locally METHOD owned and operated firm. The

team understands the problems caused

by Combine rising damp theand sauce are ingredients.

there to help.

YOGHURT CHICKEN CURRY

– Serves 6

/2 cup sugar

INGREDIENTS

Sauce: 2 Tbsp canola oil

1

ETHOD

tsp cumin seeds

1 medium onion, diced

2 bay leaves

lace 400g the can banana whole plum in 4tomatoes single-ierve 4 cloves heatproof garlic ramekins or small

juice

ouffee 3cm piece dishes. root ginger, Add the peeled yoghurt. and

chopped

mooth the top. Sprinkle evenly

2 small chillies, seeded

ith ½ tsp theeach: sugar. ground turmeric, paprika

Chicken: Using a1kg blow skinned torch, and heat boned the

ugar chicken until thighs, it turns halved to toffee.

2

The

red-skinned

bruleespotatoes, may becut into 2.5cm

cubes

1 tsp honey

efore ¼ cup the thick toffee and creamy starts to Greek yoghurt

efrigerated for up to an hour

issolve. — Serves 4

OGHURT

HICKEN CURRY

METHOD

VENISON WITH YOGHURT

SAUCE – Serves 2

INGREDIENTS

Sauce: GREDIENTS ¾ cup Greek yoghurt

¼ cup each: parsley, mint leaves,

chopped

auce: 1 clove 2garlic, Tbspcrushed

canola oil

tsp 1 tsp cumin each: honey, seeds lemon juice

medium 1 Tbsp extra onion, virgin diced olive oil

bay Steak: leaves 2 x thick venison steaks

1-2 Tbsp rice bran oil

00g can whole plum tomatoes

Heat the oil on medium in a large, nonstick

saucepan. Stir in the cumin seeds

until they darken slightly. Add the onion

and METHOD bay leaves and cook until the onion

is soft.

Heat

Meanwhile,

the oildrain on medium

the tomatoes

in areserv-

ing the juice.

large,

non-stick Place the tomatoes saucepan. in a blender Stir in with the

the cumin garlic, seeds ginger, until chillies, they turmeric darken and

paprika. slightly. Blend Adduntil the smooth. onion and bay

leaves Add to and the onion cookmixture until the and onion simmer

for 5 minutes. Add the chicken and

is

soft.

potatoes.

Simmer for 5 minutes.

reserving Make the tomato the juice.

up to 1 cup with

water Place and add theto tomatoes the chicken in with a the

honey. blender with the garlic, ginger,

Simmer, uncovered, for about 20 minutes,

until the potatoes and chicken are

chillies, turmeric and paprika.

cooked. Blend until Stir in smooth. the yoghurt and serve.

Great Addtopped thewith

onion mixture and

additional simmer for yoghurt 5 minutes. and chopped Addcorian-

der.

the

Meanwhile, drain the tomatoes

chicken and potatoes.

Simmer for 5 minutes.

Make the tomato juice up to 1

cup with water and add to the

chicken with the honey.

Simmer, uncovered, for about

20 minutes, until the potatoes and

chicken Heat the remaining are cooked. oil in a heavy

Stir in the yoghurt and serve.

Great topped with additional

yoghurt and chopped coriander.

— Serves 6

freshly ground black pepper to taste

METHOD

Combine the sauce ingredients. Refrigerate

if you wish, but the sauce is best served at

room temperature. Pat the steaks dry, bush

with oil and sprinkle with black pepper.

ridged frying pan. Pan-fry the steaks on

medium high for about 3-4 minutes each

side, until medium rare. Rest for 3-4

minutes before serving with the sauce.

Refrigerate if you wish, but the

sauce is best served at room

temperature. Pat the steaks dry,

bush with oil and sprinkle with

black pepper.

Heat the remaining oil in a

heavy ridged frying pan. Pan-fry

the steaks on medium high for

about 3-4 minutes each side, until

medium rare. Rest for 3-4 minutes

before serving with the sauce.

— Serves 2

LEMON

YOGHURT CAKE

INGREDIENTS

1 cup each: canola oil, caster

sugar

2 eggs

1 cup thick, plain yoghurt

1 tsp finely grated lemon rind

2 cups self-raising flour

1/2 cup mixed dried peel

Yoghurt Icing: 1 cup sifted icing

sugar

1/4-1/3 cup plain yoghurt

1/2 For tsp existing vanillahomes essence with

wooden floor construction

METHOD • Stop Mould & Mildew

• Reduce Heating Bills

Preheat • Cost Effective the ovenPermanent

to 170C. Lightly

oil

Solution

and line

To

the

Rising

base

Damp

of a 21-23cm

• Free Consultation / Quotes

springform cake pan with baking

paper.

Beat the oil and caster sugar

until light. Whisk in the eggs, one

at a time. Mix in the yoghurt and

lemon rind. Fold in the flour until

just combined. It should still be a

little lumpy, similar to a muffin

PEGASUS POST

bite.co.nz – NZ's home of foo

WINE TALK

They will come to your damp home

and pump a lightweight, flowable

foam concrete under your timber

floored home. Specially adapted for

our New Zealand conditions and

applications with YVONNE it provides LORKIN a layer of

protection against rising moisture.

An unexpected Petane Station benefit Esk that Valley the team

at Canterbury Viognier $31, Foam 2015 Concrete have

noticed ★★★★ recently, is that many owners

of properties which had underfloor

foam concrete installed, reported that

it also andprovided apricot stone protection against

liquefaction characters after on the the earthquakes.

Contact nose and Canterbury the way Foam Concrete

Ltd

they

now for

knit

your

together

free, no obligation

quote and complimentary appraisal

of your

withunderfloor the jasmine

ventilation needs.

Phone and 03 white 376 4608 pepper or 0508 362626 for

more notes information. that sneak

I love the bright, cleansing pea

through. It must be

the ancient sea-bed

of a vineyard that

the vines grow in

which injects the

lovely mineral,

slightly salty lick on

the finish. Rich, ripe

and robust and has

snappy acidity, exceptionally

good with pork roasted with

honey and ginger.

Petane Station Single

Vineyard HB Gewurztramine

2015, $36

★★★

Golden and glowing in the glas

like Beyonce's yellow diamond

engagement ring and

offering complex,

apricot, musky

peach, ginger kiss

and lychee notes on

the nose; at 15% alc,

this new release also

has a warming,

glycerol-like

intensity on the

palate — making it a

superb partner for

sweet and sour

dishes. Philip Barber

is the brains behind

this new, Esk Valleybased

winery.

AttAck Rising DAmP

...at the source

Amisfield Lowburn Terrace

Central Otago Riesling 2014

$25

★★★★★ L

Wow! It's like the

gods made an elixir

that smells like

STOP RISING DAMP TODAY www.foamcrete.org

Free Phone: 0508 362626 Main Office: (03) 3764608 Fax: (03) 3764603
---
PEGASUS POST Tuesday [Edition May datE] 3 2016 23 3

Keep comfortable with

EnviroMaster

Are you struggling with the heat

of Summer or wanting to get

organised for Winter? With the

ever changing weather patterns,

heat pumps have the flexibility of being able

to heat and cool which is an advantage no

other appliance can offer. This represents

great value for your investment as you can

use it all year round. The team at Enviro

Master Ltd can help keep you cool this

Summer either at home or work. Enviro

Master supplies, installs and services all

the leading brands including Panasonic,

Fujitsu, Mitsubishi and Daikin. This means

our team can show you which system and

brand will best suit your needs.

We currently have savings up to $600

off the recommended retail price on

selected models.

Would you like to maximise the number

of days you can use your swimming pool?

Heating your pool can do this and one of

the most cost effective ways is with a water

heat pump. Enviro Master Ltd can supply,

install and service you swimming pool heat

pump providing you with a comfortable,

extended swimming season.

Servicing your heat pump is extremely

important to ensure that it is working

as effectively and efficiently as possible

resulting in a healthy, hygienic heat pump,

lower power bills and greater comfort. But

beware, not all cleaning companies are

equal. We are constantly hearing of people

being charged huge amounts for servicing

and all they are getting is a heat pump

clean. We at Enviro Master, are qualified

engineers and therefore are able to fully

test and diagnose any problems you may

or may not be aware of with your heat

pump. Also, as we are associated with all

major brands, we are able to repair these

under warranty if they are still within the

warranty period.

It is important to remember, when

selecting an installer, the manufacturer's

warranty does not cover the installation

and consumers could be responsible for

any repair or damage caused to the system

due to poor installation. Enviro Master's

five-star installation guarantee ensures

correct installation, and a demonstration

so customers have an understanding on

how it will best meet their needs.

For a free in home consultation, call

Enviro Master on 366 0525 or visit our

showroom at 41A Shakespeare Rd,

Waltham, Christchurch.

An extensive range

To ensure the quality of your air, contact

the experts. Smooth-Air Products can

calculate the required air exchange for

your building requirement. Smooth-

Air offers a wide range of ventilation equipment,

from air vents to ducting for fans, for both

the commercial and domestic markets. They

have an extensive range of fans and ventilation

components in-store but they can also provide

innovative solutions tailored to differing

requirements.

VENTILATIoN

This includes both the exchange of air to the

outside as well as circulation of air within the

building. It is one of the most important factors

for maintaining acceptable indoor air quality

in buildings.

Filtered air supply for summer and filtered

- warmed air in winter creates a healthy

environment in which to live and work. In case

of poor or insufficient air intake from outside,

the oxygen content decreases, humidity and

dustiness levels increase. If exhaust ventilation

is not provided or it is not effective, polluted air,

smells, humidity and harmful substances are

not removed.

Low oxygen with high carbon dioxide causes

stuffiness in the room and occupants can feel

drowsy. Invisible harmful substances like a high

content of dust and tobacco smoke are harmful

and can cause various diseases. Even bad smells

can cause discomfort or irritate the nervous

system. In summer, it's easy to open windows for

cross ventilation, however as winter approaches,

we start to shut up out houses to trap in the heat

and as a result, air quality can decline.

It is therefore very important to ensure good

air quality indoors through adequate ventilation.

HOME OR OFFICE

TOO HOT OR

TOO COLD?

Allow us to help you achieve year-round comfort

with a professionally installed heat pump.

We have a wealth of knowledge and experience

and we guide our clients through the selection

process - we don't believe in a "hard sell", we will

only recommend a heat pump that will suit your

heating/ventilation needs and we will offer this

at a very competitive price.

Acclimatise Ltd

HOT & COLD CLIMATE CONTROL

HEAT PUMPS

HEAT PUMPS

HEAT PUMPS

HAVE YOUR

HEAT PUMP

SERVICED BY US

BEFORE WINTER!!

From as low as

$2170 INSTALLED

(conditions apply)

From as low as

$2140 INSTALLED

(conditions apply)

from as low as

$1890 INSTALLED

(conditions apply)

Ph: 385 8636 or 021 896 070

We can also do any electrical work for your home or business

HEAT PUMP

SALE NOW ON!

Amazin' Autumn Specials!!

Centrifugal

inline fans

Ventilation Equipment

Suppliers to trade and retail

The Right Product for the Job

Axial fans Axial fans Bathroom fans

● Domestic

● Commercial

● Industrial

• We will offer you the best quality brands and

option of heat pump for your home/business

• Providing Heat Pump solutions for over 14 years to Cantabrians

• We personally guarantee all our products & installs for 5 years

(providing annual maintenance has been completed)

Phone us today for your free consultation & quote

Axial inline fans

Window fans

41A SHAKESPEARE RD, WALTHAM

PHONE 03 366 0525

www.enviromaster.co.nz

"A local team for local people"

0800 SMOOTH (0800 766 684)

www.smooth-air.co.nz

sales@smooth-air.co.nz

264 Annex Road, Riccarton

Christchurch 8024, NZ

Ph +64 3 343 6184

Mon - Fri 7.30am - 5pm
---
24 2

Tuesday [Edition datE] May 3 2016

PEGASUS POST

What a view to wake up to

18 Glendevere Terrace, Redcliffs

Auction: May 12, 2016

4 bedrooms | 3 bathrooms | 3 toilets | 2 living rooms | 1 dining room | 3-car garage | 2 off-street parks | Listing #: FM4869

Designed to maximise the glorious

views, you will be captivated as

you gaze over the estuary and

Southshore to take in the sweep

of Pegasus Bay to the Kaikouras beyond.

This is not for the casual observer as the

home conceals its appealing and spacious

interior from the street, and it's only once

you have soaked up the stunning views will

you be able to enjoy the expansive family

living, including a bright, modern kitchen

and defined dining area, then explore further

into the home.

To suit families who want extra space,

there is a large formal lounge/media room

on the first floor, which would also suit those

who wished to have an office to work from

home as it features easy separate access from

the street while on the lower level the home

offers a master bedroom complete with en

suite, three further good-sized bedrooms

and main bathroom. There is also the benefit

of a shower room on the ground floor, which

is ideal when you get back from a quick surf

or trip to Sumner beach that is just a short

drive away.

For your outdoor entertaining, the west

-facing timber deck is perfect for summer

BBQs, or relaxing with a glass of wine at

the end of the day. The internal access,

triple garage for all the boy's toys completes

the package.

Having just completed a major renovation

to a very high standard, the home will meet

the demands of the most discerning buyers

and, while I am surprised the decision has

been made to sell such a wonderful home, I

have been given clear instructions to sell the

property on auction day, unless sold prior.

Open Home dates: Wednesdays and

Sundays, 2pm to 2.40pm. See you at

the Open Days. For more information

or to arrange a private viewing, contact

Chris Moores of Harcourts Grenadier

Ferrymead (Licensed Agent REAA

2008) on 384 7950 or 027 588 4440.
---
PROUDLY

PROUDLY

CHRISTCHURCH

CHRISTCHURCH

OWNED

OWNED TUESDaY, aUGUST 27, 2013 PROUDLY 384

384 CHRISTCHURCH 0600

0600

PROUDLY CHRISTCHURCH OWNED MONDaY JUNE 24, 2013

OWNED WEDENSDaY 10 JULY, 2013 384 0600

384 0600

A Mainland

Media Publication

Kea

(Nestor Notabilis)

Ladbrooks, Tai Tapu, Leeston, Lincoln, Southbridge, Prebbleton, Halswell, Rolleston, Templeton, Burnham, West Melton, Darfield, Arthurs Pass

Mainland

Press Newspaper

Sumner, Redcliffs, Mt. Pleasant, Ferrymead, Woolston, Lyttelton & Akaroa Harbours

Black Billed

Gull

A Mainland

Press Newspaper

Linwood, Avonside, Richmond, Shirley, Burwood, Dallington, Wainoni, Bromley, Aranui, Avondale, Bexley, New Brighton, Northshore, Queenspark, Parklands, South Brighton

PROUDLY CHRISTCHURCH OWNED MONDaY JULY 15, 2013 PROUDLY 384 CHRISTCHURCH 0600

OWNED MONDaY 12 aUGUST, 2013 PROUDLY 384 CHRISTCHURCH 0600

OWNED MONDaY JUNE 24, 2013 384 0600

A Mainland

Press Newspaper

Fantail

(Piwakawaka)

A Mainland

Newspaper

Harewood, Burnside, Bishopdale, Bryndwr, Fendalton, Merivale, St Albans, Mairehau, Papanui, Casebrook, Redwood, Regents Park, Styx Mill, Northwood, Spreydon, Belfast Hoon Hay, Hillmorton, Cracroft, Cashmere, St Martins, Somerfield, Sydenham, Addington, Waltham, Opawa, Beckenham, Huntsbury, Woolston

Bellbird

(Korimako)

A Mainland

Press Newspaper

New Zealand

Swamp Hen (Pukeko)

New Zealand

Pigeon (Kereru)

Templeton, Islington, Hei Hei, Broomfield, Halswell, Oaklands, Westlake, Hornby, Wigram, Sockburn, Church Corner, Ilam, Russley, Hyde Park, Avonhead, Riccarton Park, Riccarton

PEGASUS POST Tuesday May 3 2016 25

Cars

$4,001 - $8,000

NEED TRANSPORT but

only have a work visa?

We can help. Only have

Learners licence? We can

help. Call or txt Leon at

Baylis Motor Company

022 625 2232 (T.A.P)

Celebrant

WEDDINGS, Civil

Union Ceremonies,

Renewal of Vows, Naming

Ceremonies, Funerals

and Unveilings - Jenni

Gibson Ph/Fax 324-8332,

021 723-089. www.

celebrantservices.net.nz

WEDDINGS, Civil

Union Ceremonies,

Renewal of Vows, Naming

Ceremonies, Funerals

and Unveilings - Jenni

Gibson Ph/Fax 324-8332,

021 723-089. www.

celebrantservices.net.nz

Computers

ALL

YOUR

COMPUTER

WORRIES SOLVED!

*$30.00 off your first

service with this coupon!*

No problem too big or

small from home PC's to a

business networks. PC

slow? An end to Viruses,

Spyware, and Clogged

Systems. Safe secure

hassle-free computing.

Lost files recovered.

Microsoft Certified,

MCSE, MCP+l. 30 years

experience. Call Andrew

Buxton this week on 326-

6740 or 027 435-7596

for $30.00 off* Custom

Computers Christchurch

Curtains

www.curtainfabric-outlet.com

Fashion Designs & Colours

Discontinued Designs

End of Lines Bargain Prices

Call at Our Shop

CURTAIN FABRIC OUTLET

71 Hawdon St Sydenham

Ph 366-5026

Classifieds Contact us today Phone our local team 03 379 1100

Gardening

& Supplies

GARDENING By mature

female, very particular,

honest & reliable $18

per hr, Northcote &

surrounding areas, plse ph

03 352-2590

SECTION

CLEARANCE,

MAINTENANCE & tree

removal, Hill sections

specialty competitive

prices, ph Ewan 03 326-

5009 or 027 201-5150

WOODEN Planter Boxes

& raised gardens and odd

jobs. Free quotes. Ph Elfee

027 707 9783

Holiday

Accommodation

QUEENSLAND SUN-

SHINE COAST AUSTRA-

LIA Resort, Ocean Views,

Balconies, Self Contained,

1 or 2 B/R Ensuite,

Heated Pool, Spa, Sauna,

Free Internet, Shops,

Restaurants, Tennis, Surf

Club & Patrolled Beach,

Public Transport at door.

Ask for our SEASONAL

SPECIALS. Phone 61 7

544-35011 Email: reception@mandolin.com.au

www.mandolin.com.au

Pets & Supplies

A GARDEN

AFFORDABLE Dog

Grooming $44 small,

PROFESSIONAL $52 med, experienced

NEEDED? Qualified

and qualified groomer/

Horticulturist, offering

expert pruning, garden

veterinary nurse,

makeovers, garden design Redwood, ph June 03 354-

and landscaping, for free 6414 or 027 746-5295

quotes call Bryce 027 688-

8196 or 0508 242-733

A GARDEN OR

Public Notices

LANDSCAPING TIDY

UP? Shrub, hedge &

tree pruning, Lawns, Rexellent Rentals

Gardening, consistently Cars, Vans, Brisbane , Coolangatta

reliable general property FREE CALL

upkeep, Dip. Hort. 10 0800 601 508

yrs experience, One off

www.rexellent.com.au

tidy ups or on-going

service. Nick's Property

Maintenance. Keeping

your garden beautiful. THIS IS A NOTICE

Free Quote. Ph. 942-4440 for all financial

GARDENER - Need members of the

your home or commercial Christchurch

garden tidied up or Country Music Club

renovated or require long

term assistance. Phone That our Annual

Ruth 326-6663 or 021

272-0303

General Meeting

for the election

of officers, will be

held on Sunday

5th June 2016, at

the Papanui RSA,

starting at 10am.

Followed by our

normal Club Day

which starts at 1pm.

DEMOLITION

With care and respect we

will remove your dwelling.

Our policy is to recycle as

much as we can. We are a

local company specialising

in residential properties. We

will endeavor to cater for

your individual needs.

Ph. R.M. Solutions

021 02866981

for a free quote.

THIS IS A NOTICE

for all financial

members of the

Christchurch

Country Music Club

That our Annual

General Meeting

for the election

of officers, will be

held on Sunday

5th June 2016, at

the Papanui RSA,

starting at 10am.

Followed by our

normal Club Day

which starts at 1pm.

Public Notices

Call us & we'll help

you place your

classified advert in our

community papers

Nobody knows

Christchurch

like a local

We're local, we're

in Christchurch, we

speak your language!

Phone: 379 1100

Selwyn

Times

Nor'West

News

Bay Harbour

A

News

Southern

View Press

News

Classifieds

Our community papers are published every

Tuesday (Bay Harbour, Wednesdays) focusing

on local issues & local people.

ADD SOME

Situations Vacant

Volunteers needed

at Burwood Hospital

• Meet and Greet

• Gift Shop Assistant

Plenty of parking available.

COLOUR

TO YOUR ADVERT!

Pegasus

Post

Western

Applicants

should be active

and enjoy

working with

people.

Contact Rachael or Norma on 383 9499

or email burwoodvolunteers@gmail.com

Situations Vacant

To Let

NEED MORE

SPACE?

NO BOND THIS MONTH

Ideal as an extra

bedroom or office.

Three convenient sizes

from $70 p/w:

Standard 3.6m x 2.4m

Large 4.2m x 2.4m

Xtra-large 4.8m x 2.4m

Visit our display cabins at

95 Beach Road or

470 Cranford Street or call

0211277227 for a free brochure.

www.justcabins.co.nz

Trades & Services

Appliance Sales & Service

388 4780

Appliance Services

12 Brighton Mall, New Brighton

DRIVEWAYS & PAVING

FREE QUOTES

Professional, friendly

Service Always

Ph. 03 329 4806

or 027 827 0505

CAP CONSTRUCTION LTD

FENCING

Paling, picket,

iron, trellis

Demolition and

removal

Phone Bevan

021 231 1860

Fencing Uprite

Your Eastside

Specialist

Professional

Movers

Making Local

& International

Moving Easy

0800 4 world

(03) 341 2060

www.worldmoving.co.nz

HOUSE

CLEARING

Are you moving

house?

Let All Clear Canterbury

take care of your

unwanted items.

You identify what you want

to keep & we will dispose

of the rest!!

Mob: 021 078 4553

raewynlcooke@gmail.com

www.allclearcanterbury.co.nz

PLUMBER

Michael

Gale

Plumbing Ltd

PROMPT SERVICE

For all

Plumbing

•Roofing/

spouting

•Maintenance

•Installations

8790441AA

Trades & Services

Small work

no problem

Ph 364 7080 (24 hour)

Mob 027 438 3943

Lawns, Gardens

& Home Cleaning

9185885AA

Free Quotes

Professional, personalised

service. Regular &

one-offs. Fixed price.

Ph: 377-5814

For all your property and

cleaning requirements

Trained, insured & security

screened owner/operators

Multi-award winning

systems & Franchises

Franchises Available

www.fviphomeservices.co.nz

GLAZING

Stephen Thom

Glazing 2012 Ltd.

(Under New Management)

• Mirrors

• New Glazing

• Pet Door

Specialists

• Frameless

Showers

• Splashbacks

WE CAN DO YOUR

WORK NOW

9155874AA

ALL BROKEN

WINDOWS

Phone Cushla

03 352 6225

or 027 352 6225

style

noun

elegance and sophistication.

synonyms: flair, grace, poise,

polish, suaveness, urbanity,

chic, finesse, taste, class,

comfort, luxury, affluence,

wealth, opulence, lavishness.

Magazine & TV | sTyle.kiwi
---
26

Tuesday May 3 2016

Classifieds

PEGASUS POST

Trades & Services

AAA CArpentry

licensed builder

practitioner all property

maintenance small job

expert by tradesman /

handyman free quotes city

wide call now 03 387-

0770 or 027 245 5226

ciey@xtra.co.nz

AnDreWS tree CAre

Services, tree removal,

trimming, stump grinding,

shelterbelt clean up,

section clearing, rubbish

removals, excavation

work, ph 027 728 5688

BUILDer

For all building work

but specialist in bathroom

renovations, 30 yrs

experience, with service

and integrity. Free Quotes.

Ph Lachlan 383-1723 or

0274 367-067.

DRIVEWAYS

Replace, repair or new.

We are a local company

with over 10 yrs exp.

We also operate a

digger for all other

earthworks.

Ph. R.M. Solutions

021 02866981

for a free quote.

Entertainments

Thursday 28th April - Wednesday 4th May

HUNT FOR THE WILDERPEOPLE (PG)

EYE IN THE SKY (M)

JUNGLE BOOK (PG)

THE MAN WHO KNEW INFINITY (M)

MOTHER'S DAY (M)

Trades & Services Trades & Services

FenCe pAIntInG pLUMBer

Staining Quality at a ALF THORPE

reasonable price. Free PLUMBING Certifying

quotes. Phone Warren Plumber for all types of

today on 980-1676 or 027 plumbing, maintenance,

BUILDer LICenSeD 2014713

spouting, alterations etc.

available for all aspects of

Phone 352-7402 or 0274-

building. Please call 027 FUrnItUre reMoVALS 350-231

241-7471 or 335-0265 Large Trucks $95 +

GST per hour 7 day NZ rooFInG

CArpenter

wide, packing & moving, Qualified & Licenced

HANDYMAN - Small Professional Company, Practitioner. Re-Roof &

Job Specialists, Carpentry, Professional Service. Repairs, all types. Member

Repairs, Decking & Canterbury Relocations New Zealand Roofing

Maintenance, 40 years Ltd. ph 0800 359 9313 Association. Over 35 years

experience, no job too

experience. Phone John

small, Ph Warren 03 322- LAnDSCApe

027 432-3822 or 351-9147

1103 or 027 697-8541 CONSTRUCTION

email johnmill@ihug.

Lawns, paving, water

CArrIer LoCAL

co.nz

features, irrigation,

experienced, friendly,

planting, decks,

trade-me purchases, single

SpoUtInG CLeAnInG

driveways, kerbing, ponds,

items to truck loads,

Spouting Unblocked,

retainer walls, fencing.

furniture to whatever,

Cleaned Out and Flushed

Free quotes, Phone Tony

removals & trade

Out. Also Full Handyman

021-034-8555

deliveries a specialty. Ph

Services Available. Call

GEH 341-5069

Trevor 384-3435 or 021

oVen CLeAnInG

043-2034

ConCrete CUttInG Professional cleans

AND GRINDING Cutting $50.00. Gift Vouchers

tILer/CArpenter

of walls and floors; Small avail. Phone 0800 683-

35 years exp, no job

break and remove jobs; 6253 or 027 228-0025

too smal.Ph Ross 027

Grinding concrete level;

Cracks filled; Concrete

pAInter AVAILABLe

4311440.

polishing and sealing. Call

All aspects in painting.

Danny at Stoneshine on

Very competitive in roofs tree WorK

021 063 8833

and fences. Please call 027 Hedge trimming, stump

241-7471 or 335-0265 grinding, rubbish removed,

small job specialty Ph

Andrew 03 322-8341 or

027 435-8759

FenCInG

All styles and shapes,

gates, wooden, ph Mark

027 331-3223

pAIntInG

& Decorating interior

& exterior, gib fixing,

plastering, paperhanging,

Est 50 yrs in ChCh, ph

Wingfields Ltd, ph Mark

021 171-1586 or 355-5994

pAInter

Top quality work, interior/

exterior, pensioners

discount, free quotes, 30

years experience, I stand

by Canterbury, ph Wayne

your friendly painter 03

385-4348 or 027 274-3541

Cracked tiles?

Dirty grout?

Old or mouldy

silicon?

Brett Ph 03 358 5105

or 027 746 7632

www.groutpro.co.nz

t.V. SerVICe Centre

Repairs, tvs, microwaves,

stereos, DVD. Aerial

installations and kitsets,

480 Moorhouse Ave, ph 03

379 1400

UpHoLSterer

Dining Chairs, Lounge

suites, Caravan Squabs

etc. recovered. Free

Quotes. Phone Graeme

383-1448

ROBINSON CRUSOE (PG)

KUNG FU PANDA 3 (PG)

ZOOTOPIA (PG)

EDDIE THE EAGLE (PG)

Trades & Services

VHS VIDeo tApeS

& all camera tapes

converted to DVD, video

taping, weddings, twenty

firsts, special occasions,

www.grahamsvideo.co.nz

ph 03 338-1655

WAterBLAStInG

Quality Job, Quick Service

by skilled tradesman, Ph

Richard Severin at Jet-X

0800 538 969 Free quotes,

visit www.jetx.co.nz

DRIVEWAYS

Replace, repair or new.

We are a local company

with over 10 yrs exp.

We also operate a

digger for all other

earthworks.

Ph. R.M. Solutions

021 02866981

for a free quote.

Tuition

PILATES

Beginner & Intermediate

classes, Tuesday &

Wednesday nights.

Fendalton Croquet Club,

Makora Street. Phone Julie

351-2100

Wanted To Buy

AAAAAAAAA

GOOD PRICES

paid for estate lots,

antiques and good

quality furniture.

Ph Rick 347 4493

or 021 376 883

A+ Household effects,

fridges, freezers, washing

machines, ovens. Good

cash paid. Ph Paul 022

0891 671

A Records and Hi-Fi

gear wanted, excellent

prices paid for good

records especially kiwi

and overseas bands 60's

- 90's PennyLane 430

Colombo St Sydenham

7 days www.pennylane.

co.nz ph 3663278 or 021

2226144

TOOLS

Garden, garage,

woodworking,

mechanical, engineering,

sawbenches, lathes, cash

buyer, ph 355-2045

Wanted To Rent

ONE or two bedroom,

flat / unit needed urgently

with option to pay off

bond, long term wanted,

up $300 pw, phone Mel

0275029289

NOW OPEN

BOOK FOR

MOTHER'S DAY

Sunday 8th May

Cooks and Cocktails offers

affordable family dining

with an international menu

and amazing cocktails.

Come and enjoy our

great family environment

and meet our amazing staff.

Papanui's newest

family friendly

dining experience

77 Main North Road, Papanui

Ph 352 4242

www.cooksandcocktails.co.nz

Open Monday - Friday 11am - late;

Saturday & Sunday 8am - late

H ORNBY

WORKINGMEN'S

CLUB

«WHAT'S ON«

WESTVIEW LOUNGE

SATURDAY

7 May, 4.30PM

PETER WILLIAMS

8PM

BIG DADDY

SUNDAY

8 May, 5PM

NEVILLE BARRIE

Mother's Day

BUFFET DINNER

SUNDAY 8th MAY

5pm or 6.30pm

Choose from one of 2 sittings

Every Mother goes

in the draw to WIN

one of two Gift Baskets!

Bookings Essential

$27

Hornby WMC

ph 03 349 9026

17 Carmen Road

Hornby

«COMING UP«

FRIDAY 20 MAY, 7.30pm

AUSTRALIA'S YODELLING

DRAG QUEEN

LAYDEE KINMEE

AND

BARROSS

Tickets $15 at the club office

or Barb Lloyd 03 310 0355

FRIDAY 27 MAY, 8pm

DIAMOND

ANNIVERSARY SHOW

FEATURING

EDDIE LOW

DAVID LA PLANCHE

SHALOW & TREVOR DAWE

Tickets $0 at the club office

www.hornbyworkingmensclub.co.nz | Members, guests & affiliates welcome

LIVE

ENTERTAINMENT

6PM FRIDAY

REMINISCE

with ANTHONY

7PM SATURDAY

THE VELVETINES

12.30PM SUNDAY

GORDON

HUBBARD

The newly refurbished

Woolston Club...

A classic, contemporary

club experience

Dining, bar, entertainment,

sport, and so much more!

Cafe open from 11am

Happy Hour 4.30pm - 5.30pm

TAB & Gaming, Function Facilities,

HOUSIE Tuesday, Thursday, Saturday

SHUTTLE Tuesday - Sunday

Newly renovated

Open 7 Days

Restaurant open

from 5.30pm!

With a selection of

main meals for $20

Retro Roast Lunch

12pm Wednesdays

$10 Members/$12 Non

Roast of the Day

$16.00 Members

$18.00 Non
---
PEGASUS POST Tuesday May 3 2016 27
---
28

Tuesday May 3 2016

PEGASUS POST

NEED CHILDCARE?

• Full day, half day sessions

and full time

• Caring for children birth to 6 years

• Fully qualified, registered and

experienced teachers

• Quality child ratios

• Free ECE and subsidies available

• Large indoor and outdoor

environment

• Quality programmes and care

for your child's individual needs

• Helping children reach

their full potential.

Hours open—7am to 6pm

Tiny Tots Nursery and Preschool provides a safe and secure environment in which children can learn, create and grow to the best of their abilities.

Tiny Tots has an open plan environment both indoors and out and seeks to provide high quality equipment, resources and facilities to support

your child's learning and development for now and the future.

Our programme is based around each child's individual interests, needs or development and this is formatted through the teachers and parent's

communication together.

Enrol your child now to our warm, fun, homely learning environment.

Please don't hesitate to visit us or call us if you would like further information.

Call us now (03) 389 6851 | www.tinytotspreschool.co.nz

148 England Street, Linwood, Christchurch

Email: tinytotspreschool@xtra.co.nz