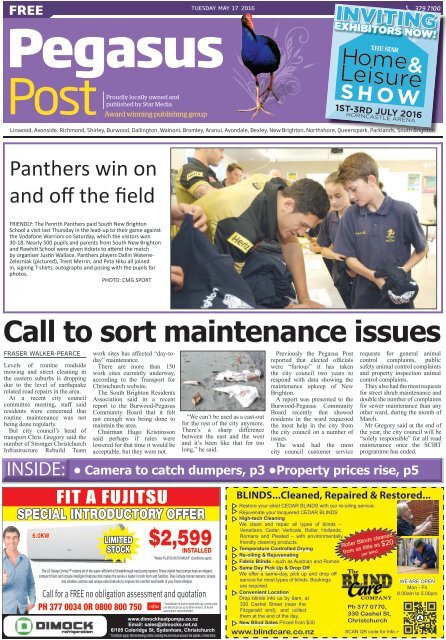 Pegasus Post: May 17, 2016
Do you know the secret to free website traffic?
Use this trick to increase the number of new potential customers.
FREE

TUESDAY MAY 17 2016

Pegasus

INVITING

379 7100

EXHIBITORS NOW!

Post

Proudly locally owned and

published by Star Media

Award winning publishing group

SHOW

1ST-3RD JULY 2016

HORNCASTLE ARENA

Linwood, Avonside, Richmond, Shirley, Burwood, Dallington, Wainoni, Bromley, Aranui, Avondale, Bexley, New Brighton, Northshore, Queenspark, Parklands, South Brighton

Panthers win on

and off the field

FRIENDLY: The Penrith Panthers paid South New Brighton

School a visit last Thursday in the lead-up to their game against

the Vodafone Warriors on Saturday, which the visitors won

30-18. Nearly 500 pupils and parents from South New Brighton

and Rawhiti School were given tickets to attend the match

by organiser Justin Wallace. Panthers players Dallin Watene-

Zelezniak (pictured), Trent Merrin, and Peta Hiku all joined

in, signing T-shirts, autographs and posing with the pupils for

photos.

PHOTO: CMG SPORT

Call to sort maintenance issues

FRASER WALKER-PEARCE

Levels of routine roadside

mowing and street cleaning in

the eastern suburbs is dropping

due to the level of earthquake

related road repairs in the area.

At a recent city council

committee meeting, staff said

residents were concerned that

routine maintenance was not

being done regularly.

But city council's head of

transport Chris Gregory said the

number of Stronger Christchurch

Infrastructure Rebuild Team

work sites has affected "day-today"

maintenance.

There are more than 150

work sites currently underway,

according to the Transport for

Christchurch website.

The South Brighton Residents

Association said in a recent

report to the Burwood-Pegasus

Community Board that it felt

not enough was being done to

maintain the area.

Chairman Hugo Kristinsson

said perhaps if rates were

lowered for that time it would be

acceptable, but they were not.

"We can't be used as a cast-out

for the rest of the city anymore.

There's a sharp difference

between the east and the west

and it's been like that for too

long," he said.

Previously the Pegasus Post

reported that elected officials

were "furious" it has taken

the city council two years to

respond with data showing the

maintenance upkeep of New

Brighton.

A report was presented to the

Burwood-Pegasus Community

Board recently that showed

residents in the ward requested

the most help in the city from

the city council on a number of

issues.

The ward had the most

city council customer service

INSIDE: • Camera to catch dumpers, p3 •Property prices rise, p5

requests for general animal

control complaints, public

safety animal control complaints

and property inspection animal

control complaints.

They also had the most requests

for street shrub maintenance and

double the number of complaints

for sewer maintenance than any

other ward, during the month of

March.

Mr Gregory said at the end of

the year, the city council will be

"solely responsible" for all road

maintenance once the SCIRT

programme has ended.

FIT A FUJITSU

SpECIaL InTrODuCTOry OffEr

6.0KW

Hot Hot $2,599

LIMITED

Deal

on 8KW STOCK Heat PumP

installed

Fujitsu ASTG24L 8 KW

* Conditions apply. Normal lending criteria, booking fee and annual account fee applies. Limited stock.

* Conditions apply. Normal lending criteria, booking fee and annual account fee applies. Limited stock.

BLINDS...Cleaned, Repaired & Restored...

Restore your oiled CEDAR BLINDS with our re-oiling service.

Rejuvenate your lacquered CEDAR BLINDS

High-tech Cleaning

We clean and repair all types of blinds –

Venetians, Cedar, Verticals, Roller, Hollands,

Romans and Pleated – with environmentally

friendly cleaning products.

Temperature Controlled Drying

Re-oiling & Rejuvenating

"Model FUJITSU ASTG18KUCA" (Conditions apply)

Fabric Blinds - such as Austrian and Roman

Same Day Pick Up & Drop Off

Heat

The e3 Design

Pump

Series retains

for

all of

Just

the super-efficient e3 breakthrough heat pump system. These stylish heat pumps have an elegant, 10 5 only

compact finish and include intelligent features that makes the series a leader in both form and function. They include human sensors, simple

We offer a same-day, pick up and drop off

and intuitive controls and unique extra features to improve the comfort and health of your home lifestyle. BE QUICK service for most types of blinds. Bookings

Six Year

are required.

$2,999 Warranty

Convenient Location

Call Fully for a Installed* FREE no obligation assessment and quotation

Drop blinds into us by 9am, at

* Installation is back to back with up 5 meter pipe

Installed back to back, up to 3 metre pIpe

330 Cashel Street (near the

PH 377 0034 OR 0800 800734

750

run electrical run up to three meters, in home

run and electrIcal assessment recommended supply wIthIn 6 metres. Fitzgerald end), and collect

them at the end of the day.

www.dimockheatpumps.co.nz

Email: sales@dimocks.net.nz

New Blind Sales Priced from $30

Email: sales@dimocks.net.nz

6/105 Coleridge

6/105 Coleridge

St, Sydenham,

St, Sydenham,

Christchurch

Christchurch

www.blindcare.co.nz

Roller Blinds cleaned

from as little as $20

per blind

Ph 377 0770,

330 Cashel St,

Christchurch

SCAN QR code for Info >

WE ARE OPEN

Mon - Fri

8.00am to 5.00pm
---
2

Tuesday May 17 2016

Adam McGrath – NZ Music

Month

Today, noon-1pm

Adam McGrath of The Eastern

will be performing a solo

acoustic set of original songs.

Shirley Public Library, 36

Marshland Rd. Free entry

NZ Music Month

Saturday, May 21, 2pm

A celebration of New Zealand

music continues at Parklands

Library with a free live

performance from Matt Howes

and Ella Dunbar-Wilcox –

award-winning year 13 guitarist

and vocalist performing Latin,

swing and funk jazz standards.

Parklands Library, 46

Queenspark Dr. For more

information phone 941 7923.

Free entry

South Brighton Choral

Society presents Kaleidoscope

Sunday, May 22, 2pm

Kaleidoscope is not a recital

but a variety concert from a

community choir. Enjoy the

variety concert, which includes

afternoon tea.

New Brighton Union

Church Hall, Corner Union/

Community

Events Email

Collingwood St. Adults $10,

children $2 at the door

Pirate Latin Dance Party

Friday May 27, 8pm

The New Brighton ukulele jam

with The Natural Magic Pirates

will be hosting a pirate Latin

dance party with Gerrado Torres

and the Matecito Band. Put on

your dancing shoes and wear

your brightest finery and join the

pirates in New Brighton for a

night of Latin magic.

St Faiths Community Hall, 46

Hawke St, New Brighton. $10

tickets

Mums, Dads and Bubs

Group

Every Wednesday, 10.30amnoon

Go and meet other parents in

the community. There will be

shared kai and a well-earned

fraser.walker@starmedia.kiwi

by 5pm each Wednesday

coffee while you watch your

tamariki play and learn. Older

siblings are also welcome.

Things that you may do include

having discussions about babies'

learning and development, what

you may experience as parents,

and different types of play you

can engage your babies in.

Linwood Playcentre, 628a

Worcester St. Free entry

Scottish Ceilidh

June 11, 7.30pm

The Scottish Country Dancing

national body has declared June

a "come dancing" month. Six

clubs in Christchurch will join

forces and hold a Ceilidh, a

social event with Scottish music

and singing, traditional dancing

and story-telling. The Scottish

Society, Hoon Hay Club, The

Christchurch Club, Burnside

Club and Caledonian Society

NEW EXHIBITION: The Morantics Paintings and Pottery exhibition by

Keith and Tricia Morant started last Monday and will run until Saturday,

May 28. Keith is a renowned Christchurch artist with an international

following, and will be exhibiting his works alongside his wife Tricia for a

limited time at Eastside Gallery, at 388 Worcester St. Monday to Friday

11am-4pm, and Saturday, noon-3pm. Closed on Sundays.

are all hosting the event. Be

welcomed by a piper, observe an

address to the haggis and enjoy

a night of Ceilidh style dancing.

PEGASUS POST

Flat shoes required.

Heaton Intermediate School,

Heaton St, Strowan. Tickets $10,

under-18s $5.

ContaCt us

General Manager: Steve McCaughan

Communities Editor: Shelley Robinson

Sales Manager: Joan Smith

Circulation: Mark Coulthard

P: 379-7100

NEW LOCATION ADVERT.pdf 1 1/05/2014 11:51:35 a.m.

NEWS

Fraser Walker-Pearce

Ph: 364 7424

fraser.walker@starmedia.kiwi

ADVERTISING

Gail Henry

Ph: 364 7450

gail.henry@starmedia.kiwi

VISIT OUR NEW LOCATION LOCATION

430 ST ASAPH STREET!

RECOVER YOUR LOVED FURNITURE

No job too big or small

Rent Me Or Buy Me

NEW & RECYCLED

CLOTHING

SHOPS AT:

14 Yaldhurst Rd, Ph 03 341 5379

251 Ferry Rd, Ph 03 381 3089

94 Victoria St, Rangiora, Ph 03 310 7421

Open: Mon-Fri 10am-4.30pm, Sat 10am-2pm

Hours of Business: 7am-4.30pm Mon-Thurs

Fri 8am to midday

or by appointment with Keith 027 566 3909

Still able to offer

you the finest top

quality new furniture

Visit us online

www.qualityfurniture.co.nz

P. 371 7500

QUALITY FURNITURE SPECIALISTS

RE - UPHOLSTERY SPECIALISTS KEITH HARTSHORNE 0275 663 909

EAT

TALK

SMILE

Live life

confidently with

advanced dental

and denture care.

8 CONVENIENT CHRISTCHURCH

LOCATIONS:

Merivale 03 375 4444

Beckenham 03 375 4443

Fendalton 03 375 4449

Linwood 03 375 4448

Kaiapoi 03 375 4442

QEII Dental 03 388 0881

Dentistry with a Smile 03 338 8210

Halswell Dental 03 322 9577

Canterbury's leading company specialising

in complete denture services.

www.duchenne.co.nz

NO BOND REQUIRED

Rental - From $75 p/w Size 10m2

• Accommodation –teenagers, elderly, guests

• Cabin Sleep out • Site office • Storage

• Home office/ small business • Games room

0800 HouseMe 468 736

houseme2015@xtra.co.nz

SUPER STORE:

320 Manchester Street (Bealey Ave end)

Phone 03 365 2051.

Clothes, shoes, whiteware, furniture,

linen and homeware.

Open: Mon-Fri 9am-5pm, Sat 9am-3pm

Donations of furniture and homewares

welcome during shop hours.

Have a cup of tea with

your MP Poto Williams

New Brighton Market

Saturday 21st 5 March May 10am - 1pm

If you want to book a specific time

contact my Electorate Office on

03 382 0288 before Friday at 3pm

Authorised by Poto Williams, Parliament Buildings, Wellington
---
PEGASUS POST Tuesday May 17 2016 3

neighbourhood NEWS

News tips? Email fraser.walker@starmedia.kiwi or phone 364 7424

Your opinion? Facebook us on https://www.facebook.com/pegasuspost

Camera to catch dumpers

Bid to stop

rubbish

dumping

in Bexley

FRASER WALKER-PEARCE

A camera that was previously

used to catch taggers has been

installed in Bexley to deter

anyone dumping rubbish in the

residential red zone.

The 5m tall, 2000kg security

camera was installed on the

corner of Wetlands Grove and

Morganwood St last Tuesday.

The camera is being hired by

Land Information New Zealand,

which aims to stop the amount

of rubbish being dumped in the

residential red zone.

An LINZ spokesman said multiple

rubbish dumpings had cost

more than $3000 to dispose of.

"There has been 17 events of

domestic rubbish dumping in

Bexley on Crown-owned land

since December 1, costing LINZ

$3135.67 for collection and

disposal," he said.

Last year Pegasus Post reported

that a similar camera was

WATCHDOG: A new camera system installed in Bexley will target illegal

rubbish dumpers.

PHOTO: GLEN TAYLOR

installed near the

New Brighton war

cenotaph after it

was tagged, along

with the library.

This time the

camera was

installed to deter dumpers, and

along with filming any motion

in the area, it can capture vehicle

number plates, even in pitch

black conditions.

ATF fencing contractors

regional manager Glen Taylor

(left) said there has been a

"massive spike" in dumping in

the Bexley area recently, and

the camera will act as a visual

deterrent.

"We've been in there testing it

at night, and we've found that it

can read number plates in pitch

black, so basically I'd say you

cannot hide from it," he said.

The LINZ spokesman said

the camera will remain in the

red zone until the problem has

improved.

"(It costs) $35 a day. The

camera's on trial and will remain

where it is until we see an improvement,"

he said.

Mr Taylor said if there's

enough evidence to find

out whose rubbish has been

dumped, the city council will

"return" it to the owners.

"If there are bank statements,

mail, anything like that in there,

and they find it, they will return

it. I've seen it before," he said.

HAVE YOUR SAY: Where do you

think the camera should be

placed? Where are the target

areas for dumpers? Email fraser.

walker@starmedia.kiwi

ALLEGED ASSAULT

A man in his 20s was taken

to hospital last week after an

alleged assault. The incident

which happened at about

1am on Friday on Pages Rd,

Wainoni left the man with

moderate injuries.

BEE HIVE EXHIBITION

Artists from the eastern

suburbs, who last week

showed their work at Brighton

Gallery, will now have their

exhibition couriered to

Wellington. The works of 25

painters, two sculptors and a

jeweller has been sent today

to Bowen Galleries in Te Aro,

Wellington, for an exhibition

which starts on May 31. The

works are expected to be

stored in Wellington until

the exhibition begins in two

weeks

WAINONI RUBBISH FIRE

A rubbish fire in Wainoni

last week spread to a fence

and nearby shrubs before

being extinguished. Wainoni

station firefighters went to

McHaffies Reserve at about

2.40pm last Thursday. The

fire was declared suspicious,

and police were notified. Two

hours later, firefighters were

called out again to extinguish

a flare up of the same fire.

No one was injured in either

incident.

Wainoni

and PANDA'S PIZZA

175 Wainoni Road, Wainoni (opposite Pak 'n Save)

Phone 388 4373

Available NOW! ORGAZMIK COFFEE

your daily oral addiction

YOUR FRIENDLY LOCAL PHARMACY

Your first port of call

for health advice

in Burwood

"We have lost a lot of good friends

but we still have a close community"

Only $28 9kg

LPG Bottle Fill

Robyn Thew

Wainoni

RAY HASTIE

Manager

027 448 8225

REBEKAH WHALLEY

Accounts Administrator

03 331 6755

$2 off

Fuel Purchase

with min purchase $40

Only Valid at Mobil Wainoni, 1 Voucher per visit, valid until 30th June 2016

DOUG NICOL

Property Manager

027 277 1256

ABBEY NOLAN

Property Manager Junior

027 379 5021

"We are where you are"

www.propertymanagementchristchurch.com

#

NICOLA FLANAGAN

Property Manager

021 914 332

JENEFER BIMLER

Business Development Manager

021 716 655

• Prescriptions • Medico Packs

• Gifts • Health Advice

• Dry Cleaning • Passport/ID photos

Burwood Pharmacy

HEALTH ADVICE

MEDICINES

Hours: Mon-Fri 9am-5.30pm, Thurs 9am-6pm

11 Parnwell Street. Ph 383 4814

PRESCRIPTIONS

Introducing

Ray White

Citywide Property

Management

FREE LOCAL DELIVERY

BURWOOD / AVONDALE

PASSPORT/ID

PHOTOS

DRY CLEANING Local Experts –

SERVICES Citywide Knowledge

We've been entrusted to look

after over $99 million of property

throughout Christchurch.

You can trust us to look after yours

too. Call today.

P. 03 331 6755

Prier Manson Real Estate Ltd

COSMETICS

YOUR LOCAL GARAGE

QUIT SMOKING

GREAT RANGE

OF GIFTS

• All vehicle repairs

• Oil changes and services

• Brakes • Loan car available

• Tyres, punctures & batteries

• W.O.F • Tune up

VERY FRIENDLY SERVICE AND ADVICE

NEW BRIGHTON AUTOMOTIVE

Phone: 03 388 3630

40 Hawke St (behind Z Petrol Station)
---
4

Tuesday May 17 2016

neighbourhood NEWS

News tips? Email fraser.walker@starmedia.kiwi or phone 364 7424

Your opinion? Facebook us on https://www.facebook.com/pegasuspost

What's in a name?

FRASER WALKER-PEARCE

Have you ever wondered why

Waitikiri Golf Club is spelled

differently to Waitakiri Primary

School?

Waitikiri, the subdivision and

golf club, is spelled with an 'I',

but Waitakiri, the school, has an

'A'. It's only 2.7km from one to

the other. So why are they different?

The answer goes back to 1860

when the first European, John

McLean, moved onto the now

Waitikiri land, which was used

for farming at the time.

A local history fact file on Bottle

Lake and Waitikiri: the early CONFUSION: Waitakiri Primary School opened this year, but is spelt

years, on the Christchurch City differently to its neighbouring subdivision, Waitikiri.

Libraries website, says the name and was the merger of Burwood "The feedback we received was

came about because of a house and Windsor Primary Schools. that the most current understanding

of the word was 'meandering

built on the land in the late 19th- Principal Neil O'Reilly said the

century by William Reece, which name of the school came after waters' or 'muddy waters'. I think

he called Waitikiri.

a long community consultation that makes sense to us if you

Waitikiri, pronounced 'why period.

think about the Travis Wetlands

tick eerie', at the time had several "We went out into the community

and asked for name sugges-

O'Reilly said.

and all the streams in there," Mr

differing Maori interpretations,

including 'muddy water', 'water tions. Many names came back,

He said during their consultation

they weren't looking to find

springs back', 'there it is dug', including combinations of the

and 'a lagoon'.

two school names, like Burwind,

out whether it was the "right or

The land was bought in 1937 Windwood, and things like that.

wrong spelling", just if it was

by Waitikiri Links Ltd, and now One of the names was Waitakiri,"

right for the school.

two golf courses are on the land, he said.

Waitikiri and Bottle Lake Forest Mr O'Reilly said the board "This seemed to be the most

Golf Club.

liked the name, and consulted right interpretation, and it doesn't

As for Waitakiri, pronounced with Ngai Tahu to see if it was mean Waitikiri is wrong. It just

'wai tah key ree', the school was "locally and culturally" significantment

in time," he

means it's right for us at this mo-

formed more recently, in 2014,

said.

QE II Park land use

under question

FRASER WALKER-PEARCE

A surviving member of the

New Brighton Trotting Club

has signed an affidavit saying

that QE II Park was to be set

aside "for recreational use

only."

Norma Robinson,

88, is "adamant" that

an 11.5ha block of

land in QE II Park

was never intended

to be used for educational

purposes,

and was to be used

by "the people of

Christchurch."

Mrs Robinson

wrote an affidavit last week,

stating that the condition of the

land sale to the city council in

1963 was that the land was to

be set aside as a park for the

people to use recreationally.

Christchurch Concerned Citizens

Group chairman Garry

House is leading the charge

against the city council.

"We found a committee

member from the trotting club,

we think she's the last surviving

member. She has taken the

steps of signing an affidavit,

which is a legal document that

PEGASUS POST

can be used in court. It's very

seriously dealt with if found to

be wrong, and she's thought of

that," he said.

Mr House (left) said the

group had not decided whether

they would be taking

the city council to

court over the land

sale, but said he

would "rather negotiate

and see where it

goes."

He said the group

will meet on Sunday

to discuss their options,

which include

"considering taking

legal action" if the council

didn't negotiate with them.

Mr House said the group

would be pushing for Christchurch

to get a fair deal.

"We always try and negotiate

for the best deal for the citizens

on the east, and indeed for

Christchurch," he said.

A city council spokeswoman

said the affidavit will be considered

by the hearings panel

and the city council when they

consider whether to proceed

with the proposed disposal of

the land, or not.

City South

Van Spares

We Buy, Sell & Dismantle

Vans & Cars

We Pick Up Out Of Christchurch

100%

owned & operated

WE HAVE MOVED

166 Maces Road, Bromley

• Provide Full Workshop Facilities

• Full Servicing & WOF Repairs

• Towing Available • Good Hourly Rate

• Same Day Clutch Replacement

• 2 Day Engine Replacement

• Mechanical & Exhaust Repairs

Back Packer Vehicles Available

WITH Guaranteed Buy Back

Now Incorporating City South Tyres

New & Used Tyres For As Little As $30 Fitted

P. 379 7170 or A/H 027 222 3241

Easy PErsonal

Cash loans

$$ FroM $600 - $20,000 $

Apply on line now –

FAst ApprovAl

we can say yes when

the Banks say NO

CAll Us now

FreepHone 0800 340 350

Apply on line todAy At

www.faircity.co.nz

Dyers Road Landscape

& Garden Supplies

• Barks • Peastraw • Composts - we supply the best available

• Aggregates - Chip, Round and Basecourse

• Pavers & Schist products • Pungas

• Decorative Stones & Landscaping Rocks

• Trailer Hire first hour free with purchase

• Bag & Bulk - pick up or delivered

David, Carol & Mike

We will deliver!

HELPING US,

HELPS THE

COMMUNITY

Drop off or buy

2 family stores in your community

30 Main North Rd,

Ph 352 4581

520 Cranford St,

Ph 352 0515

SOIL

AND

HARDFILL

DUMPING

Phone: 03 384 6540

183 Dyers Rd, Bromley • OPEN 7 DAYS

Weekdays 7.30am-5pm. Weekends 8.30am-3pm

www.dyersroadandlandscapes.co.nz
---
PEGASUS POST Tuesday May 17 2016 5

neighbourhood NEWS News tips? Email fraser.walker@starmedia.kiwi or phone 364 7424

Property prices rise

FRASER WALKER-PEARCE

Newly-released statistics have

shown property sale prices in

the eastern suburbs are on the

rise.

Statistics released by Core-

Logic, a property information,

analytics and services provider,

show most properties in the east

are selling for, on average, 3.7

per cent more than they were last

year.

CoreLogic senior research

analyst Nick Goodall said it's

good news for homeowners in

the east.

"Four of the top five suburbs

according to annual growth are

at the more affordable end of the

value range. All are below the

$400,000 median value, and all

are situated in the east," he said.

The top five suburbs for annual

growth are Wainoni, New

Brighton, Aranui, Cracroft and

South New Brighton.

Mr Goodall said the four eastern

suburbs have been "dominated

by investors", and the east has

been a "big growing point since

the earthquakes."

Burwood-Pegasus Community

Board member Tim Baker said

he hopes the sale prices stay the

same for a long time, but says

it's unlikely with all the new

buildings going up in the area.

"We've got

a new library

coming, a community

centre,

the new school

is coming, a

Pak'N Save

around the

corner, the church is doing some

great stuff too. There's a lot going

on at the same time, so it's

looking really good," he said.

Mr Baker (above) puts the

ON THE RISE: Prices for houses

like this one in Aranui have

increased about 6 per cent since

last year.

growth in Wainoni an Aranui

down to the rebuild, and less

"as is, where is" properties for

sale.

"I think that's because of the

rebuild, and a lot of properties

are being done up, so that will

inflate the price a bit. There are

also less 'as is where is' properties

than last year which is great

to see," he said.

Median value on May 1 2016,

per cent change from May 1,

2015:

Aranui $279,700, +6.2 per cent

Linwood $326,300, +1.5 per

cent

Wainoni $327,650, +6.9 per

cent

Bromley $331,700, +2.3 per

cent

New Brighton $353,950, +6.4

per cent

Avonside, $357,700, +4.5 per

cent

Richmond $363,850, +1 per

cent

North New Brighton $366,100,

+3.9 per cent

South New Brighton $397,350,

+5.2 per cent

Shirley $437,600, +3 per cent

Burwood $446,250, +2.5 per

cent

Southshore $481,850, +4.9 per

cent

Parklands $490,100, +2.4 per

cent

Marshland $633,850, +1 per

cent

2016 median for eastern

suburbs: $363,850

2015 median: $352,300

2016 mean for eastern

suburbs: $399,567

2015 mean: $386,146

HOUSE FIRE

Fire crews from around the

city were called to a house

fire in Korora St, Bromley.

The blaze was reported to

the Fire Service at about

6.20pm last Tuesday.

Appliances from Woolston,

Christchurch, St Albans and

Wainoni stations, and an

ambulance attended the fire.

No one was injured in the

fire, and it was not reported as

suspicious.

MARCHING TEAM

CELEBRATES

The Skellerup Marching

teams are having a celebration

at Labour Weekend (Oct

22), to mark 50 years of

Skellerup marching. If you

have been involved with the

teams during this time and

would like to attend, details

can be found on Facebook,

by searching for Skellerup

marching. Alternatively email

skellerupmarching@gmail.

com for a registration

form.

PUMP STATION

A new underground

wastewater pump station is

being installed in Baker St

by the Stronger Christchurch

Infrastructure Rebuild Team

in New Brighton. The work

is expected to finish in about

three months.

SOMETHING FUN FOR EVERYONE

UNDER NEW OWNERSHIP

9 HOLE

GOLF cOURSE

DRIVING

RANGE

STILL ROcK

OUTDOOR MINI PUTT

BOOKINGS ESSENTIAL | 50 FERRYMEAD PARK DR, FERRYMEAD

PH 376-5350 | WWW.FERRYMEADGOLF.cO.Nz
---
6

Tuesday May 17 2016

PEGASUS POST

Tell us what's happening at your

school. Email fraser.walker@

starmedia.kiwi or phone 364 7424

YOUNG BUILDERS: Waitakiri Primary School's purpose-built 'tool

time' area was put to use last week. Its first tool time session was

held, with Hawkins Construction providing hard hats, high-visibility

vests and a safety briefing. The space was designed to allow pupils

to have hands-on experience with real tools and materials like

drills, hammers and nails under the guidance of caretaker Woody.

CRAZY ABOUT BOOKS: Queenspark School went book mad last

week, having all sorts of activities to celebrate. Book reviewer Bob

Docherty and author Gavin Bishop visited and spoke to year 5 to

8 pupils. Pupils brought in books and swapped them for others.

Teachers swapped rooms and read to different classes, and lots of

competitions and activities went on all week. On Thursday, pupils

went to school dressed as their favourite book character.

BIG EXPECTATIONS:

Avonside Girls' High

Schools one of three

eastern schools to

have entered teams

in this year's Stage

Challenge. Avonside

is joined by Marian

College and South

New Brighton School.

They are three of 27

Christchurch schools

entering this year's

competition, to

be held tonight and tomorrow at

Horncastle Arena. Students work together to create a performance portraying social or political messages,

community concepts and fantasy, which lasts up to 8min each. These themes reflect issues concerning the

students and aim to have the audience leave the event thinking critically. Avonside's theme is 'technology

takes over', Marian's performance is centred around 'everyone is unique in their own way', and South New

Brighton will portray 'disconnect to reconnect'.

WINNING

PLAN: Rawhiti

School won the

recent Keep New

Zealand Beautiful

wall worthy

competition. KNZB

asked schools to

submit what makes

their patch unique

and illustrate how

they would tell

their story through

a painted mural.

Rawhiti's 'rising

above' concept

mural won, now

they have until

the end of term

3 to design and

paint the mural

somewhere around

the school. They

received Resene paint vouchers, a sports camera, drop cloths, stickers and treats to get their mural started.

On completion of the mural, they will also receive an iPad mini.

your

LOCAL

Schools

THE HOME OF GOOD BAKING

SOUTHERN

PLAINS BREAD

VARIETIES

2 FOR

$

5 00

CHOC CARAMEL

SLICE

Chocolate sweet

pastry encases

the gooey

caramel filling,

all coated in

chocolate icing.

ONLY

$

3 49

EA

RASPBERRY

BUNS 4PK

Sweet bun dough

infused with

raspberry jam and

finished off with

a light raspberry

icing.

ONLY

$

3 49

PK

BISCUIT BITES

RANGE

Bite size morsels

of deliciousness!

Afghan, Apricot

Yoghurt, Choc

Chip, Shortbread,

Super Choc Chip.

ONLY

$

2 49

PK

MILK

Dairy Dale 2L varieties.

$

5 98

2 FOR or $3.19 each

MINCE & VEGE

FAMILY PIE

$

4 99

EA

Promotional pricing available while stocks last from 16/05/16 to 22/05/16.

Images are serving suggestions only.

Open 7 days | 8 Convenient local locations

Hornby • Barrington • Ferry Rd • Papanui • Riccarton • Upper Riccarton • New Brighton • Rangiora

BAKERIES

www.couplands.co.nz
---
PEGASUS POST Tuesday May 17 2016 7

EQC UPDATE KEEPING YOU INFORMED | MAY 2016

EQC's approach to

its repair obligations

Land settlements update

Keith Land, EQC Head of Canterbury Land Settlement

EQC is now working on the remaining eleven percent of

green zone properties and red zone properties (not owned

by the Crown), which still need their land claims resolved.

"From a total of 73,000 such properties which had land claims,

there are now around 8,000 where the land claims still need to

be settled by EQC," says EQC Head of Canterbury Land

Settlement, Keith Land.

This year EQC is aiming to complete these remaining land

damage settlements, with the majority of work focusing on

claims for Increased Liquefaction Vulnerability (ILV) and

Increased Flooding Vulnerability (IFV) land damage.

As of early May, 60 percent of potential Increased Flooding

Vulnerability (IFV) customers (9,600) have had their IFV claims

resolved. This also includes any outstanding visible land

damage settlements these customers may have.

Together with resolving remaining IFV claims, the priority now

is on settlements for the around 4,400 ILV customers. Some

properties have both ILV and IFV land damage.

"We're on track to start making the first payments to ILV

customers from late June," says Mr Land.

Settlements for ILV land damage will be made by cash payment,

in line with how IFV and other types of land damage from the

2010-2011 Canterbury earthquakes have been settled to date.

ILV settlements will be based on one of two approaches: repair

cost, or reduction in market value of the property due to ILV land

damage – also called Diminution of Value (DOV). Information on

ILV, and details of these settlement approaches, including

answers to a number of questions, can be found on the EQC

website at www.eqc.govt.nz/ILV

ILV land damage settlements on the basis of DOV

EQC expects that most ILV properties will be settled solely on the

basis of DOV. This is because, where the house has remained in

place after the earthquakes (as many have), there will not

generally be repair methods available to repair ILV damage on the

property. The first payments made in late June will be to those

customers with ILV land damage whose settlements are based on

DOV. "The ILV DOV approach and settlement amounts will be

similar to how we've been handling IFV claims," says Mr Land.

Claim

deadline

looming

Christchurch residents whose

homes suffered damage

in the 29 February 2016

earthquake still have time

to lodge a claim with EQC.

The deadline for lodging

a claim is 30 May 2016.

This deadline does not stop

you from lodging a new claim

with EQC if your dwelling

incurs new damage as part

of recent or future quakes.

EQC encourages anyone

whose home suffered

damage in this event to make

a claim even if the damage

appears minor.

"We've been working closely with customer advocates groups to

make sure the settlement communications our customers receive

is clear and helps them understand our decision."

ILV land damage settlements

on the basis of repair cost

Work is underway to determine the settlements for ILV

customers whose payments can be based on repair cost.

"We are planning to start contacting customers in early June

who, based on the information we have to date, have the

opportunity to complete a ground repair on their property to

address the ILV land damage," says Mr Land. Before the repair

cost settlements can be made, EQC will be working closely with

these customers to understand their plans for rebuilding on the

site and whether the plans include any ground repair.

"We will have a dedicated team case managing these customers

to ensure EQC has a good understanding of their situation and

they are kept up-to-date with their claim's status," says Mr Land.

Land assessments and settlements in general

"We have identified different types of land damage – visible land

damage, IFV and ILV. For each type of land damage, we use a

range of assessment processes that allow the appropriate

settlement for each customer and are consistent with the

legislation in place.

"Each property is different and is assessed on a case-by-case

basis, so one customer's settlement is not indicative of

another's," says Mr Land.

For more information on the approach to land claims and their

settlement, visit www.eqc.govt.nz/land.

"We also have an open and robust review process in place for

those customers who want us to review our decisions on

whether their insured land has damage and/or the settlement

amount paid," says Mr Land.

Check out www.eqc.govt.nz/landreview for more information

on land settlement review.

Land settlements for red zone properties

EQC is assessing all residential land claims across Canterbury

in a consistent way – whether they are green zone properties or

red zone properties.

The Government's decisions related to the red zone are separate

from EQC's decisions related to the assessment and settlement

of land damage claims.

As agreed with CERA and now Land Information New Zealand

(LINZ), EQC's priority continues to be to resolve land damage

claims for properties in the green zone and those in the red

zone, whose owners did not accept a Crown offer.

"However, we continue to work with LINZ, which has taken over

management of the around 7,000 Crown owned red zone

properties. We expect to agree a settlement approach with LINZ

in the second half of 2016, applying the same policies EQC has

used to settle green zone claims," says Mr Land.

EQC has so far received just

over 10,500 building, contents

and land claims since the first

quake on Valentine's Day.

People can lodge claims

with EQC online at www.eqc.

govt.nz/claims via email on

info@eqc.govt.nz or by calling

0800 DAMAGE (0800 326 243).

The EQC call centre is open

7am to 9pm Monday to Friday

and 8am to 6pm on Saturdays.

There has been some discussion about how the Earthquake

Commission meets its obligations under the Earthquake Commission

Act (EQC Act) following the release of the Joint Statement agreed

with a group of Canterbury homeowners, the EQC Action Group.

Information on what the joint statement means for customers

and how customers can request a review of their claim can be found

at www.eqc.govt.nz

EQC acknowledges that every homeowner affected by earthquake damage

faces a set of circumstances specific to their property and that a different repair

strategy is likely to be applied in each case. That said, EQC uses some general

principles when making its decisions. EQC insures an earthquake-damaged

house for its replacement value up to a certain cap, usually $115,000 including

GST, according to the EQC Act. Given there has been some confusion about

what "replacement value" means, it's worth having a close look at the

definition in the EQC Act, which includes three main elements:

1. the costs which would be reasonably incurred

2. in reinstating the building to a condition substantially the same as but not

better or more extensive than its condition when new

3. modified as necessary to comply with any applicable laws.

Some of the commentary following the Joint Statement focused on the

concept of "when new", which refers to when the house was new. While

"when new" is one element, EQC needs to take into account each of the

three main elements, when meeting its obligations under the Act. For

instance, the concept of when new needs to be seen in light of complying

with any applicable laws.

How 'replacement value' may apply in practice

Example 1

Following an earthquake, a brick chimney falls through the corrugated iron

roof of a 1900s-era villa.

The falling chimney smashes through the ceiling, shattering a ceramic light

fitting that was already badly deteriorated prior to the earthquake.

To repair the roof, the corrugated iron in the area where the chimney fell

would be replaced with new corrugated iron. If corrugated iron of the same

type as the damaged iron is not available because it is no longer

manufactured, the new corrugated iron would be a modern product, which

matches as closely as possible the profile of the damaged corrugated iron.

In some situations, the new corrugated iron may be coloured steel or

the corrugated iron may need to be repainted to match the colour of the

existing roof.

EQC may also need to reinstate or replace non-damaged parts of the roof

that need to be removed in order to repair the earthquake damage, such as

the iron ridging on the roof peak.

The repair work to the roof would be carried out to ensure the work meets

applicable laws such as the performance standards in the Building Code.

The light fitting would be replaced. If the existing wiring couldn't be safely

reconnected to the light fitting then an Electrical Safety Inspection would be

required. The wiring would need replacing to a point where the electrician

determines it can safely be reconnected, and to meet any legal requirements

for that work.

Example 2

An earthquake damages the so-called 'rubble foundations' a home is built

on. If the foundation can be repaired so that the foundation is in a condition

substantially the same as when it was new and the repair work complies with

applicable laws, the foundation repair will meet the "replacement value"

standard. In other cases, to meet the standard of applicable laws, part or

all of the foundation may need to be replaced. EQC considers each repair

strategy based on the facts specific to each home. Individual foundation

repairs are dependent on the nature of the foundation, the type of

earthquake damage suffered and the make-up of the concrete.

Customers can request a review

If any customer believes EQC has missed earthquake damage to their home,

disagrees with the repair strategy EQC has proposed, or believes their

settlement amount is not correct, they can use EQC's standard processes to

request a review of their individual claim on 0800 DAMAGE (0800 326 243)

or email info@eqc.govt.nz

0800 DAMAGE (0800 326 243) OR VISIT WWW.EQC.GOVT.NZ
---
8

Tuesday May 17 2016

PEGASUS POST
---
PEGASUS POST Tuesday May 17 2016 9
---
10

Tuesday May 17 2016

PEGASUS POST

9kg

1kg

Fresh Tegel NZ Skin On Chicken

Breast Fillets

Loose Green Kiwifruit

5ea

2 for

7

2 for

5

2 for

9

Birds Eye Fish Fillets

425g

Alpine Butter 500g

Cadbury Chocolate Block

155-200g

Fresh'n Fruity Yoghurt 1kg

(Excludes Greek)

WINE

DEAL

OF THE

WEEK

$

22 99

pack

$

8 99

each

1ea

2 for

4

Steinlager Pure/

Corona Extra

12 x 330/355ml Bottles

Montana Classic/Selaks

Premium Selection 750ml

Golden Circle Fruit Juice

1L

Arnott's Tim Tam/Mint

Slice 165-200g

Exclusive stockists of Wainui Farms'

Canterbury grown pure Angus beef

parklands

Prices apply from Tuesday 17th May to Sunday 22nd May

2016, or while stocks last.

Trade not supplied. We reserve the right to limit quantities. All limits specified apply per customer per day.

All prepared meals are serving suggestions only. Props not included. Certain products may not be available

in all stores. Proprietary brands not for resale.

FreshChoice.co.nz

FreshChoiceNZ

FreshChoice Parklands

60 Queenspark Drive, Christchurch.

Phone 383 1004.

Open 7am-11pm, 7 days.

FCPP1705
---
2

PEGASUS [Edition POST datE]

Tuesday May 17 2016 11

HEALTH & BEAUTY

Reclaim your

identity

When it comes to dentures, Christchurch people

have access to world-leading techniques and oral

aesthetics right on their doorstep.

At his Montreal street studio Lovebite,

internationally renowned dental

technician Richard Greenlees creates

beautiful bespoke dentures with small

nuances in the fabrication, colour and

shape, and even slight imperfections to

create a uniquely individual smile.

There is no need for dentures to look

false. Richard takes a great deal of

satisfaction in making bespoke dentures

that look 100 per cent real and natural,

personally guiding his patients through

the transformation process to craft a

smile that reflects their individuality and

personality, and recreates their natural

pre-denture smile.

Not only do Lovebite teeth look

real, the whole structure and shape of

the patient's face is transformed with

Richard's top-of-the-line dentures,

something he calls his signature 'denture

lift'.

"With appropriate facial support, the

facial tissues are brought back into the

correct position, the lips are reformed,

and beauty is restored," he says.

it is the interior architecture of a

Lovebite denture that helps to create a

more youthful appearance by recovering

the face and skeletal shape that can be

lost after years of wearing dentures.

As the smile is transformed, so are the

patient's confidence, and the way they

feel about themselves.

Richard's vast experience includes

15 years of running his own clinic in

the prestigious harley st, London,

where he treated people from all walks

of life, from barrow boys to the rich

and famous, politicians, actors and

musicians.

his techniques are recognised as

world-leading among his international

peers, and he is regularly asked to

lecture and run courses worldwide.

Miles Cone (DMD, Ms, FACP, CDt),

a prosthodontist from Oregon, UsA,

said in November 2015: "Richard

Greenlees' craftsmanship is as stunning

as it is unique. There is liberation in

the calculated imperfection, indeed an

asperity that reflects a purely human

element."

in addition to dentures, Richard also

carries out crown and bridge, veneer

and implant work, in conjunction

with like-minded dental surgeons who

complement his creative and aesthetic

work.

"teeth are as different as fingerprints

and vary greatly depending on a person's

age, sex and race. Dentures from

Lovebite reflect this, and are as unique

and individual as the people they are

made for," says Richard.

There is nothing more satisfying for

Richard than to see his patients leave

the Lovebite studio with their selfconfidence

and identity restored, as well

as their smile.

Confidence and beauty is restored with a new

denture by Lovebite.

As the smile is transformed, so are the

patient's confidence, and the way they

feel about themselves.

Getting ready

for winter?

Retouch including a

cut and blow-dry

only

$

95

Special occasion?

Hair-ups $ Curls

only70 $ only50

Phone today: 03 383 2428

259 Burwood Road

SanderSon MagneSiuM FX

Our best seller!

Was $40.90 noW $29.90 120 tablets

Was $25.90 noW $19.90 60 tablets

NATIONAL

STREET APPEAL

FRIDAY 10TH JUNE

super LOW prICes!

True

Who thought

DENTURES

and false!

could look this

natural?

• Full dentures • Metal partial dentures

• First-time immediate dentures • Implant supported dentures

HOLLYWOOD: A beautiful result for a

female patient in her 60's

AGING GRACEFULLY: Natural teeth for

a gentleman patient in his 80's

These stunning lovebite full upper and

lower dentures have been expertly crafted by

internationally-recognised dental technician

Richard Greenlees at his Christchurch studio.

The combination of Richard's skill, experience

(including 15 years in London's prestigious

Harley Street) knowledge and revolutionary

techniques allow him to create beautiful

bespoke false teeth that truly resemble those

in nature and reflect each patient's individuality

and unique character.

402 Montreal Street

Christchurch | P. 379 1222

By appointment only.

Consultation fee applies.

Help reduce anxiety, mood & irritability. Helps improve

sleep patterns & muscle relaxation.

3 Convenient Locations:

The Palms: 385 0364

The Hub Hornby: 349 5150

Bush Inn Centre: 348 7867

GOOD KEEN MAN: Teeth with character

for a hard-case fisherman in his 50's

Richard will personally guide you through the entire process to create

teeth with small nuances in the fabrication, colour and shape. Your beautiful new

lovebite dentures will boost your confidence and make you look and feel year's younger!
---
122

Tuesday [Edition May datE] 17 2016

your local Views

Something on your mind? Email fraser.walker@starmedia.kiwi in 200 words

or less. Facebook us on https://www.facebook.com/riseupchristchurch/

Community initiative vital

Burwood-Pegasus

Community Board

member Stan Tawa talks

about the importance of

a community's initiative.

Kia ora koutou.

Community initiative

is basically the ability of a

community to improve the

quality of life for everyone

in the community.

It seems like a straight

forward idea, but how do

we take it from an idea to

reality?

Well we need to decide

on our needs and priorities,

then with the necessary

skills, resources and experience,

we can work together to achieve

the desired outcome.

You see if you want to have things

that you have never had before, you

must be prepared to do things you have

never done before to achieve them.

One such proposed initiative is the

North Beach to New Brighton Promenade.

This project, spearheaded by

Community Connection

Nga Ngaru Trust has the

potential to energise our

local community and to

strengthen the destination

SOAP

BOX

value of New Brighton

itself.

The ability that this

project has to be able to

draw multitudes city-wide

and beyond cannot be

overstated.

"Build it and they will come."

PEGASUS POST

SCHOLARSHIPS &

State of the art schools

for Christchurch's east

Readers respond to last week's Pegasus

Post article Godwit plan grounded.

Carl and Michele Craw: Talking

about red tape nonsense and Kafkaian

madness.

Not to mention a sneaking suspicion

that the powers-that-be are not willing to

help South New Brighton. Nobody owns

it? Then permission should be granted to

beautify it.

No one better than the city council

knows whose land this is exactly, and

no one better than the city council can

work the process that would enable

this wonderful project to go ahead.

Alternatively, if it is not owned by anyone

in particular, then let the South Brighton

Residents' Association claim it. Let's

have a petition of residents to the city

council to allow the godwits to welcome

residents and visitors alike when they

come over the bridge.

If it is fluvial progression or erosion

that the city council is worried about,

why not explain clearly how this might

endanger the proposed artwork, and in

the process suggest another site, instead

of confusing everybody with who might

or might not own this site.

Don Parish: My idea of a great spot for

the godwit sculptures would be at the end

of the Southshore spit. I have seen many

resting down there when the tide is in.

Also it can be seen from the Sumner side,

and may make people more aware of

these great birds. It also may make people

go for a walk down there to check it out,

two fold, exercise and education.

Karen Wilson: These are beautiful

and I love the position near the bridge on

Bridge St. Where else should they go but

in no man's land? They're wild and free.

Laurence Fairley: For godwits' sake.

New Brighton and eastern residents are

always shafted by the city council. Put

the damn sculptures up close to where

they are, not where they put the

'welcome' sign which could be and is

missed by all visitors. If the city council

wants to play hardball, let them. A 2hr

working bee and they would be in and

cemented for eternity. Our godwits

haven't given up on the eastern blocks in

spite of the earthquakes, liquefaction and

poor roads.

A reader responds to Pegasus Post

article on the New Brighton fireworks

display moving away for at least two

years while repairs are made to the pier.

Graeme Scott: I was reading in your

paper on comments about the New

Brighton fireworks. Has no one thought

of the red zone between Burwood Park

and the river as a temporary location for

the New Brighton fireworks? The area

has been made into a lovely park area

ideal for picnics with plenty of room for

temporary food stalls, entertainments and

toilets.

There is parking for thousands of cars

on the north side of the road with several

options for access to the area. It is not too

far from New Brighton and it is on New

Brighton Rd so the New Brighton brand

would not be lost.

A performing arts centre, sports

facilities, gymnasium, a cutting-edge

library and technology suites are just

some of the facilities that will be built

into the new Avonside girls' and

Shirley Boys' High Schools.

The two schools will be open

alongside each other on a new campus

in time for the beginning of the 2019

school year. The ministry of education

is spending at least $80-million on the

campus.

Qe2 park has been named as the

preferred site for the campus, where

it could be built alongside the eastern

Sport and recreation Centre that will

have numerous swimming pools and

water facilities.

This will be the first time in new

Zealand's history that two single sex

schools have co-located. Avonside

girls' principal Sue Hume says the new

campus will offer the best of both the

single-sex and co-educational worlds.

"Students will spend most of their day

in a single-sex environment but there

will be times when they can interact

with students from the other school.

for example, we'll have a shared library,

a combined café and an extensive

bus network that students from both

schools willl use. This enables our

students valuable social development,"

says Sue Hume.

"This will a place the community can

be proud of with facilities that everyone

will be able to use. We are looking

forward to seeing the proposal become

reality."

Avonside Girls' High School

OPEN EVENING

Tuesday 31 May 2016 from 5.00pm – 7.00pm

The evening begins in the gymnasium

at 5.00pm, with an address from the

Principal, Mrs Sue Hume, and student

representatives. A tour of the school

follows, with the opportunity to talk

to teachers and students.

We look forward to welcoming

all prospective students and

families for 2017.

(03) 389 7199 | www.avonside.school.nz
---
[Edition datE]

PEGASUS POST Tuesday May 17 2016 13

3

SCHOOL OPEN DAYS

Shirley Boys High School

Connecting with students

SHirley BoyS' High School encourages students to strive for personal

excellence. guided by the commonly known expression BTB (Better than

Before), Shirley boys develop attitudes and skills for lifelong learning and

personal growth in a positive, supportive environment. The culture and ethos

of the 'Shirley man' focuses on connections with students' roots, so they are

socially and emotionally competent, resilient and optimistic about the future.

learning, both inside and outside the classroom, is specifically tailored to

suit boys needs ensuring higher engagement, resulting in greater success and

higher achievement levels. Through enrichment and acceleration classes across

all curriculum levels and subjects, Shirley Boys' High performance Centre

offers multiple learning pathways – nCeA, igSCe and extension courses

through the University of Canterbury.

programmes focus on inquiry

learning, high thinking skills and

global perspectives.

Academic scholarships are awarded

annually to the top performing student

at each year level and an entrance

Scholarship is awarded on the basis of

an examination for year 8 students.

in January 2019, the new Shirley

Boys' will open alongside Avonside

girls' on the former Qeii park site.

This will be the first time two single

sex schools have co-located in new Zealand and both schools are looking

forward to the move. "There will be one campus, but there will be two separate

schools each retaining its own culture, curriculum and uniform"

says John laurenson.

Riccarton High School Peerswick Scholarship

every yeAr riccarton High School awards

two peerswick Scholarships to year 8 students

who show strengths in the academic, sporting,

cultural and service fields.

The term 'peerswick' is an Upper riccarton

name which has been associated with the

school since 1959 when the school magazine

was named peerswick. in the latter part of

the 19 th century, a local horse stud was called

peerswick after a famous racehorse at the

stud called The peer and the area was called

peerswick for many years.

The 2012 winners were Dean Holdaway

and rachel Wu. now in year 13, the two have

made their mark in the school just as have all

the Scholarship winners.

Winning the $1,000 peerswick Scholarship

was an achievement they were proud of as

well as providing a useful investment for

the future.

At school they gained entrance to the top

class, felt confident that they could achieve

and seeing their names on the honours board

in the hall has been a constant reminder of

their potential.

Dean came to riccarton from Halswell

School, while rachel came from Westburn

School.

Both students have a fine pedigree in music.

They are members of the new Zealand

Secondary Schools Symphony orchestra

where they play the clarinet. They have both

gained grade 8 in clarinet.

rachel was a member of the chamber group

'papricca' which won the people's Choice in

the national Chamber music competition,

a fine achievement. She also sings in the

auditioned choir, 'Stella Cantare'. Dean

plays in the Concert Band and the Jazz Band

and last year had the lead role in the school

production of 'Bugsy malone'.

Both rachel and Dean have achieved

excellence in nCeA in both year 11 and

year 12. rachel gained 2 nd place in the Brain

Bee competition as a year 11 and has gained

distinction in several maths and science

competitions.

Dean is planning to study electrical

engineering at Canterbury, while rachel will

study medicine at otago.

As year 13s they are very involved

in student activities, organising events,

mentoring year 9s at the beginning of the year

and being role models through the school.

They feel well prepared for this task as they

have been encouraged to be leaders and show

responsibility right from

year 9.

'The peerswick Scholarship was not only

wonderful to win, it also gave us a great

start as we began our time at riccarton. We

have had great years here and this year is no

different,' said Dean.

OPEN KIWI

NIGHT SOUL

GLOBAL

VISION

SHIRLEY BOYS'

HIGH SCHOOL

www.shirley.school.nz

CVG SCHOLARSHIP EXAMINATION • THURSDAY 9 JUNE 1-3 PM

SHIRLEY BOYS' ASSEMBLY HALL Candidates should bring blue or black pen, no calculator allowed.

OPEN NIGHT • THURSDAY 26 MAY 2016 • 6.30-8.30PM

Commitment

Honesty

Respect

Excellence

RICCARTON HIGH SCHOOL

Te Kura Tuarua o Pūtaringamotu

Peerswick Scholarship 2017

Riccarton High School has a reputation for recognising academic and sporting excellence,

and cultural and community involvement.

In 2017, two scholarships of $1,000 each will be awarded to one male and

one female student entering Year 9.

Application form and information pack available from:

The Principal's Secretary, Riccarton High School,

31 Vicki Street, Christchurch 8042. Phone: 348 5073.

Email: info@riccarton.school.nz

www.riccarton.school.nz

Information Evening for all new students Thursday 19 May, 7:00pm, in the hall.

Applications

close at 4pm

on Monday

20th June 2016

Examinations

will be held on

Tuesday

28th June 2016
---
142

Tuesday [Edition May datE] 17 2016

Flame files

Clean lint filters in

your clothes dryer

CONTINUING EDUCATION

PEGASUS POST

Ara extends vocational

training across Canterbury

BY MARK THOMAS – FIRE RISK

MANAGEMENT OFFICER

Last Saturday a fire reported in a clothes

dryer in a commercial building in St

Asaph St was dealt with by the two city

crews attending using breathing apparatus

and fire extinguishers.

It's another timely reminder that colder

conditions and the need for drying washing

inside must hit us soon considering

we're just a couple of weeks short of officially

being in winter.

Home tumble dryers are found everywhere

and will be utilised more and more

as winter bites. They are generally fairly

safe but we do occasionally get called out

when they ignite.

The best prevention for this happening

is to clean the lint filter every time before

turning the machine on and to make sure

someone is home while it's operating.

Then if all does go wrong the result

should be no worse than that in St Asaph

St. It does tend to ruin your day when

contacted at work to be told your house

has burned down.

Two good examples last weekend of

firefighters going the extra mile included

the retrieval of a model plane from a tree

at QE II and the assistance given to an

DISASTER: Tumble dryers can ignite if they

aren't maintained.

elderly lady in South New Brighton.

This woman had slipped and crashed

through a glass door at her home. She

was kept in hospital overnight and then

released, only to come home to the still

broken door.

Wainoni's crew spent an hour and a half

contacting insurance and repair people.

They stayed available for further calls but

saved some real anguish by taking charge.

That's good work.

ArA InstItute of Canterbury is a

vibrant and progressive tertiary option for

a fast-changing world.

It was created earlier this year, when

CPIt and Aoraki Polytechnic merged,

bringing together two well-established

organisations and over 200 years of

collective experience and success.

Chief executive Kay Giles says Ara

brings together the best knowledge,

expertise and the greatest passion for

teaching, to deliver a superior learning

experience and the very best outcomes for

graduates, employers and new Zealand

"Ara is all about equipping graduates

with real-world industry-relevant

knowledge and hands-on experience to

help them get the career they want, then

excel in it."

At teaching centres spanning the region

from Kaikoura to Oamaru, Ara provides

tailored programmes and skills training

designed to lead to rewarding careers.

"Whatever your dreams and goals,

every prospective student will find an

opportunity and path of learning at Ara –

from Level 1 basic numeracy and literacy

to Level 9 Masters qualifications," Giles

says.

"What's more, Ara provides a greater

number of programmes, more online

or blended delivery, more flexible

part time options, workplace training,

apprenticeships, flipped classrooms and

"Ara is all about equipping

graduates with real-world

industry-relevant knowledge."

group work. This includes innovative

collaborations with other educational

providers and industry."

Ara is the Maori word for path or

journey and represents the learning

process and the many pathways to success.

Giles says Ara stays relevant by using

learning models that are constantly

adaptive, flexible and responsive to the

industry and regional needs. "Whatever

career you choose, and wherever it may

take you, as an Ara graduate you can be

sure that your knowledge and skills will

always be relevant and you'll be ready

for the challenges and opportunities our

changing world presents."

Volunteers wanted for

dementia sufferers

Alzheimers Canterbury is looking for

recruits to join its volunteering service

by becoming a companion, activities

assistant, or driver for people with

dementia.

A companion visits an Alzheimers

Canterbury client on a weekly or fortnightly

basis. They may go for a walk,

watch a movie or have a cup of tea and

a chat.

Alzheimers Canterbury volunteer

co-ordinator Monique Schoneveld

said they are trying to help dementia

sufferers have "fun and meaningful"

lives.

"We want clients in our community

to live well with dementia, to have fun

and meaningful lives. Volunteers can

play a huge role in this often being the

highlight of their day," she said.

Activity assistants help with a

community activities programme run

through Alzheimers Canterbury, and

give clients opportunities to enjoy the

things they used to in a normalised,

safe and supported setting.

Activities include swimming, community

gardening, art appreciation,

baking for Ronald McDonald House,

and others.

Another way to make a client's day is

as a personal driver. Many clients have

lost their driver's license so transport

can be an everyday hurdle.

To make sure a volunteer is

compatible with a client, there is

a matching service run through

Alzheimers Canterbury, which ensures

a match.

To find out more about how to

become a volunteer, companion,

activities assistant, or driver for a

client, email monique@alzcanty.

co.nz or phone 379 2590.
---
[Edition datE] 3

PEGASUS POST Tuesday May 17 2016 15

CONTINUING EDUCATION

Widely recognised trades training

the sOuthern Institute of technology

Christchurch campus in hornby offers a

great range of education possibilities for

those looking for a trade's qualification.

If you are keen on getting involved

in Construction, we offer the national

Certificate in Building, Construction and

Allied trades skills, a 12 week, Level 2

programme. This programme provides a

pathway for students to enter into a range of

trade-related professions and its main focus

is teaching them the practical skills they

require for further study.

We also offer the Level 3 Certificate

in Construction, where students spend

three days on campus and two days out in

the community on work experience. All

students are involved in building a house

from scratch, ensuring sound practical skills

in conjunction with classroom learning.

Our programmes are widely recognized

within related industries and sIt has a

proven record of students moving into

employment or apprenticeships.

Courses are nZQA approved and

students are eligible for student loans and

allowances.

spaces for midyear 2016 are filling fast

and demand for affordable trades training

is high.

to find out more, discuss options or tour

the facilities, call 0800 tO stuDY (0800

867 883), go to www.sit.ac.nz or visit the

campus at 60 Waterloo road hornby.

Not all first aid certificates

are created equal

While first aid courses must

achieve prescribed new

Zealand Qualification

Authority (nZQA) standards

to be certified, not all training providers deliver

the same course. Providers offering shortened

courses or courses not meeting nZQA training

requirements are now in the spotlight.

nZQA and the Department of Labour have

published a factsheet to outline requirements

for first aid training based on currently

registered nZQA unit standards. Below are a

summary of what we think you should know.

Course differences

training providers can market their courses

under a wide range of names. employers

should be cautious in thinking that a one-day

workplace first aid course will meet their needs

in industries such as construction, engineering,

forestry and industrial. More advanced

learning is important to meet the proper

workplace assessments and meet health and

safety obligations.

If there are risks of falling, or medium to high

injury, then take careful look in the shortened

courses as these subjects may not be covered.

It is the responsibility of the employer to ensure

that employees attend courses appropriate to

their industry risks.

Unit standard-based first aid training

The minimum duration of first aid training

and assessment will be for training based on:

• unit standards 6400, 6401

(or 26552) and 6402 (or 26551),

a minimum of 12 hours' training and assessment

• unit standards 6401 (or 26551) and 6402 (or

26552), a minimum of eight hours' training

and assessment

• For refresher training where the learner's

certificate is no older than two years and three

months from date of issue, a minimum of six

hours' training and assessment

First aid training must cover the outcomes

of the nZQA first aid unit standards being

assessed and any additional modules identified

by the employer through the workplace risk

assessment process as outlined in Department

of Labour guidelines. Only first aid training

providers accredited by nZQA can award the

credits and issue a first aid certificate.

nZQA conduct regular external evaluative

reviews on all training providers. new Zealand

red Cross is proud to hold a double highly

Confident accreditation in both educational

Performance and Capability in self-Assessment.

This means that nZ red Cross is a Category

One training provider.

First aid refresher training

refresher training is required every

two years to maintain the certificates.

The requirement allows for a

three-month period of grace, so the cut off

period is two years and three months, which

should allow sufficient time to enrol onto a

suitable course.

If a certificate is not renewed for more

than three calendar months from the second

anniversary date of issue, it will be necessary for

the certificate holder to complete full first aid

training to maintain currency.

For the purposes of workplace first aid

emergency management, employers will need

to ensure that their first aid personnel maintain

competency at all times.

STUDY

HORTICULTURE

Enrolment are now open.

Entry to this programme is open to NZ

Citizens and Residents and students

over 18 years of age.

Intake start dates are subject to

student availability.

No

Fees!

Hamish

Kelland

Ryan

Young

021 222 9678

ryan@skillsupdate.co.nz

NEW ZEALAND RED CROSS

GLOBAL LEADERS IN FIRST AID TRAINING

Christchurch Course Dates 2016

Venue: 32 Birmingham Drive, Middleton

First Aid Revalidation Course (6 hours)

Cost $120.00 per person (certificates must not

have expired for more than 3 months)

Time: 8.30am – 3.15pm

Monday

20 June

27 June

11 July

Friday

10 June

24 June

8 July

Tuesday

14 June

19 July

9 August

Sunday

22 May

29 May

19 June

For bookings please call 0800 REDCROSS or 339-7111

Book online at www.redcross.org.nz

Wednesday

25 May

1 June

8 June

USE THE RED CROSS ADVANTAGE - COMPREHENSIVE FIRST AID, ESSENTIAL FIRST AID,

REVALIDATION OR TAILORED TRAINING TO SUIT YOU AT YOUR PLACE OR OURS.

NEW ZEALAND RED CROSS - GLOBAL LEADERS IN FIRST AID TRAINING

CHRISTCHURCH COURSE DATES 2016 • VENUE: 32 BIRMINGHAM DRIVE, MIDDLETON

Comprehensive First Aid PLUS Course (16hrs or 4hr upgrade) Comprehensive First Aid Course (12hrs)

Unit Standard 6402, 6401, 6400 and 25411 or 26552, 26551, 6400 and

25411 Cost $265.00 per person incl FA Manual & GST for 16 hours or

$80.00 per person for upgrade following completion of CFA

Time: Day One 8.30am – 5.30pm Day Two 8.30am – 5pm

Unit Standard 6402, 6401, 6400 or 26552, 26551, 6400

Cost $210.00 per person incl FA Manual & GST

Time: Day One & Day Two 8.30am - 3.15pm

16 Hours Thursday/Friday

23 & 24 June

21 & 22 July

4 Hours Friday 1.15pm-5pm

24 June

22 July

2 x Tuesdays

24 & 31 May

7 & 14 June

5 & 12 July

2 x Wednesdays

22 & 29 June

13 & 20 July

3 & 10 August

Thursday/Friday

26 & 27 May

2 & 3 June

9 & 10 June

USE THE RED CROSS ADVANTAGE -

COMPREHENSIVE FIRST AID,

ESSENTIAL FIRST AID, REVALIDATION

OR TAILORED TRAINING TO SUIT YOU

AT YOUR PLACE OR OURS.

Essential First Aid Course (8hrs)

Unit Standard 6402, 6401 or 26551, 26552

Cost $150.00 per person Time: 8.30am – 5.30pm

Monday

13 June

18 July

29 August

Tuesday

24 May

7 June

5 July

Wednesday

22 June

13 July

3 August

Thursday

2 June

14 July

28 July

Saturday

21 May

28 May

18 June

Time: Day One 8.30am - 5.30pm

Day Two 8.30am - 12.45pm

2 x Mondays

13 & 20 June

18 & 25 July

Thursday/Friday

23 & 24 June

21 & 22 July

18 & 19 August

Weekends

21 & 22 May

28 & 29 May

18 & 19 June

FOR BOOKINGS PLEASE CALL 0800 REDCROSS OR 339-7111 • BOOK ONLINE AT WWW.REDCROSS.ORG.NZ
---
16

Tuesday May 17 2016

PEGASUS POST

SHOW

2016

HORNCASTLE ARENA

1ST-3RD JULY

10AM - 5PM

EXHIBIT NOW!

Contact Vanessa Fleming

vanessa.fleming@starmedia.kiwi 021 914 565

starhomeshow.kiwi
---
2

[Edition datE]

PEGASUS POST Tuesday May 17 2016 17

HOME & HEATING

Keep comfortable with

EnviroMaster

Are you struggling with the heat of

Summer or wanting to get organised for

Winter? With the ever changing weather

patterns, heat pumps have the flexibility

of being able to heat and cool which is an

advantage no other appliance can offer. This

represents great value for your investment

as you can use it all year round. The team

at enviro Master Ltd can help keep you cool

this Summer either at home or work. enviro

Master supplies, installs and services all the

leading brands including Panasonic, Fujitsu,

Mitsubishi and Daikin. This means our team

can show you which system and brand will

best suit your needs.

We currently have savings up to $600 off

the recommended retail price on

selected models.

Would you like to maximise the number

of days you can use your swimming pool?

Heating your pool can do this and one of the

most cost effective ways is with a water heat

pump. enviro Master Ltd can supply, install

and service you swimming pool heat pump

providing you with a comfortable, extended

swimming season.

Servicing your heat pump is extremely

important to ensure that it is working

as effectively and efficiently as possible

resulting in a healthy, hygienic heat pump,

lower power bills and greater comfort. But

beware, not all cleaning companies are

equal. We are constantly hearing of people

being charged huge amounts for servicing

and all they are getting is a heat pump clean.

We at enviro Master, are qualified engineers

and therefore are able to fully test and

diagnose any problems you may or may not

be aware of with your heat pump. Also, as

we are associated with all major brands, we

are able to repair these under warranty if

they are still within the warranty period.

it is important to remember, when

selecting an installer, the manufacturer's

warranty does not cover the installation

and consumers could be responsible for

any repair or damage caused to the system

due to poor installation. enviro Master's

five-star installation guarantee ensures

correct installation, and a demonstration so

customers have an understanding on how it

will best meet their needs.

For a free in home consultation, call

Enviro Master on 366 0525 or visit our

showroom at 41A Shakespeare Rd,

Waltham, Christchurch.

AttAck Rising DAmP

For existing homes with

wooden floor construction

• Stop Mould & Mildew

• Reduce Heating Bills

• Cost Effective Permanent

Solution To Rising Damp

• Free Consultation / Quotes

...at the source

Custom heating with

Smooth-Air

SMootH-Air is a New Zealand owned

heating and ventilation company who are

leaders in their field. They use the latest

technology and production techniques

to produce a range of heating, ducting

and ventilation equipment that is high

quality and meets NZ and Australian safety

standards.

Kitchens can be an area of special concern

in many homes and businesses, with

cooking odours, grease, smoke and steam

being particular problems. to help, the team

at Smooth-Air has innovative solutions that

will bring fresh air into your kitchen.

Their selection of range hoods and

ventilation systems are efficient to run, drive

out moisture, lower humidity and filter out

odours. range hoods can be design built

to customers' specifications and powder

Remove

cooking smells

and steam!

Remote

extraction fans

coated to any standard colour.

Smooth-Air's ventilation systems focus on

the safety of customers as they reduce the

risk of stale air build up. The range hoods

are easy to clean, reducing fat build up and

subsequent fire risk.

Smooth-Air's technical specialists will

work with customers to make sure that the

system they select meets all their needs,

taking into account the workload in the

kitchen, and their national coverage means

customers' kitchen and ventilation projects

can be planned, built and dispatched

quickly and efficiently.

Find them at 264 Annex Road,

call (03) 343 6184 or visit

www.smooth-air.co.nz.

Ventilation Equipment

Suppliers to trade and retail

STOP RISING DAMP TODAY www.foamcrete.org

Free Phone: 0508 362626 Main Office: (03) 3764608 Fax: (03) 3764603

L

HEAT PUMP

SALE NOW ON!

Amazin' Autumn Specials!!

Range Hood cupboard insert

● Domestic

● Commercial

● Industrial

• We will offer you the best quality brands and

option of heat pump for your home/business

• Providing Heat Pump solutions for over 14 years to Cantabrians

• We personally guarantee all our products & installs for 5 years

(providing annual maintenance has been completed)

Phone us today for your free consultation & quote

41A SHAKESPEARE RD, WALTHAM

PHONE 03 366 0525

www.enviromaster.co.nz

"A local team for local people"

0800 SMOOTH (0800 766 684)

www.smooth-air.co.nz

sales@smooth-air.co.nz

264 Annex Road, Riccarton

Christchurch 8024, NZ

Ph +64 3 343 6184

Smooth-Air has

a wide range

of ventilation

equipment to bring

fresh air into your

home

Mon - Fri 7.30am - 5pm
---
18 2

[Edition datE]

Tuesday May 17 2016

AUTOMOTIVE PROFESSIONALS

PEGASUS POST

Personal service

and quick turnaround for

minor scrapes and bumps

Ding in the door? Scrape on the

bumper? if your vehicle has minor

damage like this, perhaps incurred at

the supermarket car park, then Smart

Repairs in Lichfield Street is the place to

get it sorted out.

Smart (Small to medium automotive

repair techniques) Repairs, provides

a top-quality service with a quick

turnaround – vehicles are usually in and

out within a couple of days. Services

include paintless dent removal, or PDR,

and while a large proportion of the work

is non-insurance, they also provide

insurance quotes if required.

The business is owned and operated

by Brian and Maxine Caffell. Brian has

31 years' experience in the trade and the

couple bought their first panelbeating

business in 1993. They also employ

Dave an experienced spraypainter.

As a small, friendly operation,

Maxine explains, Smart Repairs

specialises in small to medium repair

work – no job is too small – and their

aim is to offer personalised service

to make it easy for their customers,

who may be unsure what to do if their

vehicle gets damaged.

"We take pride in our work and

ensure that our customers are happy

with the results.

We also offer a pick-up and delivery

service if required."

Smart Repairs is located at 272

Lichfield St, at the Fitzgerald Avenue

end. Opening hours are 8am-4.30pm

Monday to Friday. To enquire about

repairs to your vehicle, call in and have

a chat, or phone 377-0409.

s

m

a

r

t

mall

edium

Fast

turnaround

utomotive

epair

echniques

• Paintless dent removal

• Minor paint repairs

Smart repairS (NZ) Limited

automotive refinishers

272 Lichfield St (Fitzgerald Ave end)

Ph 377-0409

CARS - TRUCKS - VANS - 4WDS

New + Used Lamps for Cars, Trucks, Vans,

4WD, Motorhomes, Trailers & LEDs.

We can repair your existing lights including:

Headlamp Adjusters, Lens Refurbishment

and Plastic Welding.

0800 225 483

For all your automotive Lamp Requirements

F: 03 371 1101

E: carlights@carlights.co.nz

325 Brougham Street, Christchurch

WIN!

OPAWA 25 Opawa Road • Ph: 03 374 5034

RICCARTON 477 Blenheim Road • Ph: 03 341 7675

CASHMERE 17 Beaumont Street • Ph: 03 332 5321

KAIAPOI 13 Stone Street • Ph: 03 337 7140

NEW BRIGHTON 175 Wainoni Road • Ph: 03 374 5035

BURNSIDE 494 Waikakei Road • Ph: 03 359 9009

Still Pedalling!

FIAT 500 POP PRIZE DRAW

Spend $200

or more at

TYRES2GO

to enter the

Fiat 500 Pop

prize draw

Terms and conditions apply.

The car can be viewed at 477

Blenheim Rd, Riccarton.

OPEN 7 DAYS

THUrsdaY JanUarY 31 2013

Full mechanical servicing

for BMWs

Dismantling BMW's

Purchasing pre-loved & damaged BMWs

65 McAlpine Ave, Sockburn, Christchurch

Ph (03) 341 6678 | eurorec@clear.net.nz

A division of

Free Check & Assessment

ROSES

AUTO ELECTRICAL

Trevor Crowe's been involved with cars for a

while. You can benefit from his experience at...

WOF's | Service Checks | Wheel Alignments

Brakes | Clutches | Tyres etc

All makes & models

518 Moorhouse Ave

Ph 379 7615

www.crowesport.co.nz

Diesel

The diesel professionals specialising in

4WD RepaiRs seRvicing

&

all WoRk

guaRanTeeD

288 Lincoln Road (opp ANZ)

Ph: 338 8884 • www.dieseldoctor.co.nz
---
2

PEGASUS [Edition POST datE]

Tuesday May 17 2016 19

Love at first sight

21 Mt Pleasant Rd, Mt Pleasant

Auction: 1pm, May 19, 2016 (Grenadier House, 98 Moorhouse Ave)

3 bedrooms | 2 bathrooms | 1 living room | 1 office/study | 2-car garage | Listing #: FM4871

From From the the moment moment you you step step foot foot

on on this this property, property, the the magical magical feast feast of of

sweeping sweeping lawns lawns and and unobstructed unobstructed sea sea

views views captures captures your your attention attention from from its its

lower lower slopes slopes position. position.

This This elegantly elegantly restored restored character character home home

of of a bygone bygone era era is is presented presented in in pristine pristine

condition, condition, with with nearly nearly every every room room boasting boasting

view a view over over the Estuary the estuary and and along along

a

the the coastline. coastline. Once inside, you will

relish once being inside, able you to will live relish all being on one able level

with to live interconnecting all one level living, with interconnecting

living, and a modernised three bedrooms kitchen plus and a study.

a modernised

kitchen

The three master bedrooms bedroom plus a study. is roomy The master

bedroom and is roomy walk-in-robe. with an en Beautifully suite

with an

ensuite

painted and walk-in-robe. wood panelling Beautifully and painted leadlight

windows wood panelling are featured and leadlight throughout, windows and there

is are a heat featured pump throughout, and a pellet and fire, there giving is a you

year-round heat pump and comfort a pellet and fire, warmth giving in you those

winter year-round months. comfort Curl and up in warmth the bay in window those

with winter a good months. book Curl or throw up in the open bay the window

with doors, a good and book sit and or throw relax outside open the in Auction Thursday, May 19, 1pm

Let your love affair start here.

French your love affair start here. Auction Thursday,

may 19, 1pm (Grenadier house, 98

the French sun doors, on the and private sit and decks. relax outside in (Grenadier House, 98 Moorhouse Ave).

Generous moorhouse Ave).

the sun on 1367 the private square decks. metres of parklike

grounds Generous are conducive 1367 square to metres good family of parklike

grounds and is a are wonderful conducive space to good for children family

living open home: Wednesday, may 18,

and 12pm to 12.40pm. See you at the

living keen and gardeners. is a wonderful space for children

will and bear keen the gardeners. benefit of our owner's

You open Day or for more information,

years contact Alison Carter of harcourts

You will of hard bear the work benefit in of restoring our owner's and

maintaining Grenadier Ferrymead (Licensed

years of hard the work property, in restoring but their and change maintaining

circumstances the property, necessitates but their change a sale.

in Agent reAA 2008) on 384 7950 or

mobile 027 431 8960.

in circumstances necessitates a sale. Let
---
PROUDLY

PROUDLY

CHRISTCHURCH

CHRISTCHURCH

OWNED

OWNED TUESDaY, aUGUST 27, 2013 PROUDLY 384

384 CHRISTCHURCH 0600

0600

PROUDLY CHRISTCHURCH OWNED MONDaY JUNE 24, 2013

OWNED WEDENSDaY 10 JULY, 2013 384 0600

384 0600

Kea

(Nestor Notabilis)

Ladbrooks, Tai Tapu, Leeston, Lincoln, Southbridge, Prebbleton, Halswell, Rolleston, Templeton, Burnham, West Melton, Darfield, Arthurs Pass

Sumner, Redcliffs, Mt. Pleasant, Ferrymead, Woolston, Lyttelton & Akaroa Harbours

Harewood, Burnside, Bishopdale, Bryndwr, Fendalton, Merivale, St Albans, Mairehau, Papanui, Casebrook, Redwood, Regents Park, Styx Mill, Northwood, Spreydon, Belfast Hoon Hay, Hillmorton, Cracroft, Cashmere, St Martins, Somerfield, Sydenham, Addington, Waltham, Opawa, Beckenham, Huntsbury, Woolston

Black Billed

Gull

New Zealand

Swamp Hen (Pukeko)

Linwood, Avonside, Richmond, Shirley, Burwood, Dallington, Wainoni, Bromley, Aranui, Avondale, Bexley, New Brighton, Northshore, Queenspark, Parklands, South Brighton

PROUDLY CHRISTCHURCH OWNED MONDaY JULY 15, 2013 PROUDLY 384 CHRISTCHURCH 0600

OWNED MONDaY 12 aUGUST, 2013 PROUDLY 384 CHRISTCHURCH 0600

OWNED MONDaY JUNE 24, 2013 384 0600

Fantail

(Piwakawaka)

Bellbird

(Korimako)

New Zealand

Pigeon (Kereru)

Templeton, Islington, Hei Hei, Broomfield, Halswell, Oaklands, Westlake, Hornby, Wigram, Sockburn, Church Corner, Ilam, Russley, Hyde Park, Avonhead, Riccarton Park, Riccarton

20

Cars

$4,001 - $8,000

NEED a new car? and

need finance we can help.

Call us today Learners

lcs, past credit issues

been bankrupt or new to

New Zealand! Call Leon

022 625 2232

Community Events

ALCOHOLICS

ANONYMOUS, If you

want to have a drink thats

your business. If you want

to stop, we can help. Phone

0800 229-6757

Computers

ALL

YOUR

COMPUTER

WORRIES SOLVED!

*$30.00 off your first

service with this coupon!*

No problem too big or

small from home PC's to

business networks. PC

slow? An end to Viruses,

Spyware, and Clogged

Systems. Safe secure

hassle-free computing.

Lost files recovered.

Microsoft Certified,

MCSE, MCP+l. 30 years

experience. Call Andrew

Buxton this week on 326-

6740 or 027 435-7596

for $30.00 off* Custom

Computers Christchurch

Curtains

www.curtainfabric-outlet.com

Fashion Designs & Colours

Discontinued Designs

End of Lines Bargain Prices

Call at Our Shop

CURTAIN FABRIC OUTLET

71 Hawdon St Sydenham

Ph 366-5026

Gardening

& Supplies

A GARDEN

PROFESSIONAL

NEEDED? Qualified

Horticulturist, offering

expert pruning, garden

makeovers, garden design

and landscaping, for free

quotes call Bryce 027 688-

8196 or 0508 242-733

A GARDEN OR

LANDSCAPING TIDY

UP? Shrub, hedge &

tree pruning, Lawns,

Gardening, consistently

reliable general property

upkeep, Dip. Hort. 10

yrs experience, One off

tidy ups or on-going

service. Nick's Property

Maintenance. Keeping

your garden beautiful.

Free Quote. Ph. 942-4440

Holiday

Accommodation

QUEENSLAND SUN-

SHINE COAST AUSTRA-

LIA Resort, Ocean Views,

Balconies, Self Contained,

1 or 2 B/R Ensuite,

Heated Pool, Spa, Sauna,

Free Internet, Shops,

Restaurants, Tennis, Surf

Club & Patrolled Beach,

Public Transport at door.

Ask for our SEASONAL

SPECIALS. Phone 61 7

544-35011 Email: reception@mandolin.com.au

www.mandolin.com.au

Tuesday May 17 2016

PEGASUS POST

Classifieds Contact us today Phone our local team 03 379 1100

Public Notices

Call us & we'll help

you place your

classified advert in our

community papers

Nobody knows

Christchurch

like a local

We're local, we're

in Christchurch, we

speak your language!

Phone: 379 1100

Selwyn

A Mainland

Times

Media Publication

Nor'West

A Mainland

News Press Newspaper

Bay Harbour

A Mainland

News Press Newspaper

Southern

View Press

A Mainland

Newspaper

Pegasus

A Mainland

Post Press Newspaper

Western

A Mainland

News Press Newspaper

Classifieds

Our community papers are published every

Tuesday (Bay Harbour, Wednesdays) focusing

on local issues & local people.

Public Notices

Rexellent Rentals

Cars, Vans, Brisbane , Coolangatta

FREE CALL

0800 601 508

www.rexellent.com.au

DEMOLITION

With care and respect we

will remove your dwelling.

Our policy is to recycle as

much as we can. We are a

local company specialising

in residential properties. We

will endeavor to cater for

your individual needs.

Ph. R.M. Solutions

021 02866981

for a free quote.

Motorcycles

EDGE RUN

30th Anniversary,May

29, 11am, Sign of the

Kiwi.N.R.N.R.H

Pets & Supplies

AFFORDABLE Dog

Grooming $44 small,

$52 med, experienced

and qualified groomer/

veterinary nurse,

Redwood, ph June 03 354-

6414 or 027 746-5295

Situations Vacant

CA$H

Strippers

& Podium

Dancers

Wanted!

18+ TO APPLY

NEISHA

021 193 0118

Check out

Personals

JOin OTher neW ZealanDers

lOOKinG FOr ThaT sOmeOne sPeCial

Place your

advertisement now

Only $10.00

yearly membershiP

FOr FUll DeTails,

PhOne 341 3888

To Let

NEED MORE

SPACE?

NO BOND THIS MONTH

Ideal as an extra

bedroom or office.

Three convenient sizes

from $70 p/w:

Standard 3.6m x 2.4m

Large 4.2m x 2.4m

Xtra-large 4.8m x 2.4m

Visit our display cabins at

95 Beach Road or

470 Cranford Street or call

0211277227 for a free brochure.

www.justcabins.co.nz

ADD SOME COLOUR

TO YOUR ADVERT!

Trades & Services

DRIVEWAYS & PAVING

FREE QUOTES

Professional, friendly

Service Always

Ph. 03 329 4806

or 027 827 0505

CAP CONSTRUCTION LTD

ROOFING

- Re-roofing and

new roofing

- Quality roofing at

the best price around

- Licensed building

practitioner

Robinson

Roofing Ltd

Call Hamish for a

quote 03 347 90 45

FENCING

Paling, picket,

iron, trellis

Demolition and

removal

Phone Bevan

021 231 1860

Fencing Uprite

Your Eastside

Specialist

Professional

Movers

Making Local

& International

Moving Easy

0800 4 world

(03) 341 2060

www.worldmoving.co.nz

HOUSE

CLEARING

Are you moving

house?

Let All Clear Canterbury

take care of your

unwanted items.

You identify what you want

to keep & we will dispose

of the rest!!

Mob: 021 078 4553

raewynlcooke@gmail.com

www.allclearcanterbury.co.nz

Trades & Services

GLAZING

Stephen Thom

Glazing 2012 Ltd.

(Under New Management)

• Mirrors

• New Glazing

• Pet Door

Specialists

• Frameless

Showers

• Splashbacks

WE CAN DO YOUR

WORK NOW

9155874AA

ALL BROKEN

WINDOWS

Phone Cushla

03 352 6225

or 027 352 6225

0770 or 027 245 5226

AAA CArpentry,

licensed builder

practitioner all property

maintenance small job

expert by tradesman /

handyman free quotes city

wide call now 03 387-

ciey@xtra.co.nz

AnDreWS tree

Care Services, tree

removal, trimming, stump

grinding, shelterbelt clean

up, section clearing,

rubbish removals,

excavation work, ph 027

728 5688

BUILDer

For all building work

but specialist in bathroom

renovations, 30 yrs

experience, with service

and integrity. Free Quotes.

Ph Lachlan 383-1723 or

0274 367-067.

BUILDer

LICENSED, available for

all aspects of building.

Please call 027 241-7471

or 335-0265

CArpenter -

HANDYMAN - Small

Job Specialists, Carpentry,

Repairs, Decking &

Maintenance, 40 years

experience, no job too

small, Ph Warren 03 322-

1103 or 027 697-8541

CArrIer LoCAL

experienced, friendly,

trade-me purchases, single

items to truck loads,

furniture to whatever,

removals & trade

deliveries a specialty. Ph

GEH 341-5069

DRIVEWAYS

Replace, repair or new.

We are a local company

with over 10 yrs exp.

We also operate a

digger for all other

earthworks.

Ph. R.M. Solutions

021 02866981

for a free quote.

FenCInG

All styles and shapes,

gates, wooden, ph Mark

027 331-3223

FenCe pAIntInG

Staining Quality at a

reasonable price. Free

quotes. Phone Warren

today on 980-1676 or 027

2014713
---
PEGASUS POST Tuesday May 17 2016 21

Classifieds Contact us today Phone our local team 03 379 1100

Trades & Services

Trades & Services

Trades & Services

Trades & Services

Entertainments

FURNITURE

REMOVALS

Large Trucks $95 +

GST per hour 7 day NZ

wide, packing & moving,

Professional Company,

Professional Service.

Canterbury Relocations

Ltd. ph 0800 359 9313

LANDSCAPE

CONSTRUCTION

Lawns, paving, water

features, irrigation,

planting, decks,

driveways, kerbing, ponds,

retainer walls, fencing.

Free quotes, Phone Tony

021-034-8555

OVEN CLEANING

Professional cleans

$50.00. Gift Vouchers

avail. Phone 0800 683-

6253 or 027 228-0025

PAINTER

Available, All aspects in

painting. Very competitive

in roofs and fences. Please

call 027 241-7471 or 335-

0265

PAINTING

& DECORATING interior

& exterior, gib fixing,

plastering, paperhanging,

Est 50 yrs in ChCh, ph

Wingfields Ltd, ph Mark

021 171-1586 or 355-5994

PAINTER

Top quality work, interior/

exterior, pensioners

discount, free quotes, 30

years experience, I stand

by Canterbury, ph Wayne

your friendly painter 03

385-4348 or 027 274-3541

PLASTERER

SOLID, both ext & int

work, Scottish Tradesman

with over 30 yrs

experience, FREE Quotes,

ph Donald 354-5153 or

021 023 26186

PLUMBER

For prompt service for all

plumbing maintenance,

repairs and alterations.

Phone Michael 364 7080

or 027 438 3943

PLUMBER

ALF THORPE

PLUMBING Certifying

Plumber for all types of

plumbing, maintenance,

spouting, alterations etc.

Phone 352-7402 or 0274-

350-231

• Replacement/new roofing

• Colour Steel gutter & fascia

• Flue & log burner installs

• Skytube/light installs

• Earthquake repairs

Licence Building

Practitioner LBP

Member of the Roofing

Association

DCM ROOFING LTD

The Roofing Specialists

PHONE IAIN

027 445 5597

iain@dcmroofing.co.nz

ROOFING

Qualified & Licenced

Practitioner. Re-Roof &

Repairs, all types. Member

New Zealand Roofing

Association. Over 35 years

experience. Phone John

027 432-3822 or 351-9147

email johnmill@ihug.

co.nz

SPOUTING CLEANING

- Spouting Unblocked,

Cleaned Out and Flushed

Out. Also Full Handyman

Services Available. Call

Trevor 384-3435 or 021

043-2034

TILER/CARPENTER.

35 years exp, no job

too smal. Ph Ross 027

4311440.

TREE WORK Hedge

trimming, stump grinding,

rubbish removed, small

job specialty Ph Andrew

03 322-8341 or 027 435-

8759

T.V. SERVICE

CENTRE Repairs, tvs,

microwaves, stereos,

DVD. Aerial installations

and kitsets, 480

Moorhouse Ave, ph 03 379

1400

UPHOLSTERER

Dining Chairs, Lounge

suites, Caravan Squabs

etc. recovered. Free

Quotes. Phone Graeme

383-1448

VHS VIDEO TAPES

& all camera tapes

converted to DVD, video

taping, weddings, twenty

firsts, special occasions,

www.grahamsvideo.co.nz

ph 03 338-1655

WATERBLASTING

Quality Job, Quick Service

by skilled tradesman, Ph

Richard Severin at Jet-X

0800 538 969 Free quotes,

visit www.jetx.co.nz

Wanted To Buy

AAAAAAAAA

GOOD PRICES

paid for estate lots,

antiques and good

quality furniture.

Ph Rick 347 4493

or 021 376 883

A+ Household effects,

fridges, freezers, washing

machines, ovens. Good

cash paid. Ph Paul 022

0891 671

A Records and Hi-Fi

gear wanted, excellent

prices paid for good

records especially kiwi

and overseas bands 60's

- 90's PennyLane 430

Colombo St Sydenham

7 days www.pennylane.

co.nz ph 3663278 or 021

2226144

TOOLS Garden,

garage, woodworking,

mechanical, engineering,

sawbenches, lathes, cash

buyer, ph 355-2045

Phone for further details

(03) 379 1100

ADVERTISE YOUR

BUSINESS HERE

Thursday 12th May - Wednesday 18th May

HUNT FOR THE WILDERPEOPLE (PG)

THE TEMPLE OF WONDERS (exempt)

FLORENCE FOSTER JENKINS (PG)

THE GREAT MAIDEN'S BLUSH (M)

NOTES TO ETERNITY (M)

We're for every gardener

autumn planting • moon calendar • the lone pine • plant doctor

We're for every gardener

FlAnders PoPPy

Its significant story

InsPIred by

AustrAlIA

Ideas from Melbourne

International Flower

& Garden Show

$5.90 incl. GST

ISSN 1174-8656

100%

Issue 413 | April 16 – April 29, 2015

What it means

to be

KIWI

mAke It eAsy

Low-maintenance

gardening

Projects to

remember

Making wreaths

and poppies

subs@gardener.kiwi

EYE IN THE SKY (M)

THE MAN WHO KNEW

INFINITY (M)

EDDIE THE EAGLE (PG)

THE JUNGLE BOOK (PG)

SUBSCRIPTIONS

FREEPHONE 0800 77 77 10

100%

12 ISSUES

delivered

to your door

FROm ONly

$

49. 00

NATIONAL STREET APPEAL

FRIDAY 10TH JUNE
---
22

Tuesday May 17 2016

LIVE

ENTERTAINMENT

6PM FRIDAY

IAN MAC

7PM SATURDAY

THE ACOUSTICS

7PM SATURDAY

SPORTS BAR

BRIAN GEE

HYPNOTIST

TICKETS $15

The newly refurbished

Woolston Club...

A classic, contemporary

club experience

Dining, bar, entertainment,

sport, and so much more!

Cafe open from 11am

Happy Hour 4.30pm - 5.30pm

TAB & Gaming, Function Facilities,

HOUSIE Tuesday, Thursday, Saturday

SHUTTLE Tuesday - Sunday

H ORNBY

WORKINGMEN'S

CLUB

«WHAT'S ON«

WESTVIEW LOUNGE

FRIDAY 20 MAY, 7.30pm

AUSTRALIA'S YODELLING

DRAG QUEEN

LAYDEE KINMEE

AND

BARROSS

Tickets $15 at the club office

or Barb Lloyd 03 310 0355

SATURDAY

21 May, 4.30PM

BARROSS

8PM

TH' ART

OF CHEESE

SUNDAY

22 May, 1.30PM

HEART OF THE

COUNTRY

Newly renovated

Open 7 Days

Restaurant open

from 5.30pm!

With a selection of

main meals for $20

Retro Roast Lunch

12pm Wednesdays

$10 Members/$12 Non

Roast of the Day

$16.00 Members

$18.00 Non

Hornby WMC

ph 03 349 9026

17 Carmen Road

Hornby

«COMING UP«

FRIDAY 27 MAY, 8pm

DIAMOND

ANNIVERSARY SHOW

FEATURING

EDDIE LOW

DAVID LA PLANCHE

SHALOW & TREVOR DAWE

Tickets $10 at the club office

SATURDAY 4 JUNE, 7.30pm

ANTHONY'S ROCKBOX

feat. Anthony Easterbrook-Carter

with BACKPACK

Tickets $20 at the club office

SATURDAY 2 JULY, 7.30pm

GRAY BARTLETT

PRIVATE CONVERSATIONS

2016 SOUTH ISLAND TOUR

feat. TRANZITION SHOW BAND

with guest YULIA

$6 ENTRY

Tickets $25 club office and iticket.co.nz

www.hornbyworkingmensclub.co.nz | Members, guests & affiliates welcome

Air Force Band Flies

High with the Queen

THE ROYAL New Zealand

Air Force Band is

celebrating the Queen's

90th birthday in style with

a special afternoon concert

at the New Zealand Air

Force Museum at Wigram

th

on Sunday 5 June.

PEGASUS POST

Surrounded by the

museum's mighty

collection of Air Force

history, the band will

perform music that spans

the nine decades of the

pieces at Wigram."

Queen's life so far.

The Queen's Birthday concert

th

The afternoon performance on June 5 programme will also include Gershwin's

features a segment dedicated to music by An American in Paris, Glinka's Russlan

British composers, from Walton's stirring and Ludmila Overture, as well as a full

Crown Imperial March, to excerpts from symphonic version of the impressive

popular musical theatre, through to the soundtracks from the Star Wars movies.

theme music for the James Bond 007

Flight Lieutenant Brew recently traveled

movies.

with the NZ Defence Force Contingent to

During the RNZAF Band's last

conduct services at Gallipoli. The RNZAF

performance at the Air Force Museum in Band performed in February at the

2015, the band's 65 strong brass and Edinburgh Military Tattoo during the NZ

woodwinds under the baton of Flight Festival in Wellington.

Lieutenant Brew received a standing

Air Force Band in concert at the

ovation from the packed house.

New Zealand Air Force Museum,

"We're looking forward to Walton's Wigram

Crown Imperial March, and we'll also

th

Sunday 5 June, 2pm,

reference some great British artists New Zealand Air Force Museum,

including The Beatles, Queen and David Wigram.

Bowie," Flight Lieutenant Brew said. Adult: $25, Senior $22

"Our band is wonderfully versatile. Child/Student: $5

We'll be taking the opportunity to feature Tickets: New Zealand Air Force

some of our virtuoso players in solo Museum (03) 343 - 9532.

NOW OPEN

Cooks and Cocktails offers

affordable family dining

with an international menu

and amazing cocktails.

Come and enjoy our

great family environment

and meet our amazing staff.

Papanui's newest

family friendly

dining experience

77 Main North Road, Papanui

Ph 352 4242

www.cooksandcocktails.co.nz

Open Monday - Friday 11am - late;

Saturday & Sunday 8am - late
---
PEGASUS POST Tuesday May 17 2016 23

www.newbrightonclub.co.nz

WHAT'S ON

TUESDAYS &

THURSDAYS

Members Lucky Card Draw

- downstairs -

ClubBISTRO

Open Tuesday

to Saturday

12pm-2pm

and from 5pm.

Midweek

SPECIAL

$10

ROAST

Available Tuesday,

Wednesday,

& Thursday

TAB POD

- upstairs -

PIERVIEW

Restaurant

JOIN

A CLUB BY

THE SEA!

Quality a la carte

with a view!

Open FRIDAY,

SATURDAY,

& SUNDAY

from 5.30pm

FRIDAY SPECIAL:

All Grills... $20!

for a limited time

SUNDAY SPECIAL

$25 3-Course Feast

SHUTTLE RUNNING

Tues, Thurs, Fri & Sat

202 Marine Parade | Ph 388-9416

Members, guests and affiliates welcome

RESTAURANT & CAFÉ

'Famous for their roasts!'

Open daily from 6.30am. Breakfast, Lunch & Dinner

Treat the Kids!

Kids two course

special from

We are family

friendly.

Great Kids menu

plus designated play area.

Seniors SPECIAL

Two courses

Soup/Roast or

Roast/Dessert

Racecourse Hotel Motorlodge

118 Racecourse Rd, Sockburn,

Christchurch. Ph 03 342 7150

www.racecoursehotel.co.nz

$10

Special available lunch only

Monday - Saturday 12pm - 2.30pm

Conditions apply.

$20

Lunch & Dinner

All you can eat, 7 days

Bookings Essential

PH 386 0088

fb.com/GardenHotelRestaurant

www.gardenhotel.co.nz

NOW SERVING

available

from

9am

Breakfast

HAPPY

HOUR

5PM - 7PM

DAILY

LIVE

Mandi Miller

5.30PM FRIDAY 20th MAY

MUSIC

PHONE 385 8880 FIND US ON FACEBOOK fb.com/GBCCHCH

THE GARDEN HOTEL COMPLEX | 110 MARSHLAND RD

www.gardenhotel.co.nz | phone 385 3132
---
24

Tuesday May 17 2016

PEGASUS POST

BOOK CONTAINER

CLEARANCE

JUST

$19 99

JUST

$69 99

JUST

$12 99

JUST

$39 99

JUST

$39 99

JUST

$39 99

JUST

$19 99

JUST

$29 99

JUST

$19 99

JUST

$69 99

JUST

$39 99

JUST

$12 99

JUST

$29 99

JUST

$39 99

JUST

$14 99

JUST

$69 99

JUST

$19 99

JUST

$29 99

JUST

$29 99

JUST

$39 99

JUST

$19 99

JUST

$14 99

JUST

$19 99

JUST

$19 99

JUST

$24 99

JUST

$11 99

JUST

$34 99

JUST

$69 99

JUST

$19 99

JUST

$49 99

JUST

$39 99

JUST

$24 99

JUST

$27 99

JUST

$27 99

JUST

$69 99

JUST

$24 99

JUST

$19 99

JUST

$24 99

JUST

$19 99

1005 Ferry rd

Ph 384 2063

while stocks last (see instore for terms and conditions)

Barry & kerry