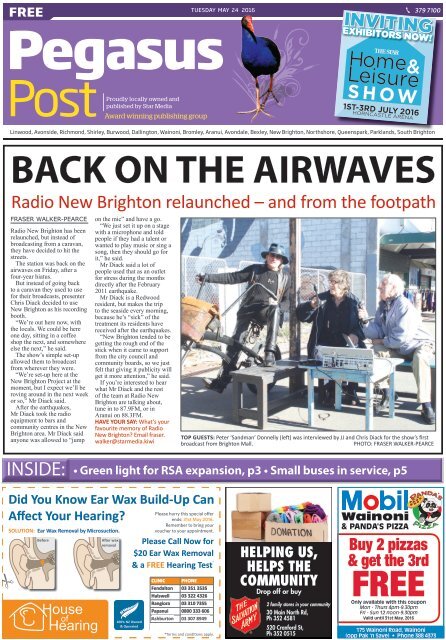 Pegasus Post: May 24, 2016
Create successful ePaper yourself
Turn your PDF publications into a flip-book with our unique Google optimized e-Paper software.
FREE

TUESDAY MAY 24 2016

Pegasus

INVITING

379 7100

EXHIBITORS NOW!

Post

Proudly locally owned and

published by Star Media

Award winning publishing group

SHOW

1ST-3RD JULY 2016

HORNCASTLE ARENA

Linwood, Avonside, Richmond, Shirley, Burwood, Dallington, Wainoni, Bromley, Aranui, Avondale, Bexley, New Brighton, Northshore, Queenspark, Parklands, South Brighton

BACK ON THE AIRWAVES

Radio New Brighton relaunched – and from the footpath

FRASER WALKER-PEARCE

Radio New Brighton has been

relaunched, but instead of

broadcasting from a caravan,

they have decided to hit the

streets.

The station was back on the

airwaves on Friday, after a

four-year hiatus.

But instead of going back

to a caravan they used to use

for their broadcasts, presenter

Chris Diack decided to use

New Brighton as his recording

booth.

"We're out here now, with

the locals. We could be here

one day, sitting in a coffee

shop the next, and somewhere

else the next," he said.

The show's simple set-up

allowed them to broadcast

from wherever they were.

"We're set-up here at the

New Brighton Project at the

moment, but I expect we'll be

roving around in the next week

or so," Mr Diack said.

After the earthquakes,

Mr Diack took the radio

equipment to bars and

community centres in the New

Brighton area. Mr Diack said

anyone was allowed to "jump

on the mic" and have a go.

"We just set it up on a stage

with a microphone and told

people if they had a talent or

wanted to play music or sing a

song, then they should go for

it," he said.

Mr Diack said a lot of

people used that as an outlet

for stress during the months

directly after the February

2011 earthquake.

Mr Diack is a Redwood

resident, but makes the trip

to the seaside every morning,

because he's "sick" of the

treatment its residents have

received after the earthquakes.

"New Brighton tended to be

getting the rough end of the

stick when it came to support

from the city council and

community boards, so we just

felt that giving it publicity will

get it more attention," he said.

If you're interested to hear

what Mr Diack and the rest

of the team at Radio New

Brighton are talking about,

tune in to 87.9FM, or in

Aranui on 88.3FM.

HAVE YOUR SAY: What's your

favourite memory of Radio

New Brighton? Email fraser.

walker@starmedia.kiwi

TOP GUESTS: Peter 'Sandman' Donnelly (left) was interviewed by JJ and Chris Diack for the show's first

broadcast from Brighton Mall.

PHOTO: FRASER WALKER-PEARCE

INSIDE: • Green light for RSA expansion, p3 • Small buses in service, p5

ouse

of

earing

100% NZ Owned

& Operated

Please hurry this special offer

ends: 31st May 2016.

Remember to bring your

voucher to your appointment.

CLINIC PHONE

Fendalton 03 351 3535

Halswell 03 322 4326

Rangiora 03 310 7355

Papanui 0800 333 606

Kaiapoi Ashburton 03 0800 307333 8949 606

Ashburton 03 307 8949

HELPING US,

HELPS THE

COMMUNITY

Drop off or buy

2 family stores in your community

30 Main North Rd,

Ph 352 4581

520 Cranford St,

Ph 352 0515

Wainoni

& PANDA'S PIZZA

Buy 2 pizzas

& get the 3rd

FREE

Only available with this coupon

Mon - Thurs 4pm-9.30pm

Fri - Sun 12 noon-9.30pm

Valid until 31st May, 2016

175 Wainoni Road, Wainoni

(opp Pak 'n Save) • Phone 388 4373
---
2

Tuesday May 24 2016

Andrew Dawson Display for

May

April 26 until May 29, 10am-

4pm daily

Brighton Gallery will for

the month of May feature

works form Andrew Dawson's

collection. Mr Dawson is a

South Brighton artist who

produce many collages, and

paints in both oil and acrylic.

More recently, he has produced

a number of sculptures from a

range of materials.

Brighton Gallery, New

Brighton Pedestrian Mall. Free

entry

New Brighton Ukulele Jam

Every Friday night, from

7.30pm

Every Friday night at 7.30pm

the group meets to play ukulele

and other instruments and sing

all kinds of songs. From folk

and country, to pop, jazz,

rock, Latin and even reggae.

Anything that is in the spirit of

Joyful Anarchic Music (JAM).

There will be a data projector

so all the lyrics and the chords

are available to all. Everyone

is welcome. Tea, coffee and

biscuits free.

Community

Events Email

St Faith's Hall, 46 Hawke St,

$2 admission

Be Bald or Bold

Saturday May 28, 11am-2pm

REACH Child Cancer is

holding a Be Bald or Bold hairraising

event. Be brave and join

in with a head shave and crazy

hair day on Saturday at The

Palms Shopping Centre. Spray

your hair gold, get a gold ribbon

shaved into your hair or go bald.

If you are not brave enough to

go bald or bold, get a stencil of

the gold ribbon sprayed onto

your hair or beard on the day –

everyone can get involved.

The Palms Shopping Centre,

corner Marshland and New

Brighton Rds. Free entry

Super Saturday Storytimes

Every Saturday, from 11-

11.45am

fraser.walker@starmedia.kiwi

by 5pm each Wednesday

Come along and enjoy stories

and rhymes followed by fun

craft activities. During term

time, and aimed for children two

to seven years old. No bookings

necessary, but a caregiver is

required. There's a different

theme every weekend.

Shirley Public Library, 36

Marshland Rd. Free event

Monthly Market Day

Sunday May 29, 10am-2pm

Monthly Market Days at the

Bromley Community Centre.

On the last Sunday of every

month, based at an indoor venue.

If you're interested in having a

stall, please phone 03 389 1657.

Bromley Community Centre,

31 Bromley Rd. Free entry

NZ Music Month –

Parklands

Saturday May 28, from 2pm

The mums, dads and bubs group meet every Wednesday, from

10.30am to noon. Go along and meet other mums and dads in

the community. There will be shared kai and a well earned coffee

while you watch your tamariki play and learn. Older siblings are also

welcome. Things that you may do include having discussions about

babies' learning and development, what you may experience as parents,

and different types of play you can engage your babies in. Visit

the Linwood Playcentre.

Linwood Playcentre, 628a Worcester St. Free entry

Our celebration of New

Zealand music continues

at Parklands Library with a

free live performance from

Bryony Matthews. Bryony is

a singer-songwriter based in

Christchurch. She is known for

PEGASUS POST

her signature folk pop sound

and hosting collaborative events

with other musicians. She is set

to release her debut EP in late

2016.

Parklands Library, 46

Queenspark Drive. Free entry

ContaCt us

General Manager: Steve McCaughan

Communities Editor: Shelley Robinson

Sales Manager: Joan Smith

Circulation: Mark Coulthard

P: 379-7100

NEWS

Fraser Walker-Pearce

Ph: 364 7424

fraser.walker@starmedia.kiwi

ADVERTISING

Gail Henry

Ph: 364 7450

gail.henry@starmedia.kiwi

Rent Me Or Buy Me

NO BOND REQUIRED

Rental - From $75 p/w Size 10m2

• Accommodation –teenagers, elderly, guests

• Cabin Sleep out • Site office • Storage

• Home office/ small business • Games room

0800 HouseMe 468 736

houseme2015@xtra.co.nz

JO HAYES

NATIONAL LIST MP BASED

IN CHRISTCHURCH EAST

Office

nOw Open at:

6/950 Ferry Road,

Ferrymead

P: 384 9459

Call to make an

appointment

www.national.org.nz

Our school

Our choice

Our future
---
PEGASUS POST Tuesday May 24 2016 3

neighbourhood NEWS

News tips? Email fraser.walker@starmedia.kiwi or phone 364 7424

Your opinion? Facebook us on https://www.facebook.com/pegasuspost

Green light for RSA expansion

FRASER WALKER-PEARCE

The New Brighton RSA received

another post-earthquake boost

when it got the tick to go ahead

with a games room.

The New Brighton Returned

and Services' Association has

been fighting the city council for

a resource consent for the games

room for the past 18 months.

But on Friday morning, New

Brighton RSA secretary and

manager Garry House received

an email from the city council,

telling him they had the green

light.

The city council did not want

to grant the consent because it

said there was insufficient parking.

It wanted 20 car parking

spaces.

Mr House said it has a free

shuttle which takes up to eight

patrons to and from the club, so

they shouldn't have to have more

parking.

"The main stumbling block is

that they wanted us to have extra

car parking. We don't have the

land and we don't support drink

driving, so we supply a free shuttle,

which seats nine people, to

pick up and return members and

guests to their homes," he said.

Mr House said that it would

be "irresponsible" for the RSA

to add in the extra spaces, as

the building is situated between

Mafeking St, a no exit street, and

a long, skinny driveway, leading

to Hood St.

GREEN LIGHT: The

New Brighton RSA

had great news

arrive on Friday

morning when the

city council approved

a resource consent

for a new games

room. Left: Secretary

and manager Garry

House with the RSA's

courtesy van.

The RSA is paying for the

games room out of its own budget,

which has been overseen by

Mr House. He said the original

cost for the room has gone out

the window.

"We had budgeted for $30,000

to be spent on this project. But

now because of this (resource

consent battle), we are over

$40,000," he said.

The games room can now go

ahead, but there is no time frame

yet, as to when it will be ready.

The city council tried to answer

questions from the Pegasus

Post, but were unable to respond

as staff were away.

HAVE YOUR SAY: Should the

RSA have to find space for more

car parking? Should the city

council be more lenient? Email

fraser.walker@starmedia.kiwi

GREEN LIGHT FOR

CORRECTIONS FACILITY

The Department of Corrections

has been given the go-ahead

by the city council to begin

building a new facility of

Pages Rd. The single-storey

building will have a gross

floor area of 1402.8 sq m,

including garaging and storage.

The facility will serve as a

community-based corrections

building, which includes

administrative and noncustodial

services associated

with community work and

community corrections

services. It will be built next to

the Nga Hau E Wha National

Marae, on 242 Pages Rd.

BLANKET BANK BARE

The New Brighton Blanket

Bank is in desperate need of

more donations before winter.

They are asking the public to

donate blankets, duvets, covers,

and warm sheets of all sizes.

They are asking for anything

bedding related, except for

electric blankets. The blanket

bank has a collection bin

outside the New Brighton

Project offices at 105 Brighton

Mall. This is accessible until

the building closes at 5pm

daily. If it is a large donation,

they have asked people to call

them on 03 388 9920 and they

can sort out a time for a drop

off.

SuPER

LOW PRICES!

Over 60 health products

on special every day.

Locally owned and operated.

Giving health advice since 1992.

The Palms: 385 0364

The Hub Hornby: 349 5150

Bush Inn Centre: 348 7867

Dyers Road Landscape

& Garden Supplies

• Barks • Peastraw • Composts - we supply the best available

• Aggregates - Chip, Round and Basecourse

• Pavers & Schist products • Pungas

• Decorative Stones & Landscaping Rocks

• Trailer Hire first hour free with purchase

• Bag & Bulk - pick up or delivered

David, Carol & Mike

We will deliver!

HUNTER JUNIOR

Childrens sizes 6-13 & 1-2 ½

Great price from $90

And great colour range

Adult styles also available

47c Garlands Road, Woolston

Phone 389 3431

www.thefootwearfactory.co.nz

SOIL

AND

HARDFILL

DUMPING

Phone: 03 384 6540

183 Dyers Rd, Bromley • OPEN 7 DAYS

Weekdays 7.30am-5pm. Weekends 8.30am-3pm

www.dyersroadandlandscapes.co.nz
---
4

Tuesday May 24 2016

your local Views

PEGASUS POST

Something on your mind? Email fraser.walker@starmedia.kiwi in 200 words or less.

Facebook us on https://www.facebook.com/riseupchristchurch/

Discuss future of red zone

New

Brighton

Union Parish

co-ordinating

minister

Mark

Gibson talks

about the

upcoming

residential red zone meeting

tomorrow.

The public meeting to

discuss the future of the

residential red zone is for

everyone with an interest in

the future of the zone.

So community groups

championing creative projects,

ex red-zoners, people from

neighbouring suburbs, or

anyone else who has ideas

about what could happen there

should come along.

The meeting is being hosted

by Wainoni Methodist Church

where I am doing transitional

ministry.

We have a huge interest in

the future of the RRZ because

we are located within it. Our

hope is to be there long-term.

The meeting will be held

tomorrow, from 7.30pm to

9pm. We've worked closely

with city councillor Glenn

Livingstone in organising the

meeting.

The agenda is very simple.

I will speak briefly as the MC

about the background to the

meeting, the wide and diverse

interest range of creative

projects that have emerged

from the community postquake,

and the setting up of

Regenerate Christchurch.

I will also talk about the

driving instructions given to

the chairman Andre Lovatt

– by the earthquake minister

and the Mayor.

Aspects of this letter

have raised questions in the

community about the process

that is going to be used to

determine future uses of the

red zone land.

From there in groups and

then in plenary we'll look at

the issues people have with

the instructions given in

this letter, and then at where

people would like to see the

process going from here.

This is an opportunity for

the community to give Mr

Lovatt driving instructions

as well. He will be there, and

will respond to what is said

near the end.

It is critically important that

the community continue to

SOAP

BOX

front-foot the RRZ process,

rather than be reacting to what

is being determined higher up.

The Crown is the legal

owner of these lands but

emotionally, morally and

spiritually they belong to the

communities of the east, and

the groups and organisations

who have invested hugely in

developing exciting plans for

future use. It is vital that there

is huge recognition of this

investment.

What we hope to come

out of this meeting or

conversation is a transparent

and fair process around the

decision-making determining

future uses of the RRZ.

We also hope to see a strong

collaborative relationship

between the community and

central and local government

as this process unfolds.

Readers respond to last week's

story about seven godwit

sculptures, and the potential for

them to go in "no-man's land"

near the Bridge St bridge.

Lyn Willyams – An

unbelievably stupid response

from the city council. If it is

no-man's-land it belongs to

everyone and that's where the

sculptures should be placed. The

concept drawing looked beautiful.

Wake up council. We need some

beauty in the east. It must be so

frustrating for all those folk who

come up with great ideas and

are then told it's not possible,

especially when it obviously is.

Graham and Jan Edwards

– The spot suggested near the

Bridge St bridge is ideal. It will

bring joy to hundreds of people

a day. Rather than standing

in the way of the idea the city

council should do its job and

find a solution to the "no-man'sland''

issue and move onto more

positive community advising to

help the people of Christchurch.

Wayne Hawker – It is totally

unbelievable that the city council

condemns the erection of the

godwit sculptures on the southeastern

entrance of the Bridge

St bridge. Reasoning that the

land does not belong to anyone.

What a great opportunity to

construct an interesting and very

appropriate piece of artwork

on a piece of land that nobody

owns. No doubt the city council

maintains the land on either side

of the approaches to the bridge

– who else would? Given that,

then why not use the land and

maybe the artwork would become

a tourist destination. After all the

city council are looking for draw

cards to revitalise New Brighton.

Grace Mann – Read the article

in the Pegasus Post. Think the

concept of what the sculpture

would look like is great. Seems

a sensible idea to put it on

land that no one owns. Do the

godwits care? They just like a

good-feeding ground. It will be a

great introduction to South New

Brighton to have the sculpture by

the Bridge St bridge.

NATIONAL

STREET APPEAL

FRIDAY 10TH JUNE

autumn planting • moon calendar • the lone pine • plant doctor

We're for every gardener

FlAnders PoPPy

Its significant story

100% Issue 413 | April 16 – April 29, 2015

What it means

to be

KIWI

We're for every gardener

12 ISSUES

delivered to your door

100%

• Regional planting

• Plant Doctor

• Design ideas

• Seasonal edibles

and flowers

• Small-space

gardening

and so much

more...

InsPIred by

AustrAlIA

Ideas from Melbourne

International Flower

& Garden Show

$5.90 incl. GST

ISSN 1174-8656

mAke It eAsy

Low-maintenance

gardening

Projects to

remember

Making wreaths

and poppies

$

FROm ONly

49. 00

SUBSCRIPTIONS FREEPHONE 0800 77 77 10

subs@gardener.kiwi
---
PEGASUS POST Tuesday May 24 2016 5

neighbourhood NEWS News tips? Email fraser.walker@starmedia.kiwi or phone 364 7424

Small buses in service

ROAD

FRASER WALKER-PEARCE

Smaller buses are on the way

for the Burwood Hospital to

New Brighton route.

Starting with eight new vehicles,

the Red Bus initiative saw

the first small Mercedes-Benz

City 45 bus go into service on

route 535, from Eastgate to

Rapaki last week.

​The next shipment to arrive

will also serve that route, and

the remaining six will be put

straight into service on other

routes upon their arrival from

Germany in June and July.

They will take the place of

bigger buses, which are 11m

long and can

carry up to 55

passengers.

Burwood-

Pegasus Community

Board

member Linda

Stewart (left)

said the new

buses were "exactly what the

community needed" and had

been waiting for.

"It was ridiculous seeing great

big empty buses rattling down

the roads. It shook the houses a

lot, too. So this is exactly what

we wanted," she said.

NEW BUSES: These 17-seater buses are on their way to replace those currently used on the 135 route.

The new 17-seater buses can

take up to 22 passengers, will

be more cost effective and are

accessible to the elderly and

disabled. They can also take two

bikes on the front.

An Environment Canterbury

spokeswoman said the

only changes made are to the

vehicles.

"The change is just to vehicle

size, the timetable won't

change," she said.

The spokeswoman said the

changes were not made due to a

lack of patronage.

A report in 2014 showed that

bus travel had declined from 5.1

per cent of people in 2006 to 3.7

per cent in 2013.

ECan overhauled its bus network

in response to earthquake

migration in December 2014.

Ms Stewart said it was a combined

effort by residents groups.

"I hope this works. If people

say this is what they wanted

and we've worked to get it and

ECan have put the pressure on

their contractors to bring in the

new buses, then I hope it works.

But I am thrilled to bits," she

said.

The Red Bus group will have

the smaller buses replace their

larger predecessors on the 107,

108, 135 and 145 routes over

the coming months.

HAVE YOUR SAY: Do you think

smaller buses for the 135 route

is a good idea? Email fraser.

walker@starmedia.kiwi

CLOSURES

North Avon Rd was closed

yesterday by Stronger

Christchurch Infrastructure

Rebuild Team for about three

months while wastewater works

are carried out. The road is closed

between North Pde and Flesher

Ave, but limited vehicle access

will be provided for residents.

The detour will be North Pde,

Medway St and Flesher Ave.

Meanwhile, New Brighton Rd in

Burwood will be closed for about

two months for major wastewater,

stormwater and road repairs.

The road will be closed between

Palmers Rd and Baker St while

the repairs are carried out. The

detour is Pratt St, Keyes Rd and

Bowhill Rd.

CANTERBURY YOUTH AWARDS

Youth Voice Canterbury are

calling for your nominations

for the first Canterbury Youth

Awards. The awards are for

leadership, commitment to well

being, advocate for inclusion

and diversity, community action,

young champion and Te Tohu

Tokomaha to celebrate groups

of young people. The awards

evening will be held on June 24 at

Canterbury University's student's

association events centre.

Nominations close on Monday,

May 30 at 11pm. To find out

more or make your nomination,

visit www.youthvoicecanterbury.

org.nz

Rebuilding stronger in your community

• Rebuilding stronger is in our very name - for good reason.

• The Stronger Christchurch Infrastructure Rebuild Team (SCIRT)

is committed to rebuilding pipes, bridges and retaining walls that

will stand up better in the future.

• SCIRT is using modern materials, best practice construction

standards and the latest technologies in your area.

• New resilient underground sewerage systems have been installed

in Shirley, Dallington, Wainoni and Aranui.

• These systems have pipes that are more flexible when the

ground moves and they do not rely on gravity to move the area's

wastewater to the Bromley Treatment Plant.

• 2016 is SCIRT's final year.

• Thank you for your patience, your support is helping us to get the

job done.

Want

more

info?

Email:

info@scirt.co.nz

Phone:

941 8999

Find out about work

in your area:

www.scirt.co.nz

Email us on:

info@scirt.co.nz to get our:

Weekly Traffic Update

Monthly e-Newsletter

Follow us on Twitter:

@SCIRT_info

#chchtraffic

• John Kissel, a member of SCIRT's City Care three

waters crew.

Thank you Christchurch for your

patience and making us feel

welcome in your communities

Programme funded by
---
6

Tuesday May 24 2016

PEGASUS POST

$

6 49

kg

Fishers Corned Silverside

$

2 99

kg

Easy Peel Satsuma Mandarins

2

for

$

6 50

$

4 49

each

$

5 00

each

$

3 80

pack

Vogel's Bread 720-750g

(Excludes Gluten Free)

Talley's Ice Cream 2L

Kellogg's Nutri-Grain/

Special K/Sultana Bran/

Coco Pops 500-730g

Fresh'n Fruity Yoghurt

6 Pack

WINE

DEAL

OF THE

WEEK

4

for

$

21 99

pack

$

7 99

each

$

3 69

each

$

5 00

Heineken

12 x 330ml Bottles

Jacob's Creek

750ml

(Excludes Sparkling/Reserves/Double Barrel)

Just Juice/Citrus Tree Fruit

Juice 2.4/2.8L

Wattie's Canned Fruit

400-420g

(Excludes Tropical)

Mad Mark t Days

at FreshChoice Parklands

Head instore for extra hot fresh specials, tastings & demonstrations

All Weekend

28 & 29th

May

Prices apply from Tuesday 24th May to Sunday 29th May

2016, or while stocks last.

Trade not supplied. We reserve the right to limit quantities. All limits specified apply per customer per day.

All prepared meals are serving suggestions only. Props not included. Certain products may not be available

in all stores. Proprietary brands not for resale.

FreshChoice.co.nz

FreshChoiceNZ

FreshChoice Parklands

60 Queenspark Drive, Christchurch.

Phone 383 1004.

Open 7am-11pm, 7 days.

FCPP2405
---
PEGASUS POST Tuesday May 24 2016 7

our PEOPLE

> Do you know someone who should be our next Our People?

Nominate them now by emailing andrew.king@starmedia.kiwi

Elizabeth Challies

Puzzle expert in the zone

Elizabeth Challies, 34, was recently crowned the 2016 New Zealand

open vaki puzzle and sudoku champion. She bounced back from narrowly

losing last year by seven points to register a record score of

14,195. She speaks to Andrew King

Elizabeth, you are the New

Zealand sudoku champion,

how does that feel?

It feels pretty good. I was

really pleased with my score because

I did better than last year.

I was really in the zone that day.

So it is all about the personal

score rather than beating

other players?

Pretty much. I think the score

matters more as I am trying to

beat myself. I like to see improvement

in everything I do.

So when you found out you

had won how did that feel?

I actually thought there might

have been a problem with the

website when I saw my score.

But then I realised I had beaten

my last year's score by quite a

bit so I got pretty excited. Last

year I placed second, I was extra

determined this year as I had

lost last year by the tiniest of

margins.

What did you win?

The New Zealand Puzzle Association

is posting a medal and

a shirt to me for being the New

Zealand champion.

Tell me what it is like to

compete in a sudoku tournament?

It is a really friendly sort of

competition because everyone

is really competing with themselves.

It is online and you can

have as many goes as you want

so there really is no pressure.

I get the puzzle and just dive

straight in, then it is just me and

the puzzle.

How did you get into sudoku?

I have always loved puzzles. I

like to try all them out and they

are so accessible so I can get

them anywhere. I have been into

them since I was a little kid.

What made you want to

start competitively doing

sudoku?

I found the website when I

was poking around on the internet,

did a few for fun then saw

there was a competition and said

might as well have a go.

Do you win prize money for

the events?

That would be nice, but no. It

is all about personal satisfaction

for me anyway, I just want to

beat my last score.

What was the first puzzle

you did?

I can't remember what I got

into first. I know I started off

with puzzle books that have a

variety of different ones in it to

challenge myself.

Where did she go to school?

I went to Burnside High.

Tell me a bit about how

school was for you?

I quite enjoyed

school. I

was quite

motivated

and kept

my head

down.

SATISFIED: Elizabeth Challies is New Zealand's sudoku champion.

Were you good at maths at

school?

At high school I was good at

maths and science. But at primary

school I was pretty good at

English and literacy in general.

But there was a switch in high

school I am not sure how that

came about.

Tell me a bit about your

friends?

We were not sporty at all

although a few of us did get into

ballet. I love movies and coffee

all the usual.

Does being able to think

logically to solve puzzles help

you with your job?

Well, I work at the post office

so it doesn't really help all that

much. Thinking logically really

helps me with puzzles but it gets

a bit much sometimes so I have

taken up abstract painting to pull

myself in a new direction.

Abstract painting, that's a

bit different from puzzles?

Yes, it is but I love it. I like

making a mess with the paint on

a canvas. It is just something a

bit different.

Do you have any other hobbies?

Painting is the main other

hobby aside from puzzles. I also

like going to the gym and I am

part of a writers' group.

What do you do with the

writers' group?

The writers are a group of

people interested in writing and

reading. It is a lot of fun and I

have met a few good people in

it.

Speaking of friends, do you

get them coming to you for

sudoku pointers?

Not really. Most people say

I can't do those but they have

never attempted to do one. I tell

them to chose an easy one and

give it a go. You never know

you could be good at them.

Have you ever been completely

stumped by a sudoku

puzzle?

Yes, I have. I find sometimes

when I get stuck I

put it away then come

back to it and then I

find I can work it out

quite easy. Sometimes

you look and look and

look and can't see

what the pattern is,

when that happens it

is best to put it away

and come back to it

later while you mind

is fresh.

Was this year's

score your best

ever?

Yes 14,195 is

my best score

ever. It is tallied by a

combination of time

and points. You lose a point for

every second you spend solving

a puzzle, gain points for a correct

placement and lose points

for a mistake. At the end of the

thirty minutes the four highest

scores from solved puzzles are

added together and that is your

championship score. You can

chose the size and difficultly of

the puzzle, bigger ones get you

more points so you work out

which one will you will able to

complete in the time allowed.

Now you are the New Zealand

champion, will you try be

the world champion?

I hadn't thought of that. I

would have to look into it.

Red Orchid

Thai Takeaway

d Orchid

Free Home Delivery

ai Takeaway

240 Stanmore Rd | PH: 389-3999

Dine In. Open for Dinner Tues-Sun

*On total cost over $40 & within 4KM radius.
---
8

Tuesday May 24 2016

PEGASUS POST

neighbourhood NEWS News tips? Email fraser.walker@starmedia.kiwi or phone 364 7424

Youth offenders to benefit

from bicycle repair project

Prisoners may be given a bicycle

on their release, thanks to a new

youth offender project.

A repair workshop has been

set up in a disused shed at

Christchurch Men's Prison,

which has youth offenders

repairing old bicycles.

Once they are ready they are

given to released prisoners who

may be in need of the most basic

means of transport in their early

days of release.

The idea came from Youth

Unit staff who have been

coming up with innovative ideas

to provide the youth prisoners

with activities.

Principal Corrections Officer

Gary Smallridge said the focus

of the project is to identify

ways to keep youth engaged in

education and learning.

"We aim to provide activities

that not only occupy the young

prisoner's time but also add to

their learning, with tasks that a

typical young person would be

interested in," he said.

The project is proving to be

a hit with the youth offenders,

said youth unit corrections

REJUVENATION SCHEME: Youth Unit Corrections Officer Kieran

Giles helping one of the youth help restore a bicycle as part of the

prison's new youth strategy acceleration project.

officer Kieran Giles, who is

helping with the project.

Mr Giles said he has combined

his bicycle mechanical and

adventure outdoor experience

to help young men learn real

mechanical skills.

The Pathway Trust has been

supplying tools to repair and

restore the bicycles.

He said he intends to

refurbish the old prison

bicycles before being provided

with disused ones from the

community through The

Pathway Trust's donations.

Community centre opened

FRASER

WALKER-PEARCE

The Aranui Wainoni

Community Centre

was officially

opened with a

stirring haka from

Aranui High School

students.

A total of $5.9

million was set

aside for the

centre, including

a $450,000 contribution from

Lions Clubs International

Foundation and $1 million from

the Christchurch Earthquake

Appeal Trust.

The 967 sq m building has a

hall with a half basketball

court, retractable seating,

indoor and outdoor stages,

sports changing rooms, kitchen

facilities, and meeting and office

spaces.

It will provide a place for the

local community to once again

gather for cultural, recreational

and educational activities and

events.

Aranui Primary School

principal Mike Allen said the

new facility is "perfect" for the

community.

"Outstanding, there was a great

turnout for a great building. It

has exceeded expectations," he

said.

The facility was opened

on Thursday by Mayor

Lianne Dalziel, Lions Clubs

International Foundation liaison

Digby Prosser, board of trustee

member Nigel Jeny, and Aranui

Community Trust chairman Rob

Davidson.

Ms Dalziel said the Aranui

community will "breathe life"

into the new facility.

"The spirit of those who

brought life to the two halls that

preceded it are imbued within

these walls and the Aranui

community will breathe life

into this wonderful facility once

more," she said.

Pupils from Avondale, Wainoni

and Aranui Primary Schools led

the crowd in a waiata before

students from the Aranui High

School Academy performed

the haka and the building was

blessed.

THE HOME OF GOOD BAKING

DAILY BREAD

White, Wheatmeal, Grain

NO LIMIT!

ONLY

99 C EA

APRICOT SLICE

A really fruity

dessert slice,

great with

custard or

ice cream.

ONLY

$

3 49

EA

BISCUIT TRAY

PACKS

Anzac,

Hokey Pokey,

Shortbread.

ONLY

$

2 49

EA

ALL BREAD

ROLL PACKS

Great for

school lunches

(excludes dinner

rolls.)

2 FOR

$

3 98

MILK

Dairy Dale 2L varieties.

$

5 98

2 FOR or $3.19 each

FROZEN MEALS

(Assorted flavours)

$

6 98

2 FOR

Promotional pricing available while stocks last from 23/05/16 to 29/05/16.

Images are serving suggestions only.

Open 7 days | 8 Convenient local locations

Hornby • Barrington • Ferry Rd • Papanui • Riccarton • Upper Riccarton • New Brighton • Rangiora

BAKERIES

www.couplands.co.nz
---
PEGASUS POST Tuesday May 24 2016 9

CARPET HOUSE

LOT DEALS

Prices are based on an average 3 bedroom home, using 20

broadloom metres of carpet, three finishing bars and fully installed.

HURRY

PRomotion ends

31st maY 2016

POLYPROP

NYLON WOOL

Benmore

• Heavy Duty

• Cut Pile

• 4 great colours

• 4 meter wide rolls

• Foam Back

Tasman Twill

• Wool Blend

• Heavy Duty

• Loop Pile

• 1 Colour

Memphis

• 26 oz Solution dyed nylon

• Heavy duty

• Cut Pile

• 3 Amazing colours in stock

• Stain & fade resistant

$2600

Foam Back

instaLLation incLUded

$2800

LUxURY UndeRLaY &

instaLLation incLUded

$3000

WOOL POLYPROP

NYLON

Bedrock

• Hardwearing Polyprop

• Heavy Duty

• Loop Pile

• 4 great colours

to choose from

Enchant

• 40oz wool

• Cut Pile

• Extra Heavy Duty

• 3 nice colours

Windsor Twist

• 36 oz Solution dyed nylon

• Cut Pile

• Extra Heavy Duty

• 8 amazing colours

$2500

LUxURY UndeRLaY &

instaLLation incLUded

$3300

LUxURY UndeRLaY &

instaLLation incLUded

$3700

LUxURY UndeRLaY &

instaLLation incLUded

LUxURY UndeRLaY &

instaLLation incLUded

NYLON

Pembrook

• 30 - 36oz Solution

Dyed Nylon

• Cut Pile

• Heavy Duty

• 1 Top selling colour

$3300

LUxURY UndeRLaY &

instaLLation incLUded

POLYESTER

Sanctuary

• 50 oz Luxury polyester

• Extra Heavy Duty

• Cut pile

• Great colour

$3500

LUxURY UndeRLaY &

instaLLation incLUded

12 months no payment and no interest *

Offer ends June 31st 2016. Available in-store only. Lending criteria, $50 annual account fee,

establishment fees, terms and conditions apply. See in-store for further details.

*No payment and no interest for 12 months ("Payment Holiday") is available on Q Card Flexi Payment Plans for in-store purchases only. Minimum spend $200. Annual Account Fee $50 applies. New Q Cardholder fees -

$55 Establishment and $3 PPSR. Existing Q Cardholder fee - $35 Advance. Q Card Standard Interest Rate, currently 25.25%p.a. applies to any outstanding balance at end of Payment Holiday. Payment Holiday period may

vary depending on Q Cardholder's payment cycle. Offer expires 31st June 2016. Q Card lending criteria, fees, terms and conditions apply. Rate and fees correct as at date of publication, subject to change.

312 Wilsons Road North, Waltham Phone 366 0070

www.carpetkingdom.co.nz | Mon - Fri 8am - 5pm | Sat 10am -1pm

Q Card Finance Now Available

FREE no obligation measure & quote (conditions apply.)
---
10

Tuesday May 24 2016

Stage Challenge 2016

PEGASUS POST

Schools lit up the stage last week at the annual Stage

Challenge and J Rock events. Marian College won awards

of excellence for their soundtrack, choreography, and

school initiative, but couldn't take out any of the top

three placings. Avonside Girls' High School won an award

of excellence for their soundtrack. J Rock competitors,

South New Brighton, won awards of excellence for their

choreography, soundtrack, and set design and function.

PHOTOS: QUIKPIX

I SPY: Hillmorton High School's performance was a clever

reminder that every move made on the internet is being

watched by someone.

CREATIVE: St Bede's College entered iWall which took home both the Ministry of

Education Award of Excellence for Concept and the Ministry of Youth Development

Award of Excellence for Drama.

COLOURFUL:

Rangi Ruru

Girls' School

entered

their piece

Toon Town

Toys into

the J Rock

competition.

CHALLENGING:

Villa Maria College

won first place for

their performance

Deforestation. The

performance was

a raw reminder

of the impact

that cutting

trees down has

on animals and

plants.

TAKING

THE STAGE:

Ao Tawhiti

Unlimited

Discovery's

performance

showed the

struggle young

people had

distinguishing

between social

media and real

life.

THOUGHT

PROVOKING: The

Christchurch Girls' and

Boys' High Schools' team

came a close second in

the open division of the

competition. The two

schools' combined to

present Would You Put a

Price on Humanity.

TOP CLASS:

J Rock

competitors,

South New

Brighton,

won awards

of excellence

for their

choreography,

soundtrack, and

set design and

function.

GAME OF LIFE: Burnside High School's first performance was based around

decision-making.
---
PEGASUS POST Tuesday May 24 2016 11

you're invited

to an

OPEN DAY

AT

burwood hospital

Sunday, 29 May between 10am and 2pm

Come and see Burwood Hospital's new facilities. Find out about:

• The philosophy behind the new models of care for older persons' health.

• Innovative ward layouts that give patients extra privacy and better views

out to the gardens.

• Construction features such as courtyards for light and solar

shading panels for temperature control.

We look foward to seeing you there!

BURWOOD ROAD

OPEN DAY

ENTRANCE

MAIN

ENTRANCE

MAIREHAU ROAD

BUILD BY

NUMBERS

1,500 construction

workers and tradespeople

have been on site at Burwood

Hospital over the past two and a

half years, sometimes as many

as 500 a day

229

pre-cast concrete

panels

14,000m 2

building footprint

15,000m 3

of soil and sand was

removed for the car

park and site

preparation work

1

really big

crane

32,500m 2

building on

three levels

230

new inpatient

beds

CDHBMay001PP
---
12

Tuesday May 24 2016

PEGASUS POST

Tell us what's happening at your

school. Email fraser.walker@

starmedia.kiwi or phone 364 7424

your

LOCAL

Schools

New entrants

Banks Avenue School

in Dallington have

started the second

term with five new

faces. Peppa, Timothy,

Paige, Zade and Aaniya

all started, and all are

looking forward to

learning.

Email photos to fraser.walker@starmedia.kiwi

SHIRLEY'S MIHI WHAKATAU: Shirley Primary School recently had

a mihi whakatau, or speech of greeting, which is held on the first

Friday of each new term to welcome new staff and students to

the school. They sang the national anthem, the kapa haka group

performed, and pupils and staff created a piece of art for their respective

houses. The artworks will be displayed on the fence across

the front of the school on Shirley Rd. To end the day, pupils placed

stones in the foundations of the school's new building.

Cycle safety for children

FLEUR MEALING

A cycle safety programme has

made a return to the eastern

suburbs after a five year hiatus

due to the February 2011

earthquake.

Rawhiti School pupils took

park in a city council Cycle Safe

programme last week.

Cycle Safe is a programme that

teaches school children the basics

of cycling, but also gives them

confidence to cycle on

busy streets.

City council cycle safety education

co-ordinator Sarah Cooper

said it was important children

were taught cycle safety, even

more so post-earthquake.

She said it is a skill that

applies to all aspects of transport

and taught pupils how to

"approach roads appropriately"

instead of avoiding cycling as a

bunch.

A study by the New Zealand

Transport Authority found that

cyclists were the second most

likely people to die on roads

between 2009 and 2013.

A Taste of Heaven at Indian Heaven

Indian Heaven in Avonside is justly

proud of its mouth-watering menu.

Specialising in food cooked in a

tandoor and its delicious biryanis,

there is an extensive range of yummy

options to tickle all tastebuds.

All their dishes are prepared

using traditional Indian herbs

and spices which not only

add flavour but have health

benefits used in the sub-continent for

centuries. All their meals are freshly

prepared so you can choose to enjoy

delicate flavours or be brave and go

for the hottest version. The variety of

meals covers the wide range of styles

unique to different areas of India:

some are rich and creamy and others

are hot and sour.

Favourites such as Butter Chicken

and Madras and Vindaloo curries

are on the menu, rubbing shoulders

more unusual dishes like London

Garlic Chicken, or

Chicken Chatinaat. As

well as lamb and beef

options there are plenty

of choices for vegetarians

and fish lovers, including

Kadai Paneer and Indian

Heaven's own Fish

Special using

the chef's secret

recipe. Even the

accompaniments

are that bit more

special with Mint

Chutney and

Tamarind Chutney

as well as more traditional Mango,

and Zafrani Pulao rice as well as

plain rice. Naan and roti breads

are cooked in the tandoor to give

that amazing flavour and are served

piping hot and fluffy.

To cool you down during your meal,

try an Indian Masala Tea or a Mango

Lassi, and if you still have room,

their wonderful home-made Indian

desserts will please even the sweetest

tooth.

Their banquet menu and fabulous

service makes Indian Heaven a

great choice for functions and family

gatherings, and their a la carte menu

has something for everyone. Their

popular take-away service can be

ordered on-line, so you can make

your choice at home or at work and

pick up your order with no waiting.

If you are eating in, their restaurant

is stylish and modern, with friendly

service and impeccable presentation.

Find Indian Heaven at 181 Woodham

Road, Avonside. Ring 03 381 1000

to book a table or visit their website

indianheaven.co.nz to find out more.

What's for dinner

tonight?

Indian Cuisine

Welcome to Indian Heaven. Come & experience

one of the finest Indian Cuisines in Christchurch.

Your family favourite Indian dishes

with new exciting flavours!

Dine in or takeaway

BYO. No corkage fee. Licensed.

OPEN 7 DAYS Lunch 11.30am-2.30pm, Dinner 5pm-9.30pm

Corner Woodham Road & Gloucester Street.

Ph: 03 381-1000 • www.indianheaven.co.nz
---
PEGASUS POST Tuesday May 24 2016 13

You don't have

to take it anYmore

Advertising

FeAture

Disclaimer: The views, opinions & assumptions expressed in this advertising feature article are solely of the author, Bryan Staples, Earthquake Services.

If you ever doubted what I and others have been saying about

EQC and insurers, then the last few weeks has seen them laid

bare.

• EQC says it is still less than one third of its way through the

6000+ botched repair jobs it has accepted, as new requests

continue to pile up.

• The High Court ordered a major insurer, which signed a

contract for a couple's rebuild and then baulked, to pay the

settlement in full.

• EQC wants to turn off the tap on second time repairs.

• Insurers cry crocodile tears over the time EQC has taken to

put properties over cap.

• A landmark agreement saw EQC confirm that repairs must be

to 'when new'.

• As a result, EQC and insurers will now face a surge of new

claims, possibly as many as existing claims

• This may include previous, unfair settlements

It's now 6 winters of discontent. You should not still have to be

battling EQC or your insurer.

You should not be fighting to get shoddy repairs assessed

properly and repaired to what your insurance policy promised.

Earthquake Services is New Zealand's leading advocacy

service and litigation funder on behalf of people like you who

don't have the resources to fight injustice. We take all the risks

and charge you nothing until we settle your claim.*

• Are you someone who gave in and cash-settled only to now

realise you can't afford to repair your house to 'when new"

condition.

• Does your house still shake after the repairs have been done?

• Do you live in a multi-unit dwelling where you are told to accept

what other residents are accepting when your insurance

policy offers more?

• Not happy with your repairs? Or just want them checked to

make sure they comply with building standards.

• Have you ever looked under your house? We will.

Earthquake Services is there to fight for you and we take all

the risk.

Here's what some of our clients have to say:

"We have been mistreated by our insurance company, bullied

by their lawyers and pushed to breaking point. Bryan has

helped us every step of the way... He is always available and

always willing to help. He calmly talks us through our concerns

and sends us on our way feeling confident and supported.

Thanks again," Jerry & Aimee, New Brighton

"To Bryan Staples and crew - a big thank you for believing

in the fact that New Zealanders like myself were to be really

tested beyond reason returning to NZ to set up a business …

You surrounded yourself with people who stood for justice,

and positive accurate reporting, something quite rare in today's

world…" Business owner, Christchurch.

"We went to Bryan and Earthquake Services because

we didn't have energy, the resources, mental or

physical, to try and sort this out. We had nowhere else

to turn to. We have put our faith and gone through step

by step with Bryan. He has calmed us down and taken

this on for us. We want our home repaired or replaced

– that's what our policy says." Gavin, Mairehau

Whether you live in Mairehau, Marshlands or Merivale -

we will fight for you.

Even EQC is now saying if you feel short-changed,

you should commission your own engineering reports,

builders' estimates, legal advice and other expert

findings, then bring these to EQC and request a reexamination.

Of course EQC knows many people won't know how

to start this process, let alone be able to afford to do it.

And when you do start, more often than not they say 'We don't

agree and' you are back to square one.

We don't take take 'No' for an answer

We get the evidence and you pay nothing to us until settlement*

• If your home is damaged, awaiting repair or demolition, come

& talk to us.

• If you are living in a home with shoddy repairs, we will get the

repairs your policy provides for.

• Please don't blame builders for dodgy repairs; blame the poor

assessments by EQC and insurers who refused to budge

even when builders told them the repairs wouldn't work.

We will be there for you throughout – providing advice and

support. We won't promise overnight success. Our courts

have at least another five years of earthquake-related claims to

resolve. Don't be the last one through the door.

I do advise you to act now to ensure EQC & your insurer repair

your home to "when new" condition.

Dr Michael Naylor, senior lecturer in finance and insurance at

Massey University gives this warning. "Treasury will have to

rapidly rework its estimates. They must be hoping that most

Canterbury quake claimants do not realise the implications of

EQC's statement… because EQC has chosen to refuse to

admit it was wrong, it has decided to phrase the agreement

as merely reaffirming what it is already doing. This means that

the concession is unlimited, as all prior claimants can ask for

a review. This expands its liability hugely… The only way EQC

can restrict the fall out is to play hard-ball with any claimants

who ask for a review."

My team at Earthquake Services is ready to fight for you.

You don't have to take it anymore. The time to act is now.

Bryan Staples

CEO

Earthquake Services

Bryan Staples, CEO, Earthquake Services.

More Dodgy Repairs

*A court filing fee may apply

Has your home been 'Fletchered'?

Looking to buy a 'Fletchered' house?

Take action now!

We work for you, not your insurance company

We operate on a no win no fee basis

You pay nothing until your claim is settled

Ph: 03 377 8855 | 127 Ferry Road, Christchurch City

Email: reception@earthquakeservices.co.nz | www.earthquakeservices.co.nz
---
14 TUESDAY MAY 24 2016

PEGASUS POST

PEGASUS POST

TUESDAY MAY 24 2016 15

Mairehau

high School

Encouraging ExcEllEncE in our community

Mairehau

high School

Encouraging ExcEllEncE in our community

Gateway programme

our gateway programme is well underway for this year – with 15 students

already placed on workplace learning.

The purpose of gateway is to enable schools to provide senior students with

opportunities to access structured workplace learning that has:

• a formalised learning arrangement set in the workplace

• specified knowledge and skills that a student will attain

• specified assessment methods (workplace learning)

here are a few career options our students have chosen for their

gateway programme:-

helicopter pilot

Furniture making

Police Force

Flight attending

health & Wellness

retail

animal care and vet nursing

auto mechanics

Fashion design

We are very grateful for the

support of our local and

wider community in offering many

of our students the work experience

component of their programme.

emme is one of our Year 13 students currently on gateway. She is completing

her work experience with russell of Fredricksons Furniture. russell is very

supportive of our students and keen to share his knowledge.

Hospitality department

our hospitality department has a new edition – a 3 head barista machine.

Senior students who have achieved their barista certificate are now able to

'fine tune' their skills and use the staff as

their coffee 'guinea pigs' – much to the

delight of the staff!

Libby (Year 13) is one of our Barista

students, along with TJ. These two students

are responsible for making the coffee,

keeping the café clean and tidy, and making

sure supplies are kept up to date.

Diana Isaac

Retirement Village

easter saw a group of students

pay a surprise visit to Diana

isaac retirement Village.

Many of the residents were

treated to the surprise of an

easter egg, and every resident

received a happy easter card in

their letter box. it was a great

way to finish our end of Term 1.

MAIREHAU HIGH SCHOOL

For all students to value themselves and others, to know

they can excel and to reach their full potential.

OPEN EVENING

7pm to 8.30pm Tuesday 31 May 2016

Come and join the ACADEMIC school of choice for North East Christchurch

The evening will begin with a welcome and short address by the Principal,

in the Assembly Hall at 7.00pm. You are then welcome to join a guided tour

of the school and to meet our staff and students.

Come and find out more about the smaller co-educational school which caters

for individual students' needs in the 21st century.

An epic adventure

our Senior outdoor education class last week completed an epic adventure

- the St James Walkway. This 67km tramp, which is classified as an advanced

walking track through the stunning and temperamental lewis Pass, is

generally completed over 5 days. With a poor weather forecast looming,

the team completed the tramp in just 4 days, and avoided the showers

(aka torrential rain) by having a day off - an awesome day was spent doing

assessments, Pilates and having deep and meaningful conversations with

each other in the hut! it was the experience of a lifetime, and we all have

many memories to carry with us on our continuing learning journey in the

outdoors!

Mrs Michele ring is our receptionist

here at school. This is the 2nd year that

she has been on the tramp with us.

Michele made comment that although

the weather was very much against us,

and everyone was tired and sore from

completing the walk a day earlier, it

was the support and friendship of the

students that stood out for

her above everything else.

PH: +64 3 385 3145

FX: +64 3 385 3143

EM: admin@mairehau.school.nz

WB: www.mairehau.school.nz

440 Hills Road, Mairehau

Christchurch 8052

NEW ZEALAND

What's been happening

at our school??

Deloitte GROW is a free programme for Year 11 and Year 12 students that

focuses on the different ways to grow money. This programme provides

our young people with real world, hands-on learning on what it's like to

successfully transfer knowledge, skills and creativity into ways to make

money.

our Year 11 and 12 students were divided into teams, with each team

receiving $5.00. each team then had to use the $5.00 in such a way that they

would double (or more) the money by starting up various business ventures.

These included car washing, baking and cooking.

By the end of the programme, the money raised was donated to various

charities. one charity which benefited from the programme was the SPca.

We're building 2 weather stations – we recently applied for a STeM grant

through the caltex "Fuel Your School" initiative, which sees schools receive

funding towards improving STEM (Science, Technology, Engineering and

Mathematics). Our application was accepted and we were granted $4500.00

We are certainly putting the money to good use - building 2 weather stations,

which is a collaborative project between Digital Technologies, Design and

Visual communication, Materials Technology and a contributing school. it is

scheduled to be completed by the end of term 3.

WATCH THIS SPACE FOR NEWS AND PHOTO'S

Year 9's engaged in various activities

School Musical Production

We are producing our musical production PoPSTarS on May 25 and 26 at

7.30pm in our school hall. a group of enthusiastic students and staff have

been rehearsing after school and at the weekend for the last two to three

months, so this promises to be great entertainment. We would love you to

join us in a night of toe tapping good times with the best music from the 90s.

Tickets are $10 for adults and $5 for children and students, and are available at

our school resource room where eFTPoS is available.

Thanks for supporting us.

Board of Trustees Student

Report, 17th May 2016

Roadshow - During week 2 and 3 of this term, groups of students headed out

to their former schools to promote our school to the students. This was a good

chance for students heading into high school next year to get a good feel of

what Mairehau has to offer and to feel the enthusiastic energies coming from the

students who attend.

GaTE Conference (Gifted & Talented) – The senior gaTe students attended an

all day conference on Friday 13 May. The conference covered subjects such as 'are

our mind and brain separate things, what is real, and if the existence of god can

be known'. Despite the brain sizzling topics students enjoyed the conference. one

student commented that it 'was very intellectually stimulating and that it really

makes you think'.

University of Otago Trip – on the 8th to the 10th May a group of six senior

students went on a trip to Dunedin to look around the university. Mrs MacKenzie

and Mr lake travelled with them. The students were able to walk around freely

and sit in on open lectures, course presentations and go on laboratory tours in

the subject areas that interested them. The accommodation halls were also open

to the public, and tours were offered to give our students a better sense of the

environment they could choose to live in next year. The trip was a really good

bonding exercise and helped them make some big decisions for their futures.

Executive Trip – The student executives, our school leaders, went on a trip to

Wellington during the 16th to the 18th of May to attend a leadership conference.

This has taught them valuable life skills in communication and being an effective

leader figure with a group. Some students were slightly nervous, being on a plane

and a train for the first time, but were generally excited about the opportunity.

Careers Expo – on the 12th of May the Year 12 and 13 cohorts went to

horncastle arena to wander around the careers expo. Different universities,

polytechnics, and courses had set up stands for the students to go to so they

were able to get more information on the subject areas that interest them. The

event was helpful for students, and they managed to get a bunch of free pens,

which is always a bonus.

Kasey Stevens Year 13, student representative on the Board of Trustees

Geography trip to

Redcliffs School

Students in geography level 1 and 2 have been learning about a contemporary

geographic issue. The context this year focused on the proposed closure of

redcliffs School. Following education Minister hekia Parata's decision to close

redcliffs School, a campaign to keep redcliffs School open was started. This

included a petition signed by 6500 people who oppose the Minister's decision.

on Monday 9th May our students visited the redcliffs School site and Board

Member andrea Wylie spoke to the students outside the school. She described

the position of the board and the journey that the school, its students and

the redcliffs community have been

through since the February 2011

earthquakes. The field trip allowed

students to see the environment

first hand and examine their own

perspective on the issue.

Ms Wackwitz – teacher of Geography

Mairehau High School, Hills Road, Christchurch P. 385 3145 F. 385 3143 admin@mairehau.school.nz www.mairehau.school.nz

Mairehau High School, Hills Road, Christchurch P. 385 3145 F. 385 3143 admin@mairehau.school.nz www.mairehau.school.nz
---
16

Tuesday May 24 2016

PEGASUS POST

Following in father's footsteps

FRASER WALKER-PEARCE

Shirley baseball player Nikau

Pouaka-Grego has been named

the first ever under 13 New

Zealand player of the year.

Baseball New Zealand named

Nikau, 11, as the award's

recipient during its first national

awards evening, held on May 14

in Auckland.

He is the son of Todd Grego,

a former Australian baseball

representative, who also played

for New Zealand in softball.

Canterbury Baseball

Association president Brian

Hemera said Nikau "starred" in

last year's New Zealand Ripken

All Star under 13 team, when he

was only 10 years old.

"He has been selected again

for the 2016 Ripken team this

year, to be held in July and

August," he said.

Nikau was unsure he would

be picked for this year's New

Zealand Ripken side, and said

it was "painful" waiting for the

call from the coaches.

"Yeah it was exciting to

be picked, but pretty painful

waiting for that call. I kept in

contact with quite a few guys

who all got in, and they let me

know when they got in," he said.

Mr Grego coaches his

son's under 13 club team, the

Christchurch Redbirds, based in

Parklands, as well as the under

15s side, but said schooling is

the number one priority for his

son.

"We really do put pressure on

him for school work and things

like that as well. That's his

number one, and baseball is a

back-up plan . . . but absolutely

baseball it's his number one

love. He wants to go to a college

in America and then turn pro,"

he said.

Nikau said if he had the

choice of American colleges to

attend, he would go for the big

ones.

"Yes, I want to go to some

of the top colleges, like UCLA

(University of California, Los

Angeles), LSU (Louisiana

State University), or Vanderbilt

University, Virginia. It's been

my dream since I was five," he

said.

TALENT: Nikau Pouaka-Grego, 11,

recently won the under 13 New

Zealand player of the year award.

He has been picked to represent New

Zealand in a second tournament this

July.

your

LOCAL

Sports

Let us know what's going on with

your club or team Email fraser.

walker@starmedia.kiwi or

phone 364 7424

RECORD BREAKERS:

Melanie Cameron

(right) in action during

a match last year.

Football records broken

FRASER WALKER-PEARCE part due to the howling wind Mel Cameron got player of

and the freezing cold weather, the day for her work rate and

It was a record-breaking weekend

of football for Coastal play in. The team dominated Meanwhile, the men's pre-

it was not nice conditions to leadership," she said.

Spirit, which saw more than 20 against a young side that has mier side also broke a record

goals scored in a single match. lots of potential. Experience on the weekend.

Coastal's women's premier was a key indicator of the The team played against

league side played away at score line," she said.

Halswell at ASB Football

Waimak United's ground, Coastal are now top of the Park on Saturday, and took the

Kendall Park, on Saturday. league ladder, sitting on 24 game 3-0.

They overwhelmed the points from nine games. It was Coastal's sixth

home side and ran away with The result broke the club's straight win, a record for the

the game, scoring a record 21 record for the biggest winning team.

goals to Waimak's three. margin.

The win sees Coastal

Coastal women's head coach Gunn said the scoreline solidify the second spot on

Alana Gunn said by the end was "a shame" to see in the the table, and are now just a

of the match, the score line women's league.

point behind leaders Cashmere

was "irrelevant" because of "We were the dominant side, Technical.

the conditions the match was and we could've scored less or The side plays eighth-placed

being played in.

more, the score became irrelevant.

It's a bit of a shame to ASB Football Park. Kick-off

Western AFC this Saturday at

"The game was quite onesided

and that was in a big have these kind of score lines. is at 2.45pm.

Flame files

Be careful with heating

in the cold weather

MARK THOMAS – FIRE RISK

MANAGEMENT OFFICER

It seems to have taken forever

but this week I finally left for

work with ice on the truck

windscreen.

We're only a fortnight from

winter proper and from here

on I'd expect the climate will

reflect that.

This means all those things

that colder weather bring us can

be expected to happen. Things

like seeing walls or wood sheds

burnt down because someone

has taken the ash out in the

wrong type of container and left

it in the wrong place.

Things like electric blankets

left on too long with weight

on them setting beds on fire.

Things like the placing of stuff

that can burn too close to a

heater or fire. It's time to be just

a bit more careful.

This week's weather included

the very high winds that struck

on Monday night.

The Fire Service were turned

out to about 15 calls related

to the big blow. From power

lines down to roofs lifting these

were widespread throughout the

region. Little River's brigade

were turned out to three separate

trees over within an hour.

The city crew was sent to an

empty fire damaged house that

threatened to lose the roof and

a whole two-storey wall. It was

busy for an hour or two.

The church in Bishopdale

that was set alight last Sunday

morning is a pretty sad commentary

on the modern world.

Once churches were places

anyone could go for sanctuary.

Now they need locked doors and

security. Not a great reflection

on progress is it?
---
PEGASUS POST Tuesday May 24 2016 17
---
18

Tuesday May 24 2016

PEGASUS POST
---
PEGASUS POST Tuesday May 24 2016 19
---
20 2

Tuesday [Edition datE] May 24 2016

HEALTH & BEAUTY

PEGASUS POST

Exciting New Information

& Service Centre for Seniors

LIfe CAn get tougher as we get older,

and it's often easy to think that we should

simply struggle on. Yet a huge range of

services is available to make life easier.

Because these services are sometimes

difficult to find, a new non-profit

Centre for Senior Wellbeing has been

established. They offer a useful mix of

affordable services and information on

other community services such as falls

Prevention and Green Prescriptions.

Their desk is manned by dedicated staff

who will connect you to the services you

need. Although much of this information

can be found on-line, for many this is a

burden and talking to a 'real person' is

much more pleasant.

Problems with feet is a real issue

for many older people with limited

flexibility. The Centre offers inhome

footcare for a reasonable fee.

Additionally, there are services provided

by dieticians to help with weight gain

or loss, nutrition and shopping. Also

occupational therapists who help

maintain independence, safety in the

home, and practical strategies for

coping with issues like memory loss and

pain. Speech and language therapists

support those with swallowing and

Chronic pain in one

of your joints?

Even if your joint is not in the best

shape, a major part of the pain could

be caused by the muscles surrounding

the joint.

At Physical Sense we have good results

with releasing the muscles (with hands

on techniques) and increasing your

strength and flexibility. Within a few

treatments you will know if this is

what you need.

Call 377 2577

Beautiful Teeth

Meet the

Owner

Ryan Carlton

Natural Smile

communication concerns. Physiotherapy,

in-clinic or at home, can help you stay

mobile, reduce pain and increase wellness.

A particularly beneficial and underused

service is Caring for Carers. Many

of us caring for our loved ones see it as

our duty and deal with the stresses this

brings on a daily basis. Caring for Carers

has helped carers through their range of

services for years, such as information on

respite care.

Exercise for life

The Centre for Senior Wellbeing will

put you in touch with service providers

like Physical Sense. They offer a range of

practical support-solutions to problems

many seniors encounter. There are

exercise classes for stroke survivors where

clients can either further improve or at

least maintain their condition after they

leave hospital. There are four classes a

week which help with strength, balance

and transferrable skills. There are also

other diagnosis-specific classes including

Intermittent Claudication, Diabetes and

Osteoporosis which means users can learn

about their condition and share their ways

of dealing with it. There's even a general

class for seniors. The first four classes are

free and may continue to be free if you are

Physical Sense | Ph: 377 2577 | 300 Colombo St, Sydenham

Free Consultation, No Obligation

• Full Dentures • Dentures Repaired • Implant Assisted Dentures

• Injection Moulded Unbreakable Partials • Relines

• Mouthguards • Additions/Repairs • Anti-Snore Devices

All dentures personally

designed and created to ensure

a comfortable natural fit.

DENTURES PLUS (2014) LTD

Denture Clinic and Laboratory

396 Innes Road, St Albans. Phone 385 5517.

Email: denturesplus@paradise.net.nz

www.denturesplus.co.nz

Orbiter Bus stops Innes Road

Physical Sense Gym & Physio is

located at 300 Colombo Street

Sydenham

WInZ supported. If not, there will

be a (subsidised by Physical Sense)

membership fee.

The providers involved with this initiative are Physical Sense, Port Hill Therapists,

Therapy Professionals and Mobile footcare. find them at 300 Colombo Street in

Sydenham, or telephone 03 3772577 for information and advice. email

wehelp@seniorwellbeing.nz or visit

www.seniorwellbeing.nz.

NATIONAL

STREET APPEAL

FRIDAY 10TH JUNE

Suffering from

splitting headaches?

We can help! Muscle People

Physiotherapy are experts at treating

headaches and migraines.

• If your headache or migraine is one-sided

but can swap sides with different episodes,

or if it is in different places, then it's likely

your neck is the cause.

• Our therapy does not 'crack' the neck. We

are trained in a specific approach that

examines the top three spinal segments.

musclepeople.co.nz

Sports Injury?

Specialising

in Injury

Rehabilitation

$5 discount for

SuperGold Card holders

Physiotherapy Associates

Finding Solutions

ACC Contracted Provider

Ph/Fax 03 389 7196 86A Wainoni Rd

Email: physioassoc@clear.net.nz www.physioA.co.nz

ReduCe youR Pain - Call 961 0236 today!

Muscle People Physiotherapy Clinics

City Clinic 961 0236 Bishopdale Clinic 360 3606

12 Hereford Street 13A Bishopdale Court
---
PEGASUS POST Tuesday [Edition May 24 datE] 2016 21 1

FOCUS ON HEALTH

Herbs & Natural Ingredients Give Powerful

Support For Your Immune System!

ReSeARcHeRS HAve shown that

certain herbs and natural ingredients

can dramatically reduce your chances of

succumbing to colds and flu.

Formulas like Go Healthy "Go vir-

Defence" has been based on the latest

research and has already proved itself too

many.

Due to the high potency extracts used

in this formula most will find only one or

two capsule daily sufficient to keep our

immune system at optimum, however at

the first sign of any immune attack, e.g.

headaches, sore throat, aches etc the dose

should be increased to one or two capsules

up to three times daily. Most will then

find the symptoms will disappear quickly

without getting worse.

Go vir-Defence contains the following

powerful ingredients:

Olive Leaf extract has become one of

the most popular ingredients used in the

treatment of immune attacks as it has

strong anti-microbial properties that help

slow the growth of bacteria and prevent

the replication of viruses.

Garlic extract is effective in combating

bacteria, viruses and fungi and supporting

the immune system. in general it may be

used as a preventative for most infectious

conditions, digestive as well as respiratory.

The anti-microbial action makes it suitable

for treatment of respiratory infections,

influenza, recurrent colds and respiratory

catarrh.

Andrographis extract has powerful

immune enhancing properties and has

been shown to help prevent the common

cold as well as reduce the duration and

severity of the symptoms of the common

cold.

echinacea extract is a natural antibiotic

and infection fighter. it helps kill bacteria,

viruses and fungi and provides powerful

immune support.

Pau D' Arco extract assists in enhancing

the body's immune system.

citrus Bioflavonoids work with vitamin

c and support the immune system as well

as strengthening capillaries and reducing

inflammation.

vitamin c is a powerful antioxidant and

helps counteract many types of bacteria

and viral infections.

elderberry extract provides nutrients for

immune support.

Zinc is an essential mineral for the

immune system and general health. it is

required by every cell in the body. it is

common to have sub-optimal levels of

Zinc. Zinc possesses anti-viral activity.

Generally this all-natural formula is

very safe and highly effective without any

side effects but due to the high potency

extracts used please check with us first if

you are on any prescription medication.

This formula is also not suitable during

pregnancy or lactation.

vir-Defence and further information available

from: Marshall's Health & natural Therapy, 110

Seaview Road, new Brighton, Phone: 388-5757.

We are Always Happy to Help!

TURMERIC - The spice

with profound healing abilities

An Ancient spice called turmeric and

its active ingredient curcumin have been

proven to reduce and even eliminate pain

and inflammation better than leading

prescription medications. inflammation

seems to be the common factor in

all disease and even aging. turmeric

effectively reduces inflammation while also

stopping the initiation of inflammation in

the first place. By stopping inflammation

at the source it seems to work wonders for

aches, pains, swelling and arthritis while

at the same time supporting the healing

process with its powerful antioxidants. This

is where anti-inflammatory drugs fail, they

only disguise the problem but do nothing

to support the healing process and in fact

may even allow the problem to worsen.

india is a country where turmeric is

highly respected for its health giving

benefits. it is consumed on a regular basis

and researchers believe this is probably

the reason many common diseases are far

less common in india that other countries.

A study of 2,700 elderly indians in rural

north india found less than 1% had any

sign of Alzheimer's, the lowest rate ever

recorded, whereas compared to America

the rate is now closer to 33%.

The #1 cancer center in America, MD

Anderson, now uses turmeric with its

cancer patients. Dr. Bharat Aggarwal,

lead researcher at MD Anderson says

they have not found a single cancer that

curcumin has not worked. curcumin binds

to 33 proteins, allowing it to interrupt a

multitude of pathways tumors use to grow

and spread, including the growth of new

blood vessels that feed tumors. it can even

cause the cancer cells to "commit suicide"

without damaging healthy cells.

curcumin appears to be a potent weapon

against cardiovascular disease also. in

recent research it was shown to lower

triglycerides (considered a major risk

factor for cardiovascular disease) by 65%.

Another study found it to decrease oxidised

LDL cholesterol by 33% while increasing

the HDL (good cholesterol) by 29%, and all

this in only seven days.

Researchers have now shown curcumin

to be beneficial in over 600 diseases

including type 2 diabetes and even

depression.

The secret with turmeric is its active

ingredient curcumin. curcumin however

has low bio-availability so not much will

be absorbed into our bloodstream. Meriva

as used in GO-tURMeRic has overcome

this problem with its patented molecular

delivery system that offers superior

absorption of curcumin. Because of this

enhanced absorption GO-tURMeRic has

the potential to be beneficial in numerous

ailments and offer significantly greater

benefits than standard turmeric.

Further detailed information is available

from the natural Health Advisers at

Marshall's Health & natural Therapy, 110

Seaview Road, new Brighton. PH: 388-5757

or email: enquiry@marshallshealth.co.nz

We are Always Happy to Help!

ULTIMATE

PROTECTION

Protect the player in

your family!

Duchenne mouthguards are

designed for greater shock

absorbency with better

distribution of impact, protecting

the teeth, gums and mouth.

8 CONVENIENT CHRISTCHURCH

LOCATIONS:

Merivale 03 375 4444

Beckenham 03 375 4443

Fendalton 03 375 4449

Linwood 03 375 4448

Kaiapoi 03 375 4442

QEII Dental 03 388 0881

Dentistry with a Smile 03 338 8210

Halswell Dental 03 322 9577

Official supplier of the Canterbury Rugby Union in

conjunction with Donna Batchelor Orthodontist.

www.duchenne.co.nz

STAY WELL NATURALLY WiTh GO ViR-DEFENCE

Powerful Natural Immune Support

• Provides powerful nutrient support for your immune system,

reducing the chances of immune weakness that can lead to

colds, flu & poor health.

• Contains some of the best research proven ingredients

shown to reduce the severity & duration of colds & influenza.

• Has potent anti-microbial properties reducing the growth of

bacteria, fungi & preventing the replication of viruses.

• Supports respiratory health & reduces the symptoms of most

types of upper respiratory tract infections.

• Supports energy levels by supporting the immune system.

• Safe, Effective, all Natural formula.

Each easy to swallow

Vege-capsule contains:

Olive Leaf - 5000mg

Garlic – 1200mg

Andrographis – 1200mg

Echinacea – 500mg

Pau D' Arco – 250mg

Citrus Bioflavonoids –

20mg

Zinc (equiv.) - 5mg

Elderberry – 220mg

Vitamin C – 200mg.

Super

Prices

60 capsules only

Save

$19

$29.90

Full Range of

GO-HEALTHY NZ

products in store &

all at Great Prices!

30 capsules only

$15.90 Save

$14

120 capsules only

Save

$56.90 $40.90

N.Z. Made to Good Manufacturing Practice

Standards. Quality You Can Count On!

Bringing You the Best in Natural Health!

- WE ARE ALWAYS HAPPY TO HELP! -

MAIL

ORDER

AVAILABLE

MARSHALLS HEALTH & NATURAL THERAPY

CONSULTING - PRESCRIBING - DISPENSING - MANUFACTURING - MEDICAL HERBALISTS

110 SEAVIEW RD, NEW BRIGHTON • PH 03 388 5757 • Email: enquiry@marshallshealth.co.nz

The Spice with a Profound Healing Ability!

TURMERIC

Researchers cannot believe how effective turmeric & its active ingredient curcumin

is proving in supporting the natural healing of the body, with some calling it a natural

cure-all. It has been found beneficial in well over 600 diseases. Research has shown

a common factor with disease is inflammation & this is where curcumin is amazing.

It naturally reduces inflammation present while also stopping inflammation from

starting in the first place. This allows the body a much better chance of healing itself.

Studies have shown curcumin to be more beneficial than common prescription drugs

for pain, swelling & inflammation.

Curcumin however is normally poorly absorbed in the

body but a patented extra called MERIVA (available as GO-

TURMERIC) has overcome this with their molecular delivery

system. Meriva is significantly better absorbed giving it the

potential to support the healing of numerous ailments.

Curcumins have been shown to support:

• Joint health, reducing pain, swelling, inflammation & stiffness

GO-TURMERIC

contains the advanced

MERIVA-CURCUMIN for

Superior Results

• Cardiovascular health, reduces risk factors like CRP (C-Reactive Protein),

increases good HDL cholesterol while reducing oxidised LDL cholesterol,

lowers triglycerides (considered a major risk factor for heart disease) by as

much as 65%, supports healthy blood flow

• The body's natural healing process & without side effects

• Cancer (According to Dr. Bharat Aggarwal, lead researcher at MD Anderson,

the #1 cancer center in America, they have not found a single cancer that

curcumin has not been beneficial

• Alzheimer's & dementia (several small studies have shown dramatic benefits

even in advanced stages)

• Depression (Two recent trials have shown curcumin highly beneficial)

• Diabetes (One study by the "American Diabetes Association" found curcumin to

be 100% effective in preventing type 2 diabetes. Other studies have shown it

to protect against diabetes-related complications.)

Bringing You the Best in Natural Health!

MARSHALLS HEALTH & NATURAL THERAPY

CONSULTING - PRESCRIBING - DISPENSING - MANUFACTURING - MEDICAL HERBALISTS

110 SEAVIEW RD, NEW BRIGHTON • PH 03 388 5757 • Email: enquiry@marshallshealth.co.nz

- WE ARE ALWAYS HAPPY TO HELP! -

Super

priceS

30 capsules only

$22.90

60 capsules only

$39.90

120 capsules only

$72.90

SAVE

$12.00

SAVE

$20.00

SAVE

$46.90

MAIL ORDER

AVAILABLE
---
22

Tuesday May 24 2016

I have never regretted my

decision to go to Hillmorton

High School. I genuinely

believe it helped shape me into

the person I am today.

Hillmorton was a combination

of different people and cultures

like no other place I had been

– it made me learn to deal

with many types of people.

The school was smaller than

others in the area which I liked:

I wanted to be a person not a

number.

I had so many great experiences

at Hillmorton – playing in the

school softball and netball teams

and going to tournaments, being

When it came time to choosing

a high school, my parents asked

me which Open Nights I would

like to attend. My response was

'Hillmorton'. I am more than

pleased with my decision to

study at Hillmorton and do not

regret it in the slightest.

Hillmorton provided me with a

wealth of opportunities to learn

in different environments, and

challenged me to achieve with

each and every opportunity.

I was also lucky enough to meet

a great "melting pot" of people,

Hillmorton High

helped me realise

my passion and

to not be afraid to

go after what feels

right. I discovered

that it's okay to

live differently

and not go for

the job that was

stable, that paid

the most or that

was expected by

others. Hillmorton

helped me find

myself. I also

began to learn and

accept challenges

that were and

are bigger than

myself, and learn

to never yield or give up but to

push further than what I think I

am capable of.

Te Kura Tuarua o Horomaka

Hillmorton High School

Sam Baxter – Hillmorton like a family

Samantha Baxter is Content

Producer for Si & Gary, More

FM Breakfast.

in school productions, travelling

I was able to

learn life skills

and important

personal qualities

that are valuable.

I learnt that if you

work hard enough,

you'll achieve

your goals.

I'm currently in

my final year at

Unitec, Auckland,

doing a Bachelor

While at Hillmorton, in Performing

Marianne Infante Arts, majoring in

discovered a passion and screen and theatre

gift for the Performing acting.

Arts. She is now in her Soon, I'm off to

final year of study in London as part of

Auckland.

my secondment in

my final year and

I cannot wait! I look forward to

finishing this year and gaining

my degree.

www.hillmorton.school.nz

to Spain for three weeks with

classmates and teachers for

one of the most unforgettable

experiences of my life.

After school, I went on to get a

degree at Canterbury University

and now work in my dream job

as the Content Producer for

the Simon Barnett and Gary

McCormick Breakfast show on

MORE FM.

Looking back at my time at

Hillmorton I know now that I

would never have got through

that critical time in my life

without the support of my

teachers and peers. Hillmorton

is like a family.

Nick Phillips – Hillmorton lives by its

vision: Personal best, nothing less!

Nick Phillips was Dux and

Woolhouse Scholar in 2008.

He is now practising law in

Wellington.

Marianne Infante – The

world's her stage now

which has helped me to relate

to, and understand the different

people that I interact with on a

day-to-day basis.

The teachers are second-tonone,

and genuinely care about

the education of their students.

They, and the other Hillmorton

staff, encourage students to

achieve to the best of their

abilities, whilst also making

time to help those students who

need additional assistance.

Hillmorton lives by its vision –

Personal best, nothing less!

The education I received at Hillmorton

has prepared me admirably for starting

university this year. Teachers at

Hillmorton always went the extra mile

to make their subjects challenging and

interesting, and support was always

there.

Hillmorton provides a diverse

cultural environment as well as

After graduating from

Hillmorton High School in

2012, I enrolled at the University

of Canterbury to study for a

Bachelor of Engineering in

Civil Engineering.

Now in my final year of the

degree, I am well on my way

to achieving this with first

class honours. I received the

University of Canterbury Senior

Scholarship.

Currently, I have the

extraordinary opportunity of

completing some of my study

at the University of California

at Berkeley. During high school

heaps of sporting, musical and drama

opportunities which makes its students

such strong, well-rounded citizens.

After almost a semester at university,

I'm getting a sense that in order to

succeed here, you need to get along

well with everyone and to study hard.

Hillmorton taught me the importance

of both.

PEGASUS POST

Jamie Whiting – From

Hillmorton to Berkekey

Jamie Whiting was Dux in 2012 and is studying to be a civil

engineer.

James Adams – Well prepared

I never thought I would study

at one of the top universities in

the world, but here I am. Living

in the San Francisco area and

having this opportunity to study

abroad has been life changing,

to say the least.

Looking forward to next year,

I will begin working as a

structural engineer at one of

the biggest civil engineering

firms in the world. The future

in this role will enable me to

travel the world while working

on the design and construction

of world class buildings and

facilities.

James Adams was Woolhouse Scholar and Proxime accessit in 2015. He is now studying law,

international relations and politics at the University of Auckland.
---
2

PEGASUS

[Edition

POST

datE]

Tuesday May 24 2016 23

They loved it, now you can live in it

84 Northwood Boulevard, Northwood

Auction: Thursday, June 2, 2016 at 10am (unless sold prior)

5 bedrooms | 3 bathrooms | 2 living rooms |1 dining room | 2-car garage | Listing #: PI43328

When our owners built their

family home, they placed

a huge emphasis on both

quality and space, creating

an expansive 298.7-square-metre (over

foundation) residence, which is as functional

as it is stylish and well-appointed.

A total of five bedrooms are complemented

by three bathrooms, including an ensuite off

the master, ensuite of second bedroom and

a main bathroom that features a sumptuous

spa bath.

The kitchen is large, with a skylight bathing

the entire area in natural light and an array

of quality appliances, ensuring the ability to

cater to all occasions.

The 2.7-metre stud enhances the sense

of space in the living and family rooms,

while bold splashes of colour punctuate the

otherwise neutral palette, creating plenty of

personality while still leaving scope for the

new owners to leave their own mark.

Indoor/outdoor flow was a priority

in the design phase, and the brief was

certainly fulfilled. Two of the bedrooms

enjoy direct access outside, while the open

plan living areas spill effortlessly out to the

manicured grounds.

The 708m2 section plays host to outstanding

established gardens and detailed BBQ area

(with power and lighting), while an oversized

double garage and an abundance of off-street

parking complete the appeal.

Offered to the market by owners who have

decided the home is simply too big for them

now the kids have gone, this fabulous home

represents a compelling opportunity for

families of all shapes and sizes. Act quickly, as

our owners are ready to embark on the next

chapter of their lives and a sale is imminent!

Open Homes: Saturday and Sunday

1pm to 2.45pm. Auction on Thursday,

June 2, 2016 at 10am (unless sold prior).

See you at the open homes or call me today

for a private viewing appointment, contact

Deb Harvey of Harcourts Gold Papanui

(Licensed Agent REAA 2008) on 352 6166 or

mobile 027 220 6565.
---
24

Tuesday May 24 2016

PEGASUS POST

SHOW

Showcase your products and services to

more than 20,000 people over three days

2016

HORNCASTLE ARENA

1ST-3RD JULY

10AM - 5PM

starhomeshow.kiwi

EXHIBIT NOW!

Contact Vanessa Fleming

vanessa.fleming@starmedia.kiwi 021 914 565
---
PEGASUS POST Tuesday May 24 2016 25

Cars

$4,001 - $8,000

NEED a new car? and

need finance we can help.

Call us today Learners

lcs, past credit issues

been bankrupt or new to

New Zealand! Call Leon

022 625 2232

Computers

ALL

YOUR

COMPUTER

WORRIES SOLVED!

*$30.00 off your first

service with this coupon!*

No problem too big or

small from home PC's to

business networks. PC

slow? An end to Viruses,

Spyware, and Clogged

Systems. Safe secure

hassle-free computing.

Lost files recovered.

Microsoft Certified,

MCSE, MCP+l. 30 years

experience. Call Andrew

Buxton this week on 326-

6740 or 027 435-7596

for $30.00 off* Custom

Computers Christchurch

Curtains

www.curtainfabric-outlet.com

Fashion Designs & Colours

Discontinued Designs

End of Lines Bargain Prices

Call at Our Shop

CURTAIN FABRIC OUTLET

71 Hawdon St Sydenham

Ph 366-5026

Funeral Directors

Direct

Cremation

No frills, No Service,

No fuss, simply

straight to the crem.

Other options available

Ph: 379 0178

for our brochure

or email office@

undertaker.co.nz

Gardening

& Supplies

A GARDEN

PROFESSIONAL

NEEDED? Qualified

Horticulturist, offering

expert pruning, garden

makeovers, garden design

and landscaping, for free

quotes call Bryce 027 688-

8196 or 0508 242-733

A GARDEN OR

LANDSCAPING TIDY

UP? Shrub, hedge &

tree pruning, Lawns,

Gardening, consistently

reliable general property

upkeep, Dip. Hort. 10

yrs experience, One off

tidy ups or on-going

service. Nick's Property

Maintenance. Keeping

your garden beautiful.

Free Quote. Ph. 942-4440

ADD SOME

COLOUR

TO YOUR ADVERT!

Classifieds Contact us today Phone our local team 03 379 1100

Gardening

& Supplies

TREE

pRuning

Over 25 yrs exp

Maintenance pruning

Shaping & lifting

Driveway & footpath

Power line &

boundary trimming

Reduction & removals

Prompt & friendly!

Jonathan

03 382 6189 or

0273 382 726

Holiday

Accommodation

QUEENSLAND SUN-

SHINE COAST AUSTRA-

LIA Resort, Ocean Views,

Balconies, Self Contained,

1 or 2 B/R Ensuite,

Heated Pool, Spa, Sauna,

Free Internet, Shops,

Restaurants, Tennis, Surf

Club & Patrolled Beach,

Public Transport at door.

Ask for our SEASONAL

SPECIALS. Phone 61 7

544-35011 Email: reception@mandolin.com.au

www.mandolin.com.au

Motorcycles

EDGE RUN

30th Anniversary,May

29, 11am, Sign of the

Kiwi.N.R.N.R.H

Pets & Supplies

Forever loved

Pet Cremations

We Understand...

Let us help you lay your pet to

rest in an appropriate, respectful

manner. Honour the memory of

your beloved friend and

companion.

Contact us on

03 312 6024 or 0276 342 986

www.foreverloved.co.nz

AFFORDABLE Dog

Grooming $44 small,

$52 med, experienced

and qualified groomer/

veterinary nurse,

Redwood, ph June 03 354-

6414 or 027 746-5295

To Let

NEED MORE

SPACE?

NO BOND THIS MONTH

Ideal as an extra

bedroom or office.

Three convenient sizes

from $70 p/w:

Standard 3.6m x 2.4m

Large 4.2m x 2.4m

Xtra-large 4.8m x 2.4m

Visit our display cabins at

95 Beach Road or

470 Cranford Street or call

0211277227 for a free brochure.

www.justcabins.co.nz

To Let

HOMESITTERS

reqd short term sits. Ph

Lisa 359-2323 www.

townandcountryhomesit.

co.nz

Trades & Services

DRIVEWAYS & PAVING

FREE QUOTES

Professional, friendly

Service Always

Ph. 03 329 4806

or 027 827 0505

CAP CONSTRUCTION LTD

BLOCKED

DRAINS?

• VIDEO INSPECTION

• WATERBLASTING

• LIQUID WASTE

PH: 03 365 7960

24 hours // 7 days

info@h20jet.co.nz

www.h20jet.co.nz

ROOFING

- Re-roofing and

new roofing

- Quality roofing at

the best price around

- Licensed building

practitioner

Robinson

Roofing Ltd

Call Hamish for a

quote 03 347 90 45

FENCING

Paling, picket,

iron, trellis

Demolition and

removal

Phone Bevan

021 231 1860

Fencing Uprite

Your Eastside

Specialist

Professional

Movers

Making Local

& International

Moving Easy

0800 4 world

(03) 341 2060

www.worldmoving.co.nz

HOUSE

CLEARING

Are you moving

house?

Let All Clear Canterbury

take care of your

unwanted items.

You identify what you want

to keep & we will dispose

of the rest!!

Mob: 021 078 4553

raewynlcooke@gmail.com

www.allclearcanterbury.co.nz

Trades & Services

ANDREWS TREECARE

Services, tree removal,

trimming, stump grinding,

shelterbelt clean up,

section clearing, rubbish

removals, excavation

work, ph 027 728 5688

BEST BATHROOMS

full renovation specialists,

LBP, repairs &

maintenance ph 03 387-

0770 or 027 245-5226

BRICKLAYER

George Lockyer. Over

30 years bricklaying

experience. UK trained.

Licensed Building

Practitioner number

BP105608. Insurance

work. EQC repairs.

Heritage brickwork a

speciality. No job too

small. Governors Bay.

Home 329-9344, Cell

027 684 4046, email

karengeorge@xtra.co.nz

BUILDER

For all building work

but specialist in bathroom

renovations, 30 yrs

experience, with service

and integrity. Free Quotes.

Ph Lachlan 383-1723 or

0274 367-067.

BUILDER

LICENSED, available for

all aspects of building.

Please call 027 241-7471

or 335-0265

CARRIER

Local, experienced,

friendly, trade-me

purchases, single items

to truck loads, furniture

to whatever, removals &

trade deliveries a specialty.

Ph GEH 341-5069

CONCRETE CUTTING

AND GRINDING Cutting

of walls and floors; Small

break and remove jobs;

Grinding concrete level;

Cracks filled; Concrete

polishing and sealing. Call

Danny at Stoneshine on

021 063 8833

DRIVEWAYS

Replace, repair or new.

We are a local company

with over 10 yrs exp.

We also operate a

digger for all other

earthworks.

Ph. R.M. Solutions

021 02866981

for a free quote.

Trades & Services

FENCING

All styles and shapes,

gates, wooden, ph

Mark 027 331-3223

FENCE

Painting/Staining Quality

at a reasonable price.

Free quotes. Phone

Warren today on 980-

1676 or 027 2014713

FURNITURE

REMOVALS

Large Trucks $95 +

GST per hour 7 day NZ

wide, packing & moving,

Trades & Services

LANDSCAPE

CONSTRUCTION

Lawns, paving, water

features, irrigation,

planting, decks,

driveways, kerbing, ponds,

retainer walls, fencing.

Free quotes, Phone Tony

021-034-8555

OVEN CLEANING

Professional cleans

$50.00. Gift Vouchers

avail. Phone 0800 683-

6253 or 027 228-0025

PAINTER

Available, All aspects in

painting. Very competitive

in roofs and fences. Please

call 027 241-7471 or 335-

0265

PAINTING

DECORATING

interior & exterior,

gib fixing, plastering,

paperhanging, Est 50 yrs

in ChCh, ph Wingfields

Ltd, ph Mark 021 171-

1586 or 355-5994

PAINTER

Top quality work, interior/

exterior, pensioners

discount, free quotes, 30

years experience, I stand

by Canterbury, ph Wayne

your friendly painter

03 385-4348 or 027 274-

3541

PLASTERER

SOLID, both ext & int

work, Scottish Tradesman

with over 30 yrs

experience, FREE Quotes,

ph Donald 354-5153 or

021 023 26186

PLUMBER

For prompt service for all

plumbing maintenance,

repairs and alterations.

Phone Michael 364 7080

or 027 438 3943

PLUMBER

ALF THORPE

PLUMBING Certifying

Plumber for all types of

plumbing, maintenance,

spouting, alterations etc.

Phone 352-7402 or 0274-

350-231

• Replacement/new roofing

• Colour Steel gutter & fascia

• Flue & log burner installs

• Skytube/light installs

• Earthquake repairs

Licence Building

Practitioner LBP

Member of the Roofing

Association

DCM ROOFING LTD

The Roofing Specialists

PHONE IAIN

027 445 5597

iain@dcmroofing.co.nz

Trades & Services

STONEMASON

BRICK

&

BLOCKLAYER,

Earthquake Repairs, Grind

Out & Repoint, River/

Oamaru stone, Schist,

Volcanic Rock, Paving,

all Alterations new & old,

Quality Workmanship,

visit www.featureworks.

co.nz or ph 027 601-3145

TILER/CARPENTER

35 years exp, no job too

smal.Ph Ross

027 4311440.

TREE WORK

Hedge trimming, stump

grinding, rubbish removed,

small job specialty Ph

Andrew 03 322-8341 or

027 435-8759

T.V. SERVICE

CENTRE

Repairs, tvs, microwaves,

stereos, DVD. Aerial

installations and kitsets,

480 Moorhouse Ave, ph 03

379 1400

UPHOLSTERER

ROOFING

Qualified & Licenced

Practitioner. Re-Roof

& Repairs, all types.

Member New Zealand

Roofing Association.

Professional Company, Over 35 years experience.

Professional Service. Phone John 027 432-

Canterbury Relocations

3822 or 351-9147 email

Ltd. ph 0800 359 9313

johnmill@ihug.co.nz

GLAZIER

SPOUTING CLEANING

Window repairs, pet Spouting Unblocked,

doors, new glazing, double Cleaned Out and Flushed Garden,

glazing,

roofs.

conservatory

Experienced

Out. Also Full Handyman

Services Available. Call

tradesman. Call Bill on

981-1903 or 022 413-3504

Trevor 384-3435 or 021

043-2034

Dining Chairs, Lounge

suites, Caravan Squabs

etc. recovered. Free

Quotes. Phone Graeme

383-1448

VHS VIDEO TAPES

& all camera tapes

converted to DVD, video

taping, weddings, twenty

firsts, special occasions,

www.grahamsvideo.co.nz

ph 03 338-1655

WATERBLASTING

Quality Job, Quick Service

by skilled tradesman, Ph

Richard Severin at Jet-X

0800 538 969 Free quotes,

visit www.jetx.co.nz

WINDOW CLEANING

Average 3 bdrm house

inside or out $40. Both

$70. Phone Trevor 344-

2170

Wanted To Buy

AAAAAAAAA

GOOD PRICES

paid for estate lots,

antiques and good

quality furniture.

Ph Rick 347 4493

or 021 376 883

Wanted To Buy

A+ Household effects,

fridges, freezers, washing

machines, ovens. Good

cash paid. Ph Paul 022

0891 671

A Records and Hi-Fi

gear wanted, excellent

prices paid for good

records especially kiwi

and overseas bands 60's

- 90's PennyLane 430

Colombo St Sydenham

7 days www.pennylane.

co.nz ph 3663278 or 021

2226144

TOOLS

garage,

woodworking,

mechanical, engineering,

sawbenches, lathes, cash

buyer, ph 355-2045

Public Notices

Rexellent Rentals

Cars, Vans, Brisbane , Coolangatta

FREE CALL

0800 601 508

www.rexellent.com.au

DEMOLITION

With care and respect we

will remove your dwelling.

Our policy is to recycle as

much as we can. We are a

local company specialising

in residential properties. We

will endeavor to cater for

your individual needs.

Ph. R.M. Solutions

021 02866981

for a free quote.

THIS IS A NOTICE

for all financial

members of the

Christchurch

Country Music Club

That our Annual

General Meeting

for the election

of officers, will be

held on Sunday

5th June 2016, at

the Papanui RSA,

starting at 10am.

Followed by our

normal Club Day

which starts at 1pm.

Entertainments

Thursday 19th May - Wednesday 25th May

HUNT FOR THE WILDERPEOPLE (PG) NOTES TO ETERNITY (M)

THE MAN WHO KNEW INFINITY (M) EYE IN THE SKY (M)

HANGMEN (R13)

THE GREENSTONE (M)

FLORENCE FOSTER JENKINS (PG) EDDIE THE EAGLE (PG)

THE GREAT MAIDEN'S BLUSH (M) MEASURE FOR MEASURE (M)

Public Notices

Situations Vacant

CA$H

Strippers

& Podium

Dancers

Wanted!

18+ TO APPLY

NEISHA

021 193 0118

CA$H

Strippers

& Podium

Dancers

Wanted!

18+ TO APPLY

NEISHA

021 193 0118

ChristChurCh

teChniCal College

Past & Senior Students Association

reunion

Sunday 6th November 2016,1.30pm Cashmere Club

$10.00 includes afternoon tea

Call Ray 349 7595 or Betty 342 5664

Check out

Personals

JOin OTher neW ZealanDers

lOOKinG FOr ThaT sOmeOne sPeCial

Place your

advertisement now

Only $10.00

yearly membershiP

FOr FUll DeTails,

PhOne 341 3888
---
26

Tuesday May 24 2016

PEGASUS POST

Karrin Allyson with the

Tom Warrington Trio

INTERNATIONALLY renowned

jazz vocalist Karrin Allyson and the

Tom Warrington Trio are coming to

New Zealand and play one

Christchurch gig at the Jazz School

Auditorium on Thursday 2nd June.

The five time Grammy nominated

chanteuse, who's career ha spanned

the past three decades, is known for

her impressive musical range and

impeccable intonation. She glides

effortlessly between bittersweet and

sassy, covering the greats from Duke

Ellington through to Dizzy Gillespie.

Accompanying Karrin is the

acclaimed Tom Warrington Trio.

Made up of Tom on bass (Buddy

Rich/Stan Getz), Joe La Barbera on

drums (Bill Evans/Tony

Bennett/Woody Herman) and Larry

Koonse on guitar (Seth

McFarlane/Cleo Lane), the ensemble oozes

skill and experience.

Be swept away by smooth jazz performed by

these world class musicians direct from the

USA.

CPIT Jazz School Auditorium, 130 High

Street. Tickets $38 GA/$20 Students, available

at Eventfinda.

HORNBY

WORKINGMEN'S

-CLUB-

WHAT'S ON THIS WEEK

Wednesday 2.30pm: THE BUSKER

Friday 8pm:

DIAMOND ANNIVERSARY SHOW

feat. Eddie Low, David LaPlanche, Shalow, & Trevor Dawe

Tickets $10 at the club office

Saturday:

4.30pm: MARION'S OUTLAWS 8pm: SHALOW

Sunday 2pm:

NEVILLE WILKINS & the VISCOUNTS, $5 entry

PLUS...

Special PRIZE DRAWS and extra Members'

REWARDS on offer throughout the week!

LIVE

ENTERTAINMENT

6PM FRIDAY

DAVEY

BACKYARD

7PM SATURDAY

EASY COME

EASY GO

The newly refurbished

Woolston Club...

A classic, contemporary

club experience

Dining, bar, entertainment,

sport, and so much more!

Cafe open from 11am

Happy Hour 4.30pm - 5.30pm

TAB & Gaming, Function Facilities,

HOUSIE Tuesday, Thursday, Saturday

SHUTTLE Tuesday - Sunday

Newly renovated

Open 7 Days

Restaurant open

from 5.30pm!

With a selection of

main meals for $20

Retro Roast Lunch

12pm Wednesdays

$10 Members/$12 Non

Roast of the Day

$16.00 Members

$18.00 Non

Hornby WMC | ph 03 349 9026 | 17 Carmen Road | Hornby

www.hornbyworkingmensclub.co.nz | Members, guests & affiliates welcome

NOW OPEN

Cooks and Cocktails offers

affordable family dining

with an international menu

and amazing cocktails.

Come and enjoy our

great family environment

and meet our amazing staff.

Papanui's newest

family friendly

dining experience

77 Main North Road, Papanui

Ph 352 4242

www.cooksandcocktails.co.nz

Open Monday - Sunday 11am - late
---
PEGASUS POST Tuesday May 24 2016 27

www.newbrightonclub.co.nz

WHAT'S ON

TUESDAYS &

THURSDAYS

Members Lucky Card Draw

- downstairs -

ClubBISTRO

Open Tuesday

to Saturday

12pm-2pm

and from 5pm.

Midweek

SPECIAL

$10

ROAST

Available Tuesday,

Wednesday,

& Thursday

TAB POD

- upstairs -

PIERVIEW

Restaurant

JOIN

A CLUB BY

THE SEA!

Quality a la carte

with a view!

Open FRIDAY,

SATURDAY,

& SUNDAY

from 5.30pm

FRIDAY SPECIAL:

All Grills... $20!

for a limited time

SUNDAY SPECIAL

$25 3-Course Feast

SHUTTLE RUNNING

Tues, Thurs, Fri & Sat

202 Marine Parade | Ph 388-9416

Members, guests and affiliates welcome

RESTAURANT & CAFÉ

'Famous for their roasts!'

Open daily from 6.30am. Breakfast, Lunch & Dinner

Treat the Kids!

Kids two course

special from

We are family

friendly.

Great Kids menu

plus designated play area.

Seniors SPECIAL

Two courses

Soup/Roast or

Roast/Dessert

Racecourse Hotel Motorlodge

118 Racecourse Rd, Sockburn,

Christchurch. Ph 03 342 7150

www.racecoursehotel.co.nz

$10

Special available lunch only

Monday - Saturday 12pm - 2.30pm

Conditions apply.

$20

Lunch & Dinner

All you can eat, 7 days

Mother's Day Prize Draw

Congratulations ONOLINA TUFUGA

winner of the B&B package

Bookings Essential PH 386 0088

fb.com/GardenHotelRestaurant

www.gardenhotel.co.nz

NOW SERVING

available

from

9am

Breakfast

HAPPY

HOUR

5PM - 7PM

DAILY

LIVE Sima & Vaea

MUSIC 6PM FRIDAY 27th MAY

PHONE 385 8880 FIND US ON FACEBOOK fb.com/GBCCHCH

THE GARDEN HOTEL COMPLEX | 110 MARSHLAND RD

www.gardenhotel.co.nz | phone 385 3132
---
28

Tuesday May 24 2016

PEGASUS POST

BRING ON THE

WEEKEND!

Number 8

2kw Fan Heater

Adjustable thermostat

242358

Goldair

191609

$

19 98

Assorted Electric Blankets

Various sizes available.

FROM

$

28 67

Jobmate

2kw Workshop

Fan Heater

Durable metal housing

279432

Dimplex

5 Fin Column Heater

8x faster warm up than oil

100932

Number 8

425w Panel

Heaters (2pk)

600 x 600 paintable surface

279437

$

64 97

$

79 88 $ 128

Kent

2.4kw

Micathermic

Heater

Digital LED display

224316

Dimplex

2kw Electric Fire

2 year warranty

$

177 $

199

191594

Dimplex

10L Dehumidifier

Economical to run

279466

$

199

Clearance specials

on selected outdoor

lighting

FROM

$

5 99

177979

Ferrymead

1005 Ferry Road

Phone: 366 6306

Opening Hours:

Monday–Friday: 7:00am–7pm

Saturday, Sunday and

Public Holidays: 8:00am–6:00pm

mitre10mega.co.nz

If you find a lower price on an identical

stocked product locally we will beat it by 15%.

If you find the same product cheaper from another

Mitre 10 store or Mitre 10 website we'll match that price.

Excludes trade and special quotes, stock liquidations

and commercial quantities. The in-store price may be

lower than that advertised.

Offers available at Mitre 10 Mega Ferrymead only, until Sunday 5th June 2016, while stocks last.