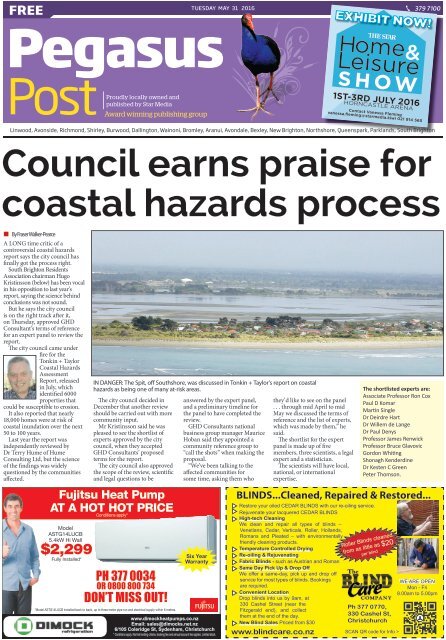 Pegasus Post: May 31, 2016
You also want an ePaper? Increase the reach of your titles
YUMPU automatically turns print PDFs into web optimized ePapers that Google loves.
FREE

TUESDAY MAY 31 2016

Pegasus

Post

Proudly locally owned and

published by Star Media

Award winning publishing group

379 7100

EXHIBIT NOW!

SHOW

1ST-3RD JULY 2016

HORNCASTLE ARENA

Contact Vanessa Fleming

vanessa.fleming@starmedia.kiwi 021 914 565

Linwood, Avonside, Richmond, Shirley, Burwood, Dallington, Wainoni, Bromley, Aranui, Avondale, Bexley, New Brighton, Northshore, Queenspark, Parklands, South Brighton

Council earns praise for

coastal hazards process

• By Fraser Walker-Pearce

A LONG time critic of a

controversial coastal hazards

report says the city council has

finally got the process right.

South Brighton Residents

Association chairman Hugo

Kristinsson (below) has been vocal

in his opposition to last year's

report, saying the science behind

conclusions was not sound.

​But he says the city council

is on the right track after it,

on Thursday, approved GHD

Consultant's terms of reference

for an expert panel to review the

report.

The city council came under

fire for the

Tonkin + Taylor

Coastal Hazards

Assessment

Report, released

in July, which

identified 6000

properties that

could be susceptible to erosion.

It also reported that nearly

18,000 homes were at risk of

coastal inundation over the next

50 to 100 years.

Last year the report was

independently reviewed by

Dr Terry Hume of Hume

Consulting Ltd, but the science

of the findings was widely

questioned by the communities

affected.

Model

ASTG14LUCB

5.4kW Hi Wall

$2,299

Fully Installed*

IN DANGER: The Spit, off Southshore, was discussed in Tonkin + Taylor's report on coastal

hazards as being one of many at-risk areas. ​

The city council decided in

December that another review

should be carried out with more

community input.

Mr Kristinsson said he was

pleased to see the shortlist of

experts approved by the city

council, when they accepted

GHD Consultants' proposed

terms for the report.

The city council also approved

the scope of the review, scientific

and legal questions to be

Fujitsu Heat Pump

at a HOt HOt Price

Conditions apply*

PH 377 0034

OR 0800 800 734

DON'T MISS OUT!

*Model ASTG14LUCB installed back to back, up to three metre pipe run and electrical supply within 6 metres.

www.dimockheatpumps.co.nz

Email: sales@dimocks.net.nz

6/105 Coleridge St, Sydenham, Christchurch

* Conditions apply. Normal lending criteria, booking fee and annual account fee applies. Limited stock.

answered by the expert panel,

and a preliminary timeline for

the panel to have completed the

review.

GHD Consultants national

business group manager Maurice

Hoban said they appointed a

community reference group to

"call the shots" when making the

proposal.

"We've been talking to the

affected communities for

some time, asking them who

Six Year

Warranty

they'd like to see on the panel

. . . through mid April to mid

May we discussed the terms of

reference and the list of experts,

which was made by them," he

said.

The shortlist for the expert

panel is made up of five

members, three scientists, a legal

expert and a statistician.

The scientists will have local,

national, or international

expertise.

Restore your oiled CEDAR BLINDS with our re-oiling service.

Rejuvenate your lacquered CEDAR BLINDS

High-tech Cleaning

We clean and repair all types of blinds –

Venetians, Cedar, Verticals, Roller, Hollands,

Romans and Pleated – with environmentally

friendly cleaning products.

Temperature Controlled Drying

Re-oiling & Rejuvenating

Fabric Blinds - such as Austrian and Roman

Same Day Pick Up & Drop Off

We offer a same-day, pick up and drop off

service for most types of blinds. Bookings

are required.

Convenient Location

Drop blinds into us by 9am, at

330 Cashel Street (near the

Fitzgerald end), and collect

them at the end of the day.

New Blind Sales Priced from $30

www.blindcare.co.nz

The shortlisted experts are:

Associate Professor Ron Cox

Paul D Komar

Martin Single

Dr Deirdre Hart

Dr Willem de Lange

Dr Paul Denys

Professor James Renwick

Professor Bruce Glavovic

Gordon Whiting

Shonagh Kenderdine

Dr Kesten C Green

Peter Thomson.

BLINDS...Cleaned, Repaired & Restored...

Roller Blinds cleaned

from as little as $20

per blind

Ph 377 0770,

330 Cashel St,

Christchurch

SCAN QR code for Info >

WE ARE OPEN

Mon - Fri

8.00am to 5.00pm
---
2

Tuesday May 31 2016

Inside

PEGASUS POST

FROM

THE

EDITOR'S

DESK News............................3, 5 & 7

WELCOME TO your new look

local paper. We try to jam as much

news as possible in your paper, this

week is no different.

Volunteers are often the unsung

backbone of the community,

whether sports coaches or even

volunteers at the local community

hub. Reporter Fraser

Walker-Pearce talks to Volunteering

Canterbury's manager Ruth

Gardner who has been at the helm

for more than 20 years. She has

retired but it doesn't look like she

will be putting her feet up anytime

soon. Thank you Ruth for leading

such an important organisation.

You will be missed.

If there is a local issue bubbling

away, get in touch. Or even send

us a 300 word column, as we invite

someone in the community to take

up the challenge each week. Feel

free to email me a column to shelley.robinson@starmedia.kiwi.

5

Schools in harmony for the last time

NEWS

Shelley Robinson

CONTACT US

NEWS Fraser Walker-Pearce

Ph: 364 7424 • fraser.walker@starmedia.kiwi

ADVERTISING Gail henry

Ph: 364 7450 • gail.henry@starmedia.kiwi

DISTRIBUTION Mark Coulthard

Ph: 379-7100 • mark.coulthard@starmedia.kiwi

CHOCOLATE CHEWED OVER AT COUNCIL

A HEATED discussion was quelled

at a city council meeting last week

when a councillor was told to "eat a

Snickers."

During last week's meeting, city

councillor Jamie Gough joked

that fellow councillor Glenn

Livingstone should have a snack

during passionate discussions

over a deputation presented to the

city council.

The popular American chocolate

bar's motto is: 'You're not you when

Flame Files........................4

Our People............................6

Your Local Views......... 8

Keep it Local......................10

Sport..................................14

Community Events......16

Real Estate.....................19

you're hungry.' Perhaps Cr Gough

felt Cr Livingstone needed a bite of

chocolate to calm down.

WOF $35

Full Workshop Repairs

(exhaust repairs by appointment)

Complete

Tyre and

Auto

Bookings Advisable

TYRES

All popular

sizes available

Canterbury owned and operated

464 Ferry Rd, 03 389 5370

ctawoolston@yahoo.co.nz

8.00am-5.00pm Mon-Fri,

9.00am-1.00pm Sat

New & Used Tyres • Puncture Repairs

Batteries • WOF • Balancing

Mechanical Repairs • Lube & Servicing

Wheel Alignment

Community Clinics

I will be coming to your neighbourhood every month

to hear your concerns.

First Monday of every month

9:00am – 9:40am - Linwood

Linwood Avenue – outside the Salvation Army

9:50am – 10:30am Dallington

Cnr of Gayhurst Road and Claydon Place

10:40am – 11:20am Stanmore/Richmond

Stanmore Road opposite New World at the Park at

Richmond Playground

11:30am – 12:10am Shirley

Cnr of Marshlands Road and Hammersley Avenue

First Friday of every month

9:00am – 9:40am Bromley, Bromley Road, outside

the Community Centre

9:50am – 10:30am Wainoni/Aranui

Wainoni Road (near Shortland Street West)

10:40am – 11:20am Burwood

17 Parnwell Road next to the Education centre

11:30am – 12:10am Parklands

Queenspark Drive - outside Harcourts
---
PEGASUS POST Tuesday May 31 2016 3

News

Still friends after 66 years

• By Fraser Walker-Pearce

FRIENDSHIPS formed in high

school 66 years ago are still

going strong for an Avonside

Girls' High School group.

Avonside Old Girls, a group of

10 women who all began at the

high school in 1950, at age 14,

celebrated their 66th anniversary

as friends on Friday.

This year, the women met in

Huntsbury for a late lunch, a cup

of tea, and a chin wag about the

"good old times" from 66 years

before.

The group was originally 13

members, but a few have passed

on. The group is now made up of

Joy Masters, Eleanor Gillespie,

Rosalind Fahey, Moyra Forsyth,

Rosemary Harper, Valerie Percy,

Alison Royfee, Norma-Anne

Prior, Pam Howell, Aileen Rice,

and Fay Powell.

Some members have known

each other since 1941. Mrs

Gillespie, Mrs Percy and Mrs

Harper all attended Opawa

Primary School together.

Mrs Gillespie said the group

only meet a few times a year, but

their friendship has remained

strong over time.

"We meet every two or three

months. It's been 66 years since

that all started, and now we're

all turning 80," she said.

The members will or have

turned 80 this year, but Mrs

Gillespie said that doesn't mean

any of them have lost their

marbles.

"It's amazing because when

we were at school, we had the

choice of commercial work,

or home life. And we all chose

commercial work. I worked until

I was 65 as a clerk, and some

still do some work. We all still

have our marbles," she said.

She said from their original

Avonside class of about 20, the

original group of girls from that

class still "catch up and have a

yak" every two or three

months.

"There was only ever

about 21 in the class,

and we have lost three

members along the way,

they've passed on. So we

are doing really well,"

she said.

Mrs Gillespie said

if she could give any

advice to young people

going through school

now, it would be to keep

your friends.

"Make the most of every

BEST

FRIENDS:

The old

girls still

catch up

every two

or three

months at

age 80.

Below: The

Avonside

Girls' High

School

class of

1950,

which

includes 10

of the now

'Avonside

Old Girls'.

friend that you have, they're so

special. And keep in touch with

them," she said.

In Brief

QE II LAND SALE DECISION

The hearings panel in charge

of deciding whether a portion

of QE II Park should be sold

to the Ministry of Education,

has decided that it should,

with minor adjustments. They

recommended the sale proceed,

so long as some land is retained

to enable the Travis Medical

Centre to use it for customer

car parking, some of the park's

memorial trees are protected,

a publicly-accessible walking

track is created, and the proceeds

from the land sale go towards the

development and implementation

of a master plan for the entirety

of QE II Park.

RED ZONE MEETING

A meeting was held to discuss

the future of the residential red

zone last week. Organised by

New Brighton Union Parish

co-ordinating minister Mark

Gibson, the meeting was

held to discuss processes that

residents would like to see

Regenerate Christchurch take.

The community want Regenerate,

charged with the development

of the residential red zone, to be

clear and transparent in their

decision-making. Regenerate

chairman Andre Lovatt said

success for him is having the

community involved throughout

the process.

EXPECT SIGNIFICANT

TRAFFIC DELAYS

The Christchurch Airport

Marathon is THIS SUNDAY

Top travel tips:

Traffic restrictions will be in place

from 6am - 2pm.

• Avoid unnecessary car travel across the central city from 9am - 2pm.

• If you need to travel by car, travel around the central city using the

wider network in the east and west

• Bus services will continue but will be delayed

• Park in an easy to get to area, and walk to and from your destination.

• You will be able to walk and cycle across the Marathon route

• For car travel, allow an additional 10 to 20 minutes on your journey

The city centre is open for business!

Use main arterial roads

to travel across city

Parking closest to the event

will be easiest in these areas

Traffic will be unable

to cross route

during event.

START

FINISH

CENTRAL PARKING AREAS

MARATHON COURSE ROUTE - NO CROSSING

More detailed information is available at www.tfc.govt.nz
---
4

Tuesday May 31 2016

FLAME FILES

PEGASUS POST

McMaster & Heap

Veterinary practice

TINKER – THE SURVIVOR

There is never a dull

moment at McMaster &

Heap vets and funnily

enough the critical

serious cases mostly

show up on weekends,

or 7pm at night. I'd

arrived into work one

Saturday to help out

and Tinker was in our

surgical area, having

just been transferred

from the After

Hours Clinic. He

looked terrible (

his face had taken

the full impact of

a collision with a

car) but he was on

a fentanyl drip and

his pain seemed

well managed.

Miraculously he

had survived and

his success story is

due to not just our

surgical efforts that Saturday but also the

events that took place by many people

prior to us seeing him.

His accident happened Friday night and

some great human being saw him on the

road and immediately delivered him to

the After Hours clinic, which incidentally

saved his life. We are so fortunate to have

an emergency centre open through

the nights and weekends when other

clinics have closed. The team there

swiftly examined and

stabilized Tinker and

started him on pain

medications, antibiotics

and intravenous fluids.

Then his owners were

contacted as Tinker

wore a collar with

nametag attached. This

means of identification

(or a microchip) is so

important because

without an owners

consent we can't really

treat a critically ill

patient to save its life.

He was monitored and

cared for all night until

he was dropped off to

us Saturday morning.

Even though it was a

weekend with less staff

rostered on, I knew

Tinker couldn't wait

until Monday for surgical

repair. His lovely, worried

owners wanted for us to do "everything"

we could to ensure Tinker came home.

That's where our outstanding team need

to be greatly commended, because

regardless if any of them had plans that

night, they all, without me asking, stayed

late to ensure the best possible care

and attention was given to a critically ill

patient.

Tinker was anaesthetized, his skull

was radiographed and I repaired his

mandibular jaw fracture with wire and his

hard pelate injury. He had a massive gnash

under his chin that required suturing and

he had several broken teeth. A feeding

tube was placed in his oesophagus to

enable us and his owners to feed him

post operatively. Cats with fractured jaws

can take weeks to eat on their own. Steve

was called in to assess his eyes as they

were completely closed over and I wasn't

sure whether he had retinal injuries, lens

or corneal damage.

Luckily Steve felt

there was no ocular

damage, just a lot of

bruising and facial

swelling.

Tinker was managed

intensively over the

coming week, his

days spent with our

hospital nurses and

nights at the After

Hours. He needed

everything done

for him from feeding six

times a day, loads of medications to be

given, his face washed and he needed

grooming as he couldn't do this for

himself. His owners

visited him daily and

he really loved their

visits. He was the

perfect patient to treat

– he was stoic, obliging

and grateful.

Tinker was a FULL

TEAM effort and I'm so

pleased to report he's

home now, lounging

on beds, walking

around his section,

able to groom himself

and even eating a

little on his own. Steve

and I couldn't do the

job we do without the

dedicated, caring staff

we have.

A fantastic outcome

and even though

Tinker looks a little

facially different now,

his owners report they have their "old"

friend back.

Dr Michele McMaster

Don't leave the

kitchen when cooking

• Mark Thomas

– Fire Risk Management Officer

IT'S BEEN a while since I've talked

about cooking fires in kitchens but there

were five of these this week including a

couple that caused quite considerable

damage and inevitably one that resulted

in ambulance treatment for the house

occupant from smoke inhalation.

As always the advice is the same. Don't

leave the kitchen when you're cooking on

the stove top.

If you are cooking with fat or oil have

the lid of the pan, an oven tray or a

breadboard always available to slap on

the top if the worst happens and flames

appear.

A quick fix with no ongoing problems

or a kitchen on fire with the weeks of

inconvenience that involves. It should be

a no-brainer really, shouldn't it?

A number of quite odd fire calls

featured this week. A fish smoker was

found on fire in Barrington Park. A

distraught Mum was attended to in

Addington where she had locked herself

out of the house with two toddlers inside.

A lady rang for help because she had

found a mouse in her laundry. A crew

were called to accident and emergency

the hospital to help a young woman

whose finger was somehow struck fast in a

doorknob.

Finally, we had a call to a car fire at

Rent Me Or Buy Me

NO BOND REQUIRED

Rental - From $75 p/w Size 10m2

• Accommodation –teenagers, elderly, guests

• Cabin Sleep out • Site office • Storage

• Home office/ small business • Games room

0800 HouseMe 468 736

houseme2015@xtra.co.nz

DAMAGE: Kitchen fires require a lot of

cleaning up.

a service station that turned out to be

a blown engine and two calls to low

hanging smoke that turned out to be mist.

I suspect we'll have some more of these

now with winter starting to bite. Stay

warm, stay safe!

Easy PErsonal

Cash loans

$$ FroM $600 - $20,000 $

Apply on line now –

FAst ApprovAl

we can say yes when

the Banks say NO

CAll Us now

FreepHone 0800 340 350

Apply on line todAy At

www.faircity.co.nz

Open 7 days

Cnr Hoon Hay & Coppell place

phone 338 2534, Fax 339 8624

e. mcmasterandheap@yahoo.co.nz

www.mcmasterheap.co.nz

McMaster & Heap

Our school

Our choice

Our future
---
PEGASUS POST Tuesday May 31 2016 5

News

In harmony for last time

• By Fraser Walker-Pearce

TWO EASTERN schools

celebrated a last musical hurrah

before one will close its doors

forever.

It was a bittersweet ending

to May, New Zealand's Music

Month, for Chisnallwood Intermediate

School and Avondale

Primary School, as it was the

last time they would ever sing

together.

Chisnallwood and Avondale

joined forces on Friday to sing,

as they have done for the past

five years. But this time was

different.

Avondale is closing at the end

of the year to make way for the

new super school being built on

the site of Aranui High School,

Haeata Community Campus.

The two schools celebrated

their last chance to collaborate,

by singing the annual Hook,

Line and Singalong competition's

winning song, We are

Aotearoa.

The competition was set up by

the New Zealand Music Commission

for schools to submit

original songs for judging. The

winning tune was recorded by

its Auckland-based creators in a

professional studio.

Chisnallwood's head of music

Judith Bell said the two eastern

IN TIME: Avondale Primary School and Chisnallwood Intermediate School combined for the

last time to celebrate NZ Music Month.

schools have sang each year's

competition-winning song for

the past five years.

"We have had a tradition for

the last few years of combining

Chisnallwood with Avondale to

celebrate New Zealand Music

Month by singing the winning

song together. Almost 1000

voices singing along with ukuleles,"

she said.

Mrs Bell said Chisnallwood

had decided this year they

would turn the singing into a

school house competition, with

each house's rendition being

judged.

"When we hosted the New

Zealand Ukulele Trust's development

squad, one of the girls

in that squad learned that week

that she'd won. So she performed

We are Aotearoa to the

school. Then we took the group

to Avondale and they sang it

there too," she said.

She said this year was particularly

special to the two schools,

as it would be the last time they

could perform together.

"This year's event is especially

significant because it is the

last year we can do this with

Avondale Primary as they

close at the end of the year," she

said.

In Brief

DRIVER HURT IN CRASH

A teenage driver was taken to

hospital with moderate injuries

after a car crash in Avonside last

week. The crash happened on

Avonside Dr on Wednesday. St

John was alerted at 11.20am.

MODEL CLUB OPENED

A club in New Brighton recently

celebrated its first public event,

and plan to expand further

into Rawhiti Domain. The New

Brighton Radio Controlled Car

Club was set up by Phillip Cossar

earlier in the year, but was only

opened to the public earlier this

month. The first event took place

on Sunday. The club was set up

with funding and help from the

Rawhiti Community Sports Inc

and the city council who have

given the group some land at

Rawhiti Domain. Mr Cossar said

he hopes the radio controlled

car club could be the first step in

creating a hobby park that could

include a lake for radio controlled

boats, and somewhere to

fly radio controlled planes.

NEW PLANS

Residents can now finally have

a look at the first design of the

Eastern Recreation and Sports

Centre. Concept designs were

released on Friday by the city

council, and are available at

www.ccc.govt.nz for viewing.

YOUR ONE STOP SHOP FOR ALL

YOUR AUTOMOTIVE NEEDS

HELPING US,

HELPS THE

COMMUNITY

Drop off or buy

2 family stores in your community

30 Main North Rd,

Ph 352 4581

520 Cranford St,

Ph 352 0515

• WOF + Services

• European / German / BMW specialists

• Mechanical repair • Tyres • Scan tool / Scope diagnostics

• Petrol / Diesel / Light commercials

• Brake Testing & machining

• Insurance warranty work welcome

Gainsborough Auto Services Ltd

Ph 03 384 4957

281 Dyers Road, Bromley, Christchurch

gainsboroughauto@gmail.com

Great Service. Awesome Food.

$

15

for

STEAK

NiGHT

Wednesday Night

FREE

MiNi-PuT

kids with accompanying

paying adults. Great option

for dinner while the kids are

entertained!

Friday Night

FRiDAY HAPPY HOuR 5 - 7 PM

UNDER NEW OWNERSHIP

Open for lunch and dinner

Wednesday to Sunday

50 FERRYMEAD PARK DR,

FERRYMEAD

www.ferrymeadevents.co.nz

Phone 03 384-0522
---
6

Tuesday May 31 2016

Our People

PEGASUS POST

Ruth Gardner

Retired but still involved in community

Ruth Gardner worked

as Volunteering

Canterbury's

manager for more

than 20 years

until she retired

last month. Fraser

Walker-Pearce

talks to her about

voluntary work after

the earthquakes,

running the show

at wedding

ceremonies, and

living with the

town crier

How long have you been

involved with Volunteering

Canterbury for?

I've been involved

with Volunteering Canterbury

for 21 years.

And what have you

achieved in that time?

They weren't just my achievements,

I was leading a great team

that led a whole group of volunteers

and encouraged volunteering

throughout Canterbury.

How many volunteers did

you get into the community in

your time? Do you know the

number?

Thousands in my time, I

probably couldn't tell you the

exact number. After the earthquake

there was a lot of informal

volunteering, and it took time to

become more formal again. By

the end of my time there, we were

having a couple hundred volunteers

a month applying.

So who is next in line for your

job?

The organisation has decided

now to have two managers, one

that does marketing outreach,

and she's been there for four

years, and there's a new man that

will be coming in too.

What was some of the work

you got involved with because

of the earthquake?

RECOGNITION: Mayor Lianne Dalziel spoke at Ruth Gardner's retirement function to recognise

her work for Volunteering Canterbury over 21 years.

Well we had a lot to do with

clearing liquefaction off the

streets with the help of volunteers,

the Student Volunteer

Army and the Farmy Army. We

made sure those people that

needed help got it.

How many people are involved

in Volunteering Canterbury?

There are only two paid workers

full time, but there is another

group of about 10 who help out

voluntarily. They do store work,

accounting, PR work, stores or

expos, website, trust board, all

kinds of things, whenever we

needed something we knew

where to find those people.

Wow, sounds like you've had

some busy days?

It was always busy, always

varied, and there was always

something different every day. It

keeps you on your toes.

Did you still feel like that at

the end of your 21 years?

Yes, absolutely, I still feel like

that, I had just had enough of full

time work, so now I'm able to do

other things which is great.

Oh that's good then. What do

you do in your spare time now?

I still actually do a bit of voluntary

work, I chair the residents

committee in the Avon Loop,

and that's with a lovely bunch of

people too. At the moment we're

working hard to rebuild a local

community centre. There's seven

on that committee, and others

help around the place. I've been

involved for quite a long time.

But since the earthquake the need

has become different for a lot

of communities. We also have a

community cottage that we maintain

and rent out.

With Volunteering Canterbury

did your role change after

the earthquake to more of an

emergency recovery mode?

Yes it did, in fact we had to put

some of our policies to the side

after earthquake. Because there

were urgent things that had to

happen right away, and a lot of

informal volunteering took place.

It was also a bit difficult in terms

of health and safety with people

going around those dangerous

chimneys.

Are you from Christchurch?

I've been here for 30 years

and I was also brought up here,

so I've spent more than half

my life here, but I was born in

Auckland. I went to St Albans

Primary School, and then

back to Auckland when I was

about 10, and lived there for 20

something years, but now I love

Christchurch and I wouldn't

leave.

Oh that's good to hear! What

high school did you go to?

Epsom Grammar in Auckland.

I don't have a degree but I did

feminist studies at Canterbury

University and a bit of study at

the polytechnic. And I'm actually

a celebrant too, with the certificate

and everything.

Wow, you're qualified all over

the show.

Well, when you're in the voluntary

sector you never know what

will come in handy, and what

different skills are useful.

And now that you've retired

from Volunteering Canterbury,

do you plan to do a bit more

with your celebrant's certificate?

Oh yes, absolutely. Now that

I'm retired I'm hoping to do more

celebrants work.

Do you know how many weddings

you've done?

Oh, I really don't know. I'd say

about 100 weddings, but a lot

fewer since the earthquakes. But

I'm hoping now to have more

time to do more weddings. I'm

also a keen blogger, I write about

anything that's going on around

here, and anything to do with the

central city. I've been doing that

for 10 years, and I have more than

1000 followers, which has taken a

long time. But that's on realruth.

wordpress.com if you wanted to

have a look.

Very good, I definitely will.

What are some other hobbies?

I enjoy my garden and I write

poetry. I write mainly rhyming

poetry, I joined a group of

women poets, and I like to walk

and relax with friends.

And are you married with

kids?

Yes, I'm married and two adult

daughters who both live in England.

Both near London, one is a

lawyer and one is an IT manager.

They've done very well, yes.

And does your husband work

still?

Yes, he does – he's actually the

town crier. It makes for some

interesting conversations for sure.

He's originally from England, but

he's been doing that for about 26

years. He started five years before

me, to the day. He's very keen to

keep doing that.

Where in the city are you

based?

We're in one of the remaining

little old cottages in the Avon

Loop now.

SPEND $60 OR MORE

ON THE INNOXA

RANGE TO RECEIVE

YOUR GIFT!*

50% OFF ALL

®

Gift includes:

• Summer Matte Lipstick in Romantic

• Organic Gentle Cleansing Gel**

• Anti-Ageing Makeup Setting Spray

• Lush Lashes in Black

PLUS

Purchase 6 Innoxa items

and get 7th item FREE

Conditions apply

*Limit one gift per customer, while stocks last. Spend must be in one transaction

on the Innoxa range. Not valid with any other offer & excludes clearance items.

**COSMOS Certified - Gentle Cleansing Gel only.

Vitamin & Mineral Supplements

Barrington Pharmacy

Next to CouplaNds, 256 BarriNgtoN st Ph 332 3156

*Excludes

Sleep

Drops

10% discount

everyday

using

*excludes PrescriPtions & sale stock
---
PEGASUS POST Tuesday May 31 2016 7

News

Choir's heartfelt tribute

• By Tom Doudney

A TIGHT-KNIT choir

group have recorded a

song for the funeral of

a terminally ill former

member now living in

the Netherlands.

Women in Harmony

recorded East

Timorese hymn Ita

Hotu Maromak Nia

Povo We Are God's

People at the request

of Dorien Pel who is

dying of cancer.

Ms Pel was a long

time member of the

choir up until about

six years ago when she

first developed

cancer.

When her house

was damaged in the

September 2010

earthquake, she

moved back to her

country of birth, the Netherlands,

for what was supposed to

be six months.

But the stay ended up becoming

permanent.

In spite of surgery, the cancer

had returned and Ms Pel

was already planning her funeral

in the Netherlands when she

returned to Christchurch for a

visit in December and January.

Choir member Judi Smitheram

said choir members had met Ms

HARMONY: Choir member Dorien Pel, standing with red scarf, fifth from

left, with the choir in 2007.

Pel at a social gathering and sang

together again.

"Dorien was wonderful at

always bringing poetry to our

gatherings and she had written

a poem especially for us," Ms

Smitheram said.

It was during this visit that

Ms Pel asked if they would

record the song, which the choir

had not performed in more than

eight years.

The choir sourced a recording

of the song from Australia's

Radio National station to help

them go over it and get the

pronunciation right, as the words

are in the Tetum language.

After recording it, they sent it

to Ms Pel.

"We got a lovely note back

from Dorien saying how much

she appreciated it and she was

very moved," Ms Smitheram

said.

Women in Harmony has

about 20 members from around

Christchurch.

Tradesmen off

to national skills

competition

• By Matt Salmons

TWO TRADIES will put

their skills to the test when

they represent Canterbury

in the national WorldSkills

competition later this year.

Marshland welder Liam

Robertson, of the Lyttelton Engineering

company, and Spreydon

plumber Jesse Pitts, of On

Tap Plumbing, won their places

after completing two challenges

tailored to their trades.

The pair, both 19, will travel

to Hamilton for the national

competition from September 29

to October 2. Both are alumni

of the Ara Institute of Canterbury.

Here they will be competing

for a place in New Zealand's

WorldSkills team, the Tool

Blacks. The national team is set

to compete in the international

WorldSkills competition in Abu

Dhabi in 2017.

Mr Robertson was tested on

his welding abilities and Mr Pitt

on making piping using different

materials. They were judged

on speed, planning accuracy,

ability to use materials and tools

and the quality of their finished

products.

Ara plumbing tutor and

judge of the plumbing competition

Blair Maguire said all the

competitors were reasonably

even, and the final decision

might come down to one point.

The international WorldSkills

competition is run every two

years. It pits young men and

women from all over the world

against each other in a competition

of skill based on their

profession, be that plumbing,

carpentry, baking or any of the

more than 40 categories.

Ara tutor and regional

competition facilitator for

plumbing, Ritchie Gorrie, said

WorldSkills was the "Olympics

of trades".

Mr Gorrie has been to three

international WorldSkills events

and was impressed by the skilllevels

on show and the interest

in the competition internationally.

He said there were about

200,000 spectators in Leipzig,

Germany in 2013, where bricklaying

drew the biggest crowds.

​Charity that helps most vulnerable falls on tough times

• By Tom Doudney

A LOCAL trust which acts as a

problem solver for vulnerable,

disadvantaged and struggling

people around New Zealand

said it is in urgent need of

funding.

SigJaws Trust helps people in

a variety of ways, from lobbying

for retention of services, suggesting

changes to legislation,

finding work and housing and

promoting innovations.

However, project manager

Gary Watts (right), who founded

SigJaws in 2001, said the

trust had been struggling

financially for some time

and needed more funding

to carry on.

The trust's operating

expenses were "conservatively"

about $207,000

a year and while it had

enough to carry on over the next

six months, finding new funding

was a big challenge.

"We have got over 200 clients

now that we are dealing with on

a day to day basis and a

lot of these people have

slipped through other systems

big time," Mr Watts

said.

"We always struggle

to get resources. I don't

think people even realise

what we do half the time

but we do some amazing things."

One of its recent projects has

included working with Canterbury

University to develop a

robotic arm which would allow

mobility-impaired drivers to

fill up at petrol stations without

leaving the car.

The trust had received funding

from organisations including the

Ministry of Social Development,

the Rotary Club of Christchurch

and The Lion Foundation within

the last year.

However, it had been unsuccessful

in seeking funding from

the Red Cross, the Canterbury

Community Trust and the city

council.

"If our funding dries up it's

just impossible to carry on," Mr

Watts said.

SigJaws Trust board member

Jamie Hoffman, who has cerebral

palsy said Mr Watts had been

pivotal in helping him find suitable

accommodation after the

earthquakes.

"People just don't realise how

much good he does out there,"

Mr Hoffman said.

SOMETHING FUN FOR EVERYONE

UNDER NEW OWNERSHIP

9 HOLE

GOLF cOURSE

DRIVING

RANGE

STILL ROcK

OUTDOOR MINI PUTT

BOOKINGS ESSENTIAL | 50 FERRYMEAD PARK DR, FERRYMEAD

PH 376-5350 | WWW.FERRYMEADGOLF.cO.Nz
---
8

Tuesday May 31 2016

Your Local Views

Rugby league more

than just a game

New

Zealand

Rugby

League

general

manager

for the

southern

zone Steve

Martin talks about the

popularity of league in

the eastern suburbs.

The extremely successful

visit to Christchurch by

the Penrith Panthers NRL

side and the New Zealand

Warriors, shows what an

appetite Cantabrians have for

rugby league.

To sell out AMI Stadium,

the former home of rugby

league in Canterbury and the

scene of many past historic

encounters, was a superb feat.

The community was well

served by the high level of

engagement undertaken by

the two teams in the time that

they were in the city. A huge

number of young people were

able to interact with the stars

of the game.

The programme, delivered

to schools across the city,

was very well received and

continued the theme of rugby

league being 'more than just

a game'.

Sport can be a catalyst for

many positive outcomes for

communities and individuals

alike. Rugby league has

shown that it is a game that

cares about its people and

their health and well being.

The environment for

delivery of opportunities to

play the game has improved

immensely with a variety

of measures that have been

undertaken.

Rugby league has fought

to shrug off the negative tag

which it has often been given.

And with events such as the

Panthers and Warriors game,

the prospect of a new home

for rugby league was created.

With the potential for

a team from Canterbury

being involved in an NRL

competition, and the chance

for there to be a Rugby

League World Cup fixture

in Christchurch next year,

the future has never looked

brighter.

The challenge facing the

sport is the same as that of

all sports, finding volunteers

prepared to take on the many

key roles that are needed to

run the game at club level

and to coach and manage

teams.

With participation numbers

continuing to rise and interest

high, Canterbury Rugby

League is positioning itself

to provide the best possible

support to those wanting to

be involved in the game.

Rugby league is truly 'more

than just a game'.

Readers respond to a recent

article on proposed godwit

sculptures being installed into an

area of 'no-man's land.'

Bon Suter – I love the idea of the

sculpture on no-man's land. Seems

very fitting to me.

S Coleshill – What is it with

some residents of New Brighton and

Southshore in regards to the godwit

plan?

Five years have passed, surely our

priority is the rebuild of our shopping

area. Has everyone turned a blind eye

to what is becoming a ghost town?

A mini revolution is needed, but

instead of heads rolling, councillors

and mayoral seats. We need fresh

blood who has the verve and the

tenacity to bring this area back to life.

Who knows, 2022 could well be

when this phoenix rises. But I doubt it.

Readers respond to an article on

smaller buses being installed to

the 135 route from July onwards.

Brian Sandle – Years ago I was

told that peak hours required large

buses and it would be a waste of

investment to have them sitting idle

while smaller buses were used for

lower volume times.

We should promote bus use and

the coastal areas should be setting an

example as they are under a global

warming threat more.

The city council is in charge of

stopping positions and I have asked

them to do a crime prevention

through environmental design study

on where the stops are placed.

Mayor Lianne Dalziel wants to take

PEGASUS POST

over the routes, too. Who would use

buses more if stops were placed in the

busy, lit area between Countdown

and the New Brighton Club?

Norah Southorn – It was very

pleasing to read of the introduction of

the Red Bus service being introduced

on four routes in the eastern suburbs.

However, it would be even more

pleasing, if this service could be

expanded to the Dallington and

North Linwood areas as well.

The people of North Linwood

and Avonside areas have no bus

service other than the Orbiter, and

Dallington has a rather limited

service, the number 44.

I travel the full length of this

service regularly and find it a rather

epic journey on an extremely long

and tortuous route, the buses old and

rattling.

If the route could be altered to

continue over the Dallington bridge

down into North Linwood and

Avonside, and the Shirley loop cut

out or incorporated into another

service, it would attract more users.

If this was done using the small

new buses, I think the patronage

would greatly increase.

As it is, travelling on the number

44 bus is quite an unpleasant

experience and I can understand

people not wanting to use it.

THE HOME OF GOOD BAKING

PREMIUM

BREAD

White, wholemeal, grain & honey.

3 FOR

$

5 00

SLICES

The choice of 3

great slices:

Tan, Rocky Road

and Citrus Slice.

ANY

2 FOR

$

6 98

FAMILY PACK

BISCUITS

Afghan, Apricot

Yoghurt, Choc

Anzac.

ONLY

$

5 49

EA

FROZEN MINCE

OR POTATO

TOP SAVOURIES

12pk

ONLY

$

5 99

MILK

Dairy Dale 2L varieties.

$

5 98

2 FOR or $3.19 each

DINNER ROLLS 6pk $

1 49

Promotional pricing available while stocks last from 30/05/16 to 05/06/16.

Images are serving suggestions only.

Open 7 days | 8 Convenient local locations

Hornby • Barrington • Ferry Rd • Papanui • Riccarton • Upper Riccarton • New Brighton • Rangiora

BAKERIES

www.couplands.co.nz
---
PEGASUS POST Tuesday May 31 2016 9

KIWIBANK IS FINALLy Here

We welcome all our local and existing

Woolston kiwibank & Postshop customers

sTaTiONeRY

MaGaZiNes

kids TOYs & acTiviTes

caRds & GiFT-WRaP

BOOks

20th Century World

Architecture Book

by Phaidon

OPeN 7 daYs

shop hours: Mon/Tues/Thurs/Fri 8.30am–5.30pm Wed 8.30am–6.30pm Sat 9am-7pm Sun 10am-5pm

kiwibank Hours: Mon–Fri 8.30am–5.30pm Sat 9am-5.30pm Sun 10am-5pm

1005 Ferry rd

Ph 384 2063

while stocks last (see instore for terms and conditions)

Barry & kerry
---
OWNED &

OPERATED

10

2

Tuesday May 31 2016

[Edition datE]

Pegasus Post

itLocal

PEGASUS POST

Keep

Local, convenient and

open seven days a week

The Team at Paper Plus in New

Brighton understand that when you

work full-time or are busy with family,

the weekends can be the only time

to run errands. That's why they are

open seven days a week, offering full

Kiwibank and NZ Post services for

their customers all week long.

CHICKEN

SPECIALS

BONELESS, SKINLESS

CHICKEN BREASTS

ONLY

THIGHS

BONELESS

CHICKEN BREASTS

ONLY

$

9 .99

DRUMSTICKS

$

12 .99 ONLY

$ 5 .99

kilo

WINGS

kilo

kilo

ONLY

$

ONLY

5 .99 $ kilo 5 .99

kilo

These specials are only available at Mad Bucher Shirley.

Open 7 days - 7am-7pm.

Cnr Shirley & Hills Rd, Edgeware.

Ph 386 0034

Trust your local

retailer of auto parts!

We have all the parts you'll need for

your vehicle at fantastic prices.

Everything from engine parts, electrics,

accessories, audio, car maintenance

clean and much more!

We're 100% locally owned

and here to help you.

Stanmore Road Auto Spares

P. 03 389 4555 | 245 Stanmore Rd

Whether you need to collect or mail

parcels, buy road miles, renew your car

license or change a vehicle's ownership,

they are open Saturdays and Sunday.

Weekend opening hours are 9 am to 7pm

Saturdays and 10 am to 4 pm Sundays.

You can even open a new Kiwibank

account with them when most other

Now ServiNg

ruedi'S FaMouS

MeatBallS

Breakfast from $7.90

Wide selection on the

breakfast menu:

Eggs Benedict, Hot Cakes,

Eggs, Bacon, Hashbrown, Toast,

Mushrooms

Ruedi's Café

319 Stanmore Rd. P. 389-4848.

Monday-Friday 6.30am-4pm

Saturday Paper 8am-3.30pm Plus New

Paper | Sunday Plus

Brighton Closed New Brighton paperplus.co.nz

NEW LOCAL

MECHANIC

Full Mechanical repairs

Full Auto Electrical repairs

Loan vehicles Lubes

Full vehicle service WOF

18E Bower Avenue, New Brighton

Phone 388 5750

banks are closed.

They are also on hand to

sell a full range of books,

gifts, stationery, greeting

cards and magazines. The

friendly staff can help you

select a book from early

readers right through to

best sellers for adults, with

plenty of fiction and nonfiction

options, and there

are publications to interest

a wide range of hobbyists.

Their great choice of gifts

has something suitable

for all ages and occasions

too from toys to the latest

craze of beautiful adult

colouring books. But if you

really can't choose, their

gift cards are a perfect

present for anyone.

They are also the place

to go to for stationery, with fashion

stationery to make schoolwork more fun

and all the essentials for home offices

and workplaces. It's all right on the

doorstep, too. If you run out of printing

Come see what the fuss is about

discover discover more

*For a limited time.

Paper Plus New Brighton

paperplus.co.nz

72 New Brighton Mall, New Brighton | 03 388 1809

72 New Brighton Mall, New Brighton | 03 388 1809

72 New Brighton Mall, New Brighton | 03 388 1809

The only Book and Stationery store

with Fly Buys and My Big Deal VIP Rewards

1OO%

The only Book and Stationery store

LOCALLY

OWNED &

with Fly Buys and My Big Deal VIP Rewards OPERATED

The only Book and Stationery store

with Fly Buys and My Big Deal VIP Rewards

discover

more

more

New Zealand Post and

Kiwibank sevices

available 7 days a week

New Zealand Post and

Kiwibank sevices

available 7 days a week

New Zealand Post and

Kiwibank sevices

available 7 days a week

1OO%

LOCALLY

1OO%

LOCALLY

OWNED &

OPERATED

Dedicated to

NEW BRIGHTON

looking after you

and your family

• Prescriptions

• Cosmetics • Giftware

Hours: Mon, Tue, Thur, Fri 8.30am - 6.00pm

Wednesday 8.30am - 8.00pm

SATURDAY 10.00am - 1.00pm

Marshlands Family

427 Marshland Road. Ph: 385 3312. Fax: 385 3380

dispensary@marshlandspharmacy.co.nz

ink or paper in the middle of a job, they

are just around the corner so there's no

need to head into the city centre.

They couldn't be more convenient. Find

them at 72 New Brighton mall, or

ring 03 388 1809.

LIVE

MUSIC &

FREE

POOL

Live music from 7pm

Fri & Sat Nights

Free pool Wed & Sun

Plus Courtesy Van aVailable from 5Pm thurs sat

THE siDeline SPORTS BAR

331 stanmore rd, richmond

P. 3817566

Advertising enquiries Gail Henry | Ph: 021 377 196 | gail.henry@starmedia.kiwi
---
PEGASUS POST Tuesday May 31 2016 11

Big sports gear give to school

• By Fraser Walker-Pearce

A four week campaign asking

people to donate their old sports

equipment has ended with bins

full of gear being given to Shirley

Intermediate School.

The Westpac branch at The

Palms Shopping Centre last

month set up a container in

store, asking customers to bring

in their used sporting gear for a

good cause.

It was a drive from the iSport

Foundation, led by former All

Blacks Ali Williams, Richie

McCaw and Dan Carter, aiming

to get more sports gear into

Canterbury schools.

Westpac, The Palms, branch

manager Mark Jenkins said

the bank got on board with the

iSport Foundation's drive.

"Westpac, about a month ago,

decided to ask customers for

any old sports gear they weren't

using anymore and bring it into

the branch. We had a great big

poster of Richie McCaw asking

them to bring stuff in. I think

that got most people's attention,"

he said.

Mr Jenkins said the first week

of collection was quiet, but soon

a bin had "overflowed", so others

were brought in.

After about a month, the

"six or seven bin" haul was gifted

to Shirley Intermediate, just

across the road from The Palms,

and was gratefully accepted.

NEW GEAR: Shirley Intermediate's Ben Cox and Lucy

Cook-Darke from room 2 show off some of the new equipment

with Westpac, The Palms, branch manager Mark Jenkins. ​

Shirley Intermediate principal

Geoff Siave said the generosity

of the bank was "just fantastic".

"There was cricket gear, football

gear, hockey gear, football

and rugby boots, tennis racquets,

hockey sticks, swimming gear,

bike helmets, a scooter or two,

and balls of all shapes and sizes.

It's just fantastic for us," he said.

Mr Siave said sports teacher

Kyle Anglesey already had plans

for the new equipment.

"The sports teacher said he

will use some of it for his classes.

But he also said he will be giving

some equipment to specific kids

who need it. So he's told kids to

come in and see him for equipment,

for things like boots for

their sports if they don't have

any," he said.

SCHOOLS

CROSS COUNTRY: Blue, gold, red, and green could all be

seen dashing through Shirley Boys' High School last week

during their annual cross country event. On Monday afternoon,

runners dressed in their house colours, ran along the back

of the Shirley Village to the Averill St gate, before taking the

western North Parade footpath to the library gate. They went

along the football and rugby field boundary to the finish.
---
12

Tuesday May 31 2016

PEGASUS POST

$659,000

FOR SALE

Akaroa 28 Selwyn Avenue

Million Dollar Views!

Harcourts ID: BF25733

Retirement dictates a sale for this industrious couple, providing what can only be deemed a magical

opportunity. Outstanding views from every room, spacious living with a kitchen any master chef

would desire. Sited on an elevated 1107m² section with flat off street parking for four. Every inch of this

property is utilised right down to the ground floor workshop along with tons of storage space.

Sue & Gemma Roberts

M 027 440 1282 or 027 223 6471 P 03 323 6045

Harcourts Twiss-Keir Realty / Belfast Licensed Agent REAA 2008

FOR SALE

3 1 2

For Sale: $659,000

View: Phone for viewing times.

Casebrook 37 Woodhurst Drive

Where Modern & Rural Meet

Harcourts ID: BF25984

Properties do not come up often in this neighbourhood - simply because once you're in... you never

want to leave! Unfortunately, however, our owners are in a new life stage, making the very difficult

decision to move on - allowing a new buyer the exclusive opportunity for a prime spot. The perfect

home for a family to grow their own memories with established gardens + stand-alone sleep-out.

Mitchell Roberts & Mana Tai

M 027 413 0797 or 027 626 2824 P 03 323 6045

Harcourts Twiss-Keir Realty / Belfast Licensed Agent REAA 2008w

AUCTION

3 2 3

For Sale: Price on application

View: Phone for viewing times.

Cust 1692B Cust Road

Seize The Opportunity

Harcourts ID: BF26265

This three double bedroom home is situated in a wonderful private rural terrace setting that is sure to excite.

In the heart of the village the home is basked in sunshine with expansive decking from where the magical

views across farmland to Cust River, Mt Oxford and Mt Thomas can be enjoyed year round and located close

to great walking and biking tracks. Our owner's mind is made up and a sold sign is paramount - be quick!

Karen & Barry Ellis

M 021 519 275 or 021 519 274 P 03 323 6045

Harcourts Twiss-Keir Realty / Belfast Licensed Agent REAA 2008

$315,000

3 1 2

For Sale: Price on application

View: Phone for viewing times.

Harewood 523A Harewood Road

Repaired & Ready to Sell!

Harcourts ID: BF26456

This property has been empty for too long, with the owner now desperate to get it sold urgently. The good

news for buyers is that they are left with a completely refreshed property, which has been repainted,

re-carpeted, re-clad, and EQC repairs on the home complete! Buyers will also appreciate the easy

living that comes with such a contemporary home. Located in an extremely convenient location.

Mitchell Roberts & Mana Tai

M 027 413 0797 or 027 626 2824 P 03 323 6045

Harcourts Twiss-Keir Realty / Belfast Licensed Agent REAA 2008

$269,000

3 2 2

Auction: 15 th June at 3.00pm (unless sold prior)

Twiss Keir Auction Rooms, Russley Golf Club

View: Phone for viewing times.

Kaikoura 30 Valley Road, Goose Bay

Coastal Location, Bush & Stream Outlook

2 1 1

Harcourts ID: BF25943

Nestled in the valley at Goose Bay this lovely spot needs to have a new owner. Only 400 meters from the

beach with a great rural outlook from the living area and balcony to native bush. Two bedrooms + sleepout

in the garage below, there is room for guests with a great sheltered BBQ area behind the house at the

foot of the attractively landscaped outdoor space. Must be sold!

Springfield 5 Albert Streeet

Investment or First Home

2 1 1

Harcourts ID: BF26438

Want your first home or first investment. You can't pass up this opportunity. Has to be sold. Popular town

for rental or live here and enjoy the local amenities, fishing, skiing, mountaineering. Still close enough to

Christchurch to commute. The home offers various living/bedrooms options. Nestled on a 810m² fully

fenced section with stream boundary in a park-like rural setting. 40 minutes from Christchurch.

Bill Dowle

M 029 358 3175 P 03 323 6045

Harcourts Twiss-Keir Realty / Belfast Licensed Agent REAA 2008

For Sale: $315,000

View: Phone for viewing times

Bill Dowle

M 029 358 3175 P 03 323 6045

Harcourts Twiss-Keir Realty / Belfast Licensed Agent REAA 2008

For Sale: $269,000

View: Phone for viewing times

Contributor to www.realestate.co.nz

www.twisskeir.co.nz
---
PEGASUS POST Tuesday May 31 2016 13

Freehold 28.32ha + Optional Lease 4.0480ha (80 Acres incl LIP)

213 Mandeville Road - Mandeville

Auction: Wednesday 22nd June 3.00 p.m, Russley Golf Club, Memorial Avenue (unless sold prior)

3 Bedrooms | 2 Bathrooms | 2 Car Garage | Off Street Parking | Property ID: BF26397

Prime location 25 minutes to airport! Viable,

sheltered block, market garden, cropping,

calf rearing, horse stud - subdivide or land

Bank.

Two separate titles made up of Title 1

24.2811ha, Title 2 4.0480ha + optional lease

block available of 4.5220ha perpetual (LIP)

rights over river bed. The freehold land (of

approx 28ha's) has an irrigation main line

in place (underground main), excellent soil,

Deep Waimakariri silt loam and a multitude

of outbuildings including a seven aside

milking shed with automatic feeder system

(unused), substantial 5 bay barn (333m²),

2 concrete floor lock ups, cattle yards with

head bail, 4 bay barn (4.5 x 7m²), 2 concrete

silo pads plus feeder silo. Two wells -

domestic well and irrigation well.

Warm and Inviting three generous bedroom

family home with study, two living - both

formal and informal areas, wood burner

on wetback, generous family bathroom,

main bedroom with en suite, walk in robe

plus two car internal access garaging. Easy

care, established garden with mature trees

ensure privacy. The location of this property

is certainly an attraction, easy access to

Christchurch city, airport plus local shopping

facilities in Rangiora and Kaiapoi.

Less than 2.5km's to arguably North

Canterbury's biggest sport facility Mandeville

sports ground, the home of Ohoka Rugby,

Cricket, Touch footy, Netball, Pony club,

Western riding, Archery, Kennel club, Rodeo,

Dog training and Squash courts. Minutes to

Waimakariri River, 2 hours to Ski fields - this

property is in a sensational location.

For further information contact Sue or Greg

Roberts 027 440 1282 (Harcourts Twiss-Keir

Realty, Licensed REAA 2008).

Who you going to call?

Issues with your rental property never happen at the right time.

Have you got a list of contacts to sort the problem effectively and quickly?

Harcourts Twiss-Keir Property Management have a list of repairmen on

call to take care of any emergency your rental property may have.

We've got your back.

For unbeatable local knowledge

and service call us today!

Lindie Thomas Jill Andrews

Christchurch Specialists

Contributor to www.realestate.co.nz

Contact Us Today!

P 03 323 6045

E lindie.thomas@harcourts.co.nz

or jill.andrews@harcourts.co.nz

www.tkpropertymanagement.co.nz

Looking For a Career Change?

Join Us.

• Experienced salespeople needed

• Are you looking for a challenge?

• Award winning team

• Full training and support

• Superior systems

• Working with top performers

• Unlimited income

Call James Twiss for a confidential chat today.

P. 03 313 6158 M. 0274 211 164.

www.twisskeir.co.nz Licensed Agent REAA 2008

www.twisskeir.co.nz
---
14

Tuesday May 31 2016

Sport

Club day celebration

By Gordon Findlater

SHIRLEY BOYS' High celebrated

their annual club day in style.

On Saturday, all of the Shirley's

school teams took to the field at

their home ground.

The first IV took the limelight

staying unbeaten in the UC

Championship, defeating Burnside

19-5.

The home side had the best of

the early going. Shirley first-five

Jackson Taylor continued his

fine form with the boot knocking

over two penalties to stay

amongst the top points scorers in

the competition.

Nathan Koolen grabbed the

first try twenty-six minutes

into the game, finishing a wellworked

move in the corner

before Jackson calmly converted

the toughest of his four successful

kicks, taking his points tally

past 40 for the season.

Ill-discipline snuck its way

into the second half of the game

with both team dropping down

to 14 men towards the end of the

game. Burnside centre

Mike Ravalawa had been sinbinned

for repeated dangerous

play, he would return with less

than a minute of the game to

play. However, he crossed the

line to get a late consolation try

for his side.

The next test for Shirley has

them travel south to tackle Timaru

Boys' High who will be fresh

after a bye.

PEGASUS POST

READY TO PLAY: Shirley prepare for battle against Burnside,

last year's finalists remain unbeaten in this year's UC Championship.

HOMETOWN HEROES: Year 5 and 6 pupils from Queenspark School attended a Crusaders training

last week and got to meet some of their heroes. Crusaders first five-eighth Richie Mo'unga

(pictured) sat down and had a picture with Noah Barrett and Manaia Wharepapa (right) after their

training session at Rugby Park. The Crusaders will take on the Chiefs in July after the international

rugby window passes.

City South Van Spares

NOW AT

166 MAces Rd,

BROMley

OPeN sATURdAy 9AM-1PM

We Buy, Sell

& Dismantle

Vans & Cars

• Provide Full Workshop Facilities

• Full Servicing & WOF Repairs

• Towing Available • Good Hourly Rate

• Same Day Clutch Replacement

• 2 Day Engine Replacement

• Mechanical & Exhaust Repairs

We Pick Up Out

Of Christchurch

100%

owned & operated

Back Packer Vehicles Available WITH Guaranteed Buy Back

P. 384 8744 or A/H 027 222 3241

Now Incorporating City South Tyres

New & Used Tyres For As Little As $30 Fitted
---
PEGASUS POST Tuesday May 31 2016 15

Free "Recovery Matters"

stress and wellbeing

workshops are still

available for your

community and workplace

until 30 June 2016.

For more information and bookings,

email psychosocialtraining@

redcross.org.nz

Here for Good
---
16

Tuesday May 31 2016

PEGASUS POST

Community

Events

Email fraser.walker@starmedia.kiwi

by 5pm each Wednesday

Golden Oldie Movies – June

Every Monday, 1.30pm start

Go early for a cup of tea and a

chat.

June 6: South Pacific, 1958, musical,

2hr 31min. June 13: Marty,

1955, romance, 1hr 30min. June

20: Beggars Opera, 1953, musical,

1hr 34min. June 27: The Secret of

the Loch, 1934, fantasy adventure,

1hr 14min.

New Brighton Museum, 8

Hardy St. $2 donation

Reading to Dogs

Every Tuesday, 3.30-4.30pm

Reading aloud is critical when

children are learning. However,

many children have difficulties

reading and become self conscious

when reading in front of

their peers. Libraries and schools

around the world have found

that by sitting down and reading

to a friendly dog, a child's fear of

being judged or laughed at 'over

mistakes' disappears. Bookings

are essential, phone 03 941 7923

to book.

Shirley Library, 36 Marshland

Rd. Free entry

New Brighton Ukulele JAM

Every Friday night, from

7.30pm

Every Friday this group meets

to play the ukulele and other

instruments and sing all kinds of

songs and different genres of music.

Anything that is in the spirit

of Joyful Anarchic Music (JAM)

goes. There is a data projector so

all the lyrics and the chords are

available. Everyone is welcome.

Tea, coffee and biscuits are free.

St Faith's Hall, 46 Hawke St,

New Brighton. $2 entry

Burwood Playgroup

Every Thursday, 9.30-11.30am

Every Thursday including

school holidays, for just $2 per

family, take some morning tea

for your children and enjoy a tea,

coffee, milo or biscuits, which

will be provided for adults.

Burwood Plunket Rooms, 149

Burwood Road. $2 entry

Eastside Gallery: Elusive

Beauty

Opened on Sunday, will close on

Saturday June 11

Elusive Beauty is an exhibition

of works by six visual artists

and a musician. Ken Doidge,

Coral Reef, Robin Walsh, Gina

Papageorge, Ross Gillies, Sandra

Beltman and Philip Redpath have

worked individually and together

over the past six months to bring

together this two week show.

KITE FLYING: Big kites are flown on the beach near the pier, almost every day that conditions are

suitable. Go along and watch, or bring a kite and join in. People complain about the Christchurch

easterly wind, but it's ideal for kite-flying, so dress appropriately and come along, between 11am

and 4pm daily. ​

Eastside Gallery, 388 Worcester

St. Free entry

The Coconut Whangersnozzle

Pirate Puppet Show

June 4, from 1-2pm

Join Crackers the parrot, a wily

and cheeky bird. Help him and

his friends, the pirates of Madagadabadabada,

outwit the Great

Crocodile who has invaded their

waterhole.

Antidote Juice Bar, 86 Brighton

Mall. Free entry, donations appreciated

Matariki in the Zone

June 19, 10am-2pm

Go to the red zone in Anzac

Drive Reserve to celebrate

Matariki. Learn about weaving

and make poi out of natural

materials, watch carvers, and

learn about the environment

and whitebait. Make a waka out

of raupo reeds (mokihi) to take

home, and view the kids' art

exhibition and colour in or

draw something to add to the

art mural. Grab some kai and

soup for free. If you feel like

helping to plant an orchard

and some native trees, bring

a spade and your gumboots

along. There will also be coffee, a

kids treasure hunt and entertainment.

36 Chimera Crescent, Burwood.

Free entry

QUEENS BIRTHDAY

WEEKEND

SATURDAY 4 JUNE OPEN 10AM-5PM

FREE CANDY STAND 11AM–3PM

SUNDAY 5 JUNE

OPEN 10AM-5PM

MONDAY 6 JUNE

OPEN 10AM-5PM

HORNBY 409 Main South Road | OVER 50 STORES

dress-smart.co.nz
---
PEGASUS POST Tuesday May 31 2016 17

WOF $35

Full Workshop Repairs

(exhaust repairs by appointment)

Bookings Advisable

C

T

A

omplete

yre and

uto

TYRES

All popular sizes available

Canterbury owned and operated

464 Ferry Rd, 03 389 5370

ctawoolston@yahoo.co.nz

8.00am-5.00pm Mon-Fri, 9.00am-1.00pm Sat

• New & Used Tyres • Puncture Repairs • Batteries

• WOF • Balancing • Mechanical Repairs

• Lube & Servicing • Wheel Alignment

464 Ferry Road, Christchurch

Phone: Hayden 03 381 6592 or 021 365 957

ALL AVAILABLE FROM NO DEPOSIT | VISIT US ON FACEBOOK: Cars-2-Go

Open 9am-5pm Monday-Friday, 9am-4.30pm Saturday

$2550

$2990

$2990

$2990 $2990

1996 MITSUBISHI CARISMA

Auto, 1800cc, airbags.

1989 HOLDEN COMMODORE

Hard to find in this condition.

1997 DAIHATSU PyzAR

5 speed manual, 1500cc, airbags.

1999 NISSAN CEFIRO

Auto station wagon, alloys.

1999 TOyOTA CAMRy S/W

Auto, 2200cc, nice car.

$3490

$3750

$3990

$4490

$4990

1998 NISSAN PRIMERA S/W

Auto, 4x4, chain driven.

1999 MITSUBISHI DIAMANTE

3500cc, leather trim, NZ new.

2000 HOLDEN COMMODORE

Auto, alloys, airbags.

2005 FORD MONDEO H/B

5 speed manual, 225,000kms,

drives great.

2000 MITSUBISHI DION

7 seater, 150,000kms.

$4990

$5490

$5990

$5990

$7490

2000 MAzDA CAPELLA

Auto, tidy inside & out.

1995 NISSAN MISTRAL

7 seater, auto, 192,600kms, Diesel.

1999 VOLKSWAGEN GOLF VR6

Alloys, auto, quick car.

1996 TOyOTA RAV4

5 speed manual, 5 door, looks smart

in black.

2007 MAzDA DEMIO

104,000kms, sports model
---
18 2

Tuesday [Edition datE] May 31 2016

HEALTH & BEAUTY

PEGASUS POST

Tips for untreated

hearing loss

Hearing is a sense that many of us

take for granted. Throughout our lives, we

subject our ears to loud sounds–music,

power tools, lawn mowers, air travel–

without using ear protection. regrettably,

this can cause hearing loss. also, the

natural aging process generally results

in hearing loss. even certain illnesses

and medications can adversely affect our

hearing. Unfortunately, hearing loss that

occurs from such causes is permanent.

The good news is, even if you already

have a little hearing loss, it's never too

late to preserve your hearing for the

years ahead. The first thing you can do is

protect your ears in noisy environments.

also, avoid using cotton swabs to clean

your ears. and, make it a priority to get

a baseline hearing screening to see if

hearing loss has already occurred.

if hearing loss is found during your

hearing evaluation, it could be due to

excess ear wax or infection. This type of

hearing loss is reversible. if hearing loss

stems from chronic exposure to loud

noise, aging, or certain illnesses and

medications, hearing aids are the best way

to preserve your good hearing.

The great news about today's hearing

aids is how small and easy to wear they

are. Modern digital hearing aids use

super-tiny microprocessor technology–

making them virtually invisible when

worn. Hearing aids can help almost all

degrees of hearing loss–from a little to a

lot. and, by stimulating your brain with

sound that might not otherwise reach it,

hearing aids help keep your brain active,

which lowers your risk for cognitive

diseases, such as dementia.

if you suspect you may have hearing

loss, don't ignore it. neglecting a hearing

loss can have a snowball effect–making it

grow bigger, faster than necessary.

Here are 10 ways you can limit hearing

damage and preserve good hearing:

1. Understand the sound levels of the

noises in your environment.

2. Learn about proper ear protection.

There are many kinds on the market

today, ranging from custom ear molds to

foam plugs and more.

3. Put physical distance between you

and loud noise when it is present. if

possible, stand at an angle from the noise,

not directly in front of it.

4. Take breaks when you are exposed

to noise.

5. When listening to music through

headphones or earbuds, keep the volume

low-to-medium.

6. Know the signs of hearing loss, and

measure yourself against them.

7. schedule a baseline hearing

evaluation. Hearing loss is on the rise

among Baby Boomers and young people.

it's never too early to get your hearing

checked, but don't wait past age 50.

8. Have your hearing evaluated by a

professional licensed by your state.

9. if you have hearing loss caused by a

reversible condition, take steps to

correct it.

10. if any permanent hearing loss is

diagnosed, choose hearing aids to slow it

down, and preserve good hearing.

it's never too early to get your

hearing checked, but don't wait

past age 50.

True

Who thought

DENTURES

and false!

could look this

natural?

• Full dentures • Metal partial dentures

• First-time immediate dentures • Implant supported dentures

NATIONAL

STREET APPEAL

FRIDAY 10TH JUNE

HOLLYWOOD: A beautiful result for a

female patient in her 60's

AGING GRACEFULLY: Natural teeth for

a gentleman patient in his 80's

These stunning lovebite full upper and

lower dentures have been expertly crafted by

internationally-recognised dental technician

Richard Greenlees at his Christchurch studio.

The combination of Richard's skill, experience

(including 15 years in London's prestigious

Harley Street) knowledge and revolutionary

techniques allow him to create beautiful

bespoke false teeth that truly resemble those

in nature and reflect each patient's individuality

and unique character.

402 Montreal Street

Christchurch | P. 379 1222

By appointment only.

Consultation fee applies.

GOOD KEEN MAN: Teeth with character

for a hard-case fisherman in his 50's

Richard will personally guide you through the entire process to create

teeth with small nuances in the fabrication, colour and shape. Your beautiful new

lovebite dentures will boost your confidence and make you look and feel year's younger!
---
2

[Edition datE]

PEGASUS POST Tuesday May 31 2016 19

Broken-hearted to leave

21 Highpeak Place, Halswell

Auction: June 9, 2016 (unless sold prior)

4 bedrooms | 2 bathrooms | 2 toilets | 2 living rooms |1 dining room | 2-car garage | 3 off-street parks | Listing #: BE192595

But it is time to make a change and

leave this spacious happy home

of many years. You won't want to

miss out on this opportunity in the

boutique subdivision of Broken Run. The

cul-de-sac location is desirably tranquil, and

this immaculately presented home will be a

delight to view.

Step into the entrance way and then onto

the large well-appointed kitchen with quality

Smeg appliances and large oven. The dining

and family room are very spacious and have

vaulted ceilings. The separate formal lounge

with a cosy gas fire and family room have

bifold doors that open onto the manicured

garden, a wonderful prospect for summer

entertaining. The master bedroom also opens

as well to the garden - perhaps time for a

coffee and croissant in the morning before the

day begins? The ensuite is unusually large, a

rare find in modern homes, and the family

bathroom certainly does not lack in size as

well. Two further double bedrooms and a

large single will safely house the family and

guests.

The home is double glazed, fully insulated,

has two heat pumps, a gas fire and under floor

heating in the tiled kitchen and bathrooms.

A larger than normal double garage with

trailer door to the backyard completes the

deal in this very spacious home.

Don't delay; this lovely home must be sold

on or before auction day to let my vendors

move on to the next stage of their life.

NEW LOCATION ADVERT.pdf 1 1/05/2014 11:51:35 a.m.

Open Home dates: Saturdays and Sundays

2.30pm to 3pm until auction, or to arrange a

private viewing of this property call Debbie

Pettigrew now on 337 1316 or 027 777 0411

or Malcolm Parker on 027 220 7843 from

Harcourts Grenadier Beckenham (Licensed

Agent REAA 2008).

VISIT OUR NEW LOCATION LOCATION

430 ST ASAPH STREET!

RECOVER YOUR LOVED FURNITURE

No job too big or small

Hours of Business: 7am-4.30pm Mon-Thurs

Fri 8am to midday

or by appointment with Keith 027 566 3909

QUALITY FURNITURE SPECIALISTS

RE - UPHOLSTERY SPECIALISTS KEITH HARTSHORNE 0275 663 909

Dyers Road Landscape

& Garden Supplies

• Barks • Peastraw • Composts - we supply the best available

• Aggregates - Chip, Round and Basecourse

• Pavers & Schist products • Pungas

• Decorative Stones & Landscaping Rocks

• Trailer Hire first hour free with purchase

• Bag & Bulk - pick up or delivered

David, Carol & Mike

We will deliver!

Still able to offer

you the finest top

quality new furniture

Visit us online

www.qualityfurniture.co.nz

P. 371 7500

SOIL

AND

HARDFILL

DUMPING

Phone: 03 384 6540

183 Dyers Rd, Bromley • OPEN 7 DAYS

Weekdays 7.30am-5pm. Weekends 8.30am-3pm

www.dyersroadandlandscapes.co.nz

SHOW

2016

HORNCASTLE ARENA

1ST-3RD JULY

10AM - 5PM

EXHIBIT NOW!

Contact Vanessa Fleming

vanessa.fleming@starmedia.kiwi 021 914 565

starhomeshow.kiwi
---
20

Tuesday May 31 2016

PEGASUS POST

watch local | support local | shop local

WEEKDAYS AT

12PM, 5PM & 9PM

Freeview HD 40 and online

For enquiries, contact Geoff Moreton: 021 1066 177
---
PROUDLY

PROUDLY

CHRISTCHURCH

CHRISTCHURCH

OWNED

OWNED TUESDaY, aUGUST 27, 2013 PROUDLY 384

384 CHRISTCHURCH 0600

0600

PROUDLY CHRISTCHURCH OWNED MONDaY JUNE 24, 2013

OWNED WEDENSDaY 10 JULY, 2013 384 0600

A Mainland

Media Publication

Kea

(Nestor Notabilis)

Ladbrooks, Tai Tapu, Leeston, Lincoln, Southbridge, Prebbleton, Halswell, Rolleston, Templeton, Burnham, West Melton, Darfield, Arthurs Pass

Mainland

Press Newspaper

Sumner, Redcliffs, Mt. Pleasant, Ferrymead, Woolston, Lyttelton & Akaroa Harbours

Black Billed

Gull

A Mainland

Press Newspaper

Linwood, Avonside, Richmond, Shirley, Burwood, Dallington, Wainoni, Bromley, Aranui, Avondale, Bexley, New Brighton, Northshore, Queenspark, Parklands, S

PROUDLY CHRISTCHURCH OWNED MONDaY JULY 15, 2013 PROUDLY 384 CHRISTCHURCH 0600

OWNED MONDaY 12 aUGUST, 2013 PROUDLY 384 CHRISTCHURCH 0600

OWNED MONDaY JUNE 24, 2013

A Mainland

Press Newspaper

Fantail

(Piwakawaka)

A Mainland

Newspaper

Harewood, Burnside, Bishopdale, Bryndwr, Fendalton, Merivale, St Albans, Mairehau, Papanui, Casebrook, Redwood, Regents Park, Styx Mill, Northwood, Spreydon, Belfast Hoon Hay, Hillmorton, Cracroft, Cashmere, St Martins, Somerfield, Sydenham, Addington, Waltham, Opawa, Beckenham, Huntsbury, Woolston

Bellbird

(Korimako)

A Mainland

Press Newspaper

New Zealand

Swamp Hen (Pukeko)

New Zealand

Pigeon (Kereru)

Templeton, Islington, Hei Hei, Broomfield, Halswell, Oaklands, Westlake, Hornby, Wigram, Sockburn, Church Corner, Ilam, Russley, Hyde Park, Avonhead, Riccart

PEGASUS POST Tuesday May 31 2016 21

Cars

$4,001 - $8,000

NEED a new car? and

need finance we can help.

Call us today Learners

lcs, past credit issues

been bankrupt or new to

New Zealand! Call Leon

022 625 2232

Computers

ALL

YOUR

COMPUTER

WORRIES SOLVED!

*$30.00 off your first

service with this coupon!*

No problem too big or

small from home PC's to

business networks. PC

slow? An end to Viruses,

Spyware, and Clogged

Systems. Safe secure

hassle-free computing.

Lost files recovered.

Microsoft Certified,

MCSE, MCP+l. 30 years

experience. Call Andrew

Buxton this week on 326-

6740 or 027 435-7596

for $30.00 off* Custom

Computers Christchurch

Curtains

www.curtainfabric-outlet.com

Fashion Designs & Colours

Discontinued Designs

End of Lines Bargain Prices

Call at Our Shop

CURTAIN FABRIC OUTLET

71 Hawdon St Sydenham

Ph 366-5026

Gardening

& Supplies

A GARDEN

PROFESSIONAL

NEEDED? Qualified

Horticulturist, offering

expert pruning, garden

makeovers, garden design

and landscaping, for free

quotes call Bryce 027 688-

8196 or 0508 242-733

A GARDEN OR

LANDSCAPING TIDY

UP? Shrub, hedge &

tree pruning, Lawns,

Gardening, consistently

reliable general property

upkeep, Dip. Hort. 10

yrs experience, One off

tidy ups or on-going

service. Nick's Property

Maintenance. Keeping

your garden beautiful.

Free Quote. Ph. 942-4440

Holiday

Accommodation

QUEENSLAND SUN-

SHINE COAST AUSTRA-

LIA Resort, Ocean Views,

Balconies, Self Contained,

1 or 2 B/R Ensuite,

Heated Pool, Spa, Sauna,

Free Internet, Shops,

Restaurants, Tennis, Surf

Club & Patrolled Beach,

Public Transport at door.

Ask for our SEASONAL

SPECIALS. Phone 61 7

544-35011 Email: reception@mandolin.com.au

www.mandolin.com.au

ADD SOME

COLOUR

TO YOUR ADVERT!

Classifieds Contact us today Phone our local team 03 379 1100

Pets & Supplies

Forever loved

Pet Cremations

We Understand...

Let us help you lay your pet to

rest in an appropriate, respectful

manner. Honour the memory of

your beloved friend and

companion.

Contact us on

03 312 6024 or 0276 342 986

www.foreverloved.co.nz

To Let

NEED MORE

SPACE?

NO BOND THIS MONTH

Ideal as an extra

bedroom or office.

Three convenient sizes

from $70 p/w:

Standard 3.6m x 2.4m

Large 4.2m x 2.4m

Xtra-large 4.8m x 2.4m

Visit our display cabins at

95 Beach Road or

470 Cranford Street or call

0211277227 for a free brochure.

www.justcabins.co.nz

To Let

HOMESITTERS

reqd short term sits. Ph

Lisa 359-2323 www.

townandcountryhomesit.

co.nz

Trades & Services

DRIVEWAYS & PAVING

FREE QUOTES

Professional, friendly

Service Always

Ph. 03 329 4806

or 027 827 0505

CAP CONSTRUCTION LTD

Trades & Services

ROOFING

- Re-roofing and

new roofing

- Quality roofing at

the best price around

- Licensed building

practitioner

Robinson

Roofing Ltd

Call Hamish for a

quote 03 347 90 45

Trades & Services

FENCING

Paling, picket,

iron, trellis

Demolition and

removal

Phone Bevan

021 231 1860

Fencing Uprite

Your Eastside

Specialist

Trades & Services

Professional

Movers

Making Local

& International

Moving Easy

0800 4 world

(03) 341 2060

www.worldmoving.co.nz

PLUMBER

Michael

Gale

Plumbing Ltd

PROMPT SERVICE

For all

Plumbing

•Roofing/

spouting

•Maintenance

•Installations

8790441AA

CARPET

VINYL

Laying & repairs,

uplifting, relaying,

restretching.

Ph 0800 003 181

or 027 240 7416

e: jflattery@xtra.co.nz

Trades & Services

HOUSE

CLEARING

Are you moving

house?

Let All Clear Canterbury

take care of your

unwanted items.

You identify what you want

to keep & we will dispose

of the rest!!

Mob: 021 078 4553

raewynlcooke@gmail.com

www.allclearcanterbury.co.nz

Trades & Services

Small work

no problem

Ph 364 7080 (24 hour)

Mob 027 438 3943

Trades & Services

GLAZING

Stephen Thom

Glazing 2012 Ltd.

(Under New Management)

• Mirrors

• New Glazing

• Pet Door

Specialists

• Frameless

Showers

• Splashbacks

WE CAN DO YOUR

WORK NOW

9155874AA

ALL BROKEN

WINDOWS

Phone Cushla

03 352 6225

or 027 352 6225

Trades & Services

Lawns, Gardens

& Home Cleaning

9185885AA

Free Quotes

Professional, personalised

service. Regular &

one-offs. Fixed price.

Ph: 377-5814

For all your property and

cleaning requirements

Trained, insured & security

screened owner/operators

Multi-award winning

systems & Franchises

Franchises Available

www.fviphomeservices.co.nz

Trades & Services

DRIVEWAYS

Replace, repair or new.

We are a local company

with over 10 yrs exp.

We also operate a

digger for all other

earthworks.

Ph. R.M. Solutions

021 02866981

for a free quote.

FenCInG

All styles and shapes,

gates, wooden, ph Mark

027 331-3223

FenCe pAIntInG

Staining Quality at a

reasonable price. Free

quotes. Phone Warren

today on 980-1676 or 027

2014713

FUrnItUre

reMOVALS

Trades & Services

• Replacement/new roofing

• Colour Steel gutter & fascia

• Flue & log burner installs

• Skytube/light installs

• Earthquake repairs

Licence Building

Practitioner LBP

Member of the Roofing

Association

DCM ROOFING LTD

The Roofing Specialists

PHONE IAIN

027 445 5597

iain@dcmroofing.co.nz

rOOFInG

Qualified & Licenced

Practitioner. Re-Roof &

Repairs, all types. Member

New Zealand Roofing

Association. Over 35 years

experience. Phone John

AAA CArpentry

licensed builder Large Trucks $95 + 027 432-3822 or 351-9147

practitioner all property GST per hour 7 day NZ email johnmill@ihug.

maintenance small job wide, packing & moving, co.nz

expert by tradesman / Professional Company, SpOUtInG CLeAnInG

handyman free quotes city Professional Service. Spouting Unblocked,

wide call now 03 387- Canterbury Relocations Cleaned Out and Flushed

0770 or 027 245 5226 Ltd. ph 0800 359 9313 Out. Also Full Handyman

ciey@xtra.co.nz

LAnDSCApe

Services Available. Call

AnDreWS tree CAre

Trevor 332 8949 or 021

COnStrUCtIOn

Services, tree removal,

043-2034

Lawns, paving, water

trimming, stump grinding,

features, irrigation,

tILer/CArpenter

shelterbelt clean up,

planting, decks,

35 years exp, no job

section clearing, rubbish

driveways, kerbing, ponds,

too small. Ph Ross 027

removals, excavation

retainer walls, fencing.

4311440.

work, ph 027 728 5688

Free quotes, Phone Tony

tree WOrK

BUILDer

021-034-8555

Hedge trimming, stump

For all building work

grinding, rubbish removed,

but specialist in bathroom OVen CLeAnInG small job specialty Ph

renovations, 30 yrs Professional cleans Andrew 03 322-8341 or

experience, with service $50.00. Gift Vouchers 027 435-8759

and integrity. Free Quotes. avail. Phone 0800 683- t.V. SerVICe

Ph Lachlan 383-1723 or 6253 or 027 228-0025 Centre

0274 367-067.

pAInter

Repairs, tvs, microwaves,

BUILDer

Available, All aspects in stereos, DVD. Aerial

LICenSeD

painting. Very competitive installations and kitsets,

available for all aspects of in roofs and fences. Please 480 Moorhouse Ave, ph 03

building. Please call 027 call 027 241-7471 or 335- 379 1400

241-7471 or 335-0265 0265

UpHOLSterer

CArpenter

Dining Chairs, Lounge

pAIntInG

HAnDyMAn

suites, Caravan Squabs

DeCOrAtInG

Small Job Specialists,

etc. recovered. Free

interior & exterior,

Carpentry, Repairs,

Quotes. Phone Graeme

gib fixing, plastering,

Decking & Maintenance,

383-1448

paperhanging, Est 50 yrs

40 years experience, no

VHS VIDeO tApeS

in ChCh, ph Wingfields

job too small, Ph Warren

& all camera tapes

Ltd, ph Mark 021 171-

03 322-1103 or 027 697-

converted to DVD, video

1586 or 355-5994

8541

taping, weddings, twenty

CArrIer

pAInter

firsts, special occasions,

Local, experienced, Top quality work, interior/ www.grahamsvideo.co.nz

friendly, trade-me exterior, pensioners ph 03 338-1655

purchases, single items

to truck loads, furniture

to whatever, removals &

trade deliveries a specialty.

discount, free quotes, 30

years experience, I stand

by Canterbury, ph Wayne

your friendly painter

WAterBLAStInG

Quality Job, Quick Service

by skilled tradesman, Ph

Richard Severin at Jet-X

Ph GEH 341-5069 03 385-4348 or 027 274- 0800 538 969 Free quotes,

CArrIer

3541

visit www.jetx.co.nz

Local, experienced, pAIntInG

friendly, trade-me DeCOrAtInG

Wanted To Buy

Excellent finish.Domestic AAA Buying goods

& Commercial. Ph Chris quality furniture,

027 223 8542

purchases, single items

to truck loads, furniture

to whatever, removals &

trade deliveries a specialty.

Ph GEH 341-5069

Beds, Stoves, Washing

pLASterer

SOLID, both ext & int

machines, Fridge Freezers.

Same day service. Selwyn

Trades & Services work, Scottish Tradesman Dealers. Phone 980 5812

with over 30 yrs or 027 313 8156

experience, FREE Quotes,

CARPET ph Donald 354-5153 or AAAAAAAAA

021 023 26186

VINYL

GOOD PRICES

pLUMBer

Laying & repairs,

paid for estate lots,

ALF THORPE

uplifting, relaying,

antiques and good

PLUMBING Certifying

restretching.

quality furniture.

Plumber for all types of

Ph 0800 003 181

Ph Rick 347 4493

plumbing, maintenance,

or 027 240 7416

or 021 376 883

spouting, alterations etc.

e: jflattery@xtra.co.nz

Phone 352-7402 or 0274-

Wanted To Buy

COnCrete CUttInG 350-231

AnD GrInDInG

A+ Household effects,

Cutting of walls and pLUMBer

fridges, freezers, washing

floors; Small break and ALF THORPE machines, ovens. Good

remove jobs; Grinding

PLUMBING Certifying cash paid. Ph Paul 022

concrete level; Cracks

Plumber for all types of 0891 671

plumbing, maintenance, A+ Household effects,

filled; Concrete polishing

spouting, alterations etc. fridges, freezers, washing

and sealing. Call Danny

Phone 352-7402 or 0274- machines, ovens. Good

at Stoneshine on 021 063

350-231

cash paid. Ph Paul 022

8833

0891 671

Entertainments

Thursday 26th May - Wednesday 1st June

THE NICE GUYS (R16)

FLORENCE FOSTER JENKINS (PG)

HUNT FOR THE WILDERPEOPLE (PG)

ALICE THROUGH THE LOOKING

GLASS (PG)

Wanted To Buy

A Records and Hi-Fi

gear wanted, excellent

prices paid for good

records especially kiwi

and overseas bands 60's

- 90's PennyLane 430

Colombo St Sydenham

7 days www.pennylane.

co.nz ph 3663278 or 021

2226144

TOOLS

Garden, garage,

woodworking,

mechanical, engineering,

sawbenches, lathes, cash

buyer, ph 355-2045

Public Notices

Rexellent Rentals

Cars, Vans, Brisbane , Coolangatta

FREE CALL

0800 601 508

www.rexellent.com.au

Public Notices

DEMOLITION

With care and respect we

will remove your dwelling.

Our policy is to recycle as

much as we can. We are a

local company specialising

in residential properties. We

will endeavor to cater for

your individual needs.

Ph. R.M. Solutions

021 02866981

for a free quote.

EDDIE THE EAGLE (PG)

THE GREENSTONE (M)

EYE IN THE SKY (M)

SHAKESPEARE LIVE (exempt)

Public Notices

Weka Pass Railway

Waipara, North Canterbury

We are RUNNING

QUEEN'S BIRTHDAY

WEEKEND

Sun 5th June &

Monday 6th June

Running 1st & 3rd

Sundays of every month

Infoline Chch 96 22 999

Depart Glenmark Station

11.30am & 2.00pm

www.wekapassrailway.co.nz

Situations Vacant

CA$H

Strippers

& Podium

Dancers

Wanted!

18+ TO APPLY

NEISHA

021 193 0118

Call us & we'll help

you place your

classified advert in our

community papers

Nobody knows

Christchurch

like a local

We're local, we're

in Christchurch, we

speak your language!

Phone: 379 1100

Selwyn

Times

Nor'West

News

Public Notices

Bay Harbour

A

News

Southern

Pegasus

Post

Western

View Press

News

Classifieds

Our community papers are published every

Tuesday (Bay Harbour, Wednesdays) focusing

on local issues & local people.
---
22

Tuesday May 31 2016

PEGASUS POST

Air Force Band Flies High

with the Queen

H ORNBY

WORKINGMEN'S

CLUB

«WHAT'S ON«

WESTVIEW LOUNGE

FRIDAY

3 June, 7PM

JO'S KARAOKE

LIVE

ENTERTAINMENT

6PM FRIDAY

MANDI

MILLER

7PM SATURDAY

DES

NEWTON

SATURDAY

4 June, 4.30PM

AL PARK

8PM

ROCKABELLA

Hornby WMC | ph 03 349 9026 | 17 Carmen Road | Hornby

www.hornbyworkingmensclub.co.nz | Members, guests & affiliates welcome

The newly refurbished

Woolston Club...

A classic, contemporary

club experience

Dining, bar, entertainment,

sport, and so much more!

Cafe open from 11am

Happy Hour 4.30pm - 5.30pm

TAB & Gaming, Function Facilities,

HOUSIE Tuesday, Thursday, Saturday

SHUTTLE Tuesday - Sunday

«COMING UP«

SATURDAY

JUNE 24, 7.30PM

ANTHONY'S

ROCKBOX

FEATURING ANTHONY

EASTERBROOK-CARTER

WITH BACKPACK

TICKETS $20

SATURDAY

JULY 2, 7.30PM

2016 S.I. TOUR FEATURING

TRANZITION SHOW BAND

AND SPECIAL GUEST YULIA

TICKETS $25

Newly renovated

Open 7 Days

Restaurant open

from 5.30pm!

With a selection of

main meals for $20

Retro Roast Lunch

12pm Wednesdays

$10 Members/$12 Non

Roast of the Day

$16.00 Members

$18.00 Non

THE ROYAL New Zealand Air Force

Band is celebrating the Queen's 90th

birthday in style with a special

afternoon concert at the New Zealand

Air Force Museum at Wigram on

th

Sunday 5 June.

Surrounded by the museum's

mighty collection of Air Force history,

the band will perform music that

spans the nine decades of the Queen's

life so far.

The afternoon performance on June

th

5 features a segment dedicated to

music by British composers, from

Walton's stirring Crown Imperial

March, to excerpts from popular

musical theatre, through to the theme The Queen's Birthday concert programme

music for the James Bond 007 movies. will also include Gershwin's An American in

During the RNZAF Band's last Paris, Glinka's Russlan and Ludmila

performance at the Air Force

Overture, as well as a full symphonic version

Museum in 2015, the band's 65 strong of the impressive soundtracks from the Star

brass and woodwinds under the baton Wars movies.

of Flight Lieutenant Brew received a Flight Lieutenant Brew recently traveled

standing ovation from the packed with the NZ Defence Force Contingent to

house.

conduct services at Gallipoli. The RNZAF

"We're looking forward to Walton's Band performed in February at the

Crown Imperial March, and we'll also Edinburgh Military Tattoo during the NZ

reference some great British artists Festival in Wellington.

including The Beatles, Queen and Air Force Band in concert at the New

David Bowie," Flight Lieutenant Brew Zealand Air Force Museum, Wigram

said.

th

Sunday 5 June, 2pm, New Zealand Air

"Our band is wonderfully versatile. Force Museum, Wigram.

We'll be taking the opportunity to Adult: $25, Senior $22; Child/Student: $5

feature some of our virtuoso players Tickets: New Zealand Air Force Museum

in solo pieces at Wigram." (03) 343 - 9532.

NOW OPEN

Cooks and Cocktails offers

affordable family dining

with an international menu

and amazing cocktails.

Come and enjoy our

great family environment

and meet our amazing staff.

Papanui's newest

family friendly

dining experience

77 Main North Road, Papanui

Ph 352 4242

www.cooksandcocktails.co.nz

Open Monday - Sunday 11am - late
---
PEGASUS POST Tuesday May 31 2016 23

www.newbrightonclub.co.nz

WHAT'S ON

TUESDAYS &

THURSDAYS

Members Lucky Card Draw

- downstairs -

ClubBISTRO

Open Tuesday

to Saturday

12pm-2pm

and from 5pm.

Midweek

SPECIAL

$10

ROAST

Available Tuesday,

Wednesday,

& Thursday

TAB POD

- upstairs -

PIERVIEW

Restaurant

JOIN

A CLUB BY

THE SEA!

Quality a la carte

with a view!

Open FRIDAY,

SATURDAY,

& SUNDAY

from 5.30pm

FRIDAY SPECIAL:

All Grills... $20!

for a limited time

SUNDAY SPECIAL

$25 3-Course Feast

SHUTTLE RUNNING

Tues, Thurs, Fri & Sat

202 Marine Parade | Ph 388-9416

Members, guests and affiliates welcome

RESTAURANT & CAFÉ

'Famous for their roasts!'

Open daily from 6.30am. Breakfast, Lunch & Dinner

Treat the Kids!

Kids two course

special from

We are family

friendly.

Great Kids menu

plus designated play area.

Seniors SPECIAL

Two courses

Soup/Roast or

Roast/Dessert

Racecourse Hotel Motorlodge

118 Racecourse Rd, Sockburn,

Christchurch. Ph 03 342 7150

www.racecoursehotel.co.nz

$10

Special available lunch only

Monday - Saturday 12pm - 2.30pm

Conditions apply.

$20

Lunch & Dinner

All you can eat, 7 days

Bookings Essential PH 386 0088

fb.com/GardenHotelRestaurant

www.gardenhotel.co.nz

NOW SERVING

available

from

9am

Breakfast

HAPPY

HOUR

5PM - 7PM

DAILY

LIVE Vintage Blue

MUSIC 6PM FRIDAY 3rd June

PHONE 385 8880 FIND US ON FACEBOOK fb.com/GBCCHCH

THE GARDEN HOTEL COMPLEX | 110 MARSHLAND RD

www.gardenhotel.co.nz | phone 385 3132
---
24

Tuesday May 31 2016

PEGASUS POST

$

13 99

kg

Fresh NZ Beef Rump Steak

$

3 49

bag

Country Fresh Washed Potato

Range 2kg

$

4 90

each

$

5 69

each

$

3 99

each

$

7 99

each

Tip Top Ice Cream 2L

Sanitarium Weet-Bix 1.2kg

Meadow Fresh Yoghurt 1kg

(Excludes Greek)

Mainland Mild/Colby/

Edam Cheese 1kg

WINE

DEAL

OF THE

WEEK

$

31 99

pack

$

7 99

each

$

3 50

each

$

1 00

each

DB/Export Gold/Tui

24 x 330ml Bottles

Montana Classic

750ml

Fresh-Up Fruit Drink/Juice

3L

L&P 1.5L

See our online mailer at

FreshChoice.co.nz/Savings!

Prices apply from Tuesday 31st May to Sunday 5th June

2016, or while stocks last.

Trade not supplied. We reserve the right to limit quantities. All limits specified apply per customer per day.

All prepared meals are serving suggestions only. Props not included. Certain products may not be available

in all stores. Proprietary brands not for resale.

FreshChoice.co.nz

FreshChoiceNZ

FreshChoice Parklands

60 Queenspark Drive, Christchurch.

Phone 383 1004.

Open 7am-11pm, 7 days.

FCPP3105