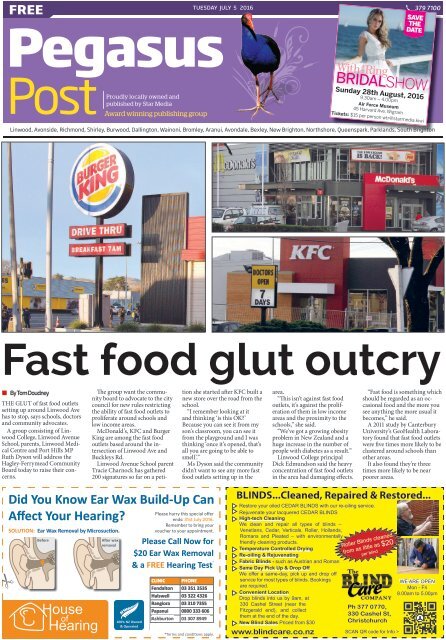 Pegasus Post: July 05, 2016
You also want an ePaper? Increase the reach of your titles
YUMPU automatically turns print PDFs into web optimized ePapers that Google loves.
FREE

TUESDAY JULY 5 2016

379 7100

Pegasus

Post

Proudly locally owned and

published by Star Media

Award winning publishing group

Sunday 28th August, 2016

9.30am – 4.00pm

Air Force Museum

45 Harvard Ave, Wigram

Tickets: $15 per person wtr@starmedia.kiwi

Linwood, Avonside, Richmond, Shirley, Burwood, Dallington, Wainoni, Bromley, Aranui, Avondale, Bexley, New Brighton, Northshore, Queenspark, Parklands, South Brighton

Fast food glut outcry

• By Tom Doudney

THE GLUT of fast food outlets

setting up around Linwood Ave

has to stop, says schools, doctors

and community advocates.

A group consisting of Linwood

College, Linwood Avenue

School, parents, Linwood Medical

Centre and Port Hills MP

Ruth Dyson will address the

Hagley-Ferrymead Community

Board today to raise their concerns.

The group want the community

board to advocate to the city

council for new rules restricting

the ability of fast food outlets to

proliferate around schools and

low income areas.

McDonald's, KFC and Burger

King are among the fast food

outlets based around the intersection

of Linwood Ave and

Buckleys Rd.

Linwood Avenue School parent

Tracie Charnock has gathered

200 signatures so far on a petition

she started after KFC built a

new store over the road from the

school.

"I remember looking at it

and thinking 'is this OK?'

Because you can see it from my

son's classroom, you can see it

from the playground and I was

thinking 'once it's opened, that's

all you are going to be able to

smell'."

Ms Dyson said the community

didn't want to see any more fast

food outlets setting up in the

area.

"This isn't against fast food

outlets, it's against the proliferation

of them in low income

areas and the proximity to the

schools," she said.

"We've got a growing obesity

problem in New Zealand and a

huge increase in the number of

people with diabetes as a result."

Linwood College principal

Dick Edmundson said the heavy

concentration of fast food outlets

in the area had damaging effects.

"Fast food is something which

should be regarded as an occasional

food and the more you

see anything the more usual it

becomes," he said.

A 2011 study by Canterbury

University's GeoHealth Laboratory

found that fast food outlets

were five times more likely to be

clustered around schools than

other areas.

It also found they're three

times more likely to be near

poorer areas.

BLINDS...Cleaned, Repaired & Restored...

ouse

of

earing

100% NZ Owned

& Operated

Please hurry this special offer

ends: 31st July 2016.

Remember to bring your

voucher to your appointment.

CLINIC PHONE

Fendalton 03 351 3535

Halswell 03 322 4326

Rangiora 03 310 7355

Papanui 0800 333 606

Kaiapoi Ashburton 03 0800 307333 8949 606

Ashburton 03 307 8949

Restore your oiled CEDAR BLINDS with our re-oiling service.

Rejuvenate your lacquered CEDAR BLINDS

High-tech Cleaning

We clean and repair all types of blinds –

Venetians, Cedar, Verticals, Roller, Hollands,

Romans and Pleated – with environmentally

friendly cleaning products.

Temperature Controlled Drying

Re-oiling & Rejuvenating

Fabric Blinds - such as Austrian and Roman

Same Day Pick Up & Drop Off

We offer a same-day, pick up and drop off

service for most types of blinds. Bookings

are required.

Convenient Location

Drop blinds into us by 9am, at

330 Cashel Street (near the

Fitzgerald end), and collect

them at the end of the day.

New Blind Sales Priced from $30

www.blindcare.co.nz

Roller Blinds cleaned

from as little as $20

per blind

Ph 377 0770,

330 Cashel St,

Christchurch

SCAN QR code for Info >

WE ARE OPEN

Mon - Fri

8.00am to 5.00pm
---
2

Tuesday July 5 2016

Inside

PEGASUS POST

FROM

THE

EDITOR'S

DESK News..................................3 & 5

Isabella Garbett, 17, is a wonderful

example of a young person

unafraid to stand up and fight for

what she believes in. In this week's

Our People feature, she talks to

reporter Georgia O'Connor-

Harding about apathy around

women's issues in her age group

and weighs in on the Hornby High

School skirt debate. A great read

on page 8.

Regular columnist, fire risk

management officer Mark Thomas,

describes a frightening call-out

of a young child apparently unconscious

on a swing. Fortunately,

it had a happy ending – see his

column on page 4.

If your school is celebrating

Maori Language Week, send in

some photos of what you got up

to, we'd love to see them – we

may even put them in next week's

paper!

Hei kona – Shelley Robinson

Waitakiri pupils show off their basketball skills

SCHOOLS 6

Your Local Views..........4

Local Schools.....................6

Our People....................... 8

Community Events......10

Senior Living...........14,15

Home Heating............16,17

Real Estate.....................18

GET IN TOUCH

General Enquiries Ph 379-7100

Classified Advertising Ph 379-1100

starmedia.kiwi

NEWS

Fraser Walker-Pearce

Ph: 364 7424

fraser.walker@starmedia.kiwi

ADVERTISING

Gail Henry

Ph: 364 7450

gail.henry@starmedia.kiwi

NEW & RECYCLED

CLOTHING

SHOPS AT:

14 Yaldhurst Rd, Ph 03 341 5379

251 Ferry Rd, Ph 03 381 3089

94 Victoria St, Rangiora, Ph 03 310 7421

Open: Mon-Fri 10am-4.30pm, Sat 10am-2pm

SUPER STORE:

320 Manchester Street (Bealey Ave end)

Phone 03 365 2051.

Clothes, shoes, whiteware, furniture,

linen and homeware.

Open: Mon-Fri 9am-5pm, Sat 9am-3pm

Donations of furniture and homewares

welcome during shop hours.

Wainoni

& PANDA'S PIZZA

Buy 2 pizzas

& get the 3rd

FREE

Only available with this coupon

Mon - Thurs 4pm-9.30pm

Fri - Sun 12 noon-9.30pm

Valid until 31st August, 2016

Dyers Road Landscape

& Garden Supplies

• Barks • Peastraw • Composts - we supply the best available

• Aggregates - Chip, Round and Basecourse

• Pavers & Schist products • Pungas

• Decorative Stones & Landscaping Rocks

• Trailer Hire first hour free with purchase

• Bag & Bulk - pick up or delivered

David, Carol & Mike

We will deliver!

SOIL

AND

HARDFILL

DUMPING

Phone: 03 384 6540

183 Dyers Rd, Bromley • OPEN 7 DAYS

Weekdays 7.30am-5pm. Weekends 8.30am-3pm

www.dyersroadandlandscapes.co.nz

the creative heart of your community

175 Wainoni Road, Wainoni

(opp Pak 'n Save) • Phone 388 4373

Mini Makers Day

COME & SUPPORT tHE BUDDING, CREATIVE DESIGNERS OF THE FUTURE

11am - 2pm FRIDAY 22nd JULY

Designer co-op store of locally handcrafted goods

49 Nancy Ave, Mairehau

9:30am - 4pm – MON-FRI & 11am - 3pm – SAT

payitforwardstore.co.nz – facebook.com/payitforwardmairehau

Pay it Forward is a Neighbourhood Trust community project supported by the CCC Endowment Fund and

Rātā Foundation Social Enterprise Fund. Profits are returned to the community.
---
PEGASUS POST Tuesday July 5 2016 3

News

Concern over car park loss

• By Fraser Walker-Pearce

BUSINESSES ALONG North

Avon Rd are saying road works,

which will see them lose 35 car

parks on the street, is "overkill".

North Avon Rd may lose the

parks and have to put up with

four months of road works if a

city council road upgrade goes

ahead.

The city council is currently

consulting with the public about

the Richmond road receiving a

$2.9 million upgrade from January

next year.

City council

head of transport

Chris

Gregory (left)

said the road

would lose car

parking spaces,

which will not

return after the

upgrade is completed.

"The 35 car parks are needed

to accommodate cycle lanes

along what is part of the local

cycle network, and to allow for

some street landscaping. There

are no plans to replace them,"

he said.

A spokeswoman for Delta

Community Support Trust,

based on North Avon Rd, said

she was worried the works

would interfere with planned

renovations.

"We are embarking on some

major renovations at Delta

ourselves and part of that was

re-doing our street frontage on

North Avon Rd. So this has come

as news to us, and I think it's

definitely something we will have

to look at extensively," she said.

Mr Gregory said the road

works would not directly affect

any access to Delta.

Another part of the upgrade

would see a traffic island

installed to prevent traffic

turning right into Stapletons

Rd.

But North Avon Pharmacy

owner Duncan Hurren said the

city council is over-reacting to a

non-existent problem.

"I really don't see any issue

with the current layout there.

One of my staff has been

here for seven years and has

never seen an accident in that

intersection (Stapletons Rd and

North Avon Rd), so she doesn't

know why they're bothering,"

he said.

Mr Gregory said the traffic

island would act as a safety

improvement for the road.

"An island along North Avon

will prevent right turning into,

and out of, Stapletons Rd. These

movements have been the cause

UPGRADE:

North Avon

Rd may

receive a

$2.9 million

upgrade if

residents

give it the

green light.

PHOTO:

GEOFF

SLOAN

of accidents, and created delays

for other traffic waiting on the

turners, in the past . . . there

have been five crashes at the Stapletons,

North Avon, Stanmore

intersection over the last five

years. One involving a cyclist,"

he said.

Public consultation is open

until July 20. To have your say

visit the city council website.

HAVE YOUR SAY: Do you

think the North Avon and

Stapletons Rds intersection

is dangerous? Should a

traffic island be installed?

Email fraser.walker@

starmedia.kiwi

In Brief

FURNITURE DONATIONS

Class Furniture donated three

classrooms of furniture to Haeata

Community Campus' temporary

site at the former Burwood

Primary School site. Haeata staff

can now host students and teach

classes, as well as host meetings.

SERVICE REQUESTS UP

A report presented to the

Burwood-Pegasus Community

Board on Monday saw customer

service requests for graffiti, water

reactive management and street

cleaning, rise again. In February,

there was 130 requests to council

to deal with water management,

104 for street cleaning, and 77 for

graffiti. But for the month of May,

the board saw those numbers

have risen. In May, there was 196

requests for water management,

147 for graffiti, and 131 for street

cleaning. This means the number

of service requests for graffiti in

the eastern suburbs has nearly

doubled in recent months.

QE II TENDER

Builders wanting to be involved

with the construction of the

Eastern Recreation and Sports

Centre may now put their names

forward. Builders can register

their interest until August 1,

at which point they will be

evaluated. Tenders are currently

being prepared by the city

council.

Winter Specials

Best Price, Best Service

1/2 Head of Foils

Retouch and Cut

Mens Cuts now only

$

99

$

75

$

20

Phone today: 03 383 2428

259 Burwood Road

HELPING US,

HELPS THE

COMMUNITY

Drop off or buy

2 family stores in your community

30 Main North Rd,

Ph 352 4581

520 Cranford St,

Ph 352 0515

Presents

Sat 16th - Sun 17th July

Proudly

supported by

9am - 5pm

Horncastle

Arena

55 Jack Hinton Drive,

Addington

$5 Entry

*Kids under

2 free*

The Christchurch Brick Show is back and is one of

the biggest LEGO® event of its kind in New Zealand!

The Exhibition will showcase fantastic LEGO® fan

creations, and is aimed at LEGO® fans of all ages.

www.facebook.com/christchurchbrickshow

LEGO is a trademark of the LEGO Group, which does not sponsor,

authorise or endorse this event.
---
4

Tuesday July 5 2016

Your Local Views

PEGASUS POST

Connect with others

to boost wellbeing

FLAME FILES

Kim Morton

is the

manager

of Ōtautahi

Creative

Spaces, a

wellbeing

through

creativity

initiative which is based

at the Phillipstown

Community Hub and runs

programmes at Aranui

Library. She speaks about

health and wellbeing on

the east.

In proposing that the city

council allocate funding to

mental health in Christchurch,

Mayor Lianne Dalziel bravely

confronted an unavoidable truth

– the terribly compromised wellbeing

of people in Christchurch.

The fallout from the turmoil

of school closures, the loss of

homes and communities, unresolved

insurance disputes, financial

insecurity, and underlying

poverty will play out for years to

come.

Health service centre to open

at Eastgate Shopping Centre

NEW ZEALAND'S first

large-scale social and health

service centre will open at

Eastgate Shopping Centre this

week – and the neighbouring

Linwood Library is expecting a

big boost as a result.

The Loft will house Aviva, Barnardos,

the Family Help Trust,

He Waka Tapu, New Zealand

Red Cross and the Linwood

Medical Centre.

They will all provide specialist

services from one shared space

Previously

United Travel

The mental health crisis appeared

to deepen this week with

the Canterbury District Health

Board's announcement that

they will take $23 million from

older adults' health to top up

the shortfall in mental health

funding.

We need to find creative

solutions to mental health and

wellbeing in Christchurch. At

the heart of a healthy city is opportunities

for social connection.

Connecting with others

through creativity is one powerful

way of boosting wellbeing:

art gives us hope, a voice, and a

way of telling our story. Creativity

can also be respite from the

relentless pressures of our lives.

on the first-floor of the mall.

Together with the Linwood

Library, the service hub will span

over 3000 sq m.

Linwood Library team leader

Alan Seaton said the development

was an opportunity to

connect with more people in the

community.

"It's a really good opportunity

for Linwood Library," Mr Seaton

said

"In terms of foot count, we're

currently the third busiest library

Many people don't feel a connection

to the re-emerging CBD

and it feels like there's a deepening

divide between the central

city and the suburbs.

This makes local gathering

places even more important.

One exciting initiative is the hub

that's emerging from the closed

Central New Brighton School,

and it looks like creativity will

feature strongly there.

To reinforce this, we need our

council to adopt visionary social

wellbeing and arts policies – and

we need to make these issues

count in the upcoming election.

Both created in early 2000s,

the current policies are inadequate

for the post-earthquake

landscape.

Dunedin's arts and culture

strategy Ara Toi – Our Creative

Future is a fabulous model,

showing that far from being

sidelined as a peripheral thing

that's nice to have, the arts are

an integral part of the fabric of

a city with economic, social,

cultural and health outcomes.

in the network, and we are only

going to get busier with this

development, so we're excited.

"The library currently sits on

the first floor of Eastgate Shopping

Centre. Customers have to go out

of their way to get to the library –

it's a destination," he said.

The Loft will have more than

80 full-time staff members in the

social service space, and 35 in the

primary health care space.

The centre will support a client

base of around 3500 people.

2017 Early Birds

WARNING: Never use multi-plugs with high current-draw

appliances such as heaters.

Danger with heating

during cold weather

• By Mark Thomas – Fire Risk

Management Officer

I RECENTLY mentioned ash

fires as a problem at this time of

year.

Unfortunately, the past week

has seen two more incidents

– one in Mount Pleasant last

Thursday, which fortunately

did not spread into the house,

and another in Wilsons Rd on

Monday, where the occupants

were not so lucky.

People need to be aware that

ash from a fireplace when put in

a bucket or other container can

stay hot enough to cause a fire

for five days.

That's because ash itself is an

excellent insulator and keeps

hot coals from cooling, instead

transferring the heat to the

container they are in.

We also had an incident this

week where a fire was caused by

a multi-box.

Also known as a power board,

multi-plugs and other similar

small dividers are a necessity in

Book with Viking River Cruises and fly to Europe return for $550pp

the modern home and can be

bought very cheaply.

They are safer if the

appliances plugged into it are

semi-permanent.

They should never be daisychained

(one multi-box plugged

into another).

They should also not be

used with high current-draw

appliances like vacuum

cleaners, refrigerators, water

blasters and high wattage

electric heaters.

These should instead all be

plugged straight into the wall

outlet.

Finally, a crew was called to a

park in Stanmore Rd last Friday

morning to investigate a small

child apparently unconscious on

a swing.

That's scary for us all.

Sudden illness in toddlers is

one of those things that terrifies

adults.

However, in this case, mum

was close and the three-year-old

was only having a nap!

8-day Lyon &

Provence Cruise

Avignon to Lyon onboard

Viking Heimdal

$

5,074 *

from

per person in Standard (F) category,

based on 25 Oct 2017 departure.

Fly

to

Europe

$

550 *

for

per person.

15 day Grand

European Tour

Budapest to Amsterdam

onboard Viking Mimir

$

5,074 *

from

per person in Standard (F) category,

based on 27 Oct 2017 departure.

YOU Travel Tower Junction

3/4 Troup Drive, Addington 03 341 8965 sandra@youtowerjunction.co.nz

*Terms & Conditions: Prices quoted are not guaranteed and are subject to availability at time of booking. All prices, itineraries and special programs are subject to change without notice.

YOU Travel Ferrymead

960 Ferry Road 03 384 2700 melissa@youferrymead.co.nz
---
PEGASUS POST Tuesday July 5 2016 5

News

Serial tagger caught on camera

• By Fraser Walker-Pearce

Office space with a view

A NEW business hub in the east

is beginning to take shape – and

one of its selling points is the

view.

The ARGO co-working space

will provide an environment for

those wanting a better work-life

balance, and a view out past

New Brighton Library and onto

the beach.

It will be situated on the second

floor at 215 Marine Parade,

in the pedestrian mall, across

the road from the library.

Owner and creator of the

ARGO project, Rebecca Tavete,

said she hopes the office space

will become a hub for those in

creative and technological jobs.

"We're looking to get in

designers, those working in multi-media,

app designers and freelancers

that can all collaborate

together. It'll be easier for them

to have a work-lifestyle balance

as well. And with that, they'll be

in a supportive, creative space,"

she said.

An open night on July 8 will

show potential clients what the

space will look like on opening

day, which Mrs Tavete hopes

will be enough for them to sign

up for a spot.

"You're your own boss basically,

so you can come in at 5am

if you want, leave at 8am and go

for a surf, and then come back

after," she said.

New Brighton Business

and Landowners Association

manager Paul Zaanen said the

A MAN suspected of tagging

a distinctive mark across New

Brighton has been caught in the

act by a home security camera.

Last week, the Pegasus Post

reported that between 60 and

70 per cent of all graffiti in

New Brighton and North New

Brighton during April and May

was a tag reading 'DOFUS'.

In the month of June, the number

of tags in the area had risen

to between 40 and 50 instances.

A North New Brighton

resident unwittingly captured

pictures of the serial tagger in

action on June 16.

The resident, who did not want

to be named in fear of the tagger

returning to their home, said

they initially took no notice of

the man.

But the following day, they

walked out of their home to see

WHAT A VIEW: A New Brighton business hub aims to open in August, with the attraction of

having beach views like this.

PHOTO: GEOFF SLOAN

association and the creators of

ARGO had collaborated on the

project for a long time.

"We're just here to help and

advise really. It's taken about 10

months to get it all under way,

and we just offer a support role

to that," he said.

the word 'DOFUS' spray painted

on a power pole.

"I saw the guy from my workshop

and saw him stop by the

pole.

"I didn't think of it until I went

out the next day and saw the

tag. I got him on the camera's

footage. He got the next power

pole on the street as well, and I've

also seen it on Marine Parade as

well," they said.

City council team leader for

Mrs Tavete hopes to gain

enough support from the community

on the open day to go

ahead with her planned opening

date of August 1.

"There's no other place in the

city I believe that this could

happen. This is the ultimate

graffiti Valerie Merryweather

said between May 1 and May

31, there was 13 records of the

'DOFUS' tag being removed by a

graffiti removal team.

The photos have been provided

to police. Senior Sergeant Dave

Robertson, said they were investigating

the tagging.

"If we can identify him from

the photo then we will look to

charge him . . . I'm surprised we

haven't heard of him yet."

location, a truly inspiring

landscape. If we get a 30 per cent

occupancy, we can make it happen.

So it's about people buying

in really," she said.

FOR MORE information, go to

eventfinda.co.nz and search for

ARGO.

In Brief

PLAYGROUND REPAIRS

Repairs have been made to

New Brighton's 'whale pool'

playground after a resident

found cracks in the slide and

play equipment that had been

boarded up. City council head

of parks Andrew Rutledge said

action was taken to assess and

make the play equipment safe.

This led to the treatment of

corrosion and repairs to the

slide. Three new swing seats

were also installed. Mr Rutledge

said city council playgrounds

were inspected monthly through

a maintenance programme,

with contractors acting on any

immediate health and safety

concerns. "The most recent

inspection report from June

6 did not indicate any play

equipment that needed repair,"

he said.

TREE REPLANTING

The Avon-Otakaro Network is

crowd funding a campaign to

plant 2000 trees in Anzac Drive

Reserve. It will carry out the

replanting on July 29 and 30.

So far, it has raised more than

$5000 but only has three more

weeks to reach $16,660. To help

replant the trees on one or both

days, or donate to the campaign,

visit www.millionmetres.org.nz

for more information.

LINWOOD REPAIRS

The Stronger Christchurch

Infrastructure Rebuild Team has

begun repairing pump station

one on Pages Rd. The generator

section in the building was

structurally displaced during

the earthquakes. Work has

begun to demolish the generator

section. Once demolished, a new

building will be constructed on

the site. Work will continue for

about five months.

AVONSIDE CLOSURE

Last week, Stronger Christchurch

Infrastructure Rebuild Team

closed off the rest of Retreat Rd

in Avonside. It will remain closed

for about five months to allow

SCIRT access to the broken waste

water main. Residents access to

Retreat Rd will be maintained

through Avonside Drive.

Burwood & Redwood

Graeme is

back at our

Burwood Shop

offering the

same great

professional

& friendly

service.

See us on www.starlive.kiwi

Ph: 383 2114

269 Burwood Road,

Burwood

Ph: 354 4022

290 Main North Road,

Redwood

SHOP HOURS

Mon-Fri 8.30am-5.30pm

Sat 9.00am-4.00pm

Layby available
---
6

Tuesday July 5 2016

Mobile

technology

hub visiting

schools

A MOBILE learning centre

carrying some of the country's

most advanced technology

visited eastern schools recently.

Avondale School hosted the

learning centre on Thursday.

It also visited Aranui and Linwood

North schools.

The centre's focus is on educating

lower decile and remote

schools about the benefits of

technology and how it can be

effectively used.

The high-tech vehicle travels

the country letting students,

parents, teachers, senior citizens

and community groups

experience some of the world's

latest technology.

The centre has booths and

pods which allow pupils to

listen and learn.

There's also an activity area

to create digital content and

experiment with devices like

cameras and tablets.

So far the mobile learning

centre has been to Aranui,

Bamford, St Anne, Hornby,

Linwood North, Rowley Ave,

Wharenui, and Avondale

schools.

The centre will visit six more

primary schools over the next

two weeks.

AVONSIDE GIRLS' High

School and Linwood College

took away awards for

outstanding performances in

the regional Big Sing finals held

recently.

The Avonside choir received

the Outstanding Recital Performance

by a Girls' Choir award,

SCHOOLS

New entrants

Last week, Banks Avenue

School had seven new

pupils start their journey into

education. Ben, Catherine,

Charlee-May, Christopher,

Drae, Luke and Summer all

showed the things they're

most keen to learn about at

school.

Email photos to fraser.walker@starmedia.kiwi

Avonside, Linwood perform well at Big Sing contest

and Linwood took out the

Outstanding Performance of a

Composition with a Maori or

Pasifika text award.

The competition was held over

two days at Knox Church, with

a gala concert at the St Mary's

Pro-Cathedral.

More than 500 students in 29

Waitakiri mixed team beat their neighbour, Queenspark, in the inter-schools

basketball competition last week.

PHOTOS: CANTERBURY BASKETBALL ASSOCIATION

SHIELD THE BALL: Lucas Smith

waits for support while shielding off a

defender.

CATCH AND MOVE: Hayley Sullivan

receives the ball from a team mate.

choirs from 18 school participated.

Awards were given by regional

judge David Griffiths, who is a

professional opera singer and

former teacher at the University

of Waikato.

Although the judge is not

required to give out any awards,

PEGASUS POST

TACTICAL DRIBBLING: Seth Sullivan

takes control of the game by dribbling

down the court.

TO THE

HOOP:

Fergus

Simcott

takes a shot

at the hoop

for Waitakiri.

Mr Griffiths presented more than

10 outstanding performance

awards to competitors. This included

Outstanding Performance

by a First Time Big Sing Choir,

Outstanding Performance of a

New Zealand Composition, and

Outstanding Performance of a

Modern or Contemporary Work.

THE HOME OF GOOD BAKING

Purchase 2 x 2L Dairy Dale milk to enter the draw to win

$1,000 worth of bread & milk for your family!

25 WINNERS - 1 PER STORE!

Promotion valid 1st July - 31st July 2016. Winners will be contacted Friday 5th August 2016.

Terms & conditions apply. Full terms and conditions can be found at couplands.co.nz

MILK

Dairy Dale 2L varieties.

$

5 98

2 FOR or $3.19 each

HOT DEAL!

SUPER CHOC CHIP

TRAY 12PK

$

1 99

EA

Promotional pricing available while stocks last from 04/07/16 to 10/07/16.

Images are serving suggestions only.

Open 7 days | 8 Convenient local locations

Hornby • Barrington • Ferry Rd • Papanui • Riccarton • Upper Riccarton • New Brighton • Rangiora

BAKERIES

www.couplands.co.nz
---
PEGASUS POST Tuesday July 5 2016 7

BRING ON THE

WEEKEND

Bosch

14.4 Volt Li-ion Driver Drill

10mm keyless chuck

Includes 2 batteries

291449

Work Bench

100kg weight bearing capacity

287486

Mighty Straps

Ratchet Tiedowns

25mm x 4m

115179

2 Pack

$

9 95

$

129

$

24

$

79 99

$

12 98

2 Pack

$

6 98 $

12 98 $

14 89

Dust mask

13 pce Screwdriver Set

Paper Filter P2 with valve

Includes Carry Case

Black + Decker

174957

229945

Circular Saw

121061

Bacho

475mm Hand Saw

253732

Stanley

Claw Hammer

Fibreglass handle

Lifetime warranty

245134

Werner

6 Step Dual Purpose Ladder

NZ industrial 120kg Standard

244619

Number 8

Sledge Hammer

3.6kg (8lb)

235623

Number 8

Extension Lead

Light weight, 22m

288633

$

19 98

$

98

Fuller

Jumbo Tape Measure

8m x 32mm

273247

$

39 98

$

13 99

Ferrymead

1005 Ferry Road, Phone: 366 6306

Opening Hours: Monday–Friday: 7:00am–7pm

Saturday, Sunday and Public Holidays: 8:00am–6:00pm

Offers available at Mitre 10 Mega Ferrymead while stocks last.

mitre10mega.co.nz

If you find a lower price on an identical stocked product locally

we will beat it by 15%.

If you find the same product cheaper from another Mitre 10 store or Mitre 10 website we'll match that price. Excludes trade

and special quotes, stock liquidations and commercial quantities. The in-store price may be lower than that advertised.
---
8

Tuesday July 5 2016

Our People

PEGASUS POST

Isabella Garbett

Giving young people a voice

St Andrew's College student Isabella Garbett, 17, was

recognised at the Canterbury Youth Awards for helping give

young people a voice. She spoke to Georgia O'Connor-

Harding about engaging with the youth of the city, her views

on gender inequality and the time she spends feeding the

homeless every Sunday.

How does it feel to have

been awarded the Advocate

Inclusion and Diversity Award

at the Canterbury Youth

Awards last week?

I was quite surprised. Aside

from that, I am so incredibly

humbled because the people I

was up against do some incredible

things. So good, but at the

same time I wish everyone could

be recognised for the awesome

things they have done.

This award is about ensuring

young people have a voice.

Could you tell me about some

of the things you do to ensure

this happens in the city?

Primarily what I do outside of

school is volunteer for New Zealand

Red Cross project, Bounce.

It came about after the earthquake

and it is centred around

creating a space for young people

to talk about well-being and

gearing them up with some tips

to deal with tough times. It is

run by young people for young

people. I came in when they were

starting to re-brand. It is about

finding ways to engage people. A

lot of people don't want to read a

text book. It's targeted at people

aged 12-24. In school, I am also

the head of community service,

the sustainability council, the

student council and head of

debating.

But that's not all you are doing.

Are you an advocate for

women's rights as well?

Most things I do with a feminist

lens. There is a real trend

with year 9-11 students where

they are quite apathetic to a lot of

women's issues. (Men and women)

might be equal in the eyes of

the law, but we are not equal in

the eyes of society. It is important

to me when that younger

generation comes through that

they don't forget about where we

have come from and we have a

good appreciation of women and

their places in society. But feminism

isn't just about women – it

affects men, too.

What did you think of the

whole Hornby High School

skirt debacle last week?

That is just another classic

example of ridiculous doublestandards.

Because when you

tell girls that they need to wear

longer skirts because they are

distracting male teachers or male

students, you are telling a boy

he is more entitled to education

than a girl is – and that is just not

the case. A lot of the time people

don't think about what they are

saying and how it translates. I

know the school's response was

that it was not what they were

quite trying to say, but as soon as

you start saying those messages

it is really harmful.

Is there inequality in the city?

Yes, it is not horrific, but New

Zealand on a whole has quite

an interesting culture in terms

of gender inequality. Even with

young boys and the messages

we give them – that they have

got to be strong, don't cry – that

is harmful. It is about ensuring

both genders are given equal

opportunity. We have horrendous

domestic violence, rape,

sexual violence. We have got bad

suicide stats in New Zealand as

a whole.

And you have made a major

contribution to the homeless?

Our school has a relationship

with this taxi driver called

Daniel, who runs a feeding the

homeless thing every Sunday at

Latimer Square. I started doing

that in year 10. I like to give back

when I can. Over time I have

built up some cool relationships

HIGH ACHIEVER: Isabella Garbett was recently recognised at the Canterbury Youth Awards.

(Inset) At the Canterbury A&P Show with Pablo, mascot for the New Zealand Red Cross project,

Bounce.

PHOTO: GEOFF SLOAN

with the people (involved).

Being able to understand why

the homeless are where they

are, and what is going on in

their lives, is like building a

friendship.

Tell me about some of the

most interesting people you

have met?

I met someone the other day

who has been out of prison for

five years. He is now working

with more recently released

prisoners to help them deal with

getting out of prison. There was

another guy, I'm not sure what

his background was, but he

sleeps on the street. He is one of

the nicest people I have ever met.

He keeps the order (in Latimer

Square), makes sure everyone

stands in a line and the kids get

fed first. He is the last to come

up and that is really humbling

to see.

What is it like seeing people

your own age and even younger

in that situation?

It breaks my heart. I do the

things I do because I have an

education and opportunity,

which means I will be able to go

somewhere. It is people like that

who keep me in check.

You are in your last year of

school. What do you want to do

next year?

I want to go to Victoria University

of Wellington. I want

to do a law degree and major

in gender studies and history and

do a Bachelor of Arts.

What is your big dream?

I want to end up running an

aid organisation. I want to focus

on women's issues. I would love

to do something in first-world

countries in the lower-social

economic areas. Then, after that,

I want to go to Africa. I have got

Beautiful Teeth

Meet the

Owner

Ryan Carlton

Natural Smile

a teacher who taught in Uganda.

I would love to do something

like that. It is going to be a lot

of work, but hopefully I am in a

situation raising the awareness of

people who are in the positions

of power. Also enabling those

who aren't in power to get to

where they want to be.

Do you have any other

hobbies in your spare time?

I play four instruments and

I sing. Violin, piano, guitar

and viola. I love playing in the

school orchestra. Aside from

that, I hang out with my friends.

I would not be anywhere near

where I am today if it was not

for my friends and family. I am

really lucky to have people who

challenge me to think more

critically. I have two younger

brothers and my grandmother

also lives with us. I love them

dearly.

Free Consultation, No Obligation

• Full Dentures • Dentures Repaired • Implant Assisted Dentures

• Injection Moulded Unbreakable Partials • Relines

• Mouthguards • Additions/Repairs • Purchase cleaning and care

products from our website.

All dentures personally

designed and created to ensure

a comfortable natural fit.

DENTURES PLUS (2014) LTD

Denture Clinic and Laboratory

396 Innes Road, St Albans. Phone 385 5517.

Email: denturesplus@paradise.net.nz

www.denturesplus.co.nz

Orbiter Bus stops Innes Road
---
PEGASUS POST Tuesday July 5 2016 9

WINDOWS 10 OPTIONS

ON ALL EX LEASE COMPUTERS

i5 Cyclone Tower 22" screen

Ex Lease

• i5 Intel CPU

• 4GB RAM

• 500GB Hard Drive

• Tower case

• Keyboard & Mouse

corded

• Windows 10 option

• DVD writer

• 22" screen

• 6 Months Warranty

• Ex Lease

HP8560P Elite Book Series

Ex Lease

• i5 CPU

• 4Gb Ram

• 500Gb Hard Drive

• 15.6" Screen

• DVD writer

• Windows 7 or

Windows 10

• Ex Lease

WAS $749

NOW

$699

incl GST

$599

incl GST

i3 Desktop Cyclone

22'' screen, Ex Lease

• i3 Intel CPU

• 4GB RAM

• 320GB Hard Drive

• Desktop case

• Keyboard & Mouse

corded

• Windows 10 option

• DVD writer

• 22" screen

• 6 Months Warranty

• Ex Lease

Dell E6520 Laptop

Ex Lease

• i5 CPU

• 4Gb ram

• 250Gb Hard Drive

• 15.6 " Screen

• DVD writer

• Windows 7 or

Windows 10

• Ex Lease

WAS $599

NOW

$549

incl GST

$599

incl GST

We service & repair laptops, tablets and smartphones,

including broken screens. Ring us first for a quote.

Shop online at: www.computercentre.co.nz

serving christchurch for over 28 years

Unit 1/100 Fitzgerald Ave (Next to Cartridge World)

Phone: 379 3428

www.computercentre.co.nz

Open Monday-Friday, 9am-5pm

Q Card lending criteria, terms

and conditions, and fees apply

*All work carried out in our

workshop. Home pcs only.

Pay with Q Card or Farmers Card.
---
10

Tuesday July 5 2016

PEGASUS POST

Email fraser.walker@starmedia.kiwi

by 5pm each Wednesday

A Winter Gardening Workshop

with Gordon

Today, 2-3pm

Gordon Proctor, the local

caretaker of The Steeple Garden,

is offering a workshop on how

to become a winter gardener. He

is growing all kinds of amazing

vegetables through the winter

season and will share with

participants how they can, too.

Go along and learn from his

knowledge and wisdom. Just a

gold coin entry to go towards his

expenses. The workshop is in the

garden, but if wet, will be in the

adjacent hall.

The Steeple Garden, New

Brighton Union Church. Gold

coin donation

Exhibition and Book Launch

Monday, July 4 until Saturday,

July 16, Monday to Friday 11am-

4pm

Nicholas Williamson's paintings

exhibition called Harris and

his near death experience will be

on show at the Eastside Gallery

until Saturday, July 16.

Eastside Gallery, 388 Worcester

St. Free entry

New Brighton Museum

Golden Oldie Movies

Every Monday, from 1.30pm

Golden oldie movies at the

New Brighton Museum are

shown on each Monday of the

month, starting at 1.30pm. Go

along early for a cup of tea and a

biscuit at 1pm. July 4: Girl of the

Golden West, 1938, by Nelson

Eddy and Jeanette Macdonald,

121min. July 11: Off the Dole,

1935, by George Formby, 87min.

July 18: Fly Away Home, 1996, by

Anna Paquin, 107min. July 25:

Little Caesar, 1931, by Edward G

Robinson, 79min.

New Brighton Museum, 8

Hardy St. $2 donation

Dahl Delights – School

Holiday Storytimes

Tuesday July 12, 10.30-11.30am

Go along and listen to a

storyteller share some bite-sized

readings from The BFG, and

other Roald Dahl titles. Aimed

at children aged 7-12 years old.

No bookings required. There is a

craft activity afterwards, which

includes making your own personalised

bookmark.

Shirley Library, 36 Marshland

Rd. Free entry

Knitting for Kids

Monday, July 18, 10.30-11.30am

Join us for some woollen

fun. Learn to knit at your local

library. Learn French cotton-reel

knitting and make a friendship

bracelet. A spool knitter and

yarn are provided. This activity

is aimed for children aged 7-14.

Children must have a caregiver

with them. Bookings are essential.

For more information or to

book, phone 941 7923

Shirley Library, 36 Marshland

Rd. Free entry

Burwood Playgroup

Every Thursday, 9.30-11.30am

Even during the school

holidays the Burwood Plunket

rooms open their doors weekly

for a playgroup. Bring morning

tea for the children, and the playgroup

will provide tea, coffee,

Milo and biscuits for the adults.

The group is looking for new

families for the Thursday playgroup.

First visit is free. Spread

the word and help Plunket stay

around and support local families

for another year.

Burwood Plunket rooms, 149

Burwood Rd. $2 per family

Shirley Showcase

Wednesday August 3, 2-3pm

Get along to see a guest speaker

at the Shirley Library during

the showcase. The guest speaker

will be veterinarian John Ingles,

of Our Vets on Cranford St.

He will be talking about his

experiences as a vet, and about

how to keep pets healthy and

well. All are welcome to this

talk.

Shirley Library, 36 Marshland

Rd. No booking required. Free

entry

SKATE ON: The Big Chill event is being held as part of the

KidsFest holiday programme, on Saturday, July 9, from noon

to 3pm. Skate, scoot, roller-blade, bounce, jump on a crazy

bike, shoot some hoops, play ball, get your face painted,

or enjoy a free sausage sizzle with family and friends in the

heart of Linwood. Loads of free fun for everyone thanks to

local businesses and youth workers. The event will be held

at Linwood Park, and is free. ​

PRICE

SMASH!

FROM

$

5ea

Batiste Dry

Shampoo

Available in 50ml

& 200ml

HURRY 5 DAYS ONLY! 6 TH -10 TH JULY

2 for

ONLY

$

9ea

Best

Seller!

EOS

Lip Balms

WHY PAY FULL PRICE?

SAVE UP 70%

TO

NEW

$

10 ea

Profusion Absolute

Conceal Palette

OUR PRICE

$

14 ea

WHY PAY

$28.50

Revlon Ultra

HD Lipstick

Range

51%

SAVE *

any

$

18

or $10 each

New

colours

added!

OPI Nail

Lacquer Range

*

OUR PRICE

$

20ea

WHY PAY

$73.97

Beyoncé 100ml

Fragrance Range

OUR PRICE

$

25ea

WHY PAY

$49

CK One

100ml EDT

OUR PRICE

$

25ea

WHY PAY

$46.99

Bio Oil

200ml

NEW

$

49ea

Redken Shampoo

& Conditioner

1000ml Range

OUR PRICE

$

119 ea

WHY PAY

$199

73%

195 MARSHLANDS RD

LiLash &

LiBrow

Serums

5.91ml

SAVE *

40%

SAVE *

49%

SAVE *

47%

SAVE *

*Based on prices elsewhere, compared as at June 2016. While stocks last. Stock may vary between locations. All products are authentic and the warranty is covered by Big Bucket Deals.

WED - FRI 9AM - 6PM

SAT 9AM - 5PM | SUN 9AM - 4PM

NO BAGS ALLOWED BigBucketDeals.co.nz

facebook.com/NZFragranceandCosmetics

GENUINE

PARALLEL

IMPORT
---
PEGASUS POST Tuesday July 5 2016 11

Jo Hayes National List MP based in Christchurch East

" Kia ora

Hi I am Jo Hayes the National list MP based in Christchurch East. I

have been the National list MP based in Christchurch East since

2014.

I have been working hard alongside many external agencies,

organisations and the government to get things done. Recently I was

involved in a number of Christchurch East projects that have included:

Working with the Minister for Regenerate Christchurch in moving

the proposed landfill site away from the Waimairi Beach (Ascot

Drive) residential area in response to a meeting with the local

residents association.

Supporting the Rural Firefighters application to hold their annual

sports day on red zone land. This had initially been declined by

LINZ and was overturned with the support of the Minister for Regenerate

Christchurch.

Providing support to a number of constituents with Housing,

Immigration and EQC issues.

Supporting constituent oral submissions to the Council over the

redevelopment of QE2.

Advocating for the retention of the Travis Road Medical Centre

Car Park.

Supporting businesses in the Parklands area concerning roads

and infrastructure repairs and,supporting constituents in Kainga

related to regional council issues.

I attended the opening of the new ECAN offices with the PM and

senior Ministers recently, then visited Burwood Hospital with the PM.

A visit to the Union Methodist Church op shop and a viewing of the

excellent community project helping families gave me an insight into

"what really matters" to those families living in New Brighton. The

opening of the new Aranui Community Centre was a special

moment for the community and I trust it will be well used. I am proud

to host the Brighton Art Gallery in Parliament from May 30 to June

30. The opening had the highest MP attendance. Thanks to Judy

Harrington, her team at the Brighton Gallery and the wonderful

Artists.

In my role I am privileged to represent the NZ government at an

international level. These have included the South Asian forum on

the Elimination of Child Marriage in Kathmandu and supporting

Pacific Women MP in Samoa. Both trips I have bought back

valuable information that informs government policy or supports

women to stand for public office.

I believe a huge part of my job is to listen to YOU. I want you to tell

me how I can help you and I will try my best to do this. It may take

time, but I will get a result. So call my office for a time to meet with

either me or my MP Support – Debbie.

Nga mihi mahana

Jo Hayes.

"

www.national.org.nz

.

I really enjoyed visiting The New Brighton

Art Gallery and seeing the students from

Rawhiti School creating some fantastic

work.

I had the privilege in participating in the

Wainoi Methodist Church Scone Bake

Off with other MP's & Council members.

Delighted to attend the opening of the

new Aranui Wainoni Community Centre.

Show casing Christchchurch East Art

works from Brighton Gallery in the

Parliamentary Art Gallery Bowen

House Wellington: May 30th to June

30th

John Key

Right Honourable Prime

Minister of New Zealand

Lets talk.

I believe a huge part of my

job is to listen to you the

people.

If you have any issues Ior

challenges please give me a

call so we can talk PH: 384

9459.

Happy to speak to

community groups.

I am particuarly keen to speak

with any sports or community

groups in Christchurch East. It

does not matter how big or

small the event or size of the

crowd, I will go out of my way

to make myself avaialable to

address and listen to you.

Simply contact the office

during works hours to check

on my availibility.

What's coming up:

On Prime TV: I will be

appearing in a new documentary

series called "Inside

Parliament: this will screen in

August.

You're invited: to visit the

Parliamentary Art Gallery in

Wellington to see the 25

Brighton Artists work on

display. Only showing until 30

June 2016.

Contact me:

P: 03 3849459

M: 021 620 316

E: joanne.hayes@parliament.govt.nz

www.johayes.co.nz

Jo Hayes

National List MP

based in

Christchurch East

Funded by The Parliamentary Service and authorised by Jo Hayes, unit 6/ 950 Ferry Road, Ferrymead, Christchurch.
---
12 2

Tuesday

[Edition datE]

July 5 2016

PEGASUS POST

ADVERTISING SUPPLIMENT

Working Out SuckS

That's right people, we are not afraid to say it, nor is the cofounder

of anytime Fitness Chuck Runyon who wrote a book

titled just that Working out Sucks – but what's the alternative?

Many people find gyms intimidating

and unfriendly so anytime Fitness's aim is

to be the friendliest gym bringing health

and fitness to everyday people.

So how do we do it? We provide

options. anytime Fitness offers 24/7

virtual fitness classes, personal training

for extra motivation, the latest cardio

equipment with inbuilt smart screens

(youtube, Google, virtual rides, TV and

more), weights and resistance training.

We have flexible membership options,

private bathroom facilities, clean gyms,

full security systems and above all

friendly and motivated staff who want to

see you achieve – no matter how big or

small your goals are.

We are the gym for real people who

want to get to a healthier place. our

goal is to connect with every member by

offering assistance in a safe environment.

We love watching each member's

confidence grow in all aspects of their

life – in fact it's a huge driver for us. If

we could, we would get the world to a

healthier place!

The latest anytime Fitness has now

opened at Spitfire Square 544 Memorial

ave. Come in and try out the club for

seven days on us!

If you don't want to be Goldilocks and

want to find the gym that's just right the

first time, then come and see us today. you

might find that workouts don't suck quite

as much as you first thought – in fact they

may be just the very thing you need.

Text Health to 4464 for more information.

We love watching

each member's

confidence grow

in all aspects of

their life.

NEED

DENTURES?

WE CAN

HELP

230 Barrington st

332 4004

Your Local

Friendly

Dental

Technician

Easy parking

& great service

EvEryday BEst Buys!

30 capsules

Go Healthy

GO VIR-DEFENCE

Keeps those ills and chills

at bay, and promotes

immune health.

RRP $29.99

ONLY

$25.90

• Prescriptions • Medico Packs

• Gifts • Health Advice

• Dry Cleaning • Passport/ID photos

Burwood Pharmacy

Hours: Mon-Fri 9am-5.30pm, Thurs 9am-6pm

11 Parnwell Street. Ph 383 4814

super LOW prICes!

LGS_June_QP_001_2016_HO3228

watch local | support local | shop local

Monday to thursday

at 12pM, 5pM & 9pM

Freeview HD 40 | Live stream and on demand at ctv.co.nz

For enquiries, contact

Geoff Moreton: 021 1066 177

SanderSon FiSh oil

easy to swallow & odourless

Was $39.90 noW $29.90 220 capsules

Very high potency source of Omega 3. Helps with

the maintenance of joints, heart, skin, brain & general

wellbeing.

3 Convenient Locations:

The Palms: 385 0364

The Hub Hornby: 349 5150

Bush Inn Centre: 348 7867
---
[Edition datE]

PEGASUS POST Tuesday July 5 2016 131

SENIOR LIVING

Research Supports

Eye Health

NutritioNal researchers have

discovered a range of nutrients that are

essential for eye health. some of the most

essential nutrients that have been shown to

protect and even improve eye function are:

selenium, is a trace mineral that is low

in N.Z. soils and therefore in many of our

foods. researchers believe selenium may

help prevent cataracts, macular degeneration

(the leading cause of impaired vision in older

people) and may also improve dry eyes and

general eye health.

Zinc is a mineral that a large percentage

of the population are low in. Zinc has been

shown to help protect the eyes from the

damaging effects of light as well as slow

vision loss due to macular degeneration.

Vitamin c, citrus Bioflavonoids, Betacarotene

(Pro-vitamin a) and copper have

potent antioxidant ability and help protect

the eyes from damage

lutein and Zeaxanthin are amazing

nutrients that have been shown in landmark

research to not only provide potent eye

protection but may even help reverse

some of the signs of age-related macular

degeneration (aMD).

Bilberry and Blackcurrant, high in potent

antioxidants may help protect the lens and

retina from damage and reduce the risk

of cataracts. They also may help improve

blood supply to the eye, strengthen the small

capillaries of the eye and may help improve

night vision, may alleviate many eye ailments

including eye fatigue that may be caused by

reading, driving and computers.

eyebright may help normalise eye pressure

and reduce eye allergies.

taurine is an amino acid that is essential

for correct eye function. it may also have a

detoxifying affect on the eye.

Vitamin B2 may help alleviate eye fatigue,

bloodshot eyes and maintain good vision.

Yumberry is the latest in eye protection.

it provides many nutrients, is rich in

oligomeric proanthocyanidins (oPc's) that

are potent antioxidants that may protect

eyesight.

These nutrients taken in a therapeutic

amount should provide comprehensive eye

protection, may slow and possibly even help

reverse eye damage that could lead to loss

of vision. all these nutrients are available

in an economical one a day easy to swallow

capsule.

Further information is available in store

at Marshall's health & Natural Therapy, 110

seaview road, New Brighton, Phone: 388-

5757.

We are Always Happy to Help!

Aspire Canterbury reaching even further

asPire caNterBurY is a not-for-profit community-focused organisation committed to

meeting the needs of older persons with mobility issues, disabled persons and their friends/

whanau. our aim is to assist people in making informed decisions about, accessing services

or choosing products that will assist them in their daily lives.

in 2015 we took our services and information on the road and out into communities,

meeting people in their environments to make daily living easier.

aspire Mobile is a response to the need to reconnect, giving disabled people and people

with mobility problems easier access to services and introducing them to new products

which can make their lives more enjoyable and provide them with a sense of inclusion in the

wider community.

We also provide a speaker for community group events and disability support group

meetings. We can give a presentation which includes an interactive demonstration of

assistive products and unbiased information about them.

We show you how to choose a walker or walking stick that is the correct height and

provide information about both their services and other resources available for community,

disability and health organisations.

alternatively, we can tailor-make presentations to suit the interests of a particular group.

if you are interested in booking a free visit, or would like more information visit

www. aspirecanterbury.org.nz, ring 03 366 6189 or email manager@aspirecanterbury.org.nz.

2015 NZ Disability

Information Centre

of the Year

Clinically Proven Nutrients

Support eye Health

Go Vision Protect from Go Healthy New Zealand is the new standard

in eye support formulas. It is one of the most comprehensive high

potency eye formulas available anywhere, with well researched

ingredients in levels needed to support eye health & good vision.

Key nutrients include: Bilberry, Yumberry, Blackcurrant, Lutein,

Zinc + nine other nutrients.

Diminished vision

Tired Eyes

Dry Eyes

Sore Eyes

Poor Night Vision

Poor Focus, Blurry Vision

Macular Degeneration

Sensitivity to Glare

Headaches from Eye Strain

Supports general eye health

30 Capsules

only $29.90, save $10.00

60 Capsules only

$47.90, save $17.00

120 Capsules

only $88.90, save $40.90

Mail order

available

only one capsule daily required!

Bringing You the Best in Natural Health!

MarSHallS HealTH & NaTUral THeraPY

CONSULTING - PRESCRIBING - DISPENSING - MANUFACTURING - MEDICAL HERBALISTS

110 SEAVIEW RD, NEW BRIGHTON • PH 03 388 5757 • Email: enquiry@marshallshealthshop.co.nz

- We are alWaYS HaPPY To HelP -

Support and Resources for Independent Living

Aspire Canterbury is a notfor-profit

community-focused

organisation committed to

meeting the needs of older

persons and disabled persons

with mobility issues. Their aim

is to assist people in making

informed decisions about

accessing services or choosing

products that will assist them in

their daily lives.

Aspire Canterbury is a not-for-profit organisation providing services to

the community since 1981

Can we help you or someone you support?

New Mobile ServiCe – Fun interactive presentations of our

information, services and easier living equipment. We come to you!

To book our presenter to speak to your group call Shannon at numbers.

Disability information Service – a 'one stop information service'

which offers unbiased advice to assist people navigate their way to

organisations or services that can provide them with support or advice.

Aspire Canterbury Shop – shop online or call in to our shop at 314

Worcester Street and view our range of easier living products. We also

hire out wheelchairs, ramps and walkers.

Aspire Canterbury is a not-for-profit organisation

providing services to the community since 1981

Physical Address:

314 Worcester Street

Linwood Christchurch

Postal Address:

PO Box 32074

Christchurch 8147

Ph: 03 366 6189

Freephone: 0800 347 242

Ph: (Total Mobility) 03 366 9093

Mobile Service: 022 140 8213

E: admin@aspirecanterbury.org.nz

W: www.aspirecanterbury.org.nz
---
14

2

[Edition datE]

Tuesday July 5 2016

SENIOR LIVING

Rangiora welcomes Nurse Maude's

Health & Mobility Shop

Nurse MauDe's health &

Mobility shop in Wairakei road has

long been the go to shop for those

who need specialised products and

equipment that allow them to live as

independently as possible in their own

home.

this month Nurse Maude opens its

second health & Mobility shop in high

street in rangiora with the same range

of incontinence and allied products

with new items added regularly as they

come on the market.

Geared toward facilitating greater

independence and quality of life,

Nurse Maude's health & Mobility

shops also have an online option where

many of the same range of diverse

and specialised products are available

online at www.nursemaudeshop.org.nz

Nurse Maude's online health &

Mobility shop has created a strong

following in rural and remote areas

where being able to access specialised

products often means a long trip to the

nearest town.

the staff at Nurse Maude's health

& Mobility shops work closely with

Nurse Maude's specialty clinic

nurses and suppliers to make sure

the expertise, advice and support

customers may need is readily

available.

Co-Q10 Reduces all causes

of Mortality by 50%

researchers Were amazed with the

results of how beneficial a natural nutrient

coenzyme- Q10 (coQ10) is to the human

body. co-Q10 is a natural enzyme in

the body's cells that is essential for cell

function, energy and survival. The heart,

liver, Kidneys and Pancreas require large

amounts of co-Q10 to function well.

in a recent multi country double blind

trial on the possible benefits of coQ10 to

protect against heart failure, 420 patients

with severe heart failure were given

coQ10 or a placebo and then followed for

2 years. it was found to the amazement of

the researchers the patients who received

you can stop him

snoring with a

SNOREX

Why put up with a broken

night's sleep?

Ph 377-4318 or 027 682 1752

DENISE LIM

FOR A FREE INFO PACK

Website: www.snorex.co.nz

PEGASUS POST

the co-Q10 had a 50% reduction in an

adverse cardiovascular event or death

compared to the placebo patients. Not

only this but the patients on the coQ10

had a 50% reduction in death not only

from cardiovascular events but from all

causes.

according to lead study author

Professor Mortensen this study is the first

in over a decade to show a natural nutrient

can reduce heart failure mortality and

coQ10 should be added as a standard

treatment for anyone with cardiovascular

complaints. it is known that coQ10 levels

decrease in the heart muscle of patients

with heart failure as severity worsens.

statin drugs are used to treat many

patients with cardiovascular problems

but these drugs also reduce coQ10

levels further in the body. symptoms

of low coQ10 in the body can be low

energy and endurance, muscle pain,

poor memory, concentration and poor

heart function or heart failure.

coQ10 levels are known to decrease

as we age and many researchers

believe keeping our levels up of this

vital nutrient may help prevent many

chronic diseases including cancer.

co-Q10 is available as a natural

supplement to support good health.

Further information is available

from the Natural health advisers,

Naturopath & Medical herbalist at

Marshall's health & Natural Therapy,

110 seaview road, Phone: 388-5757.

We are Always Happy to Help!

Co-Q10 Vital for Good Health

Co-Q10 is a nutrient that is absolutely vital to every cell to perform its function & live. It is

essential for energy production, muscle function & required in sufficient amounts for the

heart to keep beating. A deficiency will affect all organs & sufficient Co-Q10 is considered an

important factor in reducing the chances of chronic disease & reduced life expectancy. Co-

Q10 is a fat soluble nutrient & its absorption is enhanced when it is in a base of fatty acids.

This formula contains 150mg of naturally fermented Co-Q10 in a special blend of fatty acids

(Fish, Flaxseed & EP Oils) to enhance the absorption.

Co-Q10 Supports:

• Cardiovascular health

• Blood circulation

• Healthy blood pressure

• Energy & endurance

• Muscle function

• Blood sugar regulation

• Weight loss

• Immune function

• Antioxidant protection

Super Special

60 capsules only

$

26.90

120 capsules only

$

39.90

MAIL ORDER AVAILABLE

Bringing You the Best in Natural Health!

MARSHALLS HEALTH & NATURAL THERAPY

CONSULTING - PRESCRIBING - DISPENSING - MANUFACTURING - MEDICAL HERBALISTS

110 SEAVIEW RD, NEW BRIGHTON • PH 03 388 5757 • Email: enquiry@marshallshealthshop.co.nz

- WE ARE ALWAYS HAPPY TO HELP -
---
PEGASUS POST Tuesday [Edition July datE] 5 2016 15 3

SENIOR LIVING

PAULGER COURTS

RETIREMENT VILLAGE

at PaulGer courts owners robyn

and Peter MacDonald truly appreciate

the value of our residents maintaining

their community attachments, hobbies

and independence, whilst knowing that

support and companionship is there if

they need it.

the village's 34 semi-detached but

private units sit in landscaped grounds

alongside George Manning house, the

purpose-built eighty-one bed rest home

and hospital. on hand at GMh robyn

and her team are available to answer any

questions or organise any assistance the

residents need.

Paulger courts units are designed to

be sunny, comfortable and easy to live

in, whilst relieving the residents of the

burden of home maintenance or reliance

on family for urgent assistance. With

the supplied 'Never alone' alarm, the

nightly security patrol and willing staff,

residents and their families can feel

reassured that help is at hand should it

be required.

the emphasis at Paulger courts is on

ensuring that it always remains a safe

and happy place for people live, making

the move to a retirement village as easy a

transition as possible.

ARTHRITIS

Boost circulation and gently

exercise while you sit – it's so easy!

FOR

Pain & stiffness

Swollen ankles

Night cramps

Painful hands

Balance & mobility

Sore legs/numb feet

Travel & office sitting

Diabetes foot problems Only

Stroke rehab/Parkinson's

$39 90

Available from pharmacies,

at www.aircycle.co.nz

or by calling 04 569 5013

Winter Warmer - Hot tips

for cold weather

Does that nip in the air make it hard

to get moving? What better way to warm

yourself than getting the blood pumping to

warm up on the inside.

The less active we are, the more we feel the

cold. But it's easy to warm hands and feet by

working muscles and joints while staying dry

and warm in front of tV.

The aircycle exerciser is an indoor warmer

which gets your circulation going in no time.

The movement is a gentle awakening for

sleepy muscles and joints, warms and loosens

them to ease them into action.

tight, cold muscles mean decreased

mobility and are more prone to injury.

imagine putting a rubber band in the freezer

and then trying to stretch it over a large box.

it snaps. But warm the rubber band slowly

and it will stretch to take the force of your

pull. That band is like your muscles in winter.

it is unnecessary to use the aircycle for

lengthy periods. short, frequent spells

throughout the day and evening are most

effective. a few minutes while sitting with

a coffee or chatting on the phone will keep

blood circulating and feet and hands warm.

a good warm up keeps the body running

like a well oiled machine. Mrs spier wrote, "i

have arthritis and joint problems. When i've

been using the aircycle i feel as though i've

had a good lube. My joints are more flexible

and i can garden more easily."

aircycles are available in pharmacies, at

www.aircycle.co.nz, call 04 569 5013 or post

$44.90 to aircycle, Po Box 45105, Waterloo,

lower hutt. 5042

A quick winter warm up

Paulger Courts

Retirement Village

(in association with George Manning House Rest Home and Hospital)

EAT

TALK

SMILE

Live life

confidently with

advanced dental

and denture care.

8 CONVENIENT CHRISTCHURCH

LOCATIONS:

Merivale 03 375 4444

Beckenham 03 375 4443

Fendalton 03 375 4449

Linwood 03 375 4448

Kaiapoi 03 375 4442

QEII Dental 03 388 0881

Dentistry with a Smile 03 338 8210

Halswell Dental 03 322 9577

Canterbury's leading company specialising

in complete denture services.

www.duchenne.co.nz

Enquiries welcome.

''

Please ring

Robyn MacDonald

on 338-9164

weekdays

Spreydon, Christchurch

AVAILABLE NOW

1-bedroom unit

$160,000

2-bedroom unit

$260,000

Family owned and oriented

Retirement Village for independent

living in a supportive environment.

''
---
16 2

Tuesday

[Edition datE]

July 5 2016

HOME & HEATING

Get rid of dampness

in your house

NoW WItH the colder and wetter weather

on its way, home owners are focusing on ways

to make their homes comfortable, warm and

healthy for their families throughout winter.

rISINg DAMP is an issue that affects many of

our older properties which suffer from poor, or

no, insulation. In Canterbury especially, postquake,

many people have relocated to homes that

suffer from rising damp which can be associated

with health problems. Independent tests have

shown that up to 40 litres of water can rise from

the ground and enter a house every day, leading

to mildew, mould, condensation and musty

smells. Moulds can produce various allergic

reactions and the frail, elderly and very young are

especially vulnerable.

Canterbury Foam Concrete Ltd is a locally

owned and operated firm. The team understands

the problems caused by rising damp and are

there to help. They will come to your damp home

and pump a lightweight, flowable foam concrete

under your timber floored home. Specially

adapted for our New Zealand conditions and

applications it provides a layer of protection

against rising moisture. An unexpected benefit

that the team at Canterbury Foam Concrete

have noticed recently, is that many owners

of properties which had underfloor foam

concrete installed, reported that it also provided

protection against liquefaction after

the earthquakes.

Contact Canterbury Foam Concrete Ltd

now for your free, no obligation quote and

complimentary appraisal of your underfloor

ventilation needs. Phone 03 376 4608 or 0508

362626 for more information.

AttAck Rising DAmP

For existing homes with

wooden floor construction

• Stop Mould & Mildew

• Reduce Heating Bills

• Cost Effective Permanent

Solution To Rising Damp

• Free Consultation / Quotes

...at the source

STOP RISING DAMP TODAY www.foamcrete.org

Free Phone: 0508 362626 Main Office: (03) 3764608 Fax: (03) 3764603

HEAT PUMPS

Free Home

Energy Audits

Complete with report & recommendations

(Suit Landlords)

Ph 0800 161 163

L

Fujitsu Hi-Wall

ASTG12 - 4.8kw

$1999 installed

15 (only)

www.airconnz.co.nz

Warming winter with

EnviroMaster

Are you struggling with the heat of

Summer or wanting to get organised for

Winter? With the ever changing weather

patterns, heat pumps have the flexibility

of being able to heat and cool which is an

advantage no other appliance can offer. This

represents great value for your investment

as you can use it all year round. The team

at enviro Master Ltd can help keep you cool

this Summer either at home or work. enviro

Master supplies, installs and services all the

leading brands including Panasonic, Fujitsu,

Mitsubishi and Daikin. This means our team

can show you which system and brand will

best suit your needs.

We currently have savings up to $600 off

the recommended retail price on

selected models.

Would you like to maximise the number

of days you can use your swimming pool?

Heating your pool can do this and one of the

most cost effective ways is with a water heat

pump. enviro Master Ltd can supply, install

and service you swimming pool heat pump

providing you with a comfortable, extended

swimming season.

Servicing your heat pump is extremely

important to ensure that it is working

as effectively and efficiently as possible

resulting in a healthy, hygienic heat pump,

lower power bills and greater comfort. But

beware, not all cleaning companies are

equal. We are constantly hearing of people

being charged huge amounts for servicing

and all they are getting is a heat pump

PEGASUS POST

clean. We at enviro Master, are qualified

engineers and therefore are able to fully

test and diagnose any problems you may

or may not be aware of with your heat

pump. Also, as we are associated with all

major brands, we are able to repair these

under warranty if they are still within the

warranty period.

It is important to remember, when

selecting an installer, the manufacturer's

warranty does not cover the installation

and consumers could be responsible for

any repair or damage caused to the system

due to poor installation. enviro Master's

five-star installation guarantee ensures

correct installation, and a demonstration so

customers have an understanding on how it

will best meet their needs.

For a free in home consultation, call

Enviro Master on 366 0525 or visit our

showroom at 41A Shakespeare Rd,

Waltham, Christchurch.

HEAT PUMP

SALE NOW ON!

Amazin' winter Specials!!

HEAT PUMPS

Which one is right for you?

• Single-split, Multi-split, Ducted?

• Wall, Floor console, Ceiling cassette, Concealed?

• Mitsubishi, Panasonic, Fujitsu, Daikin, Toshiba...?

Find out with a FREE HOME APPRAISAL

from the Independent Heat Pump Experts.

BOOK NOW

0800 47 48 97

heatpumpguys.co.nz

• We will offer you the best quality brands and

option of heat pump for your home/business

• Providing Heat Pump solutions for over 14 years to Cantabrians

• We personally guarantee all our products & installs for 5 years

(providing annual maintenance has been completed)

Phone us today for your free consultation & quote

41A SHAKESPEARE RD, WALTHAM

PHONE 03 366 0525

www.enviromaster.co.nz

"A local team for local people"

THE INDEPENDENT SPECIALISTS
---
PEGASUS POST Tuesday

[Edition

July

datE]

5 2016 17 3

HOME & HEATING

At last an energy saving device that

gives your household direct energy

savings on your hot water power bills.

our ProVeN technology helps customers

manage their hot water heating by saving

money without impacting on their hot

water availability. Introducing our breakthrough

technology, the iSmart Hot Water

Controller which can be easily retrofitted

to any hot water cylinder by a qualified

electrician, so no need to replace your hot

water cylinder. More sophisticated than a

timer, the iSmart Controller comes with an

LCD touch screen so you can programme

when you heat up your hot water, plans

for period of high use, can be boosted

when you've got unexpected demand and

minimise power use when away on holiday.

How Does it Work?

• easy to use LCD display touch screen

• you can program the times when you

want the hot water available

• Calculates if there is enough hot

water and only heats up when required.

• easily adjust the savings you want to

make

• Boost Mode Function for when those

unexpected guests turn up

• Holiday mode – your hot water can be

safely turned off while you are away.

• Legionella Protection – once a week

automatically gets up to 60deg's to kill

any legionella bacteria.

• 7 Days Worth of Data

smooth-air products

to eNSure the quality of your air, contact

the experts. Smooth-Air Products can calculate

the required air exchange for your building

requirement. Smooth-Air offers a wide range of

ventilation equipment, from air vents to ducting

for fans, for both the commercial and domestic

markets. They have an extensive range of fans

and ventilation components in-store but they

can also provide innovative solutions tailored to

differing requirements.

VeNtILAtIoN

This includes both the exchange of air to the

outside as well as circulation of air within the

building. It is one of the most important factors

for maintaining acceptable indoor air quality in

buildings.

Filtered air supply for summer and filtered

and warmed air in winter creates a healthy

environment in which to live and work. In case

of poor or insufficient air intake from outside,

the oxygen content decreases, humidity and

dustiness levels increase. If exhaust ventilation

is not provided or it is not effective, polluted air,

smells, humidity and harmful substances are not

removed.

Low oxygen with high carbon dioxide causes

stuffiness in the room and occupants can feel

drowsy. Invisible harmful substances like a

high content of dust and tobacco smoke are

harmful and can cause various diseases. even

bad smells can cause discomfort or irritate the

nervous system. In summer, it's easy to open

windows for cross ventilation, however as winter

approaches, we start to shut up out houses to

trap in the heat and as a result, air quality can

decline.

It is therefore very important to ensure good

air quality indoors through adequate ventilation.

50%

on your hot water

fits any hot water cylinder

Remove

cooking smells

and steam!

Remote

extraction fans

Ventilation Equipment

Suppliers to trade and retail

Call 0800 890 037 for a free quote

or visit www.ismartcontroller.co.nz

Range Hood cupboard insert

● Domestic

● Commercial

● Industrial

Smooth-Air has

a wide range

of ventilation

equipment to bring

fresh air into your

home

0800 SMOOTH (0800 766 684)

www.smooth-air.co.nz

sales@smooth-air.co.nz

264 Annex Road, Riccarton

Christchurch 8024, NZ

Ph +64 3 343 6184

Mon - Fri 7.30am - 5pm
---
18 2

Tuesday [Edition datE] July 5 2016

PEGASUS POST

Hard steel at heart

75 Kidson Terrace, Cashmere

$849,000

3 bedrooms | 2 bathrooms | 1 living room | 1 dining room | 1 office/study | 2-car garage | 2 off-street parks | Listing#: BE192592

Not your usual, this steelframed

home built by our

owner 30 years ago is up for

sale. My owner is downsizing

and moving from his hill home lovingly

crafted and thoughtfully designed in

collaboration with Simon Thompson

Architect, his late wife and himself.

Built of quality materials and built to

last, this home offers all that is expected

from a modern home, including double

glazing and plenty of insulation.

Three bedrooms all downstairs means

upstairs is dedicated to a separate lounge,

open plan dining and kitchen and a large

deck to soak up the sun. My owner has

spent many a summer having breakfast

on the deck in the early morning, and

watching the sunset over the Alps in the

evening.

With extra features in this home,

including the workshop area, this home

will surprise at every turn.

My owner has made the difficult

decision to leave his masterpiece on

the hill and has purchased elsewhere.

This property is sure to impress with its

timeless design.

Open home dates: Saturday and Sunday

1.15pm to 2pm. Make sure you come visit

at one of the open homes, or to arrange a

private viewing of this property call Debbie

Pettigrew from Harcourts Grenadier

Beckenham (Licensed Agent REAA 2008)

now on 337 1316 or 027 777 0411.

ON DEMAND AT WWW.stylE.kiWi

from magazine

to screen

storiEs givEn nEW liFE

Watch EvEry thursday at

7.30pm

rEpEats Friday at

11am & 4.30pm

ExclusivE intErviEWs

Andrea Allen meets the locals

coming to toWn

A look at what's on

Fashion Focus

Trends to follow

the ultimate guides

ExpErts sharE tips

StyleTV_StarAd_June_HP_001_2016

Freeview HD 40 | Live on ctv.co.nz
---
2

[Edition datE]

PEGASUS POST Tuesday July 5 2016 19

CONTINUING EDUCATION

Horticulture

Training for

Christchurch

Residents

if yOu would like to enjoy gardening,

improve your property value, produce fresh

vegetables and fruit or get a job within

the horticulture industry, this flexible

programme can help you gain the necessary

skills.

skills update training institute has

partnered with ara to offer an introductory

'no fees' horticulture blended learning

course which combines both classrooms

and online learning methods.

tutorials have been scheduled weekly

during evenings including the occasional

weekend field trips to suit those currently

working full time or part time. Our

experienced tutors, Ryan young or Hamish

kelland, are also available by phone and

e-mail outside of classroom hours.

Ryan, the winner of various horticultural

awards and titles, says "as your learning

facilitator, i will assist you throughout the

duration of the programme and provide

guidance for each assessment."

"i am passionate about sustainable

horticulture and really enjoy working

with students to achieve their study and

educational goals" says Hamish, who has a

wide range of experience across the industry

as well as teaching in the tertiary sector.

enrolments are still open for 2016. Call

or email our team today. study over 40

weeks and earn the sought after national

Certificate in Horticulture Level 3.

Pasifika engineer

reboots Plan A

Pasifika students are slowly

gravitating towards engineering. Third year

Bachelor of engineering technology student

at ara institute of technology, Richard Ofa,

urges them to think long term.

Richard is motivated. He has worked at a

semi-skilled level. after graduating from an

it qualification at ara (then CPit), he took

a temporary job as a CnC machine operator

at skOPe. The money was good at the time,

but several years later he was still in the same

position.

Richard took stock and realised he wanted

to be an engineer, designing the products

that he had been assembling at skOPe. He

needed an engineering qualification.

The ara three year engineering degree

offered evening classes, which allowed

Richard to continue working. "i have

a responsibility to my family and the

community, so not working isn't an option,"

he says.

Richard negotiated to work part time at

skOPe and launched into his engineering

studies. "Coming back to study, working with

computers, doing 3d modelling, it's what i

have always wanted to do.

"i love problem solving, being creative and

coming up with new ideas. for my third year

project, skOPe gave me a project to work

on. it's a sliding door design, a new design. i

am quietly confident it will work out."

The degree will certainly open doors for

Richard. "i am hoping to get a full time

design job with skOPe when i graduate.

My long term plan is project management

– i will probably come back and do some

project management papers at ara in five to

10 years' time when i have some experience.

"My family are happy, in that island

way, now they can see the value of the

qualification.

Meanwhile, Richard is seeing more

Pasifika students in engineering. "The first

year i was the only fulltime Pasifika student,

but numbers have increased in the last

two years, including the number of female

Pasifika engineering students.

"The biggest challenge is managing the

workload of studying and working. i work

three days a week and study full time, so i

look forward to a sleep-in on the weekend,"

he says.

to find out more about studying

engineering at ara institute of Canterbury,

visit ara.ac.nz

STUDY

HORTICULTURE

Enrolment are now open.

Entry to this programme is open to NZ

Citizens and Residents and students

over 18 years of age.

Intake start dates are subject to

student availability.

No

Fees!

Hamish

Kelland

Ryan

Young

021 222 9678

ryan@skillsupdate.co.nz
---
569a Colombo Street

Christchurch

03 377 6800

www.tocherish.co.nz

20

Tuesday July 5 2016

PEGASUS POST

Sunday 28 August

9.30am – 4.00pm

PROUDLY SPONSORED BY:

bliss

Modern

Contemporary

Hair

CREATING YOUR PERFECT WEDDING

weddings by

collective concepts

www.weddingconcepts.co.nz

Airforce Museum

45 Harvard Avenue,

Wigram, Christchurch

Tickets: $15.00
---
PROUDLY

PROUDLY

CHRISTCHURCH

CHRISTCHURCH

OWNED

OWNED TUESDaY, aUGUST 27, 2013 PROUDLY 384

384 CHRISTCHURCH 0600

0600

PROUDLY CHRISTCHURCH OWNED MONDaY JUNE 24, 2013

OWNED WEDENSDaY 10 JULY, 2013 384 0600

384 0600

A Mainland

Media Publication

Kea

(Nestor Notabilis)

Ladbrooks, Tai Tapu, Leeston, Lincoln, Southbridge, Prebbleton, Halswell, Rolleston, Templeton, Burnham, West Melton, Darfield, Arthurs Pass

Mainland

Press Newspaper

Sumner, Redcliffs, Mt. Pleasant, Ferrymead, Woolston, Lyttelton & Akaroa Harbours

Harewood, Burnside, Bishopdale, Bryndwr, Fendalton, Merivale, St Albans, Mairehau, Papanui, Casebrook, Redwood, Regents Park, Styx Mill, Northwood, Spreydon, Belfast Hoon Hay, Hillmorton, Cracroft, Cashmere, St Martins, Somerfield, Sydenham, Addington, Waltham, Opawa, Beckenham, Huntsbury, Woolston

Black Billed

Gull

A Mainland

Press Newspaper

New Zealand

Swamp Hen (Pukeko)

Linwood, Avonside, Richmond, Shirley, Burwood, Dallington, Wainoni, Bromley, Aranui, Avondale, Bexley, New Brighton, Northshore, Queenspark, Parklands, South Brighton

PROUDLY CHRISTCHURCH OWNED MONDaY JULY 15, 2013 PROUDLY 384 CHRISTCHURCH 0600

OWNED MONDaY 12 aUGUST, 2013 PROUDLY 384 CHRISTCHURCH 0600

OWNED MONDaY JUNE 24, 2013 384 0600

A Mainland

Press Newspaper

Fantail

(Piwakawaka)

A Mainland

Newspaper

Bellbird

(Korimako)

A Mainland

Press Newspaper

New Zealand

Pigeon (Kereru)

Templeton, Islington, Hei Hei, Broomfield, Halswell, Oaklands, Westlake, Hornby, Wigram, Sockburn, Church Corner, Ilam, Russley, Hyde Park, Avonhead, Riccarton Park, Riccarton

PEGASUS POST Tuesday July 5 2016 21

Cars

$4,001 - $8,000

NEED a new car? and

need finance we can help.

Call us today Learners

lcs, past credit issues

been bankrupt or new to

New Zealand! Call Leon

022 625 2232

Celebrant

WEDDINGS, Civil

Union Ceremonies,

Renewal of Vows, Naming

Ceremonies, Funerals

and Unveilings - Jenni

Gibson Ph/Fax 324-8332,

021 723-089. www. Gardening,

celebrantservices.net.nz

Computers

Fashion Designs & Colours

Discontinued Designs

End of Lines Bargain Prices

Call at Our Shop

CURTAIN FABRIC OUTLET

71 Hawdon St Sydenham

Ph 366-5026

Gardening

& Supplies

Garden design

Planting professionals

Garden renovation &

Makeover

Quality plant sourcing

Expert pruning &

Trimming

M: 027 688 8196

P: 0508 242 733

E: greentherapy@

xtra.co.nz

We're for every gardener

Classifieds Contact us today Phone our local team 03 379 1100

autumn planting • moon calendar • the lone pine • plant doctor

FlAnders PoPPy

Its significant story

• Regional planting

• Plant Doctor

• Design ideas

• Seasonal edibles

and flowers

• Small-space

gardening

and so much

more...

InsPIred by

AustrAlIA

Ideas from Melbourne

International Flower

& Garden Show

$5.90 incl. GST

ISSN 1174-8656

Gardening

& Supplies

A GARDEN

PROFESSIONAL

NEEDED? Qualified

Horticulturist, offering

expert pruning, garden

makeovers, garden design

and landscaping, for free

quotes call Bryce 027 688-

8196 or 0508 242-733

A GARDEN OR

LANDSCAPING TIDY

UP? Rose & Fruit Tree

Pruning, Shrub, hedge

& tree pruning, Lawns,

consistently

reliable general property

upkeep, Dip. Hort. 10

yrs experience, One off

tidy ups or on-going

ALL

YOUR service. Nick's Property

COMPUTER

Maintenance. Keeping

WORRIES SOLVED! your garden beautiful.

*$30.00 off your first Free Quote. Ph. 942-4440

service with this coupon!*

No problem too big or

small from home PC's to

business networks. PC

Holiday

Accommodation

slow? An end to Viruses,

Spyware, and Clogged

Systems. Safe secure

hassle-free computing.

Lost files recovered.

Microsoft Certified,

MCSE, MCP+l. 30 years

experience. Call Andrew

QUEENSLAND SUN-

Buxton this week on 326- SHINE COAST AUSTRA-

6740 or 027 435-7596 LIA Resort, Ocean Views,

for $30.00 off* Custom Balconies, Self Contained,

Computers Christchurch

1 or 2 B/R Ensuite,

Heated Pool, Spa, Sauna,

Curtains Free Internet, Shops,

Restaurants, Tennis, Surf

Club & Patrolled Beach,

Public Transport at door.

Ask for our SEASONAL

SPECIALS. Phone 61 7

www.curtainfabric-outlet.com 544-35011 Email: reception@mandolin.com.au

www.mandolin.com.au

Public Notices

Rexellent Rentals

Cars, Vans, Brisbane , Coolangatta

FREE CALL

0800 601 508

www.rexellent.com.au

DEMOLITION

With care and respect we

will remove your dwelling.

Our policy is to recycle as

much as we can. We are a

local company specialising

in residential properties. We

will endeavor to cater for

your individual needs.

Ph. R.M. Solutions

021 02866981

for a free quote.

100%

Issue 413 | April 16 – April 29, 2015

What it means

to be

KIWI

mAke It eAsy

Low-maintenance

gardening

Projects to

remember

Making wreaths

and poppies

Public Notices

Call us & we'll help

you place your

classified advert in our

community papers

Nobody knows

Christchurch

like a local

We're local, we're

in Christchurch, we

speak your language!

Phone: 379 1100

Selwyn

Times

Nor'West

News

Bay Harbour

A

News

Southern

View Press

Pegasus

Post

Western

News

Classifieds

Our community papers are published every

Tuesday (Bay Harbour, Wednesdays) focusing

on local issues & local people.

Wanted To Buy

AAA Buying goods

quality furniture,

Beds, Stoves, Washing

machines, Fridge Freezers.

Same day service. Selwyn

Dealers. Phone 980 5812

or 027 313 8156

A+ Household effects,

fridges, freezers, washing

machines, ovens. Good

cash paid. Ph Paul 022

0891 671

A Records and Hi-Fi

gear wanted, excellent

prices paid for good

records especially kiwi

and overseas bands 60's

- 90's PennyLane 430

Colombo St Sydenham

7 days www.pennylane.

co.nz ph 3663278 or 021

2226144

TOOLS Garden,

garage, woodworking,

mechanical, engineering,

sawbenches, lathes, cash

buyer, ph 355-2045

We're for every gardener

To Let

NEED MORE

SPACE?

NO BOND THIS MONTH

Ideal as an extra

bedroom or office.

Three convenient sizes

from $70 p/w:

Standard 3.6m x 2.4m

Large 4.2m x 2.4m

Xtra-large 4.8m x 2.4m

Visit our display cabins at

95 Beach Road or

470 Cranford Street or call

0211277227 for a free brochure.

www.justcabins.co.nz

12 ISSUES

delivered to your door

$

FROm ONly

49. 00

SUBSCRIPTIONS FREEPHONE 0800 77 77 10

subs@gardener.kiwi

100%

DELIVERY

PEOPLE

The Star requires

delivery personnel

in all areas of

Christchurch.

The work involves

door-to-door

delivery of The Star

newspaper.

Situations Vacant

MUMS & DADS

Would you like your children to

exercise more and earn some money?

WANTED

Please call

Leanne Lucas 364-7451 or

Mark Coulthard 364 7453

email: deliveries@starmedia.kiwi

Assistant Producer

Star Media

Be part of a growing, locally-owned multimedia company!

Star Media is looking for a full-time Assistant Producer for

its busy production team. The successful applicant will have

outstanding organisational skills and a strong passion for

everything TV and Media.

The Role

You will assist our senior production

staff in all stages of commercial and

web video production, with direct

accountability for the execution of

a specific client brief within editorial

guidelines.

You will oversee all day-to-day

operations, such as schedule

planning, brand and product research,

staff and talent management and

more.

Your responsibilities include but are

not limited to-

• Creative script writing, idea

generation and research

• Managing

producer's daily

activities

• Interacting with

team members and

ensuring excellent

communication within

various departments

• Planning and organising

ahead to establish an

efficient course of action

for yourself and the team

• Leading and motivating

production teams, crews and

contributors, by providing

clear instructions,

support, direction and

feedback

If you're ready for your next challenge, send your CV and cover

letter to Maria.Virgolini@starmedia.kiwi.

Candidates will be considered as and

when applications are received.

Applicants for this position should have

NZ residency or a valid NZ work visa.

• Establishing clear objectives

for implementing effective and

economic production schedules

• Composing and preparing a variety

of correspondence, reports, and

internal documents in support

of current and new business

development activities

Our ideal candidate

We are looking for an enthusiastic,

highly motivated individual with

excellent time management skills,

able to work on multiple projects

simultaneously and to liaise and

cooperate with external suppliers,

clients and team.

Candidate's strengths-

• Relevant qualification in journalism,

communications, media studies or

equivalent experience

• Sound knowledge of the production

process

• Video editing experience

• Script writing experience

• Excellent communication skills

• Ability to think creatively and

"outside the box"

• Can work independently and as part

of a team

• Can work effectively under pressure,

react quickly and meet tight

deadlines

• Have a full, valid driving licence

Situations Vacant

CA$H

Strippers

& Podium

Dancers

Wanted!

18+ TO APPLY

NEISHA

021 193 0118

Trades & Services

Appliance Sales & Service

388 4780

Appliance Services

14 Brighton Mall, New Brighton

ROOFING

- Re-roofing and

new roofing

- Quality roofing at

the best price around

- Licensed building

practitioner

Robinson

Roofing Ltd

Call Hamish for a

quote 03 347 90 45

Professional

Movers

Making Local

& International

Moving Easy

0800 4 world

(03) 341 2060

www.worldmoving.co.nz

HOUSE

CLEARING

Are you moving

house?

Let All Clear Canterbury

take care of your

unwanted items.

You identify what you want

to keep & we will dispose

of the rest!!

Mob: 021 078 4553

raewynlcooke@gmail.com

www.allclearcanterbury.co.nz

FENCING

Paling, picket,

iron, trellis

Demolition and

removal

Phone Bevan

021 231 1860

Fencing Uprite

Your Eastside

Specialist
---
22

Tuesday July 5 2016

Classifieds

Trades & Services

PEGASUS POST

• Replacement/new roofing

• Colour Steel gutter & fascia

• Flue & log burner installs

• Skytube/light installs

• Earthquake repairs

Licence Building

Practitioner LBP

Member of the Roofing

Association

DCM ROOFING LTD

The Roofing Specialists

PHONE IAIN

027 445 5597

iain@dcmroofing.co.nz

ANDREWS TREE CARE

Services, tree removal,

trimming, stump grinding,

shelterbelt clean up,

section clearing, rubbish

removals, excavation

work, ph 027 728 5688

Cracked tiles?

Dirty grout?

Old or mouldy

silicon?

Brett Ph 03 358 5105

or 027 746 7632

www.groutpro.co.nz

CARPET & VINYL

Laying. Repairs, uplifting,

relaying, restretching,

Email jflattery@xtra.

co.nz, ph 0800 003 181 or

027 2407416

CARPETLAYER

Laying and Repairs, 40 yrs

experience, ph Peter 326-

7711 or 027 240-6532

DRIVEWAYS

Replace, repair or new.

We are a local company

with over 10 yrs exp.

We also operate a

digger for all other

earthworks.

Ph. R.M. Solutions

021 02866981

for a free quote.

ELECTRICIAN

SES Electrical for all

types of electrical repairs

+ Installations. Free

Quotes. Please call 027

4928 971.

BEST BATHROOMS

full renovation specialists,

LBP, repairs &

maintenance ph 03 387-

0770 or 027 245-5226

FENCING

BRICKLAYER

All styles and shapes,

George Lockyer. Over gates, wooden, ph Mark

30 years bricklaying 027 331-3223

experience. UK trained.

Licensed Building FENCE PAINTING

Practitioner number Staining Quality at a

BP105608. Insurance reasonable price. Free

work. EQC repairs. quotes. Phone Warren

Heritage brickwork a today on 980-1676 or 027

speciality. No job too 2014713

small. Governors Bay.

Home 329-9344, Cell FURNITURE REMOVALS

027 684 4046, email Large Trucks $95 +

karengeorge@xtra.co.nz

BUILDER

GST per hour 7 day NZ

wide, packing & moving,

For all building work

but specialist in bathroom

Professional

Professional

Company,

Service.

renovations, 30 yrs Canterbury Relocations

experience, with service Ltd. ph 0800 359 9313

and integrity. Free Quotes.

GLAZIER

Ph Lachlan 383-1723 or

Window repairs, pet

0274 367-067.

doors, new glazing, double

BUILDER LICENSED

glazing, conservatory

available for all aspects of

roofs. Experienced

building. Please call 027

tradesman. Call Bill on

241-7471 or 335-0265

981-1903 or 022 413-3504

CARRIER LOCAL

experienced, friendly, GLAZIER

trade-me purchases, single Window repairs, pet

items to truck loads, doors, new glazing, double

furniture to whatever, glazing, conservatory

removals & trade roofs. Experienced

deliveries a specialty. Ph

GEH 341-5069

tradesman. Call Bill on

981-1903 or 022 413-3504

GARDEN DESIGN

& MAINTENANCE

Rose & Fruit Tree

Pruning by trained

Horticulturalists.

Book winter

pruning in now.

M: 027 688 8196

P: 0508 242 733

LANDSCAPE

CONSTRUCTION

Lawns, paving, water

features, irrigation,

planting, decks,

driveways, kerbing, ponds,

retainer walls, fencing.

Free quotes, Phone Tony

021-034-8555

PAINTING

& Decorating interior

& exterior, gib fixing,

plastering, paperhanging,

Est 50 yrs in ChCh, ph

Wingfields Ltd, ph Mark

021 171-1586 or 355-5994

PAINTER AVAILABLE

All aspects in painting.

Very competitive in roofs

and fences. Please call 027

241-7471 or 335-0265

PLUMBER

For prompt service for all

plumbing maintenance,

repairs and alterations.

Phone Michael 364 7080

or 027 438 3943

PLUMBER

ALF THORPE

PLUMBING Certifying

Plumber for all types of

plumbing, maintenance,

spouting, alterations etc.

Phone 352-7402 or 0274-

350-231

ROOFING

Qualified & Licenced

Practitioner. Re-Roof &

Repairs, all types. Member

New Zealand Roofing

Association. Over 35 years

experience. Phone John

027 432-3822 or 351-9147

email

co.nz

johnmill@ihug.

SPOUTING CLEANING

Spouting Unblocked,

Cleaned Out and Flushed

Out. Also Full Handyman

Services Available. Call

Trevor 332 8949 or 021

043-2034

STONEMASON

BRICK

&

BLOCKLAYER,

Earthquake Repairs, Grind

Out & Repoint, River/

Oamaru stone, Schist,

Volcanic Rock, Paving,

all Alterations new & old,

Quality Workmanship,

visit www.featureworks.

co.nz or ph 027 601-3145

TILER/CARPENTER

35 years exp, no job

too small. Ph Ross 027

4311440.

TREE WORK

Hedge trimming, stump

grinding, rubbish removed,

small job specialty Ph

Andrew 03 322-8341 or

027 435-8759

T.V. SERVICE CENTRE

Repairs, tvs, microwaves,

stereos, DVD. Aerial

installations and kitsets,

480 Moorhouse Ave, ph 03

379 1400

UPHOLSTERER

Dining Chairs, Lounge

suites, Caravan Squabs

etc. recovered. Free

Quotes. Phone Graeme

383-1448

VHS VIDEO TAPES

& all camera tapes

converted to DVD, video

taping, weddings, twenty

firsts, special occasions,

www.grahamsvideo.co.nz

ph 03 338-1655

WATERBLASTING

Quality Job, Quick Service

by skilled tradesman, Ph

Richard Severin at Jet-X

0800 538 969 Free quotes,

visit www.jetx.co.nz

WINDOW CLEANING

Average 3 bdrm house

inside or out $40. Both

$70. Phone Trevor 344-

2170

Heavyweight

luncheon

HEAVYWEIGHT

champion boxer Joseph

Parker and trainer Kevin

Barry are special guests at a

lunch taking place at

Addington Raceway &

Events Centre on Friday, 15

July 2016.

Kevin Barry, a light

heavyweight boxing silver

medallist at the 1984

Olympics, took on Joseph

Parker's training after being

headhunted by Duco Events

three years ago. Kevin quickly became a mentor, father figure and friend to the then

"young, shy quiet boy".

This is your chance to listen to Kevin Barry and ask questions of IBF World

Heavyweight Mandatory Challenger Joseph Parker. Fresh off his gruelling 12 round win

against Frenchman Carlos Takam, Parker is coming to Christchurch to fight Australian

Solomon Haumono in preparation for his IBF World Title fight and in doing so, will put

his IBF Title shot on the line.

Lunch includes two courses and beverages with master of ceremony Gary

McCormick. Pre-lunch drinks are from 11.30am with lunch served at 12noon.

To secure your table call Joanne McMaster now on 339 7908 as seats are limited.

The newly refurbished

Woolston Club...

A classic, contemporary

club experience

Cafe open from 11am

Happy Hour 4.30pm - 5.30pm

TAB & Gaming, Function Facilities,

HOUSIE Tuesday, Thursday, Saturday

SHUTTLE Tuesday - Saturday

Open 7 Days

Restaurant open

from 5.30pm!

Retro Roast Lunch

12pm Wednesdays

$10 Members/$12 Non

SUNDAY ROAST

LUNCH

12PM - 2PM

NEW SEASON

MENU OUT NOW!

LIVE MUSIC

6PM FRIDAY KATRINA KEENAN

8PM SATURDAY (SPORTS BAR, $2 entry)

MID-WINTER DANCE with

THE DREWS
---
PEGASUS POST Tuesday July 5 2016 23

RESTAURANT & CAFÉ

'Famous for their roasts!'

Open daily from 6.30am.

Breakfast, Lunch & Dinner

School's Out

Treat the Kids!

Racecourse Hotel Motorlodge

118 Racecourse Rd, Sockburn,

Christchurch. Ph 03 342 7150

www.racecoursehotel.co.nz

We are family friendly.

Great Kids menu plus

designated play area.

TWO

COURSES

from

$10

SENIORS WINTER LUNCH SPECIAL

two courses : $20 (conditions apply)

www.newbrightonclub.co.nz

WHAT'S ON

TUESDAYS &

THURSDAYS

Members

Lucky Card Draw

TAB POD

CRUSADERS

v REBELS

7.35PM

SATURDAY

GAME OF

TONES

7pm SATURDAY

13th August

SHUTTLE RUNNING

Tues, Thurs, Fri & Sat

New Brighton Club

202 Marine Pde

Ph 388-9416

Members, guests and

affiliates welcome

JOIN

A CLUB BY

THE SEA!

- downstairs -

ClubBISTRO

Open Tuesday

to Saturday

12pm-2pm

and from 5pm.

Midweek

SPECIAL

$10

ROAST

Available Tuesday,

Wednesday,

& Thursday

- upstairs -

PIERVIEW

Restaurant

Quality a la carte

with a view!

Open FRIDAY,

SATURDAY,

& SUNDAY

from 5.30pm

FRIDAY SPECIAL:

BBQ PORK RIBS

$19.50!

for a limited time

SUNDAY SPECIAL

$25 3-Course Feast

SUNDAY 31st JULY

BOOK NOW for

Sumptuous winter

BUFFET $25

BRUNCH!

By the Seaside!

10.30am-2.30pm

Starts

Sunday 24th July

H ORNBY

WORKINGMEN'S

CLUB

«WHAT'S ON«

WESTVIEW LOUNGE

FRIDAY

8 July, 7PM

ROBBIE DREW

SATURDAY

9 July, 4.30PM

AL PARK

8PM

SHALOW

«COMING UP«

SUNDAY

17 July, 1PM

MID-CANTERBURY

COUNTRY MUSIC

CLUB

GOLD COIN ENTRY

CHALMERS RESTAURANT

MID WINTER XMAS BUFFET

$30

THIS SUNDAY

10th JULY

LIVE MUSIC BY NEVILLE BARRIE

Hornby WMC | ph 03 349 9026 | 17 Carmen Road | Hornby

www.hornbyworkingmensclub.co.nz | Members, guests & affiliates welcome

Lunch & Dinner

All you can eat, 7 days

Bookings Essential

PH 386 0088

fb.com/GardenHotelRestaurant

www.gardenhotel.co.nz

NOW SERVING

available

from

9am

Breakfast

HAPPY

HOUR

5PM - 7PM

DAILY

LIVE

Rhonda Campbell duo

6PM FRIDAY 8th July

MUSIC

PHONE 385 8880 FIND US ON FACEBOOK fb.com/GBCCHCH

THE GARDEN HOTEL COMPLEX | 110 MARSHLAND RD

www.gardenhotel.co.nz | phone 385 3132
---
24

Tuesday July 5 2016

Road Cone

Specials!

Only at FreshChoice Parklands

Wednesday to Sunday

PEGASUS POST

$

7 99

kg

Available at

FRESHCHOICE

PARKLANDS only

Fresh NZ Prime

Beef Mince

$

2 49

kg

Available at

FRESHCHOICE

PARKLANDS only

Sweet Juicy Mandarins

Available at

FRESHCHOICE

$

13 00

each

Molenberg Bread

700g

PARKLANDS only

$

2 49

Hot Cooked Chicken

Size 18

each

Available at

FRESHCHOICE

PARKLANDS only

3 great flavours made

with real meat by

real butchers instore

$

12 99

kg

Fresh NZ Beef Rump Steak

Available at

FRESHCHOICE

PARKLANDS only

$

10 99

kg

Handcrafted Sausages

Available at

FRESHCHOICE

PARKLANDS only

$

3 79

pack

Meadow Fresh Yoghurt 6 Pack

Available at

FRESHCHOICE

PARKLANDS only

$

8 50

pack

Quilton Toilet Tissue 18 Pack/

Double Length 9 Pack

Spend over $40, fill out the entry form and once

a week, for four weeks, a lucky customer in each

FreshChoice supermarket will have this month's

power/gas bill paid back, up to $350.

Terms and conditions apply. See in-store for details or go to

FreshChoice.co.nz. Competition runs 27 June to 24 July 2016.

WIN a $100

FreshChoice gift card!

Spend $50 or more in one transaction

& go into the draw.

1 x $100 gift card to be given away daily!

Gift

Card

Offer valid from Wednesday 6th July until Sunday 10th July at FreshChoice Parklands only. Excludes purchases of

tobacco products, Lotto, phone cards, gift and Christmas vouchers. See customer service for further details.

FreshChoice Parklands

60 Queenspark Drive, Christchurch.

Open 7am-11pm, 7 days.

FreshChoice.co.nz FreshChoiceNZ 383 1004

FreshChoice Parklands

Certain products may not be available in all stores. Savings are based on non-promotional price. Limits may apply.

Prices apply from Wednesday 6th July to Sunday 10th July 2016, or while stocks last.

Owned and

operated

by locals

FCPP0507