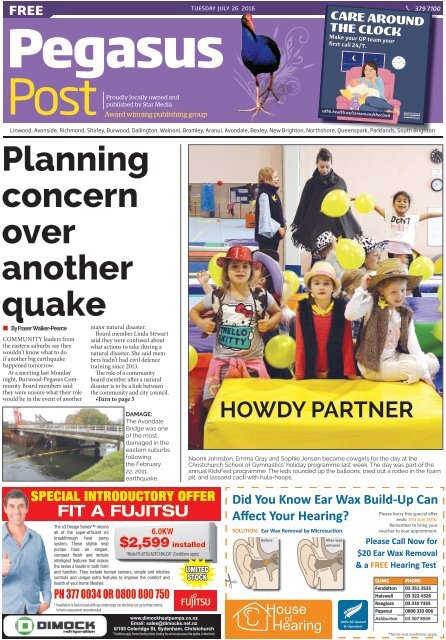 Pegasus Post: July 26, 2016
You also want an ePaper? Increase the reach of your titles
YUMPU automatically turns print PDFs into web optimized ePapers that Google loves.
FREE

TUESDAY JULY 26 2016

379 7100

Pegasus

Make your GP team your

first call 24/7.

9

12

6

3

Post

Proudly locally owned and

published by Star Media

Award winning publishing group

cdhb.health.nz/carearoundtheclock

Linwood, Avonside, Richmond, Shirley, Burwood, Dallington, Wainoni, Bromley, Aranui, Avondale, Bexley, New Brighton, Northshore, Queenspark, Parklands, South Brighton

Planning

concern

over

another

quake

• By Fraser Walker-Pearce

COMMUNITY leaders from

the eastern suburbs say they

wouldn't know what to do

if another big earthquake

happened tomorrow.

At a meeting last Monday

night, Burwood-Pegasus Community

Board members said

they were unsure what their role

would be in the event of another

major natural disaster.

Board member Linda Stewart

said they were confused about

what actions to take during a

natural disaster. She said members

hadn't had civil defence

training since 2013.

The role of a community

board member after a natural

disaster is to be a link between

the community and city council.

•Turn to page 5

DAMAGE:

The Avondale

Bridge was one

of the most

damaged in the

eastern suburbs

following

the February

22, 2011,

earthquake.

Special introductory offer

HOWDY PARTNER

Naomi Johnston, Emma Gray and Sophie Jensen became cowgirls for the day at the

Christchurch School of Gymnastics' holiday programme last week. The day was part of the

annual KidsFest programme. The kids rounded up the balloons, tried out a rodeo in the foam

pit, and lassoed cacti with hula-hoops.

Hot Hot Deal

FIT A FUJITSU

on 8KW Heat PumP

The e3 Design Series retains

all of the super-efficient e3

6.0KW

breakthrough heat pump

system. These stylish heat $2,599 installed

pumps have an elegant,

compact finish and include "Model FUJITSU ASTG18KUCA" (Conditions apply)

intelligent

Heat

features

Pump

that makes

for Just

the series a leader in both form

and

$2,999

function. They include human sensors, simple and intuitive LIMITED

controls and unique extra features to improve the comfort Six and Year STOCK

health of your home lifestyle.

Warranty

Fujitsu ASTG24L 8 KW

PH 377 Fully 0034 Installed* OR 0800 800 750

PH 377 0034 OR 0800 800 734

* Installation is back to back with up 5 meter pipe run electrical run up to three meters,

in home assessment recommended

www.dimockheatpumps.co.nz

Email: sales@dimocks.net.nz

6/105 Coleridge St, Sydenham, Christchurch

* Conditions apply. Normal lending criteria, booking fee and annual account fee applies. Limited stock.

ouse

Installed back to back, up to 3 metre pIpe

run and electrIcal supply wIthIn 6 metres.

of

www.dimockheatpumps.co.nz earing

Email: sales@dimocks.net.nz

10 5 only

BE QUICK

100% NZ Owned

& Operated

Please hurry this special offer

ends: 31st July 2016.

Remember to bring your

voucher to your appointment.

CLINIC PHONE

Fendalton 03 351 3535

Halswell 03 322 4326

Rangiora 03 310 7355

Papanui 0800 333 606

Kaiapoi Ashburton 03 0800 307333 8949 606

Ashburton 03 307 8949
---
2

Tuesday July 26 2016

Inside

PEGASUS POST

FROM

THE

EDITOR'S

DESK News.......................................3, 5

BACK WHEN I was a

reporter on the Pegasus Post,

many a year ago, I remember

writing about the hot salt

water pool concept. It was a

grand idea, but many felt in

the community that perhaps

it was another great idea that

would not eventuate.

Happily this week we have

an update on the project on

page 5, which organisations

are very cautious but

optimistic about.

A fascinating read on page

6 about Dr Kate Dewes who

is well-known for her fight to

keep New Zealand nuclearfree.

She talks to reporter

Caitlin Miles.

And finally we catch all the

fun during the final week of

the school holidays over on

page 9.

Hei kona, Shelley Robinson

Wild west theme for children on holiday programme

HOLIDAY

FUN 9

Your Local Views..........4

Our People......................6, 7

Holiday Fun..................... 9

Local Sport..........................10

Community Events....11

Education..............................15

Kidstuff............................. 17

Health & Beauty.............19

Real Estate.....................20

GET IN TOUCH

General Enquiries Ph 379-7100

Classified Advertising Ph 379-1100

starmedia.kiwi

NEWS

Fraser Walker-Pearce

Ph: 364 7424

fraser.walker@starmedia.kiwi

ADVERTISING

Gail Henry

Ph: 364 7450

gail.henry@starmedia.kiwi

Dyers Road Landscape

& Garden Supplies

• Barks • Peastraw • Composts - we supply the best available

• Aggregates - Chip, Round and Basecourse

• Pavers & Schist products • Pungas

• Decorative Stones & Landscaping Rocks

• Trailer Hire first hour free with purchase

• Bag & Bulk - pick up or delivered

David, Carol & Mike

We will deliver!

SOIL

AND

HARDFILL

DUMPING

Phone: 03 384 6540

183 Dyers Rd, Bromley • OPEN 7 DAYS

Weekdays 7.30am-5pm. Weekends 8.30am-3pm

www.dyersroadandlandscapes.co.nz

HELPING US,

HELPS THE

COMMUNITY

Drop off or buy

2 family stores in your community

30 Main North Rd,

Ph 352 4581

520 Cranford St,

Ph 352 0515

HOT OUTLET STORE DEALS

SAVANNAH

SG610 PLAYER

SERIES GUITAR

Traditional dreadnought

style with a fantastic

sound

Was $199.00

LESS 25%

$149

AXL ELEcTRIc GUITAR PAck

Incl. amp, bag, tuner, picks, strap

$299

rockitCHCH

ONE FREE

MUSIC

LESSON

with every Ukelele, Guitar

or Drum Kit sold.

kEYboARd

with FREE microphone

– Sonata LP5420 54

keys, record & playback,

single plus muli finger

chord, 10 tones, 10

rhythms

Just $95

SoNATA LP6210c

kEYboARd

Including free keyboard stand ($69)

Free Samson headphones ($30)

3 x free beginners books ($60)

1 x free Kapok guitar ($99)

$399

SoNATA LP8880

dIGITAL PIANo

Full 88 note piano keyboard,

fully weighted keys, includes

stand and 3 x pedals

Bonus offer- 1 x free Kapok

guitar, free Samson

headphones, 3 x free

beginners books

Was $1499.00

LESS 20%

$1199

Cnr Wordsworth & Brisbane Sts, Christchurch.

Free On-Site Parking off Brisbane Street. Ph: 366 1949

www.beggsmusic.net.nz
---
PEGASUS POST Tuesday July 26 2016 3

News

Aranui to get police team

• By Georgia O'Connor-Harding

and Fraser Walker-Pearce

A NEIGHBOURHOOD

policing team will move to

Aranui in a bid to address

crime in the east.

The policing team has been

based in Riccarton for the

past five years, but will make

the move in October, due to a

higher crime rate in the eastern

suburbs.

Police say the team has

been successful in halving the

amount of burglaries since

the Riccarton Neighbourhood

Policing Team was established,

and have hopes the same result

will happen for the east.

A mobile police station will

be based in Aranui, which

means police can be on any

street at any time.

The team will finish its work

in Riccarton on October 1, and

then make

the move to

Aranui, New

Brighton Senior

Sergeant

Dave Robertson

(left)

said.

Acting Superintendent

Peter Cooper said although

the policing team is based in

Aranui, they may be back in

MOBILE: A neighbourhood policing team will make the move from Riccarton to Aranui in

October in an attempt to reduce crime.

Riccarton on occasions.

"We are reasonably confident

now. As always with these

policing neighbourhood teams,

they won't stay forever. They are

a five-year commitment which

is up now," he said.

Senior Sergeant Robertson

said police had discussed the

move "for some time", and

decided there was a greater

need in Aranui than there was

in Riccarton.

"There's definitely a higher

rate in the east and particularly

through that corridor from the

central city through Linwood

and Aranui," he said.

Inspector Cooper said in

the meantime, there will still

be a community constable in

Riccarton along with other

police resources around the

area.

The neighbourhood policing

team was first formed as a three

to five-year project designed

to address underlying causes

around crime.

Senior Sergeant Robertson

said Riccarton will still be

looked after when the neighbourhood

team leaves.

"We're definitely not abandoning

Riccarton at all, there

will still be community services

staff working in that area with

large organisations and the

mall," he said.

In Brief

MORE MOWING

Donnell Park in Burwood has

gone from being mowed four times

a year to 32. Damage from the

earthquakes has seen a portion of

the park red-zoned, while the other

part of the park remains in the

green zone. City councillor Glenn

Livingstone said there has been a

lack of clarity over mowing issues.

At last week's Burwood-Pegasus

Community Board meeting, the

board was updated on progress

made by city council staff, who

had changed the mowing contract

from informal to amenity. The park

will be mowed twice each a month

in July and August, and 11 times

between September and November.

CORRECTION

In May, the Pegasus Post reported

South Brighton Residents'

Association chairman Hugo

Kristinsson approved the process

by the city council to put together

an expert panel to review a coastal

hazards assessment. Mr Kristinsson

said while he was satisfied with

panel member Dr Deidre Hart, he

was unable to comment on other

experts. The article headline stated

'Council earns praise for coastal

hazards process', Mr Kristinsson

did not praise the city council for

its coastal hazards process. Mr

Kristinsson says the city council

process has taken too long, leaving

homeowners in limbo. The Pegasus

Post apologises for the error.

SuPER

LOW PRICES!

Over 60 health products

on special every day.

Locally owned and operated.

Giving health advice since 1992.

The Palms: 385 0364

The Hub Hornby: 349 5150

Bush Inn Centre: 348 7867

CLOTHING DONATIONS

NEEDED!!!

We have a need for quality

winter clothing to stock our shops

CAN YOU DONATE?

Please drop your goods off in-store during business hours:

14 Yaldhurst Rd, Ph 03 341 5379

251 Ferry Rd, Ph 03 381 3089

94 Victoria St, Rangiora, Ph 03 310 7421

Open: Mon-Fri 10am-4.30pm, Sat 10am-2pm

320 Manchester Street Super Store (Bealey Ave end)

Phone 03 365 2051

Open: Mon-Fri 9am-5pm, Sat 9am-3pm

Donations of furniture anD homewares welcome During shop hours.

NEW ZEALAND

RED CROSS

RIPEKA WHERO AOTEAROA

HEAT PUMPS

Which one is right for you?

• Single-split, Multi-split, Ducted?

• Wall, Floor console, Ceiling cassette, Concealed?

• Mitsubishi, Panasonic, Fujitsu, Daikin, Toshiba...?

Find out with a FREE HOME APPRAISAL

from the Independent Heat Pump Experts.

BOOK NOW

0800 47 48 97

heatpumpguys.co.nz

THE INDEPENDENT SPECIALISTS
---
4

Tuesday July 26 2016

Your Local Views

PEGASUS POST

Continuing proud history

Shirley Boys'

High School

principal

John

Laurenson

talks about

the colocation

of

Shirley and

Avonside Girls' High School

to the vacant QE II Park.

To say now is an exciting time

for Shirley Boys' and Avonside

Girls' High Schools is an understatement.

We now have confirmation

that our new schools will be

built at QE II. As many people

in Canterbury know, to have

certainty over your future after

many years of waiting is a wonderful

feeling.

But what is even better is

knowing that we have an opportunity

to create something

incredibly special and unique for

the city's eastern residents.

This will be the first time

in New Zealand's history that

two single sex schools will be

co-located. It's a completely

new approach that is prompting

many questions from our communities.

Are the schools merging? Is

this a co-educational school?

Are they going to be called

Shirley and Avonside when they

won't be in Shirley or Avonside?

What will the zone be?

The new campus will cost at

least $80 million and open in

time for the 2019 school year.

There is still a lot of work to take

place but already there are many

questions we can answer.

No – the schools are not merging,

there will be one campus

but two separate schools.

This is not a co-educational

school. The schools will continue

delivering quality single sex

education. That is really important

to us – single sex education

benefits both boys and girls.

What will be different is that

while our students will spend

most of their day in a single sex

environment, they will also have

opportunities to learn alongside

and interact with students from

our partner school. That brings

both social and educational

advantages. It is the best of both

worlds.

As for the names – yes, we

will still be Avonside Girls' and

Shirley Boys'. Why? Because

we are two of Christchurch's

oldest schools, our histories are

proud and we want to continue

our legacies. We may tweak the

names slightly to reflect our new

location – you're welcome to

give us your thoughts on that.

In fact, you're welcome to give

us your thoughts on anything

and to ask questions about the

new campus. We are holding

four community meetings so

you can do just that – come

along for a cuppa, it will be nice

to meet you.

•Shirley Boys' High School,

7pm, Tuesday, July 26,

Redcliffs Bowling Club and

Function Centre, 9 James St.

•7pm, Wednesday, July 27,

Parklands Baptist Community

Church Auditorium, 180

Queenspark Drive.

•5pm, Thursday, July 28.

Shirley Boys' High School –

Hall, 77 North Parade.

•7pm, Thursday, July 28,

Avonside Girls' High School

- Gymnasium, 180 Avonside

Drive.

Reader Allen Harbrow

responds to an article about

the Buckleys Rd bus stop in

last week's Pegasus Post.

He says there needs to be

a rethink about bus routes

around the city.

I have just read your article

on bus stops, or lack of them at

Linwood and Northlands. I have

felt for a long time that we are not

well served with bus stops at our

malls.

In Australian malls, buses and

taxis take and pick-up customers

from within the mall car park

area at suitably placed shelters. At

The Palms and Eastgate Shopping

Centres, the bus services go in all

directions.

So if you want to take a bus into

the city, there are two or even

three different stops that you

could wait at, only to see a bus

that you could take, leaving from

one of the other stops.

NEW LOCATION ADVERT.pdf 1 1/05/2014 11:51:35 a.m.

I would suggest that the city

council and mall operators get

together to better co-ordinate the

bus service.

For example, there is no reason

why all buses passing Eastgate

including the Orbiter, could not

enter the parking area at the back

of the mall, from say Linwood

Ave and exit on to Buckleys Rd to

go in either direction.

A reasonable shelter could then

be built at the back of the mall for

passengers.

The Palms has less space for

buses to enter the car park area,

but if that mall is looking to expand,

city council should make it

conditional on creating a suitable

bus stop within the mall area. It

could enter or exit via Marshland

Rd and exiting Golf Links Rd or

vice versa, and this includes the

Orbiter.

Perhaps the new transport

committee could look at this.

ULTIMATE

PROTECTION

Protect the player in

your family!

Duchenne mouthguards are

designed for greater shock

absorbency with better

distribution of impact, protecting

the teeth, gums and mouth.

8 CONVENIENT CHRISTCHURCH

LOCATIONS:

Merivale 03 375 4444

Beckenham 03 375 4443

Fendalton 03 375 4449

Linwood 03 375 4448

Kaiapoi 03 375 4442

QEII Dental 03 388 0881

Dentistry with a Smile 03 338 8210

Halswell Dental 03 322 9577

Official supplier of the Canterbury Rugby Union in

conjunction with Donna Batchelor Orthodontist.

www.duchenne.co.nz

VISIT OUR NEW LOCATION LOCATION

430 ST ASAPH STREET!

Hours of Business: 7am-4.30pm Mon-Thurs

Fri 8am to midday

or by appointment with Keith 027 566 3909

RECOVER YOUR LOVED FURNITURE

No job too big or small

Still able to offer

you the finest top

quality new furniture

Visit us online

www.qualityfurniture.co.nz

P. 371 7500

QUALITY FURNITURE SPECIALISTS

RE - UPHOLSTERY SPECIALISTS KEITH HARTSHORNE 0275 663 909

SOMETHING FUN FOR EVERYONE

UNDER NEW OWNERSHIP

9 HOLE

GOLF cOURSE

DRIVING

RANGE

STILL ROcK

OUTDOOR MINI PUTT

BOOKINGS ESSENTIAL | 50 FERRYMEAD PARK DR, FERRYMEAD

PH 376-5350 | WWW.FERRYMEADGOLF.cO.Nz
---
PEGASUS POST Tuesday July 26 2016 5

News

Progress made on hot water pools

• By Fraser Walker-Pearce

INITIAL CONCEPT designs

for the long-awaited hot salt

water pools project in New

Brighton could go before the

city council by the end of next

month.

Development Christchurch

Limited, a part of Christchurch

City Holdings Ltd, was tasked

with carrying out the legacy

project by the city council after

the initial idea was touted by the

community in 2014.

One of the design options

discussed in 2014 was based on

the St Clair hot salt water pool in

Dunedin.

DCL chief executive officer

Rob Hall said progress is being

made on the project, and he

Elected members' earthquake planning concerns

•From page 1

But city council's customer

and communities general manager

Mary Richardson said

elected members' roles in an

emergency have "not changed",

but they are being updated.

Mrs Richardson said Civil Defence

Emergency Management is

"in the process of redeveloping

induction material" following

POOL PROGRESS: Dunedin's St Clair hot salt water pool

was one option discussed in 2014 for a similar idea in New

Brighton.

is looking forward to getting

a range of opinions from the

wider community.

"We're developing the scope of

works for New Brighton and we

the Valentine's Day 5.7 magnitude

earthquake. The induction

would guide city councillors

and elected members on how to

respond to emergencies.

She said it was standard for

CDEM to review and develop

procedures after any natural

disaster. But Ms Stewart said that

was not good enough.

"Who's to know what will

aim to take that back to council

in late August initially. That's

why our community engagement

has been targeted and not

as wide ranging. It's just until we

happen next time? It could be

the Alpine Fault that will go. The

weakened bridges may well (collapse)

if that happens . . . we need

to know what to do," she said.

Mrs Richardson said elected

members can get training and

learn from CDEM if they choose

to, but it is not mandatory.

"Elected members are invited

to participate in CDEM

know what it is we may wish to

do there," he said.

Mr Hall said he didn't want to

raise the public's expectations

too high, but was excited about

the progress made so far.

"We want to avoid raising expectations,

because hot salt water

pools can be a huge range of

things from small complexes to

public swimming baths, there's

a really big range. We need to

make sure it's sensible, and also

what the community wants and

needs," he said.

ReNew Brighton co-ordinator

Sylvia Smyth said DCL are "prioritising

the project" and have

been in contact with ReNew

Brighton among other organisations

regularly.

workshops, but this has been an

informal process," she said.

City councillor Glenn Livingstone

said since the initial

earthquake almost six years ago,

there hasn't been enough communication.

"There has been a lack of clarity

since 2010. There's been a bit

of frustration from members

over what their roles are."

In Brief

EXERCISE FUNDRAISER

PT in the Park will be

fundraising for SPCA

Canterbury on Saturday. The

exercise session will have a $5

entry fee, which goes to the

SPCA. There will also be spot

prizes. The event will cater for

a range of fitness levels and

ages. Head along to the corner

of Carlton Mill Rd and North

Hagley Park, at 9am.

PARKLANDS REPAIRS

Inwoods Rd in Parklands

will undergo roading repairs

this week. The road will

be resurfaced after it was

damaged in the earthquakes.

The work will take place

between Jade Place and

Queenspark Dr. It will be

reduced to one lane during the

repairs, which began yesterday

and are expected to finish

around August 8.

POOR LIGHTING

The Burwood-Pegasus

Community Board has asked

city council staff to meet

with them at Rothesay Rd in

Parklands to discuss poor

street lighting. City councillor

David East said the board

had asked the city council

on a number of occasions to

address the poor lighting, with

no result.

Wainoni

and PANDA'S PIZZA

175 Wainoni Road, Wainoni (opposite Pak 'n Save)

Phone 388 4373

Available NOW! ORGAZMIK COFFEE

your daily oral addiction

Only $28 9kg

LPG Bottle Fill

Wainoni

$2 off

Fuel Purchase

with min purchase $40

Only Valid at Mobil Wainoni, 1 Voucher per visit, valid until 31st December 2016

#

Community Clinics

I will be coming to your neighbourhood every month

to hear your concerns.

First Monday of every month

9:00am – 9:40am - Linwood

Linwood Avenue – outside the Salvation Army

9:50am – 10:30am Dallington

Cnr of Gayhurst Road and Claydon Place

10:40am – 11:20am Stanmore/Richmond

Stanmore Road opposite New World at the Park at

Richmond Playground

11:30am – 12:10am Shirley

Cnr of Marshlands Road and Hammersley Avenue

First Friday of every month

9:00am – 9:40am Bromley, Bromley Road, outside

the Community Centre

9:50am – 10:30am Wainoni/Aranui

Wainoni Road (near Shortland Street West)

10:40am – 11:20am Burwood

17 Parnwell Road next to the Education centre

11:30am – 12:10am Parklands

Queenspark Drive - outside Harcourts

It's time

To end 'repairs' like this by EQC

and insurers.

We provide on the level assessments and

advocacy until you get what your policy provides.

NO WIN

NO FEE

Ph: 03 377 8855 | 127 Ferry Road, Christchurch City

E: reception@earthquakeservices.co.nz | W: www.earthquakeservices.co.nz
---
6

Tuesday July 26 2016

Our People

PEGASUS POST

Memorable moments from nearly

Dr Kate Dewes has been fighting to keep New Zealand

nuclear-free since her early 20s. She spoke to reporter

Caitlin Miles about receiving threats for her work, sharing

a memorable moment with the United Nations secretary

general in 2011 and her plans to spend more time with

her family

Now that New Zealand has been

nuclear free for nearly 30 years,

can you tell me why you became

involved in nuclear disarmament

work?

It goes back to 1975. I was a

23-year-old music teacher at Epsom

Girls Grammar, and at the time I

was about to teach the girls a piece

of music dedicated to the survivors

of the atomic bomb that was

dropped on Hiroshima. I wanted to

learn who the victims were and what

happened to them and the aftermath

of it. I was horrified. I decided

I wanted to go back to university

and learn about peace studies and

nuclear disarmament.

Is that when you decided to

study in England?

No university in New Zealand was

offering a course in peace studies. So

I had to leave the country to be able

to do it. I went to Bradford University

to learn more about peace

talks, disarmament and what was

happening around the world. I lived

in Bradford while I studied and then

came back here.

Why did you decide to come

back to Christchurch?

Well, I had to. And I was pregnant

with my first daughter so I wanted

to settle back here. I also wanted to

be able to keep working on disarmament

and promoting peace talks

within Christchurch and the rest of

New Zealand. In 1979, I had my first

daughter and became a founding

member of the Peace Foundation.

I ran the Christchurch office from

home. I still do.

How was it balancing motherhood

and work?

It was tough. I have three

daughters and I was a solo mum so

there was a lot to do. It was really a

balancing act. I never had hired help

to look after my girls that was part

of my job. There were other woman

involved in the Peace Foundation

so we would take turns baby sitting

each others kids when we needed

to do things. I slowed down a bit

after the earthquakes, though. It was

more a case that I had to.

Why was that?

Our house in Riccarton was

damaged following the September

4, 2010, earthquake and all of my

work and the paper I had written on

nuclear disarmament, and my PhD

on peace issues, had to be put into

storage so they could be kept safe. It

MEMORABLE: Following the February 22, 2011, earthquake, UN

secretary general Ban Ki-moon told Dr Dewes that the people

of Christchurch had his support.

turned out to be about 120 banana

boxes of work. Funnily, they were

stored in the Air Force Museum

here in Christchurch.

You got some abuse for what you

were doing, can you tell me a bit

about that?

There were some people that were

against what we were doing. It was

the height of the cold war and we

wanted to educate people as to what

was going on. I was getting threatening

phone calls about being attacked

and some people even came to my

home. I remember a photo was

taken of me in the paper with one

of my daughters sitting on my lap

and someone said to me, 'how dare

you travel and work internationally

when you have a family!' I just

laugh about it. There was a group

that was against our idea of encouraging

schools to teach children

about peace settlements and things.

Someone from the group against

what we were doing spoke at a concerned

parents' association meeting

in Hamilton. That's where I am from

and my parents were in the audience.

During the person's speech,

he called me a communist, not that

there was anything wrong with that,

but at the time that was a rather

weighted word. My parents were in

the audience, and my dad stood up

and said that I was his daughter and

he defended me. That was a really

big thing to do.

Were there many low points?

It was hard travelling internationally

and being a solo mum, but I did

it. When I wasn't overseas, I worked

from home so I could manage.

What do you think are your really

big personal achievements?

Being a mother of three daughters

is a big personal achievement.

Getting my PhD was another one.

I was working, being a parent and

doing my PhD, so I'm really proud

of that.

Registered

Marriage & Funeral

Celebrant

Offering that personal touch

with creativity and flexibility

Available to travel

outside of Christchurch

All About Hair

& Beauty

(True Vanity

027 450 4150)

We pride ourselves

in listening to our

clients needs, either

professional advice or

advice on home care

products

for hair & scalp.

It's time to

• Funerals

• Naming ceremonies

• Renewal of vows

• House blessings

We are trained in all

aspects of hairdressing

& beauty & always up

for a challenge.

Ring today, a chat will

cost only your time.

grow

Annette FArquhAr

Phone 382 5248 or 027 676 0726

Email annette@celebrantchristchurch.co.nz

www.celebrantchristchurch.co.nz

We use & recommend

Ph 03 388-8009

169 Bowhill Rd, Christchurch

Tues-Sat 9am-5pm

Late nights: Tues-Thurs 9am-8pm

www.allabouthair.co.nz

Gold Card rates Tues & Wed

bigger from August 22

Heart HealtH

Microlife -

Blood pressure Monitor

10% discount

everyday

using

*excludes PrescriPtions & sale stock

a daily supplement that

supports heart health &

energy levels.

effectively used to lower

cholestrol levels

now Half price

• Automatic

• Gentle Technology

• 30 Data Memory

Special

price

$

99 .99

Barrington Pharmacy

Next to CouplaNds,

256 BarriNgtoN st

Ph 332 3156
---
PEGASUS POST Tuesday July 26 2016 7

30 years of nuclear resistance

POLITICAL INVOLVEMENT: Former Prime Minister David

Lange spoke to Dr Dewes about making New Zealand

nuclear-free and not allowing nuclear weapons to enter the

country.

What about moments when you

have had to pinch yourself?

There were a few pinch yourself

moments with all the people I have

met and things we have managed

to achieve. I was in the United

States when I got the news that the

February 22, 2011, earthquake hit.

I thought about the house; it didn't

do well in the September-quake

so I was worried it would be gone

completely. I got all set to head back

to Christchurch and I called one of

my daughters and she said, 'no mum

stay there, you have some important

things to do, you need to stay and

do it'. So I did. In the morning, I saw

pictures the New York Times had

of the Cathedral and then I had to

go and speak at the UN. We were

standing around before the discussion

started and someone must have

told the UN secretary general where

I was from and he came up to me

and shook my hand and said, 'please

tell the people of Christchurch they

have my support'. Then he told the

whole audience at the UN where I

was from and what had happened to

my city. I couldn't speak for several

moments. I saw what had happened

at home as an opportunity to get my

point across.

What was the point you were

making?

If we had a nuclear power centre

in Christchurch, the effect would

have been devastating. Especially if

a tsunami had come through. The

rest of the country would have been

in a really horrible situation. The

Japanese ambassador challenged me

on what I said. I had no idea several

weeks later I would be writing him

letters of support for what had happened

following the earthquake that

hit Japan.

Can you tell me a bit more about

your involvement with the United

Nations?

I was appointed to the UN Secretary

General's Advisory Board

on Disarmament Matters as a

non-government member, which

was great because I could openly

say what I wanted and what I truly

thought and felt. They had to look

at things a little differently because I

made them. I was the only female on

the Government peace delegation

in 1988, too. I think that I presented

a really different perspective to the

men as well, which was refreshing.

I wasn't paid for my work at the UN

though.

AT WORK: Dr Dewes marks on

a map the areas that support a

nuclear-free New Zealand.

How could you afford not to get

paid for your work?

The UN paid for my flights and

accommodation so that helped. I

also continued working from home.

I taught peace studies part-time at

Canterbury University so there was

a little bit of money. I re-married so

there was a wage coming in. What I

could go without, I did. But for me,

it wasn't about the money. I got to sit

on the advisory board and provide

my input and opinions, which was

why I kept doing it.

How did you meet your second

husband?

I was in Geneva for work in 1992

and Robert Green was at the same

convention about peace talks and

nuclear development. Robert was

the chair of the United Kingdom

branch of the World Court Project

so I gradually got to know him. I

had to convince him to come to

New Zealand, as the Government

were looking at changing a clause to

the nuclear legislation, so I needed

to convince him to come to New

Zealand to speak and make sure

they didn't change the legislation.

When he was in the navy, he carried

nuclear bombs so he knows what

he's talking about and I wanted to

get him to share his information

with New Zealand. Soon I had

people sending me money to help

get him to New Zealand.

What do you think of Helen

Clark running for secretary general?

I think go Helen. I watched the

debate she was in recently and

thought she did really well. She has

the knowledge and experience for

the job and I think she would do

really well at it.

What are you setting your sights

on for the future?

Robert and I are trying to wind

down a bit now, that's easier said

than done though. I would really

like to be able to spend more

time with my four grand-children,

too.

Preschool, Nursery

and Kindergarten

It's time

Our passion…their future.

We offer 20 hours ECE,

WINZ subsidies and also

our transition to school

programme.

At our pre-schools, children

are the leaders of their own

curriculum.

We intentionally work alongside

them to develop and progress

their special interests and talents

as they start to build lifelong

learning skills.

Find us on Facebook

Lake Terrace | Bottle Lake

Preschools

Lake Terrace Preschool

30 Lake Terrace Road

Burwood, Christchurch 8061

P: 03 383 4757 Michelle Cross (Manager)

Open: 7.30am-5.30pm Mon-Fri

www.kidsandco.nz

Bottle Lake Preschool

1 Pohutukawa Crescent

Parklands, Christchurch 8083

P: 03 387 0684 Rachel Allan (Manager)

Open: 7.00am-6.00pm Mon-Fri

To have your 'repairs' inspected.

We can help with assessments and

advocacy until you get the level best from

your insurance policy.

Ph: 03 377 8855 | 127 Ferry Road, Christchurch City

E: reception@earthquakeservices.co.nz | W: www.earthquakeservices.co.nz

NO WIN

NO FEE
---
8

Tuesday July 26 2016

PEGASUS POST

EQC UPDATE KEEPING YOU INFORMED | JULY 2016

February 2016

earthquake

response

With each natural disaster, EQC has increasingly listened

to customer feedback to improve how it works, says

EQC February 2016 Event Manager, Jayne Lapin.

"For the February 2016 earthquakes we are emailing a

survey to customers to complete two weeks after their claim

resolution to gauge potential areas for improvement.

To date, most customers have said their experience of the

new EQC process was positive or very positive," she said.

EQC has taken a different approach to finalising the 13,985

claims lodged by customers following the Canterbury

earthquakes of 14 and 29 February, 2016, and the

aftershocks through March and June. To date EQC has paid

over $7.8 million to customers for damage claims.

EQC is reverting back to cash settlements as there is no

managed repair programme. EQC aims to complete

assessments for these events sooner, where possible,

using a claims management approach that EQC customers

helped design. EQC aims to resolve all claims for these

2016 Christchurch events by the end of December.

"One way to achieve this is by phoning customers to get all

the relevant information up front, before conducting

assessment. For many claims, damage assessment is done

over the phone. At its heart is the drive to make EQC easier

to do business with," Miss Lapin says.

This differed from the 2010/2011 Canterbury claims, largely

because earthquake damage incurred in 2016 quakes was

minor. Customer payments are averaging $1,000 to $5,000

per claim. Only two claims were up to $50,000, and no

claims to date have gone over the EQC cap.

Seismic monitoring on Mt Ruapehu

Marking

GeoNet's 15th

birthday

A message from Dr Hugh Cowan,

General Manager Reinsurance,

Research and Education

This month, GeoNet is celebrating its

15th anniversary. Most Cantabrians will be

familiar with the GeoNet app which provides

instant information about quakes and

volcanic activity.

GeoNet uses a network of over 600 sensors

across New Zealand to detect, analyse and

respond to earthquakes, volcanic activity

and other geological hazards. It was

established in 2001 as a collaboration

between EQC as investor and GNS as

technical manager.

Over the years, GeoNet has been recognised

internationally as at the leading edge of

natural hazards monitoring, which is a

significant bonus for New Zealand given the

dynamic nature of our region.

Canterbury's proximity to the Alpine Fault

means that it has a large number of sensors.

The start of the Canterbury earthquake

sequence triggered further expansion of this

network, ultimately making the February

2011 earthquake one of the most

comprehensively recorded earthquakes in

urban history.

The quantity of GeoNet data has delivered

significant benefits for Canterbury, not least

in enabling decisions relating to building

reconstruction, engineering, the behaviour

of the land, and reinsurance to be informed

by science.

Such a wide range of applications in

Canterbury exemplifies the benefits of EQC's

investment which requires GeoNet to make its

data publicly and freely available. GeoNet's

growing and diverse community of users

extends well beyond EQC and GNS. Land

surveyors, airline pilots, power and water

companies and local government all use

GeoNet data in different ways.

EQC is proud to have maintained such a

long-term and successful partnership with

GNS, providing GeoNet with around $12m

a year. Late last year, we committed funding

through to 2021 as part of our research and

education programme.

EQC awarded

costs from

Action Group

The Earthquake Commission welcomes

the High Court's recent costs decision

which orders the EQC Action Group to pay

costs of $4,237 to EQC.

The costs decision was issued following the

discontinuation of the Action Group's

declaratory judgment application. The Action

Group sought a series of declarations in

relation to the obligations of the Commission

under the EQC Act.

Chief Executive Ian Simpson says the costs

decision reaffirms EQC's position that

litigation was an unnecessary way to address

the specific issues concerning the Action

Group members' claims.

Mr Simpson says that EQC remains completely

focussed on settling outstanding claims in

Canterbury including those of EQC Action

Group members. "Any customer can request a

review of their individual claim if they believe

EQC has missed earthquake damage

sustained to their home, if they don't agree

with the proposed repair strategy, or if they

believe the settlement amount is incorrect.

The process for this is detailed on our website

and EQC continues to work with our

customers so they receive what they are

entitled to and have their claims resolved."

Customers wanting to have their claim

reviewed can call 0800 326 243 (0800

DAMAGE) or email info@eqc.govt.nz or visit

www.eqc.govt.nz/about-eqc/makecomplaint.

In such situations you should

provide us with details supporting your

request for a claim review, together with any

information you have obtained in support of

your request.

Support agencies

for customers

EQC continues to work with customer advisory

agencies to progress the settlement of customer claims,

and answer customer queries.

Residents can continue to be supported through:

• Residential Advisory Service, 0800 777 299

• Canterbury Earthquake Temporary Accommodation

Service, 0800 673 227

• Earthquake Support Coordination Service,

0800 777 846

• EQC, 0800 DAMAGE (0800 326 243)

• Or your individual insurer.

ILV community

meetings on

EQC invites you to attend one of our community

meetings for homeowners who have received an

Increased Liquefaction Vulnerability (ILV) land

damage settlement based on Diminution of Value.

The 90-minute meetings will feature:

• a presentation by EQC's Head of Canterbury

Land, Keith Land, on overall approach for

settling ILV land damage; and

• a presentation by EQC's valuers, on the

valuation assessments which underpin EQC's

settlement decisions.

The presentations will be followed by a Q&A

session, which will allow you to put questions to

the presenters. Please note that the meetings are

not intended for discussion of individual claims.

All meetings will be held at Beulah Church,

140 Springfield Rd, St Albans at 7pm on the

following dates: Wednesday 27 July;

Monday 22 August; Wednesday 28 September;

Wednesday 26 October, and Wednesday

30 November.

How to register

Please register for a meeting:

• online at www.eqc.govt.nz/ILV

• emailing us at info@eqc.govt.nz; or

• phoning us on 0800 326 243

CONTACT EQC AT 0800 DAMAGE (0800 326 243) OR VISIT WWW.EQC.GOVT.NZ
---
PEGASUS POST Tuesday July 26 2016 9

Children at the Waitakiri OSCAR programme got up to all sorts of mischief in

SCHOOL HOLIDAY FUN

the last week of their break. The pupils had a fairy tale-themed dress-up day

where pupils went to the programme as scary wolves, beautiful princesses

and pirates. They also visited the Wainoni Fire Brigade, and one curious pupil

Children at the Christchurch School of Gymnastics

even got to use the fire hose.

holiday programme baked sheriff stars and played

'lasso the cactus' as part of their cowboy theme, last

week. The kids were taught gym and trampoline

skills, and were also given the chance to become

cowboys and girls for the week.

PYJAMA DAY: Evan

Byrne throws a

hoop for a 'lasso the

cactus' game during

Christchurch School

of Gymnastics' wear

your long johns day last

week.

SUPERSTARS:

The kids cleaned

their hands only

to get them

messy again

with cookie

dough.

WOLVES AND PIRATES:

Aurora Keen and Jayden

McCallum-Clark were dressed

as their favourite TV and book

characters on fairytale day.

SCARY WOLVES: Luke Watt and

Kaleb Spark came as terrifying

werewolves.

PUTTING OUT

FIRES: Nixon

Delaney got to

do what every

young boy

wants to do

at some point,

use a fire

hose, assisted

by a Wainoni

Fire Brigade

firefighter.

WEE PRINCESS:

Madison Glassey

Greene arrived at

Waitakiri OSCAR as a

pink princess.

CALM

BEFORE

THE STORM:

Malena

Taurima

knew what

she was in

for when

she played

Pie Face last

week.

It's time

LGS_June_QP_001_2016_HO3228

watch local | support local | shop local

Monday to thursday

at 12pM, 5pM & 9pM

Freeview HD 40 | Live stream and on demand at ctv.co.nz

For enquiries, contact

Geoff Moreton: 021 1066 177

To stop them sweeping it under

the carpet.

Both EQC and insurers do 'repairs' like this

and most are only delaying the Limitation Act

till September 2017.

Act now and let us lift your carpets, assess

and advocate for you.

Ph: 03 377 8855 | 127 Ferry Road, Christchurch City

E: reception@earthquakeservices.co.nz | W: www.earthquakeservices.co.nz

NO WIN

NO FEE
---
10

Tuesday July 26 2016

Christ's too strong for Shirley

in top of table clash

AN IMPRESSIVE Christ's

College unit were too much for

Shirley Boys' High School on

Saturday.

The top of the table clash in

the UC Championship saw

Christ's retain their lead with

a 33-10 bonus point win in the

championship.

Shirley, which came into the

weekend in third position, now

find themselves in a must win

position with just two rounds

remaining before the play-offs.

Christ's first-five Nic Murray

broke the deadlock just five

minutes into the game, skipping

inside the Shirley defence from

15 metres out.

Five minutes later, Shirley's

Jackson Taylor was charged

down inside his own half by

Christ's flanker Daniel Freeman-

Greene.

The flanker backed up his

great charge by running onto

the ball and crossing the line to

make it 14-3 to the visitors.

Christ's scored another try

before the half-time break with

lock, Ben Chamberlain, muscling

his way over in the left

corner.

Trailing 19-3 at the half-time

break, Shirley had to turn the

game around.

No 8 Cruz Topai Aveai didn't

waste any time getting his team

back into the game.

Just two minutes into the half

the big man took a quick penalty

and barged his way over the

line from 10m out.

With the difference cut to

just nine, Shirley maintained

pressure for the next 10 minutes.

However, they were unable

to turn it into anything on the

scoreboard.

Christ's grabbed two tries in

quick succession to kill off the

game.

Kale Thatcher and Isaiah

Punivai both crossing the line as

Christ's racked up a 33-10 win.

Saturday's loss means it's not

going to be an easy run into the

finals for last year's grand finalists,

Shirley.

They host fellow top-four contender

Waimea Combined and

then play Christchurch Boys'

High School in the last round of

the championship.

•Results – July 23

Christ's College 33-10 Shirley

BHS; Lincoln HS 19-12 Ashburton

College; Marlborough

BC 20-17 Burnside HS; Christchurch

BHS 83-13 Rangiora

HS; St Bede's College 22-12 St

Thomas; Timaru BHS 29-17

Waimea Combined; St Andrew's

51-15 Roncalli College

TOUGH RUN IN: A loss to top of the table to Christ's College

on Saturday means that Shirley Boys' High School face a

tough task leading into the playoffs.

•UC Championship top 10

Christ's College 54pts,

Christchurch BHS 52pts, Shirley

BHS 39pts, Nelson College

36pts, St Andrew's College

36pts, Marlborough BC 35pts,

Timaru BHS 34pts, St Bede's

College 33pts, Waimea

Combined 33pts, Burnside HS

33pts.

PEGASUS POST

SPORTS

Under-19

basketballers

place second

THERE WERE mixed results for

Canterbury teams at the under-15

and under-19 National Basketball

Championships.

The Canterbury A under-19 boys

had the best result, finishing second

at their four-day tournament in

Nelson after a 82-73 to Auckland

Counties-Manukau.

Canterbury A went unbeaten in

pool play before cruising into the

final. They defeated Wellington 84-

69 in the quarter-finals before doing

a demolition job on Otago in the

semi-final 94-46.

Canterbury Rams player Toby Gillooly

led all scorers with 26 points

in the semi-final win, while forward

Sam Lees had 21 points.

The under-19 boys took on

Auckland Counties-Manukau in the

competition final. The North Island

side held Canterbury to just nine

points in the second quarter to take

a 48-30 lead into half-time. Canterbury

came out with more effort in

the third, but were unable to pull in

the deficit.

The under-19 Canterbury boys

B team finished the tournament

in eighth and the under-19 girls

finished third.

At the national under-15 tournament

in Wellington, Canterbury's

boys' A and B teams finished 5th

and 11th. The under-15 girls finished

4th.

THE HOME OF GOOD BAKING

LAST WEEK

TO ENTER!

Purchase 2 x 2L Dairy Dale milk to enter the draw to win

$1,000 worth of bread & milk for your family!

25 WINNERS - 1 PER STORE!

Promotion valid 1st July - 31st July 2016. Winners will be contacted Friday 5th August 2016.

Terms & conditions apply. Full terms and conditions can be found at couplands.co.nz

MILK

Dairy Dale 2L varieties.

$

5 98

2 FOR or $3.19 each

RASPBERRY BUNS 4pk $

3 49

Promotional pricing available while stocks last from 25/07/16 to 31/07/16.

Images are serving suggestions only.

Open 7 days | 8 Convenient local locations

Hornby • Barrington • Ferry Rd • Papanui • Riccarton • Upper Riccarton • New Brighton • Rangiora

BAKERIES

www.couplands.co.nz
---
PEGASUS POST Tuesday July 26 2016 11

Email fraser.walker@starmedia.kiwi

by 5pm each Wednesday

Storytimes

Every Tuesday, 10.30-11am

Take the kids along to

this event, which is aimed at

children three to five-years-old.

Programmes include stories,

music, movement and rhymes.

Puppets, props and plenty of

fun for the whole whanau.

Sessions run until December.

All programmes run during the

school term. Make an outing of it.

Shirley Public Library, 36

Marshland Rd. Free event

New Brighton Seaside Market

Every Saturday, 10am-2pm

New Brighton's pedestrian

mall is filled with colour and

creativity every Saturday. Go

down to the seaside and enjoy

live entertainment, food,

produce, arts, crafts, jewellery

and more. There's also a bouncy

castle and free face-painting for

the kids. For more information,

email seasidemarket@mail.com.

New Brighton Pedestrian Mall,

free entry

Cuppa for a Cause

Sunday, July 31, all day

Alzheimers Canterbury

empowers and supports people

living with dementia. You can

make a difference for people

affected by dementia by hosting

a Cuppa for a Cause. All you

need to do is set a date in July,

register your event with us, and

invite people over for a cup of tea

and chat about dementia.

Alzheimers Canterbury, 314

Worcester St. Free event

Bromley Monthly Market Day

Sunday, July 31, 11am-2pm

The Bromley monthly market

day is an indoor market on the

last Sunday of the month all year

round. There is a range of stalls

including arts, crafts, knitting,

clothing, winter blankets, baking

and more. If you are interested in

having a stall, phone 389 1657.

Bromley Community Centre,

31 Bromley Rd. Free entry

Aranui Art Ex - Exhibition

July 18 to 30, 11am-4pm

Christchurch artist George

Aranui is known for his vibrant,

colourful pastel abstracts and

equally impressive lino cuts.

This show of new works is on

at Eastside Gallery, and all are

welcome. Exhibition runs till

Saturday, July 30.

Eastside Gallery, 388 Worcester

St.

Anzac Drive Reserve Tree

Planting

July 30, 10am-4pm

The Avon-Otakaro Network

is overlooking the restoration

of Anzac Drive Reserve. They

invite you to join them in a day

JAMMING: Every Friday night from 7.30pm join the ukulele playing pirates for musical jamming.

The group meets to play ukulele and other instruments and sing all kinds of songs from folk,

pop, jazz standards, rock, country, Latin, reggae, or anything that is in the spirit of Joyful Anarchic

Music. The group has a data projector so all the lyrics and the chords are available to all.

Everyone is welcome for a $2 admission. Tea, coffee and biscuits come free. St Faith's Hall, 46

Hawke St.

of tree planting at the Anzac

Drive Reserve near Travis

Wetland. Last year they had

local schools and community

members join in, but this year

they are planning to plant even

more trees. If you're interested,

meet at 10am at Corserland St

on the west side of Anzac Drive

Reserve.

Anzac Drive Reserve, 30

Corserland St. Free event

Fusion Belly Dance Classes

Every Thursday, 6.30-7.30pm

This class is suitable for

beginner though to advanced

belly dance students as various

levels and options will be

provided. This is a mixed level

class, suitable for beginners

to join at anytime. Learning

to belly dance in a fun and

welcoming class environment

with teacher Tracey is a great

way to gain confidence, meet

new friends and increase fitness

while having fun. What to wear:

anything you are comfortable

and can move freely in. For more

information email tribaldiva.

bellydancers@hotmail.co.nz.

12 Chrystal St, Richmond. $10

casual class rate (cash only)

Kite Flying on the Beach

Every day, 11am-4pm

Any day, weather permitting,

kites are flown on the beach

near the pier. Go along to watch,

or bring a kite and join in.

Recapture your childhood, and

let your children experience the

joy of kites. The easterly wind

is ideal for kite-flying, so dress

appropriately and go along.

New Brighton Beach, near the

pier. Free event

Final countdown for SCIRT programme

SCIRT's five year programme of repairs to pipes, roads, bridges and retaining walls

is now 92% complete and will finish in December.

Almost 80% of our repair programme is focused on the city's underground

pipe networks.

Want

more

info?

SCIRT has replaced 715km of pipes – the distance of a return trip between

Christchurch and Dunedin. These pipes are now invisibly doing their important job

below ground.

Progress in your neighbourhood

• We're more than three-quarters through connecting homes in Aranui to the new resilient

vacuum system. This will be completed in the next few months.

• We're more than halfway through the extensive repairs to the wastewater, storm water,

fresh water and roading networks in Parklands.

• The three-year programme of repairs to the wastewater, storm water, fresh water and roads

in Burwood is due to finish in the next few months.

• Work in North New Brighton is mostly complete. The rest of New Brighton will still

see major works to the wastewater network and crews repairing small roading patches

until December.

• Your support is helping us to get the job done, thank you from the SCIRT team.

Email:

info@scirt.co.nz

Phone:

941 8999

Find out about work

in your area:

www.scirt.co.nz

Email us on:

info@scirt.co.nz to get our:

Weekly Traffic Update

Monthly e-Newsletter

Follow us on Twitter:

@SCIRT_info

#chchtraffic

• Nicola Thompson, Site Engineer with SCIRT's Fletcher team in

Wainoni Road.

Programme funded by
---
12

Tuesday July 26 2016

PEGASUS POST

DEADLINE

FOR SALE

Belfast 729A Main North Road

Sale Due To Health

Mitchell Roberts & Mana Tai

M 027 413 0797 or 027 626 2824 P 03 323 6045

Harcourts Twiss-Keir Realty / Belfast Licensed Agent REAA 2008

FOR AUCTION SALE

4 3 2

Harcourts ID: BF26585

The owners are now faced with unfortunate health challenges, which require them to live in a singlelevel

property, and consequently require a sale ASAP. This well-built home offers a lot for buyers, with

multiple living areas, split-level bedrooms, off-street parking and private rear section. While it provides

too much space for our current owners, the room will certainly be appreciated by growing families.

Deadline Sale: Offers invited on or before

4 th August at 4.00pm (unless sold prior)

View: Phone for viewing times.

Burwood 16 Kirner Street

Large Family Home

Geoff Barclay

M 0275 239 953 P 03 323 6045

Harcourts Twiss-Keir Realty / Belfast Licensed Agent REAA 2008

AUCTION

3 1 2

Harcourts ID: BF26623

This is a superb opportunity to secure a large family home in Burwood within close proximity to the

new Burwood Hospital, Travis Wetlands, Waitikiri Primary School along with shops and bus stop.

There is a huge separate lounge, combined kitchen, dining which is interconnected to an equally

huge conservatory. This home will instantly appeal to families looking for space. Sited on 647m².

Price: $449,000

View: Phone for viewing times.

Heathcote 14 Hamlet Lane

Haven On Hamlet

FOR SALE

3 12 23

Harcourts ID: RG7673

One out of the box if you are looking for an attractive home on a good size section then this is it!

Immaculately presented getting all day sun and set in a quiet lane on a fully fenced 639,² site amongst

mature garden. Double glazing, good outdoor living + off street parking - a very appealing property.

Enjoy everything the beautiful Heathcote Valley has to offer! Phone for more information.

Christine Tallott

M 027 490 6042 P 03 313 6158

Harcourts Twiss-Keir Realty / RangioraLicensed Agent REAA 2008

For Sale: $492,000

View: Phone for viewing times.

Ilam 38 Grahams Road

Make An Educated Decision!

Harcourts ID: BF26626

When you are looking to make an educated decision, it would be hard to look past this property.

Situated in the zone for Burnside High School, Merrin School, Westburn School, close to university

this home would really give you security for years to come for education options. Boasting open plan

kitchen/dining/living that is well sited for the sun this home is sure to please. Established 701m² section.

Karen & Barry Ellis

M 021 519 275 or 021 519 274 P 03 323 6045

Harcourts Twiss-Keir Realty / Belfast Licensed Agent REAA 2008

DEADLINE

3 1 1

Auction: 3 rd August at 3.00pm, Russley Golf Club,

Memorial Avenue (unless sold prior)

View: Phone for viewing times.

Shirley 3 Olivine Street

Add-Value / Investment!

Harcourts ID: BF26536

Our out-of-town owner has purchased elsewhere, and consequently needs to sell-up urgently,

providing this entry-level property, close to City. The perfect opportunity for a buyer to really add value

and truly make their own, or purchase as an investment for rental income - with spacious bedrooms +

wardrobes, large living areas, pellet-fire, entertainment deck all on a private fully fenced rear section.

Mitchell Roberts & Mana Tai

M 027 413 0797 or 027 626 2824 P 03 323 6045

Harcourts Twiss-Keir Realty / Belfast Licensed Agent REAA 2008

Contributor to www.realestate.co.nz

3 1 1

For Sale: Offers invited

View: Phone for viewing times.

Sydenham 4/33 Southampton Street

Potential + Location!

Harcourts ID: BF26634

Our present owners are serious about their decision to sell. Fixed term tenancy is until January 2017,

either continue as such or shift in yourself. Fantastic location, so close to the Colombo, Beckenham,

CBD and various restaurants and takeaway facilities, plus two double bedrooms, single garage plus

parking. Upstairs open plan living all adds up to a good equation either way. View anytime.

Christine Prebble

M 027 223 8330 P 03 323 6045

Harcourts Twiss-Keir Realty / Belfast Licensed Agent REAA 2008

3 2 1

Deadline Sale: All offers invited on or before

1 st August 2016 (unless sold prior)

OPEN: Thursday 12.30 - 1.15pm or by appointment

www.twisskeir.co.nz
---
PEGASUS POST Tuesday July 26 2016 13

Owners Change Course

30 Kinsella Place, Halswell

AUCTION: 17th August at 3.00pm, Twiss Keir Auction Rooms, Russley Golf Club, 428 Memorial Avenue, Christchurch (Unless sold prior)

5 Bedrooms | 2 Bathrooms | 2 Car Garage | Off Street Parking | Property ID: BF26497

A change of my owner's circumstance,

requires this property to be sold

quickly, providing a lovely spacious

home of two levels for true comfort,

living and entertaining.

Situated on a sunny 734m² family sized

section with the established gardens,

this 237m² home offers generous

space, large open plan living, great

kitchen with good storage and a

separate lounge off the living area that

has access to a sunny balcony.

Five bedrooms (three downstairs)

with a separate toilet, lovely spacious

bathroom with separate shower and

spa bath, while upstairs the large

master bedroom has an ensuite along

with a walk in robe. Bedroom four has a

built-in robe and a third separate toilet

is conveniently located in the hallway.

An outdoor patio set among the

established garden allows you to enjoy

outdoor entertaining or just relax and

enjoy the garden.

Freshly painted inside and out, just

move in and enjoy.

Vendor's instructions are loud and clear

"Sell it". View immediately to avoid

disappointment.

OPEN HOMES TIMES: Thursday and

Sunday 2.00-2.45pm or phone for an

appointment.

For further information contact Anne

Davis 03 323 6045 or 0274 927 694

Harcourts Twiss-Keir Realty, Licensed

Agent REAA 2008.

Work With Anne

And See The Difference

Compassionate, highly organised and possessing a wealth of

experience, Anne Davis is passionate about Real Estate. With 17 years

in the industry her successful career has resulted in a huge amount of

respect from hundreds of regular clients.

Having achieved Top Salesperson

many times, Anne sees herself as

a consultant eager to listen, share

knowledge and work tirelessly to

achieve the goals of her clients with

a simple honest approach to what

can be a difficult job.

Anne Davis is an exceptional choice

if you are considering selling your

home.

Your biggest asset deserves

her experience.

Contributor to www.realestate.co.nz

Anne Davis

M 0274 927 694 or 323 6045

E anne.davis@harcourts.co.nz

Belfast Office Licensed Agent REAA 2008

Looking For a Career Change?

Join Us.

• Experienced salespeople needed

• Are you looking for a challenge?

• Award winning team

• Full training and support

• Superior systems

• Working with top performers

• Unlimited income

Call Greg Roberts for a confidential chat today.

P. 03 323 6045 M. 0275 359 113.

www.twisskeir.co.nz Licensed Agent REAA 2008

www.twisskeir.co.nz
---
14 2

Tuesday [Edition datE] July 26 2016

PEGASUS POST

Shop Local, Shop PARKLANDS

Wide range of health services

offered at community pharmacy

They are a passionate, friendly team at

Unichem Parklands, the local community

pharmacy in Queenspark Drive –

passionate about providing the best health

care experience, health advice and wellness

support for their customers.

This includes offering a wide range

of services such as vaccinations for flu,

whooping cough, meningococcal and

shingles, free INr testing for patients

taking warfarin, general health screening

including blood pressure, blood glucose,

BMI and zinc testing. emergency

contraception is also available.

The Unichem Parklands team of 10

includes four qualified pharmacists, so

there are always pharmacists available

to fill prescriptions and provide free

health and wellness advice and support.

If necessary, they can treat conjunctivitis,

urinary tract infections in women, pain

and fever, to name just a few, and Viagra

is now available through pharmacist

consult. Where required, they will offer

referrals to other health professionals to

ensure customers always have access to the

treatment they need.

Prescription medications can be

provided in compliance packaging – dated

blister packs to remind patients to take

their medications. ask about the free

trial. The pharmacy has also extended

its delivery service in the area, which is

a boon for elderly and frail patients who

often find it difficult to get to the pharmacy

to collect their prescriptions.

They also have an excellent range of

quality over-the-counter medicines and

natural health products, complete with

knowledgeable guidance and advice.

They have lots of super special deals as

advertised in their monthly catalogue,

which is mailed out to customers in the

area and is also available in store.

If you are looking for gifts, Unichem

Parklands is the ideal place to shop, with

unique gifts to suit every price point and

If you are looking for gifts, Unichem Parklands is the ideal place to shop, with unique gifts to suit every

price point and every occasion

every occasion attractively displayed in

store. Their selection ranges from the

inexpensive, everyday gift items to the

one-off specialist items such as beautiful

hand-woven blankets.

Skin care and beauty brands stocked

include revlon, australis, Designer

Brands, Sukin, evolu and Trilogy, with

the trained staff ready to offer advice and

suggestions where required.

Unichem Parklands also takes pride

in playing an active role in the local

community, providing sponsorship and

prize packages such as gift baskets.

Conveniently located in the Parklands

Shopping Centre, Unichem Parklands is

open from 8.30am-6pm Monday to Friday

and 9.30am-2pm Saturday.

Health, Gifts, Beauty needs, Professional Advice,

Unichem Parklands Pharmacy - your one stop shop

WE CAN HELP YOU WITH..

KIWI BANK

IMAgINe

POSTAL SeRvICeS

PAY YOuR BILLS

CAR RegO

STATIONARY

gIFTS

MAgAzINeS

& CARDS

Shop 4-6, Parklands Shopping Complex, 60 Queenspark Drive

Phone: (03) 3831330

Open: Monday to Friday 8.30am until 6pm. Saturday 9.30am until 2pm.

Parklands Lotto,

Post & Kiwibank

60 Queenspark Drive, Parklands Shopping Centre

Ph 383 0303

Late Nights: Wednesdays & Saturdays

The Best

Indian

Restaurant

IN PARKLANDS

Phone orders welcome

60 Queenspark Drive, Parklands

Phone 383 6263 | Open 7 Days

Lunch: Tues-Sun, 11.30am-2pm

Dinner: Mon-Sun, from 4.30pm till late

www.everestindian.co.nz

LUNCH SPECIAL

Takeaway $7.99 | Dine-in $9.99

frEE HomE

dELIvEry

(Dinner only, Mon, Tues, Wed. 15km radius only)

• Dine-in or takeaway

• Bookings available for parties

and functions

• Fully licensed

• Discount available

Try our new

Nepalese

food with the

best mango

Lassi in town

wINteR meNU exciting

blackboard

ASIAN

STYLE mEALS

Takeaway or Dine In

UNDER

$

20 .00

bAR & bISTRo

qUEENSPARK

200gm

RUmP STEAK,

SALAD &

FRIES

$

12 .00

$

13 .50 LUNCH

monday-Thursday

Specials

SPECIALS

DAILY

come IN, dINe & watch the RUGBY

60 Queenspark Drive | CHCH | P. 383 2606
---
2

[Edition datE]

PEGASUS POST Tuesday July 26 2016 15

CONTINUING EDUCATION

Choose your new hobby with

Papanui High School

With Winter upon us why not take the

opportunity of longer evenings to take up a

new hobby, learn a new skill, meet some new

people and have fun at the same time then

join one of Papanui high School's exciting

range of Adult and Community education

Courses for term 3 beginning from 1

August. We have a wide range of courses

to choose from and guarantee you will find

something to appeal regardless of age or

interests.

We have some new courses on offer for this

term:

Astrology with Deborah McMahon in

this six week course participants will join a

Moon-led journey around the zodiac as a

means of introducing them to the spiralling

dynamics of astrology.

Bee Keeping introduction Course

taught by Jeff robinson will cover beehive

construction, managing a beehive and

information on recognition of diseases.

For those who are more interested in

HELP YOUR CHILD GROW IN CONFIDENCE

culinary pursuits we are offering a indian

Vegetarian Cooking course. harpreet Kaur

will help you explore the wonders of using

spices and ingredients in your cooking to

help you bring taste and variety into your

meals while still cooking on a budget.

if you are interested in creative past times

we are offering Soap Making and Bath Bomb

and Lip Balm making classes. Adrienne

Faherty will show students all aspects of soap

making and students can make their own

bath bombs, bath scrubs and lip balms.

Val Goulding is the tutor of our Your

Career – take Charge course which is aimed

at those who want to make the most out

of their career so if you are stuck in a job

and don't know how to change, or want to

achieve success, job satisfaction and become

more motivated then this course is for you.

For further information and enrolment in

these or any of our courses please visit our

website www.papanui.school.nz or telephone

our office on 3520701.

DO YOur children lack self-confidence, or perhaps have so much energy that they need

an outlet for it? Development through drama is the ideal approach to teach confidence and

channel youthful energy while building self-esteem.

The helen O'Grady Drama Academy has been in new Zealand for 32 years. This highly

regarded worldwide programme helps students aged 5 to 17 fulfil their potential by acting

confidently and speaking clearly. This unique, self-development programme helps achieve

invaluable life skills. The confident, articulate child makes friends easily, accepts challenges

and new directions. Confident children become well-rounded adults.

Our fully qualified teachers are trained in the helen O'Grady Drama system, they ensure each

child is encouraged and valued in a warm, positive learning environment. Lessons stimulate

Christchurch School of Music

the ChriStChurCh School of Music

is a family-oriented community aimed

at providing quality music education in

and around Christchurch. in 2015 CSM

celebrated 60 years of teaching children

to love and appreciate music so why not

join us and become a part of the next 60

years?

CSM is a not-for-profit organisation

with a strong focus on community. On

a Saturday morning the whole family

can find something to suit. Preschool

children can start their musical journey

by joining in our experiential "take Orff

with Music" while older children and

adults may opt for group or individual

lessons on a specific instrument

(including voice). Those who already

play are welcome to join in one of the

great ensembles which all take part in

regular concerts including Saturday

soirees and the popular annual Showcase

Concert. recitals where individuals can

perform are also held regularly.

CSM also provides a comprehensive

and motivate students without the exam or peer group pressure.

Weekly class activities include speech training, creative movement

and improvisation. Our Youth Theatre programme encourages the

development of leadership and organisational skills. Three terms of

the year cover the self-development programme and in the fourth

term all students prepare a performance for parents and friends. We

also offer trinity College London examinations as an option for those

who wish to pursue an international qualification.

Our safe structured learning environment values student

individuality and encourages team building. Most importantly its great

fun too! Enrol now phone 0800 161 131 and see our website

www.helenogrady.co.nz

music education to participating primary

schools via its Outreach programmes.

With programmes offered in band,

strings, recorder and ukulele in a wide

range of Christchurch schools this is an

area of the School, which has grown fast

over the last few years.

Another area that has grown rapidly

over the last few years is the Late Starters

programme where adults approaching

retirement with more time on their

hands have really enjoyed learning an

instrument they never had the chance

to play in their early years and join an

ensemble with other like-minded adults.

if Saturday isn't an option, CSM also

offers a range of weekday opportunities

for learning and playing music.

if affordability is an issue, CSM may be

able to offer a discount through funding

provided by the rata Foundation.

Please contact us via our website www.

csm.org.nz and let us start you on a

musical journey that will bring pleasure

for a lifetime.

Piano

Raewyn Clegg

Registered Teacher of

Piano and Theory of

Music.

29 Lancewood Drive

Halswell

Ph 322-9377

STUDY

HORTICULTURE

Enrolment are now open.

Entry to this programme is open to NZ

Citizens and Residents and students

over 18 years of age.

Intake start dates are subject to

student availability.

No

Fees!

Hamish

Kelland

Ryan

Young

021 222 9678

ryan@skillsupdate.co.nz

LISTEN UP!

Whether you're 2 or 92, a complete

beginner or an experienced player, CSM

offers something for you.

ENROL NOW!

NIGHT CLASSES

PAPANUI HIGH

TERM 3 2016

Huge range of classes from

Art to Yoga

Come down and enjoy the fun!

To enrol, please

phone our office on: 352 0701

See our full range of courses on

www.papanui.school.nz

Term 3 begins

1 August 2016

Drama Classes for Children

Helping children

develop social

skills for a

competitive

world.

Fun Classes for 5-17 years

Weekly Classes 0800 161 131

www.helenogrady.co.nz
---
16

Tuesday July 26 2016

PEGASUS POST

Vote and be into WIN

a Selaks Hamper

worth $1000!

Including $300 of FreshChoice

Gift Cards. 4 prizes to be won.

Promotion runs from 11th July 2016 to 7th August 2016.

See FreshChoice.co.nz for Terms & Conditions.

Cast your vote at FreshChoice.co.nz/

Selaks-Roast-Day

$

3 49

bag

Country Fresh

Washed Potatoes

2kg

Frozen NZ

Lamb Leg

$

8 99

kg

Whittaker's

King Size

Chocolate

250g

$

4 00

each $

2 49

each

Flora Spread 500g

(Excludes Pro-Activ)

$

4 50

each

Signature Range Ice Cream 2L

$

3 80

pack

Yoplait Yoghurt 6 Pack

(Excludes Vigueur)

$

5 00

each

Kellogg's Special K Fruits 315-475g/Nutri-Grain/

Special K/Sultana Bran/Coco Pops 500-730g

WINE

DEAL

OF THE

WEEK

$

16 99

pack

Speight's Gold Medal Ale/Summit

12 x 330ml Bottles

$

7 99

each

Montana Classic

750ml

$

2 90

each

Cold Power Ultra/Fab Laundry Powder 1kg

FreshChoice Parklands

60 Queenspark Drive, Christchurch.

Open 7am-11pm, 7 days.

FreshChoice.co.nz FreshChoiceNZ 383 1004

FreshChoice Parklands

Certain products may not be available in all stores. Savings are based on non-promotional price. Limits may apply.

Prices apply from Tuesday 26th July to Sunday 31st July 2016, or while stocks last.

Owned and

operated

by locals

FCPP2607
---
2

PEGASUS [Edition POST datE]

Tuesday July 26 2016 17

KIDSTUFF

Kids love CASPA!

CASPA (Creative After School

Programmed Activities) offers children

the opportunity to be creative, make

new friends and try new experiences all

within a safe, nurturing environment.

CASPA offers working parents an

affordable after school and school

holiday programme that their kids just

love!

CASPA attributes its success to the

variety of activities on offer as well

as the convenience and affordability

for parents. CASPA kids enjoy an

exciting range of activities including

sports, music, games, drama, arts and

craft as well as fun trips. Previous

themes and activities have included

a Karaoke Dance Party, CASPA fear

factor, Healthy Art, Out of Africa and

hundreds of other amazing themes/

activities!

CASPA parents enjoy peace of

Learning FROM HOME

in Christchurch

After 5.5 successful years establishing

popular home based childcare service

Stems frOM HOMe in Auckland,

Cantabrian emma McAlister has returned

home with her own young family to 'grow

young minds' in Christchurch too.

Stems prides itself on providing flexible,

affordable and personalised childcare for

busy families who would dearly love their

children to have an 'at home mum' early

learning childhood experience ."This

option isn't often possible for families

today for many reasons, but is so very

important for our little people" says

emma. " My role is to work personally

with each family to find the best match

in an educator for them…I love helping

create these special relationships!"

Stems is fully licensed by the Ministry

of education and builds programmes

alongside educators for each child which

follow the NZ curriculum. Activities,

learning and 'special moments' are

recorded for families by educators every

day and children are able to have their

own routines maintained, experience

peer interactions in well supported small

groups, and attend learning experiences

Safe &

Stimulating

Childcare

Available

Call us today to personally discuss your individual childcare needs.

0800 78 33 78 | emma@stemsfromhome.co.nz

mind, knowing their kids are safe and

enjoying the benefits of a quality after

school programme. Some parents

and caregivers also enjoy government

subsidies for CASPA. CASPA is

Child Youth and family approved

for the OSCAr Subsidy and in some

circumstances, the full CASPA fee will

be covered by the subsidy.

for more information or to enrol,

call Caroline, rachel or tania on 349

9260 or visit www.caspa.org.nz.

out and about in the local community

very regularly. Costs range between $6-

$7.50 per hour with WINZ and 20 eCe

subsidies available.

If you are looking for quality childcare

in New Brighton, Shirley, rangiora or

Halswell please contact emma directly

on 0800 78 33 78.

New vaCaNCies

available Now

in New brighton, shirley,

Halswell and Rangiora... with

over 120 children currently

enrolled in stems homes we

would love to be able to help

your family too!

A tailored learning

experience

LINDISfArNe OPeNeD in 1987 with

the aim of providing parents and families

with a nursery school which respects

their individual needs and aspirations.

We provide full time, part time and casual

enrolment opportunities for your child,

so that you can organise a schedule which

suits your requirements.

The teachers provide learning

experiences tailored to individual

children's needs and interests, and the

programme promotes independent

thinking and skill development. Our

aim is to have happy, settled, confident

children, who enjoy an environment

which fosters a love of learning, and

respect for all people

We are proud of our multi-national

community and the opportunities this

provides for both teachers and children.

regular parent and whanau activities

are organised throughout the year, and

we place an emphasis on a close liaison

between home and nursery school, which

is vital to any child's success and progress.

We do hope you find our website helpful

but encourage you to visit the nursery

school for a full information booklet. We

will be delighted to meet you and your

child, and welcome you to Lindisfarne.

CASPA

After School

& Holiday Programme

Creative

After

School

Programmed

Activities

The teachers provide learning

experiences tailored to individual

children's needs and interests,

and the programme promotes

independent thinking and skill

development.

• Central location

• Cooked healthy heart meals

• Large private outdoor play area

• Casual care available

• Enrolments available now

• 7.30am - 5.30pm Monday to Friday

EST 1987

389 2483

375 Worcester Street • Christchurch

Take the stress out of childcare

•We provide a safe, creative

Environment for 5-13 year olds

•Our staff are trained

•A range of fun activities

•7.15-8.30am and 3-6pm Mon—Fri

•8am-6pm Holidays

•Kids just LOVE it!

www.stemsfromhome.co.nz

call us

noW

P: 349 9260 or 027 352 1638

E: info@caspa.org.nz

W: www.caspa.org.nz

Subsidies

Apply
---
569a Colombo Street

Christchurch

03 377 6800

www.tocherish.co.nz

18

Tuesday July 26 2016

PEGASUS POST

Sunday 28 August

9.30am – 4.00pm

PROUDLY SPONSORED BY:

bliss

Modern

Contemporary

Hair

CREATING YOUR PERFECT WEDDING

weddings by

collective concepts

www.weddingconcepts.co.nz

Airforce Museum

45 Harvard Avenue,

Wigram, Christchurch

Tickets: $15.00
---
2

PEGASUS [Edition POST datE]

Tuesday July 26 2016 19

HEALTH & BEAUTY

Book now to have

new dentures

for Christmas

While it may seem too early to start

thinking about Christmas, anyone looking

at getting new dentures fitted before the

holiday season starts needs to book in

now, says Ryan Carlton of Dentures Plus

in innes Road.

Appointments are filling up over the

next few weeks, and as the process takes

several appointments over a few months

to complete, people are advised to get in

touch as soon as possible to ensure their

dentures are settled in by Christmas, Ryan

advises.

Patients can approach Dentures Plus

directly, who will either recommend a

dentist for teeth extraction or contact

the patient's own dentist. The dentures

are made up before the dentist extracts

the teeth, as this helps the mouth heal

faster. The professional approach taken by

Ryan and his staff ensures that the whole

process of having dentures fitted goes as

smoothly as possible.

Ryan also advises that people with

existing dentures should have them

checked every two to three years to make

sure they are not starting to wear, which

could cause discomfort in the future. This

may not be noticeable to the wearer, Ryan

says, but a free, no-obligation check-up

will determine if the dentures need some

attention, or even replacing.

The team at Dentures Plus specialise

in all aspects of denture work – from

making and fitting for first-time wearers,

relining, which is done after the first few

months to make sure the new dentures

are fitting correctly, through to providing

dentures that clip on to implants, and full

replacement dentures.

They provide full follow-up care to

patients and also supply a range of

products for denture care. These include

denture cleaners, brushes and denture

baths for soaking the dentures. Ryan

recommends Caldent denture cleaner, as

it is non-abrasive and effectively removes

stains, calculus and plaque.

Dentures Plus, 396 innes Road, is

open Monday to Thursday 8am-5pm

and Friday 8am-2pm. to make an

appointment, phone 385 5517.

Ryan also advises that

people with existing

dentures should have

them checked every

two to three years sure

they are not starting

to wear, which could

cause discomfort

in the future.

What type of Parkinson's do you have?

Knowing the answer to this question can slow down your Parkinson's and

help you to look, move and feel better.

Beautiful Teeth

Meet the

Owner

Ryan Carlton

Get control of your Parkinson's and find out more today!

www.musclepeople.co.nz

Phone: (03) 961 0236

Natural Smile

Free Consultation, No Obligation

• Full Dentures • Dentures Repaired • Implant Assisted Dentures

• Injection Moulded Unbreakable Partials • Relines

• Mouthguards • Additions/Repairs • Purchase cleaning and care

products from our website.

All dentures personally

designed and created to ensure

a comfortable natural fit.

DENTURES PLUS (2014) LTD

Denture Clinic and Laboratory

396 Innes Road, St Albans. Phone 385 5517.

Email: denturesplus@paradise.net.nz

www.denturesplus.co.nz

Orbiter Bus stops Innes Road

Physiotherapy

Associates

Finding Solutions

$5 discount

for Supergold

card

Book your

appointment

today!

Phone 03 389 7196

86A Wainoni Road

www.physioA.co.nz
---
20 2

Tuesday [Edition datE] July 26 2016

PEGASUS POST

Large, light and luxurious!

33 Brookfield Drive, Northwood

Auction: 11 August 2016, unless sold prior

5 bedrooms | 3 bathrooms | 2 toilets | 2 living rooms | 1 dining room | 2-car garage | Listing#: PI55814

Families who crave space and demand

quality will find our feature property

– an expansive executive home in a

highly-desirable location – utterly

irresistible!

This residence boasts a total of five

bedrooms, including a master complete with

ensuite, walk-in robe and doors out to a

sheltered patio.

Two more bathrooms (both with baths)

enhance functionality while a fabulous

kitchen is complemented by a variety of

formal and informal living areas.

High ceilings and bulkheads add to the

sense of grandeur in the separate lounge,

and a gas fire guarantees year-round

comfort, with excellent indoor/outdoor

flow promoting easy access to the fully

fenced grounds.

Outside, manicured lawns and established

gardens contribute to the restful ambience,

while planter boxes, a barked play area and

a double internal access garage (with drivethru)

all add further appeal.

The lifestyle on offer here is compelling, to

say the least, with numerous walkways and

reserves all within easy reach.

In addition, there is the benefit of the

Styx Mill Country Club, where you'll find

everything from an indoor pool, spa and

sauna to outdoor tennis courts and a gym!

Our vendors have purchased and are ready

to sell this exquisite home, and a change of

ownership is imminent.

Act quickly – call now to learn more.

Open homes dates: Saturday and Sunday

1pm to 1.45pm.

See you at the open homes or call me today

for a private viewing appointment, contact

Deb Harvey of Harcourts Gold Papanui

(Licensed Agent REAA 2008) on 352 6166

or mobile 027 220 6565.

ON DEMAND AT WWW.stylE.kiWi

from magazine

to screen

storiEs givEn nEW liFE

Watch EvEry thursday at

7.30pm

rEpEats Friday at

11am & 4.30pm

ExclusivE intErviEWs

Andrea Allen meets the locals

coming to toWn

A look at what's on

Fashion Focus

Trends to follow

the ultimate guides

ExpErts sharE tips

StyleTV_StarAd_June_HP_001_2016

Freeview HD 40 | Live on ctv.co.nz
---
PROUDLY

PROUDLY

CHRISTCHURCH

CHRISTCHURCH

OWNED

OWNED TUESDaY, aUGUST 27, 2013 PROUDLY 384

384 CHRISTCHURCH 0600

0600

PROUDLY CHRISTCHURCH OWNED MONDaY JUNE 24, 2013

OWNED WEDENSDaY 10 JULY, 2013 384 0600

384 0600

A Mainland

Media Publication

Kea

(Nestor Notabilis)

Ladbrooks, Tai Tapu, Leeston, Lincoln, Southbridge, Prebbleton, Halswell, Rolleston, Templeton, Burnham, West Melton, Darfield, Arthurs Pass

Mainland

Press Newspaper

Sumner, Redcliffs, Mt. Pleasant, Ferrymead, Woolston, Lyttelton & Akaroa Harbours

Harewood, Burnside, Bishopdale, Bryndwr, Fendalton, Merivale, St Albans, Mairehau, Papanui, Casebrook, Redwood, Regents Park, Styx Mill, Northwood, Spreydon, Belfast Hoon Hay, Hillmorton, Cracroft, Cashmere, St Martins, Somerfield, Sydenham, Addington, Waltham, Opawa, Beckenham, Huntsbury, Woolston

Black Billed

Gull

A Mainland

Press Newspaper

New Zealand

Swamp Hen (Pukeko)

Linwood, Avonside, Richmond, Shirley, Burwood, Dallington, Wainoni, Bromley, Aranui, Avondale, Bexley, New Brighton, Northshore, Queenspark, Parklands, South Brighton

PROUDLY CHRISTCHURCH OWNED MONDaY JULY 15, 2013 PROUDLY 384 CHRISTCHURCH 0600

OWNED MONDaY 12 aUGUST, 2013 PROUDLY 384 CHRISTCHURCH 0600

OWNED MONDaY JUNE 24, 2013 384 0600

A Mainland

Press Newspaper

Fantail

(Piwakawaka)

A Mainland

Newspaper

Bellbird

(Korimako)

A Mainland

Press Newspaper

New Zealand

Pigeon (Kereru)

Templeton, Islington, Hei Hei, Broomfield, Halswell, Oaklands, Westlake, Hornby, Wigram, Sockburn, Church Corner, Ilam, Russley, Hyde Park, Avonhead, Riccarton Park, Riccarton

PEGASUS POST Tuesday July 26 2016 21

Cars

$4,001 - $8,000

NEED a new car? and

need finance we can help.

Call us today Learners

lcs, past credit issues

been bankrupt or new to

New Zealand! Call Leon

022 625 2232

Computers

Curtains

www.curtainfabric-outlet.com

Fashion Designs & Colours

Discontinued Designs

End of Lines Bargain Prices

Call at Our Shop

CURTAIN FABRIC OUTLET

71 Hawdon St Sydenham

Ph 366-5026

Gardening

& Supplies

Classifieds Contact us today Phone our local team 03 379 1100

ADD SOME

COLOUR

TO YOUR ADVERT!

Holiday

Accommodation

QUEENSLAND SUN-

SHINE COAST AUSTRA-

LIA Resort, Ocean Views,

Balconies, Self Contained,

1 or 2 B/R Ensuite,

Heated Pool, Spa, Sauna,

Free Internet, Shops,

Restaurants, Tennis, Surf

Club & Patrolled Beach,

Public Transport at door.

Ask for our SEASONAL

SPECIALS. Phone 61 7

544-35011 Email: reception@mandolin.com.au

www.mandolin.com.au

ALL

YOUR

COMPUTER

WORRIES SOLVED!

*$30.00 off your first

service with this coupon!*

No problem too big or

small from home PC's to

business networks. PC

slow? An end to Viruses,

Spyware, and Clogged

Systems. Safe secure

hassle-free computing.

Lost files recovered.

Microsoft Certified, Pets & Supplies

MCSE, MCP+l. 30 years AFFORDABLE Dog

experience. Call Andrew Grooming $44 small,

Buxton this week on 326- $52 med, experienced

6740 or 027 435-7596 and qualified groomer/

for $30.00 off* Custom veterinary nurse,

Computers Christchurch Redwood, ph June 03 354-

6414 or 027 746-5295

Public Notices

AGM

The Annual General

Meeting of

NORTH BEACH

TENNIS CLUB INC

will be held on

wEdNESdAy

10 TH AUGUST

at 7.30pm

34 Palmers Road

North New Brighton

A GARDEN

PROFESSIONAL

NEEDED? Qualified

Horticulturist, offering DEMOLITION

expert pruning, garden With care and respect we

makeovers, garden design

and landscaping, for free

quotes call Bryce 027 688-

8196 or 0508 242-733

will remove your dwelling.

Our policy is to recycle as

much as we can. We are a

local company specialising

A GARDEN OR in residential properties. We

LANDSCAPING TIDY will endeavor to cater for

UP? Rose & Fruit Tree

your individual needs.

Pruning, Shrub, hedge Ph. R.M. Solutions

& tree pruning, Lawns,

021 02866981

Gardening, consistently for a free quote.

reliable general property

upkeep, Dip. Hort. 10

yrs experience, One off Wanted To Buy

tidy ups or on-going AAA Buying goods

service. Nick's Property quality furniture,

Maintenance. Keeping Beds, Stoves, Washing

your garden beautiful. machines, Fridge Freezers.

Free Quote. Ph. 942-4440 Same day service. Selwyn

Dealers. Phone 980 5812

or 027 313 8156

GARDEN DESIGN

& MAINTENANCE

Rose & Fruit Tree

Pruning by trained

Horticulturalists.

Book winter

pruning in now.

M: 027 688 8196

P: 0508 242 733

A Records and Hi-Fi

gear wanted, excellent

prices paid for good

records especially kiwi

and overseas bands 60's

- 90's PennyLane 430

Colombo St Sydenham

7 days www.pennylane.

co.nz ph 3663278 or 021

2226144

TOOLS Garden,

garage, woodworking,

mechanical, engineering,

sawbenches, lathes, cash

buyer, ph 355-2045

Public Notices

Call us & we'll help

you place your

classified advert in our

community papers

Nobody knows

Christchurch

like a local

We're local, we're

in Christchurch, we

speak your language!

Phone: 379 1100

Selwyn

Times

Nor'West

News

Bay Harbour

A

News

Southern

Situations Vacant

The New Brighton

Olympic Athletic Club

Requires a part-time Custodian for its Clubrooms

at Rawhiti Domain, starting in August.

This involves variable hours, more in Summer

than Winter. Duties include taking bookings,

arranging access, cleaning after usage, replacing

consumables and monitoring maintenance.

Payment includes an hourly rate, mileage and

contribution towards telephone bill. The ideal

person would live near Rawhiti and take an

interest in Athletics.

For more information contact

Margaret on 0274 165 993 or

email Margaret@nbo.org.nz

Pegasus

Post

Western

View Press

News

Classifieds

Our community papers are published every

Tuesday (Bay Harbour, Wednesdays) focusing

on local issues & local people.

ADVERTISE

YOUR

BUSINESS HERE

Situations Vacant

CLEANER

House cleans,

casual and

on call.

Experience and

references

required.

Phone Jan

021 036 5263

CA$H

Strippers

& Podium

Dancers

Wanted!

18+ TO APPLY

NEISHA

021 193 0118

Phone for further details

(03) 379 1100

Situations Vacant

Assistant Producer

Star Media

Be part of a growing, locally-owned multimedia company!

Star Media is looking for a full-time Assistant Producer for

its busy production team. The successful applicant will have

outstanding organisational skills and a strong passion for

everything TV and Media.

The Role

You will assist our senior production

staff in all stages of commercial and

web video production, with direct

accountability for the execution of

a specific client brief within editorial

guidelines.

You will oversee all day-to-day

operations, such as schedule

planning, brand and product research,

staff and talent management and

more.

Your responsibilities include but are

not limited to-

• Creative script writing, idea

generation and research

• Managing

producer's daily

activities

• Interacting with

team members and

ensuring excellent

communication within

various departments

• Planning and organising

ahead to establish an

efficient course of action

for yourself and the team

• Leading and motivating

production teams, crews and

contributors, by providing

clear instructions,

support, direction and

feedback

If you're ready for your next challenge, send your CV and cover

letter to Maria.Virgolini@starmedia.kiwi.

Candidates will be considered as and

when applications are received.

Applicants for this position should have

NZ residency or a valid NZ work visa.

Please call

Leanne Lucas 364-7451 or

Mark Coulthard 364 7453

email: deliveries@starmedia.kiwi

• Establishing clear objectives

for implementing effective and

economic production schedules

• Composing and preparing a variety

of correspondence, reports, and

internal documents in support

of current and new business

development activities

Our ideal candidate

We are looking for an enthusiastic,

highly motivated individual with

excellent time management skills,

able to work on multiple projects

simultaneously and to liaise and

cooperate with external suppliers,

clients and team.

Candidate's strengths-

• Relevant qualification in journalism,

communications, media studies or

equivalent experience

• Sound knowledge of the production

process

• Video editing experience

• Script writing experience

• Excellent communication skills

• Ability to think creatively and

"outside the box"

• Can work independently and as part

of a team

• Can work effectively under pressure,

react quickly and meet tight

deadlines

• Have a full, valid driving licence

MUMS & DADS

Would you like your children to

exercise more and earn some money?

DELIVERY

PEOPLE

WANTED

The Star requires delivery personnel

in all areas of Christchurch.

The work involves door-to-door

delivery of The Star newspaper.
---
22

Tuesday July 26 2016

Classifieds

PEGASUS POST

'Famous for their roasts!'

Trades & Services

Trades & Services

Trades & Services

Trades & Services

Appliance Sales & Service

388 4780

Appliance Services

14 Brighton Mall, New Brighton

DRIVEWAYS & PAVING

FREE QUOTES

Professional, friendly

Service Always

Ph. 03 329 4806

or 027 827 0505

CAP CONSTRUCTION LTD

ROOFING

- Re-roofing and

new roofing

- Quality roofing at

the best price around

- Licensed building

practitioner

Robinson

Roofing Ltd

Call Hamish for a

quote 03 347 90 45

HOUSE

CLEARING

Are you moving

house?

Let All Clear Canterbury

take care of your

unwanted items.

You identify what you want

to keep & we will dispose

of the rest!!

Mob: 021 078 4553

raewynlcooke@gmail.com

www.allclearcanterbury.co.nz

FENCING

Paling, picket,

iron, trellis

Demolition and

removal

Phone Bevan

021 231 1860

Fencing Uprite

Your Eastside

Specialist

• Replacement/new roofing

• Colour Steel gutter & fascia

• Flue & log burner installs

• Skytube/light installs

• Earthquake repairs

Licence Building

Practitioner LBP

Member of the Roofing

Association

DCM ROOFING LTD

The Roofing Specialists

PHONE IAIN

027 445 5597

iain@dcmroofing.co.nz

Appliance Sales & Service

388 4780

Appliance Services

14 Brighton Mall, New Brighton

Garden design

Planting professionals

Garden renovation &

Makeover

Quality plant sourcing

Expert pruning &

Trimming

M: 027 688 8196

P: 0508 242 733

E: greentherapy@

xtra.co.nz

NEED A

PLUMBER?

Call us now for fast

friendly service.

Get your problems sorted out

quick smart - on time!!

Phone for a FREE

quote now.

Phone 03 377 1280

Mobile 021 898 380

PLUMBER

Michael

Gale

Plumbing Ltd

PROMPT SERVICE

For all

Plumbing

•Roofing/

spouting

•Maintenance

•Installations

8790441AA

Small work

no problem

Ph 364 7080 (24 hour)

Mob 027 438 3943

DRIVEWAYS & PAVING

FREE QUOTES

Professional, friendly

Service Always

Ph. 03 329 4806

or 027 827 0505

CAP CONSTRUCTION LTD

Lawns, Gardens

& Home Cleaning

9185885AA

Free Quotes

Professional, personalised

service. Regular &

one-offs. Fixed price.

Ph: 377-5814

For all your property and

cleaning requirements

Trained, insured & security

screened owner/operators

Multi-award winning

systems & Franchises

Franchises Available

www.fviphomeservices.co.nz

GLAZING

Stephen Thom

Glazing 2012 Ltd.

(Under New Management)

• Mirrors

• New Glazing

• Pet Door

Specialists

• Frameless

Showers

• Splashbacks

WE CAN DO YOUR

WORK NOW

9155874AA

ALL BROKEN

WINDOWS

Phone Cushla

03 352 6225

or 027 352 6225

AAA CArpentry

licensed builder

practitioner all property

maintenance small job

expert by tradesman /

handyman free quotes city

wide call now 03 387-

0770 or 027 245 5226

ciey@xtra.co.nz

BUILDer

For all building work

but specialist in bathroom

renovations, 30 yrs

experience, with service

and integrity. Free Quotes.

Ph Lachlan 383-1723 or

0274 367-067.

BUILDer LICenSeD

available for all aspects of

building. Please call 027

241-7471 or 335-0265

CArpenter

HANDYMAN - Small

Job Specialists, Carpentry,

Repairs, Decking &

Maintenance, 40 years

experience, no job too

small, Ph Warren 03 322-

1103 or 027 697-8541

CArrIer LoCAL

experienced, friendly,

trade-me purchases, single

items to truck loads,

furniture to whatever,

removals & trade

deliveries a specialty. Ph

GEH 341-5069

CArpet & VInyL

Laying. Repairs, uplifting,

relaying, restretching.

Email jflattery@xtra.

co.nz, ph 0800 003 181 or

027 2407416

CArpetLAyer

Laying and Repairs, 40 yrs

experience, ph Peter 326-

7711 or 027 240-6532

DRIVEWAYS

Replace, repair or new.

We are a local company

with over 10 yrs exp.

We also operate a

digger for all other

earthworks.

Ph. R.M. Solutions

021 02866981

for a free quote.

FenCInG

All styles and shapes,

gates, wooden, ph Mark

027 331-3223

FUrnItUre reMoVALS

Large Trucks $95 +

GST per hour 7 day NZ

wide, packing & moving,

Professional Company,

Professional Service.

Canterbury Relocations

Ltd. ph 0800 359 9313

LAnDSCApe

CONSTRUCTION

Lawns, paving, water

features, irrigation,

planting, decks,

driveways, kerbing, ponds,

retainer walls, fencing.

Free quotes, Phone Tony

021-034-8555

pAIntInG

& Decorating interior

& exterior, gib fixing,

plastering, paperhanging,

Est 50 yrs in ChCh, ph

Wingfields Ltd, ph Mark

021 171-1586 or 355-5994

pAInter AVAILABLe

All aspects in painting.

Very competitive in roofs

and fences. Please call 027

241-7471 or 335-0265

pLASterer SoLID

both ext & int work,

Scottish Tradesman with

over 30 yrs experience,

FREE Quotes, ph Donald

351-1691 or 021 023

26186

pLUMBer

ALF THORPE

PLUMBING Certifying

Plumber for all types of

plumbing, maintenance,

spouting, alterations etc.

Phone 352-7402 or 0274-

350-231

rooFInG

Qualified & Licenced

Practitioner. Re-Roof &

Repairs, all types. Member

New Zealand Roofing

Association. Over 35 years

experience. Phone John

027 432-3822 or 351-9147

email

co.nz

johnmill@ihug.

SpoUtInG CLeAnInG

Spouting Unblocked,

Cleaned Out and Flushed

Out. Also Full Handyman

Services Available. Call

Trevor 332 8949 or 021

043-2034

treeS

BIG OR SMALL, tree

removal, trimming, stump

grinding, shelterbelt clean

up, section clearing,

rubbish removals,

excavation work, ph Trees

Big or Small, for a free

quote, 021 061 4783

tree WorK

Hedge trimming, stump

grinding, rubbish removed,

small job specialty Ph

Andrew 03 322-8341 or

027 435-8759

t.V. SerVICe Centre

Repairs, tvs, microwaves,

stereos, DVD. Aerial

installations and kitsets,

480 Moorhouse Ave, ph 03

379 1400

UpHoLSterer

Dining Chairs, Lounge

suites, Caravan Squabs

etc. recovered. Free

Quotes. Phone Graeme

383-1448

VHS VIDeo tApeS

& all camera tapes

converted to DVD, video

taping, weddings, twenty

firsts, special occasions,

www.grahamsvideo.co.nz

ph 03 338-1655

WAterBLAStInG

Quality Job, Quick Service

by skilled tradesman, Ph

Richard Severin at Jet-X

0800 538 969 Free quotes,

visit www.jetx.co.nz

The

Woolston Club...

A classic, contemporary

club experience

Cafe open from 11am

Happy Hour 4.30pm - 5.30pm

TAB & Gaming, Function Facilities,

HOUSIE Tuesday, Thursday, Saturday

SHUTTLE Tuesday - Saturday

www.newbrightonclub.co.nz

WHAT'S ON

TUESDAYS &

THURSDAYS

Members

Lucky Card Draw

TAB POD

RUGBY

SUPER 18

SEMI-FINALS

HURRICANES

v CHEIFS

7.30PM SATURDAY

GAME OF

TONES

7pm SATURDAY

13th August

Treat the Kids!

JOIN

A CLUB BY

THE SEA!

- downstairs -

ClubBISTRO

Open Tuesday

to Saturday

12pm-2pm

and from 5pm.

Midweek

SPECIAL

$10

ROAST

Available Tuesday,

Wednesday,

& Thursday

- upstairs -

PIERVIEW

Restaurant

Quality a la carte

with a view!

Open FRIDAY,

SATURDAY,

& SUNDAY

from 5.30pm

FRIDAY SPECIAL:

BBQ PORK RIBS

$19.50!

for a limited time

SUNDAY SPECIAL

$25 3-Course Feast

SUNDAY 28th AUG

BOOK NOW for

Sumptuous winter

BUFFET $25

SHUTTLE RUNNING

Tues, Thurs, Fri & Sat

Kids two course

special

from

SUNDAY

BRUNCH!

By the Seaside!

10.30am-2.30pm

202 Marine Parade

Ph 388-9416

Members, guests and affiliates welcome

Open daily from 6.30am - Breakfast, Lunch & Dinner

$

10

We are family friendly.

Great Kids menu plus

designated play area.

RESTAURANT & CAFÉ

Seniors SPECIAL

Two courses Soup/Roast or

Roast/Dessert

Open 7 Days

Restaurant open

from 5.30pm!

Retro Roast Lunch

12pm Wednesdays

$10 Members/$12 Non

SUNDAY ROAST

LUNCH

12PM - 2PM

LIVE MUSIC

6PM FRIDAY

IAN MAC

7PM SATURDAY

THE

D'SENDANTZ

$

20

Special available lunch only

Monday - Saturday 12pm - 2.30pm

Conditions apply.

Racecourse Hotel Motorlodge

118 Racecourse Rd, Sockburn, Christchurch. Ph 03 342 7150

www.racecoursehotel.co.nz (opposite Riccarton Raceway)

NEW SEASON

MENU OUT NOW!

COMING UP

SATURDAY

27th August, 7pm

Dinner Theatre at its Best

A NIGHT OF MAYHEM

Three course meal & show $60

Doors open at 6.30pm

H ORNBY

WORKINGMEN'S

CLUB

«WHAT'S ON«

WESTVIEW LOUNGE

SATURDAY

30 July, 4.30PM

NORM BLAND

8PM CROCODILE ROCK

SUNDAY

31 July, 2PM

NEVILLE WILKINS

& THE VISCOUNTS

$5 ENTRY

«COMING UP«

SATURDAY 20 August, 8PM

DnD Showband presents

THREE SHOWS IN ONE...

Fleetwood Mac ; ABBA; Moulin Rouge

Pre sale tickets $20 / Door sales $25

SUNDAY 21 August, 2PM

Pat Dugan's 90th

Birthday Celebration

GREAT LIVE BAND along with special

guests Jodi Vaughan, Brendan Dugan,

Tony & Temara Williams, Peter Cairns,

Cameron Walsh, Allan Barron

and more! Tickets $20.

Hornby WMC, 17 Carmen Road, Hornby

phone 03 349 9026

www.hornbyworkingmensclub.co.nz

Members, guests & affiliates welcome
---
PEGASUS POST Tuesday July 26 2016 23

PHIL'S NEW ALBUM

IS NEARLY HERE!

FOLLOWING on from his debut release, Stone & Wood,

Phil Doublet is set to release his second album, Endless

Highway.

"I can't tell you how exciting this is," exclaims Phil. "The new

album is nearly here, and the preparations for the album

launch marking its official release are underway."

Well recognised in country music circles both here and

overseas, Phil is an accomplished guitarist-vocalist who has

been developing his skills for almost 3 decades in concert,

studio and "just jamming around at home".

He has claimed many music awards over the years with his

most recent being Male Artist of the Year 2014 at the National

Country Music Awards.

A strong ambassador for original music, Phil is front man

for the regular local event, 'Songwriters in the Round'. Taking

place towards the end of each month at Alvarado's on Stevens

St, each round showcases three songwriters with acoustic

interpretations of their music.

Phil launches his new album Endless Highway at Kaiapoi

High School on Saturday 27th August

along with special guests The

Ranchsliders, Dani Rigby, and Lana

Doublet.

Tickets are available now exclusively

at Music Works, South City, Colombo

St. (cash only).

Lunch & Dinner

All you can eat, 7 days

Bookings Essential

PH 386 0088

fb.com/GardenHotelRestaurant

www.gardenhotel.co.nz

NOW SERVING

available

from

9am

Breakfast

HAPPY

HOUR

5PM - 7PM

DAILY

LIVE

Rhonda Campbell duo

6PM FRIDAY 29th July

MUSIC

PHONE 385 8880 FIND US ON FACEBOOK fb.com/GBCCHCH

THE GARDEN HOTEL COMPLEX | 110 MARSHLAND RD

www.gardenhotel.co.nz | phone 385 3132

THE

DOUG

CALDWELL

QUARTET

PIANO MAESTRO

DOUG

CALDWELL

Bob Heinz (guitar)

Mike Kime (bass) &

Ted Meager (drums)

WITH

JODY

KEEHAN

SUNDAY

14 AUGUST, 3PM

Book at Eventbrite or phone 03 352 8568

The Piano | Centre for Music & the Arts

156 Armagh Street | Christchurch
---
24

Tuesday July 26 2016

PEGASUS POST

TRUST LOCAL

TRAILERS

NOW FOR HIRE

FULL MECHANICAL

ANd AUto ELECtrICAL rEPAIrS

CHECK OUT OUR TYRE PRICES THEY

WILL SURPRISE YOU

• WOF's

• Air conditioning

• Wheel alignments

• Clutch & brake specialists

• Full mechanical

repairs available

• CV joints/boot replacements

• Car/4WD tyres

• Auto transmission servicing

• Petrol/diesel

vehicle servicing

• Diagnostic scanner

BrAkE CHECk

BAttEry CHECk

FrEE LoAN CArS

NICk CoULtAS

Owner

Nick says

"If you're happy

with our service

tell others.

If you're not,

tell us.

We want to

look after our

customers."

91 Beach Road, North Beach

Phone 383 2870