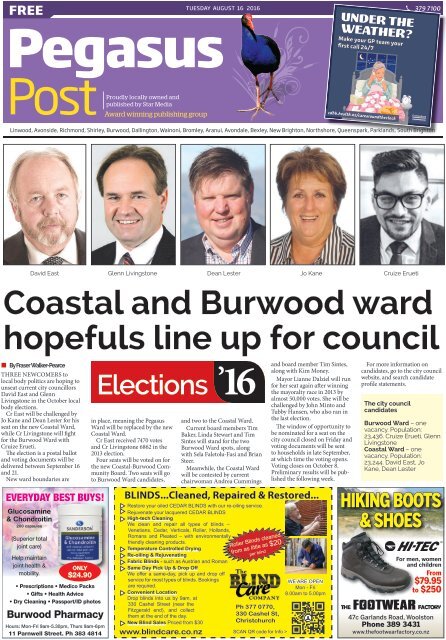 Pegasus Post: August 16, 2016
You also want an ePaper? Increase the reach of your titles
YUMPU automatically turns print PDFs into web optimized ePapers that Google loves.
9

6

3

FREE

TUESDAY AUgUST 16 2016

379 7100

Pegasus

Make your GP team your

first call 24/7

Post

Proudly locally owned and

published by Star Media

Award winning publishing group

cdhb.health.nz/carearoundtheclock

12

Linwood, Avonside, Richmond, Shirley, Burwood, Dallington, Wainoni, Bromley, Aranui, Avondale, Bexley, New Brighton, Northshore, Queenspark, Parklands, South Brighton

David East Glenn Livingstone Dean Lester Jo Kane Cruize Erueti

Coastal and Burwood ward

hopefuls line up for council

• By Fraser Walker-Pearce

THREE NEWCOMERS to

local body politics are hoping to

unseat current city councillors

David East and Glenn

Livingstone in the October local

body elections.

Cr East will be challenged by

Jo Kane and Dean Lester for his

seat on the new Coastal Ward,

while Cr Livingstone will fight

for the Burwood Ward with

Cruize Erueti.

The election is a postal ballot

and voting documents will be

delivered between September 16

and 21.

New ward boundaries are

EvEryday BEst Buys!

Glucosamine

& Chondroitin

200 capsules

(Superior total

joint care)

Help maintain

joint health &

mobility.

ONLY

$24.90

• Prescriptions • Medico Packs

• Gifts • Health Advice

• Dry Cleaning • Passport/ID photos

Burwood Pharmacy

Hours: Mon-Fri 9am-5.30pm, Thurs 9am-6pm

11 Parnwell Street. Ph 383 4814

Elections 16

in place, meaning the Pegasus

Ward will be replaced by the new

Coastal Ward.

Cr East received 7470 votes

and Cr Livingstone 6862 in the

2013 election.

Four seats will be voted on for

the new Coastal-Burwood Community

Board. Two seats will go

to Burwood Ward candidates,

and two to the Coastal Ward.

Current board members Tim

Baker, Linda Stewart and Tim

Sintes will stand for the two

Burwood Ward spots, along

with Sela Faletolu-Fasi and Brian

Steer.

Meanwhile, the Coastal Ward

will be contested by current

chairwoman Andrea Cummings

and board member Tim Sintes,

along with Kim Money.

Mayor Lianne Dalziel will run

for her seat again after winning

the mayoralty race in 2013 by

almost 50,000 votes. She will be

challenged by John Minto and

Tubby Hansen, who also ran in

the last election.

The window of opportunity to

be nominated for a seat on the

city council closed on Friday and

voting documents will be sent

to households in late September,

at which time the voting opens.

Voting closes on October 8.

Preliminary results will be published

the following week.

BLINDS...Cleaned, Repaired & Restored...

Restore your oiled CEDAR BLINDS with our re-oiling service.

Rejuvenate your lacquered CEDAR BLINDS

High-tech Cleaning

We clean and repair all types of blinds –

Venetians, Cedar, Verticals, Roller, Hollands,

Romans and Pleated – with environmentally

friendly cleaning products.

Temperature Controlled Drying

Re-oiling & Rejuvenating

Fabric Blinds - such as Austrian and Roman

Same Day Pick Up & Drop Off

We offer a same-day, pick up and drop off

service for most types of blinds. Bookings

are required.

Convenient Location

Drop blinds into us by 9am, at

330 Cashel Street (near the

Fitzgerald end), and collect

them at the end of the day.

New Blind Sales Priced from $30

www.blindcare.co.nz

Roller Blinds cleaned

from as little as $20

per blind

Ph 377 0770,

330 Cashel St,

Christchurch

SCAN QR code for Info >

WE ARE OPEN

Mon - Fri

8.00am to 5.00pm

For more information on

candidates, go to the city council

website, and search candidate

profile statements.

The city council

candidates

Burwood Ward – one

vacancy. Population:

23,436. Cruize Erueti, Glenn

Livingstone

Coastal Ward – one

vacancy. Population:

23,244. David East, Jo

Kane, Dean Lester

HIKING BOOTS

& SHOES

For men, women

and children

From

$79.95

to $250

47c Garlands Road, Woolston

Phone 389 3431

www.thefootwearfactory.co.nz
---
2

Tuesday August 16 2016

Inside

FROM

THE

EDITOR'S

DESK

PEGASUS POST

News.............3,4,5, 10 & 20

THe gloves are off for October's

local body elections with

candidates for council and the

community boards now known.

Sitting eastern suburbs councillors

David East (Coastal) and

Glenn Livingstone (Burwood) are

up against two and one opponent

respectively.

Cr East faces challenges from Jo

Kane and Dean Lester, while Cr

Livingstone has Cruize Erueti to

contend with. There is room for

only one councillor in each ward.

Let the contest begin!

On page 3 we detail the latest

development in the bid to curb

the explosion of fast food outlets

around the Linwood Ave, Aldwins

Rd, Buckleys Rd area.

It's a great location for a business

with so much foot and vehicle

traffic, but for the eating habits

of school kids in the area, that's

another question all together.

– Shelley Robinson

Improvisation earns gold medal cooking title

ACHIEVERS 19

Our People....................6,7

Your Local Views.............8

Flame Files....................... 8

Schools...................................12

Bridal Show.............14,15

Community Events......21

Health & Beauty ........22

Kidstuff.............................23

GET IN TOUCH

General Enquiries Ph 379-7100

Classified Advertising Ph 379-1100

starmedia.kiwi

NEWS

Fraser Walker-Pearce

Ph: 364 7424

fraser.walker@starmedia.kiwi

ADVERTISING

Gail Henry

Ph: 364 7450

gail.henry@starmedia.kiwi

The Blind Care Company has been

cleaning and repairing the region's blinds

for over 60 years. Those six decades

have seen changes in both fashion and

technology. Styles have ranged from

festooned fabric swags to straightforward

and still popular holland roller blinds,

from vertical to horizontal slat systems,

and in every colour or pattern popular

since the 1960s.

Whatever your style, the Blind Care

Company has the expertise to keep your

window treatments looking fresh and

working efficiently. Using only ecofriendly

chemicals, the build-up of dirt,

dust, grease, nicotine and smoke residue

can be removed so that your blinds

smell fresh and are restored to their

original glory. The company can repair

blinds also, having a huge range of parts

in stock. And if you want something

completely new, a great range of blinds is

available for purchase.

The company prides itself on efficient

service, providing a fast turn-around,

with most work taking one or two

days, and a same day cleaning option is

available. It makes it as easy as possible

for clients. The Cashel Street location

couldn't be more convenient and a pickup

and drop-off service is available. 150

blinds per day can be cleaned at this site,

Beautiful Teeth

Meet the

Owner

Ryan Carlton

or one of their mobile vans can do up to

50 per day. That means they will come to

your home or office, remove and clean

your blinds on the spot and reinstall them

for you.

A cut-down and size alteration service

is available in order that the blinds you

bought are a perfect fit.

They are experts in their field with a

huge amount of experience to draw on.

In fact, all their staff has been on board

for at least 8 years, and many up to 20

years. Whatever the job involves, they

will work hard to make sure it gets done,

including one job of 800 blinds which

they completed in 4 days.

Natural Smile

Free Consultation, No Obligation

• Full Dentures • Dentures Repaired • Implant Assisted Dentures

• Injection Moulded Unbreakable Partials • Relines

• Mouthguards • Additions/Repairs • Purchase cleaning and care

products from our website.

All dentures personally

designed and created to ensure

a comfortable natural fit.

DENTURES PLUS (2014) LTD

Denture Clinic and Laboratory

396 Innes Road, St Albans. Phone 385 5517.

Email: denturesplus@paradise.net.nz

www.denturesplus.co.nz

Orbiter Bus stops Innes Road

For all your blind repair and cleaning requirements

Find them at

330 Cashel Street

Call 3770770

email:

service@blindcare.co.nz

or visit blindcare.co.nz
---
PEGASUS POST Tuesday August 16 2016 3

News

Fast food solution sought FOOTPATH

• By Tom Doudney

A CAMPAIGN to crack down

on the proliferation of fast food

outlets has found favour with

city councillors but concerns

were raised over how fast food

could be defined.

Representatives from the

Linwood community, including

schools and health professionals,

made a deputation to the city

council on Thursday asking

for support to limit the ability

of fast food outlets to set up

around schools and low income

areas.

City councillors requested that

staff further investigate options

for possible legislative measures

as well as other measures that

could be taken to encourage

healthy eating and report back

as soon as possible.

All city councillors who

spoke on the matter expressed

support for doing something to

tackle the issue. However, some

including Raf Manji questioned

how fast food could be officially

defined.

"I can see how you could come

up with a planning proposal

where you could limit the size

of food outlets near a school

and that kind of stuff," Cr Manji

said.

PACKED: The number of fast food outlets in Linwood has caused concern in the community.

"But I think you are delving

into something that is quite

unsolvable in terms of defining

what healthy food is."

City councillor Yani Johanson

said the city council had a proud

tradition of leading the way on

championing solutions for such

difficult issues.

"We should continue to do

that as we are being asked to

today," Cr Johanson said.

"This is difficult, and I think

that point has been well made

by everyone, but actually it is

also very simple – it's whether or

not we wish to stand up for our

community, for our children, for

the health of our city by taking

a more regulatory approach to

these issues."

Linwood Medical Centre

medical director Jane Heatherington,

who was part of the

group making the deputation,

said the medical centre had

seen the effect of fast food on its

patients over the 35 years that

it had been part of the community.

"In Linwood we have got a

higher proportion of obese and

overweight children than the

rest of Christchurch," she said.

"We have obese children who

have high blood pressure, high

cholesterol and sleep apnea, we

see the poor diet affects their

learning and their mood, we

see parents with arthritis and

diabetes and liver damage and

then we see their grandparents

with heart disease, renal failure,

amputations, kidney failure and

early deaths."

In Brief

REPAIRS START

Repairs to footpaths, kerb and

channels along Pages Rd have

begun. The work, which will take

place between numbers 471A and

539 are expected to take until

the end of October to complete.

Driveway access could be affected

for a short period of time but if

this is the case workers will alert

the affected properties before

work starts. The work may result

in increased dust, noise and

vibrations.

BUS DETOURS

Until further notice the Beach Rd

detour will be extended and all

buses will detour away from part

of Beach Rd while road works

are carried out. Buses travelling

towards Parklands will detour

off Beach Rd onto Effingham St,

Pacific Rd, Marine Pde, Beach

Rd, Broadpark Rd and Larnach St

back onto Aston Dr to continue

the normal route. Buses travelling

towards the city will detour

off Aston Dr onto Larnach St,

Broadpark Rd, Beach Rd, Marine

Pde, Pacific Rd and Effingham St

back onto Beach Rd to continue

the normal route. Bus stops 21654

and 21568 on Aston Dr and

stops 12132 and 40869 on Beach

Rd will be closed during this

time. Temporary stops for both

directions are available further

north on Aston Dr.

HELPING US,

HELPS THE

COMMUNITY

Drop off or buy

2 family stores in your community

30 Main North Rd,

Ph 352 4581

520 Cranford St,

Ph 352 0515

NEW & RECYCLED

CLOTHING

SHOPS AT:

14 Yaldhurst Rd, Ph 03 341 5379

251 Ferry Rd, Ph 03 381 3089

94 Victoria St, Rangiora, Ph 03 310 7421

Open: Mon-Fri 10am-4.30pm, Sat 10am-2pm

SUPER STORE:

320 Manchester Street (Bealey Ave end)

Phone 03 365 2051.

Clothes, shoes, whiteware, furniture,

linen and homeware.

Open: Mon-Fri 9am-5pm, Sat 9am-3pm

Donations of furniture and homewares

welcome during shop hours.

RAY HASTIE

Manager

027 448 8225

REBEKAH WHALLEY

Accounts Administrator

03 331 6755

DOUG NICOL

Property Manager

027 277 1256

ABBEY NOLAN

Property Manager Junior

027 379 5021

NICOLA FLANAGAN

Property Manager

021 914 332

JENEFER BIMLER

Business Development Manager

021 716 655

"We are where you are"

www.propertymanagementchristchurch.com

Introducing

Ray White

Citywide Property

Management

Local Experts –

Citywide Knowledge

We've been entrusted to look

after over $99 million of property

throughout Christchurch.

You can trust us to look after yours

too. Call today.

P. 03 331 6755

Prier Manson Real Estate Ltd

F45 TRAINING FERRYMEAD IS NOW OPEN!!

F45 Training Ferrymead and Christchurch branches invite you to come and experience the breakthrough fitness

phenomenon taking the world by storm. F45 is its very own style of training. It combines elements of High

Intensity Interval Training (HIIT), functional training, weight and resistance training and cardio to give you the

best full body workout, push you to new limits and deliver results fast!

Our innovative team training systems have been proven all around the world to help you reach your fitness

goals. Short, Sharp 45-minute workouts which change daily and are never repeated have been designed for all

fitness levels. Our trainers will make sure you are being challenged and motivated everytime you come for a

workout. F45 will get you stronger and healthier while having fun. Don't wait, come judge by yourself!

Visit our website (below) for details on our programmes and class timetable.

FERRYMEAD: Unit 4/ 1 Waterman Place, Ferrymead

Email: ferrymead@f45training.co.nz

Phone 022 188 0850

www.f45training.co.nz/ferrymead

CHRISTCHURCH: 579 Colombo Street

Email: christchurch@f45training.co.nz

Phone 03 390 1195 and 022 657 9433

www.f45training.co.nz/christchurch

Sign up for a FREE 2 week

trial pass to experience the

workout that will change

the way you train forever!

LIMITED OFFER!
---
4

Tuesday August 16 2016

News

PEGASUS POST

One man and his 1000 dreams

• By Roy Sinclair

NEIL ANDREWS leads the

way down precarious steps to a

seemingly underground room.

He flicks on a light switch.

I am wowed by a high viaduct

spanning a realistic gorge. My

eyes are led to tall forests, tree

ferns galore and a painted backdrop

depicting a stormy sky.

"This is what I do," he says.

"It is not what I do in my spare

time.

"I mow the lawns in my spare

time."

The room was purpose-built

for the 9mm (scale 9mm to the

foot) layout representative of a

one-time railway in Northland.

In his garage he is working on

a second, portable, layout. This is

a narrow-gauge railway based on

French townscapes.

Model railways is an interest

he could not be without.

"When I met my partner,

Helen, I told her it is me and my

trains. They are inseparable.

"She accepted that which was

great."

He describes railway modelling

"as a thousand dreams

held together by a hundred

unfinished jobs. In other words,

a degree of chaos."

"Part of the fascination is

HAND-MADE: Model builder, Neil Andrews and his miniature creation of early last century

Northland. ​

delving into history to discover

how it all would have looked like

early last century," Mr Andrews

said.

He always liked to do things

with his hands. He enjoyed art

at school – and building things.

Even when he had clockwork

railways he was always cutting

up cardboard boxes to make

buildings.

He recalls scoring designs on

pieces of wood to make boats.

Railways became another part

of it.

Getting into more serious railway

modelling during the late

1950s, there was not much stuff

available and if it was he didn't

have the money.

If he wanted it he made it.

"My mother used to take me to

the railway station. I remember

being in my pushchair watching

the Lyttelton trains come and

go.

"Then at primary school I was

quite capable of making an Ecclass

electric locomotive with the

distinctive air compressor tanks

across the front. Everyone could

recognise it."

Later, any new gadget at his

Canterbury University laboratory

would be first examined to

how it would be useful on the

model railway.

"Then we would work out how

it was intended to be used."

His workplace became known

as "the model train laboratory."

That's what people who visited

talked about.

He travelled to model railroad

conventions in the United States,

becoming a member of the

R.G.S. East Hon3 club.

He visited huge model railway

shows in Cologne and Miniature

Wonderland in Hamburg.

"In Germany a model railway

is like a dishwasher. Everyone

has to have one. And most offerings

are German-made. They are

excellent.

"On one European trip Helen

and I were forced off the road by

Tour de France officials.

"We had to divert into a backwater

countryside.

Are you the TYPE to save a Life?

Every year 42,000 New Zealanders rely on donated blood

or blood products.

For many, receiving blood is a life-changing experience and

it's thanks to the 3,000 Kiwis donating every week that this

can happen

We really need your support, we are coming to New

Brighton for the first time and we NEED YOU TO DONATE!

Your one donation can help save up to 3 people's lives –

what bettter way to spend an hour of your time? We'll even

treat you to chocolate biscuits and a cuppa afterwards.

Heke Family Story

When Joseph Heke (Ngapuhi/Ngati Hineuru) started dating

his girlfriend Melissa (Ngati Maniapoto) in 2007, it not only

led him on a path towards becoming a husband and father,

but also put him on a path to saving lives.

Melissa convinced him to become a blood donor early on

in their relationship as she had been a regular donor since

donating at high school. She had seen the process at a

young age whilst going with her Mum to regularly donate

blood and knew that when she was old enough that she

wanted to save lives in this way as well. After becoming

a blood donor, Joseph was approached by the nurses

during one of his donations about joining the New Zealand

Bone Marrow Donor Registry (NZBMDR). He signed up

after learning that Māori donors were sought after for the

Registry. For more information go to www.bonemarrow.

org.nz.

Joseph and his wife Melissa firmly believe "If you can

donate, give", and between them have now saved over 100

lives in New Zealand, along with one person overseas, with

their generous donations.

The couple have three children who will one day hopefully

follow in their parents' footsteps to become blood donors,

and join NZBMDR too!

"Seeing her mum donate was where it all started for Mel

and that's why we take our kids to see it happen now, so

when they grow up, they'll know it saves lives and that it's

not painful and scary." –Joseph Heke

You can book your appointment today by phoning 0800

GIVE BLOOD (0800 448 325) or online www.nzblood.co.nz

Check out our new app for iPhone and Android to book your

appointment, download the NEW NZ blood Services Donor

App from the App store or Google Play today!

Donate locally at 111 Seaview Road , New Brighton

Grace Vineyard Church on Wednesday 17th August at

2pm – 6pm.

We really need your support. Will you save a life this

winter?

Te Pou Whakawhirinaki

o Aotearoa

Want to help?

The Citizens Advice Bureau has volunteer

positions available.

Join our knowledgeable and caring team and

make a difference to people needing information.

We offer information on anything from consumer

rights to family issues to tenancy and flatting

problems, so there's never a dull moment. We

have a course starting September 2016.

Use your skills and experience to help others

in the community... Course starting September

2016

Call 0800 367 222

or Email: manager.cabchch@gmail.com
---
PEGASUS POST Tuesday August 16 2016 5

in miniature

BUILDING: A train layout under construction and a G-scale

layout at last year's Christchurch Model Train Show.

"There we found towns of

beautiful buildings with terracotta

roofs. We had discovered

the romance of the French countryside.

"Anything French is different.

If you see a French car you know

it is French because it looks nothing

like anything else. It is the

same with railways.

"Their narrow gauge railways

were basically portable. They

could be picked up and laid

beside a road.

"That really intrigued me. Narrow

gauge secondary lines were

introduced to boost the network

of French railways.''

The unplanned detour instigated

his French narrow gauge layout.

"One develops a modeller's

mind.

"A modeller will typically think

how it would look in miniature?"

He talks about Hamburg's

mind-boggling Miniature Wonderland.

"It's absolutely intriguing. It's

a huge collection that is pushing

the boundaries of technology and

inspiring manufacturers to pick

up on it with new products."

"The model aircraft must

represent the peak of model

building.''

"The model trains have been

running for so long the track is

wearing out."

The closest we have in

Christchurch is the annual big

model train Show, this year being

held over the weekend of October

1 and 2.

The venue is Pioneer Stadium

in Lyttelton St, Spreydon. It is the

show's 25th anniversary so promises

to be special.

Mr Andrews was an instigator

of the event, starting a model

train show at Hagley Community

College and then expanding to

the Horticultural Society hall.

Then, the Christchurch Model

Railway Exhibition Society was

formed and took over. Its growth

took it to Pioneer Stadium where

it has been ever since. At its peak

the show attracted 10,000 people

over the two days.

"It's about its optimum size.

"Considering our modest

Christchurch population we do a

pretty good job," he said.

This year's show will help those

wanting to get into the hobby.

"We will have beginners' train

sets and heaps of demonstrations.

Find out the best models to buy

and learn how to make things.

"Technology will be to the

fore. This is enhancing the hobby

and drawing younger people in.

They can operate a railway from

a PC or mobile phone, utilising

wi-fi and DCC (digital control

systems)."

He says model railway people

are an enthusiastic bunch. They

will do their utmost to share

what they know.

Andrews will be on the demonstrations

desk. It is likely he will

let slip how to disguise a lot of

money spent on the hobby within

the weekly household bills.

SCIRT programme on the home straight

SCIRT's five year programme of repairs to pipes, roads, bridges and retaining walls is

almost complete and will finish in December.

Most of our repairs involve fixing the city's underground pipe networks with only small

amount of our work focused on roads.

Our roading work largely involves fixing where we have dug down to repair and replace

the earthquake damaged pipes beneath. The result may look a little patchy but we repair

roads to a reliable and serviceable standard.

The City Council and NZ Transport Agency will continue completing ongoing repairs to the

city's earthquake-damaged roads after SCIRT.

Progress in your neighbourhood

• We're almost finished connecting homes in Aranui to the new resilient vacuum system. This will be

completed this month. Roading work will continue until the end of the year.

• We're more than halfway through the extensive repairs to the wastewater, storm water, fresh water

and roading networks in Parklands.

• The three-year programme of repairs to the wastewater, storm water, fresh water and roads in

Burwood is due to finish in the next few months.

• New Brighton will still see major works to the wastewater network and crews repairing small

sections of road until December.

Want

more

info?

Email:

info@scirt.co.nz

Phone:

941 8999

Find out about work

in your area:

www.scirt.co.nz

Email us on:

info@scirt.co.nz to get our:

Weekly Traffic Update

Monthly e-Newsletter

Follow us on Twitter:

@SCIRT_info

#chchtraffic

• Your support is helping us to get the job done, thank you from the SCIRT team.

• Davey Branson, subcontractor working with SCIRT's Downer

team in Bower Ave, Parklands.

Programme funded by
---
6

Tuesday August 16 2016

Our People

PEGASUS POST

Singer-songwriter has

Singer-songwriter Asti-Loren Newman might only be 18, but she has already

travelled the world and attended the same school as Amy Winehouse. Annabelle

Dick talked to Asti-Loren about her new album, Psychedelic Rose, and getting

barred from the school choir thanks to a questionable comment about her

teacher's facial hair.

So as a singer-songwriter,

when did you get into music?

I've always had a massive

passion for music. When I was

about 11-years-old, I joined

the Christchurch City Chorus,

which is like a 150-person barbershop.

We went to New York

and sung when I was 13, which

was awesome. I worked with

Nolan from the Christchurch

School of Rock in Sumner and

would perform at the Headless

Mexican. I'd also do busking

along the esplanade.

I tried

TALENTED:

Asti-Loren

busked her way

through Europe at

17-years-old.

to join the school choir but got

turned down in year 6, 7 and 8,

because apparently I couldn't

sing in tune, but I think it was

because I told my music teacher

she had a moustache in front of

the whole class. I told her my

mum is a beauty therapist and

she should go to her and I think

she held that against me. It was

a pretty rude thing for me to say,

but I was only nine-years-old at

the time, so I didn't know any

better. I was pretty upset about

it so I went to the principal and

told them, 'I'm setting up my

own barbershop; I'm getting my

own teacher to come and teach it

and I'm going to teach it as well'

and I had more people auditioning

for it than the school choir.

I've always been the kind of

person that, if things don't go my

way, I'm going to make it happen

for myself.

You attended the same music

school as Amy Winehouse –

how did that come about?

When the February 2011

earthquake happened, I was off

school, our house was quite

damaged and my mum

lost her business as well. I

watched the film Fame one

day and I knew I wanted

to go to stage school.

So without telling my

parents, I researched the

best stage schools across

the United States and

the United Kingdom

and I randomly

chose one to

apply for.

I heard

MENTOR: Asti-Loren mentoring Selwyn House Girls School

children last year.

back four days later from the

Susi Earnshaw Theatre School

with a letter of acceptance. Here's

14-year-old me going, 'oh no,

what have I done', so I had to tell

my parents and they were really

supportive. I don't know many

parents who would let their

14-year-old daughter go to the

UK by themselves.

What was it like attending the

school?

It was awesome. I was the first

person they'd ever had from

Australia/New Zealand. There

was three days a week of dance,

tap, jazz singing, theatre singing,

pop singing, all sorts really. The

teachers were great and really

young, too. One of my teachers

was a back-up dancer for Justin

Bieber and he'd also won

Britain's Got Talent. I studied

there for two years and then

I got offered a development

contract with a label

in Soho and that's how I met

my producer Chris Hall who

helped me create my album

Psychedelic Rose. I got to record

in the same vocal booth as Pink

Floyd.

How did it feel living in London

by yourself as a 14-yearold?

That must've been a pretty

scary experience?

It wasn't too scary . . . but

being so young and moving to

another country was a bit of a

culture shock. I had an apartment

just down from school and

I made friends really fast. There

was always people I knew around

me like my uncle in Sweden and

my cousin came through when

he was on his O.E. I wasn't really

naughty I always had so much

to do. I would go to the London

Central City Library and read

books on Woodstock. I went

to an Audrey Hepburn exhibition

and I'd often go to the East

London markets at the end of

the day and they'd give me free

donuts. They knew when I was

coming and give me all this free

food and I'd walk home with all

my groceries.

Thanks Canterbury

for your continued support
---
PEGASUS POST Tuesday August 16 2016 7

the world at her feet

And you travelled a bit from

there?

I'm really spontaneous so I

decided to do a busking tour

around Europe. So I contacted

Interrail and Eurail to see if it

was something they were interested

in – they bought it. So they

gave us a 12-day rail pass and we

went from London to Stockholm

to Copenhagen down to Warsaw

in Poland and then to Prague

then Munich, Salzburg, Venice,

Asti, Monte Carlo, Nice and

then Amsterdam all in 12 days

with my best friend who's a New

Zealand windsurfer. While this

was happening I was only 17. I

have about 50,000 fans online so

I'd post each day were I was and

I'd have all these people turn up

– I didn't really expect it at all. I

made about €200 (euro) busking

in each city.

So tell me about your

music and your new album

Psychedelic Rock which you

recently released?

The music I've established as

my brand is more electronic.

This album is influenced by

the 60s and 70s Americana,

Woodstock and that whole

hippy movement. I love the

era. I watched Jim Carroll's The

Basketball Diaries and read a

novel he wrote . . . it's really raw.

This album draws a lot from that.

This album is a concept album

I've written myself. It goes from

dark to light as I have this thing

called synaesthesia where I see

music and colour so it helps a

lot with my writing, it's a bit of

a blessing. I wrote the album's

track names before I wrote the

songs. I've written a novel to

go along with the album and

eventually I want to make it into

a short film. People can interpret

my music any way they want.

They're not pop songs – it's a

lot more than that. I don't just

sit back and let other people

do things for me, I'm a really

involved person in my career so

I do a lot of promoting myself,

I keep up my social media

following and I edit my own

videos.

Do you have any influences

that you draw on when creating

your sound?

I listen to Lana del Rey, The xx,

Haim, Taylor Swift, Marina and

the Diamonds, Fleetwood Mac,

PERFORMING: Asti-Loren's new album Psychedelic Rose was released on Saturday.

The Zombies, Dire Straits and

Pink Floyd – a real variety really.

I've taken different influences

from the greats of each genre and

incorporated them into my work

– whether it's lyrically, musically

or the way I present myself.

Tell me a bit about growing

up – what's you're family like?

I grew up in a house on the top

of Scarborough Hill. I went to

Selwyn House and then St Andrew's

College. My mother owns

a salon Yazu Hair Salon. She's

incredibly talented. She's been

on the L'Oreal creative team and

a part of New Zealand Fashion

Week. She was actually teaching

hairdressing in Asia while

she was eight months pregnant

with me which was pretty crazy.

She's heavily driven . . . I think

that's where I get it from. My

mum and my dad met at 15 and

started the business together. He

was going to be a mechanic, but

he's technically a hairdresser by

trade. They separated when I was

nine so he went to the Caribbean

to buy a boat and sailed it

back to New Zealand to set up a

charter business. So, when I was

younger, I grew up in a boat. I

lived on it in Diamond Harbour

and the Lyttelton marina. I used

to go to school in a dingy. We

had five dalmatian dogs and we'd

be in a five-metre dingy with one

of our dogs at the front and my

brother and I in our posh private

school uniforms. We'd sail from

Diamond Harbour to Lyttelton

and we'd arrive at school soaked.

My little brother Lucca is 16 and

he's the total opposite of me. He's

blue-eyed, blonde and tall, while

I'm 1.49m and brunette. We were

both named after towns in Italy.

He's really into skiing, inventing

and downhill mountain biking.

He made a flame thrower the

other day. I have a weird family.

It sounds like you've had an

insanely interesting upbringing!

What else do you love

outside of music?

I love going to the beach and I

love skiing. I did ski racing from

about seven-years-old at Mt

Hutt. We used to go skiing every

single weekend in winter from

when I was seven to 12. I did it

competitively and placed third

in the South Island when I was

younger.

Where to next for you? Where

do you want to end up?

I'm going to the US to film

a music video for my album

next month, then London for

a month, Ho Chi Minh City in

Vietnam after that, and then Bali

all before the end of the year.

Eventually I want to be able to

tour with my albums. I've

started on my second album

which is going to be completely

different with a different vibe. To

be a musician as a full time job

is the goal. I'm always aiming

for the top, I'm just that kind of

person. I've always written for

bigger things because if you don't

think you're going to be big or

don't have that in your mind,

how are you ever going to get

there?

Wainoni

& PANDA'S PIZZA

Buy 2 pizzas

& get the 3rd

FREE

Only available with this coupon

Mon - Thurs 4pm-9.30pm

Fri - Sun 12 noon-9.30pm

Valid until 31st August, 2016

175 Wainoni Road, Wainoni

(opp Pak 'n Save) • Phone 388 4373
---
8

Tuesday August 16 2016

Your Local Views

Keep Chch fluoride-free

Former

personal

trainer John

Verd was

born in

Christchurch's

sister city

Seattle,

United States, and moved

to New Zealand in January

last year. He writes this

week's opinion piece on

fluoridation

I love Christchurch water!

It's one of the many exceptional

things we'd heard about

the Garden City before moving

here.

So I was naturally concerned to

learn about proposed changes to

our water system.

I discovered at an early age

how location could affect water

quality.

When my grand-mother

moved to the Cascade Mountains

near Seattle, she said that the tap

water there had a "sweetness" to

it.

She was absolutely right - there

was a huge difference between

our aquifers in Spokane and her

spring water in Snoqualmie.

It wasn't until much later that

I paid any attention to what is

actually in our water.

I'd heard people protest against

fluoridation, but wrote them off

as paranoid conspiracy theorists.

It wasn't until becoming a

personal trainer that I actually

questioned the practice.

The research was eye opening.

Our water is being treated

with an industrial waste product

called hydrofluorosilicic acid.

This chemical is a by-product

of the phosphate fertiliser industry.

Although classified as hazardous

waste, it is barrelled up and

sold, unrefined, to communities

across the country.

This is the fluoride in public

water.

Former vice president and

senior chemist at the United

States Environmental Protection

Agency headquarters, Dr William

Hirzy, had this to say about

it:

"If this stuff gets out into the

air, it's a pollutant; if it gets into

the river, it's a pollutant; if it gets

into the lake, it's a pollutant;

but if it goes straight into your

drinking water system, it's not a

pollutant. That's amazing."

Hydrofluorosilicic acid is far

different from the sodium fluoride,

which is not for ingestion,

commonly used in toothpaste.

This begs the question: Why

would they use this dangerous

form of fluoride? A likely reason

is cost.

Because it costs corporations

many thousands of dollars per

tonne to neutralise and dispose

of it, they instead sell it to municipalities

as a 'product'.

Chemist and world-renowned

fluoride researcher Dr Paul Connett

lectured in Christchurch in

July 2016.

He listed 50 human studies

finding that elevated fluoride exposure

is associated with reduced

IQ.

Christchurch has managed to

remain fluoride free for the last

30 years, but new legislation may

allow for fluoridation by 2018

unless the public demands a

place at the table in this decision.

And that's what is keeping me

up at night.

Do you, like John Verd, stay

awake at night worried

about fluoridation? Should

we allow fluoridation of our

water? Share your views

with us. Email andrew.

king@starmedia.kiwi

FLAME FILES

Give yourself the best

chance of escape

• By Mark Thomas – Fire Risk

Management Officer

BY RECENT standards the past

week has been remarkably quiet.

We've still been to plenty of

false alarms, ambulance assistance

calls and car crashes but

fires, apart from the inevitable

kitchen cooking fires (two this

week), have been few in number.

So let's have a look at those

things that can make our lives

safer from fire that are easy to

arrange in any home.

Firstly, and by far most importantly,

is the use of smoke

alarms.

I grew up in the days before

widespread plastics and foams.

So when I was a kid it took

about 10min for any fire inside

a house to go from ignition to

flashover (the state where the

entire contents of a room are on

fire).

Now, with the proliferation

of oil-based products (those

plastics and foams) in homes the

time to flashover is reduced to

3min.

That's where smoke alarms,

recommended in every bedroom,

hallway and living room,

PEGASUS POST

are vital to give us the earliest

possible warning of fire so we

can escape well before that 3min

is up.

Because if you don't, you're

probably in real trouble.

After your own escape, making

sure everyone else in the

house is aware, is the first priority

before having a meeting place

where all can be accounted for,

and phoning 111 by cellphone or

neighbour's landline.

Along with smoke alarms

these are the basics of a home

escape plan.

If we all had one I'd investigate

far fewer fatal fires.

That would be fantastic!

THE HOME OF GOOD BAKING

DAILY BREAD

White, Wheatmeal, Grain

NO LIMIT!

ONLY

99 C EA

FUDGE SLICE

A choc biscuit

base topped with

yummy choc

icing - an old style

Kiwi favourite.

ONLY

$

3 49

EA

$25,000

TRAVEL GIVEAWAY

CHEESE

ROUNDS 4PK

A soft white

roll generously

topped with

cheese and

perfect for

lunches. $

1 99

Purchase 2 x 2L Dairy Dale Milk to enter

the draw to win $1,000 worth of travel

vouchers for your family!

25 WINNERS - 1 PER STORE!

MILK

Dairy Dale 2L varieties.

$

5 98

2 FOR or $3.19 each

FAMILY MINCE &

CHEESE PIE

$

5 49

EA

Promotional pricing available while stocks last from 15/08/16 to 21/08/16.

Images are serving suggestions only.

Open 7 days | 8 Convenient local locations

Hornby • Barrington • Ferry Rd • Papanui • Riccarton • Upper Riccarton • New Brighton • Rangiora

BAKERIES

www.couplands.co.nz
---
PEGASUS POST Tuesday August 16 2016 9

Sahara

• solution dyed nylon

• extra heavy duty + stairs

• Cut pile

• 1 colour

BULK LOTS, SLIGHTLY IMPERFECT STOCK, OVER RUNS, ALL MUST GO!

2 house lots, first grade.

NOW

$79.90

3.65m Wide Rolls

POLYPrOP

Benmore

• Heavy duty

• Cut Pile

• 4 great colours

• 4 meter wide rolls

• Foam Back

$79.90

PeR metRe

4m Wide Rolls

20 HOUSE LOTS

WOOL

Calabar

• Pure wool

• extra heavy duty plus

stairs grade

• loop pile

$75.00

PeR metRe

3.65m Wide Rolls

2 HOUSE LOTS

WOOL

Tiburon

• Pure wool

• extra heavy duty plus

stairs grade

• loop pile

• slightly imperfect.

$75.00

PeR metRe

3.65m Wide Rolls

10 HOUSE LOTS

POLYESTEr

Sanctuary

• 50 oz luxury polyester

• extra Heavy duty

• Cut pile

• Great colour

$99.00

PeR metRe

3.65m Wide Rolls

south island's largest stockist of vinyl

2m wide SELLING From $30 per metre

312 Wilsons road North, Waltham Phone 366 0070

www.carpetkingdom.co.nz | Mon - Fri 8am - 5pm | Sat 10am -1pm

Q Card Finance Now available

FrEE no obligation measure & quote (conditions apply.)
---
10

Tuesday August 16 2016

News

PEGASUS POST

Old league club dumping ground

• By Andrew King

THE HEAD of a sheep

and household waste has

been cleared away from the

back of the former Linwood

rugby league clubrooms in

Phillipstown.

The building, located between

Olliviers Rd and Matheson Rd,

has been empty since the February

22, 2011, earthquake and has

been a dumping ground creating

what residents say, is a health

risk to surrounding properties.

Linwood rugby league spokesman

Mike O'Halloran said he

was disgusted to find the huge

amount of rubbish at the former

clubrooms.

"I organised someone to come

and take the rubbish away," he

said.

A local YMCA group dragged

most of the rubbish into a big

pile before it was taken away last

week.

While a lot of the rubbish

has been removed a resident

said there was still a lot more

buried in the shrubs and bushes

that surround the back car park

– a badly damaged boat is still

in the middle of the car park

also.

It is that rubbish, he believes,

is attracting rats and mice whose

populations were growing to

"plague-like levels."

City council principal adviser

of regulatory compliance Fiona

Proudfoot said it is currently investigating

a complaint about the

property from June in relation to

the pest problem.

"The council does investigate

and take action where necessary

in situations where rubbish has

been dumped that may attract or

harbour vermin," she said.

However, because the property

is in private ownership she said it

is the owners who are responsible

for the property.

Linwood league sold the

property to an investor with the

finalisation of that deal expected

in the next few weeks.

HAVE YOUR SAY: Should

more be done to prevent

further dumping on unused

properties in the city? Share

your views with us. Email

andrew.king@starmedia.kiwi

UNSIGHTLY:

Rubbish has

been cleared

from the

site of the

former league

clubrooms but

a resident says

there is still

more buried

in the bushes.

PHOTOS:

GEOFF SLOAN

DESIGNER

FASHION

AT OUTLET

PRICES

SMART

BRANDS

SMARTER

PRICES

HORNBY 409 Main South Road | Open 10am–5pm, 7 days
---
PEGASUS POST Tuesday August 16 2016 11

BRING ON THE WEEKEND!

UNDER

$

5

UNDER

$

10

UNDER

$

15

UNDER

$

20

$

6 42

$

8 50

$

1 98

$

10 98

$

17 88

$

3 98 $

12 88

$

18 95

$

3 48

$

3 97 $

6 98

$

7 98 $

11 98

$

11 98

$

17 90

$

18 74

Spout Bucket

9.6 Litre.

111409

Spick and Span

Multi Surface Cleaner

500ml.

227702

Door/Window Seal

9mm x 4m. 2 Pack.

106938

Dustpan & Brush Set

324289

Liquid Nails

Adhesive

375ml.

370719

Number 8

50 Sheet Roll Wipes

274672

Superior Grip Pegs

24 Pack.

126892

Medalist

Mutli Purpose Rope

9mm x 30m.

121386

Azwood

Fire Pellets

20kg Bag.

910025

bag

Number 8

Wooden Coat Hangers

8 Pack.

246347

Earthcare

Seasol Plant Feed

500ml.

166028

Hobby Box

60 Litre.

111787

Number 8

Tarpaulin

3.7m x 4.9m.

242178

Assorted Chipboard Screws

365 Piece.

161394

Number 8

Fan Heater

2kw.

242356

Gumboot

PVC. Black.

237698

$

4 47

Elto

24 Hour Timer

103325

$

8 98

Number 8

4-Way Power Board

242936

$

13 47

Warrior

Smoke Alarm

Photoelectric.

169526

$

18 89

30 Seconds

Outdoor Cleaner

5 Litre.

362155

$

4 99 $

9 98

Reflector Light Bulbs

R80. 2 Pack.

234532/33

Stanley

Tape Measure

Leverlock. 8m.

134766

$

14 94

Kiwicare

Weed Weapon

1 Litre Spray.

184754

$

19 98

Bahco

Hand Saw

260417

Ferrymead

1005 Ferry Road, Phone: 366 6306

Opening Hours: Monday–Friday: 7:00am–7pm

Saturday, Sunday and Public Holidays: 8:00am–6:00pm

Offers available at Mitre 10 Mega Ferrymead while stocks last.

mitre10mega.co.nz

If you find a lower price on an identical stocked product locally

we will beat it by 15%.

If you find the same product cheaper from another Mitre 10 store or Mitre 10 website we'll match that price. Excludes trade

and special quotes, stock liquidations and commercial quantities. The in-store price may be lower than that advertised.
---
12

Tuesday August 16 2016

SCHOOLS

PEGASUS POST

GETTING MECHANICAL

UPGRADE: The Shirley Hawks clubrooms are set for an upgrade following a $10,000 win ​

League club gets funds for upgrade

A GROUNDSWELL of

support from the local

community has helped the

Shirley Hawks Rugby League

Club win a $10,000 cash

injection to fix up their club.

The Woodstock Rugby League

Club fix-up competition asked

league fans to nominate their

local club via Facebook with a

short description on why they

deserved an upgrade.

Shirley was the Canterbury

recipient of the national competition.

Club supporter Kim

McDiarmid was one of the

first to nominate the Hawks,

describing the club as going

above and beyond for their

players and fans.

Home to five children's

teams, three senior teams and

a women's team, club manager

Bernie Katene says the Shirley

Hawks are not the largest rugby

league club in the area, but the

players and supporters have a lot

of heart and the club want to do

right by them.

The club plans to use the winning

funds to upgrade the club

building, including the

bar, which had been neglected

in favour of other improvements.

"It's a big ask for funding

to upgrade the bar, because

there's always something else

that needs to be done," Mr

Katene said.

As a community-focused club,

having attractive clubrooms is

important.

"We rely on the community to

survive. Having a decent place

to gather and socialise keeps

interest in the team and in our

events," MrKatene said.

•Shirley BHS makes UC

final, p18

FIGURING IT OUT: Shirley Intermediate students Alicia McLean

(left) and Jayda Thurston demonstrate what they have learned

so far in their 'how things work' lessons. Students have been

learning about levers as part of their introduction to structures

and mechanisms, demonstrating how the pivot position

changes the value of effort or movement. They investigated a

wide range of machines and mechanisms which complements

their technology classes starting with the levers and pivot

puppets shown here. The students progress from this work

to making an automata and investigating pneumatics. An

automata is like a mechanical toy which can be animated

through the use of cams and linkages.

Want to be elected?

• Local Council

• Community Board

• Ecan

• CDHB

You need to talk to Star Media

about your campaign today.

Let us help you.

Call Gail Henry

P. 03 364 7450 | M. 021 377 196

E. gail.henry@starmedia.kiwi

Adjustable Bed

Dyers Road Landscape

& Garden Supplies

• Barks • Peastraw • Composts - we supply the best available

• Aggregates - Chip, Round and Basecourse

• Pavers & Schist products • Pungas

• Decorative Stones & Landscaping Rocks

• Trailer Hire first hour free with purchase

• Bag & Bulk - pick up or delivered

David, Carol & Mike

CLEARANCE

Sleepmaker Adjustable Frame with Memory Foam Mattress

• Head tilt

• Foot tilt

• Built in night light

• Floating

• Wall saver

• Massage

Open 7 Days Mon - Fri 9 - 5.30pm Sat - Sun 10 - 4pm

• Wireless remote

• Lumbar support

242 Ferry Rd Along From Old Ami Stadium | Phone 377 8887 | www.bedworld.co.nz

We will deliver!

SOIL

AND

HARDFILL

DUMPING

Phone: 03 384 6540

183 Dyers Rd, Bromley • OPEN 7 DAYS

Weekdays 7.30am-5pm. Weekends 8.30am-3pm

www.dyersroadandlandscapes.co.nz

Long Single

$2999

SAVE $2650

Queen

$3499

SAVE $3400
---
PEGASUS POST Tuesday August 16 2016 13

EQC UPDATE KEEPING YOU INFORMED | AUGUST 2016

The changing shape of EQC

The Earthquake Commission's work in

Canterbury is entering a new phase as

it settles the final earthquake claims for

the 2010 and 2011 earthquakes, says

EQC Chief Executive, Ian Simpson.

"Over the past few months we've been

looking closely at what remains to be

done and we will be carefully matching

the workforce to the work that still needs

completing.

As part of this, EQC has developed a

proposal on how EQC will be organised in

2017 to implement its work in Canterbury,

while continuing its national work."

EQC began consultation with its staff

this week on a proposed smaller structure

for 2017.

"As we make changes over the next few

months, one thing isn't changing: we will

retain a presence in Canterbury until we

have met our obligations to our customers.

The proposal is for an organisation with

383 positions from January 2017," Mr

Simpson said.

The proposals for the new structure impact

the 868 EQC people on fixed term

employment agreements to December

2016 or on contracts for service.

Mr Simpson says the reduction in staff

numbers had been signalled to staff earlier

this year, with more detail given

at EQC staff update sessions in July.

He was grateful for the professionalism

of EQC staff; continuing to achieve key

milestones for Canterbury customers

during a time of change and personal

challenge.

By the end of the year, EQC's target

is to have:

• completed all of the approximately

67,900 managed home repairs.

• settled all of the approximately 99,000

residential building claims scheduled for

first-time cash settlements.

• settled all of the more than 187,000

contents claims.

• settled green zone land claims for about

73,000 properties.

• resolved 75% of the remedial requests

we had on our books as at 30 June 2016

• cash settled 90% of the 3,118 drainage

claims we had received by 30 June

2016.

• cash settled the 13,985 damage claims

received following the series of quakes

in Canterbury between February and

June 2016.

Mr Simpson says that what remains to be

done in 2017,is to continue resolving

remedial requests on properties where

EQC has managed a repair, and continue

resolving drainage enquiries.

"The level of work left is of a much smaller

scale than the Canterbury Home Repair

Programme was designed for. We need

a smaller, fit-for-purpose approach to finish

the work," Mr Simpson said.

"By 2017 we will have a new approach for

handling the remaining work, including

remedial requests. We're working on the

details of this now, including talking to

Fletcher EQR. We hope we will have a

clearer picture around September,"

Mr Simpson said.

As at 31 July 2016:

• there were 238 substantive repairs left,

which we aim to have resolved by the

end of the year.

• there were 335 secondary repairs (such

as garages and chimneys) to do.

There is also a range of administrative and

financial tasks to be completed.

"I know it has not been an easy journey for

some EQC Canterbury customers. We

didn't get everything right. I'm the first to

admit that. But EQC has worked hard to

learn from its mistakes and improve how

we work not just for Canterbury, but for all

New Zealand," Mr Simpson said.

Outside of Canterbury, EQC needs to be

ready to respond to any future event and

continues negotiating and managing

natural disaster reinsurance for the country.

EQC will also continue settling the 5,000

to 8,000 natural disaster claims it receives

on average every year, funding research to

a tune of about $16 million annually, and

educating the public about natural hazards

and how to mitigate these.

Remedial requests

EQC has streamlined its process for handling new

remedial requests from customers received from

1 August, 2016.

EQC Chief Executive, Ian Simpson, says the new process

aims for faster resolution with customers having the

opportunity to provide information upfront and state their

preference for a cash settlement or a managed repair

where remedial work is required.

The changes have been introduced after positive

customer feedback on the process used to manage claims

from the February 2016 earthquake, where customers had

the opportunity to submit more information upfront to

enable quicker turnaround.

Many customers going through the February 2016 claims

management process are positive or very positive about

their experience. EQC is now using this approach for new

remedial requests, and customers will be asked to send in

information such as photographs and builders' quotes.

Although cash settlement will provide a quicker

resolution, it may not suit everyone, Mr Simpson says.

"So if a customer prefers that a contractor do the work,

then EQC will arrange for that to happen. But EQC's

Community Contact Team and independent customer

advocate groups will be available to support any cashsettled

customers who aren't confident in sourcing their

own contractors," he says.

Of the 5,720 open remedial requests, EQC has identified

approximately 1,500 properties that cannot be resolved

through a managed repair before 2017. The new process,

while largely designed for new remedial requests, will be

available to these customers and EQC will be making

contact with them from late August to ask if they prefer a

cash settlement or managed repair during 2017.

Customers wanting to discuss remedial requests can

contact EQC by phone 0800 DAMAGE (326 243) or email

info@eqc.govt.nz

Drainage

As at June 30 2016, EQC had 3,118 drainage damage

enquiries to be resolved. To ensure timely settlement of

these claims, EQC has introduced a panel of licenced

drain layers to identify earthquake damage.

On settlement, customers get a detailed assessment of

the earthquake damage, a documented repair strategy,

and the costing for the repair. EQC expects to resolve

90% of the drainage claims, lodged by 30 June, in 2016.

EQC is concentrating on resolving as many drainage

claims as possible that were received by June, this year.

The claims received after that date will be resolved

next year.

CONTACT EQC AT 0800 DAMAGE (0800 326 243) OR VISIT WWW.EQC.GOVT.NZ
---
569a Colombo Street

Christchurch

03 377 6800

www.tocherish.co.nz

14

Tuesday August 16 2016

PEGASUS POST

Sunday 28 August

9.30am – 4.00pm

PROUDLY SPONSORED BY:

bliss

Modern

Contemporary

Hair

CREATING YOUR PERFECT WEDDING

weddings by

collective concepts

www.weddingconcepts.co.nz

Airforce Museum

45 Harvard Avenue,

Wigram, Christchurch

Tickets: $15.00
---
PEGASUS POST Tuesday August 16 2016 15

Bridal Show

Chance to win a wedding gown

FUTURE BRIDES will have the

opportunity to win their dream

wedding gown at this month's

With This Ring Bridal Show.

The show will take place at

the Air Force Museum of New

Zealand, Wigram, on August 28.

Guests will have the chance

to go in the draw to win a

To Cherish Bridal Boutique

wedding gown of their choice up

to the value of $3895.

To Cherish owner Alison van

Lent said the winner could pick

any gown in the store, as its most

expensive one was $3895.

She said it would make

planning a wedding a lot easier

for one bride-to-be.

"It's one of the more expensive

items on their agenda, and

sometimes one of the more

stressful."

The winner would get to

go into the store, have a free

consultation and order any gown

of their choice, she said.

To Cherish will have a stall at

the show, and its gowns feature

in the catwalk shows.

Its new store on Barrington

St will open the day before the

show, Mrs van Lent said.

This year's show will have

85 exhibitors ranging from

DREAM GOWN: Future brides will have a chance to win a free wedding gown from To Cherish Bridal Boutique at this month's

With This Ring Bridal Show.

PHOTOS: EMMA BOOTH​

wedding and bridesmaid gowns,

photography, honeymoons,

flowers, stationary, caterers,

venue hire and many more.

On top of that, there will be

more than $22,000 worth of

prizes to be won.

A wedding and honeymoon

at Norfolk Island will be up for

grabs, as well as a honeymoon at

The Edgewater Resort and Spa in

Rarotonga.

Venue hire, up to the value

of $4050, for Wigram Base

will be up for grabs, along

with many more prizes and

giveaways.

Two fashion catwalks will be

held – one at 11am and the other

at 2pm – showcasing wedding

gowns and mother of the bride

outfits.

•The With This Ring Bridal

Show will be held at the

Air Force Museum of New

Zealand, Wigram, on

August 28, from 9.30am-

4pm. Tickets are $15 and

can be purchased at the

door on the day. Pre-sale

tickets are available

online at dashtickets.co.nz

Proud installers of

Get a Mitsubishi Electric GE42 5.4kW

Heat Pump including FREE installation* for just

$2,399*

*includes cost of back to back install only, conditions apply

Phone 0800 324 678

Call now for a free quote

Do you have

prediabetes?

Do you enjoy gold kiwifruit?

We are looking for volunteers

to complete a 13-week clinical

study looking into the effects of

gold kiwifruit on glycaemic control

and gut health. To be eligible you must:

CALL US

TODAY

(03) 364 1586

✓ Have a diagnosis of ✓ Add two gold kiwifruit per day

prediabetes

(fruit provided) to their normal

✓ Be over 18 years old diet throughout the study

✓ Have no previous history ✓ Make four visits to the Don

of gastrointestinal surgery Beaven Medical Research

or known kiwifruit allergy Centre during the 13-week

Renée Wilson

study

*other medical factors

(each visit approx. 30 min, travel

M: 021 615 851

may apply.

costs reimbursed)

wilre965@student.otago.ac.nz

EARTHQUAKE SOLUTIONS SEMINAR

KSL AUDIT PRESENTS

In association with Aurum Property Systems Ltd

& Simplexity Construction Ltd

Do you know if you have

serious damage?

Are you struggling with

your insurer?

Have you been

cash settled?

Do you live in a damaged

hillside property?

Do you own a TC3

damaged property?

Have you had a repair

undertaken that you are

not satisfied with?

VENUE:

DATE:

TIME:

RSVP:

PROTOCOL

2 Colombo Street, Cashmere

Wednesday, 24th August

7pm

Please email office@ksl.co.nz

or contact Emma - 365 4460

KSL Audit will outline the process that has

secured for their clients an average increase

of $560,000 per claim, more than

originally offered. KSL Audit has settled

more than 150 claims, 60% are either

Hillside property and TC3 foundations.

Aurum will outline how they can help you

as the interface between you, your insurer

and the builder. Aurum has successfully

managed the rebuild of over 100 houses

through their process since 2011 ranging

from $300,000 to $2.3 million

Simplexity Construction will demonstrate

how they can assist homeowners from

scoping the damage, preparing the

reinstatement methodology through to

constructing your repair or rebuild.

PROVIDING THE CLAIMS REVIEW YOU DESERVE
---
16 TUESDAY AUGUST 16 2016

PEGASUS POST

YOUR ONE STOP SHOP FOR ALL

YOUR AUTOMOTIVE NEEDS

2

• WOF + Services

• European / German / BMW specialists

• Mechanical repair • Tyres • Scan tool / Scope diagnostics

• Petrol / Diesel / Light commercials

• Brake Testing & machining

• Insurance warranty work welcome

Gainsborough Auto Services Ltd

Ph 03 384 4957

281 Dyers Road, Bromley, Christchurch

gainsboroughauto@gmail.com

Hook up witH

tHe snow cHain

specialist

FrEE Fitting

& aDviCE

keeping your family safe

Unit 1 - 1 Cass st. sYDEnHaM. CHCH

PH: 03 366 1528

232 MErsEY st. invErCagill

PH: 03 214 6468

E: sales@chainman.co.nz • www.chainman.co.nz

Landscape Supplies

now at

• Bark

• Compost

• Garden Gro

• Vege Gro

• Soil

• Shingle

• Bulk & Bags

• Peastraw

• Float & Trailer Hire

wE sEll & Fit

snow CHains

to anY

vEHiClE

bUYing

snow CHains

FroM Us

is as CHEaP

as Hiring

tHe cHain Man ltD

100% nZ owneD anD opeRateD

WHEEL

ALIGNMENT

SPECIALISTS

Bookings

highly

recommended

9x2

9x2

$

49

WOF

9x2

$ 40

Bookings essential!

Includes a FREE cuppa

WOOLSTON

Ph 384 0000

49 Garlands Rd

SOCKBURN

Ph 341 1226

Unit 3, 104 Hayton Rd

• Horse & Feed Supplies

• Eukanuba & Iams

• Coprice Dog Food

• Rabbit & Guinea Pig Food

• Chook Food

• Bird Seed

• Treats/Toys

• Cages/Hutches

• Straw/ Hay

BURWOOD PRODUCE

172 Mairehau Rd, Christchurch, Ph (03) 383 1115

Hours: 9-5pm Tues to Sat, Closed Sun & Mon

WEEK ONE

DATE / GAME WHERE RESULTS

THURSDAY 18 AUGUST

North Harbour V Counties Manakau

FRIDAY 19 AUGUST

Northland V Manawatu

SATURDAY 20 AUGUST

Bay of Plenty V Taranaki

Hawke's Bay V Wellington

Canterbury V Auckland

SUNDAY 21 AUGUST

Southland V Otago

Tasman V Waikato

WEEK FOUR

WEEK SEVEN

THE CLOTHING

WAREHOUSE $1

ITEM

PER

PRELOVED

CLOTHING

FROM

OPEN Mon-Fri 9am-5pm, Sat 10am-3pm

CLOSED SUNDAYS

STOCK OUT

DAILY

Tasman Traders 61 MONTREAL ST

OPEN 6 DAYS • PH 365 0480

Albany

Whangarei

Tauranga

Napier

Christchurch

Invercargill

Blenheim

DATE / GAME WHERE RESULTS

WEDNESDAY 7 SEPTEMBER

Hawke's Bay V Auckland

THURSDAY 8 SEPTEMBER

Taranaki V Southland

FRIDAY 9 SEPTEMBER

Bay of Plenty V Northland

Counties Manakau V Wellington

SATURDAY 10 SEPTEMBER

North Harbour V Manawatu

Otago V Tasman

SUNDAY 11 SEPTEMBER

Canterbury V Hawke's Bay

Auckland V Waikato

Napier

New Plymouth

Rotorua

Pukekohe

Albany

Dunedin

Christchurch

Auckland

DATE / GAME WHERE RESULTS

WEDNESDAY 28 SEPTEMBER

Waikato V Canterbury

THURSDAY 29 SEPTEMBER

Tasman V Counties Manakau

FRIDAY 30 SEPTEMBER

Wellington V Southland

SATURDAY 1 OCTOBER

North Harbour V Bay of Plenty

Manawatu V Hawke's Bay

Auckland V Otago

SUNDAY 2 OCTOBER

Taranaki V Canterbury

Northland V Waikato

9x8

Hamilton

Blenheim

Wellington

Albany

Palmerston North

Auckland

New Plymouth

Whangarei

ASHLEYS

TOWTAXI

FOR SAFE, DAMAGE FREE

CAR TRANSPORTATION

"SPECIAL CARE FOR

SPECIAL CARS"

0800 869 8294

0800 TOWTAXI

0800 8698294

WEEK TWO

DATE / GAME

THURSDAY 25 AUGUST

Otago V Wellington

FRIDAY 26 AUGUST

Manawatu V Southland

Auckland V Northland

SATURDAY 27 AUGUST

Waikato V North Harbour

Taranaki V Hawke's Bay

SUNDAY 28 AUGUST

Canterbury V Tasman

Counties Manakau V Bay of Plenty

WEEK FIVE

DATE / GAME

WEDNESDAY 14 SEPTEMBER

Counties Manakau V Taranaki

THURSDAY 15 SEPTEMBER

Southland V Hawke's Bay

FRIDAY 16 SEPTEMBER

Tasman V Northland

Wellington V Bay of Plenty

SATURDAY 17 SEPTEMBER

Otago V North Harbour

Manawatu V Canterbury

SUNDAY 18 SEPTEMBER

Auckland V Counties Manakau

Waikato V Taranaki

WEEK EIGHT

DATE / GAME

WEDNESDAY 5 OCTOBER

Manawatu V Wellington

THURSDAY 6 OCTOBER

Auckland V Tasman

FRIDAY 7 OCTOBER

Canterbury V North Harbour

SATURDAY 8 OCTOBER

Southland V Northland

Otago V Counties Manakau

Waikato V Hawke's Bay

SUNDAY 9 OCTOBER

Wellington V Taranaki

Bay of Plenty V Manawatu

HAVE WE GOT

YOUR FUTURE CAR?

464 Ferry Road, Christchurch

Phone: Hayden 03 381 6592 or 021 365 957

ALL AVAILABLE FROM NO DEPOSIT

VISIT US ON FACEBOOK: Cars-2-Go

Open 9am-5pm Monday-Friday, 9am-4.30pm Saturday
---
PEGASUS POST

TUESDAY AUGUST 16 2016 17

016

WHERE

Dunedin

Palmerston North

Auckland

Hamilton

New Plymouth

Christchurch

Pukekohe

WHERE

Pukekohe

Invercargill

Nelson

Wellington

Dunedin

Palmerston North

Auckland

Hamilton

RESULTS

RESULTS

GAME

SCHEDULE

WEEK THREE

DATE / GAME WHERE RESULTS

WEDNESDAY 31 AUGUST

Otago V Northland

THURSDAY 1 SEPTEMBER

Hawke's Bay V Counties Manakau

FRIDAY 2 SEPTEMBER

Southland V Auckland

SATURDAY 3 SEPTEMBER

Tasman V Taranaki

Wellington V North Harbour

Northland V Canterbury

SUNDAY 4 SEPTEMBER

Bay of Plenty V Otago

Waikato V Manawatu

WEEK SIX

Dunedin

Napier

Invercargill

Nelson

Wellington

Whangarei

Tauranga

Hamilton

DATE / GAME WHERE RESULTS

WEDNESDAY 21 SEPTEMBER

Southland V Bay of Plenty

THURSDAY 22 SEPTEMBER

Northland V Wellington

FRIDAY 23 SEPTEMBER

Counties Manakau V Waikato

SATURDAY 24 SEPTEMBER

Canterbury V Otago

Taranaki V Manawatu

Hawke's Bay V Tasman

SUNDAY 25 SEPTEMBER

North Harbour V Southland

Bay of Plenty V Auckland

Invercargill

Whangarei

Pukekohe

Christchurch

New Plymouth

Napier

Albany

Rotorua

SpecialiSt in

• Brakes, clutches

& cV's

• cambelts

• Servicing &

tuneups

• Batteries & tyres

• WOF's

9x2

AUTO SPARES

• NEW & USED

CAR PARTS

• 4WD Vehicles

• power steering

repairs

• Wheel alignment

- new machine

• Shock absorbers

Qualified technicians "We service all cars"

SuBaRu SpecialiSt On Site

pH (03) 366 1305

cnR BaRBaDOeS

& licHFielD StReet

• DAMAGED & SCRAP CARS

WANTED

9x2

• LOCALLY OWNED & OPERATED

FOR OVER 35 YEARS

PART FITTING

SERVICE AVAILABLE

OVER 10 ACRES OF CARS

2 MONTH WARRANTY ON ALL PARTS

70 RURU RD CHCH

PH (03) 384 2319

WEEK NINE

$35 WOF

WHERE

Palmerston North

Auckland

Christchurch

Invercargill

Dunedin

Hamilton

Wellington

Rotorua

RESULTS

DATE / GAME WHERE RESULTS

WEDNESDAY 12 OCTOBER

North Harbour V Tasman

THURSDAY 13 OCTOBER

Taranaki V Auckland

FRIDAY 14 OCTOBER

Manawatu V Otago

SATURDAY 15 OCTOBER

Counties Manakau V Canterbury

Hawke's Bay V Bay of Plenty

Wellington V Waikato

SUNDAY 16 OCTOBER

Tasman V Southland

Northland V North Harbour

Albany

New Plymouth

Palmerston North

Pukekohe

Napier

Wellington

Nelson

Whangarei

Tyres & Repairs

extended HOURS

Tuesday 9x2 & Wednesday

8.00am-7.00pm

Saturday 9am-3pm

Complete

Tyre and

Auto

Canterbury owned and operated

464 Ferry Rd, 03 389 5370

ctawoolston@yahoo.co.nz

8.00am-5.00pm Mon-Thurs Fri

New & Used Tyres • Puncture Repairs

Batteries • WOF • Balancing

Mechanical Repairs • Lube & Servicing

Wheel Alignment

Full mechanical service for all

makes and models

WOF $35

New & used tyres available

Free battery test

Wheel Alignments

MOTOR COMPANY CHCH LTD

20 Gasson St, Sydenham

Ph 379-6212

Mon-Fri 8am - 5pm Sat 8.30am - 1.30pm

SPECIALISTS IN

• Repairs

• Overhauls

• Rebuilds

• Radiators

• Oil Coolers

• Petrol Tanks

• Car Heaters

• Classics

• Vintage

• Racing Cars etc

64 Buchan St, Sydenham

Ph (03) 366 0181

9x8

City South

Van Spares

NOW AT 166 MAces Rd, BROMley

100%

owned & operated

OPeN sATURdAy 9AM-1PM

We Buy, Sell & Dismantle Vans & Cars

Back Packer Vehicles

Available WITH

Guaranteed Buy Back

We Pick

Up Out Of

Christchurch

Now

Incorporating

City South

Tyres

New & Used Tyres For

As Little As $30 Fitted

• Provide Full Workshop Facilities

• Full Servicing & WOF Repairs

• Towing Available • Good Hourly Rate

• Same Day Clutch Replacement

• 2 Day Engine Replacement

• Mechanical & Exhaust Repairs

P. 384 8744 or A/H 027 222 3241

2016-2017

SEASON PASSES

ON SALE NOW

BUY NOW AND SAVE!

OptIOn 1 - 'MEgA 18' pAss tO ALL 18 shOws

AduLt sILVEr $300 AduLt gOLd $320

FAMILY sILVEr $650 FAMILY gOLd $670

sEnIOr sILVEr $150 sEnIOr gOLd $170

studEnt sILVEr $200 studEnt gOLd $220

JunIOr pAss $30

OptIOn 2 - 'supEr 9' pAss tO 9 shOws OF YOur chOIcE

AduLt sILVEr $170 AduLt gOLd $185

FAMILY sILVEr $340 FAMILY gOLd $355

sEnIOr sILVEr $100 sEnIOr gOLd $115

studEnt sILVEr $110 studEnt gOLd $125

LAYBY AVAILABLE

get your pass now at woodford glen shop, 129 north Avon rd, shirley

ph 385 1515 or promotions@woodfordglen.co.nz

*Conditions Apply. Please see website for details www.woodfordglen.co.nz
---
18

Tuesday August 16 2016

PEGASUS POST

SBHS marches back into final

• By Gordon Findlater

SHIRLEY BOYS' High School

will make their second UC

Championship grand final

appearance in as many year's

after a 17-14 win over Christ's

College at Upper.

They will meet Christchurch

Boys' High School in Saturday's

final at Rugby Park, CBHS defeated

Nelson College 10-3 in the

other semi-final.

Shirley have made a habit of

pulling off upsets in knockout

games. It's the second year in a

row they have qualified for the

semi-finals in fourth position

and defeated the competition's

top qualifier. Last year they

upset CBHS 25-17 at the same

stage.

"Last year was our first grand

final appearance in 12 years, I'm

just pleased it hasn't taken another

12 years to get back there,"

said Shirley Boys' High School

rugby administrator John Fox.

On a heavy field the big

Shirley forwards revelled early.

In a polished and aggressive

opening Shirley scored two converted

tries to take a 14-0 lead.

Tighthead prop Darius Fidow

barged over in the third minute,

loosehead Jim Tuipulotu then got

Shirley's second less than 10min

later.

"We were quietly confident

about Saturday. Knowing the

weather wasn't going to be great

we picked a big forward pack to

try and bully them a bit. The

fact our two props got the tries

was vindication of that," said

Fox.

Christ's got back into the game

before half-time through two

Ngani Punivai penalties. The gap

was narrowed even further on

the stroke of 30min when Dallas

McLeod ripped the ball from a

maul on the Shirley 22, before

crossing the line to make it 11-14.

In the 62nd-minute Jackson

Taylor kicked a penalty from

25m out to nudge Shirley ahead,

a lead they would hang onto by

the skin of their teeth. Christ's

College thought they had crossed

the line to steal a win on the

stroke of full-time, but they were

denied by the video referee after

five minutes of deliberation.

"It's a mixed feeling because

we don't have a TMO (video

referee) every game of the season.

It's almost unfair to have a TMO

decide the game when all season

long it's been the ref making the

call," said Fox.

The decision went their way,

but Shirley will now turn attention

to a CBHS side they

narrowly lost to just over a week

ago, 13-19.

"Our guys have a lot of belief,

they felt that one got away from

them," says Fox.

Shirley will be hope to have

more luck than 12 months ago

when they lost to St Bede's 13-32

in the grand final.

A large chunk of this year's

squad were part of that match.

Fox believes that having a dozen

players that have experienced a

grand final could give them the

slight edge they need.

They'll need every bit of an

advantage they can get against

CBHS after an impressive match

against Nelson in the rain.

ONE STEP AWAY: Shirley will

meet Christchurch BHS in

Saturday's UC Championship

final. The two teams met

earlier in the month, CBHS

won 19-13. ​

At a glance:

Shirley BHS: 17 (Darius

Fidow, Jim Tuipulotu

tries; Taine Jacobs-

Lawson 2 con; Jackson

Taylor 1 pen) Christ's

College: 14 (Dallas

McLeod try; Ngane

Punivai 3 pen)

Results:

UC Cup semi-finals:

Shirley BHS 17, Christ's

College 14; Christchurch

BHS 10, Nelson College

3

UC Plate semi-finals:

Timaru BHS 25, Burnside

HS 15; Marlborough BC

19, Waimea Combined

SPORTS

97.7

STACE & FLYNNY

Weekdays 3-7pm

thehits.co.nz
---
PEGASUS POST Tuesday August 16 2016 19

ACHIEVERS

Improvisation earns

chef gold title

• By Gabrielle Stuart

BLAKE HAINES of Richmond

beat chefs from around the

country to take the National

Commis Chef of the Year title

this month, in spite of missing a

crucial ingredient.

The young chef, who works at

Chillingworth Road restaurant

in Redwood, was setting out his

equipment and ingredients at

the competition in Auckland

when he realised his salt was

missing.

In the rush to catch his

flight from Christchurch at

5am that morning he had left it

sitting on the bench at home, he

said.

The chefs competing

had to bring all their own

equipment and ingredients

to the competition from their

seasonings to their pots and

pans – which made for some

funny looks when going

through bag checks at the

airport, he said.

It was too late to buy any

more, so he just had to work

with what he had.

But he went on to win gold

for his main, an Akaroa Salmon

duo half pan-fried and half

wrapped in nori seaweed, and

cooked in plenty of chicken

stock to make up for the missing

seasoning.

Fellow Chillingworth Road

chef Eric Lim also took home a

gold award from the competition

for his entree, and was

named runner up Chef of the

Year.

Winning a national title was

incredibly satisfying, Mr Haines

said.

He had dreamed of becoming

a chef since he was about eight

years old, cooking meals for

his family – then things like

spaghetti bolognese or chocolate

chip biscuits, he said.

"My family were good critics,

although my mum never appreciated

the mess in the kitchen,"

he said.

At about 14 he got an afterschool

job washing dishes for a

local restaurant, and from there

he was hooked, he said.

He worked for a while in

Dunedin and at the Hermitage

Hotel at Mount Cook, before

moving to Christchurch with

his girlfriend early this year.

He knew Chillingworth Road

owner and chef Darren Wright

through his work on the Culinary

Olympics NZ squad, and

said he wanted the chance to

work with him.

His main role at the restaurant

is as pastry chef, which he said

was something he had always

enjoyed.

"For customers the first thing

they try is the bread and the last

is the dessert, so it either ruins

or makes someone's evening.

Hopefully, they are the two

things they remember most," he

said.

After seeing Blake's work

in the competitions, Olympic

squad member and

Christchurch chef Mark

Sycamore asked him to travel to

Greece with him in September

this year to compete at the

WACS WorldChefs Congress as

his commis chef.

IN THE KITCHEN: Chillingworth Road chef Blake Haines won

the National Commis Chef of the Year title this year, in spite of

having to compete without any salt. PHOTO: GEOFF SLOAN
---
20

Tuesday August 16 2016

PEGASUS POST

News

Seeing red over

a green building

• By Annabelle Dick

LGS_June_QP_001_2016_HO3228

watch local | support local | shop local

Monday to thursday

at 12pM, 5pM & 9pM

Freeview HD 40 | Live stream and on demand at ctv.co.nz

For enquiries, contact

Geoff Moreton: 021 1066 177

A NEW Cares Appliances

premises in Ferrymead

has attracted a number of

complaints from residents

over its bright green colour

scheme.

The whiteware appliance

store has copped criticism

before their new building

has even opened on Ferry

Rd.

It is set to open in early

September.

Cares Appliances owner

Matthew Carpenter said it

was the first time he had

received complaints, in

spite of his business being

in the city for 10 years.

"I had a complaint that

said the colour was terrible

and disgusting. I've also

had comments from third

parties who'd seen the

colour and were put off by

it," Mr Carpenter said.

The new premises drew

the following criticism via

text:

"It looks disgusting.

Contributes nothing to

whiteware warehouse

Ferrymead. You won't get

any support bringing that

here . . . sorry! Already the

talk of the community. Just

so you know . . . perhaps a

re-think? It might work at

Eastgate."

Mr Carpenter is welcoming

whiteware

feedback

warehouse

from residents

about the premises

but he said it was unfair

to insult other parts of the

city.

"It's cruel of them

patronise and disparage

the people of the eastern

side but obviously someone's

got a bit of an elitist

mindset going on," Mr

Carpenter said.

world's best value whiteware!

STANDING OUT: An artist's impression of what

Cares Appliances will look like when it opens.

BY JASON LENNIE ​

Mr Carpenter offered

the complainant a discount

of 30 per cent out of goodwill.

Ferrymead residents

have been successful in

ousting a brightly coloured

business from the area

before.

In 2007 the Mitre 10

Mega in Ferrymead building

attracted complaints

for featuring a 160m-long

bright orange wall that

overlooked the conservation

wetland.

The company eventually

agreed to repaint the wall

silvery-white after residents

threatened a boycott.

world's best value whiteware!

1503AM
---
PEGASUS POST Tuesday August 16 2016 21

Email fraser.walker@starmedia.kiwi

by 5pm each Wednesday

Kite Flying

Every day, 11am-4pm

Kites are flown on the beach

near New Brighton Pier almost

every day that conditions are

suitable. Go along and watch,

or bring a kite and join in.

Recapture your childhood, and

let your children the experience

the joy of kites instead of

playing with their electronic

gadgets. People complain

about the easterly wind, but it's

ideal for kite-flying, so dress

appropriately and come along

any time of the year.

Next to New Brighton Pier.

Free entry

Social Games Club

Tuesday, 1.30-3pm

Be social and play some

fun games at the library.

Whether it's scrabble, cards

or Rummikub there are many

different games to play and

people to interact with. If you're

interested in joining, call 03 941

7923 to register.

Parklands Library, 46

Queenspark Drive. Free entry

Science Alive at the Library

Friday, 3.30-4.30pm

These are hour-long free

drop-in science sessions that

cover numerous interesting

topics. During the time, there

will also be activities based

around the science of popular

books in the library and other

topics.

Take your children to learn

more about science and their

local library.

Linwood Library, Eastgate

Mall. Free entry

New Brighton Sea-side

Market

Every Saturday, 10am-2pm

New Brighton's pedestrian

mall is filled with colour and

creativity every Saturday.

Go down to the sea-side and

enjoy live entertainment, food,

produce, arts, crafts, jewellery

and more. There's also a bouncy

castle and free face-painting for

the kids. For more information,

email seasidemarket@mail.com.

New Brighton pedestrian mall.

Free entry

Baby-times/Wā Pēpi

Today, 11.15–11.45am

During each session, there

will be a variety of stories,

songs, rhymes, finger plays and

other book-related activities.

The programmes are especially

suitable for under two-yearolds.

Sessions run during school

terms.

Aranui Library 109 Aldershot

St, Aranui

NEW BRIGHTON UKULELE JAM: Every Friday this group meets to play the ukulele and other

instruments, and sing all kinds of songs from different genres of music. There is a data projector

so all lyrics and chords are available. Everyone is welcome. Tea, coffee and biscuits will be

provided for free. Friday nights, from 7.30pm, St Faith's Hall, 46 Hawke St, New Brighton. $2

entry.

Super Saturday Story-times

Every Saturday, 11-11.45am

Come along and enjoy a storytime

session followed by fun

craft activities. This programme

runs during the school term and

is for children between the ages

of two and seven. There will be

a different story-time theme and

craft activity each weekend.

Shirley Library, 36 Marshland

Rd, Shirley. Free entry

Children's Poetry Show

August 23, 10.30–11am

Performance poet Greg

O'connell will be at the Shirley

Library presenting brand new

and favourite pieces from his

forthcoming book, Megabyte

& Other Poems. As a tutor

with Christchurch's renowned

School for Young Writers, Mr

O'connell will take audience

participation to new heights in

this humorous, lyrical rollercoaster

of rhyme, rhythm, and

refrain. Come along with family

and friends, and enjoy the sheer

fun of performing poetic lines,

out loud. All ages welcome.

No bookings required but a

caregiver is required. For

more information, get in touch

on 941 5310.

Shirley Public Library, 36

Marshland Rd, Shirley

RED CROSS

Ensuring a safe work place

Learning first aid is not only a part of ensuring a safe

work place, but also an integral part of our engagement with the

wider community. We all learn the necessary skills to ensure that

in times of emergency we are able to assist our work colleagues,

but are we able to take these skills home, into the community or

on to the sports field?

not all work places are the same and the injury risk for each place

can be wide and variable. The office attended by administrators

does not carry the same risk as those people working with heavy

machinery, or perhaps at some distance from a regular ambulance

service. it is therefore essential that you pick the right first aid

course to suit all of your activities – both professional and social.

take, for example, an office worker who does not have a high

risk work environment and whose concern might be to ensure that

they can deal with minor cuts and superficial injuries, or the ability

to perform effective CPr. These skills can be achieved on a course

of eight hours duration and would generally fit into low to medium

risk area. But take this same person on to a sports field either as a

spectator or player when a higher level injury occurs. The eight

hour course covering unit standards 6402 and 6401 (or 26551 and

26552) does not cover head neck and spinal injuries, eye injuries,

hypothermia and poisonings.

The majority of injuries occur outside of the work place, in

fact one in three injuries occurs in the home, making it the most

common place for injuries to happen. new Zealand children

are twice as likely to die through injury as children who live in

australia. They mostly die as a result of motor vehicles accidents

or falls in the home. fatalities from leisure and sport are not far

behind those in the workplace.

The wider 12 hour course teaches the additional unit standard

6400 and provides a wide knowledge base for medium to high risk

environments. This course covers many of the skills required to

deal with the most common injuries, such as falls (which can result

in head, neck and spinal injuries) and dealing with complex scenes

such as motor vehicle accidents.

if you are not sure on the course best suited to your needs, ask

your accredited first aid training provider. They can explain the

course content and give you options that will best suit your needs.

Look beyond the workplace and consider your family and your

location. Check that you have a good quality first aid kit that is

up-to-date with replenished items, and that everyone knows where

it is located.

NEW ZEALAND RED CROSS

GLOBAL LEADERS IN FIRST AID TRAINING

Christchurch Course Dates 2016

Venue: 32 Birmingham Drive, Middleton

First Aid Revalidation Course (6 hours)

Cost $120.00 per person (certificates must not

have expired for more than 3 months)

Time: 8.30am – 3.15pm

Monday

22 August

5 September

26 September

Friday

26th August

2 September

16 September

Tuesday

13 September

20 September

11 October

Sunday

21 August

4 September

18 September

For bookings please call 0800 REDCROSS or 339-7111

Book online at www.redcross.org.nz

Wednesday

7 September

28 September

USE THE RED CROSS ADVANTAGE - COMPREHENSIVE FIRST AID, ESSENTIAL FIRST AID,

REVALIDATION OR TAILORED TRAINING TO SUIT yOU AT yOUR PLACE OR OURS.

NEW ZEALAND RED CROSS - GLOBAL LEADERS IN FIRST AID TRAINING

CHRISTCHURCH COURSE DATES 2016 • VENUE: 32 BIRMINGHAM DRIVE, MIDDLETON

Comprehensive First Aid PLUS Course (16hrs or 4hr upgrade) Comprehensive First Aid Course (12hrs)

Unit Standard 6402, 6401, 6400 and 25411 or 26552, 26551, 6400 and

25411 Cost $265.00 per person incl FA Manual & GST for 16 hours or

$80.00 per person for upgrade following completion of CFA

Time: Day One 8.30am – 5.30pm Day Two 8.30am – 5pm

Unit Standard 6402, 6401, 6400 or 26552, 26551, 6400

Cost $210.00 per person incl FA Manual & GST

Time: Day One & Day Two 8.30am - 3.15pm

USE THE RED CROSS ADVANTAGE -

COMPREHENSIVE FIRST AID,

ESSENTIAl FIRST AID, REVAlIDATION

OR TAIlORED TRAINING TO SUIT YOU

AT YOUR PlACE OR OURS.

Monday

29 August

19 September

21 November

16 Hours Thursday/Friday

20 & 21 October

24 & 25 November

Saturday/Sunday

17 & 18 September

Essential First Aid Course (8hrs)

Unit Standard 6402, 6401 or 26551, 26552

Cost $150.00 per person Time: 8.30am – 5.30pm

Tuesday

6 September

27 September

18 October

Wednesday

5 October

26 October

16 November

4 Hours Friday 1.15pm-5pm

21 October

25 November

Sunday

18 September

Thursday

15 September

13 October

3 November

Saturday

20 August

3 September

17 September

2 x Tuesdays

6 & 13 September

18 & 25 October

8 & 15 November

Time: Day One 8.30am - 5.30pm

Day Two 8.30am - 12.45pm

2 x Mondays

29 August &

5 September

19 & 26 September

21 & 28 November

Thursday/Friday

20 & 21 October

24 & 25 November

2 x Wednesdays

24 & 31 August

14 & 21 September

5 & 12 October

Weekends

20 & 21 August

3 & 4 September

17 & 18 September

Thursday/Friday

25 & 26 August

1 & 2 September

8 & 9 September

FOR BOOKINGS PLEASE CALL 0800 REDCROSS OR 339-7111 • BOOK ONLINE AT WWW.REDCROSS.ORG.NZ
---
22 2

Tuesday [Edition datE] August 16 2016

HEALTH & BEAUTY

A game changer in the fight

against Parkinson's Disease

If you have Parkinson's disease, you cannot

afford to underestimate the benefits of

exercise. Being sedentary is one of the fastest

ways to see your symptoms get worse. To be

the best you can be, consider a revolutionary

Parkinson's programme, PD Warrior, run by

Muscle People Physiotherapy.

"Exercise needs to be a front line defence

for people with Parkinson's disease. PD

Warrior aims to re-wire the brain to allow

everyday movements and activities to be

performed with greater ease. Just like your

muscles benefit from cross- training, your

brain also benefits from being challenged and

surprised." Melissa McConaghy, co-founder

of PD Warrior and Specialist Neurological

Physiotherapist.

Purposeful movement can combat the loss

of motor control seen in Parkinson's disease.

PD Warrior combines a high effort, intensive

work-out with a challenging combination

of movements and mental strategy. It is

designed for people with early stage or mild

Parkinson's disease with the aim of slowing

down the progress of the disease.

"PD Warrior is loads of fun and can get

very loud with plenty of variety to keep

people engaged. you get to connect with

like-minded people who want to fight their

symptoms," says Laurie Moore, Director of

Muscle People Physiotherapy.

Neil, from Rangiora, has been attending

the PD Warrior programme and says; "The

exaggerated movement keeps the body

moving rather than seizing up". Neil keeps

up the exercises at home during the week and

says "that's how you get the most benefit out

of it." He has been playing more golf and is

able to work a couple of days a week.

Muscle People has helped clients achieve

some significant milestones through PD

Warrior. Those who come to the PD Warrior

circuit style programme at the city clinic each

week report feeling more confident in their

movements and are able to move more freely

and get back into life.

The first step in the PD Warrior

programme is an assessment at Muscle

People Physiotherapy. for more information

or to book your assessment telephone the

friendly team at Muscle People on

360 3606."

PD Warrior not only re-trains your

brain, it also helps you to get -

• Your life back – get back to doing

the things you love.

• Stronger and healthier, so you feel

better about yourself.

• More comfortable doing several

things at one time.

• Better balance... prevent

dangerous accidents and falls.

• Able to do all the little things that

you have recently abandoned.

Parkinson's -

• Parkinson's is a progressive

neurodegenerative condition

which effects the part of the brain

responsible for initiating and coordinating

movement.

• Approximately 1 in 500 people

have the condition.

• Twenty percent of people affected

by Parkinson's are of working age

(15-64 years).

PD Warrior -

PEGASUS POST

• Uses a unique combination of

physical and cognitive activities to

drive the brain's natural ability to

re-wire itself.

• PD Warrior retrains the brain

and helps people feel stronger and

fitter.

• Muscle People Physiotherapy run

the PD Warrior each week with a

group of 10 people.

Winter Specials

Best Price, Best Service

1/2 Head of Foils

Retouch and Cut

$

99

$

75

What type of Parkinson's do you have?

Knowing the answer to this question can slow down your Parkinson's and

help you to look, move and feel better.

Get control of your Parkinson's and find out more today!

www.musclepeople.co.nz

Phone: (03) 961 0236

Mens Cuts now only

$

20

super LOW prICes!

Help relieve the symptoms of ills & chills. Vitamin C helps

strengthen your immune system and is an antioxidant that

helps protects cells from free radical damage.

Phone today: 03 383 2428

259 Burwood Road

3 Convenient Locations:

The Palms: 385 0364

The Hub Hornby: 349 5150

Bush Inn Centre: 348 7867
---
PEGASUS POST Tuesday August 16 2016 23

KIDSTUFF

Join the 2016 Storylines Christchurch

Family Day on Sunday 28 August at the

Upper Riccarton Library and be part of New

Zealand's biggest festival of children's writers

and illustrators.

Entry is free for everyone to enjoy a

fun line-up of activities featuring New

Zealand children's authors, poet, illustrators,

storytellers and performers:

A tailored learning

experience

Lindisfarne was established in 1987 and

is a small privately run nursery school.

The separate nursery building caters for

up to fourteen babies, and the preschool is

licensed for up to thirty six children. We

pride ourselves on providing as much a

home like environment as possible for all

of the children who attend Lindisfarne. Our

team consists of all trained and registered

teachers, a teacher's aide, a teaching

assistant, and a cook and cleaner.

We pride ourselves on being a multicultural

centre, both through the

nationalities of the children who attend, and

the nationalities of our teaching staff.

• Fifi Colston • Leonie Agnew

• Scott Tulloch • Jane Bloomfield

• James Norcliffe • Gillian Candler

• Steve Gurney • Elena De Roo

• Jodie Keehan • Greg O'Connell

The all-day programme also includes:

• Fashion Fantastic – make fabulous

chokers or wristcuffs with Jane

Bloomfield, author of *Lily Max*Satin,

Scissors, Frock

• Birds and Words – Gillian Chandler

mixes science and crafts

• Beginners Guide to Adventure Sports

with Steve Gurney

• Storylines Treasure Hunt

• Clifford the Big Red Dog

And much more. See and download the

programme details at www.storylines.org.nz

The large private play area allows the

children to engage in lots of physical

activities as well as imaginative play. Our

on-site primary school teacher ensures all

children are well prepared to start primary

school.

Families are more than welcome to call

in at any time to view the programme and

meet the teachers.

• Central location

• Cooked healthy heart meals

• Large private outdoor play area

• Casual care available

• Enrolments available now

• 7.30am - 5.30pm Monday to Friday

Learning FROM HOME

in Christchurch

After 5.5 successful years establishing

popular home based childcare service

Stems FROM HOME in Auckland,

Cantabrian Emma McAlister has returned

home with her own young family to 'grow

young minds' in Christchurch too.

Stems prides itself on providing flexible,

affordable and personalised childcare for

busy families who would dearly love their

children to have an 'at home mum' early

learning childhood experience ."This

option isn't often possible for families

today for many reasons, but is so very

important for our little people" says

Emma. " My role is to work personally

with each family to find the best match

in an Educator for them…I love helping

create these special relationships!"

Stems is fully licensed by the Ministry

of Education and builds programmes

alongside Educators for each child which

follow the NZ curriculum. Activities,

learning and 'special moments' are

recorded for families by Educators every

day and children are able to have their

own routines maintained, experience

peer interactions in well supported small

groups, and attend learning experiences

out and about in the local community

very regularly. Costs range between $6-

$7.50 per hour with WINZ and 20 ECE

subsidies available.

If you are looking for quality childcare

in New Brighton, Shirley, Rangiora or

Halswell please contact Emma directly on

0800 78 33 78.

EST 1987

389 2483

375 Worcester Street • Christchurch

Safe &

Stimulating

Childcare

Available

Call us today to personally discuss your individual childcare needs.

0800 78 33 78 | emma@stemsfromhome.co.nz

New vaCaNCies

available Now

in New brighton, shirley,

Halswell and Rangiora... with

over 120 children currently

enrolled in stems homes we

would love to be able to help

your family too!

Sunday

28 August

CHRISTCHURCH

Upper Riccarton Library

10am – 3pm

Fifi Colston, Leonie Agnew

Scott Tulloch &

many more.

www.stemsfromhome.co.nz
---
24

Tuesday August 16 2016

REAL ESTATE

Classic Kiwi cottage at Peel Forest

6 Lookout Road, Peel Forest, South Canterbury

Deadline Sale: all offers presented at 4pm, 7th September 2016

1 bedroom | 1 bathroom | 1 livingroom | ¼ acre bush section | RV $112,000

PEGASUS POST

This great Kiwi Batch is available for you

today! Peel Forest offers Flora & Fauna,

Rich & Abundant Tramping Tracks,

Walking Tracks, Hunting, Camping

Grounds, Wildlife, Fishing, all this at your

doorstep. This traditional batch sits on

1019sqm of lush vegetation, a cosy lounge

with fireplace, separate kitchen, double

bedroom and sunny verandah where you

can sit and listen to the Bellbirds and enjoy

the continuous array of beautiful flowering

shrubs during spring and summer.

Situated 22 km north of Geraldine and

minutes to the Peel Forest Café/Bar and

Store, offering coffee and dinning.

Open home this Saturday, 20th August,

12.20-1.30pm. Be quick and call me today

– this won't last! Contact Peter or Kathryn

Hampton of Harcourts - Holmwood

(Licensed Agent REAA 2008) on 377 0377

or mobile 021 889. Deadline Sale: all offers

presented at 4pm, 7th September 2016.

It's time to grow

The magazine for gardeners who like to get their hands dirty

Bigger from August 22
---
PEGASUS POST Tuesday August

[Edition

16

datE]

2016 25 3

HOME & HEATING

Get rid of dampness

in your house

noW WITH the colder and wetter weather on

its way, home owners are focusing on ways to

make their homes comfortable, warm and healthy

for their families throughout winter. rISIng

DAMP is an issue that affects many of our

older properties which suffer from poor, or no,

insulation. In Canterbury especially, post-quake,

many people have relocated to homes that suffer

from rising damp which can be associated with

health problems. Independent tests have shown

that up to 40 litres of water can rise from the

ground and enter a house every day, leading to

mildew, mould, condensation and musty smells.

Moulds can produce various allergic reactions

and the frail, elderly and very young are especially

vulnerable.

Canterbury Foam Concrete Ltd is a locally

owned and operated firm. The team understands

the problems caused by rising damp and are

there to help. They will come to your damp home

and pump a lightweight, flowable foam concrete

under your timber floored home. Specially

adapted for our new Zealand conditions and

applications it provides a layer of protection

against rising moisture. An unexpected benefit

that the team at Canterbury Foam Concrete

have noticed recently, is that many owners

of properties which had underfloor foam

concrete installed, reported that it also provided

protection against liquefaction after

the earthquakes.

Contact Canterbury Foam Concrete Ltd

now for your free, no obligation quote and

complimentary appraisal of your underfloor

ventilation needs. Phone 03 376 4608 or 0508

362626 for more information.

smooth-air products

To enSure the quality of your air, contact

the experts. Smooth-Air Products can calculate

the required air exchange for your building

requirement. Smooth-Air offers a wide range of

ventilation equipment, from air vents to ducting

for fans, for both the commercial and domestic

markets. They have an extensive range of fans

and ventilation components in-store but they

can also provide innovative solutions tailored to

differing requirements.

VenTILATIon

This includes both the exchange of air to the

outside as well as circulation of air within the

building. It is one of the most important factors

for maintaining acceptable indoor air quality in

buildings.

Filtered air supply for summer and filtered

and warmed air in winter creates a healthy

environment in which to live and work. In case

of poor or insufficient air intake from outside,

the oxygen content decreases, humidity and

dustiness levels increase. If exhaust ventilation

is not provided or it is not effective, polluted air,

smells, humidity and harmful substances are not

removed.

Low oxygen with high carbon dioxide causes

stuffiness in the room and occupants can feel

drowsy. Invisible harmful substances like a

high content of dust and tobacco smoke are

harmful and can cause various diseases. even

bad smells can cause discomfort or irritate the

nervous system. In summer, it's easy to open

windows for cross ventilation, however as winter

approaches, we start to shut up out houses to

trap in the heat and as a result, air quality can

decline.

It is therefore very important to ensure good

air quality indoors through adequate ventilation.

AttAck Rising DAmP

For existing homes with

wooden floor construction

• Stop Mould & Mildew

• Reduce Heating Bills

• Cost Effective Permanent

Solution To Rising Damp

• Free Consultation / Quotes

...at the source

Remove

bathroom smells

and steam!

Ventilation Equipment

Suppliers to trade and retail

STOP RISING DAMP TODAY www.foamcrete.org

Free Phone: 0508 362626 Main Office: (03) 3764608 Fax: (03) 3764603

HEAT PUMP

SALE NOW ON!

Amazin' winter Specials!!

• We will offer you the best quality brands and

option of heat pump for your home/business

• Providing Heat Pump solutions for over 14 years to Cantabrians

• We personally guarantee all our products & installs for 5 years

(providing annual maintenance has been completed)

Phone us today for your free consultation & quote

L

Remote extraction fans

● Domestic

● Commercial

● Industrial

Wall or ceiling

mounted fans

Smooth-Air has a wide range

of ventilation equipment to

bring fresh air into your home

41A SHAKESPEARE RD, WALTHAM

PHONE 03 366 0525

www.enviromaster.co.nz

"A local team for local people"

0800 SMOOTH (0800 766 684)

www.smooth-air.co.nz

sales@smooth-air.co.nz

264 Annex Road, Riccarton

Christchurch 8024, NZ

Ph +64 3 343 6184

Mon - Fri 7.30am - 5pm
---
26

Tuesday August 16 2016

Driven

PEGASUS POST

Tackle the skifield road in an Alltrack

• By Ross Kiddie

STAR MEDIA, the company

which I am employed by,

embraces advertising creativity.

We strive for layout and design

which captures reader and viewer

interest. That being the case, I

was mystified when Volkswagen

New Zealand's recent television

advertising campaign was

withdrawn when some viewers

complained to the Broadcasting

Standards Authority.

The commercial surrounded

Volkswagen's Passat Alltrack, and

was a light-hearted take involving

a person falling over backwards

on a slippery boat launching

ramp. That ad often had me

smiling when I was preparing

dinner and watching the news. I

was disappointed – world gone

mad – I thought.

That aside, the Alltrack is an

interesting variation on the popular

mid-size wagon and as its

name suggests it has four-wheeldrive

and suspension raised

27mm from the standard Passat.

Volkswagen is no stranger to

this concept, they have long had

models which have just that little

bit extra in terms of ability. The

Alltrack is a cross between an

everyday vehicle and one which

will take you off-road, not so

much in the serious stuff, but it

will get you out of a sticky, low

grip situation, hence the advertisement.

And on that subject, it

also gets a 2.2-tonne tow rating,

so hauling that large boat is a

real probability.

Under the bonnet sits a 2-litre,

turbocharged diesel engine. The

four-cylinder, twin camshaft unit

is rated with 150kW and 400Nm,

the latter punching out its power

all of the way from 1900rpm

to 3300rpm; consequently, it is

a strong, energetic unit which

works through a dual clutch,

direct shift gearbox.

The six-speeder allows the

engine to work freely, between

the two, drive is unimpeded,

the mid-range diesel surge is

evident. Unladen, the Passat

Alltrack will scamper to

100km/h from a standstill in

8sec, and will launch to 120km/h

from 80km/h in 5sec, the turbo

boost offering vivid acceleration.

And that is the beauty with

the big four-cylinder diesels,

there is a lot of grunt on offer,

and it's no wonder Volkswagen

are confident of high tow

capacity.

Perhaps the most exciting figures

are those of its fuel usage.

Volkswagen claim a 5.2-litre per

100km/h (54mpg) combined

cycle average, that sits well with

VOLKSWAGEN PASSAT ALLTRACK: Grip for slippery surfaces.

the 6.6l/100km (43mpg) figure

showing constantly on the dash

panel readout. At 100km/h the

engine sips fuel at the rate of an

amazing 4l/100km (70mpg) with

the engine turning over slowly at

just 1700rpm.

These results are extraordinary

for a big vehicle and certainly

serve to prove how effective diesel

engine manufacturers have

become in terms of efficiency.

I took the test car on the twists

and turns of the Port Hills. It

was only a few weeks ago that I

evaluated the standard Passat,

and was keen to find out if the

extra ride height affected the

Alltrack's handling ability. I can

report there's is little noticeable

difference, grip is well promoted

through Continental sport tyres

(245/45 x 18in), while steerage

and body balance are accurate

and controlled respectively.

Of course the suspension

is fully independent and

there is a lot of travel within

those elements; that being the

case, bumps and ruts are well

absorbed and ride comfort has

been given high priority.

I didn't take the Alltrack offroad

as such, but I did take it

through a short cross-country

track in an endeavour to get

some photos. The suspension

absorbs the uneven surfaces

beautifully, and wheel-to-ground

contact is manufactured so that

• Price – VW Passat Alltrack,

$57,990

• Dimensions – Length,

4777mm; width, 1832mm;

height, 1506mm

• Configuration – Fourcylinder,

four-wheel-drive,

1968cc, 140kW, 400Nm,

six-speed automatic.

• Performance –

0-100km/h, 8sec

• Fuel usage – 5.2l/100km

utmost traction is gleaned.

I can see the Alltrack being

used as winter sport recreational

transport such as tackling the

skifield access road. It's a vehicle

that does all the things a typical

sport utility vehicle is capable of,

yet it is packaged in a more traditional

style.

The entire in-cabin area is

manufactured for comfort and is

decked out with all the features

you'd expect from a $57,990 car.

I've long embraced the

traditional station wagon,

especially those from Europe.

The Alltrack takes that concept

one step forward and I'm pleased

that it has such a strong foothold

globally (no pun intended). I'll

be watching with interest how

well it is received here.

RESEARCH.

SEARCH.

PURCHASE.

ALL IN ONE PLACE

THE

NEW PLACE

TO

BUY & SELL

CARS

NEWS / REVIEWS / LISTINGS
---
PEGASUS POST Tuesday August 16 2016 27

AUTOMOTIVE PROFESSIONALS

The BMW experts

BMWs and BMW minis are some of the most recognisable and

best selling cars around. Known for their European engineering

as well as their stylish appearance, it's important to go to the

experts when looking for parts and servicing.

Conveniently located on McAlpine St in

Sockburn, Eurocare and Eurorec Ltd offers

a wide range of servicing and repairs options

and because they are also specialist BMW

dismantlers, they also have a huge range of parts

available to trade and individual buyers. And if

they don't have it in stock in their own large

inventory, they can source new or used parts at

your request from around New Zealand.

Whether your beloved car needs a full

replacement engine or body panels, or it just

needs window clips, the knowledgeable teams

at Eruocare and Eurorec can supply or track

down the correct part for your model and

year. When dismantling a vehicle, they make

sure they rescue and restore as many parts as

possible for reuse on other vehicles.

To keep your BMW running smoothly and

safely, they will also repair and service it. If a

vehicle has failed its WOF, needs a service or

Full mechanical servicing

for BMWs

Dismantling BMW's

Purchasing pre-loved & damaged BMWs

65 McAlpine Ave, Sockburn, Christchurch

Ph (03) 341 6678 | eurorec@clear.net.nz

A division of

CARS - TRUCKS - VANS - 4WDS

New + Used Lamps for Cars, Trucks, Vans,

4WD, Motorhomes, Trailers & LEDs.

We can repair your existing lights including:

Headlamp Adjusters, Lens Refurbishment

and Plastic Welding.

0800 225 483

For all your automotive Lamp Requirements

F: 03 371 1101

E: carlights@carlights.co.nz

325 Brougham Street, Christchurch

requires running repairs, the

team of specialist mechanics

will work quickly and efficiently

to have your car back on the road as soon

as possible. This includes everything from

oil changes, new filters and brake pads to

gear box, suspension, clutches and exhaust

systems. Their team is highly trained and, as

they are BMW specialists, they have all the

knowledge and skills necessary to provide a

high quality standard of workmanship. Their

workshop includes diagnostic machines so

they can easily find the source of any problems.

Open five days a week and on Saturdays by

appointment, Eurocare and Eurorec Ltd's teams

are on hand to help with all your BMW parts,

servicing, repairs and dismantling needs. Call

today on (03) 341 6678, email eurorec@clear.

net.nz or call in to see them at 65 McAlpine St

in Sockburn.

European

Car Owners

NEW DIAGNOSTIC EQUIPMENT!

We can identify ANY electrical

fault & reduce repair work

with our NEW European Car

Specific Diagnostic Equipment

ROSES

AUTO ELECTRICAL

Enquiries welcome

CH 352 5090

s

m

a

r

t

mall

edium

Fast

turnaround

utomotive

epair

echniques

• Paintless dent removal

• Minor paint repairs

Smart repairS (NZ) Limited

automotive refinishers

272 Lichfield St (Fitzgerald Ave end)

Ph 377-0409

WIN!

OPAWA 25 Opawa Road • Ph: 03 374 5034

RICCARTON 477 Blenheim Road • Ph: 03 341 7675

CASHMERE 17 Beaumont Street • Ph: 03 332 5321

KAIAPOI 13 Stone Street • Ph: 03 337 7140

NEW BRIGHTON 175 Wainoni Road • Ph: 03 374 5035

BURNSIDE 494 Waikakei Road • Ph: 03 359 9009

Still Pedalling!

Trevor Crowe's been involved with cars for a

while. You can benefit from his experience at...

WOF's | Service Checks | Wheel Alignments

Brakes | Clutches | Tyres etc

All makes & models

518 Moorhouse Ave

Ph 379 7615

www.crowesport.co.nz

Eurorec is open five days a week at

65 McAlpine St in Sockburn

FIAT 500 POP PRIZE DRAW

Spend $200

or more at

TYRES2GO

to enter the

Fiat 500 Pop

prize draw

Terms and conditions apply.

The car can be viewed at 477

Blenheim Rd, Riccarton.

OPEN 7 DAYS

THUrsdaY JanUarY 31 2013

Diesel

The diesel professionals specialising in

4WD RepaiRs seRvicing

&

all WoRk

guaRanTeeD

288 Lincoln Road (opp ANZ)

Ph: 338 8884 • www.dieseldoctor.co.nz
---
28

Tuesday August 16 2016

PEGASUS POST

ON DEMAND At www.stYle.Kiwi

from

magazine

to screen

Stories given new life

exclusive

interviews

Andrea Allen meets

the locals

coming to town

A look at what's on

StyleTV_StarAd_June_FP_001_2016

Watch every thursday at

7.30pm

repeats friday at

11am & 4.30pm

Freeview HD 40 | Live on ctv.co.nz
---
PEGASUS POST Tuesday August 16 2016 29

Cars

$4,001 - $8,000

NEED a new car? and

need finance we can help.

Call us today Learners

lcs, past credit issues

been bankrupt or new to

New Zealand! Call Leon

022 625 2232

Funeral Directors

Direct

Cremation

No frills, No Service,

No fuss, simply

straight to the crem.

Other options available

Ph: 379 0178

for our brochure

or email office@

undertaker.co.nz

Gardening

& Supplies

A GARDEN

PROFESSIONAL

NEEDED? Qualified

Horticulturist, offering

expert pruning, garden

makeovers, garden design

and landscaping, for free

quotes call Bryce 027 688-

8196 or 0508 242-733

A GARDEN OR

LANDSCAPING TIDY

UP? Rose & Fruit Tree

Pruning, Shrub, hedge

& tree pruning, Lawns,

Gardening, consistently

reliable general property

upkeep, Dip. Hort. 10

yrs experience, One off

tidy ups or on-going

service. Nick's Property

Maintenance. Keeping

your garden beautiful.

Free Quote. Ph. 942-4440

ADD

Computers

ALL

YOUR

COMPUTER

WORRIES SOLVED!

*$30.00 off your first

service with this coupon!*

No problem too big or

small from home PC's to

business networks. PC

slow? An end to Viruses,

Spyware, and Clogged

Systems. Safe secure

hassle-free computing.

Lost files recovered.

Microsoft Certified,

MCSE, MCP+l. 30 years

experience. Call Andrew

Buxton this week on 326-

6740 or 027 435-7596

for $30.00 off* Custom

QUEENSLAND

Computers Christchurch

Curtains

www.curtainfabric-outlet.com

Fashion Designs & Colours

Discontinued Designs

End of Lines Bargain Prices

Call at Our Shop

CURTAIN FABRIC OUTLET

71 Hawdon St Sydenham

Ph 366-5026

SOME

COLOUR

TO YOUR ADVERT!

Classifieds Contact us today Phone our local team 03 379 1100

Gardening

& Supplies

GARDEN DESIGN

& MAINTENANCE

Rose & Fruit Tree

Pruning by trained

Horticulturalists.

Book winter

pruning in now.

M: 027 688 8196

P: 0508 242 733

Holiday

Accommodation

SUN-

SHINE COAST AUSTRA-

LIA Resort, Ocean Views,

Balconies, Self Contained,

1 or 2 B/R Ensuite,

Heated Pool, Spa, Sauna,

Free Internet, Shops,

Restaurants, Tennis, Surf

Club & Patrolled Beach,

Public Transport at door.

Ask for our SEASONAL

SPECIALS. Phone 61 7

544-35011 Email: reception@mandolin.com.au

www.mandolin.com.au

Pets & Supplies

AFFORDABLE Dog

Grooming $44 small,

$52 med, experienced

and qualified groomer/

veterinary nurse,

Redwood, ph June 03 354-

6414 or 027 746-5295

Enjoy outdoor living all year round

• House, deck, carport & window canopy etc

• Warm & dry in winter

• UV protection for summer

• Customised & Tailored

• Café curtains fitted

• 5 year warranty

Chris Thorndycroft

Ph 0800 27 24 46 | www.archgola.co.nz

to let

Need an extra room?

RENT ME NOW

Bedroom or office

From $75 per week

3.6m x 3m STUDIO

Insulated & double glazed

NO BOND REQUIRED

www.hOUSEmE.cO.Nz

Trades & Services

Appliance Sales & Service

388 4780

Appliance Services

14 Brighton Mall, New Brighton

DRIVEWAYS & PAVING

FREE QUOTES

Professional, friendly

Service Always

Ph. 03 329 4806

or 027 827 0505

CAP CONSTRUCTION LTD

BLOCKED

DRAINS?

• VIDEO INSPECTION

• WATERBLASTING

• LIQUID WASTE

PH: 03 365 7960

24 hours // 7 days

info@h20jet.co.nz

www.h20jet.co.nz

ROOFING

- Re-roofing and

new roofing

- Quality roofing at

the best price around

- Licensed building

practitioner

Robinson

Roofing Ltd

Call Hamish for a

quote 03 347 90 45

ARCHGOLA

15 months

INTEREST FREE

Normal lending criteria apply

Phone Amanda:

0279570920

or 0800 HOUSE ME

hOUSEmE2015@xTRA.cO.Nz

Trades & Services

FENCING

Paling, picket,

iron, trellis

Demolition and

removal

Phone Bevan

021 231 1860

Fencing Uprite

Your Eastside

Specialist

• Replacement/new roofing

• Colour Steel gutter & fascia

• Flue & log burner installs

• Skytube/light installs

• Earthquake repairs

Licence Building

Practitioner LBP

Member of the Roofing

Association

DCM ROOFING LTD

The Roofing Specialists

PHONE IAIN

027 445 5597

iain@dcmroofing.co.nz

Garden design

Planting professionals

Garden renovation &

Makeover

Quality plant sourcing

Expert pruning &

Trimming

M: 027 688 8196

P: 0508 242 733

E: greentherapy@

xtra.co.nz

Trades & Services

NEED A

PLUMBER?

Call us now for fast

friendly service.

Get your problems sorted out

quick smart - on time!!

Phone for a FREE

quote now.

Phone 03 377 1280

Mobile 021 898 380

MDC

BUILDERS

Renovations & Repairs

All forms of Home

Maintenance

Bathrooms & Kitchens

Site clears

Excavating Driveways

& Paths

All forms of Foundations

Free Quotes

Give me a call today

Ph 022 407 8581

mdcbuildersnz@gmail.com

15% Discount with this Advert

FoR All YouR

Garden Clean-ups

Pruning

Lawn Mowing

Garden Maintenance

Call us today for a FREE quote

Ph 0800 4 546 546

(0800 4 JIMJIM)

CARPET CLEANING

CARPET: QUICK DRY technology / Stain Treatments

SCOTCH GUARDING

UPHOLSTERY – DRAPE CLEANING

MATTRESS CLEAN / ALLERGY TREATMENTS

ALLERGY / ASTHMA, dust mite treatments

RENTAL CARPETS, clean/stain removal

RESIDENTIAL / COMMERCIAL

FLOOD RESTORATION

INSURANCE

0800 333 181 | www.cavendishcarpetcare.co.nz

ROOF REPAIRS

Locally owned & operated with

over 30 years experience.

• Extensions & repair • Roof coating

• Concrete & clay tiles • Butynol

• Malthoid • Asbestos Certified

• Coloursteel • Old iron • Guttering

Phone Dave 981 0278

or 021 223 4200

E: dave@beaumontroofing.co.nz

BEAUMONT ROOFING LTD

Trades & Services

BEST BATHROOMS

full renovation specialists,

LBP, repairs &

maintenance ph 03 387-

0770 or 027 245-5226

BRICKLAYER

George Lockyer. Over

30 years bricklaying

experience. UK trained.

Licensed Building

Practitioner number

BP105608. Insurance

work. EQC repairs.

Heritage brickwork a

speciality. No job too

small. Governors Bay.

Home 329-9344, Cell

027 684 4046, email

karengeorge@xtra.co.nz

BUILDER

For all building work

but specialist in bathroom

renovations, 30 yrs

experience, with service

and integrity. Free Quotes.

Ph Lachlan 383-1723 or

0274 367-067.

BUILDER

LICENSED

available for all aspects of

building. Please call 027

241-7471 or 335-0265

CARRIER

Local, experienced,

friendly, trade-me

purchases, single items

features,

to truck loads, furniture

planting,

to whatever, removals &

trade deliveries a specialty.

Ph GEH 341-5069

CARPET & VINYL

LAYINg

Repairs, uplifting,

relaying, restretching,

E mail jflattery@xtra.

co.nz,

ph 0800 003 181

or 027 2407416

CARPETLAYER

Laying and Repairs, 40 yrs

experience, ph Peter 326-

7711 or 027 240-6532

FINANCE

Overdue

Overdue

bills

bills

need

need

paying?

paying?

It's nice to know you can rely on

SCL It's nice Finance to know to help. you can Isn't rely it? on

SCL Finance to help. Isn't it?

Ph 0800 725 725

Ph 0800 725 725

* Subject to normal lending criteria

* Subject to normal lending criteria

TIMBER DECK CLEANING

Before

Trades & Services

DRIVEWAYS

Replace, repair or new.

We are a local company

with over 10 yrs exp.

We also operate a

digger for all other

earthworks.

Ph. R.M. Solutions

021 02866981

for a free quote.

FENCINg

All styles and shapes,

gates, wooden, ph Mark

027 331-3223

FURNITURE

REMOVALS

Large Trucks $95 +

GST per hour 7 day NZ

wide, packing & moving,

Professional Company,

Professional Service.

Canterbury Relocations

Ltd. ph 0800 359 9313

gLAZIER

Window repairs, pet

doors, new glazing, double

glazing, conservatory

roofs. Experienced

tradesman. Call Bill on

981-1903 or 022 413-3504

LANDSCAPE

CONSTRUCTION

Lawns, paving, water

irrigation,

decks,

driveways, kerbing, ponds,

retainer walls, fencing.

Free quotes, Phone Tony

021-034-8555

PAINTINg DECORATINg

interior & exterior,

gib fixing, plastering,

paperhanging, Est 50 yrs

in ChCh, ph Wingfields

Ltd, ph Mark 021 171-

1586 or 355-5994

PAINTER

Available, All aspects in

painting. Very competitive

in roofs and fences. Please

call 027 241-7471 or 335-

0265

• Timber decks rejuvinated

• Polished floors scrubbed

• Polished concrete scrubbed

After

Also do: gym floors, halls, restaurants,

bars, offices and churches

Ray Anderson

Owner Operator

027 323 5190 | 03 323 5190

* Arbitration Advisory Consultant for Floor Sanding

Trades & Services

PAINTINg

DECORATINg

Excellent finish.Domestic

& Commercial. Ph Chris

027 223 8542

PLUMBER

For prompt service for all

plumbing maintenance,

repairs and alterations.

Phone Michael 364 7080

or 027 438 3943

PLUMBER

ALF THORPE

PLUMBING Certifying

Plumber for all types of

plumbing, maintenance,

spouting, alterations etc.

Phone 352-7402 or 0274-

350-231

ROOFINg

Qualified & Licenced

Practitioner. Re-Roof &

Repairs, all types. Member

New Zealand Roofing

Association. Over 35 years

experience. Phone John

027 432-3822 or 351-9147

email johnmill@ihug.

co.nz

SPOUTINg CLEANINg

Spouting Unblocked,

Cleaned Out and Flushed

Out. Also Full Handyman

Services Available. Call

Trevor 332 8949 or 021

043-2034

STONEMASON

BRICK

&

BLOCKLAYER,

Earthquake Repairs, Grind

Out & Repoint, River/

Oamaru stone, Schist,

Volcanic Rock, Paving,

all Alterations new & old,

Quality Workmanship,

visit www.featureworks.

co.nz or ph 027 601-3145

TILER/CARPENTER

35 years exp, no job

too small. Ph Ross 027

4311440.

TREES

BIg OR SMALL

tree removal, trimming,

stump grinding, shelterbelt

clean up, section clearing,

rubbish removals,

excavation work, ph Trees

Big or Small, for a free

quote, 021 061 4783

TREE WORK

Hedge trimming, stump

grinding, rubbish removed,

small job specialty Ph

Andrew 03 322-8341 or

027 435-8759

T.V. SERVICE

CENTRE

Repairs, tvs, microwaves,

stereos, DVD. Aerial

installations and kitsets,

480 Moorhouse Ave, ph 03

379 1400

UPHOLSTERER

Dining Chairs, Lounge

suites, Caravan Squabs

etc. recovered. Free

Quotes. Phone Graeme

383-1448

VHS VIDEO TAPES

& all camera tapes

converted to DVD, video

taping, weddings, twenty

firsts, special occasions,

www.grahamsvideo.co.nz

ph 03 338-1655

WATERBLASTINg

Quality Job, Quick Service

by skilled tradesman, Ph

Richard Severin at Jet-X

0800 538 969 Free quotes,

visit www.jetx.co.nz

WINDOW CLEANINg

Average 3 bdrm house

inside or out $40. Both

$70. Phone Trevor 344-

2170
---
30

Tuesday August 16 2016

Classifieds

PEGASUS POST

Wanted To Buy

AAA Buying goods

quality furniture,

Beds, Stoves, Washing

machines, Fridge Freezers.

Same day service. Selwyn

Dealers. Phone 980 5812

or 027 313 8156

A+ Household effects,

fridges, freezers, washing

machines, ovens. Good

cash paid. Ph Paul 022

0891 671

TOOLS

Garden, garage,

woodworking,

mechanical, engineering,

sawbenches, lathes, cash

buyer, ph 355-2045

Public Notices

Public Notices

Weka Pass Railway

Waipara, North Canterbury

We Are Running

SunDAY 21st August

Running 1st & 3rd

Sundays of every month

Phone 0800WEKAPASS

Depart Glenmark Station

11.30am & 2.00pm

www.wekapassrailway.co.nz

Citizens Advice Bureau

Christchurch Area

Te Pou Whakawhirinaki

o Aotearoa

Notice of Annual General Meeting

to be held on:

Monday 29th August 2016

10am Cashmere Club

88 Hunter Terrace

Cashmere

Christchurch

All members of the general public welcome

THIS

WEEKEND

Mainland

Model Society

Model

& Toy expo

Displays for all the family

Vehicles, Star Wars, Collectibles.

Sat 20 & Sun 21 August - 10am-4pm

Rodbenders Clubrooms

132 Waterloo Road, Hornby

Adults $5, Kids Free

(if accompanied by adult)

Ph: 027-201-1092

Public Notices

DEMOLITION

With care and respect we

will remove your dwelling.

Our policy is to recycle as

much as we can. We are a

local company specialising

in residential properties. We

will endeavor to cater for

your individual needs.

Ph. R.M. Solutions

021 02866981

for a free quote.

Entertainments

Situations Vacant

CA$H

Strippers

& Podium

Dancers

Wanted!

18+ TO APPLY

NEISHA

021 193 0118

MUMS & DADS

Would you like your children to

exercise more and earn some money?

DELIVERY

PEOPLE

WANTED

The Star requires

delivery personnel

in all areas of

Christchurch.

The work involves

door-to-door

delivery of The Star

newspaper.

Situations Vacant

Please call

Leanne Lucas 364-7451 or

Mark Coulthard 364 7453

email: deliveries@starmedia.kiwi

Treat the Kids!

Kids two course

special

from

RESTAURANT & CAFÉ

Open daily from 6.30am - Breakfast, Lunch & Dinner

$

10

We are family friendly.

Great Kids menu plus

designated play area.

'Famous for their roasts!'

Seniors SPECIAL

Two courses Soup/Roast or

Roast/Dessert

$

20

Special available lunch only

Monday - Saturday 12pm - 2.30pm

Conditions apply.

Racecourse Hotel Motorlodge

118 Racecourse Rd, Sockburn, Christchurch. Ph 03 342 7150

www.racecoursehotel.co.nz (opposite Riccarton Raceway)

Topic is death

Local musician, Dizzy Height is proud to

announce the completion of his latest

recording, Passing Shadows.

"It's safe to say that this album is very,

very different and deals with a topic not

many are game to talk about let alone record

an album about, and that is the subject of

death," says Dizzy Height. "Having worked

as an Embalmer/Funeral Director for 9

years I have seen a lot of death. The

inspiration for the album is based on my

many experiences."

Consisting of nine tracks, the recording is

said to be a very thought provoking and

inspiring CD.

Written, performed, and produced by

Dizzy Height, the tracks feature a unique

blend of classically inspired pieces infused

with traditional rock guitar.

From the opening title track 'Passing

Shadows' to the final track 'After Life' the

album has a positive theme which

encompasses all the things that most people

have thought about at some stage.

For more information go to

www.dizzyheight.com

The

Woolston Club...

A classic, contemporary

club experience

Cafe open from 11am

TAB & Gaming, Function Facilities,

HOUSIE Tuesday, Thursday, Saturday

SHUTTLE Tuesday - Saturday

Experience a

relaxed evening

in conversation

with musicians

from your national

orchestra

The Chamber Room of

Canterbury's exciting new home for

music and the arts, The Piano, will

play host to this exclusive event. Enjoy

canapés served with the winemaker's

selection of Craggy Range wines while

you hear the stories of some of New

Zealand's finest musicians.

NZSO Section Principal Trombone

David Bremner will host the evening.

He will be joined by a panel of NZSO

players: Brigid O'Meeghan (Assistant

Sub-Principal Emeritus Cello); Peter

Dykes (Associate Principal Oboe);

Larry Reese (Section Principal

Timpani); Andrew Thomson (Section

Principal Second Violin).

The players will discuss the rest of

the NZSO's 2016 season in

Christchurch, the additional activities

of the orchestra, as well as offer a

unique insight into the world of a

professional orchestral musician.

This is a rare opportunity to hear

from, and chat with some of New

Zealand's finest musicians in an

intimate and inspiring setting.

In Conversation with the NZSO

takes place at The Piano on Armagh

St next Thursday 25th August. Tickets

$40.

Book at nzso.co.nz/inconverastion

Open 7 Days

Restaurant open

from 5.30pm!

RETRO ROAST LUNCH

12PM-1.30PM

WEDNESDAYS

$10 Members / $12 Non

SUNDAY ROAST 12PM-2PM SUNDAY

FATHER'S DAY LUNCH

Sunday 4th September, 12pm-2pm

Dining Dads go in the draw to WIN

a $250 'Man Pack'

What's On...

7PM FRIDAY DES NEWTON

7PM SATURDAY

FLAT CITY BROTHERHOOD
---
PEGASUS POST Tuesday August 16 2016 31

JOIN

A CLUB BY

THE SEA!

www.newbrightonclub.co.nz

WHAT'S ON

TUESDAYS &

THURSDAYS

Members

Lucky Card Draw

TAB POD

SUNDAY

BRUNCH!

By the Seaside!

10.30am-2.30pm

- downstairs -

ClubBISTRO

Open Tuesday

to Saturday

12pm-2pm

and from 5pm.

Midweek

SPECIAL

$10

ROAST

Available Tuesday,

Wednesday,

& Thursday

- upstairs -

PIERVIEW

Restaurant

Quality a la carte

with a view!

Open FRIDAY,

SATURDAY,

& SUNDAY

from 5.30pm

FRIDAY SPECIAL:

BBQ PORK RIBS

$19.50!

for a limited time

SUNDAY SPECIAL

$25 3-Course Feast

SUNDAY 28th AUG

BOOK NOW for

Sumptuous winter

BUFFET $25

SHUTTLE RUNNING

Tues, Thurs, Fri & Sat

202 Marine Parade

Ph 388-9416

Members, guests and affiliates welcome

H ORNBY

WORKINGMEN'S

CLUB

«WHAT'S ON«

WESTVIEW LOUNGE

SATURDAY

20 AUGUST

4.30PM BARROSS

8PM EASY COME EASY GO

SPORTS HALL

SATURDAY 20 August, 8PM

DnD Showband presents

THREE SHOWS IN ONE...

Fleetwood Mac ; ABBA; Moulin Rouge

SHOW SOLD OUT

«COMING UP«

SATURDAY 27 August, 7.30PM

SOUND SENSATION

13 PIECE SHOWBAND. Tickets $25.

FRIDAY 2 September, 7.30PM

THE DIXIE PRIX PRESENT

LEGENDS OF COUNTRY

NZ PREMIERE COUNTRY TRIO. Tickets $15.

SATURDAY 10 September, 7PM

TONY ATWOOD

& THE C-BAY BAND

Hornby WMC, 17 Carmen Road, Hornby

phone 03 349 9026

www.hornbyworkingmensclub.co.nz

Members, guests & affiliates welcome

Lunch & Dinner

All you can eat, 7 days

SUNDAY

4th SEPT

HAPPY

FATHERS

DAY

Bookings Essential PH 386 0088

fb.com/GardenHotelRestaurant

www.gardenhotel.co.nz

NOW SERVING

available

from

9am

Breakfast

HAPPY

HOUR

5PM - 7PM

DAILY

LIVE

VINTAGE BLUE

6PM FRIDAY 19th August

MUSIC

PHONE 385 8880 FIND US ON FACEBOOK fb.com/GBCCHCH

THE GARDEN HOTEL COMPLEX | 110 MARSHLAND RD

www.gardenhotel.co.nz | phone 385 3132
---
32

Tuesday August 16 2016

PEGASUS POST

Fresh NZ

Lamb Leg

Roast

Sweet Navel Oranges

$

10 99

kg

Anchor Butter

500g

$

1 29

kg

$

3 30

each

2for

$

5 00

Cadbury Chocolate

Block 155-200g

$

16 99

pack

DB/Tui/Export Gold/NZ Pure

12x 330ml Bottles/Cans

$

7 99

each

Jacob's Creek

750ml

(Excludes Sparkling/Reserves/Double Barrel)

Shopping just got easier

Best deals are here!

FreshChoice Parklands

60 Queenspark Drive, Christchurch.

Open 7am-11pm, 7 days.

Owned and

operated

by locals

FreshChoice.co.nz FreshChoiceNZ 383 1004

FreshChoice Parklands

Certain products may not be available in all stores. Savings are based on non-promotional price. Limits may apply.

Prices apply from Tuesday 16th August to Sunday 21st August 2016, or while stocks last.

FCPP1608