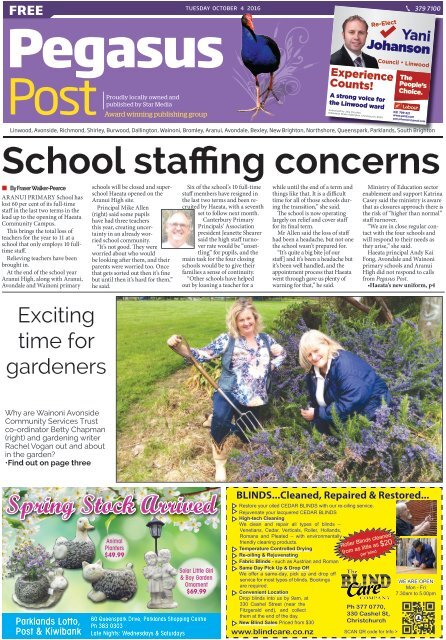 Pegasus Post: October 04, 2016
You also want an ePaper? Increase the reach of your titles
YUMPU automatically turns print PDFs into web optimized ePapers that Google loves.
FREE

TUESDAY OCTOBER 4 2016

379 7100

Pegasus

Post

Proudly locally owned and

published by Star Media

Award winning publishing group

Linwood, Avonside, Richmond, Shirley, Burwood, Dallington, Wainoni, Bromley, Aranui, Avondale, Bexley, New Brighton, Northshore, Queenspark, Parklands, South Brighton

School staffing concerns

• By Fraser Walker-Pearce

ARANUI PRIMARY School has

lost 60 per cent of its full-time

staff in the last two terms in the

lead up to the opening of Haeata

Community Campus.

This brings the total loss of

teachers for the year to 11 at a

school that only employs 10 fulltime

staff.

Relieving teachers have been

brought in.

At the end of the school year

Aranui High, along with Aranui,

Avondale and Wainoni primary

schools will be closed and superschool

Haeata opened on the

Aranui High site.

Principal Mike Allen

(right) said some pupils

have had three teachers

this year, creating uncertainty

in an already worried

school community.

"It's not good. They were

worried about who would

be looking after them, and their

parents were worried too. Once

that gets sorted out then it's fine

but until then it's hard for them,"

he said.

Six of the school's 10 full-time

staff members have resigned in

the last two terms and been recruited

by Haeata, with a seventh

set to follow next month.

Canterbury Primary

Principals' Association

president Jeanette Shearer

said the high staff turnover

rate would be "unsettling"

for pupils, and the

main task for the four closing

schools would be to give their

families a sense of continuity.

"Other schools have helped

out by loaning a teacher for a

while until the end of a term and

things like that. It is a difficult

time for all of those schools during

the transition," she said.

The school is now operating

largely on relief and cover staff

for its final term.

Mr Allen said the loss of staff

had been a headache, but not one

the school wasn't prepared for.

"It's quite a big bite [of our

staff] and it's been a headache but

it's been well handled, and the

appointment process that Haeata

went through gave us plenty of

warning for that," he said.

Ministry of Education sector

enablement and support Katrina

Casey said the ministry is aware

that as closures approach there is

the risk of "higher than normal"

staff turnover.

"We are in close regular contact

with the four schools and

will respond to their needs as

they arise," she said.

Haeata principal Andy Kai

Fong, Avondale and Wainoni

primary schools and Aranui

High did not respond to calls

from Pegasus Post.

•Haeata's new uniform, p4

Exciting

time for

gardeners

Why are Wainoni Avonside

Community Services Trust

co-ordinator Betty Chapman

(right) and gardening writer

Rachel Vogan out and about

in the garden?

•Find out on page three

Spring Stock Arrived

Parklands Lotto,

Post & Kiwibank

Animal

Planters

$49.99

Solar Little Girl

& Boy Garden

Ornament

$69.99

60 Queenspark Drive, Parklands Shopping Centre

Ph 383 0303

Late Nights: Wednesdays & Saturdays

BLINDS...Cleaned, Repaired & Restored...

Restore your oiled CEDAR BLINDS with our re-oiling service.

Rejuvenate your lacquered CEDAR BLINDS

High-tech Cleaning

We clean and repair all types of blinds –

Venetians, Cedar, Verticals, Roller, Hollands,

Romans and Pleated – with environmentally

friendly cleaning products.

Temperature Controlled Drying

Re-oiling & Rejuvenating

Fabric Blinds - such as Austrian and Roman

Same Day Pick Up & Drop Off

We offer a same-day, pick up and drop off

service for most types of blinds. Bookings

are required.

Convenient Location

Drop blinds into us by 9am, at

330 Cashel Street (near the

Fitzgerald end), and collect

them at the end of the day.

New Blind Sales Priced from $30

www.blindcare.co.nz

Roller Blinds cleaned

from as little as $20

per blind

Ph 377 0770,

330 Cashel St,

Christchurch

SCAN QR code for Info >

WE ARE OPEN

Mon - Fri

7.30am to 5.00pm
---
2

Tuesday October 4 2016

Inside

PEGASUS POST

FROM

THE

EDITOR'S

DESK News.......................................3, 5

BETTY CHAPMAN and

her crew over at the Wainoni

Avonside Community Trust are

brewing up more than a cup of

tea this week. They're the driving

force behind a community

garden, with the aim of

distributing fresh fruit and veges

among residents once it is up and

running (page 3).

Voting in the local body elections

closes at noon on Saturday.

For anyone still trying to make up

their mind in the Linwood Ward,

we have our final question to the

candidates on page 7.

As of yesterday, voter turnout

in the Burwood and Coastal

wards was about 21 per cent, with

Linwood slightly behind on 19 per

cent. Please get out and vote. Your

vote decides which candidates

will have the responsibility for

lobbying for your area.

Hei kona – Shelley Robinson

Linwood College students prepare for their Coast to

Coast challenge

SCHOOLS6

Local Views......................4

School Holidays................6

Elections............................ 7

Our People......................8-9

Events................................10

Education.................14 & 15

Health & Beauty.........16

Senior Living............... 17-19

GET IN TOUCH

General Enquiries Ph 379-7100

Classified Advertising Ph 379-1100

The Christchurch Star Company Ltd. PO box 1467 - Christchurch

starmedia.kiwi

NEWS

Fraser Walker-Pearce

Ph: 364 7424

fraser.walker@starmedia.kiwi

ADVERTISING

Mark Sinclair

Ph: 364 7461

mark.sinclair@starmedia.kiwi

be a time traveller!

FUN DAY AT

the arts centre

– market square

sunday 16 Oct, 10am–4pm

free

Be an historical detective, rediscover the Arts

Centre's North Quad, Library and Great Hall, live

music, vintage markets and much more. To see what

else is happening go to ccc.govt.nz/heritageweek

Ever wondered about

the story of your house?

18 Oct, 5.30pm–8.30pm

civic offices, level 1

53 Hereford Street, Central City

Research Your House workshop. Learn

how and where to look to uncover

the history of your house. Bookings

required. Email mreimer@heritage.

org.nz or phone (03) 363 1882

A Place Apart

free

free

14–24 Oct, 10am–4pm,

Sundays/Labour Day 11am–3pm

Lyttelton Information Centre

20 Oxford Street, Lyttelton

Look at life in New Zealand's

only leper colony on Otamahua/

Quail Island. Images from

Lyttelton Museum's photograph

collection. Visit the site of the

leper colony as part of the

Otamahua/Quail Island tours

15–16 Oct.

use a picture,

Stitch a Memory

20 Oct, 9am–3pm

Christchurch Weavers

and Spinners Guildroom

$40

11 Tanner Street, Woolston

Bring along an image and

create your own unique

memory.

Booking required:

Phone 021 027 18941

or email barbarajohns24

@xtra.co.nz

Orton Bradley park

Spring Fair

23 Oct, 10am–4pm

marine drive,

charteris bay

A fun day for the family in park

surrounds. Explore the heritage

buildings. Live music, food and

market stalls along with lambs add

to the festive spring atmosphere.

Adult $5, Children Free.

children

Free

this is a sample of events. for event details and to see

what else is happening visit ccc.govt.nz/heritageweek
---
PEGASUS POST Tuesday October 4 2016 3

News

Green light for garden

• By Fraser Walker-Pearce

A COMMUNITY garden is

coming to Wainoni after the

city council gave it the green

light.

The city council granted the

Wainoni Avonside Community

Services Trust just under 1000

sq m at the rear of the Wainoni

Scouts den on Avonside Dr,

across the road from Porritt

Park, to work with for at least

the next five years.

The trust aims to complete

the garden project before

Christmas.

It will have vegetables and

fruit grown especially to

distribute to the community,

with the help of gardening

writer Rachel Vogan.

"It'll be a greatly positive

thing for the community –

especially after watching how

devastated people were after

basically their lives and homes

were taken away from them,"

the trust's co-ordinator Betty

Chapman said.

Mrs Chapman hopes

residents will take ownership

of the garden at a community

launch, taking place at the site

this Saturday from noon until

2pm.

"We'll get the community

involved, because we want them

to name it too. It's their garden,

just under our umbrella. The

launch will be held at the garden

site," she said.

The garden's approval comes

after the trust was awarded

$30,000 from the Red Cross

to go towards the garden's

expenses.

The money was given to the

trust on the condition that it

would be used before December

otherwise it must be returned.

"A short time after [the

earthquakes] I thought we've

got all that space, why not use

it? The Red Cross approached

us, we proposed our idea and

amazingly they came up with

the money," Mrs Chapman

said.

City councillor Glenn

Livingstone said he is looking

forward to seeing the garden

COMING SOON:

The city council

has given a

community

garden in

Wainoni the

go-ahead. City

councillor Glenn

Livingstone says

it will promote

healthy eating. ​

up and running and promoting

healthy eating.

"I'd love to see the gardens

joined with other local fruit and

vegetable co-ops," he said.

"It'll also promote healthier

eating for the surrounding

community, and provide access

to good food."

The group ask that anyone

wanting to donate spare

gardening equipment or plants

bring them to the launch.

In Brief

HAVE YOU VOTED?

Time is running out to cast your

vote in the local body elections.

You must post your completed

voting paper in the orange freepost

envelope provided no later than

tomorrow. Alternatively, they can

be dropped into the civic offices

at 53 Hereford St, a city council

library or service centre, but must

be with the electoral officer before

noon, Saturday. If you have not

received voting papers or are not

enrolled, you may still be able

to cast a special vote. Phone the

electoral officer on 941 8999 or

email elections2016@ccc.govt.nz

for more information.

NEW POLICING TEAM

The Aranui Policing Team will

hold a community meeting

tomorrow at 11am to start getting

to know residents. Go along

and meet Acting Sergeant Lyle

Pryor and his team at the Aranui

Community Centre on Hampshire

St.

FIRE STATION SITE

Last week Pegasus Post incorrectly

said the New Brighton Volunteer

Fire Brigade will relocate to the

corner of Pages Rd and Anzac Dr.

It should have said the brigade will

relocate to the corner of Wainoni

Rd and Anzac Dr. Pegasus Post

apologises for this error.

JO HAYES

NATIONAL LIST MP BASED

IN CHRISTCHURCH EAST

Office

nOw Open at:

6/950 Ferry Road,

Ferrymead

P: 384 9459

Call to make an

appointment

www.national.org.nz

up to

30 %

Resene Premium

Paints, Primers,

Sealers, Wood Stains

off and Wallpaper

and 25% off Decorating Accessories

and Cleaning Products

30890 PEG R

Come in and see us today!

Shirley Resene ColorShop

38 Marshland Road, (03) 385 5082

Discounts off the normal retail price 28 Sept - 31 Oct 2016 at Resene owned ColorShops

and participating resellers. Paint offers also available at participating Mitre 10 MEGA/Mitre

10 stores. Valid only with cash/credit card/EFTPOS purchases. Not available in conjunction

with account sales, promotional vouchers/coupons or other offers. Excludes trade, ECS and

Crown products and PaintWise levy.

Christchurch

Photo Hunt

Win

a tablet or eReader

'Hidden Histories – Our Stories Unearthed'

Share your photos and

help grow the city's

photographic archive.

Submitted photographs

will be copied and

returned.

Brian Gargiulo 1

Entries must be received

by 5pm 31 October.

Winners will be announced

25 November 2016.

Your CDHB Board Member

An independent voice for

the Canterbury District

who cares about the people.

Vote me number 1

Portrait of a young woman –

Williams collection.

Kete Christchurch, Do you

PH14-096,

know

her?

CC BY-NC-ND 3.0 NZ

Enter at your local library or at christchurchcitylibraries.com

Authorised by B. Gargiulo, 11 Ron Place
---
4

Tuesday October 4 2016

Your Local Views

lections breed new ideas

Southshore

Residents'

Association

chairman Bill

Simpson talks

about the

merit behind

electioneering ideas.

When the Wright brothers

made experimental flights near

their home town, news media

showed no interest.

Residents told stories about

a machine in the sky, but news

staff would not believe the stories

and never checked them out. As

a local editor said: "I guess the

truth is that we were just plain

dumb."

They missed one of the biggest

stories in modern history.

Sometimes I wonder if we miss

the significance of the events

around us.

Take the current local body

elections for example. There are

some brilliant ideas being suggested

by candidates but we tend

to dismiss them as electioneering

and, therefore, not worthy of

further investigation. Free buses?

Has the idea been checked out?

We would probably say it is up to

the candidate to give us the costs

and show us how it would work.

Actually, the concept has been

around for a long time and is

a reality in some parts of the

world. There are several transport

planners (employed by various

councils) who could readily

give us a very clear picture of the

costs and benefits. But will we

hear from them during this election?

Probably not, for obvious

reasons.

If candidates with good ideas

do not get elected, then will their

ideas die? Let's hope not.

In the current elections, there

do seem to be fewer candidates

and less public discussion. One

of the results could be that we

lose diversity. But for a better

future, we need diverse opinions,

attitudes, perceptions and ideas.

As George Patton said: "If everybody

is thinking alike, then

somebody isn't thinking."

Wouldn't it be great if we could

somehow capture all the good

ideas and nurture them beyond

the point-scoring process of an

election? It would take some

courage – after all, who wants

to champion the raving of a

failed candidate after voting has

stopped.

Perhaps then, we should look

for candidates who are open to

all good ideas and not just their

own. These would be candidates

who are able to listen and are

able to guide good ideas to

fruition.

PEGASUS POST

Haeata's new uniform

Options for the Haeata Community Campus uniform

have been released. The school is in consultation with

uniform provider Impact over the designs. The final

version is scheduled to arrive in January next year. All

students starting with the school next year will receive a

top and bottom uniform of their choice. There will only

be three uniform items that are compulsory – a top,

bottom and jacket.

"Feel the sun on

your back & hear

the birds sing"

Admatha Dementia Care provides loving care

in small homes of about 15 people, with access

to a beautiful garden.

• At Admatha we provide Dementia Rest Home Care and Dementia

Continuing Care.

• We focus on the individual needs of each person.

• We accept you as you are, believe in you, really listen to you, joke

with you and love to hear you laugh.

• We develop an in-depth and intimate knowledge of each person.

There is openness, honesty and trust.

• Family/whanau become part of our community. Your family is always

welcome here at your home.

• At Admatha each person is loved, valued and important.

• Admatha has the maximum four year Ministry of Health certification.

Ring us now on 385 1286.

We'd love to hear from you.

Admatha Dementia Care,

34 Averill Street, Richmond, Christchurch

www.admatha.co.nz

HEAT PUMP

SALE NOW ON!

Amazin' spring Specials!!

• We will offer you the best quality brands and

option of heat pump for your home/business

• Providing Heat Pump solutions for over 14 years to Cantabrians

• We personally guarantee all our products & installs for 5 years

(providing annual maintenance has been completed)

Phone us today for your free consultation & quote

41A SHAKESPEARE RD, WALTHAM

PHONE 03 366 0525

www.enviromaster.co.nz

"A local team for local people"

S UPER DEALS
---
TM

PEGASUS POST Tuesday October 4 2016 5

News

Piece of surf club history returns

• By Ian Stuart

LONG TIME North Beach

surf club member David East is

nearing the end of a lifesaving

mission be began almost 10 years

ago.

Mr East, 64, is a city councillor

and life member of the North

Beach Surf Lifesaving Club.

With his son Jamie, 32,

the club captain, he has been

restoring an old surf lifesaving

reel for the club's centennial

celebrations at Labour weekend.

Surf lines and reels were once

the mainstay of surf lifesaving

patrols on all New Zealand

beaches.

The reel was found abandoned

and in bits behind a toilet block

in Gore Bay about 20 years ago

and sat in pieces in Mr East's

garage.

He began restoring it about 10

years ago and said it would be

ready to take pride of place at the

club's centennial celebrations.

"We have got no idea of the

history of the reel or how it came

to be dumped in Gore Bay, but it

is a precious piece of lifesaving

history and it will now live on

forever at the North Beach club,"

he said.

The reel is thought to be 60 or

70-years-old. When the club was

first established 100 years ago,

PROJECT COMPLETE: Jamie and his father David East try out the surf reel they have worked on

for the past 10 years.

PHOTO: GEOFF SLOAN

the only lifesaving equipment it

had was a line and reel just like

the one being restored by Mr

East and his son.

Lifesavers would wear a belt

and tow a line out to swimmers

in distress. The line was paid out

from the reel but the original

belt had cork floats, which were

abandoned when it was found

they put the lifesaver's life in

danger.

The reels remained

unchanged for nearly 90 years

until they were phased out of

both lifesaving patrols and

competitions and other lifesaving

gear was introduced, including

rescue tubes, inflatable rescue

boats and jet skis.

At surf lifesaving carnivals,

reels were used in four and sixman

rescue and resuscitation

competitions and in march pasts,

but very few reels now remain in

New Zealand clubs.

Mr East, who joined the North

Beach club in 1970, said the

demise of the reels was probably

inevitable, but there was a

movement within surf lifesaving

to have them brought back to

competition, possibly without

the same level of training.

"When I joined the club,

we had reels, a surf boat and a

couple of canoes. We could not

afford much else and to do a

patrol you had to know how to

swim through the surf with a

belt on and towing a line paid

out from the reel," he said.

"To do that you had to be fit.

So the reels performed two vital

functions apart from helping

with rescues. They kept us

swimming fit and to use them

properly, we had to able to read

the surf and find the best, the

quickest and safest way out to a

swimmer in trouble."

The reel was missing several

parts when it was found in Gore

Bay but they have been replaced

or remanufactured and the reel

has been repainted in the club

colours of black and white.

"It sat in pieces in the back of

my garage for 10 years and every

now and then I would do some

work on it, but the pressure is

now on to have it done for the

club's 100-year celebrations," Mr

East said.

The cost of restoring the reel is

being met by the family of Ron

"Sharky" Kennedy, the patron of

the club when he died aged 94 in

2014.

The reel is likely to be a joint

memorial for Mr Kennedy

and another North Beach

stalwart, Alan Dalton, who was

considered one of the best surf

lifesavers to use a belt and line in

the country.

Dalton was the first man to

win a New Zealand individual

belt title two years running in

1936 and 1937.

YOUR LOCAL GARAGE

• All vehicle repairs

• Oil changes and services

• Brakes • Loan car available

• Tyres, punctures & batteries

• W.O.F • Tune up

Your LocaL GaraGe

VERY FRIENDLY SERVICE AND ADVICE

NEW BRIGHTON AUTOMOTIVE

Phone: 03 388 3630

40 Hawke St (behind Z Petrol Station)

super LOW prICes!

sore joints?

oUR BEST SELLER At A GREAt PRiCE!

Go Glucosamine 1-A-DAY

Was $59.00 NoW $39.90 90 Capsules

Was $106.00 NoW $79.90 210 Capsules

• For stiff and swollen joints, aches, pains and injuries

• High strength 1-a-day capsules

3 Convenient Locations:

The Palms: 385 0364

The Hub Hornby: 349 5150

Bush Inn Centre: 348 7867

THINKING OF RENOVATING?

ENJOY IT WITH US!

From concept to completion, enjoy the experience of a full service

renovation company.

Whatever the scope of your extension or renovation, with your

dreams and our experience we can realise your home's potential.

WE MAKE IT EASY WITH OUR THREE SIMPLE STEPS...

With 5 offices in Christchurch,

let's start the conversation call

0800 764 846

or visit smith-sons.co.nz
---
6

Tuesday October 4 2016

Students' Coast to Coast

challenge gets a boost

A GROUP of Linwood College

students have won a huge boost

to their Coast to Coast race

training in the lead up to next

year's event.

Linwood's team of nine

recently won the Kathmandu

Coast to Coast schools' base

camp academy package.

The package includes Kathmandu

clothing, Salomon shoes,

race entry and a personalised

training programme created by

the nine-time race winner Steve

Gurney.

The team, called the Coast to

Coast Rangers, will also receive

mentoring to support them

in their quest to complete the

endurance race in February next

year.

The group has been training

together since May and can

now look forward to a personal

training guide from Gurney designed

specifically for the Coast

to Coast race.

The prize was created after

three Aranui High School

students competed in this year's

race alongside multi-sport

professionals like three-time

event winner Emily Miazga, and

world champion adventure racer

Nathan Fa'avae.

When February rolls around,

only three of the nine students

in the Coast to Coast Rangers

will participate in the race and

TRAINING HARD: Linwood

College's Ben Isherwood is

one of nine students who

won a Coast to Coast prize

recently. ​

the rest will form the support

crew.

Team member Eden Pettigrew,

17, said the package was

a huge boost which will help get

the team across the line.

"We are so excited to be chosen

as the winners of the base

camp academy package. It gives

us a boost to know that we are

being backed by the Kathmandu

Coast to Coast team and will be

supported in our goal to get to

the finish line.

"I know the race is going

to be physically and mentally

challenging, but it helps we have

some of the best gear and equipment

to do it in," Pettigrew said.

SCHOOL HOLIDAY FUN

The school holidays are upon us again and eastern

children participated in a range of fun activities.

Pupils at the Christchurch School of Gymnastics

holiday programme had a day of building Lego.

They built gym apparatus and creative critters.

Meanwhile, at Te Wero Gymnastics, the pupils got

involved in learning skills on the gym floor and on

the balancing beam – but not before they warmed

themselves up. And at the Youth Alive Trust, the

children swung on swings at a local park before

heading off to the Flip Out Trampoline Arena.

GYMNAST: One of the many clever Lego creations from

children at the Christchurch School of Gymnastics.

PEGASUS POST

BALANCING BEAM: Lily from Te

Wero Gymnastics had to hold her

balance while waiting for the ball

to be thrown.

TRICKS ARENA: Young people

from Youth Alive Trust went to

the Flip Out Trampoline Arena in

Bromley for the day.

PHOTO: MATT BARNES

Nova Montessori

Early Childhood Centre

and Primary School

OPEN DAY

Saturday 15th October 10am-2pm

Offers an individual holistic

education for children between

the ages of 3 to 13 years.

Nova Montessori Children's House

and Primary School

53 Owles Terrace, New Brighton

www.novamontessori.school.nz

Burwood & Redwood

BOOK yOUr LAyBy

fOr xmAS NOw

Offer ends 31 January 2016

PLUS DEALS ON ALL KIDS BIKES

Ph: 383 2114

269 Burwood Rd, Burwood

Ph: 354 4022

290 Main North Rd, Redwood

SHOP HOURS

Mon-Fri 8.30am-5.30pm. Sat 9.00am-4.00pm

Layby available

See us on www.starlive.kiwi

Dyers Road Landscape

& Garden Supplies

• Barks • Peastraw • Composts - we supply the best available

• Aggregates - Chip, Round and Basecourse

• Pavers & Schist products • Pungas

• Decorative Stones & Landscaping Rocks

• Trailer Hire first hour free with purchase

• Bag & Bulk - pick up or delivered

David, Carol & Mike

We will deliver!

HELPING US,

HELPS THE

COMMUNITY

Drop off or buy

2 family stores in your community

30 Main North Rd,

Ph 352 4581

520 Cranford St,

Ph 352 0515

SOIL

AND

HARDFILL

DUMPING

Phone: 03 384 6540

183 Dyers Rd, Bromley • OPEN 7 DAYS

Weekdays 7.30am-5pm. Weekends 8.30am-3pm

www.dyersroadandlandscapes.co.nz
---
PEGASUS POST Tuesday October 4 2016 7

Key Linwood Ward projects

Elections 16

With voting in local elections coming to a close on

October 8, Pegasus Post is asking candidates their

views on topical issues within the community. We

asked candidates if they think the Linwood Ward

has had its fair share of revitalisation projects. We

also asked them what they would do, if elected, to

increase or decrease the amount of work going into

the Linwood Ward?

Alexandra

Davids, Linwood

Ward city council

and community

board candidate

The entire east,

including the

Linwood Ward feels

forgotten. We were

hit harder by the earthquakes than

other areas. It defies belief that

roads in significantly less affected

suburbs are being re-sealed while

ours remain largely broken. My

greatest frustration is not seeing

anyone standing up strongly for

us, which I intend to do if elected.

If elected, I will engage with our

community to better understand

our needs, wants and priorities.

I will relentlessly advocate for us

at the city council and I'll deliver

the pool that we, the Hagley-

Ferrymead Community Board,

have been successful in getting

$20m on budget for.

Yani Johanson,

Linwood Ward

city council

candidate

I have a proud

record of

achievements

in the Linwood

Ward. Under

my leadership, this term of

city council has committed to

prioritising local communities.

These include revitalising the

Garrick Park and Linfield sports

fields, repairing the Woolston

War Memorial pavilion, opening

a joint community centre in

Wainoni, getting flooding

mitigation works underway,

a Woolston Village master

plan, rebuilding the Woolston

Library and a transitional library

at Eastgate. As well as safety

improvements for Bromley and Te

Waka Unua schools, and funding

for a Linwood/Woolston pool.

Scott Toomey, Linwood

Ward city council

candidate

The Linwood Ward has not

had its fair share. All you have

to do is drive around to see

that. The fact that we still have

to spend a fortune on repairing

our cars due to the roads

is a disgrace. The footpaths are not much

better. There are still so many elderly in our

ward who do not go out walking due to the

footpaths. All I can promise is to fight with

everything I have to get the roads and footpaths

fixed and introduce process changes to

get rid of as much of the red tape as possible.

Jackie Simons, Linwood

Ward community board

candidate

I don't believe that the Linwood

Ward area has ever had its

fair share of facilities. Postearthquake,

we certainly haven't

seen very much progress or

consistency in our street repairs.

I think the coming three years will see a surge in

activity within the Linwood Ward, as those who

are elected will need to step up and work within

their designated area to ensure re-election in

2019. I would work to ensure the building of the

pool in Linwood, alongside more recreational

facilities for our young people and a faster pace

of road and footpath repair.

Jack Singh, Linwood Ward

community board candidate

I don't think they have. There are so

many things that are still not cared for.

Most of the things we had have not

been restored, like libraries, banks,

post offices. I'll be straight-forward, it

hasn't been cared for. First of all, if I'm

elected, I'd like to see the people are

happy. I want them to have a good relationship with

their neighbours. Then I want to see the roads fixed,

and then other facilities like post offices and shopping

centres, so people don't have to go very far to use

them. I also want to see road crossings for children

improved.

Brenda Lowe-Johnson,

Linwood Ward community

board candidate

The problems in Linwood could

get bigger if we don't go from the

youth up. To the first question, a

big no. We have tried to lobby for

things over the last three years,

but to say there is no money, this

has frustrated us. But as a board, we need to

be prudent. The good thing is we have money

on target for a swimming pool ($20 million),

which will keep some of the young people out

of mischief. There are many young people in

Linwood that are talented in music and many

talented grown-ups. I would like to see a music

school beside the swimming pool.

Wainoni

and PANDA'S PIZZA

175 Wainoni Road, Wainoni (opposite Pak 'n Save)

Phone 388 4373

Available NOW! ORGAZMIK COFFEE

your daily oral addiction

YOUR FRIENDLY LOCAL PHARMACY

Your first port of call

for health advice

in Burwood

"We have lost a lot of good friends

but we still have a close community"

Only $28 9kg

LPG Bottle Fill

Robyn Thew

Wainoni

$2 off

Fuel Purchase

with min purchase $40

Only Valid at Mobil Wainoni, 1 Voucher per visit, valid until 31st December 2016

#

• Prescriptions • Medico Packs

• Gifts • Health Advice

• Dry Cleaning • Passport/ID photos

Burwood Pharmacy

HEALTH ADVICE

MEDICINES

Hours: Mon-Fri 9am-5.30pm, Thurs 9am-6pm

11 Parnwell Street. Ph 383 4814

Kids Birthday

PRESCRIPTIONS

Parties

FREE LOCAL DELIVERY

BURWOOD / AVONDALE

COSMETICS

7th, 8th & 9th Oct

www.theswapmeet.org.nz

PASSPORT/ID

PHOTOS

QUIT SMOKING

DRY CLEANING

SERVICES

Choose from one of our Great Party Packages to suit!

1

2

3

4

Paintball, mini golf (indoor or outdoor), 50 balls and

club hire for the driving range $39 per child.

Paintball, mini golf (indoor or outdoor) $32 per child.

Indoor and outdoor mini golf, 50 balls and club hire

for the driving range $20 per child.

Indoor or outdoor mini golf, 50 balls and club hire

for the driving range $14 per child.

To book ph 376 5350, 50 Ferrymead Park Drive, Ferrymead

GREAT RANGE

Book any Birthday Party with Caddyshack

OF GIFTS and you will receive:

• Mini golf game for each child ($9 per child).

• Use of party room for one hour for $50, or two hours for $90.

• Caddyshack Party Meal and drink.

• Caddyshack lollies.

• Themed party gear including invitations and balloons.

• Caddyshack party host to ensure fun and relaxation.

• The birthday child also receives a gift.

• All party goers receive a free child mini putt voucher for

their next visit.

Ph 384 1566, 21 King Edward Terrace, Woolston
---
8

Tuesday October 4 2016

Our People

PEGASUS POST

Living the dream of telling stories

Emily Burns, 23, of St Albans, has had a whirlwind

year in musical theatre playing leading roles in

Mary Poppins and the second wife of Argentine

president, Eva Peron, in Showbiz Christchurch's

recent production of Evita. She spoke to Georgia

O'Connor-Harding about those productions, her

dream role, and her love for composer Andrew

Lloyd Webber

Tell me about what this year has

been like for you?

I have loved this year. It started

off in the summer playing an

alternative for Mary Poppins

at The Court Theatre. Then I

jumped straight into Mamma

Mia! which was so much fun.

All of these roles in shows are

completely different. I am such

a theatre nerd and love tackling

every new role. Then I went to

Invercargill and was hosted by

the wonderful team down at

Invercargill Musical Theatre and

we put on Mary Poppins. It was

magical to be able to have Mary

myself . After that it was straight

into Evita and now I am going

to play the understudy of Elle

Woods for Legally Blonde for the

Court Theatre's summer season

and an ensemble role. It will be

fun. chihuahuas, bull dogs and

lots of pink.

Do you have a favourite role

you have played this year?

Eva Peron definitely. She is just

something else. The journey of

her young self at 15 all the way

through to her premature death

at 33. I find her fascinating and

I love the fact she was a real

woman who made such an impact

on these people's lives and

on Argentine history. It is one of

those roles I feel extremely lucky

to play.

What do you think of Eva

Peron as a person and the way

she was portrayed in the show?

It is interesting because

obviously in history and audiences

there is going to be divided

opinion about her. But people

always say she slept her way to

the top but she didn't sleep her

way to stay at the top, you know,

she did a lot of good for the poor

descamisadoes. She managed to

build hundreds of orphanages

and schools, housing for people

STAR-IN-THE-MAKING: Emily Burns has had a whirlwind year

in musical theatre playing leading roles including Mary Poppins

and Eva Peron in Evita.

who never had that kind of

support before. She is incredibly

stubborn and a determined

woman that doesn't back down.

And I take it you are a huge

fan of the composer of the show

Andrew Lloyd Webber​?

Oh, he has just got such a way

with music hasn't he. Every time

I do a show of his it just surprises

me. There is so many hidden

gems in the music score that are

so powerful. I did Phantom of the

Opera with Showbiz Christchurch

last year and the first show

I ever did was Joseph and the

Amazing Technicolor Dreamcoat.

Andrew Lloyd Webber shows are

always a huge spectacle.

You have done the big shows?

Yes, and I especially love when

Showbiz Christchurch does them

because they have these stunning

orchestras. There is something

about live music. We go downstairs

to warm-up in the pit

and the orchestra is just slowly

coming in and getting their

instruments tuned. That is one

of my favourite parts of the show

because I love coming down

with the musicians because we

kind of live in separate worlds in

the show.

Looking at all the reviews

in Evita, all the reviewers have

had positive things to say about

your performance. What do

you think of it all? Did you feel

like there was a bit of pressure?

The reviews were extremely

generous and so lovely. There

was a bit of pressure. As soon

as the show starts you have just

got to forget everything else and

focus and telling the story as

truthfully as you can. It is knowing

and trusting the work we put

in at rehearsals.

Would this be the most

challenging role you have

played?

Yes, 100 per cent. First up

the music is complex. It is

verging on opera on the fact

there isn't much dialogue. So

everything said is sung.

THE HOME OF GOOD BAKING

PREMIUM

BREAD

White, wholemeal, grain & honey.

3 FOR

$

5 00

BELGIUM SLICE

A taste of

sweetness

and a smell of

spices makes

our traditional

favourite Belgium

slice divine!

ONLY

$

3 49

EA

ALL BREAD

ROLL PACKS

(Excludes dinner

rolls.)

2 FOR

$

3 98

PURCHASE 2 X DAIRY DALE

2L MILK TO ENTER THE DRAW

TO WIN 1 OF 50 PLAYSTATION

GAMING PACKS!

50 WINNERS - 2 PER STORE

Promotion valid 1st - 31st October 2016. Winners will

be contacted Monday 7th November 2016. Terms &

conditions apply. Full terms & conditions can be found

at www.couplands.co.nz

MILK

Dairy Dale 2L varieties.

$

5 98

2 FOR or $3.19 each

6 X RING DONUTS

$

7 50

Promotional pricing available while stocks last from 03/10/16 to 09/10/16.

Images are serving suggestions only.

Open 7 days | 8 Convenient local locations

Hornby • Barrington • Ferry Rd • Papanui • Riccarton • Upper Riccarton • New Brighton • Rangiora

BAKERIES

www.couplands.co.nz
---
PEGASUS POST Tuesday October 4 2016 9

through music

So for that to sound natural

and seem like a conversation.

The composer has to

do a lot of changing of the

keys, time signatures and

rhythms. It took me a long

time to feel comfortable in

that. On the technical side

of things there are a lot of

costume changes. There is

that whole added element

of am I going to make it

out on stage fully clothed

tonight and with the right

wig on.

When you first got into

NASDA did you really

think you would be able to

make a full career out of

performing?

Oh, my gosh it was

definitely a dream that

felt very far away. It is just

taking baby steps. Having

the confidence in yourself

and working hard. I

never stop learning, I am

constantly researching and

practising.

Do you have a dream

role you would like to

play after doing big roles

already?

I would love to play

the witch Elphaba in the

musical Wicked one day.

Just have all that green face

painting, would love it.

6 ISSUES

delivered to your door

FROm ONly

SUBSCRIPTIONS FREEPHONE

0800 77 77 10

rugbynews.co.nz

FEISTY: Emily Burns

as Eva Peron with Roy

Snow as Juan Peron in

Showbiz Christchurch's

recent production

of Evita. PHOTOS:

DANIELLE COLVIN

What actually got you

into theatre?

It is funny. I love Walt

Disney movies and ever

since I could talk I would

sit in front of the TV and

say the words. I would

watch TV so much I

would say the words of the

characters and sing all the

songs. That was kind of and

indicator to my parents

they should probably get

me some singing lessons

so it is more pleasant for

them.

Tell me about what

you like to do outside of

theatre?

Things I enjoy doing is

I love food and cooking.

I love going down to the

Christchurch Farmers

Market and stocking up

on lots of fresh food. I am

often making curries. I also

love op-shopping. In the

city there are lot of great

op-shops. I love TV shows

as well. There is some really

high quality programmes

coming up with some

incredible acting. I see it as

research-watching actors

do what they do best.

Is there anything you

try to advocate through

the performing arts?

The more people come

out and enjoy it. I know

it is hard in this day and

age to justify sometimes

a ticket to these kind of

shows. With the array of

entertainment we have at

our hands literally. I am

thankful for the amount

of people who come out to

the theatre and enjoy live

story-telling.

We welcome

new patients

$

44. 50

Our team will work with you to

provide excellent health care

Based in New Brighton and Burwood

areas for over 50 years

Recognised as an innovative, quality

practice

Family health, catering for all ages

Friendly and caring

Online appointment booking

Podiatrist Lesley Marsh is

available on Wednesdays to

provide footcare.

Bring this advertisement

along when you enrol

with us and receive a FREE

nurse appointment to

assess your health needs.

225 Travis Road | PHONE: 388 9686

Visit our website

www.travismedical.co.nz

Native Plant

Destination

An increasing demand and interest

in native plants has resulted in the

expansion of The Native Plant Nursery

into Christchurch. Originally the Taupo

Native Plant Nursery, the company has

been growing steadily since 1961 when

it first began supplying native plants for

reserves, forests and national parks.

The Marshlands area of Christchurch

has long been associated with plants

and market gardens, so it is the ideal

venue for a niche business like the

Native Plant Nursery. With large scale

landscaping contracts, regeneration

projects and three nurseries

nationwide, expansion southwards has

brought 98 years of collective native

plant experience within the national

team to our doorstep.

Comprising a wholesale nursery

complex and a 10 acre property to raise

plants, the Native Plant Nursery is

www.nativeplantnursery.nz

basically a plant factory. As well as

mainstream natives, there is ample

scope to produce other plants of

interest and by growing on-site, the

home gardener reaps the benefit of

lower prices.

While best known for eco-sourced

natives, the nurseries are branching

out, literally, into edible varieties,

bedding plants and fruit trees. So

expect to see Heuchera and camellias

thriving alongside raspberry canes and

coprosmas!

In addition to developing a

flourishing native plant outlet in

Christchurch, the company's other

long term goal is to become involved

in community education projects with

local schools and organisations.

So why not revisit the green zone of

Marshlands and discover a gardening

destination that's new, natural and

native! For further information visit

The Native Plant Nursery at 478

Marshland Rd Christchurch or

www.nativeplantnursery.nz

SPRING

INTO

ACTION

Christchurch

478 Marshland Road

Marshland Christchurch

T: 03 385 9008

E : christchurch@tnpn.co.nz
---
10

Tuesday October 4 2016

Walking Festival 2016

Today until October 9, times

vary

During the school holidays take

the kids on a number of different

walks around the eastern suburbs

as part of the 2016 Walking Festival.

There are 52 walks in total

around the city. Go along

to meet the Gruffalo, walk

along the beach, or down to

Southshore.

Locations and distances vary.

Free entry

SeniorNet

Tuesday, Wednesday and

Thursday 10am-1pm.

SeniorNet New Brighton meet

three times a week to learn more

about computers and modern

technology from tutors. Small

classes, with pleasant rooms.

For more information phone 382

6048 or email snnb15@yahoo.

co.nz

New Brighton Club, 202 Marine

Pde. $25 for four sessions

Two Journeys Through the

Unconscious

Closes Saturday October 8, open

Monday to Friday 11am-5pm.

Saturday noon-3pm

An art exhibition at the

Eastside Gallery, open for a

further week. Two artists with

complementary but very different

approaches. Chris White is an

established painter now working

with digital media, and Lindy

Harward records a psychological

journey using symbols to explore

perspectives on the unconscious.

Eastside Gallery, 388 Worcester

St. Free entry

Paper Doll Making

Thursday, October 6, 10.30-

11.30am

Discover how creative you can

be by designing your own paper

dolls to take home. Materials will

be supplied and bookings are not

necessary, although a caregiver is

required. For more information

phone 941 7923.

Shirley Library, 36 Marshland

Rd. Free entry

Pirate Puppets

Every Monday from 11am

During the second week of

the school holidays the Natural

Magic Theatre will present puppet

performances suitable for

children of all ages. It features

pirates with animal puppets and

original music and songs.

Antidote Juice Bar, Carnaby

Mall. Donations

October's Monday Movies

Every Monday from 1.30pm

Every Monday the New Brighton

Museum screens a movie. Go

along early for a cup of tea and

a chat. October 3 – On Golden

Pond, 1981, Katharine Hepburn,

Henry Fonda, 1hr 45min.

October 10 – She Wore a Yellow

Ribbon, John Wayne, 1949,

1hr 39min. October 17 – Guys

and Dolls, 1955, Frank Sinatra,

Marlon Brando, 1hr 30min.

Email fraser.walker@starmedia.kiwi

by 5pm each Wednesday

October 24 – Out of Africa, 1985,

Robert Redford, Meryl Streep,

2hr 34min. October 31 – How

to Marry a Millionaire, 1953,

Marilyn Monroe, Betty Grable,

1hr 31min.

New Brighton Museum, 36

Hardy St. $2 donation

Notes Across The Tasman

Wednesday, October 12, from

7.30 pm

The South Brighton Choral

Society has been invited by

touring Australian community

choir, New South Wales Choir

Chillingham Voices to sing with

them. The groups usually sings at

the New Brighton Union Church

hall, but the space there is too

small for two choirs and audience,

so the event is being held in

the city. Phone 388 0617 for more

information.

The Piano, 156 Armagh St.

Adults $15, children $5

Kite Flying

Every day, 11am-4pm

Kites are flown on the beach

near the pier almost every day that

conditions are suitable. Go along

and watch, or take a kite and join

in. Recapture your childhood, and

let your children the experience

the joy of kites.

Next to New Brighton Pier. Free

entry

NEW ART: A new art exhibition has arrived in New Brighton

this month. From September 27 to October 30, 10am-4pm any

day, go along to the October Exhibition at Brighton Gallery,

Carnaby Mall. One of the gallery's tutors Judy Harrington is

leading the exhibition. She is a hard working tutor and is skilled

in a variety of mediums. Mrs Harrington is currently teaching

general painting skills to school children from Aranui, Wainoni

and Avondale Primary Schools. Free entry. ​

New Brighton Seaside Market

Every Saturday, from 10am-

2pm

Every Saturday, New Brighton's

pedestrian mall is filled with

colour and creativity. Go along

to the seaside and enjoy live

entertainment, food, fresh

produce, arts, crafts, jewellery

and more. There will be a bouncy

castle and free face painting for

the kids. For inquiries, email

seasidemarket@mail.com.

New Brighton Pedestrian Mall.

Free entry

NEW LOCATION ADVERT.pdf 1 1/05/2014 11:51:35 a.m.

VISIT OUR NEW LOCATION LOCATION

PEGASUS POST

Plunket Babysitting Course

for Teens

Friday, October 7, 9am-3pm

Whether you're already babysitting

the neighbour's kids or looking

for credibility when applying

for babysitting jobs, this day is

for you. The course covers the

expectations of a babysitter, the

child and family, safety, play and

basic first aid by a trained Plunket

facilitator. Register now at www.

yat.org.nz or phone 388 1001.

Youth Alive Trust, 111 Seaview

Rd, New Brighton. $25 each.

430 ST ASAPH STREET!

RECOVER YOUR LOVED FURNITURE

No job too big or small

Celebrate the success of local

businesses and people!

Hours of Business: 7am-4.30pm Mon-Thurs

Fri 8am to midday

or by appointment with Keith 027 566 3909

Still able to offer

you the finest top

quality new furniture

Visit us online

www.qualityfurniture.co.nz

P. 371 7500

QUALITY FURNITURE SPECIALISTS

RE - UPHOLSTERY SPECIALISTS KEITH HARTSHORNE 0275 663 909

Thursdays at 7.30pm

CTV Freeview Channel 40,

live and on demand at ctv.co.nz
---
PEGASUS POST Tuesday October 4 2016 11

WINDOWS 10 OPTIONS

ON ALL EX LEASE COMPUTERS

HP Slim laptop

Elitebook 430 G1, Ex Lease

• Intel i5 CPU

• 8GB Ram

• 500Gb Hard drive

• 13.3" Screen

• Web cam

• Wifi

• Windows 10

Upgrade to Solid Stare

hard drive

120Gb $99 inc GST

240Gb $139 inc GST

$599

incl GST

i3 Desktop Cyclone

22'' screen, Ex Lease

• i3 Intel CPU

• 4GB RAM

• 320GB Hard Drive

• Desktop case

• Keyboard & Mouse

corded

• Windows 10 option

• DVD writer

• 22" screen

• 6 Months Warranty

• Ex Lease

WAS $599

NOW

$549

incl GST

HP8570P Elite Book Series

Ex Lease

• i5 CPU

• 4Gb Ram

• 500Gb Hard Drive

• 15.6" Screen

• DVD writer

• Windows 7 or

Windows 10

• Ex Lease

$599

incl GST

Toshiba Satellite C850

Ex Lease

• Intel i3

• 4GB Ram

• 500Gb Hard Drive

• 15.6" Screen

• DVD writer

• Windows 7 or

Windows 10

• Ex Lease

$499

incl GST

We service & repair laptops, tablets and smartphones,

including broken screens. Ring us first for a quote.

Shop online at: www.computercentre.co.nz

serving christchurch for over 28 years

Unit 1/100 Fitzgerald Ave (Next to Cartridge World)

Phone: 379 3428

www.computercentre.co.nz

Open Monday-Friday, 9am-5pm

Q Card lending criteria, terms

and conditions, and fees apply

*All work carried out in our

workshop. Home pcs only.

Pay with Q Card or Farmers Card.
---
12

Tuesday October 4 2016

PEGASUS POST

FOR SALE

DEADLINE SALE

Belfast 2/2 Third Street

Neat As A Pin & Has To Go ...

Sue Roberts & Gemma Roberts

M 027 440 1282 or 027 223 6471 P 03 323 6045

Harcourts Twiss-Keir Realty / Belfast Licensed Agent REAA 2008

DEADLINE AUCTION SALE

2 1 1

Harcourts ID: BF26758

Vendors and extended family have enjoyed and owned this haven for several years, this young

family desire more space. Beautifully presented with two generous bedrooms, spacious living /

kitchen, double glazing , heat pump and internal access single garage. Sited to get the maximum of

sun, just minutes walk to shops and transport. Perfect starter or retire home.

For Sale: $295,000

View: Phone for viewing times.

Hei Hei 171 Buchanans Road

Potential Plus!

Mitchell Roberts & Mana Tai

M 027 413 0797 or 027 626 2824 P 03 323 6045

Harcourts Twiss-Keir Realty / Belfast Licensed Agent REAA 2008

DEADLINE SALE

3 1 1

Harcourts ID: BF26844

This property is much too large for our Mother and son owners on their own, and so they have

decided to move on - providing a fantastic entry-level opportunity for a new buyer. Buyers will

appreciate the generous sized rooms, the additional sun-room, the modern kitchen and bathroom,

all situated on a fantastically large section with front and rear zones for the family to grow.

Deadline Sale: All offers invited on or before

6 th October 2016 at 3.00pm

View: Phone for viewing times.

Mairehau 102 Aylesford Street

Immediate Sale Required

FOR SALE

3 12 13

Harcourts ID: BF2699

This property was recently under offer, but unfortunately the buyer could not get finance and

consequently is now available, our out-of-country owners urgently require sold sale. This classic

character bungalow has had refreshments to improve for modern living, including repainting, recarpeting,

modernised kitchen and bathroom, 2 heatpumps. Private section in a convenient location.

Mitchell Roberts & Mana Tai

M 027 413 0797 or 027 626 2824 P 03 323 6045

Harcourts Twiss-Keir Realty / Belfast Licensed Agent REAA 2008

Deadline Sale: All offers invited on or before

13 th October at 4.00pm

View: Phone for viewing times.

Marshland 12 Te Whariki Street

Developer Liquidating

Harcourts ID: BF26842

Unfortunately our developer requires urgent liquidation of this brand new property. Buyers will

appreciate all the benefits of buying new - including full insulation, double-glazing, heat-pump,

modern appliances, kitchen scullery, ensuite, all within a well-designed contemporary layout

providing open-plan living and outdoor flow. Prime family location, easy access to local amenities.

Mitchell Roberts & Mana Tai

M 027 413 0797 or 027 626 2824 P 03 323 6045

Harcourts Twiss-Keir Realty / Belfast Licensed Agent REAA 2008

FOR SALE

3 2 2

Deadline Sale: All offers invited on or before

6 th October at 4.00pm

View: Phone for viewing times.

Shirley 20A Baltimore Green

Sale Due To Health Reasons

3 2 2

Harcourts ID: BF26774

Due to health reasons, our owner requires to now live with family, providing this opportunity in

Fairway Park for a new buyer. This permanent-material property is easy-living, with well-sized

living areas and bedrooms + modern conveniences. Set on a wonderfully established and private

section in a thriving urban location. Ideally suited for young families, down-sizers or investors .

Upper Riccarton 66 Centennial Avenue

First Sale in Fifty Years!

2 1 2

Harcourts ID: RG7876

To be precise, our owner has lived here for fifty-three years. The truth is, all good things must come to

an end and the time has now come to pass this great wee property on to the next generation. Waiting

for you is a great section and all the potential you need to make this solid property your very own.

Zoned L2. Christchurch Boys zone. Can be subdivided. Landbank, live or develop, the choice is yours!

Mitchell Roberts & Mana Tai

M 027 413 0797 or 027 626 2824 P 03 323 6045

Harcourts Twiss-Keir Realty / Belfast Licensed Agent REAA 2008

For Sale: Offers invited

View: Phone for viewing times.

Chris Vere

M 027 202 5525 P 03 313 6158

Harcourts Twiss-Keir Realty / Rangiora Licensed Agent REAA 2008

For Sale: $420,000

View: Phone for viewing times.

Contributor to www.realestate.co.nz

www.twisskeir.co.nz
---
PEGASUS POST Tuesday October 4 2016 13

Seriously Superior Spacious Oasis!

27 Laguna Gardens - Shirley

4 Bedrooms | 2 Bathrooms | 2 Car Garage | Off Street Parking | Property ID: BF26822

Located in Clearbrook Palms, 27 Laguna

Gardens rests at the end of an attractive

cul de sac complimented by a peaceful

and pleasant reserve outlook.

Four BIG bedrooms: Bedroom 1:

4.0mx3.6m, Bedroom 2: 3.75mx3.07m,

Bedroom 3: 4.0mx3.6m, the "grand"

master at 5.48mx4.31m has a large

ensuite mirrored by an equally

spacious walk-in robe. (Please note all

measurements are approximates).

A large 278m² family bathroom, large

study/office or if you prefer, 5th bedroom.

Open plan living with a separate lounge.

A well placed heat pump and double

glazing ensure your comfort in cooler

months.

With decks for lazy BBQ days and an easycare

755m²section, this property has so

many well thought features.

Missing only one key ingredient... you

and your family!

For more information contact

Andrea Twiss on 03 323 6045 or

021 256 4087, Harcourts Twiss-Keir Realty

Ltd. Licensed Agent REAA 2008.

Introducing

Andrea Twiss

Innovation + Motivation = Celebration!

A hard worker, with drive, determination and an effervescent personality,

Andrea Twiss is passionate about helping her clients to achieve their real

estate goals.

For a free market appraisal or to find out how you can travel the world,

call me on 0800 MRS TWISS.

• Stage 1 Sections from $139,000

Must Be Sold!

• Stage 2 Sections from $165,000

With Rural Outlook

• Childcare Centre opening 2017

• Close to the Beach, River, Schools,

Public Transport and Township

T&C's apply

Andrea Twiss

M. 021 256 4087 P. 323 6045

E. andrea.twiss@harcourts.co.nz

Belfast Office Licensed Agent REAA 2008

Bring your own builder, your own plans and

create your family dream in BeachGrove.

Call Julie-Ann today on

0800 beach grove

or visit beachgrovekaiapoi.co.nz

Harcourts Twiss-Keir Realty Ltd/Licensed Agent REAA 2008

Contributor to www.realestate.co.nz

www.twisskeir.co.nz
---
14

Tuesday October 4 2016

CONTINUING EDUCATION

PEGASUS POST

Risingholme Community Centre

Adult and Community

Education

Risingholme Community Centre

continues to offer a wide range of exciting

learning opportunities across the city.

With the start of term 4 on Monday 10th

October and longer days why not enrol

in one of our exciting classes – www.

risingholme.org.nz

Risingholme's strong focus on language

development continues with a wide range

of languages courses at a variety of levels

– ESOL, German, Italian, Russian, Sign

Language, Spanish and Te Reo Maori.

Risingholme's traditional base of art and

craft courses continues to flourish with a

full range available at a number of venues.

They include fabrics, woodwork skills, cake

decorating, health & fitness and well-being,

computing, guitar and photography, as well

as many others. Due to popular demand we

have added another Upholstery course and

a one day course, Saturday 22nd October,

"Tracing Your Family History" to coincide

with Heritage Week.

For more information on classes at

Risingholme, Riccarton High School,

Christchurch Girls' High School, Shirley

Boys' High School, Hillmorton High

School and Hornby High School, contact

the Risingholme Community Centre at

332 7359 or e-mail info@risingholme.

org.nz

NIGHT CLASSES

PAPANUI HIGH

TERM 4 2016

The full programme for Term 4

is available on our website at

www.risingholme.org.nz/courses

Brochures are available at the

Risingholme office and public

libraries.

An example of some of the work

done in our Upholstery course

Nightclasses at

Papanui High School

As the weather gets warmer and the

evenings get longer it is the ideal time to

get out of the house and learn something

new and meet some new people by

taking part in one of the wide range of

nightclasses on offer at Papanui High

School for Term 4 beginning week of 17

October.

From Art to Yoga and everything in

between we are sure regardless of your

age or interest you will find something

to tempt you. Classes at Papanui High

School are held in a warm, friendly

relaxed environment and our tutors are

supportive and well qualified in their

chosen fields.

WORKERS EDUCATION ASSOCIATION

Roopu Kaimahi Matauranga O Waitaha

One of our new courses on

offer for Term 4 is Tribal Belly

Dancing. This course will cater

for all ages from young adults

to retirees. No previous dance

experience necessary and suitable

for all fitness levels and abilities.

Come along and improve your

confidence, creativity and self

expression while having some

fun! Class begins Monday 17

October 7-8 pm for 6 weeks at a

cost of $78.

For further information and

enrolment in this or any of our

Term 4 courses please visit our website

www.papanui.school.nz or email rpb@

papanui.school.nz or telephone our

office on 3520701

Huge range of classes from

Art to Yoga

Come down and enjoy the fun!

To enrol, please

phone our office on: 352 0701

See our full range of courses on

www.papanui.school.nz

Term 4 begins

17 October 2016

Term 4: 17th of October – 9th of December

See our website or call for more information.

Community education and courses throughout the year

59 Gloucester 59 Gloucester Street. Phone: Phone: 366 0285 366 0285

Email: Email: admin@cwea.org.nz

www.cwea.org.nz

www.cwea.org.nz

facebook.com/canterburywea

facebook.com/canterburywea

Piano

Raewyn Clegg

Registered Teacher of

Piano and Theory of

Music.

29 Lancewood Drive

Halswell

Ph 322-9377

From Art

to Yoga and

everything in

between

CHRISTCHURCH CAMPUS

60 Waterloo Rd, Hornby, Christchurch

2017 applications open now:

Automotive

Beauty Therapy

Collision Repair

Construction

Electrical

Fitness Instruction

Hairdressing

Mental Health

Personal Training

Project Management

Refrigeration & Air Conditioning

*Direct material costs apply

Call today or email sit@sit.ac.nz

0800 TO STUDY

www.sit.ac.nz
---
PEGASUS POST Tuesday October 4 2016 15

CONTINUING EDUCATION

Southern Institute

of Technology

Ensuring a safe

work place

Monique VanRooyen is

a perfect example of how

the Southern Institute of

Technology (SIT) assists

full time workers to move

forward in their career.

Working in

administration at

SIT for nine years,

Monique jumped at the

opportunity to upskill

in her Administration

Management career with

the National Certificate

in Project Management

(Level 4) in June 2016.

The 18-week blended

delivery course not

only offered the content

she needed to take a

step forward, but its

flexible hours made both

studying and working

viable, she said.

"The biggest benefit

is being able to do the

course outside of work

hours and also the

fact that lectures are

fortnightly, which allows

time to complete each

assignment."

Though only half way

through the Project

Management certificate,

she said it had already

increased her confidence

to talk in front of large

groups and had given her

Monique VanRooven

a better understanding of

business dealings.

"I enjoy the tutor's

lecturing style, he has a lot of industry

based knowledge and experience in

this area which enables us to grasp the

concepts [of Project Management] a lot

easier."

Monique said she would "definitely"

recommend the course to anyone

interested in a managing environment on

any level, especially those looking to excel

in their existing role.

LeARNINg fIRST aid is not only a

part of ensuring a safe work place, but also

an integral part of our engagement with

the wider community. We all learn the

necessary skills to ensure that in times of

emergency we are able to assist our work

colleagues, but are we able to take these

skills home, into the community or on to

the sports field?

Not all work places are the same and

the injury risk for each place can be wide

and variable. The office attended by

administrators does not carry the same

risk as those people working with heavy

machinery, or perhaps at some distance

from a regular ambulance service. It is

therefore essential that you pick the right

first aid course to suit all of your activities –

both professional and social.

Take, for example, an office worker who

does not have a high risk work environment

and whose concern might be to ensure

that they can deal with minor cuts and

superficial injuries, or the ability to perform

effective CPR. These skills can be achieved

on a course of eight hours duration and

would generally fit into low to medium

risk area. But take this same person on to

a sports field either as a spectator or player

when a higher level injury occurs. The eight

hour course covering unit standards 6402

and 6401 (or 26551 and 26552) does not

cover head neck and spinal injuries, eye

injuries, hypothermia and poisonings.

The majority of injuries occur outside of

the work place, in fact one in three injuries

occurs in the home, making it the most

common place for injuries to happen.

New Zealand children are twice as likely

to die through injury as children who live

in Australia. They mostly die as a result

of motor vehicles accidents or falls in the

home. fatalities from leisure and sport are

not far behind those in the workplace.

The wider 12 hour course teaches the

additional unit standard 6400 and provides

a wide knowledge base for medium to high

risk environments. This course covers many

of the skills required to deal with the most

common injuries, such as falls (which can

result in head, neck and spinal injuries) and

dealing with complex scenes such as motor

vehicle accidents.

If you are not sure on the course best

suited to your needs, ask your accredited

first aid training provider. They can explain

the course content and give you options

that will best suit your needs. Look beyond

the workplace and consider your family and

your location. Check that you have a good

quality first aid kit that is up-to-date with

replenished items, and that everyone knows

where it is located.

Adult and Community

Education Term 4, 2016

Come learn with us

Risingholme Community Centre offers a wide range

of short courses each term at a range of venues.

Risingholme Community Centre

Alterations – Upcycling and Recycling, Art, Belly Dancing,

Canvas Craft, Cake Decorating, Christmas Patchwork, Crochet,

Embroidery, ESOL, Fabric & Craft Skills, Floral Art, Healing

with Dreams, Guitar, Italian Language, Making a Gingerbread

House, Making Christmas Crafts, Marquetry group, Master

Your Sewing Machine, Mindfulness, NZ Sign Language, Paint

Your Own cards, Painting with Acrylics, Patchwork & Quilting,

Pilates, Pottery, Roman Blinds, Sewing Skills, Tracing Your

Family History, Using your Overlocker, Weaving, Watercolour

Painting, Wood Sculpture, Woodwork, Woodwork for Women,

Yoga.

Christchurch Girls' High School

Argentinian Cooking, Baking, Dressmaking, Embroidery,

Empowerment, KiwiSaver, Salads – Raw & Vegan, Screen

Printing, Skincare & Make up, Te Reo Maori, Watercolour

Painting.

Hillmorton High School

Computing, Meditative Yoga, Spanish Language, French

Language, Style Makeover on a Budget, Hands-on Makeup

Application.

Hornby High School

Pattern Making, Sewing Skills, Thai Cooking.

Riccarton High School

Basic Photography, Calligraphy, Chocolate Making, Computing

(Excel & Word), Creative Art Creative Writing, Cupcakes,

Egyptian Cooking, Embroidery, ESOL IELTS, ESOL Business

English, First Aid Red Cross, Indian Cooking, Italian Cooking,

Italian Language, Learner Licence, Mediterranean Cooking, NZ

Sign Language, Picture Framing, Portraiture, Russian Language,

Sewing Skills, Spanish Language, Te Reo Maori, Website Design,

Woodwork, Yoga, Your Career Take Charge.

Shirley Boys' High School

Arduino, Bake and Decorate, Computing Basics, Computing

(Excel & Word), Designing Your Garden, German Language,

Gluten Free Vegetarian Cooking, Graphology, Intuitive

Meditation, Kasmiri Wazwan Cooking, Learner Licence, Massage,

MYOB, NZ Sign Language, Painting with Acrylics, Pilates,

Spanish Language, Take Control of your Life, Te Reo Maori, Thai

Cooking, Upholstery, Vegetarian Cooking, Website Design, Yoga.

Full details available on www.risingholme.org.nz

Brochures available at local libraries and

Risingholme office at 99 Hawford Road

Phone 332 7359 | Email info@risingholme.org.nz

www.risingholme.org.nz
---
16 2

Tuesday [Edition datE] October 4 2016

PEGASUS POST

The 3 Step Plan to Make

Healthy Habits Stick

Health and Wellness Coach Annabelle Matson gives us her 3 step

plan on how to make healthy habit stick. Add, modify and delete,

it's as easy as ABC

When it comes to eating

habits and making

improvements to our

health in general, trying

to change absolutely everything about

our lifestyle overnight, very rarely

works. We often think: "if I can't eat /

do things perfectly, I shouldn't bother

at all". As a recovering perfectionist I

totally get that. However this clearly

doesn't support success. It just keeps us

stuck right where we are, on the dieting

roller coaster, never seeing results for

the long term.

I always say to my clients, "overtime

not overnight". We want to do things

gradually, because that's what results in

permanent change. Why weight loss and

many health programs often don't work,

is because we go from eating whatever

we want, to restricting everything.

So instead of drastically restricting

everything, use my 3 step tool – add,

modify and delete.

A: Pick one thing you want to add

B: Pick one thing you want to modify

C: Pick one thing you want to delete

For example:

Add: A morning meditation to centre

you for the day.

Modify: Refined sugar intake. Alcohol

is a huge source of sugar – so instead of

drinking during the week, stick to a few

just on the weekends.

Delete: Eating after 8pm.

Commit to the add, modify, delete plan for 30 days. Once that all becomes a habit –

start a new add, modify, delete plan.

When you do steps incrementally like that, it creates new habits. You won't feel

overwhelmed and it feels really manageable. Like magic, it all starts to become a

lifestyle that you LOVE and that are you motivated to sustain.

To learn more about Annabelle's work and grab your FREE copy

of The Clean Eating Starter Kit visit: annabellematson.com

We would like to

welcome

Dr. Zohnia McNeill

to our team!

• General Dentistry • Emergency Appointments

• Wisdom Tooth Extractions • Cosmetic Fillings

• Dental Implants • IV/Oral/Inhalation Sedation

• New Patients Welcome

Sports Injury?

Specialising

in Injury

Rehabilitation

$5 discount for

SuperGold Card holders

lovebite.com

99a GLANDOVEY RD (Entrance via Idris Rd)

FENDALTON, CHRISTCHURCH 8052

PHONE: 03 351 1188 FAX: 03 351 1138

Monday - Friday 8.30am-5.00pm

www.fendaltondental.co.nz

NEW & RECYCLED

CLOTHING

SHOPS AT:

14 Yaldhurst Rd, Ph 03 341 5379

94 Victoria St, Rangiora, Ph 03 310 7421

Open: Mon-Fri 10am-4.30pm, Sat 10am-2pm

SUPER STORE:

320 Manchester Street (Bealey Ave end)

Phone 03 365 2051.

Clothes, shoes, whiteware, furniture,

linen and homeware.

Open: Mon-Fri 9am-5pm, Sat 9am-3pm

Donations of furniture and homewares

welcome during shop hours.

Physiotherapy Associates

Finding Solutions

ACC Contracted Provider

Ph/Fax 03 389 7196 86A Wainoni Rd

Email: physioassoc@clear.net.nz www.physioA.co.nz

Acupuncture

Dr Lan Xiao

A unique UNIQUE PoweRFuL POWERFUL

tReAtment TREATMENT wiLL WILL Give GIVE

you YOU PAin PAIN ReLieF RELIEF in IN

juSt JUST A Few FEW SeConDS SECONDS

without needles

• Relieve all kinds of body pain

• • Relieve all asthma kinds and of body hay fever pain

• Relieve • Fantastic asthma weight and loss hayfever results

• Fantastic • Great results weight for loss insomnia, results dyslexia

• Great

depression

results

and

for

low

insomnia,

energy

• Stop cravings for cigarettes, alcohol,

depression

sweet foods

and

and

low

drugs

energy

instantly

• Stop cravings for cigarettes, alcohol,

sweet foods and drugs instantly

WATCh our Free Trial

insTAnT resulTs

Available

Free Trial Available *

videos online

*Conditions apply

*

*Conditions apply

108 Sawyers Arms Rd, Papanui

108 Sawyers (inside Melrose Arms Building) Rd, Papanui

Phone: 03 (inside 323 4168 Melrose • Cell: Building) 027 231 8388

Phone: www.drlansreflexologynetwork.co.nz

03 323 4168 • Cell: 027 231 8388
---
PEGASUS POST Tuesday October 4 2016 17

SENIOR LIVING

Advanced Weight

Management Support +

GO SLIM GARCINIA GOLD is the latest

in Natural Weight Management Support

to hit the market. It contains three well

researched herbal extracts in optimum

amounts to support weight management

as well as offer surprising benefits for good

health.

An extract of the purple rind of

Mangosteen contains an amazing

group of compounds called Xanthones.

Xanthones may support weight loss by

helping normalising a slow metabolism

(common as we age), improving digestive

function and nutrient absorption, acting

as a powerful appetite suppressant by

promoting synthesis of glycogen in the

body (With adequate levels of glycogen

the brain receives a signal to suppress the

appetite), increasing energy and activity

levels (but non stimulating) as well as

supporting fat metabolism. Xanthones also

offer amazing health support in other ways.

They contain a wide variety of vitamins

and minerals as well as some of the most

powerful antioxidant nutrients found

in nature that may help slow the aging

process, ward off degenerative diseases and

physical and mental deterioration.

East Indian Globe Thistle has been

shown to increase the levels of the

hormone adiponectin which encourages

food to be burned as energy rather than

stored as fat. When East Indian Globe

Thistle is combined with Xanthones weight

loss is potentiated as shown in an eight

week study of 100 people on a calorie

controlled diet with exercise where half the

participants took the combination of the

two herbs. Weight loss benefits, including

a reduction in hip and waist size were

significantly increased in the 50 people

using the combination of East Indian Globe

Thistle & Xanthones compared to those on

diet and exercise alone.

The third ingredient Garcinia Cambogia

is a source of hydroxycitric acid or HCA.

HCA can help burn fat for energy, help stop

the formation of fat from excess calories

in the diet, while reducing the appetite as

well as food cravings. It has become one of

the most popular weight loss supplements

for this reason. Garcinia Cambogia also

increases your serotonin levels which can

improve mood and sleep.

One of the big problems today is we

eat much more than we need. This excess

eating has been shown to lead to serious

health issues as well as a shorter life span.

GO SLIM GARCINIA GOLD contains

three powerful natural ingredients to

support a healthy weight as well as the

potential to support improved body

function.

Further information is available from

the Natural Health Advisers at Marshall's

Health & Natural Therapy, 110 Seaview

Road, New Brighton, Phone: 388-5757.

We are Always Happy to Help!

Take a trip with

Third Aged Tours

Taking people aged over 50 on trips

around New Zealand and the world for

nearly 20 years has earned Third Age Tours

a brag book that Director Brenda Corby-

Yarrall says "businesses would give their

eye teeth for.''

Taking small groups of 10 – 24 people

means I can operate the tour in a relaxed,

companionable manner. We have an

absolute blast when we're away. It's all about

having fun.

Most of my trips are run annually

because they're so popular, but I'm always

adding new destinations - like "Sicily, South

Italy & Vatican" + "Cuba",

as people ask for them.

Brenda checks out all

accommodation before

booking it, and ensures

the party spends at least a

few nights at each place.

That way you don't feel

like you're living out of a

suitcase.

Many clients now have

made over 20 tours with

us, one has completed a

whopping 27 tours.

My clients tell me they

keep coming back because

of the size of the groups and our relaxed

manner. My motto is 'There are no

strangers, only friends waiting to meet.'

We gather together for breakfast at

8.30am which sets us up for the day and

everybody thinks is a very civilised hour.

I organise incredible trips at incredible

prices. Look around, you can't find better

for all we include.

For more information, phone 03 379

3799 or 03 312 7050 or email her on

sunshineone@xtra.co.nz.

Go Slim Garcinia Gold

The laTeST in advanced WeiGhT loSS SupporT!

Three powerful natural herbal extracts have been combined in optimum amounts

to support your weight loss goals. Xanthones from Mangosteen may support

weight loss by helping normalise a slow metabolism, improving digestion & nutrient

absorption, reducing appetite & supporting fat metabolism. East Indian Globe

Thistle encourages food to be burned as energy rather than stored as fat. Garcinia

Cambogia helps burn fat stores for energy, helps stop the

formation of fat, and reduces appetite & food cravings.

Go Slim Garcinia Gold Supports:

•Weight reduction

•Burning stored fat for energy

•Preventing fat formation

•Reducing cravings

•Reducing appetite

•Improved metabolism

& energy

•Improved digestion &

nutrient absorption

•Improved mood & sleep

•Improved body function & health

•Powerful antioxidant protection

Super

Special

60 Capsules

only $22.90 Save $12.00

120 Capsules

only $39.90 Save $20.00

240 Capsules

only $69.90 Save $49.90

MAIL ORDER

AVAILABLE

Contains studied ingredients shown to significantly

increase weight loss over diet & exercise alone.

Talk to our Natural Health Advisers about

how to maximise your weight loss results!

Bringing You the Best in Natural Health!

MARSHALLS HEALTH & NATURAL THERAPY

CONSULTING - PRESCRIBING - DISPENSING - MANUFACTURING - MEDICAL HERBALISTS

110 SEAVIEW RD, NEW BRIGHTON • PH 03 388 5757 • Email: enquiry@marshallshealthshop.co.nz

- WE ARE ALWAYS HAPPY TO HELP -

Third Age

Tours

Small Group Tours for

the over 50s

Domestic and

International

Great Prices!

neW

neW

neW

england/Wales & Yorkshire Dales

24 August - 23 September 2017

enchanting Ireland & Scotland

1 June - 26 June 2017

curiosities of cuba May 2017

Treasures of Turkey On Hold & TBA

captivating croatia, Slovenia

montenegro & Venice

16 June - 10 July 2017

Vietnam & cambodia

3 - 25 October 2017

Beautiful norfolk Island

22 - 29 October 2017

Sicily, rome & Southern Italy

October 2017

South Island Tours

Glorious Autumn in Arrowtown

20 - 25 April 2017

catlins/Stewart Island

9 - 17 February 2017

White herons, Glaciers & Alpine

loop Tour

30 Jan - 4 Feb 2017

PluS oTher DeSTInATIonS!

For a Free InFormATIon

PAck contact Brenda

Third Age Tours

Ph 03 379 3799 or 03 312 7050

Freephone: 0800 927 725

sunshineone@xtra.co.nz |thirdagetours.co.nz
---
18

Tuesday October 4 2016

SENIOR LIVING

PEGASUS POST

Duchenne Improve

Dental circulation &

feel better

With 12 clinics from Kaiapoi to

Invercargill, Duchenne Dental Services

provides a modern, professional and

welcoming service to their clients

throughout Canterbury and the South

Island.

The team at Duchenne Dental offer

first-time and replacement full and partial

dentures. With the aid of digital scanning

technology they also hand craft high-end

aesthetic and precision fit dentures. All

products are constructed with injection

moulded acrylics and elastomers. This

means a greater effort is placed on creating

a comfortable and well aligned finished

denture. This is to ensure that patients who

wear dentures made by Duchenne will have

confidence to eat, talk and smile naturally.

Experienced technicians also work on

the protection of remaining natural teeth

with custom fitted mouthguards. This is a

must for those in contact sports like rugby.

A custom fitted mouthguard provides far

more protection and better design to the

stock " boil and bite" products.

Not only is it about protecting teeth or

replacing missing teeth, Duchenne are

about providing dental services. This allows

the team to assist patients who suffer from

EAT

TALK

SMILE

Live life

confidently with

advanced dental

and denture care.

8 CONVENIENT CHRISTCHURCH

LOCATIONS:

Merivale 03 375 4444

Beckenham 03 375 4443

Fendalton 03 375 4449

Linwood 03 375 4448

Kaiapoi 03 375 4442

QEII Dental 03 388 0881

Dentistry with a Smile 03 338 8210

Halswell Dental 03 322 9577

snoring or sleep apnoea. Snoring affects

approximately 50-60% of all adults. Often

snoring can affect persons in many ways,

from long haul travelling to sleeping with

your partner. This can be minimised and

treated with snoring appliances, designed

and crafted at Duchenne Dental.

With the latest in technology and crafting

techniques, patients can trust their smile

and dental care to the Duchenne team.

EAT. TALK. SMILE. Duchenne Dental

Services. Phone (03) 375 4444 to find

which clinic is nearest to you and a

complimentary consultation.

www.duchenne.co.nz

Canterbury's leading company specialising

in complete denture services.

www.duchenne.co.nz

Poor circulation is often caused by

inactivity of the leg muscles, due to age,

illness, sitting or standing long periods.

The heart pumps blood to all parts of the

body in order to:

• supply oxygen and nutrients to

every cell.

• keep the body temperature stable.

• remove waste from the body

Good blood flow is essential to nourish

cells, tissue and bone. It is critical for

wellbeing and energy.

When blood flow is restricted health

issues occur - cold feet and hands, swollen

ankles, cramps, numb feet, aching and

restless legs, abrasions and ulcers do not

heal

Boost circulation with any type of

movement, massage and stretching.

If strenuous exercise is impossible, try

Tai Chi or work feet and hands with an

Aircycle circulation booster while you sit in

ARTHRITIS

Boost circulation and gently

exercise while you sit – it's so easy!

FOR

Pain & stiffness

Swollen ankles

Night cramps

Painful hands

Balance & mobility

Sore legs/numb feet

Travel & office sitting

Diabetes foot problems Only

Stroke rehab/Parkinson's

$39 90

Available from pharmacies,

at www.aircycle.co.nz

or by calling 0800 14 14 15

the office or watch TV.

Working your calf muscles with the

Aircycle "treadle" action helps pump the

blood.

"Anyone on diuretics and anyone sitting

with legs down for any length of time may

be helped by using this exerciser," says Dr

Matthew Parsons.

Swollen ankles, cramps, aching and

restless legs are relieved, cold hands and

feet warmed..Even at 90 you can improve

your circulation and your health..

Information & orders : www.aircycle.

co.nz or call 0800 14 14 15. Aircycles are

also in pharmacies.

All Acorn Stairlifts

carry the Arthritis

Foundation's

Ease-of-Use

Commendation

Regain the

freedom of your

home with an

Acorn Stairlift

• For straight or curved

staircases

• Indoor and

outdoor lifts

• Free home assessment

• Fast installation

• Safe and reliable

FOR FREE BROCHURE & QUOTATION

0800 688 865

FREE DVD Guide to Stairlifts

www.acornstairlifts.co.nz

you can stop him

snoring with a

SNOREX

Why put up with a broken

night's sleep?

Ph 377-4318 or 027 682 1752

DENISE LIM

FOR A FREE INFO PACK

Website: www.snorex.co.nz
---
PEGASUS POST Tuesday October 4 2016 19

SENIOR LIVING

Paulger Courts

Retirement Village Aspire

At Paulger Courts owners Robyn and Peter

MacDonald truly appreciate the value of

their residents maintaining their community

attachments, hobbies and independence, whilst

knowing that support and companionship is

there if they need it.

The village's 34 semi-detached but private

units sit in landscaped grounds alongside George

Manning House, the purpose-built eighty-one

bed rest home and hospital. On hand at GMH

Robyn and her team are available to answer any

questions or organise any assistance the residents

need.

Paulger Courts units are designed to be sunny,

comfortable and easy to live in, whilst relieving

the residents of the burden of home maintenance

or reliance on family for urgent assistance. With

the supplied 'Never Alone' alarm, the nightly

security patrol and willing staff, residents and

their families can feel reassured that help is at

hand should it be required.

The emphasis at Paulger Courts is on ensuring

that it always remains a safe and happy place for

people to live, making the move to a retirement

village as easy a transition as possible.

The Leisure Centre at

McKenzie Lifestyle Village

At the centre of the McKenzie

Lifestyle Village is the brand-new

McKenzie Leisure Centre. This multipurpose

complex has everything to

meet the social and leisure needs of

residents and their invited guests. It

includes:

• An indoor heated swimming pool

with spa pool alongside.

• A fully-equipped gymnasium

sporting exercycles, treadmills,

rowing machine, etc.

• The library is stocked with

hundreds of books, a computer and

the daily paper.

• A well-appointed crafts room for those residents

keen on arts and crafts.

• A multi-function room with comfortable seating

for meetings, cinema or chapel.

• The main lounge offers a big-screen TV, cosy

gas fireplace, comfortable seating, bar area, pool

table and dart board for your enjoyment.

• Alongside the lounge is a kitchen and dining

area. The latter can be used for indoor bowls or

Tai Chi, Zumba etc.

• A consulting room available for health services.

• A hairdressing and beauty salon.

• Outside amenities include a bowling green,

petanque rink, mini-golf, putting green and a

children's playground. Further from the Leisure

Centre there are garden allotments, workshop

(aka men's shed) and caravan and campervan

parking.

Paulger Courts Retirement Village

(in association with George Manning House Rest Home and Hospital)

Two-bedroom

unit available,

priced from

$260,000

Enquiries welcome.

Please ring

''

Robyn MacDonald

on 338-9164

weekdays

Spreydon, Christchurch

Family owned and oriented

Retirement Village for independent

living in a supportive environment.

''

Canterbury

Aspire Canterbury offers support, advice and resources to

older people and those with impairments, their families and

caregivers.

Removing barriers to everyday living for individuals,

Aspire Canterbury inspires people to live life to

the fullest no matter what their difficulties.

The Disability Information Service is a source

of valuable information about the various

services available to people with short or long

term impairments and professionals from

community/health organisations.

Visit Aspire Canterbury's shop at 314 Worcester

Street or visit their website for more information

and resources. They also have an online shop selling

a wide selection of easier living aids, and offer rental

services for wheelchairs, ramps and walkers.

Aspire now has a mobile service which is available

for free, fun, interactive presentations of all their

equipment and services to retirement homes/villages

and any other community groups wanting a speaker.

For more information visit www.

aspirecanterbury.org.nz, phone 03 366 6189

mobileservices@aspirecanterbury.org.nz

We can help

Support and Resources for Independent Living

Aspire Canterbury is a notfor-profit

community-focused

organisation committed to

meeting the needs of older

persons and disabled persons

with mobility issues. Their aim

is to assist people in making

informed decisions about

accessing services or choosing

products that will assist them in

their daily lives.

Can we help you or someone you support?

Mobile ServiCe – Fun interactive presentations of our information,

services and easier living equipment. We come to you! To book our

presenter to speak to your group call Richard at numbers below.

Disability information Service – a 'one stop information service'

which offers unbiased advice to assist people navigate their way to

organisations or services that can provide them with support or advice.

Total Mobility Discounted Taxi Service – a scheme which provides 50%

discounts on taxi journeys to eligible people in the Christchurch area

who, due to health conditions, are unable to access public transport.

Aspire Canterbury Shop – shop online or call in to our shop at 314

Worcester Street and view our range of easier living products. We also

hire out wheelchairs, ramps and walkers.

Aspire Canterbury is a not-for-profit organisation

providing services to the community since 1981

Physical Address:

314 Worcester Street

Linwood Christchurch

Postal Address:

PO Box 32074

Christchurch 8147

2015 NZ Disability

Information Centre

of the Year

Ph: 03 366 6189

Freephone: 0800 347 242

Ph: (Total Mobility) 03 366 9093

Mobile Service: 027 588 9700

E: admin@aspirecanterbury.org.nz

W: www.aspirecanterbury.org.nz
---
20

Tuesday October 4 2016

REAL ESTATE

A win win situation

3 Bluewater View, Mt Pleasant

4 bedrooms | 2 bathrooms | 3 toilets | 2 lounges | 1 study | 2 car-garage | 2 off-street parks | Listing # FM4986

Placed elegantly on the hillside with all day

sun and some of the finest panoramic views

you could wish for this luxurious architectural

property is immaculately presented and can

be used as a 4 bedroom executive home or

alternatively the entire downstairs area can be

locked off as a self-contained flat and rented

out for passive income or as "Airbnb" as our

current owners are doing.

The home has been thoughtfully designed

with a diverse floor plan. Upstairs hosts 2

connecting living areas, an office and the

master bedroom suite complete with walk-inrobe

and ensuite. The kitchen is spacious with

breakfast bar and is open plan with the living.

Two sets of French doors provide indoor/

outdoor flow onto a sun-drenched deck for

Summer BBQ's, relaxing and dining that

escapes the easterly winds and has the perfect

backdrop of the Alps, water and Kaikoura

Ranges in the distance.

Downstairs has 2 large bedrooms, a full

bathroom with separate bath and shower and

a lounge complete with kitchen and outdoor

access to a private courtyard. Constructed

of hebel and linea board the home has good

heating, low power bills and suffered very little

earthquake damage with all repairs completed

and signed off.

A further appealing feature is the virtually

level 881sqm section with easy care garden and

extra off street parking for cars, campervan or

trailer. A back path leads you to the veggie

patch and also up to John Britten Reserve.

Winning gold in its price category at the

2007 master build of the year awards, those

seeking a well-kept contemporary home

should inspect today. The Rateable Value is

$950,000.

Open Home Saturdays 11-11:40am. For

more information contact Alison Carter

or Craig Todd of Harcourts Grenadier

Ferrymead (Licensed Agent REAA 2008)

on 384 7950 or Alison mobile 0274 318

960, Craig mobile 027 642 1075.View

harcourtsferrymead.co.nz FM4986

Advertisement

in The Star

reaches more

people than

any other

media in

Christchurch!

PEGASUS POST

Reach more customers with The Star!

For a free marketing consultation,

contact the team:

shane@starmedia.kiwi | 03 379 7100

www.starmedia.kiwi
---
PEGASUS POST Tuesday October 4 2016 21

REAL ESTATE

A win win situation

3 Bluewater View, Mt Pleasant

4 bedrooms | 2 bathrooms | 3 toilets | 2 lounges | 1 study | 2 car-garage | 2 off-street parks | Listing # FM4986

Placed elegantly on the hillside with all day

sun and some of the finest panoramic views

you could wish for this luxurious architectural

property is immaculately presented and can

be used as a 4 bedroom executive home or

alternatively the entire downstairs area can be

locked off as a self-contained flat and rented

out for passive income or as "Airbnb" as our

current owners are doing.

The home has been thoughtfully designed

with a diverse floor plan. Upstairs hosts 2

connecting living areas, an office and the

master bedroom suite complete with walk-inrobe

and ensuite. The kitchen is spacious with

breakfast bar and is open plan with the living.

Two sets of French doors provide indoor/

outdoor flow onto a sun-drenched deck for

Summer BBQ's, relaxing and dining that

escapes the easterly winds and has the perfect

backdrop of the Alps, water and Kaikoura

Ranges in the distance.

Downstairs has 2 large bedrooms, a full

bathroom with separate bath and shower and

a lounge complete with kitchen and outdoor

access to a private courtyard. Constructed

of hebel and linea board the home has good

heating, low power bills and suffered very little

earthquake damage with all repairs completed

and signed off.

A further appealing feature is the virtually

level 881sqm section with easy care garden and

extra off street parking for cars, campervan or

trailer. A back path leads you to the veggie

patch and also up to John Britten Reserve.

Winning gold in its price category at the

2007 master build of the year awards, those

seeking a well-kept contemporary home

should inspect today. The Rateable Value is

$950,000.

Open Home Saturdays 11-11:40am. For

more information contact Alison Carter

or Craig Todd of Harcourts Grenadier

Ferrymead (Licensed Agent REAA 2008)

on 384 7950 or Alison mobile 0274 318

960, Craig mobile 027 642 1075.View

harcourtsferrymead.co.nz FM4986

now bigger than ever

Location Location Location

Ground Floor Close to the Airport

This is 325.2 square meters of prime commercial floor

space in a modern building.

• Off street parking.

• Well appointed kitchen, staffroom and bathroom facilities.

• Office area consists of a welcoming reception area,

several offices, studios and an area suitable for retail

showroom or storage.

This high profile building situated on Wairakei Road presents

a perfect opportunity for office, retail or production facilities.

Upstairs may also be available on negotiation.

growing with you

SprIng Is here –

It'S Sow Time

how to get the best results from

seeds and seedlings

100% NatIve In

The capItal

Unravelling the secrets of

Otari-wilton Bush

The New Zealand

landscape awards

The people behind

the projects

September 2016 | 100%

It's time

to grow!

New look and more

content than ever!

MeeT LeSTer Brice

A Garden coach

The magazine for

gardeners who like to get

their hands dirty

$7.90 incl. GST

ISSN 2423-0219

Save our roSeS

How a rose register is protecting our heritage

auckland Botanic GardenS

Why we love our public grounds

SubScribe from

$43. 50*

*6 issues/6 months

SUBSCRIPTIONS FREEPHONE

0800 77 77 10

www.gaRdeNER.kiwI

To make arrangements to view the premises:

Contact Gary Anderson

0275 333 227 any time
---
22

Cars

$4,001 - $8,000

NEED a new car? and

need finance we can help.

Call us today Learners

lcs, past credit issues

been bankrupt or new to

New Zealand! Call Leon

022 625 2232

Computers

ALL

YOUR

COMPUTER

WORRIES SOLVED!

*$30.00 off your first

service with this coupon!*

No problem too big or

small from home PC's to

business networks. PC

slow? An end to Viruses,

Spyware, and Clogged

Systems. Safe secure

hassle-free computing.

Lost files recovered.

Microsoft Certified,

MCSE, MCP+l. 30 years

experience. Call Andrew

Buxton this week on 326-

6740 or 027 435-7596

for $30.00 off* Custom

Computers Christchurch

Curtains

www.curtainfabric-outlet.com

Fashion Designs & Colours

Discontinued Designs

End of Lines Bargain Prices

Call at Our Shop

CURTAIN FABRIC OUTLET

71 Hawdon St Sydenham

Ph 366-5026

Gardening

& Supplies

A GARDEN

PROFESSIONAL

NEEDED? Qualified

Horticulturist, offering

expert pruning, garden

makeovers, garden design

and landscaping, for free

quotes call Bryce 027 688-

8196 or 0508 242-733

A GARDEN OR

LANDSCAPING TIDY

UP? Rose & Fruit Tree

Pruning, Shrub, hedge

& tree pruning, Lawns,

Gardening, consistently

reliable general property

upkeep, Dip. Hort. 10

yrs experience, One off

tidy ups or on-going

service. Nick's Property

Maintenance. Keeping

your garden beautiful.

Free Quote. Ph. 942-4440

Holiday

Accommodation

QUEENSLAND SUN-

SHINE COAST AUSTRA-

LIA Resort, Ocean Views,

Balconies, Self Contained,

1 or 2 B/R Ensuite,

Heated Pool, Spa, Sauna,

Free Internet, Shops,

Restaurants, Tennis, Surf

Club & Patrolled Beach,

Public Transport at door.

Ask for our SEASONAL

SPECIALS. Phone 61 7

544-35011 Email: reception@mandolin.com.au

www.mandolin.com.au

Tuesday October 4 2016

PEGASUS POST

Classifieds Contact us today Phone our local team 03 379 1100

Celebrant

WEDDINGS, Civil

Union Ceremonies,

Renewal of Vows, Naming

Ceremonies, Funerals

and Unveilings - Jenni

Gibson Ph/Fax 324-8332,

021 723-089. www.

celebrantservices.net.nz

To Let

HOUSEME

Portable sleepout or office

available to rent

Insulated and value for

money at $75.00 per week,

you wouldn't live in

anything else. Contact

Amanda

today on 0279570920 or

houseme2015@xtra.co.nz

Tours

Rexellent

Rentals

Cars, Vans, Brisbane, Coolangatta

FREE CALL

0800 601 508

e: rexellent@bigpond.com

Trades & Services

Appliance Sales & Service

388 4780

Appliance Services

14 Brighton Mall, New Brighton

FOR ALL YOUR

★Garden Clean-ups

★Pruning

★Lawn Mowing

★Garden Maintenance

Call us today for a FREE quote

PH 0800 4 546 546

(0800 4 JIMJIM)

• Replacement/new roofing

• Colour Steel gutter & fascia

• Flue & log burner installs

• Skytube/light installs

• Earthquake repairs

Licence Building

Practitioner LBP

Member of the Roofing

Association

DCM ROOFING LTD

The Roofing Specialists

PHONE IAIN

027 445 5597

iain@dcmroofing.co.nz

ARCHGOLA

Enjoy outdoor living all year round

• House, deck, carport & window canopy etc

• Warm & dry in winter

• UV protection for summer

• Customised & Tailored

• Café curtains fitted

• 5 year warranty

Chris Thorndycroft

Ph 0800 27 24 46 | www.archgola.co.nz

Trades & Services

Cracked tiles?

Dirty grout?

Old or mouldy

silicon?

Brett Ph 03 358 5105

or 027 746 7632

www.groutpro.co.nz

Trades & Services

HOUSE

CLEARING

Are you moving

house?

Let All Clear Canterbury

take care of your

unwanted items.

You identify what you want

to keep & we will dispose

of the rest!!

Ph: 03 312 7119

Mob: 021 078 4553

allclearcanterbury@gmail.com

www.allclearcanterbury.co.nz

15 months

INTEREST FREE

Normal lending criteria apply

9220021AA

& Property Maintenance

Paving

Patio - Pathways - Driveways

Lawns and Gardens

Planting - Raised Vege Gardens

Readylawn - Irrigation - Fencing

General Maintenance

Water Blasting - Gutter Cleaning

Rental Property Maintenance

Section Clearing - Weed Spraying

20 Years Experience

Locally owned and operated

Free Quotes - Competitive Pricing

Blair Gibson 027 699 5815

Trades & Services

MDC

BUILDERS

Renovations & Repairs

All forms of Home

Maintenance

Bathrooms & Kitchens

Site clears

Excavating Driveways

& Paths

All forms of Foundations

Free Quotes

Give me a call today

Ph 022 407 8581

mdcbuildersnz@gmail.com

15% Discount with this Advert

Trades & Services

GLAZING

Stephen Thom

Glazing 2012 Ltd.

(Under New Management)

• Mirrors

• New Glazing

• Pet Door

Specialists

• Frameless

Showers

• Splashbacks

WE CAN DO YOUR

WORK NOW

9155874AA

ALL BROKEN

WINDOWS

Phone Cushla

03 352 6225

or 027 352 6225

Trades & Services

ROOF REPAIRS

Trades & Services

FINANCE

Overdue

Overdue

bills

bills

need

need

paying?

paying?

It's nice to know you can rely on

It's SCL nice Finance to know to help. you can Isn't rely it? on

SCL Finance to help. Isn't it?

Ph 0800 725 725

Ph 0800 725 725

* Subject to normal lending criteria

* Subject to normal lending criteria

Trades & Services

CArpenter

HAnDyMAn

Small Job Specialists,

Carpentry, Repairs,

Decking & Maintenance,

40 years experience, no

job too small, Ph Warren

03 322-1103 or 027 697-

8541

CArrIer

Local, experienced,

friendly, trade-me

purchases, single items

to truck loads, furniture

to whatever, removals &

trade deliveries a specialty.

Ph GEH 341-5069

CArpetLAyer

Laying and Repairs, 40 yrs

experience, ph Peter 326-

7711 or 027 240-6532

AAA CArpentry

licensed builder

practitioner all property DRIVEWAYS

maintenance small job Replace, repair or new.

expert by tradesman / We are a local company

handyman free quotes city

wide call now 03 387-

with over 10 yrs exp.

We also operate a

0770 or 027 245 5226 digger for all other

ciey@xtra.co.nz

earthworks.

BUILDer

For all building work

but specialist in bathroom

Ph. R.M. Solutions

021 02866981

for a free quote.

renovations, 30 yrs

experience, with service Trades & Services

and integrity. Free Quotes.

eLeCtrICAL

Ph Lachlan 383-1723 or

HeAt pUMpS,

0274 367-067.

Affordable, servicing,

BUILDer

alterations, security &

LICENSED, available for

LED lighting, Ph 326 4992

all aspects of building.

or 0274 329755.

Please call 027 241-7471 FenCInG

or 335-0265

All styles and shapes,

Trades & Services gates, wooden, ph Mark

027 331-3223

Appliance Sales & Service

388 4780

Appliance Services

14 Brighton Mall, New Brighton

FenCe pAIntInG

Staining Quality at a

reasonable price. Free

quotes. Phone Warren

today on 980-1676 or 027

2014713

Locally owned & operated with

over 30 years experience.

• Extensions & repair • Roof coating

• Concrete & clay tiles • Butynol

• Malthoid • Asbestos Certified

• Coloursteel • Old iron • Guttering

Phone Dave 981 0278

or 021 223 4200

E: dave@beaumontroofing.co.nz

BEAUMONT ROOFING LTD

Trades & Services

FENCING

Paling, picket,

iron, trellis

Demolition and

removal

Phone Bevan

021 231 1860

Fencing Uprite

Your Eastside

Specialist

Trades & Services

FUrnItUre

reMOVALS

Large Trucks $95 +

GST per hour 7 day NZ

wide, packing & moving,

Professional Company,

Professional Service.

Canterbury Relocations

Ltd. ph 0800 359 9313

LAnDSCApe

COnStrUCtIOn

Lawns, paving, water

features, irrigation,

planting, decks,

driveways, kerbing,

ponds, retainer walls,

fencing. Free quotes,

Phone Tony 021-034-8555

pAInter

Available, All aspects

in painting. Very

competitive in roofs and

fences. Please call 027

241-7471 or 335-0265

pAIntInG

DeCOrAtInG

interior & exterior,

gib fixing, plastering,

paperhanging, Est 50 yrs

in ChCh, ph Wingfields

Ltd, ph Mark 021 171-

1586 or 355-5994

pAInter

Top quality work, interior/

exterior, pensioners

discount, free quotes, 30

years experience, I stand

by Canterbury, ph Wayne

your friendly painter 03

385-4348 or 027 274-3541

pLUMBer

For prompt service for all

plumbing maintenance,

repairs and alterations.

Phone Michael 364 7080

or 027 438 3943

rOOFInG

Qualified & Licenced

Practitioner. Re-Roof &

Repairs, all types. Member

New Zealand Roofing

Association. Over 35 years

experience. Phone John

027 432-3822 or 351-9147

email

co.nz

johnmill@ihug.

Trades & Services

SpOUtInG CLeAnInG

Spouting Unblocked,

Cleaned Out and

Flushed Out. Also Full

Handyman Services

Available. Call Trevor

332 8949 or 021 043-2034

treeS BIG Or SMALL

tree removal, trimming,

stump grinding, shelterbelt

clean up, section clearing,

rubbish removals,

excavation work, ph

Trees Big or Small, for a

free quote, 021 061 4783

tree WOrK

Hedge trimming, stump

grinding, rubbish

removed, small job

specialty Ph Andrew 03

322-8341 or 027 435-8759

t.V. SerVICe Centre

Repairs, tvs, microwaves,

stereos, DVD. Aerial

installations and

kitsets, 480 Moorhouse

Ave, ph 03 379 1400

UpHOLSterer

Dining Chairs, Lounge

suites, Caravan Squabs etc.

recovered. Free Quotes.

Phone Graeme 383-1448

VHS VIDeO tApeS

all camera tapes converted

to DVD, video taping,

weddings, twenty firsts,

special occasions, www.

grahamsvideo.co.nz ph 03

338-1655

WAterBLAStInG

Quality Job, Quick Service

by skilled tradesman, Ph

Richard Severin at Jet-X

0800 538 969 Free quotes,

visit www.jetx.co.nz

Appliance Sales & Service

388 4780

Appliance Services

14 Brighton Mall, New Brighton

Wanted To Buy

AAA Buying goods

quality furniture,

Beds, Stoves, Washing

machines, Fridge Freezers.

Same day service. Selwyn

Dealers. Phone 980 5812

or 027 313 8156

A+ Household effects,

fridges, freezers, washing

machines, ovens. Good

cash paid. Ph Paul 022

0891 671

TOOLS

Garden, garage,

woodworking,

mechanical, engineering,

sawbenches, lathes, cash

buyer, ph 355-2045

Public Notices

What's On Guide

PAINTING

EXHIBITION. By Nola

OConnell at Nut point

Centre, Langdales Road,

off the Old West Coast

Road. Starts Sat 8 October

from 4 pm and runs till

Christmas. Open Tues to

Sun 10am to 5 pm .Thurs

10am to 1pm. Ph 342 1033

PAINTING

EXHIBITION. By Nola

OConnell at Nut point

Centre, Langdales Road,

off the Old West Coast

Road. Starts Sat 8 October

from 4 pm and runs till

Christmas. Open Tues to

Sun 10am to 5 pm .Thurs

10am to 1pm. Ph 342 1033

Situations Vacant

CA$H

Strippers

& Podium

Dancers

Wanted!

18+ TO APPLY

NEISHA

021 193 0118

Public Notices

DEMOLITION

With care and respect we

will remove your dwelling.

Our policy is to recycle as

much as we can. We are a

local company specialising

in residential properties. We

will endeavor to cater for

your individual needs.

Ph. R.M. Solutions

021 02866981

for a free quote.

business video

PRoduCTion

A video will bring your business

alive & into your customers mind.

Promote your

services or business

with a professionally

created video with us

• Corporate and

Business video a speciality

• Competitive rates

• 25 years experience

• Start to finished product

• Professional quality guaranteed

PHone KeRRY 021 635 083
---
PEGASUS POST Tuesday October 4 2016 23

H ORNBY

WORKINGMEN'S

CLUB

«WHAT'S ON«

WESTVIEW LOUNGE

FRIDAY 07 OCT, 7PM

SHALOW

SATURDAY 08 OCT

4.30PM MARION'S OUTLAWS

8PM FRANCHISE

SPORTS HALL

SATURDAY 8 OCT, 7.30PM

ANTHONY'S JUKEBOX

PRE-SALE TICKETS $18 / DOOR SALES $20

«COMING UP«

SUNDAY 16 OCT, 1.30PM

KEEPING IT COUNTRY

SATURDAY 19 NOV, 8PM

BAD MOON RISING

THE CCR TRIBUTE SHOW

Tickets $20

FRIDAY 9 DEC, 8PM

THE WARRATAHS

Hornby WMC, 17 Carmen Rd, Hornby ph 03 349 9026

www.hornbyworkingmensclub.co.nz

Members, guests & affiliates welcome

www.newbrightonclub.co.nz

WHAT'S ON

TUESDAYS &

THURSDAYS

Members

Lucky Card Draw

FRIDAY 7.35PM

CANTERBURY v

NORTH HARBOUR

TAB POD

SUNDAY

BRUNCH!

By the Seaside!

10.30am-2.30pm

JOIN

A CLUB BY

THE SEA!

- downstairs -

ClubBISTRO

Open Tuesday

to Saturday

12pm-2pm

and from 5pm.

Midweek

SPECIAL

$10

ROAST

Available Tuesday,

Wednesday,

& Thursday

- upstairs -

PIERVIEW

Restaurant

Quality a la carte

with a view!

Open FRIDAY,

SATURDAY,

& SUNDAY

from 5.30pm

FRIDAY SPECIAL:

BBQ PORK RIBS

$19.50!

for a limited time

SUNDAY SPECIAL

$25 3-Course Feast

SUNDAY 30th Oct

BOOK NOW for

Sumptuous

BUFFET $25

SHUTTLE RUNNING

Tues, Thurs, Fri & Sat

202 Marine Parade

Ph 388-9416

Members, guests and affiliates welcome

LOCAL TAVERN OFFERS

BLUES, WRESTLING

AND MUCH MORE!

LOCATED on the corner of Brougham

St and Waltham Rd, e Brougham is

one of Christchurch's longest established

pubs. Downstairs there's a warm,

friendly bar with adjoining Super

Liquor bottle store, while upstairs there's

a marvellous function and event venue.

Mine hosts Pat and Ma Hodgson

have an exciting October planned.

"As well as continuing with our

regular Saturday Karaoke nights hosted

by Jenlins, we're having ursday Blues

nights with e Elevators. ese will

start next ursday (13th October),"

said Pat.

e Elevators - made up of Matt

Hall (vocals, guitar); Glen Jayet (drums,

vocals); and Dwanye Bennett (bass,

vocals) - have been rocking the

Christchurch music scene for well over

a decade and are also a popular act on

festival and event circuits across the

country. With a repertoire ranging from

blues through to classic rock and

beyond, these guys deliver, every gig.

Being a highly regarded

neighbourhood 'local', e Brougham

offers a good bar menu, great bar

specials, a courtesy van to guarantee

safe travel (just call the bar for

operating details), and is renowned for

their yummy pork bones and

watercress offered free to patrons on

Friday nights. For keen shots, there's a

Darts Competition every Wednesday

night. Six teams compete for the title

and newcomers are welcome to jump in

a team and join the fun!

e Brougham is also excited to

announce that they will be hosting the

best in New Zealand pro wrestling at

the end of the month.

Taking place upstairs in the Events

Centre, Aershock Pro Wrestling

presents Unsanctioned on Saturday

29th October at 7pm. Tickets on sale

now.

e Brougham, cnr Brougham St &

Waltham Rd, phone 366 1481.

UNSANCTIONED

SATURDAY 29 OCTOBER, 7PM

The best in NZ pro wrestling.

Tickets on sale now! Phone 366 1481.

The Brougham

cnr Brougham St/Waltham Rd

NOW SERVING

available

from

9am

Breakfast

HAPPY

HOUR

5PM - 7PM

DAILY

LIVE

Lunch & Dinner

All you can eat, 7 days

Bookings Essential

PH 386 0088

fb.com/GardenHotelRestaurant

www.gardenhotel.co.nz

Rhonda Campbell & Bruce Head

6PM FRIDAY 7th October

MUSIC

PHONE 385 8880 FIND US ON FACEBOOK fb.com/GBCCHCH

THE GARDEN HOTEL COMPLEX | 110 MARSHLAND RD

www.gardenhotel.co.nz | phone 385 3132

'Famous for their roasts!'

SENIORS SPECIAL

Two courses: $

20

Soup/Roast or Roast/Dessert

Special available lunch only

Monday - Saturday 12pm - 2.30pm

Conditions apply

FAMILY FRIENDLY

Kid's Special

Two courses

Great Kids menu plus

designated play area.

$

10

The

Woolston Club...

A classic, contemporary

club experience

Cafe open from 11am

TAB & Gaming, Function Facilities,

HOUSIE Tuesday, Thursday, Saturday

SHUTTLE Tuesday - Saturday

RESTAURANT & CAFÉ

Open daily from 6.30am - Breakfast, Lunch & Dinner

The

RACECOURSE HOTEL

& Motorlodge

118 Racecourse Rd, Sockburn,

Christchurch. Ph 03 342 7150

www.racecoursehotel.co.nz

Open 7 Days

Restaurant open

from 5.30pm!

RETRO ROAST LUNCH

12PM-1.30PM

WEDNESDAYS

$10 Members / $12 Non

SUNDAY ROAST 12PM-2PM SUNDAY

What's On...

7PM THIS SATURDAY

EDDIE SIMON

7PM NEXT SATURDAY

UNFINISHED BUSINESS
---
24

Tuesday October 4 2016

PEGASUS POST

More information on

health & wellbeing at

FreshChoice.co.nz/

Wellbeing.

$

5 99

kg $

4 99

kg

Fresh NZ Pork Shoulder Roast

(Excludes Free Range)

Californian Red Globe Grapes

$

2 99

each

Arnott's Cheese/

Supreme/Harvest

Wheat Crackers 250g

$

7 99

each

Mainland Mild/Colby/

Edam Cheese 1kg

$

3 79

pack

Meadow Fresh Yoghurt 6 Pack

$

16 99

pack

Speight's Gold Medal Ale/

Summit

12 x 330ml Bottles

$

8 99

each

Lindauer 750ml

(Excludes Special Reserve)

$

3 99

each

Whittaker's Chocolate

Block 250g

Shopping ping

just got easier

Best deals are here!

FreshChoice Parklands

60 Queenspark Drive, Christchurch.

Open 7am-11pm, 7 days.

Prices apply from Tuesday 4th October to Sunday

9th October 2016, or while stocks last.

FreshChoice.co.nz

FreshChoiceNZ

383 1004

FreshChoice Parklands

Owned and

operated

by locals

Certain products may not be

available in all stores. Savings

are based on non-promotional

price. Limits may apply.

FCPP0410