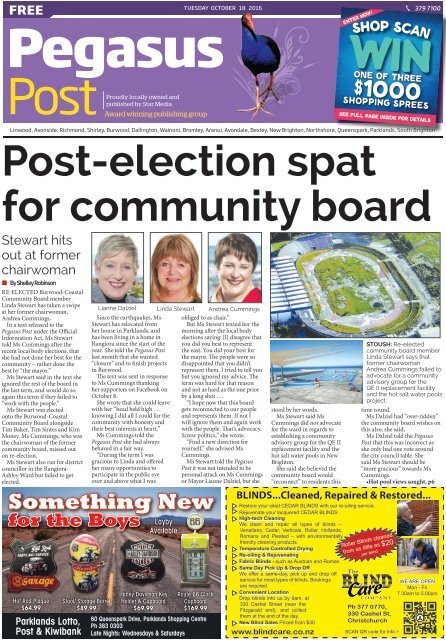 Pegasus Post: October 18, 2016
Create successful ePaper yourself
Turn your PDF publications into a flip-book with our unique Google optimized e-Paper software.
FREE

TUESDAY OCTOBER 18 2016

Pegasus

Post

Proudly locally owned and

published by Star Media

Award winning publishing group

Shop scan

ENTER NOW!

one of three

$1000

379 7100

SHOPPING SPREES

SEE full page inside for details

Linwood, Avonside, Richmond, Shirley, Burwood, Dallington, Wainoni, Bromley, Aranui, Avondale, Bexley, New Brighton, Northshore, Queenspark, Parklands, South Brighton

Post-election spat

for community board

Stewart hits

out at former

chairwoman

• By Shelley Robinson

RE-ELECTED Burwood-Coastal

Community Board member

Linda Stewart has taken a swipe

at her former chairwoman,

Andrea Cummings.

In a text released to the

Pegasus Post under the Official

Information Act, Ms Stewart

told Ms Cummings after the

recent local body elections, that

she had not done her best for the

community – rather done the

best by "the mayor."

Ms Stewart said in the text she

ignored the rest of the board in

the last term, and would do so

again this term if they failed to

"work with the people."

Ms Stewart was elected

onto the Burwood-Coastal

Community Board alongside

Tim Baker, Tim Sintes and Kim

Money. Ms Cummings, who was

the chairwoman of the former

community board, missed out

on re-election.

Ms Stewart also ran for district

councillor in the Rangiora-

Ashley Ward but failed to get

elected.

Parklands Lotto,

Post & Kiwibank

Lianne Dalziel Linda Stewart Andrea Cummings

Since the earthquakes, Ms

Stewart has relocated from

her house in Parklands, and

has been living in a home in

Rangiora since the start of the

year. She told the Pegasus Post

last month that she wanted

"closure" and to finish projects

in Burwood.

The text was sent in response

to Ms Cummings thanking

her supporters on Facebook on

October 8.

She wrote that she could leave

with her "head held high . . .

knowing I did all I could for the

community with honesty and

their best interests at heart."

Ms Cummings told the

Pegasus Post she had always

behaved in a fair way.

"During the term I was

gracious to Linda and offered

her many opportunities to

participate in the public eye

over and above what I was

obliged to as chair."

But Ms Stewart texted her the

morning after the local body

elections saying: [I] disagree that

you did you best to represent

the east. You did your best for

the mayor. The people were so

disappointed that you didn't

represent them. I tried to tell you

but you ignored my advice. The

term was hard for that reason

and not as hard as the one prior

by a long shot . . .

"I hope now that this board

gets reconnected to our people

and represents them. If not I

will ignore them and again work

with the people. That's advocacy.

Screw politics," she wrote.

"Find a new direction for

yourself," she advised Ms

Cummings.

Ms Stewart told the Pegasus

Post it was not intended to be

personal attack on Ms Cummings

or Mayor Lianne Dalziel, but she

Something New

for the Boys

Hot Rod Plaque

$64.99

Stool/ Storage Barrel

$89.99

Layby

Available

Harley Davidson Key

Holder & Cupboard

$69.99

Route 66 Clock

Cupboard

$169.99

60 Queenspark Drive, Parklands Shopping Centre

Ph 383 0303

Late Nights: Wednesdays & Saturdays

stood by her words.

Ms Stewart said Ms

Cummings did not advocate

for the ward in regards to

establishing a community

advisory group for the QE II

replacement facility and the

hot salt water pools in New

Brighton.

She said she believed the

community board would

"reconnect" to residents this

Restore your oiled CEDAR BLINDS with our re-oiling service.

Rejuvenate your lacquered CEDAR BLINDS

High-tech Cleaning

We clean and repair all types of blinds –

Venetians, Cedar, Verticals, Roller, Hollands,

Romans and Pleated – with environmentally

friendly cleaning products.

Temperature Controlled Drying

Re-oiling & Rejuvenating

Fabric Blinds - such as Austrian and Roman

Same Day Pick Up & Drop Off

We offer a same-day, pick up and drop off

service for most types of blinds. Bookings

are required.

Convenient Location

Drop blinds into us by 9am, at

330 Cashel Street (near the

Fitzgerald end), and collect

them at the end of the day.

New Blind Sales Priced from $30

www.blindcare.co.nz

STOUSH: Re-elected

community board member

Linda Stewart says that

former chairwoman

Andrea Cummings failed to

advocate for a community

advisory group for the

QE II replacement facility

and the hot salt water pools

project.

time round.

Ms Dalziel had "over-ridden"

the community board wishes on

this also, she said.

Ms Dalziel told the Pegasus

Post that this was incorrect as

she only had one vote around

the city council table. She

said Ms Stewart should be

"more gracious" towards Ms

Cummings.

•Hot pool views sought, p6

BLINDS...Cleaned, Repaired & Restored...

Roller Blinds cleaned

from as little as $20

per blind

Ph 377 0770,

330 Cashel St,

Christchurch

SCAN QR code for Info >

WE ARE OPEN

Mon - Fri

7.30am to 5.00pm
---
2

Tuesday October 18 2016

Inside

PEGASUS POST

FROM

THE

EDITOR'S

DESK News................................ 3, 5-6

IT WAS a surprise exit from

local body politics for former

community board chairwoman

Andrea Cummings last week.

But it appears that one of her

board members, Linda Stewart

(who did get re-elected), took

the opportunity to share a few

thoughts the morning after the

elections by sending her a text

message. Pegasus Post received

the text that was sent under the

Official Information Act and that is

our front page this week. Was the

community board as disconnected

from residents as Ms Stewart says?

Let me know your view on the

community board's engagement –

shelley.robinson@starmedia.kiwi

The Linwood Community Arts

Centre is showing the work of people

who found taking up the paint

brush helped them move away

from their life of drug dependency

– see page 5.

Hei kona – Shelley Robinson

Canterbury rugby players show the shield to children at

the Child Cancer Foundation

NEWS15

Local Views......................4

Schools.....................................9

Our People.....................10

Events.......................................14

Education........................15

Sports........................................16

Focus On Health........ 17

GET IN TOUCH

General Enquiries Ph 379-7100

Classified Advertising Ph 379-1100

The Christchurch Star Company Ltd. PO box 1467 - Christchurch

starmedia.kiwi

NEWS

Fraser Walker-Pearce

Ph: 364 7424

fraser.walker@starmedia.kiwi

ADVERTISING

Mark Sinclair

Ph: 364 7461

mark.sinclair@starmedia.kiwi

NEW & RECYCLED

CLOTHING

SHOPS AT:

14 Yaldhurst Rd, Ph 03 341 5379

94 Victoria St, Rangiora, Ph 03 310 7421

Open: Mon-Fri 10am-4.30pm, Sat 10am-2pm

Buy a main meal &

get another for $5*

* Sunday only. Conditions apply.

LABOUR

WEEKEND

IN THE

GARDEN

SUPER STORE:

320 Manchester Street (Bealey Ave end)

Phone 03 365 2051.

Clothes, shoes, whiteware, furniture,

linen and homeware.

Open: Mon-Fri 9am-5pm, Sat 9am-3pm

Donations of furniture and homewares

welcome during shop hours.

YOUR LOCAL GARAGE

• All vehicle repairs

• Oil changes and services

• Brakes • Loan car available

• Tyres, punctures & batteries

• W.O.F • Tune up

✔ Tues Quiz Night

✔ Wed Karaoke ✔ Thurs Live music

✔ Sky Sports ✔ Courtesy Van

✔ Friendly Staff & Atmosphere

Chats Bar

251 Travis Road

QEII Shopping Centre

Ph: 388 1566

Garden Centre

Open 7 Days

9:00 am –4:30 pm

www.nativeplantnursery.nz

478 Marshland Road, Christchurch

T: 09 235 3543

christchurch@tnpn.co.nz

Your LocaL GaraGe

VERY FRIENDLY SERVICE AND ADVICE

NEW BRIGHTON AUTOMOTIVE

Phone: 03 388 3630

40 Hawke St (behind Z Petrol Station)
---
TM

PEGASUS POST Tuesday October 18 2016 3

News

​Safety concerns near school

In Brief

• By Caitlin Miles

TRAFFIC OUTSIDE Linwood

Ave School has parents fearful

for the safety of children when

they walk to and from school,

and they want the speed limit

reduced urgently.

Parents say the crossings at

the busy Linwood Ave, Buckleys

Rd and Aldwins Rd intersection,

and the Linwood Ave crossing

outside the school, are "too

dangerous" for children to use

safely.

The school has called in the

city council to look at reducing

speed on Linwood Ave from

50km/h outside the school to

40km/h, and to put in flashing

speed signs.

Principal Blair Dravitski, who

started at the school last week

replacing Gerard Direen, said

it's an issue the school wants

improved.

He said the city council would

be at the school on Wednesday

to observe the issues around

children safely navigating the

traffic.

The Pegasus Post went to the

school on Friday morning and

spoke with concerned parents.

Tracy Blackmun said she

worries about her son, Keith,

walking to school and having to

navigate the traffic lights.

SAFETY: Tracy Blackmun drops her son, Keith, off directly

outside the Linwood Ave School gates because she is concerned

for his safety crossing the busy roads. PHOTOS: GEOFF SLOAN

"I drop him off right outside

the gate every morning and pick

him up right here too because

I'm worried about his safety,"

Mrs Blackmun said.

"Something needs to be done

because the kids need to be

safe," she said.

Another parent, Lisa Harrison,

said the school's location

is great, her problem is with the

traffic and crossings.

"It's absolute crap, people

need to be more careful driving

around here. It's too dangerous

for the kids to get across safely,"

Mrs Harrison said.

Mr Dravitski said teachers

had to be very vigilant at the

crossings.

"We think the signs will be

effective in reminding people

that they are around a school.

We want our kids and families

safe," he said.

"We want to get the ball rolling

on this one. The focus is on

safety," Mr Dravitski said.

WESTHAVEN TREES

Pavements and driveways being

torn up does not warrant the

removal of disruptive trees in

Westhaven, the city council

says. Residents living on Wild

Dunes Place and Lexington

Place gave deputations to the

Burwood-Pegasus Community

Board in August about the plane

trees in the hopes they would be

removed by the city council. The

board resolved that trees creating

damage to infrastructure and

private property in the Westhaven

subdivision would be assessed

by the city council. But the city

council's assessment has returned

saying their removal is not

warranted.

TRUST UPDATE

The Bridge South Brighton Trust

has been granted the money it

needed to purchase the former

Bridge St Baptist Church. The

trust hopes to complete the purchase

in the coming weeks, trust

member Jane Harrison said at

which time the community will

own the building. The trust also

won a free 'lift and level' of the

building from Smartlift, to the

value of $150,000 – that will also

be completed in the coming days.

Ms Harrison said the building

was jacked up about 60mm and

its foundations re-levelled.

THINKING OF RENOVATING?

ENJOY IT WITH US!

From concept to completion, enjoy the experience of a full service

renovation company.

Whatever the scope of your extension or renovation, with your

dreams and our experience we can realise your home's potential.

WE MAKE IT EASY WITH OUR THREE SIMPLE STEPS...

With 5 offices in Christchurch,

let's start the conversation call

0800 764 846

or visit smith-sons.co.nz

Spirited

Cemetery

Tours

14–24 Oct, Various

free

times and locations.

Visit ccc.govt.nz/

heritageweek for

details.

Take a tour of an

historic graveyard

with local historian

Richard Greenaway.

Orton Bradley park

Spring Fair

23 Oct, 10am–4pm

marine drive,

charteris bay

children

Free

Voices

Against War:

free

Courage, Conviction and

Conscientious Objection

in WWI Canterbury

14 Oct–10 Nov, Library

hours, University of

Canterbury Central Library

Find out what motivated

the courageous

individuals who spoke

out for peace during WWI.

this is a sample of events. for event details visit ccc.govt.nz/heritageweek
---
4

Tuesday October 18 2016

Your Local Views

Attend to the basics first

Re-elected

Burwood

Ward city

councillor

Glenn

Livingstone

talks

about the

importance of prioritising

needs in the east

Thank you to the electors of

the Burwood Ward for your

support in electing me as your

city councillor for the next three

years.

For residents in the Coastal

Ward, I will have a relationship

with you by virtue of being appointed

to the Coastal-Burwood

Community Board.

In many ways, the Burwood

Ward is a microcosm of where

the whole city is at and where I

think we need to head to over the

next city council term.

In my view, the city is living

in a state of an amplified

hierarchy of needs (in reference

to Abraham Maslow's identified

hierarchy of needs). At one end of

the pyramid, in terms of the provision

of the most basic needs,

many are waiting for roads,

footpaths and infrastructure to

be rebuilt and repaired.

At the other end, many are

yearning to 'reach for the stars'

and make Christchurch the best

city it can be.

The reason I say this hierarchy

of needs is amplified is that in

this rebuild phase of our city, the

call to attend to needs at both

ends of the pyramid is stronger

than it would normally be in a

city, six years on from the earthquakes,

had we not had a natural

disaster.

In Burwood, many of our

roads and footpaths are still in a

shocking state. Along with this,

most of the residential red zone is

contained within this ward.

Regeneration Christchurch is

beginning its work of taking on

the ideas from the communities

of interest and working with the

local, host communities.

In many ways, this Avon

Otakaro corridor represents the

aspirations of how many would

like Christchurch to look in

the future. And in some cases,

rebuild and repair of roads and

footpaths and the future use of

this area will go hand in glove, as

they are inter-related.

A clue to balancing the

pyramid is found in the thinking

behind Maslow's work itself.

It's not rocket science and you

already know the answer. Basically,

attend to the basics first

and then the community will be

more ready to support the 'reaching

for the stars' aspirations.

Stay in the kitchen

when cooking

• By Mark Thomas – Fire Risk

Management Officer

HOW LONG does it take for 10

litres or more of water in a large

saucepan to boil away and then

the pan to melt from the heat (in

this case a gas cooker) and set

fire to the building?

Well in the case of a house in

Stanley St, Sydenham, last Friday

night it took eight hours.

That's the time between the

occupant forgetting the pan was

on and leaving and the place being

fully involved in fire.

Five fire trucks and a command

unit attended and, as

you would expect, damage was

severe.

This has to be counted as a

cooking fire. There were two

more reported this week. One of

them involved someone being

taken to hospital with smoke

inhalation.

It also appears this victim may

have had two or three drinks

too many. There are some classic

recipes for disaster in the above

incidents.

The first is relatively common

but doesn't always mean a house

is completely destroyed.

The second is also quite common,

particularly amongst our

PEGASUS POST

TRICKY: It's duckling season

again and firefighters are

expecting to rescue more of

them from drains.

fatality statistics.

Don't drink and fry! And

stay in the kitchen when cooking.

Should be simple.

There was a smile to be had

after Woolston's crew were sent

to Truscotts Rd up the Heathcote

Valley on Monday to rescue

some ducklings from a drain.

A thorough search failed to

find them.

The radio message back to

comms stated 'no sign of ducklings,

we may have been sent on

a wild goose chase.' Good reply!

Maronan Road, Tinwald, Ashburton

OCTOBER OPEN DAYS:

Open: 11am - 4pm

Sunday 23rd (K88 and Dubs A64 in Steam)

& Monday 24th (K88 and Railcar RM50)

The Plains Railway is celebrating its 45th Anniversary. Train Rides, Stalls,

Vintage Machinery on Display, Commemorative Church Service at 2pm

(Sunday only), Model Engineer Rides Operating, Ashburton Fire Museum

and Lynn Woodworking Museum open for viewing. Eftpos available.

**EFTPOS ON-SITE**

Visit www.plainsrailway.co.nz or

our Facebook Page for details

Phone:

03 308 9600

JO HAYES

NATIONAL LIST MP BASED

IN CHRISTCHURCH EAST

Office

nOw Open at:

6/950 Ferry Road,

Ferrymead

P: 384 9459

Call to make an

appointment

www.national.org.nz

SPECIAL PrICE

$

32 .99

50% OFF ALL

®

Arthrem ® is a proprietary all natural plant extract

for joint support. In a 12 week human clinical study

run by Otago University, Arthrem ® was shown to

significantly provide support for joint stiffness and

function. Recommended dose is 1 capsule twice daily.

Vitamin & Mineral Supplements

*Excludes

Sleep

Drops

Barrington Pharmacy

Next to CouplaNds, 256 BarriNgtoN st Ph 332 3156

10% discount

everyday

using

*excludes PrescriPtions & sale stock
---
PEGASUS POST Tuesday October 18 2016 5

News

Artwork addresses addiction

In Brief

• By Fraser Walker-Pearce

WHEN Liz Cropp started to

address her drug addiction, she

had to do something to fill the

void, so she took up the paint

brush.

Ms Cropp is one of about

six drug addicts in recovery

who will be exhibiting their

work in the Ignite and Excite

art exhibition at the Linwood

Community Arts Centre, which

opens next week.

Ms Cropp, of Woolston,

said she started going to art

workshops to fill up her days

with activities other than doing

drugs.

"Originally it was to find

something else to do rather

than fill up my day with drugs.

So I found that through these

workshops I was able to go

straight and it was my first day

I was able to go without pot

(cannabis). So I knew that I

could do it," she said.

The exhibition's creator Helen

Linton said it is a particularly

special show, as drug

consumers, those in rehab, and

workers in the addiction sector

are all contributing.

"[The exhibition] is different

because it's aimed at those with

drug addiction. It's great as well

because they feel good about

UNIQUE ART: Liz Cropp's artwork which she plans to keep. She said the

rainbow is God's light and the footprints coming out of the sea is God

carrying her away from a sea of emotion. ​

contributing, often they get

lumped in with mental health

people. So they feel pretty

special to have this exhibition,"

she said.

Ms Cropp said it was an

incredible feeling for her to

complete a goal she had set for

herself.

"Things like this [the

exhibition], it could be a once

in a lifetime opportunity. It's

the first time I've set myself

a goal and I've actually been

able to complete it," she

said.

Ms Linton said she

doesn't know how many

artists will contribute to the

exhibition, or the number

of artworks on display, as it

is a big commitment for the

contributors.

"The number of pieces is

Helen Linton

Liz Cropp

an unknown quantity at this

stage, as they are quite critical

of themselves. Some are out of

town, and start off saying 'I'll

bring in six' but on the day only

bring in a few because they

didn't like their others," she

said.

The exhibition is opening at

the Linwood Community Arts

Centre on October 25, and will

run until November 12.

FIRST MEETING

The newly-formed

Coastal-Burwood Community

Board will have its first meeting

next Tuesday. The new board

consists of a city councillor and

two elected representatives from

both Coastal and Burwood

Wards. The meeting will be held

on the corner of Beresford and

Union Sts at 4.30pm. The first

meeting of the Linwood-Central-

Heathcote Community Board

will meet next Wednesday at

9am, with nine community

representatives appointed across

the three boards.

ROAD REPAIRS

The final section of repairs to

damaged patches of Travis Rd,

New Brighton, started yesterday.

Work is concentrated near Blue

Gum Pl, and is being carried out

by the Stronger Christchurch

Infrastructure Rebuild Team.

Damaged patches of road between

the Anzac Dr roundabout and

Blue Gum Pl will also be repaired.

The work is expected to take

about two weeks. Meanwhile, the

intersection of Hampshire St and

Cheriton St, Aranui, will have its

old wastewater system removed

in the coming days. SCIRT will

temporarily close the intersection

over the next five days while

work is carried out. The work is

expected to finish on Saturday.

Wainoni

and PANDA'S PIZZA

175 Wainoni Road, Wainoni (opposite Pak 'n Save)

Phone 388 4373

Available NOW! ORGAZMIK COFFEE

your daily oral addiction

YOUR FRIENDLY LOCAL PHARMACY

Your first port of call

for health advice

in Burwood

"We have lost a lot of good friends

but we still have a close community"

Christchurch

Photo Hunt

Win

a tablet or eReader

Only $28 9kg

LPG Bottle Fill

Robyn Thew

'Hidden Histories – Our Stories Unearthed'

Wainoni

$2 off

Fuel Purchase

with min purchase $40

Only Valid at Mobil Wainoni, 1 Voucher per visit, valid until 31st December 2016

#

• Prescriptions • Medico Packs

• Gifts • Health Advice

• Dry Cleaning • Passport/ID photos

Burwood Pharmacy

HEALTH ADVICE

MEDICINES

Hours: Mon-Fri 9am-5.30pm, Thurs 9am-6pm

11 Parnwell Street. Ph 383 4814

Share your photos and

help grow the city's

photographic archive.

Submitted photographs

will be copied and

returned.

PRESCRIPTIONS

FREE LOCAL DELIVERY

BURWOOD / AVONDALE

PASSPORT/ID

PHOTOS

COSMETICS

QUIT SMOKING

Entries must be received

by 5pm 31 October.

Winners will be announced

25 November 2016.

DRY CLEANING

SERVICES

GREAT RANGE

OF GIFTS

Portrait of a young woman –

Williams collection.

Kete Christchurch, Do you

PH14-096,

know

her?

CC BY-NC-ND 3.0 NZ

Enter at your local library or at christchurchcitylibraries.com
---
6

Tuesday October 18 2016

News

Hot pool views sought

PEGASUS POST

THE FLOOR is open to residents

wanting to give their opinion on

taking part in the next stage of

the New Brighton hot salt water

pools' development.

Development Christchurch

Ltd, working alongside the city

council, has come up with ideas

for upgrading the existing whale

paddling pool playground and

developing the hot salt water

pools' facility.

Both projects are based on

community feedback provided

during the New Brighton

Suburban Master Plan process

and the Long Term Plan.

DCL Chief Executive Rob Hall

said he is looking forward to

hearing if the organisation is on

track or not.

"We now need to hear

back from local residents and

community groups to make sure

we're on the right track," he said.

New Brighton Pier and

Foreshore Society deputy

chairman Tim Sintes said DCL

is interested to hear what the

public wants to see happen with

the pools' project and the whale

pool.

"It's just giving the public

a chance to get involved with

it. If they don't do it now, and

something goes later on, you get

an 'I told you so'," he said.

FEEDBACK WANTED: The city council is asking residents what

they want to see for the hot salt water pools project. Some

want to see a design similar to the St Clair pools in Dunedin

(pictured).

Mr Sintes said he imagined one

of the talking points during the

feedback process would be the

cost of a family getting into the

pools.

Work on the new, substantially

enlarged play area and hot salt

water pools is part of the wider

programme of regeneration

happening in New Brighton.

"This development needs to

fit in with other community

initiatives, plans for the

revitalisation of the commercial

centre of the suburb, the

implementation of the Master

Plan, work to understand future

environmental issues and the

wider regeneration of the New

Brighton area," said Mr Hall.

Previously, the community

had said they would like to see

a design similar to the St

Clair Hot Salt Water Pools in

Dunedin.

Feedback will inform further

work on the project and more

detailed planning of the play

and pool concepts, which are

expected to be presented to the

city council for consideration by

the end of the year.

Consultation closes on

November 5 at 5pm.

NO-GO: The CDHB is warning people to not collect or eat

shellfish like oysters from the east coast.

PHOTO: SIMON BAKER

Toxic shellfish

• By Annabelle Dick

THE CANTERBURY District

Health Board has issued a public

warning to not collect or eat

shellfish from the coastline

between Motunau Beach and

Akaroa Harbour after toxic

shellfish were discovered.

The shellfish were discovered at

Sumner Beach and the warning

says not to eat shellfish from the

east coast.

CDHB medical officer of health

Dr Daniel Williams said routine

tests on shellfish samples from

the beach showed high levels of

Diarrhetic Shellfish Poisoning

toxins of up to 0.26mg/kg.

"This is above the safe limit of

0.16mg/kg set by the Ministry

for Primary Industries. Anyone

eating shellfish from this area is

potentially at risk of illness," Dr

Williams said.

"Mussels, oysters, tuatua, pipi,

toheroa, cockles, scallops, cat's

eyes, kina (sea urchin) and all

other bivalve shellfish should not

be eaten."

He said cooking shellfish does

not remove the toxin and it can

cause diarrhoea, vomiting, nausea

and abdominal cramps.

Dr Williams said symptoms

of diarrhetic shellfish poisoning

usually appear within half an

hour and can last for 24 hours.

Toxin level monitoring will

continue and the CDHB will let

the public know when shellfish

are safe to eat.

WIN

STARTS NEXT WEEK!

Shop scan

see next week's paper to

learn the two ways to enter

and

$1000

be in to win one of three

shopping sprees!

it could be you!

Drama Classes for Children

NEW LOCATION ADVERT.pdf 1 1/05/2014 11:51:35 a.m.

VISIT OUR NEW LOCATION LOCATION

430 ST ASAPH STREET!

Hours of Business: 7am-4.30pm Mon-Thurs

Fri 8am to midday

or by appointment with Keith 027 566 3909

Helping children

develop social

skills for a

competitive

world.

Fun Classes for 5-17 years

Weekly Classes 0800 161 131

www.helenogrady.co.nz

RECOVER YOUR LOVED FURNITURE

No job too big or small

Still able to offer

you the finest top

quality new furniture

Visit us online

www.qualityfurniture.co.nz

P. 371 7500

QUALITY FURNITURE SPECIALISTS

RE - UPHOLSTERY SPECIALISTS KEITH HARTSHORNE 0275 663 909
---
PEGASUS POST Tuesday October 18 2016 7

SCIRT programme on the home straight

SCIRT's five year programme of repairs to pipes, roads, bridges and retaining walls

is almost complete and we're aiming to finish construction in December.

The City Council and NZ Transport Agency will continue completing ongoing repairs

to the city's earthquake-damaged infrastructure after SCIRT.

Progress in your neighbourhood

• We've finished connecting homes in Aranui to

their new resilient vacuum wastewater system.

Storm water and roading work will continue until

the end of the year.

• Pages Road, between Anzac Drive and

Breezes Road is back to one-way towards

the city, while we complete the final round of

wastewater repairs and rebuild the road.

• We've almost completed our extensive repairs

to the wastewater, storm water, fresh water and

roading networks in Parklands and expect to be

finished by the end of November.

• Wastewater repairs on Woodham Road,

Linwood are 80% complete.

• New Brighton will still see major works to the

wastewater network and crews repairing small

sections of road until December.

Your support is helping

us to get the job done.

Thank you from the

SCIRT team.

Road works and detours are tough on nearby businesses.

Please go the extra mile to support your local businesses.

Want

more

info?

Email:

info@scirt.co.nz

Phone:

941 8999

Email us on:

info@scirt.co.nz to get our:

Weekly Traffic Update

Monthly e-Newsletter

Follow us on Twitter:

@SCIRT_info

#chchtraffic

Programme funded by
---
8

Tuesday October 18 2016

PEGASUS POST

Dementia Care

at Admatha

At Admatha Dementia Care we are

privileged and pleased to be able to offer

care in a beautiful, homely environment.

Our homes are small, with no more than

16 people. The homes are cosy, easy to

move around, familiar, and there are just

familiar faces around.

At Admatha Dementia Care Rest

Home, there are two small homes set

within a beautiful villa. The homes are

bright and warm with views out over the

established trees and gardens. Residents

walk outside into the gardens as they

please. Small homes mean we have more

one to one attention and care. We watch

the everyday activity on the street and

the boys walking home from Shirley

Boys High School. We are a part of our

neighbourhood. We are safe and secure

and part of our community.

Engaging in regular, meaningful,

activity is very important to us at

Admatha. A special favourite, is

establishing our summer vegetable

gardens. It is fun for all to work together

in preparing the beds, planting the

seedlings and nurturing plants to grow.

We are then able to harvest throughout

the year, gathering vegetables and herbs

to make into delicious soups and salads

together in our open plan kitchens.

We are especially lucky at Admatha

to have recently had a new and very

special member of our Admatha family

join with us. Merlin is a five month old

Labrador puppy who we are training to

be a dementia therapy dog. Merlin loves

frolicking in the garden and interacting

with residents under supervision,

providing opportunity for reminiscence

and one to one conversations about pets,

home and family.

Merlin has already made some firm

friends among our residents, with cuddles,

questions, conversations, memories,

jokes and laughter accompanying his

visits to the lounge.

We welcome your enquiry and are

happy to meet with people any time.

Please feel free to visit us onsite or call to

make a time to come and chat with our

manager and experience what Admatha

has to offer.

The team at Admatha.

STAR GUIDANCE: Paralympic swimming world record holder Sophie Pascoe

gave a speech at Mairehau High last week. The Kiwi Paralympian told a group

of about 100 students from six schools her story of battling adversity and

becoming a world champion. Mairehau was the second of 10 schools she will

visit as part of a nationwide tour. After the speech, Pascoe posed for photos

and allowed the students to wear any of the three gold and two silver medals

she won at the Rio Paralympic Games.

PHOTO: GEOFF SLOAN

"Feel the sun on

your back & hear

the birds sing"

Admatha Dementia Care provides loving care

in small homes of about 15 people, with access

to a beautiful garden.

• At Admatha we provide Dementia Rest Home Care and Dementia

Continuing Care.

• We focus on the individual needs of each person.

• We accept you as you are, believe in you, really listen to you, joke

with you and love to hear you laugh.

• We develop an in-depth and intimate knowledge of each person.

There is openness, honesty and trust.

• Family/whanau become part of our community. Your family is always

welcome here at your home.

• At Admatha each person is loved, valued and important.

• Admatha has the maximum four year Ministry of Health certification.

Ring us now on 385 1286.

We'd love to hear from you.

Admatha Dementia Care,

34 Averill Street, Richmond, Christchurch

www.admatha.co.nz

Beautiful Teeth

Meet the

Owner

Ryan Carlton

HEAT PUMP

SALE NOW ON!

Amazin' spring Specials!!

• We will offer you the best quality brands and

option of heat pump for your home/business

• Providing Heat Pump solutions for over 14 years to Cantabrians

• We personally guarantee all our products & installs for 5 years

(providing annual maintenance has been completed)

Phone us today for your free consultation & quote

Natural Smile

Free Consultation, No Obligation

• Full Dentures • Dentures Repaired • Implant Assisted Dentures

• Injection Moulded Flexible Partials • Relines

• Mouthguards • Additions/Repairs

• Purchase cleaning and care products from our website.

All dentures personally

designed and created to ensure

a comfortable natural fit.

DENTURES PLUS (2014) LTD

Denture Clinic and Laboratory

396 Innes Road, St Albans. Phone 385 5517.

Email: denturesplus@paradise.net.nz

www.denturesplus.co.nz

41A SHAKESPEARE RD, WALTHAM

PHONE 03 366 0525

www.enviromaster.co.nz

"A local team for local people"

Orbiter Bus stops Innes Road
---
PEGASUS POST Tuesday October 18 2016 9

SCHOOLS

Mullins was the house on top in a recent Shirley Boys'

High rugby sevens competition. Held last week, Mullins

were top of the tournament, beating Aoraki house in the

final match. Shirley has four houses that contest regularly

in sporting and academic competitions – Mullins, Blake,

Snell and Aoraki.

EYE ON THE BALL: Josh

Merrin keeps his concentration

when attempting to catch the

ball.

ON THE

BREAK:

Joshua

Mosa'ati

charges

through the

defence,

with Ben

Nicholls

and Liam

Humm

providing

support.

$35 WOF

extended HOURS

Monday, Thursday and Friday

8.00am-5.00pm

Tuesday and Wednesday

8.00am-7.00pm

Saturday 9.00am-3.00pm

Tyres & Repairs

Complete

Tyre and

Auto

Canterbury owned and operated

464 Ferry Rd, 03 389 5370

ctawoolston@yahoo.co.nz

8.00am-5.00pm Mon-Thurs Fri

New & Used Tyres • Puncture Repairs

Batteries • WOF • Balancing

Mechanical Repairs • Lube & Servicing

Wheel Alignment

UP HIGH: Elijah Coulston

reaches high for the ball off

the lineout. Brendon

Lale-Seinafo and Michael Fili

wait for a dropped ball.

HELPING US,

HELPS THE

COMMUNITY

Drop off or buy

MATHS WEEK: Hunter McAlpine (left), Nathan Walker, Logan Godsiff and Jacob Carey

gather round Waitakiri Primary teacher Mrs Hardy's car, which was filled with sports balls

as part of the school's maths week recently. The aim of the exercise was for students to

calculate the number of balls in the car. Other pupils solved puzzles, guessed the number

of jellybeans in a jar and estimated the weight of a pumpkin. The school held different

activities for each year group. The more senior pupils took on measurement activities and

interactive puzzles.

2 family stores in your community

30 Main North Rd,

Ph 352 4581

520 Cranford St,

Ph 352 0515

LEARNING FROM TANA:

Chisnallwood Intermediate

pupils got some world

class sporting tips from

former All Blacks captain

Tana Umaga last week.

Chisnallwood's sports

development class

travelled to Cowles

Stadium to meet and

learn from the rugby

legend. Umaga is a sports

ambassador for Youthtown

Christchurch and the pupils

helped shoot promotional

work. Umaga ran drills

and games for the pupils,

assisted by Youthtown staff.

Dyers Road Landscape

& Garden Supplies

• Barks • Peastraw • Composts - we supply the best available

• Aggregates - Chip, Round and Basecourse

• Pavers & Schist products • Pungas

• Decorative Stones & Landscaping Rocks

• Trailer Hire first hour free with purchase

• Bag & Bulk - pick up or delivered

David, Carol & Mike

We will deliver!

SOIL

AND

HARDFILL

DUMPING

Phone: 03 384 6540

183 Dyers Rd, Bromley • OPEN 7 DAYS

Weekdays 7.30am-5pm. Weekends 8.30am-3pm

www.dyersroadandlandscapes.co.nz

Kids Birthday Parties

Choose from one of our Great Party Packages to suit!

1

2

3

4

Paintball, mini golf (indoor or outdoor), 50 balls and

club hire for the driving range $39 per child.

Paintball, mini golf (indoor or outdoor) $32 per child.

Indoor and outdoor mini golf, 50 balls and club hire

for the driving range $20 per child.

Indoor or outdoor mini golf, 50 balls and club hire

for the driving range $14 per child.

To book ph 376 5350, 50 Ferrymead Park Drive, Ferrymead

Book any Birthday Party with Caddyshack

and you will receive:

• Mini golf game for each child ($9 per child).

• Use of party room for one hour for $50, or two hours for $90.

• Caddyshack Party Meal and drink.

• Caddyshack lollies.

• Themed party gear including invitations and balloons.

• Caddyshack party host to ensure fun and relaxation.

• The birthday child also receives a gift.

• All party goers receive a free child mini putt voucher for

their next visit.

Ph 384 1566, 21 King Edward Terrace, Woolston
---
10

Tuesday October 18 2016

Our People

PEGASUS POST

Marlene Bennetts

Children's author writes book

Author Marlene Bennetts, 78, has finished writing her

latest children's book, The Little Drummer Boy, to

raise money for her earthquake-damaged church in

Opawa. She spoke to Caitlin Miles about her roving

childhood and writing her memoirs

Can you tell me about The

Little Drummer Boy?

I was approached to write

something for the church in

November last year that could

be ready for Christmas. I sat on

it for a while wondering what I

could write and Evelyn Hille said

to me why not write something

on The Little Drummer Boy and

so that's what I did.

How long have you belonged

to the Opawa Community

Church?

I've lived in Opawa for about

eight and half years and belonged

to the church for at least

six and half I think.

How long have you been

writing?

I have been writing for about

30 years now, children's books

and poems mostly.

What made you want to be a

writer?

I've always wanted to write. I

hated poetry. I was always interested

in reading. We didn't have

libraries in the one-room schools

so I didn't get my first book until

I was eight. It was Peter Pan – I

loved that book, my grand-kids

have it now. When I was

growing up I used to tell my

brothers stories to get them to

do things for me when I didn't

want to.

How many siblings do you

have?

I have two younger brothers.

Did you grow up in Christchurch?

No I didn't. We moved roughly

15 times so it's hard to pinpoint

where I grew up. I was born in

Westport, though.

Why did you move so often?

My father worked in sawmills,

so we moved around a lot. We

were in a lot of small towns that

only had one-classroom schools.

Most of them had basically the

same text books throughout, so

I would read a couple of chapters

ahead before starting at a new

school and the teachers would

think I was really clever until

they caught up to the chapter I

was on.

Were you a bit cheeky in

AUTHOR: Marlene Bennetts has written 28 books over her

30-year career.

PHOTO: CAITLIN MILES

school Marlene?

I had a strong character and

got bored quickly I think is what

it was. I ended up being prefect

of my high school so I can't have

been that bad! Just a little cheeky.

Was it hard moving from

school to school?

It wasn't so bad when I was

young. I do remember this one

boy used to ride a white horse to

school and every day my brother

and I would have to run home

because he would chase us on

his horse and get it to nip at

us. When I turned 11, I started

to realise that my family were

considered low on the social

class because our dad worked in

the sawmill. My dad left school

at 14-and-a-half but he was very

resilient.

That was young to leave

school.

It wasn't that uncommon back

then. My parents were young

when they had me. My mum

was 17 and my dad was 18. Mum

had all three of us before she

was 21. We kind of grew up with

our parents, they were like older

siblings. Well, they were parents

first but you know. It was great.

You see I have a lot to write

about for my memoirs.

How will you write everything

from your memory?

I have kept journals for the

last 30 or 40 years, I use them to

write stories and poems too. I

can reflect on what people were

wearing during the time. How

they wore their hair, things like

that. I write about what I know

so I recall on my memories a lot

which is what I'm doing for my

memoirs.

THE HOME OF GOOD BAKING

PREMIUM

BREAD

White, wholemeal, grain & honey.

3 FOR

$

5 00

GINGER SLICE

A full-flavoured

slice just like you'd

make at home - if

there was no

Coupland's!

ONLY

$

3 49 ONLY

Delight, Oat &

$

5 29

Raisin, Peanut,

EA

FAMILY BAG

BISCUITS

Anzac, Choc

Chip, Hokey

Pokey, Kiwi

Shortbread,

Super Choc Chip

EA

PURCHASE 2 X DAIRY DALE

2L MILK TO ENTER THE DRAW

TO WIN 1 OF 50 PLAYSTATION

GAMING PACKS!

50 WINNERS - 2 PER STORE

Promotion valid 1st - 31st October 2016. Winners will

be contacted Monday 7th November 2016. Terms &

conditions apply. Full terms & conditions can be found

at www.couplands.co.nz

MILK

Dairy Dale 2L varieties.

$

5 98

2 FOR or $3.19 each

HAMBURGER BUNS 6pk

$

1 99

EA

Promotional pricing available while stocks last from 17/10/16 to 23/10/16.

Images are serving suggestions only.

Open 7 days | 8 Convenient local locations

Hornby • Barrington • Ferry Rd • Papanui • Riccarton • Upper Riccarton • New Brighton • Rangiora

BAKERIES

www.couplands.co.nz
---
PEGASUS POST Tuesday October 18 2016 11

to rebuild community church

Did you end up settling anywhere

for a while?

No. Even after we got married,

we kept moving around. We

used to buy houses and do them

up before we sold them on. So

we were moving all around the

North Island. Then in 1987, we

heard of a wee cottage in a place

called Blackball and I said, as

long as I don't have to use a long

drop, I don't mind and it had an

indoor toilet so we bought it. I

had never heard of Blackball in

my life and we just packed up

and went there. I hadn't been in

the South Island since I was nine

and my husband had never been

so it was pretty big. We bought

the house for $10,000 – you

wouldn't dream of that now.

Did you start writing when

you lived there?

Yes. My husband decided to

retire when we moved there so

he was 56. I use to have a room

in the house which looked out

onto the mountains where I

would go to write. That was

my special spot. We had our

children by that stage but they

were all grown up. I would just

shut myself off and Hec would

keep supporting me.

Were there times when you

wanted to give up on writing?

I was 48 when I wrote my first

poem called Stolen Virginity. I

went to this group where people

read out their poems and had

them criticised by other writers.

These were respected and widely

published writers and I was

sitting there wondering why I

was there and what I was doing.

I got up and read it out and came

home saying to my husband

there is no way I am ever going

back there, I'm not writing

anymore, and he managed to

convince me it wasn't that bad

so I went back the next month

and it was the best thing I ever

did. For every acceptance letter

I got for a piece, I got about

10 rejections. So it was pretty

common for me to say I'm not

doing this anymore and chuck

it all in the bin. And Hec, my

husband, would pull it all out

again and convince me to keep

writing. If it wasn't for him, I

wouldn't be talking to you today.

HER ROCK:

Marlene's late

husband Hec

was her biggest

supporter,

encouraging

her to keep

writing when she

considered giving

up several times. ​

He was always my rock.

Your husband seems like a big

part of your motivation, how

did you two meet?

We were doing high jump

and that was very different then

compared to what it is now. We

used to jump and fall into a pit of

sawdust. So anyway, I was doing

high jump and I stopped just

short of the pit and tore a whole

load of ligaments in my knee. I

needed surgery but it was more

risky back then. I had wanted

to be in the Air Force but that

wasn't likely and, after that, it

certainly wasn't going to happen.

So I ended up moving 800

miles (1287km) away to live

with my Grandmother to work

as a secretary – I was 16 at

the time. Hec was working in

the garage and he was 23 so it

worked out.

What have been some of your

highlights?

I wrote this poem called The

Miner's Widow and I got a letter

from a man who had picked up

a copy and he said he had read

it crying because it was the tale

of his mum. That was really

touching.

You received a New Zealand

Order of Merit?

Yes, that was a real shock and

an honour to receive – I couldn't

believe it. I read the letter and

wondered what I was receiving it

for. I never dreamed I would get

one. I just wished my dad could

have been there to see it.

How often do you write each

day?

I'm not sure how many a day,

but about 15 hours a week now.

I've taken a bit of a step back

from how much I used to do

but I still work away on my

laptop.

We welcome

new patients

Our team will work with you to

provide excellent health care

Based in New Brighton and Burwood

areas for over 50 years

Recognised as an innovative, quality

practice

Family health, catering for all ages

Friendly and caring

Online appointment booking

Podiatrist Lesley Marsh is

available on Wednesdays to

provide footcare.

Bin gone

missing on

collection

day?

Report within

24 hours to avoid

replacement costs. Listen Live to

Bring this advertisement

along when you enrol

with us and receive a FREE

nurse appointment to

assess your health needs.

?

weekdays at 5.30pm

For further information,

phone 941 8999 or visit

loveyourrubbish.co.nz

225 Travis Road | PHONE: 388 9686

Visit our website

www.travismedical.co.nz

On the mOve? tune in

fOr yOur lOcal news
---
12

Tuesday October 18 2016

PEGASUS POST

AUCTION

FOR SALE

Addington 43 Spencer Street

Investor Or Nester?

Sue Roberts & Gemma Roberts

M 027 440 1282 or 027 223 6471 P 03 323 6045

Harcourts Twiss-Keir Realty / Belfast Licensed Agent REAA 2008

COMMERCIAL AUCTION

2 1 1

Harcourts ID: BF26973

This is an opportunity to get an affordable first home or a great rental in a popular area, while still

at an affordable level. This cute cottage has two double bedrooms, kitchen and living over looking

sunny private backyard. A short walk to all the attractions on Lincoln Road, Hagley Park and the

rejuvenating CBD. Owners want sold, this will be sold at auction if not before - be quick!

Auction: Wednesday 9 th November

Russley Golf Club (unless sold prior)

View: Phone for viewing times.

Belfast 21 Donegal Street

A Little Beauty + Cash...

Jo Prince

M 027 613 4440 P 03 313 6158

Harcourts Twiss-Keir Realty / Rangiora Licensed Agent REAA 2008

DEADLINE SALE

2 1 1

Harcourts ID: RG7901

All yours if you're quick enough. $19,957 EQC monies for repairs and the vendor has already spent

thousands of $'s on renovations too. Snap it up and enjoy the benefits! Charm blended with

modern, heat-pump, log-burner and fabulous private outdoor areas. Ideal starter or investment

with potential to add value. Vendor has a place to go to and loved ones to be with - must be sold.

For Sale: $350,000

View: Saturday & Sunday 12.00-12.30pm.

Heathcote 64-68 Port Hills Road

New Retail Opportunity Heathcote

FOR SALE

2 3

Harcourts ID: BF26323

With development now underway at the Maltworks over 55's lifestyle village, there is a prime

opportunity to be in first to situate your retail business right next door. Three retail shops are to be

built of 103sqm each(or possibility of smaller floor space if required) and would ideally suit a corner

café, hairdresser, dairy and/or associated business's In such an extraordinary location.

Geoff Barclay

M 027 413 0797 or 027 626 2824 P 03 323 6045

Harcourts Twiss-Keir Realty / Belfast Licensed Agent REAA 2008

Phone for more information and viewing times.

Prebbleton 10 Westburn Place

Smart Family Home + Attached Flat

Harcourts ID: BF6965

This smartly designed modern home provides great family living and offers additional value

with the attached-flat, which includes kitchenette, bathroom and separate access - perfect for

the independent family member or tenant opportunity! Buyers will appreciate the additional

conveniences this home offers. Set on a wonderful easy-care section in a popular neighbourhood.

Mitchell Roberts & Mana Tai

M 027 413 0797 or 027 626 2824 P 03 323 6045

Harcourts Twiss-Keir Realty / Belfast Licensed Agent REAA 2008

AUCTION

4 3 2

Deadline Sale: All offers invited on or before

10 th November at 4.00pm

View: Phone for viewing times.

Shirley 5 Netherby Lane

Home Is Where The Heart Is

Harcourts ID: RG7920

And this home will certainly warm your heart. Much loved, and now with completed renovation

including new kitchen, double glazing and many other excellent features. Our owners have

reluctantly decided it is time to down size. A stones throw from The Palms, so an ideal location for

those wanting easy access to shops + schools. Spic and span, you will not be disappointed!

Christine Tallott

M 0274 906 042 P 03 313 6158

Harcourts Twiss-Keir Realty / Rangiora Licensed Agent REAA 2008

Contributor to www.realestate.co.nz

3 1 2

For Sale: Offers invited

View: Sunday 12.30-1.15pm.

Sumner 5 Denman Street

Due To Health Reasons ...

Harcourts ID: BF26947

... Our owners have made the difficult decision to now reside with family members, consequently

allowing the opportunity to purchase this property, which has not been available to the market in

15 years. This cherished bungalow is the perfect opportunity for first-home buyers, beach-lovers or

investors - with a beautiful large and private section, only minutes away from the hub of the town.

Mitchell Roberts & Mana Tai

M 027 413 0797 or 027 626 2824 P 03 323 6045

Harcourts Twiss-Keir Realty / Belfast Licensed Agent REAA 2008

1 1 1

Auction: Wednesday 2 nd November @ 3.00pm

Russley Golf Club (unless sold prior)

View: Phone for viewing times.

www.twisskeir.co.nz
---
PEGASUS POST Tuesday October 18 2016 13

Snap Me Up - You Better Be Quick!

44 Kathleen Crescent, Hornby

DEADLINE SALE: All offers presented 4.00pm Monday 31 st October (unless sold prior).

3 Bedrooms | 1 Bathroom | 1 Car Garage | Off Street Parking | Property ID: BF26963

First home buyers here is your

opportunity to create your dream home

by updating this sunny and warm home.

Built in the 1940s, the home has it's own

special charm of that era. Three double

bedrooms, combined kitchen, dining and

separate lounge.

Enjoy summer entertaining on the large

North facing deck.

Easy care landscaped grounds with

raised vege gardens, single garage with

extra off street parking.

• Permanent material home

• Three bedrooms

• Separate laundry

• Good storage

• Woodburner, heatpump and two

wall panel heaters

• Timber and aluminium joinery

• Open plan kitchen/dining

• Separate living

• Landscaped gardens

• Great outdoor entertaining area

• Close to shops, transport and schools

• Vacant possession

Close to The Hub and all that Hornby has

to offer.

An affordable opportunity for first home

buyers or investors - don't delay. Make

no mistake, this property will be sold -

register your interest today!

For more information contact

Anne Davis 03 323 6045 or

027 492 7694 or Nikolas Mason 027 515

4745, Harcourts Twiss-Keir Realty Ltd.

Licensed Agent REAA 2008.

Your Biggest Asset

Deserves Experience

Compassionate, highly organised and possessing a wealth of experience, Anne

Davis is passionate about Real Estate. With 17 years in the industry her successful

career has resulted in a huge amount of respect from hundreds of regular clients.

Anne Davis is an exceptional choice if you are considering selling your home.

For a free market appraisal or to find out how you can travel the world. Phone

Anne today 03 323 6045.

• Stage 1 Sections from $139,000

Must Be Sold!

• Stage 2 Sections from $165,000

With Rural Outlook

• Childcare Centre opening 2017

• Close to the Beach, River, Schools,

Public Transport and Township

T&C's apply

Anne Davis

M. 0274 927 694 P. 323 6045

E. anne.davis@harcourts.co.nz

Belfast Office Licensed Agent REAA 2008

Bring your own builder, your own plans and

create your family dream in BeachGrove.

Call Julie-Ann today on

0800 beach grove

or visit beachgrovekaiapoi.co.nz

Harcourts Twiss-Keir Realty Ltd/Licensed Agent REAA 2008

Contributor to www.realestate.co.nz

www.twisskeir.co.nz
---
14

Tuesday October 18 2016

PEGASUS POST

Email fraser.walker@starmedia.kiwi

by 5pm each Wednesday

St Faith's Annual Church

Fair

November 5, 10am-2pm

Good family fun with many

stalls and attractions, including

stalls from the White Elephant

Trust, toys, books, a sausage

sizzle and refreshments. There

will also be face-painting, a

puppet show and a kapa haka

performance.

St Faith's Church grounds in

Hawke St. Free entry

Ignite and Excite Exhibition

October 25 to November 12.

Monday to Friday, 11am-4pm,

Saturday, noon-3pm

The Christchurch Community

Arts Council, on behalf of the

Christchurch Drug and Alcohol

Service and the Christchurch

Opioid Recovery Service, are

proud to present a collection of

artwork by consumers, those

in recovery and workers in the

addiction sector.

Eastside Gallery, 388 Worcester

St, Linwood. Free entry

Bunnings Workshops

Saturdays and Sundays,

October 15-30

Eastern suburbs' locals are

invited to head to Bunnings

Warehouse Shirley on weekends

throughout October to

receive expert advice and help

developing their DIY skills

through a range of workshops.

Team members will host free

workshops for adults and kids,

sharing their advice through

easy to follow steps. The

workshops include gardening

and outdoor projects, decking

and fencing among others. The

kids workshops will also run

each weekend. They include

garden creatures, craft, paint and

Halloween workshops.

Bunnings Warehouse Shirley,

197 Marshland Rd. Free entry

Exhibition for October

September 27 to October 30

An exhibition is on at the

Brighton Gallery for the month

of October. The paintings on

show have been created by

local artist Judy Harrington.

Ms Harrington has been

painting for more than 10 years

and the mediums she uses

include watercolour, acrylic

and oils. Her artwork is mostly

about landscapes and wildlife,

specialising in birds. She also

teaches painting and drawing.

Brighton Gallery. Shop 4,

Carnaby Lane, New Brighton.

Free entry

BIG BANG: The Guy Fawkes Fireworks Spectacular is returning to New Brighton this year on the

evening of November 5. Beginning at 9pm, the pyrotechnics display at New Brighton Beach is set

to the tunes of a different theme each year. Between 15,000 and 20,000 people view the fireworks

and take in the entertainment and food stalls on the night. The New Brighton Seaside Twilight

Market will also be on before the fireworks from 5-9pm. This is a free event. ​

Step Ahead Exhibition

October 10-21, gallery hours

Monday to Friday, 11am-4pm,

Saturday noon-3pm

The exhibition provides

an opportunity to recognise

and celebrate artists' skill and

achievements. About 40 artists

will exhibit drawings, paintings,

photography, mosaics, stone

carving and other crafts. Items

for sale can be purchased by

phoning Eastside Gallery on 981

2881.

Eastside Gallery, 388 Worcester

St and Stanmore Rd. Free entry

New Brighton Seaside Market

Every Saturday, 10am-2pm

New Brighton's pedestrian mall

is filled with colour and creativity

every Saturday. Visit the seaside

and enjoy live entertainment,

food, fresh produce, arts, crafts,

jewellery and more. There will

be a bouncy castle and free facepainting.

For more information,

email seasidemarket@mail.com

Brighton Mall, New Brighton

Free entry

Coastal Spirit Under-19 Lotto

Tournament

Labour Weekend, October 22 to

24, times vary

Since it began in 2008,

the tournament has been

an important fixture in the

footballing calendar of New

Zealand clubs. The tournament

will run over Labour Weekend

with the boys and girls

competition finals being played

on Monday afternoon. There will

be 16 teams contesting the boys

title and 10 teams in the girls

draw.

Cuthberts Green, Pages Rd,

Wainoni

Tiny Huts Launch Celebration

Wednesday, October 19, 4-6pm

You are invited to join us for

the opening of the city council's

New Brighton tiny huts. The

opening celebration will start

in New Brighton's pedestrian

mall at 4pm. A walking tour

past all five of the tiny huts will

be followed by a community

barbecue. Go along and meet

some of the tiny hut designers,

builders and judges as well as

checking out the huts.

101 Brighton Mall, New

Brighton. Free entry

OPEN

LABOUR WEEKEND

10am – 5pm

FREE

CANDY

STAND

SATURDAY

10AM–2PM

HORNBY 409 Main South Road | OVER 50 STORES

dress-smart.co.nz
---
PEGASUS POST Tuesday October 18 2016 15

News

Children being supported by the Child Cancer Foundation had a special visit

from some familiar rugby faces. Canterbury players Richie Mo'unga, Inga Finau,

Tom Sanders and Alex Hodgman visited the children and families and brought

along the Ranfurly Shield. Foundation business development manager Lydia

Hemingway said the kids were excited and the players were "awesome" to hang

out with. The foundation assists more than 500 families around the country.

DREAM VISIT: Jake

Wilson and Canterbury

rugby player Richie

Mo'unga with the

Ranfurly Shield.

GREAT DAY: Children and families had an exciting visit from Canterbury rugby

players Richie Mo'unga, Inga Finau, Tom Sanders and Alex Hodgman.

CONTINUING EDUCATION

Pasifika Trades Training leads

to new career for Charity

Receiving a Pasifika Trades Training

scholarship has been a game-changer for

Charity Ierome. After completing a 12-

week Essential Civil Skills course at Ara

Institute of Canterbury for free, she now

has a clear career path and a new outlook.

"The biggest thing it's done for me is

build up my confidence. Before I felt like

nobody and now I know that I can achieve

and what I want to do in the future," she

says.

Charity used to work in the butchery at

Pak n Save, but knew it wasn't what she

wanted to do long-term. Her Dad found

out about the Pasifika Trades Training

scholarship through Reverend Fitifiti

Lautua, a mentor for the programme.

With so many opportunities in

Canterbury, Charity says that trades

training was a good career move and it

made financial sense.

"It was a chance for me to do something

for myself and make a better living for my

family. My Nana was my inspiration. I

wanted to make sure she was well looked

after back in Samoa," she says.

Studying for 12 weeks full-time was a

big commitment for Charity, who also

continued to work full-time. However, the

backing of her tutor and classmates helped

her to succeed.

"My tutor had experienced the kind of

difference that a qualification can make in

your life and he was a real role model. My

class became my second family," she says.

The course was exactly what Charity

needed to get into the industry. It included

the core practical skills and certifications

that employers look for, and provided

support to enter the workforce.

"The most valuable thing I learned was

how to get work-ready. I was taught how

to approach an interview and what to put

in my CV. We also had potential employers

come to talk to us," she says.

Just two weeks after completing her

qualification, Charity was offered a job at

City Care. She is now a Traffic Management

Site Supervisor, wants to work towards

a degree and has her sights set on a

management role.

"It's like I'm on a totally different planet

now. Studying has changed who I am and

it has changed my family's future," she says.
---
16

Tuesday October 18 2016

KIDSTUFF

Freedom to learn and explore

As a parent herself, Tiny Tots Nursery

and Preschool owner and operator, Rebecca

Ellis knows only too well how important

your child's welfare and learning is.

For the highest quality care and

education for your children Tiny Tots

Nursery and Preschool is a privately owned

and family operated centre that ensures

peace of mind through their commitment

to your child's needs.

"Over the years I've found that the best

results for happy, socially well-adjusted

children who are free to explore and grow,

come from an environment that has flexible

routines, changing challenges and a caring

professional, qualified and experienced

teaching team," says Rebecca.

Tiny Tots provides a safe and secure

environment in which children can

learn, create and grow to the best of their

abilities. Observing the children at play the

teachers communicate with both parents

Kids love CASPA!

CASPA (Creative After School

Programmed Activities) offers children

the opportunity to be creative, make new

friends and try new experiences all within

a safe, nurturing environment. CASPA

offers working parents an affordable after

school and school holiday programme that

their kids just love!

CASPA attributes its success to the

variety of activities on offer as well as the

convenience and affordability for parents.

CASPA kids enjoy an exciting range of

activities including sports, music, games,

drama, arts and craft as well as fun trips.

Previous themes and activities have

included a Karaoke Dance Party, CASPA

• Central location

• Cooked healthy heart meals

• Large private outdoor play area

• Casual care available

• Enrolments available now

• 7.30am - 5.30pm Monday to Friday

call us

noW

EST 1987

389 2483

375 Worcester Street • Christchurch

CASPA

After School

& Holiday Programme

Creative

After

School

Programmed

Activities

P: 349 9260 or 027 352 1638

E: info@caspa.org.nz

W: www.caspa.org.nz

and the teaching team in order to develop

an individual programme tailored to

each child's unique needs. This helps the

children to extend on their learning and

enhances their development while in an

open learning environment.

Tiny Tots is a small, homely centre

with a real family feel and has a great

open plan environment both indoors

and out. Children are provided with high

quality equipment, resources and facilities

to support each child's learning and

development.

Teachers encourage parents to spend

time with their children in the centre,

especially to help them settle in, which also

helps parents to discover how the centre

operates throughout the day.

Parents and children are welcome

to visit Tiny Tots at 148 England

Street in Linwood or phone

3896851.

Fear Factor, Healthy Art, Out of Africa

and hundreds of other amazing themes/

activities!

CASPA parents enjoy peace of mind,

knowing their kids are safe and enjoying

the benefits of a quality after school

programme. Some parents and caregivers

also enjoy government subsidies for

CASPA. CASPA is Child Youth and Family

approved for the OSCAR Subsidy and in

some circumstances, the full CASPA fee

will be covered by the subsidy.

For more information or to

enrol, call Caroline, Rachel

or Tania on 349 9260 or

visit www.caspa.org.nz

NEED CHILDCARE?

• Fully qualified,

registered

and experienced

teachers

• Free ECE and subsidies

available

• Quality programmes

and care for your child's

individual needs to

reach their full potential

Take the stress out of childcare

Hours open

7am to 6pm

Like us on Facebook

Call us now (03) 389 6851

www.tinytotspreschool.co.nz

148 England Street, Linwood, Christchurch

Email: tinytotspreschool@xtra.co.nz

•We provide a safe, creative

Environment for 5-13 year olds

•Our staff are trained

•A range of fun activities

•7.15-8.30am and 3-6pm Mon—Fri

•8am-6pm Holidays

•Kids just LOVE it!

Subsidies

Apply

• By Gordon Findlater

COASTAL SPIRIT went

home with a big haul at

Friday night's Mainland

Football Awards.

Four Coastal players

picked up individual

awards on the night after

both the club's Mainland

Premier League and

Women's Premier League

teams finished as runnersup

in their competitions

this season.

Midfielder Lily Bray

took home one of the

biggest awards on the

night, winning Women's

Player of the Year. At just

16, Bray was also crowned

Youth Player of the Year in

the women's category.

It wasn't just the award

SPORTS

Coastal wins big at awards

Sports Injury?

Specialising

in Injury

Rehabilitation

$5 discount for

SuperGold Card holders

Physiotherapy Associates

Finding Solutions

ACC Contracted Provider

Ph/Fax 03 389 7196 86A Wainoni Rd

Email: physioassoc@clear.net.nz www.physioA.co.nz

she had to celebrate over

the weekend. Bray scored

a hat-trick on Sunday, as

she helped Canterbury

United Pride to a 4-1 win

over Auckland in the first

round of the Women's

National League.

Three other Coastal

players picked up individual

awards. Striker

Mel Cameron was named

Women's Striker of the

Year. She also picked up

the Golden Boot award

after netting 29 times in

the league this year.

Defender Emma Clarke

was named as the Women's

Defender of the Year,

pipping fellow Coastal

player Rebecca Lake for

the award.

A member of Coastal

PEGASUS POST

WINNERS:

Five Coastal

Spirit players

picked up

individual

awards at

the Mainland

Football

Awards on

Friday.

Spirit's Premier League

men's team also grabbed

an award. Sean Liddicoat

took home the Defender of

the Year title.

Club manager Steve

Ager was acknowledged,

winning Administrator of

the Year.

Ager has been on the

executive board from the

beginning of the club's existence

and has previously

served as co-chairman. He

signed for New Brighton

AFC in 1978 and held the

position of club president

at the time of the New

Brighton AFC and Rangers

merger into Coastal

Spirit.

He was also a member

of the steering committee

for the merger.

BIG NOMINATION: Shirley

Boys' High School first XV

captain Josh Archer has been

nominated for a top award at

this year's Zonta Sports Awards.

Archer has been recognised for

his outstanding achievements

in a number of sports. He has

been named one of five finalists

in the best all-round young

sportsman award. He not only

led Shirley to their second

consecutive UC Championship

grand-final this year, but has

also been successful in surf

lifesaving and canoe racing. The

awards will be held on October

27 at the Hornby Workingmen's

Club.

We would like to

welcome

Dr. Zohnia McNeill

to our team!

• General Dentistry • Emergency Appointments

• Wisdom Tooth Extractions • Cosmetic Fillings

• Dental Implants • IV/Oral/Inhalation Sedation

• New Patients Welcome

99a GLANDOVEY RD (Entrance via Idris Rd)

FENDALTON, CHRISTCHURCH 8052

PHONE: 03 351 1188 FAX: 03 351 1138

Monday - Friday 8.30am-5.00pm

www.fendaltondental.co.nz
---
PEGASUS POST Tuesday October 18 2016 17

FOCUS ON HEALTH

Are you one of

the 70% with

excess Candida

Do you suffer from any of

the following symptoms?

Heart burn, indigestion, feeling tired

often, low energy, gas, constipation or

diarrhoea, abdominal cramps, frequent

urination, thrush, oral thrush (white

coated tongue), sore throat, fungal skin

infections and rashes, jock itch, chronic

disease among others are just some of the

common symptoms.

A causative factor for all these symptoms

and more can be a yeast organism

called Candida albicans. It is often

underestimated what a profound effect it

can have on our health and wellbeing.

It is normal and beneficial to have

some Candida in the gut where it is kept

under control by the good gut bacteria or

probiotics that feed on this yeast. However,

using antibiotics without probiotic

supplementation, sickness, poor diet,

insufficient stomach acid and medications

are some of the factors that can upset this

delicate balance and allow the Candida to

thrive.

The Candida yeast often enters the blood

stream as a fungus. Symptoms will vary

depending on its location in the body. If it

enters the brain, it can cause depression,

anxiety and foggy thinking. Some

researchers believe the Candida fungus

can release a pleomorphic microorganism

or virus that's form changes depending

on its environment. This is believed to

be a factor in cancer and other chronic

health conditions. However, it is the

body's weakened immune system and

toxic environment that is the real cause of

disease.

The natural health advisers at

Marshall's Health and Natural Therapy

can provide you with a detailed

nutritional protocol to cleanse the excess

candida and its fungus from the body,

and improve your overall health and

wellbeing. Visit them at 110 Seaview Rd,

New Brighton. Phone 388 5757. We are

always happy to help!

Forgetting Things?

Surprising Advice!

Brain and memory changes happen to

everyone around the age of 50 or so.

Four reasons why the brain

'ages'

1. Our age-related hormones

decline

2. Living a sedentary lifestyle

3. Lacking mental & physical

activity

4. Poor nutrition & obesity

Factors 2, 3 and 4 are under

YOUR control!

Exercise is SO important for

cell regeneration.

In a recent U.S. study, those

who exercised for 15 minutes

three times a week reduced

their risk for dementia by onethird.

"Moderate exercise is the

closest thing we have to a magic

wellness bullet for everyone,"

said William Thies, of the

Alzheimer's Association for

medical and scientific affairs.

"Moderate physical activity

has all kinds of benefits and

almost no downside."

The Aircycle exerciser was

designed to boost circulation

and keep nutrients and

oxygen flowing to the cells.

Well nourished cells aid

regeneration in all parts of the

ARTHRITIS

Boost circulation and gently

exercise while you sit – it's so easy!

FOR

Pain & stiffness

Swollen ankles

Night cramps

Painful hands

Balance & mobility

Sore legs/numb feet

Travel & office sitting

Diabetes foot problems Only

Stroke rehab/Parkinson's

$39 90

Available from pharmacies,

at www.aircycle.co.nz

or by calling 0800 14 14 15

body, including the brain.

Whatever your age or fitness

level, even if restricted by joint

pain and stiffness or sitting at

computers all day, you can still

use the Aircycle to help your

brain.

Aircycles are available

in pharmacies, Diabetes

Christchurch, Aspire

Canterbury. Information and

orders www.aircycle.co.nz or

call 0800 14 14 15

Nothing is more ageing than

inactivity! Walk, cycle or keep

moving with an Aircycle.

Are you Magnesium

deficient?

Minerals are the building

blocks of good health. Some

minerals are only needed in

trace amounts where others like

magnesium are needed in much

larger amounts and on a regular

basis to prevent deficiency and

maintain optimum health.

A large number of us do not

obtain sufficient magnesium

from our diet and may notice

some of the common signs

of deficiency. Some of the

more common symptoms that

may be caused by insufficient

magnesium are: leg and muscle

cramps, twitches, muscle pain,

muscle fatigue and weakness,

tremors of hands, blurred

vision, restlessness, poor sleep,

raised and/or unstable blood

pressure, poor circulation,

irregular heartbeat, shortness

of breath, swallowing problems,

dizziness, headaches, anxiety,

agitation, irritability, seizures,

poor concentration and many

more.

Although many young people

now show signs of magnesium

deficiency symptoms

generally worsen as we age

due to our digestive system

being less efficient. Taking a

magnesium supplement of

sufficient strength may be a

sensible option to top up our

vital magnesium levels. Not

all magnesium supplements

however are well absorbed by

everyone. Luckily a new marine

sourced magnesium has been

found that offers good levels of

absorbable magnesium as well

as many trace nutrients that are

low in the diet but essential for

good health.

Further information is

available in store from our

natural health advisers,

naturopathic doctor &

medical herbalist. Marshall's

Health & Natural Therapy,

110 Seaview Road, New

Brighton, Phone: 388-5757.

We are Always Happy to Help!

Is CANDIDA FUNGUS Effecting Your Health

Up to 70% may have a Candida Overgrowth Impacting their health!

Candida related health problems are common & can drastically

effect your health & wellbeing. Candida overgrowth in the

gut may lead to leaky gut syndrome, where toxins can leak

through into the blood stream leading to poor health & chronic

disease. Do you suffer from any of the following: Often unwell,

Heartburn, Gas, Bloating, Eye fatigue Feeling tired often, Low

energy, Ear ache, Dizziness, Brain fog, Poor Concentration,

Poor memory, Headaches, Nasal drip, Sinusitis, Skin infections

& rashes are just a few.

The following three products can provide excellent results

with the right protocol.

FREE Nutritional Candida Cleanse guide

available for effective results!

Pure South Detox Clay

120g only $16.30

Kolorex 30 softgels

only $26.60

Candex 30 capsules

only $53.90

60 capsules

only $98.90

MAIL ORDER AVAILABLE

Bringing You the Best in Natural Health!

MARSHALLS HEALTH & NATURAL THERAPY

CONSULTING - PRESCRIBING - DISPENSING - MANUFACTURING - MEDICAL HERBALISTS

110 SEAVIEW RD, NEW BRIGHTON • PH 03 388 5757 • Email: enquiry@marshallshealthshop.co.nz

- WE ARE ALWAYS HAPPY TO HELP! -

Numerous HealtH Problems may be a magNesium DeficieNcy!

Some of the common symptoms can be:

- Leg cramps

- Leg pain

- Twitches

- Tremors of hands

- Lock-jaw

- Restlessness

- Sleep problems

- Loss of appetite

- Nausea

- Irregular heartbeat

- High blood pressure

- Poor circulation

- Dizziness

- Headaches

- Poor concentration

- Muscle fatigue & weakness

- RSI & Nerve problems

- Muscle & Back Pain

GO Healthy New Zealand's Marine Sourced Magnesium offers superior

absorption in an easy to swallow 1-A-Day capsule. Each capsule provides a

therapeutic dose of 500mg elemental magnesium that is easy on the stomach

& digestive tract. The magnesium is obtained from a natural source of seawater

& retains a complete spectrum of nutrients & trace minerals naturally found in

the seawater. Seawater is similar to human blood & this makes the magnesium

highly bioavailable as well as an excellent way of obtaining many trace

minerals that are lacking in the modern diet, but essential for optimum health.

Super Price

60 capsules

Only $19.95 Save $14.95

120 capsules

Only $39.90 Save $15.00

200 capsules

Only $59.90 Save $20.00

400 capsules

Only $109.90 Save $49.90

MAIL ORDER

AVAILABLE

Bringing You the Best in Natural Health!

marsHalls HealtH & Natural tHeraPy

CONSULTING - PRESCRIBING - DISPENSING - MANUFACTURING - MEDICAL HERBALISTS

110 SEAVIEW RD, NEW BRIGHTON • PH 03 388 5757 • Email: enquiry@marshallshealthshop.co.nz

- We are alWays HaPPy to HelP! -
---
18

Tuesday October 18 2016

REAL ESTATE

Contemporary comfort

8 The Belfry, Waimairi Beach

Auction Date: Thursday 3 November - unless sold prior

4 bedrooms | 3 bathrooms | 3 toilets | 2 living rooms | 1 office/study | 2 car-garage | 2 off-street parks | Listing # PI44852

PEGASUS POST

Striking contemporary design meets

comfortable and practical living in this

stunning home. Situated in a spectacular

location, with a northwest aspect and

uninterrupted views across Waimairi

Beach Golf Course, it is just a short walk

from the beach.

Bathed in light, the home enjoys

wonderful views from almost every

room. The open-plan casual living area

is beautifully sunny, opening to outdoor

living. There is room for dining and

relaxing, as well as a stylish contemporary

kitchen. An adjoining separate lounge

features a gas fire; the perfect place for

enjoying the view. With floor-to-ceiling

glazing to showcase the outlook, the

master bedroom has a WIR and luxurious

en suite bathroom with double shower.

Two other double bedrooms are served by

a family bathroom. The fourth bedroom is

downstairs, opening to its own deck, with

use of a third bathroom. An over-sized

double internal-access garage and separate

laundry add further convenience. Outside,

the landscaped 603 sqm section offers

easy-care plantings and extensive decking.

Cleverly designed by SK Architecture

to make full use of the remarkable setting,

post-earthquake construction ensures your

peace of mind. Don't miss your opportunity

to secure a superb contemporary lifestyle.

Open Home Dates: Saturday 22 Oct

11:00 a.m. - 11:30 a.m. or Sunday 23 Oct

11:00 a.m. - 11:30 a.m.

See you at the open homes or for a

private viewing contact Cameron Bailey

on 352 6166 or mobile 0275 557 079

of Harcourts Gold Papanui (Licensed

Agent REAA 2008)

now bigger than ever

Just

The magazine for gardeners who

like to get their hands dirty

advertisement

in The Star

reaches more

people than

any other

media in

Christchurch!

Reach more customers with The Star!

growing with you

SprIng Is here –

It'S Sow Time

how to get the best results from

seeds and seedlings

100% NatIve In

The capItal

Unravelling the secrets of

Otari-wilton Bush

The New Zealand

landscape awards

The people behind

the projects

SubScribe from

$43. 50*

$7.90 incl. GST

*6 issues/6 months

ISSN 2423-0219

Save our roSeS

How a rose register is protecting our heritage

September 2016 | 100%

It's time

to grow!

New look and more

content than ever!

MeeT LeSTer Brice

A Garden coach

auckland Botanic GardenS

Why we love our public grounds

For a free marketing consultation,

contact the team:

shane@starmedia.kiwi | 03 379 7100

www.starmedia.kiwi

SUBSCRIPTIONS FREEPHONE

0800 77 77 10

www.gaRdENER.kIwI
---
PEGASUS POST Tuesday October 18 2016 19

HEALTH & BEAUTY

Cramping pain in my

leg when I try to walk

Intermittent Claudication

"This is different from "night-cramps" Ietje van Stolk, (physiotherapist

at Physical Sense and the centre for Senior Well-being) explains.

This kind of cramping (sometimes called

"window -shopping legs") is triggered by

normal exertion of the leg muscles and

is typically caused by obstruction of the

arteries. Sufferers have to find themselves a

regular excuse to stop for a while to allow

the blood flow to reach the cramped up

muscles.

The official name for this condition is

Intermittent Claudication. Claudication is

pain and/or cramping in the lower leg due

to inadequate blood flow to the muscles.

The pain usually causes the person to

limp. The word "claudication" comes from

the Latin "claudicare" meaning to limp.

Claudication typically is felt while walking,

and subsides with rest. It is commonly

referred to as "intermittent" claudication

because it comes and goes with exertion

and rest. In severe claudication, the pain is

also felt at rest.

It is a painful condition that really

"cramps people's lifestyle". The pain free

walking distance tends to get shorter as the

condition progresses. If you suffer from

this condition it is crucial to understand

that the body actually finds a way to

increase the blood flow to the legs IF

THE DEMAND is there. It is like every

Special SuperGold Card offer

Try our classes,

first four sessions FREE

PLUS

thing in the body…….."use it or lose it".

Unfortunately many people with this

condition end up in a vicious cycle; the

pain stops the walking, and the lack of

walking increases the problem.

Exercise is recommended to greatly

reduce symptoms and to increase

pain free walking distance. Eight years

ago on request of the vascular nurse

in Christchurch hospital, Physical

Sense started a two weekly circuit for

Intermittent Claudication patients. The

pilot program started with 50 clients.

• 82% of all clients, experienced

improvement in their walking distance

• Quite a number of clients doubled their

walking distance, for some it even became

limitless.

• After a year 88% of clients were still active

• There was an exceptionally low dropout

rate of only 8%

• The 18% who did not notice a difference

in relation to their walking distance still

enjoyed all the other benefits of exercise

(to heart, lungs, sugar levels, bone health,

balance and mood etc.)

People always start in a group, so they

get the benefit of a guided introduction to

more exercise and the use of the gym. In

Come for a FREE ASSESSMENT on

Monday 12th September at 11.30am

and get a

FREE

PEDOMETER

just for giving it a try

the groups we are looking at 50-80+ year

olds that are giving their legs a workout

by using steppers, treadmills, stationary

bikes and other exercise stations. That way

they also benefit from working out with

people who suffer the same problems. "It

is amazing the support and wisdom people

receive from each other" Ietje says. In this

"circuit setup" every client can work in

their own tempo, and people simply sit

down and have a rest when the "cramping

in the leg" becomes too much. Some

people stay in the group and some choose

to use the gym by themselves to keep on

top of their claudication.

At Physical Sense they have been going

strong with the Intermittent Claudication

class ever since the first class eight years

ago.

You can try the classes for FREE. If you

want to continue and you have WINZ

support, WINZ usually pays for the classes

(as WINZ is VERY supportive of these

classes).

HYSICAL SENSE

Ph: 377 2577

300 Colombo St, Sydenham

www.oos.co.nz/classes

super LOW prICes!

Lifestream aLoe Vera Juice

VEBITE

Feeling bloated?

Was $37.90 NoW $29.90

lovebite.com

Helps Calm bloating in the stomach & bowel.

Soothes the lining of the stomach, and promotes

smoother natural digestion.

3 Convenient Locations:

The Palms: 385 0364

The Hub Hornby: 349 5150

Bush Inn Centre: 348 7867
---
20

Tuesday October 18 2016

AUTOMOTIVE PROFESSIONALS

A name synonymous with the

motor vehicle industry

As a youngster, Trevor Crowe always tinkered with cars. After completing his

mechanics engineering apprenticeship, he established Lichfield Motors and later

Trevor Crowe Motors, obtaining the Subaru franchise in 1988. Crowe Subaru was

the top selling Subaru dealership in New Zealand for many years.

In 2000, Trevor sold his Subaru franchise to

concentrate on his passion of motor vehicle maintenance

and repairs, and motor racing in his spare time.

"Trevor enjoys making and fixing things," advises

Josh Mitchell, Car Sales Manager at CroweSport. "He

sold the franchise so he could specialise in repairs but

so many customers kept asking to buy a car that he

began importing second-hand cars, opening a car yard

beside his workshop."

Josh joined Trevor as an apprentice mechanic when

he left school. He learnt the ins and outs of Subarus

while also helping out in the car yard.

"Customers liked talking to a mechanic who could

answer their questions about Subarus and how they

worked," explains Josh who admits to being as fanatical

about motor vehicles and engines as Trevor is.

After the 2011 February earthquake, the business

took over a vacated business next door and Josh took

responsibility for the buying and selling of cars.

Each day, Josh sifts through the details of around 200

cars at Japanese auctions, selecting vehicles reflecting

quality. He then requests their Japanese agent to

thoroughly inspect each car and recommend the best

which CroweSport imports. With a new law governing

the emission levels of imported vehicles, only Subarus

that are 2004 or newer are imported.

Around forty vehicles a month come into the

CroweSport workshop where they are serviced and any

repairs carried out before being placed in the yard for

sale.

"Our customers have peace of mind when purchasing

our cars as they know they have been thoroughly

checked and are in good condition," explains Josh.

Josh says that the standard of cars available from Japan

is wide so they only deal with one company. This allows

them to have an excellent relationship, building trust in

their import agent who checks the cars at auction for

CroweSport.

Trevor and Josh both currently races Subaru

Imprezas, and Trevor is building a new 'Subaru Special'

race car, which might explain why CroweSport really

are Subaru specialists, though they repair and service

all makes and models.

CroweSport is a privately owned and operated

automotive sales and service centre. They sell secondhand

Subaru and are looking to the future with Nissan

Leaf electric vehicles. CroweSport can be found at 518

Moorhouse Avenue (between Fitzgerald Avenue and

Ferry Road).

To contact CroweSport telephone 03 379 7615 or

email: boss@crowesport.co.nz. Their website is: www.

crowesport.co.nz; and like them on Facebook where

they regularly update motorsport news and events.

PEGASUS POST

CARS - TRUCKS - VANS - 4WDS

New + Used Lamps for Cars, Trucks, Vans,

4WD, Motorhomes, Trailers & LEDs.

We can repair your existing lights including:

Headlamp Adjusters, Lens Refurbishment

and Plastic Welding.

0800 225 483

For all your automotive Lamp Requirements

F: 03 371 1101

E: carlights@carlights.co.nz

325 Brougham Street, Christchurch

s

m

a

r

t

mall

edium

Fast

turnaround

utomotive

epair

echniques

• Paintless dent removal

• Minor paint repairs

Smart repairS (NZ) Limited

automotive refinishers

272 Lichfield St (Fitzgerald Ave end)

Ph 377-0409

Still Pedalling!

Trevor Crowe's been

involved with cars for a

while. You can benefit

from his experience at...

Subaru Specialists

Full Workshop Services:

• WOF's • Service Checks

• Wheel Alignment • Brakes

• Clutches • Tyres etc

All makes & models

518 Moorhouse Ave (East end)

P: 379 7615

W: crowesport.co.nz

E: service@crowesport.co.nz

AwArd winning

techniciAn sPeciAlist

dodge

chrYsler

jeeP

Full mechanical servicing

for BMWs

Dismantling BMW's

Purchasing pre-loved & damaged BMWs

65 McAlpine Ave, Sockburn, Christchurch

Ph (03) 341 6678 | eurorec@clear.net.nz

A division of

Free Check & Assessment

ROSES

AUTO ELECTRICAL

Avoid breAkdowns

with regulAr servicing

• Honest, friendly, reliable and

Personalised Service

• Competitive prices

• No job too big or too small

Phone: 03 344 5565

3/15 Anchorage Rd, Hornby

aidan.cars@gmail.com
---
PEGASUS POST Tuesday October 18 2016 21

Classifieds Contact us today Phone our local team 03 379 1100

Computers

Tours

Trades & Services

Trades & Services

Trades & Services

Wanted To Buy

ALL

YOUR

COMPUTER

WORRIES SOLVED!

*$30.00 off your first

service with this coupon!*

No problem too big or

small from home PC's to

business networks. PC

slow? An end to Viruses,

Spyware, and Clogged

Systems. Safe secure

hassle-free computing.

Lost files recovered.

Microsoft Certified,

MCSE, MCP+l. 30 years

experience. Call Andrew

Buxton this week on 326-

6740 or 027 435-7596

for $30.00 off* Custom

Computers Christchurch

Curtains

www.curtainfabric-outlet.com

Fashion Designs & Colours

Discontinued Designs

End of Lines Bargain Prices

Call at Our Shop

CURTAIN FABRIC OUTLET

71 Hawdon St Sydenham

Ph 366-5026

Gardening

& Supplies

A GARDEN

PROFESSIONAL

NEEDED? Qualified

Horticulturist, offering

expert pruning, garden

makeovers, garden design

and landscaping, for free

quotes call Bryce 027 688-

8196 or 0508 242-733

A GARDEN OR

LANDSCAPING TIDY

UP? Rose & Fruit Tree

Pruning, Shrub, hedge

& tree pruning, Lawns,

Gardening, consistently

reliable general property

upkeep, Dip. Hort. 10

yrs experience, One off

tidy ups or on-going

service. Nick's Property

Maintenance. Keeping

your garden beautiful.

Free Quote. Ph. 942-4440

Holiday

Accommodation

QUEENSLAND SUN-

SHINE COAST AUSTRA-

LIA Resort, Ocean Views,

Balconies, Self Contained,

1 or 2 B/R Ensuite,

Heated Pool, Spa, Sauna,

Free Internet, Shops,

Restaurants, Tennis, Surf

Club & Patrolled Beach,

Public Transport at door.

Ask for our SEASONAL

SPECIALS. Phone 61 7

544-35011 Email: reception@mandolin.com.au

www.mandolin.com.au

To Let

HOUSEME

Portable sleepout or office

available to rent

Insulated and value for

money at $75.00 per week,

you wouldn't live in

anything else. Contact

Amanda

today on 0279570920 or

houseme2015@xtra.co.nz

Rexellent

Rentals

Cars, Vans, Brisbane, Coolangatta

FREE CALL

0800 601 508

e: rexellent@bigpond.com

Trades & Services

Appliance Sales & Service

388 4780

Appliance Services

14 Brighton Mall, New Brighton

FOR ALL YOUR

★Garden Clean-ups

★Pruning

★Lawn Mowing

★Garden Maintenance

Call us today for a FREE quote

PH 0800 4 546 546

(0800 4 JIMJIM)

Trades & Services

• Replacement/new roofing

• Colour Steel gutter & fascia

• Flue & log burner installs

• Skytube/light installs

• Earthquake repairs

Licence Building

Practitioner LBP

Member of the Roofing

Association

DCM ROOFING LTD

The Roofing Specialists

PHONE IAIN

027 445 5597

iain@dcmroofing.co.nz

Trades & Services

HOUSE

CLEARING

Are you moving

house?

Let All Clear Canterbury

take care of your

unwanted items.

You identify what you want

to keep & we will dispose

of the rest!!

Ph: 03 312 7119

Mob: 021 078 4553

allclearcanterbury@gmail.com

www.allclearcanterbury.co.nz

Trades & Services

9220021AA

& Property Maintenance

Paving

Patio - Pathways - Driveways

Lawns and Gardens

Planting - Raised Vege Gardens

Readylawn - Irrigation - Fencing

General Maintenance

Water Blasting - Gutter Cleaning

Rental Property Maintenance

Section Clearing - Weed Spraying

20 Years Experience

Locally owned and operated

Free Quotes - Competitive Pricing

Blair Gibson 027 699 5815

ARCHGOLA

Enjoy outdoor living all year round

• House, deck, carport & window canopy etc

• Warm & dry in winter

• UV protection for summer

• Customised & Tailored

• Café curtains fitted

• 5 year warranty

Chris Thorndycroft

Ph 0800 27 24 46 | www.archgola.co.nz

Trades & Services

MDC

BUILDERS

Renovations & Repairs

All forms of Home

Maintenance

Bathrooms & Kitchens

Site clears

Excavating Driveways

& Paths

All forms of Foundations

Free Quotes

Give me a call today

Ph 022 407 8581

mdcbuildersnz@gmail.com

15% Discount with this Advert

PLUMBER

PROMPT SERVICE

For all

Plumbing

•Roofing/

spouting

•Maintenance

•Installations

8790441AA

Trades & Services

Michael

Gale

Plumbing Ltd

Small work

no problem

Ph 364 7080 (24 hour)

Mob 027 438 3943

Trades & Services

FINANCE

Overdue

Overdue

bills

bills

need

need

paying?

paying?

It's nice to know you can rely on

It's SCL nice Finance to know to help. you can Isn't rely it? on

SCL Finance to help. Isn't it?

Ph 0800 725 725

Ph 0800 725 725

* Subject to normal lending criteria

* Subject to normal lending criteria

15 months

INTEREST FREE

Normal lending criteria apply

Trades & Services

GLAZING

Stephen Thom

Glazing 2012 Ltd.

(Under New Management)

• Mirrors

• New Glazing

• Pet Door

Specialists

• Frameless

Showers

• Splashbacks

WE CAN DO YOUR

WORK NOW

9155874AA

ALL BROKEN

WINDOWS

Phone Cushla

03 352 6225

or 027 352 6225

Trades & Services

Lawns, Gardens

& Home Cleaning

9185885AA

Free Quotes

Professional, personalised

service. Regular &

one-offs. Fixed price.

Ph: 377-5814

For all your property and

cleaning requirements

Trained, insured & security

screened owner/operators

Multi-award winning

systems & Franchises

Franchises Available

www.fviphomeservices.co.nz

ROOF REPAIRS

Locally owned & operated with

over 30 years experience.

• Extensions & repair • Roof coating

• Concrete & clay tiles • Butynol

• Malthoid • Asbestos Certified

• Coloursteel • Old iron • Guttering

Phone Dave 981 0278

or 021 223 4200

E: dave@beaumontroofing.co.nz

BEAUMONT ROOFING LTD

Trades & Services

WINDOW TINTING

tintawindow

advanced film solutions

99% uv block

fade protection

heat control

reduce glare

25 Years Experience

Trades & Services

privacy films

frosting designs

non-darkening films

Workmanship Guaranteed

Lifetime Warranties on Most Films

UV

block

Trades & Services

AAA CArpentry CLeAnIng

licensed builder Home cleaning service.

practitioner all property Fussy, thorough and

maintenance small job reliable. Ph 325-3426

expert by tradesman / evenings or 021 046 2258

handyman free quotes city

wide call now 03 387-

0770 or 027 245 5226 DRIVEWAYS

ciey@xtra.co.nz

Replace, repair or new.

BUILDer

We are a local company

For all building work

but specialist in bathroom

with over 10 yrs exp.

We also operate a

renovations, 30 yrs digger for all other

experience, with service earthworks.

and integrity. Free Quotes. Ph. R.M. Solutions

Ph Lachlan 383-1723 or 021 02866981

0274 367-067.

for a free quote.

BUILDer

LICENSED, available for

all aspects of building.

Please call 027 241-7471

or 335-0265

FenCIng

All styles and shapes,

gates, wooden, ph Mark

027 331-3223

CArpenter

FenCe pAIntIng

HAnDyMAn

Staining Quality at a

Small Job Specialists, reasonable price. Free

Carpentry, Repairs, quotes. Phone Warren

Decking & Maintenance,

40 years experience, no

job too small, Ph Warren

03 322-1103 or 027 697-

8541

CArrIer LoCAL

experienced, friendly,

today on 980-1676 or 027

2014713

Trades & Services

FENCING

trade-me purchases, single

items to truck loads, Paling, picket,

furniture to whatever, iron, trellis

removals & trade

deliveries a specialty. Ph Demolition and

GEH 341-5069

CArpetLAyer

removal

Laying and Repairs, 40 yrs

experience, ph Peter 326- Phone Bevan

7711 or 027 240-6532 021 231 1860

CArpet VInyL LAyIng

Repairs, uplifting,relaying, Fencing Uprite

restretching,email

jflattery@xtra.co.nz, Your Eastside

ph 0800 003 181

Specialist

or 027 2407416

Free Quotes Canterbury and Districts

03 365 3653 0800 368 468

FUrnItUre

reMoVALS

Large Trucks $95 +

GST per hour 7 day NZ

wide, packing & moving,

Professional Company,

Professional Service.

Canterbury Relocations

Ltd. ph 0800 359 9313

LAnDSCApe

ConStrUCtIon

Lawns, paving, water

features, irrigation,

planting, decks,

driveways, kerbing, ponds,

retainer walls, fencing.

Free quotes, Phone Tony

021-034-8555

pAIntIng

DeCorAtIng

interior & exterior,

gib fixing, plastering,

paperhanging, Est 50 yrs

in ChCh, ph Wingfields

Ltd, ph Mark 021 171-

1586 or 355-5994

pAInter

Top quality work, interior/

exterior, pensioners

discount, free quotes, 30

years experience, I stand

by Canterbury, ph Wayne

your friendly painter

03 385-4348 or 027 274-

3541

pAInter

Available, All aspects in

painting. Very competitive

in roofs and fences. Please

call 027 241-7471 or 335-

0265

rooFIng

Qualified & Licenced

Practitioner. Re-Roof &

Repairs, all types. Member

New Zealand Roofing

Association. Over 35 years

experience. Phone John

027 432-3822 or 351-9147

email johnmill@ihug.

co.nz

SpoUtIng CLeAnIng

Spouting Unblocked,

Cleaned Out and Flushed

Out. Also Full Handyman

Services Available. Call

Trevor 332 8949 or 021

043-2034

treeS BIg or SMALL

tree removal, trimming,

stump grinding, shelterbelt

clean up, section clearing,

rubbish removals,

excavation work, ph Trees

Big or Small, for a free

quote, 021 061 4783

tree WorK

Hedge trimming, stump

grinding, rubbish removed,

small job specialty Ph

Andrew 03 322-8341 or

027 435-8759

t.V. SerVICe

Centre

Repairs, tvs, microwaves,

stereos, DVD. Aerial

installations and kitsets,

480 Moorhouse Ave, ph 03

379 1400

UpHoLSterer

Dining Chairs, Lounge

suites, Caravan Squabs

etc. recovered. Free

Quotes. Phone Graeme

383-1448

VHS VIDeo tApeS

& all camera tapes

converted to DVD, video

taping, weddings, twenty

firsts, special occasions,

www.grahamsvideo.co.nz

ph 03 338-1655

WAterBLAStIng

Quality Job, Quick Service

by skilled tradesman, Ph

Richard Severin at Jet-X

0800 538 969 Free quotes,

visit www.jetx.co.nz

AAA Buying goods

quality furniture,

Beds, Stoves, Washing

machines, Fridge Freezers.

Same day service. Selwyn

Dealers. Phone 980 5812

or 027 313 8156

A+ Household effects,

fridges, freezers, washing

machines, ovens. Good

cash paid. Ph Paul 022

0891 671

TOOLS

Garden, garage,

woodworking,

mechanical, engineering,

sawbenches, lathes, cash

buyer, ph 355-2045

Public Notices

Weka Pass Railway

Waipara, North Canterbury

We Are Running

LABOuR WEEKEnD

SunDAY 23rd OCTOBER &

MOnDAY 24th OCTOBER

Running 1st & 3rd

Sundays of every month

Infoline: 0800wekapass

Depart Glenmark Station

11.30am & 2.00pm

www.wekapassrailway.co.nz

Public Notices

Urgent!

Volunteer collectors &

coordinators needed!

SPCA AnnuAl

APPeAl

Fri 4th–Sat 5th nov

Just 2hrs can make

a huge difference for

animals in need.

Locations available throughout

Canterbury.

Ph: (03) 344 4773 or email:

fundraising@spcacanterbury.org.nz.

www.spcacanterbury.org.nz

Public Notices

DEMOLITION

With care and respect we

will remove your dwelling.

Our policy is to recycle as

much as we can. We are a

local company specialising

in residential properties. We

will endeavor to cater for

your individual needs.

Ph. R.M. Solutions

021 02866981

for a free quote.

Public Notices
---
22

Tuesday October 18 2016

PEGASUS POST

Classifieds Contact us today Phone our local team 03 379 1100

Public Notices

Annabel's Educare - New Brighton

Trusted and respected leader in Early Childhood Education,

providing innovative Discovery, Child Initiated and Individual

Learning Programmes and focussed Inquiry Learning projects.

Annabel's Educare - New Brighton

Nursery (0-2yrs)

vAcANciEs AvAilABlE

Call in and discuss your child's learning and care needs with teachers

First week FREE with each confirmed booking

WINZ subsidies available

4 Pratt St New Brighton (cnr Keyes Rd and Pratt St)

Educare 03 388 8056 | www.annabelseducare.co.nz

Situations Vacant

Situations Vacant

CA$H

Strippers

& Podium

Dancers

Wanted!

18+ TO APPLY

NEISHA

021 193 0118

CLEANER

8 to 10 hours

per week

Experience essential,

honest & reliable.

Own cleaning

equipment.

Phone Yvonne

021 501 145

MUMS & DADS

Would you like your children to

exercise more and earn some money?

Entertainment

Your land. Your people. Your stories.

Every Wednesday at 7.30pm

on CTV Freeview Channel 40

live and on demand at ctv.co.nz

Brought to you by

DELIVERY

PEOPLE

WANTED

The Star requires delivery personnel

in all areas of Christchurch.

The work involves door-to-door

delivery of The Star newspaper.

Celebrate the success of local

businesses and people!

Please call

Leanne Lucas 364-7451 or

Mark Coulthard 364 7453

email: deliveries@starmedia.kiwi

Thursdays at 7.30pm

CTV Freeview Channel 40,

live and on demand at ctv.co.nz
---
PEGASUS POST Tuesday October 18 2016 23

www.newbrightonclub.co.nz

GREAT

ENTERTAINMENT

TUES & THURS

Members Lucky Card Draw

FRIDAY

7.35pm: OTAGO v BOP

SATURDAY

2.35pm: WELLY v N.HARBOUR

7.35pm: NZ v AUSTRALIA

SATURDAY 7pm

(upstairs)

MASTER

HYPNOTISTBRIAN GEE

Tickets $10

COMING UP

NZ CUP DAYFUN DAY

Tuesday 8th Nov from 11am

TICKETS $25

includes drink on

arrival and lunch

Prizes for

Best Dressed Lady

Best Dressed Man

Lucky Seats

Losing Ticket Draw

TAB POD

SHUTTLE RUNNING

Tues, Thurs, Fri & Sat

202 Marine Parade

Ph 388-9416

Members, guests and affiliates welcome

JOIN

A CLUB BY

THE SEA!

GREAT

DINING

- downstairs -

ClubBISTRO

Open Tuesday to Saturday

12pm-2pm and from 5pm

Midweek $10

SPECIAL

ROAST

Available Tuesday,

Wednesday, & Thursday

- upstairs -

PIERVIEW

Restaurant

Quality a la carte

with a view!

Open from 5.30pm

FRIDAY, SATURDAY

& SUNDAY

SORRY, FULLY BOOKED

SATURDAY 22, 29 OCT

FRIDAY SPECIAL:

BBQ PORK RIBS

$19.50!

for a limited time

SUNDAY SPECIAL

3 courses: $25

NOW OPEN FOR

SUNDAY

BRUNCH

By the Seaside!

10.30am-2.30pm

COMING UP:

SUNDAY 30 OCT

ALL YOU CAN EAT

BUFFET

$25... BOOK NOW!

H ORNBY

WORKINGMEN'S

CLUB

«WHAT'S ON«

FRIDAY 21 OCT, 7PM

JO'S KARAOKE

SATURDAY 22 OCT

4.30PM IAN MAC

8PM C-BAY BAND

SATURDAY 22 OCT, 7PM

UPSTAIRS

CHRISTCHURCH

BIG BAND FESTIVAL

Tickets available at the

club office

«COMING UP«

SATURDAY 19 NOV, 8PM

BAD MOON RISING

THE CCR TRIBUTE SHOW

Tickets $20

FRIDAY 9 DEC, 8PM

THE WARRATAHS

Tickets $25

Hornby WMC, 17 Carmen Rd, Hornby ph 03 349 9026

www.hornbyworkingmensclub.co.nz

Members, guests & affiliates welcome

'Famous for their roasts!'

SENIORS SPECIAL

Two courses: $

20

Soup/Roast or Roast/Dessert

Special available lunch only

Monday - Saturday 12pm - 2.30pm

Conditions apply

FAMILY FRIENDLY

Kid's Special

Two courses

Great Kids menu plus

designated play area.

$

10

RESTAURANT & CAFÉ

Open daily from 6.30am - Breakfast, Lunch & Dinner

The

RACECOURSE HOTEL

& Motorlodge

118 Racecourse Rd, Sockburn,

Christchurch. Ph 03 342 7150

www.racecoursehotel.co.nz

The Brougham

darts

EVERY

WEDNESDAY

Six teams

Newcomers

welcome

KARAOKE

8PM EVERY SATURDAY

PRO WRESTLING

UNSANCTIONED

The best in NZ pro wrestling.

Tickets on sale now! Phone 366 1481.

SATURDAY 29 OCTOBER, 7PM

blues night

EVERY THURSDAY

THE ELEVATORS

FREE

6PM EVERY FRIDAY

Lunch & Dinner

All you can eat, 7 days

NOW SERVING

available

from

9am

Breakfast

HAPPY

HOUR

5PM - 7PM

DAILY

Bookings Essential PH 386 0088

fb.com/GardenHotelRestaurant www.gardenhotel.co.nz

LIVE

Christmas

Functions

Lunch & Dinner Buffet

SATURDAY 19th NOV - SATURDAY 24th DEC

Book & dine with us for your Christmas party this

festive season, and we'll take care of the rest!

Sima & Vaea

6PM FRIDAY 21st October

MUSIC

PHONE 385 8880 FIND US ON FACEBOOK fb.com/GBCCHCH

THE GARDEN HOTEL COMPLEX | 110 MARSHLAND RD

www.gardenhotel.co.nz | phone 385 3132

cnr Brougham St/Waltham Rd

phone 366 1481

ONE OF THE MOST HILARIOUS

SHOWS YOU'LL EAT THIS YEAR!

DOUG Kamo Creative

Management return to

the Woolston Club with

another side-splitting

Dinner Theatre.

Based in Dunedin,

DKCM were last at the

club with their 'Faulty

Towers Dinner Theatre'

in August.

They return on Saturday 5th

November with 'The Other Mrs

Browns Boys - The Feck'n Tribute

Show'.

Written by award winning

producer and director Doug

Kamo with costumes by Hugh

Speirs, this completely original

piece of dinner theatre is

The

Woolston Club...

A classic, contemporary

club experience

Cafe open from 11am

TAB & Gaming, Function Facilities,

HOUSIE Tuesday, Thursday, Saturday

SHUTTLE Tuesday - Saturday

presented by a stellar

cast of comedic improv

actors tributing the

brilliance of Brendon

O'Carroll and his smash

hit television series.

Hosted by Rory

Brown, Winnie

McCoogan and the lady

herself Agnes - this is a full dining

experience full of unexpected

surprises and 2 hours of

outrageous interactive comedy.

Tickets $65 on sale now at the

Woolston Club office phone 389

7039. Tickets include 3 course

meal and show.

Book now for one of the most

hilarious shows you'll eat this year!

Open 7 Days

Restaurant open

from 5.30pm!

RETRO ROAST LUNCH

12PM-1.30PM

WEDNESDAYS

$10 Members / $12 Non

-COMING EVENT-

MRS BROWNZ BOYS

3 course Meal & Show. $65 a ticket

SATURDAY 5th NOV

FRIDAY 7.35pm: OTAGO v BOP

SATURDAY

2.35pm: WELL v N.HARBOUR

7.35pm: NZ v AUSTRALIA
---
24

Tuesday October 18 2016

PEGASUS POST

Enjoy your long weekend!

$

9 99

kg $

5 99

Fresh NZ Lamb

Shoulder Chops

Californian Sweet Celebration

Red Seedless Grapes 900g

pack

3for

$

4 00

Eta Spuds/Munchos/Monster Munch/

Cruncheese/Cheese Balls 100-150g

Alpine Mild/Colby/

Edam Cheese 1kg

$

7 00

each

$

4 00

each

Signature Range Ice

Cream 2L

$

31 99

pack

DB/Export Gold/Tui

24 x 330ml Bottles

$

11 99

each

Wither Hills 750ml

(Excludes Pinot Noir)

$

1 00

each

Schweppes Sparkling Soft Drink

1.5L/Golden Circle Fruit Drink 1L

(Excludes Classic Dry)

Shopping ping

just got easier

Best deals are here!

FreshChoice Parklands

60 Queenspark Drive, Christchurch.

Open 7am-11pm, 7 days.

Prices apply from Tuesday 18th October to Sunday

23rd October 2016, or while stocks last.

FreshChoice.co.nz

FreshChoiceNZ

383 1004

FreshChoice Parklands

Owned and

operated

by locals

Certain products may not be

available in all stores. Savings

are based on non-promotional

price. Limits may apply.

FCPP1810