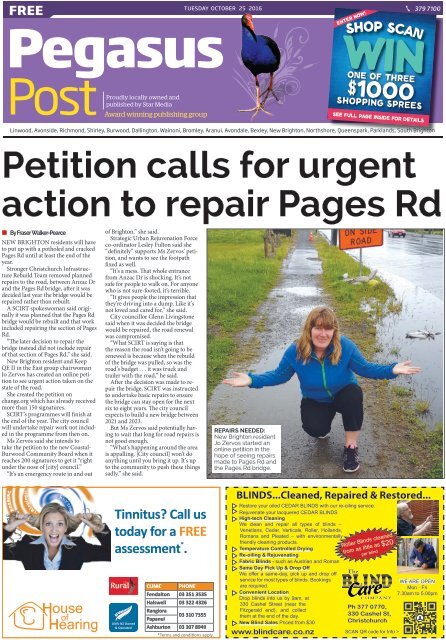 Pegasus Post: October 25, 2016
Do you know the secret to free website traffic?
Use this trick to increase the number of new potential customers.
FREE

TUESDAY OCTOBER 25 2016

Pegasus

Post

Proudly locally owned and

published by Star Media

Award winning publishing group

Shop scan

ENTER NOW!

one of three

$1000

SHOPPING SPREES

SEE full page inside for details

379 7100

Linwood, Avonside, Richmond, Shirley, Burwood, Dallington, Wainoni, Bromley, Aranui, Avondale, Bexley, New Brighton, Northshore, Queenspark, Parklands, South Brighton

Petition calls for urgent

action to repair Pages Rd

• By Fraser Walker-Pearce

NEW BRIGHTON residents will have

to put up with a potholed and cracked

Pages Rd until at least the end of the

year.

Stronger Christchurch Infrastructure

Rebuild Team removed planned

repairs to the road, between Anzac Dr

and the Pages Rd bridge, after it was

decided last year the bridge would be

repaired rather than rebuilt.

A SCIRT spokeswoman said originally

it was planned that the Pages Rd

bridge would be rebuilt and that work

included repairing the section of Pages

Rd.

"The later decision to repair the

bridge instead did not include repair

of that section of Pages Rd," she said.

New Brighton resident and Keep

QE II in the East group chairwoman

Jo Zervos has created an online petition

to see urgent action taken on the

state of the road.

She created the petition on

change.org which has already received

more than 150 signatures.

SCIRT's programmes will finish at

the end of the year. The city council

will undertake repair work not included

in the programme from then on.

Ms Zervos said she intends to

take the petition to the new Coastal-

Burwood Community Board when it

reaches 200 signatures to get it "right

under the nose of [city] council."

"It's an emergency route in and out

of Brighton," she said.

Strategic Urban Rejuvenation Force

co-ordinator Lesley Fulton said she

"definitely" supports Ms Zervos' petition,

and wants to see the footpath

fixed as well.

"It's a mess. That whole entrance

from Anzac Dr is shocking. It's not

safe for people to walk on. For anyone

who is not sure-footed, it's terrible.

"It gives people the impression that

they're driving into a dump. Like it's

not loved and cared for," she said.

City councillor Glenn Livingstone

said when it was decided the bridge

would be repaired, the road renewal

was compromised.

"What SCIRT is saying is that

the reason the road isn't going to be

renewed is because when the rebuild

of the bridge was pulled, so was the

road's budget . . . it was truck and

trailer with the road," he said.

After the decision was made to repair

the bridge, SCIRT was instructed

to undertake basic repairs to ensure

the bridge can stay open for the next

six to eight years. The city council

expects to build a new bridge between

2021 and 2023.

But Ms Zervos said potentially having

to wait that long for road repairs is

not good enough.

"What's happening around the area

is appalling. [City council] won't do

anything until you bring it up. It's up

to the community to push these things

sadly," she said.

REPAIRS NEEDED:

New Brighton resident

Jo Zervos started an

online petition in the

hope of seeing repairs

made to Pages Rd and

the Pages Rd bridge.

BLINDS...Cleaned, Repaired & Restored...

House

of

Hearing

100% NZ Owned

& Operated

CLINIC PHONE

Fendalton 03 351 3535

Halswell 03 322 4326

Rangiora

Papanui

03 310 7355

Ashburton 03 307 8949

Restore your oiled CEDAR BLINDS with our re-oiling service.

Rejuvenate your lacquered CEDAR BLINDS

High-tech Cleaning

We clean and repair all types of blinds –

Venetians, Cedar, Verticals, Roller, Hollands,

Romans and Pleated – with environmentally

friendly cleaning products.

Temperature Controlled Drying

Re-oiling & Rejuvenating

Fabric Blinds - such as Austrian and Roman

Same Day Pick Up & Drop Off

We offer a same-day, pick up and drop off

service for most types of blinds. Bookings

are required.

Convenient Location

Drop blinds into us by 9am, at

330 Cashel Street (near the

Fitzgerald end), and collect

them at the end of the day.

New Blind Sales Priced from $30

www.blindcare.co.nz

Roller Blinds cleaned

from as little as $20

per blind

Ph 377 0770,

330 Cashel St,

Christchurch

SCAN QR code for Info >

WE ARE OPEN

Mon - Fri

7.30am to 5.00pm
---
Pompe i Optional Experience

Optional Experience on Day 3

2

Tuesday October 25 2016

Inside

PEGASUS POST

FROM

THE

EDITOR'S

DESK News..................................3, 5-7

MANY A good thing has been

decided over a few drinks with a

group of mates, which is exactly

what has happened over on page

3 this week. The chaps who rowed

the North Beach Surf Life Saving

Club to glory in 1981 decided over

a few cold ones recently that they

would try to complete the feat

once again at the upcoming World

Masters Games next April. I say

that is one heck of a great idea and

good luck chaps.

Trying to ensure that the New

Brighton pedestrian mall and

foreshore is free of rubbish and

cleaned regularly has been an

ongoing battle for years. Reporter

Fraser Walker-Pearce found out

there are actually three contractors

emptying rubbish bins in the

vicinity – but if the rubbish bin

isn't theirs they walk past it. Three

contractors and still rubbish bins

are overflowing on some occa-

7

Award-winning gourmet sausages

sions? – Shelley Robinson

NEWS

Local Views......................4

Achievers..................................7

Shop Local....................... 8

Events.......................................15

Our People..............16, 17

Health & Beauty.............18

GET IN TOUCH

General Enquiries Ph 379-7100

Classified Advertising Ph 379-1100

The Christchurch Star Company Ltd. PO box 1467 - Christchurch

starmedia.kiwi

NEWS

Fraser Walker-Pearce

Ph: 364 7424

fraser.walker@starmedia.kiwi

ADVERTISING

Mark Sinclair

Ph: 364 7461

mark.sinclair@starmedia.kiwi

growing with you

SprIng Is here –

It'S Sow Time

how to get the best results from

seeds and seedlings

100% NatIve In

The capItal

Unravelling the secrets of

Otari-wilton Bush

The New Zealand

landscape awards

The people behind

the projects

$7.90 incl. GST

ISSN 2423-0219

Save our roSeS

How a rose register is protecting our heritage

Previously

United Travel

September 2016 | 100%

It's time

to grow!

New look and more

content than ever!

MeeT LeSTer Brice

A Garden coach

auckland Botanic GardenS

Why we love our public grounds

now bigger than ever

The magazine for

gardeners who like to get

their hands dirty

SubScribe from

$43. 50*

*6 issues/6 months

SUBSCRIPTIONS FREEPHONE

0800 77 77 10

www.gaRdeNER.kiwI

Dyers Road Landscape

& Garden Supplies

• Barks • Peastraw • Composts - we supply the best available

• Aggregates - Chip, Round and Basecourse

• Pavers & Schist products • Pungas

• Decorative Stones & Landscaping Rocks

• Trailer Hire first hour free with purchase

• Bag & Bulk - pick up or delivered

David, Carol & Mike

We will deliver!

SOIL

AND

HARDFILL

DUMPING

Phone: 03 384 6540

183 Dyers Rd, Bromley • OPEN 7 DAYS

Weekdays 7.30am-5pm. Weekends 8.30am-3pm

www.dyersroadandlandscapes.co.nz

Explore Europe by Coach

AMAZING

EARLY BIRD

OFFERS

Great Italian Cities

10 days, 2 countries

$

2895 *

from

per person, share twin

from

per person, share twin

Italy's greatest cities are

in the spotlight on this

epic journey of discovery

CORSICA

SARDINIA

$800 *

Highlights of Spain & Portugal

$

2925 *

13 days, 2 countries

Visit the Cave Houses

of Guadix, the Alhambra

Palace & Seville Cathedral

2

LISBON

Pisa

Tuscany

Mediterranean

Sea

PORTUGAL

Fátima

1

ALGARVE

Bologna

3

FLORENCE

SEVILLE

3

Jerez

Cadiz

SALAMANCA

1

ROME 3

3 VENICE

Toledo

SPAIN

Assisi

ITALY

MADRID

2 1

Córdoba

Guadix

1

GRANADA

SLOVENIA

CROATIA

Adriatic

Sea

Cuenca

VALENCIA 1

Mediterranean

Sea

UP TO

FLIGHT CREDIT

Per person towards Emirates or

Singapore Airlines return flights

YOU Travel Ferrymead 960 Ferry Road, Ferrymead 03 384 2700 @ melissa@youferrymead.co.nz

YOU Travel Tower Junction 3/4 Troup Drive, Addington 03 341 8965 @ sandra@youtowerjunction.co.nz

*Terms & Conditions: Prices quoted are not guaranteed and subject to availability at time of booking. Further terms and conditions apply, please ask us for details.
---
PEGASUS POST Tuesday October 25 2016 3

News

In Brief

BREAKTHROUGH BAND

Shirley Boys' High School band

Nomad has been named as a

finalist in a category in this year's

Vodafone New Zealand Music

Awards. They are one of four

bands up for breakthrough artist

of the year. Nomad is the only

band outside of Auckland to be

nominated for the award.

NOW AND THEN: North Beach Surf Life Saving Club's surf boat crew from 1981 (right) have got back together to compete in

two big events next year.

Former champs back in training

• By Fraser Walker-Pearce

IT ONLY took a few beers at

a 60th birthday for a former

North Beach surf boat crew to

decide they wanted to repeat

their 1981 national title glory.

And the very next morning

North Beach Surf Life Saving

Club member Dave Pipe and

his former crew members,

brother Steve Pipe, Terry Kreft,

Rob Lindsay and Ron Vette,

were out training.

At Dave Pipe's 60th birthday

celebrations recently, the team

decided they will continue

training "every now and then"

to get back to form in time for

the Surf Lifesaving Nationals to

be held on New Brighton Beach

in March. They are also racing

for glory in the World Master

Games held in Auckland the

following month.

Mr Pipe said the skills of surf

boating never really left them

though.

"You don't lose that drive, it

was just natural. The only thing

they lacked was they didn't

have the puff, the cardio, that

they used to have," he said.

Ron Vette lives in Woodend,

while the others will have

to travel from Nelson and

Waikato for the odd training

session.

Surf boating is a surf

lifesaving sport where a team

of four rowers, plus a sweep

who steers the boat, start on the

beach and race other teams and

clubs to the finish line. There

are long-course and shortcourse

races.

Pipe still remembers the

team's gold medal-winning race

at the 1981 national champs

and the hint of luck that got

them across the line.

"The wave we caught into

the beach in that 1981 final

was tiny, but as we approached

the line, it rose up and we got

dumped across the line – it was

extremely close but we pipped

Whangamata at the post," he

said.

Pipe remembers the 1981

team as unbeatable in their day.

"I still remember we had 51

races that year and we won 49

of them," he said.

SENSORY GARDEN

Work has begun on New Brighton's

sensory garden. A digger was on

the site last Wednesday and the

garden is expected to open at

Rawhiti Domain on November 6.

It will be wheelchair accessible so

that anyone can take full advantage

of the edible plants with differing

textures and smells.

MEMBERSHIP ON RISE

Wainoni's Te Wero Gymnastics

club has seen another surge in

membership numbers. The club

was opened in May this year and

by September had 90 members. It

now has 130. The club aims to have

150 members by Christmas.

ROAD REPAIRS

Estuary Rd in New Brighton will

be out of action for about a week

and a half while SCIRT repairs

damaged sections of the road. In

the coming days, a road crew will

compact and seal the road. Detours

will be in place during this time.

HELPING US,

HELPS THE

COMMUNITY

Drop off or buy

2 family stores in your community

30 Main North Rd,

Ph 352 4581

520 Cranford St,

Ph 352 0515

quality fresh meaTs

Now open

all day Saturday

7.30am to 5.00pm

BUTCHERY

Open Monday-friday 7.30am-6.00pm

Saturday 7.30am-5.00pm

101 Stanmore Rd, Linwood - Ph: 389 8065

Book with a

friend and

receive

50% off

a cut and

blow wave

Conditions apply, please

mention ad at time of

booking

www.aheadinhair.co.nz

1/569 Barbadoes St. P: 366 2819
---
4

Tuesday October 25 2016

Your Local Views

Focused on goals

Coastal

ward city

councillor

David East

talks about

his short and

long-term

goals for

the eastern

suburbs

The elections have now

finished and have produced a

new look community board,

electing members that have a

strong local connection and

have a commitment to get

projects under way that reflect

community desires.

I look forward to working

with Kim Money and Tim

Sintes in the Coastal Ward to

advance local projects and to

work collaboratively with our

colleagues in the Burwood Ward

for projects that encompass the

community board area.

Short-term goals: It has been

disappointing to see the poor

visual impression that visitors

(and locals) get when they arrive

into the ward.

Pages Rd, New Brighton

Rd, Bridge St, are abysmal in

their appearance and I will be

advocating for a huge clean up

of weeds, and other unsavoury

vegetation.

Replace the roundabout at

Pages Rd/New Brighton Rd

and plant it out in attractive

plantings. Plant colourful plants

in the mall, improve the level of

service for coastal gardens.

Mow the stopbanks along

New Brighton Rd, repair rough

pathways and improve the

general appearance. Bridge St

either side of the bridge needs a

clean-up and new plantings.

The design of our rubbish bins

is not appropriate and the level of

service for collection of rubbish

is in need of urgent review. These

are all maintenance matters that

can be addressed quickly.

Long-term goals: I am

committed to ensuring the hot

salt water pools get under way

and I am confident of an early

commitment to this project.

Coastal hazards – the

upcoming review of the natural

hazards chapter of the district

plan needs to be undertaken

using an adaptive management

approach to sea level rise. We

have plenty of time to plan

appropriately and adapt as

required.

Roading programmes need

continual monitoring to ensure

we are receiving the best possible

outcomes.

I am continually amazed at

the talent and level of expertise

that our young leaders in the

community are exhibiting. It is

imperative that we engage with

our youth. They are the new

leaders and will inherit the city.

We need to be ensuring that as

the current elected members,

that we are taking them with

us in our decision making

processes.

I look forward to what I see

as an exciting period for the

Coastal ward. The QE II pool

complex is about to start, new

high schools are relocating to

our ward and there are a number

of projects that are gaining

momentum.

It is a privilege to represent the

ward and I am determined to see

the area reach its full potential.

FLAME FILES

Check your gas cylinder

• By Mark Thomas – Fire

Risk Management Officer

A COUPLE of kitchen fires

this week including another

instance of people getting

hurt, burnt in this case, at

a Dallington address last

Thursday.

One out of every three house

fires starts because of cooking.

And about one in three of these

ends in someone getting hurt.

Very occasionally someone

dies.

So easy to stop, just by 'looking

when you're cooking'.

A passerby in Blenheim Rd

called in a building fire last

Saturday morning, having seen

black smoke drifting around

the structure.

Two fire trucks responded

and discovered the culprit, a

steam train further back on the

railway line.

It's interesting that once upon

a time such smoke would be

normal and expected. Now it's

so out of place that people report

it. Which is a good thing.

Because 10 false alarms are

better than not being called

because someone isn't sure or

thinks smoke is okay. In a real

PEGASUS POST

fire a minute's delay can make

an immense difference.

Barbecue time is just about

here. Which means gas cylinders

not used for six months

are likely to be fired up. When

hooking one up after that time

it's a good idea to slap a detergent

or water mix around the

connector.

Spiders, bugs and old fashioned

dirt can partially block

the threads. Unburnt gas is

not a great mix with a flaming

burner.

Three duckling rescues this

week.

I'm sure we only get the

difficult ones and people are

handling local wildlife rescues

themselves. Which is reassuring.

Humanity still has a heart.

Hopefully always will.

THE HOME OF GOOD BAKING

SOUTHERN

PLAINS BREAD

VARIETIES

2 FOR

$

5 00

CHOC CARAMEL

SLICE

Choc sweet pastry

encases the gooey

caramel filling,

all coated in choc

icing.

ONLY

BISCUIT

BITES TRAY

PACK

NEW

LARGER

PACK!

$

3 49 Afghan, Apricot

LAST WEEK

TO ENTER!

Yoghurt,

Choc Chip, ONLY

EA

Shortbread,

$

3 49

Super Choc Chip.

EA

PURCHASE 2 X DAIRY DALE

2L MILK TO ENTER THE DRAW

TO WIN 1 OF 50 PLAYSTATION

GAMING PACKS!

50 WINNERS - 2 PER STORE

Promotion valid 1st - 31st October 2016. Winners will

be contacted Monday 7th November 2016. Terms &

conditions apply. Full terms & conditions can be found

at www.couplands.co.nz

MILK

Dairy Dale 2L varieties.

$

5 98

2 FOR or $3.19 each

FAMILY MINCE

& VEGE PIE

$

4 99

EA

Promotional pricing available while stocks last from 24/10/16 to 30/10/16.

Images are serving suggestions only.

Open 7 days | 8 Convenient local locations

Hornby • Barrington • Ferry Rd • Papanui • Riccarton • Upper Riccarton • New Brighton • Rangiora

BAKERIES

www.couplands.co.nz
---
PEGASUS POST Tuesday October 25 2016 5

News

Rubbish pick-ups 'pointless'

• By Fraser Walker-Pearce

THE CITY council has

three different contractors

emptying rubbish bins in New

Brighton, but community

leaders say they are still

overflowing.

City councillor

David

East (left) said

contractors

charged with

removing

rubbish from

the area would

sometimes

have to clear bins on one side

of Brighton Mall, but not the

other.

He said waste management

contracts needed to be revisited.

"In Brighton Mall you have

the [city council] parks team

doing one side of the road

and on the other you have the

roading team doing those.

They'll drive past the other

ones that are full and won't

empty them," he said.

For years, New Brighton

residents and businesses have

struggled to see action from

the city council on street

cleaning.

New Brighton Bin Inn

owner Nikki Griffin said to

have different contractors

working on the same road is

pointless.

​"They need to be emptied

every day, and over summer

it needs to be more than once

a day. Fish and chip wrapping

fills them up quickly," she

said.

Meanwhile, Cr East says

seagull proof bins are not

working, with the birds still

ripping fish and chip wrappers

out of overflowing bins.

The bins, on the foreshore

and mall cost $2000 and were

installed in June to thwart

MESSY: Seagullproof

bins in New

Brighton aren't

working.

seagulls.

They are fully covered except

for a small hole at the top.

Cr East said for seagullproof

rubbish bins to be more

effective, they should be designed

like post boxes, so that

overfilling cannot occur.

"It only takes a good weekend

of weather, and people

come to New Brighton and

they sit in the car or the beach

with some fish and chips,

and when the bins are full,

the gulls are in there and the

rubbish is ending up on the

roads," he said.

City council's head of parks

Andrew Rutledge said the

bins on the beach are emptied

every day during the summer

months, and the city council

is looking at ways to stop issues

with the bins.

Brighton huts

open to public

FOUR NEW tiny huts have been

installed in New Brighton.

The huts were put in last Wednesday,

with a fifth, the Shell Chapel, to be installed

next month.

There is a Maori-inspired hut called

Wharau; the Art-o-mat, which is a

showroom for local art; #MyBrighton-

Hut, which is made of wooden blocks

that can be moved and spun; and the

Turret, a two-storey black hut that can

be climbed to get a better view of the

suburb.

The idea for the huts came from local

residents after the Burwood-Pegasus

Community Board held public drop-in

sessions to hear what the public wanted

to see happen in the area.

Strategic Urban Rejuvenation Force

co-ordinator Lesley Fulton had her

favourite hut designs.

"Probably the wedding chapel and the

Art-o-mat are my favourites," she said.

All five huts will be located either

within the New Brighton mall or in the

public open spaces near the library and

whale pool.

Community Clinics

I will be coming to your neighbourhood every month

to hear your concerns.

First Monday of every month

9:00am – 9:40am - Linwood

Linwood Avenue – outside the Salvation Army

9:50am – 10:30am Dallington

Cnr of Gayhurst Road and Claydon Place

10:40am – 11:20am Stanmore/Richmond

Stanmore Road opposite New World at the Park at

Richmond Playground

11:30am – 12:10am Shirley

Cnr of Marshlands Road and Hammersley Avenue

First Friday of every month

9:00am – 9:40am Bromley, Bromley Road, outside

the Community Centre

9:50am – 10:30am Wainoni/Aranui

Wainoni Road (near Shortland Street West)

10:40am – 11:20am Burwood

17 Parnwell Road next to the Education centre

11:30am – 12:10am Parklands

Queenspark Drive - outside Harcourts

Wainoni

& PANDA'S PIZZA

Buy 2 pizzas

& get the 3rd

FREE

Only available with this coupon

Mon - Thurs 4pm-9.30pm

Fri - Sun 12 noon-9.30pm

Valid until 31st December, 2016

175 Wainoni Road, Wainoni

(opp Pak 'n Save) • Phone 388 4373

PIllOW

sellOut

Mazon Virtali Visco Original Pillows

Improve your sleeping posture and spine alignment with this

versatile traditional shape pillow.

ONe

WeeK

ONlY!

WITH US

Open 7 Days Mon - Fri 9 - 5.30pm Sat - Sun 10 - 4pm

242 Ferry Rd Along From Old Ami Stadium | Phone 377 8887 | www.bedworld.co.nz

Was $119

LIMITED

STOCK

ONLY

$79
---
6

Tuesday October 25 2016

PEGASUS POST

Rattan

3 Piece Cafe Setting

288869

Jack and Jill

Pacific Hardwood

Setting

248065

Whitford

3 Piece Steel

Setting

202058

$

229

Como

3 Piece Cafe

Setting

!88003

$

479

Contempo

Egg Chair

With Cushion

248424

$

97 $

299

Pacific

3 Piece

Bench Setting

1500 x 900mm table and

2 bench seats. Eucalyptus hardwood.

Bench Cushions Included.

!88195

$

599 Siena

3 Piece Pod Setting

Throw cushions included.

288902

$

699

$

1299

Romance Hardwood Umbrella

2.7m, Green. Also available in Black or Natural.

248048

Contempo

9 Piece Table Setting

Wicker !88186

Contempo

4 Piece Wicker Lounge Setting

1700 x 840mm sectional lounger, one

footrest and glass top coffee table. Black

powder-coated aluminum frame. Polyester

cushions included.

248421

Ravenna

4 Piece Wicker Lounge Setting

Rust resistant powder-coated aluminium

frame. All weather wicker.

288872

Siena

4 Piece Lounge Setting

Grey wicker.

288907

$

179

$

2199

$

1999

$

2999 $

3299

Gasmate

Column Heater

Electric 2000w.

248398

Gasmate

Outdoor Gas Fire

293936

$

899

30 Seconds

BBQ Cleaner

1L Spray Bottle

082534

Grillman

2 Piece BBQ

Tool Set

202238

Premium

BBQ Mat

Rectangular

279634

$

79 98

$

299

$9 95

$

14 98

Nouveau

Steel Push Up Umbrella

2.3m, Black.

126185

BBQ Pizza Oven

Fire Box

292702

$

128

BBQ 3 Burner

With Wooden Trays

289049

$

399

Gasmate

Portable BBQ

Powder Coated Ranger.

202319

Weber Q2000

Portable Gas BBQ

239458

$

549

$

49 98

$

349

Cart sold

separately

239465

$

249

Gemini

4 Burner BBQ

Hooded, Black

288996

$

Gemini

499 $

599

6 Burner BBQ

Hooded, Black

288997

Maestro

4 Burner BBQ

Hooded.

248607

$

799 $

999 $

1099

Masport

Graphite

4 Burner BBQ

Hooded.

248612

Horizon

6 Burner BBQ

Hooded, Stainless

Steel.

229235

Ferrymead

1005 Ferry Road, Phone: 366 6306

Opening Hours: Monday–Friday: 7:00am–7pm

Saturday, Sunday and Public Holidays: 8:00am–6:00pm

Offers available at Mitre10 Mega Ferrymead only, until the 6th of November, while stocks last.

mitre10mega.co.nz

If you find a lower price on an identical stocked

product locally we will beat it by 15%.

find us

mitre10.co.nz

If you find the same product cheaper from another Mitre 10 store or Mitre 10 website we'll match that price. Excludes trade

and special quotes, stock liquidations and commercial quantities. The in-store price may be lower than that advertised.
---
PEGASUS POST Tuesday October 25 2016 7

News

ACHIEVERS

COMMEMORATION: Shirley Boys' High School associate

prefect Sean Takai (middle) travelled to France recently

to commemorate fallen Kiwi soldiers in the Battle of

the Somme. Sean was one of 10 students to travel

to Northern France and Belgium to mark the 100th

anniversary of the battle. After visiting major World

War I battlefields, they attended a ceremony to mark

New Zealand's involvement. "Le Quesnoy was a small,

peaceful town liberated by the New Zealand division.

It was humbling to know that the townspeople still

appreciate the role that New Zealanders played, with

some locations named Place des All Blacks and Avenue

des Neo-Zelandais," Sean said.

SUPER SNARLERS: (From left) – New World Stanmore Rd's

Shaun Marra, butchery manager Ryan Harrington and Pete

Owen with their silver medal-winning sausages. The lamb,

pumpkin, feta and chives sausages were second best in

the gourmet varietal section of the annual Devro Great New

Zealand Sausage awards. The sausages were judged to

have been beaten by Peter Timbs Meats' wild venison and

black plum sausages. Mr Harrington said the butchers had

been "fluffing around" with the recipe for a while, and on

their second time entering, had taken the silver. "We kind

of knew it was a good one because we've been having

people back in just to try and get them again," he said. Mr

Harrington said the award was a reflection of the hard work

the crew had put in.

DESIGNER

FASHION

AT OUTLET

PRICES

SMART

BRANDS

SMARTER

PRICES

HORNBY 409 Main South Road | Open 10am–5pm, 7 days
---
82

Tuesday [Edition October datE] 25 2016

PEGASUS POST

Shop Local, Shop PARKLANDS

All About Hair & Beauty Celebrates Haircuts

"I love being a hairdresser, which is still my passion after 40 years as a stylist," All About

Hair & Beauty salon owner Carla Williamson smiles as she's cutting a client's hair.

"Every client experiences our high quality and

standard of cutting and styling, because it is

important to us and we make sure every person

leaves feeling 110 % happy with their time with us."

Carla adds.

Like so many businesses affected by the 2011

February earthquake, All about Hair & Beauty have

moved twice before settling in their new home.

They first moved from Ferrymead after the quake.

In November of 2015 they moved from Stanmore

Road, to where they are located today at 169 Bowhill

Road. All about Hair & Beauty is excited to be

servicing the east side of the city, where they have

felt a warm reception and immediately part of the

neighbourhood.

The creative stylists at All about Hair & Beauty

include; Emily, Linda and Carla, who are all

qualified and registered hairdressers. They pride

themselves in providing one on one, individualized

attention, as they get to know you and your hair

style goals.

This hair styling team thrive to make your

experience at All about Hair & Beauty as simple and

enjoyable as possible. From the moment someone

walks through the door and has a consultation

until the final finish and shine radiate from the new

haircut.

The stylists enjoy doing their own colour work and

mix it up a bit with funky colours such as Ombre,

Layarge, and others.

They use Keune professional products in the salon

and offer the retail line to take home to keep the

hair looking and feeling beautiful in between visits.

Keune Keratin Smoothing is their most popular

chemical straighten which offers permanently

straight hair with perfect results.

For their sensitive clients they offer the So Pure

salon range. Those products are ammonia free,

paraben free and sulphate free for any of those hair

colour choices.

A seasoned specialist makes all the difference with

some hair styles. All about Hair & Beauty specialise

in corn braiding, dreadlocks, braiding and creative

hair ups for that special event such as a formal or

wedding.

For the boys and men, choose that professional

look only a stylist can achieve for about the same

costs.

Senior discount days are Tuesday and Wednesday,

so don't wait to book your perm.

Beauty Services at the salon are offered by Tayla.

She provides spray tans, manicures, pedicures

and facials, so you can have your hair done and

your beauty treatments all at the same convenient

location.

Stop by All about Hair & Beauty today at 169

Bowhill Road or call 388 8009 to make your

booking. Join their hair styling family, like some of

their loyal customers who have followed Carla for

30 years. Call today and book time for your FREE

consultation, and hear what the hair experts have

to say about your hair. All about Hair & Beauty, a

haircut you will be happy about.

Buy a main meal &

get another for $5*

* Sunday only. Conditions apply.

All About Hair & Beauty located at 169 Bowhill Rd

All About Hair

& Beauty

(True Vanity

027 450 4150)

We pride ourselves in listening to our clients

needs, either professional advice or advice on

home care products for hair & scalp.

We are trained in all aspects of

hairdressing & beauty & always up for a challenge.

The team at All About Hair & Beauty,

(from left) Tayla, Linda, Carla and Emily

Tues Quiz Night

Wed Karaoke Thurs Live music

Sky Sports Courtesy Van

Friendly Staff & Atmosphere

Chats Bar

251 Travis Road

QEII Shopping Centre

Ph: 388 1566

Monday to Friday to

Saturday to Sunday to

paperplus.co.nz

We use & recommend

Ring today, a chat will

cost only your time.

Ph 03 388-8009

169 Bowhill Rd, Christchurch

Tues-Sat 9am-5pm

Late nights: Tues-Thurs 9am-8pm

www.allabouthair.co.nz

Gold Card rates Tues & Wed

NEW LOCAL

MECHANIC

& now a Bosch

car care centre

Full Mechanical repairs

Full Auto Electrical repairs

INDIAN FOOD MArT

we Are bACk

• 100% Halal Meat

• Fresh Vegetable

• Lentils, Spices & Herbs

• Nuts Almonds, Cashews

• Groceries

205C Hills Road, Edgeware,

Ph 03-3860111.

Shop 4, 103 Stanmore Road,

Linwood, Ph 03-3816163.

Email: spiceheaven123@gmail.com

www.spiceheaven.co.nz

18E Bower Avenue, New Brighton

Phone 388 5750

• Indian

• Fiji

• Filippino

• Samoan

• Mediterian

• Thai

• brazilian

• Asian

• Pacific Islands
---
PEGASUS POST Tuesday October 25 2016 9

free 11mm

high density

FINAL DAYS

luxury underlay

Bonita

• 48oz solution dyed

nylon

• extra heavy duty

+ stairs

• Cut pile

• 2 Colours

NOW

$139.90

3.65m

3.65m

Wide

Wide

Rolls

Rolls

WiTH

FREE

UNdeRlAY

Toulon

• Wool plus

• extra heavy duty

+ stairs

• Cut pile

• 1 Colour

• slightly imperfect

NOW

$95.00

WiTH

FREE

UNdeRlAY

Fairfields

• 48oz Wool plus

• extra heavy duty

+ stairs

• Cut pile

• 3 Colours

NOW

$159.90

3.65m Wide Wide Rolls

3.65m 3.65m Wide Wide Rolls Rolls

WiTH

FREE

UNdeRlAY

Sanctuary

• 55oz Polyester

• extra heavy duty

• Cut pile

• 1 Colour

• slightly imperfect

WiTH

FREE

UNdeRlAY

Tiburon

• 40oz Wool

• extra heavy duty

+ stairs

• loop pile

• 1 Colour

WiTH

FREE

UNdeRlAY

Carterville

• 50 oz Polyester

• extra heavy duty

• Cut pile

• 1 Colour

• slightly imperfect

WiTH

FREE

UNdeRlAY

NOW

$115.00

NOW

$95.00

NOW

$105.00

3.65m Wide Rolls

3.65m Wide Rolls 3.65m Wide Rolls

Horizon

• 36oz solution dyed

nylon

• extra heavy duty

• Cut pile

• 2 Colours

WiTH

FREE

UNdeRlAY

Madison

• 48oz Wool

• Commercial grade

• loop pile

• 1 imperfect colour

WiTH

FREE

UNdeRlAY

Newport

• solution dyed

nylon

• Commercial

grade

• loop pile

• 2 Colours

WiTH

FREE

UNdeRlAY

NOW

$125.00

3.65m Wide Rolls

NOW

$89.90

3.65m Wide Rolls

NOW

$115.00

3.65m Wide Rolls

Garage

carpet

from $15 per sqm

All carpet remnants

priced to clear from

$5 per piece

Conditions apply

Clearing vinyl

FROM

$30 per metre

(2 metre wide vinyl)

312 Wilsons Road North, Waltham Phone 366 0070

www.carpetkingdom.co.nz | Mon - Fri 8am - 5pm | Sat 10am -1pm

Q Card Finance Now Available

FREE no obligation measure & quote (conditions apply.)
---
10

Tuesday October 25 2016

PEGASUS POST

mon 31 st OCTOBER

Turn your home into a halloween

haunted house... get yourself and

the kids dressed up!

Costumes, wigs, hats, masks, capes, ghosts, bats, spiders,

black balloons and many more spine-tingling accessories!

Outfits may vary from store to store

Make this halloween the spookiest yet!

Your Local JUST INCREDIBLE STORES

• Barrington Mall

• The Hub, Hornby

• New Brighton Mall

• South City Centre

NEW

SOUTH CITY

POP-UP STORE!

NExT DOOR TO OUR STORE aND

WHITCOULLS
---
PEGASUS POST Tuesday October 25 2016 11

your chance to

WIN

win one of three

$1000

SHOPPING SPREES

THIS COULD BE YOU!

enter every time you shop at any of these participating businesses - more draws, more chances to win! Promotion closes 9th Dec 2016. conditions apply.

ON NOW!

Oil and Filter & Wheel

Alignment COMBO

ONLY $155 (Save $25)

*when you mention this advert

See Andrea & the team

Auto Super Shoppe Shirley

218 Hills Road, Shirley, 385 0192

Monday – Friday 8am – 5pm

Saturday – 8am – 1pm

Shop scan

FREE Courtesy Cars

All Insurance & Private Work Welcome

10% OFF

EXCESS ON

INSURANCE QUOTES

Conditions apply

QEII Collision Repairs

302 Travis Road, North New Brighton, Chch.

P: 03 388 5187. E: qe2collisionrepairs@outlook.com

PReMiUM

tyReS &

AUtO

tWO LOCAtiONS!

222 LINWOOD AVE (Beside Burger King)

245 dyeRS ROAd (Cnr Wickham St)

• Vehicle servicing from $75

• Punctures only $25 for most vehicles

• Brake pads from only $110

• New & secondhand tyres on sale now

• WOFs • Lubes • Alignments

CALL NOW! HOURS:

MON - FRi

8am - 5pm

SAtURdAy

9am - 2pm

(03) 380 50 20

(Linwood)

drive

away be

happy

Your friendly

local Pharmacy

• Prescriptions • Medico Packs

• Gifts • Health Advice

• Dry Cleaning • Passport/ID photos

Hours: Mon-Fri 9am-5.30pm, Thurs 9am-6pm

11 Parnwell Street. Ph 383 4814

Sore feet?

We can help!

Specialising in all:

• Foot Care & Orthotics

• Ingrown Toe Nails

• Corns & Callouses

Come & see Ian & Anna at the...

448 Papanui Rd Ph 03 352 6400 (opp BP Petrol station)

www.papanuifootclinic.co.nz

Before After

$22

WOF

SIZZLING

SAT WOF

SPECIAL

Full mechanical service

+ repair available

Cnr Fitzgerald Ave & Hereford St.

Phone: 365-5220

www.a1auto4service.co.nz

Quality Bikes

Wanted

Open 7 days • 620a Ferry Road, Woolston | Phone 03 376-6377

www.aroundagaincycles.co.nz

aroundagaincycles@gmail.com

2016 seasoN

NoW starteD

the place to be

this summer!

Season passes available at the Woodford Glen Shop,

129 North Avon Road, ChCh | Ph (03) 385-1515

Check out www.woodfordglen.co.nz for meeting dates

Come in

and see our

friendly staff!

Many more

great specials

instore.

$

33 99

each

Cranford 478 Cranford Street

QEII 251 Travis Road

Richmond 68b North Avon Road

Crispy Crunchy Batter

Gluten free products AvAilAble

Fish, Meat Patties, Hot Dogs, Pineapple RIngs, Donuts

• Souvlaki • Great Burger Selection

• Garlic Butter Chips • Cheese on Chips

* Specialty fish cooked to order…

Blue Cod, Gurnard, Sole, Hoki, and more!

Also crumbed at no extra cost.

GOURMET SEAFOODS QEII

Ph: 388 2531, QEII Shopping Centre

251 Travis Road

Mon - Wed 11.30am - 8.30pm (Tues from 4.30pm)

Thurs - Sat 11.30am - 9.00pm; Sun 12noon - 8.30pm.

Daily break 3.15 - 4.30pm.

Designer

Fashion

3000

items

arriving

daily!

See Our

HUGE

Selection!

• Designer Brands • Family Clothing

• Menswear • Footwear • Bric-a-brac

• Workman Outdoor Clothing

• Household Goods • Books

• See the Retro Section AND Formal Wear

Open Daily 7 Days

New Brighton: 52 New Brighton Mall

(Old Farmers Building)

HOURS

Mon–Sat 9am–5pm

Sun/Public Holidays 10am–4pm

New Zealand's Largest

Recycled Clothing Retailer

Burwood & Redwood

HomE of THE

$40 sErVICE

layby for

xmas now

Hot in-store

deals

Ph: 383 2114

269 Burwood Rd, Burwood

Ph: 354 4022

290 Main North Rd, Redwood

SHOP HOURS

Mon-Fri 8.30am-5.30pm. Sat 9.00am-4.00pm

Monday to Friday to

Saturday to

Sunday to

paperplus.co.nz

Welcome to our family friendly

christmas

shop!

768 Marshland Road (North End)

Open everyday until Christmas Day 10am - 4pm

CHRISTCHURCH'S PERFECT

INDOOR ENTERTAINMENT

FLIP OUT

TRAMPOLINE ARENA

CHRISTCHURCH

MAIN ARENA

TRICKING AREA

FOAM PIT

WALL TRAMPOLINE

TUMBLE TRACK

YOUR SAFETY

IS OUR #1

PRIORITY

PHONE 384 8244 FOR MORE INFORMATION

230 MACES ROAD, BROMLEY

WWW.FLIPOUT.CO.NZ

Boost Brain Performance

ENZO:PROFESSIONAL (ENZOGENOL) is a potent

antioxidant extract of the N.Z. pine bark and

has been clinically shown to improve memory,

concentration & brain performance.

SUPER

60's only $45.30, save $5.00

120's only $84.90, save $15.70

PRICE! Detailed Information Available

Bringing You the Best in Natural Health!

MARSHALLS HEALTH & NATURAL THERAPY

CONSULTING - PRESCRIBING - DISPENSING -

MANUFACTURING - MEDICAL HERBALISTS

110 SEAVIEW RD, NEW BRIGHTON • PH 03 388 5757

Email: enquiry@marshallshealthshop.co.nz

- WE ARE ALWAYS HAPPY TO HELP! -
---
12

Tuesday October 25 2016

PEGASUS POST

Mairehau

high School

Encouraging ExcEllEncE in our community

From the Principal's Desk

Towards the future- Planning for

Roll growth

Mairehau high School is transforming and rebuilding

to accommodate roll growth. We are currently working

with architects to design and plan a school to meet

the educational aspirations and vision of our school

community. a multimillion dollar building project is in

the planning stage to transform Mairehau high School and ensure secondary

school co-educational provision in east christchurch.

We are in a strong position to offer students opportunities which will enable

them to become decent, worthwhile citizens of the world, people who will

contribute to their communities. Students who pass through our school gates,

learn in our classrooms, and access technology through our wireless internet

provision will be well set in the future to enter tertiary courses or employment

opportunities.

Christchurch East Secondary Schools

There are seven secondary schools located in east christchurch: aranui hS,

avonside girls' high School, Shirley Boys' high School, linwood college, Marian

college, catholic cathedral, and Mairehau high School. We are all excellent

schools and provide quality education for students in our community. each

school is passionate about improving achievement and learning outcomes for

all. This cluster of schools in recent years proposed to the Minister a secondary

vision for the east side of christchurch. This vision is based on the premise of

sharing, collaboration and working together to enable every student in the east

with opportunities to access the curriculum.

There is a lot of work to be done and many decisions to be made about the

future of Secondary School education in east christchurch. i am confident

in ensuring a quality education system for all students who live in the east.

Students will have a choice, opportunity and access in our communities. i am

confident in working with other east christchurch Secondary schools on the

future and quality of Teaching and learning for our communities.

Mairehau high School has implemented 'Modern learning Practices" through

the schools' Year 9 flexible learning environment initiative this year. The school is

implementing innovative and creative strategies to support and enhance school

improvement and student achievement in our school.

Our Crest

Harry romana, Principal

our school has a very proud history and is a school with a focus on achievement,

success, excellence and quality. We would like to share with you how our crest and

motto tie in to who we are today.

A visit from Sophie Pascoe

on Wednesday 12 october,

our school hosted an event

featuring New Zealand's most

successful Para-olympian,

canterbury swimmer Sophie

Pascoe.

Ms. Swanson, assistant

Principal, organized the

event in conjunction with

Westpac New Zealand, for

whom Sophie is a sporting

ambassador. Six other

local secondary schools

were also invited to send a

contingent of students to the

presentation.

local print media and cTV

were also in attendance, to

capture this significant event.

Sophie was introduced to

the mainly senior female

student audience by Westpac

staff member and Mairehau high BoT chairperson, Mr. roger Welsh and she spoke

eloquently for 30 minutes about her personal story, her swimming successes, and her

olympic experiences at Beijing, london and rio de Janeiro. She brought her 'clutch'

of gold and silver medals from the recent rio games with her, and students mingled

at the end of the event, speaking to Sophie and taking photographs with the medals

around their necks.

Sophie also spoke about the importance of goal setting, disciplined training regimes,

good nutrition, saving money for things like a house, and having strong family and

friendship networks. These things resonated with her young audience, who asked

many interesting questions at the end of her speech.

Mairehau high senior student leader, emma cormack, thanked Sophie at the end, on

behalf of all of the schools present, and presented her with a beautiful bouquet of fresh

flowers.

Mairehau high School wishes to acknowledge Westpac for their role in making

an event such as this possible for our young people. Sophie is certainly a fabulous

ambassador for Westpac, and an inspirational figure for all New Zealanders.

Kavita Pillay, Chris Nicholson, Sophie Pascoe, Emma Cormack, Jordan McGrath-Osborne

Mairehau High School, Hills Road, Christchurch P. 385 3145 F. 385 3143 admin@mairehau.school.nz www.mairehau.school.nz
---
PEGASUS POST Tuesday October 25 2016 13

Mairehau

high School

Encouraging ExcEllEncE in our community

Teens learn leadership

skills under Willie Apiata

25 secondary

students from

christchurch have

been put through

their paces during

the Willie apiata

Youth Programme,

presented by

Westpac recently.

Mairehau high

School was thrilled

to be able to place

4 Year 11 students

on this event

- alexzis Kameta-

Tapara, cassidy

Kerr, Jade Komene,

and hamish Wolfrey. our students were chosen by the staff because they have shown great

leadership skills here at school.

The students were put through a variety of physical and mental challenges by the New

Zealand Defence Force and their Youth Development unit.

Mud runs, team problem-solving exercises and a fitness trail were all part of the day's

activities which aimed to build strength, endurance, and teamwork skills.

our students had a fantastic day – one of the highlights mentioned by all 4 students was

being with Willie and meeting him. alexzis said "meeting Willie apiata was the best – he's so

cool and hasn't let being famous get to him. he's just a really chilled guy".

Willie helped cassidy work through her fear of heights and Jade enjoyed learning new skills

such as working in a team environment. hamish enjoyed the physical

side of the day, getting outside and learning what the army does in training.

our 4 young students were great ambassadors for our school.

Willie apiata is a former corporal in the New Zealand Special air Service, who became the

first recipient of the Victoria cross for New Zealand. he received the award on 2 July 2007

for bravery under fire during the War in afghanistan in 2004, in which he carried a gravely

wounded comrade across a battlefield, under fire, to safety.

Music at Dianna Isaac

our music department was invited to entertain the residents of the Dianna isaac

retirement Village serviced apartments. our choir performed, along with soloists,

duos and instrumentalists.

everyone enjoyed themselves so much, we have been invited back again in the

coming week to perform to the residents of the villas.

Excellence Awards

We are thrilled to acknowledge our

Excellence Awards from our latest colours

assembly.

Braydon Lennon – Speedway Racing: Mini Stock and

Saloon cars

2016 7th in the National Stock open championships

2016 1st in the canterbury open hobby Saloon

championships, the c-grade open Saloon championship,

and the c-grade open Queen's Birthday championship

Braydon Lennon

Cassidy Kerr

Scholarships

Jade Komene

Hamish Wolfe (centre, front)

We are thrilled to announce the following scholarships have been

awarded to our Year 13 students.

Rebekah Williams

uc emerging leaders Scholarship (based on all round excellence and head girl status)

Kavita Pillay

university of otago leaders of Tomorrow Scholarship (based on academic achievement and

leadership)

Megan Wilson

university of otago alumni appeal Scholarship - (based on students who have

demonstrated academic ability)

Eliza Thompson

university of otago Performance Scholarship (based on students who have demonstrated

academic ability and who are at an elite level for their chosen sport of cultural discipline)

Mitchell Huisman

university of Wellington Victoria achievers Scholarship

Eliza Thompson – Ice Hockey

2016 canterbury Women's ice hockey (gold medalists in

the NZWihl)

2016 New Zealand Women's hockey rep (division 2B

Women's ice hockey Work championships, Sweden) – 5th

place

2016 New Zealand under 18 Women's ice hockey rep

Georgia List – Swimming

2016 canterbury Swimming rep, National Special olympics

Jeffrey Taylor – Football

2016 New Zealand Sunshine Football rep (australian

Tournament, Sydney; South island Tournaments, oamaru

and Nelson)

Emma Cormack – Squash

canterbury women's under 19 champion

canterbury women's under 23 champion

canterbury women's open runner up

Part of the canterbury women's under 19 team National

competition (placed 5th)

10th in under 19 women's at nationals

Eliza Thompson

Georgia List

Jeffrey Taylor

Emma Cormack

Mairehau High School, Hills Road, Christchurch P. 385 3145 F. 385 3143 admin@mairehau.school.nz www.mairehau.school.nz
---
14

Tuesday October 25 2016

PEGASUS POST

Jo Hayes National List MP based in Christchurch East

Treaty Claims Settlement Bills

Two of the best things about being a Member of

Parliament are the privilege of meeting a broad spectrum

of everyday kiwis and seeing history made through new

law.

I've been lucky enough to experience some great

examples of both over the past month.

September ended with an extended sitting of the house

as the Government pushed forward five Treaty Claims

Settlement Bills. Four of the bills are now waiting for their

third (and final) reading and one received its first reading.

Check out the process on how a bill becomes law below.

This is a significant step to enable the Government to reach

its goal of settling all treaty claims with Iwi who wish to

settle by the end of 2017.

"I serve on the Maori Affairs Select Committee, and it's a

wonderful privilege to be a part ot the process to reach

these historic settlements."

New Governor General

It was an

honour to be

present at the

swearing in

of the new

Governor

General Her

Excellency

Dame Patsy

Reddy in

Wellington on

28 September,

with all the

pomp and ceremony befitting such an auspicious

occasion.

I'm Jo Hayes, National's list MP based in Christchurch East.

I love being a part of this wonderful, tight-knit Christchurch East

community. There's so much going on that I just want to share a few

highlights with you of what our community and Government are

working on achieving together.

Celebrating women in Christchurch

It was great to meet a large number of women who attended

the Christchurch

Women's Expo on

24-25 September.

So many were so

supportive of what

the Government was

doing for Canterbury

and happy that we

had a site for them

to visit.

New trees for Travis and an important anniversary

There's a lot happening back in Christchurch East too. I want to

congratulate the Travis Wetland Trust, Trees for Canterbury and

the many volunteers who donned their gumboots and attended

a planting day at Travis Wetlands on 17 September. What a

wonderful community event and a legacy to leave for the future.

I'd also like to congratulate the North New Brighton Surf Club for

its 100-year celebration on 22 October.

How a bill becomes law

There are several stages that a bill passes before becoming

an Act of Parliament. This process can take a long time, and

there is an opportunity for members of the public to make

submissions and be heard by the Select Committee.

1) Introduction 2) First reading

3) Select committee 4) Second reading

5) Committee of the whole House 6) Third reading

7) Royal assent

Find out more at www.parliament.nz.

Let's talk

Please come along and see me. I'll be

parked in my van on 28 October at:

1) Preston`s subdivision

By Marshlands School

on Te Korari Street

Time: 8.30 - 9.30am

2) Parklands

Outside sports field,

opposite shopping centre

Time: 10-11am

3) Shirley

Burwood Park by Shirley Rugby

Grounds, New Brighton Road

Time: 11.30am -12.30pm

4) New Brighton

Next to Ray White offices

Time: 12.45 - 1.45pm

5) Wainoni

Marae on Pages Road (out the front)

Time: 2-3pm

6) Richmond

Stanmore Road, outside of the park

and opposite New World

Time: 3.30-4.30pm

Please phone our office on

03 384 9459 to book. See you there!

Celebrating culture in Christchurch

It's been a rich month culturally too. I attended the

62nd Anniversary of The National Day for the Peoples

Republic of China in Christchurch hosted by Consul

General Jin on 23 September, and the Christchurch

Diwali Festival on Labour Weekend. I always admire

the colour, music and enthusiasm of performers at

this celebration. I want to thank the Indian Social and

Cultural Association for planning this major event.

Congratulations to our new local government!

Finally, congratulations to Christchurch Mayor Lianne Dalziel and

to all the returning and new city councillors, community board

members and health board representatives. It's wonderful to see

local democracy in action.

Authorised by Jo Hayes, National MP,

Unit 6/975 Ferry Road, Ferrymead
---
PEGASUS POST Tuesday October 25 2016 15

Family Fun Night

Monday, October 31, 5-7.30pm

Everyone is welcome to the

annual Family Fun Night at the

Youth Alive Trust. For a gold

coin donation, join in a large

variety of carnival games, bouncy

castles, arts and crafts, games,

food to purchase, live bands and

entertainers. The trust encourages

non-spooky dress-ups because it's

a safe and fun alternative to trick

or treating. For more information

phone the Youth Alive Trust on

388 1001.

Grace Vineyard Beach Campus,

111 Seaview Rd, New Brighton.

Gold coin donation

Science Snippets in the Library

Fridays, 3.30-4.30pm during the

school term

Science Alive educators lead

children through interactive

activities to stimulate their

interest in science, and there

is something to take home

every week. No bookings

required.

Parklands Library, 46

Queenspark Drive. Free entry

Ukulele JAM

Friday nights, from 7.30pm

Every Friday this group meets

to play the ukulele and other

instruments and sing all kinds

of songs and different genres of

music – anything that is in the

spirit of Joyful Anarchic Music

(JAM). There is a data projector so

all the lyrics and the chords

are available. Everyone is

welcome. Tea, coffee and biscuits

are free.

St Faith's Hall, 46 Hawke St,

New Brighton. $2 entry

New Brighton Seaside Market

Every Saturday, from 10am-

2pm

Every Saturday, New Brighton's

pedestrian mall is filled with

colour and creativity. Go along

to the seaside and enjoy live entertainment,

food, fresh produce,

arts, crafts, jewellery and more.

There will be a bouncy castle and

free face painting for the kids. For

inquiries, email seasidemarket@

mail.com.

New Brighton Pedestrian Mall.

Free entry

Monthly Market Day

Sunday, October 30, 11am-2pm

The Bromley monthly market

day is an indoor market on the

last Sunday of the month all year

round. There is a range of stalls

including arts, crafts, knitting,

clothing, winter blankets, baking

and more. If you are interested in

having a stall, phone 389 1657.

Bromley Community Centre, 31

Bromley Rd. Free entry

Email fraser.walker@starmedia.kiwi

by 5pm each Wednesday

Ignite and Excite Exhibition

October 25 to November 12.

Monday to Friday 11am-4pm,

Saturday noon-3pm

The Christchurch Community

Arts Council, on behalf of the

Christchurch Drug and Alcohol

Service and the Christchurch

Opioid Recovery Service is presenting

a collection of artwork by

consumers, those in recovery, and

workers in the addiction sector.

Eastside Gallery, 388 Worcester

St, Linwood. Free entry

Treetech Guy Fawkes Fireworks

Spectacular

Saturday, November 5,

5-9.30pm

Go along to the Treetech Guy

Fawkes Fireworks Spectacular

on New Brighton Beach. Far

above the moon, the fireworks

display will start at 9.10pm, with

a light show under New Brighton

Pier beginning at 9pm. Food

stalls will be open from 5pm so

go along early, get a comfy spot

among the dunes and settle in.

New Brighton Pier, free event

Faerie Picnic

Sunday, November 6, 12.30-

2.30pm

The Faeries are having a picnic

and you're invited. There will also

be a Teacup Faerie Garden Competition,

so make a faerie garden

in a teacup and put it on the

judging the table and you could

win. There will be games like

faerie, faerie, where's your door,

sneaking up on the wizard, and

duck, duck, goose. Also there will

be a fairy garden tour, free face

painting, giant bubbles and hula

hoops. Take a picnic blanket

RABBITS ON SHOW: The National Rabbit Association

Convention is coming to town. On Saturday, October 29,

between 10am and 4pm, go along to the first ever National

Rabbit Association Convention Show. With New Zealand's

very best rabbits on display for all to see, there is plenty for

the family to do. Not only will there be Australian judge Susan

Bathos at the competition judging, but there will also be

Christchurch's Lyn Peebles behind the judging table, spreading

their knowledge to all. There is also a junior development

programme running and for the first time in New Zealand

history, we have a huge pet show running at a national level.

Being held at the Marshland Scout Group, 410 Prestons Rd, for

a gold coin donation on entry.

and something to eat and drink.

The faeries will bring some baked

treats to share with everyone.

Rawhiti Domain, free entry

SeniorNet

Tuesday, Wednesday and

Thursdays 10am-1pm.

SeniorNet New Brighton meet

three times a week to learn more

about computers and modern

technology from tutors. Small

classes, with pleasant rooms.

For more information phone 382

6048 or email snnb15@yahoo.

co.nz

New Brighton Club, 202 Marine

Pde. $25 for four sessions

Your Body Corporate quake

claim still not settled?

Or Commercial?

www.nativeplantnursery.nz

SPRING

INTO

ACTION

Christchurch

478 Marshland Road

Marshland Christchurch

T: 03 385 9008

E : christchurch@tnpn.co.nz

You need to protect your claim before

Feb 22 2017.

Don't leave it too late, talk to us now!

Ph: 03 377 8855 | 127 Ferry Road, Christchurch City

E: reception@earthquakeservices.co.nz | W: www.earthquakeservices.co.nz

NO WIN

NO FEE
---
16

Tuesday October 25 2016

Our People

PEGASUS POST

Daegan Wells

Exploring art history in the red

Artist Daegan Wells recently received an award

which will allow him to focus on his latest project.

He spoke to Caitlin Miles about the city's art

history and his experience documenting the

residential red zone

Congratulations on receiving

the Olivia Spencer Bower

Award – what was it like to win?

Thank you, it was really exciting

to be given it. It's only offered

every two years so I'm really

excited to be selected. It's really

rare to have an opportunity to

work on your practice full-time

as an artist and especially in

New Zealand.

Is that what this award allows

you to do?

Yes, so over the next year I will

be able to focus on this project

without having to balance working

and my art. It gives artists a

chance to work solely on their

project and provides financial

assistance.

Is it nice to know you don't

have to worry about your finance

for the next year?

Yes it is. It's not often you get a

chance to do this so it will take a

bit of stress off trying to balance

my project around working.

Do you work full time?

No, I work part time at a

few places. I'm a tutor, I teach

photography and I also work at

the Physics Room, which is an

art gallery.

What is your project on?

I have chosen to focus on

Christchurch's art history between

1932 and 1939 because it

coincided with a period of time

of Olivia Spencer Bowers being

in Christchurch. So I decided

to focus on that time and investigate

what was happening in

Christchurch and the similarities

in that time to now.

Do you have any idea of where

this project will take you, or is

it still quite new?

It's still quite new. I think I've

got a few starting points. I'll go

to the research library at the

Christchurch Art Gallery, which

will probably be my starting

point. Also, talking to people

that knew Olivia, knew of her

or collected her works. So it will

start like that but I'm not quite

sure where it will go or how the

work will look, but yeah, that's

my starting point.

Your last project involved

spending time in the residential

red zone, can you tell me a bit

about that?

I have a show at the moment at

the Centre of Contemporary Art

and that work is based around

Bill Sutton and his abandoned

studio and residence in the

residential red zone. So my work

has just been about going there

and to other sites and putting together

research and work about

these sites.

What was it like going into

those people's homes?

It was really overwhelming,

but I guess I had, for lack of a

better word, this good intention.

I thought this wasn't being

documented and it was such a

massive part of Christchurch because

these people once occupied

these spaces and I suppose I just

wanted to engage with the site in

a way that previously no one had

been doing.

So why did you choose to look

at the residential red zone?

I guess I felt that there was an

urgency, things were changing so

fast and there wasn't much documentation

around these sites so

I guess, for me, urgency was the

main kind of concern that I had.

DISPLAY:

Some of

Daegan

Wells' work

is currently

on show at

the Centre of

Contemporary

Art.

How long did this project

take?

This was part of my masters'

research so it started in 2015. It's

been a year-long project.

Can you tell me a bit about

some of the other work you

have done?

So I had a show at Blue Oyster

Gallery in Dunedin and the

work was specifically about

the Bill Sutton house. It

incorporated some historical

photographs, which the

Christchurch Art Gallery lent to

me, and some construction work

as well.
---
PEGASUS POST Tuesday October 25 2016 17

zone before it's gone for good

Where did you study art?

I did my masters in sculpture

at Canterbury University.

Why did you decide to do

your masters in sculpture?

I guess it's sculpture in the

loosest sense of the term. The

kind of work that I make is more

installations so my work incorporated

photography and objects

and other materials. It's not set

sculptures like everyone thinks,

it's very loose.

Have you lived here your

whole life?

No I wasn't born here, I moved

to Christchurch from Nelson in

2008. I moved here partly for art

school. But I don't know really –

I guess it's a bigger city. I lived in

the central city for a while and

I've lived in Addington for about

a year and a half.

When you were growing up

did you always want to pursue

art?

I guess it's kind of like that

classic story of when you're

leaving high school and you

don't quite know what to do. So

I enjoyed making and thinking

about art, so I guess for me, it

just made sense and it turned out

to be the right decision for me.

You also co-founded some art

spaces, can you tell me about

them?

HISTORY: This photo was taken at artist Bill Sutton's abandoned red zone home.

My first space that I helped cofound

was a space called Room

4, which was on St Asaph St. We

decided to open that because we

didn't think there were many

showing spaces, especially for

emerging artists. I think that

was the drive, focusing on

emerging artists and not just

from Christchurch. After that,

we opened a gallery called Man

Friday, which we had open for a

year in 2015.

What encouraged you to

make these spaces?

It was really the lack of spaces

for artists around the city and

the need to provide for other artists

and give them a chance. But

also running an artist-run space

is just a good way of encouraging

community or building your

own community, and working

with other artists and getting

more of the public aware of the

artists around them.

What have been some of the

cool projects carried out in

those spaces?

There have been a few. When

Room 4 was running, there was

a big factory behind us. I think

they made garments, school

uniforms I think. Each recycling

day they would put out lots of

boxes and because we didn't have

any shows planned, a group of

us collected the boxes for about

a month and we encouraged

people to come in and we just

kind of made some forts and it

was just a really fun social thing

to do.

Who are some of your favourite

artists?

RED ZONE: Daegan Wells

spent time documenting the

residential red zone in 2015.

PHOTO: GEOFF SLOAN

That's a tricky one to answer. I

guess my peers and friends. But

also the artists that I research,

like Olivia Spencer Bower and

Bill Sutton. Those people have

the biggest influence on my

work.

How do they influence you?

I guess I just respond to their

art. Like mine is in no way

similar to Bill Sutton's, but it

references him and his art and

his career. That's how I relate to

artists I admire or enjoy.

You have a lot on your plate,

do you have much spare time?

I guess my art is my spare time.

So no, I don't really have any. If

I do have spare time, it's pretty

sparse and I haven't had any for

a while.

EARTHQUAKE SOLUTIONS SEMINAR

KSL AUDIT PRESENTS

In association with Aurum Property Systems Ltd

& Simplexity Construction Ltd

Your Body Corporate quake

claim still not settled?

Or Commercial?

VENUE:

DATE:

TIME:

PROTOCOL

2 Colombo Street, Cashmere

Wednesday, 2nd November

7pm

Do you know if you have

serious damage?

Are you struggling with

your insurer?

Have you been

cash settled?

Do you live in a damaged

hillside property?

Do you own a TC3

damaged property?

Have you had a repair

undertaken that you are

not satisfied with?

RSVP:

Please email office@ksl.co.nz

or contact Emma - 365 4460

Please join us for a night of discussion.

KSL Audit is here to help you negotiate

your claim and will outline the process

we have used for settling in excess of 150

claims, 60% are either hillside property

and TC3.

Aurum will outline how they can help you

as the interface between you, your insurer

and the builder. Aurum has successfully

managed the rebuild of over 100 houses

through their process since 2011 ranging

from $300,000 to $2.3 million

Simplexity Construction will demonstrate

how they can assist homeowners from

scoping the damage, preparing the

reinstatement methodology through to

constructing your repair or rebuild.

PROVIDING THE CLAIMS REVIEW YOU DESERVE

You need to protect your claim before

Feb 22 2017.

Don't leave it too late, talk to us now!

Ph: 03 377 8855 | 127 Ferry Road, Christchurch City

E: reception@earthquakeservices.co.nz | W: www.earthquakeservices.co.nz

NO WIN

NO FEE
---
18

Tuesday October 25 2016

HEALTH & BEAUTY

PEGASUS POST

Reclaim your

identity

When it comes to dentures, Christchurch people

have access to world-leading techniques and oral

aesthetics right on their doorstep.

At his Montreal street studio Lovebite,

internationally renowned dental

technician Richard Greenlees creates

beautiful bespoke dentures with small

nuances in the fabrication, colour and

shape, and even slight imperfections to

create a uniquely individual smile.

There is no need for dentures to look

false. Richard takes a great deal of

satisfaction in making bespoke dentures

that look 100 per cent real and natural,

personally guiding his patients through

the transformation process to craft a

smile that reflects their individuality and

personality, and recreates their natural

pre-denture smile.

Not only do Lovebite teeth look

real, the whole structure and shape of

the patient's face is transformed with

Richard's top-of-the-line dentures,

something he calls his signature 'denture

lift'.

"With appropriate facial support, the

facial tissues are brought back into the

correct position, the lips are reformed,

and beauty is restored," he says.

it is the interior architecture of a

Lovebite denture that helps to create a

more youthful appearance by recovering

the face and skeletal shape that can be

lost after years of wearing dentures.

As the smile is transformed, so are the

patient's confidence, and the way they

feel about themselves.

Richard's vast experience includes

15 years of running his own clinic in

the prestigious harley st, London,

where he treated people from all walks

of life, from barrow boys to the rich

and famous, politicians, actors and

musicians.

his techniques are recognised as

world-leading among his international

peers, and he is regularly asked to

lecture and run courses worldwide.

Miles Cone (DMD, Ms, FACP, CDt),

a prosthodontist from Oregon, UsA,

said in November 2015: "Richard

Greenlees' craftsmanship is as stunning

as it is unique. There is liberation in

the calculated imperfection, indeed an

asperity that reflects a purely human

element."

in addition to dentures, Richard also

carries out crown and bridge, veneer

and implant work, in conjunction

with like-minded dental surgeons who

complement his creative and aesthetic

work.

"teeth are as different as fingerprints

and vary greatly depending on a person's

age, sex and race. Dentures from

Lovebite reflect this, and are as unique

and individual as the people they are

made for," says Richard.

There is nothing more satisfying for

Richard than to see his patients leave

the Lovebite studio with their selfconfidence

and identity restored, as well

as their smile.

Confidence and beauty is restored with a new

denture by Lovebite.

As the smile is transformed, so are the

patient's confidence, and the way they

feel about themselves.

SuPER

LOW PRICES!

Over 60 health products

on special every day.

Locally owned and operated.

Giving health advice since 1992.

The Palms: 385 0364

The Hub Hornby: 349 5150

Bush Inn Centre: 348 7867

Your Local

Friendly

Dental

Team

230 Barrington st

332 4004

Easy parking

& great service

Just had surgery?

Come to us for your postsurgery

physiotherapy

lovebite.com

• 3 clinics

• Pain and swelling management

• Restoring movement, strength

and function

• ACC and Private surgeries

• Free car-parking

• No referral needed

musclepeople.co.nz

Call us today 360 3606

Three Muscle People Physio Clinics:

Bishopdale Clinic

13a Bishopdale Court

Ph 360 3606

City Clinic

12 Hereford St

Ph 961 0236

Wigram Skies Clinic

67 Skyhawk Rd

Ph 322 9400
---
PEGASUS POST Tuesday October 25 2016 19

REAL ESTATE

Stylish and seriously selling

116 Idris Road, Strowan

Auction Date: Wednesday 2 November - unless sold prior

3 bedrooms | 1 bathroom | 2 toilets | 1 living room | 1 dining room | 2 car-garage | 3 off-street parks | Listing # ST7044

Nestled on a sun-drenched corner and

surrounded by lush and leafy gardens

is this immaculately presented and

meticulously styled 3-bedroom family

home, this superb property secures your

investment in "location" and affordability

the renovations and the thought and detail

given to this home has created a very

special place indeed.

From the moment you enter you get

a sense of style and character. Cleverly

refurbished to include today's modern

elements yet staying true to the character

of the home.

Offering 3 double bedrooms, master

with walk-in wardrobe. The open plan

kitchen and dining is the hub of the home

and the two interconnecting living areas

flow through sliding doors to a sunny

north facing deck a perfect spot for alfresco

dining and children playing on the lawn.

Be reassured this builders own home has

been renovated to exact standards.

An enviable spot close to shops &

services and with St Andrews College

on the morning school run & zoning for

a plethora of excellent public schools

(Fendalton Primary, Heaton & Cobham

Int, & CBHS) you are spoilt for educational

options. Double garaging and ample

parking for vehicles/boat or caravan.

Our very motivated owners have had a

change of circumstances our instructions

are to sell on (or before) auction day - this

could be your best Christmas present ever!

Auction Wednesday 2nd November,

from 12:00pm at Holmwood Auction

Rooms, Russley Golf Club, 428 Memorial

Avenue (unless sold prior).

Open Homes Saturday & Sunday 1.00

-1.30pm. See you at the Open Homes

or for a private viewing contact Peter or

Kathryn Hampton of Harcourts St Albans

- Holmwood (Licensed Agent REAA

2008) on 377 0377 or Peter mobile 021 367

761 or Kathryn mobile 021 889 903

Your Body Corporate quake

claim still not settled?

Or Commercial?

Celebrate the success of local

businesses and people!

Thursdays at 7.30pm

CTV Freeview Channel 40,

live and on demand at ctv.co.nz

You need to protect your claim before

Feb 22 2017.

Don't leave it too late, talk to us now!

Ph: 03 377 8855 | 127 Ferry Road, Christchurch City

E: reception@earthquakeservices.co.nz | W: www.earthquakeservices.co.nz

NO WIN

NO FEE
---
20

Tuesday October 25 2016

PEGASUS POST

Just

advertisement

in The Star

reaches more

people than

any other

media in

Christchurch!

Reach more customers with The Star!

For a free marketing consultation,

contact the team:

shane@starmedia.kiwi | 03 379 7100

www.starmedia.kiwi
---
PEGASUS POST Tuesday October 25 2016 21

Classifieds Contact us today Phone our local team 03 379 1100

Computers

Tours

Tours

Trades & Services

Trades & Services

Trades & Services

ALL

YOUR

COMPUTER

WORRIES SOLVED!

*$30.00 off your first

service with this coupon!*

No problem too big or

small from home PC's to

business networks. PC

slow? An end to Viruses,

Spyware, and Clogged

Systems. Safe secure

hassle-free computing.

Lost files recovered.

Microsoft Certified,

MCSE, MCP+l. 30 years

experience. Call Andrew

Buxton this week on 326-

6740 or 027 435-7596

for $30.00 off* Custom

Computers Christchurch

Curtains

www.curtainfabric-outlet.com

Fashion Designs & Colours

Discontinued Designs

End of Lines Bargain Prices

Call at Our Shop

CURTAIN FABRIC OUTLET

71 Hawdon St Sydenham

Ph 366-5026

Gardening

& Supplies

A GARDEN OR

LANDSCAPING TIDY

UP? Rose & Fruit Tree

Pruning, Shrub, hedge

& tree pruning, Lawns,

Gardening, consistently

reliable general property

upkeep, Dip. Hort. 10

yrs experience, One off

tidy ups or on-going

service. Nick's Property

Maintenance. Keeping

your garden beautiful.

Free Quote. Ph. 942-4440

A GARDEN

PROFESSIONAL

NEEDED? Qualified

Horticulturist, offering

expert pruning, garden

makeovers, garden design

and landscaping, for free

quotes call Bryce 027 688-

8196 or 0508 242-733

Holiday

Accommodation

QUEENSLAND SUN-

SHINE COAST AUSTRA-

LIA Resort, Ocean Views,

Balconies, Self Contained,

1 or 2 B/R Ensuite,

Heated Pool, Spa, Sauna,

Free Internet, Shops,

Restaurants, Tennis, Surf

Club & Patrolled Beach,

Public Transport at door.

Ask for our SEASONAL

SPECIALS. Phone 61 7

544-35011 Email: reception@mandolin.com.au

www.mandolin.com.au

To Let

HOUSEME

Portable sleepout or office

available to rent

Insulated and value for

money at $75.00 per week,

you wouldn't live in

anything else. Contact

Amanda

today on 0279570920 or

houseme2015@xtra.co.nz

Rexellent

Rentals

Cars, Vans, Brisbane, Coolangatta

FREE CALL

0800 601 508

e: rexellent@bigpond.com

Trades & Services

ARCHGOLA

Rexellent

Rentals

Cars, Vans, Brisbane, Coolangatta

FREE CALL

0800 601 508

e: rexellent@bigpond.com

Enjoy outdoor living all year round

15 months

INTEREST FREE

Normal lending criteria apply

• House, deck, carport & window canopy etc

• Warm & dry in winter

• UV protection for summer

• Customised & Tailored

• Café curtains fitted

• 5 year warranty

Chris Thorndycroft

Ph 0800 27 24 46 | www.archgola.co.nz

CARPET CLEANING

CARPET: QUICK DRY technology / Stain Treatments

SCOTCH GUARDING

UPHOLSTERY – DRAPE CLEANING

MATTRESS CLEAN / ALLERGY TREATMENTS

ALLERGY / ASTHMA, dust mite treatments

RENTAL CARPETS, clean/stain removal

RESIDENTIAL / COMMERCIAL

FLOOD RESTORATION

INSURANCE

0800 333 181 | www.cavendishcarpetcare.co.nz

Trades & Services

Appliance Sales & Service

388 4780

Appliance Services

14 Brighton Mall, New Brighton

Trades & Services

FOR ALL YOUR

★Garden Clean-ups

★Pruning

★Lawn Mowing

★Garden Maintenance

Call us today for a FREE quote

PH 0800 4 546 546

(0800 4 JIMJIM)

Trades & Services

• Replacement/new roofing

• Colour Steel gutter & fascia

• Flue & log burner installs

• Skytube/light installs

• Earthquake repairs

Licence Building

Practitioner LBP

Member of the Roofing

Association

DCM ROOFING LTD

The Roofing Specialists

PHONE IAIN

027 445 5597

iain@dcmroofing.co.nz

Trades & Services

HOUSE

CLEARING

Are you moving

house?

Let All Clear Canterbury

take care of your

unwanted items.

You identify what you want

to keep & we will dispose

of the rest!!

Ph: 03 312 7119

Mob: 021 078 4553

allclearcanterbury@gmail.com

www.allclearcanterbury.co.nz

9220021AA

FINANCE

Overdue

Overdue

bills

bills

need

need

paying?

paying?

It's nice to know you can rely on

It's SCL nice Finance to know to help. you can Isn't rely it? on

SCL Finance to help. Isn't it?

Ph 0800 725 725

Ph 0800 725 725

* Subject to normal lending criteria

* Subject to normal lending criteria

painter

Price Family

Painters Ltd

Interior/Exterior

Wallpapering/Painting

Gib Stopping

Free Quotes

EQC Opt Out

Fletcher Accredited

Project Management

Phone: Morton 021 667 444

Email: mortonprice@xtra.co.nz

www.pricefamilypainters.co.nz

Trades & Services

& Property Maintenance

Paving

Patio - Pathways - Driveways

Lawns and Gardens

Planting - Raised Vege Gardens

Readylawn - Irrigation - Fencing

General Maintenance

Water Blasting - Gutter Cleaning

Rental Property Maintenance

Section Clearing - Weed Spraying

20 Years Experience

Locally owned and operated

Free Quotes - Competitive Pricing

Blair Gibson 027 699 5815

Trades & Services

MDC

BUILDERS

Renovations & Repairs

All forms of Home

Maintenance

Bathrooms & Kitchens

Site clears

Excavating Driveways

& Paths

All forms of Foundations

Free Quotes

Give me a call today

Ph 022 407 8581

mdcbuildersnz@gmail.com

15% Discount with this Advert

Trades & Services

BEST BATHROOMS

full renovation specialists,

LBP, repairs &

maintenance ph 03 387-

0770 or 027 245-5226

Trades & Services

BRICKLAYER

George Lockyer. Over

30 years bricklaying

experience. UK trained.

Licensed Building

Practitioner number

BP105608. Insurance

work. EQC repairs.

Heritage brickwork a

speciality. No job too

small. Governors Bay.

Home 329-9344, Cell

027 684 4046, email

karengeorge@xtra.co.nz

BUILDER

For all building work

but specialist in bathroom

renovations, 30 yrs

experience, with service

and integrity. Free Quotes.

Ph Lachlan 383-1723 or

0274 367-067.

BUILDER

LICENSED, available for

all aspects of building.

Please call 027 241-7471

or 335-0265

CARRIER

Local, experienced,

friendly, trade-me

purchases, single items

to truck loads, furniture

to whatever, removals &

trade deliveries a specialty.

Ph GEH 341-5069

CARPETLAYER

Laying and Repairs, 40 yrs

experience, ph Peter 326-

7711 or 027 240-6532

CARPET & VInYL

LAYIng

Repairs, uplifting,

relaying, restretching,

E mail jflattery@xtra.

co.nz,

ph 0800 003 181

or 027 2407416

DRIVEWAYS

Replace, repair or new.

We are a local company

with over 10 yrs exp.

We also operate a

digger for all other

earthworks.

Ph. R.M. Solutions

021 02866981

for a free quote.

FEnCIng

All styles and shapes,

gates, wooden, ph Mark

027 331-3223

FEnCE PAInTIng

Staining Quality at a

reasonable price. Free

quotes. Phone Warren

today on 980-1676 or 027

2014713

Trades & Services

FENCING

Paling, picket,

iron, trellis

Demolition and

removal

Phone Bevan

021 231 1860

Fencing Uprite

Your Eastside

Specialist

Trades & Services

FURnITURE

REMOVALS

Large Trucks $95 +

GST per hour 7 day NZ

wide, packing & moving,

Professional Company,

Professional Service.

Canterbury Relocations

Ltd. ph 0800 359 9313

gLAZIER

Window repairs, pet

doors, new glazing, double

glazing, conservatory

roofs. Experienced

tradesman. Call Bill on

981-1903 or 022 413-3504

LAnDSCAPE

COnSTRUCTIOn

Lawns, paving, water

features, irrigation,

planting, decks,

driveways, kerbing, ponds,

retainer walls, fencing.

Free quotes, Phone Tony

021-034-8555

PAInTIng

DECORATIng

interior & exterior,

gib fixing, plastering,

paperhanging, Est 50 yrs

in ChCh, ph Wingfields

Ltd, ph Mark 021 171-

1586 or 355-5994

PAInTER

Top quality work, interior/

exterior, pensioners

discount, free quotes, 30

years experience, I stand

by Canterbury, ph Wayne

your friendly painter

03 385-4348 or 027 274-

3541

PAInTER

Available, All aspects in

painting. Very competitive

in roofs and fences. Please

call 027 241-7471 or 335-

0265

ROOF REPAIRS

Locally owned & operated with

over 30 years experience.

• Extensions & repair • Roof coating

• Concrete & clay tiles • Butynol

• Malthoid • Asbestos Certified

• Coloursteel • Old iron • Guttering

Phone Dave 981 0278

or 021 223 4200

E: dave@beaumontroofing.co.nz

BEAUMONT ROOFING LTD

WINDOW TINTING

tintawindow

advanced film solutions

99% uv block

fade protection

heat control

reduce glare

25 Years Experience

privacy films

frosting designs

non-darkening films

Workmanship Guaranteed

Lifetime Warranties on Most Films

UV

block

Free Quotes Canterbury and Districts

03 365 3653 0800 368 468

Trades & Services

PLUMBER

For prompt service for all

plumbing maintenance,

repairs and alterations.

Phone Michael 364 7080

or 027 438 3943

ROOFIng

Qualified & Licenced

Practitioner. Re-Roof &

Repairs, all types. Member

New Zealand Roofing

Association. Over 35 years

experience. Phone John

027 432-3822 or 351-9147

email johnmill@ihug.

co.nz

SPOUTIng CLEAnIng

Spouting Unblocked,

Cleaned Out and Flushed

Out. Also Full Handyman

Services Available. Call

Trevor 332 8949 or 021

043-2034

BRICK BLOCKLAYER

Earthquake Repairs, Grind

Out & Repoint, River/

Oamaru stone, Schist,

Volcanic Rock, Paving,

all Alterations new & old,

Quality Workmanship,

visit www.featureworks.

co.nz or ph 027 601-3145

TREES BIg OR SMALL

tree removal, trimming,

stump grinding, shelterbelt

clean up, section clearing,

rubbish removals,

excavation work, ph Trees

Big or Small, for a free

quote, 021 061 4783

TREE WORK

Hedge trimming, stump

grinding, rubbish removed,

small job specialty Ph

Andrew 03 322-8341 or

027 435-8759

Trades & Services

TV SERVICE CEnTRE

Repairs, tvs, microwaves,

stereos, DVD. Aerial

installations and

kitsets, 480 Moorhouse

Ave, ph 03 379 1400

UPHOLSTERER

Dining Chairs, Lounge

suites, Caravan Squabs

etc. recovered. Free

Quotes. Phone Graeme

383-1448

VHS VIDEO TAPES

& all camera tapes

converted to DVD, video

taping, weddings, twenty

firsts, special occasions,

www.grahamsvideo.co.nz

ph 03 338-1655

WATERBLASTIng

Quality Job, Quick Service

by skilled tradesman, Ph

Richard Severin at Jet-X

0800 538 969 Free quotes,

visit www.jetx.co.nz

WInDOW CLEAnIng

Average 3 bdrm house

inside or out $40. Both

$70. Phone Trevor 344-

2170

Wanted To Buy

AAA Buying goods

quality furniture,

Beds, Stoves, Washing

machines, Fridge Freezers.

Same day service. Selwyn

Dealers. Phone 980 5812

or 027 313 8156

A+ Household effects,

fridges, freezers, washing

machines, ovens. Good

cash paid. Ph Paul 022

0891 671

TOOLS

Garden, garage,

woodworking,

mechanical, engineering,

sawbenches, lathes, cash

buyer, ph 355-2045
---
22

Tuesday October 25 2016

Classifieds

PEGASUS POST

Free Public Seminar

"Linking Diet anD CanCer"

Integrative GP Dr Dan Quistorff will discuss the

link between cancer and our modern diet and

cover the science behind the discovery of CYP1B1,

the discovery of Salvestrols and how these unique

compounds can be used to our benefit.

"Linking Diet and Cancer"

The Atrium, 455 Hagley Ave

Tuesday 8th November 2016

6.30pm – 8.00pm

All cancer sufferers, their friends or family

and anyone wanting to minimise the risk of

cancer should attend this free seminar.

The first 50 people to register will receive a

free copy of the book "Linking Diet and Cancer"

To register phone: 0800 725 822

or email info@salvacare.co.nz

www.salvacare.co.nz

Public Notices

DEMOLITION

With care and respect we

will remove your dwelling.

Our policy is to recycle as

much as we can. We are a

local company specialising

in residential properties. We

will endeavor to cater for

your individual needs.

Ph. R.M. Solutions

021 02866981

for a free quote.

Public Notices

Situations Vacant

CA$H

Strippers

& Podium

Dancers

Wanted!

18+ TO APPLY

NEISHA

021 193 0118

Situations Vacant

Public Notices

business video

PRoduCTion

A video will bring your business

alive & into your customers mind.

Promote your

services or business

with a professionally

created video with us

• Corporate and

Business video a speciality

• Competitive rates

• 25 years experience

• Start to finished product

• Professional quality guaranteed

PHone KeRRY 021 635 083

SAT. NOVEMBER 5

& DINNER $65

Tickets

WOOLSTON CLUB

43 Hargood St, Woolston | ph 389 7039

www.woolstonclub.co.nz

SHOW &

THREE COURSE

MEAL

Tickets available at club reception

& online: http://tickets.dkcm.co.nz

The Brougham

THIS SATURDAY, 7PM

PRO WRESTLING

UNSANCTIONED

The best in NZ pro wrestling.

Tickets on sale now! Phone 366 1481.

MUMS & DADS

Would you like your children to

exercise more and earn some money?

darts

EVERY

WEDNESDAY

Six teams

Newcomers

welcome

blues night

EVERY THURSDAY

THE ELEVATORS

FREE

6PM EVERY FRIDAY

DELIVERY

PEOPLE

WANTED

The Star requires

delivery personnel

in all areas of

Christchurch.

The work involves

door-to-door

delivery of The Star

newspaper.

Please call

Leanne Lucas 364-7451 or

Mark Coulthard 364 7453

email: deliveries@starmedia.kiwi

KARAOKE

8PM EVERY SATURDAY

cnr Brougham St/Waltham Rd

phone 366 1481

'Famous for their roasts!'

SENIORS SPECIAL

Two courses: $

20

Soup/Roast or Roast/Dessert

Special available lunch only

Monday - Saturday 12pm - 2.30pm

Conditions apply

FAMILY FRIENDLY

Kid's Special

Two courses

Great Kids menu plus

designated play area.

$

10

RESTAURANT & CAFÉ

Open daily from 6.30am - Breakfast, Lunch & Dinner

The

RACECOURSE HOTEL

& Motorlodge

118 Racecourse Rd, Sockburn,

Christchurch. Ph 03 342 7150

www.racecoursehotel.co.nz
---
PEGASUS POST Tuesday October 25 2016 23

www.newbrightonclub.co.nz

GREAT

ENTERTAINMENT

TUES & THURS

Members Lucky Card Draw

MITRE 10 CUP

RUGBY FINALS

THIS WEEKEND - LIVE

COMING UP

NZ CUP DAYFUN DAY

Tuesday 8th Nov from 11am

TICKETS $25

includes drink on

arrival and lunch

Prizes for

Best Dressed Lady

Best Dressed Man

Lucky Seats

Losing Ticket Draw

MASTER HYPNOTIST

BRIAN GEE

7PM SATURDAY

19 NOVEMBER

Tickets $10

TAB POD

SHUTTLE RUNNING

Tues, Thurs, Fri & Sat

202 Marine Parade

Ph 388-9416

Members, guests and affiliates welcome

JOIN

A CLUB BY

THE SEA!

GREAT

DINING

- downstairs -

ClubBISTRO

Open Tuesday to Saturday

12pm-2pm and from 5pm

Midweek $10

SPECIAL

ROAST

Available Tuesday,

Wednesday, & Thursday

- upstairs -

PIERVIEW

Restaurant

Quality a la carte

with a view!

Open from 5.30pm

FRIDAY, SATURDAY

& SUNDAY

SORRY, FULLY BOOKED

SATURDAY 29 OCT

FRIDAY SPECIAL:

BBQ PORK RIBS

$19.50!

for a limited time

SUNDAY SPECIAL

3 courses: $25

NOW OPEN FOR

SUNDAY

BRUNCH

By the Seaside!

10.30am-2.30pm

THIS SUNDAY

30 OCT

ALL YOU CAN EAT

BUFFET

$25... BOOK NOW!

H ORNBY

WORKINGMEN'S

CLUB

«WHAT'S ON«

FRIDAY 28 OCT, 7.30PM

ANNETTE'S HEART OF COUNTRY

YOUNG TALENT SHOW

$6 ENTRY

SATURDAY 29 OCT

4.30PM DES NEWTON

8PM MEDIUM RARE

SUNDAY 30 OCT, 2PM

NEVILLE WILKINS

& THE VISCOUNTS

$5 ENTRY

«COMING UP«

SATURDAY 19 NOV, 8PM

BAD MOON RISING

THE CCR TRIBUTE SHOW

Tickets $20

FRIDAY 9 DEC, 8PM

THE WARRATAHS

Tickets $25

Hornby WMC, 17 Carmen Rd, Hornby ph 03 349 9026

www.hornbyworkingmensclub.co.nz

Members, guests & affiliates welcome

Lunch & Dinner

All you can eat, 7 days

Christmas

Functions

Lunch & Dinner Buffet

NOW SERVING

available

from

9am

Breakfast

HAPPY

HOUR

5PM - 7PM

DAILY

SATURDAY 19th NOV - SATURDAY 24th DEC

Book & dine with us for your Christmas party this

festive season, and we'll take care of the rest!

Bookings Essential PH 386 0088

fb.com/GardenHotelRestaurant www.gardenhotel.co.nz

LIVE

Mandi Miller

6PM FRIDAY 28th October

MUSIC

PHONE 385 8880 FIND US ON FACEBOOK fb.com/GBCCHCH

THE GARDEN HOTEL COMPLEX | 110 MARSHLAND RD

www.gardenhotel.co.nz | phone 385 3132
---
24

Tuesday October 25 2016

See inStore for

Halloween

treatS not trickS!

PEGASUS POST

$

4 49

kg

Fresh Tegel NZ Chicken Drumsticks

$

2 99

bag

Solsa Hothouse Tomatoes 700g

$

4 90

each

Tip Top Ice Cream 2L

$

3 80

each

$

4 00

each

Alpine Butter 500g

Sanitarium Weet-Bix 750g

$

22 99

pack

Jacob's Creek

Sparkling

750ml

(Excludes Reserve)

Steinlager Classic 15 x 330ml Bottles/

Heineken/Asahi Super Dry 12 x 330ml Bottles

(Excludes Light)

$

8 99

each

2for

$

3 50

Just Juice Fruit Juice 1L/

H2GO Water 750ml

Shopping just got easier

Best deals are here!

FreshChoice Parklands

60 Queenspark Drive, Christchurch.

Open 7am-11pm, 7 days.

Prices apply from Tuesday 25th October to Sunday

30th October 2016, or while stocks last.

FreshChoice.co.nz

FreshChoiceNZ

383 1004

FreshChoice Parklands

Owned and

operated

by locals

Certain products may not be

available in all stores. Savings

are based on non-promotional

price. Limits may apply.

FCPP2510