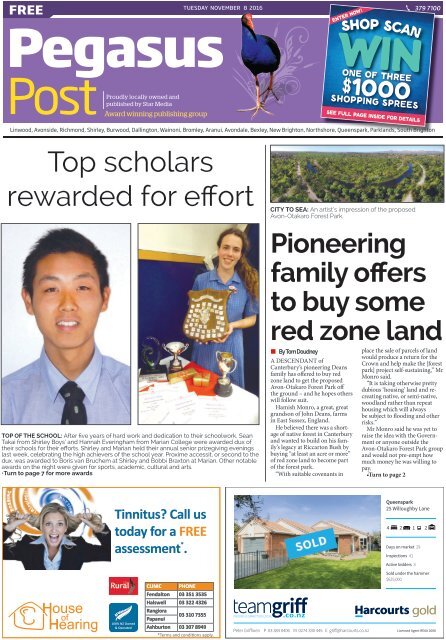 Pegasus Post: November 08, 2016
You also want an ePaper? Increase the reach of your titles
YUMPU automatically turns print PDFs into web optimized ePapers that Google loves.
Land size

Garage

Bedroom

Carport

Land Bathroom size

Bedroom Lounge

Land size

Bedroom BathroomDining

BathroomLounge

Toilet

Car pad

Garage

Garage

Boat pad

Carport

Carport

Pool

Car pad

Shower

Lounge Dining

Tennis court

Boat pad

Car pad

Pool

Boat pad

Land size

ToiletDining

Shower

Study

GarageToilet

Tennis court

1 2 3 4

Pool

Tennis court

1 2 3 4 5 6 7 8 9 10 11 12 13 14

1 2 3 4 5 6 7 8 9 10 11 12 13 14

Bedroom

Shower Carport

1 2 3 4 5 6 7 8 9 10 11 12 13

Study

FREE

TUESDAY NOVEMBER 8 2016

Pegasus

Post

Proudly locally owned and

published by Star Media

Award winning publishing group

Shop scan

ENTER NOW!

one of three

$1000

SHOPPING SPREES

SEE full page inside for details

379 7100

Linwood, Avonside, Richmond, Shirley, Burwood, Dallington, Wainoni, Bromley, Aranui, Avondale, Bexley, New Brighton, Northshore, Queenspark, Parklands, South Brighton

Top scholars

rewarded for effort

CITY TO SEA: An artist's impression of the proposed

Avon-Otakaro Forest Park. ​

Pioneering

family offers

to buy some

red zone land

TOP OF THE SCHOOL: After five years of hard work and dedication to their schoolwork, Sean

Takai from Shirley Boys' and Hannah Everingham from Marian College were awarded dux of

their schools for their efforts. Shirley and Marian held their annual senior prizegiving evenings

last week, celebrating the high achievers of the school year. Proxime accessit, or second to the

dux, was awarded to Boris van Bruchem at Shirley and Bobbi Braxton at Marian. Other notable

awards on the night were given for sports, academic, cultural and arts.

•Turn to page 7 for more awards

• By Tom Doudney

A DESCENDANT of

Canterbury's pioneering Deans

family has offered to buy red

zone land to get the proposed

Avon-Otakaro Forest Park off

the ground – and he hopes others

will follow suit.

Hamish Monro, a great, great

grandson of John Deans, farms

in East Sussex, England.

He believed there was a shortage

of native forest in Canterbury

and wanted to build on his family's

legacy at Riccarton Bush by

buying "at least an acre or more"

of red zone land to become part

of the forest park.

"With suitable covenants in

place the sale of parcels of land

would produce a return for the

Crown and help make the [forest

park] project self-sustaining," Mr

Monro said.

"It is taking otherwise pretty

dubious 'housing' land and recreating

native, or semi-native,

woodland rather than repeat

housing which will always

be subject to flooding and other

risks."

Mr Monro said he was yet to

raise the idea with the Government

or anyone outside the

Avon-Otakaro Forest Park group

and would not pre-empt how

much money he was willing to

pay.

•Turn to page 2

850m

4

2 1

850m

2.5

4

2

1

2.5

850m

4

850m

4

2

1

2.5

House

of

Hearing

100% NZ Owned

& Operated

CLINIC PHONE

Fendalton 03 351 3535

Halswell 03 322 4326

Rangiora

Papanui

03 310 7355

Ashburton 03 307 8949
---
2

Tuesday November 8 2016

Inside

PEGASUS POST

FROM

THE

EDITOR'S

DESK News.......................................3, 5

SOUTH BRIGHTON residents

have had a lot to deal with in

the past six years – earthquake

damage, flooding and coastal

erosion LIM notices.

For months now, residents

have called for the city council to

replace the emergency stopbanks

along the estuary. Not only that,

as we have reported previously,

the South New Brighton Domain

estuary boardwalk has slowly

crumbled away.

It will be then hard for some to

comprehend why on Sunday across

the estuary, a new $8 million

seawall and pathway on Beachville

Rd, Redcliffs, was opened.

There are undoubtedly some

sound reasons why a lovely seawall

is being put up around Redcliffs

while the stopbanks just get an

upgrade in South Brighton.

Doesn't make it any easier to

swallow though.

Hei kona, Shelley Robinson

Architect helps rebuild communities

OUR PEOPLE 6

Local Views......................4

Prizegiving...............................7

Community Events..... 8

Health & Beauty.............13

Sport..................................14

Education..............................15

GET IN TOUCH

General Enquiries Ph 379-7100

Classified Advertising Ph 379-1100

The Christchurch Star Company Ltd. PO box 1467 - Christchurch

starmedia.kiwi

NEWS

Fraser Walker-Pearce

Ph: 364 7424

fraser.walker@starmedia.kiwi

ADVERTISING

Mark Sinclair

Ph: 364 7461

mark.sinclair@starmedia.kiwi

Pioneering family offers to buy some red zone land

FOREST PARK: Avon-Otakaro's forest park vision could become

reality with the help of the Monro family.

•From page 1

"[I] feel it should be rather less

than open market agricultural

[land] to reflect its lack of financial

productivity and the covenants

that it will have ensuring

it remains as woodland," he said.

Mr Monro (right) said the size

of plots could be arranged to suit

purchasers, with a quarter acre

section a possible minimum.

"Some people may want to buy

back their old house sites for example,"

he said.

"The wetland area might need

to be more of a co-operative venture

with shares of the wetland

not specific areas sold."

Mr Monro made the offer

after seeing a promotional video

for the public native forest and

wetlands which has been shared

widely on Facebook.

Regenerate Christchurch chief

executive Ivan Iafeta said it was

still too early to comment on specific

proposals for the red zone

but he acknowledged "the huge

amount of work and passion people

like Mr Monro had invested"

in their proposal.

"The source and availability of

funding is an important consideration

for future use decisions

and will need to be assessed on a

case-by-case basis," Mr Iafeta said.

•Forest park support growing, p5

Buy a main meal &

get another for $5*

* Sunday only. Conditions apply.

HELPING US,

HELPS THE

COMMUNITY

Drop off or buy

2 family stores in your community

30 Main North Rd,

Ph 352 4581

520 Cranford St,

Ph 352 0515

Tues Quiz Night

Wed Karaoke Thurs Live music

Sky Sports Courtesy Van

Friendly Staff & Atmosphere

Chats Bar

251 Travis Road

QEII Shopping Centre

Ph: 388 1566
---
PEGASUS POST Tuesday November 8 2016 3

News

Stopbank worry still high

• By Fraser Walker-Pearce

UPGRADES ARE being made

on emergency stopbanks

that line the Avon-Heathcote

estuary, but residents say it's not

enough.

The city council is in the

early stages of designing ways to

reduce the impact of flooding in

the area, by looking to upgrade

existing stopbanks.

Previously, Pegasus Post reported

that South New Brighton

residents felt unsafe due to the

estuary's emergency stopbanks

eroding, and have lobbied

the city council to repair and

"urgently install more" flooding

protection.

The city council is talking to

residents, and is in the early design

stages of the upgrades, but

has a budget of $30,000 assigned

to it this year, with a further $3.9

million to come next year.

The stopbanks were installed

along the Avon-Heathcote estuary

and Avon River banks under

emergency legislation by the

Canterbury Earthquake Recovery

Authority after the February

22, 2011, earthquake.

In September this year, the

Burwood-Pegasus Community

WORRY RISING: The city council will upgrade existing stopbanks this year but will not look to

install new ones until next year at least. South Brighton Residents Association chairman Hugo

Kristinsson (right) says it is a good start, but not enough.

PHOTOS: GEOFF SLOAN

Board received a letter from

Mayor Lianne Dalziel, saying

installing estuary stopbanks was

not budgeted for in the annual

plan. She said it would be put in

the 2017/2018 budget.

Coastal-Burwood Community

Board member Linda

Stewart said it is good to see the

city council commit to work on

stop banks, but only addressing

an area south of the Bridge St

bridge is not good enough.

She wanted the areas north

and south of Bridget St covered

also.

"Yes it is a good start, no

doubt, but I'm saying it's not

enough," she said.

City council's head of strategic

policy Helen Beaumont said

there will be work taking place

north of Bridge St as well, but it

is just "to maintain the existing

temporary stopbanks."

South Brighton Residents

Association chairman Hugo

Kristinsson agreed with Ms

Stewart, and wanted to see the

city council deal to water seeping

under the stopbanks.

"It certainly helps, but I would

like to see the engineering design

and how they plan to deal

with the groundwater. In the existing

stopbanks, when it is high

tide the water almost reaches

their top and filters under them

also," he said.

Chairwoman to push for projects

• By Fraser Walker-Pearce

LOCAL BODY politician

newcomer Kim Money is ready

to shake things up on the

Coastal-Burwood Community

Board.

Mrs Money was unanimously

voted in as the board's chairwoman

last Monday.

She will look to push on with

projects like the North Beach

promenade and installing more

flood protection.

Previously, the Pegasus Post

reported that the $2.4 million

promenade project was in jeopardy,

and may not go ahead as

originally planned. It is planned

to run from the New Brighton

Pier along the sand dunes to

North Beach.

Mrs Money said she would

fight for the project to continue

and met with Development

Christchurch Ltd yesterday in

relation to the project.

In October's local body elections,

she along with deputy

chairman Tim Sintes were voted

in. Mr Sintes received 3892 votes

and Mrs Money received 2978.

Former Burwood-Pegasus

Community Board chairwoman

Andrea Cummings received

2776 votes and was not reelected.

Mrs Money said she is "very

optimistic" about the community's

future.

"I've been involved with the

community for the last 30 years

. . . we have such a creative and

wonderful community, so we've

got to think big," she said.

Mrs Money aims to include

children and the youth of the

community in decision-making

in the term.

Coastal-Burwood deputy

chairman Tim Sintes said Ms

Money would do a great job as

chairwoman, and will be looking

to follow up on projects that

were started by the previous

board.

"Things like getting the South

New Brighton and Southshore

estuary edge finished, so people

can move ahead knowing their

future is secure. Basically just

finishing off what we started,"

he said.

Meanwhile, Sally Buck has

been named as the Linwood-

Central-Heathcote Community

Board chairwoman.

Ms Buck, a former city

councillor for the Fendalton-

Waimairi ward, retired from

her role in 2013, and is a current

Canterbury District Health

Board member.

She hopes to promote waste

reduction while on the board

and will look to advocate on

the community's behalf for

improvement in aquifers and

drinking water.

In Brief

FUNDING FOR SCHOOLS

Aranui's St James School is

one of eight in the city to

be recipients of a total of $6

million of Government money

to earthquake-strengthen

school buildings. On Sunday,

education minister Hekia

Parata said the funding would

ensure a safe and comfortable

environment to learn in. The

biggest recipient was St Thomas

of Canterbury College which

received $1.8 million, then St

James at $1.6 million, followed

by St Joseph's School with $1.3

million. The other schools all

received under a $1 million. St

Francis of Assisi School would

get $600,000, Rangiora New

Life School $311,000, St Mary's

School, $217,000, Middleton

Grange School $150,000 and

Christchurch Rudolf Steiner

School, $22,000.

CONSULTATION CLOSES

Public consultation on the

New Brighton Hot Salt Water

Pools project has now closed.

The city council asked residents

for their opinions on what

they would like to see at the

pools, and how that may look.

Consultation was open from

October 14 until Monday

night. The city council will

now evaluate all the feedback

and make decisions in

conjunction with Development

Christchurch Ltd, based on

that.

ROAD REPAIRS

The intersection of Birchfield

Ave and Gayhurst Rd will have

a temporary road closure in

place for the next two weeks.

Residents will not be able

to access Gayhurst Rd from

Birchfield Ave. The Stronger

Christchurch Infrastructure

Rebuild Team is disconnecting

the wastewater pressure main

at the intersection of the

two roads. A one-way traffic

system will be in place heading

east towards Cheam St, and

along Birchfield Ave. Work is

expected to be completed on

November 22.

quality fresh meaTs

Now open

all day Saturday

7.30am to 5.00pm

BUTCHERY

Open Monday-friday 7.30am-6.00pm

Saturday 7.30am-5.00pm

101 Stanmore Rd, Linwood - Ph: 389 8065

HIKING BOOTS

& SHOES

For men, women

and children

From

$79.95

to $250

47c Garlands Road, Woolston

Phone 389 3431

www.thefootwearfactory.co.nz

YOUR LOCAL GARAGE

• All vehicle repairs

• Oil changes and services

• Brakes • Loan car available

• Tyres, punctures & batteries

• W.O.F • Tune up

Your LocaL GaraGe

VERY FRIENDLY SERVICE AND ADVICE

NEW BRIGHTON AUTOMOTIVE

Phone: 03 388 3630

40 Hawke St (behind Z Petrol Station)
---
4

Tuesday November 8 2016

Your Local Views

News

PEGASUS POST

We said:

Two playgrounds – 930

students. Will it be enough?

Tens of millions are being

spent on the new Haeata

Community Campus, but

critics say there won't

be enough playgrounds.

The onus to build extra

playgrounds may fall to the

school's board of trustees

if the Ministry of Education

is unwilling to pay an

estimated $20,000 per

additional playground.

You said:

Janice Belgrave – It is just

a predicted roll. I will be very

surprised if they actually get

that many students, given that

students from at least one of the

closing primary schools, are not

obliged to go there and are subsequently

choosing other schools

within the area. If they need

more playgrounds/playground

equipment, they could relocate

some from the closing primary

schools, which would be much

cheaper as well as a sensible use

of resources!

Raewyn Murray – That

woman (we all know who she

is) did this – let her foot the

bill. Definitely need more than

two playgrounds or split the

playground times – that's a good

idea.

Emma Geldard – The high

school-aged kids won't need a

playground, just field space and

hard courts.

Heidi Meinzer – Certainly

need another playground. With

that amount of students. Or one

way they could do it is split the

playground time between the

years.

Pamela Neil – At the old

Christchurch Girls' High School,

we had no playgrounds at all. We

coped by walking around Cranmer

Square.

FAERIE PICNIC: Faeries of all shapes and sizes gathered

at Rawhiti Domain on Sunday to have a picnic. About 300

people, pixies, elves and faeries met for pantomime stories

and songs with the Natural Magic Pirate Band, a sneak up on

the faerie game, a faerie teacup competition, face-painting

and many other fun activities. The faeries were even joined by

a group of wizards.

PHOTOS: NICK KING AND RUBY HENDERSON

Linda

Stewart

New Brighton resident

Mary McCammon responds

to a recent article in

Pegasus Post about Linda

Stewart and former

Burwood-Pegasus

Community Board

chairwoman Andrea

Cummings' post local body

election spat.

Andrea Cummings worked

tirelessly for the community,

both before and after she was

elected to community board.

To belittle her commitment is

ludicrous and, after she lost her

place on the board, cruel.

Name-calling and reputationbashing

may be the style of the

year in American politics but we

don't want it here.

Genuine community building

is a much slower, kinder process,

and one which Andrea Cummings

knows a great deal about.

Andrea

Cummings

FRAGRANCE

Gifts

1. Ralph Lauren Polo Black EDT 30ml $39 RRP $49

2. Ralph Lauren Polo Blue EDT 30ml $39 RRP $49

3. Yves Saint Laurent L'Homme EDT 60ml $79 RRP $109

4. Diesel Only The Brave EDT 75ml $89 RRP $133

1.

Give well

1.

2.

For her

2.

3.

3.

1. Revlon Charlie Red EDT 100ml $19.99 RRP $22

2. Vanderbilt EDT 100ml $22.99 RRP $27

3. Revlon Charlie Blue EDT 100ml $19.99 RRP $22

4. Maroussia EDT 100ml $24.99 RRP $30

5. Elizabeth Arden Mediterranean EDP 60ml $29 RRP $31

6. Elizabeth Arden Red Door EDT 50ml $39 RRP $79

7. DKNY Be Delicious EDP 30ml $39 RRP $42

8. DKNY Be Delicious Fresh Blossom EDP 30ml $39 RRP $42

Offers available until 24th December, or while stocks last.

EASTGATE PHARMACY

Eastgate Shopping Centre Phone (03) 389 8408

BUSH INN PHARMACY

Cnr Riccarton Rd / Waimairi Rd Phone (03) 348 4038

4.

4.

5.

6.

this Christmas

5.

5. Adidas Pure Game EDT 100ml $15 RRP $18

6. Burberry London EDT 50ml $59 RRP $65

7. Burberry Brit For Men EDT 50ml $59 RRP $65

8. Davidoff Cool Water EDT 75ml $39 RRP $92

8.

7.

For him

14.

6.

9. 10. 11.

9. Elizabeth Taylor Diamonds & Rubies EDT 100ml $45 RRP $50

10. Elizabeth Taylor Diamonds & Sapphires EDT 100ml $45 RRP $50

11. Elizabeth Taylor Diamonds & Emeralds EDT 100ml $45 RRP $50

12. Elizabeth Arden Sunflowers EDT 100ml $39 RRP $41

13. Calvin Klein One EDT 50ml $39 RRP $61

14. Elizabeth Taylor White Diamonds EDT 30ml $39 RRP $55

15. Nina Ricci Nina EDT 30ml $45 RRP $75

TOWER JUNCTION PHARMACY

Unit 7 Tower Junction (next to Raeward Fresh)

Cnr Riccarton Rd / Waimairi Rd Phone (03) 348 5544

7.

12.

13.

8.

15.

Dyers Road Landscape

& Garden Supplies

• Barks • Peastraw • Composts - we supply the best available

• Aggregates - Chip, Round and Basecourse

• Pavers & Schist products • Pungas

• Decorative Stones & Landscaping Rocks

• Trailer Hire first hour free with purchase

• Bag & Bulk - pick up or delivered

David, Carol & Mike

345 STANMORE ROAD,

RICHMOND

7 DAYS: 5am-11pm

$4.00 WASH

$4.00 DRY

Wash 2 Mink Blankets, Duvets

or Woolrests for only $10

DRY UP TO 4 LOADS IN

ONLY 20 MINUTES! $4

SAvE TIME & ELECTRICITY

We will deliver!

LIQUID LAUNDROMATS

WASH & DRY ALL YOUR

LAUNDRY IN ABOUT 1 HOUR

SOIL

AND

HARDFILL

DUMPING

Phone: 03 384 6540

183 Dyers Rd, Bromley • OPEN 7 DAYS

Weekdays 7.30am-5pm. Weekends 8.30am-3pm

www.dyersroadandlandscapes.co.nz

• Fast Dryers

• Sports Gear

• Duvets

• Mink Blankets

• Bedding

• Washers

• Domestic Laundry

Other Locations:

289 Colombo Street, Sydenham

47 Carmen Road, Hornby

www.liquidlaundromats.co.nz
---
PEGASUS POST Tuesday November 8 2016 5

News

School's fate up to bishop

• By Bridget Rutherford

THE FUTURE of Marian

College will not be decided

until a new Catholic Bishop of

Christchurch is appointed.

The diocese has been looking

at permanent options to rebuild

the school after being forced

from its North Pde site following

the February 2011 earthquake.

However, none have been set

in stone.

In a letter to the school,

administrator of the diocese

Reverend Rick Loughnan

said the decision would be

deferred until a new bishop

was appointed and further

investigations were carried out.

"We must be 100 per cent sure

of our reasoning when the final

decision is made and, with a new

bishop soon to be appointed, it

would seem appropriate for him,

with our guidance, to have input

into this final decision," the

letter said.

Marian principal Mary-Lou

Davidson said the school was in

good heart while it waited to see

where it would be rebuilt.

"It's an important decision.

We want one that has the best

outcome for the school."

Last year, the diocese decided

the school would not return

PATIENT: Marian College's future will not be decided until a

new Catholic Bishop of Christchurch is appointed.

PHOTO: GEOFF SLOAN

to its North Pde site because it

remained at risk of liquefaction

induced subsidence and lateral

spreading.

The Bishop of Christchurch is

the proprietor of the school.

Bishop Barry Jones initiated

the process of deciding

where the school would be

rebuilt.

However, he passed away in

February.

A diocese spokeswoman said

there was no time frame for

when a new bishop would be

appointed and it was highly

confidential.

"It's a highly consultative

process, with both lay and clergy

to find a suitable candidate."

REGENERATION: Graham Pullman drove from Orari to

Christchurch to donate $4000 worth of tussock to be planted

on red-zoned land.

PHOTO: TOM DOUDNEY

Forest park support growing

HAMISH MONRO'S offer to

buy red zone land is not the only

offer of support for the proposed

Avon-Otakaro Forest Park to

have been generated by a popular

Facebook video.

The video has attracted more

than 138,000 views on Facebook

in the seven weeks since its

release.

Other offers inspired by the

video included the donation

of 1500 plants for the project

by Graham Pullman, of Orari

Nursery near Geraldine, and the

Student Volunteer Army has said

it could provide volunteers.

Avon-Otakaro Forest Park

spokesman Mark Huxtable said

it was fantastic to see people getting

behind the vision and public

support was "really important" to

the project.

Mr Pullman drove from Orari

to Christchurch to deliver the

$4000 worth of tussock to be

planted on red-zoned land.

"I think the vision [for the

park] is extraordinary," he said.

"But most importantly it's doable."

He said the tussocks would

help remove sediments and nutrients

from the river and improve

stream life.

The location and timing of the

planting is yet to be determined

by the city council.

Spotted any lonely cones?

There are a lot of lost, lonely road cones out there. We want to bring them home.

We're tidying up the streets as the SCIRT programme winds down.

Please help us track down stray cones no longer on the job. We'll put them back to

work, or send them off to the giant cone melting pot in the sky.

The CONEMOBILE is coming your way.

SCIRT's CONEMOBILE is hitting the streets to collect any road cones that have gone

astray. Let us know if you've spotted a lost or wayward cone.

Call the CONEMOBILE

0800 SCIRT CONE - 0800 7247 82663

email info@scirt.co.nz or visit Facebook/com/scirtcone

Your support is helping us to get the job done. Thank you from the SCIRT team.

Programme funded by
---
6

Tuesday November 8 2016

Our People

PEGASUS POST

Architect helps rebuild communities

Entrepreneur Camia Young, 42, settled here

in the aftermath of the February 22, 2011,

earthquake. Fraser Walker-Pearce talks to

the American architect about her passion

for rebuilding the city

Tell me what you were doing

when you first arrived in New

Zealand?

I arrived five years ago and

was teaching architecture at the

University of Auckland. During

that time, we brought more than

1000 students to Christchurch to

help with the rebuild and I did

that until about a year or so ago.

I was flying from Christchurch

to Auckland on a Monday and

coming back on the Wednesday.

I would do that every week and I

got super tired. I loved teaching,

it was such a good time.

During your time at the university,

were you still involved

with Christchurch?

In the middle of that teaching

we did Gap Filler's pallet pavilion,

which took place over the

course of a summer and winter.

It was up for two years, so that

was a treasure of a project. And

during setting that up, I caught

a bug – it was a good bug, but a

bug nonetheless. The bug taught

me about building communities

through building buildings. It

wasn't about the pavilion it was

about the community around

the pavilion that made it work.

It was about a healing place for

the community to gather around

after the earthquakes.

And what after that?

Then I started a project called

Exchange Christchurch, XCHC.

X stands for exchange and CHC

is Christchurch's airport code.

And we will be doing Exchange

Auckland, which will be XAKL

and Exchange Wellington which

will be XWLG. So there are other

initiatives coming as well. It

provides a place for people that

have lost a lot in the earthquakes,

a place to create and produce

their creative work and develop

their creative practice.

Great, so what can people see

at XCHC at the moment?

At the moment we have a

jeweller, a painter, a composer,

a few photographers, an

architectural designer and art

exhibitions that change weekly.

So would you say you've been

quite involved with the rebuild

of the city?

I've been more involved in the

social side of the rebuild more

than anything. What I've been

doing is learning by doing while

I'm here. This will absolutely

be a 21st century city where it's

not so much about the next big

icon, but where the people will

come first and the buildings will

be a by-product of that. I have

confidence in the people.

Right, and where in the city

are you based?

I'm mostly at the exchange

in the central city, but I own

a place out in Lyttelton. I love

Lyttelton, but I also love Sumner,

New Brighton, places with a

cool community feel. I much

prefer the speed of small than

the big city stuff, you can get

so much more done in small

communities. I actually live up in

Mt Pleasant and I quite like that.

And you have a slight accent

there – is it American?

Yes. I was born in Colorado

and those mountains still call

to me. I'm from Aspen. It's the

Rocky Mountains that get me.

New Zealand has a really strong

connection with nature as well.

I left when I was younger and

lived in Europe for 11 years,

studied in London, then worked

in Rotterdam (Netherlands),

Paris (France), Madrid (Spain)

and Basel (Switzerland). It was

great, I was practicing there as an

architect.

There must have been some

incredible projects in the likes

of Paris?

There was one project in Paris

– it's the only time I've ever cried

ENTREPRENEUR: Camia Young moved to Christchurch to

use her skills as an architect to help rebuild the city after the

earthquakes.

when we lost a project. It still

hurts to this day. I fell in love

with it. It's where I learned to

dream with the intent to realise

the dream. It's easy to come up

with an idea, it's expensive to

execute them.

I'd imagine it would be. Have

you been anywhere other than

America, Europe and New

Zealand?

I'm also a Brazilian resident.

My father lives there. I spend

a bit of time there and I speak

Portuguese as well. He lives in

northern Brazil. He built a selfsustaining

home in the middle

of the sand dunes. He's lived

without electricity for the last 25

years and now has solar power.

He's a hippy in the middle of a

desert. So he's my inspiration for

a lot of things.

That's pretty incredible. Do

you have a project that, once

completed, you'll be happy to

retire and put your feet up?

No. I don't really have an

end-game. I love seeing positive

change. And I think we're all

inherently creative, to see that

work done is the road and the

end for me.

Where did you spend your

school years?

Up through secondary I

was in Aspen, elementary and

high school. Then I did my

undergraduate at University

of Colorado and graduated

as valedictorian and went

on to get a masters in Los

Angeles at SCIARC, the

Southern California Institute of

Architecture. In three years, I got

two masters degrees, rather than

two and a half for one masters,

which it could've been. Then I

practiced architecture in Europe

for 11 years across the board

there.

Do you have any family over

here in Christchurch?

No, no family here, I fly solo.

I have lots of love, I miss them,

miss the mountains, too. But

some family has come out while

I'm here, though. Mum and dad

have been out. My sister uses

the old 'if you don't eat your

vegetables, you won't be able to

go visit Aunty Camia' on her two

kids. They're super-excited to

visit as well.

Was it always an intention of

yours to come to Christchurch?

Not at all. I was looking for

change from working in a

corporate office. As much as I

loved my life in Europe, I wanted

to find somewhere I could do

my own thing. A friend of mine

who is a Kiwi offered to bring me

in to teach at the University of

Auckland, which was about three

months before the February

22, 2011, earthquake. Then

that entire year course became

focused on the earthquake and

on Christchurch. I had never

taught and I had never been to

Christchurch, but I was looking

for a new home and so I came

a month before the course

was due to start and I walked

Christchurch for that month and

then went up to teach the course.

I knew in that month that I

would stay here. I was looking

at a couple of other countries

around the world – Brazil,

Canada – but I couldn't do it.

What are some of your

first memories stepping into

Christchurch post-earthquake?

It was late 2011, so it was

post-apocalyptic. I thought

immediately I was in way over

my head and I thought I was

naive in the fact that I thought

I could make a difference. But

after phoning my dad about it,

I decided I would stay. I started

really walking the city and

learning as much as I possibly

could about it. I ended up getting

my visa through the job in

Auckland and now I'm here. But

that month, it was really scary

for me because I had never seen

a crisis on that scale before and I

didn't know what to do.

Must have been pretty

terrifying. Had you experienced

an earthquake before that?

I think I remember maybe one

earthquake when I was in Aspen,

but when I was in LA there was

a few. But nothing compared

to when I came here, and they

happened so often back then.

sellOut

Montego Firm or Medium Mattress & Base

• Classic 8 inch Pocket Spring technology which minimizes partners

disturbance as each individual coil reacts separately.

• Comfort Foam Edge support.

• Naturally Healthier Latex. Pure New Zealand luxurious wool

• 10 Year Warranty - Made in Christchurch.

Open 7 Days Mon - Fri 9 - 5.30pm Sat - Sun 10 - 4pm

QUEEN

$1899

KING

$2199

up tO

18 mOnths

interest

free!

SUPER KING

$2399

242 Ferry Rd Along From Old Ami Stadium | Phone 377 8887 | www.bedworld.co.nz

SAVE

uP to

$2000
---
PEGASUS POST Tuesday November 8 2016 7

Shirley Boys; Marian College

students shine at awards

AWARD EVENINGS were held

at Shirley Boys' High School and

Marian College on Thursday

night.

Shirley Boys' High School

Academic awards

Dux – Sean Takai.

Proxime accessit – Boris

van Bruchem.

Old boys' prize – Matthew

Croft.

Hartley scholar year 13 –

Sean Takai.

Indoor bowling club prize –

Matthew Gowans.

OfficeMax citizenship

award year 13 – Boris van

Bruchem; Hugh McDougall.

Rankin Education Trust

award year 13 – Ryan

Teape.

Kirby prize year 12 – Blake

Kennedy.

OfficeMax prize year 12 –

Cole Yeoman.

Headmaster's prize for

academic excellence year

11 – Jack Coumbe.

Junior Hartley scholar year

11 – Benjamin Nicholls.

Freemasons tertiary education

award – Zachary

Adams.

Clarrie Ford award – Max

Ngataki.

CV Gallagher Trust awards

– Boris van Bruchem; Matthew

Croft; Sean Takai.

Sports awards

Year 13 Cup for the best

individual sportsman of the

year – Cruz Topai-Aveai.

John Mullins Trophy for the

all-round sportsman of the

year – Joshua Archer.

Sports team of the year –

Volleyball A team.

Sports Blues

Rugby – Joshua Archer;

Glen Beardsley; Logan

Bell; Samson Lale-Seinafo;

Cruz Topai-Avaei; Boris van

Bruchem.

Rowing – James Alexander;

Jake Luthi; Connor Robinson.

Volleyball – Josef Berry;

Jonah Drye; Luke Houlston;

Mana Placid.

Football – Aaron Browne;

James Kolien.

Super touch – Nethaniel

Bolton.

Ice Hockey – Ryan Fraser.

Mountain biking – Ethan Fry

Hockey – Keeley Legge.

Cultural and arts gold

awards

Pasifika culture group –

Kime Atonio; Chanel Feala;

Samson Lale-Seinafo; Brendon

Lale-Seinafo; Michael

Mose; Utaese Samuele;

Stanley Tuipolotu; Michael

Fili.

Music – Jesse Behan; Jordan

Berry; Liam Humm; Joshua

Mosa'ati; Boris van Bruchem;

Judah Watkinson.

Drama and theatre sports

– Aiden Brawley; Lucan

Buxton-Bennett; Miguel

Clayton-Jones; Bailey Cropp;

Liam Hubrick; Brent Shaskey;

Cole Yeoman; Gareth

Millar.

Pipe Band – Matthew Croft;

Jonathon Findlay.

Kapa Haka – Keenan Jarvis;

Tuumana Winiata-Kirner.

Art – Harry Wyatt.

Writing and public speaking

– Sean Takai.

Performing arts technology

– Alexander Wilson.

Marian College

Academic awards

Dux – Hannah Everingham.

Proxime accessit – Bobbi

Braxton.

Service as head girl - Hannah

Everingham.

McKillop Trophy – Hannah

Everingham.

Supreme award for service

and loyalty to Marian College

- Hannah Everingham.

Ian and Sadie Scott award

for high achievement,

service and school spirit –

Claudia McKenna.

St Mary's Cup for contribution

to the special character

of the college – Grace

Challies.

Special prizes

House shield for sporting,

cultural activities, participation

and fundraising

– Seymour House.

Marian College award for

diligence in the senior

school – Jessica Costello.

Anna Heffernan Trophy

for academic leadership –

Bobbi Braxton.

Service as deputy head girl

– Samantha Caffell; Claudia

McKenna.

Service as head girl – Hannah

Everingham.

Deborah Ashley taonga –

Leilani Matai.

Marian College Cup for

co-operation and service

to the college - Samantha

Caffell; Ceryse Scott.

Sports awards

Ryan Family Trophy for intermediate

athletics champion

– Geena Klaver.

Lewis Cup for the senior

athletics champion – Celena

Music.

Kathy Harpur Trophy for

under-16 swimming – Kaylee

Jackson.

Roche Trophy for senior

swimming champion –

Maeve Sullivan.

Outstanding performing

and contribution

to aerobics – Taylor

McCaughan.

Philippa Connell Cup for

excellence in basketball –

Kelsey Robinson.

Outstanding contribution

to dragon boating – Maria

Cooke; Courtney Stothers;

Grace Tucker.

Nolan Family Trophy for

the most valuable football

player – Connor Duggan;

Hannah Hegarty.

Outstanding contribution to

futsal – Rebecca Lake.

Helen Gourdie Trophy

for attitude and effort in

hockey – Hailey Poumaka;

Madeline Wyld.

Martin Trophy for best

contribution to multi-sport

– Jessie Fahey; Meg Fahey.

Wylie Trophy for netball

player of the year – Claudia

TOP STUDENTS: Shirley's Boris van Bruchem was awarded

proxime accessit, the CV Gallagher Trust prize for physical

education and the Hartly prize for English and music. Marian's

Bobbi Braxton received the Anna Heffernan Trophy for

academic leadership.

PHOTOS: KAREN CASEY/ANDREA HEFFERNAN

Roberts.

Cassidy Trophy for rower of

the year – Kate Fraser.

Stuart Cup for senior tennis

champion – Lora Logan.

Parkin Trophy for most

valuable player in touch -

Abbey Stokes.

Outstanding contribution

to volleyball - Isra Ah Kuoi;

Meleane Ulugia.

Outstanding contribution to

water polo – Kate Jamieson.

Special sports awards

Outstanding participation

and contribution to sport

– Courtney Quinn; Abbey

Stokes.

PTA Trophy for attitude,

service and participation in

sport – Caitlin Hintz.

Alex Webster Memorial

Cup for co-operation

and school spirit – Ellie

Crowther.

Ngakina Bertrand Trophy

for excellence in sport

– Rebecca Lake; Kaylee

Jackson.

Cultural awards

Sister Gael Henry Trophy

for senior kapa haka –

Cheyanne Green; Maia

Viliamu.

Ngati Raukawa

Kapumanawawhiti Trophy

overall excellence in kapa

haka - Beulah Paris.

Pasifika Trophy for service

and leadership – Simone

Faitaua; Ceryse Scott.

McKillop College Cup for

public speaking – Meg

Fahey.

Chirnside Trophy for

participation and talent

in drama – Charlotte

Taurima.

Hilary Page-Wills Cup for

ability and participation in

music – Grace Challies.

Award for excellence in

vocal performance – Grace

Tucker.

Performing Arts Trophy for

outstanding contribution

to and achievement in

cultural activities – Hannah

Everingham.

DISCOUNTS ON ALREADY

DISCOUNTED TYRES!

eND OF LINe • LIMITeD STOCK

175 / 65 / 14 - $65

195 / 60 / 15 - $70

215 / 45 / 17 - $80

215 / 60 / 16 - $80

PRICE INCLUDES FITTING & GST

Complete

Tyre and

Auto

Canterbury owned and operated

464 Ferry Rd, 03 389 5370

ctawoolston@yahoo.co.nz

8am-7pm Tues-Wed

8am - 5pm Mon Thurs Fri | 9am-3pm Sat

New & Used Tyres • Puncture Repairs

Batteries • WOF • Balancing

Mechanical Repairs • Lube & Servicing

Wheel Alignment

6 ISSUES

delivered to your door

FROm ONly

Have a cup of

BLUE SKY BOYS

Wednesday 9th – Saturday 12th November

$

44. 50 8pm Nightly

Gloucester Room, Isaac Theatre Royal

SUBSCRIPTIONS FREEPHONE

0800 77 77 10

rugbynews.co.nz

It's 1965 and The

Everly Brothers are

playing a gig in Wellington.

Will it be Bye Bye Love

for Don, Phil and their fans?

Written by Ken Duncum. Directed by Donna Buchanan.

Bookings: 0800 842 538

or online: www.ticketek.co.nz

Bookings fees apply

tea with your MP

Poto Williams

New Brighton Market

Saturday 19 November 10am - 1pm

If you want to book

a specific

time contact

my Electorate

Office on

03 382 0288

before

Friday at 3pm
---
8

Tuesday November 8 2016

PEGASUS POST

Email fraser.walker@starmedia.kiwi

by 5pm each Wednesday

Mums, Dads and Bubs

Group

Every Wednesday, 10.30am-

12.30pm

Make your way down to the

Linwood Playcentre to meet

other mums and dads in the

community for shared kai and

a well-earned coffee, while

watching the tamariki play

and learn. Older siblings are

also welcome. There are lots

of discussions around babies'

learning and development,

experiences as a parent and

different types of play.

Linwood Playcentre, 628a

Worcester St, Linwood. Free

entry

New Brighton Spring Music

Festival

Saturday, November 12,

11am-7pm

Head to the former Central

New Brighton School for

a day out with the family.

It's a full day event for a

small cost. No smoking, no

alcohol and no dogs. There

will be bands playing on the

day and entertainment like

bouncy castles, face-painting,

caricature drawings and food

stalls. Once entry fee is paid,

you may come and go as you

please, take a walk down to the

New Brighton market, shops or

the beach.

Central New Brighton School,

Seaview Rd. For ticketing

information phone 0800 BUY

TIX

New Brighton Seaside

Market

Every Saturday, 10am-2pm

New Brighton's pedestrian

mall is filled with colour

and creativity each Saturday.

Go along to the seaside and

enjoy live entertainment,

food, fresh produce, arts,

crafts, jewellery and more.

There will be a bouncy castle

and free face-painting for

the kids. For inquiries, email

seasidemarket@mail.com

New Brighton mall. Free entry

Monthly Displays

October 31 to November 27

Brighton Gallery is displaying

the work of two artists in

November. Southshore artist

Sue Alderman and airbrush

artist Sandy Fulop. The gallery

is run by local artists, for

the benefit of local artists in

Carnaby Ln, off New Brighton

mall. For more information,

phone Judy on 382 0045.

Brighton Gallery, Carnaby

Ln. Free entry

BEACH CLEAN-UP: Summer's on the way and a group of locals have taken it upon themselves to

ensure New Brighton looks amazing. Taking place on November 19, from noon till 1.40pm, go along

and join them as they clean up the beach and the sand dunes. Bin bags and gloves will be provided

on the day. A sausage sizzle will follow for those who go along and lend a hand, as well as spot prizes

and goodies for the kids. Last year's event had about 300 people participate. At the New Brighton

Pier, no entry fee. ​

Trash to Treasure

November 7 to 26, Monday to

Friday, 11am-4pm, Saturday,

noon-3pm

Trash to Treasure is an annual

exhibition for artists working with

recycled materials. The Linwood

Community Arts Centre is once

again hosting the popular Trash to

Treasure exhibition. For inquiries

and more information, phone 981

2881.

Eastside Gallery, cnr Worcester

St and Stanmore Rd

Parkview Primary School

Twilight Fair

Friday, November 18

Plenty of food stalls, bakery,

second-hand items and clothing,

games, face-painting, market

stalls, plants and more.

Parkview Primary School, 10

Chadbury St. Free entry

New Brighton Ukulele JAM

Friday nights, from 7.30pm

Every Friday, this group meets

to play the ukulele and other

instruments and sing all kinds

of songs and different genres of

music. Anything that is in the

spirit of Joyful Anarchic Music

(JAM). There is a data projector

so all the lyrics and the chords are

available. Everyone is welcome.

Tea, coffee and biscuits are free.

St Faith's Hall, 46 Hawke St,

New Brighton. $2 entry

Kite Flying on the Beach

Every day, 11am-4pm

Any day, weather permitting,

kites are flown on the beach near

the pier. Go along to watch, or

bring a kite and join in. Recapture

your childhood and let your

children experience the joy of

kites. The Christchurch easterly

wind is ideal for kite-flying, so

dress appropriately and come

along any time of the year.

New Brighton Beach, near the

pier. Free event

THE HOME OF GOOD BAKING

PREMIUM

BREAD

White, wholemeal, grain & honey.

3 FOR

$

5 00

TAN SLICE

Timeless tan

slice with sweet

base, topped

with caramel

and crumble -

our version has

ONLY

choc chips. $

3 49

EA

ALL BREAD ROLL

PACKS

(Excludes dinner

rolls.)

2 FOR

$

3 98

PURCHASE 2 x 2L DAIRY DALE MILK TO ENTER

THE DRAW TO WIN A VW POLO CAR!

Promotion valid 1st - 30th November 2016.

Winner will be notified Friday 9th December

2016. Terms & conditions apply. Full terms &

conditions can be found at www.couplands.co.nz

MILK

Dairy Dale 2L varieties.

$

5 98

2 FOR or $3.19 each

SUPER CHOC CHIP

FAMILY PACK BISCUITS

$

4 99

EA

Promotional pricing available while stocks last from 07/11/16 to 13/11/16.

Images are serving suggestions only.

Open 7 days | 8 Convenient local locations

Hornby • Barrington • Ferry Rd • Papanui • Riccarton • Upper Riccarton • New Brighton • Rangiora

BAKERIES

www.couplands.co.nz
---
PEGASUS POST Tuesday November 8 2016 9

FLOORING CLEARANCE

NyloN

riviera

• 26 oz solution dyed

nylon

• Extra heavy duty

• Cut pile

• 10 colours

NoW

$85.00

3.65m WidE RoLLS

Be Quick

PolyProP

Bedrock

• Hardwearing polyprop

• Heavy duty

• Loop pile

• 4 great colours

to choose from

NoW

NoW

$49.90

$49.90

3.65m WidE RoLLS

Outstanding Value

Polyester

Classic City

• 30oz polyester

• Extra heavy

• Cut pile

NoW

$75.00

3.65m WidE RoLLS

Awesome Price

Wool

Pure Wool

• Slightly imperfect

• Loop pile

• Extra heavy

duty + stairs

• 3 great styles

NoW

$59.00

3.65m WidE RoLLS

Be Quick

Polyester

Benmore

• Heavy duty polyester

• Cut pile

• 4 great colours

• 4 meter wide rolls

• Foam back

no underlay required

NoW

$79.90

4m WidE RoLLS

Great DIY Carpet

Polyester

Wyoming

• 50oz polyester

• Extra heavy duty

• Cut pile

• 3 colours

NoW

$105.00

3.65m WidE RoLLS

Great Value

Garage carpet

stock clearance

2m - $30 per MTR

3m - $45 per MTR

4m - $60 per MTR

All carpet remnants

priced to clear from

$5 per piece

Clearing vinyl

FroM

$30 per metre

(2 metre wide vinyl)

312 Wilsons road North, Waltham Phone 366 0070

www.carpetkingdom.co.nz | Mon - Fri 8am - 5pm | sat 10am -1pm

Q Card Finance Now Available

Free no obligation measure & quote (conditions apply.)
---
10

Tuesday November 8 2016

ALL ABOUT HAIR AND BEAUTY

PEGASUS POST

Hair to Stay

Hairdressing has been and still is a

passion for me. With 40 years experience

I still always have high standards in

making sure our clients are 110% happy

when the leave my salon.

Due to the 2011 earthquakes I have

had to move twice from Ferrymead (KW

Stylists & Co), then in Nov 2015 from

Stanmore Rd (KW 4 Hair) to my brand

new salon. It has been a massive journey

but now I can look forward to servicing

the eastside with my creative staff in

giving our clients beautiful hair.

Emily, Linda and I are registered

and qualified hairdressers. We like to

give each client individual attention,

one on one. As soon as you enter the

salon my staff will follow through from

consultation to finish. They take pride in

doing their own colour work, cutting &

finishing.

We also like to mix it up a bit with

funky colours, Ombre, Layarge and

more.

We use Keune professional in salon

and as our take home products to keep

you hair looking and feeling beautiful in

between visits.

Keune Keratin smoothing is our

chemical straighten which is very

Written by Carla Williamson.

Owner Carla is no newy to the eastside.

popular in our salon giving you

permanently straight hair with perfect

results.

We also cater for our sensitive clients

with our So Pure range which is

Ammonia, Paraben and Sulfate free for

colour and retail.

Corn Braiding, Dreads, Braiding,

Creative hair ups for that special night

out, for formals and weddings.

We can't forget the blokes. Who needs

a barber when we can give you that

professional look at a respectable prices.

Golden oldies discount on Tues and

Wed. Ladies we do perms ya!!

Also we have Tayla, the beauty

therapist. Her services include spray tan,

nails, facials massage just to mention a

few all under one roof.

Hairdressing is forming a bond with

your client you only get one shot at it

to make them a regular client so that

first cut or colour has to be right. I have

clients going back 30 years and they have

followed me and now they are enjoying

my new location as you will, so come on

in for a FREE consultation, only cost is

your time.

Let us make you, a regular to All About

Hair & Beauty.

All About Hair & Beauty located at 169 Bowhill Rd

The team at All About Hair & Beauty, (from left) Tayla - beauty

therapist, Linda, Carla - owner and Emily.

growing with you

SprIng Is here –

It'S Sow Time

how to get the best results from

seeds and seedlings

100% NatIve In

The capItal

Unravelling the secrets of

Otari-wilton Bush

The New Zealand

landscape awards

The people behind

the projects

$7.90 incl. GST

Save our roSeS

How a rose register is protecting our heritage

September 2016 | 100%

It's time

to grow!

New look and more

content than ever!

MeeT LeSTer Brice

A Garden coach

auckland Botanic GardenS

Why we love our public grounds

now bigger than ever

The magazine for

gardeners who like to get

their hands dirty

SubScribe from

$43. 50*

*6 issues/6 months

ISSN 2423-0219

SUBSCRIPTIONS FREEPHONE

0800 77 77 10

www.gaRdeNER.kiwI
---
PEGASUS POST Tuesday November 8 2016 11

EQC UPDATE KEEPING YOU INFORMED | NOVEMBER 2016

EQC pays $495 million in the past year to

settle Canterbury claims

EQC Chief Executive Ian Simpson

The Earthquake Commission paid

out nearly half a billion dollars to

settle claims in Canterbury in the

year to 30 June 2016, its recently

released annual report shows.

The annual report includes lots of detail

about the work EQC has been carrying

out in Canterbury in the past year.

Figures in the report show that in the

2015/16 financial year, EQC paid out

$495 million in claims for the 2010-2011

Canterbury earthquake sequence.

This total was made up of $441 million

for residential building claims (both for

cash settlements and managed repairs),

$46 million for residential land claims

and $8 million for contents claims.

IN THE

FINANCIAL YEAR

TO

30 JUNE 2016 EQC PAID OUT

$495 MILLION

MADE UP OF $441 MILLION

FOR RESIDENTIAL BUILDING CLAIMS,

$46 MILLION FOR RESIDENTIAL

LAND CLAIMS AND $8 MILLION

FOR CONTENTS CLAIMS.

EQC has now spent $9.4 billion

(including claim handling expenses,

excluding GST) in its response to the

2010-2011 Canterbury earthquakes.

This sum has been financed from the

Natural Disaster Fund and by the

reinsurance cover EQC had negotiated

prior to the earthquakes.

EQC recovered about $444 million

of the cost of Canterbury claims,

largely from international reinsurers,

in 2015/16.

EQC also paid out $25 million for claims

other than those from the 2010-2011

Canterbury earthquakes. This includes

$4.7 million for claims from the

February 2016 earthquakes.

AT 30 JUNE 2016,

EQC HAD

COMPLETED

REPAIRS

ON MORE THAN 67,000 HOMES,

SETTLED 187,000 CONTENTS

CLAIMS, COMPLETED CLAIMS

FOR LAND DAMAGE TO

66,000 PROPERTIES.

In Canterbury, as at 30 June 2016, EQC

had completed repairs on more than

67,000 homes, settled 187,000

contents claims and completed claims

for land damage to 66,000 properties.

"By the end of the year we aim to

have cash settled the more than

14,000 claims from the February 2016

earthquakes," says Chief Executive

Ian Simpson.

Mr Simpson reaffirmed EQC's ongoing

commitment to Canterbury in 2017.

"In the upcoming year, EQC will

continue to be present in Canterbury

resolving remedial requests on

properties where we have managed a

repair. There is also a range of

administrative and financial tasks to be

completed."

AS AT 30 JUNE 2016,

EQC HAD PAID OUT

$9.4 BILLION

IN RESPONSE TO THE 2010-2011

CANTERBURY EARTHQUAKES.

THIS MONEY CAME FROM THE

NATURAL DISASTER FUND

AND REINSURANCE.

Mr Simpson says that EQC has adequate

funds to continue to operate and to meet

its financial obligations and settle claims.

"There is always a high level of

uncertainty when it comes to settling

claims. For instance with home repairs,

the true extent of damage may only

become clear once repairs begin and

tradies start ripping off weatherboards

or lifting floorboards.

IN ADDITION,

AS AT 30 JUNE 2016

EQC HAD PAID OUT

$4.7 MILLION

FOR CLAIMS ARISING FROM THE

FEBRUARY 2016 EARTHQUAKES

IN CANTERBURY.

"Because of this uncertainty, we have

built a margin into our estimates of what

the Canterbury claims will cost.

"In the event that we did need to use all

of this margin, the Crown has confirmed

in writing that it will meet its obligations

under the Earthquake Commission Act to

ensure that EQC can meet all its liabilities

as they fall due," Mr Simpson says.

The EQC Annual Report shows that EQC

received about $280 million in premiums

and spent $210 million on expenses,

excluding claims payments and claims

handling expenses for the 2010-2011

Canterbury earthquake sequence.

"Our largest expense was the $150

million in premiums for reinsurance,

which currently provides New Zealand

with access to $4.69 billion in cover

for natural disasters, once the cost of

these events exceeds the deductible,"

Mr Simpson says.

A copy of the EQC Annual Report

2015/16 can be downloaded from the

EQC website.

Canterbury students

head to Chile for

earthquake conference

Five engineering students from University of Canterbury will be

attending the World Conference on Earthquake Engineering

(16WCEE) in Chile this January thanks to sponsorship from EQC and

the NZ Society for Earthquake Engineers (NZSEE).

EQC's Research Strategy and Investment Manager Richard Smith says the

sponsorship goes partway to supporting students and practitioners to

attend the conference, which is the preeminent gathering of engineers

involved in seismic resistant design.

"WCEE is to earthquake engineers what the Olympics are to sport. This

opportunity gives these students exposure to ideas and knowledge from

around the globe as well as the chance to forge international connections

that will be of value to their research and to New Zealand.

"EQC plays an important role in funding and facilitating research about

natural hazard risk. Part of that is making sure we have researchers within

New Zealand who have the capability to undertake that research."

Mechanical engineering PhD student Jarrod Cook says the chance to

attend 16WCEE will be invaluable. "I'm exploring ways a ratcheting,

tension-only device can reduce the motion experienced by buildings

during an earthquake, and therefore limit the damage and impact to

people as well as enabling buildings to stay open after the event. WCEE is

the premier conference in earthquake engineering so this is a great way

to share my ideas, get critical feedback and see what others are doing."

WCEE is held every four years and provides attendees with the

opportunity for a global exchange of knowledge, ideas, research

results and practical experience. As well as students from Canterbury,

EQC and NZSEE are jointly sponsoring the attendance of five students

from Auckland University and four industry representatives from across

New Zealand.

From left to right: Jarrod Cook, Pavan Aninthaneni and Amir Malek are three of

five University of Canterbury students heading to Chile for the World Conference

on Earthquake Engineering this January.

CONTACT EQC AT 0800 DAMAGE (0800 326 243) OR VISIT WWW.EQC.GOVT.NZ
---
12

WIN

enter every time you shop at any of these participating businesses - more draws, more chances to win! Promotion closes 9th Dec 2016. conditions apply.

ON NOW!

Tuesday November 8 2016

your chance to

win one of three

$1000

SHOPPING SPREES

THIS COULD BE YOU!

Oil and Filter & Wheel

Alignment COMBO

ONLY $155 (Save $25)

*when you mention this advert

See Andrea & the team

Auto Super Shoppe Shirley

218 Hills Road, Shirley, 385 0192

Monday – Friday 8am – 5pm

Saturday – 8am – 1pm

Shop scan

FREE Courtesy Cars

All Insurance & Private Work Welcome

10% OFF

EXCESS ON

INSURANCE QUOTES

Conditions apply

QEII Collision Repairs

302 Travis Road, North New Brighton, Chch.

P: 03 388 5187. E: qe2collisionrepairs@outlook.com

PReMiUM

tyReS &

AUtO

tWO LOCAtiONS!

222 LINWOOD AVE (Beside Burger King)

245 dyeRS ROAd (Cnr Wickham St)

• Vehicle servicing from $75

• Punctures only $25 for most vehicles

• Brake pads from only $110

• New & secondhand tyres on sale now

• WOFs • Lubes • Alignments

CALL NOW! HOURS:

MON - FRi

8am - 5pm

SAtURdAy

9am - 2pm

(03) 380 50 20

(Linwood)

drive

away be

happy

PEGASUS POST

Your friendly

local Pharmacy

• Prescriptions • Medico Packs

• Gifts • Health Advice

• Dry Cleaning • Passport/ID photos

Hours: Mon-Fri 9am-5.30pm, Thurs 9am-6pm

11 Parnwell Street. Ph 383 4814

Sore feet?

We can help!

Specialising in all:

• Foot Care & Orthotics

• Ingrown Toe Nails

• Corns & Callouses

Come & see Ian & Anna at the...

448 Papanui Rd Ph 03 352 6400 (opp BP Petrol station)

www.papanuifootclinic.co.nz

Before After

$22

WOF

SIZZLING

SAT WOF

SPECIAL

Full mechanical service

+ repair available

Cnr Fitzgerald Ave & Hereford St.

Phone: 365-5220

www.a1auto4service.co.nz

Quality Bikes

Wanted

Open 7 days • 620a Ferry Road, Woolston | Phone 03 376-6377

www.aroundagaincycles.co.nz

aroundagaincycles@gmail.com

2016 seasoN

NoW starteD

the place to be

this summer!

Season passes available at the Woodford Glen Shop,

129 North Avon Road, ChCh | Ph (03) 385-1515

Check out www.woodfordglen.co.nz for meeting dates

Come in

and see our

friendly staff!

Many more

great specials

instore.

$

33 99

each

Cranford 478 Cranford Street

QEII 251 Travis Road

Richmond 68b North Avon Road

Crispy Crunchy Batter

Gluten free products sold for oVer 4 YeArs

Fish, Meat Patties, Hot Dogs, Pineapple Rings, Donuts

• Souvlaki • Great Burger Selection

• Garlic Butter Chips • Cheese on Chips

* Specialty fish cooked to order…

Blue Cod, Gurnard, Sole, Hoki, and more!

Also crumbed at no extra cost.

GOURMET SEAFOODS QEII

Ph: 388 2531, QEII Shopping Centre

251 Travis Road

Mon - Wed 11.30am - 8.30pm (Tues from 4.30pm)

Thurs - Sat 11.30am - 9.00pm; Sun 12noon - 8.30pm.

Daily break 3.15 - 4.30pm.

Designer

Fashion

3000

items

arriving

daily!

See Our

HUGE

Selection!

• Designer Brands • Family Clothing

• Menswear • Footwear • Bric-a-brac

• Workman Outdoor Clothing

• Household Goods • Books

• See the Retro Section AND Formal Wear

Open Daily 7 Days

New Brighton: 52 New Brighton Mall

(Old Farmers Building)

HOURS

Mon–Sat 9am–5pm

Sun/Public Holidays 10am–4pm

New Zealand's Largest

Recycled Clothing Retailer

Burwood & Redwood

HomE of THE

$40 sErVICE

layby for

xmas now

Hot in-store

deals

Ph: 383 2114

269 Burwood Rd, Burwood

Ph: 354 4022

290 Main North Rd, Redwood

SHOP HOURS

Mon-Fri 8.30am-5.30pm. Sat 9.00am-4.00pm

Monday to Friday to

Saturday to

Sunday to

paperplus.co.nz

Welcome to our family friendly

christmas

shop!

768 Marshland Road (North End)

Open everyday until Christmas Day 10am - 4pm

CHRISTCHURCH'S PERFECT

INDOOR ENTERTAINMENT

FLIP OUT

TRAMPOLINE ARENA

CHRISTCHURCH

MAIN ARENA

TRICKING AREA

FOAM PIT

WALL TRAMPOLINE

TUMBLE TRACK

YOUR SAFETY

IS OUR #1

PRIORITY

PHONE 384 8244 FOR MORE INFORMATION

230 MACES ROAD, BROMLEY

WWW.FLIPOUT.CO.NZ

Boost Brain Performance

ENZO:PROFESSIONAL (ENZOGENOL) is a potent

antioxidant extract of the N.Z. pine bark and

has been clinically shown to improve memory,

concentration & brain performance.

SUPER

60's only $45.30, save $5.00

120's only $84.90, save $15.70

PRICE! Detailed Information Available

Bringing You the Best in Natural Health!

MARSHALLS HEALTH & NATURAL THERAPY

CONSULTING - PRESCRIBING - DISPENSING -

MANUFACTURING - MEDICAL HERBALISTS

110 SEAVIEW RD, NEW BRIGHTON • PH 03 388 5757

Email: enquiry@marshallshealthshop.co.nz

- WE ARE ALWAYS HAPPY TO HELP! -
---
PEGASUS POST Tuesday November 8 2016 13

Experts restore that

"winning smile"

MEETING PEOPLE for the first time,

interacting with others on social occasions,

going for a job interview - in all these

situations your smile is the most important

part of you.

Or perhaps, on a lighter note, you

might be scaring yourself with your 'selfie'

because your smile is not as attractive as it

should be, due to missing or broken teeth.

Perhaps it's time for a visit to Denture

South in Barrington, where the experts can

give you that winning smile back.

Clinical dental technician, Andrew

Johnson and associate Janice ling can

provide you with a highly personalised

experience. We have a lot of knowledge

and experience that can help guide you

through the process.

For people who have had dentures for a

while and are finding they frequently need

to buy denture adhesive to keep them in

place, Andrew advises having the dentures

relined so they will fit better. As he points

out, the money spent on denture adhesive

over 12 months would easily cover the cost

of having your dentures refitted.

Denture South has been providing a full

range of denture services for the residents

of Christchurch for over 13 years. These

services include first-time immediate

dentures, full replacement dentures, partial

plates and sports mouth-guards.

Many Denture South clients come

through word-of-mouth referral, an

indication of the level of satisfaction that's

provided there. Coming into Christmas

we will be open and available for all

adjustments for our existing patients in the

final week, making for a great Christmas.

The friendly Denture South team.

Conveniently

located at 230

Barrington Street,

Denture South has

off-street parking.

Phone 332-4004 for

a complimentary

consultation.

We would like

to welcome

Amy Lee, Oral

Health Therapist

to our team!

• General Dentistry • Emergency Appointments

• Wisdom Tooth Extractions • Cosmetic Fillings

• Dental Implants • IV/Oral/Inhalation Sedation

• New Patients Welcome

99a GLANDOVEY RD (Entrance via Idris Rd)

FENDALTON, CHRISTCHURCH 8052

PHONE: 03 351 1188 FAX: 03 351 1138

Monday - Friday 8.30am-5.00pm

www.fendaltondental.co.nz

230 Barrington st

332 4004

Your Local

Friendly

Dental

Team

Easy parking

& great service

Sports Injury?

Specialising

in Injury

Rehabilitation

$5 discount for

SuperGold Card holders

Physiotherapy Associates

Finding Solutions

ACC Contracted Provider

Ph/Fax 03 389 7196 86A Wainoni Rd

Email: physioassoc@clear.net.nz www.physioA.co.nz

SuPER

LOW PRICES!

Over 60 health products

on special every day.

Locally owned and operated.

Giving health advice since 1992.

The Palms: 385 0364

The Hub Hornby: 349 5150

Bush Inn Centre: 348 7867

Just had surgery?

Come to us for your postsurgery

physiotherapy

new summer camping

stock arriving daily

Open 7 days | twO lOcatiOns

7d Mandeville st, Opp placeMakers

ph 03 366 4166

dressMart hOrnby, Main sOuth rd

ph 03 344 5304

www.highcountry.net.nz

• 3 clinics

• Pain and swelling management

• Restoring movement, strength

and function

• ACC and Private surgeries

• Free car-parking

• No referral needed

musclepeople.co.nz

Three Muscle People Physio Clinics:

Bishopdale Clinic

13a Bishopdale Court

Ph 360 3606

Call us today 360 3606

City Clinic

12 Hereford St

Ph 961 0236

Wigram Skies Clinic

67 Skyhawk Rd

Ph 322 9400
---
14

Tuesday November 8 2016

SPORTS

PEGASUS POST

CONTINUING EDUCATION

Ensuring a safe

work place

BIG NIGHT: The Aranui Eagles picked up a number of accolades at the

Canterbury Rugby League awards.

Aranui Eagles end the

season with big awards

• By Gordon Findlater

THE ARANUI Eagles had

a night to remember at the

recent Canterbury Rugby

League awards at the

Hornby Working Men's

Club.

A number of the night's

major awards were taken

home by this year's Gore

Cup champions, none bigger

than the referee plaque

– club of the year award.

In June, the club celebrated

the completion of

its new changing rooms

at Wainoni Park after

having to use a temporary

container following the

earthquakes.

The year wasn't without

its lows. The club was in

mourning following the

death of secretary Cathy

Irwin on August 5. She

was a huge loss not only to

the club, but to the local

community.

Irwin, who also

worked with the Aranui

Community Trust, was

remembered for her work

with the club at the awards

evening. Two of Irwin's

daughters, Cherie Rangihuna

and Shakeena Irwin,

accepted the Rochelle

MacPherson Trophy –

administrator of the year

award on her behalf.

The Eagles also had a

number of other individual

awards go their way

on the night.

Club president Alana

Hema won the RC

Reddock Trophy, the

biggest award for her role.

Meanwhile, Kahi Tipene

picked up the AG Bailey

Cup after finishing as the

top try scorer in this year's

Massetti Cup.

The Eagles finished the

Massetti Cup round robin

in fifth place.

They then competed

for the Gore Cup, which

is contested between

the bottom four teams

following the round robin.

The Eagles defeated the

Halswell Hornets 24-16

in the semi-final and

then lifted the cup after

defeating the Celebration

Lions 26-20.

Awards list

Referee plaque

– club of the year:

Aranui Eagles.

Mel Cooke Trophy –

grand final MVP: Erwin

Sauni (Linwood Keas).

Turners and Le Brun

Cup – top point scorer:

Daniel Hartley (Linwood

Keas).

AG Bailey Cup – top

try scorer: Kahi Tipene

(Aranui Eagles).

Poore Cup – most

premiership points:

Linwood Keas.

John Coffey Cup –

coach of the year:

Andrew Auimatagi

(Linwood Keas).

CRL Trophy – volunteer

of the year: Delwyn

Ellis (Sydenham

Swans).

Rochelle MacPherson

Trophy – administrator

of the year: Cathy

Irwin (Aranui Eagles).

NZ Masters Cup –

trainer of the year: Lee

Paru (Hornby Panthers).

NZ Masters Cup – club

manager of the year:

Phillip Allen (Hornby

Panthers).

NZ Masters Cup – club

coach of the year:

Andrew Auimatagi

(Linwood Keas).

RC Reddock Trophy

– club president of

the year: Alana Hema

(Aranui Eagles).

Referees

Bill Whitehead

Trophy – junior grade

referee of the year:

Owen Harvey.

Kevin Kirner Memorial

Trophy – youth grade

referee of the year:

Daryl Mataiti.

Helen Lightfoot

Trophy – senior grade

referee of the year:

Steve Toms.

Tom Lightfoot Trophy

– premier grade

referee of the year:

Adam Burns.

Representative

Canterbury under-19

rookie of the year:

Soni Finau (Papanui

Tigers).

Canterbury under-19

most outstanding

player: Quintin

Needham (Halswell

Hornets).

Canterbury under-19

sportsman of the year:

Jonty Hansen (Halswell

Hornets).

Canterbury development

rookie of the

year: Texas Toleafoa

(Halswell Hornets).

Canterbury development

most outstanding

player: Faleolupe

Saifa Upia (Celebration

Lions).

Canterbury development

sportsman of

the year: Willie Davies

(Halswell Hornets).

Canterbury women's

rookie of the year:

Corrina Whiley (Papanui

Tigers).

Canterbury women's

most outstanding

player: Chartnay Poko

(Papanui Tigers).

Canterbury sportswoman

of the year:

Carissa Leka (Celebration

Lions).

Canterbury Bulls

rookie of the year: Michael

Butson (Northern

Bulldogs).

Canterbury Bulls most

outstanding player:

Phil Nati (Celebration

Lions).

Canterbury Bulls

sportsman of the year:

Tevin Arona (Hornby

Panthers).

Canterbury sportsperson

of the year: Alani

Kakoi (Linwood Keas).

Learning first aid is not only a

part of ensuring a safe work place, but also

an integral part of our engagement with

the wider community. We all learn the

necessary skills to ensure that in times of

emergency we are able to assist our work

colleagues, but are we able to take these

skills home, into the community or on to

the sports field?

not all work places are the same and

the injury risk for each place can be wide

and variable. The office attended by

administrators does not carry the same

risk as those people working with heavy

machinery, or perhaps at some distance

from a regular ambulance service. it is

therefore essential that you pick the right

first aid course to suit all of your activities –

both professional and social.

take, for example, an office worker who

does not have a high risk work environment

and whose concern might be to ensure that

they can deal with minor cuts and superficial

injuries, or the ability to perform effective

CPr. These skills

Piano

Raewyn Clegg

Registered Teacher of

Piano and Theory of

Music.

29 Lancewood Drive

Halswell

Ph 322-9377

can be achieved on a

course of eight hours

duration and would

generally fit into

low to medium risk

area. But take this

same person on to a

sports field either as

a spectator or player

when a higher level injury occurs. The eight

hour course covering unit standards 6402

and 6401 (or 26551 and 26552) does not

cover head neck and spinal injuries, eye

injuries, hypothermia and poisonings.

The majority of injuries occur outside of

the work place, in fact one in three injuries

occurs in the home, making it the most

common place for injuries to happen.

new Zealand children are twice as likely

to die through injury as children who live

in australia. They mostly die as a result

of motor vehicles accidents or falls in the

home. fatalities from leisure and sport are

not far behind those in the workplace.

The wider 12 hour course teaches the

additional unit standard 6400 and provides

a wide knowledge base for medium to high

risk environments. This course covers many

of the skills required to deal with the most

common injuries, such as falls (which can

result in head, neck and spinal injuries) and

dealing with complex scenes such as motor

vehicle accidents.

if you are not sure on the course best

suited to your needs, ask your accredited

first aid training provider. They can explain

the course content and give you options

that will best suit your needs. Look beyond

the workplace and consider your family and

your location. Check that you have a good

quality first aid kit that is up-to-date with

replenished items, and that everyone knows

where it is located.

Monday

14 November

28 November

12 December

Friday

18 November

9 December

16 December

NEW ZEALAND RED CROSS

GLOBAL LEADERS IN FIRST AID TRAINING

Christchurch Course Dates 2016

Venue: 32 Birmingham Drive, Middleton

First Aid Revalidation Course (6 hours)

Cost $120.00 per person (certificates must not

have expired for more than 3 months)

Time: 8.30am – 3.15pm

Tuesday

22 November

6 December

Sunday

20 November

4 December

18 December

For bookings please call 0800 REDCROSS or 339-7111

Book online at www.redcross.org.nz

Wednesday

23 November

21 December

USE THE RED CROSS ADVANTAGE - COMPREHENSIVE FIRST AID, ESSENTIAL FIRST AID,

REVALIDATION OR TAILORED TRAINING TO SUIT yOU AT yOUR PLACE OR OURS.
---
PEGASUS POST Tuesday November 8 2016 15

CONTINUING EDUCATION

An exciting career

in Automotive

Southern Institute of Technology

(SIT) graduate Janaka Liyanapathirana's

childhood love of cars has seen him excel

to an exciting career in Automotive.

Janaka completed the Certificate in

Automotive Engineering in Christchurch

in October and, after being recognised for

his overall outstanding efforts throughout

the course, has graduated with a prized

welding helmet gifted by BOC.

"I was really surprised about the award,

it was so unexpected," he said.

Coming to New Zealand to pursue his

dream of becoming a mechanic, Janaka

said he tried different automotive courses

around the country but only found the

right course for him at SIT.

"I was so lucky to find the right place, the

right course and the right tutors [at SIT],

from all of the other places where I tried

within NZ,"

"The best opportunity the course gave

me was the live practical experience and

institutions with proper techniques from

the tutors who are qualified and have long

term experience in the same trade."

Janaka said he has already received an

opportunity to enter the workforce and

start his career.

"I think I have followed the right track,

by the time I finished I got a job offer from

the biggest car company in Christchurch,

so I have already planned to join them and

enjoy working with what I have studied."

For any enquires phone 349 3645 or call

in and see us at 60 Waterloo Road.

Help your child grow

in confidence

Life skills programme for children.

Do your children lack self-confidence, or

perhaps have so much energy that they need

an outlet for it? Development through drama

is the ideal approach to teach confidence

and channel youthful energy while building

self-esteem.

The Helen O'Grady Drama Academy has

been in New Zealand for 32 years. This highly

regarded worldwide programme helps

students aged 5 to 17 fulfil their potential by

acting confidently and speaking clearly. This

unique, self-development programme helps

achieve invaluable life skills. The confident,

articulate child makes friends easily, accepts

challenges and new directions. Confident

children become well-rounded adults.

Our fully qualified teachers are trained

in the Helen O'Grady Drama system,

they ensure each child is encouraged

and valued in a warm, positive learning

environment. Lessons stimulate and

motivate students without the exam or

peer group pressure. Weekly class activities

include speech training, creative movement

and improvisation. Our Youth Theatre

programme encourages the development of

leadership and organisational skills. Three

terms of the year cover the self-development

programme and in the fourth term all

students prepare a performance for parents

and friends. We also offer Trinity College

London examinations as an option for

those who wish to pursue an international

qualification.

Our safe structured learning environment

values student individuality and encourages

team building. Most importantly its great

fun too!

Enrol now phone 0800 161 131 and see

our website www.helenogrady.co.nz

CHRISTCHURCH CAMPUS

60 Waterloo Rd, Hornby, Christchurch

Certificate in Construction

Starting 30 January 2017

*Direct material costs apply

Call today or email sit@sit.ac.nz

0800 TO STUDY

www.sit.ac.nz

NEW ZEALAND RED CROSS - GLOBAL LEADERS IN FIRST AID TRAINING

CHRISTCHURCH COURSE DATES 2016 • VENUE: 32 BIRMINGHAM DRIVE, MIDDLETON

USE THE RED CROSS ADVANTAGE -

COMPREHENSIVE FIRST AID,

ESSENTIAl FIRST AID, REVAlIDATION

OR TAIlORED TRAINING TO SUIT YOU

AT YOUR PlACE OR OURS.

Monday

21 November

5 December

Comprehensive First Aid PLUS Course (16hrs or 4hr upgrade)

Unit Standard 6402, 6401, 6400 and 25411 or 26552, 26551, 6400 and

25411 Cost $265.00 per person incl FA Manual & GST for 16 hours or

$80.00 per person for upgrade following completion of CFA

Time: Day One 8.30am – 5.30pm Day Two 8.30am – 5pm

16 Hours Thursday/Friday

24 & 25 November

Essential First Aid Course (8hrs)

Unit Standard 6402, 6401 or 26551, 26552

Cost $150.00 per person Time: 8.30am – 5.30pm

Tuesday

13 December

Wednesday

16 November

4 Hours Friday 1.15pm-5pm

25 November

Thursday

3 November

1 December

8 December

Saturday

19 November

3 December

17 December

Comprehensive First Aid Course (12hrs)

Unit Standard 6402, 6401, 6400 or 26552, 26551, 6400

Cost $210.00 per person incl FA Manual & GST

Time: Day One & Day Two 8.30am - 3.15pm

2 x Tuesdays

29 Nov & 6 December

13 & 20 December

Time: Day One 8.30am - 5.30pm

Day Two 8.30am - 12.45pm

2 x Mondays

21 & 28 November

5 & 12 December

Thursday/Friday

24 & 25 November

2 x Wednesdays

16 & 23 November

Wednesday/Thursday

9 & 10 November

Weekends

19 & 20 November

3 & 4 December

17 & 18 December

Thursday/Friday

17 & 18 November

1 & 2 December

8 & 9 December

FOR BOOKINGS PLEASE CALL 0800 REDCROSS OR 339-7111 • BOOK ONLINE AT WWW.REDCROSS.ORG.NZ
---
16

Tuesday November 8 2016

REAL ESTATE

Surplus to requirements - Really

22 Dunrobin Place, Avonhead

Deadline Sale: All offers presented on or before 4pm Thursday 17th November

4 bedrooms | 2 bathrooms | 2 toilets | 1 living room | 1 dining room | 2 car-garage | 2 off-street parks | Listing # ST7071

PEGASUS POST

Our clients have issued instructions

to sell our fabulous family home.

Sited down a quiet cul-de-sac the

property showcases an extensive

list of renovations. A new kitchen,

new bathrooms & incorporating the

qualities we look for in a modern home

today, creating a contemporary feel.

Interconnecting dining & living areas are

open & spacious for ease of entertaining.

A wood burner & heatpump ensure year

round comfort. This is the perfect family

environment and a great opportunity

to secure an affordable foothold in

this sought after location. Educational

requirements are meet with Merrin

School and Burnside High School. Our

clients are committed & determined to

see this sold

Deadline Sale all offers presented on

or before Thursday 17th November,

4:00pm at Harcourts Holmwood, 74

Edgeware Road, St Albans (unless sold

prior).

Open Home Sunday 13 Nov 12:00

p.m. - 12:30 p.m. See you at the

Open Homes or for a private viewing

contact Peter or Kathryn Hampton

of Harcourts St Albans - Holmwood

(Licensed Agent REAA 2008) on 377

0377 or Peter mobile 021 367 761 or

Kathryn mobile 021 889 903

Just

advertisement in The Star

reaches more people than any

other media in Christchurch!

Reach more customers with The Star!

For a free marketing consultation, contact the team:

shane@starmedia.kiwi | 03 379 7100 | www.starmedia.kiwi
---
PROUDLY

PROUDLY

CHRISTCHURCH

CHRISTCHURCH

OWNED

OWNED TUESDaY, aUGUST 27, 2013 PROUDLY 384

384 CHRISTCHURCH 0600

0600

PROUDLY CHRISTCHURCH OWNED MONDaY JUNE 24, 2013

OWNED WEDENSDaY 10 JULY, 2013 384 0600

384 0600

A Mainland

Media Publication

Kea

(Nestor Notabilis)

Ladbrooks, Tai Tapu, Leeston, Lincoln, Southbridge, Prebbleton, Halswell, Rolleston, Templeton, Burnham, West Melton, Darfield, Arthurs Pass

Mainland

Press Newspaper

Sumner, Redcliffs, Mt. Pleasant, Ferrymead, Woolston, Lyttelton & Akaroa Harbours

Harewood, Burnside, Bishopdale, Bryndwr, Fendalton, Merivale, St Albans, Mairehau, Papanui, Casebrook, Redwood, Regents Park, Styx Mill, Northwood, Spreydon, Belfast Hoon Hay, Hillmorton, Cracroft, Cashmere, St Martins, Somerfield, Sydenham, Addington, Waltham, Opawa, Beckenham, Huntsbury, Woolston

Black Billed

Gull

A Mainland

Press Newspaper

New Zealand

Swamp Hen (Pukeko)

Linwood, Avonside, Richmond, Shirley, Burwood, Dallington, Wainoni, Bromley, Aranui, Avondale, Bexley, New Brighton, Northshore, Queenspark, Parklands, South Brighton

PROUDLY CHRISTCHURCH OWNED MONDaY JULY 15, 2013 PROUDLY 384 CHRISTCHURCH 0600

OWNED MONDaY 12 aUGUST, 2013 PROUDLY 384 CHRISTCHURCH 0600

OWNED MONDaY JUNE 24, 2013 384 0600

A Mainland

Press Newspaper

Fantail

(Piwakawaka)

A Mainland

Newspaper

Bellbird

(Korimako)

A Mainland

Press Newspaper

New Zealand

Pigeon (Kereru)

Templeton, Islington, Hei Hei, Broomfield, Halswell, Oaklands, Westlake, Hornby, Wigram, Sockburn, Church Corner, Ilam, Russley, Hyde Park, Avonhead, Riccarton Park, Riccarton

PEGASUS POST Tuesday November 8 2016 17

Classifieds Contact us today Phone our local team 03 379 1100

Computers

ALL

YOUR

COMPUTER

WORRIES SOLVED!

*$30.00 off your first

service with this coupon!*

No problem too big or

small from home PC's to

business networks. PC

slow? An end to Viruses,

Spyware, and Clogged

Systems. Safe secure

hassle-free computing.

Lost files recovered.

Microsoft Certified,

MCSE, MCP+l. 30 years

experience. Call Andrew

Buxton this week on 326-

6740 or 027 435-7596

for $30.00 off* Custom

Computers Christchurch

Curtains

www.curtainfabric-outlet.com

Fashion Designs & Colours

Discontinued Designs

End of Lines Bargain Prices

Call at Our Shop

CURTAIN FABRIC OUTLET

71 Hawdon St Sydenham

Ph 366-5026

Gardening

& Supplies

A GARDEN

PROFESSIONAL

NEEDED? Qualified

Horticulturist, offering

expert pruning, garden

makeovers, garden design

and landscaping, for free

quotes call Bryce 027 688-

8196 or 0508 242-733

A GARDEN OR

LANDSCAPING TIDY

UP? Rose & Fruit Tree

Pruning, Shrub, hedge

& tree pruning, Lawns,

Gardening, consistently

reliable general property

upkeep, Dip. Hort. 10

yrs experience, One off

tidy ups or on-going

service. Nick's Property

Maintenance. Keeping

your garden beautiful.

Free Quote. Ph. 942-4440

Holiday

Accommodation

QUEENSLAND SUN-

SHINE COAST AUSTRA-

LIA Resort, Ocean Views,

Balconies, Self Contained,

1 or 2 B/R Ensuite,

Heated Pool, Spa, Sauna,

Free Internet, Shops,

Restaurants, Tennis, Surf

Club & Patrolled Beach,

Public Transport at door.

Ask for our SEASONAL

SPECIALS. Phone 61 7

544-35011 Email: reception@mandolin.com.au

www.mandolin.com.au

Personals

SINGLE

PROFESSIONAL Man

with full time permanent

job, own home, seeks lady,

age between 38 to 40, for

permanent relationship

and who wishes to move to

Sydney, Australia. Please

phone or text details 0413

977 692

Public Notices

business video

PRoduCTion

A video will bring your business

alive & into your customers mind.

Promote your

services or business

with a professionally

created video with us

• Corporate and

Business video a speciality

• Competitive rates

• 25 years experience

• Start to finished product

• Professional quality guaranteed

PHone KeRRY 021 635 083

DEMOLITION

With care and respect we

will remove your dwelling.

Our policy is to recycle as

much as we can. We are a

local company specialising

in residential properties. We

will endeavor to cater for

your individual needs.

Ph. R.M. Solutions

021 02866981

for a free quote.

Situations Vacant

CA$H

Strippers

& Podium

Dancers

Wanted!

18+ TO APPLY

NEISHA

021 193 0118

To Let

RENT NEED MORE ME!

SPACE?

NO BOND THIS MONTH

Ideal as an extra

bedroom or office.

Three convenient sizes

from $70 p/w:

Standard 3.6m x 2.4m

Large 4.2m x 2.4m

Extra-large 4.8m x 2.4m

Visit our display cabins at

470 Cranford Street or call

0211277227 for a free brochure

www.justcabins.co.nz

Tours

Rexellent

Rentals

Cars, Vans, Brisbane, Coolangatta

FREE CALL

0800 601 508

e: rexellent@bigpond.com

To Let

HOMESITTERS reqd

for Christmas / New Year.

Pref retired / not working.

Ph Lisa 359-2323 www.

townandcountryhomesit.

co.nz

HOUSEME

Portable sleepout or office

available to rent.3m x

3.6m studio.

Insulated and value for

money at $75.00 per week,

you wouldn't live in

anything else. Contact

Amanda

today on 0279570920 or

houseme2015@xtra.co.nz

Tours

Rexellent

Rentals

Cars, Vans, Brisbane, Coolangatta

FREE CALL

0800 601 508

e: rexellent@bigpond.com

Trades & Services

Appliance Sales & Service

388 4780

Appliance Services

14 Brighton Mall, New Brighton

& Property Maintenance

Paving

Patio - Pathways - Driveways

Lawns and Gardens

Planting - Raised Vege Gardens

Readylawn - Irrigation - Fencing

General Maintenance

Water Blasting - Gutter Cleaning

Rental Property Maintenance

Section Clearing - Weed Spraying

20 Years Experience

Locally owned and operated

Free Quotes - Competitive Pricing

Blair Gibson 027 699 5815

MDC

BUILDERS

Renovations & Repairs

All forms of Home

Maintenance

Bathrooms & Kitchens

Site clears

Excavating Driveways

& Paths

All forms of Foundations

Free Quotes

Give me a call today

Ph 022 407 8581

mdcbuildersnz@gmail.com

15% Discount with this Advert

Public Notices

Call us & we'll help

you place your

classified advert in our

community papers

Nobody knows

Christchurch

like a local

We're local, we're

in Christchurch, we

speak your language!

Phone: 379 1100

Selwyn

Times

Nor'West

News

Bay Harbour

A

News

Southern

Pegasus

Post

Western

View Press

News

Classifieds

Our community papers are published every

Tuesday (Bay Harbour, Wednesdays) focusing

on local issues & local people.

Trades & Services

HOUSE

CLEARING

Are you moving

house?

Let All Clear Canterbury

take care of your

unwanted items.

You identify what you want

to keep & we will dispose

of the rest!!

Ph: 03 312 7119

Mob: 021 078 4553

allclearcanterbury@gmail.com

www.allclearcanterbury.co.nz

DCM ROOFING LTD

The Roofing Specialists

PHONE IAIN

027 445 5597

iain@dcmroofing.co.nz

9220021AA

• Replacement/new roofing

• Colour Steel gutter & fascia

• Flue & log burner installs

• Skytube/light installs

• Earthquake repairs

Licence Building

Practitioner LBP

Member of the Roofing

Association

FOR ALL YOUR

★Garden Clean-ups

★Pruning

★Lawn Mowing

★Garden Maintenance

Call us today for a FREE quote

PH 0800 4 546 546

(0800 4 JIMJIM)

Trades & Services

BLOCKED

DRAINS?

• VIDEO INSPECTION

• WATERBLASTING

• LIQUID WASTE

PH: 03 365 7960

24 hours // 7 days

info@h20jet.co.nz

www.h20jet.co.nz

BEST BATHROOMS

full renovation specialists,

LBP, repairs &

maintenance ph 03 387-

0770 or 027 245-5226

BRICKLAYER

George Lockyer. Over

30 years bricklaying

experience. UK trained.

Licensed Building

Practitioner number

BP105608. Insurance

work. EQC repairs.

Heritage brickwork a

speciality. No job too

small. Governors Bay.

Home 329-9344, Cell

027 684 4046, email

karengeorge@xtra.co.nz

BUILDER LICENSED

available for all aspects of

building. Please call 027

241-7471 or 335-0265

FENCE

BUILDER

For all building work

but specialist in bathroom

renovations, 30 yrs

experience, with service

and integrity. Free Quotes.

Ph Lachlan 383-1723 or

0274 367-067.

*****************

CARPET

&

VINYL LAYINg

Repairs, uplifting,

relaying, restretching,

Email jflattery@xtra.co.nz,

ph 0800 003 181

or 027 2407416

Trades & Services

CARRIER

Local, experienced,

friendly, trade-me

purchases, single items

to truck loads, furniture

to whatever, removals &

trade deliveries a specialty.

Ph GEH 341-5069

CARPETLAYER

Laying and Repairs, 40

yrs experience, ph Peter

326-7711 or 027 240-6532

CLEANINg

Home cleaning service.

Fussy, thorough and

reliable. Ph 325-3426

evenings or 021 046 2258

DRIVEWAYS

Replace, repair or new.

We are a local company

with over 10 yrs exp.

We also operate a

digger for all other

earthworks.

Ph. R.M. Solutions

021 02866981

for a free quote.

FENCINg

All styles and shapes,

gates, wooden, ph

Mark 027 331-3223

PAINTINg/

STAININg

Quality at a reasonable

price. Free quotes. Phone

Warren today on 980-1676

or 027 2014713

ADD SOME

COLOUR

TO YOUR ADVERT!

Situations Vacant

Trades & Services

FENCING

Paling, picket,

iron, trellis

Demolition and

removal

Phone Bevan

021 231 1860

Fencing Uprite

Your Eastside

Specialist

FURNITURE REMOVALS

Large Trucks $95 +

GST per hour 7 day NZ

wide, packing & moving,

Professional Company,

Professional Service.

Canterbury Relocations

Ltd. ph 0800 359 9313

gLAZIER

Window repairs, pet

doors, new glazing, double

glazing, conservatory

roofs. Experienced

tradesman. Call Bill on

981-1903 or 022 413-3504

LANDSCAPE

CONSTRUCTION

Lawns, paving, water

features, irrigation,

planting, decks,

driveways, kerbing, ponds,

retainer walls, fencing.

Free quotes, Phone Tony

021-034-8555

PAINTER

Available, All aspects in

painting. Very competitive

in roofs and fences. Please

call 027 241-7471 or

335-0265

Trades & Services

PAINTINg

&

DECORATINg

Excellent finish. Domestic

& Commercial. Ph Chris

027 223 8542

PAINTER

Top quality work, interior/

exterior, pensioners

discount, free quotes, 30

years experience, I stand

by Canterbury, ph Wayne

your friendly painter 03

385-4348 or 027 274-3541

PAINTINg

&

DECORATINg

interior & exterior,

gib fixing, plastering,

paperhanging, Est 50 yrs

in ChCh, ph Wingfields

Ltd, ph Mark 021 171-

1586 or 355-5994

PLUMBER

For prompt service for all

plumbing maintenance,

repairs and alterations.

Phone Michael 364 7080

or 027 438 3943

PLUMBER

ALF THORPE

PLUMBING Certifying

Plumber for all types of

plumbing, maintenance,

spouting, alterations etc.

Phone 352-7402 or 0274-

350-231

ROOFINg

Qualified & Licenced

Practitioner. Re-Roof &

Repairs, all types. Member

New Zealand Roofing

Association. Over 35 years

experience. Phone John

027 432-3822 or 351-9147

email johnmill@ihug.

co.nz

SPOUTINg CLEANINg

Spouting Unblocked,

Cleaned Out and Flushed

Out. Also Full Handyman

Services Available. Call

Trevor 332 8949 or

021 043-2034
---
18

Tuesday November 8 2016

Classifieds

PEGASUS POST

painter

Price Family

Painters Ltd

Interior/Exterior

Wallpapering/Painting

Gib Stopping

Free Quotes

EQC Opt Out

Fletcher Accredited

Project Management

Phone: Morton 021 667 444

Email: mortonprice@xtra.co.nz

www.pricefamilypainters.co.nz

Trades & Services Wanted To Buy

STONEMASON BRICK AAA Buying goods

& BLOCKLAYER quality furniture,

Earthquake Repairs, Grind Beds, Stoves, Washing

Out & Repoint, River/ machines, Fridge Freezers.

Oamaru stone, Schist, Same day service. Selwyn

Volcanic Rock, Paving,

all Alterations new & old,

Dealers. Phone 980 5812

or 027 313 8156

Quality Workmanship, A+ Household effects,

visit www.featureworks. fridges, freezers, washing

co.nz or ph 027 601-3145

TREES BIG OR SMALL

tree removal, trimming,

stump grinding, shelterbelt

clean up, section clearing,

machines, ovens. Good

cash paid. Ph Paul 022

0891 671

CASH FOR STAMPS. Do

you have an old collection

rubbish removals, tucked away somewhere?

excavation work, ph Trees It could be worth a fortune.

Big or Small, for a free I am in ChCh buying

quote, 021 061 4783 collections next week.

Call Matt Power on 0800

TREE WORK

239 325 ZEALANDIA

Hedge trimming, stump

STAMPS

grinding, rubbish removed,

TOOLS

small job specialty Ph

Garden, garage,

Andrew 03 322-8341 or

woodworking,

027 435-8759

mechanical, engineering,

T.V. SERVICE CENTRE sawbenches, lathes, cash

Repairs, tvs, microwaves, buyer, ph 355-2045

stereos, DVD. Aerial

installations and kitsets,

480 Moorhouse Ave, ph 03

379 1400

UPHOLSTERER

Dining Chairs, Lounge

suites, Caravan Squabs

etc. recovered. Free

Quotes. Phone Graeme

383-1448

VHS VIDEO TAPES

& all camera tapes

converted to DVD, video

taping, weddings, twenty

firsts, special occasions,

www.grahamsvideo.co.nz

ph 03 338-1655

WATERBLASTING

Quality Job, Quick Service

by skilled tradesman, Ph

Richard Severin at Jet-X

0800 538 969 Free quotes,

visit www.jetx.co.nz

WINDOW CLEANING

Average 3 bdrm house

inside or out $40. Both

$70. Phone Trevor

344-2170

MUMS & DADS

Would you like your children to

exercise more and earn some money?

DELIVERY

PEOPLE

WANTED

The Star requires

delivery personnel

in all areas of

Christchurch.

The work involves

door-to-door

delivery of The Star

newspaper.

Please call

Leanne Lucas 364-7451 or

Mark Coulthard 364 7453

email: deliveries@starmedia.kiwi

Trades & Services

PLANT GROWERS

Bettaplants

Nursery

Have been growing top quality

plants since 1934

Remember you can't buy

Bettaplants anywhere

BEDDING & VEGETABLE PLANT GROWERS

Bettaplants

1934-2016

82 YEARS IN BUSINESS

27 Ottawa Road. Phone: 389-7855

Hours: 8.00am-5.30pm Mon to Fri, 8.00am-5.00pm Sat

ROOF REPAIRS

Locally owned & operated with

over 30 years experience.

• Extensions & repair • Roof coating

• Concrete & clay tiles • Butynol

• Malthoid • Asbestos Certified

• Coloursteel • Old iron • Guttering

Phone Dave 981 0278

or 021 223 4200

E: dave@beaumontroofing.co.nz

BEAUMONT ROOFING LTD

ADVERTISE YOUR BUSINESS HERE

Phone for further details

(03) 379 1100

Start your day

with us

We are open from 6.30am

every day

COOKED

BREAFASTS

from

$

18

Join us for

Race Day

Breakfast

RESTAURANT & CAFÉ

'Famous for

their roasts!'

FAMILY FRIENDLY

Kid's Special

Two courses

Great Kids menu plus designated play area.

SENIORS SPECIAL

Two courses:

Soup/Roast or Roast/Dessert

Special available lunch only

Monday - Saturday 12pm - 2.30pm. Conditions apply

BOWYN 'BOMAN' MORGAN

v SHAUN COLMORE

$

10

$

20

Open daily from 6.30am - Breakfast, Lunch & Dinner

The

RACECOURSE HOTEL

& Motorlodge

118 Racecourse Rd, Sockburn,

Christchurch. Ph 03 342 7150

www.racecoursehotel.co.nz

A classic, contemporary Club experience

Cafe open from 11am

TAB & Gaming

Function Facilities

HOUSIE

Tuesday, Thursday,

Saturday

SHUTTLE

Tuesday - Saturday

THIS SATURDAY

VARIETY TRIBUTE SHOW

Cancer Fund-Raiser

8pm in the Sports Bar : Ticket $15

ROBBIE DREW

7pm in the Whitford's Bar

Open 7 Days from 5.30pm

MARK JONES v KYLE 'THE ESSEX BOY' SMITH

Plus top line corporate fights. Door sales $40 or @Dash

RETRO ROAST

LUNCH

12PM-1.30PM

WEDNESDAYS

$10 Members / $12 Non

FRIDAY 18 NOV, 7.30PM

HORNBY WMC, CARMEN RD, PH 349 9026
---
PEGASUS POST Tuesday November 8 2016 19

www.newbrightonclub.co.nz

GREAT

ENTERTAINMENT

TUESDAYS

& THURSDAYS

Members

Lucky Card Draw

COMING UP

MASTER HYPNOTIST

BRIAN GEE

7PM SATURDAY

19 NOVEMBER

Tickets $10

TAB POD

SHUTTLE RUNNING

Tues, Thurs, Fri & Sat

202 Marine Parade

Ph 388-9416

Members, guests and affiliates welcome

JOIN

A CLUB BY

THE SEA!

GREAT

DINING

- downstairs -

ClubBISTRO

Open Tuesday to Saturday

12pm-2pm and from 5pm

Midweek $10

SPECIAL

ROAST

Available Tuesday,

Wednesday, & Thursday

- upstairs -

PIERVIEW

Restaurant

Quality a la carte

with a view!

Open from 5.30pm

FRIDAY, SATURDAY

& SUNDAY

FRIDAY SPECIAL:

BBQ PORK RIBS

$19.50!

for a limited time

SUNDAY SPECIAL

3 courses: $25

NOW OPEN FOR

SUNDAY

BRUNCH

By the Seaside!

10.30am-2.30pm

SUNDAY

27 NOVEMBER

ALL YOU CAN EAT

BUFFET

$25... BOOK NOW!

H ORNBY

WORKINGMEN'S

CLUB

«WHAT'S ON«

FRIDAY 11 NOV, 7PM

JO'S KARAOKE

SATURDAY 12 NOV

4.30PM BARROSS

8PM SHALOW

«COMING UP«

FRIDAY 18 NOV, 7.30PM

FIGHT NIGHT

BOWYN 'BOMAN' MORGAN

v SHAUN COLMORE

MARK JONES v

KYLE 'THE ESSEX BOY' SMITH

plus top line corporate fights

Door sales $40 or @Dash

SATURDAY 19 NOV, 8PM

BAD MOON RISING

THE CCR TRIBUTE SHOW

Tickets $20

FRIDAY 9 DEC, 8PM

THE WARRATAHS

Tickets $25

Hornby WMC, 17 Carmen Rd, Hornby ph 03 349 9026

www.hornbyworkingmensclub.co.nz

Members, guests & affiliates welcome

Lunch & Dinner

All you can eat, 7 days

Christmas

Functions

Lunch & Dinner Buffet

NOW SERVING

available

from

9am

Breakfast

HAPPY

HOUR

5PM - 7PM

DAILY

SATURDAY 19th NOV - SATURDAY 24th DEC

Book & dine with us for your Christmas party this

festive season, and we'll take care of the rest!

Bookings Essential PH 386 0088

fb.com/GardenHotelRestaurant www.gardenhotel.co.nz

LIVE

RHONDA CAMPBELL & JOHN BEVIN

6PM FRIDAY 11th November

MUSIC

PHONE 385 8880 FIND US ON FACEBOOK fb.com/GBCCHCH

THE GARDEN HOTEL COMPLEX | 110 MARSHLAND RD

www.gardenhotel.co.nz | phone 385 3132
---
20

Tuesday November 8 2016

PEGASUS POST

10kg

Fresh NZ Lamb Leg Roast

3kg

Loose/Truss Tomatoes

1ea

Bluebird Burger Rings/Twisties/Cheezels/

Rashuns 110-120g

2 for

5

Molenberg Bread 700g

4 for

6

Wattie's Canned Fruit

400-410g

(Excludes Tropical)

$

32 99

pack

Speight's/Summit

24 x 330ml Bottles

Lindauer

750ml

(Excludes Special

Reserve)

$

8 99

each

3 for

5

Griffin's Arrowroot/

Krispie/Gingernuts/Malt/

Wine Biscuits 250g

Celebrate Canterbury

Anniversary with us!

FreshChoice Parklands

60 Queenspark Drive, Christchurch.

Open 7am-11pm, 7 days.

Prices apply from Tuesday 8th November to

Sunday 13th November 2016, or while stocks last.

FreshChoice.co.nz

FreshChoiceNZ

383 1004

FreshChoice Parklands

Owned and

operated

by locals

Certain products may not be

available in all stores. Savings

are based on non-promotional

price. Limits may apply.

FCPP0811