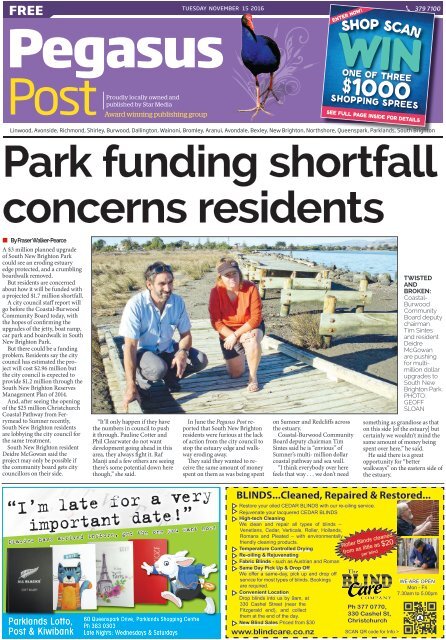 Pegasus Post: November 15, 2016
Do you know the secret to free website traffic?
Use this trick to increase the number of new potential customers.
FREE

TUESDAY NOVEMBER 15 2016

Pegasus

Post

Proudly locally owned and

published by Star Media

Award winning publishing group

Shop scan

ENTER NOW!

one of three

$1000

SHOPPING SPREES

SEE full page inside for details

379 7100

Linwood, Avonside, Richmond, Shirley, Burwood, Dallington, Wainoni, Bromley, Aranui, Avondale, Bexley, New Brighton, Northshore, Queenspark, Parklands, South Brighton

Park funding shortfall

concerns residents

• By Fraser Walker-Pearce

A $3 million planned upgrade

of South New Brighton Park

could see an eroding estuary

edge protected, and a crumbling

boardwalk removed.

But residents are concerned

about how it will be funded with

a projected $1.7 million shortfall.

A city council staff report will

go before the Coastal-Burwood

Community Board today, with

the hopes of confirming the

upgrades of the jetty, boat ramp,

car park and boardwalk in South

New Brighton Park.

But there could be a funding

problem. Residents say the city

council has estimated the project

will cost $2.96 million but

the city council is expected to

provide $1.2 million through the

South New Brighton Reserves

Management Plan of 2014.

And, after seeing the opening

of the $25 million Christchurch

Coastal Pathway from Ferrymead

to Sumner recently,

South New Brighton residents

are lobbying the city council for

the same treatment.

South New Brighton resident

Deidre McGowan said the

project may only be possible if

the community board gets city

councillors on their side.

"It'll only happen if they have

the numbers in council to push

it through. Pauline Cotter and

Phil Clearwater do not want

development going ahead in this

area, they always fight it. Raf

Manji and a few others are seeing

there's some potential down here

though," she said.

"I'm late for a very

important date!"

Diaries have arrived instore, get the one you want now!

Parklands Lotto,

Post & Kiwibank

60 Queenspark Drive, Parklands Shopping Centre

Ph 383 0303

Late Nights: Wednesdays & Saturdays

In June the Pegasus Post reported

that South New Brighton

residents were furious at the lack

of action from the city council to

stop the estuary edge and walkway

eroding away.

They said they wanted to receive

the same amount of money

spent on them as was being spent

on Sumner and Redcliffs across

the estuary.

Coastal-Burwood Community

Board deputy chairman Tim

Sintes said he is "envious" of

Sumner's multi- million dollar

coastal pathway and sea wall.

"I think everybody over here

feels that way . . . we don't need

Restore your oiled CEDAR BLINDS with our re-oiling service.

Rejuvenate your lacquered CEDAR BLINDS

High-tech Cleaning

We clean and repair all types of blinds –

Venetians, Cedar, Verticals, Roller, Hollands,

Romans and Pleated – with environmentally

friendly cleaning products.

Temperature Controlled Drying

Re-oiling & Rejuvenating

Fabric Blinds - such as Austrian and Roman

Same Day Pick Up & Drop Off

We offer a same-day, pick up and drop off

service for most types of blinds. Bookings

are required.

Convenient Location

Drop blinds into us by 9am, at

330 Cashel Street (near the

Fitzgerald end), and collect

them at the end of the day.

New Blind Sales Priced from $30

www.blindcare.co.nz

TWISTED

AND

BROKEN:

Coastal-

Burwood

Community

Board deputy

chairman

Tim Sintes

and resident

Deidre

McGowan

are pushing

for multimillion

dollar

upgrades to

South New

Brighton Park.

PHOTO:

GEOFF

SLOAN ​

something as grandiose as that

on this side [of the estuary] but

certainly we wouldn't mind the

same amount of money being

spent over here," he said.

He said there is a great

opportunity for "better

walkways" on the eastern side of

the estuary.

BLINDS...Cleaned, Repaired & Restored...

Roller Blinds cleaned

from as little as $20

per blind

Ph 377 0770,

330 Cashel St,

Christchurch

SCAN QR code for Info >

WE ARE OPEN

Mon - Fri

7.30am to 5.00pm
---
2

Tuesday November 15 2016

Inside

PEGASUS POST

FROM

THE

EDITOR'S

DESK News.......................................3, 7

LIKE SO many of you in the

coastal suburbs, I was perched up

on the hills after being evacuated

due to the tsunami risk yesterday.

Again, like the previous earthquakes,

I am always taken by the

wonderful folk we have in this city.

While I was perched up the top of

Egnot Heights in Redcliffs, the lads

in my car decided they would have

a nap. I was not similarly afflicted

and had a wander around.

I found Nicki of North New

Brighton, who unknowingly

soothed me with her banter and

her beaut two-year-old dog. Then,

Nicki and I found ourselves invited

into a stranger's home, who brewed

us a cup of dearly needed caffeine.

In her house, were other refugees

– a school caretaker and a lovely

young couple from Germany and

Mexico.

The earthquakes continue to

shake us, but they do not shake our

marvellous Christchurch spirit.

Hei kona, Shelley Robinson

Getting creative with cardboard at Queenspark

SCHOOLS

9

School prize-giving.....4

Our People............................6

Local Views....................11

Community Events......15

Sport.................................. 17

Real Estate..........................20

GET IN TOUCH

General Enquiries Ph 379-7100

Classified Advertising Ph 379-1100

The Christchurch Star Company Ltd. PO box 1467 - Christchurch

starmedia.kiwi

NEWS

Fraser Walker-Pearce

Ph: 364 7424

fraser.walker@starmedia.kiwi

ADVERTISING

Mark Sinclair

Ph: 364 7461

mark.sinclair@starmedia.kiwi

MALTWORKS VILLAS

LIFESTYLE VILLAGE • HEATHCOTE VALLEY • CHRISTCHURCH

Lifestyle Village

for over 55 yrs

Under offer

• 65 FREEHOLD UNIT TITLES - protecting your

investment (not licence to occupy)

• On site caretaker for maintenance of grounds,

common areas plus a communal clubhouse

• Selection of well designed larger floor plans

with both single and double garaging

• Solar panels on all villas generating

power savings

Sue & Gemma Roberts

P 03 323 6045 Sue 027 4401 282 Gemma 027 2236 471

E sue.roberts@harcourts.co.nz E gemma.roberts@harcourts.co.nz W www.sueroberts.co.nz twisskeir.co.nz Licensed Agent REAA 2008

MALTW

LIFESTYL
---
PEGASUS POST Tuesday November 15 2016 3

News

Dancer home to another quake

• By Georgia O'Connor-Harding

AFTER A whirlwind dancing

career in the Big Apple, a former

Bromley dancer has returned

home only to face one of his

biggest fears – earthquakes.

The 7.5 magnitude earthquake

that struck near Hanmer Springs

was a harsh reminder for

Hayden Joseph Withers, 21, who

suffered badly from anxiety and

trauma after the February 2011

earthquake.

He has returned to Bromley

to his family to take part in

The Court Theatre's summer

production of Legally Blonde

after dancing professionally in

New York city for more than two

years.

He left Christchurch to get

away from the earthquakes and

to study at the American Musical

and Dramatic Academy, which

he graduated from in 2014.

"Getting out of Christchurch

was helpful but even in New

York if doors slammed, or there

was thunder, (or) the subway was

rattling the street . . . you would

think that is an earthquake," he

said.

Yesterday, Withers and his

family were evacuated from

their Bromley home after the

earthquake struck.

ON STAGE: Hayden Joseph Withers performing in the musical

All Shook Up at The Fireside Theatre, Fort Atkinson, Wisconsin,

United States.

"I am pretty tired, I was up the

hill until 7am . . . my mum was

pretty upset and it reminded me

a lot of the September 4, 2010,

earthquake," he said.

Wither's fear of earthquakes

was amplified after the February

2011 earthquake when quake

predictor Ken Ring said an 8.2

magnitude quake would strike

on March 20. A 5.1 aftershock

struck on the day.

"I thought at that point, that

was the end . . . for the next while

I was scared to leave my room,

go anywhere," he said.

He said while he was reasonably

calm about yesterday's earthquake

and was still attending

rehearsals at The Court Theatre,

he had not yet processed it.

Fresh from his most recent

endeavour sailing around the

Caribbean on the Disney Dream

cruise trip as a dancer, Withers

knows a thing or two about

facing his fears to chase his

dreams.

"I am actually scared of the

ocean. Sometimes I would get

really anxious and I would be

crying or whatever," he said.

Withers was seven when he

nearly drowned after slipping

on a rock and falling into a river,

staying under water for about

30sec before his father rescued

him.

But he said he braved his fear

of the ocean to work for what he

describes as the "most magical

company in the world."

"Making magic for so many

people every day was so special

. . . the kids just die for it – they

love it."

As for living in New York,

Withers describes it as a place of

beauty, culture and opportunity,

but somewhere you are a small

fish in a big pond.

On his return to New York,

Withers plans to find a place

to settle down after "gypsying"

around the United States for

so long before he gets back to

auditioning for shows.

In Brief

LIVING EARTH SMELL

The city council and Living

Earth are still in talks with

Environment Canterbury over

odour fines. In June, ECan fined

the city council and Living

Earth $1000 each for an odour

that came from Living Earth's

compost facility in Bromley.

A city council spokeswoman

said it "has disputed the odour

breach and cannot comment

further" as it has not heard back

from ECan.

WHALE POOL OPEN

New Brighton's whale pool is

back in action for the summer.

The city council reopened a

number of outdoor summer

pools on the weekend, while

some paddling pools will open

in the coming weeks. Pools in

Waltham, Halswell, Lyttelton,

and Jellie Park were also

opened on Saturday, along with

paddling pools in Scarborough,

New Brighton and Spencer

Park.

POPULATION RISING

A city council report has

signalled that the population of

the Coastal and Burwood wards

is expected to reach 52,200

by 2018. In June 2013, the

population was 48,600. The two

wards make up about 13.6 per

cent of the city's population.

Christchurch City

Christchurch City

Libraries

Uncover...

What's

happening

in your

community.

RAY HASTIE

Manager

027 448 8225

DOUG NICOL

Property Manager

027 277 1256

NICOLA FLANAGAN

Property Manager

021 914 332

Introducing

Ray White

Citywide Property

Management

Local Experts –

Citywide Knowledge

We've been entrusted to look

after over $99 million of property

throughout Christchurch.

You can trust us to look after yours

too. Call today.

REBEKAH WHALLEY

Accounts Administrator

03 331 6755

ABBEY NOLAN

Property Manager Junior

027 379 5021

JENEFER BIMLER

Business Development Manager

021 716 655

P. 03 331 6755

Pick up a FREE copy in any library or at

christchurchcitylibraries.com

"We are where you are"

www.propertymanagementchristchurch.com

Prier Manson Real Estate Ltd
---
4

Tuesday November 15 2016

Linwood College students

earn end of year accolades

PEGASUS POST

RUBY KERR and Karen Ligsay

were awarded the top prizes at

Linwood College's senior

prize-giving.

Ruby not only received the

top award of dux, but also

the Linwood College Literary

Cup and Victoria University

achiever's scholarship. Karen was

proxime accessit, received a top

science award and was first in

class for biology and chemistry.

They were not the only award

winners on the night. Many

senior students also celebrated

their academic, artistic and

sporting achievements.

Supreme awards (year 13)

Dux – Ruby Kerr.

Proxime accessit – Karen

Ligsay.

25th anniversary

commemorative prize –

Sam Kerr-Quinn; Easter

Savelio.

IP Anderson award for

leadership – Navneet

Narayan.

Victoria University of

Wellington achiever's

scholarship – Ruby Kerr.

Special awards (year 13)

Chris Arthur sportsperson

of the year – Tristen Read.

Tony Fomison significant

contribution to visual arts –

Amber Prior.

AA Scott music award

for the widest and most

valuable contribution to

music, Linwood College

supreme arts award – Lucy

Farrell.

The Hugh McDougall

Rankin Education Trust for

outstanding achievement

in the sciences – Karen

Ligsay.

Judith Brailsford award

for Pacifica leadership,

recipient of a University

of Canterbury emerging

leaders' scholarship –

Easter Savelio.

Recipient of a University

of Canterbury emerging

leaders' scholarship –

Gregor Lawson.

PTA Service Cup for

outstanding service to the

college – Charlotte Merkin.

Tony Fomison significant

contribution to visual arts –

Molly Caldwell.

John Kim memorial prize

for acting – Sam Kerr-Quinn.

Hickling science prize –

Deepal Prasad.

Dale Eagar Challenge

Trophy – Fergus McCallum.

AWARDED: Sam Kerr-Quinn (left) was award for his

contribution to school life; Karen Ligsay was proxime accessit;

Easter Savelio for her contribution to school life; Ruby Kerr was

dux; and Navneet Narayan received the IP Anderson award for

leadership.

Pacifika Culture, Teresa

Elms Memorial Cup – Litia

Mariner.

Rob Burrough Cup

for demonstration of

our school values and

contributing to the

wider school – Gideon

Smith.

Koko Alamein Connell

Taonga for Māori

performing arts – Hamiora

Te Rupe.

Academic prizes (year 13)

The Lauraine White Music

Trophy award – Veronika

Mason.

Bradbury Moore prize for

commerce – Molly Barnett.

The Bruce MacMillan

Photography Trophy – Molly

Caldwell.

Lincoln University

commerce prize - Angel

Lintott.

Linwood College Literary

Cup – Ruby Kerr.

Linwood College Drama

Cup – Keanan Lombard.

Poole prize for original

historical research – Alec

McCallum.

Fabric Technology Trophy

– Navneet Narayan.

John Andersen JP plaque

for top hospitality student –

Navneet Narayan.

Gavin Bishop excellence

senior in visual arts –

Amber Prior.

First place (year 13)

Māori performing arts –

Charlotte Merkin.

First equal performing

arts drama – Emily Rose

Montgomery; Lucy Farrell;

and Keanan Lombard

Tourism – Alex Bryce

Visual arts/photography

– Molly Caldwell.

Physical education –

Skylar Cross.

English language

learning level three –

Deepal Prasad.

growing with you

SprIng Is here –

It'S Sow Time

how to get the best results from

seeds and seedlings

100% NatIve In

The capItal

Unravelling the secrets of

Otari-wilton Bush

The New Zealand

landscape awards

The people behind

the projects

$7.90 incl. GST

ISSN 2423-0219

$899

Economy Class

*

from

Save our roSeS

How a rose register is protecting our heritage

Previously

United Travel

Asia

return

pp

September 2016 | 100%

It's time

to grow!

New look and more

content than ever!

MeeT LeSTer Brice

A Garden coach

auckland Botanic GardenS

Why we love our public grounds

Japan

$1099

Economy Class

*

from

return

now bigger than ever

The magazine for

gardeners who like to get

their hands dirty

SubScribe from

$43. 50*

*6 issues/6 months

SUBSCRIPTIONS FREEPHONE

0800 77 77 10

www.gaRdeNER.kiwI

YOU Travel Ferrymead 960 Ferry Road 03 384 2700

YOU Travel Tower Junction 3/4 Troup Drive 03 341 8965

Global Sale

pp

South America

$1189

Economy Class

*

from

Hurry, sale ends 21 November

return

pp

Thursday Happy Hour

5pm-8pm

USA

$1199

Economy Class

*

from

Tues Quiz Night

Wed Karaoke Thurs Live music

Sky Sports Courtesy Van

Friendly Staff & Atmosphere

return

See in-store for more Qantas deals.

www.youtravel.co.nz

pp

Chats Bar

251 Travis Road

QEII Shopping Centre

Ph: 388 1566

$1769

Economy Class

*

from

UK

return

JO HAYES

NATIONAL LIST MP BASED

IN CHRISTCHURCH EAST

Mobile clinics

Last Friday of every month

Check out my Facebook

page: Jo Hayes MP

6/950 Ferry Road,

Ferrymead

P: 384 9459

Call to make an

appointment

*Terms & conditions apply. Valid for sales 13-21 Nov 2016, unless withdrawn or sold out earlier. South America for sales until 17 Nov 2016. Prices are per person based on return Qantas Economy Class airfares from Auckland, Wellington or Christchurch to above destinations including all ticketable taxes (which are subject

to change). Asia-Bangkok: $100 surcharge applies to/from Christchurch. UK-London: from Auckland only. All prices based on specific flights and routing for travel - ASIA: Bangkok 15 Feb-29 Mar, 26 Apr-21 Jun, 1 Aug-15 Sep 2017. Singapore 8 Feb-23 Mar, 26 Apr-14 Jun, 18 Jul-19 Sep 2017. JAPAN: Narita (Tokyo) 8 May-22

Jun, 1 Aug-31 Oct 2017. SOUTH AMERICA: Santiago 31 May-12 Sep, 26 Sep-8 Nov 2017. USA: Los Angeles & San Francisco 6 Mar-7 Apr, 24 Apr-20 Jun 2017. UK: London 16 Jan-4 Apr, 24 Apr-13 Jun, 2-31 Oct 2017. SOUTH AFRICA: Johannesburg 2 Feb-25 Mar, 21 Apr-12 Sep, 26 Sep-8 Nov 2017. General Conditions: Prices are

correct as at time of printing, subject to availability, currency fluctuations & may be amended or withdrawn at any time without notice. Amendment and cancellation fees apply. Minimum and maximum stays apply. Stopovers may be available - additional charges may apply. Blackout date & seasonal surcharges may apply

depending on date of travel. Capacity limitations apply and may not be available on all services. Airfares are non-refundable and non-transferable. Travel Agent professional service fees will apply. Prices are in New Zealand dollars for payment by cash, cheque and eftpos only. We welcome all major credit cards however

a credit card processing fee will apply. Children and Infant prices may be available on request. Whilst every care is taken to accurately present the information & pricing we reserve the right to correct any errors or omissions. Further terms and conditions apply. Please refer to your YOU Travel specialist for further details.

pp

www.national.org.nz

South Africa

$1899

Economy Class

*

from

return

pp
---
PEGASUS POST Tuesday November 15 2016 5

Samoan language –

Easter Savelio.

Mathematics statistics –

Lila Laird.

Business enterprise –

Angel Lintott.

Digital technologies

computer science – Jeff

Santos.

English – George

Armstrong.

Physics – George

Armstrong.

Performing arts music –

Lucy Farrell.

Advanced English – Ruby

Kerr.

Biology – Karen Ligsay.

Chemistry – Karen Ligsay.

Food and nutrition –

Keanan Lombard.

History – Alec McCallum.

Early childhood studies –

Navneet Narayan.

Fabric technology textiles

– Navneet Narayan.

Hospitality – Navneet

Narayan.

Design and visual

communication – Amber

Prior.

Mathematics academic –

Amber Prior.

Visual arts painting –

Amber Prior.

Academic prizes (year 12)

JFK Cup for excellence

in creative writing – Eden

Pettigrew.

Judith Brailsford award

for excellence in history –

Crystal Mehlhopt.

Most valued contribution

by international student –

Jacopo Modeni.

Curriculum awards (year

12)

Automotive – Thane

Sergison.

Early childcare studies –

Vai Mariner.

Design and visual

communication – Paula

Stoica.

English language

learning level two – Jly

Batulat.

Geography – Michelle

Murray.

Māori – Mairieka Prentice.

Samoan language –

Valeni Iosefa.

Māori performing arts –

Jonason Tipene.

Material technology

wood – Myka Stringer.

Performing arts music –

Adonai Schwenke.

Sustainability education –

Leeah Mullany.

Tourism and travel –

Adam Cowie

Te Reo Māori level three –

Aroha Dixon.

Business enterprise –

William Paulden.

Hospitality – Vanessa

Franklin.

Digital technology –

Jenna Hollis.

Advanced English – Jenna

Hollis.

Visual arts photography –

Jenna Hollis

Science – Jenna Hollis.

Performing arts drama –

Sarah Moana Wooff-Smyth.

Visual arts painting –

RECOGNISED: Paula Stoica (left front), Jly Batulat, Mairieka

Prentice, Valeni Iosefa, Jonason Tipene, Myka Stringer, Adonai

Schwenke, and Leeah Mullany came first in different subjects.

Sarah Moana Wooff-Smyth.

Physical education –

Sarah Moana Wooff-Smyth.

Mathematics academic –

Eden Pettigrew.

Physics – Eden Pettigrew.

Biology – Crystal

Mehlhopt.

Chemistry – Crystal

Mehlhopt.

English – Crystal

Mehlhopt.

History – Crystal

Mehlhopt.

Health – Crystal Mehlhopt.

Mathematics – Crystal

Mehlhopt.

Academic prizes (year 11)

First in year 11 – Michelle

Bennett.

Derek Friend

Mathematics Trophy –

Bryannia Kitson.

Curriculum awards (year

11)

Science physics – Wiremu

Taiapa and Amisha Bisht.

Hospitality – Shani

Williams.

Samoan language -

Leanna Lefua.

Senior Te Reo award –

Dayton Rapana-Pham.

Internal English – Ashley

Chandra.

Design and aisual

communication – Sven

Hagedorn.

English language

learning level one – Neha

Singh.

Science for Life – Neha

Singh.

Automotive – Jarod

Bradshaw.

Material technology

metal – Jarod Bradshaw.

Material technology

wood – Jarod Bradshaw.

Food and nutrition –

Amisha Bisht.

Visual arts painting –

Monica Burt.

Advanced English –

Monica Burt.

English – Hinemoana

Foster.

Māori – Hinemoana

Foster.

Physical education –

Hinemoana Foster.

Business – Jasina Gurung.

General science – Jasina

Gurung.

Drama – Bryannia Kitson

and Callum Lawson.

Mathematics for

numeracy – Bryannia Kitson.

Digital technologies

computer science –

Christina Siitia.

Science biochemistry –

Christina Siitia.

Fabric technology – Annie

Wu.

Geography – Annie Wu.

Academic mathematics –

Callum Lawson.

History – Michelle

Bennett.

Mathematics – Michelle

Bennett

Performing arts music –

Michelle Bennett

Have your veHicle

cHecked for a safe

Holiday season.

HELPING US,

HELPS THE

COMMUNITY

Drop off or buy

2 family stores in your community

30 Main North Rd,

Ph 352 4581

520 Cranford St,

Ph 352 0515

Full mechanical

servicing & repairs.

Courtsey car avaliable.

03 383 1836 | 027 437 4514

247 Burwood Road, Christchurch

burwoodroadmotors@xtra.co.nz

Kids Birthday Parties

Choose from one of our Great Party Packages to suit!

1

2

3

4

Paintball, mini golf (indoor or outdoor), 50 balls and

club hire for the driving range $39 per child.

Paintball, mini golf (indoor or outdoor) $32 per child.

Indoor and outdoor mini golf, 50 balls and club hire

for the driving range $20 per child.

Indoor or outdoor mini golf, 50 balls and club hire

for the driving range $14 per child.

To book ph 376 5350, 50 Ferrymead Park Drive, Ferrymead

Book any Birthday Party with Caddyshack

and you will receive:

• Mini golf game for each child ($9 per child).

• Use of party room for one hour for $50, or two hours for $90.

• Caddyshack Party Meal and drink.

• Caddyshack lollies.

• Themed party gear including invitations and balloons.

• Caddyshack party host to ensure fun and relaxation.

• The birthday child also receives a gift.

• All party goers receive a free child mini putt voucher for

their next visit.

Ph 384 1566, 21 King Edward Terrace, Woolston
---
6

Tuesday November 15 2016

Our People

PEGASUS POST

Tony Murdoch

Recording sporting history

Tony Murdoch has just

published his new sports

history book Black and

White about the North

Beach Surf Lifesaving

Club. It coincides with

the club's centenary

celebrations. Fraser

Walker-Pearce spoke

to him

You must be thrilled to have

published the book when you

did.

Yes, exactly. It was published in

time for the club's centenary celebrations

over Labour Weekend.

They had hundreds attend that.

Is this your first sports history

book?

No, I have written two other

sports histories, one on the

Riccarton Cricket Club in 2002

and then in 2013 I did the 150th

jubilee history of the Christchurch

Football Club. Then this

one came along, they asked me

to do it, and I've been doing that

ever since.

So you've been working on

this for the past three years?

Yes. It's a big project, I think

it's about 240 pages. Probably the

club records weren't as detailed

as we would've liked but we were

able to cross-reference with Surf

Lifesaving New Zealand's annual

reports and check most of it off.

Things like results and that kind

of thing were hard to check off

though.

Who approached you from

the club to do the project?

Roger Smith the president of

the club talked to me about it.

He's lived and breathed the club

for about three or four years.

What's different about this

book compared to your others?

This one is more of a coffee

book style. With lots of newspaper

clippings like the famous gala

dances at North Beach. That's basically

how the club got through

the Great Depression and that

kind of thing. [In the book] there

are ads for the dances, we used

the full width of the page in the

book with these photos and I

BLACK AND WHITE: Tony Murdoch has coincided the publication

of his sports history book Black and White with the centenary

celebrations of the surf club it is written about.

PHOTO: GEOFF SLOAN

think it really adds to the look of

the book as well.

Obviously it's called Black and

White, but that's also the style of

the book you've created?

No, no. There's a story to that.

It's called Black and White because

the club colours are black

and white. But also the personality

of the club is very pragmatic,

they're hard workers and they get

things done. They make black and

white decisions and they don't

muck around – they're black and

white about everything. I ran that

past the committee near the start

and they were well pleased to

think that's what people think of

the club.

How was the club founded?

The original thought was that

it was a group of men who were

members of the New Brighton

Surf Lifesaving Club who got together

and decided to make a club

a little further along the beach.

But the real story is that there was

a guy called Ray Blank. It became

pretty clear as I was looking into

it that Ray Blank and a group of

guys from a North Beach businessman's

association got together

and had land interests in the area.

They decided that if there was a

surf club in the area that would

bring people out there and raise

their house prices. And they did

quite well out of it.

Do all of your books look

quite deep into the club's history?

Yes, each of the books has a

twist to them somewhere in it.

The twist in the rugby book was

me saying that the conventional

theory of the first game of rugby

in the country was played in Nelson

in 1871 was wrong. It's in all

the official New Zealand histories

saying that. But the Christchurch

book showed quite clearly that

wasn't the case. They couldn't

have – as the game didn't exist in

New Zealand back then, they just

played a hybrid game of soccer.

It was actually out of Christ's

College that the game in Christchurch

grew.

What are the other titles of

your books?

The Riccarton Cricket Club

book is called Green and Gold,

and the rugby book was called

The Old Club, just like the old

newspapers used to call them.

How would you define your

style of books?

Lots of anecdotes, lots of personalities.

This book goes through

a whole lot of life members, and

families of members. These are

guys that are prepared to swim

out 400-500m to save someone. I

mean, can you do that? I certainly

can't.

No, I'd definitely 100 per cent

drown. Do you work part-time

as well as all of this?

Yes, I have a full-time job at St

Bede's College. I'm the alumni

and community development

manager. I've been there for eight

years. Previously I was the chief

executive of Canterbury Cricket

and chief executive of Athletics

New Zealand. I was a teacher at

Aranui High School before that.

You have a huge sporting

background, did you ever play

yourself?

Modestly. I played rugby and

cricket, unsurprisingly I played

rugby for Christchurch and

cricket for Riccarton.

How did you start your writing

career?

I actually started at the

Christchurch Star back in the

day. When I was teaching I also

co-wrote a few history textbooks.

There was a group of us at Aranui

High, including John Rosanowski

and we wrote a series of history

books for fifth form (year 11)

students.

What subjects did they cover?

A little bit of New Zealand

history, Martin Luther King, race

relations in South Africa, we

touched on the Springbok Tour.

Also the gold rushes, New Zealand

foreign policy, and also two

books on Hitler and Germany for

social studies. To teach students

from your own textbook is quite

CLASSIC

RACES: North

Beach surf

club's 1981

crew. The last

surf crew to win

a national title in

the long course

race until this

year.

a thrill.

And were you born and bred

in Christchurch?

Yes, born and bred. My brother

Tim and I have lived in Sumner

all our lives and I think my next

project might be on the Sumner

Surf Lifesaving Club and their

centenary.

What schools did you attend

back in the day?

I was at St Bede's and then onto

Canterbury University where I

studied American history. After

that I went on to teaching at

Aranui High for about 16 years.

And who's with you out in

Sumner?

My wife and I live out there and

we have two adult children. I met

my wife at a dance at the Sumner

surf club.

So surf clubs played a big part

of you growing up as well?

Surf clubs have a big role in

what I call the rite of passage.

They had dances and social

gatherings, they provided a social

space for kids in quite an interesting

time of their lives. There aren't

many other sports that boys and

girls just hang out and compete

together that much. Many men

and women put countless hours

into keeping these clubs going as

well.

Why do you write sports

history books?

If you look in the book, there's

only one thing that has stayed in

the North Beach community for

the past 100 years, and that's the

surf club. There's been post offices

and cafes and restaurants and that

kind of thing but the only thing

that is still there is the volunteerrun

surf club. So I kind of write

to give them their turn in the sun

even if only for a minute.

Digital Photo Kiosk Instore

12

6x4" & 5x4.3"

cent

PRINTS

Allow 2-3 days for delivery. Terms and Conditions apply.

INSTANT

PASSPORT &

ID PHOTOS

...available here

Also suitable for

• Student ID • 18+ Card

• Firearms Licence

• International Visa • Residency

Barrington Pharmacy Ltd | Ph 322 3156

256 Barrington St (next to Couplands)

All purchases instore until 26 th November enters you

in to WIN an iPhone or Samsung Galaxy 7

WIN

10% discount

everyday using

excludes prescriptions & sale stock
---
PEGASUS POST Tuesday November 15 2016 7

ews

Surf club founder hero and villain

ashion

• By Fraser Walker-Pearce

WHILE RESEARCHING for his

first book on the North Beach

Surf Lifesaving Club, Black and

White, Tony Murdoch found

that the founder of the club was

both a hero and a villain.

Ray Blank (right) banded

together local businessmen, who

owned a lot of land in the area,

to create a surf club in 1916 in

Gardening

the hopes that it would raise its

value.

And it worked.

But while Blank went on to

become a local hero at the club,

Murdoch looked into his background

and found that perhaps

that title

otoring

was undeserving.

"To some he was the uncrowned

king of New Brighton,

but to others he [had the] more

disparaging title of 'Sand King'

bestowed," he said.

Blank was prosecuted by the

borough council in 1935 for

owning buildings with insufficient

water and sanitary arrangements.

asty Bites

"Everyone knew that Blank

was experienced in acquiring

structures on the cheap and

shifting them to suitable sites.

Witness the number of baches

around [New] Brighton, Burwood

and Avondale," he said.

It was story gems like this,

that Murdoch

oney

discovered while

writing a 240 page history the

club.

Further in the book, Murdoch

writes about brothers Pat and

Ian Stuart, who had a cunning

plan to "bail out" of a surf club

canoe when a large wave came,

so the members at the front

would be thrown forward and

into the water.

"It worked beautifully and Pat

and I were guffawing behind the

shore break when Don Dalton

paddled past on a ski and said

'you shouldn't have done that,

the canoe's broken in half'," Ian

Stuart said in the book.

The brothers had to "face the

music" when the two halves

of the canoe washed up on the

shore.

Other tales in the book include

the triumph of the 1981 North

Beach surf boat crew which took

on the country's best crews and

won in Oakura, New Plymouth.

Brothers Dave and Steve Pipe

as well as Ron Vette, Terry Kreft

and Rob Lindsay took to the

water and won gold in the long

course race and took silver in the

short course in a photo finish

with the Whangamata crew.

Four years later however, when

the local competition came to

New Brighton, the decision was

reversed and North Beach was

awarded the gold in the short

SNAPPED CANOE: Ian and Pat Stuart, Greg Day, "Tiny" Leech and Gary Robertshaw holding

their broken canoe.

course as well.

Pegasus Post reported in

October that after a few beers to

celebrate Dave Pipe's 60th birthday,

the crew decided to enter

the Surf Life Saving Nationals to

be held on New Brighton Beach

in March and the World Masters

Games next year.

The club's 75th anniversary

celebrations were celebrated in

1991, and was the highlight of

the season for most members.

"By all accounts the celebrations

were a major success with

a good attendance and plenty

of smiling faces as old friend[s]

renewed contact . . . the highlight

of the season was undoubtedly

the 75th jubilee which was a

resounding success," Murdoch

said.

GOOD TIMES: A North Beach gala held sometime between 1916 and 1920. Legend has it the ferris wheel was shut off by the

police shortly after this photo was taken. Right: North Beach's 75th jubilee celebrations in 1991.

Don't fit the mould,

make your own.

Join us on our Enrolment Day to plan and

personalise YOUR study programme for 2017!

Thursday, November 24th | 10am-2:30pm & 5pm-6:30pm

www.hagley.school.nz | (03) 379 3090
---
8

Tuesday November 15 2016

PEGASUS POST

the

WORLD

WORLD

7 AMAZING

DESTINATIONS

7 TRIPS TO

BE WON!

'AS IS'

FREE INFORMATION EVENING

BUYING OR

SELLING?

YOUR

QUESTIONS

ANSWERED?
---
PEGASUS POST Tuesday November 15 2016 9

SCHOOLS

Waitakiri,

Marshland

showcased

We welcome

new patients

CARDBOARD CRAFTS: Queenspark pupils got

creative last week when they were handed

cardboard in all shapes and sizes. Their task was to

recycle the cardboard and other various junk items

from a box, cylinder or sheet into something new.

Some pupils created tanks and machines, while

others made miniature cars, binoculars, signs and

posters.

Still Pedalling!

Full Workshop Services:

• WOF's • Service Checks

• Wheel Alignment • Brakes

• Clutches • Tyres etc

All makes & models

to officials

• By Fraser Walker-Pearce

WAITAKIRI and

Marshland were two

of three schools in the

city to be showcased to

international guests last

week.

On Friday, the two

eastern schools, along with

Halswell School, hosted

top education officials from

Ireland, Japan, Turkey,

Greece and Mexico.

The officials were shown

the schools' flexible learning

spaces and "studentcentred

approach," Education

Minister Hekia Parata

said.

"New Zealand's schools

are of great interest in the

international community,"

she said.

"Our curriculum puts

the students at the centre of

learning, and each school

has a unique vision for how

it delivers quality teaching

and learning."

Waitakiri, Marshland

and Halswell schools

have all been rebuilt since

sustaining damage in the

February 22, 2011, earthquake.

The officials also visited

Auckland schools Ormiston

Primary, Kelston

Deaf Education Centre,

Ormiston Junior, Ellerslie

Primary and Te Kura

Kaupapa Maori o Puau te

Moananui a Kiwa earlier in

the week.

Marshland principal

Jacqui Pascoe said the

school gets many visitors

but this group was special.

"We get a lot of visitors

through the school as

most do. But this is special

because it is a group from a

whole lot of countries like

Italy and Japan," she said.

"They're getting a

big tour of the city and

schools, so absolutely we're

excited about hosting

them."

Our team will work with you to

provide excellent health care

Based in New Brighton and Burwood

areas for over 50 years

Recognised as an innovative, quality

practice

Family health, catering for all ages

Friendly and caring

Online appointment booking

Podiatrist Lesley Marsh is

available on Wednesdays to

provide footcare.

Bring this advertisement

along when you enrol

with us and receive a FREE

nurse appointment to

assess your health needs.

225 Travis Road | PHONE: 388 9686

Visit our website

www.travismedical.co.nz

Trevor Crowe's been

involved with cars for a

while. You can benefit

from his experience at...

Subaru Specialists

NEW LOCATION ADVERT.pdf 1 1/05/2014 11:51:35 a.m.

518 Moorhouse Ave (East end) | P: 379 7615

W: crowesport.co.nz | E: service@crowesport.co.nz

VISIT OUR NEW LOCATION LOCATION

430 ST ASAPH STREET!

Hours of Business: 7am-4.30pm Mon-Thurs

Fri 8am to midday

or by appointment with Keith 027 566 3909

RECOVER YOUR LOVED FURNITURE

No job too big or small

Still able to offer

you the finest top

quality new furniture

Visit us online

www.qualityfurniture.co.nz

P. 371 7500

QUALITY FURNITURE SPECIALISTS

RE - UPHOLSTERY SPECIALISTS KEITH HARTSHORNE 0275 663 909

HEAT PUMP

SALE NOW ON!

Amazin' spring Specials!!

• We will offer you the best quality brands and

option of heat pump for your home/business

• Providing Heat Pump solutions for over 14 years to Cantabrians

• We personally guarantee all our products & installs for 5 years

(providing annual maintenance has been completed)

Phone us today for your free consultation & quote

41A SHAKESPEARE RD, WALTHAM

PHONE 03 366 0525

www.enviromaster.co.nz

"A local team for local people"
---
10

Tuesday November 15 2016

PEGASUS POST

Colouring Competition!

Pick up instore or download from

FreshChoice.co.nz/Colgate

Available in

te reo Maori/

English

$

5 99

kg

Fresh NZ Pork Shoulder Roast

(Excludes Free Range)

$

4 99

kg

Loose Californian Red/Green/

Black Seedless Grapes

2for

$

5 00

Coke/Sprite/

Fanta/Lift/L&P

2.25L

Tip Top Ice Cream 2L

$

4 99

each

Alpine Mild/Colby/Edam

Cheese 1kg

$

8 50

each

$

18 99

pack

$

7 99

each

Carlsberg/Tiger

12 x 330ml Bottles

Jacob's Creek

750ml

(Excludes Sparkling/

Reserves/ Double Barrel)

$

1 00

each

L&P 1.5L/Golden Circle

Fruit Drink 1L

Shopping ping

just got easier

Best deals are here!

FreshChoice Parklands

60 Queenspark Drive, Christchurch.

Open 7am-11pm, 7 days.

Prices apply from Tuesday 15th November to

Sunday 20th November 2016, or while stocks last.

FreshChoice.co.nz

FreshChoiceNZ

383 1004

FreshChoice Parklands

Owned and

operated

by locals

Certain products may not be

available in all stores. Savings

are based on non-promotional

price. Limits may apply.

FCPP1511
---
PEGASUS POST Tuesday November 15 2016 11

Your Local Views

FLAME FILES

We said:

Handling fireworks

more responsibly

Fire risk

management

officer Mark

Thomas talks

about fireworks,

banning certain

kinds, the impact

public displays

have had on public safety

and looking after animals

around Guy Fawkes.

Thirty years ago Guy Fawkes

night caused a holding of breath

by just about every firefighter in

the country.

Inevitably somewhere a

sawmill would end up burning

end to end. Or a town would

be circled in flames as trees and

scrub went up in flames. Or

someone not even celebrating

the night would find their garage

on fire.

The news would report the

tragic loss of an eye by ill-used

skyrocket. Letter boxes were the

target of 'double-happy' bombs.

For firefighters it made no sense

at all.

Thankfully we've come on a bit

since then. The ban on rockets

and bangers

helped. The

provision of public

displays has been

a big plus. And

perhaps we should

acknowledge

that more recent

developments in health and

safety has had an effect on

people's behaviour. Whatever

the reasons it was gratifying to

see just nine fire calls overnight

on November 5. Grass, scrub,

fences and a couple of bins put

down to fireworks. It's not

perfect. But it's encouraging.

Animal rescues are also quite

common around Guy Fawkes as

crackers terrify dogs, cats and

other animals. This week saw

three of these type of incidents,

a dog, some ducklings and

very topically a lamb stuck

in a stream at Cashmere on

Wednesday night. None were

necessarily fireworks related but

all involved the problem solving

skills our firefighters develop

every day in the multitude of

different events they now attend.

They're pretty damn good

actually.

Would you buy a piece

of the residential red

zone to help turn it into

a forest park? Hamish

Monro, a descendant of

Canterbury's pioneering

Deans family, has offered

to buy red zone land to

begin the proposed Avon-

Otakaro Forest Park – and

he hopes others will follow

suit.

You said:

Linda James – If the

Government/taxpayers already

own the land, why do people

have to buy it? Good idea for

donations for the plants though.

Marie Stanley – I thought

the Government owned this

land, isn't that why they did

the residents over? Oh bloody

hell. That is taxpayers' money

not theirs. That land should by

rights belong to New Zealand

and we should be able to access

it whenever we like and do what

we as New Zealanders want.

It would be a wonderful place

to plant a tree in memorial

or plant the placenta of our

babies to nurture and build

a beautiful park land for our

future generations in perpetuity.

I hate the way the National

Government has handled all of

this. No heart.

Anthony Collie – Because

now the Government seem to

think that "they" spent money

on the land not EQC and

now want a return on their

"investment".

We said:

New Brighton fireworks

feat. David Bowie!

You said:

Elizabeth Phua – Was our

first time, was fantastic. As the

traffic was not moving, we went

for walk around and a yummy

Indian restaurant open, so had

supper. Then the traffic had

cleared.

Karen Cromwell – Still

stuck in traffic though, haven't

moved in an hour or more!

Ardgelkodrae

Wangkanusa Dalusag

– Awesome . . . what a great

CITY TO SEA: An artist's

impression of the proposed

Avon-Otakaro Forest Park.

experience . . . it's also my first

time as well with my kids and

hubby.

Fereni Kanga Annie

Pouoa – Was amazing

fireworks display! But it took two

hours to get home.

Shirley Booth – Loved it!

Tiffani Field – Can see it

from our place.

Anna Henderson – They

were awesome!

Jackie Scherp – Meanwhile

in Southland we wait for it to be

dark.

Colleen Hughes – Fantastic

night.

Victoria Barkway – It was

fantastic – still stuck in car

though – grid-locked!

Janette Schroeder – It was

awesomely good!

Saturday 26 November 10am-3pm

Dyers Road Landscape

& Garden Supplies

• Barks • Peastraw • Composts - we supply the best available

• Aggregates - Chip, Round and Basecourse

• Pavers & Schist products • Pungas

• Decorative Stones & Landscaping Rocks

• Trailer Hire first hour free with purchase

• Bag & Bulk - pick up or delivered

David, Carol & Mike

Venue changed for ONE DAY ONLY

Rockabilly Show

& Shine Day

Rawhiti Domain

(next to the New Brighton

Community Garden)

• 80+ Great Stalls, Live Entertainment

• Belle & Beau Competition

• Face Painting, Bouncy Castle

• Plus a Fantastic Car Show!

We will deliver!

SOIL

AND

HARDFILL

DUMPING

Phone: 03 384 6540

183 Dyers Rd, Bromley • OPEN 7 DAYS

Weekdays 7.30am-5pm. Weekends 8.30am-3pm

www.dyersroadandlandscapes.co.nz

"Feel the sun on

your back & hear

the birds sing"

Admatha Dementia Care provides loving care

in small homes of about 15 people, with access

to a beautiful garden.

• At Admatha we provide Dementia Rest Home Care and Dementia

Continuing Care.

• We focus on the individual needs of each person.

• We accept you as you are, believe in you, really listen to you, joke

with you and love to hear you laugh.

• We develop an in-depth and intimate knowledge of each person.

There is openness, honesty and trust.

• Family/whanau become part of our community. Your family is always

welcome here at your home.

• At Admatha each person is loved, valued and important.

• Admatha has the maximum four year Ministry of Health certification.

Ring us now on 385 1286.

We'd love to hear from you.

Admatha Dementia Care,

34 Averill Street, Richmond, Christchurch

www.admatha.co.nz
---
12

Tuesday November 15 2016

PEGASUS POST

AUCTION

AUCTION

Broomfield 10 Coronado Place

Deceased Estate

Mitchell Roberts & Mana Tai

M 027 413 0797 or 027 626 2824 P 03 323 6045

Harcourts Twiss-Keir Realty / Belfast Licensed Agent REAA 2008

DEADLINE AUCTION SALE

3 1 2

Harcourts ID: BF26977

Due to being a deceased estate, this property requires an immediate sale in order for the family

to conclude their final affairs, providing an entry-level or investment opportunity, with plenty of

potential. Buyers will appreciate the multiple living areas which maximise natural light and outdoor

flow, the double-garage, the private back section with pool - a private haven to call their own.

Auction: Wednesday 16 th November

Russley Golf Club (unless sold prior)

View: Phone for viewing times.

Edgeware 2/117a Warrington Street

Modern Family

Mitchell Roberts & Mana Tai

M 027 413 0797 or 027 626 2824 P 03 323 6045

Harcourts Twiss-Keir Realty / Belfast Licensed Agent REAA 2008

AUCTION

4 2 1

Harcourts ID: BF27277

Buyers should take this opportunity seriously for this beautifully contemporary styled brand new

townhouse, which offers modern living with space and style, in a convenient urban location. Splitlevel

living and seamless outdoor flow to the private easy-care section provides great use of space,

and living comfort for all inhabitants.

Auction: Wednesday 23 rd November

Russley Golf Club (unless sold prior)

View: Phone for viewing times.

Halswell 48 Whales Street

Opportunity Knocks ...

AUCTION

3 12 23

Harcourts ID: BF27285

...For the first home buyer a fantastic opportunity lies ahead. If you are looking for an affordable

home that you can ad value to, then look no further. This permanent material home has new carpet,

updated vanity, shower and spacious kitchen/dining. The separate lounge with heatpump opens out

to a sunny north facing patio for alfresco dining. A great 607m² family sized section.

Anne Davis

M 027 492 7694 P 03 323 6045

Harcourts Twiss-Keir Realty / Belfast Licensed Agent REAA 2008

Deadline Sale: All offers invited on or before

30 th November at 4.00pm

View: Phone for viewing times.

Hornby 31 Oriana Crescent

Urgent Sale Required

Harcourts ID: BF27253

Due to personal circumstances, this immaculate property requires an immediate sale in order for

the owners to proceed, and must be sold. With comfortable living spaces and bedroom sizes, the

large entertainment deck, plenty of parking and a private sunny back-yard - this property provides a

fantastic opportunity for first-home buyers, investors or down-sizers.

Mitchell Roberts & Mana Tai

M 027 413 0797 or 027 626 2824 P 03 323 6045

Harcourts Twiss-Keir Realty / Belfast Licensed Agent REAA 2008

JUST LISTED

3 1 2

Auction: Wednesday 30 th November

Russley Golf Club (unless sold prior)

View: Phone for viewing times.

Kei Kie, Kaikoura 1390 State Highway 1

Genuine Beach Front Bach

Harcourts ID: BF27267

Surrounded by nature with the beach to the front and bush behind. The kitchen window opens to

enclosed entertaining area with bush to the windows. Five double bedrooms (plus sleep-out), huge

covered entertaining/BBQ area. The perfect retreat with amazing views, watch the whales and

dolphins from home. Complete with double garage to park the boat in. 2 freehold titles plus lease.

Bill Dowle

M 029 358 3175 P 03 323 6045

Harcourts Twiss-Keir Realty / Belfast Licensed Agent REAA 2008

Contributor to www.realestate.co.nz

5 2 2

Auction: Wednesday 7 th December

Russley Golf Club (unless sold prior)

View: Phone for viewing times.

Woolston 83 St Johns Street

Fantastic First Home

Harcourts ID: BF27263

With six children, our family-owners have decided it is definitely time for them to move to their next

step, providing a fantastic entry-level buyer opportunity for another. The earthquake repairs are now

fully complete. This leaves the property refreshed and updated but still holding on to its character

charm. Large deck for extended living and the private back-yard - this property ticks the boxes!

Mitchell Roberts & Mana Tai

M 027 413 0797 or 027 626 2824 P 03 323 6045

Harcourts Twiss-Keir Realty / Belfast Licensed Agent REAA 2008

4 1 2

For Sale: Price on application

View: Phone for viewing times.

www.twisskeir.co.nz
---
PEGASUS POST Tuesday November 15 2016 13

MALTWORKS VILLAS

LIFESTYLE VILLAGE • HEATHCOTE VALLEY • CHRISTCHURCH

Lifestyle Village

for over 55 yrs

Under offer

• 65 FREEHOLD UNIT TITLES - protecting your

investment (not licence to occupy)

• On site caretaker for maintenance of grounds,

common areas plus a communal clubhouse

• Selection of well designed larger floor plans

with both single and double garaging

• Solar panels on all villas generating

power savings

Sue & Gemma Roberts

P 03 323 6045 Sue 027 4401 282 Gemma 027 2236 471

E sue.roberts@harcourts.co.nz E gemma.roberts@harcourts.co.nz W www.sueroberts.co.nz twisskeir.co.nz Licensed Agent REAA 2008

Sue & Gemma Roberts

Constantly Achieving Sold!

If you are thinking of selling, we have cash buyers looking for properties in the North

Canterbury and Christchurch areas for both residential and lifestyle properties.

When you list with us, we will provide you with the very best service. For a free market

appraisal or to find out how you can travel the world. Phone us today 03 323 6045.

MALTWORKS VILLA

LIFESTYLE VILLAGE • HEATHCOTE VALLEY • CHRISTCHUR

• Stage 1 Sections from $139,000

Must Be Sold!

• Stage 2 Sections from $165,000

With Rural Outlook

• Childcare Centre opening 2017

• Close to the Beach, River, Schools,

Public Transport and Township

T&C's apply

Sue & Gemma Roberts

M. 027 440 1282 or 027 223 6471

E. sue.roberts@harcourts.co.nz

Harcourts Twiss-Keir Realty Licensed Agent REAA 2008

Bring your own builder, your own plans and

create your family dream in BeachGrove.

Call Julie-Ann today on

0800 beach grove

or visit beachgrovekaiapoi.co.nz

Harcourts Twiss-Keir Realty Ltd/Licensed Agent REAA 2008

Contributor to www.realestate.co.nz

www.twisskeir.co.nz
---
14

Tuesday November 15 2016

PEGASUS POST
---
PEGASUS POST Tuesday November 15 2016 15

Email fraser.walker@starmedia.kiwi

by 5pm each Wednesday

Mums, Dads and Bubs Group

Every Wednesday, 10.30am-

12.30pm

Make your way down to the

mums, dads and bubs group,

hosted by Linwood Playcentre.

Go along to meet other mums

and dads in the community for

shared kai and a well-earned

coffee, while watching the

tamariki play and learn. Older

siblings are also welcome.

There will be discussions

around babies' learning and

development, experiences as

parents and different types of

play with babies.

Linwood Playcentre, 628a

Worcester St, Linwood. Free

entry

Monster Garage Sale

Saturday, November 19, 9am-

12.30pm

The annual fundraising sale

for the Te Whare Roimata

Trust. This garage sale will

offer plants, clothes, kitchen

and homeware goods, books,

toys and furniture, and other

treasures at affordable prices.

For more information, phone

379 5134.

274 Gloucester St, Linwood.

Free entry

Monthly Displays

Until November 27

Brighton Gallery is

displaying the work of

Southshore artist Sue

Alderman and airbrush artist

Sandy Fulop. The gallery is run

by local artists for the benefit of

local artists in Carnaby Lane,

off New Brighton mall. For

more information, phone Judy

on 382 0045.

Brighton Gallery, Carnaby

Lane. Free entry

Trash to Treasure

Until November 26, Monday

to Friday, 11am-4pm, Saturday,

noon-3pm

Trash to Treasure is an

annual exhibition for artists

working with recycled

materials. The Linwood

Community Arts Centre is

once again hosting this popular

exhibition. For inquiries and

more information, phone 981

2881.

Eastside Gallery, cnr

Worcester St and Stanmore Rd

Parkview Primary School

Twilight Fair

Friday, November 18, 5-8pm

Plenty of food stalls, baking,

second-hand items, clothing,

games, face-painting, market

stalls, plants and more.

Parkview Primary School, 10

Chadbury St. Free entry

SHOW TIME: The New Brighton Rockabilly Show and Shine will take place on November 26,

from 10am to 3pm, at Rawhiti Domain. There will be hot rod and muscle car shows, market stalls,

live bands, a children's area and a best-dressed competition. In the evening, the Rockabilly

Roll-out will take place. Event access will be via Shaw Ave's south entrance. All profits made from

the event go back to the community. For more information, phone 027 404 2352. Display vehicles

must pay $10 to register.

Science Snippets After School

Every Friday, 3.30-4.30pm

A free and fun after school

science programme presented by

Science Alive in libraries across

the city. Science Alive educators

lead children through activities to

stimulate their interest in science.

There is something to take

home every week. The term four

schedule includes blood and

guts, wacky wheels, structural

engineering, cunning keas, rocks

rock and Christmas science.

For school children aged five

years and above. Caregiver

required.

Parklands Library, 46

Queenspark Dr. Free entry

New Brighton Seaside Market

Every Saturday, 10am-2pm

Go along to the seaside and

enjoy live entertainment, food,

fresh produce, arts, crafts,

jewellery and more. There will

be a bouncy castle and free

face-painting for the kids. For

inquiries, email seasidemarket@

mail.com

New Brighton pedestrian mall.

Free entry

New Brighton Beach Clean Up

November 19, noon-1.40pm

Summer's on the way and a

group of locals have taken it

upon themselves to ensure New

Brighton looks amazing. Go

along and join the group as they

clean up the beach and the sand

dunes. Bin bags and gloves will

be provided on the day. A sausage

sizzle will follow for those who

lend a hand, as well as spot prizes

and goodies for the kids.

New Brighton Pier, no entry fee

Pegasus Toastmasters Club

Every Thursday, 7.30-9.30pm

The club can help you improve

your speaking, listening and

thinking skills. Your selfconfidence

will blossom. Guests

are welcome. Phone 382 1386 or

just turn up at a meeting.

Harakeke Club, 601 Gloucester

St

THE HOME OF GOOD BAKING

SOUTHERN

PLAINS BREAD

VARIETIES

2 FOR

$

5 00

ROCKY ROAD

SLICE

Choc drizzled

fruit puffs and

marshmallows

set in caramel

on top of a

fudge biscuit

base. Yummy!!

RASPBERRY BUNS

4pk

Sweet bun

dough infused

$

3 49 $ 3 49

EA

with raspberry

preserve and

finished off

with a light

raspberry icing.

EA

PURCHASE 2 x 2L DAIRY DALE MILK TO ENTER

THE DRAW TO WIN A VW POLO CAR!

Promotion valid 1st - 30th November 2016.

Winner will be notified Friday 9th December

2016. Terms & conditions apply. Full terms &

conditions can be found at www.couplands.co.nz

MILK

Dairy Dale 2L varieties.

$

5 98

2 FOR or $3.19 each

MINI DONUTS 6pk

$

2 00

EA

Promotional pricing available while stocks last from 14/11/16 to 20/11/16.

Images are serving suggestions only.

Open 7 days | 8 Convenient local locations

Hornby • Barrington • Ferry Rd • Papanui • Riccarton • Upper Riccarton • New Brighton • Rangiora

BAKERIES

www.couplands.co.nz
---
16 2

Tuesday [Edition datE] November 15 2016

PEGASUS POST

Anxiety and breathing

– are they related?

When good breathing goes bad

Have you experienced any of these

breathing difficulty symptoms?

• Disturbed sleep

• Erratic heartbeats*

• Feeling anxious and uptight

• Upset gut/nausea

• Chest pains*

• Shattered confidence

• Tired all the time

• Achy muscles and joints

• Dizzy spells* or feeling spaced out

• Irritability or hypervigilance

• Frequent yawning and sighing

• Breathing discomfort*

• Pins and needles

• Feelings of 'air hunger'

*Check with your doctor if you experience these symptoms.

These questions are asked on the website

www.BradCliff.com. BradCliff was started by

North Island physiotherapists Dinah Bradley

and Tania Cliffton Smith, who specialise

in hyperventilation and anxiety treatment.

Their website notes one in 10 people

experience some form of breathing pattern

disorder or chronic over breathing at some

time in their lives, resulting in a range of

disturbing or frightening symptoms puzzling

to you and your doctor.

You feel unwell because of overbreathing,

and overbreathing makes you feel unwell.

A vicious cycle is established, which is a

major stress all by itself. This is experienced

currently by many Cantabrians, says Ietje

van Stolk of Physical Sense Gym & Physio.

As she explains, it is normal to breathe fast

and in the upper chest when we are in danger

and fight or flight is needed. We know all

about that here, due to the earthquakes.

Normally, once the danger is gone, our

breathing should restore itself within a

couple of days. We would then be using the

diaphragm for our normal nonstressed

breathing. We have been having a hard

time restoring our breathing pattern here

in Canterbury because every time our body

tried to achieve that, the next aftershock came

rolling in. Even though the aftershocks have

significantly diminished, some people's fight

or flight mode breathing has become chronic,

or habitual, Ietje says. And, as she points out,

using the wrong muscles for breathing means

these overworked muscles cause headaches,

neck pain and jaw pain.

With fast upper chest breathing, sighing

and yawning, the resulting disturbance of our

oxygen and carbon dioxide levels can give us

the feeling we are not able to control our own

body. One moment you are are feeling fine,

next moment your chest feels tight, you feel

out of breath, your heart beats erratically and

you may even experience dizziness and/or

tingling. Very scary if you do not understand

what is happening. No wonder this causes

anxiety. Not being the boss over our own

body makes us anxious, anxiety feeds the

faulty breathing pattern, and so it goes on.

The BradCliff physiotherapists have

established a national network of practitioners

that regularly train together and can help you

overcome this problem.

Physical Sense is part of that network.

To make an appointment phone 377 2577.

A vicious cycle is

established, which is a

major stress all by itself.

This is experienced

currently by many

Cantabrians, says Ietje

van Stolk of Physical

Sense Gym & Physio.

super LOW prICes!

Lifestream aLoe Vera Juice

Feeling bloated?

Was $37.90 NoW $29.90

Helps Calm bloating in the stomach & bowel.

Soothes the lining of the stomach, and promotes

smoother natural digestion.

3 Convenient Locations:

The Palms: 385 0364

The Hub Hornby: 349 5150

Bush Inn Centre: 348 7867

What type of Parkinson's do you have?

Knowing the answer to this question can slow down your

Parkinson's and help you to look, move and feel better.

lovebite.com

Get control of your Parkinson's and find out more today!

www.musclepeople.co.nz

Phone: (03) 961 0236
---
PEGASUS POST Tuesday November 15 2016 17

News

Gallery numbers

below target

• By Bridget Rutherford

CHRISTCHURCH Art

Gallery did not meet

its visitor target for the

first three months of

the financial year, while

Canterbury Museum has

had record numbers.

The city council's

performance report from

July to September 30

showed it had hoped to

get about 400,000 visitors.

However, it had met 72

per cent of its target.

Meanwhile, Canterbury

Museum achieved

record visitor numbers in the past two

months for its exhibition Air New Zealand

75 Years.

September saw 48,879 visitors, while in

October, 63,815 people visited.

City council customer and community

general manager Mary Richardson said

Canterbury Museum was better served by

bus routes and tourist buses.

She said the city council was looking at

a bus parking area for near the gallery.

"This is likely to be considered by committee

early next year."

There were also a range of road works

around the gallery, she said, and the gallery's

car park was still closed.

The city council hoped once the car

park was reopened at the end of the

month and it has leased the cafe early

next year, numbers would pick back up,

she said.

The gallery was officially reopened in

December after being damaged in the

February 2011 earthquake.

It cost $60 million to repair.

KIDSTUFF

Why The Enchanted Garden is

Different from the Rest

The Enchanted Garden is a small

nurturing preschool that provides

individualised care for infants, toddlers

and young children. We are proud of our

small group sizes, trained teachers and

well above minimum teacher/child ratios.

Our recent 2016 Education Review Office

report states "Teachers follow well-paced,

individual home routines that foster

children's sense of security and wellbeing".

If you care about the quality of care your

child receives call in and enrol at any time

and you will find your child's perfect home

away from home. You can also check out

our website and facebook page.

Kids love CASPA!

CASPA (Creative After School

Programmed Activities) which now

incorporates PAPA JACKS offers children

the opportunity to be creative, make new

friends and try new experiences all within

a safe, nurturing environment. CASPA

offers working parents an affordable after

school and school holiday programme that

their kids just love!

CASPA attributes its success to the

variety of activities on offer as well as the

convenience and affordability for parents.

CASPA kids enjoy an exciting range of

activities including sports, music, games,

drama, arts and craft as well as fun trips.

Previous themes and activities have

included a Karaoke Dance Party, CASPA

Fear Factor, Healthy Art, Out of Africa

and hundreds of other amazing themes/

activities!

CASPA parents enjoy peace of mind,

knowing their kids are safe and enjoying

the benefits of a quality after school

programme. Some parents and caregivers

also enjoy government subsidies for

CASPA. CASPA is Child Youth and Family

approved for the OSCAR Subsidy and in

some circumstances, the full CASPA fee

will be covered by the subsidy.

For more information or to enrol, call

Caroline, Rachel or Tania on 349 9260 or

visit www.caspa.org.nz

We would like to

welcome

Dr. Zohnia McNeill

to our team!

• General Dentistry • Emergency Appointments

• Wisdom Tooth Extractions • Cosmetic Fillings

• Dental Implants • IV/Oral/Inhalation Sedation

• New Patients Welcome

99a GLANDOVEY RD (Entrance via Idris Rd)

FENDALTON, CHRISTCHURCH 8052

PHONE: 03 351 1188 FAX: 03 351 1138

Monday - Friday 8.30am-5.00pm

www.fendaltondental.co.nz

Worried about a MOLE?

Offers:

n Affordable Melanoma Diagnosis

n Latest Computer aided technology

n Immediate Results

n Dermoscopy inspection

n SIAscope examination

n See image results on screen

n On-site management or referral

OPAWA SURGERY

122 Opawa Road, Christchurch

The magazine for

gardeners who

like To geT Their

hands dirTy

www.gardener.kiwi

100%

Ring Now:

332 7366

Dr John L. Dewsbury

M.B., Ch. B. (Otago) D.R.C.O.G.

(Lond.) F.R.N.Z.C.G.P

• affordable

chilDcARE

• small homely centre

EnRolling now!

OPEN 7.30-5.30pm ALL YEAR

FREE

½ DAYS

for 3-5

yrs

EnRolling

now

0–5YRS

facebook.com/

The Enchanted Garden

255 Greers Rd, Burnside

Phone: 03 359 7944

www.theenchantedgarden.co.nz

call us

noW

CASPA

After School

& Holiday Programme

Your friendly childcare solution

Creative

After

School

Programmed

Activities

P: 349 9260 or 027 352 1638

E: info@caspa.org.nz

W: www.caspa.org.nz

• Central location

• Cooked healthy heart meals

• Large private outdoor play area

• Casual care available

• Enrolments available now

• 7.30am - 5.30pm Monday to Friday

EST 1987

389 2483

375 Worcester Street • Christchurch

• We provide a safe, creative

environment for 5-13 year olds

• Our staff are trained

• A range of fun activities

• 7.15-8.30am and 3-6pm Mon-Fri

• 8am-6pm Holidays

• Kids just LOVE it!

Incorporating

Subsidies

Apply
---
18

WIN

enter every time you shop at any of these participating businesses - more draws, more chances to win! Promotion closes 9th Dec 2016. conditions apply.

ON NOW!

Tuesday November 15 2016

your chance to

win one of three

$1000

SHOPPING SPREES

THIS COULD BE YOU!

Oil and Filter & Wheel

Alignment COMBO

ONLY $155 (Save $25)

*when you mention this advert

See Andrea & the team

Auto Super Shoppe Shirley

218 Hills Road, Shirley, 385 0192

Monday – Friday 8am – 5pm

Saturday – 8am – 1pm

Shop scan

FREE Courtesy Cars

All Insurance & Private Work Welcome

10% OFF

EXCESS ON

INSURANCE QUOTES

Conditions apply

QEII Collision Repairs

302 Travis Road, North New Brighton, Chch.

P: 03 388 5187. E: qe2collisionrepairs@outlook.com

PReMiUM

tyReS &

AUtO

tWO LOCAtiONS!

222 LINWOOD AVE (Beside Burger King)

245 dyeRS ROAd (Cnr Wickham St)

• Vehicle servicing from $75

• Punctures only $25 for most vehicles

• Brake pads from only $110

• New & secondhand tyres on sale now

• WOFs • Lubes • Alignments

CALL NOW! HOURS:

MON - FRi

8am - 5pm

SAtURdAy

9am - 2pm

(03) 380 50 20

(Linwood)

drive

away be

happy

PEGASUS POST

Your friendly

local Pharmacy

• Prescriptions • Medico Packs

• Gifts • Health Advice

• Dry Cleaning • Passport/ID photos

Hours: Mon-Fri 9am-5.30pm, Thurs 9am-6pm

11 Parnwell Street. Ph 383 4814

Sore feet?

We can help!

Specialising in all:

• Foot Care & Orthotics

• Ingrown Toe Nails

• Corns & Callouses

Come & see Ian & Anna at the...

448 Papanui Rd Ph 03 352 6400 (opp BP Petrol station)

www.papanuifootclinic.co.nz

Before After

$22

WOF

SIZZLING

SAT WOF

SPECIAL

Full mechanical service

+ repair available

Cnr Fitzgerald Ave & Hereford St.

Phone: 365-5220

www.a1auto4service.co.nz

Quality Bikes

Wanted

Open 7 days • 620a Ferry Road, Woolston | Phone 03 376-6377

www.aroundagaincycles.co.nz

aroundagaincycles@gmail.com

2016 seasoN

NoW starteD

the place to be

this summer!

Season passes available at the Woodford Glen Shop,

129 North Avon Road, ChCh | Ph (03) 385-1515

Check out www.woodfordglen.co.nz for meeting dates

Come in and see our

friendly staff! Many more

great specials instore.

1 Litre Range

$

37 99

each

Cranford 478 Cranford Street

QEII 251 Travis Road

Richmond 68b North Avon Road

Crispy Crunchy Batter

Gluten free products sold for oVer 4 YeArs

Fish, Meat Patties, Hot Dogs, Pineapple Rings, Donuts

• Souvlaki • Great Burger Selection

• Garlic Butter Chips • Cheese on Chips

* Specialty fish cooked to order…

Blue Cod, Gurnard, Sole, Hoki, and more!

Also crumbed at no extra cost.

GOURMET SEAFOODS QEII

Ph: 388 2531, QEII Shopping Centre

251 Travis Road

Mon - Wed 11.30am - 8.30pm (Tues from 4.30pm)

Thurs - Sat 11.30am - 9.00pm; Sun 12noon - 8.30pm.

Daily break 3.15 - 4.30pm.

Designer

Fashion

3000

items

arriving

daily!

See Our

HUGE

Selection!

• Designer Brands • Family Clothing

• Menswear • Footwear • Bric-a-brac

• Workman Outdoor Clothing

• Household Goods • Books

• See the Retro Section AND Formal Wear

Open Daily 7 Days

New Brighton: 52 New Brighton Mall

(Old Farmers Building)

HOURS

Mon–Sat 9am–5pm

Sun/Public Holidays 10am–4pm

New Zealand's Largest

Recycled Clothing Retailer

Burwood & Redwood

HomE of THE

$40 sErVICE

layby for

xmas now

Hot in-store

deals

Ph: 383 2114

269 Burwood Rd, Burwood

Ph: 354 4022

290 Main North Rd, Redwood

SHOP HOURS

Mon-Fri 8.30am-5.30pm. Sat 9.00am-4.00pm

Monday to Friday to

Saturday to

Sunday to

paperplus.co.nz

Welcome to our family friendly

christmas

shop!

768 Marshland Road (North End)

Open everyday until Christmas Day 10am - 4pm

CHRISTCHURCH'S PERFECT

INDOOR ENTERTAINMENT

FLIP OUT

TRAMPOLINE ARENA

CHRISTCHURCH

MAIN ARENA

TRICKING AREA

FOAM PIT

WALL TRAMPOLINE

TUMBLE TRACK

YOUR SAFETY

IS OUR #1

PRIORITY

PHONE 384 8244 FOR MORE INFORMATION

230 MACES ROAD, BROMLEY

WWW.FLIPOUT.CO.NZ

Boost Brain Performance

ENZO:PROFESSIONAL (ENZOGENOL) is a potent

antioxidant extract of the N.Z. pine bark and

has been clinically shown to improve memory,

concentration & brain performance.

SUPER

60's only $45.30, save $5.00

120's only $84.90, save $15.70

PRICE! Detailed Information Available

Bringing You the Best in Natural Health!

MARSHALLS HEALTH & NATURAL THERAPY

CONSULTING - PRESCRIBING - DISPENSING -

MANUFACTURING - MEDICAL HERBALISTS

110 SEAVIEW RD, NEW BRIGHTON • PH 03 388 5757

Email: enquiry@marshallshealthshop.co.nz

- WE ARE ALWAYS HAPPY TO HELP! -
---
PEGASUS POST Tuesday November 15 2016 19

AUTOMOTIVE PROFESSIONALS

No job too small at

this repair business

Scratch on the bumper? Dent in the door?

Damage like this can happen so easily – in

supermarket car parks, for example. And

the place to get minor damage quickly and

professionally repaired is SMART Repairs

in Lichfield Street.

SMART (Small to Medium Automotive

Repair Techniques) Repairs provides a topquality

service with a quick turnaround

– vehicles are usually in and out within a

couple of days.

SMART Repairs is owned and operated

by Brian and Maxine Caffell, who bought

their first panelbeating business in 1993.

Brian has a total of 31 years' experience in

the trade, so customers can be confident

they will get a first-class job.

Services include paintless dent removal,

or PDR, and while a large percentage of

their work is non-insurance, they also

provide insurance quotes and carry out

those repairs quickly and efficiently.

To keep their customers on the road while

their vehicle is in the workshop, SMART

Repairs recently acquired a courtesy car,

and this has already proven to be a great

help for people, Maxine says. They also offer

a pick-up and delivery service if required.

As a small, friendly operation, SMART

Repairs specialises in small to medium

repair work, with no job too small, Maxine

says. Their aim is to provide personalised

service, and make it easy for customers

unsure what to do if their vehicle is

damaged.

"We take pride in our work and ensure

that our customers are happy with the

results."

SMART Repairs is located at 272

Lichfield Street, at the Fitzgerald Avenue

end. Opening hours are Monday to Friday,

8am-4.30pm.

To enquire about repairs to your

vehicle, call in, or phone 377-0409.

The Automotive Lamp

Specialists

New and Used Lamps for

Cars, Trucks, Vans, 4WD

and Motorhomes

PH 0800 225 483

325 Brougham Street

CHRISTCHURCH

vonhead

utomotive

A A

free

6 months roadside assist

with any vehicle servicing

• automatic transmission

flushing service

• Wof • tune-ups • suspension

• batteries • neW tyres • oil &

lube service • courtesy cars

• full mechanical repairs

oPen 6 days (sat until 1pm)

126 racecourse road

Ph 342 7123 or 027 495 6600

s

m

a

r

t

mall

edium

Fast

turnaround

utomotive

epair

echniques

• Paintless dent removal

• Minor paint repairs

Smart repairS (NZ) Limited

automotive refinishers

272 Lichfield St (Fitzgerald Ave end)

Ph 377-0409

PARKER

AUTOMOTIVE

■ All Automotive Repairs and

Servicing including 4WD

■ Suspension Brakes & Cambelts

■ WOF, Tyres, Batteries

■ Courtesy Car

55 Lincoln Rd, behind Caltex

(Cnr Lincoln & Torrens Rd)

Ph 03 982 4268

Mob 027 331 0382

Email: parkerauto@clear.net.nz

Full mechanical servicing

for BMWs

Dismantling BMW's

Purchasing pre-loved & damaged BMWs

65 McAlpine Ave, Sockburn, Christchurch

Ph (03) 341 6678 | eurorec@clear.net.nz

A division of

new & near new

tyres

Excellent range

at great prices!

Brand new

location

343 0099 or 027 22 63 805

www.jcmdirect.co.nz

8c Birmingham Drive, Middleton

Next to Addington Raceway

European

Car Owners

NEW DIAGNOSTIC EQUIPMENT!

We can identify ANY electrical

fault & reduce repair work

with our NEW European Car

Specific Diagnostic Equipment

ROSES

AUTO ELECTRICAL

Enquiries welcome

CH 352 5090

Your central city workshop

WOF,

REPAIRS &

SERVICING

CALL US NOW

0800 624 477

127a Peterborough Street
---
20

Tuesday November 15 2016

REAL ESTATE

Versatile unique character home in Purau

5 Monalua Avenue, Purau Bay

Price: $565,000

4 bedrooms | 2 bathrooms | 2 living rooms | 1 office/music room | 2 car-garage | double carport | off-street parking | Listing # 2972

PEGASUS POST

Set on a picturesque level 809m2 section

close to the beach and with a stream

boundary this well-built strong home has

a lot to offer. With 4 bedrooms, 2 living

areas, 2 bathrooms and a large musicroom/study,

the design of this house gives

plenty of living options. There is extensive

decking at both the front and the rear of

the house to enjoy the lovely sheltered easy

care garden with its well established fruit

and native trees. North facing and with nice

sea views from the upstairs bedroom and

front deck area. Wonderful indoor/outdoor

flow and 2 wood-burners for those colder

nights. As the front part of the home is

semi self-contained, previous owners have

utilised this by renting it out as holiday

accommodation. There is a double garage, a

double carport and extra off-street parking

for the toys. Don't delay this lovely family/

holiday home will be sure to impress.

Note: (Agents Own Home).

Purau Bay is only 2km's from Diamond

Harbour and approximately 40 minutes'

drive from Christchurch CBD, making

it a highly desirable holiday destination

as it is so usable being close to Chch. No

more spending hours in the car to get to

your holiday home, you can even holiday

and commute if needed. Properties in this

lovely valley and by such a safe swimming

beach are defying all the odds and selling

fast generally as they come up very seldom.

Excellent swimming, boating, walking and

stunning sunsets on the hills, easy access to

Lyttelton via the Diamond Harbour ferry,

local shops, cafés and bar make this a fun

filled place to visit. Properties here make

an excellent investment and Purau Bay and

valley is a truly magical place to visit or live.

Open Home Sun 2.00pm – 2.30pm

See you at the open homes or for a private

viewing, contact Tim Dunningham of Min

Sarginson Real Estate (Licensed Agent

REAA 2008), phone 027 651 5474 or

329 4161
---
PROUDLY

PROUDLY

CHRISTCHURCH

CHRISTCHURCH

OWNED

OWNED TUESDaY, aUGUST 27, 2013 PROUDLY 384

384 CHRISTCHURCH 0600

0600

PROUDLY CHRISTCHURCH OWNED MONDaY JUNE 24, 2013

OWNED WEDENSDaY 10 JULY, 2013 384 0600

384 0600

A Mainland

Media Publication

Kea

(Nestor Notabilis)

Ladbrooks, Tai Tapu, Leeston, Lincoln, Southbridge, Prebbleton, Halswell, Rolleston, Templeton, Burnham, West Melton, Darfield, Arthurs Pass

Mainland

Press Newspaper

Sumner, Redcliffs, Mt. Pleasant, Ferrymead, Woolston, Lyttelton & Akaroa Harbours

Harewood, Burnside, Bishopdale, Bryndwr, Fendalton, Merivale, St Albans, Mairehau, Papanui, Casebrook, Redwood, Regents Park, Styx Mill, Northwood, Spreydon, Belfast Hoon Hay, Hillmorton, Cracroft, Cashmere, St Martins, Somerfield, Sydenham, Addington, Waltham, Opawa, Beckenham, Huntsbury, Woolston

Black Billed

Gull

A Mainland

Press Newspaper

New Zealand

Swamp Hen (Pukeko)

Linwood, Avonside, Richmond, Shirley, Burwood, Dallington, Wainoni, Bromley, Aranui, Avondale, Bexley, New Brighton, Northshore, Queenspark, Parklands, South Brighton

PROUDLY CHRISTCHURCH OWNED MONDaY JULY 15, 2013 PROUDLY 384 CHRISTCHURCH 0600

OWNED MONDaY 12 aUGUST, 2013 PROUDLY 384 CHRISTCHURCH 0600

OWNED MONDaY JUNE 24, 2013 384 0600

A Mainland

Press Newspaper

Fantail

(Piwakawaka)

A Mainland

Newspaper

Bellbird

(Korimako)

A Mainland

Press Newspaper

New Zealand

Pigeon (Kereru)

Templeton, Islington, Hei Hei, Broomfield, Halswell, Oaklands, Westlake, Hornby, Wigram, Sockburn, Church Corner, Ilam, Russley, Hyde Park, Avonhead, Riccarton Park, Riccarton

PEGASUS POST Tuesday November 15 2016 21

Classifieds Contact us today Phone our local team 03 379 1100

Computers

ALL

YOUR

COMPUTER

WORRIES SOLVED!

*$30.00 off your first

service with this coupon!*

No problem too big or

small from home PC's to

business networks. PC

slow? An end to Viruses,

Spyware, and Clogged

Systems. Safe secure

hassle-free computing.

Lost files recovered.

Microsoft Certified,

MCSE, MCP+l. 30 years

experience. Call Andrew

Buxton this week on 326-

6740 or 027 435-7596

for $30.00 off* Custom

Computers Christchurch

Curtains

www.curtainfabric-outlet.com

Fashion Designs & Colours

Discontinued Designs

End of Lines Bargain Prices

Call at Our Shop

CURTAIN FABRIC OUTLET

71 Hawdon St Sydenham

Ph 366-5026

Free

HARDFILL FREE

outside 49 Mountbatten

Street

Gardening

& Supplies

A GARDEN

PROFESSIONAL

NEEDED?

Qualified Horticulturist,

offering expert pruning,

garden makeovers, garden

design and landscaping,

for free quotes call Bryce

027 688-8196 or 0508

242-733

Holiday

Accommodation

QUEENSLAND SUN-

SHINE COAST AUSTRA-

LIA Resort, Ocean Views,

Balconies, Self Contained,

1 or 2 B/R Ensuite,

Heated Pool, Spa, Sauna,

Free Internet, Shops,

Restaurants, Tennis, Surf

Club & Patrolled Beach,

Public Transport at door.

Ask for our SEASONAL

SPECIALS. Phone 61 7

544-35011 Email: reception@mandolin.com.au

www.mandolin.com.au

Public Notices

Weka Pass Railway

Waipara, North Canterbury

We Are Running

SunDAY 20th november

Running 1st & 3rd

Sundays of every month

Phone 0800wekapass

Depart Glenmark Station

11.30am & 2.00pm

www.wekapassrailway.co.nz

Public Notices

DEMOLITION

With care and respect we

will remove your dwelling.

Our policy is to recycle as

much as we can. We are a

local company specialising

in residential properties. We

will endeavor to cater for

your individual needs.

Ph. R.M. Solutions

021 02866981

for a free quote.

Situations Vacant

CA$H

Strippers

& Podium

Dancers

Wanted!

18+ TO APPLY

NEISHA

021 193 0118

To Let

RENT NEED MORE ME!

SPACE?

NO BOND THIS MONTH

Ideal as an extra

bedroom or office.

Three convenient sizes

from $70 p/w:

Standard 3.6m x 2.4m

Large 4.2m x 2.4m

Extra-large 4.8m x 2.4m

Visit our display cabins at

470 Cranford Street or call

0211277227 for a free brochure

www.justcabins.co.nz

HOMESITTERS reqd

for Christmas / New Year.

Pref retired / not working.

Ph Lisa 359-2323 www.

townandcountryhomesit.

co.nz

HOUSEME

Portable sleepout or office

available to rent.3m x

3.6m studio. Insulated

and value for money at

$75.00 per week, you

wouldn't live in anything

else. Contact Amanda

today on 0279570920 or

houseme2015@xtra.co.nz

Situations Vacant

CA$H

Strippers

& Podium

Dancers

Wanted!

18+ TO APPLY

NEISHA

021 193 0118

Public Notices

The New Zealand

Shareholders Association

The Independent Voice

of the Retail Investor

The New Zealand Shareholders Association

invites all interested members of the public to

an evening with

Mr John Ryder

17th November at 7.30 pm

The "Poppy Room" RSA 74 Armagh Street

Christchurch. John's subject will be

"The Fundamentals of Investing"

John is the author of:

"Global Investing: A Guide for New Zealanders"

If you are interested in learning about investing,

understanding the investment market and the

options available to the serious investor the NZSA

welcomes you.

Please pre-register at www.nzshareholder.co.nz

Click on the link under "WE DO"

Or contact: robin Harrison, Tel: 027 4197981

or e-mail: nzsachch@gmail.com

A door charge of $10.00 will apply.

Light refreshments to follow.

Sorry no EFTPOS available.

business video

PRoduCTion

A video will bring your business

alive & into your customers mind.

Promote your

services or business

with a professionally

created video with us

• Corporate and

Business video a speciality

• Competitive rates

• 25 years experience

• Start to finished product

• Professional quality guaranteed

PHone KeRRY 021 635 083

PLUMBER

PROMPT SERVICE

For all

Plumbing

•Roofing/

spouting

•Maintenance

•Installations

8790441AA

Trades & Services

Michael

Gale

Plumbing Ltd

Small work

no problem

Ph 364 7080 (24 hour)

Mob 027 438 3943

Trades & Services

HOUSE

CLEARING

Are you moving

house?

Let All Clear Canterbury

take care of your

unwanted items.

You identify what you want

to keep & we will dispose

of the rest!!

Ph: 03 312 7119

Mob: 021 078 4553

allclearcanterbury@gmail.com

www.allclearcanterbury.co.nz

Appliance Sales & Service

388 4780

Appliance Services

14 Brighton Mall, New Brighton

9220021AA

Public Notices

Call us & we'll help

you place your

classified advert in our

community papers

Nobody knows

Christchurch

like a local

We're local, we're

in Christchurch, we

speak your language!

Phone: 379 1100

Selwyn

Times

Nor'West

News

Bay Harbour

A

News

Southern

Pegasus

Post

Western

View Press

News

Classifieds

Our community papers are published every

Tuesday (Bay Harbour, Wednesdays) focusing

on local issues & local people.

Trades & Services

• Replacement/new roofing

• Colour Steel gutter & fascia

• Flue & log burner installs

• Skytube/light installs

• Earthquake repairs

Licence Building

Practitioner LBP

Member of the Roofing

Association

DCM ROOFING LTD

The Roofing Specialists

PHONE IAIN

027 445 5597

iain@dcmroofing.co.nz

FOR ALL YOUR

★Garden Clean-ups

★Pruning

★Lawn Mowing

★Garden Maintenance

Call us today for a FREE quote

PH 0800 4 546 546

(0800 4 JIMJIM)

& Property Maintenance

Paving

Patio - Pathways - Driveways

Lawns and Gardens

Planting - Raised Vege Gardens

Readylawn - Irrigation - Fencing

General Maintenance

Water Blasting - Gutter Cleaning

Rental Property Maintenance

Section Clearing - Weed Spraying

20 Years Experience

Locally owned and operated

Free Quotes - Competitive Pricing

Blair Gibson 027 699 5815

Trades & Services

GLAZING

Stephen Thom

Glazing 2012 Ltd.

(Under New Management)

• Mirrors

• New Glazing

• Pet Door

Specialists

• Frameless

Showers

• Splashbacks

WE CAN DO YOUR

WORK NOW

9155874AA

ALL BROKEN

WINDOWS

Phone Cushla

03 352 6225

or 027 352 6225

Lawns, Gardens

& Home Cleaning

9185885AA

Free Quotes

Professional, personalised

service. Regular &

one-offs. Fixed price.

Ph: 377-5814

For all your property and

cleaning requirements

Trained, insured & security

screened owner/operators

Multi-award winning

systems & Franchises

Franchises Available

www.fviphomeservices.co.nz

eLeCtrICIAn

The Downlight Man.

Repairs, LED replacements.

30 yrs exp. Registered

electrician. 022 1407-864

Trades & Services

PLANT GROWERS

Bettaplants

Nursery

Have been growing top quality

plants since 1934

Remember you can't buy

Bettaplants anywhere

BEDDING & VEGETABLE PLANT GROWERS

Bettaplants

1934-2016

82 YEARS IN BUSINESS

27 Ottawa Road. Phone: 389-7855

Hours: 8.00am-5.30pm Mon to Fri, 8.00am-5.00pm Sat

painter

Price Family

Painters Ltd

Interior/Exterior

Wallpapering/Painting

Gib Stopping

Free Quotes

EQC Opt Out

Fletcher Accredited

Project Management

Phone: Morton 021 667 444

Email: mortonprice@xtra.co.nz

www.pricefamilypainters.co.nz

ROOF REPAIRS

Locally owned & operated with

over 30 years experience.

• Extensions & repair • Roof coating

• Concrete & clay tiles • Butynol

• Malthoid • Asbestos Certified

• Coloursteel • Old iron • Guttering

Phone Dave 981 0278

or 021 223 4200

E: dave@beaumontroofing.co.nz

BEAUMONT ROOFING LTD

AAA CArpentry CArpenter

licensed builder HAnDyMAn

practitioner all property Small Job Specialists,

maintenance small job Carpentry, Repairs,

expert by tradesman/ Decking & Maintenance,

handyman free quotes 40 years experience, no

city wide call now job too small, Ph Warren

03 387-0770 or 03 322-1103 or 027 697-

027 245 5226 8541

ciey@xtra.co.nz

CArpet

&

BUILDer LICenSeD VInyL LAyIng

available for all aspects Repairs, uplifting, relaying,

of building. Please call restretching, Email

027 241-7471 or 335-0265 jflattery@xtra.co.nz,

ph 0800 003 181 or

027 2407416

BUILDer

For all building work

but specialist in bathroom

renovations, 30 yrs

experience, with service

and integrity. Free Quotes.

Ph Lachlan 383-1723 or

0274 367-067.

Appliance Sales & Service

388 4780

Appliance Services

14 Brighton Mall, New Brighton

CArrIer LoCAL

experienced, friendly,

trade-me purchases, single

items to truck loads,

furniture to whatever,

removals & trade

deliveries a specialty.

Ph GEH 341-5069

CArpetLAyer

Laying and Repairs, 40

yrs experience, ph Peter

326-7711 or 027 240-6532
---
22

Tuesday November 15 2016

PEGASUS POST

Classifieds Contact us today Phone our local team 03 379 1100

Trades & Services

DRIVEWAYS

Replace, repair or new.

We are a local company

with over 10 yrs exp.

We also operate a

digger for all other

earthworks.

Ph. R.M. Solutions

021 02866981

for a free quote.

ELECTRICIAN

Rewire specialists. Some

old wiring, some new,

get a free appraisal and

quote. Switch boards,

LED lighting, garages,

spas you name it we do it.

Give the boys at Turned

On a ring, phone Muzza

022 6177-275

ELECTRICIAN

The Downlight Man.

Repairs, LED replacements.

30 yrs exp. Registered

electrician. 022 1407-864

FENCING

All styles and shapes,

gates, wooden, ph Mark

027 331-3223

FENCE PAINTING/

STAINING

Quality at a reasonable electricians,

price. Free quotes. Phone

Warren today on 980-1676

or 027 2014713

ADD SOME

Trades & Services

FENCING

Paling, picket,

iron, trellis

Demolition and

removal

Phone Bevan

021 231 1860

Fencing Uprite

Your Eastside

Specialist

FURNITURE

REMOVALS

Large Trucks $95 +

GST per hour 7 day NZ

wide, packing & moving,

Professional Company,

Professional Service.

Canterbury Relocations

Ltd. ph 0800 359 9313

HANDYMAN

Silver Threads. A

bunch of nice friendly

mature tradies, builders,

painters,

landscapers, section tidying.

Ring for a free quote

022 140-7852

COLOUR

TO YOUR ADVERT!

Trades & Services Trades & Services Trades & Services

LANDSCAPE

CONSTRUCTION

Lawns, paving, water

features, irrigation,

planting, decks, driveways,

kerbing, ponds, retainer

walls, fencing. Free

quotes, Phone Tony

021-034-8555

PAINTER

Top quality work, interior/

exterior, pensioners

discount, free quotes, 30

years experience, I stand

by Canterbury, ph Wayne

your friendly painter

03 385-4348 or 027 274-

3541

PAINTER AVAILAbLE

All aspects in painting.

Very competitive in roofs

and fences. Please call 027

241-7471 or 335-0265

PAINTING

&

DECORATING

interior & exterior,

gib fixing, plastering,

paperhanging, Est

50 yrs in ChCh, ph

Wingfields Ltd, ph Mark

021 171-1586 or 355-5994

PLASTERER

Exp tradesman over 30

yrs. Foundations, steps

etc. Externa,l gib stopping,

small tile jobs. Free quote.

Ph Steve 021 049 5563 or

388-1889

PLUMbER

ALF THORPE

PLUMBING Certifying

Plumber for all types of

plumbing, maintenance,

spouting, alterations

etc. Phone 352-7402 or

0274-350-231

ROOFING

Qualified & Licenced

Practitioner. Re-Roof &

Repairs, all types. Member

New Zealand Roofing

Association. Over 35 years

experience. Phone John

027 432-3822 or 351-9147

email johnmill@ihug.co.nz

RUbbISH REMOVAL

From Kleensacks to truck

loads, the messier th better.

Trees, flat clean ups.

Call Silver Threads

022 1407-852

SPOUTING CLEANING

Spouting Unblocked,

Cleaned Out and Flushed

Out. Also Full Handyman

Services Available. Call

Trevor 332 8949 or

021 043-2034

TREES bIG OR SMALL

tree removal, trimming,

stump grinding, shelterbelt

clean up, section clearing,

rubbish

excavation work, ph Trees

Big or Small, for a free

quote, 021 061 4783

TREE

Hedge trimming, stump

grinding, rubbish removed,

small job specialty

Ph Andrew 03 322-8341

or 027 435-8759

T.V. SERVICE CENTRE

Repairs, tvs, microwaves,

stereos, DVD. Aerial

installations and kitsets,

480 Moorhouse Ave,

ph 03 379 1400

UPHOLSTERER

Dining Chairs, Lounge

suites, Caravan Squabs

etc. recovered. Free

Quotes. Phone Graeme

383-1448

VHS VIDEO TAPES

& all camera tapes

converted to DVD, video

taping, weddings, twenty

firsts, special occasions,

www.grahamsvideo.co.nz

ph 03 338-1655

WATERbLASTING

Quality Job, Quick Service

by skilled tradesman, Ph

Richard Severin at Jet-X

0800 538 969 Free quotes,

visit www.jetx.co.nz

Wanted To Buy

AAA Buying goods

quality furniture,

Beds, Stoves, Washing

machines, Fridge Freezers.

Same day service. Selwyn

Dealers. Phone 980 5812

or 027 313 8156

A+ Household effects,

removals, fridges, freezers, washing

machines, ovens. Good

cash paid. Ph Paul 022

0891 671

TOOLS

WORK Garden, garage,

woodworking,

mechanical, engineering,

sawbenches, lathes, cash

buyer, ph 355-2045

ADVERTISE YOUR BUSINESS HERE

Phone for further details

(03) 379 1100

We're looking after our

hearts, are you?

3 OUT OF 4 WOMEN DON'T KNOW THAT HEART DISEASE IS THEIR BIGGEST KILLER.

Don't leave it too late to learn about the risks and signs of a heart attack, visit the website

today and share the knowledge with those you love!

Proudly supported by

Find out more at www.heartfoundation.org.nz/GoRed

This ad is

supported by

at home in Canterbury
---
PEGASUS POST Tuesday November 15 2016 23

ON STAGE IN CHRISTCHURCH

DIRECT FROM EDINBURGH

Scottish Military Tattoo

www.newbrightonclub.co.nz

GREAT

ENTERTAINMENT

TUESDAYS

& THURSDAYS

Members

Lucky Card Draw

THIS SATURDAY

MASTER HYPNOTIST

BRIAN GEE

7PM SATURDAY

19 NOVEMBER

Tickets $10

TAB POD

SHUTTLE RUNNING

Tues, Thurs, Fri & Sat

202 Marine Parade

Ph 388-9416

Members, guests and affiliates welcome

Lunch & Dinner

All you can eat, 7 days

JOIN

A CLUB BY

THE SEA!

GREAT

DINING

- downstairs -

ClubBISTRO

Open Tuesday to Saturday

12pm-2pm and from 5pm

Midweek $10

SPECIAL

ROAST

Available Tuesday,

Wednesday, & Thursday

- upstairs -

PIERVIEW

Restaurant

Quality a la carte

with a view!

Open from 5.30pm

FRIDAY, SATURDAY

& SUNDAY

FRIDAY SPECIAL:

SIRLOIN STEAK or

CHICKEN BREAST

with Jacket Potato

& Salad Bar

$22

for a limited time

SUNDAY SPECIAL

3 courses: $25

NOW OPEN FOR

SUNDAY

BRUNCH

By the Seaside!

10.30am-2.30pm

SUNDAY

27 NOVEMBER

ALL YOU CAN EAT

BUFFET

$25... BOOK NOW!

H ORNBY

WORKINGMEN'S

CLUB

«WHAT'S ON«

FRIDAY 18 NOV, 7PM

(DOWNSTAIRS)

REMINISCE

(UPSTAIRS, 7.30PM)

FIGHT NIGHT

BOWYN 'BOMAN' MORGAN

v SHAUN COLMORE

MARK JONES v

KYLE 'THE ESSEX BOY' SMITH

plus top line corporate fights

Door sales $40 or @Dash

SATURDAY 19 NOV

(DOWNSTAIRS)

4.30PM MARION'S OUTLAWS

8PM IAN MAC

(UPSTAIRS, 8PM)

BAD MOON RISING

THE CCR TRIBUTE SHOW

Tickets $20

«COMING UP«

FRIDAY 9 DEC, 8PM

THE WARRATAHS

Tickets $25

Hornby WMC, 17 Carmen Rd, Hornby ph 03 349 9026

www.hornbyworkingmensclub.co.nz

Members, guests & affiliates welcome

Christmas

Functions

Lunch & Dinner Buffet

A MYRIAD of top performers

takes to the stage in February for

the 2017 Scottish Military

Tattoo.

Appearing at the Aurora

Centre, Burnside High School, at

6pm on Saturday 4th February

2017 (Waitangi Weekend),

seating is limited, so Tattoogoers

are urged to book early for

this wonderful event.

Amongst the headline acts,

direct from Scotland, are Alex

Hodgson (singer/guitarist) &

David Vernon (accordion). Also

known as 'Saltire', these boys

have played in Christchurch

many times over the years and

are renowned for their amusing

banter and skilled musicianship.

Start your day

with us

We are open from 6.30am

every day

COOKED

BREAFASTS

from

$

18

Join us for

Race Day

Breakfast

Alex Hodgson

and

David Vernon

Also on the bill are the

Temuka Pipe Band; Brass Cats;

Willie McArthur; Highland

Dancers; Scottish Country

Dancing; Highland Marching

Drill Team; Dunedin Scottish

Fiddle Orchestra & the Defence

Force Tri-Service Cadets; plus a

ceremony for the Centenary of

the Battle of Passchendaele with

guest of honour, the Honorary

Consul of Belgium.

e Aurora Centre theatre

only has 700 seats and there is

only one show, so this Tattoo

will book out very quickly.

Tickets are only $49 plus

booking fee on sale now at

Ticketek. Follow the event on

facebook: Scottish Tattoo

Christchurch.

RESTAURANT & CAFÉ

'Famous for

their roasts!'

FAMILY FRIENDLY

Kid's Special

Two courses

Great Kids menu plus designated play area.

SENIORS SPECIAL

Two courses:

Soup/Roast or Roast/Dessert

Special available lunch only

Monday - Saturday 12pm - 2.30pm. Conditions apply

$

10

$

20

Open daily from 6.30am - Breakfast, Lunch & Dinner

The

RACECOURSE HOTEL

& Motorlodge

118 Racecourse Rd, Sockburn,

Christchurch. Ph 03 342 7150

www.racecoursehotel.co.nz

SATURDAY 19th NOV - SATURDAY 24th DEC

Book & dine with us for your Christmas party this

festive season, and we'll take care of the rest!

Bookings Essential PH 386 0088

fb.com/GardenHotelRestaurant www.gardenhotel.co.nz

NOW SERVING

available

from

9am

Breakfast

HAPPY

HOUR

5PM - 7PM

DAILY

LIVE

MANDI MILLER

6PM FRIDAY 18th November

MUSIC

PHONE 385 8880 FIND US ON FACEBOOK fb.com/GBCCHCH

THE GARDEN HOTEL COMPLEX | 110 MARSHLAND RD

www.gardenhotel.co.nz | phone 385 3132

A classic, contemporary Club experience

Cafe open from 11am

TAB & Gaming

Function Facilities

HOUSIE

Tuesday, Thursday,

Saturday

SHUTTLE

Tuesday - Saturday

LIVE

ENTERTAINMENT

THIS SATURDAY

THE ACOUSTICS

7pm in the Whitford's Bar

Open 7 Days from 5.30pm

RETRO ROAST

LUNCH

12PM-1.30PM

WEDNESDAYS

$10 Members / $12 Non
---
24

Tuesday November 15 2016

PEGASUS POST

TRUST LOCAL

TRAILERS

NOW FOR HIRE

FULL MECHANICAL

ANd AUto ELECtrICAL rEPAIrS

CHECK OUT OUR TYRE PRICES THEY

WILL SURPRISE YOU

MECHANIC WANTED

• WOF's

• Air conditioning

• Wheel alignments

• Clutch & brake

specialists

• Full mechanical

repairs available

• CV joints/boot

replacements

• Car/4WD tyres

• Auto transmission

servicing

• Petrol/diesel

vehicle servicing

• Diagnostic scanner

BrAkE CHECk

BAttEry CHECk

FrEE LoAN CArS

NICk CoULtAS

Owner

Nick says

"If you're happy

with our service

tell others.

If you're not,

tell us.

We want to

look after our

customers."

91 Beach Road, North Beach

Phone 383 2870