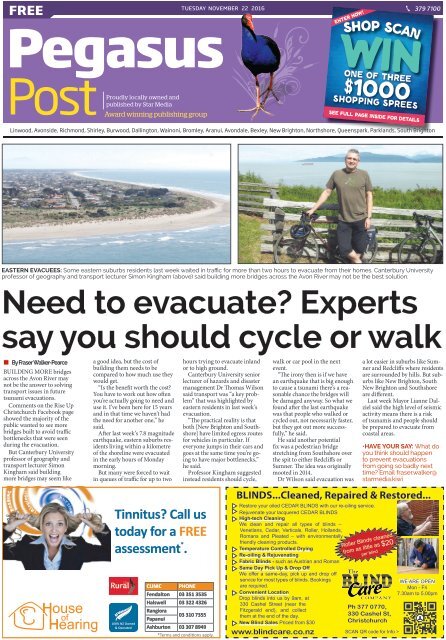 Pegasus Post: November 22, 2016
You also want an ePaper? Increase the reach of your titles
YUMPU automatically turns print PDFs into web optimized ePapers that Google loves.
FREE

TUESDAY NOVEMBER 22 2016

Pegasus

Post

Proudly locally owned and

published by Star Media

Award winning publishing group

Shop scan

ENTER NOW!

one of three

$1000

SHOPPING SPREES

SEE full page inside for details

379 7100

Linwood, Avonside, Richmond, Shirley, Burwood, Dallington, Wainoni, Bromley, Aranui, Avondale, Bexley, New Brighton, Northshore, Queenspark, Parklands, South Brighton

EASTERN EVACUEES: Some eastern suburbs residents last week waited in traffic for more than two hours to evacuate from their homes. Canterbury University

professor of geography and transport lecturer Simon Kingham (above) said building more bridges across the Avon River may not be the best solution.

Need to evacuate? Experts

say you should cycle or walk

• By Fraser Walker-Pearce

BUILDING MORE bridges

across the Avon River may

not be the answer to solving

transport issues in future

tsunami evacuations.

Comments on the Rise Up

Christchurch Facebook page

showed the majority of the

public wanted to see more

bridges built to avoid traffic

bottlenecks that were seen

during the evacuation.

But Canterbury University

professor of geography and

transport lecturer Simon

Kingham said building

more bridges may seem like

House

of

Hearing

a good idea, but the cost of

building them needs to be

compared to how much use they

would get.

"Is the benefit worth the cost?

You have to work out how often

you're actually going to need and

use it. I've been here for 15 years

and in that time we haven't had

the need for another one," he

said.

After last week's 7.8 magnitude

earthquake, eastern suburbs residents

living within a kilometre

of the shoreline were evacuated

in the early hours of Monday

morning.

But many were forced to wait

in queues of traffic for up to two

100% NZ Owned

& Operated

CLINIC PHONE

Fendalton 03 351 3535

Halswell 03 322 4326

Rangiora

Papanui

03 310 7355

Ashburton 03 307 8949

hours trying to evacuate inland

or to high ground.

Canterbury University senior

lecturer of hazards and disaster

management Dr Thomas Wilson

said transport was "a key problem"

that was highlighted by

eastern residents in last week's

evacuation.

"The practical reality is that

both [New Brighton and Southshore]

have limited egress routes

for vehicles in particular. If

everyone jumps in their cars and

goes at the same time you're going

to have major bottlenecks,"

he said.

Professor Kingham suggested

instead residents should cycle,

walk or car pool in the next

event.

"The irony then is if we have

an earthquake that is big enough

to cause a tsunami there's a reasonable

chance the bridges will

be damaged anyway. So what we

found after the last earthquake

was that people who walked or

cycled out, not necessarily faster,

but they got out more successfully,"

he said.

He said another potential

fix was a pedestrian bridge

stretching from Southshore over

the spit to either Redcliffs or

Sumner. The idea was originally

mooted in 2014.

Dr Wilson said evacuation was

Restore your oiled CEDAR BLINDS with our re-oiling service.

Rejuvenate your lacquered CEDAR BLINDS

High-tech Cleaning

We clean and repair all types of blinds –

Venetians, Cedar, Verticals, Roller, Hollands,

Romans and Pleated – with environmentally

friendly cleaning products.

Temperature Controlled Drying

Re-oiling & Rejuvenating

Fabric Blinds - such as Austrian and Roman

Same Day Pick Up & Drop Off

We offer a same-day, pick up and drop off

service for most types of blinds. Bookings

are required.

Convenient Location

Drop blinds into us by 9am, at

330 Cashel Street (near the

Fitzgerald end), and collect

them at the end of the day.

New Blind Sales Priced from $30

www.blindcare.co.nz

a lot easier in suburbs like Sumner

and Redcliffs where residents

are surrounded by hills. But suburbs

like New Brighton, South

New Brighton and Southshore

are different.

Last week Mayor Lianne Dalziel

said the high level of seismic

activity means there is a risk

of tsunamis and people should

be prepared to evacuate from

coastal areas.

•HAVE YOUR SAY: What do

you think should happen

to prevent evacuations

from going so badly next

time? Email fraser.walker@

starmedia.kiwi

BLINDS...Cleaned, Repaired & Restored...

Roller Blinds cleaned

from as little as $20

per blind

Ph 377 0770,

330 Cashel St,

Christchurch

SCAN QR code for Info >

WE ARE OPEN

Mon - Fri

7.30am to 5.00pm
---
2

Tuesday November 22 2016

Inside

PEGASUS POST

FROM

THE

EDITOR'S

DESK News.......................................3, 5

IT HAS been just over a week

since many coastal residents

were evacuated due to a tsunami

risk after the 7.8 magnitude

earthquake.

It took up to two hours for

many residents streaming out of

coastal suburbs to evacuate.

Three main routes out, thousands

of people – no matter how

you do the maths, it does not

work.

So how do we solve this? It is a

given now that many of us, and

I include myself in this as I was

grossly under prepared, should

trust our guts, evacuate and not

wait for the official word.

But in terms of infrastructure,

should we build more bridges

across the Avon River to aid

evacuations? Reporter Fraser

Walker-Pierce talks to a transport

expert on the front page regarding

this.

Hei kona, Shelley Robinson

Avonside Girls' dux Amy Palmer and proxime

accessit Madeline Currie

PRIZE-GIVING8

Local Views......................4

Events.........................................6

Prize-giving...................... 8

Real Estate............................11

Beauty...............................12

Focus On Health............15

GET IN TOUCH

General Enquiries Ph 379-7100

Classified Advertising Ph 379-1100

The Christchurch Star Company Ltd. PO box 1467 - Christchurch

starmedia.kiwi

NEWS

Fraser Walker-Pearce

Ph: 364 7424

fraser.walker@starmedia.kiwi

ADVERTISING

Mark Sinclair

Ph: 364 7461

mark.sinclair@starmedia.kiwi

Dyers Road Landscape

& Garden Supplies

• Barks • Peastraw • Composts - we supply the best available

• Aggregates - Chip, Round and Basecourse

• Pavers & Schist products • Pungas

• Decorative Stones & Landscaping Rocks

• Trailer Hire first hour free with purchase

• Bag & Bulk - pick up or delivered

David, Carol & Mike

We will deliver!

SOIL

AND

HARDFILL

DUMPING

Phone: 03 384 6540

183 Dyers Rd, Bromley • OPEN 7 DAYS

Weekdays 7.30am-5pm. Weekends 8.30am-3pm

www.dyersroadandlandscapes.co.nz

Independent-living lifestyle village

Open weekend on Saturday 26

and Sunday 27 November

11am – 4pm at Linrose,

472 Linwood Ave

We warmly welcome you to enjoy a

Devonshire tea and to view our lovely

north facing villas currently available.

Come and enjoy our hidden oasis.

Phone Sue our Sales Manager on 021 902 626

or 943 6006 | email sue@archer.org.nz

TAKING XMAS

ORDERS NOW!

don't miss out!

BUTCHERY

quality fresh meaTs

Open Monday-friday 7.30am-6.00pm

Saturday 7.30am-5.00pm

101 Stanmore Rd, Linwood - Ph: 389 8065

sellOut

up tO

18 mOnths

interest

free!

sAVe

up tO60%

Open 7 Days Mon - Fri 9 - 5.30pm Sat - Sun 10 - 4pm

nZ

mADe

BeDs lOCAllY

OWneD

7 Open

DAYs

242 Ferry Rd Along From Old Ami Stadium | Phone 377 8887 | www.bedworld.co.nz
---
PEGASUS POST Tuesday November 22 2016 3

News

QE II sports hub proposed

• By Fraser Walker-Pearce

THE controversial QE II Park

site may get another facility

to add to the two schools and

community recreation centre

already planned.

Parklands United Sports

Club, with the Celebration

Lions Trust, wants to put a

$5 million community sports

hub onto the site, including

plans for a 2500 spectator

grandstand.

This will be the second

major venture for Celebration

Lions Trust. In June, construction

began on its multipurpose

indoor sports centre

on Pages Rd.

Since the February 22, 2011,

earthquake, the recreation

centre and stadium have been

demolished and controversy

has surrounded the site's future.

Firstly with the Eastern

Recreation and Sports Centre

and then with the Ministry

of Education's co-location

of Shirley Boys' High and

Avonside Girls' High schools

on the site.

Previously, Pegasus Post

reported the community's

frustration over the Eastern

Recreation and Sports Centre

losing a 50m pool. They said

PLANNING AHEAD: A potential design for a $5 million

sports hub in QE II Park. The building at the bottom right

is the Eastern Recreation and Sports Centre with the

proposed grandstand in the middle.

PHOTO: GEG HOWELLS, CREATIVE INTENTIONS LTD ​

the centre was being pushed

to the back of the park when it

was announced the two high

schools would be co-located.

Project co-ordinators Corey

Watkinson, of Celebration

Lions, and Parklands United

Sports Club president Peter

Skinley last week updated

the Coastal-Burwood Community

Board about their

plans to build two artificial

sports pitches, a grandstand,

as well as changing rooms and

a parking space for cars at the

park around where the athletics

track used to be.

Keep QE II in the East

chairwoman Jo Zervos said

she would be talking to Mr

Watkinson in the future about

some "small concerns" the

group had over car parking

and other planned facilities.

Mr Watkinson said he was

hopeful that partnerships

could be made with the other

facilities.

"We're hoping to strike

up significant partnerships

with the schools. The Eastern

Recreation and Sports Centre

is only an indoor centre with

pools and a gym complex.

What we're proposing . . . is

totally complementary," he

Book now to have your new DREAM

KITCHEN by Christmas and save $1000's

All kitchen orders placed

before December 24th

will receive Countdown

vouchers to the

value of $200*

Amazing Kitchen

Facelifts!

• Replacement doors

• Drawer fronts

• Panels & bench tops

• or a complete brand

new kitchen, all

made to measure.

*Conditions apply

We are a local family business, all of our kitchens are made right here in Christchurch.

Ph 03 338 1081

tammy@dreamdoors.co.nz

said.

Mr Skinley said the hub

would allow Parklands football

sides to train later in the

evening and use the artificial

pitches as first team home

grounds.

Celebration Lions and

Parklands United Sports Club

hope the project will "bring

back" a sporting hub to QE II

that was lost in the February

22, 2011, earthquake.

"We would have rugby,

league, football, touch, tag

football, anything that can

happen on an artificial ground

really . . . it'd be a home

ground for Parklands United,

their football sides, and also

a home base for the Lions

Sports Trust," Mr Watkinson

said.

Last week the city council

announced that a project was

underway to move asbestos

containing material from QE

II Park to Kate Valley.

HAVE YOUR SAY: Do

you think the proposed $5

million community sports

hub will complement

the other facilities in the

park? Email fraser.walker@

starmedia.kiwi

YOUR LOCAL GARAGE

• All vehicle repairs

• Oil changes and services

• Brakes • Loan car available

• Tyres, punctures & batteries

• W.O.F • Tune up

Your LocaL GaraGe

Products & Service you can trust!

- Prescriptions & medicines

- Vitamins & supplements

- Cosmetics & Gifts

- Passport photos

- Same day service

- Professional advice

Mon-Fri 8.30am - 5.30pm

388 9286 | qe2pharmacy@gmail.com

Shop 1, 251 Travis Road, North New Brighton

Thursday Happy Hour

5pm-8pm

Tues Quiz Night

Wed Karaoke Thurs Live music

Sky Sports Courtesy Van

Friendly Staff & Atmosphere

VERY FRIENDLY SERVICE AND ADVICE

NEW BRIGHTON AUTOMOTIVE

Phone: 03 388 3630

40 Hawke St (behind Z Petrol Station)

Chats Bar

251 Travis Road

QEII Shopping Centre

Ph: 388 1566

Don't fit the mould,

make your own.

Join us on our Enrolment Day to plan and

personalise YOUR study programme for 2017!

Thursday, November 24th | 10am-2:30pm & 5pm-6:30pm

www.hagley.school.nz | (03) 379 3090
---
4

Tuesday November 22 2016

PEGASUS POST

Your Local Views

McMaster & Heap

Veterinary practice

RefeRReal eye cases

We said:

Were you evacuated? How do you

think it went?

Tsunami systems will be reviewed

by the city council after Monday

morning's evacuation processes

were widely criticised by residents.

Some eastern residents queued

in traffic for up to two hours trying

to evacuate the area

last Monday morning.

You said:

Lachlan Marshall – If

everyone started evacuating

right when they felt the

shaking like they are supposed

to, as the sirens most

likely don't get set off for a

locally generated tsunami,

then everyone would get out

in time. Why has no one read the tsunami

risk management plan on the council

website?

Beth Hickland – I'm not sure why

you're reporting it as hours? I not only

have friends who made it to my house

up the hill in about 20min from New

Brighton, but I also watched all the cars

exiting New Brighton from up at Mt Pleasant

and the cars were flowing and all was

pretty much completely cleared in under

an hour. Where are you talking about?

Lynley Ward – Seriously?

Be prepared . . . it's not like

we haven't been given the information.

Have a plan. Don't

for one minute think you'll

have your wits about you when

you're in the midst of a disaster.

Nathan Fletcher – Civil

Defence needs to get its act

together it's not good when foreign

news media are announcing

tsunamis and evacuation

noticed on live and our local agencies and

media are saying they we don't all I can

say thank God it wasn't a major tsunami.

Recently

Dr Steve Heap examined 20 week old

Beagle puppy called "Penny", who

presented as a referral with a painful,

partially closed right eye. Penny had

unfortunately been scratched in the eye

by a slightly grumpy older resident cat.

Steve diagnosed a cataract in this eye,

with phacouveitis and serous glaucoma all

in a little puppy. Glaucoma is when there

is increased intraocular pressure causing

pain and discomfort. Steve had discussed

with the owners that this right eye had a

hopeless prognosis for vision. Topical eye

medications were instigated to control

the pain and inflammation and rising

pressure in the eye. Steve also discussed

that if these medications didn't hold this

condition, Penny's eye would need to be

enucleated. Pretty quickly it was noticed

that the right eye had deteriorated

beyond medical therapy. Enucleation (

removal) of the eye and placement of an

intrascleral prosthesis ( glass bead eye)

was surgically undertaken to relieve Penny

from a life of medication and pain.

The surgery was a success and 4 weeks

on, Penny is a happy, active, normal wee

puppy with a prosthetic right eye and

normal vision out of the left eye.

Another interesting ophthalmology case

for Dr Steve Heap came from the SPCA.

A 5 month old stray sneezing kitten was

examined by Steve and found to have

no lateral upper eyelids in both the left

and right eyes, a condition called Bilateral

Upper Lateral Eyelid Agenisis. As a result

the eyes were

sore, dry and

constantly irritated

by hair rubbing

on the cornea

(the sensitive clear

window of the

eye).

Steve trialled

lubricants

and antibiotic

ointments in the eyes in the hope

the eyes would be comfortable long

term, but this wasn't the case. The kitten

was taken to surgery and Steve carefully

and intricately created upper eyelids

by harvesting strips of skin taken from

below the lower lids. All in all a successful

outcome for this wee kitten who will

be rehomed and avoid a lifetime of

medication.

Zara Woolfe – We left nearly an hour

before the sirens, it was common sense to

go, really we had no issues with traffic or

getting out and there were several other

cars leaving out of Bridge St as well at that

time.

Melanie Manning – I haven't read

the action plan as I don't live anywhere

near the coast. But I'm thinking even if

everyone jumped in the cars at 12.10am

wouldn't the traffic issue be the same as

when they waited for the sirens to go off?

And why should they not go off for a local

quake?

Mark Docherty – Why not adopt the

procedure of an aircraft evacuation. Before

you depart you get a card and a demo on

the closest exit. We should have updates

in the advert on radio and TV with clear

instructions on what route you can take

from your zone.

Heidi Meinzer - Aren't we told if have

trouble standing during an earthquake

to leave? After the shaking had stopped,

checked on neighbours, we were packing

up and getting out. We shouldn't have to

be told to leave. We left way before the

sirens and what not.

Not all pets with enucleated eyes need to

have prosthetics placed. Steve will often

enucleate an eye and then stitch the lids

together. This ends up cosmetically looking

fine. Due to Penny's very young age, her

owners felt a prosthetic eye would look

more pleasing on their cute wee pup.

This cute owl was bought into Steve

recently due to opacities noted on its

corneas affecting its' ability to see clearly.

Steve isn't sure of the cause but is trialling

antibiotic drops as he suspects an

infective cause.

Open 7 days

Cnr Hoon Hay & Coppell place

phone 338 2534, Fax 339 8624

e. mcmasterandheap@yahoo.co.nz

www.mcmasterheap.co.nz

McMaster & Heap

15 % OFF

STOREWIDE *

ONE DAY ONLY

THURSDAY 24 TH NOVEMBER

Discount not available on already discounted items, existing promotional offers or every day low price items.

Excludes prescriptions, Pharmacy only medicines, phone cards and gift vouchers.

Offer excludes Living Reward Points.

EASTGATE PHARMACY

Eastgate Shopping Centre Phone (03) 389 8408

BUSH INN PHARMACY

Cnr Riccarton Rd / Waimairi Rd Phone (03) 348 4038

TOWER JUNCTION PHARMACY

Unit 7 Tower Junction (next to Raeward Fresh)

Whiteleigh Avenue, Addington Phone (03) 348 5544
---
PEGASUS POST Tuesday November 22 2016 5

News

Quake looters brag online

• By Gabrielle Stuart

A GROUP of teenagers are

believed to have looted a

string of New Brighton homes

for alcohol and then posted

about it on social media.

Several New Brighton

residents returned to their

homes after being evacuated

last week to find looters had

been through their properties.

Screenshots of a post on

Facebook by a teenage girl,

who appears to be boasting

about stealing more than 60

bottles of alcohol, have been

passed on to the police.

The teenager has since

deleted her Facebook profile.

Bower Ave resident Darryl

Jones said his family were left

feeling violated and angry

when they discovered the

thefts.

He discovered nine bottles

of spirits, which he had been

given for his birthday over

the weekend, had been stolen

from his garage, and someone

had attempted to syphon fuel

out of his car.

They stayed with a family

member overnight after they

evacuated in the early hours of

last Monday morning.

They returned to their home

that day, but did not discover

the theft of the alcohol until

Tuesday, when Mr Jones went

to put something away in his

garage.

"Alcohol is alcohol, it's not

the end of the world, but it's

the invasion of privacy," he

said.

"We're pretty shaken up by

everything. The earthquake

was one thing, then the

tsunami warning was next

level, but then to discover your

birthday presents have been

pinched."

They reported the theft to

the police, and were told a

police officer would visit to try

to collect fingerprints.

When he posted about the

thefts on Facebook, other

users replied with screenshots

of the teenagers they believed

were responsible.

New Brighton Senior

Sergeant Dave Robertson said

there had been six reported

burglaries from homes along

the coast while families were

evacuated.

He said they were following

up several leads, including the

social media posts and reports

from neighbours who believed

they had seen the looters.

"These people aren't the

SHAMELESS: One of the Facebook posts by teenagers

believed to have been involved in the looting.

brightest in the world, so often

they will brag to their friends

about what they've done and

their friends will be appalled

and come to us," he said.

The victims of the break-ins

included the Mill family, who

had their truck, electronics

and their daughter's $5000

hearing aid device stolen while

they were evacuated.

A huge response from the

community has raised almost

$50,000 for the family, which

they have pledged to share

with other looting victims.

HELPING US,

HELPS THE

COMMUNITY

Drop off or buy

2 family stores in your community

30 Main North Rd,

Ph 352 4581

520 Cranford St,

Ph 352 0515

BOUTIQUE BOARDROOM

for intimate & corporate functions

Family Gatherings - Celebrations

Management & Training Retreats

at unbelievably good rates

Catering as required

1 & 2 Bedroom Apartments - Spa

E: info@clearridge.co.nz | W: www.clearridge.co.nz

T: +64 (3) 3155144 | Reservations NZ: 0800 555 596.

A: 28, Jacks Pass Road | Hanmer Springs 7334 | NZ.

1834590

Rapanui anui – Shag

Rock

Cycleway is coming!

An easier

way to get to

where you

need to go

Safe, direct

cycling routes

around the

city

The second and

third stages of

this route are from

Linwood Park to

Ferrymead via

Linwood Avenue.

Consultation is

now open.

Find out more and

have your say.

Visit ccc.govt.nz/

cycleways
---
6

Tuesday November 22 2016

BurgerFuel New Brighton

Rockabilly Show and Shine

Saturday, November 26, from

10am

The New Brighton Rockabilly

Show 'n' Shine is back in town this

Saturday. This year's event will be

held at Rawhiti Domain. There

will be hot rod and muscle car

shows, market stalls, live bands,

a kids area, and a best dressed

competition. In the evening, the

Rockabilly Roll-out will take

place. Event access is via Shaw

Ave's south entrance. All profits

made from the event go straight

back to the community. For

more information, phone 027 404

2352.

Rawhiti Domain, $10 registration

for display vehicles

Bromley Monthly Market

Sunday, November 27, 11am-

2pm

This time the monthly market

has a Christmas theme. For more

information find the market on

Facebook.

Bromley Community Centre, 45

Bromely Rd.

Monthly Displays

October 31 to November 27

Brighton Gallery is displaying

the works of two artists in

November – Southshore's Sue

Alderman and Sandy Fulop.

The gallery is run by local artists

for the benefit of local artists in

Carnaby Lane, off New Brighton

Mall. For more information

phone Judy on 382 0045.

Brighton Gallery, Carnaby Lane.

Free entry

Mums, Dads and Bubs Group

Every Wednesday, 10.30am-

12.30pm

Every Wednesday make your

way down to the mums, dads and

bubs group, hosted by Linwood

Playcentre. Go along to meet

other mums and dads in the

community, for shared kai and a

well-earned coffee, while watching

the tamariki play and learn.

Older siblings are also welcome.

There are lots of discussions

around babies learning and development,

experiences as parents,

and different types of play with

babies.

Linwood Playcentre, 628a

Worcester St, Linwood. Free entry

Trash to Treasure

November 7 to 26, Monday

to Friday 11am-4pm, Saturday

12-3pm

Trash to Treasure is an annual

exhibition for artists working

with recycled materials. The Linwood

Community Arts Centre is

once again hosting the popular

Trash to Treasure exhibition. For

inquiries and more information,

phone 981 2881.

Eastside Gallery, cnr Worcester

St and Stanmore Rd

Email fraser.walker@starmedia.kiwi

by 5pm each Wednesday

Science Snippets

After school every Friday, 3.30-

4.30pm

A free and fun after school

science programme presented by

Science Alive! in libraries across

the city. Science Alive educators

lead children through activities to

stimulate their interest in science,

and there is something to take

home every week. The term four

schedule includes – blood and

guts, wacky wheels, structural

engineering, cunning keas, rocks

rock and Christmas science.

For school-aged children ages

five years and above. Caregiver

required.

Parklands Library, 46

Queenspark Dr. Free entry

Class Act

Opening night November 28,

5.30-7pm

All are welcome to the opening

night of the new exhibition. It

presents a collection of artworks

from the Linwood Community

Arts Centre's drawing class. Exhibit

opens November 28 and

ends December 9. For more information

phone 981 2881.

Eastside Gallery 388 Worcester

St. Free entry

UKULELE JAM: Every Friday night from 7.30pm a group of

ukulele players meet to play instruments and sing songs.

From folk to pop, and jazz to rock – anything that is in the

spirit of joyful anarchic music (JAM). There is a data projector

so all the lyrics and the chords are available to all. Everyone

is welcome. There is a $2 admission fee, and tea, coffee and

biscuits are free. Held at Antidote Cafe, in Carnaby Mall. ​

Bike Maintenance Evening

Thursday, December 1, from

7-8.30pm

Wish you could fix a flat tyre,

put a chain back on or make

your bike more comfortable? Go

along and brush up on general

maintenance, repairs and safety

checks with expert Graeme Taylor

from The Bike Shop who will

provide demonstration bikes.

Phone 941 7923 to register.

Parklands Library, 46

Queenspark Drive. Free entry

Mens Shed Garage Sale

Saturday, November 26, 9am-

2pm

The St Albans Community

Mens Shed is having a garage

PEGASUS POST

sale. There will be plenty of

bargains and a sausage sizzle.

For donation of goods phone 385

7545.

Cnr Nancy Ave and Knowles

St. Free entry

New Brighton Seaside Market

Every Saturday, from 10am-

2pm

Every Saturday, New Brighton's

pedestrian mall is filled

with colour and creativity. Go

along to the seaside and enjoy

live entertainment, food, fresh

produce, arts, crafts, jewellery

and more. For inquiries, email

seasidemarket@mail.com.

New Brighton Pedestrian Mall.

Free entry

SMART

BRANDS

SMARTER

PRICES

DESIGNER

FASHION

AT OUTLET

PRICES

HORNBY 409 Main South Road | Open 10am–5pm, 7 days
---
PEGASUS POST Tuesday November 22 2016 7

FLOORING CLEARANCE

NyloN

riviera

• 26 oz solution dyed

nylon

• Extra heavy duty

• Cut pile

• 10 colours

NoW

$85.00

3.65m WidE RoLLS

Be Quick

PolyProP

Bedrock

• Hardwearing polyprop

• Heavy duty

• Loop pile

• 4 great colours

to choose from

NoW

NoW

$49.90

$49.90

3.65m WidE RoLLS

Outstanding Value

Polyester

Classic City

• 30oz polyester

• Extra heavy

• Cut pile

NoW

$75.00

3.65m WidE RoLLS

Awesome Price

Wool

Pure Wool

• Slightly imperfect

• Loop pile

• Extra heavy

duty + stairs

• 3 great styles

NoW

$59.00

3.65m WidE RoLLS

Be Quick

Polyester

Benmore

• Heavy duty polyester

• Cut pile

• 4 great colours

• 4 meter wide rolls

• Foam back

no underlay required

NoW

$79.90

4m WidE RoLLS

Great DIY Carpet

Polyester

Wyoming

• 50oz polyester

• Extra heavy duty

• Cut pile

• 3 colours

NoW

$105.00

3.65m WidE RoLLS

Great Value

Garage carpet

stock clearance

2m - $30 per MTR

3m - $45 per MTR

4m - $60 per MTR

All carpet remnants

priced to clear from

$5 per piece

Clearing vinyl

FroM

$30 per metre

(2 metre wide vinyl)

312 Wilsons road North, Waltham Phone 366 0070

www.carpetkingdom.co.nz | Mon - Fri 8am - 5pm | sat 10am -1pm

Q Card Finance Now Available

Free no obligation measure & quote (conditions apply.)
---
8

Tuesday November 22 2016

High achieving students at

Avonside Girls' recognised

AMY PALMER was named

Avonside Girls' dux, while

proxime accessit went to

Madeline Currie at the school's

recent prize-giving.

Amy was also awarded prizes

for chemistry, physics, biology

and French. She also won a cup

for French among four other

awards.

The annual awards evening

celebrated the school's top

students, and high achievers on

and off the sports field.

Year 11

Nadia Back – Science;

Physical Science; Geography.

Lauren Finnie – Mathematics

with Statistics; Visual Arts.

Alana Love-Lake – Visual

Arts.

Zoe Rhoades – Film and

Media Studies.

Katherine Santos – Arts

Awards: Writing, Prose.

Lucky Sekai – Biological

Science.

Bea Abrigo – English

Collaborative.

Georgie Cartwright – English

Internal.

Sammi Douglas – Science.

Taylah Emmett – Health.

Bronwen Frayle –

Mathematics.

Shannon Harrison – English

External.

Arlia O'Sullivan – Rowing

Crew of the Year – U18

Lightweight; Design and Visual

Communication.

Georgina Percival –

Japanese.

Emily Robertson – English

External.

Grace Rowland – History.

Kelly Mahan – Key Skills.

Lily Brandon – Biological

Science.

Jessica Brooker – Drama

Best Novice Performance.

Mikayla Cooper – Dance Cup

for Outstanding Contribution;

Dance.

Emily Morgan – English

Internal.

Greer Walker – Mathematics;

Haar-Greenland Prize for the

Most Improved Year 11 Student.

Sinead Washington –

Science; Mathematics; French;

Gillian Diehl Cup for French;

Geography.

Yumika Iwata – Basketball

Most Valuable Senior Player.

Danielle Knight –

Previously

United Travel

Mathematics; Accounting and

Economics; Physical Education;

Digital Technologies.

Sophie Mackey – Cross

Country Intermediate

Champion; Physical Education.

Cynthia Patea – Te Reo

Maori.

Hannah Vanden-

Broeke – Te Reo Maori.

Olivia Crighton –

Science; Mrs L Jenner

Cup for Interest and

Ability in Science.

Jiselle Nolan –

Mathematics with

Statistics; Home

Economics; English

External.

Taylah Blakeley –

Drama.

Susanna Collins –

Music.

Aliana Graham –

Mathematics with

Statistics.

Jeeyeon Han – Visual Arts.

Maya Hogan – Music.

Emily Neville – Hard

Materials Technology.

Anais Clist – Health.

Year 12

Ashleigh Archer - Athletics

Under 16 Champion.

Emma Doherty – Digital

Technologies.

Cassidy McMillan –

Accounting; Mathematics with

Statistics; English External.

Jessica Aspinwall – English

External.

Brenna Jardine – Physical

Education.

Oakley Nahona-Hira –

French.

Flora Thompson – Arts

Woman of the Year; Arts

Council Trophy; Music; History;

Karsten Scholarship for

achieving highly across six

subjects.

Ellie Cockfield – Speech;

Writing Poetry.

Briana Ireland – Chemistry;

Mathematics.

Zoe van Eekelen –

Athletics Most Outstanding

Performance in Track and

Field.

Rachel Winsloe – Biology.

Mikayla Clayworth – Health;

Home Economics.

Emily Cowper – Early

Childhood Development.

Amber Francis – Textile

Technology.

Neve Soryl – Health;

TOP ACHIEVERS: Avonside Girls' dux Amy Palmer

(left) and proxime accessit Madeline Currie were

recognised for their hard work. ​

Mathematics with Statistics;

English External; Japanese.

Hanna Bourke – Dance.

Isabella Costigan –

Mathematics with Statistics;

Economics; Geography;

Karsten Scholarship for

achieving highly across six

subjects.

Nicole Jones – English

Internal.

Maria Newton – Early

Childhood Development.

Ella Redmond - History;

Painting and Printmaking.

Selena Browne – Chemistry;

Biology; Mathematics; Karsten

Scholarship for achieving

highly across six subjects.

Michelle Hammersley –

Geography; Hard Materials

Technology.

Te Iwa Johnston – Te Reo

Maori.

Ruby Norton - Rowing

Most Dedicated Oarswoman;

Rowing Crew of the Year – U18

Lightweight Double; Sports

Woman of the Year.

Catherine Parkinson – Film

and Media Studies.

Katie Rossiter – Physical

Education.

Gabrielle Wakefield –

English External.

Tatyana Watene – Tourism

Studies; English Internal.

Charlotte Cromarty – Helen

Brew Cup for Best Short Film

Narrative; Physical Education.

Ashlea Farrar – Aerobics

Cherie Davidson Trophy.

Megan Taylor – Physics;

Design and Visual

Communication; Art Design.

Jennifer Williams –

Drama.

Suzanne Austen –

Retail and Wholesale

Studies.

Jeorgia Faimalo –

Employment Studies.

Jasmine Lange –

Biology.

Ella Sullivan –

Drama; Karsten

Scholarship

for achieving

highly across six

subjects.

Hannah

Braddick –

Photography.

Ruby Lister –

Athletics Senior

Champion; Cross

Country Senior

Champion;

Football Most Valuable Player.

Jasmine Tipler – Foundation

Studies; the Joan Conder

Memorial Award for the

student who epitomises the

Avonside values.

Trinity Christie – Te Reo

Maori.

Year 13

Faith Crockett – Early

Childhood Development;

Service Prize for Head

Librarian.

Christina Fawcett – Football

Player of the Year.

Tamara Gurden – Swimming

Senior Champion.

Cassidy Van Vuuren –

English.

Kendal Everest – Netball.

Leanne Chambers –

Services to Netball; Keenan

Cup for Most Outstanding

Netball Player.

Emily Hand – Physical

Education.

Madison Avei – English.

Aimee Blackler –

Mathematics with Statistics;

Home Economics.

Melissa Exton – Physical

Education.

Rosie Griffioen – Accounting.

Amy Kuipers – Form

Leaders Award; Clapp Cup

for Outstanding Year 9 Form

Leaders.

Rachel Maisey – Service to

Sport; Health; The Principal's

Prize For being Head Girl.

Satori-Litia Mason – Music.

Exotic Destinations 2017

PEGASUS POST

Mikuru Oka – Mathematics

with Calculus; International

Contribution.

Giverny Penny – The Old

Girls' Association Prize For the

Best All Round Student.

Alexandra Simmonds –

Textile Technology; English;

Board of Trustees Prize for

Service to the School.

Abbey Yeoman – Art Design.

Abby Jones – Most

Outstanding School

Performance Awarded to

Dragon Boating Team.

Aiane Merenciano – Digital

Technologies; English Internal.

Amy Palmer – Chemistry;

Physics; Biology; French;

Jenny Stewart Cup for French;

Form Leaders Award; Clapp

Cup for Outstanding Year 9

Form Leaders; Hugh Rankin

Education Trust Scholarship

Outstanding Achievement in

the Sciences; Dux.

Jade Taylor-Cousens – Film

and Media Studies.

Georgia van Vuuren –

Mathematics with Statistics;

Classical Studies.

Paris Carpenter – Helen

Brew Cup for Best Short Film

Documentary; Form Leaders

Awards McLachlan Cup for

Outstanding Year 10 Form

Leaders.

Johanna Church – Hockey

Most Valuable Player.

Olivia den Hollander –

Drama T F Joel Cup for

Outstanding Contribution to

Drama; Dance.

Leanne Hammersley –

Japanese; Nikki Brocherie Cup

for Senior Japanese; Physical

Education; Hard Materials

Technology.

Samantha Slatem – Drama.

Brooke Barry - Helen

Brew Cup for Best Short Film

Documentary; Health; Form

Leaders Award; McLachlan

Cup for Outstanding Year 10

Form Leaders.

Madeleine Currie – Biology;

Geography; History; Prize for

Research; Proxime Accessit.

Angela Leanda – Fencing;

Olga Jekyll Trophy.

Grace Moran – Tourism

Studies.

Riya Patel – Art Magazine

Cover Prize; Design and Visual

Communication; Painting and

Printmaking.

Emerson Pirker – Te Wai

Pounamu scholarship.

The award winning teams at YOU Travel Ferrymead and Tower Junction would love to help you plan your next exotic journey.

Morocco in style

8 days Casablanca roundtrip

Discover Morocco in style with your private

driver & guide, staying in deluxe hotels.

Departs: Daily, year round

SAVE

$150

per person *

$2290 *

from

pp twin share, based on 4 persons

SAVE

$1000

per couple *

Best of Borneo

11 days Kuching to Sandakan

Explore the natural wonders & wildlife

of the untouched Island of Borneo.

Departs: Wednesdays year round

& Sundays 01 Jul-15 Sep 2017

$3490 *

from

pp twin share, based on 2 persons

Volga dream

12 days Moscow to St Petersburg or v.v

Experience the Volga Dream difference – an

intimate, stylish & relaxing cruise on the Volga plus

5-star accommodations in Moscow & St Petersburg.

Departs: May-Sep 2017

BONUS

Dinner at the

from

$4099 *

Stroganoff

Palace + glass

pp twin share

of bubbles

Subject to availability.

YOU Travel Ferrymead 960 Ferry Road, Ferrymead 03 384 2700 @ melissa@youferrymead.co.nz

YOU Travel Tower Junction 3/4 Troup Drive, Addington 03 341 8965 @ sandra@youtowerjunction.co.nz

*Terms & conditions apply. Prices already inclusive of discounts & are valid for travel 01 Nov 16 – 31 Oct 17 until otherwise specified. Please ask us for more details.
---
PEGASUS POST Tuesday November 22 2016 9

Jo Hayes National List MP based in Christchurch East

East stands strong through shakes

As I write this newsletter, we're all still a little bit shaken by

the 12.02am earthquake on Monday 14 November.

We know only-too-well in Christchurch East what it's like to

be devastated by Mother Nature, and the importance of

being kind, supportive and looking out for our neighbours.

It's angering to know that opportunistic thieves took

advantage of the evacuation from Christchurch's coastal

areas, but wonderful to hear of and to see the outpouring

of assistance that's come in for those most in need in the

electorate and in North Canterbury.

"We can be proud of who we are.

At the same time though, let's remain

vigilant, take care and be safe."

What's happening

It's been a

busy month in

Christchurch

East.

I was pleased

to attend the

opening of

Christchurch's

biggest sensory

garden in the

New Brighton

Community

Garden at

Rawhiti Domain, complete with Faerie Picnic.

Well done Kelly Dugan for creating a garden that gives

children, including those with special needs, the chance

to explore their senses through interaction with nature.

I also got to head along to the Shirley community's Shine

Festival, a smoke-free event in McFarlane Park organised

by Shirley Community Trust. It was great to have the

opportunity to meet members of the community and chat.

Special guest at Super Seniors

In exciting news, the area's Super Seniors' Group has

a special speaker lined up for its afternoon tea on 28

November: the speaker of the house, Right Hon. David

Carter. Contact my office if you would like to attend.

I'm Jo Hayes, National's list MP based in Christchurch East.

I love being a part of this wonderful, tight-knit Christchurch East

community. There's so much going on that I just want to share a few

highlights with you of what our community and Government are

working on achieving together.

Fireworks extravaganza!

I love being a part

of the atmosphere

and the excitement

down at New

Brighton on Guy

Fawkes night. It was

good to see so many

families out enjoying

the festivities. The

fireworks display did

not disappoint!

Hot water salt pools

It's good news that the new hot salt water pool facility and

upgrade/expansion of the existing whale pool play area in New

Brighton is on the agenda again, and even better that more than

700 residents engaged in feedback for the design.

This will be a superb facility for Christchurch East and a key project

in the revitalisation of New Brighton.

Bus clinics

My mobile clinics continue to attract constituents who bring a

variety of issues forward for me to help resolve. I'd love to see you

there, so check out the times and dates opposite.

Ground to be broken at QEII

It's going to be an exciting day when dirt is finally turned on

the iconic QEII Park site next month for the eagerly awaited

4573sqm swimming and fitness amenities.

This is a real win for patient Christchurch East residents, who

can look forward to leisure and training pools, as well as

a hydroslide, water adventure playground, steamroom and

sauna, fitness centre and a cafe.

Influential woman

Finally, I would like to congratulate Oakley Brown Pharmacy

Group CEO Carolyn Oakley-Brown on being a finalist in the

Women of Influence awards in the business enterprise category.

You may have met Carolyn down at New Brighton Pharmacy,

which she owns.

Let's talk

Please come along and see me. I'll be

parked in my van on Tuesday 22nd

November at:

1) Preston`s subdivision

By Marshlands School

on Te Korari Street

Time: 8.30 - 9.30am

2) Parklands

Outside sports field,

opposite shopping centre

Time: 10-11am

3) Shirley

Burwood Park by Shirley Rugby

Grounds, New Brighton Road

Time: 11.30am -12.30pm

4) New Brighton

Next to Ray White offices

Time: 12.45 - 1.45pm

5) Wainoni

Marae on Pages Road (out the front)

Time: 2-3pm

6) Richmond

Stanmore Road, outside of the park

and opposite New World

Time: 3.30-4.30pm

Please phone our office on

03 384 9459 to book. See you there!

Authorised by Jo Hayes, National MP,

Unit 6/975 Ferry Road, Ferrymead
---
10

Tuesday November 22 2016

PEGASUS POST

LONG OR STRONG,

GET GONE

If you're near the sea, and you're in an earthquake that is:

Strong enough to make it difficult to stand up; or

A long, rolling earthquake that lasts a minute or more

Immediately head inland or for higher ground

Share official warnings with neighbours, family and friends near

the coast.

Don't wait for the tsunami sirens – long or strong, get gone.

Wait for official messages giving the all clear before returning.

Get through

Have a plan – Find out now if you're in a tsunami evacuation zone –

at ccc.govt.nz/tsunami Have an evacuation plan and travel route

for your family and pets.

Be prepared – Have a getaway kit ready.

For more information

ccc.govt.nz/tsunami

happens.nz

DON'T FORGET

Long or Strong

GET GONE
---
PEGASUS POST Tuesday November 22 2016 11

REAL ESTATE

Brand spanking new

3a Bowenvale Avenue, Cashmere

Auction: Thur 1 Dec 2016 from 12:00pm, Harcourts Grenadier 98 Moorhouse Avenue (Unless Sold Prior)

5 bedrooms | 3 bathrooms | 4 toilets | 2 living rooms | 1 dining room | 2 car-garage | 2 off-street parks | Listing # BE192701

Out of town owner must sell, you will be the

first resident of this fantastic home.

Finished to a high quality, this new home

offers four bedrooms and an attached selfcontained

granny flat, bringing the total to

five, there will be space for the whole extended

family. The large open plan living is nestled in

a beautiful lush green garden. The children

will really enjoy playing in this back yard, and

the adults will relish sitting in the evenings

in the peaceful surrounds. There is space for

the wheeled and floating vehicles too with a

generous garage and ample off street parking.

Situated in a desirable part of Christchurch,

close to all the action of the Port Hills for

mountain biking at the weekend, close to the

river for picnics in the sunshine, and zoned for

great schooling for the children's education.

OPEN HOMES: Saturdays & Sundays

11:00 a.m. - 11:45 a.m. Make sure you come

visit at one of the open homes, or to arrange

a private viewing of this property call

Debbie Pettigrew from Harcourts Grenadier

Beckenham (Licensed Agent REAA 2008)

now on 337 1316 or 027 777 0411

THE HOME OF GOOD BAKING

PREMIUM

BREAD

White, Wholemeal, Grain & Honey.

3 FOR

$

5 00

CITRUS

SLICE

Delicious

citrus based

fudge slice -

light and zesty

with oranges

and lemons.

$

3 49

ALL

LOAVES

Available in

assorted flavours -

EA Apricot & Raisin,

Banana, Coffee

$

3 49

EA

& Walnut, Date

& Orange,

Gingerbread,

Lemon Delicious.

PURCHASE 2 x 2L DAIRY DALE MILK TO ENTER

THE DRAW TO WIN A VW POLO CAR!

Promotion valid 1st - 30th November 2016.

Winner will be notified Friday 9th December

2016. Terms & conditions apply. Full terms &

conditions can be found at www.couplands.co.nz

MILK

Dairy Dale 2L varieties.

$

5 98

2 FOR or $3.19 each

ALL BISCUITS BITES

TRAY PACK

$

3 49

EA

Promotional pricing available while stocks last from 21/11/16 to 27/11/16.

Images are serving suggestions only.

Open 7 days | 8 Convenient local locations

Hornby • Barrington • Ferry Rd • Papanui • Riccarton • Upper Riccarton • New Brighton • Rangiora

BAKERIES

www.couplands.co.nz
---
12

Tuesday November 22 2016

HEALTH & BEAUTY

PEGASUS POST

Clean dentures vital

for healthy gums

For those with dentures, keeping them clean and well maintained is vital for the

health of your gum tissues, says Ryan Carlton of Dentures Plus in Innes Road.

He and his team of clinicians provide services for full

and partial dentures – from making and fitting them,

follow-up care, through to repairs and relining and a full

range of denture cleaning products.

These include denture cleaners, brushes and denture

baths for soaking the dentures.

One product Ryan particularly recommends is Caldent

denture cleaner, as it is non-abrasive and effectively

removes stains, calculus and plaque.

"It works wonders," he says. "Years of stains

and plaque can be removed with this product."

Customers don't have to make a special trip

to Dentures Plus to purchase it, they can order

it through the Dentures Plus website, www.

denturesplus.co.nz, for delivery anywhere in

Christchurch and throughout the country, Ryan

says.

People may need to get full or partial dentures

for various reasons, such as accidents or tooth

decay, and Ryan and his two other clinicians,

Nicole Yee and Thomas Gu, will ensure the

whole process goes as smoothly as possible.

"We provide the right treatment plan and

solution for our patients. Once we have seen them, we

make up the dentures before their appointment with the

dentist for the extraction," Ryan says.

"After the teeth are removed, the dentures are fitted

immediately – this gives much better results."

A follow-up appointment after a few months will enable

the clinician to check that the dentures are fitting correctly

and make any necessary adjustments.

Ryan also advises that people with existing dentures

should have them checked every two to three years to

make sure they are not starting to wear, which could cause

discomfort in the future. A free, no-obligation check-up

will determine if the dentures need some attention, or

even replacing.

Dentures Plus, 396 Innes Road, is open Monday to

Thursday 8am-5pm and Friday 8am-2pm. To make an

appointment phone 385 5517.

For the Christmas break they will close on Friday,

December 23 and re-open on Wednesday, January 4.

Beautiful Teeth

Natural Smile

Free Consultation, No Obligation

• Full Dentures • Dentures Repaired • Implant Assisted Dentures

• Injection Moulded Flexible Partials • Relines

• Mouthguards • Additions/Repairs

• Purchase cleaning and care products from our website.

Meet the

Owner

Ryan Carlton

All dentures personally

designed and created to ensure

a comfortable natural fit.

DENTURES PLUS (2014) LTD

Denture Clinic and Laboratory

396 Innes Road, St Albans. Phone 385 5517.

Email: denturesplus@paradise.net.nz

www.denturesplus.co.nz

Orbiter Bus stops Innes Road
---
PEGASUS POST Tuesday November 22 2016 13

HEALTH & BEAUTY

Cramping pain in my

leg when I try to walk

Intermittent Claudication

This kind of cramping (sometimes called

"window -shopping legs") is triggered by

normal exertion of the leg muscles and

is typically caused by obstruction of the

arteries. Sufferers have to find themselves a

regular excuse to stop for a while to allow

the blood flow to reach the cramped up

muscles.

The official name for this condition is

Intermittent Claudication. Claudication is

pain and/or cramping in the lower leg due

to inadequate blood flow to the muscles.

The pain usually causes the person to

limp. The word "claudication" comes from

the Latin "claudicare" meaning to limp.

Claudication typically is felt while walking,

and subsides with rest. It is commonly

referred to as "intermittent" claudication

because it comes and goes with exertion

and rest. In severe claudication, the pain is

also felt at rest.

It is a painful condition that really

"cramps people's lifestyle". The pain free

walking distance tends to get shorter as the

condition progresses. If you suffer from

this condition it is crucial to understand

that the body actually finds a way to

increase the blood flow to the legs IF

THE DEMAND is there. It is like every

thing in the body…….."use it or lose it".

Unfortunately many people with this

condition end up in a vicious cycle; the

pain stops the walking, and the lack of

walking increases the problem.

Exercise is recommended to greatly

reduce symptoms and to increase

pain free walking distance. Eight years

ago on request of the vascular nurse

in Christchurch hospital, Physical

Sense started a two weekly circuit for

Intermittent Claudication patients. The

pilot program started with 50 clients.

• 82% of all clients, experienced

improvement in their walking distance

• Quite a number of clients doubled their

walking distance, for some it even became

limitless.

• After a year 88% of clients were still active

• There was an exceptionally low dropout

rate of only 8%

• The 18% who did not notice a difference

in relation to their walking distance still

enjoyed all the other benefits of exercise

(to heart, lungs, sugar levels, bone health,

balance and mood etc.)

People always start in a group, so they

get the benefit of a guided introduction to

more exercise and the use of the gym. In

the groups we are looking at 50-80+ year

olds that are giving their legs a workout

by using steppers, treadmills, stationary

bikes and other exercise stations. That way

they also benefit from working out with

people who suffer the same problems. "It

is amazing the support and wisdom people

receive from each other" Ietje says. In this

"circuit setup" every client can work in

their own tempo, and people simply sit

down and have a rest when the "cramping

in the leg" becomes too much. Some

people stay in the group and some choose

to use the gym by themselves to keep

on top of their claudication.

At Physical Sense they have been

going strong with the Intermittent

Claudication class ever since the first

class eight years ago.

You can try the classes for FREE. If

you want to continue and you have

WINZ support, WINZ usually pays

for the classes (as WINZ is VERY

supportive of these classes).

"This is different from "night-cramps" Ietje van Stolk, (physiotherapist

at Physical Sense and the centre for Senior Well-being) explains. Phone 377 2577.

SuPER

LOW PRICES!

Over 60 health products

on special every day.

Locally owned and operated.

Giving health advice since 1992.

The Palms: 385 0364

The Hub Hornby: 349 5150

Bush Inn Centre: 348 7867

Sports Injury?

Specialising

in Injury

Rehabilitation

$5 discount for

SuperGold Card holders

Physiotherapy Associates

Finding Solutions

ACC Contracted Provider

Ph/Fax 03 389 7196 86A Wainoni Rd

Email: physioassoc@clear.net.nz www.physioA.co.nz

Just had surgery?

Come to us for your postsurgery

physiotherapy

300 Colombo Street, Sydenham.

www.oos.co.nz/classes

Special SuperGold Card offer

HYSICAL SENSE

Try our classes,

first four sessions FREE

PLUS

Come for a FREE ASSESSMENT on

Monday 28th November at 11.30am

and get a

FREE

PEDOMETER

just for giving it a try

Ph: 377 2577

300 Colombo St, Sydenham

www.oos.co.nz/classes

Passionate about your hair

1/569 Barbadoes St. P: 366 2819

W: aheadinhair.co.nz

• 3 clinics

• Pain and swelling management

• Restoring movement, strength

and function

• ACC and Private surgeries

• Free car-parking

• No referral needed

musclepeople.co.nz

Three Muscle People Physio Clinics:

Bishopdale Clinic

13a Bishopdale Court

Ph 360 3606

Call us today 360 3606

City Clinic

12 Hereford St

Ph 961 0236

Wigram Skies Clinic

67 Skyhawk Rd

Ph 322 9400
---
14

Tuesday November 22 2016

Christmas

Colouring

Competition

Pick up instore or head to

FreshChoice.co.nz/

Christmas

Three to

choose from!

PEGASUS POST

$

6 99

2 for

kg $

5 00

Fresh Corned Silverside

Sweet Juicy Strawberries

3for

$

4 50

Bluebird Chips/Summer Flavours 140/150g

$

3 80

each

Alpine Butter 500g

4for

$

6 00

Wattie's Fruit 400-410g

(Excludes Tropical)

$

29 99

pack

4for

Speight's/Summit

24 x 330ml Bottles

$

5 00

Wattie's Baked Beans/

Spaghetti Regular 420g

$

3 50

pack

Fresh'n Fruity Yoghurt/Uno

6 Pack

Shopping just got easier

Best deals are here!

FreshChoice Parklands

60 Queenspark Drive, Christchurch.

Open 7am-11pm, 7 days.

Prices apply from Tuesday 22nd November to

Sunday 27th November 2016, or while stocks last.

FreshChoice.co.nz

FreshChoiceNZ

383 1004

FreshChoice Parklands

Owned and

operated

by locals

Certain products may not be

available in all stores. Savings

are based on non-promotional

price. Limits may apply.

FCPP2211
---
PEGASUS POST Tuesday November 22 2016 15

FOCUS ON HEALTH

Taking the

pain out of

Christmas

If you, or someone you know, suffers

from painful arthritis, night cramps or

swollen feet and hands, a gift of an Aircycle

could be just the Christmas present you are

looking for. It's small enough to post and

simple to use.

This NZ invention has helped thousands

of New Zealanders for years.

"My leg muscles are so much stronger

and my circulation greatly improved."

reported a 93 year old. " And I can sleep

the night undisturbed by cramps – a real

bonus!" .

It's a great circulation booster, reduces

swollen ankles, helps relieve joint and

muscle pain, strengthen leg muscles to

support joints and improve balance and

mobility.

"After a 26 hour flight, I skipped off the

plane with no ankle swelling", said Tess

Rowley.

An Aircycle could be the best present

you buy this year – not only taking the

pain out of Christmas but giving someone

lasting health benefits and years of pain

relief.

Aircycles have a lifetime guarantee,

are available from pharmacies, Diabetes

Christchurch, Aspire Canterbury and More

Mobility.

For more information visit

www.aircycle.co.nz , phone 04 569 5013 or

post $39.90 (p&p included) to Aircycle,

PO Box 45105, Waterloo, Lower Hutt.

The importance of

good blood

pressure!

Blood Pressure is an indicator

of cardiovascular as well as

overall health. Healthy blood

flow is vital for a healthy body

as the blood plasma transports

nutrients, hormones, metabolic

waste, oxygen and CO2

throughout the body. An area in

the brain keeps check on blood

flow to ensure health of all cells

and the organs they make up. If

blood flow is reduced the brain

will try to normalise blood flow

by adjusting the heart strength,

frequency (Pulse Rate) as well

as the width of blood vessels all

via the nervous system. Over

a period of time the blood

pressure may keep increasing

due to the deterioration of

blood flow. A higher B/P is

not ideal and is considered a

major risk factor for strokes,

aneurysm, organ failure and

heart failure. Even moderate

elevation of B/P is considered

a major reason for shorter life

expectancy. If we can maintain

our B/P in the normal range

our overall health will be

improved. Systolic B/P (The

upper figure) is when the heart

contracts and pushes blood

ARTHRITIS

Boost circulation and gently

exercise while you sit – it's so easy!

FOR

Pain & stiffness

Swollen ankles

Night cramps

Painful hands

Balance & mobility

Sore legs/numb feet

Travel & office sitting

Diabetes foot problems Only

Stroke rehab/Parkinson's

$39 90

around the body. Ideally at rest

this should be between 100

to 120. The diastolic B/P (The

lower figure) is the pressure in

the arteries between beats and

ideally at rest this should be

between 60 to 70.

It has been found in around

90% of cases high blood

pressure is caused by an

increase in the resistance to

blood flow in the blood vessels.

It is believed inflammation and

stiffness of the blood vessels are

major reasons for this increased

resistance. Checking our blood

pressure on a regular basis

allows us to adjust our diet and

lifestyle and see the benefits in

our B/P readings.

Blood Pressure monitors

and further information on

how to improve your overall

health and B/P naturally is

available from the natural

health advisers at Marshall's

Health & Natural Therapy, 110

Seaview Road, New Brighton,

Phone: 388-5757.

We are Always Happy to

Help!

Amazing Island

Miracle Oil

Revered for centuries by blisters, skin eruptions, warts,

Polynesians and Southeast insect bites and stings, athlete's

Asians for its remarkable foot, burns, sunburn, cuts and

skin anti-aging and healing cracks, nappy rash, and many

properties, Dilo oil comes more often with incredible

from the nut of the sacred Dilo results. Also it is used for joint

tree, "the tree of a thousand and muscular pain and may

virtues". The Dilo tree draws its even help stimulate healing.

sustenance directly from the Further information is

nutrient rich warm waters of available from the Natural

the Pacific Ocean.

Health Advisers at Marshall's

Dilo oil is also called "the Health & Natural Therapy, 110

beauty oil" as it can penetrate Seaview Road, New Brighton,

all three layers of the skin Phone: 388-5757.

offering exceptional cell

We are Always Happy to

hydration and regeneration. It Help!

has a unique ability to stimulate

the growth of healthy skin

cells and the formation of

new tissue giving it powerful

anti-aging properties that can

help reduce lines, blemishes,

scars, stretchmarks, dry or scaly

skin, skin redness and repair

damaged skin.

It also possesses antiinflammatory,

antimicrobial,

antifungal, antioxidant and sun

protective properties and is

commonly used on most skin

ailments including rosacea,

pimples, ulcers and sores,

acne and acne scars, psoriasis,

eczema, dermatitis, rashes,

BLOOD PRESSURE UNITS HELP MONITOR YOUR HEALTH!

Keeping our blood pressure (B/P) in the normal range is a positive sign of good

health. The higher the B/P above normal the more likely we may suffer a stroke,

aneurysm, organ failure or heart attack. Even moderate elevation of B/P can lead

to shortened life expectancy. Checking our B/P on a regular basis with our easy to

use B/P monitors is a positive step & allows us to make changes to our lifestyle,

diet & nutrition when necessary.

HIGH PERFORMANCE BLOOD PRESSURE UNITS OFFER:

- Measurement of blood pressure, pulse & heart arrhythmia

- Helps avoid high blood pressure a serious health concern

- Easy to use with large LCD display

- Upper arm cuff for reliable results

- Helps avoid inaccurate readings due to white coat syndrome in Doctors office

- Allows you to see what affects your B/P

SUPER PRICE

Only $59.90

Talk to us today for suggestions on how to naturally improve your

blood pressure & health with diet, nutrition & lifestyle changes.

Bringing You the Best in Natural Health!

MAIL ORDER

AVAILABLE

MARSHALLS HEALTH & NATURAL THERAPY

CONSULTING - PRESCRIBING - DISPENSING - MANUFACTURING - MEDICAL HERBALISTS

110 SEAVIEW RD, NEW BRIGHTON • PH 03 388 5757 • Email: enquiry@marshallshealthshop.co.nz

- WE ARE ALWAYS HAPPY TO HELP! -

Available from pharmacies,

at www.aircycle.co.nz

or by calling 0800 14 14 15

NATURAL HEALING & BEAUTY OIL

As seen on Rachel Hunter's Tour of Beauty

Revered for centuries by Polynesians & Southeast Asians for its remarkable

skin anti-aging & healing properties, Dilo oil comes from the nut of the sacred

Dilo tree, "the tree of a thousand virtues". Dilo oil is often called the beauty oil

as it can penetrate all three layers of the skin offering exceptional cell hydration

& regeneration. It has a unique ability to stimulate the growth of healthy skin

cells & this gives it powerful anti-aging & healing properties that can help

reduce lines, blemishes, scars & damage to the skin. It also possesses

anti-inflammatory, antimicrobial, antifungal & antioxidant properties.

Dilo Oil Supports

• Anti-aging & skin regeneration, helps reduce lines, blemishes, scars &

stretch marks

• Skin hydration

• Skin repair & growth, helps feed the skin & stimulate healthy new cells

• Wound healing & skin protection from bacteria, viruses & fungus

• Most skin problems, rosacea, pimples, ulcers & sores, acne, psoriasis,

eczema, dermatitis, rashes, blisters, skin eruptions, warts, insect bites &

stings, athlete's foot, burns, nappy rash etc.

• Joint & muscular pain

Bringing You the Best in Natural Health

AMAZING

PRICES

100% PURE & ORGANIC

50ml

only $19.90

only $29.90

100ml

AMAZING ISLAND

MIRACLE OIL

- WE ARE ALWAYS HAPPY TO HELP! -

MAIL ORDER AVAILABLE

MARSHALLS HEALTH & NATURAL THERAPY

CONSULTING - PRESCRIBING - DISPENSING - MANUFACTURING - MEDICAL HERBALISTS

110 SEAVIEW RD, NEW BRIGHTON • PH 03 388 5757 • Email: enquiry@marshallshealthshop.co.nz
---
16

WIN

enter every time you shop at any of these participating businesses - more draws, more chances to win! Promotion closes 9th Dec 2016. conditions apply.

ON NOW!

Tuesday November 22 2016

your chance to

win one of three

$1000

SHOPPING SPREES

THIS COULD BE YOU!

Oil and Filter & Wheel

Alignment COMBO

ONLY $155 (Save $25)

*when you mention this advert

See Andrea & the team

Auto Super Shoppe Shirley

218 Hills Road, Shirley, 385 0192

Monday – Friday 8am – 5pm

Saturday – 8am – 1pm

Shop scan

FREE Courtesy Cars

All Insurance & Private Work Welcome

10% OFF

EXCESS ON

INSURANCE QUOTES

Conditions apply

QEII Collision Repairs

302 Travis Road, North New Brighton, Chch.

P: 03 388 5187. E: qe2collisionrepairs@outlook.com

PReMiUM

tyReS &

AUtO

tWO LOCAtiONS!

222 LINWOOD AVE (Beside Burger King)

245 dyeRS ROAd (Cnr Wickham St)

• Vehicle servicing from $75

• Punctures only $25 for most vehicles

• Brake pads from only $110

• New & secondhand tyres on sale now

• WOFs • Lubes • Alignments

CALL NOW! HOURS:

MON - FRi

8am - 5pm

SAtURdAy

9am - 2pm

(03) 380 50 20

(Linwood)

drive

away be

happy

PEGASUS POST

Your friendly

local Pharmacy

• Prescriptions • Medico Packs

• Gifts • Health Advice

• Dry Cleaning • Passport/ID photos

Hours: Mon-Fri 9am-5.30pm, Thurs 9am-6pm

11 Parnwell Street. Ph 383 4814

$22

WOF

Sore feet?

We can help!

SIZZLING

SAT WOF

SPECIAL

Full mechanical service

+ repair available

Cnr Fitzgerald Ave & Hereford St.

Phone: 365-5220

www.a1auto4service.co.nz

Specialising in all:

• Foot Care & Orthotics

• Ingrown Toe Nails

• Corns & Callouses

Come & see Ian & Anna at the...

448 Papanui Rd Ph 03 352 6400 (opp BP Petrol station)

www.papanuifootclinic.co.nz

10th BIRTHDAY

10 DAY

SALE

25% OFF 50% OFF

All

bikes!

All parts &

accessories

10 bikes across the range SLASHED

TO HALF PRICE! Go in the draw to WIN

$1000 worth of bikes & accessories!

Open 7 days • 620a Ferry Road, Woolston | Phone 03 376-6377

www.aroundagaincycles.co.nz

2016 seasoN

NoW starteD

the place to be

this summer!

Season passes available at the Woodford Glen Shop,

129 North Avon Road, ChCh | Ph (03) 385-1515

Check out www.woodfordglen.co.nz for meeting dates

Cranford 478 Cranford Street

QEII 251 Travis Road

Richmond 68b North Avon Road

Come in and see our

friendly staff!

Many more great

specials instore.

Cody's 18pk

7%

$

29 99

Jim Beam 12pk

Gold Cans 7%

$

21 99

Crispy Crunchy Batter

Gluten free products sold for oVer 4 YeArs

Fish, Meat Patties, Hot Dogs, Pineapple Rings, Donuts

• Souvlaki • Great Burger Selection

• Garlic Butter Chips • Cheese on Chips

* Specialty fish cooked to order…

Blue Cod, Gurnard, Sole, Hoki, and more!

Also crumbed at no extra cost.

GOURMET SEAFOODS QEII

Ph: 388 2531, QEII Shopping Centre

251 Travis Road

Mon - Wed 11.30am - 8.30pm (Tues from 4.30pm)

Thurs - Sat 11.30am - 9.00pm; Sun 12noon - 8.30pm.

Daily break 3.15 - 4.30pm.

Designer

Fashion

3000

items

arriving

daily!

See Our

HUGE

Selection!

• Designer Brands • Family Clothing

• Menswear • Footwear • Bric-a-brac

• Workman Outdoor Clothing

• Household Goods • Books

• See the Retro Section AND Formal Wear

Open Daily 7 Days

New Brighton: 52 New Brighton Mall

(Old Farmers Building)

HOURS

Mon–Sat 9am–5pm

Sun/Public Holidays 10am–4pm

New Zealand's Largest

Recycled Clothing Retailer

Burwood & Redwood

HomE of THE

$40 sErVICE

layby for

xmas now

Hot in-store

deals

Ph: 383 2114

269 Burwood Rd, Burwood

Ph: 354 4022

290 Main North Rd, Redwood

SHOP HOURS

Mon-Fri 8.30am-5.30pm. Sat 9.00am-4.00pm

Monday to Friday to

Saturday to

Sunday to

paperplus.co.nz

Welcome to our family friendly

christmas

shop!

768 Marshland Road (North End)

Open everyday until Christmas Day 10am - 4pm

CHRISTCHURCH'S PERFECT

INDOOR ENTERTAINMENT

FLIP OUT

TRAMPOLINE ARENA

CHRISTCHURCH

MAIN ARENA

TRICKING AREA

FOAM PIT

WALL TRAMPOLINE

TUMBLE TRACK

YOUR SAFETY

IS OUR #1

PRIORITY

PHONE 384 8244 FOR MORE INFORMATION

230 MACES ROAD, BROMLEY

WWW.FLIPOUT.CO.NZ

Boost Brain Performance

ENZO:PROFESSIONAL (ENZOGENOL) is a potent

antioxidant extract of the N.Z. pine bark and

has been clinically shown to improve memory,

concentration & brain performance.

SUPER

60's only $45.30, save $5.00

120's only $84.90, save $15.70

PRICE! Detailed Information Available

Bringing You the Best in Natural Health!

MARSHALLS HEALTH & NATURAL THERAPY

CONSULTING - PRESCRIBING - DISPENSING -

MANUFACTURING - MEDICAL HERBALISTS

110 SEAVIEW RD, NEW BRIGHTON • PH 03 388 5757

Email: enquiry@marshallshealthshop.co.nz

- WE ARE ALWAYS HAPPY TO HELP! -
---
PROUDLY

PROUDLY

CHRISTCHURCH

CHRISTCHURCH

OWNED

OWNED TUESDaY, aUGUST 27, 2013 PROUDLY 384

384 CHRISTCHURCH 0600

0600

PROUDLY CHRISTCHURCH OWNED MONDaY JUNE 24, 2013

OWNED WEDENSDaY 10 JULY, 2013 384 0600

384 0600

A Mainland

Media Publication

Kea

(Nestor Notabilis)

Ladbrooks, Tai Tapu, Leeston, Lincoln, Southbridge, Prebbleton, Halswell, Rolleston, Templeton, Burnham, West Melton, Darfield, Arthurs Pass

Mainland

Press Newspaper

Sumner, Redcliffs, Mt. Pleasant, Ferrymead, Woolston, Lyttelton & Akaroa Harbours

Harewood, Burnside, Bishopdale, Bryndwr, Fendalton, Merivale, St Albans, Mairehau, Papanui, Casebrook, Redwood, Regents Park, Styx Mill, Northwood, Spreydon, Belfast Hoon Hay, Hillmorton, Cracroft, Cashmere, St Martins, Somerfield, Sydenham, Addington, Waltham, Opawa, Beckenham, Huntsbury, Woolston

Black Billed

Gull

A Mainland

Press Newspaper

New Zealand

Swamp Hen (Pukeko)

Linwood, Avonside, Richmond, Shirley, Burwood, Dallington, Wainoni, Bromley, Aranui, Avondale, Bexley, New Brighton, Northshore, Queenspark, Parklands, South Brighton

PROUDLY CHRISTCHURCH OWNED MONDaY JULY 15, 2013 PROUDLY 384 CHRISTCHURCH 0600

OWNED MONDaY 12 aUGUST, 2013 PROUDLY 384 CHRISTCHURCH 0600

OWNED MONDaY JUNE 24, 2013 384 0600

A Mainland

Press Newspaper

Fantail

(Piwakawaka)

A Mainland

Newspaper

Bellbird

(Korimako)

A Mainland

Press Newspaper

New Zealand

Pigeon (Kereru)

Templeton, Islington, Hei Hei, Broomfield, Halswell, Oaklands, Westlake, Hornby, Wigram, Sockburn, Church Corner, Ilam, Russley, Hyde Park, Avonhead, Riccarton Park, Riccarton

PEGASUS POST Tuesday November 22 2016 17

Classifieds Contact us today Phone our local team 03 379 1100

Hire

Public Notices

Situations Vacant

REntal

Free Delivery

and Installation

Terms and conditions apply

NEED A

FRIDGE • WASHER

TV • FURNITURE ?

Call Mr Rental - 0800 111 313

Visit www.mrrental.co.nz

123 Blenheim Road, Riccarton

Caravans, Motorhomes

& Traliers

CARAVAN around 4 to 5

berth wanted. Don't mind

repairs. 027 938 5344

CARAVAN around 4 to 5

berth wanted. Don't mind

repairs. 027 938 5344

WE can sell your caravan

on behalf on our busy

caravan site at www.

affordablecaravans.co.nz

512 Blenheim Rd, ChCh.

03 348-6614

Community Events

ALCOHOLICS

ANONYMOUS, If you

want to have a drink that's

your business. If you want

to stop, we can help. Phone

0800 229-6757

Computers

ALL

YOUR

COMPUTER

WORRIES SOLVED!

*$30.00 off your first

service with this coupon!*

No problem too big or

small from home PC's to

business networks. PC

slow? An end to Viruses,

Spyware, and Clogged

Systems. Safe secure

hassle-free computing.

Lost files recovered.

Microsoft Certified,

MCSE, MCP+l. 30 years

experience. Call Andrew

Buxton this week on 326-

6740 or 027 435-7596

for $30.00 off* Custom

Computers Christchurch

Gardening

& Supplies

A GARDEN OR

LANDSCAPING TIDY

UP? Shrub, hedge &

tree pruning, Lawns,

Gardening, consistently

reliable general property

upkeep, Dip. Hort. 10

yrs experience, One off

tidy ups or on-going

service. Nick's Property

Maintenance. Keeping

your garden beautiful.

Free Quote. Ph. 942-4440

Curtains

www.curtainfabric-outlet.com

Fashion Designs & Colours

Discontinued Designs

End of Lines Bargain Prices

Call at Our Shop

CURTAIN FABRIC OUTLET

71 Hawdon St Sydenham

Ph 366-5026

Holiday

Accommodation

QUEENSLAND SUN-

SHINE COAST AUSTRA-

LIA Resort, Ocean Views,

Balconies, Self Contained,

1 or 2 B/R Ensuite,

Heated Pool, Spa, Sauna,

Free Internet, Shops,

Restaurants, Tennis, Surf

Club & Patrolled Beach,

Public Transport at door.

Ask for our SEASONAL

SPECIALS. Phone 61 7

544-35011 Email: reception@mandolin.com.au

www.mandolin.com.au

Public Notices

DEMOLITION

With care and respect we

will remove your dwelling.

Our policy is to recycle as

much as we can. We are a

local company specialising

in residential properties. We

will endeavor to cater for

your individual needs.

Ph. R.M. Solutions

021 02866981

for a free quote.

A GARDEN

PROFESSIONAL

NEEDED? Qualified

Horticulturist, offering

Wanted To Buy

expert pruning, garden AAA Buying goods

makeovers, garden design

and landscaping, for free

quality

Beds, Stoves,

furniture,

Washing

quotes call Bryce 027 688-

8196 or 0508 242-733

machines, Fridge Freezers.

Same day service. Selwyn

Dealers. Phone 980 5812

or 027 313 8156

A+ Household effects,

fridges, freezers, washing

machines, ovens. Good

cash paid. Ph Paul 022

0891 671

TOOLS Garden,

garage, woodworking,

mechanical, engineering,

sawbenches, lathes, cash

buyer, ph 355-2045

Call us & we'll help

you place your

classified advert in our

community papers

Nobody knows

Christchurch

like a local

We're local, we're

in Christchurch, we

speak your language!

Phone: 379 1100

Selwyn

Times

Nor'West

News

Bay Harbour

A

News

Southern

Pegasus

Post

Western

View Press

News

Classifieds

Our community papers are published every

Tuesday (Bay Harbour, Wednesdays) focusing

on local issues & local people.

business video

PRoduCTion

A video will bring your business

alive & into your customers mind.

Promote your

services or business

with a professionally

created video with us

• Corporate and

Business video a speciality

• Competitive rates

• 25 years experience

• Start to finished product

• Professional quality guaranteed

PHone KeRRY 021 635 083

ADVERTISE YOUR

BUSINESS HERE

Phone for further details

(03) 379 1100

MUMS & DADS

Would you like your children to

exercise more and earn some money?

DELIVERY

PEOPLE

WANTED

The Star requires

delivery personnel

in all areas of

Christchurch.

The work involves

door-to-door

delivery of The Star

newspaper.

Please call

Leanne Lucas 364-7451 or

Mark Coulthard 364 7453

email: deliveries@starmedia.kiwi

Situations Vacant

CA$H

Strippers

& Podium

Dancers

Wanted!

18+ TO APPLY

NEISHA

021 193 0118

Tours

Rexellent

Rentals

Cars, Vans, Brisbane, Coolangatta

FREE CALL

0800 601 508

e: rexellent@bigpond.com

ADD SOME

COLOUR

TO YOUR ADVERT!

To Let

RENT NEED MORE ME!

SPACE?

NO BOND THIS MONTH

Ideal as an extra

bedroom or office.

Three convenient sizes

from $70 p/w:

Standard 3.6m x 2.4m

Large 4.2m x 2.4m

Extra-large 4.8m x 2.4m

Visit our display cabins at

470 Cranford Street or call

0211277227 for a free brochure

www.justcabins.co.nz

HOUSEME Portable

sleepout or office

available to rent. 3m x

3.6m studio. Insulated

and value for money at

$75.00 per week, you

wouldn't live in anything

else. Contact Amanda

today on 0279570920 or

houseme2015@xtra.co.nz

Trades & Services

Appliance Sales & Service

388 4780

Appliance Services

14 Brighton Mall, New Brighton

FOR ALL YOUR

★Garden Clean-ups

★Pruning

★Lawn Mowing

★Garden Maintenance

Call us today for a FREE quote

PH 0800 4 546 546

(0800 4 JIMJIM)

• Replacement/new roofing

• Colour Steel gutter & fascia

• Flue & log burner installs

• Skytube/light installs

• Earthquake repairs

Licence Building

Practitioner LBP

Member of the Roofing

Association

DCM ROOFING LTD

The Roofing Specialists

PHONE IAIN

027 445 5597

iain@dcmroofing.co.nz

Trades & Services

HOUSE

CLEARING

Are you moving

house?

Let All Clear Canterbury

take care of your

unwanted items.

You identify what you want

to keep & we will dispose

of the rest!!

Ph: 03 312 7119

Mob: 021 078 4553

allclearcanterbury@gmail.com

www.allclearcanterbury.co.nz

9220021AA

& Property Maintenance

Paving

Patio - Pathways - Driveways

Lawns and Gardens

Planting - Raised Vege Gardens

Readylawn - Irrigation - Fencing

General Maintenance

Water Blasting - Gutter Cleaning

Rental Property Maintenance

Section Clearing - Weed Spraying

20 Years Experience

Locally owned and operated

Free Quotes - Competitive Pricing

Blair Gibson 027 699 5815

BEST

BATHROOMS

full renovation specialists,

LBP, repairs &

maintenance ph 03 387-

0770 or 027 245-5226
---
18

Tuesday November 22 2016

PEGASUS POST

Classifieds Contact us today Phone our local team 03 379 1100

Trades & Services

Trades & Services

Trades & Services

Trades & Services

Trades & Services

Trades & Services

Price Family

Painters Ltd

Interior/Exterior

Wallpapering/Painting

Gib Stopping

Free Quotes

EQC Opt Out

Fletcher Accredited

Project Management

Phone: Morton 021 667 444

Email: mortonprice@xtra.co.nz

www.pricefamilypainters.co.nz

PLANT GROWERS

Bettaplants

Nursery

Have been growing top quality

plants since 1934

Remember you can't buy

Bettaplants anywhere

BEDDING & VEGETABLE PLANT GROWERS

Bettaplants

1934-2016

painter

82 YEARS IN BUSINESS

27 Ottawa Road. Phone: 389-7855

Hours: 8.00am-5.30pm Mon to Fri, 8.00am-5.00pm Sat

ROOF REPAIRS

Locally owned & operated with

over 30 years experience.

• Extensions & repair • Roof coating

• Concrete & clay tiles • Butynol

• Malthoid • Asbestos Certified

• Coloursteel • Old iron • Guttering

Phone Dave 981 0278

or 021 223 4200

E: dave@beaumontroofing.co.nz

BEAUMONT ROOFING LTD

BRICKLAYER

George Lockyer. Over

30 years bricklaying

experience. UK trained.

Licensed Building

Practitioner number

BP105608. Insurance

work. EQC repairs.

Heritage brickwork a

speciality. No job too

small. Governors Bay.

Home 329-9344, Cell

027 684 4046, email

karengeorge@xtra.co.nz

BUILDER

For all building work

but specialist in bathroom

renovations, 30 yrs

experience, with service

and integrity. Free Quotes.

Ph Lachlan 383-1723 or

0274 367-067.

BUILDER LICENSED

available for all aspects of

building. Please call 027

241-7471 or 335-0265

CARRIER LoCAL

experienced, friendly,

trade-me purchases, single

items to truck loads,

furniture to whatever,

removals & trade

deliveries a specialty. Ph

GEH 341-5069

*****************

CARPET & VINYL

Laying. Repairs, uplifting,

relaying, restretching,

Email jflattery@xtra.

co.nz, ph 0800 003 181

or 027 2407416

CARPETLAYER

Laying and Repairs, 40 yrs

experience, ph Peter 326-

7711 or 027 240-6532

DRIVEWAYS

Replace, repair or new.

We are a local company

with over 10 yrs exp.

We also operate a

digger for all other

earthworks.

Ph. R.M. Solutions

021 02866981

for a free quote.

FENCING

All styles and shapes,

gates, wooden, ph Mark

027 331-3223

FENCING

All styles and shapes,

gates, wooden, ph Mark

027 331-3223

FENCE PAINTING

Staining Quality at a

reasonable price. Free

quotes. Phone Warren

today on 980-1676 or 027

2014713

FENCING

Paling, picket,

iron, trellis

Demolition and

removal

Phone Bevan

021 231 1860

Fencing Uprite

Your Eastside

Specialist

FURNITURE REMoVALS

Large Trucks $95 +

GST per hour 7 day NZ

wide, packing & moving,

Professional Company,

Professional Service.

Canterbury Relocations

Ltd. ph 0800 359 9313

GLAZIER

Window repairs, pet

doors, new glazing, double

glazing, conservatory

roofs. Experienced

tradesman. Call Bill on

981-1903 or 022 413-3504

LANDSCAPE

CONSTRUCTION

Lawns, paving, water

features, irrigation,

planting, decks,

driveways, kerbing, ponds,

retainer walls, fencing.

Free quotes, Phone Tony

021-034-8555

PAINTING

& Decorating interior

& exterior, gib fixing,

plastering, paperhanging,

Est 50 yrs in ChCh, ph

Wingfields Ltd, ph Mark

021 171-1586 or 355-5994

PAINTER AVAILABLE

All aspects in painting.

Very competitive in roofs

and fences. Please call 027

241-7471 or 335-0265

PAINTER

Top quality work, interior/

exterior, pensioners

discount, free quotes, 30

years experience, I stand

by Canterbury, ph Wayne

your friendly painter 03

385-4348 or 027 274-3541

PLASTERER

Exp tradesman over 30

yrs. Foundations, steps

etc. External gib stopping,

small tile jobs. Free quote.

Ph Steve 021 049 5563 or

388-1889

PLUMBER

ALF THORPE

PLUMBING Certifying

Plumber for all types of

plumbing, maintenance,

spouting, alterations etc.

Phone 352-7402 or 0274-

350-231

RooFING

Qualified & Licenced

Practitioner. Re-Roof &

Repairs, all types. Member

New Zealand Roofing

Association. Over 35 years

experience. Phone John

027 432-3822 or 351-9147

email

co.nz

johnmill@ihug.

SPoUTING CLEANING

Spouting Unblocked,

Cleaned Out and Flushed

Out. Also Full Handyman

Services Available. Call

Trevor 332 8949 or 021

043-2034

SToNEMASoN

BRICK

&

BLOCKLAYER,

Earthquake Repairs, Grind

Out & Repoint, River/

Oamaru stone, Schist,

Volcanic Rock, Paving,

all Alterations new & old,

Quality Workmanship,

visit www.featureworks.

co.nz or ph 027 601-3145

TREES

BIG OR SMALL, tree

removal, trimming, stump

grinding, shelterbelt clean

up, section clearing,

rubbish removals,

excavation work, ph Trees

Big or Small, for a free

quote, 021 061 4783

TREE WoRK

Hedge trimming, stump

grinding, rubbish removed,

small job specialty Ph

Andrew 03 322-8341 or

027 435-8759

T.V. SERVICE CENTRE

Repairs, tvs, microwaves,

stereos, DVD. Aerial

installations and kitsets,

480 Moorhouse Ave, ph 03

379 1400

UPHoLSTERER

Dining Chairs, Lounge

suites, Caravan Squabs

etc. recovered. Free

Quotes. Phone Graeme

383-1448

VHS VIDEo TAPES

& all camera tapes

converted to DVD, video

taping, weddings, twenty

firsts, special occasions,

www.grahamsvideo.co.nz

ph 03 338-1655

WATERBLASTING

Quality Job, Quick Service

by skilled tradesman, Ph

Richard Severin at Jet-X

0800 538 969 Free quotes,

visit www.jetx.co.nz

WINDoW CLEANING

Average 3 bdrm house

inside or out $40. Both

$70. Phone Trevor 344-

2170

Just

advertisement in The Star

reaches more people than any

other media in Christchurch!

Reach more customers with The Star!

For a free marketing consultation, contact the team:

shane@starmedia.kiwi | 03 379 7100 | www.starmedia.kiwi
---
PEGASUS POST Tuesday November 22 2016 19

"The Best Food is Good Thai"

EAT IN OR TAKEAWAY

Steamed Fish

with Chilli &

Lemon

OPEN FOR

LUNCH

Weekdays

11.30am - 2pm

DINNER

7 days

5pm - 9pm

LICENSED, BYO

A classic,

contemporary

Club

experience

Cafe open from 11am

TAB & Gaming

Function Facilities

HOUSIE

Tuesday, Thursday,

Saturday

SHUTTLE

Tuesday - Saturday

LIVE ENTERTAINMENT

THIS FRIDAY

SMOOTH TALK

7pm in the Whitford's Bar

Open 7 Days from 5.30pm

THIS SATURDAY

BARN DANCE

7pm in the Sports Bar, $10 entry

RETRO ROAST

LUNCH

12PM-1.30PM

WEDNESDAYS

$10 Members / $12 Non

166 Kendal Ave, Burnside. Phone 357 9575

Find us on FACEBOOK/GoodThai166

Chef Phirom

The Brougham

Get all 'Christmasy' with us!

PRE-CHRISTMAS FUNCTIONS,

PARTIES, WORK BREAK UPS,

CHECK THIS OUT!

AVAILABLE LUNCH & DINNER DAILY UNTIL

24/12/16 FOR PARTIES OF 10 OR MORE

RESTAURANT & CAFÉ

0pen daily from 6.30am

Breakfast, Lunch & Dinner

FAMOUS for their ROASTS

TWO COURSE

FESTIVE MENU

SORRY, WE ARE

CLOSED

CHRISTMAS DAY

ONLY

$

35

EACH

THREE COURSE

FESTIVE MENU $ 45

ONLY

EACH

The

RACECOURSE HOTEL

& Motorlodge

118 Racecourse Rd, Sockburn,

Christchurch. Ph 03 342 7150

www.racecoursehotel.co.nz

KARAOKE

8PM EVERY SATURDAY

blues night

EVERY THURSDAY

THE ELEVATORS

cnr Brougham St/Waltham Rd

phone 366 1481

Lunch & Dinner

All you can eat, 7 days

NOW SERVING

available

from

9am

Breakfast

HAPPY

HOUR

5PM - 7PM

DAILY

Bookings Essential PH 386 0088

fb.com/GardenHotelRestaurant www.gardenhotel.co.nz

LIVE

Christmas

Functions

Lunch & Dinner Buffet

SATURDAY 19th NOV - SATURDAY 24th DEC

Book & dine with us for your Christmas party this

festive season, and we'll take care of the rest!

VINTAGE BLUE

6PM FRIDAY 25th November

MUSIC

PHONE 385 8880 FIND US ON FACEBOOK fb.com/GBCCHCH

THE GARDEN HOTEL COMPLEX | 110 MARSHLAND RD

www.gardenhotel.co.nz | phone 385 3132

www.newbrightonclub.co.nz

JOIN

A CLUB BY

THE SEA!

GREAT

ENTERTAINMENT

TUESDAYS & THURSDAYS

Members Lucky Card Draw

GREAT DINING

- downstairs -

ClubBISTRO

Open Tuesday to Saturday

12pm-2pm and from 5pm

Available

Tuesday,

ROAST

Wednesday

& Thursday

Midweek $10

SPECIAL

- upstairs -

PIERVIEW

Restaurant

Quality a la carte with a view!

Open from 5.30pm

FRIDAY, SATURDAY & SUNDAY

FRIDAY SPECIAL:

SIRLOIN STEAK

or

CHICKEN BREAST

with Jacket Potato

& Salad Bar

$22

for a limited time

SUNDAY SPECIAL

3 courses: $25

NOW OPEN FOR

SUNDAY

BRUNCH

By the Seaside!

10.30am-2.30pm

SUNDAY

27 NOVEMBER

ALL YOU CAN EAT

BUFFET

$25... BOOK NOW!

TAB POD

SHUTTLE RUNNING

Tues, Thurs, Fri & Sat

202 Marine Parade

Ph 388-9416

Members, guests and affiliates welcome

H ORNBY

WORKINGMEN'S

CLUB

«WHAT'S ON«

FRIDAY 25 NOV, 7PM

ROBBIE DREW

SATURDAY 26 NOV, 4.30PM

ANDY GILMOUR

8PM THE C-BAY BAND

SATURDAY 27 NOV, 1.30PM

ANNETTE'S HEART

OF THE COUNTRY

$6 ENTRY

«COMING UP«

THE WARRATAHS

TICKETS $25

FRIDAY 9 DECEMBER

CHALMERS

RESTAURANT

PRE-CHRISTMAS BUFFETS

Sunday 4th; 11th; 18th Dec

LIVE MUSIC with

NEVILLE BARRIE

5pm start. $30 adults.

Bookings essential

Hornby WMC

17 Carmen Rd, Hornby

Phone 03 349 9026

www.hornbyworkingmensclub.co.nz

Members, guests & affiliates welcome
---
20

Tuesday November 22 2016

See the Stripper that

gets it off, everytime!

Ideal For:

Joinery

PEGASUS POST

Marine

Simon Cooper from the Cooper's strip club

By Dave Hare,

Coopers was started by Simon Cooper in the early

80's.

At that time, Simon was a cabinet maker with a

boutique shop in Wellington making and restoring

fine furniture.

Disillusioned with the standard of current paint

strippers and with a flair for chemistry, Simon set

about making a stripper that was easy to use and

actually worked.

I asked him what on earth possessed him to try and

change the norm.

"I was sick of how difficult it

was to use the current

strippers, and knew sanding

was a complete waste of

time," Simon says.

"Why sand when the person

who made the item, sanded

it in the first place? I was

determined to make a

product that was easy to use

and made sanding obsolete."

Simon is Kiwi-born and bred

and as a dairy farmer's son

he was taught at a young age

to work things out, rather

than to accept things as they

are.

At high school he developed

a passion for working with

wood and his love of fine

furniture began.

Once Simon developed his

own stripper, the word got

out and today, over 30 years

later, Simon's products and

methods are now known as

Cooper's Strip Club; a

complete DIY restoration

system, family owned and operated, available

throughout New Zealand and Australia.

Simon says Cooper's is different to conventional

strippers in so many ways. The main ones being

that it will strip any finish from any surface,

without the need for sanding.

"I am very proud of it and the results it has

achieved," he says.

With Cooper's having been used on well over

100,000 homes, Simon says anyone can easily strip

anything covered in paint or varnish, whether the

finish is interior or exterior. Coopers is regularly

used on antique furniture, doors, windows,

detailed mouldings, floor glue, decks, painted

concrete or brick, your special project car or boat,

even the weatherboards baked by the sun for over

100 years.

I also asked Simon about the current problems

related to safe lead removal. Simon says.

"Because there is no lead dust created through

sanding, or lead vapour generated by heat guns,

lead poisoning is no longer a concern"

I asked Simon what the Stripping Expo is all about

and he said, "The Stripping Expo is a DIY paint and

varnish stripping exhibition travelling regionally

throughout New Zealand."

"The purpose of the Stripping Expo is to show

Cooper's stripping any paint or varnish from any

surface."

Simon says our next expo is at the Bridge Club in

Christchurch, "We have on exhibition some

impressive before and after displays, as well as

practical one on one demonstrations."

Come and meet the family, chat to us about your

project, bring along some photos of what you want

to strip and we'll select a similar old piece of paint

or varnish to strip with you." But what Simon really

wants you to do is actually bring along your

project, or a piece of it, no matter how big or small.

bring a chair, a drawer, unscrew a window sash, a

door, a piece of moulding or even your project car

or boat and they will really show you what

Cooper's is capable of doing.

"The hall has ample parking and

easy access so impress us with

what you bring along"

Automotive

Furniture

Floors

Exterior

Masonry

Decks

We'll Show You How

at the Stripping Expo

...and so much more

Testimonial:

Dear Coopers

After using your products I cannot believe I have

the same windows, they look totally revitalised,

almost alive. I would recommend Cooper's to

anyone, any day.

Margaret Gibbs

Expo Specials

Simon Cooper shows Dave Hare how its done at the

Waiuku Stripping Expo

Mary took the opportunity to see Cooper's in action at

the Lower Hutt Stripping Expo

George Cooper (left) was impressed by the

Land Rover at the Masterton Expo

This Weekend

No

Sanding

Ask about a home demonstration

Christchurch Stripping Expo:

Christchurch Bridge Club

21 Nova Place

Christchurch Central

Sat 26 - Sun 27 Nov

Anytime between 10am - 4pm

0800 678 678

www.coopersstripclub.com

Dorri Cooper at the Rangiora Stripping Expo

Christchurch

Stripping Expo

Free Entry

NZ

Made