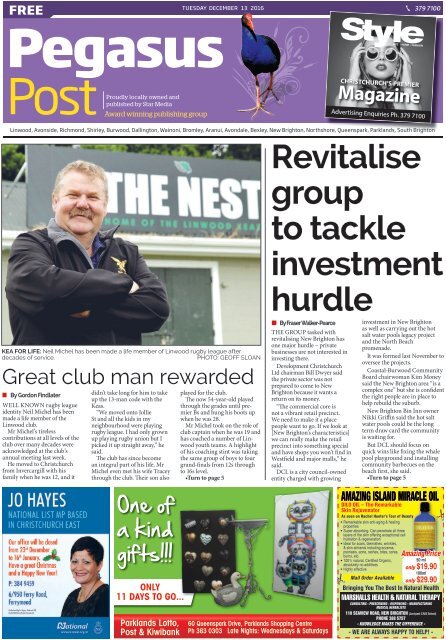 Pegasus Post: December 13, 2016
Create successful ePaper yourself
Turn your PDF publications into a flip-book with our unique Google optimized e-Paper software.
FREE

TUESDAY DECEMBER 13 2016

379 7100

Pegasus

Post

Proudly locally owned and

published by Star Media

Award winning publishing group

Magazine

CHRISTCHURCH'S PREMIER

Advertising Enquiries Ph. 379 7100

Linwood, Avonside, Richmond, Shirley, Burwood, Dallington, Wainoni, Bromley, Aranui, Avondale, Bexley, New Brighton, Northshore, Queenspark, Parklands, South Brighton

KEA FOR LIFE: Neil Michel has been made a life member of Linwood rugby league after

decades of service.

PHOTO: GEOFF SLOAN

Great club man rewarded

• By Gordon Findlater

WELL KNOWN rugby league

identity Neil Michel has been

made a life member of the

Linwood club.

Mr Michel's tireless

contributions at all levels of the

club over many decades were

acknowledged at the club's

annual meeting last week.

He moved to Christchurch

from Invercargill with his

family when he was 12, and it

didn't take long for him to take

up the 13-man code with the

Keas.

"We moved onto Jollie

St and all the kids in my

neighbourhood were playing

rugby league. I had only grown

up playing rugby union but I

picked it up straight away," he

said.

The club has since become

an integral part of his life. Mr

Michel even met his wife Tracey

through the club. Their son also

One of

a kind

gifts!!!

ONLY

11 DAYS TO GO...

Parklands Lotto,

Post & Kiwibank

played for the club.

The now 54-year-old played

through the grades until premier

Bs and hung his boots up

when he was 28.

Mr Michel took on the role of

club captain when he was 19 and

has coached a number of Linwood

youth teams. A highlight

of his coaching stint was taking

the same group of boys to four

grand-finals from 12s through

to 16s level.

•Turn to page 5

Revitalise

group

to tackle

investment

hurdle

• By Fraser Walker-Pearce

THE GROUP tasked with

revitalising New Brighton has

one major hurdle – private

businesses are not interested in

investing there.

Development Christchurch

Ltd chairman Bill Dwyer said

the private sector was not

prepared to come to New

Brighton because it wants a

return on its money.

"The commercial core is

not a vibrant retail precinct.

We need to make it a place

people want to go. If we look at

[New Brighton's characteristics]

we can really make the retail

precinct into something special

and have shops you won't find in

Westfield and major malls," he

said.

DCL is a city council-owned

entity charged with growing

60 Queenspark Drive, Parklands Shopping Centre

Ph 383 0303 Late Nights: Wednesdays & Saturdays

investment in New Brighton

as well as carrying out the hot

salt water pools legacy project

and the North Beach

promenade.

It was formed last November to

oversee the projects.

Coastal-Burwood Community

Board chairwoman Kim Money

said the New Brighton area "is a

complex one" but she is confident

the right people are in place to

help rebuild the suburb.

New Brighton Bin Inn owner

Nikki Griffin said the hot salt

water pools could be the long

term draw card the community

is waiting for.

But DCL should focus on

quick wins like fixing the whale

pool playground and installing

community barbecues on the

beach first, she said.

•Turn to page 5

AMAZING ISLAND MIRACLE OIL

DILO OIL – The Remarkable

Skin Rejuvenator

As seen on Rachel Hunter's Tour of Beauty

••

Remarkable•skin•anti-aging•&•healing•

properties

••

Super•absorbing.•Can•penetrate•all•three•

layers•of•the•skin•offering•exceptional•cell•

hydration•&•regeneration

••

Ideal•for•scars,•blemishes,•wrinkles,•

&•skin•ailments•including•eczema,•

psoriasis,•acne,•rashes,•bites,•sores,•

burns,•etc.

••

100%•natural,•Certified•Organic,•

absolutely•no•additives

••

Highly•effective

Mail Order Available

Amazing Price

50 ml

only•$19.90

100ml

only•$29.90

Bringing You The Best In Natural Health

MARSHALLS HEALTH & NATURAL THERAPY

CONSULTING - PRESCRIBING - DISPENSING - MANUFACTURING

MEDICAL HERBALISTS

110 seaVIeW roaD, NeW BrIGHToN (Just past C.N.B School)

pHoNe 388 5757

- KNOWLEDGE MAKES THE DIFFERENCE -

- We are alWaYs HappY To Help! -
---
2

Tuesday December 13 2016

Inside

PEGASUS POST

FROM

THE

EDITOR'S

DESK News................................ 3, 5-6

OUR FRONT page photo article

features Neil Michel, who has just

been awarded life membership

of the Linwood Rugby League

Football Club.

It's a well-deserved award for

Neil who has put in decades of

work on and off the field for the

Keas. He's one of those blokes

every sports club needs – reliable,

hard working and prepared to go

the extra mile to help out when

needed. He was a bit like that on

the football field from a distant

memory; I'm sure he steam rolled

me a few times during tackling

practise at Linwood Park. So well

done Neil – well-deserved!

Also today, we have great

photos from New Brighton's Santa

Parade (page 6) on Saturday. It

was a great event with lots of

people which shows what great

community spirit there is. If only

the investors would come . . .

–Barry Clarke

Former Aranui man's mission to save

the paua

OUR PEOPLE10

Local Views......................4

Events.........................................9

Our People.............. 10-11

Sports........................................15

Health Focus................ 17

Beauty..............................18-19

GET IN TOUCH

General Enquiries Ph 379-7100

Classified Advertising Ph 379-1100

The Christchurch Star Company Ltd. PO box 1467 - Christchurch

starmedia.kiwi

NEWS

Fraser Walker-Pearce

Ph: 364 7424

fraser.walker@starmedia.kiwi

ADVERTISING

Mark Sinclair

Ph: 364 7461

mark.sinclair@starmedia.kiwi

Pack a

it ' s

Picnic,

Island

Time!

0800 436 574

www.blackcat.co.nz

Discover walking tracks, native birds,

penguins, the swimming beach and

shipwrecks, all on the island that's

only 15 minutes from Christchurch!

Start Exploring

Otamahua/Quail Island today!

DEPARTS: LYTTELTON QUAIL ISLAND

Oct – Apr 10.20am 3.30pm

Dec – Feb 10.20am & 12.20pm 12.30pm & 3.30pm

FARE: adult $30 child $15 return

CRUISES

LYTTELTON & AKAROA

Introducing Ray White

Citywide Property Management

We've been entrusted to look after over $99 million of property throughout Christchurch.

You can trust us to look after yours too. Call today.

Property Manager of

the Year NZ 2015/16

Ray Hastie

Manager

027 448 8225

Paula Hastie -

Assistant Property

Manager

Local Experts – Citywide Knowledge

Nicola Flanagan

Property Manager

021 914 332

Phone (03) 331 6755

www.propertymanagementchristchurch.com

Rebekah Whalley

Accounts Administrator

03 331 6755

Abbey Nolan

Property Manager

027 379 5021

Prier Manson Real Estate Ltd Licensed (REAA 2008)

30941 WHL

30941 PEG

On Resene Premium Paints, Wood

Stains, Primers, Sealers, Wallpaper,

Decorating Accessories and

Cleaning Products

Come in and see us today at your local Resene ColorShop!

Shirley: 38 Marshland Road, (03) 385 5082

Conditions: Buy Resene Premium Paints, Wood Stains, Primers, Sealers, Wallpaper, Decorating Accessories and

Cleaning Products and get the GST (15% off the full retail price) off. The GST reduction will be calculated on the normal

retail price OR if you have a Resene ColorShop or DIY Card you can get the Save the GST sale discount and then the

Resene ColorShop or DIY Card discount off the Save the GST sale price. Excludes WallPrint, decals, Crown, trade and

industrial products, PaintWise levy and account sales. Not available in conjunction with any other offer. Offer available

12 December 2016 – 31 January 2017.

Products & Service you can trust!

- Prescriptions & medicines

- Vitamins & supplements

- Cosmetics & Gifts

- Passport photos

- Same day service

- Professional advice

Mon-Fri 8.30am - 5.30pm

388 9286 | qe2pharmacy@gmail.com

Shop 1, 251 Travis Road, North New Brighton

Book now for your New Years

Kitchen facelift and save $1000's

All kitchen orders placed

before December 24th

will receive Countdown

vouchers to the

value of $200*

Amazing Kitchen

Facelifts!

• Replacement doors

• Drawer fronts

• Panels & bench tops

• or a complete brand

new kitchen, all

made to measure.

*Conditions apply

We are a local family business, all of our kitchens are made right here in Christchurch.

Ph 03 338 1081

tammy@dreamdoors.co.nz
---
PEGASUS POST Tuesday December 13 2016 3

News

Plea to replace boardwalk

• By Fraser Walker-Pearce

THE COASTAL-Burwood

Community Board wants the

city council to find a way to

replace the boardwalk in South

New Brighton Park once it has

been removed.

A city council

staff report

was seen by

the community

board

last week. In

it the board

was asked to

approve the

Tim Sintes

Tim Baker

removal of the

boardwalk

and footbridge

without the

intention of

replacing it.

The board

decided to

agree with the

staff proposal

to remove the

boardwalk and

footbridge for

health and safety reasons.

However, the board asked that

the $337,000 budgeted for the

boardwalk remain until "a high

level of consideration" is made

to find options to replace the

COMMUNITY FAVOURITE: The South New Brighton Park

boardwalk will be removed due to health and safety reasons,

but a community board is fighting for a replacement. ​

boardwalk in the same position

as the current one.

Board deputy chairman Tim

Sintes summed up the report as

"great, all except for removing

the boardwalk."

Board chairwoman Kim

Money said the board made

sure that city council staff knew

a replacement boardwalk was

necessary.

"We made it quite clear at

the meeting and want the community

to know that it is unique

and will be restored in the same

position. This community has

lost enough so I am committed

to keeping it," she said.

Coastal Ward city councillor

David East said: "We've lost

enough in this ward so I'll be

voting against this."

Meanwhile, board member

Tim Baker voted against the

board's resolution to replace the

boardwalk and footbridge.

Mr Baker said the community

is expecting hot salt water pools,

the Eastern Recreation and

Sports Centre, the North Beach

promenade and the city council

to spend "millions" refurbishing

Brighton Mall in the coming

years.

"So much taxpayer money

we're spending, and now we

want this as well. But, as it

always goes, we heard the 'we

don't get anything on the east.'

What we haven't got is enough

money for the car park. I'd

rather see that done than the

boardwalk," he said.

Avon Heathcote Estuary

Ihutai Trust acting chairman Dr

Kit Doudney said the group sent

a letter to the board asking them

to not replace the boardwalk if it

was not financially viable.

"From a point of view of the

community, we don't mind it being

replaced, but if it was going

to be out of budget, we wouldn't

want it to go ahead then," she

said.

Mr Sintes said the amount

needed was "about the same

amount of money as you [city

council] threw at that statue

[Stay by Antony Gormley] in the

Avon River."

In Brief

BID TO EXPAND GYM

The Christchurch School of

Gymnastics in Burwood is in the

process of creating a business case

highlighting the need to expand

its gym. Last week the school

gave an update to the Coastal-

Burwood Community Board and

said its facility was no longer fit

for purpose. The school asked for

the board's support in applying

for a replacement lease and for

funding assistance of $1 million.

The estimated cost of the new

facility is $8 million, of which $5.2

million has been invested from its

insurance payout.

SCHOOL PATROL

Chisnallwood Intermediate

School has successfully applied

for a school patrol outside its gate.

Once police provide training early

next year, the patrol will begin

operating. Chisnallwood has

never had a school patrol until

now.

SURF FESTIVAL

Next year's Duke Festival of

Surfing at New Brighton Beach

has been given the green light

for funding from the Coastal-

Burwood Community Board.

The series of surfing events will

take place in March. It has been

granted $4000, although the full

amount requested was $4994.

new years eve

join the party!

saturday 31 december, 6.30pm – 12.30am

North Hagley Park by Victoria Lake

Enjoy kids entertainment with Natural Magic and Christchurch

Faerie Circle, Kids DJ, local band Better than Bacon and a "kids

midnight" countdown at 8.30pm. From 9pm come party with DJ

Andy Pulzar, Black Velvet Band, The Easy Hearts and Piper bringing

you into the New Year with the midnight fireworks display.

summertimes.co.nz

Proudly produced by

save water

tip#4

Up to 20% of

household

water use is for

washing clothes.

Cutting one load

a week could

save 50 litres!

Conserve today, enjoy tomorrow.

Restrictions are currently in place for some

areas of Banks Peninsula.

Check ccc.govt.nz for more information
---
4

Tuesday December 13 2016

Your Local Views

PEGASUS POST

•HAVE YOUR SAY: What do you think of Sue

McKenna's views of distractions in the classroom.

Email fraser.walker@starmedia.kiwi

Devices a distraction

in the classroom

Southshore

resident Sue

McKenna

talks

about her

background

in education

overseas, and how that

could be applied to

schools in the east

After many years of having

been involved in education, I

had a strong desire to transfer

my knowledge of teaching and

learning, into educational sectors

from diverse cultures where,

hopefully, I could make a difference.

This desire became a reality

when in 2009 I left Christchurch

to venture into the world of

international teaching.

Seven years on and I can

now reflect on the incredible

experiences I had of working on

educational reform projects and

coaching and mentoring Turkish

teachers in Istanbul, Emirati,

Syrian and Egyptian teachers

in the Middle East, Russian and

Kazakh teachers in Kazakhstan

and finally lecturing in English

at a business school in Melaka,

Malaysia.

During this time I felt valued

for not only imparting my

knowledge and helping implement

educational change, but for

being a New Zealander.

Here I was as a single woman

from a land admired by many,

totally absorbed into the world

of Islam. It was a time when my

strong values of being respected

as a woman had to be held

within.

Now that I'm settled in Southshore

and am working in education

in Christchurch, I observe

with concern the changes that

have occurred over six years in

the way students learn in New

Zealand.

The trend now is to allow

students to "bring their own device"

into the classroom. Sadly, I

question if this change has been

positive.

Students seem to be totally

consumed in their devices therefore

creating a huge distraction

from the subject they are supposed

to be focusing on.

Games, text messaging, emails

and websites all compete for

students' attention. They appear

to have lost the ability to discuss,

read and challenge the views of

others.

Teachers in Asia and the Middle

East are given guidance on

how to help students develop

"soft skills" needed in the global

workplace of today.

Students are encouraged to

think critically and creatively,

debate, display social graces,

show cognitive or emotional

empathy, manage time and work

as a team.

Surely these are the lifelong

skills that should be embedded

into the New Zealand school

curriculum.

Devices have a place as a learning

tool, but teachers need to

enforce some constraint on their

use and continue to encourage

students to work collaboratively

with interaction happening

verbally.

We said:

Local community

board members appear

divided over whether the

organisation charged with

revitalising New Brighton

is doing its job.

Linda Stewart says

the Coastal-Burwood

Community Board's

relationship with the

city council-owned

Development Christchurch

Ltd is 'fragmented.'

But city councillor

David East backed DCL's

communication with the

board, and said there was

no problem with it. He said

he was unsure why Ms

Stewart was critical.

You said:

Steve McLeod – They've

been trying to revitalise

Brighton for 30 plus years. Until

it gets some form of shelter,

people are going to head to the

warmer shopping areas like

the Palms etc. Surrounding

areas like Aranui need a face

lift as well if New Brighton is to

succeed.

Mat Prime – As a recent

first time visitor to Christchurch;

New Brighton was a

shock. It felt like a deserted

theme park and you sense the

sadness in the whole place. The

only saving grace is the pier and

the brilliant public paddling

pool. It was a hot day when we

visited and that paddling pool

was the hero of the day. I really

hope they do something special

for New Brighton.

Betty Campion – I wish

them luck, I always remember

Saturday shopping many years

ago.

Michael Cook - When does

the revitalisation start?

Andrew Johnson – Build a

roof from end to end.

Jillian Nuth – Aranui is

undergoing a facelift. A brand

new school, library and brand

new housing units. They have

fibre internet which I can't even

get here.

THE HOME OF GOOD BAKING

SEE OUR NEW

XMAS HAMPER RANGE

IN STORE NOW!

LOLLY

SLICE

Ideal for kids of

all ages - great

for parties.

$

3 49

EA

CHEESE

ROUNDS

4pk

Generously

topped with

cheese, soft white

rolls - perfect for

lunches.

$

1 99

PK

MILK

Dairy Dale 2L varieties.

$

5 98

2 FOR or $3.19 each

FROZEN MINCE OR POTATO

TOP SAVOURIES 12pk

$

4 99

PK

Promotional pricing available while stocks last from 12/12/16 to 18/12/16.

Images are serving suggestions only.

Open 7 days | 8 Convenient local locations

Hornby • Barrington • Ferry Rd • Papanui • Riccarton • Upper Riccarton • New Brighton • Rangiora

BAKERIES

www.couplands.co.nz
---
PEGASUS POST Tuesday December 13 2016 5

News

Final bell tolls for schools

• By Fraser Walker-Pearce

IT IS the end of an era for

Wainoni and Avondale schools.

On Friday the schools held

final assemblies before they

were officially shut down.

They are two of four schools

making way for the new Haeata

Community Campus, due

to open on the Aranui High

School grounds in time for term

one next year.

The other two are Aranui

High School and Aranui Primary

School.

Avondale was opened in 1963

and had a roll of about 300.

Within five years that number

had jumped to about 700, and

soon after it was determined

that to cater for the large number

of children in the area an

intermediate school should be

opened.

Chisnallwood Intermediate

was opened next door and

Avondale was changed to

hold pupils in year 1-6, rather

•From page 1

Affectionately known as 'Ice

Cream' to those at the club, Mr

Michel was club president during

the earthquakes and helped

than 1-8.

Principal Mark Scown is

the school's longest serving

headmaster, having overseen

the school for the past 16 years.

He said it was both a pleasure

carry the club through a hard

time, which involved losing the

clubrooms on Olliviers Rd.

Mr Michel's proudest moment

as president was the way the

and "a bit scary" to have been

involved with the school for so

long.

One of the previous principals

Roger Allen is the father of

current Aranui Primary School

club dealt with the tragic death

of club legend Marsden Mateni

Tuli, who died at a training session

prior to what was meant to

be his last game for the club.

FAREWELL: Nan

White with some

of the Wainoni

School pupils on

the last day. She

was a relieving

teacher when

the school

opened and

later returned

to work as a

full-time teacher

for 37 years.

PHOTO: GEOFF

SLOAN

principal Mike Allen.

He said it came as a big surprise

in September 2012 when

Avondale and about 30 other

schools were told they would be

closed down.

Great rugby league club man rewarded

The way the club got around

the family and came together

as a unit was very special and

something he will remember

forever.

Group to tackle

New Brighton

investment hurdle

•From page 1

Last year Jolmin Holdings, owned

by a group of partners from an Auckland

accountancy firm, announced

it was looking to invest $20 million

into 40 beachfront apartments on the

corner of Marine Pde and Beresford

St, near the New Brighton Pier.

Real Estate Institute of New Zealand's

Canterbury regional director

Jim Davis said when the population

starts to flow back to New Brighton

it is only a matter of time before a big

company "takes the plunge" and becomes

the catalyst for more investors.

DCL director of investment and

engagement Steve Clarke said it is

DCL's job to turn prejudices about

the suburb around and put a new

spin on the area.

"We have to create reasons for the

people of the city and investors to

come back to the suburb. It's about

changing people's minds basically,"

he said.

One of the ways DCL plans to

accomplish that is through the construction

of the hot salt water pools,

which Mr Dwyer said will act as an

activation project to attract people

back to the seaside suburb.

DCL will present its case to the

city council on Thursday in a behind

closed doors meeting. From there,

Mr Clarke said, DCL will have a

"much clearer" idea on time frames

and delivery dates.

Christmas

Specials Instore!

Thursday Happy Hour

5pm-8pm followed by live

music till 11pm

Make sure your vehicle is up

to scratch these holidays

We're 100% locally owned

and here to help you.

Stanmore Road Auto Spares

P. 03 389 4555 | 245 Stanmore Rd

Tues Quiz Night

Wed Karaoke Thurs Live music

Sky Sports Courtesy Van

Friendly Staff & Atmosphere

Chats Bar

251 Travis Road

QEII Shopping Centre

Ph: 388 1566

sellOut

up tO

18 mOnths

interest

free!

sAVe

up tO60%

Open 7 Days Mon - Fri 9 - 5.30pm Sat - Sun 10 - 4pm

nZ

mADe

BeDs lOCAllY

OWneD

7 Open

DAYs

242 Ferry Rd Along From Old Ami Stadium | Phone 377 8887 | www.bedworld.co.nz
---
6

Tuesday December 13 2016

PEGASUS POST

News

The festive season got off to a spectacular start with the annual New Brighton Seaside Christmas Parade on Saturday. The parade saw more than 40

groups come together to entertain the crowd. New Brighton Project co-ordinator Martha Baxendell said it was very successful with the food stalls selling

out. "The weather was on our side and everyone had a fantastic time at the parade and concert." The parade, now in its 16th year, is the only

suburb-organised santa parade in Christchurch.

PHOTOS: HUNTER DINNINGTON

growing with you

SprIng Is here –

It'S Sow Time

how to get the best results from

seeds and seedlings

100% NatIve In

The capItal

Unravelling the secrets of

Otari-wilton Bush

The New Zealand

landscape awards

The people behind

the projects

$7.90 incl. GST

ISSN 2423-0219

Save our roSeS

How a rose register is protecting our heritage

September 2016 | 100%

It's time

to grow!

New look and more

content than ever!

MeeT LeSTer Brice

A Garden coach

auckland Botanic GardenS

Why we love our public grounds

now bigger than ever

The magazine for

gardeners who like to get

their hands dirty

SubScribe from

$43. 50*

*6 issues/6 months

SUBSCRIPTIONS FREEPHONE

0800 77 77 10

www.gaRdeNER.kiwI

Have your veHicle

cHecked for a safe

Holiday season.

Full mechanical

servicing & repairs.

Courtesy car avaliable.

Closed from 22 nd December to

11 th January. We wish everyone a safe

and Happy Christmas and New Year.

03 383 1836 | 027 437 4514

247 Burwood Road, Christchurch

burwoodroadmotors@xtra.co.nz

HELPING US,

HELPS THE

COMMUNITY

Drop off or buy

2 family stores in your community

30 Main North Rd,

Ph 352 4581

520 Cranford St,

Ph 352 0515

ONE DAY ONLY

20%OFF STOREWIDE

WEDNESDAY 14TH DECEMBER

*Excludes prescription items * Already reduced items

Barrington Pharmacy

Next to CouplaNds, 256 BarriNgtoN st

Ph 332 3156

Pharmacy for Life -

Better advice for a healthier life
---
PEGASUS POST Tuesday December 13 2016 7

Jo Hayes National List MP based in Christchurch East

I'm Jo Hayes, National's list MP based in Christchurch East.

I love being a part of this wonderful, tight-knit Christchurch East

community. There's so much going on that I just want to share a few

highlights with you of what our community and Government are

working on achieving together.

Let's talk

Please come along and see me. I'll

be parked in my van on Friday 16

December at:

1) Preston`s subdivision

By Marshlands School

on Te Korari Street

Time: 8.30 - 9.30am

My Christmas wish

Christmas Day is just around the corner. As I pen my wish to

you all, I am reminded of the unnecessary pressure that we put

ourselves under to buy the biggest and best present when we

don't need to; that we eat and drink far too much in the festive

season and that we often don't take time out to just relax.

Christmas is a time of celebration: the birth of Jesus Christ for

some, and a time to mark the importance of family or a break

from the pressures of work life for others.

As for me, Christmas is a busy time. I will head to our farm

where we celebrate a number of new calves being born. I will

be chief cook and bottle washer on Christmas Day.

"I want to wish you all a safe Christmas and safer

New Year. Look out for my Christmas card coming

your way soon."

Supporting New Brighton

We're all sick of

road cones, but

none more than

New Brighton

businesses who

came to my office

concerned about

the one-way

system on Pages

Road diverting

traffic away from

the area and

causing financial

stress. I met with

Christchurch

Transport

Operation Centre (COTC) who talked with SKIRT. Their crews

will work longer hours, intermittent nights and weekends to get

two way traffic happening by 16 December - a week earlier

than expected and in time for Christmas shopping.

A big thank-you to CTOC and SKIRT. Now, let's all support our

community by shopping local this Christmas.

Overhaul of Family Violence Laws

Each year at this time, family violence escalates as pressure to

pay Christmas bills mounts.

The Government has worked on reforming the legislation

around family violence as it reviews the 20-year-old Domestic

Violence Act. Ministers and departments across 16 different

portolios are working together to redesign the way New

Zealand's system prevents and responds to family violence.

The fact is that we need to act sooner to keep victims safe

and change perpetrator behaviour. Reducing family violence

incidents requires all New Zealanders to think differently. The

legislation is intended to be introduced to Parliament in early

2017.

Sir Bob Charles visits Rawhiti

Sir Bob Charles swung

his club at Rawhiti

Golf course on 24

November for the first

time in 67 years. The

80-year-old PGA Tour

champion told me he

used to sneak onto

the course to hit balls

as a 13-year-old. This

time he donated some

golf clubs to help raise

money for Rawhiti and

to support all the good work being done there by club president

Mene Mene and his wife Sally.

Fresh Leadership

Monday 5 December was a great shock to us all as Prime Minister John

Key tendered his resignation. It's been an honour to work alongside

a great leader like John Key: undoubtedly the best Prime Minister this

country has seen in a very, very long time as well as an affable, humble

and genuine Kiwi guy out to do his best for his county. He has done us all

proud, deserves a well-earned break and will be sorely missed.

We've Been Busy

My team and I have worked hard in 2016.

The main issues that crossed our desks were housing, road

works, immigration, workplace safety, regeneration of the East,

New Brighton mall development, WINZ issues, employment and

education.

You will have seen us communicate with you across 33 Giggle

TV sets, in this newsletter, at our monthly mobile clinic, through

newspaper advertisments, some 17,000 paper surveys, 11,000

telephone surveys and 27,700 DLE cards. Plus, we've had 108 oneto-one

constituent meetings, and we've attended 100 meetings in the

electorate - 40 of those I personally attended, and 60 were my staff

representatives.

We care about you and your family and would love to hear how we

can help.

Looking Forward

It's going to be an exciting year in 2017 and I look forward to

talking together about how we can create a better future. Our

office will close 21 December but we'll be back and ready for the

new year on 16 January.

2) Parklands

Outside sports field,

opposite shopping centre

Time: 10-11am

3) Shirley

Burwood Park by Shirley Rugby

Grounds, New Brighton Road

Time: 11.30am -12.30pm

4) New Brighton

Next to Ray White offices

Time: 12.45 - 1.45pm

5) Wainoni

Marae on Pages Road (out the front)

Time: 2-3pm

6) Richmond

Stanmore Road, outside of the park

and opposite New World

Time: 3.30-4.30pm

Please phone our office on

03 384 9459 to book. See you there!

Authorised by Jo Hayes, National MP,

Unit 6/975 Ferry Road, Ferrymead
---
8

Tuesday December 13 2016

PEGASUS POST

EQC UPDATE KEEPING YOU INFORMED | DECEMBER 2016

The year ahead

A message from outgoing EQC chief executive

Ian Simpson

The Kaikoura Earthquake has been an unwelcome

reminder of the sheer power and unpredictability

of geological forces and of New Zealand's

vulnerability to these.

The earthquake has also highlighted yet again

the resilience of New Zealanders in the face of

natural disaster.

At EQC, it's also reminded us that every natural

disaster affects communities in different ways. So

while we have learned a number of lessons from

Canterbury 2010-2011, our response to the

Kaikoura Earthquakes will be different.

One of the key things we learned from

Canterbury is that we should have put more

time early on into building relationships with

customers, community groups, local

Courtesy of Tonkin + Taylor

Don't wait to hear from

EQC – lodge your claim

Most people seen by EQC in the first

weeks since the Kaikoura

Earthquake of 14 November have

wanted help lodging their claims

and advice on how to get emergency

repairs underway to get them back

into their homes.

EQC Customer and Claims General

Manager Trish Keith says that having

organised three teams on rotation into

the most impacted areas of Ward, Waiau

and Kaikoura to help lodge claims,

provide information and answer

EQC-related questions, EQC is being

kept up to date on customer needs.

"One of the lessons out of Canterbury

was that people wanted information

and the opportunity to talk to someone

about their issues as soon as they could

after an event, so we have ensured that

our response to Kaikoura includes

personal contact," Mrs Keith says.

"The teams have been dealing with

hundreds of customers one-on-one.

Many people have been asking EQC

when someone from EQC will visit

them, so they will know what to do

next. My advice is that they go ahead

and lodge the claim first. Don't wait for

anyone to visit.

"Go ahead and lodge your claim to

ensure you are in the system, and any

earthquake damage found later can be

added. If you fail to lodge a claim

before 14 February 2017, we won't be

able to help you so best to lodge the

government, and government agencies

and insurers.

We are heeding that lesson as we plan our

response to Kaikoura. We've had staff on the

ground in Kaikoura, Ward and Waiau to help

customers lodge their claims and answer EQC

related questions. The information our people

are picking up from those areas is being fed back

into our planning.

The work we are doing now will mean that in

2017 we will be putting in place the team we

need to deliver a response tailored to the needs

of customers impacted by the Kaikoura

Earthquake. This team will be part of the new

structure we have developed to also carry on the

remaining work in Canterbury in 2017.

While we are working very hard on responding to

Kaikoura, we also know we have to keep focussed

on resolving the final Canterbury claims.

I'm stepping down as EQC's chief executive at

the end of this year. I want to thank people of

claim," Mrs Keith says.

The next steps about claim assessment

and settlement are still the subject of

ongoing negotiations with private

insurers. EQC is confident it will have

news on this soon.

EQC has been prioritising the

vulnerable and the most damaged

homes for visits, as needed.

All EQC teams are working out of

Recovery Assistance Centres set up by

Canterbury Civil Defence Emergency

Management in Ward, Waiau and

Kaikoura so Government agencies and

non-government agencies could deliver

consistently across areas of need.

If you have any questions about

your existing claim or want to lodge

a new claim:

• Visit www.eqc.govt.nz/claims

• Email info@eqc.govt.nz

• Phone 0800 DAMAGE (326 243)

The EQC call centre is open 7am to

9pm Monday to Friday, and 8am to

6pm on Saturdays.

To prepare for making a claim,

remember to have on hand:

• Information about what damage

occurred

• Photographs showing the damage

and any urgent work that was done

• Your insurance policy number and

name of your insurance company.

Courtesy of NZ Fire Service

Canterbury for the support we have received,

and at times for your patience. I acknowledge we

didn't always get everything right but we have

learned from that. I also want to acknowledge the

EQC staff who worked very hard to support the

Canterbury recovery.

Looking ahead, it's clear 2017 will be another

year of challenges. I'm confident that EQC will

rise to meet those challenges.

2017 changes

From later this month, EQC will be the main point of

contact for all customer enquiries relating to Canterbury

Home Repair Programme (CHRP) repairs.

Until now, customers have dealt with EQC and/or Fletcher EQR

– depending on what stage their repairs have been at. But, from

16 December, EQC's 0800 number (0800 326 243) will be the

main number for all customers – including those whose

properties are in the current sub-floor review, who will be

transferred to the Fletcher EQR staff focussing on that work.

No delays are intended or anticipated, but personnel changes

due to the completion of about 68,400 first-time CHRP repairs

may mean some customers will have a different contact person

at EQC or EQR in 2017.

EQC's General Manager Customer and Claims Trish Keith says

these customers will be advised of any changes and provided

with new contact details.

"We don't want customers who currently have a contact

person at EQC or EQR calling us and only then finding out that

someone else is looking after their claim."

She says any changes will be limited to EQC and EQR

personnel, and repair work will be carried out by contractors

that have already worked for the home repair programme and

are familiar with EQC's systems and quality expectations.

Most CHRP contractors will finish work for the year on

23 December and resume work from 9 January.

EQC's Contact Centre hours will be:

• Friday 23 December: 7am-5pm

• Saturday 24 December – Tuesday 27 December: CLOSED

• Wednesday 28 December – Friday 30 December: 8am-5pm

• Saturday 31 December – Tuesday 3 January: CLOSED

• Normal hours will resume on Wednesday 4 January

(7am-9pm Monday-Friday; 8am-6pm Saturday)

EQC in the

community

EQC staff members will be available to answer your

questions and talk about claims at the following Recovery

Assistance Centres.

• KAIKOURA

8.30am-5pm, 7 days, Sacred Heart Parish Hall

• WAIAU

11am-2pm, Monday 12 December, Waiau Hall

• WELLINGTON

10am-5pm, Monday-Friday Public Trust Building,

131-135 Lambton Quay

Positive

response to

February 2016

settlement

process

90 percent of claims from the February 2016

earthquakes have been settled.

EQC's February 2016 Event Response Manager,

Jayne Lapin, says of the 13,879 claims received for the

14 and 29 February earthquakes and subsequent

aftershocks, EQC has resolved 12,440 (90 percent)

by cash settlement worth a total value of $46,039,854

"Customers have appreciated the approach we have

developed and implemented in response to the

February earthquakes."

The new approach uses both on-site and phonebased

assessments, and allows customers to influence

the pace of settlement by giving them the opportunity

to provide earthquake damage data and

photographic evidence.

Thanks to a robust period of planning in advance and

with customers providing information up front, claims

have taken an average of three weeks to reach

settlement from assessment.

Customers who have been through the process have

been surveyed and nearly 90 percent of those who have

taken part have been positive about their experience.

Ms Lapin says EQC had hoped to resolve all February

2016 claims by the end of the year but it has suited

some customers to defer their assessment to 2017,

meaning a small number remain open and will be

closed early next year.

Land settlements

update

Almost all land claims will be resolved by the end

of the year but there will be some customers who

will get their settlement in 2017.

At the end of December 2016, out of a total of

approximately 73,000 green zone properties we

expect to have resolved 97% of them. This means we

have either made payments to customers or advised

them that they don't qualify for the types of land

damage known as Increased Flooding Vulnerability

(IFV) and/or Increased Liquefaction Vulnerability (ILV).

"We've been working to get an answer to all land

customers waiting to hear from us this year. While we

have worked hard to ensure that customers have

received their land settlement, we are conscious that

some are still waiting", says EQC's Head of Customer

and Claims Trish Keith.

"These are the last of the most complex claims that

we need to settle and we will do our best to continue

to deliver robust settlements which can give

homeowners confidence that all properties have been

assessed fairly and consistently", says Mrs Keith.

"Looking back on the year, we would also like the

opportunity to thank all land customers, community

groups and many other stakeholders, who are also

supporting our customers, for their patience and

understanding as well as taking the time to come to

our community meetings on land settlements or

hosting us and providing us with their feedback",

concludes Mrs Keith.

The EQC website remains a good source of

information for land customers who want to find out

more about IFV and ILV land damage, which are a

world-first. Please visit www.eqc.govt.nz/IFV or www.

eqc.govt.nz/ILV.

CONTACT EQC AT 0800 DAMAGE (0800 326 243) OR VISIT WWW.EQC.GOVT.NZ
---
PEGASUS POST Tuesday December 13 2016 9

Design A Christmas Card

first week and last week of

with 3D Printed Stencils

term. Activities are based

Tuesday, 3.30pm-4.30pm

around the science of We welcome

Make Christmas cards with

popular books and other

a difference. A 3D printer

interesting topics. The final new patients

will print out stencils for the

school term's schedule

Email fraser.walker@starmedia.kiwi

children to design and make

by 5pm each Wednesday includes wacky wheels,

their own Christmas cards.

structural engineering and

With the help of library staff,

many others.

create an interesting and fun

Parklands Library, 46

card design.Caregivers are

Queenspark Dr. Free entry

required for children under 10

but no bookings are required

for this event.

Shirley Library, 36 Marshland

Rd.

Summertime Reading

Club for Kids

Opens Friday

Need some books for the

summer school holidays? Pick

up some along with a Passport

to Summer reading. Each

page has fun reading-related

activities to complete. After

you finish the challenges

on each page, stop in at a

library to collect a stamp in

your passport. At the end of

your passport, once you've

completed eight activities and

collected five stamps in total,

get your passport checked by

a librarian to enter the draw

to win some prizes including

an iPad mini 2, an Orana

Park family pass, pool passes,

movie passes and book vouchers.

Any Christchurch City Libraries

branch. Free entry

Carols by Candlelight

Friday, December 16,

market from 6pm, carols from

7-8.30pm

Featuring MC Janice Gray

MONTHLY EXHIBITION: Get along quick to see the

last week of this month's exhibition at Brighton Gallery,

featuring the works of Graeme Ritchie. Mr Ritchie is a local

landscape artist, who is exhibiting a number of his larger

works at the gallery this month. The gallery also offers

tutoring for children and adults and gives encouragement

to budding artists. The exhibition runs until December 18,

and is open 10am-4pm daily with no entry fee. ​

and Lizzie Cook. Take the

family along to check out the

Linwood Village Market and

finish off with a good old fashion

sing-along and get into the

festive spirit. Go along with

your own seating and a candle

to light at the conclusion of the

concert. For more information

email linwood.art.ctr@gmail.

com

Doris Lusk Reserve, Cnr

Stanmore Rd and Worcester St.

Free entry

Science Snippets Afterschool

Every Friday, 3.30-4.30pm

Go along to a free afterschool

science programme

presented by Science Alive.

Science Alive educators

lead children through

interactive activities to

stimulate their interest

in science, and there is

something to take home

every week. Programmes run

during term time except the

ASB Junior Christmas

Classic

December 19 to 23, from

8.30am daily

Head along to Wilding

Park in Linwood any day

next week to catch this

tournament, which has

events from under nine year

olds to under 18s boys and

girls. There will be a canteen

available on site. For more

information phone 319 6717.

Wilding Park, Woodham

Rd, Linwood. Free entry

105 Christmas Market

December 17, 10am-6pm

Go along and join in with

the markets at 105 Brighton

Mall as the Christmas season

is welcomed. There will be

some of New Brighton's

crafts, handmade jewellery

and pounamu, handmade

vegetable soaps, up-cycled

furniture, vintage clothing

and wares, professional

photography services,

handmade goodies, Indian

fashions, handmade clothing

and much more. Once you

have checked out all the stalls

head out to the live music.

105 Brighton Mall, New

Brighton. Free entry

Our team will work with you to

provide excellent health care

Based in New Brighton and Burwood

areas for over 50 years

Recognised as an innovative, quality

practice

Family health, catering for all ages

Friendly and caring

Online appointment booking

Podiatrist Lesley Marsh is

available on Wednesdays to

provide footcare.

Bring this advertisement

along when you enrol

with us and receive a FREE

nurse appointment to

assess your health needs.

225 Travis Road | PHONE: 388 9686

Visit our website

www.travismedical.co.nz

"Feel the sun on

your back & hear

the birds sing"

Admatha Dementia Care provides loving care

in small homes of about 15 people, with access

to a beautiful garden.

• At Admatha we provide Dementia Rest Home Care and Dementia

Continuing Care.

• We focus on the individual needs of each person.

• We accept you as you are, believe in you, really listen to you, joke

with you and love to hear you laugh.

• We develop an in-depth and intimate knowledge of each person.

There is openness, honesty and trust.

• Family/whanau become part of our community. Your family is always

welcome here at your home.

• At Admatha each person is loved, valued and important.

• Admatha has the maximum four year Ministry of Health certification.

Ring us now on 385 1286.

We'd love to hear from you.

Admatha Dementia Care,

34 Averill Street, Richmond, Christchurch

www.admatha.co.nz
---
10

Tuesday December 13 2016

Our People

PEGASUS POST

Mike Vincent

Million dollar mission to save a

Mike Vincent is Kaikoura's paua saviour. He

reckons he and about 450 volunteers have

saved paua worth more than $1 million since the

November 14 earthquake. Fraser Walker-Pearce

talks to the 44-year-old about questioning his

science teacher, missing his wife and kids, and

growing up in Aranui

Where are you while we're

chatting?

We're in Boat Harbour in the

south of Kaikoura still, we're

waiting for a road to open so

we can get access to some bays

further to the north, the different

inlets and bays up there. All

the way from Oaro through to

Peketa is the area we've been allowed

to relocate paua.

Talk to me about the process

of relocating paua. What does

that entail?

Before I do I'll explain how to

normally gather paua. You jump

in at low tide and dive for it;

that's the way to get it legally. But

now because of the earthquake

you can walk out in sand shoes

without getting wet and reach it.

In my whole 30 years of diving

I've never been able to go into

a tidal zone and pick up my six

paua without getting wet. There's

no science in that, it's just what's

happened.

So now you're wading out,

gathering them and dropping

them deeper?

What we do is we go out at

low tide, when there's a two hour

window either side of that and

we fill buckets with water and the

harvesters go out and grab them,

and the relocaters who are the

experienced divers, go and place

them on rocks, back into the

water basically. The simple way

of saying it is that we're moving

them from where there was no

water, to where there is water.

How much depth do you

think has been lost from the

earthquake?

It's hard to put a number on

it, because all I can say is there's

hundreds of dead paua on the

beaches now. It's also important

to ask if in the old tidal zone

pre-earthquake was there any

sea-life on the beach? The answer

is no. In the new tidal zone after

the quake would there be any life

Dyers Road Landscape

& Garden Supplies

• Barks • Peastraw • Composts - we supply the best available

• Aggregates - Chip, Round and Basecourse

• Pavers & Schist products • Pungas

• Decorative Stones & Landscaping Rocks

• Trailer Hire first hour free with purchase

• Bag & Bulk - pick up or delivered

David, Carol & Mike

We will deliver!

SOIL

AND

Phone: 03 384 6540

183 Dyers Rd, Bromley • OPEN 7 DAYS

Weekdays 7.30am-5pm. Weekends 8.30am-3pm

www.dyersroadandlandscapes.co.nz

POWER COUPLE: Mike Vincent and wife Debra. Mr Vincent

says she is his rock back in Christchurch.

there? And the answer is still no,

because sea creatures can't live

out of water (laughs).

And so you've brought it on

yourself to get them back in the

water?

A diving mate of mine Dylan

Dhue, his wife Hannah and I

phoned each other the day after

the earthquake. When we saw a

photo of a rock full of paua well

above the water line on Facebook,

that's what made me call

HARDFILL

DUMPING

Amazing Green-Fee Package

Play 2 Rounds on the Best Links Golf Course in Christchurch

with a Motorised Cart and 2 Free Beers for $59.00 (usually $131.20)

Here's how you can take advantage of this great offer…

Pick up your phone and dial 383 0307.Then press 2 and tell James or Moon in the Pro-shop that you are

calling about the Green-Fee Package in the paper and you want to book a tee time for 2 players. Tee times

for Saturday aren't always available but for most other days you will be able to get the tee time you want.

Here's what to do on the day you are playing…

Cut this ad out of the paper and hand it in at the Pro-shop at least 15 minutes before your tee time. In return

we will give you the key to a motorised cart and a voucher for 2 free handles of beer to be enjoyed after

the game. Then hop in the cart and go and enjoy the best greens and fairways in Christchurch (some of the

pros who played in our recent Pro-am reckoned they were the best greens and fairways in NZ).

Here's what to do after the game…

Throw your clubs in the car and return the cart to the Pro-shop. Then claim your free beers at the bar. If you

don't like beer - no worries. Just ask for a cup of coffee or a glass of wine instead. Then relax on the deck

after a great day's golf.

That's it, just pick up that phone and make the call…. 383 0307.

Waimairi Beach Golf Club

"The best links course in Christchurch"

www.waimairibeachgolfclub.co.nz

him and I said to him we have to

do something. And that's when

I posted my first Facebook plea

for help.

And it all went from there?

Pretty much. So now it's all

volunteers up here who all feel

the same as us – they've all

visited or dived here. It's touched

all of us. Kaikoura has a special

place in all South Islanders'

minds and hearts. Also a big

thank you to the local runanga in

VISIT OUR NEW LOCATION LOCATION

Hours of Business: 7am-4.30pm Mon-Thurs

Fri 8am to midday

or by appointment with Keith 027 566 3909

Kaikoura who offered their help

and support for us.

Obviously you can't save

every single paua out there –

but how many do you think

you've relocated back to the

water?

You're right we can't save all

of them. But I'd say we've put

between 20,000 and 75,000kg of

paua back into the water. But to

give you an idea, we would fill a

20-30L bucket in about a minute,

so we fill thousands of buckets.

To put a money figure on what

we're doing, it's about $90 for a

ton of paua, so we would be talking

over a million bucks for this

operation normally. We've probably

had about 450 volunteers

over the whole time helping out

too. I want to say a big thank you

to all our wives out there as well

(laughs). We've all got families

mate, they've been our rocks, so

letting us go away and do this is

awesome.

We're coming up to

Christmas now, how much

longer do you think you can do

this for?

We're waiting for a road to

open up towards Peketa so we

can get there. If it doesn't open

by Sunday though we'll have to

call it.

Still Pedalling!

Full Workshop Services:

• WOF's • Service Checks

• Wheel Alignment • Brakes

• Clutches • Tyres etc

All makes & models

Subaru Specialists

NEW LOCATION ADVERT.pdf 1 1/05/2014 11:51:35 a.m.

518 Moorhouse Ave (East end) | P: 379 7615

W: crowesport.co.nz | E: service@crowesport.co.nz

430 ST ASAPH STREET!

Trevor Crowe's been

involved with cars for a

while. You can benefit

from his experience at...

RECOVER YOUR LOVED FURNITURE

No job too big or small

Still able to offer

you the finest top

quality new furniture

Visit us online

www.qualityfurniture.co.nz

P. 371 7500

QUALITY FURNITURE SPECIALISTS

RE - UPHOLSTERY SPECIALISTS KEITH HARTSHORNE 0275 663 909
---
PEGASUS POST Tuesday December 13 2016 11

Kaikoura natural treasure

When will you be back in

Christchurch?

I would say within the next

week and a half. It's been adventurous,

but we just want to get

home to support our families.

It will be really awesome for me

to see my wife Debra and my

two young boys Kaydence and

Ezekiel again.

What suburb in Christchurch

are you going back to?

Addington. We've been there

for eight years now. It's our first

house. I haven't been working

so my wife's a bit stretched. I'm

in the building industry but I've

taken almost a year off to help

with the house.

Do you ask a few of your

builder friends to help with the

house?

Oh hell yes. I've got heaps of

friends that have helped out with

the house, people like plasterers,

painters, landscapers, it's all good

karma that comes around for

them too.

You must have a lot of good

karma with the work you're doing

at the moment?

Yes, I think I must have a bit

of credit in the bank (laughs).

It's the love and support of the

New Zealand people, that's what

allows me to keep going. We're a

special breed us Kiwis I truly believe

that. I think when you have

a natural disaster it brings people

back together and you get a lot

of good things happening. And

in 20 years time our kids will be

able to come out to Kaikoura and

get paua.

So it's also about the future

generation for you?

It's all about my kids and their

kids, to get paua for me, their

father, when I'm too old to get it

myself (laughs). It's me teaching

them what's important, conservation

and all that.

What high school did you go

to in Christchurch?

I went to Aranui High School.

I was brought up and lived in

New Brighton and loved surfing

on North Beach, I used to love

to surf. I'm more into my diving

and hunting now. I'd rather run

around the hills and do stuff

like that now, chasing pigs and

deer.

Who did you hang out with at

school?

It was a big community back

then. It's a lot different now because

of the advances with technology

nowadays. We'd phone

people and actually bike to each

others' houses and that kind of

thing. It was a small community

and everybody knew everybody.

Are there any schoolmates

you still catch up with?

I still see a lot of the mates, and

because of this work I'm doing

up here a lot have come back

out of the woodwork. That core

group of good friends are still

around. Just a big web of friends

I guess.

Did you have any favourite

subjects at school?

I loved science – I was the

guy that would stand up in class

and got in trouble for it, and

ask about evolution and ask the

teacher why apes aren't turning

into humans now, that kind of

thing. I loved it because I liked

the challenge of working through

something and asking what's going

on here.

Were you pretty smart for a

student?

I was an average student, sort

of in-between average and above

PAUA

SAVIOUR:

A group of

volunteers

saving

paua on the

Kaikoura

coast (left).

The paua

need saving

because the

seabed rose

significantly

during the

earthquake.

average in terms of my brains. I

loved my sport though. I played

representative rugby for Canterbury,

then I went and played

league and then got into diving

at 14 and hunting after that. I

still play presidents rugby league

for the Kaiapoi Bulldogs. I still

throw myself around like I'm 21

to be honest (laughs).

Did you do any tertiary education

after Aranui?

I did a course at polytech for

business management. I think I

got through one year and it got

boring for me. It wasn't challenging

enough for me and I thought

do I really need a piece of paper

for this? I'm just a worker that

learns a lot by talking to people

and not judging them.

Put your

STAMP

ON

Christmas
---
12

Tuesday December 13 2016

PEGASUS POST

DEADLINE SALE

DEADLINE SALE

Belfast 29 Rushmre Drive

Family Space!

Harcourts ID: BF27355

Buyers will enjoy the comformts of this modern 302m² home sited on a large 755m ² section,

provides great living spaces both inside and out! Huge living areas and full-length feature-windows

maximize natural light and space throughout the home, opening out to the sizeable outdoor patios

and private lawns beyond, with a beautiful backdrop of trees from Darroch Reserve.

Mitchell Roberts & Mana Tai

M 027 413 0797 or 027 626 2824 P 03 323 6045

Harcourts Twiss-Keir Realty / Belfast Licensed Agent REAA 2008

FOR AUCTION SALE

4 2 3

Deadline Sale: All offers invited on or before

15 th December at 4.00pm

View: Phone for viewing times.

Bromley 12 Taranui Place

Cosy Oasis...

Mitchell Roberts & Mana Tai

M 027 413 0797 or 027 626 2824 P 03 323 6045

Harcourts Twiss-Keir Realty / Belfast Licensed Agent REAA 2008

FOR SALE

3 1 2

Harcourts ID: BF27349

The current owner has delighted in creating a complete oasis-retreat of her home, but due to

a changing life-stage it is now time to down-size and move on to a smaller home, providing an

opportunity for a new buyer to make this their oasis. The home is comfortable and cosy with openplan

areas and the second separate living-room. The gardens provide a magically private haven.

Deadline Sale: All offers invited on or before

20 th December at 4.00pm

View: Phone for viewing times.

Edgeware 2/117a Warrington Street

Modern Family...

4 32 13

Harcourts ID: BF27277

Buyers should take this opportunity seriously for this beautifully contemporary styled brand new

townhouse, which offers modern living with space and style, in a convenient urban location. Splitlevel

living and seamless outdoor flow to the private easy-care section provides great use of space,

and living comfort for all inhabitants.

Hornby 31 Orianna Street

Urgent Sale Required - Be Quick!

3 1 1

Harcourts ID: BF27253

Due to personal circumstances, this immaculate property requires an immediate sale in order for

the owners to proceed, and must be sold.With comfortable living spaces and bedroom sizes, the

large entertainment deck, plenty of parking and a private sunny back-yard - this property provides a

fantastic opportunity for first-home buyers, investors or down-sizers.

Mitchell Roberts & Mana Tai

M 027 413 0797 or 027 626 2824 P 03 323 6045

Harcourts Twiss-Keir Realty / Belfast Licensed Agent REAA 2008

For Sale: No price - offers invited!

View: Phone for viewing times.

Mitchell Roberts & Mana Tai

M 027 413 0797 or 027 626 2824 P 03 323 6045

Harcourts Twiss-Keir Realty / Belfast Licensed Agent REAA 2008

For Sale: No price - offers invited!

View: Phone for viewing times.

FOR SALE

FOR SALE

Kei Kei Kaikoura 1390 State Highway 1

Beach Front. Bush Back - Coastal Retreat

5 2 2

Harcourts ID: BF27267

With DOC bush at the back and the beach 25 meters in front and a stream beside. The perfect

location. Five double bedrooms with sea views. Great covered entertaining area, double lockable

garage to store boats and equipment and plenty of parking area. Immediately adjacent to the

Marine Reserve. Immediate possession available and furnishings available.

Richmond 3/15 Tweed Street

Brand New & Must Be Sold!

2 1

Harcourts ID: RG7951

Recently completed two bedroom unit located close to shops, transport and minutes to The Palms.

Suitable for those looking to add to their portfolio, professionals or retirees. Open plan kitchen/living

and dining, heat pump, double glazing and garage with utility room. Immediate possession available.

Instructions to sell are very clear as this property is now surplus to requirements.

1

Bill Dowle

M 029 358 3175 P 03 323 6045

Harcourts Twiss-Keir Realty / Belfast Licensed Agent REAA 2008

For Sale: No price - offers invited!

View: Phone for viewing times.

James Keir

M 027 3746112 P 03 313 6158

Harcourts Twiss-Keir Realty / Rangiora Licensed Agent REAA 2008

For Sale: No price - offers invited!

View: Phone for viewing times.

Contributor to www.realestate.co.nz

www.twisskeir.co.nz
---
PEGASUS POST Tuesday December 13 2016 13

Owners On The Move ...

12 Joy Street - Shirley

DEADLINE SALE: All offers presented 4.00pm Tuesday 20 th December (unless sold prior).

3 Bedrooms | 1 Bathroom | 2 Car Garage | Off Street Parking | Property ID: BF27365

An excellent opportunity for first home

buyers

Situated in the popular suburb of

Shirley, this sunny, warm home offers

indoor/outdoor flow from living areas

to the deck and garden. Great for

summer entertaining.

Well appointed new kitchen with under

bench oven and ceramic hob, brand

new bathroom and three good sized

bedrooms.

Well fenced for children and pets. The

men are well catered for with a double

garage, carport and storage shed.

Great location - so close to all the cafes,

restaurants, good schools and The

Palms Mall.

Our sellers motivation is high so don't

delay -be quick to view!

For more information contact

Anne Davis 03 323 6045 or

027 492 7694, Harcourts Twiss-Keir

Realty Ltd. Licensed Agent REAA 2008.

Your Biggest Asset

Deserves Experience

Compassionate, highly organised and possessing a wealth of experience,

Anne Davis is passionate about Real Estate. With 17 years in the industry her

successful career has resulted in a huge amount of respect from hundreds

of regular clients.

Having achieved Top Salesperson many

times, Anne sees herself as a consultant

eager to listen, share knowledge and

work tirelessly to achieve the goals of her

clients with a simple honest approach to

what can be a difficult job.

Anne Davis is an exceptional choice

if you are considering selling your

home.

For a free market appraisal or to find out

more about the real estate market, call

Anne today 03 323 6045.

Merry Christmas!

Anne Davis

M. 0274 927 694 P. 323 6045

E. anne.davis@harcourts.co.nz

Belfast Office Licensed Agent REAA 2008

• Stage 1 Sections from $139,000

Must Be Sold!

• Stage 2 Sections from $165,000

With Rural Outlook

• Childcare Centre opening 2017

• Close to the Beach, River, Schools,

Public Transport and Township

Bring your own builder, your own plans and

create your family dream in BeachGrove.

Call Julie-Ann today on

0800 beach grove

or visit beachgrovekaiapoi.co.nz

Harcourts Twiss-Keir Realty Ltd/Licensed Agent REAA 2008

Contributor to www.realestate.co.nz

www.twisskeir.co.nz
---
14

Tuesday December 13 2016

PEGASUS POST

Linwood

College

Learning pathways

to the future

2017 Student Leaders (Left to right, front to back): Havana Aaifou – Board of Trustees Student Representative, Vai Mariner –

Deputy Head Girl, Sean Robertson-Wright – Deputy Head Boy, Thomas McHutchison – Head Boy, Makayla Austin – Head Girl

enrolling now for 2017

Message from the Principal

Warm greetings to

the Linwood College

community. Kia ora

koutou. Talofa lava. Kia

orana. Malo e lelei. Bula.

Fakaalofa atu. Namaste.

Kumusta.

It is with pleasure that am able to report to our

community that Linwood College has had a

most positive year.

It has been a year of significant busyness

reflecting the growth and positive nature

of the wider environment: significantly

increased academic achievement, community

consultation for our redevelopment and

whole-school rebuild, our third year of

providing education at Year 7-13, curriculum

and teaching changes for a connected and

pathwayed curriculum, digital learning

and the daily bedrock practices of positive,

learning-focused relationships. At Linwood

College the individual matters.

Education is a vast field and terms

like 'modern' and 'innovative learning

Six Duke of Edinburgh Gold Awards

This year has been an extremely successful

year at Linwood College for many of senior

students who have completed their Duke

of Edinburgh Hillary Gold Award, a highly

distinguished achievement and one which

represents a culmination of many years of

effort, both physically and mentally.

Gold Awards were presented by the

Governor-General of New Zealand -

Right Honourable Dame Patsy Reddy

environments' and '21st Century learning' are

being regularly used in the media. Linwood

is clear-eyed about the forms of education

that work for our students. We are focusing

on 'flexible learning environments' so that

learning can be individualised and students

see pathways for themselves that engage and

inspire. It is not about 'traditional' or 'modern',

but personalisation so the systems adapt to

the learner, not the other way round.

Common sense and formal research are

united and very clear on the attitudes,

skills and knowledge that lead secondary

school students on to a successful postschool

pathway, both in tertiary study and in

employment, and it is the daily focus on these

attributes, principally through our SEaRCH

values – Service, Excellence, Respect,

Curiosity and Honesty – that is at the heart of

our school.

Nga mihi nui and best wishes for the festive

season and summer holiday.

Richard Edmundson - Principal

with Linwood College receiving more

awards in 2016 than any other high school.

Present at the ceremony, held

in October were the following

students: Fayreen and Mayreen Fualau,

Jordan Meddings, Kesaia Rabuka, Boiser

Raquel and Darney Read. Students have

expressed appreciation to Chris Allan of the

Joshua Foundation for guiding and supporting

them through the process.

2016 Supreme Awards

(Left to right)

• Sam Kerr-Quinn – 25th Anniversary

Commemorative Prize - Male student

who has made the widest and most

valuable contribution to school life

• Karen Ligsay – Proximae Accessit for

2016

• Easter Savelio – 25th Anniversary

Commemorative female student who

has made the widest and most valuable

contribution to school life

• Ruby Kerr - Dux for 2016

• Navneet Narayan – I P Anderson Award

for Leadership

Sport and Physical Activity Awards

Linwood College's recent Sport and Physical

Activity Awards ceremony was attended

by our guest speaker Steve Gurney, who

has won the Coast to Coast race a recordbreaking

nine times.

We would like to thank the Linwood

Tristen Read –

• Senior Sportsperson of the Year

• Sportsman of the Year

(with Dave Turnbull, Linwood

College BoT Chairman)

Easter Savelio –

• Sportswoman of the Year

(with Principal, Mr Edmundson)

College community and Linwood College

Board of Trustees for their continuous

support as we continue to pursue sporting

excellence.

Top awards were presented to the following

accomplished students.

Kyle Amer –

• Junior Sportsman of the Year

(with Steve Gurney)

Best Mixed Choir at the Festival of Voices

Jennifer Merkin –

• Junior Sportswoman of the Year

Silver Award Winners: (left to right) Year 12s: Leeah Mullany, Eden Pettigrew, Tyler Austin, Thane

Sergison, Vanessa Franklin and Year 13: Tia Manawatu. Awards were presented by the Right

Honorable Mayor Lianne Dalziel and Chris Allan DoE Coordinator - Joshua Foundation.

Pasifika Programme

This was the College's first year in this festival

which had thirty-two South Island choirs

participating. We were thrilled to receive these

Kapa Haka Competition

awards: 'Excellence in Cultural Expression',

'Outstanding Duet' as well as the overall 'Best

Mixed Choir' award for the festival.

This year a number of fantastic learning

support networks have been put in place

to support our Pasifika students. Activities

included performing in SPAC PAC Polyfest

in Term 1, speeches and Samoan Language

Week in Term 2, the *Power-Up and U.C

XL Pasifika programs in Term 3 and our

very own Pasifika Awards Night in Term 4.

(*Power Up – as seen in the photo above,

is an after-school homework centre at

the College also including students from

other schools).

En route to the 2016 South Island Kapa Haka

Competition held in Nelson, our College

students visited the Murchison Area School,

performing to the very appreciative audience.

Linwood College • Phone 982-0100 • Email: office@linwoodcollege.school.nz • www.linwoodcollege.school.nz
---
2

PEGASUS POST

[Edition datE]

Tuesday December 13 2016 15

• By Gordon Findlater

COASTAL Spirit football

development manager

Paul Bateson has been

headhunted by Auckland's

Three Kings United.

Bateson has been in his

current role at Coastal

since August last year.

He will finish before

Christmas to take up the

role of director of football

at Three Kings in January.

The Auckland club is

one of the largest in the

country and finished fifth

in the Northern Region

Football League.

"When I got the phone

call I was really surprised.

They really sold it to me.

The club's a progressive

one and they're looking

to push for a spot in the

national league in the

next few years," said

Bateson.

After moving from

the United Kingdom in

2008, the 31-year-old

has held a number of

footballing roles in

Christchurch.

SPORTS

Coastal football manager

leaves for Auckland

ON THE MOVE: Coastal Spirit's football development

manager Paul Bateson is heading to Three Kings

United. ​

Bateson spent three

years as football

development officer at

Mainland Football.

He has also been

engaged as a coach by both

the Mainland Federation

Talent Centre and NZ

Football National Talent

Centre.

He previously held the

role of assistant coach with

the Canterbury United

youth team.

"I've really enjoyed my

THE PLAYHOUSE CHALLENGE

time here. Coastal are a

club that has an absolutely

fantastic culture and are

really encouraging with

people going onto higher

honours," said Bateson.

Coastal administration

manager Rowena Scherrer

and marketing and

facilities manager Jimmy

Stewart will handle the

vacant role on a temporary

basis while the club

decides on the best way

forward.

Tenants Protection Association (TPA) Christchurch, Birthright Canterbury, and

Star Media are proud to present Canterbury's first ever 'Playhouse Challenge.'

The competition will see some of our top architects and building teams compete

against each other to build Canterbury's best playhouse and receive an award for

'Best Architectural Playhouse' or the 'People's Choice'.

The best five playhouses will be judged by an expert panel and members of the

public attending the 2017 Star Home & Leisure Show. The playhouses will be on

display at the Show from 30 June until 2 July, where they will also be auctioned.

Proceeds from the auction will be shared between TPA and Birthright Canterbury

to support their ongoing work in the community.

Send in Your Expression of Interest

If you think you are up for the challenge of building

Canterbury's best playhouse, please submit an

Expression of Interest by 5pm on 22 December.

Visit birthrightchch.org.nz or tpa.org.nz

If you have any questions, please don't hesitate to

contact Di Harwood at TPA on (03) 379-2297.

KIDSTUFF

Lindisfarne is a Family Business

Lindisfarne Nursery School was

established in 1987 by Tricia Cuthbert and

remains part of the Cuthbert family today.

We have a large open villa which offers

pre-schoolers a great space for lots of fun

activities, and a nursery building where

the babies and toddlers can develop and

explore at their own pace.

Our registered teachers provide a

programme of wonderful activities based

on the national curriculum, Te Whariki,

which encourages a love of learning, and

you will receive regular updates about how

your child is developing.

The pre-school villa offers the children

a large open space with family and roleplay

areas, areas for construction and

Kids love CASPA!

CASPA (Creative After School

Programmed Activities) incorporating

PAPA JACKS offers children the

opportunity to be creative, make new

friends and try new experiences all

within a safe, nurturing environment.

CASPA offers working parents an

affordable after school and school

holiday programme that their kids

just love!

CASPA attributes its success to the

variety of activities on offer as well as the

convenience and affordability for parents.

CASPA kids enjoy an exciting range of

activities including sports, music, games,

drama, arts and craft as well as fun trips.

Previous themes and activities have

included a Karaoke Dance Party, CASPA

Fear Factor, Healthy Art, Out of Africa

and hundreds of other amazing themes/

activities!

CASPA parents enjoy peace of mind,

knowing their kids are safe and enjoying

the benefits of a quality after school

programme. Some parents and caregivers

also enjoy government subsidies for

CASPA. CASPA is Child Youth and Family

approved for the OSCAR Subsidy and in

some circumstances, the full CASPA fee

will be covered by the subsidy.

For more information or to enrol, call

Caroline, Rachel or Tania on 349 9260 or

visit www.caspa.org.nz

CASPA

After School

& Holiday Programme

Creative

After

School

Programmed

Activities

art, a library full of wonderful books and

puzzles, and a "classroom" area where the

pre-schoolers love to 'play schools'.

The nursery house provides the babies

and toddlers with the environment and

resources to develop their skills in the

precious first two years.

Your child will have a portfolio which

will reflect their interests, as well as show

their learning and individuality.

Morning and afternoon tea and a

cooked lunch are provided, and

we are open all year.

Please call in

at your

convenience.

• Central location

• Cooked healthy heart meals

• Large private outdoor play area

• Casual care available

• Enrolments available now

• 7.30am - 5.30pm Monday to Friday

EST 1987

389 2483

375 Worcester Street • Christchurch

Your friendly childcare solution

• We provide a safe, creative

environment for 5-13 year olds

• Our staff are trained

• A range of fun activities

• 7.15-8.30am and 3-6pm Mon-Fri

• 8am-6pm Holidays

• Kids just LOVE it!

Subsidies

Apply

& Home

Leisure

SHOW

call us

noW

P: 349 9260 or 027 352 1638

E: info@caspa.org.nz

W: www.caspa.org.nz

Incorporating
---
16

Tuesday December 13 2016

REAL ESTATE

Rolls Royce Real Estate

15 Heathfield Avenue, Fendalton

Price $2,795,000

4 bedrooms | 2 bathrooms | 2 living room | 1 dining room | 2 car-garage | Listing # PI55855

PEGASUS POST

Gracious and substantial, this classic

home has been updated for contemporary

living. Enjoying a private location in a

quiet street, it is close to shops and cafés,

and in zone for Fendalton School, Cobham

Intermediate, Boys' High and Girls' High.

Situated on a stunning 1,811 sqm of TC2

land, this property leaves nothing to be

desired.

At the rear of the home, a spacious

open-plan living and dining room is

bathed in light and opens to outdoor

living. The adjacent kitchen is a sleek and

functional workspace with walk-in pantry.

An additional separate sitting room is a

relaxing space overlooking the pool and

flowing to an enclosed porch and terrace.

Upstairs, the master bedroom features

a chic en suite and opens to a sunroom,

utilized as a bright and inspiring office.

Three additional double bedrooms are

served by a modern family bathroom.

Outside, established plantings keep

maintenance minimal, leaving you free to

enjoy the pool and tennis court, and the

games room behind the double garage.

The owners are relocating south, so this

unforgettable home is very definitely for

sale. Don't miss the opportunity to secure a

piece of prime Fendalton real estate.

Viewing by appointment. Contact

Cameron Bailey on 352 6166 or mobile

0275 557 079 of Harcourts Gold Papanui

(Licensed Agent REAA 2008)

MALTWORKS VILLAS

LIFESTYLE VILLAGE • HEATHCOTE VALLEY • CHRISTCHURCH

Lifestyle Village

for over 55 yrs

Under offer to date (7 Dec 2016)

• 65 FREEHOLD UNIT TITLES - protecting your

investment (not licence to occupy)

• On site caretaker for maintenance of grounds,

common areas plus a communal clubhouse

• Selection of well designed larger floor plans

with both single and double garaging

• Solar panels on all villas generating

power savings

Sue & Gemma Roberts

P 03 323 6045 Sue 027 4401 282 Gemma 027 2236 471

E sue.roberts@harcourts.co.nz E gemma.roberts@harcourts.co.nz W www.sueroberts.co.nz twisskeir.co.nz Licensed Agent REAA 2008

MALTW

LIFESTYL
---
PEGASUS POST Tuesday December 13 2016 17

FOCUS ON HEALTH

Arthritis &

back pain

to rest or keep moving?

With arthritis and back pain 30 years ago

the advice was to rest. But research has

shown that inactivity only makes things

worse.

Move, move, move is always the advice

for arthritis. Staying in bed with back pain

often results in greater difficulty moving

and may prolong the pain. Better to stay

active, garden or walk to the shops.

A pain killer may enable you to continue

normal activities. Any movement, no

matter how small, helps relieve pain. Start

gently with something you enjoy.

There's no quick fix for back pain but

you need to keep moving. You can keep

your legs and lower back moving with an

Aircycle circulation booster while you sit.

By working your legs, your core muscles

which help support your back, also work

and strengthen. Lower back pain and

sciatica, aching legs and joints are often

relieved this way.

So move – even while you sit. The

Aircycle "pedal" exercise enables this. And

don't forget to laugh occasionally. That

massages your internal organs and helps

you relax.

Back pain however, has many and varied

causes. Never neglect seeking medical

advice.

Aircycle information and orders:

www.aircycle.co.nz or 0800 14 14 15. Also

in pharmacies, Diabetes Christchurch,

Aspire Canterbury, More Mobility.

Effective

natural skincare

that is ideal for

problem skin

MooGoo produce a full range

of safe, natural skin and scalp

products that are especially

suited for those with problem

skin. In these products they

only use top quality edible

ingredients that are known to

be highly effective and good

for our skin. These active

ingredients are only used in

correct concentrations for

effective results and not just

added to look good on the

label. Because the MooGoo

range is so safe and yet so

effective is probably why it

was rated the number one

most preferred brand of nonprescription

(non-steroid)

creams for those suffering from

problem skin in Australia.

It is also recommended by

many medical practitioners in

Australia.

As MooGoo products are

safe and natural they are ideal

for long term use from babies

to adults. They are an effective

alternative or follow-up

treatment to chemically-based

ointments.

Although MooGoo products

GREAT GIFTS

Take the pain out of Christmas for

friends and family who

SUFFER FROM

Pain & stiffness

Swollen ankles

Night cramps

Painful hands

Balance & mobility

Sore legs/numb feet

Travel & office sitting

Diabetes foot problems

Stroke rehab/Parkinson's

are commonly used by

people with skin complaints

like Eczema, Psoriasis and

Dermatitis etc, the range

of products are becoming

increasingly popular for healthy

skin care. The Skin Milk

Udder Cream is the lightest of

creams that can easily penetrate

the skin with its beneficial

ingredients especially the milk

protein which has been shown

to increase skin elasticity and

health. It is non-greasy and

contains no mineral oil or other

nasties.

The comprehensive MooGoo

range includes the popular Milk

Shampoo and Conditioner,

Milk Wash, Cleansing Bars,

Fresh Cream Deodorant, Body

Spray, Edible Lip Balms, Baby

range and much more.

The MooGoo range and

further detailed information

and advice is available from

the Natural Health Advisers at

Marshall's Health & Natural

Therapy in New Brighton.

Phone 388-5757. We are

Always Happy to Help!

Gift

idea

Only

$39 90

Collagen

the body's youth protein

Collagen is the primary

protein in the body. It is a major

component of skin, hair, nails,

muscles, tendons, ligaments,

joint cartilage, bones, gums,

teeth, eyes, and blood vessels.

In fact collagen is the primary

structural component for all

tissue in the body, providing

the strength and resilience

associated with youth, beauty

and wellness. The body's natural

collagen production decreases

with age resulting in many signs

of aging, such as flaccid skin,

wrinkles, ligament and tendon

injuries and aching joints.

Collagen supplementation is

one of the most fundamental

things a person can do to

prevent premature aging and

promote youthful vitality.

NEOCELL are the industry

leaders in research on collagen

supplementation. Through

advanced research they have

perfected a way to hydrolyse

collagen and effectively reduce

its molecular weight this

improving the absorption of

collagen into the blood stream

by over 90%.

A clinical study on

NEOCELL COLLAGEN

has shown skin hydration to

increase an average of 21%

and up to 50%, with 92% of

test subjects experiencing

firmer, softer skin. Most

people taking NEOCELL

COLLAGEN reported seeing

visible improvements within

two weeks.

Collagen supplementation

provides the nutrients necessary

to support the body's collagen

supply. It can help reduce fine

lines and wrinkles and improve

skin elasticity, support building

of strong bones and teeth,

strengthen the nails and hair,

and is vital for muscle growth,

It also assists weight loss by

helping burn fat for energy,

promotes wound healing by

supporting the regeneration of

healthy tissue as well as help

support overall health.

NEOCELL COLLAGEN

and further information is

available from the Natural

Health Advisers at Marshall's

Health & Natural Therapy, 110

Seaview Road, New Brighton,

Phone 388-5757. We are

Always Happy to Help!

YOUR EASIEST STEP TO BETTER HEALTH

Available from pharmacies,

at www.aircycle.co.nz

or by calling 0800 14 14 15

Do You Suffer Eczema or Psoriasis?

Special

120g tube

Only $27.30

270g Pump Bottle

Only $42.90

You'll be amazed

at the difference

it can make!

MooGoo Eczema & Psoriasis Balm is our top selling

anti-inflammatory & anti-fungal cream. It is a great

alternative to steroid & chemical based creams.

Customers rave about how great it is!

Ideal For:

• Eczema & Psoriasis

• Seborrheic Dermatitis

• Fungal & Yeast skin conditions

• Supports wound healing

• Infants to Adults

MAIL ORDER AVAILABLE

Bringing You The Best in Natural Health

MARSHALLS HEALTH & NATURAL THERAPY

conSulTinG - PreScribinG - diSPenSinG - manufacTurinG - medical HerbaliSTS

110 SEAVIEW RD, NEW BRIGHTON • PH 03 388 5757 • Email: enquiry@marshallshealthshop.co.nz

- WE ARE ALWAYS HAPPY TO HELP! -

COLLAGEN - ThE BOdy's yOuTh PrOTEiN

hAir - sKiN - NAiLs - JOiNTs - BONEs

Super

Prices

120 capsules only

$36.90 Save

$5.75

Collagen is the primary structural component for all tissue in the body,

providing the strength & resilience associated with youth, beauty &

wellness. The body's natural collagen production decreases with age

resulting in many signs of aging, such as flaccid skin, wrinkles, ligament &

tendon injuries & aching joints. Collagen supplementation is one of the most

fundamental things a person can do to prevent premature aging & promote

youthful vitality. NEOCELL collagen has undergone advanced enzymatic

hydrolyzation for superior results.

NEOCELL COLLAGEN SUPPORTS:

• Reduction in lines & wrinkles - improved skin elasticity

• Strong hair & nails, may help reduce hair loss

• Supports bone, ligaments, tendons & joint health

• Lean muscle & weight loss

• Youthful vitality & slowing of the aging process

NEOCELL PREMIUM COLLAGEN IS CLINICALLY

RESEARCHED FOR SUPERIOR RESULTS

Bringing You the Best in Natural Health!

250 capsules only

$49.90 Save

$16.75

500 capsules only

$94.90 Save

$38.40

198 gram powder

$36.90 Save

$5.75

MARSHALLS HEALTH & NATURAL THERAPY

CONSULTING - PRESCRIBING - DISPENSING - MANUFACTURING - MEDICAL HERBALISTS

110 SEAVIEW RD, NEW BRIGHTON • PH 03 388 5757 • Email: enquiry@marshallshealthshop.co.nz

- WE ARE ALWAYS HAPPY TO HELP! -

MAIL ORDER AVAILABLE

Excellent

Xmas Gift
---
Complete and attach to clothing bag for

free clothing transport from start to finish.

Name: ______________________

Email: ______________________

Phone:______________________

Complete and attach to clothing bag for

free clothing transport from start to finish.

Name: ______________________

Email: ______________________

Phone:______________________

18

Tuesday December 13 2016

PEGASUS POST

Festive Season Survival Tips

Healthy snacks are always popular

Christmas is a time for celebration,

spending time with friends and

family and enjoying festive foods

and drinks. Nutrition-wise, this

festive fare can be a challenge.

Here are some simple tips to help you

survive the festivities:

• Don't try to lose weight over the festive

season. With parties, families and all the

special foods that go with Christmas, it's

going to be just about impossible! Your

main aim should be to maintain your

weight (using some of the tips below!)

• Eat regular meals. If you skip meals you

are more You likely can to also fill pin up iton high fat snacks.

It only takes a few of these snacks to add

up to more calories than your usual meal.

• Avoid You can going also pin to it a function hungry, you

can easily eat a lot of party food in a short

name

signed

time. Have a small snack beforehand like a

bowl of cereal, yoghurt or a sandwich are

quick and will help fill you up. It will also

help if you are well hydrated, so try drinking

a few glasses of water before you arrive.

• Deep fried foods, crumbed and battered

foods, cheese platter and nuts are all high in

fat. Choose fruit, vegetable or bread based

snacks.

• If you are hosting the party, offer your

guests a range of healthy snacks. Always

popular are hummus or salsa dips with

vegetable sticks.

• If you are taking a plate, make yours a

healthy option. How about a platter of fruit

currently in season?

• Listen to your body and stop eating

when you feel full.

• Just say 'No" to 14km food – mentally

14km 6km

2017

14km

6km

19 March 2017

This

emergency

contact number

Ferrymead Heritage Park.

existing

Moving with medical conditionyou for 43 years!

19name

th March 2017 • Prize Giving Ferrymead

emergency

Park.

signed

2017

sticker is valid for entry into either

distance. Must be worn during the event,

to claim prizes, and for free entry into

OFFICIAL ENTRY NUMBER:

This

contact number

existing

medical condition

19 th March 2017 • Prize Giving Ferrymead Park.

Be aware of how much you are actually drinking

practice strategies to decline food offers. For

example: "It looks amazing but I am full" or

"I tried it and it was great".

• Chat and mingle. If you are bored at a

party you're more likely to hover around the

food table or seek out the serving platter. A

good conversation can distract you from the

food. Avoid standing right beside the food

table or bar while you're talking.

• Consider your drinks, they can add to

the calorie count very quickly. Try diluting

your alcoholic drinks, such as a spritzer

(½ wine, ½ soda). If you prefer spirits,

try a diet mixer. Lite beers are lower in

calories and alcohol. Remember soft drinks,

juices, punches, tonic water and flavoured

mineral water can all have similar calories

to alcoholic

6kmdrinks.

•Be aware of how much you are actually

OFFICIAL ENTRY NUMBER:

'CEREC' & cosmetic dentistry

Wisdom tooth removal

Painless, high quality dentistry

Sedation dentistry

Experienced, conscientious team

Experienced hygienists

OPEN SATURDAYS

355 9380

144 Cranford Street

sticker is valid for entry into either

distance. Must be worn during the event,

to claim prizes, and for free entry into

Ferrymead Heritage Park.

OFFICIAL ENTRY NUMBER:

OFFICIAL ENTRY NUMBER:

www.stalbansdentalcentre.co.nz

drinking. Alternate alcoholic drinks with

glasses of water and non-alcoholic choices.

• Keep Active. Join in the Christmas

backyard cricket game or go for a walk

with friends or relatives. Remember you're

aiming for 30 minutes of physical activity

each day.

• If your regular exercise class stops over

the Christmas break, plan other types of

exercise - organise your friends and put a

date in your diary.

If you do really overdo the festive foods

or drinks, take a deep breath and start the

next day afresh with healthy foods and some

exercise. No fasting - just sensible eating.

Remember, a few parties don't make you

overweight, it's what you do all the other

days of the year which count.

Physiotherapy

Associates

Finding Solutions

$5 discount

for Supergold

card

Book your

appointment

today!

Phone 03 389 7196

86A Wainoni Road

www.physioA.co.nz

ENTRIES NOW OPEN!

$20 Early bird available online

A Star Media Event

Are you up for it?

The Star Photo Archive: 1983

city2surf.co.nz
---
PEGASUS POST Tuesday December 13 2016 19

Thanks and

season's greetings

from Denture South team

Meet the team: (from left) Kim Waters, Andrew

Johnson, Len Beattie and Janice Ling.

SuPER

LOW PRICES!

Over 60 health products

on special every day.

Locally owned and operated.

Giving health advice since 1992.

The Palms: 385 0364

The Hub Hornby: 349 5150

Bush Inn Centre: 348 7867

Andrew Johnson and his team at

Denture South, in Barrington

Street and Hornby, want to say

thank you for all the support

they have received from Christchurch

people throughout 2016.

"And we hope everyone has a wonderful

Christmas and New Year," says Andrew.

Both clinics will be closing on December

21 and reopening on January 10, 2017.

"We'll be available for all denture services

– fittings and repairs – from January 10

onwards," says Andrew.

The two Denture South clinics cater for

residents across the southern and western

suburbs of Christchurch.

"Our friendly, approachable and highly

skilled Denture South team enjoys

providing denture services and helping

people through the process, and we look

forward to meeting new clients in 2017,"

Andrew says.

"Our friendly,

approachable and

highly skilled

Denture South team

enjoys providing

denture services

and helping people

through the process,

and we look forward

to meeting new

clients in 2017."

VEBITE

Your Local

Friendly

Dental

Team

Half head of foils

+ Profibre treatment

+ Complementary

GHD finish

$105

Conditions apply, please mention

ad at time of booking.

lovebite.com

230 Barrington st

332 4004

Easy parking

& great service

1/569 Barbadoes St. P: 366 2819

www.aheadinhair.co.nz
---
20

Tuesday December 13 2016

AUTOMOTIVE PROFESSIONALS

PEGASUS POST

No job too small at

this repair business

Scratch on the bumper? Dent in the door?

Damage like this can happen so easily – in

supermarket car parks, for example. And

the place to get minor damage quickly and

professionally repaired is SMART Repairs

in Lichfield Street.

SMART (Small to Medium Automotive

Repair Techniques) Repairs provides a topquality

service with a quick turnaround

– vehicles are usually in and out within a

couple of days.

SMART Repairs is owned and operated

by Brian and Maxine Caffell, who bought

their first panelbeating business in 1993.

Brian has a total of 31 years' experience in

the trade, so customers can be confident

they will get a first-class job.

Services include paintless dent removal,

or PDR, and while a large percentage of

their work is non-insurance, they also

provide insurance quotes and carry out

those repairs quickly and efficiently.

To keep their customers on the road while

their vehicle is in the workshop, SMART

Repairs recently acquired a courtesy car,

and this has already proven to be a great

help for people, Maxine says. They also offer

a pick-up and delivery service if required.

As a small, friendly operation, SMART

Repairs specialises in small to medium

repair work, with no job too small, Maxine

says. Their aim is to provide personalised

service, and make it easy for customers

unsure what to do if their vehicle is

damaged.

"We take pride in our work and ensure

that our customers are happy with the

results."

SMART Repairs is located at 272

Lichfield Street, at the Fitzgerald Avenue

end. Opening hours are Monday to Friday,

8am-4.30pm.

To enquire about repairs to your

vehicle, call in, or phone 377-0409.

The Automotive Lamp

Specialists

New and Used Lamps for

Cars, Trucks, Vans, 4WD

and Motorhomes

PH 0800 225 483

325 Brougham Street

CHRISTCHURCH

Free Check & Assessment

ROSES

AUTO ELECTRICAL

Full mechanical servicing

for BMWs

Dismantling BMW's

Purchasing pre-loved & damaged BMWs

65 McAlpine Ave, Sockburn, Christchurch

Ph (03) 341 6678 | eurorec@clear.net.nz

A division of

s

m

a

r

t

mall

edium

Fast

turnaround

utomotive

epair

echniques

• Paintless dent removal

• Minor paint repairs

Smart repairS (NZ) Limited

automotive refinishers

272 Lichfield St (Fitzgerald Ave end)

Ph 377-0409

vonhead

utomotive

A A

free

6 months roadside assist

with any vehicle servicing

• automatic transmission

flushing service

• Wof • tune-ups • suspension

• batteries • neW tyres • oil &

lube service • courtesy cars

• full mechanical repairs

oPen 6 days (sat until 1pm)

126 racecourse road

Ph 342 7123 or 027 495 6600

PARKER

AUTOMOTIVE

■ All Automotive Repairs and

Servicing including 4WD

■ Suspension Brakes & Cambelts

■ WOF, Tyres, Batteries

■ Courtesy Car

55 Lincoln Rd, behind Caltex

(Cnr Lincoln & Torrens Rd)

Ph 03 982 4268

Mob 027 331 0382

Email: parkerauto@clear.net.nz

new & near new

tyres

Excellent range

at great prices!

Brand new

location

343 0099 or 027 22 63 805

www.jcmdirect.co.nz

8c Birmingham Drive, Middleton

Next to Addington Raceway

Your central city workshop

WOF,

REPAIRS &

SERVICING

CALL US NOW

0800 624 477

127a Peterborough Street
---
PEGASUS POST Tuesday December 13 2016 21

Caravans, Motorhomes

& Traliers

CARAVAN around 4 to 5

berth wanted. Don't mind

repairs. 027 938 5344

WE can sell your caravan

on behalf on our busy

caravan site at www.

affordablecaravans.co.nz

512 Belnheim Rd, ChCh.

03 348-6614

Community Events

ALCOHOLICS

ANONYMOUS, If you

want to have a drink thats

your business. If you want

to stop, we can help. Phone

0800 229-6757

Computers

ALL

YOUR

COMPUTER

WORRIES SOLVED!

*$30.00 off your first

service with this coupon!*

No problem too big or

small from home PC's to

business networks. PC

slow? An end to Viruses,

Spyware, and Clogged

Systems. Safe secure

hassle-free computing.

Lost files recovered.

Microsoft Certified,

MCSE, MCP+l. 30 years

experience. Call Andrew

Buxton this week on 326-

6740 or 027 435-7596

for $30.00 off* Custom

Computers Christchurch

Curtains

www.curtainfabric-outlet.com

Fashion Designs & Colours

Discontinued Designs

End of Lines Bargain Prices

Call at Our Shop

CURTAIN FABRIC OUTLET

71 Hawdon St Sydenham

Ph 366-5026

Gardening

& Supplies

A GARDEN

PROFESSIONAL

NEEDED? Qualified

Horticulturist, offering

expert pruning, garden

makeovers, garden design

and landscaping, for free

quotes call Bryce 027 688-

8196 or 0508 242-733

A GARDEN OR

LANDSCAPING TIDY

UP? Shrub, hedge &

tree pruning, Lawns,

Gardening, consistently

reliable general property

upkeep, Dip. Hort. 10

yrs experience, One off

tidy ups or on-going

service. Nick's Property

Maintenance. Keeping

your garden beautiful.

Free Quote. Ph. 942-4440

Holiday

Accommodation

HOUSESITTERS reqd in

Canty, fab homes Xmas /

NY. Prefer ret./not wkng.

Ph Lisa 03 359 2323 www.

townandcountryhomesit.

co.nz

HOUSESITTERS reqd in

Canty, fab homes Xmas /

NY. Prefer ret./not wkng.

Ph Lisa 03 359 2323 www.

townandcountryhomesit.

co.nz

Classifieds Contact us today Phone our local team 03 379 1100

Holiday

Accommodation

QUEENSLAND SUN-

SHINE COAST AUSTRA-

LIA Resort, Ocean Views,

Balconies, Self Contained,

1 or 2 B/R Ensuite,

Heated Pool, Spa, Sauna,

Free Internet, Shops,

Restaurants, Tennis, Surf

Club & Patrolled Beach,

Public Transport at door.

Ask for our SEASONAL

SPECIALS. Phone 61 7

544-35011 Email: reception@mandolin.com.au

www.mandolin.com.au

To Let

RENT NEED MORE ME!

SPACE?

NO BOND THIS MONTH

Ideal as an extra

bedroom or office.

Three convenient sizes

from $70 p/w:

Standard 3.6m x 2.4m

Large 4.2m x 2.4m

Extra-large 4.8m x 2.4m

Visit our display cabins at

470 Cranford Street or call

0211277227 for a free brochure

www.justcabins.co.nz

To Let

HOUSEME

Portable sleepout or office

available to rent.3m x

3.6m studio.

Insulated and value for

money at $75.00 per week,

you wouldn't live in

anything else. Contact

Amanda

today on 0279570920 or

houseme2015@xtra.co.nz

ADD SOME

COLOUR

TO YOUR ADVERT!

Trades & Services

painter

PLANT GROWERS

Bettaplants

Nursery

For a hot dry summer

plant sun loving plants

Gazanias & Portulaca

BEDDING & VEGETABLE PLANT GROWERS

Bettaplants

1934-2016

Price Family

Painters Ltd

Interior/Exterior

Wallpapering/Painting

Gib Stopping

Free Quotes

EQC Opt Out

Fletcher Accredited

Project Management

Phone: Morton 021 667 444

Email: mortonprice@xtra.co.nz

www.pricefamilypainters.co.nz

Trades & Services

82 YEARS IN BUSINESS

27 Ottawa Road. Phone: 389-7855

Hours: 8.00am-5.30pm Mon to Fri, 8.00am-5.00pm Sat

Trades & Services

Appliance Sales & Service

388 4780

Appliance Services

14 Brighton Mall, New Brighton

Trades & Services

FOR ALL YOUR

★Garden Clean-ups

★Pruning

★Lawn Mowing

★Garden Maintenance

Call us today for a FREE quote

PH 0800 4 546 546

(0800 4 JIMJIM)

Trades & Services

HOUSE

CLEARING

Are you moving

house?

Let All Clear Canterbury

take care of your

unwanted items.

You identify what you want

to keep & we will dispose

of the rest!!

Ph: 03 312 7119

Mob: 021 078 4553

allclearcanterbury@gmail.com

www.allclearcanterbury.co.nz

9220021AA

Trades & Services

& Property Maintenance

Paving

Patio - Pathways - Driveways

Lawns and Gardens

Planting - Raised Vege Gardens

Readylawn - Irrigation - Fencing

General Maintenance

Water Blasting - Gutter Cleaning

Rental Property Maintenance

Section Clearing - Weed Spraying

20 Years Experience

Locally owned and operated

Free Quotes - Competitive Pricing

Blair Gibson 027 699 5815

Trades & Services

MDC

BUILDERS

Renovations & Repairs

All forms of Home

Maintenance

Bathrooms & Kitchens

Site clears

Excavating Driveways

& Paths

All forms of Foundations

Free Quotes

Give me a call today

Ph 022 407 8581

mdcbuildersnz@gmail.com

15% Discount with this Advert

Trades & Services

PLUMBER

Michael

Gale

Plumbing Ltd

PROMPT SERVICE

For all

Plumbing

•Roofing/

spouting

•Maintenance

•Installations

ROOF REPAIRS

Locally owned & operated with

over 30 years experience.

• Extensions & repair • Roof coating

• Concrete & clay tiles • Butynol

• Malthoid • Asbestos Certified

• Coloursteel • Old iron • Guttering

Phone Dave 981 0278

or 021 223 4200

E: dave@beaumontroofing.co.nz

BEAUMONT ROOFING LTD

8790441AA

Trades & Services

Small work

no problem

Ph 364 7080 (24 hour)

Mob 027 438 3943

Trades & Services

GLAZING

Stephen Thom

Glazing 2012 Ltd.

(Under New Management)

• Mirrors

• New Glazing

• Pet Door

Specialists

• Frameless

Showers

• Splashbacks

WE CAN DO YOUR

WORK NOW

ALL BROKEN

WINDOWS

Phone Cushla

03 352 6225

or 027 352 6225

Trades & Services

9155874AA

Lawns, Gardens

& Home Cleaning

9185885AA

Free Quotes

Professional, personalised

service. Regular &

one-offs. Fixed price.

Ph: 377-5814

For all your property and

cleaning requirements

Trained, insured & security

screened owner/operators

Multi-award winning

systems & Franchises

Franchises Available

www.fviphomeservices.co.nz

Trades & Services

AAA CArpentry FUrnItUre

rUBBISH reMOVAL

licensed builder reMOVALS

From Kleensacks to truck

practitioner all property Large Trucks $95 + loads, the messier th better.

maintenance small job GST per hour 7 day NZ Trees, flat clean ups. Call

expert by tradesman / wide, packing & moving, Silver Threads 022 1407-

handyman free quotes city

wide call now 03 387-

Professional

Professional

Company,

Service.

852

SpOUtIng CLeAnIng

0770 or 027 245 5226 Canterbury Relocations Spouting Unblocked,

ciey@xtra.co.nz

BUILDer

Ltd. ph 0800 359 9313

HAnDyMAn

Cleaned Out and Flushed

Out. Also Full Handyman

For all building work Silver Threads. A Services Available. Call

but specialist in bathroom bunch of nice friendly Trevor 332 8949 or 021

renovations, 30 yrs mature tradies, builders, 043-2034

experience, with service electricians, painters, treeS BIg Or SMALL

and integrity. Free Quotes.

landscapers, section tree removal, trimming,

Ph Lachlan 383-1723 or

tidying. Ring for a free stump grinding, shelterbelt

0274 367-067.

quote 022 140-7852 clean up, section clearing,

BUILDer

LAnDSCApe

rubbish removals,

COnStrUCtIOn

LICENSED, available for

excavation work, ph Trees

Lawns, paving, water

all aspects of building.

Big or Small, for a free

features, irrigation,

Please call 027 241-7471

quote, 021 061 4783

planting, decks,

or 335-0265

tree WOrK

driveways, kerbing, ponds,

CArpenter

Hedge trimming, stump

retainer walls, fencing.

HAnDyMAn

grinding, rubbish removed,

Free quotes, Phone Tony

Small Job Specialists,

small job specialty Ph

021-034-8555

Carpentry, Repairs,

Andrew 03 322-8341 or

LeD / DOWnLIgHt

Decking & Maintenance,

027 435-8759

replacement. Ring the

40 years experience, no

t.V. SerVICe

boys at Turned On for

job too small, Ph Warren

Centre

free advice & quotes. Call

03 322-1103 or 027 697-

Repairs, tvs, microwaves,

Muzza 022 6177 275

8541

stereos, DVD. Aerial

OVen CLeAnIng

CArrIer

installations and kitsets,

Professional cleans

Local, experienced,

480 Moorhouse Ave, ph 03

$50.00. Gift Vouchers

friendly, trade-me

379 1400

avail. Phone 0800 683-

purchases, single items 6253 or 027 228-0025

UpHOLSterer

to truck loads, furniture pAInter

Dining Chairs, Lounge

to whatever, removals & Top quality work, interior/

suites, Caravan Squabs

trade deliveries a specialty. exterior, pensioners

etc. recovered. Free

Ph GEH 341-5069 discount, free quotes, 30

Quotes. Phone Graeme

***************** years experience, I stand 383-1448

CArpet & VInyL by Canterbury, ph Wayne VHS VIDeO tApeS

LAyIng

your friendly painter & all camera tapes

Repairs, uplifting,relaying,

restretching,email

jflattery@xtra.co.nz,

ph 0800 003 181

03 385-4348 or 027 274-

3541

pAIntIng

DeCOrAtIng

converted to DVD, video

taping, weddings, twenty

firsts, special occasions,

www.grahamsvideo.co.nz

or 027 2407416

interior & exterior, ph 03 338-1655

gib fixing, plastering, WAterBLAStIng

DRIVEWAYS

paperhanging, Est 50 yrs Quality Job, Quick Service

in ChCh, ph Wingfields by skilled tradesman, Ph

Replace, repair or new.

Ltd, ph Mark 021 171- Richard Severin at Jet-X

We are a local company

1586 or 355-5994

with over 10 yrs exp.

0800 538 969 Free quotes,

We also operate a

pAInter

visit www.jetx.co.nz

digger for all other Available, All aspects in

earthworks. painting. Very competitive

in roofs and fences. Please Wanted To Buy

Ph. R.M. Solutions

call 027 241-7471 or 335- AAA Buying goods

021 02866981 0265

quality furniture,

for a free quote. pLUMBer

eLeCtrICIAn

Rewire specialists. Some

old wiring, some new,

get a free appraisal and

quote. Switch boards,

LED lighting, garages,

spas you name it we

do it. Give the boys at

Turned On a ring, phone

Muzza 022 6177-275

FenCIng

All styles and shapes,

gates, wooden, ph Mark

027 331-3223

FenCe pAIntIng

Staining Quality at a

reasonable price. Free

quotes. Phone Warren

today on 980-1676 or 027

2014713

Trades & Services

FENCING

Paling, picket,

iron, trellis

Demolition and

removal

Phone Bevan

021 231 1860

Fencing Uprite

Your Eastside

Specialist

Trades & Services

ALF THORPE

PLUMBING Certifying

Plumber for all types of

plumbing, maintenance,

spouting, alterations etc.

Phone 352-7402 or 0274-

350-231

rOOFIng

Qualified & Licenced

Practitioner. Re-Roof &

Repairs, all types. Member

New Zealand Roofing

Association. Over 35 years

experience. Phone John

027 432-3822 or 351-9147

email

co.nz

johnmill@ihug.

Trades & Services

spouting

Trades & Services

Beds, Stoves, Washing

machines, Fridge Freezers.

Same day service. Selwyn

Dealers. Phone 980 5812

or 027 313 8156

A+ Household effects,

fridges, freezers, washing

machines, ovens. Good

cash paid. Ph Paul 022

0891 671

TOOLS

Garden, garage,

woodworking,

mechanical, engineering,

sawbenches, lathes, cash

buyer, ph 355-2045
---
PROUDLY

PROUDLY

CHRISTCHURCH

CHRISTCHURCH

OWNED

OWNED TUESDaY, aUGUST 27, 2013 PROUDLY 384

384 CHRISTCHURCH 0600

0600

PROUDLY CHRISTCHURCH OWNED MONDaY JUNE 24, 2013

OWNED WEDENSDaY 10 JULY, 2013 384 0600

384 0600

A Mainland

Media Publication

Kea

(Nestor Notabilis)

Ladbrooks, Tai Tapu, Leeston, Lincoln, Southbridge, Prebbleton, Halswell, Rolleston, Templeton, Burnham, West Melton, Darfield, Arthurs Pass

Mainland

Press Newspaper

Sumner, Redcliffs, Mt. Pleasant, Ferrymead, Woolston, Lyttelton & Akaroa Harbours

Black Billed

Gull

A Mainland

Press Newspaper

Linwood, Avonside, Richmond, Shirley, Burwood, Dallington, Wainoni, Bromley, Aranui, Avondale, Bexley, New Brighton, Northshore, Queenspark, Parklands, South Brighton

PROUDLY CHRISTCHURCH OWNED MONDaY JULY 15, 2013 PROUDLY 384 CHRISTCHURCH 0600

OWNED MONDaY 12 aUGUST, 2013 PROUDLY 384 CHRISTCHURCH 0600

OWNED MONDaY JUNE 24, 2013 384 0600

A Mainland

Press Newspaper

Fantail

(Piwakawaka)

A Mainland

Newspaper

Harewood, Burnside, Bishopdale, Bryndwr, Fendalton, Merivale, St Albans, Mairehau, Papanui, Casebrook, Redwood, Regents Park, Styx Mill, Northwood, Spreydon, Belfast Hoon Hay, Hillmorton, Cracroft, Cashmere, St Martins, Somerfield, Sydenham, Addington, Waltham, Opawa, Beckenham, Huntsbury, Woolston

Bellbird

(Korimako)

A Mainland

Press Newspaper

New Zealand

Swamp Hen (Pukeko)

New Zealand

Pigeon (Kereru)

Templeton, Islington, Hei Hei, Broomfield, Halswell, Oaklands, Westlake, Hornby, Wigram, Sockburn, Church Corner, Ilam, Russley, Hyde Park, Avonhead, Riccarton Park, Riccarton

22

Tuesday December 13 2016

PEGASUS POST

Classifieds Contact us today Phone our local team 03 379 1100

Public Notices

Public Notices

Situations Vacant

Situations Vacant

Situations Vacant

Weka Pass Railway

Waipara, North Canterbury

We Are Running

SunDAY 18th December

Running 1st & 3rd Sundays

of every month

Phone 0800wekapass

Depart Glenmark Station

11.30am & 2.00pm

www.wekapassrailway.co.nz

Public Notices

DEMOLITION

With care and respect we

will remove your dwelling.

Our policy is to recycle as

much as we can. We are a

local company specialising

in residential properties. We

will endeavor to cater for

your individual needs.

Ph. R.M. Solutions

021 02866981

for a free quote.

business video

PRoduCTion

A video will bring your business

alive & into your customers mind.

Promote your

services or business

with a professionally

created video with us

• Corporate and

Business video a speciality

• Competitive rates

• 25 years experience

• Start to finished product

• Professional quality guaranteed

PHone KeRRY 021 635 083

Public Notices

Call us & we'll help

you place your

classified advert in our

community papers

MUMS & DADS

Would you like your children to

exercise more and earn some money?

DELIVERY

PEOPLE

WANTED

The Star requires delivery personnel

in all areas of Christchurch.

The work involves door-to-door

delivery of The Star newspaper.

Nobody knows

Christchurch

like a local

We're local, we're

in Christchurch, we

speak your language!

Phone: 379 1100

Selwyn

Times

Nor'West

News

Bay Harbour

A

News

Southern

Pegasus

Post

Western

View Press

News

Classifieds

Our community papers are published every

Tuesday (Bay Harbour, Wednesdays) focusing

on local issues & local people.

Please call

Leanne Lucas 364-7451 or

Mark Coulthard 364 7453

email: deliveries@starmedia.kiwi

ADVERTISE YOUR BUSINESS HERE

Phone for further details

(03) 379 1100
---
PEGASUS POST Tuesday December 13 2016 23

The Best Food Is

TAB & Gaming

A classic, contemporary Club experience

Open 7 Days from 5.30pm

Cafe open from 11am

Function Facilities

HOUSIE

Tuesday, Thursday,

Saturday

SHUTTLE

Tuesday - Saturday

THIS SATURDAY

THE

BOTTLEJACKS

7pm in the Whitford's Bar

RETRO ROAST

LUNCH

12PM-1.30PM

WEDNESDAYS

until Wednesday 21st December

$10 Members / $12 Non

EAT IN OR TAKEAWAY

BBQ

PORK

OPEN FOR LUNCH

Weekdays

11.30am - 2pm

DINNER

7 days

5pm - 9pm

STEAMED

FISH WITH

CHILLI &

LEMON

Get all 'Christmasy' with us!

PRE-CHRISTMAS FUNCTIONS,

PARTIES, WORK BREAK UPS,

CHECK THIS OUT!

AVAILABLE LUNCH & DINNER DAILY UNTIL

24/12/16 FOR PARTIES OF 10 OR MORE

RESTAURANT & CAFÉ

Lunch & Dinner

All you can eat, 7 days

NOW SERVING

available

from

9am

0pen daily from 6.30am

Breakfast, Lunch & Dinner

FAMOUS for their ROASTS

Breakfast

HAPPY

HOUR

5PM - 7PM

DAILY

TWO COURSE

FESTIVE MENU

SORRY, WE ARE

CLOSED

CHRISTMAS DAY

Bookings Essential PH 386 0088

fb.com/GardenHotelRestaurant www.gardenhotel.co.nz

LIVE

$

35

The

RACECOURSE HOTEL

& Motorlodge

118 Racecourse Rd, Sockburn,

Christchurch. Ph 03 342 7150

www.racecoursehotel.co.nz

Christmas

Functions

Lunch & Dinner Buffet

SATURDAY 19th NOV - SATURDAY 24th DEC

Book & dine with us for your Christmas party this

festive season, and we'll take care of the rest!

RHONDA CAMPBELL & JOHN BEVIN

6PM FRIDAY 2nd December

MUSIC

PHONE 385 8880 FIND US ON FACEBOOK fb.com/GBCCHCH

THE GARDEN HOTEL COMPLEX | 110 MARSHLAND RD

www.gardenhotel.co.nz | phone 385 3132

ONLY

EACH

THREE COURSE

FESTIVE MENU $ 45

ONLY

EACH

www.newbrightonclub.co.nz

WHAT'S ON

TUESDAYS &

THURSDAYS

Members Lucky

Card Draw

LIVE BAND

GAME OF

TONES

SATURDAY

17th DECEMBER

NEW YEARS

EVE

DJ VINYL

SATURDAY

31st DECEMBER

TAB POD

GAMING ROOM

FUNCTION

ROOMS

SHUTTLE

RUNNING

Tues, Thurs,

Fri & Sat

GREAT

DINING

- downstairs -

ClubBISTRO

Open Tuesday to Saturday

12pm-2pm and from 5pm

Midweek $10

SPECIAL ROAST

Available Tuesday,

Wednesday, & Thursday

- upstairs -

PIERVIEW

Restaurant

Quality a la carte

with a view!

Open from 5.30pm

FRIDAY, SATURDAY

& SUNDAY

FRIDAY SPECIAL:

SIRLOIN STEAK or

CHICKEN BREAST

WITH JACKET POTATO

& SALAD BAR

$22!

SUNDAY SPECIAL

3 courses: $25

NOW OPEN FOR

SUNDAY BRUNCH

By the Seaside!

10.30am-2.30pm

XMAS BUFFET

SATURDAY 17th Dec

$30... BOOK NOW!

NEW YEAR'S EVE

BUFFET

SATURDAY 31st Dec

ENQUIRE NOW!

202 Marine Parade

Ph 388-9416

Members, guests and affiliates welcome

LICENSED, BYO

166 Kendal Ave, Burnside.

Phone 357 9575

Find us on FACEBOOK/GoodThai166

Chef Phirom

H ORNBY

WORKINGMEN'S

CLUB

«WHAT'S ON«

FRIDAY 16 DEC 7PM

REMINISCE

SATURDAY 17 DEC

4.30PM

BARROSS

8PM

IAN MAC

CHALMERS

RESTAURANT

PRE-CHRISTMAS BUFFETS

Sunday 18th December

LIVE MUSIC with

NEVILLE BARRIE

5pm start. $30 adults.

Bookings essential

SATURDAY 31 DEC, 8PM

DnD Showband

return with

another fun-filled

evening of

song and dance.

All your favourites

from the 50's, 60's

and beyond...

even a dash

of ABBA!

Tickets $5

available at

the club office

Hornby WMC

17 Carmen Rd, Hornby

Phone 03 349 9026

www.hornbyworkingmensclub.co.nz

Members, guests & affiliates welcome
---
24

Tuesday December 13 2016

PEGASUS POST

Moët & Chandon Brut

Impérial/Piper-Heidsieck

Brut NV 750ml

Fresh NZ Lamb

Leg Roast

$

49 99

each

$

10 99

kg

Have you ordered

your fresh

Christmas turkey?

Order now for pick up from

the 21st December.

99 c each

Large Hass

Avocados

2for

Signature Range/

Much Moore Wonders

Ice Cream 2L

$

4 50

each $

5 00

Cadbury Chocolate Block

155-200g

$

8 99

each

$

3 90

Mainland Mild/Colby/Edam Cheese 1kg

each

Mediterranean Layered/Chunky Dip 135g

$

1 00

each

Schweppes Sparkling Soft Drink 1.5L

(Excludes Classic Dry)

$

31 99

pack

$

13 99

each

2

for

$

5 00

DB/Export Gold/Tui/Speight's/Summit

24 x 330ml Bottles

Oyster Bay 750ml

(Excludes Pinot Noir/Sparkling) Coke/Sprite/Fanta/Lift/L&P 2.25L

FreshChoice Parklands

60 Queenspark Drive, Christchurch.

See FreshChoice.co.nz/Supermarkets for

store hours over the Holiday Season.

Prices apply from Tuesday 13th December to

Sunday 18th December 2016, or while stocks last.

FreshChoice.co.nz

FreshChoiceNZ

383 1004

FreshChoice Parklands

Owned and

operated

by locals

Certain products may not be

available in all stores. Savings

are based on non-promotional

price. Limits may apply.

Look for the donation

drop off trolley instore.

Help support

your community

this Christmas.

FCPP1312