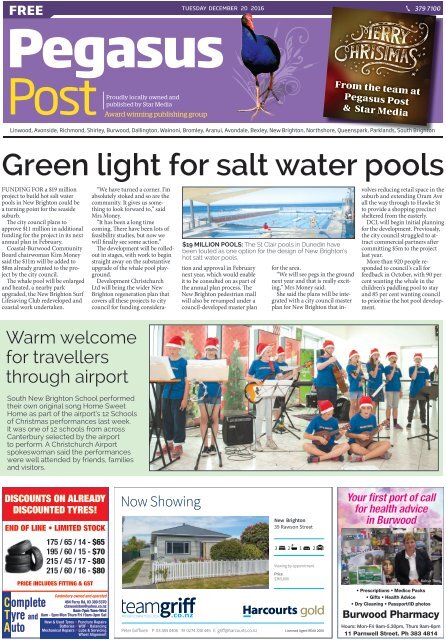 Pegasus Post: December 20, 2016
You also want an ePaper? Increase the reach of your titles
YUMPU automatically turns print PDFs into web optimized ePapers that Google loves.
Land size

Land

Land size

Bedroom Bedroom size

Garage

Garage

Garage

Carport

Carport

Bedroom

Bathroom Bathroom Bathroom

Lounge Lounge Lounge

Carport

Car pad

Car pad

Car pad

Boat pad

Boat pad

Boat pad

Dining

Dining

Land size

Toilet

Garage

Bedroom

Bathroom

Shower

Study

Shower Carport

Study

1 2 3 4 5 6 7 8 9 10 11 12 13 14

1 2 3 4 5 6 7 8 9 10 11 12 13 14

1 2 3 4 5 6 7 8 9 10 11 12 13 14

Car pad

Lounge

Boat pad

Pool

Tennis court

1 Pool 2 Tennis 3 court 4 5 6 7 8 9 10 11 12 13 14

Pool

Tennis court

Dining

Pool

Toilet

Shower

Tennis court

Study

FREE

TUESDAY DECEMBER 20 2016

379 7100

Pegasus

Post

Proudly locally owned and

published by Star Media

Award winning publishing group

From the team at

Pegasus Post

& Star Media

Linwood, Avonside, Richmond, Shirley, Burwood, Dallington, Wainoni, Bromley, Aranui, Avondale, Bexley, New Brighton, Northshore, Queenspark, Parklands, South Brighton

Green light for salt water pools

FUNDING FOR a $19 million

project to build hot salt water

pools in New Brighton could be

a turning point for the seaside

suburb.

The city council plans to

approve $11 million in additional

funding for the project in its next

annual plan in February.

Coastal-Burwood Community

Board chairwoman Kim Money

said the $11m will be added to

$8m already granted to the project

by the city council.

The whale pool will be enlarged

and heated, a nearby park

upgraded, the New Brighton Surf

Lifesaving Club redeveloped and

coastal work undertaken.

$19 MILLION POOLS: The St Clair pools in Dunedin have

been touted as one option for the design of New Brighton's

hot salt water pools. ​

"We have turned a corner. I'm

absolutely stoked and so are the

community. It gives us something

to look forward to," said

Mrs Money.

"It has been a long time

coming. There have been lots of

feasibility studies, but now we

will finally see some action."

The development will be rolledout

in stages, with work to begin

straight away on the substantive

upgrade of the whale pool playground.

Development Christchurch

Ltd will bring the wider New

Brighton regeneration plan that

covers all these projects to city

council for funding consideration

and approval in February

next year, which would enable

it to be consulted on as part of

the annual plan process. The

New Brighton pedestrian mall

will also be revamped under a

council-developed master plan

for the area.

"We will see pegs in the ground

next year and that is really exciting,"

Mrs Money said.

She said the plans will be integrated

with a city council master

plan for New Brighton that involves

reducing retail space in the

suburb and extending Oram Ave

all the way through to Hawke St

to provide a shopping precinct

sheltered from the easterly.

DCL will begin initial planning

for the development. Previously,

the city council struggled to attract

commercial partners after

committing $5m to the project

last year.

More than 920 people responded

to council's call for

feedback in October, with 90 per

cent wanting the whale in the

children's paddling pool to stay

and 85 per cent wanting council

to prioritise the hot pool development.

Warm welcome

for travellers

through airport

South New Brighton School performed

their own original song Home Sweet

Home as part of the airport's 12 Schools

of Christmas performances last week.

It was one of 12 schools from across

Canterbury selected by the airport

to perform. A Christchurch Airport

spokeswoman said the performances

were well attended by friends, families

and visitors.

DISCOUNTS ON ALREADY

DISCOUNTED TYRES!

eND OF LINe • LIMITeD STOCK

PRICE INCLUDES FITTING & GST

Complete

Tyre and

Auto

175 / 65 / 14 - $65

195 / 60 / 15 - $70

215 / 45 / 17 - $80

215 / 60 / 16 - $80

Canterbury owned and operated

464 Ferry Rd, 03 389 5370

ctawoolston@yahoo.co.nz

8am-7pm Tues-Wed

8am - 5pm Mon Thurs Fri | 9am-3pm Sat

New & Used Tyres • Puncture Repairs

Batteries • WOF • Balancing

Mechanical Repairs • Lube & Servicing

Wheel Alignment

850m

2.5

850m 4 2 1 2.5

850m 4 2 1 2.5

4

2

1

850m

4

YOUR FRIENDLY LOCAL PHARMAC

2

1

Your first port of call

for health advice

in Burwood

"We have lost a lot of good friends

but we still have a close community

2.5

Robyn Thew

• Prescriptions • Medico Packs

• Gifts • Health Advice

• Dry Cleaning • Passport/ID photos

Burwood Pharmacy

HEALTH ADVICE

MEDI

Hours: Mon-Fri 9am-5.30pm, Thurs 9am-6pm

11 Parnwell Street. Ph 383 4814
---
2

Tuesday December 20 2016

Inside

FROM

THE

EDITOR'S

DESK

PEGASUS POST

News........................................3-7

FANTASTIC NEWS for New

Brighton – it looks like the salt

water pools will now be a reality

(see page 5).

In fact that's better than fantastic

news.

Salt water pools, and other

amenities, bring people, and that

then tends to attract other businesses,

usually predominately

food and beverage and things then

begin to snowball.

Brighton has been neglected for

decades by investors and the city

council has been conspicuous by

its absence.

So with the salt water pools now

likely to be a goer, lets look further

– an aquarium, maybe a jetty

to launch fishing trips out into

Pegasus Bay, more backpacker

lodges and a hotel with accommodation.

The world could be Brighton's

oyster.

– Barry Clarke

From rugby to surf boating

SPORT 8

Local Views......................4

Sport............................................8

Community Events....11

Real Estate...........................13

Health & Beauty.........15

Entertainment...........18-19

GET IN TOUCH

General Enquiries Ph 379-7100

Classified Advertising Ph 379-1100

The Christchurch Star Company Ltd. PO box 1467 - Christchurch

starmedia.kiwi

NEWS

Fraser Walker-Pearce

Ph: 364 7424

fraser.walker@starmedia.kiwi

ADVERTISING

Mark Sinclair

Ph: 364 7461

mark.sinclair@starmedia.kiwi

$

69

Each

Her

FOR

RRP $120

$

69

Each

Christmas

Specials Instore!

$

69

Each

$

69

Each

Burberry

Brit Woman EDP 50ml

69 points

Burberry

London Woman

EDP 50ml

Burberry

Body EDP 60ml

Gucci

Guilty Pour Femme EDT 30ml

69 points

69 points

69 points

$

79

Each

Jimmy Choo

Blossom Pink

EDP 60ml

79 points

$

69

Each

Jimmy Choo

EDP 60ml

$

79

Each

79 points

RRP $107

$

69

Each

Ralph Lauren

Romance EDP 50ml

69 points

RRP $133

$

69

Each

RRP $146

$

89

Each

6 ISSUES

delivered to your door

FROm ONly

$

44. 50

SUBSCRIPTIONS FREEPHONE

0800 77 77 10

rugbynews.co.nz

Make sure your vehicle is up

to scratch these holidays

We're 100% locally owned

and here to help you.

Stanmore Road Auto Spares

P. 03 389 4555 | 245 Stanmore Rd

YSL

Opium EDT 30ml

69 points

RRP $95

$

79

Each

Hugo Boss

Jour EDP 50ml

79 points

Hugo Boss

Woman EDP 50ml

Cacharel

Anais Anais EDT

Spray 50ml

RRP $99

$

79

Each

69 points

79 points

Give well

Gucci

Envy Me

EDT 50ml

RRP $142

$

79

Each

79 points

Dolce & Gabbana

The One EDP 50ml

89 points

this Christmas

RRP $142

$

79

Each

Gucci

Rush EDT 50ml

79 points

5

We wish all our clients a

Happy & Healthy Christmas

We will be closed from noon Friday 23rd December

and will open Wednesday 4th January.

If you are in need of urgent medical care,

contact the 24 Hour Surgery on 365 7777.

EASTGATE PHARMACY

Eastgate Shopping Centre Phone (03) 389 8408

BUSH INN PHARMACY

Cnr Riccarton Rd / Waimairi Rd Phone (03) 348 4038

TOWER JUNCTION PHARMACY

Unit 7 Tower Junction (next to Raeward Fresh)

Whiteleigh Avenue, Addington Phone (03) 348 5544

225 Travis Road, Nth New Brighton, Chch

Ph: 388 9686 | Open 8am-5pm Mon-Fri

www.travismedical.co.nz
---
PEGASUS POST Tuesday December 20 2016 3

News

Anger over evacuation plan

• By Gabrielle Stuart

NEW BRIGHTON residents are

furious a tsunami evacuation

plan for the area – which could

have prevented the traffic chaos

– was kept under wraps.

Police had an evacuation plan

prepared that detailed things

such as which streets people

in the coastal areas would be

directed down.

But because

the community

was not told in

advance, there was

chaos on the roads

Hugo

Kristinsson

when the tsunami

sirens were

sounded, leaving

some people

trapped in traffic for more than

an hour.

Some drivers used both sides

of the road, roundabouts were

blocked and people trying to

find different routes to escape

traffic jams clogged the roads

even further.

South Brighton Residents'

Association chairman Hugo

Kristinsson said people needed

to know the plan in advance

because emergency services

often couldn't reach the area

immediately.

"It's not useful to anyone if

it's locked away in a drawer

somewhere," he said.

Police district operations

commander Craig McKay said a

list of the best exits to use in an

evacuation was available online

on the city council website. But

most residents did not know

about them.

Inspector McKay said the

plan had been developed for a

distant source tsunami, where

emergency services had time to

manage an evacuation.

There would not be time to

roll it out if a local earthquake

triggered a tsunami, he said.

Some streets could be made

one-way to get people out faster

if there was a lot of warning, but

that would not work in a locallytriggered

tsunami, he said.

"If it happens in the middle of

the day, people will need to get

kids out of school or help elderly

or vulnerable family members,

so we have got to have two-way

traffic," he said.

Civil Defence has also been

criticised for its lack of response

after the failed evacuation, as

it did not respond to calls and

emails left by residents' groups

over the past three weeks.

City council head of Civil

Defence Alicia Palmer said she

had not responded to concerned

groups in the New Brighton area

because the messages had not

gone to her.

She said community meetings

were planned for early next year.

Community groups spoken

to said that was too late, as

people were worried about the

immediate risk of a tsunami

triggered by an aftershock.

Ms Palmer said it would be

difficult to organise meetings

earlier because she and other

staff had been busy with the

response in North Canterbury.

But she said Civil Defence

would try to send staff to

meetings organised by the

community or phone groups to

help develop community plans.

She personally went to a

residents' meeting in Sumner

this week to speak about the

evacuation after being invited

by the Sumner Volunteer Fire

Brigade.

New Brighton Volunteer Fire

Brigade secretary Ruth Kenny

said the brigade was concerned,

but had not been asked to hold a

similar meeting.

A national review of the

response has been promised

to look into problems like the

communication failure which

meant national Civil Defence

was telling people along the

coast to evacuate while local

Civil Defence was not.

It will also look into why

the tsunami sirens were only

activated about two hours after

the earthquake.

In Brief

WIN

SHOPPING SPREE WINNERS

The winners of Shop Scan & Win

will each receive a $1000 shopping

spree at participating retailers. The

winners are: Marlene Dobson,

who shopped at Pataka, Gordon

Milne (Quick Stop Liquor) and Ben

Cloake (Sushi Lane).

Shop scan

REPEAT FIRE CALLS

Firefighters were called to a property

on Carisbrooke St three times

to extinguish a bonfire. They were

called at 11.50pm on Wednesday,

and 12.40am and 1.30am on

Thursday, before requesting police

to attend. Station officer Omar

Yusaf said while it was annoying

to have to go three times, the occupants

were "not too bad." Police

attended but no arrests were made.

PAGES RD REPAIRED

Work to resurface a section of

Pages Rd between Shuttle Dr and

Shortland St will be completed

today. Meanwhile, Breezes Rd is

expected to return to two-way traffic

before Christmas. It is currently

one-way between Pages Rd and

Shortland St.

HELPING US,

HELPS THE

COMMUNITY

Drop off or buy

2 family stores in your community

30 Main North Rd,

Ph 352 4581

520 Cranford St,

Ph 352 0515

YOUR LOCAL GARAGE

• All vehicle repairs

• Oil changes and services

• Brakes • Loan car available

• Tyres, punctures & batteries

• W.O.F • Tune up

Your LocaL GaraGe

Crispy Crunchy Batter

Gluten free products

sold for oVer 4 YeArs

Fish, Hot Dogs, Pineapple Rings, Donuts

* Specialty fish cooked to order..

Blue Cod, Gurnard, Sole, Hoki, and

more! Also crumbed at no extra cost.

We wish our customers a Merry Xmas

and a safe new year, thankyou for

your support & custom for 2016.

Warm wishes from Peter, Helen and Ben.

Closed from 24th December and reopen on 3rd January

GOURMET SEAFOODS QEII

Ph: 388 2531, QEII Shopping Centre 251 Travis Rd

Mon - Wed 11.30am - 8.30pm (Tues from 4.30pm)

Thurs - Sat 11.30am - 9.00pm; Sun 12noon - 8.30pm.

Daily break 3.15 - 4.30pm.

VERY FRIENDLY SERVICE AND ADVICE

NEW BRIGHTON AUTOMOTIVE

Phone: 03 388 3630

40 Hawke St (behind Z Petrol Station)

new years eve

join the party!

saturday 31 december, 6.30pm – 12.30am

North Hagley Park by Victoria Lake

Enjoy kids entertainment with Natural Magic and Christchurch

Faerie Circle, Kids DJ, local band Better than Bacon and a "kids

midnight" countdown at 8.30pm. From 9pm come party with DJ

Andy Pulzar, Black Velvet Band, The Easy Hearts and Piper bringing

you into the New Year with the midnight fireworks display.

Please note no public parking available on Hagley Park.

Alcohol is prohibited at this event.

summertimes.co.nz

Proudly produced by
---
4

Tuesday December 20 2016

McMaster & Heap

Veterinary practice

Caring for TurTles

Foot injury needing veterinary attention.

Turtle Facts:

Turtles are not your average pets. They

are fascinating creatures that aren't

particularly complicated to care for as

long as you invest a little time and have

the right equipment, you can enjoy them

for a possible 25 to 40 years!

Pet turtles in NZ are usually red-eared

sliders or snake necks. Turtles are cold

blooded so regulate their temperature

from their environment, moving between

sunning area and the layers of warm and

cool water.

Turtles have hard shells made up of

around 60 bones covered by plates called

scutes. Scutes are shed once or twice

a year and can be easily scratched by

minor trauma or softened by prolonged

immersion in warm water. When they

bask in the sun, their scutes dry and firm

back up.

The shell is part of its skeleton which is

attached to the spine and the rib cage

so they can't crawl out of it. They can feel

pressure and pain through their shells,

just as you can feel pressure through your

fingernails.

Enviroment

Turtles can grow to be 13-28cm in

length so they will need a relatively large

enclosure. An outdoor enclosure is the

best place for your turtles – one with

water to swim, rocks to sunbathe on and

some shelter under which to keep cool.

If you are going to keep your turtle in an

aquarium, it is very important to keep

it clean. Turtles are messy eaters so the

water needs to be changed regularly &

good filter is essential.

Plenty of natural light is good, but they

also need special UV bulbs and a

heat lamp. A full spectrum UVA/

UVB reptile light is necessary for

the production of calcium and

maintenance of the hardness of

their shells. The ideal temperature

in an aquarium should be carefully

monitored and in the correct range.

Gravel is not necessary, and very

small gravel can be ingested by your

turtle and this can cause blockage

problems. Use stones that are large

enough not to be swallowed or river

rocks.

Diet

A healthy, balanced diet for turtles consists

of a wide variety of foods, from snails to

alfalfa. Red-eared turtles are omnivores,

eating mostly meat when young and

becoming vegetarian as they age and

need less protein. Juveniles turtles (up to

1yr old) should be fed twice a day and

adults every second day. They can only

feed in water.

Turtles like to eat worms, snails, insects,

fish and boiled chicken. The plants they

prefer include most varieties found in

tropical fish tanks, plus lettuce, cabbage,

alfalfa, and berries. Turtle food bought

from a pet shop contains essential

vitamins and minerals including calcium,

which is needed for the development of

the shell. A poor diet results in a soft shell

and a lethargic pet.

Do not feed - Red meat or processed

meat. Cat or dog food, avocado, spinach,

silverbeet, peas, corn, cauliflower,

cabbage, broccoli, fruits, raw chicken,

rhubarb, beetroot, tomato, celery

Turtle Problems

If your Turtle has the correct diet and

environment it is unlikely to get ill or have

problems but there are a few things to

look out for.

These include: Soft shell syndrome

(Metabolic Bone Disease): a result of poor

diet and/or insufficient lighting. Fungal

infections: a cotton-like layer on the shell,

eyes or mouth. Respiratory infections:

Wheezing, lethargy, a runny nose and loss

of appetite, all due to an environment that

is too cold.

If you see any of these symptoms in your

pet, make sure you take them to us for

assessment and treatment.

I really enjoy looking after the turtles that

come through our vet clinic. They are

beautiful, amazing and resilient creatures.

There is never a dull moment at work and

you never know what creatures we will

treat next!

Dr Sara Hodgson BVsc BSc

A special thank you to Donna who runs

the Turtle Rescue in Christchurch who

helped supply some of the information

used. To see what Donna does or for

detailed information on turtle care visit

her website: turtleinfo@paradise.net.nz

A pile of scutes which were removed to

reveal a healing healthy shell beneath.

Your Local Views

More to Xmas than gifts

This week's

opinion

piece was

written by

retiring City

Missioner

Michael Gorman

about not losing sight

of what Christmas

really means

For most of us Christmas

is a time of great

happiness.

Children are excited

as they receive gifts and

we use the time to get together

as families and with

friends to celebrate.

For some people, this

time of year also has great

religious significance as we

recall the birth of Jesus.

Whatever our belief, it is

a time to get together with

those we love and enjoy

ourselves.

Not everyone has good

reason to celebrate.

For some people, Christmas

reminds them of happier

days long gone.

Days when, for example,

they were not fighting addiction,

had not suffered

loss and separation and

were not unemployed and

Put your

STAMP

ON

Christmas

living in poverty.

Christmas can be a time

of great loneliness if there

has been death or family

separation.

Many old people are

forgotten in the busy

Christmas rush.

Christmas can also be a

time of over spending.

We all want to give as

much as we can to our

children and to those we

love.

We are often seduced by

advertising and easy credit

into buying goods that we

cannot afford and we are

then in debt for much of

the next year.

While not wanting to

be the Grinch who stole

PEGASUS POST

Christmas, maybe we

should cut back our spending

to what we can afford.

Homemade gifts or offers

to help out during the

year are just as acceptable

as expensive presents and

still tell people we love

them.

Remembering the lonely

and being aware of the

need to include them in

our celebrations and giving

people our time may

be the very best gift. And,

if it is safe to do so, then

Christmas may be the time

for family reconciliation.

Even if Christmas has no

religious meaning for us

we can still give love – the

greatest gift of all.

Open 7 days

Cnr Hoon Hay & Coppell place

phone 338 2534, Fax 339 8624

e. mcmasterandheap@yahoo.co.nz

www.mcmasterheap.co.nz

McMaster & Heap
---
PEGASUS POST Tuesday December 20 2016 5

News

Art helps put a halt to tagging

ARANUI'S ST James School

pupils are the first in the city

to be part of a new graffitistopping

initiative.

Pupils Paul, 8, and Bailey,

9, are the first in the school to

have created a mural to cover

a local utility cabinet, with the

hopes of preventing graffiti.

The project is being led by the

city council and telecommunications

provider Chorus. The

two entities are asking schools

and community groups to get

involved in designing artwork

to cover up graffiti on more

than 500 cabinets in the city.

The first in the city to be

painted have been chosen

because they were hotspots for

tagging.

All 26 pupils from the year 3

and 4 class at St James School

submitted entries, but Paul and

Bailey's painting – featuring

crosses, lightning bolts, a Pasifika-style

spearhead pattern, and

a variation on the Superman

symbol, was a standout.

"I thought that using the

crosses would be a bit holy for

people that are holy around this

community," Paul said.

The two friends hope their

box, which they painted with

help from other students, will

stay free of graffiti in future so

everyone can enjoy it.

TOP DESIGN: Paul and Bailey's painting – featuring crosses, lightning bolts, a Pasifikastyle

spearhead pattern, and a variation on the Superman symbol, was a standout for the

selectors.

Paul said the colours were

carefully chosen; green for its

calming effect, yellow for its

cheerfulness and red for anger

to deter taggers.

Bailey said he liked drawing

because if you make a mistake

"you can just keep going and

forget about it".

St James School teacher Mareta

Pelenato said the children

were encouraged to come up

with a design that related to

their community and what

made it special.

Art had been a big focus for

her class this year and the kids

loved doing it.

"It's their time to be free and

go with the flow."

City council's graffiti team

leader Val Merryweather said

the idea behind the scheme was

for local schools and community

groups to take ownership

of the utility cabinets and in

this way discourage vandalism.

About 15 schools and community

groups have already

been approached and Ms Merryweather

hopes eventually

every cabinet in the city will be

turned into an artwork.

New site for

toy library

• By Andrew King

MORE SPACE, a front lawn and

cows nearby to entertain the

children – Papanui Toy Library

believes it has relocated to an almost

perfect spot.

The well-used library was facing

a bleak future after news that its

premises at 472 Cranford St was to

be demolished by the end of the year

due to earthquake damage.

But it has now moved into its new

home at 185 Cavendish Rd, a place

which ticks nearly all the boxes, according

to secretary Natalie Sisson.

"It is almost the perfect place. (It)

could be a bit bigger – with the 1000

plus toys we have, we need a lot of

room," she said.

Even with the move, Ms Sisson

said people are still coming through

the door and remarking about how

lucky they are.

"There is a big grass area out the

front, some cows that the kids love

and diggers over the fence. [The

children] love it," she said.

The service is used by about 100

members and has been in operation

since 1993. It is open to parents

Wednesday evening and Saturday

morning. The library is planning

an open day on February 25 to let

people know they have moved into

the neighbourhood.

Independent-living lifestyle village

Pack a

it ' s

Picnic,

Island

Time!

Discover walking tracks, native birds,

penguins, the swimming beach and

shipwrecks, all on the island that's

only 15 minutes from Christchurch!

Start Exploring

Otamahua/Quail Island today!

0800 436 574

www.blackcat.co.nz

DEPARTS: LYTTELTON QUAIL ISLAND

Oct – Apr 10.20am 3.30pm

Dec – Feb 10.20am & 12.20pm 12.30pm & 3.30pm

FARE: adult $30 child $15 return

CRUISES

LYTTELTON & AKAROA

Lovely North Facing 2 Bedroom Villa

Available Now

Phone Sue our Sales Manager on 021 902 626

or 943 6006 | email sue@archer.org.nz
---
6

Tuesday December 20 2016

News

PEGASUS POST

FINAL ASSEMBLY: Past and present pupils and guests helped

celebrate the school's long history at its closure.

PHOTO: GEOFF SLOAN

School celebrates 105

years before closure

ARANUI PRIMARY School

celebrated 105 years of education

just six days before it was closed

for good.

The school opened in 1911 and

closed its doors last Thursday.

The school held celebrations

for the milestone on December 9

before its final ever assembly on

December 15.

Aranui is one of four schools

closing to make way for super

school, Haeata Community Campus.

The other schools are Wainoni

and Avondale primary schools

and Aranui High School.

Aranui High also closed on the

same day as the primary school.

Aranui celebrated in many different

ways during its Big Day In

event, held alongside the 105-year

celebrations.

Pupils, guests and former pupils

took part in the 105th celebrations

with a haka powhiri, traditional

welcomes and speeches.

Following that was a hangi, and

the classrooms were opened for

guests to walk through.

GIVE A LITTLE: This Christmas, FreshChoice and SuperValue supermarkets are

encouraging customers to give back to their local community. FreshChoice Parklands

store owner Julian Brown (left) and Salvation Army Linwood Centre manager Stephen

Lapslie put a few cans in the trolley with store manager Terriann Jackson as part of the

Give Local campaign, which allows customers to donate non-perishable food items

and health products to those in need. Specially-marked food collection trolleys are in

place now at every FreshChoice and SuperValue store throughout New Zealand until

New Year's Day. All items collected are destined to support local charities, such as

the Salvation Army, community food banks and community-led food collections from

organisations like the Lions Club. Christchurch-based FreshChoice and SuperValue

brands manager Liz de Lange said: "We encourage customers to look at what they are

able to afford and pop a few extra items in their trolley to give to the local charity." The

supermarkets are also collecting for the Red Cross Kaikoura earthquake appeal at all

checkouts. Collections have been started by a $5000 donation from the supermarket

group.

THE HOME OF GOOD BAKING

CHRISTMAS

TARTS

12pk

HOT DEAL!

2 FOR

$

8 00

CHRISTMAS

PUDDING 700g

Other sizes available.

$

7 99

EA

LARGE PAVLOVA

$

6 49

EA

CHRISTMAS

TRUFFLES 12pk &

RUMBALLS 15pk

$

5 99

PK

MILK

Dairy Dale 2L varieties.

$

5 98

2 FOR or $3.19 each

PREMIUM BREAD

White, Wholemeal, Grain & Honey.

$

5 00

3 FOR

Promotional pricing available while stocks last from 19/12/16 to 24/12/16.

Images are serving suggestions only.

Open 7 days | 8 Convenient local locations

Hornby • Barrington • Ferry Rd • Papanui • Riccarton • Upper Riccarton • New Brighton • Rangiora

BAKERIES

www.couplands.co.nz
---
Oxford Tce

Oxford Tce

PEGASUS POST Tuesday December 20 2016 7

Musical

talent

on show

Laurel Rose, of Richmond,

singing Everything Else from

the musical Next to Normal,

she also sung Killer Instinct

from Bring It On. She was

one of eight performers from

across the city singing two

songs from favourite musicals

in front of a live audience. The

Way Off Broadway concert

was a collaboration between

Showbiz Christchurch

and National Academy of

Singing and Dramatic Art.

Hosted by Michael Bayly and

accompanied by pianist Sam

Jury, the concert gave both

new talent and seasoned

performers the chance to

rekindle their love of musical

theatre. An array of songs from

musicals including Wicked,

Les Miserables and We Will

Rock You were performed.

The unauditioned concerts

will continue to run every two

months next year. If you are

interested in participating

email wayoffbroadway@

showbiz.org.nz

PHOTO: WENDY RILEY

FLAME FILES

Don't drink and fry

Fire risk management

officer Mark Thomas

writes about the danger

of cooking after drinking

alcohol

THE LAZY hazy days of

summer.

Where it fell to about nine

deg C and teemed with rain

during the week making a

number of winter type calls to

lines down, flooding and false

alarms.

Where also a car that slid

off the hill at Akaroa early on

Tuesday was noted to have the

four occupants still inside. They

weren't trapped. Just staying in

the only place for miles out of

the cold, wind and rain.

A couple of duckling rescues

occurred, one of which

reported two survivals, two

fatalities. It hasn't been the

most encouraging start to this

summer.

We also had a couple of

instances this week that could

have gone seriously wrong that

involved alcohol. In one, a house

in Addington, the occupant fell

asleep with a cigarette in hand.

Too many times in the past

this has been the precursor to a

tragedy.

The other call in Somerfield

was another situation we regularly

preach.

Don't drink and fry!

Here the occupant fell asleep

with food on the stove.

Smoke seen by a neighbour,

Fire Service called and disaster

averted. Just!

It is the season to be jolly.

Which means office parties,

break-up barbecues and heaps of

alcohol. That's fine.

It's just making sure that the

consequences of partying up

don't include killing yourself

with fire.

This is the last column for

2016.

Many thanks again to Pegasus

Post for providing the ongoing

opportunity for me to talk fire to

Christchurch residents.

Merry Christmas to everyone!

PROJECT PROGRESS IN 2016 ACTIVITY IN 2017

1. An Accessible

City

• Work on Manchester and Durham Streets

well advanced.

• Durham Street:

– Kilmore to Armagh reopens to two-lane

traffic – early 2017

– Armagh to Tuam one lane until April.

• Manchester and Durham Streets finishing

late 2017.

Bealey Ave

Bealey Ave

2. Avon River

Precinct

Bealey Ave

• Triumphal Arch and Bridge of Remembrance

finished.

• The Terraces and Worcester East Terrace

finished.

• PGC site finished.

• Work starts on The Promenade – a sharedspace

streetscape, paved areas, gardens –

1st quarter.

• Works starts on restoration of Victoria Square

– 1st quarter.

• Margaret Mahy Family Playground finishing.

Victoria St

Montreal St

Durham St

Colombo St

Manchester St

Madras St

Barbadoes St

3. Convention

Centre

• Pre-construction site preparation works

underway.

• Early Works finishing mid-year.

• Construction works begin 3rd quarter.

Park Tce

Salisbury St

Peterborough St

Victoria St

Salisbury St

Peterborough St

Salisbury St

Peterborough St

4. Canterbury

Earthquake

National Memorial

• North bank finished.

• Work on Memorial Wall well advanced.

• Finishing February.

Kilmore St

Cranmer Square

Cambridge Tce

Kilmore St

5. East Frame • Work started on public spaces in October. • First residential lot starts in March/April.

Chester St

• Public spaces finishing in December.

Ave

Hagley Ave

Rolleston Ave

Antigua St

Armagh St

Gloucester St

Worcester Blvd

Hereford St

Cashel St

Tuam St

St. Asaph St

Montreal St

Montreal St

Armagh St

Oxford Tce

Cambridge Tce

Durham St

Cashel St

Lichfield St

Tuam St

St. Asaph St

Colombo St

Colombo St

Gloucester St

Worcester St

Hereford St

High St

Manchester St

Manchester St

St. Asaph St

Latimer Square

Madras St

Madras St

Barbadoes St

Barbadoes St

6. Metro Sports • Pre-construction earthworks and local road

Gloucester St

Facility

changes underway.

7. South Frame • Construction across project area underway.

Lichfield St

Land divestment

Ferry Rd

Armagh St

Worcester St

Hereford St

Cashel St

Tuam St

St. Asaph St

Fitzgerald Ave

Fitzgerald Ave

• Areas inside Innovation Precinct opened

in October.

• Several sales balancing commercial returns

and regeneration outcomes eg sale for

development of future farmers market and

Hoyts Cinema.

• Construction begins mid-year.

• Areas will open as work finishes.

• Continue to support new and different

developments that increase the number

of people working, living and enjoying the

central city.

Moorhouse Ave

Moorhouse Ave

Moorhouse Ave
---
8

Tuesday December 20 2016

PEGASUS POST

From rugby to surf boating

SPORTS

• By Gordon Findlater

SHIRLEY BOYS' High School's

first XV co-captains have taken

their comradeship from the

rugby paddock to the beach.

Logan Bell and Josh Archer

have recently taken up surf boat

racing with the North Beach

Surf Life Saving Club and are

proving pretty handy.

Their sights are on the

national championships at

New Brighton in March after a

strong finish at their first major

carnival earlier this month.

Bell and Archer, who have just

finished school, co-captained

the first XV to their second

straight UC Championship

final this year. They were also

co-captains for the school at

under-14 and 15 level, guiding

both teams to respective

championship wins.

Archer has a background

in individual surf life saving

events, having competed in the

sport for the past eight years.

Bell has previous flat water

experience, rowing for Shirley

BHS at the Maadi Cup.

The North Beach under-19

surf boat crew has a strong

Shirley BHS presence.

Alongside Bell and Archer are

fellow first XV teammates Glen

Beardsley and Nathan Koolen.

The new crew guided their

boat to second place in the

CO-CAPTAINS: Josh Archer (left) and Logan Bell have taken

their competitive nature from the rugby field to the surf boat.

under-19 section at the first

round of the New Zealand Surf

Boat Series in Porirua recently.

"Josh had a few of the rugby

guys on earlier in the year that

he wanted us to give it a go.

We've only been together a few

months but things are going

really well, " said Bell.

He has found a passion for the

sport.

"I find it so much better than

flat water. You're on edge the

whole time, when you're rowing

into the waves you have no idea

when you're going to get hit,

it certainly keeps you on your

toes," said Bell.

Said Archer: "Logan and I go

way back and the relationship

and bond we've developed

definitely shows up in the surf

boat. We're constantly yelling

at each other and telling each

other what we need to do to get

better and stronger as a crew."

The crew has only been

together for three months.

Said Archer: "At the nationals

there will be an under-19 short

course and long course medal

up for grabs. We're still pretty

AIR TIME: The North Beach

under-19 crew got a taste

of big wave action during a

recent training session.

green, but I feel like we've got

the crew to do it and our open

men's crew are the current New

Zealand champions so they're a

great resource we can tap into."

However, while they will be

teammates in the surf boat, it

will be a different story on the

rugby field.

Bell is set to play club rugby

for Lincoln University in 2017,

while Archer will play for his

boyhood club New Brighton.

The two clubs have a lot of

recent history.

Lincoln defeated New

Brighton in this year's metro

rugby final, with New Brighton

taking out the round-robin

competition.

"We were laughing the other

day because our first pre-season

game is actually against each

other," said Archer.

Keas coach

in running for

major award

LINWOOD KEAS coach Andrew

Auimatagi is one of three finalists

up for domestic coach of the year

at the upcoming New Zealand

Rugby League awards.

Auimatagi coached the Keas to

a Massetti Cup minor premiership,

and then the Pat Smith Trophy

after winning the Canterbury

club grand-final.

He also led the Canterbury

Bulls to a third place finish in

the New Zealand Premiership,

narrowly missing out on a finals

berth on points differential.

The award ceremony will take

place in Auckland on January 20,

with Auimatagi going up against

Papakura Sea Eagles coach

Richie Blackmore and Counties

Manukau Stingrays, New Zealand

Residents and Southern Cross

Campus coach, Rod Ratu, for the

award.

Auimatagi, a former Keas

player, was also assistant coach of

the New Zealand Residents side

that defeated New Zealand Maori

30-10.

In October, Auimatagi was

named coach of the year at

the Canterbury Rugby League

awards.

A CHRISTMAS

GIFT FROM US

Just spend $75 to receive a free $25 Gift Card*

Simply spend $75 or more between 5pm and 7pm from

17-23 December & receive one of fifty $25 gift cards*

given away each evening!

Conditions Apply*

HORNBY 409 Main South Road | Over 50 Stores

*One gift card per customer. *Receipts are only valid for a free gift card for the day they are dated.

Excludes purchase of Gift Cards. Limited to the first 50 customers per day from 5pm.

dress-smart.co.nz
---
PEGASUS POST Tuesday December 20 2016 9

ARANUI HIGH SCHOOL

A place of respect, focused on learning together for our future success

OCTOBER 2016

2016 Sports Awards

Dux - Beth Walters

Beth enrolled at Aranui after graduating from Hillview

Christian School in 2014. In Year 11 (2014) Beth was

awarded the Ferrand Cup for Academic Excellence.

Beth's NCEA results were outstanding gaining Excellence

for Physical Education and Science, and Merit for

Mathematics, Geography, English and Maori.

She gained Level 1 with an overall Excellence endorsement.

In Year 12, Beth continued to excel and was awarded the

Excellence Cup for academic excellence.

Once again, Beth gained NCEA level 2 with an Excellence

endorsement. Beth has already gained NCEA Level 3 and

it is possibly the her final results will include Excellence

endorsements in English, Geography, Statistics, Biology

and Chemistry.

Beth has been awarded an University of Canterbury

Emerging Leader Scholarship for her University Study and

is reserve for a second scholarship, The Leigh and Judith

Pownell Scholarship for undergraduate Geography at the

University of Canterbury.

Proxime Accesst - Cheyenne Thompson

Cheyenne enrolled at Aranui as a Year 9 student in 2012.

The academic awards started rolling in that year as well,

In year 9 she gained awards for Physical Education and

Mathematics at our first ever Maori Achievement Awards

night. In 2013 her other talent emerged, her talent for

Music, when she was awarded the Academic Music Award.

At the end of her first NCEA Year (2014), Cheyenne was

awarded Academic awards for Art, Music and Physical

education.

Her NCEA level one results reflected her commitment to

our school values when she was endorsed with Excellence

for Physical Education and Merit for English and Maths,

as well as achieving Level NCEA 1 Excellence overall

endorsement. In 2015 Cheyenne achieved Endorsement

with Merit for Level 2 English, Chemistry and Physical

Education, and was awarded Level 2 NCEA with Merit

endorsement overall. This year Cheyenne's academic

achievements include gaining awards in Chemistry,

Physical Education and Music.

She has already gained NCEA Level 3, and is on track

to gain possible Excellence course endorsements for

Chemistry and English.

TOP ACADEMIC STUDENTS

Left to Right: overall sportsman of the Year: Immanuel Opetaia

overall sportswoman of the Year: Te Rina Hillman

overall Junior sportsman of the Year: Darrell Suaesi-Faamau

overall sportswoman of the Year: Grace Smith

SCHOLARSHIP SUCCESS: University of Canterbury Emerging Leaders

The University of Canterbury Emerging Leaders Scholarships were established

to recognise not only academic achievement, but also leadership potential and

sporting, cultural and community involvement amongst those top students

attending the University of Canterbury. The Emerging Leaders Scholarship provides

money towards tuition fees, and a leadership programme.

St Mary'S of Merivale ScholarShip: Solomone leka

St Mary's of Merivale created a scholarship be awarded to a

deserving, high achieving student who may face financial

barriers in attending tertiary study. This year the scholarship

was awarded to Solomone Leka, who received $1,000.

Luke mcKay scholarship ($500) and Hugh rankin scholarship

($2300) sarah Boddington.

These Scholarship were awarded to Sarah Boddington who has

chosen to study at the University of Canterbury in the Science

field.

FIA FIA NIGHT

Our annual Fia Fia night was held on Friday 2 December. The hall was once again

packed with families celebrating the successes of our Pasifika community.

STUDENT SUCCESS: TJ Snow

Year 9:

Heather Prince

Year 10:

Te Rina Kotara

Year 11: Fa'ataumamatemalesoatau

(Mate) Talatonu

Year 12: Justice

Arahanga-Pryor

TJ Snow was selected to join Toi Whakaari the New Zealand

Drama school in 2017. What makes his selection so unique

is that he is the youngest actor in next years intake. TJ

has been a drama student since Year 11 (2014), and has

performed in the roles such as Bassanio in the Merchant of

Venice at the Sheilah Winn Shakespeare Festival, MacBeth

and this year he played Kenickie, a principle part in the

musical Grease. He also acted in a professional film Crash

Bash called "Speak up" related to Youth Drink and Drive.

RESPECT EXCELLENCE MANA COMMUNITY MANAAKITANGA
---
10

Tuesday December 20 2016

PEGASUS POST

Poto Williams

Chch MP for East

New Brighton

388 1809

QEII 251 Travis Road

Richmond 68b North Avon Road

QEII Collision

Repairs

302 Travis Road

P: 03 388 5187.

GOURMET

SEAFOODS QEII

Ph: 388 2531, QEII Shopping Centre

251 Travis Rd

03 383 1836

247 Burwood Road

BUTCHERY

101 Stanmore Rd

Ph: 389 8065

11 Parnwell Street.

Ph 383 4814

QE2

PHARMACY

388 9286

Shop 1, 251 Travis Road

Aaron Lodge

Jo Hayes

National List MP based in Christchurch East

Your LocaL GaraGe

03 388 3630

New Brighton: 52 New Brighton Mall
---
PEGASUS POST Tuesday December 20 2016 11

Summertime Reading Club

for Kids

Daily

Need books for the summer

school holidays? Pick some

up along with a Passport to

Summer. Each page has fun

reading-related activities to

complete. After you finish the

challenges on each page, stop

in at a library to collect a stamp

in your passport. Once you've

completed eight activities and

collected five stamps in total,

get your passport checked by

a librarian to enter the draw to

win prizes, including an iPad

mini 2, an Orana Park family

pass, pool passes, movie passes

and book vouchers.

Any Christchurch City Library

branch. Free entry

Sheep the Grand Tour

Tuesday to Friday, 9am-6pm,

and Saturday, 10am-4pm

Learn about the story of sheep.

This exhibition by Abigail Walsh

is not just a story about a sheep

and the adventures he gets into

with his best friends, it is also

the story of an idea. The idea has

been around for many years but

has now, through a combination

of circumstance and timing,

become a reality.

Linwood Library, Eastgate

Email fraser.walker@starmedia.kiwi

by 5pm each Wednesday

Shopping Centre, first floor. Free

entry

Christmas Waiata with Ngā

Manu Tioriori

Thursday, 1.45-2pm

Go and hear the city council

waiata group, Nga Manu Tioriori

(The Songbirds), perform upbeat

Christmas songs and carols in

Te Reo Maori. Expand your

knowledge and enjoy the songs.

New Brighton Library, 60

Brighton Mall. Free entry

Christmas Movie Night at

Re:START – How The Grinch

Stole Christmas

Thursday, from 6pm

Take a cushion and get comfy

to watch the live-action retelling

of Dr Seuss' much-loved alltime

Christmas classic, How

the Grinch Stole Christmas. The

show starts at 6.30pm but get

there earlier to find a seat.

There will also be late night

shopping and eating options

available until 9pm, along with

the Play:ZONE.

Re:START Mall. Free entry

YMCA Carols by Candlelight

Saturday, 9-10pm

This event is a fun way for

family and friends to enjoy the

magic of Christmas Eve.

Dyers Road Landscape

& Garden Supplies

• Barks • Peastraw • Composts - we supply the best available

• Aggregates - Chip, Round and Basecourse

• Pavers & Schist products • Pungas

• Decorative Stones & Landscaping Rocks

• Trailer Hire first hour free with purchase

• Bag & Bulk - pick up or delivered

David, Carol & Mike

We will deliver!

SOIL

AND

HARDFILL

DUMPING

Phone: 03 384 6540

183 Dyers Rd, Bromley • OPEN 7 DAYS

Weekdays 7.30am-5pm. Weekends 8.30am-3pm

www.dyersroadandlandscapes.co.nz

CHRISTMAS STORIES: Settle in for some excellent stories, songs and fun at

Eastgate Shopping Centre. Go along after school, work or dinner for a special

evening of Christmas stories. Be entertained by the songs and rhymes you

recognise and enjoy them with your family on Thursday from 6pm. The event runs

for 45 minutes at Linwood Library on the first floor of the shopping centre. This is a

free event for everyone to attend.

Take along your friends,

family, a picnic and some

chairs and join the YMCA for

a wonderful evening of carol

singing. Candles and carol books

are on sale at the event, with

food and coffee vendors on-site.

Victoria Square, Christchurch

central

Christmas Grotto 2016

Today until Saturday, 9am-9pm

Go to the Christmas Grotto,

where you will journey through a

magical Christmas wonderland.

There will be something for all

ages to enjoy and a mix of displays

and scenes to view. During the

week the grotto will be open from

9am-3pm, and on Friday, Saturday

and Sunday, it will be open from

9am-9pm. This year the organisers

have decided to wipe the entry fee

so enjoy the show free of charge.

South West Baptist, cnr Lyttelton

and Cobham Sts. Free entry

Great Museum Santa Search

Today until January 8

The Great Museum Santa

Search is back. Take your family

and search high and low for the

Canterbury Museum's hidden

Santas. If you find all missing

Santas, you could win a fantastic

prize. All you need to do is count

the total number of toy Santas you

see and record it on the back of the

entry form available at the front

desk of Canterbury Museum. To

help you get started, there's some

clues on the entry form and a

guide.

Canterbury Museum, Rolleston

Ave. Free entry

SOMETHING FUN FOR EVERYONE

UNDER NEW OWNERSHIP

9 HOLE

GOLF cOURSE

DRIVING

RANGE

STILL ROcK

OUTDOOR MINI PUTT

BOOKINGS ESSENTIAL | 50 FERRYMEAD PARK DR, FERRYMEAD

PH 376-5350 | WWW.FERRYMEADGOLF.cO.Nz
---
12

Tuesday December 20 2016

PEGASUS POST

BUMPER

CHRISTMAS ISSUE

OUT FRIDAY DECEMBER 23

Best

Motorbuys

FREE

TM

PICK UP YOUR FREE COPY AVAILABLE FROM 100'S OF

OUTLETS THROUGHOUT CANTERBURY

Now view us online

www.bestmotorbuys.co.nz

Merry Christmas

& Happy New

Year from the Best

Motorbuys team!

CONTACT US NOW FOR ADVERTISING

Lea Godfrey 021 277 3086
---
PEGASUS POST Tuesday December 20 2016 13

REAL ESTATE

An Empty Nest

130 Hackthorne Road, Cashmere

6 bedrooms | 4 bathrooms | 4 toilets | 3 living rooms | 1 dining room | 1 office | 1 swimming pool | 2 car-garage | 2 off-street parks | Listing # BE192731

With the family having left home this

magnificent home is now simply too big

for the vendor. Quintessentially Cashmere

this superb home with sweeping views and

all day sun will please the most discerning

buyer. A superbly designed extension by

Sheppard and Rout has resulted in a six

bedroom, four bathroom, three living

room home retaining the style and charm

of its history whist giving the benefit of

modern day living. Step into the large

elegant entranceway and on into the large

family kitchen and dining room area

featuring beautiful timber floors and then

through to the family room. A large formal

wood panelled lounge is a wonderful

space to perhaps achieve a quiet area from

the bustle of family life. The adjoining

conservatory can also double as room

for teenagers, being big enough to take a

table tennis table. A media room complete

with speakers, projector and screen is a

great place to entertain family and friends,

perhaps after a bbq and swim in the heated

inground pool. But perhaps the real

surprise lies at the top of the house. Here

is a purpose-built workspace, generous

in size and ideal for those who wish to

work from home. There is room for three

people to comfortably work plus storage

space for samples or stock. Attention to

detail continues even into laundry and a

refrigerated cool room. The large private

grounds are a joy for the gardener with

expansive lawns and well established trees

and shrubs. You can sit on the deck and

admire your garden in these long summer

days to come. There is so much to see in

the house - call now to view your new

home.

Call Debbie Pettigrew from Harcourts

Grenadier Beckenham (Licensed Agent

REAA 2008) now on 337 1316 or 027 777

0411

now bigger than ever

growing with you

SprIng Is here –

It'S Sow Time

how to get the best results from

seeds and seedlings

100% NatIve In

The capItal

Unravelling the secrets of

Otari-wilton Bush

The New Zealand

landscape awards

The people behind

the projects

$7.90 incl. GST

Save our roSeS

How a rose register is protecting our heritage

September 2016 | 100%

It's time

to grow!

New look and more

content than ever!

MeeT LeSTer Brice

A Garden coach

auckland Botanic GardenS

Why we love our public grounds

The magazine for

gardeners who like to get

their hands dirty

SubScribe from

$43. 50*

*6 issues/6 months

ISSN 2423-0219

SUBSCRIPTIONS FREEPHONE

0800 77 77 10

www.gaRdeNER.kiwI
---
plete and attach to clothing bag for

14

Tuesday December 20 2016

14km

6km

PEGASUS POST

name

signed

2017

14km

6km

19 March 2017

This

emergency

contact number

2017

sticker is valid for entry into either

distance. Must be worn during the event,

to claim prizes, and for free entry into

Ferrymead Heritage Park.

OFFICIAL ENTRY NUMBER:

This

Moving with you for 43 years!

existing

medical condition

19name

th March 2017 • Prize Giving Ferrymead

emergency

Park.

signed

contact number

existing

medical condition

19 th March 2017 • Prize Giving Ferrymead Park.

dist

to c

Ferr

OF

ENTRIES NOW OPEN!

$20 Early bird available online

A Star Media Event

Are you up for it?

The Star Photo Archive: 1983

city2surf.co.nz
---
PEGASUS POST Tuesday December 20 2016 15

Food business focuses on

healthy choices

Their experiences on New Zealand

reality TV show MKR was the catalyst for

two Christchurch women, Ricki and Jessie,

to start their own food business – with the

focus firmly on healthy eating.

The pair spent many hours spent tasting,

testing and developing a series of healthy,

nutritionally balanced salads before

launching Healthkicks in April 2015.

"We wanted to provide healthy

options for everyday people," says Ricki.

"Everyone's busy these days and as a result

they sometimes find it quicker and easier

to get fast foods, which are often unhealthy.

We wanted to change that culture and offer

healthier options."

Their selection of fresh, tasty salads

can be purchased in takeaway containers,

which hold a generous portion of up to

500 grams for $10. The salads can also be

vacuum-packed, so they will last longer in

the fridge. Those without lettuce can be

served hot or cold.

They are also available as platters to

serve at parties and barbeques, and with

Christmas Day and other festive occasions

coming up, these would be ideal, Ricki says.

They are delivered in vacuum packs for

easy storage. And as a healthy sweet treat

for 'afters', Healthkicks has the delicious

snickers slice.

Items are ordered through the website,

healthkicks.nz, with free delivery available

throughout the Christchurch area –

minimum purchase $30. Orders placed by

6pm will be delivered the following day,

Monday to Friday.

"We are finding that customers are

ordering a week's worth of salads on a

Monday so they are set up for the week,"

says Ricki. "Our food speaks for itself. As

well as vegetables and proteins it contains

healthy carbs, so it keeps you full."

Healthkicks also has a shop in

Avonhead, at 104 Staveley Street, phone

342 9541, where customers can purchase

items or pick up their orders. Business

hours are Monday 9am-1.30pm, Tuesday

to Friday, 6.30am-1.30pm.

Ricki and Jessie with their Healthkicks delivery van

Follow them on their

Facebook page for special

offers and menu updates

super LOW prICes! Do you want

to run faster?

Runfit

pRogRamme

Help relieve the symptoms of ills & chills. Vitamin C helps

strengthen your immune system and is an antioxidant that

helps protects cells from free radical damage.

3 Convenient Locations:

The Palms: 385 0364

The Hub Hornby: 349 5150

Bush Inn Centre: 348 7867

Call us toDay on 961 0236

move betteR

Run fasteR

injuRy fRee

get the technical edge

Celebrating

25 years

Celebrating

25 years

Celebrating

25 years

Celebrating

25 years

Celebrating

25 years

Celebrating

25 years

Celebrating

25 years

Celebrating

25 years

It wouldn't be a celebration without you.

It's Starship's 25th birthday. So we'd like to acknowledge everyone who's helped us reach this wonderful milestone.

To our staff, donors, volunteers, corporate partners and, of course, our patients and their families - your support of our national

children's hospital means the world to us. Here's to you, and another 25 years of delivering outstanding care to young patients.

THANK YOU.

Celebrating 25 years

starshipbirthday.co.nz
---
PROUDLY

PROUDLY

CHRISTCHURCH

CHRISTCHURCH

OWNED

OWNED TUESDaY, aUGUST 27, 2013 PROUDLY 384

384 CHRISTCHURCH 0600

0600

PROUDLY CHRISTCHURCH OWNED MONDaY JUNE 24, 2013

OWNED WEDENSDaY 10 JULY, 2013 384 0600

38

A Mainland

Media Publication

Kea

(Nestor Notabilis)

Ladbrooks, Tai Tapu, Leeston, Lincoln, Southbridge, Prebbleton, Halswell, Rolleston, Templeton, Burnham, West Melton, Darfield, Arthurs Pass

Mainland

Press Newspaper

Sumner, Redcliffs, Mt. Pleasant, Ferrymead, Woolston, Lyttelton & Akaroa Harbours

Black Billed

Gull

A Mainland

Press Newspaper

Linwood, Avonside, Richmond, Shirley, Burwood, Dallington, Wainoni, Bromley, Aranui, Avondale, Bexley, New Brighton, Northshore, Queenspark, Parklands, South B

PROUDLY CHRISTCHURCH OWNED MONDaY JULY 15, 2013 PROUDLY 384 CHRISTCHURCH 0600

OWNED MONDaY 12 aUGUST, 2013 PROUDLY 384 CHRISTCHURCH 0600

OWNED MONDaY JUNE 24, 2013 3

A Mainland

Press Newspaper

Fantail

(Piwakawaka)

A Mainland

Newspaper

Harewood, Burnside, Bishopdale, Bryndwr, Fendalton, Merivale, St Albans, Mairehau, Papanui, Casebrook, Redwood, Regents Park, Styx Mill, Northwood, Spreydon, Belfast Hoon Hay, Hillmorton, Cracroft, Cashmere, St Martins, Somerfield, Sydenham, Addington, Waltham, Opawa, Beckenham, Huntsbury, Woolston

Bellbird

(Korimako)

A Mainland

Press Newspaper

New Zealand

Swamp Hen (Pukeko)

New Zealand

Pigeon (Kereru)

Templeton, Islington, Hei Hei, Broomfield, Halswell, Oaklands, Westlake, Hornby, Wigram, Sockburn, Church Corner, Ilam, Russley, Hyde Park, Avonhead, Riccarton Park

16

Tuesday December 20 2016

Christmas

Church Services

Merry

Christmas

to all

Christmas – a time for

celebration & worship

Christmas Day is a holy day

for Christians who mark the 25

December as the birth of Christ. They

come together in prayer and song,

heralding the coming of Jesus, the son

of God.

Leading up to Christmas day is the

period of advent. It begins on the

Sunday closest to the 30 November,

with the advent calendar counting

down the days to Christmas while the

advent wreath contains five candles

representing the Sundays before the

special day and one for Christmas

Day.

Joseph, a carpenter and Mary

had been travelling 90 miles from

Nazareth to Bethlehem; as Joseph was

required to participate in a Census

where the Roman rulers counted

the number of Jewish people for tax

purposes.

Heavily pregnant Mary had been

riding on a donkey. She gave birth in

a cave stable where they slept with

the animals due to there being no

room at the inn. The nativity scene

shows Jesus lying in a manger in the

stable; often re-enacted by children as

part of church services leading up to

Christmas Day with some churches

even having live animals as part of

this service.

A bright Star signalled the coming

of Christ and guided wise men who

took gifts of gold, frankincense

and myrrh to the new born while

shepherds were led there by an angel.

Christmas Eve and Christmas Day

services are a time for rejoicing the

birth of Christ when carols are sung

and there is much happiness.

Merry

Christmas

to all

Public Notices

DEMOLITION

With care and respect we

will remove your dwelling.

Our policy is to recycle as

much as we can. We are a

local company specialising

in residential properties. We

will endeavor to cater for

your individual needs.

Ph. R.M. Solutions

021 02866981

for a free quote.

PEGASUS POST

Public Notices

SINGLE Women as

Parents Inc Notice of

Special General meeting

to be held Wednesday

21st December at

4pm 70 Springfield

Road. Members are

encouraged to attend

and will be asked to vote

on the motion to place

the organisation into

Liquidation.

Enquiries to 0276541137

business video

PRoduCTion

A video will bring your business

alive & into your customers mind.

Promote your

services or business

with a professionally

created video with us

• Corporate and

Business video a speciality

• Competitive rates

• 25 years experience

• Start to finished product

• Professional quality guaranteed

PHone KeRRY 021 635 083

Anglican

Celebrate Christmas

at St Barnabas!

Christmas Eve - Saturday, 24 Dec

• Christingle Service for Children - come dressed

as shepherds or angels! 4pm in Marquee

• 'Antioch' - contemporary - 11pm in the Hall

• Candle Light Service with Choir - 11.15pm

in Marquee

Christmas Day - Sunday, 25 Dec

• Traditional Christmas Day Service – 8am, 9am and

10.15am in the Marquee

• Lifestreams - contemporary, all age, with band -

10am in the Hall

ALL SAINTS BURWOOD,

305 NEW BRIGHTON ROAD

Christmas Eve

Christmas Day

www.stbarnabas.org.nz | 351 7064

Corner Tui St and Fendalton Rd

Vicar: Rev Mark Chamberlain

ST MARK'S PRESTONS,

338 PRESTONS ROAD

Children's Christmas Eve

Christmas Eve

11.30pm

10.00am

ST LUKE'S SOUTH BRIGHTON,

212 PINE AVE

Children's Christmas Eve

Christmas Day

5.00pm

9.00am

4.00pm

11.30pm

Catholic Parish of Christchurch East

St Mary & St James

PO Box 18750 New Brighton

Email: catholicparishchcheast@gmail.com

Saturday 24th December

St Mary's 7.00 pm

St James' 9.00 pm

Christmas Eve Mass

Christmas Eve Mass

Sunday 25th December

St Mary's 10.00 am Christmas Day Mass

Saturday 31st December

St James 5.00pm Mass

Sunday 1st January

St James' 9.00am

St Mary's 10.30am

Catholic

New Year's Day Mass

New Year's Day Mass

From Saturday 31st December all

Masses will be at usual times:

St James' 5.00 pm Saturdays 9.00 am Sundays

St Mary's 10.30 am Sundays

Baptist

Christmas

Celebrations at

Parklands baPtist

Christmas Eve 11.30pm

"Christmas with Intent"

A reflective service with carols and candles

Christmas Day 9.30am

"Manger Danger"

A short family focussed Christmas Service

180 Queenspark Drive

Phone: 383 – 1356

HELPING US,

HELPS THE

COMMUNITY

Drop off or buy

Call us & we'll help

you place your

classified advert in our

community papers

Nobody knows

Christchurch

like a local

We're local, we're

in Christchurch, we

speak your language!

Phone: 379 1100

Selwyn

Times

Nor'West

News

2 family stores in your community

30 Main North Rd,

Ph 352 4581

520 Cranford St,

Ph 352 0515

Bay Harbour

A

News

Southern

Pegasus

Post

Western

View Press

News

Classifieds

Our community papers are published every

Tuesday (Bay Harbour, Wednesdays) focusing

on local issues & local people.
---
PEGASUS POST Tuesday December 20 2016 17

Caravans, Motorhomes

& Traliers

CARAVAN around 4 to 5

berth wanted. Don't mind

repairs. 027 938 5344

WE can sell your caravan

on behalf on our busy

caravan site at www.

affordablecaravans.co.nz

512 Belnheim Rd, ChCh.

03 348-6614

Computers

ALL

YOUR

COMPUTER

WORRIES SOLVED!

*$30.00 off your first

service with this coupon!*

No problem too big or

small from home PC's to

business networks. PC

slow? An end to Viruses,

Spyware, and Clogged

Systems. Safe secure

hassle-free computing.

Lost files recovered.

Microsoft Certified,

MCSE, MCP+l. 30 years

experience. Call Andrew

Buxton this week on 326-

6740 or 027 435-7596

for $30.00 off* Custom

Computers Christchurch

Curtains

www.curtainfabric-outlet.com

Fashion Designs & Colours

Discontinued Designs

End of Lines Bargain Prices

Call at Our Shop

CURTAIN FABRIC OUTLET

71 Hawdon St Sydenham

Ph 366-5026

Entertainment

AccompAnist

WAnted

for enthusiastic

local choir.

Contact Diane

dicoad@msn.com

352 8073

027 662 3544

Gardening

& Supplies

A GARDEN

PROFESSIONAL

NEEDED? Qualified

Horticulturist, offering

expert pruning, garden

makeovers, garden design

and landscaping, for free

quotes call Bryce 027 688-

8196 or 0508 242-733

A GARDEN OR

LANDSCAPING TIDY

UP? Shrub, hedge &

tree pruning, Lawns,

Gardening, consistently

reliable general property

upkeep, Dip. Hort. 10

yrs experience, One off

tidy ups or on-going

service. Nick's Property

Maintenance. Keeping

your garden beautiful.

Free Quote. Ph. 942-4440

CHRISTMAS LILLIES.

50 cents a bud, bulk orders

welcome. Franks,214

Russley Road, Avonhead,

Ph 3427955 or

027 6055702

ADD SOME

COLOUR

TO YOUR ADVERT!

Classifieds Contact us today Phone our local team 03 379 1100

Holiday

Accommodation

QUEENSLAND SUN-

SHINE COAST AUSTRA-

LIA Resort, Ocean Views,

Balconies, Self Contained,

1 or 2 B/R Ensuite,

Heated Pool, Spa, Sauna,

Free Internet, Shops,

Restaurants, Tennis, Surf

Club & Patrolled Beach,

Public Transport at door.

Ask for our SEASONAL

SPECIALS. Phone 61 7

544-35011 Email: reception@mandolin.com.au

www.mandolin.com.au

Raffles

Christmas

Raffle

Results

1st Prize: 2271

2nd Prize: 1925

3rd Prize: 2490

4th Prize: 1887

5th Prize: 2475

David Close - Organiser

8 Seafield Place,

South Brighton.

To Let

RENT NEED MORE ME!

SPACE?

NO BOND THIS MONTH

Ideal as an extra

bedroom or office.

Three convenient sizes

from $70 p/w:

Standard 3.6m x 2.4m

Large 4.2m x 2.4m

Extra-large 4.8m x 2.4m

Visit our display cabins at

470 Cranford Street or call

0211277227 for a free brochure

www.justcabins.co.nz

To Let

HOUSEME

Portable sleepout or office

available to rent.3m x

3.6m studio.

Insulated and value for

money at $75.00 per week,

you wouldn't live in

anything else. Contact

Amanda

today on 0279570920 or

houseme2015@xtra.co.nz

Trades & Services

Appliance Sales & Service

388 4780

Appliance Services

14 Brighton Mall, New Brighton

Price Family

Painters Ltd

Interior/Exterior

Wallpapering/Painting

Gib Stopping

Free Quotes

EQC Opt Out

Fletcher Accredited

Project Management

Phone: Morton 021 667 444

Email: mortonprice@xtra.co.nz

www.pricefamilypainters.co.nz

Trades & Services

FOR ALL YOUR

★Garden Clean-ups

★Pruning

★Lawn Mowing

★Garden Maintenance

Call us today for a FREE quote

PH 0800 4 546 546

(0800 4 JIMJIM)

Trades & Services

HOUSE

CLEARING

Are you moving

house?

Let All Clear Canterbury

take care of your

unwanted items.

You identify what you want

to keep & we will dispose

of the rest!!

Ph: 03 312 7119

Mob: 021 078 4553

allclearcanterbury@gmail.com

www.allclearcanterbury.co.nz

PLANT GROWERS

Bettaplants

Nursery

For a hot dry summer

plant sun loving plants

Gazanias & Portulaca

BEDDING & VEGETABLE PLANT GROWERS

Bettaplants

1934-2016

Trades & Services

painter

9220021AA

Trades & Services

Trades & Services

& Property Maintenance

Paving

Patio - Pathways - Driveways

Lawns and Gardens

Planting - Raised Vege Gardens

Readylawn - Irrigation - Fencing

General Maintenance

Water Blasting - Gutter Cleaning

Rental Property Maintenance

Section Clearing - Weed Spraying

20 Years Experience

Locally owned and operated

Free Quotes - Competitive Pricing

Blair Gibson 027 699 5815

BEST BATHROOMS

full renovation specialists,

LBP, repairs &

maintenance ph 03 387-

0770 or 027 245-5226

BRICKLAYER

George Lockyer. Over

30 years bricklaying

experience. UK trained.

Licensed Building

Practitioner number

BP105608. Insurance

work. EQC repairs.

Heritage brickwork a

speciality. No job too

small. Governors Bay.

Home 329-9344, Cell

027 684 4046, email

karengeorge@xtra.co.nz

BUILDER

For all building work

but specialist in bathroom

renovations, 30 yrs

experience, with service

and integrity. Free Quotes.

Ph Lachlan 383-1723 or

0274 367-067.

BUILDER

LICENSED, available for

all aspects of building.

Please call 027 241-7471

or 335-0265

82 YEARS IN BUSINESS

27 Ottawa Road. Phone: 389-7855

Hours: 8.00am-5.30pm Mon to Fri, 8.00am-5.00pm Sat

Hire

REntal

Free Delivery

and Installation

Terms and conditions apply

NEED A

FRIDGE • WASHER

TV • FURNITURE ?

Call Mr Rental - 0800 111 313

Visit www.mrrental.co.nz

123 Blenheim Road, Riccarton

Trades & Services

CARRIER

Local, experienced,

friendly, trade-me

purchases, single items

to truck loads, furniture

to whatever, removals &

trade deliveries a specialty.

Ph GEH 341-5069

*****************

CARPET & VInYL

LAYIng

Repairs, uplifting,

relaying,

restretching,working thru

Xmas,

E mail jflattery@xtra.

co.nz,

ph 0800 003 181

or 027 2407416

DRIVEWAYS

Replace, repair or new.

We are a local company

with over 10 yrs exp.

We also operate a

digger for all other

earthworks.

Ph. R.M. Solutions

021 02866981

for a free quote.

Trades & Services

ELECTRICIAn

Rewire specialists. Some

old wiring, some new,

get a free appraisal and

quote. Switch boards,

LED lighting, garages,

spas you name it we

do it. Give the boys at

Turned On a ring, phone

Muzza 022 6177-275

FEnCIng

All styles and shapes,

gates, wooden, ph Mark

027 331-3223

Trades & Services

spouting

Trades & Services

FEnCE PAInTIng

Staining Quality at a

reasonable price. Free

quotes. Phone Warren

today on 980-1676 or 027

2014713

FENCING

Paling, picket,

iron, trellis

Demolition and

removal

Phone Bevan

021 231 1860

Fencing Uprite

Your Eastside

Specialist

FURnITURE

REMOVALS

Large Trucks $95 +

GST per hour 7 day NZ

wide, packing & moving,

Professional Company,

Professional Service.

Canterbury Relocations

Ltd. ph 0800 359 9313

gLAZIER

Window repairs, pet

doors, new glazing, double

glazing, conservatory

roofs. Experienced

tradesman. Call Bill on

981-1903 or 022 413-3504

HAnDYMAn

Silver Threads. A

bunch of nice friendly

mature tradies, builders,

electricians, painters,

landscapers, section

tidying. Ring for a free

quote 022 140-7852

Trades & Services

LAnDSCAPE

COnSTRUCTIOn

Lawns, paving, water

features, irrigation,

planting, decks,

driveways, kerbing, ponds,

retainer walls, fencing.

Free quotes, Phone Tony

021-034-8555

LED / DOWnLIgHT

replacement. Ring the

boys at Turned On for

free advice & quotes. Call

Muzza 022 6177 275

OVEn CLEAnIng

Professional cleans

$50.00. Gift Vouchers

avail. Phone 0800 683-

6253 or 027 228-0025

PAInTIng DECORATIng

interior & exterior,

gib fixing, plastering,

paperhanging, Est 50 yrs

in ChCh, ph Wingfields

Ltd, ph Mark 021 171-

1586 or 355-5994

PAInTER

Available, All aspects in

painting. Very competitive

in roofs and fences. Please

call 027 241-7471 or 335-

0265

PLUMBER

For prompt service for all

plumbing maintenance,

repairs and alterations.

Phone Michael 364 7080

or 027 438 3943

PLUMBER

ALF THORPE

PLUMBING Certifying

Plumber for all types of

plumbing, maintenance,

spouting, alterations etc.

Phone 352-7402 or 0274-

350-231

ROOFIng

Qualified & Licenced

Practitioner. Re-Roof &

Repairs, all types. Member

New Zealand Roofing

Association. Over 35 years

experience. Phone John

027 432-3822 or 351-9147

email johnmill@ihug.

co.nz

RUBBISH REMOVAL

From Kleensacks to truck

loads, the messier th better.

Trees, flat clean ups. Call

Silver Threads 022 1407-

852

SPOUTIng CLEAnIng

Spouting Unblocked,

Cleaned Out and Flushed

Out. Also Full Handyman

Services Available. Call

Trevor 332 8949 or 021

043-2034

STOnEMASOn

BRICK

&

BLOCKLAYER,

Earthquake Repairs, Grind

Out & Repoint, River/

Oamaru stone, Schist,

Volcanic Rock, Paving,

all Alterations new & old,

Quality Workmanship,

visit www.featureworks.

co.nz or ph 027 601-3145

TREES BIg OR SMALL

tree removal, trimming,

stump grinding, shelterbelt

clean up, section clearing,

rubbish removals,

excavation work, ph Trees

Big or Small, for a free

quote, 021 061 4783

TREE WORK

Hedge trimming, stump

grinding, rubbish removed,

small job specialty Ph

Andrew 03 322-8341 or

027 435-8759

T.V. SERVICE

CEnTRE

Repairs, tvs, microwaves,

stereos, DVD. Aerial

installations and

kitsets, 480 Moorhouse

Ave, ph 03 379 1400

Trades & Services

UPHOLSTERER

Dining Chairs, Lounge

suites, Caravan Squabs

etc. recovered. Free

Quotes. Phone Graeme

383-1448

VHS VIDEO TAPES

& all camera tapes

converted to DVD, video

taping, weddings, twenty

firsts, special occasions,

www.grahamsvideo.co.nz

ph 03 338-1655

WATERBLASTIng

Quality Job, Quick Service

by skilled tradesman, Ph

Richard Severin at Jet-X

0800 538 969 Free quotes,

visit www.jetx.co.nz

WInDOW CLEAnIng

Average 3 bdrm house

inside or out $40. Both

$70. Phone Trevor 344-

2170

Wanted To Buy

AAA Buying goods

quality furniture,

Beds, Stoves, Washing

machines, Fridge Freezers.

Same day service. Selwyn

Dealers. Phone 980 5812

or 027 313 8156

TOOLS

Garden, garage,

woodworking,

mechanical, engineering,

sawbenches, lathes, cash

buyer, ph 355-2045

Merry

Christmas

to all
---
Complete and attach to clothing bag for

free clothing transport from start to finish.

Name: ______________________

Email: ______________________

Phone:______________________

Complete and attach to clothing bag for

free clothing transport from start to finish.

Name: ______________________

Email: ______________________

Phone:______________________

18

Tuesday December 20 2016

Classifieds

Situations Vacant

PEGASUS POST

MUMS & DADS

Would you like your children to

exercise more and earn some money?

DELIVERY

PEOPLE

WANTED

The Star requires

delivery personnel

in all areas of

Christchurch.

The work involves

door-to-door

delivery of The Star

newspaper.

We wish everyone a very merry Christmas and happy hoildays

Cafe open from 11am

TAB & Gaming

Function Facilities

HOUSIE

Tuesday, Thursday,

Saturday

SHUTTLE

Tuesday - Saturday

2017

HAPPY

NEW YEAR

Open 7 Days from 5.30pm

SATURDAY

31st December

6PM - 8PM (Whitfords)

FRANCHISE

8.30PM (Sports Bar)

DRIVE

RETRO ROAST

LUNCH

12PM-1.30PM

WEDNESDAYS

until Wednesday 21st December

$10 Members / $12 Non

name

signed

Please call

Leanne Lucas 364-7451 or

Mark Coulthard 364 7453

email: deliveries@starmedia.kiwi

2017

14km

6km

19 March 2017

This

emergency

contact number

Ferrymead Heritage Park.

existing

Moving with medical conditionyou for 43 years!

19name

th March 2017 • Prize Giving Ferrymead

emergency

Park.

signed

You can also pin it

You can also pin it

A Star Media Event

Entertainment

14km

2017

sticker is valid for entry into either

distance. Must be worn during the event,

to claim prizes, and for free entry into

OFFICIAL ENTRY NUMBER:

This

contact number

existing

medical condition

ENTRIES NOW OPEN!

$20 Early bird available online

Are you up for it?

14km

6km

19 th March 2017 • Prize Giving Ferrymead Park.

The Star Photo Archive: 1983

city2surf.co.nz

6km

OFFICIAL ENTRY NUMBER:

www.newbrightonclub.co.nz

WHAT'S ON

TUESDAYS &

THURSDAYS

Members Lucky

Card Draw

sticker is valid for entry into either

distance. Must be worn during the event,

to claim prizes, and for free entry into

DINE UPSTAIRS

IN THE PIERVIEW

new years eve

Ferrymead Heritage Park.

OFFICIAL ENTRY NUMBER:

BUFFET

$25

bookings essential

&

PARTY INTO

THE WEE HOURS

WITH

DJ VINYL

(dOWNSTAIRS)

SATURDAY

31st DECEMBER

TAB POD

GAMING ROOM

FUNCTION ROOMS

SHUTTLE RUNNING

Tues, Thurs, Fri & Sat

OFFICIAL ENTRY NUMBER:

GREAT

DINING

- downstairs -

ClubBISTRO

Open Tuesday to Saturday

12pm-2pm and from 5pm

Midweek

SPECIAL $10

ROAST

Available Tuesday,

Wednesday, & Thursday

- upstairs -

PIERVIEW

Restaurant

Quality a la carte

with a view!

Open from 5.30pm

FRIDAY, SATURDAY

& SUNDAY

PLEASE NOTE:

PIERVIEW WILL BE

CLOSED

XMAS DAY &

NEW YEARS DAY

FRIDAY SPECIAL:

SIRLOIN STEAK or

CHICKEN BREAST

WITH JACKET POTATO

& SALAD BAR

$22!

SUNDAY SPECIAL

3 courses: $25

NOW OPEN FOR

SUNDAY BRUNCH

By the Seaside!

10.30am-2.30pm

PLEASE NOTE:

CLUB CLOSED

CHRISTMAS DAY

202 Marine Parade

Ph 388-9416

Members, guests and affiliates welcome

H ORNBY

WORKINGMEN'S

CLUB

FRIDAY 23 DEC 7PM

JO'S KARAOKE

NEW YEAR'S EVE

SATURDAY 31 DEC 8PM

IN THE MAIN BAR

NORM BLAND

IN THE HALL, 8PM

DnD Showband

Club CAFE

OPEN 7 DAYS

LUNCH & DINNER

Gluten Free & Vegetarian options

Sorry, CLUB CLOSED XMAS DAY

Hornby WMC

17 Carmen Rd, Hornby

Phone 03 349 9026

www.hornbyworkingmensclub.co.nz

Members, guests & affiliates welcome
---
PEGASUS POST Tuesday December 20 2016 19

Get all 'Christmasy' with us!

PRE-CHRISTMAS FUNCTIONS, PARTIES,

WORK BREAK UPS, CHECK THIS OUT!

TWO COURSE

FESTIVE MENU $ 35

ONLY

EACH

THREE COURSE

FESTIVE MENU $ 45

ONLY

AVAILABLE LUNCH & DINNER DAILY UNTIL

24/12/16 FOR PARTIES OF 10 OR MORE

EACH

RESTAURANT & CAFÉ

0pen daily from 6.30am Breakfast,

Lunch & Dinner

FAMOUS for their ROASTS

SORRY, WE ARE CLOSED CHRISTMAS DAY

We wish you a

Merry Christmas

& Happy Holidays

The

RACECOURSE HOTEL

& Motorlodge

118 Racecourse Rd, Sockburn,

Christchurch. Ph 03 342 7150

www.racecoursehotel.co.nz

Lunch & Dinner

All you can eat, 7 days

Christmas

Functions

Lunch & Dinner Buffet

SATURDAY 19th NOV - SATURDAY 24th DEC

Book & dine with us for your Christmas party this

festive season, and we'll take care of the rest!

Bookings Essential PH 386 0088

fb.com/GardenHotelRestaurant www.gardenhotel.co.nz

GARDEN BUFFET RESTUARANT:

FOLLOWING CHRISTMAS DAY LUNCH THE BUFFET WILL BE CLOSED UNTIL THURSDAY 5TH JANUARY 2017.

GBC (Garden Bar & Cafe):

WILL BE CLOSED FROM CHRISTMAS DAY UNTIL 9AM WEDNESDAY 28TH DECEMBER

AND FROM 4PM NEW YEARS EVE UNTIL 9AM THURSDAY 5TH JANUARY 2017

WE WISH OUR CUSTOMERS A MERRY CHRISTMAS & A HAPPY NEW YEAR.

NOW SERVING

available

from

9am

Breakfast

HAPPY

HOUR

5PM - 7PM

DAILY

PHONE 385 8880 FIND US ON FACEBOOK fb.com/GBCCHCH

THE GARDEN HOTEL COMPLEX | 110 MARSHLAND RD

www.gardenhotel.co.nz | phone 385 3132
---
20

Tuesday December 20 2016

PEGASUS POST

Moët & Chandon Brut

Impérial/Piper-Heidsieck

Brut NV 750ml

Fresh NZ Pork Leg Roast

(Excludes Free Range)

$

49 99

each

$

5 99

Have you ordered

your fresh

$

3 99

Christmas turkey?

kg

Order now for pick up from

the 21st December.

box

Oamaru Jersey

Benne Potatoes 1kg

2for

$

5 00

$

4 50

each

Coke/Sprite/Fanta/Lift/L&P 2.25L

Tip Top Ice Cream 2L

$

9 00

each

Ryans Shoulder/Middle Bacon 800g/1kg

2

for

$

7 00

Just Juice/Citrus Tree Fruit Juice 2.4/2.8L

$

4 00

each

Whittaker's Sharepack 12 Pack/Chocolate Block 250g

$

29 99

pack

Speight's/Summit

24 x 330ml Bottles

$

8 99

each

Jacob's Creek Sparkling/Shingle Peak 750ml

(Excludes Reserve/Pinot Noir)

$

10 00

each

Tux Dog Biscuits 2.5-2.8kg/Whiskas Dry Cat Food 1.5/2kg

FreshChoice Parklands

60 Queenspark Drive, Christchurch.

See FreshChoice.co.nz/Supermarkets for

store hours over the Holiday Season.

Prices apply from Tuesday 20th December to

Tuesday 27th December 2016, or while stocks last.

FreshChoice.co.nz

FreshChoiceNZ

383 1004

FreshChoice Parklands

Owned and

operated

by locals

Certain products may not be

available in all stores. Savings

are based on non-promotional

price. Limits may apply.

Look for the donation

drop off trolley instore.

Help support

your community

this Christmas.

FCPP2012