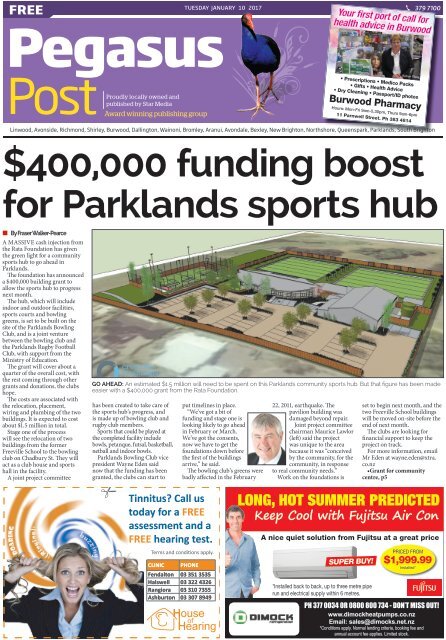 Pegasus Post: January 10, 2017
You also want an ePaper? Increase the reach of your titles
YUMPU automatically turns print PDFs into web optimized ePapers that Google loves.
FREE

TUESDAY JANUARY 10 2017

Pegasus

LOCAL PHARMACY

379 7100

Your first port of call for

health advice in Burwood

"We have lost a lot of good friends

but we still have a close community"

Post

Proudly locally owned and

published by Star Media

Award winning publishing group

Robyn Thew

• Prescriptions • Medico Packs

• Gifts • Health Advice

• Dry Cleaning • Passport/ID photos

Burwood Pharmacy

HEALTH ADVICE MEDICINES

Hours: Mon-Fri 9am-5.30pm, Thurs 9am-6pm

11 Parnwell Street. Ph 383 4814

PRESCRIPTIONS

Linwood, Avonside, Richmond, Shirley, Burwood, Dallington, Wainoni, Bromley, Aranui, Avondale, Bexley, New Brighton, Northshore, Queenspark, Parklands, South Brighton

FREE LOCAL DELIVERY

BURWOOD / AVONDALE

COSMETICS

$400,000 funding boost

for Parklands sports hub

PASSPORT/ID

PHOTOS

DRY CLEANING

SERVICES

QUIT SMOKING

GREAT RANGE

OF GIFTS

• By Fraser Walker-Pearce

A MASSIVE cash injection from

the Rata Foundation has given

the green light for a community

sports hub to go ahead in

Parklands.

The foundation has announced

a $400,000 building grant to

allow the sports hub to progress

next month.

The hub, which will include

indoor and outdoor facilities,

sports courts and bowling

greens, is set to be built on the

site of the Parklands Bowling

Club, and is a joint venture

between the bowling club and

the Parklands Rugby Football

Club, with support from the

Ministry of Education.

The grant will cover about a

quarter of the overall cost, with

the rest coming through other

grants and donations, the clubs

hope.

The costs are associated with

the relocation, placement,

wiring and plumbing of the two

buildings. It is expected to cost

about $1.5 million in total.

Stage one of the process

will see the relocation of two

buildings from the former

Freeville School to the bowling

club on Chadbury St. They will

act as a club house and sports

hall in the facility.

A joint project committee

GO AHEAD: An estimated $1.5 million will need to be spent on this Parklands community sports hub. But that figure has been made

easier with a $400,000 grant from the Rata Foundation. ​

has been created to take care of

the sports hub's progress, and

is made up of bowling club and

rugby club members.

Sports that could be played at

the completed facility include

bowls, petanque, futsal, basketball,

netball and indoor bowls.

Parklands Bowling Club vice

president Wayne Eden said

now that the funding has been

granted, the clubs can start to

put timelines in place.

"We've got a bit of

funding and stage one is

looking likely to go ahead

in February or March.

We've got the consents,

now we have to get the

foundations down before

the first of the buildings

arrive," he said.

The bowling club's greens were

badly affected in the February

22, 2011, earthquake. The

pavilion building was

damaged beyond repair.

Joint project committee

chairman Maurice Lawlor

(left) said the project

was unique to the area

because it was "conceived

by the community, for the

community, in response

to real community needs."

Work on the foundations is

set to begin next month, and the

two Freeville School buildings

will be moved on-site before the

end of next month.

The clubs are looking for

financial support to keep the

project on track.

For more information, email

Mr Eden at wayne.eden@xtra.

co.nz

•Grant for community

centre, p5

CLINIC PHONE

Fendalton 03 351 3535

Halswell 03 322 4326

Rangiora 03 310 7355

Ashburton 03 307 8949

House

of

Hearing

LONG, HOT SUMMER PREDICTED

Keep Cool Hot with Hot Fujitsu Deal Air Con

on 8KW Heat PumP

Conditions apply*

A nice quiet solution from Fujitsu at a great price

Fujitsu ASTG24L 8 KW

Heat Pump for Just

$2,999

SUPER BUY!

Six Year

Warranty

Fully Installed*

*Installed back to back, up to three metre pipe Installed back to back, up to 3 metre pIpe

run and electrical supply within 6 metres. run and electrIcal supply wIthIn 6 metres

www.dimockheatpumps.

PH 377 0034 OR 0800 800 734 - DON'T MISS OUT!

Email: sales@dimocks.n

www.dimockheatpumps.co.nz

6/105 Coleridge St, Sydenham, C

Email: sales@dimocks.net.nz

* Conditions apply. Normal lending criteria, booking fee and annual acco

*Conditions apply. Normal lending criteria, booking fee and

annual account fee applies. Limited stock.

PH 377 0034 OR 0800 800 734

PRICED FROM

$1,999.99

Installed*
---
2

Tuesday January 10 2017

Inside

PEGASUS POST

FROM

THE

EDITOR'S

DESK News...................................... 3-9

GREAT NEWS for the Parklands

area on page 1 today.

The Rata Foundation has

granted $400,000 to the planned

new sports hub, almost a third of

what will be needed to fund the

project.

The eastern suburbs are in dire

need of facilities and a sports hub

in what was a fast growing area

has been desperately needed in

Parklands for many years.

But not so good news on page 3

today.

The vandals have struck at

both Aranui High and Wainoni

schools, and security is now in

place to thwart the usual school

holiday arsonists.

So if you're a teenager in the

east, grow up and give the schools

a break. Start kicking a football

around or train hard in the boxing

ring instead. You'll find a potential

future professional sports career is

far more rewarding than jail.

– Barry Clarke

Playground fun during the school holidays

NEWS 6

Sport..................................10

City to Surf............................11

Senior Living..........12-13

Your Local Views...........14

Community Events...15

Entertainment...................18

GET IN TOUCH

General Enquiries Ph 379-7100

Classified Advertising Ph 379-1100

The Christchurch Star Company Ltd. PO box 1467 - Christchurch

starmedia.kiwi

NEWS

Fraser Walker-Pearce

Ph: 364 7424

fraser.walker@starmedia.kiwi

NEW LOCATION ADVERT.pdf 1 1/05/2014 11:51:35 a.m.

ADVERTISING

Mark Sinclair

Ph: 364 7461

mark.sinclair@starmedia.kiwi

VISIT OUR NEW LOCATION LOCATION

430 ST ASAPH STREET!

RECOVER YOUR LOVED FURNITURE

No job too big or small

Hours of Business: 7am-4.30pm Mon-Thurs

Fri 8am to midday

or by appointment with Keith 027 566 3909

Still able to offer

you the finest top

quality new furniture

Visit us online

www.qualityfurniture.co.nz

P. 371 7500

QUALITY FURNITURE SPECIALISTS

RE - UPHOLSTERY SPECIALISTS KEITH HARTSHORNE 0275 663 909

lovebite.com
---
PEGASUS POST Tuesday January 10 2017 3

News

School security beefed up

• By Fraser Walker-Pearce

EASTERN SCHOOLS slated for

demolition have extra security

on-site in response to fears of

arson.

Specialist fire investigator

Bruce Irvine said the Ministry

of Education had concerns over

the safety of the empty sites, and

are working with the Fire Service

and security firms to ensure

they do not become targets.

Aranui, Avondale and

Wainoni primary schools, as

well as Aranui High, have closed

down to make way for Haeata

Community Campus, which is

set to open on February 3.

The extra

security follows

vandalism attacks

at both

Aranui High and

Wainoni schools.

Aranui High

was hit just a week after it closed

down for good last month.

A number of windows were

smashed, buildings tagged and

construction equipment on-site

was vandalised and tagged.

Wainoni was hit by vandals

this month. It also had a

number of windows smashed,

some of which have since been

boarded over.

A Ministry of Education

SECURITY ISSUE?: The four schools that closed to make way for Haeata Community

Campus have had their security questioned after a vandalism attack on Aranui High and

Wainoni schools recently.

PHOTO: GEOFF SLOAN

spokesman said the likely future

of both Wainoni and Aranui

High schools was demolition.

Meanwhile, in the long term,

Avondale would likely be used

by Chisnallwood Intermediate

and Aranui Primary could be

used as a community or education

facility.

Mr Irvine (left) said the

ministry and the Fire Service

are working together in closed

schools around the city to mitigate

potential vandalism and

arson targets.

Haeata Community Campus

principal Andy Kai Fong said

he is confident the threat of

vandalism or arson will be kept

at bay leading up to the school

opening.

"The reality is that any school

is at risk [of vandalism]. Any

building in Christchurch is at

risk I guess. I'm confident the

team will have taken all the

necessary precautions though,"

he said.

He said any demolition site

becomes a target for vandals.

Former Aranui Primary

School principal Mike Allen

said he had no concerns over

the security of both Haeata and

Aranui Primary.

"The school [Aranui Primary]

is still going to be used this

year. St James School is moving

in there temporarily, so it's being

maintained and there is a

caretaker still on-site . . . there's

no more [concern] than usual,"

he said.

Mr Allen said in his time as

principal at the school, he had

seen no major graffiti or vandalism.

"There was actually less graffiti

there than at others [schools]

I've been at. There is a lot of

respect for the school in the

community . . . I would think

Haeata would be [treated] the

same," he said.

In Brief

TROUBLESOME TREE SAGA

Plane trees in Westhaven are

still causing residents trouble

even after the city council took

action. In October last year,

residents Russell Hamilton

and Graham Crow asked the

Burwood-Pegasus Community

Board for help with the trees on

their properties. They said the

roots were growing up through

the pavement, causing a trip

hazard for elderly residents. Four

months on, the city council has

resurfaced the pavement for the

sixth time in 18 years. However,

Mr Hamilton said the roots

were already beginning to break

through the pavement again.

ROAD REPAIRS

North Pde in Richmond will

undergo repairs for the next

three weeks. The repairs,

between Averill St and number

136 North Pde, have been started

to replace the earthquakedamaged

road surface. The road

surface repairs are being carried

out by the Stronger Christchurch

Infrastructure Rebuild Team,

which has also repaired sections

of the footpath, kerb and road

channelling along North Pde

since mid-2015. Traffic will be

one-way between Averill St

and 136 North Pde until about

January 30.

Crispy Crunchy Batter

Gluten free products sold

for oVer 4 YeArs

Fish, Hot Dogs,

Pineapple Rings, Donuts

• Souvlaki • Great Burger Selection

• Garlic Butter Chips • Cheese on Chips

* Specialty fish cooked to order…

Blue Cod, Gurnard, Sole, Hoki, and more!

Also crumbed at no extra cost.

GOURMET SEAFOODS QEII

Ph: 388 2531, QEII Shopping Centre

251 Travis Rd

Mon - Wed 11.30am - 8.30pm (Tues from 4.30pm)

Thurs - Sat 11.30am - 9.00pm; Sun 12noon - 8.30pm

Daily break 3.15 - 4.30pm

30941 WHL

30941R PEG

On Resene Premium Paints,

Wood Stains, Primers, Sealers,

Wallpaper, Decorating Accessories

and Cleaning Products

Come in and see us today at your local Resene ColorShop!

Shirley: 38 Marshland Road, (03) 385 5082

Conditions: Buy Resene Premium Paints, Wood Stains, Primers, Sealers, Wallpaper, Decorating Accessories and

Cleaning Products and get the GST (15% off the full retail price) off at your Resene ColorShop and participating

resellers. The GST reduction will be calculated on the normal retail price OR if you have a Resene ColorShop or DIY

Card you can get the Save the GST sale discount and then the Resene ColorShop or DIY Card discount off the Save

the GST sale price. Excludes WallPrint, decals, Crown, trade and industrial products, PaintWise levy and account

sales. Paint offers also available at participating Mitre 10 MEGA and Mitre 10 stores. Not available in conjunction

with any other offer. Offer ends 31 January 2017.

save water

tip#3

A trigger gun

nozzle on

your hose can

prevent

water

wastage.

We want everyone to have a fair

supply of water during summer.

Conserve today, enjoy tomorrow.
---
4

Tuesday January 10 2017

PEGASUS POST

WINDOWS 10 OPTIONS

ON ALL EX LEASE COMPUTERS

Lenovo Thinkpad T520

Laptop, Ex Lease

• Intel i5 CPU

• 4GB Ram

• 250GB Hard drive

• 15.6" Screen

• Windows 7/10

Upgrade to Solid State

hard drive

120Gb $99 inc GST

240Gb $169 inc GST

$549

incl GST

i5 Desktop Cyclone

22'' screen, Ex Lease

• i5 Intel CPU

• 4GB RAM

• 500GB Hard Drive

• Desktop case

• Keyboard & Mouse

corded

• Windows 10 option

• DVD writer

• 20" screen

• 6 Months Warranty

• Ex Lease

$699

incl GST

Toshiba Satellite C850

Ex Lease

• Intel i5

• 4GB Ram

• 650GB Hard Drive

• 15.6" Screen

• DVD writer

• Windows 7 or

Windows 10

• Ex Lease

$599

incl GST

HP8570P Elite Book Series

Ex Lease

• i5 CPU

• 4GB Ram

• 500Gb Hard Drive

• 15.6" Screen

• DVD writer

• Windows 7 or

Windows 10

• Ex Lease

$599

incl GST

We service & repair laptops, tablets and smartphones,

including broken screens. Ring us first for a quote.

Shop online at: www.computercentre.co.nz

serving christchurch for over 28 years

Unit 1/100 Fitzgerald Ave (Next to Cartridge World)

Phone: 379 3428

www.computercentre.co.nz

Open Monday-Friday, 9am-5pm

Q Card lending criteria, terms

and conditions, and fees apply

*All work carried out in our

workshop. Home pcs only.

Pay with Q Card or Farmers Card.
---
PEGASUS POST Tuesday January 10 2017 5

News

Church rebuild under way

• By Fraser Walker-Pearce

THE PARISH, which has some

of the city's forefathers buried

in its cemetery, is about to be

rebuilt.

The Holy Trinity Avonside

Church was badly damaged in

the February 22, 2011, earthquake

and services were moved

to a small wooden building

onsite, formerly used as the

Sunday school hall.

After meeting with architects

last month, the likely $1 million

rebuild of the parish is now

under way, with money likely to

come from insurance, said Holy

Trinity Avonside vicar Reverend

Jill Keir.

"It's quite exciting times. I feel

like we're on the brink of something

very exciting," she said.

At the church's cemetery,

Canterbury's first and second

superintendents James Edward

Fitzgerald and William Sefton

Moorhouse are buried, as well

as the fourth superintendent

William Rolleston.

The rebuild will see the

church building up and running

by next year, she said.

Rev Keir said the rebuild

BIG WIN: Coupland's Bakeries

managing director Lance

Coupland presents the keys

of a new Volkswagen Polo to

Louisa Sinclair, the winner of a

Coupland's competition. While

Mrs Sinclair, 34, described the

win as an "amazing Christmas

present", she will be trading the

car valued at $25,000 to support

a trip to her homeland, Northern

Ireland, next April. Living in

Dunedin for the past seven

years, Mrs Sinclair, her husband

and two daughters will travel to

Bangor for the first time since

she moved to New Zealand. Mrs

Sinclair won the competition

through Coupland's Bakeries at

Andersons Bay, South Dunedin.

She said the bakery is a regular

stop for milk and thickly sliced

white bread, while her favourites

from the bakery are citrus

truffles.

PHOTO: GEOFF SLOAN

BRIGHT FUTURE: Holy Trinity Avonside Reverend Jill Keir

says the rebuild of the church will be completed by next

year.

PHOTO: GEOFF SLOAN

would be up and running by

2018.

She said exciting times were

ahead for the church and its 40

weekly parishioners.

Since the earthquakes the

church has put on more programmes

and activities such

as a free lunch each month,

exercise programmes and extra

study groups.

The church is also looking to

find a part-time gardener, which

would be a paid role, to tend to

its heritage garden which surrounds

the cemetery.

Mrs Keir said the garden is

a place for the community to

spend time in, not just to visit

relatives.

"It really serves the community,

they spend hours in

there, they do all sorts of things

– walk the dog, the kids play

there. Even though it's owned

by the church a lot of people

visit each week," she said.

"Yes we have lots of the city

forefathers there – the likes

of Fitzgerald, Moorhouse and

Mountford. Lots of the very

early people in the city," Rev

Keir said.

The appointed gardener

would tend to the heritage

garden as well as the church's

community garden, which

grows fruit and vegetables for

local residents.

"Gardens don't sit still. We

need someone who can oversee

it and work in the garden as well

as with a small group of volunteers,"

she said.

For more information on the

vacant gardener position, phone

the church on 389 6948.

Community

centre one

step closer

to opening

• By Fraser Walker-Pearce

THE BRIDGE South Brighton

Trust is one step closer to

completing its goal of creating a

self-sufficient community centre

thanks to a grant from the Rata

Foundation.

The trust received a $225,000

grant from Rata to go towards

fitting out the centre, on the corner

of Bridge St and Estuary Rd.

The trust's chairwoman Jane

Harrison said the grant was the

perfect way to start the new year.

"We're absolutely thrilled . . .

when you get that kind of support,

a lot of other funders want to get

on board too," she said.

The building received $150,000,

from SmartLift, to level the

foundations.

Phase one of the process was to

purchase the building, a former

church, which Ms Harrison said is

almost complete.

"That's almost settled now. It's

just the lawyers trying to get the

last parts sorted . . . there's just a

bit of earthquake strengthening to

go, and the consents, and then we

can start to fit it out," she said.

Following the consents being

granted, Ms Harrison said the

funds from Rata would go towards

"setting up the cafe, the community

kitchen, courtyard, fitting out the

hall and performance venue –

basically turning it from a hall to a

building."

Ms Harrison said the grant not

only gave confidence to those

involved with the trust, but also

to outside contributors and

funders.

"It gives a lot of confidence to

the city council and other funders,

and to a lot of community groups

too. We're thrilled with Rata's

help," she said.

Ms Harrison said the trust had

received "lots of offers" from local

tradesmen to get involved with

the project and had offered lower

rates for their services.

Pack a

it ' s

Picnic,

Island

Time!

Discover walking tracks, native birds,

penguins, the swimming beach and

shipwrecks, all on the island that's

only 15 minutes from Christchurch!

Start Exploring

Otamahua/Quail Island today!

0800 436 574

www.blackcat.co.nz

DEPARTS: LYTTELTON QUAIL ISLAND

Oct – Apr 10.20am 3.30pm

Dec – Feb 10.20am & 12.20pm 12.30pm & 3.30pm

FARE: adult $30 child $15 return

CRUISES

LYTTELTON & AKAROA
---
6

Tuesday January 10 2017

News

PEGASUS POST

While the summer holiday weather has

been a bit of a mixed bag, the Margaret

Mahy Family Playground has still been

humming with the sound of children having

fun. Photographer Geoff Sloan caught some

of the action.

WADING: Miya Mare, 2,

enjoyed the water.

POPULAR: The Margaret Mahy Family Playground has not lost

its appeal as a fun place for young people since it opened in

December 2015.

BIG SMILES: Hollie Close, 4, had a great time at the playground.

TUNNELLING: Children crawled through the playground.

HOLD ON: Emily Crombie, 7,

went for a spin on the popular

flying fox.

WATER FUN: Luca Mare, 1, relaxed in the water feature at the

playground.

LUNCHTIME:

Lots of time

playing means

time is needed

to refuel.

Emma, 2, Kate,

5, and James

Ferguson-

Cooke, 9,

enjoyed a

picnic before

heading

back to the

playground for

more fun.
---
PEGASUS POST Tuesday January 10 2017 7

Great

SUMMER READING

INSTORE NOW

1005 Ferry rd

Ph 384 2063

while stocks last (see instore for terms and conditions)

Barry & kerry
---
8

Tuesday January 10 2017

PEGASUS POST

$

4 49

kg

Fresh Tegel NZ Chicken Drumsticks

$

5 99

box

Wilcox New Season Perlas 1.5kg

$

9 99

kg

Fresh NZ Premium Beef Mince

$

6 99

each

Mainland Mild/Colby/

Edam Cheese 700g

$

1 59

each

Bluebird Delisio Chips 140g

3

for

$

5 00

Just Juice Fruit Juice 1L

$

3 49

pack

Sanitarium Up & Go 3 Pack/Hubbards Originals Muesli

600-650g

$

22 99

pack

Mac's Beer/Moa Original Lager/Session Pale Ale

12 x 330ml Bottles

$

11 99

each

Stoneleigh 750ml

(Excludes Wild Valley/Rapaura/Latitude)

$

1 00

each

Fancy Feast 85g/Royale Broth 40g/Inspirations 70g/Friskies

156g

FreshChoice Parklands

60 Queenspark Drive, Christchurch.

Open 7am-11pm, 7 days.

FreshChoice.co.nz FreshChoiceNZ 383 1004

FreshChoice Parklands

Certain products may not be available in all stores. Savings are based on non-promotional price. Limits may apply.

Prices apply from Tuesday 10th January to Sunday 15th January 2017, or while stocks last.

Owned and

operated

by locals

FCPP1001
---
PEGASUS POST Tuesday January 10 2017 9

News

Crummer looking forward to reunion

Annie Crummer found

fame with hits such as

Language and See What

Love Can Do. She spoke

to Tom Doudney about

working on new material

and seeing dyslexia

as a blessing, ahead

of her performance

with Debbie Harwood,

Margaret Urlich and

Sharon O'Neill at

Lincoln's Selwyn Sounds

concert in March

IT HAS been a long time since

we've heard anything new from

Annie Crummer but the singer

is hopeful her fans won't have to

wait too much longer.

Crummer hasn't released a full

album of original material since

1996's Seventh Wave. Since then

fans have had to make do with

a best of collection in 2002 and

three songs released in 2010 as

singles only.

While she is reluctant to talk

about release dates, she has been

working on songs for an album

which has a working title of Project

Annie C.

"I have got a bunch of songs

that I am dying to get out of the

demo situation and get into the

studio and smash that stuff out,

I'm the only one stopping me,"

she said.

"I've got a lot more to say musically,

I will just have to get over

myself and get on with it."

Crummer said that while she

was known more as a singer than

a songwriter, she had become

more confident dabbling in song

writing.

"Melodies come really good to

me but the way I write lyrics is

quite odd because I am fully dyslexic

so the way I explain things,

I don't think it's the same as a

non-dyslexic song writer."

Crummer only discovered she

was dyslexic well into her adult

years but the revelation came as a

big relief.

"When I look back I think: 'Oh,

I have been blessed with dyslexia,

that's all.' I just learn things differently,"

she said.

"I forgave myself for feeling

so dumb all these years because

I left school really early and

now when I look back at all the

subjects I took it had nothing to

do with anything technical, it all

had to do with creative stuff."

Those subjects included

classes on art, Maori culture and,

perhaps surprisingly, typing –

because she could just copy the

patterns without thinking about

the words.

That ability to recognise patterns

helped her land a leading

role in the Australian version of

Ben Elton's hit musical-theatre

production We Will Rock You,

based on the songs of British rock

band Queen, in 2003. To get the

part of Killer Queen, Crummer

had to audition in front of Queen

guitarist Brian May and drummer

Roger Taylor.

"I had to learn the English phonetically

and that is actually how

I learn music too, I listen to where

heart is needed and where anger is

needed and all the emotions, I just

SONGSTRESS: Annie

Crummer has been working

on material for her first album

of original material in two

decades.

emulate those inflections without

really knowing what I am talking

about, but I have just fooled everyone,"

she said.

"I can't believe I got that role, if

only they knew how I did it. But

it did catch up on me a couple of

times on stage where I'd fumble

BEST OF FRIENDS: From left, Margaret Urlich, Debbie Harwood

and Crummer will perform together at Selwyn Sounds, along

with Sharon O'Neill (not pictured).

over a word because I didn't fully

understand it and I had to dig my

way out of it, live."

She said that while the way

dyslexic people figured things out

might be different, the outcome

could be incredible.

Crummer, who lives in

Auckland, said she loved that

performing enabled her to travel.

She always looked forward to

playing with Harwood, Urlich

and O'Neill, sometimes joined

by Shona Laing, with the singers

typically doing about three or

four shows together a year.

She was looking forward to

reuniting with them for Selwyn

Sounds.

"I'm a huge fan of theirs and we

have the utmost respect for each

other so it's a joy all round, a real

buzz."

The concert will also feature

Kiwi rock heavyweights Mi-Sex,

Dragon, The Jordan Luck Band

and Jason Kerrison.

When she was not performing

with Harwood and co or

going solo, she often joined her

father's band, Will Crummer

and the Rarotongans, playing

songs which mostly sung in Cook

Island Maori. Crummer took a

more low key role in the band,

playing the pahu and putting in

some occasional backing vocals.

She didn't mind stepping back

from the spotlight and credited

her father with setting her on the

path to stardom.

"He gave me the gift of music,"

she said.

"I do count my blessings, that's

a daily ritual for me, the fact that

I can do music and have never

had a job."

•Selwyn Sounds will be held

on March 4, from 11.30am-

8.30pm. Tickets can be

purchased via Ticketek and

buyers will be able to prepurchase

a return bus ride

between pick-up points in

Christchurch or Rolleston

and Lincoln Domain.

HELPING US,

HELPS THE

COMMUNITY

Drop off or buy

2 family stores in your community

30 Main North Rd,

Ph 352 4581

520 Cranford St,

Ph 352 0515

The magazine for

gardeners who

like To geT Their

hands dirTy

www.gardener.kiwi

100%

Dyers Road Landscape

& Garden Supplies

• Barks • Peastraw • Composts - we supply the best available

• Aggregates - Chip, Round and Basecourse

• Pavers & Schist products • Pungas

• Decorative Stones & Landscaping Rocks

• Trailer Hire first hour free with purchase

• Bag & Bulk - pick up or delivered

David, Carol & Mike

We will deliver!

SOIL

AND

HARDFILL

DUMPING

Phone: 03 384 6540

183 Dyers Rd, Bromley • OPEN 7 DAYS

Weekdays 7.30am-5pm. Weekends 8.30am-3pm

www.dyersroadandlandscapes.co.nz
---
10

Tuesday January 10 2017

Shirley BHS backs

new young coach

SPORTS

PEGASUS POST

• By Gordon Findlater

ANDY GIBSON has been named

the new head coach of Shirley

Boys' High School's first XV.

The 29-year-old will fill the

void left by former Canterbury

half-back Allan Lindsay who

has taken on the head coaching

role at Pirates in Dunedin after

coaching Shirley BHS for the past

three seasons.

Lindsay lives in Dunedin but

has been travelling to Shirley

BHS three times a week for training

and match days.

Gibson has previously played

for Christchurch Boys' High

School, High School Old Boys

and Christchurch.

He has also quickly established

a strong coaching CV. His

experience includes working

with Christchurch BHS, St

Andrew's College, Christchurch

Metro age group teams and

Linwood's division 1 side.

Gibson also spent two years

with the Canterbury ITM Cup

team as an intern and last year

gained international experience

at the University of Melbourne.

Shirley BHS rugby

administrator John Fox said:

"From our point of view he

really impressed. He's got a good

coaching history, especially for

NEW COACH: Andy Gibson will begin a two-year coaching

stint with the Shirley BHS first XV this year. Gibson is seen here

being handed the Linwood coach of the year award by Tane

Norton in 2015.

someone so young, he's got into it

really quickly. He's coached some

of our boys in metro teams and

we got really good feedback from

there."

Shirley BHS have been a top

team in the UC Championship

after making back to back grandfinal

appearances. The secondary

school were unsuccessful in both

of their grand-final outings,

going down 13-32 to St Bede's

College in 2015 and 20-21 to

Christchurch BHS in 2016.

However, Gibson faces a tough

task if he is to return Shirley

BHS to the UC Championship's

biggest stage in 2017.

The majority of last year's

squad have left the school,

including star players Cruz

Topai-Aveai, Logan Bell and Josh

Archer.

"Glenn Beardsley is back for

his third year and we have about

10 others who will be coming

into their second year in the setup,

but a lot of them have only

played a game or two last season.

There are some very good players

coming back. We might not have

someone the size of Cruz coming

back, but I think we have some

very talented loose forwards that

can step up," said Fox.

Gibson will get his first chance

to work with the team early

in the year ahead of the UC

Championship which begins in

late April.

TWO FROM TWO: The North Beach surf boat team have

continued their perfect start to the national surf boat

series. The crew won the second round of the series at the

Whangamata Surf Boat Spectacular earlier this month to

take a healthy lead in the competition. Last month, they

won the opening round of the series, winning the Titahi Bay

Classic. Attention will now be turned to the New Zealand

Representative Challenge in Waimarama, Hawke's Bay, this

weekend. Canterbury teams, including North Beach, will

compete for national honours with teams and individuals in

the pool, surf boat, surf canoe, ski, board, swim, beach and

iron person events competing for points.

SMART

BRANDS

SMARTER

PRICES

DESIGNER

FASHION

AT OUTLET

PRICES

HORNBY 409 Main South Road | Open 10am–5pm, 7 days
---
plete and attach to clothing bag for

14km

6km

PEGASUS POST Tuesday January 10 2017 11

name

signed

2017

14km

6km

19 March 2017

This

emergency

contact number

2017

sticker is valid for entry into either

distance. Must be worn during the event,

to claim prizes, and for free entry into

Ferrymead Heritage Park.

OFFICIAL ENTRY NUMBER:

This

Moving with you for 43 years!

existing

medical condition

19name

th March 2017 • Prize Giving Ferrymead

emergency

Park.

signed

contact number

existing

medical condition

19 th March 2017 • Prize Giving Ferrymead Park.

dist

to c

Ferr

OF

ENTRIES NOW OPEN!

$20 Early bird available online

A Star Media Event

Are you up for it?

The Star Photo Archive: 1983

city2surf.co.nz
---
12

Tuesday January 10 2017

SENIOR LIVING

Pine bark may support

brain function

Recent news from Auckland University

of Technology has people excited about a

pine bark extract called Enzogenol. AUT

reported that patients suffering memory

loss and other brain problems after a

traumatic brain injury recovered better

when taking Enzogenol compared to a

control group.

Enzogenol is not a new product, though.

In fact, it was developed at Canterbury

University and has been in our health

food shops for over 10 years. According to

ENZO Nutraceuticals, the company that

produces the product, a number of research

studies have shown how Enzogenol can

help improve brain function and support

healthy blood circulation.

The amazing thing is, it is made from

the bark of New Zealand Pinus Radiata

with an extraction method that uses only

purified water. Apparently, the pine bark

is full of healthy plant compounds that

are naturally part of our diet when we eat

fruits and vegetables. Yet, the pine bark is

loaded with these natural antioxidant and

anti-inflammatory compounds and makes

a great starting material for this health

product. Keen on a chewing a bit of pine

bark?

Further detailed information is available

from the Natural Health Advisers at

Marshall's Health & Natural Therapy,

110 Seaview Road, New Brighton, phone:

388-5757 – We are Always Happy to Help!

Third Age

Tours

Small Group Tours for

the over 50s

Domestic and

International

Great Prices!

neW

neW

neW

england/Wales & Yorkshire Dales

24 August - 23 September 2017

enchanting Ireland & Scotland

1 June - 26 June 2017

curiosities of cuba May 2017

Treasures of Turkey On Hold & TBA

captivating croatia, Slovenia

montenegro & Venice

16 June - 10 July 2017

Vietnam & cambodia

3 - 25 October 2017

Beautiful norfolk Island

22 - 29 October 2017

Sicily, rome & Southern Italy

October 2017

South Island Tours

Glorious Autumn in Arrowtown

20 - 25 April 2017

catlins/Stewart Island

9 - 17 February 2017

White herons, Glaciers & Alpine

loop Tour

30 Jan - 4 Feb 2017

PluS oTher DeSTInATIonS!

For a Free InFormATIon

PAck contact Brenda

Third Age Tours

Ph 03 379 3799 or 03 312 7050

Freephone: 0800 927 725

sunshineone@xtra.co.nz |thirdagetours.co.nz

All the benefits of

double glazing

Amazing Glazing has been going from

strength to strength since it's inception in

2004. Max Dorfliger who established the

business that offers specially run mouldings

of Peninsula macrocarpa to secure a second

pane of 4mm glass onto existing wooden

frames, has recently brought Gunter Dehne

into the business. Gunter, a Cabinetmaker

by trade and a technology teacher for many

years, was keen to be back on the tools and

excited to be adding such value to people's

lives. Existing timber joinery is preserved

while a home is effectively double ‐glazed.

All the benefits of double ‐glazing like

insulation, reduced heating cost and

noise reduction are obtained, without the

prohibitive cost of complete replacement.

The insulation of Amazing Glazing is

better than many standard double glazing

solutions due to the increased air space

between the panes.

The dryer conditions during the summer

months make this the best time to install

Amazing Glazing.

Frames can be oiled for a natural wood

finish, or painted in the colour of your

choice, to blend in with the existing look.

Call us for a free quote, for individual

windows, rooms, or the entire house.

Phone Gunther on 027 263 3592 or email

dasgunt@gmx.com

you can stop him

snoring with a

SNOREX

Why put up with a broken

night's sleep?

Ph 377-4318 or 027 682 1752

DENISE LIM

FOR A FREE INFO PACK

Website: www.snorex.co.nz

Bringing You the Best in Natural Health

- KNOWLEDGE MAKES THE DIFFERENCE -

PEGASUS POST

Amazing

Glazing

Double glaze your existing

wooden windows

• Reduce noise, heat loss and condensation

• Simple cost effective solution

• Save energy and the enviroment

Please check out our website

and ask for a free quote

Our simple but attractive looking system

with real wood and real glass, costs less

than half of other quotes you may receive

www.amazingglazing.co.nz

Contact Max or Gunter on

027 263 3592

Improve - Brain - Function!

Life is better with clearer thinking, sharper mind, healthier brain and body.

Enzogenol, is a potent natural antioxidant & anti-inflammatory, produced

from an extract of the New Zealand pine bark. In one study researchers

concluded it can reduce the average age of the brain by 12 years in as

little as 5 weeks. Studies show it can improve response time as well as

long & short term memory, concentration & brain performance. Enzogenol

also helps protect the body from the aging process, including supporting

the cardiovascular, nervous system & improving recovery after illness.

ENZO:PROFESSIONAL contains 240mg of Enzogenol + 30mg Vitamin C.

It is the most potent Enzogenol formula available.

Further detailed information available in store.

SPECIAL PRICE

60 Capsules 120 Capsules

ONLY

$

45 30 ONLY

$

84 90

MAIL ORDER AVAILABLE

MARSHALLS HEALTH & NATURAL THERAPY

CONSULTING - PRESCRIBING - DISPENSING - MANUFACTURING - MEDICAL HERBALISTS

110 SEAVIEW RD, NEW BRIGHTON • PH 03 388 5757 • Email: enquiry@marshallshealthshop.co.nz
---
PEGASUS POST Tuesday January 10 2017 13

SENIOR LIVING

The importance of

good blood

pressure!

Aspire

Canterbury

Blood Pressure is an indicator of

cardiovascular as well as overall health.

Healthy blood flow is vital for a healthy

body as the blood plasma transports

nutrients, hormones, metabolic waste,

oxygen and CO2 throughout the body. An

area in the brain keeps check on blood flow

to ensure health of all cells and the organs

they make up. If blood flow is reduced the

brain will try to normalise blood flow by

adjusting the heart strength, frequency

(Pulse Rate) as well as the width of blood

vessels all via the nervous system. Over

a period of time the blood pressure may

keep increasing due to the deterioration

of blood flow. A higher B/P is not ideal

and is considered a major risk factor for

strokes, aneurysm, organ failure and heart

failure. Even moderate elevation of B/P is

considered a major reason for shorter life

expectancy. If we can maintain our B/P in

the normal range our overall health will be

improved. Systolic B/P (The upper figure)

is when the heart contracts and pushes

blood around the body. Ideally at rest this

should be between 100 to 120. The diastolic

B/P (The lower figure) is the pressure in the

arteries between beats and ideally at rest

this should be between 60 to 70.

It has been found in around 90% of

cases high blood pressure is caused by

an increase in the resistance to blood

flow in the blood vessels. It is believed

inflammation and stiffness of the blood

vessels are major reasons for this increased

resistance. Checking our blood pressure on

a regular basis allows us to adjust our diet

and lifestyle and see the benefits in our B/P

readings.

Blood Pressure monitors and further

information on how to improve your

overall health and B/P naturally is

available from the natural health advisers

at Marshall's Health & Natural Therapy,

110 Seaview Road, New Brighton, Phone:

388-5757.

We are Always

Happy to Help!

Aspire Canterbury offers support, advice and resources

to older people and those with impairments, their

families and caregivers.

Removing barriers to everyday living for

individuals, Aspire Canterbury inspires people

to live life to the fullest no matter what their

difficulties. The Disability Information Service

is a source of valuable information about the

various services available to people with short

or long term impairments and professionals

from community/health organisations.

Visit Aspire Canterbury's shop at 314

Worcester Street or visit their website for more

information and resources. They also have an

online shop selling a wide selection of easier living

aids, and offer rental services for wheelchairs, ramps

and walkers.

Aspire also has a mobile service which is available

for free, fun, interactive presentations of all their

equipment and services to retirement homes/

villages and any other community groups

wanting a speaker.

For more information visit

www.aspirecanterbury.org.nz, 03 366 6189

mobileservices@aspirecanterbury.org.nz

2015 NZ Disability

Information Centre

of the Year

BLOOD PRESSURE UNITS HELP MONITOR YOUR HEALTH!

Keeping our blood pressure (B/P) in the normal range is a positive sign of good

health. The higher the B/P above normal the more likely we may suffer a stroke,

aneurysm, organ failure or heart attack. Even moderate elevation of B/P can lead

to shortened life expectancy. Checking our B/P on a regular basis with our easy to

use B/P monitors is a positive step & allows us to make changes to our lifestyle,

diet & nutrition when necessary.

HIGH PERFORMANCE BLOOD PRESSURE UNITS OFFER:

- Measurement of blood pressure, pulse & heart arrhythmia

- Helps avoid high blood pressure a serious health concern

- Easy to use with large LCD display

- Upper arm cuff for reliable results

- Helps avoid inaccurate readings due to white coat syndrome in Doctors office

- Allows you to see what affects your B/P

SUPER PRICE

Only $59.90

Talk to us today for suggestions on how to naturally improve your

blood pressure & health with diet, nutrition & lifestyle changes.

Bringing You the Best in Natural Health!

MAIL ORDER

AVAILABLE

MARSHALLS HEALTH & NATURAL THERAPY

CONSULTING - PRESCRIBING - DISPENSING - MANUFACTURING - MEDICAL HERBALISTS

110 SEAVIEW RD, NEW BRIGHTON • PH 03 388 5757 • Email: enquiry@marshallshealthshop.co.nz

- WE ARE ALWAYS HAPPY TO HELP! -

Support and Resources for Independent Living

walkers to

purchase

(FroM $230)

or hire

$20

per week

Can we help you or someone you support?

Disability Information Service – a 'one stop

information service' which offers unbiased

advice to assist people navigate their way to

organisations or services that can provide them

with support or advice.

Aspire Canterbury Shop – shop online or call in

to our shop at 314 Worcester Street and view our

range of easier living products We also hire out

wheelchairs, ramps and walkers.

Total Mobility Discounted Taxi Service – a scheme

which provides 50% discounts on taxi journeys to

eligible people in the Christchurch area who, due

to health conditions, are unable to access public

transport. Contact us for more information on

03 366 9093 or visit our website.

Mobile Service – Fun interactive presentations of

our information, services and easier living

equipment. We come to you! To book our

presenter to speak to your group call Richard

at numbers below or email mobileservices@

aspirecanterbury.org.nz

Mobility scooter demonstrations available.

Aspire Canterbury is a not-for-profit organisation

providing services to the community since 1981

Physical Address:

314 Worcester Street

Linwood Christchurch

Postal Address:

PO Box 32074

Christchurch 8147

Ph: 03 366 6189

Freephone: 0800 347 242

Ph: (Total Mobility) 03 366 9093

Mobile Service: 027 588 9700

E: admin@aspirecanterbury.org.nz

W: www.aspirecanterbury.org.nz
---
14

Tuesday January 10 2017

PEGASUS POST

Your Local Views

We said:

A section of New Brighton Rd,

which underwent repairs for more

than a year in an attempt to stop

flooding, has flooded again. How

long will it take to fix this issue?

You said:

William Hutson – It's tidal . . . it will

always flood unless you block off stormwater.

We spent nearly three months after the

quakes trying to clean up all the silt from

those pipes . . . it was back the next morning

every time.

Jo Zervos – It's a bloody joke. That

section of road was closed for well over

a year. The problem is the tide going

up the stormwater pipes. However, the

new guttering copes with it in places but

unfortunately the new guttering doesn't

continue all the way. Surely they can come

up with some better solutions. Moving the

road in and making it higher won't rectify

the stormwater pipe problem. There are

still many sections of New Brighton Rd

that need repairing. They should do it once

and do it right.

Greening the Red Zone (Facebook

page) – How long will it take to fix this

issue? As long as it takes to return the red

zone to nature, and shift roads that now lie

under the water table to outside the new

stop banks (which almost certainly won't

be where they are now). That's how long.

Luke Burnell - Dyers Rd has been

worked on all of last year making it wider

so are you still in dream land Karen . . .

and the pic is of New Brighton Rd they

patched it a bit, but it's not risen, so where

do you think the water table is? Because

most of the road now sits under it.

Karen Farrell - And what's the city

council doing? Not much, just like Dyers

Rd. Shame on them.

Lynette Morris - New Brighton Rd is

bad.

RESEARCH.

SEARCH.

PURCHASE.

ALL IN ONE PLACE

THE

NEW PLACE

TO

BUY & SELL

CARS

NEWS / REVIEWS / LISTINGS
---
PEGASUS POST Tuesday January 10 2017 15

Email fraser.walker@starmedia.kiwi

by 5pm each Wednesday

Golden Oldie Movies

Every Monday, 1.30pm

The New Brighton Museum

screens a classic movie each

week so go along early for a cup

of tea and a chat. This month's

movies are: January 2 – The

Railway Children, 2000, family

drama; January 9 – The Little

Princess, 1939, comedy drama;

January 16 – Captain Kidd,

1943, action; January 23 – The

Court Jester, 1956, comedy,

musical; January 30 – Sink the

Bismarck, 1960, war.

New Brighton Museum, cnr

Hardy St and Seaview Rd. Gold

coin donation

New Brighton Beach Cleanup

Thursday, 10am-1pm

Sustainable Coastlines has

partnered with Corona and

Fly My Pretties to help cleanup

New Brighton Beach on

Thursday. The first 40 clean-up

volunteers will receive tickets

to the Fly My Pretties concert

at the Isaac Theatre Royal in

the evening. All volunteers

need to register at www.

sustainablecoastlines.org.

Look for the big blue

Sustainable Coastlines' flags

near the New Brighton Surf Life

Saving Club, just north of the

pier on the day. [Edition datE]

2

New Brighton Surf Life Saving

Club, New Brighton Beach. Free

entry

Avon-Otakaro Network

Walking Tour

Saturday, 2-5pm

Avon Otakaro Network

invites members of the public

to join them for a free public

walking tour along the Avon

River. The walk starts and ends

at Avonside Girls' High School

with a resting place halfway

through the walk where light

refreshments will be provided.

The two and a half hour tour

includes a leisurely paced walk

around the red zone, discussing

the landscape being traversed

and the role of the Avon

Otakaro Network; what they

are working on at the moment,

future projects and other ideas.

The tour is free, but limited to

a maximum of 50 guests. Rain

date is January 15.

Avonside Girls' High School,

180 Avonside Dr, free entry

Kite Day

Sunday, January 29, noon-

3pm

Spectacular kites of all

varieties and sizes will flutter

and soar over New Brighton

Beach near the end of the

month.

COLOUR AND CREATIVITY: The New Brighton Seaside Market is open every

Saturday, 10am-2pm. New Brighton's pedestrian mall becomes full of colour

and creativity. Go along to the seaside and enjoy live entertainment, food, fresh

produce, arts, crafts and more. There will be a bouncy castle and free facepainting

for the kids. For more information, email seasidemarket@mail.com.

New Brighton pedestrian mall. Free entry.

Kite makers from around the

country and the world travel to

partake in the event. Create and

decorate your own kite or buy

one from The Kite Shop on the

day and fly it on the steady sea

breeze. If you don't have a kite,

sit back, relax and watch while

enjoying an ice cream, cool

drink or fish and chips for tea

on the beach. The New Brighton

Silver Band will perform on the

promenade. Catch a bus to avoid

parking hassles or carpool with

friends and family.

New Brighton Beach, north of

the pier. Free entry

Bromley Monthly Market

Day

Sunday, January 29, 11am-2pm

Meet Darth Vader at Bromley's

own community market on the

last Sunday of each month. The

market will be based indoors and

held rain or shine. There will be

a range of stalls, including arts,

crafts, knitting, clothing, winter

blankets, draft stoppers, house

hold goods, baking, cards and

more. There will be an onsite car

park for your convenience and

a playground right next door.

If you are interested in having

a stall, phone 389 1657. Darth

Vader will be there on the day to

visit the children.

Bromley Community Centre,

45 Bromley Rd. Free entry

CONTINUING EDUCATION

Christchurch School of Music

The Christchurch School of Music is a family-oriented

community aimed at providing quality music education in and

around Christchurch.

We have an exciting offer for all new enrolments for 2017,

where you will receive $775 worth of lessons for just $450! All

you have to do is click here to enrol before January 15th, 2017:

http://www.csm.org.nz/enrol/

This deal includes: 1 year of group lessons for beginners on

recorder, flute, clarinet, violin, ukulele, guitar or voice (worth

$525), FREE instrument hire where instruments are available

(worth $110), FREE joining of a performance ensemble for the

second semester (worth $140).

We also have individual lessons and ensembles for a wide

range of instruments available too, for any age and from

beginner through to experienced - explore our website www.

csm.org.nz to learn more.

CSM is a not-for-profit organisation with a strong focus on

community. On a Saturday morning the whole family can find

something to suit. Preschool children can start their musical

journey by joining in our experiential "Take Off with Music"

while older children and adults may opt for group or individual

lessons on a specific instrument (including voice). Those who

already play are welcome to join in one of the great ensembles

which all take part in regular concerts including Saturday

soirees and the popular annual Showcase Concert. Recitals

where individuals can perform are also held regularly.

CSM also provides a comprehensive music education to

participating primary schools via its Outreach programmes.

With programmes offered in band, strings, recorder and ukulele

in a wide range of Christchurch schools this is an area of the

School, which has grown fast over the last few years.

Another area that has grown rapidly over the last few years

is the Late Starters programme where adults approaching

retirement with more time on their hands have really enjoyed

learning an instrument they never had the chance to play in

their early years and join an ensemble with other like-minded

adults.

If Saturday isn't an option, CSM also offers a range of

weekday opportunities for learning and playing music.

If affordability is an issue, CSM may be able to offer a

discount through funding provided by the Rata Foundation.

Please contact us via our website www.csm.org.nz and let

us start you on a musical journey that will bring pleasure for

a lifetime.

2017 ENROLMENT DEAL!

$775 $ 450!

GROUP LESSONS, ENSEMBLE,

AND INSTRUMENT HIRE!
---
16

Tuesday January 10 2017

PEGASUS POST

97.7

POLLY & GRANT

Weekdays 6-9am

thehits.co.nz
---
Complete and attach to clothing bag for

free clothing transport from start to finish.

Name: ______________________

Email: ______________________

Phone:______________________

PEGASUS POST Tuesday January 10 2017 17

name

signed

You can also pin it

14km

OFFICIAL ENTRY NUMBER:

Classifieds Contact us today Phone our local team 03 379 1100

2017

14km

6km

19 March 2017

This

emergency

contact number

Ferrymead Heritage Park.

existing

Moving with medical conditionyou for 43 years!

19name

th March 2017 • Prize Giving Ferrymead

emergency

Park.

signed

A Star Media Event

14km

2017

sticker is valid for entry into either

distance. Must be worn during the event,

to claim prizes, and for free entry into

OFFICIAL ENTRY NUMBER:

This

contact number

existing

medical condition

ENTRIES NOW OPEN!

$20 Early bird available online

Are you up for it?

6km

19 th March 2017 • Prize Giving Ferrymead Park.

Caravans, Motorhomes

& Traliers

Are you about to sell

your caravan? We can

sell it in our busy yard on

behalf for you, at www.

affordablecaravans.co.nz

512 Blenheim Road

CHCH 03 3488614.

Caravan 4 to 5 Berth

Wanted Repairs OK 027

938 5344

Curtains

www.curtainfabric-outlet.com

Fashion Designs & Colours

Discontinued Designs

End of Lines Bargain Prices

Call at Our Shop

CURTAIN FABRIC OUTLET

71 Hawdon St Sydenham

Ph 366-5026

Holiday

Accommodation

QUEENSLAND SUN-

SHINE COAST AUSTRA-

LIA Resort, Ocean Views,

Balconies, Self Contained,

1 or 2 B/R Ensuite,

Heated Pool, Spa, Sauna,

Free Internet, Shops,

Restaurants, Tennis, Surf

Club & Patrolled Beach,

Public Transport at door.

Ask for our SEASONAL

SPECIALS. Phone 61 7

544-35011 Email: reception@mandolin.com.au

www.mandolin.com.au

Computers

For Sale

ALL

YOUR

COMPUTER

HANDBAG Genuine

WORRIES SOLVED! Guess Leilani box bag -

*$30.00 off your first CR240831 sand/neutral

service with this coupon!* colour, sz 42cm long x

No problem too big or 22cm high, excellent

small from home PC's to condition only $160 ono

business networks. PC ph 020 444 4202

slow? An end to Viruses,

Gardening

Spyware, and Clogged

& Supplies

Systems. Safe secure

hassle-free computing. A

GARDEN

Jewellery

Lost files recovered. PROFESSIONAL

Microsoft Certified, NEEDED? Qualified WATCHES Ladies

MCSE, MCP+l. 30 years Horticulturist, offering Versace, Gucci & Calvin

experience. Call Andrew expert pruning, garden

Klein, brand new in boxes,

Buxton this week on 326- makeovers, garden design

bracelet design excellent

6740 or 027 435-7596 and landscaping, for free

for $30.00 off* Custom quotes call Bryce 027 688- price $99.95 each, plse ph

Computers Christchurch 8196 or 0508 242-733 ChCh 020 444-4204

The Star Photo Archive: 1983

Public Notices

city2surf.co.nz

Weka Pass Railway

Waipara, North Canterbury

Trains run

every Sunday

in January

Phone 0800wekapass

Depart Glenmark Station

11.30am & 2.00pm

www.wekapassrailway.co.nz

6km

Price Family

Painters Ltd

Interior/Exterior

Wallpapering/Painting

Gib Stopping

Free Quotes

EQC Opt Out

Fletcher Accredited

Project Management

Phone: Morton 021 667 444

Email: mortonprice@xtra.co.nz

www.pricefamilypainters.co.nz

sticker is valid for entry into either

distance. Must be worn during the event,

to claim prizes, and for free entry into

Ferrymead Heritage Park.

OFFICIAL ENTRY NUMBER:

DEMOLITION

With care and respect we

will remove your dwelling.

Our policy is to recycle as

much as we can. We are a

local company specialising

in residential properties. We

will endeavor to cater for

your individual needs.

Ph. R.M. Solutions

021 02866981

for a free quote.

Trades & Services

painter

OFFICIAL ENTRY NUMBER:

Cracked tiles?

Dirty grout?

Old or mouldy

silicon?

Brett Ph 03 358 5105

or 027 746 7632

www.groutpro.co.nz

Appliance Sales & Service

388 4780

Appliance Services

14 Brighton Mall, New Brighton

FOR ALL YOUR

★Garden Clean-ups

★Pruning

★Lawn Mowing

★Garden Maintenance

Call us today for a FREE quote

PH 0800 4 546 546

(0800 4 JIMJIM)

HOUSE

CLEARING

Are you moving

house?

Let All Clear Canterbury

take care of your

unwanted items.

You identify what you want

to keep & we will dispose

of the rest!!

Ph: 03 312 7119

Mob: 021 078 4553

allclearcanterbury@gmail.com

www.allclearcanterbury.co.nz

9220021AA

Complete and attach to clothing bag for

free clothing transport from start to finish.

Trades & Services

• Replacement/new roofing

• Colour Steel gutter & fascia

• Flue & log burner installs

• Skytube/light installs

• Earthquake repairs

Name: ______________________

Email: ______________________

Phone:______________________

Trades & Services

CArpet

&

VInyL LAyIng.

Repairs, uplifting,

relaying, restretching,

working thru Xmas,

E mail jflattery@xtra.

co.nz, ph 0800 003 181 or

027 2407416

DRIVEWAYS

Replace, repair or new.

We are a local company

with over 10 yrs exp.

We also operate a

digger for all other

earthworks.

Ph. R.M. Solutions

021 02866981

for a free quote.

FenCIng

All styles and shapes,

gates, wooden, ph Mark

027 331-3223

FENCING

Paling, picket,

iron, trellis

Demolition and

removal

Phone Bevan

021 231 1860

Fencing Uprite

Your Eastside

Specialist

FUrnItUre

reMOVALS

Large Trucks $95 +

GST per hour 7 day NZ

wide, packing & moving,

Professional Company,

Professional Service.

Canterbury Relocations

Ltd. ph 0800 359 9313

Licence Building

Practitioner LBP

Member of the Roofing

Association LAnDSCApe

DCM ROOFING LTD COnStrUCtIOn

The Roofing Specialists Lawns, paving, water

PHONE IAIN features, irrigation,

027 445 5597 planting, decks,

iain@dcmroofing.co.nz driveways, kerbing, ponds,

retainer walls, fencing.

AAA CArpentry Free quotes, Phone Tony

licensed builder 021-034-8555

practitioner all property

maintenance small job OVen CLeAnIng

expert by tradesman / Professional cleans

handyman free quotes city $50.00. Gift Vouchers

wide call now 03 387- avail. Phone 0800 683-

0770 or 027 245 5226 6253 or 027 228-0025

ciey@xtra.co.nz

BUILDer

pAInter

For all building work Top quality work, interior/

but specialist in bathroom exterior, pensioners

renovations, 30 yrs discount, free quotes, 30

experience, with service years experience, I stand

and integrity. Free Quotes. by Canterbury, ph Wayne

Ph Lachlan 383-1723 or your friendly painter 03

0274 367-067.

385-4348 or 027 274-3541

BUILDer

LICENSED, available for

pAIntIng

&

all aspects of building.

DeCOrAtIng interior

Please call 027 241-7471

& exterior, gib fixing,

or 335-0265

plastering, paperhanging,

Est 50 yrs in ChCh, ph

CArpenter - Wingfields Ltd, ph Mark

HANDYMAN - Small 021 171-1586 or 355-5994

Job Specialists, Carpentry,

Repairs, Decking & pAInter

Maintenance, 40 years Available, All aspects in

experience, no job too painting. Very competitive

small, Ph Warren 03 322- in roofs and fences. Please

1103 or 027 697-8541 call 027 241-7471 or 335-

CArrIer

0265

Local, experienced,

friendly, trade-me pLUMBer

purchases, single items For prompt service for all

to truck loads, furniture plumbing maintenance,

to whatever, removals & repairs and alterations.

trade deliveries a specialty. Phone Michael 364 7080

Ph GEH 341-5069 or 027 438 3943
---
18

Tuesday January 10 2017

Classifieds

PEGASUS POST

Trades & Services

PLUMBER

ALF THORPE

PLUMBING Certifying

Plumber for all types of

plumbing, maintenance,

spouting, alterations etc.

Phone 352-7402 or 0274-

350-231

ROOFING

Qualified & Licenced

Practitioner. Re-Roof &

Repairs, all types. Member

New Zealand Roofing

Association. Over 35 years

experience. Phone John

027 432-3822 or 351-9147

email johnmill@ihug.

co.nz

SPOUTING CLEANING

- Spouting Unblocked,

Cleaned Out and Flushed

Out. Also Full Handyman

Services Available. Call

Trevor 332 8949 or 021

043-2034

TREES

BIG OR SMALL, tree

removal, trimming, stump

grinding, shelterbelt clean

up, section clearing,

rubbish removals,

excavation work, ph Trees

Big or Small, for a free

quote, 021 061 4783

TREE WORK

Hedge trimming, stump

grinding, rubbish removed,

small job specialty Ph

Andrew 03 322-8341 or

027 435-8759

T.V. SERVICE

CENTRE Repairs, tvs,

microwaves, stereos,

DVD. Aerial installations

and kitsets, 480

Moorhouse Ave, ph 03 379

1400

UPHOLSTERER

Dining Chairs, Lounge

suites, Caravan Squabs

etc. recovered. Free

Quotes. Phone Graeme

383-1448

VHS VIDEO TAPES

& all camera tapes

converted to DVD, video

taping, weddings, twenty

firsts, special occasions,

www.grahamsvideo.co.nz

ph 03 338-1655

WATERBLASTING

Quality Job, Quick Service

by skilled tradesman, Ph

Richard Severin at Jet-X

0800 538 969 Free quotes,

visit www.jetx.co.nz

FOR ALL YOUR

★Garden Clean-ups

★Pruning

★Lawn Mowing

★Garden Maintenance

Call us today for a FREE quote

PH 0800 4 546 546

(0800 4 JIMJIM)

Wanted To Buy

AAA Buying goods

quality furniture,

Beds, Stoves, Washing

machines, Fridge Freezers.

Same day service. Selwyn

Dealers. Phone 980 5812

or 027 313 8156

TOOLS

Garden, garage,

woodworking,

mechanical, engineering,

sawbenches, lathes, cash

buyer, ph 355-2045

Situations Vacant

Occupational Therapist

Part Time

Returning to work, have young children or wanting to

reduce your hours this could be the ideal job?

We are a community based trans-disciplinary therapy business,

working with people of all ages who have disabilities.

Our services include: assessment and treatment: group

activities: client and carer education: supervision and safety in

the home and workplace.

We seek an experienced NZ Registered Therapist who is able to

work autonomously, and enjoys working flexibly within a team

environment.

Experience should include work in some of the following

areas:

• Community, residential and educational settings

• Disabled children, adults or elderly

• 15 hours per week approximately with some flexibility

Application closing date: 5pm Friday 19 February 2017

Please send a copy of CV to:

The General Manager

Therapy Professionals Limited

PO Box 7807 Christchurch

Or email: therapyprofessionals@clear.net.nz

Applicants for this position should have NZ Residency or a valid

NZ work permit.

To Let

RENT NEED MORE ME!

SPACE?

NO BOND THIS MONTH

Ideal as an extra

bedroom or office.

Three convenient sizes

from $70 p/w:

Standard 3.6m x 2.4m

Large 4.2m x 2.4m

Extra-large 4.8m x 2.4m

Visit our display cabins at

470 Cranford Street or call

0211277227 for a free brochure

www.justcabins.co.nz

We wish everyone a safe & happy 2017

Cafe open from 11am

TAB & Gaming

Function Facilities

HOUSIE

Tuesday, Thursday,

Saturday

SHUTTLE

Tuesday - Saturday

www.newbrightonclub.co.nz

GREAT

DINING

- downstairs -

ClubBISTRO

Open Tuesday to Saturday

12pm-2pm and from 5pm

Midweek $10

SPECIAL ROAST

Available Tuesday,

Wednesday, & Thursday

TUESDAYS &

THURSDAYS

Members Lucky

Card Draw

TAB POD

GAMING ROOM

FUNCTION ROOMS

SHUTTLE RUNNING

Tues, Thurs, Fri & Sat

GREAT

DINING

- upstairs -

PIERVIEW

Restaurant

Quality a la carte

with a view!

Open from 5.30pm

FRIDAY, SATURDAY

& SUNDAY

FRIDAY SPECIAL:

SIRLOIN STEAK or

CHICKEN BREAST

WITH JACKET POTATO

& SALAD BAR

$22!

SUNDAY SPECIAL

3 courses: $25

NOW OPEN FOR

SUNDAY BRUNCH

By the Seaside!

10.30am-2.30pm

202 Marine Parade

Ph 388-9416

Members, guests and affiliates welcome

LIVE MUSIC

THIS SATURDAY

14th Jan, 7pm Whitfords Bar

FRANCHISE

Open 7 Days from 5.30pm

RETRO ROAST

LUNCH

12PM-1.30PM

WEDNESDAYS

until Wednesday 21st December

$10 Members / $12 Non

H ORNBY

WORKINGMEN'S

CLUB

«WHAT'S ON«

SATURDAY 14 JAN, 4.30PM

BARROSS

SATURDAY 14 JAN, 8PM

EASY COME, EASY GO

Club CAFE

OPEN

OPEN 7 DAYS

LUNCH & DINNER

Gluten Free & Vegetarian options

Chalmers Restaurant

REOPENS THIS FRIDAY

13th January 2017

Hornby WMC

17 Carmen Rd, Hornby

Phone 03 349 9026

www.hornbyworkingmensclub.co.nz

Members, guests & affiliates welcome
---
PEGASUS POST Tuesday January 10 2017 19

HAPPY NEW YEAR

from the team at the Racecourse Hotel

Need

Accommodation?

We have

GREAT SUMMER

HOLIDAY RATES

on Studio Units

Book now! 03 342 7150

Sports Bar, Carbine Bar,

HOOFBEATS Open for

breakfast, lunch & dinner

RESTAURANT & CAFÉ

'Famous for their roasts!'

SENIORS SPECIAL

Two courses:

Soup/Roast or Roast/Dessert

Special available lunch only

Monday - Saturday 12pm - 2.30pm

Conditions apply

FAMILY FRIENDLY

Kid's Special

Two courses

Great Kids menu plus

designated play area.

$

10

$

20

Open daily from 6.30am - Breakfast, Lunch & Dinner

The

RACECOURSE HOTEL

& Motorlodge

118 Racecourse Rd, Sockburn,

Christchurch. Ph 03 342 7150

www.racecoursehotel.co.nz

Lunch & Dinner

All you can eat, 7 days

Bookings Essential PH 386 0088

fb.com/GardenHotelRestaurant www.gardenhotel.co.nz

WE WISH OUR CUSTOMERS A VERY HAPPY NEW YEAR

NOW SERVING

available

from

9am

Breakfast

HAPPY

HOUR

5PM - 7PM

DAILY

Live Music:

Rhonda Campbell

6PM.FRI.13 JAN

PHONE 385 8880 FIND US ON FACEBOOK fb.com/GBCCHCH

THE GARDEN HOTEL COMPLEX | 110 MARSHLAND RD

www.gardenhotel.co.nz | phone 385 3132
---
20

Tuesday January 10 2017

PEGASUS POST