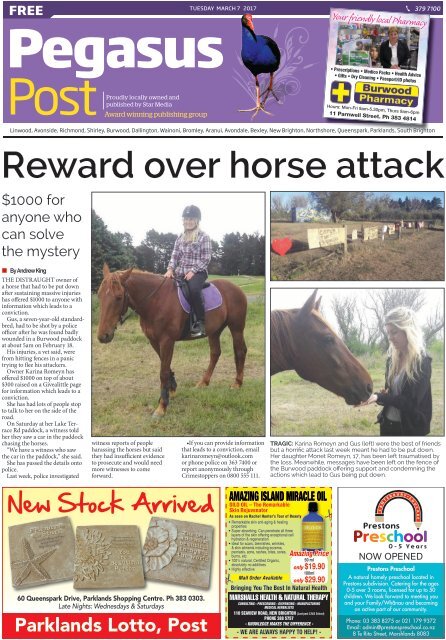 Pegasus Post: March 07, 2017
You also want an ePaper? Increase the reach of your titles
YUMPU automatically turns print PDFs into web optimized ePapers that Google loves.
R E

FREE

TUESDAY mArch 7 2017

Pegasus

"We have lost a lot of good friends

but we still have a close community"

Your friendly local Pharmacy

Robyn Thew

379 7100

Post

Proudly locally owned and

published by Star Media

Award winning publishing group

Linwood, Avonside, Richmond, Shirley, Burwood, Dallington, Wainoni, Bromley, Aranui, Avondale, Bexley, New Brighton, Northshore, Queenspark, Parklands, South Brighton

Reward over horse attack

$1000 for

anyone who

can solve

the mystery

• Prescriptions • Medico Packs • Health Advice

• Gifts • Dry Cleaning • Passport/ID photos

HEALTH ADVICE MEDICINES

Hours: Mon-Fri 9am-5.30pm, Thurs 9am-6pm

11 Parnwell Street. Ph 383 4814

PRESCRIPTIONS

FREE LOCAL DELIVERY

BURWOOD / AVONDALE

PASSPORT/ID

PHOTOS

DRY CLEANING

SERVICES

COSMETICS

QUIT SMOKING

GREAT RANGE

OF GIFTS

• By Andrew King

THE DISTRAUGHT owner of

a horse that had to be put down

after sustaining massive injuries

has offered $1000 to anyone with

information which leads to a

conviction.

Gus, a seven-year-old standardbred,

had to be shot by a police

officer after he was found badly

wounded in a Burwood paddock

at about 5am on February 18.

His injuries, a vet said, were

from hitting fences in a panic

trying to flee his attackers.

Owner Karina Romeyn has

offered $1000 on top of about

$300 raised on a Givealittle page

for information which leads to a

conviction.

She has had lots of people stop

to talk to her on the side of the

road.

On Saturday at her Lake Terrace

Rd paddock, a witness told

her they saw a car in the paddock

chasing the horses.

"We have a witness who saw

the car in the paddock," she said.

She has passed the details onto

police.

Last week, police investigated

witness reports of people

harassing the horses but said

they had insufficient evidence

to prosecute and would need

more witnesses to come

forward.

•If you can provide information

that leads to a conviction, email

karinaromeyn@outlook.com

or phone police on 363 7400 or

report anonymously through

Crimestoppers on 0800 555 111.

TRAGIC: Karina Romeyn and Gus (left) were the best of friends

but a horrific attack last week meant he had to be put down.

Her daughter Monet Romeyn, 17, has been left traumatised by

the loss. Meanwhile, messages have been left on the fence of

the Burwood paddock offering support and condemning the

actions which lead to Gus being put down.

New Stock Arrived

60 Queenspark Drive, Parklands Shopping Centre. Ph 383 0303.

Late Nights: Wednesdays & Saturdays

Parklands Lotto, Post

AMAZING ISLAND MIRACLE OIL

DILO OIL – The Remarkable

Skin Rejuvenator

As seen on Rachel Hunter's Tour of Beauty

••

Remarkable•skin•anti-aging•&•healing•

properties

••

Super•absorbing.•Can•penetrate•all•three•

layers•of•the•skin•offering•exceptional•cell•

hydration•&•regeneration

••

Ideal•for•scars,•blemishes,•wrinkles,•

&•skin•ailments•including•eczema,•

psoriasis,•acne,•rashes,•bites,•sores,•

burns,•etc.

••

100%•natural,•Certified•Organic,•

absolutely•no•additives

••

Highly•effective

Mail Order Available

Amazing Price

50 ml

only•$19.90

100ml

only•$29.90

Bringing You The Best In Natural Health

MARSHALLS HEALTH & NATURAL THERAPY

CONSULTING - PRESCRIBING - DISPENSING - MANUFACTURING

MEDICAL HERBALISTS

110 seaVIeW roaD, NeW BrIGHToN (Just past C.N.B School)

pHoNe 388 5757

- KNOWLEDGE MAKES THE DIFFERENCE -

- We are alWaYs HappY To Help! -

N

A

C

T

E

R

Prestons

0-5 Years

NOW OPENED

Prestons Preschool

A natural homely preschool located in

Prestons subdivision. Catering for the ages

0-5 over 3 rooms, licensed for up to 50

children. We look forward to meeting you

and your Family/Whanau and becoming

an active part of our community.

Phone: 03 383 8275 or 021 179 9372

Email: admin@prestonspreschool.co.nz

8 Te Rito Street, Marshlands 8083

B

U

R

Y

•

E

D

U

C

A
---
2

Latest Christchurch news at www. .kiwi

Tuesday March 7 2017

Inside

FROM

THE

EDITOR'S

DESK

PEGASUS POST

News.......................................3-5

SOMEBODY WILL know who

was behind the horse attack in

Burwood, and now the owner is

offering a $1000 reward to put

them in front of the courts.

Rewards don't often work I'm

afraid – over the years many that

have been offered to help solve

murders have gone unclaimed.

But word would have got

around about who was responsible

for terrorising Gus and his

equine mate which led to the

standardbred's appalling death

in a Lake Terrace Rd paddock a

few weeks ago.

I'd put money on it that the

culprits, or one of the culprits,

would have bragged about it

soon after the incident and, dare

I say it, posted something on a

social media site.

So if you have information

about who was involved read

page 1.

–Barry Clarke

Classic films at the museum

EVENTS 7

Events.................................. 7

Home & Heating..............9

Health & Beauty.........14

Real Estate...........................15

Bridal Show ..................16

Entertainment...................19

GET IN TOUCH

General Enquiries Ph 379-7100

Classified Advertising Ph 379-1100

The Christchurch Star Company Ltd. PO box 1467 - Christchurch

starmedia.kiwi

NEWS

Caitlin Miles

Ph: 364 7442

caitlin.miles@starmedia.kiwi

NEW LOCATION ADVERT.pdf 1 1/05/2014 11:51:35 a.m.

ADVERTISING

Mark Sinclair

Ph: 364 7461

mark.sinclair@starmedia.kiwi

VISIT OUR NEW LOCATION LOCATION

430 ST ASAPH STREET!

RECOVER YOUR LOVED FURNITURE

No job too big or small

Hours of Business: 7am-4.30pm Mon-Thurs

Fri 8am to midday

or by appointment with Keith 027 566 3909

Still able to offer

you the finest top

quality new furniture

Visit us online

www.qualityfurniture.co.nz

P. 371 7500

Fujitsu Heat Pump

at a HOt HOt Price

Conditions

apply*

Hot Hot Deal

on 8KW Heat PumP

Model

ASTG14LUCB

5.4kW Hi Wall

$1,999

Fujitsu ASTG24L 8 KW

Heat Fully Installed* Pump for Just

$2,999

PH 377 0034

Six Year

Warranty

OR 0800 800 734

Fully Installed*

DON'T MISS OUT!

PH 377 0034 OR 0800 800 734

*Model ASTG14LUCB installed back to back, up to three metre pipe run and electrical supply within 6 metres.

Six Year

Warranty

www.dimockheatpumps.co.nz

Email: sales@dimocks.net.nz

6/105 Coleridge St, Sydenham, Christchurch

* Conditions apply. Normal lending criteria, booking fee and annual account fee applies. Limited stock.

QUALITY FURNITURE SPECIALISTS

RE - UPHOLSTERY SPECIALISTS KEITH HARTSHORNE 0275 663 909

Installed back to back, up to 3 metre pIpe

run and electrIcal supply wIthIn 6 metres.

10 5 only

BE QUICK

www.dimockheatpumps.co.nz

Email: sales@dimocks.net.nz

6/105 Coleridge St, Sydenham, Christchurch
---
PEGASUS POST Latest Christchurch news at www. .kiwi

Tuesday March 7 2017 3

News

Drawing swords – with success

• By Gabrielle Stuart

A LINWOOD man has become

the first person in New Zealand

qualified in Nito-ryu Kendo –

Japanese double-sword fighting.

Eynon Phillips said it was his

nerdy side that first attracted

him to the sport as a university

student 22 years ago.

"I had always been interested

in swords, as a pretty geeky

guy, and was really interested in

Japanese things, so it combined

all that," he said.

He began to teach himself

Nito-ryu, fighting with two

swords, about three years ago,

when he wanted a new challenge.

Last weekend he travelled to

Auckland to fight for his fourthdan

Kendo ranking, where he

was the first New Zealander to

ever pass the test, fighting with

two swords.

Reaching first-dan is the

rough equivalent of a black belt

in other martial arts, so fourthdan

level takes years to reach.

Phillips said the test

had involved two short fights,

which only took about one

minute.

But, although the test was

short, he said it was both physically

and mentally exhausting,

as he had just two minutes to

show his skill against an unknown

opponent.

"You find out a lot about yourself,

and also about how to read

other people," he said.

He said there were only about

10 people in Christchurch practising

the sport when he started,

but the club now had about 50

members.

Phillips works as a city council

transport planner, and said

the sport was a great way to

work out any frustration after

spending his day working at a

desk.

The fighting is done with full

traditional armour and blunt

SKILLED: Eynon

Phillips passed the

first stage of a

Nito-ryu Kendo

double-sword fighting

test in Auckland last

weekend.

weapons, but he said there were

other dangers in the sport.

They included the difficulties

in carrying his practice swords

to training, which had resulted

in some awkward situations, he

said.

"I used to get a few looks from

bus drivers who thought I was

carrying a rifle," he said.

In Brief

TENNIS LIGHTS APPROVED

The Shirley Tennis Club is likely

to have 20 tennis lights approved

for four of its courts. The club,

located in Richmond Park, wanted

lighting to be able to continue

coaching younger players during

winter and facilitate competitions.

The club requested to have the

lights running Monday to Friday,

5pm-9.30pm. The lights will be

turned off earlier if the courts are

not in use. The Linwood-Central-

Heathcote Community Board

has supported the tennis clubs

request, recommending the city

council's head of parks approve

the installation.

YOUNG SWIMMER'S GRANT

Shirley Boys' High School year

12 student Flynn McDonald

has received a $300 grant to

participate in the New Zealand

national age group swimming

championships in Wellington

at the end of the month. It is

the premier event each year for

competitive swimmers looking to

compete at a national level and,

in the long term, potentially be

selected to represent New Zealand.

He also plays water polo for the

school as well as golf, rugby and

cricket. The grant was approved

by the Fendalton-Waimairi-

Harewood Community Board

youth development fund.

DISCOUNTS ON ALREADY

DISCOUNTED TYRES!

eND OF LINe • LIMITeD STOCK

175 / 65 / 14 - $65

195 / 60 / 15 - $70

215 / 45 / 17 - $80

215 / 60 / 16 - $80

PRICE INCLUDES FITTING & GST

Complete

Tyre and

Auto

Canterbury owned and operated

464 Ferry Rd, 03 389 5370

ctawoolston@yahoo.co.nz

8am-7pm Tues-Wed

8am - 5pm Mon Thurs Fri | 9am-3pm Sat

New & Used Tyres • Puncture Repairs

Batteries • WOF • Balancing

Mechanical Repairs • Lube & Servicing

Wheel Alignment

HELPING US,

HELPS THE

COMMUNITY

Drop off or buy

2 family stores in your community

30 Main North Rd,

Ph 352 4581

520 Cranford St,

Ph 352 0515

Burwood & Redwood

HOME OF THE

$

40 SERVICE

Ph: 383 2114

269 Burwood Rd, Burwood

Ph: 354 4022

290 Main North Rd, Redwood

SHOP HOURS

Mon-Fri 8.30am-5.30pm. Sat 9.00am-4.00pm

Layby available

See us on www.starlive.kiwi
---
4 Tuesday March 7 2017

Latest Christchurch news at www. .kiwi

News

ART: Volunteer Tia Manawatu was on face-painting duty.

LYFE in Linwood

• By Caitlin Miles

LINWOOD PARK was full of

LYFE on Saturday when the

annual youth festival was on.

The Linwood Youth Festival

Experience run by Youthtown

aimed to celebrate culture with

a heavy community involvement,

along with youth pride,

diversity and the achievements

of local young people.

Kapa haka group Te Pao

a Tahu, was a highlight of

the event with many other

performances and activities

happening throughout the

day, including musical performances,

dances and a cultural

performance from Linwood

College.

The day involved a hangi and

different cultural activities to

encourage building a stronger

community and knowledge

about the multicultural face

of Linwood and the wider

city.

Eagles make temporary

move to QE II Park

THE ARANUI Eagles will

have a temporary home for the

upcoming rugby league season

while their fields are upgraded to

NRL playing standards.

The Eagles will train and play

their home games on QE II Park

off Ascot Ave as Wainoni Park is

unavailable.

Wainoni Park will get a

$200,000 makeover with a professional

sand-base turf being

installed in a bid to bring the

Penrith Panthers to Aranui for

training sessions.

The city council has a four-year

deal with the Panthers, which

would see them play games in

Christchurch and train on neighbourhood

grounds.

The Panthers are not coming

to Christchurch this year as

planned, but are expected to

return next year.

The resurfacing and irrigation

of Wainoni Park commenced in

mid-February and the fields are

not available for sport or recreational

use during the construction

and grow-in period.

City councillor Glenn Livingstone

pushed to get the money for

the upgrade into the city council's

long term plan last year.

HOME: The Eagles will move to a temporary home at QE II Park

for the season while Wainoni Park is upgraded.

PEGASUS POST

He hoped having a professional

pitch would mean the Panthers

could hold training sessions

there.

"It's more than a game, it's the

heart of the community."

He said the upgrade would be

ready for the 2017 Rugby League

World Cup in October and December,

with Scotland expected

to train at the ground.

The Eagles' premier team finished

fifth in last year's Massetti

Cup standings. The team have begun

training on their temporary

home ground at QE II Park ahead

of the season which begins on

April 1.

Dyers Road Landscape

& Garden Supplies

• Barks • Peastraw • Composts - we supply the best available

• Aggregates - Chip, Round and Basecourse

• Pavers & Schist products • Pungas

• Decorative Stones & Landscaping Rocks

• Trailer Hire first hour free with purchase

• Bag & Bulk - pick up or delivered

David, Carol & Mike

We will deliver!

SOIL

AND

HARDFILL

DUMPING

Phone: 03 384 6540

183 Dyers Rd, Bromley • OPEN 7 DAYS

Weekdays 7.30am-5pm. Weekends 8.30am-3pm

www.dyersroadandlandscapes.co.nz

LIQUID LAUNDROMATs

289 coLoMBo St, SYDENHAM

next to the sushi shop

7 DAYs: 5am-11pm

WASH & DRY ALL YOUR

LAUNDRY IN ABOUT 1 HOUR

$4.00 WASH

$4.00 DRY

Wash 2 Mink Blankets, Duvets

or Woolrests for only $10

DRY UP TO 4 LOADS IN

oNLY 20 MINUtES! $4

SAvE tIME & ELEctrIcItY

• Fast Dryers

• Sports Gear

• Duvets

• Mink Blankets

• Bedding

• Washers

• Domestic Laundry

other Locations:

345 Stanmore Road, Richmond

47 Carmen Road, Hornby

www.liquidlaundromats.co.nz
---
PEGASUS POST Latest Christchurch news at www. .kiwi

Tuesday March 7 2017 5

News

60 years of sweet treats for guides

GIRLGUIDING New Zealand's

2017 biscuit-selling season is

under way.

The public can expect to see

stalls popping up all over the

country as well as door-to-door

sales from pippins, brownies,

guides and rangers during the

next four weeks.

Guide biscuits have been sold

in New Zealand for 60 years and

GirlGuiding New Zealand chief

executive Susan Coleman says

the biscuits are just as good now

as they were when first sold in

1957.

Ms Coleman says the recipe

for the original guide biscuit is

still basically the same since it

was developed and sold in large

square tins 60 years ago.

"We have met the demands of

our modern market for chocolate

and mini varieties, but the old

favourites have stayed original.

The recipe has hardly changed,

and Griffin's still make them.

"Guide biscuits are easily

the largest girl-led business in

New Zealand. The girls help decide

where to sell them, manage

the money and develop people

skills and positive business ethics."

Ranger, Madeline Arps, said:

"Biscuit selling is always an

exciting time for the girls. For

many across the age groups, it's

their first experience handling

money and working out change

and it is great to see them come

out of their shells, gaining confidence

in every sale."

GirlGuiding New Zealand

have the biscuits to meet

demand, and girls, leaders and

parents will be out in force for

what is the organisation's major

annual fundraiser. Just as they

did 60 years ago, the profits

from biscuit sales will go back

into opportunities for girls

across New Zealand through

GirlGuiding.

Biscuits are available online

and from April through a variety

of other outlets.

•For more information

on where to buy email

KEEN: Queenspark

brownies with

a box of guide

biscuits. They will

be a following a

60-year tradition

selling biscuits

from locations

around the city.

Below: A brownie

group pictured in

1958.

biscuits@girlguidingnz.org.

nz or for great recipe ideas

visit www.guidebiscuits.

org.nz. The fudge is a New

Zealand favourite.

Trees on

stopbanks

face axe

AS PART of the Avon River

stopbanks plan, six healthy

and 42 unhealthy trees will be

removed and 103 will be planted as

replacements.

The trees are being removed and

replaced extensively from Swanns

Rd to Bexley Wetland as the second

stage of the stopbank project.

The Linwood-Central-Heathcote

Community Board decided to

approve the removal of the healthy

trees at its meeting last week.

The trees are currently in the

path of the planned strengthening

works to be carried out to the stopbanks

and need to be removed.

Stopbanks were rapidly constructed

following the February

2011 earthquakes to mitigate tidal

flood risk in the lower reaches of

the Avon River, which experienced

significant settlement.

To make up for the removal of a

total of 48 trees, 37 exotic trees and

66 native trees will be planted at

various locations along the Avon

River.

Removal of the trees is expected

to cost $5000 with planting and

maintenance of the replacement

trees expected to cost $11,500.

watch local | support local | shop local

Join our host marissa stephen

on sKy ChaNNeL 83

Thursday 7.30pm

repeaTs friday 1.30am & 7.30am

ACCESS TV FOR NZ

SKY CHANNEL 083

WWW.STAR.KIWI

for enquiries, contact Geoff moreton: 021 1066 177
---
6 Tuesday March 7 2017

Latest Christchurch news at www. .kiwi

PEGASUS POST

NEW BOOK

SHIPMENT

JUST UNLOADED

1005 Ferry rd

Ph 384 2063

while stocks last (see instore for terms and conditions)

Barry & kerry
---
PEGASUS POST Latest Christchurch news at www. .kiwi

Tuesday March 7 2017 7

Email fraser.walker@starmedia.kiwi

by 5pm each Wednesday

Edge of the East

Daily, 9am-6pm, Saturday and

Sunday, 10am-4pm

View an exhibition of selected

images from Christchurch City

Libraries' latest instalment

of The Christchurch Documentary

Project - Edge of the East.

In 2016, Janneth Gil, Tegan

Hollis-Ristow, and Rachel Pugh

from the School of Fine Arts

photographed the city's seaside

communities from Waimairi

Beach to Southshore creating an

intimate portrait of the area.

New Brighton Library, 213

Marine Pde, New Brighton. Free

entry

Reading to dogs

Tuesday, 3.30pm-4.30pm

To encourage children to read

to an audience and with confidence,

why not get them to read

to a four-legged audience? The

pets of the city council's animal

management team have been

trained and tested for health,

safety and temperament for the

activity. Reading to dogs aims

to relax children while they read

out loud, listen attentively and

mainly, they don't laugh, judge

or criticise the children's abilities

to read and pronounce words.

Library staff and dog handlers

are present throughout the

15min sessions. Bookings are

essential, phone 03 941 7923 to

save a space.

Shirley Library, 36 Marshland

Rd. Free entry

Aranui Creation Station

Wednesday, 10am-noon

This event runs weekly and

is an initiative from Otautahi

Creative Spaces. It is aimed at

adults to encourage people to get

in touch with their creativity and

show their skills. It is an event

for people to be social in a fun

and safe environment. Resources

are all provided.

Aranui Library, 109 Aldershot

St. Free entry

Rocket Club

Wednesday 3.30pm-4.30pm

This is an after-school

programme that will run

every Wednesday during term

time. It is aimed at children

aged between eight and 12.

They can join the club and

become involved in different

activities based on local and

current events. Homework help

is also available and in these

sessions children will have the

opportunity to use different

types of technology. Stop in and

pick up a registration form at the

library.

Aranui Library, 109 Aldershot

St. Free entry

CLASSIC: Every week a classic film is shown at New Brighton Museum, this week it is Bill

Rose's Jumbo. The 1962 film staring Doris Day and Jimmy Durante will be on show this

Monday. The movie starts at 1.30pm but go along early for a cup of tea or coffee and to have a

chat with other people there. It is a way of being social and getting to know others in the area

while also enjoying a classic movie. Pay a gold coin donation of $2 and go along to the New

Brighton Museum on the corner of Hardy St and Seaview Rd for a relaxing afternoon with

other movie lovers. ​

Creative Writing on Wednesdays

Wednesday, 4pm-5.45pm

If your imagination runs wild

and you want to learn how to

put those ideas on paper in a way

that makes sense, head along

to this creative writing class.

Whether you are new to creative

writing or just want to hone your

skills, pick up some tips and

learn from other aspiring writers.

Find some fictional books

while you're in the library, or

some books on creative writing.

Linwood Library, Eastgate

Mall. Free entry

Knit 'n' Yarn

Wednesday, 11am-1pm

Pack your knitting and crochet

needles, and talk along your

knitting, cross stick or crochet

and meet new people. This event

encourages crafters to get out

and about, enjoying meeting

people and being social while

also sharing your skills and craft

secrets. Share pattern ideas and

offer help to one another while

creating your pieces. While

you're there pick up a book from

the library finding new patterns

or projects. This is for all ages

and abilities.

Linwood Library, Eastgate

shopping centre. Free entry

Game Zone

Thursday, 3.30pm-4.30pm

It's all fun and games at

Linwood Library. Take the

children along after school so

they can get interactive with

each other and have fun playing

numerous games. There will be

Minecraft, charades, Connect

Four and Pictionary just to name

a few, as well as Xbox and PS4

tournaments. This event will be

aimed at children aged between

eight and 12, no bookings

required.

Linwood Library, Eastgate

Mall. Free entry

Card Club

Friday, 1.30pm-3.30pm

The is a weekly club that meet

every Friday to be social and

play cards. Take a deck and have

some fun playing with other

people in a social and friendly

atmosphere.

Shirley Library 36 Marshland

Rd. Free entry

New Zealand's newest and oldest city

BUILDING A NEW CITY WATERFRONT

Construction starts on a new central city waterfront

this month – Te Papa Ōtākaro/Avon River Precinct

– The Promenade.

It will extend from the Antigua Boatsheds near

Christchurch Hospital to the Margaret Mahy Family

Park. Work starts on the intersection Oxford Terrace

and Lichfield Street this month. The Promenade will

be finished in mid to late 2018.

Artist impression showing what The Promenade

will look like along Oxford Terrace, above the

Canterbury Earthquake National Memorial.

The Promenade will vary along its 2.8 kilometres,

but all areas will include:

1. An accessible walking route adjacent to

property boundaries.

2. Seating near the edge of the river.

3. A paved pathway for pedestrians near the

river edge.

4. A shared space promenade for pedestrians,

cyclists and vehicles (10kph speed limit).

5. A flexible occupation zone that can be

brought to life for outdoor eating and other

recreational uses.

6. Tree-lined rain gardens, other landscaping

and seating.

Completed section near The Terraces.

2

3

4

5

6

1

RESTORING AN OLD FAVOURITE

Work to restore Victoria Square has started and

finishes in the first quarter of 2018.

Many features in the square are either earthquake

damaged or close to the end of their life. This project

will restore the square and make it safer and more

accessible for people.

Completed section near the Worcester Street Bridge.

Paving, art, gardens, lighting, and seating will

make the area accessible to people of all ages and

abilities. Service vehicles and customers will still

be able to access businesses, but the speed limit

will be lowered.

The much loved Bowker Fountain will be repaired.

The statues of Captain Cook and Queen Victoria will

remain, as will the horse watering ramp and floral

clock. There will be some new features such as art

works and a new punt stop at the river's edge.

There will be no access through Victoria Square

while work is underway, but access along a pathway

between Armagh Street and Durham/Kilmore

Streets (through The Commons) will be available

for most of this time.

Artist impression of what the new 'Tauranga Waka'

punt stop will look like.

The development of the restoration plan was

overseen by a Community Reference Group

following a public feedback process carried out in

collaboration with project partners: Christchurch

City Council, Matapopore Charitable Trust on behalf

of the Te Tūnanga o Ngāi Tūāhuriri, and the former

Canterbury Earthquake Recovery Authority.

E: info@otakaroltd.co.nz

P: 03 357 6300

W: otakaroltd.co.nz
---
8 Tuesday March 7 2017

Latest Christchurch news at www. .kiwi

PEGASUS POST

WINDOWS 10 OPTIONS

ON ALL EX LEASE COMPUTERS

i3 Desktop Cyclone

20'' screen, Ex Lease

• i3 Intel CPU

• 4GB RAM

• 500GB Hard Drive

• Desktop case

• Keyboard & Mouse

corded

• Windows 10 option

• DVD writer

• 20" screen

• 6 Months Warranty

• Ex Lease

$599

incl GST

i5 Desktop Cyclone

20'' screen, Ex Lease

• i5 Intel CPU

• 4GB RAM

• 500GB Hard Drive

• Desktop case

• Keyboard & Mouse

corded

• Windows 10 option

• DVD writer

• 20" screen

• 6 Months Warranty

• Ex Lease

$699

incl GST

HP 430 i3 Slim Laptop

Ex Lease

• i3 CPU

• 4GB Ram

• 500GB Hard Drive

• 13.3" Screen

• Slim line design

• Windows 10

professional

• Ex Lease

$599

incl GST

HP8570P Elite Book Series

Ex Lease

• i5 CPU

• 4GB Ram

• 500Gb Hard Drive

• 15.6" Screen

• DVD writer

• Windows 7 or

Windows 10

• Ex Lease

$599

incl GST

We service & repair laptops, tablets and smartphones,

including broken screens. Ring us first for a quote.

Shop online at: www.computercentre.co.nz

serving christchurch for over 28 years

Unit 1/100 Fitzgerald Ave (Next to Cartridge World)

Phone: 379 3428

www.computercentre.co.nz

Open Monday-Friday, 9am-5pm

Q Card lending criteria, terms

and conditions, and fees apply

*All work carried out in our

workshop. Home pcs only.

Pay with Q Card or Farmers Card.
---
PEGASUS 2 [Edition POST datE] Latest Christchurch news at www. .kiwi

Tuesday March 7 2017 9

HOME & HEATING

Warming winter with

EnviroMaster

ArE yoU struggling with the heat of

Summer or wanting to get organised for

Winter? With the ever changing weather

patterns, heat pumps have the flexibility

of being able to heat and cool which is

an advantage no other appliance can

offer. This represents great value for

your investment as you can use it all

year round. The team at Enviro Master

Ltd can help keep you cool this Summer

either at home or work. Enviro Master

supplies, installs and services all the

leading brands including Panasonic,

Fujitsu, Mitsubishi and Daikin. This

means our team can show you which

system and brand will best suit your

needs.

We currently have savings up to $600 off

the recommended retail price on

selected models.

Would you like to maximise the number

of days you can use your swimming pool?

Heating your pool can do this and one

of the most cost effective ways is with a

water heat pump. Enviro Master Ltd can

supply, install and service you swimming

pool heat pump providing you with a

comfortable, extended swimming season.

Servicing your heat pump is extremely

important to ensure that it is working

as effectively and efficiently as possible

resulting in a healthy, hygienic heat pump,

lower power bills and greater comfort.

But beware, not all cleaning companies

are equal. We are constantly hearing of

people being charged huge amounts for

servicing and all they are getting is a heat

pump clean. We at Enviro Master, are

qualified engineers and therefore are able

to fully test and diagnose any problems

you may or may not be aware of with your

heat pump. Also, as we are associated

with all major brands, we are able to

repair these under warranty if they are

still within the warranty period.

It is important to remember, when

selecting an installer, the manufacturer's

warranty does not cover the installation

and consumers could be responsible for

any repair or damage caused to the system

due to poor installation. Enviro Master's

five-star installation guarantee ensures

correct installation, and a demonstration

so customers have an understanding on

how it will best meet their needs.

For a free in home consultation, call

Enviro Master on 366 0525 or visit our

showroom at 41A Shakespeare Rd,

Waltham, Christchurch.

The facts about

home ventilation

Balanced Pressure vs Positive Pressure

Under the New Zealand Building Code,

all buildings, including residential, need to

be suitably ventilated, either with opening

windows or forced ventilation. Clause G4.1

states: "The objective of this provision is

to safeguard people from illness or loss of

amenity due to lack of fresh air." There are

many benefits to forced, or mechanical,

ventilation over opening windows, including

warmth, security, reduction of outside noises

and reduction of condensation.

Traditional domestic ventilation systems

are 'positive pressure'. They bring air in from

outside via the roof space and force the stale

air out through gaps around windows and

doors. The incoming air from

these systems has to be heated

or cooled to keep the house

warm in winter or cool in

summer.

The Smooth-Air HEX390 is

a 'balanced pressure' system. It

extracts air from the house and

at the same time brings in fresh

air. These two streams of air

pass through a heat exchanger,

which warms incoming air in

winter and cools in summer if

air conditioning is being used.

This means that up to 80% of

the energy which would be

wasted using a traditional positive pressure

system is recovered, resulting in significant

energy savings and therefore lower heating or

cooling costs.

Until recently, balanced pressure ventilation

systems have been considerably more

expensive than traditional positive pressure

systems. However, with Smooth-Air's unique

manufacturing capabilities, a HEX390

balanced pressure system can be installed for a

similar price as a traditional positive pressure

system.

Contact Smooth-Air on 0800 SMOOTH

(0800 766 684), or visit www.smooth-air.

co.nz or www.home-ventilation.co.nz

Balanced

Pressure

Ventilation

Ventilation Equipment

Suppliers to trade and retail

HEX390

Balanced Pressure Ventilation with Heat Recovery

Fresh air

from outside

Exhaust air

to outside

HEAT PUMP

SALE NOW ON!

Amazin' autumn Specials!!

• We will offer you the best quality brands and

option of heat pump for your home/business

• Providing Heat Pump solutions for over 14 years to Cantabrians

• We personally guarantee all our products & installs for 5 years

(providing annual maintenance has been completed)

Phone us today for your free consultation & quote

41A SHAKESPEARE RD, WALTHAM

PHONE 03 366 0525

www.enviromaster.co.nz

"A local team for local people"

Warm stale air

from house

for healthy indoor air

Substantial energy savings over traditional domestic

ventilation systems

0800 SMOOTH (0800 766 684)

www.smooth-air.co.nz

sales@smooth-air.co.nz

Heat is transferred to the

incoming filtered fresh air

264 Annex Road, Riccarton

Christchurch 8024, NZ

Ph +64 3 343 6184

Warm fresh air

to house

Mon - Fri 7.30am - 5pm
---
10 Tuesday March 7 2017

Latest Christchurch news at www. .kiwi

PEGASUS POST

DEADLINE SALE

FOR SALE

Belfast 18 Pentland Street

A Life Less Ordinary

Harcourts ID: BF27667

This home has multiple living spaces with harmonious outdoor flow, and good separation of

bedrooms across the two floor levels. The log burner is at your disposal to create that toasty cabin

atmosphere on cold nights, or if you prefer, you can use the heat-pump. All set on a wonderfully

established and private section which will become your new forest paradise.

Mitchell Roberts & Mana Tai

M 027 413 0797 or 027 626 2824 P 03 323 6045

Harcourts Twiss-Keir Realty / Belfast Licensed Agent REAA 2008

FOR SALE

4 2 2

Deadline Sale: All offers invited on or before

23 nd March at 4.00pm

View: Phone for viewing times.

Belfast 4/2 Third Street

WOW What A Gem!

Sue Roberts & Gemma Roberts

M 027 440 1282 or 027 223 6471 P 03 323 6045

Harcourts Twiss-Keir Realty / Belfast Licensed Agent REAA 2008

FOR SALE

2 1 2

Harcourts ID: BF27537

Totally refurbished inside and out! An immaculate shiny gem, perfect for 1st home buyers, retirees,

couples, investment. Two genuine bedrooms, excellent sheltered and private back yard. Separate

standalone tandem garage. Walking distance to schools, shops and public transport. Nestled on a

established easy care section.

For Sale: Offers invited!

View: Phone for viewing times.

Burnside 229 Memorial Avenue

Time Is Ticking, They Need A Sold Sign

Sue Roberts & Gemma Roberts

M 027 440 1282 or 027 223 6471 P 03 323 6045

Harcourts Twiss-Keir Realty / Belfast Licensed Agent REAA 2008

AUCTION

5 2 2

Harcourts ID: BF27632

Number 229 has been the perfect family home; sited on a secure 900m² section in heartland

Burnside. Close to shops, schools, Burnside Park, golf course and main arterial routes. The homes

configuration, which enables choice and flexibility at every end of the family spectrum; with

bedrooms and bathrooms both up and downstairs. Sheltered outdoor areas bask in all day sun.

For Sale: Offers Invited!

View: Phone for viewing times.

Linwood 469 Worcester Street

Developer Clearance

Harcourts ID: BF27579

Buyers will appreciate all the benefits of buying new - including full insulation, double

glazing, heat-pump, modern appliances, internal-access garaging - all within a well-designed

contemporary two storey layout, which provides open-plan living and outdoor-flow to a private

courtyard area. Ideally suited to buyers and investors that appreciate buying affordable and new.

Mitchell Roberts & Mana Tai

M 027 413 0797 or 027 626 2824 P 03 323 6045

Harcourts Twiss-Keir Realty / Belfast Licensed Agent REAA 2008

AUCTION

2 1 1

For Sale: Offers invited!

View: Phone for viewing times.

Riccarton 99 Peverel Street

Within Reach

Harcourts ID: BF27653

With a single-level, spacious yet practical layout, an established but manageably-sized section, and

situated in a quality neighbourhood near Riccarton's shopping amenities, this property provides

everything you have been looking for, all within your reach! The home has been beautifully styled

with a sense of lightness throughout, emphasised by the outdoor flow from the living areas.

Mitchell Roberts & Mana Tai

M 027 413 0797 or 027 626 2824 P 03 323 6045

Harcourts Twiss-Keir Realty / Belfast Licensed Agent REAA 2008

Contributor to www.realestate.co.nz

3 1 2

Auction: Wednesday 22 nd March at 3.00pm

Russley Golf Course (unless sold prior)

View: Phone for viewing times.

St Albans 248 Weston Road

A Home To Warm Your Heart

Harcourts ID: RG8044

After 10 wonderful years my owners are reluctantly selling. Delightful character home with open

plan kitchen/dining and living with doors leading to the deck ideal for relaxing and entertaining.

Set on a beautifully established 665m² section. The icing on the cake is the location to parks, cafes,

Merivale and CBD. Unfortunately the time has come and this home must be sold on Auction day.

James Keir

M 027 274 6112 P 03 385 0343

Harcourts Twiss-Keir Realty / The Palms Licensed Agent REAA 2008

3 1 1

Auction: Wednesday 22 nd March at 3.00pm

Russley Golf Course (unless sold prior)

View: Phone for viewing times.

www.twisskeir.co.nz
---
PEGASUS POST Latest Christchurch news at www. .kiwi

Tuesday March 7 2017 11

Natures Retreat. Make It Yours Too!

1390 State Highway 1 Kie Kie - Kaikoura

5 Bedrooms | 2 Bathrooms | 2 Car Garage | Off Street Parking | Property ID: BF27267

Snuggled up against the DOC coastal bush

area a stones throw from the popular

Goose Bay, and 15km approximately

south of Kaikoura on the spectacular

scenic coastline.

Fishing starts a short stroll from the front

gate with the Marine reserve only 150

meters away to keep the fish numbers up.

The bush with an abundance of native

birds and wildlife, starts on the property.

The 130m² bach sits on railway lease land

at the front of the two freehold titles of

2,000m² which run up the hill, blending

into the DOC bush reserve.

Large entertaining/covered BBQ areas

both run right into the bush as well as

being adjacent, and above, the beautiful

Kie Kie stream which is the southern

boundary.

The up stairs master bedroom commands

a view straight out to sea, as do the other

4 double bedrooms and lounge.

The good sized kitchen has a window/

servery to the enclosed entertaining

area which has a large sliding door to the

outside area - a great spot for entertaining

family and friends or a quiet place to

enjoy the tranquilly of the beautiful

surroundings. Next to this is the double

garage where the boat can be locked

away when you are not taking advantage

of your purchase of this great bach.

You can celebrate Easter here!

Call Bill Dowle to arrange a viewing or for

more information. Phone 03 323 6045 or

mobile 029 358 3175. Harcourts Twiss-

Keir Realty - Licensed Agent REAA 2008.

• Stage 1 Sections from $139,000

Must Be Sold!

• Stage 2 Sections from $165,000

With Rural Outlook

• Childcare Centre opening this year

• Close to the Beach, River, Schools,

Public Transport and Township

Bring your own builder, your own plans and

create your family dream in BeachGrove.

Call Julie-Ann Brownlee today on

0800 beach grove

or visit beachgrovekaiapoi.co.nz

Contributor to www.realestate.co.nz

WE'RE WE'RE LOOKING LOOKING FOR FOR SALES SALES

CONSULTANTS CONSULTANTS WHO WHO ARE ARE

READY READY TO TO TAKE TAKE THEIR THEIR

CAREERS TO TO THE THE NEXT NEXT LEVEL. LEVEL.

Greatness Greatness is within is within you. It's you. within It's all within of us. Are all of you us. ready Are to you take ready your to career take to your the next career level? to You the need next level? You need

a team a team of like-minds of like-minds and a brand a you brand can trust. you can At Harcourts, trust. At we're Harcourts, serious we're about serious creating about success. creating success.

Call James Twiss 027 421 1164 for a confidential chat.

Call for a confidential chat:

James Harcourts Call for a

Twiss | Twiss-Keir confidential Realty chat:

Ltd | Licensed 027 421 Agent 1164 REAA 2008

twisskeir.co.nz James Twiss | Your Twiss-Keir Home For Realty Local Property. Ltd | 027 421 1164

YOURFUTURE.HARCOURTS.CO.NZ

YOURFUTURE.HARCOURTS.CO.NZ

www.twisskeir.co.nz
---
12 Tuesday March 7 2017

Latest Christchurch news at www. .kiwi

SENIOR LIVING

PEGASUS POST

The Leisure Centre at

McKenzie Lifestyle Village

This multi-purpose complex has

everything to meet the social and leisure

needs of residents and their invited guests.

At the centre of the McKenzie Lifestyle Village is the brandnew

McKenzie Leisure Centre. This multi-purpose complex has

everything to meet the social and leisure needs of residents and

their invited guests. It includes:

• An indoor heated swimming pool with spa pool alongside.

• A fully-equipped gymnasium sporting exercycles, treadmills,

rowing machine, etc.

• The library is stocked with hundreds of books, a computer and

the daily paper.

• A well-appointed crafts room for those residents keen on arts

and crafts.

• A multi-function room with comfortable seating for meetings,

cinema or chapel.

• The main lounge offers a big-screen TV, cosy gas fireplace,

comfortable seating, bar area, pool table and dart board for your

enjoyment.

• Alongside the lounge is a kitchen and dining area. The latter

can be used for indoor bowls or Tai Chi, Zumba etc.

• A consulting room available for health services.

• A hairdressing and beauty salon.

• Outside amenities include a bowling green, petanque rink,

mini-golf, putting green and a children's playground. Further from

the Leisure Centre there are garden allotments, workshop (aka

men's shed) and caravan and campervan parking.

Methyl B-12

B12 is essential for energy production, cell health, regulation of mood and sleep cycles,

nerve health and repair and prevention of homocysteine.

Emerging research has shown as many as

50 per cent of older adults and as many as

25 per cent of younger adults are deficient

in vitamin B12.

B12 is essential for energy production,

cell health, regulation of mood and

sleep cycles, nerve health and repair and

prevention of homocysteine - a serious

cardiovascular risk factor that is known

to cause damage and plaque in the blood

vessels. It can also increase the chances of a

stroke. Harvard researchers found a 34 per

cent decrease risk of vision loss in a study of

participants aged 40+ who supplemented

with B12. Another study linked a higher

risk of hearing loss in subjects in their 60s

who were low in B12.

The reason so many people lack B12

seems to be due to our body's inability

to absorb it as we age, as the digestive

system becomes less efficient. Anti-reflux

medication and other drugs further reduce

B12 absorption.

The good news is B12 in the form of

Methylcobalamin sublingual tablets that

are dissolved in the mouth and thru

bypassing the digestive tract have been

shown to effectively raise B12 levels in the

body.

Further info is available from the

Natural Health Advisers at Marshall's

Health & Natural Therapy, 110 Seaview

Road, New Brighton, phone 388 5757. We

are always happy to help!

121 Skyhawk Road

you can stop him

snoring with a

SNOREX

Why put up with a broken

night's sleep?

Ph 377-4318 or 027 682 1752

DENISE LIM

FOR A FREE INFO PACK

Website: www.snorex.co.nz
---
PEGASUS POST Latest Christchurch news at www. .kiwi

Tuesday March 7 2017 13

SENIOR LIVING

Time Honoured Remedy

According to a country Doctor "D.C.

Jarvis" from Vermont in the USA cider

vinegar and honey (CV & H) can be an

important part of a long healthy life. Dr.

Jarvis noted Vermonters who regularly

consumed cider vinegar and honey had

excellent health with many putting in a

vigorous day's work on the farm even when

well into their eighties.

Dr. Jarvis found the effects of cider vinegar

and honey on arthritis can be remarkable

with many patients reporting almost total

relief after taking a course of the cider

vinegar and honey. Dr. Jarvis surmised that

the acid and potassium in cider vinegar

counteracted calcium deposits and helped

the body control calcium use.

As well as a general tonic Dr. Jarvis found

regular administration of cider vinegar and

honey at the onset of complaints such as the

common cold, sinusitis, asthmatic

attacks, hay fever, and childhood

diseases such as chicken pox and

measles, was accompanied by an

improvement in the condition with

symptoms either disappearing,

or the conditions were extremely

mild and soon over.

Apple cider vinegar contains

all the goodness of the apple in a

form that is readily accepted by

the body. Scientists have found

over 90 different substances in

ACV, among them 20 important

trace elements, minerals, essential

enzymes, a number of different

acids including malic acid, amino

acids and roughage in the form

of potash and pectin. A scientific

study at the Shizuka University in Japan

has proven ACV to have potent antioxidant

benefits (It can destroy free radicals,

which are a major factor in ageing.) and

also the ACV can break down cholesterol

formations in the blood vessels.

ACV and H is a powerful tonic that

also promotes digestion, assimilation of

nutrients and elimination of waste, and

helps neutralize any toxic substances that

enter the body.

It is important to note not all cider

vinegar is made in the traditional way and

results are likely to prove disappointing

with these other vinegars.

Further information is available from

the Natural Health Advisers at Marshall's

Health & Natural Therapy, 110 Seaview

Road, New Brighton, Phone: 388-5757.

We are Always Happy to Help!

Aspire

Canterbury

Aspire Canterbury offers support, advice and

resources to older people and those with impairments,

their families and caregivers.

Removing barriers to everyday living for

individuals, Aspire Canterbury inspires people

to live life to the fullest no matter what their

difficulties. The Disability Information Service

is a source of valuable information about

the various services available to people

with short or long term impairments and

professionals from community/health

organisations.

Visit Aspire Canterbury's shop at 314

Worcester Street or visit their website for

more information and resources. They also

have an online shop selling a wide selection of

easier living aids, and offer rental services for

wheelchairs, ramps and walkers.

Aspire also has a mobile service which is available

for free, fun, interactive presentations of all their

equipment and services to retirement homes/

villages and any other community groups

wanting a speaker.

For more information visit

www.aspirecanterbury.org.nz, 03 366 6189

mobileservices@aspirecanterbury.org.nz

Apple Cider VinegAr - Powerful Natural Health Tonic

ACV is a highly nutritious with all the goodness of apples (one of our most health-giving fruits) in a

form that is readily accepted by the body. It promotes healthy digestion, assimilation of nutrients &

elimination of wastes. Detoxifying & purifying & supports the function of vital organs like the kidneys,

bladder, liver & heart. Helps neutralise toxic substances & harmful bacteria in food. A time-honoured

natural remedy to improve health & longevity.

ACV SUPPORTS

• Healthy digestion, assimilation of nutrients,

elimination of wastes

• Energy – Vitality – Endurance

• Elimination of viruses, bacteria, fungus & parasites

• Powerful antioxidant

• Cardiovascular health, blood flow & healthy

blood pressure

• Diabetes – improves insulin sensitivity

• Arthritis • Longevity

• Settles the stomach & reduces reflux

Super price

Premium QuALity N.Z. DoubLe

StreNgth, orgANic APPLe

ciDer ViNegAr:

750ml only $9.90, 2ltr only $19.90

With 20% manuka honey added:

750ml only $14.90, 2ltr only $29.90

Bringing You the Best in Natural Health

- WE ARE ALWAYS HAPPY TO HELP! -

MAIL ORDER AVAILABLE

MARSHALLS HEALTH & NATURAL THERAPY

CONSULTING - PRESCRIBING - DISPENSING - MANUFACTURING - MEDICAL HERBALISTS

110 SEAVIEW RD, NEW BRIGHTON • PH 03 388 5757 • Email: enquiry@marshallshealthshop.co.nz

Up to 50% Low in Vitamin B12

BRAIN FOG, FORGETFUL, FEELING OLD, LOW ENERGY, MOOD SWINGS,

DIFFICULTY SLEEPING, PINS & NEEDLES, NUMBNESS IN LEGS

Up to 1 in 2 people may have a shrinking brain due to a lack of vitamin B12.

Supplementation of methylcobalamin B12 has been shown to reduce the rate of brain

shrinkage & support memory & brain function. B12 is also known to protect against

homocysteine a serious cardiovascular risk factor that can also damage the hearing,

eyesight & affect the mood. B12 is essential for energy, cell health & nerve function.

B12 Supports:

• Memory & Brain Performance

• Protects Brain

• Energy & Recovery

• Nerve Function

• Helps protect blood vessels from damage

• Sleep

• Cellular Health & Repair

• Vegetarian's Diet

• Good Health

SEE A DIFFERENCE

IN AS LITTLE AS 48

HOURS!

SUPER PRICE OFFER

Superior Methylcobalamin B12

(High Absorption Sublingual Lozenges)

100 Lozenges

Only $ 32 .90

200 Lozenges

Only $ 59 .80

MAIL ORDER AVAILABLE

Bringing You the Best in Natural Health

MARSHALLS HEALTH & NATURAL THERAPY

CONSULTING - PRESCRIBING - DISPENSING - MANUFACTURING - MEDICAL HERBALISTS

110 SEAVIEW RD, NEW BRIGHTON • PH 03 388 5757 • Email: enquiry@marshallshealthshop.co.nz

- WE ARE ALWAYS HAPPY TO HELP! -

Support and Resources for Independent Living

walkers to

purchase

(FroM $230)

or hire

$20

per week

Can we help you or someone you support?

Disability Information Service – a 'one stop

information service' which offers unbiased

advice to assist people navigate their way to

organisations or services that can provide them

with support or advice.

Aspire Canterbury Shop – shop online or call in

to our shop at 314 Worcester Street and view our

range of easier living products We also hire out

wheelchairs, ramps and walkers.

Total Mobility Discounted Taxi Service – a scheme

which provides 50% discounts on taxi journeys to

eligible people in the Christchurch area who, due

to health conditions, are unable to access public

transport. Contact us for more information on

03 366 9093 or visit our website.

Mobile Service – Fun interactive presentations of

our information, services and easier living

equipment. We come to you! To book our

presenter to speak to your group call Richard

at numbers below or email mobileservices@

aspirecanterbury.org.nz

Mobility scooter demonstrations available.

Aspire Canterbury is a not-for-profit organisation

providing services to the community since 1981

Physical Address:

314 Worcester Street

Linwood Christchurch

Postal Address:

PO Box 32074

Christchurch 8147

2015 NZ Disability

Information Centre

of the Year

Ph: 03 366 6189

Freephone: 0800 347 242

Ph: (Total Mobility) 03 366 9093

Mobile Service: 027 588 9700

E: admin@aspirecanterbury.org.nz

W: www.aspirecanterbury.org.nz
---
14 Tuesday March 7 2017

Latest Christchurch news at www. .kiwi

PEGASUS POST

Koru Clinic

welcomes Dr

Eloise Dickie

Koru Clinic welcomes Dr

Eloise Dickie to its staff.

Dr Dickie has focused her medical

interests in Cosmetic Medicine and Skin

Cancer management. She has had a number

of years' experience in the latter, most

recently completing Certificates in Skin

Cancer Medicine and Dermoscopy through

the Australasian Skin Cancer College.

In her Cosmetic Medicine practice,

Dr Dickie believes in focusing on subtly

enhancing natural beauty, rather than

performing obvious or overdone treatments.

She enjoys consulting from the boutique

practice environment that Koru Clinic

offers, where patients feel both welcomed

and comfortable throughout their

experience, from the initial consultation

and procedure, to managed after care.

Most popular seasonal treatments

at Koru Clinic;

Skin cancer checks; Our doctors at

Koru Clinic are qualified and experienced

at performing regular skin cancer and mole

checks. If you are worried about any moles,

book in for a full body skin cancer check.

IPL for pigment reduction: As Summer

nears its end, we all start to think about the

unwanted effects of the summer sun. IPL

(Intense Pulsed Light) treatment is the

most effective way to remove extra pigment

and in so doing smooth your complexion.

Removing extra pigment is probably the

single most dramatic improvement you will

make to your complexion, by lightening

and brightening it. Our Koru staff are

experienced at using IPL to achieve the

outcome you are wanting. We can also

help with suggestions on minimising or

reversing some of the other effects of too

much sun.

Botulinum toxin treatments for summer

wrinkles: Wrinkles can be abolished or

reduced with sensitively applied botulinum

toxin treatments. At Koru Clinic all our

injectable treatments are performed by

highly trained medical staff, who aim to

provide you with a natural, rested look.

Our doctors are trained through a rigorous

training course delivered by the New

Zealand Society of Cosmetic Medicine, the

only cosmetic medicine training course in

New Zealand.

Koru Clinic specialises in natural

enhancement through medical expertise,

and will assess your skin, and develop a

treatment plan that suits you.

Koru Clinic is located at

31 Colombo Street. Call

now for an appointment

on 03 372 3589

NOW OPEN

Fashion Labels

Outlet Store

Sorelli

Fashion Labels Outlet

Unit 4, Archerfield Business Park

Senior Place, Bromley, Christchurch

PHONE 389 2338 email: sorelli@vodafone.co.nz

HOURS:

Mon - Fri 9.30am - 5pm

Sat 10am - 3pm

lovebite.com

Get your back

BACK!

Join our Spinal Strengthening

Programme

• Eliminate back weakness and

improve posture

• Two level small group exercise

programme led by a physiotherapist

• Held at Bishopdale & Hereford St

with free parking

musclepeople.co.nz

Call us today! 360 3606

Three Muscle People Physiotherapy Clinics:

Wigram Skies, Bishopdale & Central City
---
PEGASUS POST Latest Christchurch news at www. .kiwi

Tuesday March 7 2017 15

REAL ESTATE

Deacon Delight

9 Deacon Street, Halswell - Enquiries over $609,000

4 bedrooms | 2 bathrooms | 2 living rooms | 2 car-garage | ID #SMT10088

Thoughtful design & quality finishes

underscore the living environment that has

been created in this near new certified built

home. Finished to the highest standards,

the home has a layout that encourages

harmonious family living & enjoys a

premier location within the Longhurst

subdivision.

Deacon is a quiet street, with a fine mix

of attractive homes & #9 sits well upon its

532sqm fully landscaped & fully fenced

grounds with an inviting street presence.

Your expectations will be met or exceeded

from the moment enter through to the tiled

foyer that leads directly to the spacious

interconnected living areas.

A modern kitchen anchors the main living

area & this is where family comes together

in style with a double sided deep benchtop,

top class fixtures & fittings, plenty of room

to move about + a good array of cupboard

space all overlooking the generous dining

zone that doglegs into the more private

living area closer to the front of the home.

Both living areas open out sundrenched

patios and an established garden designed

for entertaining with plenty of room for

kids to run and play safely.

There are 4 double bedrooms, all with

built in robes that are serviced by a sizeable

family bathroom & separate WC with

vanity. The roomy master has a walk-in

robe, ensuite & opens to an outside patio. To

maximise use, the laundry is in the double

internal access garage that also houses the

hot water cylinder freeing up extra storage

space within the home. Warmth is ensured

by double glazing, favourable aspect,

insulation as well as a strategically located

heat pump & hall panel heater. Extras

abound with LED lights, irrigation system,

insulated garage door – a long list so

viewing is a must. Our motivated vendors

are looking for a sold sticker, so prompt

attention is need to secure this delightful

family home.

Please phone for viewing times or for a

private viewing contact Maureen Crowley

of Smart Real Estate (Licensed Agent

REAA 2008) on 021 153 7167or 384 8600

or email Maureen on maureen.crowley@

smartrealestate.co.nz or visit our website

www.smartrealestate.co.nz.

Breaking news,

delivered to

your pocket.

Visit www.star.kiwi

anytime, anywhere!

Fire rages, homes at risk

•news •CTV •sport •districts •schools •lifestyle •opinion •what's on

www.star.kiwi
---
16 Tuesday March 7 2017

Latest Christchurch news at www. .kiwi

PEGASUS POST

Bridalshow

save the date

Sun 27th Aug

10am to 3pm

air Force Museum

45 Harvard Ave

Wigram, Chch

Tickets: $20.00

A Star Media Event
---
Complete and attach to clothing bag for

free clothing transport from start to finish.

Name: ______________________

Email: ______________________

Phone:______________________

PEGASUS POST Latest Christchurch news at www. .kiwi

Tuesday March 7 2017 17

Contact us today Phone our local team 03 379 1100

Community Events

ALCOHOLICS

ANONYMOUS, If you

want to have a drink that's

your business. If you want

to stop, we can help. Phone

0800 229-6757

Computers

ALL

YOUR

COMPUTER

WORRIES SOLVED!

*$30.00 off your first

service with this coupon!*

No problem too big or

small from home PC's to

business networks. PC

slow? An end to Viruses,

Spyware, and Clogged

Systems. Safe secure

hassle-free computing.

Lost files recovered.

Microsoft Certified,

MCSE, MCP+l. 30 years

experience. Call Andrew

Buxton this week on 326-

6740 or 027 435-7596

for $30.00 off* Custom

Computers Christchurch

Curtains

www.curtainfabric-outlet.com

Half Price Sale

from $5 per mtre

Call at Our Shop

CURTAIN FABRIC OUTLET

71 Hawdon St Sydenham

Ph 366-5026

Gardening

& Supplies

A GARDEN

PROFESSIONAL

NEEDED? Qualified

Horticulturist, offering

expert pruning, garden

makeovers, garden design

and landscaping, for free

quotes call Bryce 027 688-

8196 or 0508 242-733

A GARDEN OR

LANDSCAPING TIDY

UP? Shrub, hedge &

tree pruning, Lawns,

Gardening, consistently

reliable general property

upkeep, Dip. Hort. 10

yrs experience, One off

tidy ups or on-going

service. Nick's Property

Maintenance. Keeping

your garden beautiful.

Free Quote. Ph. 942-4440

Holiday

Accommodation

QUEENSLAND SUN-

SHINE COAST AUSTRA-

LIA Resort, Ocean Views,

Balconies, Self Contained,

1 or 2 B/R Ensuite,

Heated Pool, Spa, Sauna,

Free Internet, Shops,

Restaurants, Tennis, Surf

Club & Patrolled Beach,

Public Transport at door.

Ask for our SEASONAL

SPECIALS. Phone 61 7

544-35011 Email: reception@mandolin.com.au

www.mandolin.com.au

Celebrant

WEDDINGS, Civil

Union Ceremonies,

Renewal of Vows, Naming

Ceremonies, Funerals

and Unveilings - Jenni

Gibson Ph/Fax 324-8332,

021 723-089. www.

celebrantservices.net.nz

Situations Vacant

Wanted

Wanted noW

Busy people, home

parents, working

class, social media

lovers.

Curtains

www.curtainfabric-outlet.com

Half Price Sale

from $5 per mtre

Call at Our Shop

CURTAIN FABRIC OUTLET

71 Hawdon St Sydenham

Ph 366-5026

Trades & Services

• Replacement/new roofing

• Colour Steel gutter & fascia

• Flue & log burner installs

• Skytube/light installs

• Earthquake repairs

Register your

Licence Building

interest today with

Practitioner LBP

Member of the Roofing

lioness You Kat can also pin Association it

022 136 0536 DCM ROOFING LTD

or visit

The Roofing Specialists

www.lionessbusiness

You can also pin it

PHONE IAIN

buildingnz.com 027 445 5597

iain@dcmroofing.co.nz

name

signed

A Star Media Event

Vehicles Wanted

CARS Wanted. Fair

prices paid, quick and

easy process, money paid

directly into your bank

account, friendly local

service, call Tim Koller

ph 390 1717 valuemycar.

co.nz

Trades & Services

FOR ALL YOUR

★Garden Clean-ups

★Pruning

★Lawn Mowing

★Garden Maintenance

Call us today for a FREE quote

PH 0800 4 546 546

(0800 4 JIMJIM)

Trades & Services

EQC CASH SETTLEMENT

We will re-scope your property to ensure

you have been paid in full to cover all

your repair costs.

None of the properties that we have

re-scoped so far has been paid the

correct amount to repair their damage.

EXAMPLES

•Yaldhurst Road Initially $3,800 after our

re-scope payment received $46,320

•Wairakei Road Initially $7,575 after our

re-scope payment received $38,182

•Prossers Road Initially $19,827 after our

re-scope payment received $60,273

•Kaplan Avenue Initially $859 after our

re-scope payment received $34,931

•Liverton Crescent Initially $11,000 after our

re-scope payment received $29,842

•Dalkeith Street Initially $5,000 after our

re-scope payment received $8,945

• We have re-scoped 50 properties who have been under

paid for their repairs.

• Have your initial repairs failed?

• Did you receive your full entitlement?

• Do not pay your excess until all repairs are completed.

• General under payments are: Asbestos testing and

exterior lead paint, peeling wallpaper, cracking in exterior

plaster not repaired correctly.

For re-scoping and all earthquake repairs

including painting and redecorating.

Enquire now Phone 021-667-444 OFFICIAL ENTRY NUMBER:

Bridalshow

save the date

2017

14km

6km

19 March 2017

This

emergency

contact number

Ferrymead Heritage Park.

existing

Moving with medical conditionyou for 43 years!

19name

th March 2017 • Prize Giving Ferrymead

emergency

Park.

signed

A Star Media Event

2017

sticker is valid for entry into either

distance. Must be worn during the event,

to claim prizes, and for free entry into

OFFICIAL ENTRY NUMBER:

This

contact number

existing

medical condition

14km

Sun 27th Aug

10am to 3pm

air Force Museum

45 Harvard Ave

Wigram, Chch

Tickets: $20.00

ENTRIES NOW OPEN!

$20 Early bird available online

Are you up for it?

14km

6km

19 th March 2017 • Prize Giving Ferrymead Park.

The Star Photo Archive: 1983

city2surf.co.nz

Trades & Services

ROOF REPAIRS

Locally owned & operated with

over 30 years experience.

• Extensions & repair • Roof coating

• Concrete & clay tiles • Butynol

• Malthoid • Asbestos Certified

• Coloursteel • Old iron • Guttering

Phone Dave 981 0278

or 021 223 4200

E: dave@beaumontroofing.co.nz

BEAUMONT ROOFING LTD

rubbish removal

tRAiLER SKiP HiRE

6km

• 2 or 5 cubic metre

• Household Rubbish

• Green Waste

• Yard Clean ups

• Load it yourself or hire us

• Locally owned and operated

bin co

Phone: 383-0646

027 2131 733

GLAZING

Stephen Thom

Glazing 2012 Ltd.

(Under New Management)

• Mirrors

• New Glazing

• Pet Door

CARRIER LOCAL

Specialists experienced, friendly,

trade-me purchases, single

• Frameless

items to truck loads,

sticker Showers is valid for entry into either furniture to whatever,

distance. • Must Splashbacks

be worn during the event, removals & trade

to claim prizes, and for free entry deliveries into a specialty. Ph

WE CAN DO YOUR

Ferrymead Heritage

WORK

Park. GEH 341-5069

NOW

OFFICIAL ENTRY NUMBER:

ALL BROKEN *****************

WINDOWS

Phone Cushla CARPET & VINYL

03 352 6225 Laying. Repairs, uplifting,

or 027 352 6225 relaying, restretching.

Email jflattery@xtra.

AAA HANDYMAN

co.nz, ph 0800 003 181 or

licensed carpenter

027 2407416

LBP, all property and

building maintenance,

repairs, bathroom/shower

installations, with free

quotes 03 383 1927 or 027

245 5226 ciey@xtra.co.nz

AFFORDABLE

ELECTRICAL

Registered, all types

of repairs, installs,

heatpump servicing,

lighting etc Ph 326 4992

or 0274 329755.

BUILDER

For all building work

but specialist in bathroom

renovations, 30 yrs

experience, with service

and integrity. Free Quotes.

Ph Lachlan 383-1723 or

0274 367-067.

BUILDER LICENSED

available for all aspects of

building. Please call 027

241-7471 or 335-0265

9155874AA

OFFICIAL ENT

Complete and attach to clothing bag for

free clothing transport from start to finish.

CARPENTER

HANDYMAN - Small

Job Specialists, Carpentry,

Repairs, Decking &

Maintenance, 40 years

experience, no job too

small, Ph Warren 03 322-

1103 or 027 697-8541

CONCRETE

DRIVEWAYS Pathways,

patios, garden sheds,

garages and house floors,

foundations, Phone for

free quote Roy 0274 316

860, Neil 027 974 4185. N

& R Concrete.

ELECTRICIAN

Rewire specialists. Some

old wiring, some new,

get a free appraisal and

quote. Switch boards, LED

lighting, garages, spas you

name it we do it. Give the

boys at Turned On a ring,

phone Muzza 022 6177-

275

FENCING

All styles and shapes,

gates, wooden, ph Mark

027 331-3223

Name: ______________________
---
18 Tuesday March 7 2017

Latest Christchurch news at www. .kiwi

PEGASUS POST

Trades & Services

Cracked tiles?

Dirty grout?

Old or mouldy

silicon?

Brett Ph 03 358 5105

or 027 746 7632

www.groutpro.co.nz

FURNITURE REMOVALS

Large Trucks $95 +

GST per hour 7 day NZ

wide, packing & moving,

Professional Company,

Professional Service.

Canterbury Relocations

Ltd. ph 0800 359 9313

LED / DOWNLIGHT

replacement. Huge new

year special, get those

troublesome downlights

replaced wih modern LED

lights from $38 + GST

inclusive. Ring the boys at

Turned On for free advice

& quotes. Call Muzza 022

6177 275

PAINTER AVAILAbLE

All aspects in painting.

Very competitive in roofs

and fences. Please call 027

241-7471 or 335-0265

PAINTER

Top quality work, interior/ TREE

exterior, pensioners

discount, free quotes, 30

years experience, I stand

by Canterbury, ph Wayne

your friendly painter 03

385-4348 or 027 274-3541

PAINTING

& Decorating Wingfields

Contracting, all interior

& exterior painting & all

forms of interior plastering

& jib fixing, ph Mark 021

171-1586 or 355-5994

PLASTERING

/ Stopping / skimming. 30

yrs exp, all work large &

small. Contact Tony 027

222 2993 or Earl 027 345

0561

PLUMbER

For prompt service for all

plumbing maintenance,

repairs and alterations.

Phone Michael 364 7080

or 027 438 3943

PLUMbER

ALF THORPE

PLUMBING Certifying

Plumber for all types of

plumbing, maintenance,

spouting, alterations etc.

Phone 352-7402 or 0274-

350-231

QEII COLLISION REPAIRS

Free Courtesy Cars

(conditions apply). All

Insurance work, Rust

Repairs & Private work.

Spray-painting. Free

pickup & delivery. Ph. 03

388 5187

ROOFING

Qualified & Licenced

Practitioner. Re-Roof &

Repairs, all types. Member

New Zealand Roofing

Association. Over 35 years

experience. Phone John

027 432-3822 or 351-9147

email johnmill@ihug.

co.nz

SPOUTING CLEANING

Spouting Unblocked,

Cleaned Out and Flushed

Out. Also Full Handyman

Services Available. Call

Trevor 332 8949 or 021

043-2034

SPOUTING CLEANING

Spouting Unblocked,

Cleaned Out and Flushed

Out. Also Full Handyman

Services Available. Call

Trevor 332 8949 or 021

043-2034

TILER

For all your tiling

needs, new, existing &

replacement of tiles, free

quotes, ph Jared 021 023

58414

TILER/CARPENTER

35 years exp, no job

too small. Ph Ross 027

4311440.

WORK

Hedge trimming, stump

grinding, rubbish removed,

small job specialty Ph

Andrew 03 322-8341 or

027 435-8759

TREES

BIG OR SMALL, tree

removal, trimming, stump

grinding, shelterbelt clean

up, section clearing,

rubbish removals,

excavation work, ph Trees

Big or Small, for a free

quote, 021 061 4783

T.V. SERVICE CENTRE

Repairs, tvs, microwaves,

stereos, DVD. Aerial

installations and kitsets,

480 Moorhouse Ave, ph 03

379 1400

UPHOLSTERER

Dining Chairs, Lounge

suites, Caravan Squabs

etc. recovered. Free

Quotes. Phone Graeme

383-1448

VHS VIDEO TAPES

& all camera tapes

converted to DVD, video

taping special occasions,

www.grahamsvideo.co.nz

ph 03 338-1655

WATERbLASTING

Quality Job, Quick Service

by skilled tradesman, Ph

Richard Severin at Jet-X

0800 538 969 Free quotes,

visit www.jetx.co.nz

Tuition

Piano

Raewyn Clegg

Registered Teacher of

Piano and Theory of

Music.

29 Lancewood Drive

Halswell

Ph 322-9377

Tuition

Horticulture Course

FREE

National Certificate

in Horticulture,

Level 3 NZQA approved.

Part Time distance Learning

(workshops & Tutorials provided) zero fees.

Contact Ryan Young

(Training facilitator)

021 222 9678

ADVERTISE YOUR BUSINESS HERE

ryan@florascapes.co.nz

www.florascapes.co.nz

Wanted To Buy

AAA Buying goods

quality furniture,

Beds, Stoves, Washing

machines, Fridge Freezers.

Same day service. Selwyn

Dealers. Phone 980 5812

or 027 313 8156

A+ Household effects,

fridges, freezers, washing

machines, ovens. Good

cash paid. Ph Paul 022

0891 671

TOOLS

Garden, garage,

woodworking,

mechanical, engineering,

sawbenches, lathes, cash

buyer, ph 355-2045

Phone for further details

Wanted To Buy

CASH FOR

STAMPS

Do you have an Old

Stamp Collection

tucked away

somewhere?

It could be worth

a fortune!

We are currently buying

old collections and can

come to you for larger

collections or if you are

unable to come in.

Call Matt Power

0800 239 325

The Stamp Exchange

(03) 379 1100

Cafe open from 11am

TAB & Gaming

Function Facilities

HOUSIE

Tuesday, Thursday,

Saturday

SHUTTLE

Tuesday - Saturday

www.newbrightonclub.co.nz

SUNDAY 26 FEB, 1.30PM

GREAT

DINING

- downstairs -

ClubBISTRO

Open Tuesday to Saturday

12pm-2pm and from 5pm

Midweek $10

SPECIAL ROAST

Available Tuesday,

Wednesday, & Thursday

TUESDAYS &

THURSDAYS

Members Lucky

Card Draw

TAB POD

GAMING ROOM

FUNCTION ROOMS

SHUTTLE RUNNING

Tues, Thurs, Fri & Sat

SUNDAY

26th March

ALL YOU

CAN EAT

BUFFET

$25

BOOK NOW!

PIERVIEW RESTAURANT

GREAT

DINING

- upstairs -

PIERVIEW

Restaurant

Quality a la carte

with a view!

Open from 5.30pm

FRIDAY, SATURDAY

& SUNDAY

FRIDAY SPECIAL:

SIRLOIN STEAK

or

CHICKEN BREAST

WITH JACKET POTATO

& SALAD BAR

$22!

SUNDAY SPECIAL:

3 courses

$25

NOW OPEN FOR

SUNDAY

BRUNCH

By the Seaside!

10.30am-2pm

202 Marine Parade

Ph 388-9416

Members, guests and affiliates welcome

Open 7 Days from 5.30pm

WHAT'S ON

FRANCHISE

7PM THIS SATURDAY

in Whitfords Bar

SUPER RUGBY IS BACK!

MATCHES SHOWN IN WHITFORDS!

WEDNESDAYS

RETRO ROAST

LUNCH

12PM-1.30PM

$10 Members / $12 Non

H ORNBY

WORKINGMEN'S

CLUB

«WHAT'S ON«

THIS WEEKEND

FRIDAY 10 MAR, 8PM

Tickets $28 SHOW & SUPPER

www.ryannevilleshowband.co.nz

SATURDAY 11 MAR

4.30PM BARROSS

8PM MAIDEN ENGLAND

(Andy Gilmour)

UPSTAIRS 8PM

MAINLAND

BIG BAND

$15 ENTRY

Hornby WMC

17 Carmen Rd, Hornby

Phone 03 349 9026

www.hornbyworkingmensclub.co.nz

Members, guests & affiliates welcome
---
PEGASUS POST Latest Christchurch news at www. .kiwi

Tuesday March 7 2017 19

'Famous for their roasts!'

RESTAURANT & CAFÉ

Kid's SPECIAL

Two courses

Seniors SPECIAL

Two courses

$10

We are family friendly. Great Kids menu plus designated play area.

Soup/Roast or

Roast/Dessert

Special available lunch only

Monday - Saturday 12pm - 2.30pm

$20

Start your

day with us

We are open from 6.30am

Cooked

breakfasts

$18

Check out our extensive

breakfast menu from

Continental to Cooked

The

RACECOURSE HOTEL

& Motorlodge

118 Racecourse Rd, Sockburn,

Christchurch. Ph 03 342 7150

www.racecoursehotel.co.nz

Lunch & Dinner

All you can eat, 7 days

Bookings Essential PH 386 0088

fb.com/GardenHotelRestaurant www.gardenhotel.co.nz

NOW SERVING

available

from

9am

Breakfast

HAPPY

HOUR

5PM - 7PM

DAILY

Live Music:

Mandi Miller

6PM.FRI.10MAR

PHONE 385 8880 FIND US ON FACEBOOK fb.com/GBCCHCH

THE GARDEN HOTEL COMPLEX | 110 MARSHLAND RD

www.gardenhotel.co.nz | phone 385 3132
---
20 Tuesday March 7 2017

Latest Christchurch news at www. .kiwi

PEGASUS POST

$

5 99

kg

Be in to

WIN

A year's supply *

of PURINA ONE

cat or dog food.

Fresh NZ Pork Shoulder Roast

(Excludes Free Range)

$

1 99

kg

Loose Dole Ecuadorian/

Philippine Bananas

One

winner

in every

store!

2for

$

5 00

Coke/Sprite/Fanta/

Lift/L&P 1.5L

$

5 99

box

New Season Perlas 1.5kg

Purchase any

2 x PURINA ONE

products in a single

transaction to go in the

draw to win a year's

supply of PURINA ONE

cat or dog food.

3

for

$

3 50

each

Vogel's Bread 720-750g

(Excludes Gluten Free)

$

4 00

Oak Canned Fruit 410g

$

4 99

each

Tip Top Ice Cream 2L

$

13 99

each

$

16 99

pack

Speight's Gold Medal Ale/Summit

12 x 330ml Bottles

$

7 99

each

Montana Classic 750ml

2

for

$

5 00

Arnott's Tim Tam

165-200g

Purina One Cat

Food 1.59kg/Dog

Food 1.81kg

Competition opens 06/03/17 and closes 02/04/17.

Till receipt entry forms are given at checkouts with

your purchase. Entry form box is located at the

customer service desk. Draw occurs 03/04/17 and

winners will be notified by 07/04/2017. Promoter

– WDL (Wholesale Distributors Limited). Visit

FreshChoice.co.nz/purina-one for full terms and

conditions. * A year's supply of cat food is 18 x 1.59kg

bags ($422 RRP). A year's supply of dog food is 25 x

3.63kg bags ($744 RRP).

FreshChoice Parklands

60 Queenspark Drive, Christchurch.

Open 7am-11pm, 7 days.

FreshChoice.co.nz FreshChoiceNZ 383 1004

FreshChoice Parklands

Certain products may not be available in all stores. Savings are based on non-promotional price. Limits may apply.

Prices apply from Tuesday 7th March to Sunday 12th March 2017, or while stocks last.

Owned and

operated

by locals

FCPP0703
---
ARE YOU UP FOR IT?

March 19

Under 10's free

Enter now at Pak'NSave | New World

The Athlete's Foot | YMCA

or online at city2surf.co.nz

A Star Media Event
---
ENTRY

ENTRY

You choose your distance: 14km, 9am start or 6km, 10am start

76

OPAWA

74

Colombo Street

SPREYDON

76

74A

Ferry Road

Wilsons Road

H 2 0

6KM START

Hansens

Park

H 2 0

Grange Street

Barrington Street

14KM START

FERRYMEAD

Centennial

Park

CASHMERE

Port Hills Road

76

FINISH

Ferrymead

Playing

Fields

H 2 0

H 2 0

Water

Toilets

74

Pioneer Stadium

Hawford Rd

ENTRY

CENTENNIAL

PARK

Lyttelton Street

14km

Site Map

First Aid

Free Sunscreen

6km

Site

Map

P

P

ENTRY

Butler Stt

HANSEN

PARk

YMCA

Warm Up

STAGE

Aynsley Tce

6km

runners

Grange St

STAGE

YMCA

Warm Up

P

Participants

assemble here

WALKERS

JOGGERS

RUNNERS

Rose Street

START

Cashmere View

STAGE

Toilets

Clothing Drop Off

Late Registrations

7am-9am

8am-9am YMCA warm

up & entertainment

Start Line, 9am start

P

Participants

assemble here

WALkERS

JOGGERS

RUNNERS

START

14km runners

Heathcote River

STAGE

First Aid

Free Sunscreen

Toilets

Clothing Drop Off

8.30-10am

Late Registrations

8.30am-10am

9am-10am YMCA Warm

Up & Entertainment

Start Line. 10am start

6km Runners

14km Runners
---
Need to know

Online Order

• Selected collect? Bring your e-ticket confirmation

to Smiths City Colombo street on Friday 17

March between 11-5pm Or Saturday 18 March

between 9-5pm.

Selected courier? You will receive your entry

shortly. Cut off day for courier is March 10.

• The 14km starts at 9am at Centennial Park,

Pioneer Stadium. The Sport Canterbury 6km starts

10am at Hansens Park, Opawa.

• Warm up with our Christchurch YMCA fitness team,

and enjoy pre event entertainment.

• At the finish line grab your free Pump Water or

Powerade, Froozeballs, and fruit thanks to Food

Together.

• Enjoy free children's entertainment and our live band.

• Look out for the Singapore Airlines Crew taking

your celebratory photo.

• Prize giving starts at mid-day.

Transport

Before the Event

• Buses will be running from McCormacks Bay to

both start locations. The first 14km bus will leave

at 7.15am, and the last at 8.15am. The first Sport

Canterbury 6km bus will depart at 8.30am, and

the last at 9.15am.

The Sport Canterbury bus drop off point is 800m

from Hansens Park.

After the Event

• Buses will operate from the finish line back to

the start lines between 10am – 2pm.

• A free shuttle will operate from Ferrymead

Playing Fields (finish area) back to McCormacks

Bay if you parked there.

• Need to buy a bus ticket on the day?

There will be limited sales – we recommend you

plan ahead and book online: City2surf.co.nz.

Please show the driver your pre-purchased ticket

(printed, smartphone or red wristband). Drivers

will not accept cash.

Look the part

Available in 3 different colours

T-Shirt $35 Singlet $30

Children's T-shirt $30

Front

Christchurch 2017

Moving with you for 43 years

Available online now or at The Athlete's Foot

Riccarton and Northlands.

Back

Westfield & Northlands

Proud to support

Child

Prize

Corporate

Prize

School

Prize

Family

Prize

Spot

Prizes

Sunday

19th

March

30
---
March 19 $25

Enter now at Pak'NSave | New World | The Athlete's Foot | YMCA or online at city2surf.co.nz

March 19

Be in to win return flights for two to any

Singapore Airlines destination in the UK

or Europe, thanks to Singapore Airlines

Prize announced at mid-day Sunday 19 March.

1

You must be wearing your City2Surf

registration sticker to SINGAPORE be eligible AIRLINES

BRAND GUIDELINES

SUMMARY

Proudly supported by: