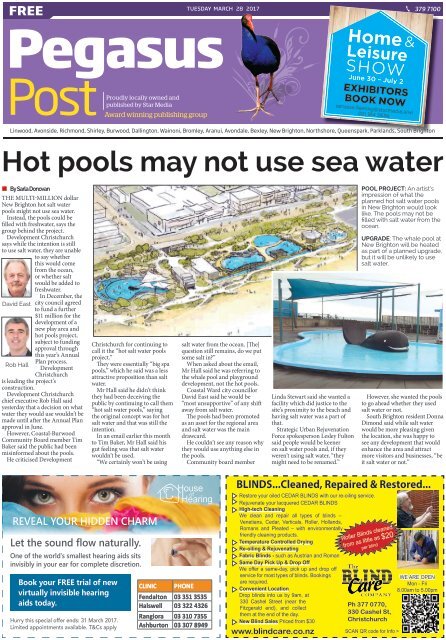 Pegasus Post: March 28, 2017
You also want an ePaper? Increase the reach of your titles
YUMPU automatically turns print PDFs into web optimized ePapers that Google loves.
FREE

TUESDAY mArch 28 2017

Pegasus

Post

Proudly locally owned and

published by Star Media

Award winning publishing group

Home

Leisure

SHOW

June 30 – July 2

EXHIBITORS

BOOK NOW

&

vanessa.fleming@starmedia.kiwi

021 914 5656

379 7100

Linwood, Avonside, Richmond, Shirley, Burwood, Dallington, Wainoni, Bromley, Aranui, Avondale, Bexley, New Brighton, Northshore, Queenspark, Parklands, South Brighton

Hot pools may not use sea water

• By Sarla Donovan

THE MULTI-MILLION dollar

New Brighton hot salt water

pools might not use sea water.

Instead, the pools could be

filled with freshwater, says the

group behind the project.

Development Christchurch

says while the intention is still

to use salt water, they are unable

to say whether

this would come

from the ocean,

or whether salt

would be added to

freshwater.

David East

Rob Hall

In December, the

city council agreed

to fund a further

$11 million for the

development of a

new play area and

hot pools project,

subject to funding

approval through

this year's Annual

Plan process.

Development

Christchurch

is leading the project's

construction.

Development Christchurch

chief executive Rob Hall said

yesterday that a decision on what

water they would use wouldn't be

made until after the Annual Plan

approval in June.

However, Coastal-Burwood

Community Board member Tim

Baker said the public had been

misinformed about the pools.

He criticised Development

Christchurch for continuing to

call it the "hot salt water pools

project."

They were essentially "big spa

pools," which he said was a less

attractive proposition than salt

water.

Mr Hall said he didn't think

they had been deceiving the

public by continuing to call them

"hot salt water pools," saying

the original concept was for hot

salt water and that was still the

intention.

In an email earlier this month

to Tim Baker, Mr Hall said his

gut feeling was that salt water

wouldn't be used.

"We certainly won't be using

salt water from the ocean. [The]

question still remains, do we put

some salt in?"

When asked about the email,

Mr Hall said he was referring to

the whale pool and playground

development, not the hot pools.

Coastal Ward city councillor

David East said he would be

"most unsupportive" of any shift

away from salt water.

The pools had been promoted

as an asset for the regional area

and salt water was the main

drawcard.

He couldn't see any reason why

they would use anything else in

the pools.

Community board member

Linda Stewart said she wanted a

facility which did justice to the

site's proximity to the beach and

having salt water was a part of

that.

Strategic Urban Rejuvenation

Force spokesperson Lesley Fulton

said people would be keener

on salt water pools and, if they

weren't using salt water, "they

might need to be renamed."

POOL PROJECT: An artist's

impression of what the

planned hot salt water pools

in New Brighton would look

like. The pools may not be

filled with salt water from the

ocean.

UPGRADE: The whale pool at

New Brighton will be heated

as part of a planned upgrade,

but it will be unlikely to use

salt water.

However, she wanted the pools

to go ahead whether they used

salt water or not.

South Brighton resident Donna

Dimond said while salt water

would be more pleasing given

the location, she was happy to

see any development that would

enhance the area and attract

more visitors and businesses, "be

it salt water or not."

Hurry this special offer ends: 31 March 2017.

Limited appointments available. T&Cs apply

ouse

of

earing

CLINIC PHONE

Fendalton 03 351 3535

Halswell 03 322 4326

Rangiora 03 310 7355

Ashburton 03 307 8949

BLINDS...Cleaned, Repaired & Restored...

Restore your oiled CEDAR BLINDS with our re-oiling service.

Rejuvenate your lacquered CEDAR BLINDS

High-tech Cleaning

We clean and repair all types of blinds –

Venetians, Cedar, Verticals, Roller, Hollands,

Romans and Pleated – with environmentally

friendly cleaning products.

Temperature Controlled Drying

Re-oiling & Rejuvenating

Fabric Blinds - such as Austrian and Roman

Same Day Pick Up & Drop Off

We offer a same-day, pick up and drop off

service for most types of blinds. Bookings

are required.

Convenient Location

Drop blinds into us by 9am, at

330 Cashel Street (near the

Fitzgerald end), and collect

them at the end of the day.

New Blind Sales Priced from $30

Roller Blinds cleaned

from as little as $20

per blind

Ph 377 0770,

330 Cashel St,

Christchurch

www.blindcare.co.nz SCAN QR code for Info >

WE ARE OPEN

Mon - Fri

8.00am to 5.00pm
---
2

Latest Christchurch news at www. .kiwi

Tuesday March 28 2017

Inside

PEGASUS POST

FROM

THE

EDITOR'S

DESK News.......................................3, 7

The hot salt water pools project

has been widely touted as the

project that will reinject New

Brighton, turning it back into a

busy hub.

And ever since the day dot, it

has always been referred to as the

hot salt water pools.

It therefore comes as a bit of a

surprise that they may not to be

filled with sea water (page 1).

Say what now, I hear you say?

Turns out, that the plan may be

freshwater and add some salt in.

It is all to do with the multi-use

of the planned facility, with water

play items, that it may not all

mesh together.

So does it really matter whether

they use sea water? Storm in

a teacup? Tell us what you think

by emailing our reporter sarla.

donovan@starmedia.kiwi

– Shelley Robinson

Phone app keeps Mairehau High students

in touch

SCHOOLS

14

Local Views.................4-5

Schools............................11, 14

Sport.................................. 17

Community Events......18

Health & Beauty.........19

Real Estate..........................20

GET IN TOUCH

General Enquiries Ph 379-7100

Classified Advertising Ph 379-1100

The Christchurch Star Company Ltd. PO box 1467 - Christchurch

starmedia.kiwi

NEWS

Sarla Donovan

Ph: 021 919 917

sarla.donovan@starmedia.kiwi

ADVERTISING

Mark Sinclair

Ph: 364 7461

mark.sinclair@starmedia.kiwi

Join the

conversation

Christchurch City

Draft Annual Plan

2017

2018

Consultation

20 March–28 April 2017

Christchurch Ōtautahi

Crispy Crunchy Batter

Gluten free products sold

for oVer 4 YeArs

Fish, Hot Dogs,

Pineapple Rings, Donuts

• Souvlaki • Great Burger Selection

• Garlic Butter Chips • Cheese on Chips

* Specialty fish cooked to order…

Blue Cod, Gurnard, Sole, Hoki, and more!

Bluff oysters available

weather permiting

Gluten free products can purchase to

take home uncooked

GOURMET SEAFOODS QEII

Ph: 388 2531, QEII Shopping Centre

251 Travis Rd

Mon - Wed 11.30am - 8.30pm (Tues from 4.30pm)

Thurs - Sat 11.30am - 9.00pm; Sun 12noon - 8.30pm

Daily break 3.15 - 4.30pm

HELPING US,

HELPS THE

COMMUNITY

Drop off or buy

2 family stores in your community

30 Main North Rd,

Ph 352 4581

520 Cranford St,

Ph 352 0515

Have your say on how the

Council plans to fund the city's

projects. Come and talk to us

at your local Have Your Say

event, or go online and make

a submission.

7 April, 11.15am–noon

North Avon Baptists Church

105 North Avon Road

YOUR LOCAL GARAGE

• All vehicle repairs

• Oil changes and services

• Brakes • Loan car available

• Tyres, punctures & batteries

• W.O.F • Tune up

#cccplan

To find out more visit ccc.govt.nz/AnnualPlan

Your LocaL GaraGe

VERY FRIENDLY SERVICE AND ADVICE

NEW BRIGHTON AUTOMOTIVE

Phone: 03 388 3630

40 Hawke St (behind Z Petrol Station)
---
PEGASUS POST Latest Christchurch news at www. .kiwi

Tuesday March 28 2017 3

News

Memorial panels next month

Installation to take

place after Anzac Day

• By Sarla Donovan

PANELS TO protect the the New

Brighton War Memorial will be

installed after Anzac Day.

Questions were raised by residents

after the Woolston Borough Monument

panels were covered in graffiti

less than three weeks after they were

installed.

There have been suggestions that

a railing fence be placed around the

memorial instead of panels, as it

would be less inviting for vandals.

But city council head of parks,

Andrew Rutledge, said it took less

than an hour to remove the graffiti.

The cost was $60 for the materials

and four hours labour.

He said railings would obstruct

the view of the memorial more than

the panels. "There is also potential

that if tagged, the overspray of paint

through the fence might reach the

stone of the war memorial behind."

New Brighton RSA executive

manager Garry House said he was

still in favour of the panels, so long

as they could be easily cleaned and

the memorial wasn't affected.

He was looking forward to them

going up.

PROTECTED:

New Brighton

War Memorial

will soon be

protected by

clear panels

similar to

those which

have saved

the Woolston

Borough

Monument from

recent tagging.

Inset –

Garry House

In Brief

ANNUAL PLAN

The public can give their feedback

on the city council annual plan in

two informal forums held by the

Coastal-Burwood Community

Board. The drop-in sessions will be

held on March 29 and April 3 and

are an opportunity for people to

engage in informal feedback and

discussion with board members.

The sessions will be held in the

community board boardroom,

corner of Beresford and Union Sts,

New Brighton, 5.30-6.30pm.

BOARDWALK COST

The full cost of removing and

replacing the damaged boardwalk

along the Avon-Heathcote Estuary

is expected to be known by May 1.

The Coastal-Burwood Community

Board is expecting a report from

the city council. The council has

allocated $337,000 in the draft annual

plan to remove and repair the

boardwalk.

TOP SPOT FOR BUS DRIVER

Linwood bus driver Raymund

Llamas is the best in the country

after he won the top spot at the Go

Bus Transport's Bus Roadeo earlier

this month. Mr Llamas was named

GoBus driver of the year at the

Airforce Museum of New Zealand

after he showed his theory, vehicle

inspection, customer service and

driving skills at the biennial event.

All Offers Considered – Must Be Sold

2 1 1 1

52B Pannell Avenue, Wainoni

Your agent, Your home, Your future

LICENSED SALES CONSULTANT REAA 2008

P 027 777 0411

Listing Number: BE192722

Our instructions are clear - all offers will be considered and this

smart over 60's unit must be sold.

- Lock up and leave

- Keep it simple or personalise it with

- Modern two- bedroom unit with your favourite flowers and shrubs in

heat pump and internal access

garden beds.

garage

- Spend more time on you and less

- Truly easy care section

time maintaining your property

- Close to amenities, Avon Park, New - Internal access garage

Brighton beach

- Well fenced to create a secure

- Sun drenched paved courtyard

environment

Call now for an appointment to view.

Your Winter Health

Flu Shots Now Available

There is a difference between influenza and a

cold. If you are in doubt, give us a call.

Travis Medical Centre welcomes new patients.

Come in and meet our friendly team

Resident Doctors:

Dr Harsed Chima Dr David Pilbrow Dr Arthur Collins

Dr Sue French

Dr Heather Peacock

225 Travis Road, Nth New Brighton, Chch

Ph: 388 9686 | Open 8am-5pm Mon-Fri

www.travismedical.co.nz

We are having a drop in flu

clinic on Saturdays 1st & 8th

April 8:30am-11:30am

STOP

THE FLU

SOMETHING FuN FOR EvERYONE

9 HOLE

GOLF cOuRSE

DRIvING

RANGE

STILL ROcK

OuTDOOR MINI PuTT

Ph 384 1566

21 King Edward Terrace,

Woolston

BOOKINGS ESSENTIAL | 50 FERRYMEAD PARK DR, FERRYMEAD

PH 376-5350 | WWW.FERRYMEADGOLF.cO.Nz
---
4 Tuesday March 28 2017

Latest Christchurch news at www. .kiwi

PEGASUS POST

Your Local Views

FLAME FILES

McMaster & Heap

Veterinary practice

Gizmo's Adventure

Gizmo, an 11 year old Ginger tabby

from Sydney, presented to Catherine

one morning with an acute left

hindleg lameness. He wasn't placing

any weight on the leg and seemed

in a lot of pain. Catherine suspected

a femoral fracture due to his leg

swinging and the obvious angulation

mid femur. No other injuries were

seen. He had normal neurological

function. All his nails were scuffed and

worn. Most often we see these injuries

with road traffic accidents. Blood work

the previous week was great.

Catherine performed a digital xray to

confirm her suspicions and Gizmo was

immediately placed on intravenous

fluids with pain relief ( a fentanyl CRI)

and started on penicillin. A transverse

femoral fracture located proximal third

femur was diagnosed. His diaphragm

was intact, as was his bladder and all

his other abdominal organs looked

fine. Surgery to repair the fracture or

amputation were the only options

available. This fracture couldn't be

left to just heal on its own. The clients

were informed of the options – a

referral to a specialist orthopaedic

surgeon to plate the femur or IM

pinning and cerclage wire performed

at McMaster & Heap Vet practice.

We repeated blood work to make

sure Gizmo was still in good health to

sustain an anaesthetic. The IM pinning

option was adopted. His ongoing

arthritic issues would have made

losing a hindleg difficult for him to

cope with, especially at 11 years old.

Dr Michele McMaster performed the

surgery within 24 hours of Gizmo

being admitted. It is important

with this type of injury to get those

bone ends realigned as soon as

possible. The anaesthetic and surgery

went without a hitch. Gizmo was

connected to our Cardell monitoring

machine. The nurses can record his

heart rate, blood pressure, breathing

rate, body core temperature and

Open 7 days

Cnr Hoon Hay & Coppell place

phone 338 2534, Fax 339 8624

e. mcmasterandheap@yahoo.co.nz

www.mcmasterheap.co.nz

oxygen saturation every 5 minutes

during his anaesthetic. All his vital

signs were excellent. I placed a

large intramedullary pin through

the medullary cavity of his femur to

reduce the fracture and align the

ends of the femur.

A single cerclage

wire was also placed

to create as much

stability as possible.

Post operative xrays

confirmed perfect

placement. Now the

rest is up to Gizmo.

Gizmo was discharged

3 days later able to stand and get

into his dirt tray, eating up a storm

and with the surgical site looking

great. He was starting to place the

paw when he left here. He will be in a

cage for 4-6 weeks to allow as much

immobility as possible for fracture

healing. I will remove the pin in about

6-8 weeks once the fracture site has

calloused and healed. Gizmo will be

back weekly for us to check on his

progress. A great outcome all around.

-Dr Michele McMaster

McMaster & Heap

Kitchen blazes and

bathtub shenanigans

• By Mark Thomas – Fire Risk

Management Officer

OVER THE past couple of weeks, several

people have had the misfortune of having

the Fire Service called to their house

because of a blaze in the kitchen.

At one in Hoon Hay recently,

firefighters had to smash a window to get

into a well-locked house with a pot on

fire on the stove.

There's got to be a sinking feeling when

you get the call after having gone out that

there's a fire at your house.

I know it's easy to forget and, in

this case, smoke was the only cause of

damage to the house, but the possibility

of a complete disaster is certainly

there. You've just got to remember to

switch elements off.

A lady in a motorised wheelchair had

the misfortune of becoming stuck up

against a wall when the control panel

for her scooter failed in Bellbrook Tce,

Shirley. She obviously, and fortunately,

had her phone with her and had the

presence of mind to call 111.

This wasn't a fire. It was a call for

help. And the St Albans crew that

responded had to break in to her house to

free her. It's the sort of thing firefighters

do without complaint. So well done to

the St Albans crew.

Finally, you know the stainless steel or

brass grill in the plug hole of your bath? I

bet you can't get your finger down it, but

a small child can – just.

However, getting their finger out is

another matter. The Addington crew had

to spend almost an hour dismantling the

bath in Hoon Hay Rd to do it.

There was no injury, just a very

relieved wee fellow when he was

eventually freed.

NEW LOCAL

MECHANIC

& now a Bosch car care centre

Full Mechanical Repairs

Full Auto Electrical Repairs

18E Bower Avenue, New Brighton

Phone 388 5750
---
PEGASUS POST Latest Christchurch news at www. .kiwi

Tuesday March 28 2017 5

Call for more collaboration between educators

Linwood College

principal Richard

Edmundson

writes about

connecting

early childhood,

primary,

secondary and tertiary

education providers to

create better outcomes for

students

Should we be optimistic about

New Zealand education?

The answer to this question is a

resounding yes. Does this mean

that everything is completely

rosy? Of course not.

An emerging possibility is the

concerning irony that the legal

requirement for schools to report

publicly on children's achievement

through national standards

and NCEA may in fact be

harming educational progress,

the precise opposite of what

this originally well-intentioned

policy meant to achieve.

But there is an educationally

bright light emerging in the form

of Communities of Learning.

COLs are about schools working

together to ensure all children

can achieve their potential. It is

collaboration rather than artificial

competition.

'It takes a village to educate

a child' comes to mind here.

This is not just between schools

within one sector – such as

neighbouring primary schools –

but across sectors.

Linwood College is in the Tamai

COL, working with six other

schools in Linwood-Woolston, as

well as early childhood centres

and tertiary organisations.

We have always known that

too many students find moving

from primary to secondary

school difficult and experience

the "transition dip." Likewise,

transitions from early childhood

to primary, and from secondary

to tertiary and the workplace,

do not go as seamlessly as they

should for too many students

FUTURE FOCUS: Linwood

College principal Richard

Edmundson wants more

information shared between

education providers.

PHOTO: GEOFF SLOAN

and their families.

Successful COLs focus on seeing

the whole person and create

age-appropriate pathways.

This means the school, students

and families know what

successful learning skills the

students already have and come

into the new school with, and

they deliberately build on these

successes. It means teachers

across the COL working together

and sharing information wisely.

This is not rocket science, but

amazingly it has not been a priority

in New Zealand education

since 1990 and the tomorrow's

schools legislation.

Thankfully, we are now waking

up to the power of collaboration.

We said:

We said:

The Pages Rd footpath

repairs could be delayed

for several more years

You said:

The South Brighton

Residents Association is

frustrated with the city

council's response to

questions over earthquake

donations

Colin Houston – Last year,

Mayor Lianne Dalziel promised

to make the repair of footpaths in

the east a top priority. Now, many

months later, there appears to be

no political will to do anything

of the sort. Many streets still have

dangerous footpaths, especially

for the elderly.

It's time the city council appoints

a "man with a clipboard"

to take note of all hazardous footpaths

and then, systematically,

get these fixed.

The city council has no trouble

stumping up with $25,000 to

put protective covers around the

New Brighton War Memorial, yet

it allocates just a miserly $30,000

for the repair of footpaths in

Pages Rd.

Claire Lawrie – It made my

eyes water in disbelief that city

council could leave this in such

a disgraceful condition. I expect

them to fix this up, whatever it

costs. I don't think it would pass

the health and safety test.

Jon Tater – They should repair

the footpath asap. The Pages

Rd footpath is not only well-used,

it is the gateway to the seaside

suburb and main access to the

ocean. Not a good look for the

city having broken footpaths in

this critical area. If this footpath

was on the west side, it would

have been fixed by now.

DISGUSTED: New

Brighton resident Jo

Zervos told Pegasus

Post she thought the

state of Pages Rd was

"disgusting."

Mayor Lianne Dalziel

responds

I do regard this as a priority

and it will be dealt with in the

Annual Plan. (The public can

give their feedback on the city

council's Annual Plan at https://

www.ccc.govt.nz).

You said:

Angela Toomey –

Why is a full independent

audit not being done –

disgusting. Shame if that

money has not been

appropriately allocated.

Christine Schuler – I

don't live in the east, but I'd

like to know where that

money went as well.

Accountability people.

Trevor Walmsley –

Keep digging – these are

important questions and

the council needs to

take ownership and find

out where all the money

is.

4 PIECE

BEDROOM

SUITE

'PORTLAND'

Includes Queen bed frame,

2x bedside cabinets, 5 drawer tallboy

Excludes mattress and linen

$

1899

NZ made furniture

Range of colours to choose from

Headboard options

Other sizes and pieces available

Pieces can be sold individually

NZ

MADE

BEDS LOCALLY

OWNED

7 OPEN

DAYS

Open 7 Days Mon - Fri 9 - 5.30pm Sat - Sun 10 - 4pm

242 Ferry Rd Along From Old Ami Stadium | Phone 377 8887 | www.bedworld.co.nz
---
6 Tuesday March 28 2017

Latest Christchurch news at www. .kiwi

PEGASUS POST

Harcourts gold

PARKLANDS AND NEW BRIGHTON

for outstanding results!

COMPETITION

Nikila

Creagh

MANAGER HARCOURTS GOLD

PARKLANDS/NEW BRIGHTON

Christchurch trending towards a balanced

market…

As we make the run towards the end of another

financial year, it would appear the heat of 2015/2016

is cooling slightly. The Christchurch real estate market

is easing, a time at which choice of agent is always

critical. There is more stock than buyers and the new

LVR and bank policies continue to affect the lower end

of the market limiting activity for both investors and

first home buyers. On a positive note, the average

house price in February sat at $563,333 – 11% up on

the same time last year, and the average number of

days to sell has remained consistent at 44.

Plenty of mileage in 'As Is' sales…

With over 365 'As Is, Where Is' sales under our belt,

the team on the east are constantly receiving requests

for assistance and consultation with regards

to problematic properties across the city. We have

the experience to get the job done, a tried and true

marketing template, and an extensive online database

of 1,300+ buyers.

Much of the value and esteem the community

attributes to our team relates to the support, encouragement

and assistance we have provided over the

past few years. Our offices have acted as a beacon for

locals requiring clarity when dealing with complex real

estate matters.

A great place to work…

Whether you are an established agent looking for a

fresh start, or you've been thinking of making a career

change in 2017, we are currently looking for some

fresh faces to join our team. Harcourts gold is a great

company to work with, offering a supportive environment,

and an active mentoring programme. Our

eastside offices based at Parklands and New Brighton

are very much community based, and our agents of

varied experience, share the same passion for people

and property. Should a vocation in real estate be of

interest to you, please feel free to give Nikila a call on

027 5175 645.

It's our privilege and pleasure to sell your home for

the best price possible, utilising our knowledge and

proven marketing skills. Be assured that in selecting

any of our consultants, you will get superior support

and the entire teams' goodwill and expertise. Contact

one of our consultants today!

EASTSIDE

SNAPSHOT

Look out for details of our

school holiday art competition.

Coming soon - Amazing prizes!

Work at the best little

office at the beach!

Christchurch trending

towards a balanced market…

Plenty of Mileage in

'As Is 'Sales

Call into our Parklands office

to talk about working with us

For rentals or property

management talk to Nelly

Young at New Brighton today

MARCH 29TH

6.00PM

BUYING OR

SELLING?

R.S.V.P.

YOUR

QUESTIONS

ANSWERED

Angela.Boyle@harcourtsgold.co.nz

or PHONE 352 6166

Followed by an 'As Is' auction day

on April 21st. Talk to us about the

benfits of auction for your 'As Is'

property today.

scholarship offer

GOLD

Harcourts Parklands and New Brighton are

offering sponsored scholarship opportunities for

SCHOLARSHIP

two motivated, aspiring Real Estate consultants.

Obtain your start in this rewarding career by

working with the most recognised Brand in

Christchurch.

The scholarship is available to either brand new

or existing consultants, call today for details and

a confidential chat, and kick off the new year

working with the most progressive company on

the eastside.

Contact Nikila Creagh in confidence today on:

PH 383 0406 or 027 517 5645

Call one

of our

consultants

today!

Andrew SWIFT

Peter GRIFFIOEN

Caleb GRIFFIOEN

Tess MALEY

Debbie GORDON

Vicki GRACE

Sarah GWYTHER

Judith BODGER

Heath KELLY

James SHEPHERD

Bev JOHNSON

Lou SATHERLEY

Katie LUCKMAN Nathan TAMIHANA Frances HAWKER Nelly YOUNG

PARKLANDS PH 383 0406 Shop 21, Parklands Mall, Queenspark Drive

NEW BRIGHTON PH 382 0043 95 Seaview Road, New Brighton Mall

Follow us on...

www.homes4sale.co.nz
---
PEGASUS POST Latest Christchurch news at www. .kiwi

Tuesday March 28 2017 7

News

New central ambulance base

will serve as a hub for St John

• By Noah Graham

ST JOHN has opened its new $5

million ambulance hub.

More than 170 people gathered

as Prime Minister Bill English

officially opened the central

city ambulance hub earlier this

month.

The Christchurch Ambulance

Hub on 150 St Asaph St will act

as the central part of a network

of ambulance bases across the

city which will make the service

more efficient, St John Christchurch

area committee chair

Graham Gillespie said.

He said all ambulance shifts

in Christchurch will start and

finish at the central station, maximising

ambulance officers' time

and allowing staff to respond

quicker to patients.

"It will let us spend more time

caring for our patients and the

community," he said.

Mr Gillespie said it was quite

an emotional time for many of

the St John staff who had worked

in the mud and water in the St

Asaph St car park after the February

2011 earthquake.

After that, the staff were based

out of a rented station on Disraeli

St, which has been closed. They

will eventually move from their

OPEN: Kerry Mitchell showed Prime Minister Bill English

a Stryker stretcher during the official opening of the

Christchurch Ambulance Hub.

current Wrights Rd station into

the new hub on St Asaph St.

He said the opening went

exceptionally well and it was

great to host the prime

minister.

DONATIONS: Photographs by Dylan Hunter are among the

works for sale in a pop-up art gallery fundraiser at The Palms

shopping centre.

PHOTO: DYLAN HUNTER

Port Hills fire exhibition

to help affected family

• By Sarla Donovan

A POP-UP art gallery is helping

raise money for a family who lost

their home in the Port Hills fire.

The exhibition of art by seven

students and emerging artists

is being hosted by The Palms

shopping centre, with 10 percent

of the proceeds donated to the

Gordon family.

Organiser Courtney Brown

said she and photographer Dylan

Hunter were passionate about

using their creative talents to give

back.

Mr Hunter's photographs of

the fire are among the works for

sale.

Other artists include Mel Hobson,

who explores Maori ancestry

in her work, and

Claire Mounsey, whose work

touches on the theme of climate

change.

Ms Brown said she encouraged

the public to come down and

view the art, speak with the students

and donate if they wish.

The pop-up gallery will be

open until Saturday.
---
8 Tuesday [Edition datE] March 28 2017

Latest Christchurch news at www. .kiwi

2

HARCOURTS TWISS-KEIR

PEGASUS POST

Harcourts

Twiss-Keir

returns to Shirley

Real estate business Harcourts Twiss-Keir has

long been a well-known and respected business

in Shirley, and for almost 20 years the company

serviced the local area from its premises in

Marshland Road.

Unfortunately, damage from the 2011

earthquakes and the subsequent economic

downturn meant the office had to close, franchise

holder James Twiss says.

"Despite being closed, we have never forgotten

the strong roots we had in the area, and although

we have wanted to come back, the limited amount

of commercial space in the area for a property

business prevented it," James says.

"However, we have always kept an eye out for

something suitable, and about two and a half

years ago the opportunity arose to purchase a site

at 39 Marshland Road."

Following the lengthy rezoning and consent

process, the property, an art deco style residence

built in the late 1930s, has been completely

renovated throughout, transforming it from a

residential home to a real estate office.

"It's quite a unique building in the way it was

constructed and we wanted to keep the original

layout," says James.

"It was quite difficult to work with so it was an

interesting process and we are thrilled with the

results. We are now based back in Shirley where

we had always intended to return, and we are

looking forward to helping the local community

with their real estate and property management

requirements again."

A full service real estate office, Harcourts

Twiss-Keir provides sales and listings for all

residential and lifestyle properties, and will have

up to 10 salespeople in the office, together with

administration staff and property management

specialists.

Arguably the most recognisable real estate

brand in Christchurch, Harcourts was voted the

Most Trusted Real Estate Brand in a Readers'

Digest survey for four years running.

"As the largest real estate business in

Christchurch, for Harcourts the well-established

residential area of Shirley is an obvious place to

be, and we are excited to be back," says James.

The new Harcourts Twiss-Keir office officially

opens for business later this month.

Career Opportunity. Join The Palms Team Today.

WE'RE LOOKING FOR SALES CONSULTANTS WHO ARE

READY TO TAKE THEIR CAREERS TO THE NEXT LEVEL.

Leadership - Support - Technology - Opportunity - Training - International

Greatness is within you. It's within all of us. Are you ready to take your career to the next level?

You need a team of like-minds and a brand you can trust. At Harcourts, we're serious about creating success.

Real estate is one of the busiest industries in the market and rewarding for those who enjoy seeing the benefits of hard work.

With motivation you can have the opportunity to double or even triple your current salary. Join the vibrant new Harcourts The

Palms Office and be part of an outstanding team with excellent in house training and fantastic support network.

Call James Twiss 027 421 1164 for a confidential chat.

Call for a confidential chat: Agent Longname | Harcourts office | 01234 567 890

YOURFUTURE.HARCOURTS.CO.NZ

Harcourts Twiss-Keir Realty Ltd Licensed Agent REAA 2008

twisskeir.co.nz Your home for local property.
---
PEGASUS POST Latest Christchurch news at www. .kiwi

Tuesday March 28 2017 9

FINAL DAYS

FREE

FREE

Buy 1

MEtRE

GEt 1

MEtRE

ON SELECTED PRODUCTS *

BUY 1

GET 1 FREE

Wool Sisal

• pure wool

• extra heavy duty plus

stairs grade

• Loop pile

• Slightly imperfect

$99.90

BUY 1

GET 1 FREE

Commercial

Vinyl

Planks

• 4 Colours

$39.90

3.65m WiDe rOLLS

per Square metre

BUY 1

GET 1 FREE

Castleton

• 1 Great Colour

• polyprop

• Heavy Duty

BUY 1

GET 1 FREE

Commercial

Grade Carpet

tiles

• 1 Great colour

$59.90

$49.00

3.65m WiDe rOLLS

per Square metre

BUY 1

GET 1 FREE

Garage/Boat

Carpet

• uV Stabilised

• One Colour: Black

BUY 1

GET 1 FREE

Vinyl

• 2m wide

• Selected patterns

• 1000s metres to clear

2m $50 lM

3m $75 lM

4m $100 lM

FROM

$49.90

FREE

uNDerLaY

4 METRE wIDE

FOAM BACk

CARPET

$79.90Pm

CARPET

SHORT ENDS

PRICED TO

CLEAR

Call for our mobile showroom to

visit your home

312 Wilsons Road North, Waltham | Phone 366 0070

Mon to Fri 8am - 5pm and Sat 10am -1pm

www.carpetkingdom.co.nz *Conditions apply.

Q Card Finance

Now Available

FREE no obligation measure & quote (conditions apply)
---
10 Tuesday March 28 2017

Latest Christchurch news at www. .kiwi

PEGASUS POST

JO HAYES

NEWS UPDATE

CHRISTCHURCH EAST

I'm Jo Hayes, National's list MP based in Christchurch East.

I love being a part of this wonderful, tight-knit Christchurch East community. There's so much

going on that I just want to share a few highlights with you of what our community and

Government are working on achieving together. Nga mihi mahana.

Healthy debate good for NZ

It seems that this year has kicked off with a hiss and a

roar, and a lot of excitement and debate about a raft

of important issues that affect us Kiwis.

Strong and robust debate about these things is the

backbone of a democracy like New Zealand, and I for

one welcome it. It's also a key part of my new role as

Social Services Select Committee chair. Sometimes we

deal with tough issues that need innovative solutions,

and most of all, your input.

Did you know that you can have your say on

any bill passed by Parliament, when it goes to

a Select Committee to debate?

Visit www.parliament.nz to have your say.

Speaking of debate…

I recently watched the third heat at the Russell

McVeagh Canterbury Regional Secondary Schools

debating event at University of Canterbury. Christ's

College (negating team) and Christchurch Boys

(affirming team)

both put up a

good fight, but

Christ's College

had the edge

and took the win

in the end. Who

knows how many

future politicians

there may be in this bunch? Congratulations to both

teams: you both put up a superb argument!

New initiative for tidy kiwis!

It was fun to spend some time with the vibrant and

enthusiastic Student Volunteer Army earlier this month,

cleaning up South Spit, South Shore and South Brighton.

But really, our environment shouldn't need volunteers to

pick up litter if we all

share a responsibility

to protect it.

The Government has

just announced that

it's investing $3 million

in a "Do the Right

Thing" campaign to

stop people littering.

We all know that

the environmental

harm from litter is not just the aesthetics but the harm

plastic, paper and cans can do our waterways, marine

environment and wildlife.

So let's keep up the good work, Christchurch East, and

show the rest of the country what it means to be tidy

Kiwis!

A hearty welcome to Haeta

It was fantastic

to join Prime

Minister Bill English

and Minister of

Education Hekia

Parata at the

opening of Haeta

Community

Campus on 2

March. The stateof-the-art

learning

environment is

revitalising education in the east.

Haeata's foundation Principal Andy Kai Fong, along with

the Establishment Board of Trustees, should be hugely

proud of the work they've done to set up the new school.

I'm so impressed that the school already has a role of

more than 950 students.

Giving young people the best possible start to their

lives through high-quality education is one of the most

important investments we can make as a Government.

International Women's Day

International Women's Day garnered a lot of attention around

the world on 8 March.

Here in New Zealand, I was encouraged to hear Deputy Prime

Minister Paula Bennett affirm that along with seeing more

women in leadership positions, she wants to eliminate the

unacceptable level of family violence against women, and

ensure that we pay women what they are worth. Couldn't

agree more!

You'll be seeing

me around

Hopefully you've all seen

my van on the last Friday

of every month, as my

team and I visit all around

Christchurch East to chat

about what's on your mind.

If not, you won't be able to

miss it now: check out our

fabulous new sign writing! We'd love to see you this Friday 31

March. Check out the details on the right-hand side of this

page.

Happy Easter everyone

It's just around the corner and it's a long weekend that we all

look forward to. I want to wish you all a safe and happy Easter

with friends and family. Please drive safely if you're heading out

of town and enjoy a well-deserved break.

Let's talk

Please come along and see me. I'll be

parked in my van on Friday 31 March

at:

1) Preston`s subdivision

By Marshlands School

on Te Korari Street

Time: 8.30 - 9.30am

2) Parklands

Outside sports field,

opposite shopping centre

Time: 10-11am

3) Shirley

Burwood Park by Shirley Rugby

Grounds, New Brighton Road

Time: 11.30am -12.30pm

4) New Brighton

Next to Ray White offices

Time: 12.45 - 1.45pm

5) Wainoni

Marae on Pages Road (out the front)

Time: 2-3pm

6) Richmond

Stanmore Road, outside of the park

and opposite New World

Time: 3.30-4.30pm

Please phone our office on

03 384 9459 to book. See you there!

Contact me anytime

P 03 384 9459

M +64 021 620 316

E joanne.hayes@parliament.govt.nz

W www.johayes.co.nz

Jo Hayes

National List MP based in

Christchurch East

Bill English

Right Honourable Prime

Minister of New Zealand

www.national.org.nz

Authorised by Jo Hayes, National MP,

Unit 6/975 Ferry Road, Ferrymead
---
PEGASUS POST Latest Christchurch news at www. .kiwi

Tuesday March 28 2017 11

SCHOOLS

Banks Avenue School has welcomed lots of

newcomers this term. The new entrants are in rooms

9 and 10. As well as school routines, they will learn the

school's H.E.A.R.T values. They are Hauora: Be well to

do well. Excellence: Better than before. Aroha: Use

kind thoughts, kind words and kind actions. Respect:

Give respect to get respect. Togetherness: Together is

better.

ENERGETIC: Linwood College had 38

performers and two drummers at Polyfest.

STAGE PRESENCE: Avonside Girls' High School

performed for the crowds.

PRIDE: Shirley Boys' High School is one of

the powerhouses of Polyfest in Christchurch

New entrants

Polyfest in the red zone

DRUMMING, chanting,

singing and dancing lit up the

stage at the annual Polyfest

celebration recently.

It was held in the Dallington

red zone this year, with 19

Christchurch schools involved.

Stage manager Maria

Lemalie said the event was

a celebration rather than a

competition.

"We don't have the

numbers of Pacific people in

Christchurch to specialise like

they do in Auckland. They

might have four to five stages,

each for a different Pacific

nation," she said.

"Here we have lots of non-

Pacific students participating so

it's a real coming together for

people."

She said the venue was

magnificent and it was great to

be able to hold the event in the

east this year.

•More schools, page 14

Has your child recently started school recently? Send

your photos to sarla.donovan@starmedia.kiwi

LIFE IS MEANT TO

BE THIS EASY

Step inside this recently completed new

build (late '15) for the ideal kiwi living.

You will find a beautiful 3 bedroom,

2 bathroom home with stylish open plan

living, kitchen & dining area complimented

with ranchsliders to a large deck &

garden. Master suite contains walk in

robe, complete with adjoining ensuite with

ranchsliders to deck. LED lighting,

2 heatpumps, low maintenance garden.

574sqm land area, 164sqm floor area.

New Brighton Area.

Offers over GV $485,000 | Ph: 022 014 7783

TM Listing: 1269011909

HAVE YOU GOT

YOUR VEHICLE

CHECKED?

Full mechanical

servicing & repairs.

Courtesy car avaliable.

03 383 1836 | 027 437 4514

247 Burwood Road, Christchurch

burwoodroadmotors@xtra.co.nz

CITY SOUTH TYRES

NEW

TYRES

USED

TYRES

PLUS

FITTED

FOR AS

LITTLE

AS $30

CITY SOUTH VANS

We buy, sell & dismantle vans & cars

• We pick up out of

Christchurch

• Backpacker

vehicles available

WITH Guaranteed

Buy Back

• Provide Full Workshop Facilities • Full Servicing & WOF Repairs

• Towing Available • Good Hourly Rate • Same Day Clutch Replacement

• 2 Day Engine Replacement • mechanical & Exhaust Repairs

OPEN SATURDAY 9am-1pm

100%

owned & operated

166 mACES ROAD, BROmLEY

P. 384 8744 or A/H 027 222 3241
---
12 TUESDAY MARCH 28 2017

Latest Christchurch news at www. .kiwi

PEGASUS POST

Mairehau

high School

Encouraging ExcEllEncE in our community

The

Principal's

Desk

Kia ora and welcome to all readers.

Harry romana, Principal

Mairehau high School remains a solid,

viable co-educational school option in the east of christchurch. We

are working with other schools, clusters, and community sector groups

to develop and implement actions which will enhance the provision

of education for all students in christchurch. i take this opportunity to

welcome students and staff from Queenspark School to our Mairehau

high School technology programme. each week Year 7 and 8 students

from Queenspark School are provided with a range of exciting learning

programmes.

NCEA Results

Once again, we are very proud of the success of our 2016 NCEA students. The

percentage of our students achieving NCEA compares very favourably with similar

schools nationwide, and indeed with all schools across the country.

2016 NCEA L1-L3 and University Entrance:

Mairehau High School compared with National Data (Participation Based)

85.9% 85.1%

87.2%

Level 1 Level 2 Level 3 Uni Entrance

MHS 2016 85.9% 87.2% 92.5% 62.5%

National Data 85.1% 88.9% 82.1% 61.3%

88.9%

92.5%

82.1%

62.5%

61.3%

The school has recently purchased 66 brand new computers, and a

generous donor who wants to remain anonymous has provided an

additional 26 high spec computers to support teaching and learning

strategies. cyclone computers are providing our teachers with

professional support to enhance learning programmes.

in 2017 Mairehau high School is implementing a 'Bring your own Device'

(BYoD) strategy to support student learning. The new advanced icT

resources will go a long way to ensure that our students are ready for the

ever-changing world of technology. in addition, our school is developing

a new School app to promote better communication between our

students, parents, staff and community. This will be launched in the

coming days.

another innovation this year includes the expansion of our collaborative

shared Flexible learning environment programme which includes Year

9 and Year 10 students. The programme provides an opportunity for

independent, shared and cross- collaborative learning.

all schools want students to access quality education outcomes, to access

quality teaching, and quality learning. We wish our students to have

opportunities which will enable them to become decent, worthwhile

citizens of the world.

Plenty has already happened at Mairehau high School this term. i am very

proud of the academic achievements of Mairehau high School students.

our 2016 Ncea results were just outstanding.

i congratulate all students on your achievements, and i also congratulate

your parents, family and your teachers and all who have supported you

during these years of school. These are exciting times for Mairehau high

School.

Harry Romana

Principal

We are extremely proud of all students and all they continue to

achieve. We congratulate our top academic achievers for 2016 and

wish them all the best for their academic studies in 2017.

OPEN

EVENING

Thursday 25 May

7.00pm - 8.30pm

Encouraging EXCELLENCE in our community

Mairehau High School, Hills Road, Christchurch P. 385 3145 F. 385 3143 admin@mairehau.school.nz www.mairehau.school.nz
---
PEGASUS POST

Latest Christchurch news at www.

.kiwi

TUESDAY MARCH 28 2017 13

Mairehau

high School

Encouraging ExcEllEncE in our community

Scholarship Recipient

Mairehau High School is very proud of its

latest New Zealand Scholarship recipient

in English, Jake Jeffries.

A Scholarship exam is demanding for even

the most able candidates and requires

students to demonstrate high-level critical

thinking, abstraction and generalisation,

and to integrate, synthesise and apply

knowledge, skills, understanding and

ideas to complex situations. Only the

top 3% of candidates in the country are

awarded Scholarship, so it is a fantastic

achievement. Jake not only gets to enjoy

the prestige accompanying such an award,

but also receives a cash payment of $500.

In preparation for the exam, Jake attended

weekly English Scholarship Group

meetings. This comprises a small group

of top English students in Year 13 who meet to discuss texts and ideas, and to share

some food. Jake also devoted a lot of his own time to study, and is a voracious reader.

Throughout his schooling, Jake has stood out as a mature, responsible and respectful

young man. His teachers speak very highly of him: "Jake possesses a sharp, inquiring

mind, complemented by a fierce intelligence. He is interested in the world around

him and is widely read. I always look forward to him sharing his views in class,

which he does with a quiet confidence. He frequently displays both perception

and empathy. Jake's obvious talents led to him being invited to join the English

Scholarship Group this year. His contributions to the group are highly valued."

Jake has also been part of the Mairehau High School Gifted and Talented (GATE)

programme for the past four years. He has taken full advantage of the opportunities

this has afforded, attending conferences and field trips to provide further extension

and aid with his studies. Jake enjoys getting involved in and exploring a range of

subjects, ranging from the CPIT 'Have a Go' day to the University of Canterbury

criminal justice seminar. This willingness to participate in the wider life of the school

and community further reflects Jake's maturity, work ethic and commitment to his

studies.

Jake Jeffries has been a real asset to our school community. He now intends to take a

gap year before beginning university studies in 2018. Jake can be immensely proud,

not only of his academic achievements, but of the way he conducts himself, and of

the positive manner in which he relates to others.

Academic Student Executive – Ivannia Osuna Fregoso

Ivannia is a Year 13 student who successfully applied for the role of Academic

Student Executive for 2017.

Along with Ben Lowe, who is also a Year 13 student and Peer Support

Coordinator, Ivannia will work with all levels of our students and provide the

support they need to achieve NCEA.

Ivannia and Ben are currently introducing quizzes that can be used during a non

teaching form time.

With the assistance of the school's Deans, it is important that Ivannia gets to

know all the students, and in particular the year 9s.

As well as her role as Academic Executive, Ivannia will have to manage her own

learning and study. Her academic resume for 2016 is impressive, being awarded

NCEA Level 2 with an excellence endorsement and having subject excellence

endorsements in English, Photography, History and Classics. This year she will be

working hard to achieve NCEA Level 3 with excellence.

Ivannia knows how important it is to have a good academic background and also

the effort that is required to ensure this.

Student support Coordinator Ben and Academic Executive Ivannia

Mairehau High School, Hills Road, Christchurch P. 385 3145 F. 385 3143 admin@mairehau.school.nz www.mairehau.school.nz
---
14 Tuesday March 28 2017

Latest Christchurch news at www. .kiwi

DISCOUNTS ON ALREADY

DISCOUNTED TYRES!

PEGASUS POST

Phone app will keep students

eND OF LINe • LIMITeD STOCK

PRICE INCLUDES FITTING & GST

Complete

Tyre and

Auto

New Zealand Post, Kiwi Bank & NZTA Registration Services

(Licensing, Change of Ownership, RUCLA)

Available 7 days a week

72 New Brighton Mall, New Brighton

03 388 1809

The only Book and Stationery store

with Fly Buys and Big Deal VIP Rewards

175 / 65 / 14 - $65

195 / 60 / 15 - $70

215 / 45 / 17 - $80

215 / 60 / 16 - $80

Canterbury owned and operated

464 Ferry Rd, 03 389 5370

ctawoolston@yahoo.co.nz

8am-7pm Tues-Wed

8am - 5pm Mon Thurs Fri | 9am-3pm Sat

New & Used Tyres • Puncture Repairs

Batteries • WOF • Balancing

Mechanical Repairs • Lube & Servicing

Wheel Alignment

Monday to Friday 8.30 to 5.30

Saturday 9.00 to 5.30

Sunday 10.00 to 4.00

paperplus.co.nz

in touch with Mairehau High

• By Julia Evans

MAIREHAU HIGH School

students Kees Gifford-

Whanau and Michael Scanlan

are excited about keeping

in touch with their school

through its new app.

The app is set to be released

in the coming weeks.

School deputy principal

Rebecca Swanson said the idea

came after a staff discussion

about how to make it easier for

parents and the community

to find out more information

about the school.

"With society's ever

increasing reliance on mobile

devices, we thought an app

was the perfect option," she

said.

Another driver was the

unreliability of phone

lines during earthquakes –

specifically motivated by the

aftermath of the Kaikoura

earthquake, which interrupted

NCEA and scholarship exams.

"Our app will help mitigate

any similar situations in the

future, when it's crucial for

information to go to a lot of

people, quickly," Ms Swanson

said.

Alerts can be sent to all

users with key information or

even just to certain groups.

"When you download it,

you can subscribe to different

alert groups, whether it be a

sports team, a year level or a

scholarship study group."

The app was developed

SCHOOLS

in conjunction with Snapp

Mobile and has other features,

which include parents being

able to send in absences,

contact school staff, sync with

the school events calendar,

daily notices and newsletters.

TECH:

Mairehau

High students

Kees Gifford-

Whanau

and Michael

Scanlan will

be able to stay

connected with

their school

using its new

app.

The school is excited

to launch the app to the

community and Ms

Swanson said it hopes to

strengthen its relationships

with families and students

even further.

Visit www.star.kiwi

anytime, anywhere!

Breaking news,

delivered to

your pocket.

Fire rages, homes at risk

•news •CTV •sport •districts •schools •lifestyle •opinion •what's on

www.star.kiwi
---
PEGASUS POST Latest Christchurch news at www. .kiwi

Tuesday March 28 2017 15

Richmond Discount

Furniture and Bedding The Best Little Furniture Shop in Town

Buffet

1500x800x420

Tallboy 5 drawer

600x1100x420

Side Cabinet

600x600x450

only

entertainment

Unit 1900x600x450

Butchers Block

2 Draw Hall Table

1200 x 810 x 420

$199ea

only $549

Coffee Table

1200x

400x600

only $399

Bookcase

900x1800x350

Hall

Table

1500x800

x420

only $449 only $499

only $349

only $379

2 Draw

entertainment

Unit 1200 x 600 x450

Buffet Unit

800x425x840

entertainment Unit

Black

1100 x 400 x 480

Duchess with

Mirror

1090x410x820

NZ MaDe

only $399 only $499 only $399

Buffet

with

Wine

Rack

1300 x 840

x 430

Buffet

Unit

1175 x 430

x 840

Timber

Bookcase

600 x 320

x 1200

only $399ea $199

Lowboy 6 Drawer 1130 x 410 x 820

entertainment Unit

1530x520x660 Solid Timber

only $499 only $299

Jumbo 4-Drawer

Chest (NZ Made)

Metal runners

1140x800x400

entertainment Unit

980x600x460 Solid Timber

Tallboy

4 Drawer

600x400x900

Nest of

Tables

only $299

White

Bookcase/

Storage

Shelf

800x1600x300

only $299

Corner TV Unit

1000x750x550

only $299

only

$549

Coffee Tables

Solid Timber

only

$329

White

Bookcase/

Storage

Shelf

800x1980x300

1200 x 600

only

$169

Ther-a-pedic Base &

Mattress

Reversible pillowtop innersprung

only

$399

only

$249

available in Black or White

Queen Frame &

Mattress

only

$199

only

$149

only

$199

Hall Tables

Dining Table + 2

Chairs 800x800

only $499

3 Piece Dining

Suite 600x600

only $399

only

$249

SolidTimber

Free Standing

Mirror

SinglE $499

king SinglE/dBlE/ 3/4 $599

QUEEn $699

only

$599

3 DRaWeR

1260x350x775

only

$349

2 DRaWeR

900x350x770

only

$279

5 Piece Dining

Suite 1100x800

only $599

Was

$169

only

$129

Midi 7 Drawer Scotch

Chest

975x760x410

With

metal

runners.

also avail

in Cherry

& Black

only $239

7 Drawer

Scotch

Chest

1140x800x410

Black, white,

only

$269 EACH

Bedside Cabinet

540 x 460

With metal runners.

also

avail

in

Cherry

& Black.

only

$120 EACH

Towerboy

6 Drawer

1260x460x410

With metal

runners.

also avail in Cherry

& Black.

only $220

233 Stanmore Road • Phone (03) 389-0536

WE ACCEPT EFTPOS, VISA AND MASTERCARD... FINANCE NOW AVAILABLE

NO DEPOSIT

UP TO

36 MONTHS
---
16 Tuesday March 28 2017

Latest Christchurch news at www. .kiwi

PEGASUS POST

Advertisers,

we will grow your

customers

No.1 for Readership*

Want more customers? We reach them!

Contact us today to advertise in Christchurch's best

read and largest circulating newspaper, The Star.

www.star.kiwi

Ph: Steve 021 372 479 | E: steve@starmedia.kiwi

*Source: Nielsen CMI Q1 16 – Q4 16, Christchurch urban, all respondents 10+, Thursday readership
---
PEGASUS POST Latest Christchurch news at www. .kiwi

Tuesday March 28 2017 17

SPORTS

Falck returns from India

with Davis Cup squad

CHAMPIONS: The Avon women's team of Libby Morris (back

left), Lizzie Thomson, Sarah McLaren, Jackie Eden, Libby Bird,

Sarah Walcott (front), Sophie Radonivich, Gabby Lee and Olivia

Amy won the Super Six title.

Avon women take out

Super Six hockey title

• By Andrew King

THE AVON women's hockey

team have announced they are

here to play this year by winning

the Super Six competition.

They took on defending champions

Carlton Redcliffs at Nunweek

Park in the final recently.

Avon ran out winners 9-6.

The combination of Libby Bird

and Sarah Walcott fed the ball

to Jackie Eden who netted the

winning goal in the final two

minutes to take the title.

The competition is considered

part of the pre-season for a number

of senior teams, providing an

opportunity to play hockey on a

weekly basis and develop fitness

and combinations prior to the

commencement of the regular

season.

Matches are six-a-side with

goals worth three points.

Avon will look to ride their

form into the main competition,

which starts on Saturday.

• By Andrew King

REECE FALCK competed with

the junior Davis Cup tennis

squad in India and, in spite of

the team finishing ninth, he said

the experience was amazing.

The 14-year-old Burwood

resident was part of the squad,

including George Stoupe, of

Wellington, and Chris Zhang, of

Auckland, which went to New

Delhi on March 11-19.

They were the underdogs of

their pool, which included tournament

hosts India, as well as

Japan and Hong Kong.

"We came last in our pool, but

won all our games in the ninth

to 16th place playoffs," Falck

said.

They beat the Philippines,

Singapore and India to claim

ninth spot.

He said it was a really good

experience and he learnt a

lot from the other players he

competed against.

"There is nothing too major

I'll need to change, just a few

subtle things. I just have to keep

working hard," he said.

The culture of India, he said,

was completely different to New

Zealand.

"It is quite chaotic. The

streets are so busy and loud and

UP-AND-COMING: Reece Falck (right) was part of the

junior Davis Cup tennis team with George Stoupe (left), of

Wellington, and Chris Zhang, of Auckland. The team has

returned home from New Delhi, India.

obviously there is a lot more

people," he said.

Falck's love for the game

started when he was four.

His dad and coach, Andrew

Falck, got him into the sport and

he hasn't looked back.

"It is a whole family thing," he

said.

Younger sister Tatum, 10, plays

as well, and his mum, Angie,

swings a racket around every

now and again.

The best player in the family is

up for debate.

"I'd hope it is me," Falck said.

He aims to have a crack at

making tennis a career and said

a stint over in the United States

could be the ticket to making

that dream come true.

But for now he will turn

his focus to the next few

tournaments to get his ranking

up and then look to compete at

the nationals.

"It was great to get some

international competition and

I really look forward to more of

it," he said.
---
18

Tuesday March 28 2017

Latest Christchurch news at www.

.kiwi

PEGASUS POST

Email sarla.donovan@starmedia.kiwi

by 5pm each Wednesday

Knit and Yarn

Wednesday, 11am-1pm

Come along to the Linwood

Library for a friendly craft corner

session. Bring your knitting,

crochet or other portable craft

project and enjoy time with

others. Beginners welcome.

Linwood Library, Eastgate

Mall. No charge

Robotics Pop-Up

Wednesday, 3.30-4.30pm

Children aged 7-12 can drop

in after school and have fun

playing with Lego, Mindstorms

EV3, Bee-Bots, M-Bots and some

simple programming software

on iPads. Library staff will be on

hand to help them explore some

robotic fun.

Aranui Library, 109 Aldershot

St

Science Snippets

Friday, 3.30-4.30pm

Science Alive! offers fun

science activities on interesting

topics. Qualified educators lead

children through interactive

activities to stimulate their

interest in science. Suitable for

children aged 5-10. A caregiver

will be required.

Linwood Library, Eastgate Mall

Eastside Rangatahi Youth

Ball

Friday, 6.30-11pm

Teens from all over the eastside

are invited to this ball. Attendees

will be treated to a three-course

meal, DJ, photo booth, games

and prizes. Tickets cost $15 and

are available from the Youth

Alive Trust, 111 Seaview Rd, or

Strengthening Linwood Youth

Trust, 150 Ferry Rd.

New Brighton Club, 202 Marine

Imagination Station

Saturday, 10am-2pm

Lego-lovers should head along

to the New Brighton Library

for the Imagination Station

pop-up. Imagination Station

looks to build confident, lifelong

learners by providing accessible

and inspiring Lego to encourage

creative play.

New Brighton Library, 213

Marine Pde. Gold coin donation \

Walking Group

Monday, 10.30am

The Aranui Community Trust

holds a regular, gentle walk

around the neighbourhood,

followed by a cuppa at the library.

Aranui Library, 109 Aldershot

St

CATCH OF THE DAY: Check out

this great exhibition of selected

images from the Christchurch

Documentary Project. Last

year, Janneth Gil, Tegan

Hollis-Ristow and Rachel Pugh

from the School of Fine Arts

photographed Christchurch

seaside communities from

Waimairi Beach to Southshore,

creating "an intimate portrait of

a beloved part of Christchurch."

This week is your last chance to

catch these intriguing pictures.

Edge of the East Photography

Exhibition is on at the New

Brighton Library, daily untill April

2. 9am-6pm Monday to Friday,

10am-4pm weekends. ​

Back tourism

Tax tourism

Should visitors pay? | THE MIKE HOSKING BREAKFAST | 6am – 8.30am weekdays

NEWSTALKZB.CO.NZ

CHRISTCHURCH 100.1FM
---
PEGASUS POST Latest Christchurch news at www. .kiwi

Tuesday March 28 2017 19

Fendalton Dental Surgery,

looking after your dental needs

Fendalton Dental Surgery, on the Idris

& Glandovey Roads corner has been

looking after the dental needs of their local

community as well as the wider Christchurch

area since 2011. It is operated by Dr Keith

Chiang and his highly experienced team who

can perform a variety of complex procedures

ranging from General & Cosmetic Family

Dentistry including Dentures upto more

complex work like Wisdom teeth surgery,

Implants and Crowns.

Dentists Keith Chiang and Zohnia

McNeill and Dental Hygienist Amy Lee

offer a complete range of dental and oral

care services, all in a very calm and relaxed

environment. "We listen carefully to what

our patients tell us so we can address each of

Sports Injury?

Specialising

in Injury

Rehabilitation

$5 discount for

SuperGold Card holders

Physiotherapy Associates

Finding Solutions

ACC Contracted Provider

Ph/Fax 03 389 7196 86A Wainoni Rd

Email: physioassoc@clear.net.nz www.physioA.co.nz

their dental problems and help them achieve

good oral health," says Keith.

A major component of Keith's work is

under IV sedation, which is available for

people that are very nervous about visiting

the dentist. He has performed more than

2000 Intravenous sedation procedures and

the clinic is equipped with the latest advanced

equipment for sedation monitoring. He has

a special interest in Oral Surgery, Implants

and Intra venous sedation.

For people with damaged or missing teeth,

Zohnia will discuss with them the options

of having crowns, permanent implants or

dentures fitted, all of which have the added

advantage of helping clients regain their

functional bite as well as improve their

smile and overall confidence. She

has a special interest in Cosmetic

dentistry, Root Canals and Geriatric

dentistry. Her calm approach and

special individual attention to detail

has helped deal with most common

dental issues in her patients.

Hygienist Amy specialises in

the overall maintenance of healthy

teeth and gums. She educates her

clients on how to look after their

oral health, which if not taken care

of can have detrimental effects

on their overall health. The gum

Dr. Zohnia McNeill

is now working

Wednesdays and

Thursdays.

• General Dentistry • Emergency Appointments

• Cosmetic Fillings • Dental Implants • Crowns

• Partial/Full Dentures • Root Canals • Veneers

• New Patients Welcome

99a GLANDOVEY RD (Entrance via Idris Rd)

FENDALTON, CHRISTCHURCH 8052

PHONE: 03 351 1188 FAX: 03 351 1138

Monday - Friday 8.30am-5.00pm

www.fendaltondental.co.nz

style

noun

elegance and sophistication.

synonyms: flair, grace, poise,

polish, suaveness, urbanity,

chic, finesse, taste, class,

comfort, luxury, affluence,

wealth, opulence, lavishness.

Dr Keith Chiang,

Dentist

disease, Gingivitis is one of the main reasons

why people lose their teeth, the dentists

point out, while research also indicates that

gum disease in pregnant women can mean

a higher chance of premature birth and low

birth weight.

Dry mouth or reduced salivary flow,

which is caused by certain medications that

people take can also lead to gum problems

and tooth decay. By visiting the hygienist

regularly, gum problems can be prevented,

and consequently tooth decay as well as

more serious health issues can be avoided.

Fendalton Dental Surgery will soon add to

its suite of advanced dental equipment with

Dr Zohnia McNeil,

Dentist

Amy Lee,

Dental Hygienist

a state-ofthe-art

3D CT scanner, which will be used

to scan jaws, enabling the dentists to give a

better diagnosis of clients' dental problems.

Keith, Zohnia and Amy invite new

patients to visit their clinic and experience

Expert Care and of being one of their valued

patients, and without having to pay high

fees.

Easily accessible, highly visible and

with plenty of on-site parking, Fendalton

Dental Surgery, on the corner of

Glandovey and Idris road, is open Monday

to Friday 8.30am-5pm. Phone 351 1188

for an appointment, or simply call in.

watch local | support local | shop local

Join our

hosts Geoff &

renee on sKy

ChaNNeL 83

Thursday

7.30pm

repeaTs friday

1.30am

& 7.30am

Your Local

Friendly

Dental

Team

ACCESS TV FOR NZ

SKY CHANNEL 083

WWW.STAR.KIWI

230 Barrington st

332 4004

Easy parking

& great service

Magazine & TV | sTyle.kiwi

for enquiries, contact Geoff moreton: 021 1066 177
---
20

Tuesday March 28 2017

REAL ESTATE

Top location at a price that may surprise

12/43 Waimairi Road, Ilam

Latest Christchurch news at www.

4 bedrooms | 1 bathroom | 1 toilet | 1 living room | 2 car-garage 2 off-street parks | Listing # BE192786

.kiwi

PEGASUS POST

You may well be staggered at what offers

my vendor is willing to consider! Don't

delay as this could be a once in a lifetime

chance to secure a superb property at truly

good value.

Situated just a short walk from the Bush

Inn Centre, the University and Riccarton

Mall this property should be on your

shopping list. Yet privacy and quiet are a

feature of this home.

Beautifully presented with a large living

room opening onto your own private

courtyard that is bathed in sunshine. With

three bedrooms and the bonus of either a

large fourth bedroom or studio/office there

is room for a family or flatmates.

A double garage with internal access will

let you put your cars away safely for the

night plus there is room for two cars in

front of the garage as well.

Designed for easy living with just enough

garden to potter in but not enough to

destroy your enjoyment of the weekend.

Open Home Dates: Saturday 1 April

1:15 p.m. - 1:45 p.m. See you at the open

home or to arrange a private viewing

of this property call Debbie Pettigrew

from Harcourts Grenadier Beckenham

(Licensed Agent REAA 2008) now on 337

1316 or 027 777 0411

now bigger than ever

Bridalshow

save the date

The magazine for gardeners who

like to get their hands dirty

Sun 27th Aug

10am to 3pm

air Force Museum

45 Harvard Ave

Wigram, Chch

Tickets: $20.00

growing with you

SprIng Is here –

It'S Sow Time

how to get the best results from

seeds and seedlings

100% NatIve In

The capItal

Unravelling the secrets of

Otari-wilton Bush

The New Zealand

landscape awards

The people behind

the projects

September 2016 | 100%

It's time

to grow!

New look and more

content than ever!

MeeT LeSTer Brice

A Garden coach

SubScribe from

$43. 50*

$7.90 incl. GST

*6 issues/6 months

ISSN 2423-0219

Save our roSeS

How a rose register is protecting our heritage

auckland Botanic GardenS

Why we love our public grounds

A Star Media Event

SUBSCRIPTIONS FREEPHONE

0800 77 77 10

www.gaRdENER.kIwI
---
PEGASUS POST Latest Christchurch news at www. .kiwi

Tuesday March 28 2017 21

WEEKDAYS FROM 3PM

Stace&

Flynny

THEHITS.CO.NZ

AUCKLAND 97.4FM, ALEXANDRA 99.9FM, ASHBURTON 89.3FM, CHRISTCHURCH 97.7FM, DOUBTLESS BAY 105.9FM, DUNEDIN 89.4FM, GISBORNE 90.9FM, GREYMOUTH 90.7FM,

HAMILTON 98.6FM, HAWKE'S BAY 89.5FM, HOKITIKA 93.1 FM, HOROWHENUA/KAPITI 92.7FM MANAWATU 97.8FM, MARLBOROUGH 96.9FM, MASTERTON 90.3FM,

MID/FAR NORTH 96.4FM, NELSON 89.6FM, OAMARU 98.4FM, PICTON 89.1FM, QUEENSTOWN 90.4FM, REEFTON 97.5 FM, RUSSELL 106.1FM, ROTORUA 97.5FM,

SOUTHLAND 98.8FM, SOUTH CANTERBURY 94.7FM 98.7FM, SOUTH TARANAKI 91.2FM, SOUTH WESTLAND 90.5 FM, SUMNER 96.5 FM, TARANAKI 90.0FMTAUPO 96.8FM,

TAURANGA 95.0FM,TE ANAU 90.4FM, TOKOROA 97.3FM, WAIOROA 99.7FM,WANAKA 96.2FM, WANGANUI 89.6FM, WELLINGTON 90.1FM, WESTPORT 90.9 FM, WHANGAREI 95.6FM
---
22

Latest Christchurch news at www. .kiwi

Tuesday March 28 2017

PEGASUS POST

Classifieds Contact us today Phone our local team 03 379 1100

Community Events

ALCOHOLICS

ANONYMOUS, If you

want to have a drink thats

your business. If you want

to stop, we can help. Phone

0800 229-6757

Computers

ALL

YOUR

COMPUTER

WORRIES SOLVED!

*$30.00 off your first

service with this coupon!*

No problem too big or

small from home PC's to

business networks. PC

slow? An end to Viruses,

Spyware, and Clogged

Systems. Safe secure

hassle-free computing.

Lost files recovered.

Microsoft Certified,

MCSE, MCP+l. 30 years

experience. Call Andrew

Buxton this week on 326-

6740 or 027 435-7596

for $30.00 off* Custom

Computers Christchurch

Curtains

www.curtainfabric-outlet.com

Half Price Sale

from $5 per mtre

Call at Our Shop

CURTAIN FABRIC OUTLET

71 Hawdon St Sydenham

Ph 366-5026

Gardening

& Supplies

A GARDEN

PROFESSIONAL

NEEDED? Qualified

Horticulturist, offering

expert pruning, garden

makeovers, garden design

and landscaping, for free

quotes call Bryce 027 688-

8196 or 0508 242-733

A GARDEN OR

LANDSCAPING TIDY

UP? Shrub, hedge &

tree pruning, Lawns,

Gardening, consistently

reliable general property

upkeep, Dip. Hort. 10

yrs experience, One off

tidy ups or on-going

service. Nick's Property

Maintenance. Keeping

your garden beautiful.

Free Quote. Ph. 942-4440

Holiday

Accommodation

QUEENSLAND SUN-

SHINE COAST AUSTRA-

LIA Resort, Ocean Views,

Balconies, Self Contained,

1 or 2 B/R Ensuite,

Heated Pool, Spa, Sauna,

Free Internet, Shops,

Restaurants, Tennis, Surf

Club & Patrolled Beach,

Public Transport at door.

Ask for our SEASONAL

SPECIALS. Phone 61 7

544-35011 Email: reception@mandolin.com.au

www.mandolin.com.au

ADD SOME

COLOUR

TO YOUR ADVERT!

EQC CASH SETTLEMENT

We will re-scope your property to ensure

you have been paid in full to cover all

your repair costs.

None of the properties that we have

re-scoped so far has been paid the

correct amount to repair their damage.

EXAMPLES

Trades & Services

ROOF REPAIRS

Locally owned & operated with

over 30 years experience.

• Extensions & repair • Roof coating

• Concrete & clay tiles • Butynol

• Malthoid • Asbestos Certified

• Coloursteel • Old iron • Guttering

Phone Dave 981 0278

or 021 223 4200

E: dave@beaumontroofing.co.nz

BEAUMONT ROOFING LTD

Trades & Services

• Replacement/new roofing

• Colour Steel gutter & fascia

• Flue & log burner installs

• Skytube/light installs

• Earthquake repairs

Licence Building

Practitioner LBP

Member of the Roofing

Association

DCM ROOFING LTD

The Roofing Specialists

PHONE IAIN

027 445 5597

iain@dcmroofing.co.nz

Trades & Services

FOR ALL YOUR

★Garden Clean-ups

★Pruning

★Lawn Mowing

★Garden Maintenance

Call us today for a FREE quote

PH 0800 4 546 546

(0800 4 JIMJIM)

Trades & Services

BEST BATHRooMS

full renovation specialists,

LBP, repairs &

maintenance ph 03 387-

0770 or 027 245-5226

Trades & Services

Trades & Services

•Yaldhurst Road Initially $3,800 after our

re-scope payment received $46,320

•Wairakei Road Initially $7,575 after our

re-scope payment received $38,182

•Prossers Road Initially $19,827 after our

re-scope payment received $60,273

•Kaplan Avenue Initially $859 after our

re-scope payment received $34,931

•Liverton Crescent Initially $11,000 after our

re-scope payment received $29,842

•Dalkeith Street Initially $5,000 after our

re-scope payment received $8,945

• We have re-scoped 50 properties who have been under

paid for their repairs.

• Have your initial repairs failed?

• Did you receive your full entitlement?

• Do not pay your excess until all repairs are completed.

• General under payments are: Asbestos testing and

exterior lead paint, peeling wallpaper, cracking in exterior

plaster not repaired correctly.

For re-scoping and all earthquake repairs

including painting and redecorating.

Enquire now Phone 021-667-444

Trades & Services

spouting

BRICKLAYER

George Lockyer. Over

CARRIER

experienced,

30 years bricklaying

experience. UK trained.

Licensed Building

Practitioner number

BP105608. Insurance

work. EQC repairs.

Heritage brickwork a

speciality. No job too

small. Governors Bay.

Home 329-9344, Cell

027 684 4046, email

karengeorge@xtra.co.nz

BUILDER

For all building work

but specialist in bathroom

renovations, 30 yrs

experience, with service

and integrity. Free Quotes.

Ph Lachlan 383-1723 or

0274 367-067.

BUILDER

LICENSED, available for

all aspects of building.

Please call 027 241-7471

or 335-0265

Trades & Services

LoCAL

friendly,

trade-me purchases, single

items to truck loads,

furniture to whatever,

removals & trade

deliveries a specialty. Ph

GEH 341-5069

*****************

CARPET & VInYL

LAYIng

Repairs, uplifting,relaying,

restretching,,Email

jflattery@xtra.co.nz,

ph 0800 003 181

or 027 2407416

CARPETLAYER

Laying and Repairs, 40 yrs

experience, ph Peter 326-

7711 or 027 240-6532

CARPET CLEAnIng

and free deodorising,

3 rooms & hallway

from $59, over 20 yrs

experience ph 027 220-

2256

FEnCIng & gATES

section clearing, digger

work, driveways &

painting, free quotes,

prompt service, ph Mark

027 331-3223

FURnITURE

REMoVALS

Large Trucks $95 +

GST per hour 7 day NZ

wide, packing & moving,

Professional Company,

Professional Service.

Canterbury Relocations

Ltd. ph 0800 359 9313

gAS

PLUMBING,DRAINAGE

& HEATING. 24/7

service. Ph Mike Cairns

Gas & Plumbing 021 132

8929 or 03 326 7949

gLAZIER

Window repairs, pet

doors, new glazing, double

glazing, conservatory

roofs. Experienced

tradesman. Call Bill on

981-1903 or 022 413-3504

oVEn CLEAnIng

Professional cleans

$50.00. Gift Vouchers

avail. Phone 0800 683-

6253 or 027 228-0025

PAInTIng

DECoRATIng

Wingfields Contracting,

all interior & exterior

painting & all forms of

interior plastering & jib

fixing, ph Mark 021 171-

1586 or 355-5994

PAInTER

Top quality work, interior/

exterior, pensioners

discount, free quotes, 30

years experience, I stand

by Canterbury, ph Wayne

your friendly painter

03 385-4348 or 027 274-

3541

Trades & Services

rubbish removal

tRAiLER SKiP HiRE

• 2 or 5 cubic metre

• Household Rubbish

• Green Waste

• Yard Clean ups

• Load it yourself or hire us

• Locally owned and operated

Trades & Services

PAInTER

Available, All aspects in

painting. Very competitive

in roofs and fences. Please

call 027 241-7471 or 335-

0265

PLUMBER

For prompt service for all

plumbing maintenance,

repairs and alterations.

Phone Michael 364 7080

or 027 438 3943

PLUMBER

ALF THORPE

PLUMBING Certifying

Plumber for all types of

plumbing, maintenance,

spouting, alterations etc.

Phone 352-7402 or 0274-

350-231

QEII CoLLISIon

REPAIRS

Free Courtesy Cars

(conditions apply),All

Insurance work,Rust

Repairs &Private work.

Spray-painting.

Free pickup & delivery.

Ph. 03 388 5187

RooFIng

Qualified & Licenced

Practitioner. Re-Roof &

Repairs, all types. Member

New Zealand Roofing

Association. Over 35 years

experience. Phone John

027 432-3822 or 351-9147

email johnmill@ihug.

co.nz

SPoUTIng CLEAnIng

Spouting Unblocked,

Cleaned Out and Flushed

Out. Also Full Handyman

Services Available. Call

Trevor 332 8949 or 021

043-2034

SPoUTIng CLEAnIng

Spouting Unblocked,

Cleaned Out and Flushed

Out. Also Full Handyman

Services Available. Call

Trevor 332 8949 or 021

043-2034

bin co

Phone: 383-0646

027 2131 733

Trades & Services

STonEMASon

BRICK BLOCKLAYER,

Earthquake Repairs, Grind

Out & Repoint, River/

Oamaru stone, Schist,

Volcanic Rock, Paving,

all Alterations new & old,

Quality Workmanship,

visit www.featureworks.

co.nz or ph 027 601-3145

TILER/CARPEnTER

35 years exp, no job

too small. Ph Ross 027

4311440.

TILER

25 yrs exp.All aspects of

tiling professionally done.

Ph Greg 027 434 9160

TREE WoRK

Hedge trimming, stump

grinding, rubbish removed,

small job specialty Ph

Andrew 03 322-8341 or

027 435-8759

TREES BIg oR SMALL

tree removal, trimming,

stump grinding, shelterbelt

clean up, section clearing,

rubbish removals,

excavation work, ph Trees

Big or Small, for a free

quote, 021 061 4783

T.V. SERVICE CEnTRE

Repairs, tvs, microwaves,

stereos, DVD. Aerial

installations and kitsets,

480 Moorhouse Ave, ph 03

379 1400

UPHoLSTERER

Dining Chairs, Lounge

suites, Caravan Squabs

etc. recovered. Free

Quotes. Phone Graeme

383-1448

VHS VIDEo TAPES

& all camera tapes

converted to DVD, video

taping special occasions,

www.grahamsvideo.co.nz

ph 03 338-1655

WATERBLASTIng

Quality Job, Quick Service

by skilled tradesman, Ph

Richard Severin at Jet-X

0800 538 969 Free quotes,

visit www.jetx.co.nz

WInDoW CLEAnIng

Average 3 bdrm house

inside or out $40. Both

$70. Phone Trevor 344-

2170

Tuition

Piano

Raewyn Clegg

Registered Teacher of

Piano and Theory of

Music.

29 Lancewood Drive

Halswell

Ph 322-9377

Wanted To Buy

AAA Buying goods

quality furniture,

Beds, Stoves, Washing

machines, Fridge Freezers.

Same day service. Selwyn

Dealers. Phone 980 5812

or 027 313 8156

A+ Household effects,

fridges, freezers, washing

machines, ovens. Good

cash paid. Ph Paul 022

0891 671

TOOLS

Garden, garage,

woodworking,

mechanical, engineering,

sawbenches, lathes, cash

buyer, ph 355-2045

Public Notices

Weka Pass Railway

Waipara, North Canterbury

We are RUNNING

SUNDAY 2nd APRIL

Running 1st & 3rd

Sunday of every month

Phone 0800wekapass

Depart Glenmark Station

11.30am & 2.00pm

www.wekapassrailway.co.nz
---
PEGASUS POST Latest Christchurch news at www. .kiwi

Tuesday March 28 2017 23

Nothing but the hard hitting hits

from these legendary acts

'Famous for their roasts!'

RESTAURANT & CAFÉ

Kid's SPECIAL

Two courses

Seniors SPECIAL

Two courses

$10

We are family friendly. Great Kids menu plus designated play area.

Soup/Roast or

Roast/Dessert

Special available lunch only

Monday - Saturday 12pm - 2.30pm

$20

Start your

day with us

We are open from 6.30am

Cooked

breakfasts

$18

Check out our extensive

breakfast menu from

Continental to Cooked

The

RACECOURSE HOTEL

& Motorlodge

118 Racecourse Rd, Sockburn,

Christchurch. Ph 03 342 7150

www.racecoursehotel.co.nz

MADSEN Promotions return to the Hornby

Workingmens Club this Saturday 1st April with

another outstanding evening's entertainment.

Based in Nelson, Paul Madsen and company

have been delivering top class shows, both

nationally and internationally, for nearly two

decades. eir shows are always well received at the

Hornby WMC.

Forthcoming e Super Star Show has been

delighting audiences around New Zealand for the

past 15 years. Performances have included opening

of Super Rugby games, to TV appearances

including TVNZ's hit show 'Stars In Your Eyes',

through to corporate events, Chartered Club

circuits and theatre appearances, not to mention a

couple of stints in Las Vegas.

"e Super Star Show is ten separate shows

packed into one," said Paul Madsen. "Full of hits

with heaps of costume changes we cover super stars

such as BeeGees, Eagles, Elvis, Neil Diamond,

Jersey Boys, through to Queen and many more.

Nothing but the hard hitting hits from these

legendary acts."

e Super Star Show starring Paul Madsen and

band appears at the Hornby Workingmens Club

this Saturday 1st April.

Tickets $20 on sale now at the club office, phone

349 9026. 8pm start.

CAFE

open from 11am

TAB & Gaming

Function Facilities

HOUSIE

Tues, Thurs, Sat

SHUTTLE

Tues - Sat

LIVE MUSIC WITH

BOBBY

BROWN

7PM THIS FRIDAY

in Whitfords Bar

WHAT'S ON

Open 7 Days from 5.30pm

LIVE MUSIC WITH

BOTTLE

JACKS

7PM THIS SATURDAY

in Sports Bar

NOW SERVING

available

from

9am

Breakfast

HAPPY

HOUR

5PM - 7PM

DAILY

Lunch & Dinner

All you can eat, 7 days

Bookings Essential

PH 386 0088

fb.com/GardenHotelRestaurant www.gardenhotel.co.nz

Live Music:

Rhonda Campbell

6PM.FRI.31 MAR

PHONE 385 8880 FIND US ON FACEBOOK fb.com/GBCCHCH

THE GARDEN HOTEL COMPLEX | 110 MARSHLAND RD

www.gardenhotel.co.nz | phone 385 3132

www.newbrightonclub.co.nz

GREAT

DINING

- downstairs -

ClubBISTRO

Open Tuesday to Saturday

12pm-2pm and from 5pm

Midweek $10

SPECIAL ROAST

Available Tuesday,

Wednesday, & Thursday

TUESDAYS &

THURSDAYS

Members Lucky

Card Draw

TAB POD

GAMING ROOM

FUNCTION ROOMS

SHUTTLE RUNNING

Tues, Thurs, Fri & Sat

SUNDAY

30th April

ALL YOU

CAN EAT

BUFFET

$25

BOOK NOW!

PIERVIEW RESTAURANT

GREAT

DINING

- upstairs -

PIERVIEW

Restaurant

Quality a la carte

with a view!

Open from 5.30pm

FRIDAY, SATURDAY

& SUNDAY

SORRY, RESTAURANT

FULLY BOOKED

Friday 31 March

FRIDAY SPECIAL:

SIRLOIN STEAK

or

CHICKEN BREAST

WITH JACKET POTATO

& SALAD BAR

$22!

SUNDAY SPECIAL:

3 courses

$25

NOW OPEN FOR

SUNDAY

BRUNCH

By the Seaside!

10.30am-2pm

202 Marine Parade

Ph 388-9416

Members, guests and affiliates welcome

H ORNBY

WORKINGMEN'S

CLUB

«WHAT'S ON«

SATURDAY 1 APRIL

4.30PM

ANDY GILMOUR

8PM

A&P duo

ANTHONY & PETER

SATURDAY 1 APRIL, 8PM

(UPSTAIRS)

MADSEN PROMOTIONS

PRESENTS

BEE GEES, EAGLES, QUEEN

SUPERSTAR SHOW

feat. PAUL MADSEN & BAND

Tickets $20 at club office.

«COMING UP«

FRIDAY 21 APRIL, 8PM

THE TONER SISTERS

with special guests

TOM SHARPLIN & REMEDY

COUNTRY & RnR

Tickets $20 at club office.

Hornby WMC, 17 Carmen Rd,

Hornby. Phone 03 349 9026

www.hornbyworkingmensclub.co.nz

Members, guests & affiliates welcome
---
24 Tuesday March 28 2017

Latest Christchurch news at www. .kiwi

PEGASUS POST

Dole Philippine/Ecuadorian

Loose Bananas

$

6 99

kg

Corned Silverside

$

1 99

kg

$

1 00

each

Bluebird Burger Rings/

Twisties/Cheezels/Rashuns

110-120g/Schweppes

Sparkling 1.5L

$

2 99

bag

Royal Gala

Apples 2kg

$

4 50

each

Signature Range Ice Cream 2L

2

for

$

5 00

Big

2.25L

Size

2

for

$

7 00

Coke/Sprite/Fanta/Lift/L&P 2.25L

Vogel's Bread 720-750g

(Excludes Gluten Free)

$

21 99

pack

Asahi Super Dry/Heineken

12 x 330ml Bottles

(Excludes Light)

Be in to

WIN

$

7 99

each

Jacob's Creek 750ml

(Excludes Sparkling/Reserves/ Double Barrel)

A year's supply of PURINA ONE

cat or dog food.

Purchase any 2 x PURINA ONE products in a

single transaction to go in the draw to win a

year's supply of PURINA ONE cat or dog food.

$

9 00

each

Beehive Streaky Bacon 500g

One

winner

in every

store!

Competition opens 06/03/17 and closes 02/04/17. Visit FreshChoice.co.nz/purina-one for full terms and conditions.

FreshChoice Parklands

60 Queenspark Drive, Christchurch.

Open 7am-11pm, 7 days.

FreshChoice.co.nz FreshChoiceNZ 383 1004

FreshChoice Parklands

Certain products may not be available in all stores. Savings are based on non-promotional price. Limits may apply.

Prices apply from Tuesday 28th March to Sunday 2nd April 2017, or while stocks last.

Owned and

operated

by locals

FCPP2803
---
labour.org.nz

Bi-Annual Report

I'm proudly standing up for Christchurch East and Backing the Kiwi Dream. This report is an overview of my work and activities over the

last six months in Christchurch East, in my portfolios and in Parliament. Importantly, this report shows what I'm doing about your concerns

and the needs of our community.

Six years on from the Canterbury earthquakes, I'm encouraged by the progress

we have made. More claims are settled, more roads repaved, and more homes

have been rebuilt or repaired. While fewer people are asking me for help with

EQC or insurance claims, I understand these are still ongoing concerns for

many of you. I'm continuing to get answers, so please get in touch if you need

my help with your earthquake issues.

Sadly, an increasing number of people are unable to live the Kiwi Dream.

I'm receiving more requests for help with housing, hardship and WINZ-related

issues at a time when the government is selling Housing New Zealand homes

and cutting access to benefits. This is simply unacceptable. Everyone deserves

a warm, dry place to live and I'll do everything in my power to stop the sale of

2500 State Homes in Christchurch.

New Zealand Labour Identity Guidelines Version 2.0 | February 2016

Our logo

There have been plenty of highlights over the past six months. Public

submissions opened on the New Brighton Hot Salt Water Pools project, the

Spring Music Festival, AFFIRM fun-day in Aranui, the Cook Island Soldiers of

World War One commemorative service, and celebrating the 100 years of the

Labour Party!

Thank you to everyone who responded to my many surveys, especially about

housing. I appreciate your participation and your valuable feedback, which

helps me better serve our community. This bi-annual report outlines what I've

been doing for you. As always, I welcome your feedback and if I can be of

service, don't hesitate to get in touch.

Ngaā mihi.

Logo and

Parliamentary

crest.

Poto Williams

Christchurch East MP

Materials produced for MPs to support

their Parliamentary work should bear the

Parliamentary crest to indicate this funding

source.

3A

When presented together, the crest should
---
Activities in the East

What's important to you?

Twice a month my team and I travel around Christchurch East in my mobile office,

visiting a street corner near you. I want to make it as easy as possible to get in

touch with me and access support.

The Parliamentary Netball team - The Parly Ferns celebrating our victory

over Australia and retaining the Diggeress Cup!

You can find me on the first Monday of each month at: Linwood 9am - 9:40am,

Linwood Avenue outside Salvation Army. Dallington 9:50am - 10:30am, Cnr

Gayhurst Rd & Claydon Place. Richmond 10:40am - 11:20am, Stanmore Rd at

Richmond Playground. Shirley 11:30am - 12:10pm, Cnr Marshlands Rd and

Hammersley Ave.

And on the first Friday of each month at: Bromley 9am - 9:40am, Bromley Rd

outside Community Centre. Wainoni 9:50am - 10:30am, Wainoni Rd near

Shortland St West. Burwood 10:40am - 11:20am, 17 Parnwell Rd near Education

Centre. Parklands 11:30am - 12:10pm, Queenspark Drive outside Harcourts.

Here are just a few examples of how I'm representing you, advocating on your

behalf, and working to improve Christchurch East.

Calling on the government, with Rape Prevention & Wellington Women's Refuge to halt

the collection of individual client data.

As the Labour Party Spokesperson for Sexual and Domestic Violence, as well as

Spokesperson for the Community and Voluntary Sector, I was appalled that the

government wants organisations like Rape Crisis and Women's

Refuge to disclose personal details of the vulnerable people coming to them for

help, in order to keep their funding.

I will continue to be a strong advocate for victims of violence and sexual assault.

This is a cause very close to my heart, and every month I speak with families,

groups and organisations who support victims or run programs for offenders. By

continuing to have open and honest discussions, we raise awareness, find

solutions and change our society for the better.

There was a fantastic turnout at Blue Smoke at the Tannery to hear Leader Andrew

Little on his State of the Regions tour. Common topics in both

Andrew's speech and your questions, were building more homes, stopping the

sale of state housing, and better funding for mental health services and the Canterbury

District Health Board.

With Adam McGrath from local band The Eastern during

Leader Andrew Little's State of the Regions tour.

I know how important these issues are to you. Sadly, queries around health,

hardship and housing are replacing earthquake issues and EQC as the main

topics in my Electorate Office. If you need help or advice around accommodation,

health or financial hardship, please don't hesitate to come talk to me or my team.

We are here to support you.

In December, I was elected Vice-Chair of the Commonwealth Women

Parliamentarians (CWP). Even though we make up half the global population,

women are disproportionately under-represented in leadership positions, so the

CWP aims to increase female representation and mainstream gender issues in

commonwealth parliaments around the world.

I'm proud to serve my country and the Commonwealth as Vice-Chair of the of the

Commonwealth Women Parliamentarians.

As a woman from an ethnic minority in New Zealand's Parliament, I believe it is

my duty to bring other women through to positions of power and influence. I'm

committed to serving my local community of Christchurch East, while taking every

opportunity to improve the lives of women across the Commonwealth.
---
With Councillor Glenn Livingstone after

completing City 2 Surf.

Groups like Aviva do amazing work to support our community.

It was great catching up at the Linwood Youth Festival.

Poto meeting with a delegation from the Pacific Youth

Leadership And Transformation Council.

Christchurch East is a wonderful mix of vibrant communities. I love getting involved in your activities,

projects and celebrating the diversity that makes us stronger together. What better example than the

Linwood Youth Festival Experience!

At LYFE, everyone from schools, dance crews, bands, organisations, to kapa haka groups and more joined

together in a spirited display of culture, diversity, and achievement that makes me so proud to be a

Cantabrian. Another real highlight was joining Mayor Lianne Dalziel and the amazing Student Volunteer

Army clean up the Southshore Spit Reserve: a huge thank you to the 700 volunteers who worked to

beautify these wonderful communal grounds.

The past six months have also had their challenges. I want to acknowledge and celebrate those staff

members, school board trustees, volunteers, parents, and, most importantly, students from Aranui High,

Aranui Primary, Wainoni, and Avondale Schools as they closed their doors for the last time.

Working with Mayor Lianne Dalziel to

clean up Southshore Spit Reserve.

During our most troubled times, these schools were golden threads in the fabric of our community, holding

students and families together as essential hubs for earthquake response and recovery.. These schools

provided the joy of learning and the magic of discovery in the lives of our tamariki.

The November 2016 earthquakes and the Civil Defence response raised a number of issues in the East,

especially for deaf and hearing-impaired residents. It's my hope that by working with Civil Defence and

community organisations we can come up with a warning system that gives a clear message to everyone.

These are just some of the highs and lows for the people of Christchurch East, as shared by you when you

visit my Electorate Office, attend one of my community clinics, or have a Cup of Tea with your MP at the

Seaside Market in New Brighton. Thank you for taking the time to share what's important to you, and

allowing me to advocate on your behalf.

With Leader Andrew Little

on his State of the Regions tour.

Fighting for justice with Jerome Mika, Imogen Beynon and

Kelvin Davis so Kiwis in Australia can access basic legal rights.

Ready to open the New Brighton Spring Festival with the

St James School Choir.

With Kim Robinson, Rachel Noble and Dean Buckley

discussing access issues for the Deaf and Hearing

Impaired to Civil Defence information.
---
mmigration 23

Housing 44

54 Education 5

Transport 2 IRD 1 Media Events Appearances

OIA and Requests Mtgs ex Wgtn 29 294 49

PINZ/MSD 34 CCC Employment 54 Education 23 JP 2 5

71

Supplementary Questions 8

eet the MP Earthquake 34 Employment 28 Kiwisaver 2

12

Stakeholder

Media Appearances

Primary Mtgs Oral Questions Wtgn 2 121

49

41 Family Court 4

Stakeholder

Electorate Office Activity

Consumer Affairs 1 Police 3

Other

Public

Activity

Meetings

Mtgs

- 1st

Held

Wtgn

July 20163

121

ardship 41 Family Court 4

Debate Calls to 50 31 December 2016

44 Power/Energy Health 4 Seniors 11

1 Debate Calls 50

ousing CYF 44 Health 4 General issues 11

45

2 IRD 1

OIA Requests 29

ransport 2 IRD 1

OIA Requests 29

ACC

4 23 JP 71

Supplementary Written Questions

CC 23 JP 71

Supplementary

Questions

Questions

241 Stakeholder Mtgs 8 Wtgn

121

Immigration 23

Events and Mtgs ex Wgtn

arthquake 28 Kiwisaver 28 Kiwisaver 12

Primary

12

Primary Oral Oral Questions Questions

294 Debate Calls 2

50

WINZ / MSD 54

onsumer ffairs Affairs 1 Police 1 Police 3 3

Public Public

Media Meetings Appearances

Meetings Held Held49

OIA Requests 3

29

ower/Energy Meet the MP 34 4 Seniors 4 Seniors 1 1

Hardship 41 4 General issues 45

YF 4

Housing

Transport

CCC

Earthquake

Consumer

Affairs

Power/

Energy

CYF

Disability

ECAN

Education

44

2

23

28

1

4

4

2

1

5

During Other Responsibilities last six months and in Memberships

parliament I have helped hold the government to

We respond to a wide range of issues from our Electorate Office in New During in I have helped hold the

On a more disappointing note, more people are coming to my Electorate Office

account the

Member by last asking six months

of: 241 Written in parliament Questions and I have making helped 29 Official hold the Information government Act to

Brighton. In the last six months, we responded to 420 queries, most of them government to account by asking 241 Written Questions and making 29

because they're having trouble getting by. Hardship, Housing, WINZ and Ministry account Requests. Eastern by asking Vision 241 Written Questions and making 29 Official Information Ac

regarding Justice of the of Peace Social Development services which queries have are relatively risen as more straightforward.

people struggle to pay their Official NZ Information Parliamentarians Act for requests.

Population and Development

Requests.

rent, find a warm place to live, and feed their families.

I also Global made Organisation 49 speeches of Parliamentarians in the house Against during Corruption many debates and bill discussions,

Compared to last year we are dealing with fewer Earthquake and Insurance I also made Commonwealth 49 speeches Parliamentary in Parliament Association during many debates and bill

Under this government, access to WINZ benefits have been cut, Housing New

issues, which is encouraging as it shows the Christchurch East rebuild is I also including

discussions, made on

NZ-Pacific 49 the

including Friendship speeches Charities

Group on in Amendment

the the Charities house Amendment during Bill to many support

Bill debates community

to support and organisations

bill discussions

We respond to a wide range Zealand of issues homes from have been our Electorate sold, and wages Office have not in kept New up with Brighton. the cost of living.

progressing, even if it feels painfully slow at times.

including community and their NZ Parliamentary

on valuable organisations the Charities

Netball work. Team and Amendment Also (Parly their on Ferns) the valuable Residential Bill to work. support Tenancies Also on community the Amendment Residential organisation Bill to

In I've campaigned hard against the sale of state homes in Christchurch, and will

nd the to a last wide six range months, of issues we responded from our to Electorate 420 queries, Office most in New of them Brighton. regarding

Tenancies

Cook Island

Amendment

Soldiers World

Bill to

War

raise

One (Organising

the standards

Committee)

continue to do so.

of all rental properties,

Justice On of a the more Peace disappointing services which note, are more relatively people straightforward.

and

raise

their

the

Vice valuable

standards

Chair of: work.

of all

Also

rental

on

properties,

the Residential on

Tenancies

the Civil Defense

Amendment

Emergency

Bill to

st six months, we responded to 420 queries, most are coming of them to my regarding Electorate and Management on the Civil Defense Emergency Management Bill speaking up about

Office because they're Health having is also trouble becoming getting a major issue, by: Hardship, as more people Housing, come to my WINZ office because

Commonwealth

Bill

Women

speaking

Parliamentarians

out against the mixed messages Christchurch East

raise the mixed the standards messages of Christchurch all rental properties, East received and such on the as Civil following Defense the Emergenc

f and Ministry of Social

they

Development

have been kicked

queries

off the surgical

have

waiting

risen

list,

as

or they

more

can't

people

see a specialist to

Chair of:

Compared the Peace to services last year which we are relatively dealing with straightforward.

fewer Earthquake and Insurance received like we did following the November 2016 earthquakes and tsunami

Management November 2016 earthquakes and tsunami warnings.

get on the list in the first place! I'm proud to have helped my constituents get

Labour Women's

Bill speaking

Caucus

out against the mixed messages Christchurch Eas

issues, struggle which to is pay encouraging their rent, find as a it warm shows place the to Christchurch live, and feed East their Rebuild families. is warnings.

d to last year we are dealing assessments with to go fewer back on waiting Earthquake lists and gain and access Insurance

to much needed surgeries. received like we did following the November 2016 earthquakes and tsunam

progressing, even if it feels painfully slow at times.

Other Other Responsibilities and Memberships and Memberships

hich Under is encouraging this government, as it access shows to the WINZ Christchurch benefits have East been Rebuild cut, Housing is warnings.

Member of:

ing, On a even New more if Zealand disappointing it feels homes painfully note, have slow more been at times. people sold, and are wages coming have to my not Electorate kept up with Office the Other Eastern Member Vision Responsibilities of: and Memberships

because

cost

they're

of living.

having

I've campaigned

trouble getting

hard

by.

against

Hardship,

the sale

Housing,

of state

WINZ

homes

and Ministry

in

NZ

Eastern

Parliamentarians

Vision

for Population and Development

Christchurch, and will continue to do so.

Global Organisation of Parliamentarians Against Corruption

re of disappointing Social Development note, queries more people have risen are coming as more to people my Electorate struggle to Office pay their Member Commonwealth NZ Parliamentarians of: Parliamentary for Association Population and Development

NZ-Pacific Friendship Group

they're rent, Health find having a warm is also trouble place becoming to getting live, a and by. major feed Hardship, issue, their as families. Housing, more people WINZ come and Ministry to my office Eastern Global Vision Organisation of Parliamentarians Against Corruption

NZ Parliamentary Netball Team (Parly Ferns)

Development because they queries have have been kicked risen as off more the surgical people waiting struggle list, or to they pay can't their see NZ Commonwealth Parliamentary Association

Under a specialist this government, to get on access the list to in WINZ the first benefits place. have It is a been privilege cut, to Housing have been New

Vice Parliamentarians Chair of: for Population and Development

a warm place to live, and feed their families.

Global Commonwealth NZ-Pacific Organisation Friendship Women Parliamentarians of Group

Against Corruption

Zealand able homes to help have my been constituents sold, and get wages assessments have not kept to go up with back the on cost waiting of living. lists

New Zealand Labour Identity Guidelines Version 2.0 NZ | February Parliamentary 2016 Netball Team (Parly Ferns)

I've campaigned and gain access hard to against much needed the sale surgeries, Our of state logo homes but it shouldn't in Christchurch, be that and hard will to Commonwealth Chair of: Parliamentary Association

is government,

continue

get the

to do

healthcare

access

so.

you

to

need

WINZ

in

benefits

New Zealand.

have been cut, Housing New

Labour

Cook

Women's

Island

Caucus

NZ-Pacific Friendship Soldiers Group of World War One (Organising Committee)

omes have been sold, and wages have not kept up with the cost of living. NZ

Vice

Parliamentary

Chair of:

Netball Team (Parly Ferns)

paigned Health is hard also becoming against the a major sale issue, of state as more homes people in Christchurch, come to my office and because will

Commonwealth Women Parliamentarians

Cook Island Soldiers of World War One (Organising Committee)

to they do have so.

03 been 382 kicked 0288 off the poto.williams.mp@parliament.govt.nz surgical waiting list, or they can't see a specialist PO Box 18888, to

Chair of:

Wellington, Vice Chair 6010 of: 133 Brighton Mall www.labour.org.nz/potowilliams

get on the list in the first place! I'm proud to have helped my constituents get

Labour Women's Caucus

also

assessments

becoming

to go

a major

back on

issue,

waiting

as more

lists and Logo people

gain access

come and to

to

much

my office

needed

because

Commonwealth Women Parliamentarians

surgeries.

e been kicked off the surgical waiting list, or they can't see a specialist to

Chair of:

e list in the first place! I'm proud to Parliamentary

have helped my constituents get

Labour Women's Caucus

nts to go back on waiting lists and gain access to much needed surgeries.

Poto Williams

crest.

Health 11

ECAN 1

General issues 45

We Employment respond to a

2

wide range IRD of issues from 1 our

Police

Electorate Office 3in New Brighton.

In the last six months, we responded to 420 queries, most of them regarding

Family Court

Justice of the Peace

4 JP

71 Seniors

1

services which are relatively straightforward.

Health

11 Kiwisaver 12 General Issues 45

Compared to last year we are dealing with fewer Earthquake and Insurance

issues, which is encouraging as it shows the Christchurch East Rebuild is

progressing, even if it feels painfully slow at times.

Materials produced for MPs to support

Christchurch East MP

their Parliamentary work should bear the

Parliamentary crest to indicate this funding

Authorized by Poto Williams, Parliament Buildings, source. Wellington

When presented together, the crest should

Supplementary Questions

Primary Oral Questions

Public Meetings Held

During the last six months in parliament I have helped hold the government to

account by asking 241 Written Questions and making 29 Official Information Act

Requests.

I also made 49 speeches in the house during many debates and bill discussions,

including on the Charities Amendment Bill to support community organisations

and their valuable work. Also on the Residential Tenancies Amendment Bill to

raise the standards of all rental properties, and on the Civil Defense Emergency

Management Bill speaking out against the mixed messages Christchurch East

received like we did following the November 2016 earthquakes and tsunami

warnings.

8

2

3

3A