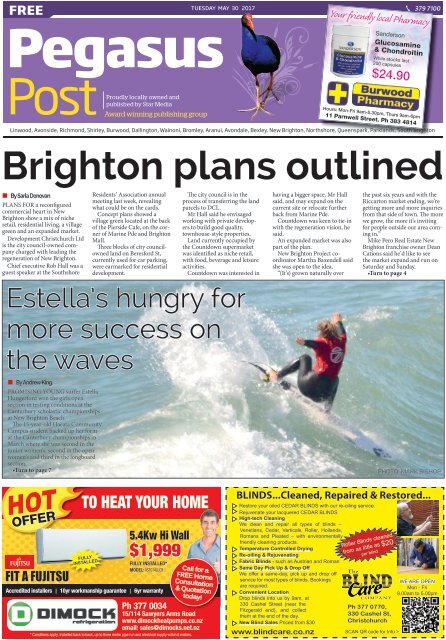 Pegasus Post: May 30, 2017
You also want an ePaper? Increase the reach of your titles
YUMPU automatically turns print PDFs into web optimized ePapers that Google loves.
6/105 Coleridge St, Sydenha

* Conditions apply. Normal lending criteria, booking fee and an

FREE

TUESDAY mAY 30 2017

Pegasus

Post

Proudly locally owned and

published by Star Media

Award winning publishing group

Your friendly local Pharmacy

Sanderson

Glucosamine

& Chondroitin

While stocks last

200 capsules

$24.90

Hours: Mon-Fri 9am-5.30pm, Thurs 9am-6pm

11 Parnwell Street. Ph 383 4814

379 7100

Linwood, Avonside, Richmond, Shirley, Burwood, Dallington, Wainoni, Bromley, Aranui, Avondale, Bexley, New Brighton, Northshore, Queenspark, Parklands, South Brighton

Brighton plans outlined

• By Sarla Donovan

PLANS FOR a reconfigured

commercial heart in New

Brighton show a mix of niche

retail, residential living, a village

green and an expanded market.

Development Christchurch Ltd

is the city council-owned company

charged with leading the

regeneration of New Brighton.

Chief executive Rob Hall was a

guest speaker at the Southshore

Residents' Association annual

meeting last week, revealing

what could be on the cards.

Concept plans showed a

village green located at the back

of the Pierside Cafe, on the corner

of Marine Pde and Brighton

Mall.

Three blocks of city councilowned

land on Beresford St,

currently used for car parking,

were earmarked for residential

development.

The city council is in the

process of transferring the land

parcels to DCL.

Mr Hall said he envisaged

working with private developers

to build good quality,

townhouse-style properties.

Land currently occupied by

the Countdown supermarket

was identified as niche retail,

with food, beverage and leisure

activities.

Countdown was interested in

having a bigger space, Mr Hall

said, and may expand on the

current site or relocate further

back from Marine Pde.

Countdown was keen to tie-in

with the regeneration vision, he

said.

An expanded market was also

part of the plan.

New Brighton Project coordinator

Martha Baxendell said

she was open to the idea.

"(It's) grown naturally over

the past six years and with the

Riccarton market ending, we're

getting more and more inquiries

from that side of town. The more

we grow, the more it's inviting

for people outside our area coming

in."

Mike Pero Real Estate New

Brighton franchise owner Dean

Cations said he'd like to see

the market expand and run on

Saturday and Sunday.

•Turn to page 4

Estella's hungry for

more success on

the waves

• By Andrew King

PROMISING YOUNG surfer Estella

Hungerford won the girls open

section in testing conditions at the

Canterbury scholastic championships

at New Brighton Beach.

The 15-year-old Haeata Community

Campus student backed up her form

at the Canterbury championships in

March where she was second in the

junior women's, second in the open

women's and third in the longboard

section.

•Turn to page 7

PHOTO: MARK BISHOP

OFFER

FIT A FUJITSU

TO HEAT YOUR HOME

FULLY

INSTALLED

on 8KW Heat Pum

Deal

Hot Hot

Heat Pump for Just

KW 8 ASTG24L Fujitsu

$2,999

Six Year

Warranty

Fully Installed*

PH 377 0034 OR 0800 800 734

Installed back to back, up to 3 met

run and electrIcal supply wIthIn 6 m

www.dimockheatpum

Email: sales@dimoc

5.4Kw Hi Wall

$1,999

FULLY INSTALLED*

MODEL: ASTG14LUCB

Accredited installers | 10yr workmanship guarantee | 6yr warranty

Ph 377 0034

15/114 Sawyers Arms Road

www.dimockheatpumps.co.nz

email: sales@dimocks.net.nz

* Conditions apply. Installed back to back, up to three metre pipe run and electrical supply within 6 metres.

Call for a

FREE Home

Consultation

& Quotation

today!

BLINDS...Cleaned, Repaired & Restored...

Restore your oiled CEDAR BLINDS with our re-oiling service.

Rejuvenate your lacquered CEDAR BLINDS

High-tech Cleaning

We clean and repair all types of blinds –

Venetians, Cedar, Verticals, Roller, Hollands,

Romans and Pleated – with environmentally

friendly cleaning products.

Temperature Controlled Drying

Re-oiling & Rejuvenating

Fabric Blinds - such as Austrian and Roman

Same Day Pick Up & Drop Off

We offer a same-day, pick up and drop off

service for most types of blinds. Bookings

are required.

Convenient Location

Drop blinds into us by 9am, at

330 Cashel Street (near the

Fitzgerald end), and collect

them at the end of the day.

New Blind Sales Priced from $30

Roller Blinds cleaned

from as little as $20

per blind

Ph 377 0770,

330 Cashel St,

Christchurch

www.blindcare.co.nz SCAN QR code for Info >

WE ARE OPEN

Mon - Fri

8.00am to 5.00pm
---
2

Latest Christchurch news at www. .kiwi

Tuesday May 30 2017

Inside

FROM

THE

EDITOR'S

DESK

PEGASUS POST

News.......................................3-8

SOUTHSHORE AND South

New Brighton residents have

every reason to be worried about

the erosion along the estuary (see

page 3).

As sea levels rise over the coming

decades, the spit could be at

the mercy of the ocean.

What Rocking Horse Rd residents

don't need is for the estuary

side to keep eroding away as it is

now.

The city council spent just

over $4 million on a sea wall at

Redcliffs – so the question is why

can't Southshore and South New

Brighton have the same.

It's probably to do with ownership.

The red zone is owned by the

Government, but they are considering

gifting it to the city council.

Gifting? More like a hospital

pass because it will then be the

city council's responsibility to pay

for a sea wall. – Barry Clarke

Be creative with ice cream

FOOD 13

Sport.................................... 7

Community Events......14

Health & Beauty.........16

Real Estate............................17

Entertainment..............19

GET IN TOUCH

General Enquiries Ph 379-7100

Classified Advertising Ph 379-1100

The Christchurch Star Company Ltd. PO box 1467 - Christchurch

starmedia.kiwi

NEWS

Sarla Donovan

Ph: 021 919 917

sarla.donovan@starmedia.kiwi

ADVERTISING

Mark Sinclair

Ph: 364 7461

mark.sinclair@starmedia.kiwi

THANKS

for your patience...

as we install new pipes in Aranui

What's been going on?

SCIRT has finished its earthquake repair programme, and at

Council we're continuing and expanding our work to maintain,

repair and improve the city's roads and underground pipes.

We know SCIRT did a lot of work in Eastern Christchurch and

we have various projects underway that will continue to

improve the infrastructure in this area. We've been carrying

out road resurfacing programmes throughout the last month

and we've started work on a $1.7 million project to replace

old water supply pipes in Aranui with new ones. We're also

replacing wastewater pipes on Palmers Road.

Learn more

about our major roading and underground

pipes projects at ccc.govt.nz/roadsandpipes
---
PEGASUS POST Latest Christchurch news at www. .kiwi

Tuesday May 30 2017 3

News

Plea for help to stop erosion

• By Sarla Donovan

SOUTHSHORE AND South

New Brighton residents are

desperate for action as seawater

erodes the estuary edge.

Six years after the February

2011 earthquake, a city councilbuilt

$4.6 million seawall

protects the Redcliffs side of the

Avon-Heathcote estuary.

However, it's a different story

over at Southshore and South

New Brighton,

where privately

built seawalls were

destroyed during

the clearance of red

zone properties.

Southshore Residents'

Association

Ivan Iafeta

chairman Bill Simpson said this

left the area open to erosion and

flooding from storms and high

tide. The red-zoned land bordering

the estuary edge is owned

by the crown and its future is

undecided.

Mr Simpson said people just

wanted to know what they could

do to help get the issue resolved.

Nik and Liz Yuki moved to the

area from Wanaka in 2012. Mr

Yuki said while their Rocking

Horse Rd property wasn't physically

affected by flooding, they

were concerned about the stigma

SHOCKED: Southshore residents Nik and Liz Yuki, with son

Rome and daughter Ripley, are shocked nothing has been done

to protect the estuary edge. (Right) Seawall remnants provide

little protection against storms and high tides ​

around the suburb.

"It affects the property values

and attractiveness of our area.

It worries us – this is our livelihood,

the future of our family.

We want something resolved."

There was also frustration

and emotion at the association's

annual meeting last week, as

residents questioned Regenerate

Christchurch chief executive

Ivan Iafeta about what was being

done.

Another Rocking Horse Rd

resident, Bruce Tait, said people

in Southshore were living with

the problems.

"Earthquake damage hasn't

been addressed. There is a

perception that this area is flood

prone, when in fact the area has

been red-zoned and then not

managed. It's made our community

look vulnerable, which has

been exacerbated by the public

discussion over sea level rise.

Our community is getting a bad

rap, a bad name and things are

not being done. The estuary edge

is being eaten away every day

with inaction."

Mr Iafeta said he was aware

steps needed to be taken quickly

and Regenerate Christchurch

were looking to the local community

for feedback on what

needed to be done.

Vivienne Johnson, also of

Rocking Horse Rd, said some

parts of the estuary edge were

particularly vulnerable and

needed to be identified.

"It would be a relief to many if

we saw visible evidence of something

happening," she said.

Regenerate Christchurch is

working on a "project plan" for

the area, said general manager

residential red zone Rob Kerr.

But he "didn't have an answer"

for when it would be completed.

He said one of the outcomes of

the consultation process could be

the Government gifting the red

zone land to the city council.

In Brief

SMART BIN GLITCH

MEANS LONGER TRIAL

The three-month trial of New

Brighton's solar powered

rubbish and recycling bins

located near the Whale Pool

playground has been extended

out until August after problems

with the recycling system. A

high level of contamination

in the recycling bin meant

it had to be manually sorted

twice a week prior to collection

and any contaminated items

removed. The decision to

extend the trial would give

time to "explore further

options for recycling",

city council smart cities

programme manager Teresa

McCallum said.

DECISION DUE ON NEW

UNION ST CAFE PLAN

A decision is due this week

on whether a new cafe and

a dairy at 183 Union St will

get resource consent. Owners

of a neighbouring property

in Tovey St have objected,

fearing the building will be

intrusive, unsightly and affect

the resale value of their house.

The consent applicant wants

to replace three small vacant

shops on the site with a larger

commercial unit housing a cafe

and a dairy.

Helping us,

Helps tHe

community

Drop off or buy

3 family stores in your community

30 Main North Rd,

Ph 352 4581

520 Cranford St,

Ph 352 0515

50 Charles St, Kaiapoi

Ph 03 903 0017
---
4 Tuesday May 30 2017

Latest Christchurch news at www. .kiwi

News

S Av O U R t h E

At m O S P h E R E

For an iconic shopping experience & the best

selection of street food the city has to offer

Brighton plans outlined

•From page 1

Mr Cations said he supported

the work DCL was

doing in New Brighton.

They faced a difficult job,

he said, with a number of

building owners who "just

don't care. They just sit

there and land bank. You

can't do anything then."

Paper Plus owner Blair

Hughes agreed some "terrible

property owners" were

holding things back.

"I assume that's something

DCL and the council

will look at."

He said DCL were on the

right track with the playground

development, hot

salt water pools and moves

to shrink the retail area and

increase residential land.

"They at least understand

you can't just do one thing

and assume you'll fix

PEGASUS POST

Brighton. Frankly, so far

they've done more than

anybody else."

On the beach side of

Marine Pde, the new playground,

surf lifesaving club

and the hot pools line-up

along the waterfront.

Mr Hall said the concept

plans were still being

worked on and it would be

later next month before he

could release more detail.

ACHIEVERS

O P E n n O w

f OOd COURt

Dose Sushi

The Burger Joint

Dimitri's Greek Kebabs

American Delight

Berry Healthy

Base Woodfired Pizza

Fritzweiners

Maree's Lebanese Kebabs

Pure Pulp

Tiki Taco

A Mouse Called Bean

Wild Bites

Noodle Monk

Gaslight Taverna

Freyburgs Fish and Chips

Cosy Cafe

Paradise Dumplings

J Bings

Herba Gourmet

Coq au Van

REtA il

Cosmic

Hunters and Collectors

Hapa

TradeAid

Stencil

NZ Post / Kiwibank

Simply New Zealand

The General Store

Metromart

Meccano

Untouched World

Champions of the World

Barkers

ShOP tO win

Win lunch for 4 people at Black Estate Vineyard,

flying there and back with Christchurch

Helicopters, piloted by Richie McCaw

Enter in store or online www.containermall.kiwi

SECURE YOUR SPACE tO d AY

Limited retail spaces

available 0800 00 11 78

STAFF CELEBRATION: Fresh Choice Parklands recently held a morning tea to

acknowledge seven long-serving employees. Each staff member was given

a plaque commemorating their achievement. Together the staff members

have a combined 90 years of service. (Front left) Brett Curry, 10 years; Vicki

Oakden, 10 years; Roslie Mead, 25 years; Karen Freeman, 10 years; Aimee

Fluhler, 10 years. (Back left) Kirsty Brown, owner/operator; Edward Benton, 10

years, Carl Overend, 15 years; Julian Brown, owner/operator. ​

Open frOm 10am daily

cashel street (Bridge Of rememBrance end)
---
PEGASUS POST Latest Christchurch news at www. .kiwi

Tuesday May 30 2017 5

News

Eastern schools roll out new zones

• By Sarla Donovan

FAMILIES NEED to plan

ahead if they want to send their

children to Bromley School as a

new enrolment zone takes effect

next term.

Bromley School

principal Scot

Kinley said he'd recently

turned away

15 five-year-old

pupils wanting to

Scot

Kinley

attend the school,

as it was already

above capacity.

Roll growth has prompted the

Ministry of Education to implement

zones around Bromley

and several other schools in the

city's east.

The enrolment zone will

restrict Bromley's roll to 320.

Mr Kinley is concerned the

local community doesn't know

about the changes that are happening.

"They're not aware that their

THE TIMEFRAME for

public feedback on Burwood's

Horseshoe Lake Reserve has

been extended.

The reserve will have its original

earthquake-damaged sevenspace

car park replaced with a

larger one, but the city council

CHANGES: Bromley School's popularity has lead to an

enrolment zone being put in place.

children may not be able to go

to the school they want them

to."

He said parents of pre-schoolers

will have to plan ahead and

think about where they lived in

relation to school choice.

"This is a massive issue for

wants feedback on whether to

replace the footbridge or remove

it and build a rockery across the

stream instead.

The bridge replacement would

cost an extra $50,000, but it was

likely to be damaged again if

another earthquake struck.

people in this area."

Bromley's roll, currently

at 382, is expected to rise to

400 by the end of the year. Mr

Kinley said even with the loss

of the year 6 pupils, they would

start 2018 above their capacity

of 320 and it would be a gradual

A cheaper option would

involve placing rocks in the

stream bed which people could

use to cross the waterway.

This would not impact on the

flow of the stream as there were

other rocks upstream, the city

council said.

process of "managing the roll

down."

Other schools in the east of

the city are bringing in enrolment

schemes as rolls continue

to grow.

Linwood North School had

its enrolment zone confirmed

by the Ministry of Education

this week. It will give the school

a capacity of 400.

Principal Sandra Smith said

the school roll, currently at 275,

was "rapidly increasing."

She said it would need to

open an extra classroom next

term to accommodate new entrants

for the rest of the year.

Linwood Avenue School has

started working with the ministry

on a potential school zone.

•People wanting information

on the Bromley enrolment

zone should phone

the school on 389 7716. The

Linwood North School zone

is on its website –

linwoodnorth.school.nz

Quake repairs to Horseshoe Lake Reserve delayed

The walkway would then be

rebuilt on more stable ground

closer to the road, and the

$50,000 saving could be used

for other work within the

reserve.

The consultation period runs

until June 9.

In Brief

MARATHON TRAFFIC DELAYS

Expect delays if travelling near the

ASB Christchurch Marathon route

on Sunday morning. There will be

limited crossing opportunities at

Stanmore and Gayhurst Rds but

long delays. The city council is

encouraging people to use Anzac

Dr/Pages Rd or Deans Ave to get

around the course.

RAWHITI UNITS SOLD

Twenty units used for temporary

accommodation after the

earthquakes have been sold. The

units at Rawhiti Domain were

offered to farmers displaced by the

Kaikoura earthquake for $24,510

with Government meeting the costs

of transport. Sixteen units will be

transported to farms in Hurunui,

Kaikoura and Marlborough

districts and the remaining four

will be used to create a temporary

village in Waiau.

'CODE BROWN' SOLUTION

Free nappies at city council-owned

pools has been suggested as a way

to reduce the number of times

pools closed down because of 'code

brown' incidents. Coastal-Burwood

Community Board member Tim

Baker said the nappies could be

provided free to all parents of small

children, or offered to those who

chose not to purchase a nappy onsite.

The idea was tabled as part of

the board's submission on the city

council's draft Annual Plan.

jo hayes

nationaL List MP based

in CHRistCHuRCH east

Mobile clinics

Last Friday of

every month

Check out my

Facebook page:

Jo Hayes MP

6/950 Ferry Road,

Ferrymead

P: 384 9459

authorised by Jo Hayes

unit 6/950 Ferry Road, Christchurch

call to make an appointment

www.national.org.nz

AMI RUGBY SHUTTLE

Exclusive 10 seater

non-stop shuttle service

to AMI Stadium with

on-site parking.

No long walks in the

wind and rain!

AvoId A

pARkInG

fIASco

• The Palms

• The Tannery

$20.00

shuttle ticket

Highlanders Vs Crusaders 3rd June / Lions 10th June

Contact Ray 027 2418 770 asap

ASB Christchurch Marathon

Queen's Birthday Weekend

Sunday 4 June

Between 5am and 2pm vehicles will

not be able to cross the Marathon

route. People should:

• Plan ahead. The CBD will be open for

business. If you are coming into the City

from the North or East, consider using

Deans Ave or Anzac Drive.

• Expect delays if travelling near the

Marathon route.

YOUR LOCAL GARAGE

• All vehicle repairs

• Oil changes and services

• Brakes • Loan car available

• Tyres, punctures & batteries

• W.O.F • Tune up

For more information go to www.tfc.govt.nz

MARATHON COURSE ROUTE – NO CROSSING

Your LocaL GaraGe

VERY FRIENDLY SERVICE AND ADVICE

NEW BRIGHTON AUTOMOTIVE

Phone: 03 388 3630

40 Hawke St (behind Z Petrol Station)
---
6 Tuesday May 30 2017

Latest Christchurch news at www. .kiwi

PEGASUS POST

SOMETHING

INSTORE FOR

EVERYONE

GREAT WINTER REAdS

JAKE BAILEY – What cancer taught me

'None of us get out of life alive, so be

gallant, be great, be gracious, and be

grateful for the opportunities you have.'

Jake Bailey's inspirational end-of-year

speech as head boy at Christchurch

Boys' High School was delivered from a

wheelchair just one week after he was

diagnosed with the most aggressive of

cancers.

As he lay in hospital fighting to stay

alive, his speech grabbed headlines

around the world. Jake's cancer, and

that speech, became the start of a

bigger journey that continues today.

In this remarkably honest account

of his illness, treatment and recovery,

Jake shares all that the experience

has taught him. His book is an uplifting

call to action for people of all ages.

KERRY'S

PICK

NEW RANGE OF MILITARY BOOKS

SOCK IT TO ME!

FUN FUNKY SOCKS

tyger

tyger

checkmate

jellyfish

caution tape

Starry night

par 4

moustache

JUST $24.99 A PAIR

footnotes

OR two pairs for $40.00

Over 75 different styles to choose from and available in both

women's knee high and crew & men's crew styles

1005 Ferry rd

Ph 384 2063

while stocks last (see instore for terms and conditions)

Barry & kerry
---
PEGASUS POST Latest Christchurch news at www. .kiwi

Tuesday May 30 2017 7

The next wave of surfing talent

•From page 1

Said Hungerford: "I was really

surprised when I won. The conditions

were super challenging

by the time it got to our final, all

the girls surfed really well.

"I had a game plan at the start

of the heat but, as soon as it

started, it went out the window."

The scholastic championships

are only for high school students,

while the Canterbury championships

are open to everyone.

It was a successful outing for

surfers in the Pegasus Post area

with Shirley Boys' High students

Myka Black winning the under-14

boys section and Zack van

Eekelen winning the under-16

boys.

Black's performance saw him

dominate his section with beautifully

crafted cutbacks impressing

the judges.

• By Gordon Findlater

SHIRLEY BOYS' High will head

to Nelson on Friday looking

to bounce back from two

defeats in the space of five

days.

The trip to Waimea

Combined for Saturday's

sixth round of the UC

Championship follows

Shirley's defeat to

Marlborough Boys' College

23-36 in Blenheim last week

and a home defeat to Rangiora

Josh McCaffery, also from

Shirley Boys' High, was second

in the under-16 section and

showed his ability by riding a

long right-hander under the pier

in his final pass.

A southerly front kicked up in

the mid-morning, giving riders a

2-3m swell to compete on.

THE EVENT was a trial for

the Canterbury scholastic surf

team, with a training squad

to be announced in June in

preparation for the national

scholastic surf championships in

Gisborne in October.

STUNNING: Myka Black

carved it up on his way to

victory in the under-14 section

of the Canterbury scholastic

surf championships at New

Brighton Beach.

PHOTO: MARK BISHOP

Shirley look to get back in winning UC Championship form

Andy

Gibson

WE SERVICE

WHAT WE SELL

"the best oil that

money can buy"

WAYNE HILL CARS

313 LINCOLN RD

ADDINGTON CHRISTCHURCH

High School 15-25 on Saturday.

Trailing by 10 at the break

against Rangiora, Shirley came

out firing in the second half and

recorded two tries before

Rangiora sealed the game.

"Our first half wasn't

acceptable. We gave away

too many penalties,"

said Shirley coach Andy

Gibson.

He highlighted the

effort of captain Mcgregor Best.

The loose forward once again

NEW LOCATION ADVERT.pdf 1 1/05/2014 11:51:35 a.m.

Ph. (03) 338 3255 E. hillcars@es.co.nz

Luxury

AccommodAtion

Treat yourself and your partner or friends to a

Luxury winter "Re Treat" at Sumner Re Treat.

Come and enjoy time away from the children and

work. Relax in the spa and enjoy a glass of wine

with our compliments.

Winter

Special Rate:

2 people $185 per night,

additional people - $35

each per night. Receive

the 2nd night half rate.

Pay for 1 night and receive

one night half price when you

book through Chris at Sumner

Re Treat.

VISIT OUR NEW LOCATION LOCATION

430 ST ASAPH STREET!

RECOVER YOUR LOVED FURNITURE

No job too big or small

provided plenty of go-forward

ball for his side.

"Every week he's making try

saving tackles and winning

contests at the breakdown," said

Gibson.

A good result in Nelson will

be a tough ask. Waimea come

into the match in hot form

after defeating the previously

unbeaten Nelson College 38-

22 in their local clash at the

weekend.

Shirley will have to get used to

1 Wakefield Avenue, Sumner

03 326 5443 or 027 273 5555

between 8.30am and 8.30pm

chris@sumnerretreat.co.nz

www.sumnerretreat.co.nz

riding the bus as their schedule

doesn't get any easier. Next

Wednesday, they head south to

play a non-UC Championship

match against King's High

School in Dunedin.

"I actually quite like the trips

as a coach. I get a lot more time

to run through things with the

boys before game day and it

helps to build our team culture.

It does disrupt the training week

but that's something we have to

deal with," said Gibson.

SPORTS

Shirley Boys' High

push for third

on football table

• By Andrew King

SHIRLEY BOYS' High will face

a hurt St Andrew's College side

tomorrow night in the Connetics

first XI football competition after

sitting out round 4's goal fest with

a bye.

Thirty-eight goals were scored

in six matches on Wednesday, the

most in a round so far this season.

St Andrew's were narrowly

beaten by Christchurch Boys'

High 1-0 in round 4, pushing

them to sixth on the table, just

ahead of Shirley.

A win tomorrow for Shirley

would see them potentially jump

into third spot if other results go

their way.

However, for that to happen,

Cashmere and Riccarton would

have to draw and Rangiora will

need to beat Burnside.

The last time the two met,

Shirley edged St Andrew's 4-3.

The game will be played at

7.30pm at the Christchurch Football

Centre.

Connetics first XI table

1. Lincoln 10pts; 2. St

Thomas 9pts; 3. Cashmere

7pts; 4. Burnside 7pts; 5.

Riccarton 6pts; 6. St Andrew's

6pts; 7. Shirley 6pts

Make your GP team your first call 24/7

Even after-hours a nurse is available to give free health advice

Phone your usual General Practice number 24/7

9

12

6

3

Hours of Business: 7am-4.30pm Mon-Thurs

Fri 8am to midday

or by appointment with Keith 027 566 3909

Still able to offer

you the finest top

quality new furniture

Visit us online

www.qualityfurniture.co.nz

P. 371 7500

QUALITY FURNITURE SPECIALISTS

RE - UPHOLSTERY SPECIALISTS KEITH HARTSHORNE 0275 663 909

12

9

6

3
---
8

Tuesday May 30 2017

In The Neighbourhood

Latest Christchurch news at www.

News

.kiwi

PEGASUS POST

GO LOCAL

"Want to turn your Little Terror

into a Little Ninja? Join in the fun

with Flip Out Christchurch's brand

new Tumble Tots classes for preschoolers

aged 2-4 years old.

With classes focused on beginner

tumbling, bouncing, balancing

and hand-eye coordination it's

a great way to burn off a little

energy on a Friday morning.

Phone 384 8244

• By Sarla Donovan

THE RED Cross was "over

the moon" to hear one of

their automatic emergency

defibrillators had helped

save a customer's life.

When a man suffered a

sudden cardiac arrest at

the Wainoni Pak'n Save

checkout, staff provided

CPR and used the store's

AED to analyse the

customer's heart and

automatically deliver a

customised shock.

By the time the ambulance

arrived, the patient

was already breathing

unassisted.

Sudden cardiac arrest

is the most likely cause of

a fatality in many workplaces

but less than 10 per

cent of those experiencing

one survive, mainly due to

delays in treatment.

Red Cross product development

manager Marcus

Bird said the organisation

was keen to see more

AEDs in the community.

"The staff at Pak'n Save

were very confident and

clearly knew what action

to take and as a result they

LIFESAVERS:

Wainoni Pak'n

Save staff

Jacqui, Colin,

Felicity and

Heath with

Marcus Bird

and Rowena

Croft from

Red Cross. ​

Medical emergency proves

worth of defibrillator

saved a life."

Wainoni Pak'n Save had

worked with Red Cross for

many years, facilitating

first aid and AED training.

"Health and safety

is about caring for colleagues,

customers and

other people around us.

First aid training for staff

and having an AED on site

is a very practical way of

showing that."

•Red Cross want to

hear from anyone

interested in getting an

AED. Visit redcross.org.

nz/firstaid

HealtHy Heat

& eat meals

delivered to your door

16a Beach Road

Corner Marine Parade, New Brighton

Phone order - 03 382 8599

Monday to Friday to

Saturday to Sunday to

paperplus.co.nz

Greatest Little Cafe / Restaurant

in New Brighton

NEW

Breakfast

Lunch &

Dinner

Menu

Serving Locally Grown Fresh Produce.

Open Tues - Sat 7.30am to late

Sunday & Monday 7.30am to 4pm

The magazine for

gardeners who

like To geT Their

hands dirTy

www.gardener.kiwi

100%

Convenient, Healthy,

Fresh Meals.

Simple to Store,

Heat and Eat.

Pick Up or

Delivered Weekly.

tHe tRuSteD nAme in fAbRicS

9 Raycroft St, Opawa

P. 03 420 0722

orders@eatl8r.co.nz

www.eatl8r.co.nz

"Specialists in real value

apparel and upholstery fabrics"

BLENHEIM RD

HARALDS

ANNEX RD

BIRMINGHAM DRIVE

47 Birmingham Drive, Middleton | Phone 338 7700 | Open Mon-Sat 10-4

47

MATIPO ST
---
PEGASUS POST Latest Christchurch news at www. .kiwi

Tuesday May 30 2017 9

Have you been declined

treatment by the DHB ?

The Canterbury Charity Hospital

may be able to treat you at no cost.

Our current services are:

• Colonoscopy (acute and screening)

• Gynaecology and women's health

• Cataracts

• Upper and lower limb orthopaedics

• Vascular (severe varicose veins)

• General surgery (abdominal, rectal)

• Oral surgery and dentistry (* conditions apply)

• Counselling (by self referral)

To be treated by the Charity Hospital you must:

• Have been turned down in writing for treatment by the CDHB

• Not have medical insurance

• Not be able to afford the treatment privately (means tested)

• Have a referral from your doctor

* All dentistry and oral surgery patients need a dentist's referral.

Dentistry is available for WINZ clients only, whilst oral surgery may be

available if you fit the above criteria.

Why are the Charity Hospital's services at no cost to the patient?

More than 280 unpaid volunteer surgeons, nurses, dentists and support staff

generously donate their time for free. The Charity Hospital does not receive any

Government funding.

Volunteers are always welcome.

If you are a surgeon, nurse or technician, volunteer forms are on our website at

www.charityhospital.org.nz or email reception@charityhospital.org.nz

To donate to the charity please visit our website at www.charityhospital.org.nz.

Your next step...

get a referral from your doctor or dentist - please don't contact the hospital directly.

For more information:

www.charityhospital.org.nz
---
10 Tuesday May 30 2017

Latest Christchurch news at www. .kiwi

PEGASUS POST

DEADLINE SALE

AUCTION FOR SALE

Burnside 354 Memorial Avenue

First-Home / Retirees / Investors!

3 21 21

Harcourts ID: PLS2245

The owners have taken meticulous care of their beloved property, but have had a recent change in

personal circumstances - allowing a new buyer the opportunity for this absolutely charming entry

level three bedroom home with modern refurbishments + garage-studio home, in a prime urban

location. Nestled on a private rear section, bordered by beautifully established trees.

Mitchell Roberts & Mana Tai

M 027 413 0797 or 027 626 2824 P 03 385 0343

Harcourts Twiss-Keir Realty / The Palms Licensed Agent REAA 2008

DEADLINE SALE

Deadline Sale: All offers invited on or before

Thursday 15 th June at 4.00pm.

View: Phone for viewing times.

Fendalton 78 Puriri Street

Refresh Or Redevelop!

Harcourts ID: PLS2244

This classic character home on a full-sized section in a prime location, is SCREAMING with potential

- providing great opportunity to refresh, redevelop, or simply enjoy as it is. True to the style of the

era, the rooms and living areas are wonderfully spacious, emphasised with high-stud ceilings and

tall windows throughout. Situated on an extremely valuable and rare 918m² section.

Mitchell Roberts & Mana Tai

M 027 413 0797 or 027 626 2824 P 03 385 0343

Harcourts Twiss-Keir Realty / The Palms Licensed Agent REAA 2008

DEADLINE SALE

3 1 2

Auction: 31 st May at 3:00 p.m, Russley Golf Club

Memorial Avenue (unless sold prior)

View: Phone for viewing times.

Mairehau 2/29 Harrison Street

First-home'rs / Investors!

FOR SALE

3 1 2

Harcourts ID: PLS2234

This classic character bungalow has had refreshments to improve for modern living, including

repainting, recarpeting, rewiring, modernised kitchen and bathroom and installation of heat-pump

- whilst keeping the original charm, with large living areas / bedrooms and stained-glass detailing

throughout... all situated on a private section in a convenient city fringe location.

Mitchell Roberts & Mana Tai

M 027 413 0797 or 027 626 2824 P 03 385 0343

Harcourts Twiss-Keir Realty / The Palms Licensed Agent REAA 2008

Deadline Sale: All offers invited on or before

Thursday 8 th June at 4.00pm.

View: Phone for viewing times.

Richmond 3/29 Heywood Terrace

Hot In The City!

Harcourts ID: BF28372

Your town pad is here ready and waiting! Fully renovated to a high standard, the first thing you see

you when you walk in is the beautiful kitchen. Compact but stylish. Boasting a good sized double

master and second double bedroom, both have double built in robes. Polished floorboards,

double glazing and a heat pump ramp up the style and comfort factor of this great property.

Andrea Twiss

M 021 256 4087 P 03 385 0343

Harcourts Twiss-Keir Realty / Belfast Office Licensed Agent REAA 2008

FOR SALE

2 1 1

Deadline Sale: All offers invited on or before

Wednesday 14 th June at 4.00pm.

View: Phone for viewing times.

Woolston 100 Tilford Street

URGENT SALE

2 1 1

Harcourts ID: BF28273

The need to be closer to family dictates the sale of this sunny warm standalone townhouse. This

home is affordable for the 1st home buyer or Investor and offers two generous double bedrooms,

open plan kitchen and dining and the lounge opens to an outdoor living area which is bathed in

sunshine. A new heat pump will warm the home for the cooler months. Offers invited!

Woolston 98A Randolph Street

Time is Running Out!

3 1 3

Harcourts ID: BF27924

Urgent Sale required! Refreshed with new carpet, drapes and paint, this cosy home would suit the

first home buyer or Investor. Three bedrooms, a functional kitchen with breakfast bar and plenty of

storage and a combined dining area. The lounge opens to a great deck which captures all day sun

and a pellet fire for the chilly winter days. A brand new double garage with a double carport.

Anne Davis

M 027 492 7694 P 03 323 6045

Harcourts Twiss-Keir Realty / Belfast Licensed Agent REAA 2008

Price: $365,000

View: Phone for viewing times.

Anne Davis

M 027 492 7694 P 03 323 6045

Harcourts Twiss-Keir Realty / Belfast Licensed Agent REAA 2008

Price: All reasonable offers considered!

View: Phone for viewing times.

Contributor to www.realestate.co.nz

www.twisskeir.co.nz
---
PEGASUS POST Latest Christchurch news at www. .kiwi

Tuesday May 30 2017 11

Stunning Sanctuary Must Be Sold!

21B Plynlimon Road - Fendalton

4 Bedrooms | 2 Bathrooms | 2 Car Garage | Off Street Parking | Property ID: PLS2240 | AUCTION: Wednesday 31 st May @ 3:00 p.m Russley Golf Club (unless sold prior).

The owners have poured their heart

and soul into the meticulous design

and build of this stunning traditionalmodern

home, but due to a changed

family life-path with an oncoming

retirement and the children now

grown - the property must be sold,

allowing a new buyer the opportunity

for a beautiful home in a coveted bluechip

Christchurch location.

Carefully designed with sun, space and

family-comfort in mind presents an

environment which evokes a sense of

calm from the hectic world beyond.

An expansive array of windows and

doors floods the home with natural

light and warmth, complimented by

the glorious 3m stud-height of the

living areas and the exquisite kitchen

hub with dual-access scullery.

Multiple-access outdoor areas

to suit the occasion or weather,

interconnecting living areas to close off

or extend at will, and split-level living

with noise-protection enhancements

- ensures the busy family will have

ample room to enjoy each other, and

also their own independence of space

when needed too.

For more information contact Mitchell

Roberts 027 413 0797 or Mana Tai 027

626 2824. Harcourts Twiss-Keir Realty

Ltd/The Palms Office 03 385 0343.

Licensed Agent REAA 2008.

April 2016 - March 2017

CONGRATULATIONS

Harcourts Annual Award Winners

Harcourts Belfast

4 th Top Office

Harcourts Canterbury 2016/2017

P 03 323 6045

A 804 Main North Road, Belfast

Harcourts Twiss-Keir Realty / Belfast

Licensed Agent REAA 2008

James Keir

Top National Exclusive

Lister - 2 nd Place

P. 027 274 6112

Licensed Agent REAA 2008

Mitchell Roberts

Top National Sales

Consultant - 16 th Place

P. 027 413 0797

Contributor to www.realestate.co.nz

www.twisskeir.co.nz
---
ink

uvets or

12 Tuesday May 30 2017

Latest Christchurch news at www. .kiwi

PEGASUS POST

LIQUID

seLf servIce

Service Laundromat

LAUNDrOMATs

Conveniently located in Hornby

sYDeNHAM

289 colombo st

OPeN 7 DAYs

5am - 11pm

HOrNbY

47 carmen rd

OPeN 7 DAYs

6am - 7.30pm

• From $4 a wash

rIcHMOND

345 stanmore rd

OPeN 7 DAYs

5am - 11pm

bUrWOOD

261 burwood rd

OPeN 7 DAYs 5am - 11pm

HOON HAY

17 Halswell rd

OPeN 7 DAYs 5am - 11pm

WOOLsTON Opening sOON

from $4.00 WAsH

from $4.00 DrY for 20mins

Wash & dry all your

clothes in 1 hour.

Save time & electricity!

Dry up to three loads

of clothes in only 20

minutes.

Wash 2 Mink

Blankets, Duvets or

Woolrests for only $10.

Save time and

energy!

• Fast Dryers

• Sports Gear

• Duvets

• Mink Blankets

• Bedding

• Washers

• Domestic

• From $4 a dry

for 20 mins

• 16 dryers

• 12 washing machin

Laundry

5 Locations in christchurch – more opening soon!

47 Carmen Rd, Hornby | 345 Stanmore Rd, Richmond | 289 Colombo St, Sydenham

261 Burwood Rd, Burwood | 17 Halswell Rd, Hoon Hay

www.liquidlaundromats.co.nz

in only

loads our

for only $10

e
---
PEGASUS POST Latest Christchurch news at www. .kiwi

Tuesday May 30 2017 13

GREAT food

BROUGHT TO YOU BY...

Your fresh food people

BROCCOLI, WALNUT AND

COTTAGE CHEESE PIES

Ingredients

12 slices Bread

1/2 cup (8 Tbsp) Butter, melted,

or olive oil, for brushing

2 Eggs

6 Tbsp Cottage cheese

3 Tbsp Walnuts, chopped

½ cup Cheddar cheese, grated

1 cup Broccoli, in small florets,

steamed

½ tsp Salt

Directions

Make bread cases by brushing

one side of each slice of

bread with some melted butter

or oil and pressing. Buttered

side down, put in to muffin pans

(if using thick bread flatten the

bread out a little with your hand

or a rolling pin first).

Bake at 170 deg C for 20

minutes or until brown and very

crisp. Take them out straight

away and leave to cool on a cake

rake to avoid going soggy. You

can keep the bread cases in an

airtight container for a few days

if you are not making the pies

straight away.

Beat the eggs and mix through

the walnuts, cheddar, steamed

broccoli, salt and a good grind

of pepper. Fold in the cottage

cheese. You want to keep blobs of

cottage cheese through the mix.

Place the bread cases back in

to the muffin pans and spoon in

the mixture. Bake in a 180 deg C

oven for 15 minutes or until set

through.

MEYER LEMON ICE CREAM

Ingredients

1 cup Cream

⅓ cup Caster sugar

1 Meyer lemon

Directions

Put all the cream, caster sugar

and the very finely grated zest

and juice of the lemon in a

mixing bowl and whisk until

mixed.

Taste and add more lemon

juice or sugar if needed. Whisk

until the cream thickens but has

not started to stiffen. Be careful

not to over-whip. Pour into 4

small dishes, cover with plastic

wrap and freeze.

SOUTHLAND SWEDE,

ROASTED GARLIC ON

POTATO DISCS

Ingredients

3 Swedes

1 head Garlic

3 Waxy potatoes

1 Tbsp Oil to brush

Directions

Roast the garlic head whole

and squeeze out the soft garlic

puree.

Peel the swedes, chop them

into small pieces and cook them

gently in milk until they are very

tender.

Cut some small waxy potatoes

into discs (leave the skin on),

brush them with oil and space

them out on an oven tray.

Roast them until they are just

soft and nicely golden coloured.

Drain the swedes (keep the

poaching liquid) and puree them

with the roasted garlic.

Add enough of the poaching

liquid to achieve a firm but

smooth puree.

Mound up a generous teaspoon

of the mash on to each

disc, season well with salt and

pepper and top with parsley.

Broccoli .............................99 c

each

Eve Apples ......................... 2 .99

kg

NZ Meyer Lemons ............ 2 .99

kg

Southland Swede .......... 1 .99

each

Red Yams ........................... 5 .99

kg

Whole Lamb Leg ......... 10 .99

kg

Chicken Breast

(Skin On) ......................... 8 .99

KG

NEW SEASON

All our fresh meat is 100% NZ FARMED.

specials VAlid 29th MAY - 5th june 2017. ONLY AVAILABLE AT

RAEWARD FRESH HAREWOOD RD, TOWER JUNCTION & MARSHLAND RD

At

local FRESH produce

everyday

in season now

APPLES Royal Gala, Braeburn,

Rose, Beauty, Gra nny Smith, Eve,

Jazz.

PEARS Taylors Gold, Nashi, Bosc,

Packha m.

harewood rd Mon–Fri 7.00am–6.30pm Sat–Sun 8.00am–6pm

Tower junction Mon–Fri 8.00am–7.00pm Sat–Sun 8.30am–6pm

MARSHLAND RD Mon–Sun 8.00am–6:00pm

WWW.

.CO.NZ
---
14 Tuesday May 30 2017

Latest Christchurch news at www. .kiwi

Art Exhibition

Weekdays, 11am-4pm. Saturday,

12-3pm.

Paige Officer is an emerging

artist working mainly in oil on

canvas. She explores her love of

Email sarla.donovan@starmedia.kiwi

all things equine. Damian Holt

by 5pm each Wednesday

uses acrylic on MDF custom

wood whose art features several

themes including classic New

New Brighton Library, Marine

Zealand landscape scenes reproduced

from his photographs.

Pde

Eastside Gallery, 388 Worcester

St

Seaside Treasures Craft

Group

Tuesday 1.30pm

Seaside Treasures invite crafty

folk to come along to their weekly

group. Take your craft with

you or learn a whole new one.

Community Board Room,

Union St

Robo Club

Wednesday 3.30-4.30pm

In this six-week course, with

Lego Mindstorms EV3, you will

learn the basics of how robots

work and how to programme one

to use sensors to complete a set of

challenges. Suitable for ages eight

to 12.

New Brighton Library, Marine

Pde

Meditation and Bhuddism

Wednesday 5.30-6.45pm

Needing more calmness in

your life? This is a drop-in class

consisting of guided meditation

and a talk based on Buddhist

wisdom with teacher Kate

Fulkner. All welcome.

Antidote Juice Bar, Shop 6,

Carnaby Lane

Seaside Market

Saturday, 10am-2pm

Head to the seaside this weekend

and enjoy live entertainment,

great food, fresh produce, artisan

bread, arts, crafts, jewellery and

more.

New Brighton Mall

Magic: The Gathering

Saturday, 1pm-4pm

Take your Magic: The Gathering

decks along to play, swap

cards or hang out. Snacks

provided. Suitable for ages eight

to 18.

Shirley Library, 36 Marshland

Rd

DIY Workshop

Saturday and Sunday, 11am-

1pm

Learn how to DIY with the

help of a team of experts. These

free workshops will give you the

skills and inspiration to DIY in

your own home and garden.

Bunnings Warehouse, 197

Marshland Rd

Art Session

Monday 10am-12pm

Get your artistic juices flowing

with Otautahi Creative Spaces.

This is a chance to take some

time out from your busy lives to

relax, have a cup of tea, and make

beautiful things.

Golden Oldies Movie Screening

Monday, 1.30pm

Catch a remarkable performance

from Dame Helen Mirren

playing Queen Elizabeth II, in The

Queen. The 2006 historical drama

also stars Michael Sheen and is

directed by Stephen Frears.

New Brighton Museum, cnr

Hardy St and Seaview Rd. $2

donation.

Mahjong Club

Monday 12.30pm-3pm

Enjoy playing this ancient

game in a relaxed environment

followed by a cuppa.

South New Brighton Community

Centre, Beatty St.

Talofa

Christchurch city libraries have

some special events on to mark

Samoan language week. Today

at New Brighton library, Samoan

Storytimes has stories and songs,

10.30-11am. At Parklands library

from 3.30-4.30pm, make your

own Samoan jandals. Learn

about Pasifika patterns and make

tapa tiles at Aranui library on

Wednesday 3.30-4.30pm and at

New Brighton library on Friday,

3.30-4.30pm.

WELCOME: Bilingual teacher Erana Ruki (third from right) is

welcomed to South Brighton Playcentre last week. She will be

running a weekly session in Te Reo for children and parents. ​

Bilingual sessions

at playcentre

• By Sarla Donovan

SOUTH BRIGHTON Playcentre

is the first in Canterbury to offer

a weekly bilingual session.

Playcentre secretary Amy

Allen said it was an exciting

development.

"We've been wanting to have

a bilingual session for a number

of years and have finally got it

off the ground. We are hoping it

will give families attending the

chance to speak Te Reo Māori

to their children and also to

increase and normalise the use

of Te Reo in our community."

PEGASUS POST

The session with teacher

Erana Ruki will run on Thursday

mornings and focus on basic

Te Reo, karakia and waiata.

Ms Allen said it was good to

have another option for parents

wanting to learn some te reo

with their child.

"There is Kohanga Reo but

you have to send your kids five

days a week. Playcentre is run by

parents so we can be there with

the kids and learn with them."

There will be space for 25

children and it's hoped over time

the idea will spread to other

playcentres in Canterbury.

QUEEN'S

BIRTHDAY

WEEKEND

SATURDAY 3, SUNDAY 4

& MONDAY 5 JUNE 2017

OPEN 10AM–5PM

FREE CANDY

STAND

SATURDAY 3 JUNE

11AM-3PM

HORNBY 409 Main South Road | OVER 50 STORES

dress-smart.co.nz
---
PEGASUS POST Latest Christchurch news at www. .kiwi

Tuesday May 30 2017 15

Easy Peel Seedless

Mandarins

$

5 99

kg

Fresh NZ Pork Leg Roast

(Excludes Free Range)

$

3 99

kg

$

1 00

each

L&P 1.5L

$

3 99

each

Whittaker's Chocolate

Block 250g

BEER WINE

&

$

7 99

each

WEEK

$

8 99

each

WEEK

$

11 99

each

WEEK

WEEK

24

On now!

29 30

31

More deals instore!

Selaks 750ml

(Excludes Reserve/Founders/Taste Collection)

$

31 99

pack

WEEK

DB/Export Gold/Tui

24 x 330ml Bottles

Jacob's Creek Sparkling 750ml

(Excludes Reserve)

$

37 99

pack

WEEK

Steinlager Classic

24 x 330ml Bottles

Wither Hills 750ml

(Excludes Pinot Noir)

FreshChoice Parklands

60 Queenspark Drive, Christchurch.

Open 7am – 11pm, 7 days.

FreshChoice.co.nz FreshChoiceNZ 383 1004

FreshChoice Parklands

Certain products may not be available in all stores. Savings are based on non-promotional price. Limits may apply.

Prices apply from Tuesday 30th May to Sunday 4th June 2017, or while stocks last.

Owned and

operated

by locals

FCPP3005
---
16

Tuesday May 30 2017

HEALTH & BEAUTY

Latest Christchurch news at www.

.kiwi

PEGASUS POST

Chiropractors offer natural solution

to stress-related ailments

More than six years on from the Christchurch earthquake,

many residents are still suffering from stress and stressrelated

ailments as a result of the event.

Dr Mary Patterson Chiropractor of

the Christchurch Wellness Centre in

Memorial Avenue says she is continually

hearing from patients about how stress

is affecting their lives and their health, a

lot of which can be directly linked to the

earthquakes.

"Stress on the body can be physical,

chemical or emotional. Emotional stress

can be caused through events such as the

earthquakes," Mary says. "Physical stress

such as back pain, neck pain, shoulder

pain and headaches, can be the result of

activities such as gardening, or the result

of injury from an accident.

"Chemical stress can come about from

not eating the right foods, or it can be

from environmental causes. Chiropractic

care is a natural solution that enhances

the body's natural ability to heal itself

from any of these stresses."

Established in June 2016, the

Christchurch Wellness Centre's focus is

on quality and results, with the services

of two fully qualified chiropractors,

Mary and her colleague Dr Priyanka

Tuank. Both studied chiropractic for five

years before graduating from the New

Zealand College of Chiropractic, and they

continue a lifelong education.

Before starting treatment, the two

practitioners ensure their patients fully

understand how chiropractic care works

in addressing their health problems

– that as a natural form of hands-on

health treatment, chiropractic uses spinal

adjustments to correct misalignments of

the spine and restore proper function to

the nervous system, helping the body to

heal naturally.

Massage and muscular therapy is

provided to relieve pain and compliment

the chiropractic care. There is also a

nutritionist on the Christchurch Wellness

Centre team, who advises patients on

what foods and supplements they need to

keep their body in balance and maintain

good health. Lifestyle advice is also given

if required, so patients understand how

they can achieve a healthier way of living.

To find out more about their services,

visit their website www.chchwellness.

co.nz. You can make an appointment

online, or phone 357 9222. The

Christchurch Wellness Centre is

located at 390 Memorial Avenue, near

the Russley Golf Course, with parking

onsite.

Dr Mary Patterson (left)

and Dr Priyanka Tuank,

Chiropractors of the

Christchurch Wellness

Centre in Memorial

Avenue.

"WHERE THE SALE NEVER ENDS"

Discover this

unique Emporium

The one stop shop for Cosmetics and

Fragrances (for women and men)

THE MAKEUP SALE SHOP

Shop 3, inside Bush Inn Centre Mall

(Before Paper Plus) | Ph 03 343 1516

www.makeupsale.co.nz

@makeupsale.co.nz

makeupsalenz

St John

Community Shop

✓Unbelievable bargains

✓ Value and quality

Supporting Life

272 Lincoln Road

Corner Spencer Street

Addington

Phone 03 338 2560

Be warm in

winter with

mohair and

alpaca rugs,

throws and

scarves

140 Colombo Street

Beckenham, Christchurch

Phone 03 943 1639

www.themohairstore.co.nz

Plus a unique range

of gifts, homewares and

water features.

Crafted candles a speciality!

722 Marshland Road

Top end Styx

Ph: 03 323 9781

www.hitchingpost.co.nz

style

noun

elegance and sophistication.

synonyms: flair, grace, poise,

polish, suaveness, urbanity,

chic, finesse, taste, class,

comfort, luxury, affluence,

wealth, opulence, lavishness.

Magazine & TV | sTyle.kiwi
---
PEGASUS POST Latest Christchurch news at www. .kiwi

Tuesday May 30 2017 17

REAL ESTATE

Stunning on Elmtree

2 Elmtree Close, Parklands - Enquiries Over $669,000

4 bedrooms | 2 bathrooms | 2 living rooms | 2 car-garage | 2 off-street parks | Listing # SMT10110

This stunning, contemporary home,

with its sunny entertaining patio area is

sure to steal your heart. This ideal location

with forest backdrop and a wonderful

community may be just what you require.

A striking property from the outset set

on 708m2 this sunny two year old family

sized home of 217m2 boasts four generous

double bedrooms two bathrooms including

the (master with ensuite) and separate wc.

The open plan kitchen/living/dining area

is light and bright with a contemporary

kitchen and scullery at its heart whilst doors

create seamless flow out onto the patio areaperfect

for those social summer occasions.

The cosy separate living area offers a lovely

alternative space. This exceptional property

sits proud on the corner.

The highlights continue with a large, sunsoaked

patio/entertainment area, perfect

for BBQs, while manicured gardens,

established shrubs and full fencing help

create relaxing surrounds - consider it your

very own private sanctuary.

The location is a dream with the cafes,

shops and services of Parklands shopping

centre a short drive, along with the

recreational forest and beach close by. This,

along with Queenspark Primary School a

short walk, all help to underpin the strength

of your investment.

Immaculately presented and marketed

with genuine commitment and appeal,

this contemporary stunner is undergoing

a change of ownership. Early viewing is

highly advised as homes of this calibre in

this enviable location will quickly steal the

hearts of discerning buyers everywhere.

Proudly marketed by Smart Real

Estate (Licensed Agent REAA 2008)

Please call Debra Hakaraia for viewing

times on 027 562 0420 or 384 8600 or

email Debra on enquiries.christchurch@

smartrealestate.co.nz or visit our website

www.smartrealestate.co.nz.

now bigger than ever

Home &

Leisure

SHOW

The magazine for gardeners who

like to get their hands dirty

JUNE 30 –JULY 2

HORNCASTLE ARENA

IN ASSOCIATION WITH

growing with you

SprIng Is here –

It'S Sow Time

how to get the best results from

seeds and seedlings

100% NatIve In

The capItal

Unravelling the secrets of

Otari-wilton Bush

The New Zealand

landscape awards

The people behind

the projects

September 2016 | 100%

It's time

to grow!

New look and more

content than ever!

MeeT LeSTer Brice

A Garden coach

EXHIBITORS

BOOK NOW

SubScribe from

$43. 50*

$7.90 incl. GST

*6 issues/6 months

ISSN 2423-0219

Save our roSeS

How a rose register is protecting our heritage

auckland Botanic GardenS

Why we love our public grounds

Showcase your products or services

to more than 20,000 customers

WWW.STARHOMESHOW.KIWI

Bookings

Vanessa Fleming

P 03 379 7100 | M 021 914 565

vanessa.fleming@starmedia.kiwi

SUBSCRIPTIONS FREEPHONE

0800 77 77 10

www.gaRdENER.kIwI
---
18 Tuesday May 30 2017

Latest Christchurch news at www. .kiwi

Boating Accessories

& Equipment

mARine

suPPLies

• Boat Covers

• Fish Finders

• Boat Hardware

• Life Jackets

• Accessories

305 Flaxton Road, Rangiora

Ph 027 439 3184

www.southislandmarine.co.nz

Community Events

ALCOHOLICS

ANONYMOUS, If you

want to have a drink thats

your business. If you want

to stop, we can help. Phone

0800 229-6757

Computers

ALL

YOUR

COMPUTER

WORRIES SOLVED!

*$30.00 off your first

service with this coupon!*

No problem too big or

small from home PC's to

business networks. PC

slow? An end to Viruses,

Spyware, and Clogged

Systems. Safe secure

hassle-free computing.

Lost files recovered.

Microsoft Certified,

MCSE, MCP+l. 30 years

experience. Call Andrew

Buxton this week on 326-

6740 or 027 435-7596

for $30.00 off* Custom

Computers Christchurch

Curtains

www.curtainfabric-outlet.com

Fashion Designs & Colours

Discontinued Designs

End of Lines Bargain Prices

Call at Our Shop

CURTAIN FABRIC OUTLET

71 Hawdon St Sydenham

Ph 366-5026

Gardening

& Supplies

A GARDEN

PROFESSIONAL

NEEDED? Qualified

Horticulturist, offering

expert pruning, garden

makeovers, garden design

and landscaping, for free

quotes call Bryce 027 688-

8196 or 0508 242-733

A GARDEN OR

LANDSCAPING TIDY

UP? Shrub, hedge &

tree pruning, Lawns,

Gardening, consistently

reliable general property

upkeep, Dip. Hort. 10

yrs experience, One off

tidy ups or on-going

service. Nick's Property

Maintenance. Keeping

your garden beautiful.

Free Quote. Ph. 942-4440

PEGASUS POST

Classifieds Contact us today Phone our local team 03 379 1100

Health & Beauty

Mobile

haiRdReSSeR

age Concern accredited

40 years hairdressing

experience in your

home.

Specialising in elderly

male/female clients

unable to go

to a salon.

Reasonable charges

for cuts, sets, perms.

Ph. ChRyStal

021 144 3314 or

03 385 2402

Holiday

Accommodation

QUEENSLAND SUN-

SHINE COAST AUSTRA-

LIA Resort, Ocean Views,

Balconies, Self Contained,

1 or 2 B/R Ensuite,

Heated Pool, Spa, Sauna,

Free Internet, Shops,

Restaurants, Tennis, Surf

Club & Patrolled Beach,

Public Transport at door.

Ask for our SEASONAL

SPECIALS. Phone 61 7

544-35011 Email: reception@mandolin.com.au

www.mandolin.com.au

Trades & Services

ELECTRICAL

AFFORDABLE

Registered all types

of repairs, installs,

lighting etc

HEATPUMP

Full Service

$60 + GST

Ph 326 4992 or

0274 329 755

PLANT GROWERS

Bettaplants

Nursery

You won't see Betta strawberry

plants anywhere

Strawberry Albion begins cropping early and

continues in flushes until mid autumn.

The heavy crops of mouth watering, sweet, dark

red berries have an outstanding flavour that

remains consistent throughout the season.

BEDDING & VEGETABLE PLANT GROWERS

Bettaplants

1934-2017

Trades & Services

Trades & Services

ROOF REPAIRS

Locally owned & operated with

over 30 years experience.

• Extensions & repair • Roof coating

• Concrete & clay tiles • Butynol

• Malthoid • Asbestos Certified

• Coloursteel • Old iron • Guttering

Phone Dave 981 0278

or 021 223 4200

E: dave@beaumontroofing.co.nz

BEAUMONT ROOFING LTD

Trades & Services

FOR ALL YOUR

★Garden Clean-ups

★Pruning

★Lawn Mowing

★Garden Maintenance

Call us today for a FREE quote

PH 0800 4 546 546

(0800 4 JIMJIM)

• Replacement/new roofing

• Colour Steel gutter & fascia

• Flue & log burner installs

• Skytube/light installs

• Earthquake repairs

Licence Building

Practitioner LBP

Member of the Roofing

Association

DCM ROOFING LTD

The Roofing Specialists

PHONE IAIN

027 445 5597

iain@dcmroofing.co.nz

83 YEARS IN BUSINESS

27 Ottawa Road. Phone: 389-7855

Hours: 8.00am-5.30pm Mon to Fri, 8.00am-5.00pm Sat

9155874AA

Trades & Services

Situations Vacant

Exotic Performers

Wanted

FENCING

All types of residential,

including gates,

demolition & removal,

ph 021 231-1860

Fencing Uprite

FENCING

All styles and shapes,

gates, wooden, ph Mark

027 331-3223

PAINTER

Available, All aspects in

painting. Very competitive

in roofs and fences. Please

call 027 241-7471 or 335-

0265

PAINTER

Top quality work, I stand

by Canterbury, ph Wayne

03 385-4348 or 027 274-

3541

PLASTERING

Stopping / skimming. 30

yrs exp, all work large &

small. Contact Tony 027

Trades & Services 222 2993 or Earl 027 345

0561

GLAZING

PLUMBER Reporter,

For prompt service for all

Stephen Thom plumbing maintenance,

Glazing 2012 Ltd. repairs and alterations. Sub Editor

(Under New Management) Phone Michael 364 7080

or 027 438 3943

• Mirrors

PLUMBER

• New Glazing ALF THORPE

Star Media is seeking journalists.

• Pet Door

PLUMBING Certifying We are looking for a reporter who will

Specialists Plumber for all types of have the ability to file great stories for our

plumbing, maintenance, print publications, including The Star and

• Frameless spouting, alterations etc. Community titles, and our website

Showers

Phone 352-7402 or 0274- www.star.kiwi.

• Splashbacks 350-231

QEII CoLLISIoN The successful applicant will need to be

WE CAN DO YOUR REPAIRS

competitive, have a thorough knowledge

WORK NOW

Free Courtesy Cars of Christchurch and Canterbury, have

ALL BROKEN (conditions apply),All great deadline sense and have a passion

WINDOWS Insurance work,Rust for community news and the people that

Repairs &Private work. make it.

Phone Cushla

Spray-painting.

03 352 6225

Video skills would be an advantage.

or 027 352 6225 Free pickup & delivery.

Ph. 03 388 5187

Star Media is also seeking casual sub

Trades & Services

RooFING

editors. The successful applicants will

Qualified & Licenced need to have had experience with

AAA HANDYMAN Practitioner. Re-Roof & InDesign and able to copy sub, lay out

licensed carpenter Repairs, all types. Member pages and write headlines.

LBP, all property and New Zealand Roofing

building maintenance, Association. Over 35 years

repairs, bathroom/shower experience. Phone John

installations, with free 027 432-3822 or 351-9147 Wanted To Buy Public Notices

quotes 03 383 1927 or 027 email johnmill@ihug. AAA Buying goods

245 5226 ciey@xtra.co.nz co.nz

quality furniture,

BRICKLAYER

SPoUTING CLEANING Beds, Stoves, Washing

George Lockyer. Over Spouting Unblocked, machines, Fridge Freezers.

35 years bricklaying Cleaned Out and Flushed Same day service. Selwyn

experience. UK trained. Out. Also Full Handyman Dealers. Phone 980 5812

Licensed Building Services Available. Call or 027 313 8156

Trevor 332 8949 or 021

Weka Pass Railway

Practitioner number

TOOLS

Waipara, North Canterbury

BP105608. Insurance 043-2034

Garden, garage,

work. EQC repairs. TILER/CARPENTER woodworking,

We are RUNNING

Heritage brickwork and 35 years exp, no job mechanical, engineering, QUEEN'S BIRTHDAY

stonework a speciality. No too small. Ph Ross 027 sawbenches, lathes, cash

WEEKEND

job too small. Governors 4311440.

buyer, ph 355-2045

Sun 4th June &

Bay. Home 329-9344, TREES BIG oR SMALL

Monday 5th June

Cell 027 684 4046, email tree removal, trimming,

Running 1st & 3rd

georgelockyer@xtra.co.nz stump grinding, shelterbelt Public Notices Sundays of every month

BUILDER

clean up, section clearing,

Phone: 0800wekapass

rubbish removals,

For all building work

Depart Glenmark Station

excavation work, ph Trees

11.30am & 2.00pm

but specialist in bathroom

Big or Small, for a free

renovations, 30 yrs

quote, 021 061 4783

www.wekapassrailway.co.nz

experience, with service

TREE WoRK

and integrity. Free Quotes.

Hedge trimming, stump

Ph Lachlan 383-1723 or

grinding, rubbish removed,

0274 367-067.

small job specialty Ph

BUILDER

Andrew 03 322-8341 or

LICENSED, available for

027 435-8759

all aspects of building.

T.V. SERVICE CENTRE

Please call 027 241-7471

Repairs, tvs, microwaves,

or 335-0265

stereos, DVD. Aerial

*****************

installations and kitsets,

Do you know

CARPET & VINYL 480 Moorhouse Ave, ph 03

LAYING

379 1400

where your

Repairs, uplifting,relaying, UPHoLSTERER

restretching,email Dining Chairs, Lounge

nearest

jflattery@xtra.co.nz, suites, Caravan Squabs

ph 0800 003 181

CIVIL DEFENCE

etc. recovered. Free

or 027 2407416

Quotes. Phone Graeme

CoNCRETE

383-1448

sector post is?

DRIVEWAYS

VHS VIDEo TAPES

Pathways, patios, garden & all camera tapes

sheds, garages and house converted to DVD, video

Ring your local

floors, foundations, Phone taping special occasions,

for free quote, Roy 0274 www.grahamsvideo.co.nz

council to find out.

316 860, N & R Concrete. ph 03 338-1655

This occupation of exotic dancing and

performing requires high levels of creative

talent, personal commitment and interest.

Must be able to compose dance,

and work in an adult entertainment

environment on stage.

Apply online at

www.calendargirls.co.nz

Send your CV to

Editor in Chief

Barry Clarke

barry@starmedia.kiwi

Situations Vacant

CLEANERS

REQUIRED

Shirley/St

Albans

Monday to Friday

3pm to 5pm

Shirley

Saturday & Sunday

6am to 8.30am

We are looking for

cleaners to join our

commercial

cleaning team.

You will need to pass

a Security Check and

you MUST have

your own transport.

These are permanent

long term positions

and not suitable for

holders of temporary

work permits.

Please email your

Application to

csc@totalcanterbury.co.nz

or phone 338 9056

Visit our website:

totalcanterbury.co.nz

Please advise which

job when emailing

your CV.
---
PEGASUS POST Latest Christchurch news at www. .kiwi

Tuesday May 30 2017 19

CLOSE YOUR

EYES AND

IT'S JUST LIKE

LISTENING TO

JOHN

FOLLOWING the astounding success of the

2016 tour of Australia, Dunedin born Bevan

Gardiner is touring NZ with Take Me Home -

e Music & Life of John Denver.

e award winning country music singer

has been performing John's music since the

mid-2000's. He says he became a fan of the

famous singer ever since he rst heard John

Denver on a cassette tape. Although only 7 at

the time, he says he felt inspired to sing and

play just like his idol. And being partiallysighted

from birth has not inhibited Bevan. In

2013 he toured Australasia as support act for

country music legend, Charlie Pride. Aer

listening to Bevan, he was moved to saying,

"Close your eyes and it's just like listening to

John."

Take Me Home - e Music & Life of John

Denver incorporates live music with exclusive

lm footage of John Denver through his

career, his personal life and his love for the

environment. e show is authorised and by

arrangement with John Denver management.

Lunch & Dinner

All you can eat, 7 days

Congratulations

HAZEL BODEKER

Mother's Day Prize Draw Winner

HAPPY HOUR

5PM - 7PM DAILY

Bookings Essential PH 386 0088

fb.com/GardenHotelRestaurant www.gardenhotel.co.nz

Live Music:

6PM.FRI.2 JUNE

OUR CABINET ITEMS ARE HOMEMADE

CREATED FRESH ON SITE DAILY

$12

LUNCH

SPECIALS

WIN

A DOUBLE

PASS

Take Me Home - e

Music & Life of John Denver

Who plays John?

Take Me Home - e Life & Music of John

Denver takes place at the Isaac eatre Royal

on Tuesday 6th June. Accompanying Bevan

Gardiner are ve international musicians

headed by Canadian MD David Walker and

accomplished vocalist Georgie Daniell. Tickets

available at Ticketek.

COFFEE

HAPPY

H O U R

Mid-Winter

Christmas

Saturday Saturday 17 June 17 June to to

Sunday Sunday 2 July 22017

July 2017

LUNCH

Mon to Fri $23.50pp

Sat & Sun $24.50pp

DINNER

Mon to Thur $30.50pp

Fri to Sun $32.50pp

Senior Citizens

discount available.

2PM-4PM

DAILY

$3.50

Offer available for a limited time

and includes tea, hot chocolate

MON: ROAST MEAL

TUE: FISH & CHIPS

WED: FISH BURGER

THU: ROAST MEAL

SAT: FISH & CHIPS

AVAILABLE

FROM

11.30AM-2PM

FOR A

LIMITED TIME

Mandi Miller

PHONE 385 8880 FIND US ON FACEBOOK fb.com/GBCCHCH

THE GARDEN HOTEL COMPLEX | 110 MARSHLAND RD

www.gardenhotel.co.nz | phone 385 3132

RESTAURANT & CAFÉ

Cooked Breakfasts

We are open from 6.30am

Seniors SPECIAL

2 courses Soup/Roast or Roast/Dessert

Special available lunch only. Monday - Saturday 12pm - 2.30pm

Family Friendly

Kid's 2 course special

$18

$20

$10

www.newbrightonclub.co.nz

MID-WINTER

XMAS

FUNCTIONS

WE HAVE THE VENUE.

EXCELLENT CATERING.

PLENTY OF PARKING.

ENQUIRE NOW!

'Famous for

their roasts!'

202 Marine Parade | Ph 388-9416

Members, guests and affiliates welcome

The

RACECOURSE HOTEL

& Motorlodge

118 Racecourse Rd, Sockburn,

Christchurch. Ph 03 342 7150

www.racecoursehotel.co.nz

JOIN

A CLUB BY

THE SEA!

TUESDAYS &

THURSDAYS

Members Lucky

Card Draw

FUNCTION ROOMS

SHUTTLE RUNNING

Tues, Thurs, Fri & Sat

TAB POD

GAMING ROOM

H ORNBY

WORKINGMEN'S

CLUB

«WHAT'S ON«

FRIDAY 2 JUNE, 7PM

JO'S KARAOKE

SATURDAY 3 JUNE

4.30PM

NORM BLAND

8PM

FRANCHISE

Club

CAFE

OPEN 7 DAYS

LUNCH & DINNER

Gluten Free &

Vegetarian options

FRIDAY - SATURDAY - SUNDAY

BLUE COD

salad & chips

$24 Full

Meal

$16 Half

Meal

A right royal feast!

ClubBISTRO

Open Tuesday to Saturday

12pm-2pm and from 5pm

Midweek $10

SPECIAL ROAST

Available Tuesday,

Wednesday, & Thursday

PIERVIEW

Restaurant

Quality a la carte

with a view!

Open from 5.30pm

FRIDAY, SATURDAY

& SUNDAY

OPEN FOR

SUNDAY BRUNCH

By the Seaside!

10.30am-2pm

SUNDAY 3 COURSE

DINNER SPECIAL

$25

SUNDAY BUFFET

Sunday 25th June

ALL YOU CAN EAT

$25 BOOK NOW!

«COMING UP«

FRIDAY 23 JUNE, 8PM

TICKETS $20 AT CLUB OFFICE

Chalmers

Restaurant

Early Bird Special

5.30pm – 6.30pm

FRI & SAT

Roast (4 Choices)

and Free Desserts

still only $22.50

Unbeatable value

including your

choice of fresh

Veges and Salads

Hornby WMC | ph 03 349 9026 | 17 Carmen Road | Hornby

www.hornbyworkingmensclub.co.nz | Members, guests & affiliates welcome
---
20 Tuesday May 30 2017

Latest Christchurch news at www. .kiwi

PEGASUS POST

WIN A FREE

BREAKFAST

FOR 2

READ BELOW

FULL MECHANICAL ANd AUTO

ELECTRICAL REPAIRS

CHECK OUT OUR

TYRE PRICES

THEY WILL

SURPRISE YOU

Battery check

Free Loan cars

Be the 5th person to mention this

advert and WIN a breakfast for 2 at the

Waimairi Beach Golf Club Restaurant

And Bar now open to the public

• WoF's

• air conditioning

• Wheel alignments

• clutch & brake

specialists

• Full mechanical

repairs available

• cV joints/boot

replacements

• car/4WD tyres

• auto transmission

servicing

• Petrol/diesel

vehicle servicing

• Diagnostic scanners

91 Beach Road, North Beach

Phone 383 2870

"If you're happy with our

service tell others.

If you're not, tell us.

We want to look after

our customers."

nick couLtas

Owner