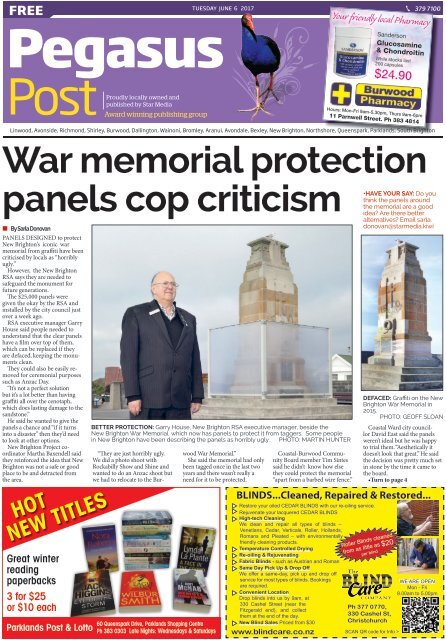 Pegasus Post: June 06, 2017
You also want an ePaper? Increase the reach of your titles
YUMPU automatically turns print PDFs into web optimized ePapers that Google loves.
FREE

TUESDAY JUNE 6 2017

Pegasus

Post

Proudly locally owned and

published by Star Media

Award winning publishing group

379 7100

Your friendly local Pharmacy

Sanderson

Glucosamine

& Chondroitin

While stocks last

200 capsules

$24.90

Hours: Mon-Fri 9am-5.30pm, Thurs 9am-6pm

11 Parnwell Street. Ph 383 4814

Linwood, Avonside, Richmond, Shirley, Burwood, Dallington, Wainoni, Bromley, Aranui, Avondale, Bexley, New Brighton, Northshore, Queenspark, Parklands, South Brighton

War memorial protection

panels cop criticism

• By Sarla Donovan

PANELS DESIGNED to protect

New Brighton's iconic war

memorial from graffiti have been

criticised by locals as "horribly

ugly."

However, the New Brighton

RSA says they are needed to

safeguard the monument for

future generations.

The $25,000 panels were

given the okay by the RSA and

installed by the city council just

over a week ago.

RSA executive manager Garry

House said people needed to

understand that the clear panels

have a film over top of them,

which can be replaced if they

are defaced, keeping the monuments

clean.

They could also be easily removed

for ceremonial purposes

such as Anzac Day.

"It's not a perfect solution

but it's a lot better than having

graffiti all over the cenotaph,

which does lasting damage to the

sandstone."

He said he wanted to give the

panels a chance and "if it turns

into a disaster" then they'd need

to look at other options.

New Brighton Project coordinator

Martha Baxendell said

they reinforced the idea that New

Brighton was not a safe or good

place to be and detracted from

the area.

HOT

NEW TITLES

Great winter

reading

paperbacks

3 for $25

Parklands Post & Lotto

BETTER PROTECTION: Garry House, New Brighton RSA executive manager, beside the

New Brighton War Memorial which now has panels to protect it from taggers. Some people

in New Brighton have been describing the panels as horribly ugly. PHOTO: MARTIN HUNTER

60 Queenspark Drive, Parklands Shopping Centre

Ph 383 0303 Late Nights: Wednesdays & Saturdays

"They are just horribly ugly.

We did a photo shoot with

Rockabilly Show and Shine and

wanted to do an Anzac shoot but

we had to relocate to the Burwood

War Memorial."

She said the memorial had only

been tagged once in the last two

years and there wasn't really a

need for it to be protected.

Coastal-Burwood Community

Board member Tim Sintes

said he didn't know how else

they could protect the memorial

"apart from a barbed wire fence."

Restore your oiled CEDAR BLINDS with our re-oiling service.

Rejuvenate your lacquered CEDAR BLINDS

High-tech Cleaning

We clean and repair all types of blinds –

Venetians, Cedar, Verticals, Roller, Hollands,

Romans and Pleated – with environmentally

friendly cleaning products.

Temperature Controlled Drying

Re-oiling & Rejuvenating

Fabric Blinds - such as Austrian and Roman

Same Day Pick Up & Drop Off

We offer a same-day, pick up and drop off

service for most types of blinds. Bookings

are required.

Convenient Location

Drop blinds into us by 9am, at

330 Cashel Street (near the

or $10 each

Ph 377 0770,

Fitzgerald end), and collect

them at the end of the day.

New Blind Sales Priced from $30

•HAVE YOUR SAY: Do you

think the panels around

the memorial are a good

idea? Are there better

alternatives? Email sarla.

donovan@starmedia.kiwi

DEFACED: Graffiti on the New

Brighton War Memorial in

2015.

PHOTO: GEOFF SLOAN

Coastal Ward city councillor

David East said the panels

weren't ideal but he was happy

to trial them. "Aesthetically it

doesn't look that great." He said

the decision was pretty much set

in stone by the time it came to

the board.

•Turn to page 4

BLINDS...Cleaned, Repaired & Restored...

Roller Blinds cleaned

from as little as $20

per blind

330 Cashel St,

Christchurch

www.blindcare.co.nz SCAN QR code for Info >

WE ARE OPEN

Mon - Fri

8.00am to 5.00pm
---
2

Latest Christchurch news at www. .kiwi

Tuesday June 6 2017

Inside

FROM

THE

EDITOR'S

DESK

PEGASUS POST

News.......................................3-5

OPINION WILL no doubt be

polarised on the panels put in

to protect the Brighton war

memorial from that scourge of

neighbourhoods – taggers.

The panels are designed to stop

taggers, and hopefully that happens.

The Pegasus Post has canvassed

Brighton people for their views

(see page 1) and not surprising

most are beating the same drum:

Necessary but ugly. "Horribly

ugly" in some cases.

Brighton RSA boss Garry House

thinks the panels are okay, but

understandably the main concern

is to get the memorial protected.

At the end of the day, stopping

the taggers is the key. Easier said

than done.

Another problem that is not easy

to solve is Bromley's midges (see

page 3).

City council people are meeting

with residents tomorrow.

Good luck. – Barry Clarke

Young musicians impress judges

SCHOOLS 9

Our People...................6-7

Schools.....................................9

Community Events....11

Food...........................................13

Senior Living..........14-15

GET IN TOUCH

General Enquiries Ph 379-7100

Classified Advertising Ph 379-1100

The Christchurch Star Company Ltd. PO box 1467 - Christchurch

starmedia.kiwi

NEWS

Sarla Donovan

Ph: 021 919 917

sarla.donovan@starmedia.kiwi

ADVERTISING

Mark Sinclair

Ph: 364 7461

mark.sinclair@starmedia.kiwi

FREE ENTRY

Exclusive Deals

& Great Shows

Cruise Show

TRAVEL PRESENTATIONS, AMAZING PRIZES & EXPERT

ADVICE DIRECT FROM CRUISE LINE OPERATOR'S

Tuesday 13 th June 2017

6.00pm-8.00pm, Hoyts Riccarton,

Westfield Mall

BE INSPIRED BY FABULOUS PRESENTATIONS FROM CRUISE EXPERTS

6.15PM RIVER CRUISING – ASIA

6.45PM SMALL SHIP CRUISING

6.15PM CRUISE THE PACIFIC

6.45PM CRUISE THE BALTICS

& SCANDINAVIA

6.15PM CRUISE THE

MEDITERRANEAN

6.45PM RIVER CRUISING

– EUROPE

7.15PM CRUISE HAWAII 7.15PM CRUISE CROATIA 7.15PM CRUISE ALASKA

Speak to our specialists about tailoring a cruise for you. HOT.CO.NZ

BARRINGTON 331 7182 I FERRYMEAD 376 4022 I HIGH ST LANES 339 3440 I HORNBY 344 3070 I MERIVALE 355 2200 I NORTHLANDS 352 4578 I ON VICTORIA 365 7687

RANGIORA 313 0288 I RICCARTON 341 3900 I SHIRLEY 385 0710 UPPER RICCARTON 343 0869
---
PEGASUS POST Latest Christchurch news at www. .kiwi

Tuesday June 6 2017 3

News

Bid to solve midge problem

In Brief

• By Sarla Donovan

MIDGE-PLAGUED Bromley

residents will meet with staff

from the nearby wastewater

treatment plant, the city council

and the Coastal-Burwood

Community Board tomorrow in

hopes of working out a solution

to a problem they say is getting

worse every year.

Board chairwoman

Kim

Money (left)

said the meeting

would allow affected

residents

the chance to air

their feelings.

"We want the residents to feel

comfortable to say what they

want to say to staff. All of us

want to sit down and have a really

open and good discussion."

In spite of an $800,000

spend over the past two years,

locals say their properties are

inundated with swarms of the

non-biting insects over summer,

forcing them indoors and making

life a misery.

They say the current methods

of control aren't working, and

want the city council to look at

alternatives.

INUNDATED: Bromley residents tired of midges swarming

their properties will attend a meeting in New Brighton

tomorrow to look at new ways of solving the problem.

Shortland St resident Janet

Profit said she and others were

"over it," and wanted the problem

sorted before next summer.

"We can't have another year of it.

Ms Money said she wanted

to get all the relevant parties

around the table to revisit what

had been done and look at what

new options were possible.

"We want something positive

to come out of this. I know I

couldn't live with that."

•Kim Money, Our People, p6

PIER REPAIRS ON TRACK

Repairs to New Brighton Pier

are on track to be finished by

February next year. The first

column is finished and work is

under way on the second, third

and fourth columns. Crack

repairs are also taking place on

the access ramp. The pier will

continue to be open to the public

while the earthquake repairs take

place.

FLYING FOX DECISION

Prestons North sub-division

residents will get a say on whether

a flying fox in the Muka Park

playground should be reinstated

or removed permanently.

Complaints led to the flying

fox being removed last year

for breaching city plan noise

standards. Dozens of phone calls

and letters protesting the removal

followed, leading the city council

to investigate options for its

return.

SOUTHSHORE DETOURS

Malta Cres in Southshore will

be closed until June 30 while a

water main is renewed. Pine Ave

will also be affected while City

Care carry out the work. Property

and pedestrian access has been

affected and detours are in place.

Crispy Crunchy Batter

Gluten free products sold

for oVer 4 YeArs

NEW PRODUCT!

Fried Wontons

• Souvlaki • Great Burger Selection

• Garlic Butter Chips • Cheese on Chips

* Specialty fish cooked to order…

Blue Cod, Gurnard, Sole, Hoki, and more!

Bluff oysters available

weather permiting

Try a chocolate explosion / Mars Bar!

GOURMET SEAFOODS QEII

Ph: 388 2531, QEII Shopping Centre

251 Travis Rd

Mon - Wed 11.30am - 8.30pm (Tues from 4.30pm)

Thurs - Sat 11.30am - 9.00pm; Sun 12noon - 8.30pm

Daily break 3.15 - 4.30pm

HIKING BOOTS

& SHOES

For men, women

and children

From

$79.95

to $250

47c Garlands Road, Woolston

Phone 389 3431

www.thefootwearfactory.co.nz

BUILD WITH

CONFIDENCE

• Renovations • Extensions

• New Homes • Fit outs

Call us today: T 323 5771

www.buildrighthomes.co.nz

774 Main North Road, Belfast

Dyers Road Landscape

& Garden Supplies

• Barks • Peastraw • Composts - we supply the best available

• Aggregates - Chip, Round and Basecourse

• Pavers & Schist products • Pungas

• Decorative Stones & Landscaping Rocks

• Trailer Hire first hour free with purchase

• Bag & Bulk - pick up or delivered

David, Carol & Mike

We will deliver!

A Riccartonian

Palace of

Varieties

An extravaganza of Singing, Dancing & Melodrama

in the style of the Old Time Music Hall.

7-17 June

7.30pm Wednesday to Friday

Plus matinees: 2pm Saturday 10 June, 4pm Sunday

11 June, & 2pm Saturday 17 June.

Directed by Donna Buchanan,

Steve Millar and Karyn Gibson

$20 Waged, $15 Unwaged

Cash sales and EFTPOS available – No Credit Cards

Christchurch South Intermediate School,

204 Selwyn Street, Christchurch

For bookings phone 338 4699 or visit

www.riccartonplayers.co.nz

SOIL

AND

HARDFILL

DUMPING

Phone: 03 384 6540

183 Dyers Rd, Bromley • OPEN 7 DAYS

Weekdays 7.30am-5pm. Weekends 8.30am-3pm

www.dyersroadandlandscapes.co.nz
---
4 Tuesday June 6 2017

Latest Christchurch news at www. .kiwi

PEGASUS POST

News

Retired teacher gets Queen's honour

• By Sarla Donovan

RETIRED TEACHER Alan

Parris has been made a Member

of the Order of New Zealand for

services to maths education.

Mr Parris, who lives in Wainoni,

taught maths at Linwood

College for more than 40 years

and was head of department for

more than a decade.

"I'm honoured. It's great that

maths has been recognised in

this way."

He was one of three people

in the city's east named in this

year's Queen's Birthday Honours

List.

Kerry Bensemann, also of

Wainoni, was made a Member

of the Order of New Zealand for

services to the community.

In 2001, Mr Bensemann

established the 0800 Hungry

Ministries Trust, a charitable

organisation providing food

bank services in the Canterbury

region.

The trust sources surplus food

from businesses and distributes

packages to the poor and needy.

Also honoured for services

to the community was Dick

Johns, of Waitikiri, who has

volunteered for nearly 60 years

as a Boys' Brigade leader. He was

CHUFFED: Alan Parris has been recognised in the Queen's

Birthday Honours List. PHOTO: GILBERT WEALLEANS ​

a volunteer at the police kiosk in

Cathedral Square and since early

2016 has been a weekly volunteer

at Burwood Hospital to assist

staff and patients.

Mr Parris said although he

is now officially retired, he still

keeps "busy as hell," helping set

tests and competitions in Australia

and New Zealand.

Mr Parris represented New

Zealand internationally as the

director of the New Zealand

Mathematics Olympiad residential

camps for more than 30

years, and has written and

moderated for the Australian

Mathematics Competition for

more than 24 years.

Within Canterbury, he has

contributed to the Cantamath

regional competition, and was

founder in 1995 of the Literacy

and Numeracy Empowerment

Project.

He produced and co-ordinated

the online National Mathematics

Week programme for more

than 15 years and served on the

National Association of Mathematics

Teachers for more than

25 years.

Mr Parris and his wife have

just finished building a new

house on their Cuffs Rd property

and are busy subdividing and

building two more houses on

their section.

"We're busy fighting the council

over permits, plans, consents

and so on."

As president of both the

Canterbury and New Zealand

Snooker and Billiards Association,

and a vintage car enthusiast,

he's finding plenty to keep

him busy.

Memorial

panels

cop

criticism

•From page 1

Binn Inn New Brighton

owner Nikki Griffin thought

the panels were "hideous."

She said there must be

a better way to protect the

memorial than the "fish bowl

they've come up with."

Blair Hughes, owner of

Paper Plus New Brighton,

said he could understand

why they'd been put up

but didn't like the look of

them.

"Aesthetically, it doesn't

work. I would have thought

there'd be a better option."

Burwood Ward city

councillor Glenn Livingstone

said he hadn't seen the

memorial since the panels had

been installed.

Similar panels around the

Woolston Borough Monument

were covered in graffiti less

than three weeks after they

were installed.

SMART

BRANDS

SMARTER

PRICES

DESIGNER

FASHION

AT OUTLET

PRICES

HORNBY 409 Main South Road | Open 10am–5pm, 7 days
---
PEGASUS POST Latest Christchurch news at www. .kiwi

Tuesday June 6 2017 5

News

Call for council to own Southshore land

• By Sarla Donovan

LOCAL CITY councillor David

East wants to see ownership

of red-zoned Southshore land

return to the city.

Clearance of 150 red zone

properties bordering Southshore

estuary has left the area open

to erosion and flooding from

storms and high

tide.

Coastal-ward

city councillor

David East told

the Pegasus

Post it was

"untenable" to

David East

ask residents

to wait another

18 months for

Regenerate Christchurch to

come up with a plan when there

was no obligation for anybody to

implement it. "The Government

could just sit on it for years and

years. There's no guarantee they

will fix it."

He thinks the quicker option

is for the city council to take

ownership of the land and

assess the feasibility of a plan

commissioned by the Southshore

Residents Association.

The plan, prepared pro-bono

by coastal engineering firm

OCEL Consultants, proposes

constructing a berm to protect

the area from inundation on the

TEMPORARY FIX: Southshore volunteers last year took matters into their own hands and piled

rocks and concrete blocks back up along the estuary edge. ​

estuary side.

Cr East said Government was

The berm would form an elevated

walk/cycle way along the for projects in Christchurch

at a stage where further funding

Estuary shoreline, with beaches would meet with opposition

at some points providing access from other parts of the country.

for kayaks and paddle boards at He said it didn't seem like an

high tide.

"insurmountable" problem to get

The estimated cost was $7.5 that sum into the city council's

million, excluding a paved budget next year.

walkway, landscaping or beach "People down there are looking

features.

for some action," Cr East said.

All red zone land is currently

in Crown ownership and Regenerate

Christchurch is leading

community consultation on the

red zone but Cr East said because

the SSRA had already commissioned

a detailed plan, it was a

"slap in the face" for residents to

be told they had to wait for the

consultation process to finish in

July next year.

Christchurch Central MP and

Minister supporting Greater

Christchurch Regeneration

Nicky Wagner said she and

Mayor Lianne Dalziel met with

the regenerate board earlier

this month to discuss planning

for Southshore and South New

Brighton.

"I understand Regenerate

Christchurch presented to

the Southshore Residents' Association

two weeks ago on the

intended approach, and emphasised

the need for pace and

certainty."

"All relevant information will

be considered in the planning

process, and the community will

have the opportunity to provide

input."

Cr East said the Government

should sit down with the city

council and assess the feasibility

of the OCEL plan, rather than

inflict further consultation on

a community that was "sick to

death" of it,

It was "inevitable" that all red

zone land in Christchurch would

return to council ownership, he

said.

"It's not a matter of if, but when."

SSRA chairman Bill Simpson

said residents in the area had

an immediate problem which

needed to be fixed. "We don't

care how it's done."

Call your GP team 24/7 for health advice.

Even after-hours a nurse is available to give free health advice.

12

9

3

6

12

9

3

6
---
6 Tuesday June 6 2017

Latest Christchurch news at www. .kiwi

PEGASUS POST

Our People

Working for the community

Kim Money

Kim Money is a newbie to local body

politics. Reporter Sarla Donovan finds

out what makes the Coastal-Burwood

Community Board chairwoman tick

RELAXING: Kim Money, chairwoman of the Coastal-Burwood Community Board.

PHOTO; MARTIN HUNTER

What have you been up to today?

My daughter needed me to

babysit so I thought I'll have her

for a couple of hours and do some

emails at the same time. Well, a

10-month-old and emails didn't

quite work! Then I popped over to

see my mum, she's in a rest home

and I've had a lot of issues with her

over the years especially in the six

months since I've been in this job

unfortunately. She's had strokes,

been in and out of hospital, that

sort of stuff happening. After that,

I had a staff meeting and now I'm

seeing you.

Do you have just the one

grandchild?

I've got two daughters, 30 and

27. One has a baby girl who I was

looking after this morning and the

other has a boy who is two-and-ahalf,

and another little girl, she's

eight months. They're all living in

North Beach.

We're here at Salt on the Pier –

is this a favourite cafe?

There's a few here. I think

because I live in North Beach,

my favourite would be the Coffee

Shed. A friend of mine's daughter

started that up 18 months ago and

it's a wee community hub she's

created. We all swarm down there

like bees, and it's not just the people

you get to know, it's the dogs

as well. A lot of mums go there

with their babies and I've recently

been able to talk the kite man, Jim,

into flying his kites down at North

Beach so he does that every now

and again too. Switch Espresso is

good too, one of my favourites.

It was a bit grey and chilly

earlier on. Are you one of these

people who get excited about

winter?

I used to when I skied, before

children, but now, winter's different.

It's a cosy time, a time to take

stock, do a bit of spring cleaning

or organising. But I love being

outdoors so any sunny day it's

out on the beach, that's why I live

there. Anyway, we always get four

seasons in one day.

JO HAYES

NATIONAL LIST MP BASED

IN CHRISTCHURCH EAST

Mobile clinics

Last Friday of every month

Check out my Facebook

page: Jo Hayes MP

6/950 Ferry Road,

Ferrymead

P: 384 9459

Call to make an

appointment

www.national.org.nz
---
PEGASUS POST Latest Christchurch news at www. .kiwi

Tuesday June 6 2017 7

with empathy and positivity

A bit like Dunedin.

I was actually born there, in

1960. My parents emigrated from

England with my sister, who's

seven years older than me. They

first went to Dunedin, then after

about six months we shifted to

Sumner. I grew up there, went

to Sumner School. Then I met

my husband, (who I'm separated

from) when I was 16 and he lived

in North Beach. So I've been associated

with this area since then.

We met at a church camp; he was

jumping on a trampoline and

my best friend broke her leg so I

thought he might like to go and

visit her in hospital, that's how

it started. Plus, he was a surfer,

which appealed.

Do you surf yourself?

I've got a surfboard and a

wetsuit but all the youth around

the place, they all use it. Anybody

that wants to use my board uses

it. My daughter and I designed

the pattern, it's a Barron board.

But no, I'm a beach whale. We've

been a surfing family though,

in the surfing community for

years and my daughter surfs,

my son-in-laws surf and I love

that lifestyle, being on the beach,

going up and finding the surf in

Kaikoura.

Do you a have a bolt-hole,

somewhere you escape to for

weekends/holidays?

When I was married, we used

to go to Bali every year. That was

somewhere that we found which

worked for both of us. The surf

was always fantastic, the weather

ELECTION

TIME: Kim

Money out

and about on

the campaign

trail last year.

was always fine, the shopping

and food was cheap, you didn't

have to cook or clean so we'd go

for 2-3 weeks every year. Otherwise,

in New Zealand, Dunedin

and Kaikoura were our favourite

spots, again, because of the surf.

I do love the beach, otherwise I

feel claustrophobic. Where I grew

up in Sumner, our house was on

The Esplanade, right opposite

Cave Rock. I heard the house we

had just sold after about 30 years

for $1.4 million. And apparently

they're going to pull it down.

I haven't lived there for a long

time of course, but I was there 21

years.

How are you enjoying your

job as chairwoman?

It's a real privilege. It was really

exciting when I first heard I got

in because as I said my mother

was really sick and I found it

difficult to campaign. I wanted

to door knock a lot but mum was

out at Oxford Hospital for respite

and she was there for virtually

the entire campaign. I was travelling

out there a lot and found it

difficult to run the campaign I

wanted so I didn't know how it

would end up going. I did the

best I could so when I got in it

was really exciting and then that

turned into, 'oh my goodness, I'm

now chair.'

Is that something you were

pushed into?

Not at all. I said I'd consider

being chair (thinking it was parttime

– it's not). It turned out I

had the backing of the entire

board, it was unanimous and

that in itself was a privilege, to

think that these members who'd

been there six to nine years were

happy for me as a new person to

come and not just be part of the

team, but lead the team. It was

a double privilege really. I take

it very seriously and I love the

board, all of them. We all respect

each other. We've recently just

done a 'StrengthsFinder' course.

They really enjoyed that and it

was so useful in finding out what

we bring to the board and how

we can use that and it just brings

an understanding of how we're

made up. For example, empathy

and positivity are two really

strong traits of mine.

I've noticed you're quite

efficient at meetings, is that

something you're conscious of?

It's just being respectful of

people who have come to present

and also (city council) staff that

are there. We have to get on

with the job and be mindful

that people who are presenting

have taken time out of their

day. I've chaired groups at other

organisations and I do like to

start on time and try and stick

to the rules. But then, we're

community so there needs to be

discretion and ability to go with

the flow sometimes.

"WHERE THE SALE NEVER ENDS"

The one stop shop for Cosmetics and

Fragrances (for women and men)

THE MAKEUP SALE SHOP

Shop 3, inside Bush Inn Centre Mall

(Before Paper Plus) | Ph 03 343 1516

www.makeupsale.co.nz

@makeupsale.co.nz

2

BRING IN THIS

FOR

VOUCHER MENTION THIS AD 1FOR

MINI GOLF

Buy 1 round of Mini Golf at

either Ferrymead Golf

(Monster & Zombies Indoor

or Volcano Park outdoor)

or Caddyshack indoor and get

another round FREE

Only available May, June, July, August 2017

makeupsalenz

Helping us,

Helps tHe

community

Drop off or buy

3 family stores in your community

30 Main North Rd,

Ph 352 4581

520 Cranford St,

Ph 352 0515

50 Charles St, Kaiapoi

Ph 03 903 0017

WinTEr Fun For EvEryonE

Ph 384 1566, 21 King Edward Terrace, Woolston

www.caddyshack.co.nz

Volcano Park

Ph 376 5350, 50 Ferrymead Park Drive, Ferrymead

www.ferrymeadgolf.co.nz
---
8 Tuesday June 6 2017

Latest Christchurch news at www. .kiwi

PEGASUS POST

WINDOWS 10 OPTIONS

ON ALL EX LEASE COMPUTERS

i3 Desktop Cyclone

20'' screen, Ex Lease

• i3 Intel CPU

• 4GB RAM

• 500GB Hard Drive

• Desktop case

• Keyboard & Mouse

corded

• Windows 10 option

• DVD writer

• 20" screen

• 6 Months Warranty

• Ex Lease

$599

incl GST

i5 Desktop Cyclone

20'' screen, Ex Lease

• i5 Intel CPU

• 4GB RAM

• 500GB Hard Drive

• Desktop case

• Keyboard & Mouse

corded

• Windows 10 option

• DVD writer

• 20" screen

• 6 Months Warranty

• Ex Lease

$699

incl GST

HP 430 i3 Slim Laptop

Ex Lease

• i3 CPU

• 4GB Ram

• 500GB Hard Drive

• 13.3" Screen

• Slim line design

• Windows 10

professional

• Light weight

Ultra laptop

• Ex Lease

$599

incl GST

HP9470 HP EliteBook Folio

Ex Lease

• Intel i5

• 4GB Ram

• 500GB Hard Drive

• 14" Screen

• Windows 10

• Slim line design

• Light weight

Ultra laptop

• Ex Lease

Upgrade to 240GB SSD

Drive for $799 incl GST

$599

incl GST

We service & repair laptops, tablets and smartphones,

including broken screens. Ring us first for a quote.

Shop online at: www.computercentre.co.nz

serving christchurch for over 28 years

Unit 1/100 Fitzgerald Ave (Next to Cartridge World)

Phone: 379 3428

www.computercentre.co.nz

Open Monday-Friday, 9am-5pm

Q Card lending criteria, terms

and conditions, and fees apply

*All work carried out in our

workshop. Home pcs only.

Pay with Q Card or Farmers Card.
---
PEGASUS POST Latest Christchurch news at www. .kiwi

Tuesday June 6 2017 9

SCHOOLS

New entrants

The new entrants who started at

Banks Avenue School this term

have all kinds of goals they want

to achieve. Ella and Georgia are

in the same class, while the other

pupils have started in room 8, the

newest class.

•If you have a new entrant

starting school, send their photos

to sarla.donovan@starmedia.kiwi

Group gets crowd rockin'

• By Sarla Donovan

PROUD BROWN wowed the

judges at the Smokefree Rockquest

heats recently, winning the

Pacifica Beats Award and bagging

a place in the regional finals later

this month.

Eastern schools will be well represented

at the regional finals, with

Shirley Boys' High School groups

Cipher, Judah And The Lazers and

2016 Canterbury Region winners

FUZHUN also making the cut.

A receptive Aurora Centre

crowd soaked up the energy of

Proud Brown, a seven-person

group of talented musicians from

Mairehau High School and Haeata

Community Campus.

They were among 70 bands who

battled it out for 12 spots in the

regional finals.

Lead vocalist, Evile Jireh Sisiso

Laloata, thinks their stage presence

and ability to get the crowd

engaged contributed to their success.

"There was not much space but

we actually figured out, like, how

to use the whole space and be

creative and add in moves to it.

There was also a specific part in

our song where we tell the crowd

to clap but then they all started

clapping to the beat and we were

like: 'Oh yes, this is what we

wanted'."

The group, coached by Vai

Punavai, will now compete in

the regionals at The Foundry on

June 23 where they'll be hunting

KEEPING IT PROUD: Back row – Darrell Suaesi-Faamua (Mairehau

High School), bass; Sholita Umutaua, vocals; Grace Smith,

keyboard; Lisha Anitelea, vocals. ​Front row – PJ Iva, drums; Evile

Jireh Sisifo Laloata, vocals; Junior Muaimalae, guitar.

for a place at the national final in

Auckland.

Rockquest founder and director

Glenn Common said the level of

performance at the heats seems

to keep going up every year as

ISLAND VIBES:

FUZHUN onstage

at the

Smokefree

Rockquest heats.

The Shirley Boys'

High School

group's relaxed

soul-reggaefunk

style saw

them win a place

in the regional

finals later this

month.

entrants get more support for

contemporary music from their

schools, make use of on line

resources and have role models

who've used the event as a springboard

to success.

Discover Christchurch's

best priced pet

accommodation

Discover this

unique Emporium

St John

Community Shop

✓Unbelievable bargains

✓ Value and quality

Supporting Life

272 Lincoln Road

Corner Spencer Street

Addington

Phone 03 338 2560

Younger Ladies

120 tablets

ONLY $49.99

Hormone FREE

Supplement for

women of all ages

• Lack of energy

• Emotional Outbursts

• Stress & Weepiness

60 tablets

ONLY $29.99

• Grooming

cats and dogs

• Daycare -

all breeds

• Long stay/

short stay

Call now to book in your fur baby -

inspections welcome anytime!

aLameDa

kenneLs & cattery

271 Dyers Road | Ph 384 1297

www.alameda.nz

ATTENTION LADIES

...All Ladies

25% OFF

all

during June!!

EXCLUSIVE OFFER HERE!!

Plus a unique range

of gifts, homewares and

water features.

Crafted candles a speciality!

722 Marshland Road

Top end Styx

Ph: 03 323 9781

www.hitchingpost.co.nz

Older Ladies

120 tablets

ONLY $49.99

Barrington Pharmacy

Next to CouplaNds, 256 BarriNgtoN st Ph 332 3156

140 Colombo Street

Beckenham, Christchurch

Phone 03 943 1639

www.themohairstore.co.nz

Menopause

symptoms Relief...

• Hot flushes

• Mood Swings

• Night Sweats

• Mild Anxiety

60 tablets

ONLY $29.99

10% discount

everyday

using

Be warm in

winter with

mohair and

alpaca rugs,

throws and

scarves

*excludes PrescriPtions & sale stock
---
10 Tuesday June 6 2017

Latest Christchurch news at www. .kiwi

PEGASUS POST

Home &

Leisure

SHOW

JUNE 30 –JULY 2

HORNCASTLE ARENA

IN ASSOCIATION WITH

EXHIBITORS

BOOK NOW

Showcase your products or services

to more than 20,000 customers

Bookings

Vanessa Fleming

P 03 379 7100 | M 021 914 565

vanessa.fleming@starmedia.kiwi

WWW.STARHOMESHOW.KIWI
---
PEGASUS POST Latest Christchurch news at www. .kiwi

Tuesday June 6 2017 11

Email sarla.donovan@starmedia.kiwi

by 5pm each Wednesday

Book Discussion Group

Tuesday, 7.30-9pm

For those who love reading

and want to share in discussion

with other friendly book lovers,

go along to this monthly book

group on the first Tuesday of

each month.

Parklands Library, 46

Queenspark Dr

Reading to Dogs

Wednesday, 3.30-4.30pm

Reading to dogs in a relaxed,

non-threatening atmosphere

encourages children to develop

a love of reading. The furry

friends have all been trained

and tested for health, safety and

temperament.

New Brighton Library, Marine

Pde

Matariki Storytimes

Thursday, 11-11.30am

Celebrate Matariki with

stories, songs, rhymes and a

craft activity to follow. Free

event.

Aranui Library, 109 Aldershot

St

Scrabble Club

Friday, 10.30am-noon

If you like board games, why

not join in the fun at this weekly

meeting of the Scrabble Club.

No obligation, just go when you

can and enjoy the company of

this friendly group.

Linwood Library, Eastgate

Shopping Centre

Seaside Market

Saturday, 10am-2pm

Head to the seaside this

weekend and enjoy live

entertainment, great food, fresh

produce, artisan bread, arts,

crafts, jewellery and more. With

a bouncy castle and free facepainting

for the children.

New Brighton mall

Art Session

Monday, 10am-noon

Get your artistic juices

flowing with Otautahi Creative

Spaces. This is a chance to take

some time out from your busy

lives to relax, have a cup of tea

and make beautiful things.

New Brighton Library, Marine

Pde

After School Club

Monday, 3.30-4.30pm

Come and have fun at the new

Shirley Library after school club.

There will be technology, games,

crafts, books, and most of all –

fun. Suitable for ages 6-10.

Shirley Library, 36 Marshland

Rd

FEATURE: As part of the golden oldies movie screening at New Brighton Museum, Higher and

Higher (1944) will be showing. Starring Frank Sinatra, this musical, comedy/romance is loosely

based on the musical of the same name. Higher and Higher marked the second of Sinatra's

40-plus film roles and was nominated for a 1945 Oscar for best music, original song for the

piece I Couldn't Sleep a Wink Last Night, and also for best music. Arrive early for a cup of tea

and a chat. New Brighton Museum, cnr Hardy St and Seaview Rd. $2 donation. The film screen

on Monday, 1.30pm.

Pages Rd Market

Thursday, 8am-1pm

Visit the market for pre-loved

clothing, plants, toys, skincare

products, books, DVDs, fresh

fruit and vegetables and all

types of new and used knickknacks.

51 Pages Rd, Linwood

Mahjong Club

Monday, 12.30pm-3pm

Enjoy playing this ancient

game in a relaxed environment

followed by a cuppa.

South New Brighton

Community Centre, Beatty

St

CITY SOUTH VAN SPARES

SERVICE CENTRE WOFS & TYRES

159 MACES ROAD | PH 389 6367

Let us

entertain you.

DON'T MISS OUR

• Provide Full Workshop Facilities

• Full Servicing & WOF Repairs

• Towing Available • Good Hourly Rate

• Same Day Clutch Replacement

• 2 Day Engine Replacement

• Mechanical & Exhaust Repairs

PLUS

CITY SOUTH VANS

We buy, sell and dismantle vans and cars

• We pick up out of

Christchurch

• Backpacker vehicles

available WITH

Guaranteed Buy Back

WEDNESDAY

CASH DRAW

8PM - 10PM

FREE ENTRY

20kmustwinwednesday.co.nz

100%

owned & operated

166 MACES ROAD, BROMLEY

P. 384 8744 or A/H 027 222 3241

OPEN SATURDAY 9.00AM - 1.00PM

Terms and conditions apply.

See website for further details.

HOST RESPONSIBILITY LIMITS APPLY

PLAY SAFE DRINK SAFE
---
12 Tuesday June 6 2017

Latest Christchurch news at www. .kiwi

HEALTH & BEAUTY

PEGASUS POST

Migraine relief

Your headache or migraine may literally be a pain in the neck

It's not very well known that almost 13

percent of people – including childrensuffer

from headaches and migraines.

It is the 3rd most prevalent illness in

the world and causes 91 percent of the

people it affects to miss work or reduce

their functional capacity. In the past 10

years, the understanding of what causes

headaches and migraines has significantly

changed. The research now shows that

the sensitisation of the brain stem in

your neck is what causes this pain; and

the specially trained physiotherapists at

Muscle People are well versed in how to

treat it.

Krissy Winter, a patient of Muscle

People, had this to say about her

experience: "My migraines were

debilitating and they'd often come without

warning. Sometimes once a week, but

generally about once a month. I'd moved

up from Dunedin where I'd managed them

with my Osteopath, yoga and Pilates. In

Christchurch I was so reluctant to let

anyone near my neck. I read the article

and I must admit I wasn't convinced and I

went to the first appointment with a page

of all the concerns I had. The first time I

met Laurie I remember walking out and

feeling more in control. After about four

treatments with Laurie and perfecting the

technique she taught me I truly began to

reap the benefits. Now I'm fantastic. If I

feel a migraine coming on I now have the

control to manage it myself, even stopping

them from taking over, without needing

someone to drive me in to the osteopath

or the hospital for an injection to relieve

the pain. With the technique Laurie

taught me I'm armed and dangerous!"

Laurie, Clare and Naomi were trained

in Australia in the award winning and

ground breaking Watson Approach to

dealing with headaches and migraines.

This proven method examines and treats

the movements of the first three segments

of the neck, which when sensitised cause

headaches and migraines.

"In our clinics we see people from

as far away as Invercargill who come

to us specially to seek treatment" says

Laurie Moore, Director of Muscle People

Physiotherapy. She says "The symposium

in Australia we went to just recently

reaffirmed the effectiveness of what we

do, and honed our skills even more."

Generally patients will come to our

clinic four or five times in the first few

weeks of treatment. We show them some

very simple exercises to do at home. After

the first few weeks, treatment sessions are

guided by how the patient is feeling.

"Often patients come to us at the end

of a long journey having tried quite a few

other treatments, and we are able to help

them reduce or remove their pain." Laurie

says.

Muscle People Physiotherapy, call us

today, ph 360 3606

"If I feel a migraine

coming on I now have

the control to manage

it myself."

suffering from

splitting headaches?

We can help!

• No GP referral needed

• 3 expert physios with extensive

experience relieving headache and

migraine pain

• The diagnostics accuracy of the

Watson Headache Approach is

unparralled and can confirm the exact

nature of your headache or migrane.

musclepeople.co.nz

Reduce youR pain - call us today! 360 3606

three Muscle people physio clinics:

Bishopdale clinic

13a Bishopdale court

ph 360 3606

city clinic

12 Hereford st

ph 961 0236

Wigram skies clinic

67 skyhawk Rd

ph 322 9400

JUNE SPECIAL

Full exam & two xrays

Only $69

with Dr. Zohnia McNeill

FREE WHITENING

CONSULTATION

with Oral Hygienist/

Therapist, Amy Lee

Valid until the end of June

99a GLANDOVEY RD (Entrance via Idris Rd)

FENDALTON, CHRISTCHURCH 8052

PHONE: 03 351 1188 FAX: 03 351 1138

Monday - Friday 8.30am-5.00pm

www.fendaltondental.co.nz

This unique powerful

treatment provides

you with pain relief

in seconds

Acupuncture

without needles

• Relieves all kinds of body pain

• Boosts your energy

• Improves sleep and mood

• Relieves asthma and hay fever

• Combat addiction (sugar, cigarettes,

alcohol and drugs)

• Reduce blood pressure

TRY IT NOW - First treatment is free

FOR A lIMITed TIMe ONlY

Dr Lan's Reflexology Network

Melrose Building

108 Sawyers Arms Road, Christchurch

Phone: (03) 323 4168 or 027 231 8388

NEW TECHNOLOGY TO TREAT FUNGAL NAILS

style

noun

elegance and sophistication.

synonyms: flair, grace, poise,

polish, suaveness, urbanity,

chic, finesse, taste, class,

comfort, luxury, affluence,

wealth, opulence, lavishness.

A simple solution to a complex problem before after

37 Main South Road, Upper Riccarton | Ph 348-7910 | www.feetfirst.co.nz

Magazine & TV | sTyle.kiwi
---
PEGASUS POST Latest Christchurch news at www. .kiwi

Tuesday June 6 2017 13

GREAT food

BROUGHT TO YOU BY...

Your fresh food people

TEX-MEX CHICKEN BASKET

WITH KIWIFRUIT SALSA

Ingredients

4 Flat bread wraps, round, multigrain

1 Tbsp Canola oil

1 Onion, diced

500g Chicken

420g Canned tomatoes, with

chilli

1 tsp Chilli, diced

1 can Red kidney beans, rinsed

and drained

1 cup Corn kernels

1 bunch Coriander, or parsley

4 cups Long grain rice, cooked

Salsa

3 Kiwifruit, peeled and diced

3 Tbsp Fresh mint, chopped

1 tsp Lemon juice

Directions

Preheat oven to 180 deg C.

Meanwhile, warm wraps in the

microwave for about 30 seconds,

until pliable.

Press into non-stick metal

moulds to make baskets. Bake

for about 10 minutes, until crisp.

Remove and cool on a wire rack.

Heat oil in a non-stick frying

pan. Add onion, chicken and

diced chilli.

Saute until onion is limp.

Add tomatoes, beans and corn.

Cover and simmer for about 10

minutes, until chicken is cooked.

Thicken, if preferred, with a little

cornflour and water paste. Season

with salt and pepper.

Place rice in the base of each

basket then top with the chicken

mixture. Garnish with coriander

or parsley. Serve with the combined

salsa ingredients.

PINEAPPLE COCONUT

MACAROON CAKE

Directions

2 Eggs

¾ cup Caster sugar

1 Tbsp Coconut oil, in liquid

form, or coconut butter, cooled

1 large Lemon, with zest

1 cup High grade flour

1 tsp Baking powder

1 cup Pineapple, heaped and

diced

¾ cup Desiccated coconut

Coconut icing

1 cup Icing sugar

¼ cup Coconut milk

To decorate

1 handful Fresh pineapple

wedges

1 small handful Mint leaves,

finely shredded

1 sprinkle Lemon or lime rind

Directions

Heat the oven to 190 deg C.

Line a 17cm round cake tin with

baking paper.

Place the eggs and sugar in an

electric mixer and beat until light

and fluffy (to the ribbon stage).

Using a large metal spoon, fold

in the coconut oil and lemon

zest. Sift over the flour and baking

powder and carefully fold in.

Lastly, using two to three

movements, fold through the

diced pineapple and coconut. Do

not overfold or you will lose all

the air you have beaten in.

Pour into the prepared tin

and place in the oven. Bake for

25-30 minutes or until a skewer

inserted in the centre of the cake

comes out clean.

Remove from the oven and

leave to cool for five minutes

before removing to a wire rack

to cool.

To make the icing, combine

the icing sugar with the coconut

milk until you have a smooth

mixture.

Spread icing over the top

surface of the cake and allow to

drizzle down over the edges.

Decorate the top with pieces of

fresh pineapple, mint leaves and

lemon or lime shreds.

Green Kiwifruit ................99 c

kg

Envy Apples ...................... 2 .99

kg

Loose Brown Onions ...99 c

kg

Vine Tomatoes 300g ........ 3 .99

pack

Breakfast & BBQ

Mushrooms 250g ............. 3 .99

pack

Pineapples ........................ 2 .99

each

Beef Porterhouse

Steak ................................... 22 .99

kg

Chicken Tenderloins . 10 .99

kg

Lamb Shoulder Roast .. 9 .99

kg

All our fresh meat is 100% NZ FARMED.

specials VAlid 6th june - 11th june 2017. ONLY AVAILABLE AT

RAEWARD FRESH HAREWOOD RD, TOWER JUNCTION & MARSHLAND RD

At

Handcrafted saUsages,

made instore!

● FLavours for

all occasions

● Great for a quick

& tasty meal

● Check us out in store

for a great range of

harewood rd Mon–Fri 7.00am–6.30pm Sat–Sun 8.00am–6pm

Tower junction Mon–Fri 8.00am–7.00pm Sat–Sun 8.30am–6pm

MARSHLAND RD Mon–Sun 8.00am–6:00pm

WWW.

.CO.NZ
---
2 [Edition Tuesday datE] June 6 2017 PEGASUS POST

14

Latest Christchurch news at www. .kiwi

SENIOR LIVING

How's your sleep?

Sleep is as important to the human body

as food and water, but most of us don't get

enough quality sleep. Insufficient sleep, or

disruptions to the sleep-wake cycle, may

cause you to feel stressed, moody, unhappy,

depressed, frustrated, fatigued, as well as

cause poor concentration, memory, weight

gain, skin conditions and even be a factor

in faster aging and degenerative diseases.

Melatonin is your sleep hormone. It is

secreted by your brain's pineal gland at the

day's end to help you relax and prepare

for sleep. As you drift into sleep more

melatonin is released to put you into a

deep restorative sleep. Unfortunately many

of us do not produce enough melatonin

to achieve a quality sleep, and to sleep

continuously through until morning. If you

have trouble going to sleep, and/or wake

often throughout the night you could be

low in melatonin.

Montmorency Tart Cherries are an

excellent source of naturally occurring

phyto-melatonin. Tru2U Sleep Support

contains 100% pure tart cherry

concentrate. It is an excellent natural way to

increase your melatonin levels and improve

your sleep. It is ideal for the whole family

Melatonin is only produced at significant

levels by the pineal gland when it is dark.

It is imperative to sleep in a dark room

with no lights for your body's natural

production of melatonin.

Research conducted at Michigan State

University found Montmorency Tart

Cherries to contain some of the highest

concentrations known of antioxidants

including potent anthocyanins. These

HOW'S YOUR SLEEP?

Sleep is as important to the human body as food &

water, but most of us don't get enough quality sleep.

Insufficient sleep, or disruptions to the sleep-wake

cycle, may cause you to feel stressed, moody, unhappy,

depressed, frustrated, fatigued, as well as cause poor

concentration, memory, weight gain, skin conditions

& even be a factor in faster aging & degenerative

diseases.

potent antioxidants help keep the body

healthy. According to Dr. Lester Packer,

PhD, world renowned cell biologist,

"There is overwhelming scientific evidence

demonstrating that people who eat a

diet rich in antioxidants will live longer,

healthier lives."

Tart cherry juice has been found to

support joint health, mobility, flexibility

and muscle recovery. It contains an enzyme

called "uricase" that helps break down uric

acid in the joints, which can lead to joint

pain and gout.

Montmorency tart cherry juice has also

been shown to significantly reduce high

blood pressure at levels comparable to that

achieved by medication but without the

side effects of medication according to new

research from Northumbria University,

Newcastle. Participants with the highest

blood pressure saw the most benefit.

Tru2U Sleep Support is 100% pure tart

cherry concentrate. It is a great product

to support healthy sleep and general good

health.

Further information is available from

the Natural Health Advisers at Marshall's

Health & Natural Therapy, 110 Seaview

Road, New Brighton, & Phone: 388-5757.

We are Always Happy to Help!

how's your blood pressure?

Keeping our blood pressure (B/P) in the normal range is a positive sign of good health. The higher the B/P above normal the more

likely we may suffer a stroke, aneurysm, organ failure or heart attack. Even moderate elevation of B/P can lead to shortened life

expectancy. Checking your B/P on a regular basis with our easy to use B/P monitors allows you to make changes to your lifestyle,

diet & nutrition when necessary.

TRU2U - MONTMORENCY

TART CHERRY JUICE

100% Tart Cherry Concentrate Supports:

• Healthy blood pressure, blood flow &

cardiovascular health

Super price

• Deep restorative sleep

1 LiTRE ConCEnTRaTE

• Joint health & mobility only $56.90

• Reduces uric acid that leads to joint pain

& gout

• Good health with its potent phytonutrients

& anthocyanins

TRU2U - 100% - TART CHERRY CONCENTRATE SUPPORTS:

- Quality, Deep, Restorative Sleep - Going to sleep easily

- Normal sleep patterns - Joint health, mobility & stiffness

- Healthy energy levels - Potent antioxidant protection

- Healthy blood pressure & cardiovascular health

- Returning to sleep when woken during the night

- Reduces uric acid that leads to joint pain & gout

HIGH PERFORMANCE BLOOD

PRESSURE MONITORS OFFER:

• Easy measurement of blood pressure,

heart rate & checking for heart

arrhythmia

• Helps avoid high B/P – a serious health

concern

• allows you to check regularly & see

what affects your B/P

MAIL ORDER

AVAILABLE

Bringing You the Best in Natural Health

MARSHALLS HEALTH & NATURAL THERAPY

CONSULTING - PRESCRIBING - DISPENSING - MANUFACTURING - MEDICAL HERBALISTS

110 SEAVIEW RD, NEW BRIGHTON • PH 03 388 5757 • Email: enquiry@marshallshealthshop.co.nz

- WE ARE ALWAYS HAPPY TO HELP! -

Montmorency Tart Cherries contain naturally occurring

phyto-melatonin, to support regular sleep patterns for

adults, children & babies.

Melatonin is essential for a deep restorative sleep.

Research also shows Tart Cherries contain potent

antioxidants that can help keep the body healthy.

Super Price

1 Litre Concentrate

$56.90

MAIL ORDER AVAILABLE

Bringing You the Best in Natural Health!

MARSHALLS HEALTH & NATURAL THERAPY

CONSULTING - PRESCRIBING - DISPENSING - MANUFACTURING - MEDICAL HERBALISTS

110 SEAVIEW RD, NEW BRIGHTON • PH 03 388 5757 • Email: enquiry@marshallshealthshop.co.nz

- WE ARE ALWAYS HAPPY TO HELP! -

Super price

only $59.90

More detailed information on how to maintain

healthy blood pressure & cardiovascular health is

available in store from our Natural Health Advisers.

Golden Healthcare Group

Residential Care Services

Golden Healthcare Group's position

is at the forefront of Canterbury's

residential care services is cemented by a

state-of-the-art facility being developed

at Lady Wigram Retirement Village.

The concept is to provide hotel-style

accommodation for those residents

who enjoy being part of a vibrant, social

community.

The group has already completed

78 villas with an additional 23 to be

completed by November 2017. Until the

full project is finalised, one of the villas

built during the first stage of construction

has been converted to accommodate

social events such as bowls, happy hours,

high teas and television viewing of sports

fixtures.

Once the project is complete, it will

comprise 101 villas, 73 apartments, and

100 care beds. The proposed facilities will

include a rest home, hospital, and dementia

facilities, and permanent amenities such

as a community centre, bowling green,

swimming and spa pools, a gym, a theatre,

a library, and a hairdressing salon.

The villas will be offered in a

combination of two and three bedrooms

whereas apartment residents will have a

choice between one and two bedrooms.

The Lady Wigram Retirement Village is

a short stroll from The Landing, the central

retail hub of the Wigram Skies subdivision,

and only a short drive to Hornby Mall, the

Hornby Working Men's Club and the city.

Lady Wigram Retirement Village is

121 Skyhawk Road

one of eight facilities operated by Golden

Healthcare Group that offer a variety of

residential care services.

The large Christchurch-based group is

a privately owned provider that strives to

support every aspect of aged care.

Rest home care is provided in the Golden

Age Rest Home and Brookhaven Rest

Home, both of which also encompass

retirement villages. Brookhaven also

has a dementia care unit along with the

dedicated Camellia Court, Albarosa, and

Somerfield rest homes. Furthermore,

the Hoon Hay Rest Home is a dedicated

dementia wing, but the Hoon Hay House

on the same site specialises in mental

health.

Within the facilities, there are plenty

of opportunities to create unique

environments for differing requirements

for residents. Nursing care is provided

by registered nurses, regular scheduled

medical appointments and on-call doctors

ensure residents' health is well monitored.

An activities co-ordinator ensures residents

will never be bored and they participate in

programmed activities, games, sing-alongs

with performances by visiting entertainers,

library book exchange and exercise

programmes. The group has four vans to

utilise for residents outings.

Each facility has its own kitchen and

offers nutritious home-style meals and

baking, and special diets are catered for.

Golden Healthcare employs 260 at its

facilities which care for about 350 residents.

All staff are highly trained, experienced,

and qualified in their roles.

Each facility offers regular resident and

family meetings to ensure feedback is

encouraged, and dementia facilities also

offer educational evening for families to

understand the dementia process. Respite

care is also provided at all facilities.

The Golden Healthcare Group website

goldenhealthcare.co.nz provides full

contacts.

Would you like

to promote your

Business?

For local features

please contact

Bev Stanger

03 364 7407

bev.stanger@starmedia.kiwi
---
[Edition datE]

PEGASUS POST Latest Christchurch news at www. .kiwi

Tuesday June 6 2017 153

SENIOR LIVING

How's your blood pressure?

There are many tell-tale signs our health

isn't what it should be. Finding out we

have higher than normal blood pressure is

an important one.

According to Julian Marshall, owner of

Marshall's Health & Natural Therapy in

New Brighton, making a few life changes

can help you keep on top of it.

"Our body is really amazing. It has

the ability to heal itself of just about any

disease if we make the effort to do the

right things! Often there are signs that

things are not right and this is the time

to find out why. Disease doesn't happen

for no reason. Cardiovascular disease, one

of the leading causes of death is generally

very preventable. The secret is to make the

changes before things get too bad!"

Some symptoms of high blood

pressure include, headaches, migraines,

not noticing the cold, the feeling of

pressure in the head and nose bleeds,

but often the first sign that something is

wrong comes in a more life threatening

manner.

"The kidneys don't handle high blood

pressure very well, and can become

seriously damaged as a result. Or, worsecase

scenario, you can suddenly have

a stroke or aneurysm, or even a heart

attack."

To have good cardiovascular health,

the systolic reading – the blood pressure

in the arteries when the heart pumps –

should be 120 (or less) and the diastolic

reading – which is the pressure in the

arteries between beats or while the heart

Third Age

Tours EST 1999

Small Group Tours for

the over 50s

Domestic and

International

Great Prices!

England/Wales & Yorkshire Dales

24 August - 23 September 2017

Enchanting Ireland & Scotland

1 June - 26 June 2017

curiosities of cuba May 2018

Treasures of Turkey 11 May - 04 June 2018

captivating croatia, Slovenia

montenegro & Venice

16 June - 10 July 2017

Vietnam & cambodia

3 - 25 October 2017

Beautiful norfolk Island

22 - 29 October 2017

Sicily, rome & Southern Italy

October 2017

nEW

nEW

nEW

South Island Tours

Glorious Autumn in Arrowtown

18 - 23 April 2018

catlins/Stewart Island

8 - 16 February 2018

White herons, Glaciers & Alpine

loop Tour

28 January - 2 February 2018

PluS oThEr DESTInATIonS!

For a FrEE InFormATIon

PAck contact Brenda

Third Age Tours

Ph 03 379 3799 or 03 312 7050

Freephone: 0800 927 725

sunshineone@xtra.co.nz | thirdagetours.co.nz

is resting should be between 60 & 70. It

is common when talking about blood

pressure to say the systolic reading over the

diastolic reading, i.e. 120/60.

Blood pressure can vary considerably

over a relatively short period of time. It

is also best to check your blood pressure

when you are relaxed at home. For this

reason I recommend it is a good idea to

purchase your own digital blood pressure

unit and check your blood pressure

regularly. They are easy to use and can

give you a good indication of what may be

effecting your blood pressure especially if

it is high.

A moderate increase in blood pressure

can be caused by many things including

stress & worry. Blood pressure over

THE JOYS OF HOME OWNERSHIP #27

CLEANING

THE SPOUTING

Wouldn't you rather be learning to play

the bagpipes? Let us take care of the

spouting at your new home at

McKenzie Lifestyle Village in Geraldine.

Contact David Connolly on 0800 84 55 24.

M E M B E R O F R V A

140/70 is often caused by poor circulation.

Poor circulation again can be caused by

various factors especially plaque build-up

in the blood vessels but also if the blood

vessels are not supple enough or in poor

condition.

Calcium is an important mineral for

good health. However it often builds up in

the arteries as calcium plaque restricting

blood flow. Researchers have found

Vitamin K2 as menaquinone-7 can allow

this calcium to be pulled out of the arteries

and absorbed into the bones and tissues

where it belongs. It can therefore help

prevent osteoporosis also.

Montmorency tart cherry juice has

been shown to significantly reduce high

blood pressure at levels comparable

Support and Resources for Independent Living

walkers to

purchase

(FroM $230)

or hire

$20

per week

to that achieved by medication but

without the side effects according to new

research from Northumbria University,

Newcastle. Participants with the highest

blood pressure saw the most benefit.

Recommended dosage is 30ml, two or

three times daily away from food. Not only

will tart cherry juice help your B/P but its

powerful antioxidants and concentrated

nutrients can support good health, joint

function, help clear up gout and give you a

much more restful deep sleep.

Drinking delicious Hibiscus tea has been

shown to lower elevated blood pressure,

improve cholesterol levels, reduce muscle

cramps as well as support the central

nervous system. Try to drink at least 2-3

cups daily.

The lack of magnesium can be a major

contributor too, with most people having

less than optimum levels.

"Sure signs of being low in magnesium

include having an irregular heartbeat, high

blood pressure, migraines, muscle cramps,

twitches and night time teeth grinding are

just a few."

These are just a few supplements we

highly recommend to help you support

your good health and blood pressure.

Free blood pressure checks and further

more detailed information is available in

store from the Natural Health Advisers

at Marshall's Health & Natural Therapy,

110 Seaview Road, New Brighton; Phone:

388-5757. Open Monday to Friday,

9.30am-5.30pm; & Saturday, 10am-5pm.

We are Always Happy to Help!

Can we help you or someone you support?

Disability Information Service – a 'one stop

information service' which offers unbiased

advice to assist people navigate their way to

organisations or services that can provide them

with support or advice.

Aspire Canterbury Shop – shop online or call in

to our shop at 314 Worcester Street and view our

range of easier living products We also hire out

wheelchairs, ramps and walkers.

Total Mobility Discounted Taxi Service – a scheme

which provides 50% discounts on taxi journeys to

eligible people in the Christchurch area who, due

to health conditions, are unable to access public

transport. Contact us for more information on

03 366 9093 or visit our website.

Mobile Service – Fun interactive presentations of

our information, services and easier living

equipment. We come to you! To book our

presenter to speak to your group call Richard

at numbers below or email mobileservices@

aspirecanterbury.org.nz

Mobility scooter demonstrations available.

Aspire Canterbury is a not-for-profit organisation

providing services to the community since 1981

Physical Address:

314 Worcester Street

Linwood Christchurch

Postal Address:

PO Box 32074

Christchurch 8147

2015 NZ Disability

Information Centre

of the Year

Ph: 03 366 6189

Freephone: 0800 347 242

Ph: (Total Mobility) 03 366 9093

Mobile Service: 027 588 9700

E: admin@aspirecanterbury.org.nz

W: www.aspirecanterbury.org.nz
---
2

16 Tuesday [Edition datE] June 6 2017

Latest Christchurch news at www. .kiwi

HOME & HEATING

Get rid of dampness

in your house

Now wITH the colder and wetter weather

on its way, home owners are focusing on

ways to make their homes comfortable, warm

and healthy for their families throughout

winter. RISING dAmp is an issue that affects

many of our older properties which suffer

from poor, or no, insulation. In Canterbury

especially, post-quake, many people have

relocated to homes that suffer from rising

damp which can be associated with health

problems. Independent tests have shown

that up to 40 litres of water can rise from the

ground and enter a house every day, leading

to mildew, mould, condensation and musty

smells. moulds can produce various allergic

reactions and the frail, elderly and very young

are especially vulnerable.

Canterbury Foam Concrete Ltd is a

locally owned and operated firm. The team

Heat Transfer

understands the problems caused by rising

damp and are there to help. They will come

to your damp home and pump a lightweight,

flowable foam concrete under your timber

floored home. Specially adapted for our

New Zealand conditions and applications

it provides a layer of protection against

rising moisture. An unexpected benefit that

the team at Canterbury Foam Concrete

have noticed recently, is that many owners

of properties which had underfloor foam

concrete installed, reported that it also

provided protection against liquefaction after

the earthquakes.

Contact Canterbury Foam Concrete Ltd

now for your free, no obligation quote and

complimentary appraisal of your underfloor

ventilation needs. Phone 03 376 4608 or

0508 362626 for more information.

Ventilation Equipment

Suppliers to trade and retail

● Domestic

● Commercial

● Industrial

Transfer the excess heat

from the log burner to

the bedrooms

The facts about

home ventilation

Balanced Pressure vs Positive Pressure

Under the New Zealand Building Code,

all buildings, including residential, need to

be suitably ventilated, either with opening

windows or forced ventilation. Clause G4.1

states: "The objective of this provision is

to safeguard people from illness or loss of

amenity due to lack of fresh air." There are

many benefits to forced, or mechanical,

ventilation over opening windows, including

warmth, security, reduction of outside noises

and reduction of condensation.

Traditional domestic ventilation systems

are 'positive pressure'. They bring air in from

outside via the roof space and force the stale air

out through gaps around windows and doors.

The incoming air from these

systems has to be heated or

cooled to keep the house warm

in winter or cool in summer.

The Smooth-Air HEX390 is

a 'balanced pressure' system. It

extracts air from the house and

at the same time brings in fresh

air. These two streams of air

pass through a heat exchanger,

which warms incoming air in

winter and cools in summer if

air conditioning is being used.

This means that up to 80% of

the energy which would be

For existing homes with

wooden floor construction

• Stop Mould & Mildew

• Reduce Heating Bills

• Cost Effective Permanent

Solution To Rising Damp

• Free Consultation / Quotes

PEGASUS POST

wasted using a traditional positive pressure

system is recovered, resulting in significant

energy savings and therefore lower heating or

cooling costs.

Until recently, balanced pressure ventilation

systems have been considerably more

expensive than traditional positive pressure

systems. However, with Smooth-Air's unique

manufacturing capabilities, a HEX390

balanced pressure system can be installed for

a similar price as a traditional positive pressure

system.

Contact Smooth-Air on 0800 SMOOTH

(0800 766 684), or visit www.smooth-air.

co.nz or www.home-ventilation.co.nz

AttAck Rising DAmP

...at the source

STOP RISING DAMP TODAY www.foamcrete.org

Free Phone: 0508 362626 Main Office: (03) 3764608 Fax: (03) 3764603

L

Inlet grille

Heating appliance

In-line

centrifugal

fan

Outlet grille

Outlet

grille

4 way

splitter

Outlet

grille

HEAT PUMP

SALE NOW ON!

Amazin' WINTER Specials!!

• We will offer you the best quality brands and

option of heat pump for your home/business

• Providing Heat Pump solutions for over 15 years to Cantabrians

• We personally guarantee all our products & installs for 5 years

(providing annual maintenance has been completed)

Smooth-Air has

a wide range

of ventilation

equipment to bring

fresh air into your

home

0800 SMOOTH (0800 766 684)

www.smooth-air.co.nz

sales@smooth-air.co.nz

264 Annex Road, Riccarton

Christchurch 8024, NZ

Ph +64 3 343 6184

Mon - Fri 7.30am - 5pm

Phone us today for your free consultation & quote

41A SHAKESPEARE RD, WALTHAM

PHONE 03 366 0525

www.enviromaster.co.nz

"A local team for local people"
---
PEGASUS POST Latest Christchurch news at www. .kiwi

Tuesday June 6 2017 17

REAL ESTATE

Dreams are made of this

4 Sunvale Terrace, Cashmere

Auction: Thursday, 15 June 2017 Unless Sold Prior

3 bedrooms | 1 bathroom | 2 toilets | 2 living rooms | 1 dining room | 2 car-garage | Listing # PI47339

Nestled into a tree-clad 840 sqm section,

it is situated in the Bowenvale Valley, a

short stroll from walking and hiking trails,

yet handy to cafés, supermarkets and the

CBD.

A lovely new kitchen blends traditional

and modern elements, and adjoins an

open-plan living and dining space opening

to a deck with treetop views. Easy flow to

the adjoining lounge is perfect for family

living and entertaining. A sunny northwest

aspect, double-glazed windows, insulation,

heatpump and a log-burner ensure this is a

home for all seasons. Upstairs, three double

bedrooms share a new bathroom - and

there's another toilet downstairs for guests.

A double internal-access garage completes

this delightful home. Outside, the easy-care

garden is a magical space with its green

lawns and trees.

In zone for Thorrington School,

Beckenham School, Christchurch South

Intermediate and Cashmere High, this

could be your dream come true.

Contact me today to ensure you don't

miss out. For a private viewing phone

Cameron Bailey on 352 6166 or mobile

0275 557 079 of Harcourts Gold Papanui

(Licensed Agent REAA 2008)

Saturday 8 – Saturday 22 July 2017

Tickets on

sale NOW!
---
18 Tuesday June 6 2017

Latest Christchurch news at www. .kiwi

Computers

ALL

YOUR

COMPUTER

WORRIES SOLVED!

*$30.00 off your first

service with this coupon!*

No problem too big or

small from home PC's to

business networks. PC

slow? An end to Viruses,

Spyware, and Clogged

Systems. Safe secure

hassle-free computing.

Lost files recovered.

Microsoft Certified,

MCSE, MCP+l. 30 years

experience. Call Andrew

Buxton this week on 326-

6740 or 027 435-7596

for $30.00 off* Custom

Computers Christchurch

Curtains

www.curtainfabric-outlet.com

Fashion Designs & Colours

Discontinued Designs

End of Lines Bargain Prices

Call at Our Shop

CURTAIN FABRIC OUTLET

71 Hawdon St Sydenham

Ph 366-5026

Funeral Directors

Direct Natural

Funeral Provider

0800 000 121

www.cremorials.co.nz

Gardening

& Supplies

A GARDEN

PROFESSIONAL

NEEDED? Qualified

Horticulturist, offering

expert pruning, garden

makeovers, garden design

and landscaping, for free

quotes call Bryce 027 688-

8196 or 0508 242-733

A GARDEN OR

LANDSCAPING TIDY

UP? Shrub, hedge &

tree pruning, Lawns,

Gardening, consistently

reliable general property

upkeep, Dip. Hort. 10

yrs experience, One off

tidy ups or on-going

service. Nick's Property

Maintenance. Keeping

your garden beautiful.

Free Quote. Ph. 942-4440

Holiday

Accommodation

QUEENSLAND SUN-

SHINE COAST AUSTRA-

LIA Resort, Ocean Views,

Balconies, Self Contained,

1 or 2 B/R Ensuite,

Heated Pool, Spa, Sauna,

Free Internet, Shops,

Restaurants, Tennis, Surf

Club & Patrolled Beach,

Public Transport at door.

Ask for our SEASONAL

SPECIALS. Phone 61 7

544-35011 Email: reception@mandolin.com.au

www.mandolin.com.au

PEGASUS POST

Classifieds Contact us today Phone our local team 03 379 1100

To Let

NEED MORE

SPACE?

WARMER THAN A CARAVAN

NO BOND

Ideal as an extra

bedroom or office

Three convenient sizes

from $70 p/w:

Standard 3.6m x 2.4m

Large 4.2m x 2.4m

Extra-large 4.8m x 2.4m

Visit our display cabins at

470 Cranford Street or call

0211277227 for a free brochure

Busy Bees

Professional carpet and

upholstery cleaning at

affordable prices

• Carpet cleaning from $20 a room

• Lounge and dining chairs from $10 a chair

(conditions apply)

Give us a "Buzz" on 0800 500 016

to discuss your requirements and

get a FREE quote.

www.busybees.co.nz

Trades & Services

Cracked tiles?

Dirty grout?

Old or mouldy

silicon?

Brett Ph 03 358 5105

or 027 746 7632

www.groutpro.co.nz

Trades & Services

Trades & Services

ROOF REPAIRS

Locally owned & operated with

over 30 years experience.

• Extensions & repair • Roof coating

• Concrete & clay tiles • Butynol

• Malthoid • Asbestos Certified

• Coloursteel • Old iron • Guttering

Phone Dave 981 0278

or 021 223 4200

E: dave@beaumontroofing.co.nz

BEAUMONT ROOFING LTD

ADD SOME

COLOUR

TO YOUR ADVERT!

Trades & Services

BUILDER

For all building work

but specialist in bathroom

renovations, 30 yrs

experience, with service

• Replacement/new roofing

Trades & Services Trades & Services

• Colour Steel gutter & fascia and integrity. Free Quotes.

• Flue & log burner installs Ph Lachlan 383-1723 or PLASTERINg

SPOUTINg CLEANINg

• Skytube/light installs 0274 367-067.

Stopping / skimming. 30 Spouting Unblocked,

• Earthquake repairs

yrs exp, all work large & Cleaned Out and Flushed

www.justcabins.co.nz

BUILDER

Licence Building

small. Contact Tony 027 Out. Also Full Handyman

Practitioner LBP LICENSED

Member of the Roofing

222 2993 or Earl 027 345 Services Available. Call

Trades & Services

available for all aspects of

Association

0561

Trevor 332 8949 or 021

building. Please call 027

DCM ROOFING LTD

PLUMBER

043-2034

241-7471 or 335-0265

The Roofing Specialists

For prompt service for all STONEMASON

***************** plumbing maintenance,

BLOCKED PHONE IAIN

BRICK

&

027 445 5597 CARPET & VINyL repairs and alterations. BLOCKLAYER,

iain@dcmroofing.co.nz LAyINg

Phone Michael 364 7080 Earthquake Repairs, Grind

DRAINS?

Repairs, uplifting, or 027 438 3943

Out & Repoint, River/

PLUMBER

Oamaru stone, Schist,

• VIDEO INSPECTION

relaying, restretching,,

ALF THORPE Volcanic Rock, Paving,

• WATERBLASTING HOUSE E mail jflattery@xtra. PLUMBING Certifying all Alterations new & old,

co.nz,

• LIQUID WASTE CLEARING

Plumber for all types of Quality Workmanship,

ph 0800 003 181 plumbing, maintenance,

Are you

visit www.featureworks.

PH: 03 365 7960 moving house

or 027 2407416

spouting, alterations etc. co.nz or ph 027 601-3145

Phone 352-7402 or 0274-

24 hours // 7 days or trying to CONCRETE

TILER/CARPENTER

350-231

downsize?

DRIVEWAyS

35 years exp, no job

QEII COLLISION

Call All Clear Pathways, patios, garden

too small. Ph Ross 027

REPAIRS

Canterbury. We work sheds, garages and house

4311440.

with you to recycle,

Free Courtesy Cars

floors, foundations, Phone

TREES BIg OR SMALL

sell and dispose of

(conditions apply),All

for free quote, Roy 0274

tree removal, trimming,

unwanted items.

Insurance work,Rust

316 860, N & R Concrete.

stump grinding, shelterbelt

info@h20jet.co.nz

Ph: 03 260 0934

Repairs &Private work. clean up, section clearing,

www.h20jet.co.nz

or 021 078 4553 FENCINg

Spray-painting.

rubbish removals,

raewynlcooke@gmail.com All types of residential, Free pickup & delivery. excavation work, ph Trees

www.allclearcanterbury.co.nz

including gates, Ph. 03 388 5187

Big or Small, for a free

Trades & Services

demolition & removal, ROOFINg

Trades & Services

quote, 021 061 4783

ph 021 231-1860 Qualified & Licenced TREE WORK

BEST BATHROOMS Fencing Uprite

Practitioner. Re-Roof & Hedge trimming, stump

full renovation specialists,

Repairs, all types. Member

FENCINg

grinding, rubbish removed,

LBP, repairs &

New Zealand Roofing

All styles and shapes,

small job specialty Ph

maintenance ph 03 387-

Association. Over 35 years

gates, wooden, ph Mark

Andrew 03 322-8341 or

0770 or 027 245-5226

experience. Phone John

027 331-3223

027 435-8759

BRICKLAyER

027 432-3822 or 351-9147

T.V. SERVICE

gLAZIER

George Lockyer. Over

email johnmill@ihug.

CENTRE

FOR ALL YOUR 35 years bricklaying

Window repairs, pet co.nz

Repairs, tvs, microwaves,

doors, new glazing, double

★Garden Clean-ups experience. UK trained.

stereos, DVD. Aerial

Licensed Building

glazing, conservatory

installations and kitsets,

★Pruning

Practitioner number

roofs. Experienced

480 Moorhouse Ave, ph 03

★Lawn Mowing BP105608. Insurance

tradesman. Call Bill on

379 1400

981-1903 or 022 413-3504

★Garden Maintenance work. EQC repairs.

UPHOLSTERER

Heritage brickwork and PAINTER

Dining Chairs, Lounge

Call us today for a FREE quote

stonework a speciality. No Available, All aspects in

suites, Caravan Squabs

job too small. Governors painting. Very competitive

etc. recovered. Free

PH 0800 4 546 546 Bay. Home 329-9344, in roofs and fences. Please

Quotes. Phone Graeme

(0800 4 JIMJIM)

Cell 027 684 4046, email call 027 241-7471 or 335-

383-1448

georgelockyer@xtra.co.nz 0265

VHS VIDEO TAPES

Trades & Services

Trades & Services

& all camera tapes

converted to DVD, video

taping special occasions,

CARPET CLEANING

spouting

www.grahamsvideo.co.nz

ph 03 338-1655

WINDOW CLEANINg

Average 3 bdrm house

inside or out $40. Both

$70. Phone Trevor 344-

2170

Wanted To Buy

AAA Buying goods

quality furniture,

Beds, Stoves, Washing

machines, Fridge Freezers.

Same day service. Selwyn

Dealers. Phone 980 5812

or 027 313 8156

TOOLS

Garden, garage,

woodworking,

mechanical, engineering,

sawbenches, lathes, cash

buyer, ph 355-2045

Situations Wanted - Jobs Wanted

Linwood North

School

'Learning

to take us

places...'

Welcome Permanent to our great Fulltime

school in 2015!

School Caretaker

Commencing Monday 24 July

An Application Package is available

on the School Website:

www.linwoodnorth.school.nz

Please apply with letter, Curriculum

Vitae and contacts for 3 referees by

Monday 19 June at 12 noon to

Sandra Smith, Principal

221 Woodham Road

Christchurch 8061

EXPERIENCED SPRAY PAINTER

WANTED Full time, Permanent

We are looking for an experienced automotive

spray painter to join our team.

To meet the requirements of this role, you will:

• Be trade qualified (Must submit copies of certificates with CV)

• Have minimum of five years experience in automotive refinishing

• A Full & current drivers license

• Familiar with Waterbourne system and can demonstrate knowledge

• Clear understanding and compliance of safety rules and regulations

• Have a proven work history which displays high quality workmanship

and work ethic

• Must hold a current Approved Handlers Certificate

(Must submit copy with CV)

• Willing to work flexible hours to meet customer demands

(Weekends included)

• Must be able to provide approved references

• Must be able to provide Lung & Hearing testing that has been

carried out within the last 12 months.

• To pass a pre-employment drug test

Additional advantages:

• Current First Aid certificate

This is an excellent career opportunity to join a great team.

If you are self-motivated, take pride in your work and have a positive attitude

you will fit right in with our rapidly growing family business.

Applicants for this position should have NZ residency or a valid NZ work visa.

QEII Collision Repairs

Situations Vacant

CLEANERS

REQUIRED

Shirley

Saturday & Sunday

6am to 8.30am

We are looking for

cleaners to join our

commercial

cleaning team.

You will need to pass

a Security Check and

you MUST have your

own transport.

These are permanent

long term positions

and not suitable for

holders of temporary

work permits.

Please email your

Application to

csc@totalcanterbury.co.nz

or phone 338 9056

Visit our website:

totalcanterbury.co.nz

Please advise which

job when emailing

your CV.

302 Travis Road,

North New Brighton, Chch.

P: 03 388 5187.

Public Notices

Do you know

where your

nearest

CIVIL DEFENCE

sector post is?

Ring your local

council to find out.
---
PEGASUS POST Latest Christchurch news at www. .kiwi

Tuesday June 6 2017 19

RESTAURANT & CAFÉ

Cooked Breakfasts

We are open from 6.30am

Seniors SPECIAL

2 courses Soup/Roast or Roast/Dessert

Special available lunch only. Monday - Saturday 12pm - 2.30pm

Family Friendly

Kid's 2 course special

Lunch & Dinner

All you can eat, 7 days

Congratulations

HAZEL BODEKER

Mother's Day Prize Draw Winner

HAPPY HOUR

5PM - 7PM DAILY

$18

$20

$10

Bookings Essential PH 386 0088

fb.com/GardenHotelRestaurant www.gardenhotel.co.nz

Live Music:

6PM.FRI.9 JUNE

The

RACECOURSE HOTEL

& Motorlodge

118 Racecourse Rd, Sockburn,

OUR CABINET ITEMS ARE HOMEMADE

CREATED FRESH ON SITE DAILY

$12

LUNCH

SPECIALS

'Famous for

their roasts!'

Christchurch. Ph 03 342 7150

www.racecoursehotel.co.nz

COFFEE

HAPPY

H O U R

Mid-Winter

Christmas

Saturday Saturday 17 June 17 June to to

Sunday Sunday 2 July 22017

July 2017

LUNCH

Mon to Fri $23.50pp

Sat & Sun $24.50pp

DINNER

Mon to Thur $30.50pp

Fri to Sun $32.50pp

Senior Citizens

discount available.

2PM-4PM

DAILY

MON: ROAST MEAL

TUE: FISH & CHIPS

WED: FISH BURGER

THU: ROAST MEAL

SAT: FISH & CHIPS

$3.50

Offer available for a limited time

and includes tea, hot chocolate

AVAILABLE

FROM

11.30AM-2PM

FOR A

LIMITED TIME

Rhonda Campbell

PHONE 385 8880 FIND US ON FACEBOOK fb.com/GBCCHCH

THE GARDEN HOTEL COMPLEX | 110 MARSHLAND RD

www.gardenhotel.co.nz | phone 385 3132

www.newbrightonclub.co.nz

MID-WINTER

XMAS

FUNCTIONS

WE HAVE THE VENUE.

EXCELLENT CATERING.

PLENTY OF PARKING.

ENQUIRE NOW!

JOIN

A CLUB BY

THE SEA!

TUESDAYS &

THURSDAYS

Members Lucky

Card Draw

FUNCTION ROOMS

SHUTTLE RUNNING

Tues, Thurs, Fri & Sat

TAB POD

GAMING ROOM

202 Marine Parade | Ph 388-9416

Members, guests and affiliates welcome

H ORNBY

WORKINGMEN'S

CLUB

ClubBISTRO

Open Tuesday to Saturday

12pm-2pm and from 5pm

Midweek $10

SPECIAL ROAST

Available Tuesday,

Wednesday, & Thursday

PIERVIEW

Restaurant

Quality a la carte

with a view!

Open from 5.30pm

FRIDAY, SATURDAY

& SUNDAY

OPEN FOR

SUNDAY BRUNCH

By the Seaside!

10.30am-2pm

SUNDAY 3 COURSE

DINNER SPECIAL

$25

SUNDAY BUFFET

Sunday 25th June

ALL YOU CAN EAT

$25 BOOK NOW!

«WHAT'S ON« «COMING UP«

SATURDAY 10 JUNE

4.30PM

BARROSS

8PM

SHA-LOW

Club

CAFE

OPEN 7 DAYS

LUNCH & DINNER

Gluten Free &

Vegetarian options

Chalmers

Restaurant

Early Bird Special

5.30pm – 6.30pm

FRI & SAT

Roast (4 Choices)

and Free Desserts

still only $22.50

Unbeatable value

including your

choice of fresh

Veges and Salads

Hornby WMC | ph 03 349 9026 | 17 Carmen Road | Hornby

www.hornbyworkingmensclub.co.nz | Members, guests & affiliates welcome

The great taste

of Hornby's

Curry Garden

has come to

Wainoni!

WAINONI OPENING DINNER SPECIAL

FREE NAAN

ONE NAAN BREAD WITH ALL ORDERS

OFFER AVAILABLE AT WAINONI OUTLET FROM 4PM.

OFFER EXPIRES FRIDAY 30-JUN-17. CONDITIONS APPLY

WAINONI STORE OPEN 7 DAYS, LUNCH 12PM - 2PM & DINNER FROM 4PM

LUNCH COMBO SPECIAL

CURRY + RICE

+ NAAN + DRINK $9 99

OFFER AVAILABLE AT WAINONI OUTLET

FROM 12PM - 2PM

WAINONI Takeaway | 84a Wainoni Rd | ph 03 381 4512

HORNBY Eat In/Takeaway | Shop No 304a DressMart |Hornby | ph 03 344 1080
---
20 Tuesday June 6 2017

Latest Christchurch news at www. .kiwi

PEGASUS POST

5th - 11th June 2017

$

8 99

kg

Fresh Tegel NZ Skin On

Chicken Breast Fillets

Country Fresh

Washed White

Potatoes 4kg

$

4 99

bag

5

for

each

$

7 00

Mainland Cheese Tasty 500g/

Mild/Colby/Edam 700g

$

6 99

Bluebird Original/Thick/Thinly

Cut Chips 140/150g

$

4 00

each

Hubbards Simply Toasted Muesli 425-650g/Keri Fruit

Juice/Drink 2.4-3L

2

for

$

7 00

Vogel's Bread 720-750g

(Excludes Gluten Free)

2

for

$

5 00

Wattie's Very Special/Big & Hearty Soup 520-535g

$

16 99

pack

DB Draught/Export Gold/Citrus/Tui

12 x 330ml Bottles/Cans

$

13 99

each

Taylors Estate 750ml

(Excludes Jaraman/Promised Land)

$

5 99

each

Hummingbird Coffee 200g

FreshChoice Parklands

60 Queenspark Drive, Christchurch.

Open 7am – 11pm, 7 days.

FreshChoice.co.nz FreshChoiceNZ 383 1004

FreshChoice Parklands

While stocks last at FreshChoice Parklands only. We reserve the right to limit quantities. Trade not supplied.

Owned and

operated

by locals

fcpp0606