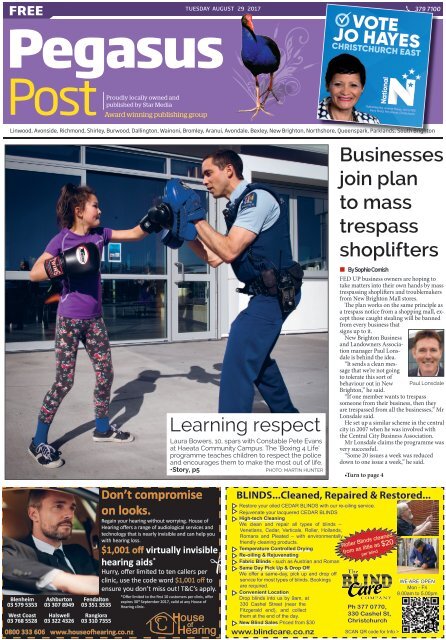 Pegasus Post: August 29, 2017
You also want an ePaper? Increase the reach of your titles
YUMPU automatically turns print PDFs into web optimized ePapers that Google loves.
FREE

TUESDAY AUGUST 29 2017

Pegasus

VOTe

JO hayes

ChRIsTChURCh easT

379 7100

Post

Proudly locally owned and

published by Star Media

Award winning publishing group

Authorised by Joanne Hayes, Unit 6/950

Ferry Road, Ferrymead, Christchurch.

Linwood, Avonside, Richmond, Shirley, Burwood, Dallington, Wainoni, Bromley, Aranui, Avondale, Bexley, New Brighton, Northshore, Queenspark, Parklands, South Brighton

Learning respect

Laura Bowers, 10, spars with Constable Pete Evans

at Haeata Community Campus. The 'Boxing 4 Life'

programme teaches children to respect the police

and encourages them to make the most out of life.

•Story, p5

PHOTO: MARTIN HUNTER

Businesses

join plan

to mass

trespass

shoplifters

• By Sophie Cornish

FED UP business owners are hoping to

take matters into their own hands by mass

trespassing shoplifters and troublemakers

from New Brighton Mall stores.

The plan works on the same principle as

a trespass notice from a shopping mall, except

those caught stealing will be banned

from every business that

signs up to it.

New Brighton Business

and Landowners Association

manager Paul Lonsdale

is behind the idea.

"It sends a clean message

that we're not going

to tolerate this sort of

behaviour out in New Paul Lonsdale

Brighton," he said.

"If one member wants to trespass

someone from their business, then they

are trespassed from all the businesses," Mr

Lonsdale said.

He set up a similar scheme in the central

city in 2007 when he was involved with

the Central City Business Association.

Mr Lonsdale claims the programme was

very successful.

"Some 20 issues a week was reduced

down to one issue a week," he said.

•Turn to page 4

Blenheim

03 579 5353

West Coast

03 768 5528

Ashburton

03 307 8949

Halswell

03 322 4326

Fendalton

03 351 3535

Rangiora

03 310 7355

0800 333 606 www.houseofhearing.co.nz

Don't compromise

on looks.

Regain your hearing without worrying. House of

Hearing offers a range of audiological services and

technology that is nearly invisible and can help you

with hearing loss.

$1,001 off virtually invisible

hearing aids *

Hurry, offer limited to ten callers per

clinic, use the code word $1,001 off to

ensure you don't miss out! T&C's apply.

*Offer limited to the first 10 customers per clinic, offer

expires 30 th September 2017, valid at any House of

Hearing clinic.

House

of

Hearing

BLINDS...Cleaned, Repaired & Restored...

Restore your oiled CEDAR BLINDS with our re-oiling service.

Rejuvenate your lacquered CEDAR BLINDS

High-tech Cleaning

We clean and repair all types of blinds –

Venetians, Cedar, Verticals, Roller, Hollands,

Romans and Pleated – with environmentally

friendly cleaning products.

Temperature Controlled Drying

Re-oiling & Rejuvenating

Fabric Blinds - such as Austrian and Roman

Same Day Pick Up & Drop Off

We offer a same-day, pick up and drop off

service for most types of blinds. Bookings

are required.

Convenient Location

Drop blinds into us by 9am, at

330 Cashel Street (near the

Fitzgerald end), and collect

them at the end of the day.

New Blind Sales Priced from $30

Roller Blinds cleaned

from as little as $20

per blind

Ph 377 0770,

330 Cashel St,

Christchurch

www.blindcare.co.nz SCAN QR code for Info >

WE ARE OPEN

Mon - Fri

8.00am to 5.00pm
---
2

Latest Christchurch news at www.star.kiwi

Tuesday August 29 2017

Inside

FROM

THE

EDITOR'S

DESK

PAUL LONSDALE had a lot of

experience in trying to keep the

hordes of shoplifters and other

troublemakers at bay in the central

city a number of years ago.

Now he's behind a plan to do the

same in New Brighton (see page 1).

Lonsdale is in the process of

getting as many retailers on the

same page so when they catch a

shoplifter or someone causing

trouble in their store they can

blanket trespass them from all

businesses in New Brighton.

The retail outlet has to be part

of the business and landowners

association, so not a bad

recruitment move there as well.

Great things happening between

the police and children at Haeata

Community Campus as our page

1 photo says. While it looks like

boxing training, it isn't. It's a novel

way of teaching young people that

the police are, in fact, their friends.

– Barry Clarke

East side visit by superstar Adams

NEWS

5

PEGASUS POST

News..................................3, 5-7

Local Views......................4

Sport............................................8

Events................................10

Food...........................................13

Health................................14

What's On.......................19

GET IN TOUCH

General Inquiries Ph 379-7100

Classified Advertising Ph 379-1100

The Christchurch Star Company Ltd. PO box 1467 - Christchurch

starmedia.kiwi

NEWS

Sophie Cornish

Ph: 364 7437

sophie.cornish@starmedia.kiwi

ADVERTISING

Mark Sinclair

Ph: 364 7461

mark.sinclair@starmedia.kiwi

Great New Salon

Opening Soon

• Global Colour • Treatment

• Foils • Balayage

30% OFF

All chemical

services

valid until sept 2017

Great hair doesn't happen by chance

Unit 3, 37b Worcester St Linwood, Chch

Ph. 03 595 5105

Still Pedalling!

Trevor Crowe's been involved with cars for a

while. You can benefit from his experience at...

Subaru Specialists

Full Workshop services

WOF's | Service Checks | Wheel

Alignment | Brakes | Clutches | Tyres etc

Great range of Subarus & other

makes from $5,000 - $35,000

View at www.crowesport.co.nz

518 Moorhouse Ave (East end)

Phone 379 7615 or

email: service@crowesport.co.nz

Meet

Poto

MP for Chch East

Aranui Sunday 3 rd Sept

12 noon cnr Portsmouth & Basingstoke

12.20pm cnr Hampshire & Aldershot

12.40pm cnr Eureka & Rowan

1.00pm cnr Lenton & Breezes

1.40pm cnr Shortland & Rowses

2.00pm cnr Doreen & Marlow

2.20pm cnr Guernsey & Carteret

2.40pm cnr Pages & Knightsbridge

Shirley Tuesday 5 th Sept

4.00pm cnr Vardon & Cotton

4.20pm cnr Hercules & Hope

4.40pm cnr Emmett & Shirley

5.00pm cnr Jebson & Riselaw

5.20pm cnr Emmett & Bellbrook (south)

5.40pm cnr Akaroa & Onawe

North New Brighton

Wednesday 6 th Sept

4.00pm cnr Leaver & Sea Eagles

4.20pm cnr Effingham & Endeavour

4.40pm cnr Philomel & Inverell

5.00pm cnr Flemington & Randwick

5.20pm 76 Palmers Road

5.40pm cnr Bluegum & Travis

Poto Williams

for Christchurch East

For Labour policies, special votes, or to

volunteer, please call at Campaign Office

4/140 Brighton Mall, or

phone 377 5393 or 027 579 0602

Let's do this

Authorised by Poto Williams 133 Brighton Mall
---
PEGASUS POST Latest Christchurch news at www.star.kiwi

Tuesday August 29 2017 3

News

Young rockers take band title

• By Sophie Cornish

CHISNALLWOOD Intermediate

has some of the most talented young

musicians in the city.

Student band Class Disruption

took out first place in the annual

BandQuest competition last week.

Music teacher Judith Bell was

happy with the result and commended

the winning band for their

efforts.

"They really gel well together," she

said.

The band is aware of what they

want, picking their own songs for

the performance while their music

teacher guides them through practice.

The win comes after gaining

third place in the regional finals of

Smokefreerockquest

Led by vocalist and bass player

Dylan Jonkers, who has written over

12 songs this year, the band is hoping

to release an album.

Hiromu Crosado from the band

also won best keyboardist and Jacob

Carey won the killer guitarist award.

ROCKING OUT: Jacob Carey on

guitar and Dylan Jonkers, bass

player, vocals and songwriting.

Inset: The full band complete

with keyboardist Hiromu Crosado

and drummer Sho Woodhouse.

Calling all

candidates

– your

chance to

woo voters

PEGASUS POST will be

publishing biographies of

candidates standing in the general

election on September 23.

If you are a candidate and

want to be included in the coverage

you will need to email us

details.

We will need a 150-word statement

and a colour photograph

(head shot). It will need to be

emailed to sophie.cornish@

starmedia.kiwi, by noon, Wednesday,

September 6, to be included.

They will be published on Tuesday,

September 12.

HIKING BOOTS

& SHOES

Helping us,

Helps tHe

community

Drop off or buy

3 family stores in your community

4 Restell Street, Papanui

Ph 352 4581

520 Cranford St, Redwood

Ph 352 0515

50 Charles St, Kaiapoi

Ph 03 903 0017

For men, women

and children

From

$79.95

to $250

47c Garlands Road, Woolston

Phone 389 3431

www.thefootwearfactory.co.nz

Our fee is

1%

from

min fee applies

At Smart Real Estate YOU keep the profits

Our Smart Marketing offers global exposure

Full service, Free appraisals

Phone Kama Jacobs

022 043 7696 or

03 384 8600
---
4 Tuesday August 29 2017

Latest Christchurch news at www.star.kiwi

Your Local Views

Businesses plan

mass trespass

of shoplifters,

troublemakers

•From page 1

Twelve New Brighton businesses

have so far shown interest, including

Paper Plus, Bin Inn, Just Incredible,

123 Mart and New Brighton Lotto.

Blair Hughes, of Paper Plus, said at

this stage they were making business

owners

aware of the people who fitted into

the shoplifting and anti-social categories.

Sergeant Jim Currie, of New

Brighton Police, is optimistic about

the programme.

"I think if the businesses all stick

together, it will be really effective to

keep things in place," he said.

To be a part of the programme,

business owners are first required

to join the business and landowners

association.

Offenders can only be formally

trespassed if a notice is handed to

them in person. This will require

business owners to catch and identify

wrong-doers before being able to

trespass them.

Names of those tres passed are sent

to the police, who then have power to

arrest them if they enter any premises

signed onto the programme.

HAVE YOUR SAY: Is the

programme a good idea? Email

sophie.cornish@star.media.kiwi

Supporting women to succeed

Sheila

Hailstone,

founder

of the

Christchurch

Women's

Toastmasters

Club, which meets weekly

at St Paul's Anglican

Church in Papanui, writes

about the importance of

inspiring confidence in

women

When Annette King finally

bowed out of the Labour Party

after 33 years, she said it was

not good enough that women

only make up 31 per cent of the

MPs and that all political parties

need to commit to making

Parliament truly a House of

Representatives.

It is not only in this area of

leadership women are underrepresented.

Women make up over 60 per

cent of university graduates

with a post graduate or honours

degree. However, they can only

be found in 20 per cent of senior

management positions and only

17 per cent of private sector

boards.

It's not that women of any

age lack the skills or obvious

intelligence to put themselves

forward for leadership positions

but they may need support and

YOUR LOCAL GARAGE

• All vehicle repairs

• Oil changes and services

• Brakes • Loan car available

• Tyres, punctures & batteries

• W.O.F • Tune up

Your LocaL GaraGe

EntEr

with any

purchase of

nUrOFEn

for children

VERY FRIENDLY SERVICE AND ADVICE

NEW BRIGHTON AUTOMOTIVE

Phone: 03 388 3630

40 Hawke St (behind Z Petrol Station)

win

be to

Entries close Saturday 30th September

a mocka balance bike

in this pharmacy!

confidence to take up the challenge.

Christchurch Women's Toastmasters,

which meets weekly

in Harewood Rd, has a phrase

'supporting women to succeed'.

In this club, women can gain

both the speaking skills and

leadership skills to take on any

challenge.

The group has attracted

women from many walks of life

and has a truly international feel

as women of many different cultures

find their speaking voice.

The women in this club have

used their skills to train business

people in public speaking

Barrington pharmacy

Next to CouplaNds, 256 BarriNgtoN st

and the funds gained have been

used to help pay the training

fees for those members on a

tight budget.

Members have credited the

club with helping them gain

work, confidence, management

positions and there is

even one elderly member who

PEGASUS POST

believed it helped them recover

from a stroke. For women, it is

important to not allow the noise

of other's opinions to drown out

their own voice. Women should

follow their hearts, and if they

want to gain confidence to do

so they can and should be supported

by other women.

The Christchurch Women's

Toastmasters is a great place to

start.

Then maybe in my lifetime we

will see women take up 50 per

cent of the seats in Parliament

and 50 per cent of the places on

private sector and Governmental

boards.

Dyers Road Landscape

& Garden Supplies

• Barks • Peastraw • Composts - we supply the best available

• Aggregates - Chip, Round and Basecourse

• Pavers & Schist products • Pungas

• Decorative Stones & Landscaping Rocks

• Trailer Hire first hour free with purchase

• Bag & Bulk - pick up or delivered

David, Carol & Mike

We will deliver!

SOIL

AND

HARDFILL

DUMPING

Phone: 03 384 6540

183 Dyers Rd, Bromley • OPEN 7 DAYS

Weekdays 7.30am-5pm. Weekends 8.30am-3pm

www.dyersroadandlandscapes.co.nz

support a healthy immune system

wITh ThomPsons

FREE

GIFT

sPECIAL PRICE

$18.99

Ph 332 3156

@WilsoNsBarriNgtoNpharmaCy

FREE

GIFT

sPECIAL PRICE

$26.99

10% discount

everyday

using

*excludes prescriptions & sale stock
---
PEGASUS POST Latest Christchurch news at www.star.kiwi

Tuesday August 29 2017 5

ews

Throwing punches a way to respect police

• By Sophie Cornish

BOXING IS how some Haeata

Community Campus pupils are

learning to respect police.

A-Town boxing gym owner Jamie

Roberts is trying to show school

kids how relatable the police really

are through his 'Boxing 4 Life' programme.

"It's good for the kids to see the

police are cool people too," he said.

The programme, which runs three

90min lessons per week teaches

pupils how to box as well as providing

positive encouragement.

Mr Roberts claims the programme

is working better for younger pupils

who enjoy stepping up to a challenge,

• By Gordon Findlater

HUNDREDS OF aspiring

basketball players flocked to Cowles

Stadium and the Celebration

Stadium to see NBA star Steven

Adams.

The Oklahoma City Thunder centre

was joined by teammate Andre

Roberson and the team's coach Billy

Donovan.

Other than getting the chance to

interact with the NBA star, one of

the highlights of the day was being

introduced to MVP Russell Westbrook

who talked via facetime (video

cellphone call) with Roberson.

Tickets for the first ever Steven

Adams Camp held in Christchurch

sold out in under an hour. The camp

was the first of three run around the

country by Sports Pathways.

The objective of the camps is to

provide an opportunity for youth

players to train with him and expert

coaches.

While in Christchurch, Adams

also visited the Nga Hau E Wha

National Marae.

Before heading back to the

United States for the upcoming

NBA season, Adams will host an

invitational golf tournament in

Auckland.

•Your local sport, p8

more than their teenage peers.

"We encourage them to be a champion

in all areas of their life, at home

and at school and be the best that

they can."

School staff have noted that the

lessons are improving the pupils'

fitness levels as well as helping with

their overall concentration and focus

at school.

Mr Roberts hopes to expand the

programme to two or three more

schools.

JAB: Dylan Bowers, 8, throws

some punches at Constable Pete

Evans. PHOTO: MARTIN HUNTER

Superstar Adams comes to the east side

MENTOR: Adams

passes on some

knowledge to the

next generation of

players.

HEROES: Adams

and Roberson

with young fan

Kobe.

FOR YOUR NEW HOME OR RENOVATION

Blinds

Curtains

Shutters

Awnings

Screens

up to

40%

off

(for a limited time only)

12

Months

Interest

Free

(Terms and conditions apply)

0800 836 587 www.venluree.co.nz Mobile Van Service
---
6 Tuesday August 29 2017

Latest Christchurch news at www.star.kiwi

News

FLAME FILES

Hot tips to stop

stove top fires

• By Mark Thomas – specialist fire

investigator

I SEEM to spend some time

every week complaining about

the number of kitchen fires we're

going to.

Not that we are moaning

about having to go to them, but

we know the inconvenience

to anyone who has such a fire.

People who suffer them regularly

end up being treated for smoke

inhalation after trying to control

what happened.

Last week was quite a busy one

in the kitchen fire department,

and a couple of the call-outs triggered

messages we all should be

aware of.

The first was at Breezes Rd,

Aranui, on Thursday and was a

perfect example of the danger of

leaving something combustible

on a stove top.

In this case, a plastic coffee

grinder was cooked up because

the element it was sitting on was

turned on by mistake.

I've seen bread boards, toasters

and tea towels all cause a fire because

an element was mistakenly

activated.

If you persist in storing these

things on the stove top, it's

almost inevitable that eventually

the obvious will happen.

They're not storage areas.

If you're tempted to use them

as such, then quite simply, don't.

The second fire was at Ferry Rd

on Friday where a pot of burning

oil was carried through the house

in an effort to get it outside.

Inevitably it was dropped as the

flames increased. A fire on the

stove top should be handled right

there. If it can't, get out and shut

the door. Don't spread the fire.

Book shows pupils the hidden

world underneath their city

FOLLOWING A successful part

one, which sold out in a week,

Christchurch – Our Underground

Story is back with part two.

The lift-the-flap picture book

lets readers explore Christchurch's

hidden city, showing the work that

the Stronger Christchurch Infrastructure

Rebuild Team has done

to repair and rebuild the city's

roads, bridges, pipes and retaining

walls.

Eight children from Rawhiti

School gathered to witness the

first school copy of the book being

handed over by Nicky Wagner,

Minister supporting Greater Christchurch

Regeneration.

This was followed by a reading

of the book and some potential

engineers even got to dress up in

construction attire, ready for their

first day on the job.

The five SCIRT delivery teams

(City Care, Fulton Hogan,

Fletcher, Downer, and McConnell

Dowell) have sponsored enough

books for every primary school in

Christchurch to receive a copy.

STORYTELLER: Nicky

Wagner read part two

of Christchurch – Our

Underground Story to eight

Rawhiti School pupils.

PEGASUS POST

FIRST: Rawhiti School pupils got their hands on a new

picture book showing the work that SCIRT has done.

public meeting/

Agm

Tuesday, 5 September 2017

at 7.30pm

(Refreshments from 7.15pm)

"purpose & Future

of the Wastewater

Oxidation ponds"

By Adam Twose,

Manager Operations Water & Wastewater

for Christchurch City Council

AND

"Our estuary;

issues and Options

going Forward"

By Chrissie Williams,

Trust Board Member

Mt Pleasant Community Centre

3 McCormacks Bay Road, Mt Pleasant

Entry gold coin donation towards Godwit artwork

to be placed at Bridge Street

Have a cup of

tea with your MP

Poto Williams

New Brighton Market

Saturday 2nd September

10am - 1pm

If you want to book a

specific time contact

my Electorate Office

on 03 382 0288 before

Friday at 3pm

Discover Christchurch's

best priced pet

accommodation

• Grooming

cats and dogs

• Daycare -

all breeds

• Long stay/

short stay

Call now to book in your fur baby -

inspections welcome anytime!

aLameDa

kenneLs & cattery

271 Dyers Road | Ph 384 1297

www.alameda.nz

YOUR ONE STOP SHOP!

TYRES

NEW & USEd

WoF

FLAGS

TYRES

bOOk

IN NOW

FULL MECHANICAL

SERVICES

WHEEL

ALIGNMENTS

SPECIALISTS$49

Wigram - 341 1226 104 Hayton Rd

Woolston - 384 0000 49 Garlands Road
---
PEGASUS POST Latest Christchurch news at www.star.kiwi

Tuesday August 29 2017 7

News

Imagination

Station

to stay until

Christmas

GREEN THUMB: Mitch

McMillan and Cyrus McLean

planted a shrub. PHOTOS:

GILBERT WEALLEANS

HELPING HAND: Rachel and

Ezra keep the school green.

Shirley schools get

stuck into gardening

• By Julia Evans

GETTING THEIR hands dirty

was not a concern for students

during a planting day at Shirley

Primary School.

Pupils from the school were

joined by their older counterparts

from Shirley Boys' High who got

stuck into making and planting

planter boxes.

The day was organised by

Corbin Newlands, who is

on the Shirley Boys' High

environmental council.

DIGGING: Ben Nicholls, Mitchell Lilly and Cole Yeoman

got to work at Shirley Primary.

Corbin said the day was about

keeping the community spirit

that came after the earthquake

alive.

"We had such a good day.

Students from the environmental

council went down and some

of the kids helped out with the

planting," he said.

The supplies for the planter

boxes were provided by

Shirley Bunnings Warehouse

and ASB served up a sausage

sizzle.

GROW: Cyrus McClean

planted a native tree.

• By Sophie Cornish

THE IMAGINATION Station in

New Brighton will now keep its

doors open until Christmas.

Originally the pop-up building

was only meant to be open

for 10 weeks.

The Imagination Station is a

space where children can use

Lego and Duplo to engage in

creative play and learning.

A 'pay to enter' model will

start from Friday with a $2

minimum entry fee per person.

The Imagination Station is

open from 9.30am-5.30pm on

Monday, Friday, Saturday and

Sunday. During the October

school holidays, it will be open

every day.

Development Christchurch

has reported that the pop-up

Imagination Station attracted

700 people in its first two weeks.

Out of those who have visited,

70 per cent said they came to

New Brighton specifically for the

pop up and 78 per cent said they

would continue to shop in New

Brighton after they visited.
---
8

Latest Christchurch news at www.star.kiwi

Tuesday August 29 2017

PEGASUS POST

SBHS focus on nationals after trophy loss

SPORTS

TEAM TALK: SBHS coach Scott Howell tries to rally his troops during the semi-final loss to

Cashmere High last Tuesday.

PHOTO: JAMES LISSAMAN

Queenspark

takes out

senior

netball title

• By Sophie Cornish

SHIRLEY BOYS' High can

now focus on qualifying for

the national secondary schools

basketball tournament.

The team bowed out of the

McDonald's Thompson Trophy

last week, but will play in the

South Island championships in

Dunedin next week, where they

hope to qualify for the national

tournament in Palmerston North

on October 2-7.

SBHS lost to hot favourite Cashmere

High 77-52 in the semi-final

of the McDonald's Thompson

Trophy.

Cashmere will meet Christ's

College, who beat Rangiora High,

in the final tonight.

After being tied 30-all at half

time, SBHS coach Scott Howell

said Cashmere controlled the

second half.

"Unfortunately, in the third

quarter, some small mistakes cost

us. We missed a lot of easy shots

and also missed more than 10

free-throws, which hurt us. On top

of that, Cashmere lifted their game

and started hitting their shots. By

the end of the third quarter, we

were down 15."

The team are continuing with

their training routine in the lead

up to the South Island championships

and are looking into organising

some practice games with

other local sides.

Howell believes SBHS have a

tough pool. They will face Cashmere

again and Otago Boys' High,

who he said are rumoured to be

strong.

SBHS will need to finish in the

top two in their pool to qualify for

the quarter-finals and finish in the

top six to advance to the national

tournament.

SBHS will join 11 other

Christchurch teams in Dunedin

at the South Island championships.​

They include Cashmere, St

Thomas, Kaiapoi, Christchurch

Boys, Rangiora, St Bede's, Burnside,

Middleton Grange, Papanui,

Christ's and St Andrew's.

• By Andrew King

QUEESNPARK SCHOOL won

the senior netball title at the

Primary Sports Canterbury winter

tournament on Thursday.

More than 1700 pupils in 171

teams from 87 schools around

Canterbury came together to play

netball, hockey, football and rugby

at South Hagley and English parks.

All schools had to qualify

through their school zone to be eligible

for one of the biggest primary

school sports events of the year, Primary

and Canterbury AIMS sports

director Lyn Miles said.

CHAMPIONS: Queenspark School's senior netball team beat Ellesmere College in the final on Thursday.

all new landsCape zone

bulk Compost, lawn mix,

aggregates and stones

The new Ferrymead Mitre10 Trade Centre and Landscaping Zone has

everything you need to complete your projects.

• Screened Soil

• Vege/Zoom Grow

• Bio Blend

• Garden Grow

• Turf Mix

• Tree Mulch

• Black Mulch

• Standard Bark Nuggets

• Premium Bark Nuggets

• Builders Mix

• AP20 Shingle

• AP40 Shingle

• Plastering Sand

• Brick Sand

• Bedding Sand

• Crusher Dust

• Round Stones

• Driveway Chip

• Teddington Chip

Ferrymead 987 Ferry Road Phone 373 6550

mitre10.co.nz/trade
---
PEGASUS POST Latest Christchurch news at www.star.kiwi

Tuesday August 29 2017 9

FREE

11mm

high

dENSity

luxuRy

FREEuNdERlAy

ON SELECTED PRODUCTS *

NylON

Newport

• Commercial Heavy

Duty

• Solution Dyed Nylon

• Loop Pile

• 5 Colours

FREE

UNDERLAY

$99 90

NylON

Okiwi Bay

• Extra Heavy Duty

• Solution Dyed Nylon

• Cut Pile

• 1 Great Colour

FREE

UNDERLAY

$157 00

NylON

horizon

• Extra Heavy Duty

• Solution Dyed Nylon

• Cut Pile

• 1 Great Colour

FREE

UNDERLAY

$119 90

WOOl

Boucle

• Extra Heavy Duty

• Wool Plus

• Cut Pile

• 1 Great Colour

FREE

UNDERLAY

$119 90

garage

Carpet

• 6m x 6m fully installed

• Conditions apply

FULLY

INSTALLED

$900 00

2nds Carpet

• 100's of metres

• Pure Wool

• Extra Heavy Duty

CLEARANCE

FROM

$60 00

2 Metre Wide

Vinyl

• Selected patterns

• Buy 1 get 1 free

BUY 1

GET 1 FREE

$49 90

Commercial

Vinyl Planks

• 4 Colours

BUY 1

GET 1 FREE

FROM

$39 90

Call for our mobile showroom to

visit your home

312 Wilsons Road North, Waltham | Phone 366 0070

Mon to Fri 8am - 5pm and Sat 10am -1pm

www.carpetkingdom.co.nz *Conditions apply.

Q Card Finance

Now Available

FREE no obligation measure & quote (conditions apply)
---
10

Tuesday August 29 2017

Reading to Dogs

Wednesday, 3.30-4.30

Encourage your children's

reading skills in a relaxed and

fun environment. The programme's

furry friends have

all been trained and tested for

health, safety and temperament.

Library staff and a dog handler

will be present at all times to

help facilitate the sessions. Sessions

are 15min.

New Brighton Library, Marine

Pde

Aranui Creation Station

Wednesday 10am-noon

This initiative from Otautahi

Creative Spaces encourages people

to use their imagination and

encourage their crafty side. Make

new friends and share ideas and

tips on creative projects. It's free

to take part and everyone is

welcome to go along and share

their ideas.

109 Aldershot St. Free entry

Art Exhibition

Opening August 28,

5.30-7pm. Mon-Fri 11am-4pm.

Sat 11am-3pm. Until September

9.

The latest exhibition from

Eastside Gallery is The Tears of

Our Ancestors –Nga - Roimata

o Tatou Tipuna. A joint exhibition

featuring the work of three

artists, Raphael Stowers, Adrian

Boardman and Michelle Boardman.

388 Worcester St.

Game Zone

Thursday, 3.30-4.30pm

An hour of fun playing

Latest Christchurch news at www.star.kiwi

Email sophie.cornish@starmedia.kiwi

by 5pm each Friday

CLIMATE CHANGE: This forum is part of a series of

discussions on climate change. Go along for an opportunity

to talk with scientists and specialists about potential

solutions that are local and achievable. Take your ideas and

questions and a $2 donation. Sunday, 3pm, The Good Shop,

Carnaby Lane, New Brighton mall.

favourite games like minecraft,

charades, connect four and

pictionary. Learn and develop

strategies for new games such as

dutch blitz, heads up, hand and

foot, and other group games.

Join in the X-box and PS4 tournaments.

Take your friends or

meet some new ones; all

children aged eight to 12 welcome.

No booking or payment

required.

Linwood Library, Eastgate

Shopping Centre

Ascot Scrabble Group

Friday, 12.45pm

Challenge your word knowledge

with other like-minded

folk. Join this friendly group

which is suitable for beginners or

experienced players. Cost is $3

which includes afternoon tea.

Ascot Community Centre, Ascot

Avenue, North New Brighton

Learner Licence Course

Friday, 9.30-11.30am

Get the knowledge and

confidence you need to succeed

when sitting your learner licence

test. This course is delivered by

Literacy Christchurch which

provides you with laptops to

use during the class time to

sit practice tests and research

questions. The course does not

include the actual test, or the fee

to sit the actual test.

Aranui Library, 109 Aldershot

St

​Imagination Station

Friday-Monday, 9.30am-

5.30pm

Lego lovers, head down to

the Imagination Station pop-up

facility in New Brighton. The

popular centre uses Lego and

Duplo as a medium for learning

and creativity.

Carnaby Lane, New Brighton

mall

Seaside Market

Saturday, 10am-2pm

Head to the seaside this weekend

and enjoy live entertainment,

great food, fresh produce,

artisan bread, arts, crafts, jewellery

and more. With a bouncy

PEGASUS POST

castle and free face-painting for

the children.

New Brighton mall

DIY Workshops

Saturday and Sunday, 11am-

1pm

Roll up your sleeves and learn

to have fun with DIY this month

as part of Bunnings Warehouse

Shirley's adult DIY workshops.

These free, hands-on workshops

will give you the confidence to

tackle your own home and outdoor

projects.

197 Marshland Rd

Golden Oldies Movies

Every Monday 1pm

The New Brighton Museum

plays a film classic. This week

it's Rhubarb, a short comedy

by Harry Secomb from 1969.

Law and Disorder, another

comedy, will also screen. Before

the movies, enjoy a cup of tea

or coffee and a biscuit. This is

a good way to start the week

and meet new people. Entry $2

donation.

8 Hardy St

Love Tennis Open Afternoon

Saturday, 1-4pm

The South New Brighton Tennis

Club and Tennis Canterbury

will host the Love Tennis regional

open day. Fun, free event

for all those willing to come

down and see what tennis is

about. Activities will include tennis,

games, prizes, giveaways and

a barbecue. Bring yourself, your

friends and your family. Free.

South New Brighton Tennis

Club, Halsey St

At Whitehead Plumbing & Gas Ltd

we have a great team of loyal staff

offering a diverse range of skills.

Serving Canterbury for over 35

years, we do everything from

domestic maintenance to new

homes and commercial buildings.

Make us your first call today.

Plumbing.

Gasfitting.

Drainlaying.

03 379 0711

whiteheadplumbing.co.nz

Shop online

with the in

store special

prices!

Discount code:

Goat

themohairstore

140 Colombo Street, Beckenham

Phone 03 943 1639

www.themohairstore.co.nz

Discover this

unique Emporium

Metal art - gifts - hoMewares

water features - pottery

Mirrors - candles

wall hangings & More

722 Marshland Road, Top end Styx

Open 7 Days

Ph: 03 323 9781

www.hitchingpost.co.nz

Help us keep the

Santa Parade going...

The Christchurch City Council funds 50% of this 'not for profit' event

and we thank them for their contribution.

However, the Trust is appealing for further assistance from the public

through our 'Give a little' page.

All donations are gratefully accepted.

Please help with a donation www.givealittle.co.nz/org/santaparadechristchurch000
---
PEGASUS POST Latest Christchurch news at www.star.kiwi

Tuesday August 29 2017 11

IT'S

FREE

everyone

welcome

We're having a party and you're invited! Tennis

clubs across Christchurch are opening their doors

for a fun, FREE event for all ages. Bring yourself or

bring your family Father's Day weekend.

www.lovetennis.kiwi #lovetenniscanterbury

Come play

Racquets supplied. BBQ. Prizes. Giveaways.

You could WIN A TRIP FOR TWO to the

ASB CLASSIC in Auckland this January.

*Times may vary by club. Please check website for details.

Avonhead Tennis Club

Beckenham Tennis Club

Bishopdale Tennis Club

Burwood Park Tennis Club

Cashmere Tennis Club

Edgeware Tennis Club

Elmwood Tennis Club

Hagley Park Tennis Club

Halswell Tennis Club

Mt Pleasant Tennis Club

Opawa Tennis Club

Redcliffs Tennis Club

Riccarton Domain Tennis Club

Shirley Tennis Club

South Brighton Tennis Club

Spreydon Tennis Club

Sumner Tennis Club

Te Kura Tennis Club

Waimairi Tennis Club

Saturday

2 Sept

Sunday

3 Sept

1-4pm*
---
12 Tuesday August 29 2017

Latest Christchurch news at www.star.kiwi

Shop

Win SPRINGS

ON

NOW!

Promotion closes October 10th 2017.

Conditions apply.

Your friendly

local Pharmacy

• Prescriptions • Medico Packs

• Gifts • Health Advice

• Dry Cleaning • Passport/ID photos

Hours: Mon-Fri 9am-5.30pm, Thurs 9am-6pm

11 Parnwell Street. Ph 383 4814

Crispy Crunchy Batter

Gluten free products sold for oVer 4 YeArs

NEW PRODUCT! Fried Wontons

• Souvlaki • Great Burger Selection

• Garlic Butter Chips • Cheese on Chips

* Specialty fish cooked to order…

Blue Cod, Gurnard, Sole, Hoki, and more!

Try our souvlaki and also our

chocolate explosion / Mars Bar!

GOURMET SEAFOODS QEII

Ph: 388 2531, QEII Shopping Centre

251 Travis Road

Mon - Wed 11.30am - 8.30pm (Tues from 4.30pm)

Thurs - Sat 11.30am - 9.00pm; Sun 12noon - 8.30pm.

Daily break 3.15 - 4.30pm.

YOUR LOCAL GARAGE

• All vehicle repairs

• Oil changes and services

• Brakes

• Loan car available

• Tyres, punctures & batteries

• W.O.F • Tune up

Your LocaL GaraGe

VERY FRIENDLY

SERVICE AND ADVICE

Phone: 03 388 3630

40 Hawke St

(behind Z Petrol Station)

CHRISTCHURCH'S PERFECT

INDOOR ENTERTAINMENT

FLIP OUT

TRAMPOLINE ARENA

MAIN ARENA

TRICKING AREA

FOAM PIT

WALL TRAMPOLINE

TUMBLE TRACK

YOUR SAFETY

IS OUR #1

PRIORITY

PHONE 384 8244 FOR MORE INFORMATION

230 MACES ROAD, BROMLEY

WWW.FLIPOUT.CO.NZ

& Relax

Designer

Fashion

3000

Items

Arriving

Daily!

SUPPORT YOUR LOCAL

BUSINESSES

TO WIN 1 OF 5

FAMILY GETAWAYS

TO HANMER

see our

HUGE

selection!

• Designer Brands • Family Clothing

• Menswear • Footwear • Bric-a-brac

• Workman Outdoor Clothing

• Household Goods • Books

• See the Retro Section AND Formal Wear

Open Daily 7 Days

Sydenham: 39 Battersea St Papanui: 472 Cranford St

Hornby: 94 Shands Rd

New Brighton: 52 New Brighton Mall

(Old Farmers Building)

HOURS

Mon–Sat 9am–5pm

Sun/Public Holidays 10am–4pm

New Zealand's Largest Recycled Clothing Retailer

1 litre

$

47 99

CHRISTCHURCHInstore Specials!

Make sure your vehicle is up to scratch

We're 100% locally owned and here to help you.

Stanmore Road Auto Spares

P. 03 389 4555 | 245 Stanmore Rd

IT's

1 litre

$

47 99

Come in and see

our friendly staff!

Many more great specials instore.

Cranford 478 Cranford Street

QEII 251 Travis Road

Richmond 68b North Avon Road

JuST

INCREDIBLE

• Barrington Mall

• The Hub, Hornby

• New Brighton Mall

• South City Centre

STANMORE RD

6PK

$

13 99

Enter every time you shop at any

of these participating businesses

More Chances to Win!

15PK

$

22 99

Burwood

home of the $40 serViCe

hot in-store deals

layBy for xmas now

269 Burwood Rd, Burwood Ph: 383 2114

HOURS Mon-Fri 8.30am-5.30pm Sat 9am-4pm

NATIVE PLANT NURSERY

Trees for

CanTerbury

speCialisTs in:

• Groundcovers

• Ferns

• Grasses

• Small to big

sized shrubs

• Shelterbelts

• ALL grades

• Expert advice

• Planting now

Ask us about

Super Gold

Card discounts

Helping our

community grow

42 Charlesworth St

Ph/Fax (03) 982-1028

OPEN 7 DAYS

www.treesforcanterbury.org.nz

In BusIness for 83 years,

supplyIng the eastern area

wIth top qualIty BeddIng,

vegetaBle and tomato plants.

welcome to vIew.

Bettaplants

1934-2017 83 YEARS IN BUSINESS

27 Ottawa Rd | Ph: 389-7855

Hours: 8.00am-5.30pm Mon to Fri

8.00am-5.00pm Sat

sale

½

price on

selected

gifts

Welcome to our family friendly

christmas

shop!

openinG 1st sept

get your

christmas gifts

sorted early!

Homewares, Children's gifts,

Selected skin care and more

great bargains in store

60 Queenspark Drive,

Christchurch

Phone: (03) 383 1330

Open: Mon to Fri 8.30am-6pm and Sat 9.30am-2pm

768 Marshland Road (North End)

Open everyday until Christmas Day 10am - 4pm

Proudly

Supported By

PEGASUS POST

Monday to Friday to

Saturday to

Sunday to

paperplus.co.nz

FREE Courtesy Cars

All Insurance & Private Work

Welcome

10% OFF

EXCESS ON INSURANCE QUOTES

Conditions apply

QEII Collision Repairs

302 Travis Road, North New Brighton,

Christchurch | P: 03 388 5187

E: qe2collisionrepairs@outlook.com

Boost Brain Performance

ENZO:PROFESSIONAL (ENZOGENOL) is a potent

antioxidant extract of the N.Z. pine bark and

has been clinically shown to improve memory,

concentration & brain performance.

SUPER

60's only $45.30, save $5.00

120's only $84.90, save $15.70

PRICE! Detailed Information Available

Bringing You the Best in Natural Health!

MARSHALLS HEALTH & NATURAL THERAPY

CONSULTING - PRESCRIBING - DISPENSING -

MANUFACTURING - MEDICAL HERBALISTS

110 SEAVIEW RD, NEW BRIGHTON • PH 03 388 5757

Email: enquiry@marshallshealthshop.co.nz

- WE ARE ALWAYS HAPPY TO HELP! -
---
PEGASUS POST Latest Christchurch news at www.star.kiwi

Tuesday August 29 2017 13

GREAT food

BROUGHT TO YOU BY...

Your fresh food people

CHICKEN THIGHS WITH

FRESH EGG NOODLES

Ingredients

BRUSSELS SPROUTS WITH

ROASTED GARLIC AND

PINENUTS

Ingredients

1 head Garlic

20 small Brussels sprouts

1 Tbsp Olive oil

1 Tbsp Walnut oil

½ cup Pine nuts

½ cup Currants

Directions

Preheat oven to 200 deg C.

Remove the outer layers of

papery skin from the head of

garlic. Slice just enough off the

head to expose the garlic cloves,

then season and wrap in tinfoil.

Bake for 30min, then cool and

squeeze the flesh out of the

skins.

Meanwhile, toss the sprouts in

walnut and olive oil. Season and

place in a roasting dish, cook for

15min, then add the pinenuts

and currants. Return to the

oven for a further 5min.

Pile the sprouts, pinenuts and

currants on to a serving dish,

drizzle with oil leftover in the

pan and top with garlic.

8 Boneless chicken thighs,

skinned

1 Tbsp Light soy sauce

1 Tbsp Dry sherry

2 tsp Cornflour

2 Tbsp Peanut oil

1 bunch Spring onion, trimmed

and sliced

1 stalk Lemongrass, white part

only, finely chopped

1 Red chilli, deseeded and finely

chopped

500g Egg noodles, use fresh

noodles

To finish

1 splash Fish sauce

1 Lime, or lemon, juiced

1 handful Fresh basil

Directions

Cut each chicken thigh into

four pieces and place in a bowl

with the soy sauce, sherry and

cornflour. Mix to combine and

set aside while you prepare the

remaining ingredients.

Heat one Tbsp of the peanut oil

in a large deep-sided frying pan

or wok over a medium-high heat.

Add half of the chicken pieces

and cook on both sides until

browned and almost cooked

through, about 5min. Transfer

to a plate, add remaining peanut

oil and cook remaining chicken

pieces. Return all chicken pieces

to the pan or wok.

Add the spring onions,

lemongrass, chilli and

noodles and continue to cook,

stirring continuously until the

chicken is cooked through, about

3min.

Stir in the fish sauce, lime or

lemon juice and basil leaves and

divide between four warmed

bowls.

Large Avocados ....... 1 .99

each

NZ Red or Green

Capsicums ......................... 1 .99

EACH

Loose Table Onions .....99 c

kg

Brussel Sprouts ........... 3 .99

kg

Chicken Thigh

Cutlets .............................. 7 .99

kg

Lamb Shoulder

Roast .................................. 9 .99

kg

Beef Rump Steak ......... 13 .99

kg

All our fresh meat is 100% NZ FARMED.

specials VAlid 28th august - 3rd september 2017. ONLY AVAILABLE AT

RAEWARD FRESH HAREWOOD RD, TOWER JUNCTION & MARSHLAND RD

harewood rd Mon–Fri 8.00am–6.30pm Sat–Sun 8.00am–6pm

Tower junction Mon–Fri 8.00am–6.30pm Sat–Sun 8.30am–6pm

MARSHLAND RD Mon–Sun 8.00am–6:00pm

WWW.

.CO.NZ
---
2

Tuesday [Edition datE]

14 August 29 2017

Latest Christchurch news at www.star.kiwi

HEALTH & BEAUTY

PEGASUS POST

Denture specialists

expert at problem

solving for patients

Ryan Carlton and his team of expert technicians at

Dentures Plus in Innes Road are highly skilled in the

design and manufacture of flexible partial dentures.

"We also use industry-leading injection

moulding equipment for all our dentures,

Ryan says, "and we provide dentures not

only for our own patients, but also for

dentists throughout New Zealand."

For anyone experiencing problems with

their teeth or gums Dentures Plus offers a

free consultation to assess their oral health

and possible treatment plans, Ryan says.

"People needing first-time dentures or

immediate dentures can come directly

to us and we will work with their regular

dentist or if necessary arrange with

another dentist for the extraction of their

teeth in preparation for getting dentures

fitted," he says.

"Our team are excellent at problem

solving for our patients and providing

them with a comfortable, functional,

natural-looking solution."

Ryan emphasises the importance of

keeping dentures clean and healthy to

avoid the damage that can occur from

wearing them. Dentures Plus offers a full

Beautiful Teeth

Meet the

Owner

Ryan Carlton

Natural Smile

Free Consultation, No Obligation

• Full Dentures • Dentures Repaired • Implant Assisted Dentures

• Injection Moulded Flexible Partials • Relines

• Mouthguards • Additions/Repairs

• Purchase cleaning and care products from our website.

All dentures personally

designed and created to ensure

a comfortable natural fit.

DENTURES PLUS (2014) LTD

Denture Clinic and Laboratory

396 Innes Road, St Albans. Phone 385 5517.

Email: denturesplus@paradise.net.nz

www.denturesplus.co.nz

range of products for keeping dentures

in tip-top condition, including denture

cleaners, brushes and denture baths for

soaking the dentures.

He particularly recommends Caldent

denture cleaner, as it is non-abrasive and

effectively removes stains, calculus and

plaque. All the products can be purchased

at the clinic, or through the Dentures Plus

website, www.denturesplus.co.nz.

While Christmas is still a few months

away, for those people wanting to have

new dentures in time for the festive

season, now is the time to get the process

underway, Ryan says.

"By talking to us now, and getting

started, the new dentures will be settled

in and comfortable by Christmas, so you

can enjoy all the festivities without any

denture problems."

Dentures Plus is located at 396 Innes

Road. To make an appointment to

discuss your needs, phone 385 55127.

Orbiter Bus stops Innes Road

True

Who thought

DENTURES

and false!

could look this

natural?

• Full dentures • Metal partial dentures

• First-time immediate dentures • Implant supported dentures

STUNNING: A beautiful new denture for

a young female patient

Our Acrylic Injection Moulding machine

that we use to make to dentures.

These stunning lovebite full upper and

lower dentures have been expertly crafted by

internationally-recognised dental technician

Richard Greenlees at his Christchurch studio.

The combination of Richard's skill, experience

(including 15 years in London's prestigious

Harley Street) knowledge and revolutionary

techniques allow him to create beautiful

bespoke false teeth that truly resemble those

in nature and reflect each patient's individuality

and unique character.

Bishopdale Clinic

13a Bishopdale Court, Ph 360 3606

City Clinic

12 Hereford Street, Ph 961 0236

Wigram Skies Clinic

67 Skyhawk Road, Ph 322 9400

Call us today Ph 360 3606

Back & neck pain

Sprains and strains

Functional training studio

Biomechanical assessments

Headaches and migraines clinic

Work injuries & gym rehab

Pre and post surgery rehab

VEBITE

musclepeople.co.nz

AGING GRACEFULLY: Natural teeth for

a gentleman patient in his 80's

HOLLYWOOD: It's all white for this

female patient in her 60's

402 Montreal Street

Christchurch | P. 379 1222

By appointment only.

Consultation fee applies.

lovebite.com

Richard will personally guide you through the entire process to create

teeth with small nuances in the fabrication, colour and shape. Your beautiful new

lovebite dentures will boost your confidence and make you look and feel year's younger!
---
PEGASUS POST Latest Christchurch news at www.star.kiwi

Tuesday August 29 2017 15
---
16 Tuesday August 29 2017

Latest Christchurch news at www.star.kiwi

PEGASUS POST

Breaking news,

delivered to

your pocket.

Visit www.star.kiwi

anytime, anywhere!

Fire rages, homes at risk

•news •CTV •sport •districts •schools •lifestyle •opinion •what's on

www.star.kiwi
---
PEGASUS POST Latest Christchurch news at www.star.kiwi

Tuesday August 29 2017 17

REAL ESTATE

Church Bay waterfront contemporary

67 Koromiko Crescent, Diamond Harbour

Price: $1,175,000

4 bedrooms | 2 bathrooms | 3 living rooms | 1 dining room | 2 car-garage | 3 off-street parks | Listing # 5150

A rare opportunity to acquire a prime

waterfront property with panoramic Sea

views which sweep across Quail Island,

the Port Hills and Lyttelton Harbour. This

contemporary 350m2 (approx.) family

home is positioned on a spectacular site.

An Executive home featuring incredible

outdoor family living, providing relaxed

indoor/outdoor flow ideal for ease of

entertaining. Privacy and shelter is

provided by the mature trees, established

formal garden and large lawn leading onto

the expansive kwila deck.

The property is set on an impressive

1810m2 parcel of land, in two titles.

Featuring a double height entrance and

living room ceilings, 4 double bedrooms,

2 living areas and a large family room/

playroom. This open plan executive home

features breathtaking sea views at every

turn.

With both the new master en-suite and

family bathroom luxuriously appointed

with Italian porcelain and marble mosaic,

exquisite in every detail. Facing North

West this is a naturally warm home, the

sun tracking from the early morning to

spectacular evening sunsets.

The floor to ceiling windows in the living

area harness all natural warmth which

during the cooler months is backed up by

under-floor heating, in addition to the gas

fire place in the lounge area, adding to the

warmth and ambience. This property is

visually stunning with world class views.

The current owners are reluctantly

departing after 16 years, their sincere wish

is that the property should continue to be

enjoyed as much as they have enjoyed it.

For a private viewing, contact Tim

Dunningham of Min Sarginson Real

Estate (Licensed Agent REAA 2008),

phone 027 651 5474 or 329 4161

growing with you

SprIng Is here –

It'S Sow Time

how to get the best results from

seeds and seedlings

100% NatIve In

The capItal

Unravelling the secrets of

Otari-wilton Bush

The New Zealand

landscape awards

The people behind

the projects

$7.90 incl. GST

Save our roSeS

How a rose register is protecting our heritage

September 2016 | 100%

It's time

to grow!

New look and more

content than ever!

MeeT LeSTer Brice

A Garden coach

auckland Botanic GardenS

Why we love our public grounds

now bigger than ever

The magazine for

gardeners who like to get

their hands dirty

SubScribe from

$43. 50*

*6 issues/6 months

ISSN 2423-0219

SUBSCRIPTIONS FREEPHONE

0800 77 77 10

www.gaRdeNER.kiwI
---
18

Latest Christchurch news at www.star.kiwi

Tuesday August 29 2017

PEGASUS POST

Classifieds Contact us today Phone our local team 03 379 1100

Caravans, Motorhomes

& Traliers

CARAVAN Or Poptop

wanted ph 027 306 6544

TRAILER Briford or

similar wanted ph 027 306

6544

Computers

ALL

YOUR

COMPUTER

WORRIES SOLVED!

*$30.00 off your first

service with this coupon!*

No problem too big or

small from home PC's to

business networks. PC

slow? An end to Viruses,

Spyware, and Clogged

Systems. Safe secure

hassle-free computing.

Lost files recovered.

Microsoft Certified,

MCSE, MCP+l. 30 years

experience. Call Andrew

Buxton this week on 326-

6740 or 027 435-7596

for $30.00 off* Custom

Computers Christchurch

Curtains

www.curtainfabric-outlet.com

Fashion Designs & Colours

Discontinued Designs

End of Lines Bargain Prices

Call at Our Shop

CURTAIN FABRIC OUTLET

71 Hawdon St Sydenham

Ph 366-5026

Entertainment

Weka Pass Railway

Waipara, North Canterbury

We are RUNNING

SUNDAY 3rd September

Running 1st & 3rd

Sunday of every month

Phone 0800wekapass

Depart Glenmark Station

11.30am & 2.00pm

www.wekapassrailway.co.nz

Gardening

& Supplies

LANDSCAPE GARDEN

PROFESSIONAL

Qualified Horticulturist,

offering expert, garden

makeovers, design and

landscaping, for free

quotes call Bryce 027 688-

8196 or 0508 242-733

Holiday

Accommodation

QUEENSLAND SUN-

SHINE COAST AUSTRA-

LIA Resort, Ocean Views,

Balconies, Self Contained,

1 or 2 B/R Ensuite,

Heated Pool, Spa, Sauna,

Free Internet, Shops,

Restaurants, Tennis, Surf

Club & Patrolled Beach,

Public Transport at door.

Ask for our SEASONAL

SPECIALS. Phone 61 7

544-35011 Email: reception@mandolin.com.au

www.mandolin.com.au

To Let

NEED MORE

SPACE?

WARMER THAN A CARAVAN

NO BOND

Ideal as an extra

bedroom or office

Three convenient sizes

from $70 p/w:

Standard 3.6m x 2.4m

Large 4.2m x 2.4m

Extra-large 4.8m x 2.4m

Visit our display cabins at

470 Cranford Street or call

0211277227 for a free brochure

www.justcabins.co.nz

Trades & Services

carpet cleaning

• Commercial Carpet Cleaning

• Residential Carpet Cleaning

• Upholstery Cleaning

• Stain & Odor Removal

• Tile & Grout Cleaning

NEED HELP WITH YOUR

CARPET CLEAN?

Simply give us a call on 021 035 8989

We will get the job done in a professional way.

CARPET CLEANING

Busy Bees

Professional carpet and

upholstery cleaning at

affordable prices

• Carpet cleaning from $20 a room

• Lounge and dining chairs from $10 a chair

(conditions apply)

Give us a "Buzz" on 0800 500 016

to discuss your requirements and

get a FREE quote.

www.busybees.co.nz

ROOF REPAIRS

Locally owned & operated with

over 30 years experience.

• Extensions & repair • Roof coating

• Concrete & clay tiles • Butynol

• Malthoid • Asbestos Certified

• Coloursteel • Old iron • Guttering

Phone Dave 981 0278

or 021 223 4200

E: dave@beaumontroofing.co.nz

BEAUMONT ROOFING LTD

Trades & Services

spouting

www.superiorspouting.co.nz

Ph. Jem 0277 515 250

0800 751 525

Trades & Services

BLOCKED

DRAINS?

• VIDEO INSPECTION

• WATERBLASTING

• LIQUID WASTE

PH: 03 365 7960

24 hours // 7 days

info@h20jet.co.nz

www.h20jet.co.nz

FOR ALL YOUR

★Garden Clean-ups

★Pruning

★Lawn Mowing

★Garden Maintenance

Call us today for a FREE quote

PH 0800 4 546 546

(0800 4 JIMJIM)

HOUSE

CLEARING

Are you

moving house

or trying to

downsize?

Call All Clear

Canterbury. We work

with you to recycle,

sell and dispose of

unwanted items.

Ph: 03 260 0934

or 021 078 4553

raewynlcooke@gmail.com

www.allclearcanterbury.co.nz

BEST BATHROOMS

Spouting

full renovation specialists,

LBP, repairs &

maintenance ph 03 387-

0770 or 027 245-5226

Trades & Services

Trades & Services

BRICKLAYER

George Lockyer. Over

35 years bricklaying

experience. UK trained.

Licensed Building

Practitioner number

BP105608. Insurance

work. EQC repairs.

Heritage brickwork and

stonework a speciality. No

job too small. Governors

Bay. Home 329-9344,

Cell 027 684 4046, email

georgelockyer@xtra.co.nz

BUILDER

For all building work

but specialist in bathroom

renovations, 30 yrs

experience, with service

and integrity. Free Quotes.

Ph Lachlan 383-1723 or

0274 367-067.

BUILDER LICENSED

available for all aspects of

building. Please call 027

241-7471 or 335-0265

*****************

CARPET & VINYL

LAYINg

Repairs, uplifting,

relaying, restretching

E mail jflattery@xtra.

co.nz

ph 0800 003 181

or 027 2407416

FENCINg

All types of residential,

including gates,

demolition & removal,

ph 021 231-1860

Fencing Uprite

gLAZIER

Window repairs, pet

doors, new glazing, double

glazing, conservatory

roofs. Experienced

tradesman. Call Bill on

981-1903 or 022 413-3504

PAINTER AVAILABLE

All aspects in painting.

Very competitive in roofs

and fences. Please call 027

241-7471 or 335-0265

PAINTINg DECORATINg

Wingfields Contracting,

all interior & exterior

painting & all forms of

interior plastering & jib

fixing, ph Mark 021 171-

1586 or 355-5994

PAINTINg DECORATINg

all interior & exterior, 40

yrs in trade, free quote and

advice, ph Rick 021 232

5249 ah 03 383 2288

PLUMBER

ALF THORPE

PLUMBING Certifying

Plumber for all types of

plumbing, maintenance,

spouting, alterations etc.

Phone 352-7402 or 0274-

350-231

ROOFINg REPAIRS

Fully Qualified, Over

40 Yrs experience

Ph John 027 432-3822

or 351-9147 email

johnmill@ihug.co.nz

SPOUTINg CLEANINg

Unblocked,

Cleaned Out and Flushed

Out. Also Full Handyman

Services Available. Call

Trevor 332 8949 or 021

043-2034

GLAZING

Stephen Thom Glazing 2012 Ltd.

• Mirrors • Pet Door Specialists

• Splashbacks

THE CAT DOOR MAN

ALL BROKEN WINDOWS

Phone Cushla or Darren Twist

03 352 6225 or 027 352 6225

Trades & Services

STONEMASON

BRICK BLOCKLAYER,

Earthquake Repairs, Grind

Out & Repoint, River/

Oamaru stone, Schist,

Volcanic Rock, Paving,

all Alterations new & old,

Quality Workmanship,

visit www.featureworks.

co.nz or ph 027 601-3145

TILER/CARPENTER

35 years exp, no job

too small. Ph Ross 027

4311440.

TREES BIg OR SMALL

tree removal, trimming,

stump grinding, shelterbelt

clean up, section clearing,

rubbish removals,

excavation work, ph Trees

Big or Small, for a free

quote, 021 061 4783

T.V. SERVICE CENTRE

Repairs, tvs, microwaves,

stereos, DVD. Aerial

installations and kitsets,

480 Moorhouse Ave, ph 03

379 1400

UPHOLSTERER

Dining Chairs, Lounge

suites, Caravan Squabs

etc. recovered. Free

Quotes. Phone Graeme

383-1448

VHS VIDEO TAPES

& all camera tapes

converted to DVD, video

taping special occasions,

www.grahamsvideo.co.nz

ph 03 338-1655

Wanted To Buy

AAA Buying goods

quality furniture,

Beds, Stoves, Washing

machines, Fridge Freezers.

Same day service. Selwyn

Dealers. Phone 980 5812

or 027 313 8156

TOOLS

Garden, garage,

woodworking,

mechanical, engineering,

sawbenches, lathes, cash

buyer, ph 355-2045

WHITEWARE

WANTED Cash for

fridges, freezers, dryers,

washing machines, ovens.

Top prices paid for good

working machines. Ph

Dave anytime 960-8440 or

027 6622 116

ADD SOME

COLOUR

TO YOUR ADVERT!

Public Notices

ADVERTISE YOUR BUSINESS HERE

Phone for further details

(03) 379 1100

style

noun

elegance and sophistication.

synonyms: flair, grace, poise,

polish, suaveness, urbanity,

chic, finesse, taste, class,

comfort, luxury, affluence,

wealth, opulence, lavishness.

Magazine & TV | sTyle.kiwi
---
PEGASUS POST Latest Christchurch news at www.star.kiwi

Tuesday August 29 2017 19

What's On

Entertainment

To advertise, contact

Jo Fuller 03 364 7425

jo.fuller@starmedia.kiwi

Different outlook

and fresh approach

THE Cashmere Club has appointed a

new Club Manager, Donna Hughes.

"After a very thorough recruitment

process I am pleased to advise that the

Board of the Cashmere Club has

approved the appointment of Donna

Hughes as our new General Manager,"

said Pete Winchester, Board Chairman.

"Donna comes to the Club with an

extensive background in hospitality,

with experience in senior management

positions in Customer Services and

most recently at the executive level in

Marketing and Loyalty management.

As far as I am aware this is the first

time we have ever had a woman take up

the role of General Manager of our

club. It will no doubt provide a different

outlook and fresh approach to what we

want to achieve in the future."

\

Donna said she has been warmly

welcomed by members and staff at

the Cashmere Club and that it is

great to see the diversity of the

services the club already offers its

members, their families and the

community.

The Cashmere Club | 50 Colombo Street | Phone 03 332 0092

www.cashmereclub.co.nz

RESTAURANT & CAFÉ

We are open from 6.30am

Seniors SPECIAL

2 courses Soup/Roast or Roast/Dessert

Special available lunch only. Monday - Saturday 12pm - 2.30pm

Family Friendly

Kid's 2 course special

A West Coast welcome in the heart of

Redwood, beautifully refurbished and

something for all the family.

TRY OUR WONDERFUL MENU & DAILY SPECIALS

Daniels Road | Phone 352 8355

coasterstavern.co.nz

$20

$10

TREAT DAD!

FATHERS DAY THIS SUNDAY

'Famous for their roasts!'

The

RACECOURSE HOTEL

& Motorlodge

118 Racecourse Rd, Sockburn,

Christchurch. Ph 03 342 7150

www.racecoursehotel.co.nz

Lunch & Dinner

All you can eat, 7 days

Bookings Essential

PH 386 0088

fb.com/GardenHotelRestaurant

www.gardenhotel.co.nz

SERVING

HAPPY HOUR

5PM - 7PM DAILY

OUR CABINET ITEMS

ARE HOMEMADE

CREATED FRESH ON SITE DAILY

$12

LUNCH

SPECIALS

COFFEE

HAPPY

H O U R

Live Music:

6PM.FRI.01 SEPT

2PM-4PM

DAILY

$3.50

Offer available for a limited time

and includes tea, hot chocolate

MON: ROAST MEAL

TUE: FISH & CHIPS

WED: FISH BURGER

THU: ROAST MEAL

SAT: FISH & CHIPS

AVAILABLE

FROM

11.30AM-2PM

FOR A

LIMITED TIME

Vintage Blue

PHONE 385 8880 FIND US ON FACEBOOK fb.com/GBCCHCH

THE GARDEN HOTEL COMPLEX | 110 MARSHLAND RD

www.gardenhotel.co.nz | phone 385 3132

www.newbrightonclub.co.nz

LIVE MUSIC = THIS SATURDAY 7PM

Dateless n Desperate PopRockBand

FUNCTIONS

WE HAVE THE VENUE. EXCELLENT CATERING.

PLENTY OF PARKING. ENQUIRE NOW!

TUESDAYS & THURSDAYS

Members Lucky Card Draw

FUNCTION ROOMS

SHUTTLE RUNNING

Tues, Thurs, Fri & Sat

TAB POD

GAMING ROOM

PIERVIEW

Restaurant

Quality

a la carte

with a view!

Open from 5.30pm

FRIDAY, SATURDAY & SUNDAY

OPEN FOR SUNDAY 3 COURSE

SUNDAY BRUNCH DINNER SPECIAL $25

By the Seaside!

10.30am-2pm

ClubBISTRO

Open Tuesday to Saturday

12pm-2pm and from 5pm

Midweek $10

SPECIAL ROAST

Available Tuesday,

Wednesday, & Thursday

SUNDAY NIGHT

BUFFET

Sunday 24th September

ALL YOU CAN EAT

$25 BOOK NOW!

202 Marine Parade ● Ph 388-9416

Members, guests and affiliates welcome

T H E H O R N B Y C L U B

The Heart of Hornby

LET US ENTERTAIN YOU!

PLAYING IN THE

WESTVIEW LOUNGE

THIS FRIDAY, 7PM

JO'S

KARAOKE

THIS SATURDAY

4.30PM:

ANDY

GILMOUR

8PM:

TH' ART

OF CHEESE

Tickets $20 1:30PM

THIS SUNDAY

UNBEATABLE FAMILY DINING

Chalmers

OPEN

Restaurant

FOR DINNER

Friday, Saturday, Sunday

OPEN FOR BUFFET LUNCH

Every Sunday 12pm - 2pm

Early Bird Special

FATHERS DAY

SUN 3.SEPT

BOOK NOW!

COMPETITION TERMS & CONDITIONS APPLY

FRIDAY & SATURDAY 5.30pm – 6.30pm

Roast

(4 Choices)

and

Free Desserts $22 50

Club CAFE

OPEN 7 DAYS

LUNCH & DINNER

Gluten Free &

Vegetarian options

LUNCH BUFFET

12PM-2PM

DINNER BUFFET

5PM-8PM

$30

Dine and

WIN

A DOUBLE PASS TO SEE

LIONEL RICHIE

THURSDAY 19 OCT

ENTER WHEN YOU DINE IN

THE CLUB CAFE &

CHALMERS RESTAURANT

CONDITIONS

APPLY

The Hornby Club | ph 03 349 9026

17 Carmen Rd | Hornby

www.hornbywmc.co.nz

Members, guests & affiliates welcome
---
20 Tuesday August 29 2017

Latest Christchurch news at www.star.kiwi

PEGASUS POST