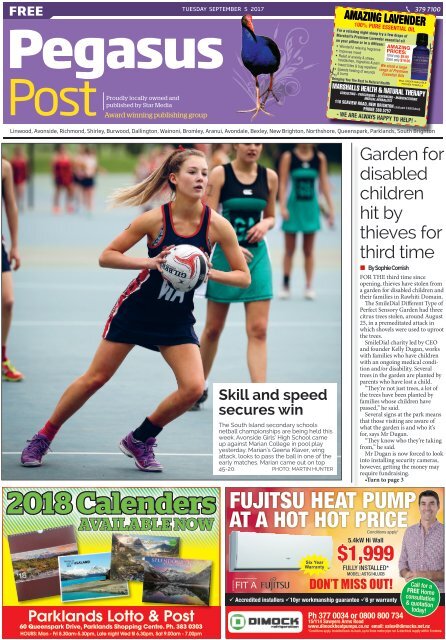 Pegasus Post: September 05, 2017
Do you know the secret to free website traffic?
Use this trick to increase the number of new potential customers.
FREE

TUESDAY SEPTEMBER 5 2017

Pegasus

Post

Proudly locally owned and

published by Star Media

Award winning publishing group

AMAZING LAVENDER

100% PURE ESSENTIAL OIL

For a relaxing night sleep try a few drops of

Marshall's Premium Lavender essential oil

on your pillow or in a diffuser: AMAZING

••

Wonderful•relaxing•fragrance•

••

Improves•mood

••

Relief•of•anxiety•&•stress,•

headaches,•migraines•&•pain

••

Insect•bites•&•bug•repellent

••

Speeds•healing•of•wounds•

&•burns•

Bringing You The Best In Natural Health

PRICES:

10ml only $9.90

30ml only $19.90

We stock a large

range of Premium

Essential Oils

MAIL ORDER AVAILABLE

PROVEN FORMULA

MARSHALLS HEALTH & NATURAL THERAPY

CONSULTING - PRESCRIBING - DISPENSING - MANUFACTURING

MEDICAL HERBALISTS

110 seaVIeW roaD, NeW BrIGHToN (Just past C.N.B School)

pHoNe 388 5757

- We are alWaYs HappY To Help! -

379 7100

Linwood, Avonside, Richmond, Shirley, Burwood, Dallington, Wainoni, Bromley, Aranui, Avondale, Bexley, New Brighton, Northshore, Queenspark, Parklands, South Brighton

2018 Calenders

AvAilAble NOW

Parklands Lotto & Post

60 Queenspark Drive, Parklands Shopping Centre. Ph. 383 0303

HOURS: Mon - Fri 8.30am-5.30pm, Late night Wed til 6.30pm, Sat 9.00am - 7.00pm

Skill and speed

secures win

The South Island secondary schools

netball championships are being held this

week. Avonside Girls' High School came

up against Marian College in pool play

yesterday. Marian's Geena Klaver, wing

attack, looks to pass the ball in one of the

early matches. Marian came out on top

45-20. PHOTO: MARTIN HUNTER

Accredited installers 10yr workmanship guarantee 6 yr warranty

Garden for

disabled

children

hit by

thieves for

third time

• By Sophie Cornish

FOR THE third time since

opening, thieves have stolen from

a garden for disabled children and

their families in Rawhiti Domain.

The SmileDial Different Type of

Perfect Sensory Garden had three

citrus trees stolen, around August

25, in a premeditated attack in

which shovels were used to uproot

the trees.

SmileDial charity led by CEO

and founder Kelly Dugan, works

with families who have children

with an ongoing medical condition

and/or disability. Several

trees in the garden are planted by

parents who have lost a child.

"They're not just trees, a lot of

the trees have been planted by

families whose children have

passed," he said.

Several signs at the park means

that those visiting are aware of

what the garden is and who it's

for, says Mr Dugan.

"They know who they're taking

from," he said.

Mr Dugan is now forced to look

into installing security cameras,

however, getting the money may

require fundraising.

•Turn to page 3

Fujitsu Heat PumP

at a HOt HOt Price

Six Year

Warranty

Conditions apply*

5.4kW Hi Wall

$1,999

FULLY INSTALLED*

MoDEL: ASTG14LUCB

DON'T MISS OUT!

Call for a

FREE Home

consultation

& quotation

today!

Ph 377 0034 or 0800 800 734

15/114 Sawyers Arms Road

www.dimockheatpumps.co.nz email: sales@dimocks.net.nz

*Conditions apply. Installed back-to-back, up to three metre pipe run & electrical supply within 6 metres.
---
2

Latest Christchurch news at www.star.kiwi

Tuesday September 5 2017

Inside

FROM

THE

EDITOR'S

DESK

A GREAT piece this week on

North Beach Surf Life Saving Club

stalwart Pat Goosey.

He was the patron of the club

and a life member.

He was a loyal, hard-working

member and a North Beach clubbie

through and through.

Several months before Pat died

after a brief illness, he attended his

final club function. He got a standing

ovation when he was wheeled

into a function as the club celebrated

100 years of beach patrols.

Pat met his late wife Lois when

she joined the club and their four

children all played an active role in

beach patrols and competition.

Long-time journalist Ian Stuart,

who now lives in Auckland, but

still has North Beach blood in his

veins has written us a fitting tribute

to Pat which we run on pages 4-5

today.

Thanks Ian.

– Barry Clarke

Young boxer with golden gloves

SPORT

9

PEGASUS POST

News........................................3-7

Sport.................................... 9

Community Events......12

Food................................... 13

Shop, win & relax...........14

Health & Beauty.........15

GET IN TOUCH

General Inquiries Ph 379-7100

Classified Advertising Ph 379-1100

The Christchurch Star Company Ltd. PO box 1467 - Christchurch

starmedia.kiwi

NEWS

Sophie Cornish

Ph: 364 7437

sophie.cornish@starmedia.kiwi

ADVERTISING

Mark Sinclair

Ph: 364 7461

mark.sinclair@starmedia.kiwi

3 reasons

to see us today

Cactus Cars Ltd

Quality vehicles under $10,000

with zero deposit options

Putting people before dollars

Burwood

HOME OF THE

$

40 SERVICE

See inStORe FOR SOMe

cRazy SPRing dealS!

SHOP HOURS

Mon-Fri 8.30am-5.30pm. Sat 9.00am-4.00pm

Ph: 383 2114

269 Burwood Rd, Burwood

Layby available

Helping us,

Helps tHe

community

Drop off or buy

3 family stores in your community

4 Restell Street, Papanui

Ph 352 4581

520 Cranford St, Redwood

Ph 352 0515

50 Charles St, Kaiapoi

Ph 03 903 0017

• Fast & friendly service

• All dentures made

on site

• Doesn't cost an arm

and a leg

call 332 4004

TexT 027 537 0567

230 BarringTon sT

www.denturesouth.co.nz

• 12 month full

mechanical

warranty

• New WOF, rego

and serviced

• Full tank of gas

Cactus Cars Ltd

165 Williams Street, Kaiapoi

Ph: 03 327 2961

www.cactuscars.co.nz

Mon-Fri 8.30am - 5pm

Sat 9am - 1pm
---
PEGASUS POST Latest Christchurch news at www.star.kiwi

Tuesday September 5 2017 3

News

Tiny hut returned to school

A HANDOVER ceremony was

held at Shirley Boys' High School

to welcome back the tiny hut

designed by Manaia Wilson-

Moses on August 28.

The year 10 student won the

school's section of the city council's

tiny huts design competition

last year with his design, Te

Wharau.

The wharau, is 2m x 2m and

was originally planned as a

temporary feature to liven up

New Brighton's public spaces last

summer.

The hut was one of five which

became so popular that in March

the local community voted they

should stay longer.

Now two of the huts need to be

moved as construction work begins

on New Brighton's beachside

playground.

Shirley Boys' High head of

maths Tom Davies, who encouraged

Manaia to enter the

competition, said it was fitting to

have Te Wharau relocated to the

school.

"We're very proud to have Te

Wharau and when we move to

the new school site in 2019 we

will have a permanent place for it

there."

Of the remaining tiny huts, one

will be decommissioned due to

wear and tear, one other may be

relocated and the remaining two

The Art o-mat and #MyBrighton-

Hut will stay where they are.

Garden hit by thieves for third time

•From page 1

"If we spend money on

cameras, it will have to

come out of our administrative

account, which

is what we use to pay our

wages, our power bill and

our phone bill. It's going

to gut all the funds we've

got," he said.

Following a Facebook post

made by Mr Dugan, he was approached

by Carl Taylor of Carl

Taylor Homes and ATF

security, which has offered

a helping hand.

"It's a really good

price but it is still a big

chunk out of our charity

money."

The 23m x 43m plot

is located in the New Brighton

community garden. Children of

all ages and abilities are able to

Kelly Dugan

CEREMONY: Shirley Boys' High students welcome back the

tiny hut with a haka.

EMPTY: The site where the

citrus trees were planted.

use the interactive garden. It includes

edible plants, plants with

textures and scents, a wheelchair

accessible boat, water play, a

sandpit and a musical footpath.

Mr Dugan gained inspiration

for the charity and garden from

his daughter Lucia, who lives

with cerebral palsy and struggles

to use typical playgrounds.

Three years were spent planning

the garden which cost

$20,000 and was planted by volunteers

from Stronger Christchurch

Infrastructure Team.

Local

News

Now

In Brief

Fire rages, homes at risk

MAN NAMED

The well-respected New Brighton

man who was swept into Lake

Coleridge, near Mt Hutt, at about

5pm on Wednesday, has been

named. He was John William

Morgan, 60, who died trying to

save the life of a stranger. He was

heavily involved with St Mary's

Catholic Church, New Brighton,

and various community groups

including Scouts New Zealand. He

belonged to the fishing division of

the New Brighton Club and was

on the Marian College Board of

Trustees.

POSITION FOR LONSDALE

The manager of the New Brighton

Business and Landowners

Association, Paul Lonsdale, has

taken on the role of Central City

Business Association manager.

Mr Lonsdale will continue working

part-time in both roles and

hopes to play a part in transforming

the central city into a

'self-sustaining entity.'

SHOP FRONT IDEAS

Brighter New Brighton has

confirmed it will be working on

five new and existing buildings

to transform the shop fronts and

empty spaces. The organisation

has teamed up with Ara Institute

of Canterbury and students will

get the chance to put their ideas

into action.

tHe tRuSteD nAme in fAbRicS

"Specialists in real value

apparel and upholstery fabrics"

We've been trusted to look after hundreds of

properties all over Christchurch.

You can trust us to look after your's too.

BLENHEIM RD

HARALDS

ANNEX RD

BIRMINGHAM DRIVE

47 Birmingham Drive, Middleton | Phone 338 7700 | Open Mon-Sat 10-4

47

MATIPO ST

Property Manager of

the Year NZ 2015/16

Ray Hastie

Manager

027 448 8225

Nicola Flanagan

Property Manager

021 914 332

Paula Hastie -

Rebekah Whalley

Assistant Property

Accounts Administrator

Manager

03 331 6755

Nominated for Ray White New Zealand Property Management Office of the Year, 2016/17

Local Experts – Citywide Knowledge

Phone (03) 331 6755

www.propertymanagementchristchurch.com

Abbey Nolan

Property Manager

027 379 5021

Prier Manson Real Estate Ltd Licensed (REAA 2008)

FOR YOUR NEW HOME OR RENOVATION

Blinds

Curtains

Shutters

Awnings

Screens

up to

40%

off

(for a limited time only)

12

Months

Interest

Free

(Terms and conditions apply)

0800 836 587 www.venluree.co.nz Mobile Van Service
---
4 Tuesday September 5 2017

Latest Christchurch news at www.star.kiwi

News

Local

News

Now

PEGASUS POST

Fire rages, homes at risk

'Michelangelo' remembered for time

Pat Goosey who passed away on August 10, aged

90, spent decades with the North Beach Surf Life

Saving Club. Journalist Ian Stuart looks back on his

life

AT THE age of 90, as his health

began to fail and 18 months

before he died earlier this

month, surf lifesaving veteran

and respected Christchurch

businessman, Pat Goosey, still

had his whimsical sense of

humour.

"You know what Cyril O'Neill

nicknamed me?" he asked

Christchurch author Tony Murdoch.

"No. What?'

"Michelangelo."

"Why?"

"Because I was a bloody

painter!"

Patrick Thomas Goosey, who

began his painting business in

New Brighton in 1951, was the

patron and a life member of the

North Beach Surf Lifesaving

Club. His story about Michelangelo

came up during an interview

for a centennial book Mr Murdoch

was writing on the club,

Black and White, A History of

the North Beach Surf Life Saving

Club.

The man who coined the

Michelangelo nickname, Cyril

O'Neill, was also a life member

and patron of the North Beach

Club. And like Mr Goosey, he

also was a club member for 81

years without a break until he

died in 2010.

Several months before he died

after a brief illness, Mr Goosey,

91, attended his final club function.

Late last year he got a

standing ovation when he was

wheeled into a function as the

club celebrated 100 years of beach

patrols on the popular east coast

Christchurch beach.

He was barely 10 when he

joined the club in 1936. It started

an enduring passion for the sport

for the next 81 years. World War

2 soon intervened and he joined

the navy in 1944 aged 18. He returned

from war service and was

voted onto the club committee

but continued with beach patrols

and competitive surf lifesaving.

For the next few decades surf

lifesaving was part of his life. It

was a family affair. He met his

late wife Lois Dean when she

joined the club during the war.

They married in 1951 and their

four children all played an active

role in beach patrols and com-

QUIET ACHIEVER: Pat Goosey was recognised for outstanding

service by New Zealand Surf Lifesaving.

petition. Lois died in 2014. Their "Pat Goosey was one of those

son Paul has been a member of quiet and committed achievers

North Beach for more than 50 in life who believed in action and

years and like his father, is also a not talk and that applied to everything

he was involved in," said

life member.

Pat Goosey's friends say for North Beach Surf Life Saving

more than eight decades he had a club president Roger Smith.

modest and self-effacing commitment

to surf lifesaving.

credit for the huge

"Very rarely would he take the

contribution

HISTORIC: The 1951 canoe

crew. (Left to right) – Alan

Dalton, Ben Bull, Pat Goosey,

Eric Dasler, Jim Moore, Harley

Davison, Bill Wright and Ray

O'Neill.

he made to commerce, to the

community and to surf lifesaving."

In 1980 at the age of 54 he was

awarded a New Zealand Surf

Lifesaving Service Award for

outstanding service.

He was a life member of the

Canterbury Surf Lifesaving Association

and in 1962 aged 36 he

became a member of the 21 club

with the registration number 169.

This club was formed in 1948 and

recognises 21 years of non-stop

service to the sport.

The North Beach club recognised

his contribution 50 years

ago in 1967 when he was made a

life member.
---
PEGASUS POST Latest Christchurch news at www.star.kiwi

Tuesday September 5 2017 5

in surf lifesaving club

He began his painting business

PT Goosey Ltd in 1951 and Mr

Smith said he earned "a very high

level of respect from his clients

and the business community

because he resolutely believed

in the value and the importance

of honesty and integrity in the

business world. Clients came

back to Pat time and time again

because they believed in him and

that trust was one of Pat's driving

forces."

In the early days of his painting

business he cycled to work with

a tin of paint and a bucket of

brushes hanging from the handlebars.

Later he ran the business

for 34 years from a large garage at

the family home in Palmers Rd.

Mr Smith said the respect he

earned was reflected in his election

as president of both the Canterbury

and New Zealand Master Painters

Associations. He was a life member

of the Canterbury Master Painters.

He was an assessor to the NZ

Qualifications Authority for painting

and decorating.

During his long career some

of the many contracts he won

included Housing NZ, NZ Army,

and the Ministry of Education.

He was also a staunch supporter

of the New Brighton business

and sporting community.

He was the president and

on the committee of the New

LAUNCH: Canterbury champions Ben Bull, Eric Dasler, Pat

Goosey and Alan Dalton head for the water at New Brighton in

1948.

Brighton Business Association

for many years.

At the New Brighton Rugby

Club, he was the second player to

play 100 senior games.

He was a member of the

Rawhiti Golf Club and served

for many years as a committee

member and president.

He was a charter member of

the New Brighton Lions Club

after joining in 1963 and served

two terms as president. He received

the Lloyd Morgan Award

for service, a Distinguished

Service Award and Lions International

awarded a Chevron Award

for 50 years of service.

He was a foundation member

and patron of the New Brighton

and District Historical Society

and Museum and a committee

member of the New Brighton

Revitalisation Historical Association,

the Pier and Foreshore

Committee and the Pier Promotion

Trust. During his time on

the Pier and Foreshore Committee

he worked tirelessly to help

raise $2 million to have the New

Brighton pier built. The 300m

pier opened in 1997.

In 2001 he was awarded a

Christchurch Civic Award for

services to the community.

He was also very aware New

Zealand's Maori heritage and

in his mid-70s he enrolled in a

Maori language course.

He is survived by four children,

10 grandchildren and one greatgrandchild.

• By Sophie Cornish

CHANCES APPEAR to be

slimming for the New Brighton

community who want their

police station open on Saturday

mornings.

Two weeks ago, Pegasus Post

revealed the Coastal-Burwood

Community Board had asked

police to open on

Saturday mornings.

Since then, the

community board has

had discussions with

police and believe

there is not a strong

possibility this will

happen.

"There isn't a will

to do it and I don't believe it's

going to happen," said community

board deputy chairman

Tim Sintes.

The station is currently open

to the public Monday-Friday

9am-4pm.

Residents and business owners

still want a more personal

police presence.

Nikki Griffin of Bin Inn is a

strong advocate for the station

being open longer.

"People still like that to have

face-to-face connection with

their local bobby," Mrs Griffin

said.

Local

News

Now

Fire rages, homes at risk

Little chance of Saturday

opening for police station

Nikki Griffin

Theft is a big concern for

Paper Plus owner Blair Hughes,

who is unhappy with the response

from police on the issue.

Recently, Mr Hughes waited

90min for a police unit to arrive

following a theft, meaning the

offender was able to get away.

"I don't think personally the

police support in this area is

anywhere near where it

needs to be," he said.

Hughes is not surprised

the calls from the community

have been shot down.

"I know the community

has called for it. Am I

surprised the police aren't

going to do it? No," he said.

Senior Sergeant Stephan

McDaniel believes there is no

justification for the station to be

open on the weekend.

"I would be very surprised if

we could justify having the station

open on a Saturday."

He stresses that even when

the counter is not open, there is

still police working out of the

station 24/7 and that they are

still available to the whole community.

•HAVE YOUR SAY: Should

the police station be open

on Saturday? Email sophie.

cornish@starmedia.kiwi

fall in

Love

with your

favourite

furniture

all over again.

BEFORE

AFTER

30 YEARS

EXCELLENT

RANGE OF FABRICS

EXPERIENCEFREE

Recover your couches and chairs and save money!

QUOTES

Somerfield Upholstery Ltd

FURNITURE RECOVERY SPECIALIST

10 Calgary Place, Hornby | Ph 021 251 6200 | 349 0456

VISIT OUR SHOWROOM | QUALITY WORKMANSHIP GUARANTEED

www.somerfieldupholstery.co.nz

Paul Tainui

Great New Salon

Opening Soon

• Global Colour • Treatment

• Foils • Balayage

30% OFF

All chemical

services

valid until sept 2017

Great hair doesn't happen by chance

Unit 3, 37b Worcester St Linwood, Chch

Ph. 03 595 5105
---
6 Tuesday September 5 2017

Latest Christchurch news at www.star.kiwi

PEGASUS POST

SHIRTS TO GO

Manufacturers Markdowns

These are all oddments and discounted ranges - Sizes SM to 6XL

$

9 $ 18 $ 28 $ 38

bIG SIzeS SHIRT SaLe

3XL 4XL 5XL 6XL

Plus 47cm, 48cm, 49cm, 50cm

Great selection of

these larger sizes

both in business

and casual shirts.

RRP prices $89

up to $129

vOnneLLa, vOnneLLa

& MORe vOnneLLa

Famous shirt proven for over 50 years. We have old patterns, shop soiled garments

(from closed down retail), and the new patterns of the future.

One and two pocket style, regular and button down collars.

new patterns

$

28 $ 38 $ 48 $ 58

$

98 $ 104 $ 112

Sizes SM to 3XL (4XL if you are quick)

RRP prices up to $119.90

My PRICe

$

87

The SHIRT Sale

Time to clear all the unwanted! Well they will be wanted now with the reductions we

have actioned. We simply cannot list the shirts as there is too much variety. Long

sleeve, short sleeve, polo and golf shirts. includes Logan, Blokes, Burbank, Charlie

K, daniel hechter, Milton, Vonnella, Country Look, London Fog, Gazman Cutler,

Gloweave, Lichfield and many others.

They are brands you know, at prices you want in sizes from SM to 6XL.

Fabrics are both summer and winter weight. RRP prices $69.99 to $145

Priced to CLEAR:

$

18 $ 28 $ 38 $ 48 $ 58

vOnneLLa oddments to clear $59

The TROuSeR Sale

Time to clear the odds and unwanted, with huge reductions.

Styles are current, all the detail and qualities you wanted.

The prices are within your budget. Wool blends that are washable,

including Cavalry Twill. Sizes 84w to 124w.

$

39 $ 59 $ 69

RRP prices were $89.99 to $205

Priced to CLEAR:

Important: when you are

buying from us, we ask you

to note the quality of the

product, the guarantee of the

brand, the skill of the staff.

We work because we enjoy

meeting people and being of

service to you. Thank you for

coming to us.

$

79 $ 89 $ 99 $ 109 $ 154

CORduROy

STReTCH TROuSeRS

Manufacturers Markdowns by Savane, Charcoal

and Expresso. All must go!

Sizes 87cm to 122cm RRP $119

dOeSkIn STReTCH

jeanS O

by blokes

Proven fabric, proven fit, 5 pocket jean style.

Olive or Bronze.

Sizes 84cm to 104cm RRP $109.90

My PRICe

$

64

My PRICe

$

58

We are Bishopdale owned and operated. Our staff come happily from other suburbs.

The knITWeaR Sale

We have recently been offered samples, end of lines, oddment to clear from

various makers. There are lighter weights, heavier knits, cashmere merino blends

(the ladies love them).

Rugged fisherknit, vee neck merino, wool blends, a mixed bag of knitwear all

priced to 'find new homes' where they will be well cared for.

$

48 $ 68

MOLeSkInS oddments to clear $59

Sizes SM to 6XL. RRP prices $125 to $145

Priced to CLEAR:

$

88 $ 108 $ 128 $ 138 $ 158

MOLeSkInS,

MOLeSkInS

& MORE!

Tussock Creek for all colour, all

qualities, all sizes. We are the major

stockist for these great work and

casual pants.

$

99

12oz 15oz

$

109

STReTCH

MOLeSkInS

in ALL 6 ShAdES

Sizes

32 to 44

RRP $119

$

98

note: our Matrimonial Refund policy applies to all merchandise we sell.

You can buy with confidence knowing you can get your money back.

Brands you want @ Prices you want

mens store

Bishopdale Village

free

Where parking is and easy

Hours: Monday to Friday 10am - 4pm | Saturday 10am - 3pm | Sunday Closed (Pensioners hours!)
---
PEGASUS POST Latest Christchurch news at www.star.kiwi

Tuesday September 5 2017 7

News

HOPEFUL: (Left to right) – Kidsfirst MacFarlane Park kindergarten children Mckenzie Edwards, 3, Evie Beyers-Guy, 2, and

Telisha Brougham, 4, with their sunflower seeds and pots.

Tall sunflowers on kids' wish lists

• By Sophie Cornish

CHILDREN WILL learn

valuable gardening skills and

knowledge during the Daltons

Sunflowers in Kindergartens

Project.

Seventeen Christchurch

kindergartens will compete to

grow the tallest sunflower or

widest sunflower head.

Each kindergarten was sent

a Daltons starter pack with

everything the children need

to grow their own sunflowers,

which have the potential to

grow up to 4m.

The tallest sunflower ever

grown in the project's history

was 3.12m.

The children will learn how

to sow and care for seedlings as

well as daily care of their plant.

Daltons general manager,

Colin Parker, is thrilled with

the return of the project this

year.

"The competition aspect adds

a little extra fun to the project

for the children, but we are

more focused on creating opportunities

to spark a lifelong

love of gardening."

The competition runs until

December 6, and winners will

be announced on December 8.

TAKING CARE:

Losa Paseka,

3, gets her

seed planted.

Meet

Poto

MP for Chch East

Aranui Sunday 3 rd Sept

12 noon cnr Portsmouth & Basingstoke

12.20pm cnr Hampshire & Aldershot

12.40pm cnr Eureka & Rowan

1.00pm cnr Lenton & Breezes

1.40pm cnr Shortland & Rowses

2.00pm cnr Doreen & Marlow

2.20pm cnr Guernsey & Carteret

2.40pm cnr Pages & Knightsbridge

Shirley Tuesday 5 th Sept

4.00pm cnr Vardon & Cotton

4.20pm cnr Hercules & Hope

4.40pm cnr Emmett & Shirley

5.00pm cnr Jebson & Riselaw

5.20pm cnr Emmett & Bellbrook (south)

5.40pm cnr Akaroa & Onawe

North New Brighton

Wednesday 6 th Sept

4.00pm cnr Leaver & Sea Eagles

4.20pm cnr Effingham & Endeavour

4.40pm cnr Philomel & Inverell

5.00pm cnr Flemington & Randwick

5.20pm 76 Palmers Road

5.40pm cnr Bluegum & Travis

Poto Williams

for Christchurch East

For Labour policies, special votes, or to

volunteer, please call at Campaign Office

4/140 Brighton Mall, or

phone 377 5393 or 027 579 0602

Let's do this

Authorised by Poto Williams 133 Brighton Mall
---
8 Tuesday September 5 2017

Latest Christchurch news at www.star.kiwi

PEGASUS POST

Harcourts gold

Champion

Canterbury Business

Awards 2017

PROFESSIONAL SERVICE:

MEDIUM/

LARGE ENTERPRISE

Proud Finalists
---
PEGASUS POST Latest Christchurch news at www.star.kiwi

Tuesday September 5 2017 9

11-year-old with golden gloves

SPORTS

• By Sophie Cornish

JOSH TONGA may only be

11 but he is no stranger to

success in the boxing ring.

Taking out his second

title in two years, Josh won

the under-42kg national title

at the Australian Golden

Gloves in Brisbane.

In 2016, Josh won the

under-40kg title.

His opponent, Cooper

White, of Nabby's Gym in

Wellington, had already

won the under-38kg title

but agreed to box Josh on

the day, otherwise he

would've won uncontested.

The boys, who according

to Josh's coach, Jamie Roberts,

are now "friends for

life", boxed for three rounds

at 90sec per round.

Josh will also compete

for Canterbury at the

inter-regional primary and

intermediate schools crosscountry

championships on

September 28.

Cross-country has helped

keep Josh fit, along with being

at the boxing gym twice

a week.

Roberts has high hopes

for Josh's sporting future,

claiming he can do anything

he sets his mind to.

"Sport will be a big part

of his life, whether it be

boxing, rugby or running,"

he said.

Josh has set the bar high

for his own future, telling

his coach he wants to get 10

golden gloves titles in a row.

"He's aiming for 10, he

wants to do 10 in a row," Mr

Roberts said.

Mr Roberts has no doubt

this is possible, calling Josh

a quiet and humble athlete.

Family is a big driver

behind Josh's support, with

his grandmother, Ngaire

Wealleans, picking him up

from school and taking him

to trainings most days.

His father, Malotu Tonga,

previously played prop for

the Tongan rugby team,

measuring up at 185cm.

TWO IN A ROW: Josh

Tonga has won his

second Australian

Golden Gloves title.

Shop online

with the in

store special

prices!

Discount code:

Goat

themohairstore

140 Colombo Street, Beckenham

Phone 03 943 1639

www.themohairstore.co.nz

Discover this

unique Emporium

Metal art - gifts - hoMewares

water features - pottery

Mirrors - candles

wall hangings & More

722 Marshland Road, Top end Styx

Open 7 Days

Ph: 03 323 9781

www.hitchingpost.co.nz

We're aiming to settle

all contents claims

by 30 September.

If you have already returned your contents loss

schedule, we are currently working through this

to settle your claim as quickly as possible.

Our team is aiming to settle all contents claims by

30 September 2017. We have now contacted all

customers who have lodged a contents claim with

us, however if you have not heard from us about your

contents claim please contact us as soon as possible.

Contact details for the brand you're insured with:

0800 100 200

ami.co.nz or visit your

local AMI store

0800 80 24 24

state.co.nz

Call your broker

or visit nzi.co.nz

Call your broker or

visit lumley.co.nz

0800 200 242

asb.co.nz

0800 248 888

bnz.co.nz

0800 425 025

co-operativebank.co.nz

0800 309 378

westpac.co.nz

0800 800 800

lanterninsurance.co.nz

IAGSep17 Star
---
10 Tuesday September 5 2017

Latest Christchurch news at www.star.kiwi

PEGASUS POST

NEW LISTING

FOR SALE

Belfast 33B Shannon Place

First Home or Rental Investment

Richard & Sue Woerlee

M 027 220 7706 P 03 323 6045

Harcourts Twiss-Keir Realty / Belfast Licensed Agent REAA 2008

3 21 2

Harcourts ID: BF28659

Handy to everything yet located in a quiet cul-de-sac this great property offers convenience, low

maintenance and a tidy three bedroom home. Within the home is a good size lounge, separate

dining area, a kitchen, separate laundry and an internal access double garage. The present owners

have enjoyed living in this area very much but are now committed to selling.

FOR SALE

Price: $390,000

View: Phone for viewing times

Belfast 47A Kildare Street

Entry Level Near Northwood

Harcourts ID: PLS2287

This immaculate entry level home is perfectly sized for downsizers, first home buyers or investors.

With the owners' new property now approaching completion of build, this very tidy home near

popular Northwood must be SOLD asap. To fully appreciate this adorable home you'll need to step

inside. Very large section size of 797m², to start enjoying the warmer days soon to arrive!

Mitchell Roberts & Mana Tai

M 027 413 0797 or 027 626 2824 P 03 385 0343

Harcourts Twiss-Keir Realty / The Palms Licensed Agent REAA 2008

FOR SALE

3 1 1

Price: POA

View: Phone for viewing times

Harewood 89 Watsons Road

Families Need Space

4 2 2

Harcourts ID: PLS2294

The owners have done a fantastic job with renovations on this family-home, resulting in modern

enhancements and great additions of space situated on a sizeable 809m² section. However,

with the family now all grown, the home is much too large - and the owners have made the final

decision to downsize and move on! Beautifully established section and convenient family location.

Heathcote Maltworks, 66 Port Hills Road

Maltworks - Over 55's Lifestyle Villas

2 1 1

Harcourts ID: BF28393

A unique opportunity to create a special community, which captures and preserves the natural

micro-climate environment of the Heathcote Valley and surrounding Port Hills. All villas are a

freehold unit title this allows you to benefit from the growth in capital value. Be part of a community

with common interests where you can form new friendships, and regularly arrange activities.

Mitchell Roberts & Mana Tai

M 027 413 0797 or 027 626 2824 P 03 385 0343

Harcourts Twiss-Keir Realty / The Palms Licensed Agent REAA 2008

Price: Offers invited

View: Phone for viewing times

Sue & Gemma Roberts

M 027 440 1282 or 027 223 6471 P 03 323 6045

Harcourts Twiss-Keir Realty / Belfast Licensed Agent REAA 2008

Priced From: $469,900

View: Tues, Thur and Sat 12.00 -2.00pm

FOR SALE

FOR SALE

Linwood 1 Rochester Street

Perfectly Sized

2 2 1

Harcourts ID:PLS2297

This modern home is perfectly sized for first-home buyers, young professionals or the down-sizers

who require ease of living and enough space to live in comfort. With well-sized bedrooms, sunny

open-plan living areas, a private easy-care outdoor area, full insulation, heat pump, and all located

in a super-convenient location

Strowan 37 Westholme Street

Get In The Zone!

3 1 4

Harcourts ID: KI7294

Affordable buying in a great location, this charming character home will tempt the astute buyer

blending character with a subtle twist of modern. A stunning chefs kitchen flows seamlessly to

family living, formal lounge with a log fire complete the living areas. Great in/outdoor flow to

manicured gardens and entertainment area. Four car garaging with attached studio room.

Mitchell Roberts & Mana Tai

M 027 413 0797 or 027 626 2824 P 03 385 0343

Harcourts Twiss-Keir Realty / The Palms Licensed Agent REAA 2008

Price: Offers invited

View: Phone for viewing times

Lyn Stringer & Marie Rowley

M 027 233 6938 or 0274 879 789 P 03 313 6158

Harcourts Twiss-Keir Realty / Rangiora Licensed Agent REAA 2008

Price: POA

View: Phone for viewing times

Contributor to www.realestate.co.nz

www.twisskeir.co.nz
---
PEGASUS POST Latest Christchurch news at www.star.kiwi

Tuesday September 5 2017 11

Time To Downsize...

12 Bideford Place - Dallington

3 Bedrooms | 1 Bathroom | 1 Living | 2 Car Garage | Off Street Parking | Property ID: BF28669 | Deadline Sale: 12 th September 2017 @ 4.00pm

My Vendors needs have changed and

they no longer want a property of

this size so grab this opportunity with

both hands to purchase this sunny

and warm three bedroom home.

The kitchen has a new ceramic hob,

new under bench oven and range

hood, plus new carpet throughout

the home.

Built in permanent material and

enjoying a superb northwest aspect

the home is set in a quiet street of

quality homes.

Set on a family 646m² section with

immaculate grounds and securely

fenced this presents great buying.

Close to the Palms. good schools

and amenities. Don't miss out on this

great family home.

The home is on offer at $420,000

Deadline Sale, with all offers being

presented at 4.00pm on the 12 th

September to the Belfast Office.

Contact Anne Davis 027 492 7694 or

03 323 6045. Harcourts Twiss-Keir

Realty Ltd Licensed Agent REAA 2008.

Work With Anne &

Experience The Difference

Compassionate, highly organised

and possessing a wealth of

experience, Anne Davis is passionate

about Real Estate. With 17 years in

the industry her successful career

has resulted in a huge amount of

respect from hundreds of regular

clients.

Having achieved Top Salesperson

many times, Anne sees herself as

a consultant eager to listen, share

knowledge and work tirelessly to

achieve the goals of her clients with

a simple honest approach to what

can be a difficult job.

Anne is an exceptional choice if you

are considering selling your home.

Your biggest asset deserves

Anne's experience.

Contributor to www.realestate.co.nz

Anne Davis

M 0274 927 694 or 323 6045

E anne.davis@harcourts.co.nz

Belfast Office Licensed Agent REAA 2008

Career Opportunity. Join Us Today!

Leadership - Support - Technology - Opportunity - Training - International

We are currently looking for dynamic individuals to join our team. We will

provide all the training and support, no experience required.

Real estate is one of the busiest industries in the market and rewarding for

those who enjoy seeing the benefits of hard work. With motivation you can

have the opportunity to double or even triple your current salary.

Are you ready to take your career to the next level?

Call James Twiss 027 421 1164 for a confidential chat.

Harcourts Twiss-Keir Realty Ltd Licensed Agent REAA 2008

twisskeir.co.nz Your Home For Local Property.

ACHIEVE YOUR

NEXT LEVEL

www.twisskeir.co.nz
---
12 Tuesday September 5 2017

Latest Christchurch news at www.star.kiwi

PEGASUS POST

Aranui Creation Station

Wednesday 10am-noon

This initiative from Otautahi

Creative Spaces encourages

people to use their imagination

and encourage their crafty side.

Make new friends and share

ideas and tips on creative projects.

It's free to take part and

everyone is welcome to go along

and share their crafty side.

109 Aldershot St. Free entry

Game Zone

Thursday, 3.30-4.30pm

An hour of fun playing

favourite games like minecraft,

charades, connect four and

pictionary. Learn and develop

strategies in new games such as

dutch blitz, heads up, hand and

foot, and group games. Join in

for X-box and PS4 tournaments.

Take your friends or meet some

new ones; all children aged eight

to 12 welcome. No booking or

payment required.

Linwood Library, 1st Floor

Eastgate Shopping Centre

Ascot Scrabble Group

Friday, 12.45pm

Challenge your word knowledge

with other like-minded

Email sophie.cornish@starmedia.kiwi

by 5pm each Friday

folk. Join in with this friendly

group suitable for beginners or

experienced players. Cost $3

which includes afternoon tea.

Ascot Community Centre,

Ascot Ave, North New Brighton

Ascot Petanque Club

Tuesday, Friday 9.30-11.30am

Come along and try petanque

we welcome anybody who wants

to have a go. It's lots of fun and a

great way to meet new people.

Ascot Commmunity Centre,

Ascot Ave, North New Brighton

Learner Licence Course

Friday, 9.30-11.30am

Get the knowledge and confidence

you need to succeed when

sitting your learners licence

test. This course is delivered

by Literacy Christchurch who

provide you with laptops to

use during the class time to sit

practice tests and for researching

questions. The course does not

include the actual test, or the fee

to sit the actual test.

Aranui Library, 109 Aldershot

St

​Imagination Station

Friday-Monday, 9.30am-

5.30pm

Lego lovers, head down to

the Imagination Station pop-up

facility in New Brighton. The

popular centre uses Lego and

Duplo as a medium for learning

and creativity.

Carnaby Lane, Brighton Mall

Seaside Market

Saturday, 10am-2pm

Head to the seaside this weekend

and enjoy live entertainment,

great food, fresh produce,

artisan bread, arts, crafts, jewellery

and more. With a bouncy

castle and free face-painting for

the littlies.

New Brighton Mall

DIY Workshops

Saturday and Sunday, 11am-

1pm

Roll up your sleeves and

learn to have fun with DIY

this month as part of Bunnings

Warehouse Shirley's adult DIY

workshops. These free, hands-on

workshops will give you the confidence

to tackle your own home

and outdoor projects.

197 Marshland Rd

Solutions Discussion on

Climate Change

Sunday, 3pm

This forum is part of a series

of discussions on climate

change, providing the opportunity

to talk with scientists and

local specialists about potential

solutions that are local and doable.

Go along for a good positive

chat and bring your ideas,

questions and a $2 koha.

The Good Shop, Carnaby Lane,

New Brighton Mall

Golden Oldies Movies

Every Monday the New

GOOD LISTENERS: The idea

behind Reading to Dogs is

to provide a relaxed, nonthreatening

atmosphere,

enabling children to practice

their reading skills and develop

a love of reading. The dogs

belong to the city council

animal management team

and have all been trained and

tested for health, safety and

temperament. Library staff

and a dog handler are present

to help facilitate the sessions.

Phone 941 7923 to book a spot.

Free entry. Wednesday, 3.30-

4.30pm, New Brighton Library,

Marine Pde. ​

Brighton Museum plays a

film classic and this week it's

Rhubarb, a short comedy by

Harry Secombe from 1969. Law

and Disorder, another comedy

will play also. Before the movie,

enjoy a cup of tea or coffee and

a biscuit, it's a good way to start

the week and meet some new

people. 1pm, 8 Hardy St. $2

donation.

Art Exhibition

Mon-Fri 11-4pm Sat 11-3pm.

Until September 9.

The latest exhibition from

Eastside Gallery is The Tears of

Our Ancestors –Nga - Roimata o

Tatou Tipuna. A joint Exhibition

featuring the work of three artists,

Raphael Stowers, Adrian

Boardman and Michelle

Boardman.

Located at 388 Worcester

St.

HEAT PUMP

SALE NOW ON!

Amazin' spring Specials!!

• We will offer you the best quality brands and

option of heat pump for your home/business

• Providing Heat Pump solutions for over 15 years to Cantabrians

• We personally guarantee all our products & installs for 5 years

(providing annual maintenance has been completed)

Phone us today for your free consultation & quote

Monday to Friday to

Saturday to Sunday to

paperplus.co.nz

41A SHAKESPEARE RD, WALTHAM

PHONE 03 366 0525

www.enviromaster.co.nz

"A local team for local people"

all new landsCape zone

bulk Compost, lawn mix,

aggregates and stones

The new Ferrymead Mitre10 Trade Centre and Landscaping Zone has

everything you need to complete your projects.

• Screened Soil

• Vege/Zoom Grow

• Bio Blend

• Garden Grow

• Turf Mix

• Tree Mulch

• Black Mulch

• Standard Bark Nuggets

• Premium Bark Nuggets

• Builders Mix

• AP20 Shingle

• AP40 Shingle

• Plastering Sand

• Brick Sand

• Bedding Sand

• Crusher Dust

• Round Stones

• Driveway Chip

• Teddington Chip

Ferrymead 987 Ferry Road Phone 373 6550

mitre10.co.nz/trade
---
PEGASUS POST Latest Christchurch news at www.star.kiwi

Tuesday September 5 2017 13

GREAT food

BROUGHT TO YOU BY...

Your fresh food people

MUSHROOM, CHICKEN

AND LEEK PIE

Ingredients

3 sheets Flaky puff pastry

30g Butter

1 tsp Crushed garlic

250g White Button Mushrooms

350g Chicken, cooked, shredded

and finely sliced

1 Leek, finely sliced

¼ cup Flour

1 cup Chicken stock, hot

1 cup Milk

1 tsp Wholegrain mustard

1 Egg, beaten with 1 tbsp milk

Directions

Preheat the oven to 190deg C.

Use 1½ sheets of the pastry

to line a 25cm pie tin or similar,

trimming to fit neatly.

Chill lined tin and extra

pastry until required. In

a medium saucepan, heat

the butter and saute garlic,

mushrooms and leek for 4-5min

until the leeks are soft and

fragrant.

Add the chicken and sprinkle

over the flour.

Add the stock, stirring well,

until smooth.

Add the milk and season with

mustard, sea salt and cracked

pepper. Simmer for 5min until

thick and saucy. Allow to cool

for 10min.

Spoon mushroom mixture

into the lined tin and brush the

edge with egg wash.

Cut the remaining pastry

into 1cm strips and arrange

in lattice pattern over the pie,

crimping at the edges to seal.

Brush the pastry lattice with

egg wash and sprinkle with

cracked pepper.

Bake for 25-35min until

the pastry is puffed and deep

golden.

Serve with seasonal greens.

GINGER BEEF, BROCCOLI

AND NOODLES

Ingredients

300g Egg noodles

1 head Broccoli

1 Tbsp Vegetable oil

500g Beef

2 Garlic cloves

3 cm Fresh ginger

3 Spring onions

3 Tbsp Soy sauce

2 Tbsp Oyster sauce

2 Tbsp Toasted sesame

seeds

Directions

Cook noodles and broccoli

together in boiling water for

3min. Drain well. Cut beef into

strips. Heat oil in a wok or large

frying pan. Stir-fry beef for

3-4min in two batches to brown.

Remove to one side. Add garlic,

grated ginger and sliced spring

onions to the pan and stir-fry

for 30sec. Add noodles, broccoli,

soy sauce and oyster sauce, then

return beef to pan. Toss and stirfry

to combine. Serve in bowls,

scattered with sesame seeds.

Broccoli .........................99 c

Large Leeks ................... 1 .79

EACH

NZ Navel Oranges ...... 1 .99

kg

Ambrosia Apples .......... 3 .99

kg

White Button

Mushrooms 400g ............. 3 .99

bag

Lamb Shoulder Chops 11 .99

kg

Chicken Drumsticks ... 4 .99

kg

Premium Beef Mince ... 11 .99

kg

All our fresh meat is 100% NZ FARMED.

specials VAlid 4th september - 10th september 2017. ONLY AVAILABLE AT

RAEWARD FRESH HAREWOOD RD, TOWER JUNCTION & MARSHLAND RD

harewood rd Mon–Fri 8.00am–6.30pm Sat–Sun 8.00am–6pm

Tower junction Mon–Fri 8.00am–6.30pm Sat–Sun 8.30am–6pm

MARSHLAND RD Mon–Sun 8.00am–6:00pm

EACH

WWW.

.CO.NZ
---
14 Tuesday September 5 2017

Latest Christchurch news at www.star.kiwi

Shop

Win SPRINGS

ON

NOW!

Promotion closes October 10th 2017.

Conditions apply.

Your friendly

local Pharmacy

• Prescriptions • Medico Packs

• Gifts • Health Advice

• Dry Cleaning • Passport/ID photos

Hours: Mon-Fri 9am-5.30pm, Thurs 9am-6pm

11 Parnwell Street. Ph 383 4814

Crispy Crunchy Batter

Gluten free products sold for oVer 4 YeArs

NEW PRODUCT! Fried Wontons

• Souvlaki • Great Burger Selection

• Garlic Butter Chips • Cheese on Chips

* Specialty fish cooked to order…

Blue Cod, Gurnard, Sole, Hoki, and more!

Try our souvlaki and also our

chocolate explosion / Mars Bar!

GOURMET SEAFOODS QEII

Ph: 388 2531, QEII Shopping Centre

251 Travis Road

Mon - Wed 11.30am - 8.30pm (Tues from 4.30pm)

Thurs - Sat 11.30am - 9.00pm; Sun 12noon - 8.30pm.

Daily break 3.15 - 4.30pm.

YOUR LOCAL GARAGE

• All vehicle repairs

• Oil changes and services

• Brakes

• Loan car available

• Tyres, punctures & batteries

• W.O.F • Tune up

Your LocaL GaraGe

VERY FRIENDLY

SERVICE AND ADVICE

Phone: 03 388 3630

40 Hawke St

(behind Z Petrol Station)

CHRISTCHURCH'S PERFECT

INDOOR ENTERTAINMENT

FLIP OUT

TRAMPOLINE ARENA

MAIN ARENA

TRICKING AREA

FOAM PIT

WALL TRAMPOLINE

TUMBLE TRACK

YOUR SAFETY

IS OUR #1

PRIORITY

PHONE 384 8244 FOR MORE INFORMATION

230 MACES ROAD, BROMLEY

WWW.FLIPOUT.CO.NZ

& Relax

Designer

Fashion

3000

Items

Arriving

Daily!

SUPPORT YOUR LOCAL

BUSINESSES

TO WIN 1 OF 5

FAMILY GETAWAYS

TO HANMER

see our

HUGE

selection!

• Designer Brands • Family Clothing

• Menswear • Footwear • Bric-a-brac

• Workman Outdoor Clothing

• Household Goods • Books

• See the Retro Section AND Formal Wear

Open Daily 7 Days

Sydenham: 39 Battersea St Papanui: 472 Cranford St

Hornby: 94 Shands Rd

New Brighton: 52 New Brighton Mall

(Old Farmers Building)

HOURS

Mon–Sat 9am–5pm

Sun/Public Holidays 10am–4pm

New Zealand's Largest Recycled Clothing Retailer

1 litre

$

47 99

CHRISTCHURCHInstore Specials!

Make sure your vehicle is up to scratch

We're 100% locally owned and here to help you.

Stanmore Road Auto Spares

P. 03 389 4555 | 245 Stanmore Rd

IT's

1 litre

$

47 99

Come in and see

our friendly staff!

Many more great specials instore.

Cranford 478 Cranford Street

QEII 251 Travis Road

Richmond 68b North Avon Road

JuST

INCREDIBLE

• Barrington Mall

• The Hub, Hornby

• New Brighton Mall

• South City Centre

STANMORE RD

6PK

$

13 99

Enter every time you shop at any

of these participating businesses

More Chances to Win!

15PK

$

22 99

Burwood

home of the $40 serViCe

hot in-store deals

layBy for xmas now

269 Burwood Rd, Burwood Ph: 383 2114

HOURS Mon-Fri 8.30am-5.30pm Sat 9am-4pm

NATIVE PLANT NURSERY

Trees for

CanTerbury

speCialisTs in:

• Groundcovers

• Ferns

• Grasses

• Small to big

sized shrubs

• Shelterbelts

• ALL grades

• Expert advice

• Planting now

Ask us about

Super Gold

Card discounts

Helping our

community grow

42 Charlesworth St

Ph/Fax (03) 982-1028

OPEN 7 DAYS

www.treesforcanterbury.org.nz

In BusIness for 83 years,

supplyIng the eastern area

wIth top qualIty BeddIng,

vegetaBle and tomato plants.

welcome to vIew.

Bettaplants

1934-2017 83 YEARS IN BUSINESS

27 Ottawa Rd | Ph: 389-7855

Hours: 8.00am-5.30pm Mon to Fri

8.00am-5.00pm Sat

sale

½

price on

selected

gifts

WElcOmE tO Our family friENdly

christmas

shOP!

OPEN NOW

get your

christmas gifts

sorted early!

Homewares, Children's gifts,

Selected skin care and more

great bargains in store

60 Queenspark Drive,

Christchurch

Phone: (03) 383 1330

Open: Mon to Fri 8.30am-6pm and Sat 9.30am-2pm

Pataka

768 Marshland Road (North End)

Open everyday until Christmas Day 10am - 4pm

Proudly

Supported By

PEGASUS POST

Monday to Friday to

Saturday to

Sunday to

paperplus.co.nz

FREE Courtesy Cars

All Insurance & Private Work

Welcome

10% OFF

EXCESS ON INSURANCE QUOTES

Conditions apply

QEII Collision Repairs

302 Travis Road, North New Brighton,

Christchurch | P: 03 388 5187

E: qe2collisionrepairs@outlook.com

Boost Brain Performance

ENZO:PROFESSIONAL (ENZOGENOL) is a potent

antioxidant extract of the N.Z. pine bark and

has been clinically shown to improve memory,

concentration & brain performance.

SUPER

60's only $45.30, save $5.00

120's only $84.90, save $15.70

PRICE! Detailed Information Available

Bringing You the Best in Natural Health!

MARSHALLS HEALTH & NATURAL THERAPY

CONSULTING - PRESCRIBING - DISPENSING -

MANUFACTURING - MEDICAL HERBALISTS

110 SEAVIEW RD, NEW BRIGHTON • PH 03 388 5757

Email: enquiry@marshallshealthshop.co.nz

- WE ARE ALWAYS HAPPY TO HELP! -
---
PEGASUS POST Latest Christchurch news at www.star.kiwi

Tuesday September 5 2017 15

HEALTH & BEAUTY

Denture specialists

expert at problem

solving for patients

Ryan Carlton and his team of expert technicians at

Dentures Plus in Innes Road are highly skilled in the

design and manufacture of flexible partial dentures.

"We also use industry-leading injection

moulding equipment for all our dentures,

Ryan says, "and we provide dentures not

only for our own patients, but also for

dentists throughout New Zealand."

For anyone experiencing problems with

their teeth or gums Dentures Plus offers a

free consultation to assess their oral health

and possible treatment plans, Ryan says.

"People needing first-time dentures or

immediate dentures can come directly

to us and we will work with their regular

dentist or if necessary arrange with

another dentist for the extraction of their

teeth in preparation for getting dentures

fitted," he says.

"Our team are excellent at problem

solving for our patients and providing

them with a comfortable, functional,

natural-looking solution."

Ryan emphasises the importance of

keeping dentures clean and healthy to

avoid the damage that can occur from

wearing them. Dentures Plus offers a full

range of products for keeping dentures

in tip-top condition, including denture

cleaners, brushes and denture baths for

soaking the dentures.

He particularly recommends Caldent

denture cleaner, as it is non-abrasive and

effectively removes stains, calculus and

plaque. All the products can be purchased

at the clinic, or through the Dentures Plus

website, www.denturesplus.co.nz.

While Christmas is still a few months

away, for those people wanting to have

new dentures in time for the festive

season, now is the time to get the process

underway, Ryan says.

"By talking to us now, and getting

started, the new dentures will be settled

in and comfortable by Christmas, so you

can enjoy all the festivities without any

denture problems."

Dentures Plus is located at 396 Innes

Road. To make an appointment to

discuss your needs, phone 385 5517.

Our Acrylic Injection Moulding machine

that we use to make to dentures.

Beautiful Teeth

Natural Smile

Free Consultation, No Obligation

• Full Dentures • Dentures Repaired • Implant Assisted Dentures

• Injection Moulded Flexible Partials • Relines

• Mouthguards • Additions/Repairs

• Purchase cleaning and care products from our website.

Meet the

Owner

Ryan Carlton

All dentures personally

designed and created to ensure

a comfortable natural fit.

DENTURES PLUS (2014) LTD

Denture Clinic and Laboratory

396 Innes Road, St Albans. Phone 385 5517.

Email: denturesplus@paradise.net.nz

www.denturesplus.co.nz

Orbiter Bus stops Innes Road
---
16 Tuesday September 5 2017

Latest Christchurch news at www.star.kiwi

PEGASUS POST

is your teen on

track

to Get NCEA?

there are more career focused

ways to gain ncea

gain ncea l2 or 3

security & armed forces

This could be their CV after completing our physically challenging

course, which prepares them for a role in uniform. This course

offers the opportunity to gain NCEA Levels 2 and/or 3.

FREE to 17-19 year olds. Fee applies if aged 20+

Enrol by Monday 4 th September

gain ncea l1

ultimate career decider

This could be their CV after completing our FREE Level 1

course, offering the Learner Driver's Licence, employment skills

and tasters in a variety of careers. This course also offers the

opportunity to gain NCEA Level 1. FREE for 16-19 year olds.

Enrol by 18 th September

gain ncea l2 or 3

certificate in computing

This could be their CV after completing our FREE 12 week

Certificate in Computing OR our FREE 20 week NZ Certificate

in Business (Admin & Technology) FREE to all ages 16+

Enrol by 18 th September

Txt TRAINME to: 027 557 8839

0800 872 466 | www.trainme.org.nz

*SOME CONDITIONS MAY APPLY

Visit us at:

50 Hazeldean Road,

Addington, Christchurch
---
PEGASUS POST Latest Christchurch news at www.star.kiwi

Tuesday September 5 2017 17

REAL ESTATE

Prime position for exceptional living

8 Quarry Hill Terrace, Kennedys Bush

Auction 21 Sep 2017 Unless Sold Prior

4 bedrooms | 2 bathrooms | 2 living rooms | 1 dining room | 1 office/study | 2 car-garage | Listing #PI48433

This stunning contemporary home is set in

a prime location with panoramic views of city

and mountains. With the solidity of Hebel

construction, it offers generous proportions

ideal for family living or working from home.

In zone for Halswell School, it is just minutes

to amenities, and handy to walking trails in

Halswell Quarry Park and the Port Hills.

The north-facing living areas are positioned

for superb sun and sensational views.

Beautifully light, open-plan casual living and

dining flows to an elegant and well-appointed

kitchen with granite benchtops. The adjoining

lounge has a gas fire, and both rooms open to

a spacious terrace for effortless entertaining.

A palatial master bedroom includes WIR, en

suite and private terrace with spa, while three

more double bedrooms and an office share

a family bathroom. On the lower level, an

additional office or hobby room adds further

flexibility. A double internal-access garage

and a garden landscaped with established

easy-care plantings complete this very special

package.

Properties with locations this good don't

come along often - seize your opportunity to

secure an exceptional home.

Open Homes Saturday and Sunday

3:00p.m. - 3:30 p.m.

See you at the open days or for a private

viewing phone Cameron Bailey on 352 6166

or mobile 0275 557 079 of Harcourts Gold

Papanui (Licensed Agent REAA 2008)

NEW LOCATION ADVERT.pdf 1 1/05/2014 11:51:35 a.m.

VISIT OUR NEW LOCATION LOCATION

430 ST ASAPH STREET!

Hours of Business: 7am-4.30pm Mon-Thurs

Fri 8am to midday

or by appointment with Keith 027 566 3909

RECOVER YOUR LOVED FURNITURE

No job too big or small

Still able to offer

you the finest top

quality new furniture

Visit us online

www.qualityfurniture.co.nz

P. 371 7500

QUALITY FURNITURE SPECIALISTS

RE - UPHOLSTERY SPECIALISTS KEITH HARTSHORNE 0275 663 909

Dyers Road Landscape

& Garden Supplies

• Barks • Peastraw • Composts - we supply the best available

• Aggregates - Chip, Round and Basecourse

• Pavers & Schist products • Pungas

• Decorative Stones & Landscaping Rocks

• Trailer Hire first hour free with purchase

• Bag & Bulk - pick up or delivered

David, Carol & Mike

We will deliver!

SOIL

AND

HARDFILL

DUMPING

Phone: 03 384 6540

183 Dyers Rd, Bromley • OPEN 7 DAYS

Weekdays 7.30am-5pm. Weekends 8.30am-3pm

www.dyersroadandlandscapes.co.nz

now bigger than ever

The magazine for gardeners who

like to get their hands dirty

SubScribe from

$43. 50*

*6 issues/6 months

SUBSCRIPTIONS FREEPHONE

0800 77 77 10

www.gaRdeNER.kiwI

growing with you

SprIng Is here –

It'S Sow Time

how to get the best results from

seeds and seedlings

100% NatIve In

The capItal

Unravelling the secrets of

Otari-wilton Bush

The New Zealand

landscape awards

The people behind

the projects

$7.90 incl. GST

Save our roSeS

How a rose register is protecting our heritage

September 2016 | 100%

It's time

to grow!

New look and more

content than ever!

MeeT LeSTer Brice

A Garden coach

auckland Botanic GardenS

Why we love our public grounds

ISSN 2423-0219
---
18

Latest Christchurch news at www.star.kiwi

Tuesday September 5 2017

PEGASUS POST

Classifieds Contact us today Phone our local team 03 379 1100

Computers

Trades & Services

Trades & Services

Trades & Services

ALL

YOUR

COMPUTER

WORRIES SOLVED!

*$30.00 off your first

service with this coupon!*

No problem too big or

small from home PC's to

business networks. PC

slow? An end to Viruses,

Spyware, and Clogged

Systems. Safe secure

hassle-free computing.

Lost files recovered.

Microsoft Certified,

MCSE, MCP+l. 30 years

experience. Call Andrew

Buxton this week on 326-

6740 or 027 435-7596

for $30.00 off* Custom

Computers Christchurch

Curtains

www.curtainfabric-outlet.com

Fashion Designs & Colours

Discontinued Designs

End of Lines Bargain Prices

Call at Our Shop

CURTAIN FABRIC OUTLET

71 Hawdon St Sydenham

Ph 366-5026

Gardening

& Supplies

LANDSCAPE GARDEN

PROFESSIONAL

Qualified Horticulturist,

offering expert, garden

makeovers, design and

landscaping, for free

quotes call Bryce 027 688-

8196 or 0508 242-733

Holiday

Accommodation

QUEENSLAND SUN-

SHINE COAST AUSTRA-

LIA Resort, Ocean Views,

Balconies, Self Contained,

1 or 2 B/R Ensuite,

Heated Pool, Spa, Sauna,

Free Internet, Shops,

Restaurants, Tennis, Surf

Club & Patrolled Beach,

Public Transport at door.

Ask for our SEASONAL

SPECIALS. Phone 61 7

544-35011 Email: reception@mandolin.com.au

www.mandolin.com.au

Trades & Services

GLAZING

Stephen Thom Glazing 2012 Ltd.

• Mirrors • Pet Door Specialists

• Splashbacks

THE CAT DOOR MAN

ALL BROKEN WINDOWS

Phone Cushla or Darren Twist

03 352 6225 or 027 352 6225

house and garden

Home Cleaning

gardening

Services available

throughout Christchurch

your one stop shop for home services

www.anextrapairofhands.co.nz

info@anextrapairofhands.co.nz

If you are not getting into the garden at this time of year,

our gardeners can complete a seasonal tidy up. For a free

quote please call our office phone 0800 535 355

RENTAL

NO BOND

Terms and conditions apply

NEED A

FRIDGE • WASHER

TV • FURNITURE ?

Call Mr Rental - 0800 111 313

Visit www.mrrental.co.nz

123 Blenheim Road, Riccarton

Open Monday to Friday

Trades & Services

FOR ALL YOUR

★Garden Clean-ups

★Pruning

★Lawn Mowing

★Garden Maintenance

Call us today for a FREE quote

PH 0800 4 546 546

(0800 4 JIMJIM)

Cracked tiles?

Dirty grout?

Old or mouldy

silicon?

Trades & Services

HOUSE

CLEARING

Are you

moving house

or trying to

downsize?

Call All Clear

Canterbury. We work

with you to recycle,

sell and dispose of

unwanted items.

Ph: 03 260 0934

or 021 078 4553

raewynlcooke@gmail.com

www.allclearcanterbury.co.nz

DO iT OncE

Do it right

Driveways FREE

Paths & patios QUOTES

Concrete or asphalt

Earthquake repairs

All work guArAnteed

Brad 021 716 942

www.gardencitydriveways.co.nz

ROOF REPAIRS

Locally owned & operated with

over 30 years experience.

• Extensions & repair • Roof coating

• Concrete & clay tiles • Butynol

• Malthoid • Asbestos Certified

• Coloursteel • Old iron • Guttering

Phone Dave 981 0278

or 021 223 4200

E: dave@beaumontroofing.co.nz

BEAUMONT ROOFING LTD

spouting

www.superiorspouting.co.nz

Ph. Jem 0277 515 250

0800 751 525

Trades & Services

Lawns, Gardens

& Home Cleaning

WINDOW TINTING

tintawindow

advanced film solutions

99% uv block

fade protection

heat control

reduce glare

25 Years Experience

9185885AA

Free Quotes

Professional, personalised

service. Regular &

one-offs. Fixed price.

Ph: 377-5814

For all your property and

cleaning requirements

Trained, insured & security

screened owner/operators

Multi-award winning

systems & Franchises

Franchises Available

www.fviphomeservices.co.nz

Trades & Services

privacy films

frosting designs

non-darkening films

Workmanship Guaranteed

Lifetime Warranties on Most Films

UV

block

Trades & Services

AAA HANDYMAN

licensed carpenter

LBP, all property and

building maintenance,

repairs, bathroom/shower

installations, with free

quotes 03 383 1927 or 027

245 5226 ciey@xtra.co.nz

BRICKLAYER

George Lockyer. Over

35 years bricklaying

experience. UK trained.

Licensed Building

Practitioner number

BP105608. Insurance

work. EQC repairs.

Heritage brickwork and

stonework a speciality. No

job too small. Governors

Bay. Home 329-9344,

Cell 027 684 4046, email

georgelockyer@xtra.co.nz

BUILDER

For all building work

but specialist in bathroom

renovations, 30 yrs

experience, with service

and integrity. Free Quotes.

Ph Lachlan 383-1723 or

0274 367-067.

BUILDER

LICENSED

available for all aspects of

building. Please call 027

241-7471 or 335-0265

*****************

CARPET & VINYL

LAYING

Repairs, uplifting,

relaying, restretching

E mail jflattery@xtra.

co.nz

ph 0800 003 181

or 027 2407416

FENCING

All types of residential,

including gates,

demolition & removal,

ph 021 231-1860

Fencing Uprite

PAINTER

Available, All aspects in

painting. Very competitive

in roofs and fences. Please

call 027 241-7471 or 335-

0265

PAINTER

Quality work, I stand by

Canterbury Ph Wayne

03 385-4348 or 027 274

3541

PAINTING

DECORATING

all intereior & exterior, 40

yrs in trade, free quote and

advice, ph Rick 021 232

5249 ah 03 383 2288

PLUMBER

ALF THORPE

PLUMBING

Certifying Plumber for

all types of plumbing,

maintenance, spouting,

alterations etc. Phone 352-

7402 or 0274-350-231

ROOFING REPAIRS

Fully Qualified, Over

40 Yrs experience

Ph John 027 432-3822

or 351-9147 email

johnmill@ihug.co.nz

SPOUTING CLEANING

Spouting Unblocked,

Cleaned Out and Flushed

Out. Also Full Handyman

Services Available. Call

Trevor 332 8949 or 021

043-2034

TILER

CARPENTER

35 years exp, no job

too small. Ph Ross 027

4311440.

T.V. SERVICE

CENTRE

Repairs, tvs, microwaves,

stereos, DVD. Aerial

installations and kitsets,

480 Moorhouse Ave, ph 03

379 1400

UPHOLSTERER

Dining Chairs, Lounge

suites, Caravan Squabs

etc. recovered. Free

Quotes. Phone Graeme

383-1448

VHS VIDEO TAPES

& all camera tapes

converted to DVD, video

taping special occasions,

www.grahamsvideo.co.nz

ph 03 338-1655

ADVERTISE YOUR BUSINESS HERE

Wanted To Buy

Public Notices

Phone for further details

AAA Buying goods

quality furniture,

Beds, Stoves, Washing

machines, Fridge Freezers.

Same day service. Selwyn

Dealers. Phone 980 5812

or 027 313 8156

A+ Household effects,

fridges, freezers, washing

machines, ovens. Good

cash paid. Ph Paul 022

0891 671

TOOLS

Garden, garage,

woodworking,

mechanical, engineering,

sawbenches, lathes, cash

buyer, ph 355-2045

WHITEWARE

WANTED Cash for

fridges, freezers, dryers,

washing machines, ovens.

Top prices paid for good

working machines. Ph

Dave anytime 960-8440 or

027 6622 116

(03) 379 1100

Brett Ph 03 358 5105

or 027 746 7632

www.groutpro.co.nz

PROFESSIONAL & QUALIFIED

PAINTING

Plastering, Wallpapering

Spray Painting

Ph John 027 860 8106

Free Quotes Canterbury and Districts

03 365 3653 0800 368 468

WINDOW CLEANING

Average 3 bdrm house

inside or out $40. Both

$70. Phone Trevor 344-

2170
---
PEGASUS POST Latest Christchurch news at www.star.kiwi

Tuesday September 5 2017 19

What's On

Entertainment

To advertise, contact

Jo Fuller 03 364 7425

jo.fuller@starmedia.kiwi

FRIDAY 15TH & SATURDAY 16TH

SEPTEMBER 2017

RESTAURANT & CAFÉ

We are open from 6.30am

Seniors SPECIAL

2 courses Soup/Roast or Roast/Dessert

Special available lunch only. Monday - Saturday 12pm - 2.30pm

Family Friendly

Kid's 2 course special

$20

$10

'Famous for their roasts!'

The

RACECOURSE HOTEL

& Motorlodge

118 Racecourse Rd, Sockburn,

Christchurch. Ph 03 342 7150

www.racecoursehotel.co.nz

A West Coast welcome in the heart of

Redwood, beautifully refurbished and

something for all the family.

TRY OUR WONDERFUL MENU & DAILY SPECIALS

$40 PER TICKET

7:30 DOORS | 8PM SHOW

HORNBY WORKING MENS CLUB

17 CARMEN RD, HORNBY, CHRISTCHURCH 8042, NEW ZEALAND

TICKETS FROM BARB LLOYD - 021 1138 177 | (03) 3100 355

Daniels Road | Phone 352 8355

coasterstavern.co.nz

Lunch & Dinner

All you can eat, 7 days

Bookings Essential

PH 386 0088

fb.com/GardenHotelRestaurant

www.gardenhotel.co.nz

SERVING

HAPPY HOUR

5PM - 7PM DAILY

OUR CABINET ITEMS

ARE HOMEMADE

CREATED FRESH ON SITE DAILY

$12

LUNCH

SPECIALS

COFFEE

HAPPY

H O U R

Live Music:

6PM.FRI.08 SEPT

2PM-4PM

DAILY

$3.50

Offer available for a limited time

and includes tea, hot chocolate

MON: ROAST MEAL

TUE: FISH & CHIPS

WED: FISH BURGER

THU: ROAST MEAL

SAT: FISH & CHIPS

AVAILABLE

FROM

11.30AM-2PM

FOR A

LIMITED TIME

Eddie Simon

PHONE 385 8880 FIND US ON FACEBOOK fb.com/GBCCHCH

THE GARDEN HOTEL COMPLEX | 110 MARSHLAND RD

www.gardenhotel.co.nz | phone 385 3132

www.newbrightonclub.co.nz

BOOK NOW! SUNDAY NIGHT BUFFET

SUNDAY 24th SEPT, $25 PER PERSON

FUNCTIONS

WE HAVE THE VENUE. EXCELLENT CATERING.

PLENTY OF PARKING. ENQUIRE NOW!

TUESDAYS & THURSDAYS

Members Lucky Card Draw

FUNCTION ROOMS

SHUTTLE RUNNING

Tues, Thurs, Fri & Sat

TAB POD

GAMING ROOM

PIERVIEW

Restaurant

Quality

a la carte

with a view!

Open from 5.30pm

FRIDAY, SATURDAY & SUNDAY

OPEN FOR

SUNDAY BRUNCH

By the Seaside!

10.30am-2pm

ClubBISTRO

Open Tuesday to Saturday

12pm-2pm and from 5pm

Midweek $11

SPECIAL ROAST

Available Tuesday,

Wednesday, & Thursday

SUNDAY 3 COURSE

DINNER SPECIAL $25

SUNDAY NIGHT

BUFFET

Sunday 24th September

ALL YOU CAN EAT

$25 BOOK NOW!

202 Marine Parade ● Ph 388-9416

Members, guests and affiliates welcome

H ORNBY

WORKINGMEN'S

CLUB

LET US ENTERTAIN YOU!

PLAYING

IN THE

WESTVIEW

LOUNGE

THIS

SATURDAY

4.30PM:

BARROSS

8PM:

MEDIUM

RARE

UNBEATABLE FAMILY DINING

OPEN

Chalmers

Restaurant

GROUPS WELCOME

BOOKINGS ESSENTIAL

THE DUGANS

Tickets $20

SUN.10 SEP, 2PM

Early Bird Special

FRIDAY & SATURDAY 5.30pm – 6.30pm

Club CAFE

OPEN 7 DAYS

LUNCH & DINNER

Gluten Free &

Vegetarian options

BRENDAN & PAT

HAPPY

BIRTHDAY

PAT, 91!

with award

winning

entertainer

ANDY

GILMOUR

& home from

Nashville, NZ

Gold Guitar

winner

MIKAELA

DEWAR

FOR DINNER

Friday, Saturday, Sunday

OPEN FOR BUFFET LUNCH

Every Sunday 12pm - 2pm

Roast

(4 Choices)

and

Free Desserts $22 50

EVERY SUNDAY

IN CHALMERS

12PM-2PM

$25

Dine and

WIN

A DOUBLE PASS TO SEE

LIONEL RICHIE

THURSDAY 19 OCT

ENTER WHEN YOU DINE IN

THE CLUB CAFE &

CHALMERS RESTAURANT

CONDITIONS

APPLY

The Hornby Club | ph 03 349 9026

17 Carmen Rd | Hornby

www.hornbywmc.co.nz

Members, guests & affiliates welcome
---
20 Tuesday September 5 2017

Latest Christchurch news at www.star.kiwi

PEGASUS POST

WINDOWS 10 OPTIONS

ON ALL EX LEASE COMPUTERS

i3 Desktop Cyclone

20'' screen, Ex Lease

• i3 Intel CPU

• 4GB RAM

• 500GB Hard Drive

• Desktop case

• Keyboard & Mouse

corded

• Windows 10 option

• DVD writer

• 20" screen

• 6 Months Warranty

• Ex Lease

$599

incl GST

i5 Desktop Cyclone

20'' screen, Ex Lease

• i5 Intel CPU

• 4GB RAM

• 500GB Hard Drive

• Desktop case

• Keyboard & Mouse

corded

• Windows 10 option

• DVD writer

• 20" screen

• 6 Months Warranty

• Ex Lease

$699

incl GST

HP 430 Pentium 1.7Ghz

Slim Laptop, Ex Lease

• Pentium 1.7Ghz

• 4GB Ram

• 500GB Hard Drive

• 13.3" Screen

• Slim line design

• Windows 10

professional

• Light weight

Ultra laptop

• Ex Lease

$499

incl GST

Dell E6530 Laptop

Ex Lease

• Intel i5

• 4GB Ram

• 320GB Hard Drive

• 15.6" Screen

• Webcam

• DVD Writer

• Windows 10

• Ex Lease

$599

incl GST

We service & repair laptops, tablets and smartphones,

including broken screens. Ring us first for a quote.

Shop online at: www.computercentre.co.nz

serving christchurch for over 28 years

Unit 1/100 Fitzgerald Ave (Next to Cartridge World)

Phone: 379 3428

www.computercentre.co.nz

Open Monday-Friday, 9am-5pm

Q Card lending criteria, terms

and conditions, and fees apply

*All work carried out in our

workshop. Home pcs only.

Pay with Q Card or Farmers Card.
---
JO HAYES

NEWS UPDATE

CHRISTCHURCH EAST

I love East Christchurch. I've been National's List MP in

the electorate for more than three years now, and from

day one I have felt at home.

Now I'm excited to stand for election again in this

unique, diverse, welcoming community and remarkably

beautiful part of Aotearoa.

Contact me anytime

E

W

jo.hayes@national.org.nz

www.johayes.co.nz

I'm Jo Hayes,

National's list MP based in Christchurch East.

The East has been saddled with more than its fair

share of set-backs but I'm impressed with the courage

and fortitude of its communities as they have risen to

the challenges and frustrations of rebuilding broken

infrastructure and homes. I truly believe that with

time and continued investment, East Christchurch

will emerge as the city's most desirable region. I'm

absolutely certain that the very best is yet to come.

Jo Hayes

National List MP based in

Christchurch East

Bill English

Right Honourable Prime

Minister of New Zealand

It's a privilege to share Christchurch East with you and

now I'm excited to share with you National's vision for a

better future for our community and our nation.

Nga mihi mahana.

DELIVERING FOR

NEW ZEALAnDERS

www.national.org.nz

Authorised by Jo Hayes,

Unit 6/950 Ferry Road, Christchurch
---
www.national.org.nz

A bit about me

I'm a country girl at heart: I'm as comfortable in gumboots as

I am in Parliament, and certainly didn't grow up with a silver

spoon in my mouth.

But I've also proven that hard work, grit and determination go

a long way to turning your life around for the better.

I remember what it's like to be a single mother working, raising

a family and studying for an education. It's tough. Then, when

I met my husband Pat, we

partnered together to build

our Manawatu farm while I

served on school boards and

worked for local council.

I never really planned a

political career, but after

many years working in the

health sector I realised I

had two choices: be part of

the problem or part of the

solution. I chose the latter.

My time in Christchurch East

There's a big difference between electorate MPs and list MPs.

Electorate MPs represent the cares and concerns of their constituents

at Parliament, whereas list MPs are free to focus more on government

business. But I don't believe in doing anything by halves, so I decided to

treat Christchurch East as my own electorate when I came here as a list

MP three years ago. I've gotten involved in local communities, supported

local causes and fought to have Christchurch East's voice heard on

local and national issues.

Those of you whom I've had the privilege to meet will know that I shoot

straight from the hip, but I'll also back you all the way to Parliament to

get the best results and outcomes for our communities and families in

East Christchurch.

My values

When I chose to get involved in politics, there was no question in

my mind that the National Party was the best option. Its values of

strong families, safe and secure communities and equal opportunities

resonated with me.

I know that hard work does

reap great rewards – I'm living

proof of that – but only in a

society with a strong economy,

job opportunities and a positive

vision for the future. That's a

future that National is successfully

working hard to establish for

you and your family.

Take the

opportunity this

year and give

National your

Party Vote.

Contact me anytime

E

W

jo.hayes@national.org.nz

www.johayes.co.nz

Authorised by Jo Hayes, Unit 6/950 Ferry Road, Christchurch
---
www.national.org.nz

Update in the East

New Avonside Girls/Shirley Boys underway

On 4 August, I joined Associate Education Minister Tim Macindoe as

he turned the first sod of the new Avonside Girls' and Shirley Boys' High

Schools' co-located site at QEII park.

The state-of-the-art school will include:

• a Performing Arts Centre with a 750-seat theatre and a second smaller

100-seat theatre,

More of me in the East

You'll be seeing even more of me around Christchurch East over the next

month: The Christchurch East National team of volunteers has been busy

helping me put up hoardings for the election.

We've also spent a lot of time door knocking. It's been fantastic to meet

many of you and talk about what's important to you.

So keep a look out for my smiling face – if you haven't already seen it on

my van – and let's chat soon. Remember, you are always welcome to get

in touch: I'm here to help.

• four full-sized sports' fields with a 400m running track,

• three full-sized indoor gymnasiums, two of which can be joined to host

events,

• a café and fully-equipped commercial teaching kitchen,

• a new centrally located, satellite facility for students with special needs,

operated by Ferndale School.

The $220 million project is expected to be complete by Term Two of 2019.

It's part of the Government's $1.15 billion Christchurch Schools Rebuild

programme.

Our Government has committed more than $5

billion in school property expenditure, more than

any other government. Education is the key to our

kids' future, and we want to make sure our kids

have the best head-start in life.

Finance Minister visits Christchurch East

It was great to have a visit from

Finance Minister Steven Joyce in

Christchurch East in August.

His first budget in May of this year

will financially benefit everyday Kiwi

families and give them the help they

need to succeed and prosper.

What I love about the National

Party is that we're fiscally

responsible too. So we're sticking to

our word to bring down the national

debt at the same time and ensure

that our kids' future is bright, and

that their tomorrow is not weighed

down with today's debt.

Authorised by Jo Hayes, Unit 6/950 Ferry Road, Christchurch
---
What's important

What's really important? Well, your vote is important. Your vote helps

determine who will govern New Zealand from 23 September onwards.

When you give us your vote, you are putting trust in us to deliver a

Government that represents what's important to you.

"When it comes down to it, we all care about the same things."

Family

The National Government has a new $2 billion a year Family Incomes Package that will

help low and middle-income earners with young families and higher housing costs to

get ahead. We're also increasing parental leave entitlement to 22 weeks and funding

families using IVF for a third cycle.

Education and health

We've got $7 billion new investment tagged for public services like health, education,

and law and order over the next four years.

We're also better targeting funding to schools that need it most, by replacing the decile

system with a Risk Index. Plus, an additional 600,000 lower income New Zealanders will

have access to $18 doctor visits under National.

National will roll out a suite of technology, maths and language initiatives in schools to

ensure our young people have the skills to succeed in a more digital and internationally

connected world. Plus, parents will be able to track their child's progress online

throughout the year.

Housing

The Government has poured a massive investment into social housing from Aranui to

Shirley, and continues to actively build as part of its social housing programme.

Jobs

Thanks to National's strong economic management and your hard work, there are more

jobs and opportunities for people in Canterbury. New Zealand's unemployment rate

continues to drop and is currently at 4.8%. In Canterbury, it's even lower than that. In

fact, there were 333 more jobs advertised in Canterbury in July 2017 than a year ago.

Business

We've tagged $4 billion to help build the public infrastructure we need as a growing

economy, as well as additional funding to strengthen the Business Growth Agenda to

help drive further economic growth, create jobs, and lift wages.

Proven leadership

Bill English is "The Rock" who safely steered New Zealand through the global financial

crisis and turned the country's deficit around into a surplus. That means that we once

again have options to increase important services for Kiwis without burdening the

economy with debt.

Voting Sites in Christchurch East

Aranui Primary School Hall,

257 Breezes Road, Aranui

Avebury House, 9 Evelyn

Couzins Avenue, Richmond

Banks Avenue School Library,

71 Banks Avenue,

Dallington Bromley School

Hall, 33 Keighleys Road,

Bromley

Burwood Christian Centre,

54 Bassett Street, Burwood

Chisnallwood Intermediate

School Hall, 76 Breezes Road,

Avondale

EduKids Marshland Childcare,

68 Marshland Road, Shirley

Electoral Headquarters at

Nga Hau e Wha Marae,

250 Pages Road, Aranui

Haeata Community Campus,

Foyer, 240 Breezes Road,

Aranui

Kainga Public Hall, Corner

Kainga Road & Ourbridge

Street, Kainga

Kidsfirst Kindergartens,

MacFarlane Park, 19 Acheson

Avenue, Shirley

Kidsfirst Kindergartens

Richmond, 41 North Avon

Road, Richmond

Kidsfirst Kindergartens

Woolley Street, 63 Woolley

Street, Avondale

Linwood North School Library,

221 Woodham Road,

Linwood North

Jo Hayes

National List MP based in

Christchurch East

Marshland School Hall,

11 Te Korari Street,

Marshland

North New Brighton

Community Centre,

88 Marine Parade,

North New Brighton Nova

Montessori School,

Main entrance, 53 Owles

Terrace, New Brighton

Ottawa Gardens Preschool,

49 Ottawa Road, Wainoni

Ouruhia School Library,

21 Turners Road, Ouruhia

Parkview School Hall,

10 Chadbury Street,

Parklands

Queenspark School Hall,

222 Queenspark Drive,

Queenspark

Rawhiti School Hall,

150 Leaver Terrace,

North New Brighton

Shirley Intermediate School,

60 Shirley Road, Shirley

Shirley Primary School Hall,

11 Shirley Road, Shirley

South New Brighton School,

160 Estuary Road,

South New Brighton

St Chad's Anglican Church

Hall, 1 Carnarvon Street

(corner Buckleys Road)

Linwood Waitakiri

School Hall,

170 Burwood Road,

Burwood

Bill English

Right Honourable Prime

Minister of New Zealand

www.national.org.nz

Authorised by Jo Hayes,

Unit 6/950 Ferry Road, Christchurch