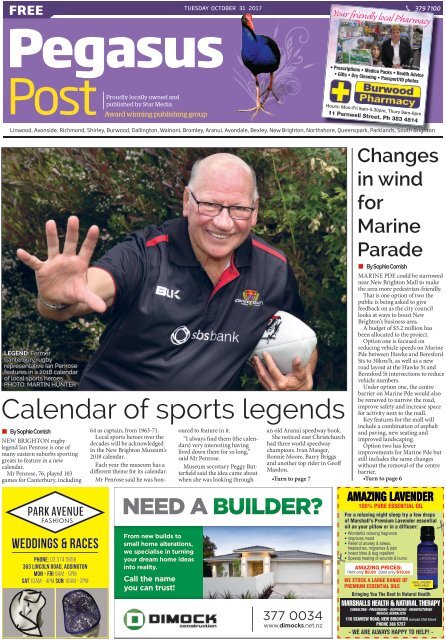 Pegasus Post: October 31, 2017
Create successful ePaper yourself
Turn your PDF publications into a flip-book with our unique Google optimized e-Paper software.
FREE

TUESDAY OCTOBER 31 2017

Pegasus

"We have lost a lot of good friends

but we still have a close community"

Your friendly local Pharmacy

Robyn Thew

379 7100

Post

Proudly locally owned and

published by Star Media

Award winning publishing group

• Prescriptions • Medico Packs • Health Advice

• Gifts • Dry Cleaning • Passport/ID photos

HEALTH ADVICE MEDICINES

Hours: Mon-Fri 9am-5.30pm, Thurs 9am-6pm

11 Parnwell Street. Ph 383 4814

PRESCRIPTIONS

Linwood, Avonside, Richmond, Shirley, Burwood, Dallington, Wainoni, Bromley, Aranui, Avondale, Bexley, New Brighton, Northshore, Queenspark, Parklands, South Brighton

LEGEND: Former

Canterbury rugby

representative Ian Penrose

features in a 2018 calendar

of local sports heroes.

PHOTO: MARTIN HUNTER

Calendar of sports legends

• By Sophie Cornish

NEW BRIGHTON rugby

legend Ian Penrose is one of

many eastern suburbs sporting

greats to feature in a new

calendar.

Mr Penrose, 76, played 103

games for Canterbury, including

WEDDINGS & RACES

phone: 03 374 5858

363 lincoln road, addington

mon - fri 9am - 5pm

sat 10am - 4pm sun 10am - 2pm

From new builds to

small home alterations,

we specialise in turning

your dream home ideas

into reality.

Call the name

you can trust!

64 as captain, from 1963-71.

Local sports heroes over the

decades will be acknowledged

in the New Brighton Museum's

2018 calendar.

Each year the museum has a

different theme for its calendar.

Mr Penrose said he was honoured

to feature in it.

"I always find them (the calendars)

very interesting having

lived down there for so long,"

said Mr Penrose.

Museum secretary Peggy Butterfield

said the idea came about

when she was looking through

an old Aranui speedway book.

She noticed east Christchurch

had three world speedway

champions. Ivan Mauger,

Ronnie Moore, Barry Briggs

and another top rider in Geoff

Mardon.

•Turn to page 7

377 0034

www.dimocks.net.nz

FREE LOCAL DELIVERY

BURWOOD / AVONDALE

PASSPORT/ID

PHOTOS

DRY CLEANING

SERVICES

Changes

in wind

for

Marine

Parade

• By Sophie Cornish

MARINE PDE could be narrowed

near New Brighton Mall to make

the area more pedestrian-friendly.

That is one option of two the

public is being asked to give

feedback on as the city council

looks at ways to boost New

Brighton's business area.

A budget of $3.2 million has

been allocated to the project.

Option one is focused on

reducing vehicle speeds on Marine

Pde between Hawke and Beresford

Sts to 30km/h, as well as a new

road layout at the Hawke St and

Beresford St intersections to reduce

vehicle numbers.

Under option one, the centre

barrier on Marine Pde would also

be removed to narrow the road,

improve safety and increase space

for activity next to the mall.

Key features for the mall will

include a combination of asphalt

and paving, new seating and

improved landscaping.

Option two has fewer

improvements for Marine Pde but

still includes the same changes

without the removal of the centre

barrier.

•Turn to page 6

AMAZING LAVENDER

100% PURE ESSENTIAL OIL

For a relaxing night sleep try a few drops

of Marshall's Premium Lavender essential

oil on your pillow or in a diffuser:

••

Wonderful•relaxing•fragrance•

••

Improves•mood

••

Relief•of•anxiety•&•stress,•

headaches,•migraines•&•pain

••

Insect•bites•&•bug•repellent

••

Speeds•healing•of•wounds•&•burns•

AMAZING PRICES:

10ml only $9.90 30ml only $19.90

WE STOCK A LARGE RANGE OF

PREMIUM ESSENTIAL OILS

COSMETICS

QUIT SMOKING

GREAT RANGE

OF GIFTS

MAIL ORDER

AVAILABLE

Bringing You The Best In Natural Health

MARSHALLS HEALTH & NATURAL THERAPY

CONSULTING - PRESCRIBING - DISPENSING - MANUFACTURING

MEDICAL HERBALISTS

110 seaVIeW roaD, NeW BrIGHToN (Just past C.N.B School)

pHoNe 388 5757

- We are alWaYs HappY To Help! -
---
2

Latest Christchurch news at www.star.kiwi

Tuesday October 31 2017

Inside

FROM

THE

EDITOR'S

DESK

THE NEW Brighton Museum is

always full of great ideas for its

calendars – and the 2018 edition

is chocka with sporting stars

from the eastern suburbs.

There are plenty of them, from

rugby players and cricketers to

the league boys and surfers and,

of course, the fantastic speedway

riders of yesteryear – Ronnie

Moore, Ivan Mauger, Barry

Briggs and Geoff Mardon.

We highlight one of the sports

stars on page 1 today – Ian

Penrose.

Ian, now 76, played 103 games

for Canterbury, including 64 as

captain, between 1963-1971. He

led the side against the Lions

in the infamous match in 1971

which became known as the

Battle of Lancaster Park.

I kind of liked those sorts of

games – from the safety of the

embankment of course.

13

Time to crank up the barbecue FOOD

– Barry Clarke

PEGASUS POST

News................................3-7

Local Sport............................8

Mairehau HS.................10

Health.................................14,15

Community Events...16

GET IN TOUCH

General Inquiries Ph 379-7100

Classified Advertising Ph 379-1100

The Christchurch Star Company Ltd. PO box 1467 - Christchurch

starmedia.kiwi

NEWS

Sophie Cornish

Ph: 364 7437

sophie.cornish@starmedia.kiwi

ADVERTISING

Mark Sinclair

Ph: 364 7461

mark.sinclair@starmedia.kiwi

Your way, your

time, your choice

Dyers Road Landscape

& Garden Supplies

• Barks • Peastraw • Composts - we supply the best available

• Aggregates - Chip, Round and Basecourse

• Pavers & Schist products • Pungas

• Decorative Stones & Landscaping Rocks

• Trailer Hire first hour free with purchase

• Bag & Bulk - pick up or delivered

David, Carol & Mike

We will deliver!

SOIL

AND

HARDFILL

DUMPING

Phone: 03 384 6540

183 Dyers Rd, Bromley • OPEN 7 DAYS

Weekdays 7.30am-5pm. Weekends 8.30am-3pm

www.dyersroadandlandscapes.co.nz

ccc.govt.nz/contact-us

However you like to get in touch, your

Customer Services team is here to help.

Call, email or Facebook us 24/7

You can also drop into your local Customer

Service Centre during business hours.

tHe tRuSteD nAme in fAbRicS

"Specialists in real value

apparel and upholstery fabrics"

BLENHEIM RD

HARALDS

ANNEX RD

BIRMINGHAM DRIVE

47 Birmingham Drive, Middleton | Phone 338 7700 | Open Mon-Sat 10-4

47

MATIPO ST
---
PEGASUS POST Latest Christchurch news at www.star.kiwi

Tuesday October 31 2017 3

News

Red zone's rabbit island

• By Sophie Cornish

RABBITS LIVING on a

roundabout in the red zone have

motorists hopping mad.

About 20 black rabbits

have been spotted at the busy

junction of Anzac Drive, New

Brighton and Travis Rds.

They have attracted an

audience, with motorists

driving slowly to look at them

and others parking up and

crossing the road to get to the

roundabout.

Motorists say the junction

has now become dangerous

and have posted their concerns

on the People's Independent

Republic of New Brighton

Facebook page.

One resident saw a woman

take three children across to

the roundabout, while another

mentioned several motorists

driving as slow as 30km/h to get

a glimpse of the rabbits.

Transport for Christchurch

posted a video on its facebook

page of the rabbits with a safety

message.

"While it might seem like a

good idea to take your children

to see the roundabout rabbits,

the safest way to do this is to

point them out as you drive

past," the message said.

RED ZONE BUNNIES: One of up to 20 rabbits spotted on the Anzac Drive roundabouts. Safety

concerns have been raised as people cross the busy intersection to see the rabbits.

"It is not a good idea to take

them across the road onto the

roundabout. We all know how

unpredictable young children

can be when over-excited, this

could also endanger the rabbits

and scare them into running

on to the road. This is a state

highway and heavily used by

large trucks."

An Environment Canterbury

spokeswoman said it has

received a number of calls about

the issue.

"While it is not our responsibility

but the landowners, it

is a situation we can help get

resolved," she said.

"With this in mind, we have

contacted the New Zealand

Transport Agency, which we

understand is looking into

control options to reduce the

risk."

Local

News

Now

In Brief

Fire rages, homes at risk

RED ZONE CONSULTATION

Public consultation on the 10

different land uses for red zone

land closes on Monday. The

Ōtākaro Avon River Corridor

Regeneration Area stretches

from Barbadoes St to Bexley and

New Brighton and Regenerate

Christchurch have provided a

combination of different land

uses including housing, ecological

restoration and visitor attractions.

FLYING FOX TO BE REMOVED

The controversial Muka Park

flying fox is set to be removed

by contractors this week. Due

to its lack of compliance with

city's night-time noise limits, the

Coastal-Burwood Community

Board voted to remove the

50m flying fox. The outcome is

described as a 'no-win' situation

as many residents opposed the

removal. The removal will cost

$20,000.

NEW BRIGHTON FIREWORKS

The annual New Brighton Guy

Fawkes event will take place this

Sunday. Due to work on the pier

and the new seaside playground,

there will be limited space for

public viewing this year. Both

South New Brighton and North

Beach Surf Lifesaving Clubs will be

open to relieve pressure in central

New Brighton. The event will take

place between 9 and 10pm.

Get your first month

Helping us,

Helps tHe

community

Drop off or buy

3 family stores in your community

4 Restell Street, Papanui

Ph 03 352 0515

50 Charles St, Kaiapoi

Ph 03 903 0017

FREE * ccc.govt.nz/recandsport

JOIN US TODAY

No joining fee

Pools, Fitness Centres,

Classes and more

Recreation &

Sport Centres

*Terms and conditions apply.
---
4 Tuesday October 31 2017

Latest Christchurch news at www.star.kiwi

News

Subway to

feed the

hungry

PARKLANDS SUBWAY will help

fight hunger in the eastern suburbs

on World Sandwich Day.

Every customer who visits

the Subway on Friday will not only

receive one free sub, salad or wrap

when another is purchased but

a third meal will be donated to a

charitable organisation.

More than 270 Subway stores

will take part in the fundraising

event across New Zealand.

Other stores in the eastern

suburbs getting involved include

the Shirley store on Hills Rd, and

two Linwood stores on Stanmore

Rd and Linwood Ave.

KiwiHarvest is a nationwide

organisation which is

working with Subway on the

project.

The organisation will receive

free meal vouchers to distribute

to charities for people in need and

ensure the food is only used when

needed.

The global movement will be

tracked through a Subway Live

Feed digital ticker in high profile

areas around the world.

Thousands of meals are expected

to be donated across the country.

OPENING

NIGHT

• By Sophie Cornish

A MAIN feature of the New

Brighton seaside playground

will be a traditional waka.

A ship was originally planned

in the initial design phase.

However, the waka design will

reflect discussions during the

consultation process about

interweaving cultural elements.

The budget for the

playground is $3 million. The

equipment will cost about

$750,000.

In comparison, the Margaret

Mahy Family Playground

in the central city cost $3

million, with $2 million spent

on equipment. It was opened

in December 2015 and is

the largest in the Southern

Hemisphere.

Development Christchurch

Ltd worked with Matapopore

Charitable Trust and Ngai Tahu

to develop the waka concept.

Matapopore general

manager Debbie Tikao was

pleased about the waka and

wants to see more cultural

equipment in playgrounds.

"It's great that our kids

learn through playing on more

of their own history," said Mrs

Tikao.

"I think we will be seeing

more of this sort of thing

happening, there is some

integration of Maori design

components in playgrounds

within the North Island and we

are certainly seeing more of

that happening it the South

Island," she said.

Mrs Tikao enjoyed working

alongside DCL and Ngai Tahu

on the project.

"It wasn't hard, we made sure

that we were working with one

Local

News

Now

Playground to get waka

Discover this

unique Emporium

WAKA

DESIGN:

DCL's plans

for the waka,

PLAY: A

global

motion

spinner is

another

feature

planned

for the

playground.

PEGASUS POST

Fire rages, homes at risk

of Ngai Tahu's leading carvers,

he is very knowledgeable . . .

they (DCL's design team) also

did their absolute best to ensure

the shape was right."

Matapopore is a charitable

trust which works alongside

Ngai Tahu to ensure Maori

culture and values are

included in the regeneration of

Christchurch.

The mast and sail design will

measure 7.4m x 3m.

The playground will have

a variety of play equipment,

including some with wheelchair

access.

A global motion spinner,

water cannons, musical

equipment and a splash pad

with spouts is among the list of

different equipment.

The Halberg Disability Sport

Foundation and Be Accessible

worked with DCL to audit

the wheelchair accessibility

elements as well as an inclusive

carousel.

Workshops were completed

by DCL with local school

children and community

groups to discuss designs.

A more formal consultation

process with the public also

followed.

www.ruapunaspeedway.co.nz

KING OF THE CLAY

SATURDAY 4 NOVEMBER 2017

MIDGETS • SPRINTCARS • TQ'S • 1/4 MIDGETS

SIX SHOOTERS • MODIFIED SPRINTS

GATES OPEN AT 5.30pm • DIRT STARTS FLYING AT 6.30pm

ADULTS $20 • STUDENTS/SENIORS $15 • KIDS U/14 FREE (WITH AN ADULT)

FAMILY: 2 ADULTS & UP TO 4 KIDS $40 • EFTPOS AVAILABLE

Metal art - gifts - hoMewares

water features - pottery

Mirrors - candles

wall hangings & More

722 Marshland Road, Top end Styx

Open 7 Days

Ph: 03 323 9781

www.hitchingpost.co.nz

Shop online

with the in

store special

prices!

Discount code:

Goat

themohairstore

140 Colombo Street, Beckenham

Phone 03 943 1639

www.themohairstore.co.nz

A1 CAR SeRviCinG noW

$32

WoF

If wet check the Speedway Infoline 03 349 7727

or www.ruapunaspeedway.co.nz or FACEBOOK Ruapuna Speedway

Convenient

CentRAL CitY

RePAiRS

& PARKinG

(2015) Ltd

Cnr Fitzgerald Ave & Hereford St.

Phone: 365-5220

www.a1auto4service.co.nz
---
PEGASUS POST Latest Christchurch news at www.star.kiwi

Tuesday October 31 2017 5

News

Roar of vintage bikes on the beach

• By Sophie Cornish

THE SOUND of vintage

motorcycles revving will boom

around New Brighton beach on

Saturday.

New Brighton was one of only

of a handful of beaches in New

Zealand used for organised racing

during the early 1900s.

But on Saturday they won't

be racing – the bikes will travel

along the beach in a parade.

Manufacturers would send

their motorcycles to Christchurch

to be raced and trialled on the

beach.

The youngest bike in the show

will be a 1939 350cc Triumph.

The fifth annual Smash Palace

Bike Show will focus on the late

Geoff Hockley, a former bike

enthusiast and author.

Mr Hockley was a New

Brighton identity and a founding

member of the Pioneer Motorcycle

Club.

In the 1960s, Mr Hockley wrote

A Tribute to A Gentleman about

the history of the club.

The event will be linked to the

book and Mr Hockley's son Tony

will attend the event.

Tony, 82, will be the judge of

the 'Gentleman's Tribute' on the

day, an award for who he believes

is the standout bike and rider on

the day.

"I've known for a wee while

it's been coming up and I think

it's a wonderful idea because it's

the sort of thing my dad would

have always been involved in. I've

always lived in Brighton and I

think it's a really good thing for

the area," he said.

Event organiser Anna May said

previous motorcycle shows in

New Brighton have been a success.

However, this is the fifrst year the

bikes will ride on the beach.

"It's sort of rekindled New

Brighton's love for motorbikes

and the history," said Ms May.

Twenty bikes will be paraded

on the day, two at a time.

The races will begin in front of

the New Brighton Surf Life Saving

Club and continue for 400m

around the legs of the pier and

back toward the surf club.

Ms May wants the focus to be

on the demonstration, not racing.

"These bikes are not exceptionally

fast, but they will be

spectacular."

"Its not going to be a big fast

drag racing thing, we are very

careful to point out this isn't a

race, it's a demonstration . . . we

are demonstrating the way it use

to be," said Ms May.

PROUD SON: Tony

Hockley will attend the

Smash Palace Bike Show

at New Brighton beach

on Saturday, which will

honour his late father Geoff

Hockley a former bike

enthusiast.

Right – An image from 1905

of one of many races on

New Brighton beach.
---
6 Tuesday October 31 2017

Latest Christchurch news at www.star.kiwi

News

• By Sophie Cornish

THE NEW Brighton seaside

market celebrated its 17th

birthday on October 21.

Beginning in 2000, the market

once began as a small community

affair every couple of

months.

It began weekly on Saturdays

in November 2013.

There was a wide variety of

music and entertainment during

the birthday market day including

an open mic day hosted by

Willie McArthur from Willie's

Open Mic Night.

There was also birthday cake.

The New Brighton Project coordinator

and market manager

Martha Baxendell is pleased to

reach the 17th-year milestone.

"My team and I have worked

really hard especially over the

last five years to create a weekly

space that is inviting with a

special focus on family fun. We

are so happy with where we are

and hope to keep going from

strength to strength alongside

New Brighton's regeneration,"

said Ms Baxendell.

It is one of Christchurch's only

non-commercial markets with

stall rental fees going towards

advertising, entertainment and

running costs.

Surplus funds are returned to

the organising group, the New

Brighton Project, and are used

for other community initiatives

it runs such as the blanket bank

and the Christmas parade.

By Christmas this year, market

organisers hope to fully transition

to using environmentally

friendly packaging for all its stall

holders, where possible.

This involves moving away

from plastic and polystyrene.

Some food vendors have

already moved towards using

eco-friendly biodegradable plates

and cutlery.

Local

News

Now

Birthday celebrations for seaside market

Feedback sought on plan to narrow Marine Pde

•From page 1

This option would see new

paving throughout the mall,

improved landscaping and new

lighting, seating and other street

furniture.

New Brighton Business

and Landowners Association

manager Paul Lonsdale welcomes

the plan, which he says will

bring more foot traffic to the

mall.

"It's got to enhance the

foreshore area, when people

SOUTHERN INSTITUTE OF TECHNOLOGY

Enrol now for 2018!

Southern Institute of Technology (SIT)

offers a multitude of courses for students

looking to begin a qualification and career, in

the industry of their choice.

Available areas of study at the Christchurch

campus include, Automotive, Social

Services and Mental Health, Construction,

Electrotechnology, Refrigeration and

Air Conditioning, Hairdressing, Project

Management, and Personal Training.

Ever wanted to become an Electrician?

SIT Christchurch campus offer the New

Zealand Certificate in Electrical Engineering

Theory which helps to provide the electrical

industry with people who have introductory

look down there, they have to

see something that's

worthwhile walking

down for because

currently it's very tired

and certainly needs

some attention," said

Mr Lonsdale.

An option considered

in the 2015 New

Brighton Centre Master

Plan is the extension

of Oram Ave through

the mall to Hawke St and the

Paul Lonsdale

knowledge that underpins safe electrical

installation, testing, commissioning, and

servicing of electrical installations and

equipment.

A helpful introduction course which can

assist towards getting an apprenticeship,

students will be trained in the skills and

knowledge appropriate to the first stage

of training that will lead to qualifications

in electrical engineering, electronics, or

electrical security; and related trades.

SIT's New Zealand Certificate in

Refrigeration and Air Conditioning (Trade

Assistant) gives students the required

competencies to function successfully and

closure of the Marine Pde strip to

vehicles all together. This

extension is not included

in either option for the

area.

However, there is still

the opportunity to give

feedback on the closure of

Marine Pde to vehicles.

Coastal-Burwood city

councillor David East

believes this extension

coupled with the closure

of Marine Pde to traffic will

strengthen the commercial

area. "Longer term, I've always

thought that opening up Oram

Ave and then having the ability

to close Marine Pde down

– either temporarily, on the

weekends or, ultimately,

permanently – is probably a

good move to strengthen that

connection between the foreshore

and the business district," said

Cr East.

"Quite often people will come

down to various events, they will

effectively at operational levels within the

Refrigeration and Air Conditioning sector,

and graduates can go on to become heating

and ventilation installers, refrigeration

technicians and electrical service

technicians. With three days a week of

on-campus classes and two days of work

experience, students get a great balance of

practical and theory training.

Christchurch campus is a welcoming

place that makes it easy for students to

meet people without feeling intimidated.

We are here to help you identify your

path to great opportunities. Enrol now to

ensure your future!

PEGASUS POST

Fire rages, homes at risk

go to the pier, they will go on the

beach, but they don't actually

make that connection across

Marine Pde to actually get back

into the mall," he said.

Opening up Oram Ave will

allow traffic to drive through

the mall. Feedback closes on

November 12.

•HAVE YOUR SAY: What do

you think of the Marine Pde

plans? Email sophie.cornish@

starmedia.kiwi

LAUNCH YOUR FUTURE @ SIT

CHRISTCHURCH

º Automotive

º Collision Repair

º Construction

º Electrical Engineering

º Group Fitness

º Hairdressing

º Mental Health Support Work

º Personal Training

º Project Management

º Refrigeration and Air Conditioning

Call today or email sit@sit.ac.nz

0800 TO STUDY

www.sit.ac.nz
---
PEGASUS POST Latest Christchurch news at www.star.kiwi

Tuesday October 31 2017 7

News

Local

News

Now

Calendar honours sports legends

Fire rages, homes at risk

•From page 1

"So serious research began

late last year, and we discovered

the east can certainly produce

champions in all sports," said

Mrs Butterfield.

"We looked for heroes who

had represented Canterbury

or New Zealand, and they

kept coming. All together, we

have nearly 100 photos in the

calendar. Some go back to the

1930s."

The calendar features cricket,

rugby, bowls, surfing, athletics,

water polo, gymnastics,

archery, golf, netball, boxing,

cycling, hockey, softball, football,

rugby league, badminton,

karate and hammer throwing.

It includes All Blacks, Silver

Ferns and Olympians.

Other calendars produced

by the museum over the years

have included local musicians,

shopkeepers, books, authors,

old buildings and places.

Mr Penrose's family has been

involved with the New Brighton

Rugby Club since the 1920s,

and he is now a life member

and patron.

Growing up on Union St,

HONOURED: Dick Motz, a former New Zealand cricketer,

and Judie Blair, a former Silver Fern, both feature in the

New Brighton Museum's 2018 calendar.

Mr Penrose attended Central

New Brighton School and New

Brighton District High School.

His sister Margaret Kelso is

the museum's treasurer.

Other sporting legends

featured in the calendar include

cricketer Dick Motz, who attended

North New Brighton

School and Linwood College,

Ivan Mauger, a six-time world

champion speedway rider who

grew up in Woolston, and Judy

Blair, former captain of the

Silver Ferns who has a lifelong

association with New Brighton

Netball Club.

•The calendar costs $10.

The 2018 version, and

previous years, can be

purchased at the museum

or Home and Castle

Hardware, New Brighton

Mall.

SPORTS SPREADS: Every page of the calendar features local heroes

from a range of sports, including surfing and netball.

PAST: The

calendar will also

feature six-time

world champion

speedway rider, Ivan

Mauger (far left),

former New Zealand

middle-distance

runner and bronze

Olympic medallist,

Judy Blair, and

Canterbury rugby

legend, Ian Penrose.

PHOTO: MARTIN

HUNTER

all new landsCape zone

bulk Compost, lawn mix,

aggregates and stones

The new Ferrymead Mitre10 Trade Centre and Landscaping Zone has

everything you need to complete your projects.

• Screened Soil

• Vege/Zoom Grow

• Bio Blend

• Garden Grow

• Turf Mix

• Tree Mulch

• Black Mulch

• Standard Bark Nuggets

• Premium Bark Nuggets

• Builders Mix

• AP20 Shingle

• AP40 Shingle

• Plastering Sand

• Brick Sand

• Bedding Sand

• Crusher Dust

• Round Stones

• Driveway Chip

• Teddington Chip

Ferrymead 987 Ferry Road Phone 373 6550

mitre10.co.nz/trade
---
8

Tuesday October 31 2017

Latest Christchurch news at www.star.kiwi

PEGASUS POST

LEARNING: Shirley Community Trust worker and garden

organiser Ian Dunbar with Ashley Pakeha, 4, of Macfarlane

Park Kindergarten watering a young tomato plant in the

new Shirley Community Garden. PHOTO: MARTIN HUNTER

Getting food growing

• By Sophie Cornish

CHILDREN AT Macfarlane

Park Kidsfirst Kindergarten

helped with planting in the

Shirley Community Garden

last Tuesday.

Bunnings Warehouse Shirley

worked with the kindergarten

to provide children with a

learning experience about

growing food.

Children were taught about

the importance of knowing

• By Sophie Cornish

A BEE house, part of New

World's Little Garden

promotion, has been donated to

the New Brighton Community

Garden.

The house has been built in

the garden and bees are able to

lay their eggs inside.

The bee house was made by

Creative Woodcraft New Zealand

for leaf cutter bees.

Leaf cutter bees do not sting,

swarm or create honey, however,

they are one of the most

prolific pollinators in nature.

The community garden,

located on Shaw Ave in Rawhiti

Domain is set to re-open on

Saturday with a community

day.

Administrator for the garden

how to grow food, how to

identify edible plants and how

to plant.

Plants donated by Bunnings

included blueberry and orange

trees, capsicums, tomatoes, lettuces,

celery, corn and herbs.

The community garden recently

reopened in MacFarlane

Park on Jebson St.

Previously it was located on

Housing New Zealand land in

Riselaw St.

Community garden to open

NATURE: New Brighton

Community Garden

manager Catherine O'Neill

with the bee house.

Joyce Bailey said there will be

hundreds of vegetable plants

for sale.

"It's the big push for the day,"

said Mrs Bailey.

The event will run from

noon-3pm will have a range of

family-friendly activities.

IN ACTION: Avonside Girls' High student Lilian Exton playing boccia at the National Halberg

Junior Games. She is presented with an award for the best non-classified female at the event

from Black Cap Grant Elliott.

Success for disabled athletes

TWO DISABLED athletes from

Avonside Girls' High School

have recently made their mark at

national events.

Lilian Exton and Alisha Mill

competed at the Halberg Junior

Games in Auckland and the

National Boccia Championships

in Wellington earlier this

month.

Run by the Halberg Disability

Sport Foundation, the Halbergs

are a national three-day sport

competition for physically

disabled and visually impaired

children and teenagers aged eight

to 21.

There are a variety of sports

including swimming, athletics,

wheelchair racing, boccia and

basketball.

Lilian and Alisha represented

Canterbury at the Halbergs and

came second and third respectively

in the A-grade boccia

category.

Boccia is a precision ball sport

similar to bowls and petanque

played by athletes with physical

disabilities.

Lilian also received the

award for the top athletics nonclassified

female at the closing

ceremony.

"We went to closing ceremony

on Sunday and no one knew who

was going to get what awards.

Team Canterbury got four

awards. I was one of the lucky

ones who got an award for athletics

non-classified best female.

It was an amazing feeling," said

Lilian.

At the boccia champs, Alisha's

team won a silver medal and

Lilian won the categories for

open class champion and most

improved player.

Alisha has acioscaphlohumeral

muscular dystrophy, causing her

muscles to be weak.

She has very little muscle

around her shoulder, upper

arms and abdomen, which

makes her core unbalance,

making it difficult to walk unassisted.

This has also caused her facial

muscles to stop working.

Lilian has otospondylo

megaepiphyseal dysplasia,

the only person in New Zealand

to have the condition which

makes her bones grow too

much, causing joint paint and

rigidness.

Both students are also deaf,

their conditions affecting their

ability to hear.

Head of learning support at

Avonside Katrina Boxall said the

two girls are fiercely independent

and competitive.

"They have amazingly supportive

families also, just really

awesome people," said Ms Boxall.

MEDAL-WINNER: Alisha Mill

from Avonside Girls' High

School with her silver medal

from the National Boccia

Championships.

Help us keep the

Santa Parade going...

The Christchurch City Council

funds 50% of this 'not for profit'

event and we thank them for

their contribution.

However, the Trust is appealing

for further assistance from the

public through our 'Give a little'

page.

All donations are gratefully

accepted.

Please help with a donation

www.givealittle.co.nz/org/santaparadechristchurch000

Best

Motorbuys

TM

ANYTHING WITH A MOTOR!

The South Island's leading motoring publication

FREE every Friday at hundreds of locations

around the South Island, and it's available online!

www.bestmotorbuys.co.nz

For advertising enquiries, ph Lea Godfrey 021 277 3086
---
PEGASUS POST Latest Christchurch news at www.star.kiwi

Tuesday October 31 2017 9

Introducing our brand new

purpose built retirement village

in the heart of Shirley.

Retirement just started looking a whole lot

better in Shirley!

The Village Palms, opening in November,

offers affordable luxury

and first class care.

Our stylish one bedroom apartments start at

an unbelievable purchase price of $255,000 and

spacious studio's at a competitive $150,000.

At The Village Palms, we also offer the full continuum of

care, with care suites, Rest Home & Hospital level rooms

available with care delivered 24 hours a day by Registered

Nurses and experienced staff.

Call us on

022 321 1872

or Freephone

0800 THE VILLAGE

for your own

personal

guided tour

The Village Palms Where new memories are made
---
10 TUESDAY OCTOBER 31 2017

Latest Christchurch news at www.star.kiwi

PEGASUS POST

MAIReHAu

HIgH SCHOOl

Encouraging ExcEllEncE in our community

The

Principal's

Desk

Mairehau High School continues as a

vibrant, viable co-educational school

in the east of Christchurch. We are

working with other schools, clusters,

and community sector groups to

develop a plan which will enhance the provision of education for all students in

Christchurch. All schools want students to access quality education outcomes, to

access quality teaching, and quality learning. I wish to share with you an insight

into the future of education by providing our community with progress on

'Modern learning Practices' and collaboration.

We feel we are in a strong position to offer students opportunities which will

enable them to become learners who are critical thinkers and communicators,

responsible and empathetic, confident and connected, digitally fluent, and who

embrace challenges.

I trust you can pass on to your friends and family, the opportunities that a coeducation

school such as Mairehau High School can provide for your child.

Towards 2018

Mairehau High School is committed to innovation by focusing on strategies

which improve learning outcomes for all students. Mairehau High School is now

planning for 2018 and beyond. For several years we have implemented in our junior

school modern learning practices, a programme to enhance independent learning,

balanced with good old traditional teaching approaches.

There are more sharing and collaborative practices between learning areas and

stronger links with the use of BYOD devices in the classroom. These modern

learning strategies engage and improve outcomes for all learners. learning

Teams are embedding cross-curricular teaching and learning programmes in the

classroom.

These key strategies are aligned with government priorities and include 2013-

2017 Achievement strategy, Building on Success (a focus on our priority learners)

strategy and Positive Behaviour for learning strategy. Mairehau School is

committed to ensuring the success of all students who walk through our school

gates.

Christchurch East Schools- Te Ara Tūhura

Mairehau High School is still committed to the vision with other Christchurch

east Schools based on the premise of sharing, collaboration and working

together to enable every student in the east to be provided with opportunities

to curriculum delivery and curriculum access. I am confident in ensuring

a quality education system for all students who live in the the eastern

communities. Students will have choice, opportunity and access to learning. I

take this opportunity to acknowledge all of the Te Ara Tūhura Christchurch east

Schools/ early Childhood Centres for participating in the fantastic Kapa Haka

showcase held in term 3.

A time to enjoy

I wish to conclude by saying that as Principal I get much pleasure watching

students enjoying and having fun in their learning. We need to have the ability

to laugh at ourselves and with others, and a time to enjoy the moment. I was

so proud of the students who participated in the recent Mairehau High School

talent quest, School Music tour and international day. All events were much fun

for students, staff and community. The musical and dance performances were

simply fantastic, and well done to all. Thank you to all who helped make these

events such a success.

Harry Romana

Principal

Harry romana, Principal

Music Tour 2017

This year our annual music tour visited Shirley Intermediate School where we

gave an hour long concert to a large and enthusiastic audience. At the end of our

performance, Shirley Intermediate performed a stirring haka.

In the afternoon we performed to another keen audience at Mt Hutt College,

before staying the night in Tekapo. Our final concert was at Mackenzie College in

Fairlie.

Thank you to all our staff and students who performed so well and to our tech

crew, Niko Smith, Don MacDonald and Paul lucas. We couldn't do it without you.

Smokefree Rockquest 2017

Rockquest was founded by two Music teachers in 1988 and

since then there have been countless successes in its 29 year

history such as Bic Runga, Anika Moa, Nesian Mystik and our

very own student band Falter, who were National winners in

2003. This year we had three entries, with one group and two

soloists carrying on our proud tradition. entrants have to write

and perform their own original music.

We are thrilled to announce that Darrell Suaesa Faamau who

joined up with students from Haeata Community College,

with their group called Proud Brown, came 3rd in the

National Finals in the Smokefree Pasifica Beats category.

We would also like to congratulate Darrell for becoming our new student

representative on our Board of Trustees for 2018.

Voices of Canterbury

Well done to our choir who performed

at the Voices of Canterbury Festival.

everyone was great – and a special

thanks to our soloists, Tammy Raynard

and Jakob Callender, along with our

musicians, and choir leaders erin Rosser

and Rachel Nolan.

It was very exciting when were

awarded two certificates for the

evening – Best Body Percussion

and Best Choreography.

Darrell

Mairehau High School, Hills Road, Christchurch P. 385 3145 F. 385 3143 admin@mairehau.school.nz www.mairehau.school.nz
---
PEGASUS POST

Latest Christchurch news at www.star.kiwi

TUESDAY OCTOBER 31 2017 11

MAIReHAu

HIgH SCHOOl

Encouraging ExcEllEncE in our community

Te Ara Tuhura Kapahaka Showcase

On Thursday 31st August, Mairehau High School hosted a Kapahaka Showcase

featuring schools from the 'Te Ara Tūhura cluster' (Belfast Primary School, Rawhiti

Primary School, Belfast Kindergarten, New Brighton Primary School, St Francis

of Assisi Primary School, Queenspark Primary School, Parkview Primary School,

Mairehau Primary School and ABC Belfast).

The event was a celebration of the group of schools involved in this cluster group,

and a celebration it sure was with well over 500 students taking part in some very

passionate kapahaka performances.

A huge thank you to all the teachers, kapahaka tutors, teachers, staff members,

parents and students that helped to make this event possible. It was definitely a

huge event for Mairehau High School!

Social Studies Level 2

The Social Studies level 2 class are currently planning and participating in social

actions.

One group chose to support 0800Hungry by organising a fundraising night here

at school. The students had a very successful quiz night and have raised in excess

of $250.00 for their charity. Members of our school community attended and

supported us through donations.

A very big thank you to our Year 12 students John Osgood, Parata Rurehe-Moke,

Matt Murtha, Ben Moore and Ben larsen. These students all worked well together

under the guidance of Zoe Turner, who unfortunately could not make it to the

evening.

The students achieved five level 2 credits towards their NCeA.

We would like to thank everyone for their support.

Mairehau High School Kapahaka

Rawhiti Primary School Kapahaka

Te Ara Raukura and Manakura Leadership

St Francis of Assisi Kapahaka

NZ Army Band pays us a visit

At the end of a very busy term three, it was great to welcome the New Zealand

Army Band who performed for our students, visitors and staff. We invited

residents from Diana

Issac Retirement

Village, who at the end

of the performance

enjoyed a morning

tea with the band

members.

We all thoroughly

enjoyed our time

with the band and

our appreciation was

shown with the very

loud clapping that

could be heard outside

of our school grounds!

NZ Army Band

On Wednesday the 25th of October a group of junior and senior Māori

leadership students attended the Te Ara Raukura and Manakura graduation

Ceremony at Haeta Community College.

The evening was to celebrate Māori leadership and participation in student

led schoolwide initiatives around promoting Te Ao Māori. Throughout the year

the students attended hui and camps to support their goals. The ceremony

began with a range of inspirational speakers before the students received their

certificates and Taonga (Pounamu) to celebrate and acknowledge the work they

did.

Jade Komene, Phoenix Neilson, Anysha Te Moana, Kees Gifford-Whanau,

La Bella Currin-Waru, and Sky Roberts.

Mairehau High School, Hills Road, Christchurch P. 385 3145 F. 385 3143 admin@mairehau.school.nz www.mairehau.school.nz
---
12 Tuesday October 31 2017

Latest Christchurch news at www.star.kiwi

PEGASUS POST

AUCTION

DEADLINE SALE

Broomfield 19 Tangy Loch Lane

High Comfort, Low Maintenance

Mitchell Roberts & Mana Tai

M 027 413 0797 or 027 626 2824 P 03 385 0343

Harcourts Twiss-Keir Realty / The Palms Licensed Agent REAA 2008

3 2 2

Harcourts ID: PLS2322

This thoughtfully designed, modern home is well sized to suit buyers who require easy-care living,

but with enough space to still live in comfort. Our owners have purchased and with time pressure

now on, they must now SELL! Optimised to maximise sunlight and the views of the Reserve

outlook, and with comfortable living spaces - this home provides plenty of room.

DEADLINE SALE

Auction: 15 th November @ 2.00pm

Russley Golf Club (unless sold prior)

View: Phone for viewing times

Hei Hei 29 Tauiwi Crescent

Search No More

Harcourts ID: PLS2324

If searching for your first-home, or investment property - there are some key features you will

likely be looking out for - good living spaces, warmth, layout flow, quality modern living standards,

natural light, a practical section with good entertainment areas, plenty of secure parking, and a

convenient location... with this property, you have it all!

Mitchell Roberts & Mana Tai

M 027 413 0797 or 027 626 2824 P 03 385 0343

Harcourts Twiss-Keir Realty / The Palms Licensed Agent REAA 2008

FOR SALE

3 1 2

Deadline Sale: 16 th November

@ 4.00pm (unless sold prior)

View: Phone for viewing times

Hei Hei 4 Ariki Place

Affordable Home + Garage/Studio!

Mitchell Roberts & Mana Tai

M 027 413 0797 or 027 626 2824 P 03 385 0343

Harcourts Twiss-Keir Realty / The Palms Licensed Agent REAA 2008

3 1 21

Harcourts ID: PLS2325

This comfortable three bedroom home + garage/studio is the perfect property for first-home

buyers, or investors looking for a rental return. The property has been owned for 12 years, with

the owners now needing to sell immediately. Buyers will LOVE the open plan living, polished rimu

flooring, the convenience of the heat-pump and electric heaters and plenty of off street parking.

AUCTION

Deadline Sale: 16 th November

@ 4.00pm (unless sold prior)

View: Phone for viewing times

Heathcote Maltworks, 66 Port Hills Road

Maltworks - Over 55's Lifestyle Villas

Sue & Gemma Roberts

M 027 440 1282 or 027 223 6471 P 03 323 6045

Harcourts Twiss-Keir Realty / Belfast Licensed Agent REAA 2008

FOR SALE

2 1 2

Harcourts ID: BF28393

A unique opportunity to create a special community, which captures and preserves the natural

micro-climate environment of the Heathcote Valley and surrounding Port Hills. All villas are a

freehold unit title this allows you to benefit from the growth in capital value. Be part of a community

with common interests where you can form new friendships and regularly arranged activities.

Priced From: $469,900

View: Tues, Thur and Sat 12.00 -2.00pm

Northwood 20 Innisfree Place

Position, Presentation & Privacy

Harcourts ID:BF28899

This immaculate permanent material home has been redecorated throughout. The sunny new

spacious kitchen with large breakfast bar and open plan living area makes family life easy with

access to private outdoor living areas and manicured gardens. To complement the family living

area, there is a formal lounge with adjoining dining area for entertaining.

Glenys French & Tony Edwards

M 021 333 699 or M 0274 421 402 P 03 323 6045

Harcourts Twiss-Keir Realty / Belfast Licensed Agent REAA 2008

Contributor to www.realestate.co.nz

3 2 2

Auction: 29 th November @ 2.00pm

Russley Golf Club (unless sold prior)

View: Saturday & Sunday 1.00 - 1.45pm

Waimairi 11 Evenwood Place

Winner in Waimairi!

Harcourts ID: KI7442

Vibrant and spacious this home offers four bedrooms, two living areas and two bathrooms. Master

bedroom has a walk in robe and the tiled entrance is large and light. The gardens are established

and outdoor flow opens from the living and the lounge. The garage is a double and the section is

private with a park like setting. A park a few doors down and the beach within walking distance.

Shona Pearce

M 027 285 7073 P 03 327 5379

Harcourts Twiss-Keir Realty / Kaiapoi Licensed Agent REAA 2008

4 2 2

Price: $587,500

View: Sunday 1.00 - 1.30pm

www.twisskeir.co.nz
---
PEGASUS POST Latest Christchurch news at www.star.kiwi

Tuesday October 31 2017 13

GREAT food

BROUGHT TO YOU BY...

Your fresh food people

SLOW ROASTED TOMATO,

BROCCOLI, ASPARAGUS

AND PARMESAN

BRUSCHETTA

Ingredients

6 small Tomatoes

2 tsp Honey

3 sprigs Fresh thyme

1 pinch Sea salt flakes

12 florets Broccoli

6 Asparagus spears

30g Parmesan cheese

6 slices Ciabatta bread

Directions

HOW TO BARBECUE

PERFECT BUTTERFLIED

LAMB LEGS

Ingredients

1 Butterflied boneless leg of

lamb

2 tsp Fresh rosemary

1 tsp Dried oregano

1 Lemon

1 tsp Lemon juice

¼ cup Oil

2 Garlic cloves

1 to taste Salt & freshly ground

pepper

Directions

Place the lamb in a shallow

dish and sprinkle over rosemary,

dried oregano, lemon rind

(grated), juice, garlic and oil.

Season with pepper. Refrigerate

overnight if possible. Remove

the lamb from the fridge at least

one hour prior to cooking.

Lift lamb from the marinade,

season with salt and cook on a

hot barbecue for 15min each

side.

Rest for 10min prior to

serving.

Turn on the grill/fan function

in the oven.

Slice the ciabatta in generous

diagonal slices. Grill in the oven,

turning once, until the bread is

toasted.

Remove from the oven and

keep warm.

Preheat the oven to 170 deg C.

Cut the tomatoes in half around

the equator and place on an

oven tray.

Drizzle over the honey,

crumbled thyme leaves (stripped

from the stalks) and sea salt

flakes, then roast the tomatoes

in the oven until soft and

aromatic – about 25-30min.

Meanwhile, cut the broccoli

florets in half and slice the

asparagus.

Blanch the vegetables in

boiling salted water.

To serve, place two roasted

tomato halves on each slice

of bruschetta, then top with

the broccoli florets, asparagus

slices and shavings of parmesan

cheese.

Cook under the preheated

grill until the parmesan melts.

Serve at once.

Broccoli ........................................... 1 .99

each

Telegraph Cucumbers ................. 1 .49

each

Bunched Asparagus ............. 2 .49

bunch

Loose Tomatoes ........................... 3 .99

kg

NZ NAVEL ORANGES .................... 1 .79

kg

Chicken Kebabs 5 pack .......... 4 .99

kg

Butterflied Lamb Leg ........ 18 .99

kg

Beef Rump Steak ....................... 13 .99

kg

PRODUCE

WEV'E GOT YOU

COVERED

This summer with a great range of fresh,

quality produce from the best growing regions

around New Zealand.

All our fresh meat is 100% NZ FARMED.

specials VAlid 30th october - 5th november 2017. ONLY AVAILABLE AT

RAEWARD FRESH HAREWOOD RD, TOWER JUNCTION & MARSHLAND RD

harewood rd Mon–Fri 8.00am–6.30pm Sat–Sun 8.00am–6pm

Tower junction Mon–Fri 8.00am–6.30pm Sat–Sun 8.30am–6pm

MARSHLAND RD Mon–Sun 8.00am–6:00pm

WWW.

.CO.NZ
---
14 Tuesday October 31 2017

Latest Christchurch news at www.star.kiwi

FOCUS ON HEALTH

Modern diet leads to illness!

It's not what you eat but what you absorb

Two Australian Naturopaths Stephen

and Shane noticed at the end of the 20th

century more and more of their patients

were experiencing gut, bowel and digestive

issues that were often leading to more

serious chronic health conditions. Being

Naturopaths they wanted to find what was

going wrong and began extensive research.

What they found was although their clients

were generally eating good food they were

not obtaining all the nutrients required for

good health from this food. Further research

showed one of the main problems was the

digestive system, "it's not what you eat but

what you absorb." Another well-known

problem is the soils the crops are grown in

have been depleted of many trace elements

and other nutrients that are known to be

essential for good health and therefore the

crops and food are also depleted. If we do

not obtain all the nutrients we require the

body will compensate to some degree but

a lack of too many nutrients will eventually

lead to health issues.

Based on this they

developed VITAL

GREENS, a nutrient

dense powdered

formula that

provides superior

absorption as well

as comprehensive

nutrition. They

decided on a

powdered formula

that could be made

as a great tasting drink because liquid

nutrition is the easiest way for the body

to absorb nutrients especially if digestive

issues are present. The formula provides

76 vital ingredients that work together in

synergy optimising each other's absorption

and benefits. Vital Greens contains a

carefully balanced blend of nutritionally

rich greens, vegetables, fruits, minerals,

vitamins, essential fatty acids, plant and

herbal extracts, superfoods, powerful

antioxidants, probiotics, essential amino

acids, digestive enzymes, fibre plus a

uniquely alkalising pea protein. It provides

superior nutrition to a multivitamin and

anyone will benefit from it. It is designed to

provide all the nutrients the body requires

for good health. It is also ideal for those

in poor health, those recovering from

injury or sickness, children, athletes, poor

eaters and the elderly. It is also suitable

for people with dietary restrictions and is

gluten, wheat and dairy free. Vital Greens

will help remove toxic waste from the body

while supporting all organs. You'll often

notice more energy and endurance, better

sleep, a more positive mood, skin problems

improving, less sickness, improved eyesight

and overall better more optimum health.

Further information and how to obtain

the maximum benefits from Vital Greens

as well as tastings is available from the

Natural Health Advisers at Marshall's

Health & Natural Therapy, 110 Seaview

Road, New Brighton, Phone: 388-5757.

We are Always Happy to Help!

ARE YOU RECEIVING ALL THE NUTRIENTS YOU REQUIRE?

TAkE THE VITAL GREENS 12 dAY CHALLENGE TO BETTER HEALTH

VITAL GREENS has been developed to provide superior nutritional support to

your body. It is near impossible to obtain all the nutrients your body requires

from a modern diet. VITAL GREENS contains 76 vital nutrients in a balanced

& highly absorbable form to help you receive all the nutrients you require for

optimum health. It consists of a blend of nutrient dense greens, vegetables,

fruits, plus additional herbs, vitamins & minerals, powerful antioxidants,

prebiotics & probiotics, essential fatty acids, fibre, plus a uniquely alkalising

pea protein.

VITAL GREENS Supports:

- Increased Energy & Endurance

- Better Digestion

- Optimised Immune Function

- Reduced Brain Fog

- More Balanced Blood Sugar

- 76 Vital Nutrients to Support

Optimal Health

How To SupporT ANXIouS KIDS & ANXIouS ADuLTS!

The gut has a lot to do with how we feel & how our brain

functions. If it is out of balance we can feel moody, depressed,

anxious, nervous & more. The right probiotic supplements

help restore gut balance. Quality essential fatty acids are one

of our biggest deficiencies. They have a dramatic effect on

brain function. Parents often notice children are less moody,

PRIMADOPHILUS

PROBIOTIC FOR

KIDS

30 chewable tablets

only $9.90

- Superior to a Multivitamin Tablet

- Wheat, Dairy & Gluten Free,

Vegan Friendly

- Gently Detoxifies, Cleanses &

Energises Every Cell in Our Body

- Highly Absorbable Superior

Nutrition in Every Serve

GO CALAMARI

BRAIN FOOD

60 capsules

only $29.90

120 capsules

only $54.90

SAvE

$16

SAvE

$36 90

Super Special

120g only $27.90, save $7.00

300g only $59.90, save $15.10

600g only $99.90, save $39.10

1kg only $144.90, save $54.10

120g (55+) only $27.90, save $7.00

300g (55+) only $59.90, save $15.10

MAIL ORDER

AVAILABLE

Bringing You the Best in Natural Health!

MARSHALLS HEALTH & NATURAL THERAPY

CONSULTING - PRESCRIBING - DISPENSING - MANUFACTURING - MEDICAL HERBALISTS

110 SEAVIEW RD, NEW BRIGHTON • PH 03 388 5757 • Email: enquiry@marshallshealthshop.co.nz

- WE ARE ALWAYS HAPPY TO HELP! -

concentration & learning improves & they are calmer with

EFA supplementation. Suntheanine is produced by a patented

fermentation process to mimic the L-Theanine found in green

tea. It is considered extremely safe & has been found highly

beneficial in clinical studies for stress, anxiety, a positive mood,

concentration, sleep, & much more.

Bringing You the Best in Natural Health

MARSHALLS HEALTH & NATURAL THERAPY

CONSULTING - PRESCRIBING - DISPENSING - MANUFACTURING - MEDICAL HERBALISTS

110 SEAVIEW RD, NEW BRIGHTON • PH 03 388 5757 • Email: enquiry@marshallshealthshop.co.nz

- WE ARE ALWAYS HAPPY TO HELP! -

SUNTHEANINE

L-THEANINE

60 capsules

only $34.90

Further information available in store from our Medical Herbalists & Natural Health Advisers.

INSTORE

TASTINGS

AVAILABLE

Anxious Kids -

What can you do?

We are all aware that anxiety in our

children has risen considerably over the

last 7 years, the forces that rattled our city

have continued to rattle its citizens and this

has impacted on how our children exist

and respond in their day to day lives.

Of course this is not the only contributor

and it must be remembered that any

mental health problem is not a clear cut

issue. However parents, teachers, doctors

and other people closely working with our

children and young adults have noticed a

change in behaviour.

They are seeing things such as increased

irritability, aggression, separation anxiety,

sleep disturbances and moodiness. The

normal response of anxiety to a future

challenging event has become an out of

proportion reaction to normal daily events

and this is where the problem lies.

So what natural options are there to help

support children's mental health?

Probiotics - Promote healthy balance of

chemicals in our brain

The connection between the brain and

the gut is key to understanding and

maintaining good mental health. You

need a well balanced microbiome (gut

flora), with an abundance of good bacteria

to ensure the creation and regulation of

neurotransmitters. Neurotransmitters

are chemicals that send messages to and

around our brain. Serotonin is one of

these neurotransmitters - low levels are

associated with anxiety and other problems

such as depression. It is important to note

ARE YOU READY

TO DOWNSIZE?

Paying rates for a house that's

too big? Paying maintenance and

heating costs for space you don't use?

A move to one of our

architecturally designed villas

at McKenzie Lifestyle Village in

Geraldine will cut those costs.

Three villas are available for

occupation now, priced from

$355,000.

Talk to David Connolly today

on 0800 84 55 24.

PEGASUS POST

that the majority of serotonin is actually

made in our gut!

Fish oils - Reduce cellular inflammation

Fish oils are a source of Omega 3 fatty acids,

unless we eat at least 3 - 4 meals of oily fish

per week we generally aren't getting enough

of this essential fatty acid (EFA). The

result is an imbalance between this antiinflammatory

EFA and the inflammatory

EFA omega 6 (found in most animal

products, cereals, vegetable oils). Low

levels of omega 3 (particularly DHA) in the

brain can result in increased inflammation

and the disruption of signaling between

nerves, this contributes to conditions such

as anxiety. Taking a supplement that also

includes vitamin D will help increase the

absorption of the EFA's.

B Vitamins & Magnesium - correct

nutritional deficiency

Low levels of nutrients such as B vitamins

and magnesium have been linked

to anxiety and other mental health

conditions. When we are under stress our

bodies use more of these nutrients and

our requirement is higher. B vitamins are

necessary for the production and release of

neurotransmitters, while magnesium helps

to regulate the nervous system. Magnesium

helps to relax, calm and protect the

cardiovascular system which can be put

under extra stress when suffering from

anxiety.

Theanine - promote a calm but alert

state of mind

Another really helpful nutrient is

L-theanine, this is an amino acid found in

green tea. The action of theanine is to relax

without sedation - basically it encourages

an alert but relaxed state of mind and

in doing so is very effective at reducing

anxiety. There are also other remedies

such as Bach flower remedies, essential oils

and herbs that can make a big difference

in your child's mental health. Herbal

teas such as Passionflower, Chamomile,

Lemon Balm and Licorice are all helpful to

encourage a feeling of calm. Bach flowers

can be individually prescribed to suit the

individual child's emotional personality,

they are very effective in helping to

reduce feelings of fear, loneliness, fatigue,

hopelessness, restlessness and sadness.

Our Herbalist Nadine, is available to

prescribe Bach flower remedies as well

as herbal formulas and give advice on

which nutrients are the most suitable.

She is available for private consultations

on Tuesday and Thursday 10-2pm and

within the store at other times.

Would you like

to promote your

Business?

For local features

please contact

Bev Stanger

03 364 7407

bev.stanger@starmedia.kiwi
---
PEGASUS POST Latest Christchurch news at www.star.kiwi

Tuesday October 31 2017 15

HEALTH & BEAUTY

Clinic offers easy

solution to varicose veins

If varicose veins are a problem for you, the

dedicated, professional team at Transform

Clinic in Mandeville Street Riccarton can

provide the perfect solution.

Firstly, they will give you a free

assessment of your veins, and then suggest

the appropriate method of treatment,

depending on the condition of the veins.

There are two methods available –

endo-venous laser treatment, which is

used for both smaller and larger veins,

and ultrasound guided sclerotherapy.

Both are easy and straightforward, and

you can be fully active immediately

afterwards, without needing to take any

time off work, or curtail your normal

activities. The only requirement is for you

to wear special stockings for two weeks

following treatment, and daily walking is

recommended.

Both these treatments give long-term

relief from the pain and discomfort of

varicose veins, and as Transform Clinic's

Jenny Little points out, they have become

the treatment method of today, with

surgical removal of varicose veins now

considered obsolete.

Jenny advises having treatment as early

as possible when varicose veins start to

appear, as left untreated they may lead to

venous ulcers and venous eczema, although

if these have developed, Transform Clinic

can treat them as well.

Transform Clinic has an affiliation

with health provider Southern Cross and

relationships with several other health

insurance companies, which means you are

usually covered for treatment, providing it

is included in your policy.

Transform Clinic also offers a full range

of appearance medicine options, including

skin rejuvenation and skin-tightening

treatments designed to improve skin quality

and enhance self-esteem. They remove

superficial veins on the legs and face, and

also provide mole mapping, mole removal

and primary skin cancer removal. Their

website, www.transformclinic.co.nz, has

information on all the various treatments

available.

"We are a 'one-stop shop' for all cosmetic

medicine treatments," says Jenny.

Transform Clinic is discreetly located

at 52a Mandeville Street. Opening hours

are Monday to Friday from 8.30am, with

late nights on Tuesday and Thursday,

and Saturday from 9am to 3pm. Phone

343-2880 to enquire about treatments or

make an appointment.

Transform Clinic is discreetly located at 52a Mandeville Street.

Call now for an appointment on 343-2880

Varicose veins -

BEFORE.

Varicose veins -

AFTER.

Full exam &

two xrays

Only $69

with Dr. Zohnia McNeill *

• General Dentistry • Emergency Appointments

• Cosmetic Fillings • Dental Implants • Crowns

• Partial/Full Dentures • Root Canals • Veneers

• New Patients Welcome

are you ready for

VARICOSE VEIN

FREE LEGS?

• No Surgery • No time off work

Call to book your FREE assessment

0800 256 654

99a GLANDOVEY RD (Entrance via Idris Rd)

FENDALTON, CHRISTCHURCH 8052

PHONE: 03 351 1188 FAX: 03 351 1138

Monday to Thursday 8.30am-5pm

Friday 8.30am-4pm

*

Special ends December 21 st 2017

We now accept Q Card

www.fendaltondental.co.nz

0800 2 lookgood 343 2880

52A Mandeville St, Riccarton

www.transformclinic.co.nz

Christchurch, Auckland, Dunedin & Queenstown

Affiliated provider to Southern Cross Health Society (medical criteria apply)
---
16

Tuesday October 31 2017

Latest Christchurch news at www.star.kiwi

PEGASUS POST

Ascot Community Centre, Ascot

Ave, North New Brighton

Have-A-Go at Indoor Bowls

Every Tuesday, 11am-1.30pm

Indoor bowls for the senior

community. No experience

necessary and all abilities

welcome. Go along to try it out

but please wear soft shoes. Cost

per person is $2 with the first

session free. Phone Tania Smith

at ACTIS on 963 7070 or 027 540

5442 with any inquiries.

Aranui/Wainoni Community

Centre

Grace Vineyard Church

Family Fun Night

Tuesday, 5-7pm

Everyone is welcome at the

annual family fun night. Enjoy

the carnival games, bouncy

castle, arts, crafts, games and live

bands. You are encouraged to

dress 'non-spooky' because it's a

safe and fun alternative to trick

or treating. Gold coin donation.

Grace Vineyard Beach Campus,

111 Seaview Rd, New Brighton

​

Imagination Station

Friday-Monday, 9.30-5.30pm

Lego lovers, head down to

the Imagination Station pop-up

facility in New Brighton. Use

Lego and Duplo as a medium for

learning. Entry fee is $2.

Carnaby Lane, New Brighton

Mall

Email sophie.cornish@starmedia.kiwi

by 5pm each Wednesday

Reading to Dogs

Wednesday, 3.30-4.30pm

Encourage your children's

reading skills in a relaxed

and fun environment. The

programme's animals have

all been trained and tested for

health, safety and temperament.

Library staff and a dog handler

will be present at all times to help

facilitate the sessions. Sessions

are 15min each.

New Brighton Library, Marine

Pde

Aranui Creation Station

Wednesday, 10am-noon

This initiative from Otautahi

Creative Spaces encourages

people to use their imagination

and encourage their crafty

side. Make new friends and

share ideas and tips on creative

projects. It's free to take part and

everyone is welcome to go along

and share their crafty side.

109 Aldershot St. Free entry

Be Fit Exercises Classes

Wednesday 1-2pm, Thursday

9.30-10.30am

For those aged 50-plus. The

cost will be $4, with the first

session free. Cup of tea follows

every session. For more information,

contact Margaret on 383

2665 or 3832337.

Ascot Ave community hall

VOLKSWAGEN DAY: The VW Summer Fest takes place on

Saturday, from 10-3pm. Everyone is welcome to take their VW

along, whether it is old or new. This is a family-friendly event

with stalls, food and awards. There will be a cruise to Joe's

Garage Sumner at 2pm. The event has been organised by the

Canterbury Volkswagen Enthusiast Club and will take place at

the New Brighton Club car park, 202 Marine Pde.

Game Zone

Thursday, 3.30-4.30pm

An hour of fun playing

favourite games like mine-craft,

charades, connect four and

pictionary. Learn and develop

strategies in new games such as

dutch blitz, heads up, hand and

foot and group games. Join in

the X-box and PS4 tournaments.

Take your friends or meet some

new ones. All children aged eight

to 12 welcome. No booking or

payment required.

Linwood Library, Eastgate

Shopping Centre

Learner Licence Course

Friday, 9.30-11.30am

Get the knowledge and

confidence you need to succeed

when sitting your learner licence

test. This course is delivered by

Literacy Christchurch which

provides you with laptops to use

during class time to sit practice

tests and research questions.

The course does not include the

actual test, or the fee to sit the

actual test.

Aranui Library, 109 Aldershot

St

Ascot Scrabble Group

Friday, 12.45pm

Challenge your word

knowledge with other likeminded

folk. Join in with this

friendly group suitable for

beginners or experienced players.

Cost is $3, which includes

afternoon tea.

Seaside Market

Saturday, 10-2pm

Head to the seaside this weekend

and enjoy live entertainment,

great food, fresh produce, artisan

bread, arts, crafts, jewellery and

more. With a bouncy castle and

free face-painting for the children.

New Brighton Mall

Golden Oldies Movies

Monday, 1.30pm

Every Monday, the New

Brighton Museum plays a film

classic and this week it's Don't

Look Now, We're Being Shot At by

Terry Thomas (1966). The theme

is comedy, with a running time

of 2hr 12min. Before the movie,

enjoy a cup of tea or coffee and

a biscuit. It's a good way to start

the week and meet some new

people. Entry by $2 donation.

8 Hardy St

Eastside Gallery

Until November 4, Tuesday-

Friday, 11am-4pm, Saturday,

noon-3pm

The exhibition will host

15 watercolours by Antonio

Guerrero, one of the 'Cuban Five',

imprisoned for 15 years in the

United States and finally released

after a prolonged international

campaign.

There will also be a film

screening on Thursday at 7pm.

The film will be All Guantanamo

is Ours. For all enquiries phone

981 2881.

388 Worcester St

Visit www.star.kiwi

anytime, anywhere!

Breaking news,

delivered to

your pocket.

Fire rages, homes at risk

•news •CTV •sport •districts •schools •lifestyle •opinion •what's on

www.star.kiwi
---
PEGASUS POST Latest Christchurch news at www.star.kiwi

Tuesday October 31 2017 17

REAL ESTATE

Spectacular seascape classic

11 Cholmondeley Lane, Governors Bay

Auction: Thursday, 9 November 2017 Unless Sold Prior

4 bedrooms | 2 bathrooms | 3 toilets | 2 living rooms | 1 office/study | 2 car-garage | Listing ID BE192909

Locations like this don't come up often

but with our vendors committed to a move

overseas, this is a rare opportunity to settle

somewhere very special. In a park like

setting with gently sloping lawns and lush,

established gardens the property connects

directly to the waterfront via a pathway.

With nothing in the way, it's a magnificent

panorama out to the Lyttelton Harbour

and surrounding hills. Peaceful and ever

changing, this must be the ultimate antidote

to life's daily stresses.

The classic homestead sits at the top of

the property enjoying the best of the views

and sun. Built with family in mind there are

four bedrooms, two living, 2 sunrooms and

a large library/office that could be a fifth

bedroom. The main family area is open plan

with a huge kitchen at the heart. Granite

benches and state of the art appliances

make this a home-cook's paradise. The

dining area and adjoining living both open

directly to a large deck and the ever-present

vista. A wood burner with a feature stone

surround adds the cosy warmth of real

flame. Adjoining these spaces is the second

living room, which in turn connects to

a sunny rear facing conservatory and

courtyard. Upstairs is the master suite,

library and a second sunroom with views

right to Godley Head - the perfect spot to

watch ships come and go, with yachts in the

foreground and kids jumping off the pier at

the bottom of your garden.

There are two luxury bathrooms one

being ensuite. There is two car garaging

and tons of off street parking for the whole

clan. Set in the small harbour community

of Governors Bay the property is an easy

commute to central Christchurch, and

a short stroll from all the community

amenities including bars and cafes, the

school and the local pool.

Open Homes Saturdays and Sundays

12:00pm - 12:45pm.

See you at the open home or to arrange

a private viewing of this property call

Debbie Pettigrew on 027 777 0411 or

Debbie Johnson on 021 0515225 from

Harcourts Grenadier Beckenham

(Licensed Agent REAA 2008) or phone

the office 337 1316

growing with you

SprIng Is here –

It'S Sow Time

how to get the best results from

seeds and seedlings

100% NatIve In

The capItal

Unravelling the secrets of

Otari-wilton Bush

The New Zealand

landscape awards

The people behind

the projects

$7.90 incl. GST

Save our roSeS

How a rose register is protecting our heritage

September 2016 | 100%

It's time

to grow!

New look and more

content than ever!

MeeT LeSTer Brice

A Garden coach

auckland Botanic GardenS

Why we love our public grounds

now bigger than ever

The magazine for

gardeners who like to get

their hands dirty

SubScribe from

$43. 50*

*6 issues/6 months

ISSN 2423-0219

SUBSCRIPTIONS FREEPHONE

0800 77 77 10

www.gaRdeNER.kiwI
---
18

Latest Christchurch news at www.star.kiwi

Tuesday October 31 2017

PEGASUS POST

Classifieds Contact us today Phone our local team 03 379 1100

Appliances (Whiteware)

NEED

WHITEWARe

NOW

fast, friendly, affordable

Caravans, Motorhomes

& Traliers

******************

MAZDA AXELA.

2008,2 litre, excellent

condition, looks and

drives fantastic, 64K,WOF

& Registratuin,White,

stereo,central locking,

airbags, Tow Bar, genuine

reason for selling, $10,000

firm.

.Ph 021 300 567

Computers

Curtains

www.curtainfabric-outlet.com

Fashion Designs & Colours

Discontinued Designs

End of Lines Bargain Prices

Call at Our Shop

CURTAIN FABRIC OUTLET

71 Hawdon St Sydenham

Ph 366-5026

ADD SOME

COLOUR

TO YOUR ADVERT!

595 2638

Gardening

& Supplies

CARAVAN Affordable A GARDEN OR

Caravans can sell your LANDSCAPING TIDY

caravan On Behalf in our UP? Shrub, hedge &

busy yard, 512 Blenheim tree pruning, Lawns,

Rd, Christchurch. 03 349- Gardening, consistently

6614

CARAVAN 4 to 5

reliable general property

upkeep, Dip. Hort. 10

berth wanted. UK type yrs experience, One off

preferred. Don't mind tidy ups or on-going

repairs. 022 3022 587 service. Nick's Property

CARAVAN about 17-26ft Maintenance. Keeping

wanted. 027 249 5571 your garden beautiful.

Free Quote. Ph. 942-4440

Cars

LANDSCAPE GARDEN

$8,001 - $12,000 PROFESSIONAL

Qualified Horticulturist,

offering expert, garden

makeovers, design and

landscaping, for free

quotes call Bryce 027 688-

8196 or 0508 242-733

Holiday

Accommodation

ALL

YOUR

COMPUTER

WORRIES SOLVED!

QUEENSLAND

*$30.00 off your first

service with this coupon!*

No problem too big or

small from home PC's to

business networks. PC

slow? An end to Viruses,

Spyware, and Clogged

Systems. Safe secure

hassle-free computing.

Lost files recovered.

Microsoft Certified,

MCSE, MCP+l. 30 years

experience. Call Andrew

Buxton this week on 326-

6740 or 027 435-7596

To Let

for $30.00 off* Custom HOMESITTERS

Computers Christchurch

SUN-

SHINE COAST AUSTRA-

LIA Resort, Ocean Views,

Balconies, Self Contained,

1 or 2 B/R Ensuite,

Heated Pool, Spa, Sauna,

Free Internet, Shops,

Restaurants, Tennis, Surf

Club & Patrolled Beach,

Public Transport at door.

Ask for our SEASONAL

SPECIALS. Phone 61 7

544-35011 Email: reception@mandolin.com.au

www.mandolin.com.au

reqd

for Xmas 2-3 wks.

Retired /not wkng pref.

Ph Lisa 359-2323 www.

townandcountryhomesit.

co.nz

Trades & Services

FOR ALL YOUR

★Garden Clean-ups

★Pruning

★Lawn Mowing

★Garden Maintenance

Call us today for a FREE quote

PH 0800 4 546 546

(0800 4 JIMJIM)

Trades & Services

RENTAL

NO BOND

Terms and conditions apply

NEED A

FRIDGE • WASHER

TV • FURNITURE ?

Call Mr Rental - 0800 111 313

Visit www.mrrental.co.nz

123 Blenheim Road, Riccarton

Open Monday to Friday

Trades & Services

HOUSE

CLEARING

Are you

moving house

or trying to

downsize?

Call All Clear

Canterbury. We work

with you to recycle,

sell and dispose of

unwanted items.

Ph: 03 260 0934

or 021 078 4553

raewynlcooke@gmail.com

www.allclearcanterbury.co.nz

Trades & Services

Lawns, Gardens

& Home Cleaning

9185885AA

Free Quotes

Professional, personalised

service. Regular &

one-offs. Fixed price.

Ph: 377-5814

For all your property and

cleaning requirements

Trained, insured & security

screened owner/operators

Multi-award winning

systems & Franchises

Franchises Available

www.fviphomeservices.co.nz

Trades & Services

PLUMBER

Michael

Gale

Plumbing Ltd

PROMPT SERVICE

For all

Plumbing

•Roofing/

spouting

•Maintenance

•Installations

ROOF REPAIRS

Locally owned & operated with

over 30 years experience.

• Extensions & repair • Roof coating

• Concrete & clay tiles • Butynol

• Malthoid • Asbestos Certified

• Coloursteel • Old iron • Guttering

Phone Dave 981 0278

or 021 223 4200

E: dave@beaumontroofing.co.nz

BEAUMONT ROOFING LTD

8790441AA

Trades & Services

Small work

no problem

Ph 364 7080 (24 hour)

Mob 027 438 3943

Trades & Services

BEST BATHROOMS

full renovation specialists,

LBP, repairs &

maintenance ph 03 387-

0770 or 027 245-5226

BRICKLAyER

George Lockyer. Over

35 years bricklaying

experience. UK trained.

Licensed Building

Practitioner number

BP105608. Insurance

work. EQC repairs.

Heritage brickwork and

stonework a speciality. No

job too small. Governors

Bay. Home 329-9344,

Cell 027 684 4046, email

georgelockyer@xtra.co.nz

WINDOW TINTING

tintawindow

advanced film solutions

99% uv block

fade protection

heat control

reduce glare

25 Years Experience

Trades & Services

privacy films

frosting designs

non-darkening films

Workmanship Guaranteed

Lifetime Warranties on Most Films

UV

block

Free Quotes Canterbury and Districts

03 365 3653 0800 368 468

Trades & Services

BUILDER

For all building work

but specialist in bathroom

renovations, 30 yrs

experience, with service

and integrity. Free Quotes.

Ph Lachlan 383-1723 or

0274 367-067.

BUILDER LICENSED,

available for all aspects of

building. Please call 027

241-7471 or 335-0265

*****************

CARPET & VINyL

LAyINg

Repairs, uplifting,

relaying, restretching

E mail jflattery@xtra.

co.nz

ph 0800 003 181

or 027 2407416

FENCE PAINTINg

Staining Quality at a

reasonable price. Free

quotes. Phone Warren

today on 980-1676 or 027

2014713

FENCINg

All types of residential,

including gates,

demolition & removal,

ph 021 231-1860

Fencing Uprite

gLAZIER

Window repairs, pet

doors, new glazing, double

glazing, conservatory

roofs. Experienced

tradesman. Call Bill on

981-1903 or 022 413-3504

PAINTING

• EQR work

• Plastering

• Wallpapering

• Int/Ext

• All aspects of decoration

Small, friendly, local

painting team

Ph: Inline Painting Ltd

Paul 027 254 2499

Trades & Services

PAINTER

Available, All aspects in

painting. Very competitive

in roofs and fences. Please

call 027 241-7471 or 335-

0265

PAINTER

Quality work, I stand by

Canterbury Ph Wayne

03 385-4348 or 027 274

3541

PAINTINg

DECORATINg

Wingfields Contracting,

all interior & exterior

painting & all forms of

interior plastering & jib

fixing, ph Mark 021 171-

1586 or 355-5994

Trades & Services

PLUMBER

ALF THORPE

PLUMBING Certifying

Plumber for all types of

plumbing, maintenance,

spouting, alterations etc.

Phone 352-7402 or 0274-

350-231

TILER/CARPENTER

35 years exp, no job

too small. Ph Ross 027

4311440.

T.V. SERVICE CENTRE

Repairs, tvs, microwaves,

stereos, DVD. Aerial

installations and kitsets,

480 Moorhouse Ave, ph 03

379 1400

UPHOLSTERER

Dining Chairs, Lounge

suites, Caravan Squabs

etc. recovered. Free

Quotes. Phone Graeme

383-1448

VHS VIDEO TAPES

& all camera tapes

converted to DVD, video

taping special occasions,

www.grahamsvideo.co.nz

ph 03 338-1655

WINDOW CLEANINg

Average 3 bdrm house

inside or out $40. Both

$70. Phone Trevor 344-

2170

Horticulture Course

FREE

Part Time

distance Learning

(workshops & Tutorials provided) Fee free.

Contact Ryan Young

(Training facilitator)

021 222 9678

ryan@florascapes.co.nz

www.florascapes.co.nz

Wanted To Buy

AAA Buying goods

quality furniture,

Beds, Stoves, Washing

machines, Fridge Freezers.

Same day service. Selwyn

Dealers. Phone 980 5812

or 027 313 8156

A+ Household effects,

fridges, freezers, washing

machines, ovens. Good

cash paid. Ph Paul 022

0891 671

TOOLS

Garden, garage,

woodworking,

mechanical, engineering,

sawbenches, lathes, cash

buyer, ph 355-2045

Entertainment

Weka Pass Railway

Waipara, North Canterbury

We are RUNNING

SUNDAY 5th November

Running 1st & 3rd

Sunday of every month

Phone 0800wekapass

Depart Glenmark Station

11.30am & 2.00pm

www.wekapassrailway.co.nz

Situations Vacant

Reporter

The successful applicant will need

to be a story breaker, competitive,

versatile, and have built a proven

track record and a range of contacts.

Ideally, the successful applicant

will have daily or national weekly

experience, and be able to think

outside of the square when it comes

to news packages and features.

Star Media has a stable of

newspapers; the city-wide

metropolitan The Star and hyper local

community newspapers Pegasus

Post, Southern View, Nor West News,

Western News, Bay Harbour News

and Selwyn Times, and website

www.star.kiwi

Tuition

Public Notices

Situations Vacant

KIWI FAMILY TRUST

are seeking volunteers to

help us with Christmas

wrapping in malls as a fund

raiser. Phone Gayle on

0508543375 or via email

gayle@kiwifamilytrust.

org

Star Media is seeking an experienced reporter to join its

award winning news room.

If you think you have what

it takes to be part of a

progressive company and

competitive news room send

your CV to:

Editor in Chief Barry Clarke

barry@starmedia.kiwi
---
PEGASUS POST Latest Christchurch news at www.star.kiwi

Tuesday October 31 2017 19

What's On

Entertainment

To advertise, contact

Jo Fuller 027 458 8590

jo.fuller@starmedia.kiwi

Powerfully moving programme

RESTAURANT & CAFÉ

We are open from 6.30am

Seniors SPECIAL

2 courses Soup/Roast or Roast/Dessert

Special available lunch only. Monday - Saturday 12pm - 2.30pm

$20

'Famous for their roasts!'

NZTrio, New Zealand's leading piano trio

concludes its 2017 Christchurch concerts with Soar

this November with guest violinist and fellow

Mainlander, Manu Berkeljon. Cellist Ashley Brown

and pianist Sarah Watkins are delighted to be

working with Manu, who is originally from the

West Coast and currently based in Sweden with a

position in the Dalasinfoniettan orchestra, to bring

this powerfully moving programme to

Christchurch audiences, including the world

premiere of Anthony Ritchie's Childhood and the

NZ premiere of Onaia by Dorothy Ker.

Described as a 'national treasure' and 'New

Zealand's most indispensable ensemble' (William

Dart, NZ Herald), NZTrio is renowned for their

eclectic repertoire, outstanding talent, and warm

kiwi stage presence. ey smash outmoded

Manu Berkeljon (violin)

Ashley Brown (cello)

Sarah Watkins (piano)

preconceptions of classical music being 'stuffy' or

'intimidating' by presenting a fresh and

approachable ethos that appeals to listeners from

all walks of life.

e SOAR programme prepares audiences for

new heights and perspectives. Weaving through

changing tapestries, you'll find yourself adri in

daydreams (Ireland) where life's complexity is

seemingly simplified (Ritchie), primordial

soundscapes pacify (Ker), and naivety is blissfully

deliberate like a game of hide and seek (Schubert).

NZTrio make one Christchurch appearance at

e Piano, Armagh Street on Wednesday 8th

November., 7pm. For ticketing and more

information go to www.nztrio.com

STAR MEDIA has one double pass to giveaway to NZTrio 'Soar' at

BE IN TO e Piano on Armagh St on Wednesday 8th November 2017.

WIN

To go in the ticket draw, email your name and contact daytime phone

number, with Subject Line: NZTrio to jo.fuller@starmedia.kiwi,

along with the answer to: Who is the guest violinist?

A DOUBLE PASS

Entries close 5pm Sunday 5th November 2017.

Winners will be notified.

Family Friendly

Kid's 2 course special

Lunch & Dinner

All you can eat, 7 days

Bookings Essential

PH 386 0088

fb.com/GardenHotelRestaurant

www.gardenhotel.co.nz

$10

The

RACECOURSE HOTEL

& Motorlodge

118 Racecourse Rd, Sockburn,

Christchurch. Ph 03 342 7150

www.racecoursehotel.co.nz

Christmas

Functions

Lunch & Dinner Buffet

FRIDAY 24th NOV - SUNDAY 24th DEC

Book & dine with us for your Christmas party this

festive season, and we'll take care of the rest!

Christchurch's only

SEASIDE CLUB

TUESDAY 31st OCT from 6.30PM

PARTY with DJ VINYL

TUESDAYS & THURSDAYS

MEMBERS LUCKY CARD DRAW

FUNCTION ROOMS | GAMING ROOM

SHUTTLE SERVICE Tues, Thurs, Fri, Sat

DINE BY THE SEA!

UPSTAIRS

Pierview A la Carte Restaurant.

The restaurant is open from

5.30pm Friday, Saturday and

Sunday, and for Sunday Brunch

from 10.30am to 2pm.

DOWNSTAIRS

Club Bistro is open Tuesday to

Saturday from 12pm - 2pm

and from 5pm.

New Brighton Club

202 Marine Parade

Phone 388-9416

www.newbrightonclub.co.nz

Members, guests and affiliates welcome

SERVING

HAPPY HOUR

5PM - 7PM DAILY

OUR CABINET ITEMS

ARE HOMEMADE

CREATED FRESH ON SITE DAILY

$12

LUNCH

SPECIALS

Live Music:

6PM.FRI.03 NOV

COFFEE

HAPPY

H O U R

2PM-4PM

DAILY

$3.50

Offer available for a limited time

and includes tea, hot chocolate

MON: ROAST MEAL

TUE: FISH & CHIPS

WED: FISH BURGER

THU: ROAST MEAL

SAT: FISH & CHIPS

AVAILABLE

FROM

11.30AM-2PM

FOR A

LIMITED TIME

Vintage Blue

PHONE 385 8880 FIND US ON FACEBOOK fb.com/GBCCHCH

THE GARDEN HOTEL COMPLEX | 110 MARSHLAND RD

www.gardenhotel.co.nz | phone 385 3132

H ORNBY

WORKINGMEN'S

CLUB

Club Cafe

OPEN 7 DAYS

LUNCH & DINNER

Gluten Free and

Vegetarian options

TROTTING CUP BREAKFAST

Tickets available at Club office and include:

Breakfast from 8.30am-10am; 2 glasses of wine or

beer; Guest Selector; 10 draws for $20 betting

vouchers; 8 draws for $25 Club vouchers;

Big screen race viewing; Full TAB

TUESDAY 14th NOVEMBER

$15

Chalmers

Restaurant

DINNER

Fri, Sat, Sun

BUFFET LUNCH

Sunday 12pm

FREE DESSERT

EXTENSIVE CARVERY 5.30PM & 6.30PM PRICED AT

ONLY $22.50 PER PERSON AND DESSERT'S ON US!

SUNDAY BUFFET : FRIDAYS & SATURDAYS

LUNCH $25 12PM | DINNER $27 5PM

GROUPS WELCOME. BOOKINGS ESSENTIAL.

PRE CHRISTMAS BUFFETS

SUNDAY 3, 10, 17 DECEMBER

LUNCH & DINNER BUFFETS : $30 PP

LIVE MUSIC with NEVILLE BARRIE

DINE & DANCE : SATURDAY 16 DEC

SATURDAY 16 DECEMBER

BUFFET DINNER & SHOW : $45PP

MADSEN PROMOTIONS present

THE MUSIC OF THE BEACH BOYS

LET US

ENTERTAIN

YOU!

FRIDAY, 7PM:

JO'S

KARAOKE

SATURDAY, 4.30PM:

MARION'S

OUTLAWS

SATURDAY 8PM:

TH' ART

OF CHEESE

SUNDAY, 2PM:

NEVILLE WILKINS

& THE VISCOUNTS

$5 ENTRY

The Hornby Club | ph 03 349 9026 | 17 Carmen Rd | Hornby

www.hornbywmc.co.nz | Members, guests & affiliates welcome

Cashmere Club

50 Colombo St | Ph 03 332 0092

www.cashmere club.co.nz
---
20 Tuesday October 31 2017

Latest Christchurch news at www.star.kiwi

PEGASUS POST