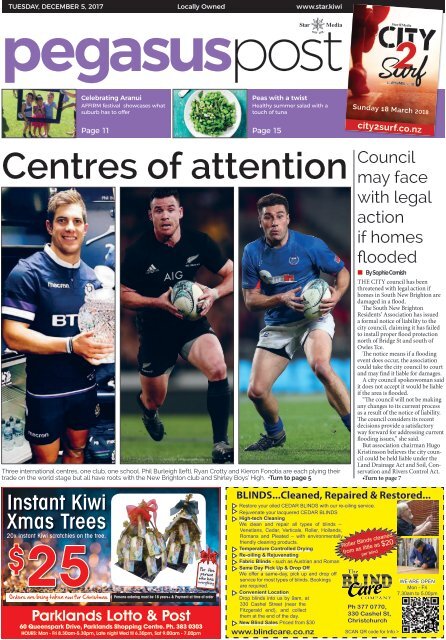 Pegasus Post: December 05, 2017
Create successful ePaper yourself
Turn your PDF publications into a flip-book with our unique Google optimized e-Paper software.
TUESDAY, DECEMBER 5, 2017

Locally Owned

www.star.kiwi

A Star Media Event

Star Media

Celebrating Aranui

AFFIRM festival showcases what

suburb has to offer

Page 11

Peas with a twist

Healthy summer salad with a

touch of tuna

Page 15

Sunday 18 March 2018

city2surf.co.nz

Centres of attention

PHOTO: GETTY

PHOTO: GETTY

Three international centres, one club, one school. Phil Burleigh (left), Ryan Crotty and Kieron Fonotia are each plying their

trade on the world stage but all have roots with the New Brighton club and Shirley Boys' High. •Turn to page 5

Council

may face

with legal

action

if homes

flooded

• By Sophie Cornish

THE CITY council has been

threatened with legal action if

homes in South New Brighton are

damaged in a flood.

The South New Brighton

Residents' Association has issued

a formal notice of liability to the

city council, claiming it has failed

to install proper flood protection

north of Bridge St and south of

Owles Tce.

The notice means if a flooding

event does occur, the association

could take the city council to court

and may find it liable for damages.

A city council spokeswoman said

it does not accept it would be liable

if the area is flooded.

"The council will not be making

any changes to its current process

as a result of the notice of liability.

The council considers its recent

decisions provide a satisfactory

way forward for addressing current

flooding issues," she said.

But association chairman Hugo

Kristinsson believes the city council

could be held liable under the

Land Drainage Act and Soil, Conservation

and Rivers Control Act.

•Turn to page 7

Instant Kiwi

Xmas Trees

20x Instant Kiwi scratchies on the tree.

$

25

Orders are being taken now for Christmas

Parklands Lotto & Post

60 Queenspark Drive, Parklands Shopping Centre. Ph. 383 0303

HOURS: Mon - Fri 8.30am-5.30pm, Late night Wed til 6.30pm, Sat 9.00am - 7.00pm

For the

person

who has

everything

Persons ordering must be 18 years+ & Payment at time of order

BLINDS...Cleaned, Repaired & Restored...

Restore your oiled CEDAR BLINDS with our re-oiling service.

Rejuvenate your lacquered CEDAR BLINDS

High-tech Cleaning

We clean and repair all types of blinds –

Venetians, Cedar, Verticals, Roller, Hollands,

Romans and Pleated – with environmentally

friendly cleaning products.

Temperature Controlled Drying

Re-oiling & Rejuvenating

Fabric Blinds - such as Austrian and Roman

Same Day Pick Up & Drop Off

We offer a same-day, pick up and drop off

service for most types of blinds. Bookings

are required.

Convenient Location

Drop blinds into us by 9am, at

330 Cashel Street (near the

Fitzgerald end), and collect

them at the end of the day.

New Blind Sales Priced from $30

Roller Blinds cleaned

from as little as $20

per blind

Ph 377 0770,

330 Cashel St,

Christchurch

www.blindcare.co.nz SCAN QR code for Info >

WE ARE OPEN

Mon - Fri

7.30am to 5.00pm
---
2 Tuesday December 5 2017

Latest Christchurch news at www.star.kiwi

from the editor's desk

CHRISTMAS MIGHT be right on the

radar but there's another big event looming

too – the City2Surf.

Yep, it's only a handful of months away

(see page 4) so it's time to start lacing up

those running shoes and pounding the

pavement or local park to get in some sort of shape.

The great thing about the City2Surf – and this hasn't changed

over the decades – is that anyone regardless of shape or fitness

level can take part.

A face that will appear on the marketing of City2Surf this

year is Jesel Royokada, a Fijian pastor.

And remember it's a family event: It's free for children 10 and

under to participate.

Barry Clarke

news

Getting into the spirit of City2Surf

Pastor asks congregation to get involved in event as a way

to connect with other cultures. Earlybird entries open on

December 1 at http://www.city2surf.co.nz/

Page 4

news

PEGASUS POST

Principal retires on high note

South New Brighton School principal John Bockett will

retire after 10 years at the helm.

get in touch

GENERAL ENQUIRIES Ph 379 7100

CLASSIFIED ADVERTISING Ph 379 1100

The Christchurch Star Company Ltd

PO Box 1467, Christchurch

starmedia.kiwi

NEWS

Sophie Cornish

Ph: 364 7437

sophie.cornish@starmedia.kiwi

ADVERTISING

Mark Sinclair

Ph: 364 7461

mark.sinclair@starmedia.kiwi

Page 10

community events

Free festival for all ages

Meet Santa at the New Brighton Christmas Parade on

Saturday. The parade begins at 10.30am on the corner of

Marine Pde and Hawke St.

Page 19

The best-read local newspaper, delivered to

15,657 homes every Tuesday

Linwood, Avonside, Richmond, Shirley, Burwood, Dallington,

Wainoni, Bromley, Aranui, Avondale, Bexley, New Brighton,

Northshore, Queenspark, Parklands, South Brighton.

FREE GIFT *

when you purchase a photo

with Santa at The Palms

2 – 6 Dec 10am – 4pm

7 – 8 Dec 10am – 6pm

9 – 13 Dec 10am – 4pm

14 – 15 Dec 10am – 6pm

16 – 17 Dec 10am – 4pm

18 – 23 Dec 10am – 7pm

24 Dec 10am – 4pm

Pack a

it ' s

Picnic,

Island

Time!

Discover walking tracks, native birds,

penguins, the swimming beach and

shipwrecks, all on the island that's

only 15 minutes from Christchurch!

Start Exploring

Otamahua/Quail Island today!

TPS31720

*T&C's at thepalms.co.nz

Corner Marshland & New Brighton Rd, Shirley

0800 436 574

www.blackcat.co.nz

DEPARTS: LYTTELTON QUAIL ISLAND

Oct – Apr 10.20am 3.30pm

Dec – Feb 10.20am & 12.20pm 12.30pm & 3.30pm

FARE: adult $30 child $15 return

CRUISES

LYTTELTON & AKAROA
---
PEGASUS POST Latest Christchurch news at www.star.kiwi

Tuesday December 5 2017 3

News

Local

News

Now

Fire rages, homes at risk

East pushes for 50m QE II pool

In Brief

• By Sophie Cornish

COASTAL-BURWOOD Ward

city councillor David East is

pushing for the community to

"have a conversation" about the

possibility of a 50m pool at the

new QE II.

The call comes after Minister

for Greater Christchurch

Regeneration Megan Woods

announced a U-turn on the

proposed Metro Sports Facility,

axing the current

contractors

Leighs Cockram

Joint Venture.

Dr Woods

announced there

were 'considerable

issues' with

the plans for the

David East

multi-million dollar complex,

including a $75 million budget

blowout, making the proposed

costs more than $321 million.

Dr Woods' spokesman said

right now she is focusing on

investigating options for the

central city.

"This includes the possibility

of combining the Metro Sports

Facility and the Multi-Use Arena

. . . however, we are meeting with

the sports codes this week and

are keen to listen to any ideas

they have."

The facility is planned to

include a 10-lane 50m swimming

pool, separate diving pool area,

five hydroslides, group fitness

rooms, high performance sports

centre, a cafe, childcare facility

and indoor courts with space for

nine netball courts.

Cr East questions whether a

complex that size is needed in

the city.

"Perhaps it is timely to

consider building the 50m pool

at QE II . . . the proposed site for

metro sports is worse land than

QE II and it would seem a quick

fix to build the 50m pool at QE

II where it was for many years

and was well accepted by the

city," said Cr East in a post on

Facebook.

He claims the cost of adding

a 50m pool to QE II would be

'vastly less' than a new complex

and would leave an indoor sports

complex for the city to cater

for other sport such as netball,

which could be built at a lesser

GONE: The

old QE II

complex was

demolished

after the

February

22, 2011,

earthquake.

Coastal-

Burwood

Ward city

councillor

David East

says it's time

to consider

bringing a

50m pool

back to east

Christchurch.

cost. Cr East believes the

project could easily be started

within a year as "a large part

of the infrastructure is already

there."

"When we designed and

commissioned the build we've

got now, one of the key aspects of

that design was that if we needed

to add to it in any fashion, ie

a 50m pool, it could be done

relatively easily."

Cr East said the idea will have

community backing.

GRANT FOR SURF CLUB

North Beach Surf Life Saving

Club has received a $2000 grant.

The club will use the funds to

purchase CPR training manikins

to help teach juniors and

lifeguards CPR. The grant was

gifted by Grace Gives NZ, which

awards finalists with grants

based on public vote. Recently

the surf club had a specialist

IRB trailer stolen in a string of

thefts targeting a Surf Life Saving

New Zealand compound in New

Brighton.

FUNDRAISER RECIPIENTS

The Rockabilly Show and

Shine organisers have announced

the recipients of this year's

fundraising efforts. The New

Brighton Project will receive

$2500 for its annual Christmas

Parade. The New Brighton

Cricket Club will receive

$1000 toward its club room

rebuild. I Love New Brighton

will get $700 for its annual

community fun day. New

Brighton Catholic School will

get $500 towards their new

school hall and New Brighton

Community Gardens $500

also for their support and

work within the community.

The money was collected from

donations on entry to the event.

Save the

Date

The magazine for gardeners who

like to get their hands dirty

growing with you

SprIng Is here –

It'S Sow Time

how to get the best results from

seeds and seedlings

100% NatIve In

The capItal

Unravelling the secrets of

Otari-wilton Bush

September 2016 | 100%

It's time

to grow!

New look and more

content than ever!

now bigger than ever

The New Zealand

landscape awards

The people behind

the projects

MeeT LeSTer Brice

A Garden coach

Bridalshow

25th March, 2018

10am – 3pm

Air Force Museum of NZ

45 harvard Ave, wigram,

Christchurch

2x Fashion parades showcasing

the latest Bridal styles.

All the experts under one roof.

Tickets on sale soon.

SubScribe from

$43. 50*

$7.90 incl. GST

*6 issues/6 months

ISSN 2423-0219

Save our roSeS

How a rose register is protecting our heritage

auckland Botanic GardenS

Why we love our public grounds

SUBSCRIPTIONS FREEPHONE

0800 77 77 10

www.gaRdENER.kIwI
---
The Native Plant Nursery

4 Tuesday December 5 2017

Latest Christchurch news at www.star.kiwi

News

Local

News

Now

PEGASUS POST

Fire rages, homes at risk

Getting into the spirit of

• By Andrew King

JESEL ROYOKADA embodies

everything that is the Star Media

City2Surf.

Last year he was photographed

leaping into the air after crossing

the line capturing the spirit of the

event.

Now, the Christchurch Fijian

Seventh-Day Adventist Church

pastor has asked his congregation

of about 80 to get involved in the

event as a way to connect with

other cultures.

"We come from the islands and

sometimes we do things in our

own island groups but it is good

to get involved with the rest of

the community," he said.

The 31-year-old encouraged

about 25 of his parishioners to

get involved in the event last year

"It was the first time our

church has got involved with

something like this," he said.

He said they were told

about the event by Healthy

Families Christchurch, part

of a nationwide Government

initiative ​aimed at helping New

Zealanders live healthy, active

lives.

"I would like to see all 80 of

them out there, and their friends

and families. We can even have

kids in prams at the event," he

said.

He said they will start to train

soon for the event, which will be

held on March 18.

The event is split into two

sections – 6km and 14km.

The Star Media City2Surf with

Les Mills 14km event starts in

Centennial Park, Spreydon, at

9am.

The Sport Canterbury 6km

event starts at 10am in Hansen

Park, Opawa.

Both finish at the Ferrymead

playing fields. There will be

after-event entertainment

with live music, food and free

children's entertainment in the

finish area.

Earlybird entries open online

on December 1 and cost $20.

They can be purchased from

http://www.city2surf.co.nz/

Standard entry from January 1

will cost $25 online or tickets can

be purchased from The Athletes

Foot, Pak'n Save and New World

supermarkets.

Children 10 and under are free

to participate.

•The Star Media City2Surf

will be held on March 18.

Early bird entries will be

available from December

1 at http://www.city2surf.

co.nz/

ENTHUSIASM: Jesel Royokada embodies the spirit that is the

Star Media City2Surf.

No. 200-0051

No. 200-0051

Name

Name

Date of issue

Name

The Native Plant Nursery

Taupo Garden Centre

155 Centennial Drive Taupo

P: 07 378 5450

Date of issue

Date of issue

This voucher may only be redeemed at The Native Plant Nursery and its outlets:

The Native Plant Nursery Taupo 155 Centennial Drive Taupo Ph: 07 378 5450

The Native Plant Nursery Taupo Garden Centre 155 Centennial Drive Taupo Ph: 07 378 5450

The Native Plant Nursery Waiuku 341 Glenbrook-Waiuku Road South Auckland Ph: 09 235 3543

The Native Plant Nursery South Island 1350 Lake Brunner Road Rotomanu S.I. Ph: 03 738 0634

$200

Gift Voucher $ 200

T WO HUNDRED DOLL ARS

$50

FIF T Y DOLL ARS

Valid for 12 months from date of issue. Vouchers cannot be exchanged for cash

visit www.tauponativeplant.co.nz to view all current specimens, availability and prices

Date of issue

This voucher may only be redeemed at The Native Plant Nursery and its outlets:

The Native Plant Nursery Taupo 155 Centennial Drive Taupo Ph: 07 378 5450

The Native Plant Nursery Taupo Garden Centre 155 Centennial Drive Taupo Ph: 07 378 5450

The Native Plant Nursery Waiuku 341 Glenbrook-Waiuku Road South Auckland Ph: 09 235 3543

The Native Plant Nursery

The Native Plant Nursery South Island 1350 Lake Brunner Road Rotomanu S.I. Ph: 03 738 0634

Taupo Garden Centre

155 Centennial Drive Taupo

GIVE a GARDEN

FOR CHRISTMAS

P: 07 378 5450

Christchurch Garden Centre

Open daily 9:00 am – 4:30 pm

478 Marshland Road, Marshland

Telephone : 03 385 9008

Name

Date of issue

No. 50-0251

No.

Name

50-0251

Gift Voucher

Valid for 12 months from date of issue. Vouchers cannot be exchanged for cash

visit www.tauponativeplant.co.nz to view all current specimens, availability and prices

…with native plant

gift vouchers

No. 20-0451

No. 20-0451

Gift Voucher $ 20

Name

Date of issue

This voucher may only be redeemed at The Native Plant Nursery and its outlets:

T WENT Y DOLL ARS

Dyers Road Landscape

& Garden Supplies

• Barks • Peastraw • Composts - we supply the best available

• Aggregates - Chip, Round and Basecourse

• Pavers & Schist products • Pungas

• Decorative Stones & Landscaping Rocks

• Trailer Hire first hour free with purchase

• Bag & Bulk - pick up or delivered

David, Carol & Mike

We will deliver!

SOIL

AND

HARDFILL

DUMPING

Phone: 03 384 6540

183 Dyers Rd, Bromley • OPEN 7 DAYS

Weekdays 7.30am-5pm. Weekends 8.30am-3pm

www.dyersroadandlandscapes.co.nz

The Native Plant Nursery Taupo 155 Centennial Drive Taupo Ph: 07 378 5450

The Native Plant Nursery Taupo Garden Centre 155 Centennial Drive Taupo Ph: 07 378 5450

YOUR LOCAL GARAGE

Taupo Garden Centre

155 Centennial Drive Taupo

P: 07 378 5450

• All vehicle repairs

• Oil changes and services

• Brakes • Loan car available

• Tyres, punctures & batteries

• W.O.F • Tune up

The Native Plant Nursery Waiuku 341 Glenbrook-Waiuku Road South Auckland Ph: 09 235 3543

The Native Plant Nursery South Island 1350 Lake Brunner Road Rotomanu S.I. Ph: 03 738 0634

Valid for 12 months from date of issue. Vouchers cannot be exchanged for cash

visit www.tauponativeplant.co.nz to view all current specimens, availability and prices

Your LocaL GaraGe

VERY FRIENDLY SERVICE AND ADVICE

NEW BRIGHTON AUTOMOTIVE

Phone: 03 388 3630

40 Hawke St (behind Z Petrol Station)

Wednesday 6th Dec - Cnr Wilkinsons & Johns Rd (Access via Gardiners)

Thursday 14th Dec - 455 Linwood Ave, Cnr Keighleys Road
---
PEGASUS POST Latest Christchurch news at www.star.kiwi

Tuesday December 5 2017 5

News

Local

News

Now

From school rugby to world stage

Fire rages, homes at risk

• By Andrew King

THREE international centres,

one school: This is the story of

the 2004 Shirley Boys' High first

XV.

Phil Burleigh (Scotland),

Ryan Crotty (All Blacks) and

Kieron Fonotia (Manu Samoa)

are all plying their trade on the

international scene.

However, they were all a part

of the 2004 Shirley Boys' High

first XV.

They also played through the

grades at New Brighton.

But at Shirley Boys' High,

they only played seven games

between them in the midfield –

all in the 2004 season.

Burleigh spent most of his

time in 2004 as the first choice

halfback, Crotty ran the backline

at No 10 before finishing the

last four games of the season

at second-five. Fonotia split his

time between right wing and

fullback.

They now all don the No 13

jersey.

Shirley assistant coach in 2004,

Mike Skinner, said they were

all good boys who spent a lot of

time on the back field "sunning

themselves".

He said Crotty could win

YOUNG STARS: Phil Burleigh (front row fourth from left), Ryan Crotty (third row far right), Kieron

Fonotia (third row third from right) and Setaimata Sa (fourth row third from right) were all in the

Shirley first XV in 2004.

games when the rest of the side

wasn't playing well, Burleigh

was the glue who didn't make

a mistake, and Fonatia was a

natural sportsman who had a

massive step.

"They had a good year, which

built into a very good year for

2005 where we almost went all

the way," he said.

Crotty, known back then as

Goofy, has made the centre

position his own in the All

Blacks while Fonotia, Fonzy,

made his debut against the

men in black earlier in the year.

Fonotia has played seven tests for

Manu Samoa since then.

Burleigh, known as Burls to

his Shirley teammates, played his

first game for Scotland against

Australia last month in what

was a record-setting eight-try

demolition in front of more than

67,000 at Murrayfield.

There was genuine excitement

from Burleigh's father, Wayne,

and Crotty's father, Steve, who

used to flat together on Marine

Pde, New Brighton, when there

was a possibility Burleigh

could have made his debut

against Crotty and the All

Blacks.

However, Burleigh was not

selected for the test.

Setaimata Sa was the No 8 in

the Shirley team in 2004.

He has played both union and

league and was part of the 2008

World Cup-winning Kiwis

side. He's also played five league

tests for Samoa and one for the

union side.

He now plays league for the

Mackay Cutters in Queensland.

Fonotia has been playing for

Welsh side, Ospreys, one of four

professional union teams in the

country which compete in the

Pro14 and the European Rugby

Champions Cup.

In 2018, Fonotia will move to

Scarlets, another Welsh club.

Burleigh joined Edinburgh

Rugby on a two-year deal in

2014 from the Highlanders and

extended his contract in 2016 for

another two years.

His time playing in Scotland

made him eligible for selection

in the national side.

However, he also has Scottish

heritage with his greatgrandmother

born in Aberdeen.

fall in

Love

with your

favourite

furniture

all over again.

BEFORE

AFTER

We've been trusted to look after hundreds

of properties all over Christchurch.

You can trust us to look after your's too.

30 YEARS

EXCELLENT

RANGE OF FABRICS

EXPERIENCEFREE

Recover your couches and chairs and save money!

QUOTES

Somerfield Upholstery Ltd

FURNITURE RECOVERY SPECIALIST

10 Calgary Place, Hornby | Ph 021 251 6200 | 349 0456

VISIT OUR SHOWROOM | QUALITY WORKMANSHIP GUARANTEED

www.somerfieldupholstery.co.nz

Paul Tainui

Property Manager of

the Year NZ 2015/16

Ray Hastie

Manager

027 448 8225

Paula Hastie

Assistant Property Manager

Local Experts – Citywide Knowledge

Phone (03) 331 6755

www.propertymanagementchristchurch.com

Chloe McGill

Property Manager

021 914 332

Rebekah Whalley

Accounts Administrator

03 331 6755

Abbey Nolan

Property Manager

027 379 5021

Nominated for Ray White New

Zealand Property Management

Office of the Year, 2016/17

Prier Manson Real Estate Ltd Licensed (REAA 2008)

ALL NEW LANDSCAPE ZONE

• Screened Soil

• Vege/Zoom Grow

• Bio Blend

• Garden Grow

BULK COMPOST, LAWN MIX,

AGGREGATES AND STONES

The new Ferrymead Mitre10 Trade Centre and Landscaping Zone

has everything you need to complete your projects.

• Turf Mix

• Tree Mulch

• Black Mulch

• Standard Bark Nuggets

• Premium Bark Nuggets

• Builders Mix

• AP20 Shingle

• AP40 Shingle

• Plastering Sand

• Brick Sand

• Bedding Sand

• Crusher Dust

FREE LOAN TRAILERS!

Ask about our Loan Trailers and Delivery service today *Conditions apply

• Round Stones

• Driveway Chip

• Teddington Chip

Ferrymead 987 Ferry Road Phone 373 6550 mitre10.co.nz/trade
---
6 Tuesday December 5 2017

Latest Christchurch news at www.star.kiwi

PEGASUS POST

Get Your

Jingle

on

@ JuST

INCREDIBLE

don't

forget

the pets

dress-up bling

fun, funky &

traditional ornaments

bows,

cards,

gift

labels,

wrap &

more

elf magic

lots of treasures

to discover

santa

stockings

& sacks

a christmas hat

for everyone

huge

selection

in store!

Pop up christmas store at South city Centre

• The Hub, Hornby • New Brighton Mall

• Barrington Mall • South City Centre
---
PEGASUS POST Latest Christchurch news at www.star.kiwi

Tuesday December 5 2017 7

News

Legal action threatened over flooding

•From page 1

"Also, we pay rates, which

makes (city council) liable in

my opinion. However, that

defines determination in front

of the courts," Mr Kristinsson

said.

How a potentially expensive

legal case would be funded is

unknown. "We will address

that if it comes to it but I

sincerely hope that we have a

responsible local government

that it doesn't have to come to

that."

The notice mentions a number

of errors and 'neglect' in

the area since the earthquake.

This includes an error found

in city council flooding mapping,

resulting in a number

of houses being built with

extremely low floor levels. "A

School band in recording studio

• By Sophie Cornish

AWARD-winning

Chisnallwood Intermediate

School band Class Disruption

joined the big league last week,

recording an original in a

studio.

Earlier this year, the band

won national competition

Bandquest, the intermediate

UNHAPPY: Hugo Kristinsson helped compile the notice of

liability to the city council. PHOTO: MARTIN HUNTER

serious mistake for which no

one has been held accountable,"

said the notice.

school's version of Smokefree

Rockquest.

As a prize, the band were

given the opportunity to

record a song and video in

Orange Studios, one of the

more well known studios in

the South Island.

The band recorded their

winning song Take It Away

These houses required no resource

consents and were built

using 'existing use rights', an

and created the video complete

with smoke machines and a

light show.

"It was a really fun

and amazing experience,"

said band member Dylan

Jonkers.

Take It Away was written

by Dylan and is about having

confidence in yourself and not

exemption under the Resource

Management Act with floor

levels as low as 11.27m above

the Christchurch city datum.

"This is a breach of the

Building Act, yet the council

has taken no action to

compensate the affected

homeowners or to remedy

their increased flood risk and

loss of property," the notice

reads.

A temporary stop-bank

exists on Kibblewhite St. It is

less than 20m from housing

directly opposite and is the

only protection for a number of

houses that are at a lower level

than high tide.

River water leaks through

at high tide and the stop-bank

was almost breached during

the flood event in July this year.

giving up.

The prize also included

$3000 for the school's music

department.

The band is made up

of Dylan Jonkers (vocals,

songwriting and bass), Sho

Woodhouse (drums), Hiromu

Crosado (keyboard) and Jacob

Carey (guitar).

BURWOOD

HOME OF THE

$

40 SERVICE

FESTIVE SPECIALS FOR YOU

SHOP HOURS

Mon-Fri 8.30am-5.30pm. Sat 9.00am-4.00pm

Ph: 383 2114

269 Burwood Rd, Burwood

Lay-by available

Helping us,

Helps tHe

community

Drop off or buy

3 family stores in your community

4 Restell Street, Papanui

Ph 03 352 0515

50 Charles St, Kaiapoi

Ph 03 903 0017
---
8 Tuesday December 5 2017

Latest Christchurch news at www.star.kiwi

Your Local Views

Local

News

Now

PEGASUS POST

Fire rages, homes at risk

Readers respond to the

New Brighton fireworks

display article

Pamela Neil – No more

fireworks until the whole

thing can be done in a more

professional way. Take a lesson

from Sydney and Brisbane.

Tamsin Carter – Guy Fawkes

fireworks display should be held

on Guy Fawkes Day. It's the backyard

fireworks that should go. Although

the traffic is bad getting

in and out of New Brighton, the

view for the show on the pier is

great . . . you can also watch from

up on the hills.

Tanya Didham – Would

prefer to see New Brighton

fireworks in winter, maybe to

celebrate mid-winter/Matariki!

Guy Fawkes is just a weird thing

to celebrate anyway, and it's a bit

silly having to wait so long for it

to get dark.

Ruben Witteman – No.

The pier is cool, you can sit

on the beach miles away and

see them clearly. Better than

everyone crammed into Hagley

Park.

Nic Davies – Yes, move it into

the park, New Brighton is too

hard to get in and out of.

Karen Beaumont – Why

not have two, on both side of

town at the same time. Split the

problems.

Madeleine Hurricks – Matariki

time please . . . less fire risk,

more dark hours and so Kiwi.

Aubrey Walker – Majority

rules, keep Guy Fawkes in New

Brighton.

Maryanne Hay – Don't

change it, it is set on November

5 for a reason people need to get

over themselves. It's once a year,

your kids ain't going to die from

staying up late one night in the

year and don't change it from

New Brighton, we get forgotten

here and I would hate for them to

take this away from us locals too.

Jo Zuydendorp – If it ain't

broke, don't fix it.

Hamish Middleton – Weekend

before daylight saving.

Could do somewhere like Riccarton

or Addington Racecourse

where there is heaps of parking,

heaps of seating and lots of access.

Could have music/bands

with existing set up.

Sylvia Oliver – How about it

just stops. Try New Year instead.

Peter Warren – Leave it at

New Brighton . . . we don't need

to set fire to any other part of the

city . . . safer over water. It would

be an advantage to hold it before

daylight saving . . . winter hours

would be good but weather/temperatures

less predictable. And

get rid of firework sales.

Anne Marchant – Yes, fireworks

should be at mid-winter.

Earlier, darker, more fun. It's the

right time of year. Who cares

about this guy, Fawkes? It would

be nice to borrow the name Matariki,

if local Maori agree. But

let's have the winter fireworks

anyway. Traffic problems can be

solved – treat it as a rehearsal for

emergency evacuation, and direct

some traffic over the Bridge

St bridge.

Philip Humphreys – It's

the one time of the year New

Brighton gets to put itself on

show why take that's away from

the east side.

Tania Watkins – European

history is as much a part of New

Zealand history now as Maori

history. Or the history of any

other culture living here. When

are we going to celebrate being a

multi-cultural community?

Readers respond to the

merger plan for the Rawhiti

and Avondale golf clubs

which has gone off course

Jo Zervos – These golf

courses should not have been included

in Regenerate's planning

options at all, they are not part of

the red zone.

Rachel Turner – Maybe that

was the idea – for the council to

portray that they are "listening

to the people", when it was never

going to happen in the first place.

Tanya Didham – Was a

completely weird last minute addition.

I certainly hope it is dead

in the water.

Pamela Neil – There are

more important issues in the city

than worrying about where to

relocate a golf course.

Richard Rowe – We all

hope the Government will act on

what the majority tell them they

want or don't want. Especially

when they ask for it. Does anyone

believe Regenerate Christchurch

will do that?

Karen Whila - Good it was a

silly idea for the red zone.

Stephen Graham – Rawhiti

should be left as it is, a park/reserve/golf

course (and, of course,

cricket, culture at its highest).
---
PEGASUS POST Latest Christchurch news at www.star.kiwi

Tuesday December 5 2017 9
---
10 Tuesday December 5 2017

Latest Christchurch news at www.star.kiwi

News

Pond to be

drained to

control midges

WATER IS being drained from

one of the oxidation ponds in

Bromley as part of an ongoing

programme to reduce midge

numbers in the area.

The city council has traditionally

relied on chemical dosing

alone to keep their numbers

down. The fish-free shallow, warm

waters of the oxidation ponds are

the perfect breeding ground for

midges.

"A critical step in the life cycle

of the midge is spent as larvae in

the sediment at the bottom of the

ponds,'' said city council water

and wastwater operations manager

Adam Twose.

"Emptying the pond and

exposing the sediment to the

sun, dries the sediment out

and removes the moisture the

larvae need to survive, effectively

sterilising the pond of midges,''

said Mr Twose.

The technique is being trialled

in one pond initially.

"We will be monitoring the

situation closely as there is a possibility

that odours and dust could

be generated as the pond bottom

dries out. However, if the trial

is as successful as we hope and

doesn't have too many unexpected

side effects, we could sunbake the

other ponds in the future.''

Principal retires on high note

• By Sophie Cornish

SOUTH NEW Brighton School's

principal will retire after 10 years

at the helm.

John Bockett will finish up at

the end of the year.

He will be replaced by Sue

Walls, who is principal at Ramarama

School, near the Bombay

Hills south of Auckland.

The father of three begun at

the school in 2007 and was principal

during the earthquakes and

school merger process.

Board of trustees chairman

John Pearson said Mr Bockett

'shepherded' the school through

these times.

"(He) leaves our school with a

strong curriculum, a stable staff

and many fond memories for

students, staff and families."

Mr Pearson said for some staff

and students, he is the only principal

they have worked with.

"Parting will be tough . . .

John has also started us on the

path of rebuilding, both the

physical school and restoring the

confidence of the community.

Our new principal is tasked with

continuing that rebuilding and

leading the school to the next

stage of development," said Mr

Pearson.

Mr Bockett's retirement plans

include rest and relaxation,

SAYING GOODBYE: Retiring principal John Bockett receives a colorful send-off by kuaka kapa

haka year 3 and 4 children from South New Brighton School. PHOTO: MARTIN HUNTER

spending time with grandchildren

and travels in his caravan

and overseas.

He said the biggest low in his

10 years was following the earthquake,

hearing that the school

may be considered for a merger,

or that it may no longer exist.

An equally high point, however,

was when this didn't happen,

and the school managed to

change the view of the Minster of

Education.

"We stayed our own identity

. . . that was a pretty massive day

when we heard that," he said.

Mr Bockett is also proud

of achieving his goal of being

one of the first schools on east

Christchurch to reopen after the

PEGASUS POST

earthquake.

"I am very sad about leaving,

I will certainly miss the place. It

will be very strange waking up

in the morning and not having

to get ready for work," said Mr

Bockett.

"The kids keep me young too,

I will have to look to my grandkids

to help with that now."

Christchurch School of Music presents

Christmas in the Gardens on the Archery Lawn on

Saturday 9 December from 11am - 3pm

Enjoy a wide range of ensembles, orchestras,

choirs, jazz and more.

Welcome to our family friendly

Christmas shop

Come and try

out all the

instruments in

the KBB "Have

a Go" tent - all

instruments

available for

children and

their parents

to try.

• Nativity Sets • Decorations

• Ornaments • Santas • Fairy Lights

Pataka - 768 Marshland Road (North End)

Open everyday until Christmas Day

10am - 4pm
---
PEGASUS POST Latest Christchurch news at www.star.kiwi

Tuesday December 5 2017 11

vegeland

for the best value

fruit and vegetables

everyday

Festival celebrates Aranui

THE AFFIRM festival was held

on Saturday for the 16 th year.

The alcohol and smoke-free

event was run by the Aranui

Community Trust at Wainoni

Park.

It was a family-friendly festival

which included live bands, stalls,

food and entertainment.

The acts included Sid Diamond,

Swiss, TJ Taotua and Israel Starr.

"AFFIRM is a day-long festival

that celebrates and showcases

our people in Aranui, a proud

community of hope and opportunities

where people stand tall,"

said an Aranui Community Trust

spokeswoman.

310 marshland road, chch

phone 03 385 3718

tony.vege@gmail.com

As seen on

WWW.STAR.KIWI

follow

us on

Discover this

unique Emporium

Metal art - gifts - hoMewares

water features - pottery

Mirrors - candles

wall hangings & More

722 Marshland Road, Top end Styx

Open 7 Days

Ph: 03 323 9781

www.hitchingpost.co.nz

cooper TYres

"Your Local Tyre Guy"

Tyres

Mag wheels

Batteries

Suspension

Brakes

Wheel alignment

Latest 3D

technology

407 Ferry Road

Christchurch

Phone 03 389 2170

Find us on

Facebook

Your

Local Tyre

Guy

www.coopertyreschristchurch.co.nz

Kerbside public

holiday collection

is changing

Starting this Christmas, you will notice a change with

your kerbside collection on certain public holidays.

Wheelie bins will now be collected a day after their

usual collection day.

MON TUE WED THU FRI SAT

HEAT PUMP

SALE NOW ON!

Amazin' summer Specials!!

• We will offer you the best quality brands and

option of heat pump for your home/business

• Providing Heat Pump solutions for over 15 years to Cantabrians

• We personally guarantee all our products & installs for 5 years

(providing annual maintenance has been completed)

Phone us today for your free consultation & quote

• Monday collections will be picked up on Tuesday

• Tuesday collections will be picked up on Wednesday

• Wednesday collections will be picked up on Thursday

• Thursday collections will be picked up on Friday

• Friday collections will be picked up on Saturday

These changes will only affect Christmas Day, New Years Day,

Easter Good Friday and ANZAC Day, for all other holidays

collection will continue as normal.

Thanks to everyone who gave feedback on this through our survey.

Please ensure wheelie bins are placed at the kerbside by 6am

on collection day.

41A SHAKESPEARE RD, WALTHAM

PHONE 03 366 0525

www.enviromaster.co.nz

"A local team for local people"

RED

GREEN

YELLOW

For more information, phone 941 8999

or visit ccc.govt.nz
---
12 Tuesday December 5 2017

Latest Christchurch news at www.star.kiwi

Christmas

in Pegasus Post

PEGASUS POST

FREE Courtesy Cars

All Insurance & Private Work Welcome

YOUR QEII Collision FRIENDLY Repairs LOCAL PHARMACY

302 Travis Road, North New Brighton,

Christchurch | P: 03 388 5187

E: qe2collisionrepairs@outlook.com

Shops bursting with

festive gift ideas

The countdown to the big day is well underway, so making

up the Christmas gift list will now be a top priority… if you

haven't already done so.

Finding those special gifts and stocking

fillers as well as the Christmas treats for

the table is so easy at our city's malls and

shopping centres, where the shops are

bursting with festive merchandise.

Every woman likes to receive bodypampering

gifts, and there is a huge

selection of these priced to suit all budgets

at the many pharmacies and gift shops

around the city. Perfume is another

favourite and again there is a wide

selection to choose from, ranging from

exciting new releases to the well-known

fragrances that have stood the test of time.

Lingerie, jewellery, fashion accessories,

homewares and decor items – there's no

end to the ideas for the women on the list.

The men are equally well catered for, from

the sophisticated metro-male boyfriends,

to the car-crazy brothers and the DIY

MERRY CHRISTMAS

Poto Williams' Electorate Office

is closed for the holidays from

Thursday 21st December

and opens in the New Year on

Wednesday 10th January 2018.

Wishing you all a safe and

restful Christmas and a peaceful

New Year from the team.

Poto WILLIAMS

MP for Christchurch East

133 Brighton Mall,

P 03 382 0288

poto.williams.mp@parliament.govt.nz

"We have lost a lot of good friends

but we still have a close community"

enthusiast and keen gardener husbands

and dads. Choose from clothing, books,

tools, personal grooming items and

gadgets to put a smile on their face on

Christmas morning.

Speaking of smiles, nothing gives families

more joy than seeing the excitement

of the children opening their presents.

Whether they are delivered by Santa or

snuck under the tree by mum and dad,

the cuddly toys, games, dolls and building

blocks, the candy canes, toy trucks and

pretty dresses currently filling the shops

will bring squeals of sheer happiness from

the smallest family members.

The tweens and teens usually have their

own ideas about what they want for

Christmas, so the gift cards offered by a

wide range of retailers are the perfect way

to please.

Your friendly local Pharmacy

1015 - Williams Xmas ad 2016 64x90.indd 1 24/11/16 12:29 PM

WELCOME TO OUR BRAND

NEW FACILITIES HERE AT 24/7

SNAP FITNESS NEW BRIGHTON

LOCATED AT 185 BOWER AVE BESIDE THE BP ON

THE CORNER OF TRAVIS RD AND BOWER AVE

ONLY 2 DAYS TO GO BEFORE THIS GREAT

DEAL FINISHES SO GET IN QUICK!

JOIN NOW AND PAY

NOTHING TILL 2018 *

FOR MORE DETAILS CONTACT US ON 021 612 556

OR FIND US ON FACEBOOK OR EMAIL US ON

newbrighton@snapfitness.com or pop into

our community gym between 9am-1pm or

3pm-7pm Monday - Friday to inquire.

*conditions may apply

MOTIVATE | LIFT | INSPIRE | STRENGTHEN

Robyn Thew

Robyn Thew

• Prescriptions • Medico Packs • Health Advice

• Gifts • Dry Cleaning • Passport/ID photos

Hours: Mon-Fri 9am-5.30pm,

Thurs 9am-6pm

11 Parnwell Street.

Ph 383 4814

Your local friendly Bar

Steak, Salad & Chips Just $15.50

With a drink purchase on Monday nights

Buy a main meal & get another

for $5

Sunday nights. Conditions Apply

Tuesday Quiz nights

Wednesday karaoke

Thursday Live music

Sky Sports

Courtesy Van

Chats Bar

251 Travis Road, QEII Shopping Centre

Ph: 388 1566
---
PEGASUS POST Latest Christchurch news at www.star.kiwi

Tuesday December 5 2017 13

Christmas

Creative wrapping

adds intrigue to gifts

The first tip to make the job easier and

the wrapping look more professional is to

do the task on a flat surface – a table or a

hard floor.

Recycling has become an important

aspect of modern-day life, and that's easy

to do with gift-wrapping. For example,

those brown paper bags you have put

aside are ideal, especially for odd-shaped

gifts. To give them a Christmassy look,

you could glue on those left-over pieces

of wrapping paper from last year that are

too small to use, and add a candy cane or

chocolate with the gift tag.

Another quirky idea is to wrap your gifts

in fabric. You could cut up a garment you

no longer wear, or look out those left over

pieces from curtains or clothing you have

made. Tie them up with fabric ribbon to

complete the look.

in Pegasus Post

Most of the malls offer a free gift-wrapping service, which

is a great help at this busy time, but for those who prefer

to wrap their own here are a few ideas to make gifts look

unique and exciting.

Using newspaper or cardboard boxes as

wrapping is another recycling idea, and

you could add a festive look by tying

them with Christmas ribbon.

For long-shaped gifts, why not wrap them

to look like a Christmas cracker. Place a

tube of cardboard around the item, then

put it inside a sheet of wrapping paper,

secure it with tape then scrunch up the

ends like a cracker and tie them off with

coloured ribbon.

Kitchen foil is another wrapping option.

Being silver and shiny it already has a

festive look, which you could enhance

with bright-coloured ribbon.

Make a container, such as a jar, tin or

tray one part of the gift. Complete it with

chocolates, nuts or biscuits and wrap the

gift in clear cellophane tied with brightcoloured

ribbon.

Designer

Fashion

3000

items

arriving

daily!

See Our

HUGE

Selection!

• Designer Brands • Family Clothing • Menswear • Footwear

• Bric-a-brac • Workman Outdoor Clothing • Household Goods

• Books • See the Retro Section AND Formal Wear

Open Daily 7 Days

NEW BRIGHTON SEASIDE

December 9th

A FANTASTIC DAY OF CHRISTMAS FUN,

GREAT STALLS, ENTERTAINMENT AND

DELICIOUS FOOd!

- MARKET 10AM-2PM

- MEET SANTA ON THE BEACH AT 10.15

- PARADE BEGINS AT 10.30

- CONCERT BEGINS AFTER THE PARADE

- SANTA'S GROTTO OPENS FROM 11.30

seasidemarket@mail.com

027 517 4250

Sydenham: 39 Battersea St Papanui: 472 Cranford St

Hornby: 94 Shands Rd New Brighton: 52 New Brighton Mall

(Old Farmers Building)

HOURS

Open 7 days 10am–4pm

New Brighton store only is closed on Sundays.

New Zealand's Largest

Recycled Clothing Retailer

New Zealand Post, Kiwi Bank & NZTA Registration Services

(Licensing, Change of Ownership, RUCLA)

Available 7 days a week

72 New Brighton Mall, New Brighton

03 388 1809

The only Book and Stationery store

with Fly Buys and Big Deal VIP Rewards

Monday to Friday 8.30 to 5.30

Saturday 9.00 to 5.30

Sunday 10.00 to 4.00

paperplus.co.nz
---
14 Tuesday December 5 2017

Latest Christchurch news at www.star.kiwi

PEGASUS POST

EASTERN SUBURBS

MikePeroRealEstateLtdLicensedREAA(2008)

3/78 Brighton Mall, Eastern Suburbs

03 421 8448

Your Local Area Specialists

Dean Cations

021 043 4840

Marc Hannington

021 173 0903

Samantha Coe

027 635 8463

Nick McIsaac-Luke

027 301 3870

Tim Miller

022 312 5339

Mike Pero Real Estate Ltd Licensed REAA (2008)
---
PEGASUS POST Latest Christchurch news at www.star.kiwi

Tuesday December 5 2017 15

GREAT food

BROUGHT TO YOU BY...

Your fresh food people

PEA, BEAN, ASPARAGUS

AND TUNA SALAD

Ingredients

Salad

2 cups new season peas, trimmed

300g asparagus, trimmed and

halved lengthways

300g green beans, trimmed and

halved diagonally

300g tuna in spring water,

drained and flaked

¼ cup fresh basil

Caper dressing

¼ cup capers

¼ cup red onion, finely sliced

2 Tbsp balsamic vinegar

3 Tbsp extra virgin olive

oil

Directions

Cook beans, asparagus,

and peas in a large

saucepan of boiling water

for 2-3min, until tender

to the bite but still bright

green.

Drain well and refresh

in ice-cold water to cool,

then drain again.

In a large salad bowl,

combine cooked greens

and flaked tuna.

Combine dressing

ingredients, season with

salt and pepper to taste

and pour dressing

over salad.

Toss well, garnish with

basil leaves and serve.

SMOKEY SWEET CHICKEN

DRUMSTICKS

Ingredients

8 chicken drumsticks

1 tea, a pot of strong tea,

"smokey" flavoured variety.

2 Tbsp honey

1 orange, juice only

1 Tbsp soy sauce, thick (or

oyster sauce)

Directions

Make a strong pot of tea using

a "smokey" flavoured variety.

To each two cup measure

of tea, add two tablespoons of

honey, the juice of an orange

and a tablespoon of thick soy or

oyster sauce. Blend together.

Add a cup of water. Layer your

drumsticks in a baking tray and

pour the mix over them.

Place into medium oven and

cook for 20-30min, basting

occasionally. The liquid should

reduce to a sticky glaze.

Cooking tip: If the chicken

cooks before the glaze forms,

remove the drumsticks and keep

warm.

Put the marinade in a pot and

reduce it down until syrupy.

Toss the chicken through the

syrup and serve.

Raspberries 125g ....................... 4 .79

punnet

local Peas 400g ........................... 2 .49

bag

Iceberg Lettuce (unwrapped) 1 .79

each

Large Pineapples .................... 2 .99

each

Bicolour grape punnets 500g 4 .99

punnet

Rocket & Agria Potatoes .. 2 .49

kg

Whole Beef Fillets ............... 32 .99

kg

Chicken Drum Sticks ............. 3 .99

kg

Butterflied Lamb Leg ........ 18 .99

kg

Precooked Sausages 1 kg .. 7 .99

kg

NEW SEASON

NEW SEASON

check out our premium

handcrafted Sausages instore

PRODUCE

WE'VE GOT YOU

COVERED

This summer with a great range of fresh, quality produce

from the best growing regions around New Zealand.

All our fresh meat is 100% NZ FARMED.

specials VAlid 4th december - 10th december 2017. ONLY AVAILABLE AT

RAEWARD FRESH HAREWOOD RD, TOWER JUNCTION & MARSHLAND RD

harewood rd Mon–Fri 8.00am–6.30pm Sat–Sun 8.00am–6pm

Tower junction Mon–Fri 8.00am–6.30pm Sat–Sun 8.30am–6pm

MARSHLAND RD Mon–Sun 8.00am–6:00pm

WWW.

.CO.NZ
---
2

[Edition datE]

Tuesday December 5 2017

16

Latest Christchurch news at www.star.kiwi

SENIOR LIVING

Aspire

Canterbury

Mobile

Aspire Canterbury is a not-for-profit

community-focused organisation

committed to meeting the needs of older

persons with mobility issues and disabled

persons. Their aim is to assist people in

making informed decisions about accessing

services or choosing products that will

assist them in their daily lives.

They have taken their services on the

road and out into communities, meeting

people in their environments to make

daily living easier. Aspire Mobile is a

response to the need to reconnect, giving

disabled people easier access to services

and introducing them to new products

which can make their lives more enjoyable

and provide them with a sense of inclusion

in the wider community.

They will show you how to choose a

walker or walking stick that is the correct

height, provide information about both

their services and other resources available

for community, disability and health

organisations.

For more information visit

www.aspirecanterbury.org.nz,

03 366 6189 mobileservices@

aspirecanterbury.org.nz We can help.

Plenty to do at McKenzie

Lifestyle Village

The last stage is under construction at

McKenzie Lifestyle Village but there are still

good sites available. We also have a number

of affordable villas ready for immediate

occupation. Prices range from $330,000

and our monthly outgoing fees are fixed for

life.

Our beautiful Leisure Centre is very

popular with the residents who make

full use of the swimming and spa pools,

gymnasium, craft room, library and lounge

area. Outside, the Bowling Green is also

popular along with Petanque, Mini-golf and

Table Bowls. This coming summer will see

Croquet being played on our Village Green.

The residents' monthly activities calendar

boasts the following; bowls events, concert

going (Operatunity), shopping trips, lunch

outings, yoga, housie, Qigong (Tai Chi),

happy hour, knitting, quiz nights, cards

and games, book club, Bible discussion,

craft sessions, and there are regular visits by

the hairdresser, massage therapist and the

PEGASUS POST

podiatrist.

Geraldine is a great little town with a

very pleasant microclimate. There is plenty

to do in and around the town with art

galleries, theatre and cinema, interesting

shops and boutiques, two museums and a

wide range of good places to eat. For the

more adventurous there are river and forest

walks nearby, opportunities for biking and a

choice of two local golf clubs.

For more information you can

talk to David Connolly about this on

0800 84 55 24.

you can stop him

snoring with a

SNOREX

Why put up with a broken

night's sleep?

Ph 377-4318 or 027 682 1752

DENISE LIM

FOR A FREE INFO PACK

Website: www.snorex.co.nz

Support and Resources for Independent Living

walkers to

purchase

(FroM $230)

or hire

$20

Can we help you or someone you support?

Disability Information Service – a 'one stop

information service' which offers unbiased

advice to assist people navigate their way to

organisations or services that can provide them

with support or advice.

Aspire Canterbury Shop – shop online or call in

to our shop at 314 Worcester Street and view our

range of easier living products We also hire out

wheelchairs, ramps and walkers.

Total Mobility Discounted Taxi Service – a scheme

which provides 50% discounts on taxi journeys to

eligible people in the Christchurch area who, due

to health conditions, are unable to access public

transport. Contact us for more information on

03 366 9093 or visit our website.

per week Mobile Service – Fun interactive presentations of

our information, services and easier living

equipment. We come to you! To book our

presenter to speak to your group call Richard

at numbers below or email mobileservices@

aspirecanterbury.org.nz

Mobility scooter demonstrations available.

Aspire Canterbury is a not-for-profit organisation

providing services to the community since 1981

Physical Address:

314 Worcester Street

Linwood Christchurch

Postal Address:

PO Box 32074

Christchurch 8147

2015 NZ Disability

Information Centre

of the Year

Ph: 03 366 6189

Freephone: 0800 347 242

Ph: (Total Mobility) 03 366 9093

Mobile Service: 027 588 9700

E: admin@aspirecanterbury.org.nz

W: www.aspirecanterbury.org.nz

Third Age Tours eST

Small Group Tours for the over 50's

Domestic and International

Great Prices!

england/Wales & Yorkshire Dales

23 August - 24 September 2018

enchanting Ireland & Scotland 31 May - 27 June 2018

curiosities of cuba 25 April - 21 May 2018

Treasures of Turkey 1 - 25 September 2018

captivating croatia, Slovenia

montenegro & Venice

1 June - 25 June 2018

Vietnam & cambodia 4 - 26 October 2018

Beautiful norfolk Island 4 - 11 November 2018

Sicily, rome & Southern Italy 29 September - 24 October 2018

South Island Tours

Glorious Autumn in Arrowtown 17 - 22 April 2018

catlins/Stewart Island 22 Feb - 2 Mar 2018

White herons, Glaciers & Alpine loop Tour

28 January - 2 February 2018

PluS oTher DeSTInATIonS!

For a Free InFormATIon PAck contact Brenda

Third Age Tours

1999

Ph 03 379 3799 or 03 312 7050 | Freephone: 0800 927 725

sunshineone@xtra.co.nz | www.thirdagetours.co.nz

Follow us on Facebook
---
PEGASUS POST Tuesday December

[Edition

5

datE]

Latest Christchurch news at www.star.kiwi

2017 17 3

SENIOR LIVING

1 in 2 people

deficient in B12

Emerging research has shown as

many as 50% of older adults & as many

as 25% of younger adults are deficient

in vitamin B12. Scientists at Rush

University Medical Center found those

most deficient in vitamin B12 to have the

smallest brain mass & the lowest scores

on tests measuring short-term memory,

concentration & brain performance.

Another study showed that older people

with higher levels of B12 in their blood

have bigger, healthier brains & score

higher on cognitive tests than those with

lower levels. Yet another recent landmark

study showed that B12 supplementation

slows the accelerated rate of brain

shrinkage & declining cognitive function.

B12 is essential for energy production, cell

health, regulation of mood & sleep cycles,

nerve health & repair, & prevention of

homocysteine a serious cardiovascular

risk factor that is known to cause damage

& plaque in the blood vessels. It

can also increase

the chances of a

stroke. Harvard

researchers found

a 34% decrease risk

of vision loss in a

study of participants

aged 40+ who supplemented with B12.

Another study linked a higher risk of

hearing loss in subjects in their 60's who

were low in B12.

The reason so many people lack B12

appears to be our body's ability to absorb

it declining with age as the digestive

system becomes less efficient. Anti-reflux

medication & other drugs further reduce

B12 absorption. The good news is B12 in

the form of Methylcobalamin sublingual

tablets that are dissolved in the mouth &

thru bypassing the digestive tract have

been shown to effectively raise B12 levels

in the body.

Further detailed information is

available from the Natural Health

Advisers at Marshall's Health & Natural

Therapy, 110 Seaview Road, New

Brighton, Phone: 388-5757. We are

always happy to help!

IS YOUR BRAIN SHRINKING?

BRAIN FOG, FORGETFUL, FEELING OLD, LOW ENERGY, MOOD SWINGS,

DIFFICULTY SLEEPING, PINS & NEEDLES, NUMBNESS IN LEGS

Up to 1 in 2 people may have a shrinking brain due to a lack of vitamin B12.

Supplementation of methylcobalamin B12 has been shown to reduce the rate of brain

shrinkage & support memory & brain function. B12 is also known to protect against

homocysteine a serious cardiovascular risk factor that can also damage the hearing,

eyesight & affect the mood. B12 is essential for energy, cell health & nerve function.

B12 SupportS:

• Memory & Brain Performance

• Helps protect brain from shrinking

• Energy & Recovery

• Nerve Function

• Helps protect blood vessels from damage

• Sleep

• Cellular Health & Repair

• Vegetarian's Diet

• Good Health

• Cardiovascular Health

SEE A DIFFERENCE

IN AS LITTLE AS 48

HOURS!

SUPER PRICE OFFER

Do You Suffer Eczema or Psoriasis?

Special

120g tube

Only $27.30

270g Pump Bottle

Only $42.90

Superior Methylcobalamin B12

(High Absorption Sublingual Lozenges)

100 Lozenges

Only $ 32 .90

You'll be amazed

at the difference

it can make!

200 Lozenges

Only $ 59 .80

MAIL ORDER AVAILABLE

Bringing You the Best in Natural Health

MARSHALLS HEALTH & NATURAL THERAPY

CONSULTING - PRESCRIBING - DISPENSING - MANUFACTURING - MEDICAL HERBALISTS

110 SEAVIEW RD, NEW BRIGHTON • PH 03 388 5757 • Email: enquiry@marshallshealthshop.co.nz

- WE ARE ALWAYS HAPPY TO HELP! -

MooGoo Eczema & Psoriasis Balm is our top selling

anti-inflammatory & anti-fungal cream. It is a great

alternative to steroid & chemical based creams.

Customers rave about how great it is!

Ideal For:

• Eczema & Psoriasis

• Seborrheic Dermatitis

• Fungal & Yeast skin conditions

• Supports wound healing

• Infants to Adults

MAIL ORDER AVAILABLE

Effective natural skincare

that is ideal for problem skin

MooGoo produce a full range of safe,

natural skin & scalp products that are

especially suited for those with problem

skin. In these products they only use top

quality edible ingredients that are known

to be highly effective & good for our skin.

These active ingredients are only used in

correct concentrations for effective results

& not just added to look good on the

label. Because the MooGoo range is so

safe & yet so effective is probably why it

was rated the number one most preferred

brand of non-prescription (non-steroid)

creams for those suffering from problem

skin in Australia. It is also recommended

by many medical practitioners in

Australia.

As MooGoo products are safe & natural

they are ideal for long term use from

babies to adults. They are an effective

alternative or follow-up treatment to

chemically-based ointments.

Although MooGoo products are

commonly used by people with skin

complaints like Eczema, Psoriasis &

Dermatitis etc. the range of products is

becoming increasingly popular for healthy

skin care. The Skin Milk Udder Cream

is the lightest of creams that can easily

penetrate the skin with its beneficial

ingredients especially the milk protein

which has been shown to increase skin

elasticity & health. It is non-greasy &

contains no mineral oil or other nasties.

The comprehensive MooGoo range

includes the popular Milk Shampoo &

Conditioner, Milk Wash, Cleansing Bars,

Fresh Cream Deodorant, Body Spray,

Edible Lip Balms, Baby range & much

more.

The MooGoo range & further detailed

information & advice is available

from the Natural Health Advisers at

Marshall's Health & Natural Therapy,

110 Seaview Road, New Brighton.

Phone: 388-5757. We are always happy to

help!

ARE YOU READY

TO DOWNSIZE?

Paying rates for a house that's

too big? Paying maintenance and

heating costs for space you don't use?

A move to one of our

architecturally designed villas

at McKenzie Lifestyle Village in

Geraldine will cut those costs.

Three villas are available for

occupation now, priced from

$355,000.

Talk to David Connolly today

on 0800 84 55 24.

Bringing You The Best in Natural Health

MARSHALLS HEALTH & NATURAL THERAPY

conSulTinG - PreScribinG - diSPenSinG - manufacTurinG - medical HerbaliSTS

110 SEAVIEW RD, NEW BRIGHTON • PH 03 388 5757 • Email: enquiry@marshallshealthshop.co.nz

- WE ARE ALWAYS HAPPY TO HELP! -

121 Skyhawk Road
---
2

18

[Edition Tuesday datE] December 5 2017

Latest Christchurch news at www.star.kiwi

HEALTH & BEAUTY

New hope for patients

suffering from MS,

strokes or spinal injuries

For those seeking relief from pain caused by injury, and other physical and mental

health issues, Chinese health practitioner Dr Lan Xiao offers a method of treatment

that brings fast, and often immediate results.

PEGASUS POST

Special offer for DeceMBer - if you

have suffered a stroke, spinal injury or

have MS, then this article is for you.

A graduate of Beijing Medical College, Dr Lan

established an acupuncture clinic in Christchurch

in 1993. As she continued her research and medical

practice, she discovered a reflexology network on

the human body, an exciting new discovery that

became the foundation of her new treatment –

acupuncture without needles.

Instead of needles, Dr Lan uses a blunt instrument

to stimulate the reflexology points on the face

or other parts of the body. When the point is

stimulated by pressure, a message is sent to the

repair centre to promote healing. As Dr Lan

explains, the treatment increases energy, which

boosts the body's healing system.

The body will heal injuries naturally, she says, but

that is a slow process. In addition, many people will

start to use their injured part, for example a knee

or an ankle, before it is properly healed, therefore

prolonging the injury and even causing chronic

pain.

With her powerful treatment, results are produced

very quickly – even instantly.

She likens it to the differences between the

power of a car – natural healing, of an aeroplane

– other types of natural healing, and of a rocket –

reflexology network.

It brings fast results because it is a very precise

treatment, Dr Lan says. She uses it to treat people

of all ages with many different types of pain in all

parts of the body, including arthritic pain, MS,

and pain from injury, and there are no side-effects.

Depression and anxiety, often the result of ongoing

low energy, can also be overcome with Dr Lan's

treatment.

Dr Lan's treatment can give amazing, instant

improvement for muscle weakness and numbness

caused by nerve damage such as MS, stroke

and spinal injury. Search You Tube for Dr Lan

reflexology to see lots of instant results videos.

Dr Lan has published a book, Dr Lan's Reflexology

Network, which introduces the treatment and

explains how it works. Her website, www.

drlansreflexologynetwork.co.nz, includes treatment

videos, where people who have had the treatment

speak about the fast relief it has brought them.

Dr Lan is offering 10 patients of stroke, 10

patients of MS and 10 patients of spinal injury

half price for their rehabb. Phone 323 4168,

mobile 027 231 8388.

True

Who thought

DENTURES

and false!

could look this

natural?

• Full dentures • Metal partial dentures

• First-time immediate dentures • Implant supported dentures

STUNNING: A beautiful new denture for

a young female patient

These stunning lovebite full upper and

lower dentures have been expertly crafted by

internationally-recognised dental technician

Richard Greenlees at his Christchurch studio.

The combination of Richard's skill, experience

(including 15 years in London's prestigious

Harley Street) knowledge and revolutionary

techniques allow him to create beautiful

bespoke false teeth that truly resemble those

in nature and reflect each patient's individuality

and unique character.

Shop online

with the in

store special

prices!

Discount code:

Goat

themohairstore

140 Colombo Street, Beckenham

Phone 03 943 1639

www.themohairstore.co.nz

AGING GRACEFULLY: Natural teeth for

a gentleman patient in his 80's

402 Montreal Street

Christchurch | P. 379 1222

By appointment only.

Consultation fee applies.

HOLLYWOOD: It's all white for this

female patient in her 60's

lovebite.com

Richard will personally guide you through the entire process to create

teeth with small nuances in the fabrication, colour and shape. Your beautiful new

lovebite dentures will boost your confidence and make you look and feel year's younger!
---
PEGASUS POST Latest Christchurch news at www.star.kiwi

Tuesday December 5 2017 19

Book Group

First Tuesday of every month,

11-12pm

Linwood Library is looking

for readers to join a daytime

book group. Open to men and

women. Everyone reads the same

book and gets together the following

month to talk about it.

Run in conjunction with Book

Discussion Scheme. Small fee.

Phone librarian Andrea Lord for

details on 941 7923.

Eastgate Mall, Buckleys Rd

Have-A-Go at Indoor Bowls!

Every Tuesday, 11am-1.30pm

Indoor bowls for the senior

community. No experience necessary

and all abilities welcome.

Go along to try it out. Please wear

soft shoes. Cost per person is $2.

First session free. Phone Tania

Smith at ACTIS on 963 7070, or

027 540 5442 with any inquiries.

Aranui/Wainoni Community

Centre.

Reading to Dogs

Wednesday, 3.30-4.30pm

Encourage your children's reading

skills in a relaxed and fun

environment. The programme's

animals have all been trained

and tested for health, safety and

temperament. Library staff and

a dog handler will be present at

RED CROSS

Learning first aid is not only a part of ensuring a safe

work place, but also an integral part of our engagement with the

wider community. We all learn the necessary skills to ensure that

in times of emergency we are able to assist our work colleagues,

but are we able to take these skills home, into the community or

on to the sports field?

not all work places are the same and the injury risk for each place

can be wide and variable. The office attended by administrators

does not carry the same risk as those people working with heavy

machinery, or perhaps at some distance from a regular ambulance

service. it is therefore essential that you pick the right first aid

course to suit all of your activities – both professional and social.

take, for example, an office worker who does not have a high

risk work environment and whose concern might be to ensure that

they can deal with minor cuts and superficial injuries, or the ability

to perform effective CPr. These skills can be achieved on a course

of eight hours duration and would generally fit into low to medium

risk area. But take this same person on to a sports field either as a

spectator or player when a higher level injury occurs. The eight

hour course covering unit standards 6402 and 6401 (or 26551 and

26552) does not cover head neck and spinal injuries, eye injuries,

hypothermia and poisonings.

The majority of injuries occur outside of the work place, in

fact one in three injuries occurs in the home, making it the most

common place for injuries to happen. new Zealand children

Email sophie.cornish@starmedia.kiwi

by 5pm each Friday

all times to help facilitate the sessions.

Sessions are 15min.

New Brighton Library, Marine

Pde

Aranui Creation Station

Wednesday 10am-noon

This initiative from Otautahi

Creative Spaces encourages people

to use their imagination and

encourage their crafty side. Make

new friends and share ideas and

tips on creative projects. It's free

to take part and everyone is welcome

to go along and share their

crafty side.

109 Aldershot St. Free entry

Storytimes

Thursday 10-11am

Encourage learning through

a love of stories. Storytimes is

a free, interactive programme

including stories, songs, rhymes

and craft. Non-members welcome.

Linwood library, Eastgate Mall,

Buckleys Rd

Fiksate 'Face Value' Exhibition

Thursday and Fridays 1-5pm,

Saturday 10-4pm

Fiksate Gallery warmly invites

you to the opening of their next

exhibition. Face Value is a street

art and urban contemporary art

exhibition exploring portraiture

Ensuring a safe work place

are twice as likely to die through injury as children who live in

australia. They mostly die as a result of motor vehicles accidents

or falls in the home. fatalities from leisure and sport are not far

behind those in the workplace.

The wider 12 hour course teaches the additional unit standard

6400 and provides a wide knowledge base for medium to high risk

environments. This course covers many of the skills required to

deal with the most common injuries, such as falls (which can result

in head, neck and spinal injuries) and dealing with complex scenes

such as motor vehicle accidents.

if you are not sure on the

course best suited to your

needs, ask your accredited first

aid training provider. They can

explain the course content and

give you options that will best

suit your needs. Look beyond

the workplace and consider

your family and your location.

Check that you have a good

quality first aid kit that is up-todate

with replenished items, and

that everyone knows where it is

located.

and will bring together works

from a diverse range of local,

national, and international artists

to the Fiksake Gallery. Go

down and check out a fantastic

range of artists using different

mediums and styles to interpret

what makes a face. Opening night

November 17. Running until

December 17.

115 New Brighton Mall

Babytimes

Fridays 11-11.30am

Encourage learning through

language. Babytimes is a free

interactive programme including

songs, rhymes, stories and play.

Non-members welcome.

Linwood library, Eastgate Mall,

Buckleys Rd

Ascot Scrabble Group

Friday, 12.45pm

Challenge your word knowledge

with other like-minded folk.

Piano

Raewyn Clegg

Registered Teacher of

Piano and Theory of

Music.

29 Lancewood Drive

Halswell

Ph 322-9377

Join in with this friendly group

suitable for beginners or experienced

players. Cost $3, includes

afternoon tea.

Ascot Community Centre, Ascot

Ave, North New Brighton

Learner Licence Course

Friday, 9.30-11.30am

Get the knowledge and confidence

you need to succeed

when sitting your learners licence

test. This course is delivered

by Literacy Christchurch who

provide you with laptops to use

during the class time to sit practice

tests and for researching

questions. The course does not

include the actual test, or the fee

to sit the actual test.

Aranui Library, 109 Aldershot St

​Seaside Market

Saturday, 10-2pm

Head to the seaside this weekend

and enjoy live entertainment,

Meet Santa as part of the New

Brighton Christmas Parade, Saturday

from 10am. Watch a fun community

parade and shop around the Seaside

Market for your Christmas gifts while

some great entertainment takes

place, and Santa meets the kids in

his grotto. There will be a huge array

of arts, crafts giftware and delicious

food, a bouncy castle for the littlies

and free face painting. Santa arrives

by boat on New Brighton beach

at 10.15am. The parade begins at

10.30am on the cnr of Marine Pde

and Hawke St. The concert will

begin after the parade. Santa's grotto

opens at 11.30am. Market runs from

10-2pm. Marine Pde, New Brighton.

great food, fresh produce, artisan

bread, arts, crafts, jewellery and

more. With a bouncy castle and

free face-painting for the littlies.

New Brighton Mall

Seaside Toy Library

Saturday, 9.30-11.30am

Catering for children six

months to seven years with toys,

games and sports equipment. Toy

hire $2 per fortnight. Visit our

Facebook page.

St Luke's Church Hall, 212 Pine

Ave, South New Brighton

Golden Oldies Movies

Monday, 1.30pm

Every Monday the New

Brighton Museum plays a film

classic and this week it's Al Jolson

Story by Larry Pakrs and Evelyn

Keyes (1946). The theme is

drama and biography. Running

time 2hr 8min. $2 donation.

8 Hardy St

NEW ZEALAND RED CROSS

GLOBAL LEADERS IN FIRST AID TRAINING

Christchurch Course Dates 2017

Venue: 32 Birmingham Drive, Middleton

First Aid Revalidation Course (6 hours)

Cost $130.00 per person (certificates must not have

expired for more than 3 months)

Time: 8.30am – 3.15pm

Monday

11 Dec

26 Feb

Tuesday

16 Jan

13 Feb

Wednesday

20 Dec

24 Jan

Friday

15 Dec

5 Jan

Sunday

17 Dec

14 Jan

M Learning Workplace Revalidation Course (4 hours)

Cost $130.00 per person (certificates must not have

expired for more than 3 months)

Time: 8.30am – 12.45pm

Monday

18 Dec

Thursday

25 Jan

Friday

16 Feb

For bookings please call 0800 REDCROSS or 339-7111

Book online at www.redcross.org.nz

USE THE RED CROSS ADVANTAGE - COMPREHENSIVE FIRST AID, ESSENTIAL FIRST AID,

REVALIDATION OR TAILORED TRAINING TO SUIT yOU AT yOUR PLACE OR OURS.

USE THE RED CROSS ADVANTAGE -

COMPREHENSIVE FIRST AID,

ESSENTIAl FIRST AID, REVAlIDATION

OR TAIlORED TRAINING TO SUIT YOU

AT YOUR PlACE OR OURS.

16 Hours Thursday/Friday

18 & 19 Jan

NEW ZEALAND RED CROSS - GLOBAL LEADERS IN FIRST AID TRAINING

CHRISTCHURCH COURSE DATES 2017 • VENUE: 32 BIRMINGHAM DRIVE, MIDDLETON

Comprehensive First Aid PLUS Course (16hrs or 4hr upgrade)

Unit Standard 6402, 6401, 6400 and 25411 or 26552, 26551, 6400 and 25411

Cost $275.00 per person incl FA Manual & GST for 16 hours or $85.00 per

person for upgrade following completion of CFA

Time: Day One 8.30am – 5.30pm Day Two 8.30am – 5pm

Friday 4 Hours 1.15pm-5.00pm

19 Jan

Comprehensive First Aid Course (12hrs)

Unit Standard 6402, 6401, 6400 or 26552, 26551, 6400

Cost $225.00 per person incl FA Manual & GST

Time: Day One & Day Two 8.30am - 3.15pm Time: Day One 8.30am - 5.30pm

2 x Monday

19 & 26 Feb

2 x Tuesday

9 & 16 Jan

27 Feb & 6 Mar

2 x Wednesdays

14 & 21 Mar

Thursday/Friday

4 & 5 Jan

11 & 12 Jan

Day Two 8.30am - 12.45pm

Thursday/Friday

18 & 19 Jan

Weekends

13 & 14 Jan

20 & 21 Jan

Essential First Aid Course (8hrs)

Unit Standard 6402, 6401 or 26551, 26552

Cost $155.00 per person Time: 8.30am – 5.30pm

Monday

19 Feb

Tuesday

9 Jan

Wednesday

17 Jan

M Learning (App.) First Aid Courses

Practical First Aid

Unit Standards 6402, 6401

Cost $155.00 per person

Time: 4 hours 8.30am-12.45pm

Thursday 15 Feb

Wednesday 7 Mar

Workplace First Aid

Unit Standards 6400, 6401, 6402

Cost $225.00 per person

Time: 8 hours 8.30am-5.30pm

Thursday 15 Feb

Wednesday 7 Mar

Thursday

4 Jan

25 Jan

FOR BOOKINGS PLEASE CALL 0800 REDCROSS OR 339-7111 • BOOK ONLINE AT WWW.REDCROSS.ORG.NZ

Saturday

13 Jan

20 Jan
---
20 Tuesday December 5 2017

Latest Christchurch news at www.star.kiwi

PEGASUS POST

A Star Media Event

Star Media

Sunday 18 March 2018

#areyouupforit? 14km, 6km Community Fun Run Event

Entries NOW OPEN

$20 Early bird tickets available from www.city2surf.co.nz
---
PEGASUS POST Latest Christchurch news at www.star.kiwi

Tuesday December 5 2017 21

REAL ESTATE

Tucked away in Tuckers Road

Unit 2, 31 Tuckers Road, Redwood

Price on Application

2 bedrooms | 1 living area | 1 bathroom | 1 car-garage | Property ID: 3464GT

Every now and then, we all discover a

little gem of a property amongst the new

properties coming into the market.

This over 60's is an exceptional quality

property in an appealing location and

being of first class presentation. A private

rear property in a cluster of 4 only. This one

being in the favoured private Northwest

position of the complex. The cosy home

provides an open plan dining, living area

that connects to a vey functional kitchen

that enjoys views to lawns and gardens.

The living extends to a sheltered patio

and attractive garden. The master bedroom

with super storage has its own double doors

out to the lawns and gardens that offer a

peaceful restful with the bathroom next to

it. The second bedroom ideally suited for

single person or grandchildren stay over.

An internal access garage with laundry and

auto door.

Close to churches, sports facilities,

Northlands and Main North Road buses at

the door.

The Owners have retired to their new

accommodation and request that we

present all offers to their Trustees. A sale

before Christmas would really please them.

Further details from Gavin Topp

& Nazira Murdock @ Harveys– Topp

Realtors Ltd (Lic Agent REAA 2008 )

Phone 03 359 5595 or 027 431 7470

CALL GAVIN NOW FOR AN

APPOINTMENT TO VIEW.
---
22 Tuesday December 5 2017

Latest Christchurch news at www.star.kiwi

PEGASUS POST

Classifieds Contact us today Phone our local team 03 379 1100

Appliances (Whiteware)

Trades & Services Trades & Services Trades & Services

BRICKLAYER

SToNEMASoN

George Lockyer. Over BRICK BLoCKLAYER,

35 years bricklaying Earthquake Repairs, Grind

experience. UK trained. Out & Repoint, River/

Licensed Building Oamaru stone, Schist,

Practitioner number Volcanic Rock, Paving,

BP105608. Insurance all Alterations new & old,

work. EQC repairs. Quality Workmanship,

FOR ALL YOUR

Heritage brickwork and visit www.featureworks.

★Garden Clean-ups stonework a speciality. No co.nz or ph 027 601-3145

★Pruning job too small. Governors T.V. SERVICE CENTRE

Bay. Home 329-9344, Repairs, tvs, microwaves,

★Lawn Mowing Cell 027 684 4046, email stereos, DVD. Aerial

★Garden Maintenance georgelockyer@xtra.co.nz installations and kitsets,

480 Moorhouse Ave, ph 03

BUILDER

fast, friendly, affordable

Call us today for a FREE quote

379 1400

For all building work VHS VIDEo TAPES

PH 0800 4 546 546 but specialist in bathroom & all camera tapes

renovations, 30 yrs

(0800 4 JIMJIM)

converted to DVD, video

experience, with service taping special occasions,

Trades & Services

and integrity. Free Quotes. www.grahamsvideo.co.nz

Ph Lachlan 383-1723 or ph 03 338-1655

0274 367-067.

WINDoW CLEANINg

595 2638

BUILDER

Average 3 bdrm house

HOUSE

inside or out $40. Both

Community Events To Let

LICENSED

$70. Phone Trevor 344-

available for all aspects of

ALCOHOLICS

CLEARING

2170

building. Please call 027

ANONYMOUS, If you NEED MORE Are you 241-7471 or 335-0265

want to have a drink thats

moving house *****************

your business. If you want

SPACE?

to stop, we can help. Phone

or trying to CARPET & VINYL

LAYINg

0800 229-6757

downsize?

Wanted To Buy

Call All Clear Repairs, uplifting,

Computers

Canterbury. We work relaying, restretching AAA Buying goods

ALL

YOUR

with you to recycle,

quality furniture,

E mail jflattery@xtra.

COMPUTER

sell and dispose of

Beds, Stoves, Washing

WORRIES SOLVED!

unwanted items.

co.nz

machines, Fridge Freezers.

*$30.00 off your first

Ph: 03 260 0934 ph 0800 003 181 Same day service. Selwyn

service with this coupon!* Ideal as an extra

or 027 2407416

Dealers. Phone 980 5812

or 021 078 4553

No problem too big or bedroom or office

or 027 313 8156

raewynlcooke@gmail.com FENCE PAINTINg

small from home PC's to

TOOLS

Three convenient sizes

www.allclearcanterbury.co.nz Staining Quality at a

business networks. PC from $70 p/w:

Garden, garage,

reasonable price. Free

slow? An end to Viruses, Standard 3.6m x 2.4m

woodworking,

Spyware, and Clogged

Large 4.2m x 2.4m Trades & Services quotes. Phone Warren

mechanical, engineering,

Extra-large 4.8m x 2.4m

today on 980-1676 or 027

Systems. Safe secure Visit our display cabins at AAA HANDYMAN

sawbenches, lathes, cash

2014713

hassle-free computing. 470 Cranford Street or call

buyer, ph 355-2045

Lost files recovered. 0211277227 for a free brochure licensed carpenter FENCINg

LBP, all property and

Microsoft Certified,

All types of residential,

building maintenance,

MCSE, MCP+l. 30 years

including gates,

repairs, bathroom/shower

experience. Call Andrew

demolition & removal,

installations, with free

Buxton this week on 326-

quotes 03 383 1927 or 027 ph 021 231-1860

6740 or 027 435-7596 www.justcabins.co.nz

245 5226 ciey@xtra.co.nz

for $30.00 off* Custom

Fencing Uprite

Computers Christchurch

Trades & Services

gLAZIER

Gardening

Window repairs, pet

& Supplies

doors, new glazing, double

glazing, conservatory

A GARDEN OR

Cracked tiles?

roofs. Experienced

LANDSCAPING TIDY

tradesman. Call Bill on

UP? Shrub, hedge &

Dirty grout?

981-1903 or 022 413-3504

tree pruning, Lawns,

Gardening, consistently

Old or mouldy PAINTER

reliable general property

Quality work, I stand by

upkeep, Dip. Hort. 10

silicon? Canterbury Ph Wayne

yrs experience, One off

03 385-4348 or 027 274

tidy ups or on-going

3541

service. Nick's Property

PAINTINg

Maintenance. Keeping

DECoRATINg

your garden beautiful.

Free Quote. Ph. 942-4440 Brett Ph 03 358 5105

Wingfields Contracting,

all interior & exterior

LANDSCAPE GARDEN

or 027 746 7632

painting & all forms of

PROFESSIONAL

www.groutpro.co.nz

interior plastering & jib

Qualified Horticulturist,

fixing, ph Mark 021 171-

offering expert, garden

1586 or 355-5994

makeovers, design and

ROOF REPAIRS

landscaping, for free

PAINTER

quotes call Bryce 027 688-

Available, All aspects in

8196 or 0508 242-733

painting. Very competitive

Locally owned & operated with

in roofs and fences. Please

Holiday

Accommodation

over 30 years experience. call 027 241-7471 or 335-

0265

• Extensions & repair • Roof coating PLUMBER

• Concrete & clay tiles • Butynol

For prompt service for all

• Malthoid • Asbestos Certified plumbing maintenance,

• Coloursteel • Old iron • Guttering repairs and alterations.

Phone Michael 364 7080

QUEENSLAND SUN- Phone Dave 981 0278

or 027 438 3943

SHINE COAST AUSTRA-

or 021 223 4200

PLUMBER

LIA Resort, Ocean Views, E: dave@beaumontroofing.co.nz ALF THORPE

Balconies, Self Contained,

1 or 2 B/R Ensuite,

PLUMBING Certifying

BEAUMONT ROOFING LTD Plumber for all types of

Heated Pool, Spa, Sauna,

plumbing, maintenance,

Free Internet, Shops,

spouting, alterations etc.

Restaurants, Tennis, Surf

Phone 352-7402 or 0274-

Club & Patrolled Beach,

Public Transport at door.

350-231

Ask for our SEASONAL

SPECIALS. Phone 61 7

544-35011 Email: reception@mandolin.com.au

www.mandolin.com.au

NEED

WHITEWARe

NOW

WARMER THAN A CARAVAN

NO BOND

Public Notice

Public Notices

watch local | support local | shop local

Join our

hosts Geoff &

renee on sKy

ChaNNeL 83

Thursday

7.30pm

repeaTs friday

1.30am

& 7.30am

WE SHARE YOUR VISION

SKY 083 + On Demand

WWW.STAR.KIWI

for enquiries, contact Geoff moreton: 021 1066 177
---
PEGASUS POST Latest Christchurch news at www.star.kiwi

Tuesday December 5 2017 23

What's On

Entertainment

Christchurch's only

SEASIDE CLUB

LIVE MUSIC

7PM SATURDAY

Dateless n Desperate POP-ROCK-BAND

TUESDAYS & THURSDAYS

MEMBERS LUCKY CARD DRAW

FUNCTION ROOMS | GAMING ROOM

SHUTTLE SERVICE Tues, Thurs, Fri, Sat

To advertise, contact

Jo Fuller 027 458 8590

jo.fuller@starmedia.kiwi

DINE BY THE SEA!

UPSTAIRS

Pierview A la Carte Restaurant.

The restaurant is open from 5.30pm

Friday, Saturday and Sunday, and for

Sunday Brunch from 10.30am to 2pm.

SUNDAY NIGHT BUFFET

LAST SUNDAY OF THE MONTH

NEXT BUFFET : BOOK NOW!

NEW YEAR'S EVE

Sunday 31st Dec, from 5.30pm

DOWNSTAIRS : CLUB BISTRO

Open Tuesday to Saturday

from 12pm - 2pm & from 5pm.

New Brighton Club

202 Marine Pde | Ph 388-9416

www.newbrightonclub.co.nz

Members, guests and affiliates welcome

Get all 'Christmasy' with us!

PRE-CHRISTMAS FUNCTIONS,

PARTIES, WORK BREAK UPS,

CHECK THIS OUT!

TWO COURSE THREE COURSE

FESTIVE MENU FESTIVE MENU

ONLY

$

30

EACH

AVAILABLE LUNCH & DINNER DAILY

UNTIL 24/12/16 FOR PARTIES OF 10 OR MORE

SORRY, WE ARE CLOSED CHRISTMAS DAY

'TIS THE

SEASON

TO BE

JOLLY

ONLY

$

45

EACH

The

RESTAURANT & CAFÉ

0pen daily from 6.30am

Breakfast, Lunch & Dinner

RACECOURSE HOTEL

& Motorlodge

118 Racecourse Rd, Sockburn,

Christchurch. Ph 03 342 7150

www.racecoursehotel.co.nz

CHRISTMAS

IN THE

BUFFET

RESTAURANT

Lunch & Dinner

All you can eat, 7 days

H ORNBY

WORKINGMEN'S

CLUB

LET US

ENTERTAIN YOU!

WESTVIEW LOUNGE

THIS FRIDAY, 7PM:

ROBBIE DREW

THIS SATURDAY, 4.30PM:

BARROSS

8PM:

JOHN McCABE

Chalmers

Restaurant

FREE DESSERT

FRIDAYS & SATURDAYS

EXTENSIVE CARVERY FROM 5.30PM PRICED AT

ONLY $22.50 PER PERSON AND DESSERT'S ON US!

SUNDAY BUFFET

LUNCH $25 12PM | DINNER $27 5PM

GROUPS WELCOME. BOOKINGS ESSENTIAL.

PRE CHRISTMAS BUFFETS

SUNDAY 3, 10, 17 DECEMBER

LUNCH & DINNER BUFFETS : $30 PP

LIVE MUSIC AT DINNER with NEVILLE BARRIE

DINE & DANCE

SATURDAY 16 DECEMBER

BUFFET DINNER & SHOW : $45PP

MADSEN PROMOTIONS present

THE MUSIC OF THE BEACH BOYS

Club CAFE

The Hornby Club | ph 03 349 9026 | 17 Carmen Rd | Hornby

www.hornbywmc.co.nz | Members, guests & affiliates welcome

PLEASE NOTE:

CHALMERS CLOSES

FOR HOLIDAYS

SAT 23 DEC

REOPENING

THURS 11 JAN

OPEN 7 DAYS

LUNCH &

DINNER

Gluten Free &

Vege options

Bookings Essential

PH 386 0088

fb.com/GardenHotelRestaurant

www.gardenhotel.co.nz

SERVING

HAPPY HOUR

5PM - 7PM DAILY

OUR CABINET ITEMS

ARE HOMEMADE

CREATED FRESH ON SITE DAILY

$12

LUNCH

SPECIALS

Live Music:

6PM.FRIDAY.08DEC

COFFEE

HAPPY

H O U R

2PM-4PM

DAILY

$3.50

Offer available for a limited time

and includes tea, hot chocolate

MON: ROAST MEAL

TUE: FISH & CHIPS

WED: FISH BURGER

THU: ROAST MEAL

SAT: FISH & CHIPS

AVAILABLE

FROM

11.30AM-2PM

FOR A

LIMITED TIME

Rhonda Campbell duo

PHONE 385 8880 FIND US ON FACEBOOK fb.com/GBCCHCH

THE GARDEN HOTEL COMPLEX | 110 MARSHLAND RD

www.gardenhotel.co.nz | phone 385 3132
---
24 Tuesday December 5 2017

Latest Christchurch news at www.star.kiwi

PEGASUS POST

Now Open

Introducing our brand new

purpose built retirement village

in the heart of Shirley.

Retirement just started looking a whole lot

better in Shirley! The Village Palms offers

affordable luxury and first class care.

• One bedroom serviced apartments

starting at $285,000

• Two serviced studio apartments for sale

at $255,000

• Studio care rooms certified up to hospital

level care $155,000

Call us on

022 321 1872

or Freephone

0800 THE VILLAGE

for your own

personal

guided tour

At The Village Palms, we also offer the full continuum

of care, with care suites, Rest Home & Hospital level rooms

available with care delivered 24 hours a day by Registered

Nurses and experienced staff.

The Village Palms - 31 Shirley Road, Shirley Where new memories are made
---
EASTGATE Shopping Centre: until 23rd Dec. 7 DAYS

A WEEK. Hours are 9am - 6pm. Located in the main

car park behind Countdown & The Warehouse.

Look out for the big shipping container, and loads

of FRESH CHRISTMAS TREES.