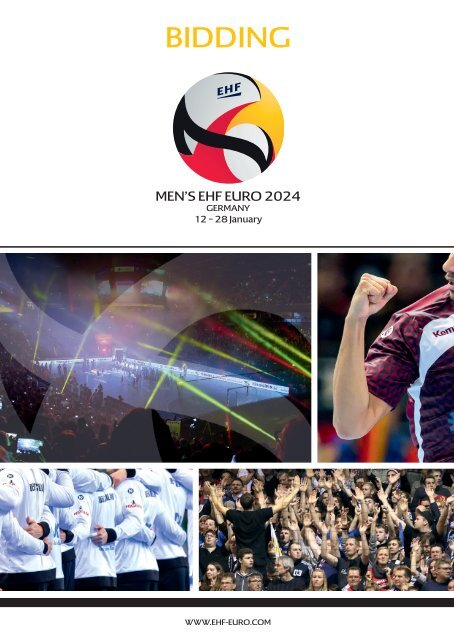 You also want an ePaper? Increase the reach of your titles
YUMPU automatically turns print PDFs into web optimized ePapers that Google loves.
BIDDING

MEN'S EHF EURO 2024

GERMANY

12 – 28 January

WWW.EHF-EURO.COM
---
BIDDING

MEN'S EHF EURO 2024

GERMANY

12 – 28 January

WWW.EHF-EURO.COM
---
2
---
GREAT SPORT

GREAT

ENGAGEMENT

"German handball is a basic keystone of European handball. It is always

fascinating for me to see all this passion and professionality among national

handball teams."

Alfred Gislasson, THW Kiel, Coach

3
---
GREETING WORDS

WELCOME TO A COUNTRY

THAT LOVES HANDBALL

Big arenas, big entertainment, big emotions – as hosts of the EHF

EURO 2024 we are looking forward to thrill players and spectators,

as well as sponsors and the media, in fantastic stadiums.

Handball is one of the sport disciplines that deserve to be in the

spotlight of these stadiums. This is the venue where stars and

fans come together. It is not only the sheer size of our modern

arenas located in cosmopolitan cities such as Berlin or Hamburg

that plays a major role for the success of a championship – we

are also willing to make sure that handball takes its place at the

centre of society and enable the stars of the game to enjoy the

attention that they deserve. We expect an audience with millions

of viewers, both inside the arenas and in classic and social media.

Germany is a country with huge expertise when it comes to hosting

international mega events. We kindly invite the European handball

family to join us as guests during the EHF EURO 2024. Enjoy big

entertainment and big stadiums and help us to take the handball

sport to a new level of engagement!

ANDREAS MICHELMANN

President of the German Handball Federation

4
---
MEN'S EHF EURO 2024

GERMANY

12 – 28 January

The German Handball Federation is bidding to host the EHF EURO

2024. I am delighted with this decision, because major international

tournaments are perennially fascinating celebrations of encounter

and have tremendous appeal.

With large arenas, top notch infrastructure and, last but not least,

a loyal handball fanbase, Germany has what it takes to again be

a welcoming host for an international tournament. Our country

has staged many such sporting events in the past. It has thereby

gathered valuable experience and has proven that it is an ideal

location for large sports competitions. We take that both as an

incentive and as a challenge.

The German Government is very keen in its support for the

German bid. As a sporting nation, Germany would be especially

delighted and honoured to again showcase its skills as an international

sports competition host, with the aim of making EHF

EURO 2024 an unforgettable experience.

DR. ANGELA MERKEL

Federal Chancellor of Germany

5
---
HANDBALL IN GERMANY

6
---
MEN'S EHF EURO 2024

GERMANY

12 – 28 January

"For us as football players it would be an extraordinary event, if we could

celebrate both the 2024 UEFA and the European Men's Handball Championship

together with all Europeans in Germany."

Mario Götze, football player/Borussia Dortmund

7
---
HANDBALL IN GERMANY

TRADITION MEETS ENTHUSIASM

"HANDBALL-STATE" GERMANY

Handball in Germany – a history with long-standing tradition: It was in the year 1917

when Max Heiser from Berlin set up the rules for a sport that from this moment on was

determined to fascinate millions of people. The first international match took place on

one of Berlin's playing fields in 1920, which turned Germany and its capital into the

birthplace of handball. Germany also played an important role when handball celebrated

its debut in the Olympic Games: In the year 1936, up to 100.000 viewers watched the

games in Berlin and created a unique enthusiastic atmosphere.

760,000

76%

ACTIVE MEMBERS IN 4,400 CLUBS

OF ALL SPORTS FANS IN GERMANY WATCH THE

GAMES OF THE GERMAN MEN'S HANDBALL TEAM

24,000,000

OF ALL GERMANS ARE INTERESTED IN HANDBALL

19,000,000

OF ALL GERMANS REGULARLY WATCH HANDBALL ON TV

22,000

TEAMS ARE ORGANISED UNDER THE UMBRELLA OF THE DHB –

BIGGEST HANDBALL FEDERATION WORLDWIDE

6,800,000

OF ALL GERMANS ARE CRAZY ABOUT HANDBALL

14,500,000

ARE INTERESTED IN THE GAMES OF THE

GERMAN MEN'S HANDBALL TEAM

SOURCE: AWA 2016, TSA 2015, TSA 2013, DOSB 2016

8
---
MEN'S EHF EURO 2024

GERMANY

12 – 28 January

HANDBALL AND GERMANY – THESE TWO TERMS HAVE BEEN CLOSELY INTERTWINED OVER

MANY GENERATIONS: THERE IS HARDLY ANY OTHER COUNTRY ON EARTH, WHERE PEOPLE

GET SO ENTHUSIASTIC ABOUT THIS RAPID AND EXCITING SPORT, AS GERMANY LOOKS

BACK ON A LONG TRADITION OF HANDBALL.

Handball made in Germany is a story of

success: In Europe, teams of the German

national league Handball-Bundesliga play

against other clubs in top matches of the

European Handball Federation, which are

always completely sold out right at the

beginning of each match. The successes

achieved by all German national teams are

impressive: The GDR won the gold medal

in the 1980 Olympic Games in Moscow,

while the team of the German Handball

Federation (DHB) became world champion

in 1978 and 2007, as well as European

champion in 2004 and 2016. In Germany,

there is no other indoor sport arising as

much enthusiasm as handball.

INDOOR SPORT NO. 1

Krakow in January 2016: Germany's national

handball team plays Spain in the EURO-final

broadcasted by the German TV station ARD

and watched by an overwhelmingly large

audience: 13 million TV viewers caused an

outstanding 42 percent market share. There

is no other indoor sport in Germany that is

able to fascinate such an incredibly huge

amount of viewers.

9
---
OUR CONCEPT

10
---
MEN'S EHF EURO 2024

GERMANY

12 – 28 January

"To further enhance the professionalism of the European Handball we are happy

to organise the first European 'Handball Business Summit' in 2024. That would

be a reasonable, great step forward both for handball in general and SPOBIS,

which has already become Europe's biggest sport business summit."

Marco Klewenhagen, Managing Director of the Sponsors Verlags GmbH

11
---
OUR CONCEPT

THE BIGGEST HANDBALL PARTY

IN EUROPE

RECORD TOURNAMENT

There has never been anything like this before:

A EURO played by 24 participating teams in one

single country and for which 23 nations may qualify!

Germany is ready to host this record tournament and

to create an atmosphere that is without compare.

There are also further factors that will help to make

sure that the EHF EURO 2024 in Germany will

become an event of superlatives. The opening

match could already set a new benchmark. Many

European top players participate in Europe's highly

regarded German national handball league; this will

attract many fans from all over Europe to Germany.

Thanks to the enthusiasm among fans and the huge

media interest in such a mega event, a EURO in

24 PARTICIPANTS

"Great Sport – Great Engagement" is the slogan of

the EHF EURO 2024 in Germany. 24 nations will participate

in this tournament, which sets a new benchmark

beforehand. They will be joined by 24 EURO

ambassadors who are going to create enthusiasm

and extended public relations, before the beginning

of the championship.

12
---
MEN'S EHF EURO 2024

GERMANY

12 – 28 January

A COUNTRY IN HANDBALL FEVER: WHEN THOUSANDS OF FANS IN MODERN ARENAS AND

MILLIONS OF SPECTATORS WATCH THE EHF EURO 2024 IN GERMANY ON TV, EUROPEAN

HANDBALL WILL THROW A PARTY LIKE NEVER BEFORE.

Germany would be the ideal platform to promote and develop the brand of

handball. Moreover, the organisation of a European handball business summit

in the course of the EURO 2024 would further contribute to a professionalism

of handball. We also aim to guarantee global media reach by wide-ranged TV

broadcasts and a strong integration into social media networks.

GOAL: MORE THAN 500,000 SPECTATORS

Let's go back to the 2006 FIFA World Cup: Thousands

of fans from many countries both inside and outside

of the arenas created this memorable atmos phere

rooted as "Summer Night's Dream" in the collective

memory of all Germans. This colourful image could be

re-painted during the MEN'S EHF EURO 2024. The

event will be able to host a total number of more than

500,000 spectators in its various arenas. The

opening game in Düsseldorf will already be attended

by more than 50,000 spectators, which could set a

new spectator record during the EHF EURO 2024.

Moreover, thousands of people will be reached via fan

zones and fan parties, where they will peacefully

celebrate together.

13
---
OUR CONCEPT

A HANDBALL EVENT

THAT CONNECTS ALL OF EUROPE

MAXIMUM MEDIA REACH

For many years handball in Germany has been a very popular sport among

spectators, not only because arena tickets all across the entire Republic are

usually sold out completely, but also because many games are regularly broadcasted

on TV. The matches of the German national team and international

tournaments are especially popular in Germany. Matches during big tournaments,

such as World Cup, EURO and the Olympic Games, are mega events that

FIRST EUROPEAN HANDBALL BUSINESS SUMMIT

To further professionalise the handball industry,

the German Handball Federation plans to

organise the first "European Handball Summit"

in cooperation with SPONSORS – one of the leading

European sports business publishers and

summit organisers in the course of the EURO

2024. Experts of sports business and handball

from all participating countries and high-class

speakers for marketing, sports media and entertainment

will be invited. The summit is intended

to set new benchmarks. It is supposed to be a

platform for a broad transfer of knowledge and

an exchange between different types of sports

and handball experts from many countries.

14
---
MEN'S EHF EURO 2024

GERMANY

12 – 28 January

WITH OUR EVENT AND THE MARKETING CAMPAIGN BEFORE AND DURING THE EURO 2024,

WE WILL CREATE A UNIQUE WAY OF ENTHUSIASM FOR HANDBALL, AN OUTSTANDING DIGI-

TAL ENGAGEMENT AND GLOBAL MEDIA REACH.

enchant millions of viewers at their home

TVs. It will be the same situation in

2024, when the EHF EURO in Germany

becomes a media event that will attract

attention far beyond its national borders.

This does not only apply to international

TV broadcasts but also to all other media and

digital channels. It is the declared goal to generate

a maximum media reach all across Europe

via Facebook, Twitter, YouTube, Livestreaming

and other channels.

DIGITAL ENGAGEMENT

Such an event must be accompanied

by the most possible digital engagement

on all digital channels. The EHF EURO

2024 in Germany will become an event

that rockets handball to new heights.

This is the challenge that we are going to

face.

15
---
OUR CONCEPT

EUROPEAN-WIDE

MARKETING CAMPAIGN

The core element of this campaign

will focus on 24 well-known and likeable

EURO ambassadors, who will

be entrusted with the task to arise

joyful anticipation and enthusiasm

about the EHF EURO 2024. We

intend to hire former top athletes,

musicians, actors and other public

individuals from Germany and

Europe, to whom we are going to

assign this task. To draw the public

attention inside the 24 qualified

countries to the EHF EURO 2024,

we will elaborate a common concept.

We focus on a European-wide

digital marketing campaign, trying

to address younger, new target

groups.

The following broad marketing and PR

activities are part of the campaign:

Advertisement, advertorials and

press releases in the leading sports

and target media, participation as

exhibitor in the most important

leisure, sports and entertainment

fairs, an EURO APP, an EURO ambassadors

tour, a detailed website

featuring local content from participating

countries, touristic promotions

and many social media activities in

close cooperation with all participating

countries.

16
---
MEN'S EHF EURO 2024

GERMANY

12 – 28 January

TO ARISE AS MUCH ATTENTION AS POSSIBLE FOR PEOPLE TO FOCUS ON THIS UNIQUE

HANDBALL EVENT, WE ARE GOING TO LAUNCH A BROAD MARKETING AND PR-CAMPAIGN

FROM 2022, WHICH WILL INTREGRATE ALL PARTICIPATING COUNTRIES AND WHICH WILL

BE PUBLISHED ALL ACCROSS EUROPE.

PUBLIC RELATIONS

Various PR-activities, such as press conferences,

press releases or meetings with editors to ensure

media reach of the EHF EURO 2024 as soon as

possible.

WEBSITE

From the beginning of the PR campaign: We are

going to launch the website of the EHF EURO

2024, including the option to sign up for the EURO

Newsletter, in order to build up a fan community as

soon as possible.

SOCIAL MEDIA ACTIVITIES

Setting up various social media channels to

particularly address younger target groups in

time and to build up a huge EURO 2024 Community.

ADVERTISING

Advertisement and advertorials in leading sports

and target media, on TV, radio, out of home, online.

TROPHY UND MASCOT TOUR

The EURO ambassadors, alongside trophy and

mascot, are going to visit at least 30 events in

participating countries, as well as each host city,

to promote the EHF EURO 2024.

PROMOTION

Promotion stands on the most important leisure,

sports, entertainment and tourism fairs, summits

and events

APP

Starting with advance sales: Introduce an EURO

APP to strengthen interaction with fans

NATIONAL/INTERNATIONAL

2022 2023 2024

JAN FEB MAR APR MAY JUN JUL AUG SEP OCT NOV DEC JAN

FEB MAR APR MAY JUN JUL AUG SEP OCT NOV DEC

JAN

17
---
VENUES AND ARENAS

18
---
MEN'S EHF EURO 2024

GERMANY

12 – 28 January

"German arenas, such as the Mercedes Benz Arena in Berlin, the Barclaycard

Arena in Hamburg and the Lanxess Arena in Cologne are leading all across

Europe in terms of viewer comfort, capacity and infrastructure.

I could hardly imagine any more convenient setting for the Euro 2024."

Uwe Frommhold, Vice President & COO of Anschutz Entertainment Group Germany

19
---
VENUES AND ARENAS

GREAT SPORT IN GREAT ARENAS

NEW STANDARDS

Düsseldorf, Berlin, Hamburg, Hanover,

Berlin, Munich and Cologne – arenas

can be found in South, West, North and

East Germany, having one thing in common:

They all feature huge and modern

equipment that will surely offer an

incomparable standard to all visitors

at the EHF EURO 2024.

The opening game could become an

extraordinary highlight with long-lasting

memories: Thanks to the famous

hospitality and vitality of the Rhineland

Region, 50,000 spectators in Düsseldorf's

ESPRIT arena are going to celebrate

their team, handball and themselves.

It will become a gigantic spectacle

in an ultramodern multi-functional arena

that hosts concerts, shows and big

sports events.

20
---
MEN'S EHF EURO 2024

GERMANY

12 – 28 January

NATIONWIDE, GERMANY POSSESSES A LARGE NUMBER OF THE MOST MODERN ARENAS.

THERE WILL BE A MARVELLOUS ATMOSPHERE IN ALL ARENAS DURING THE EHF EURO 2024.

BIG ARENAS – SHORT DISTANCES

Those who follow the matches of their teams or who are willing to watch

as many games as possible, played by the different teams during the EHF

EURO 2024 will be given the unique chance to spend a gorgeous time

together. The modern and comfortably equipped arenas in host cities do

not only offer an extremely high standard but can also be accessed very

easily and in short time by car, train or plane, due to Germany's perfectly

developed infrastructure.

COLOGNE

HAMBURG

COLOGNE

HAMBURG HANOVER BERLIN MANNHEIM MUNICH

COLOGNE

DÜSSELDORF

From the opening game in Düsseldorf to the final

match in Cologne: Germany is looking forward to

host the EHF EURO 2024

21
---
VENUES AND ARENAS

BERLIN

BERLIN – THE HEART OF EUROPE

Berlin is located in the heart of Europe. It is the capital of Germany and probably also one of the most

interesting cities. Berlin is a modern metropolis of world-class reputation. The City pleases visitors

with its attractive tourism offers and its rich cultural landscape. It is Germany's leading sports metropolis

and offers the ideal backdrop for major sporting events. Berlin sets new standards in the field

of conventions and meetings on an international level and offers the perfect location for each event.

MERCEDES-BENZ ARENA

Address: Mercedes-Platz 1, 10243 Berlin

Year of construction: 2008

Spectators' capacity: 12,230

incl. 210 wheelchair and escort seats

Parking spaces: 2,000

Website: www.mercedes-benz-arena-berlin.de

22
---
MEN'S EHF EURO 2024

GERMANY

12 – 28 January

HAMBURG

HAMBURG - THE SMART CITY

The Free and Hanseatic City of Hamburg is Germany's second largest city after Berlin. It is an

important cultural, industrial and commercial centre. The Port of Hamburg is one of the largest

harbours in Europe. Hamburg is an attractive city with a multicultural appearance. It offers

abundant job opportunities and leisure activities , childcare facilities and universities, elegance

and alternative culture, the major river Elbe and the beautiful Alster lake.

BARCLAYCARD ARENA

Address: Sylvester Allee 10, 22525 Hamburg

Year of construction: 2002

Spectators' capacity: 12,300

Parking spaces: 8,000

Website: www.barclaycard-arena.de

23
---
VENUES AND ARENAS

HANOVER

HANOVER - THE TRADE FAIR AND CONFERENCE VENUE

Hanover is home to nine universities and international trade fairs, such as the Hanover Trade Fair

and the CeBIT. The exhibition ground is the largest in the world. A high-performing economic hub

in the heart of Europe with ideal infrastructure connections, a great variety of leisure activities

and an affordable, yet high-quality standard of residential properties combined with a unique

proximity to nature. Hanover is also a "sports city", since here a wide range of sports is offered

on a high level; e.g. the handball Bundesliga club "TSV Hannover-Burgdorf" is based here.

TUI ARENA

Address: Expo Plaza 7, 30539 Hannover

Year of construction: 2000

Spectators' capacity: 10,000

Parking spaces: 4,540

Website: www.tui-arena.de

24
---
MEN'S EHF EURO 2024

GERMANY

12 – 28 January

COLOGNE

COLOGNE – WORLD-CLASS AND MULTICULTURAL

With more than one million inhabitants, Cologne is the most populous city in the state of North

Rhine-Westphalia and the fourth largest city in Germany. As an economic and cultural metropolis,

the city is of international importance and is also home to many associations and media companies

with numerous television stations, music producers and publishing houses. In addition, the city

is one of the most important tourist destinations in Europe thanks to the important Cologne

Cathedral, more than 2,000 years of city history and the city's cultural and culinary heritage.

LANXESS ARENA

Address: Willy-Brandt-Platz 3, 50679 Köln

Year of construction: 1998

Spectators' capacity: 18,213 seats - A capacity expansion

of 1.400 extra seats is planned to be finished latest 2022

Parking spaces: up to 6,000 spaces

Website: www.lanxess-arena.de

25
---
VENUES AND ARENAS

MANNHEIM

MANNHEIM - THE CITY OF SQUARES

Mannheim is a city in the southwestern part of Germany with a population of around 305,000.

It is also called "Quadratestadt" ("The City of Squares") because its streets and avenues are laid

out in a grid pattern. Furthermore Mannheim is a "city of sports". Many professional sports

teams are based here. Mannheim's SAP Arena is the home of the current German handball

champion "Rhein-Neckar Löwen". The city hosted many international sport events (e.g. 2007

World Men's Handball Championship, 2010 Ice Hockey World Championship).

SAP ARENA

Address: An der Arena 1, 68163 Mannheim

Year of construction: 2005

Spectators' capacity: 13,200

Parking spaces: 11,400 public

Website: www.saparena.de

A BIG NEW ARENA WILL BE BUILT IN FRANKFURT/MAIN

FOR MORE THAN 10,000 SPECTATORS!

26
---
MEN'S EHF EURO 2024

GERMANY

12 – 28 January

MUNICH

MUNICH - HOME OF TRADITION, CULTURE AND ENJOYMENT

It is the unique combination of cosmopolitanism and tradition, high-tech and down-to-earth values,

innovation and charm that makes Munich so attractive. The regional capital of Bavaria is home

to a vibrant arts scene and, at the same time, it is an economic powerhouse and one of Germany's

leading research centres. Munich is also known throughout Germany and well beyond for its rich

sporting tradition. Football, tennis, ice hockey, swimming, rowing, running and cycling are all

popular with locals.

OLYMPIC HALL

Address: Spiridon-Louis-Ring 21, 80809 München

Year of construction: 1972 – modification in 2009

Spectators' capacity: 12,500

Parking spaces: 4,000

Website: www.olympiapark.de

OPTIONS: A BIG NEW ARENA WILL BE BUILT IN MUNICH FOR

MORE THAN 10,000 SPECTATORS OR THE PORSCHE-ARENA

IN STUTTGART FOR 6,500 SPECTATORS!

27
---
INFRASTRUCTURE

28
---
MEN'S EHF EURO 2024

GERMANY

12 – 28 January

"I strongly support any DHB application for the EURO 2024, also in the light of a

possible UEFA European Championship in our home country.

I am happy to see that handball in Germany has come this far."

Reinhard Rauball, President of the German football league and of Borussia Dortmund (Handball Federal Women's League)

29
---
INFRASTRUCTURE

OPTIMAL INFRASTRUCTURE

WELL-POSITIONED IN EVERY WAY

German autobahns enjoy a global reputation. Citizens of this country will

certainly hear a positive comment on their excellent road network, no matter

where they go. Furthermore, there are excellent possibilities to travel across

this host country of the EHF EURO 2024. The high speed train ICE of the

German railway company Deutsche Bahn AG is one of the fastest and most

modern trains worldwide. It both connects the biggest cities of the country

within short time and also ensures that travellers will reach their destination

in a relaxed and laid-back way.

German airports are gateways to the world. First and foremost, the Rhein-Main

Airport in Frankfurt/Main gained the reputation of an international hub.

ACCOMMODATION

The idea of the EHF EURO 2024 in

Germany is not only intended to watch

handball, but also to get to know the

country and its people. Many modern,

well-equipped hotels in the attractive host

cities, situated in close proximity to the

arenas, will make sure that guests will be

accommodated in a hassle-free manner.

30
---
MEN'S EHF EURO 2024

GERMANY

12 – 28 January

GERMANY GAINED AN EXCELLENT REPUTATION WORLDWIDE AS HOST OF MAJOR EVENTS,

SINCE THE COUNTRY FEATURES AN EXCELLENT INFRASTRUCTURE ON ALL LEVELS, WHICH

ENABLES IT TO HOST SUCH PROJECTS.

Frankfurt Airport handles the biggest amount

of passengers in Central Europe. Beyond that,

Germany also possesses further international

airports in host cities for fast connections to many

other destinations.

A flight from Hamburg to Munich or from Berlin to

Düsseldorf only takes an hour. This excellent infrastructure

ensures that all teams, officials, fans and

journalists enjoy a tournament of short distances

and fast arrivals and departures. No matter whether

by bus, plane, train or car: Teams and visitors

from neighbouring countries, such as France,

Austria, Poland etc. may quickly and easily travel to

host cities.

And also the travel distance between arenas and

training locations will take no longer than fifteen

minutes, due to first-class and premium hotels

being located in close proximity.

TICKETING

Ticketing as part of an integral spectator management

concept is a crucial key factor to the overall

success of a big event like the EHF EURO 2024.

Therefore, our overall ticketing strategy for the

EURO 2024 will include: Strategic partnership

with the leading European ticket company, development

of a "European handball CRM" database

to reach handball fans all over Europe and interact

with them on a regular basis, long-term integral

ticket sales strategy from 2022 onwards. The

sales strategy will include that tickets will be sold

in different ways at different times in the run-up to

the EURO: Pre-sales to handball fans in 2022,

sales through a ballot-based application system

to the wider public in 2022, real time sales of

remaining tickets in 2023.

31
---
SUMMARY

32
---
MEN'S EHF EURO 2024

GERMANY

12 – 28 January

Big emotions in all arenas, an intensive experience for each fan, handball

at the centre of European top sports – all this in connection to emotions,

logistic precision and wide reach: As host of the EHF EURO 2024, we

want to produce an impact to use the potential of handball as good as

possible, move closer to the optimum after great tournaments in the past

and continue this story of success of the EHF EURO. Germany offers top

conditions with big and up-to-date arenas in cities with international flair.

Mark Schober

Secretary General

We deliver the know-how to make it successful. Handball is coming up to

thrill all sports fans AND find its way right into the heart of our society.

The EHF EURO 2024 is a strategic long-term project for us, making an

impact before, during and after matches. New target groups among

spectators, media representatives and sponsors will be addressed – they

will feel fascinated and become a part of the handball sport. We are

convinced that this will also be beneficial to the European handball family

in general.

33
---
34
---
YOU

SEE IN

GERMANY

35
---
IMPRINT

PUBLISHER:

Deutscher Handballbund e. V., Willi-Daume-Haus, Stobelallee 56, D-44139 Dortmund

RESPONSIBLE

EDITORS: Mark Schober, Thomas Zimmermann, Paul Specht

GRAPHIC DESIGN: Philippka-Sportverlag GmbH & Co. KG, Rektoratsweg 36, D-48159 Münster

PRODUCTION: Digi Print GmbH, D-48163 Münster

PICTURE CREDITS:

Anschutz Entertainment Group p. 19 (1) | AS Sportfoto: p. 26 (2, S. Binder) | Barclaycard Arena: p. 23 (1) |

Borussia Dortmund GmbH & Co. KGaA/A. Simoes: p. 7 | Clipdealer: p. 13, p. 14, p. 15 (2), p. 23 (1),

p. 25 (1), p. 26 (1), p. 30 (3), p. 31 | Denkewitz, K.: p. 29 (1) | Imago: Cover (1), p. 15 (1), p. 25 (1), p. 30 (1) |

Klahn, Sascha/DHB: Cover (3), p. 2/3 (1), p. 4, p. 6/7 (1), p. 8, p. 9 (1), p. 10/11 (1), p. 12, p. 15 (1),

p. 18/19 (1), p. 23 (1), p. 28/29 (1), p. 32, p. 33, p. 34/35 | LANXESSS-Arena: p. 25 (1, M. Volkmann) |

Mercedes-Benz-Arena: p. 22 (3) | Olympiahalle München: p. 27 (2) | pixelio: p. 24 (1) B. Winter | Presse- u.

Informationsamt der Bundesregierung/Kugler, Steffen: p. 5 | Presse- u. Informationsamt München, M. Nagy:

p. 27 (1) | Siemens AG: p. 30 (1) | SPONSORS: p. 11 (1) | TUI Arena: p. 24 (1) | THW Kiel: p. 3 (1) | van Treeck,

Ansgar M.: p. 20 (2) | Wilde, Frank: p. 24 (1)
---
BIDDING

MEN'S EHF EURO 2024

GERMANY

12 – 28 January

GREAT SPORT

GREAT

ENGAGEMENT

WWW.EHF-EURO.COM
---
DEUTSCHER HANDBALLBUND e.V.

WILLI-DAUME-HAUS˙STROBELALLEE 56˙D-44139 DORTMUND

PHONE: +49 231 91191-0

E-MAIL: KONTAKT@DHB.DE

WEB: WWW.DHB.DE