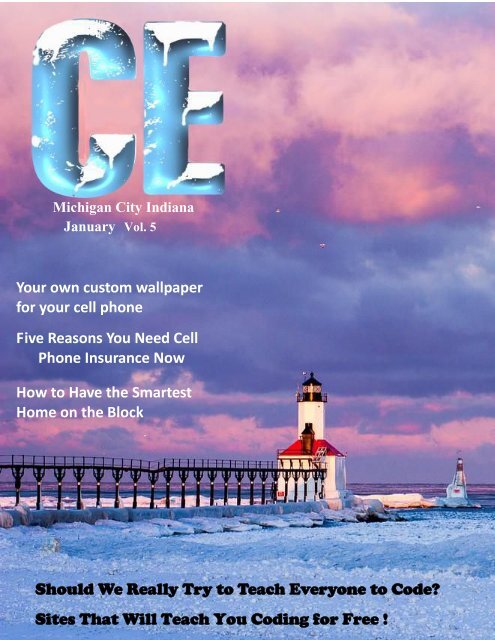 ce magazine january 2018 issue
You also want an ePaper? Increase the reach of your titles
YUMPU automatically turns print PDFs into web optimized ePapers that Google loves.
Michigan City Indiana

January Vol. 5

Your own custom wallpaper

for your cell phone

Five Reasons You Need Cell

Phone Insurance Now

How to Have the Smartest

Home on the Block

Should We Really Try to Teach Everyone to Code?

Sites That Will Teach You Coding for Free !

1
---
Thanks to all who contributed to CE

Magazine. Have an article you would like

contribute? You can mail it to:

CE, P.O. Box 8619

Michigan City In 46360

Or E-Mail it to

computerease@juno.com

CE Magazine® is part of OtherSide Ministries ©

all rights reserved

Founder & Chief Editor

Peter Nadal

Editor

Pamela Kennoy

Art & Design

Peter Nadal

Our Writers

Rodrigo Esperanza

Nomar Shaw

Diane G

Big Poppa

Outside Sources On This Month issue

ScratchJr.org

Entrepreneur VIP

NewsUSA

In our January Issue Vol. 5

6 Hey Pete! Custom wallpaper for

your cell phone

10 How to Have the Smartest Home

on the Block by NewsUSA

12 Biz Cards board!! Hey its free

13 Secret Scroll Tip

14 Should We Really Try to Teach

Everyone to Code?

by ScratchJr.org

16 12 Sites That Will Teach You

Coding for Free

By John Rampton

19 Five Reasons You Need Cell

Phone Insurance Now

by NewsUSA

21 Oh That Command Line

By Big Poppa

23 Cheap vs. Frugal by Nomar Shaw

25 Come a Long Way Baby!

Front Cover

Michigan City Light house in January, CE font done with

Polar Vortex

Additional artwork and fonts by Peter Nadal

Original Computer-Ease logo ©

2
---
3
---
Welcome to Pete's corner, 2018 came in with a roar, cold, flu and

bronchitis, better then half of our people here have the flu or

bronchitis, so I do apologize for our January edition not coming

out sooner. In this edition we have two articles on coding, Pam

our editor suggested this articles as there is a growing demand for

coders. The articles are real easy to understand and who knows

you may find a new career.

Like to welcome aboard Big Poppa (at his request his name is

classified) I have known him over 40 some odd years. He brings to

the table a wealth of experience in computer and network

programming and writing experience.

Rodrigo, found an interesting article on "How to Have the

Smartest Home on the Block" by NewsUSA and frankly it has

sparked my curiosity on the subject, I will let you folks know on

what I find out.

4
---
Our spring issue we will be taking advertising, we are working on

pricing and what ads we will take for advertising, so, stay tuned!

I hope you enjoy our January Issue and it answers some of your

computer questions. So, my fellow readers thank you for reading

CE Magazine® and following us on Facebook ©.

Salud!

Peter Nadal

. Your Home phone, cell phone, your mail and

Soliciting don't answer your phone if you do not

Recognize the phone number, don't open your

Door if you don't know him/them!

Public announcement by Forest Manor Neighbor watch

5
---
How do you do that!

We all want our own custom wallpaper in our cell phones, so we

load this app, that app and before you know it your cell phone is

running slow because your phone has barely enough memory left

to run. So, let me show you a simple way to create your lock

screen wallpaper for the iPhone (in this case for an iPhone 4s, by

the way this works for all cell phones) using Paint in Windows 7.

1: open paint and select Resize. In the menu unclick "Maintain Aspect

Ratio" and change to Pixels. Now enter the pixels size shown in the

picture.

6
---
2: select your picture and right click on it and on menu that will

pop up select Edit.

3: Windows will open a second Edit, go to View and click one or

two times (depend on size of picture and monitor size)

7
---
4: Click on select (as shown in picture

below) select Crop.

5: When done click at the

lil icon on the top left

hand side (above the tablet

icon) select "Save as" then

select JPEG picture. A

window will pop up name

it then save it.

8
---
After up loading it to your iPhone this is how it looks!

This was another one I did

Ps:

I use 4Shared to transfer to and from my iPhone and Android

phone, it is on iTunes Apps, go to https://www.4shared.com/ for

windows version

9
---
How to Have the Smartest Home on the Block

(NewsUSA) - With all the talk about smart technology and connected homes, you

may be wondering why you should take notice. After all, it is not that difficult or

inconvenient to turn your lights on and off.

According to the American Lighting Association (ALA), smart technology is not

just about convenience. It is not even just about lighting. It is also about energy

efficiency and safety.

Efficiency

Smart technology allows you to connect your home's electronic devices to one

device, such as a phone, tablet or computer. Having a connected home means you

have the ability to adjust your thermostat, open and close window shades, and

activate your security system remotely, or program those devices to operate

automatically at pre-set times.

Safety

Efficiency is important, but safety is paramount. With the ability to connect to your

home's devices from anywhere in the world comes the peace of mind of not

wondering if your security system is activated and knowing your outside and inside

lights will be on before you arrive home after dark.

Convenience

Home automation apps make it a snap to change your room into the perfect setting

for different activities. For example, for movie night, a system like Lutron's Caseta

Wireless can be pre-programmed to adjust all the lights in your family room to set

the scene for a great movie-watching experience.

If installing and operating smart technology equipment sounds complicated and

expensive, it's not. According to the ALA, there are some simple and surprisingly

inexpensive options available on today's market.

A number of ALA-member manufacturers, including Legrand, Lutron Electronics,

Philips and Acuity Brands Lighting offer reasonably priced, easy-to-install

automation products designed to make your home more comfortable, convenient

10
---
and safe. In many cases, it just takes simple retrofitting of an existing dimmer

switch.

Erik Anderson, national sales manager for Lutron Electronics, explains that the

Caseta Wireless is very retrofittable into existing homes. "All you have to do is take

your existing dimmer or switch out of the wall and replace it with a Caseta dimmer

or switch, add a smart bridge and you have the ability to control it from an app, or

from voice control with Alexa, Google Assistant or Siri," says Anderson.

For added ease, Lutron's Caseta Wireless system can be integrated with Apple,

Amazon or Google platforms for use inside your home. And when you are outside,

an app or geofencing allows you to adjust your inside and/or outside lights, even

before you arrive home. That will make your home welcoming to you and your

guests.

To learn more about making your home smarter, stop by your local ALA-member

lighting showroom to see the latest technology for home environment automation.

Go online to DesignVideos Lighting to view a video from Lutron as well as

lighting-trends videos from other ALA-member lighting manufacturers. Find more

about all things lighting at AmericanLightingAssoc.com.

Note from Rodrigo Esperanza;

21 st century folks and I can say with enthusiasm two thumbs

up, mine work like a charm!

11
---
Send your biz card in pdf to computerease@juno.com or mail to Computer-Ease,

Po BOX 8619 Michigan City In 46360

12
---
1. Reboot

Secret Tip Scroll

Ibook

2. Hold apple key + s key down after you hear the

chime. (command + s on newer Macs)

3. When you get text prompt enter in these terminal

commands to create a brand new admin account

(hitting return after each line):

mount -uw /

rm /var/db/.AppleSetupDone

shutdown -h now

4. After rebooting you should have a brand new

admin account. When you login as the new admin

you can simply delete the old one and your good to

go again!

13
---
Should We Really Try to Teach

Everyone to Code?

Courtesy of ScratchJr.org

Courtesy of ScratchJr.org

It's hard to read a blog or news site these days

without stumbling across an article about why

everyone should learn to code. It's a rallying cry that's

given rise to organizations like Codecademy and

Code.org. It's even cracked the national political

agenda, with ex US House Majority Leader Eric

Cantor having declared that "becoming literate in code is as essential to being literate in

language and math."

The icing on the cake was an article about ScratchJr, a new iPad app described as "coding for

Kindergarten." Like Cantor, the app's creators believe that coding is a new type of literacy that

should be available to everyone, starting at a young age. Yes, now even your 5-year-old can

get in on the coding action, and build their own stories and interactive games.

Software Is 'Eating the World,' But There Aren't Enough

Programmers to Keep Up

Don't get me wrong: I think the intent of all these "learn to code" initiatives is good. After all,

the ability to build apps has never been a more desirable — and critical — skill.

Just look around you. Apps now manage nearly every aspect of our lives, personally and

professionally. We have dozens of apps on our smartphones and tablets for our finances,

fitness and everything in between; and we rely on nearly as many to do our jobs. On top of

that, apps are quickly taking over our thermostats, cars and just about every device we own.

Marc Andreessen's statement that "software is eating the world" rings truer than ever before.

That's why teaching everybody to build apps is such a noble and necessary pursuit, especially

in business. Industries that have existed for hundreds of years are being radically disrupted

and transformed by apps. The demand for custom software has never been higher, and the

notion that traditional IT departments will be able to keep pace is laughable. According to a

recent McKinsey study, 87 percent of IT leaders rate themselves poorly in terms of their ability

to bring new ideas to market quickly.

14
---
If businesses truly want to truly become innovative app companies, they need to turn every

department into an IT department and make every employee part of the innovation process. If

someone in marketing or finance or HR has an idea for a new app, they should be able to take

matters in their own hands.

Having Everyone Learn to Code is the App-Dev Equivalent of

Creating 'a Faster Horse'

While everyone today needs to be an app developer, is learning to code really the answer?

Henry Ford said that, "If I had asked people what they wanted, they would have said faster

horses." I view everyone learning to code as app development's version of a faster horse.

What we all really want — and need — is a car.

The industry is falling back on code because for most people, it's the only thing they know. If

you want to build an application, you have to code it. And if you want to build more apps, then

you have to teach more people how to code, right?

Instead, shouldn't we be asking whether coding is really the best way to build apps in the first

place? Sure, code will always have a place in the world, but is it the language for the masses?

Is it what we should be teaching everyone, including our kids? Or are there other, easier and

more intuitive ways to build apps? In order to empower everyone to build apps, we need to

focus on bringing greater abstraction and automation to the app development process. We

need to remove code — and all its complexity — from the equation.

My advice? Don't teach everyone how to code. Teach them how to identify and understand

needs, as well as how to visually express logic. Teach them how technology works, so they can

understand the realm of possibility and then envision game-changing innovations. And then

create an environment where they don't even have to think about writing code — where

building great apps is as easy as using iTunes. Just drag and drop.

Once we remove the friction from building the next killer app, we'll finally make the leap from

a horse to a car. And then the innovation race will be on.

Gottfried Sehringer is vice president of marketing for Mendix.

15
---
12 Sites That Will Teach You Coding for Free

John Rampton • Entrepreneur VIP

There was a time when knowing how to program was for the geekiest of geeks. That's not exactly the case

today. As most entrepreneurs, freelancers and marketers will tell you, learning how to program can help you

succeed. Over the past year, I've been learning to code. It's helped me to become a much better entrepreneur -- I

can dive in when my team needs to fix a few bugs on the site.

You don't even need to shell out a ton of money or put yourself in debt to learn how to code, either. These 12

places offer coding courses for free:

1. CodeAcademy

One of the most popular free places to learn coding is CodeAcademy. In fact, more than 24 million people have

already learned how to code through this educational company's engaging experience. At CodeAcademy, you

can dive right in and take courses that teach you everything from HTML &

CSS, JavaScript, jQuery, PHP, Python and Ruby.

ADVERTISING

Related: Want to Take Your Business to the Next Level? Boost Your Marketing and Coding Skills.

2. Coursera

Founded in 2012, Coursera has grown into a major for-profit educational-technology company that has offered

more than 1,000 courses from 119 institutions. While you can pay for certain programs to receive a certificate,

16
---
there are a number of free introductory programming courses in various specializations from universities such

as the University of Washington, Stanford, the University of Toronto and Vanderbilt.

3. edX

EdX is another leading online-learning platform that is open source instead of for-profit. It was founded by

Harvard University and MIT in 2012, so you know that you'll learn about cutting-edge technologies and

theories. Today, edX includes 60 schools. You probably can't go wrong with the free Introduction to Computer

Science from Harvard University.

4. Udemy

Founded in 2010, Udemy is an online learning platform that can be used as a way to improve or learn job skills.

While there are courses you have to pay for, there are plenty of free programming courses, which are taught via

video lessons, such as Programming for Entrepreneurs - HTML & CSS or Introduction to Python Programming.

5. aGupieWare

AGupieWare is an independent app developer that surveyed computer-science programs from some of the

leading institutions in the U.S. It then created a similar curriculum based on the free courses offered by

Stanford, MIT, Carnegie Mellon, Berkeley and Columbia. The program was then broken into 15 courses: three

introductory classes, seven core classes and five electives.

While you won't actually receive credit, it's a perfect introductory program for prospective computer

programmers.

6. GitHub

Sometimes, you need to recall a reference book when you're stuck on a problem. That's GitHub. You can find

more than 500 free programming books that cover more than 80 different programming languages on the

popular web-based Git repository hosting service, which means that it's frequently updated by collaborators.

7. MIT Open Courseware

If you've already learned the basics, and went to get into something a bit heavier -- such as exploring the theory

behind coding -- take advantage of MIT's free courseware site that includes classes such as Introduction to

Computer Science and Programming, Introduction to Programming in Java and Practical Programming in C.

Here is a list of resources if you are getting serious about studying computer science.

Related: GitHub Is Said to Hit $2 Billion Valuation With New Investment Round

8. Hack.pledge()

This is a community of developers, which include some high-profile developers such as Bram Cohen, the

inventor of BitTorrent. There, you can perfect your programming skills by learning from some of the leading

developers in the world.

17
---
9. Code Avengers

Based out of New Zealand, Code Avengers provides fun and interactive programming courses that will teach

you how to code games, apps and web sites using JavaScript, HTML and CSS. Each course takes just 12 hours

to complete and is available in English, Russian, Dutch, Spanish, Italian, Turkish and Portuguese.

10. Khan Academy

Created in 2006 by educator Salman Khan, Khan Academy is one of the original free online-learning

institutions. With step-by-step video tutorials, you can learn how to program drawings, animations and games

using JavaScript and ProcessingJS, or learn how to create webpages with HTML and CSS.

11. Free Food Camp

Here you'll learn HTML5, CSS3, JavaScript, Databases, DevTools, Node.js, Angular.js and Agile by

networking and joining a community of professionals and students. You'll even work together on your coding

skills so that you can build apps for free. Here's the catch: you're learning those skills and building helps to

help solve real-world problems. Code is available to nonprofits.

12. HTML5 Rocks

This Google project launched in 2010 to counter Apple's HTML5. The site is full of tutorials, resources and the

latest HTML5 updates. It's open source, so developers can play around with HTML5 code. Because this is more

advanced than most introductory courses, you may want to gain some knowledge and experience before

jumping in.

Learning code used to require access to expensive books and classes, but no longer. I highly recommend that

every entrepreneur learns to code. Still wondering if you need to code? Here is a programmer guide I put

together to show you every step I took to become an entrepreneur that codes!

18
---
Five Reasons You Need Cell Phone Insurance Now

(NewsUSA) - Not long ago we only used cell phones to make calls or send

cryptic, short-hand text messages. Now, we rely on our phones for storing

our contacts and calendar appointments, watching videos, checking email,

managing our connected devices and, of course, keeping up on social

media. In fact, phones have become such a crucial part of our lives that

many people sleep with them.

So when your phone becomes lost, stolen, or damaged, it can send the

most unflappable of us into a panic. Which is why, most industry experts

agree, it is worth considering cell phone insurance.

For those who may still be on the fence about cell phone insurance,

consider this:

1. Despite monthly premiums and deductibles, insurance can save owners

money. The average retail price of a new smartphone is $590; even higher

for a basic iPhone 7 ($649). More than 70 percent of phone claims are

filed within the first year. This means that customers with phone insurance

who file a claim at month 12 on an iPhone 7 can save $318 - $342 on a

replacement phone after premiums and deductibles.

2. Most after-market "protection plans" are extended warranty plans which

only cover accidental damage and malfunctions. Only a cell phone

insurance and warranty bundle -- available through most wireless carriers -

- covers loss, theft and damage. This is important because one in four

phone claims last year were from loss or theft, according to the nation's

leading mobile insurance provider Asurion.

3. Most cell phone insurance programs through wireless carriers include

cracked screen repair for smartphones with a lower deductible than what

you would pay for a replacement device, and often lower than a consumer

would pay to take it to a repair shop.

19
---
4. Shoppers now pay the full cost of their phones either up front or in

monthly installments. Those who have a loss or theft before they've paid

off the installments will still have to make the remaining payments. What's

more, without insurance you could be left with both the remaining

installments and the payments for a new phone. With a 128 GB iPhone 7

Plus, at 6 months a customer could still owe nearly $700 on their old

phone while trying to pay for a new one.

5. For the customer that can't imagine being without their beloved cell

phone, most carrier cell phone insurance programs provide a replacement

device the next day. Replacement devices through the major wireless

carriers are backed by a 1-year warranty providing shoppers with peace of

mind should they have any mechanical or electrical issues.

Note from Editor;

I highly recommend you should heed the recommendations in this article

we all depend a lot on our cell phones!

20
---
Oh That Command Line

By Big Poppa Welcome our new writer and tech to CE Magazine

If you are like me, then you very rarely use your computer for a single application. There are

times when I have to have several applications open in order to accomplish a single project. I

may have Word open for documentation, Excel to process data, Vision for ERD reference and

more often than not one or two databases. This does not include the specialized applications

that are for daily operations.

As long as everything goes along smoothly things can progress and work can get done.

But what happens when one of your open applications freezes up and refuses to close? You

can take a chance on the old Ctl-Alt-Del method and run the risk of having the entire PC lock

up loosing everything that you have done or you can use the Command Line to surgically close

the offending program.

The Command Line can be a bit intimidating but it is in fact a very easy to use and useful

tool. Here is a quick and easy way to close any application or process on your PC without

risking the Blue Screen of Death.

First open the Run command window.

This is located in the Accessories folder in the

start menu or you can type Run into the search

box in the task bar on Windows 10. You will see

the following:

taskmgr.exe, and you will then see this:

Click on OK and this will take you to the

Command Line function. After the carat type

This will open the

Windows Task

Manager. In the

Applications tab you

will see all of the

applications that are

currently open on the

PC along with their

status.

21
---
In the illustration below you will see that RegVac is the application that has stopped working

as its status is listed as Not Responding.

To end the application without endangering anything else simply highlight the app in the list

and then click on the End Task button. The application will be forcibly closed. Now you can

simply exit out of Task Manager as well as the Command Line, reopen the application that

failed on you and continue where you left off.

There are many other advantages to taking the time to learn about the Command Line.

Once you get used to it you may find yourself using it more often than not. It is usually quicker

than trying to hunt down an obscure link that you thought you had on the desktop.

Another really slick trick is in the fact that most commands used in command line can be

run directly from the Start>Run menu. We will take a look at some of those in the near future.

Until then, Fair Winds and Following Seas.

22
---
By Nomar Shaw

Face it, money is tight and everything else keeps going up in price like

cars, gasoline, food, clothing, gas, electricity, electronics and if you are

like the rest of us trying to make that old computer last. Now there is

nothing wrong with having an old Windows XP Pro computer to do work

on it. Mine is an old Hp Pavilion with Windows XP home with Microsoft

works with Mozilla Firefox version 32.0, by the way, with old computers

stick to Firefox if you need to be on the internet. Found a lcd monitor at a

garage sale last summer for $15, so, lcd monitor, new keyboard $5 and

$5 mouse all for $25 plus and hour and half of my time a up and running

Computer. The pictures of this pavilion, is one Pete overhauled back to

factory condition, he ran it for 10 hrs, wrapped it and put on the shelf for

$35. Oh, why he won't put it in Computer-Ease Catalog? He said it's not

worth it, but, if someone inquires about it he'll sell it. So the following

pictures are of that computer is identical to mine, so Cheap or Frugal?

Text us with your thoughts!!!!

23
---
24
---
Come a Long Way Baby!

Happy Birthday, Sinclair ZX81 Computer!

BY Chris Higgins

March 5, 2017

On March 5, 1981, Sinclair Research launched the ZX81 home computer in the U.K. (It was also known as the

Timex-Sinclair TS1000 in the U.S.) It came with just one kilobyte of memory, and was a self-contained unit

with a rather crappy keyboard. The keyboard didn't have moving key switches; instead it used membrane

buttons similar to those often used on microwave ovens.

Despite its limitations, the ZX81 was a revolution, because it cost just £49.95 in the U.K.—massively cheaper

than anything else on the market. It was also available in normal retail stores, rather than specialty computer

shops.

It really was the people's computer, and for many it was their introduction to home computing and computer

programming. Incidentally, at that cheap price, it was a kit you assembled at home (a soldering iron was

required). You'd have to pay an extra £20 if you wanted a pre-assembled unit. In the U.S., the fully-assembled

unit cost $149.95.

The ZX81 was also expandable. You could upgrade it from its RAM using an external cartridge to bring it up to

16k—making it vastly more usable for real work. If you needed to store programs, you saved them on cassette

tapes using a tape recorder. This was a finicky process, as you had to fiddle with the volume to get things just

right...but for the price, it was unbeatable.

25
---
The ZX81/TS1000 sold millions, despite its limitations. Although it didn't take over the computing world, its

serious focus on retail price made it a common computer in the early home computing market. (My family had

one!) It was literally a fraction of the price of competing systems. Here's a detailed remembrance of the ZX81,

showing some of what it could (and could not) do:

26
---
Computer Magazine From The Past!

27
---
Just when had the money for that

Laptop you wanted!!

Thank for reading CE Magazine Chow For Now

Nanomites!

28