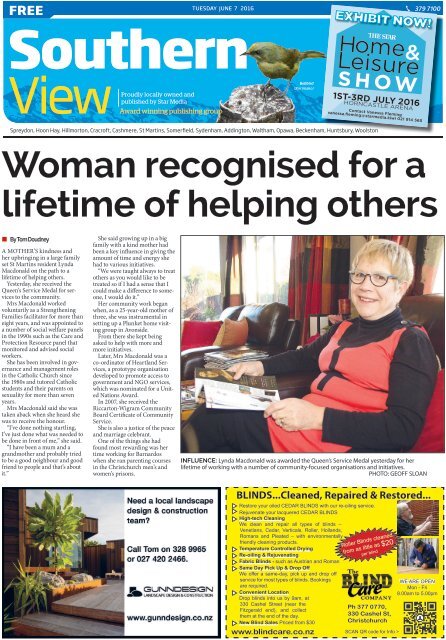 Southern View: June 07, 2016
Create successful ePaper yourself
Turn your PDF publications into a flip-book with our unique Google optimized e-Paper software.
FREE

TUESDAY jUnE 7 2016

Southern

View

Proudly locally owned and

published by Star Media

Award winning publishing group

Bellbird

(Korimako)

379 7100

EXHIBIT NOW!

SHOW

1ST-3RD JULY 2016

HORNCASTLE ARENA

Contact Vanessa Fleming

vanessa.fleming@starmedia.kiwi 021 914 565

Spreydon, Hoon Hay, Hillmorton, Cracroft, Cashmere, St Martins, Somerfield, Sydenham, Addington, Waltham, Opawa, Beckenham, Huntsbury, Woolston

Woman recognised for a

lifetime of helping others

• By Tom Doudney

A MOTHER'S kindness and

her upbringing in a large family

set St Martins resident Lynda

Macdonald on the path to a

lifetime of helping others.

Yesterday, she received the

Queen's Service Medal for services

to the community.

Mrs Macdonald worked

voluntarily as a Strengthening

Families facilitator for more than

eight years, and was appointed to

a number of social welfare panels

in the 1990s such as the Care and

Protection Resource panel that

monitored and advised social

workers.

She has been involved in governance

and management roles

in the Catholic Church since

the 1980s and tutored Catholic

students and their parents on

sexuality for more than seven

years.

Mrs Macdonald said she was

taken aback when she heard she

was to receive the honour.

"I've done nothing startling,

I've just done what was needed to

be done in front of me," she said.

"I have been a mum and a

grandmother and probably tried

to be a good neighbour and good

friend to people and that's about

it."

She said growing up in a big

family with a kind mother had

been a key influence in giving the

amount of time and energy she

had to various initiatives.

"We were taught always to treat

others as you would like to be

treated so if I had a sense that I

could make a difference to someone,

I would do it."

Her community work began

when, as a 25-year-old mother of

three, she was instrumental in

setting up a Plunket home visiting

group in Avonside.

From there she kept being

asked to help with more and

more initiatives.

Later, Mrs Macdonald was a

co-ordinator of Heartland Services,

a prototype organisation

developed to promote access to

government and NGO services,

which was nominated for a United

Nations Award.

In 2007, she received the

Riccarton-Wigram Community

Board Certificate of Community

Service.

She is also a justice of the peace

and marriage celebrant.

One of the things she had

found most rewarding was her

time working for Barnardos

when she ran parenting courses

in the Christchurch men's and

women's prisons.

INFLUENCE: Lynda Macdonald was awarded the Queen's Service Medal yesterday for her

lifetime of working with a number of community-focused organisations and initiatives.

PHOTO: GEOFF SLOAN

BLINDS...Cleaned, Repaired & Restored...

Restore your oiled CEDAR BLINDS with our re-oiling service.

Rejuvenate your lacquered CEDAR BLINDS

High-tech Cleaning

We clean and repair all types of blinds –

Venetians, Cedar, Verticals, Roller, Hollands,

Romans and Pleated – with environmentally

friendly cleaning products.

Temperature Controlled Drying

Re-oiling & Rejuvenating

Fabric Blinds - such as Austrian and Roman

Same Day Pick Up & Drop Off

We offer a same-day, pick up and drop off

service for most types of blinds. Bookings

are required.

Convenient Location

Drop blinds into us by 9am, at

330 Cashel Street (near the

Fitzgerald end), and collect

them at the end of the day.

New Blind Sales Priced from $30

www.blindcare.co.nz

Roller Blinds cleaned

from as little as $20

per blind

Ph 377 0770,

330 Cashel St,

Christchurch

SCAN QR code for Info >

WE ARE OPEN

Mon - Fri

8.00am to 5.00pm
---
2

Tuesday June 7 2016

Inside

SOUTHERN VIEW

FROM

THE

EDITOR'S

DESK News............................3, 5 & 8

Today we celebrate those among

us who have achieved something

special. The Queen's Birthday

Honours List has been released

and on it are a few familiar faces.

See the list on page 6.

Otautahi Creative Spaces Trust

manager Kim Morton is also

someone adding value to our

community. She made the shift

from training as a lawyer after the

February 22, 2011, earthquake to

using art as a therapy to reduce

social isolation. Read about her

in Our People.

Earlier this year people were divided

when the central city speed

limits were reduced to 30km/h.

Now the city council has released

a number of suburban streets

where the speed limits could

change. See what roads could be

affected on page 8.

Enjoy your week.

– Shelley Robinson

CONTACT US

NEWS Tom Doudney

Ph: 371 0780 • tom.doudney@starmedia.kiwi

ADVERTISING John Verd

Ph: 364 7496 • john.verd@starmedia.kiwi

DISTRIBUTION Mark Coulthard

Ph: 379-7100 • mark.coulthard@starmedia.kiwi

12

Putting creative energy into art OUR

PEOPLE

MOVING MISHAPS AT ECAN OFFICE

Moving can be a pain – but at least two

Environment Canterbury staff members

felt it more than most when the regional

council shifted into its new Tuam St

offices in April.

Within the first two weeks, one

person walked into the glass surround

of the revolving door on the ground

level, receiving a bruised temple

and a headache.

A second person walked into the glass

balustrade on the ground floor stairs

bruising their upper arm. Both were put

on light duties for two days.

ECan spokeswoman Katherine

Trought said moving 406 staff into a new

office building was a little like moving

into a new house, "where you bump

into things until you work out how to

navigate your way around."

Your Local Views..........4

Honours...............................6-7

Your Local Schools..10

Community Events......15

Health & Beauty......... 17

Home Heating..................19

Sport.................................. 21

Senior Living...............21-23

Beautiful, lasting brows

Our school

Our choice

Our future

Before & After

Cosmetic Tattoo/

Semi Permanent Makeup

The answer to

"sparse, skinny,

barely there at

all brows"

Contact Bespoke for an appointment to

fix your brows now! Phone: 021 249 1499

www.bespokecosmetic.com

Also available: Skin Needling, Scar Revision/Camouflage, Makeup Tutorials

A cosy

home is

furry nice

indeed...

Come and

watch a fire

master build

a smoke-free

fire.

Fine-tune your

burning technique –

you'll be warmer,

save on firewood and

have a smoke-free fire!

WHEN

Friday 10 June

1.30pm and 3.30pm

WHERE

Harris Home Fires

41 Braddon St, Christchurch

For more information contact

demo@warmercheaper.co.nz

Imagic JUL=ECAN/7191/STAR
---
SOUTHERN VIEW Tuesday June 7 2016 3

News

Speed limit for city streets on cards

• By Tom Doudney

A PROPOSAL to reduce speed

limits to 30km/h for a number

of Addington streets could

soon be back on the table.

Spreydon Heathcote Community

Board chairwoman

Karolin Potter plans to suggest

that the speed limit be

imposed on streets inside the

area bordered by Lincoln Rd,

Moorhouse Ave, Selwyn St and

Brougham St.

If other board members support

her at tomorrow's meeting,

the board will raise the matter

with the city council.

The board had made the

same proposal 18 months ago,

but the city council rejected it.

Mrs Potter said most of the

streets were not wide enough

for two cars to pass each other

without difficulty and a lower

speed limit was appropriate.

She was particularly keen to

see speed limits reduced in the

streets surrounding St Mary's

Church, due to the damage

which had been caused by

vehicles travelling too fast and

hitting bollards.

"I was there two weeks ago

at St Mary's and three bollards

had just been absolutely

smashed. That congregation

hasn't got the money and

NO SPEEDING: Damaged bollards on Church Square.

wherewithal to do the constant

repairs that are required."

A number of utes and 4WD

vehicles used Collins St and the

roads around the church as a

shortcut between Brougham St

and the central city early in the

morning, with many travelling

at up to 70km/h, Ms Potter

said.

"There will be greater penalties

imposed if they are caught

doing 70km/h in a 30km/h

area and there is also a greater

awareness now of 30km/h areas

because they are introducing

them into the inner city."

Addington Neighbourhood

Association chairwoman Sarah

McKenzie said she believed

many residents would support

the proposal.

"I think that would be a wise

idea to put that to council," she

said.

City council transport operations

manager Steffan Thomas

said the previous rejection of

the proposal had been because

it did not meet national legisla-

PHOTO: GEOFF SLOAN

tion and guidelines.

These stated that a speed

limit of 20, 30 or 40km/h could

only be set if "safe traffic engineering

techniques are applied

to ensure that the mean operating

speed of motorised traffic

is kept to within 5 km/h of the

speed limit".

HAVE YOUR SAY: Would

you like to see the speed

limits on some streets

reduce to 30km/h? Send

your views to tom.doudney@starmedia.kiwi]

In Brief

DEFIBRILLATOR

Christchurch South Community

Watch will purchase a new mobile

defibrillator to be stored in its

watch car using a $3445 grant from

Air Rescue Services. Community

Watch member Mike Fenton said

in an emergency situation, having a

defibrillator on hand could make all

the difference. "If we only use it once

in a couple of years it will still be quite

vital," Mr Fenton said.

LOST KNITTING PHOTOS

A Spreydon resident is hoping to

return an album of photographs of

knitted garments to its owner. Stuart

Wood found the green and gold

covered album lying on the pavement

on the corner of Barrington St and

Bewdley St. He said it contained an

extensive collection of photographs

of adults and children's garments,

including designs based on Thomas

The Tank Engine and Winnie The

Pooh. Anyone who thinks they might

own the album, or know who does,

can call Mr Wood on 338 7163.

TARGET REACHED EARLY

A community project has just reached

its three-year target of improving 250

homes, six months ahead of schedule.

The Repair Well project, funded by

the New Zealand Red Cross and

implemented by Community Energy

Action Charitable Trust offers to

install additional energy efficiency

measures during earthquake repairs to

vulnerable homeowners.
---
4

Tuesday June 7 2016

Your Local Views

SOUTHERN VIEW

Residents comment on the

city council's proposal to

widen Lincoln Rd between

Wrights Rd and Curletts Rd.

Hillmorton resident Brian

Hemera writes:

I think it is overdue given the

development in the Halswell/

Aidanfield area and could only

be a positive move. It would also

be an ideal opportunity for the

unsightly overhead telephone/

power lines to be put underground

and bring the area into

the 21st century.

Spreydon resident Michael

J. Brathwaite writes:

I live in Edinburgh St and find

getting to work in the city or

Sydenham in the mornings is

very difficult.

The only two ways to go are via

Brougham St to Collins St, then

around the back streets to avoid

the traffic jams on the other side

of Collins St where three lanes

merge into two, or via Lincoln

Rd to Spencer St then around the

back streets to avoid the traffic

jams in Addington.

I am not in favour of the plan

to widen Lincoln Rd, as it seems

to me that the only change

needed is an arrow for motorists

turning right into Curletts Rd.

When I am coming home

from my West Melton job, there

is a lot of traffic heading west on

that section of Lincoln Rd, but it

keeps moving.

Having four lanes would make

it harder to to walk to businesses

across the road and they would

undoubtedly add a median strip

preventing one from turning

right from Lincoln Rd into Domain

Tce.

I hope that if (or should I say

when?) all of our objections are

ignored and the plan does come

into effect they will at least put

in a turning arrow for motorists

turning right into Lyttelton St.

It seems to me that it would

make more sense to widen the

section from Whiteley Ave to

Moorhouse Ave, as that is where

I run into intolerable congestion.

Youth the future of city

Canterbury Youth

Workers Collective

coordinator Penny

Prescott says for postquake

city to thrive there

needs to be involvement

from young people.

A COUPLE of weeks ago I was

one of a handful of adults who

got to attend a UNICEF Youth

For Change Conference that

was held here in Christchurch.

A team of four young people

put this event together and

there were 70 other young people

in attendance.

There were a range of speakers,

including the Youth Advisory

Group for a collaboration

project I help out with called

Child and Youth Friendly

Christchurch.

The YAG were there consulting

with the participants about

what they think it is that makes

a city youth-friendly.

An amazing example of

young people providing a space

for young people to consult

with other young people about

things important to them and

our city.

It would be great to see more

of these events and more publicity

of these events so all young

people get a chance to attend.

There's a group in Christchurch

called Youth Voice

Canterbury who are a network

of young people and youth

participation groups.

A few weeks ago they pulled

a diverse group of young people

together to chat with the city

council senior staff and elected

members about what's important

for youth in our city.

It showed a real willingness

by the city council to engage

with young people, and those

young people felt listened to

and valued.

Although this was well

supported by the city council,

it was pulled together and

facilitated by young people who

wanted to participate.

These sorts of opportunities

are valuable both for the

people making decisions about

Christchurch, but also for the

positive development of our

young people. At the moment

Youth Voice Canterbury are

organising the first Canterbury

Youth Awards.

Nominations closed earlier in

the week with 81 nominations

being received.

The idea is to create a culture

of celebrating young people.

I think it would be fantastic

to see this event and others like

it promoted positively in media

outlets for both the public and

the youth of Christchurch.

I understand that there are

real issues for young people in

our communities, and these

need to be discussed and addressed.

But what I want is for

us to ensure that we're spending

just as much energy giving our

young people opportunities

and celebrating their successes,

because the youth are the future

of this city. If we want to see

our great city continue to grow

and to thrive post-quake, then

we need to have involvement

from those who will be there to

grow it.

Don't leave the sale of your

home to chance.

Talk to Shady Attia.

He will get the job done!

Shady Attia

03 423 9862 • 021 021 69996

shady.attia@mikepero.com

Previously

United Travel

Mike Pero Real Estate Ltd Licensed REAA (2008)

2017 Avalon River Cruising on Sale

Magnificent Europe

Budapest to Amsterdam

14 Night Deluxe

River Cruise

Early Bird Offer

$4,000 Air Credit

Per Couple

Romantic Rhine

Amsterdam to Zurich

7 Night Deluxe

River Cruise

Early Bird Offer

$3,000 Air Credit

Per Couple

from $7,339 * pp

Twin share based on

27 Oct 2017 category E

from $3,998 * pp

Twin share based on

9 Apr 2017 category E

YOU Travel Tower Junction

3/4 Troup Drive, Addington 03 341 8965 sandra@youtowerjunction.co.nz

YOU Travel Ferrymead

960 Ferry Road 03 384 2700 melissa@youferrymead.co.nz

*Terms & Conditions: All care is taken to promote correct pricing at time of printing, is dependent upon availability and will be confirmed at time of reservation. Book any 2017 Europe river cruise departure and receive either a (1) $2,000 per person Air Credit for Europe cruises of 15+ days; or (2) $1,500 per person Air Credit

for Europe river cruises of 7 - 14 days to be used towards your airfare. Valid for new 2017 bookings made between 06/04/16 - 30/06/16. To secure this offer a non-refundable, non-transferable $500 per person/per cruise deposit must be received within 7 days of booking (or by 30/06/16; whichever comes first). This offer is

an up to $2,000 per person credit to be used towards an airfare of your choice in conjunction with the cruise booked. Full payment for Avalon cruise must be on file for the Air Credit to apply. Air Credit is 100% non-refundable and non-transferable. For full terms and conditions please contact your nearest YOU Travel store.
---
SOUTHERN VIEW Tuesday June 7 2016 5

News

Fantastic Home Show returns

THERE IS less than a month to

go until the doors open on the

The Star Home & Leisure Show.

More than 12,000 people

visited the show last year, which

runs over Friday, Saturday and

Sunday, July 1 to 3.

The show features the latest

trends and technology for home

building or renovation, as well

as special deals on everything

from spa pools to campervans.

You can talk directly with the

experts there to get advice or

tips, or take the opportunity to

try new products or technology.

There will also be plenty of

prizes on offer, including a

$25,000 central heating system,

thanks to Central Heating NZ.

•The show will be held at

Horncastle Arena from

July 1-3 from 10am to 5pm.

For more information, visit

www.starhomeshow.co.nz

SHOW

HAVING A remote control

home is no longer the stuff of

science fiction.

If you have the technology,

you can now turn your heating

on while you're on your way

home, set a crock-pot to start

your dinner cooking, and check

up instantly on your home if a

security or fire alarm goes off to

see if it's a danger or just a false

alarm.

Although the technology has

existed for several years, it has

been expensive and complicated

to install.

Startup company Morepork's

goal is to make the technology

accessible to anyone.

Chief executive Gemma

Croombs said its systems could

be installed simply yourself,

with simple plug in cameras

and control panels and wireless

alarms and sensors.

"People have the perception

IN YOUR HAND: Chief executive Gemma Croombs using

the Morepork app, which allows you to remotely control

your security system and home automation technology. ​

you can only have them if

you're building and you can put

cable all through your home,

but it doesn't have to be like that

anymore."

The company, which was

backed by Spark, launched in

August last year, but she said

the technology was already

growing.

"One of the things we're testing

at the moment is a smart

door bell which sets up voice

call, so if someone's there to

drop off a package you can say

just drop off, don't leave me to

pick it up from the depot on my

weekend. Or if you have a smart

lock, you can just remotely open

the door and let them in."

As new technology was developed,

she said it could be added

on to the same system.

She plans to be at The Star

Home & Leisure Show with her

team, with several systems set

up for people to play with there,

and special deals on offer.

Internships

offered

TWO SPREYDON residents will

get a taste of what it's like to run a

company.

Rebecca Hopkins and Sina

Cotter-Tait have received two of

12 director internships offered by

Christchurch City Holdings Ltd.

Ms Hopkins, a senior associate

at Lane Neave, will do her internship

with CCHL itself, while Ms

Cotter-Tait, a team leader at Harrison

Grierson Ltd, will do hers

with EcoCentral.

The aspiring directors will have

the opportunity to work alongside

the boards of established companies

and learn from experienced

directors how successful boards

work.

The initiative is to help prepare

the next generation of directors.

CCHL director Bill Dwyer said

selecting the final 12 was difficult

because the calibre of the more

than 150 applicants was outstanding.

"I believe this scheme will offer

worthwhile experience to those

who have been selected and

contribute to diversity around the

board table," Mr Dwyer said.

The interns will be provided

mentoring and a study scholarship

to do an Institute of Directors

course during the term of the

internship.

Easy PErsonal

Cash loans

$$ FroM $600 - $20,000 $

Apply on line now –

FAst ApprovAl

we can say yes when

the Banks say NO

Full mechanical service for all

makes and models

WOF $35

New & used tyres available

Free battery test

Wheel Alignments

MOTOR COMPANY CHCH LTD

NUK KORAKO

NATIONAL LIST MP BASED

IN THE PORT HILLS

My I hold new regular office clinics is now around open at the 6/950 Port Ferry Hills Road.

Please electorate. contact To make the office an appointment, if there is anything or to I

can sign help up for with. my newsletter, please contact us.

OFFICE: 6/950 Ferry Road, Ferrymead

EMAIL: Nuk.KorakoMP@parliament.govt.nz

WEBSITE: www.korako.co.nz

PHONE: 03 384 0008

ADULTS

from

$135pr

Lots of colours and sizes

available

Great range of summer sandals

instore now…

CAll Us now

FreepHone 0800 340 350

Apply on line todAy At

www.faircity.co.nz

20 Gasson St, Sydenham

Ph 379-6212

Mon-Fri 8am - 5pm Sat 8.30am - 1.30pm

Working hard for our community

www.national.org.nz

47c Garlands Road, Woolston

Phone 389 3431

www.thefootwearfactory.co.nz
---
6

Tuesday June 7 2016

YOUR ONE STOP SHOP FOR ALL

YOUR AUTOMOTIVE NEEDS

SOUTHERN VIEW

Queen's Birthday honours List

• WOF + Services

• European / German / BMW specialists

• Mechanical repair • Tyres • Scan tool / Scope diagnostics

• Petrol / Diesel / Light commercials

• Brake Testing & machining

• Insurance warranty work welcome

Gainsborough Auto Services Ltd

Ph 03 384 4957

281 Dyers Road, Bromley, Christchurch

gainsboroughauto@gmail.com

This year saw 13 Cantabrians receive Queen's

service medals. Find out more about these

local heroes below. In total, 177 Kiwis were

honoured in the Queen's 90th Birthday

celebration.

Officer of The New

Zealand Order of Merit –

ONZM

Stewart Barnett, of St

Albans – for services

to agriculture and

businesses: Chief executive

officer for

Silver Fern

Farms ltd,

Mr Barnett

(right) has

been involved

with New

Zealand's

meat

industry.

Charles Crofts, of

Halswell – for services

to Maori: In 1998, Mr Crofts

was instrumental in helping to

keep the peace between Maori

tribes while working for more

than six years establishing the

Ngai Tahu Settlement Act.

Lesley

Murdoch

MBE, of

Sumner –

for services

to sport:

Currently a board member

of Netball New Zealand, Mrs

Murdoch had a big part in

the review of cricket in 1995.

She also has a radio show on

Saturdays on Newstalk ZB.

Annette

Purvis,of

Halswell

– for services

to

athletics:

The current

chairwoman

of

Athletics

New Zealand, Mrs Purvis

(right) has been involved in

all levels of athletics around

the country. She is also in her

second term serving on the

International Association of

Athletics Foundation.

Steve Sumner, of

Merivale

– for

services to

football:

One of the

greatest

footballing

products in

the country, Mr Sumner was

an All White from 1976 to

1988, playing for New Zealand

105 times. He scored twice

at New Zealand's first FIFA

World Cup appearance in

1982. He has been the president

of Mainland Football

since 2008.

Member of The New

Zealand Order of Merit –

MNZM

Norman Dewes, of

Mairehau – for services

to Maori and the community:

An advocate for underprivileged

and disadvantaged

children for a number of years,

Mr Dewes has represented

many Maori boards, and

established Te Runanga o Nga

Maata Waka in 1989.

Jacqueline Duncan, of

St Albans – for services

to education: After 44

years of teaching, 29 of those

as principal,

Mrs Duncan

(right) has

worked

in special,

secondary

and tertiary

education. She

was principal

of Cashmere

Primary School for 15 years.

Murray Ellis, of Harewood

– for services to

rugby: A die-hard rugby

fanatic, Mr

Ellis (right)

has been

involved

with rugby

his whole

life. From

playing at

club and

representative

level, to

refereeing

and administration later in his

career. Mr Ellis was made a

life member of the Crusaders

last year.

Julie Hawke, of Papanui

– for services to Highland

dance: A teacher of Highland

dancing, Mrs Hawke

has taught and administrated

Highland dance in Canterbury

for the past 35 years. She

also runs the biggest Highland

dancing school in New Zealand.

Kenneth Sowden, of

Halswell – for services to

paralympic sport: Whenever

New Zealand and Australia

play each other in wheelchair

rugby, they compete for the

Ken Sowden Cup. Mr Sowden

has been involved with disability

sport in Canterbury

since 1993.

31 - Dyson ad (Chch Star) 64x90.indd 1 31/10/14 14:19

PAINTING FOR GOD

Two artists, one known, one emerging.

Both from unique and isolated South

Island settlements, Banks Peninsula and

Port Chalmers. Exhibiting in a combined

exhibition expressing a transcendental

theme, 'Painting for God'.

James, experienced, former winner of the

prestigious Wallace Award and with work in

Christchurch Art Gallery's collection as well

as international collections.

Michael, successful emerging painter,

winner of the Otago Art Society Edinburgh

Art Award and work in the Wallace Collection.

James' work, emotive, abstract, subtle and

textural. Michael's work, primitive, intuitive,

contextual and expressive.

'Silent Prayer' by James Robinson

'Of Light' by James Robinson

Each bringing life and meaning on to canvas

and challenging us on our own internal

journeys to evoke a passionate response as

we ponder the vagaries of our own lives as we

look between the layers of their work.

A painting by Michael Springer

A painting by Michael Springer
---
SOUTHERN VIEW Tuesday June 7 2016 7

Queen's Birthday honours List

The Queen's Service

Medal – QSM

Star Media chairman honoured

Jennifer Gallagher JP,

of Darfield – for services

to the community: A community

guardian for Darfield

to Kirwee, Mrs Gallagher has

received many awards for her

community services. This includes

raising $40,000 for new

tennis courts in Kirwee, organising

sports tournaments,

and catering at functions.

Lynda Macdonald JP,

of St Martins – for services

to the community:

Instrumental in the setting

up of a Plunket Home Visiting

Scheme in Linwood and

Avonside. Mrs Macdonald

has contributed to the social

welfare of her community for

many years.

Selma Scott, of

Prebbleton – for services

to the Pacific community:

A barrister and solicitor who

applies her skills to help the

Pacific community, Mrs

Scott has done so since the

late 1990s. She is also the

chairwoman of Pacific Trust

Canterbury, and is also a

member of the Human Rights

Review Tribunal.

• By Gabrielle Stuart

STAR MEDIA chairman Nick

Smith has been recognised in

the Queen's Birthday Honours

for more than 50 years work in

media and sport.

He was named an officer of

the New Zealand Order of Merit

yesterday.

Mr Smith started work at the

Christchurch Star in 1965, as an

advertising cadet.

"It was the heyday of newspapers.

You weren't competing for eyeballs.

I spent two and a half years there,

and it was fantastic. I still have a

lot of friends from those days, we

had a lot of fun together. We used

to have boxing tournaments in the

lunchroom," he said.

He went on to become a director

of Allied Press, publisher

of the Otago Daily Times, and

chairman of CTV.

Although he was a major

shareholder, he said he stayed

in the background at CTV

for several years, leaving the

running of the company to

managing director Murray

Wood.

But when Mr Wood was killed

in the collapse of the building in

the February 2011 earthquake,

Mr Smith said he was suddenly

thrust into management of the

station.

He remembered the first meeting

the day after the earthquake,

sitting in a dark room without

power talking about the future

with his distraught staff.

"It would have made more

sense to take the insurance

money and close the station, but

to me that would mean we let the

staff and the victims' families

down. That to me was the deciding

factor."

He has also played a key

role in sport over the years, helping

to develop Hagley Park, form

the University Oval Redevelopment

Trust and raise $2 million

to establish the first cricket

ground in Dunedin.

NEW LOCATION ADVERT.pdf 1 1/05/2014 11:51:35 a.m.

RECOGNISED:

Star Media

chairman Nick

Smith was

named an

officer of the

New Zealand

Order of Merit

in the Queen's

Birthday

Honours

yesterday.

PHOTO:

GERARD

O'BRIEN,

OTAGO DAILY

TIMES ​

He has also sponsored and

donated to many community

groups and organisations

working around the South

Island.

"My philosophy has always

been what's good for the

province is what's good for the

business, and what's good for

the company is good for the

province."

Dyers Road Landscape

& Garden Supplies

• Barks • Peastraw • Composts - we supply the best available

• Aggregates - Chip, Round and Basecourse

• Pavers & Schist products • Pungas

• Decorative Stones & Landscaping Rocks

• Trailer Hire first hour free with purchase

• Bag & Bulk - pick up or delivered

David, Carol & Mike

We will deliver!

SOIL

AND

HARDFILL

DUMPING

Phone: 03 384 6540

183 Dyers Rd, Bromley • OPEN 7 DAYS

Weekdays 7.30am-5pm. Weekends 8.30am-3pm

www.dyersroadandlandscapes.co.nz

VISIT OUR NEW LOCATION LOCATION

430 ST ASAPH STREET!

Hours of Business: 7am-4.30pm Mon-Thurs

Fri 8am to midday

or by appointment with Keith 027 566 3909

RECOVER YOUR LOVED FURNITURE

No job too big or small

Still able to offer

you the finest top

quality new furniture

Visit us online

www.qualityfurniture.co.nz

P. 371 7500

QUALITY FURNITURE SPECIALISTS

RE - UPHOLSTERY SPECIALISTS KEITH HARTSHORNE 0275 663 909

SOMETHING FUN FOR EVERYONE

UNDER NEW OWNERSHIP

9 HOLE

GOLF cOURSE

DRIVING

RANGE

STILL ROcK

OUTDOOR MINI PUTT

BOOKINGS ESSENTIAL | 50 FERRYMEAD PARK DR, FERRYMEAD

PH 376-5350 | WWW.FERRYMEADGOLF.cO.Nz
---
8

Tuesday June 7 2016

News

SOUTHERN VIEW

Major speed limit changes proposed

• By Andrew King

SPEED LIMIT changes proposed

by the city council are trying

to find the balance between

pedestrians, cyclists and

motorists according to a traffic

expert.

Every three years, speed limits

on streets are reviewed, this year

27 have been proposed to have

lower limits installed.

In March the speed limit

for the heart of Christchurch's

CBD was changed to 30km/h to

provide safer, more user-friendly

and enjoyable ways for people to

travel.

Canterbury University traffic

expert Alan Nicholson said while

he supports the proposed changes

in the city centre, the haste

they are being pushed through

could face a public backlash.

"It is great to find a balance

between pedestrians, cyclists and

motorists but if you push cars

out quickly from the city centre

people could get irritated and not

support it," he said.

He was also concerned about

the drastic change to some speeds

on roads in the wards.

"Some of the speeds will go

from 100km/h to 50km/h.

They possibly should have been

changed in the past now they

have a drastic change," he said.

Twelve roads in the Riccarton-

Waimairi Ward have been proposed

to have lower speed limits,

seven roads in the Fendalton-

Waimairi Ward,

four in the Shirley-Papanui

Ward, and one each in the

Burwood-Pegasus and Hagley-

Ferrymead Wards.

Some of the roads proposed

run between two wards and

have been counted twice such as

Pound Rd.

These are mainly in new

growth areas where the speed

limit of a once rural road is no

longer considered safe in expanding

residential and commercial

zones.

The city council is also proposing

to extend the inner-city

30km/h limit, which came into

effect on March 12, to include

sections of St Asaph St and

Hagley Ave.

Riccarton-Wigram Community

Board chairman Mike Mora

said lowering the speed limit on

those streets is what the public

wants.

"We welcome the triennial review

of speed limits. We have identified

some roads we think need

to be addressed, so have the public

and city council staff," he said.

Following the consultation

process city council staff will

consider all feedback and

prepare a report for community

boards who will make a

recommendation to the city

council who makes the final

decision.

The speed limit changes

consultation runs from May 31

to June 21 on the city council's

website under the Have Your Say

page.

FINDING THE BALANCE:

The city council is proposing

lower speed limits on roads

all around the city to make

it safer for all those who use

them. Inset: Alan Nicholson

Proposed road speed limit

changes by ward:

Riccarton-Wigram Ward

- Avonhead Rd, Carrs

Rd, Halswell Junction

Rd, Jessons Rd, Marshs

Rd, Murphys Rd, Owaka

Rd, Pound Rd, Quifes Rd,

Roberts Rd, Waterloo Rd,

Whincops Rd, Wigram Rd

and Wilmers Rd.

Fendalton-Waimairi Ward

- Grays Rd, McArthurs Rd,

McLeans Island Rd, Pound

Rd, Ryans Rd and Stanleys

Rd.

Shirley-Papanui Ward

- Belfast Rd, Blakes

Rd, Greywacke Rd and

Highsted Rd.

Burwood-Pegasus Ward -

Dunlops Cres.

Hagley-Ferrymead Ward

- Mt Pleasant Rd.

HAVE YOUR SAY: what do

you think of the proposed

speed changes for your

area? Email andrew.king@

starmedia.kiwi

Information for visitors

to Burwood Hospital

New facilities opening from Monday 13 June

Our fantastic new facilities for Older Persons' Health and Rehabilitation at Burwood

Hospital will be opening from Monday 13 June. The new facilities include three new ward blocks,

a brand-new and fully equipped radiology department, and a new outpatients department which

will be fully open by Wednesday 15 June. Between 13 June and 16 June, Older Persons' Health

wards will be relocated from The Princess Margaret Hospital.

Patients and visitors should enter the hospital at the new main entrance at 300 Burwood Road –

unless your appointment letter tells you otherwise.

There's plenty of parking, or you can catch the bus – it'll drop you close to the new front door.

CDHBMay001CS

Please note that Burwood Hospital does not have an accident and emergency department.

In an emergency phone 111. Call your general practice team 24/7 for all other healthcare.

For more information visit

cdhb.health.nz/Burwood
---
SOUTHERN VIEW Tuesday June 7 2016 9

over 7000m 2 of slightly

imperfect stock to be cleared

all carpet and vinyl

being cleared from

$10 per sqm

full rolls available

craZy prices on all carpet & vinyl remnants

312 Wilsons Road North, Waltham Phone 366 0070

www.carpetkingdom.co.nz

Mon - Fri 8am - 5pm | Sat 10am - 1pm

Q Card Finance Now Available

FREE no obligation measure & quote (conditions apply.)
---
10

Tuesday June 7 2016

Students honour elders

SOUTHERN VIEW

• By Tom Doudney

STORIES COLLECTED from

elderly people in rest homes

and retirement villages will

be published in a new book

compiled by Linwood College

students.

The seven year 12 and 13 business

students plan to donate the

profits to assist the elderly.

Last year, two of the students,

Angel Lintott and Molly Barnett,

set up a social enterprise which

involved arranging donated

flowers from Aromaunga Baxters

Flowers in Heathcote into

bouquets which they gave to

residents of Bupa Parkwood Rest

Home in Linwood. They also

spent time talking and getting to

know the residents.

The pair won a BP Young Enterprise

Award for their involvement

in the programme.

Lintott said their business

teacher Richard Jolly encouraged

them to build on last year's idea

with the new business students.

"We were all just brainstorming

and thinking of how we

could adapt what we did last year

and we just kind of came up with

this idea."

The students will go a few

times a week, initially to Parkwood

Rest Home again, and talk

to the residents, collecting any

interesting stories that they hear

for the book. The students plan to

expand the project to other rest

homes or retirement villages after

a few weeks.

They are hoping to publish the

book some time this year.

"We had a publisher interested

who said they were really keen,"

Lintott said.

"We did a survey and we talked

to heaps of people who would be

our target market and everyone

seemed really keen for the idea."

YOUNG PROFESSORS: Year 5 and 6 pupils at Beckenham School have been preparing for the

upcoming school science fair in July by exploring the subjects of biology, physics, chemistry and

earth science.

New

entrants

Has your child recently

started school? Send

your photos to tom.

doudney@starmedia.

kiwi

SCHOOLS

Opawa School has had five new entrant pupils start recently.

They are...

Harry

Nguyen

Salia

Elisara

NEW IDEAS: Linwood College students Molly Barnett, left, and

Angel Lintott with the BP Young Enterprise Award they won last

year. This year, they have built on the concept which won them

the award. ​

Daniel

Lord

Travis

Tissiman

Zephyr

Smith

THE HOME OF GOOD BAKING

DAILY BREAD

White, Wheatmeal, Grain

NO LIMIT!

ONLY

99 C EA

CARAMEL

DELUXE SLICE

A divine slice

oozing with

gooey caramel

- everything

about it says

ONLY

decadence. $

3 49

EA

TRAY PACK

BISCUITS

Afghan, Apricot

Yoghurt, Choc

Anzac, Choc Chip,

Choc Shortbread,

Jaffa, Peanut,

Super Choc Chip.

ONLY

$

2 99

EA

WHITE ROLLS

OR GRAIN &

HONEY ROLLS

6pk

Long rolls perfect

to have for filled

rolls or soup.

2 FOR

$

3 98

MILK

Dairy Dale 2L varieties.

$

5 98

2 FOR or $3.19 each

FROZEN PARTY PACK

ASSORTED SAVOURIES 20pk $ 8 99

Promotional pricing available while stocks last from 06/06/16 to 12/06/16.

Images are serving suggestions only.

Open 7 days | 8 Convenient local locations

Hornby • Barrington • Ferry Rd • Papanui • Riccarton • Upper Riccarton • New Brighton • Rangiora

BAKERIES

www.couplands.co.nz
---
SOUTHERN [Edition VIEW datE]

Tuesday June 7 2016 11

2

Southern View

Gifts Galore at Woolston

Beautiful gifts, trinkets and décor line the

rows of aisles at the Woolston Gift Shop.

Located at 683 Ferry Road at Woolston

Village, the shop with the green marquee

announces its location to all passersby.

Vast selections of figurines, cards, dolls,

yarn, frames, clothes and more leave the

shopper lingering from all the choices to

choose from. Home décor jumps off the

shelves and the atmosphere is warm and

inviting with music strumming in the

background adding to the ambiance.

Rose loves people and her customers are

fun and endearing. She loves to talk with

them and help find that perfect gift or piece

of décor to add to their home. She feels as

if they are friends and loves to have a yarn

with her customers, which are like extended

family. Being at the Woolston Gift Shop

for almost 20 years, Rose has watched as

youngsters have grown into adults.

Memories are a gift favorite. Frames,

frames and more frames line the shelves

to select from and to put that memorable

photo into line the family mantle.

Having a high tea party with friends and

family? Make it an even more memorable

occasion with special tea cups and saucers.

Floral, novelty, locations, offer choices from

such a large assortment.

Owner Rose Clyne took over the shop in

1997 when it was only a small bookstore.

She grew it into what it has become today

and loves her customers as if they are

family.

She first expanded it by adding lovely

giftware which she continues to offer at very

reasonable prices. Second, she added cards

that she has become known for all around

the area for her wide selection which voices

the feelings people want to say to that

special someone.

Gifts for:

Baby

Wedding

Anniversary

Graduation

Gifts for all Occasions:

Cards

Canvases

Boxes

Figurines

Frames

Dolls Clothes

Teapots

Yarns, patterns

Neighbour

Hello

Stop by the Woolston Gift Shop today.

Meet Rose and have a yarn and

wander around the shop with so

many choices to choose from.

Call Rose Today

on 384 1528.

Somerfield

½ PRICE

BIKE

SERVICE

(Offer valid till June 30, 2016

on presentation of this

advertisement)

• Clothing, parts & accessories

• Bike servicing and repairs

• Friendly helpful staff

• Layby available • Open 6 days

03 360 2050

93 BaRRIngton St

Mon-FRI 8.30-5.30,

Sat 9.30-3.30

cycleworkz.co.nz

Woolston

Unique gifts for the

person who has

everything

The Woolston

Gift Shop

683 Ferry Road, Woolston

Ph. 384 1528

Open Mon to Fri 9am - 5.30pm, Sat 9am - 2pm

EST 1994

BAR

Addington

TELL US FOR

10% OFF ANY MEAL!

QUIZ NIGHT:

Tuesdays

from 7pm

308 Lincoln Rd

Ph 03 338 9361

Barrington

Kiwi BaKing

at its Best!

Who was the oldest to swim

Cook Straight? Muffins, Cakes,

Driving Lessons -

Homemade Pies,

a) Toshi Ogawa, age 60

sandwiches and Rolls

b) Harriette Thomson, age 92

c) Otto Thaning, age 73

10% discount

d) Hidekichi Miyazak, age 105

for shop orders over $100

Monday 7am - 2.30pm,

Tuesday - Friday 7am - 3pm

& saturday 7am - 2pm

Pierces

BAKERY

Wholesale is for retailers who purchase our product

regularly for the purpose of on selling to their customers

www.piERcEsBAKERY.co.nz - (03) 337 0422

Automatic Transmission

Simulated Driving Tests

Jeff Macey –

Driving Instructor

Mobile: 027 537 1966

Email: jeff@jmdriving.co.nz

Website: aa.co.nz/drivers

Check out aa.co.nz/aaignition to find out whether you're eligible for the

3 free driving lessons with an AA instructor.

Advertising enquiries John Verd | Ph: 021 912 372 | john.verd@starmedia.kiwi
---
12

Tuesday June 7 2016

Our People

SOUTHERN VIEW

Kim Morton

Putting all the energy into art, creativity

Otautahi Creative

Spaces Trust manager

Kim Morton talks to

Fraser Walker-Pearce

about reducing social

isolation through art,

training as a lawyer and

her favourite place in

the city

Kim, tell me a bit about

what you do for the Otautahi

Creative Spaces Trust.

I guess I lead the programme

and we run art programmes. At

the moment we run at Phillipstown

and Aranui Libraries but

we are looking to expand across

the city into other community

hubs. Our mission is using art to

boost people's wellbeing. We're

especially looking to work with

people that have experienced

mental illness, earthquake

trauma and social isolation. We

provide opportunities for people

to connect with their community

as well.

How long has it been running?

It's been going for just over a

year now, but we had a low profile

for our first six months. But

since the start of the year we've

had quite a surge of interest in

our programmes. We're very

excited because it means we need

to expand them now, and we're

looking for support to do that.

Where is the programme

based?

The base is Phillipstown Community

Hub, in the old Phillipstown

School, which closed at

the end of 2014. We're here along

with a whole lot of other fantastic

community initiatives. Aranui

also presents a great opportunity

because the team there is really

passionate about serving their

community. We know libraries

are the living room of communities

and people go there because

they feel welcome and it's a free

space.

EXCITED:

Kim Morton

is the

manager

of Otautahi

Creative

Spaces

Trust, and

teaches

creative art

classes.

And the feedback you've

received has been positive?

The feedback has been fantastic.

What people love is that it's participant

driven, so artists choose

the art forms they're interested

in, and they do that. The environment

they're in is without any

pressure to produce, just heaps of

encouragement. People have said

it's a really inspiring environment

to be in. It's not a structured class

as such, anyone could be working

on anything – like sculptures,

printmaking, and calligraphy.

Sometimes the participants will

need encouragement and suggestions,

but most people settle

in to what they want to be doing.

If someone's stuck we help them

though.

Has the programme been successful

for the artists?

Some people have come in and

worked in this space, and they've

had work feature in national

exhibitions. We've had three

people gain scholarships through

The Learning Connexion but

also people are feeling like they

have a sense of belonging to

something creative and belonging

to a new community. They've

said they've made friends. And

from that they're more engaged

in their community.

Has this project been set up

by the city council, or independently?

It's an independent community

charitable trust. We have

had great support from Creative

New Zealand, the city council

and the Rata Foundation. Not

only that but we are finding that

we are being given a lot of support

in terms of art materials,

which is a fabulous endorsement

for the trust.
---
SOUTHERN VIEW Tuesday June 7 2016 13

and wellbeing projects

How full are your classes?

Funny you should say that

actually, we have a waiting list for

the Phillipstown groups. There's

currently a lot of work being

done looking at whether a community

hub could be set up in

the closed Central New Brighton

School, and we're hoping we

might be able to share a space in

that facility.

You must get a bit of a kick

knowing classes are full?

Oh absolutely. It's something

that I get a great deal of joy out

of. Yes it's my full-time job, but

my focus has been on establishing

the programmes and now

they're doing so well. We just

need to secure funding so we can

add to our existing programmes

to meet the demand.

So how did this all come

about?

About 20 years ago I managed

a community art space in

Masterton and I'd been aware

of the gap in Christchurch for

some time, but it was only after

the earthquakes that it kind of

galvanised my energy and so I

decided to kick-start something

here. There's a network of spaces

like this around the country, so I

had good relationships with the

people involved there and then

we did some research which was

funded by Creative New Zealand,

and it looked at the need and how

something should be set up here.

It's not something you can just

transplant from one city to the

other, Masterton is a small town.

In post-earthquake Christchurch,

opportunities to connect with

others creatively in your local

community seemed more important.

So is the city council involved

at all?

It supported the feasibility

work done in 2014 and our set-up

in early 2015. The city council has

been supportive right through

that process. Two council staff

members were on our steering

group which guided us through

the research stage, and establishment.

How long have you been in

Christchurch then?

I've been here for 15 years,

and was in Masterton before, for

about three years, but I was born

in Auckland. I've lived in lots of

different places, but Christchurch

is home now.

Oh good to hear! Where are

your favourite spots?

My favourite in Christchurch

is Taylors Mistake. But in New

Zealand, it'd be the Cavalli

Islands in Northland. It's special

because we had lots of childhood

holidays there, and many family

connections.

Do you have any family down

here?

I have two boys, who are 17

and 13. They keep me on my toes.

They're both at Hagley Community

College, and they're enjoying

that. I'm not sure what they want

to do, but as long as they do what

they're passionate about, I'm

good with that.

And where in the city are you

guys based?

We're in Lyttelton. The kids

love it because of the hills and the

sea, and the great landscape.

That's a bit of a trek to work

each day?

Yes that's a point, I don't live

in the communities I'm working

in. That means that it's even

more important to have a strong

relationship with the community.

We've designed some projects

that are around the identity and

stories of Phillipstown – photography

and poetry projects that

combine with Ara Institute of

Canterbury, and local residents,

and what Phillipstown means for

them. That's only just started.

Where did you go to school

then?

I went to school in Auckland,

to Westlake Girls' High School. It

was just the one up the road from

where we lived at the time.

Did you ever have a mentor, or

a big influence that taught you

art?

Some people do have an outstanding

person in their life, but

DISCUSSIONS: Kim Morton and Creative New Zealand's Chris

Archer discuss the future of the Otautahi Creative Spaces

Trust.

this is hard for me. I guess mine

was Sue McBride, who was an

outstanding art teacher. I really

enjoyed art at school because of

her, so that probably did sow the

seed.

What did you do after that?

I've had quite a few different

aspects of my work. One is in

law, I trained for law, and didn't

know if I'd take it further after I

studied it. I specialised in social

justice and community law. And

in a way there's quite a connection

between those studies and

what I do now.

Where did you study for law?

At the University of Otago for

five years. I worked in consumer

rights and then in community

law, specialising on welfare law.

And did you use the degree?

Did you have any law jobs?

Yes, I did. I guess it must have

been 20 years on and off using

it. The earthquakes made me

question what I was doing, and

I decided to put my energy into

creativity and wellbeing projects.

Life's short, if I can make a difference,

then I should. And for me

it was around this idea of art and

creativity in Christchurch that

was the best way I could do that.
---
Northwood • st martiNs • tower juNctioN • Northwood • st martiNs • tower juNctioN • Northwood • st martiNs • tower juNctioN

14

Tuesday June 7 2016

SOUTHERN VIEW

Northwood • st martiNs • tower juNctioN • Northwood • st martiNs • tower juNctioN

EXCLUSIVE TO

30 %

Off

all

Brushes

Photos

indicative only

Great

Locations

THREE

"even the mona Lisa

would smile at

our prices"

70 %

Off

ART CANVAS

30 %

all

Off

Paints

Photos

indicative only

• Northwood

• st martins

• tower junction

7 DAY

SERVICE!

Northwood supa centre, Main North Road, Belfast

st martins shopping centre, Wilsons Road, St Martins

tower junction, off Blenheim Rd or Clarence St, Riccarton

Shop in-store or online at www.paper-tree.co.nz

Northwood • st martiNs • tower juNctioN • Northwood • st martiNs • tower juNctioN • Northwood • st martiNs • tower juNctioN
---
SOUTHERN VIEW Tuesday June 7 2016 15

Community

Events

Email

tom.doudney@starmedia.kiwi

by 5pm each Wednesday

Fair Trade Art and Poetry

Exhibition

Open daily, library hours, until

June 14

An exhibition by Fair Trade

schools, Heaton Normal Intermediate

School and Rangi Ruru

Girls' School.

South Library, 66 Colombo St

Baby Times

Today, 11-11.30am at South

Library

Wednesday, 10.30-11am at

Spreydon Library

Take your child to the library

for stories, songs, rhymes, finger

plays and more. A good way to

get your child interacting with

others and the world around

them. The programmes are

especially suitable for undertwo-year-olds.

Busy Book Club

Wednesday, 3.30-4.30pm

An after school club for exploring

new books, arts, crafts

and technology.

South Library, 66 Colombo St.

Free. Bookings required

Reading to dogs

Wednesday, 3.30-4.30pm

Reading to dogs is designed

to provide a relaxed, nonthreatening

atmosphere, which

encourages children to practise

their reading skills and develop

a love of reading. Sessions are 15

minutes long.

South Library, 66 Colombo St.

Free

Community market in Linwood

Thursday, 8.30am-1pm

New and used goods including

pre-loved clothing, toys, baby

wear, plants, books, bric-a-brac,

hot frybread, coffee, fresh baking

and more. Inquiries to Murray

on 022 635 9402.

MacKenzies Hotel and Backpackers,

51 Pages Rd, Linwood

Maker Space Lucky Dip

Thursday, 3-4pm, Monday,

10.30-11.30am

Craft and technology sessions

which could involve 3D colouring,

augmented reality, origami,

crafts, robotics or 3D printing.

Activities designed for adults

and children.

Spreydon Library. Free, no

booking required

Linwood Village Market

Saturday, 9am-1pm

Fresh produce (including organic),

books, antiques, bric-a-brac,

retro items, vintage clothes,

household goods, jam, crafts and

BUNDLES OF JOY: Discover all you need to know from bump to birth and beyond at the

Christchurch Baby Expo on Saturday from 9am. A range of products and services will be on show,

along with seminars, demonstrations and workshops and a free onsite creche service. Pioneer

Recreation and Sport Centre, 75 Lyttelton St, Somerfield. Adults $5 and children under 15 free. ​

more.

Linwood Community Arts

Centre, 388 Worcester St. Free

admission

Community planting day

Saturday, 1-3pm

Get out your gloves, some

sturdy footwear and spades and

help plant Bowenvale Reserve.

Meet by 20 Swanton Drive,

Huntsbury. Questions can be

directed to Di Carter on 941 7572

or 027 201 5653.

Opawa Farmers Market

Sunday 9am-12pm

Have a wonder around the

market and pick up organic vegetables

and seasonal fruit from

local and well known growers.

275 Fifield Tce, Opawa

Sydenham Walkers

Monday, 10am

Come and join the group for a

walk every Monday.

Meet outside Countdown on

Colombo St. For more information

call 027 431 1437

Science Alive in the Library

Monday, 3.30-4.30pm

Drop-in science sessions. Free

activities based around the science

of popular books and other

topics.

South Library, 66 Colombo St.

Free

ORGANIC HORTICULTURE COURSES

Instruction in organic horticulture is

now well established at the Lincolnbased

Organic Training College. The

next year-long course, which begins

on 1st August, will be the ninth

intake for the college. Students need

no prior qualifications or experience

to commence Year One and can

study full or part-time. Those who

have some horticultural background

can go straight into Year Two.

An added appeal of the course is that

all fees are under $500, and full time

students are eligible to apply for a

loan or allowance through Studylink.

Course Director Bill Martin says it

works well to start the course year in

the spring. "The organic horticulture

course is all about growing so we

want to start the course in spring

when it is the right time to begin

planting."

Year One students get plenty of

hands on training in subjects such as

sowing and planting organic crops,

soil management and composting.

The Year Two students have the

option of using land and facilities

on the Biological Husbandry Unit

(BHU) Farm to grow and sell their

own certified produce – a semicommercial

venture that gives

students a real taste of organic

horticulture as a business. The

students grow vegetables under the

guidance of a mentor and sell them

at a weekly stall at Lincoln University

"The Year Two programme gives the

students experience in a commercial

environment without any risk. It's

the icing on the cake for a lot of the

students here," says Bill Martin.

As well as the year-long organic

horticulture courses a distance

(correspondence) programme in

organics is also available.

The Organic Training College is

located at the Biological Husbandry

Unit at Lincoln University. There

are 10 hectares of certified organic

land as well as greenhouses, tunnel

houses and research areas.

Students selling their organic produce, Lincoln University.

Organic Training College

Learn from the experts

Start a career in organics.

Reduce your footprint

and produce a regular

supply of your own fruit

and vegetables

Programme Information

college@bhu.org.nz

www.bhu.org.nz | 03 3253684

Courses

• Organic Distance Programme

Part time 1 year, enrol anytime

• Year 1 Introduction to Organics

44 weeks, starts August 2016

(Lincoln Campus)

• Year 2 Applied Organics

46 weeks, starts August 2016

(Lincoln Campus)

All fees under $500
---
16

Tuesday June 7 2016

SOUTHERN VIEW

FREE TICKET

with every $100 spent

Everyone's a winner!

SHOP, SCRATCH

and

WIN!

Spot Prizes

Coffees

Vouchers

Simply spend $100 at any store at Barrington* between

1st and 19th June 2016 and take your receipt to the

Centre Management Office to receive your scratchie ticket.

Everybody is a winner! We have free coffees, ice cream, bread,

cookies, Barrington gift vouchers and spot prizes to give

away. Spot prizes include vouchers or product from retailers.

*Excludes Fresh Choice and The Warehouse.

$100 must be spent on one day in a single transaction.

256 Barrington Street, Christchurch 8244 • Ph. 03 332 4221

256 Barrington Street, Christchurch 8244 • Ph. 03 332 4221

Like us on Facebook! • www.barringtonshopping.co.nz
---
2

SOUTHERN [Edition VIEW datE]

Tuesday June 7 2016 17

HEALTH & BEAUTY

Effective treatment

for many types of pain

Complementary medicine is

becoming increasingly sought

after in New Zealand as people

become aware of the many

different methods of treating pain and ill

health that are available here.

Christchurch-based Chinese health

practitioner Lan Xiao has developed a

method of treatment, which she says has

as an immediate affect on a wide variety of

pains and health conditions. It is known

as 'acupuncture without needles'.

Lan describes it as being similar to

reflexology in that the problem area on

the body is determined through pressure,

but is much more accurate.

Trained as a medical practitioner in

China, Lan came to New Zealand in 1992

and began practising acupuncture in

1995. From that discipline she created her

acupuncture without needles, and uses

it to treat people of all ages with many

different types of pain in all parts of the

body. This can include arthritic pain, MS,

and pain from injury.

"For example, the treatment has been

very successful for people who have

painful joints caused by arthritis," Lan

says.

Acupuncture without needles is also

effective in restoring energy levels,

she says.

"As people age their energy is reduced,

and this can lead to other health

problems. The acupuncture without

needles treatment is like the body's

battery being charged up again, so their

energy levels are restored, which in turn

helps overcome their health problems."

Lan also uses it to treat depression

and anxiety, and says it can help with

addiction problems as well.

"After the treatment the person has no

cravings – because it treats the cause of

the addiction."

She says the results are immediate,

though people may need several

treatments, depending on the extent

of their health problem, and while it

is slightly painful for few moments,

everyone can tolerate it.

Lan Xiao's website, www.

drlansreflexologynetwork.co.nz, includes

videos of people whose health problems

have been overcome after receiving the

treatment.

Her clinic is located at 108 Sawyers

Arms Road, and her hours are Monday,

Wednesday and Friday from 12pm to

5pm. To discuss your health issues or

make an appointment, phone 323 4168

or 027 231 8388.

Lan describes it as

being similar to

reflexology in that the

problem area on the

body is determined

through pressure, but

is much more accurate.

NEW & RECYCLED

CLOTHING

SHOPS AT:

14 Yaldhurst Rd, Ph 03 341 5379

251 Ferry Rd, Ph 03 381 3089

94 Victoria St, Rangiora, Ph 03 310 7421

Open: Mon-Fri 10am-4.30pm, Sat 10am-2pm

SUPER STORE:

320 Manchester Street (Bealey Ave end)

Phone 03 365 2051.

Clothes, shoes, whiteware, furniture,

linen and homeware.

Open: Mon-Fri 9am-5pm, Sat 9am-3pm

Donations of furniture and homewares

welcome during shop hours.

A unique UNIQUE PoweRFuL POWERFUL

tReAtment TREATMENT wiLL WILL Give GIVE

you YOU PAin PAIN ReLieF RELIEF in IN

juSt JUST A Few FEW SeConDS SECONDS

Acupuncture

without needles

Dr Lan Xiao

• Relieve all kinds of body pain

• • Relieve all asthma kinds and of body hay fever pain

• Relieve • Fantastic asthma weight and loss hayfever results

• Fantastic • Great results weight for loss insomnia, results dyslexia

• Great

depression

results

and

for

low

insomnia,

energy

• Stop cravings for cigarettes, alcohol,

depression

sweet foods

and

and

low

drugs

energy

instantly

• Stop cravings for cigarettes, alcohol,

sweet foods and drugs instantly

WATCh our Free Trial

insTAnT resulTs

Available

Free Trial Available *

videos online

*Conditions apply

*

*Conditions apply

108 Sawyers Arms Rd, Papanui

108 Sawyers (inside Melrose Arms Building) Rd, Papanui

Phone: 03 (inside 323 4168 Melrose • Cell: Building) 027 231 8388

Phone: www.drlansreflexologynetwork.co.nz

03 323 4168 • Cell: 027 231 8388

EVERY EIGHTH

HAIRCUT IS FREE!

(With our loyalty card)

HAIRCUTS for the entire family

All our stylists are fully qualified

OPEN 7 DAYS NO APPOINTMENT NECESSARY

South City P. 366 0619

Bush Inn Shopping Centre P. 348 7008

Magazine & TV | sTyle.kiwi

style

noun

elegance and sophistication.

synonyms: flair, grace, poise,

polish, suaveness, urbanity,

chic, finesse, taste, class,

comfort, luxury, affluence,

wealth, opulence, lavishness.

POP UP

Mango Buffet $999

furniture

SALE!

Work Bench $499

$

899

Reclaimed Chest $1699

AH Beard Vivaldi Deluxe

Mattress & Base $2199

10yR

WARRANTy

Zoned pocket

spring latex wool,

silk & memory

foam pillow top.

Mango Entertainment

Unit $899

Mindi Chest $999

THE BED SHOP

428 Colombo Street

Sydenham

(old AMI building)

MON-SUN 10am-4pm

ALL STOCK MUST GO!

$

$

449

399 $

699

$

349 $

499

SOLD out

$

2399

Single Timber Slatbed $1075

with NZ Made innersprung mattress.

Linen not included

Gold Set Console and

Two Small Sidetables $1597

$4999 $4249

Original Chinese Sideboards, circa 130-150 years

NZ

MADE

$

1299

$

899

MOOrHOUSe aVe

$

2124

Queen Pillow Top

Mattress & Black Base $2099

CarLyLe ST

$

1099

Double

NOW ONLy $999

CaSS ST

ByrOn ST

SandyfOrd ST

3 WEEKS

ONLY!

Queen Slatbed

with mattress.

Linen not included

Tiara Bedsides $1198

2 for the price of 1

French Chair

or 2 for $1199

Kingsize Oasis Mattress

with 2 drawer upholstered

base - your

choice of

colour.

Zoned pocket

spring mattress

with memory

foam pillow

top. 10 year

warranty.

pennyLane

WeSTpaC

Bank

$

599

$

699

each

$

1299

BaTTerSea ST

$4699

$

2399

Single Slatbed

with pillowtop pocket spring mattress

We are Here

Plain base $1999

COLOMBO ST

SydenHaM

Bakery

$

799

$

1899

Vienna Queen $3699

Zoned pocket spring with Latex

pillowtop. 10 year warranty

$

1199

Queen Luxury $2199

Latex and wool pillowtop
---
18

Tuesday June 7 2016

SOUTHERN VIEW

Contact: Adam Edwards

m: 027 838 6077

e: saleschch@a1homes.co.nz

Office/Showroom:

42 Sherborne Street,

St Albans, Christchurch

Open: Mon to Fri 9am - 4pm

Closed Public Holidays
---
SOUTHERN 2 [Edition VIEW datE]

Tuesday June 7 2016 19

HOME & HEATING

Keep comfortable with

EnviroMaster

Are you struggling with the heat of

Summer or wanting to get organised for

Winter? With the ever changing weather

patterns, heat pumps have the flexibility

of being able to heat and cool which is an

advantage no other appliance can offer. This

represents great value for your investment

as you can use it all year round. The team

at enviro Master Ltd can help keep you cool

this Summer either at home or work. enviro

Master supplies, installs and services all the

leading brands including Panasonic, Fujitsu,

Mitsubishi and Daikin. This means our team

can show you which system and brand will

best suit your needs.

We currently have savings up to $600 off

the recommended retail price on

selected models.

Would you like to maximise the number

of days you can use your swimming pool?

Heating your pool can do this and one of the

most cost effective ways is with a water heat

pump. enviro Master Ltd can supply, install

and service you swimming pool heat pump

providing you with a comfortable, extended

swimming season.

Servicing your heat pump is extremely

important to ensure that it is working

as effectively and efficiently as possible

resulting in a healthy, hygienic heat pump,

lower power bills and greater comfort. But

beware, not all cleaning companies are

equal. We are constantly hearing of people

being charged huge amounts for servicing

and all they are getting is a heat pump clean.

We at enviro Master, are qualified engineers

and therefore are able to fully test and

diagnose any problems you may or may not

be aware of with your heat pump. Also, as

we are associated with all major brands, we

are able to repair these under warranty if

they are still within the warranty period.

It is important to remember, when

selecting an installer, the manufacturer's

warranty does not cover the installation

and consumers could be responsible for

any repair or damage caused to the system

due to poor installation. enviro Master's

five-star installation guarantee ensures

correct installation, and a demonstration so

customers have an understanding on how it

will best meet their needs.

For a free in home consultation, call

Enviro Master on 366 0525 or visit our

showroom at 41A Shakespeare Rd,

Waltham, Christchurch.

smooth-air products

To enSure the quality of your air, contact

the experts. Smooth-Air Products can calculate

the required air exchange for your building

requirement. Smooth-Air offers a wide range of

ventilation equipment, from air vents to ducting

for fans, for both the commercial and domestic

markets. They have an extensive range of fans

and ventilation components in-store but they

can also provide innovative solutions tailored to

differing requirements.

VenTILATIon

This includes both the exchange of air to the

outside as well as circulation of air within the

building. It is one of the most important factors

for maintaining acceptable indoor air quality in

buildings.

Filtered air supply for summer and filtered

and warmed air in winter creates a healthy

environment in which to live and work. In case

noW WITH the colder and wetter weather on its

way, home owners are focusing on ways to make

their homes comfortable, warm and healthy for

their families throughout winter. rISIng DAMP

is an issue that affects many of our older properties

which suffer from poor, or no, insulation. In

Canterbury especially, post-quake, many people

have relocated to homes that suffer from rising

damp which can be associated with health

problems. Independent tests have shown that

up to 40 litres of water can rise from the ground

and enter a house every day, leading to mildew,

mould, condensation and musty smells. Moulds

can produce various allergic reactions and the frail,

elderly and very young are especially vulnerable.

Canterbury Foam Concrete Ltd is a locally

owned and operated firm. The team understands

of poor or insufficient air intake from outside,

the oxygen content decreases, humidity and

dustiness levels increase. If exhaust ventilation

is not provided or it is not effective, polluted air,

smells, humidity and harmful substances are not

removed.

Low oxygen with high carbon dioxide causes

stuffiness in the room and occupants can feel

drowsy. Invisible harmful substances like a

high content of dust and tobacco smoke are

harmful and can cause various diseases. even

bad smells can cause discomfort or irritate the

nervous system. In summer, it's easy to open

windows for cross ventilation, however as winter

approaches, we start to shut up out houses to

trap in the heat and as a result, air quality can

decline.

It is therefore very important to ensure good

air quality indoors through adequate ventilation.

Get rid of dampness in your house

the problems caused by rising damp and are there

to help. They will come to your damp home and

pump a lightweight, flowable foam concrete under

your timber floored home. Specially adapted for

our new Zealand conditions and applications

it provides a layer of protection against rising

moisture. An unexpected benefit that the team at

Canterbury Foam Concrete have noticed recently,

is that many owners of properties which had

underfloor foam concrete installed, reported that it

also provided protection against liquefaction after

the earthquakes.

Contact Canterbury Foam Concrete Ltd now for

your free, no obligation quote and complimentary

appraisal of your underfloor ventilation needs.

Phone 03 376 4608 or 0508 362626 for more

information.

AttAck Rising DAmP

For existing homes with

wooden floor construction

• Stop Mould & Mildew

• Reduce Heating Bills

• Cost Effective Permanent

Solution To Rising Damp

• Free Consultation / Quotes

...at the source

Remove

bathroom smells

and steam!

Ventilation Equipment

Suppliers to trade and retail

STOP RISING DAMP TODAY www.foamcrete.org

Free Phone: 0508 362626 Main Office: (03) 3764608 Fax: (03) 3764603

HEAT PUMP

SALE NOW ON!

Amazin' winter Specials!!

• We will offer you the best quality brands and

option of heat pump for your home/business

• Providing Heat Pump solutions for over 14 years to Cantabrians

• We personally guarantee all our products & installs for 5 years

(providing annual maintenance has been completed)

Phone us today for your free consultation & quote

L

Remote extraction fans

● Domestic

● Commercial

● Industrial

Wall or ceiling

mounted fans

Smooth-Air has a wide range

of ventilation equipment to

bring fresh air into your home

41A SHAKESPEARE RD, WALTHAM

PHONE 03 366 0525

www.enviromaster.co.nz

"A local team for local people"

0800 SMOOTH (0800 766 684)

www.smooth-air.co.nz

sales@smooth-air.co.nz

264 Annex Road, Riccarton

Christchurch 8024, NZ

Ph +64 3 343 6184

Mon - Fri 7.30am - 5pm
---
20

Tuesday June 7 2016

SOUTHERN VIEW

We're on the home straight

SCIRT's programme of repairs to pipes, roads, bridges and retaining walls will

be completed by December this year.

After SCIRT, The Christchurch City Council and NZ Transport Agency will

continue their programmes of ongoing repairs.

Your support is helping us to get the job done, thank you from the SCIRT team.

We're now 89% of the way through our programme of repairs.

THE SCIRT PROGRAMME

IS 89% COMPLETE

86 % 97 %

of underground pipes are fixed

82 % 84 %

of retaining walls are repaired

of bridge repair work is done

of road repairs are complete

• Kate Hood, Quality Engineer with SCIRT's Fulton Hogan team.

SCIRT progress in your neighbourhood

This year the Spreydon Heathcote area has had a substantial ongoing

programme of repairs of the wastewater, storm water, fresh water, retaining

walls and roading works in several suburbs including those on and around

the Port Hills.

• Ongoing repairs to the wastewater network in Spreydon are almost complete.

• The Durham Street overbridge in Sydenham is scheduled to be completed in

August this year.

• Fresh water, storm water and wastewater repairs in Cashmere are due to

finish in September this year.

• Retaining wall repairs in Cashmere and Hillsborough are due to be

completed before the end of this year.

• Major wastewater works are still underway in Woolston and will be completed

by the end of the year.

• Underground pipe repairs and roading in the Heathcote Valley will continue

until the end of the year.

• Works in suburbs like Beckenham, Hillsborough, Sydenham, Hoon Hay,

Opawa, Spreydon, Addington and Somerfield are now winding down.

Need more info?

Email:

info@scirt.co.nz

Phone:

941 8999

Find out about work in your area:

www.scirt.co.nz

Email us on info@scirt.co.nz to get our:

Weekly Traffic Update

Monthly e-Newsletter

Follow us on Twitter:

@SCIRT_info #chchtraffic

Programme funded by
---
2

SOUTHERN [Edition VIEW datE]

Tuesday June 7 2016 21

SPORTS

DOUBLE TROUBLE: Two sets of Hillmorton High School twins – from left,

Natashia and Liyah Faga-Leti, and Jessica and Emma Thornley – have been

selected for the South Island under 17 softball team, which will travel to Sydney

in July to play in the International Friendship series. Another Hillmorton student,

Findlay Martin, will also play in the tournament.

New six lane running track

FACILITIES TO help

athletes train in the northwest

have been installed at

Papanui High School.

Papanui Toc H Athletic

Club, with the help from

New Zealand Community

Trust and Christchurch

Earthquake Recovery

Trust, have come up with

the funds to complete a

130m, six-lane-wide, allweather

athletic track.

Athletic club committee

member Buzz Jones said

it will allow athletes to

prepare better and mean

less travel time.

"Instead of travelling

to Timaru to get the

HEAT PUMPS

Which one is right for you?

• Single-split, Multi-split, Ducted?

• Wall, Floor console, Ceiling cassette, Concealed?

• Mitsubishi, Panasonic, Fujitsu, Daikin, Toshiba...?

Find out with a FREE HOME APPRAISAL

from the Independent Heat Pump Experts.

BOOK NOW

0800 47 48 97

heatpumpguys.co.nz

experience of competing

on an all weather surface

our athletes can just head

down to the high school,"

he said.

The Papanui Toc H Athletic

Club will hold a midweek

meetings to cater for

events to make the best use

of the track.

SENIOR LIVING

Time Honoured

Remedy

According to a country doctor

"d.c. Jarvis" from Vermont in the

USA cider vinegar and honey (cV

& H) can be an important part

of a long healthy life. dr. Jarvis

noted Vermonters who regularly

consumed cider vinegar and honey

had excellent health with many

putting in a vigorous day's work on

the farm even when well into their

eighties.

dr. Jarvis found the effects

of cider vinegar and honey on

arthritis can be remarkable with

many patients reporting almost

total relief after taking a course

of the cider vinegar and honey.

dr. Jarvis surmised that the acid

and potassium in cider vinegar

counteracted calcium deposits and

helped the body control calcium use.

As well as a general tonic dr.

Jarvis found regular administration

of cider vinegar and honey at the

onset of complaints such as the

common cold, sinusitis, asthmatic

attacks, hay fever, and childhood

diseases such as chicken pox and

measles, was accompanied by an

improvement in the condition with

symptoms either disappearing, or

the conditions were extremely mild

and soon over.

Apple cider vinegar contains

all the goodness of the apple in a

form that is readily accepted by

the body. Scientists have found

over 90 different substances in

AcV, among them 20 important

trace elements, minerals, essential

enzymes, a number of different

acids including malic acid, amino

acids and roughage in the form

of potash and pectin. A scientific

study at the Shizuka University

in Japan has proven AcV to have

potent antioxidant benefits (it can

destroy free radicals, which are a

major factor in ageing.) and also the

AcV can break down cholesterol

formations in the blood vessels.

AcV and H is a powerful tonic

that also promotes digestion,

assimilation of nutrients and

elimination of waste, and helps

neutralize any toxic substances that

enter the body.

it is important to note not

all cider vinegar is made in the

traditional way and results are likely

to prove disappointing with these

other vinegars.

Further information is available

from the natural Health Advisers

at Marshall's Health & natural

therapy, 110 Seaview road, new

Brighton, Phone: 388-5757.

We are Always Happy to Help!

THE INDEPENDENT SPECIALISTS

autumn planting • moon calendar • the lone pine • plant doctor

We're for every gardener

FlAnders PoPPy

Its significant story

• Regional planting

• Plant Doctor

• Design ideas

• Seasonal edibles

and flowers

• Small-space

gardening

and so much

more...

InsPIred by

AustrAlIA

Ideas from Melbourne

International Flower

& Garden Show

$5.90 incl. GST

ISSN 1174-8656

100%

Issue 413 | April 16 – April 29, 2015

What it means

to be

KIWI

mAke It eAsy

Low-maintenance

gardening

Projects to

remember

Making wreaths

and poppies

We're for every gardener

12 ISSUES

delivered to your door

$

FROm ONly

49. 00

SUBSCRIPTIONS FREEPHONE 0800 77 77 10

subs@gardener.kiwi

100%

AMAZING ISLAND MIRACLE OIL

As seen on Rachel Hunter's Tour of Beauty

Revered for centuries by Polynesians & Southeast Asians for its remarkable

skin anti-aging & healing properties, Dilo oil comes from the nut of the sacred

Dilo tree, "the tree of a thousand virtues". Dilo oil is often called the beauty oil

as it can penetrate all three layers of the skin offering exceptional cell hydration

& regeneration. It has a unique ability to stimulate the growth of healthy skin

cells & this gives it powerful anti-aging & healing properties that can help

reduce lines, blemishes, scars & damage to the skin. It also possesses antiinflammatory,

antimicrobial, antifungal & antioxidant properties.

Dilo Oil Supports

• Anti-aging & skin regeneration, helps reduce lines, blemishes, scars &

stretch marks

• Skin hydration

• Skin repair & growth, helps feed the skin & stimulate healthy new cells

• Wound healing & skin protection from bacteria, viruses & fungus

• Most skin problems, rosacea, pimples, ulcers & sores, acne, psoriasis,

eczema, dermatitis, rashes, blisters, skin eruptions, warts, insect bites &

stings, athlete's foot, burns, nappy rash etc.

• Joint & muscular pain

Bringing You the Best in Natural Health

AMAZING

PRICES

100% PURE & ORGANIC

50ml

only $19.90

only $29.90

100ml

POWERFUL

NATURAL BEAUTY

& HEALING OIL

- WE ARE ALWAYS HAPPY TO HELP! -

MAIL ORDER AVAILABLE

MARSHALLS HEALTH & NATURAL THERAPY

CONSULTING - PRESCRIBING - DISPENSING - MANUFACTURING - MEDICAL HERBALISTS

110 SEAVIEW RD, NEW BRIGHTON • PH 03 388 5757 • Email: enquiry@marshallshealth.co.nz
---
22

Tuesday June 7 2016

SENIOR LIVING

Device to Prevent Snoring

WHy PUt up with broken sleep, when help is at hand with Snorex, an appliance that

prevents snoring, sleep apnoea, and dry and raw throats.

Snorex is custom-fitted to your mouth for comfort, and a follow up service is provided.

denise Lim has been involved with Snores for 21 years and has had a 98% success rate

with people using the appliance. Snoring can be a health hazard, causing sleep apnoea,

where the person actually stops breathing for short periods.

it can cause short-term memory loss, tiredness and contribute to high blood pressure.

The Snorex device does not feel restrictive, is non-invasive and carries a money-back

guarantee.

Many people are referred by ear, nose and throat specialists, however, anyone can

phone for an appointment.

For an information pack or to discuss the Snorex further, phone denise Lim

on 377 4318 or check out the website www.snorex.co.nz

reVered For centuries by Polynesians

and Southeast Asians for its remarkable

skin anti-aging and healing properties,

dilo oil comes from the nut of the sacred

dilo tree, "the tree of a thousand virtues".

The dilo tree draws its sustenance directly

from the nutrient rich warm waters of the

Pacific ocean.

dilo oil is also called "the beauty oil"

as it can penetrate all three layers of the

skin offering exceptional cell hydration

and regeneration. it has a unique ability

to stimulate the growth of healthy skin

cells and the formation of new tissue

giving it powerful anti-aging properties

that can help reduce lines, blemishes,

scars, stretchmarks, dry or scaly skin, skin

redness and repair damaged skin.

it also possesses anti-inflammatory,

antimicrobial, antifungal, antioxidant and

sun protective properties and is commonly

used on most skin ailments including

rosacea, pimples, ulcers and sores,

acne and acne scars, psoriasis, eczema,

dermatitis, rashes, blisters, skin eruptions,

warts, insect bites and stings, athlete's

foot, burns, sunburn, cuts and cracks,

nappy rash, and many more often with

incredible results. Also it is used for joint

and muscular pain and may even help

stimulate healing.

[Edition SOUTHERN datE] VIEW 3

AMAZING ISLAND

MIRACLE OIL

Further information is available

from the natural Health Advisers at

Marshall's Health & natural Therapy,

110 Seaview road, new Brighton,

Phone: 388-5757.

We are Always Happy to Help!

you can stop him

snoring with a

SNOREX

Why put up with a broken

night's sleep?

Ph 377-4318 or 027 682 1752

DENISE LIM

FOR A FREE INFO PACK

Website: www.snorex.co.nz

All Acorn Stairlifts

carry the Arthritis

Foundation's

Ease-of-Use

Commendation

Regain the

freedom of your

home with an

Acorn Stairlift

• For straight or curved

staircases

• Indoor and

outdoor lifts

• Free home assessment

• Fast installation

• Safe and reliable

FOR FREE BROCHURE & QUOTATION

0800 688 865

FREE DVD Guide to Stairlifts

www.acornstairlifts.co.nz

EAT

TALK

SMILE

Live life

confidently with

advanced dental

and denture care.

8 CONVENIENT CHRISTCHURCH

LOCATIONS:

Merivale 03 375 4444

Beckenham 03 375 4443

Fendalton 03 375 4449

Linwood 03 375 4448

Kaiapoi 03 375 4442

QEII Dental 03 388 0881

Dentistry with a Smile 03 338 8210

Halswell Dental 03 322 9577

Canterbury's leading company specialising

in complete denture services.

www.duchenne.co.nz

Apple Cider VinegAr - Powerful Natural Health Tonic

ACV is a highly nutritious with all the goodness of apples (one of our most health-giving fruits) in a

form that is readily accepted by the body. It promotes healthy digestion, assimilation of nutrients &

elimination of wastes. Detoxifying & purifying & supports the function of vital organs like the kidneys,

bladder, liver & heart. Helps neutralise toxic substances & harmful bacteria in food. A time-honoured

natural remedy to improve health & longevity.

ACV SUPPORTS

• Healthy digestion, assimilation of nutrients,

elimination of wastes

• Energy – Vitality – Endurance

• Elimination of viruses, bacteria, fungus & parasites

• Powerful antioxidant

• Cardiovascular health, blow flow & healthy blood

pressure

• Diabetes – improves insulin sensitivity

• Arthritis • Longevity

• Settles the stomach & reduces reflux

Bringing You the Best in Natural Health

Super price

Double Strength,

Organic Apple Cider Vinegar:

750ml only $9.90, 2ltr only $19.90

With 20% Manuka Honey added:

750ml only $14.90, 2ltr only $29.90

- KNOWLEDGE MAKES THE DIFFERENCE -

MAIL ORDER AVAILABLE

MARSHALLS HEALTH & NATURAL THERAPY

CONSULTING - PRESCRIBING - DISPENSING - MANUFACTURING - MEDICAL HERBALISTS

110 SEAVIEW RD, NEW BRIGHTON • PH 03 388 5757 • Email: enquiry@marshallshealth.co.nz
---
4

SOUTHERN [Edition VIEW datE]

Tuesday June 7 2016 23

SENIOR LIVING

PAULGER COURTS

RETIREMENT VILLAGE

PAULger coUrtS is a family owned and

oriented village. owners robyn and Peter

Macdonald truly appreciate the value and

importance of independence and on-going

community relationships to their residents,

whilst remaining a close-knit and supportive

community. our residents maintain their

community

attachments,

hobbies and

independence,

whilst

knowing that

support is

there if they

need it.

The village's 34 semi-detached but private

units sit in landscaped grounds alongside

george Manning House, the purpose-built

eighty-one bed rest home and hospital.

on hand at gMH robyn and her team are

available to answer any questions or organise

any assistance the residents need.

Paulger courts units are designed to be

sunny, comfortable and easy to live in, whilst

relieving the residents of the burden of home

maintenance or reliance on family for urgent

assistance. With the supplied 'never Alone'

alarm, the nightly security patrol and willing

staff, residents and their families can feel

reassured that help is at hand should it be

required.

The emphasis at Paulger courts is on

ensuring that it always remains a safe and

happy place for people to live, making

the move to a retirement village as easy a

transition

as possible.

"DON'T GET AROUND MUCH .. ANy MORE"

If this is your song, think again!

certAinLy, BALAnce and

muscle strength decline with

age and can have disastrous

consequences. But it's never too

late to improve both. We can help

ourselves to remain independent.

it's easy to make excuses, i'm

too tired, too old, too fat, too lazy.

if you want to change your life,

even at 90 it's possible to improve

your leg muscle strength. it may

still be possible to maintain or

regain your balance and live the

life you want.

every year, one out of three

people aged 65 and over has a fall.

A few simple exercises can help

reduce your risk of falling and

keep you independent longer.

try standing on one foot for 10 seconds while waiting for the

kettle to boil. Heel to toe walk in the lounge. Looking straight

ahead, take 20 steps and imagine you are walking along a narrow

path.

For active people, most outdoor activities and tai chi and yoga

are excellent for both leg strengthening and balance.

For those less active or with mobility problems, seated exercises

can achieve results amazingly quickly. Simple Aircycle leg exercises

are effective, relaxing and enjoyable.

you can have coffee, chat on the phone or watch tV, while

relaxing with your Aircycle exerciser to boost circulation, increase

joint flexibility, strengthen calf and thigh muscles to help improve

your balance. Better balance and stronger muscles ensure greater

independence.

no one else can do it for you. your life is in your hands.

information and Aircycle orders to www.aircycle.co.nz, phone 04

569 5013 or post $44.90 to Aircycle, Po Box 45105 Waterloo,

Lower Hutt 5042

Paulger Courts Retirement Village

(in association with George Manning House Rest Home and Hospital)

Two-bedroom

units available,

prices from

$260,000

Enquiries welcome.

Please ring

''

Robyn MacDonald

on 338-9164

weekdays

Spreydon, Christchurch

Family owned and oriented

Retirement Village for independent

living in a supportive environment.

''

ARTHRITIS

Boost circulation and gently

exercise while you sit – it's so easy!

FOR

Pain & stiffness

Swollen ankles

Night cramps

Painful hands

Balance & mobility

Sore legs/numb feet

Travel & office sitting

Stroke rehab/Parkinson's

YOUR EASIEST STEP TO BETTER HEALTH

Only

$39 90

Available from pharmacies, Diabetes Christchurch,

More Mobility, Aspire Canterbury.

Information and mail orders

www.aircycle.co.nz or call 04 569 5013

Complementary therapies

and products

coMPLeMentAry Medicine includes treatments and products

that are not traditionally used in conventional medicine. They

range from ancient systems such as traditional chinese medicine

to treatments such as massage, acupuncture, herbal medicine

and aromatherapy. They emphasise a 'wellness' that comes from a

balance between the body and mind. The gap between conventional

medicine and complementary is starting to blur.

Before starting any treatment or product it is important to check

what evidence is available to suggest that it may work for you. Many

treatments are beginning to be backed up by scientific evidence.

However, for many others it is still unclear whether they are truly

effective, harmful or a waste of time and money.

Some supplements that may be beneficial for you:

Avocado, soybean, calcium & vitamin d, capsicum, folic acid, fish

oil, glucosamine & chondroitin and cherries.

Herbs can also be beneficial e.g. boswellia can be beneficial for

those with osteoarthritis. you may also consider tai chi, yoga and

relaxation techniques.

if you try complementary medicine treatment it is important

to discuss with your medical practitioner about any possible

interactions of the product with your current medical treatment.

Keep in mind that natural does not necessarily mean safe and

always tell your doctor of all the remedies you take.

Support and Resources for Independent Living

walkers to

purchase

(FroM $230)

or hire

$20

per week

Can we help you or someone you support?

Disability Information Service – a 'one stop

information service' which offers unbiased

advice to assist people navigate their way to

organisations or services that can provide them

with support or advice.

Aspire Canterbury Shop – shop online or call in

to our shop at 314 Worcester Street and view our

range of easier living products We also hire out

wheelchairs, ramps and walkers.

Total Mobility Discounted Taxi Service – a scheme

which provides 50% discounts on taxi journeys to

eligible people in the Christchurch area who, due

to health conditions, are unable to access public

transport. Contact us for more information on

03 366 9093 or visit our website.

New Mobile Service – Fun interactive presentations

of our information, services and easier living

equipment. We come to you! To book our

presenter to speak to your group call Shannon

at numbers below or email mobileservices@

aspirecanterbury.org.nz

Mobility scooter demonstrations available.

Aspire Canterbury is a not-for-profit organisation

providing services to the community since 1981

Physical Address:

314 Worcester Street

Linwood Christchurch

Postal Address:

PO Box 32074

Christchurch 8147

2015 NZ Disability

Information Centre

of the Year

Ph: 03 366 6189

Freephone: 0800 347 242

Ph: (Total Mobility) 03 366 9093

Mobile Service: 022 140 8213

E: admin@aspirecanterbury.org.nz

W: www.aspirecanterbury.org.nz
---
2

24 Tuesday [Edition datE] June 7 2016

SOUTHERN VIEW

Buy well, live well

140 Marshland Road, Shirley

$435,000

3 bedrooms | 1 bathroom | 2 living rooms | 2-car garage | Listing #: PI43256

Take a solid, permanent-material

home built in an era known for good

honest workmanship and add in

modern features such as aluminum

joinery and a stylish kitchen for additional

comfort and convenience – this property is a

recipe for living well and will be a great buy

for the lucky purchaser.

Constructed of timeless Summerhill stone,

140 Marshland Road has been carefully

updated to create a very stylish and cosy

family home or investment property.

The modern, tiled kitchen offers excellent

storage space and a breakfast bar for meals

on the run. The adjoining dining and casual

living space is bathed in natural light and

opens up to the deck for summer barbeques.

A large separate lounge offers an additional

living area, which also enjoys indoor-outdoor

flow to a sunny patio with northwest aspect.

There are three light, bright bedrooms and

an updated bathroom, along with a separate

laundry. A Daikin heatpump keeps the home

cosy over the winter months.

Set on a generous 688 sqm of TC2 land, the

corner site allows maximum use of the space

with plenty of sunny lawn area to the north

and west, while the drive and double garage

are tucked around the rear of the house.

The established section is fully fenced and

large paved spaces offer excellent off-street

parking and make this an all-weather garden

for children and pets.

Situated in handy reach of The Palms

shopping centre and Christchurch Golf Club,

offering easy access to the city and beaches,

this property is great buying for homebuyers

or investors alike.

Open Home dates: Sunday, June 12, 1pm

to 1.30pm. See you at the open home or

for a private viewing contact Cameron

Bailey of Harcourts Gold Papanui (Licensed

Agent REAA 2008) on 352 6166 or mobile

0275 557 079.
---
PROUDLY

PROUDLY

CHRISTCHURCH

CHRISTCHURCH

OWNED

OWNED TUESDaY, aUGUST 27, 2013 PROUDLY 384

384 CHRISTCHURCH 0600

0600

PROUDLY CHRISTCHURCH OWNED MONDaY JUNE 24, 2013

OWNED WEDENSDaY 10 JULY, 2013 384 0600

384 0600

A Mainland

Media Publication

Kea

(Nestor Notabilis)

Ladbrooks, Tai Tapu, Leeston, Lincoln, Southbridge, Prebbleton, Halswell, Rolleston, Templeton, Burnham, West Melton, Darfield, Arthurs Pass

Mainland

Press Newspaper

Sumner, Redcliffs, Mt. Pleasant, Ferrymead, Woolston, Lyttelton & Akaroa Harbours

Harewood, Burnside, Bishopdale, Bryndwr, Fendalton, Merivale, St Albans, Mairehau, Papanui, Casebrook, Redwood, Regents Park, Styx Mill, Northwood, Spreydon, Belfast Hoon Hay, Hillmorton, Cracroft, Cashmere, St Martins, Somerfield, Sydenham, Addington, Waltham, Opawa, Beckenham, Huntsbury, Woolston

Black Billed

Gull

A Mainland

Press Newspaper

New Zealand

Swamp Hen (Pukeko)

Linwood, Avonside, Richmond, Shirley, Burwood, Dallington, Wainoni, Bromley, Aranui, Avondale, Bexley, New Brighton, Northshore, Queenspark, Parklands, South Brighton

PROUDLY CHRISTCHURCH OWNED MONDaY JULY 15, 2013 PROUDLY 384 CHRISTCHURCH 0600

OWNED MONDaY 12 aUGUST, 2013 PROUDLY 384 CHRISTCHURCH 0600

OWNED MONDaY JUNE 24, 2013 384 0600

A Mainland

Press Newspaper

Fantail

(Piwakawaka)

A Mainland

Newspaper

Bellbird

(Korimako)

A Mainland

Press Newspaper

New Zealand

Pigeon (Kereru)

Templeton, Islington, Hei Hei, Broomfield, Halswell, Oaklands, Westlake, Hornby, Wigram, Sockburn, Church Corner, Ilam, Russley, Hyde Park, Avonhead, Riccarton Park, Riccarton

SOUTHERN VIEW Tuesday June 7 2016 25

Caravans, Motorhomes

& Traliers

Car Parts

TYRES Secondhand,

most sizes, from $30 fitted,

217 Waltham Road, 027

476 2404

Cars

$4,001 - $8,000

NEED a new car? and

need Finance we can

help. Call us today,

Learners lcs, past credit

issues been bankrupt or

new to New Zealand!

Call Leon on 022 625

2232

Celebrant

WEDDINGS, Civil

Union Ceremonies,

Renewal of Vows, Naming

Ceremonies, Funerals

and Unveilings - Jenni

Gibson Ph/Fax 324-8332,

021 723-089. www.

celebrantservices.net.nz

Computers

ALL

YOUR

COMPUTER

WORRIES SOLVED!

*$30.00 off your first

service with this coupon!*

No problem too big or

small from home PC's to

business networks. PC

slow? An end to Viruses,

Spyware, and Clogged

Systems. Safe secure

hassle-free computing.

Lost files recovered.

Microsoft Certified,

MCSE, MCP+l. 30 years

experience. Call Andrew

Buxton this week on 326-

6740 or 027 435-7596

for $30.00 off* Custom

Computers Christchurch

Funeral Directors

Direct

Cremation

No frills, No Service,

No fuss, simply

straight to the crem.

Other options available

Ph: 379 0178

for our brochure

or email office@

undertaker.co.nz

Classifieds Contact us today Phone our local team 03 379 1100

Gardening

& Supplies

Landscape

and Garden

Services

If you need help

getting your garden

back in order after

repairs, need any

type of landscape

construction work or

garden restoration.

Ph 021 272 0303

A GARDEN

PROFESSIONAL

NEEDED? Qualified

Horticulturist, offering

expert pruning, garden

makeovers, garden design

and landscaping, for free

quotes call Bryce 027 688-

8196 or 0508 242-733

A GARDEN OR

LANDSCAPING TIDY

UP? Shrub, hedge &

tree pruning, Lawns,

Gardening, consistently

reliable general property

upkeep, Dip. Hort. 10

yrs experience, One off

tidy ups or on-going

service. Nick's Property

Maintenance. Keeping

your garden beautiful.

Free Quote. Ph. 942-4440

Health & Beauty

Very

Fine

Massage: Hoon Hay,

Deep-Tissue, Chinese Tui

Na, Aromatherapy, $15-

$90, Mondays & Wenesdays

only. Text 021 237 3937

Nora.

Holiday

Accommodation

QUEENSLAND SUN-

SHINE COAST AUSTRA-

LIA Resort, Ocean Views,

Balconies, Self Contained,

1 or 2 B/R Ensuite,

Heated Pool, Spa, Sauna,

Free Internet, Shops,

Restaurants, Tennis, Surf

Club & Patrolled Beach,

Public Transport at door.

Ask for our SEASONAL

SPECIALS. Phone 61 7

544-35011 Email: reception@mandolin.com.au

www.mandolin.com.au

Public Notices

Rexellent Rentals

Cars, Vans, Brisbane , Coolangatta

FREE CALL

0800 601 508

www.rexellent.com.au

DEMOLITION

With care and respect we

will remove your dwelling.

Our policy is to recycle as

much as we can. We are a

local company specialising

in residential properties. We

will endeavor to cater for

your individual needs.

Ph. R.M. Solutions

021 02866981

for a free quote.

Check out

JOin OTher neW ZealanDers

lOOKinG FOr ThaT sOmeOne sPeCial

ADVERTISE YOUR

BUSINESS HERE

Personals

Place your

advertisement now

Only $10.00

yearly membershiP

FOr FUll DeTails,

PhOne 341 3888

Call us & we'll help

you place your

classified advert in our

community papers

Nobody knows

Christchurch

like a local

We're local, we're

in Christchurch, we

speak your language!

Phone: 379 1100

Selwyn

Times

Nor'West

News

Public Notices

Bay Harbour

A

News

Southern

View Press

News

Classifieds

Our community papers are published every

Tuesday (Bay Harbour, Wednesdays) focusing

on local issues & local people.

Phone for further details

(03) 379 1100

Pegasus

Post

Western

Trades & Services

Cracked tiles?

Dirty grout?

Old or mouldy

silicon?

Brett Ph 03 358 5105

or 027 746 7632

www.groutpro.co.nz

Trades & Services

Appliance Sales & Service

388 4780

Appliance Services

14 Brighton Mall, New Brighton

BLOCKED

DRAINS?

• VIDEO INSPECTION

• WATERBLASTING

• LIQUID WASTE

PH: 03 365 7960

24 hours // 7 days

info@h20jet.co.nz

www.h20jet.co.nz

ROOFING

- Re-roofing and

new roofing

- Quality roofing at

the best price around

- Licensed building

practitioner

Robinson

Roofing Ltd

Call Hamish for a

quote 03 347 90 45

Professional

Movers

Making Local

& International

Moving Easy

0800 4 world

(03) 341 2060

www.worldmoving.co.nz

HOUSE

CLEARING

Are you moving

house?

Let All Clear Canterbury

take care of your

unwanted items.

You identify what you want

to keep & we will dispose

of the rest!!

Mob: 021 078 4553

raewynlcooke@gmail.com

www.allclearcanterbury.co.nz

9164023AA

Trades & Services

ANDREWS TREE

Care Services, tree

removal, trimming, stump

grinding, shelterbelt clean

up, section clearing,

rubbish removals,

excavation work, ph 027

728 5688

Trades & Services

CARPETLAYER -

Laying and Repairs, 40 yrs

experience, ph Peter 326-

7711 or 027 240-6532

DRIVEWAYS

Replace, repair or new.

We are a local company

with over 10 yrs exp.

We also operate a

digger for all other

earthworks.

Ph. R.M. Solutions

021 02866981

for a free quote.

FENCE, PAINTINg/

Staining Quality at a

reasonable price. Free

quotes. Phone Warren

today on 980-1676 or 027

2014713

FURNITURE REMOVALS

Large Trucks $95 +

GST per hour 7 day NZ

wide, packing & moving,

Professional Company,

Professional Service.

Canterbury Relocations

Ltd. ph 0800 359 9313

LANDSCAPINg LTD

Paving, Lawns, Irrigation,

Decking, Fencing.

Kanga & small digger

services. Check out Squire

Landscaping on facebook.

FREE QUOTES. Ph

Authur 347-8796, 027

220-7014 Edwin 027 220-

7154

Trades & Services

PLUMBER

ALF THORPE

PLUMBING Certifying

Plumber for all types of

plumbing, maintenance,

spouting, alterations etc.

Phone 352-7402 or 0274-

350-231

PLUMBER

A Top Plumbing job

completed at a fair price,

prompt service, all work

guaranteed, Ph Brian 960-

7673 or 021 112-3492

• Replacement/new roofing

• Colour Steel gutter & fascia

• Flue & log burner installs

• Skytube/light installs

• Earthquake repairs

Licence Building

Practitioner LBP

Member of the Roofing

Association

DCM ROOFING LTD

The Roofing Specialists

PHONE IAIN

027 445 5597

iain@dcmroofing.co.nz

HOME HANDYMAN

ROOFINg

Call Stu for all the home

Qualified & Licenced

handyman jobs you have

Practitioner. Re-Roof &

been putting off. Sticking

Repairs, all types. Member

doors, flatpack assembly,

New Zealand Roofing

kitchen repairs, gutters

Association. Over 35 years

cleaned and much more.

experience. Phone John

No job too small Stu - 027

027 432-3822 or 351-9147

223 4058

email johnmill@ihug.

co.nz

SPLASHBACKS

Kitchen/bathroom/

laundry, incl mosaics, ph

Dave 027 334 4125

SPOUTINg

CLEANING - Spouting

Unblocked, Cleaned Out

and Flushed Out. Also

Full Handyman Services

Available. Call Trevor 332

8949 or 021 043-2034

BEST BATHROOMS

OVEN CLEANINg

full renovation specialists,

Professional cleans STONEMASON,

LBP, repairs &

$50.00. Gift Vouchers BRICK

&

maintenance ph 03 387-

avail. Phone 0800 683- BLOCKLAYER,

0770 or 027 245-5226

6253 or 027 228-0025 Earthquake Repairs, Grind

BRICKLAYER.

Out & Repoint, River/

PAINTER

George Lockyer. Over

Oamaru stone, Schist,

Available, All aspects in

30 years bricklaying

Volcanic Rock, Paving,

painting. Very competitive

experience. UK trained.

all Alterations new & old,

in roofs and fences. Please

Licensed Building

Quality Workmanship,

call 027 241-7471 or 335-

Practitioner number

visit www.featureworks.

0265

BP105608. Insurance

co.nz or ph 027 601-3145

work. EQC repairs. PAINTINg & DECORATINg TILER/CARPENTER.

Heritage brickwork a interior & exterior, 5 years exp, no job too

speciality. No job too gib fixing, plastering, small. Ph Ross 027

small. Governors Bay. paperhanging, Est 50 yrs 4311440.

Home 329-9344, Cell in ChCh, ph Wingfields TREE WORK

027 684-4046, email Ltd, ph Mark 021 171- Hedge trimming, stump

karengeorge@xtra.co.nz 1586 or 355-5994 grinding, rubbish removed,

BUILDER

small job specialty Ph

PAINTER

For all building work

Andrew 03 322-8341 or

Top quality work, interior/

but specialist in bathroom

027 435-8759

exterior, pensioners

renovations, 30 yrs

discount, free quotes, 30

T.V. SERVICE CENTRE

experience, with service

years experience, I stand

Repairs, tvs, microwaves,

and integrity. Free Quotes.

by Canterbury, ph Wayne

stereos, DVD. Aerial

Ph Lachlan 383-1723 or

your friendly painter 03

installations and kitsets,

0274 367-067.

385-4348 or 027 274-3541

480 Moorhouse Ave, ph 03

379 1400

BUILDER

PLASTERER

LICENSED, available for

UPHOLSTERER

Gib Stopping, Small

all aspects of building.

Dining Chairs, Lounge

job specialty. 30 + years

Please call 027 241-7471

suites, Caravan Squabs

experience. Ring 0800

or 335-0265

etc. recovered. Free

387-369

Quotes. Phone Graeme

CARRIER LOCAL

383-1448

experienced, friendly, PLASTERER

trade-me purchases, single SOLID, both ext & int

VHS VIDEO TAPES &

items to truck loads, work, Scottish Tradesman

all camera tapes converted

furniture to whatever, with over 30 yrs

to DVD, video taping,

removals & trade experience, FREE Quotes,

weddings, twenty firsts,

deliveries a specialty. Ph ph Donald 354-5153 or

special occasions, www.

GEH 341-5069

021 023 26186

grahamsvideo.co.nz ph 03

338-1655

CARPET & VINYL PLUMBER

WATERBLASTINg

Laying. Repairs, uplifting, For prompt service for all Quality Job, Quick Service

relaying, restretching, plumbing maintenance, by skilled tradesman, Ph

Email jflattery@xtra. repairs and alterations. Richard Severin at Jet-X

co.nz, ph 0800 003 181 or

027 2407416

Phone Michael 364 7080

or 027 438 3943

0800 538 969 Free quotes,

visit www.jetx.co.nz
---
26

Tuesday June 7 2016

Classifieds

SOUTHERN VIEW

Trades & Services

WATERBLASTING

Moss treatments, roof

painting. Experienced

tradesman. Ph 020 410

67205

WINDOW CLEANING

Average 3 bdrm house

inside or out $40. Both

$70. Phone Trevor 344-

2170

Situations Vacant

CA$H

Strippers

& Podium

Dancers

Wanted!

18+ TO APPLY

NEISHA

021 193 0118

Thursday 2nd June - Wednesday 8th June

THE NICE GUYS (R16)

HUNT FOR THE

WILDERPEOPLE (PG)

EYE IN THE SKY (M)

ALICE THROUGH THE

SHAKESPEARE LIVE (exempt) LOOKING GLASS (PG)

MERCHANT OF VENICE (exempt) EDDIE THE EAGLE (PG)

Vehicles Wanted

VEHICLES

ANY CONDITION

WANTED

FOR CASH

$ $ $

Ph 347 9354 or

027 476 2404

ADD SOME

COLOUR

TO YOUR ADVERT!

Entertainments

Wanted To Buy

AAA Buying goods

quality furniture,

Beds, Stoves, Washing

machines, Fridge Freezers.

Same day service. Selwyn

Dealers. Phone 980 5812

or 027 313 8156

AAAAAAAAA

GOOD PRICES

paid for estate lots,

antiques and good

quality furniture.

Ph Rick 347 4493

or 021 376 883

Wanted To Buy

A+ Household effects,

fridges, freezers, washing

machines, ovens. Good

cash paid. Ph Paul 022

0891 671

A Records and Hi-Fi

gear wanted, excellent

prices paid for good

records especially kiwi

and overseas bands 60's

- 90's PennyLane 430

Colombo St Sydenham

7 days www.pennylane.

co.nz ph 3663278 or 021

2226144

TOOLS Garden,

garage, woodworking,

mechanical, engineering,

sawbenches, lathes, cash

buyer, ph 355-2045

NOW OPEN

Cooks and Cocktails offers

affordable family dining

with an international menu

and amazing cocktails.

Come and enjoy our

great family environment

and meet our amazing staff.

Papanui's newest

family friendly

dining experience

77 Main North Road, Papanui

Ph 352 4242

www.cooksandcocktails.co.nz

Open Monday - Sunday 11am - late

H ORNBY

WORKINGMEN'S

CLUB

«WHAT'S ON«

WESTVIEW LOUNGE

FRIDAY

10 June, 7PM

ROBBIE DREW

«COMING UP«

NATIONAL

STREET APPEAL

FRIDAY 10TH JUNE

SATURDAY

11 June, 4.30PM

THE BUSKER

Hornby WMC | ph 03 349 9026 | 17 Carmen Road | Hornby

www.hornbyworkingmensclub.co.nz | Members, guests & affiliates welcome

LIVE

ENTERTAINMENT

6PM FRIDAY

IAN

MAC

7PM SATURDAY

ROBBIE

DREW

8PM

SHALOW

The newly refurbished

Woolston Club...

A classic, contemporary

club experience

Dining, bar, entertainment,

sport, and so much more!

Cafe open from 11am

Happy Hour 4.30pm - 5.30pm

TAB & Gaming, Function Facilities,

HOUSIE Tuesday, Thursday, Saturday

SHUTTLE Tuesday - Sunday

7.30PM SATURDAY

JULY 2, 2016

TICKETS $25 AT THE CLUB OFFICE

Newly renovated

Open 7 Days

Restaurant open

from 5.30pm!

With a selection of

main meals for $20

Retro Roast Lunch

12pm Wednesdays

$10 Members/$12 Non

Roast of the Day

$16.00 Members

$18.00 Non
---
SOUTHERN VIEW Tuesday June 7 2016 27

www.newbrightonclub.co.nz

WHAT'S ON

TUESDAYS &

THURSDAYS

Members Lucky Card Draw

- downstairs -

ClubBISTRO

Open Tuesday

to Saturday

12pm-2pm

and from 5pm.

Midweek

SPECIAL

$10

ROAST

Available Tuesday,

Wednesday,

& Thursday

TAB POD

- upstairs -

PIERVIEW

Restaurant

JOIN

A CLUB BY

THE SEA!

Quality a la carte

with a view!

Open FRIDAY,

SATURDAY,

& SUNDAY

from 5.30pm

FRIDAY SPECIAL:

All Grills... $20!

for a limited time

SUNDAY SPECIAL

$25 3-Course Feast

SHUTTLE RUNNING

Tues, Thurs, Fri & Sat

202 Marine Parade | Ph 388-9416

Members, guests and affiliates welcome

RESTAURANT & CAFÉ

'Famous for their roasts!'

Open daily from 6.30am. Breakfast, Lunch & Dinner

Treat the Kids!

Kids two course

special from

We are family

friendly.

Great Kids menu

plus designated play area.

Seniors SPECIAL

Two courses

Soup/Roast or

Roast/Dessert

Racecourse Hotel Motorlodge

118 Racecourse Rd, Sockburn,

Christchurch. Ph 03 342 7150

www.racecoursehotel.co.nz

$10

Special available lunch only

Monday - Saturday 12pm - 2.30pm

Conditions apply.

$20

Lunch & Dinner

All you can eat, 7 days

Bookings Essential PH 386 0088

fb.com/GardenHotelRestaurant

www.gardenhotel.co.nz

NOW SERVING

available

from

9am

Breakfast

HAPPY

HOUR

5PM - 7PM

DAILY

LIVE Rhonda Campbell duo

MUSIC 6PM FRIDAY 10th June

PHONE 385 8880 FIND US ON FACEBOOK fb.com/GBCCHCH

THE GARDEN HOTEL COMPLEX | 110 MARSHLAND RD

www.gardenhotel.co.nz | phone 385 3132
---
28

Tuesday June 7 2016

SOUTHERN VIEW

$

4 99

kg

Fresh Tegel NZ Chicken Drumsticks/

Whole Chicken Legs

$

2 79

kg

Easy Peel Seedless Mandarins

2

for

$

7 99

each

$

6 50

$

3 99

pack

$

3 00

each

Tegel Frozen Chicken

No 14

Vogel's Bread 720-750g

(Excludes Gluten Free)

Meadow Fresh Yoghurt

6 Pack

Kellogg's Sultana Bran/

Nutri-Grain/Coco Pops/

Special K 290-420g

(Excludes Special K Fruits)

WINE

DEAL

OF THE

WEEK

$

17 99

pack

$

8 99

each

$

1 00

each

$

4 29

each

Speight's Gold Medal Ale/

Summit

12 x 330ml Bottles

Jacob's Creek Sparkling

750ml

(Excludes Reserve)

Bluebird Burger Rings/

Twisties/Cheezels/Rashuns

110-120g

Whittaker's Chocolate

Block 250g

Mad Mark t Days

at FreshChoice Barrington

Head instore for extra hot fresh specials, tastings & demonstrations

All Weekend

11th & 12th

June

Prices apply from Tuesday 7th June to Sunday 12th June

2016, or while stocks last.

Trade not supplied. We reserve the right to limit quantities. All limits specified apply per customer per day.

All prepared meals are serving suggestions only. Props not included. Certain products may not be available

in all stores. Proprietary brands not for resale.

FreshChoice.co.nz

FreshChoiceNZ

FreshChoice Barrington

256 Barrington Street, Christchurch.

Phone 332 6364.

Open 7am-11pm, 7 days.

FCSV0706